From jungle walks to local markets, this Kota Bharu guide tells all about this fairly undiscovered Malaysian city (and how to get to the beautiful Perhentian Islands!).
With a direct flight just 1 hour 15 minutes from Singapore, Kota Bharu is the laidback cultural centre of Kelantan state that offers unexpectedly great shopping, delicious dining, and breathtaking outdoors.
Our 4D3N trip to Kota Bharu was certainly unique — we met warm and friendly locals, ate great Kelantanese food, and got to understand the rich cultural heritage of Kelantan. Fun fact: Kota Bharu's vibrant Kelantanese Malay culture also has Thai and Indian influences!
The seemingly sleepy town is actually a lot more bustling than you'd imagine, which makes it fantastic for anyone looking for something different within the Southeast Asian region.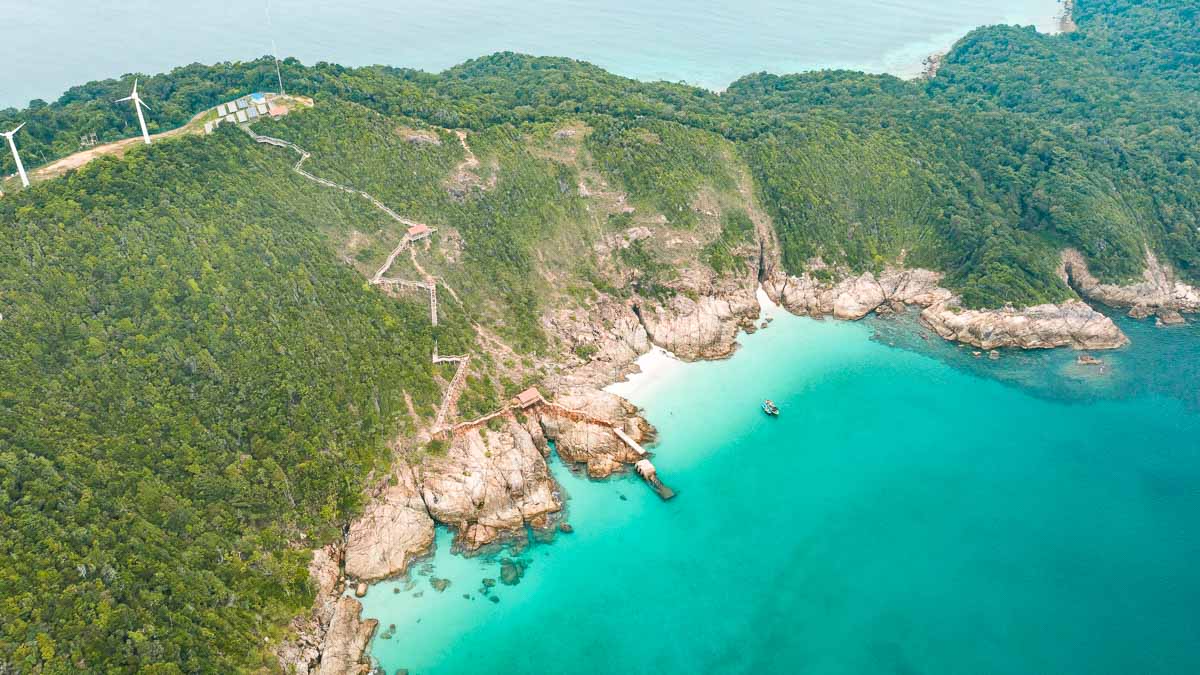 Besides being a cultural hub, Kota Bharu is also the gateway to the crazily scenic Perhentian Islands, just a short ferry ride away (but more on that later). So if you're looking for an affordable, exotic getaway that's adventurous yet away from the city life, Kota Bharu should be next on your list!
Start planning your Kota Bharu Getaway from only S$80!
Kota Bharu Travel Essentials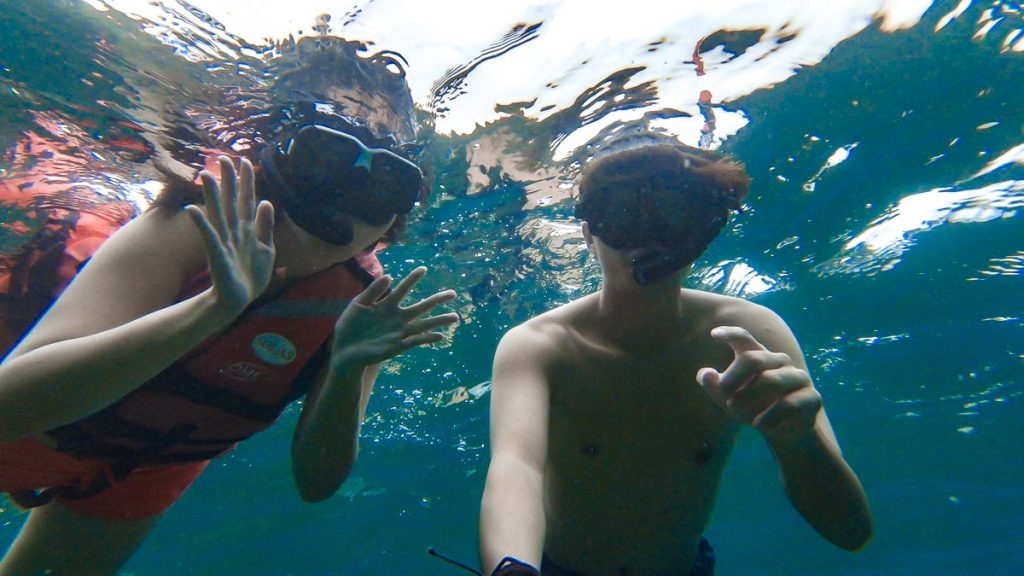 Flights: Scoot flies three times a week directly from Singapore to Kota Bharu's Sultan Ismail Petra Airport (KBR).
Getting around: The easiest way around Kota Bharu is via Grab (Southeast Asia's Uber equivalent), and short-distance rides within the city cost between RM6 and RM12.
Staying connected: There's only one telco shop at the Kota Bharu airport, and prepaid SIM cards sell for RM36 for 8GB of data that lasts for 15 days.
Snorkelling gear (optional): If you plan to snorkel in the Perhentian Islands! Alternatively, you can just rent from the resorts there.
Things to Do in Perhentian Islands (Around Kota Bharu)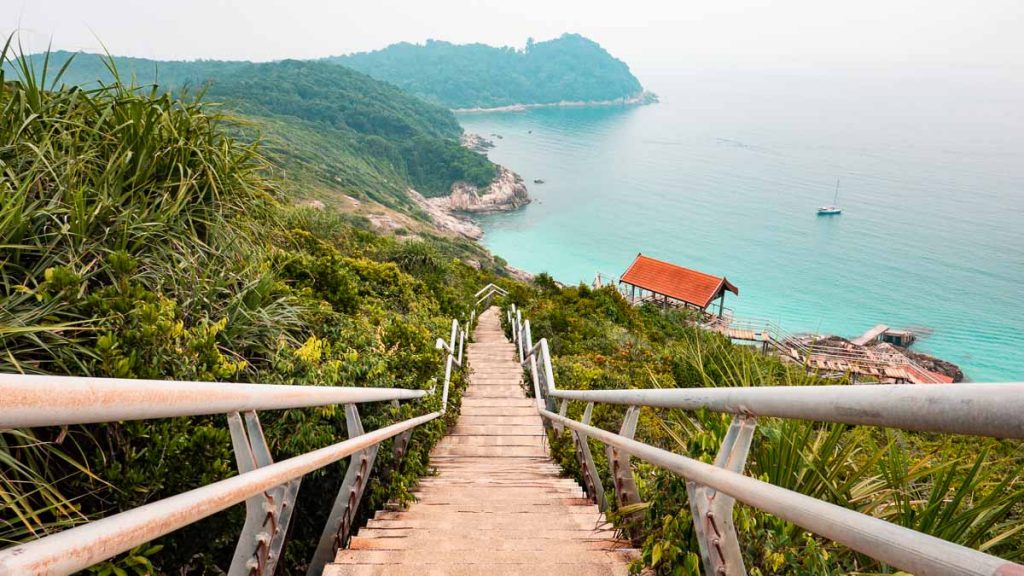 Dubbed the Maldives of Malaysia, the Perhentian Islands are fairly untapped — which is why most backpackers touring Asia would stop by Kota Bharu just for these paradisiacal islands!

While the Perhentian Islands are technically located in the state of Terengganu, it's much easier to get there via Kota Bahru. It's only 45 minutes by ferry from Kuala Besut Jetty (RM35), so there's really no reason not to drop by.
Alternatively, you can book taxis, car charters, tours to the Perhentian Islands from Kota Bharu Airport's arrival hall. Our Grab driver during the trip, Mr. Suhaimi (+60 12-954 1671) also offers charter services. Let him know Edelyn/Isaac sent you his way 😄
Note: Visitors must also pay a RM30 conservation fee before entering the island.
1) 3-point snorkelling in Pulau Perhentian Kecil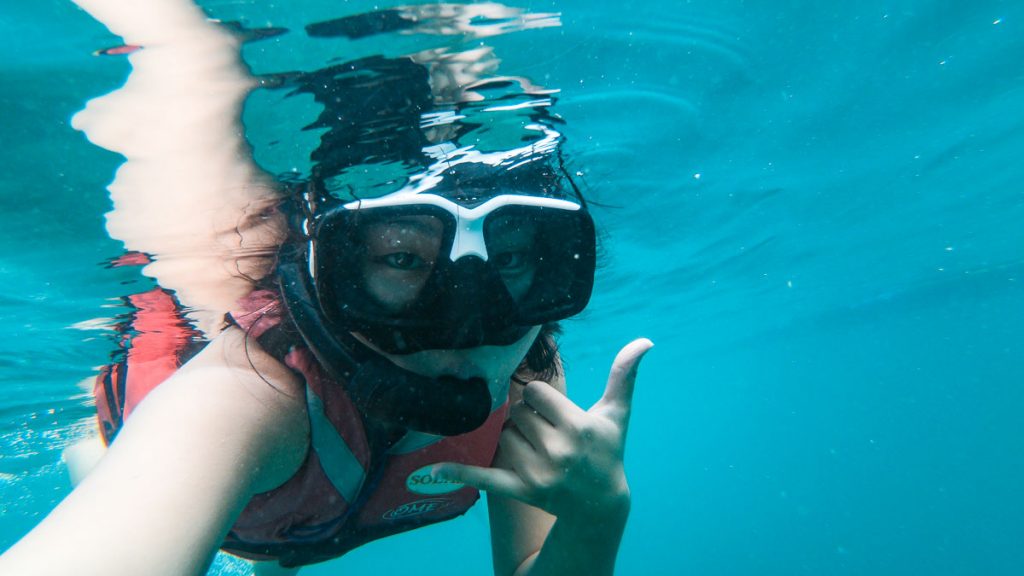 The waters around Perhentian Kecil are so clear, it'll be a shame not to snorkel while you're there. Either bring your own gear or rent them from the resorts nearby! If you're a noob like me and would rather frolick around the sea in the presence of experts, almost all the resorts on Perhentian Kecil organise group excursions.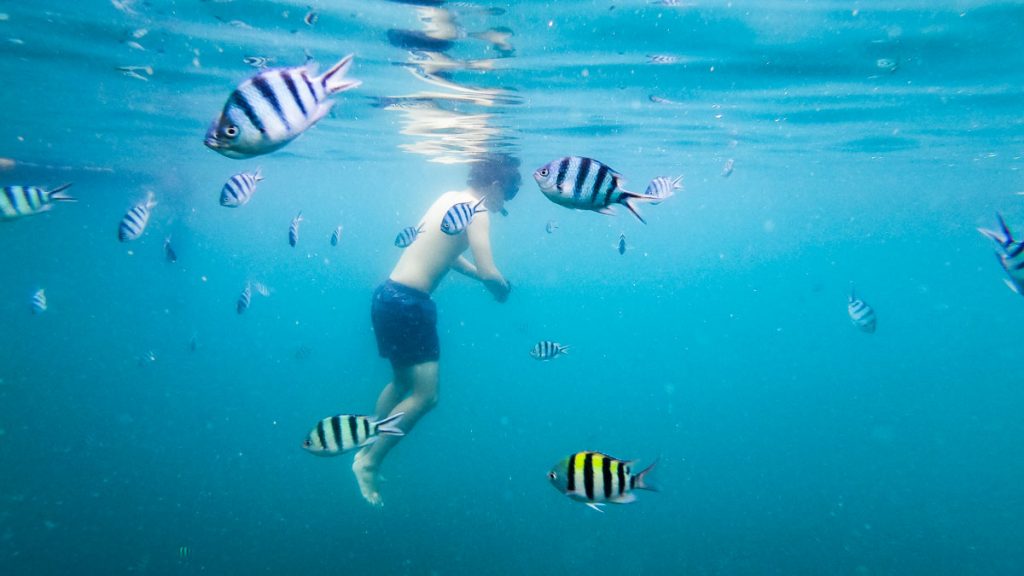 Typically, snorkelling excursions cover these three points — Fish Garden, Shark Point, and Turtle Point. Not a strong swimmer? No worries, life jackets will be provided upon request!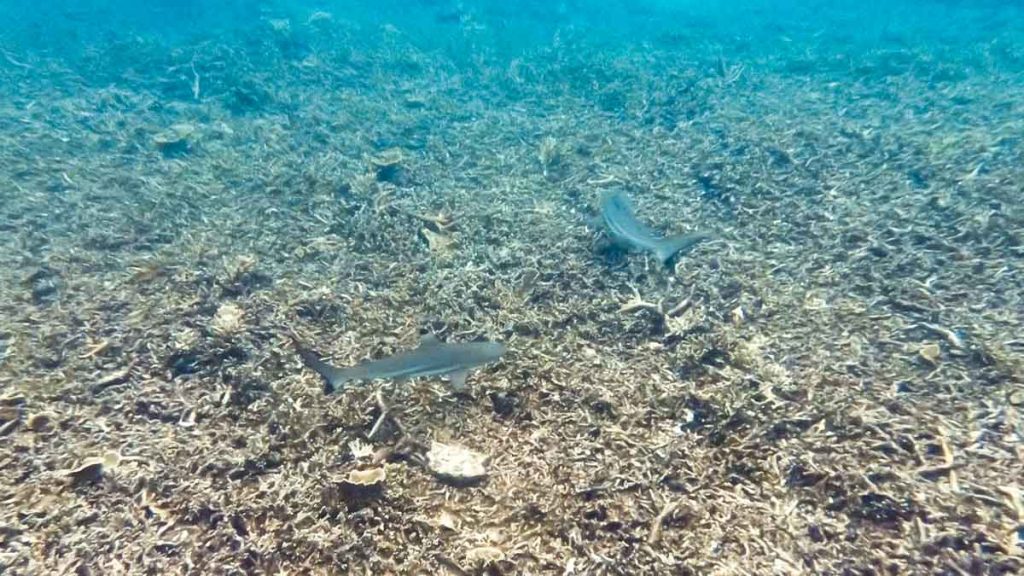 Spot the blacktip reef sharks at Shark Point, Perhentian Kecil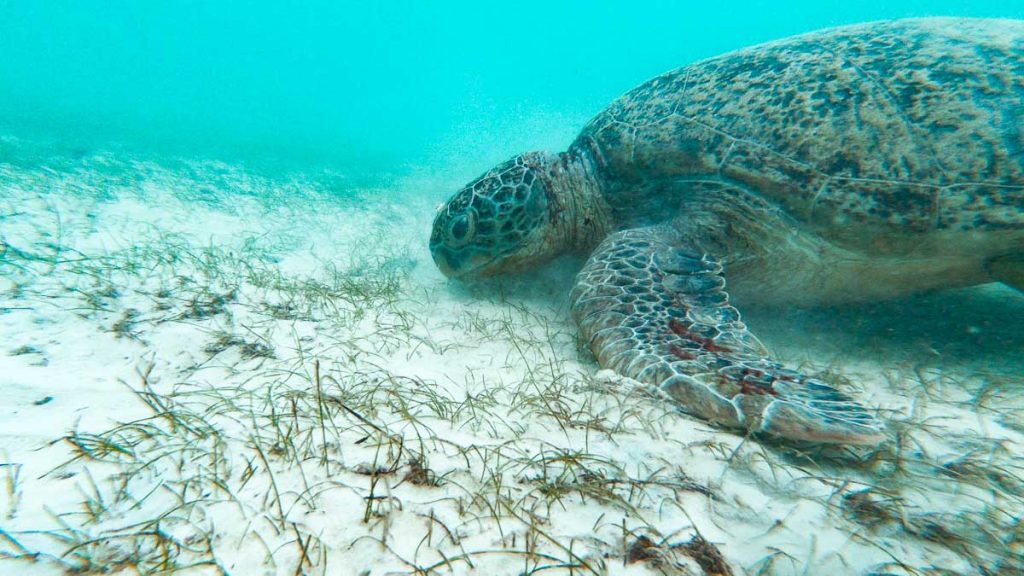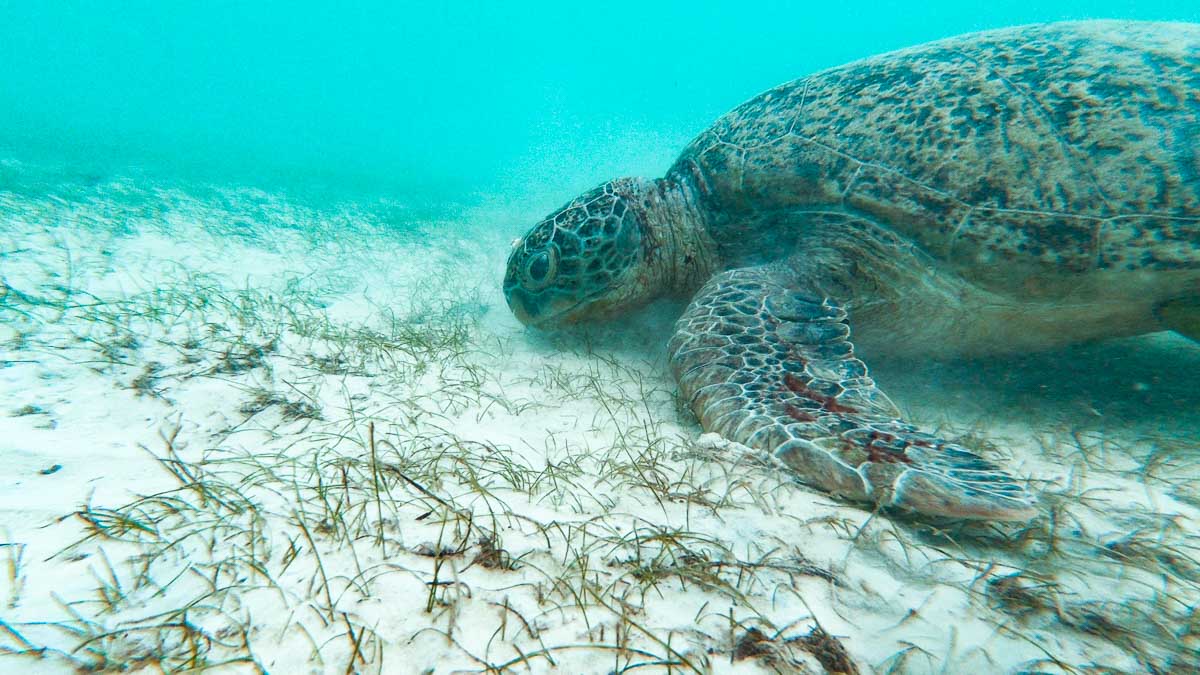 If you're lucky, you'll get to spot sea turtles at Turtle Point!
Cost: ~RM60/pax
Duration & Timing: ~2 hours. Excursion timing varies (do check with your resort upon check-in!).
2) Jungle walk through Pulau Perhentian Kecil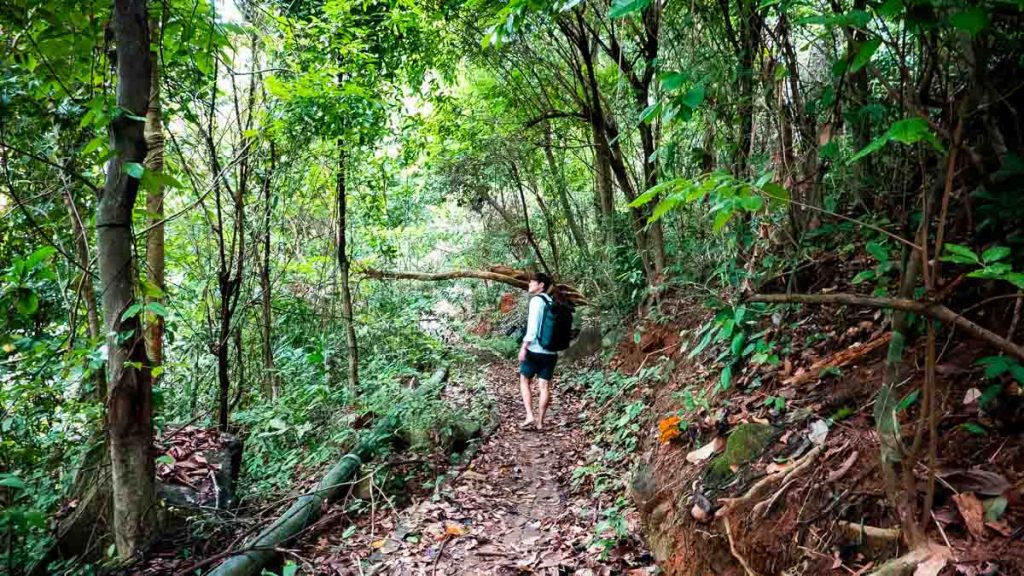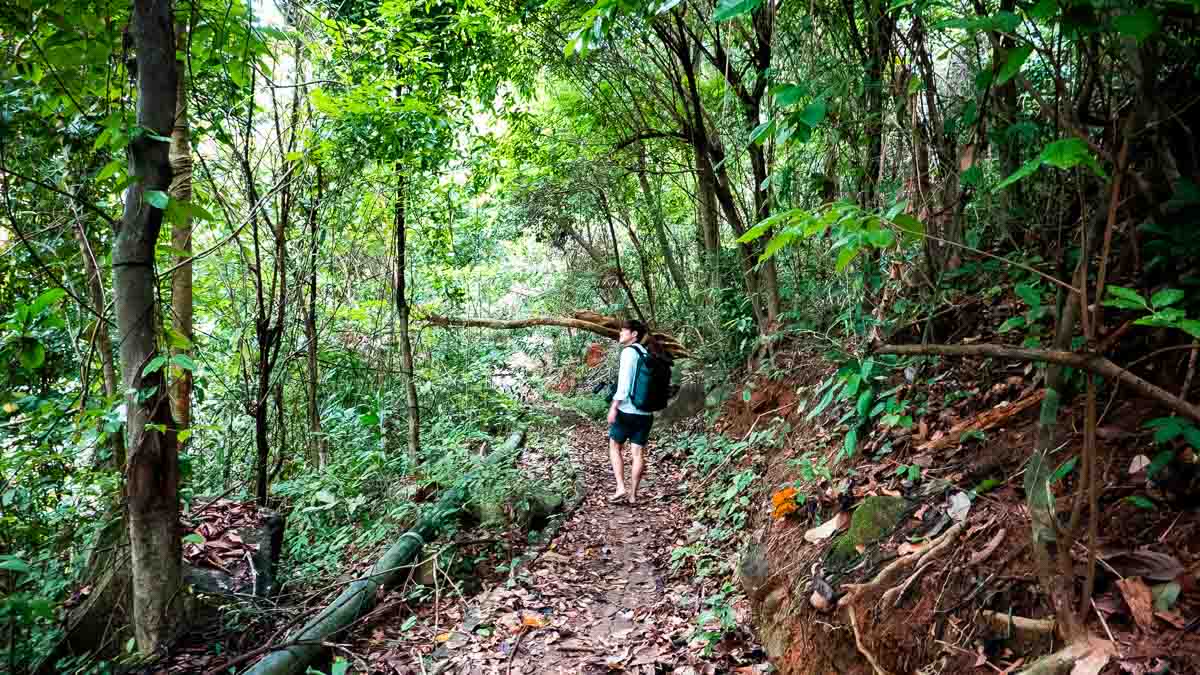 The only way of getting around the island other than via water taxis would be walking through the island's dense jungle. Proper foot and dirt paths connect places like Fisherman Village, Mira Beach, Sandy Beach, Coral Bay, Romantic Beach, and Long Beach.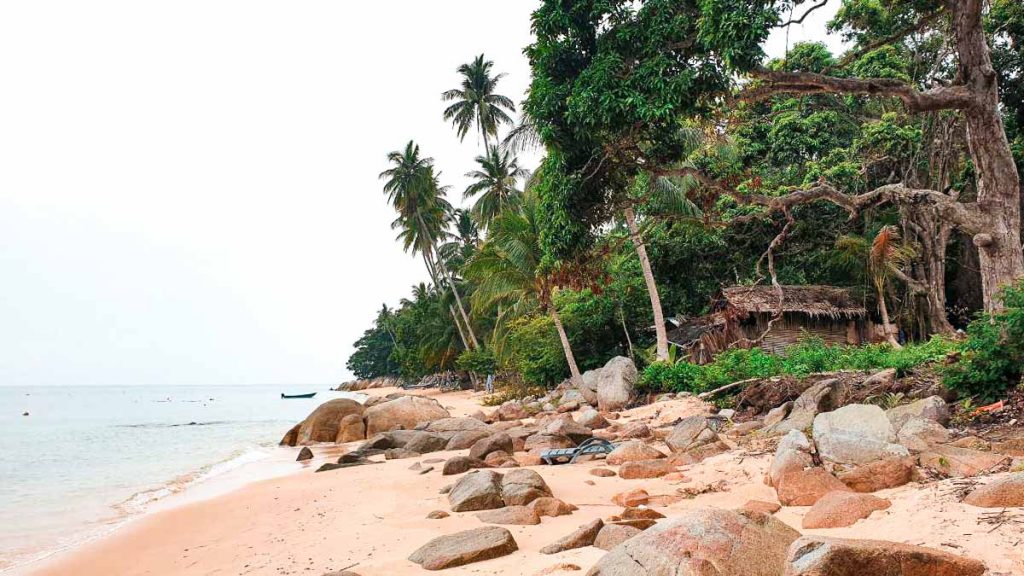 The walks aren't difficult but do take note that certain routes are dirt paths that can be slippery due to fallen leaves and loose gravels.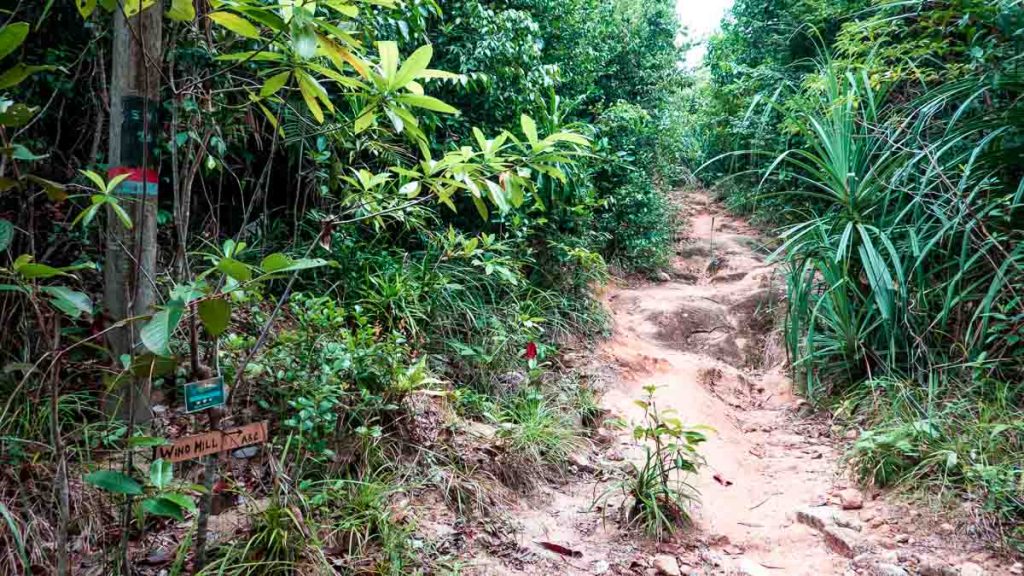 If you're more adventurous, walk from Long Beach to Windmill Point (kincir angin) for probably the best lookout on the whole island. The walk is a beaten path that's slightly steeper with less shade from trees (40-min walk), and once you see the windmills, the viewpoint is to the right.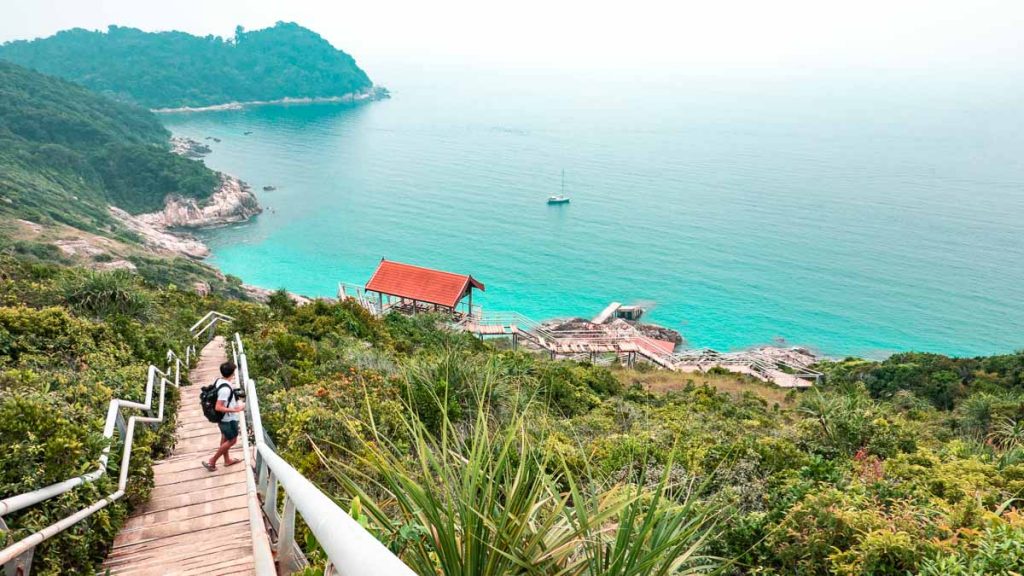 Windmill Point used to be one of the main attractions of Perhentian Kecil, but large waves and weather have badly damaged the pathway and is no longer safe to visit 😞. The vantage point where I took the picture above from is the safest point to get a photo from (not the guy!).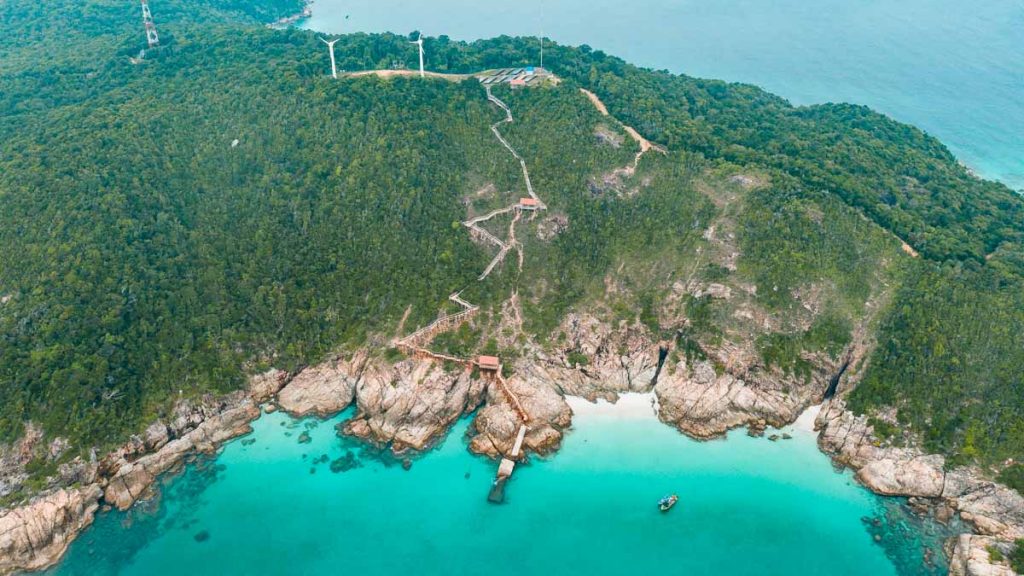 Getting around Perhentian Islands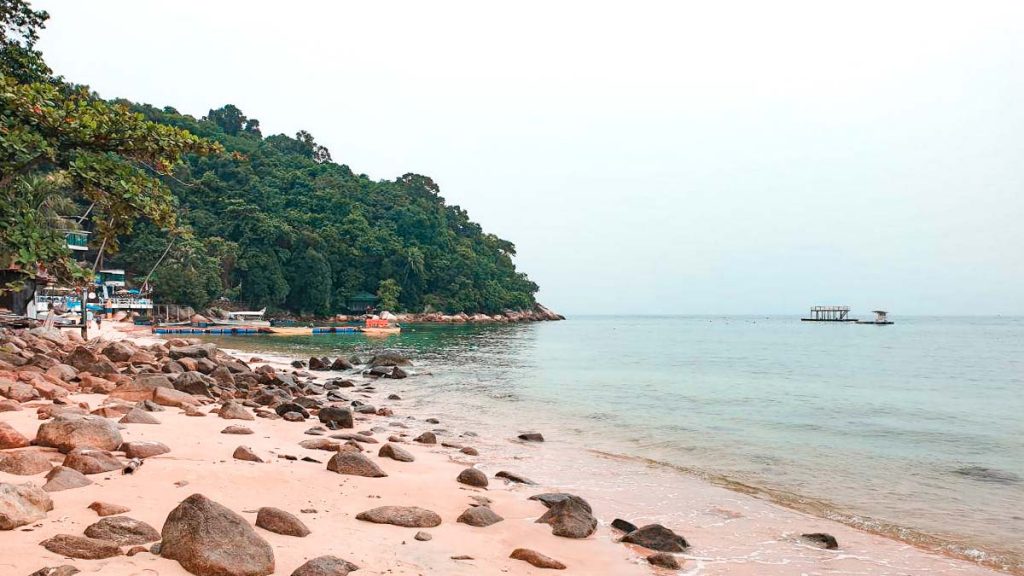 For our trip, we visited the smaller of the two islands, Pulau Perhentian Kecil, which is supposedly less touristy. We advise spending at least three days there — we only did two and had to rush to see everything!

Do pack proper walking shoes (on top of your beach essentials, of course) as there are no roads on Perhentian Kecil (footpaths link the beaches and lookout points instead).
Places to Shop in Kota Bharu
3) Shop for cheap local buys at Wakaf Che Yeh night market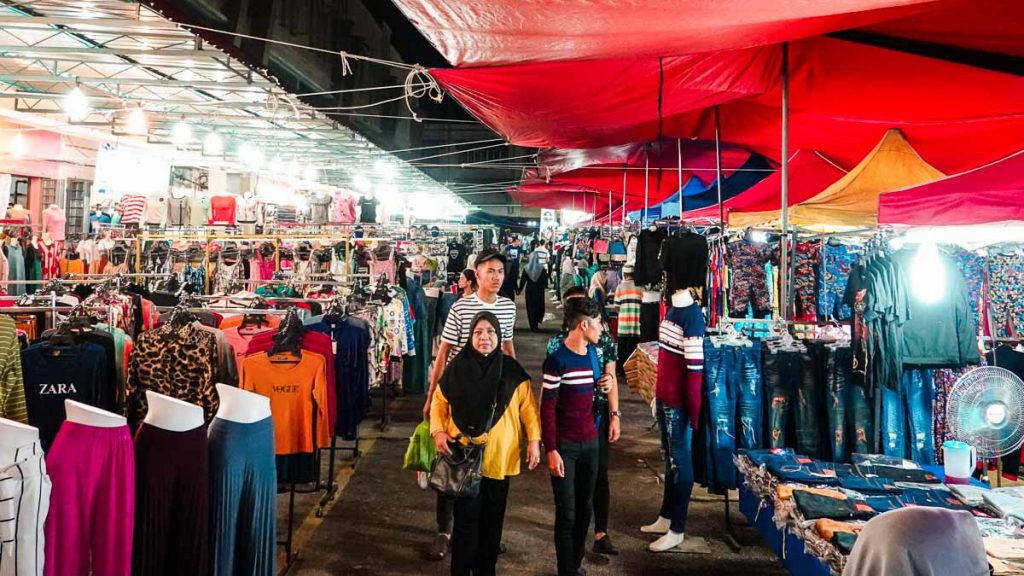 A wholesale and wet market by day, Wakaf Che Yeh turns into a massive night bazaar by night. Dozens, if not hundreds of stalls selling goods from fabric to food line up several streets around the area.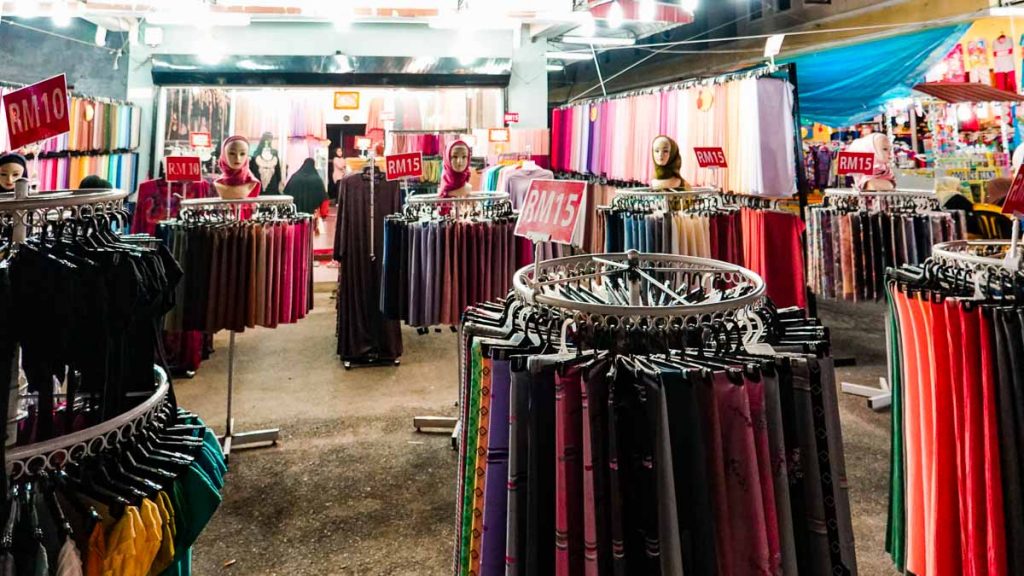 Most stalls sell fabric for baju kurung (a traditional Malay costume), headscarves, clothes, and even knockoff apparels. From what we noticed, the vendors don't bring in multiple pieces of the same design, so you'll most likely buy off the racks. Also, prices are pretty reasonable and we were actually turned down by the vendors when we tried haggling for lower prices. 😅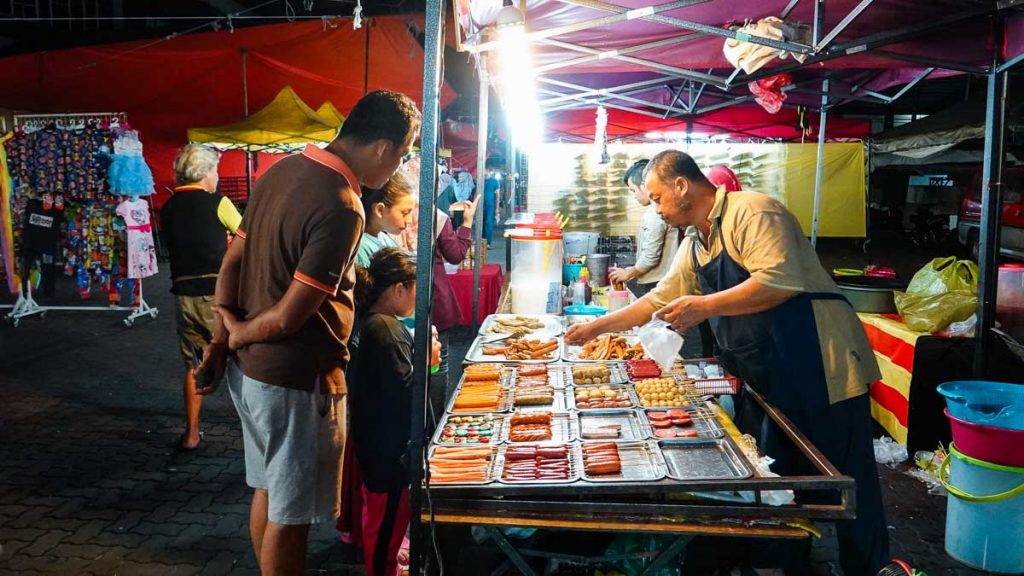 Opening Hours: 6PM – 3PM (Most stalls open at 8PM)
Address: 15150 Kota Bharu, Kelantan
4) Siti Khadijah Market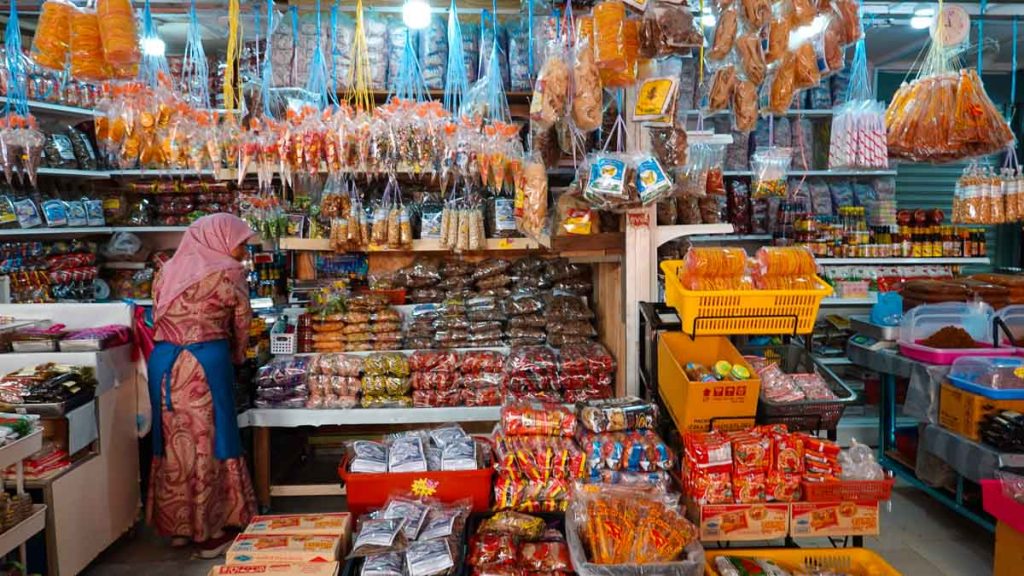 Another market that's quite an attraction is the Siti Khadijah Market located in the city centre of Kota Bharu. The bustling market was opened in 1985 by the Sultan of Kelantan, and was once known as the "buluh kubu market". It was renamed in 1997 to Siti Khadijah, after the wife of Prophet Muhammad, as a sign of respect for women, as a majority of its traders are female.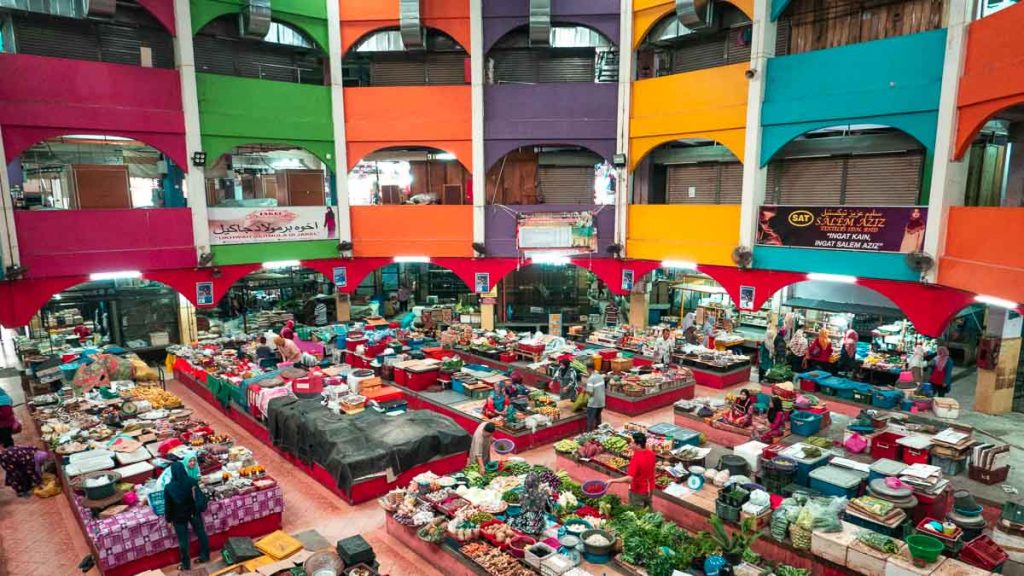 The four-storey octagonal market is segmented by levels. The first floor has stalls selling mainly fresh produce such as vegetables, fruits, and poultry. The second floor is mostly dried goods and spices, while you'll find fabrics on the third floor.
Don't miss the main square of the market as the colourful pillars make an unlikely but splendid photo spot!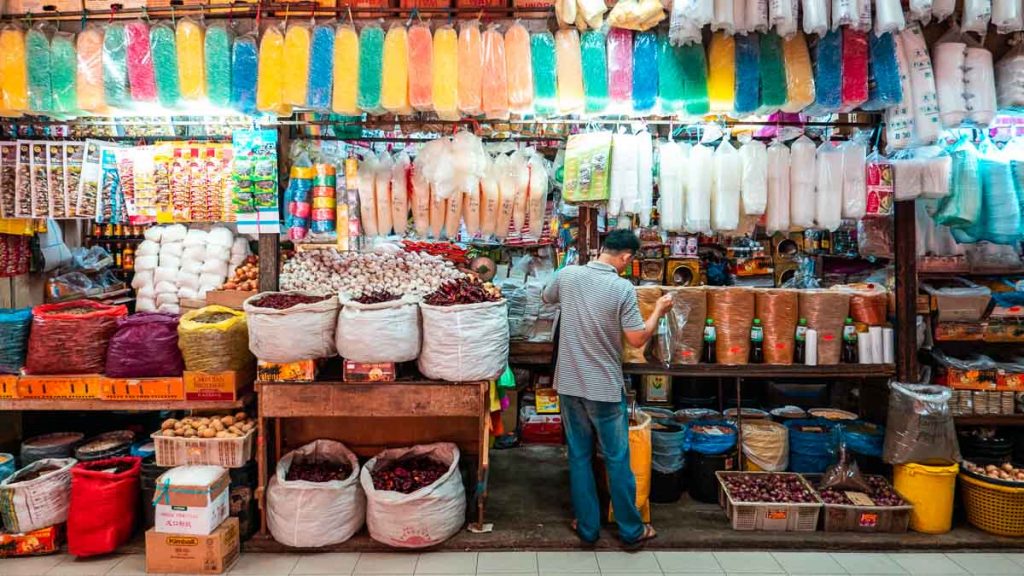 Opening Hours: 7AM – 6PM
Address: Jalan Buluh Kubu, 15000 Kota Bharu, Kelantan, Malaysia
5) Shop at the largest AEON Mall in all of Kota Bharu, Terengganu, and Pahang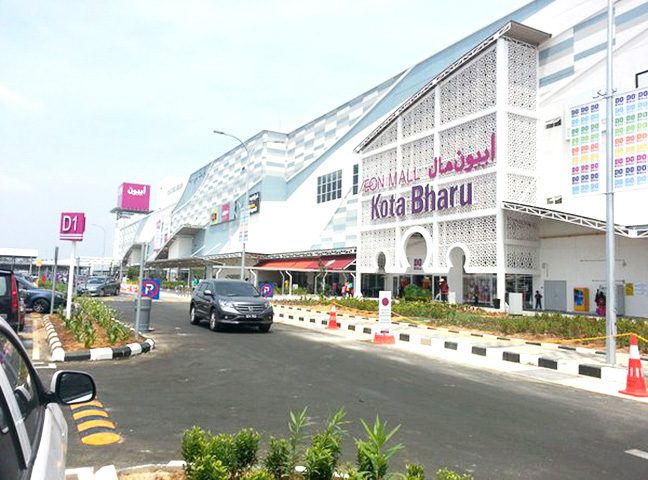 Photo credit: cartoola.my
Many Singaporeans consider Malaysia a shopping paradise and if you're itching for some retail therapy in Kota Bharu, good news! Slightly away from the city centre is the largest AEON Mall in the Kelantan state, as well as neighbouring states of Terengganu and Pahang.
Opening Hours: 10AM – 10PM
Address: Jalan Jambatan Sultan Yahaya Petra, Kampung Sirih, 15150 Kota Bharu, Kelantan
Historical Things to Do in Kota Bharu
You don't have to dig deep to search for Kota Bharu's history. At the city centre, you can find historical buildings and museums that showcases the rich history of Kota Bharu, of which, the Istana Jahar (former royal residence) and Handicraft Village are two more notable attractions that offer a peek into the history of the Kelantanese.
6) Learn more about Kelantanese Royalty at Istana Jahar
A former residence of the Kelantan royal family, the Istana Jahar has since been converted into a museum with collections of royal regalia and artefacts. Also known as the Museum of Royal Traditions and Customs of Kelantan, it's a must-visit if you'd like to learn more about the royal family!
Entrance Fee: RM3
Opening Hours: 8:30AM – 4:45PM (Mon – Wed), closes 3:30PM on Thu, closed on Fri.
Address: Jalan Sultan, 15000 Kota Bharu, Kelantan, Malaysia
7) Appreciate Kelantanese crafts at Handicraft Village
Handicraft Village (Muzium Kratangan) is a small museum showcasing Kelantanese crafts and artwork such as paintings, weavings, batik and wood carvings. You can even do hands-on batik painting for RM10!
*Pro-tip: Handicraft Village is within walking distance from the Istana Jahar, so visit both back to back if you'd like!
Entrance Fee: RM4
Opening Hours: 8:30AM – 4:45PM (Mon – Wed), closes 3:30PM on Thu, closed on Fri.
Address: Jalan Merbau, Bandar Kota Bharu, 15000 Kota Bharu, Kelantan, Malaysia
Cultural Things to Do in Kota Bharu
8) Malaysia's tallest sitting Buddha at Wat Machimmaram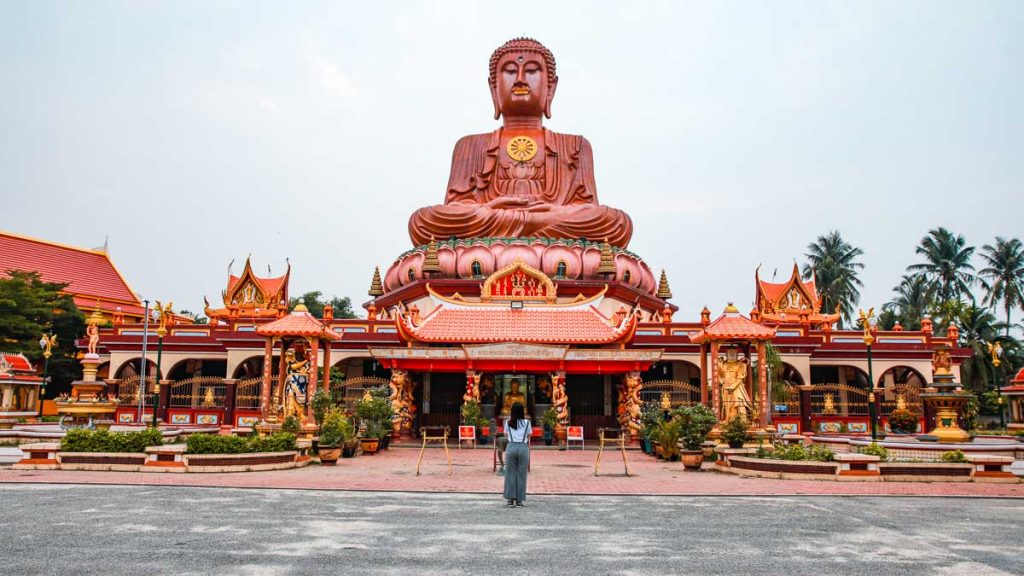 Despite being a Muslim-dominant state, Kelantan is very religiously harmonious. Due to its geographical proximity to Thailand, Kota Bharu has several impressive Buddhist temples around the Tumpat district. The Wat Machimmaram houses the largest (30m tall) sitting Buddha statue in the whole of Malaysia!
Entrance Fee: Free
Opening Hours: 9AM – 5PM, closed from 12PM – 2PM
Address: Jalan Kota Bharu – Pengkalan Kubor, Kampung Jubakar, 16210 Tumpat, Kelantan, Malaysia
9) The largest reclining Buddha in Malaysia at Wat Prothivihan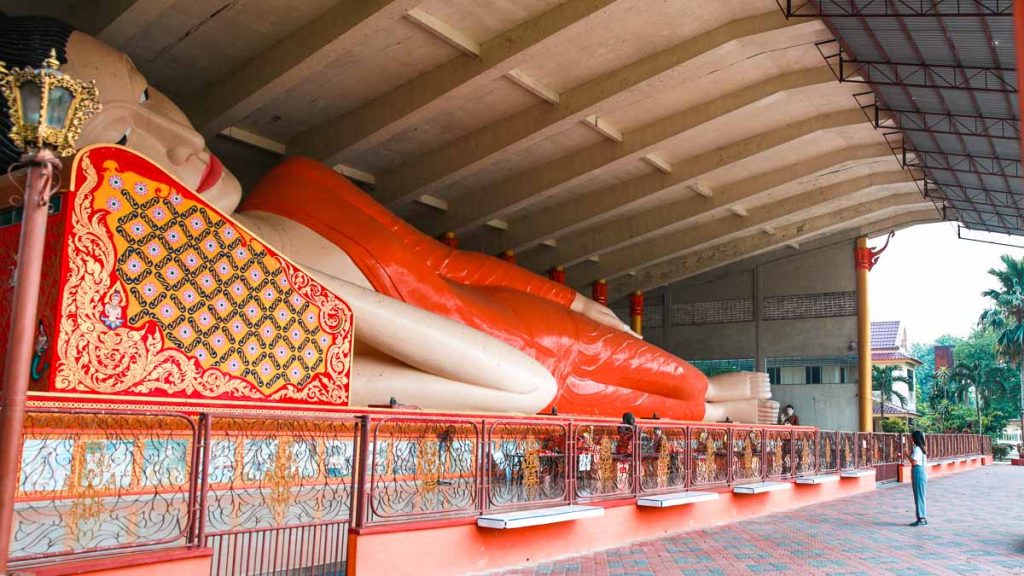 Also in the Tumpat district is yet another notable Thai temple — Wat Phothivihan. This temple sleeps a 40m-long reclining Buddha, the biggest in Malaysia. Visitors regardless of religion are welcome to visit both Wat Phothivihan and Wat Machimmaram (above)!
Entrance Fee: Free
Opening Hours: 9:30AM – 6:30PM
Address: Kampung Jambu, 16200, Tumpat, Kelantan, Kampung Ana, 16210 Tumpat, Kelantan, Malaysia
Things to Eat in Kota Bharu
People know Malaysia as a food haven, but in Kota Bharu, there are a few must-eat local dishes that are aside your usual Nasi Lemak or Mie Goreng. Instead, try the blue-grained Nasi Kerabu, or the Nasi Ulam that's served with raw vegetables at the side for a simple yet wholesome local Kelantanese meal.
10) Kopitiam Kita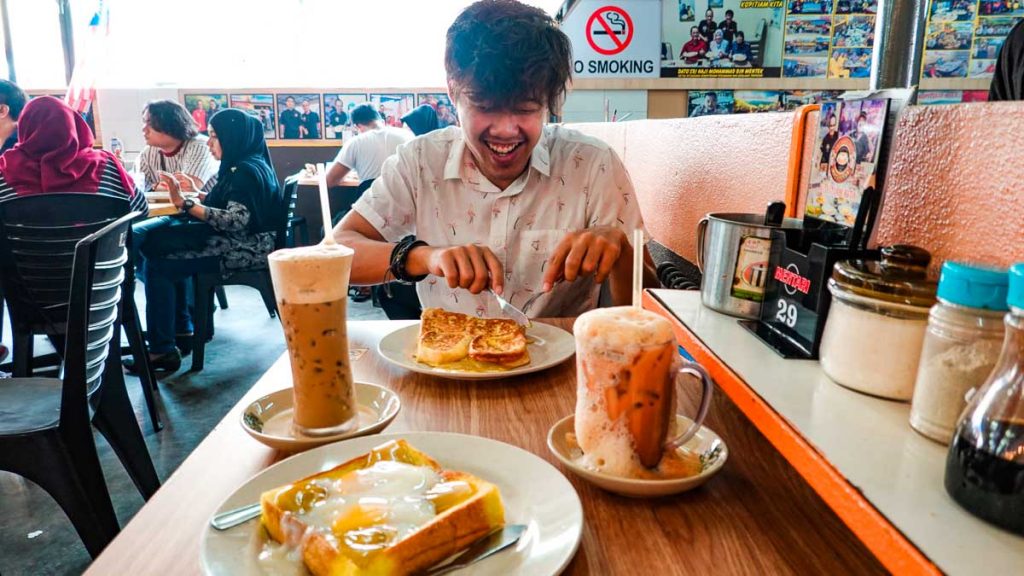 Kopitiam Kita is a popular breakfast cafe among the locals for its toast and coffee. We highly recommend the roti titab special (RM6) — french toast topped with half-boiled eggs and kaya jam!

Complete the meal with an order of kopi tarik (pulled coffee, RM3).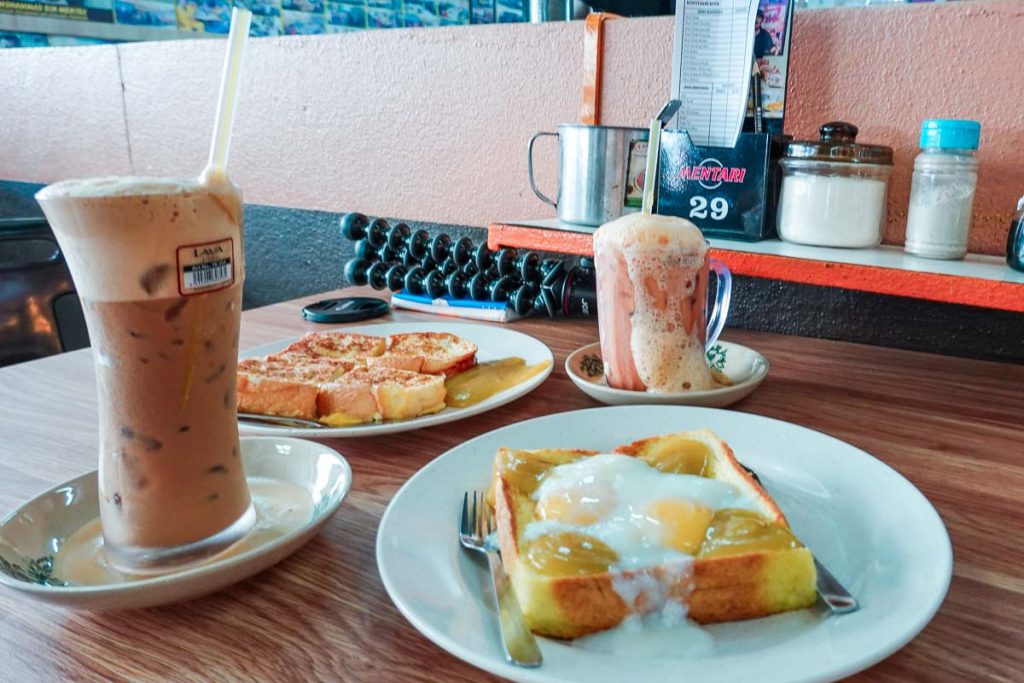 Opening Hours: 6:30AM – 2PM
Address: Jalan Sri Cemerlang, Taman Desa Jasa, 15400 Kota Bharu, Kelantan, Malaysia
11) Yati Ayam Percik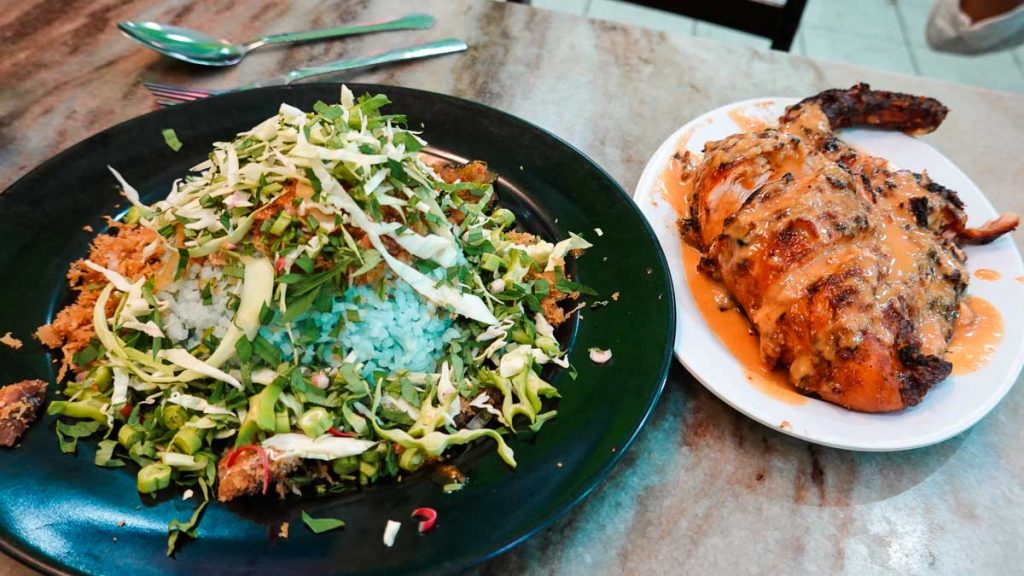 Ayam percik, a traditional Malay grilled chicken dish, is a Kelantanese cuisine often enjoyed as breakfast or lunch! Yati Ayam Percik is perhaps the most popular ayam percik eatery in all Kota Bharu that's served with nasi kerabu — rice coloured blue with butterfly pea flowers.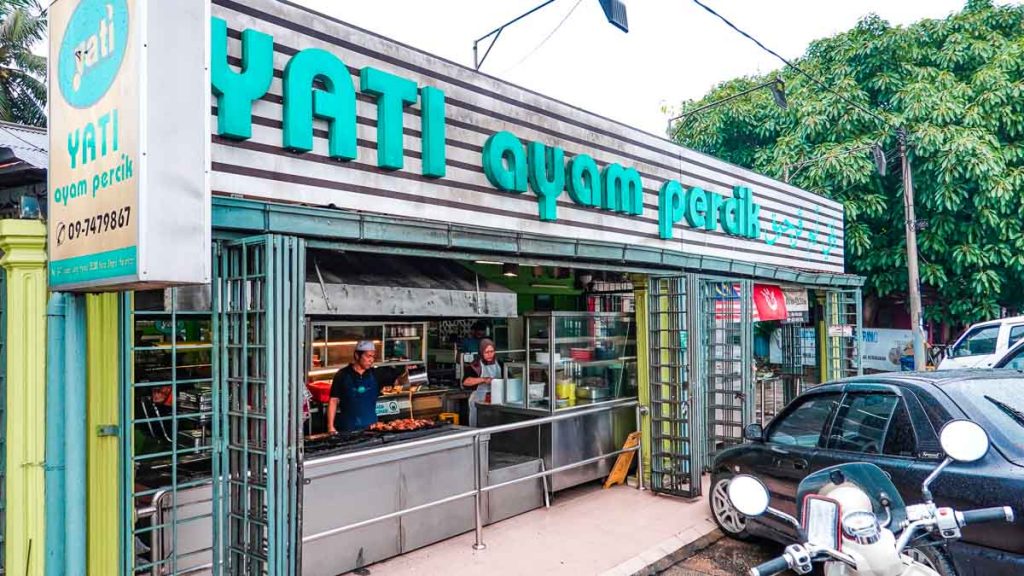 Cost: RM9.50
Opening Hours: 10AM – 6:30PM, closed on Fridays
Address: Jalan Long Yunus, 15200 Kota Bharu, Kelantan, Malaysia
12) Nasi Ulam Kampung Kraftangan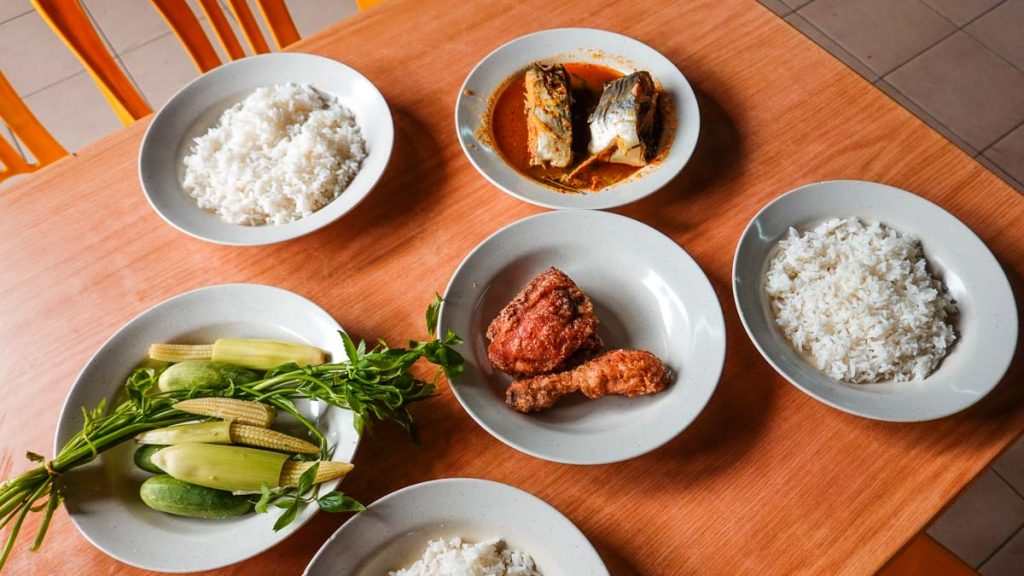 Nasi ulam is another homey Kelantanese dish that you should try when in Kota Bharu (our Grab driver said it's a must-try!). It's really simple, staple fare for the Kelantanese usually comprising raw vegetables and a side of fish sauce with white rice.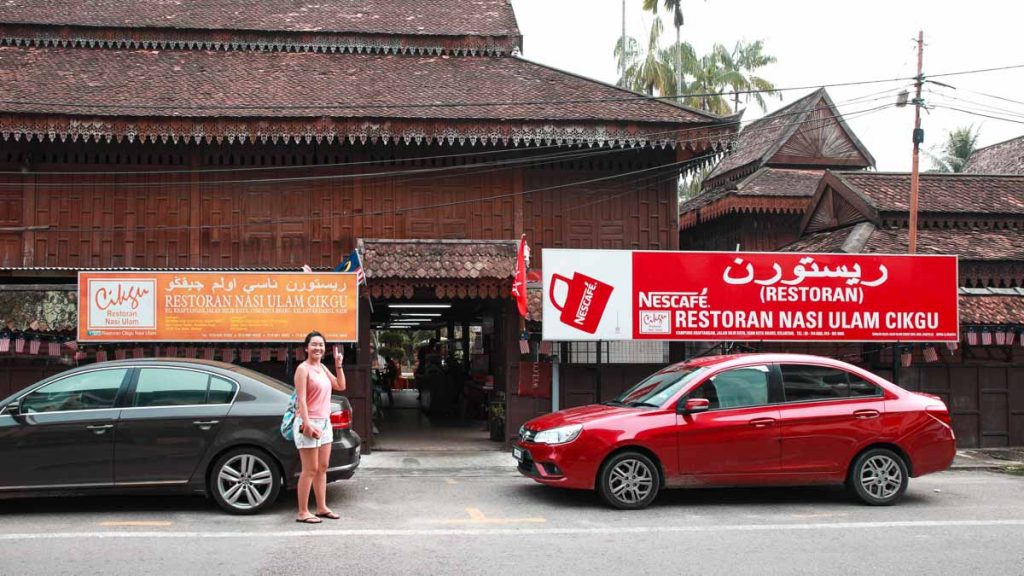 You can get the best nasi ulam at the canteen of Handicraft Village, where many locals head to for their lunch too! Do order their fried chicken and assam fish dishes to make it the perfect meal.
Cost: RM6
Opening Hours: 11AM – 5PM, closed on Fridays
Address: Kampung Kraftangan, Jalan Hilir Kota, Bandar Kota Bharu, 15300 Kota Bharu, Kelantan, Malaysia
Fly to Kota Bharu, Gateway to the Perhentian Islands from S$80!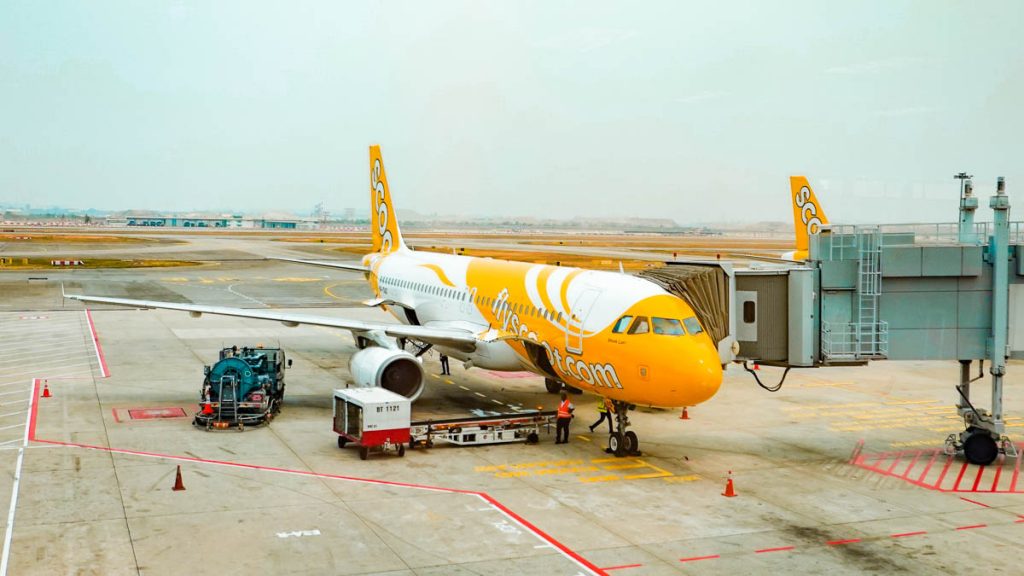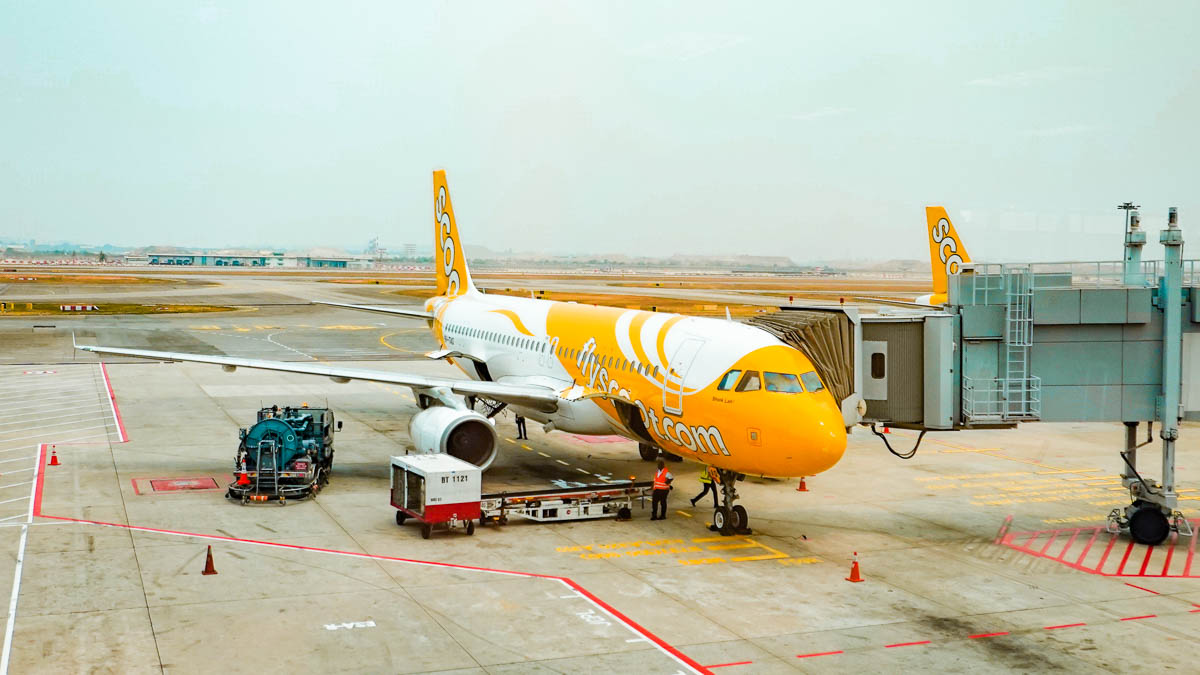 Singaporeans love exploring the lesser-known these days, even more so if the destination is a cheap one. So why not discover Malaysia's hidden gems with our national low-cost carrier?
Scoot flies directly to Kota Bharu three times a week, perfect for anyone looking for a short budget getaway.
Scoot's economy seats are roomier than most other low-cost carriers and are comparable to full-service airlines, which means your hour-long flight will be in absolute comfort — it even just won the award for best low-cost carrier in Asia Pacific! What's better is that payment processing fees are removed from direct bookings as well.
JB's cheap eats and shopping is awesome, and so is Kuala Lumpur's fun-filled cityscape. But if you're looking for a digital detox within nature, KB is the place to go to!
Start planning your Kota Bharu Getaway from only S$80!
Looking for more off-the-beaten-path places in Malaysia? Check out our Langkawi and Kuantan guides!
Which other lesser-known places in Malaysia have you been to? Let us know in the comments section below!
---
This post was brought to you by Scoot and Malaysia Tourism Promotion Board.
Like what you see? Follow us on Facebook, Instagram, and YouTube for more travel updates!