If there are three words to sum Switzerland up, it'd be "a real-life postcard".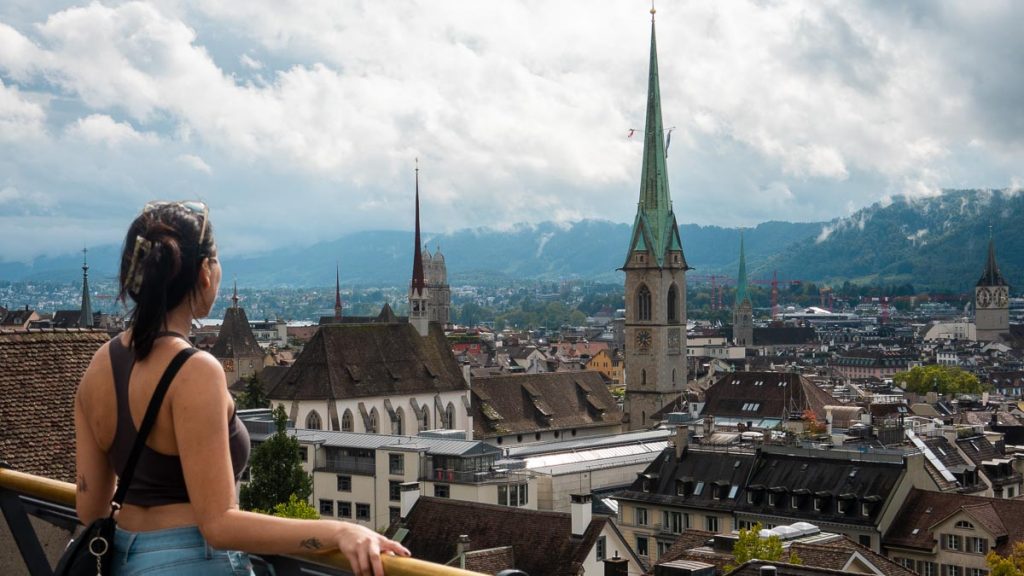 Known for its impeccable train system that passes through charming towns, stunning mountainous landscapes, and clear, blue lakes — I was prepared to be impressed on my first trip to Switzerland.
From the world's largest chocolate museum in Zurich to Grindelwald's snowy mountaintops — this guide will show you some of the best things to do when planning your next Switzerland itinerary.
Lucerne
Known for its rich history and head-turning landscapes, you get the best of everything at Lucerne — the mountains, valleys, and even culture!
1) Mount Rigi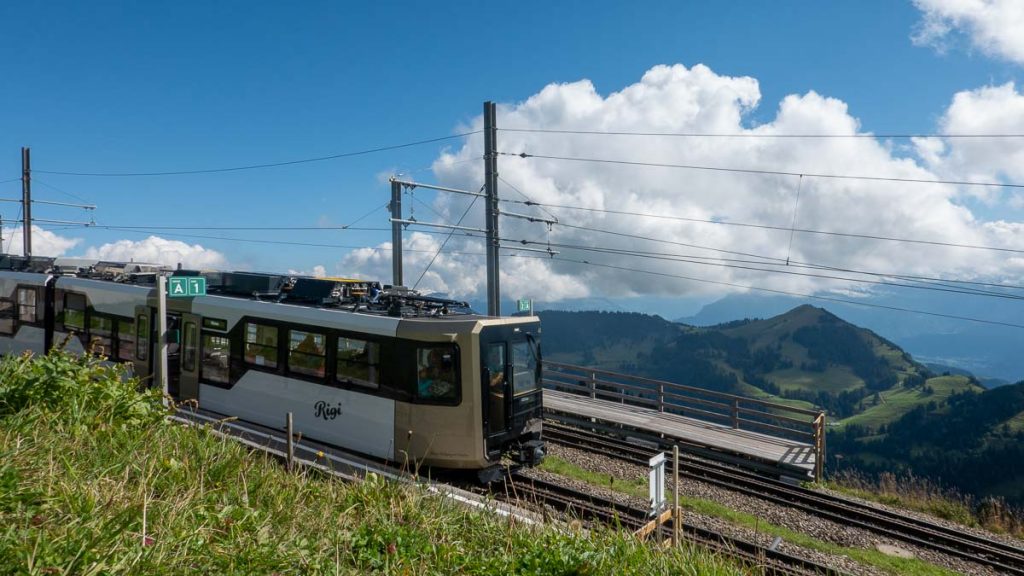 Affectionately known by the Swiss as the Queen of the Mountains, a day trip to Mount Rigi commands your attention.
While the view from the top is expectedly stunning, the journey there is just as impressive. Starting at Vitznau, hop on a 55-minute boat ride, followed by a 30-minute cogwheel train ride to Rigi's highest station.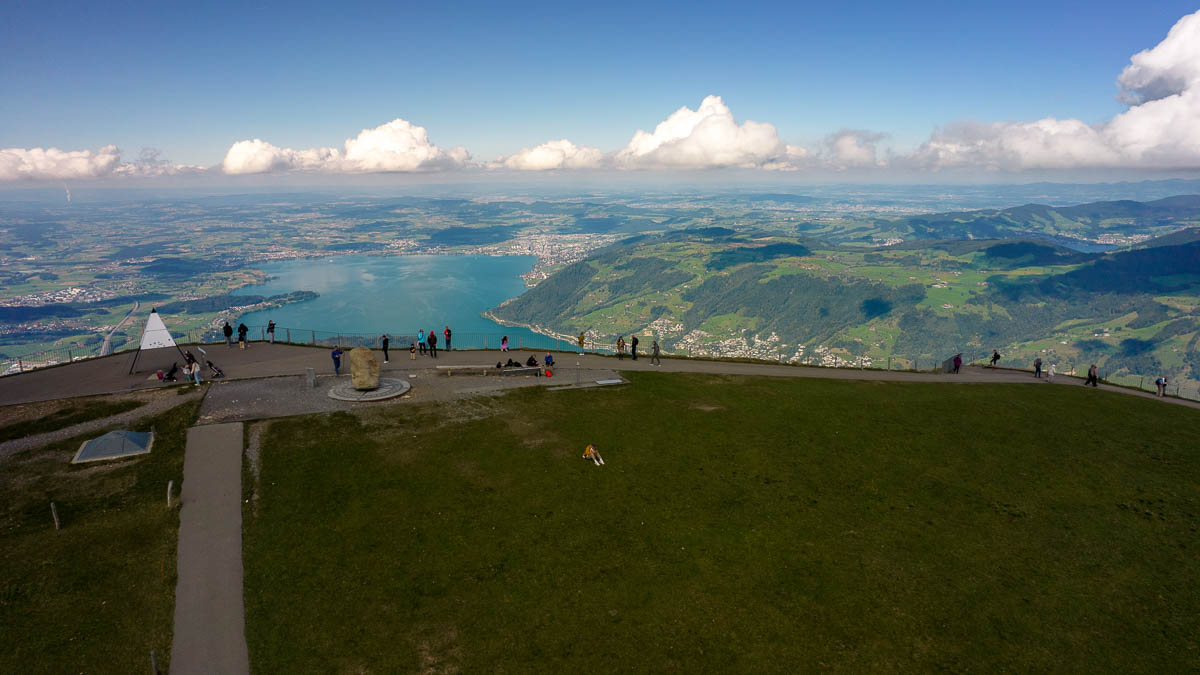 From Rigi's highest station, there's still a 15-minute steep hike to the top, but it's well worth the 360-degree panoramic views of the Swiss Alps and the surrounding lakes!
*Pro-tip: As the restaurants can be pretty costly, pack some food from convenience stores at Lucerne and have a picnic at the top — find a spot on the greens or one of the benches.
Cost: CHF72 (~S$105). Free for Swiss Travel Pass holders
Opening hours: Varies
Starting point: Vitznau Station
2) Mount Pilatus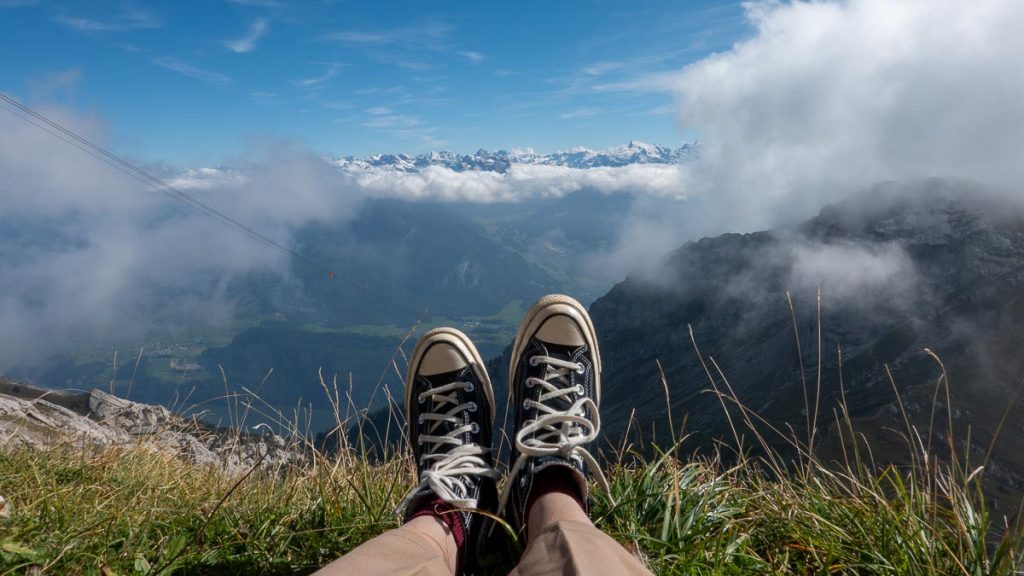 Folks in the Middle Ages believed that dragons with healing powers lived within Mount Pilatus. I didn't meet any mystical beasts that day, but I must say taking the Golden Round Trip up to Pilatus was pretty magical ✨
Starting from Lucerne, we took a scenic ferry ride to Pilatus Bahn. But the real magic began as we rode the world's steepest cogwheel railway up! The steep and steady climb was so enjoyable, we didn't even feel the 21.3° incline.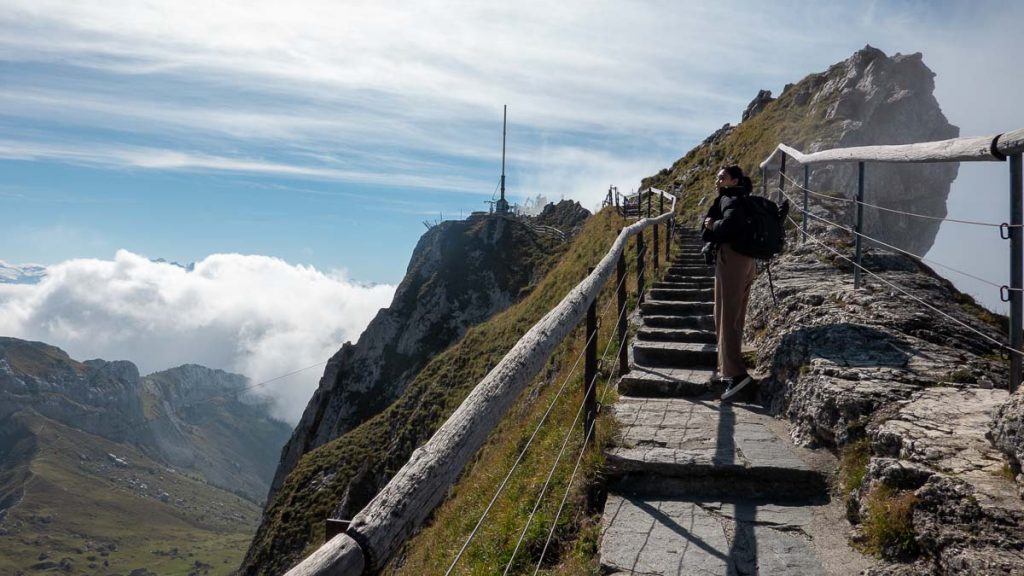 Once at the top, there are hikes ranging from 30 minutes to 3 hours. The Tomslihorn peak is a good in-between with great views — head right past the Pilatus Kulm Restaurant and follow the trail!
Another magical moment for me here was the panoramic views of the endless Alpine peaks (there are more than 70 peaks if you count!).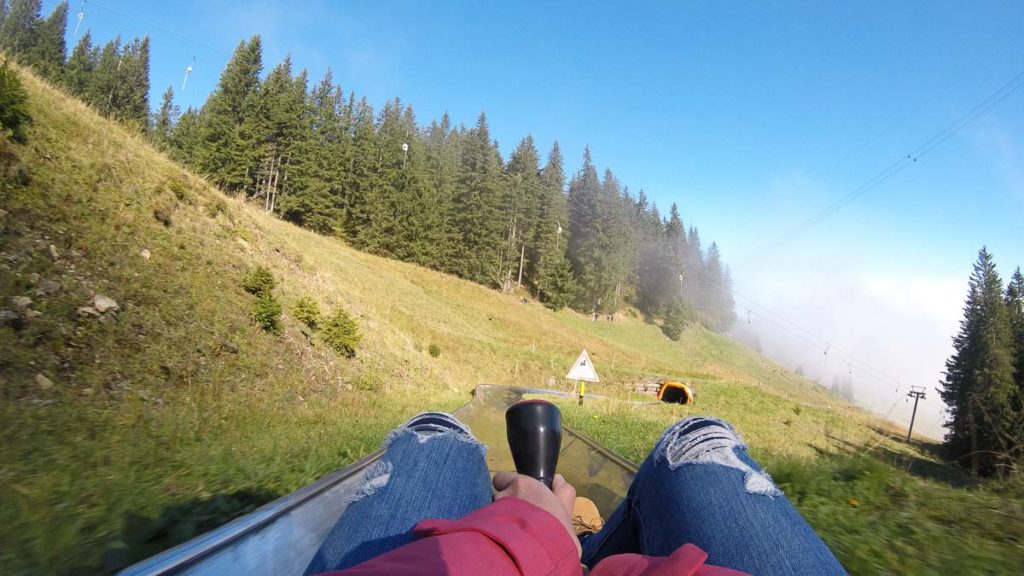 End your trip with an epic descent via Switzerland's longest Summer Toboggan Run (CHF9) — it's 1,350m long with unforgettable mountainous views! To get there, take the aerial cableway and get off at Fräkmüntegg Station.
Cost: CHF72 (~S$104.22), single trip for Alpnachstad to Kriens route. 50% off for Swiss Travel Pass holders
Opening hours: Varies
*Pro-tip: Skip the multiple bookings and opt for an all-inclusive tour instead. Transport to and from the mountain, including pick up and drop off in Zurich and Lucerne, is provided!
3) Hammetschwand Lift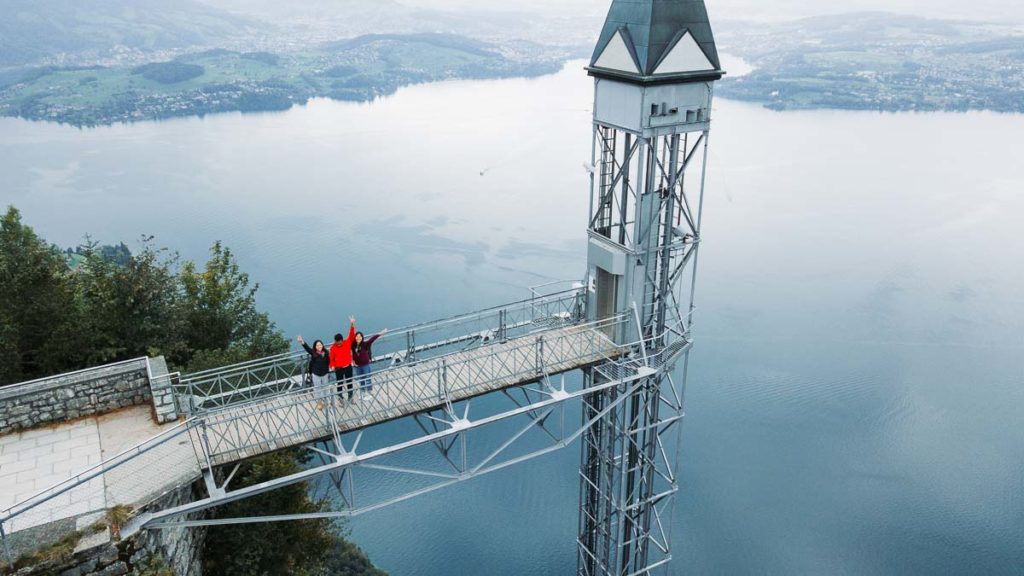 Take a ride up the Hammetschwand Lift for a quick way to enjoy Lucerne's breathtaking landscapes. Europe's highest outdoor lift brings you 40 storeys high to a lookout point overseeing Lake Lucerne's turquoise waters and endless mountaintops.
Cost: CHF18 (~S$26, two-way), CHF15 (~S$22, one-way)
Opening hours: 9:30AM – 6PM, closed from Nov to Apr
How to get there: Take a ferry to Kehrsiten-Bürgenstock from Lucerne, hike 25 mins.
4) Gotthard Tunnel Experience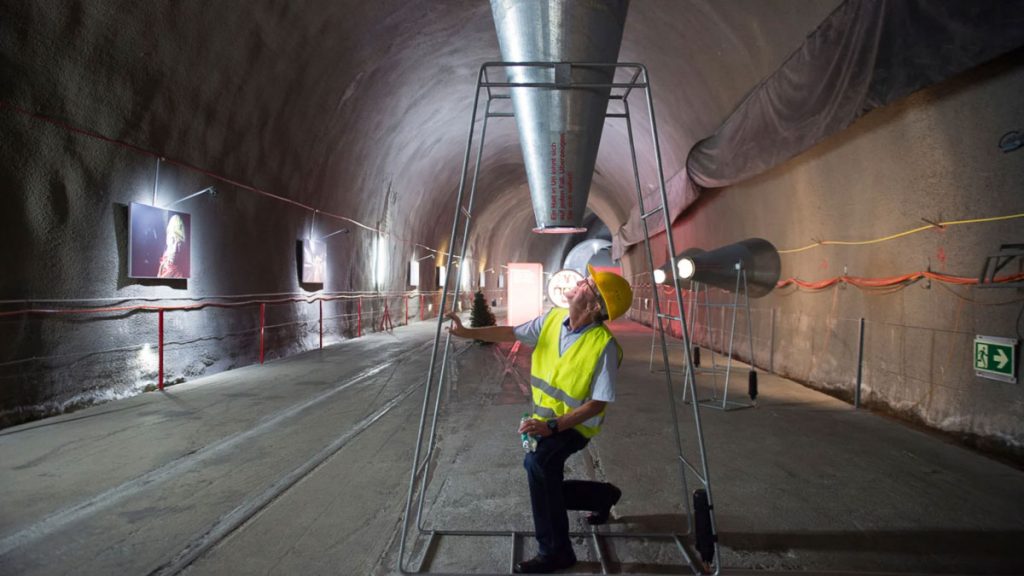 Photo credit: My Switzerland
The alps aren't the only amazing thing about Switzerland — it's also home to the world's longest railway tunnel, running 57km right through the mountains!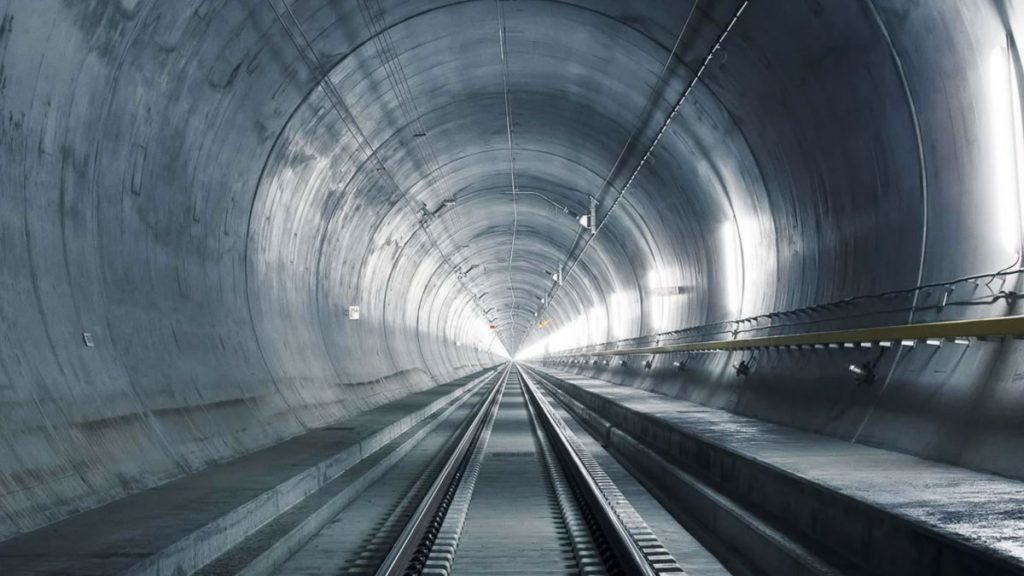 Photo credit: My Switzerland
In the past, getting from north to south meant traversing a day around the mountains by horse. In the name of efficiency, the Swiss did the seemingly impossible and constructed the Gotthard Base Tunnel. This tunnel passes through several massifs, turning a day's journey into a 20-minute train ride.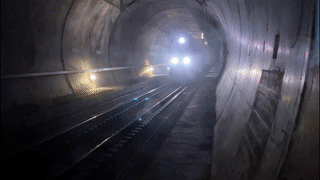 Go on a Gotthard Tunnel Experience and walk through part of the tunnel itself! In this two-hour guided tour, learn about the history and years of dedication that went into engineering this megastructure. At the end, feel the rush as you watch trains zip by from the tunnel window!
Cost: From CHF26 (~S$37)
Tour timings: 9AM – 5PM
Meeting point: Erstfeld Railway Station
5) Lucern Old Town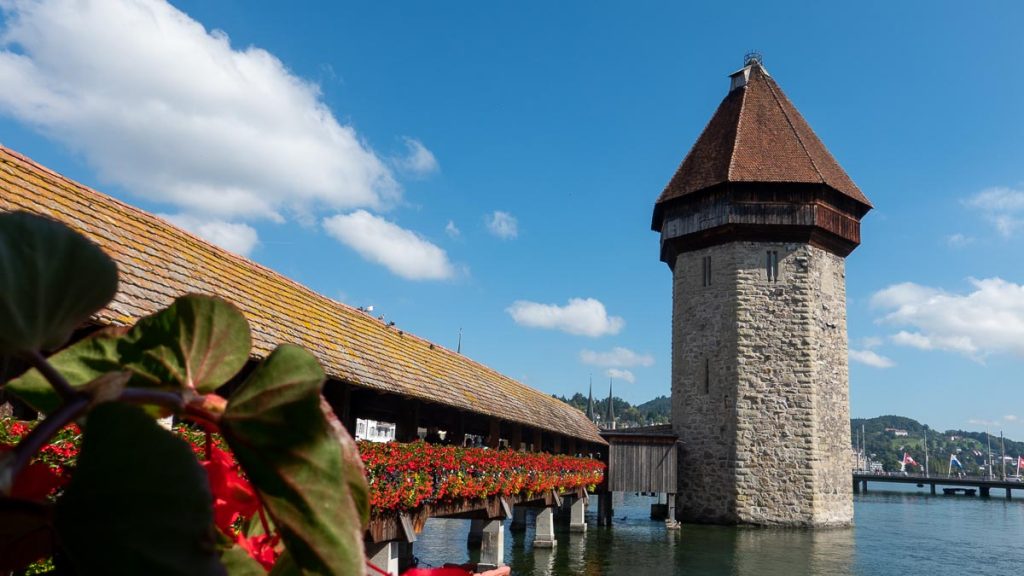 Juxtaposed to the modern city, be transported to a medieval world as you walk through Old Town.
Cross the iconic 14th-century Chapel Bridge, and admire the paintings depicting ancient Switzerland and Christianity on all the overhead panels.
The history lesson doesn't end there — explore churches within the area like Jesuit Church, Switzerland's first baroque-style place of worship. Or, roam the streets and find the Lion of Lucerne, a monument made to remember the Swiss guards that died to protect King Louis XVI during the French revolution.
Cost: Free
How to get there: Walk 5 mins from Luzern Station
Interlaken
6) Paraglide over Lauterbrunnen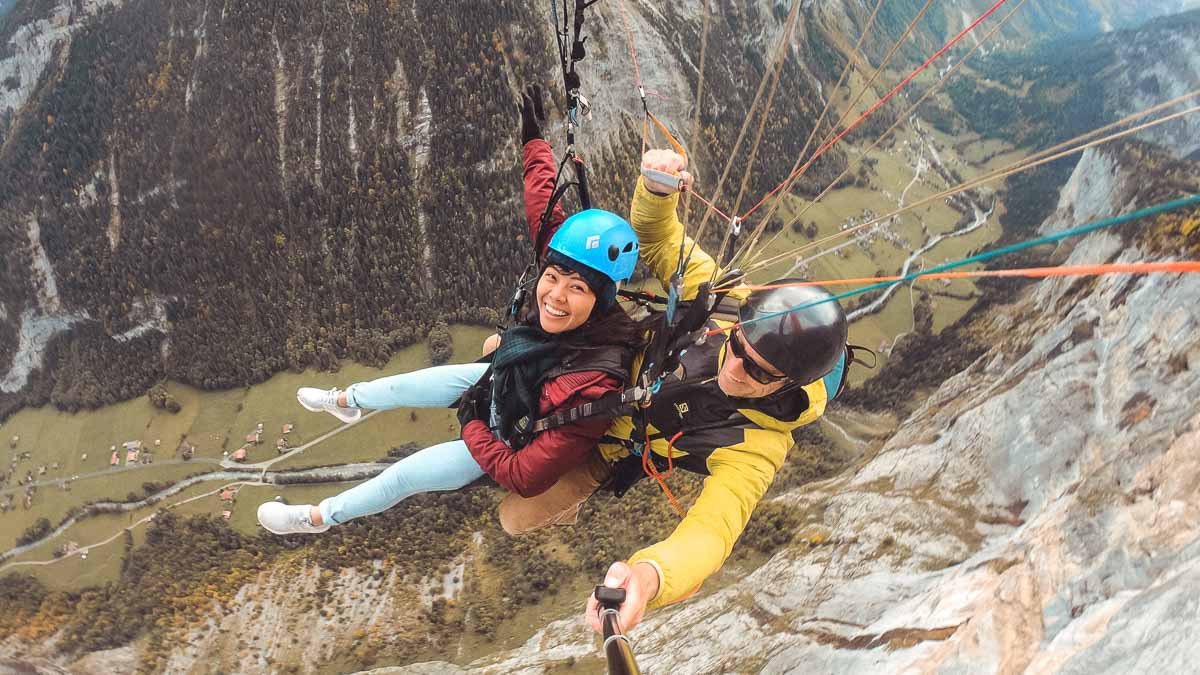 Interlaken is the home ground for adventurous activities — like how Queensland is for New Zealand! And a must-do is paragliding between the valleys of Lauterbrunnen.
There's no better way to experience Switzerland's landscape up close than flying near rock faces, past waterfalls, and over the scenic Lauterbrunnen village, with the backdrop of the Swiss Alps.
Depending on your comfort level, you could ask your pilot for something fun — ours did a couple sharp drops and swerves before landing safely on the ground.
Cost: From CHF180 (~S$261)
Meeting Point: Murren or Stechelberg's Schilthornbahn Cablecar Station
7) Cross the Sigriswil Panorama Bridge (Panoramabrücke Sigriswil)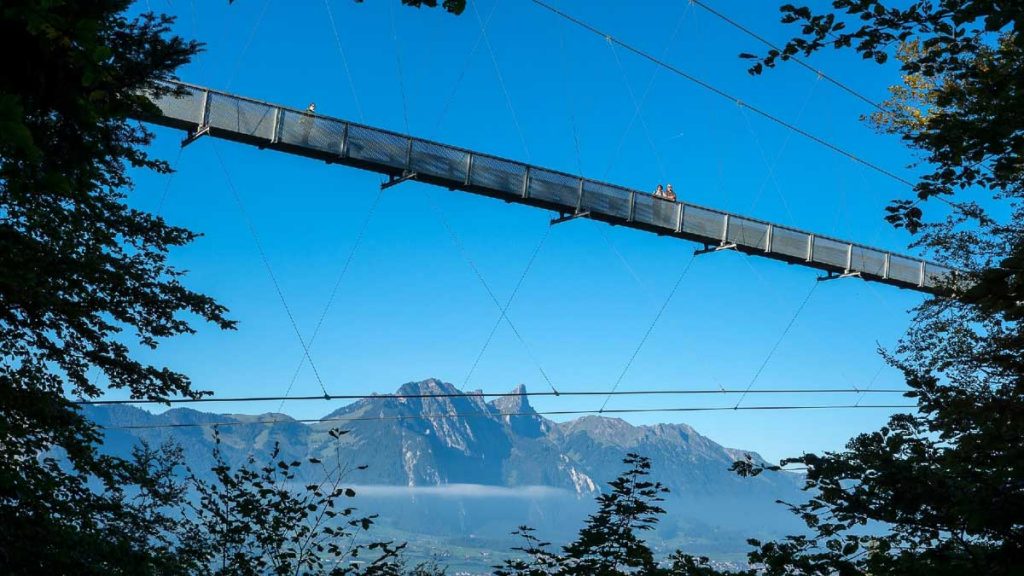 Photo credit: Interlaken
Hanging 182m above the Gummischlucht gorge, the Sigriswil Panorama Bridge gives the best views of Eiger, Mönch, and Jungfrau summits surrounding the pristine Lake Thun.
The 340m-long bridge is the longest suspension bridge within the Lake Thun Panoramic Circular Trail connecting the charming villages of Sigriswil and Aeschlen.
Cost: CHF8 (~S$12)
Opening hours: 24 hours
How to get there: Take bus 21 from Interlaken OST to Guten Dorf, then take bus 25 to Sigriswil Dorf, and walk 3 mins.
8) Iseltwald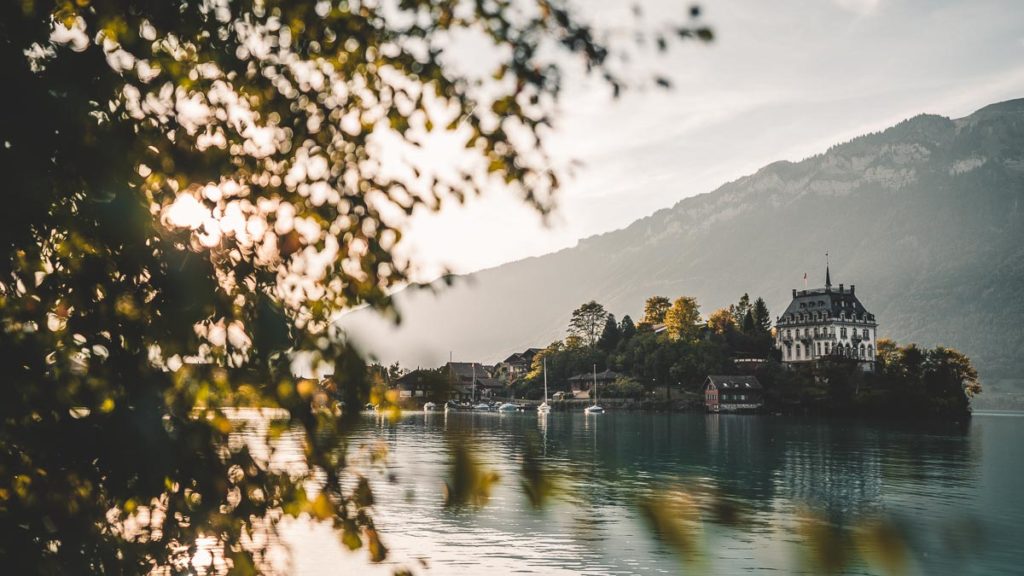 Take the adventure down a notch and visit the small fishing village of Iseltwald. This calm lakeside town is the iconic spot in Crash Landing On You where Ri Jeong-hyeok plays the piano by the lake in Switzerland 😍
Enjoy the slow pace of life as you stroll through the streets. Or go for a leisure kayak on Lake Brienz's calm waters and visit Iseltwald Castle up close!
How to get there: Take bus 103 from Interlaken Ost to Iseltwald Dorfplatz.
9) Harder Kulm
During our trip, we witnessed the most beautiful sunset ever atop Harder Kulm, Interlaken's highest point at 1,322m above sea level.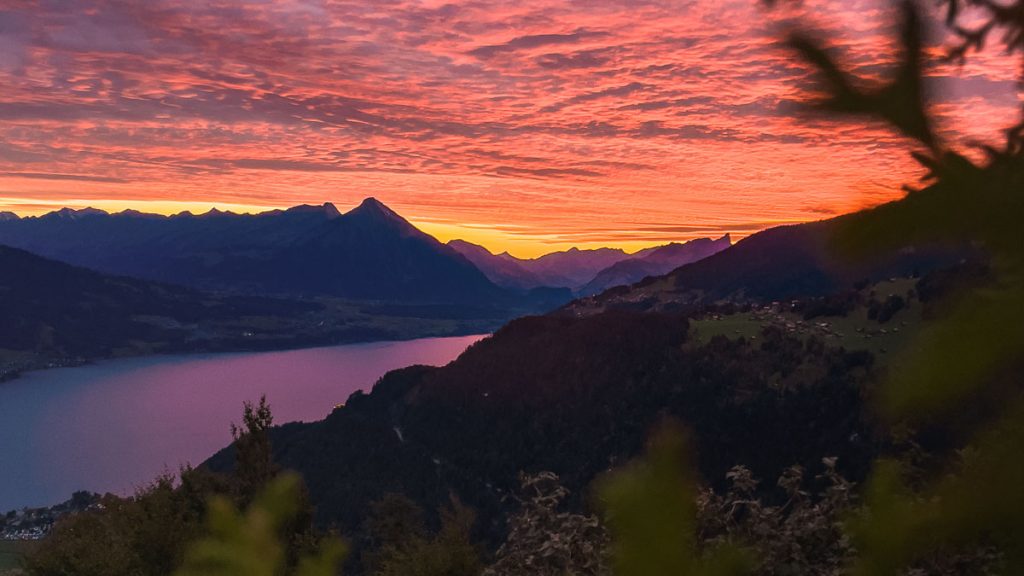 Take a short funicular ride up and be treated to expansive views of both Lake Brienz and Thun, as well as the surrounding mountains. And when the sun hits those snowy mountain tops, you'd wish that sunset lasted forever.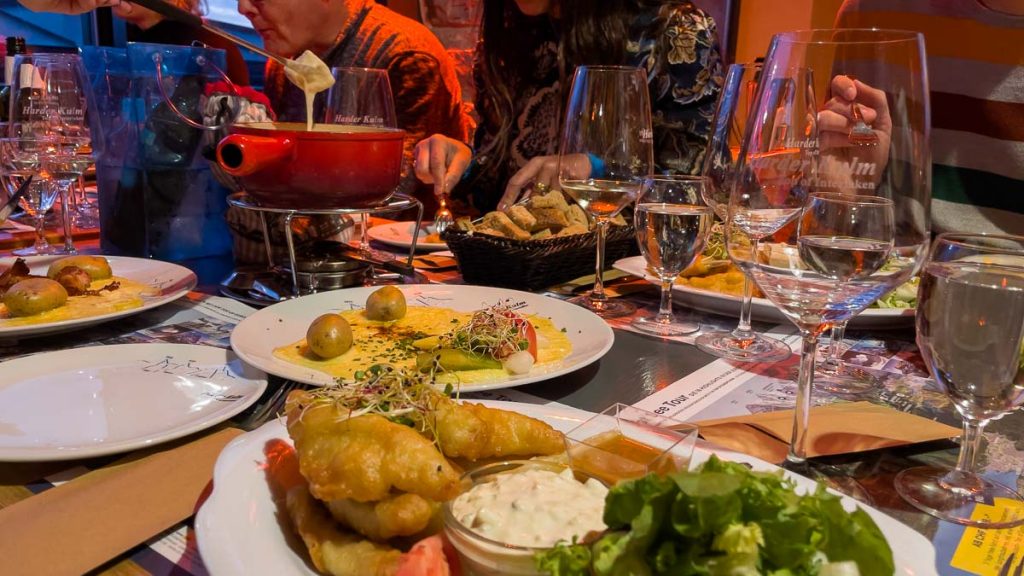 As the sky dims, head into Harder Kulm Panorama Restaurant — it was arguably one of our favourite dinner places, not just because of the food but also the views.
Enjoy cheese fondue and Eglifilets (swiss fish and chips) while overlooking Eiger, Mönch, and Jungfrau lining the horizon.
Cost: CHF34 (~S$49), 50% off for Swiss Travel Pass holders
Opening hours: Varies
How to get there: Walk 6 mins from Interlaken Ost, and take the funicular 10 mins up.
Grindelwald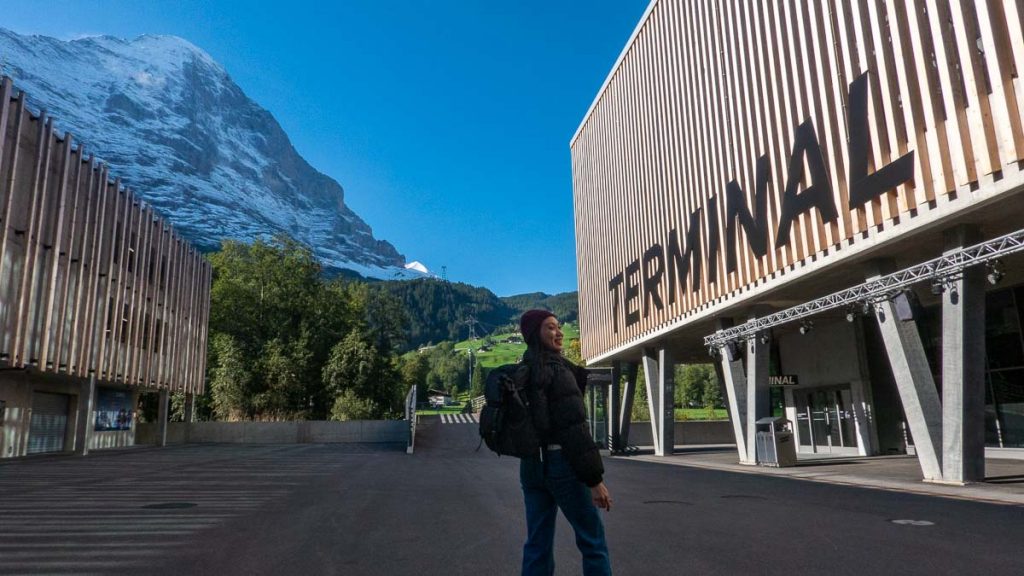 Just half an hour from Interlaken Ost, is the new Grindewald Terminal, built to bring us closer to our favourite attractions in the area! It opened back in December 2019, but few know of it no thanks to Miss Rona.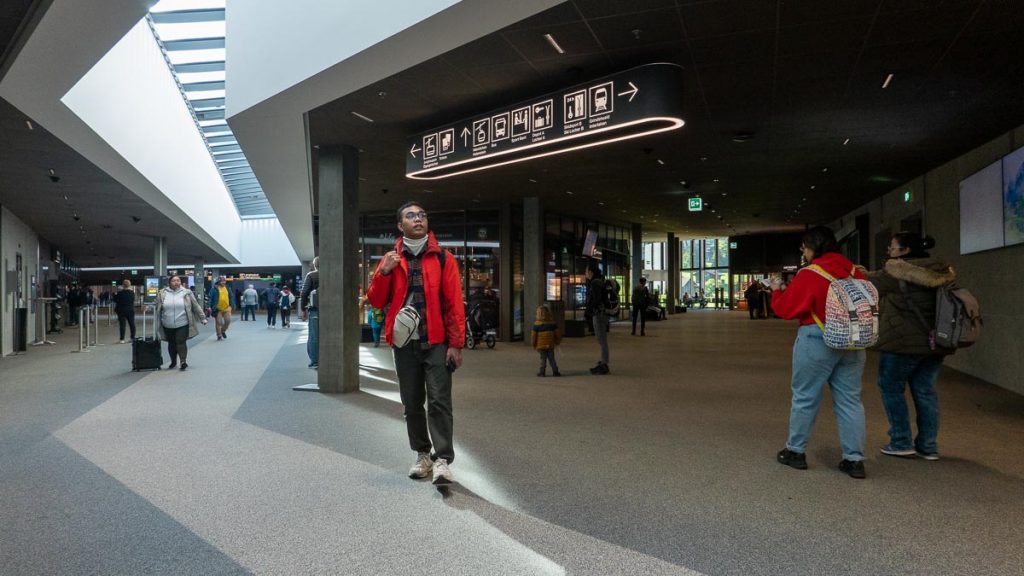 This spanking new valley station feels almost like a transit airport, and it operates similarly as well. After your direct train ride from Interlaken Ost (or even the airport), transit easily to popular attractions like Grindelwald First and Jungfraujoch at almost half the original travelling time via bus or cableway!
10) Grindelwald First (mountain with activities)
Unleash your adventurous side and spend a day trying all the activities Grindewald First has to offer!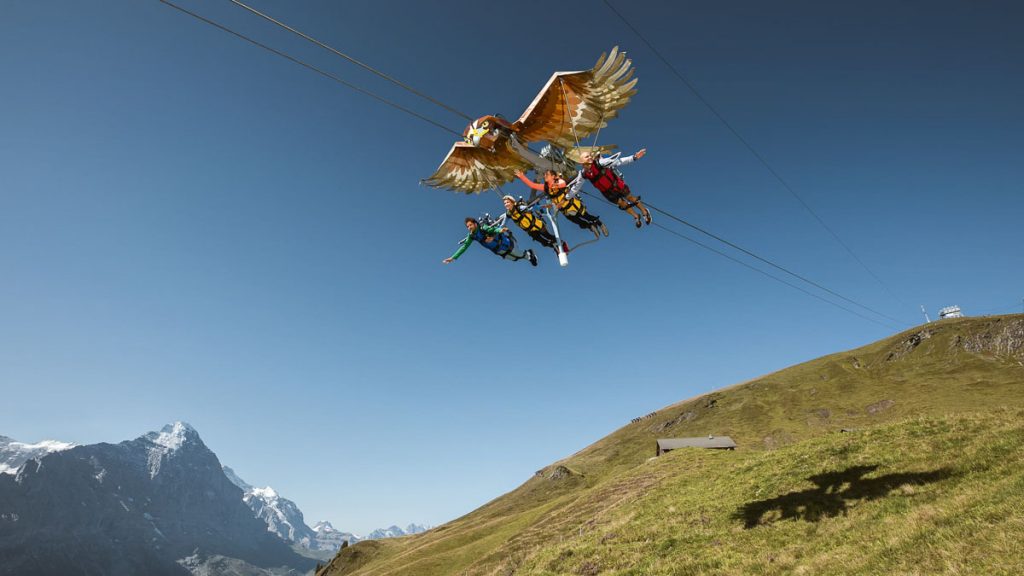 Photo credit: Jungfrau Top of Europe
From Grindelwald Firstbahn, take the gondola up to Mount First Top Station. There are five exciting activities for you to choose from — First Cliff Walk by Tissot, First Flyer (zipline), First Glider (Eagle glider ride), and Mountain Kart (go-kart/sled vehicle) or Trotti Bike (scooter) back to the base of Grindelwald.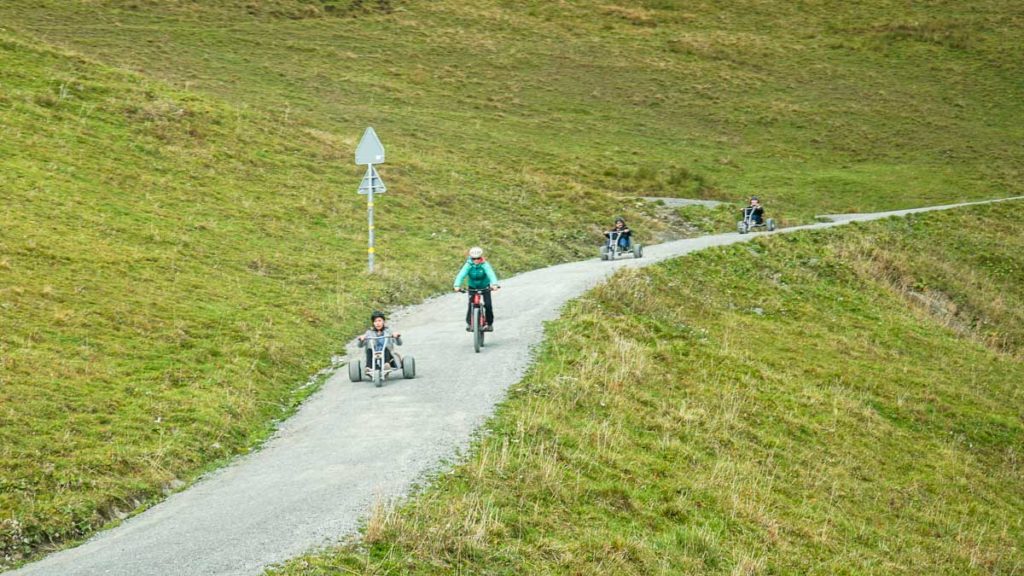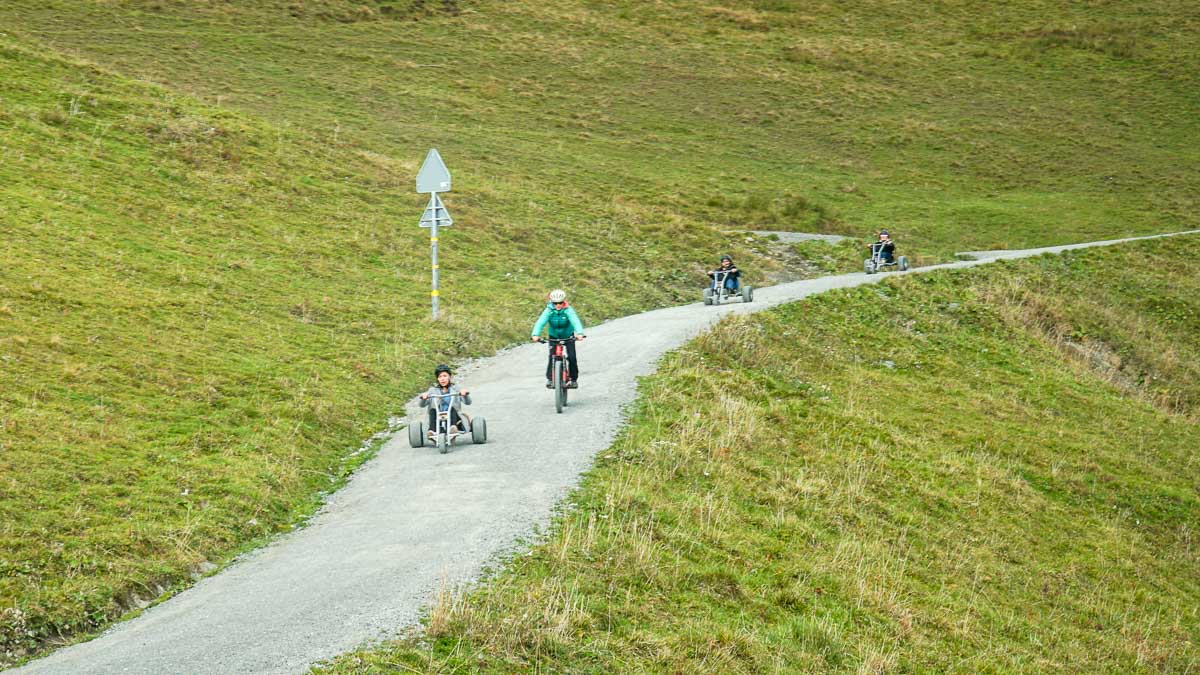 There's no time limit, so you can stop to take pictures of the view at any point along the way 📸
Cost: CHF64 (~S$93), 50% off for Swiss Travel Pass holders
Opening hours: Varies
How to get there: Take bus 121 from Grindelwald Terminal to Grindelwald Firstbahn (15mins)
11) Jungfraujoch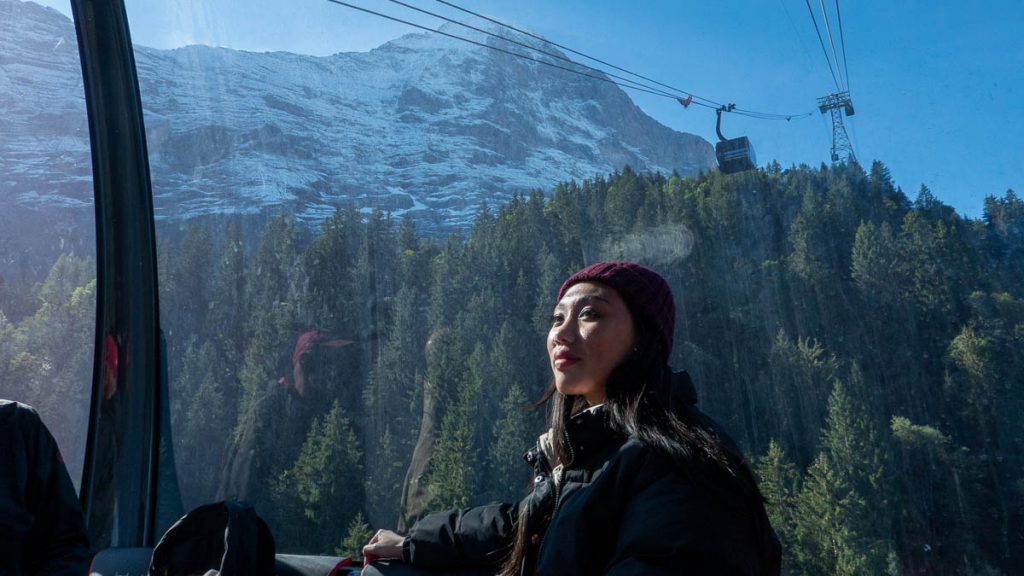 In the past, it would take almost 2 hours just to reach the top of Jungfraujoch by train. However, with the new Grindelwald Terminal and Eiger Express gondola, the ascend now only takes 45 minutes!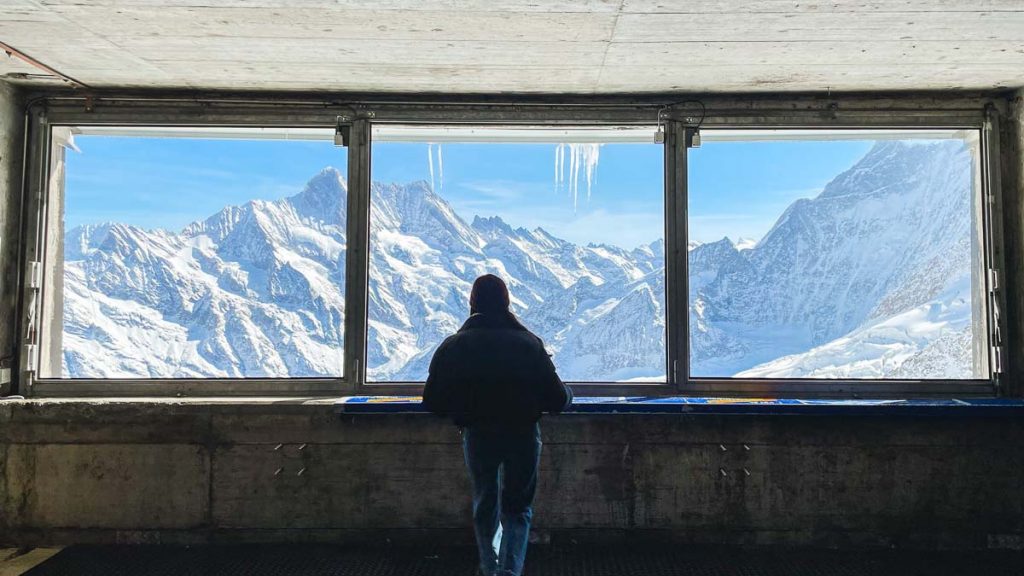 As Europe's highest railway station, Jungfraujoch experiences snow 24/7, 365 days a year.
However, it's not just all snow and skiing! Wander through the mountain's many attractions, from the Ice Palace's impressive ice sculptures, and the giant snow globe at Alpine Sensation, to the epic views of the snowy mountaintops from Sphinx Observatory.
Cost: CHF194 (~S$281) from Grindelwald, CHF144 (~S$208) for Swiss Travel Pass holders
Opening Hours: 8AM – 4:20PM
How to get there: Take the 15-min Eiger Express gondola to the Eiger Glacier, then take another 25-min train ride to the top
Zermatt
12) The Matterhorn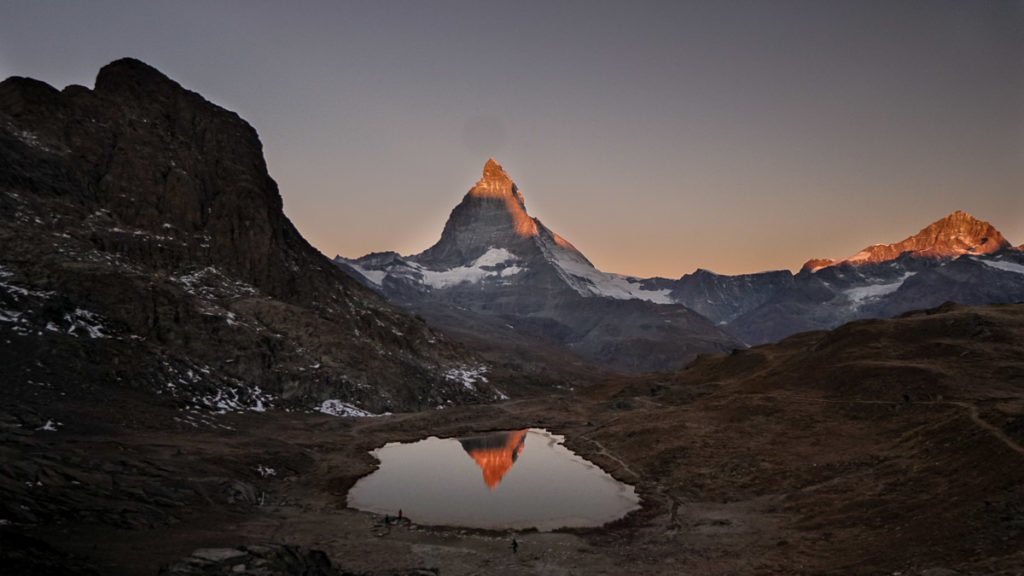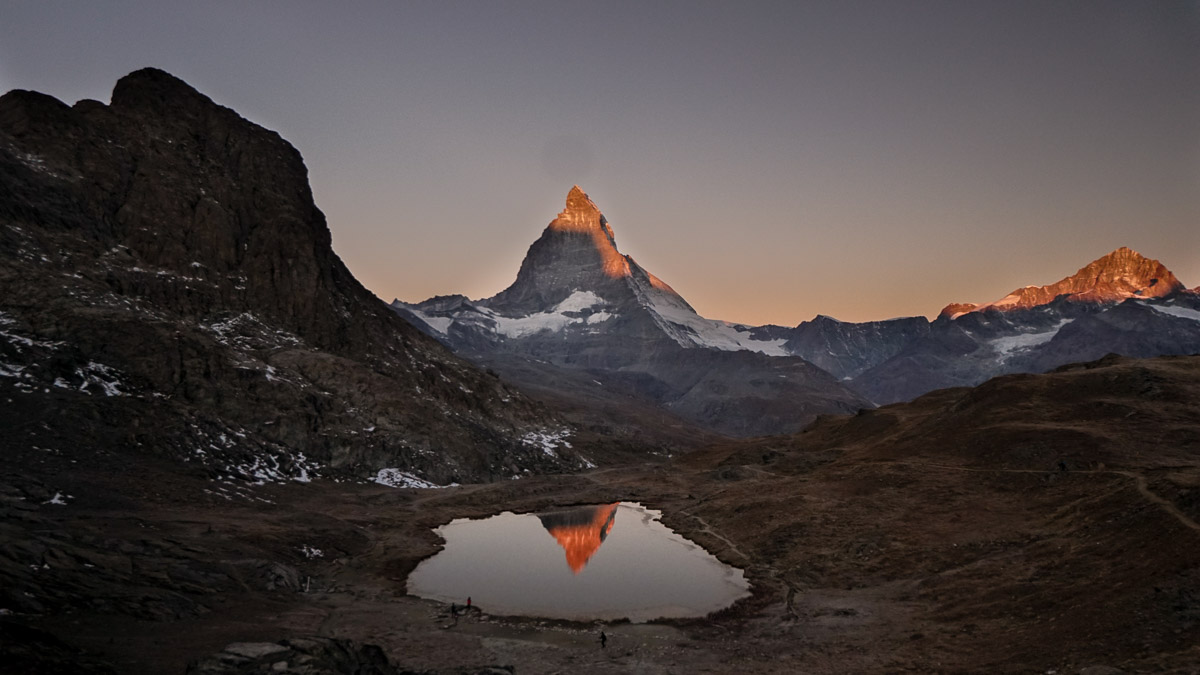 There are lots to do in Zermatt, and they all revolve around the Matterhorn, A.K.A Toblerone Mountain.
Start your visit here with an unbelievable sunrise at the icon herself. This hike is the epitome of "minimum effort, maximum rewards" — all you need to do is take the first train on the Gornergrat Bahn from Zermatt village to Riffelboden Station. Then, hike 5 minutes to Riffelsee!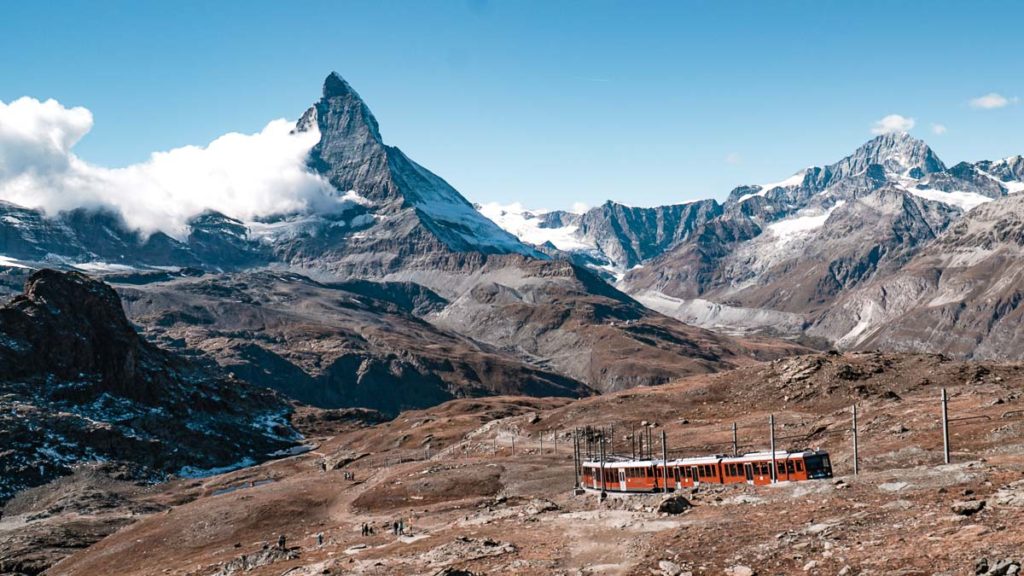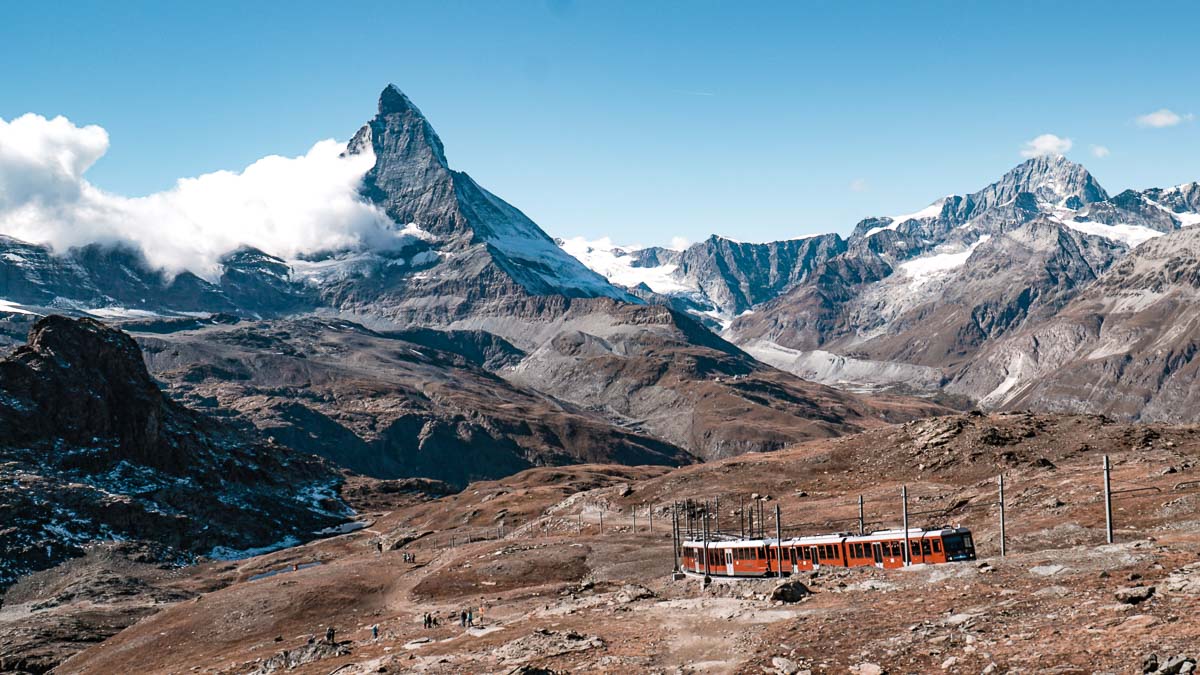 After that, get back on the train and head up to Gornergrat Peak for a different view of the peaks in full light.
Another great way to enjoy the mountains is by hitting the slopes. Enjoy year-round Skiing at Matterhorn Ski Paradise and take on Switzerland's highest vertical drop — a whopping 2,133m!
Zurich
13) Old Town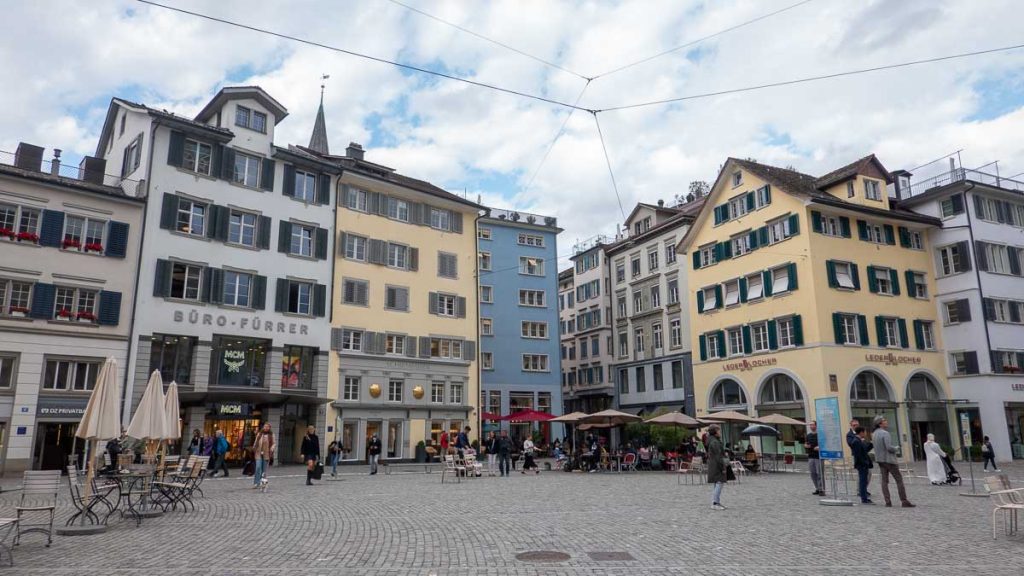 There's nothing I love more than spending a day in Zurich's Old Town. Here, you get a bit of everything — culture, history, shopping, and sightseeing!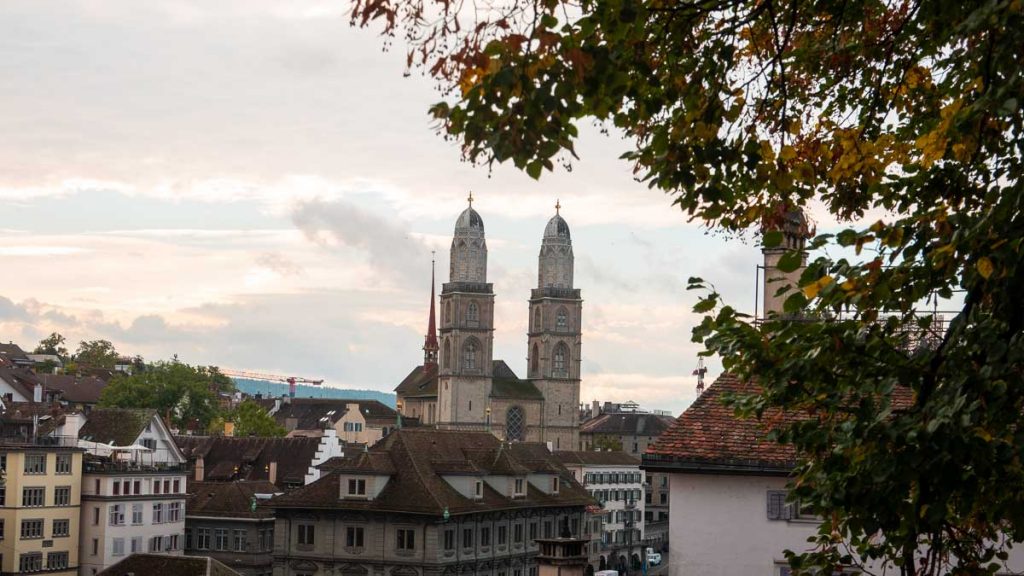 Stroll through the cobbled streets and appreciate the cityscape on Lindenhof Hill (Grossmünster looks especially stunning during sunset).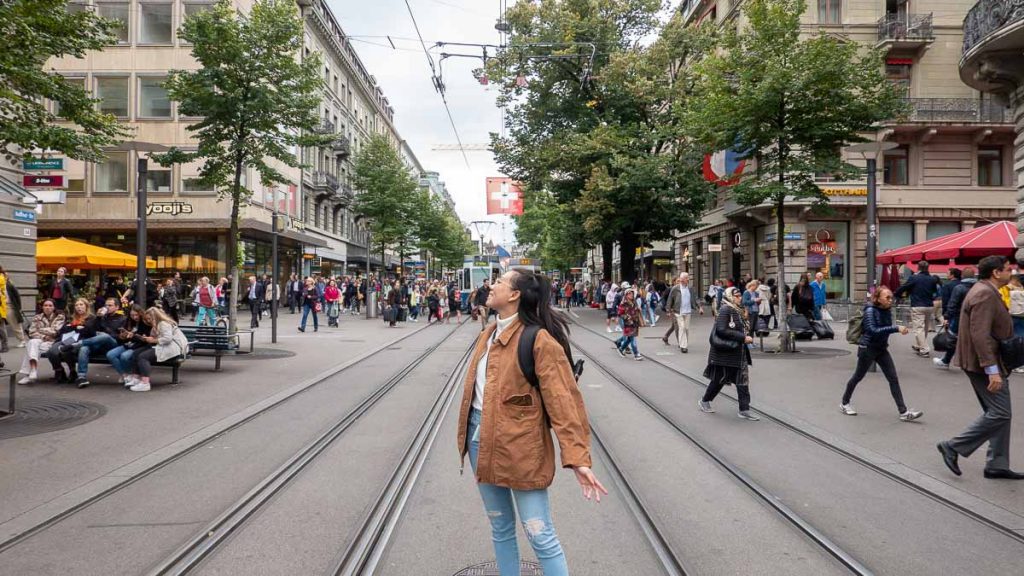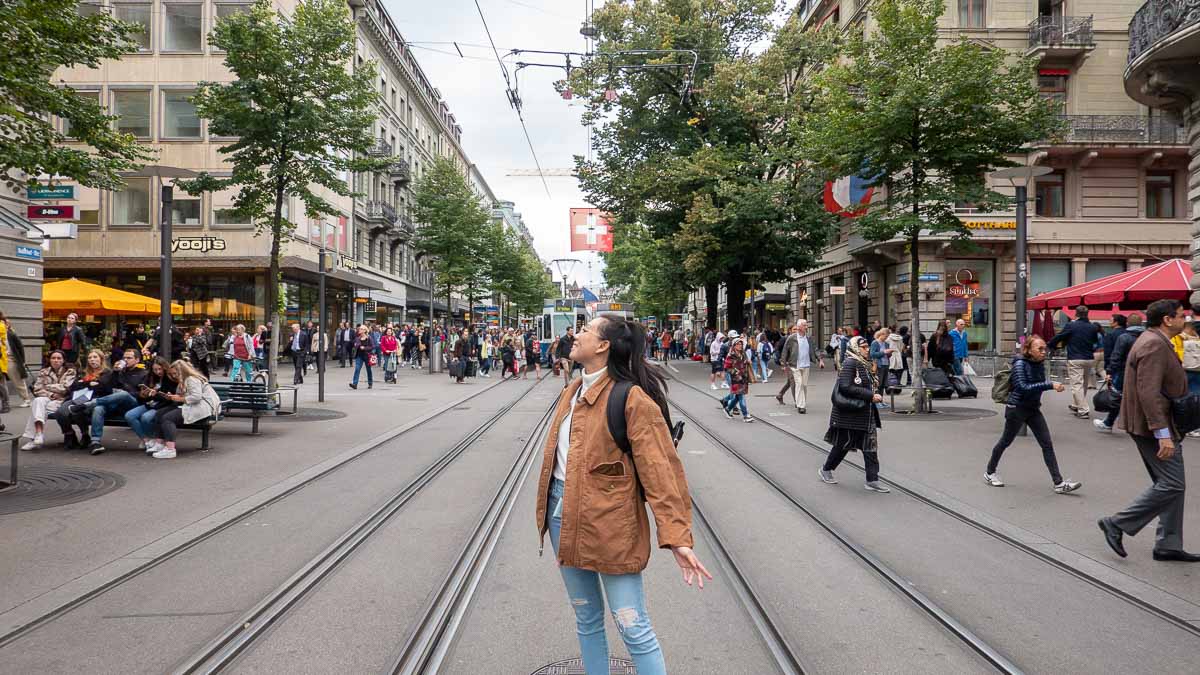 And if you're looking for a change of pace, head toward Bahnhofstrasse, Zürich's Orchard Road. It's mostly high-end brands, but you can do souvenir shopping at Victorinox and the chocolate shops — we stocked up on swiss chocolate at the Läderach outlet here!
14) Museum-hopping
Swiss National Museum (Landesmuseum Zürich)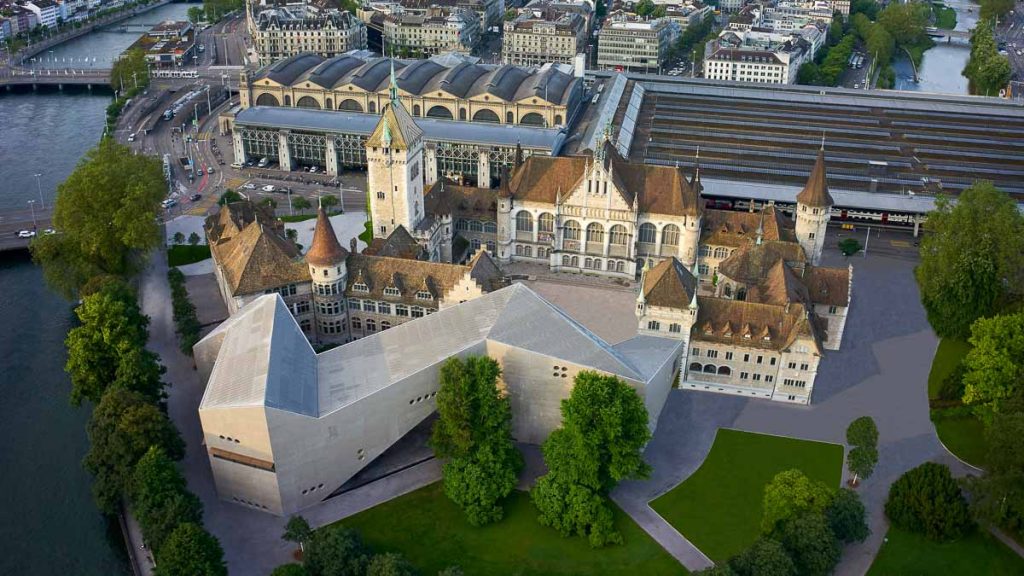 Photo credit: Landesmuseum
Located by Zurich Main Station, you might notice a medieval castle right by an ultra-modern building — this unique pairing is actually the Swiss National Museum!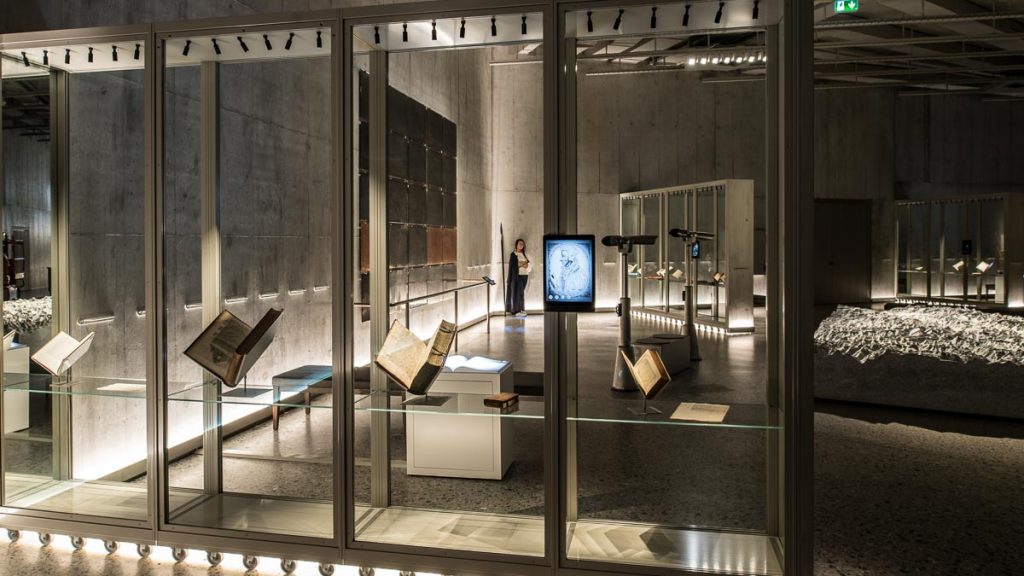 Photo credit: Landesmuseum
The museum is famed for carrying the largest collection of Switzerland's cultural history. Learn all about the Swiss' rich culture through the myriad of sculptures, paintings, handicrafts, and even everyday objects dating back to prehistoric times.
Audio guides are also available in various languages via the Landesmuseum app.
Cost: CHF10 (~S$15), free for Swiss Travel Pass holders
Opening hours: 10AM – 5PM, closes 7PM on Thu, closed on Mon
Address: Museumstrasse 2, 8001 Zürich, Switzerland
Lindt Home of Chocolate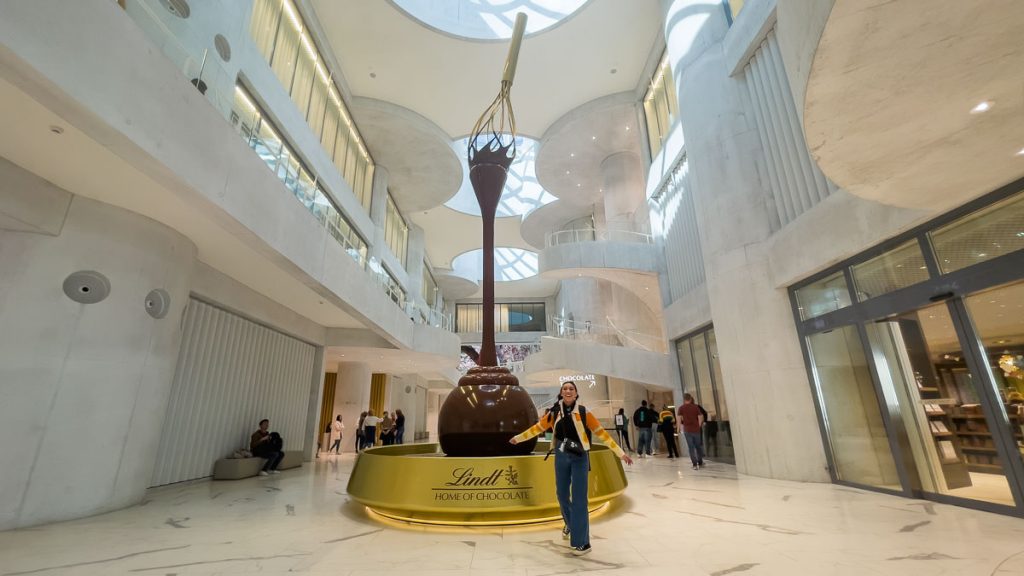 Lindt Home of Chocolate is the modern-day's answer to Willa Wonka's Factory. You'd believe me once you see the floor-to-ceiling chocolate fountain right at the entrance!
Understand the evolution of the swiss chocolate industry and how it grew to produce some of the world's most delicious treats through each interactive exhibition.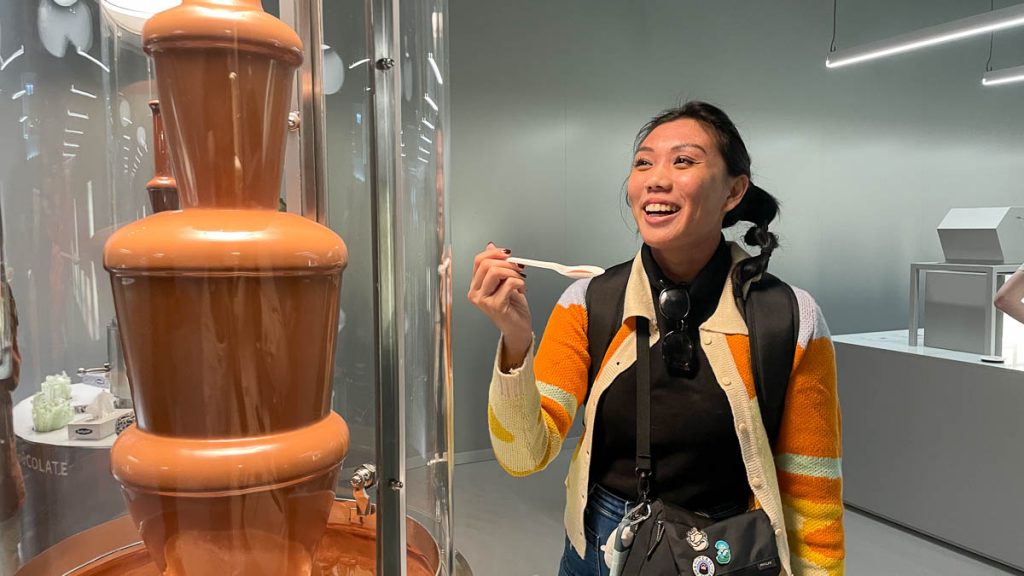 And you know what they say, seeing is believing. Or in this case, tasting! Sample the different types of chocolate in the Chocolate Factory room while learning the full chocolate-making process — you can be sure I wasn't shy for seconds 🤪
On your way out, pop by the world's largest chocolate shop and buy some sweet treats back home!
Cost: CHF15 (~S$22), pre-booking necessary
Opening hours: 10AM – 6PM
Address: Schokoladenplatz 1, Seestrasse 204, 8802 Kilchberg, Switzerland
FIFA museum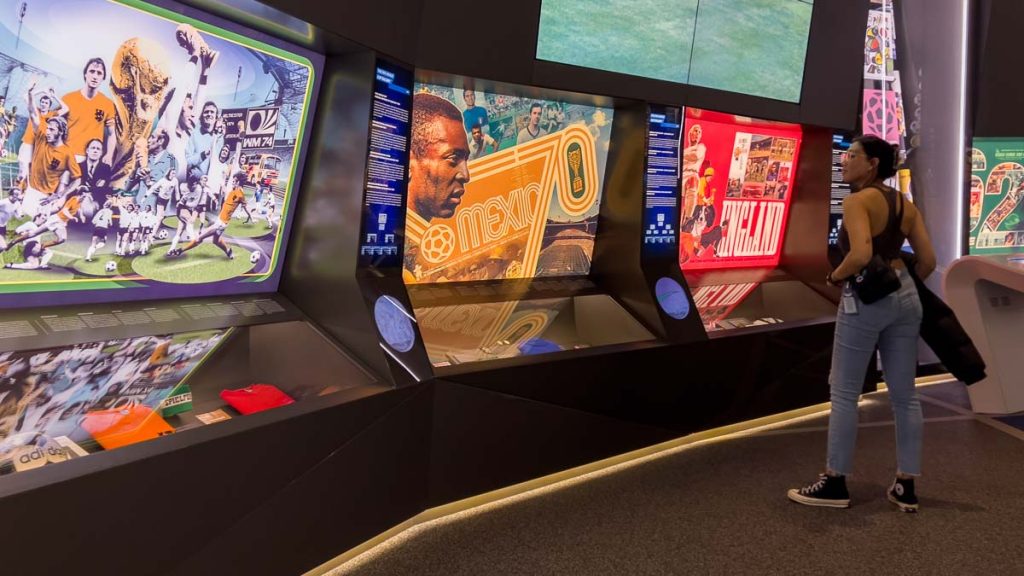 As a big fan of the FIFA World Cup, I was super excited to visit the world's one and only FIFA Museum.
Created in honour of the world's most popular team sport, the colourful museum showcases everything about the evolution of international football and the famed world championship.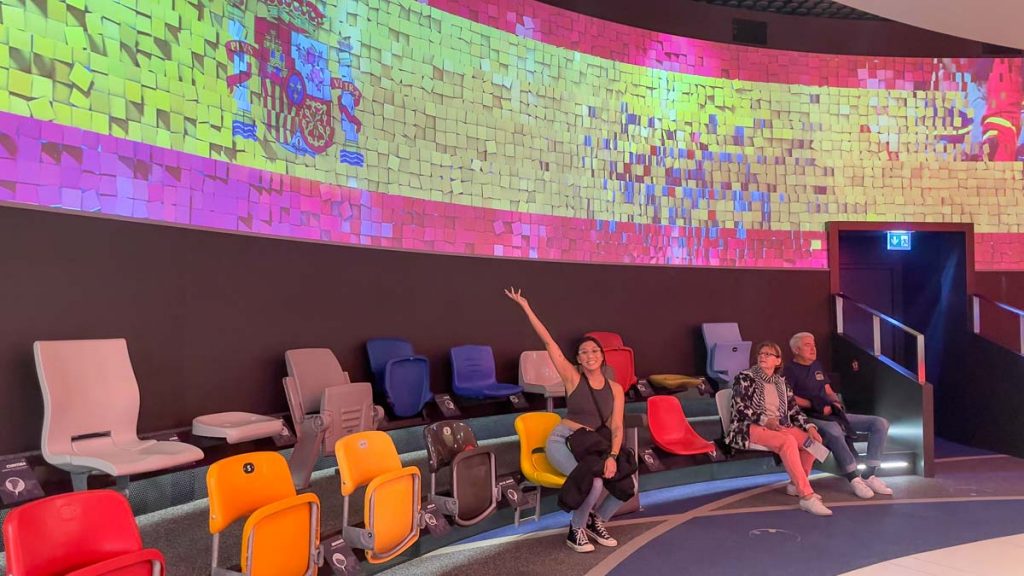 Through the exhibitions, you gain a new appreciation for the sport, learning its history and how it has connected people all over the world for over a century — not just every four years! That said, my favourite exhibit would be the bleacher made up of seats from every FIFA host stadium because I felt like I was at every stadium all at the same time 🤩
Cost: CHF24 (~S$35), free for Swiss Travel Pass holders
Opening hours: 10AM – 6PM, closed on Mon
Address: Seestrasse 27, 8002 Zürich, Switzerland
Getting Around Switzerland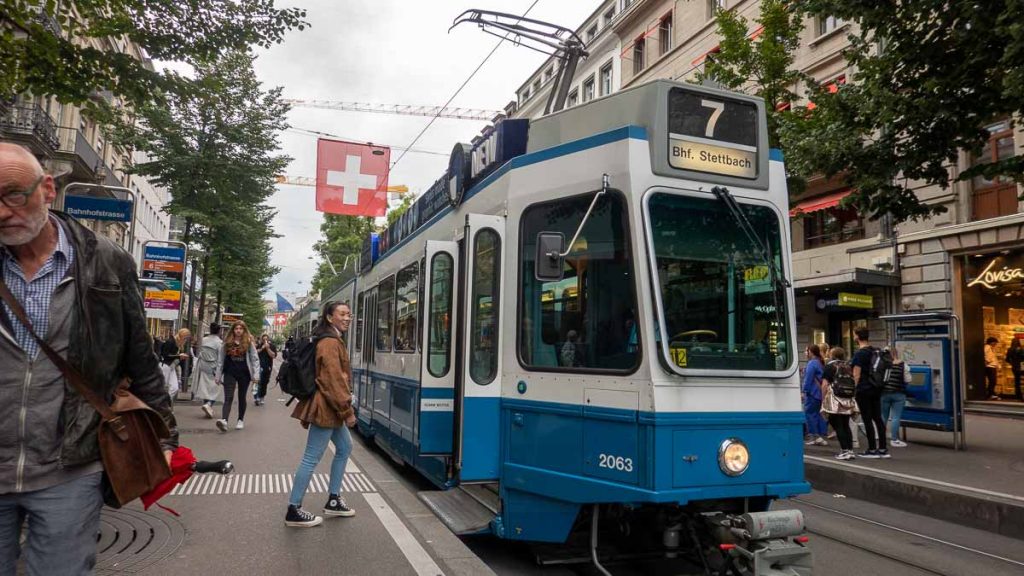 We got the Swiss Travel Pass to fully enjoy all that Switzerland has to offer. The pass entitles us to unlimited train, boat, and bus rides for 3, 4, 8, or 15 days.
This all-inclusive travel pass beats getting single-ticket tickets — a 3-day Swiss Travel Pass (CHF232) VS a single round-trip from Zurich to Jungfraujoch (CHF162).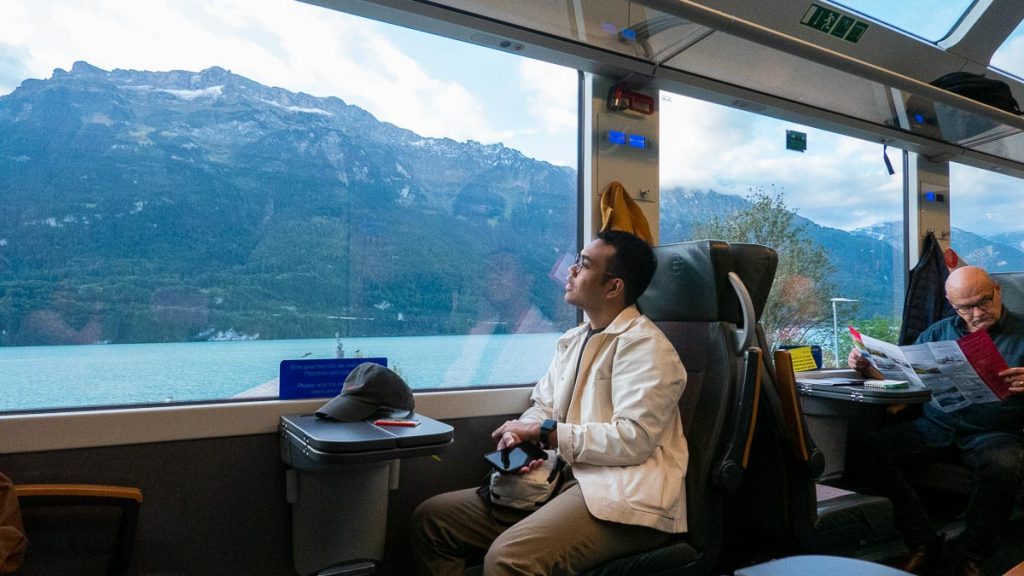 On top of that, you get free admission to over 500 museums, along with 50% discounts on mountain excursions and various activities 😍
What's interesting is there aren't any gantries at all, but you'll have transport operators do random checks pretty often. So, it's best to have a digital copy of your ticket for easy access!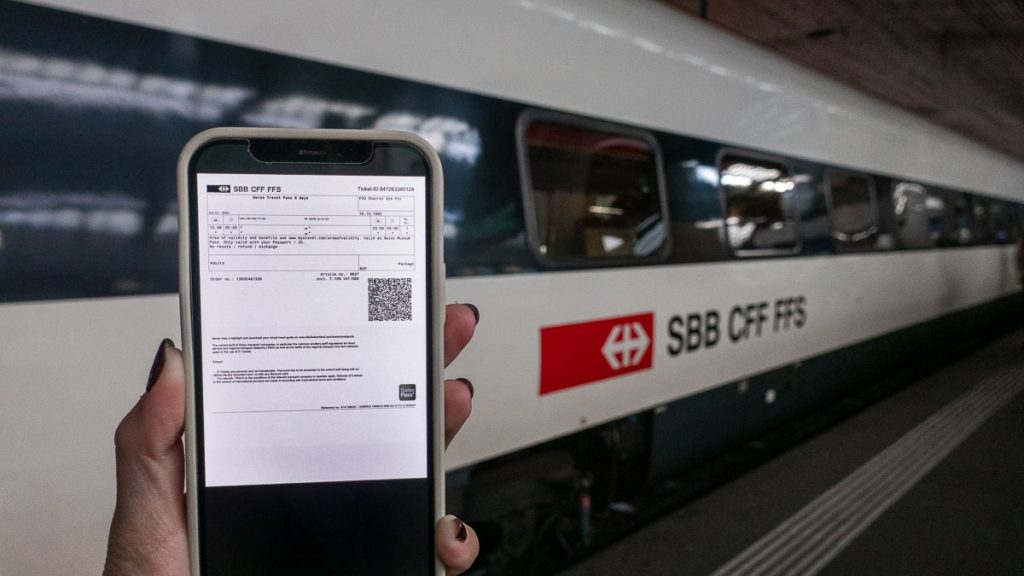 As I journeyed through Switzerland, I realised the views weren't the only thing to be impressed about. The Swiss Transport System is, I dare say, out of this world.
Not only is it crazy efficient but also extremely intentional in the way it's built — they never miss an opportunity to show off their exceptional scenery.
Whether I was on a train, bus, or boat, I would just stare out the window in awe. I'm not even kidding, the only times I'd be on my phone was to take pictures 😂
Read also: Everything You Need to Know About Travelling With the Swiss Travel Pass
What are your favourite things to do in Switzerland? Share with us in the comments!
---