There's something about sweet treats that unite people, especially the sweet-toothed. That fluffy raspberry cheesecake, gooey chocolate tart, and that beautifully decorated donut. They just seem to tug our heart strings and we can't help but get them off the shelves. Sweet treats are probably the very reason for my existence!!
Exaggeration aside, here's the ultimate list of sweet treats around the world you have to try if you're heading to these places. Some may sound familiar, others not quite, but you sweet-tooth people are in for a treat (pun intended).
(P.S. your dentist probably hates me now)
1.Tokyo Banana — Japan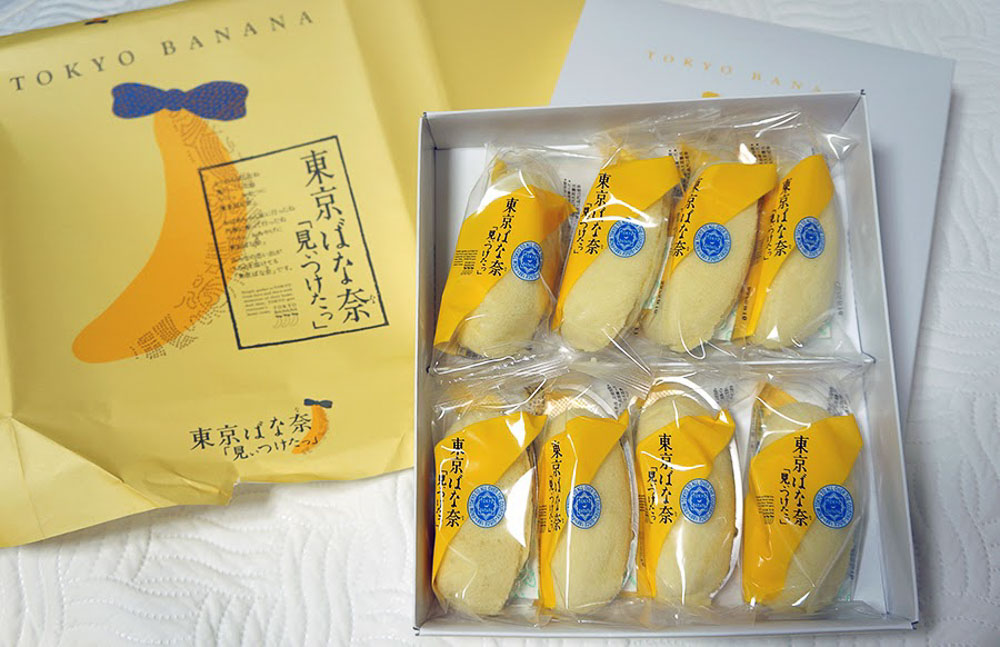 These custard cakes are probably one of the most highly raved sweet treats in Japan! Creamy banana custard sandwiched between soft sponge cakes are to die for. They are individually packed, so you won't have to finish an entire box at one go… but you probably will!
2. Dragon beard candy — China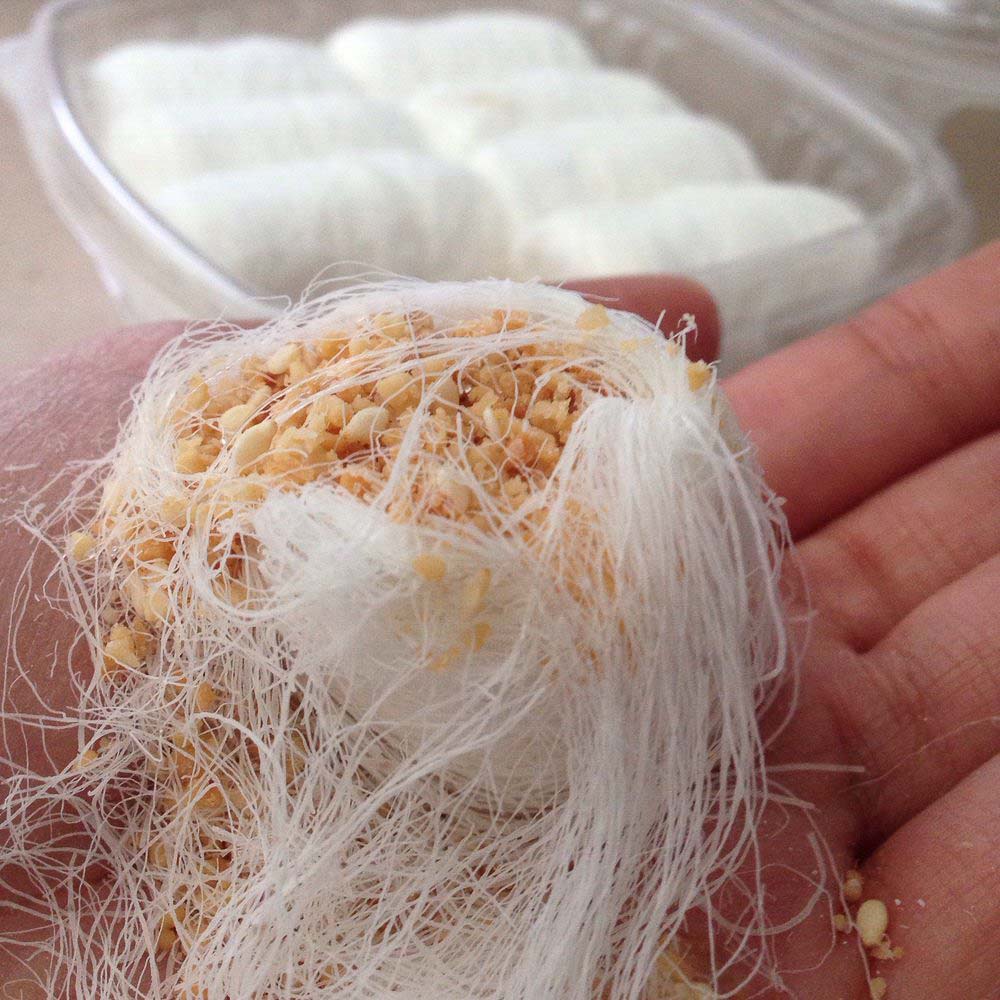 This sweet treat from China is slightly chewy with a nutty interior. Preparing this requires extraordinary workmanship as they stretch, twist, and finally shape them into a white cocoon with a peanut core. Sugary sweet on the outside and fragrant inside, I simply adore this sweet treat! The perfect example of not judging a book by its cover, this sweet treat may seem odd looking at first but I'm sure you won't regret trying it!
3. Turkish Delights — Turkey
Soft chewy and often mixed with nuts, this sweet treat can be found in many places around the world today! These little cubes lean towards the sweet side, although actual pieces may vary. I loved the contrasting texture of the nuts when chewing on a these delicate pieces!
4. Chocolate Religieuse — France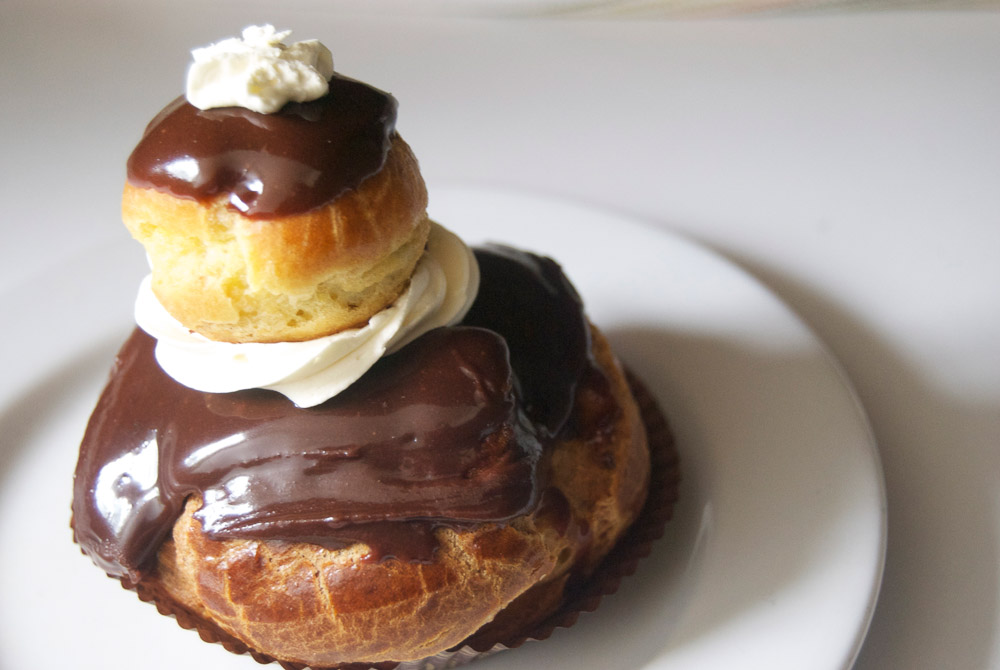 If you're a fan of cream puffs, this sweet treat is sure to take your breath away. Chocolate Religieuse is a mini tower of 2 cream puffs topped with rich chocolate ganache and whipped cream. Good things come in pairs~
5. Assorted Kit Kats — Japan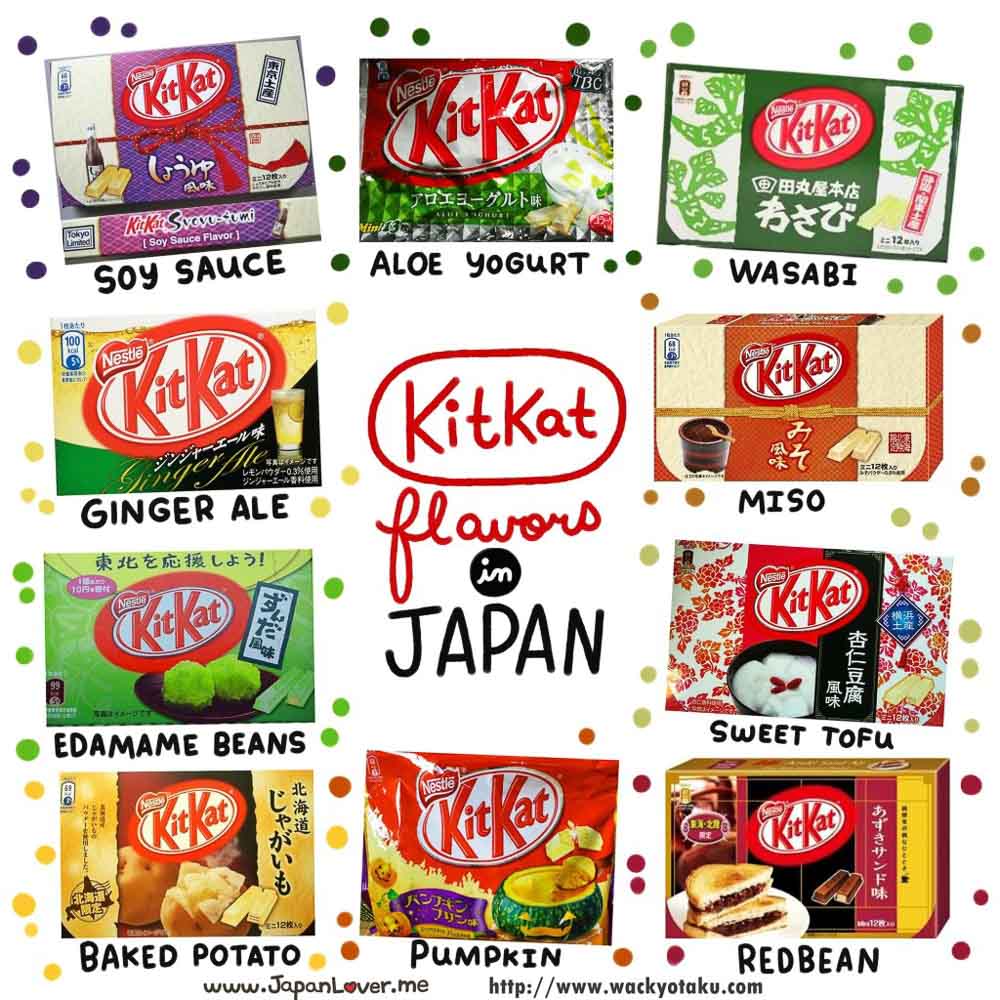 The milk chocolate wafer bar just got better… Available in exotic flavours such as cheesecake and wasabi, Japan brings kit kats to a whole new level. The striking similarity of the chocolate wafer to the original food, makes the whole thing more mind-blowing. I tried the sake flavoured one and had a pleasant surprise as the taste of vodka seeped through…
6. Kaju Katli — India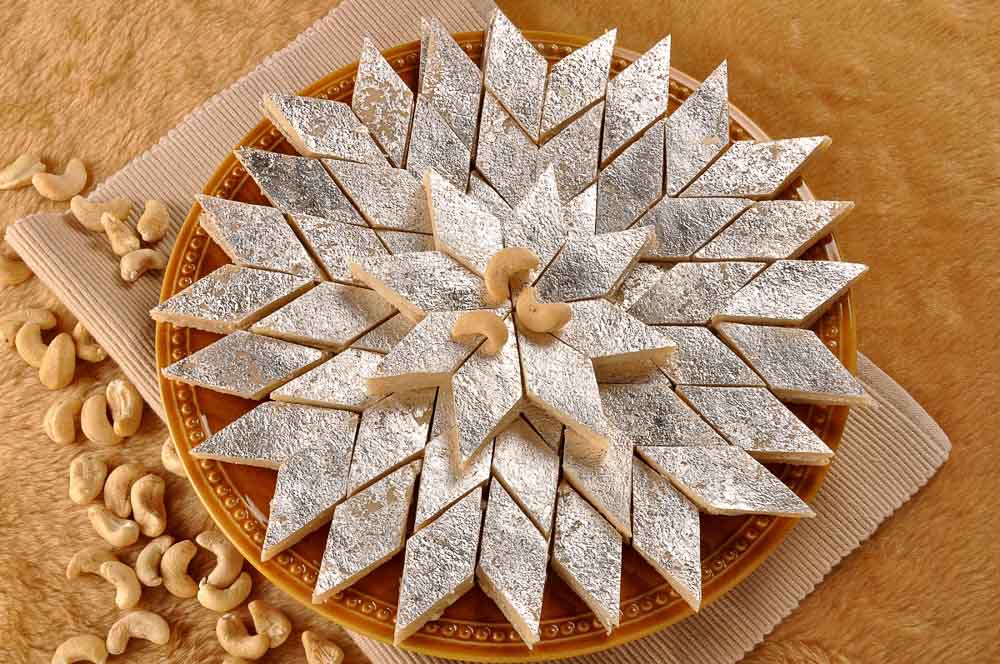 Famous all over India, Kaju Katli should be on your list when travelling! This diamond shaped sweet treat is rich in cashew. They are usually decorated with edible silver or gold on top!
7. Cuberdon — Belgium
Cuberdon cones are sure to jingle your sweet tooth! It resembles a jelly bean – a hard exterior enclosing a chewy gelatine centre. The traditional flavour is actually the raspberry ones (purple in colour), but Belgium has since introduced many other unique ones such as ice cream and cookies! Munch away!
8. Butter Cookies — Denmark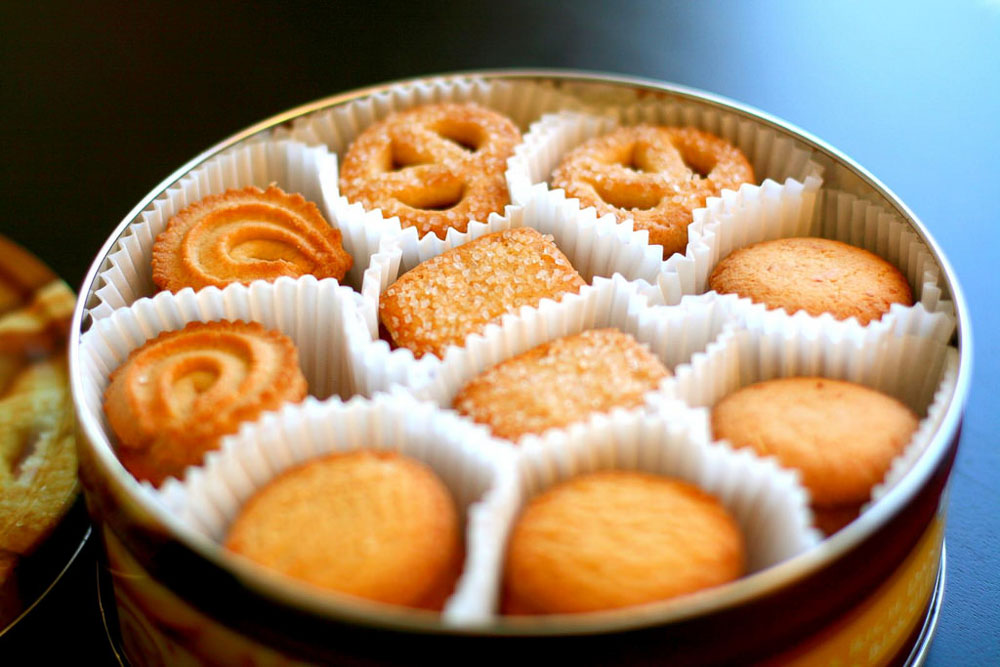 Yes, that metal blue tin with assorted butter cookies labelled "Danish Cookies". I loved how fragrant and light they are, compared to the usual ones found outside Denmark!
9. Chimney cake — Czech Republic

You are sure to smell one before you see one! Baked on a rotating rod, the chimney cake is sugary and crisp on the outside; and pillowy soft on the inside. I loved how generously the exterior is coated with cinnamon and sugar… I'm sure to get one whenever I see it! 😛
10. Waffles – Belgium
Even though some may deem these yummy goodness as overrated, I loved them so much I had 4 in the morning I was in Brussels, Belgium! I would recommend giving those fancy variations a miss – the original ones are extraordinary! Plain fluffy pancakes with unmelted cubes of pearl sugar; these cubes give an extra crunch and tinge of sweetness when bitten on~
11. Tang Hu Lu  糖葫芦 – China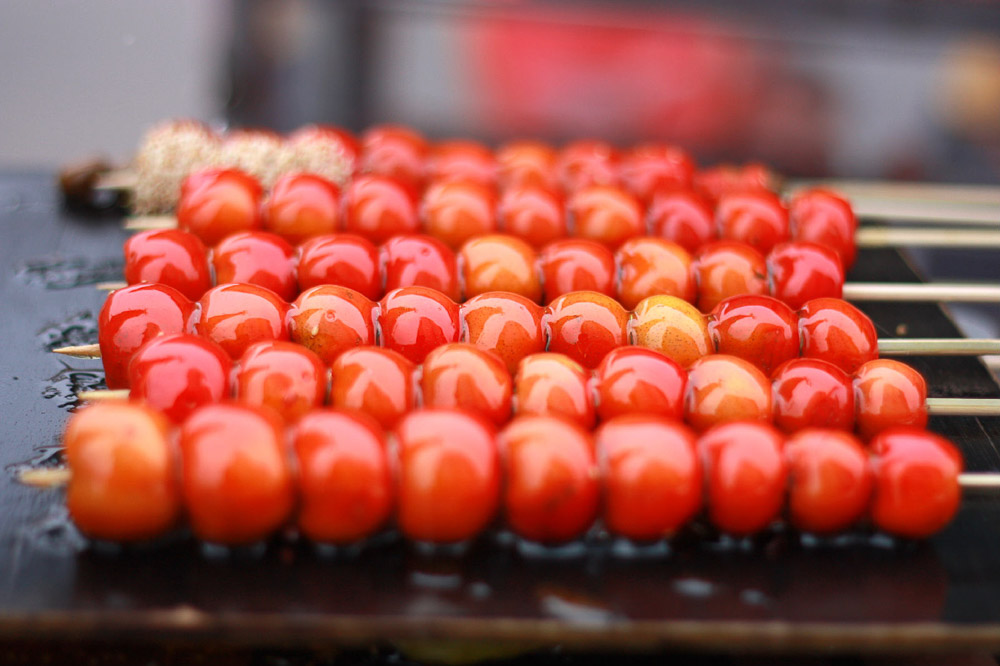 Also known as the "Chinese Toffee Apple", this sweet treat is a popular street food in China. The traditional ones are skewers of Chinese Hawthorn coated with a thin layer of semi-hard candy – a stark contrast in flavours and textures put together.
12. Crepe – France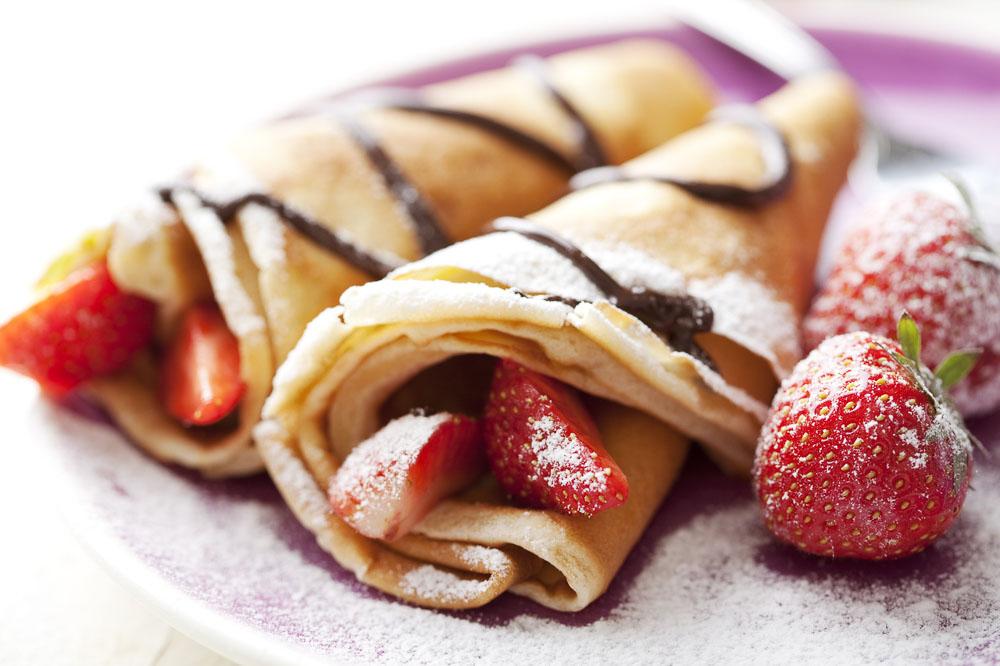 Paper thin pancakes sandwiching freshly whipped cream are truly the sweet treat to be eaten anytime during the day. The crepes are soft and usually drizzled with either chocolate or fruit sauces, then dusted with icing sugar for the perfect sweet moment.
13. Shokoladnaya Kolas (Chocolate Salami) – Russia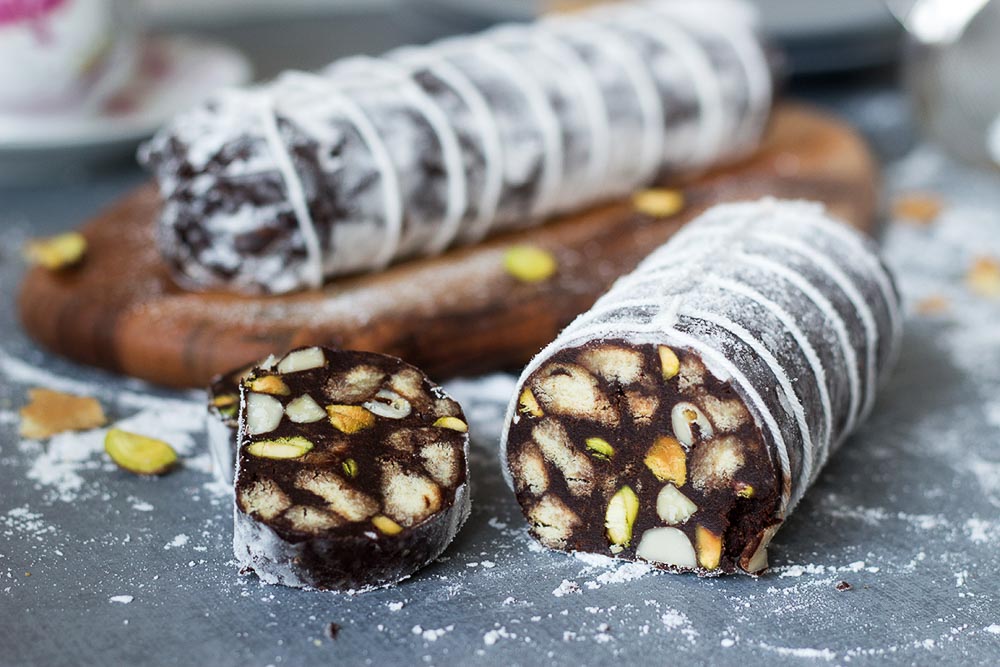 When sausages are not filled with meat…and pumped with chocolate and cookie pieces instead. This Russian delight is sure to make children squeal with delight. Many recipes can be found online on how to recreate this treat, so no worries if you aren't heading to Russia!
14. Bingsu – Korea
Drenched in flavoured sauces, Bingsu is an exciting bowl of shaved ice… with many toppings!! A wide variety of toppings are used: cheesecake cubes, fruits, chocolate wafers, nuts… I'm sure Korea got really creative when designing their dessert.
15. Panna Cotta – Italy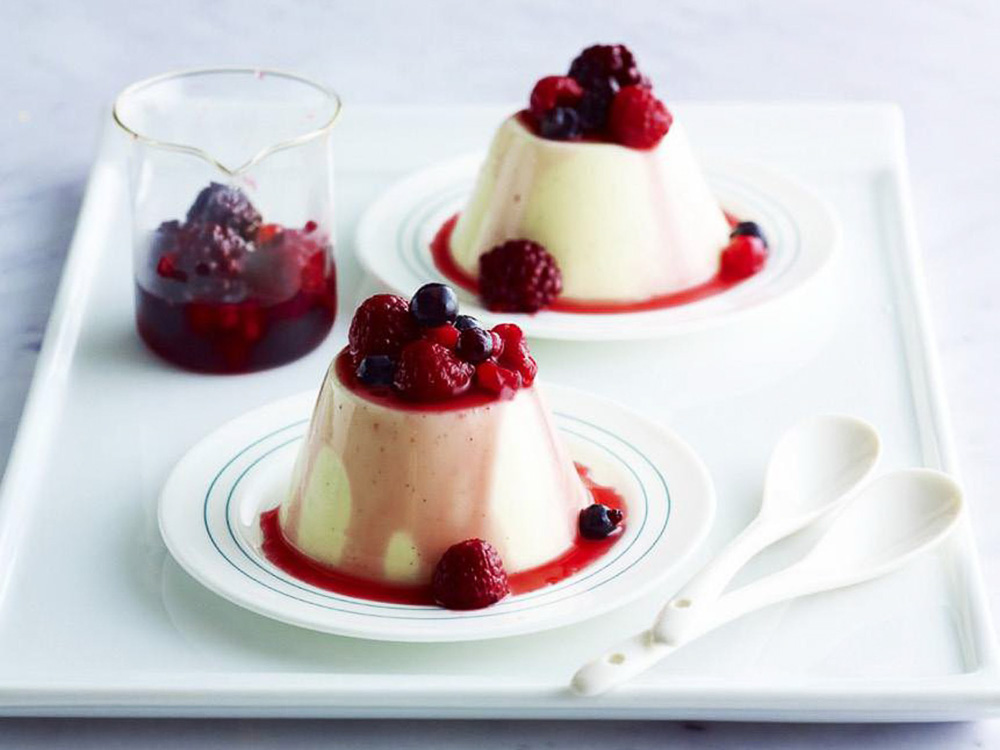 This milk based pudding that originated from Italy has found its way to many other countries, and to our hearts as well. Characterised by its soft silky texture, panna cotta can be served plain, drenched in berry sauces or topped with assorted snacks such as popcorn.
16. Cronuts – New York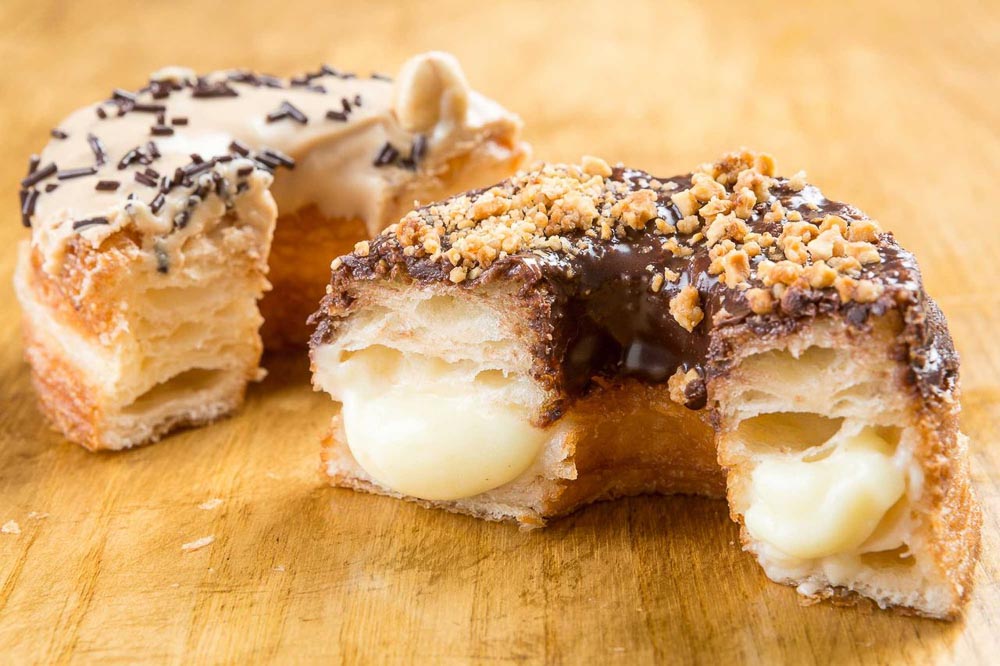 Ever wondered what happens when a croissant meets a donut? A sugary donut crusted exterior that gives way to layered buttery crisps. Available in many other countries now, they can get really fancy with coloured buttercream and figurines as well!
17.Birds' Milk Cake (Ptichie Moloko)- Russia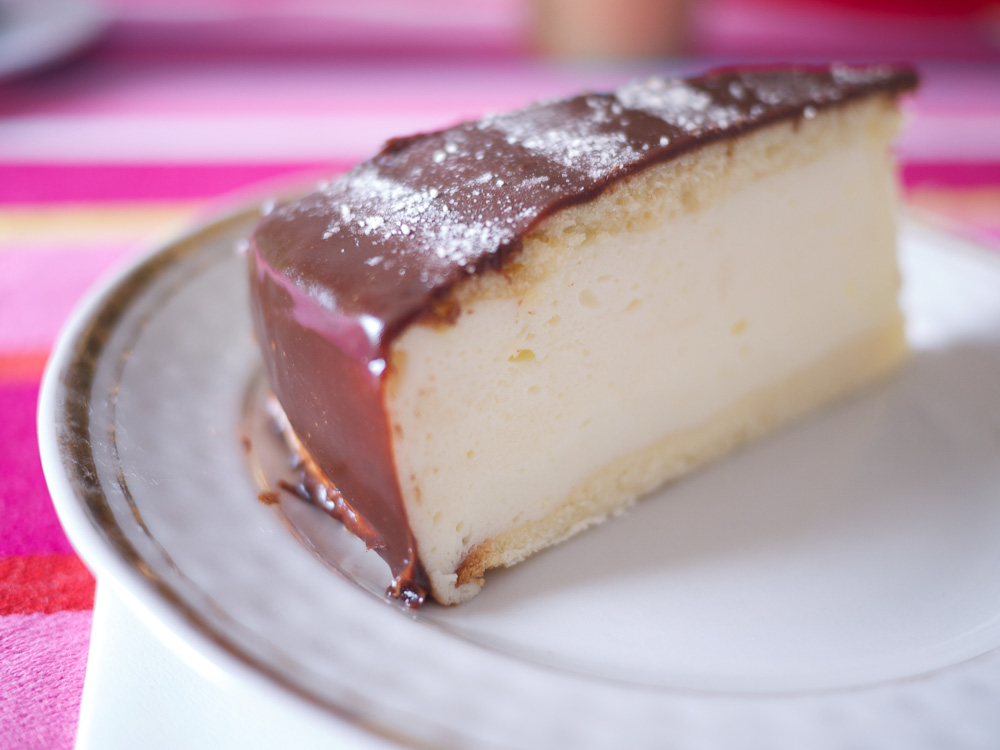 I'm not too sure if birds do produce milk but this cake probably has one of the most misleading names. A thick slab of mashmallow lying on cake base, topped with a layer of chocolate… -self explanatory bliss-
18. Mango sticky rice (Khao Niew Mamuang) – Thailand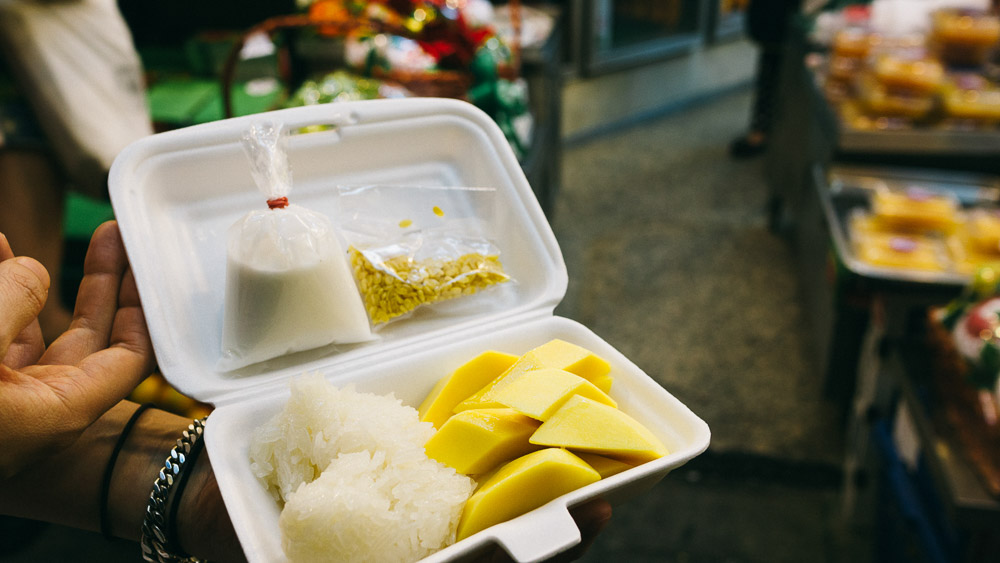 When I was young, I was always told to finish my rice first before having desserts.. but NOT ANYMORE~ As the name suggests, this traditional Thai sweet treat is a combination of mango and glutinous rice. Topped with coconut milk, this dessert is usually served warm or at room temperature. Tuck in!
19. Apple Strudel – Vienna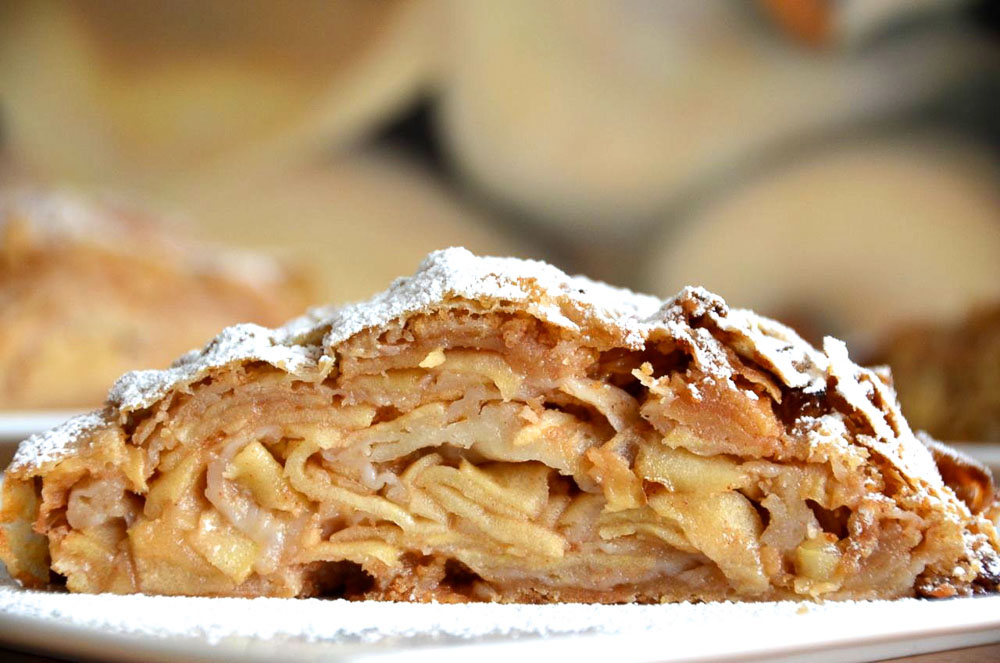 I'm sure this sweet treat is served in many cafes all over the world, but be sure to try out how the Viennese did it! Breadcrumbs and apples are layered on paper thin dough, before it is rolled up and baked to perfection~
20. Chocolate Truffles – Belgium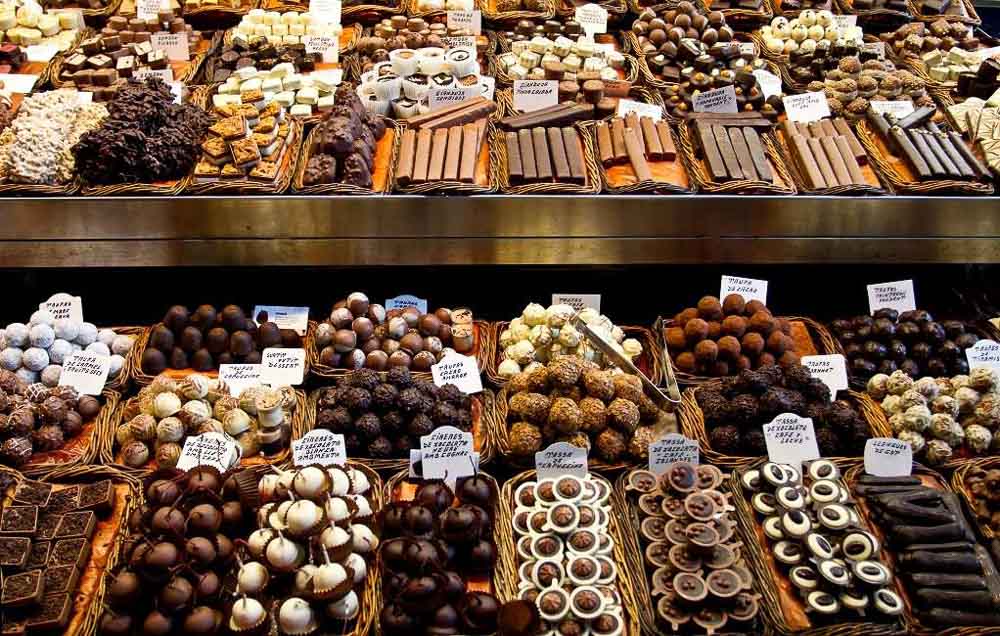 Well known for their chocolates, Belgium serves a wide range of bonbons. Be sure to try their traditional pralines – a thinner chocolate shell containing all the creamy goodness. If you're feeling a little wild, give their beer truffles a go! I love how harmonious the alcohol and chocolate tasted together… indeed a seamless pair~
Are you craving for something sweet already? I definitely am!
Did your favourite sweet treat make the list? If not, share them with us by commenting below 😛