Everything you need to plan an epic 11-day San Francisco itinerary — in and around the city.
A quick Google search seems to say that three days gives a sufficient introduction to San Francisco, but after spending 11 days visiting famous sights, exploring the outskirts on a campervan, and even wine-tasting, it's safe to say three days is far from enough.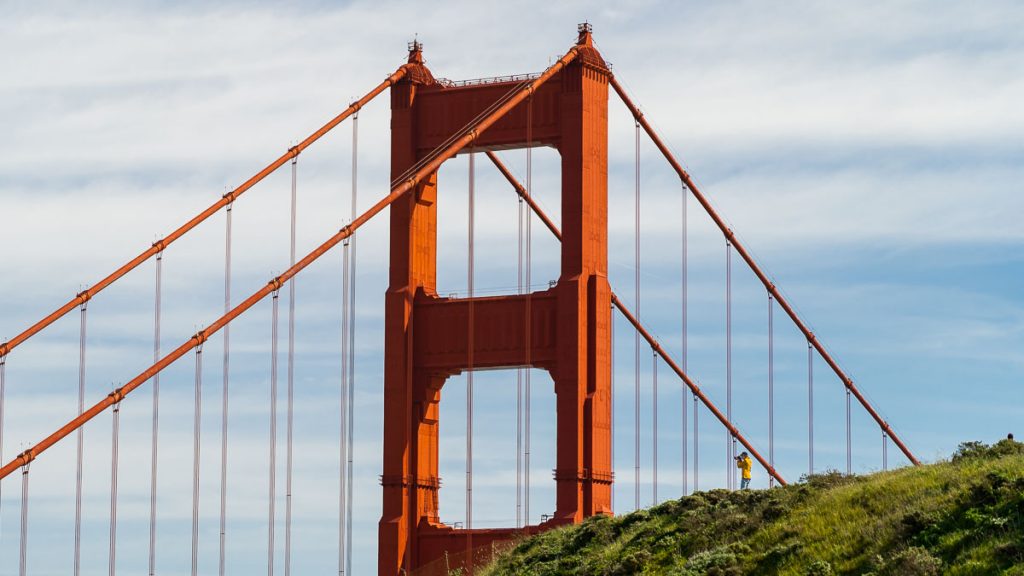 And while travelling in San Francisco can be notoriously expensive, we managed to rack up some exciting experiences like skydiving and paragliding in this itinerary, while keeping the budget under $2.8k.
Read more: USA Road Trip: 11-Day San Francisco to Los Angeles Itinerary Under S$1.8k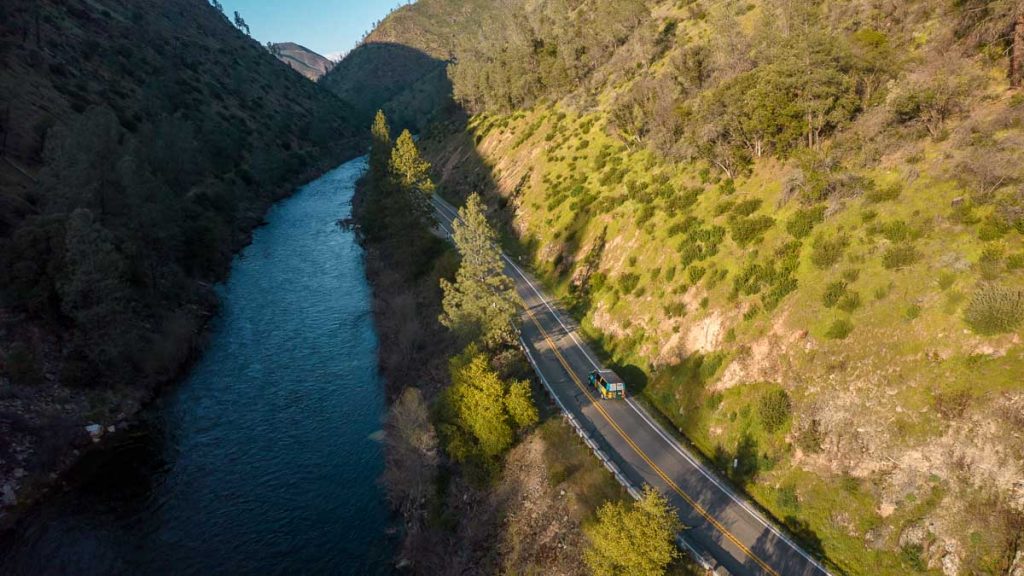 *Note: Scroll for the budget breakdown of our San Francisco itinerary.
Pre-trip essentials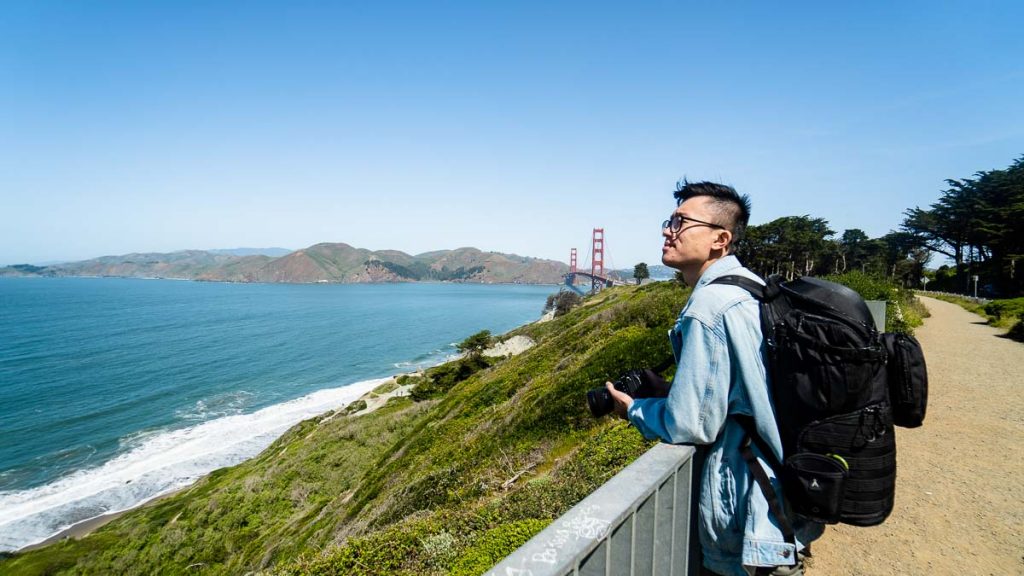 Flight: Our flight with United Airlines departs at 9PM (SGT) and arrives in SFO at 8:50PM (PDT) on the same day.
Pre-departure documents
– ESTA: Apply at least 72hrs before departure (S$14)
– Digital Vaccination Certificate
– Proof of negative ART test result (within 24hrs before departure)
– Passenger Disclosure and Attestation to the United States of America Form (hardcopy)
Staying Connected: Instead of a physical SIM card, we prepared e-SIMs and received high-speed data just by switching our mobile network. While we didn't have an international mobile number to make calls, we relied on Telegram calls and the phone from our hotel instead.
Activities: The GO City: San Francisco Explorer Pass allows admission to over 25 attractions in San Francisco at discounted prices.
We bought the pass for three San Francisco attractions we headed to for this itinerary and saved S$86.44 in total.
GO City: San Francisco Explorer Pass (3 attractions): S$76.50
K1 Speed Go Kart: US$25.95 (~S$35.70)
GoCar Tour (30 mins): US$42.50 (~S$58.47)
Six Flags Discovery Kingdom: US$49.99 (~S$68.77)
TOTAL SAVINGS: S$86.44
You can purchase either a four or five attraction explorer pass if you'd like to pack more attractions in your San Francisco itinerary. Alternatively, an all-inclusive pass is also available if you're packing more attractions within a few days.
Getting Around San Francisco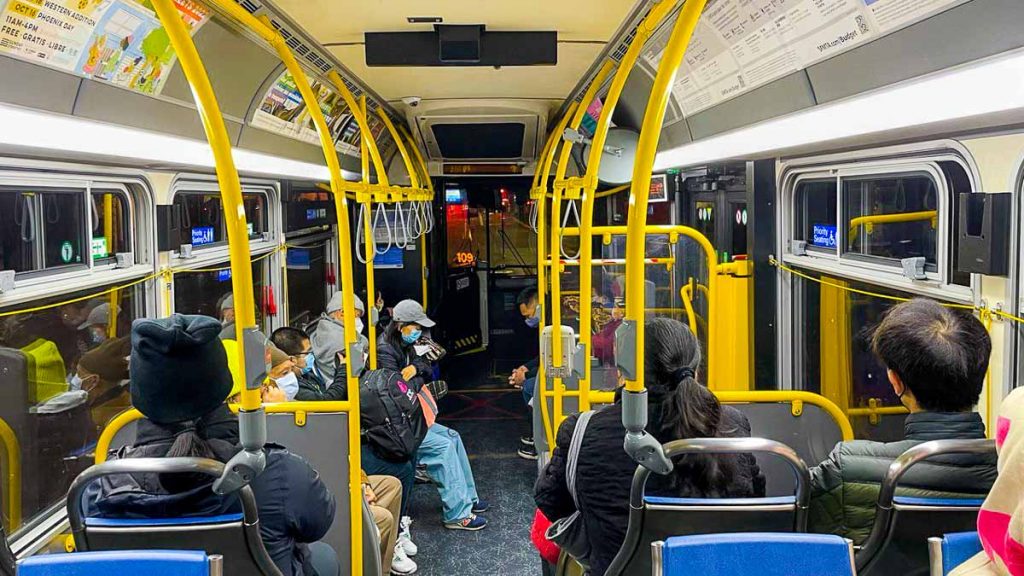 Public transport: Get a visitor passport via the MuniMobile app to use the MUNI — San Francisco's public transit system. This includes MUNI trolleys, buses and cable cars that operate around the city.
*Pro-tip: Factor in an additional 15min waiting time per MUNI ride, as waiting times can go up to 20mins
Ride-sharing Apps: Uber and LYFT are available in San Francisco but can be expensive. Rides around the city average at USD$25 (~S$34).
Car rental: Not recommended while you're in the city as parking is expensive and hard to find. For day trips out of the city (days 3–5 in this San Francisco itinerary), Kyte delivers and picks up the car at your preferred location.
*Pro-tip: Request for a California car plate to reduce the likelihood of a car break-in
Campervan Rental: For days 7–8 in this San Francisco itinerary, we explore Yosemite in a campervan from Escape Campervans.
Transport Summary (click to jump to sections)
D1-2: MUNI visitors pass around the city
D3-5: Car rental for day trips
D6: Transport included as part of the Napa Valley wine-tasting tour
D7-8: Campervan for roadtrip
D9-11: MUNI visitors pass around the city
Day 1 (arrival day) — Famous Sights & Attractions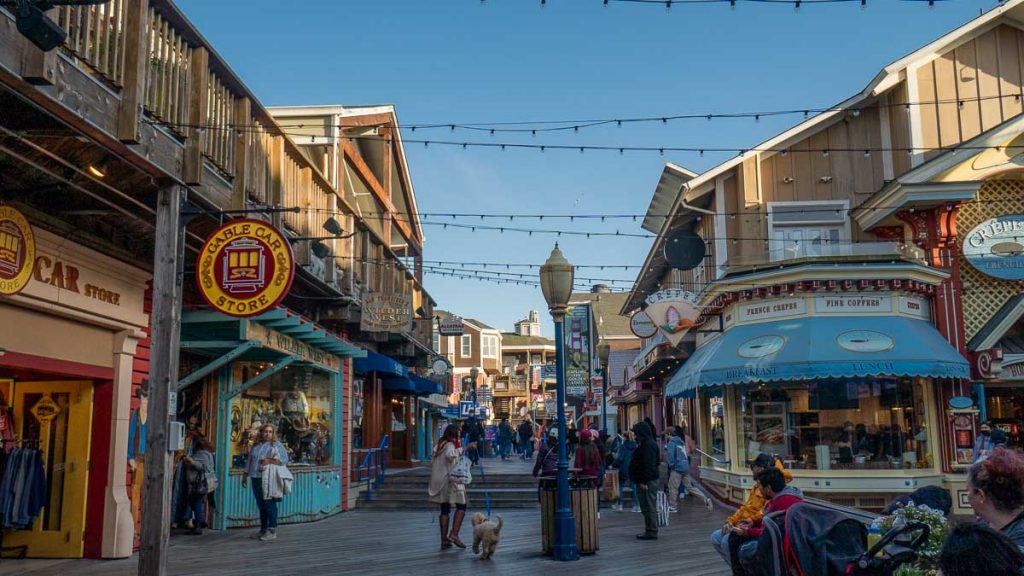 The time difference between San Francisco and Singapore is 15hrs, so we saved a day when heading there.
K1 Speed Indoor Karting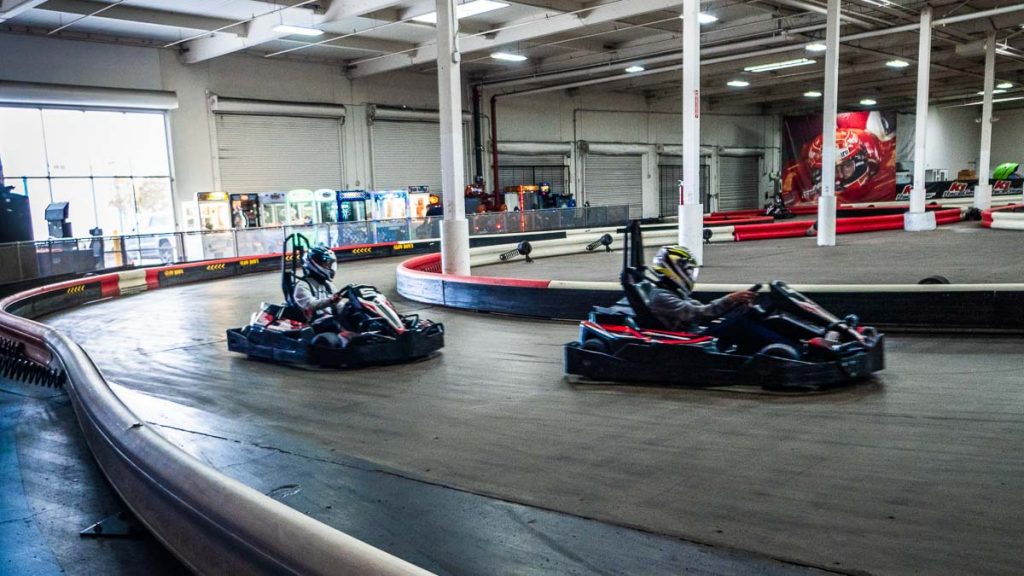 Since our flight on United Airlines landed before 9AM and most hotels only allow check-in after 3PM, we checked out the K1 Speed Indoor Karting arena which happens to be just a 12-minute bus ride from the airport.
We had a great time racing each other on the electric karts, and the best part — we karted up to 72km/hr! 🤪
*Pro-tip: Politely request for the friendly staff at the counter to take care of your luggage while you're karting
Cost: US$25.95 (~S$35) (Free entry with the GO City: San Francisco Explorer Pass)
Minimum height requirement: 121.9cm (Junior), 147.3cm (Adult)
How to get there: Take bus 292 for 6 stops from the airport Courtyard G and walk 4min
San Francisco GoCars Tour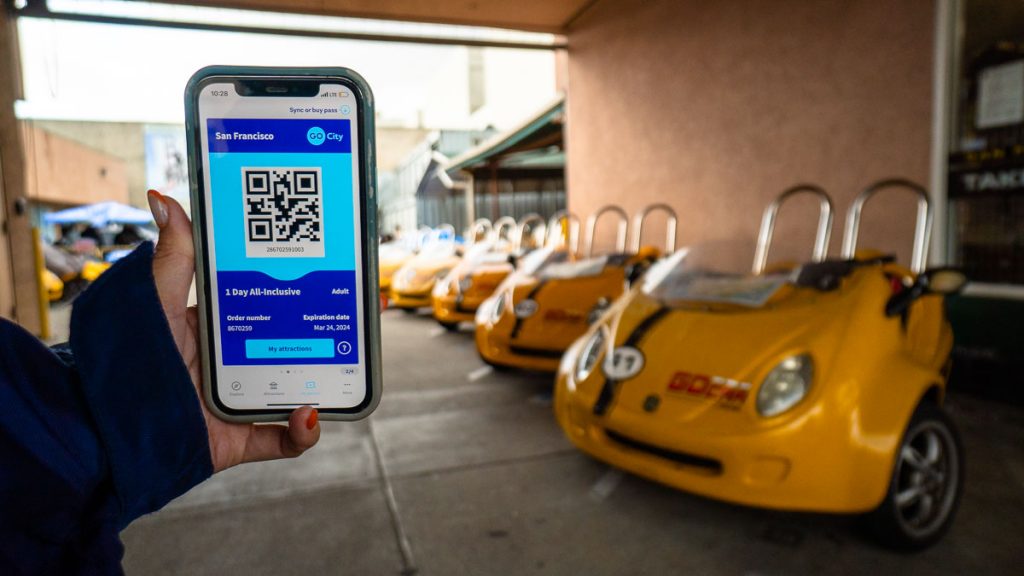 Here's a unique way to explore the city — book a 30-minute GoCar ride to tour along the streets of San Francisco and the Bay Area.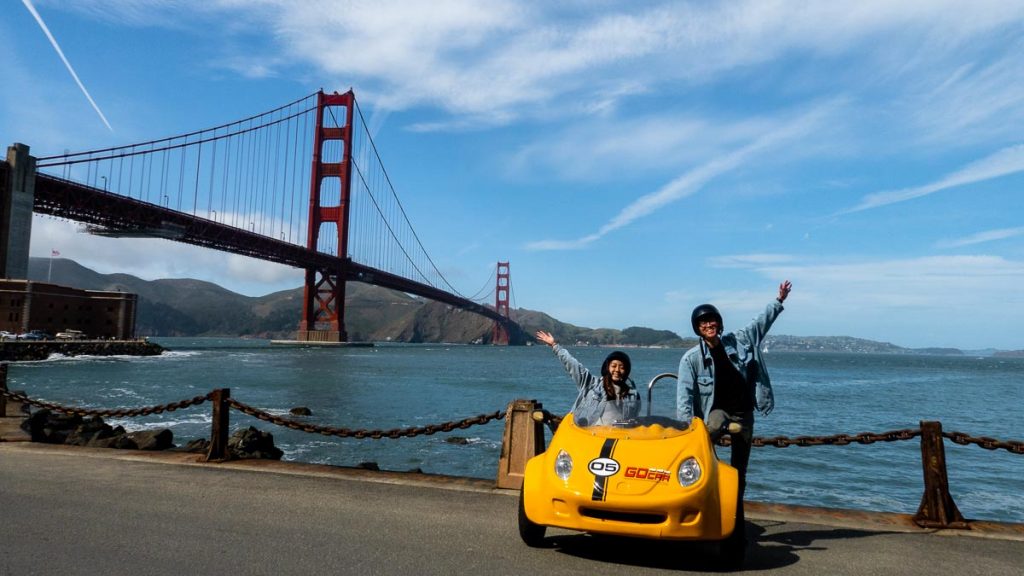 The GoCar is a GPS-guided storytelling car that drives alongside regular cars. And while we felt really tiny, it brought us to amazing viewpoints along the Bay Area including Fort Point where we enjoyed a close-up look of the Golden Gate Bridge.
*Note: A driver's licence is required to drive a GoCar
Cost: US$85 for 1hr (first 30min free with the GO City: San Francisco Explorer Pass)
Opening hours: 10AM – 7PM (Mon – Thu), 9AM – 7PM (Fri – Sun)
Address: 431 Beach St, San Francisco, CA 94133, United States
Fisherman's Wharf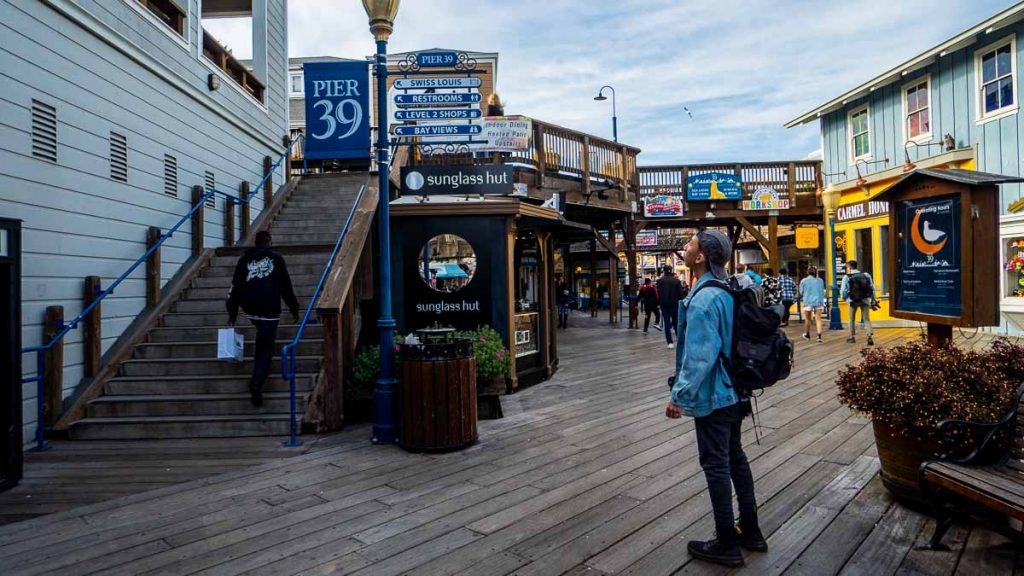 Fisherman's Wharf is a homely neighbourhood filled with food and activities for the whole family. Stroll along rows of seafood restaurants, quirky shops and attractions including the Aquarium of the Bay 🐟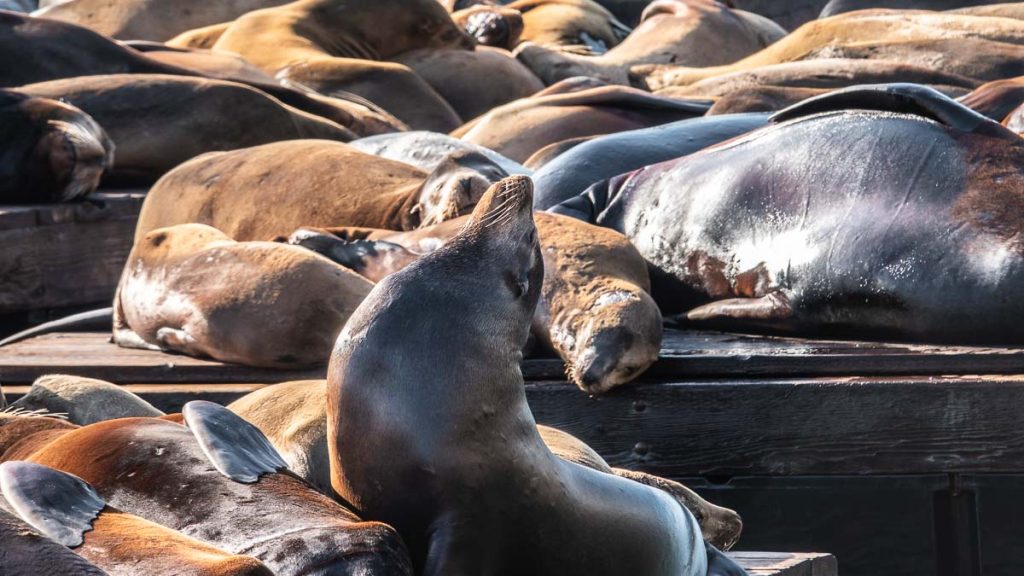 Sunbathing comfortably amidst the spring breeze, you'd probably hear these loud grunting sea lions before you spot them. No one really knows why or how these wild sea lions chose to set camp at Pier 39, but we're here for it!
Chowders @Pier 39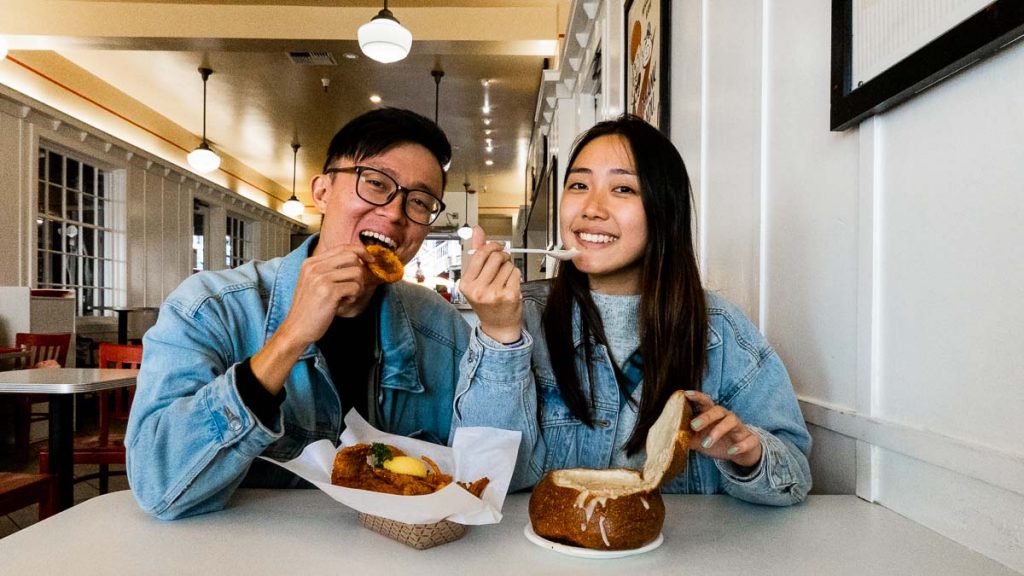 Visiting the bay area, seafood and clam chowders were a must-try for us. While the Bread Bowl Clam Chowder (US$11.99) at Chowders was great, we were hooked by their strangely-addictive wasabi-tasting salsa!
Opening hours: 9AM – 9PM (Mon – Fri), 9AM – 10PM (Sat – Sun)
Address: 2 Beach St, San Francisco, CA 94133, United States
Day 2: San Francisco's Famous Sights
Painted Ladies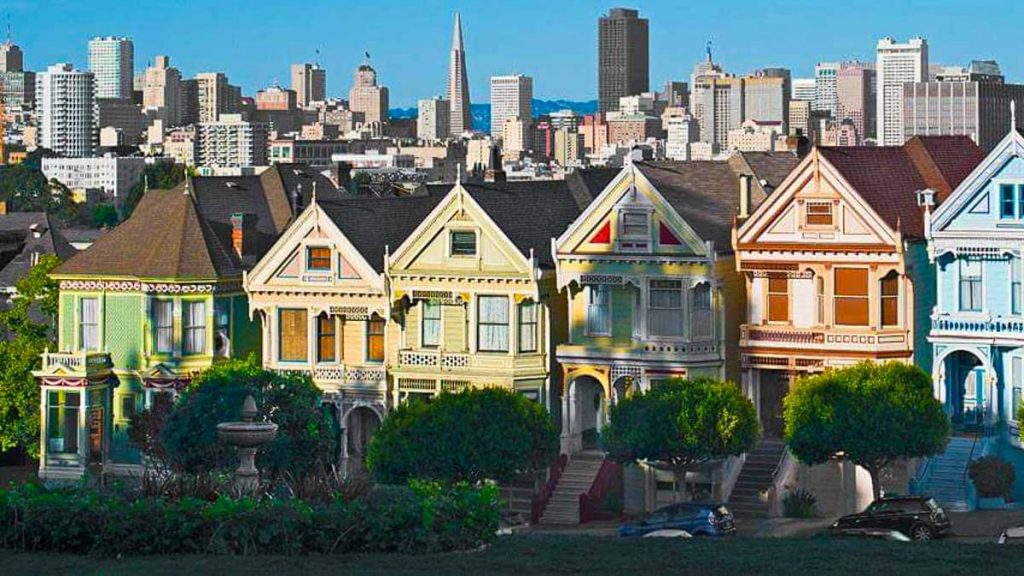 Photo credit: LightEffectPhoto via Facebook
Fans of the show "Full House" will recognise this row of colourful houses featured in the intro. Nicknamed the "Postcard Row", these houses are one of San Francisco's most photographed icons.
How to get there: Take Bus 21 to Hayes Street and Steiner Street and walk 3min
Elite Paragliding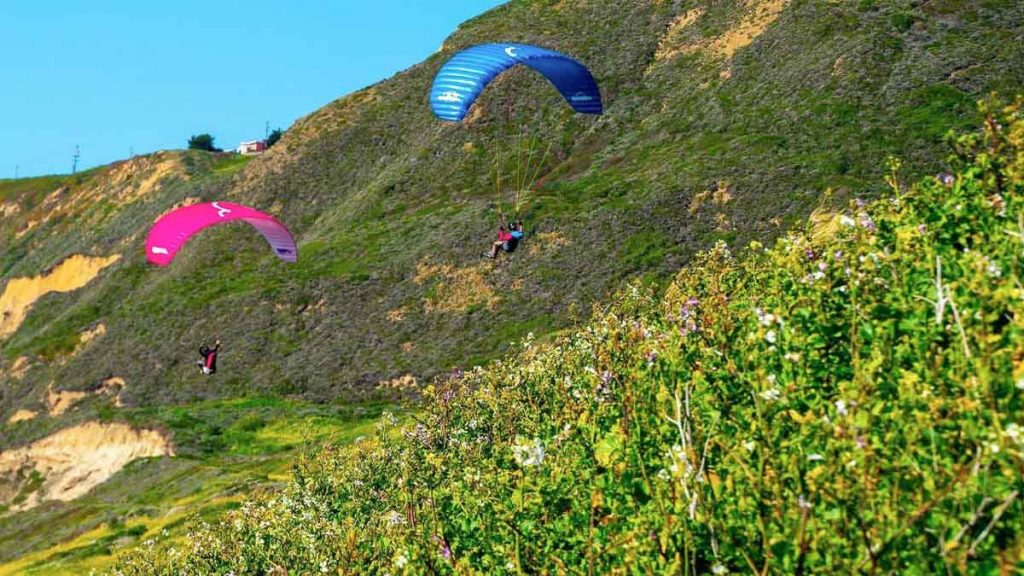 One of the best ways to enjoy the view of San Francisco is by paragliding. This 30-minute session brings you gliding along the coast above massive cliffs and scenic beaches.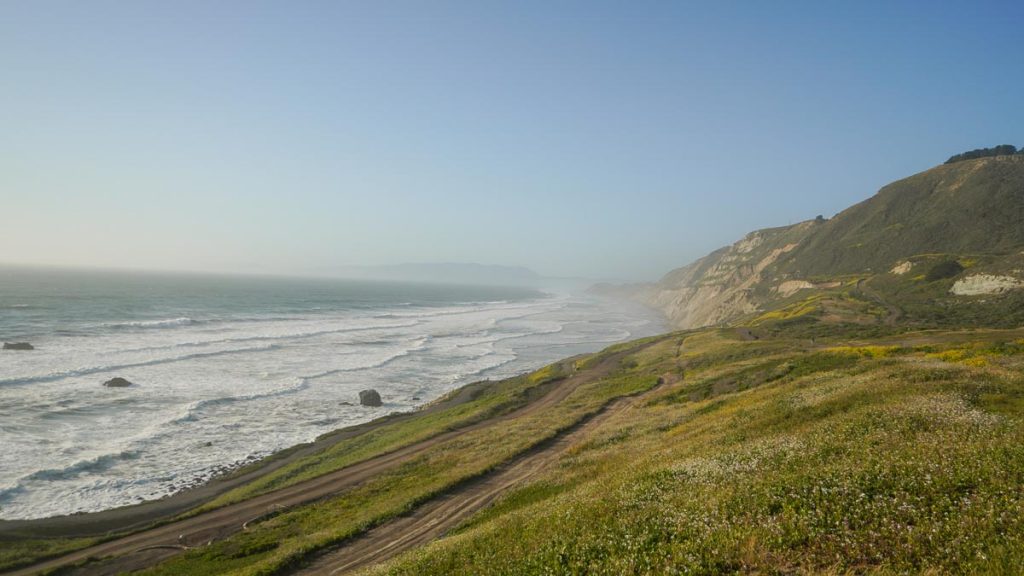 Due to wind conditions, the afternoons are best for flights. From June to August, you may even spot whales or dolphins as you glide over the beach!
Cost: From US$185 (~S$251)
Address: Depending on weather conditions, the meeting location will be sent to you via email
Alcatraz Island Night Tour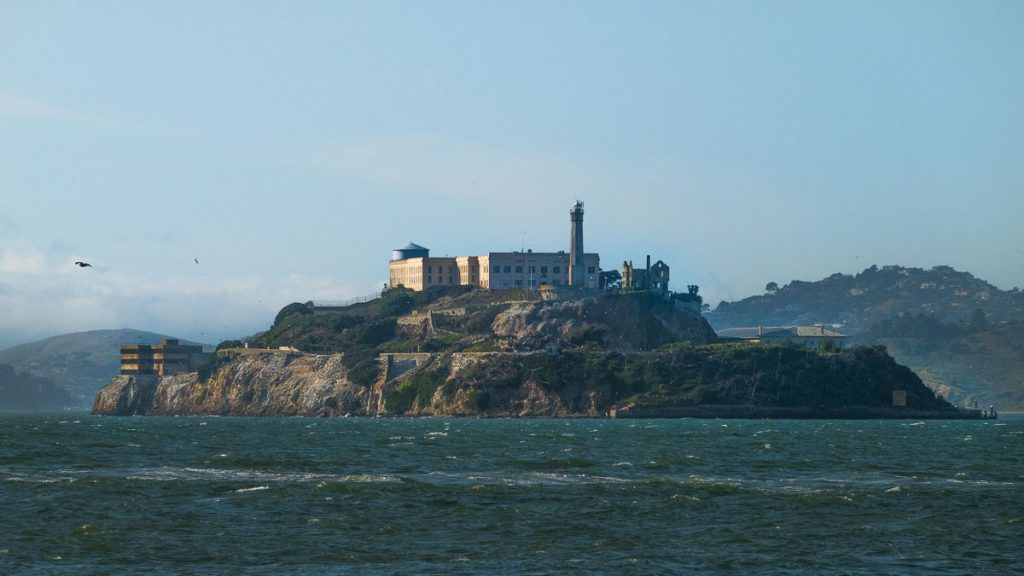 This infamous maximum-security prison from the 1970s once held some of the world's most hardened prisoners such as Al Capone.
While day tours to Alcatraz are available, we highly recommend the night tour for a chilling Alcatraz experience. Furthermore, special activities like the Cellhouse tour are exclusive to the night tour, with each trip lasting around 2–3 hours.
Book the night tour at least a month in advance as slots are limited. If fully booked, the Alcatraz Day Tour: Escape from the Rock is also available for free as part of the GO City: San Francisco Explorer Pass.
Cost of Night Tour: US$56.40 (~S$77)
Meeting Location: Pier 33
Night Tour Slots: Varies
Day 3: Day trip to Muir Woods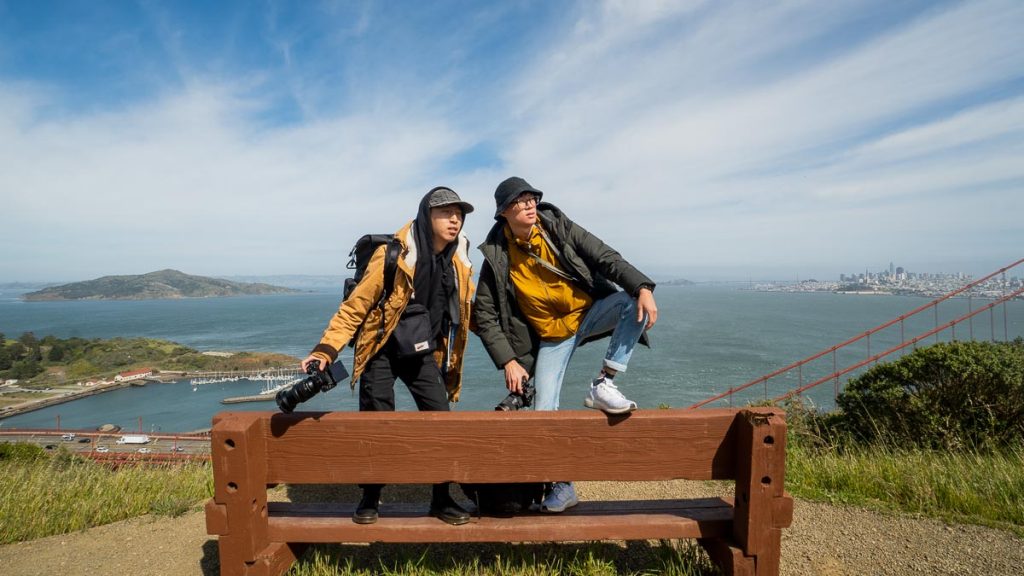 Schedule your car rental on Day 3 as we're heading up North to the Golden Gate National Recreation Area. Expect tolls as you drive along the Golden Gate Bridge.
Muir Woods National Monument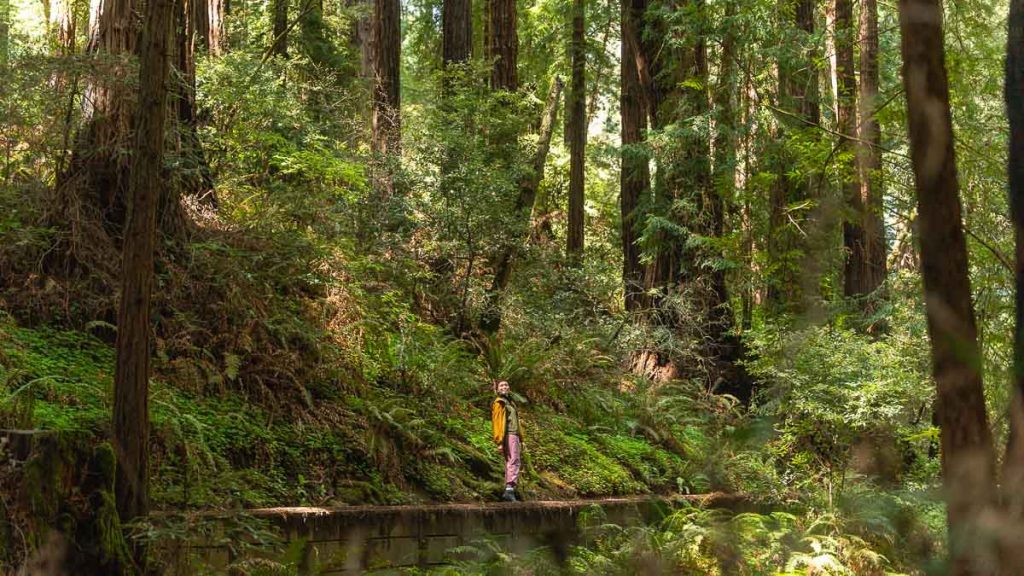 Drive down to Muir Woods early in the morning for a refreshing hike on well-maintained nature trails along nearby streams.
*Pro-tip: Visit on weekdays to avoid crowds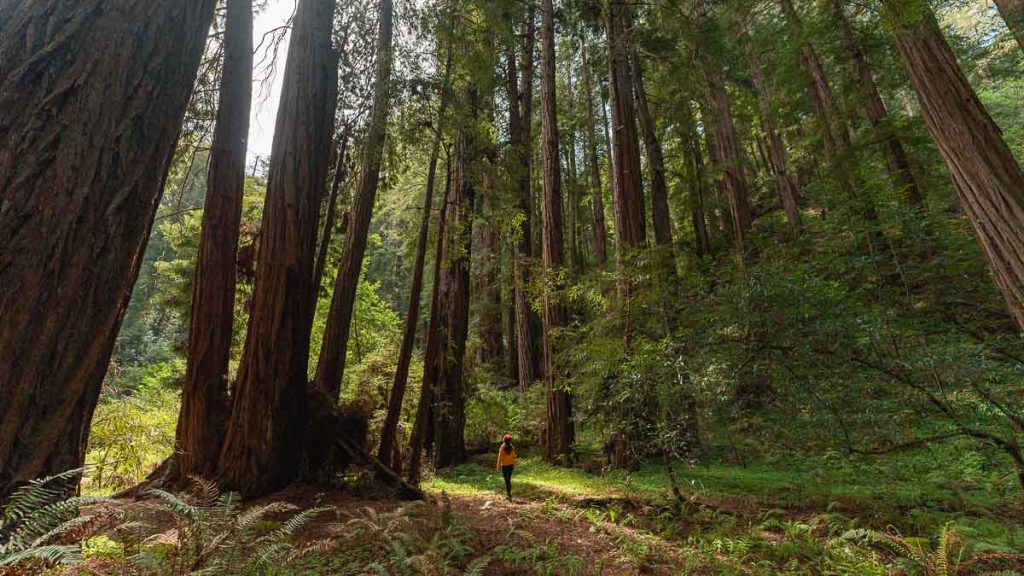 With lush and dense greenery, the tall redwood trees also make for great IG-worthy backdrops.
*Pro-tip: Make an advance reservation to secure a parking slot and book entrance tickets in advance.
Entry fee: US$15
Opening hours: 8AM – 6PM
Seaplane Adventures
Take off on this mini seaplane for a 45-minute panoramic tour of the Bay Area. Get up close to landmarks including the Golden Gate Bridge, Alcatraz and Angel Island.
Not only are the pilots prepared with stories and fun facts to share, they also know all the best moments to capture once-in-a-lifetime aerial shots of the city 📸.
Cost: ~S$323/adult
Tour timing: 3:15PM
Battery Spencer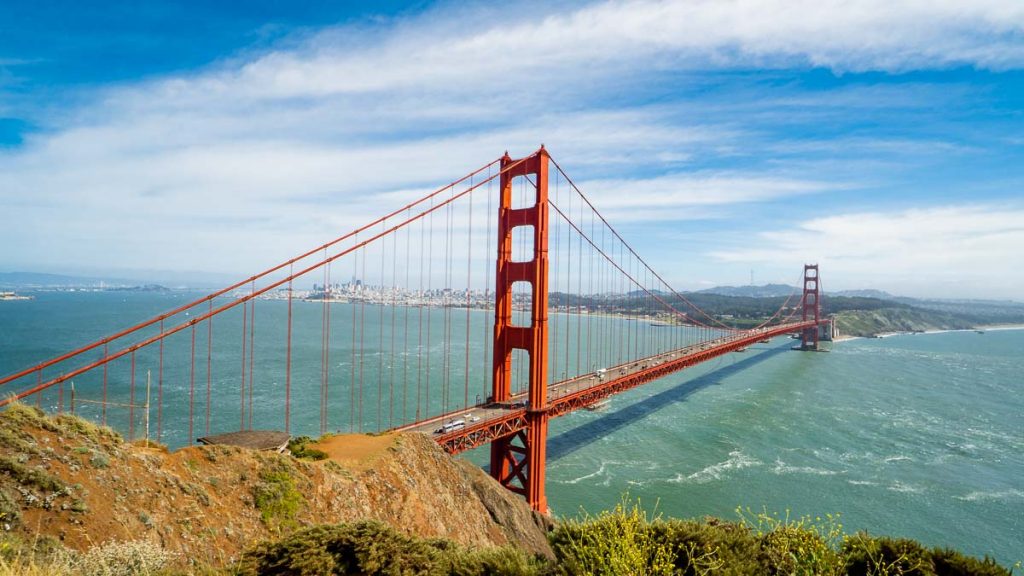 Every San Francisco itinerary will suggest viewpoints to admire the Golden Gate Bridge, and for us, it's Battery Spencer. This spot is best visited at sunset during golden hour.
Fun fact: The Golden Gate Bridge rose to fame as the tallest and longest suspension bridge during its completion in 1937, and is recognised as a symbol of power and progress in the United States.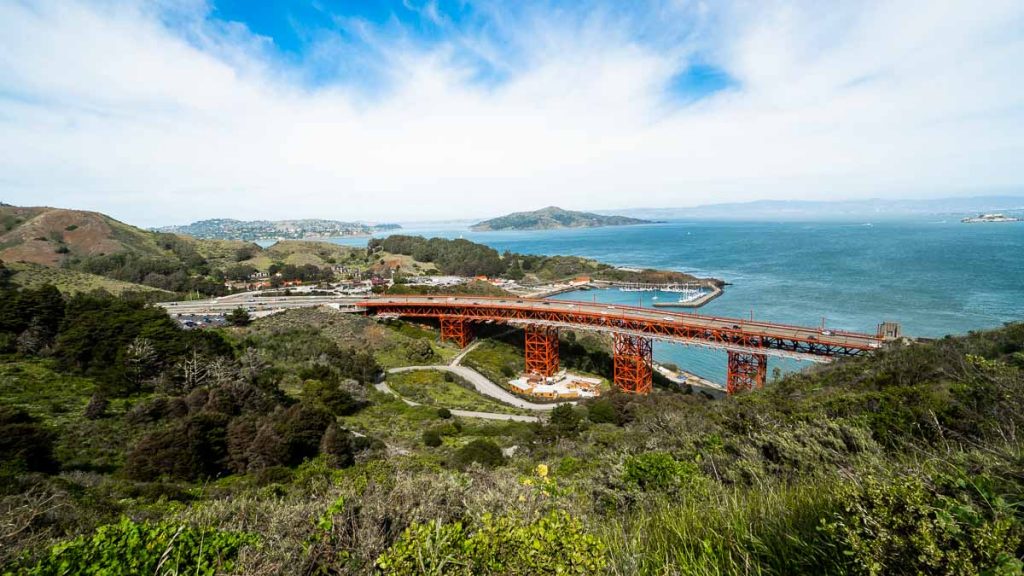 Half of the time, the Golden Gate Bridge is covered by San Francisco's resident fog, Karl (yes, the fog has a name). Visit during Fall for sunnier conditions with less fog and better views!
*Pro-tip: Layer up given the chilly winds here all-year round
Day 4: Six Flags Discovery Kingdom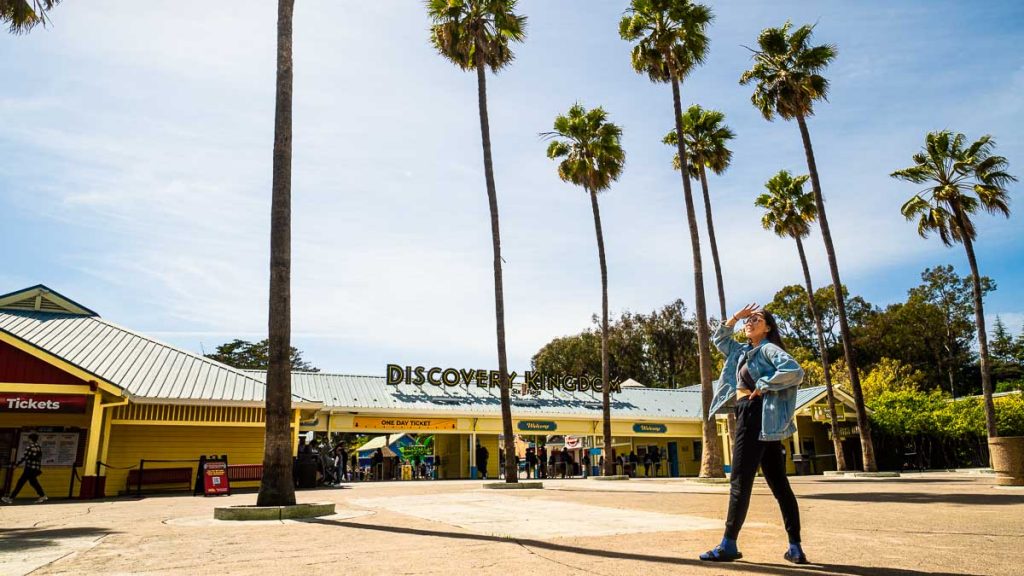 Combining both extreme rides and animal encounters, Six Flags Discovery Kingdom caters to both adrenaline-seekers and animal lovers. Here are some of our favourites:
Wonder Woman: Lasso of Truth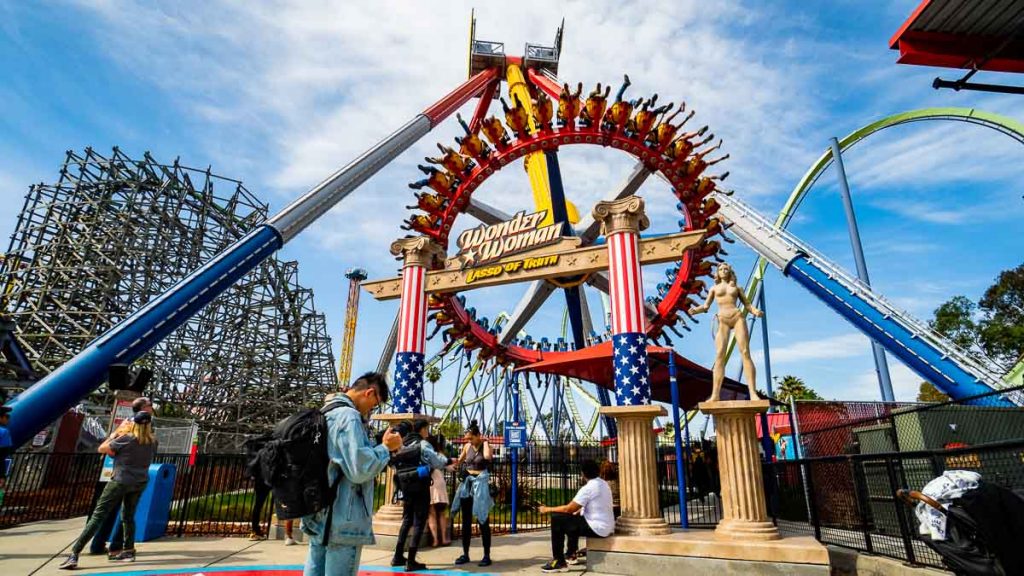 Starting to think pirate ships are sorta meh? Try this — a massive pendulum ride that sends you spinning up to new heights facing all directions!
Batman: The Ride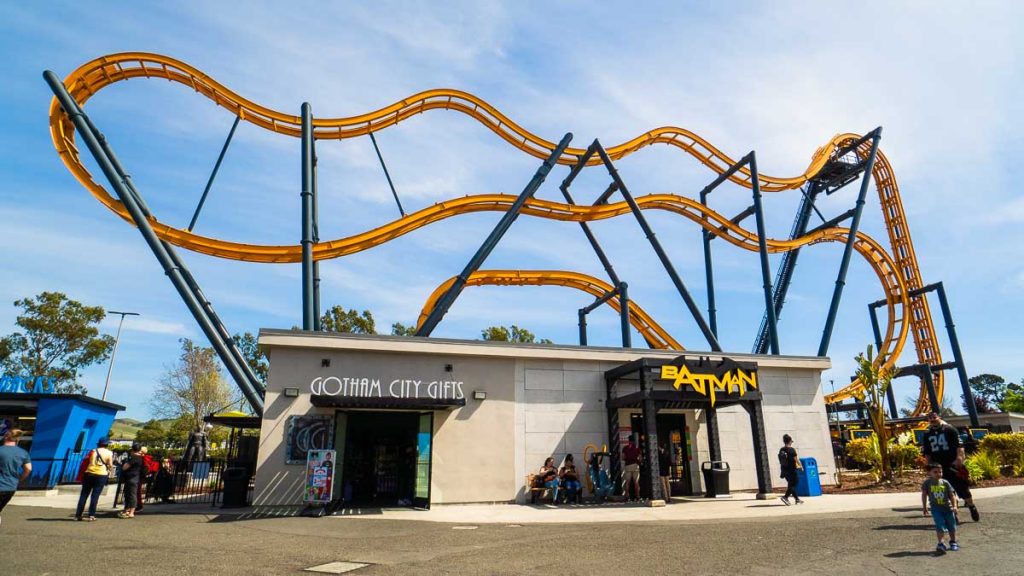 Your stomach's gonna feel queasy with this one. Enjoy zero-gravity moments as this 4D Free Spin roller coaster flips you head-over-heels with drops and vertical free-falls.
Dolphin Show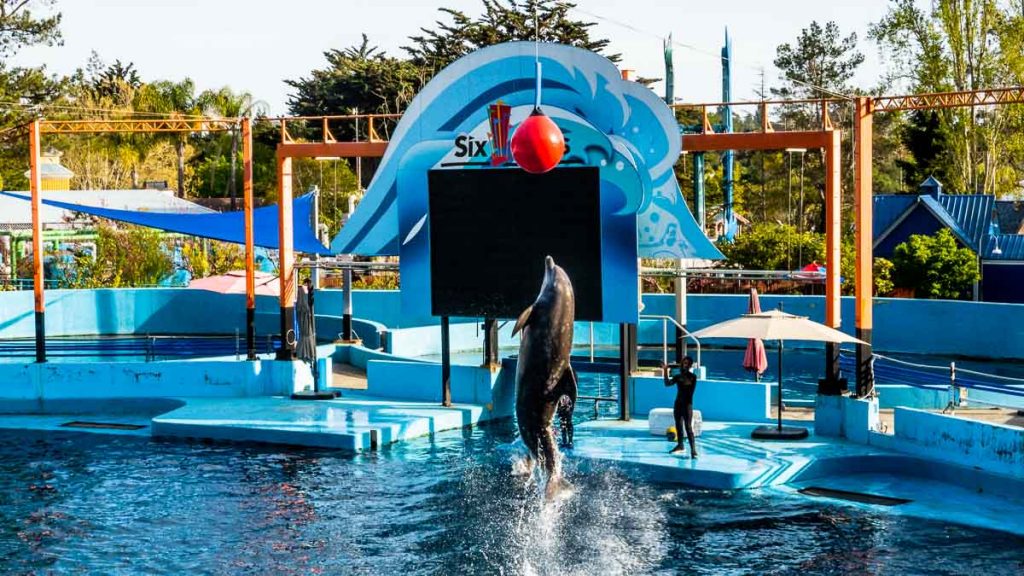 A must-see for animal lovers, these dolphins are trained to perform fancy tricks that are sure to leave you going OMG! The park also boasts lions, cougars, penguins and even a petting zone for stingrays among other animals.
*Pro-tip: Save on locker rental as there are cubicles for you to place your items before you board the roller coaster
Cost: US$49.99 for a one-day ticket (free using the GO City: San Francisco Explorer Pass)
Opening hours: Varies
Day 5: Day Trip to Monterey Bay and Santa Cruz
Here's the route of our day trip pinned on Google Maps.
Skydive Monterey Bay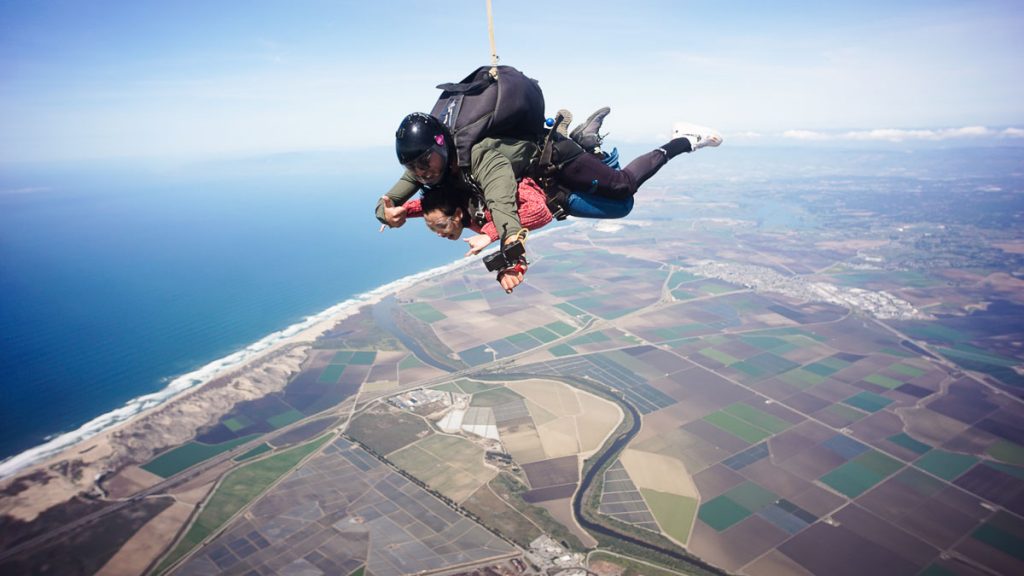 No doubt Monterey Bay has one of the best ocean views, but its beauty is best appreciated from high up — specifically 15,000 feet off the ground! 🛫
Challenge your fears with a skydive over Monterey Bay, an experience you're unlikely to forget! Advance bookings are recommended.
*Pro-tip: Cater about 4–5 hours of the day for skydiving as the dive is subject to weather conditions
*Pro-tip: Enjoy a US$10 discount when you pay by cash
Cost: From US$219 (~S$297)
Timeslots: Varies
Address: 721 Neeson Rd Suite 1, Marina, CA 93933
Santa Cruz Boardwalk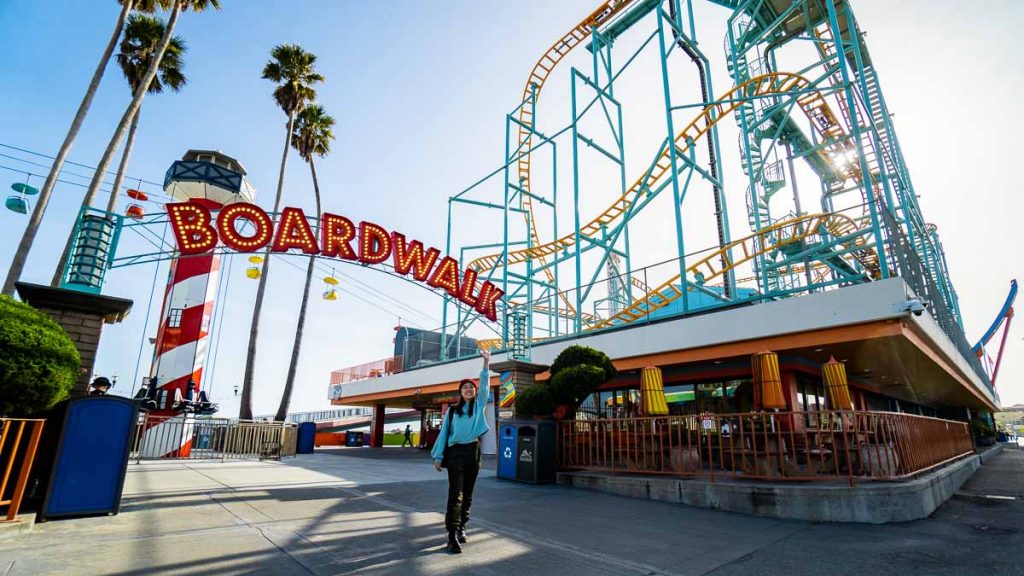 A family seaside amusement park will best describe Santa Cruz Boardwalk. While admission is free, you can opt for either a full-day ride wristband (from US$29.95) or to pay individually for the rides you'd like to take.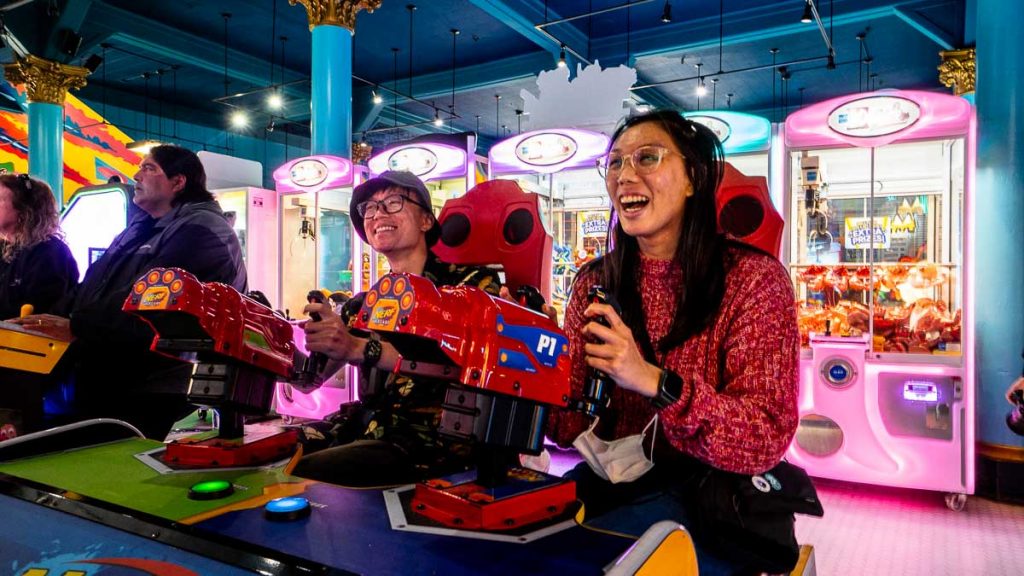 Fancy treats sold at mini booths add significantly to the carnival-like atmosphere, from caramel apples and jawbreakers to chocolate fudges! Arcade games and mini-golf are also available if you're not feeling roller coasters or the pirate ship.
Cost: Free admission to the boardwalk, separate charges available for rides and arcade
Opening hours: Varies
Address: 400 Beach St, Santa Cruz, CA 95060
Stopover at Half Moon Bay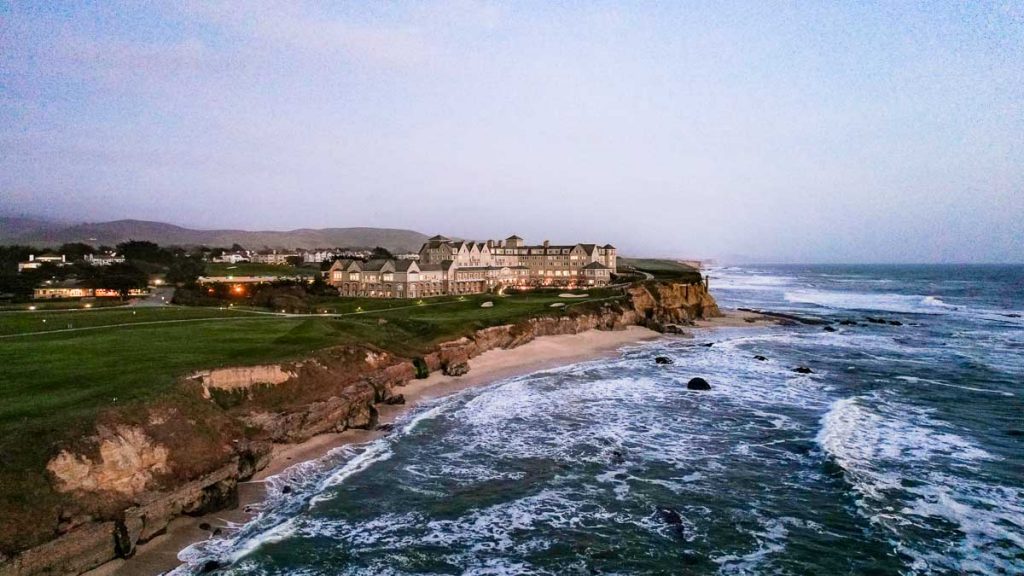 If you've got time after skydiving and Santa Cruz, a stopover at Half Moon Bay during golden hour is highly recommended. Drive along the beach for scenic ocean views as powerful waves crash onto massive cliffs 🌊
And once you make it back to your accommodation, it's time to say adios to your car!
Day 6: Wine-tasting Tour at Napa Valley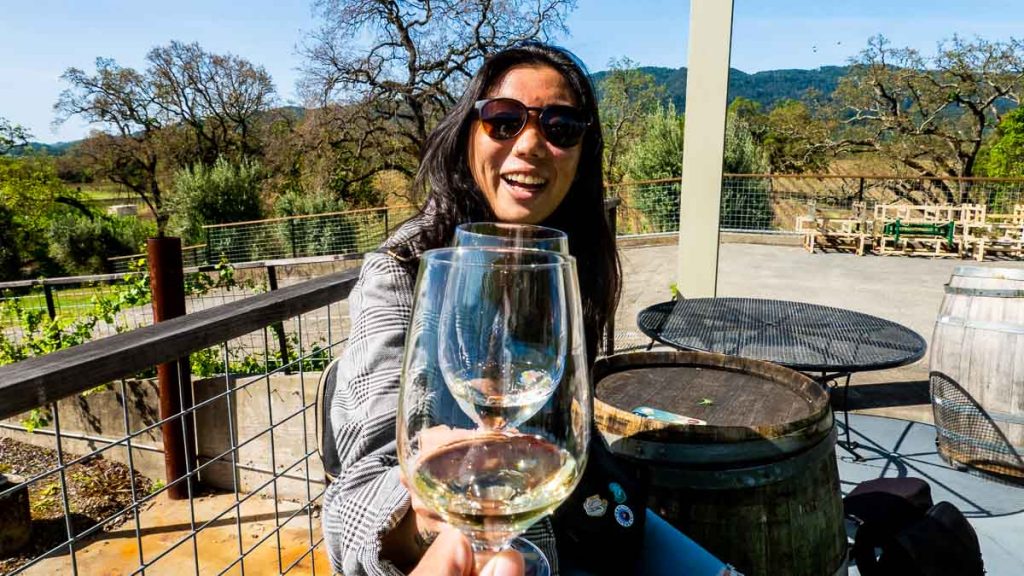 Sip on fancy wines ranging from reds to whites on a wine-tasting tour. At three separate wineries, learn more about the crops grown in Napa Valley and wine appreciation as you savour up to 12 glasses of wine — Cheers! 🥂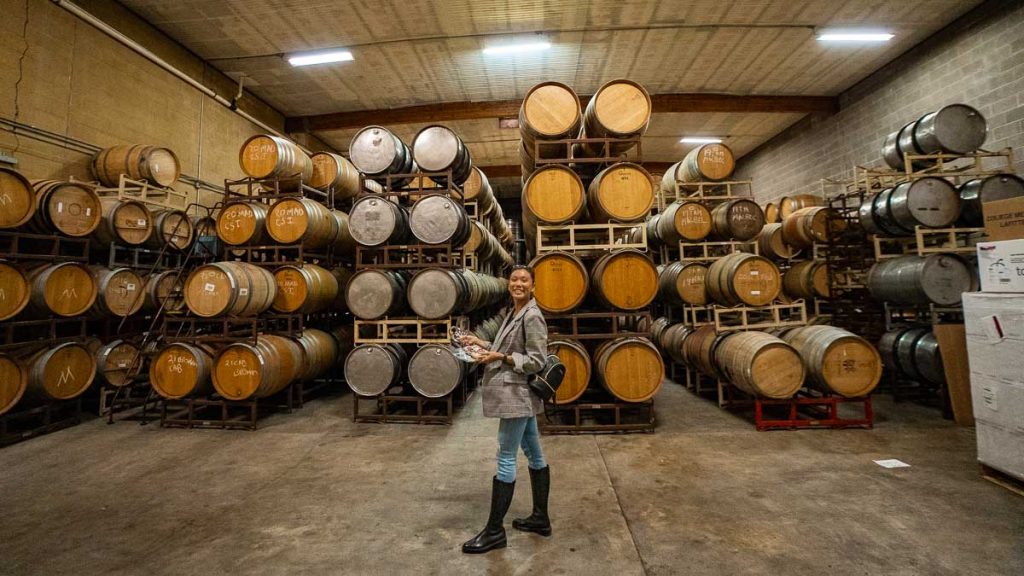 Don't feel obliged to finish all your wine if you feel light-headed, and a proper breakfast before the tour is highly recommended!
*Pro-tip: Nibble on cheese and salami sold at the wineries to stay sober.
Cost: S$168
Tour Duration: ~9hrs
Day 7–8: Road Trip to Yosemite National Park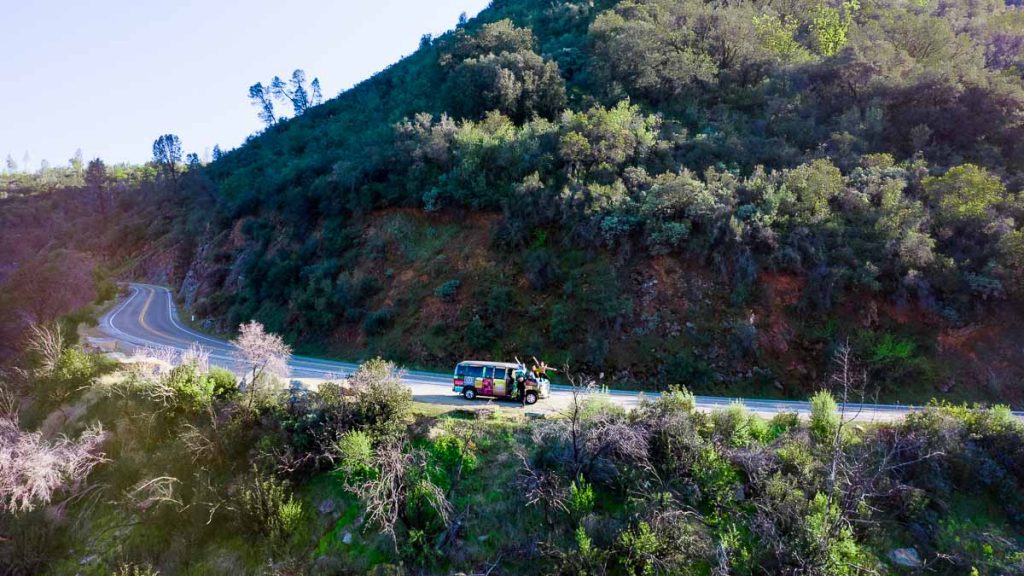 It's finally time to go camping at Yosemite! 🏞
First up, book an Uber out of the city to collect your campervan.
*Pro-tip: Leave your luggage at Vertoe Downtown Grocery, a luggage storage facility if space in the campervan is a concern.
*Note: Non-drivers can opt to experience Yosemite via a full-day guided tour
Picking up your Campervan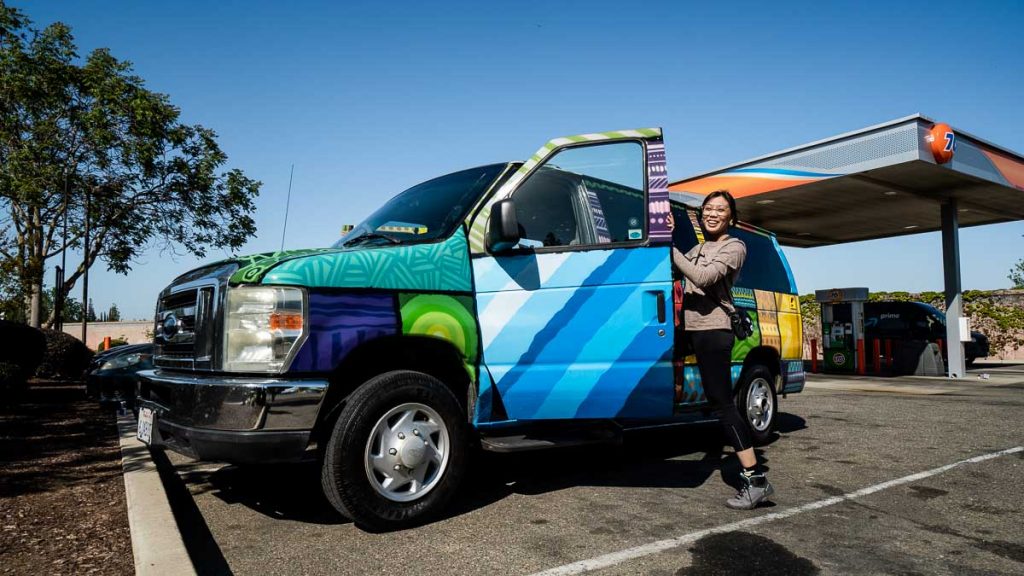 You're gonna be living in the campervan for the next two nights, so it's important to ensure you've got everything you need onboard.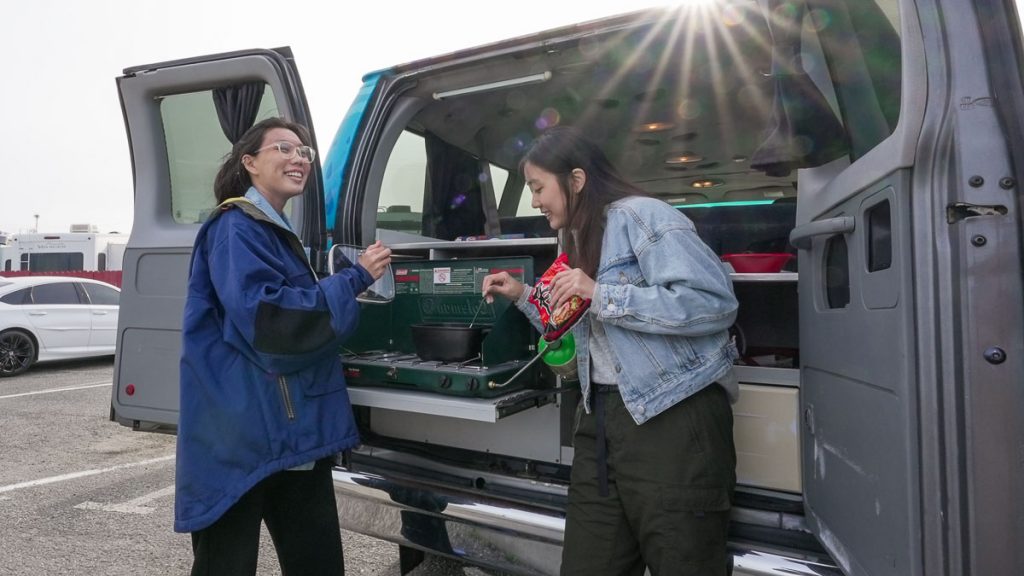 Campervan Necessities
The campervan rental comes with:
– A convertible bed/dining area
– Kitchenette: Sink, refrigerator, portable stove (gas canisters purchased separately)
– Dual battery system with solar panel
– Road Atlas and Escape Plan Guidebook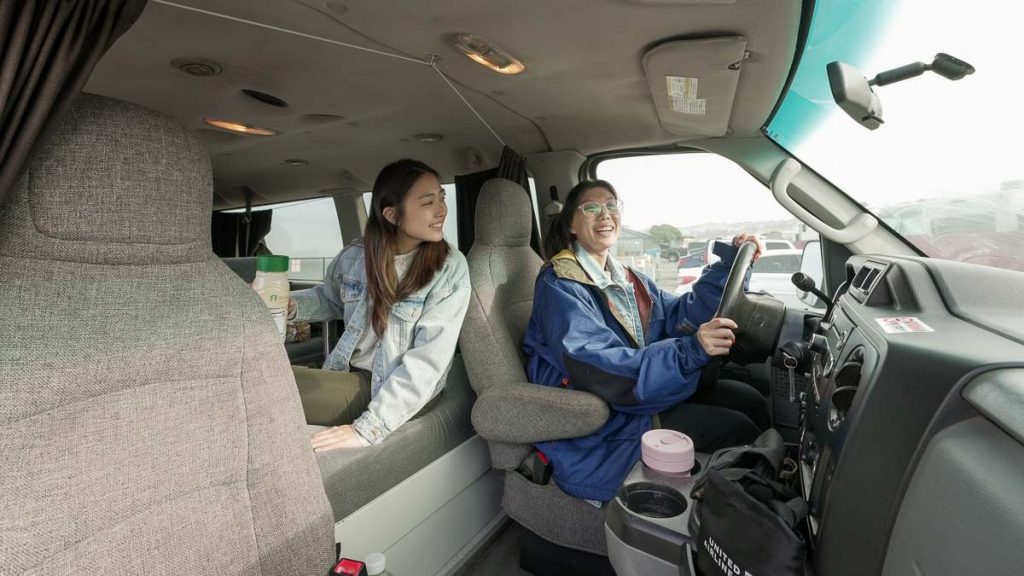 The interior was rather spacious, with plenty of legroom for long rides in comfort.
Escape Campervans offers optional items you can purchase along with the campervan rental. Here's a list of additional items we got:
– Propane (US$10/ ~S$13.5)
– AUX cable (US$5/ ~S$7)
– Electric kit (US$20/ ~S$27)
*Note: Four of us managed to sleep on the convertible bed, albeit a tight squeeze. A rooftop sleeper can be purchased for more bed space.
Check out some tips on campervan packing.
Insurance
Escape Campervan also offers various insurance options. We purchased the "No Worries on Vehicle" option at US$13/day.
Yosemite National Park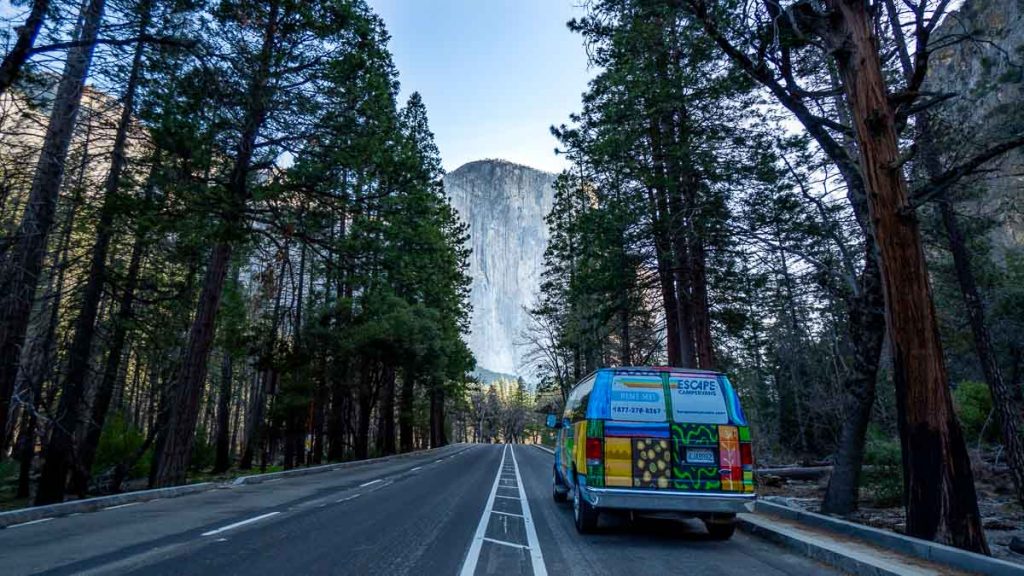 From SF, it's about a three and a half hour drive (without breaks) to our accommodation at Indian Flat Campground. After spending a night there, we entered Yosemite National Park via the Arch Rock Entrance early the next morning.
*Note: During peak season (from 20 May through 30 September), entry to Yosemite National Park between 6AM and 4PM must be reserved online, and costs US$35 per car.
Catch the sunrise at Tunnel Viewpoint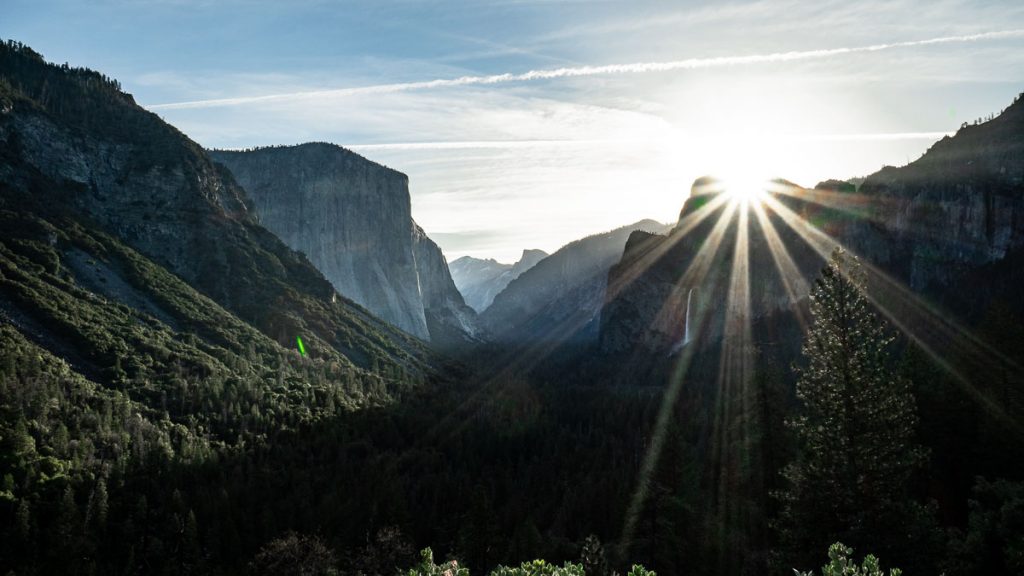 Tunnel View is a key spot to catch the sunrise above granite cliffs. Enjoy views of Bridalveil Fall and El Capitan rising from the lush greenery of Yosemite Valley.
Lookout spots: Bridalveil Falls, Yosemite Falls, Mirror Lake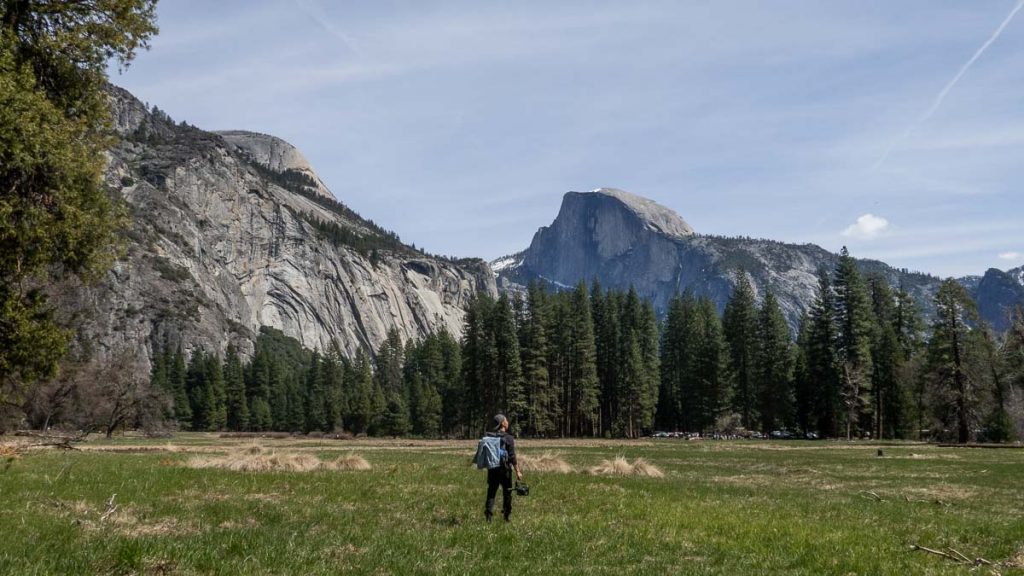 Granite cliffs and waterfalls make driving along the roads of Yosemite an ethereal experience, and the scenery at all viewpoints are worth a visit.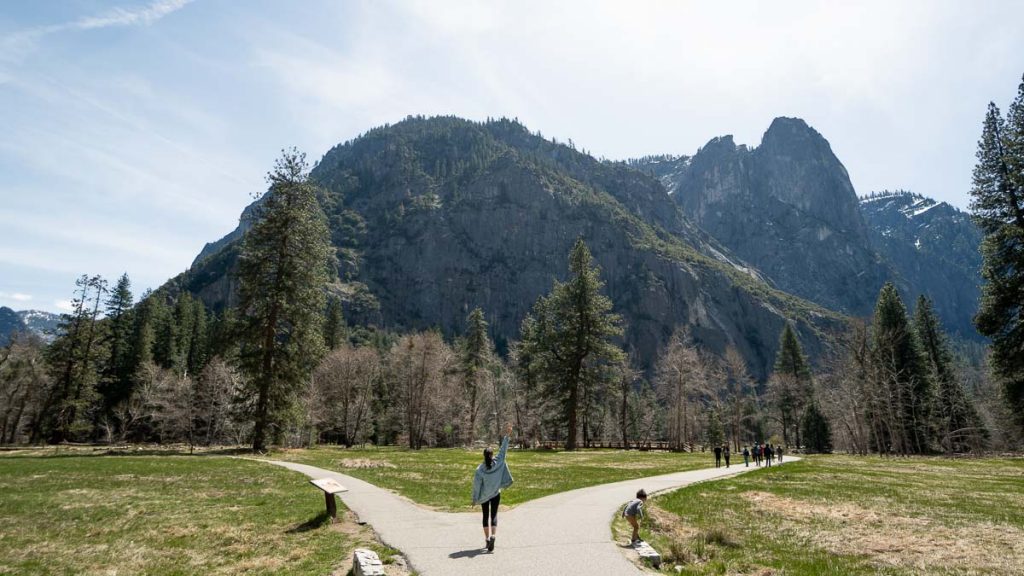 There are various trails and lookout points to choose from at Yosemite. Some can be driven to, while others require a hike to reach. Here are some spots we visited: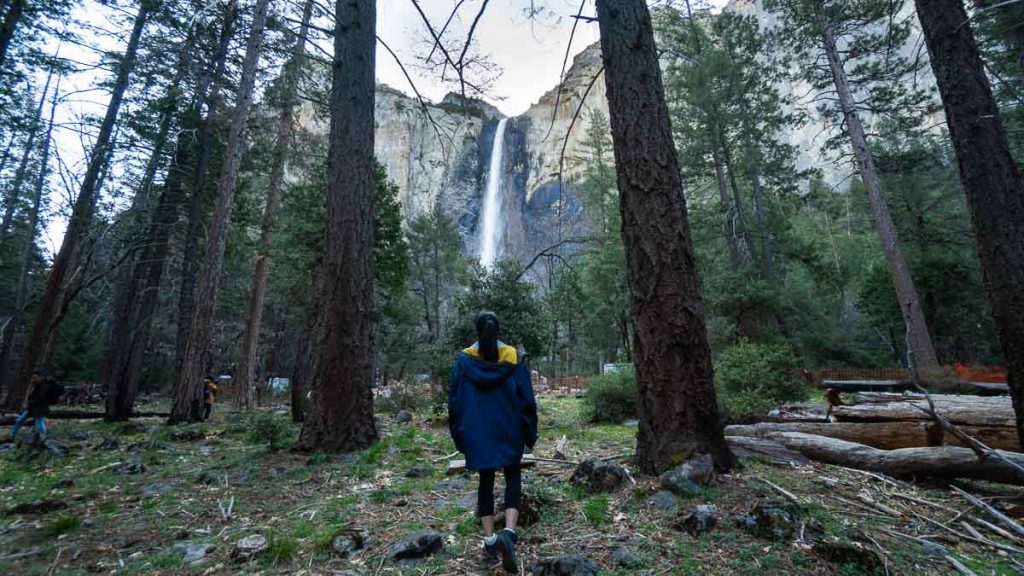 We went up close to Bridalveil Fall via a short 5-minute trek through nature paths.
Fun fact: The waterfalls are a result of melting snowcaps from the Winter season, and dry up completely by August. Hence, Spring is the best time to visit Yosemite for those massive, crashing waterfalls!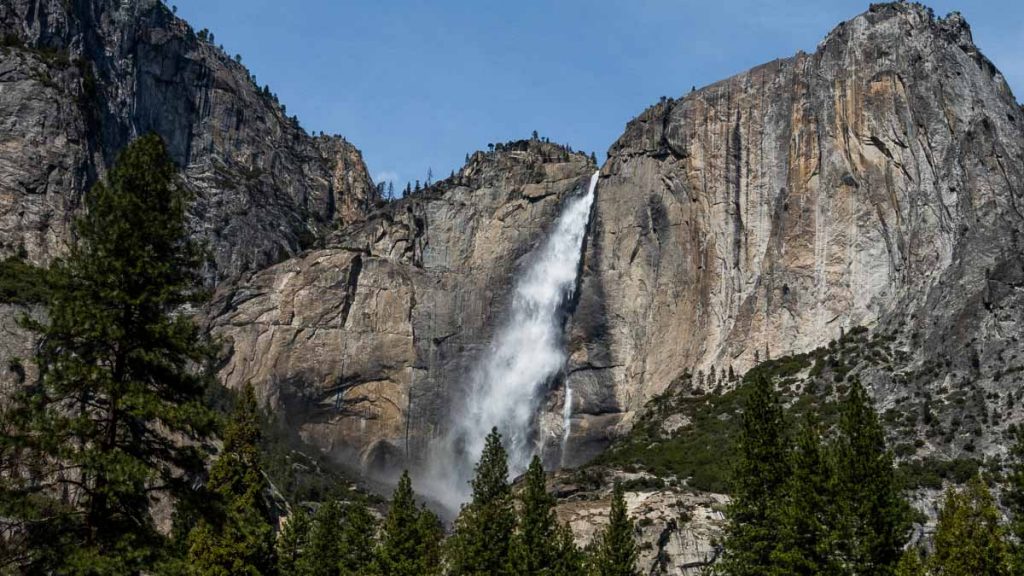 Spot the Yosemite falls at Cook's Meadow Loop!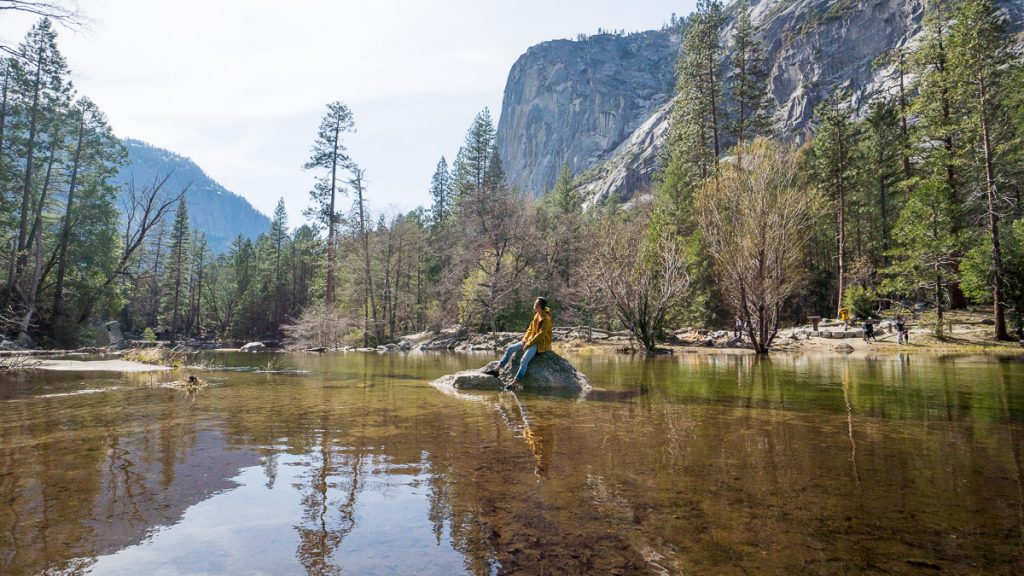 Spring and early Summer are the best times to visit Mirror Lake — but be fast as the lake is slowly disappearing due to sediment accumulation.
Accommodation: Indian Flat Campground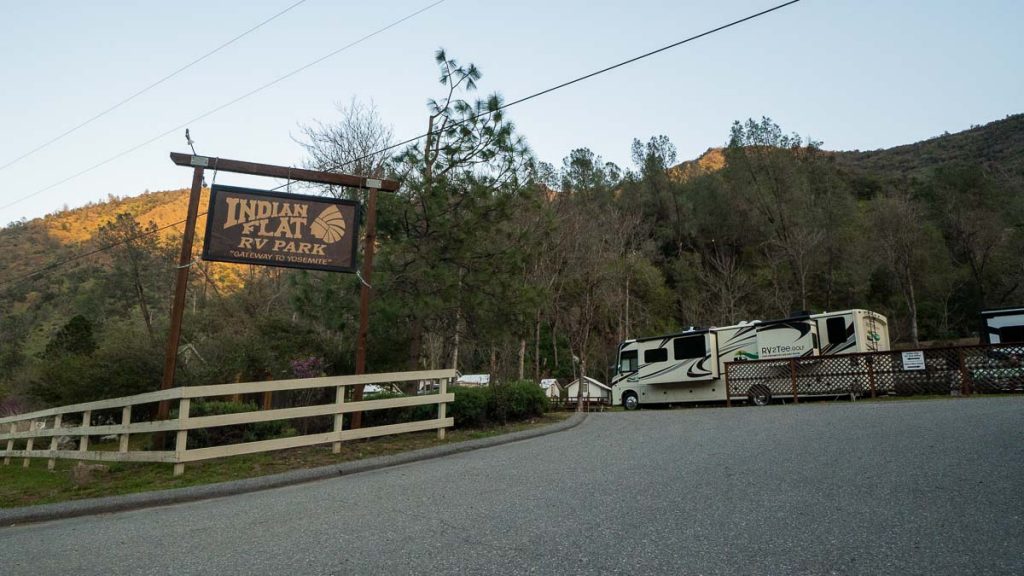 Located 12 minutes away from Yosemite, the Indian Flat Campground is a great alternative to camping in Yosemite itself. In this RV park, public bathrooms and showers are well-maintained, plus water and electricity are provided.
*Note: Campgrounds are available in Yosemite, but they book out months in advance.
Cost: From US$42/night (~S$57)
Address: 9988 Highway 140, El Portal, CA 95318, United States
Day 9: Explore Cultural Districts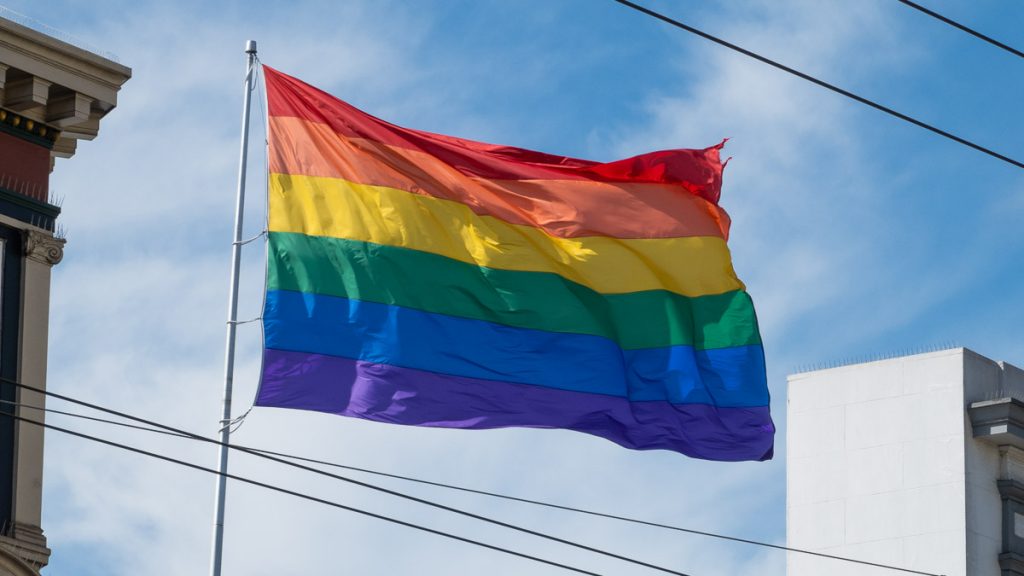 Campervan returns are in the morning between 8:30AM and 10AM, so here's where you'll part with your ride. Afterwards, we go street-hopping along famous cultural districts around San Francisco.
Castro District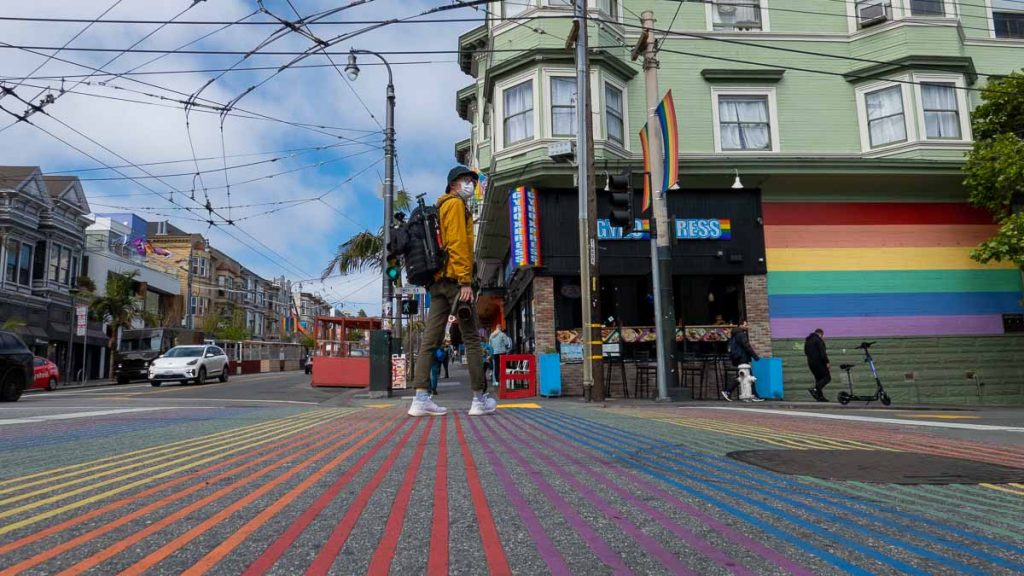 San Francisco is nicknamed the "Gay Capital of the World" and for good reason. Take a stroll along Castro and you'll find pride flags and rainbow crosswalks scattered across the street.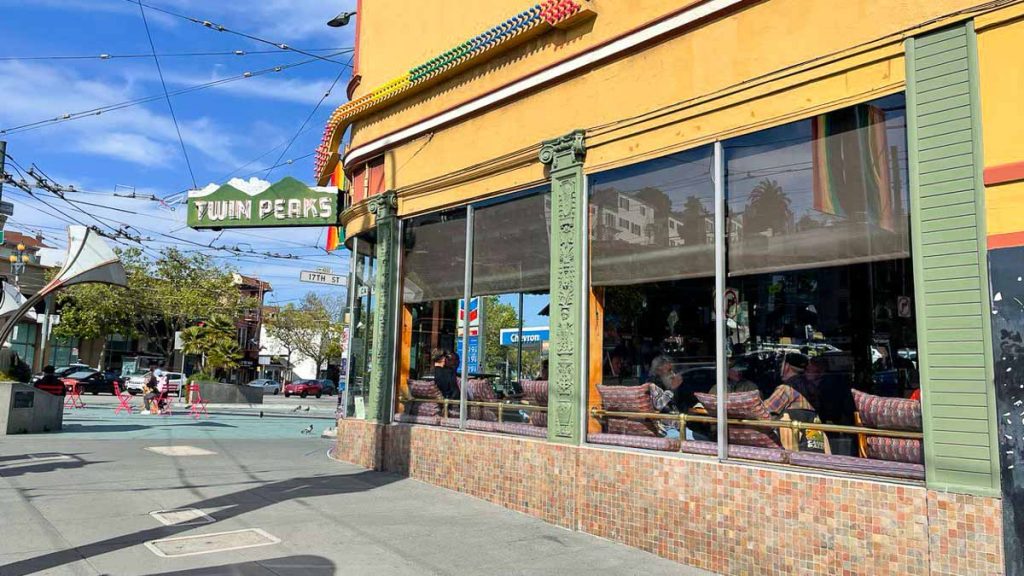 The best way to learn more about SF's LGBT culture? Step into Twin Peaks Tavern — San Francisco's first openly gay bar — and enjoy a conversation with the lovely locals there!
Twin Peaks Tavern
Opening hours: 12PM – 2AM (Mon – Wed), 11AM – 2AM (Thu – Sun)
Address: 401 Castro St, San Francisco, CA 94114, United States
Mission Street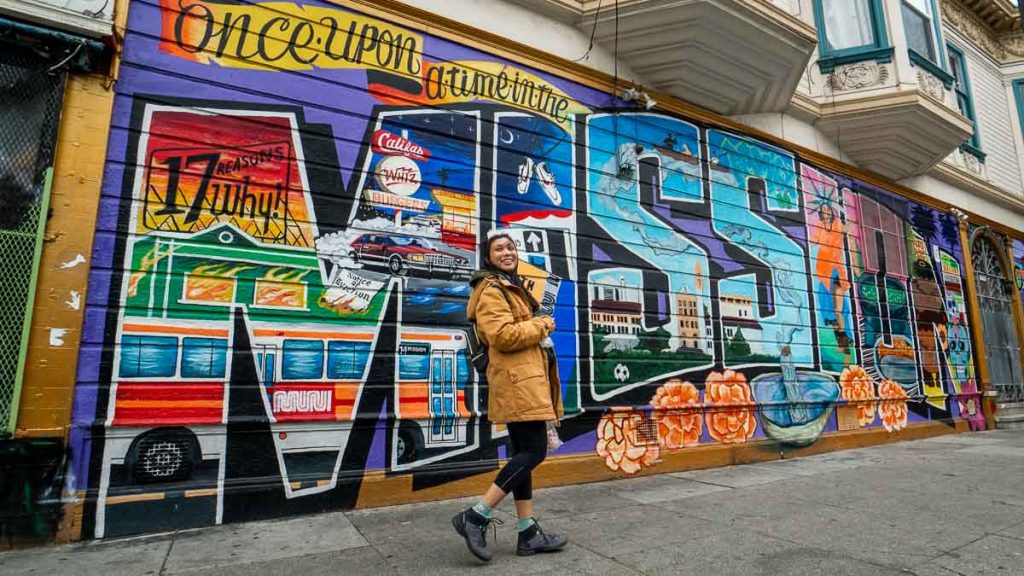 The centre of the Chicano and Latino community, the Mission District is one of San Francisco's most vibrant neighbourhoods. Expect to find rows of boutique shopping outlets, along with an array of Mexican and Latin delights here.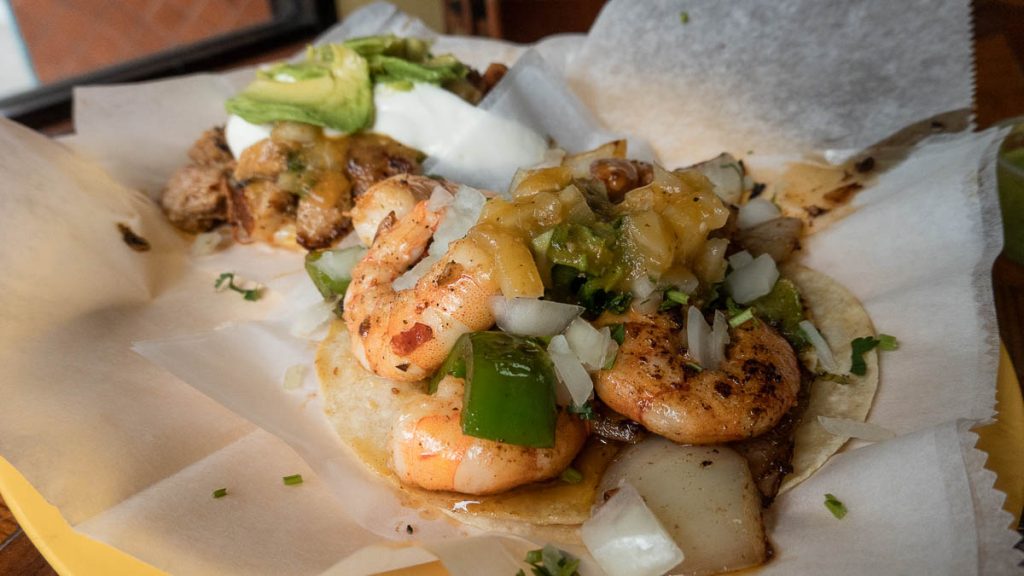 Locals recommend having the burritos and tacos from Mexican restaurants in the area — such as La Taqueria or Taqueria Guadalajara. The Shrimp tacos (US$6.70) from Taqueria Guadalajara were savoury and juicy, although the Wet Burrito (US$13.50) was a little soggy for our taste.
La Taqueria
Opening hours: 11AM – 8:45PM (Wed – Sat), 11AM – 7:45PM (Sun), closed on Mon and Tue
Address: 2889 Mission St, San Francisco, CA 94110, United States
Taqueria Guadalajara
Opening hours: 9AM – 12AM
Address: 4798 Mission St, San Francisco, CA 94112, United States
Sotto Mare Oysteria & Seafood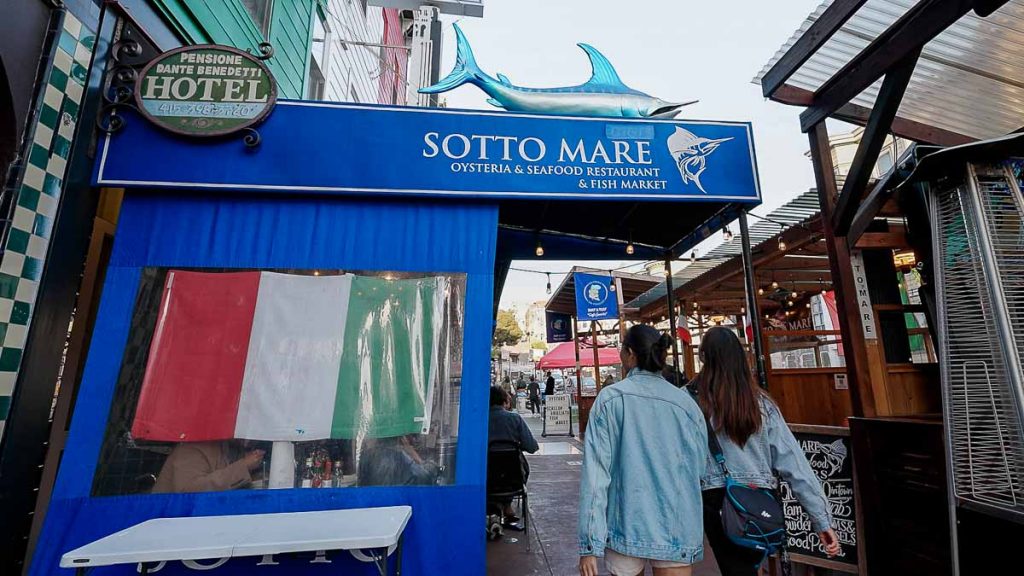 Located in North Beach neighbourhood (affectionately termed "Little Italy"), an Italian seafood dinner at Sotto Mare makes the perfect end to your cultural exploration.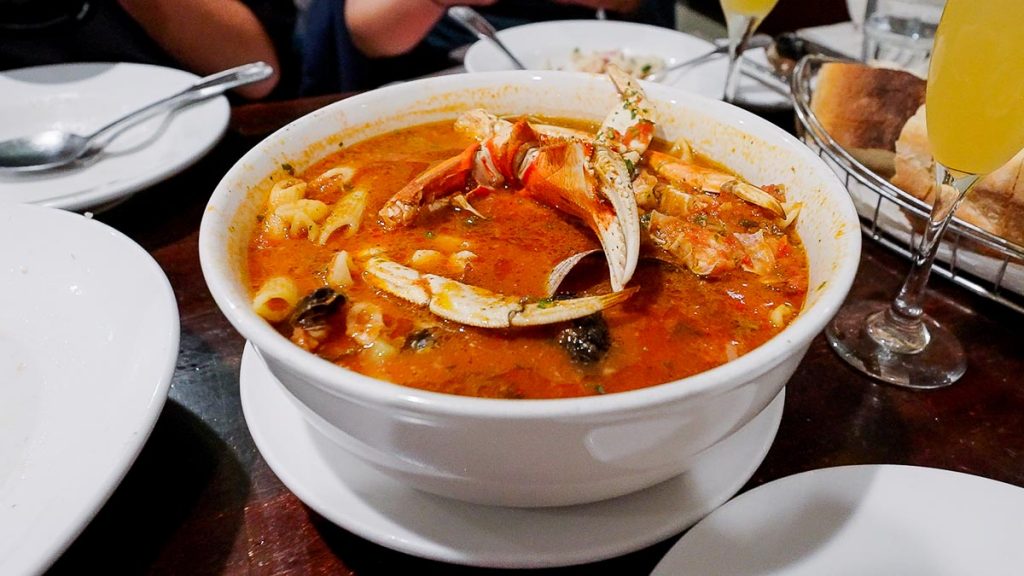 An advance reservation must be made at this crowded eatery, famous for its amazing Ciopinno (US$49.95) — a tomato-based stew containing fresh seafood like crab, scallops, mussels and more. We also feasted on fresh oysters (US$3 each) to complete the night.
Opening hours: 11:30AM – 9PM (Sun – Thu), 11:30AM – 10PM (Fri – Sat)
Address: 552 Green Street, North Beach, San Francisco, CA 94133, United States
Day 10: Hiking Amidst San Francisco Nature Areas
Sunrise at Twin Peaks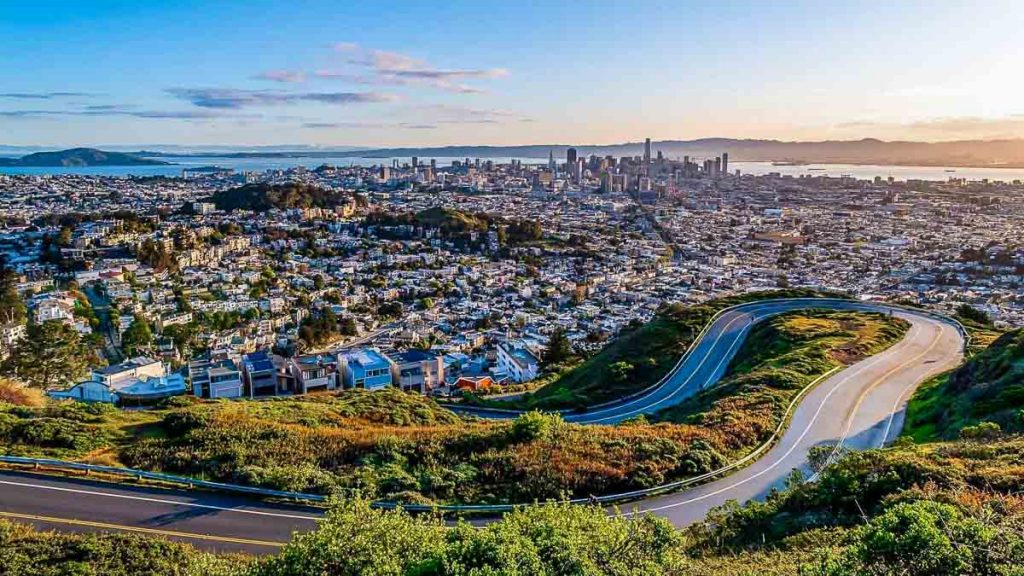 Photo credit: willowsinnsf via Facebook
With a short hike to Twin Peaks' lookout point, you're treated to a grand overview of the city, including landmarks like the Bay Bridge and Alcatraz. Sunrise and sunset are the best times to head up, but keep your fingers crossed for a non-foggy view. Unfortunately, Karl the fog beat us to the top 😥
Opening hours: 5AM – 12AM
Lover's Lane at the Presidio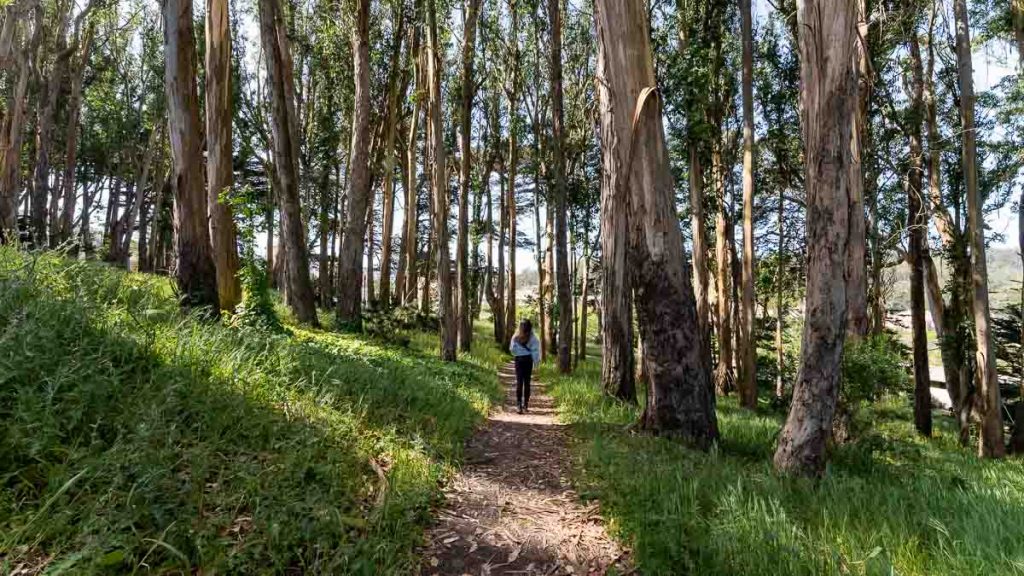 Lover's Lane is one of the few hiking trails you can find at the Presidio. It's a generally easy trail that can be completed within 30 minutes.
Look out for Wood Line by Andy Goldsworthy, an iconic zigzag art installation made by connecting fallen tree trunks. Set between picturesque tall trees, there's no wonder why it's a hot proposal spot among locals.
Baker's Beach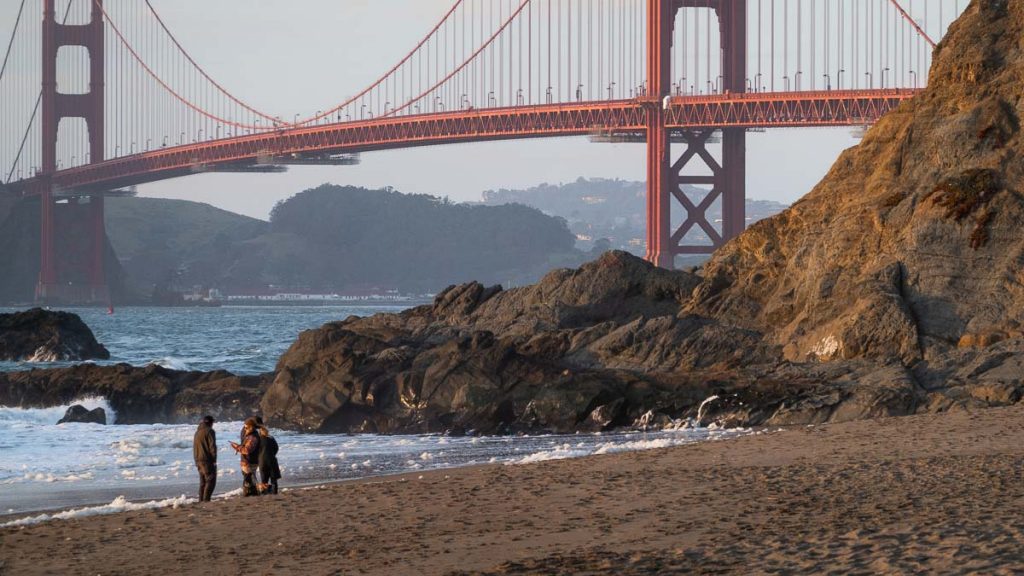 Don't be surprised to find locals sunbathing in absolutely nothing 👙! Baker Beach is a clothing-optional beach (aka a nudist beach), especially as you head North East.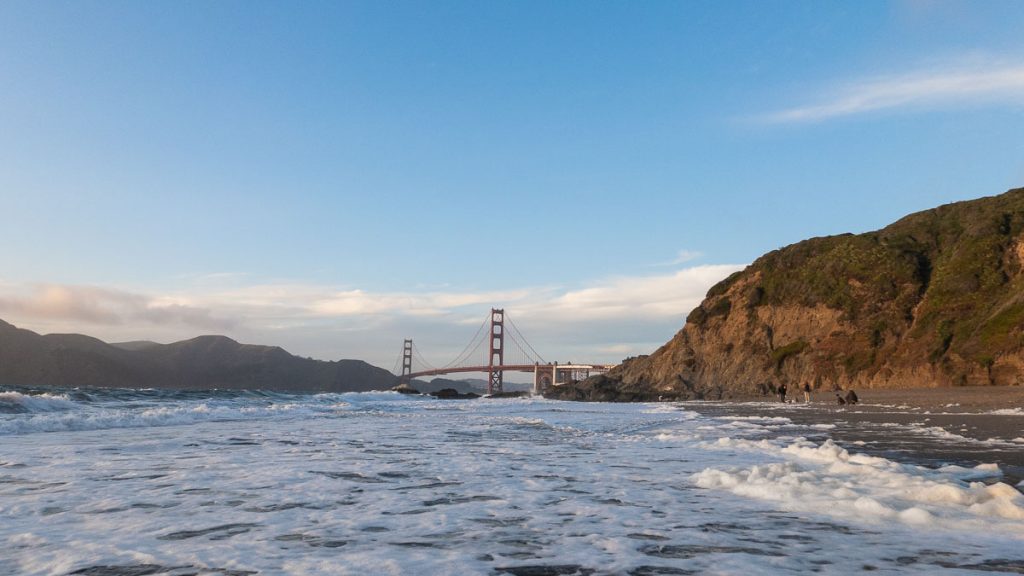 Riptides and undertow make the waters unsafe for swimming, but a panoramic view of the Golden Gate Bridge makes it a scenic hangout spot. Campsites near the beach also attract picnic-goers during sunny Summertime to combat the strong sea breeze.
Day 11: Famous Streets and Attractions
We were taking a night flight back to Singapore at 10:30PM, and so we had a chill day out at scenic spots before flying home!
Chinatown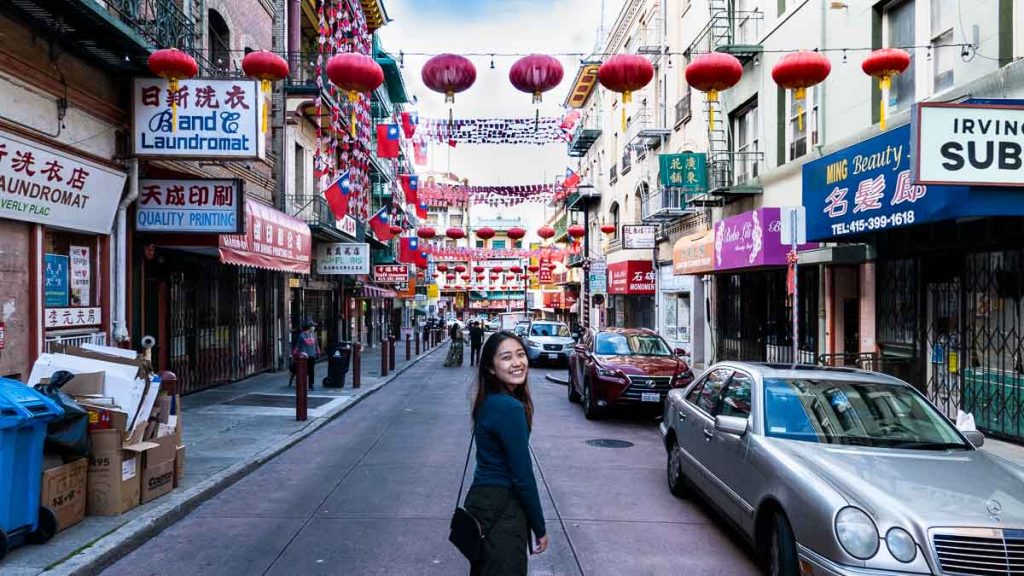 Decorated with red lanterns and Chinese signboards, the streets here felt like a mini Hong Kong! Famous landmarks include the Dragon Gate and the Fortune Cookie Factory.
With one of the largest Chinese populations outside Asia, the dim sum made by the locals is authentic (but really expensive 💸). Despite that, it was a great change from the Western food we've been having!
Lombard Street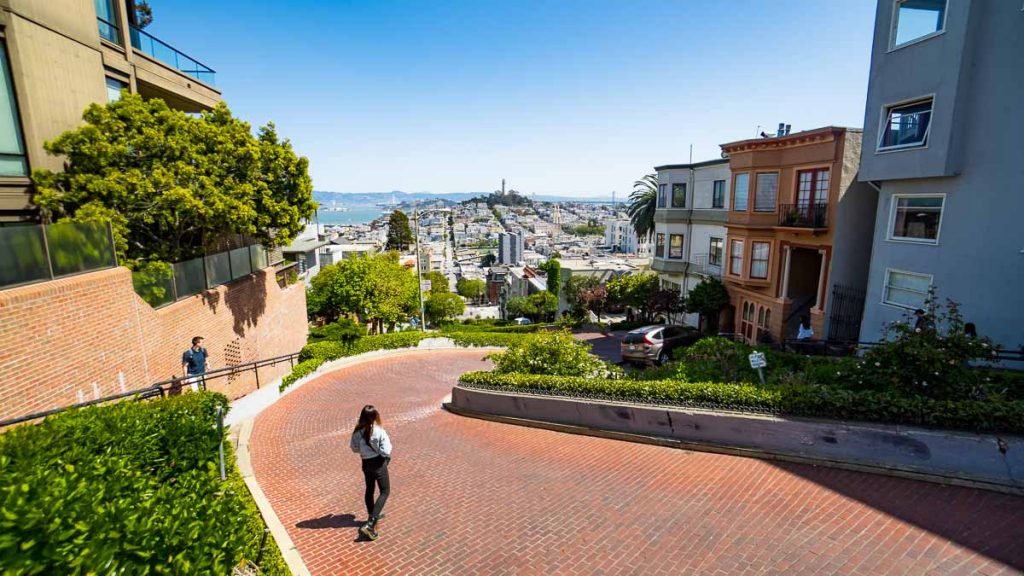 Named the "Crookedest Street in the World", Lombard Street is famous for its eight hairpin turns down a steep hill.
Palace of Fine Arts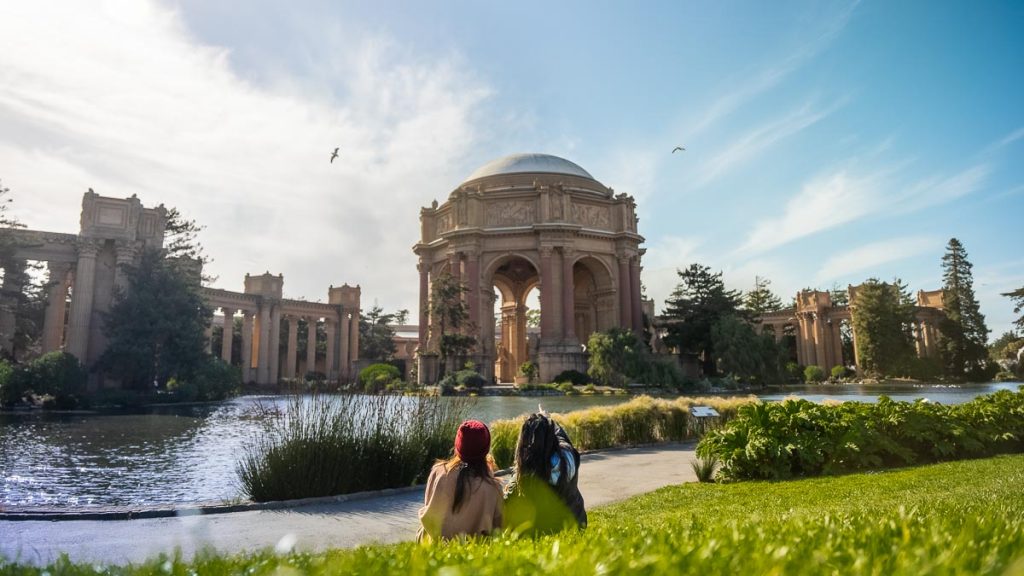 One of San Francisco's key landmarks, the Palace of Fine Arts sits gracefully beside a garden pasture and a calm lake — a pleasant spot for a sunset picnic as birds fly overhead to complete the Rome-like experience.
Budget Breakdown for 11-Day San Francisco Itinerary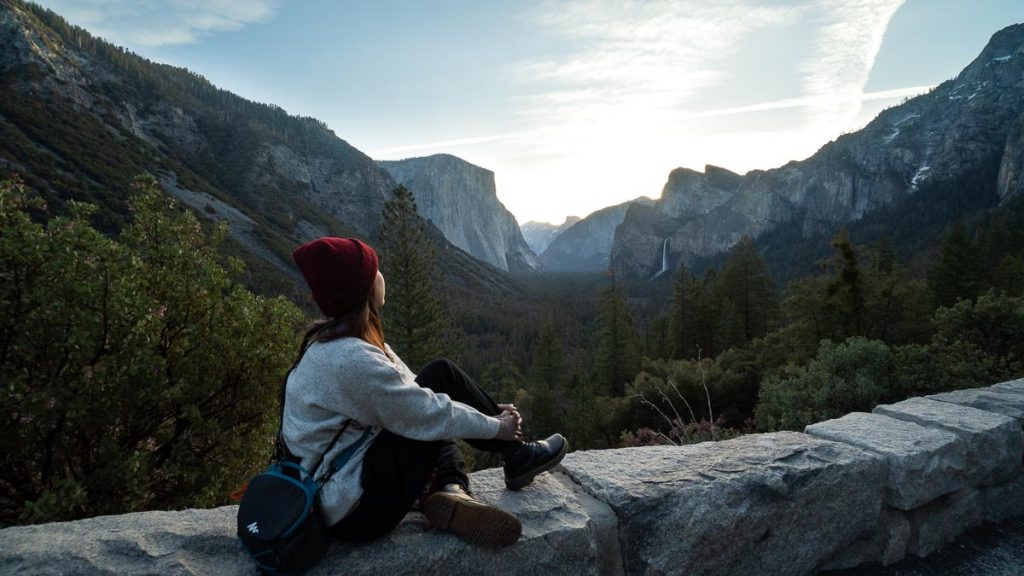 Accommodation: S$492.87
On-ground Transport: S$520.88
Activities: S$1,183.11
Food: S$374
Misc: S$171.79
Covid-related costs: $21.40
Total: S$2,764.06 (Excl. Flights)
(detailed breakdown for one pax here)
Flights aren't included in the budget for this San Francisco itinerary, since prices vary all year round.
While the cost of living in San Francisco is definitely on the higher end, we saved on food expenses while road tripping by purchasing groceries and cooking in the campervan.
Additionally, we prioritised activities in order to gain the most out of this San Francisco trip. However, some of the activities listed are highly weather dependent, so expect that some plans may change.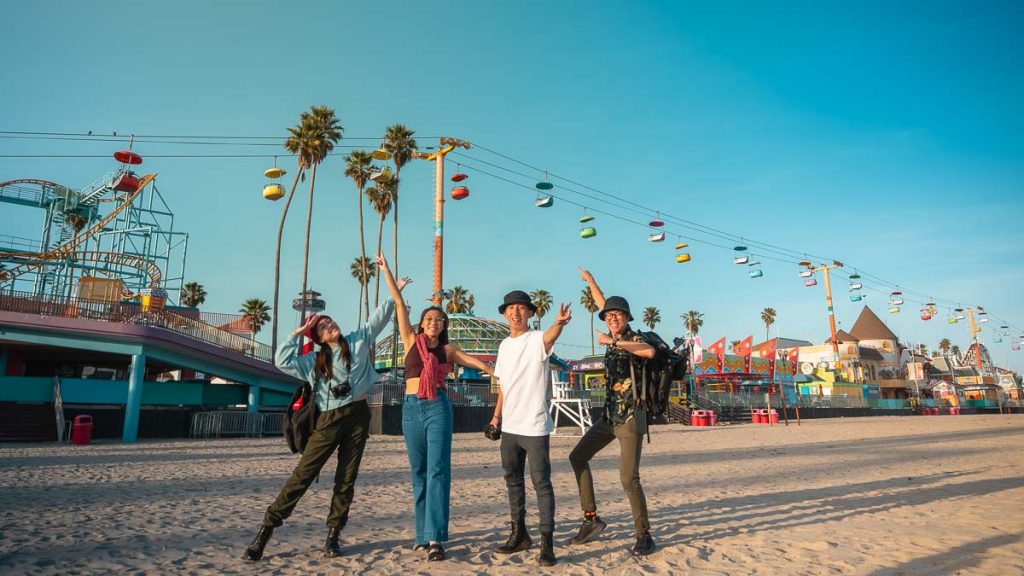 San Francisco is a vibrant coastal city that is truly accepting of diversity and culture. The locals are ever so friendly, such that washing my dishes in the public toilet at Yosemite opened me up to hearty conversations with three separate strangers — all of which I thoroughly enjoyed.
While a beautiful one, the city has inevitably experienced the after-effects of the pandemic. Hotel and rental prices are volatile, and the homeless are commonly sighted.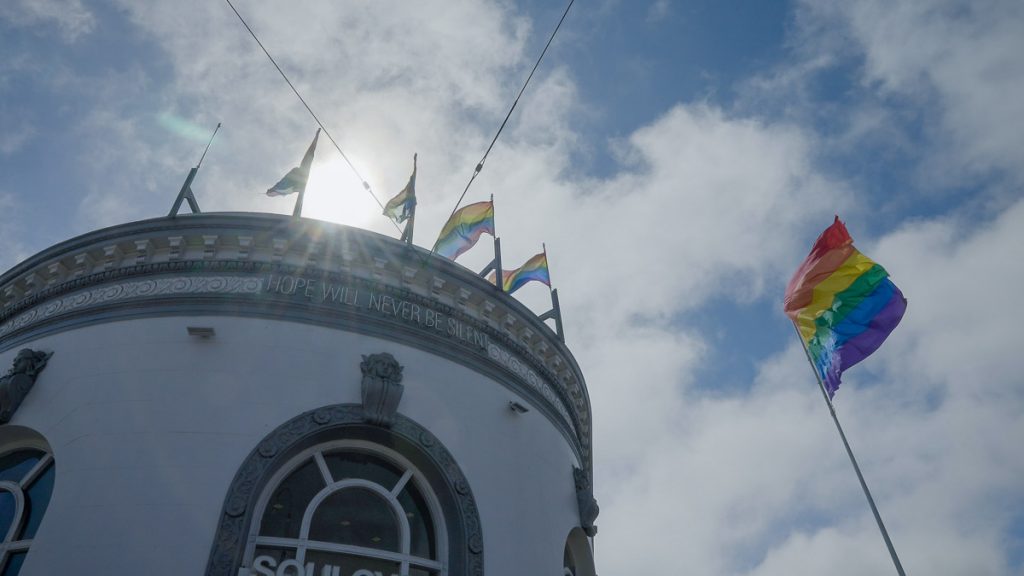 We recommend against staying outside at night, especially if your accommodation is near sketchier streets and neighbourhoods. And ultimately, it never hurts to be more careful during your trip there!
*Pro-tip: Check reviews of your accommodation before booking to ensure that you're staying in a relatively safer street. Neighbourhoods to avoid include Tenderloin and nearby areas.
Flying to San Francisco in Comfort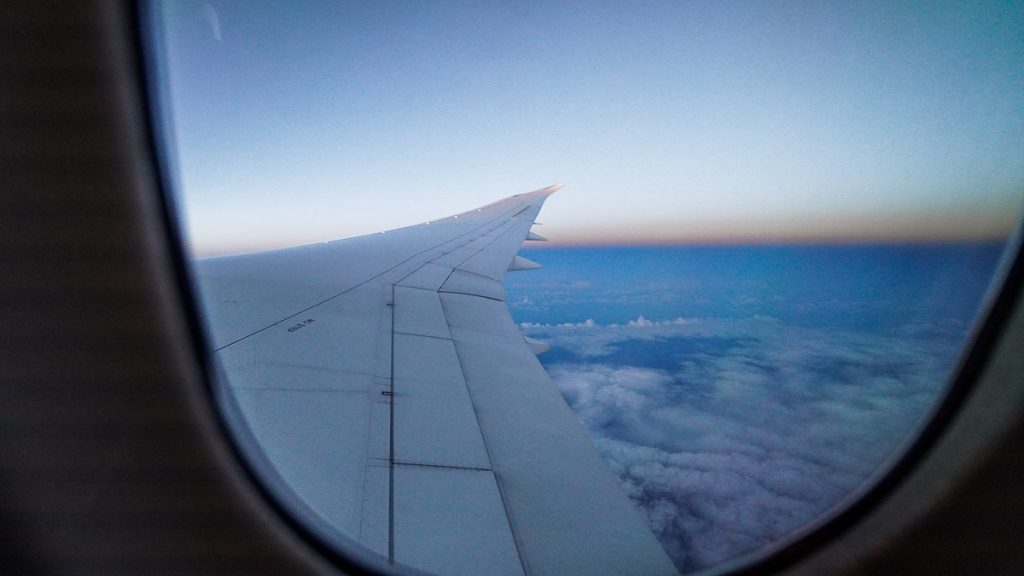 We took a 15-hour direct flight from Singapore to San Francisco on United Airlines, and to avoid having our trip ruined by jet lag (SF is 15 hours behind SG) — we sat in United's Polaris business class!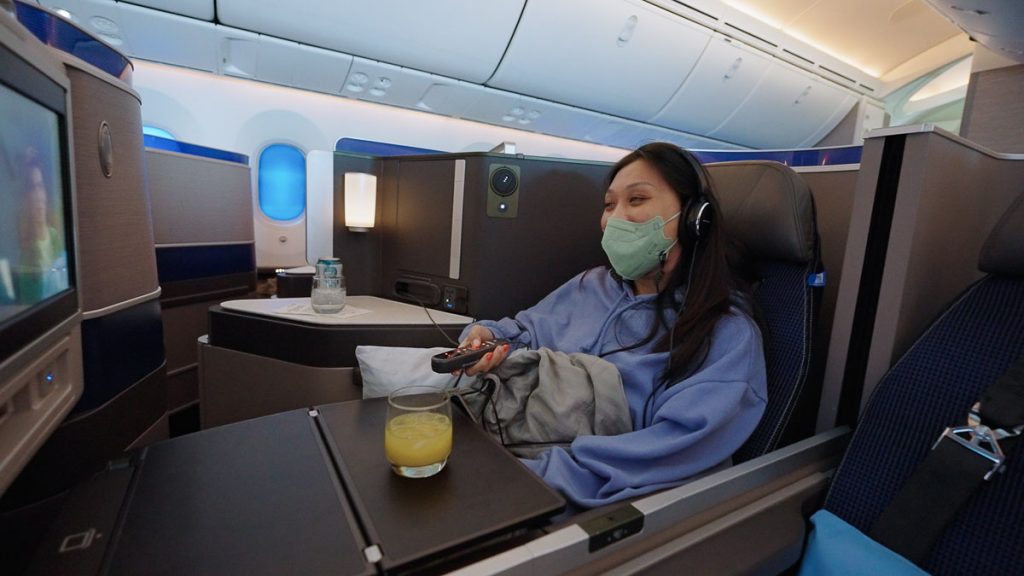 The biggest perk had to be the seats that full reclined so we could lie flat on our backs! For the first time in my life, I slept a full 12 hours in the air. To prepare for the long trip, we carefully timed our sleeping hours to match San Francisco's and enjoyed a good night's rest.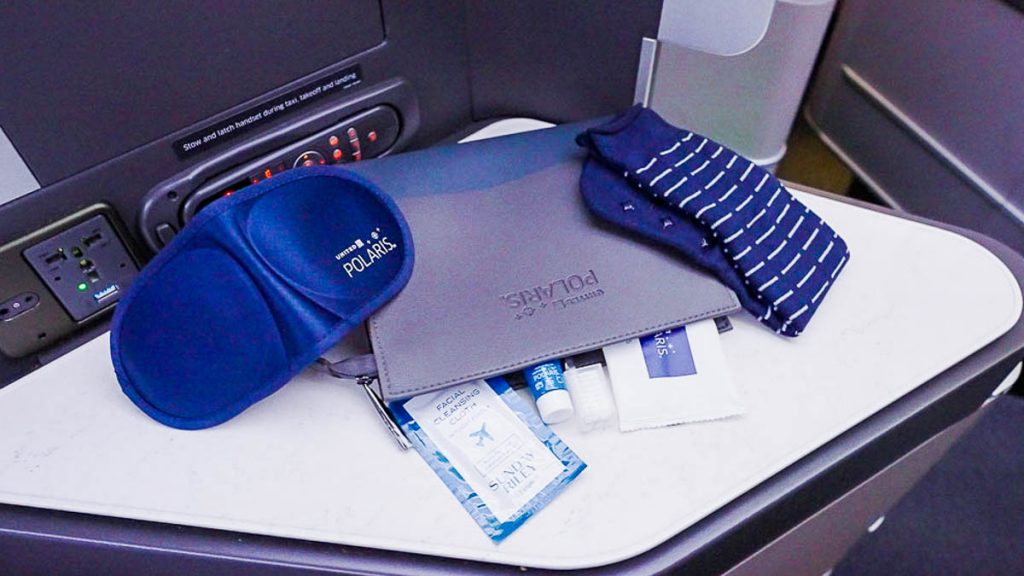 On the aircraft, a complimentary amenities bag provided skincare products like lip balm that soothed and protected our skin from SF's chilly and dry atmosphere. The storage areas also helped keep our seating area tidy and spacious so we didn't feel cooped up!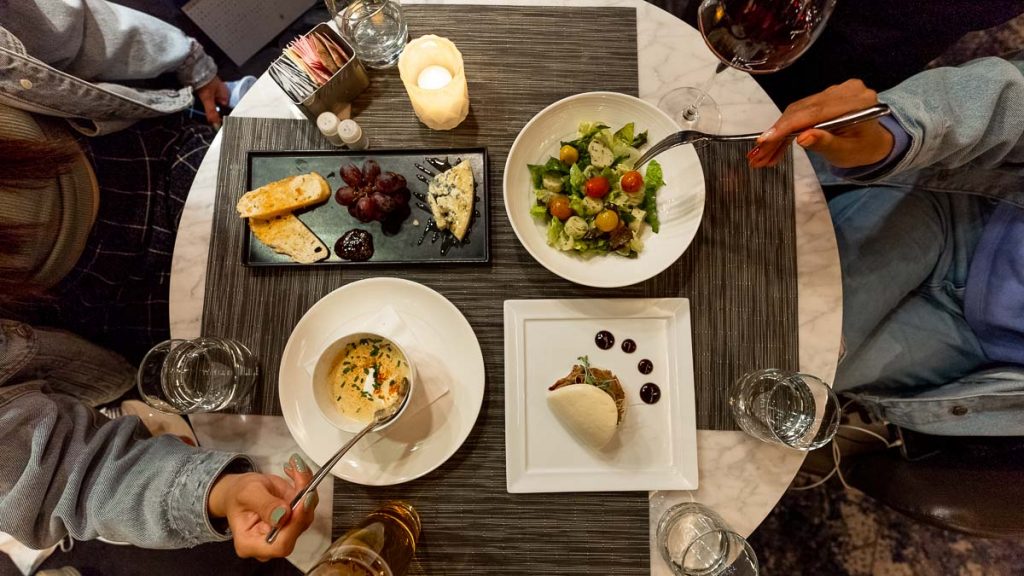 For our flight home, our bellies were kept happy with the complimentary fine-dining meal at the Polaris lounge in SFO. We even managed to sneak in a quick shower at the shower suites to stay refreshed before we boarded the plane.
Thankfully for the Polaris experience, we got to skip the long queues at check-in as we were given priority access!
And by the time we arrived in Singapore, I've gotta admit that I was a little reluctant to leave the aircraft hah! It's true that all good things come to an end, but given this amazing trip to San Francisco, it's definitely more of a "see you again"!
Did we miss any fun experiences in this San Francisco itinerary? Let us know in the comments below!
---
This article was brought to you by Changi Airport Group and United Airlines.