Exclusive to TTI readers: From now till 30th September 2018, book a 4-night Port Klang & Phuket Cruise at only S$399*. Applicable sailing dates: Nov 5, Nov 12, and Nov 19. Promo code and other details below!
Roughly the same size as Singapore, Phuket is home to three-wheeled tuk-tuks, hills that are waiting to be explored and white sand beaches that offer fun water activities like snorkelling and parasailing.
While most people spend a couple of days here, this Phuket travel guide is written for those who wish to experience the best of Phuket with a limited time.
For us, we had 11 hours on land from our 5D4N Phuket and Penang Royal Caribbean Cruise. While Royal Caribbean Cruise Line provides numerous shore excursion packages, we decided to take things into our own hands.
Read till the end for an ideal one-day itinerary for those here from the cruise!
Phuket Essentials
Getting around: Tuk-tuks are great for travelling short distances and usually cost between ฿100 – ฿400 (S$4.20 – S$16.80). If you're travelling with limited time, we'd highly recommend hiring a private driver in Phuket for 8 – 12 hours starting from S$90. You can plan your own itinerary or if you're not the type to plan, these friendly drivers will be more than willing to offer recommendations!
Connectivity: If you're one who needs to be connected, even if it's for a day, purchase your SIM Card (S$5.99) at least 2 days before you board the cruise!
In your day bag: For those disembarking your cruise, don't forget to bring an extra set of clothes, swimwear, a mat and towel for the activities you're about to do!
Things to Do in Phuket
Zip Line Adventure with Flying Hanuman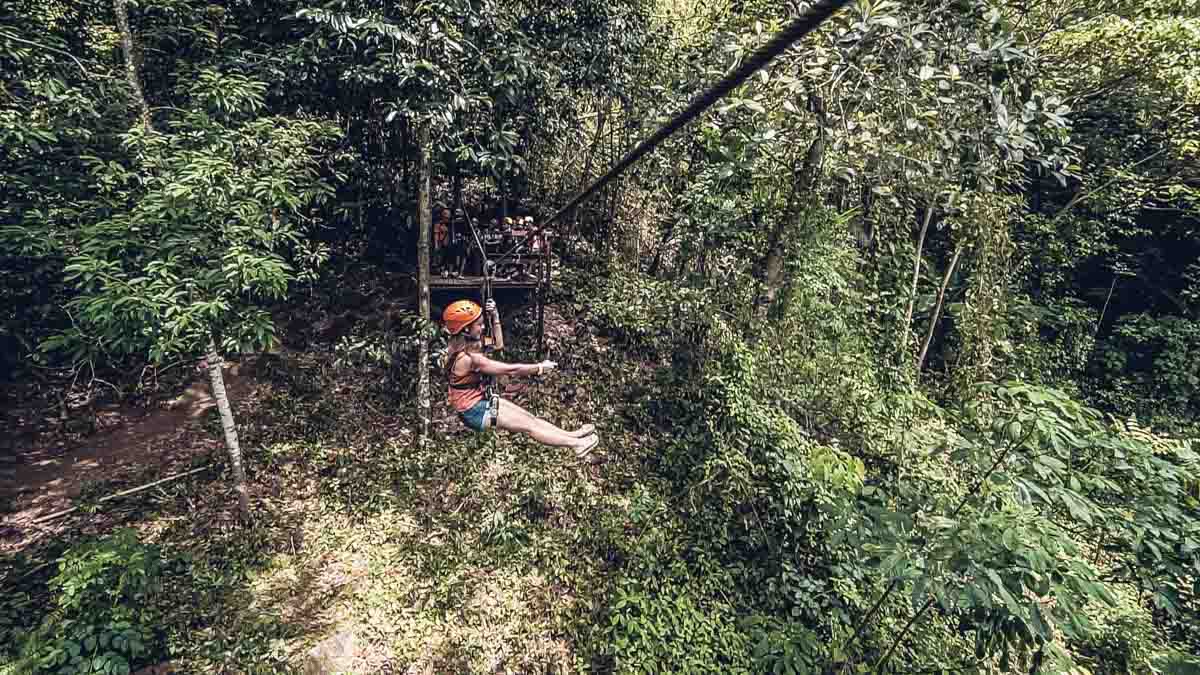 Begin your day trip in Phuket with an exhilarating zip-lining experience with the 16 or 28 platform route.
The adrenaline will rush through your body as you cross sky bridges to abseil and zip line across this natural rainforest at Flying Hanuman. The views are breath-taking, that is if the zip-line hasn't taken it away already!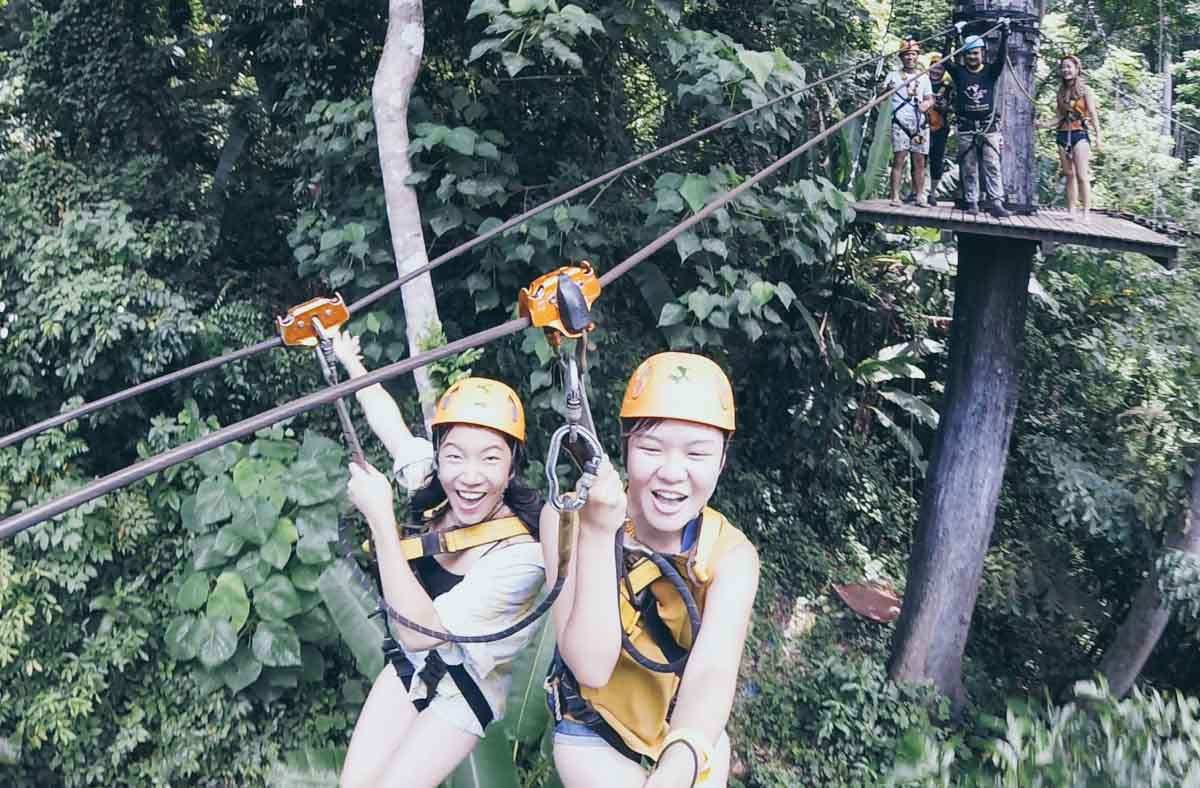 Lockers are provided before the flight and the experience will be led by 2 hilarious guides who will ensure your safety and welfare throughout. Don't forget to pick up your Flying Hanuman complimentary shirt at the end of your adventure too!
The package also includes a delicious Thai-style lunch served after your adventure — choose between the Chicken or Seafood Phad Thai, both come with a fruit platter!
Cost: S$66.69
Opening Hours: 8AM – 5PM daily
Address: 89/16 Moo 6, Soi Namtok Kathu, Wichitsongkram Road, Kathu, Kathu, Phuket 83120, Thailand

*Pro-Tip: Make your trek uphill easier by wearing sandals or shoes. You get to avoid worrying about losing your flip-flops too!
Explore an Upside Down House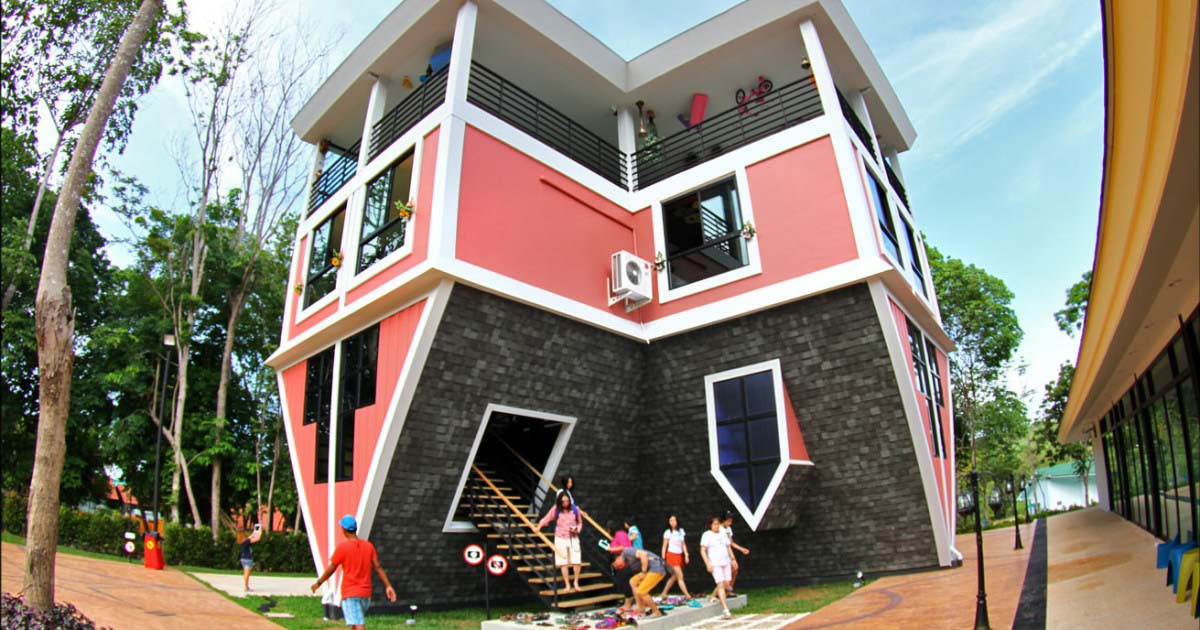 Baan Teelanka is the perfect place to get creative with poses as you play around with the furniture in this upside down house.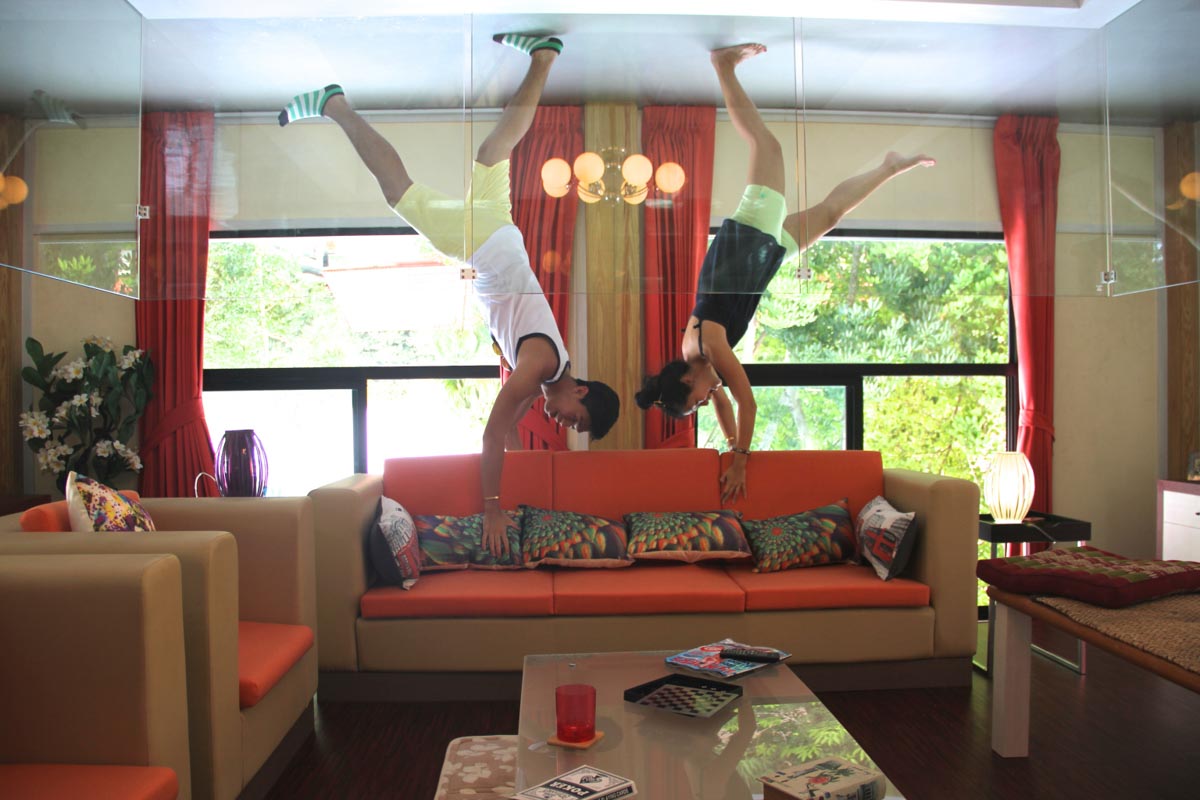 Mind-boggle your friends when you upload pictures of yourself with everything around you hanging from the ceiling! The staff will even help you get creative with your poses and get the right angles!
Entrance Fee: S$14
Opening Hours: 10AM – 6PM Daily
Address: Baan teelanka, Koh Keaw, Mueang Phuket District, Phuket 83000, Thailand
Island-Hop
Head to the Khai Islands for your half-day 3 islands excursion tour. Alternatively, contact Khai Island Travel for a more private guide around the Khai Islands. Both provide speedboats that whisk you away to island-hop for the next 5 hours!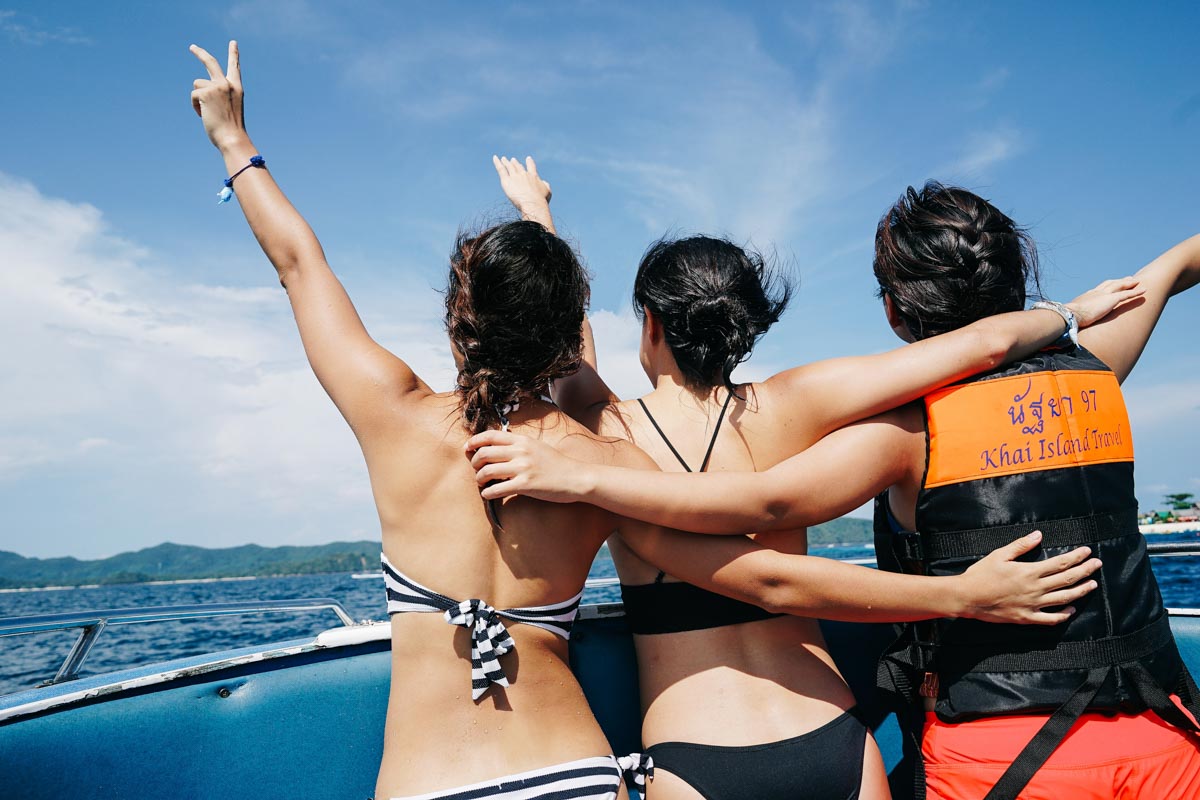 A guide will be present to bring you around. Refreshments are provided too!
Khai Nai Island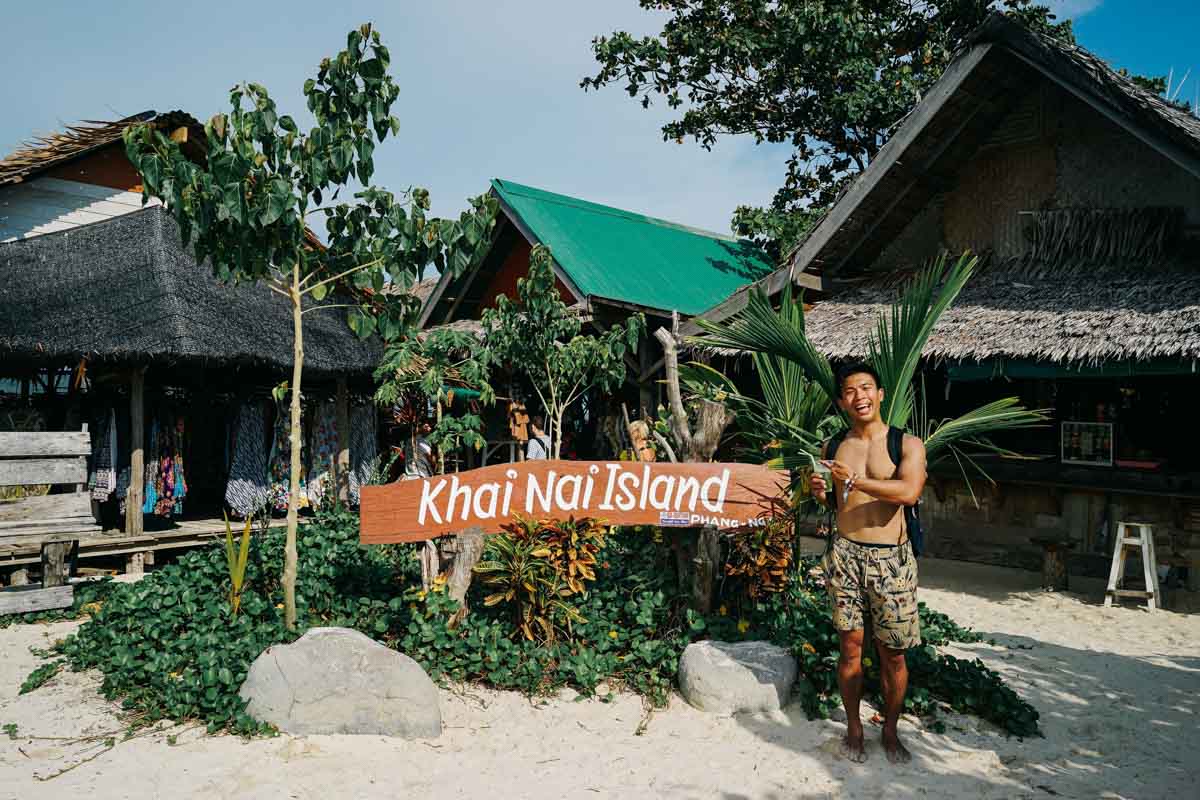 Plenty of fresh seafood awaits you here at Khai Nai Island. Most people stop at Khai Nai Island for lunch and we can see, uh I mean, smell why! The smell of meats wafting through the area was insane, we couldn't resist buying some despite arriving on a freshly filled lunch belly.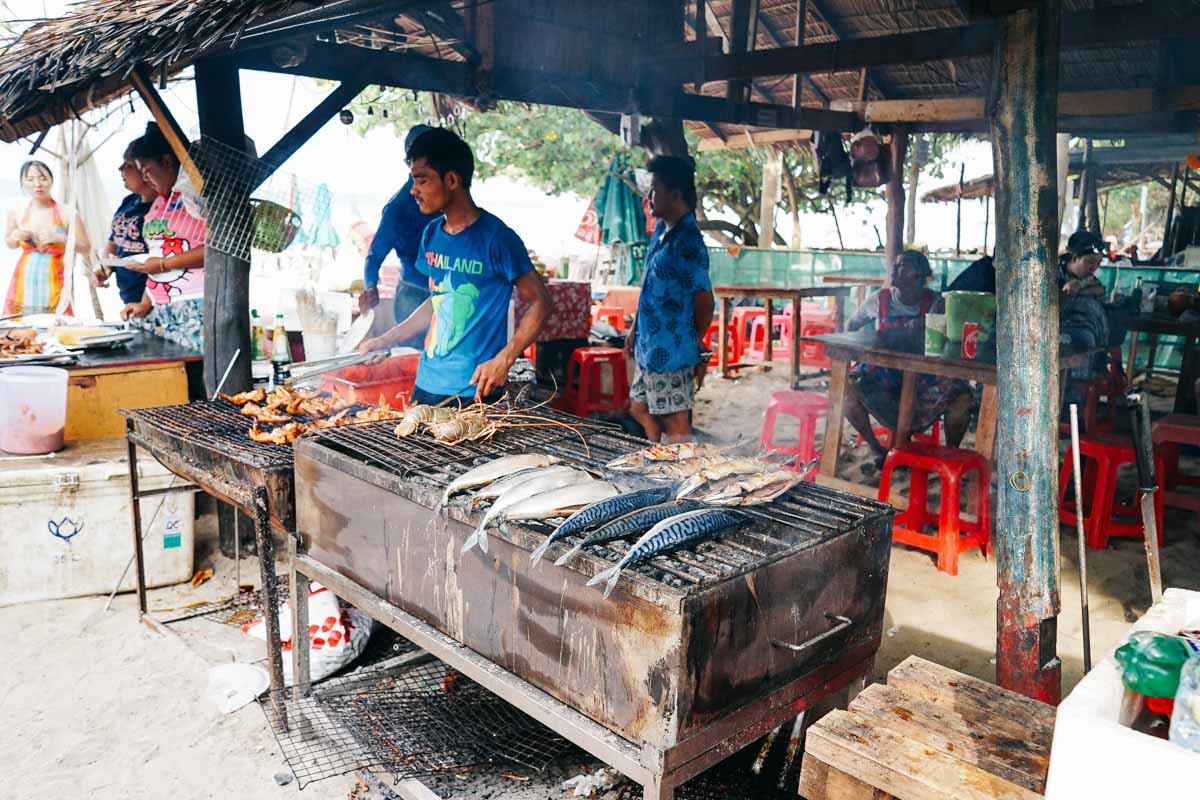 Walk around, buy fresh seafood off the grill and head to any of the beach chairs that have peppered the white sandy beaches to enjoy your afternoon snacks.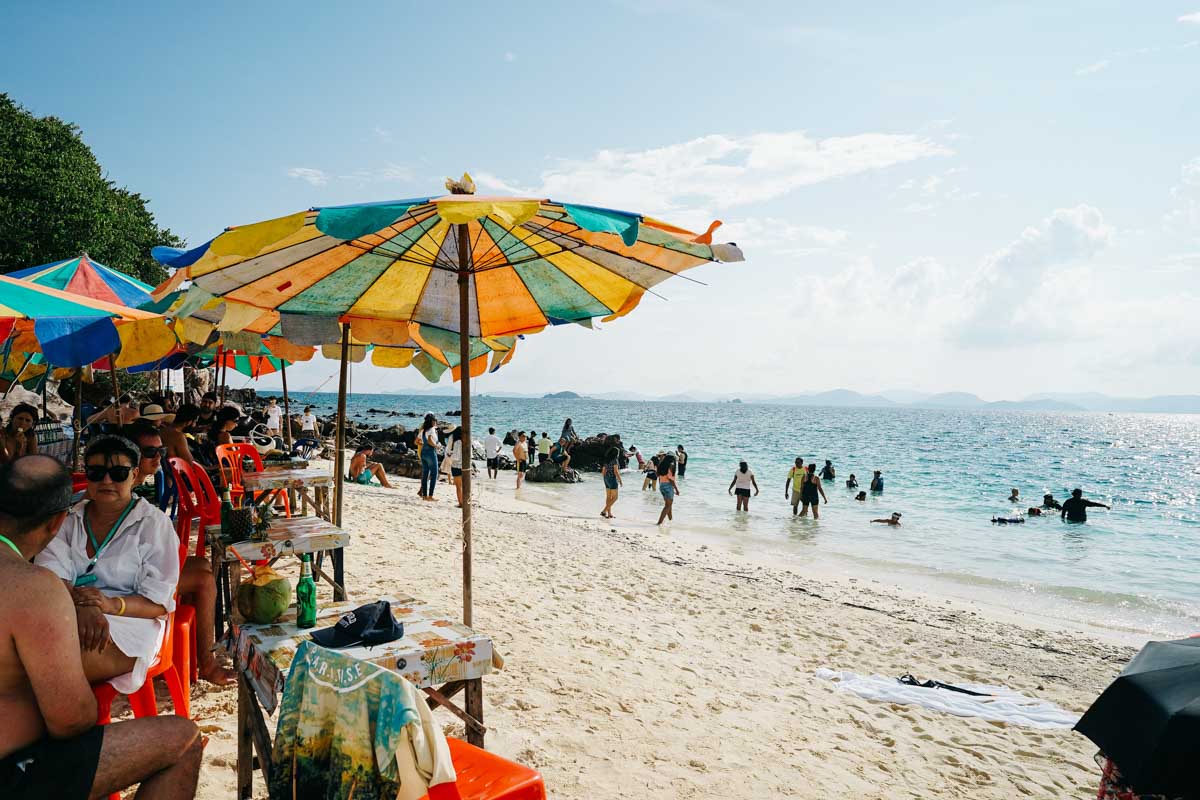 Khai Nui Island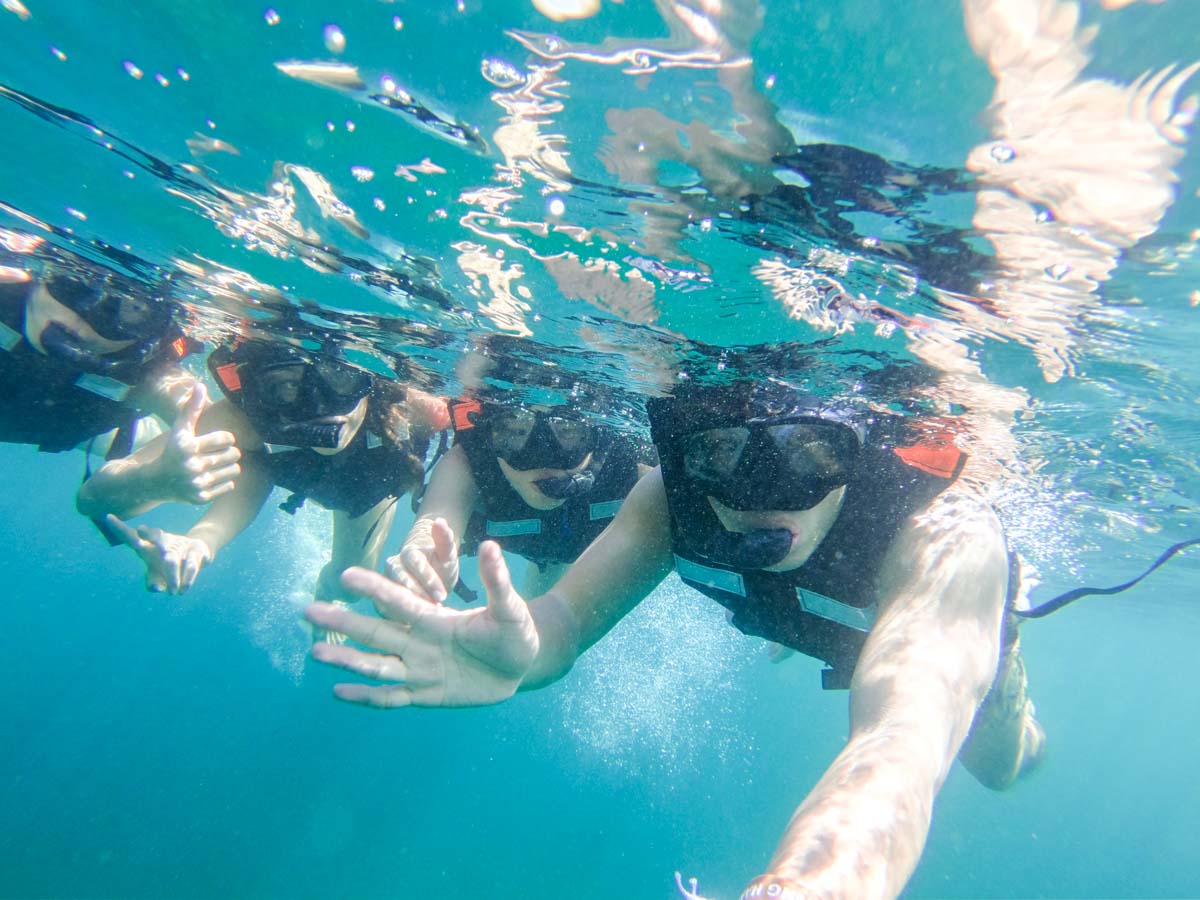 Snorkel amongst the rainbow tropical marine life and colourful reefs at Khao Nui. This is the ideal place for beginner swimmers and children as the waters are shallower.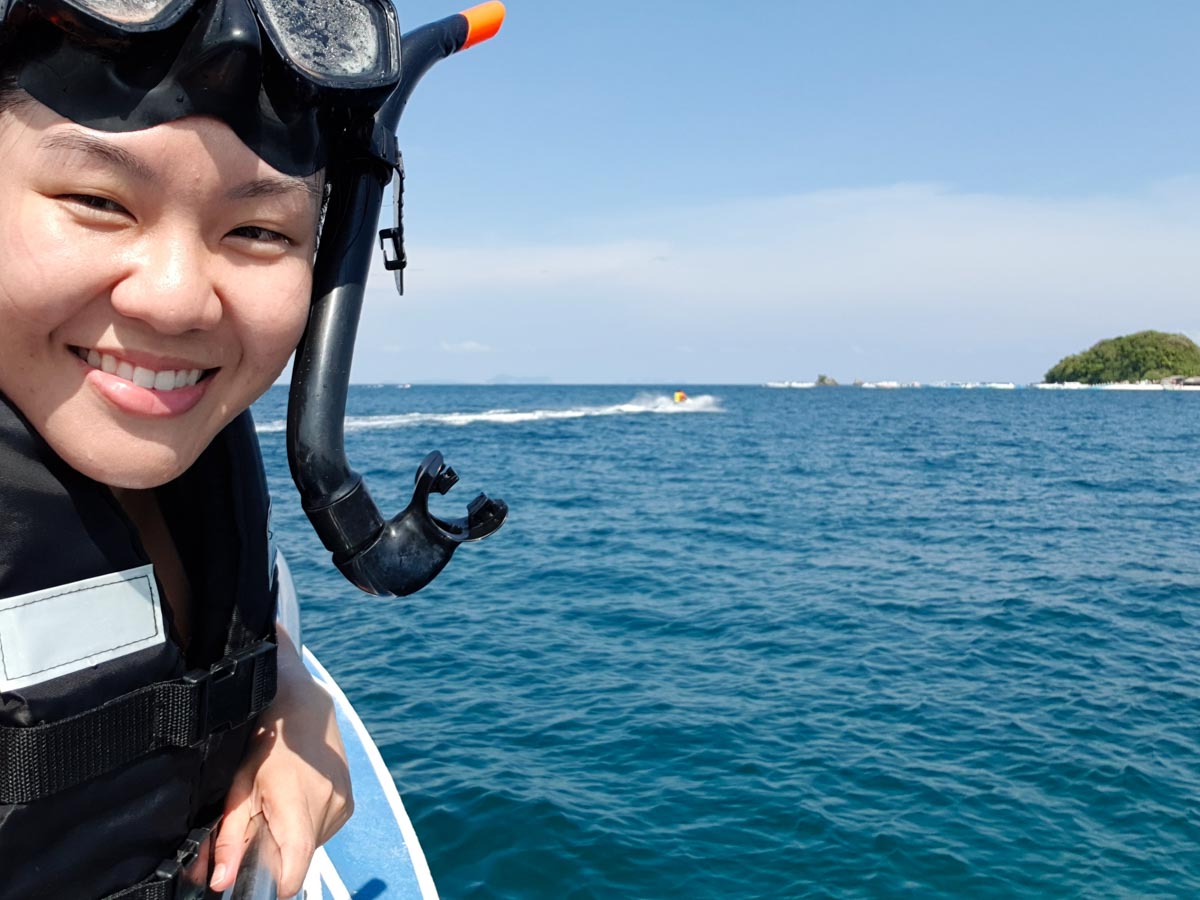 Life vests and snorkelling gear are provided on the boat as well.
Khai Nok Island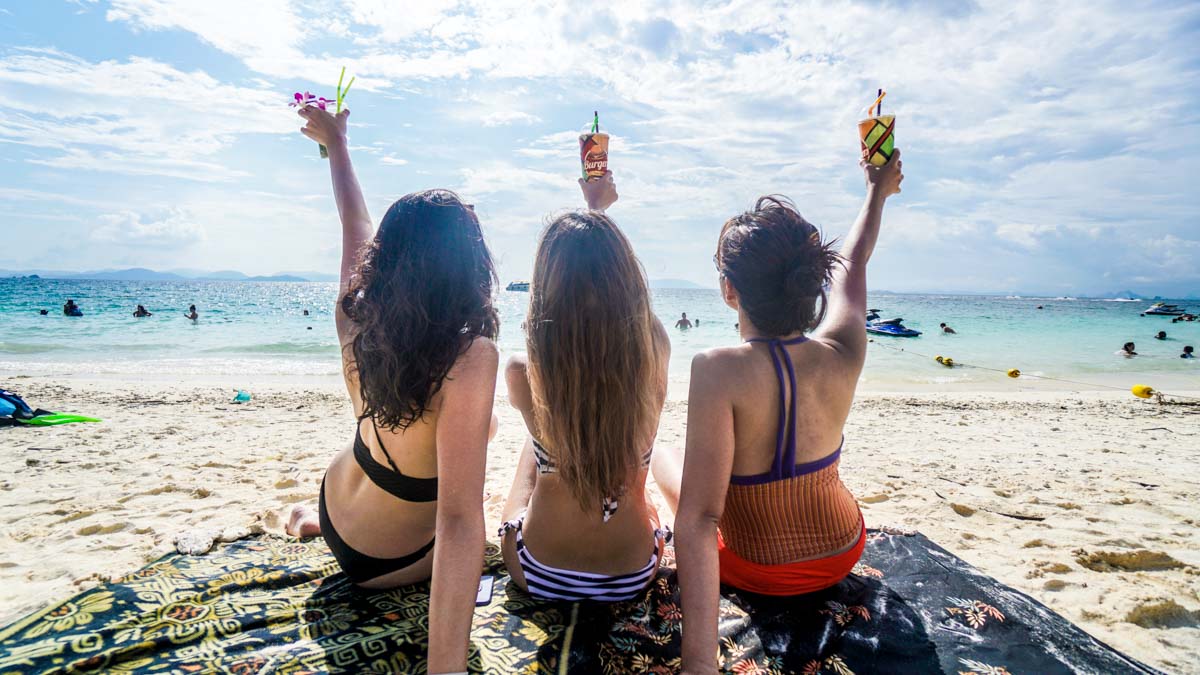 It's time to take out your beach mat and sun tan lotion! Buy a drink from many of the vendors on the beach. They won't be shy to cater to your alcoholic and non-alcoholic needs from the comfort of your suntanning bed.
Bathe in the sun on yet another sandy white beach or participate in even more water activities available here in the clear waters.
Water Sports at Banana Beach 
An adrenaline junkie's paradise, Banana Beach is a must for its wide variety of water activities like riding a banana boat (S$30), sea walking (S$62.50), scuba diving (S$62.5) and even parasailing (S$48)!
Cost: From S$30
Opening Hours: 10AM – 4PM Daily
How To Get There: Head to Ao Chalong Pier to take a 15-minute Speedboat ride to Banana Beach
Wat Chalong (Temple)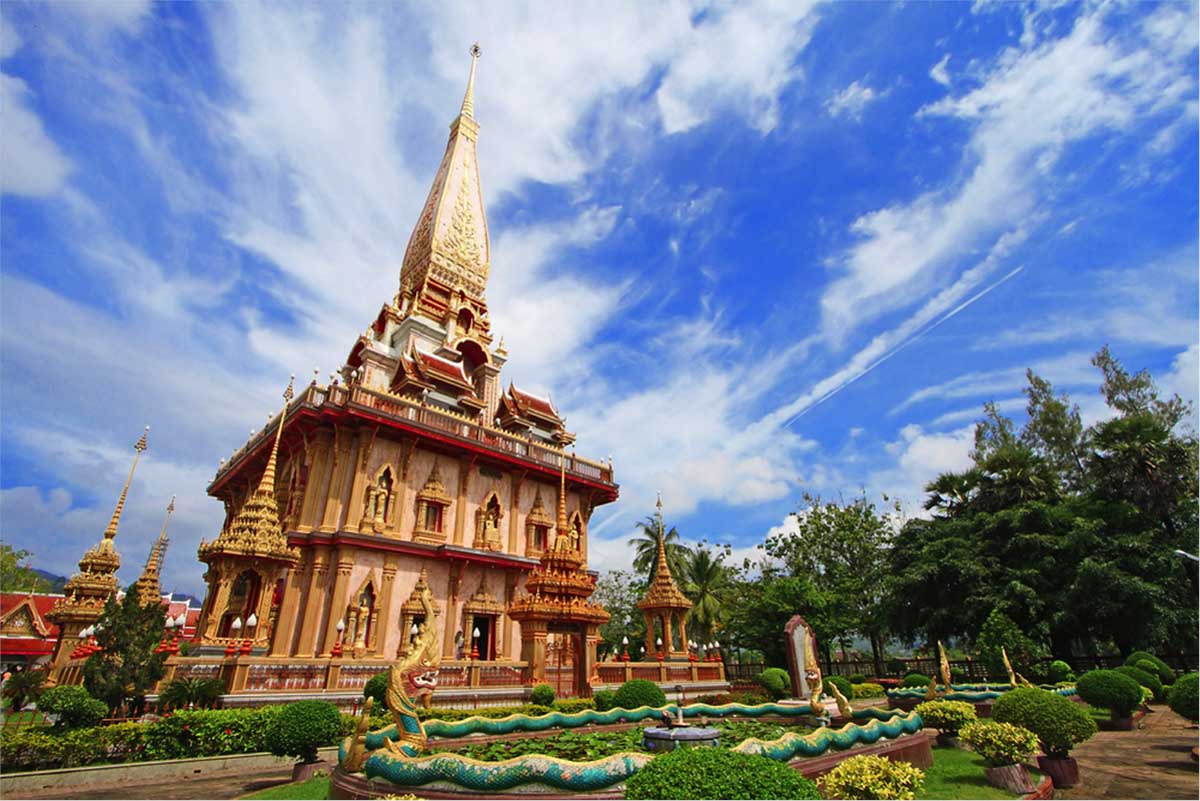 Built in the 19th century, Wat Chalong is the oldest and most respected temple in Phuket. If you only have time for one temple to visit in Phuket, this is it.
For the best views, take the climb to the top tower. It will be worth it!
Note, do wear clothes that cover your shoulders, legs, chest, and stomach as a sign of respect. Avoid wearing expensive shoes to reduce the risk of theft as you might have to remove them when entering the halls.
Entrance Fee: Free
Opening Hours: 7AM – 5PM Daily
Address: 70 หมู่ที่ 6 Chao Fah Tawan Tok Rd, Tambon Chalong, Amphoe Mueang Phuket, Chang Wat Phuket 83130, Thailand

*Pro-Tip: Arrive early in the morning or late afternoon to avoid tour groups. They usually arrive at 10AM – 12PM.
What to Eat and Drink in Phuket
Tamachart Restaurant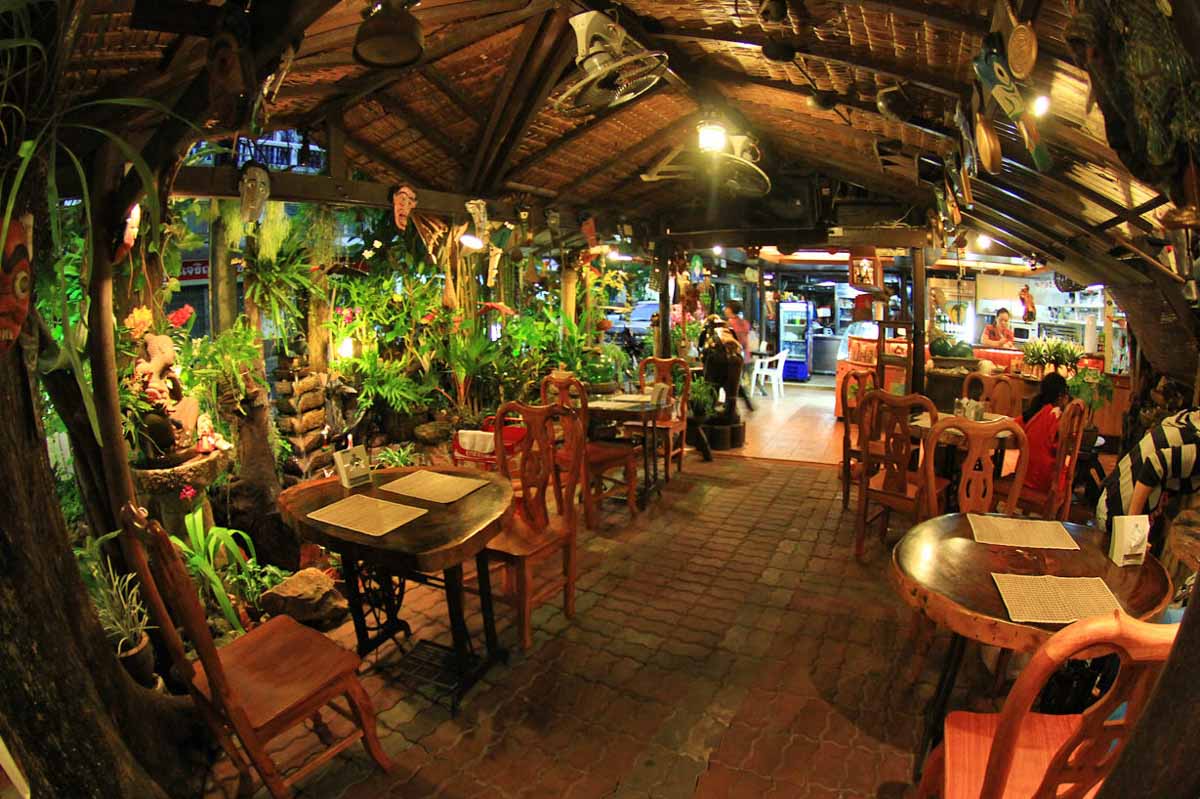 Highly raved amongst locals and expats, Tamachart Restaurant is the place to go if you're looking for authentic local cuisine at reasonable prices. An array of dishes are served in a cosy but spacious treehouse, and cost around ฿120 or S$5 per dish on average.
Cost: Average of ฿120 or S$5/dish 
Opening Hours: 10.30AM – 11.30PM
Location: 62/5 Soi Phutorn, Phuket Town
The Phad Thai Shop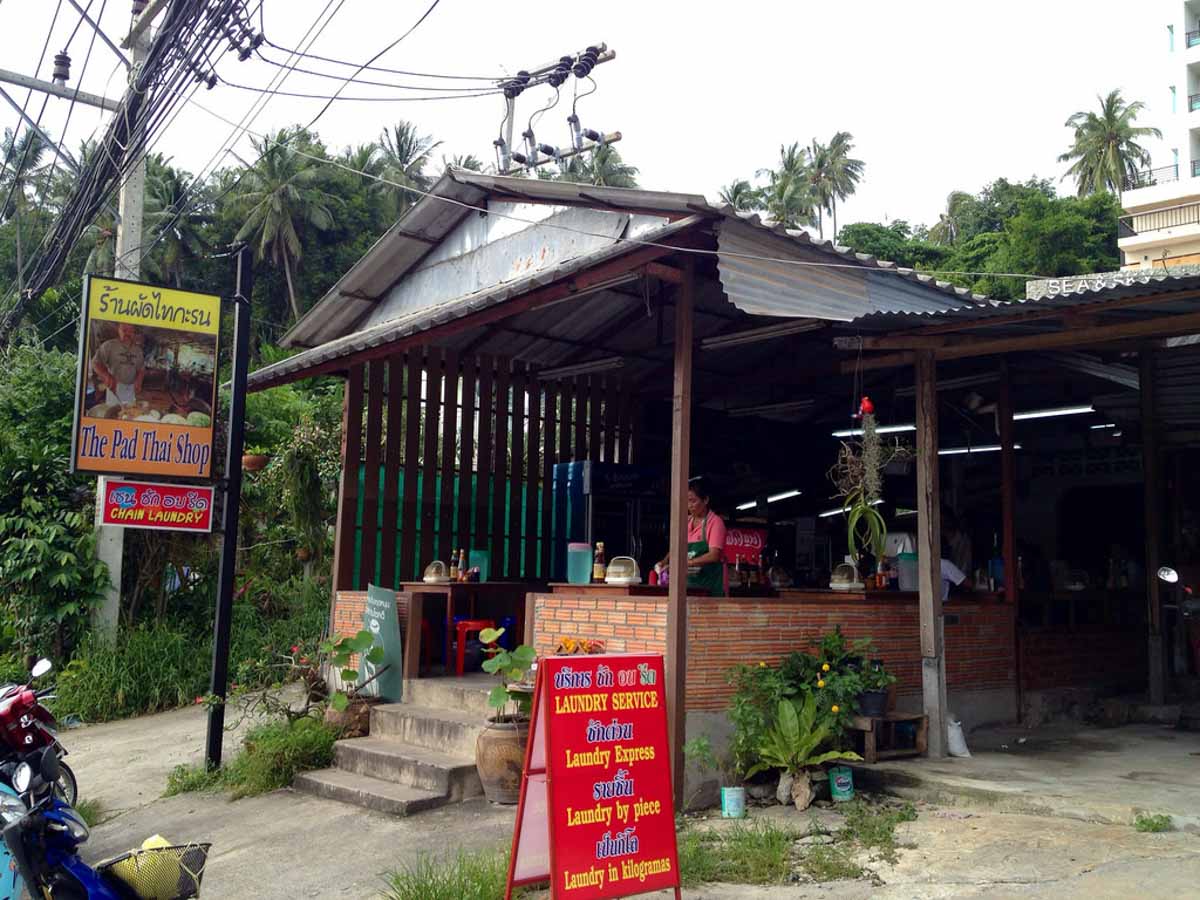 You can't leave Thailand without having their signature Phad Thai dish (฿50/S$2)! Portions are huge and come with generous amounts of tofu, vegetables and a choice of shrimp or chicken here at the Phad Thai shop.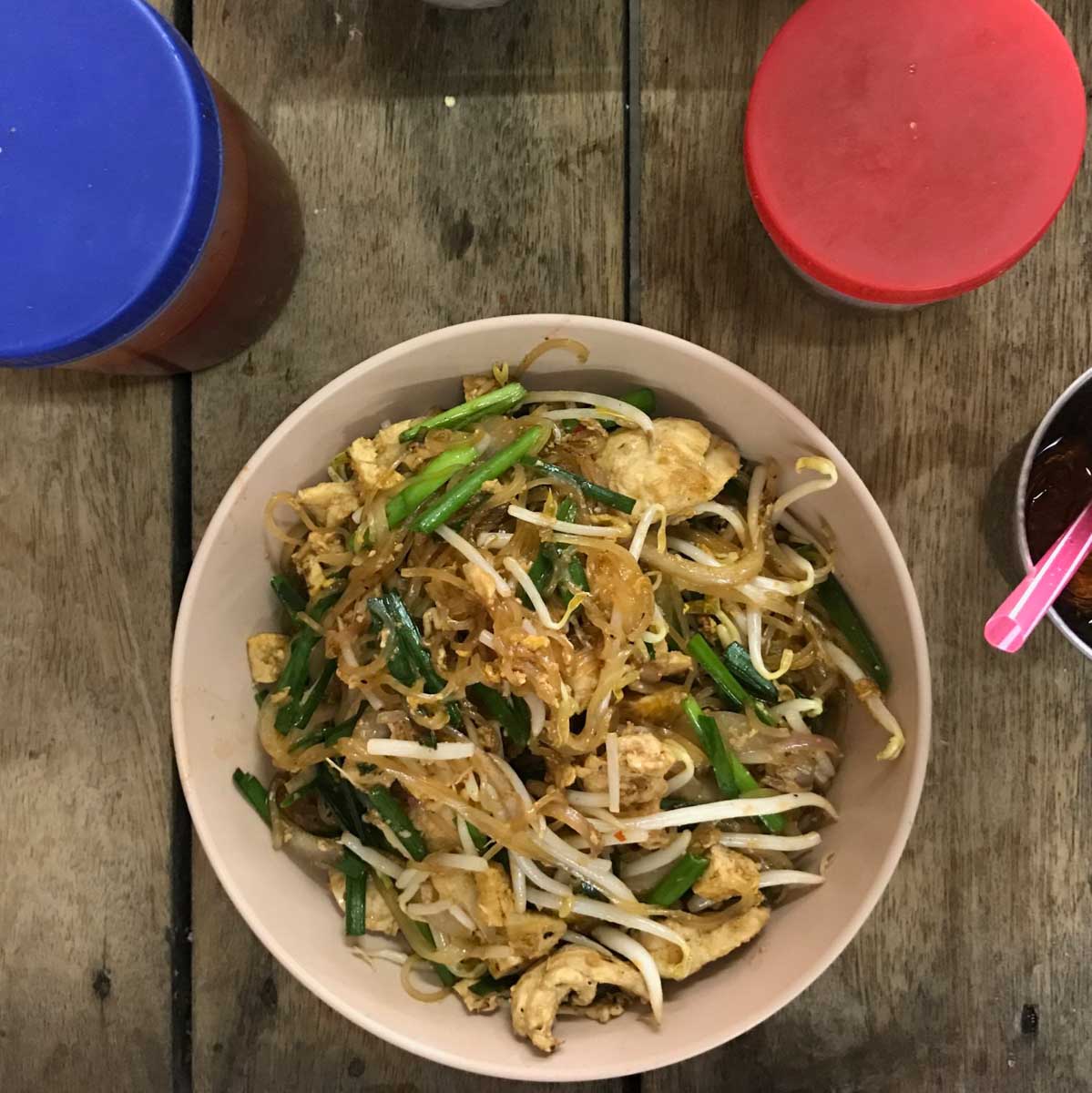 The Phad Thai Shop also offers noodle soup with beef or chicken if you're craving for something soupy!
Opening Hours: 8AM – 6 PM Daily; Closed on Fridays
Address: Karon, Mueang Phuket District, Phuket 83100, Thailand
Chalong Bay Rum Distillery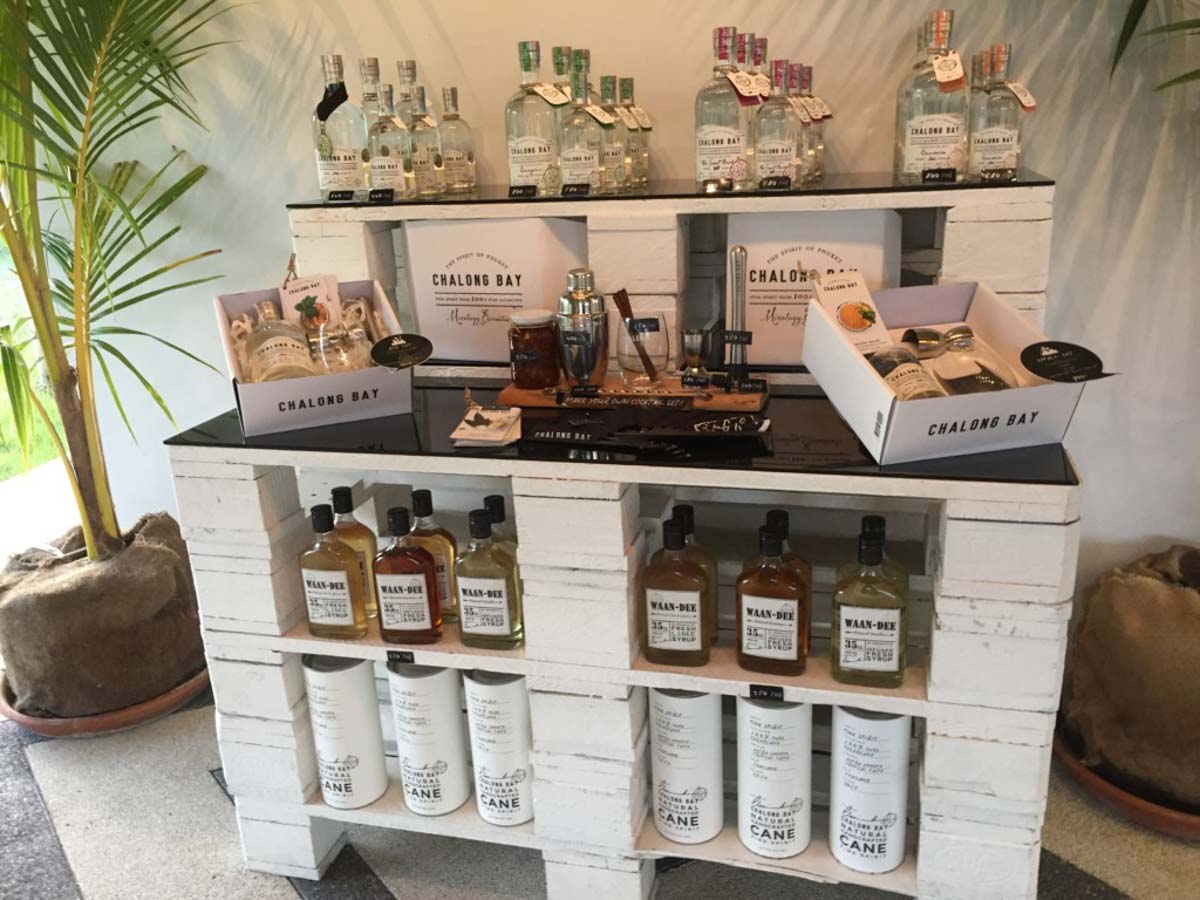 Thailand is the 4th leading producer of sugar canes, and that is why a young French couple decided to set up home in Phuket and founded Chalong Bay Rum Distillery. This Natural Rum consists of only locally grown sugar cane, leaving out the typical molasses in the production process.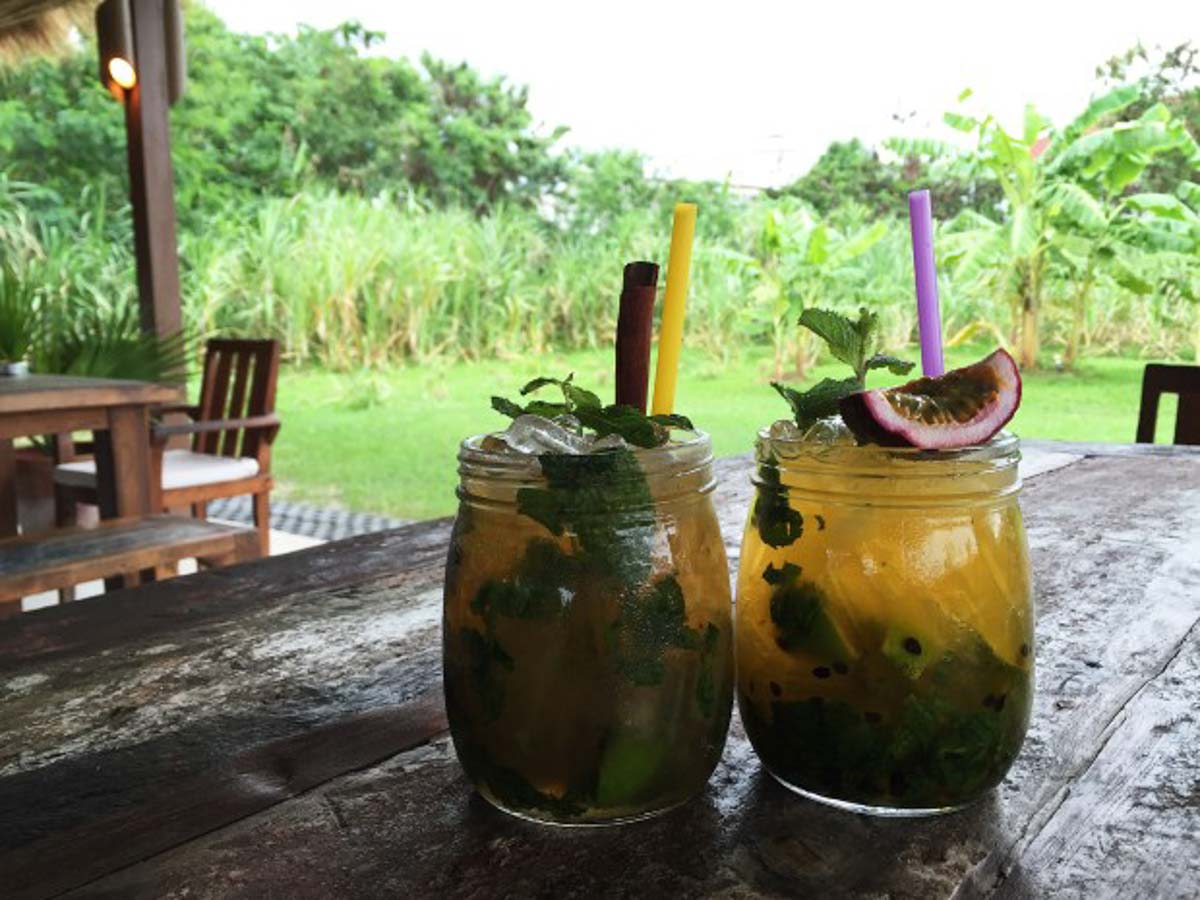 This distillery provides hourly guided tours from 2PM to 6PM daily in English, French, and Thai. Included at the end of the 30-minute tour is a complimentary glass of cocktail mixed with their own rum!
Guided Tour Cost: ฿450 (S$18.50)
Opening Hours: 11AM – 10PM
Address: 14/2 Moo 2, Palai soi 2, Tambon Chalong, Amphur Muang Phuket, Phuket 83130, Thailand
Kopitiam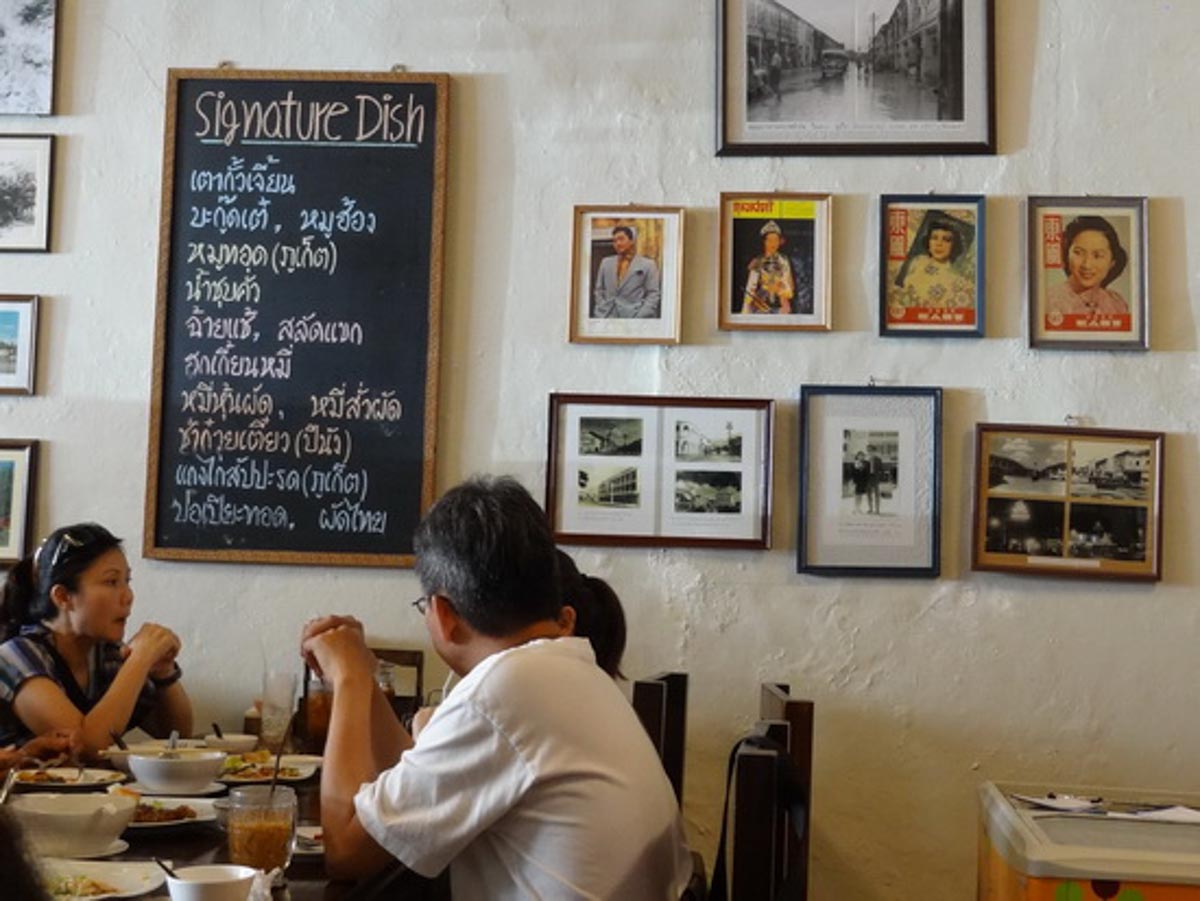 If you're like me, eager to taste people's take on Singaporean food whilst overseas, head on down to Kopitiam! This is perfect for the cruisers who are missing your local Singaporean food too.
Owned by the Bumrungwong family, the menu has a variety of Thai-Chinese cuisine like Phuket Style Grilled Pork, Singaporean favourites like Char Kway Teow, Hokkien Mee and Bak Kut Teh as well as authentic Thai dishes like Tom Yum Koong.
Cost: ฿105 – 145 (S$4.30 – 6)/dish
Opening Hours: 11AM – 5PM, 6.30PM – 9PM Daily
Address: 14 & 18 Talang R., Phuket Old Town, Muang Phuket, Phuket 83000, Thailand
Our Phuket Day Trip Itinerary — Ideal for Cruisers
9AM: Dock and Meet Your Driver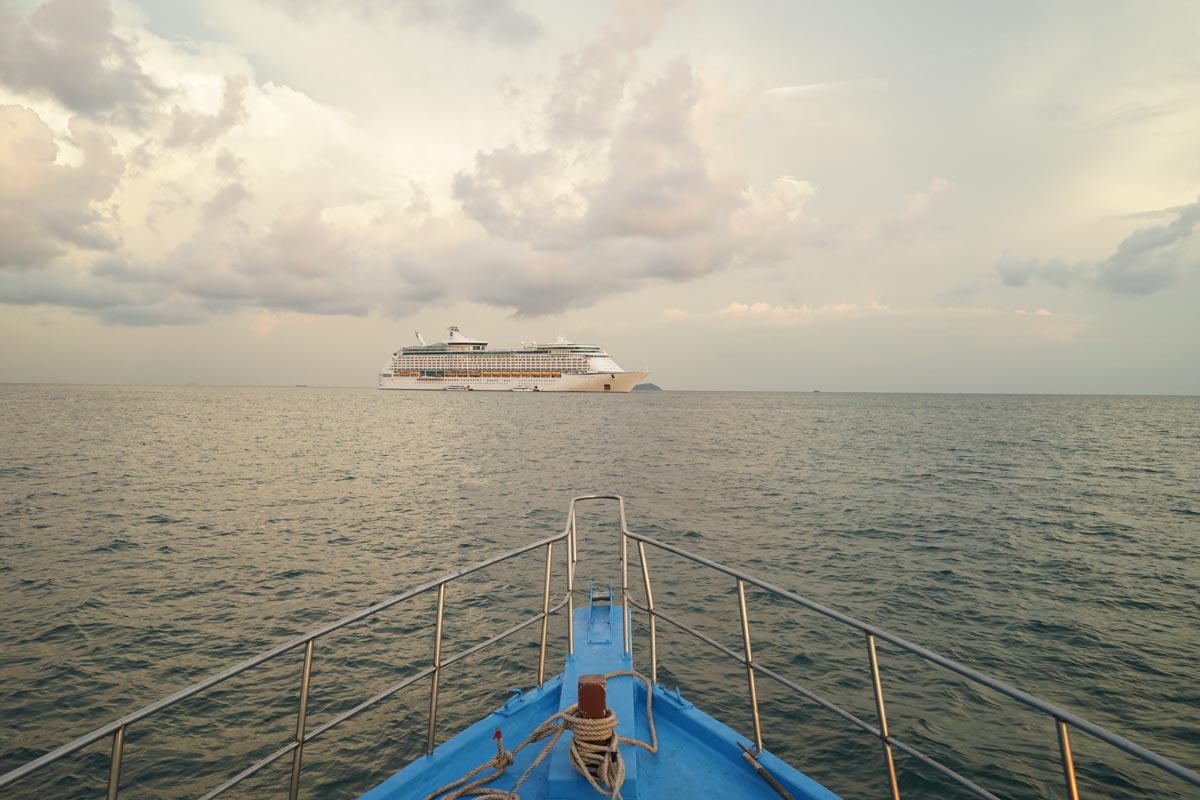 Depending on the season, the Voyager of the Seas docks at two different ports — Phuket Deep Sea Port (Ao Makham) or Patong Beach. If you're at the Deep Sea Port, cater 30–40 minutes of buffer time as it takes time for the shuttle boats to leave and reach the ship.
If, like us, you've booked the Flying Hanuman package as your first activity, make sure to confirm this with the concierge on the cruise beforehand as the driver will need to know where to pick you up.
Alternatively, there are many taxi drivers at the entrance of the port will be available to bring you around. You'd need to bargain a little according to your plans and should cost around ฿1500 (S$60).
*Pro-Tip: If you're not in a rush to explore Phuket, we'd recommend scheduling your activities later and waiting an hour to two before disembarking. This way, you'd get to avoid the massive crowds scrambling to explore Phuket the moment the ship docks.
Read Also: 5D4N All-You-Can-Eat-Play-Chill Getaway Guide on the Voyager of the Seas with Royal Caribbean
10AM: Zipline and Lunch at Flying Hanuman
We'd suggest you do the 16 platform route if you wish to cover other activities during your day in Phuket. This hour long activity was more than enough to satisfy the adrenaline junkies in us.
One thing great about this package is that lunch is covered and you don't have to waste time figuring out where to eat!
12.30PM: Island Hopping with the Half-Day 3 Island Excursions Tour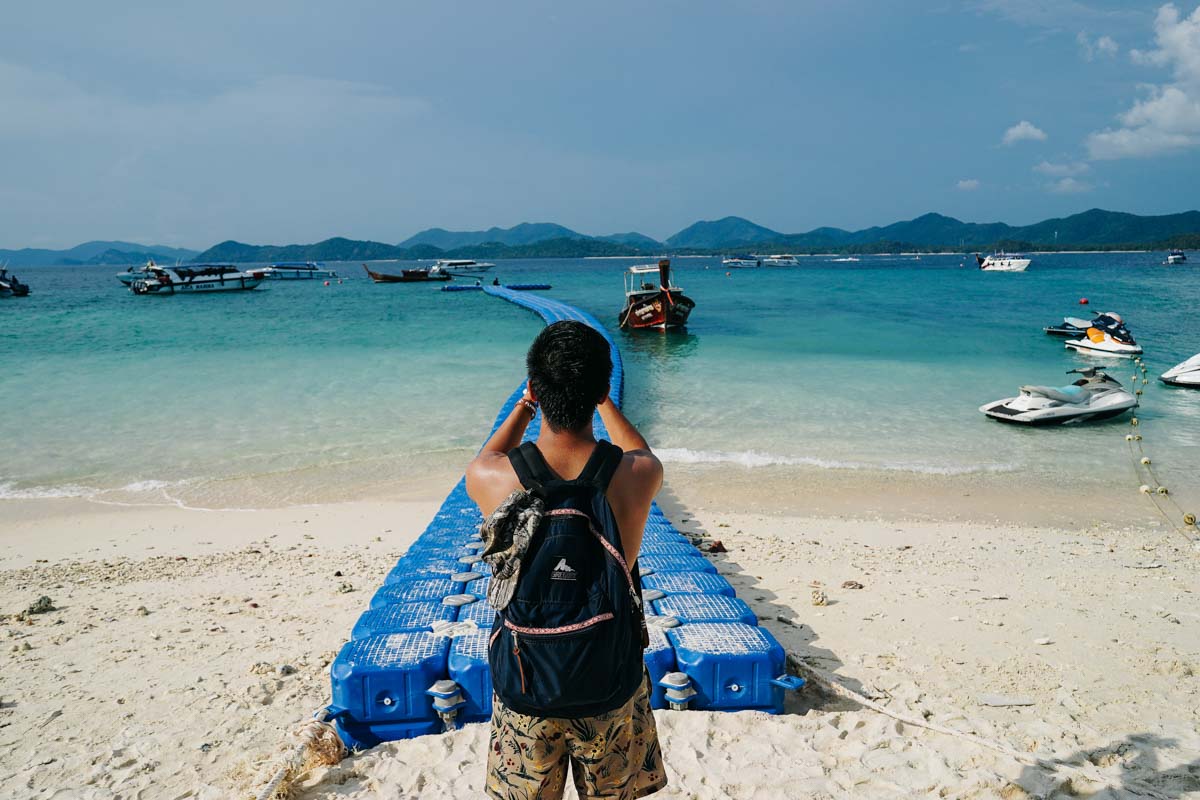 Get a change in scenery from the suntanning decks of the cruise with this half-day 3 Islands Excursions Tour.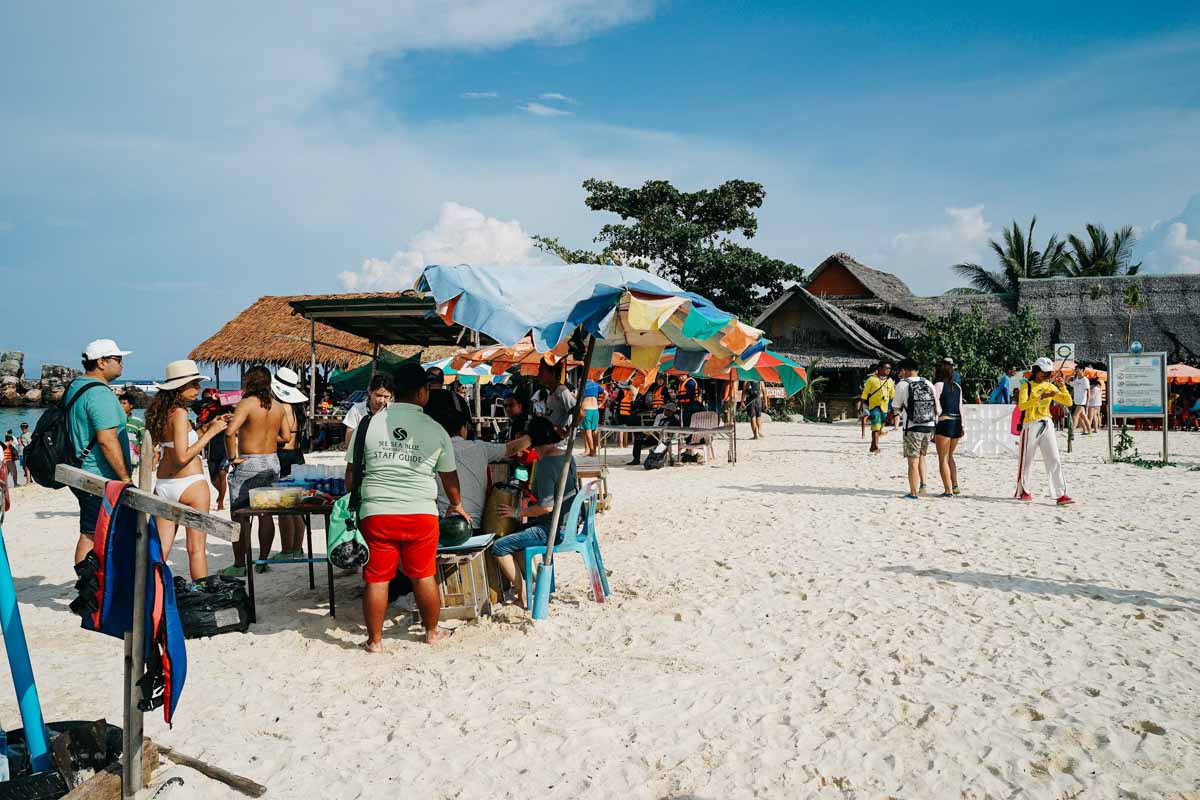 We enjoyed our time laying on the sand with Pina Coladas in hand on one island, snorkelling at another and savouring the fresh seafood at our last. It felt like we accomplished a lot within what few hours we had!
5.30PM: Head Back to Enjoy the Rest of Your Night!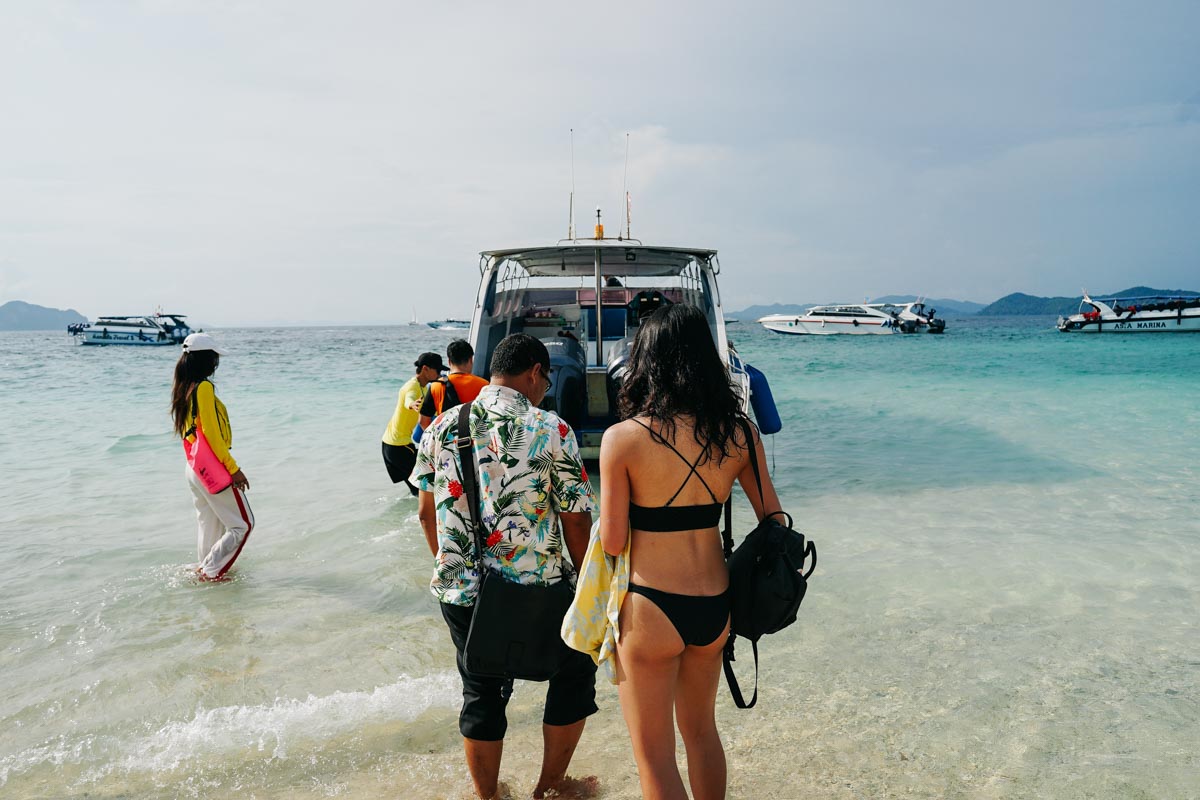 After a whole day of activities, it's time to head back to the cruise to freshen up for Formal Night.
It might seem early to return back to the ship but you'll need to factor in travel time, especially if the port is at the Deep Sea Port.
5D4N Penang and Phuket Royal Caribbean Cruise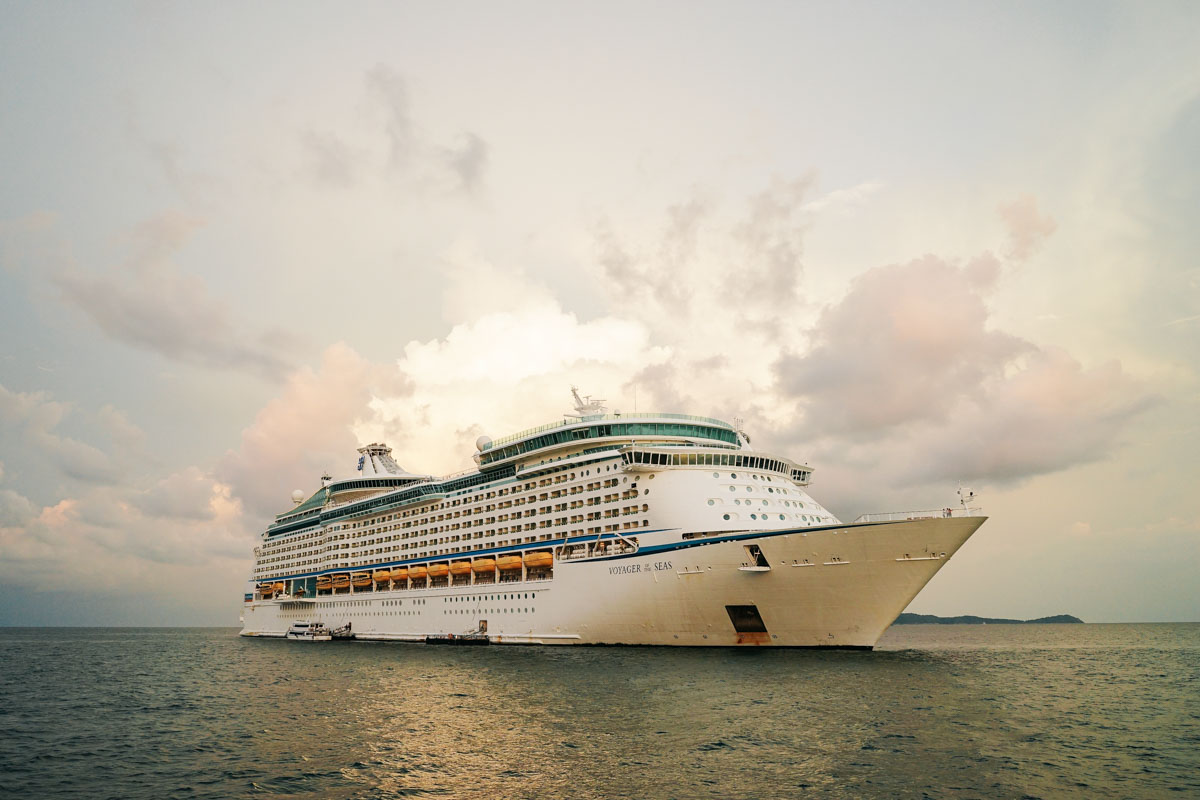 Don't stop at just visiting Phuket! Visit Penang too when you travel with Royal Caribbean Cruise Line on the Voyager of the Seas for 5 days and 4 nights! Get to visit 2 different destinations on top of an All-You-Can-Eat-Play-Chill Getaway Cruise, the most fuss-free way to spend your vacation!
If you enjoyed reading this Phuket Day Trip Guide, check out our Penang or Port Klang day Trip Guide as well! Let us know in the comments below if you have any other recommendations.
Book Your Holiday with Royal Caribbean Now
From 1-25th September 2018, book a 4-Night Port Klang & Phuket Cruise at only $399* exclusive to TTI readers!
Simply select from the following dates: Nov 5, Nov 12, and Nov 19, select 'Balcony', key in <RCTTI> under promo code and enjoy the discounted price of S$399*/pax on your 'Spacious Ocean View Balcony' rooms!
*Excluding taxes & fees
---
This post was brought to you by the Royal Caribbean International.
For more travel visuals, follow us on IG @TheTravelIntern.