Explore Phuket's lesser-known gems like hidden beaches, alcoholic sugarcane and… dog-sized fish? 
Phuket has gained a bad reputation over time for its bustling beaches and notorious nightlife. Many people (myself included) might not even consider it as a travel destination because we assume there's nothing else to see or do on the island. But that can't be all, right?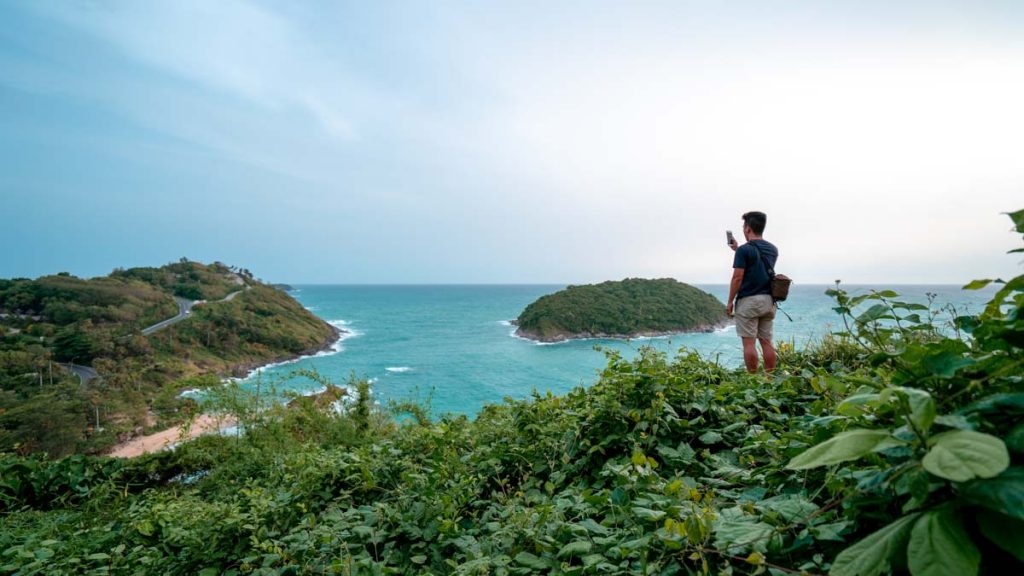 With 72 hours in Phuket, I challenged myself to explore the offbeat path that most tourists miss. And I gotta admit: I was wrong about this place. Phuket is a gorgeous island getaway teeming with a wide variety of fun activities and unspoiled scenery that offer refuge from the beach-going crowds. All you have to do is open your eyes a little bigger, and know where to look.
Pre-trip Essentials
Stay Connected: Pre-book a local SIM card and collect it at Phuket International Airport upon arrival. The one I got from Klook came with 15GB worth of data at up to 4G speeds, and had pretty good coverage all around the island.
Best Time to Visit: The high season in Phuket begins in November, but tourist hordes don't arrive till December. Skip the crowds and travel during the "shoulder" season (April, May, November, and October). Tourist numbers are slightly lower then, but the weather is still ideal for a relaxing holiday.
Getting around Phuket
Public Transport: Songtaews (Open-aired buses) are really cheap (฿30 – ฿50, ~S$1.25 – S$2.10) and operate between the main town and most major beach areas. Just flag them down along the main roads at beaches, or catch them from the local bus station on Ranong Road in Phuket Town. However, the service only runs from 7AM – 6PM.
Private Car Charter: Travelling in a group? Book a private car charter for more convenience! Cars can be hired on an 8-hour basis with your own itinerary or recommendations from the driver. You could also just hand him this itinerary you're reading 😉
Car rental: If you're confident driving overseas (with a valid driver's license, of course), renting a car could be the most cost-efficient way to get around Phuket.
Day 1: Experience the Phuket Charm
Whether you've booked the private car charter or are renting a car, you can start your day right away, fresh from the airport!
9AM: Get Your Tan on at Bang Tao Beach (หาดบางเทา)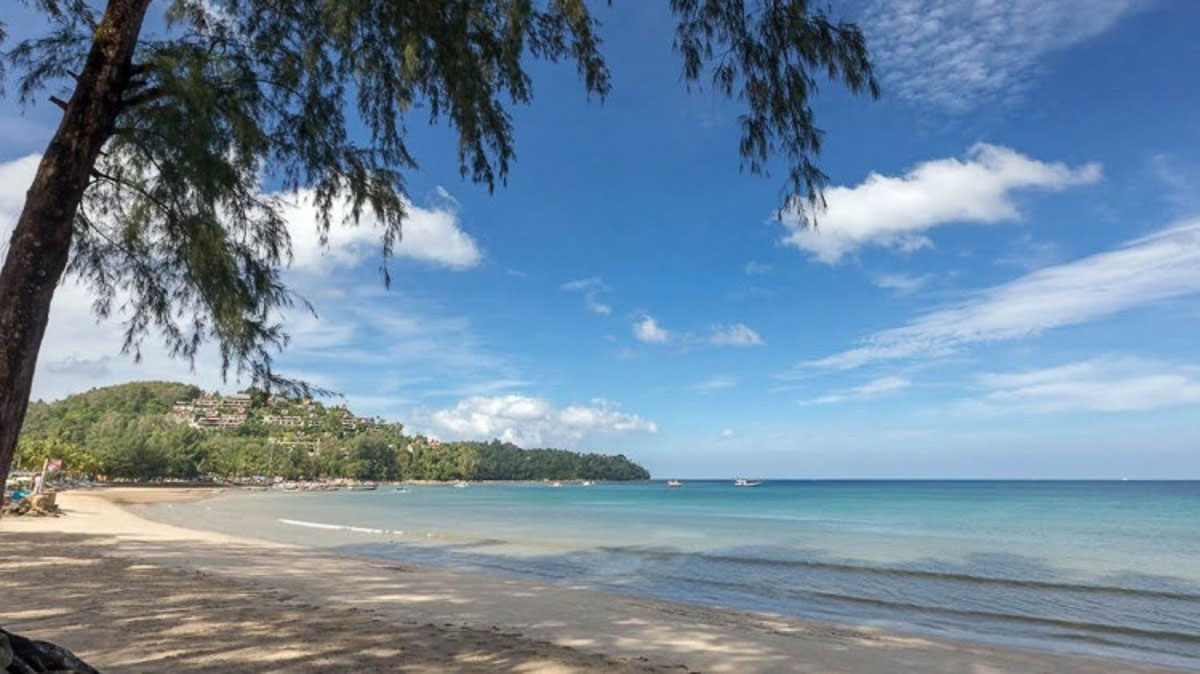 Photo credit: Luxuryvillasphuketthailand
Start your island vacay right at one of Phuket's biggest beaches. Bang Tao Beach stretches 6km, filled with pristine sands and turquoise-blue waters. Compared to Patong Beach where crowds usually flock to, Bang Tao Beach is relatively calmer and quieter. There's also a variety of activities, restaurants and beach clubs to keep you thoroughly entertained.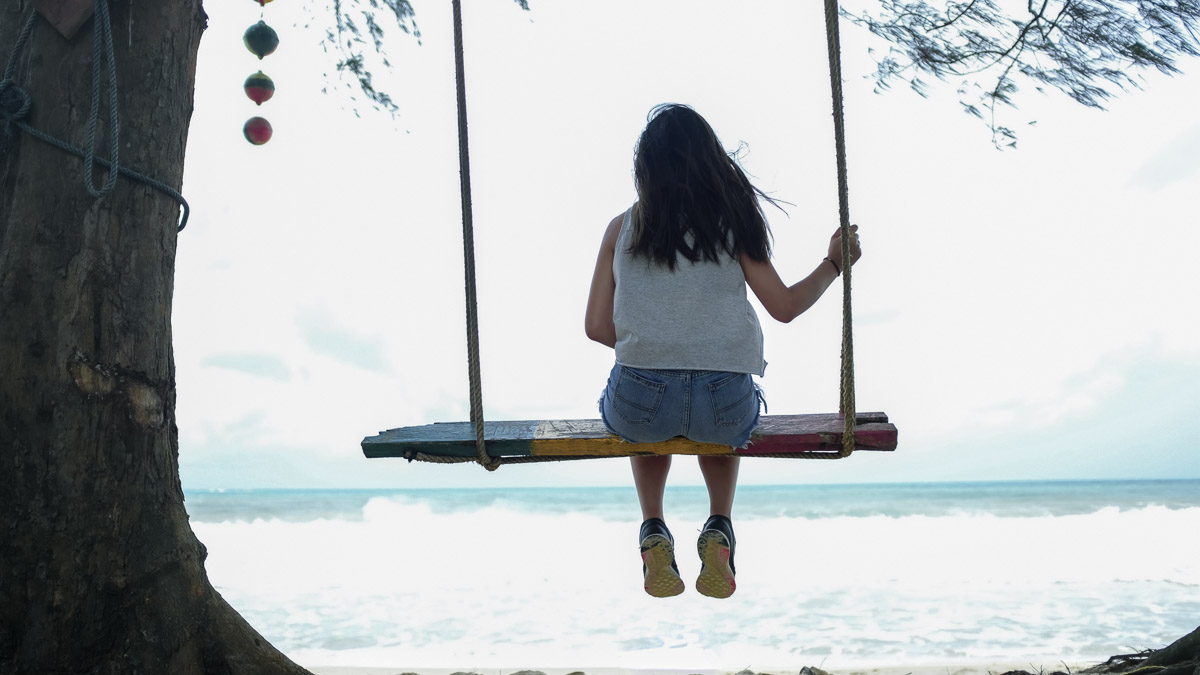 Walk further along the beach and you'll come across a rustic, man-made swing you can chill on while listening to the sound of crashing waves and sea breeze.
How to get there: To get to the swing, drive to See-Sea Restaurant and walk about 1km northwards. Alternatively, you can also access Bang Tao Beach by driving to the Beach Cuisine Restaurant and walking a short distance towards the beach.
12PM: Lunch at Tu Kab Khao Restaurant (ตู้กับข้าว ร้านอาหารพื้นเมืองภูเก็ต)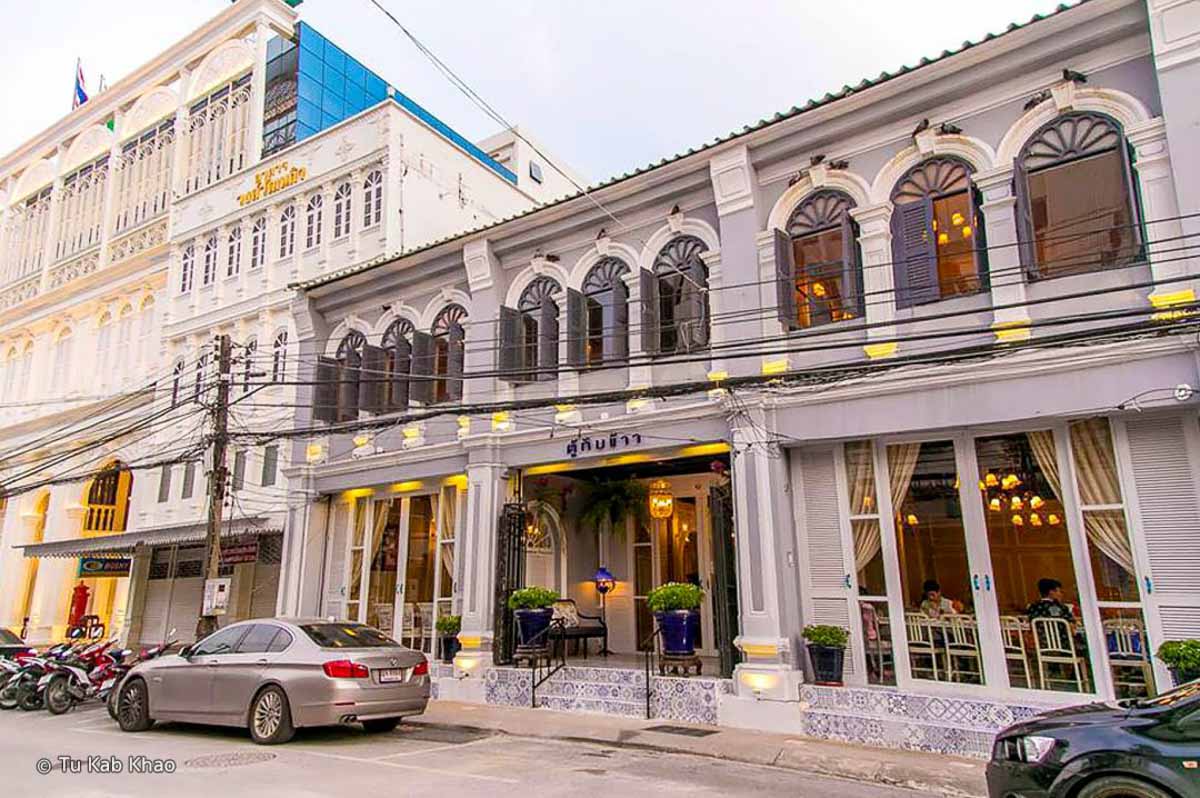 Photo credit: Phuket.com
Have a hearty meal at Tu Kab Khao Restaurant in Old Phuket Town. The restaurant is housed in an old colonial building with an elegant Victorian-styled interior. Popular with tourists and locals alike, Tu Kab Khao serves authentic Southern Thai dishes that are slightly pricier, but we felt were worth every Baht.
Bestsellers here include the green crab curry with vermicelli, tom yum soup with prawns, and spicy fried pork with basil leaves. The green curry had a generous amount of tender crab meat, and (surprisingly!) a spicier kick than the soup. Order the signature Thai iced milk tea if you think you can't handle the heat.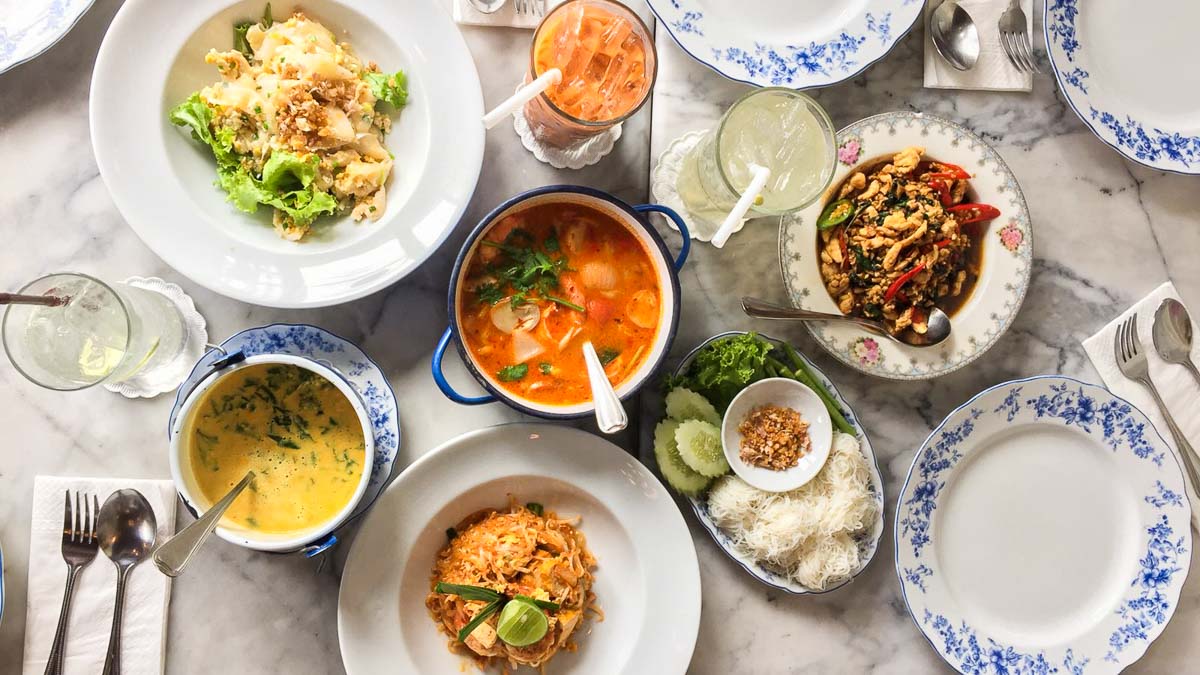 Cost: ~฿250/pax (~S$10.50)
Opening Hours: 11:30AM – 12AM (Kitchen closes at 9:45PM)
Address: 8 Phang Nga Road, Talat Yai, Phuket Town

1:30PM: Be Charmed by Phuket Old Town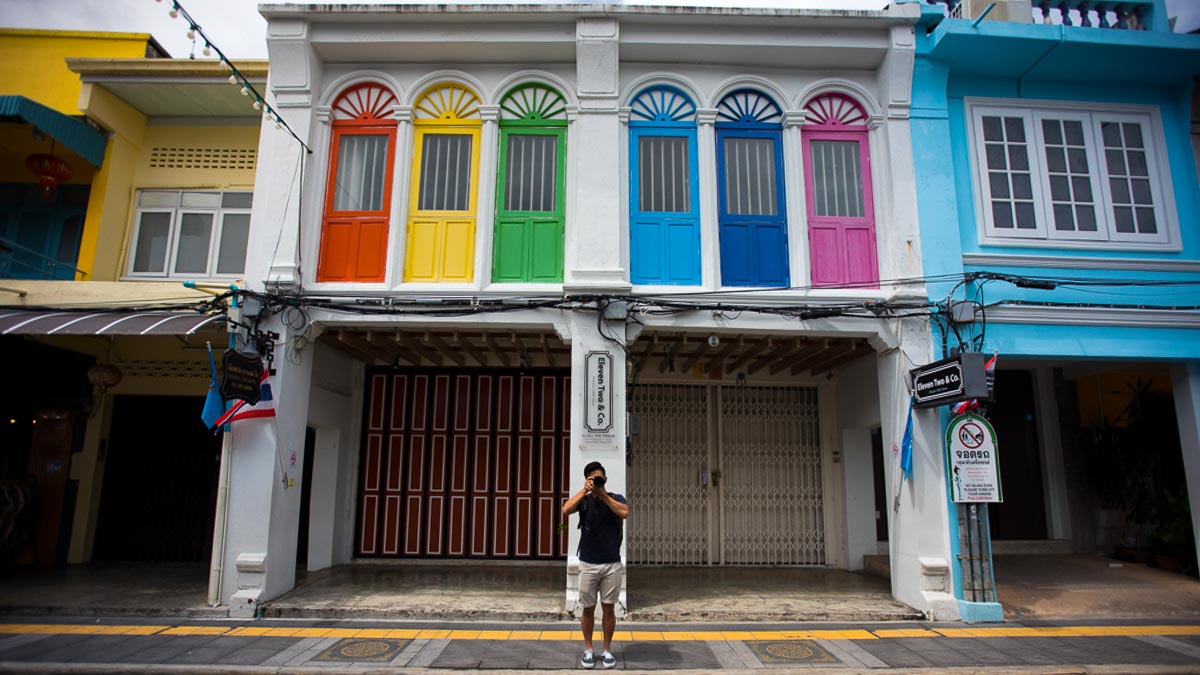 Get to know a different side of Phuket by exploring its rich history and culture. Enjoy a scenic walk down Thalang Road in Phuket Old Town, where colourful 18th-century Sino-Portuguese shophouses line the streets. The town has a mix of cafes and handicraft stores that sell locally-made coffee and souvenirs.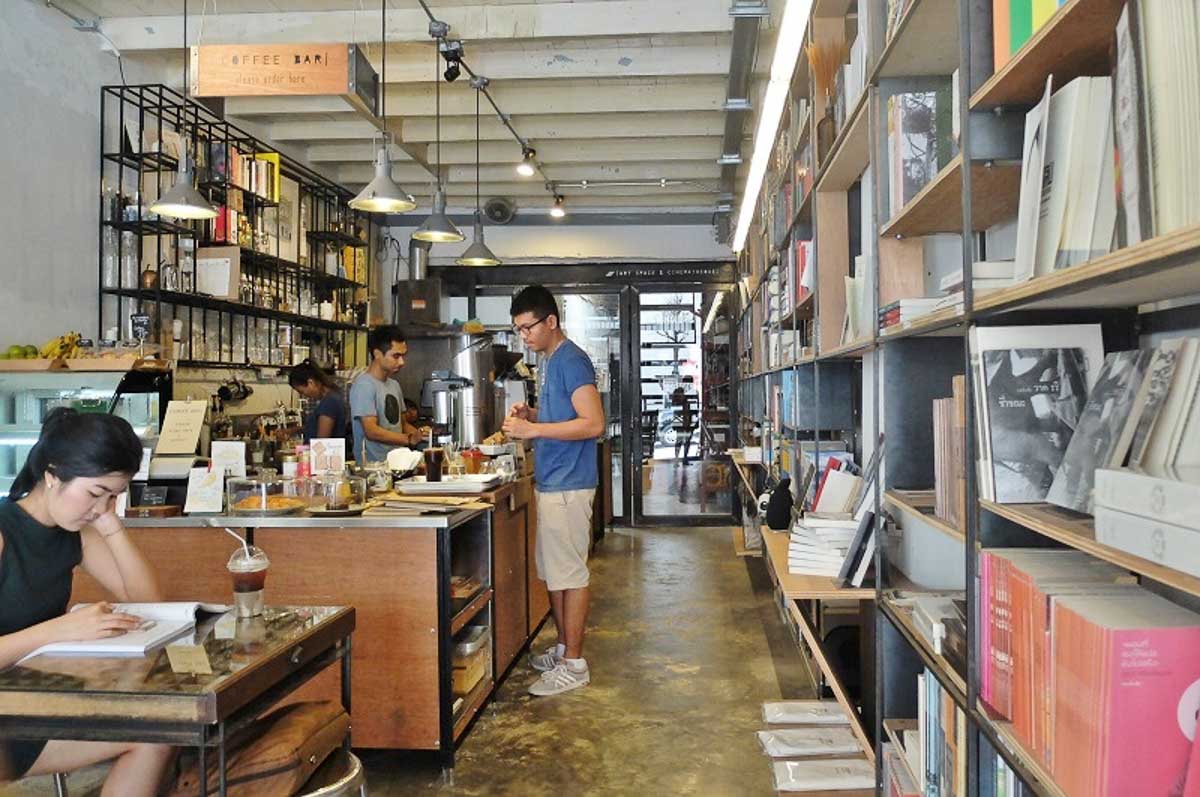 Photo credit: Girlinflorence.com
If you're into the arts scene, check out Bo(ok)hemian Arthouse — this cafe houses both an art gallery, a bookstore, and serves great coffee and desserts.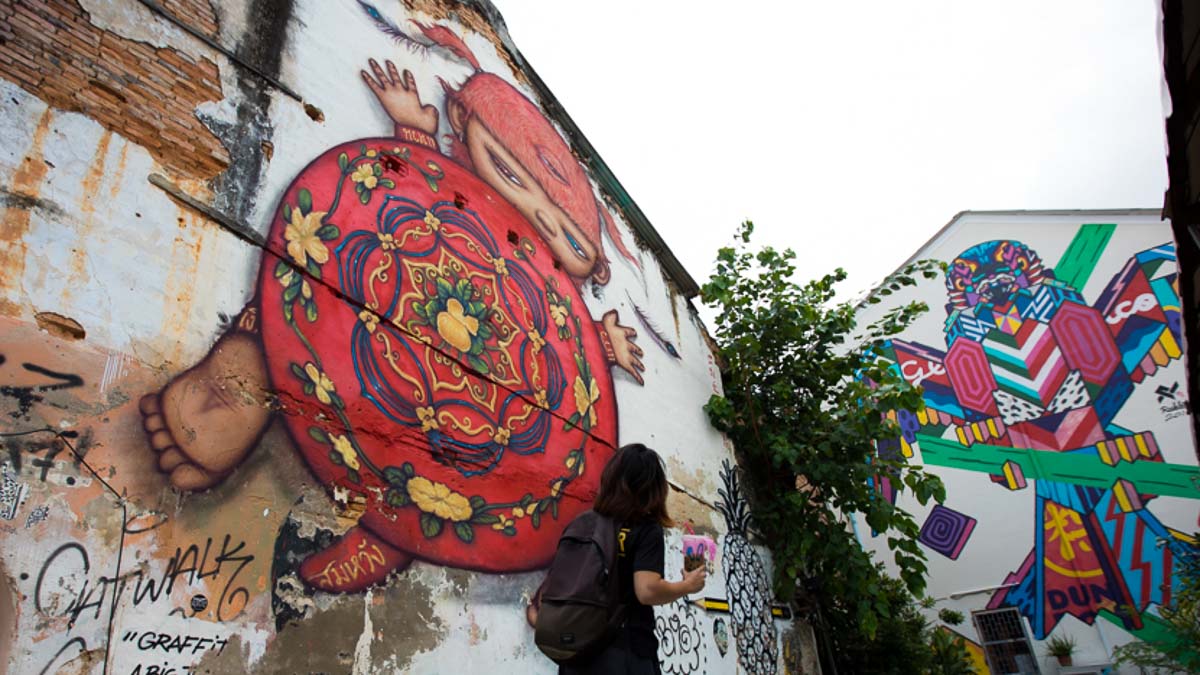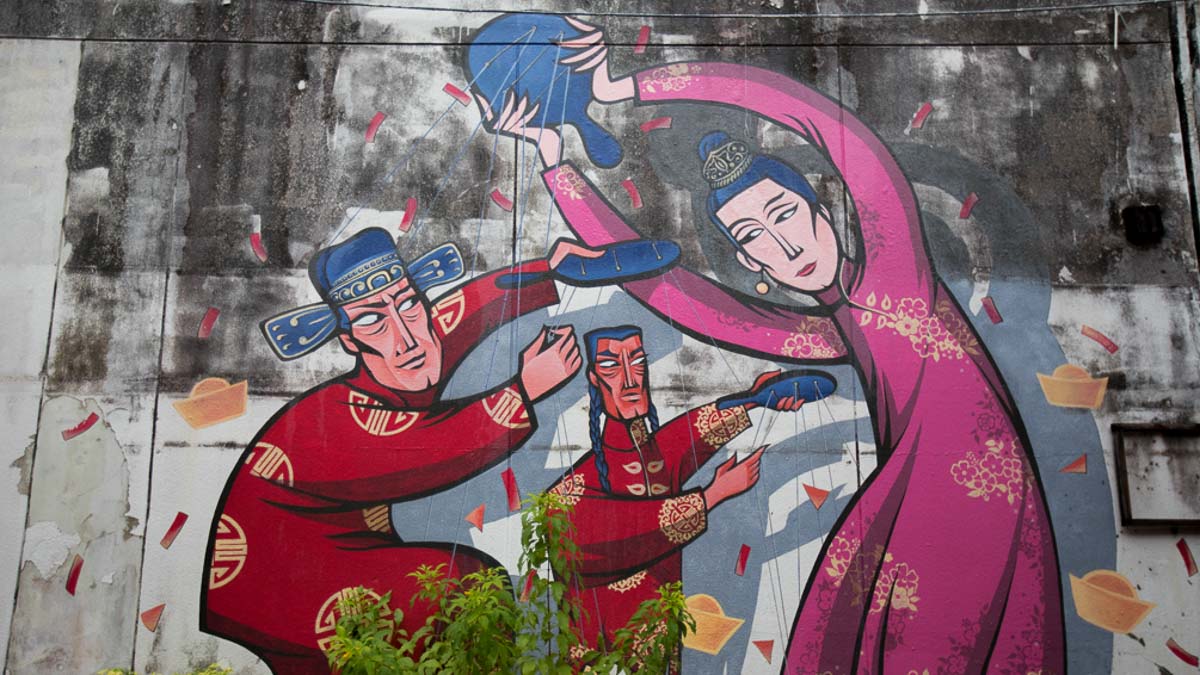 Keep your eyes peeled for street art around the town! Done by international and local artists, these vibrant artworks add a contemporary touch to Phuket Old Town's charm and reflect the interesting culture and lifestyles of its people. You can find these masterpieces scattered along Thalang Road, Krabi Road, Phang Nga Road and Dibuk Road.
3PM: Zip-line like a Monkey God at Hanuman World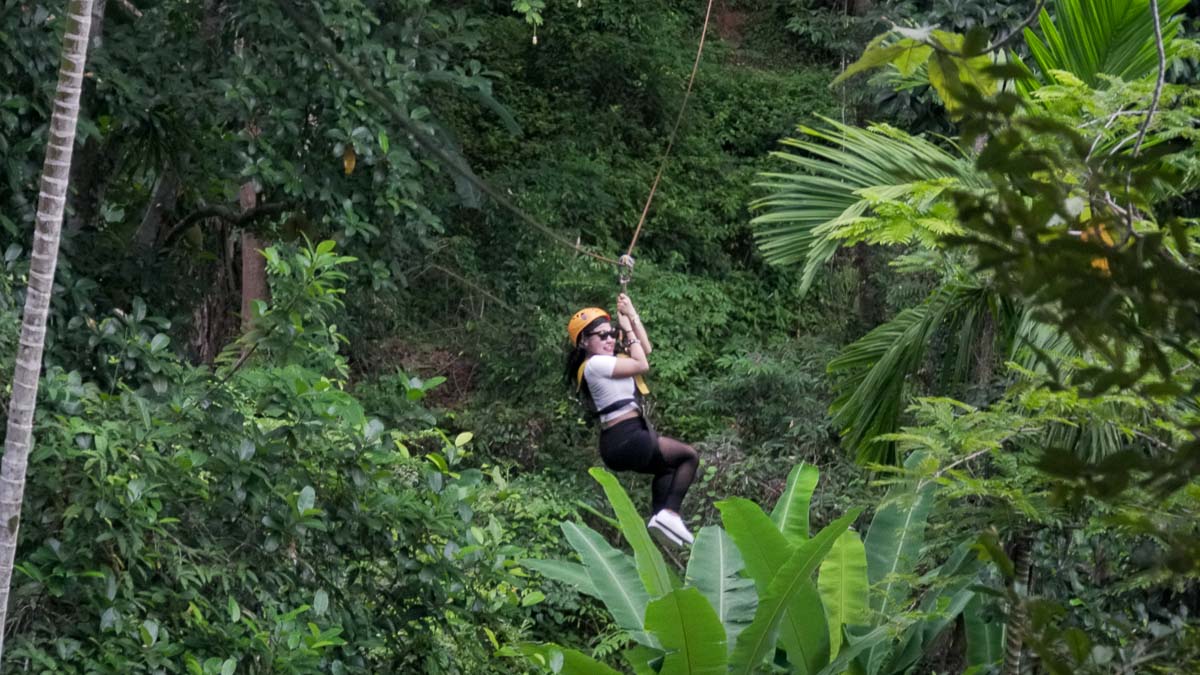 Named after the Hindu monkey God, Hanuman World is Phuket's ultimate jungle adventure. This activity is perfect for nature lovers as you'll get to experience Phuket's lush, untouched rainforests in an unconventional way. Why hike when you can fly?
There are several journeys (or packages) you can go on — varying in the number of platforms and timings. If you're a beginner at ziplining, we recommend either the 10 or 18 platforms. But if you are feeling adventurous and have more time to spare, the World packages that include Roller and Sky Walk are lots of fun too.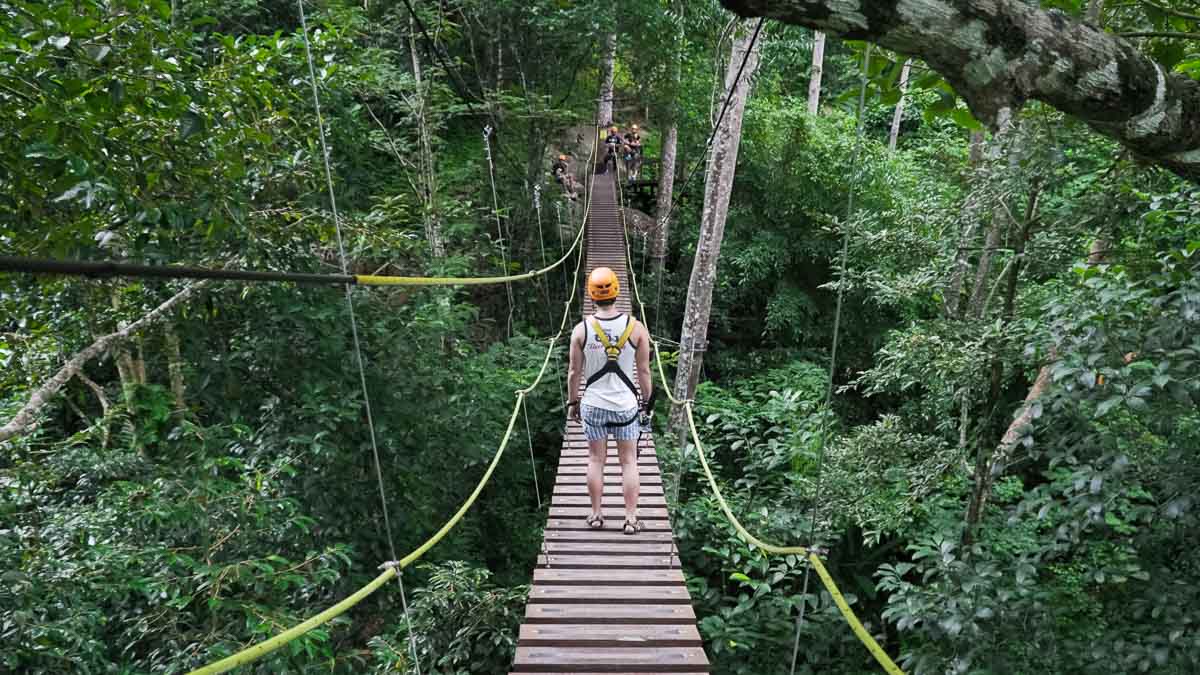 Cost: From S$39 via Klook
Opening Hours: 8AM – 6PM
Address: 105 Moo 4, Chaofa Road, T.Wichit, Muang, Phuket 83000. Options without transport are also available via the website.
5:30PM: Experience Phuket's Nightlife
One of the quintessential experiences of the Phuket nightlife (that isn't being squashed in a congested market) is to catch a live performance. From grand cultural shows like Siam Niramit to light-hearted performances like Simon Cabaret, or something in between like Phuket FantaSea, there's something here for everyone.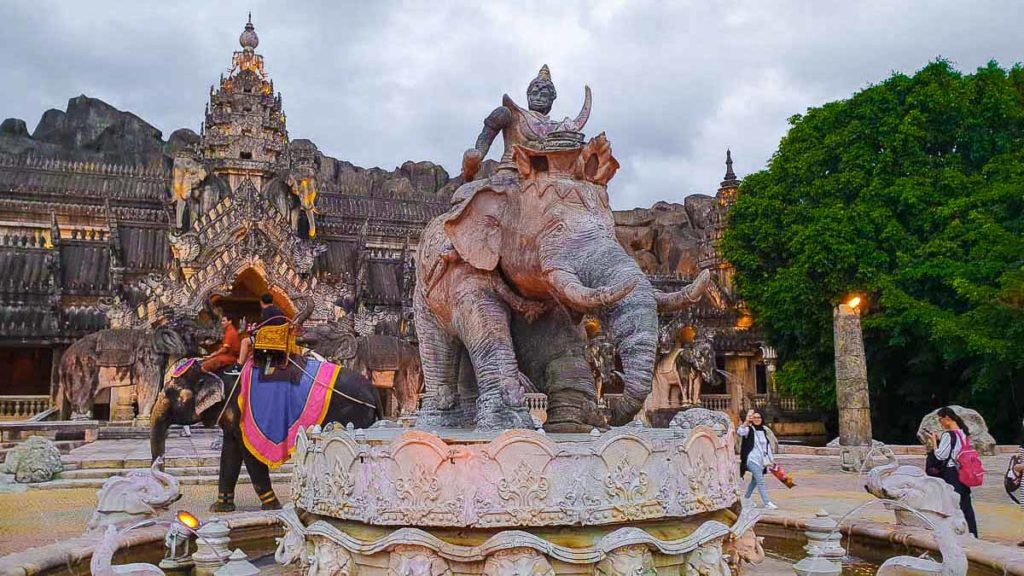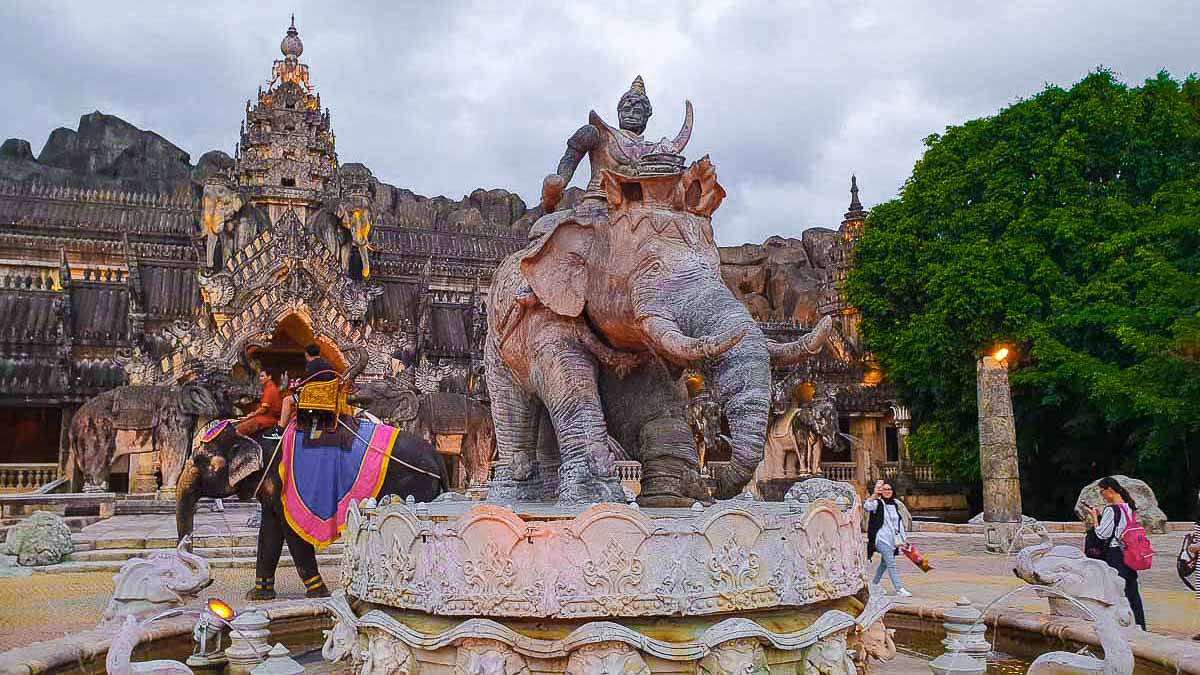 After freshening up for the evening, we ended up at Phuket FantaSea, a fantasy cultural theme park that features a series of pre-shows, carnivals, a shopping arena, and a grand stage performance.
Everything's a little eccentric but the performance will surely end your day with a bang with a good mix of choreography, magic, and animals.
Visitors to Phuket FantaSea can also top up ~S$10 for a buffet dinner offering Thai and international cuisines.
Cost: From ~S$65 (Pick-up and/or buffet options available)
Opening hours: 5:30PM – 10PM, Showtime: 7:30PM
Address: Phuket FantaSea, 99 M3 Kamala Kathu, Phuket 83150
If shows aren't your thing, check out our Phuket nightlife guide for other fun stuff to check out once the sun sets.
Day 2: Phuket's Water Activities
9AM: Island-Hop to Phuket's Most Beautiful Islands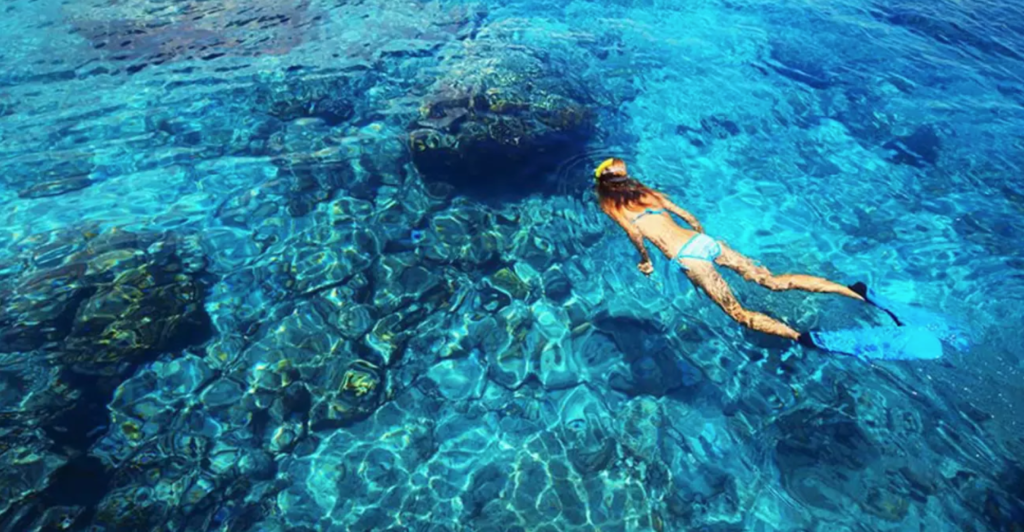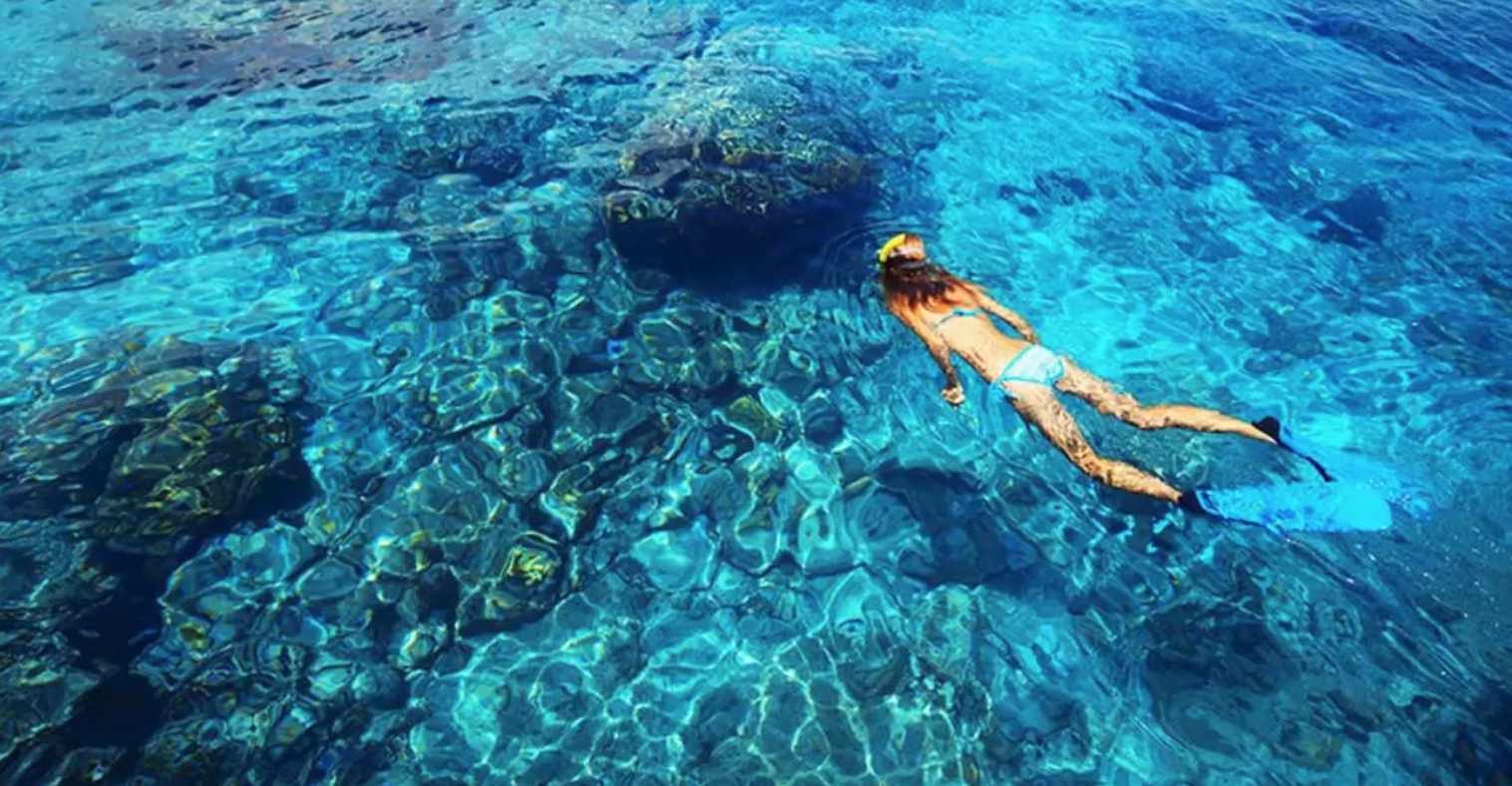 There are 32 islands all around Phuket, so you'll be spoiled for choice with many different island-hopping tours. And one of the best ways to explore the beautiful and unspoilt islands is with a fuss-free island-hopping tour. The catamaran (you can choose speedboat too) tour to Racha and Coral Islands includes hotel transfer and refreshments, so you'll save yourself time from the hassles of planning. On top of island-hopping, the tour also provides snorkelling equipment for you to snorkel in the clear waters.
Cost: From ~S$43 (incl. roundtrip transfer)
Hotel pick-up: 7AM (the driver will confirm the time with you)
If you're prone to seasickness, here's an alternate way to experience Phuket's water-based activities:
9AM: Try Big-Game Fishing at Phuket Freshwater Fishing Park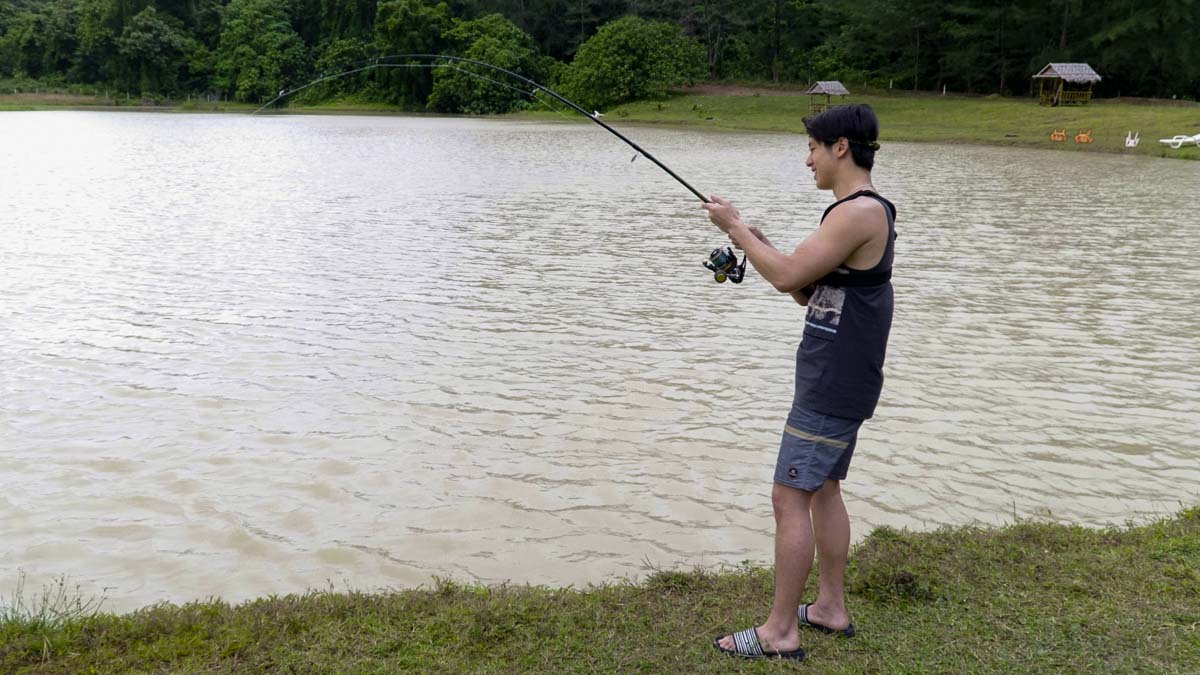 Think fishing is boring? Here's something that might change your mind. Phuket's freshwater fishing park is a football field-sized lake that holds some monster-sized fish. You can catch species ranging from Redtail Catfish to Siamese Carp that can be as big as a Golden Retriever or even a small child!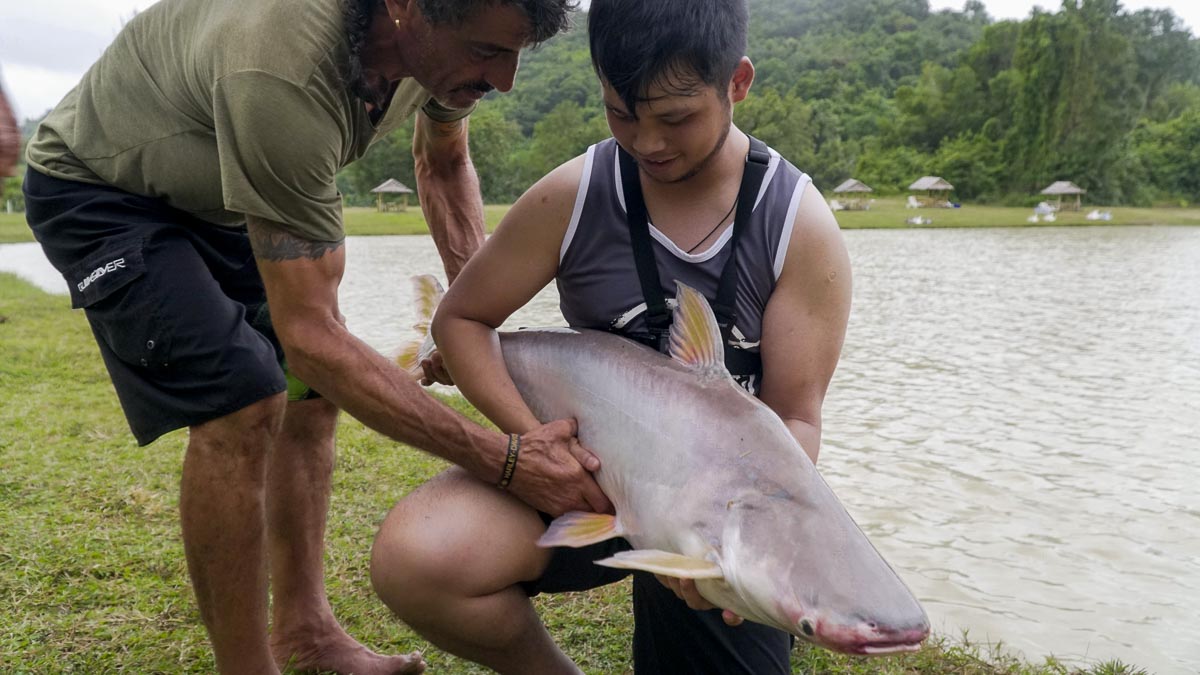 Experienced staff are on hand to train beginners and provide help. Once you've caught a fish, the staff will show you how to hold your prized catch for that insta-worthy photo.
Cost: From ฿2,960/pax (~S$120)
Opening Hours: 8:30AM – 6PM
Address: 102/5 Moo 5 Chalermphrakieat Ror 9 Road, Tambon Rasada, Amphur Muang, Tambon Choeng Thale, Amphoe Thalang, Chang Wat, Phuket 83110
6:30PM: Chase after the Phuket Sunset at Windmill Viewpoint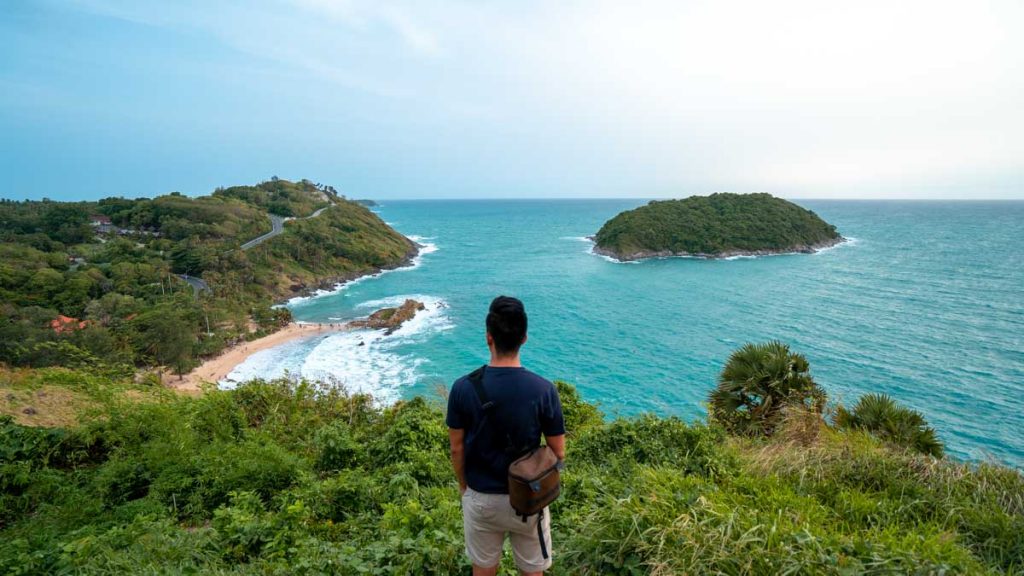 There are numerous viewpoints around Phuket island, but some way more crowded than others. We drove up to Windmill Viewpoint, which derives its name from a defunct wind turbine. Compared to the popular Phromthep Cape further down the road, Windmill Viewpoint was relatively empty. When we arrived, there were only a few locals and couples around having picnics so we got plenty of breathing space.
Despite not having a clear sunset view that day, we still enjoyed the beautiful Southern views of Promthep Cape and Ya Nui beach.
Entrance Fee: Free
Opening Hours: The parking lot closes at 7PM, but you can still head up to the viewpoint afterwards
How to get there: From Kata Beach, drive towards Nai Harn Beach. Proceed in the direction of Promthep Cape, and drive up a small hill past the lake. Continue upward until you see the wind turbine on your right.
7:30PM: Dinner at Green Tamarind Kitchen (กรีน แทมมารีนด์ คิทเช่น)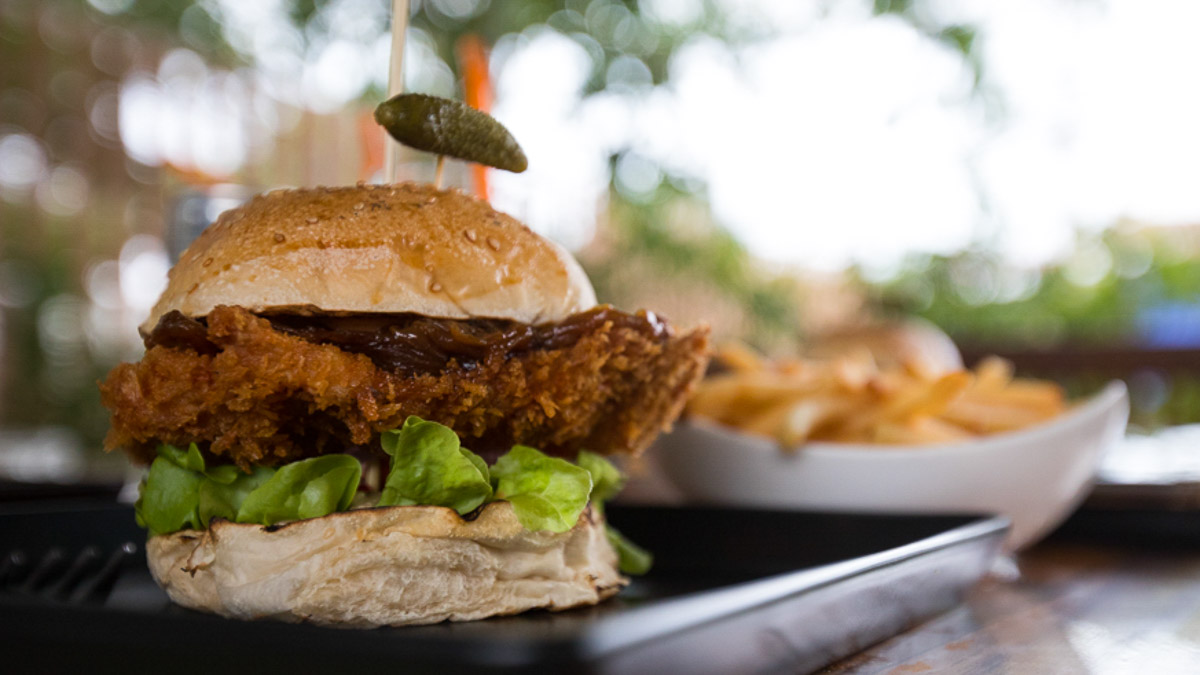 After a long day, treat yourself to some of the juiciest burgers in Phuket. Green Tamarind Kitchen is a small, no-frills eatery that is tucked away in a corner away from the main road. The place serves delicious, affordable burgers with huge portions (the patties were bigger than our palms!). Worth it!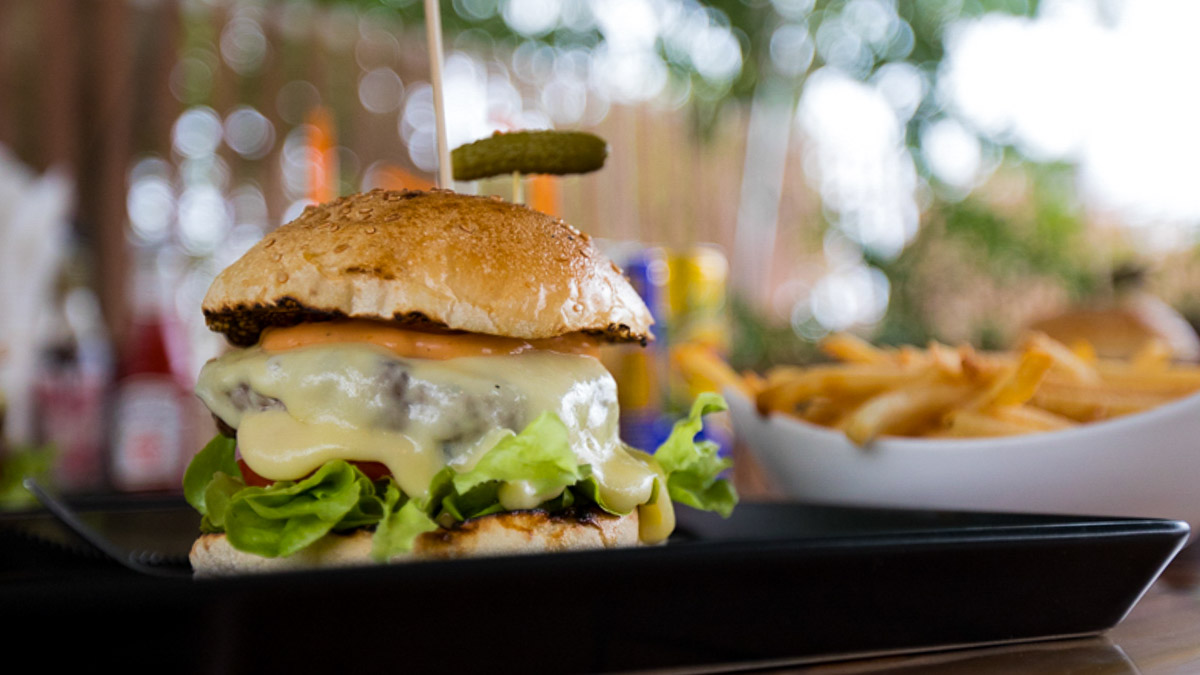 We recommend the restaurant's bestsellers: Chicken Burger (฿150, ~S$6.10) and Swiss Cheeseburger (฿240, ~S$9.70). Both were prepared using fresh ingredients and were delightfully tender and tasty.
Avg Dish Cost: ฿250 (~S$10)
Opening Hours: 1PM – 10PM. Closed on Mondays
Address: 31/56 Soi Khokmakham Rawai, Phuket, Thailand 83130
9PM: Unwind at Rawai View Café & Bar (ร้านอาหาร ราไวย์วิว)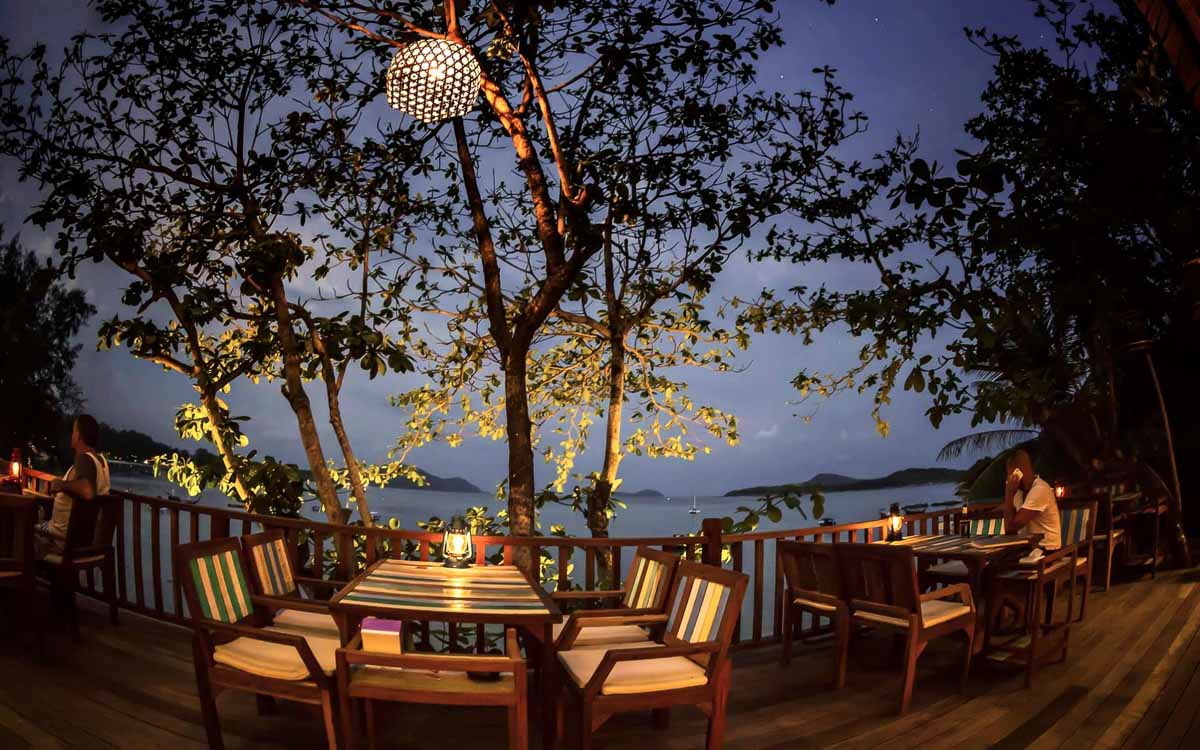 Photo credit: Rawai View Cafe n Bar
Update April 2022: Rawai View is currently undergoing renovations and will reopen end-2022.
If you're not ready to sink into bed, head down to Rawai View Café & Bar to enjoy a drink or two — a local beer costs about ฿100 (~S$4.20). The venue is decorated with vintage furniture made from secondhand materials like songtaew spare parts and driftwood. Talented musicians also perform live at the bar in the evenings, adding a nice touch to the place.
Address: 96/6 Moo 6 Soi Laem Promthep 1 Rawai, Phuket 83130
How to get there: From the road opposite Rawai Palm Beach Resort, drive 500m up a hill until you see the venue's signage on your left.

9AM: Chase After Bang Pae Waterfall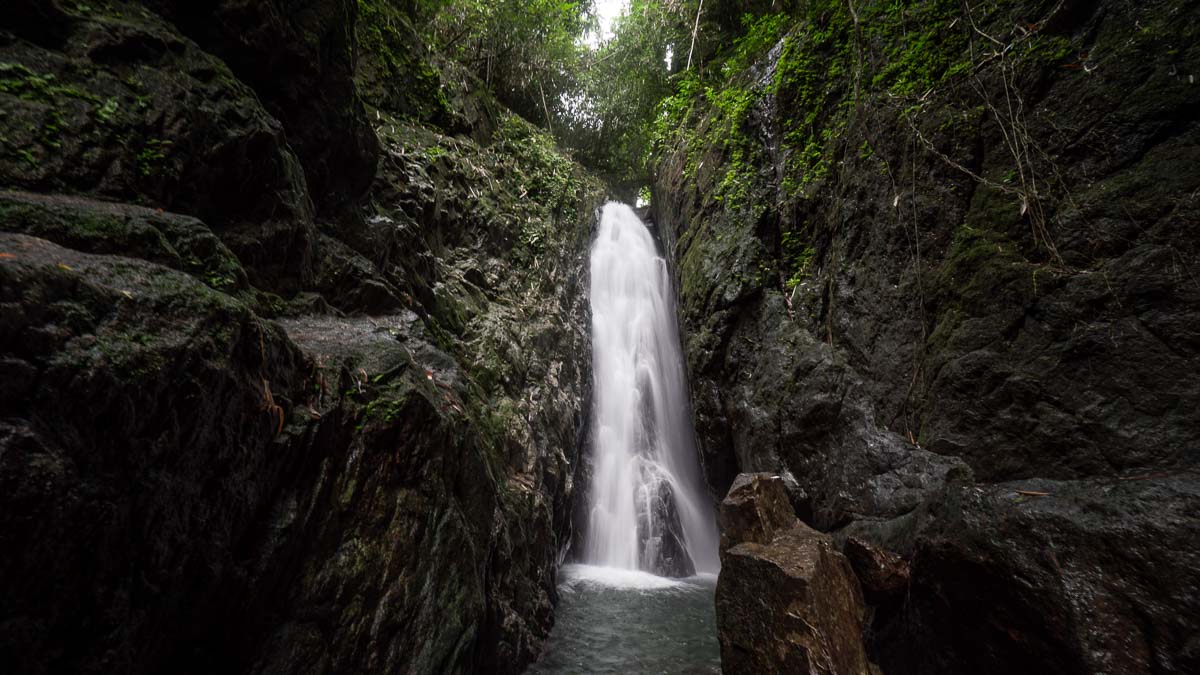 Tucked inside Khao Phra Thaeo National Park, Bang Pae Waterfall is helmed as the biggest waterfall in Phuket. Though it isn't as majestic compared to other waterfalls in the world, we could still appreciate the natural surroundings. The waters were extremely clean and cooling, and fish may nibble at your feet if you dip in the pool. Do come early as it tends to get crowded later in the day.
Entrance Fee: ฿200 (~S$8.30)
Opening Hours: 9AM – 5PM
How to get there: From Phuket Town, turn right at the 'Heroines Monument' Circle and continue driving for 10km until you see the venue's signage on the left. Bang Pae Waterfall is about a 10 – 15 minute hike in.
*Pro-tip: Beware of potential scams when paying for the entrance fee. Show the prices quoted on TripAdvisor if your driver insists on more than ฿200 when buying tickets on your behalf.
11AM: 'Defy Gravity' at the UpsideDown House (Baan Teelanka)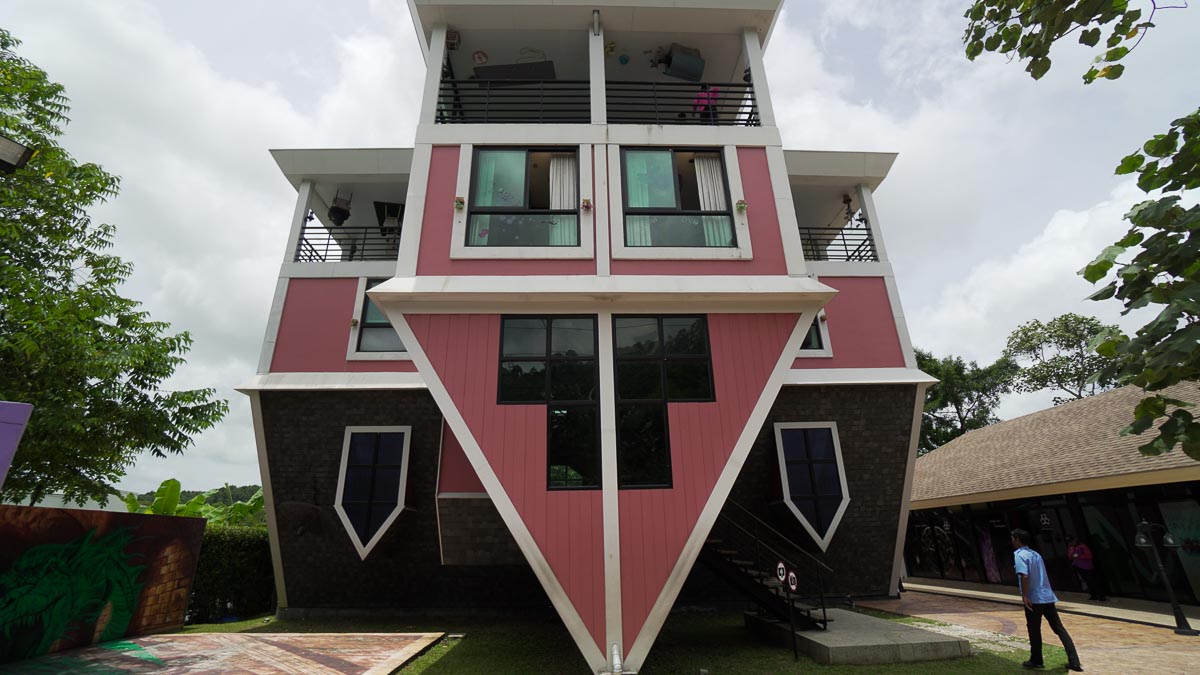 Confused? We were too. The UpsideDown House (Baan Teelanka in Thai) is Phuket's novel and quirky attraction. Walk around the three-storey house via the ceiling and take wacky photos with your friends. Don't hesitate to ask the guides for tips on where to pose or to help snap pictures!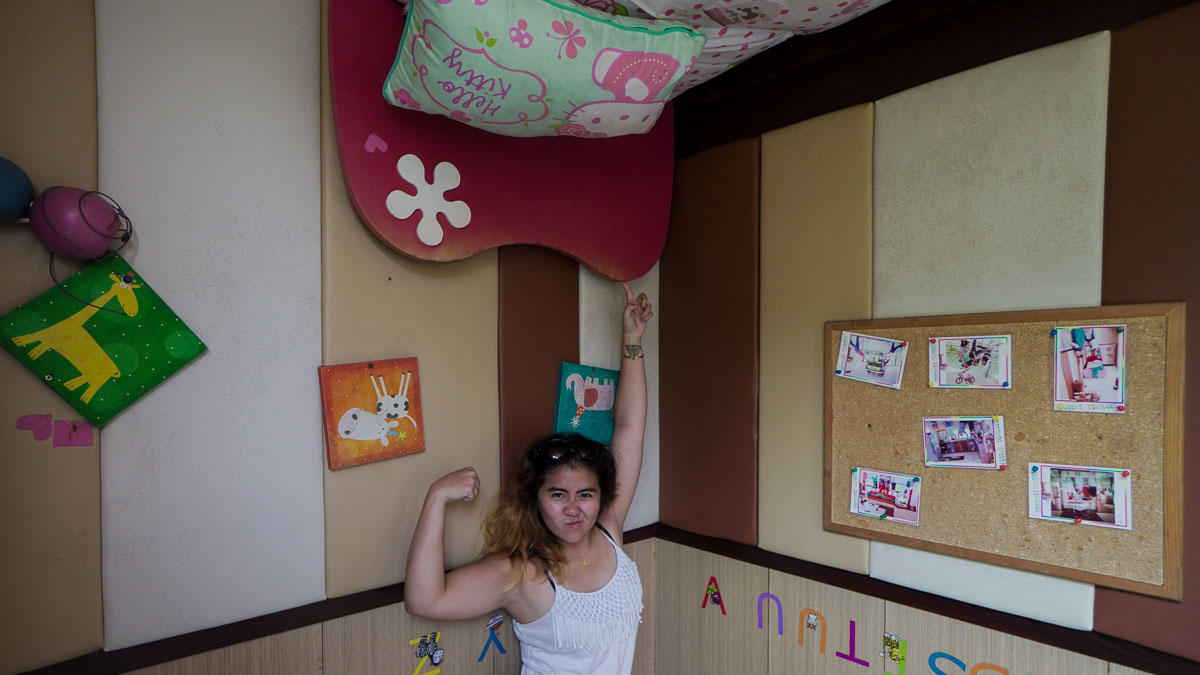 Baan Teelanka also offers other attractions such as A-Maze-in-Phuket, a large hedge maze that takes about 10 – 15 minutes (or less) to find your way out (฿170, ~S$7). On a whole, we felt the UpsideDown House seemed more suited for kids, but is worth checking out if you want a good laugh and unique photos.
Cost: ฿350 (~S$14.50, ~S$6.20 via Klook)
Opening Hours: 10AM – 5:30PM
Address: 51/11 Moo 5, Chalermprakiet Ratchakan Thi 9 Road, Ratsada, Phuket Town, Phuket 83000
12:30PM: Lunch at One Chun Cafe n' Restaurant (ร้านวันจันทร์)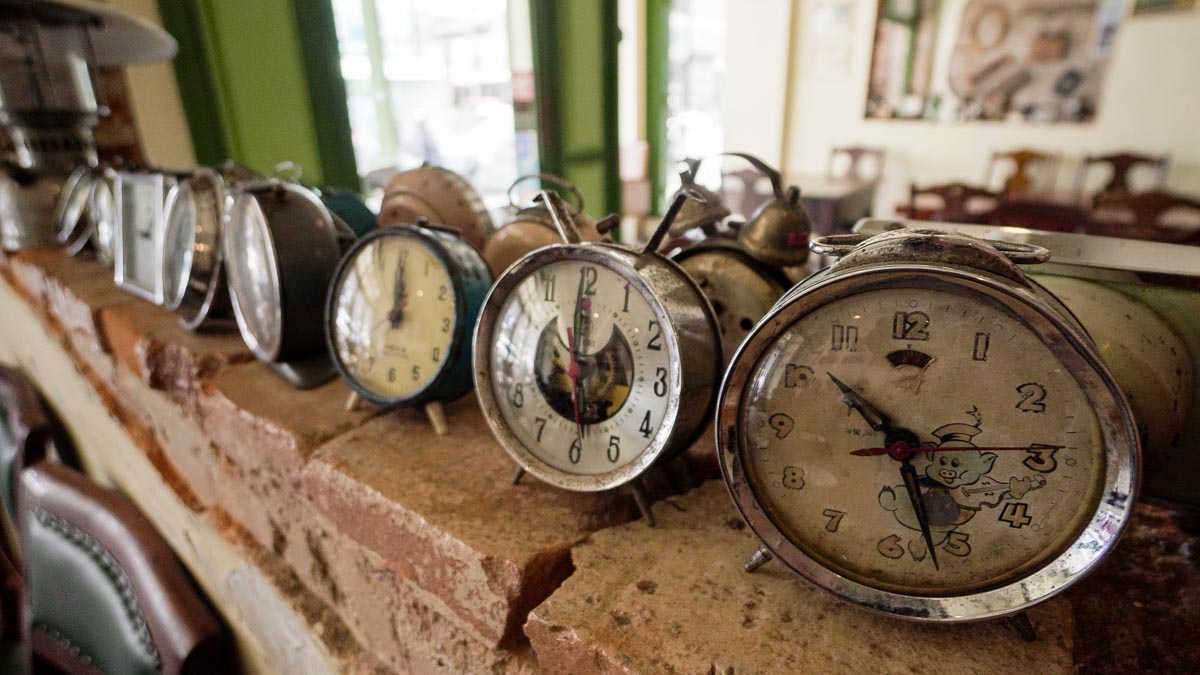 Fill your bellies with Thai cuisine at the One Chun Restaurant. Set in an old shophouse, One Chun has a lovely, nostalgic ambience with vintage decor like old clocks and radios. The restaurant is a hit with locals and tourists, and tends to be crowded during lunch and dinner times. Do call in advance to reserve a spot so you don't have to wait.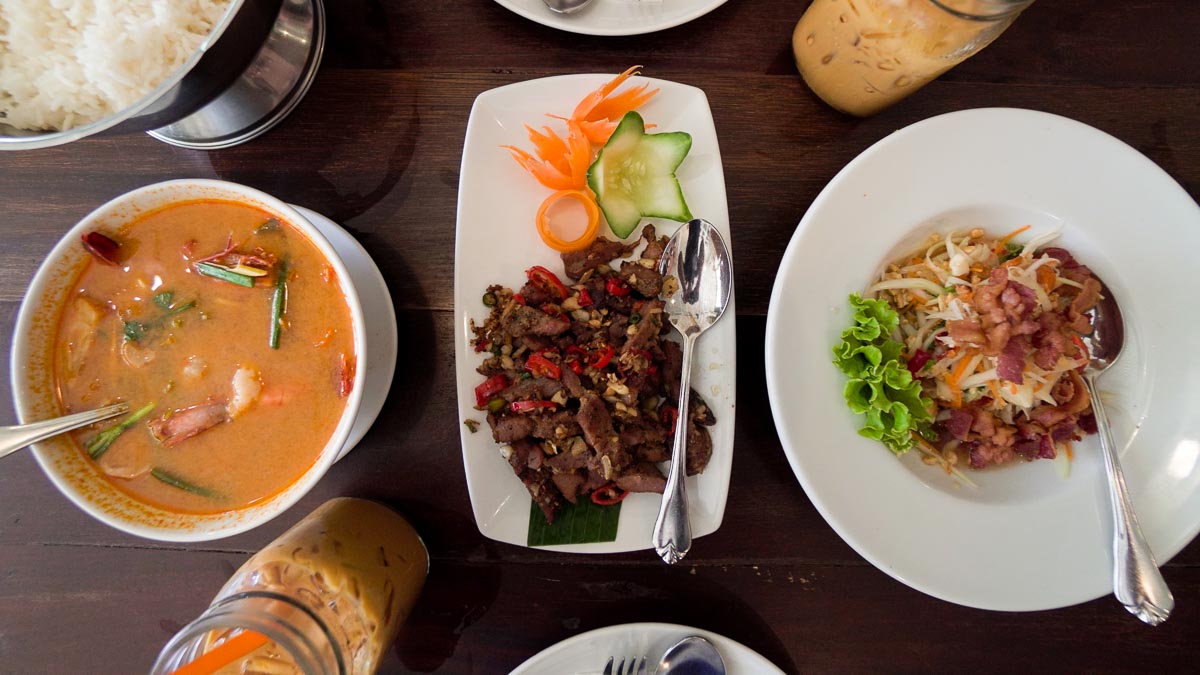 We recommend ordering the restaurant's crab-meat curry — some say it is the best and creamiest in Phuket Town. The grilled pork with chili, garlic and pepper is also worth trying.
Avg Dish Cost: ฿250 (~S$10.50)
Opening Hours: 10AM – 10PM
Address: 48/1 Thepkrasattri Rd., Talat Yai, Phuket Town

2:30PM: ATV Off the Beaten Track to Big Buddha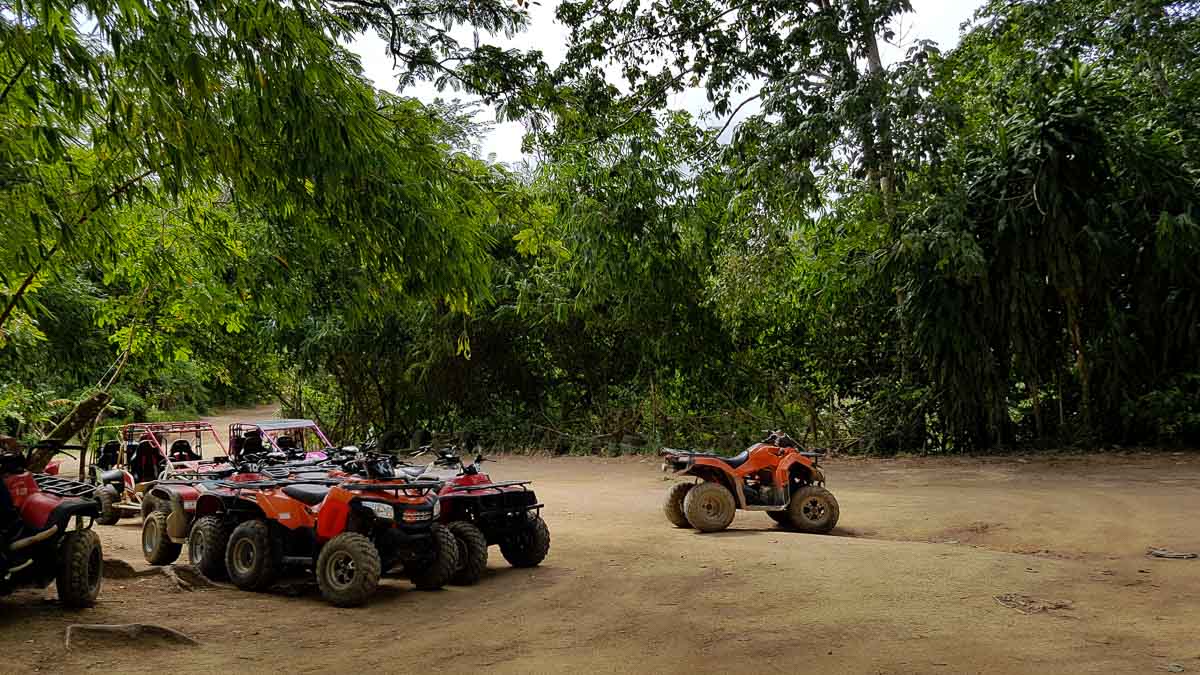 If you're planning to pay Big Buddha a visit, why not do so in style? Hop onto an All-Terrain Vehicle (ATV) and go on a thrilling safari adventure through the jungle. You don't need a driving license to operate these easy-to-use quad bikes, and helpful guides are with you all the way if you need help.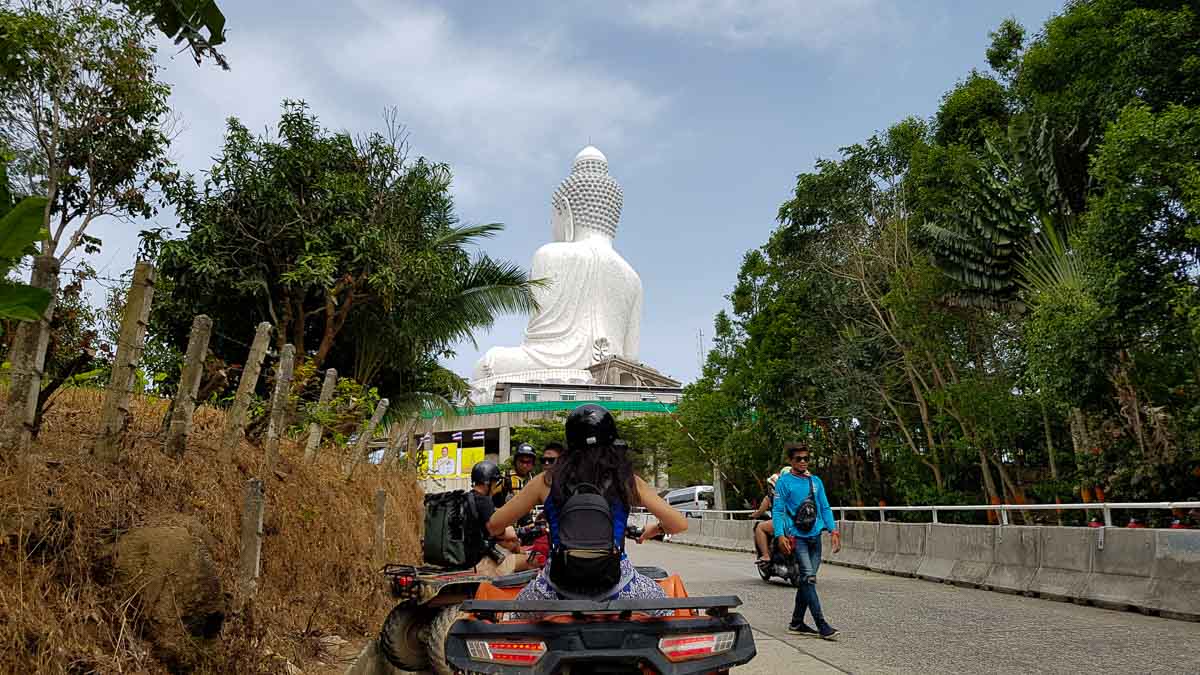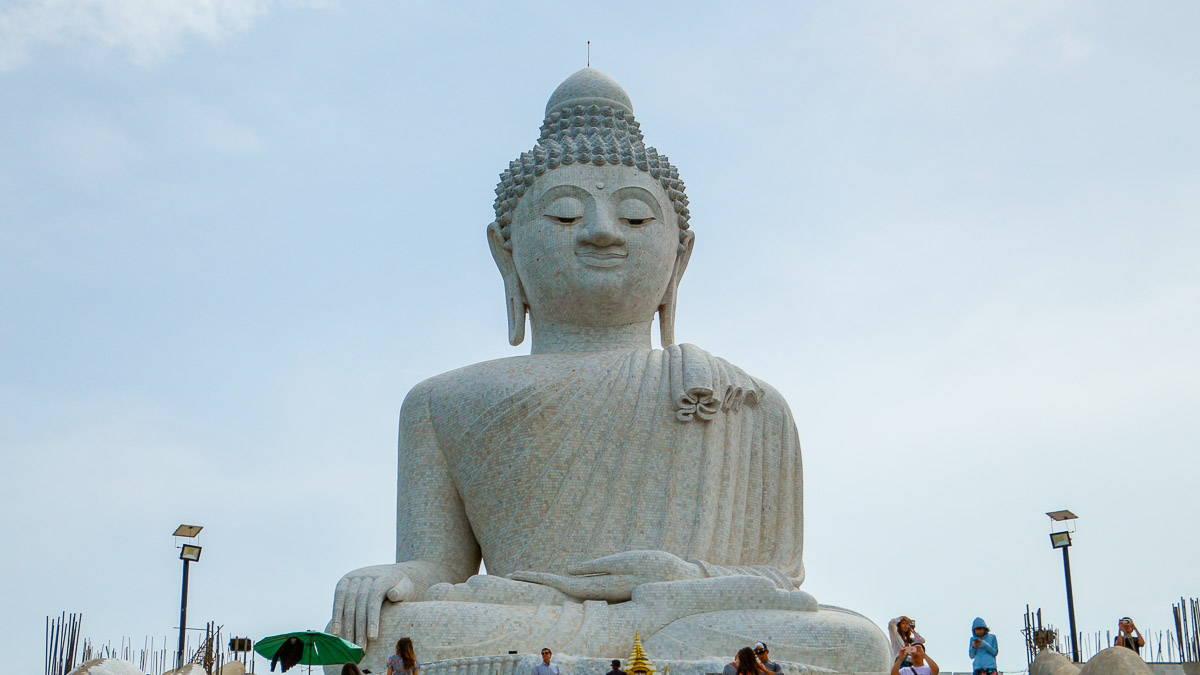 We went for the one-hour course, and had a wild time driving through muddy trails and up the main road to Big Buddha. There, we had about 15 – 20 minutes to tour the area and capture panoramic views around the island.
Cost: ~S$68 via Klook
Opening Hours: 8AM – 5PM
Address: 54/2 Moo 7 Chalong Muang, Phuket 83130. Options without transport are available via the website and Klook.
For the extra adventurous, check out our 4D3N Action-Packed Phuket Itinerary.
4PM: Bottoms Up at Chalong Bay Distillery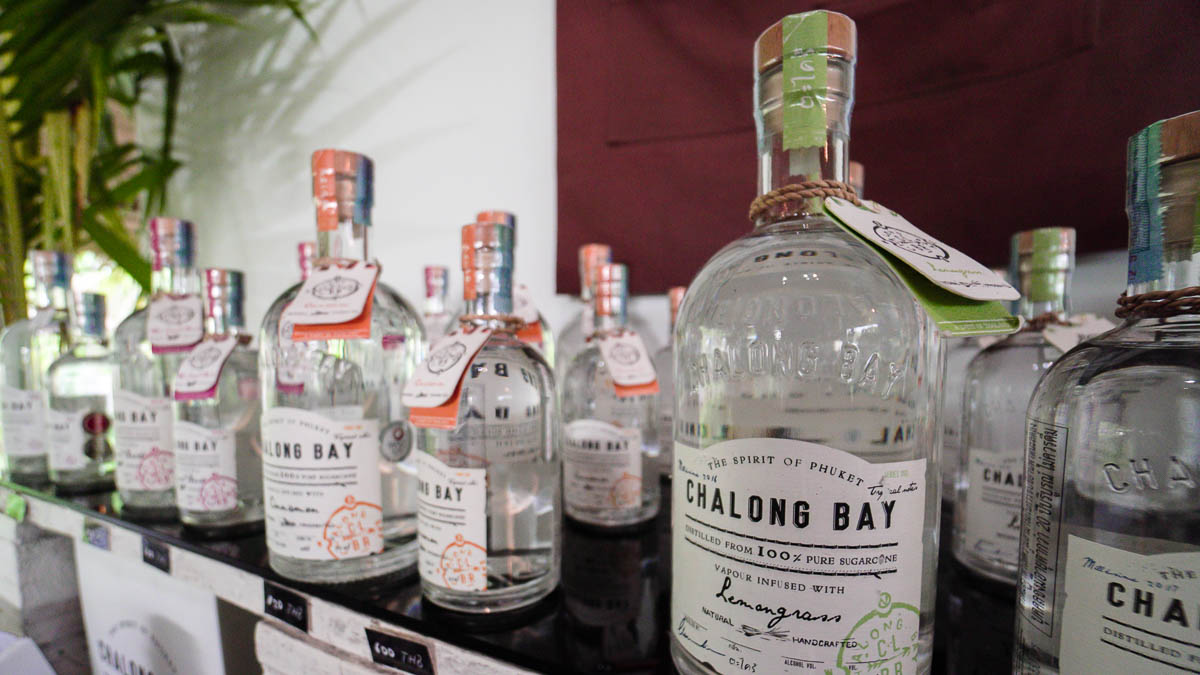 Alcohol enthusiasts, rejoice! Started in 2012 by a French couple, the Chalong Bay Distillery produces rum from 100% natural Thai sugarcane using a centuries-old distillation process. The result? An award-winning rum that is smooth and heavenly down the throat.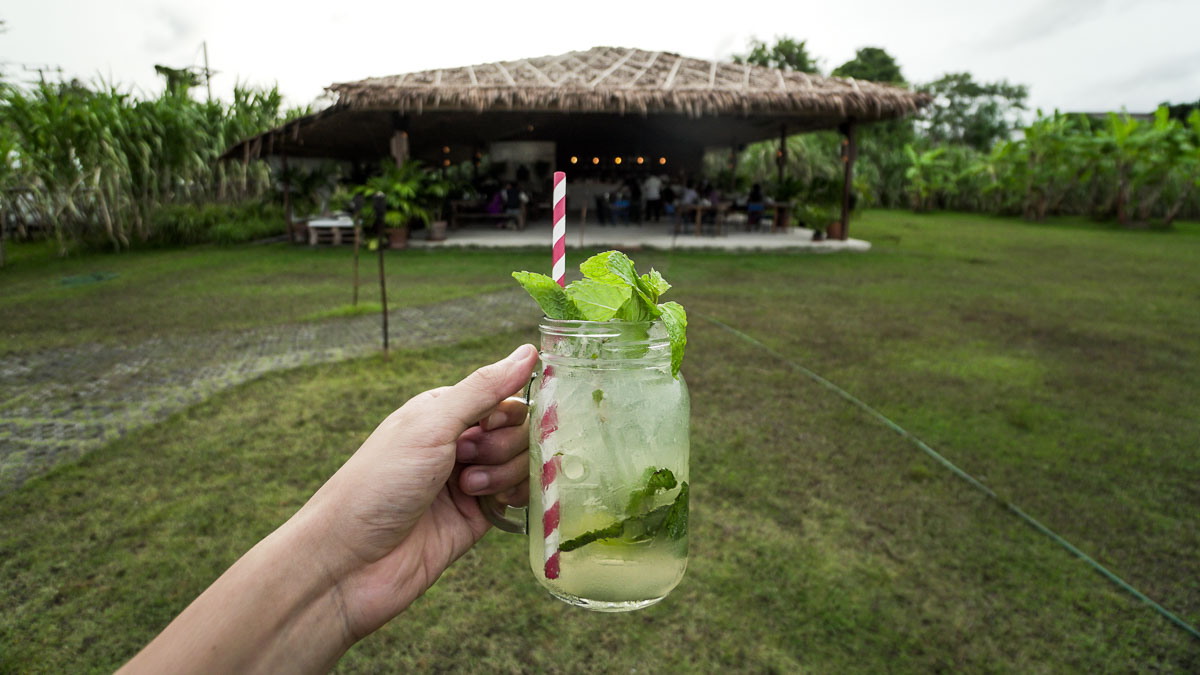 You can learn more about the intricate art of rum-making by joining the Chalong Bay Distillery Tour. The 30-minute informative tour (฿300, ~S$12.80) takes you through the distillation process, complete with a tasting session and a refreshing Chalong Bay Mojito at the end.
If you want to try your hand at mixology, there're also cocktail and mocktail-making workshops (฿530–1,430, ~ S$21–53) available on Mondays and Thursdays — don't forget to book in advance, and cheers!
Cost: Entrance is free but tours and workshops will cost extra
Opening Hours: 11AM – 6PM.
Address: 14/2 Moo 2, Palai Soi 2, Tambol Chalong, Amphoe Muang Phuket, Phuket 83130
6PM: Monkey Around at Monkey Hill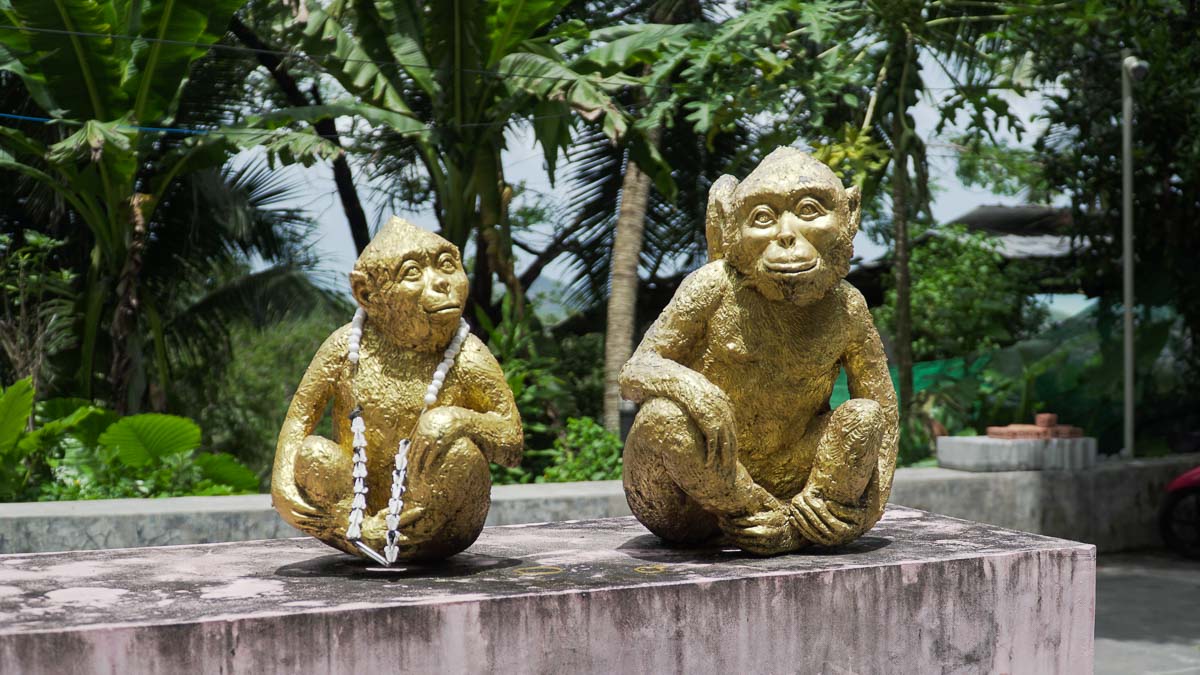 Work off the liquid calories with monkeys during the golden hour. Monkey Hill is a famous Phuket landmark home to about 400 macaque monkeys. The monkeys are used to being fed by humans, so they aren't shy if you try to take photos up close. Do keep your personal belongings close, though. The monkeys will not hesitate to steal your stuff if you aren't vigilant.
Photo credit: Lattes&runways.com
If you plan to hike up to the top of Monkey Hill, the distance from the entrance to the viewpoint is a steep 1.9km. If you're a fitness buff, the hike will take roughly 30 minutes one-way. But, you can always drive up to the viewpoint if the roads aren't closed. Either way, you'll be rewarded with stunning views at the top.
Do note that vehicles are not allowed to drive to the top between 7AM – 8AM, and 4PM – 7PM to allow people to hike up to the viewpoint.
Entrance Fee: Free
Opening Hours: 7AM – 10PM
Address: 34133 Soi Muensri, Tambon Ratsada, Amphoe Mueang Phuket, Chang Wat Phuket 83000
7:30PM: Dinner at Nam Yoi Restaurant (ร้านอาหารน้ำย้อย)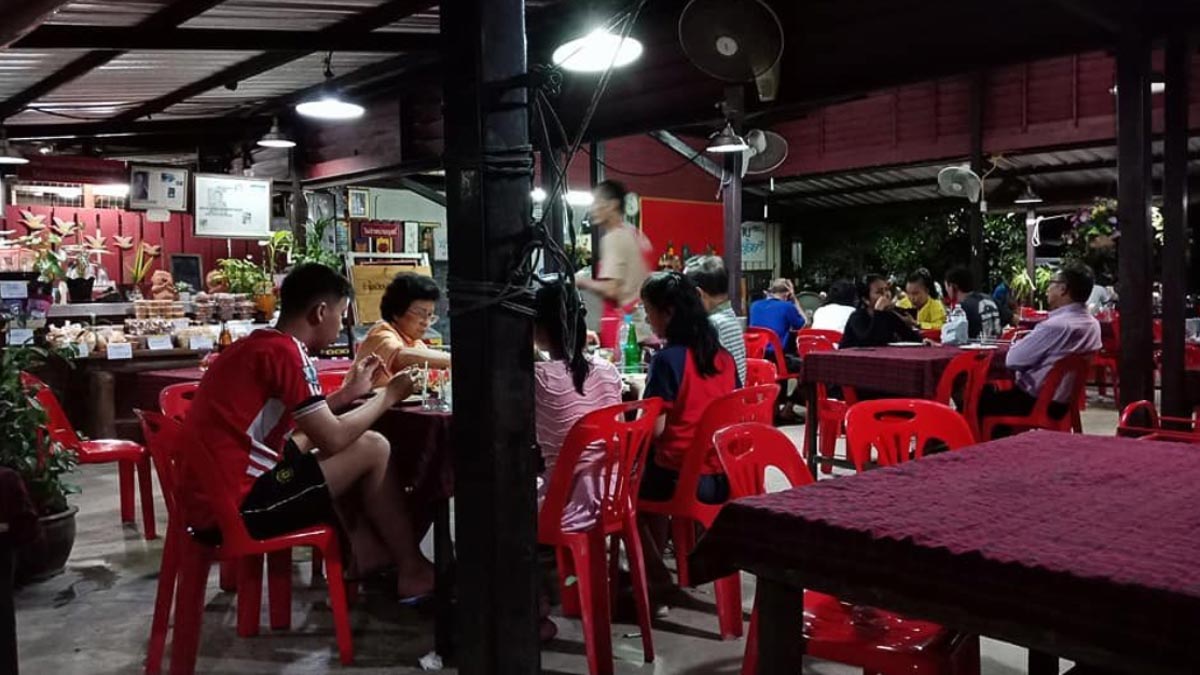 Photo credit: Tripadvisor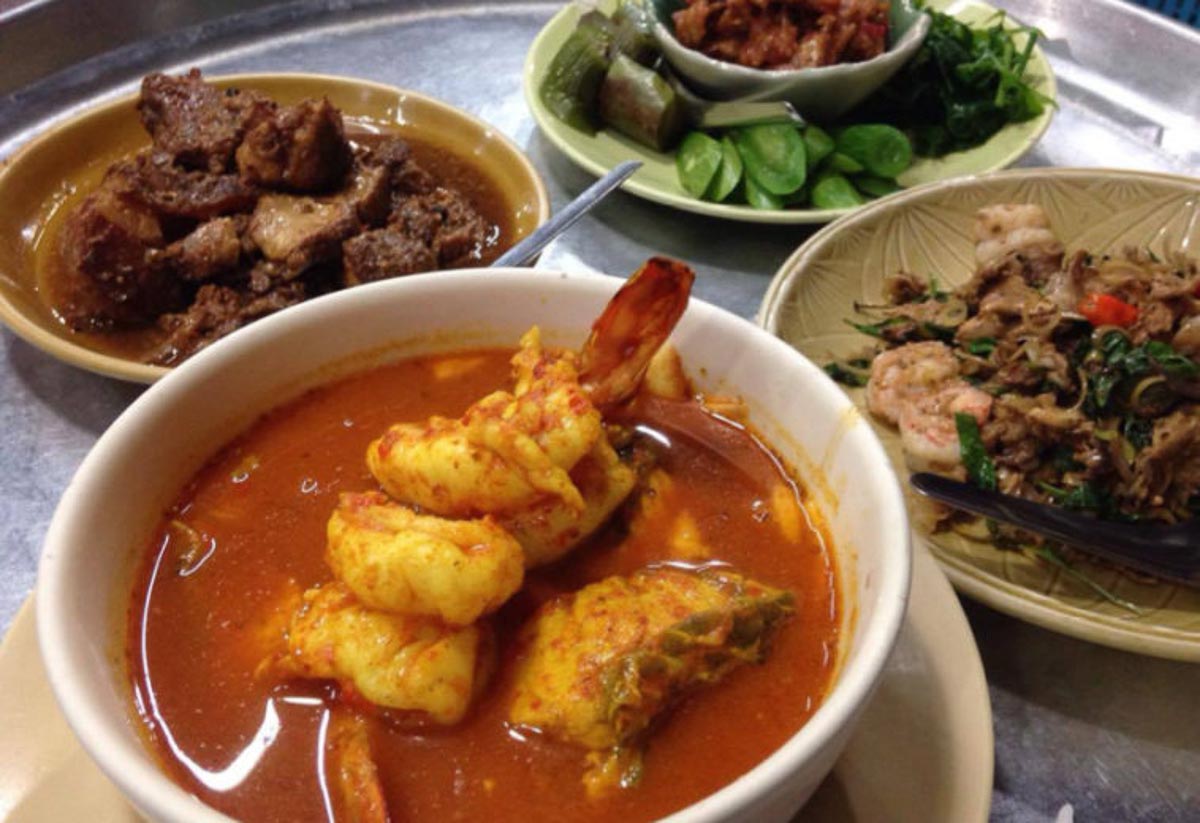 Photo credit: Thefunsocial
Not too far from Monkey Hill is Nam Yoi Restaurant, a relatively lesser-known restaurant that serves excellent and delicious Southern Thai fare. Although the setting is extremely basic with plastic chairs and steel tables, the highlight is the food. The restaurant's signatures include papaya salad, tom yum soup with seabass, and stir-fried mushrooms with lemongrass.
Opening Hours: 10:30AM – 2:30PM, 4:30PM – 7:30PM
Address: 63/250 Rumpattana Rd, Tambon Ratsada, อำเภอ เมืองภูเก็ต Chang Wat Phuket 83000

9PM: Massage Your Troubles Away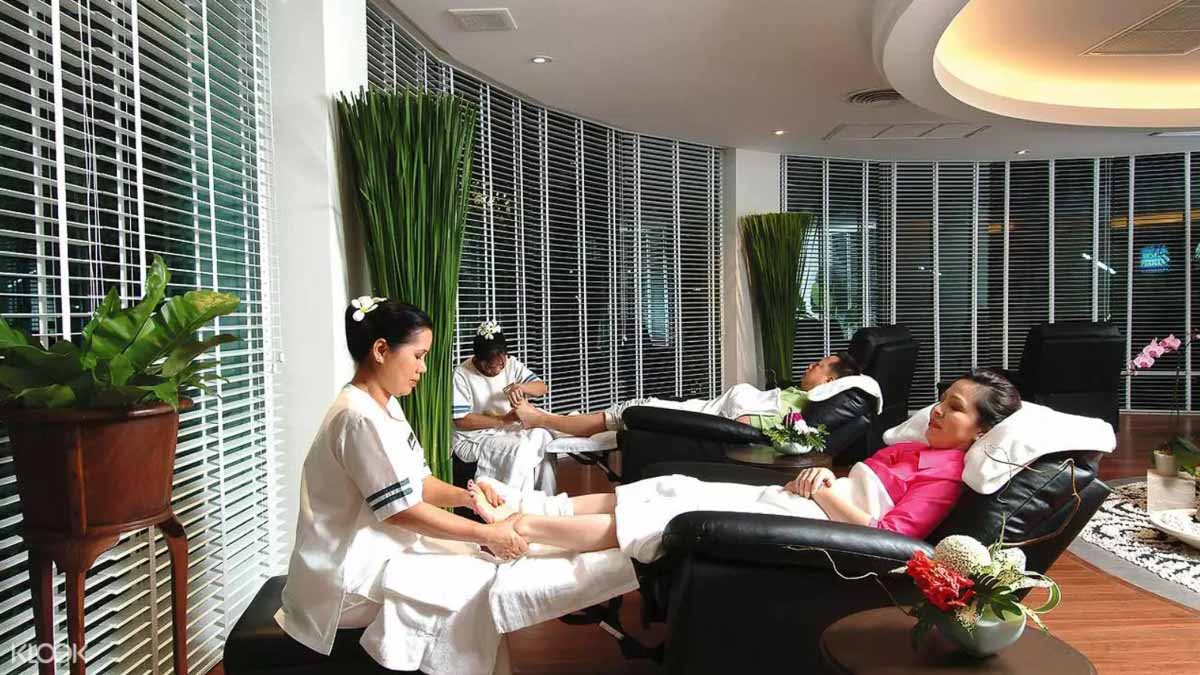 Photo credit: Klook
After three days of non-stop adventures, have a therapeutic massage to de-knot those sore muscles. Let's Relax Spa offers a variety of massages at reasonable prices — the most interesting one being the "4 Hands Thai Massage" where two therapists simultaneously work on you. There're five branches along the major beach areas, making this an accessible option.
Cost: ~S$45 for a two-hour traditional Thai massage
Opening Hours: 10:30AM – 12AM
Our trip to Phuket was short, but there was no shortage of fun activities and breathtaking views that will soothe the burnt-out souls. I think it's too easy to be blinded by stereotypes and follow the crowd, but then you might miss out on gems hiding in plain sight. So take a chance and look more closely — you might just see Phuket in a whole new light.
Accommodation in Phuket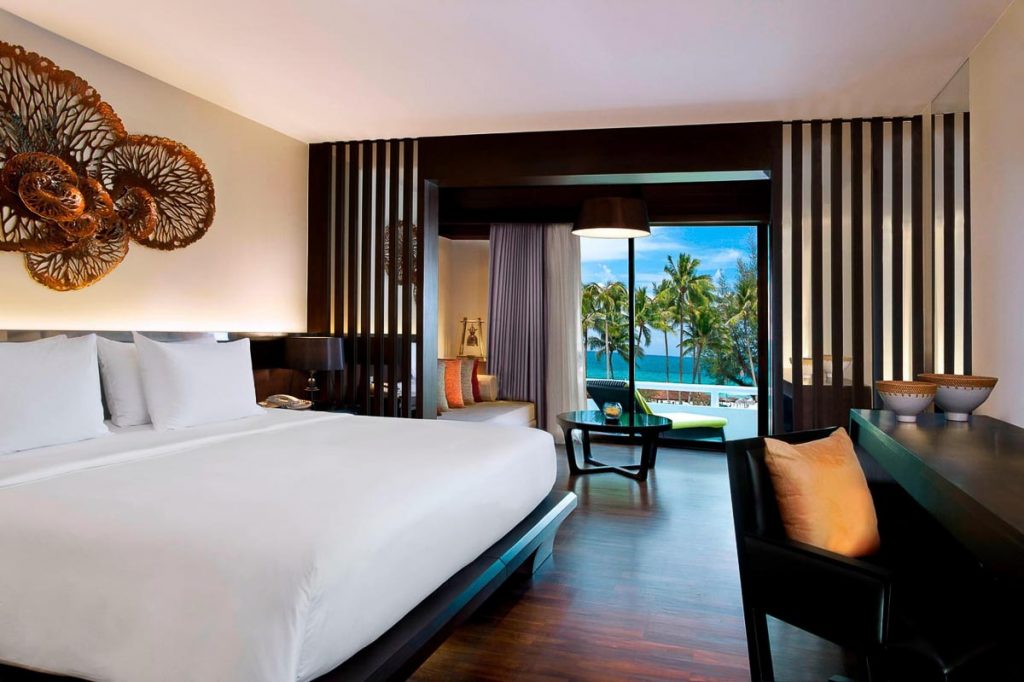 Photo credit: Le Méridien Phuket Beach Resort
The resort life need not be an expensive one, especially when you're in Phuket. A night at the Le Méridien Phuket Beach Resort costs about S$160 per night, and you can save more when you buy a cash voucher worth ฿3,300 (~S$121) at ฿3,000 (~S$121) from Klook.
Cost: ~S$160/night
Address: 29 Soi Karon Nui Tambon Karon, Amphur Muang, Karon, Phuket, 83100
Discounted Travel Essentials for Phuket
*PROMOTION HAS ENDED*

Act fast if you're planning a trip to Phuket as Klook is having a promotion for all Thailand activities if you book by 30 April 2022.
Use the promo code <AMAZINGTH30> for S$30 off all Thailand activities with a minimum spend of S$120 in a single booking.
For car rental in Thailand, use the promo code <THCAR20> for S$20 off with minimum spending of S$100 in a single booking.
Besides having a fast SIM card, we were able to experience Phuket to the fullest with adrenaline-filled activities and cultural shows conveniently booked via Klook. Here's what we got:
Phuket car rental: ~S$32/day
Phuket private car charter: ~S$81/day (8 hours)
Hanuman World: ~S$39/pax
Phuket FantaSea: ~S$65/pax
UpsideDown House: ~S$6/pax
Phuket Paradise ATV Adventure: ~S$68/pax
Let's Relax Spa: ~S$45/pax (2-hour Thai massage)
We hope this three-day itinerary has inspired you to take on that break to nearby Phuket!
What are some other hidden gems of Phuket you'd recommend? Share them with us in the comments!
---
This post was sponsored by Klook.
For more travel inspiration, follow us on Facebook, Instagram, and YouTube.