One does not simply go to New Zealand during the off-peak season without reading this guide.
New Zealand is a popular year-end vacation destination for many. But why do tourists tend to overlook visiting in the middle of the year? The shoulder and off-peak seasons are underrated periods to visit thanks to stunning seasonal foliage, activities and cheaper prices from flights to accommodations.

Why Visit New Zealand During Shoulder and Off-Peak Seasons?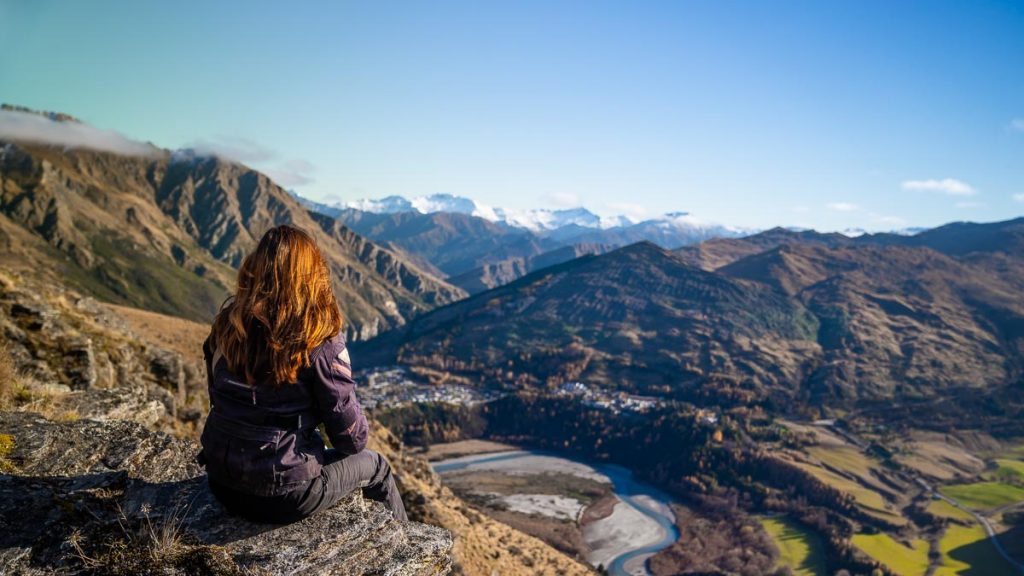 We visited New Zealand in May, right in the middle of autumn, and lucked out having certain places entirely to ourselves thanks to smaller crowds in the season — yay to no photobombers!
While autumn-winter periods are quieter thanks to fewer international visitors, New Zealand is still a stunning place all year round with plenty of things to do.
But first, when are the shoulder and off-peak seasons?
The shoulder season spans throughout the autumn months from March to May, so you can expect ample sunshine but with cooler temperatures (17 – 21°c). There are fewer tourists during this period compared to the summer.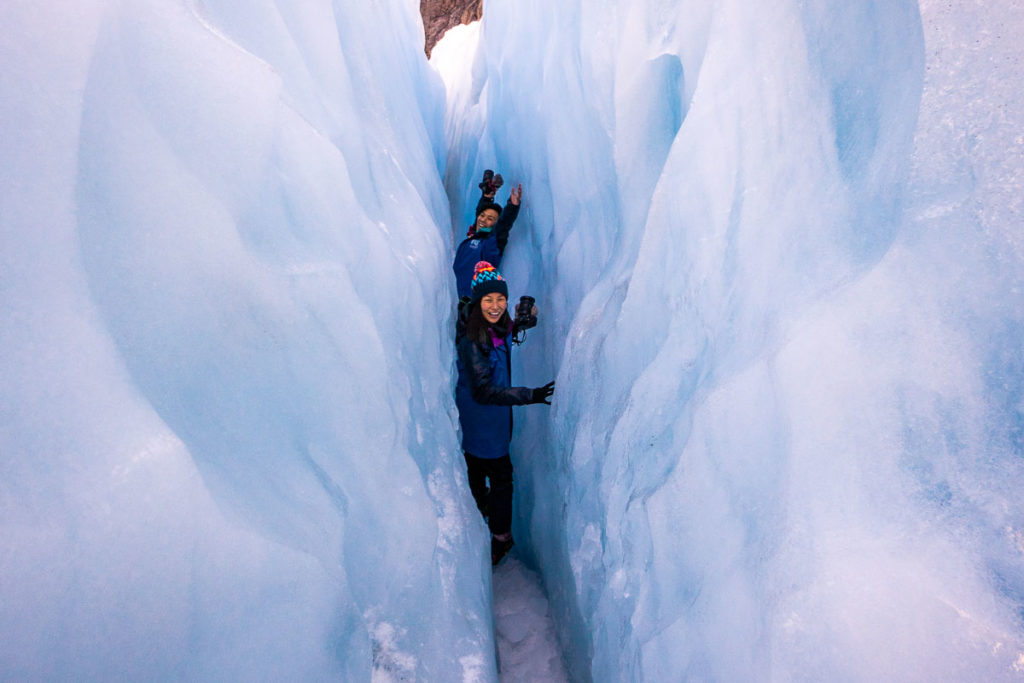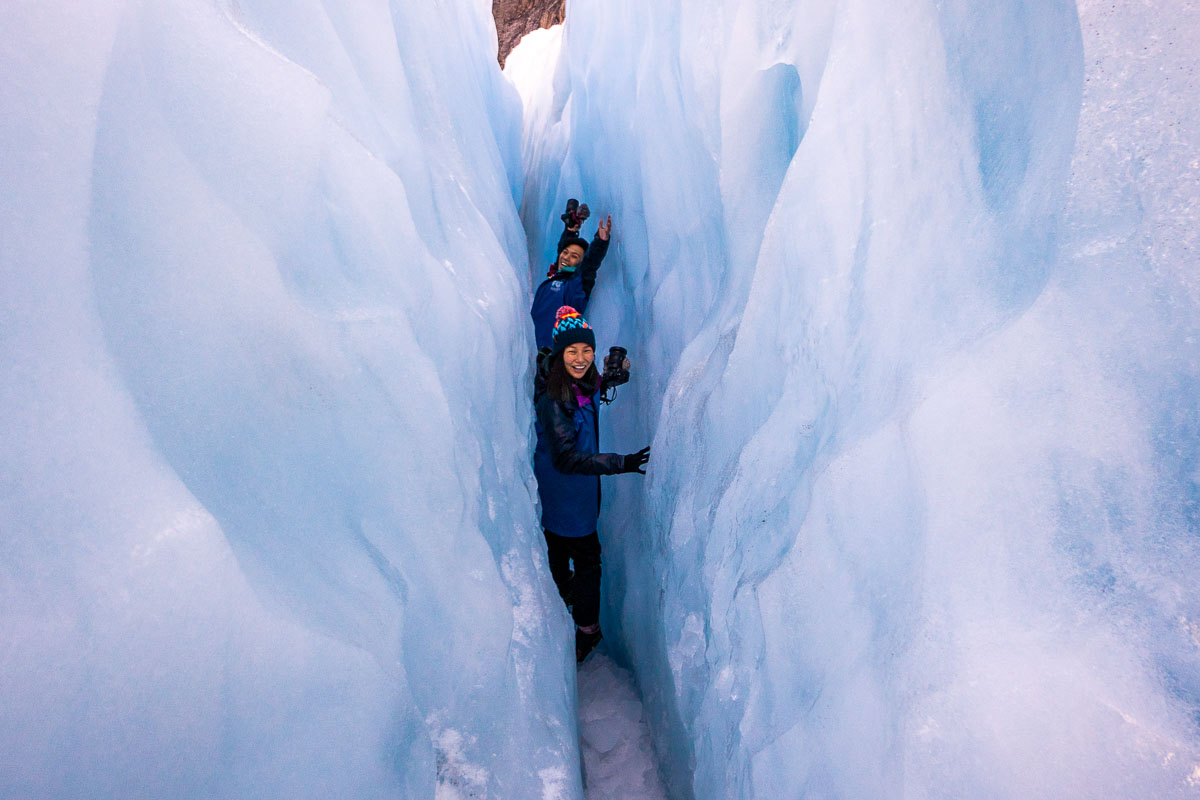 New Zealand's off-peak season takes place during the winter months from June to August, when the weather is colder and wetter (12 – 16°c). Skiing and snowboarding in the alps are popular during this season thus areas like Queenstown will be busier. If you're only planning to do sightseeing, we recommend spending more time exploring South Island as it tends to rain more in North Island.
*Note: Operational hours for attractions and activities will vary depending on the seasons.
Best Autumn Experiences in NZ
Autumn Festivals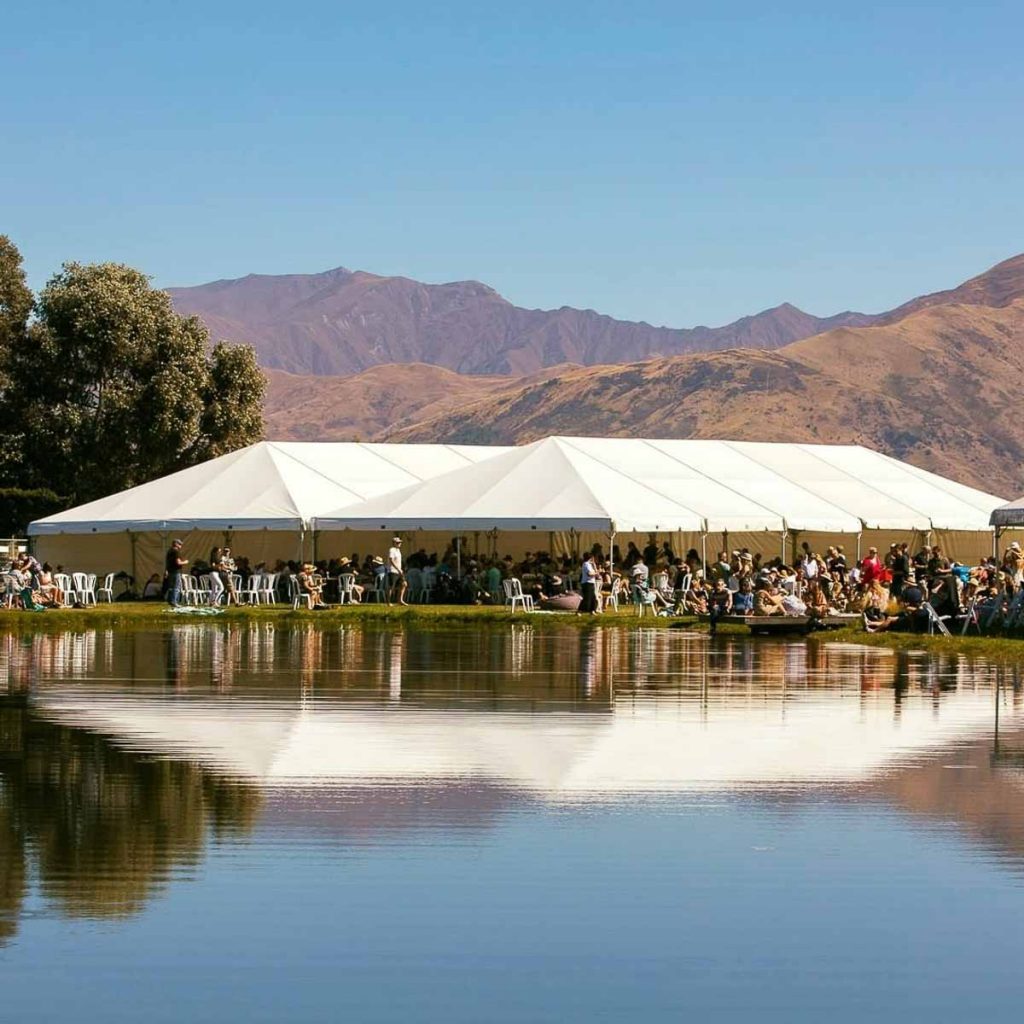 Ripe — The Wanaka Food & Wine Festival. Photo credit: @ripe_wanaka via Instagram
Immerse yourself in the cosy feeling of autumn with a slew of seasonal events around the country. We're only scratching the surface of what's on, so check the various regional events calendars before you fly to avoid missing the festivities.
Taste the flavours of New Zealand at one of many food and wine festivals, including Ripe – The Wanaka Food & Wine Festival — situated on the banks of Lake Wanaka — and the North Canterbury Wine & Food Festival. If gin is more your speed, there's the new NZ International Gin Festival from 24 to 25 March in Arrowtown, a former gold-mining town that's 20 minutes from Queenstown.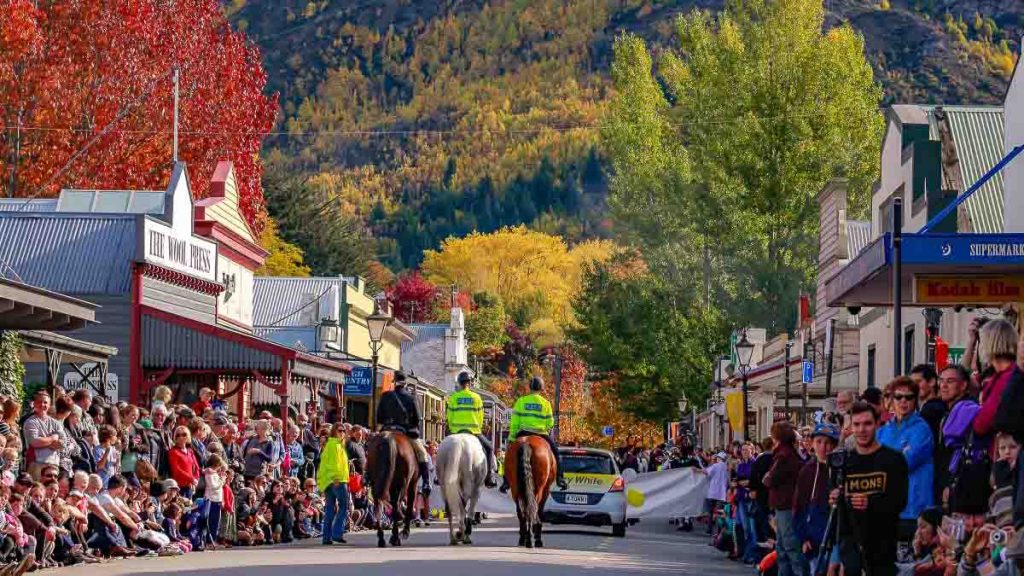 Arrowtown Autumn Festival. Photo credit: Destination Queenstown
For a quainter experience, Arrowtown also hosts its annual Autumn Festival from 20 to 25 April with a programme of activities, local markets and more. Taking place in the heart of a living historical settlement, participate in the festival events like going on a scarecrow trail — a quintessential small-town experience 🤷.
On the North Island, the Cambridge Autumn Festival celebrates various art disciplines against the town's stunning autumn backdrop from 24 March to 2 April.
Across the months of March to May, hot air balloon festivals will colour the skies in several NZ regions — Balloons over Waikato (14 – 18 March), Wairarapa Balloon Festival (6 – 10 April) and Hororata Night Glow Festival (13 May).
Stunning Fall Foliage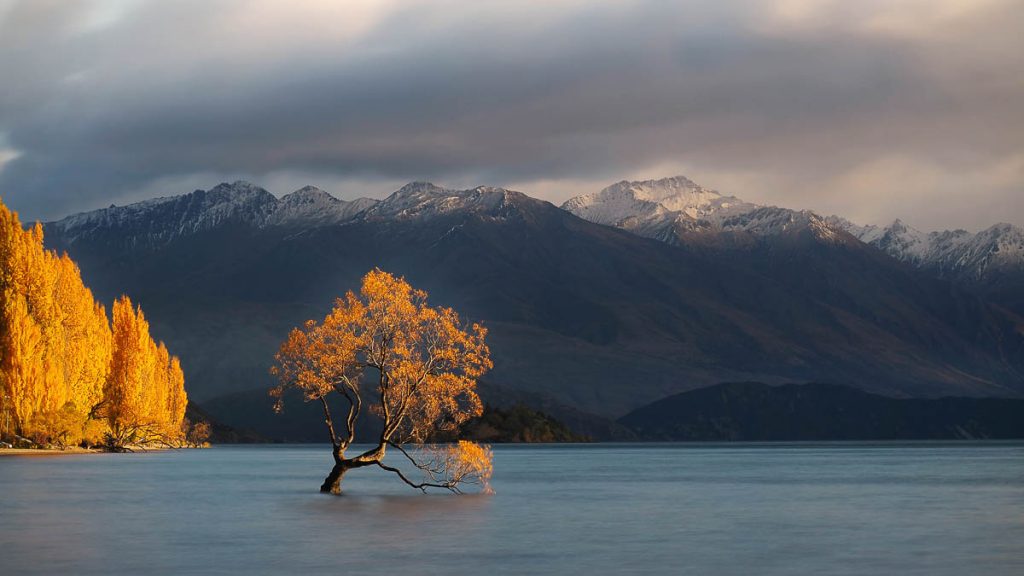 #thatwanakatree in its autumn splendour. Photo credit: Kuno Schweizer
Aside from Arrowtown and Cambridge which are famous for their red and gold foliage, here are more hot spots to include in your New Zealand itinerary for the autumn season:
Christchurch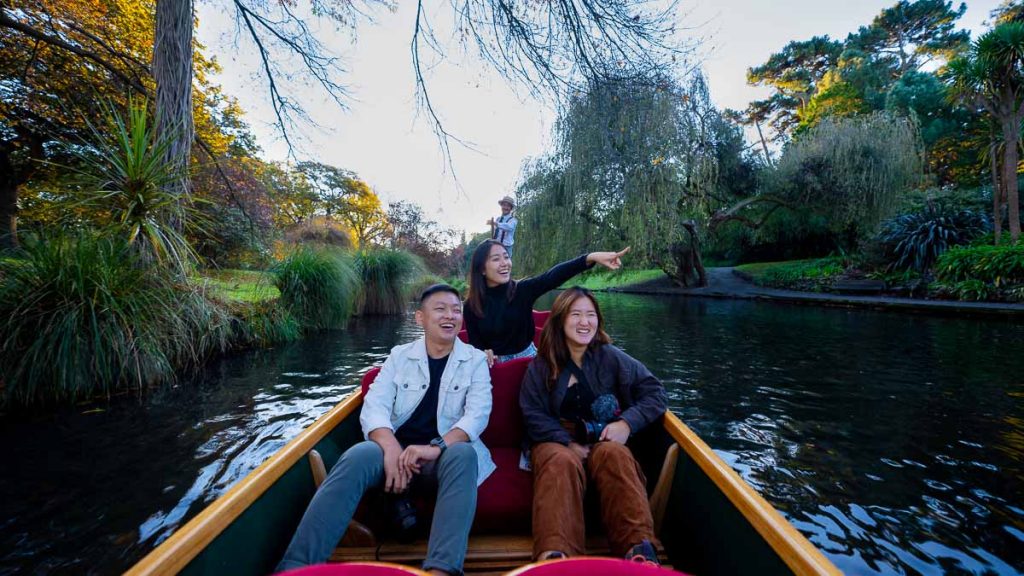 Punting on the Avon River.
Lake Tekapo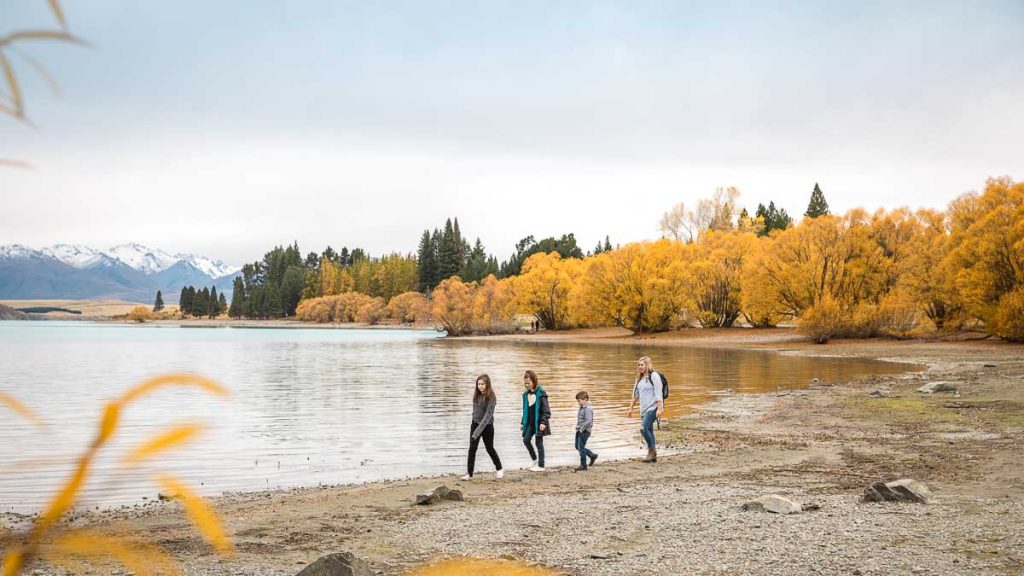 A three-hour drive from Christchurch. Photo credit: Miles Holden
Hawke's Bay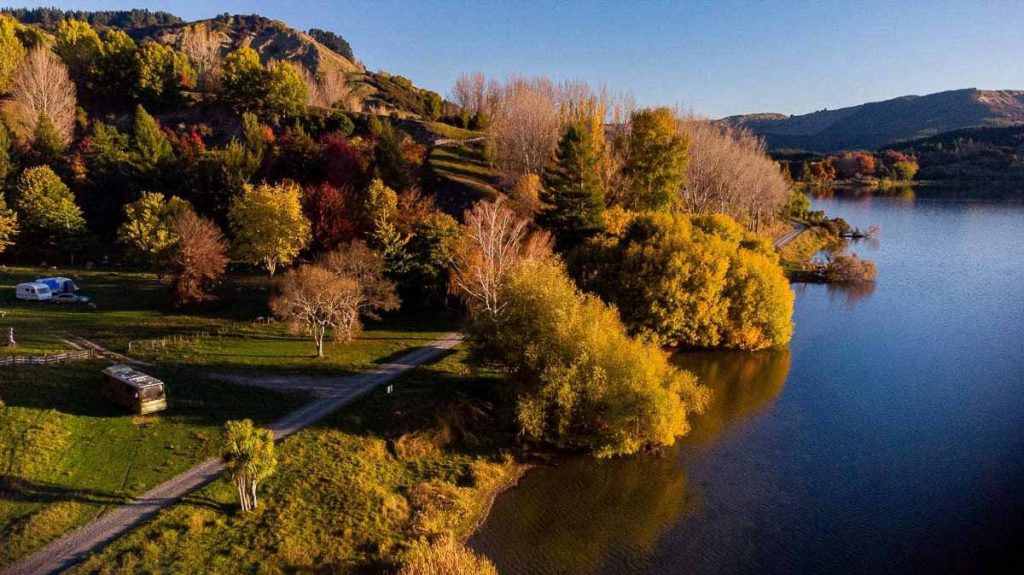 Lake Tūtira in Hawkes Bay on the North Island. Photo credit: stuff.co.nz
Swim with Dolphins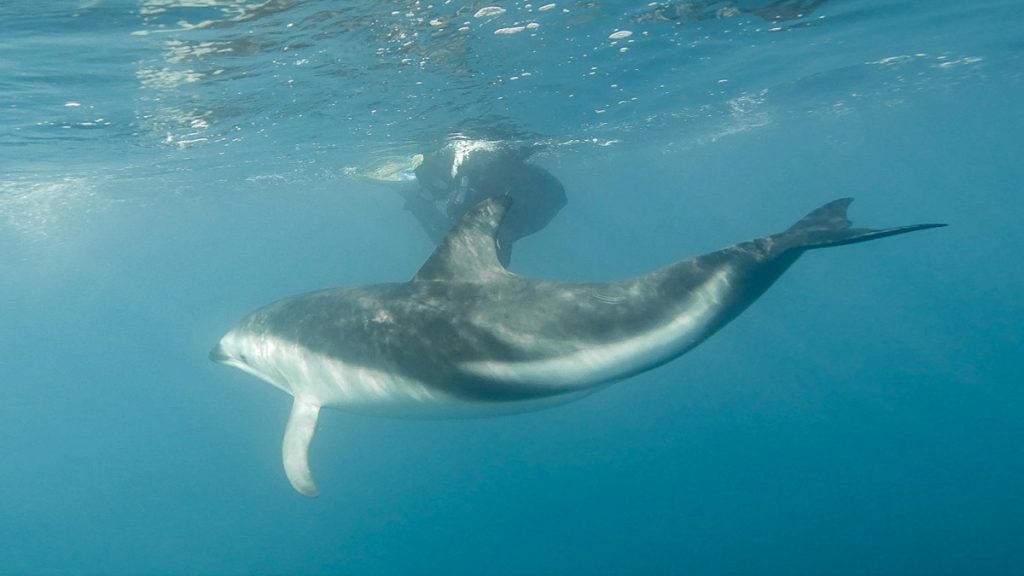 It's no question that New Zealand is a nature and wildlife paradise, so this is your sign to swim with wild dolphins🐬.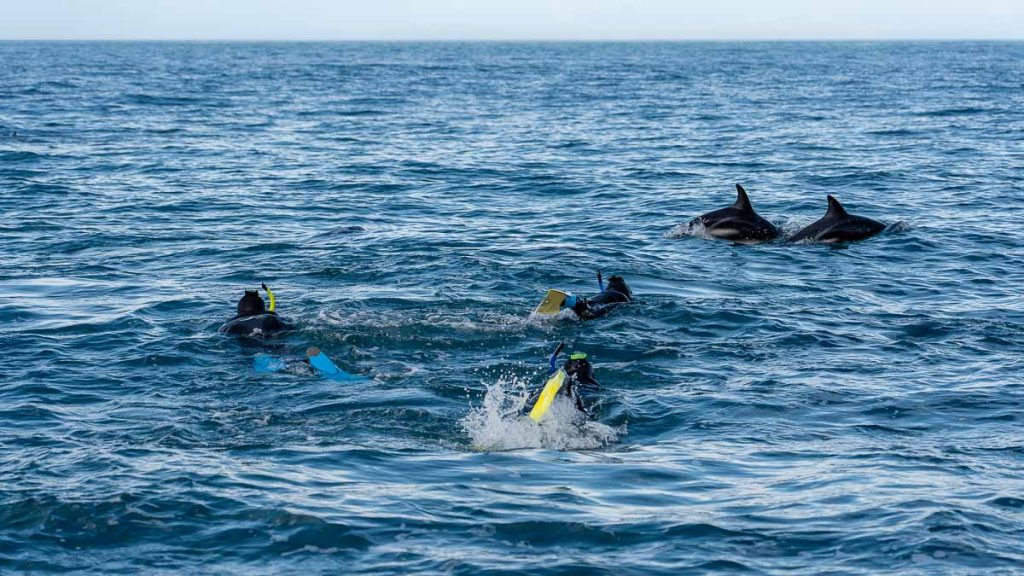 Get up close and personal with dusky dolphins in Kaikoura as these playful yet gentle creatures circle around you in the water. While it may seem pretty intimidating to be approached by a wild animal, we promise that the experience is magical. If you prefer to stay warm and dry, a dolphin-watching tour is also offered where you can watch them leap out of the water from the boat!
Cost: NZ$110 for watching, NZ$220 for swimming
Tour timings: 10AM (May – Sep), 8:30AM (Oct – Early Nov), 5:30AM, 8:30AM and 12:30PM (Mid Nov – Apr)
Meeting point: 96 Esplanade, Kaikōura 7300, New Zealand
*Note: Each swim session is limited to 30 minutes per tour group to reduce the impact on the natural environment
Hike amongst stunning landscapes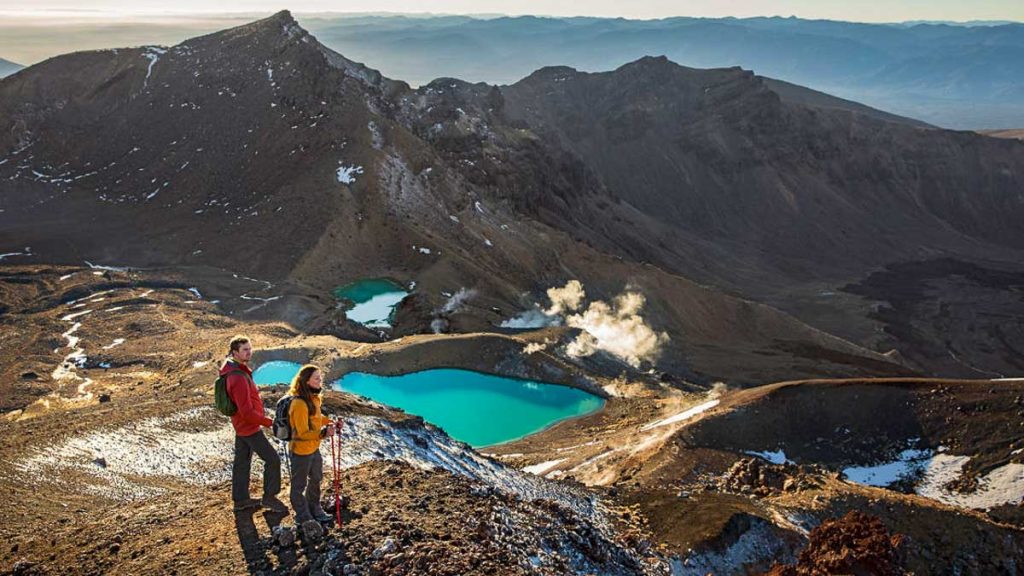 Photo credit: Tourism New Zealand
Fall is the best time to embark on a hike before the trails get frosty thanks to clear skies, cooler temperatures and stunning autumnal colours. The Great Walks of New Zealand are 10 nationally recognised hiking routes featuring dramatic landscapes that look straight out of a book.
If you're a fan of The Lord of the Rings, the Tongariro Alpine Crossing in North Island is the film location of Mordor, the home of the Dark Lord Sauron. It's also a great single-day hike that cuts through several volcanic peaks and glorious emerald craters. For more experienced hikers, add an extra 3 hours to your journey to reach the summit of Mount Ngauruhoe aka Mount Doom 🧙!
Entrance fee: Free
Starting point: Tongariro National Park, Manawatu-Wanganui 4691, New Zealand
Read more: 7 Best Hikes in New Zealand for Lord of The Rings Fans — Where to find The Loneliest Mountain, Mount Doom, Chetwood Forest and More
Fruits, wine and the harvest season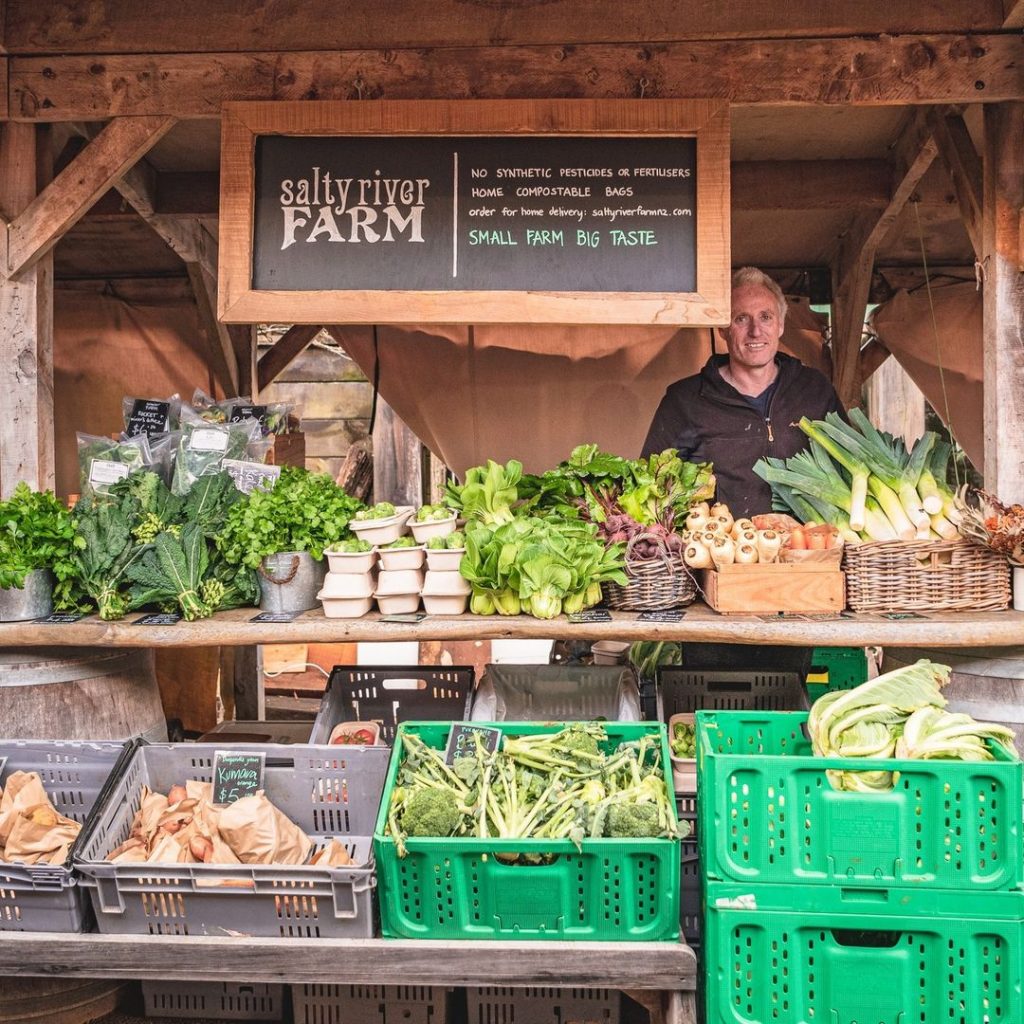 Photo credit: @matakanavillage via Instagram
Autumn is harvest season for apples, pears, pumpkins, beets and more! Indulge by shopping in a local farmer's market or save money by cooking your own meals with these fresh and affordable ingredients.
Autumn is also a time of foraging, a practice to search for food in the wild — unheard of in Singapore! From fruit picking to farm-to-table dinners, there are various foraging experiences all over the country.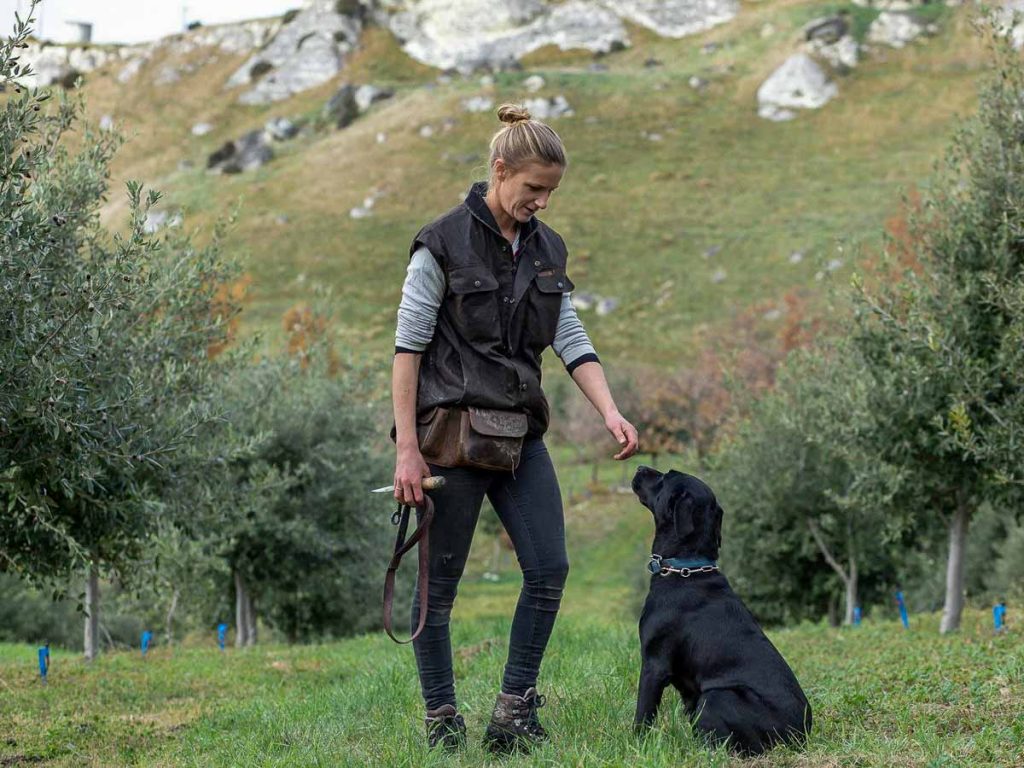 A fan of truffles? This is the perfect time to join an exclusive Truffle foraging tour to learn how these expensive fungi are harvested. Specially trained dogs are brought in to sniff them out from the ground (so cute) and you'll get to try a delicious truffle-based fare after! This event is only hosted a few times during the season so this is a must-do if you're in New Zealand at this time of the year.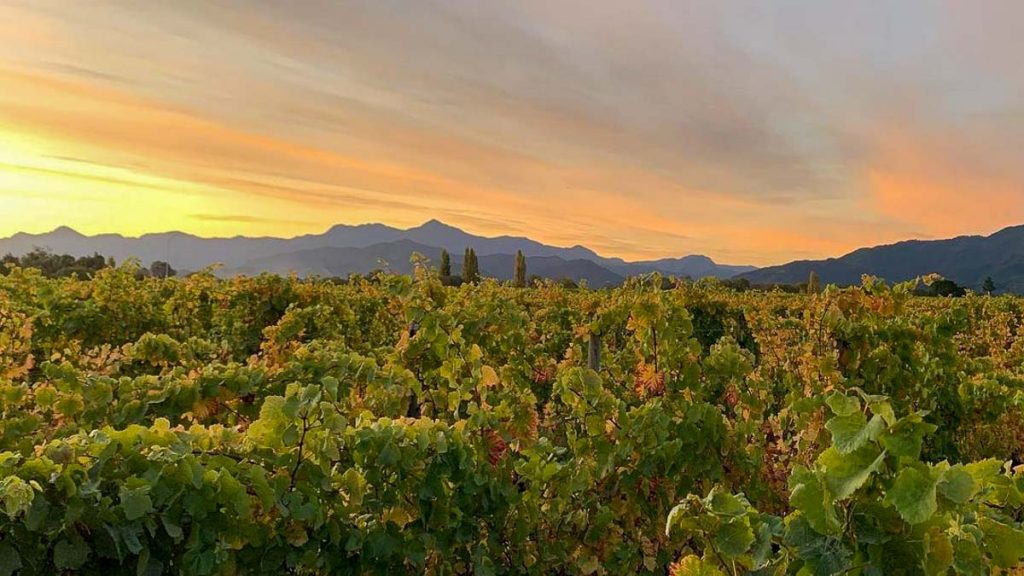 Photo credit: @frommwinery via Instagram
Home to many vineyards like the world-famous Cloudy Bay, a trip isn't complete without a visit to wine country. Most of the vineyards are located on the eastern coast on both North and South Islands, with the harvest season in autumn.
Beyond the usual wine tasting, you can also make your own Pinot Noir blend that fits your own unique palette (NZ$75/pax) at FROMM Winery. But if you're a newbie and want to learn more about the world of wine, a wine-tasting class for beginners (NZ$45/pax) would be a good place to start 🍷.
Kings Truffles Group Hunt
Cost: From NZ$120/pax
Event period: Jun – August 2023, dates vary
Address: Waipara, North Canterbury Canterbury 7483 New Zealand
FROMM Winery
Cost: From NZ$45/pax
Opening hours: 10AM – 4PM (For reservations), 1PM – 4PM (Walk-ins)
Address: 15 Godfrey Road, Fairhall 7272, New Zealand
Best Winter Experiences in NZ
Skiing and Snowboarding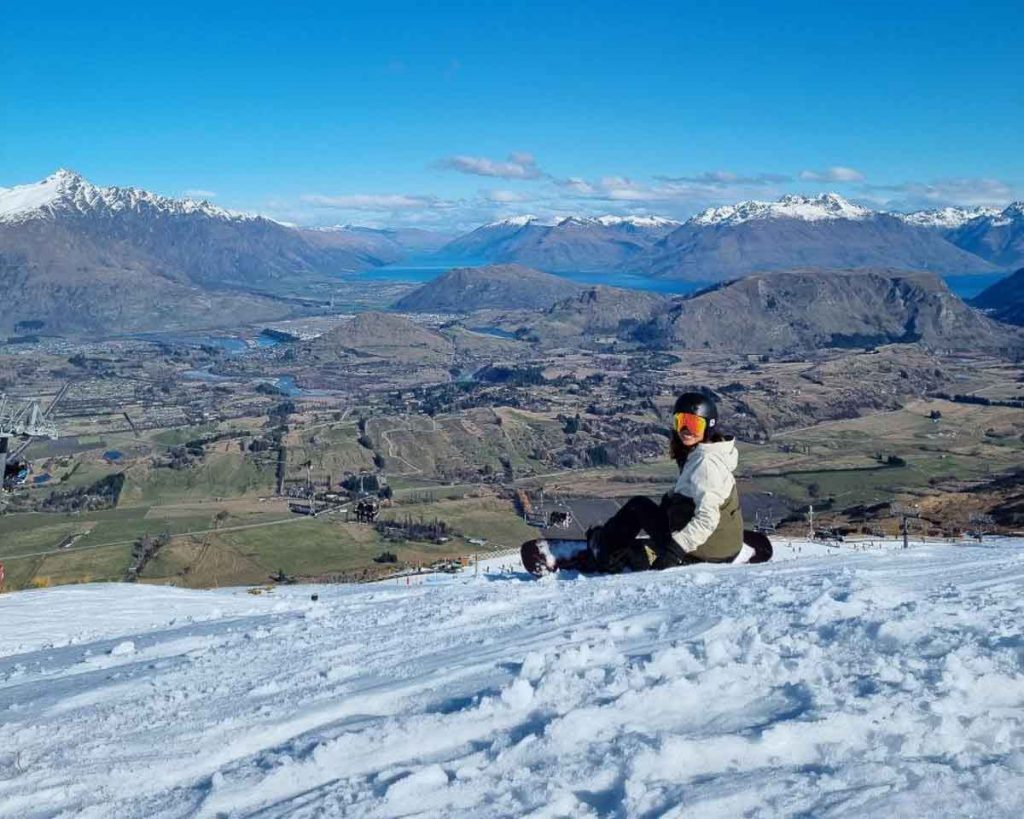 View from Coronet Peak.
While the northern hemisphere strips down to their swimwear for summer, the kiwis are strapping on their snow gear down in Queenstown! The snowboarding season here begins around mid-June all the way till September, but the best part about snowboarding in New Zealand is the views you'll be treated to. Surrounded by the ranges of The Southern Alps, it's a sight to remember.
Base yourself in the adventure town of Queenstown for small but scenic ski resorts like The Remarkables, and Coronet Peak — both great for beginners with long green and red runs.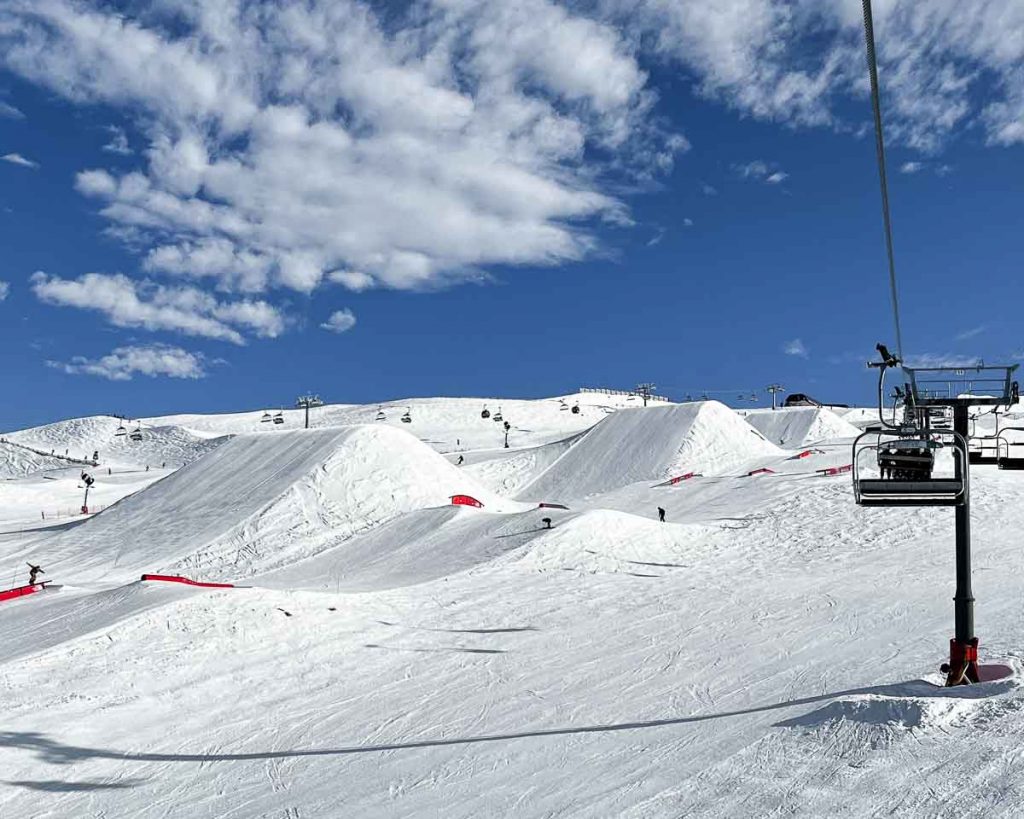 Massive kickers at Cardrona ski resort.
Alternatively, just an hour away from the quieter town of Wanaka, you can find bigger ski resorts like Treble Cone and Cardrona — a personal favourite of one of our writers because of its extensive park features!
Cost: From NZ$109/day for the 4 multi day ski pass
Chairlift timings: 9AM – 4PM

Winter Festivals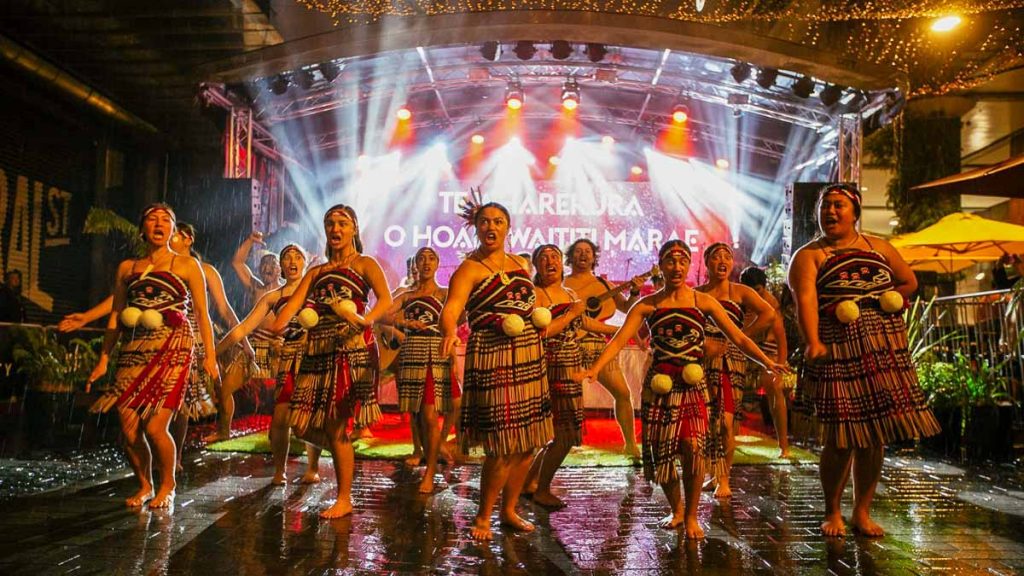 Photo credit: Matariki Festival via Facebook
Winter in New Zealand is made more magical with the appearance of the Matariki star cluster (also known as the Pleiades). Matariki signifies the beginning of the Māori New Year, and its annual occurrence was declared a new public holiday in 2022.
Learn about the diverse aspects of Māori culture at the Matariki Festival in Auckland from 11 to 22 July; the public holiday itself will fall on 14 July 2023.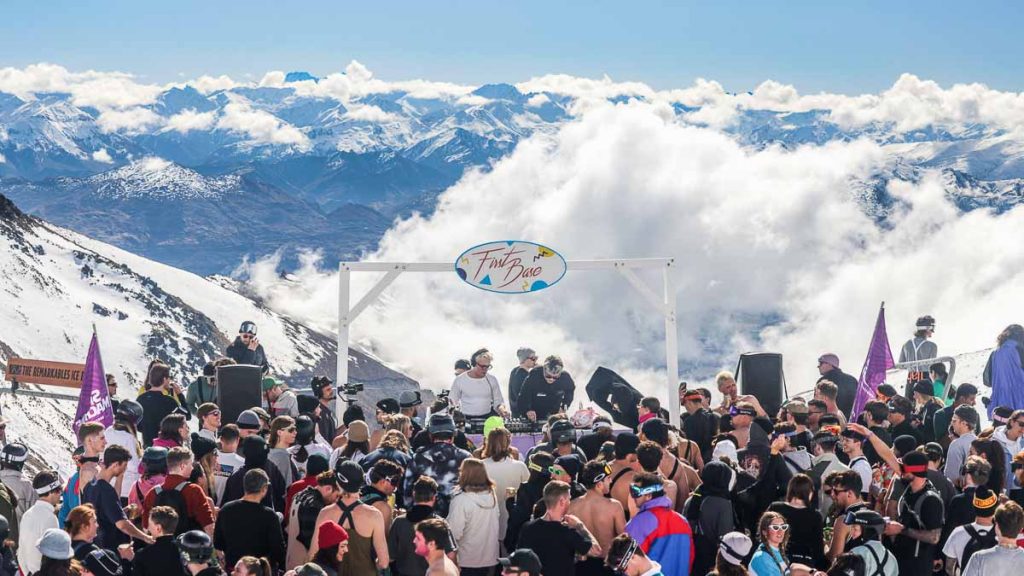 Photo credit: Snow Machine Festival

Over in Queenstown, the Snow Machine Festival takes place in late winter (5 to 10 September). Essentially an après-ski (after-ski) event, the four-day festival boasts a line-up of DJs who'll be spinning on the actual ski trails, as well as live music performances at a Main Arena in town.
Packages with accommodation and ski lift passes are still available at this point of writing, but they sell out fast, so don't hesitate if this is in your wheelhouse!
Hike on a Glacier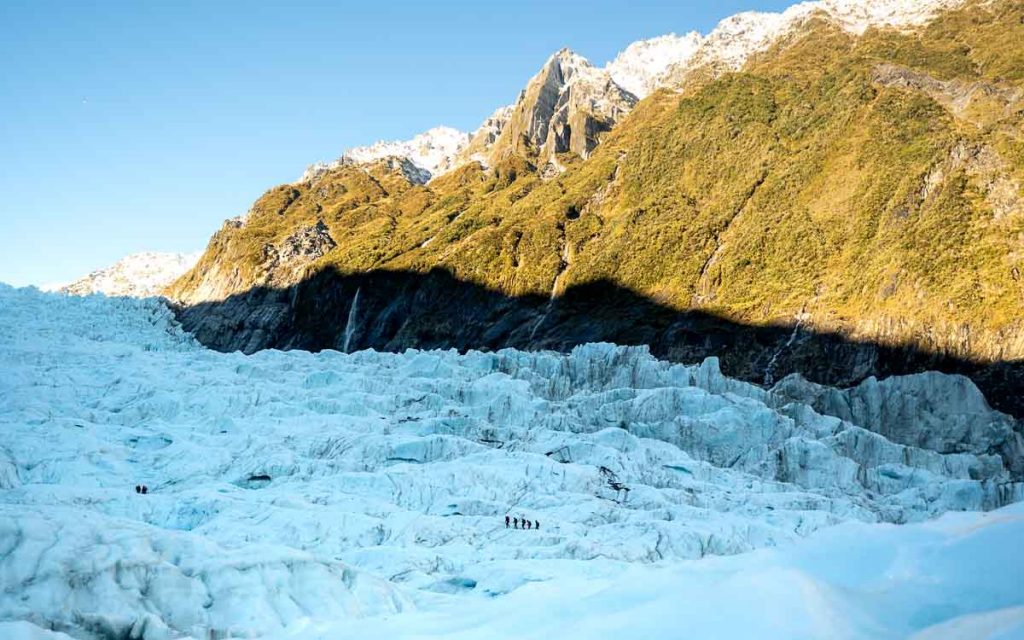 Spot the tiny humans up on Franz Josef glacier.
Glaciers are essentially a frozen river of ice flowing down the sides of a mountain. The ice is dense but cracks under the pressure of the downward flow which creates amazing crevices and features to explore. Glaciers are usually deep in the mountains and quite inaccessible. But here in New Zealand, you can explore them with just a short helicopter ride over the Southern Alps.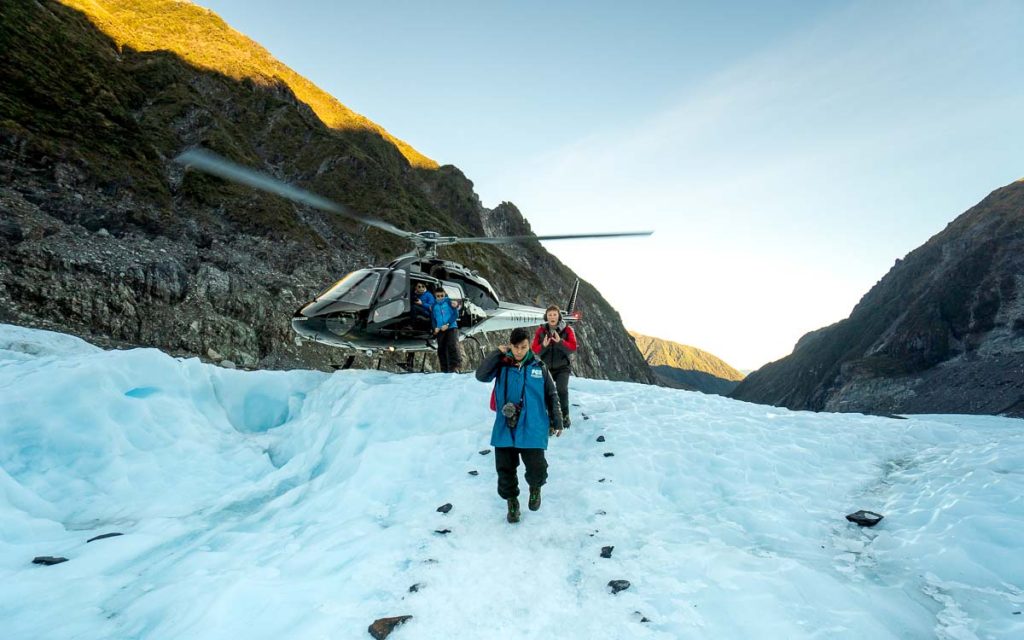 To experience this, hop on a Heli-Hike Glacier Tour. All the necessary equipment will be provided including an essential pair of crampons so you won't be slipping on the ice face. Then, enjoy the helicopter ride as it overlooks the town below, before landing on the glacier face.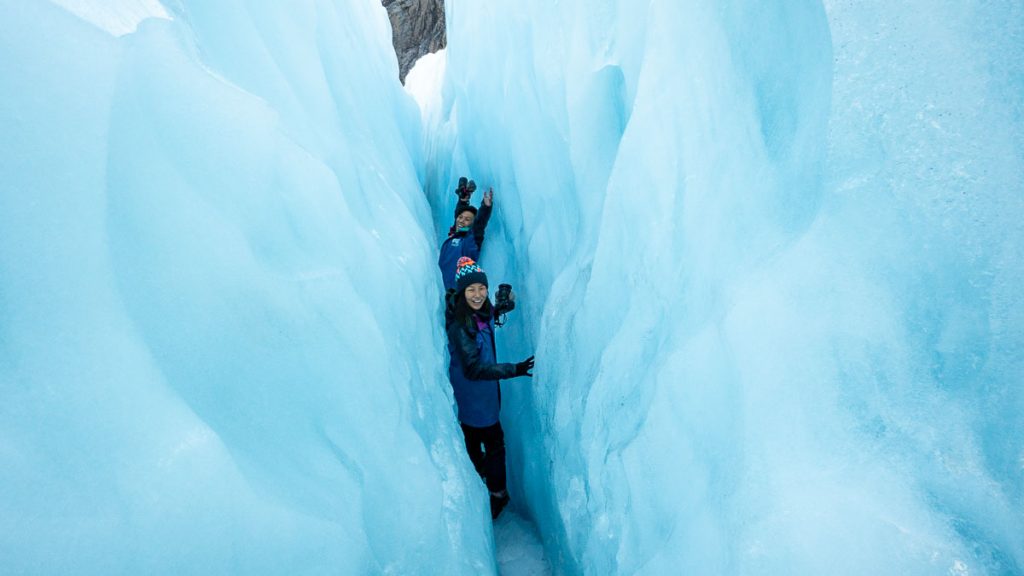 Our guide once shared that the ice shifts a little every day so you'll see a cave one day, and the access to it will be gone in a few days. Definitely a once-in-a-lifetime experience, not to be missed.
Cost: ~S$486
Meeting Point: Glacier base in Franz Josef Village

*Pro-tip: Pick the first flight of the day. The activity is highly weather dependent, so your flight might get bumped to a later session.
Thermal Hot Springs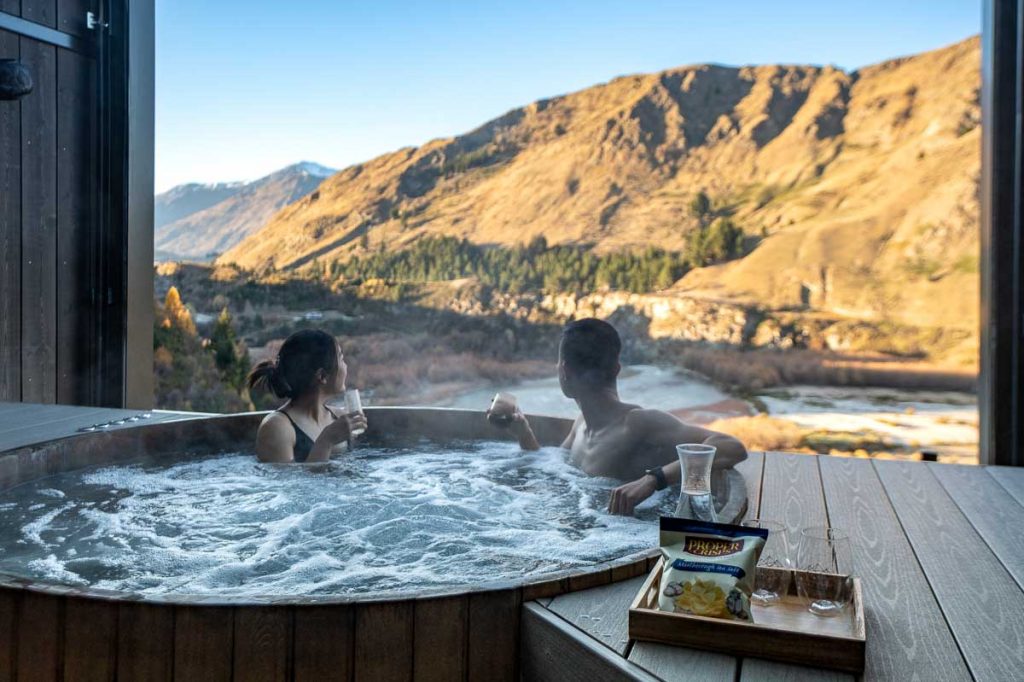 New Zealand is a land of volcanoes and geothermal hot spots so you can expect an abundance of natural hot springs across both North and South Islands. One of our best finds is the Onsen Hot Pool down in Queenstown — no points for guessing what's our favourite town.
Here you'll have access to a private pool overlooking The Remarkables mountain range and the Shotover River. Pools fit up to four family/friends and are filled with water infused with 100% Earth Minerals — the perfect way to relieve the muscles, especially if you've been shredding it on the slopes!
Cost: ~S$72/pax
Opening hours: 9AM – 10PM daily
Shuttle Pick-up: Bus Stop D, corner of Camp St. and Shotover St. (every 30mins)
Whale Watching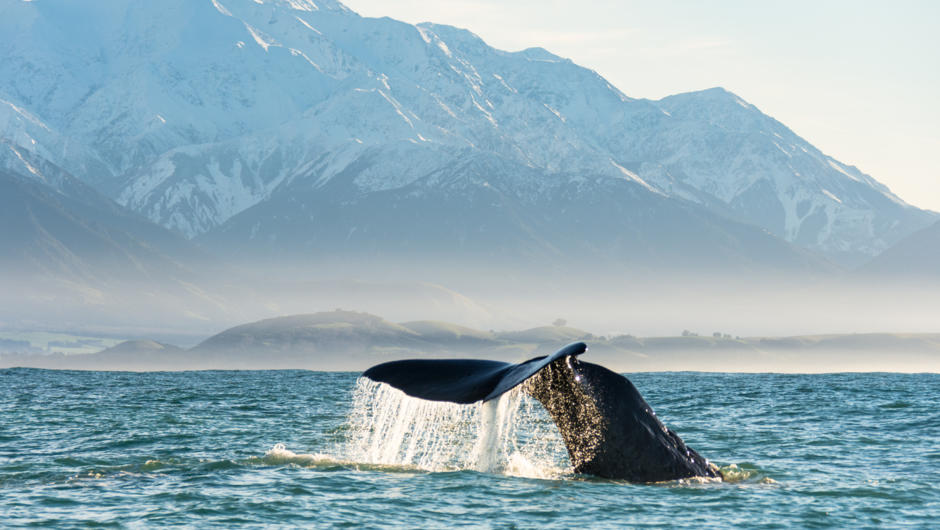 Photo credit: New Zealand Tourism
Kaikoura is one of the best whale-watching spots in the world thanks to the canyon that lies just 1km off the shore, giving the waters its unique environment. Wild residents here include both sperm whales and humpback whales, but orcas and blue whales have been spotted too.
Whale-watching in New Zealand can be done throughout the year, but June – August is known to be peak season as most of the whales migrate to mate and give birth during the winter months. If you're lucky, you'll witness them doing tail slaps and breeching out of the water!
For something a little more unique, take the experience up a notch by signing up for the Kaikoura Wings Over Whales experience. Your ride for the day will be on a Cessna 172 or Gippsland GA8 Airvan where you'll soar over the seas of Kaikoura.
Cost: From S$137
Meeting point: Whale Watch Kaikoura (2.5hr scenic drive from Christchurch)
Milford Sound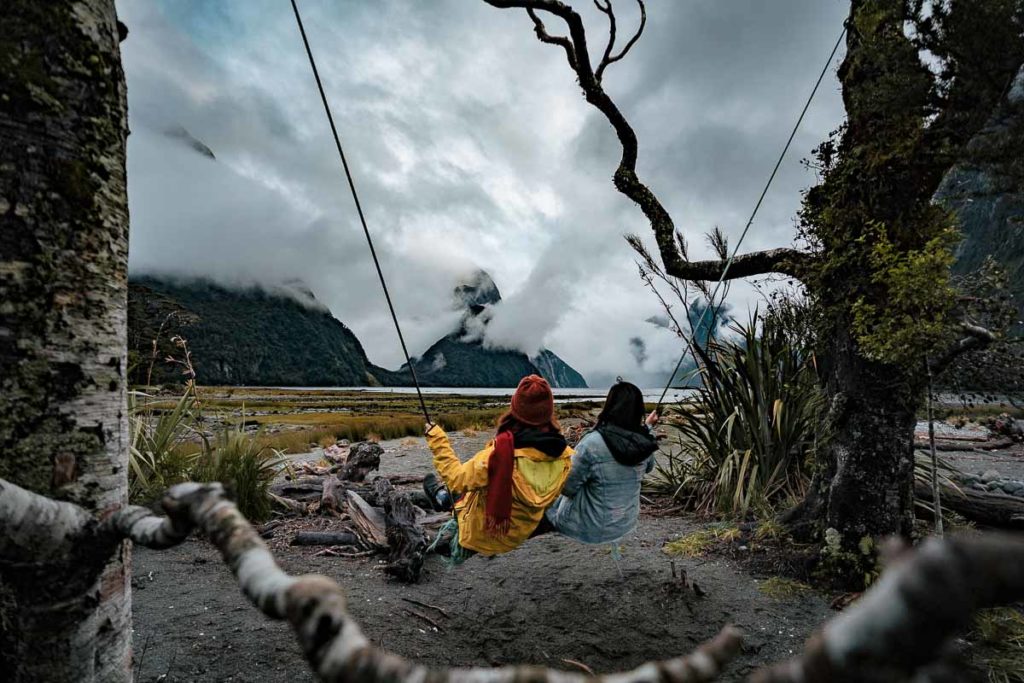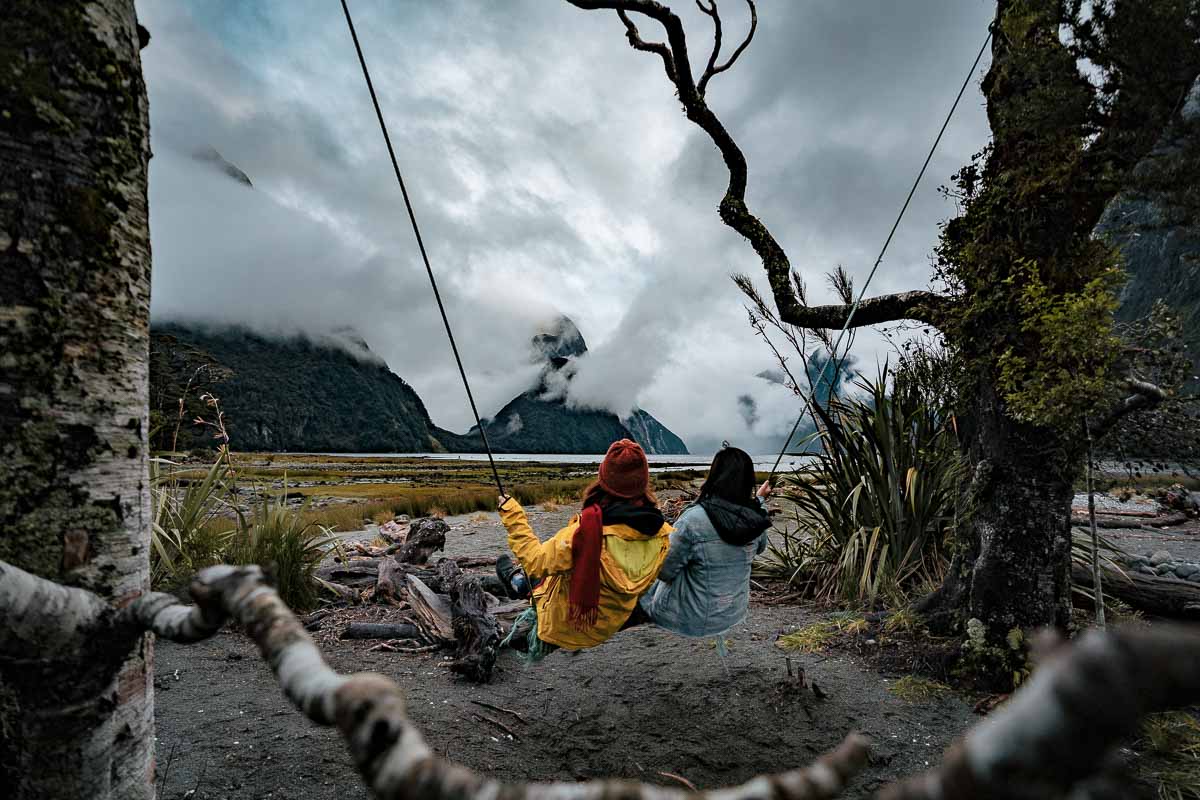 Milford Sound is popular all year round but the wetter seasons are in fact a better time to visit. The deep fiord is flanked by mountains where hundreds of temporary waterfalls flow through when it rains. Truly a magical sight worth the four-hour drive from Queenstown.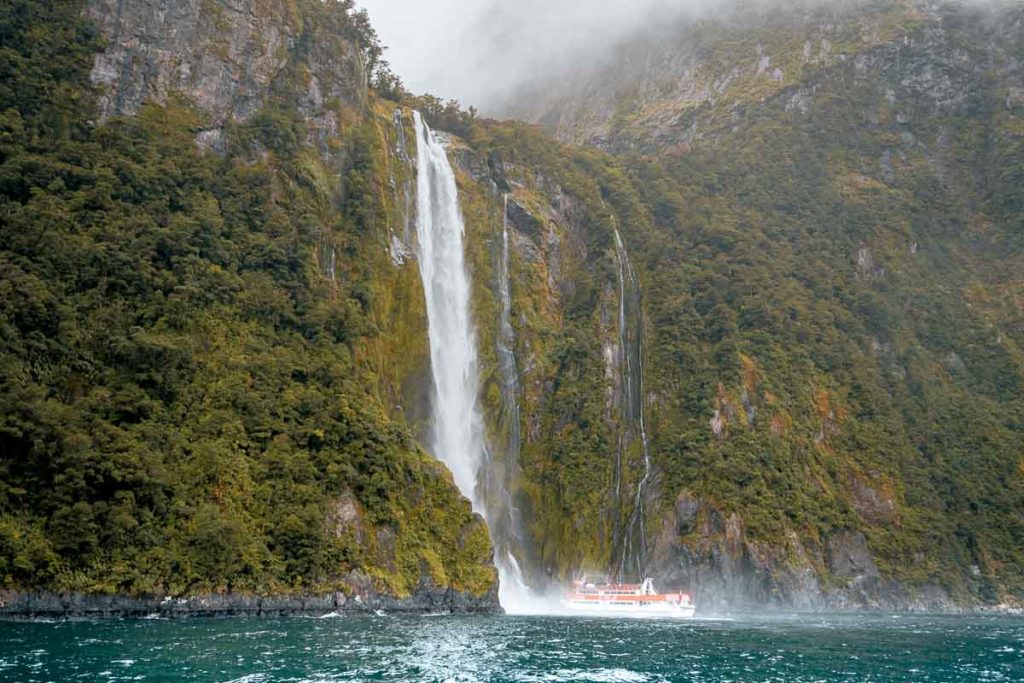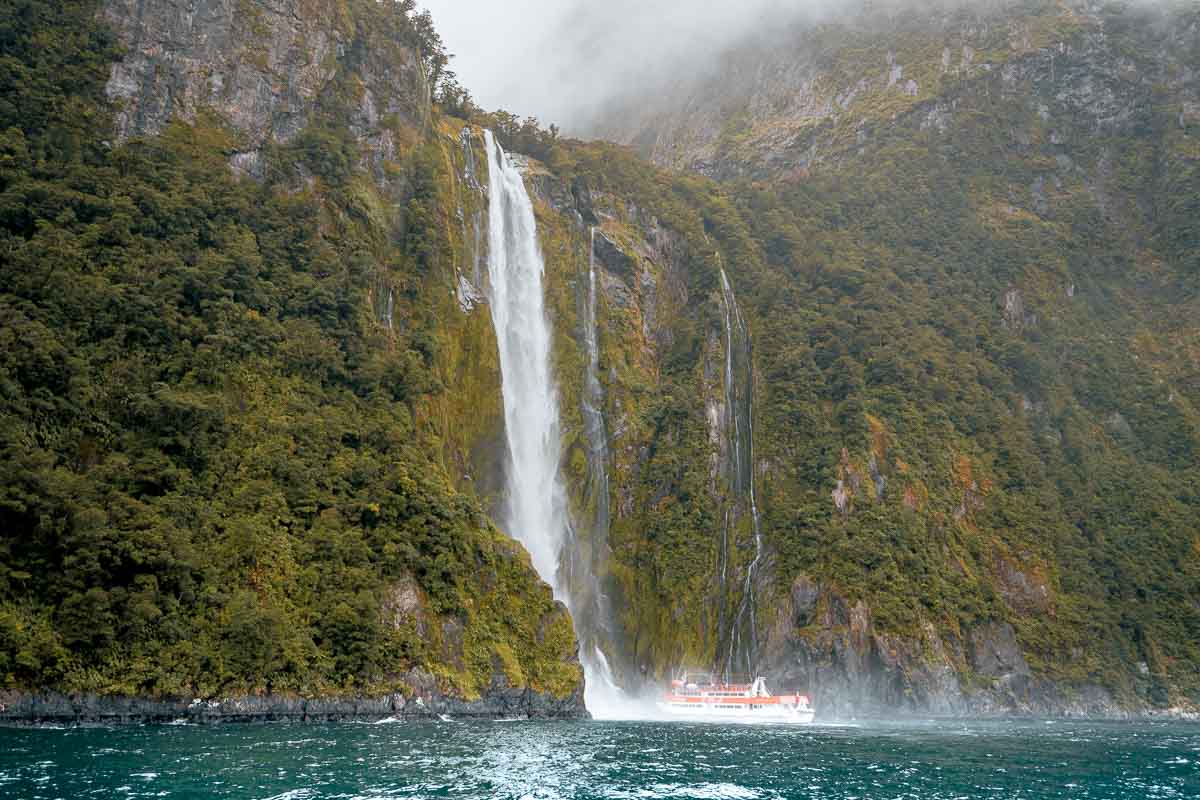 Of course, the best way to experience this is via the Milford Sound Scenic Cruise, a 2-hour ride exploring the 16km fiord. Look out for the permanent waterfalls like Bowen Falls (visible from the pier), Fairy Falls and Stirling Falls (the famous fall where boats take turns to get up close).
Cost: From S$82 during off-peak seasons
Meeting Point: Milford Sound Visitor Centre (Free parking is available a 10-min walk away)
Unique accommodations to stay cosy while it's cold outside
Sleep amongst a vineyard — Matawhero Wines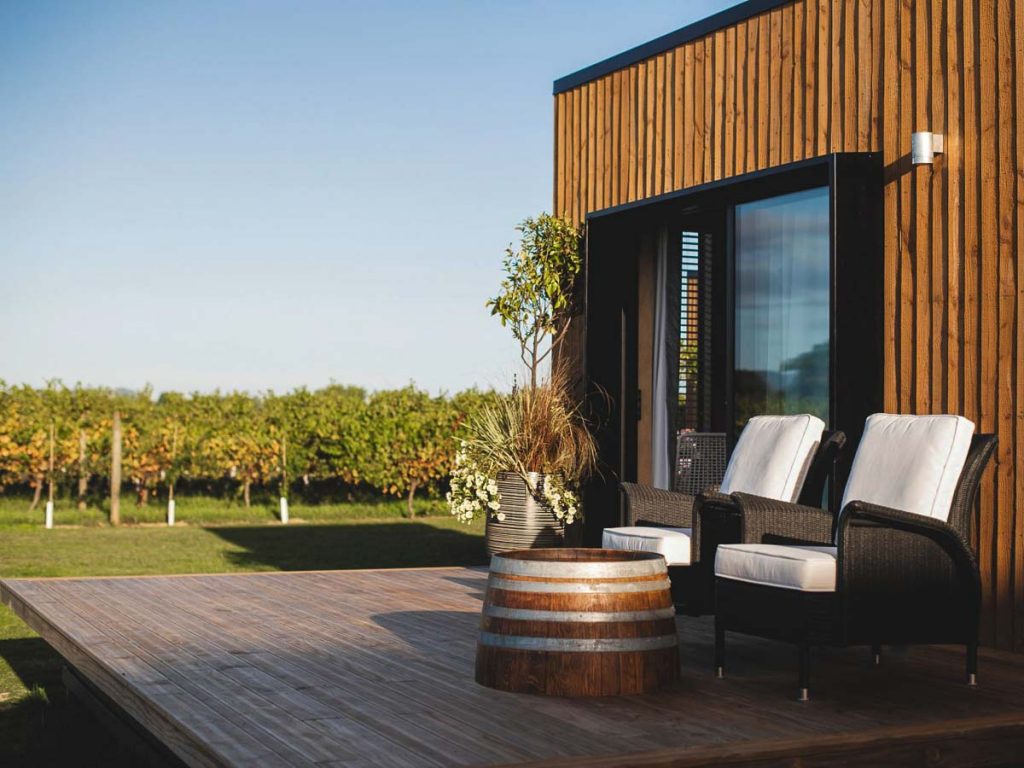 Ever dreamt of escaping into a cabin in the middle of nowhere? Take that thought and make it boujee by being surrounded by rolling rows of wine grapes.
Matawhero's luxury cabins are the perfect countryside escape. The cabins are situated right next to its gorgeous rustic cellar door, so you can pop over for a wine tasting or contemplate life over a platter on your private deck overlooking a gorgeous view.
*Note: The cellar door is only open from Wed – Sun during March and April.
Cost: From NZ$380/night (Including breakfast and complimentary wine bottle)
Address: RD1/189 Riverpoint Road, Matawhero, Gisborne 4071, New Zealand
Camp under the stars — Valley Views Glamping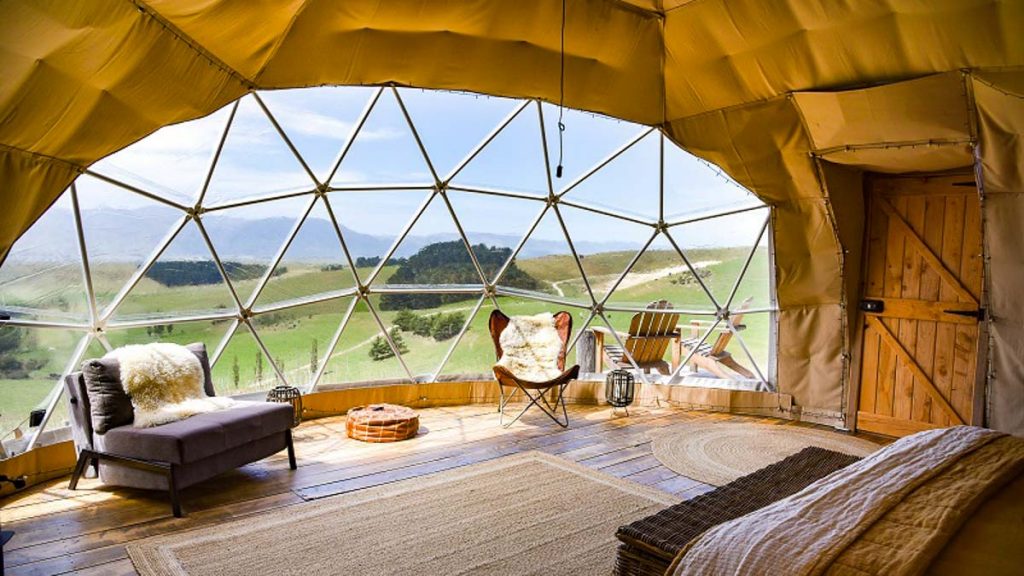 Photo credit: Valley Views Glamping
These Martian-like domes at Valley Views Glamping overlook the breathtaking Waitaki Valley and are fully furnished for maximum comfort. For the full camping experience, head to the forest to take a bath in the outdoor tub 🙊. Aside from the out-of-this-world view, the property is home to hiking trails, a farm, an eco-lodge and BBQ pits for dinner with a starry view. You can even fulfil your childhood equestrian dreams by signing up for a horse riding class on the property!
Cost: From NZ$250/night (Including breakfast)
Address: 161 Domett Road, Otiake 9494, New Zealand
Mahaanui Farmstay Experience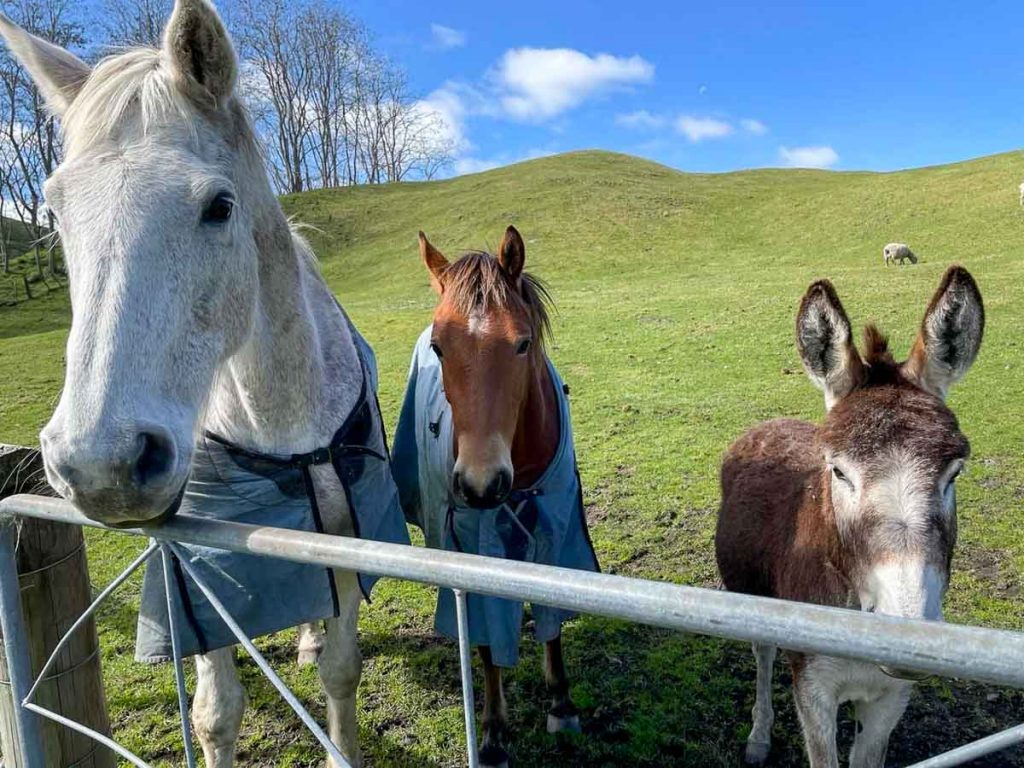 Photo credit: Mahaanui Farmstay Experience
Mahaanui Farmstay is nestled in the picturesque North Island countryside and is home to sheep, alpacas, horses, mini pigs, doggos — you name it, they'll probably have it.
There are three different types of accommodations to choose from, perfect for those travelling solo, in a large group or having a couples getaway. The property is within walking distance of trails, swimming holes, stunning waterfalls and has private access to the Hangaroa River! Opt for a guided farm tour (NZ$50) to learn more about farm life and get up close and personal with the cute animals!
Cost: From NZ$130/night
Address: 1856 Ruakaka Road, Tiniroto 4078, New Zealand
*Note: The Mahaanui Cabin and Mahaanui Cottage require a booking of at least two nights.
Rent a Campervan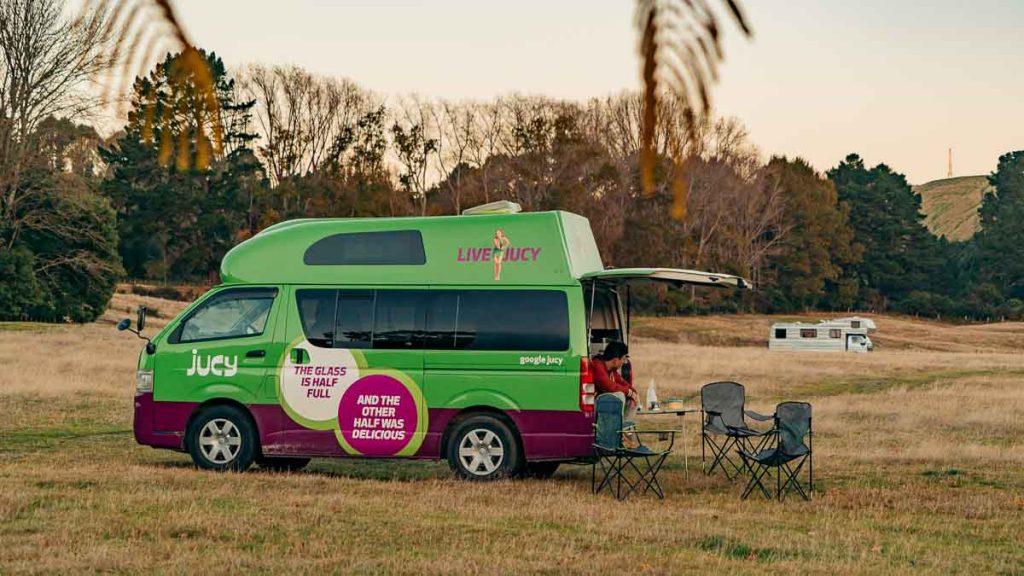 The campervan experience is arguably the best way to explore the country. We did a road trip around North Island a few years ago with the JUCY Condo, a self-contained vehicle that can comfortably sleep up to four people and includes all necessities like pillows, cooking equipment, and a fridge.
It might not be as glamorous as staying in a hotel but cooking under the Milky Way and waking up to epic sunrise views made the experience worth it. Plus, you'll have more flexibility over your itinerary as you don't have to rush to check in and out of your accommodation!
Cost: From ~NZ$95/day
Pick-up location: Auckland Airport, Christchurch Airport or Queenstown Airport
*Pro-tip: Book early to get cheaper prices from rental companies!
Read more: New Zealand Accommodation Guide: Where to Stay for Less than S$40/night
Getting around New Zealand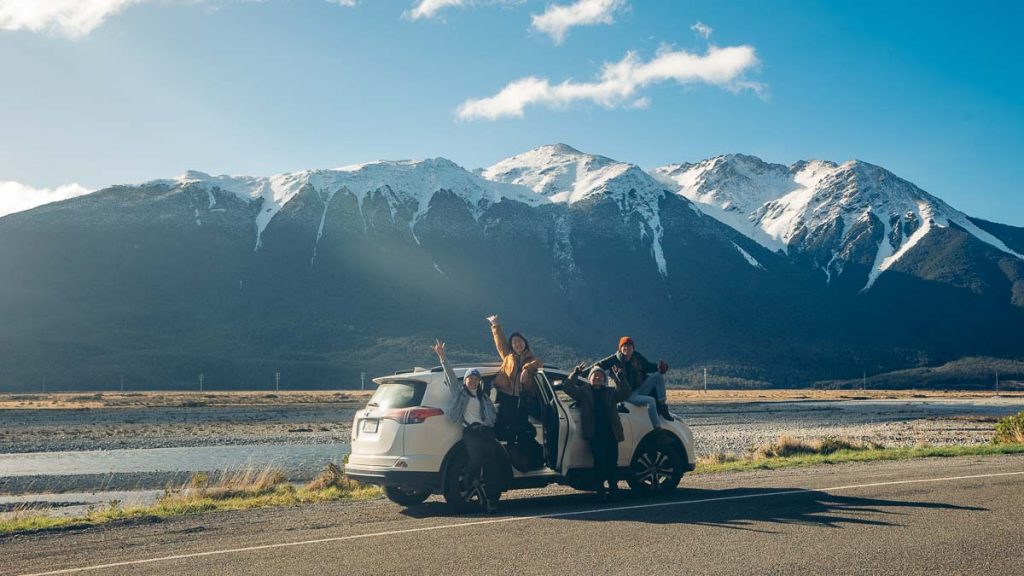 If you ask us, we'd highly recommend renting a car or campervan. Having your own set of wheels offers maximum flexibility to your itinerary! On our road trip last autumn, we made countless pit stops mid-drive just to photograph the scenery, even in the middle of nowhere.
Read also: Planning a New Zealand Road Trip — 30 Most Frequently Asked Questions
If you don't have a driving licence, there are alternatives like buses that run on fixed routes, and charter coaches for larger travel parties. The Railbus Pass, albeit pricier, combines long-distance rail, intercity bus and ferry services between the North and South Islands.
For the ultimate no-car experience, choose from over 20 domestic connections operated by Air New Zealand to link your itinerary up!
Flights to New Zealand From Singapore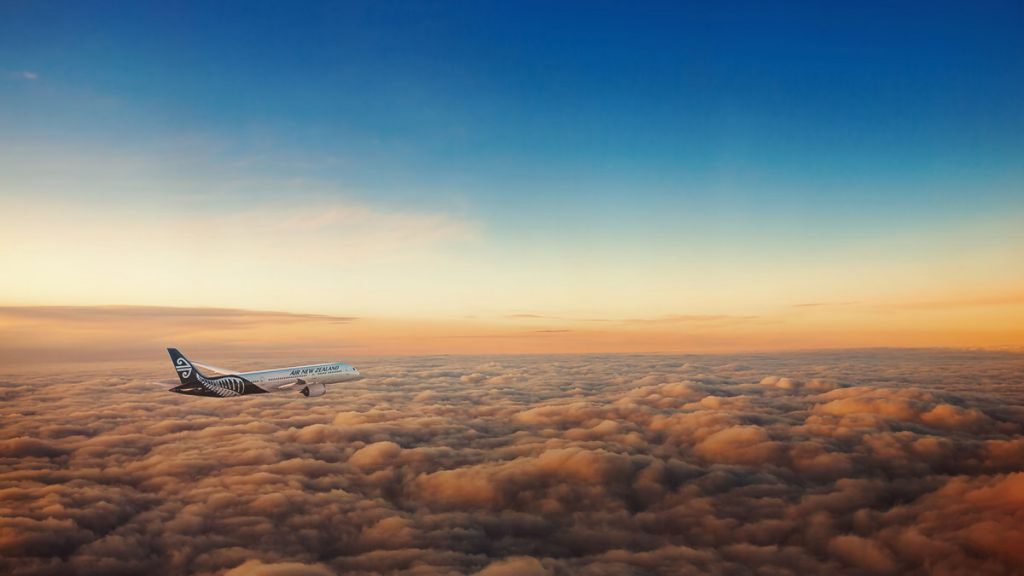 Air New Zealand operates direct flights from Singapore to Auckland daily, with Economy fares starting from S$1,364 all-in (subject to travel period and capacity). Much like how New Zealand is one of the safest places in the world to visit, Air NZ was voted the World's Safest Airline in 2022, in addition to other top accolades including Best Long-Haul Airline Pacific, Best Premium Economy, and Best Economy.
New Zealand continues to remain one of our most epic places visited and the reasons are endless. Our two-week South Island road trip got us walking amongst jaw-dropping landscapes and trying activities that altered our brain chemistry.
Whether it's connecting with the locals or finding yourself alone in the great outdoors (emphasis on great), a trip to Aotearoa will be nothing short of a whirlwind adventure.
Planning your trip to New Zealand? Check out these guides and itineraries:
– 12D New Zealand South Island Itinerary Under S$2.8k
– New Zealand Itinerary Part 2 — 5-Day North Island Road Trip in a Campervan Under S$600
– Planning a New Zealand Road Trip — 30 Most Frequently Asked Questions
– 11 Extreme Things to Do in Queenstown New Zealand — The Adventure Capital of the World
– New Zealand South Island Guide — 25 Best Things to Do in Queenstown, Kaikoura, Milford Sound and More
Have you travelled to New Zealand during autumn or winter? Tell us what you did in the comments below!
---
This post was brought to you by Tourism New Zealand and Air New Zealand.
Like what you see? Follow us on Facebook, Instagram, and YouTube for more travel updates!