The most scenic drives! Where to get the best food! The most epic hike! From the North to South Island, this is the only list of things to do in NZ that you'll need.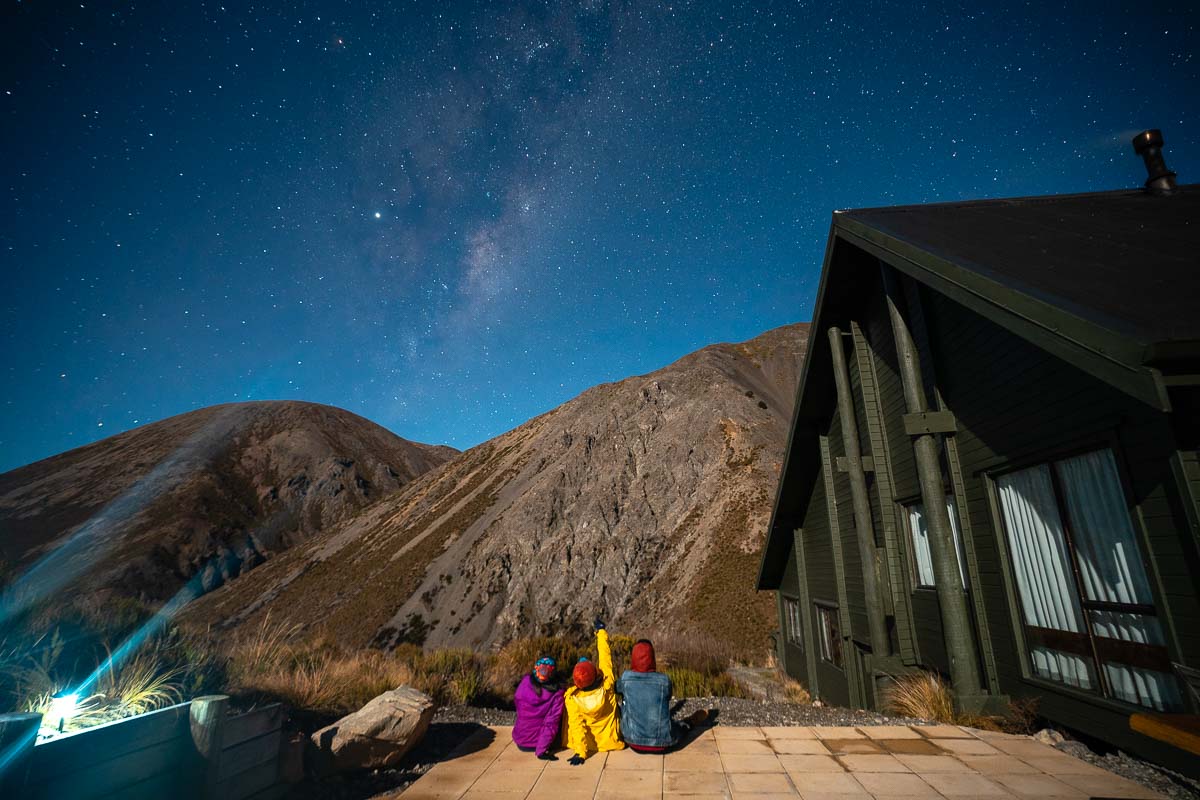 Split between two islands, it's cliched (but absolutely true!) to say that New Zealand has the best of both worlds. On the whole, the country is famed for its huge population of sheep, fascinating Maori culture, breathtaking landscapes, and feature in the Lord of the Rings (LOTR) and Hobbiton trilogies.
Read also: 10-day South Island Road Trip
Whether you intend to explore only one island or chiong through both, there are precious adventures aplenty that'll keep you busy. From scenic drives and day-long hikes to delectable eats, here's our list of the best things to do in NZ!
Later on, we also let you in how you can enjoy a discount on some of these fun activities by availing a Klook Pass 😉
Most Scenic Drive
Car rental: You're gonna want to rent a car (starting from ~S$18/day in Auckland, and ~S$21/day in Queenstown) to get around, and the great news is that a Singapore driving license is accepted in New Zealand!
North Island: Twin Coast Discovery Highway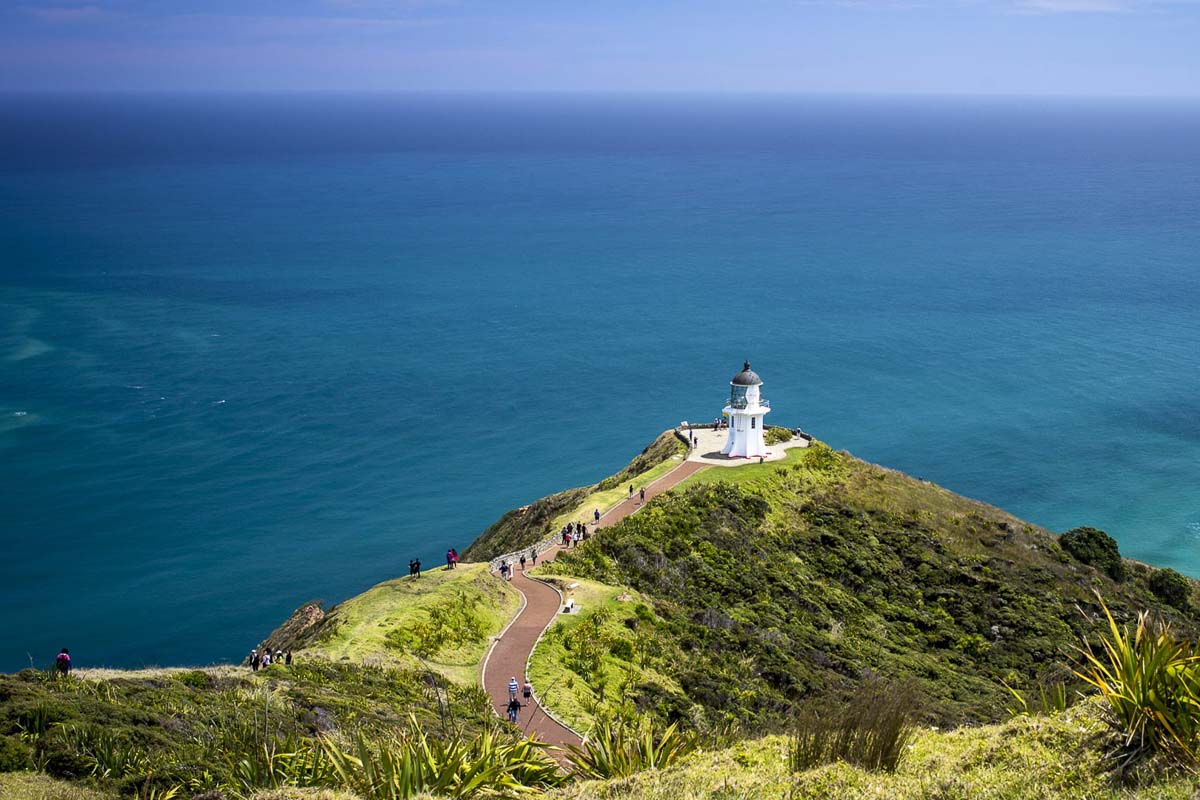 Photo credit: Northlandnz.com
Starting out our list of best things to do in NZ is the Twin Coast Discovery Highway, a long 800km circular loop that explores the Northlands. Its name promises great things, and it doesn't disappoint! Starting and ending in Auckland, it's great for travellers who want to see New Zealand's "far north" over a span of a week.
Photo credit: FullersGreatSights via Facebook
Along the way, you can make stops at quaint coastal villages like Tutukaka, the iconic Cape Reinga (and its lighthouse), and the magnificent Bay of Islands, where you can swim with dolphins.
Car rental from Auckland: From ~S$18/day via Klook
South Island: Twizel — Mount Cook Road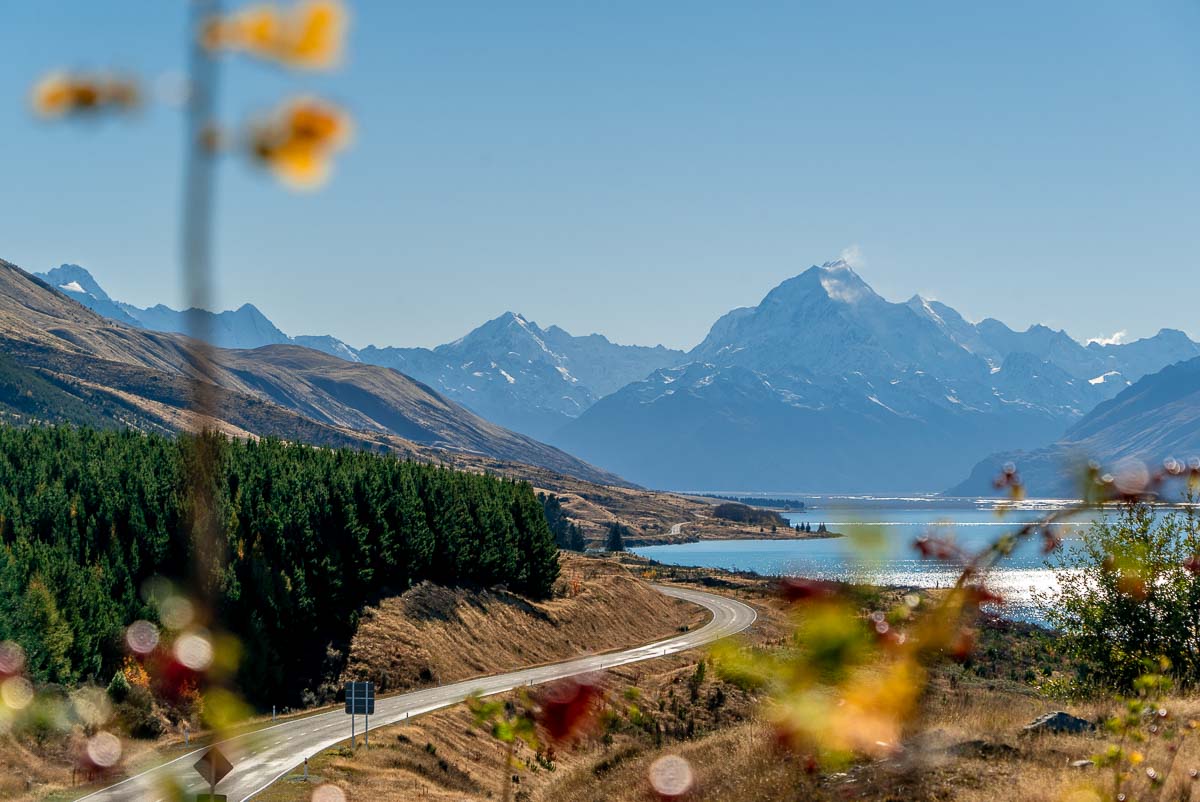 Who knew a road could look this good?
From Twizel all the way to Mount Cook, the scenery is painstakingly beautiful. The stretch features gorgeous views of the blue Lake Pukaki to Mount Cook, New Zealand's highest mountain. Remember to make a stop at Peter's Lookout to capture these elements!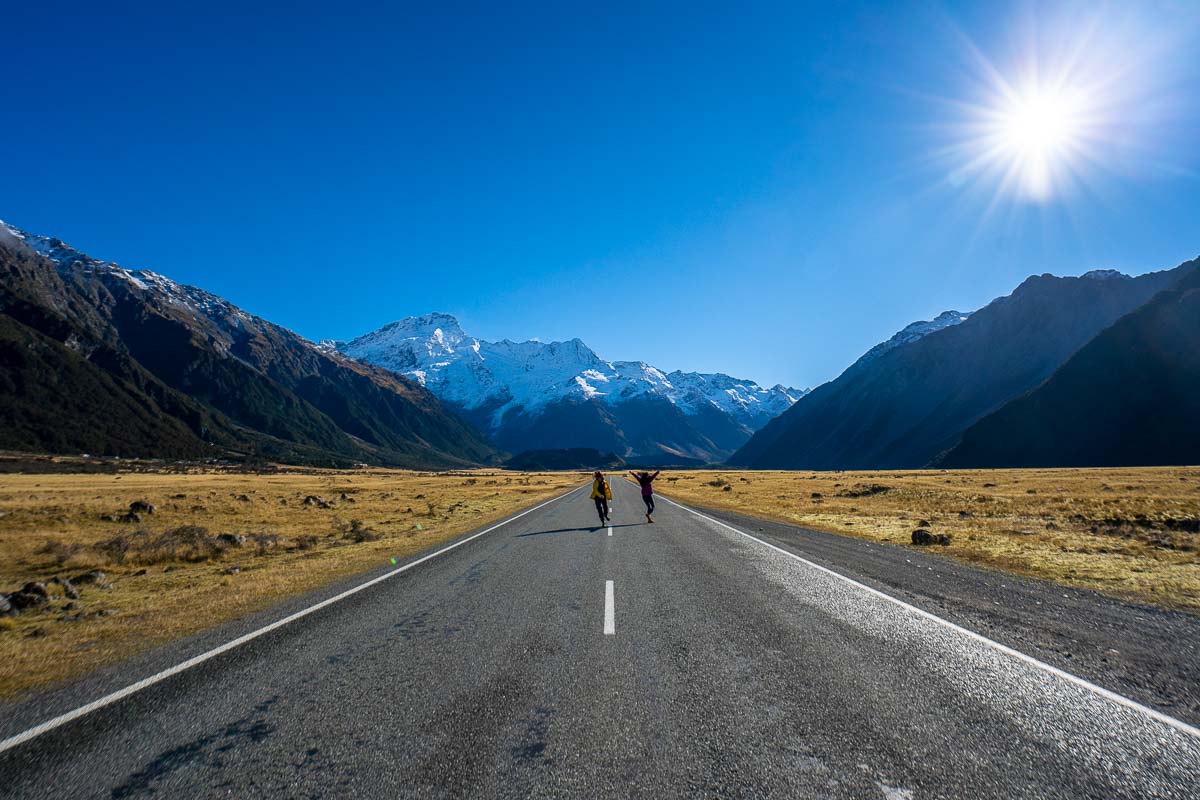 With flat roads like this, you'll want to pull over every five minutes to snap photos. Just be extra careful of other cars.
For more stunning scenery around the South Island, check out our 10-day itinerary!
Car rental from Queenstown: From ~S$21/day via Klook
Best Place to Skydive
North Island: Bay of Islands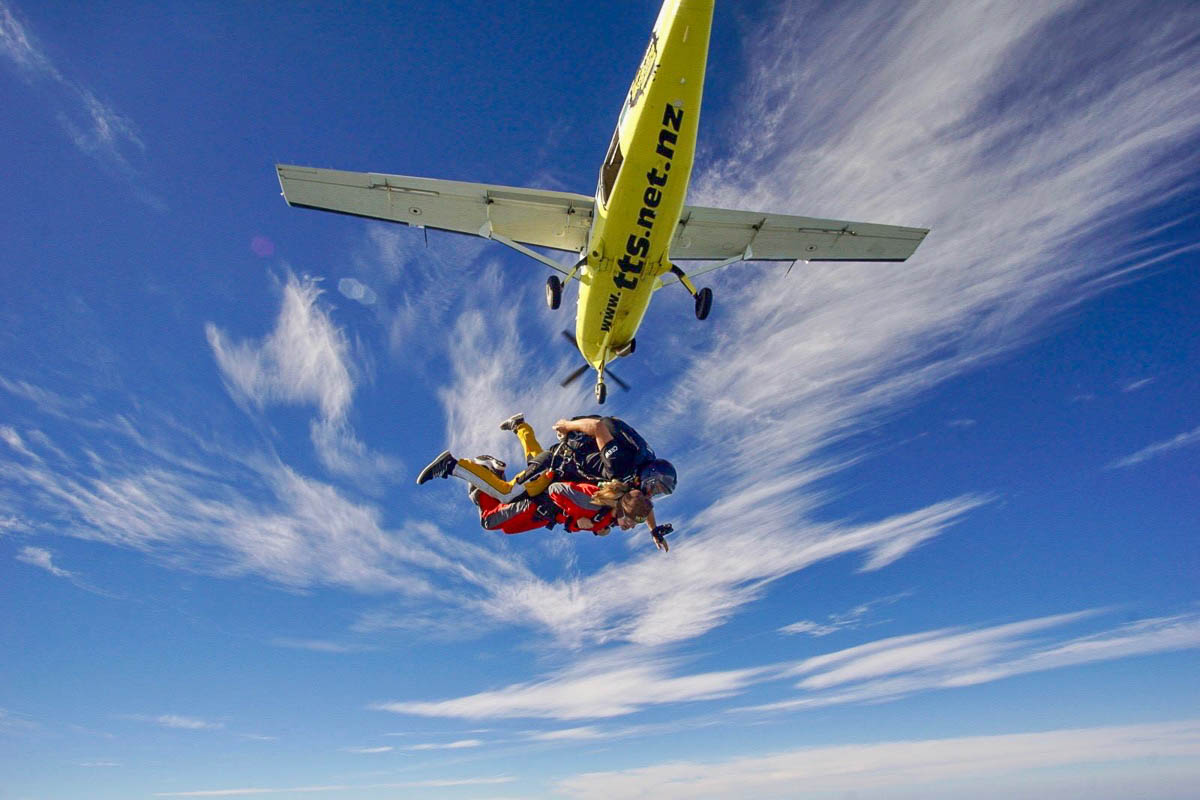 Photo credit: Skydive Bay of Islands via Facebook
f you're planning to go skydiving at least once in your life, take note that it's one of the best things to do in NZ (specifically!).
There's nothing quite like acquainting yourself with "the birthplace of New Zealand" than flying over it! Skydiving over the Bay of Islands is quite a visual spectacle must-not-miss — you're freefalling over 144 islands in the bay as well as the vast ocean.
Photo credit: Skydive Bay of Islands Facebook
But Skydive Bay of Islands cranks it up a notch (or many notches to be accurate). Hardcore thrill-seekers can experience the highest altitude jump in New Zealand by skydiving from up to 20,000 feet — well over a minute of freefall!
Cost: From ~S$241/pax via Klook
Pick-up point: Hotel pick-up from Kerikeri and Pahia
South Island: Queenstown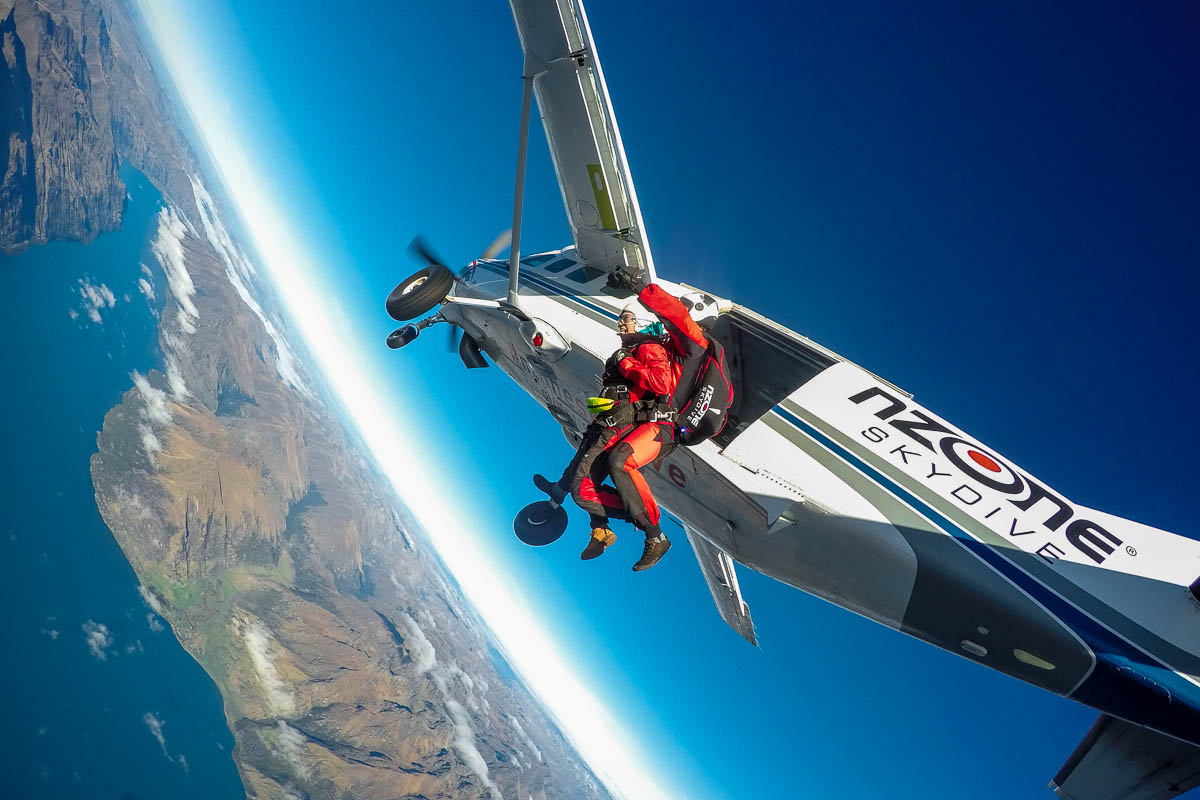 Queenstown's reputation as the adventure capital of the world is no gimmick. NZONE Skydive takes adventure-seekers up to the skies to give them an experience of a lifetime.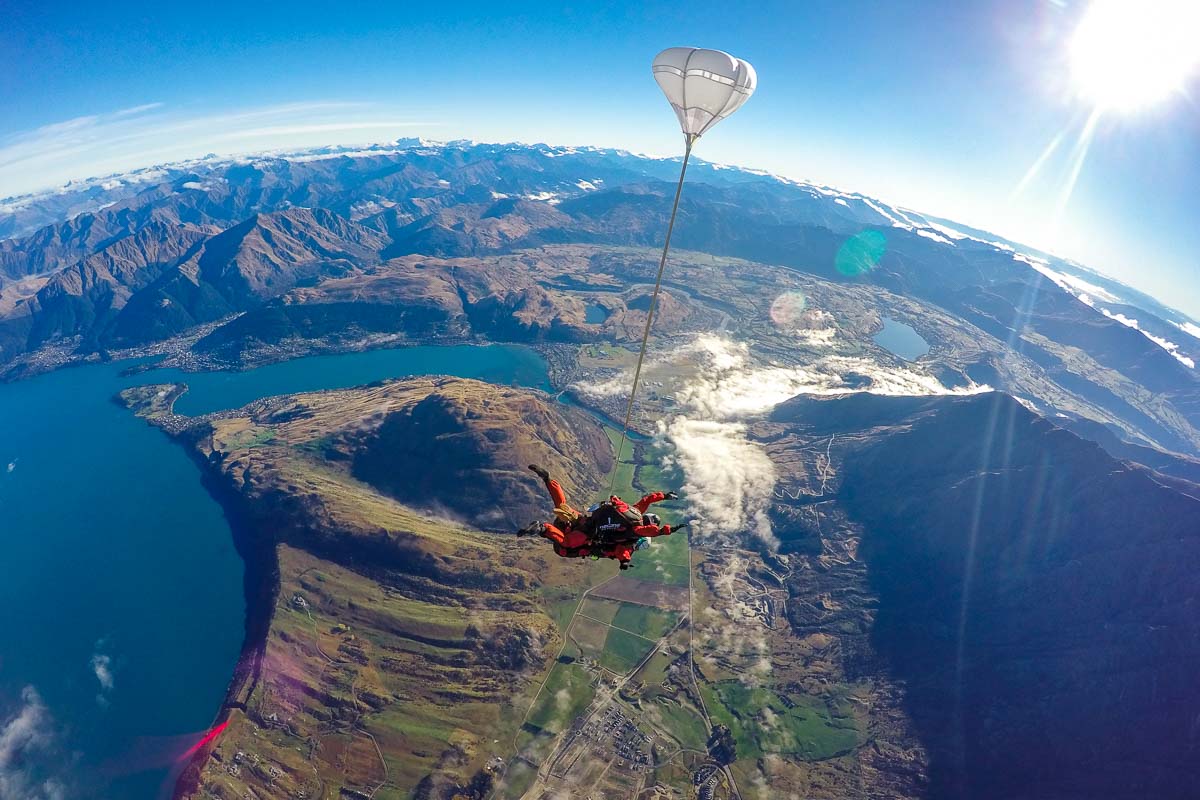 The views you get skydiving over Queenstown are nothing short of sheer insanity. All around, you get unparalleled views of the Remarkables and Lake Wakatipu. There's no better way to conquer your fear of heights than free-falling over 9,000 feet above the ground with mind-blowing scenery.
Do note that skydiving is a weather-dependent activity, so pray for clear skies!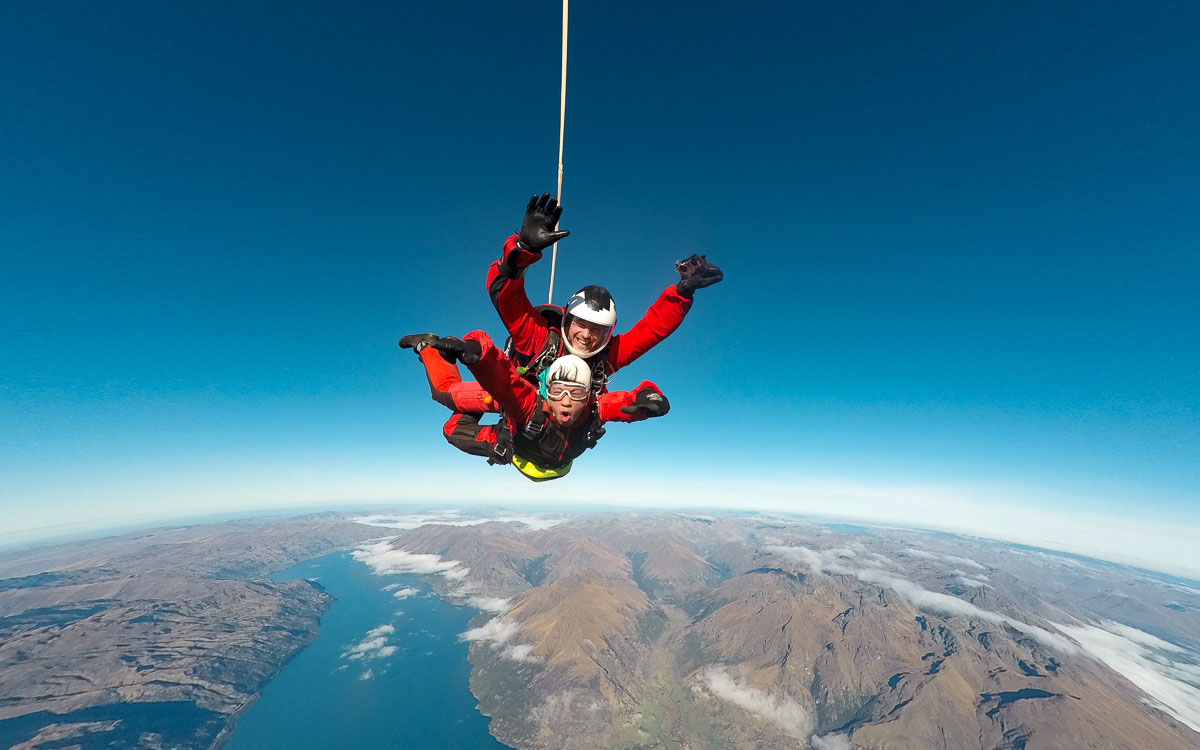 Cost: From ~S$271/pax via Klook
Meeting point: 35 Shotover St, Queenstown 9300, New Zealand
Most Adrenaline-Fuelled Adventure Activity
North Island: Black water rafting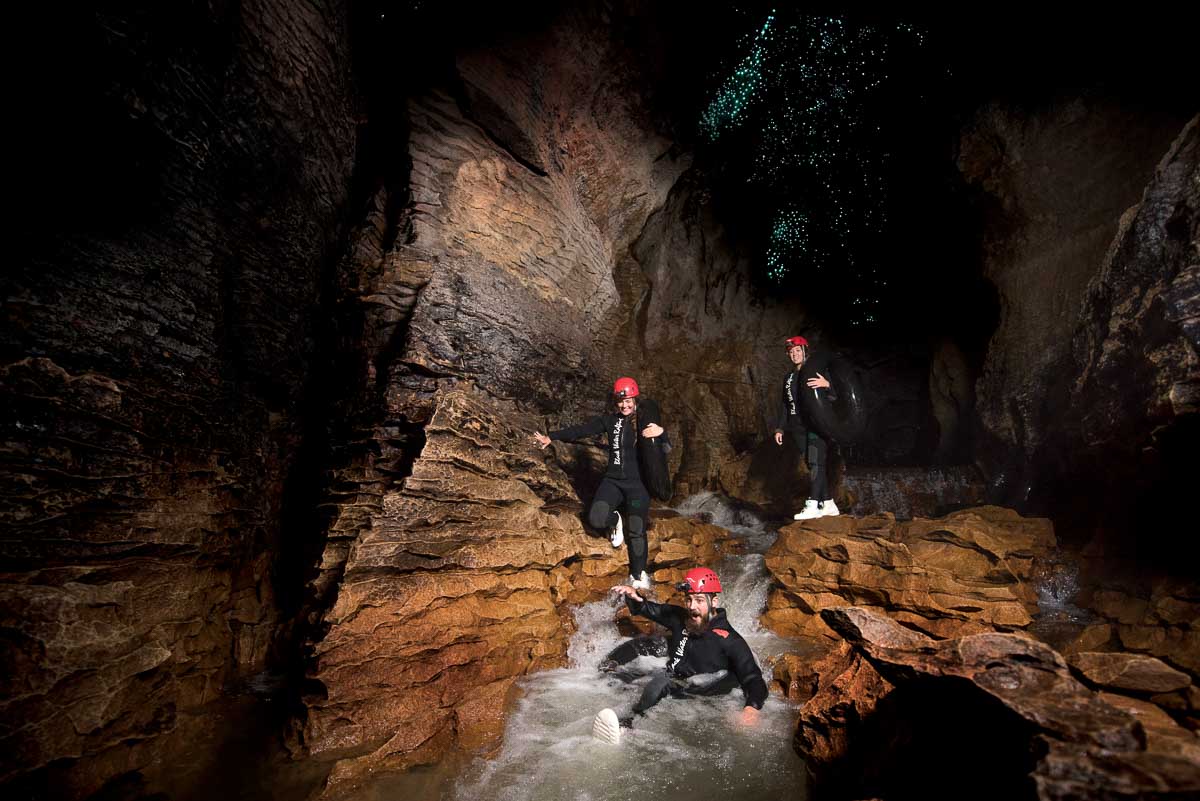 Inside the Ruakuri Cave, a fun black-water rafting adventure is one of the best things to do in NZ for anyone who loves a challenge.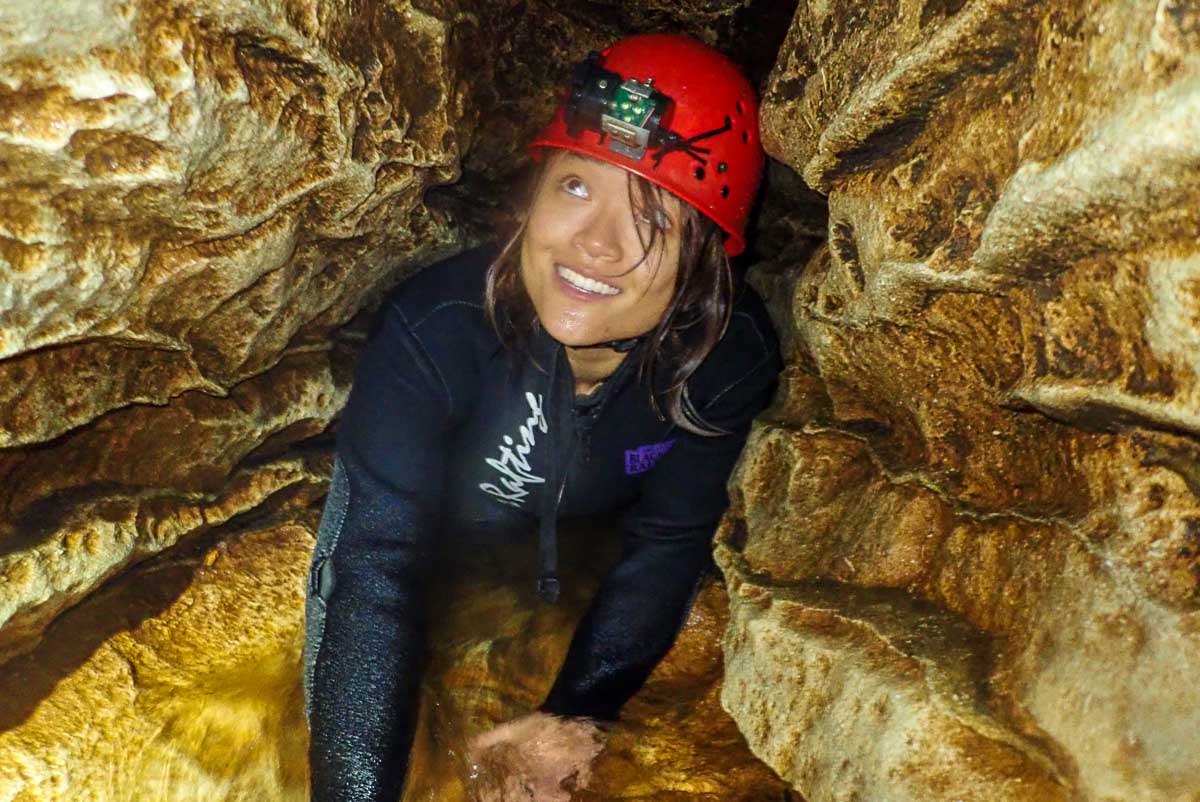 The Black Labyrinth leads you on an incredible caving tour that includes jumping down underground waterfalls, crawling through tight, rocky spaces, and floating down a glowworm-studded cave.
It's 3 hours of splashing around in 10°C waters and total darkness (save for your torchlight). But you'll barely feel the cold with the adrenaline coursing through your body. If there's anything to be fearful of, it's learning how the "magical" glowworms consume their prey (spoiler alert: eaten alive).
Cost: From ~S$890/pax for a private tour via Klook
Tour timings: 6AM – 3PM
Pick-up point: Hotel pick-up
South Island: Nevis Swing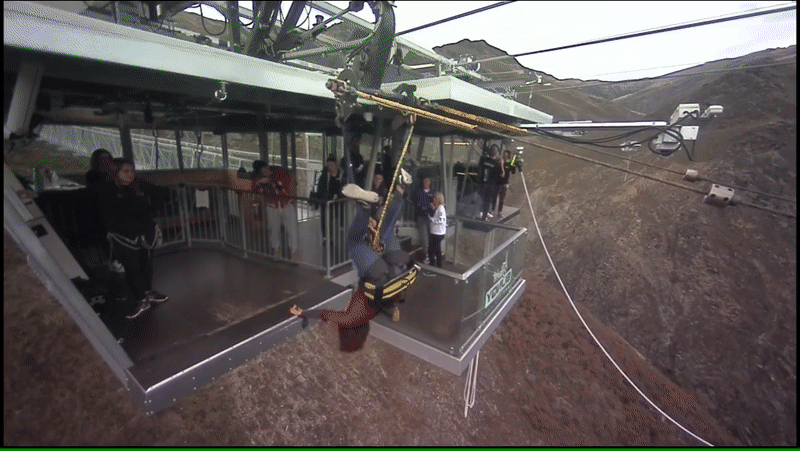 Swinging into your DMs.
Proudly calling itself the "World's Most Famous Swing", the Nevis Swing is basically your childhood playground ride gone wild. It sends you flying on a 300m arc through a valley at super-high speeds — so fast, your brain might not register it.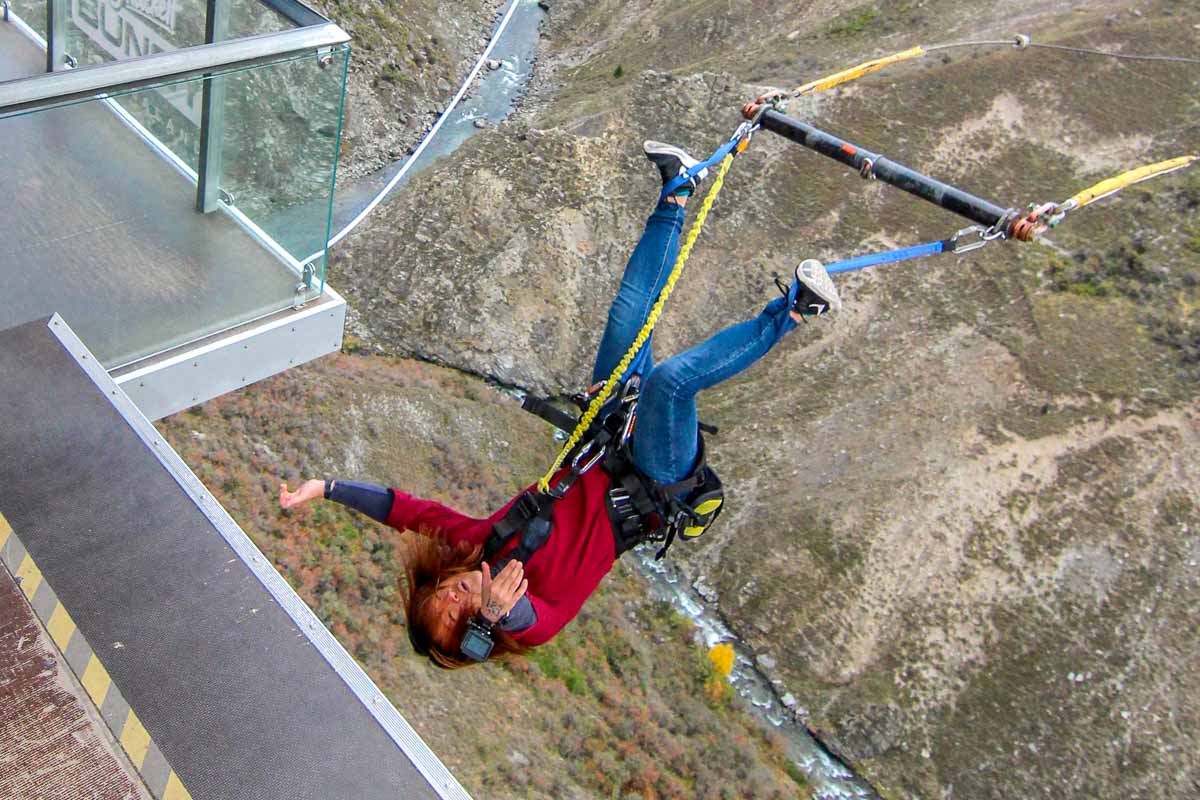 Try going upside down if you dare — you're in for a dizzying time.
What's thrilling about this (and what I loved most!) is that you're offered a variety of ways to ride one of the world's biggest swings — tandem, forwards, backwards, or even upside down (don't worry — they're all safe)!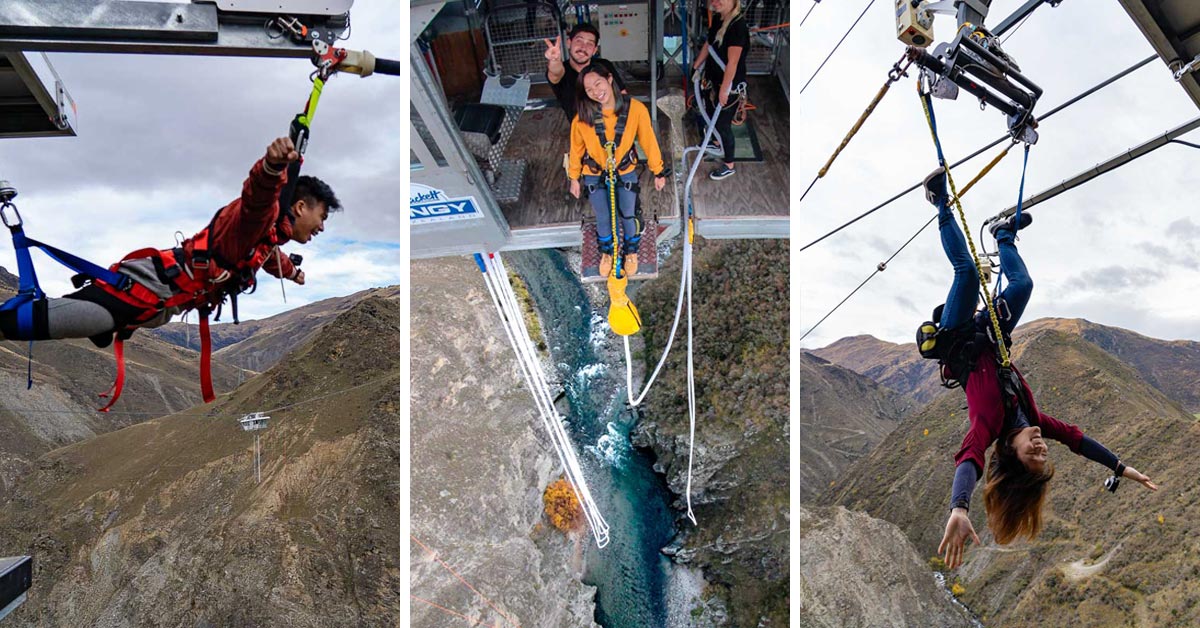 Today's specials: fly, jump, and swing!
If you aren't a swinger, there's also the Nevis Catapult or Nevis Bungy. The former shoots you 150m across the valley, while the latter has 8.5s of glorious free-fall.
Nevis Swing
Cost: From ~S$198/pax via Klook
Operating Hours: Various time slots
How to get there: From Queenstown i-SITE Visitor Info Centre, cross the street to Station Building. Check-in at the AJ Hackett Bungy front desk. The staff will advise when the shuttle bus departs for the swing.
Most Epic Experience
North Island: Hike across an active volcano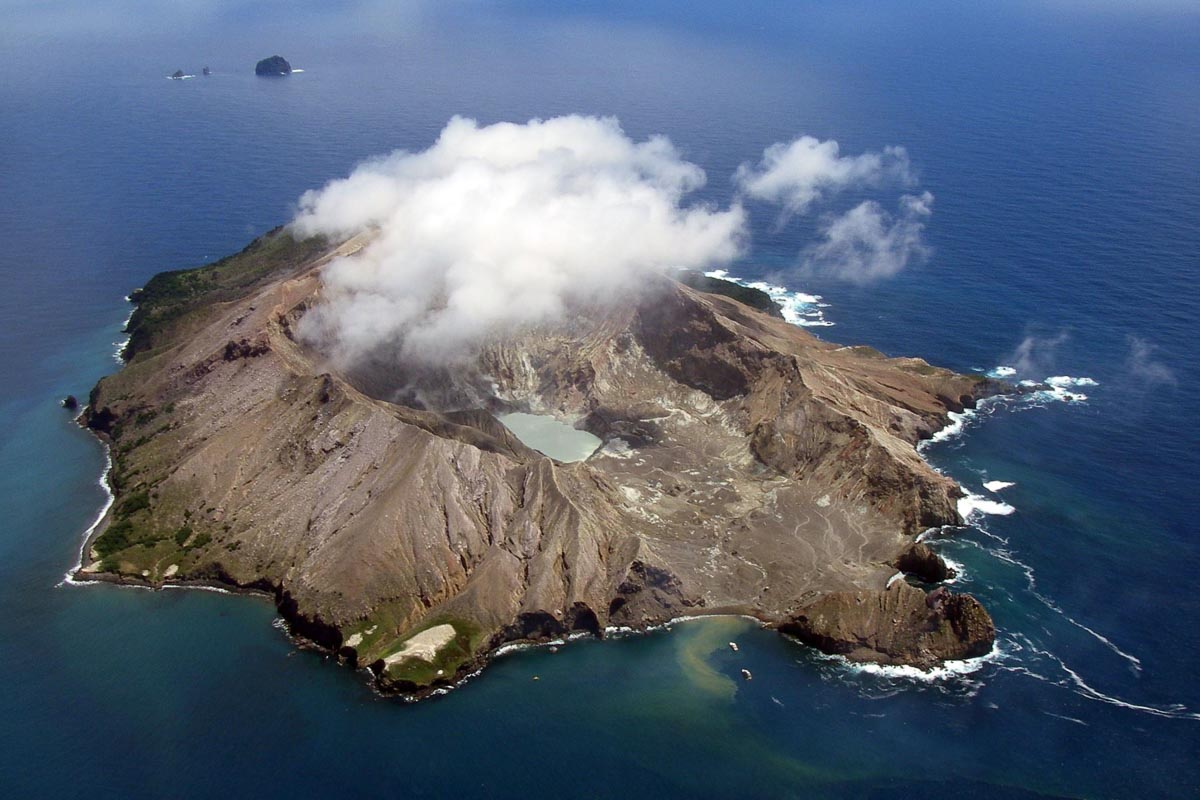 Photo credit: Heletraz.com
Just off the coast in the Bay of Plenty, White Island is New Zealand's most active conical volcano.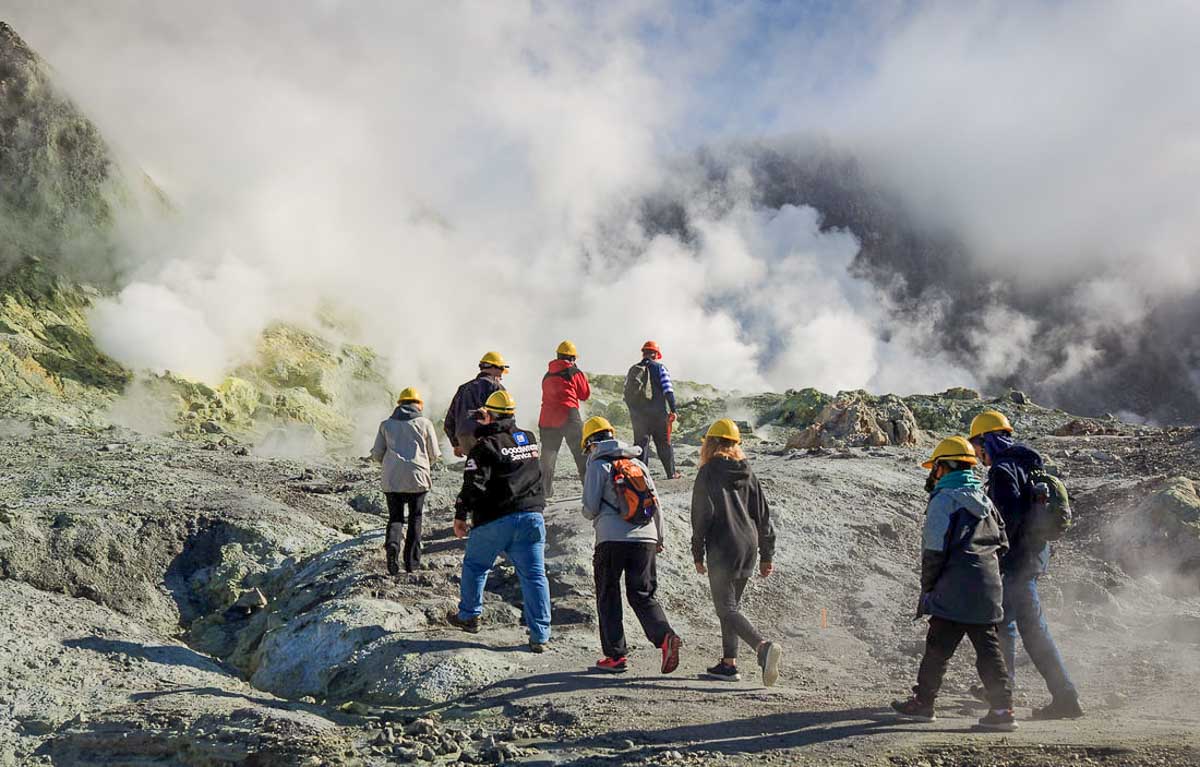 Bold daredevils will surely lava this. Photo credit: Whiteisland.co.nz
Visiting the island is only possible through guided tours. For an explosive adventure, head on a Volcanic Scenic Helicopter Flight. This tour includes a helicopter ride that ferries you to the Mount Tarawera volcano where you'll get to enjoy a bird's eye view of Wai-O-Tapu and Okakei Korako.
Can't get enough of Mount Tarawera? Hop on a Tarawera and Lakes Tour from Rotorua and visit stunning lakes like Lake Tarawera.
Volcanic Scenic Helicopter Flight
Cost: From ~S$432/pax via Klook
Meet-up point: City Lakefront Lakefront Drive, Ohinemutu, Rotorua 3010
Tarawera and Lakes Tour from Rotorua
Cost: From ~S$85/pax via Klook
Tour timings: 10:30AM and 3:30PM (Oct – Apr), 2:15PM (May – Sep)
Pick-up point: Rotorua Info Centre 1171 Fenton St Rotorua (take Bus No. 1, 3, 4, 5, 6, 7, 8, 9, 10, 11, 12 to Rotorua CBD – Arawa Street, then walk 2mins)
South Island: Hike across a glacier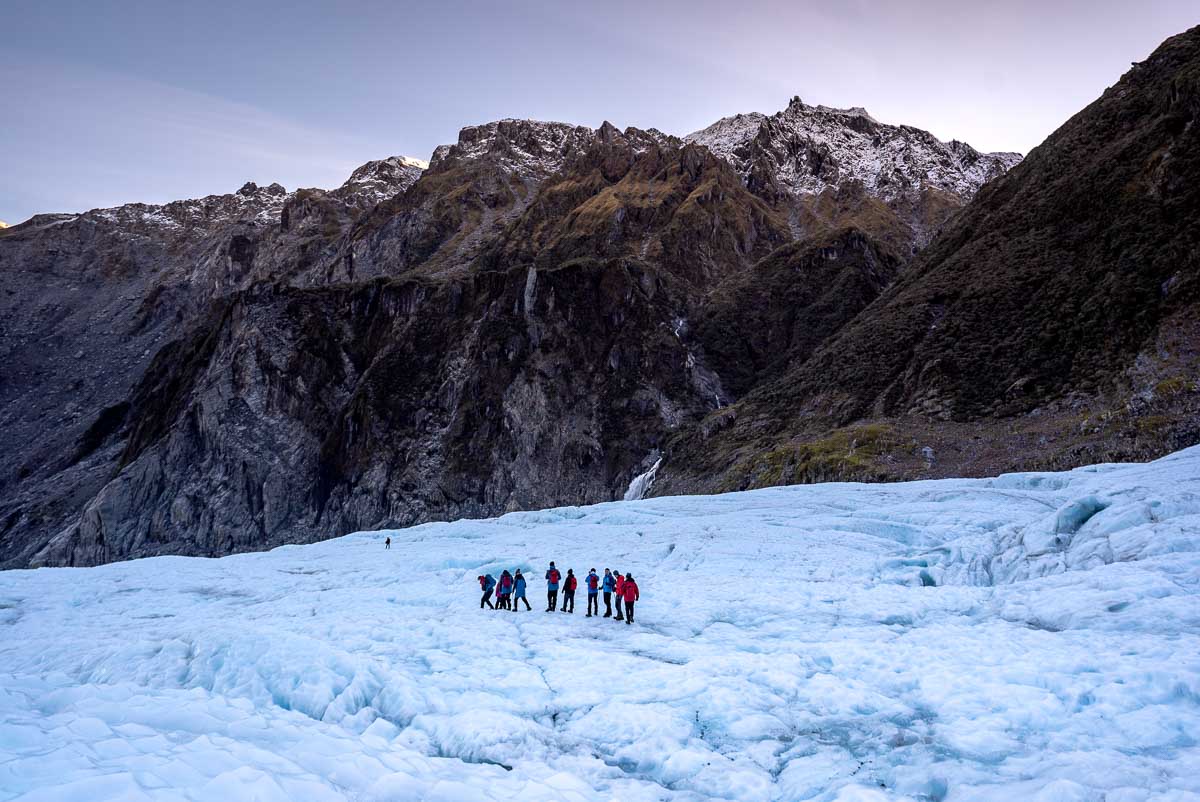 Think glaciers are only available in faraway lands like Iceland? Well, New Zealand has its own glaciers too — and they're open all year round!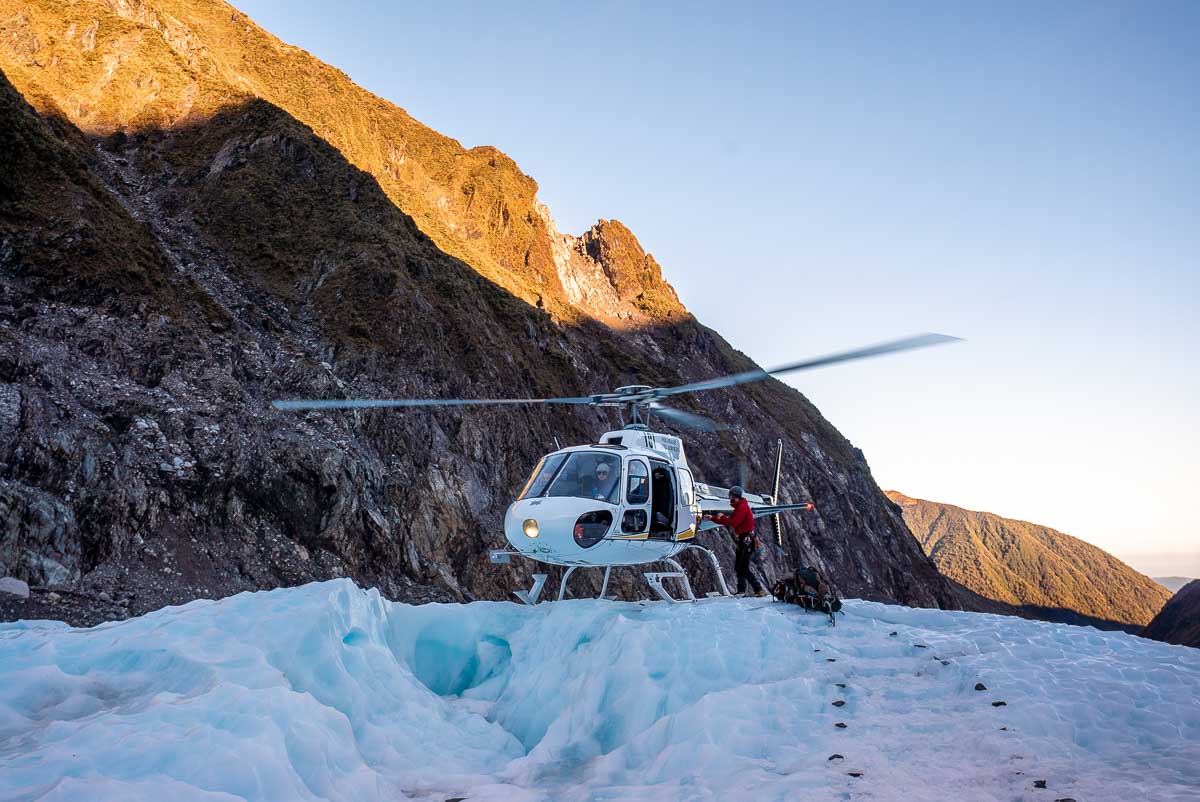 Your chariot awaits!
Visiting the Fox Glacier on a guided tour is one of the coolest things to do in NZ (get it?). The glacier is only accessible via helicopter, so you'll be in for a short, scenic ride that flies you onto the ice. Thereafter, you'll strap on crampons and explore the glacier with your knowledgeable guide.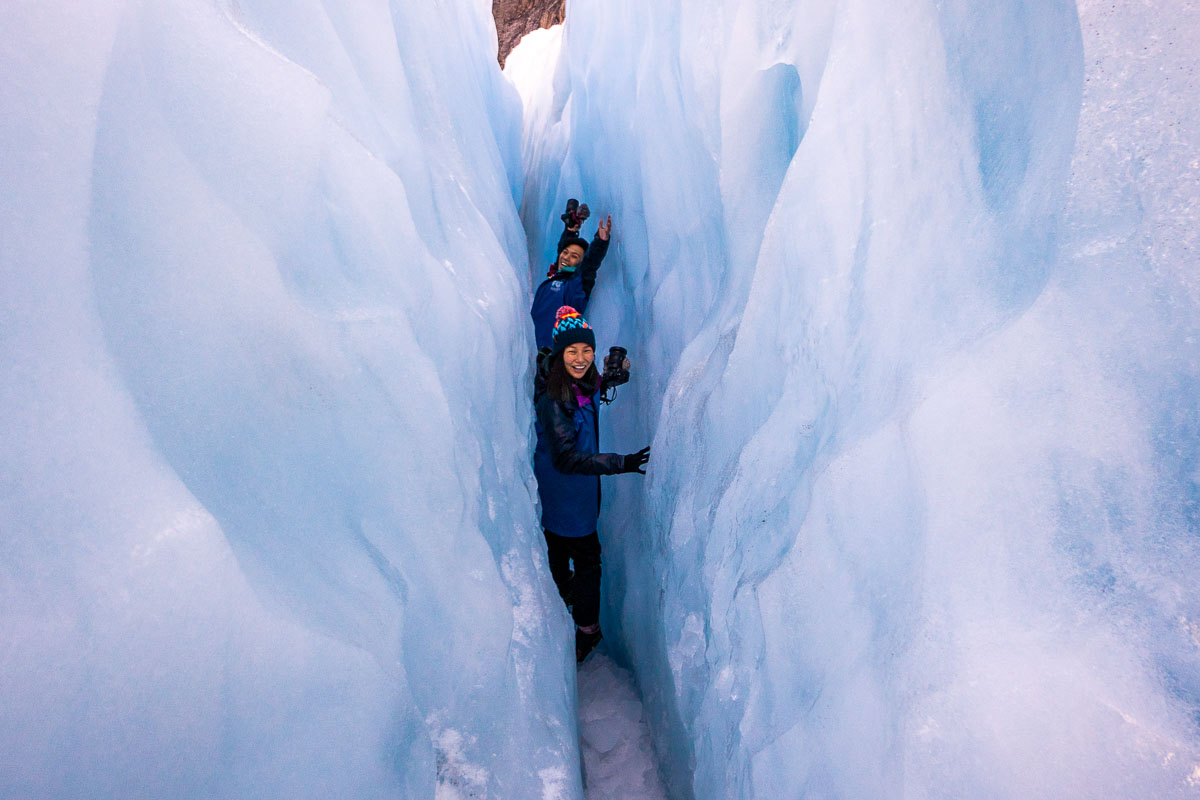 The only way through is sideways.
It's hard to say what you'll experience on the tour — the ice shifts every day, so every time is different! For us, we got to walk on ice, crawl through natural tunnels, and squeeze through narrow crevices. It's an alpine experience that's pretty tough to beat!
Cost: From ~S$498/pax via Klook
Tour timings: 8:50AM and 11:50AM (varies by season)
Meet-up point: 44 Main Road, State Highway 6, Fox Glacier 7951, New Zealand
Most Iconic Hike
North Island: Tongariro Alpine Crossing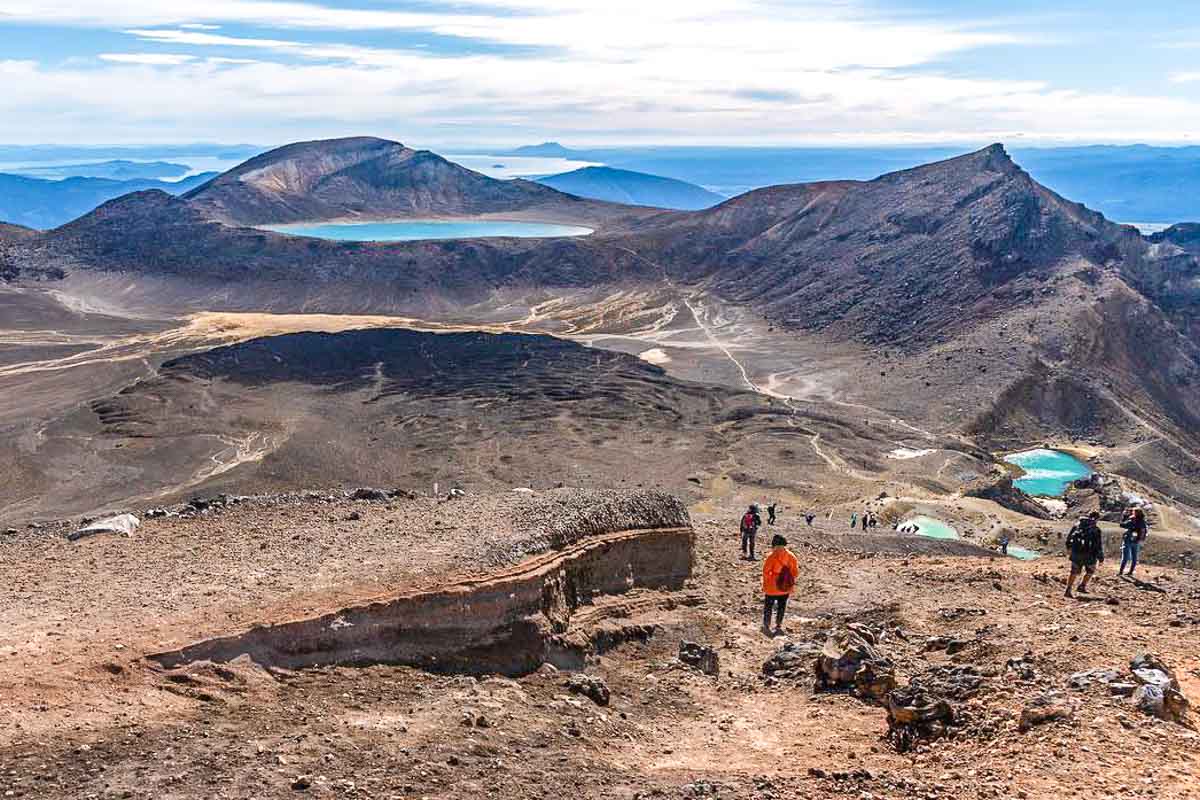 Photo credit: @nicklef99 via Instagram
A lot of hiking trails in New Zealand vie for the title of the "best hike", but the Tongariro Alpine Crossing often takes the cake in the North Island. It's a strenuous hike, and requires appropriate hiking gear (especially in winter).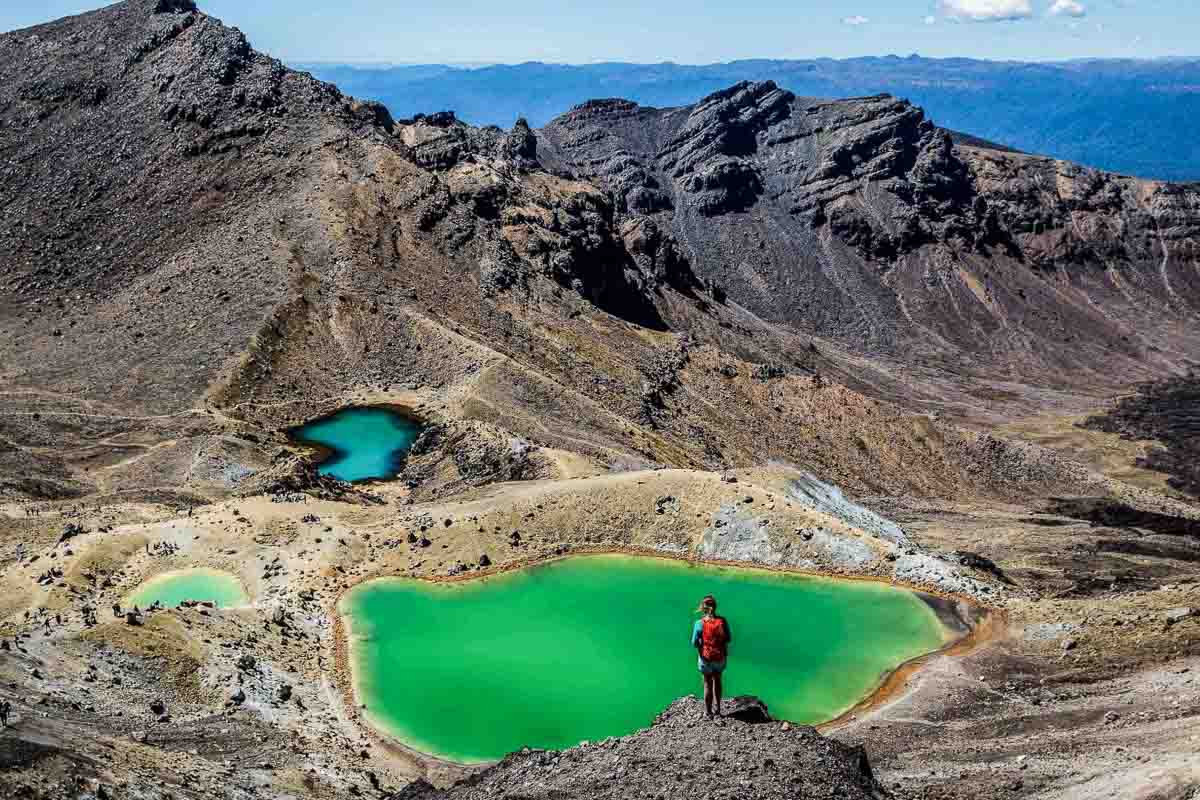 Photo credit: Adventure.com
The hike passes a series of terrains from calm grasslands, down to thermal pools, and up to rocky volcanoes (one of which is the infamous Mount Doom). It's a fantastic hike, especially if you enjoy dynamic landscapes and difficult walks that offer high rewards.
There's also the option of staying overnight in Tongariro so you have more time to take in the views!
Hike Time: 6 – 8 hours one-way (19.4km)
Parking: 4hr time limit at both Mangatepopo and Ketetahi carparks. Hikers will need to arrange for transportation (shuttle bus) at either the start or end of their hike.
South Island: Roys Peak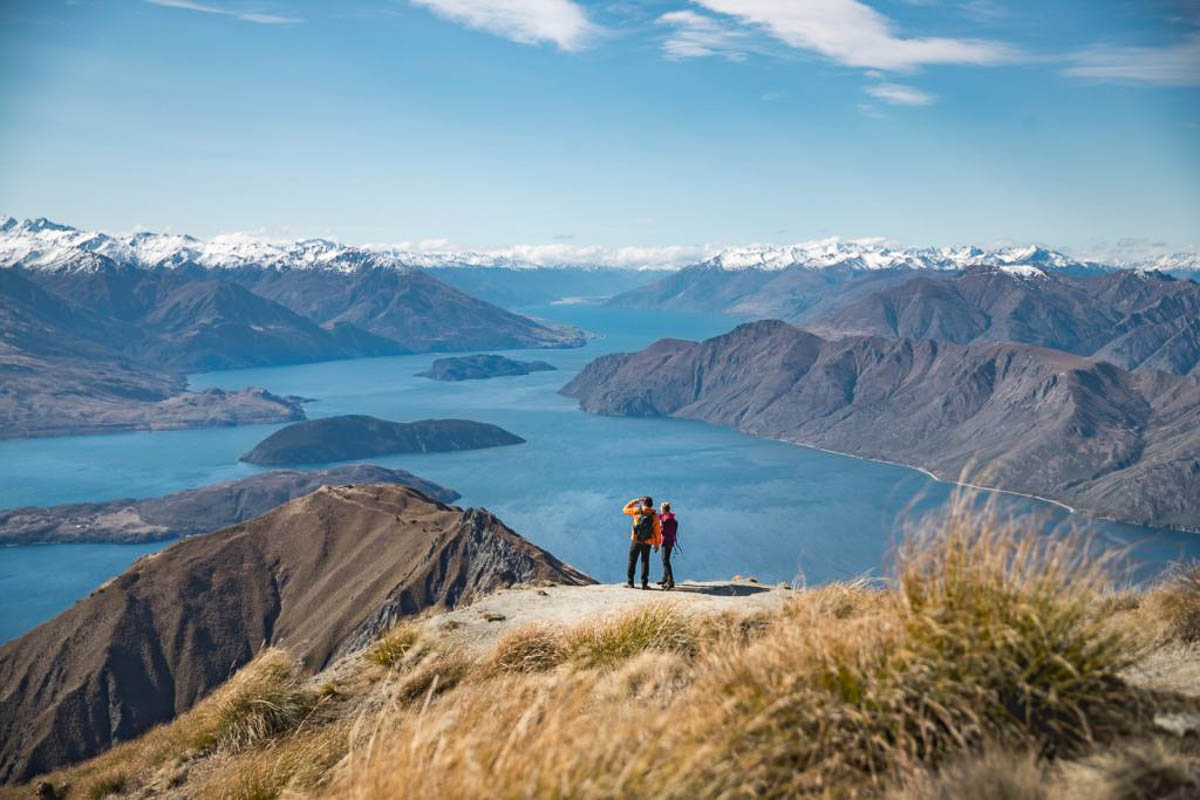 Photo credit: Tourism NZ
One of the best things to do in NZ is hiking, Roys Peak, arguably the most photogenic trails . It's a challenging 6-hour return hike, with a steep incline on a well-formed path.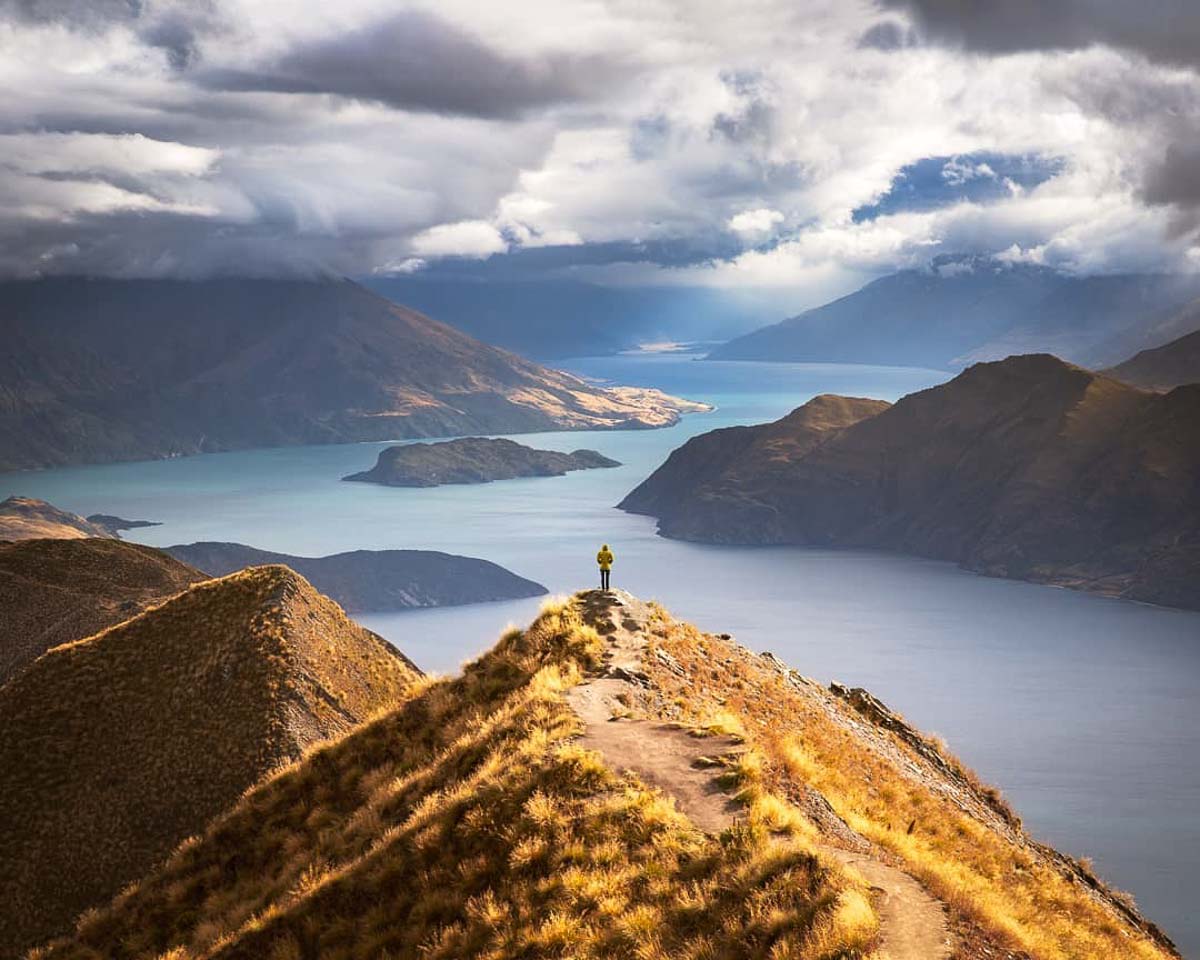 Photo credit: @sam_blandford via Instagram
The path steadily winds past private meadows and grasslands. At the summit, you'll have panoramic views of Wanaka and Glendhu Bay on a clear day. On a cloudy day, though, you might find yourself standing above a blanket of clouds.
Hike Time: 4 – 6 hours round trip (16km)
Parking: Ample free parking available at the carpark off Mount Aspiring Road
Annual Closure: 1 Oct – 10 Nov
Best Place to Eat (Like, Ever)
North Island: Hangi at the Mitai Maori Village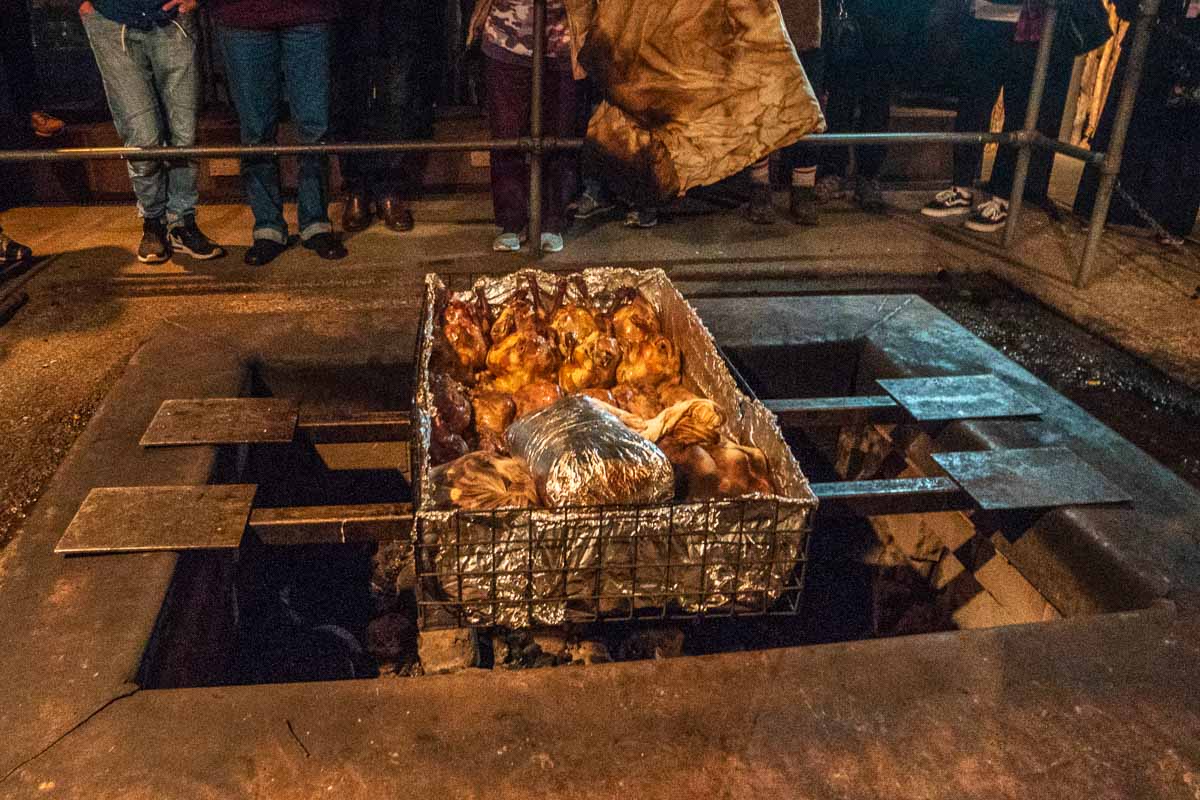 Fresh from the earth oven!
When in the North, don't pass up the opportunity to learn more about Maori culture, and (of course) savour their food (or kai, in Maori)!
For the whole shebang, spend some time at the Mitai Maori Village in Rotorua. Along with cultural performances, the evening tour includes a traditional hāngi feast. Explained by our guide, kai is cooked in an "earth oven" — an underground pit filled with heated river rocks.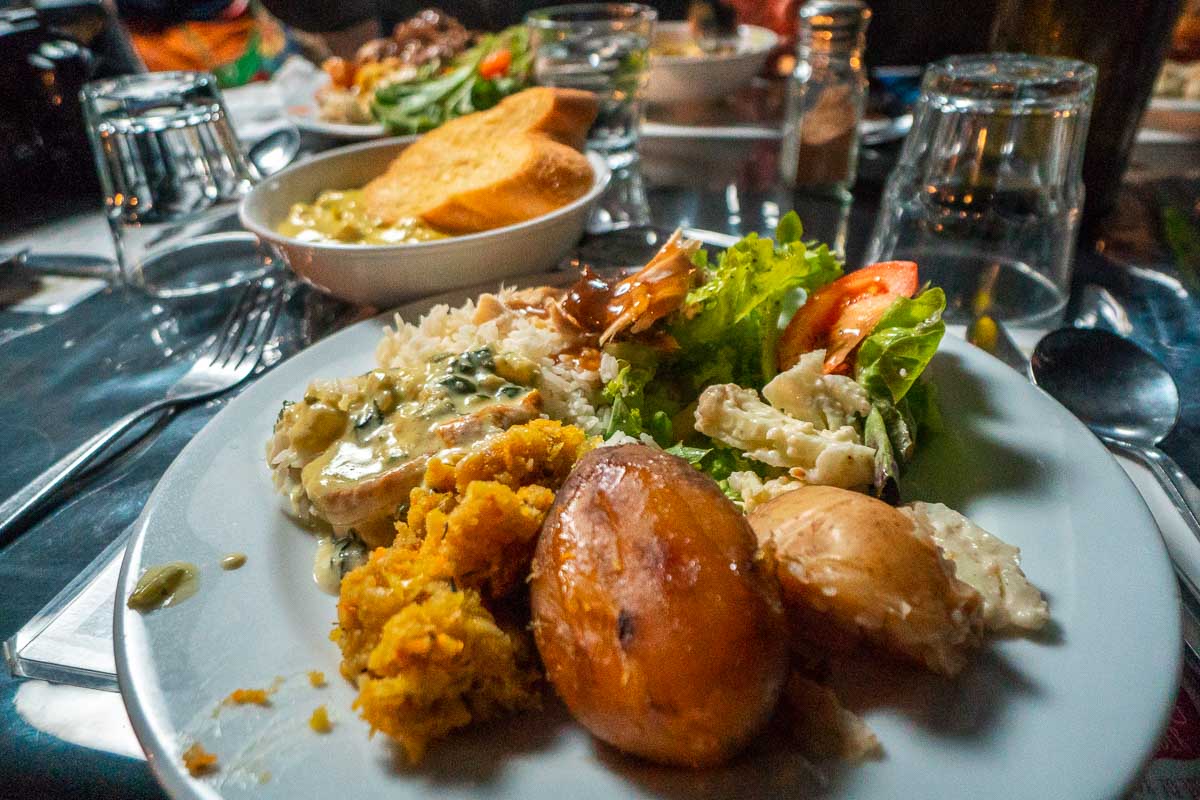 Once done, kai is served buffet-style. Must-tries include tender hei hei (Maori for chicken), lamb, kumara (sweet potatoes), and regular potatoes. Above all, save room for dessert! Trying the pavlova (supposedly New Zealand's national dessert) and the decadent chocolate cake shouldbe in your list of things to do in NZ.
Cost: From ~NZ$129 (~S$116)
Showtimes: 5:30PM (Apr – Sep), 6:30PM (Oct – Mar)
How to get there: A complimentary shuttle bus picks you up from your Rotorua accommodation. Alternatively, self-drive to the village (arrive 20 minutes before showtime) — from Rotorua i-SITE Visitor Information Centre, drive 13 minutes to Lake Rd, then onto SH 5.
To learn more about New Zealand's cultural landscape, read our 5-day North Island itinerary here!
South Island: Fergburger at Queenstown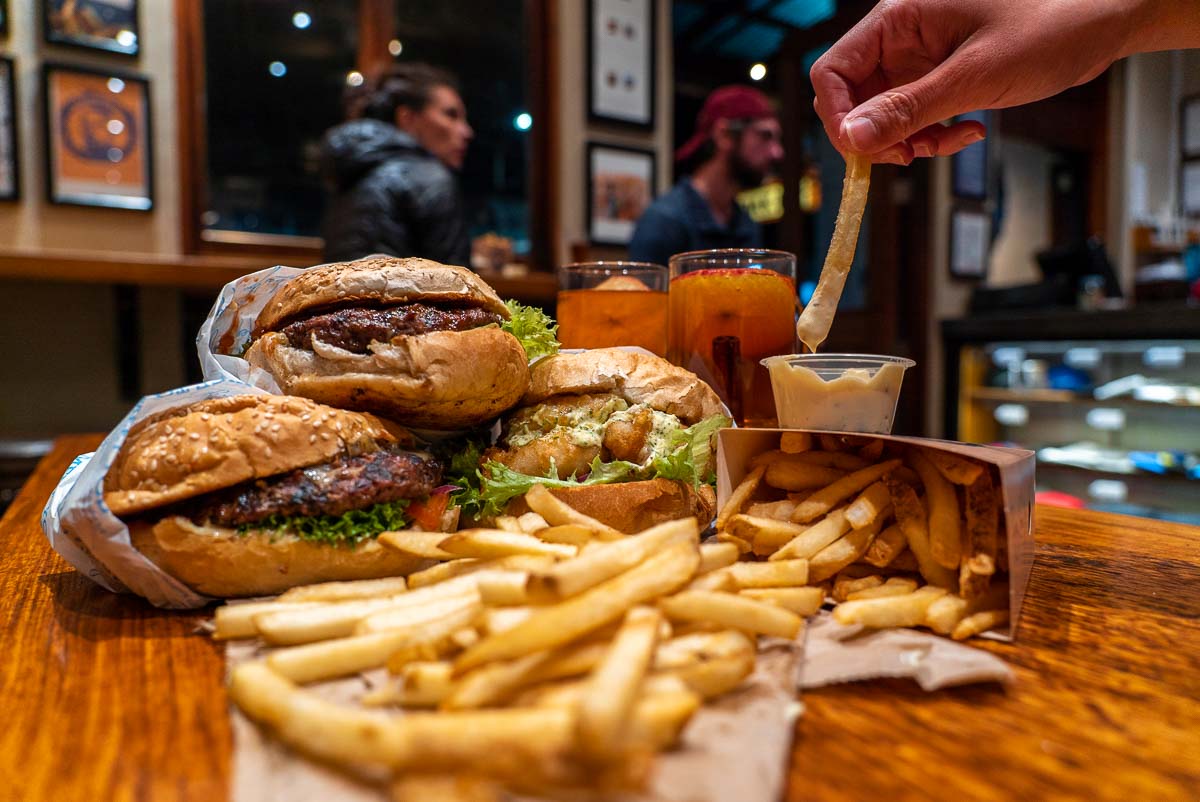 Eating the best burgers in Queenstown (and the whole New Zealand!) should be in everyone's list of things to do in NZ. Till this day, we literally still dream about these bad boys.
The gourmet burgers at Fergburger come to you freshly made, and in generous portions that are perfect for sharing.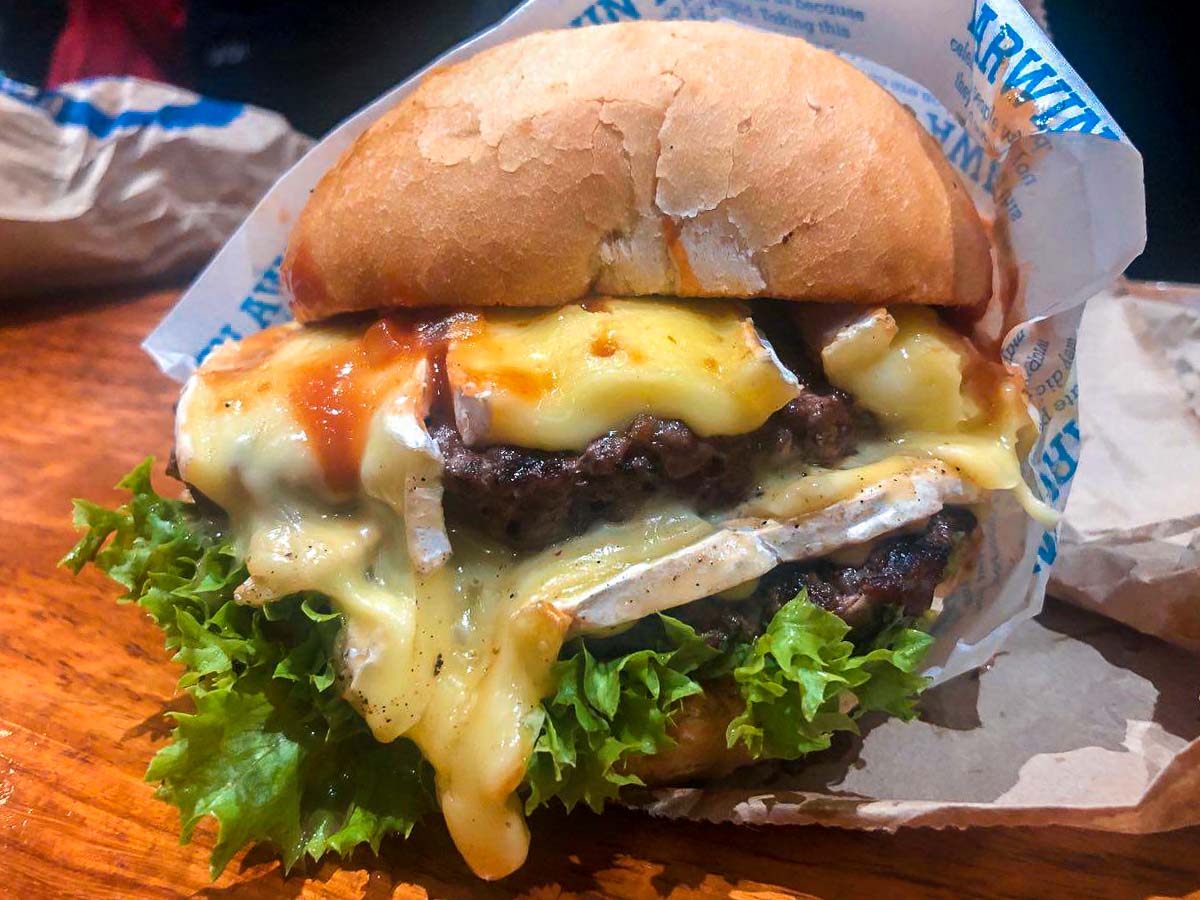 So big, it barely fits the frame!
We had a greasy good time with a double beef & cheese Fergburger (~NZ$16.40, ~S$14.70). No skimping on ingredients here — this monstrous masterpiece comes with two juicy patties, crunchy veggies, and an obscene amount of cheese. Trust us: you'll walk away very happy.
Cost: From ~NZ$11.50 (~S$10)
Opening Hours: 8AM – 12AM
How to get there: From Queenstown i-SITE Visitor Information Centre, walk 110m past Apex Car Rentals and Shotover Canyon Swing to Fergburger.

Most Awesome Value-for-Money Buy
North Island: Freeman & Grey's $5 Pizzas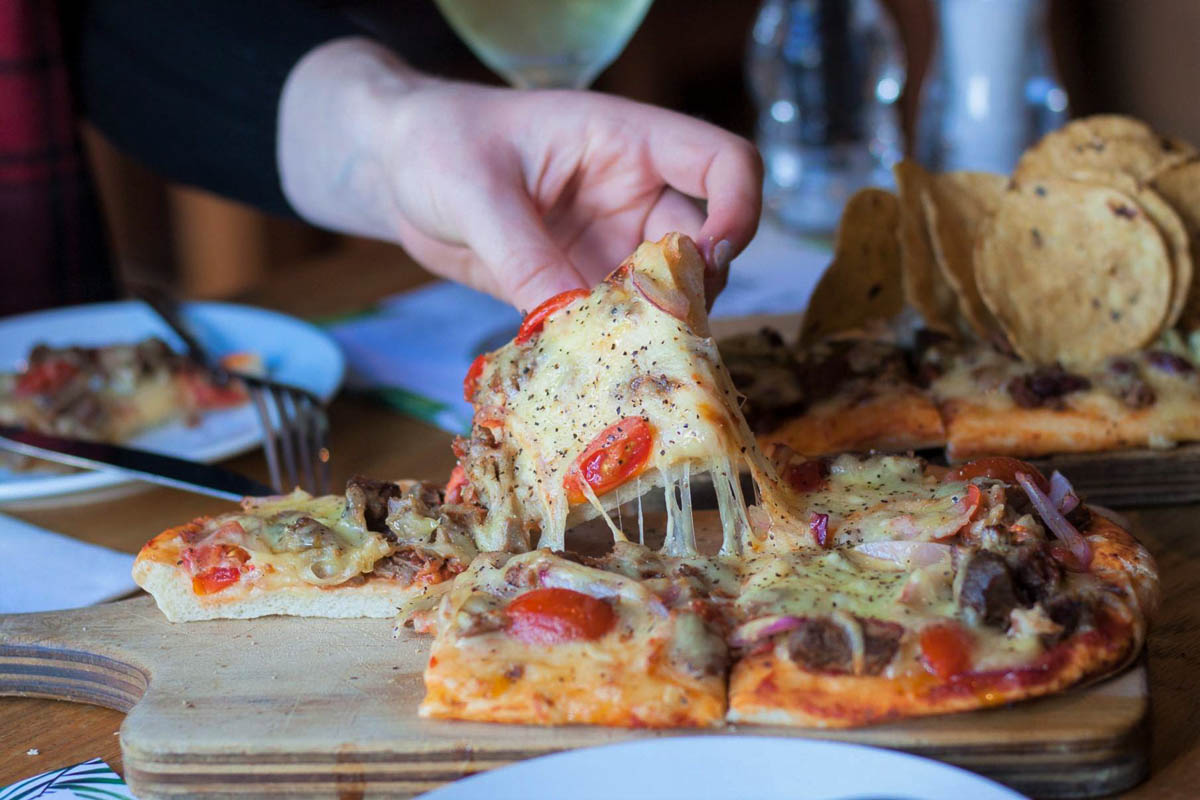 Photo credit: Auckland Magazine
You can't go wrong with pizza, and the folks at Freeman & Grey know this. The casual bar serves crispy NZ$5 pizzas daily from 12PM – 2PM, and 5PM – 7:30PM. Considering that pizzas there are about twice the price outside those hours, it's a good bargain. Try their most popular flavour — the Mirtillo e Brie (chicken, cranberry sauce, brie and mozzarella).
Opening Hours: 12PM – 11PM, closes 3AM on Fridays and Saturdays
How to get there: From Britomart Transport Centre, exit the station and walk 4 minutes to Customs St West/Queen St bus stop. Take bus 105 for 7 stops to 90 Ponsonby Rd. Freeman & Grey's is opposite the road (Google Maps)
South Island: Mount Cook Alpine Salmon Sashimi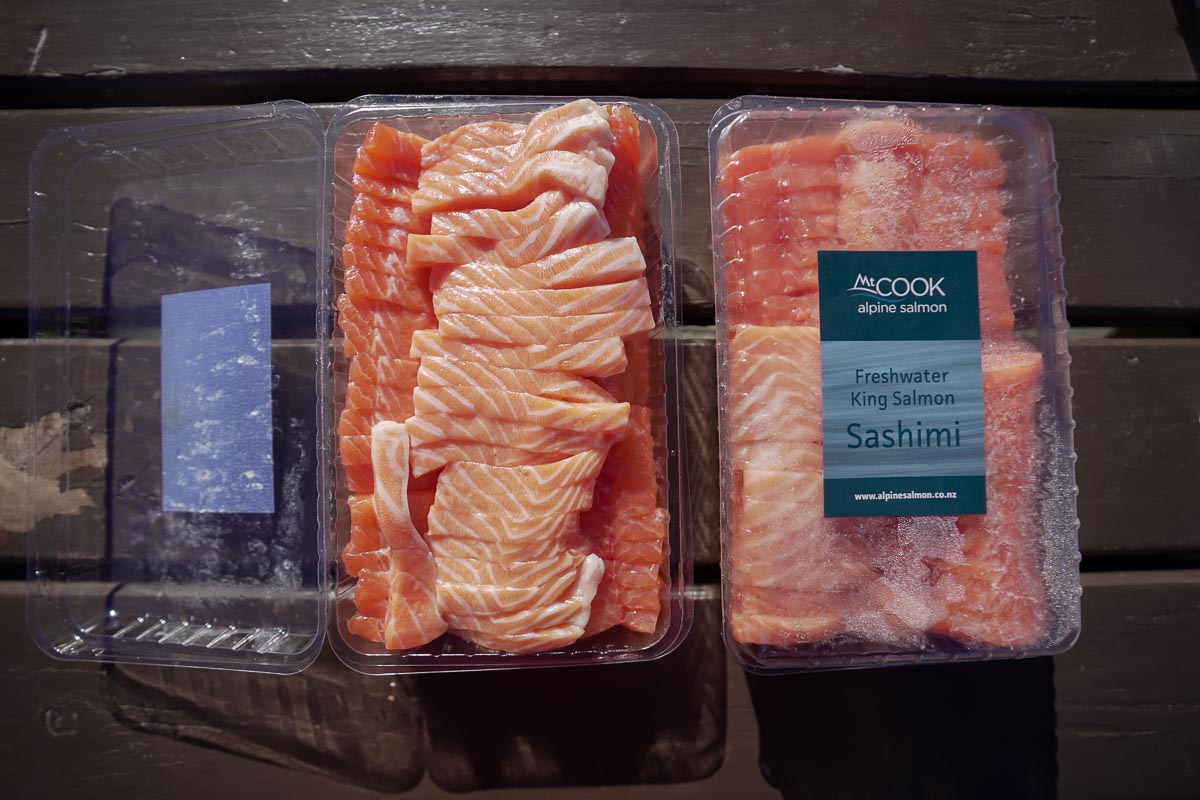 How's this for (second) breakfast?
Anyone who adores salmon sashimi should prime their wallets. Mount Cook Alpine Salmon is a small shop that sells freshwater king salmon that was raised in New Zealand's Southern Alps. Despite its price, tasting this should be in your list of things to do in NZ.
While there are smoked salmon and whole fillets, the sweetest buy was the sashimi. A 500g box of these thick, fatty salmon costs NZ$38 (~S$34), and we were lucky enough to score a one-for-one deal. That's 1kg of fish. An overkill in hindsight, but YOLO!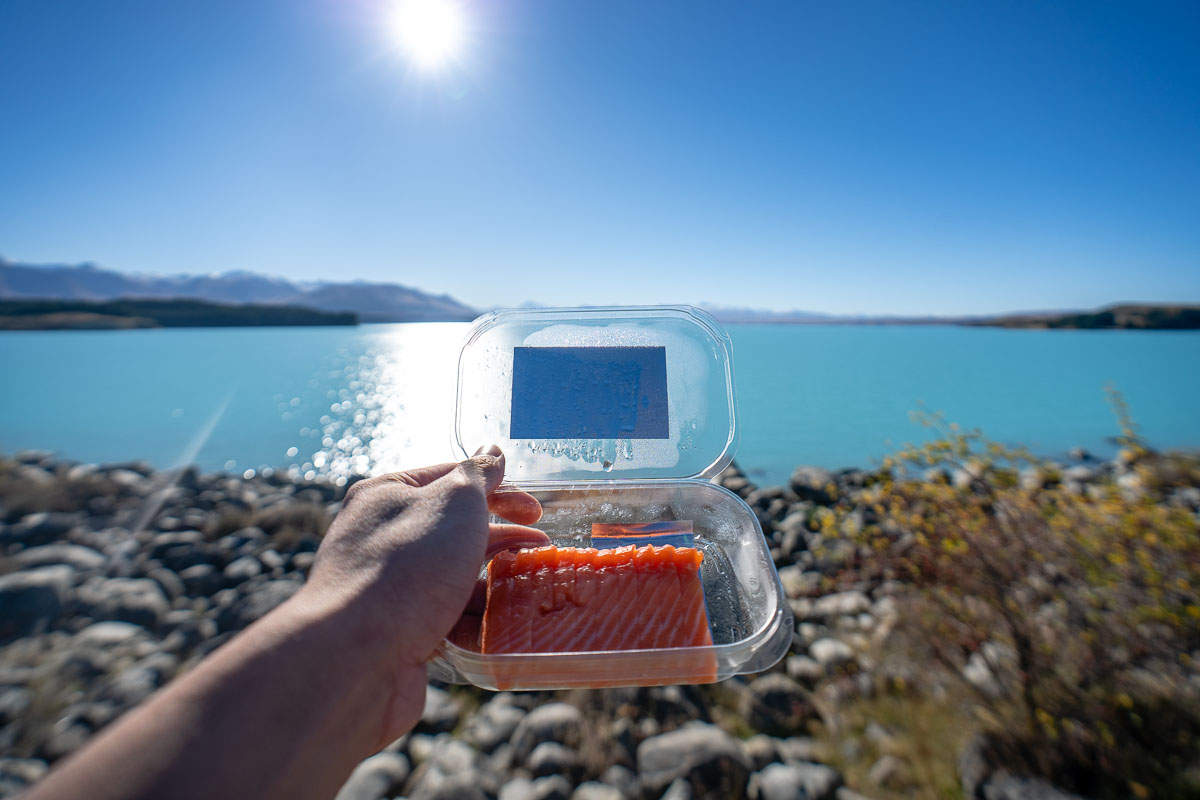 Opening Hours: 9AM – 5PM
How to get there: Drive along Tekapo-Twizel Rd to Lake Pukaki Information Centre. The shop is beside the centre.
Read also: New Zealand Budget Guide — 2 Weeks Under S$2,500
Most Unique Accommodation
North Island: Koura Lodge (Rotorua)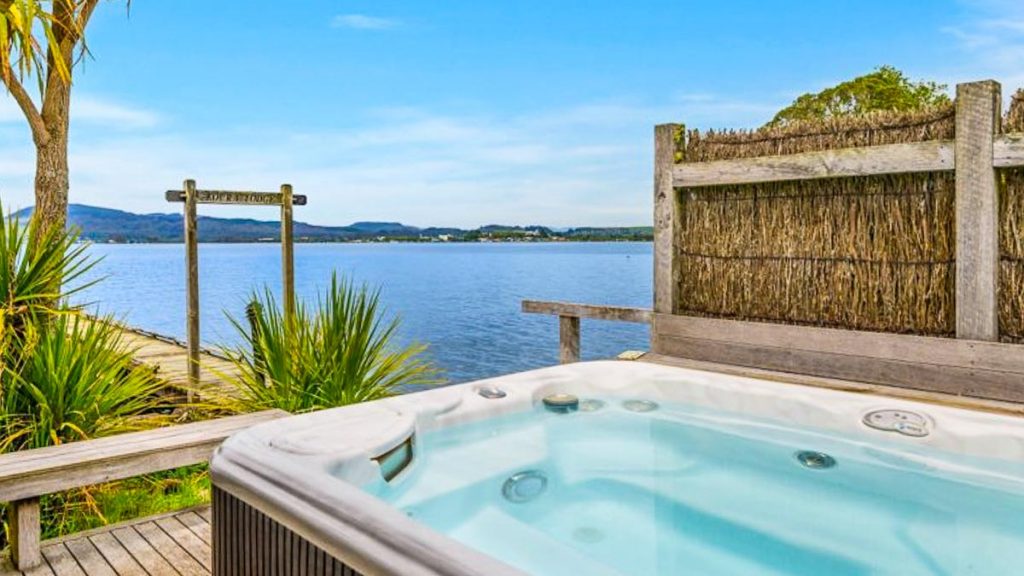 Photo credit: Klook
Koura Lodge invites you to soak in their lakeside open air hot tub as you take in 180 degree views of Lake Rotorua. Options to canoe, fish or kayak across the lake are also available.
The location is great — only a five-minute drive to the city centre where you'll find attractions like the Mitai Maori Village and Skyline Rotorua.
Cost: ~From S$257/night (2 pax)
How to get there: Take Bus No. 6 and stop at Aquarius Drive – Fronting No. 4. Walk 13mins to Koura Lodge. (Google Maps)
South Island: Kamana Lakehouse (Queenstown)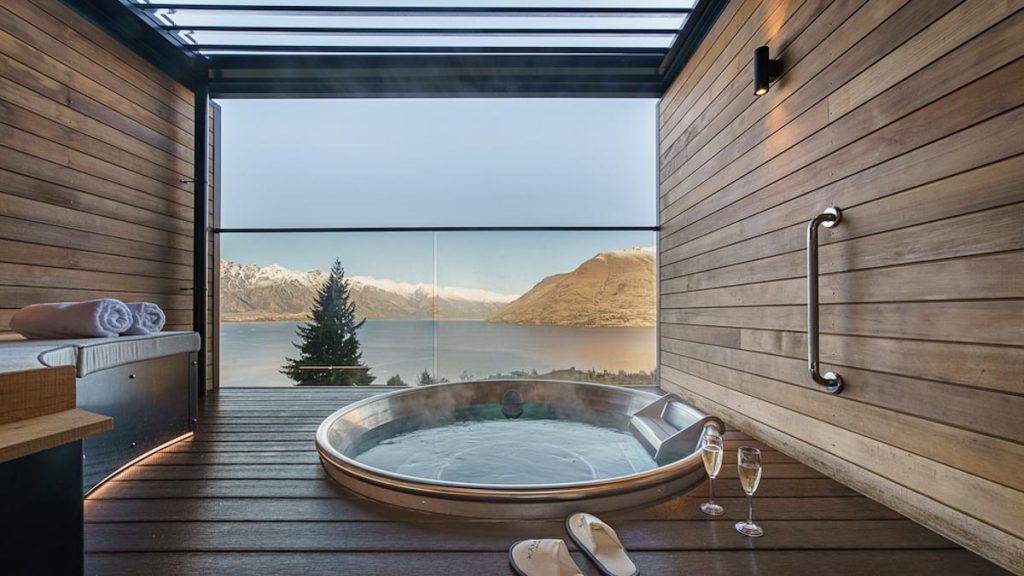 Photo credit: Klook
Just a 5-minute drive from the city, Kamana Lakehouse is one of the highest situated hotels in Queenstown. After an exciting day out, enjoy a relaxing soak in the Kamana Soak Tubs or step out onto their sundeck that promises scenic views of Lake Wakatipu — one of the most relaxing things to do in NZ.
Cost: From ~S$281/night (2 pax)
How to get there: 3min drive from Gilly's Point (Google Maps)
Best Place to Relax and Unwind
North Island: Kerosene Creek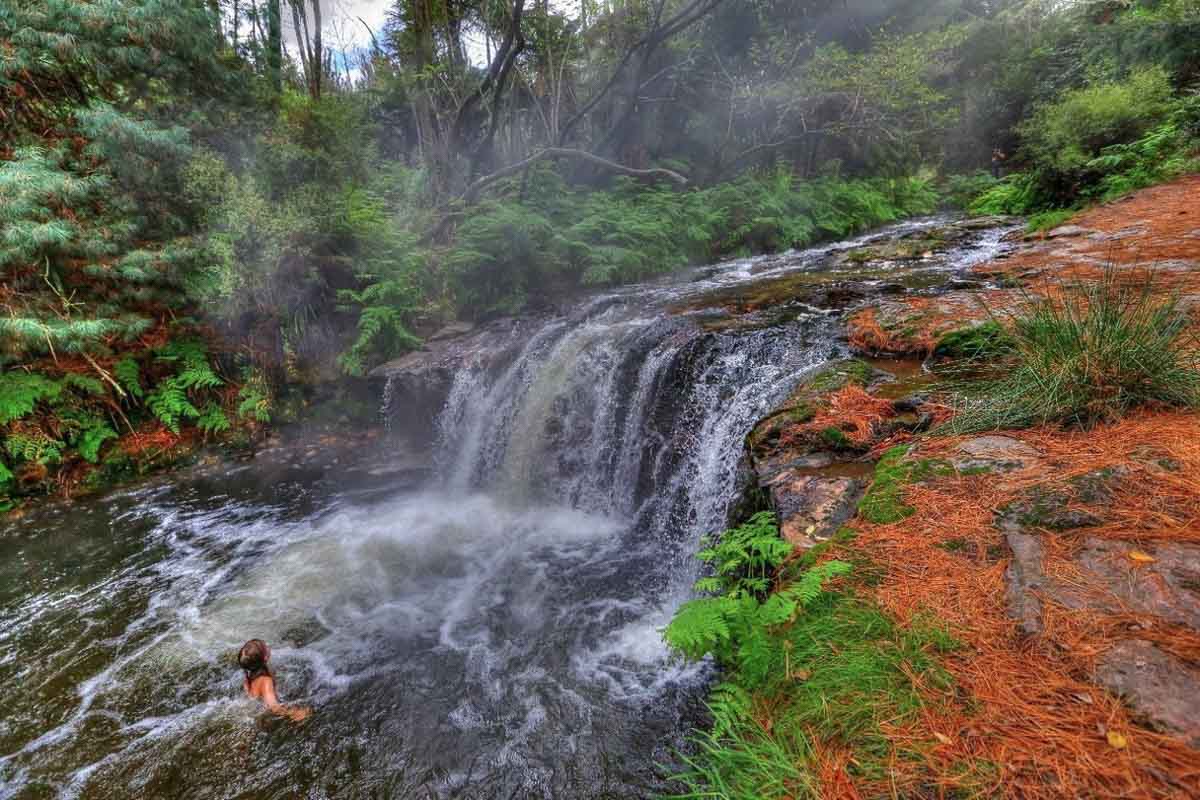 Photo credit: Trover.com
Despite the dubious name, Kerosene Creek is a well-known geothermal pool near Rotorua! Swimming here is one of the best free things to do in NZ in our opinion because of its roaring beauty. It's shrouded in a natural bush setting away from the main road, making it a great place for a quick dip and sightseeing.
Note that it's a natural, outdoor pool, so there are risks. Take safety precautions by keeping your head above the water, locking your vehicle, and taking your valuables with you.
How to get there: From Rotorua, drive on SH5 towards Waiotapu for ~27km. After passing Lake Ngahewa on your right, turn left onto Old Waiotapu Rd. Continue on the gravel road for 2.2km until you come across a gate. Follow a track from the carpark that leads to the creek.
South Island: Onsen Hot Pools in Queenstown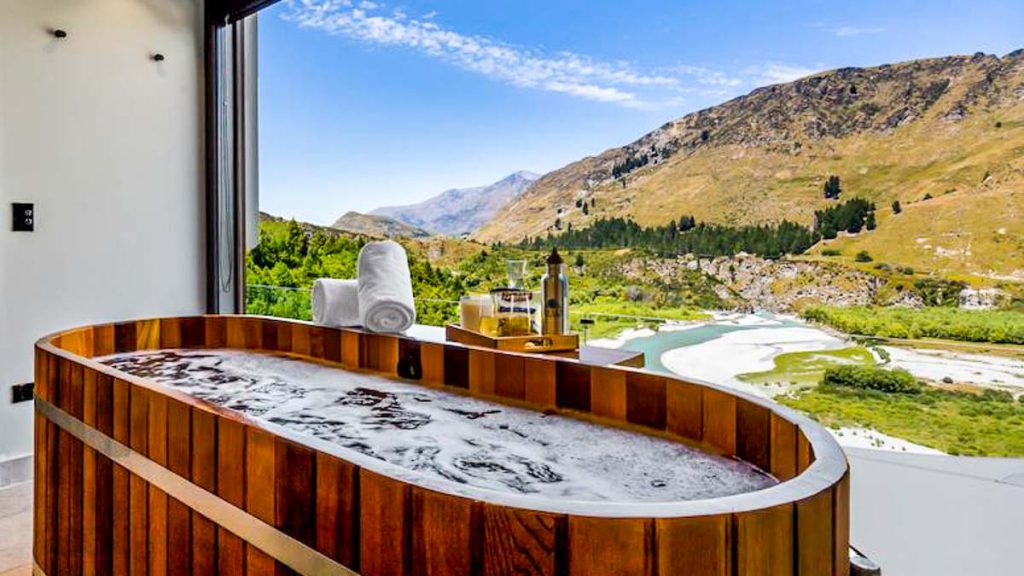 Photo credit: Onsen
We hope you like things hot! At the Queenstown Onsen Hot Pools, each of the 14 cedar-lined hot pools is heated to around 38.3°C and infused with earth minerals. Overlooking New Zealand's signature alpine scenery, the onsen is perfect for relaxing sore muscles and detoxifying the body amidst scenic views. A complimentary drink and snack are also provided as part of your 1-hour soak!
Cost: From ~S$70/pax via Klook
Opening Hours: 9AM – 10PM (children not allowed after 5PM)
Address: 160 Arthurs Point Road, Arthurs Point, Queenstown, New Zealand
Most Instagrammable Photo Spot
North Island: Cathedral Cove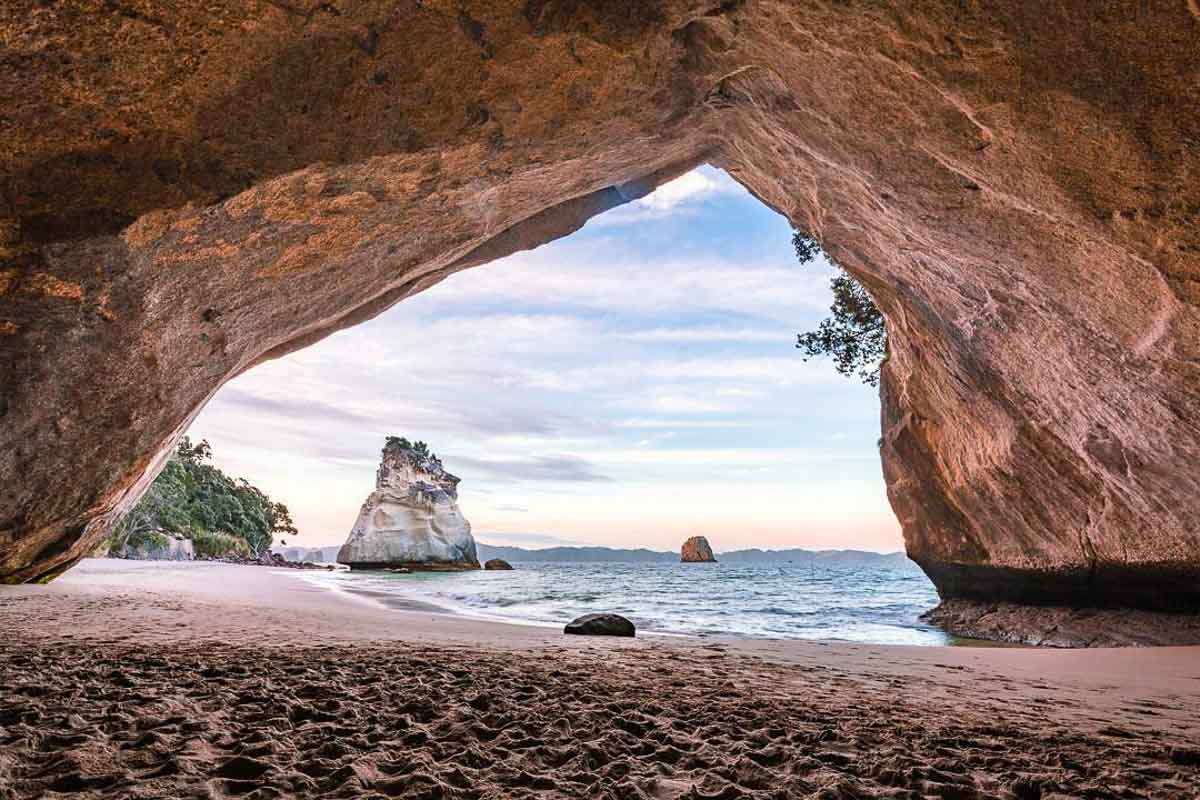 Photo credit: @egalhauptsacheweg via Instagram
Cathedral Cove is a famous spot for both photographers and beach bums. Located at the scenic Coromandel Peninsula, a coastal walk leads to a natural arch, where a pristine shoreline and iconic rock formations lie in the distance. The stunning scenery was also featured in The Chronicles of Narnia.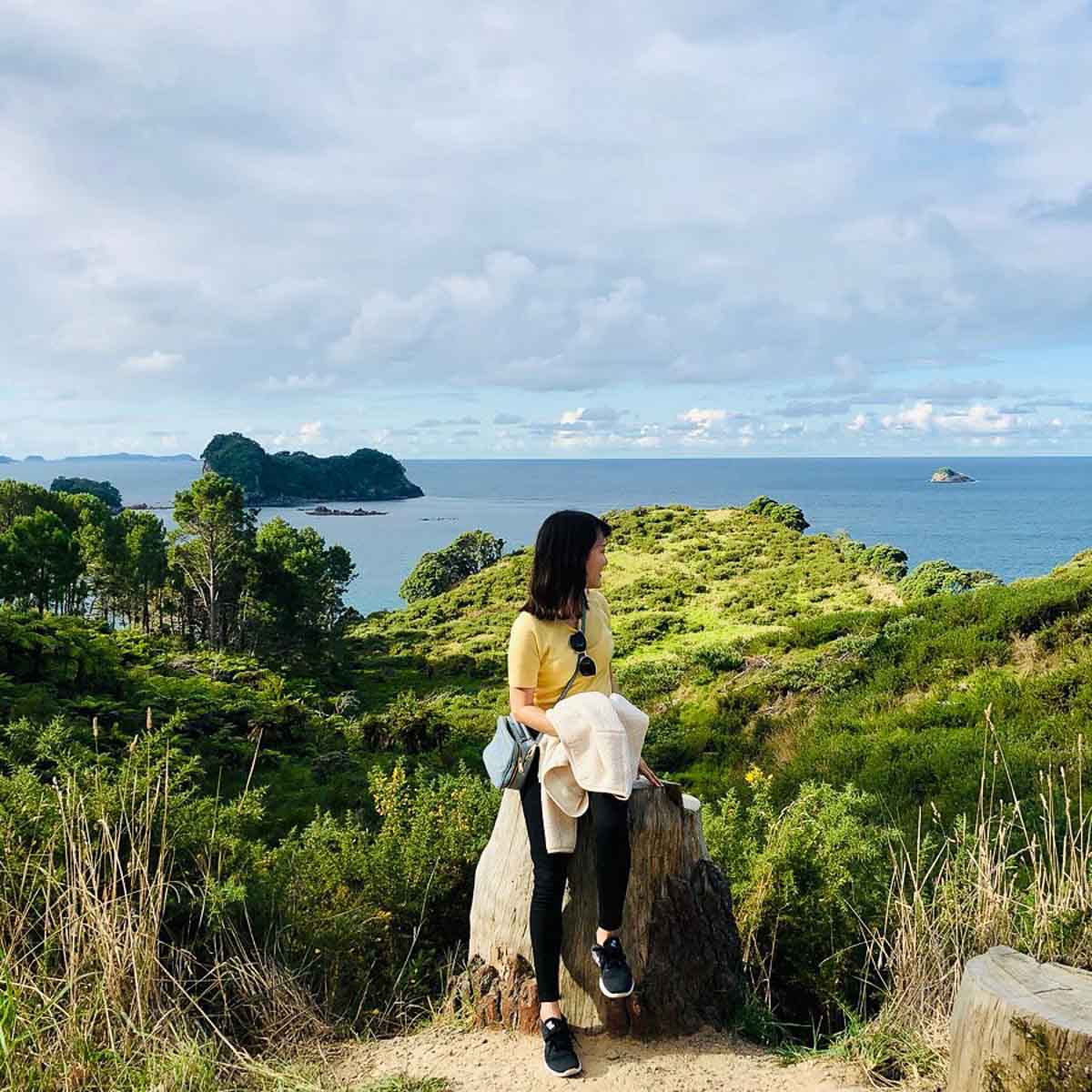 Photo credit: @yoonji_lia via Instagram
The cove can be accessed on foot or by sea via a boat/kayak. The walk is fairly easy, and passes by a couple of bays where you can swim and snorkel in.
Hike Time: 1.5hrs round trip (~2.5km)
How to get there: Carpark is permanently closed at the start of the trail. Park at one of the nearby houses for a fee, or at Hahei town. From the latter, take a shuttle (NZ$5 for a return ticket) or walk 1.5km to the start point.
South Island: Lake Marian
This is one of the most fun things to do in NZ just to snap some IG-worthy photos! Hidden away near the amazing Milford Sound is Lake Marian, a lake in the middle of a valley that reflects its surrounding mountains. You'll have to work for these views, but the views are well worth it.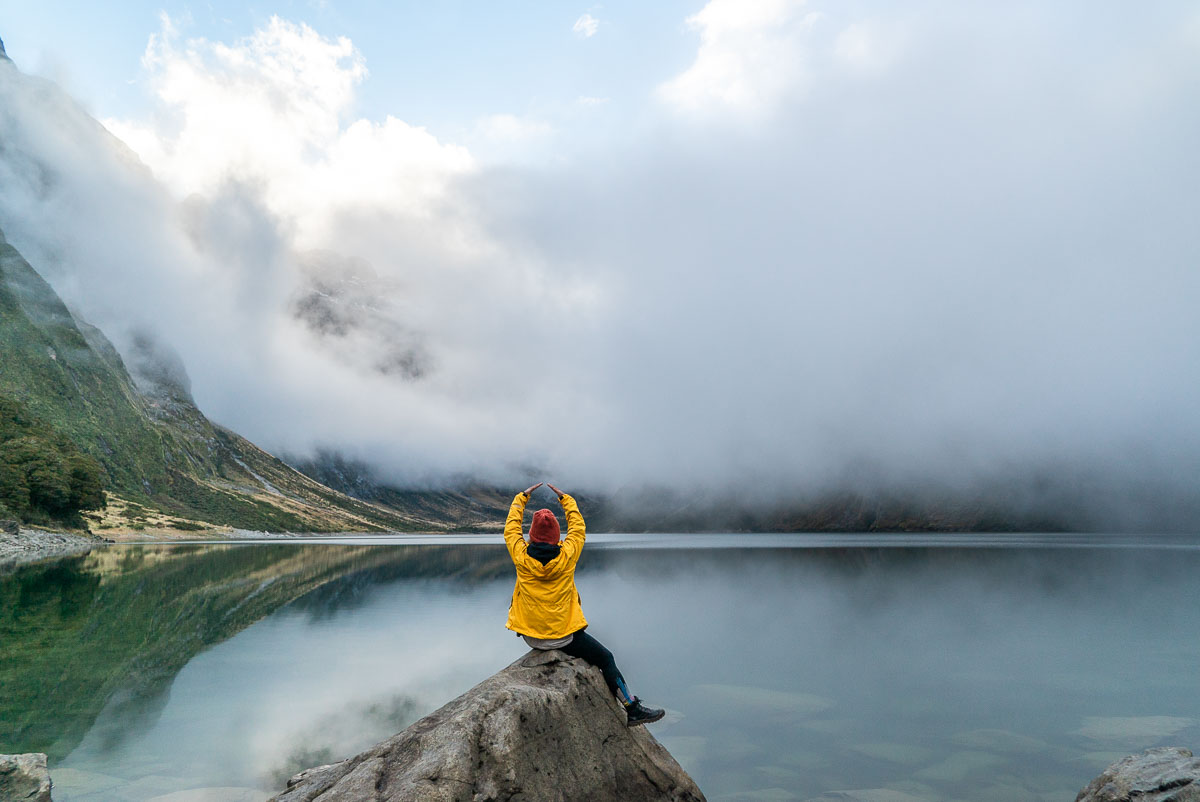 Pretending to be the mountain until the fog clears.
Do monitor the weather if you intend to go on this hike. If it's rainy, there may be fog that will conceal the mountain. Start your hike early so that you have ample time to wait for the fog to clear.
Hike Time: 3hrs round trip
How to get there: From Te Anau, look out for the Marian Corner turnoff on the right to get on the Hollyford Track. From Milford Sound, the sign is a lot more obvious.
Best Hidden Gem to Explore
North Island: Putaruru Blue Springs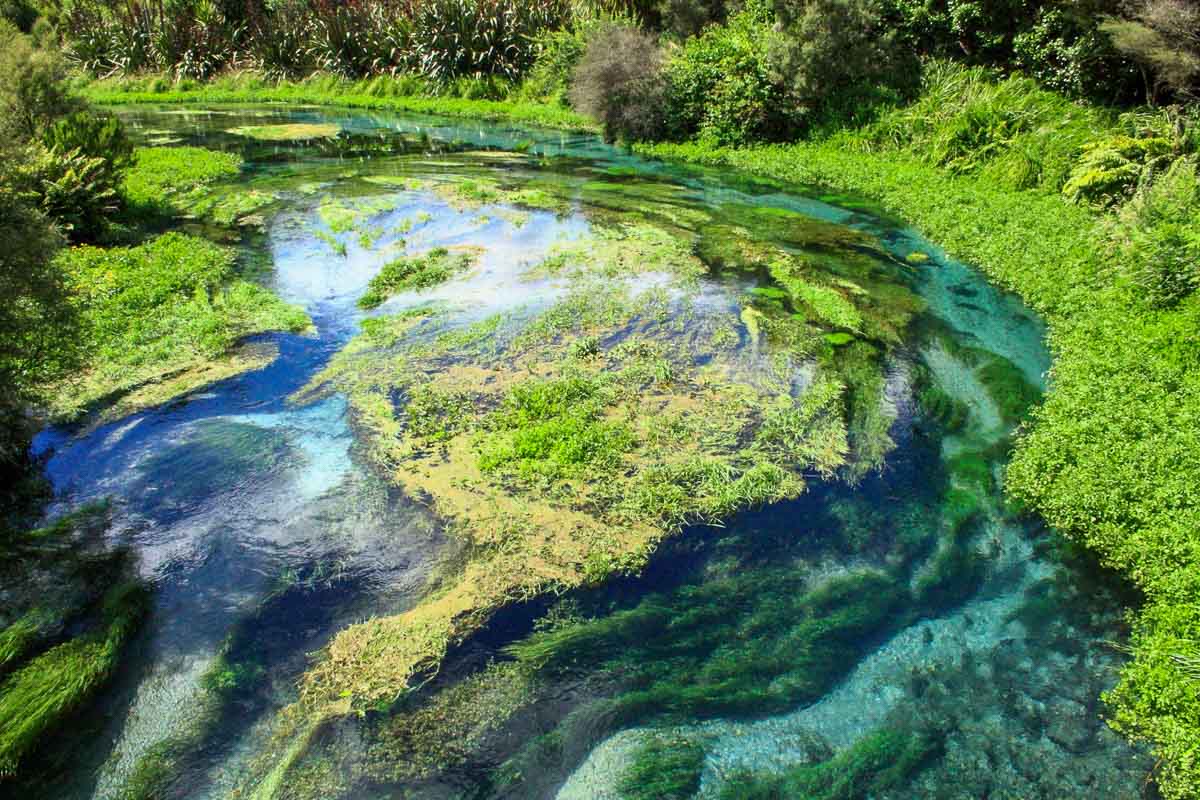 Photo credit: Waikatonz.com
The Putaruru Blue Springs is like an HDTV. The clear waters reveal the bottom of the spring with natural vegetation in almost virtual-like clarity.
Being filtered for about 100 years, the water is so clean that it supplies about 60% of New Zealand's bottled water. The site is steadily gaining popularity, but definitely warrants a visit. You can either do a short 15-minute walk, or complete a full three-hour journey on the Te Waihou Walkway.
How to get there: From Putaruru, drive for five minutes via SH28 to the Whites Rd carpark for the Te Waihou Walkway. For the shorter trail, drive for 11 minutes to Leslie Road carpark.
South Island: Cave Stream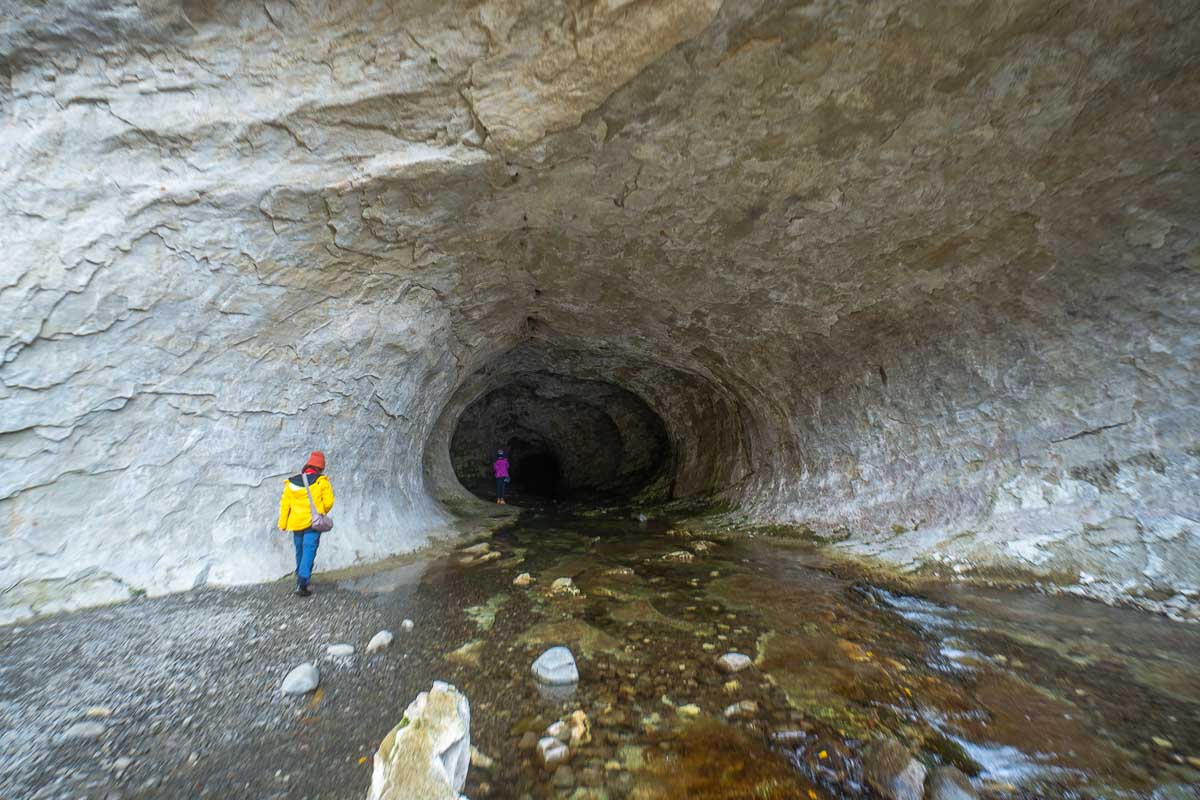 You best wear waterproof shoes for this!
Recommended by a local who works nearby, the Cave Stream Scenic Reserve allows enthusiastic explorers to venture into an underground cave — totally free!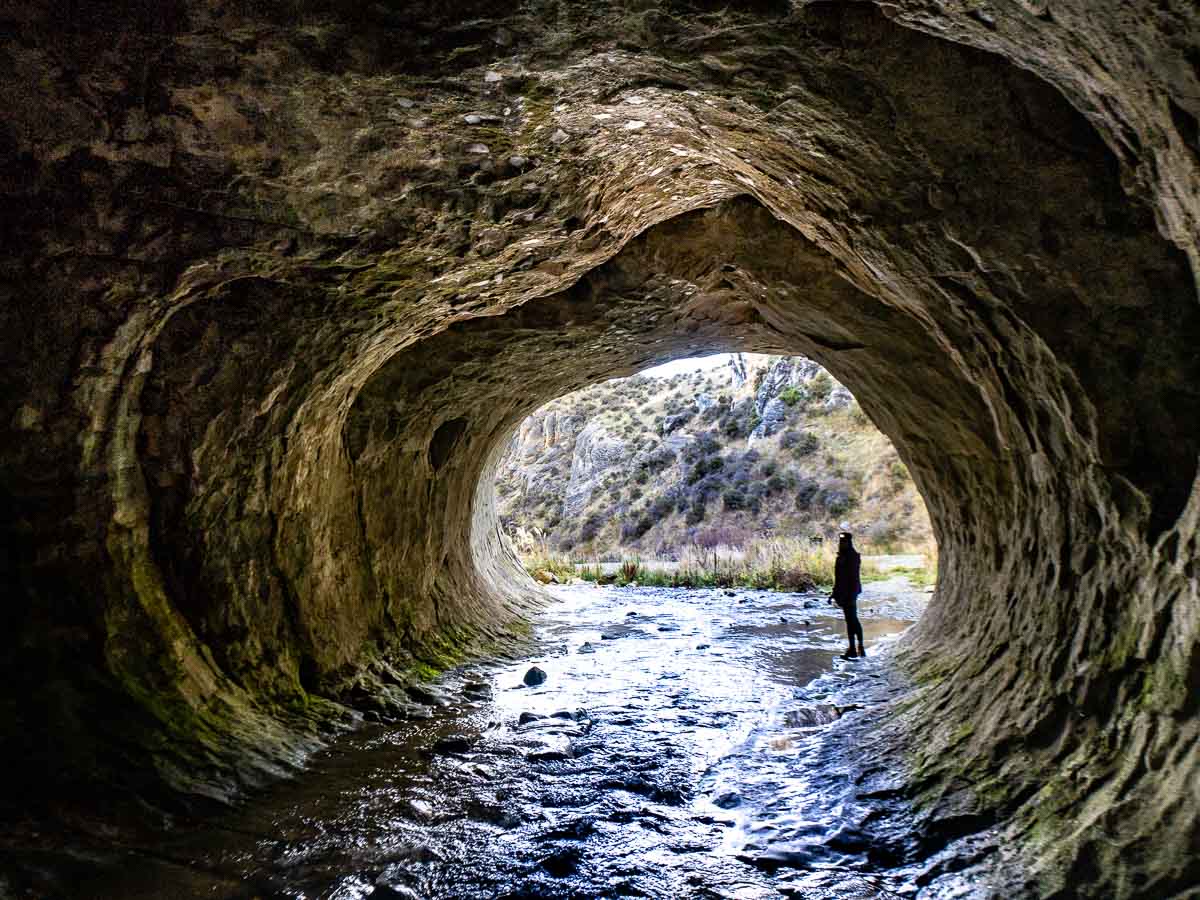 Inside the pitch-black cave, the path is 594m long with many small waterfalls and rock formations. The water level is usually knee to waist-deep and can be extremely cold in the winter, so be adequately prepared if you plan on going in. Otherwise, standing at the mouth of the cave is just as amazing!
How to get there: From Kura Tawhiti/Castle Hill Conservation Area, drive 7 minutes towards Craigieburn Forest Park on SH 7. The entrance to Cave Stream is a sharp right along a bend.
Best Urban Panoramic Views
North Island: Auckland SkyWalk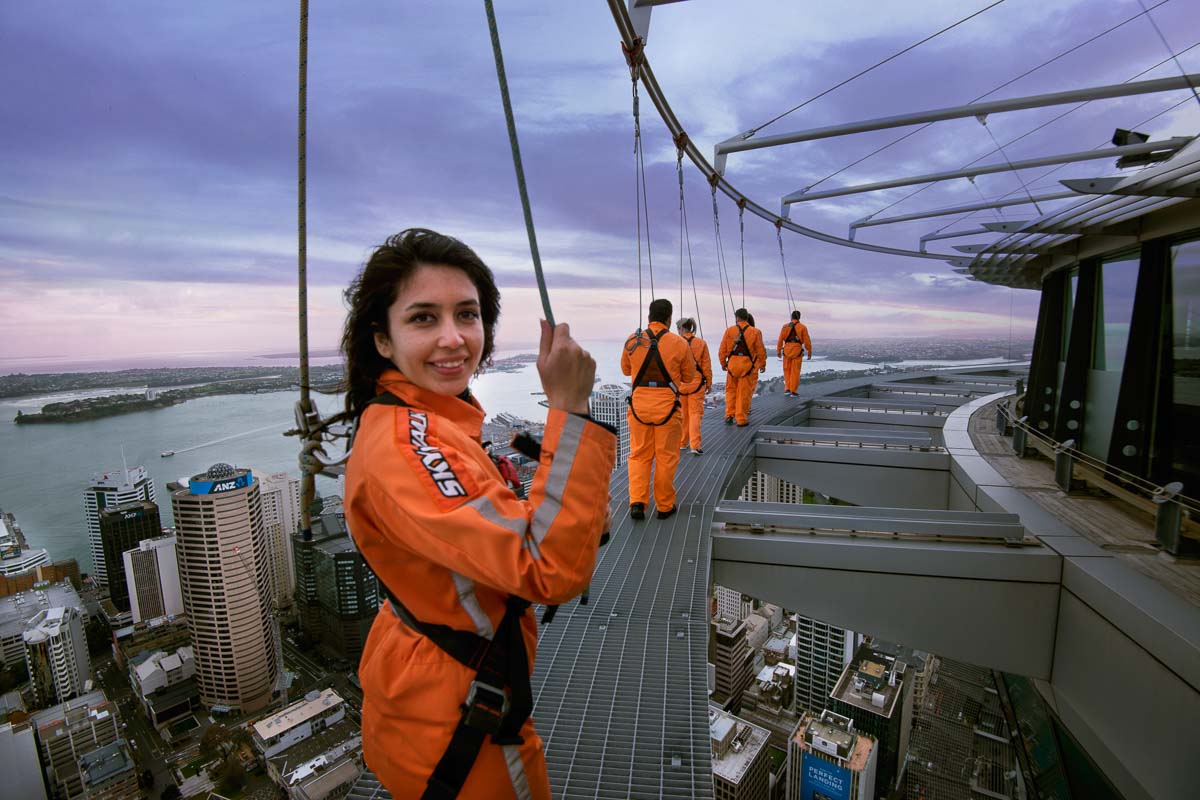 Photo credit: Bungy.co.nz
One of the best things to do in NZ is visiting its tallest building: the Auckland Sky Tower. It offers offers amazing views of the City of Sails; you can admire them from behind glass panels at the observation deck, why not do it out in the open?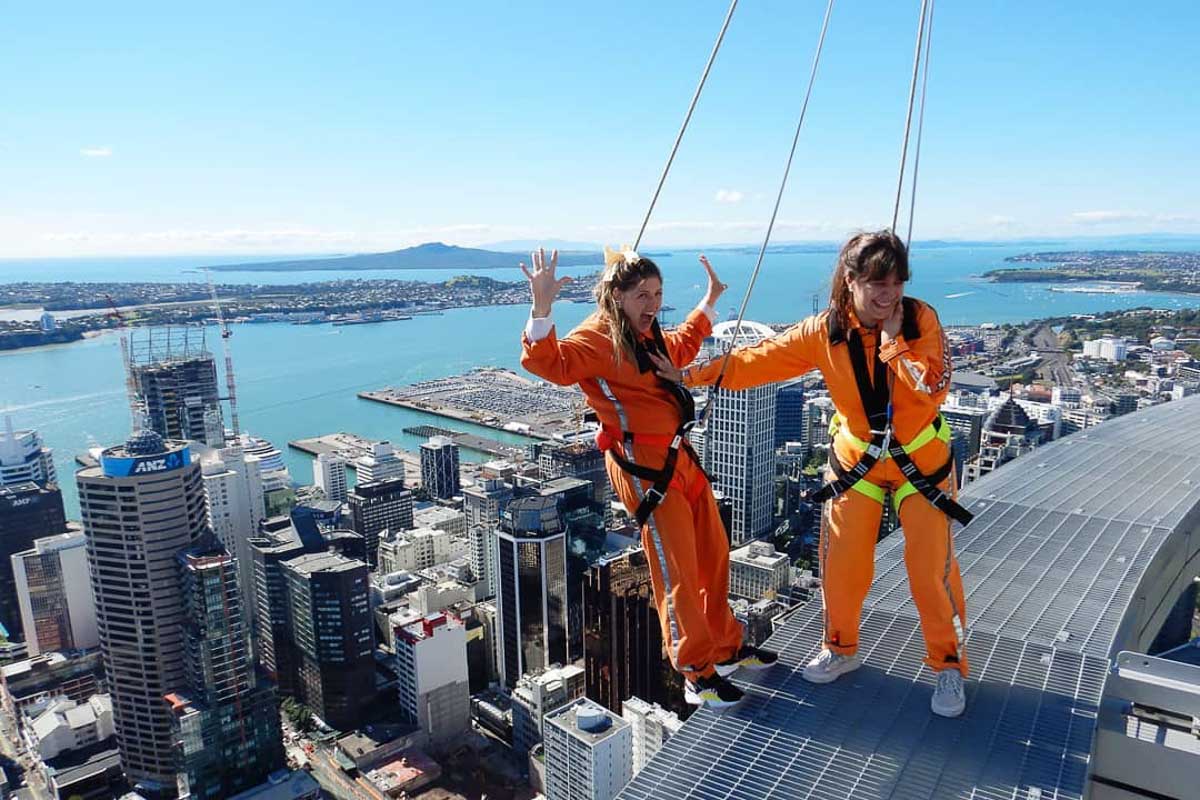 Best way to cure those fear of heights! Photo credit: @wabyjeje via Instagram
Take a walk below the clouds on the SkyWalk, which stands at a jittering 192m above ground. Secured by harnesses, you can bet you'd get even better 360° views of Auckland — especially when you're leaning out over the edge!
Cost: From ~S$129/pax via Klook
Operating hours: Every 30 minutes from 10AM – 5PM
How to get there: From Britomart Transport Centre, walk 10 minutes to the Auckland Sky Tower. Then, take the escalators downstairs and follow the signs to the SkyWalk counter.
South Island: Skyline Queenstown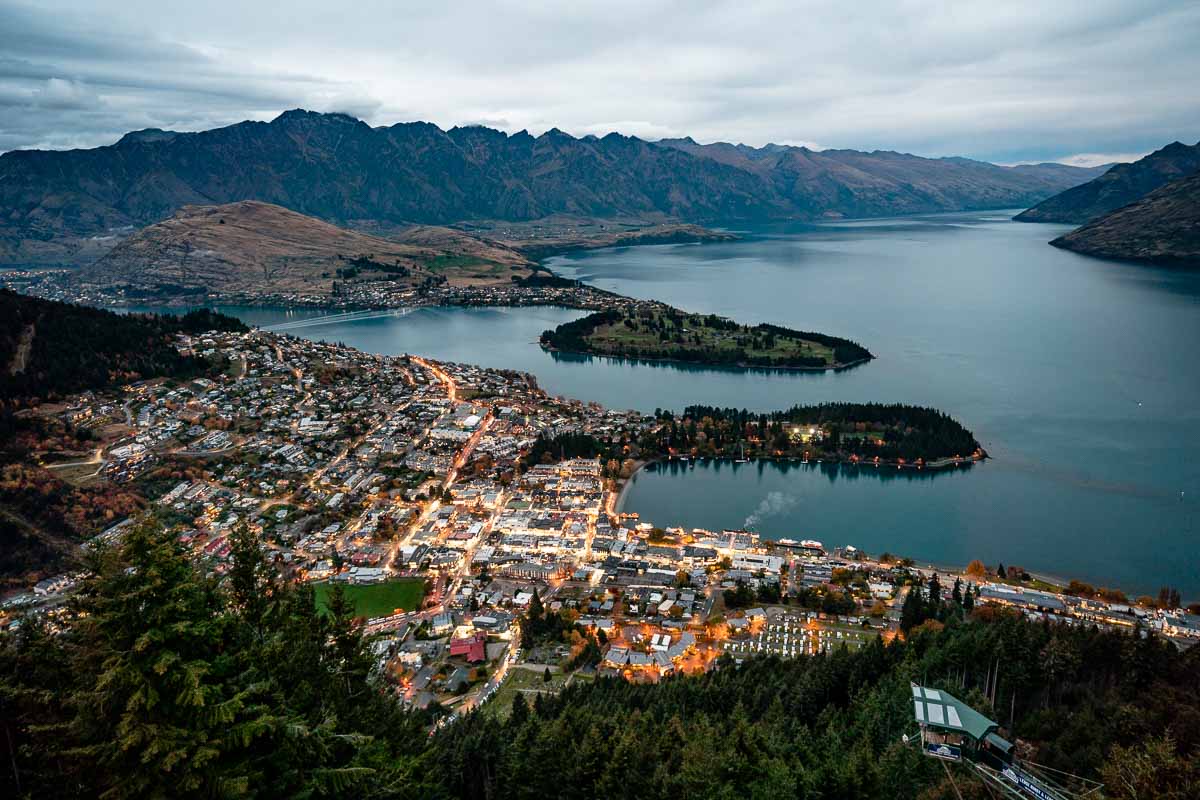 It's no doubt that Queenstown is a beaut. But the most picturesque views can be captured at Skyline Queenstown. To get there, hop on an easygoing gondola ride up to the Skyline complex, perched on Bob's Peak. You'll get unobstructed, panoramic views of Queenstown, Lake Wakatipu, and the surrounding mountain ranges.
We recommend reaching the complex before golden hour to chope the best spots! It's a treat to watch Queenstown illuminate in the fading light.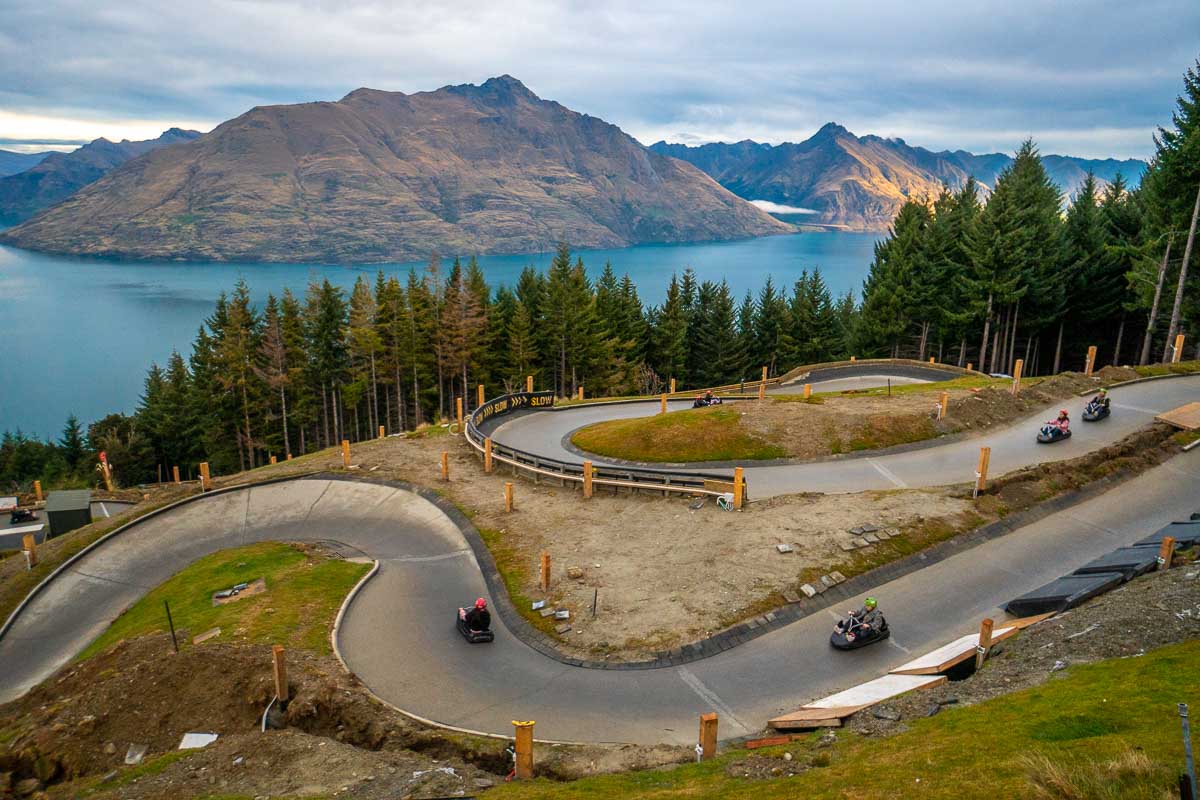 As a bonus, you can also complement your sightseeing with some speedy action! On the Skyline luge, there are two windy tracks to choose from, both of which offer massive exhilaration and spectacular views.
Cost: From ~S$61/pax via Klook
Opening hours: 10AM – 7PM (gondola, varies in seasons); 10AM – 6PM (luge, Thurs –Mon)
How to get there: From Fergburger, turn right onto Brecon St at the roundabout. Follow the road until you reach the Skyline gondola base. The walk takes about 7 minutes.
Best LOTR Film Location
North Island: Hobbiton Movie Set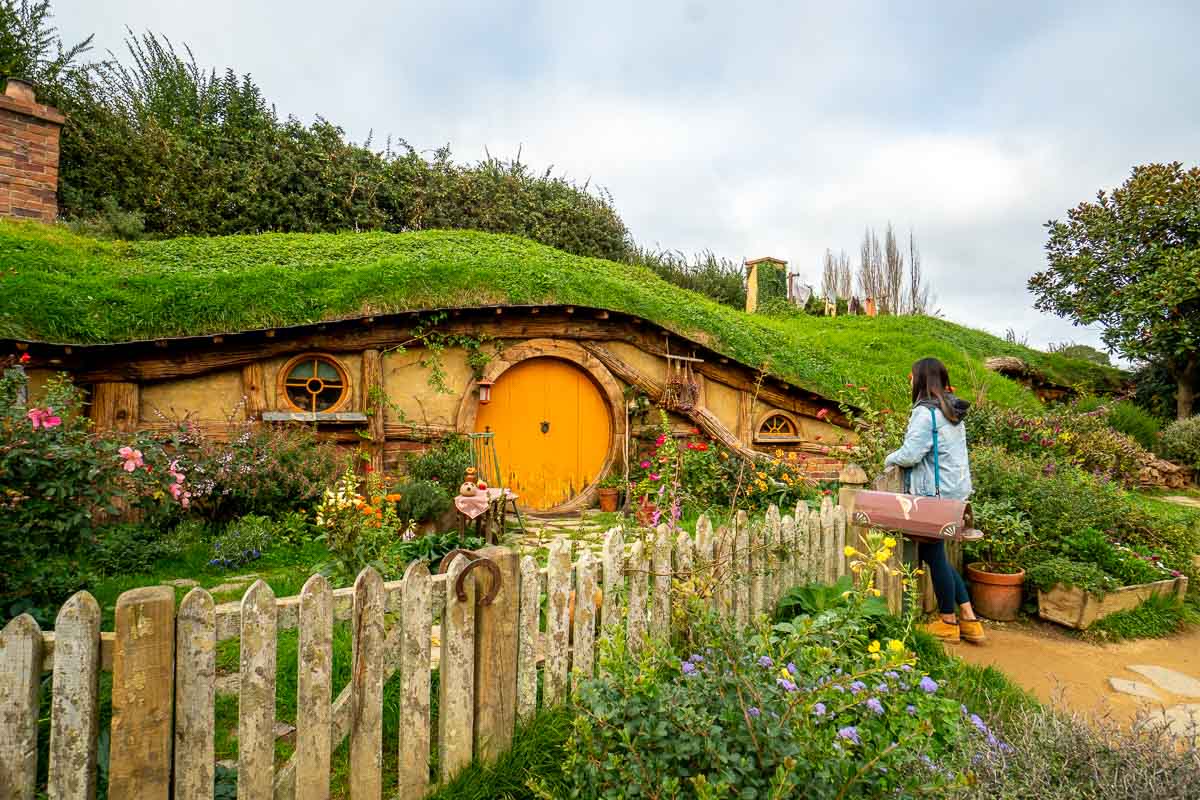 Fantasy becomes reality once you step into the rolling green pastures of the Shire! After the LOTR and Hobbiton trilogies wrapped, the film set was converted into a permanent attraction. Since then, it's become one of the most popular things to do in NZ! Through guided walking tours, mortals can explore this idyllic part of middle-earth.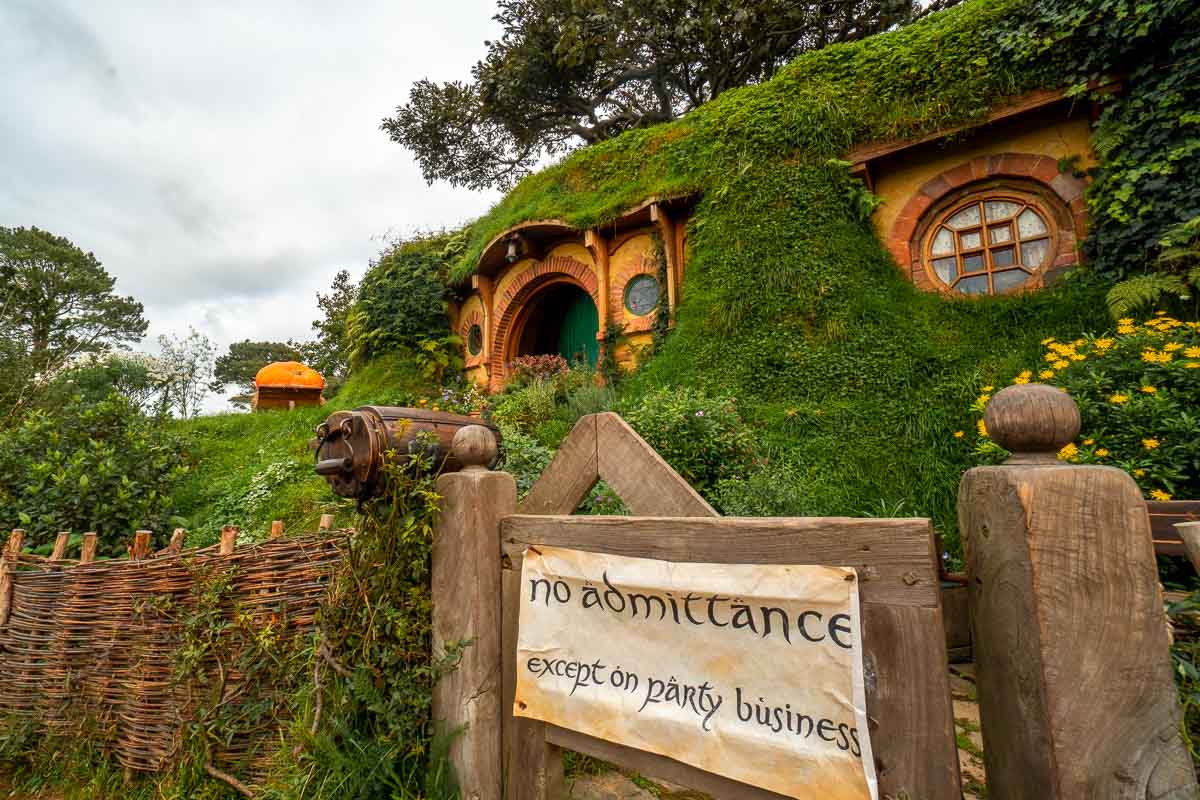 Would you believe ALL the leaves in the oak tree above Bag's End were hand-painted?
Don't worry if your knowledge of LOTR/Hobbiton is practically zero. You don't need them to enjoy yourself. During the tour, your friendly guide will dish out loads of interesting fun facts and trivia about the film set, filming techniques, and actors.
Cost: From ~S$74/pax via Klook
Tour timings: 9:30AM, 10:45AM, 12PM, 1:15PM, and 2:30PM from the Shire's Rest (additional tours depend on the season)
South Island: Mt Sunday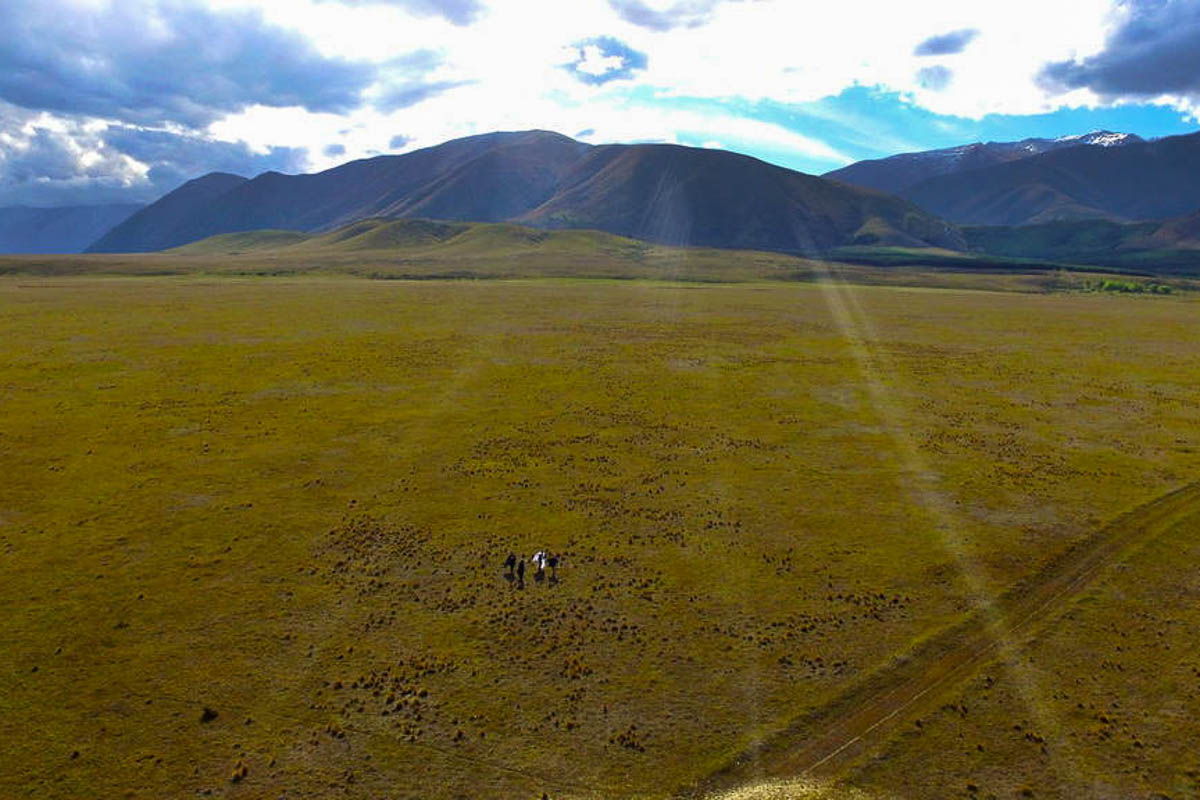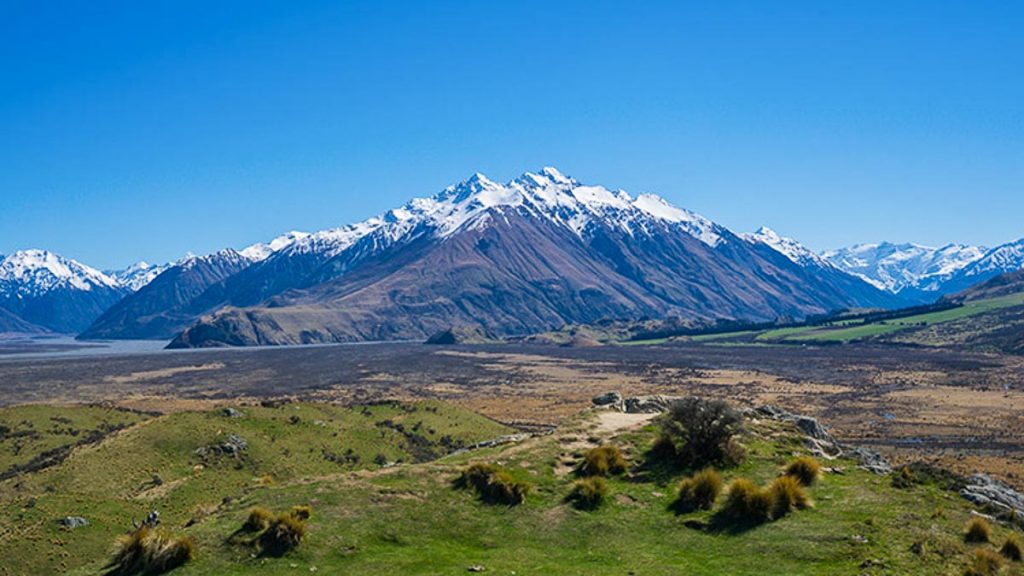 Photo credit: seethesouthisland.com
LOTR geeks may know that Mount Sunday was portrayed as Edoras in the films. It's easy to picture the capital of Rohan set on top of Mount Sunday as you hike along the Mount Sunday track across vast landscapes and scenic views of the surrounding mountains.
Going on a budget New Zealand trip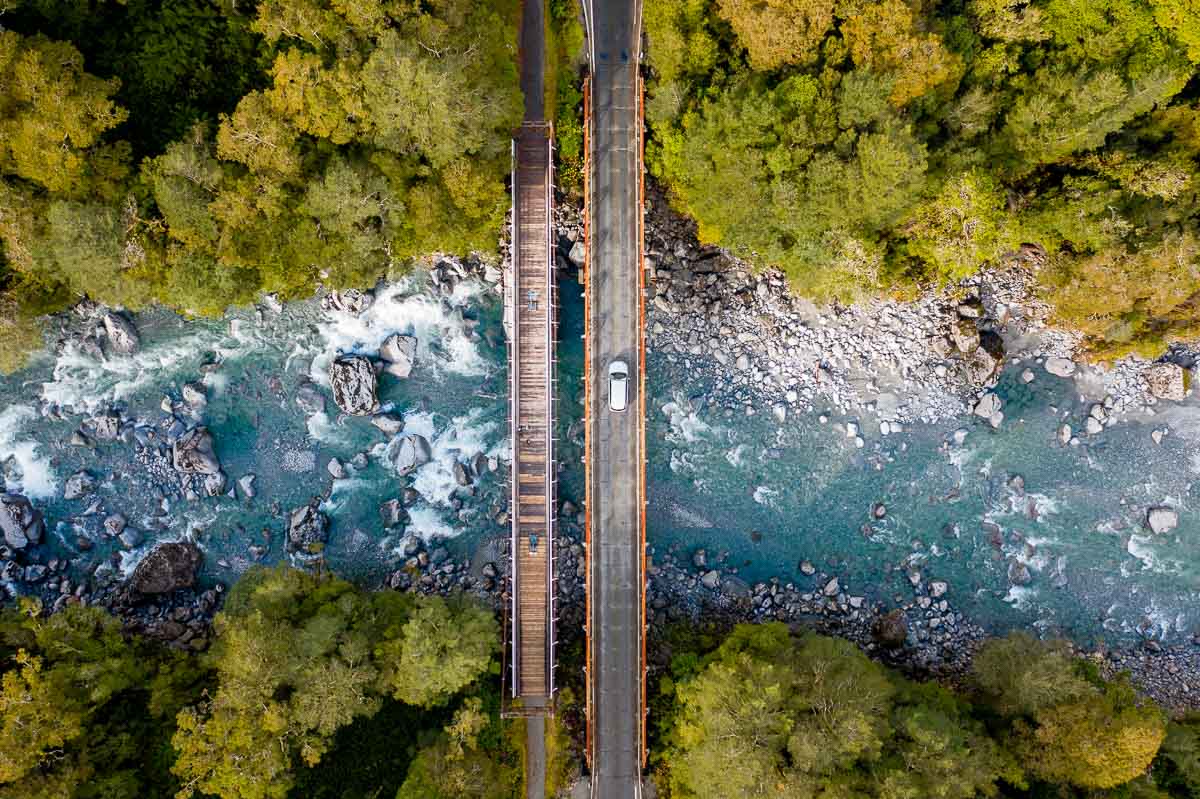 A friend once told me: "New Zealand is one of those places that you'd want to go for a long time to make it worthwhile." It's true — 1 week isn't enough to appreciate New Zealand's vastly diverse landscapes and heart-racing activities.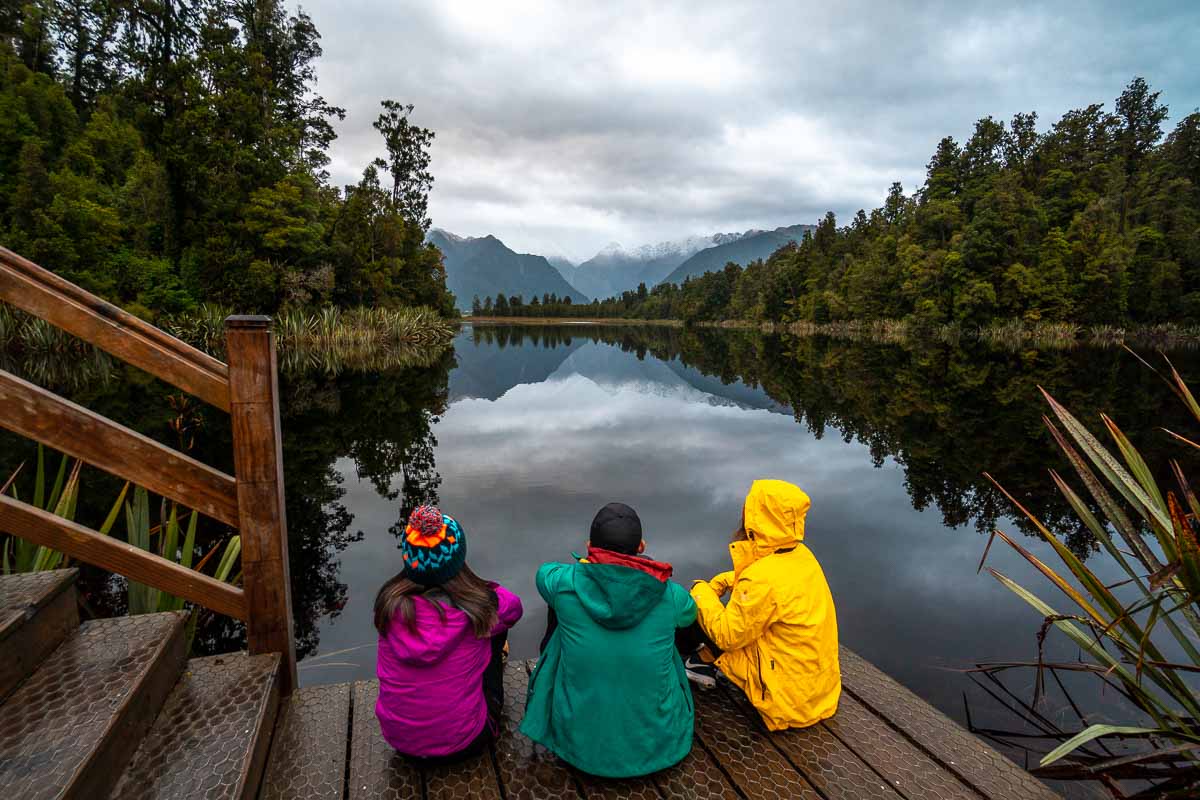 During our 2 weeks in New Zealand, we spent less than S$2,500 without breaking the bank or scrimping on epic adventures. We booked through Klook, and got to enjoy discounts for some of our activities.
Update (Aug 2023): While it wasn't available back when we had our trip, the Klook Pass for New Zealand, Auckland, and Queenstown will save you tons if you're planning to do some of the activities in our list of things to do in NZ.
You can bundle up multiple activities of your choosing to save money (up to 30% off!). Super useful for planning your trip!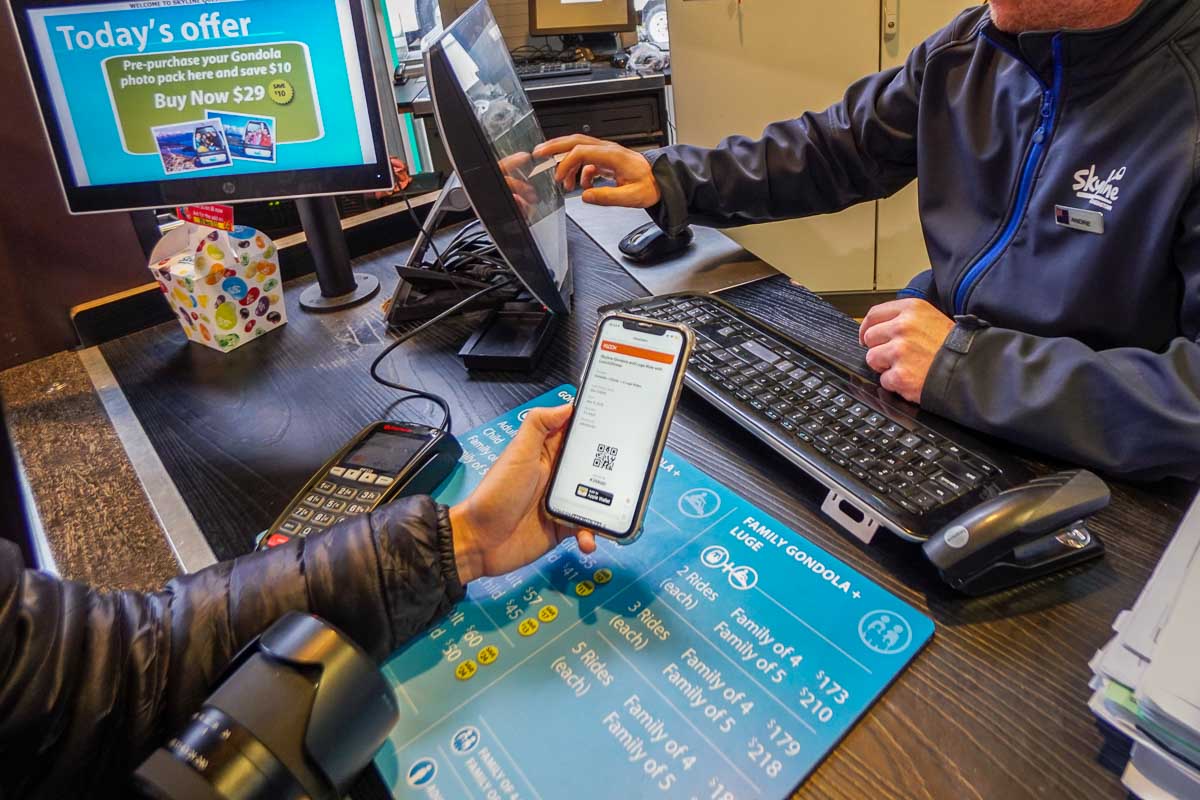 Besides savings, the booking process is also quick and fuss-free. We received our confirmation either instantly or within a couple of days, and didn't have to worry about long queues or sold-out tours. This saved us a lot of hassle, considering New Zealand is very popular with travellers both on and off-peak!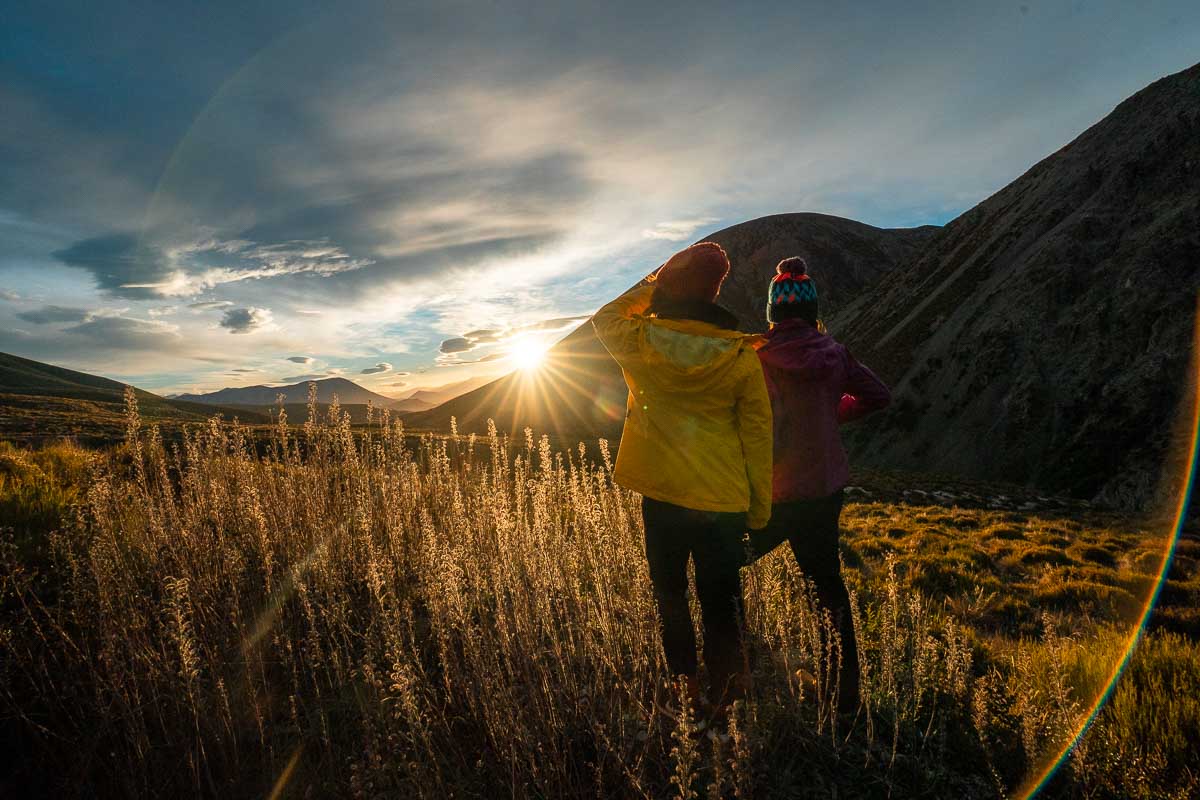 "North or South Island" debate aside, we've found that both have similar and unique elements that are winners on their own. While some prefer the South for its mountainous beauty, I quite like the North for the Maori culture and warmer weather.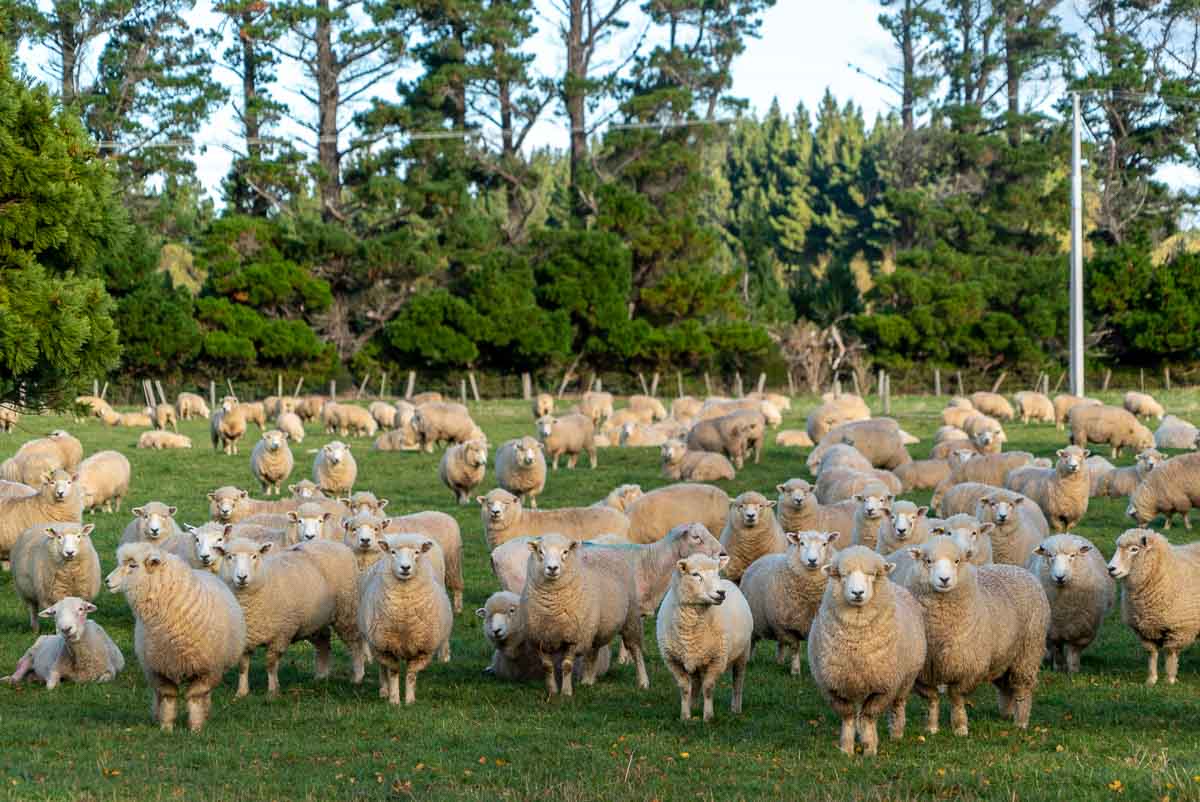 North or South, you'll find sheep everywhere in New Zealand anyway.
One thing's for sure, though: New Zealand will definitely make you feel like returning to the country over, and over again.
Updated by: Alexis Ang
Do you agree with our list of things to do in NZ? Which New Zealand Island do you prefer? Let us know in the comments below!
---
This post was brought to you by Klook.
Like what you see? Follow us on Facebook, Instagram, and YouTube for more travel updates!