If you're a fan of Korean food, you've probably covered most of these 15 Foods you must eat in Seoul. But travel out to the traditional regions of South Korea — Jeonju, Geoje and Yeosu— and you'll realise there's so much more than just Kimchi, Ramyeon, and Spicy Rice Cakes.
On a visit to the southern coast of South Korea, I managed to savour local delicacies that were unique to this region. Here are 7 must-try food in South Korea I would recommend to anyone looking to satisfy their cultural taste buds!
Jeonju

Famous for Hanok houses — traditional homes for the Korean upper class, Jeonju is well known in South Korea for its traditional ambience. There are over 800 traditional Korean hanok houses, and one can expect the food to retain its traditional allure.
1) Famous Bibimbap (비빔밥)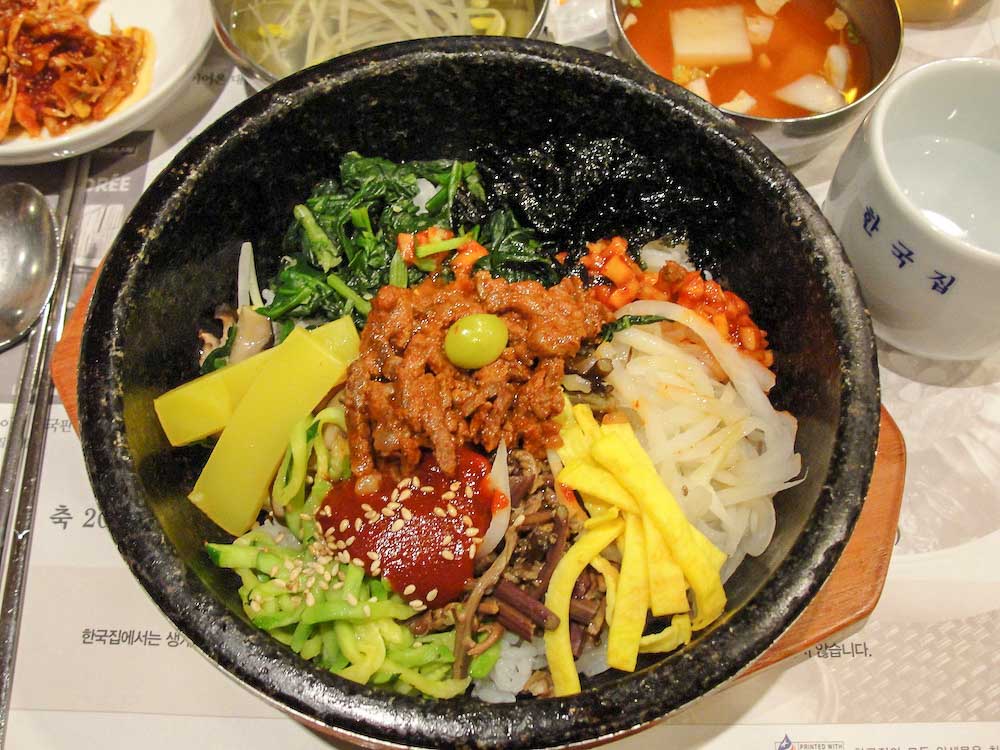 Being in the city where Bibimbap originated from, you really haven't been to Jeonju if you've never had a bowl of Bibimbap. There are many restaurants in Jeonju that serve this bowl of pipping "mixed rice", making tourists (and even the locals) spoilt for choice. The version of bibimbap in Jeonju is said to be based on a royal court dish of the Joseon Dynasty, so one should definitely grab a bowl of these when you're in town.
Cost: ₩6000–10,000
Address: Korean House (한국 집 전주). 119 Eojin-gil, Jeon-dong, Wansan-gu, Jeonju, Jeollabuk-do, South Korea
Directions: A 9 mins walk from Jeonju Hanok Village
2) Hanjeongsik (한정식)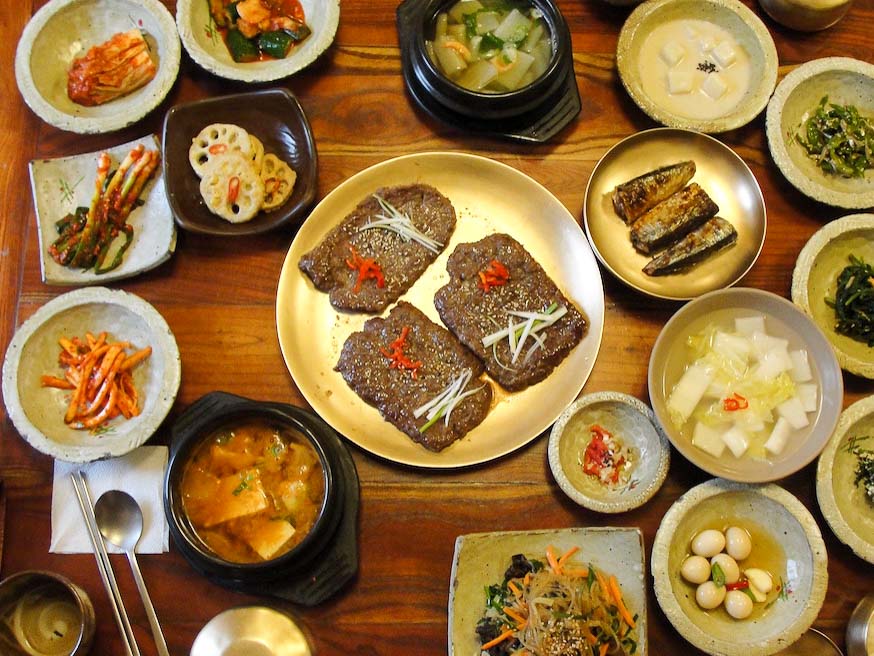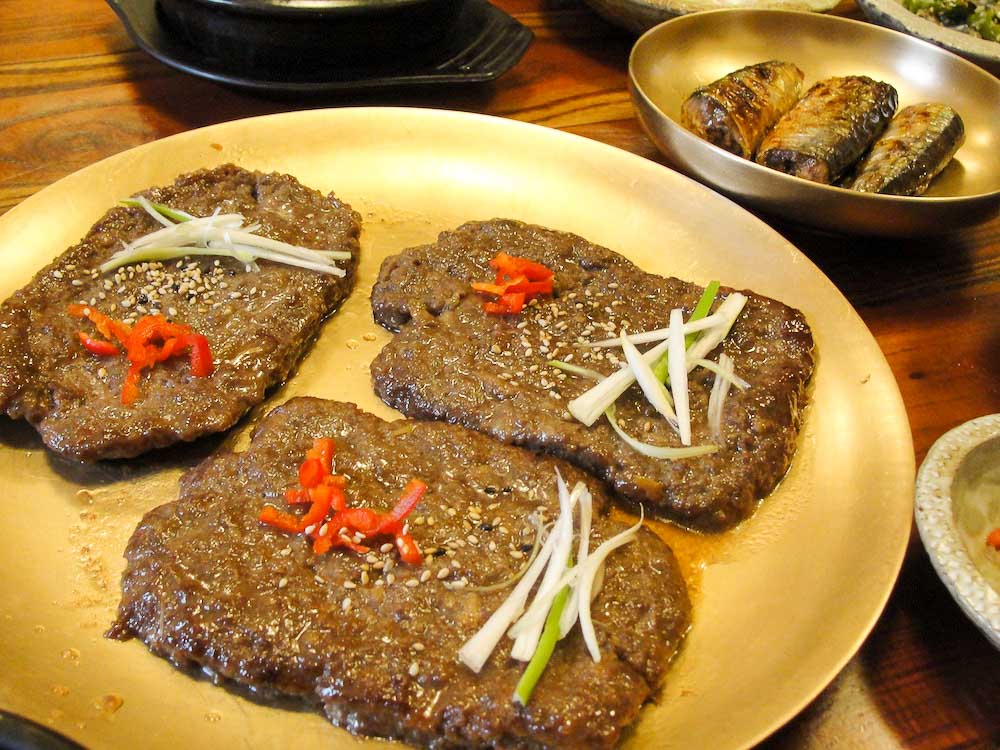 The Hanjeongsik is a full course Korean meal with an array of savoury side dishes. With popular side dishes like the japchae (korean glass noodles), kimchi, and beef bulgogi, it's an epic spread best enjoyed with a group of 3-4 diners.
Cost: ₩15,000-20,000
Address: Damun (다문). 82, Gyo-dong, Wansan-gu, Jeonju, Jeollabuk-do, South Korea
Getting to Jeonju from Seoul is a breeze with the 3-day Korail Pass. Find out how we managed to travel to Seoul, Jeonju, and Busan for under S$800.
Geoje
Located off the coast of Busan, Geoje comprises of many islands and is well known for its natural coastal beauty. It's no surprise that seafood here is so popular and sought after in this city.
3) Soy Sauce and Spicy Marinated Raw Crabs (양념게장)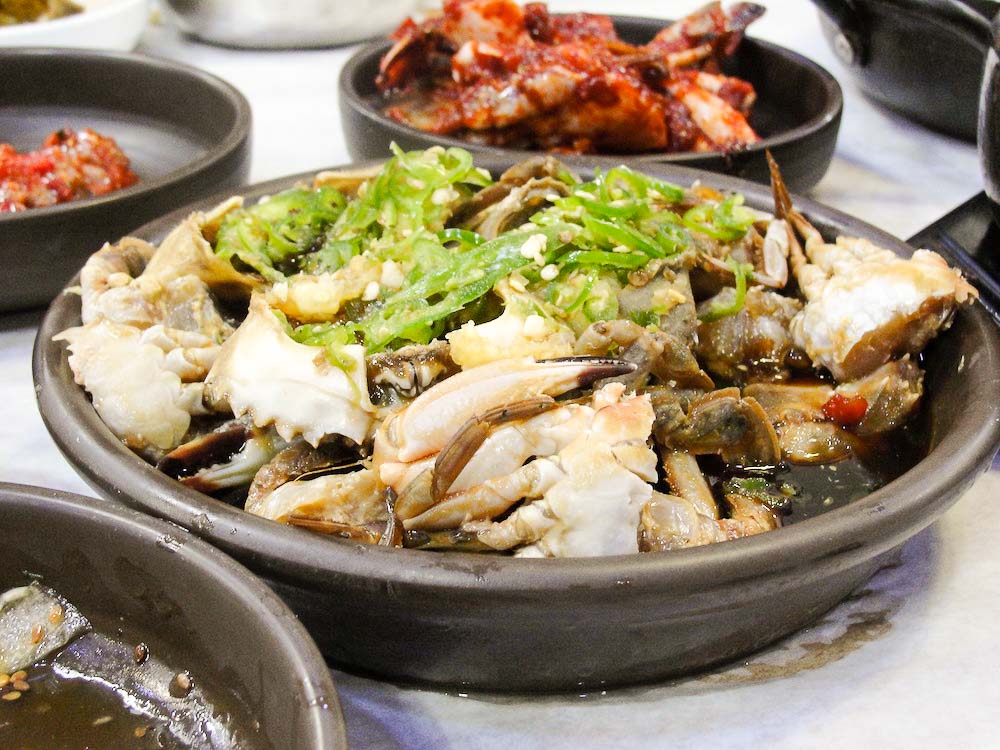 Having never tried raw crabs in my life, this was the most bizarre yet delightful dish we had on the trip. They are definitely different from the cooked chilli crabs I'm accustomed to in Singapore — their meat tasting almost like sashimi. The sauces are very unique and I had a tough time deciding whether the spicy or salty soy sauce was my favourite. The shells were soft and easy to pluck, effortless to devour.
Cost: ₩14,000
Address: Singsing Marinated Crab. 694-2 Jangseungpo-dong, Geoje-si, Gyeongsangnam-do, South Korea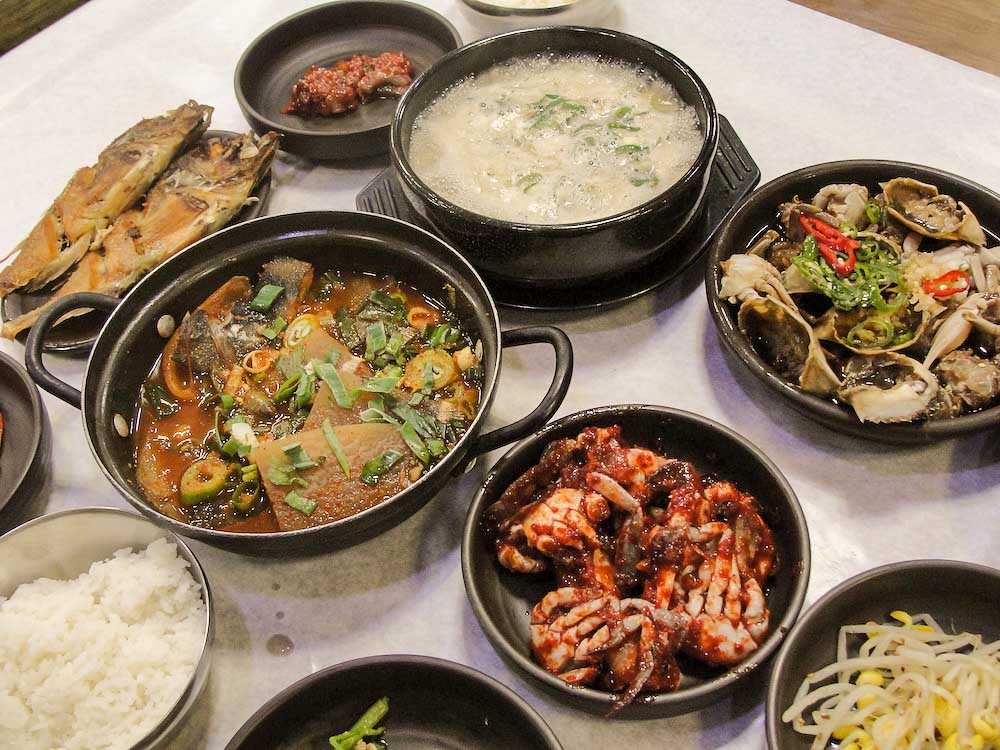 4) Korean Seafood Set
Oysters, mussels, raw sashimi, and clams fresh from the sea! If you are in the Southern coast, it only makes sense to try its fresh seafood! Especially look out for unique dishes like oysters cooked in kimchi sauce and ginseng. My personal favourite was the clams cooked in kimchi soup — well balanced, cooked to a delectable equilibrium.
Cost: ₩18,000
Address: Tongyeong Oyster Seafood Table (통영굴해물밥상). 499 Jangpyeong-ri, Yongnam-myeon, Tongyeong-si, Gyeongsangnam-do, South Korea
5) BBQ Pork Belly (삼겹살)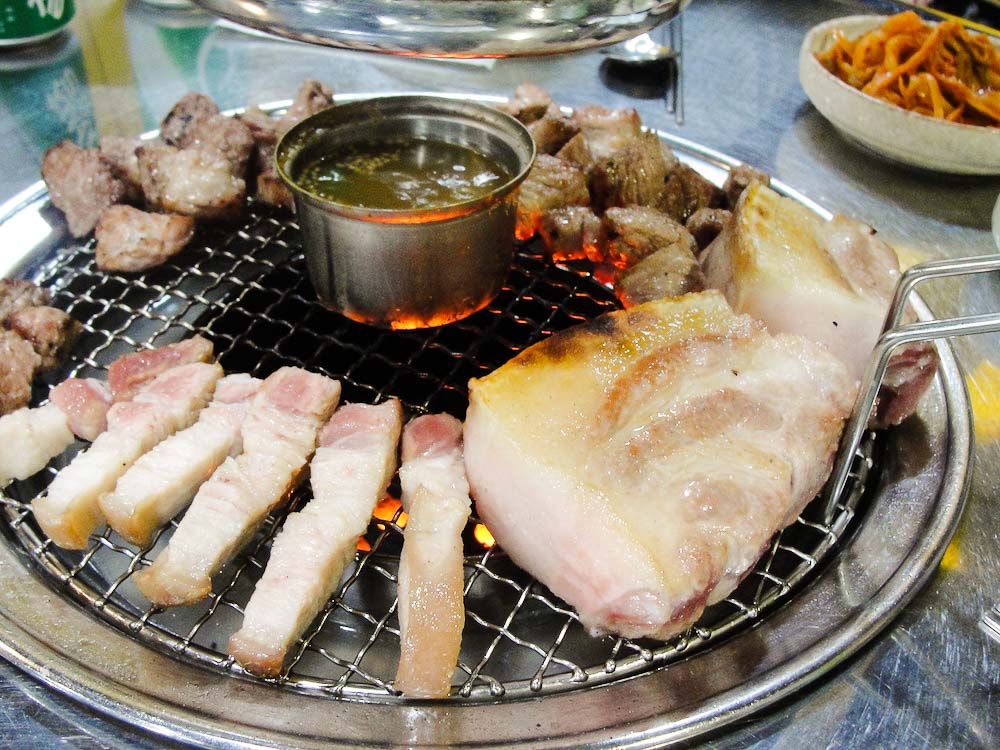 You may be familiar with Korean BBQ, but this luscious slab of meat contains up to five layers of belly! For meat lovers, the huge barbecued pork will taste like a party in your mouth — as you chew on the succulent meat, the fatty juices burst and fill your mouth. For those who are not a big fan of fats, there are also bite-sized pork meat which go well wrapped in a cabbage and dipped in barbecue sauce.
Cost: ₩15,000 for 220g of meat
Address: Daekweol Pork. 991-15 Gohyeon-dong, Geoje-si, Gyeongsangnam-do, South Korea
Yeosu
A maritime city, Yeosu is known for its pristine coastal scenery. There is the famous beach with black sand, Manseongri beach, and Odongdo Island which is a popular spot to appreciate camellias.
6) Acorn Jelly Pancake and Bossam (도토리묵)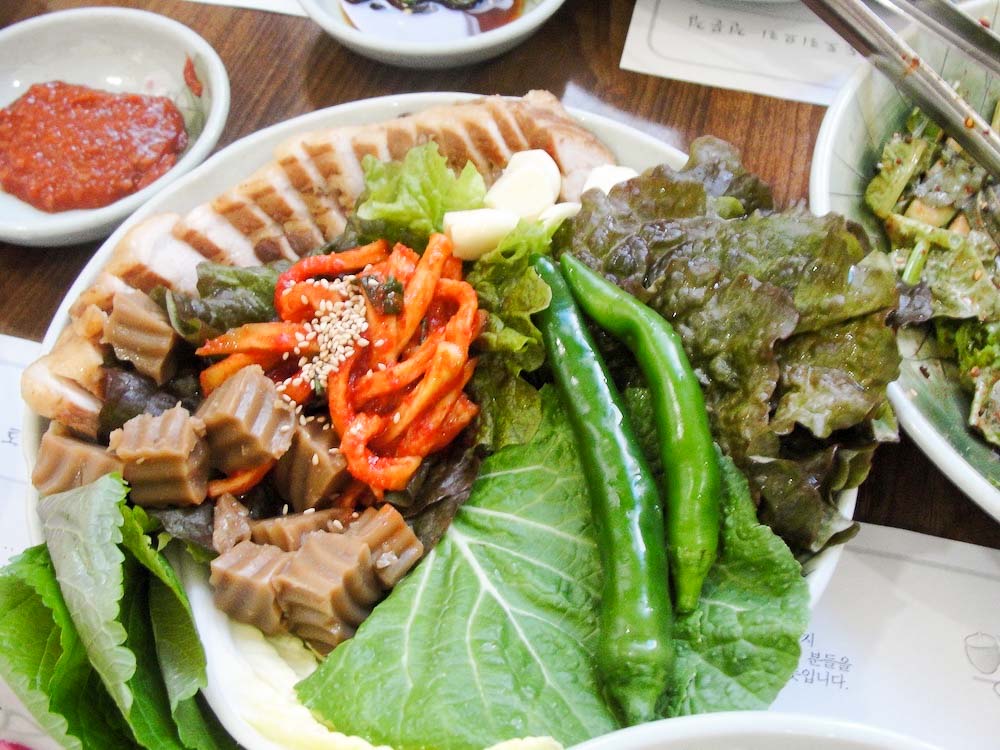 Also known as Dotorimuk (도토리묵), acorn Jelly is a Korean food that is originally made in the mountainous areas of traditional Korea. It can be eaten with cabbage or rice, and is usually mixed with other ingredients such as carrots, garlic, sesame seeds and soy sauce. It has a very light, refreshing taste that leaves you feeling springy afterwards. Also, it is extremely healthy — there is no fat, cholesterol, or sodium, and is good for stomach ailments.
Another Acorn-flavoured dish to try would be the Acorn Jelly pancake! The pancake uses a dough from acorn powder and mixes the dough with a variety of vegetables such as onion, cucumber, carrot and sesame leaves. It is a palatable side dish – fresh, nutty, nutritious and light on the stomach.
Cost: ₩60,000 for Full Acorn Buffet Set
Address: Nanulteo. 1673-3 Yeonhyang-dong, Suncheon, Jeollanam-do, South Korea
7) Grilled Fish Set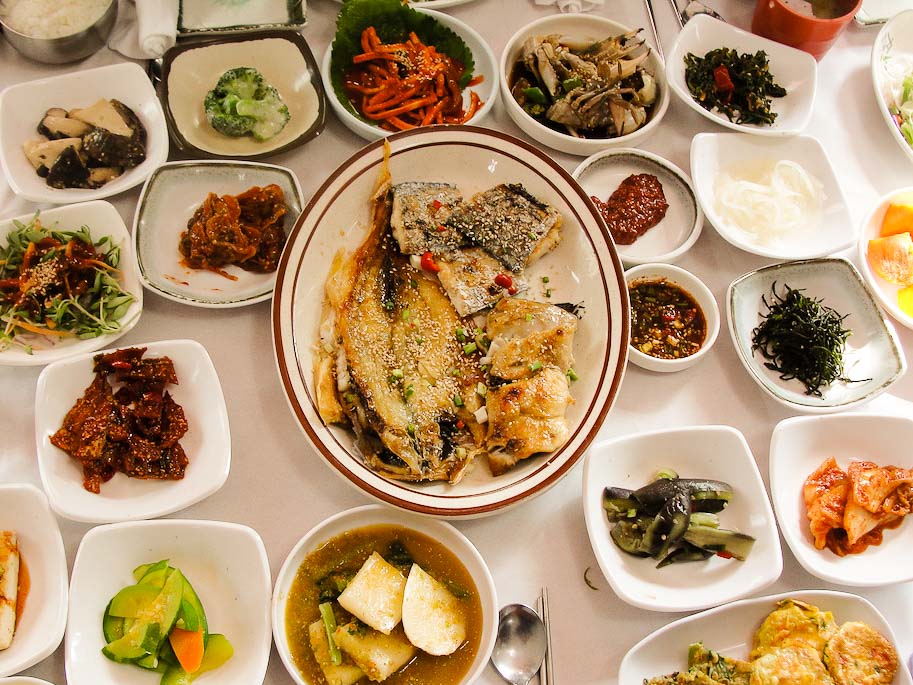 Grilled fish is one of the authentic local food in South Korea that gets overlooked because it is popular almost everywhere. In Yeosu, there is a restaurant called Baekcheon Fish restaurant which is famous among locals for its grilled fish set! Served with the savoury sides one would expect in a Hanjeongsik, the main dish is the grilled fish that is cooked to crispiness on the outside and tenderness on the inside. I must say the taste is truly splendid — the sauce that the fish is marinated in suits the fish meat perfectly.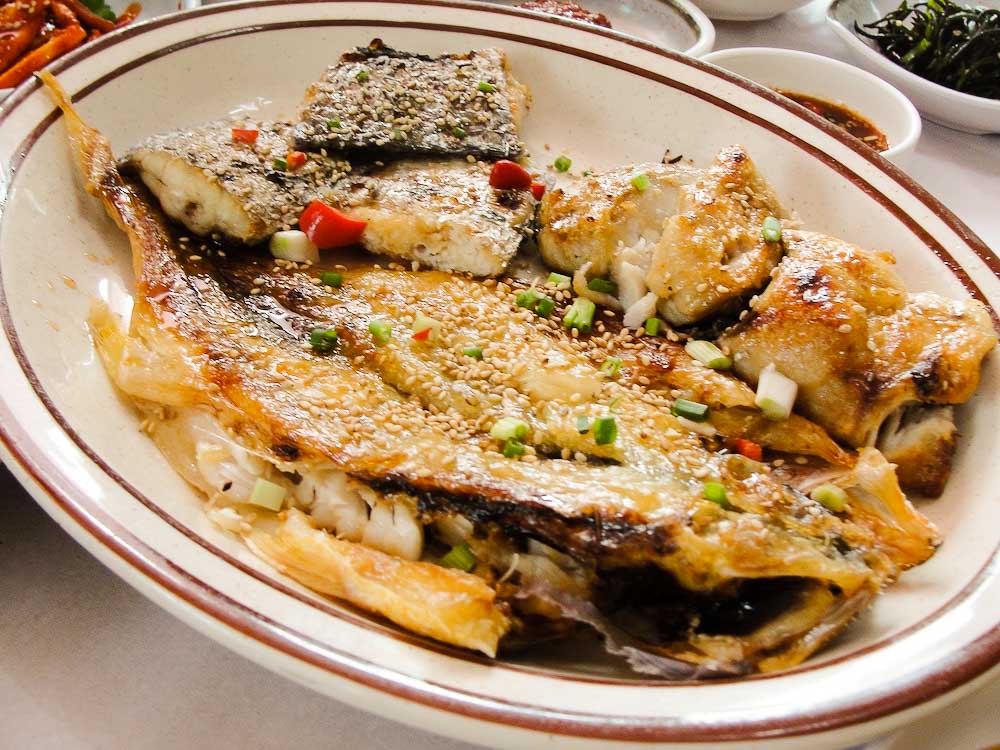 Cost: ₩10,000
Address: Baekcheon Fish Restaurant. 11, Jungang1-Gil, Yeosu, Jeollanam-do 59737, South Korea
Directions from Seoul to Jeonju, Geoje and Yeosu
Seoul to Jeonju:
– Via train: Yongsan Station to Jeonju Station
(Base fare: 34,400 won / Travel time: approx. 1hr 30-40min)
– Via bus: Seoul (Honam Line) Express Bus Terminal to Jeonju Express Bus Terminal
(Base fare: 12,800 won, Deluxe fare: 18,700 won / Travel time: Approx. 2hr 40min)
Seoul to Geoje:
– Via bus: Seoul Nambu Terminal to Gohyeon Bus Terminal
(Adult Fee: 23,000-34,200 won / Duration: Approx. 4 hr 20 min)
Seoul to Yeosu:
– Via train: Seoul Yongsan Station to Yeosu Expo Station
(Adult Fee: 40,100-47,200 won / Duration: Approx. 3 hr 5 min vix KTX)
Credit: Directions from Visit Korea & Korail
A visit to South Korea cannot be complete without tasting local food, and the Southern Coast offers uniquely traditional dishes that cannot be found elsewhere. Korean cuisine has always been important to the royal family, and much of Korean food have cultural origins dating back to the dynasties. So, be sure not to miss out and eat like a king when you are in South Korea!
Special thanks to Korea Tourism Organization for exposing us to these delicious finds in South Korea!