The land of kimchi is known for its tasty and mouth watering Korean BBQ, bimbimbap, Korean fried chicken, and so much more.
I personally think it's worth travelling to Korea even if its only to try all the food there. Getting a Korean food fix in Singapore is pretty easy, but really pricy at SGD $25 onwards. In Seoul, prices were half of that and often so much better!
I spammed Korean BBQ and rice cakes nearly every day. But let me tell you, there are so many more delicious and affordable dishes in Korea that aren't found easily in Singapore. A mix of restaurant, cafes and street food, here's my personal list of Korean food (both popular and unheard of), not to be missed.
Read also: 7D Seoul, Nami Island, Busan Itinerary
Restaurants and Cafes
1) Army Stew 부대찌개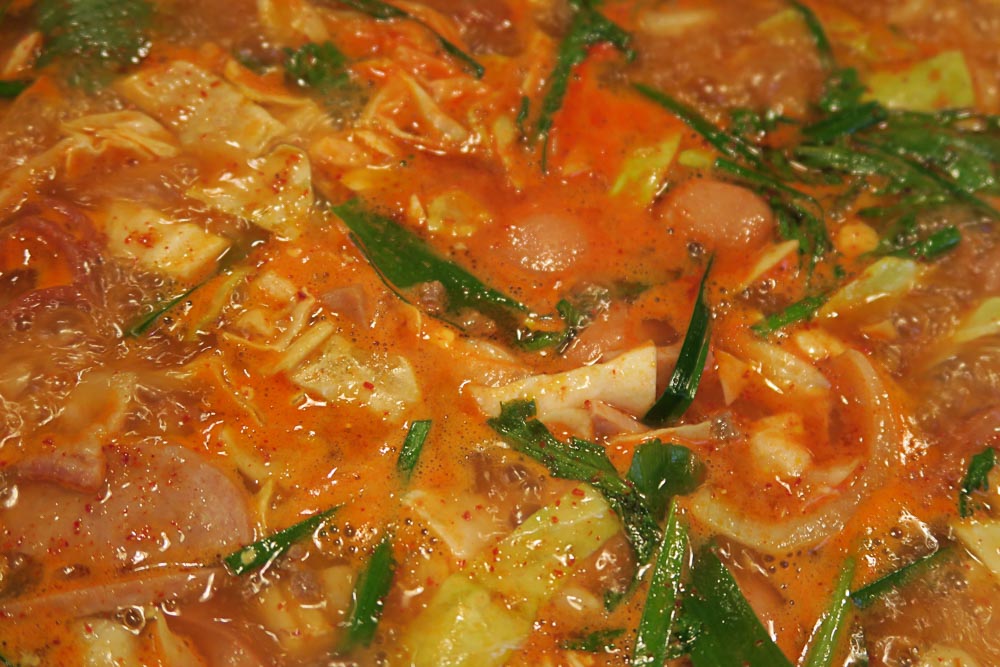 Various ingredients such as spam, meat, kimchi and often ramyun thrown into a spicy and savoury stew.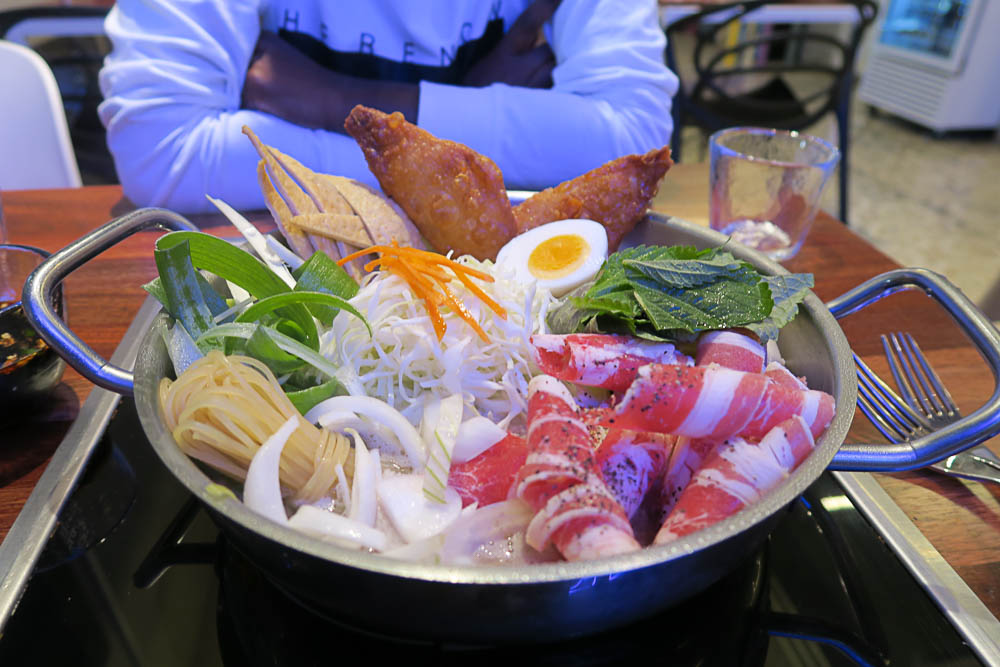 It always comes in a huge pot, and minimum serving size is for two people, so be sure to bring a friend along.
Where to find it: Everywhere in Seoul!
How much does it cost: As cheap as ₩6000 per (SGD $7.25) person
2) Korean Barbecue
Korean BBQ has always been a guilty pleasure of mine, even back in Singapore. But the Korean BBQ in Singapore ain't got nothing against the one in Korea.
I mean, look at how glorious this slab of pork is.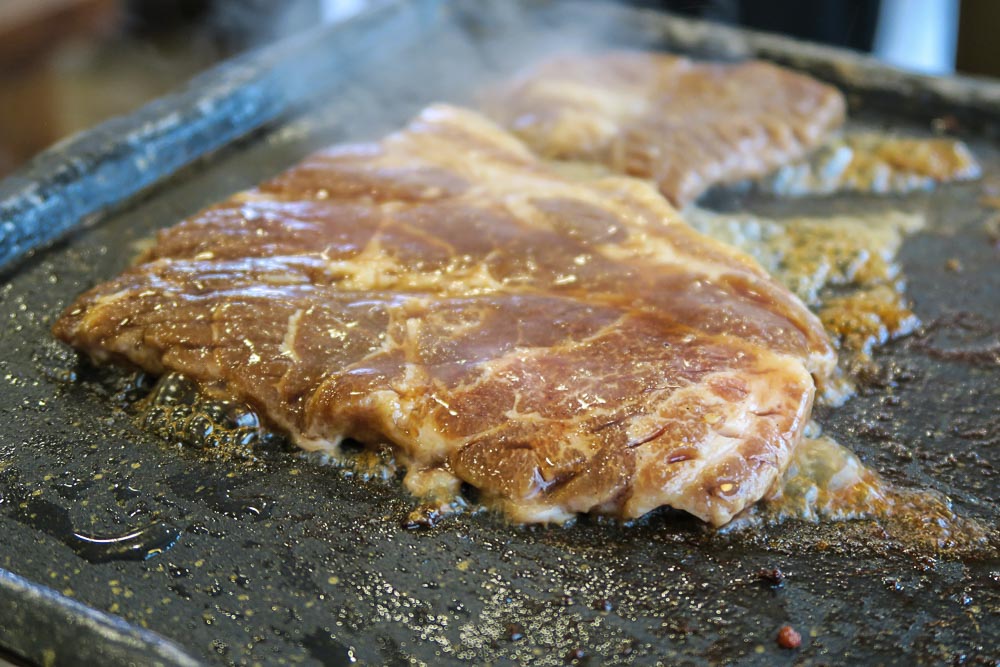 The waitress also helps you cook your meat to perfection. In the picture below, she's cooking duck meat and enoki mushrooms.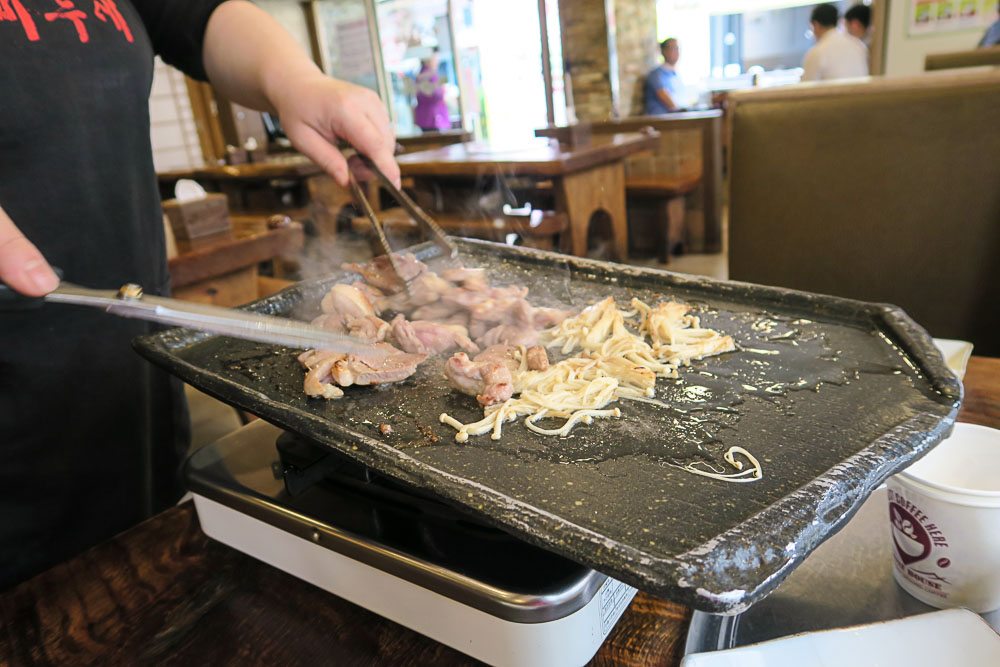 If you can't handle the meatiness, the fresh and crisp lettuce provided can help balance it out.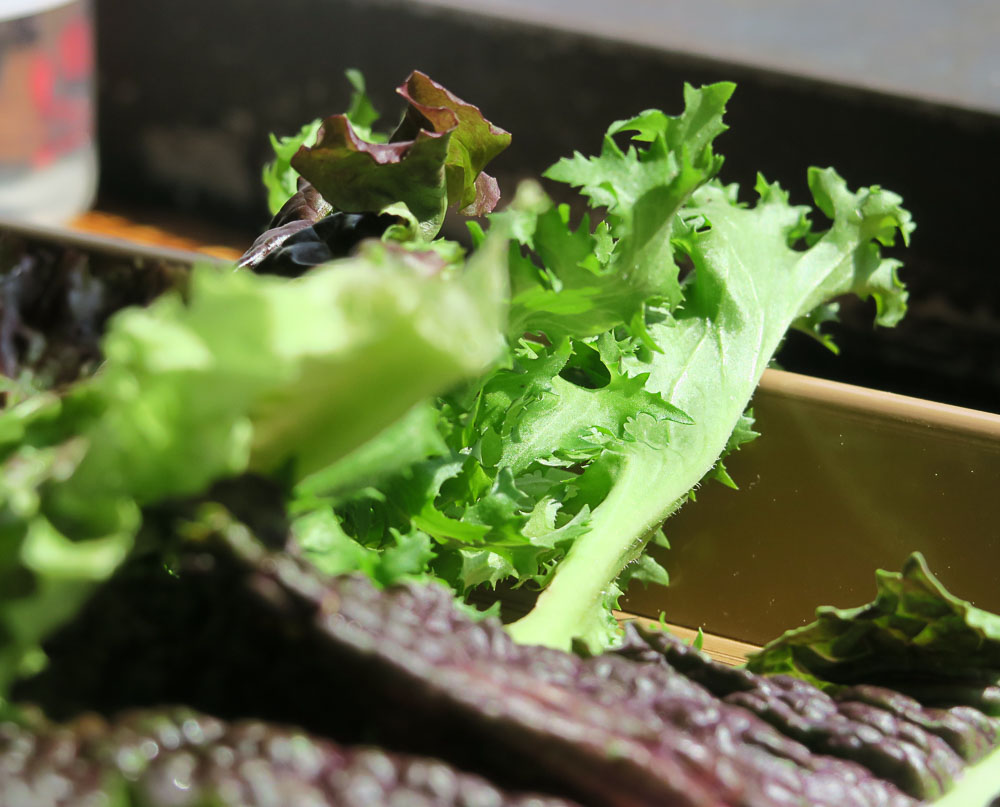 Here's a chunk of medium rare pork just waiting to be devoured.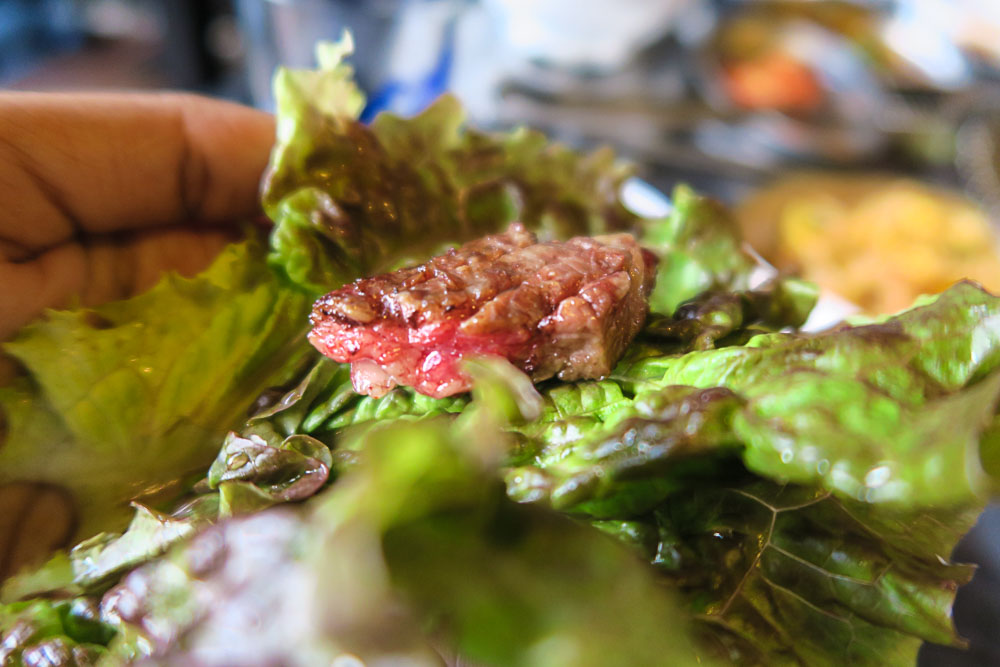 But if you can restrain yourself, add some onions, pickled vegetables, and gochujang (Korean chili paste) before you take that first bite.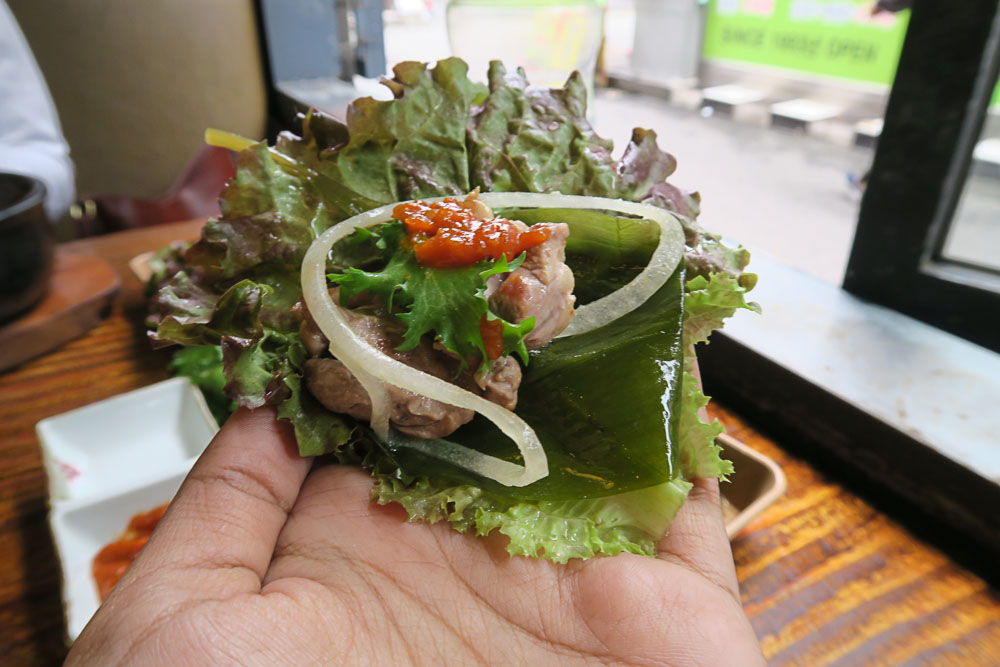 Like army stew, Korean barbecue is often served for at least two people. Make sure you bring a friend to share all the food with you. Unless of course, you're a serious meat lover and think you can finish it all.
Where to find it: Everywhere in Seoul!
How much does it cost: ~₩10,000 (SGD $12.10) for each serving of meat.
3) Traditional Korean noodles and dumplings

Myeonggon Kyoja is a famous traditional Korean noodle restaurant that's been established since 1964.
They are famous for their chopped noodles with chicken broth, as well as their large and hearty dumplings.
Personally, I did not enjoy it as much as some of the other food I had in Korea, because I'm not much of a soup person. My friend however, enjoyed it with great relish, and so did many of the other patrons in the restaurant.
Where to find it: Myeongdong Kyoja (명동교자)
29, Myeongdong 10-gil, Jung-gu, Seoul (Myeong-dong 2-ga)
How much does it cost: ₩10,000 (SGD $12.10) for a basket of dumplings, and ₩8,000 (SGD $9.70) for a bowl of noodles
4) Chicken and Beer (치맥)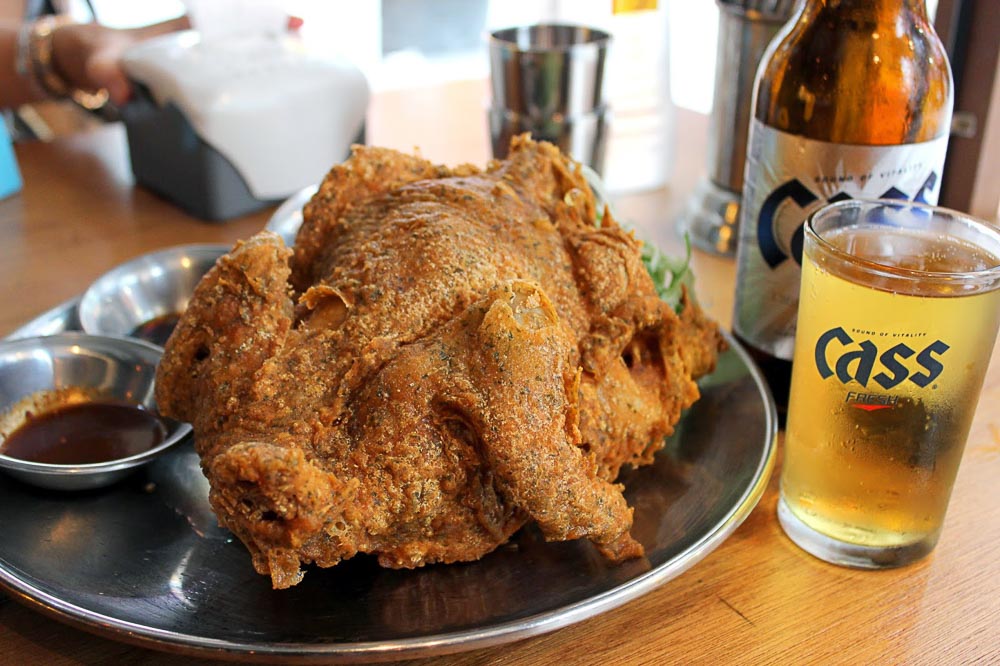 Chimaek – A classic Korean combination of chicken and beer.
The word chimaek comes from the word 'chi' (Korean for chicken) 'maek', from 'maekju', the Korean word for beer.
Even if you don't enjoy beer (like me) you will enjoy the various types of fried chicken available. There's a super spicy option, marinated in sweet sauce, soy sauce, and a lot more.
Where to find it: The Daily Beer
Chungjeongno station 서울특별시 중구 중림로 21(중림동, 더플레이스충정로 1층
How much does it cost: ₩7000 – ₩16,000 (SGD $8.50 – $19.30)
Street food
5) Grilled Scallop
Grilled scallops were one of my favourite street foods in Korea, though they were a little on the pricey side.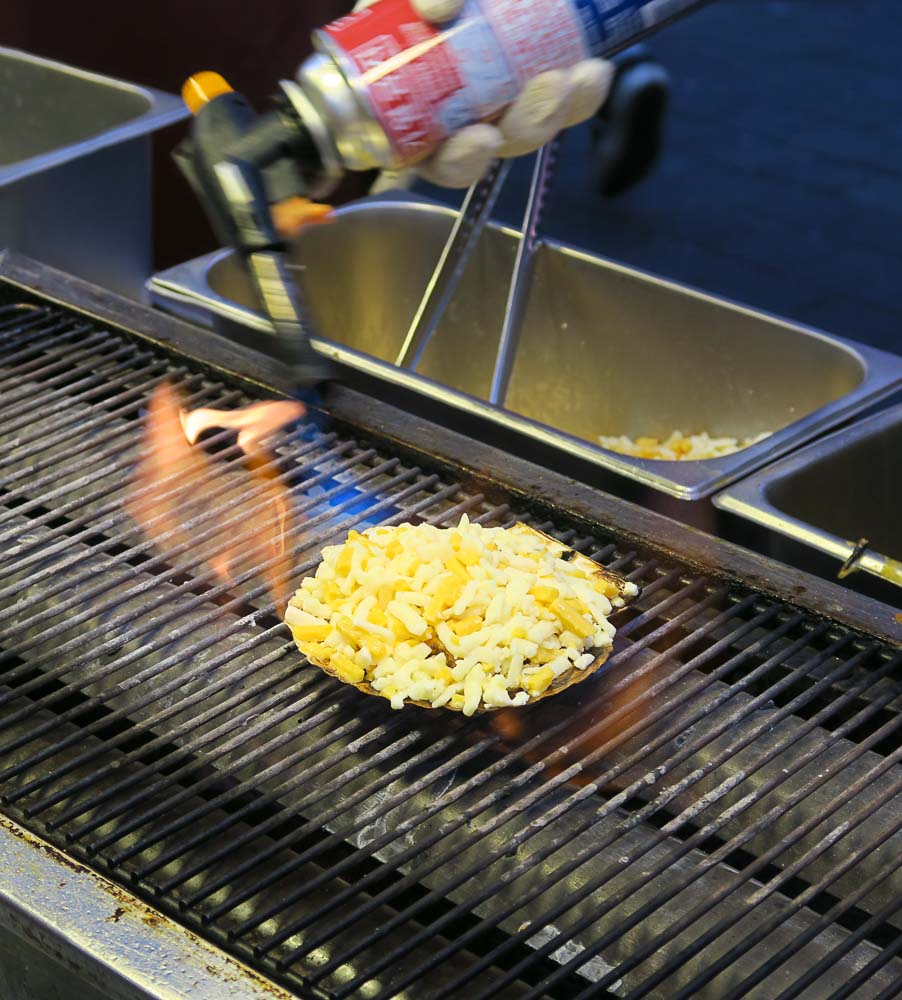 The scallops are grilled by hand for several minutes.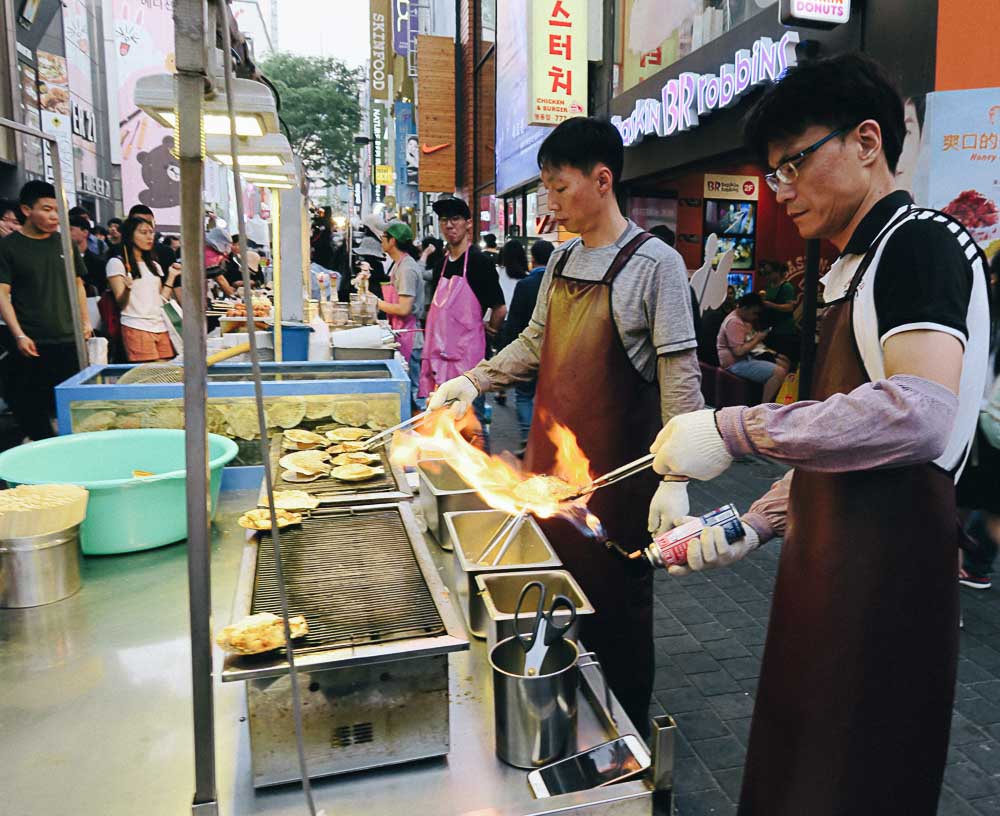 And when you get it, it's a sizzling hot, cheesy mess that you can't wait to eat.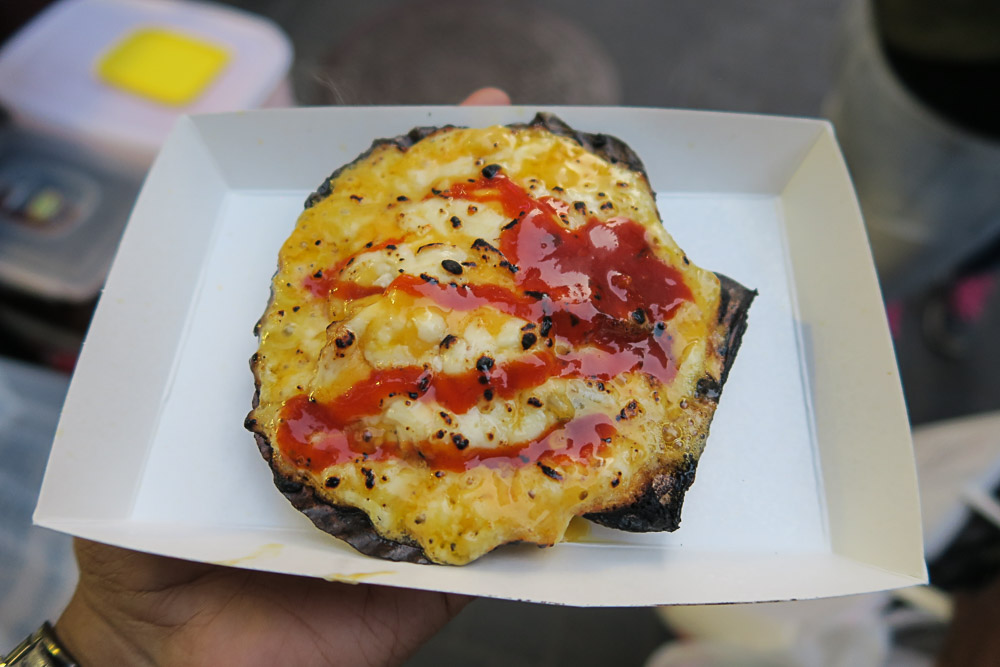 The scallop is fresh and goes so well with the gooey cheese. But it is the gochujang (Korean chili paste) that adds a zing to the scallop and cheese, making you want more.
I would have loved to eat five of these babies, but the hefty price of ₩8000 ($9.30 SGD) per scallop held me back. Still, if you're headed to Korea, make sure you try this at least once.
Where to find it: Food streets in Myeongdong District
How much does it cost: ₩8000 ($9.30 SGD)
6) Pao Pao's steamed dumplings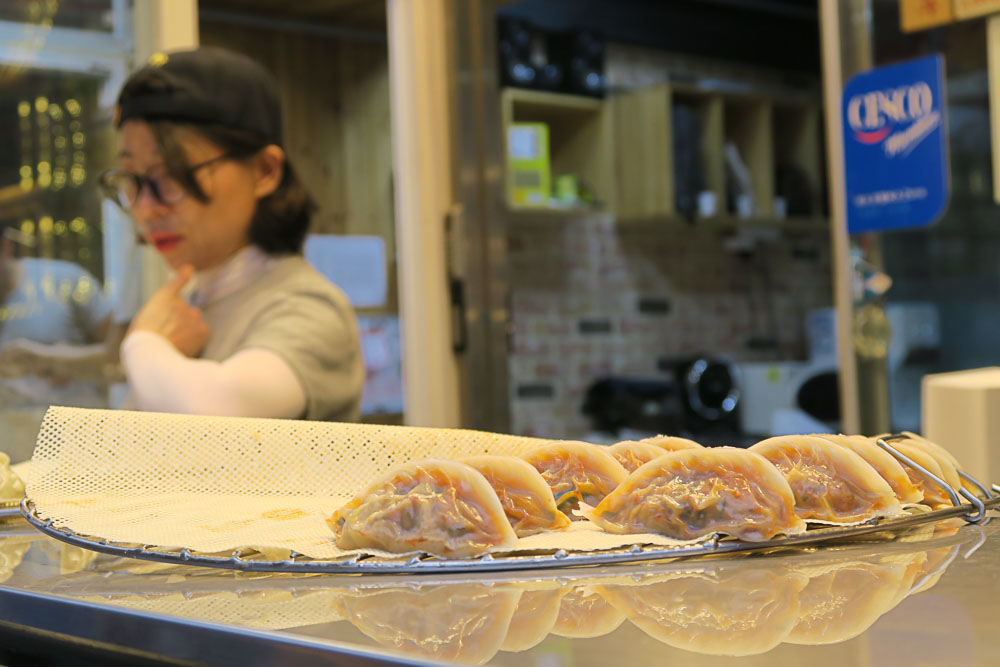 At first, I didn't think much of Pao Pao. I've had plenty of steamed dumplings in Singapore before and I was familiar with the taste. Plus, I was pretty full already when we bought this. I decided to go with it only because my Korean friend insisted it was good.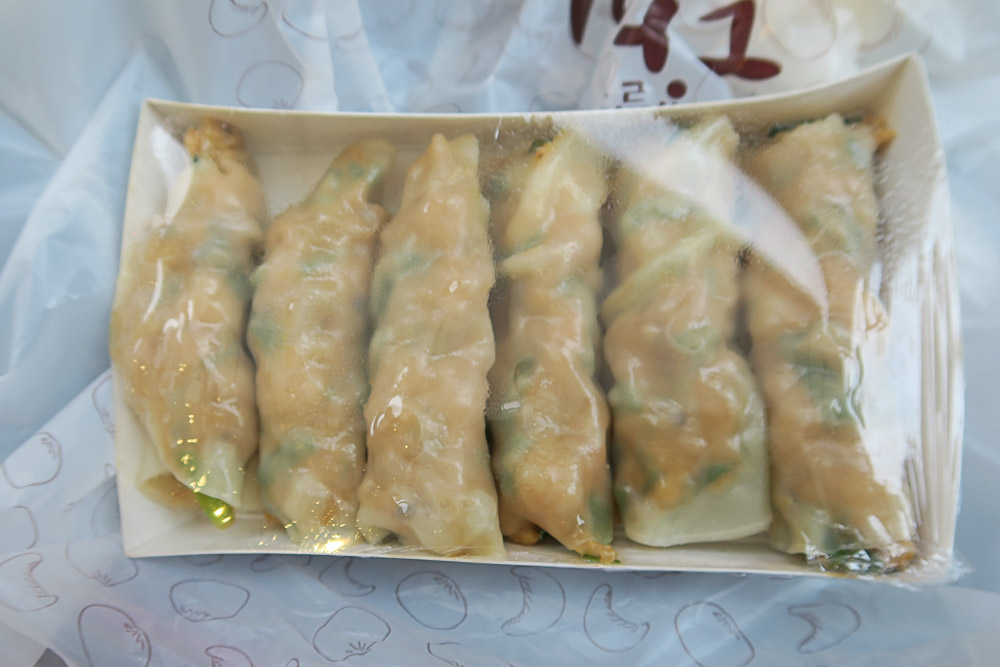 The queue was pretty long, and we waited about 15 minutes to get this pack of six shrimp dumplings.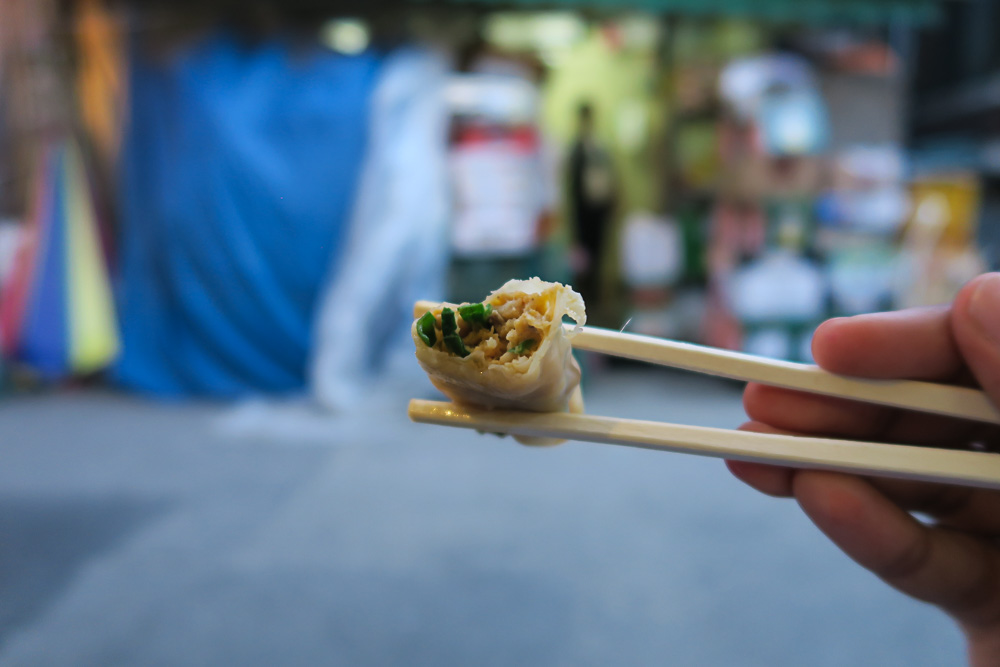 I didn't expect much, from how bland it looked, but I bit into one and was shocked at the amount of flavour that erupted in my mouth.
The texture and taste of everything in it was just perfect. I don't have the words to describe it, but try it if you can.
Where to find it: Pao Pao
Near Sinchon Station, 22 Seokchonhosu ro 12gil, Songpa, Seoul.
How much does it cost: ₩4000 (SGD $4.80) for 6 dumplings
7) Spicy rice cakes

This is the most common and popular street snack in Korea. Spicy rice cakes are famous for a reason, and I ate them nearly everyday as I could not get enough of that sticky and chewy snack. Just thinking of it is enough to make my mouth water.
Where to find it: Everywhere in Seoul!
How much does it cost: ₩3000 (SGD $3.60)
8) Fried rice cakes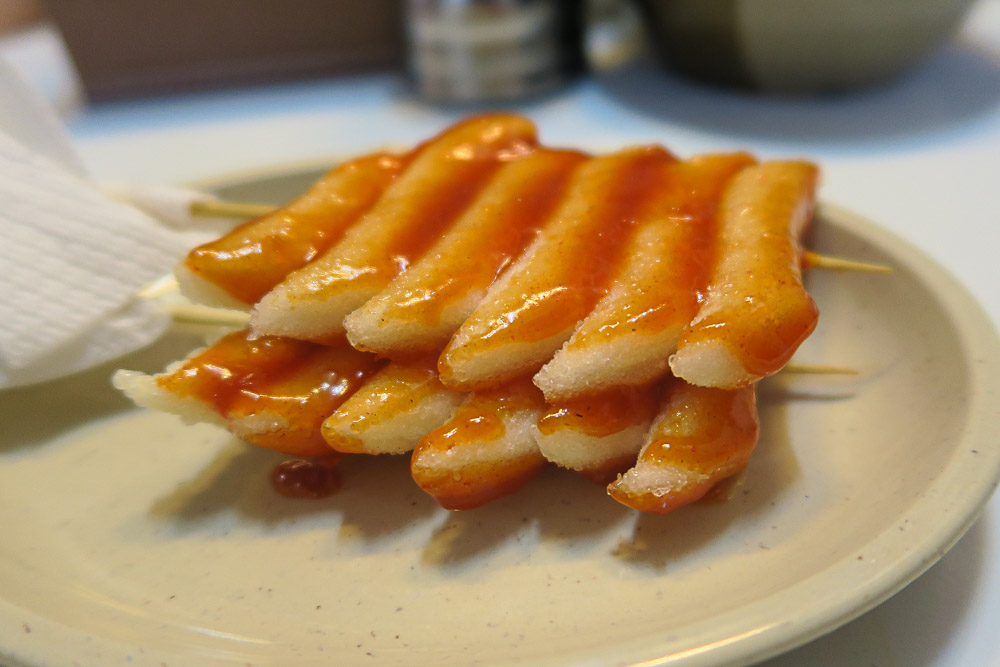 Sometimes the sour and spicy gravy that usually accompanies rice cakes got a little too overbearing for me, so I would switch it up by eating another variation of rice cakes – fried!
They are chewier and just as tasty as the original.
Where to find them: Everywhere in Seoul!
How much does it cost: ₩3000 (SGD $3.60)
9) Cheese rice cakes
If you are feeling a little more adventurous, you can try a skewer of rice cakes mixed with cheese sticks. The skewer is then drizzled lightly with condensed milk.
These were pretty popular in Myeongdong and I saw a lot of people trying these chewy snacks. My verdict is that it tasted like sweet pizza. But if you're a sweet tooth and a cheese lover, give it a try.
Where to find it: The food streets in Myeongdong district.
How much does it cost: ₩3000 (SGD $3.60) for for skewer
10) 'Fried Stuff'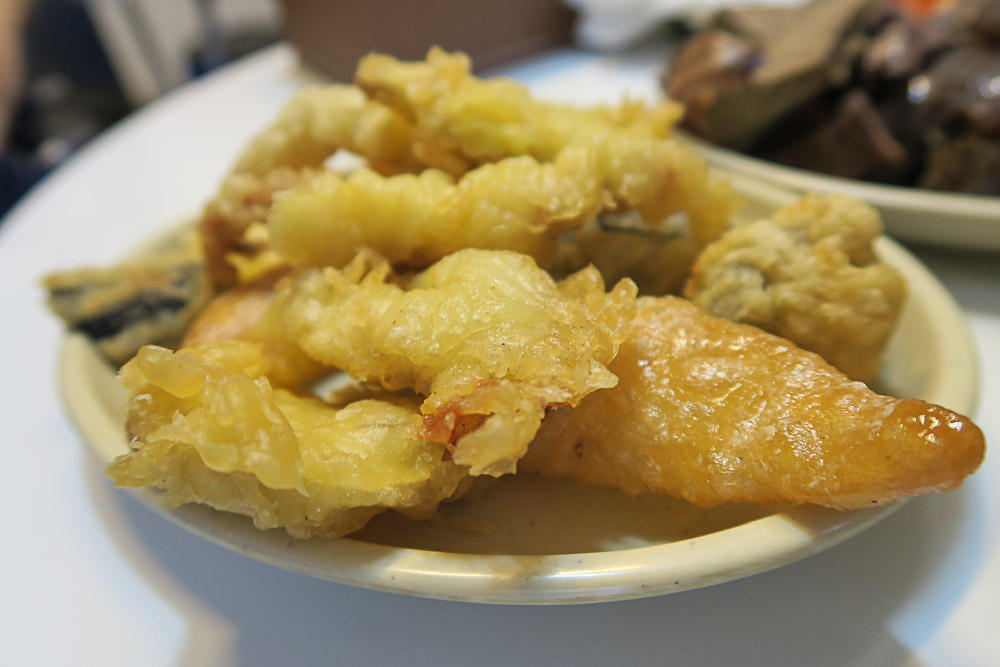 One of the most sinful and ambiguous dishes I've ever had.
I bought this at a generic street food restaurant with an indoor seating area. On the menu, this dish was literally listed as 'fried stuff'.
It is a type of Korean 'tempura', as it is regular street food covered in batter and deep fried. You can find rice cakes, dumplings, and prawns in the mix.
The part I loved most was the dumpling – stuffed with cellophane noodles, wrapped in seaweed, dipped in a thin layer batter and fried to a crunchy goodness. I am salivating as I write this.
Where to find it: Everywhere in Seoul!
How much does it cost: ₩2500-₩4000 (SGD $3.00 – $4.80).
11) Egg Bread 계란빵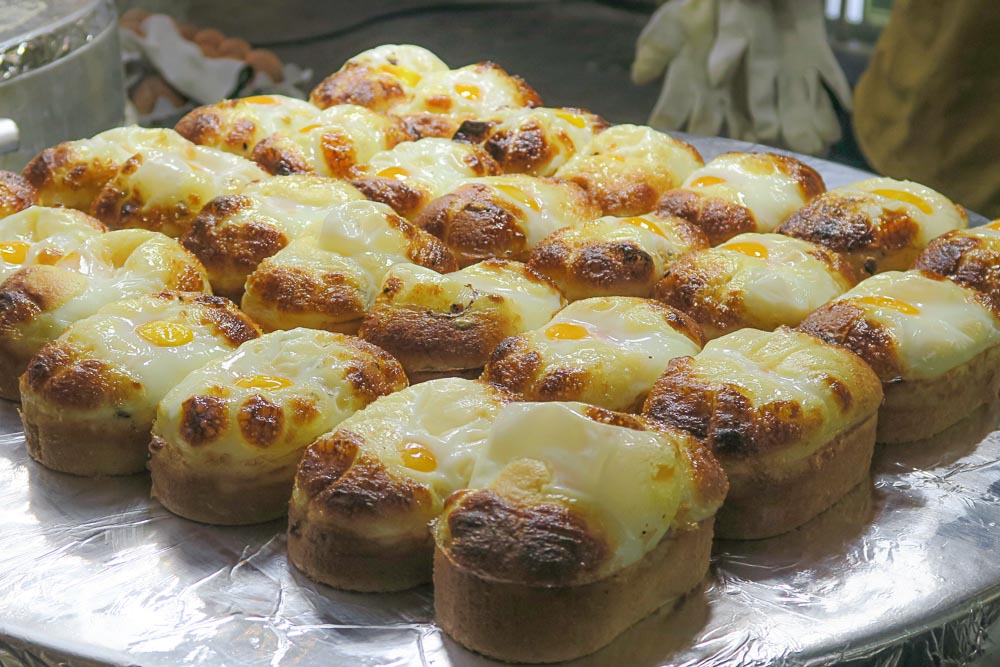 Egg bread is known as gyeran bbang in Korea, but I like to call it the Korean french toast. It's pretty easy to find, as you are likely to find it where ever there's other street food stalls.
Where to find it: This is one of those ubiquitous foods in Korea. You're likely to stumble upon a stall that sells them while shopping.
How much does it cost: ₩2000 (SGD $2.40)
Desserts
12) Bingsu
How can I leave bingsu out of this list? Ice cream, ice that's softer than snow, and delicious toppings come together in this frozen confection.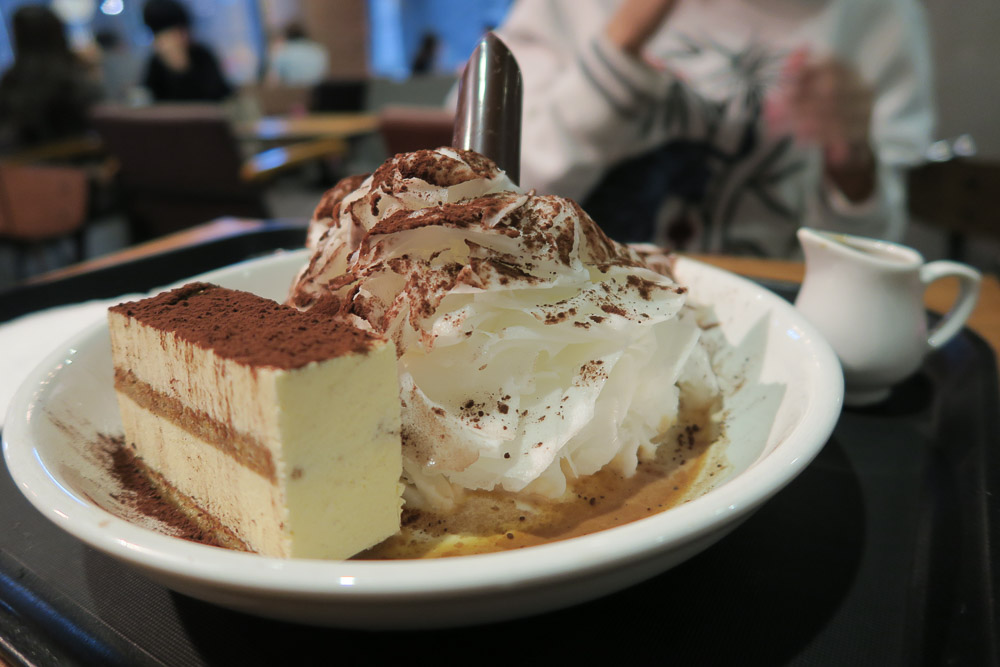 Tiramisu bingsu is a popular choice, with a whole slice of tiramisu sitting beside a mountain of shaved ice.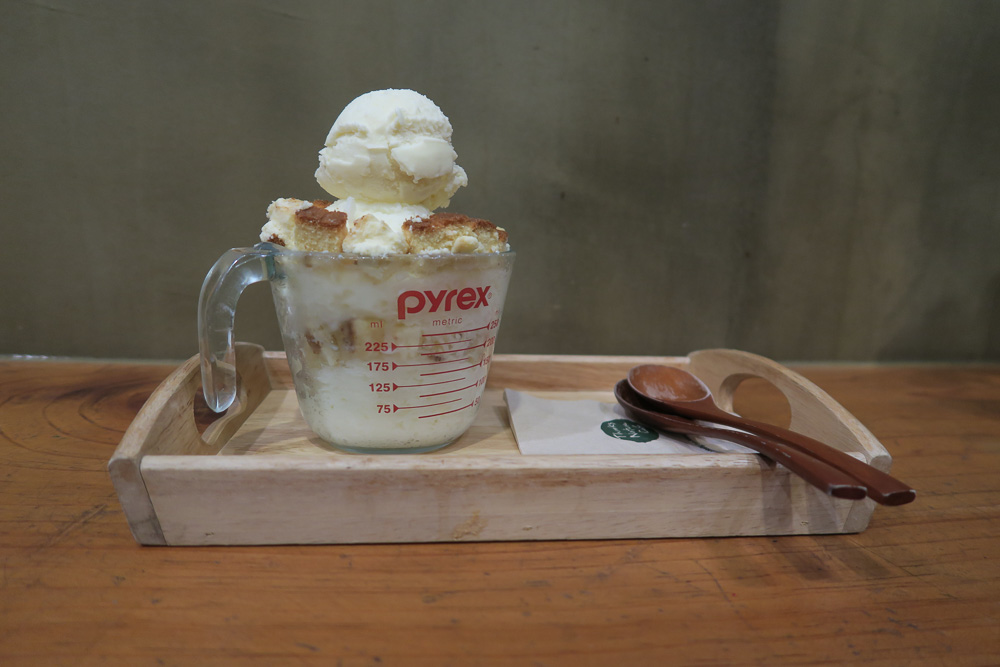 You can get a whole variety of bingsu, from the traditional injeolmi (traditional rice cake) bingsu, fruit bingsu, or matcha bingsu. However, I realised my favourite is any bingsu with cake on it, like the cheesecake bingsu above.
Where to find it: Thanks Nature Cafe, a sheep cafe with tasty bingsu
486 Seogyo-dong, Mapo-gu, Seoul, South Korea
How much does it cost: ₩10,000 for the regular, and ₩15,000 for the large (SGD $12.10 and $18.10, respectively). I would say that the regular size was just nice for two people.
13) Cotton candy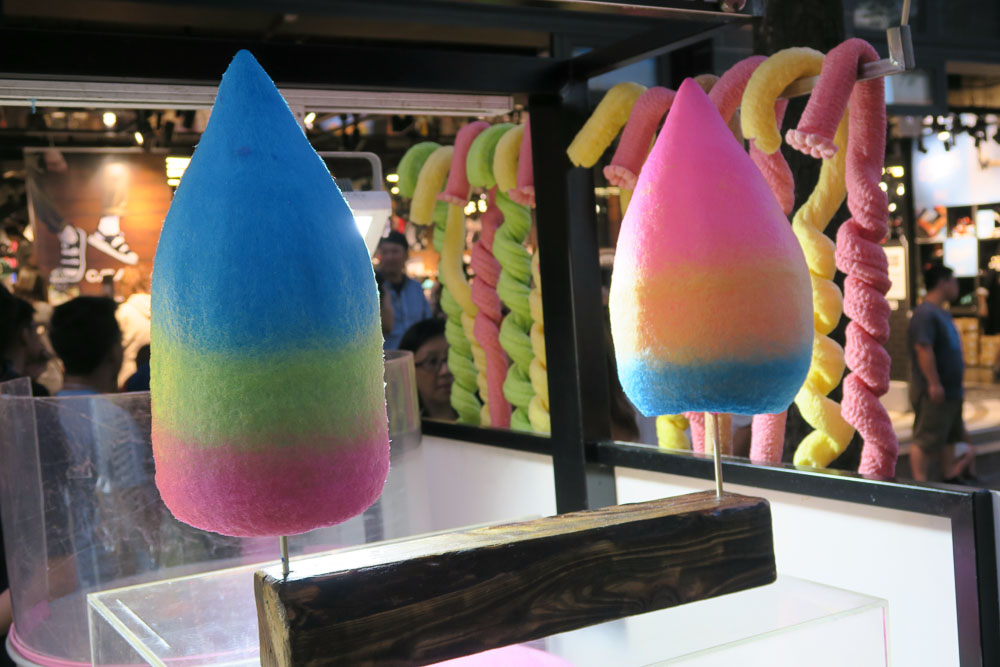 Cotton candy is usually pink or blue, or so I thought. In Korea, cotton candy is incredible, coming in multiple shapes and sizes.
Some even come in the shape of animals. How cute!
Where to find it: Food streets of Myeongdong
How much does it cost: Less than ₩4000 (SGD $4.80)
14) Strawberry mochi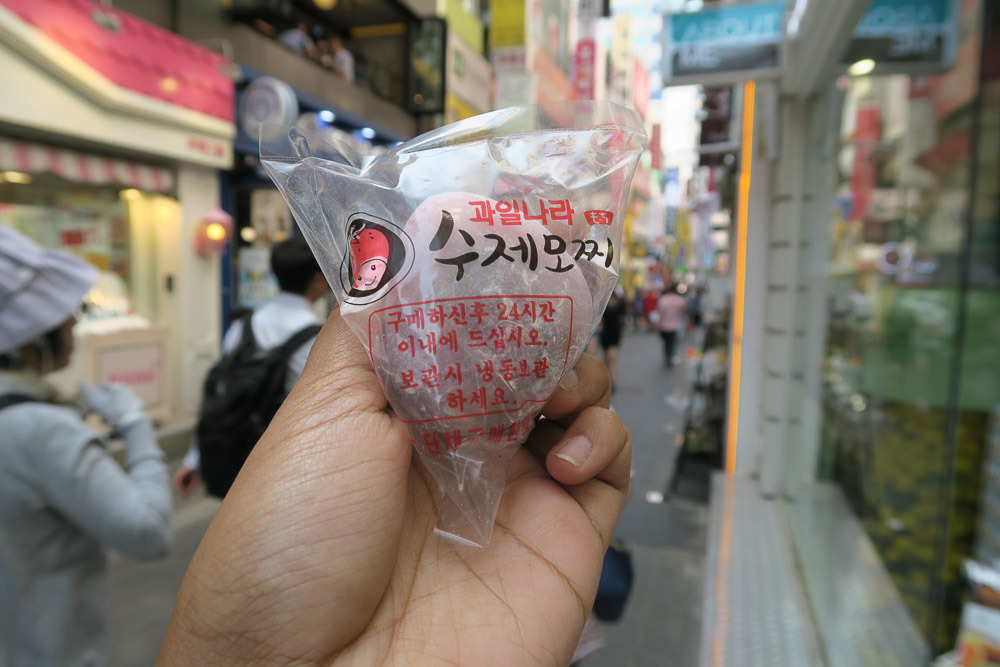 This strawberry mochi comes with a whole strawberry stuffed on the inside, and is coated in red bean as well. One bite oozes with juices and flavour.
I just wish the filling was something other than red bean, because I personally don't like it as much. However, I'm pretty sure other people will love this more than I did.
Where to find it: Food street in Myeongdong
How much is it: ₩3000 for one mochi (SGD $3.60).
Snacks
15) Convenience Store Food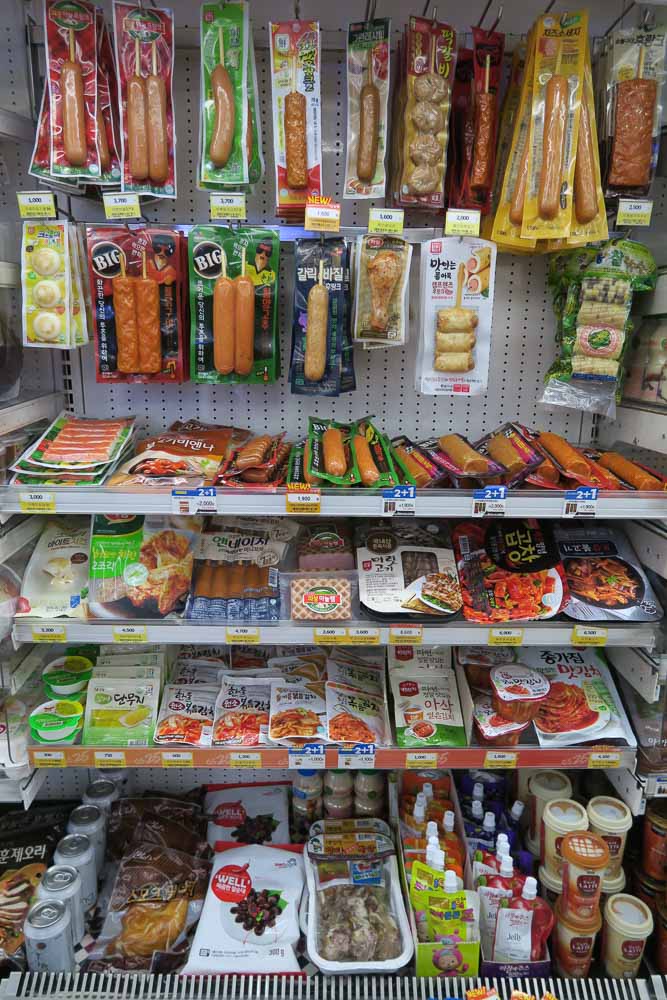 The convenience store is a haven for all who want late night supper. The assortment of ramen, and supplementary meat, cheese, and eggs, is amazing.
I have found a whole smoked turkey leg, and pancakes with fresh cream and real blueberries in the convenience store once.
Even if you don't like processed food that much, I think you will be wowed at the variety of tasty food being sold in a convenience store.
Where to find it: Literally everywhere!
How much does it cost: It's easy to get a meal under ₩5000 (SGD $6.00), but if you're going for glorified ramen with an assortment of meats and eggs, you can probably check out under ₩10,000 (SGD $12.10).
So there you have it! If you're going on a food adventure, rest assured you're going to have an awesome time discovering a lot of unique and tasty food in Seoul.
Let us know in the comments if you have any Seoul food that you particularly love.