If you didn't take any Instagram-worthy photos, did you really visit Singapore? 🙃
Some two years ago, Singapore was ranked as one of the top ten most Instagrammable countries in the world — and it's not difficult to see why.
The island nation has lots of impressive sights, such as lush greenery at the Botanic Gardens and Gardens by the Bay that make us feel like we're in Bali. There's elegant architecture at the National Gallery and colourful shophouses at bustling Keong Saik Road.
Shutterbugs and travellers looking to add a pop of colour to your Instagram feed, read on for 11 Instagram-Worthy Places in Singapore to nail that gorgeous #OOTD.
1) Coney Island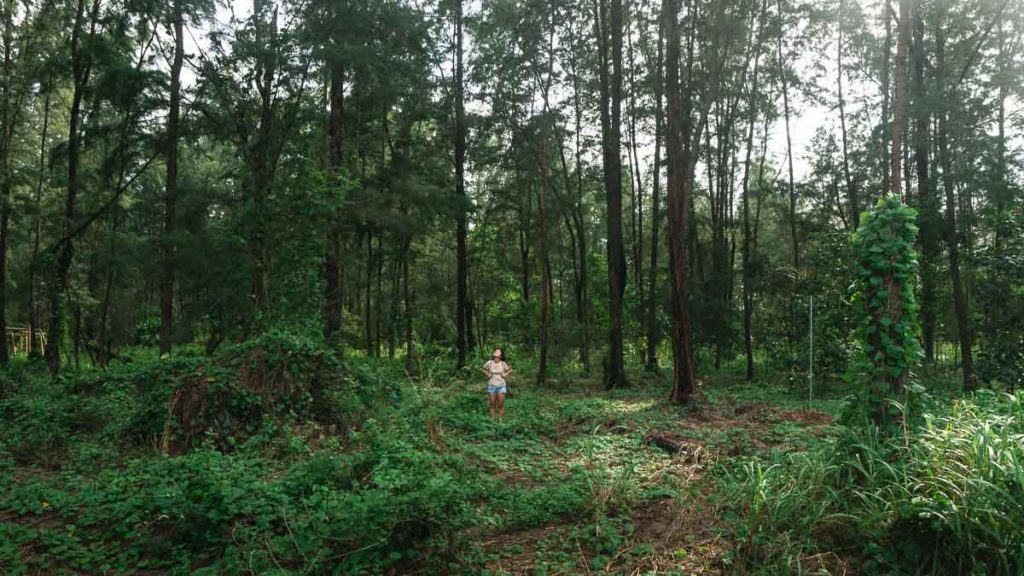 Coney Island, a small island in Singapore's north-east is the perfect place for those looking to immerse themselves in nature. The lush greenery, fields of white lalang grass and seemingly endless dirt tracks make the island one of the best places in Singapore for rustic pre-wedding shoots.
Rent a bicycle at the nearby Punggol Point Park (from S$8/~81,000Rp for two hours) to explore the island at your own pace. If you're lucky, you may even spot some adorable monkeys too!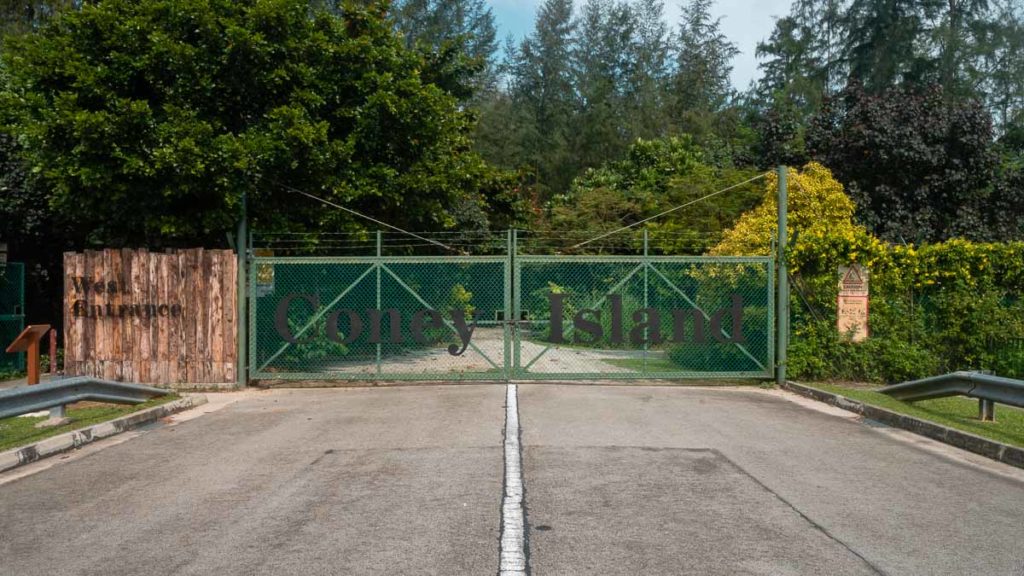 Entrance Fee: Free
Opening Hours: 7AM – 7PM
How to get there: From Punggol MRT station (purple line), take bus no. 84 from the bus interchange to Punggol Point Park/Punggol Settlement and walk about 500m to Coney Island Park West Entrance
*Pro-tip: Some visitors have experienced sandfly bites on Coney Island's beaches, so wear long pants and/or apply insect repellent if you're heading to the water
Read More: Top 11 Outdoor Activities in Singapore — Places to Hike, Picnic and Get Closer to Nature
2) Spiral Stairwell at Fort Canning Park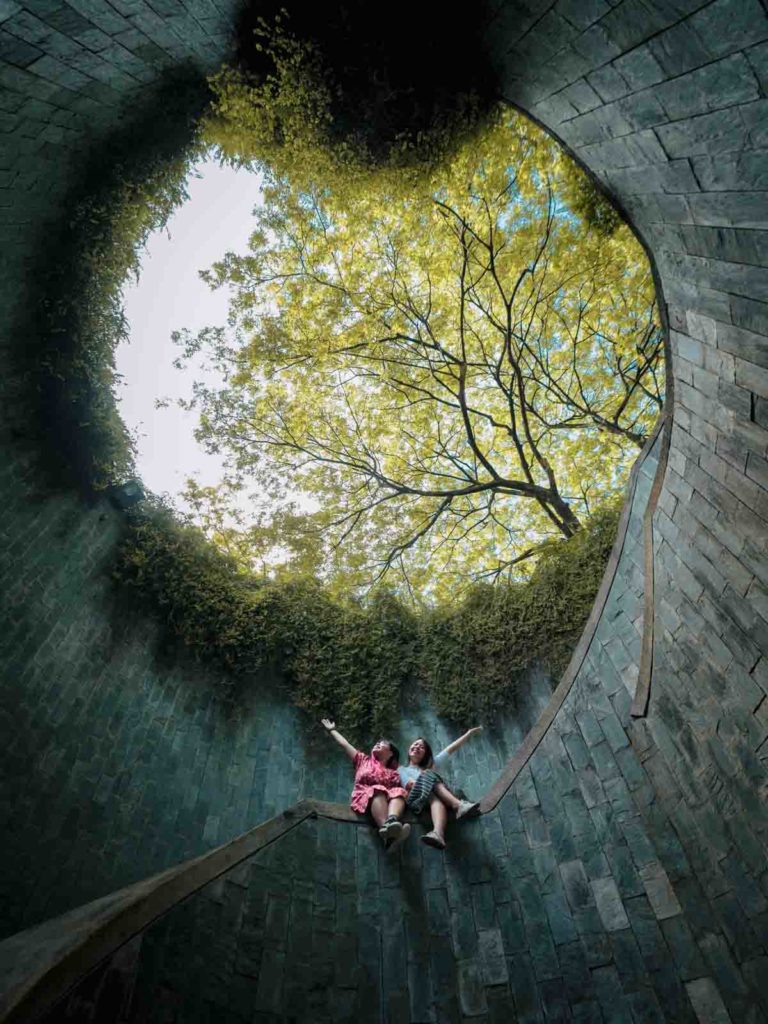 Photography is all about perspective and the iconic spiral stairwell at Fort Canning Park, which frequently appears on our Instagram feeds, demonstrates just that.
Shoot from below to capture the towering tree in the background, which will add colour to your photos. While you're at it, the surrounding grey-tiled walls also make for an interesting backdrop too.
Entrance fee: Free
Opening Hours: 24hr
How to get there: From Dhoby Ghaut MRT station (purple line), walk toward Singapore Shopping Centre then walk about 450m along Penang Road to Fort Canning Link
*Pro-tip: Bring along some props, such as a cute umbrella or sun hat, to level up your IG game.
3) Sang Nila Utama Garden at Fort Canning Park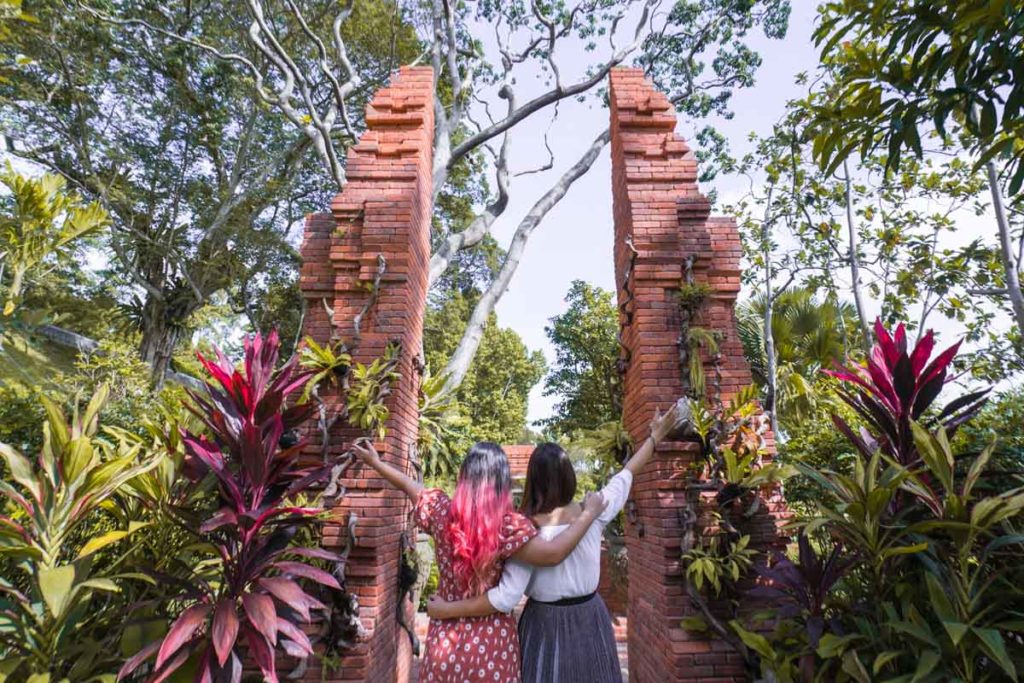 Fort Canning Park has one more Instagram-worthy place in Singapore to check off — the Sang Nila Utama Garden, our favourite among the nine historical gardens located there.
Reimagined as a 14th-century palace garden, the Sang Nila Utama Garden features several beautiful Javanese split gates and a reflective pool inside too. The split gates along a narrow, cobbled walkway make the perfect backdrop for your #OOTD.
Entrance fee: Free
Opening Hours: 24hr
How to get there: From Fort Canning MRT Station (blue line), take exit B to Jubilee Park in Fort Canning, make a right turn and walk along Five Kings Walk. The Sang Nila Utama Garden is located just past Raffles Garden. The Fort Canning Park Map offers a handy route
*Pro-tip: Turn on the gridlines function on your phone or camera to frame the photo symmetrically and place the subject in the centre
4) Potato Head Club at Keong Saik Road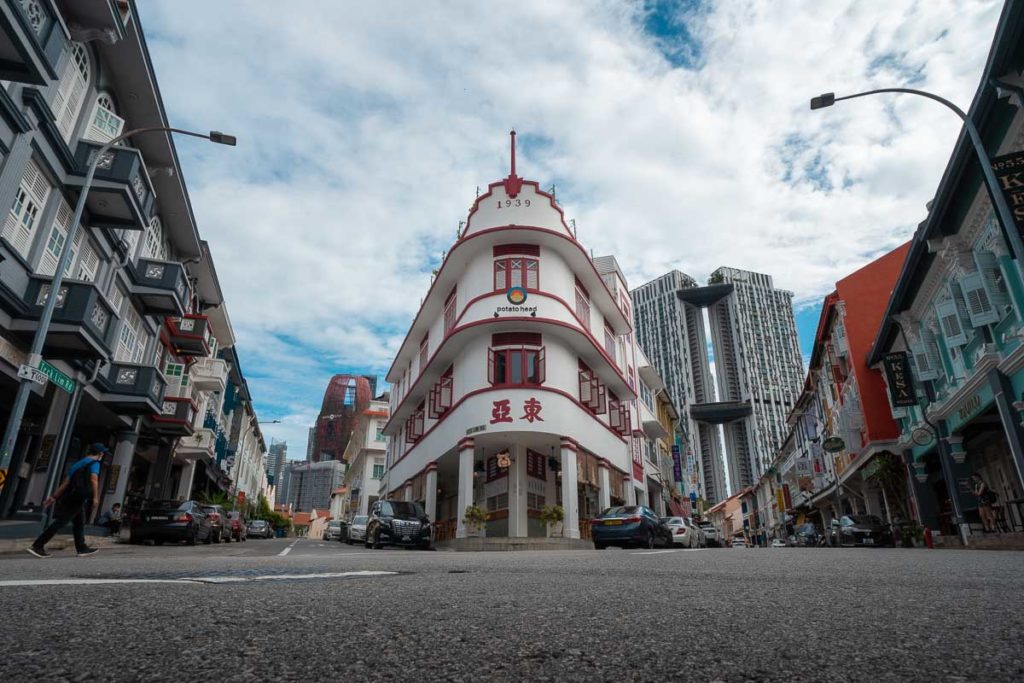 Once a red-light district in the 1960s, Keong Saik Road has evolved into a trendy street with cool bars and restaurants, and plenty of Instagram-worthy spots around.
The iconic red-and-white three-storey shophouse of Potato Head Club contrasts with modern apartment The Pinnacle at Duxton apartment in the background, while the alleys along Keong Saik road sport colourful murals. Arrive from 6PM to capture a multi-hued sunset.
When you're done shooting, head up to the iconic rooftop bar for a tropical tipple or some delicious burgers, and chill while gazing at Chinatown's mesmerising skyline.
Cost: From S$15/~200,000Rp for a burger and S$20/~267,000Rp for a cocktail
Opening Hours: 11AM – 12MN
How to get there: From Outram Park MRT Station (green line), take exit H and walk about 5mins to Keong Saik Road
5) Jewel Changi Airport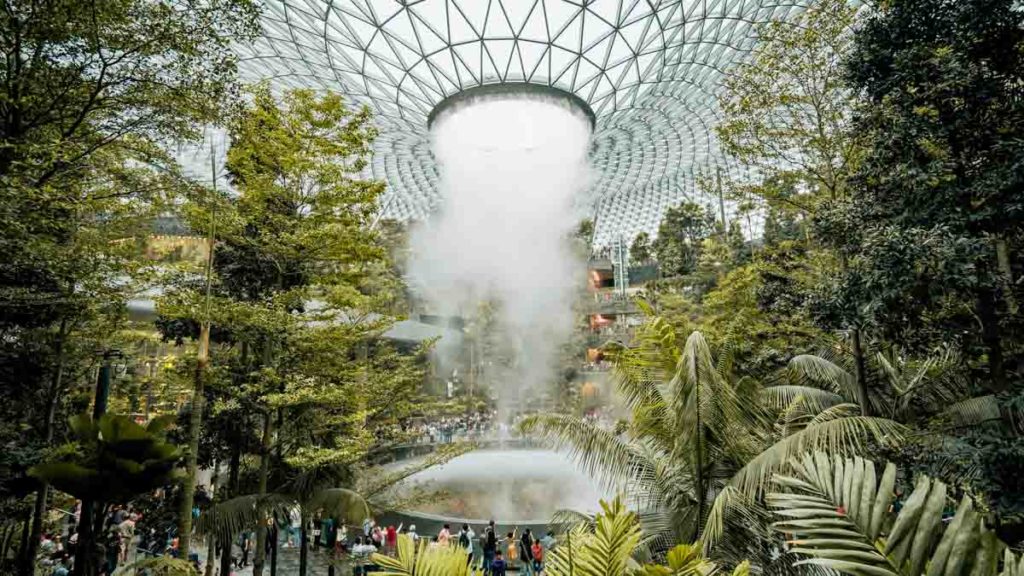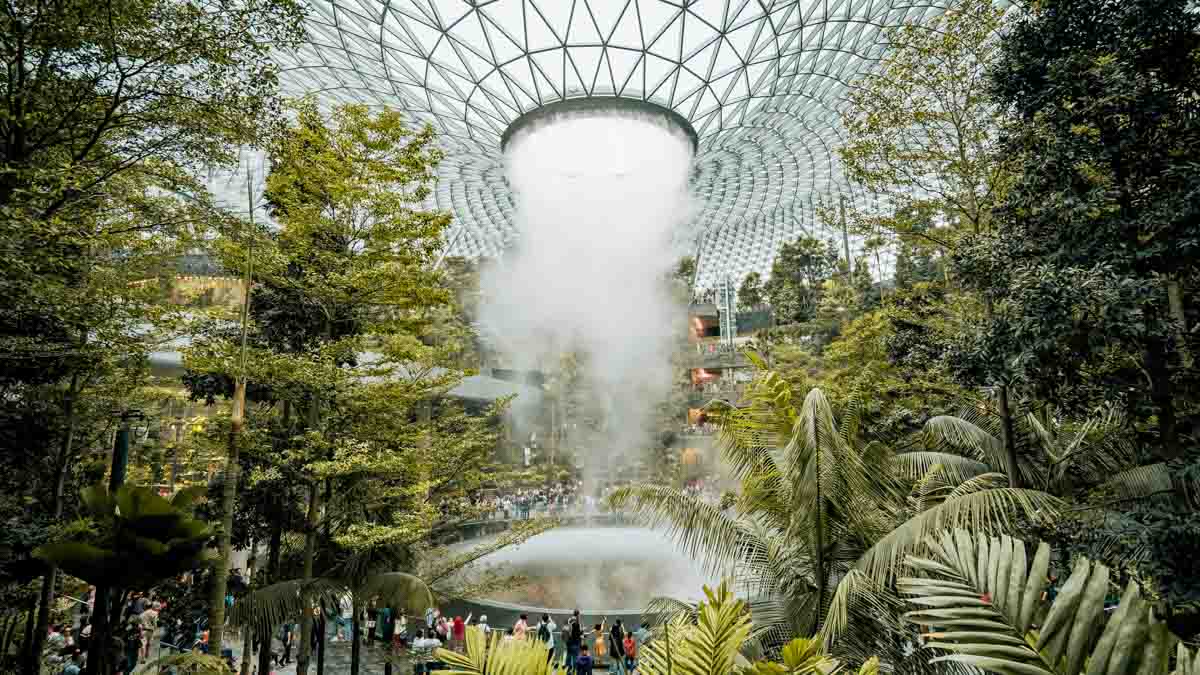 Part airport, part rainforest, and part theme park, Jewel Changi Airport is a 10-storey futuristic airport mall with over 280 restaurants and stores. Beyond its mouth-watering selection of fast-food such as Shake Shack and Burger and Lobster, Jewel Changi Airport is also home to a variety of Instagram-worthy places in Singapore too.
The HSBC Rain Vortex takes centre stage. Crowned the world's tallest indoor waterfall, it features over 500,000 litres of water cascading down seven floors. In the afternoon, harsh sunlight is filtered through the water droplets to create a dreamy, shimmering effect. Golden hour lends a subtle glow.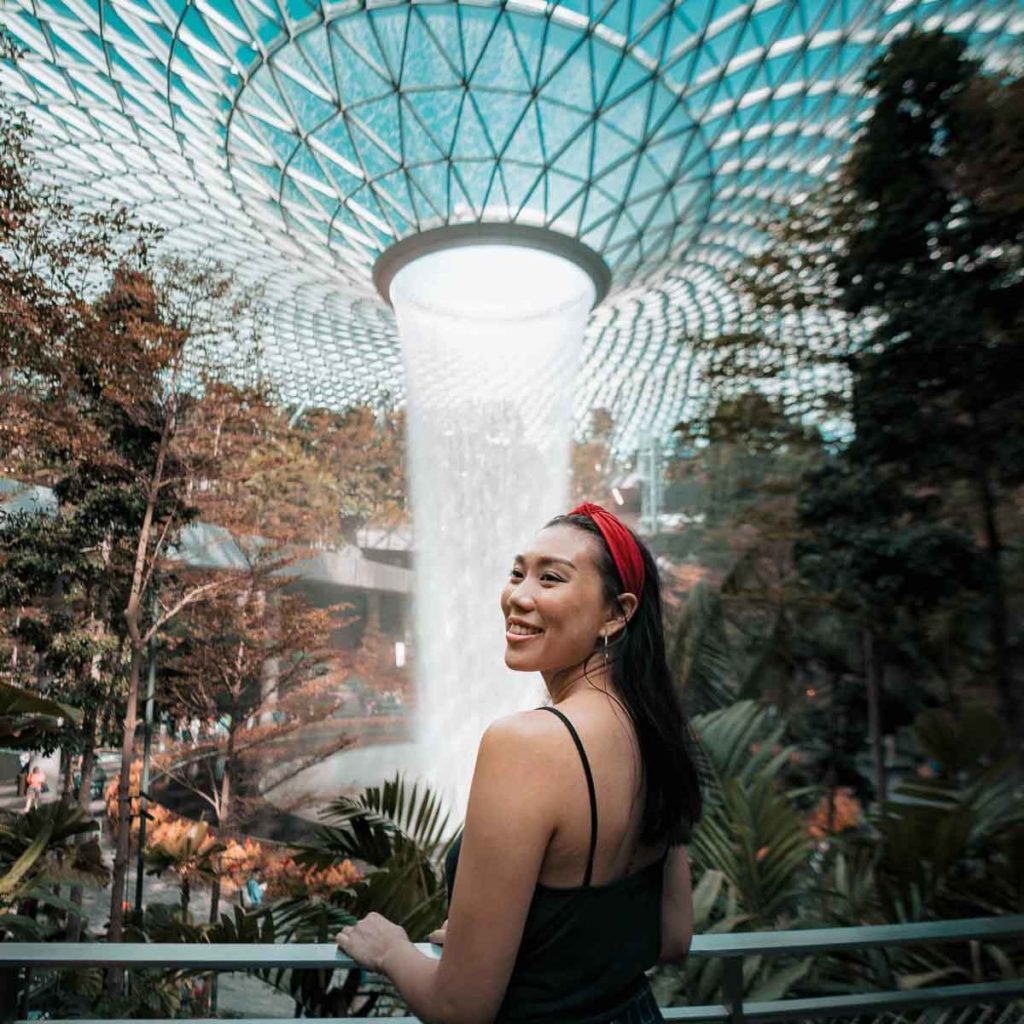 Other Instagram-worthy spots abound. Head to the Canopy Park for geometrical architecture or make a quick stop at the bamboo groves situated in the Forest Valley.
Entrance Fee: Free
Opening Hours: 24hr, light shows at 8:30PM and 9:30PM
How to get there: From Changi Airport MRT Station (green line), Jewel Changi Airport is accessible via link bridges located at level 2 of Terminals 2 and 3.
*Pro-tip: To admire the Rain Vortex in its entirety, head to the observation decks beside the glass lifts on Level 5 of the Canopy Park
Read more: Everything You Need To Know About Jewel Changi Airport — 25 Stores And Attractions Worth Travelling (To The East) For
6) Street Art at Haji Lane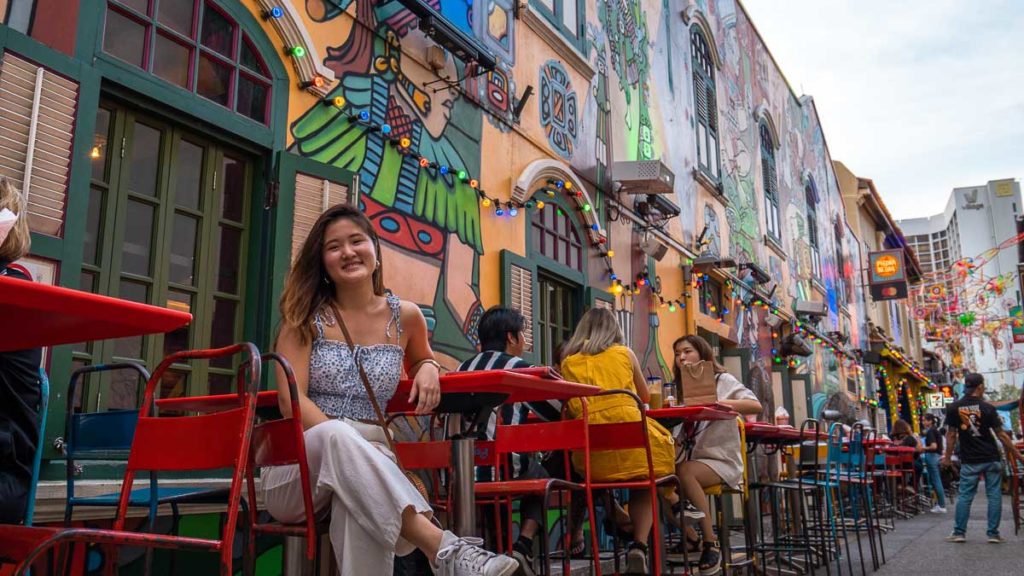 Peppered with plenty of hipster cafes and boutiques, Haji Lane bustles with life and is a favourite amongst creatives.
With street art similar to Jogja's murals or Penang's Armenian Street, Haji Lane's allure lies in the gorgeous, colourful murals located at every turn. We recommend spending an hour or two to explore this vibrant playground, and make Haji Lane a part of your Instagram aesthetic.
How to get there: From Bugis MRT Station (green/blue line), head towards exit B and walk about 5mins to Haji Lane
7) Gardens by the Bay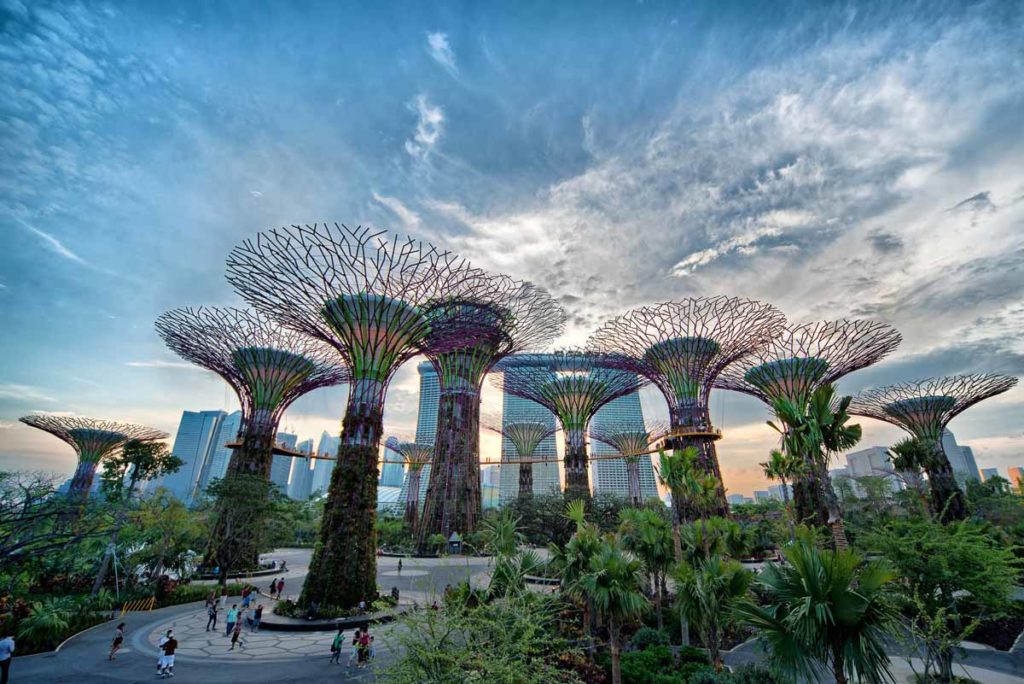 Arguably the most photogenic spot in Singapore, the SuperTrees at Gardens by The Bay with Marina bay Sands in the background can't be missed!
The best time to come is before sunset when it's not so hot but if you're looking to escape the heat, do consider getting a ticket for the air-conditioned observatories — Cloud Forest and Flower Dome.
The Flower Dome has an array of flowers and plants from the Mediterranean and semi-arid region. Themes change frequently to include flowers from around the world such as dahlias and tulips.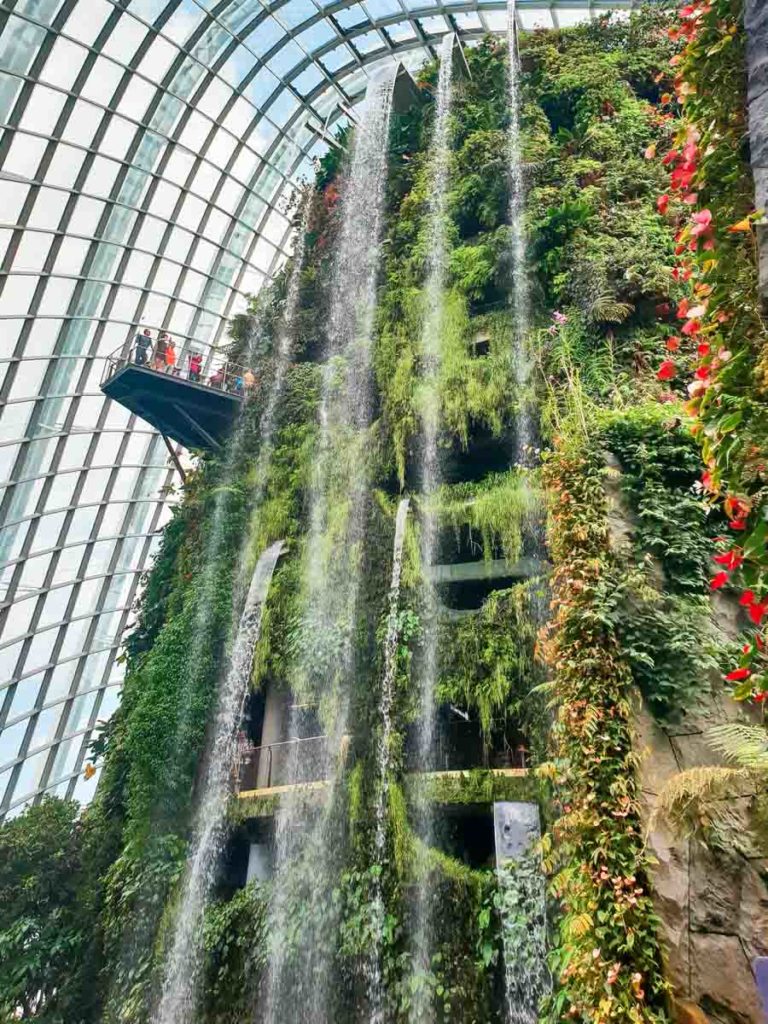 At the Cloud Forest, a lush indoor forest and impressive waterfall make an ideal backdrop for your Instagram portraits. The best time to shoot here is when the scheduled misting takes place every two hours from 10AM – 8PM to recreate something dreamy in sunny Singapore.
Entrance Fee: Free for outdoor gardens, S$23/~ 307,000Rp for the Flower Dome and Cloud Forest
Opening Hours: 5AM – 12AM for outdoor gardens, 9AM – 9PM for Flower Dome and Cloud Forest
How to get there: From Bayfront MRT station (blue line), take exit B and follow the underground linkway, crossing the Dragonfly Bridge or Meadow Bridge into Gardens by the Bay
8) MacRitchie TreeTop Walk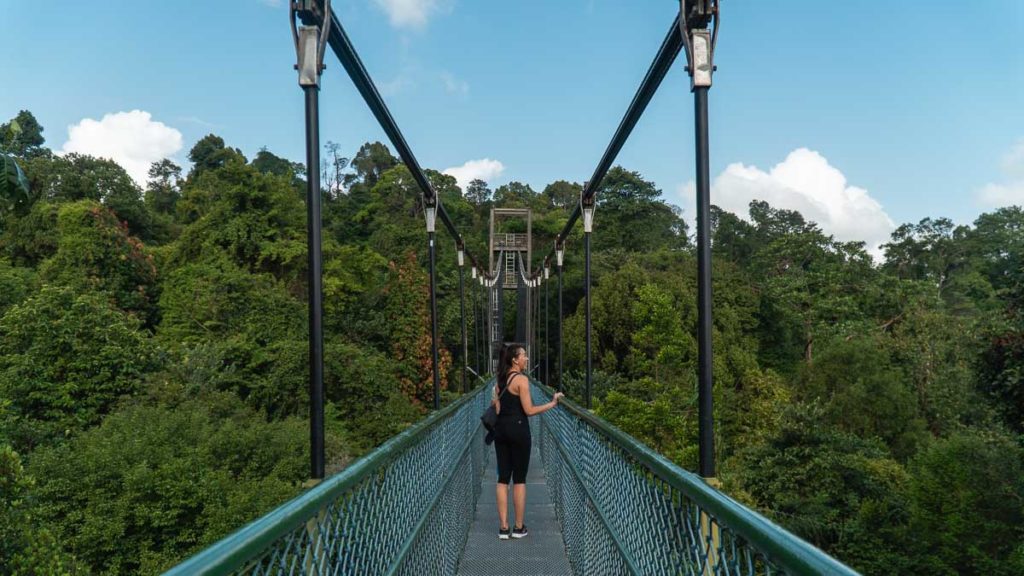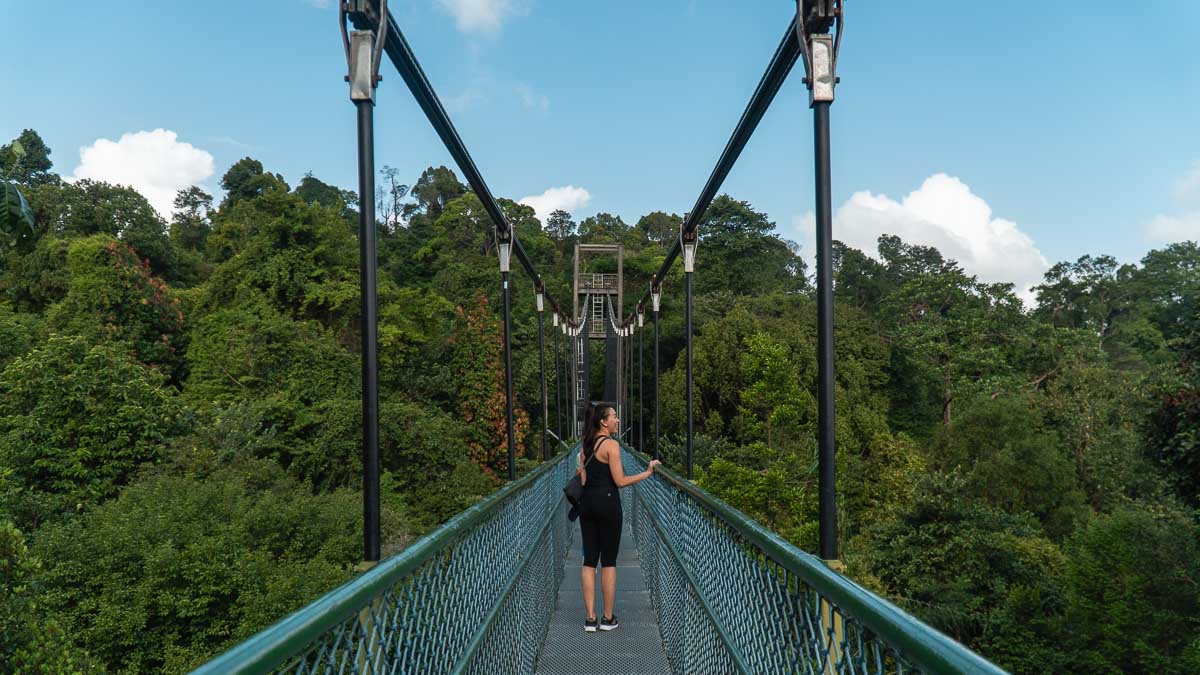 *UPDATE: MacRitchie Treetop Walk is currently closed for maintenance work until May 2021.
Explore the wilder side of Singapore at MacRitchie Reservoir Park, where there's an abundance of flora, fauna, and cheeky monkeys.
A highlight is the MacRitchie Treetop Walk. It features a free-standing suspension bridge that connects the two highest points in MacRitchie and offers a bird's-eye view of the forest canopy. When composing your shot, take advantage of the bridge's converging lines, which lead the eye to the subject.
Entrance Fee: Free
Opening Hours: 8:30AM – 5PM (Sat, Sun & PH), 9AM – 5PM (Tues to Fri), closed on Mon except public holidays
How to get there: From Marymount MRT station (orange line), take buses no. 132, 165 or 166 to Venus Carpark and start your trek there
*Pro-tip: Start the trek about 60 – 90 minutes before the treetop walk opens so you can be among the first ones on the bridge. The treetop walk will be less crowded so you'll have more time for photos, and the heat is more forgiving so you won't look like a sweaty mess when you get there.
9) Tan Teng Niah's House in Little India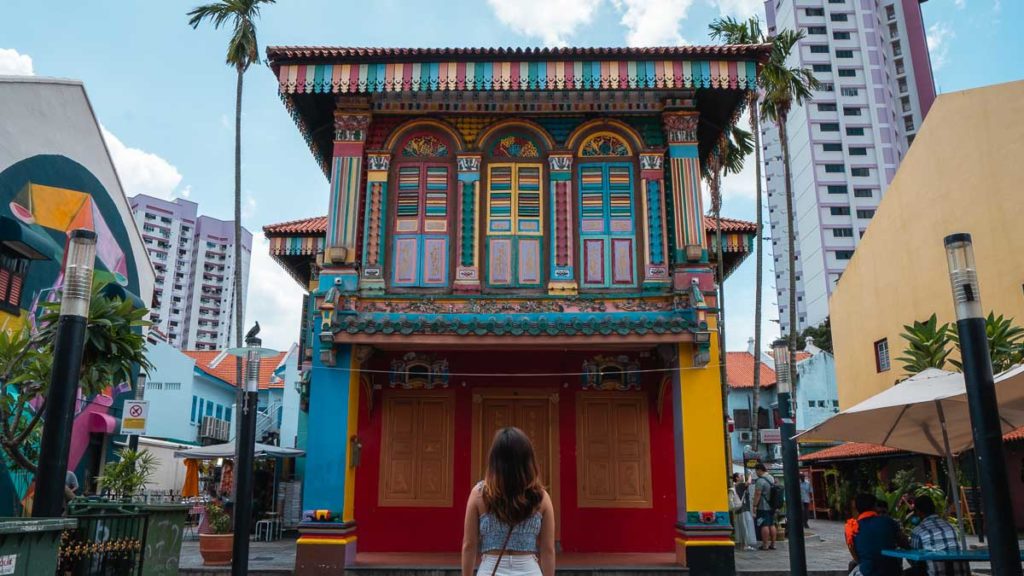 There are plenty of places in Singapore that feature colourful buildings and design, but none stand out as beautifully as Tan Teng Niah's house in Little India.
Built in the 1900s, the two-storey bungalow was the home for wealthy Chinese businessman Tan Teng Ngiah. Its said to be the last remaining Chinese villa in the area and the vibrant house has now become an Instagram-worthy backdrop.
Since you're near Little India, take a three-minute walk to Tekka Centre for a meal. Tuck in to prawn noodles from 545 Whampoa Prawn Noodles or Indian Rojak, a mix of fried dough and prawn fritters, sliced vegetables, and eggs from Temasek Indian Rojak.
How to get there: From Little India MRT Station (blue/purple line), take exit E. Tan Teng Niah's house is a 2mins walk away
10) Singapore Botanic Gardens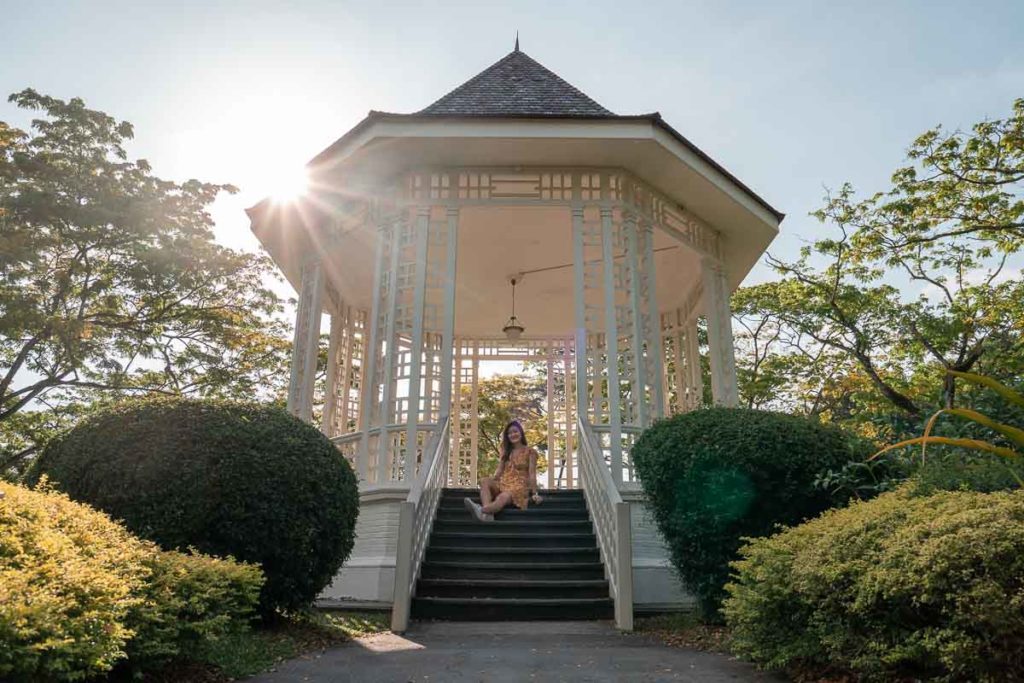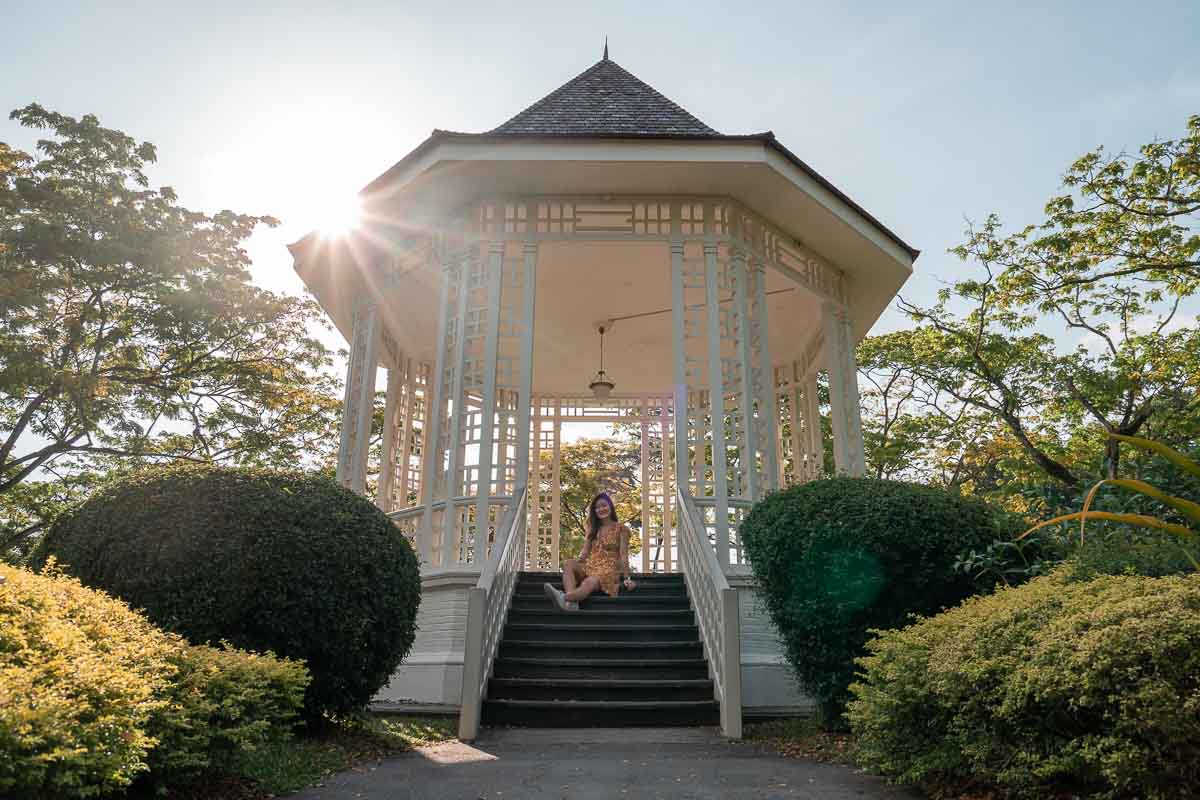 The Singapore Botanic Gardens, the country's first UNESCO's World Heritage Site, is full of lush backdrops for your photos.
Multiple gazebos dot the park, including the Bandstand, which is popular among couples taking wedding photographs. At the serene Swan Lake, majestic white swans may even glide into the background of your photo. And couples can perch on a low-hanging branch of the striking Tembusu tree, which is featured on Singapore's $5 bill.
Cost: Free
Opening Hours: 5AM – 12MN
How to get there: From Botanic Gardens MRT station (orange/blue lines), the entrance is right outside Exit B
Bonus: National Gallery Singapore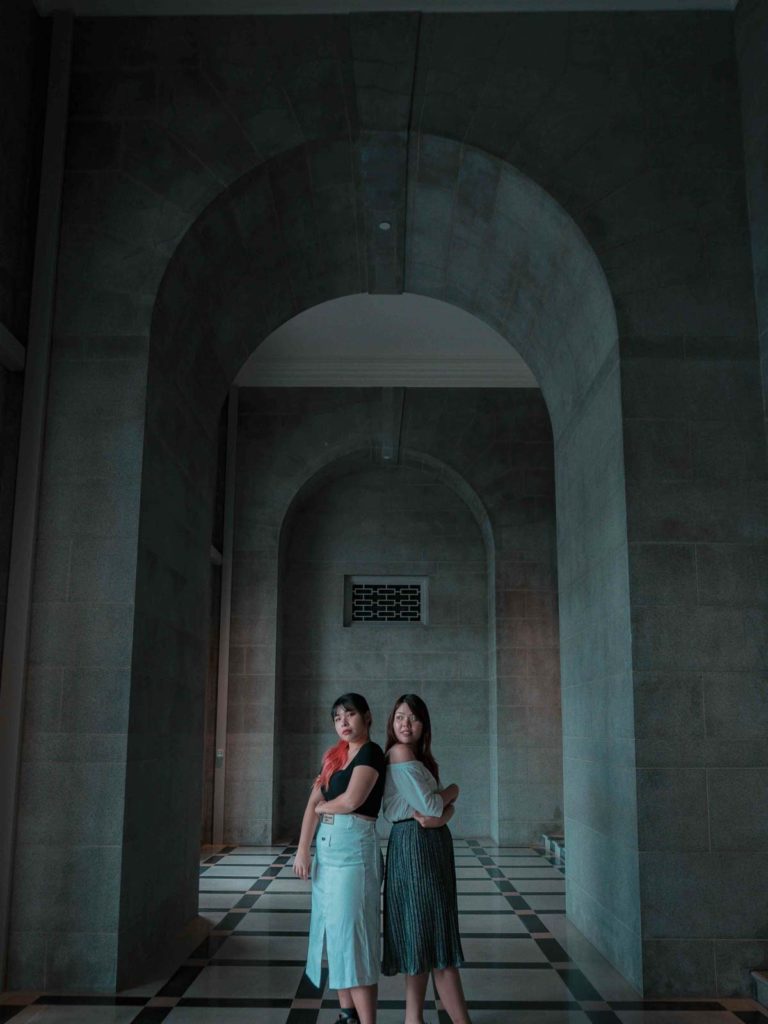 This one isn't free but if you're into architectural backdrops, the National Gallery Singapore is a must-visit. The art museum houses the world's largest public collection of Singapore and Southeast Asian modern art. Shutters and glass windows let in lots of natural light.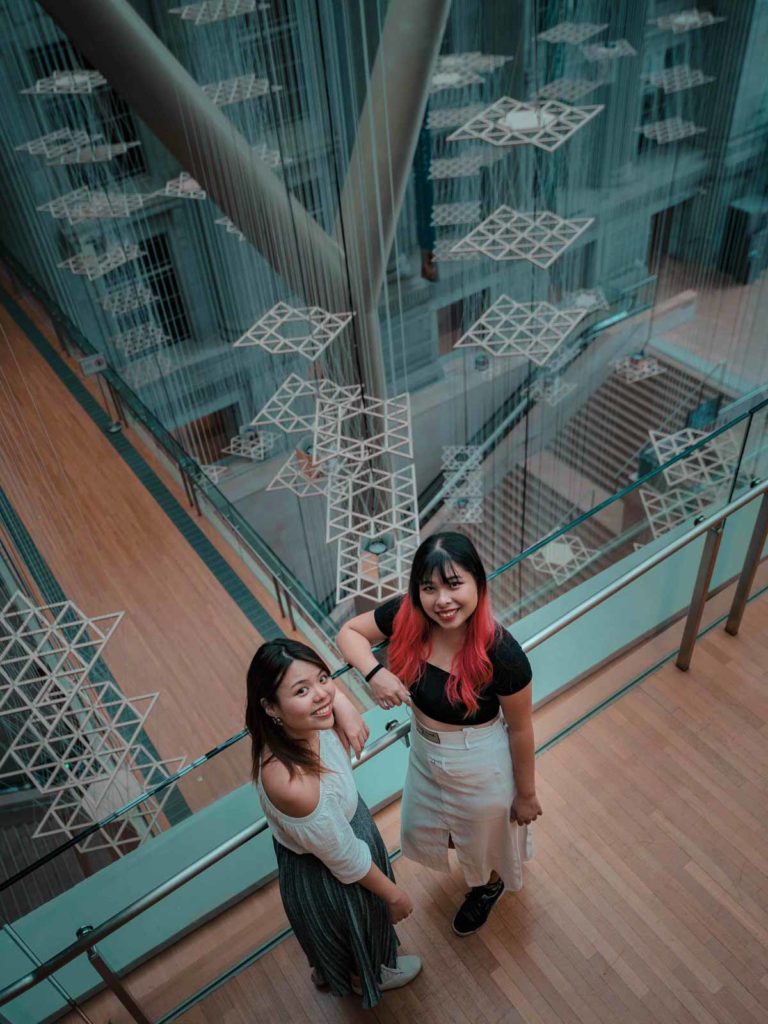 There are many Instagram-worthy backdrops both in and outdoors. These include the grey-washed archways that sit above clean mosaic tiles at the ground level of the Supreme Court Foyer or the stairs connecting two halves of the museum at the Padang Atrium.
On a clear day, head to the roof to visit the large-scale kinetic sculptural exhibition by China's foremost contemporary artist Cao Fei. A roof garden offers an extra backdrop.
Entrance Fee: S$20/~267,000Rp for general admission
Opening Hours: 10AM – 7PM (Sat to Thur), 10AM – 9PM (Sun)
How to get there: From City Hall MRT Station (green/red line), take exit B and follow the sheltered walkway to the National Gallery, about 2mins away
Spend a few days in Singapore and you won't just leave with beautiful memories — you'll have beautiful pictures from all our top culture, nature and architectural spots. So pack your favourite dresses, a pair of oversized shades, your Insta-boyfriend, and get ready to snap away around these places in Singapore!
---
This post was brought to you by Facebook, Infocomm Media Development Authority (IMDA), and Klook.
Like what you see? Follow us on Facebook, Instagram, YouTube, and Telegram for more travel updates