A Bali-esq getaway gem that's only a 1-hour ferry ride away.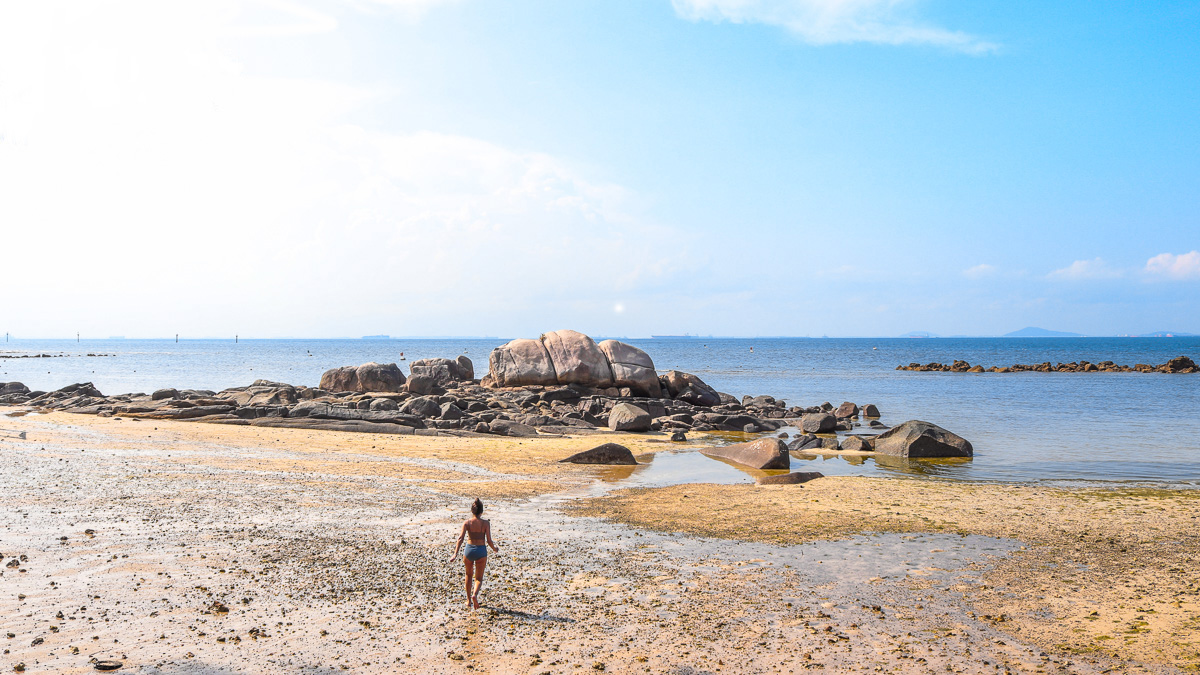 Things to do in Batam? Get a massage, eat, Netflix and chill in the hotel room with a box of donuts — end of list. At least that's what I thought!
I never imagined I'd be able to run on empty beaches, visit a deer sanctuary, or go on adventurous activities like hiking and go-karting, while also relaxing in between with spas and cafe hopping.
After doing all that and more in this 2D1N Batam itinerary, it's safe to say that I've discovered a side of Batam I haven't experienced before and I can't wait to share it with you!
Day 1
Check-in at Harbour Bay Marriott Hotel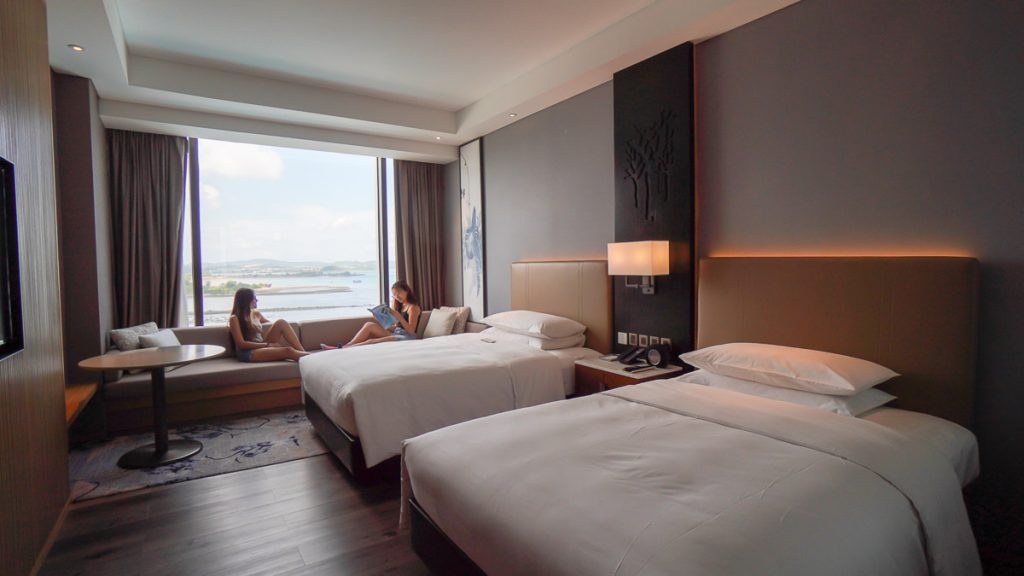 My two friends and I are the kind of travellers who'll pick hostels over hotels but since we travelled in a group of three and agreed to split the cost, we decided to live it up a little and stay at Harbour Bay Marriott Hotel which came up to S$87/pax for the night.
The beds and bathrooms were luxurious but we were especially taken by the alcove window. If we didn't have to be out and about, we'd definitely be spending the entire day in this room.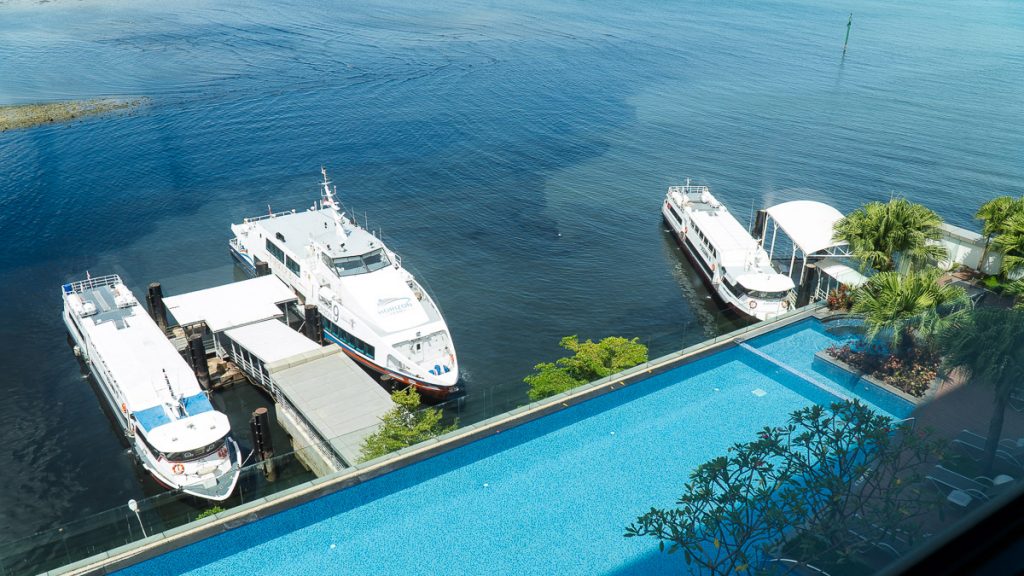 The view from our room!
The pool opens from 6AM to 8PM daily and there's a 24-hour gym right beside it.
Cost: ~S$261/night for a Deluxe Guest Room
Address: Harbour Bay Downtown, Jl. Duyung, Sungai Jodoh, Kec. Batu Ampar, Kota Batam, Kepulauan Riau 29453, Indonesia
Explore Wisata Ocarina Batam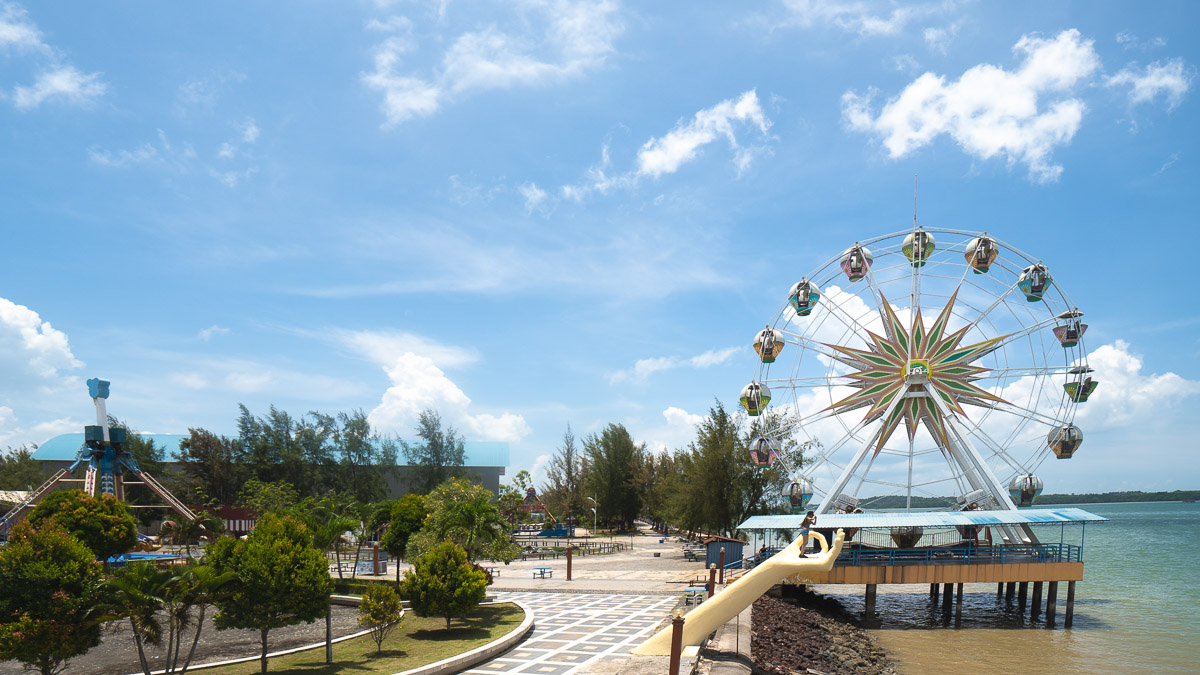 Did you know that there's an amusement park in Batam? Wisata Ocarina Batam has classics like the giant carousel wheel, viking, and an elevated spinning-swing-thing. And it's only Rp15,000 (~S$1.50) per ride 😲
Here's what really amused us though, we went on a Thursday afternoon during the non-peak period and all rides were closed. But since we were already there, we entered the grounds and got some dope pics of us exploring an 'abandoned' amusement park!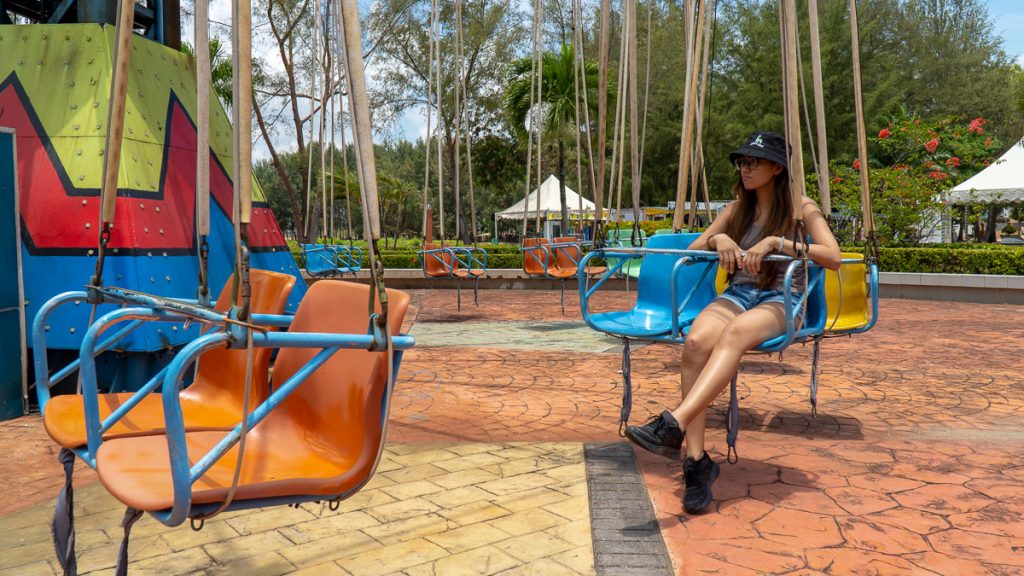 For those who like some seriously quiet downtime, pack lunch and hang at one of the many gazebos — you'll likely be the only ones there.
*Pro-tip: Go during weekends or public holidays to go on rides. Plus, there are foam parties on some weekends too, check their Instagram for updates.
Entrance fee: Rp15,000/child, Rp25,000/adult
Cost: Rp10,000 – Rp15,000/ride
Opening hours: 8AM – 10PM (Mon – Fri), 7AM – 10PM (Sat), 6AM – 10PM (Sun)
Address: Sadai, Bengkong, Batam City, Riau Islands 29444, Indonesia
Coffee Run at Next Level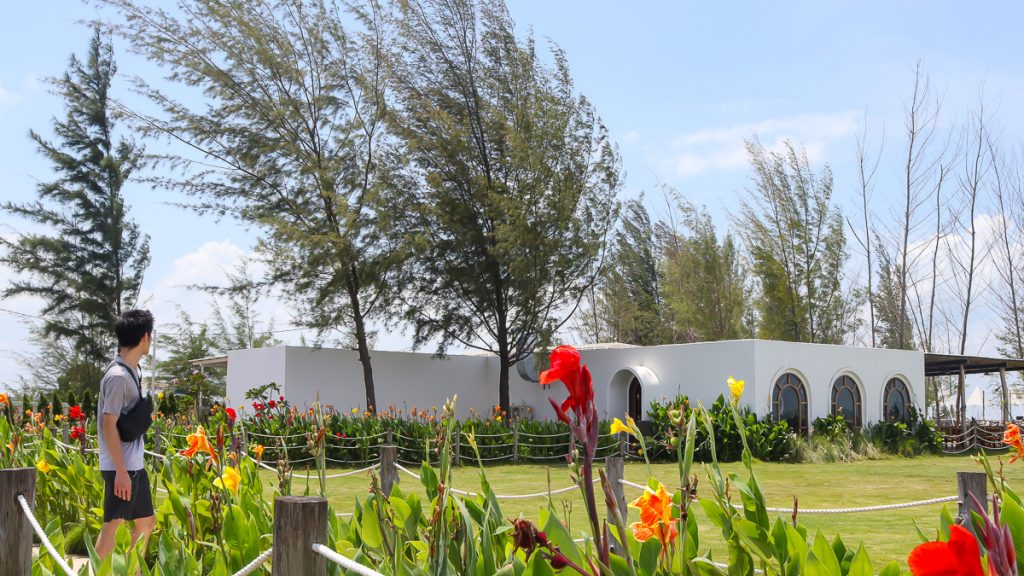 On the way to lunch, our Gojek driver recommended that we make a quick stop at Next Level to check out the immaculate vibes. Glad we did cause we felt like we were at a much quieter Tanjong Beach Club!
There are plenty of outdoor seats on the beachfront and some in the back under the shade too if you're not a fan of the sun.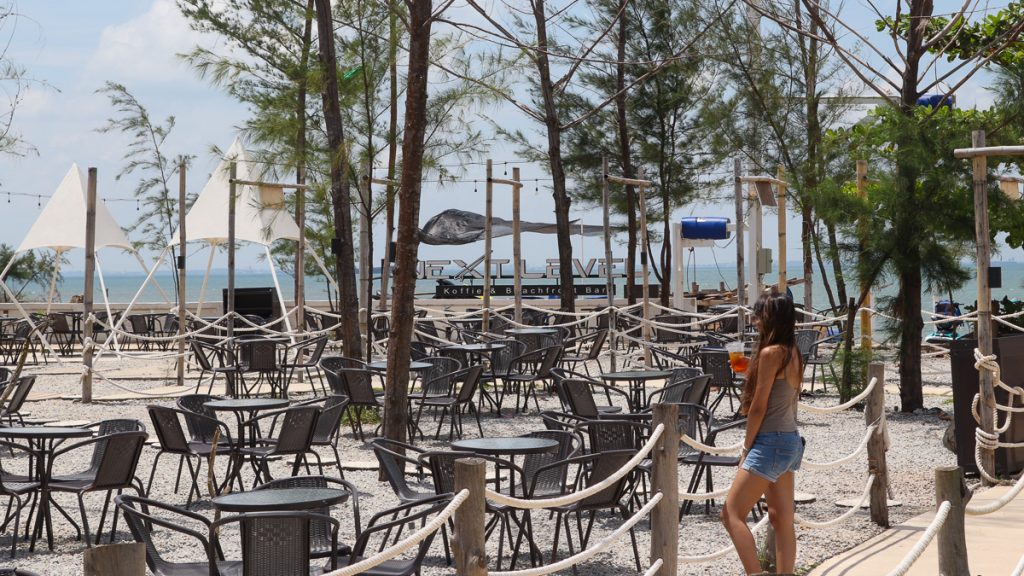 They also converted a breakwater into a bar — a pretty cool concept if you ask me! And with prices here being very reasonable, time will slip away but your hard-earned moolah won't.
Photo credit: Next Level Batam
I would have loved to have their specialty Next Level Nasi Goreng (Rp45,000) or hang out at the sea-facing bar. But since we were fuelling up at our next location, I only got myself an iced peach tea (Rp28,000) this time around!
Opening hours: 9AM – 12AM
Address: Gold Coast Batam, Batam City, Riau Islands 29432, Indonesia
Lunch at Golden Prawn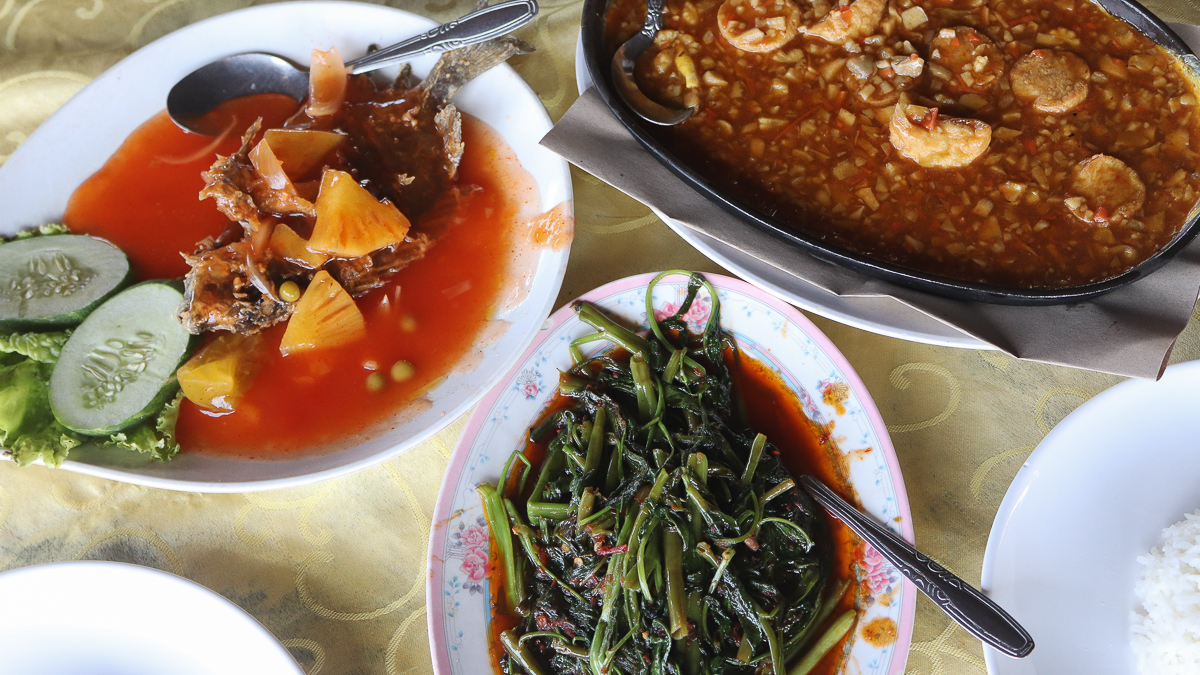 Golden Prawn 933 is a great kelong seafood restaurant to have freshly cooked local dishes at a reasonable price point! We got to pick out fresh fish for the sweet and sour dish Rp67,000 (~S$6) and decided on the staple sambal kangkong Rp110,000 (~S$10) plus a tofu hotplate Rp123,000 (~S$11) for our meat-free pals!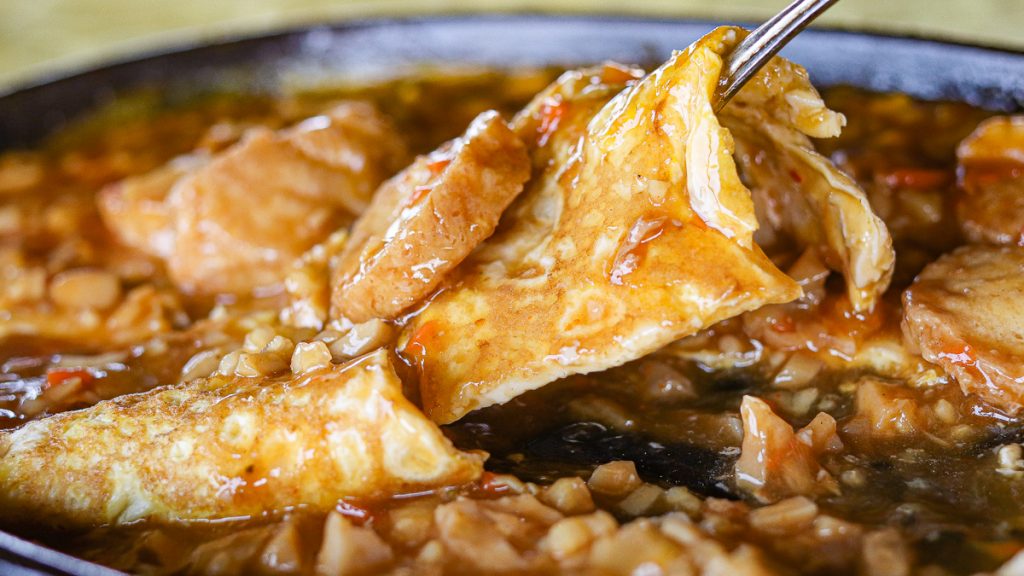 We didn't expect this much egg hiding under all the tofu but it was so good we had no complaints! But the sambal kangkong could have been spicier though 🌶️.
Cost: ~Rp100,000-Rp168,000/pax (~S$9 – S$15/pax)
Opening hours: 9:30AM – 11PM
Address: Jl. Golden Prawn, Tj. Buntung, Kec. Bengkong, Kota Batam, Kepulauan Riau 29458, Indonesia
Racing at Golden City Go-kart
Zooming around at Golden City Go-kart while having mini competitions with each other was one way to override the impending food coma.
We've never tried go-karting before but after a short safety briefing, we were speeding like pros and had a great time 🏎️. It turned out to be pretty straightforward even for non-drivers like us. I never considered go-karting an activity to do when I'm looking for fun but now I might just try the courses we have in Singapore!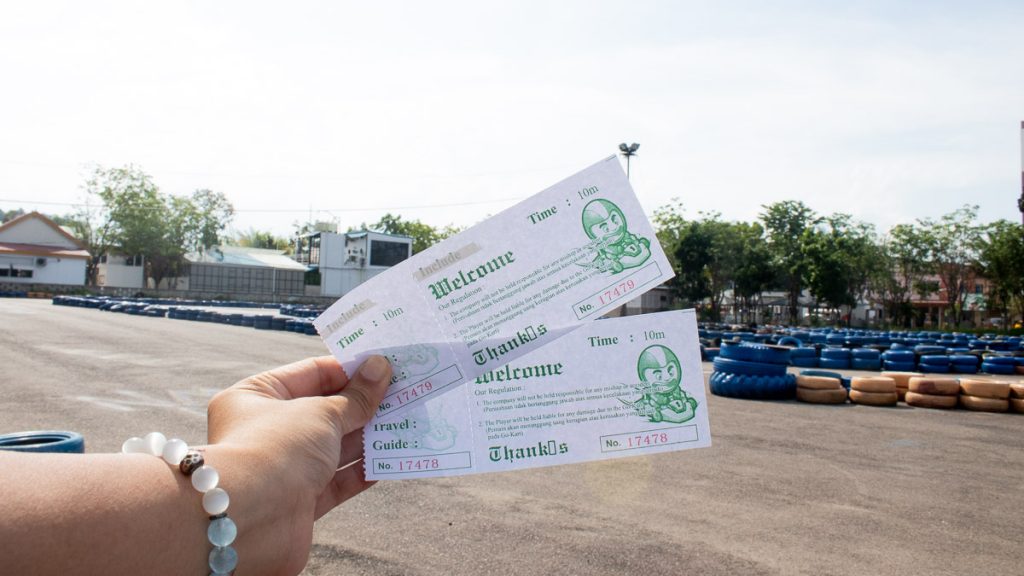 All tickets allow for 10 minutes on the track — but I think it was clear we didn't want to leave so they let us have a few more rounds since it was just us on the tracks!
There's also an option for a double go-kart (Rp250,000) which gives you the chance to sit beside your bestie and let them steer you if you have severe apprehension about being behind the wheel.
Cost: Rp200,000 for a single Go-kart Super Car
Opening hours: 8AM -5PM
Address: Jl. Bengkong Laut, Tj. Buntung, Kec. Bengkong, Kota Batam, Kepulauan Riau 29444, Indonesia
Archery or Air Rifle at Belalang Adventure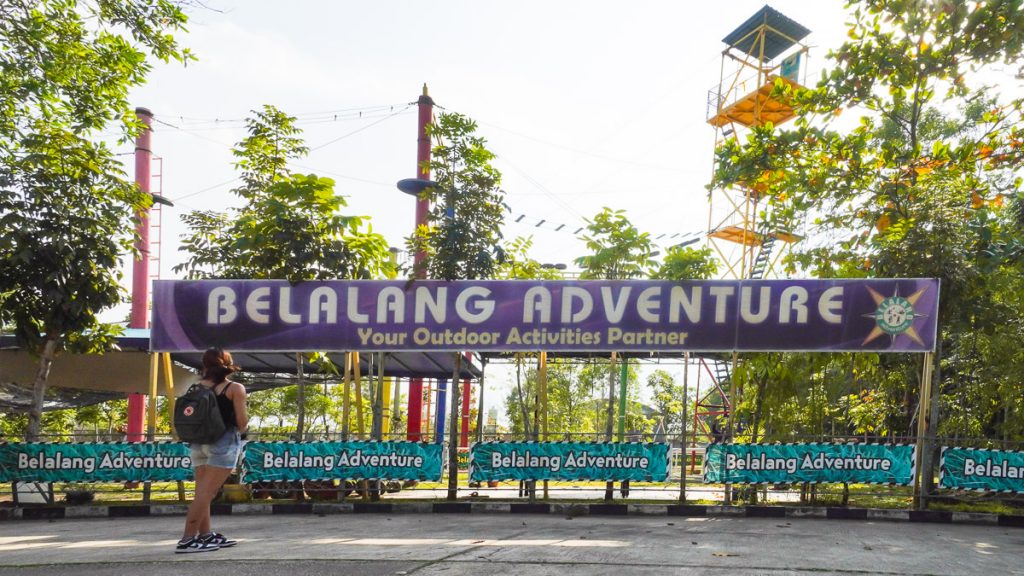 After our go-karting fun, we walked 5 minutes to the nearby Belalang Adventure — a multi-activity playground offering high-element courses, paintball games, archery, ATV, and air rifle experience!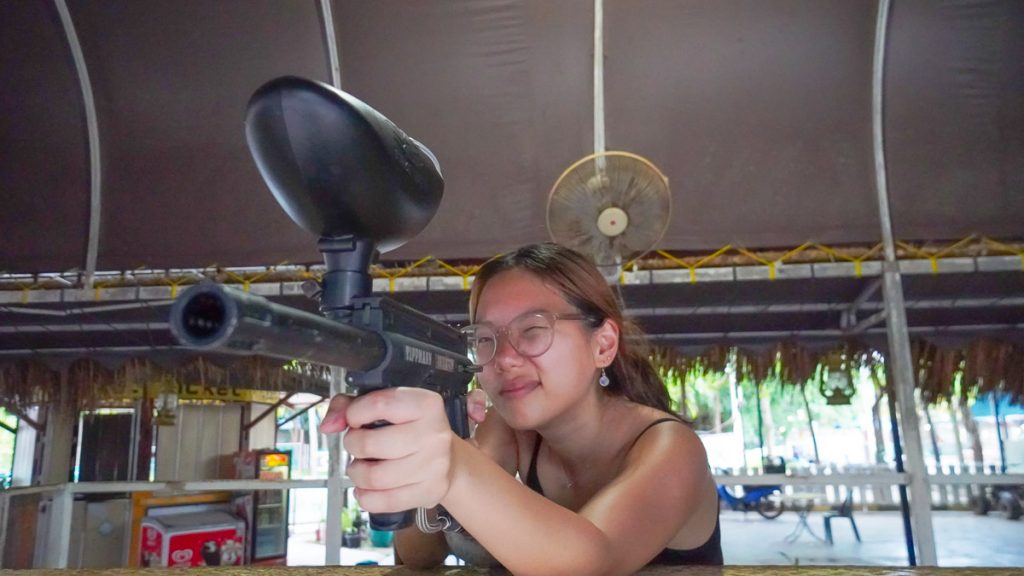 Between the three of us, we split 15 arrows for a round of archery and 30 pellets for the air rifle experience — we had enough fun this way and it allowed us to share the cost too! We spent about 40 minutes here but they seem generally chill about how long you take to finish your round as long as there are not many visitors.
*Pro-tip: Call in to check if the high-element course is open — it might be closed on some days for routine maintenance.
Cost: Rp60,000 for Archery and Rp100,000 for Air Rifle
Opening hours: 9AM – 5PM
Address: Golden City, Bengkong Laut, Kec. Bengkong, Kota Batam, Kepulauan Riau 29444, Indonesia
Dinner at a Cheryl Signature Cafe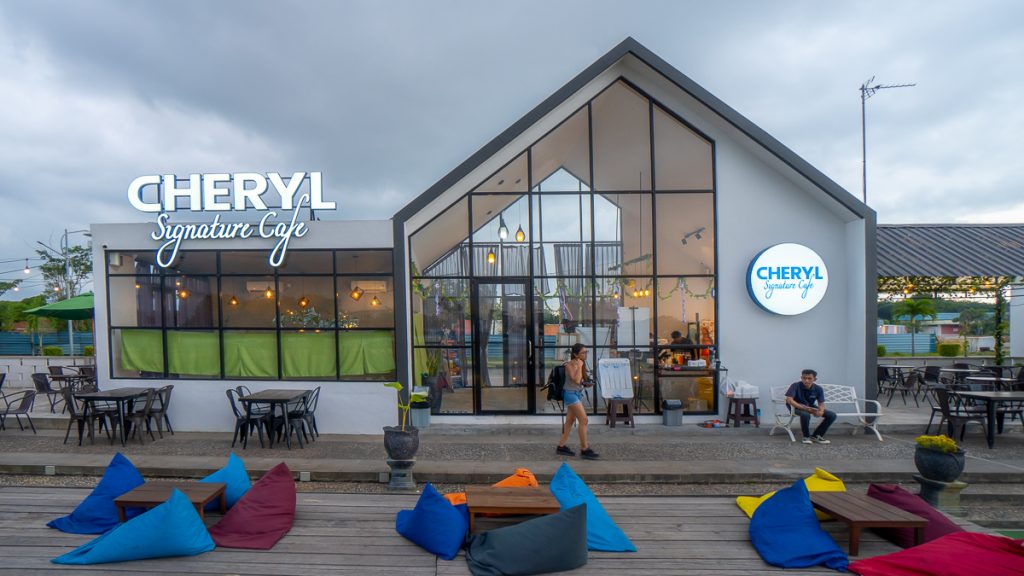 For dinner, we headed to Cheryl Signature Cafe — a casual diner by the waterside. There's a wooden floating platform that extends into the water where we could lounge. The platform was more stable than expected though so I didn't feel any semblance of floating at all.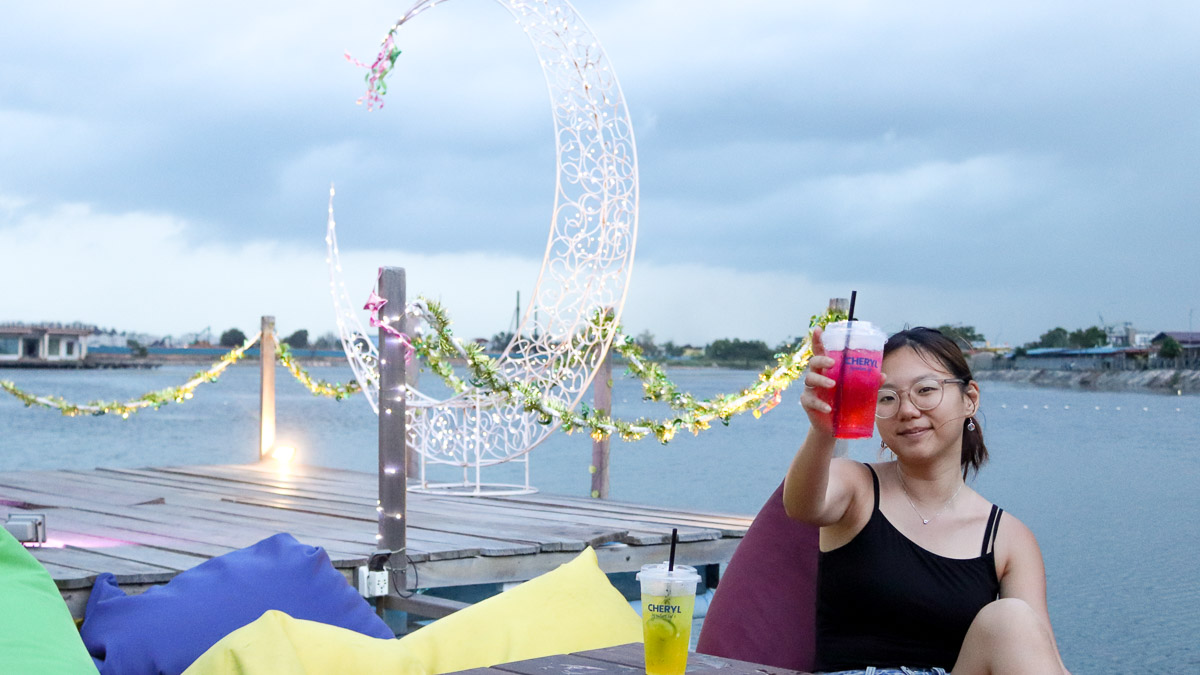 The vegetarians amongst us had the créme spinach pasta (Rp35,000). We also ordered a chicken salted egg rice bowl (Rp28,000) and non-alcoholic mojitos (Rp25,000). The food came in surprisingly large portions despite the price and was pretty filling.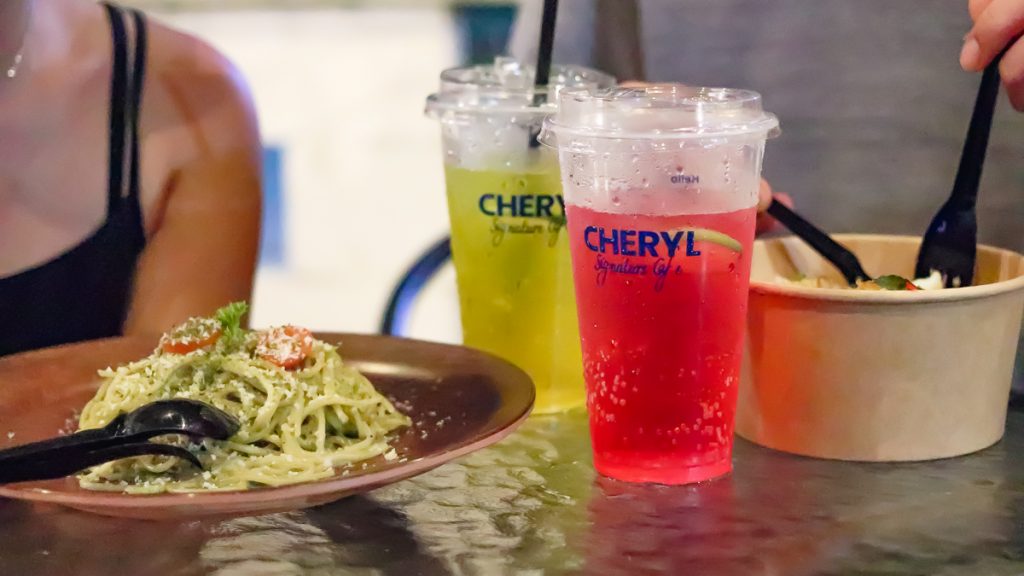 The cafe is a prime spot to catch the sunset but unfortunately, it was kind of gloomy when we were there. Plus, it started drizzling halfway through our meal, so it was a good thing there are sheltered seats here too!
Opening hours: 11AM – 12AM
Address: Bengkong Laut, Batam City, Riau Islands, Indonesia
Nightcap at Altitude Bar, Marriott Hotel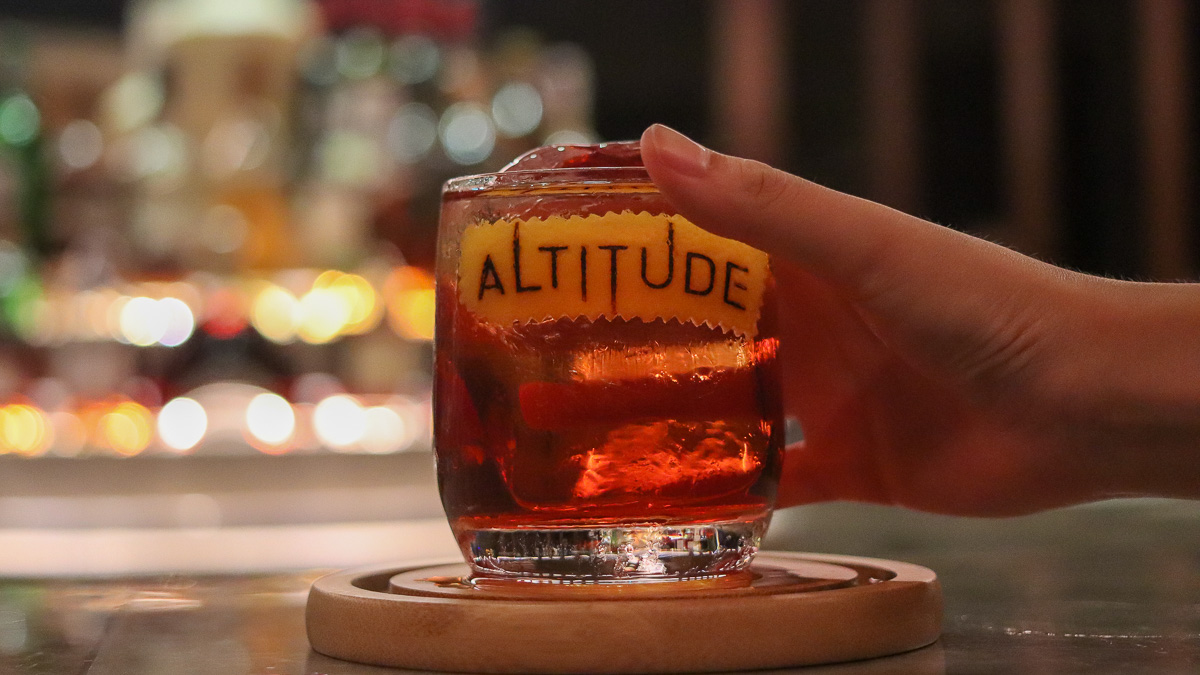 A drink I had at Altitude Bar — tastes very much like rum!
One of the perks of staying at Marriott Hotel is the Altitude Bar! Since it opens till late, we dropped by for a nightcap here after an eventful day.
*Pro-tip: You can request for a bartender specialty drink if you want an aesthetically-pleasing shot for the gram!
At Rp190,000 (~S$17) each for our bartender specialty drinks though, prices here are a little steep. But we tried a drink each anyway so we could stay for the vibes.
The drink I had is a perfect choice if you're a rum kinda person — which I'm not. But at least the pictures turned out pretty! If you don't need a picture for the gram, I'd recommend you to stick to your usual order instead.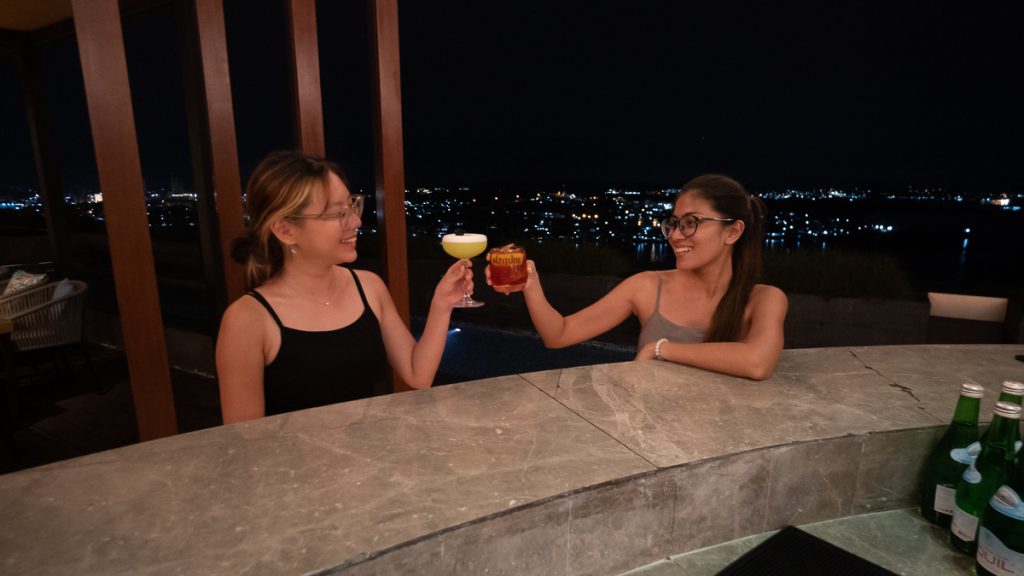 Regardless, observing the Singapore skyline while vibing to a live DJ at the bar was pretty fun! Eventually, we moved away from the bar and ventured to the left-most part of the roof — towards an area with circular tables for a quieter experience.
Opening hours: 5PM – 11PM (Sun – Thu), 5PM – 12AM (Fri – Sat)
Address: Roof level, Batam Marriott Hotel Harbour Bay, Harbour Bay Downtown, Jl. Dying, Ken Sungai Jodoh, Ken Batu Ampar, Batam 29453, Indonesia
Day 2
Breakfast at Harbour Bay Marriott Hotel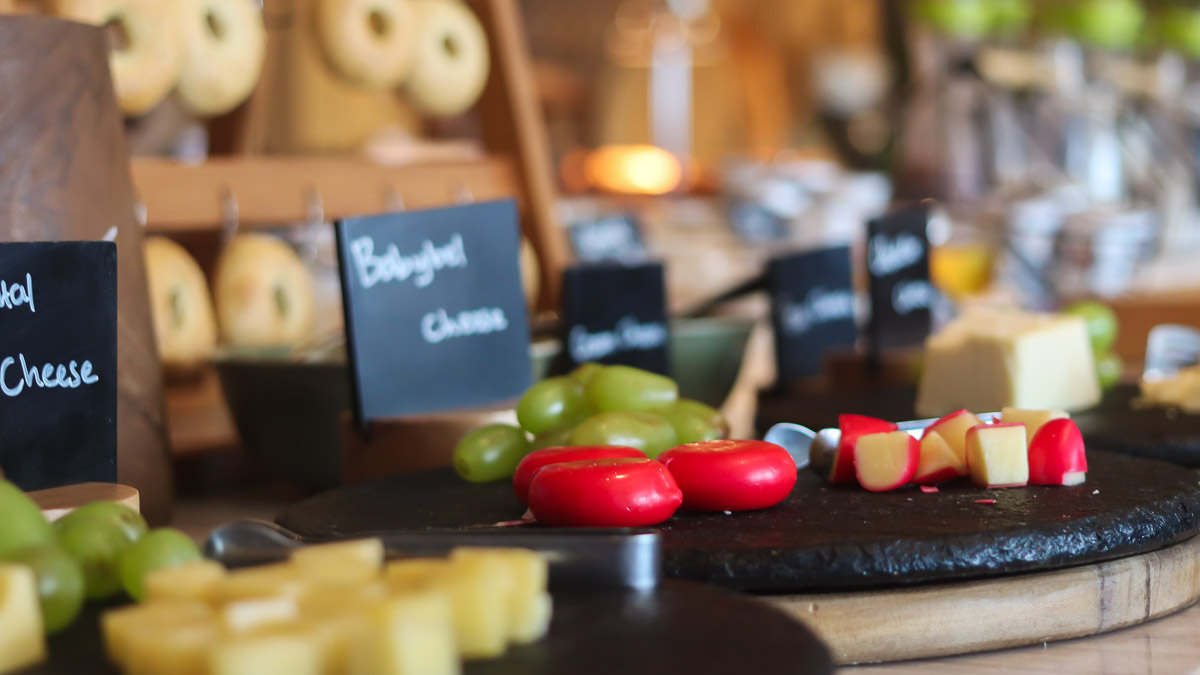 The breakfast spread at Marriott Hotel was indulgent, to say the least — there are cheese platters, noodle bars, pastries, local and Indian cuisine, and a free-flow juice bar.
I started with some butter croissants then moved on to a mushroom omelette and proceeded to have multiple servings of Indonesian fried rice. Buffet breakfast starts at 6AM and ends at 11AM — I'd say get a bang for your buck and be the first to enter and last to leave the dining hall 😉
Hike at Panbil Nature Reserve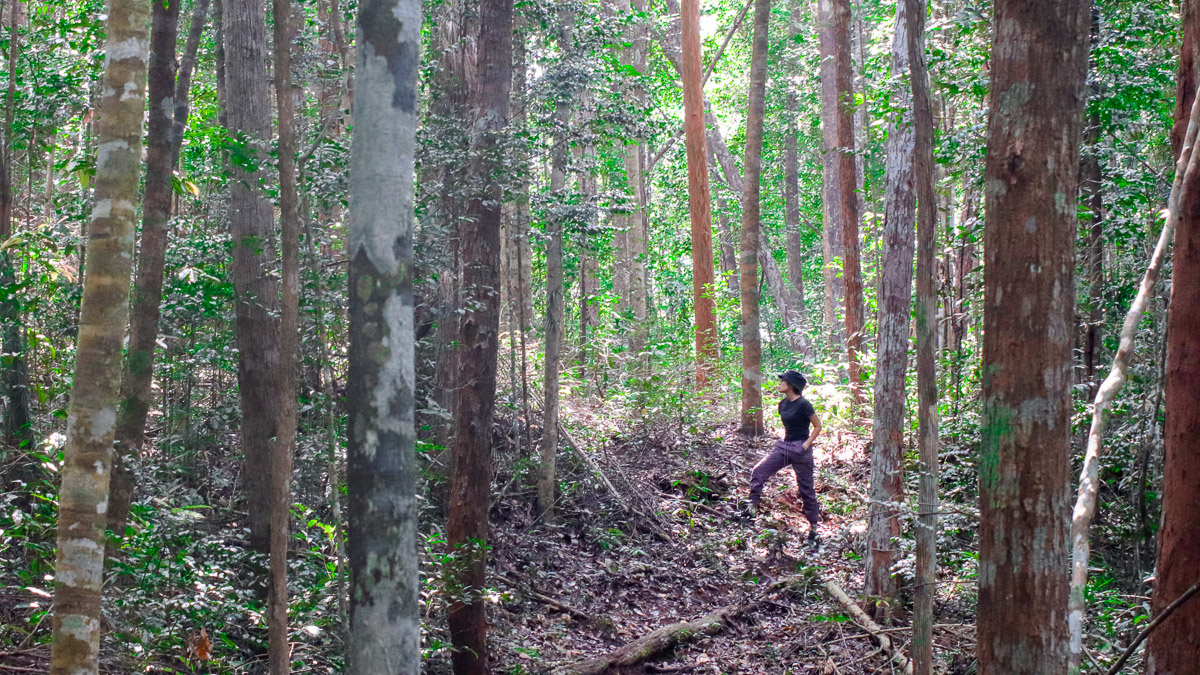 Panbil Nature Reserve was newly opened in 2022 and from what our guide shared with us, there will also be high-element courses available within the park soon!
We took on the guided Semar Hiking Package (Rp250,000/pax) — which includes a guided hike in the Palawan Forest Area, visiting the Sambar Deer Sanctuary, and a meal voucher.
The Semar Hike isn't a relaxing hike in the forest looking at pitcher plants like we thought it'd be. It turned out rather challenging — we even found ourselves swinging from vines at one point! But it was all good fun and we were looking forward to interacting with the deers afterwards.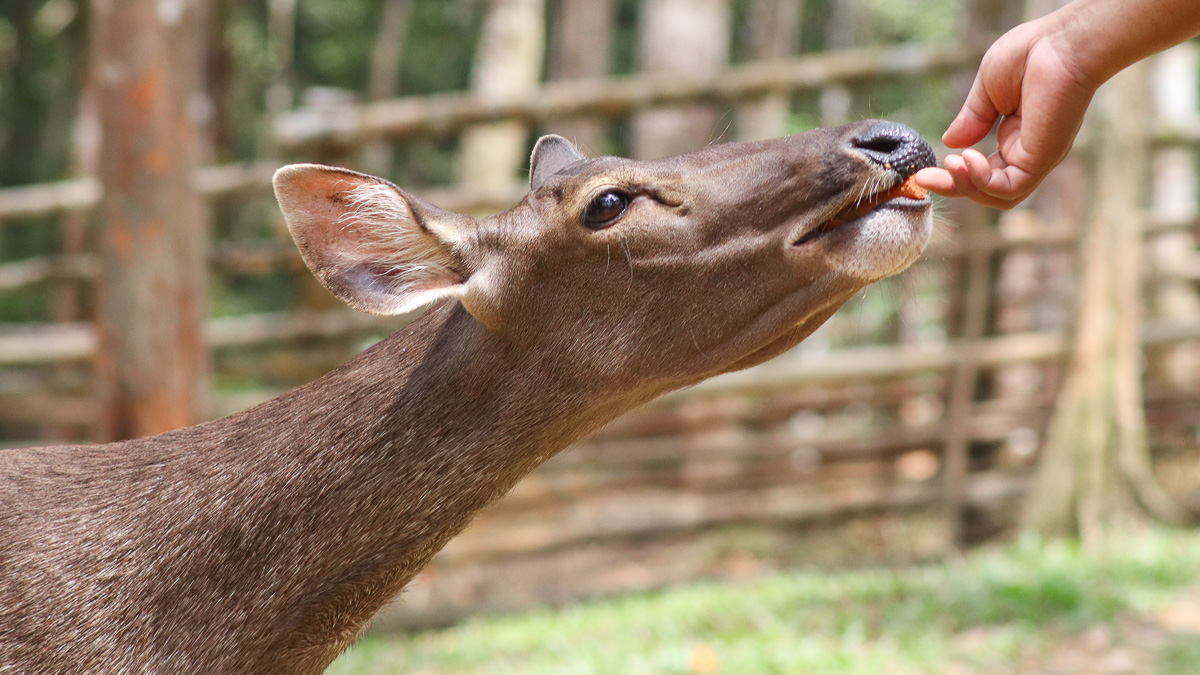 So en-deer-ing 🦌
We got a chance to feed the deer while visiting the Sambar Deer sanctuary. But do take note — although feeding is included in the package, deers are notoriously elusive animals so whether or not they're up for a nibble is anyone's guess!
Either way, even if you don't get to feed them, watching these graceful Sambar Deers from the perimeter of the fence is still a treat though! Cause we can almost never spot them in Singapore.
Fun fact: It's quite common to find quartz crystals while on a hike here too, although it definitely takes a trained eye! Ask your guide to show you some of his finds or you can buy one off him for ~Rp55,000!
After feeding the deer, it was time for us to grab a meal. Using our meal vouchers, we had good old Indonesian fried rice and noodles for lunch at the in-house cafe. Plus, free coconut water too!
*Pro-tip: Contact Panbil Nature Reserve on WhatsApp for ease of communication and booking of the hikes.
Opening hours: 10AM – 6PM (Mon – Fri), 9AM – 6PM (Sat – Sun)
Address: Jalan Kantong Semar, Panbil, Batam City, Indonesia
Popping by Sense Coffee & Pool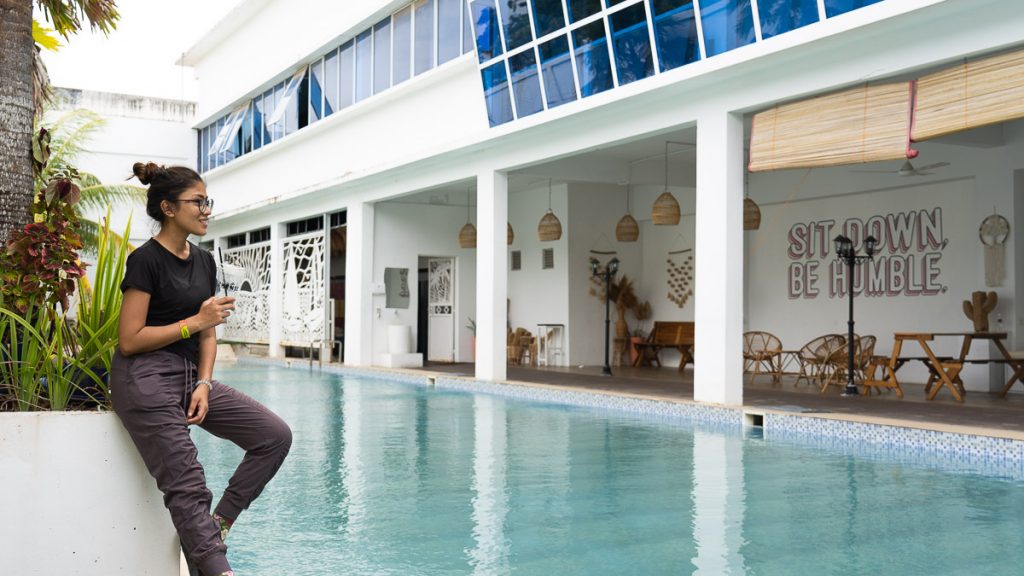 Sense Coffee and Pool has quite a cool concept — cafe-goers can choose to hang at the indoor or outdoor seats, or get a cuppa and have a dip in the pool!
Catching up on some emails here wouldn't be a problem either — we spotted at least five power points!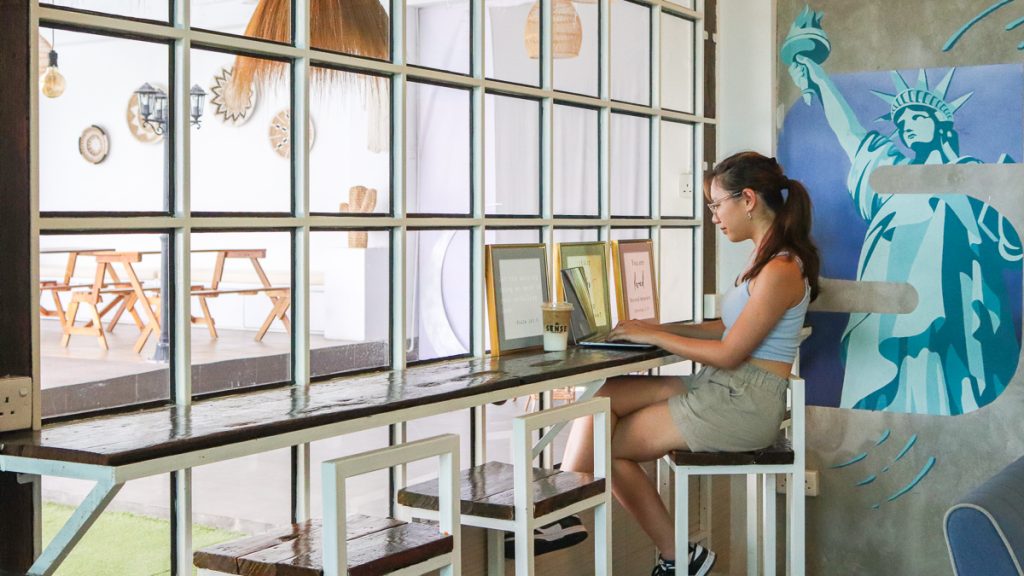 There's an array of dishes here from western to local food all ranging from ~Rp28,000 to Rp50,000 and drinks start from Rp16,000. We kept things simple and got some iced caramel lattes (Rp29,000) which were alright for the price point.
They accept card payments so don't worry about having to bring too much cash!
Cost of pool entry: Rp50,000 for unlimited hours
Opening hours: 9AM – 8PM (Mon – Sat), 8AM – 9PM (Sun)
Address: Komp. Centre Park No. 3, Taman Baloi, Batam Kota, Batam City, Riau Islands 29432, Indonesia
Bar Pools and Sunset at Turi Beach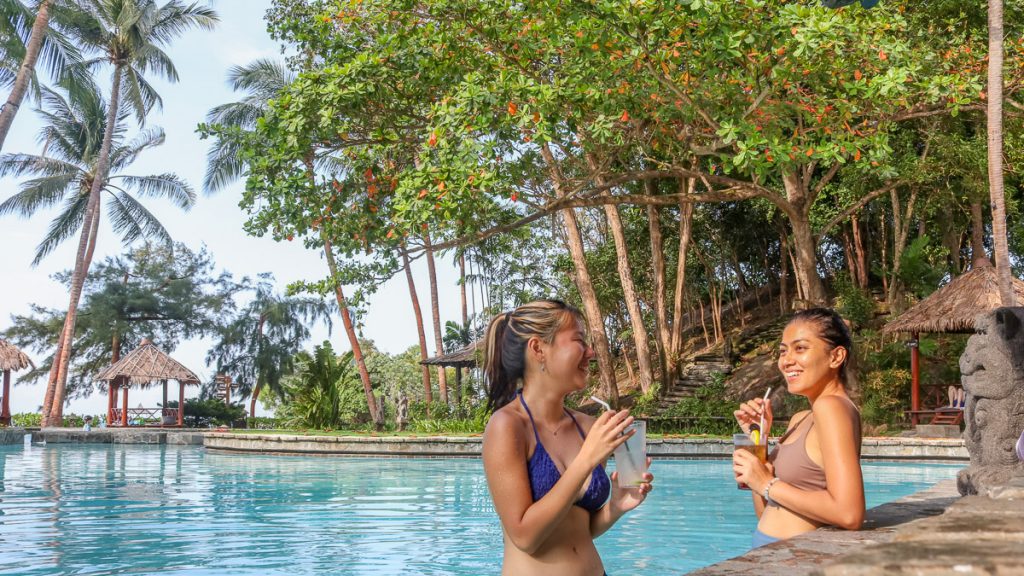 A 30-minute Gojek ride later, we found ourselves at Turi Beach — a private beach only accessible to guests of Turi Beach Resort. But thankfully it's not that exclusive, we were allowed in after paying an entry fee of Rp150,000 😉.
Best part is that the price includes a set meal that offered us a choice of local fried rice or noodles and a cold drink, usage of the pool, and pool towels!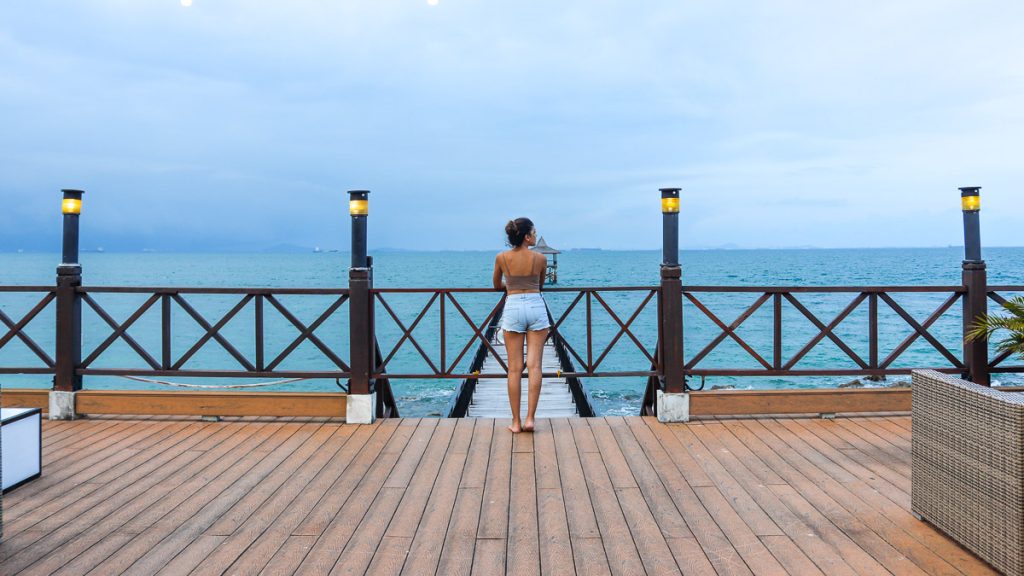 We weren't told what time we had to leave the resort premises so we ended up spending 4 hours alternating between hanging out on the beach swings, drinking at the pool bar, and walking on the jetty.
As someone who values peace and quiet, the entry fee is well worth it. And since there's no time limit, no one's stopping you from lounging out here the whole day.
Cost: Rp150,000/pax
Address: Jl. Hang Lekiu, Nongsa, Batam 29465 Indonesia
Total Relaxation at Absolute Spa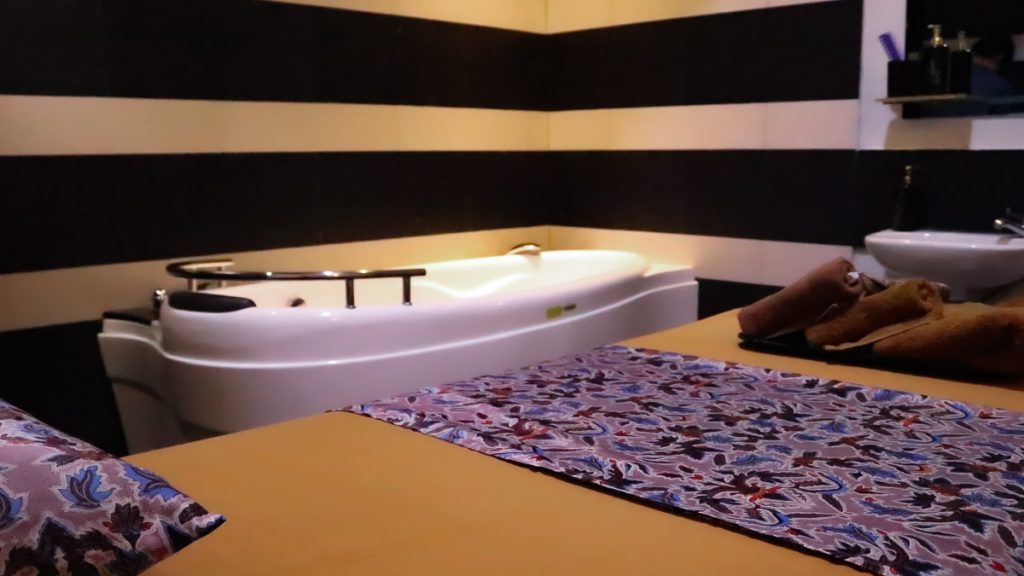 We ended our trip with a Full Glow Spa Package (~S$36) at Absolute Spa and were treated to a foot bath, body scrub, body mask, and access to the sauna.
To top it off, the package included a specialty treatment of choice so between the three of us, we chose head and shoulder massage, ear candling, and facial acupressure treatment!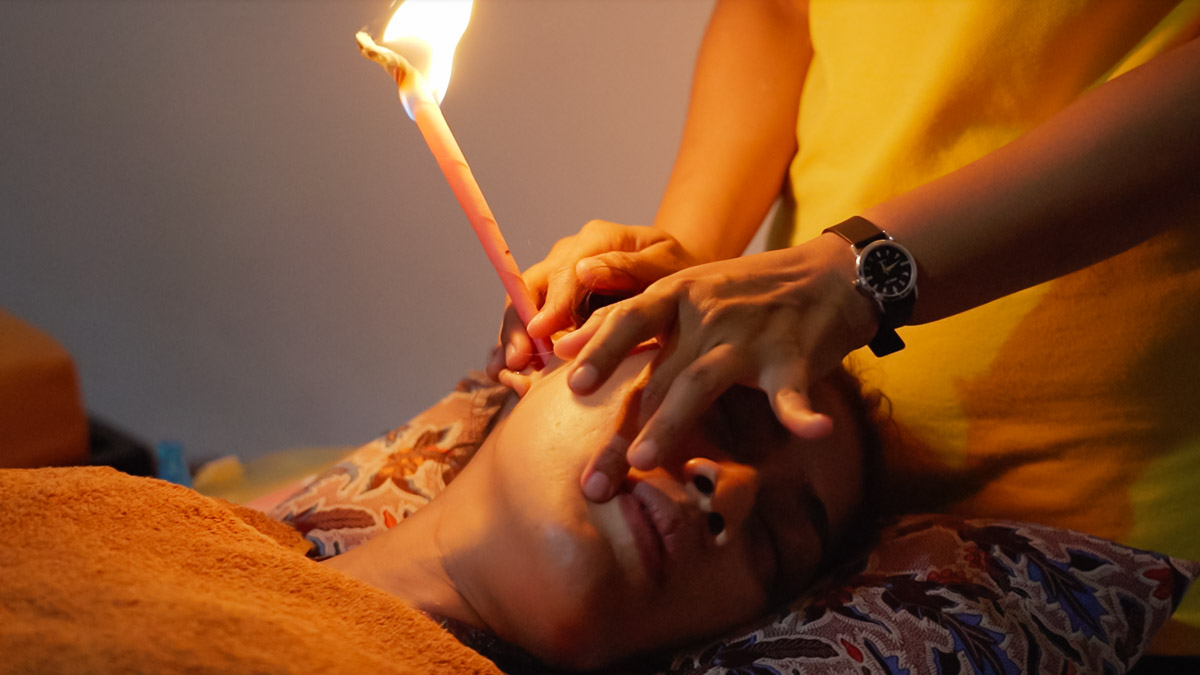 I got the ear candling treatment — this removes earwax and is believed to alleviate sinus symptoms! It really looks much more intense than it feels, I was actually so relaxed that I eventually fell asleep to the soft crackling sounds of the fire and gentle massaging of my pressure points.
We also really loved the fact that our rooms came with a built-in jacuzzi and shower so we didn't have to move from one room to another. And being served iced-tea, ginger tea and tapioca chips post-treatment was just *chef's kiss*.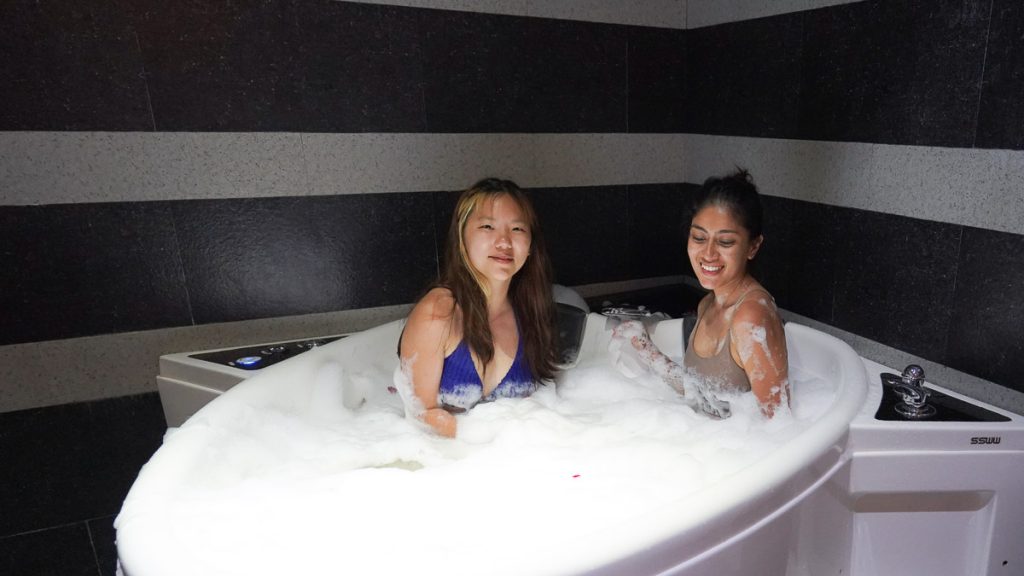 The clean rooms and friendly staff definitely added value to the experience! If I were in Batam again just for a day, I'd definitely call in and make an appointment before catching my ferry back.
Opening hours: 10AM – 10PM
Address: Ruko Penuin Blok OA No.12 – 12A, Batu Selicin, Kec. Lubuk Baja, Kota Batam, Kepulauan Riau 29444, Indonesia
How to Plan a Quick Weekend Getaway in Batam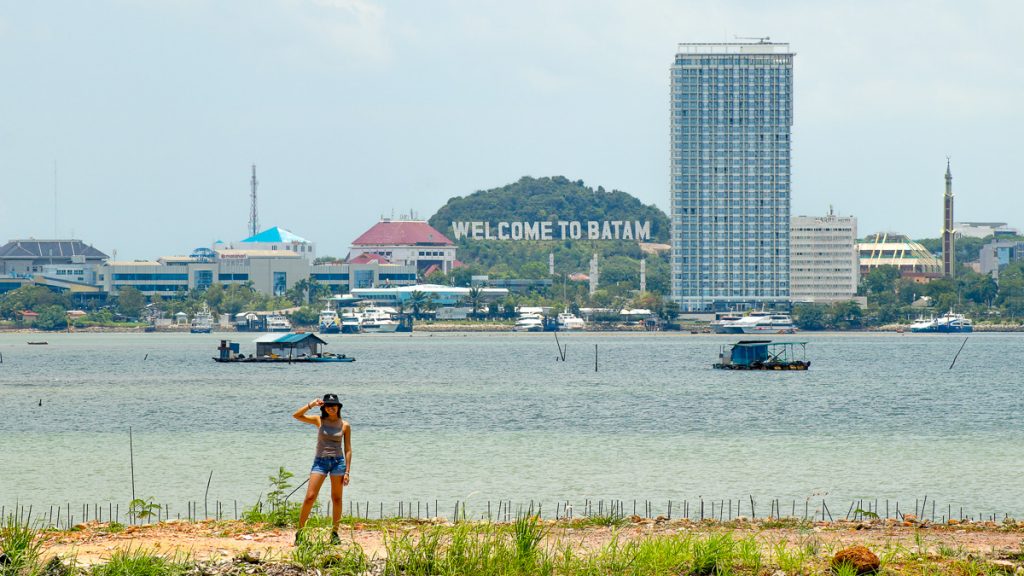 I didn't think Batam had this much to offer but now that I do, I'll be thinking of the next time I can lounge on Turi Beach and have another relax-sesh at Absolute Spa.
Here are some tips if you're planning your own weekend Batam itinerary.
1) Book a Ferry
Book your ferry tickets online (~S$73/pax for two-way) a few days in advance — remember to arrange for a return trip as tickets get snapped up fast, especially during the weekends.
Also note that you'll need to exchange your e-ticket for a boarding pass at Sindo Ferry's counter, located on level three of Harbourfront Centre.
2) Register for E-sim
Check that your phone model is compatible with an eSIM, which is much more hassle-free. We got the 3-day package (~S$8 inclusive of 1GB data per day) and activated it on our phones just 10 minutes before boarding the ferry from Singapore!
3) Convert Currencies at Harbourfront Centre
Cash is still king in Batam so it's best to have a little more on hand!
If you don't have time to get cash changed beforehand, check out AGM Money Changer at Singapore Cruise Center. It's located on the second floor right by the ferry departure gates and opens at 7AM daily!
4) Insurance
Last and most importantly, remember to get travel insurance in case of any unexpected circumstances. We got ours with Travelcare's Essential Plan (S$4.30/day), which also covers Covid-19 related expenses.
5) Accommodation
Batam has four harbours — Batam Center, Sekupang, Harbour Bay and Nongsapura. So pick your accommodation wisely to reduce travel time from harbour to hotel!
Although Marriott Hotel is a 20-minute Gojek ride from Batam Center where we disembarked, we picked it anyway for the luxurious experience!

Alternatively, HARRIS Hotel (~S$57/night) is right beside Batam Center.
It's pretty simple to prep for a trip to this neighbouring island and now that you know of these things to do in Batam, a mental reset is just an hour and a weekend away!
Read also: Long Weekend Getaways — 9 Lesser-Known Destinations With Under 8-Hour Flight Time from Singapore
---