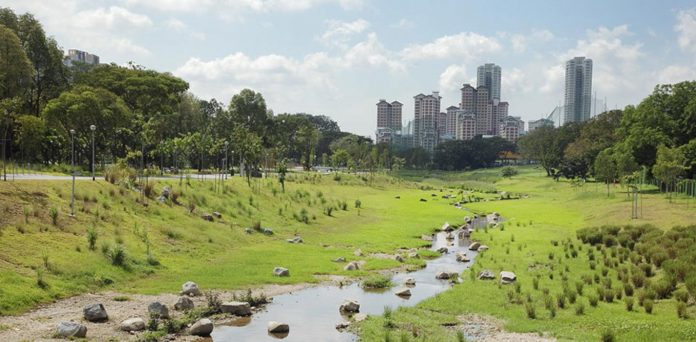 Since we were stuck in Singapore for a couple of weeks, we decided to try a little treasure hunting in our very own country — through Geocaching.
Geocaching in Singapore led us on an adventure to places that we even didn't know existed. It brought us to beautiful places, secret spots not many people know about, and taught us a few things about Singapore.
Currently, there are over 300 hidden caches in Singapore, each laced with its own puzzle and terrain difficulty.
Read also: 11 Secret spots in Singapore discovered via Geocaching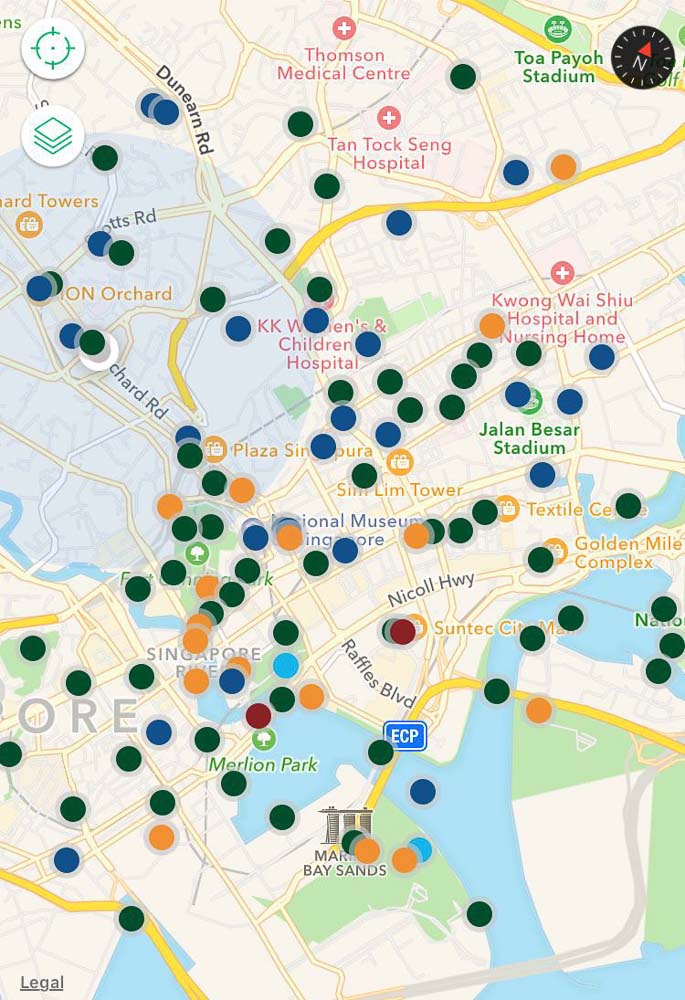 Geocaching and it's terminology
Geocaching is a "treasure" hunt where you try to find caches hidden by other people in the Geocaching community. Caches are found in varying sizes usually containing some form of paper to leave your name (and check out the other geocachers who've found it before you), along with other random items such as coins, trinkets, or even a travel bug*. You can choose to trade one of these items with something of your own, bring the items to a different cache or simply just log your name and move on to the next.
*Travel bug: A travel bug is a metal tag with a unique tracking number often attached to an item. With it's tracking number, you can check it's origin and also log where you'll be leaving it next so the owner can track its movement. Some come with objectives such as being brought to a specific location.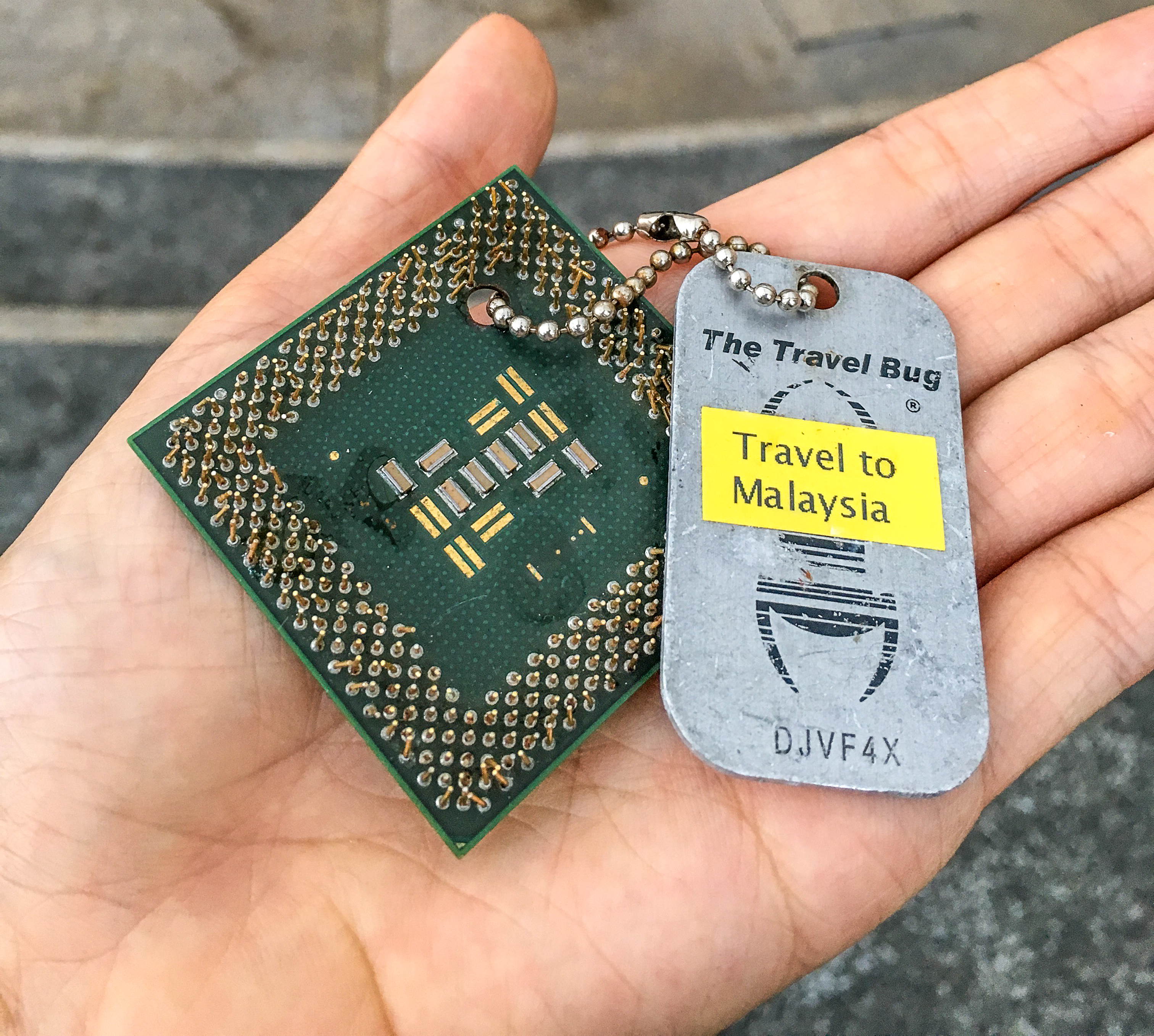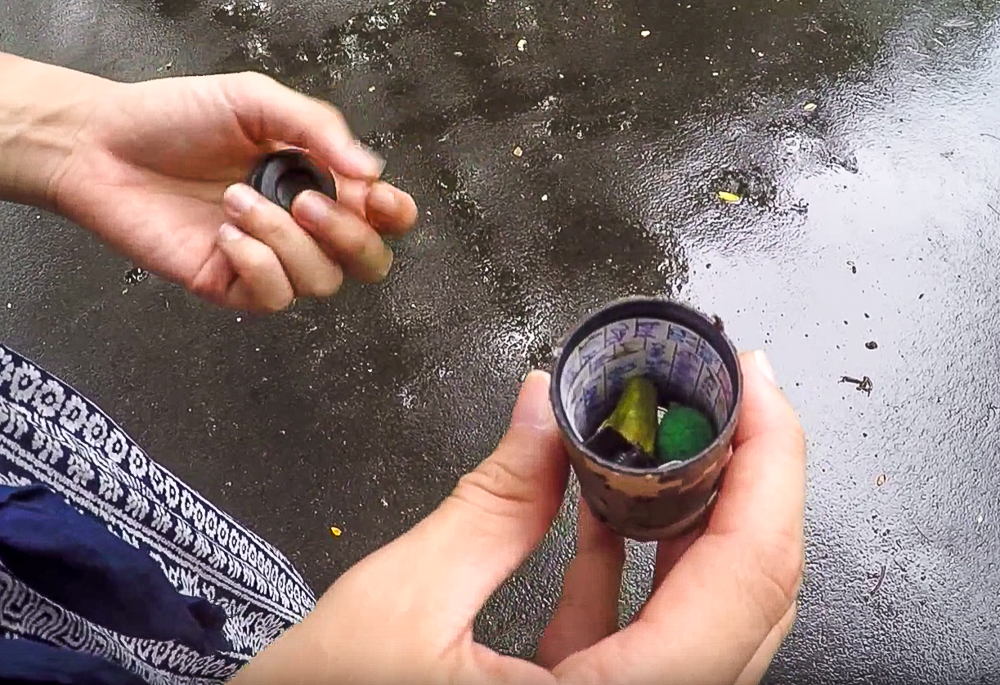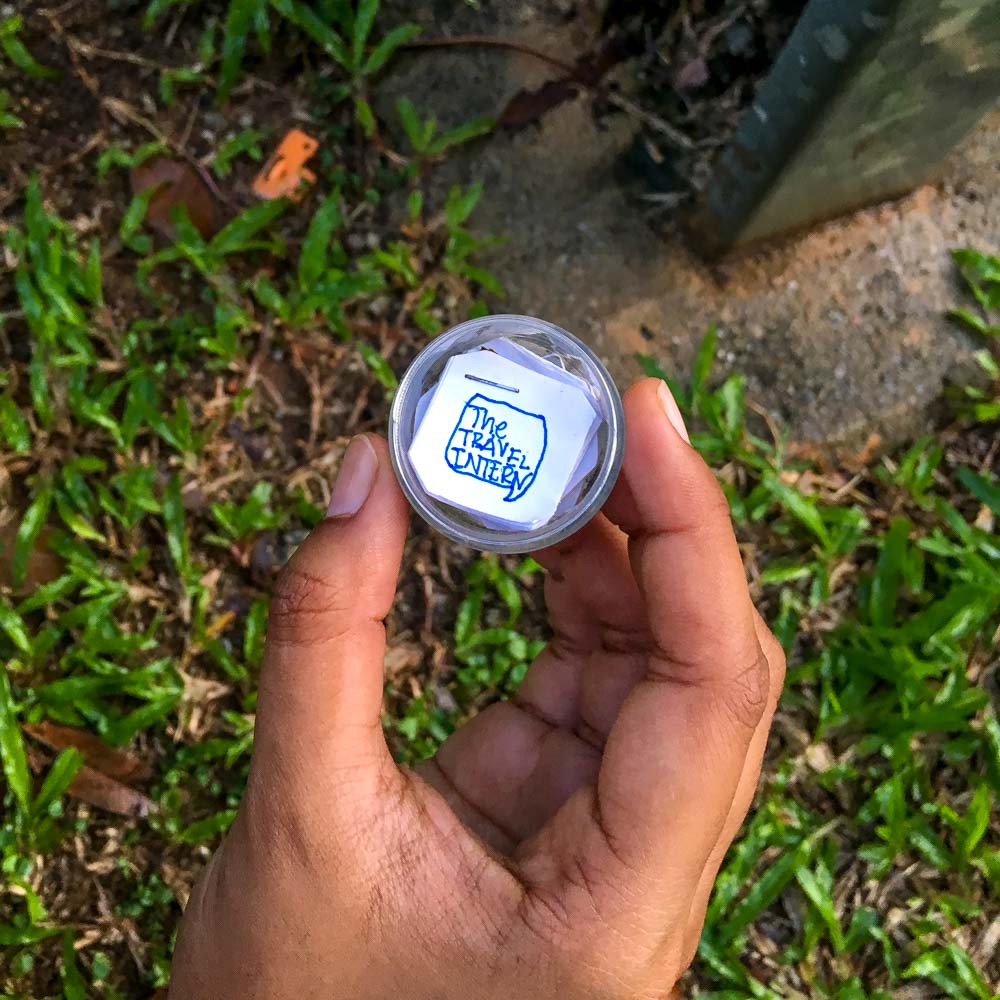 Getting started with Geocaching
1) Download the Geocaching app
2) Pick a dot (cache) on the map
3) Start navigating towards it
4) Either locate the coordinates or solve a puzzle to retrieve it.
5) Find the cache, write your name on the log sheet
6) Pick a souvenir and replace it with another or just place it back discreetly.
7) Move on to the next!
Our Geocaching experience
We tried out a mixture of terrains and areas. We crawled through wasp nest lined drains and navigated through bustling wet markets. But here's three of our most interesting experiences while Geocaching in Singapore to give you a taste of what it's like:
*Note: Some of the caches require an upgrade to premium membership.
1) Crawling through a drain
The first cache we located via the GPS coordinates showed that it was literally under our feet. But because the grates couldn't be lifted, and there was a monsoon drain nearby, we figured we'd have to approach the cache from below.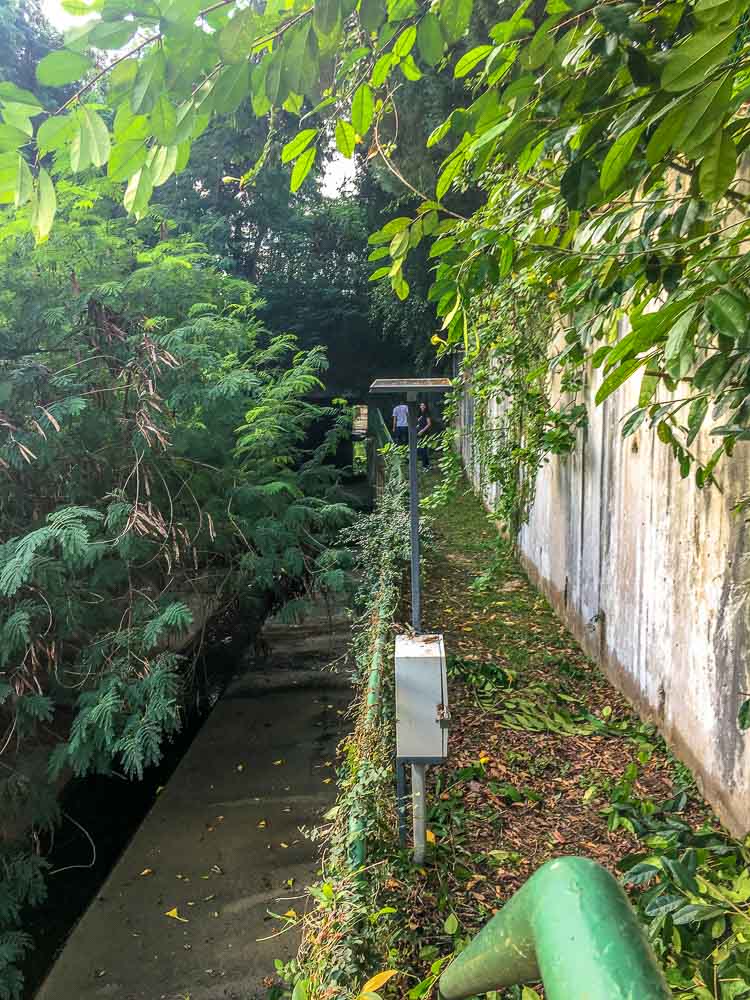 After looking around in the area, we found an overgrown field, and a path of dense foliage that led to a large drain at the end. The drain was dry, but it looked quite unwelcoming with wasp nests lining its sides.
We were all reluctant to enter the drain. However, after a while of standing around we realised that the drain was probably the only way to the cache. In the end, Hendric sacrificed himself. 😛
The drain led to a narrow vertical shaft, at the top of which was a drain grate. The cache was attached to the drain gate on a string. To retrieve it, Hendric had to climb to the top by using the wall ladder there which was crusted with barnacles.
In the end, his efforts paid off as he was able to retrieve the cache hanging from the top of the shaft!
2) Solving puzzles to retrieve the real coordinates
Some caches don't give the exact coordinates and requires a bit of Sherlock's spirit. These are mystery caches (blue dot), and each comes with its own unique puzzle.
One of the caches we tried looking for came attached with a word search puzzle under the description. It was difficult, and we didn't even know what the words we were supposed to search for. It took the four of us about half an hour to figure it out.
Have a look at the puzzle below. Are you able to spot any words with a common theme?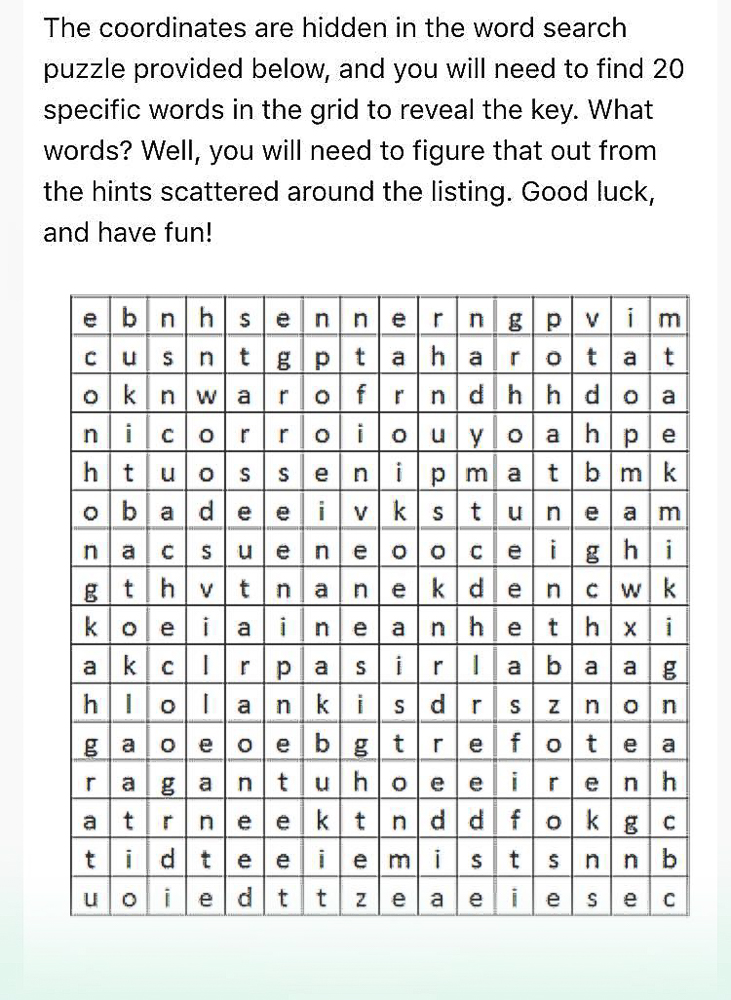 Were you able to find any words? Here's a hint: It's as easy as PIE. Have a go at solving this Geocaching puzzle and let us know how you fared!
Another puzzle we encountered required us to make sense of this binary code to find the exact coordinates.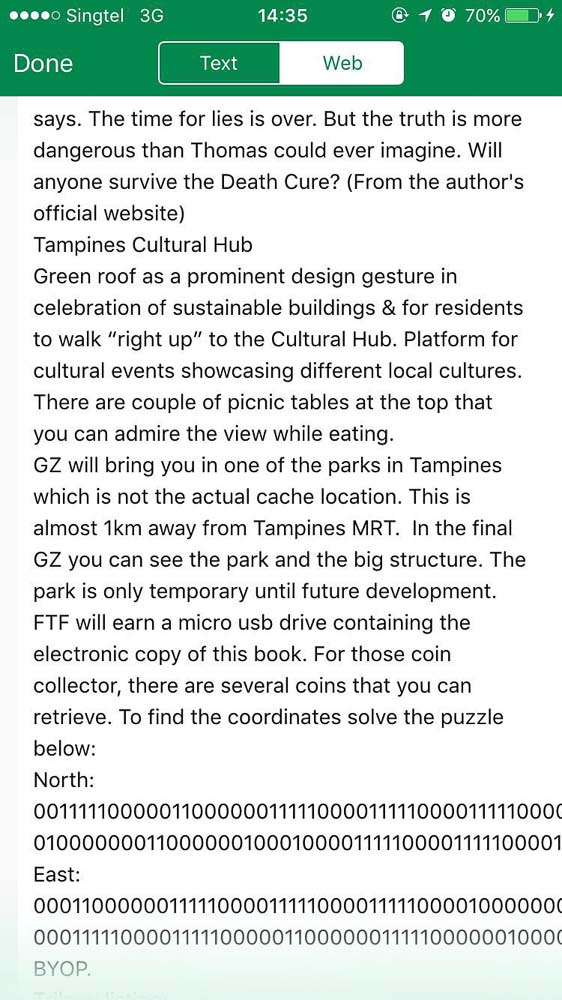 3) Running through a maze
Did you know the existence of this maze park in Singapore? (Because none of us did!) This was part of a multi cache (orange dot) meaning the main cache isn't where the dot is but doing something at the first spot leads you on to the final cache. This one challenged us to pick one of the 4 openings in this maze and take the time taken to get to the centre. The cache was hidden somewhere around the park with the hint "slanted to the right, magnetic". Unfortunately we had to give this a miss and move on to the next after 30 minutes of futile efforts.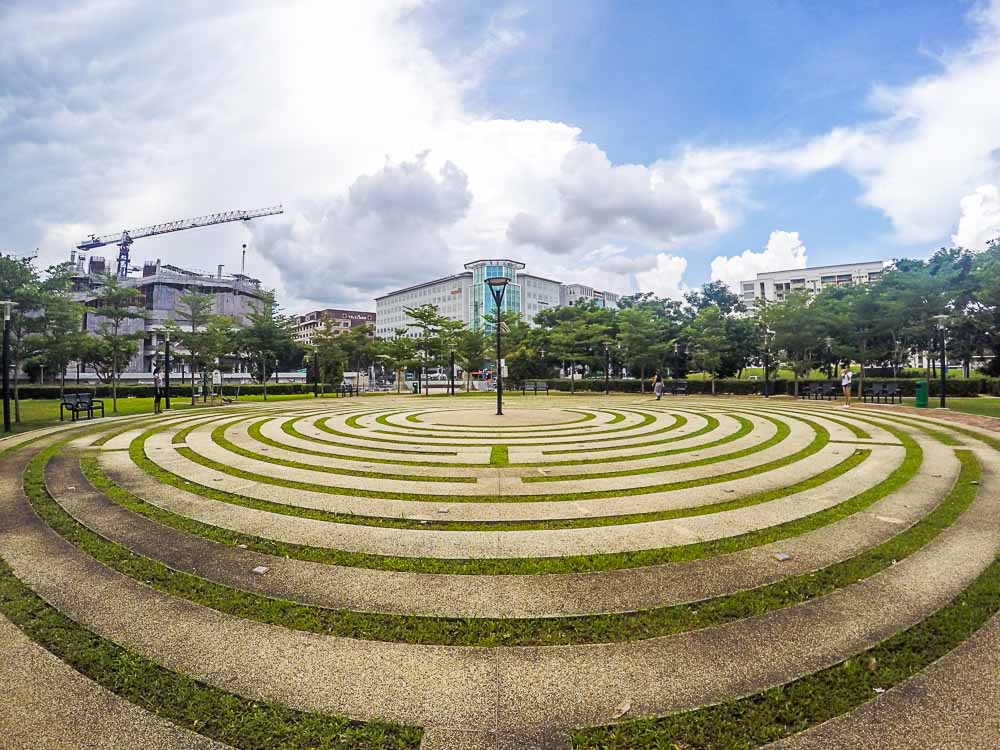 Although we didn't manage to find it, we certainly had a lot of fun discovering this maze park and enjoying the scenery. We certainly never would have found such a place without Geocaching.
Tips for Geocaching in Singapore
We're not exactly pro, but we've roughed out a few things while Geocaching, and have come up with a short list of tips you should know Geocaching for the first-time.
1) Start out with caches that have 1/5 difficulty
We tried a 3/5 difficulty for one of our first caches and we eventually had to log a DNF (did not find). We were left wondering if the cache was indeed damaged, lost or just too difficult for us to find, as beginners.
2) Dress for the action
Caches often bring you into forests, and parks. As mentioned above, one of the caches we found actually required us to crawl into a large (but dry) drain pipe!
Equip yourself with mosquito repellent, long pants, and comfortable shoes if you're going Geocaching in parks.
3) Be discreet
Some caches are located in crowded areas, and you might raise suspicion if you are seen poking around. You're not doing anything illegal, but to prevent being STOMPed or questioned, you'd probably want to be as low key as possible.
4) Read up on what other Geocachers had to say
If you click on the 'Activity' tab when viewing a cache, you can see what Geocachers have said about that particular cache, and when it was last found. If you're lucky, a Geocacher might have left hints or pictures that will help in your search.
In some cases, the users might comment saying that they did not find the cache. Too many DNFs may mean the cache no longer exists.
5) Think out of the box
Some caches aren't at the exact location of the coordinates and require solving a puzzle to retrieve. While others may be affected by tall trees or buildings and pose a slight bump in difficulty.
Be attentive, and you may spot clues in the titles, the descriptions and especially the comments from previous geocachers. Caches can also be attached in creative ways you never thought possible. So be curious, and don't give up!
For interesting Geocaches in Singapore, check out 11 Secret spots in Singapore we discovered through Geocaching.

Cover image by: Wisata Singapura