Singapore may be small and we often complain there isn't much left to discover, but our recent Geocaching experience proved otherwise.
Looking beyond the glamorous front of tourists attractions, there were indeed tons of places that even we (locals) never knew existed.
Here are 11 secret spots that give us yet another reason to explore Singapore. And the best part is, there are hidden treasures (caches) in all of these cool places! So why not kill two birds with one stone? Join in the Geocaching community on this world wide treasure hunt while exploring these secret spots in Singapore!
New to Geocaching? Check out the Beginner's guide to Geocaching in Singapore.
Central
1) Japanese Cemetery Park
Cache Difficulty level: 1.5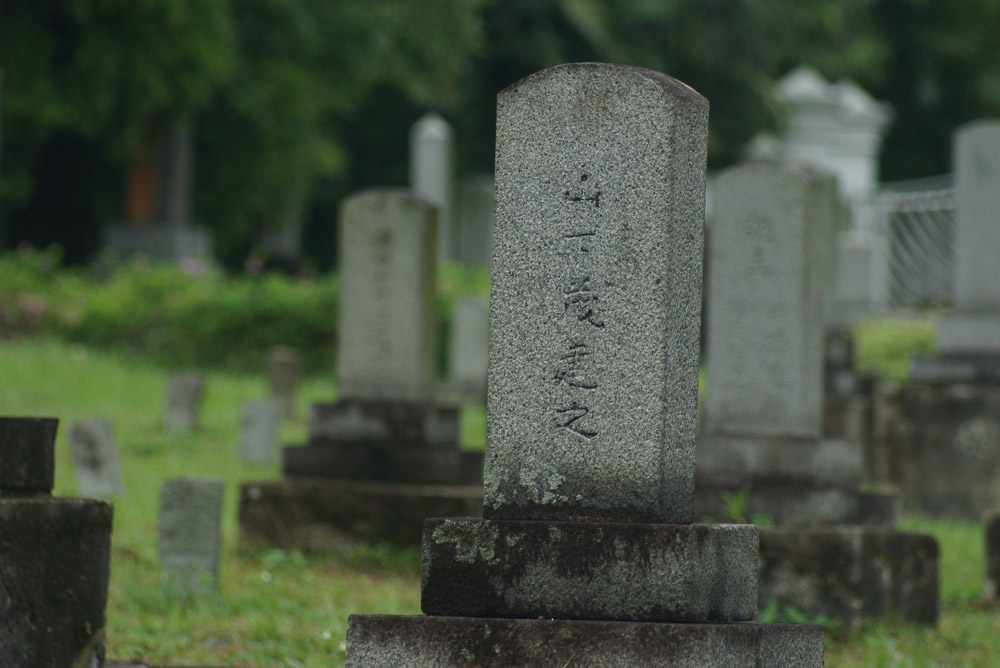 As weird as this may sound, the Japanese Cemetery Park is actually a famous memorial park. It is said to be the biggest Japanese cemetery in the whole of South East Asia, and consists of 910 tombstones. These remains include those of Japanese prostitute, soldiers and executed war criminals. The cache lies amongst the headstone of those forgotten by history, a place where the jaded heads rest.

Address: 825B Chuan Hoe Ave, 549853
*Gates are opened 7:00am – 7:00pm daily
2) Bidadari Memorial Garden
Cache Difficulty Level: 2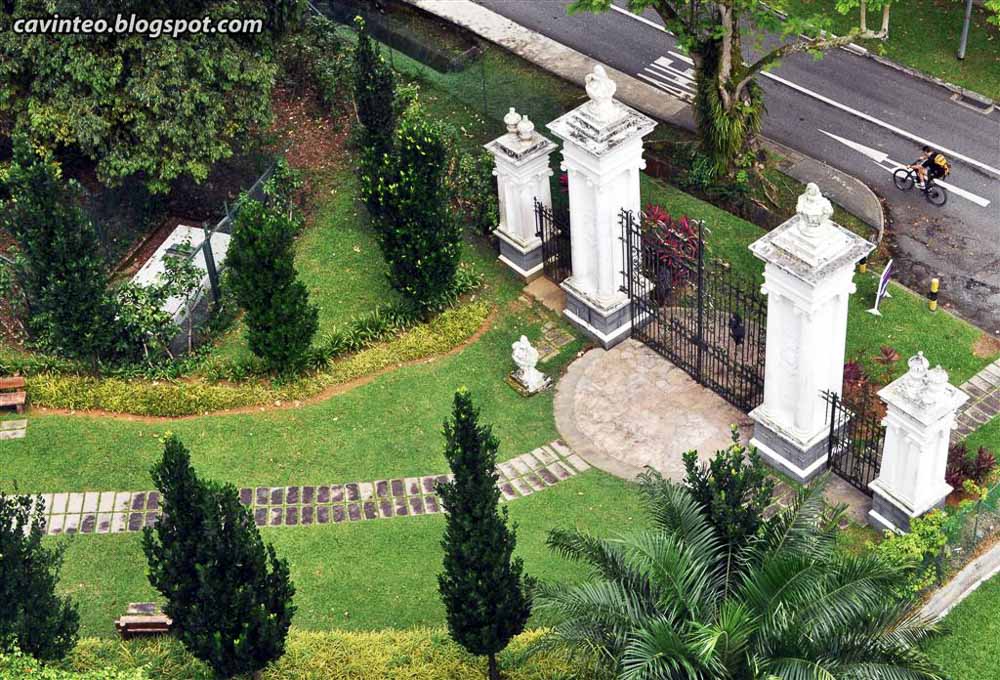 Did you know? Bidadari actually means fairy in Malay. The Bidadari Memorial Garden was built in 1996 as a remembrance of the Bidadari Cemetery that has been cleared.Before its closure in 1972, this has been the resting place for more than 147,000 Chinese, Muslims, Hindus and Singhalese. Just roughly 10 years ago, the Christian section of the cemetery was a peaceful and tranquil place, filled with human-sized statues and crosses all over the area. Exhumation in the 2000s led to the birth of this garden. Sometimes, joggers are seen around the area. Hopefully, you'll spot the cache as you spot them too 🙂

Address: 18 Vernon Park, 367817
North
3) Sembawang Hot Spring
Difficulty Level: 2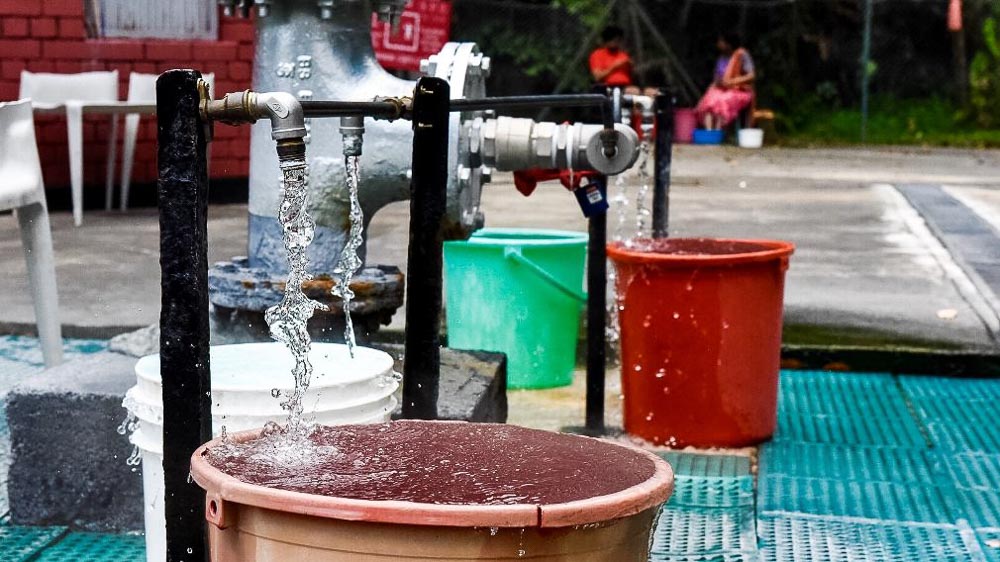 Once a popular destination for those in search of cures for skin problems, rheumatism and arthritis, the Sembawang Hot Spring (Kampong Ayer Panas) has since become a quiet sanctuary for those who still remember of its existence. Sembawang Hot Spring has had a long history and went through ownership by many parties, from Chinese Merchant Seah Eng Keong to F&N to the Japanese to Singapore Government. Today, it is now a preserved site that is to be maintained by the National Parks Board.

Address: Gambas Ave (between Woodlands Avenue 12 and Sembawang Road)
South
4) Tiong Bahru Adventure Playground
Cache Difficulty level: 2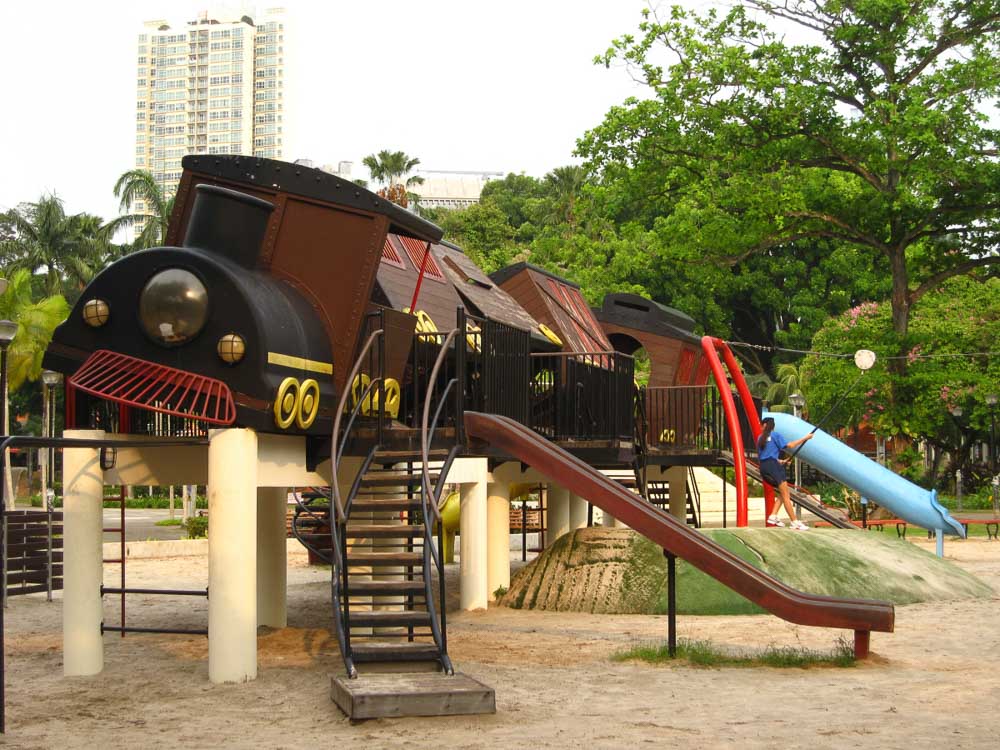 Built in the 1967, Tiong Bahru Adventure Park has provided the nearby residents a place to stay healthy and stay close to nature. Also a part of the Tiong Bahru Park is the Adventure Playground with an interesting tilted train structure as its centrepiece. It's beautiful how the old and the new are woven so intricately together. Needless to say, the cache is obviously hidden in this iconic structure 😉

Address: Tiong Bahru Road, 168732
5) Lazarus Island
Cache Difficulty Level: 2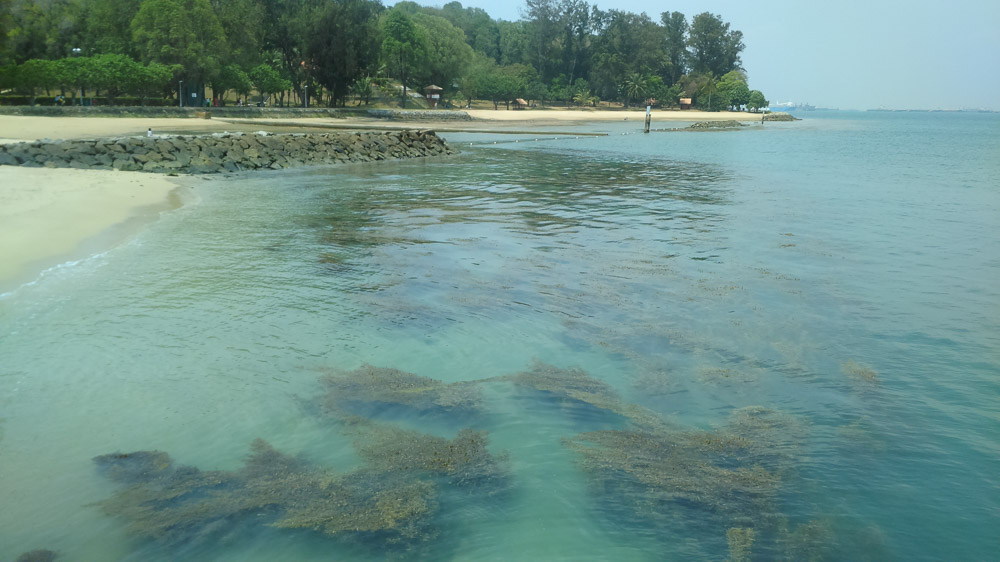 Possibly Singapore's best kept secret, Lazarus Island is one of the group of eight Singapore's South Islands. Lazarus probably has the most beautiful beach in Singapore. Comparing the beach at Lazarus to that of Sentosa, Lazarus would definitely win hands down. Since Lazarus Island has yet to be commercialised, there are no directional signs to guide tourists. So make sure you've done your research beforehand! When you make it to the secluded beach, finding the cache should be a piece of cake to you!
East
6) Tampines Maze Garden
Cache Difficulty level: 2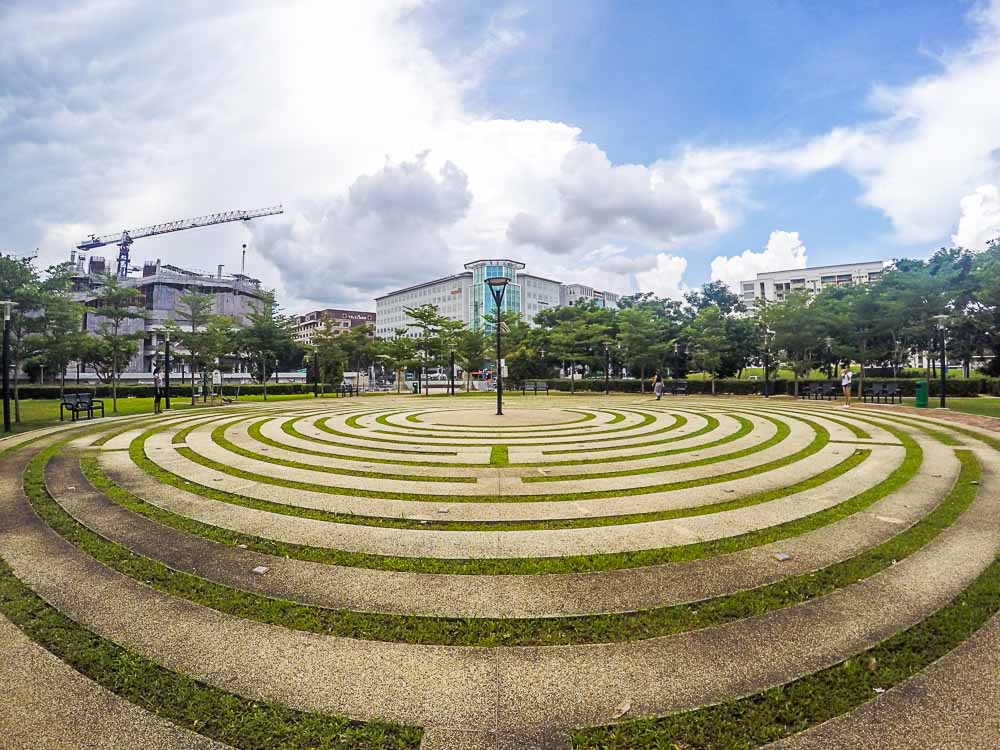 As part of the renewal programme competition by the Tampines Town Council, the Maze Garden was built by Team Design Architects. Race your friend in a game of real life maze. This isn't the only maze in the area. There's also a greenery maze made up of waist-height bushes. The cache is said to be hidden somewhere in there. Why didn't I have this in my neighbourhood when I was younger?

Address: Blk 945 Tampines Ave 4
7) Cultural Hub at Tampines West
Cache Difficulty Level: 3.5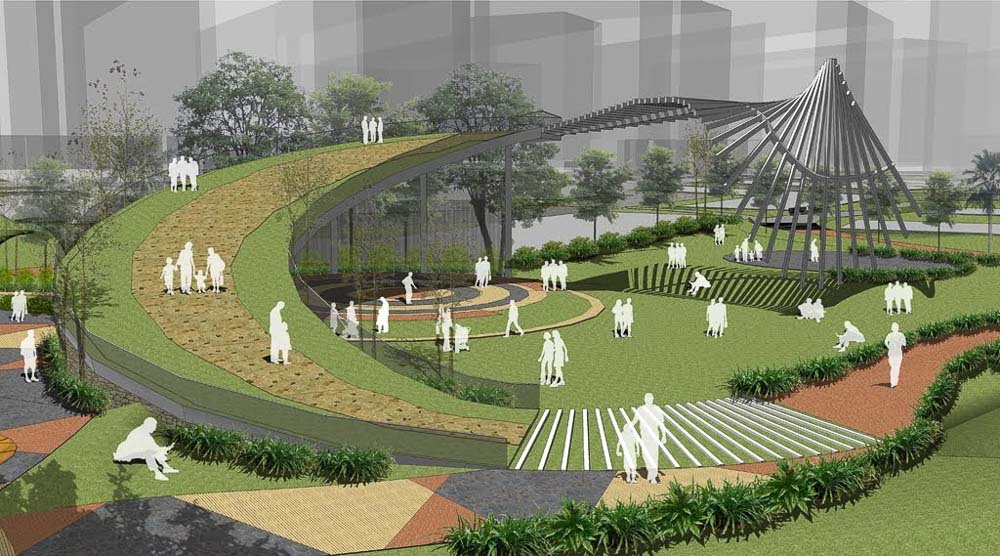 Also as a part of the competition by Tampines Town Council, the Cultural Hub is made up of a circular walkway and metallic sculpture, with a pretty cool interactive playground and fitness corner. The Cultural Hub makes a really good area for family time too! In order to find the cache, you gotta solve a binary code to retrieve the coordinates. Crack your brains on this tricky one and let us know how you fared!

Address: Blk 936 Tampines Ave 5
8) Sun Plaza Park
Cache Difficulty Level: 1.5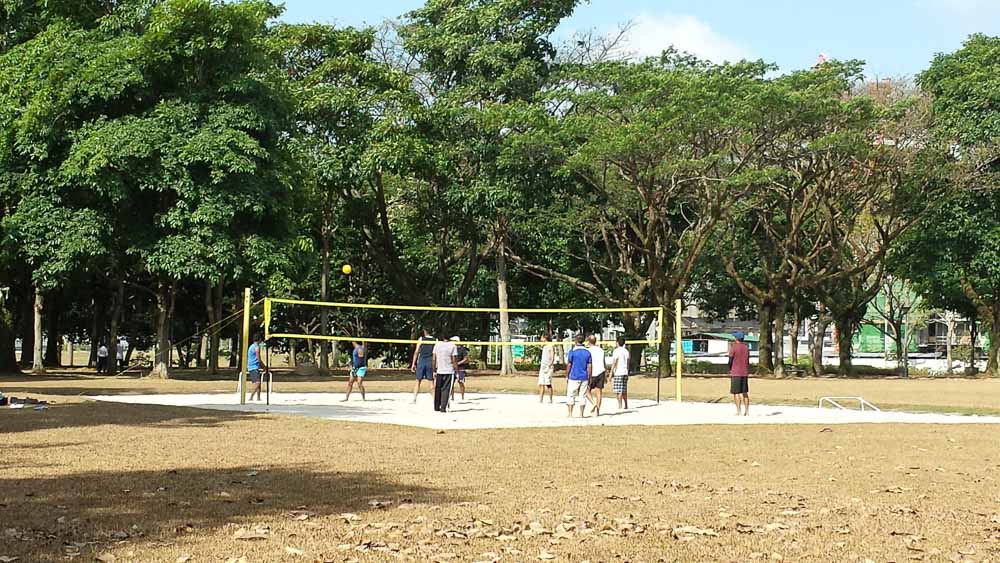 If you wander into Sun Plaza Park by accident one day, you'll probably end up spending a few hours there! Amphitheatre, Sense Discovery Garden, Beach Ball Court Woodball Course… Sun Plaza Park offers you the chance to have an immensely fun time with your family and friends. There's even a park connector that runs through the park! The cache that's hidden here is pretty easy to find. Although the Sun Plaza Park covers a vast area, the instructions should guide you clearly to where the cache is hidden 🙂

Address: Tampines Avenue 7
9) Tampines Quarry
Cache Difficulty level: 1.5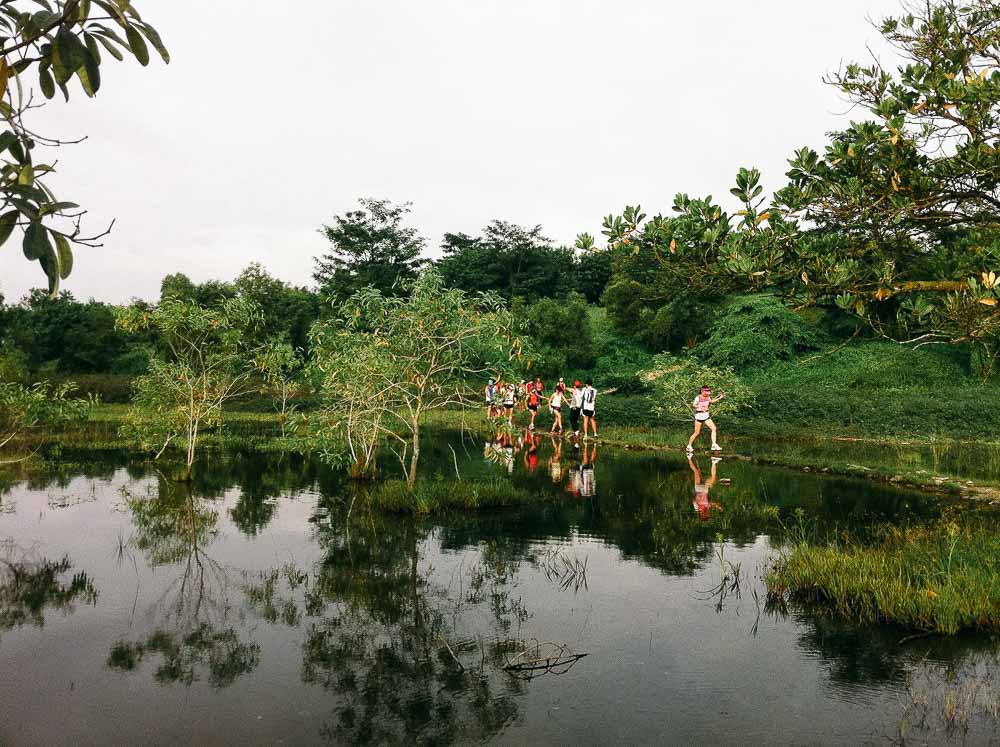 Geocaching brought us back to this forgotten place in Singapore. The entrance of the trail leading into Tampines Quarry has long been covered and hard to locate. If you're one who's up for an adventure in the wilderness, this is a perfect place for you to explore! Fallen trees, hilly terrains, thick forests; it is definitely not for the faint-hearted to conquer. That being said, it is definitely a good place to explore with your family or friends! Although the cache is only found along Tampines Ave 10. Why not head in to Tampines Quarry and spend a couple of hours exploring this unfamiliar place?

Address: Along Tampines Ave 10
West
10) One-North Park
Cache Difficulty level: 1 – 2.5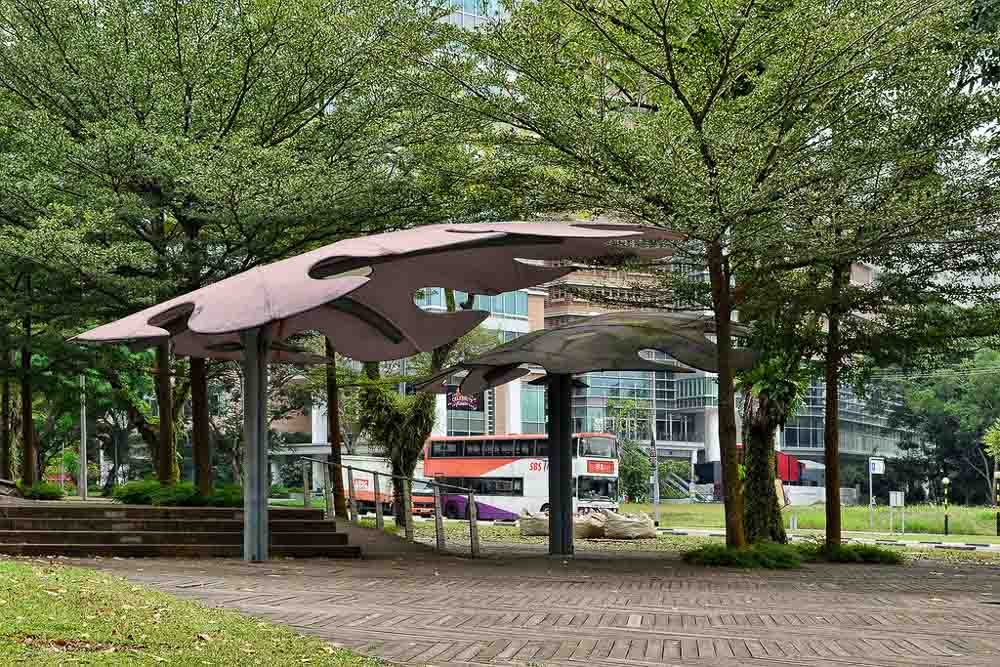 Nestled in the hilly grounds between Fusionopolis and Biopolis, One-North Park presents itself as an extremely multi-purpose location. From picnics to exercises, for the working or the living communities, it is extremely family friendly. No matter the occasion or company, the One-North Park is a great place to get together! 🙂 Geocaching here should be fun! There are many caches hidden in this area. If you explore the whole park, you should be able to find all the caches here.

Address: Along Buona Vista Road, between Fusionopolis and Biopolis
11) Tuas TV World
Cache Difficulty Level: 1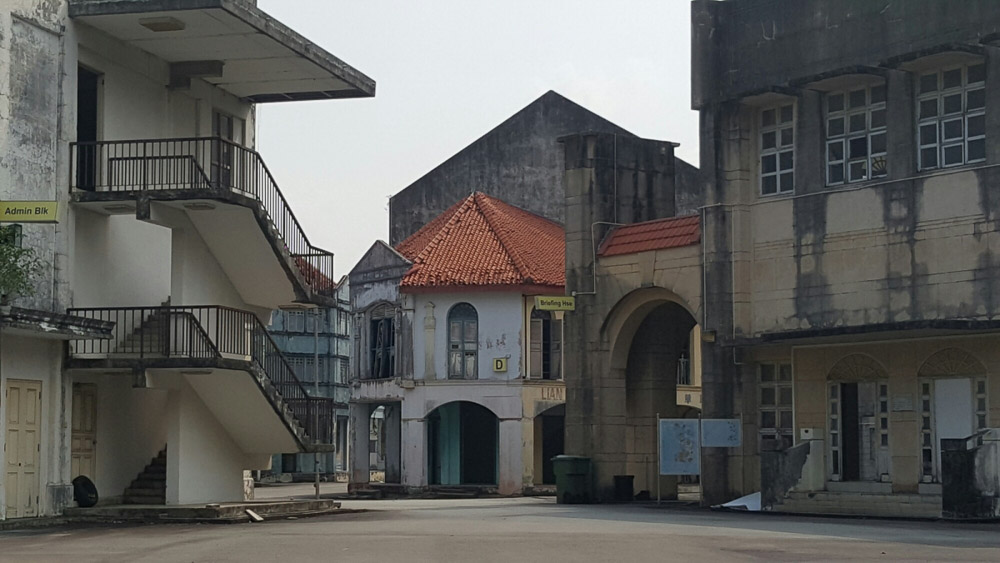 Ever wondered where did Mediacorp filmed those 1950s themed TV shows? Tuas TV World was created to mimic the bustling city life of Singapore in the 1950s, with structures that resemble a cinema, fire station, church, train station, a city hall, mansions and rows of Chinese shophouses. These three streets in Tuas TV World each has a real name and was once used for the filming of some memorable dramas. Today, the use of this area has been converted to a military training ground. Needless to say, the area was fenced and locked up. While the cache isn't inside the fenced up compound or on AYE, it is located at an easily accessible place near the site.
Address: Jalan Ahmad Ibrahim, between Tuas Checkpoint and golf course of Raffles Country Club
Are you amazed yet? Beautiful or odd, these places do exist in Singapore and they're worth exploring if you haven't been there before! The next time you think Singapore is too boring, maybe this can be a checklist for you to tick off 😉 You may even find a new favourite hangout spot with your friends!
Know of other cool places with hidden caches? Let us know where and we might just explore them too!