With so many things to do in Kunming from natural wonders and cultural attractions to modern shopping districts, Yunnan's capital city is more than just a transit hub.
First published on: 18 Nov 2019
Kunming City is often seen as the gateway to visiting China's Yunnan province, but you'll be surprised at the gems you'll discover there, with 26 different ethnic minorities, great histories, stunning sceneries and wholesome delicacies.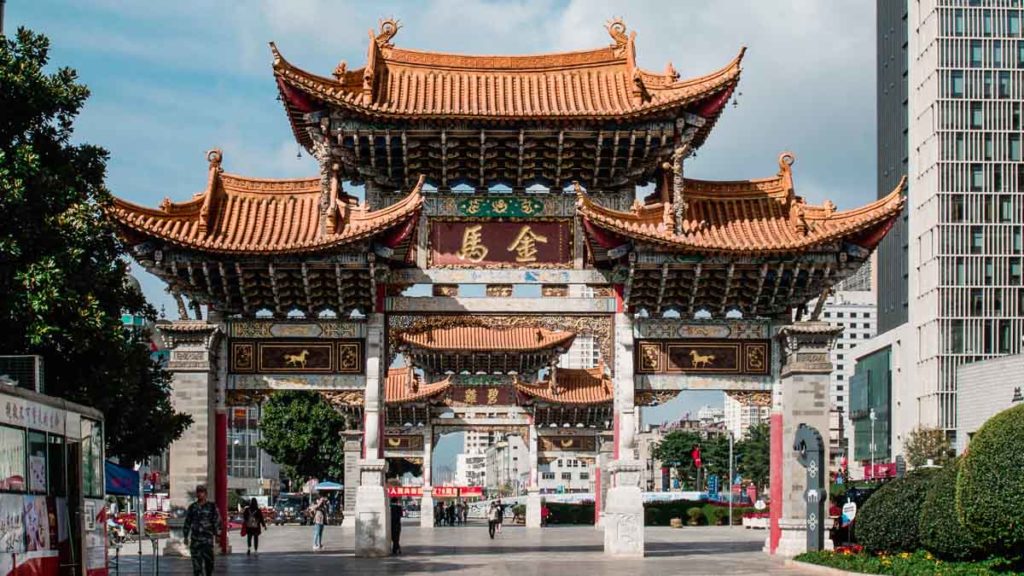 China is huge, and quite impossible to explore in its entirety in just one trip. You could argue that seeing China's capital Beijing or financial powerhouse Shanghai would suffice, but that's just scratching the surface of a country with a history dating back to ancient times!
Many people see Kunming as a transit location — where they'd fly into but continue their journey to other scenic towns of Dali, Lijiang, and Shangri-La, but the often-overlooked city is charming in her own ways!
From historical ancient towns to glitzy shopping districts and impressive karsts and caves, here are 15 things to do in Kunming, the City of Eternal Spring!
Read also: 12D Yunnan Itinerary — Kunming, Dali, Lijiang, and Shangri-la
Kunming Travel Essentials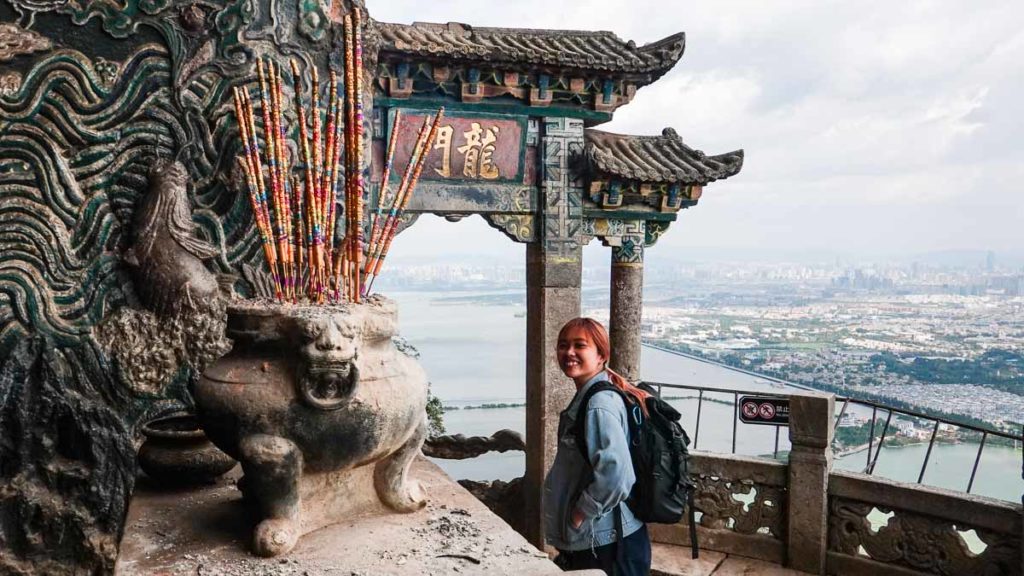 Getting around Kunming: The easiest way around Kunming is via Didi (China's Uber equivalent), and short-distance rides within the city cost between 8RMB and 20RMB.
Connectivity: Internet access in China can be tricky, we recommend getting a Hong Kong SIM card/eSIM with coverage across the whole of China. On top of that, download a VPN to get past the Great Firewall.
Saving money: Still a student? Pack your student card because most attractions give up to 50% off entrance fees to students.
Read also: 9 Reasons Why You Should Visit Yunnan, China
Kunming's top scenic attractions
1) Yunnan Stone Forest (Yunnan Shilin, 石林风景名胜区)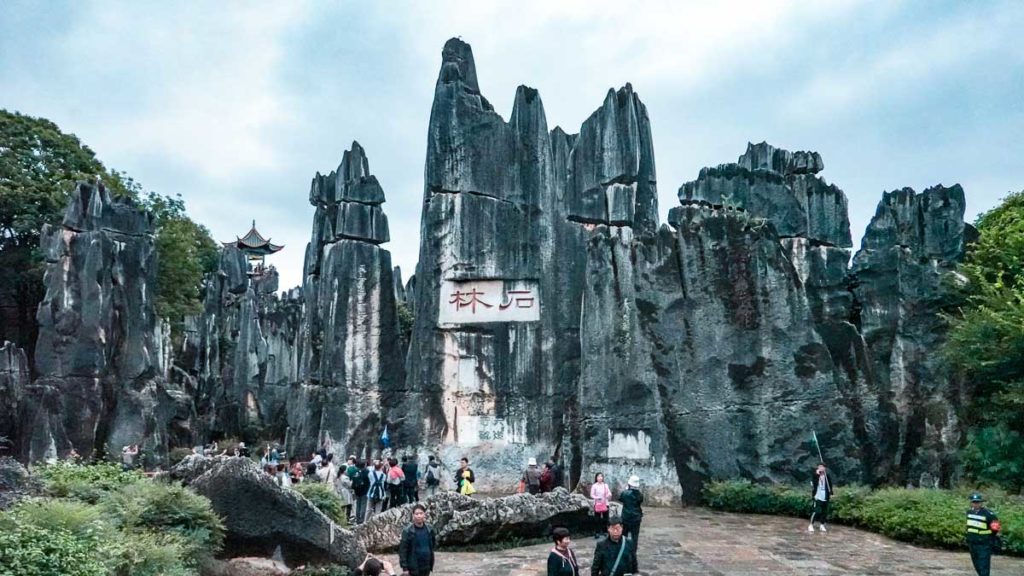 The Yunnan Stone Forest isn't technically a forest, but a huge limestone karst formation formed by erosion over millions of years. The towering rocks with jagged edges look somewhat similar to clusters of petrified trees, hence the name "Stone Forest".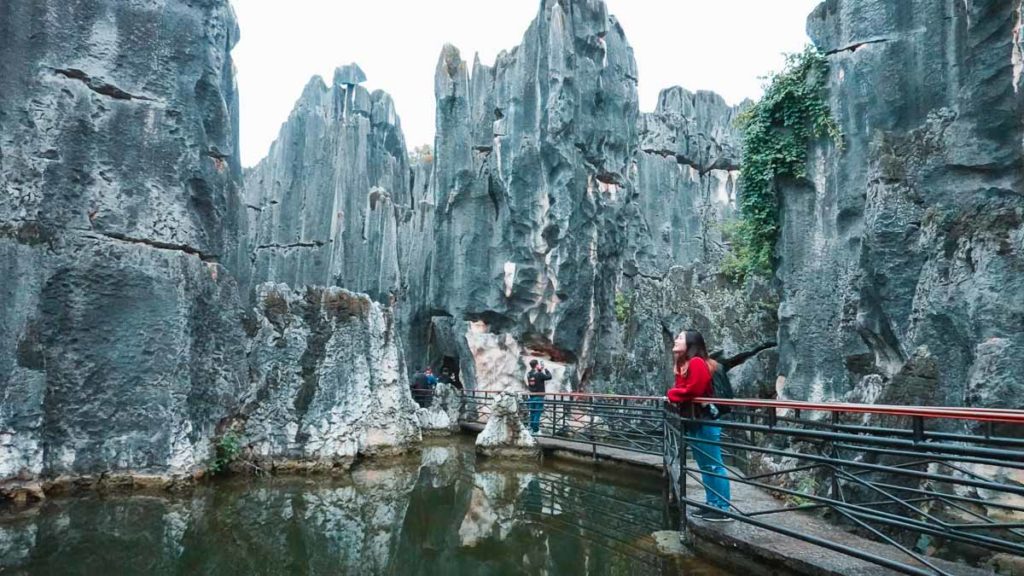 This UNESCO World Heritage Site will get crowded, so visit early in the day before hoards of tourists swamp the area! The Stone Forest is a huge compound, and buses only drop you at the outer entrance so you'll have to either walk 6km into the Stone Forest or take a buggy that costs 25RMB/pax.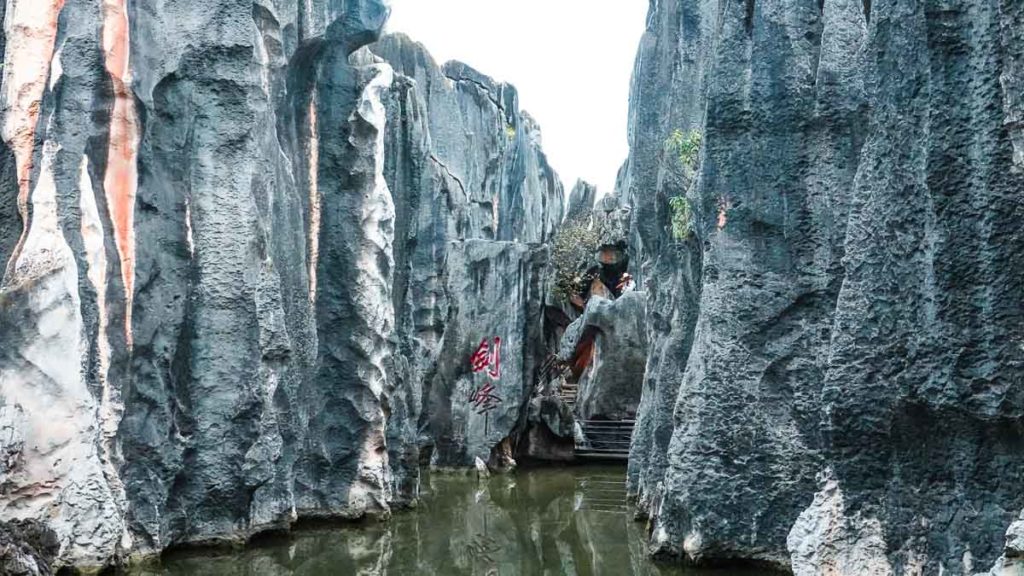 Once you're at the inner entrance, the only way to get around is by walking. There are well-paved paths to walk on, but do wear proper walking shoes!
There are both Big and Small Stone Forests in the area, and we suggest heading to the Big Stone Forest first as it's the more notable of the two. It takes about 3 to 4 hours to finish sightseeing the whole area.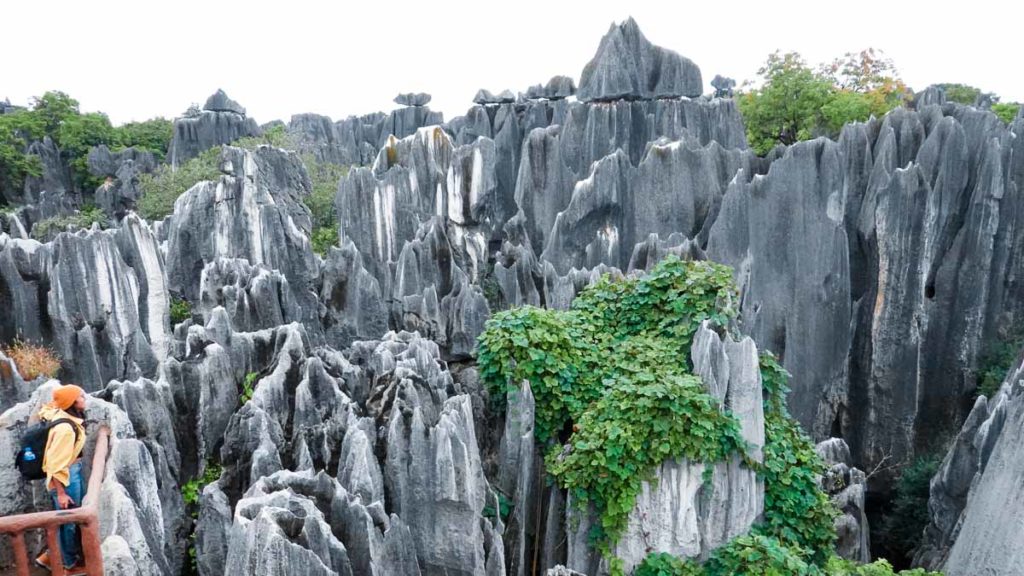 Entrance Fee: 120RMB (60RMB for students)
Opening Hours: 7AM – 6PM
How to get there: Take Line 3 of the Metro to East Coach Station (Baidu Map). Then, transfer to a shuttle bus to Stone Forest for 34RMB (Baidu Map). They leave around every half-hourly, or when full. The bus journey takes 1.5 hours one-way.
2) Green Lake Park (Cuihu Lake, 翠湖)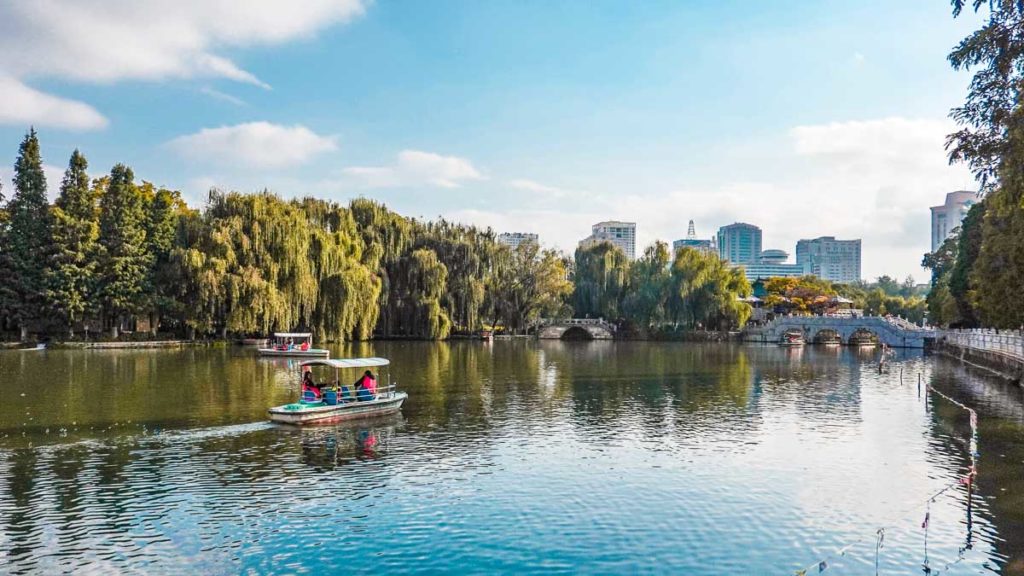 Kunming's bustling noise and busy traffic can be overwhelming for first-time visitors, but located at the heart of the city is a sanctuary away from the crowded streets. Green Lake Park provides the space, the greenery, and the serenity for people who just want to escape the noisy city for a bit.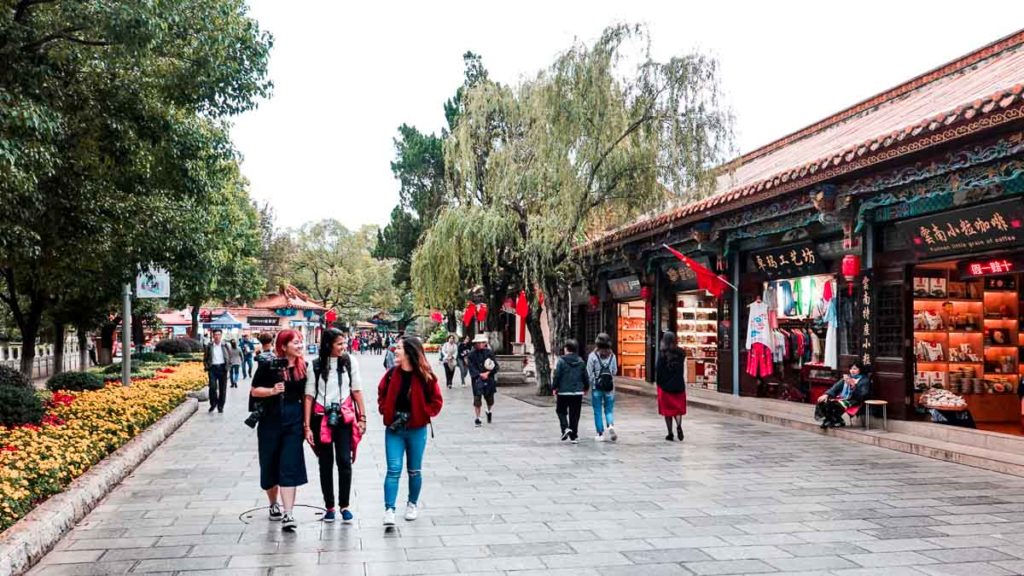 The park is more than just a pretty lake. Shops line the streets within the park, selling Yunnan specialties such as Pu'er tea, ba ba bread, and even Yunnan tribal ethnic costumes!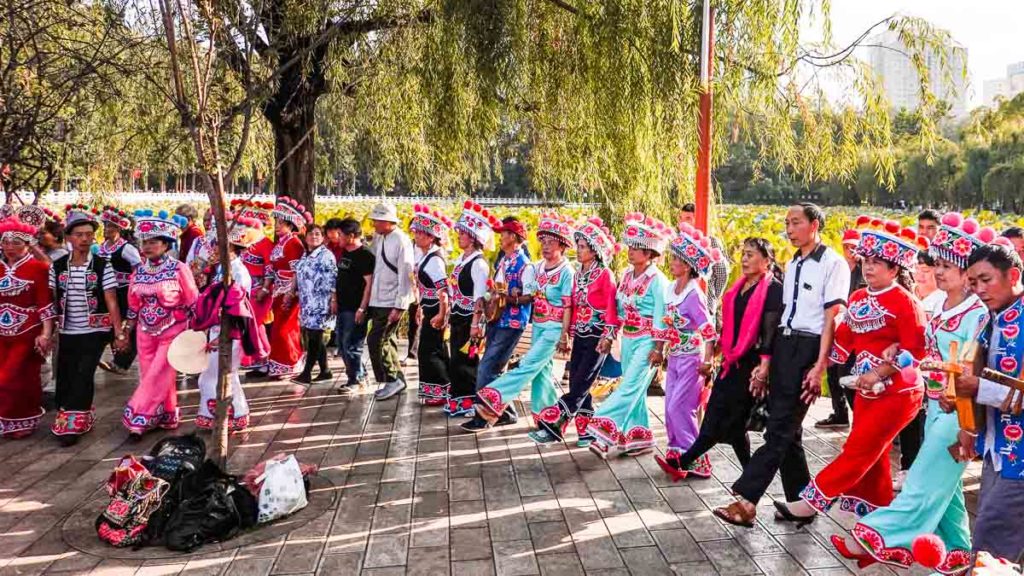 The best time to visit Green Lake Park is during the weekends when folks from various ethnic groups gather and dance to traditional folk music. You can even ask the locals to let you into the dance with them! They'll be more than glad to teach you some of the foot moves.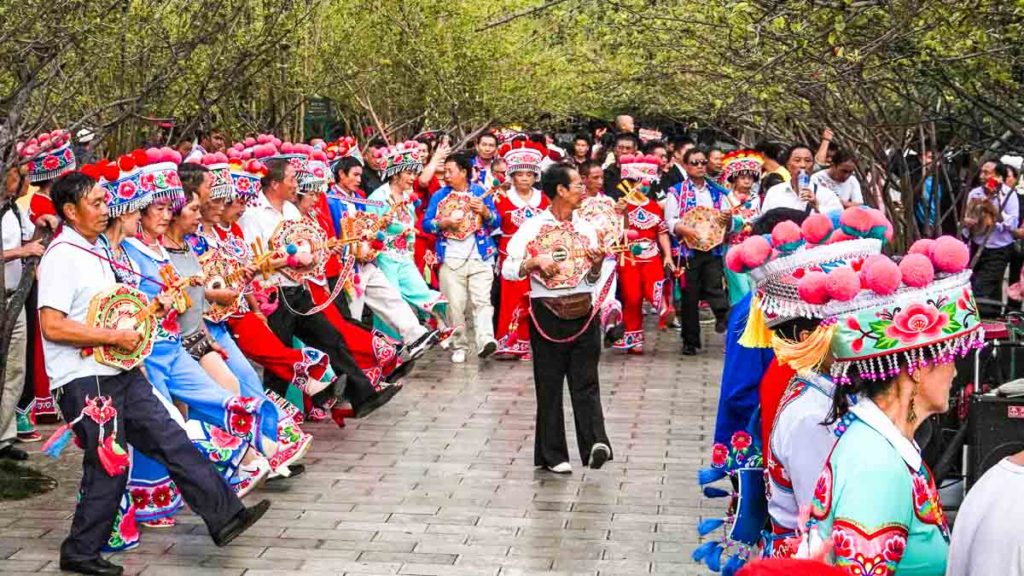 Entrance Fee: Free
Opening Hours: 7AM – 11PM (shops within the park close at 6PM)
How to get there: 8min walk from Huashan West Rd stn on Line 5 of Kunming Metro (Baidu Map)
3) Jiuxiang Scenic Region (九乡风景区)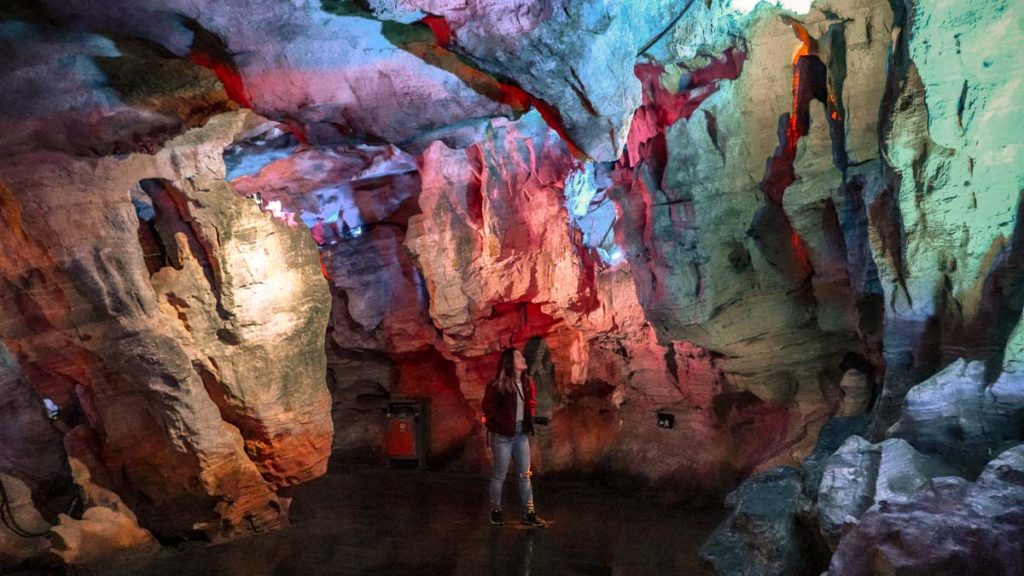 Many know of Yunnan's Stone Forest, but there's another scenic area just as significant in the eyes of the locals.
The Jiuxiang Scenic region is home to one of the most magnificent cave systems in China. There's a local saying that goes, "tianshang kan shilin, dishang kan jiuxiang" (地上看石林,地下看九乡), which translates to "Seeing the Stone Forest above and seeing Jiuxiang from below". So if you're already visiting the Stone Forest, there's no reason not to make a trip to the Jiuxiang Scenic region.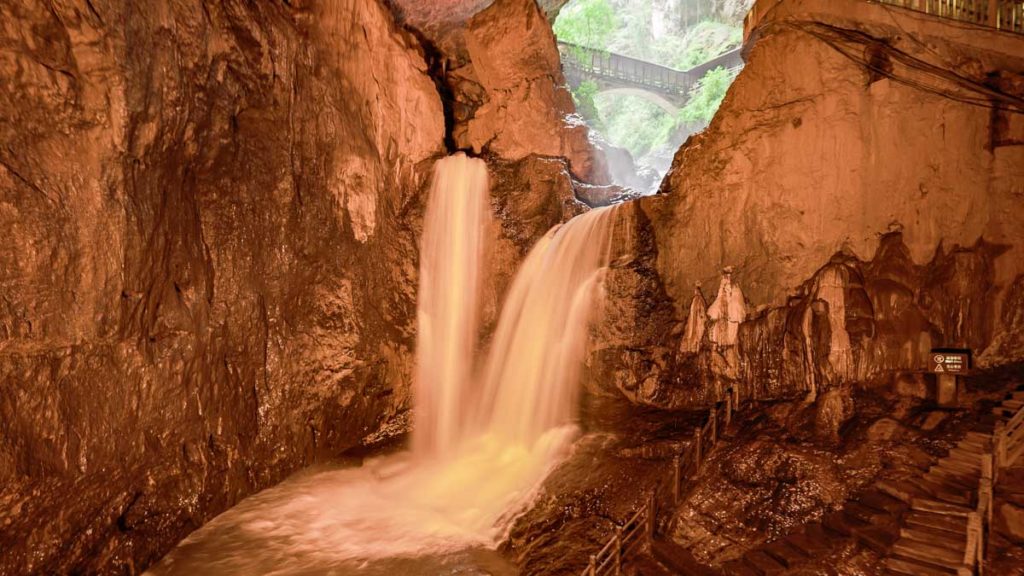 Fun fact: The Jiuxiang Scenic region is the filming location of the movie The Myth, starring Jackie Chan! You might recognise the Twin Waterfalls in the picture above that was in a scene. It takes about three hours to walk through the whole cave system.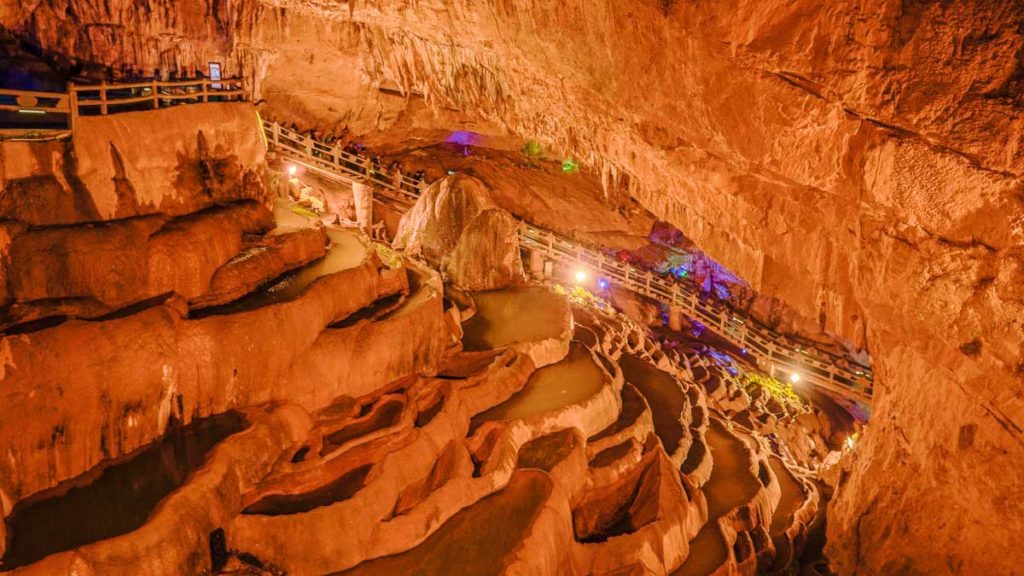 Entrance Fee: 90RMB + 30RMB for chairlift
Opening Hours: 8AM – 6PM
How to get there: If you're going from Kunming City, take the coach buses from East Coach Station to Yiliang County, and change to Bus 21 to Jiuxiang Scenic Region (Baidu Map).
If you're visiting Jiuxiang on the same day as Stone Forest, there are also coach buses (¥25/way) that leave Stone Forest to Jiuxiang Scenic Region.
Learn about Yunnan's many nationalities and cultures
4) Walk down history at Guandu Ancient Town (官渡老镇)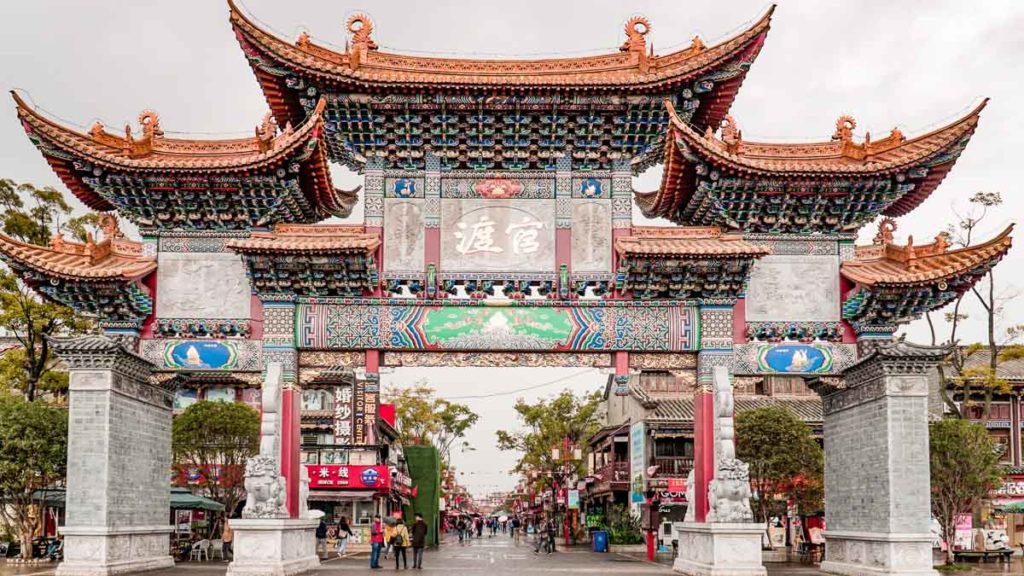 One of the birthplaces of the Yunnan culture, Guandu Ancient Town is no doubt Kunming's most famous old town, and also where you should head for a better understanding of Yunnan's origins.
Guandu Town used to be a fishing village during the Tang Dynasty and has long been a big marketplace and logistic hub of the nearby Dian Lake.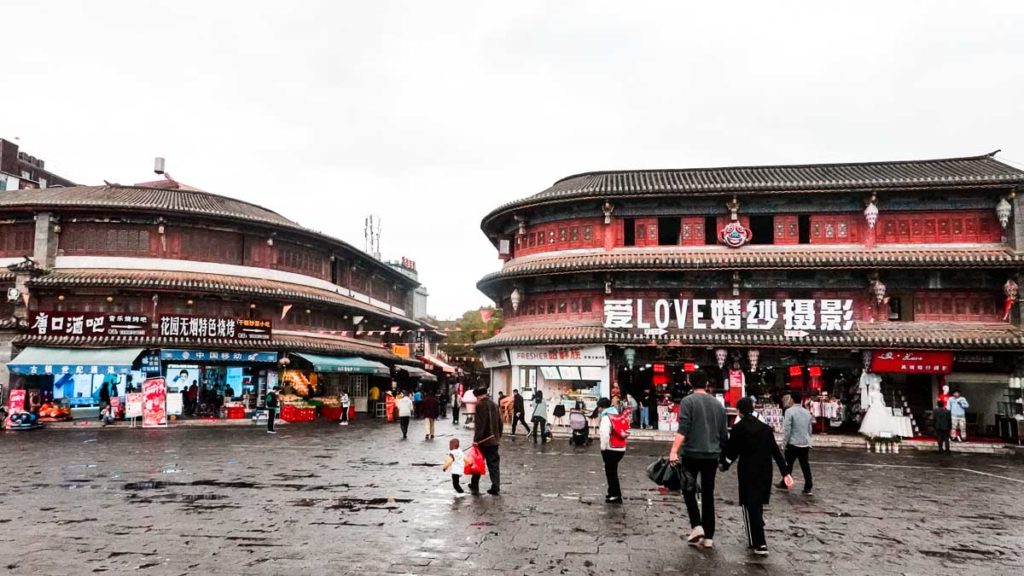 Today, the old architectures still stand, but in place are hundreds of shops selling Yunnan snacks and souvenirs such as flower cakes, roasted rushan cheese, baba bread, Pu'er tea, silverware, and Burmese jadeite.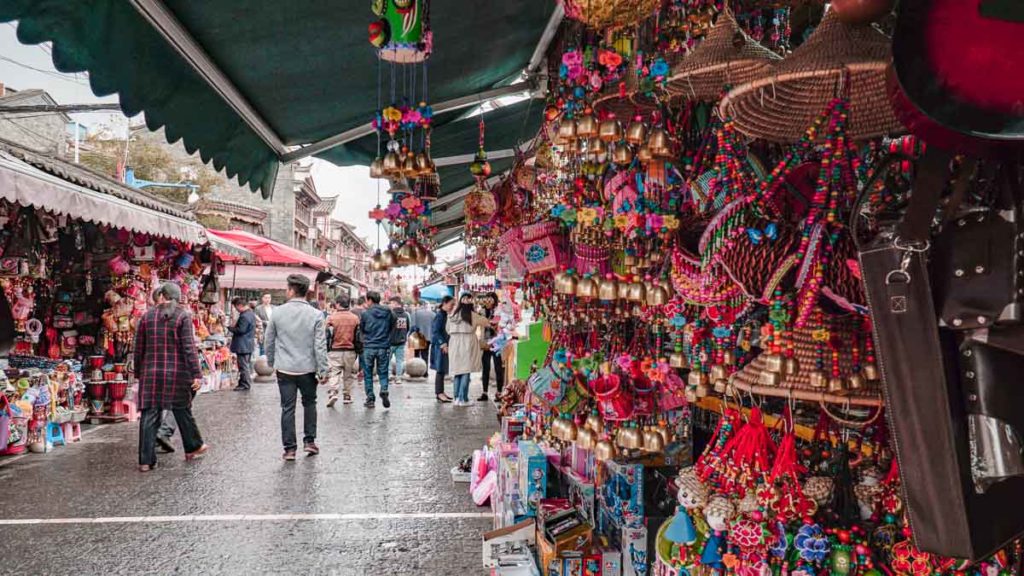 How to get there: Take buses 31, 174,185, 186, 232, 253, 255, 261, 908, A12, C143, C85, K15, or K42.
*Pro-tip: You can book a private day tour of downtown Kunming, including Guandu district via Klook.
5) Reach for luck at Longmen Xishan (西山龙门)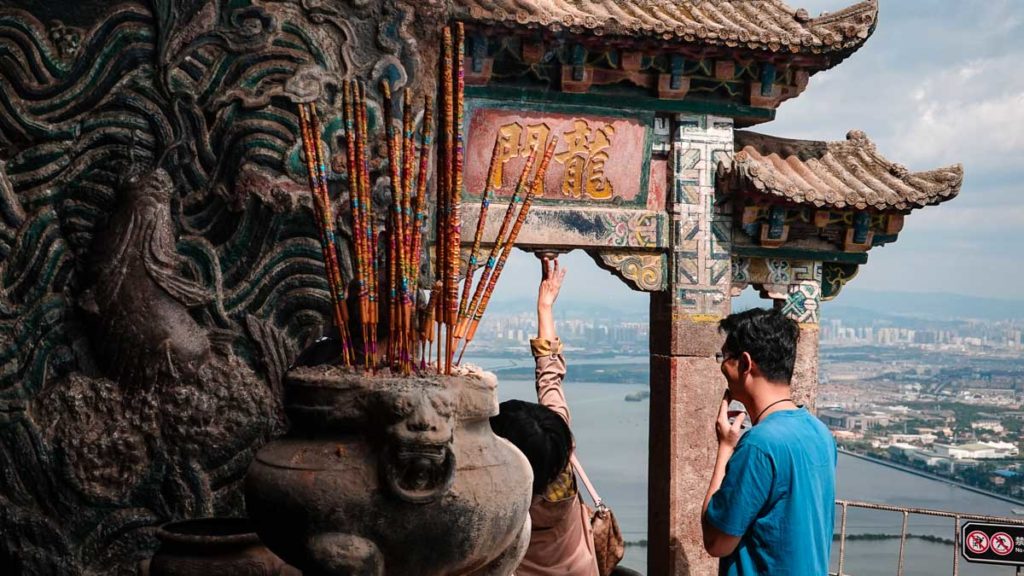 There really isn't short of Chinese sayings at Yunnan, and there's one that truly makes everyone FOMO about visiting Longmen: "不耍西山等于不到昆明,不到龙门只是白跑一趟西山" (If you do not visit the Western Hills, you haven't visited Kunming; if you do not come to the Dragon Gate, you haven't been to Western Hills.)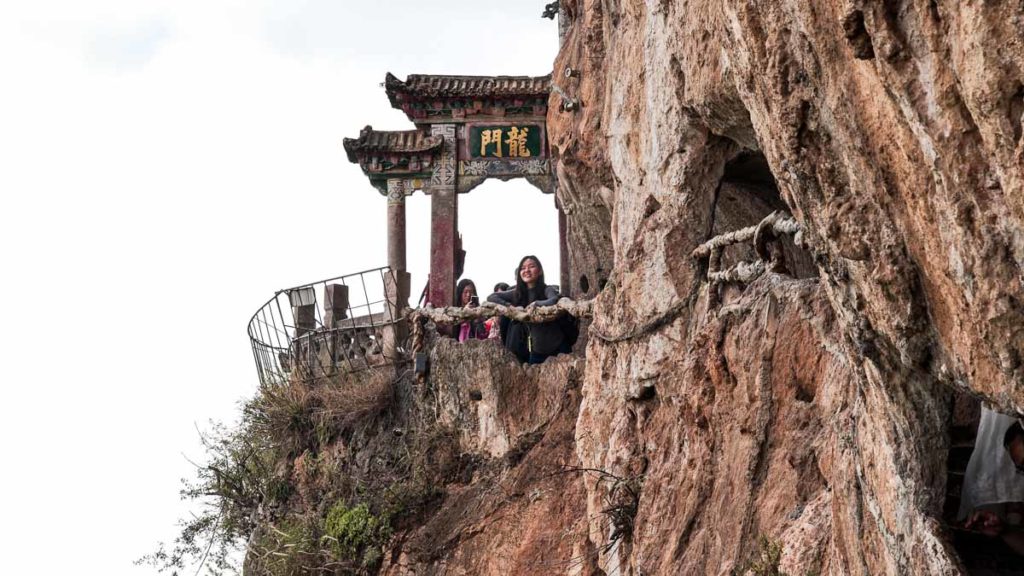 At the top of Western Hills Longmen, you'll get a good view of Dian Lake but that's not all — most people head to Longmen to also visit the temples built on the hills. Many people make their way up in hopes of achieving luck and success in life if they reach for the gate's wooden knob!
If you want a stress-free experience exploring Longmen Xishan and other parts of downtown Kunming, you'll want to book a private day tour.
Entrance Fee: 30RMB (15RMB for students). Additional 25RMB for chairlift access, 10RMB for buggy transportation ride, 25RMB for a one-way coach bus ride
Opening Hours: 8:30AM – 5:30PM, closes 6PM on weekends.
How to get there: Take Line 3 of the Metro to Western Hill Forest Park Station/西山公园站 (Baidu Map)
6) Learn about the different ethnicities at Yunnan Nationalities Village (云南民族村)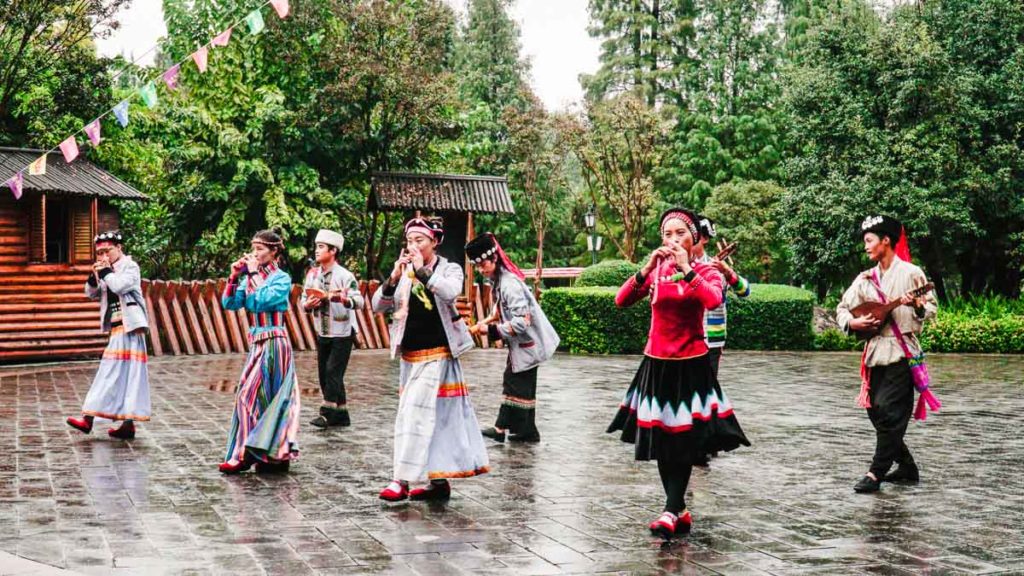 Yunnan is home to 26 different minority ethnic groups, each with its own customs, traditions, and ways of life. To visit and understand all 26 ethnicities in their respective villages require lots of effort, especially when many are up in the mountains!
But not too far off Kunming City is the Yunnan Nationalities Village where all 26 ethnicities are gathered together to showcase their unique cultures.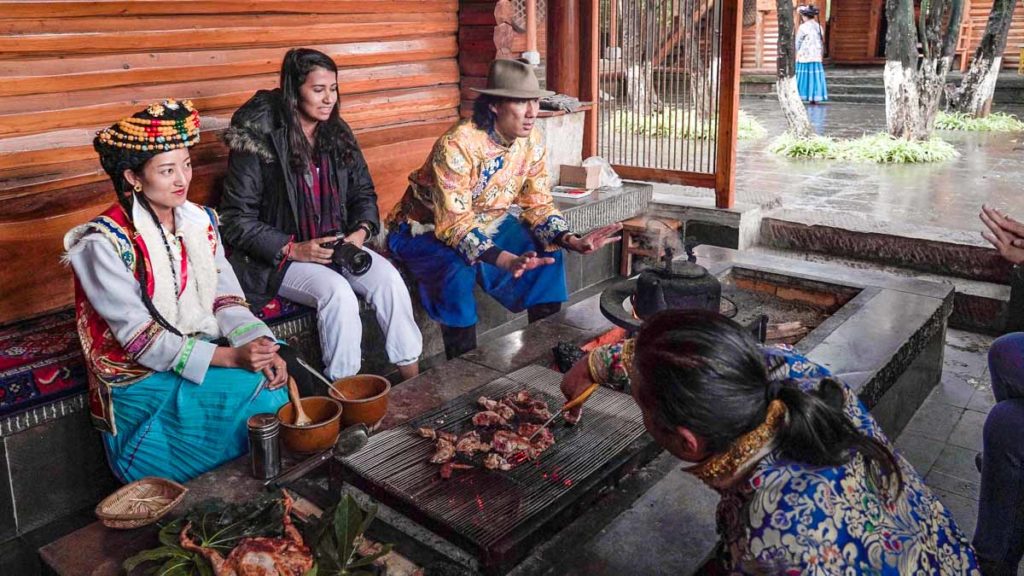 It may seem touristy at first, but do think of this place as an outdoor museum for curious visitors to meet and interact with the friendly locals of different ethnicities, and understand their ways of life at the same time.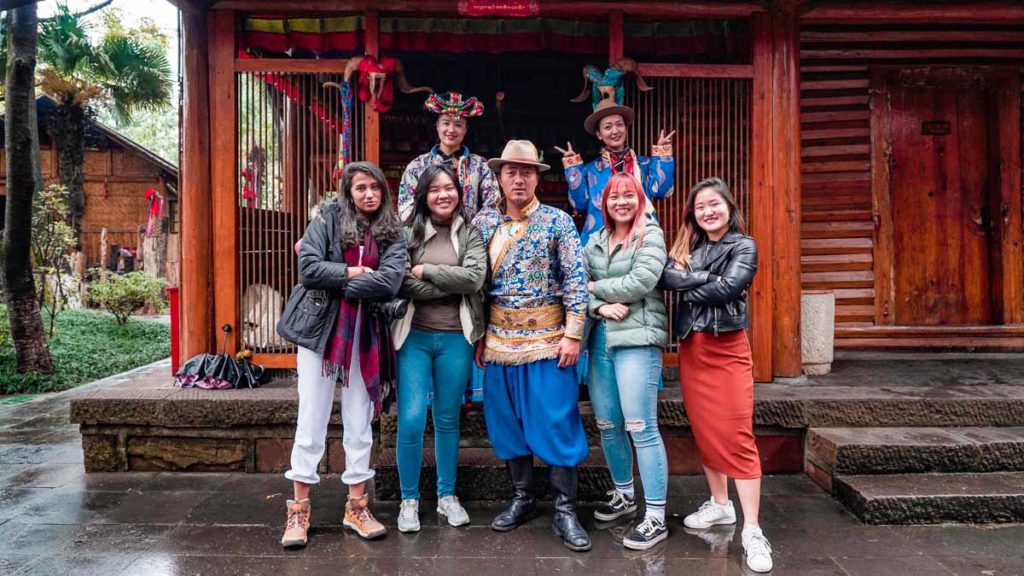 Entrance Fee: S$16 via Klook
Opening Hours: 9AM – 6PM
How to get there: Take bus lines no. 44, 73 or A1 to Yunnan Nationalities Village Station (Baidu Map)
*Pro-tip: Find out performance timings at the entrance and head to them straight, as the village is pretty big. Also, it's highly recommended to rent a pedal bike (100RMB) to get around.
Shop till you drop in Kunming
7) Wenlin Street (文林街)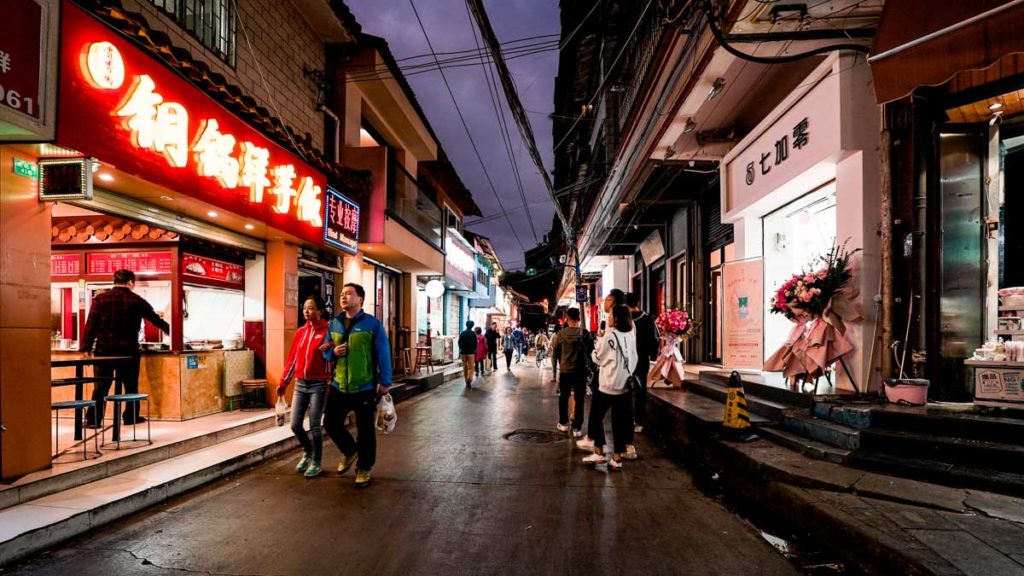 Due to its proximity to two local universities, Wenlin Street is a trendy area where young Chinese university students hang out. It's also here where you can find eateries still open after 6PM! Besides food, there are also bookstores, stores selling quirky thingamabobs, and bars that open till late.
How to get there: Take Line 3 of the Metro to Panjiawan Station (潘家湾站). Alternatively, take buses 1, 85, 101, 125 or 139 (Baidu Map)
8) Nanping Pedestrian Street (南屏步行街)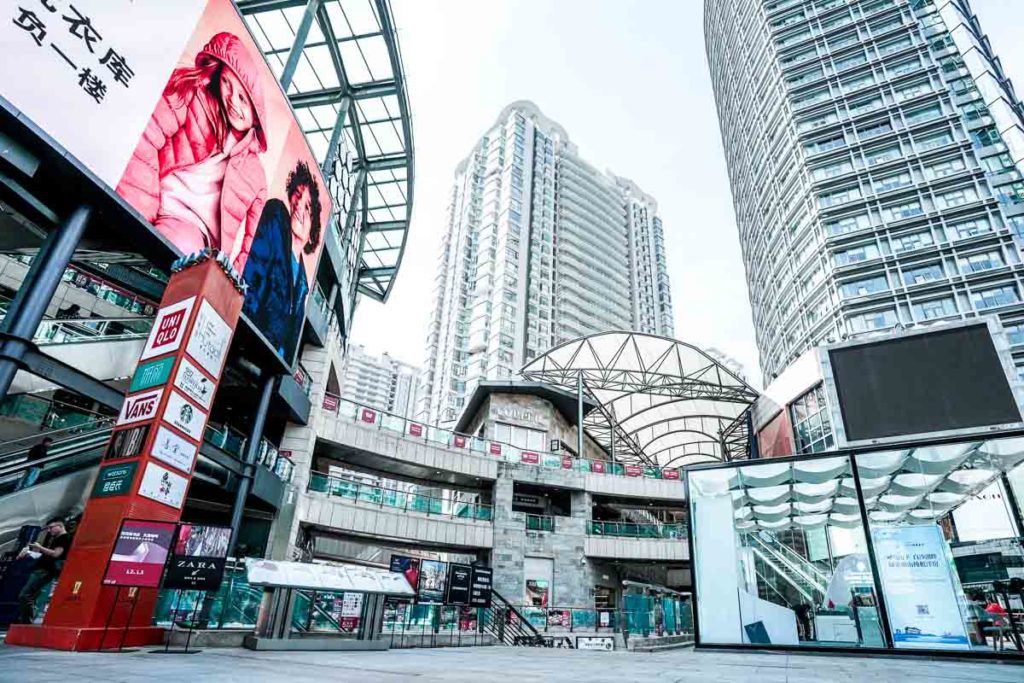 For an Orchard Road equivalent, there's Nanping Pedestrian Street. This car-free road is a shopping haven and one of Kunming's busiest commercial streets, where you can find restaurants, supermarts, and high-end branded shops.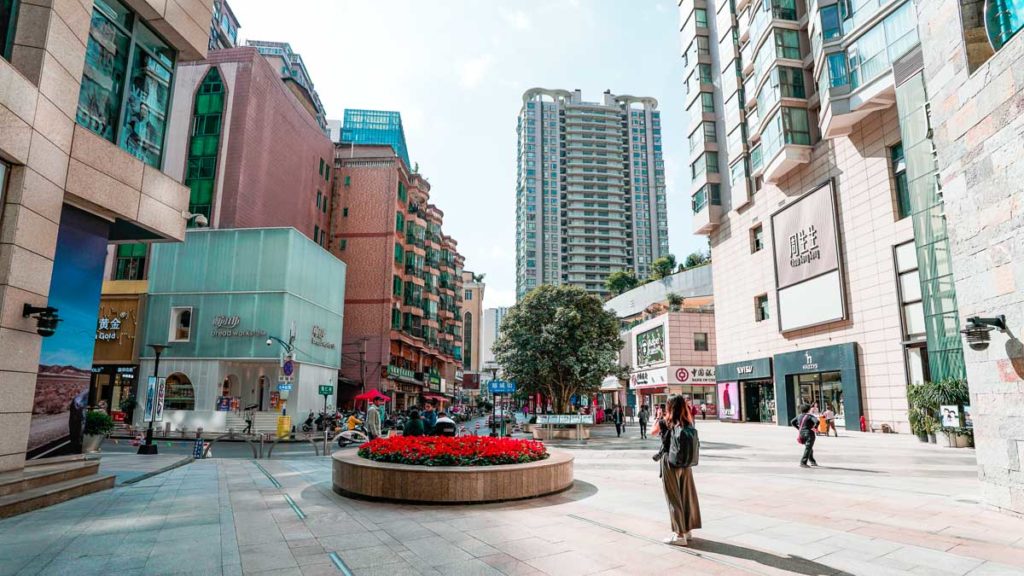 For visitors who are in Kunming City for a short day or two, we recommend exploring Nanping Pedestrian Street and its surroundings if you're unsure of things to do in Kunming.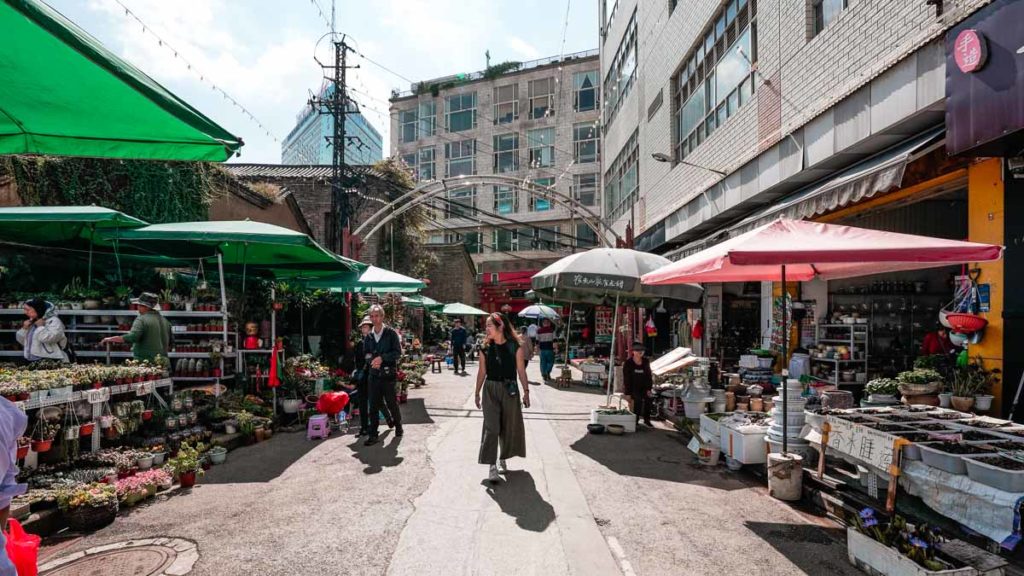 It's also within walking distance of the Jingxing Flower and Bird Market (景星花鸟珠宝市场), a busy market with pets, botany, and antiquity traders.
How to get there: Take Line 2 or 3 of the metro to Dongfeng Square Station (东风广场站). Alternatively, take buses 68, 71, 108, 118 or 234. (Baidu Map)
9) Park 1903 (公园1903)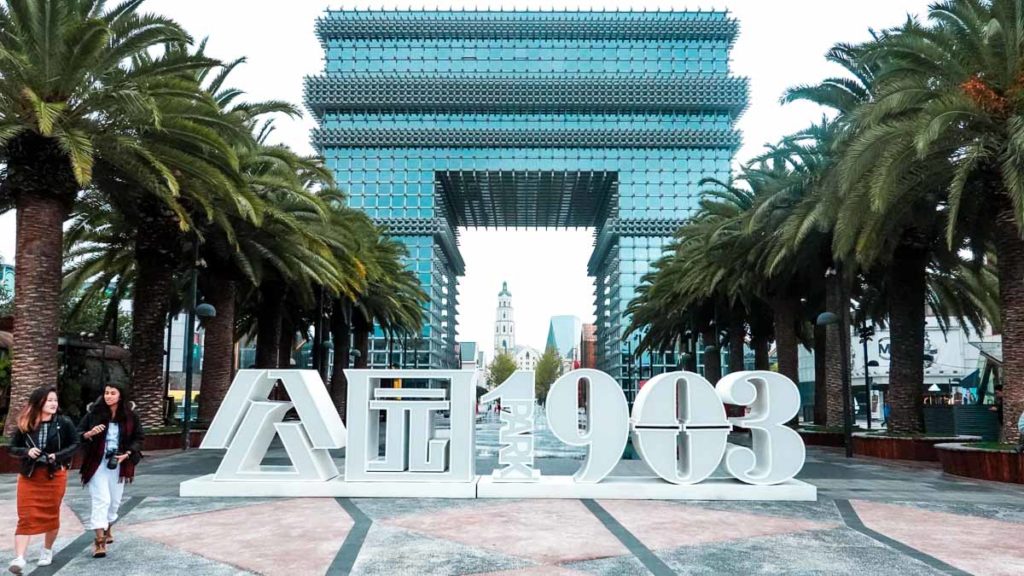 This shopping district is quite elusive, so we decided to head there for ourselves and bring you pictures of this hipster place that was quite the rage on China's Douyin (TikTok).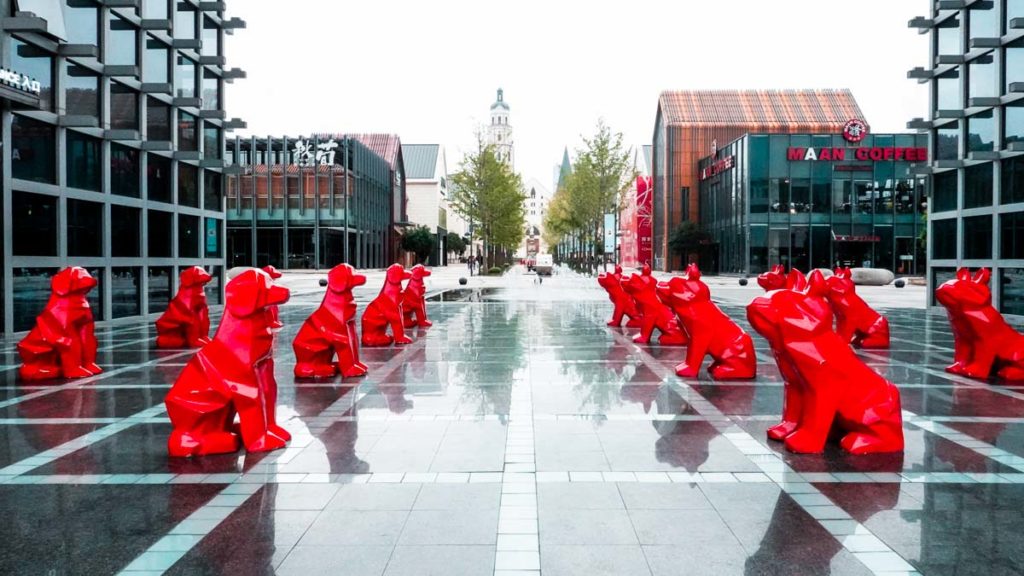 With buildings modelled after European cities, Park 1903 is China's very first integrated open-concept park mall. It's here where you can find official shops of many international and homegrown Chinese brands. It may seem slightly upmarket but you'll know you're only getting the real deals here.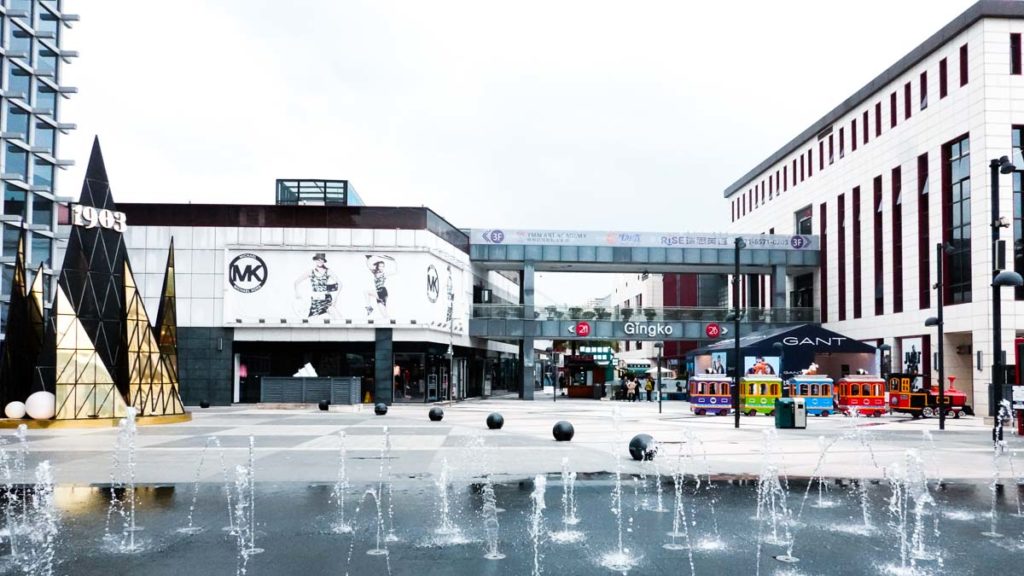 Even if shopping isn't your agenda in Kunming, the beautiful architecture and artsy vibes of Park 1903 make it a great place to just chill, take photos, and people-watch.
Address: Near No. 19 Qianweixi Road, Xishan District, Kunming City (Baidu Map)
10) Spring City 66 (恒隆广场)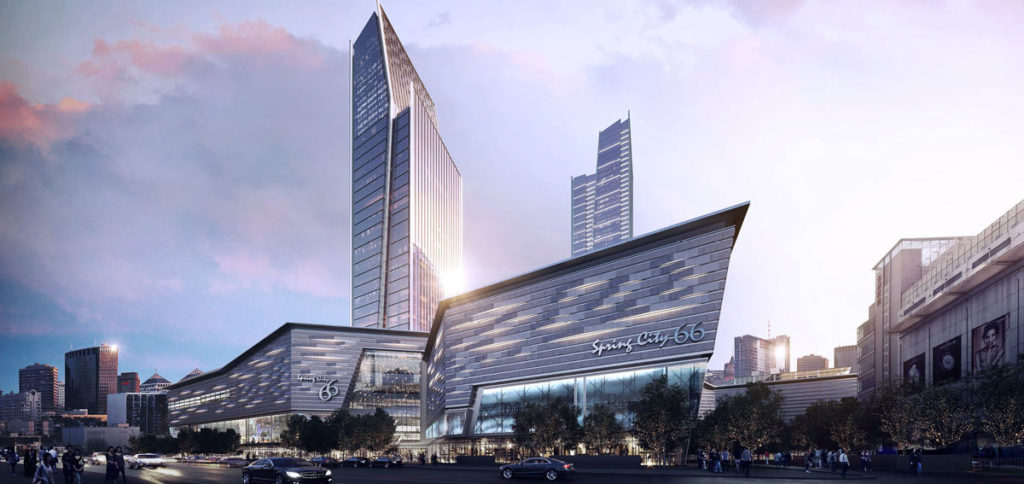 Photo credit: Wongtung.com
Spring City 66 opened in August 2019 and is Kunming City's largest shopping mall to date. The developer's vision for Spring City 66 is to "show the world Kunming, show Kunming to the world". With that, more than one-third of the stores brought into the mall are the first of their kind in Kunming!
How to get there: Take Line 2 or 3 of the Metro to Dongfeng Square Station (东风广场站). Alternatively, take buses 52, 63, 78, 89, 105, 132 or K1. (Baidu Map)
What to eat in Kunming
11) "Crossing-the-bridge noodles" (Guo Qiao Mi Xian, 过桥米线)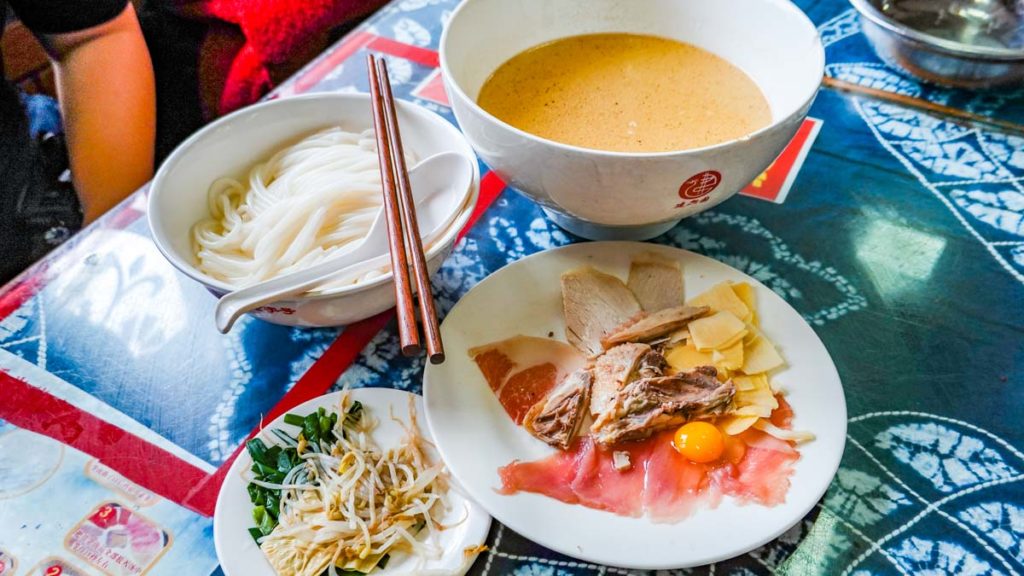 Crossing-the-bridge noodles, known locally as guo qiao mi xian, is a soup-based rice noodle dish from Yunnan. But don't mistake it for your ordinary bee hoon soup! This dish feels more like a personal hot pot where the ingredients, including the noodles, are served separately.
A large bowl of boiling hot soup is served to you, with dry noodles, raw meat, quail eggs and vegetables at the side. To eat, throw the raw meat into the bowl of boiling soup first, then quail eggs, and then the vegetables. Finally, add in the noodles and give your big bowl of goodness a good mix before eating.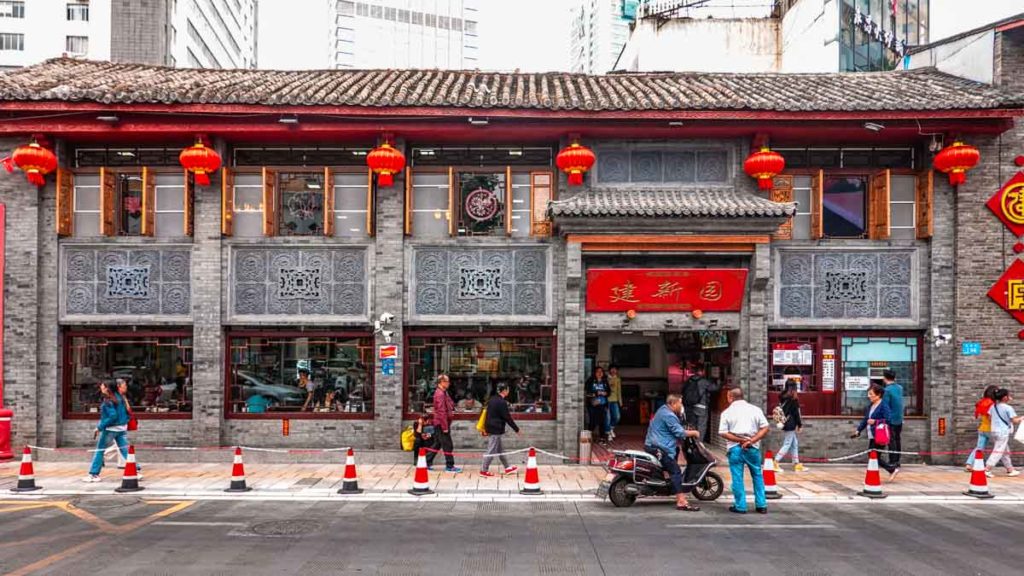 Being a popular dish eaten all over Yunnan, these noodles can be found at most eateries or restaurants. Within Kunming city, Jianxinyuan is a popular go-to for authentic crossing-the-bridge noodles at reasonable prices.
12) Steam Pot Chicken (Qi Guo Ji 汽锅鸡)
Another Yunnan delicacy is the Steam Pot Chicken (Qi Guo Ji). As its name suggests, this dish is served in a ceramic pot, the same pot it was cooked in. The chicken is cooked with hot steam sealed inside the pot, retaining the rich and tasty flavours of the chicken within.

Especially with Kunming's chilly weather all year round, you'll crave this all the time.
13) Yunnan Bread (Ba Ba 粑粑)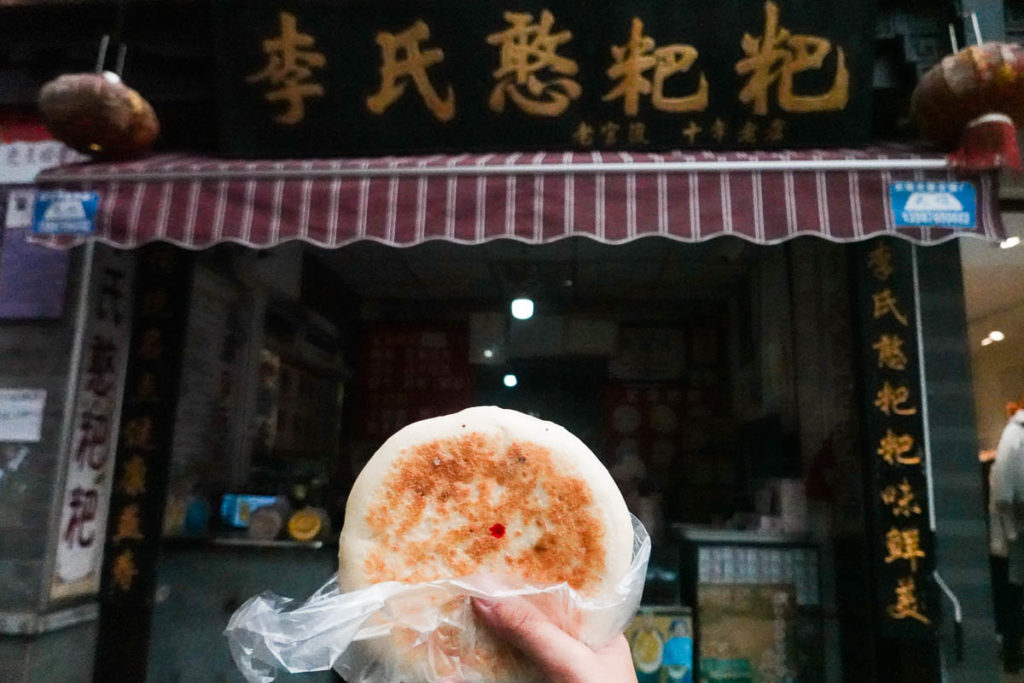 All around Kunming, you'll find these simple and traditional confectionery shops selling something called ba ba. More often than not, these ba ba come in different fillings, such as red bean, sesame, corn, or scallions. Perfect when you're feeling snacky!
14) Roasted rushan cheese (Kao Ru Shan 烤乳扇)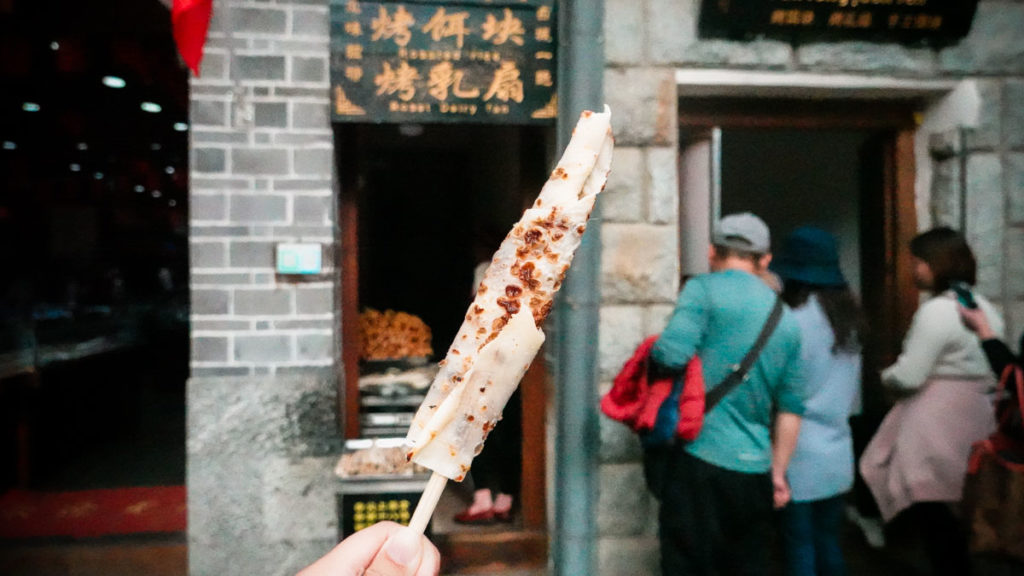 Roasted rushan cheese is a snack that originated from the Dali province, but it can be found in Guandu Ancient Town too! Sold on a stick, roasted rushan cheese is made of fresh milk mixed with yoghurt, or a souring agent like sour papaya water, till the milk coagulates.
The solidified milk is then laid out flat on a grill before being twirled onto a stick. I'd describe the taste as something similar to cheese, but with a tinge of sweetness to it. Do look out for stalls that sell freshly-made ones as it hardens quickly when cooled!
15) Wild mushrooms (Ye Jun Zi, 野菌子)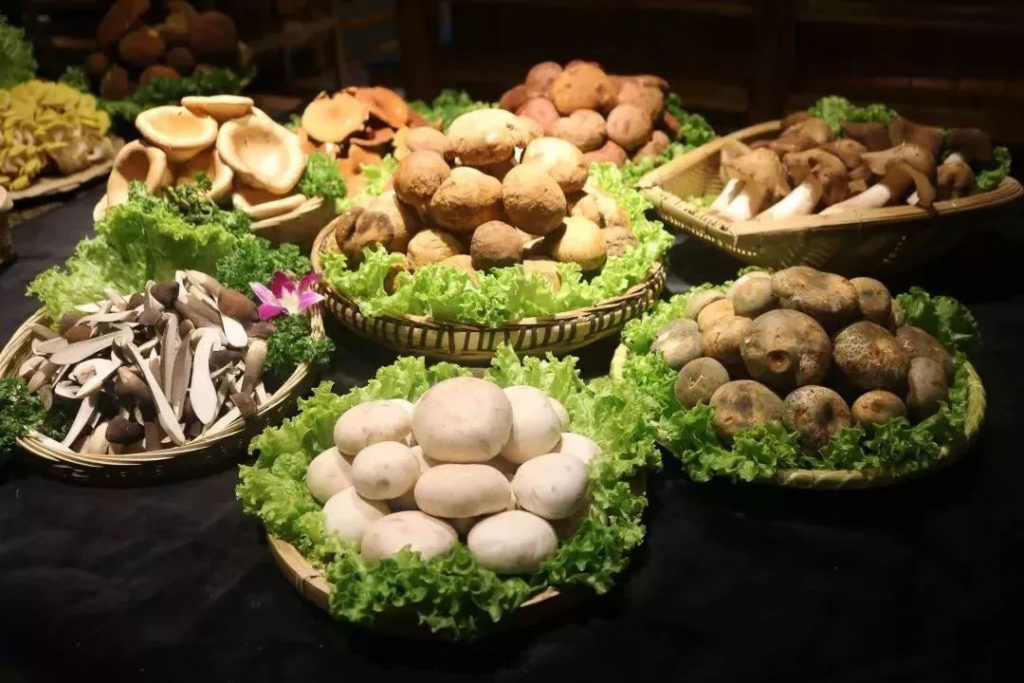 Photo credit: News.sina.com.cn
Wild mushrooms are a delicacy in Yunnan — yes, only the wild ones! Regular farmed mushrooms are called mogu (蘑菇) while wild ones are referred to as junzi (菌子). There are approximately 250 types of wild edible mushrooms found in Yunnan, so when you're in Kunming, the chances of seeing an eatery serving up wild mushrooms are pretty high.
Of all the mushrooms available, the Jizong (鸡枞) mushroom is the most highly regarded for its rarity. Most eateries in Yunnan serve the wild mushrooms stir-fried, boiled, or simmered in soup.
Add Kunming to Your Travel Bucket List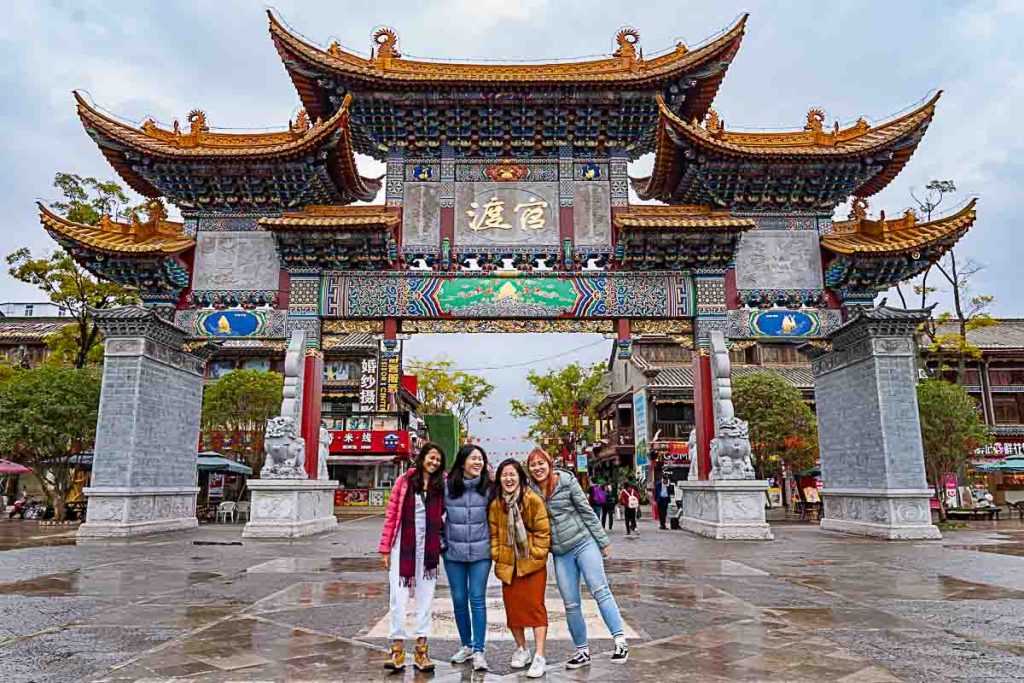 Contrary to popular belief among Singaporeans that China is an "old people's travel destination", it actually is very modern with great attractions amongst, and beyond, its nature. Personally, the Yunnan Stone Forest has been on my travel bucket list for a long time, and seeing the Stone Forest for myself was an exhilarating experience!
Know of any more things to do in Kunming City? Let us know in the comments!
---
This post was brought to you by Scoot.