Warning: Breathtaking landscapes up ahead in Yunnan, China. The best part, it's under four hours by flight from Singapore!
When people think of China, Yunnan province hardly comes to mind. It's not as well-known as Beijing or Shanghai, but it damn well should be — and this is coming from someone who's already been to six Chinese cities.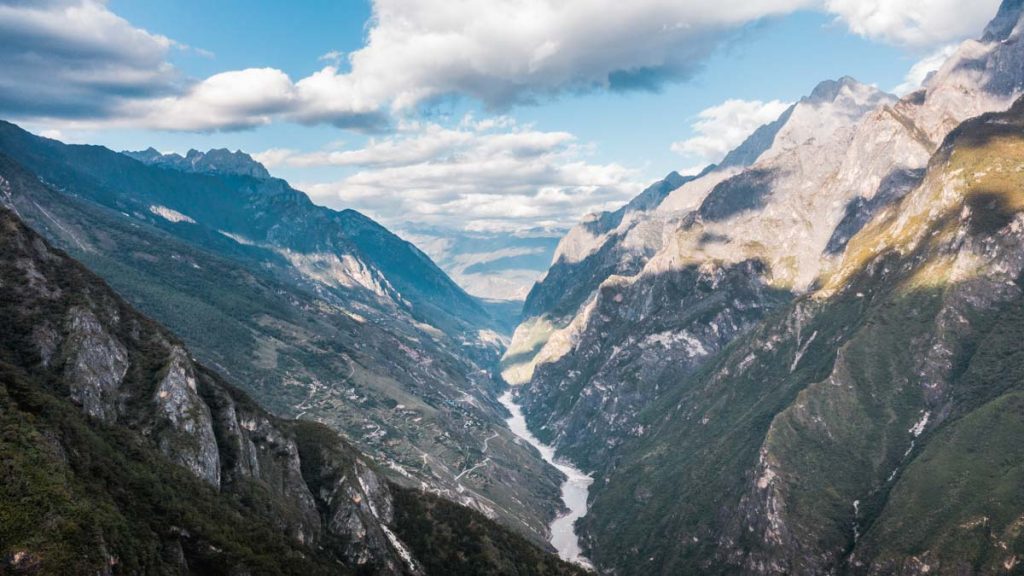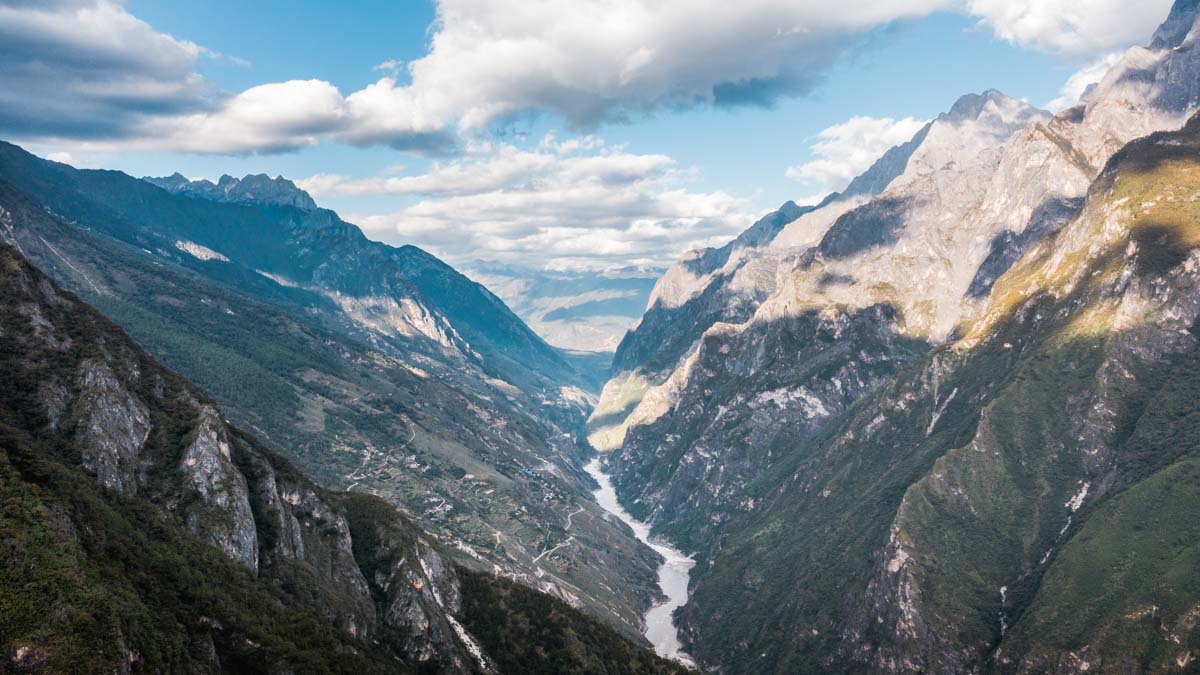 Tiger Leaping Gorge, Lijiang, Yunnan, China
After 13 days of exploring four cities (Kunming, Dali, Shangri-La and Lijiang), I've fallen in love. Not with a guy (sorry mum), but with the province. There's so much to eat, see and do that's so very different from cities like Shanghai or Beijing!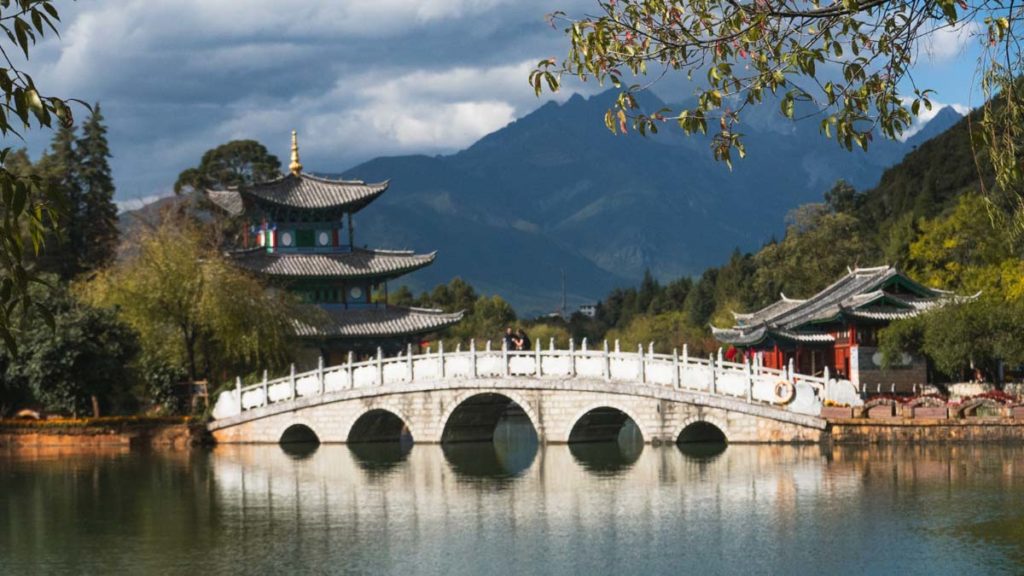 Black Dragon Pool Park, Lijiang, Yunnan, China
I could drone on and on about how much we enjoyed Yunnan, but it's probably better if I explained why we loved it so much.
1) Breathtaking Landscapes Comparable to Switzerland's Mountains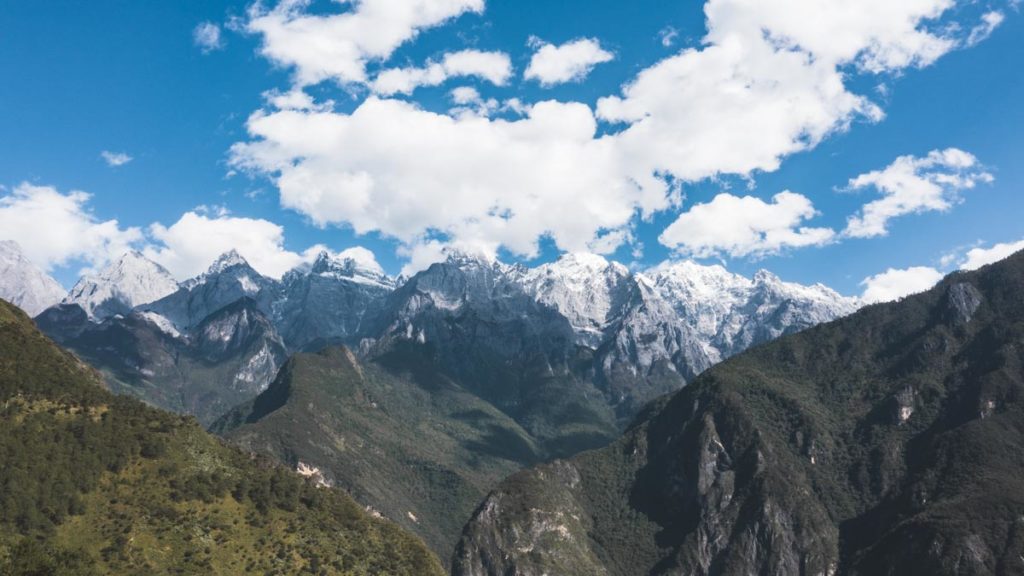 Most nature lovers look to Europe to get their fill of scenic landscapes, but you probably didn't know Yunnan's nature views are famously known to rival Switzerland's (that's right!). Except with Yunnan, they're only a four-hour flight away. Here's our favourites:
Tiger Leaping Gorge, Lijiang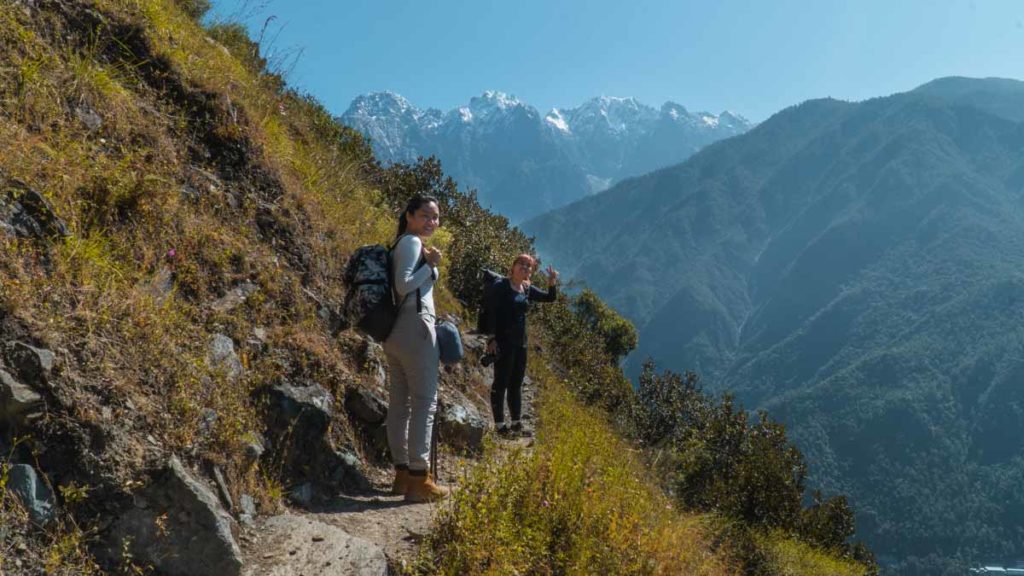 Tiger Leaping Gorge was my personal highlight of the trip. Located between Jade Dragon Snow Mountain and Haba Snow Mountain, it's one of the deepest gorges on the planet and has the famous Yangtze River running through it!
The journey wasn't easy for us mortals of mediocre fitness levels (we hiked 26km over two days with our heavy backpacks and camera equipment), but the views sure are worth it.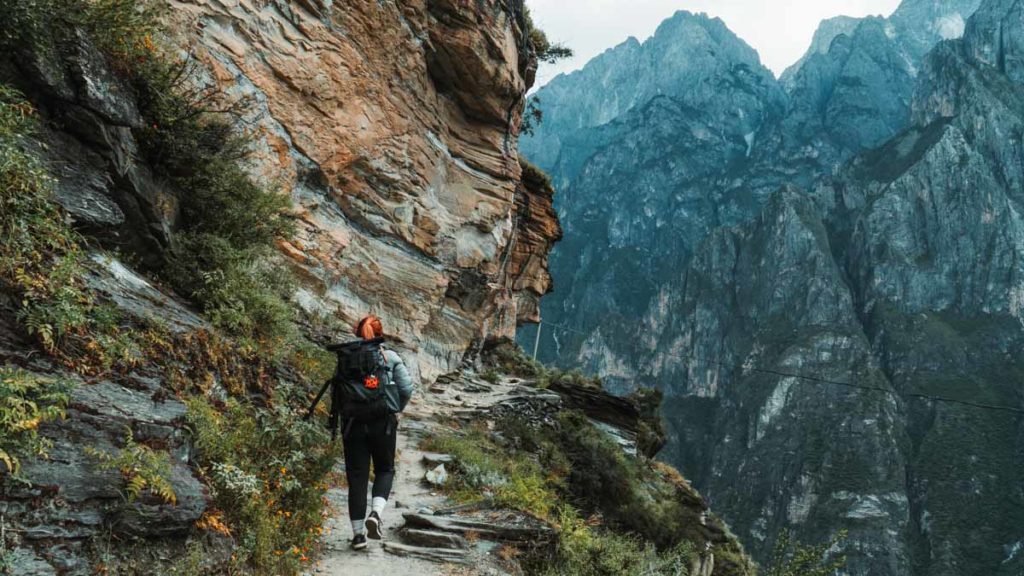 The trail on day two of our hike was especially memorable. We walked the entirety of the gorge on the side of a mountain and feasted on views that looked like something out of Lord of the Rings!
Despite being one of Yunnan's most popular destinations, few tourists take on the actual hike and choose to walk a few hours along the gorge instead. No need to worry about pesky people ruining your shots if you do what we did (Read more in our Yunnan itinerary)!
Entrance Fee: 45RMB (22.5RMB for students under 24)
Opening Hours: 24 hours
Address: Hutiaoxia Town, Shangri-La County 674402, Yunnan, China
Balagezong Scenic Area, Shangri-La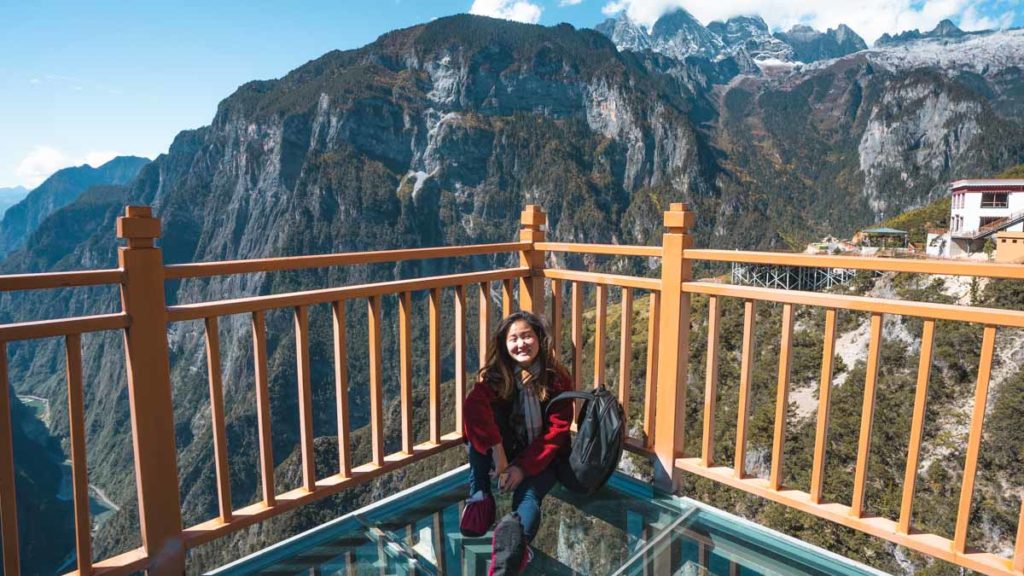 Another geological wonder, Balagezong Scenic Area is home to mountains, valleys and lush nature. Standing at 5,545 meters, Gezong Snow Mountain is the highest peak in Shangri-La and is covered with snow all-year-round!
Here you'll find attractions like zip-lining (120RMB) and a glass floor (1RMB for shoe cover rental), allowing you to literally take in your surroundings from different perspectives.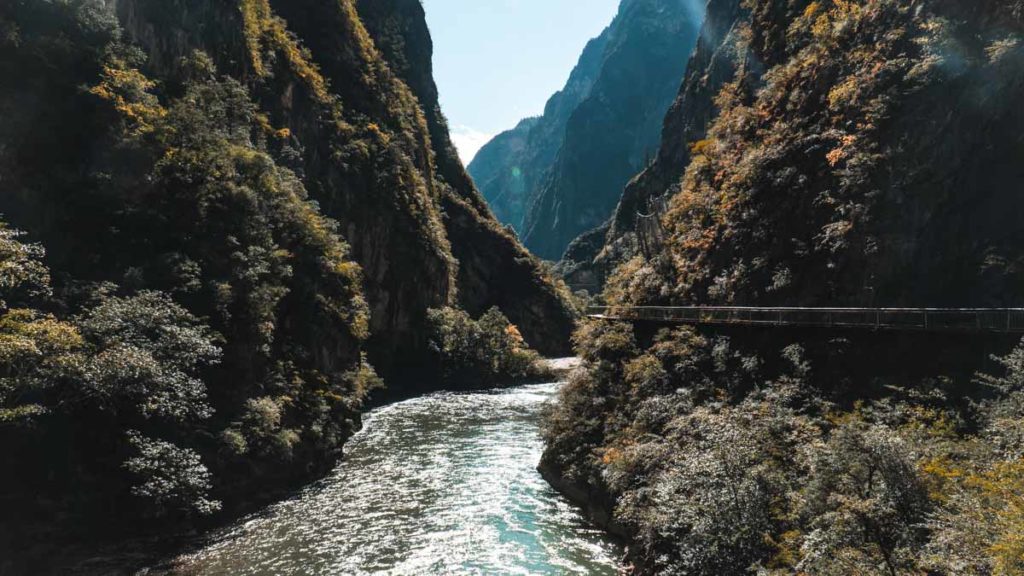 The Balagezong Grand Canyon is a must-see while you're here. The unique U-shaped valley (most valleys are V-shaped!) provides a stunning backdrop when you're walking along the 2.5km trail. If you're too lazy to walk back the same way, opt to take a raft for 120RMB (below).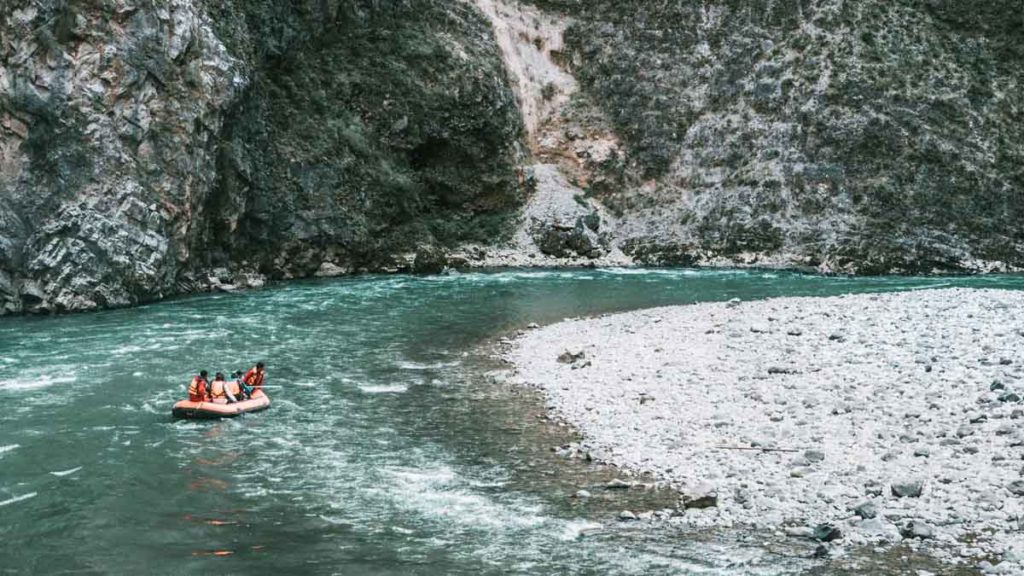 The bus ride in the scenic area showcases magnificent views of the gorge and mountains along a winding narrow road. Hot tip: sit at the front of the bus as the backseats tend to feel the most of the sharp turns (motion sickness is not fun).
Cost: 290RMB for a tour incl. round trip transport, transport within the scenic area and entrance fees.
Opening Hours: 8AM – 5PM
How to get there: There are daily shuttle buses from Shangri-La's Dukezong Ancient Town which leave around 9AM and leave Balagezong between 4PM – 5PM. Ask your hostel staff to help you book a tour.
Stone Forest, Kunming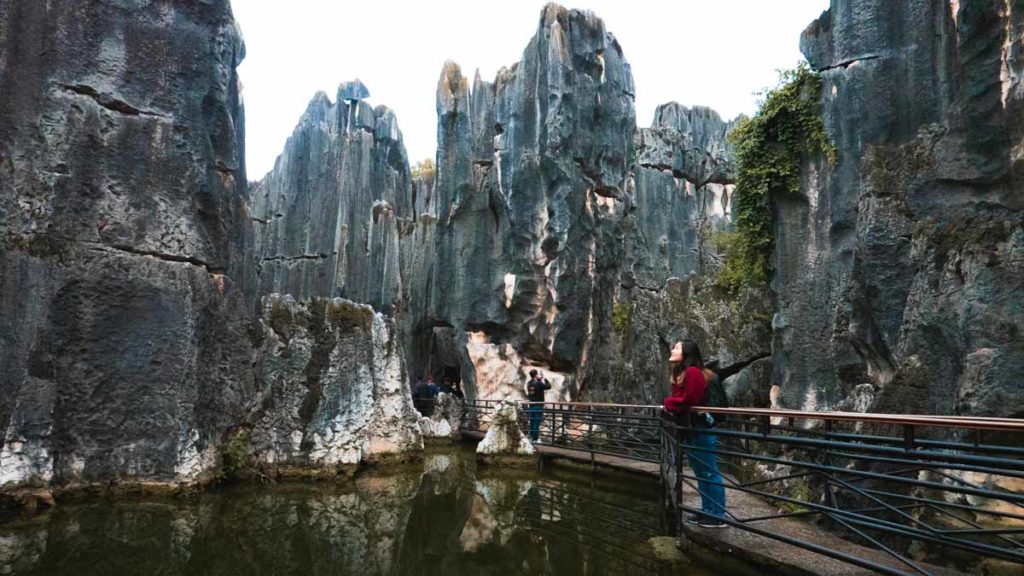 One and a half hours away from Kunming city lies Stone Forest, an impressive collection of limestone formations that occupy a massive area of 400 sq km. As someone who loved geography back in school, I was secretly geeking out.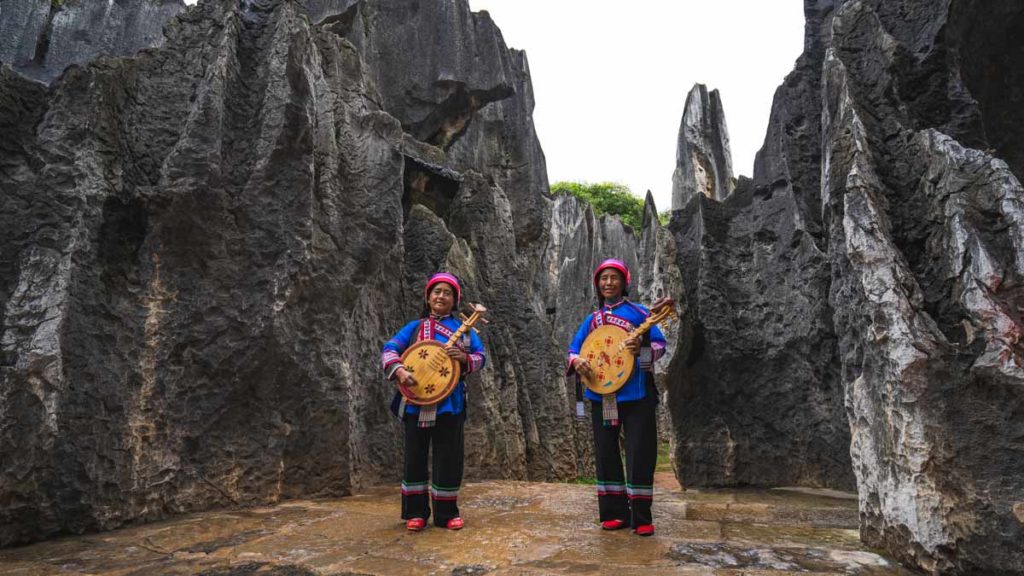 Besides beautiful karst landscapes, you'll find many Sani locals, a branch of the Yi ethnic group, donning traditional costumes and playing instruments.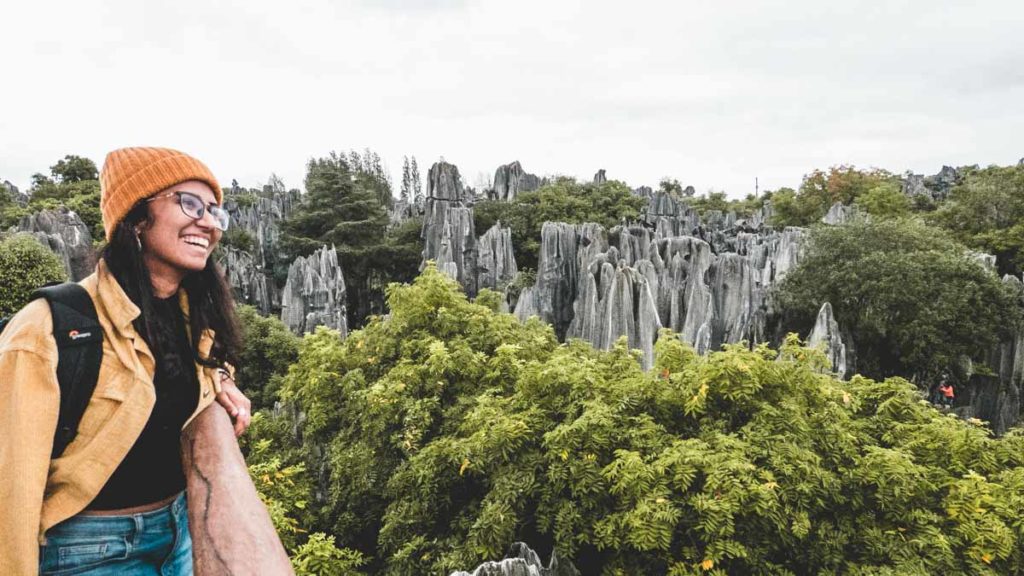 During the annual Torch Festival on the 24th day of the sixth lunar month, the Sani people come together in a spectacular display of singing, dancing, wrestling and bullfighting as part of the celebrations.
Entrance Fee: 130RMB (65RMB for students)
Opening Hours: 7AM – 6PM
Address: Shilin Town, Shilin County 650000, China
Want to explore more of Yunnan's natural wonders? Check out Yunnan Nature Bucket List For Outdoor Lovers — Best Spots in Kunming, Lijiang, Dali & Shangri-la!
2) Historical & Religious Sites That Could Easily Be the Set of a Hollywood Film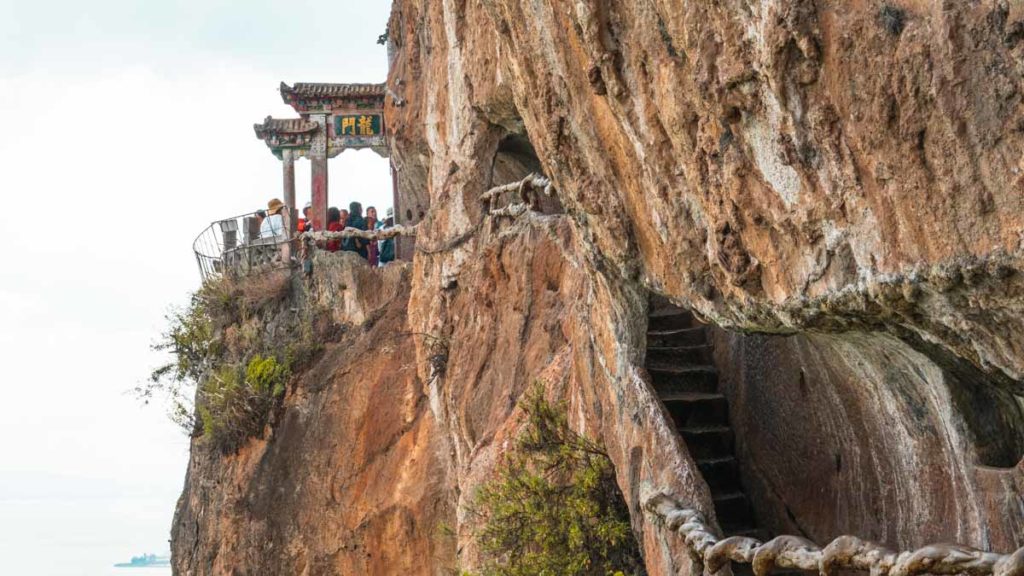 Besides ethnic diversity, Yunnan is a place of many religions including Buddhism, Taoism and Catholicism. The province is home to several well-preserved historical and religious sites made even more spectacular by the landscapes they sit upon.
Chongsheng Temple & Three Pagodas, Dali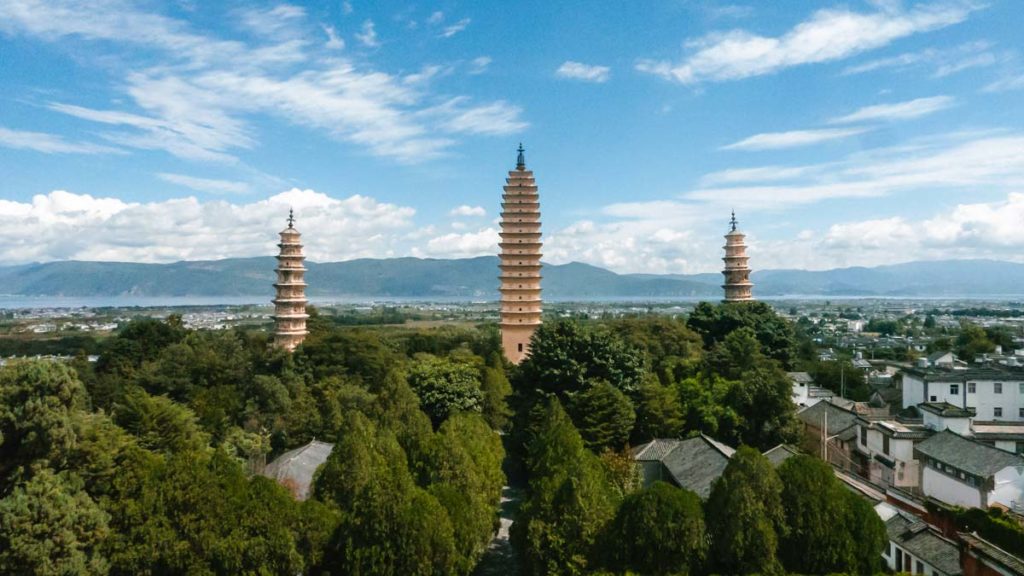 Located at the foot of Cangshan Mountain facing Erhai Lake, the Chongsheng Temple Scenic Area showcases a seamless blend of traditional architecture set against natural landscapes. Built over 1,800 years ago, the Three Pagodas of Chongsheng form a triangle from above and is seen as a symbol of Dali.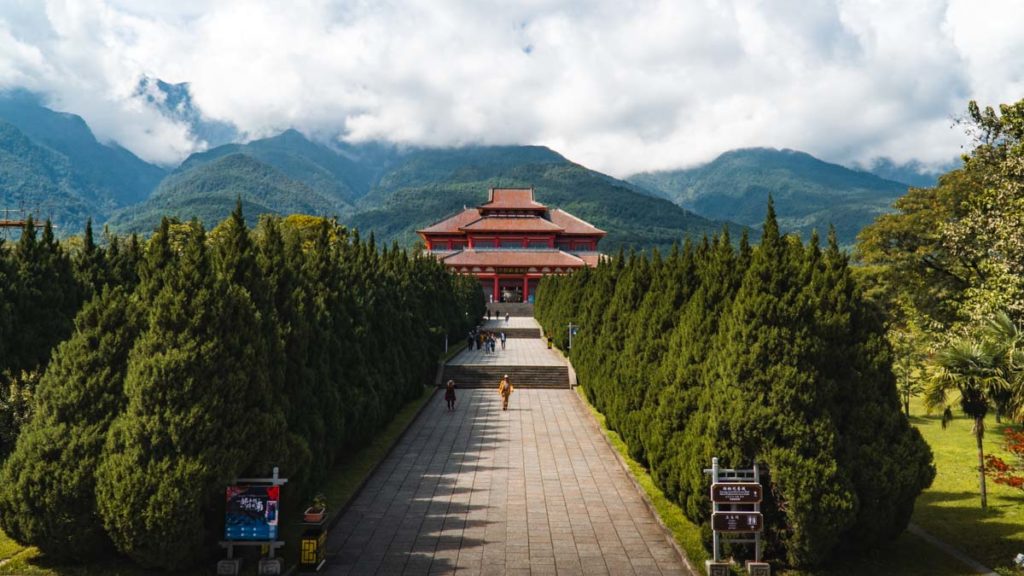 Besides the three pagodas, the area is made up of several temples and towers, like the Yutong Avalokitesvara Hall pictured above! The entire scenic area is massive and you'll need at least three hours just to cover half of it.
Entrance Fee: 75RMB (37RMB for students)
Opening Hours: 7:10AM – 7PM (May – Oct), 7:30AM – 6:30PM (Nov – Apr)
Address: Under Yingle Peak, Dali 671000, China
*Pro-tip: Walk to the Jianji Bell Tower located between the Three Pagodas and Yutong Avalokitesvara Hall for the best vantage point and photo spot! Above is one of the pictures taken from there.
Songzanlin Lamasery, Shangri-La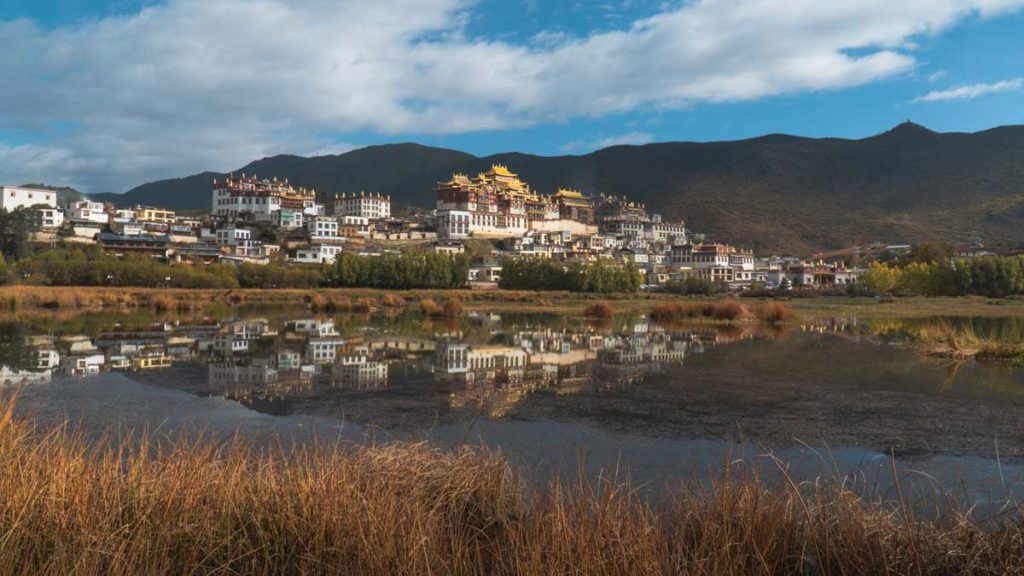 View of Songzanlin Lamasery from Lamuyangcuo Lake.
Songzanlin Lamasery is Yunnan's largest Tibetan Buddhist temple complex. Situated at the foot of Fopingshan Mountain, the lamasery is home to around 700 monks!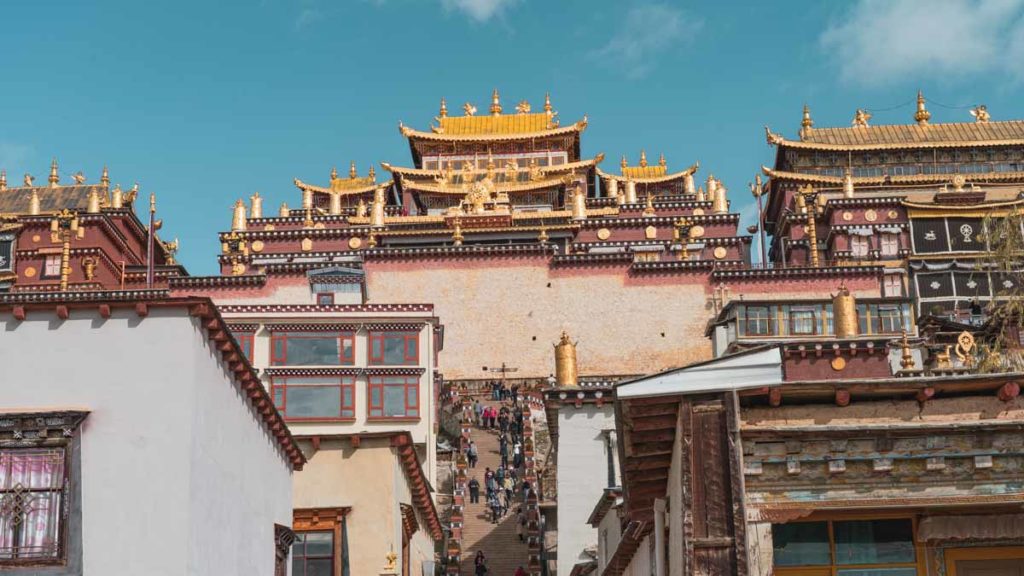 The location was chosen by the fifth Dalai Lama back in 1679 and is now an iconic place of worship among Buddhists. It's a 146-step climb up to get to the heart of the monastery! There you'll find the two main halls, Jikang and Zhacang standing in the centre of the complex with the highest vantage points.
Entrance Fee: 90RMB (62RMB for students under 24)
Opening Hours: 7AM – 7PM
Address: Niwang Rd, Shangri-La, Deqen, Yunnan, China
3) Delicious Yet Affordable Food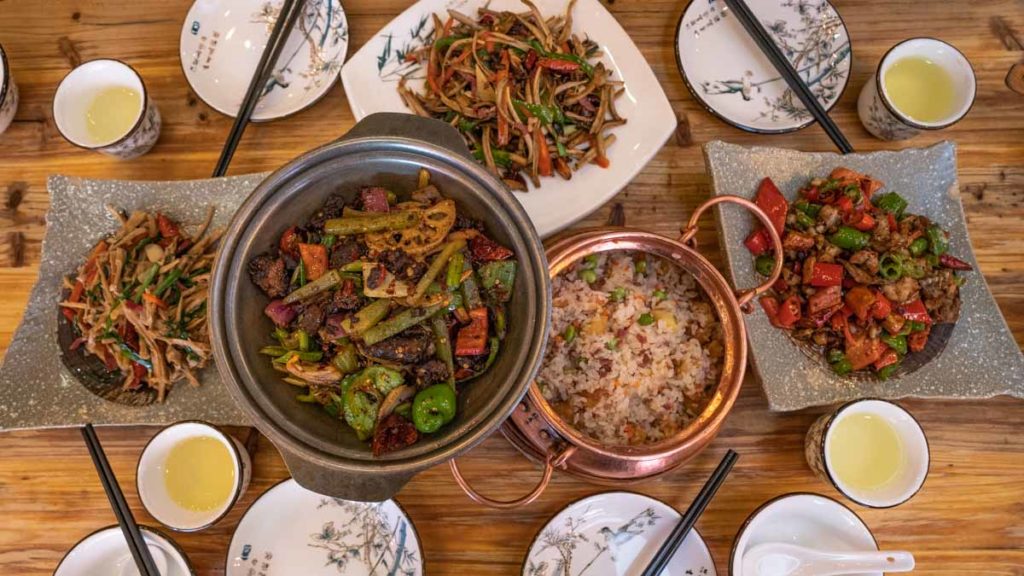 I love Yunnan's food. 13 days' worth of meals and I wasn't disappointed once! The food here isn't overly fancy and leans toward homey, affordable meals — just the way we like it. I had a tough time narrowing them down, but here are some of our favourites:
P/S. Most of our meals were recommended to us by locals. Ask your hostel staff for other recommendations!
Wild Mushroom Noodles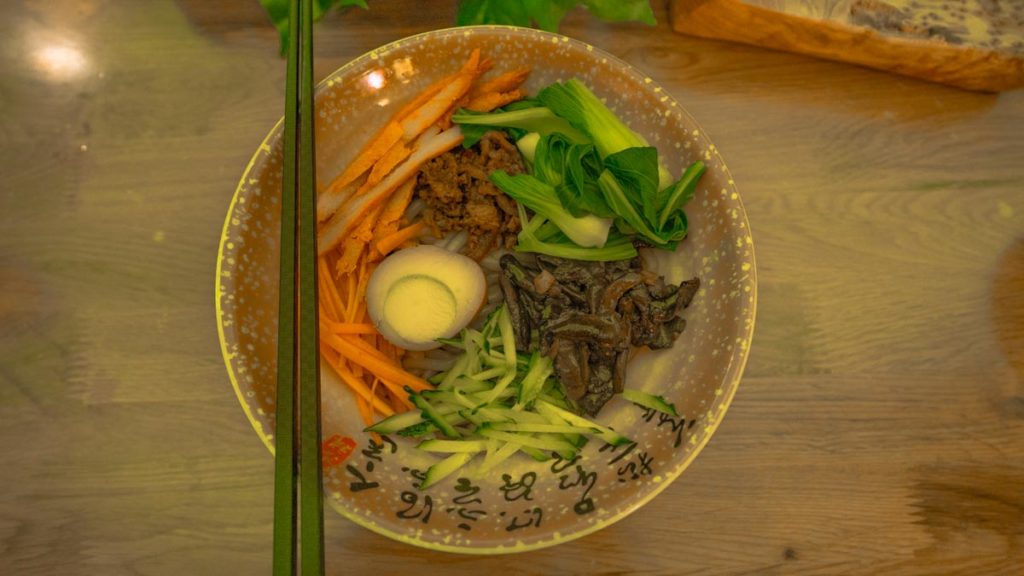 Yunnan is home to over 1,000 varieties of mushrooms, and famously incorporates them into its cuisine! I usually pick mushrooms out of my food (cue booing), but in the spirit of "adventurous" travel I tried these mushroom noodles (32RMB) and now, I'm a convert.
云南野生菌米线 (Yunnan Wild Mushroom Rice Noodles)
Opening Hours: Closes at 10PM
How to get there: The restaurant is in Dali Ancient Town. Facing Bad Monkey Bar (59 Renmin Road, Dali, China), turn left. The restaurant is about a 10-minute walk down the same street on the left, beside a bubble tea store.
Tibetan Hotpot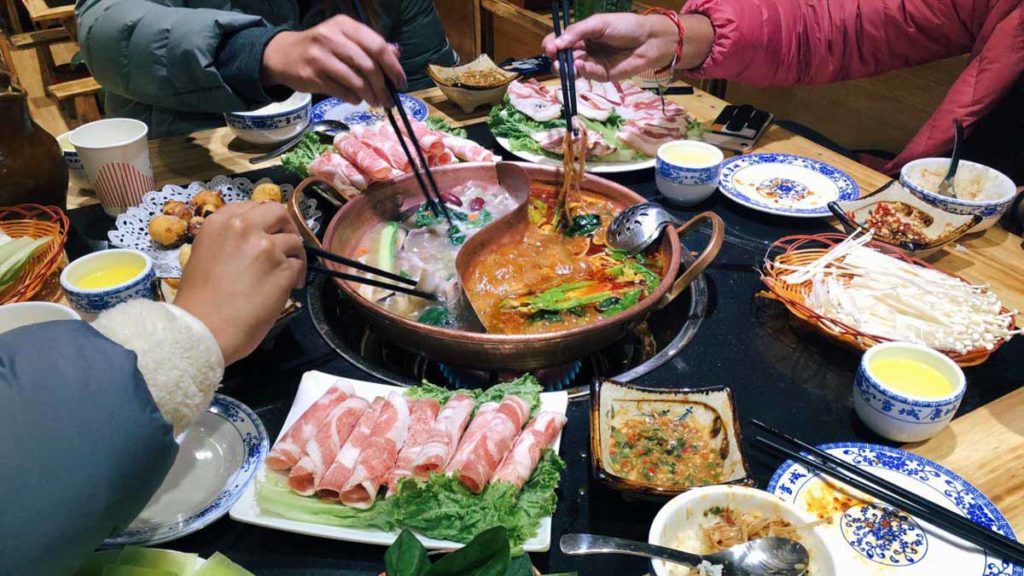 Here we enjoyed black goat meat (a Yunnan speciality!), Tibetan spiced pork and a whole variety of vegetables in mala (spicy) and wild mushroom broth. Having a sauce station was a huge game-changer — we added garlic and other condiments to our heart's delight. 😋
小桥流水藏式火锅樓 (Xiaoqiao Flow Water Tibetan Hotpot Building)
Opening Hours: 9AM – 11:30PM
Address: Chi Lang Shuo Road, Dukezong Ancient Town (池廊硕,杜克宗古镇)
Crossing Bridge Rice Noodles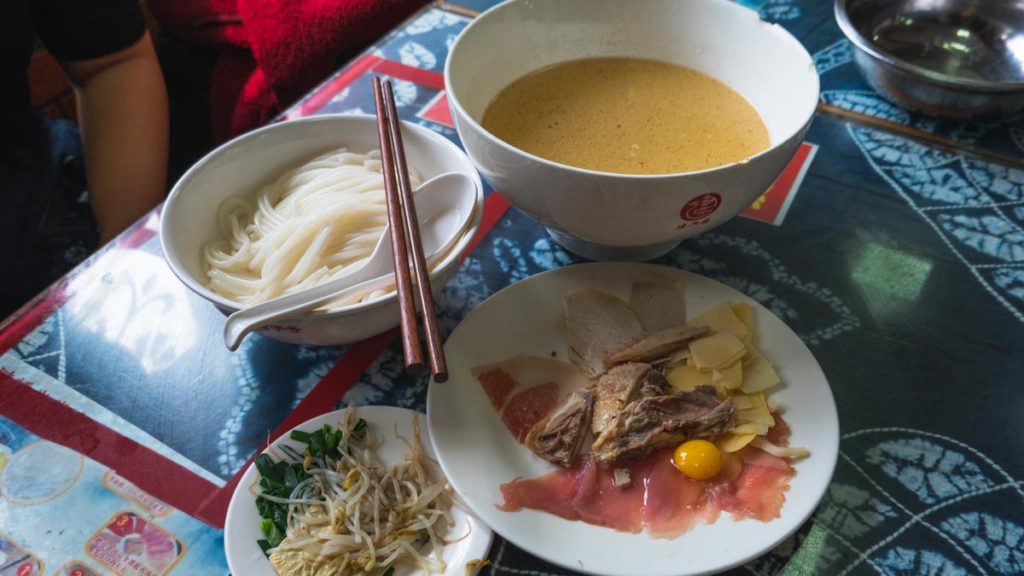 Don't be taken aback by its bare-bones appearance. These noodles are considered a must-try in Yunnan, and got its name from the story of a scholar's wife who had to cross a bridge every day to bring him lunch. To keep the meal hot, she packed the ingredients separately and asked him to add them into the broth only when he was ready to eat. This method of eating this dish is still practised to this day!
You can easily find several restaurants specialising in crossing bridge rice noodles in every city — we had ours at the famous Jian Xin Yuan restaurant.
健新园 (Jian Xin Yuan)
Opening Hours: 8AM – 10PM
Address: No.195 Baoshan Street, Wuhua District, Kunming 650021, China
Read more: Yunnan Food Guide for First-timers — 11 Dishes That Make Yunnan a Food Paradise
4) It's Only A Four Hour Flight From Singapore!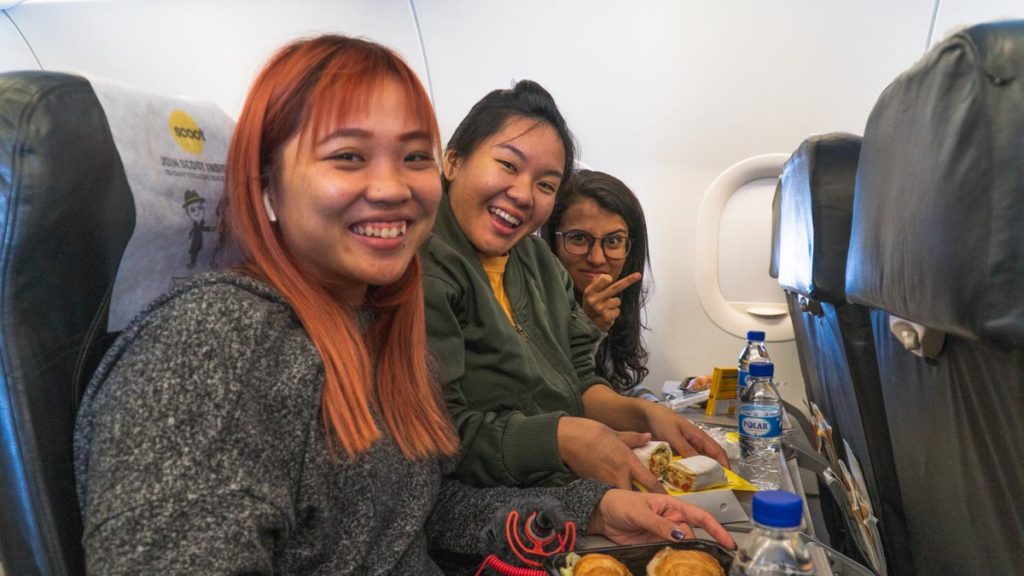 The less time spent on a plane, the sooner your holiday begins so direct flights under four hours are a huge plus point!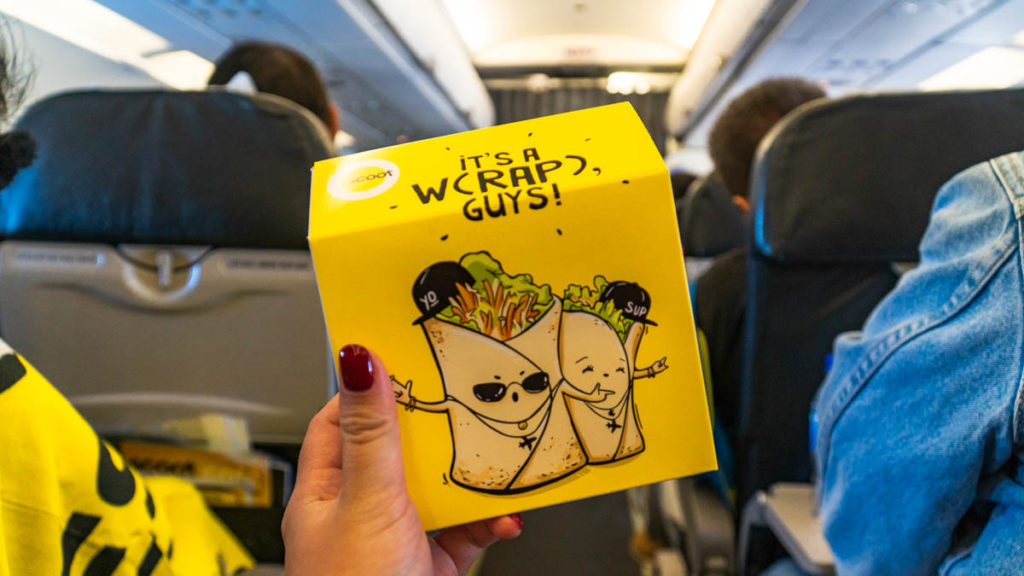 Scoot flies direct from Singapore to Kunming four times a week from S$309 return (incl. taxes) and it's the perfect city to begin your Yunnan adventures — check out these 16 cool things to do in Kunming!
Scoot also offers light meals like ham and cheese croissants and vegetarian wraps from S$9, perfect for an onboard snack.
The airline was recently named the best low-cost carrier in Asia-Pacific — with great service and spacious seats, those four hours for us flew by in a flash.
5) Modern Ancient Towns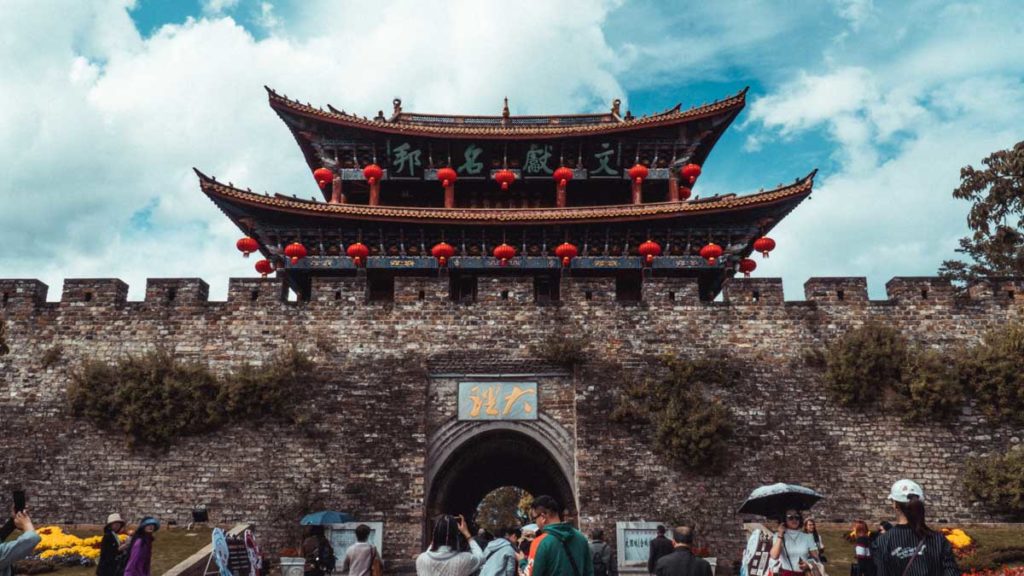 I already had my fair share of Chinese ancient towns before this trip, from Zhujiajiao Ancient Town in Shanghai to Anchang Ancient Town in Hangzhou. But the ancient towns we visited in Yunnan were different.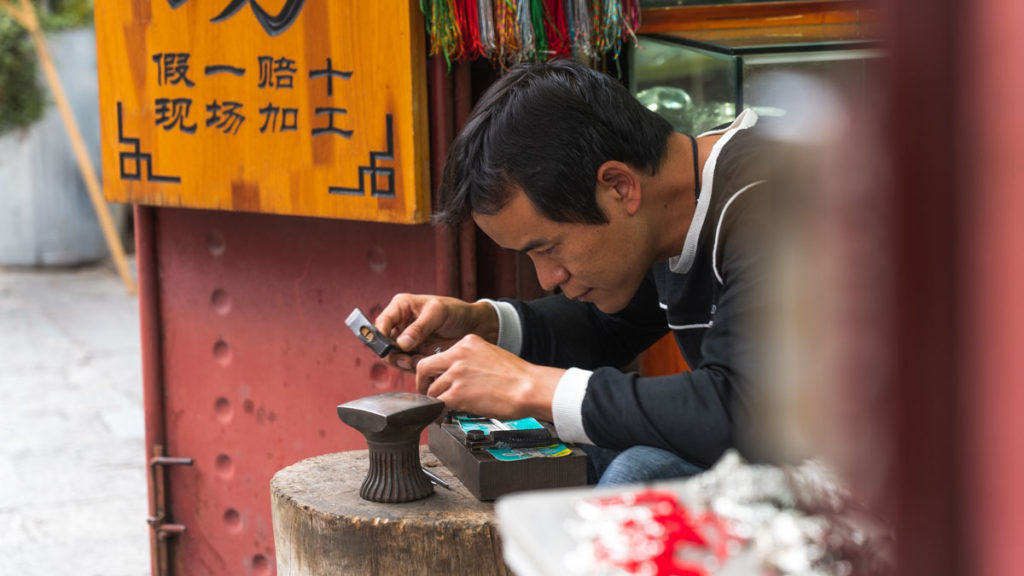 While many ancient towns are catered for tourists, the ones in Yunnan often form the heart of the city where locals go about their daily lives. The traditional architecture remains, but these towns have modernised by integrating schools, businesses and nightlife into them!
Dali Ancient City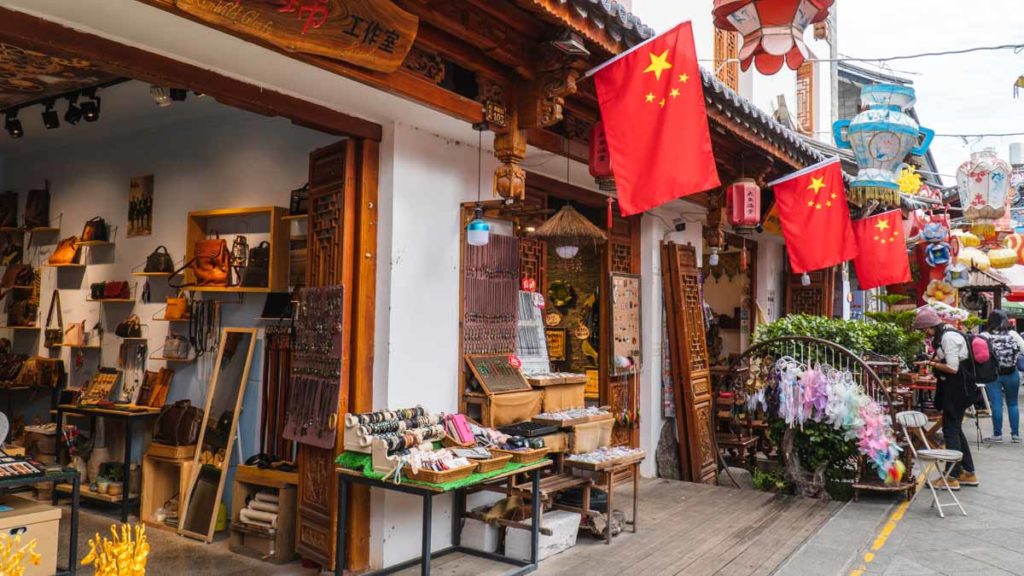 Dali Ancient City is extremely bustling with several smaller alleys linked to the main street. Here you'll find numerous local restaurants serving up delicacies from various ethnic groups, hipster shops selling leather bags and handmade jewellery as well as food stalls selling popular snacks.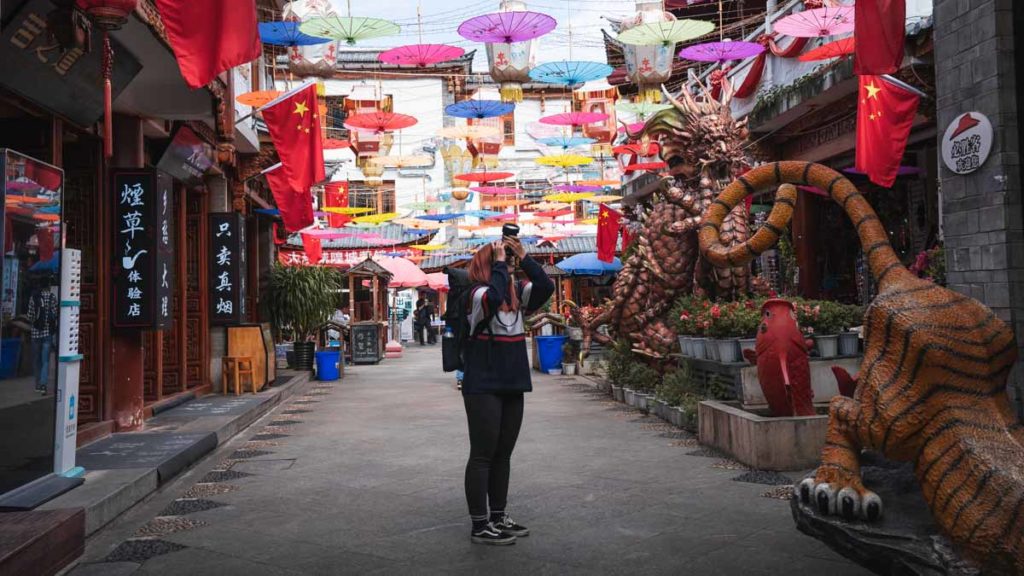 The alleyways are decorated with colourful lanterns, breathing new life into otherwise traditional buildings. It's a wonderful place to watch locals go about their day — parents waiting to pick up their kids from school, old folks gathering to play chess and shop staff dancing while prepping food were just some of the snippets of local life we saw.
The town is also very Instagrammable, with several picture-perfect spots for you to snap up some shots!
Address: Dali 671000, China
Lijiang Ancient Town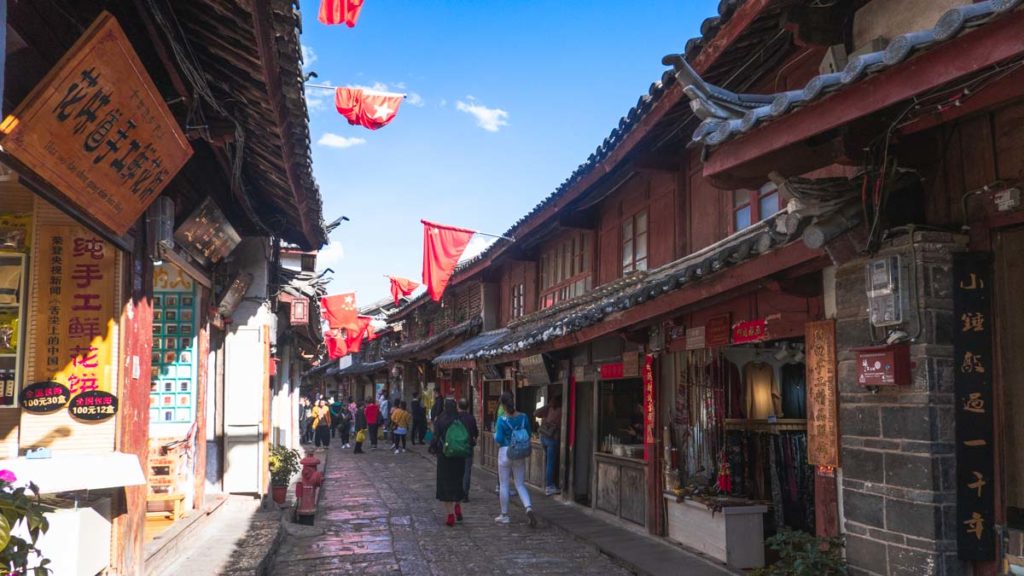 Lijiang Ancient Town is my personal favourite — so much so we went back three times! There are countless restaurants, cafes and shops here to keep you occupied for hours.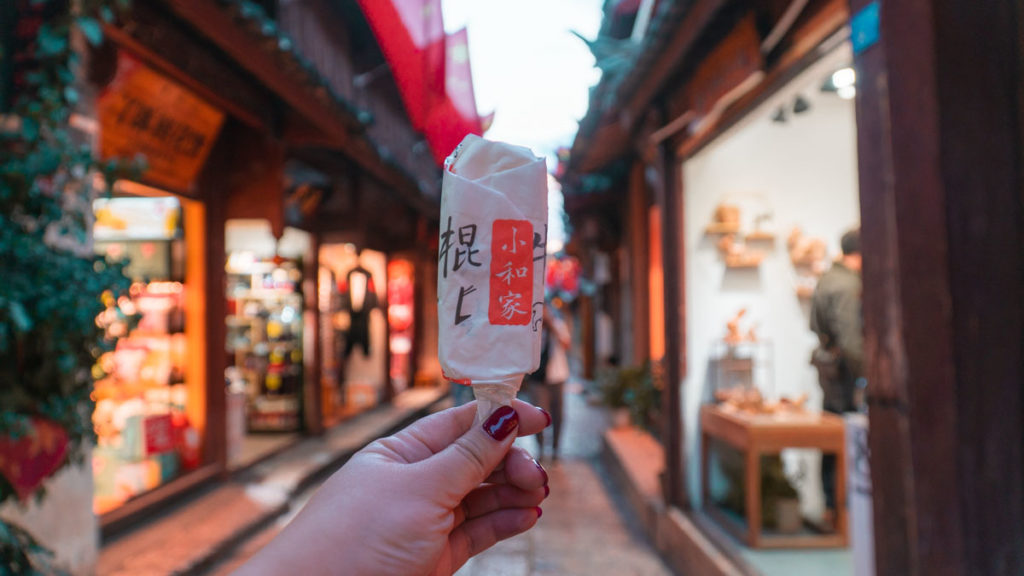 Try the local yak milk ice cream! 10/10 would recommend.
Listed as a UNESCO World Heritage site in 1997, the streets are very well-maintained with several Instagram-worthy spots. Stores here are pretty unique, unlike certain tourist shopping areas where several shops sell the exact same thing. I managed to pick up a few unique souvenirs like pressed-flower postcards and a handmade fish pouch!
Opening Hours: Most shops close by 10PM
Address: No.57, Xuetang Rd, Dayan Township, Gucheng Dist, Lijiang 674100, China
6) Bustling Nightlife for the Night Owls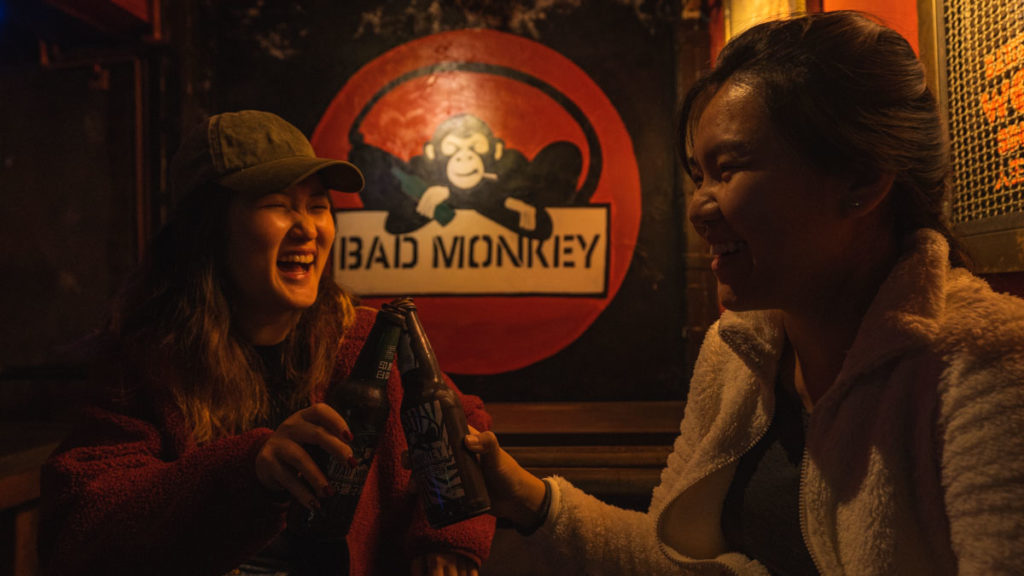 Don't assume a province famed for culture and landscapes can't also have an awesome nightlife. Locals here know how to have a good time, and the cities don't just go to sleep once the sun goes down.
Dali Ancient City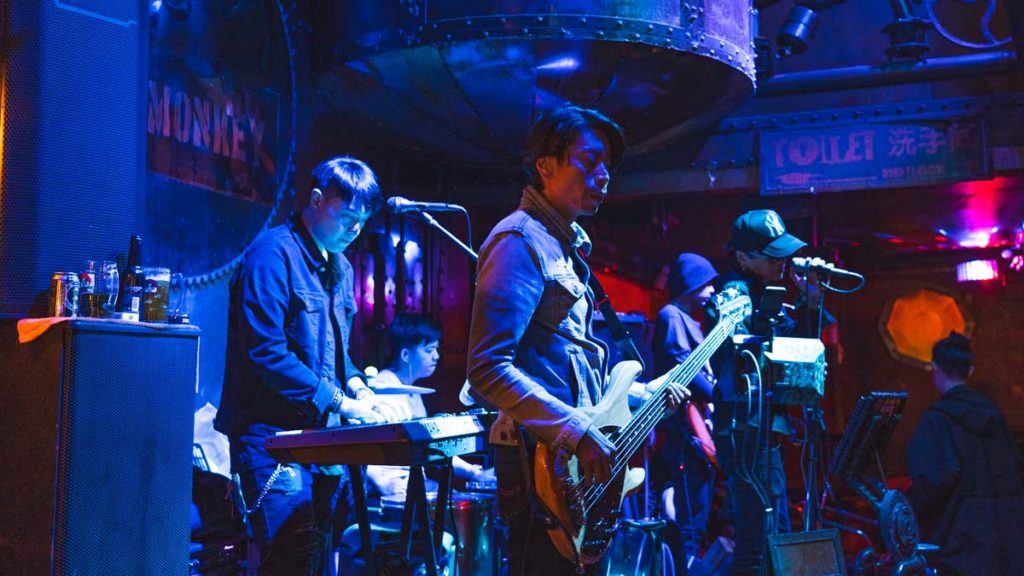 Dali Ancient City is a really cool place to hang out, especially at night. Once the sun sets, the vibe of the entire street switches from ancient city to party city. Here you'll find bars rocking out with live music — mostly in English, surprisingly!
We entered Bad Monkey Bar with the intention of leaving after 30 minutes as we were already dead tired, but the band playing that night was so good we ended up staying an extra hour. You can't possibly leave midway a Queen or Linkin Park banger, can you?
The bar also serves up a variety of house brand craft beer (40RMB), all the more reason to stay!
Opening Hours: 9AM – 3AM
Address: 59 Renmin Road, Dali Old Town, 671003 Dali, Yunnan
7) Spring-like Weather All Year Round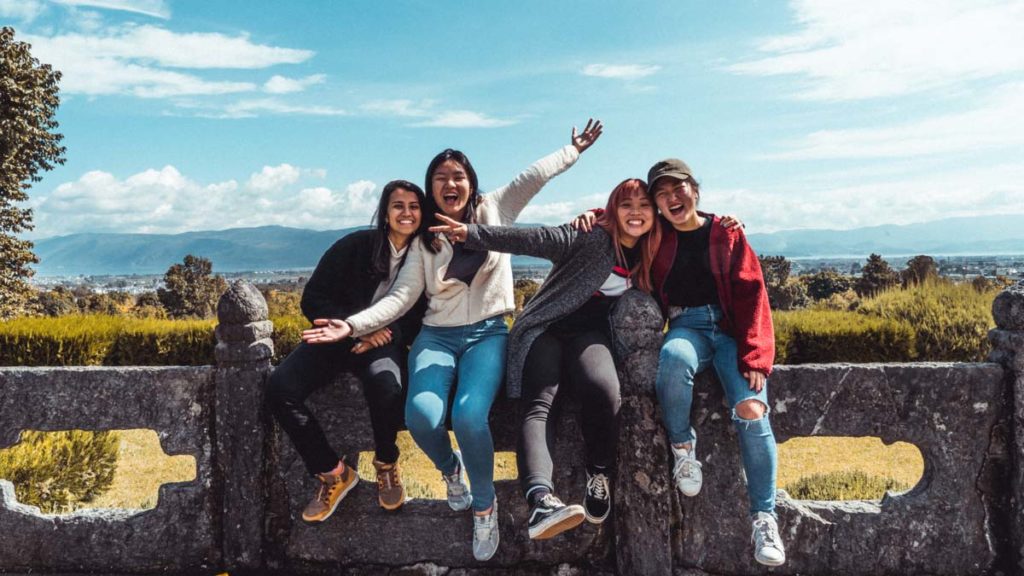 With an average altitude of 2,000 meters, Yunnan enjoys a year-round spring-like climate. The average annual temperature is 17˚C, with the coldest month being January (8˚C – 17˚C) and the hottest being July (21˚C – 27˚C).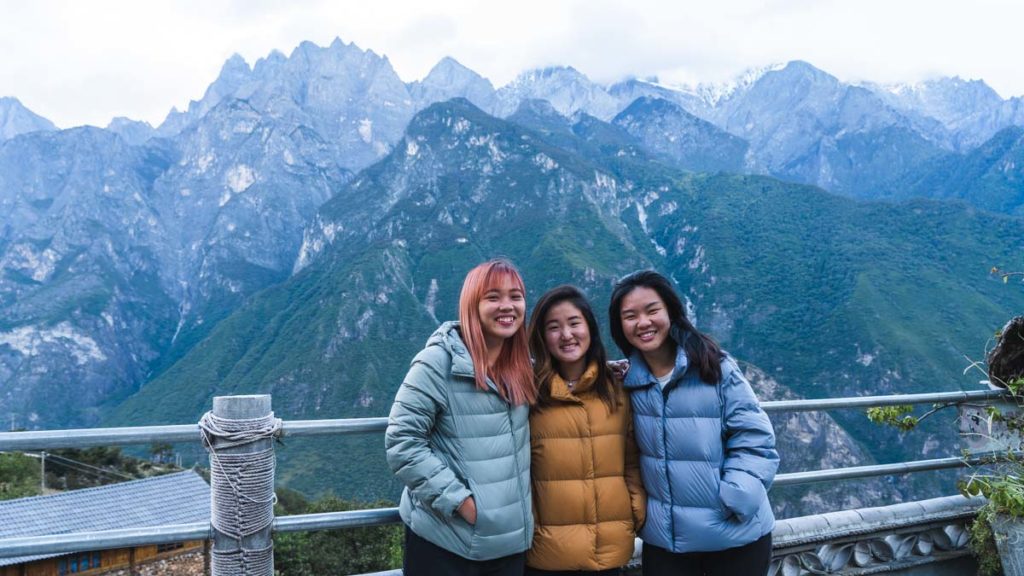 Yunnan's relatively mild weather means it's great to visit all year round! Whether it's hiking, shopping or sightseeing, having great weather really adds to the entire experience. Just remember to layer up, especially at night when the temperatures drop and it gets pretty chilly.
Read also: What To Wear In Winter — From Stylish to Sub-zero temperatures
8) Rich Ethnic Diversity — 26 Ethnicities To Be Exact!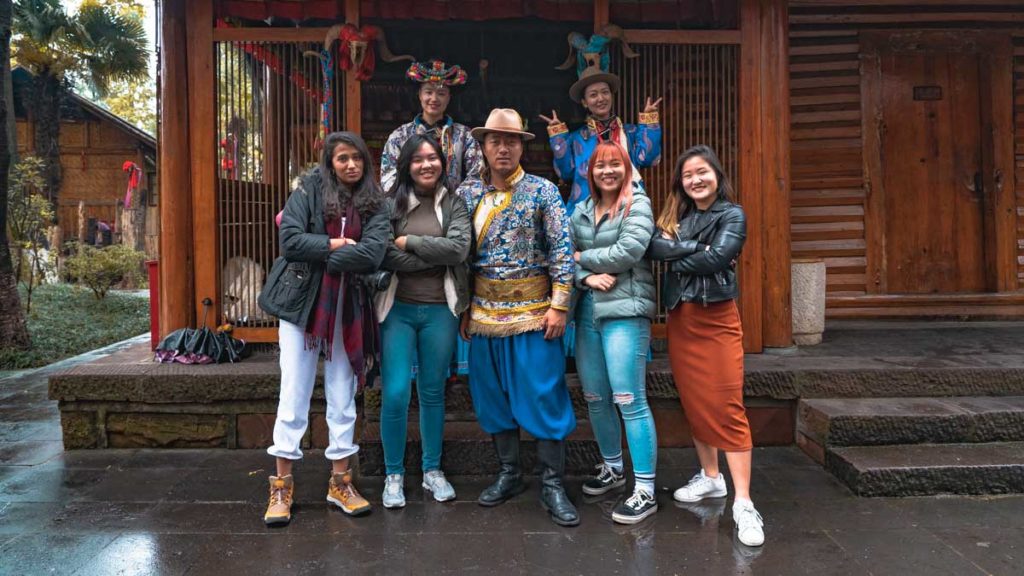 Yunnan is home to 26 different ethnic groups, the most in any province in China. When I first came across this fact, it didn't mean much to me. But after two weeks of exploring Yunnan, I started to appreciate its significance.
The people here are very proud of their heritage and this shines through their distinct cultures and traditions. Even as tourists, we could easily see the differences between the various ethnic groups.
Yunnan Nationalities Village, Kunming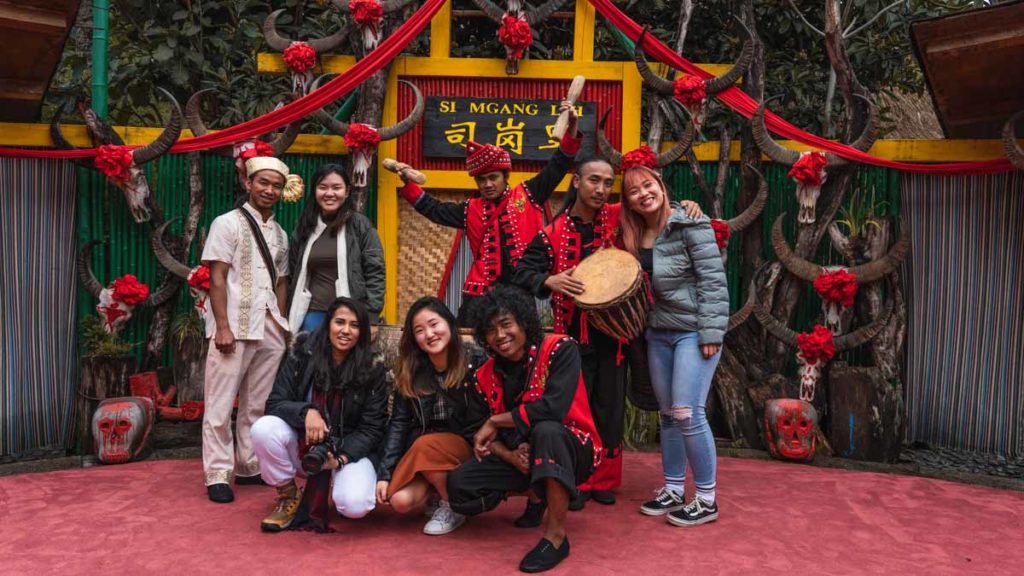 With our new homies from the Wa ethnic group.
Yunnan Nationalities Village was a great introduction to the different ethnic groups. We went in with few expectations, but left with a better understanding of the ethnicities that make up Yunnan — and a couple of new friends!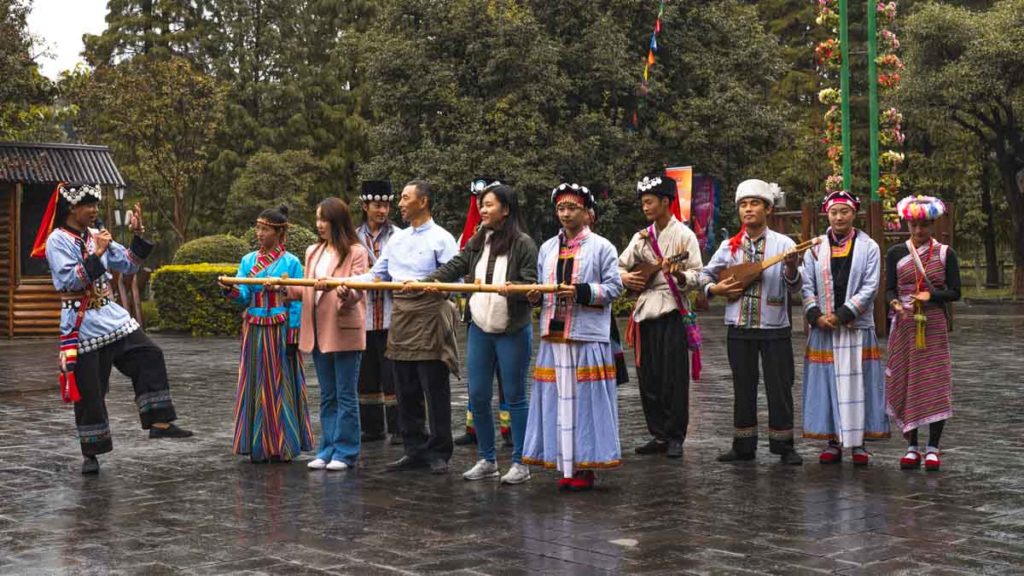 Edelyn drinking on the job in a wine tasting ceremony!
Each ethnic group has its own mini-village where they showcase performances and share about their traditions. We visited the Pumi and Wa tribes and ended up spending a long time hanging out with the locals. Learning about the differences in history, traditional clothing and dialects of each ethnic group was very fascinating.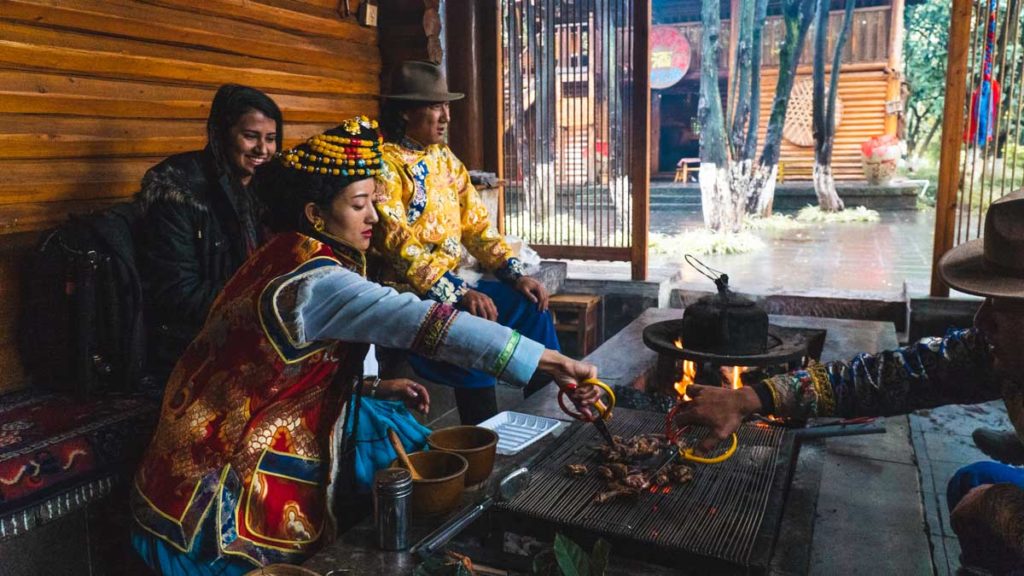 The entire area is huge and three hours wasn't nearly enough time to cover half the place. Because we were a group of four girls, the locals were especially flirty — we even got invited to go drinking with some of them! (Which we didn't, of course).
Entrance Fee: 90RMB (45RMB for students)
Opening Hours: 9AM – 6PM
Address: No.1310, Dianchi Road, Xishan District, Kunming
Want to find out more about Kunming? Check out 16 Things to Do in Kunming — The Unexplored Gem in China just 4.5 hours from Singapore (Coming soon)!
Green Lake Park, Kunming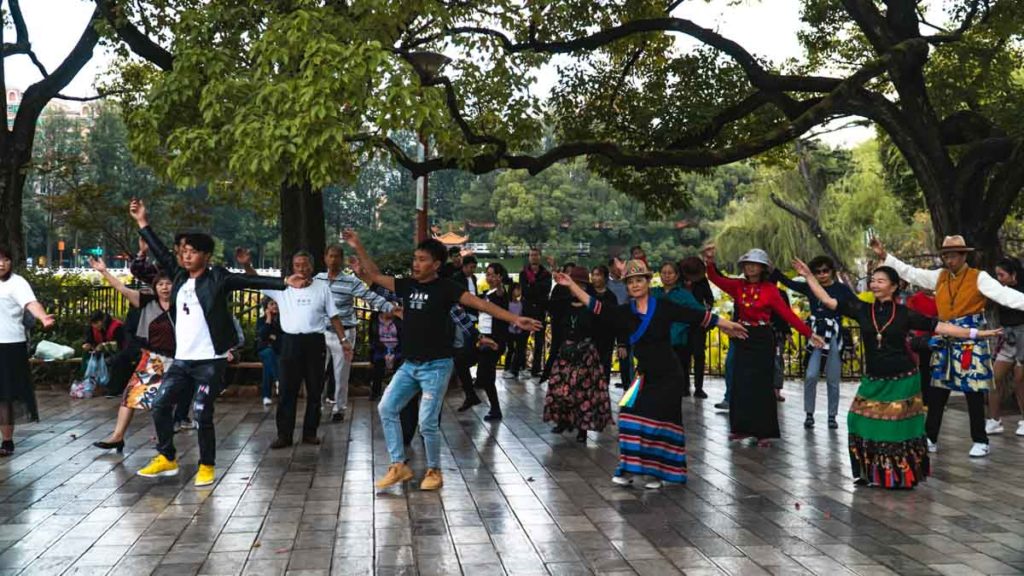 Green Lake Park was another place where we got to witness the rich ethnic diversity Yunnan had to offer. Every Sunday, locals come dressed in their Sunday best and don traditional costumes to dance in the park. It's an amazing display of culture and camaraderie and welcomes people of all ages — from high school teens to grandparents!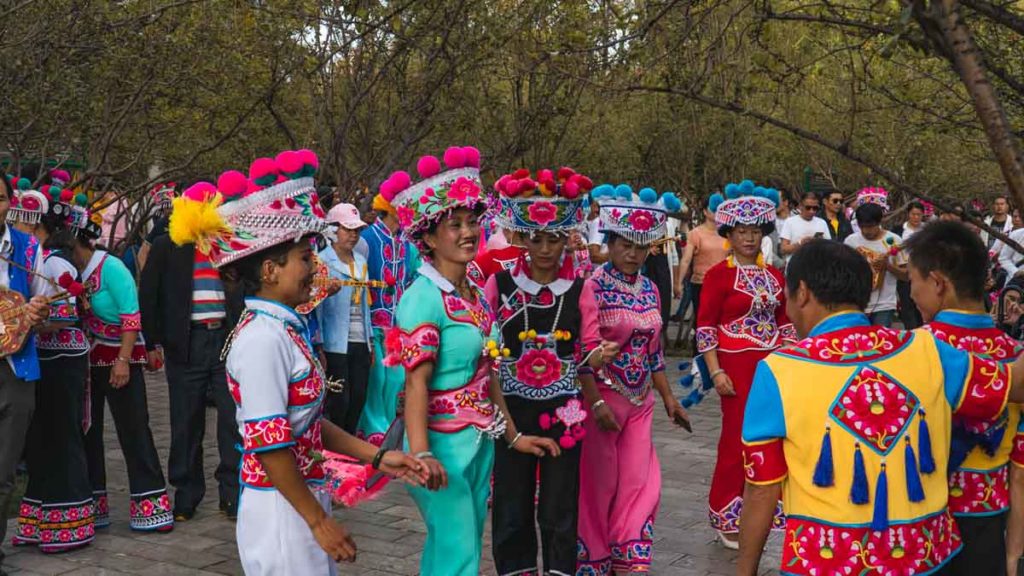 One such ethnic group is the Yi people (see above!) who come dressed in bright colours and intricately designed headwear. Locals gather in a huge circle and dance hand in hand. The women lead the dance while the men play traditional instruments. You honestly can't help but smile and want to join in.
Entrance Fee: Free
Opening Hours: 24 hours
Address: No.67 Cuihu South Road, Wuhua District, Kunming, China
9) Friendly, Welcoming Locals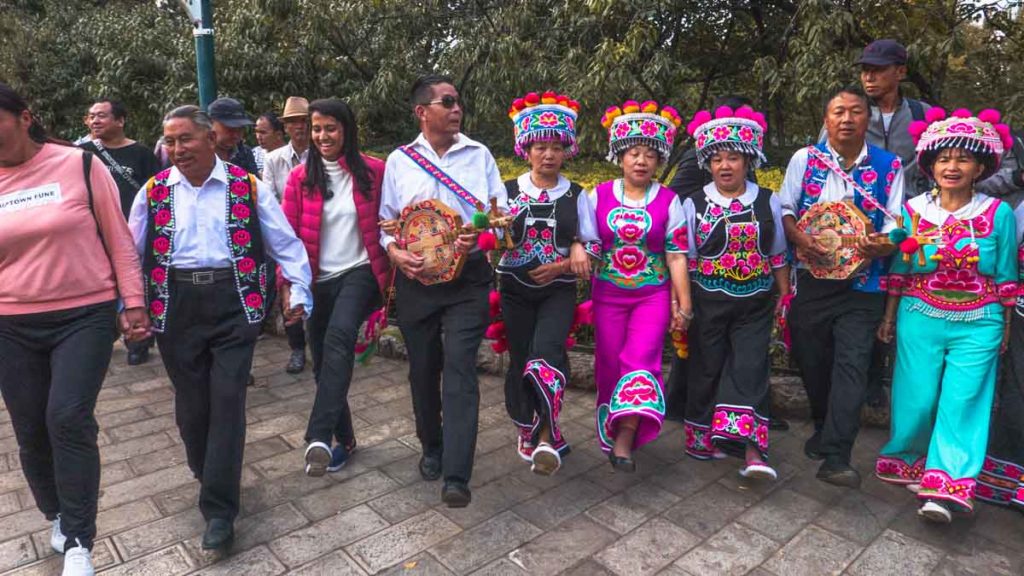 Lesh joining some locals for their Sunday workout
Some may argue that the Chinese are not commonly known for their hospitality. But in Yunnan, we met some of the friendliest people around! During our trip, we crossed paths with taxi drivers, hostel owners, shop keepers and even locals on the street and left with many fond memories.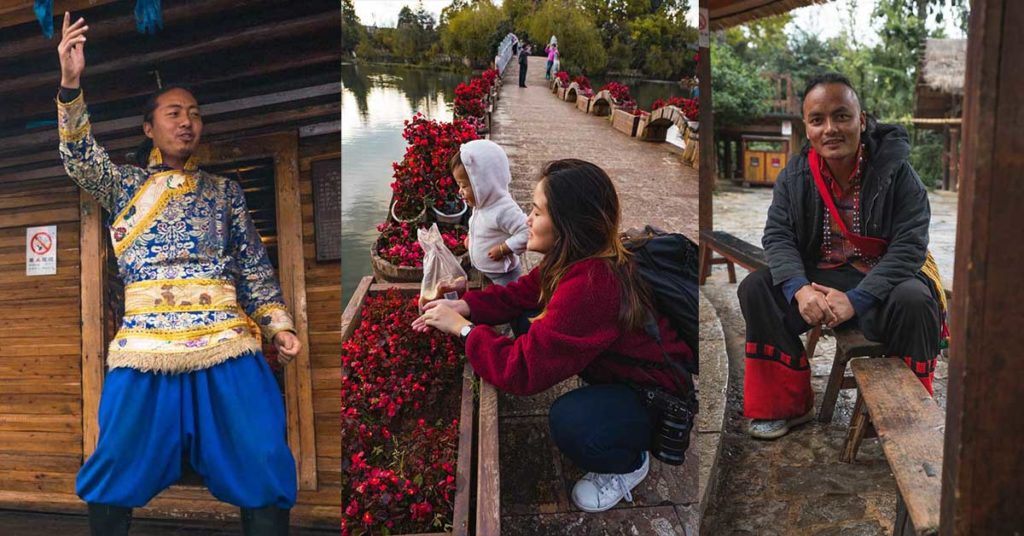 Just some of the many friends we made during our trip!
Most of the people we met were very happy to share about themselves and the tribe they're from. It's clear that the people here have a strong sense of community and take pride in their roots. Recommendations from locals on restaurants to dine at and must-see places made the trip that much better!
Enjoy Paradise Just 4 Hours from Singapore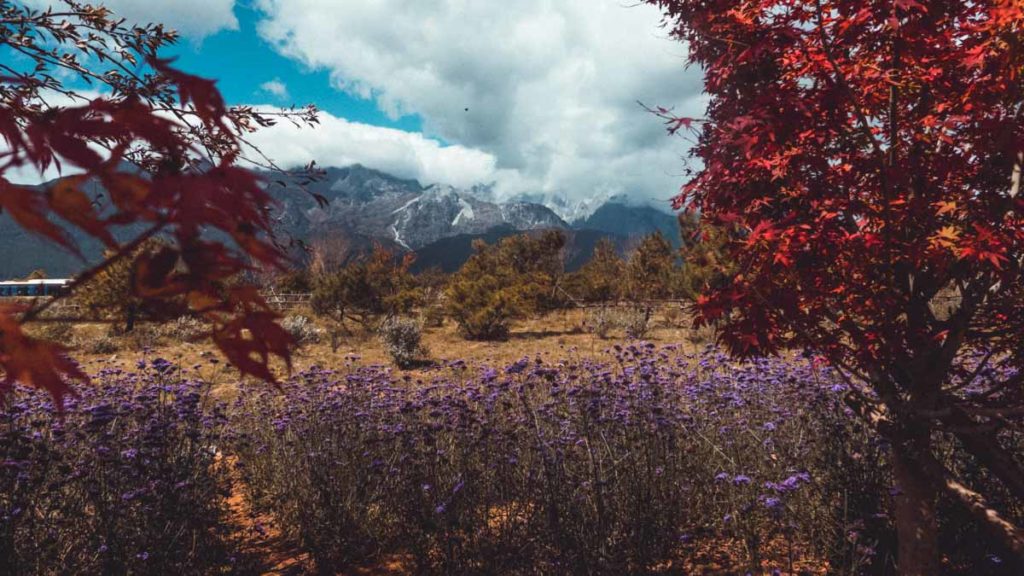 With great weather, breathtaking landscapes and scrumptious food, Yunnan truly is paradise on earth. The best part? It's only a four-hour flight away (nearer than Tokyo or Seoul)!
After two weeks in Yunnan, we're now firm advocates of the province. There's so much to eat, see and do and I feel like we've barely scratched the surface! I'll definitely be back again one day to explore the rest of it.
Ready to start planning your Yunnan trip? Check out direct flights from Singapore to Kunming on Scoot from S$309 return (incl. taxes).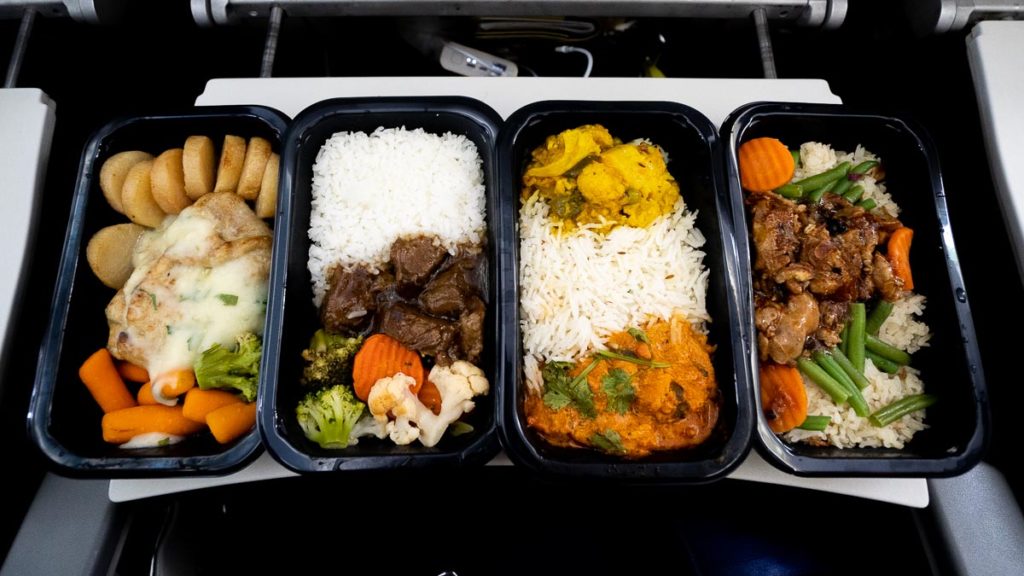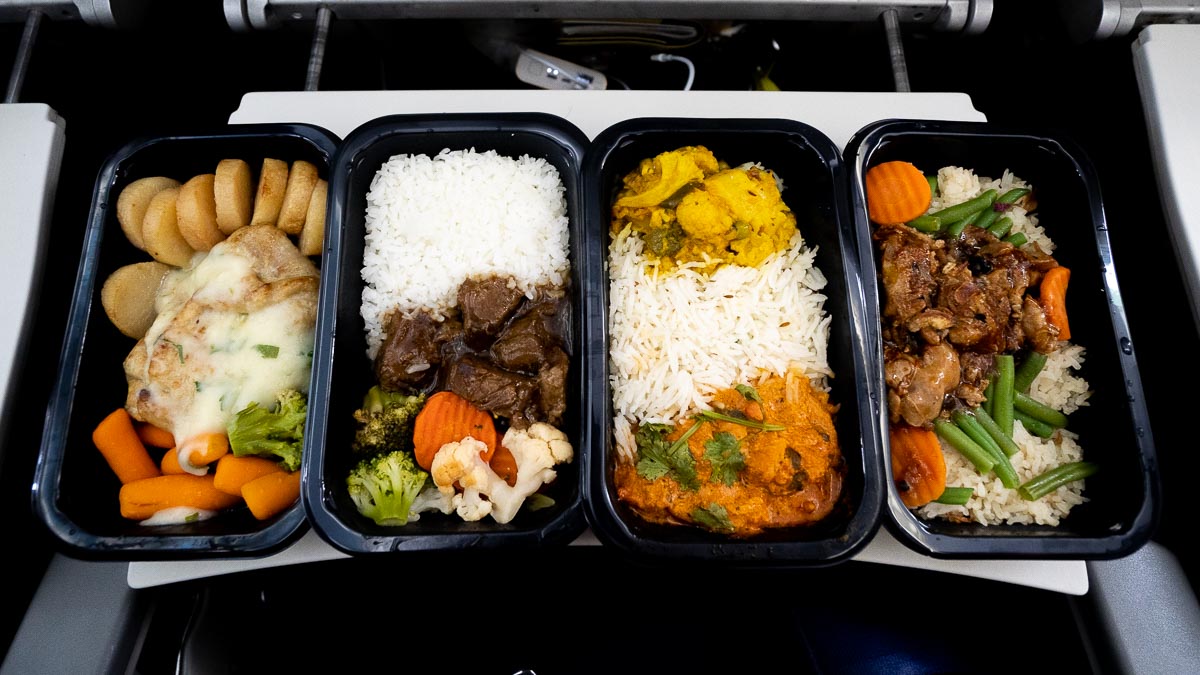 The flight is slightly under four hours but if you're the sort that tends to get a little peckish, Scoot's newly refreshed menu now has 20 different meal options — from hot meals like Miso Chicken with Pearl Rice to lighter options like a Wasabi Prawn Wrap.
Read also: 2-Week China Itinerary — Rail Adventure Across Beijing, Shanghai, Hangzhou and Suzhou
Which places in Yunnan, China are you keen on exploring? Let us know in the comments section below!
---
This post was brought to you by Scoot.
Like what you see? Follow us on Facebook, Instagram, YouTube and Telegram for more travel updates!