This Thailand road trip goes beyond the usual Bangkok itinerary — think elephant safaris, kiteboarding, and postcard-worthy hikes!
For most of us, a typical Bangkok itinerary looks something like this: Eat, shop, massage, repeat. There's nothing wrong with that — we know Bangkok is usually seen as a long weekend destination, being just a two-hour flight away.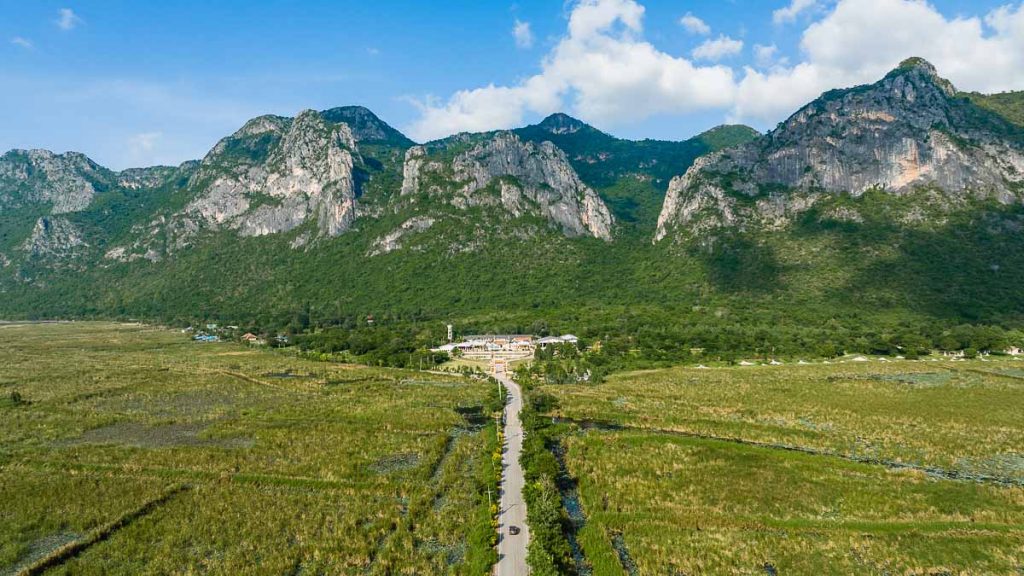 But your Thailand vacation could be so much more than just shopping and massages if you just ventured a little out of the city.
Less than a three-hour drive from Bangkok lies a world of new experiences — beautiful national parks and pristine beaches with so much to do beyond just tanning.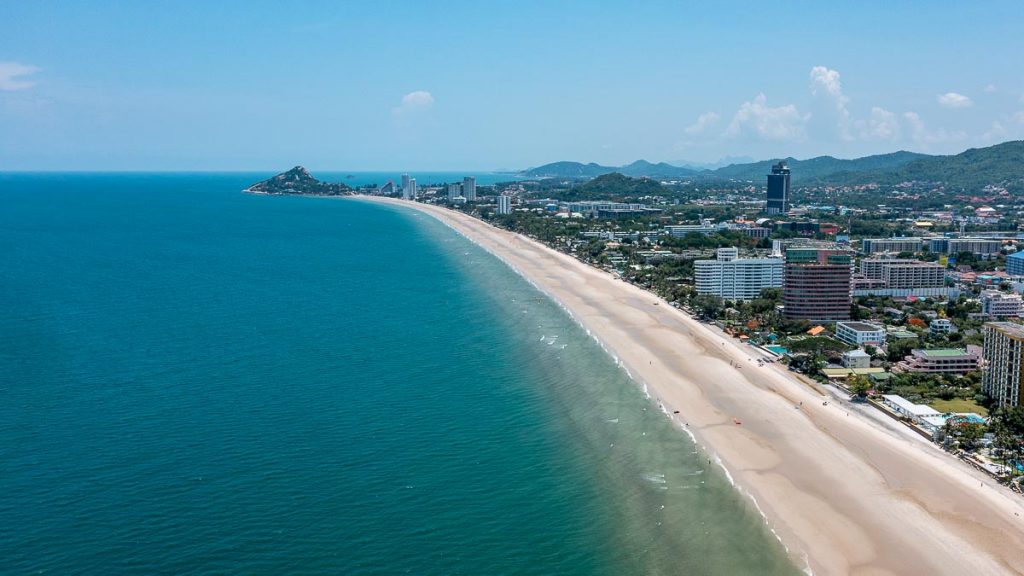 This time, our team got to stay in Bangkok for a month as part of Airbnb's Live Anywhere Programme. We wanted to revisit familiar favourites but switched things up by going on an epic road trip from Bangkok to Hua Hin!
Pre-trip Essentials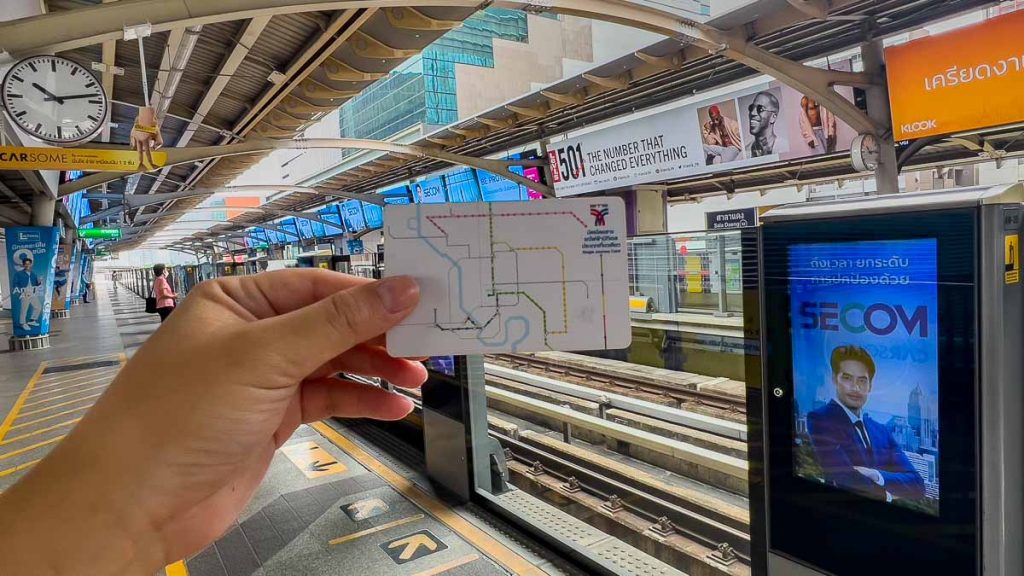 Covid-related: Travellers no longer need to show PCR test results upon entry.
Connectivity: Get the 8-day 15GB dtac Happy Tourist SIM Card (~S$8) and pick it up at the Bangkok Airport luggage collection area.
Transport within Bangkok: Bangkok has two train systems — the BTS Skytrain (above ground) and the MRT (underground) — which uses different cards. Most people use the BTS Skytrain and the transport card is called a Rabbit Card (฿200, with ฿100 stored credit). Alternatively, purchase single ride tickets which start from ฿16 (S$0.65).
GrabCars and GrabBikes are also affordable modes of transport, with the latter cutting journey times by more than half.
Car rental: A four-seater Toyota Yaris starts from ~S$21.75/day while a five-seater Honda Br-v SUV starts from ~S$77.99/day. There are several pick-up locations around Bangkok, so select the one closest to your accommodation.
Bangkok to Hua Hin Road Trip Overview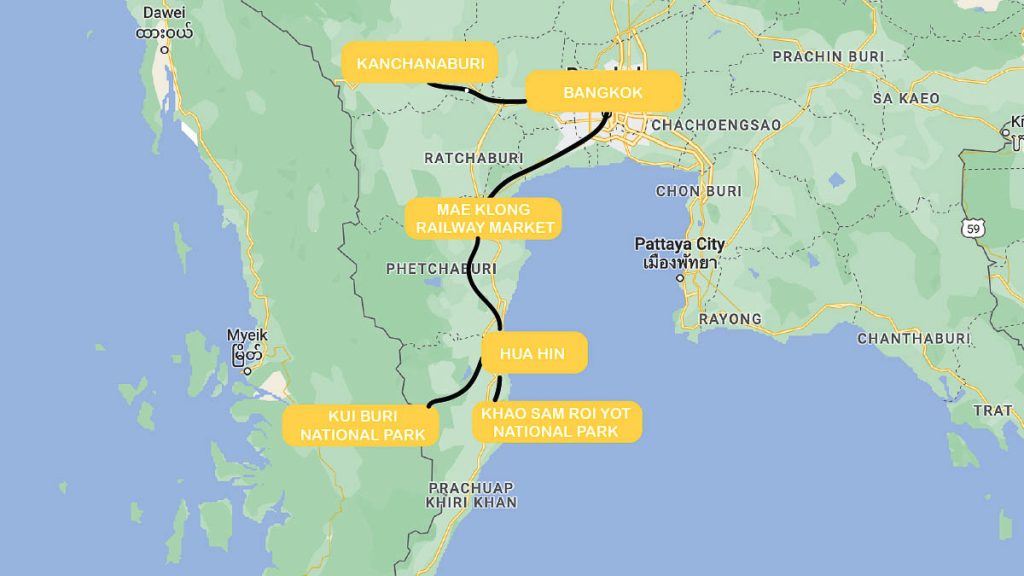 Day 1-3: Bangkok | Day 4: Day trip to Kanchanaburi | Day 5: Mae Klong Railway Market and Damnoen Saduak Floating Market | Day 6: Hua Hin and Kui Buri National Park | Day 7: Khao Sam Roi Yot National Park | Day 8: Hua Hin
Link to Google maps with pinned attractions here.
Day 1-2: Bangkok's Familiar Favourites
Chatuchak Market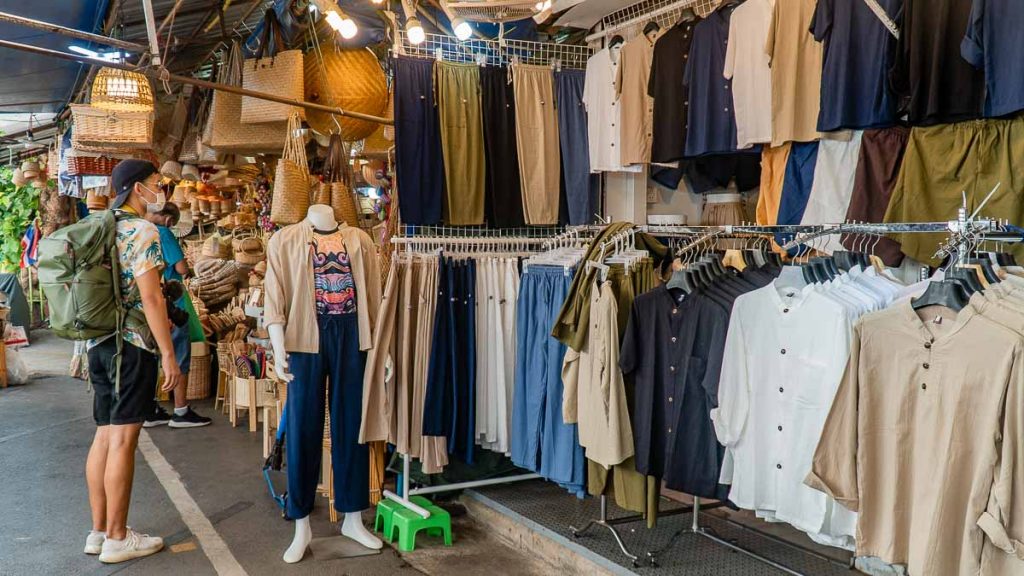 Shopping at Chatuchak (Bangkok's largest weekend market!) is something we always look forward to. I visited four times during our month-long stay and saw something new each time!
It's the perfect place to stock up on trendy new outfits — with clothes starting from just ฿100 (S$4) and shoes from ฿150 (S$6).
*Pro-tip: There are multiple stores selling the same items. Do a quick lap before buying anything — you might spot better deals!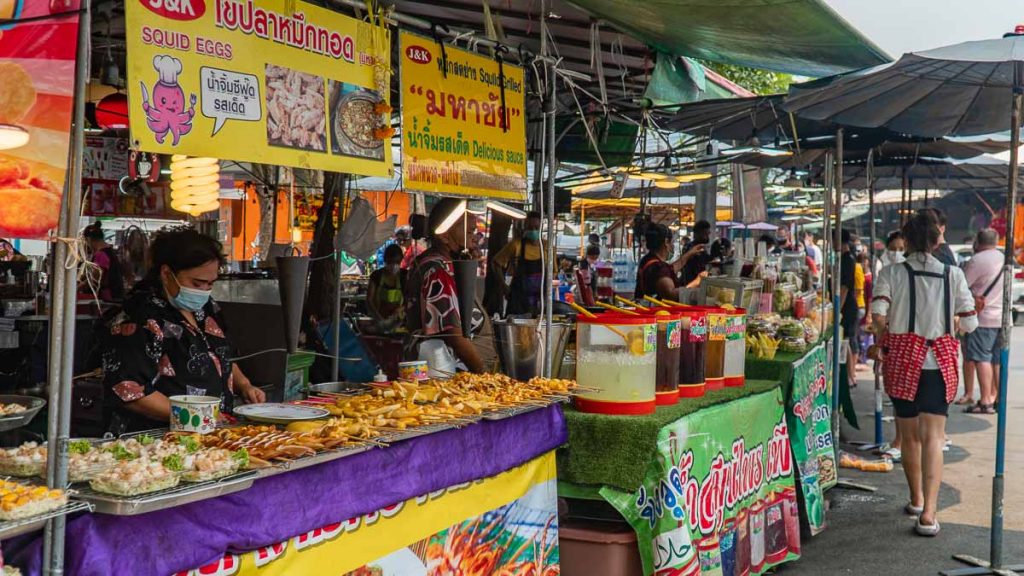 Food-wise, there's a decent variety — street food, hipster coffee shops, and sit-down eateries.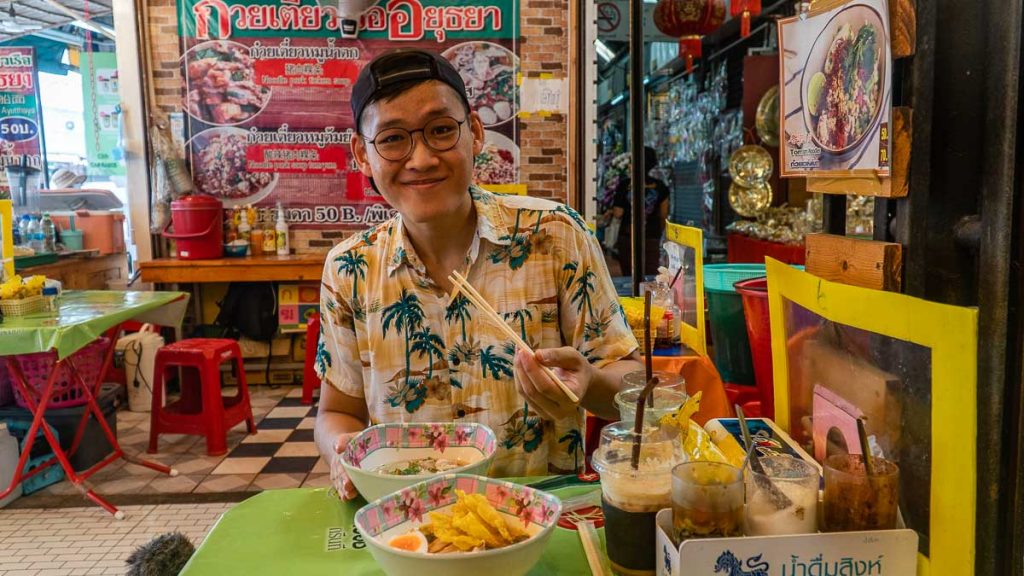 We had tom yum noodles (฿50) and ice lattes (฿60) for breakfast.
*Pro-tip: Come around 11AM if visiting on the weekends as several shops are still closed before that!
Opening hours: Varies
How to get there: 5min walk from N8 Mo Chit Station (Sukhumvit Line), Exit 1
Platinum Mall and Pratunam Market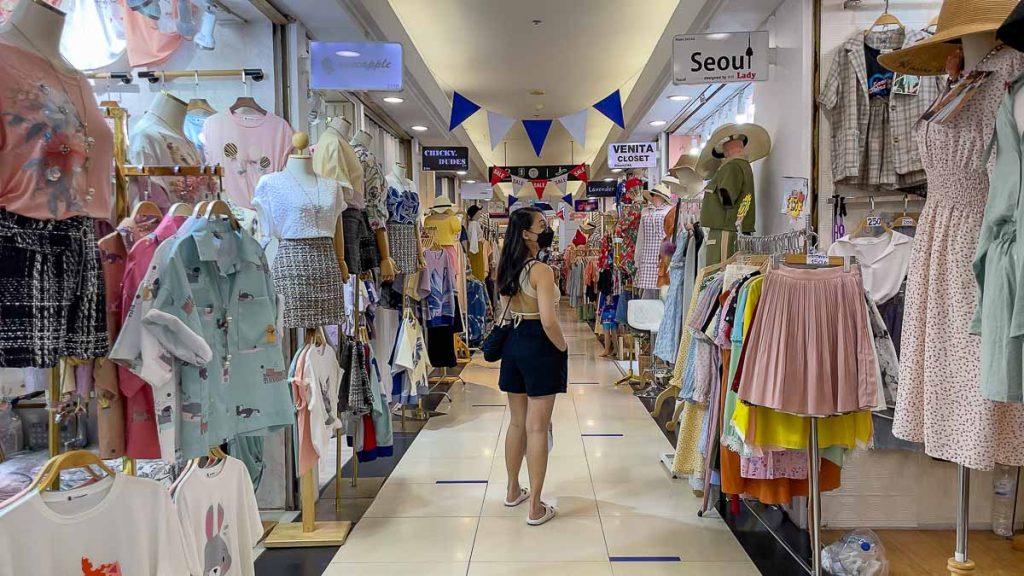 Is it really a Bangkok itinerary if we didn't include Platinum Mall? Or as I like to call it, a seven-storey air-conditioned retail haven. With shops selling everything from office wear to pet accessories, it's not hard to spend several hours here.
You don't even have to leave the mall for lunch as the entire sixth floor is reserved for restaurants and a food court.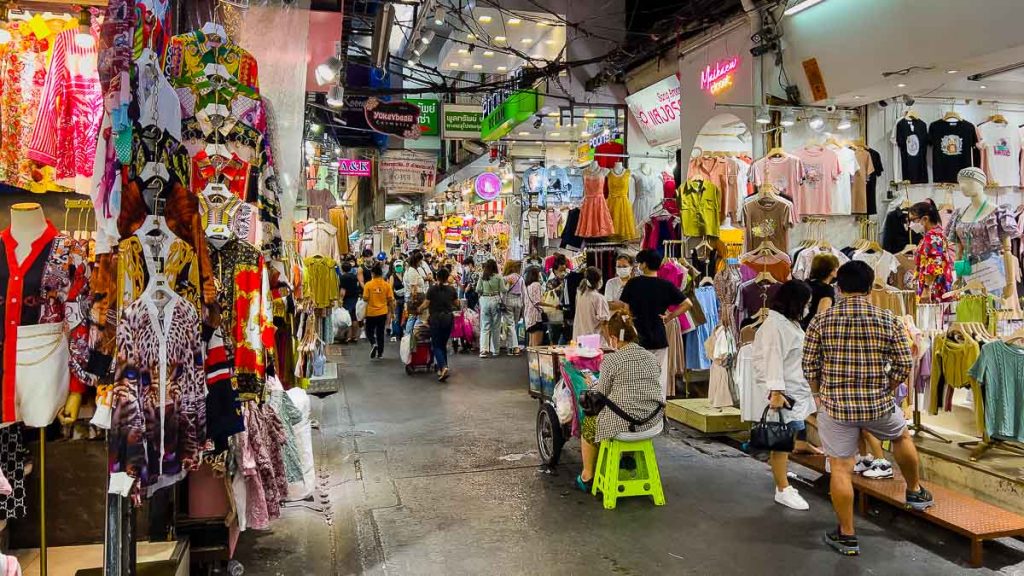 *Pro-tip: Just opposite Platinum Mall is Pratunam Market, an open-air market selling food, clothes, and shoes. The entrance looks like a dodgy alleyway but trust me, there's plenty of great deals. I actually preferred shopping here to Platinum Mall!
There's a wholesale discount if you buy at least three items, so the more friends you bring, the better. I got a handbag for ฿200 (S$8) and sandals for ฿120 (S$4.80) — among several other items.
Google states that it's open till 8PM but most shops close earlier. Best to come early morning till mid-afternoon!
Platinum Mall
Opening hours: 9AM – 8PM (Mon – Tue, Thu – Fri), 8AM – 8PM (Wed, Sat – Sun). Shops tend to start closing earlier at around 6PM on weekdays
How to get there: 11min walk from N1 Ratchathewi Station (Sukhumvit Line)
Pratunam Market
Opening hours: 11AM – 4PM
How to get there: Take BTS Skytrain to Phaya Thai Station and change to Airport Rail Link. Alight at Ratchaprarop Station and walk about 5 minutes.
Jeh O Chula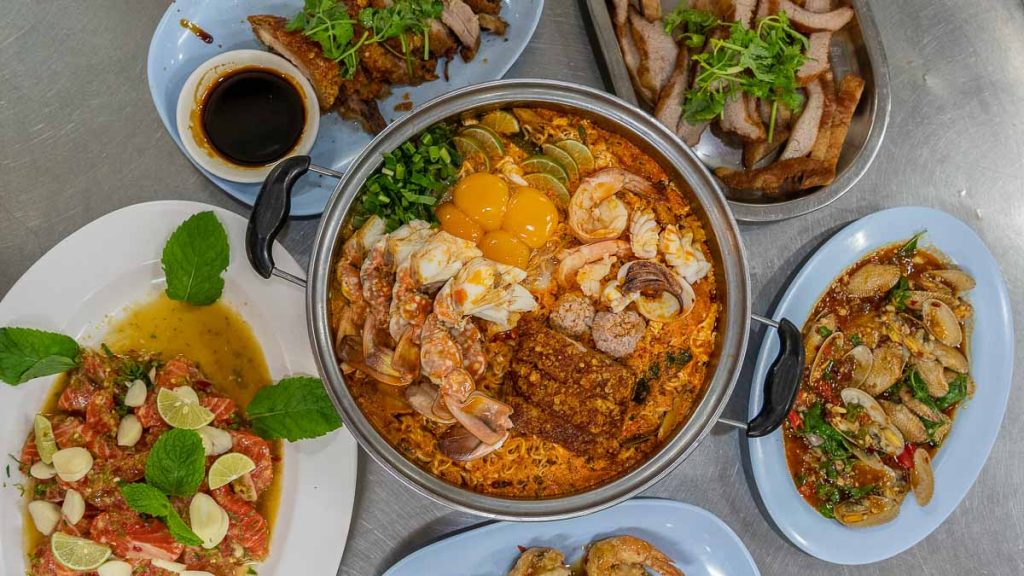 Jeh O Chula serves up hearty Thai dishes with a twist. The lengthy menu can be overwhelming, but there are some signature dishes you can't leave without trying.
The first is Tom Yum Mama Noodles, Thailand's version of Korea's army stew. It's filled with instant noodles, eggs, crispy pork, and tons of seafood — the perfect comfort food. 🤤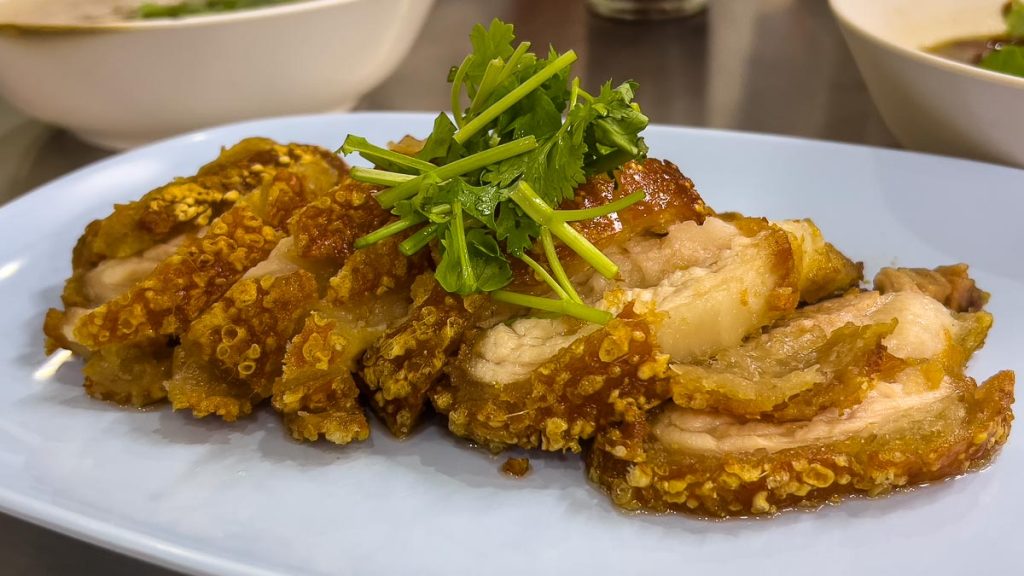 Next is the Crispy Pork Belly. I'm not the biggest fan of fatty meat, but I'd readily devour this bad boy on my own.
Lastly, the Yum salmon — glorious salmon sashimi doused in Thai chilli and salad. We loved this restaurant so much that we returned again!
*Pro-tip: Long lines are common, with waiting times around an hour. Book a set meal on Klook to reserve a time slot and get priority access!
Cost: From ~S$34 for a set meal
Opening hours: 4:30PM – 1AM (last order 12AM)
How to get there: 14min walk from W1 National Stadium Station (Silom Line)
Chinatown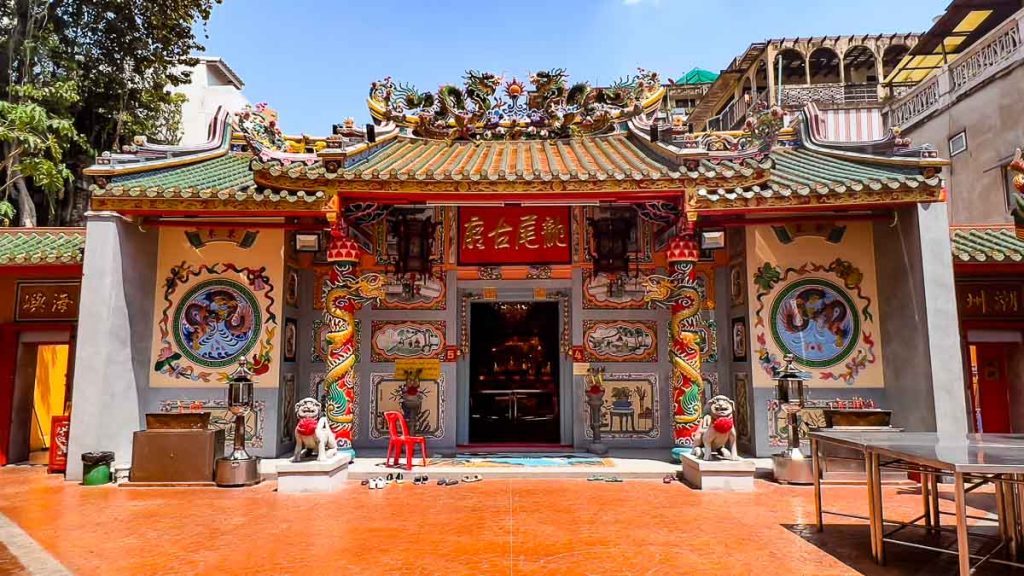 What I love about Chinatown is its mix of old and new — modern cafes sit side by side timeless hole-in-the-wall eateries and historic temples.
Most of the activity is situated along the main street, Yaowarat Road. Stop by the Leng Buai la Shrine (above) and Wat Mangkon Kamalawat Temple for a glimpse of culture and traditional architecture!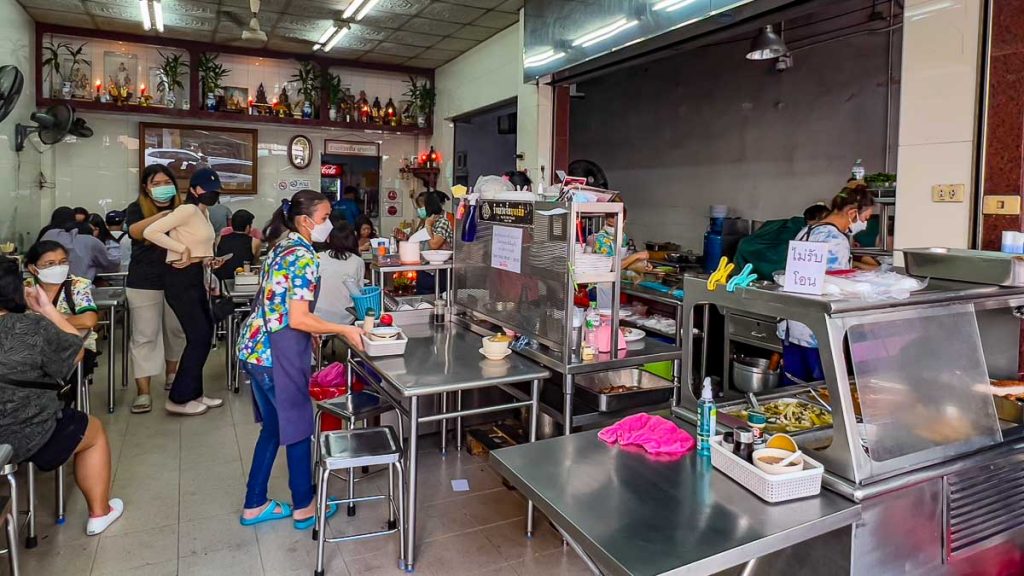 Foodwise, Chinatown has no shortage. You could dine at the Talat Kao (Old Market) or Talat Mai (New Market) or at one of the many eateries along Yaowarat Road. Some places we enjoyed are the TikTok-famous Lhong Tou Cafe (dim sum) and the Nai Ek Roll Noodle (kway chap).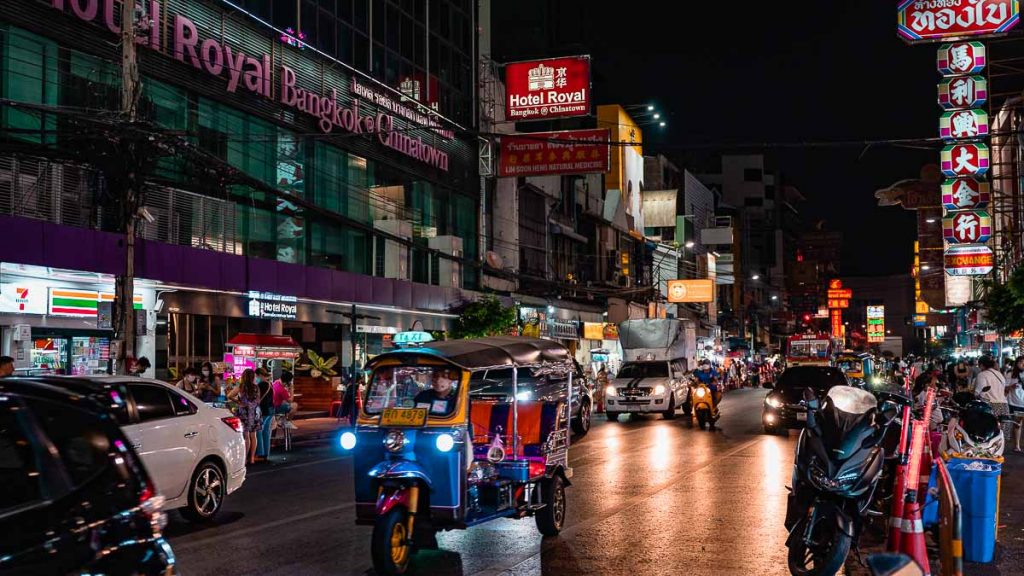 Chinatown is bustling in the day, but the neighbourhood truly comes to life at night. The bright neon signs are lit, and street food and bars are in full swing!
Opening hours: 24 hours
How to get there: There is no BTS station near Chinatown and it's a 4min walk from Wat Mangkon MRT Station. We'd recommend taking a Grab instead
Jodd Fairs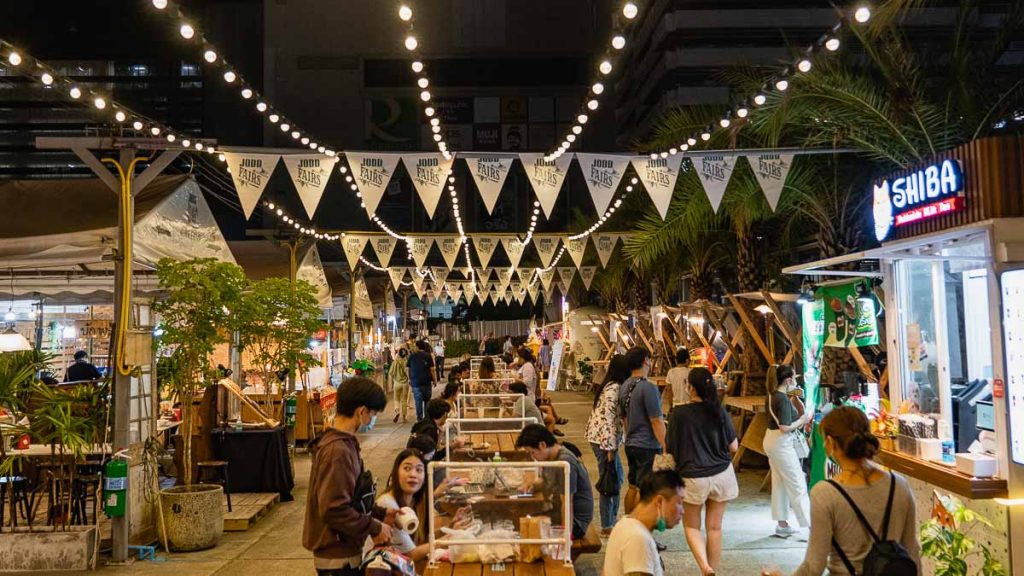 Jodd Fairs is Bangkok's newest market! Previously called Ratchada Train Night Market, the beloved attraction relocated and rebranded as Jodd Fairs in November 2021.
This market is the hipster version of Bangkok's street food scene — affordable, hearty meals but with twinkling lights. We couldn't decide on just one stall for dinner, and ended up buying a bit of everything over a couple of hours.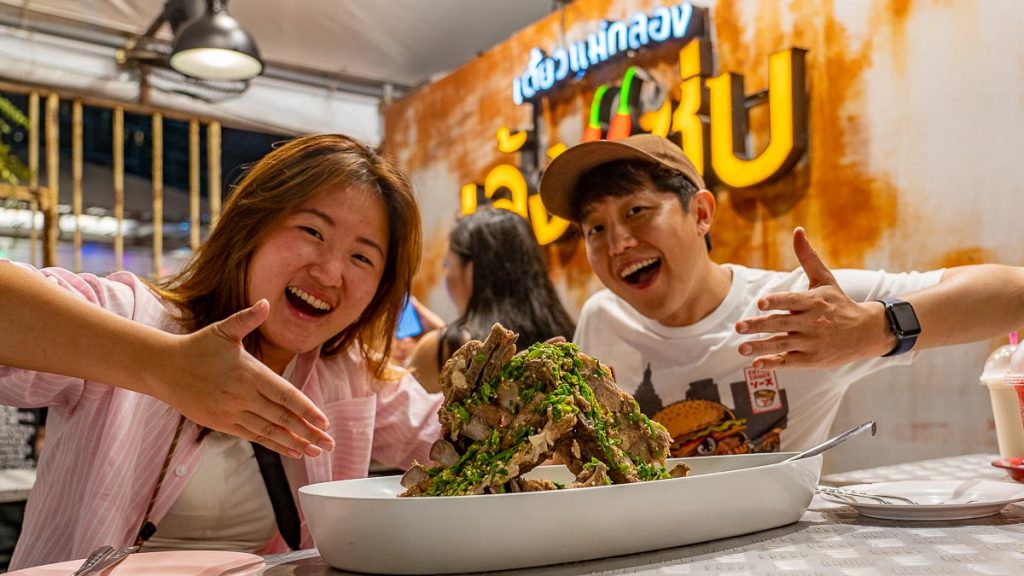 We'd recommend trying Leng Saap (spicy pork spine soup) at Mae Klong Noodles. It comes in four sizes — ranging from ฿150 (S$6) to ฿599 (S$24.13)! Mala lok lok (skewers), a seafood bucket and khanom buang (Thai crepes with coconut) were some of the other yummy things we had.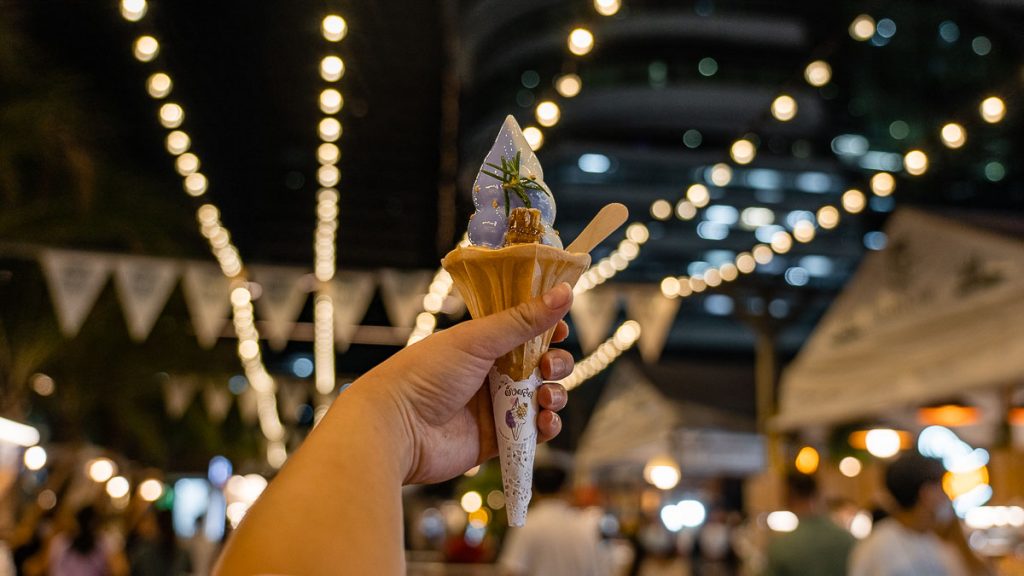 There's no shortage of dessert options either — we had honey ice cream (฿65), mango bingsu (฿99) and keto brownies (฿100) all in one night. Shopping wise, there are about 20 stalls selling clothes, shops and trinkets!
*Pro-tip: There's no BTS station near Jodd Fairs, so it's best to take a Grab there
Opening hours: 4PM – 12AM
Address: Rama IX Rd, Huai Khwang, Bangkok 10310, Thailand
Srinagarindra Train Night Market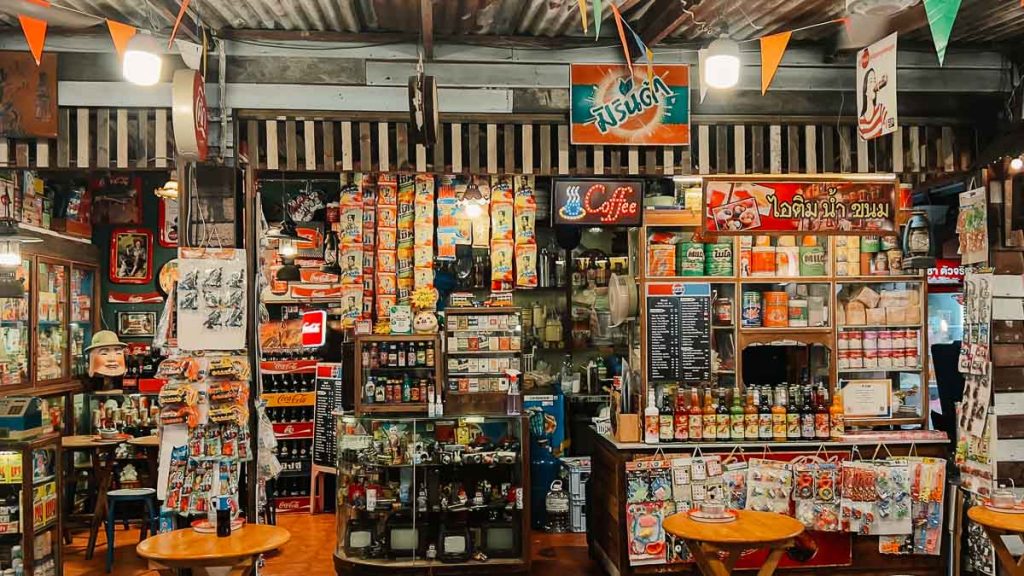 If you don't mind a 40-minute Grab ride, Srinagarindra Train Night Market is well worth a visit. It's the mother lode of Bangkok night markets — over 10 times the size of Jodd Fairs!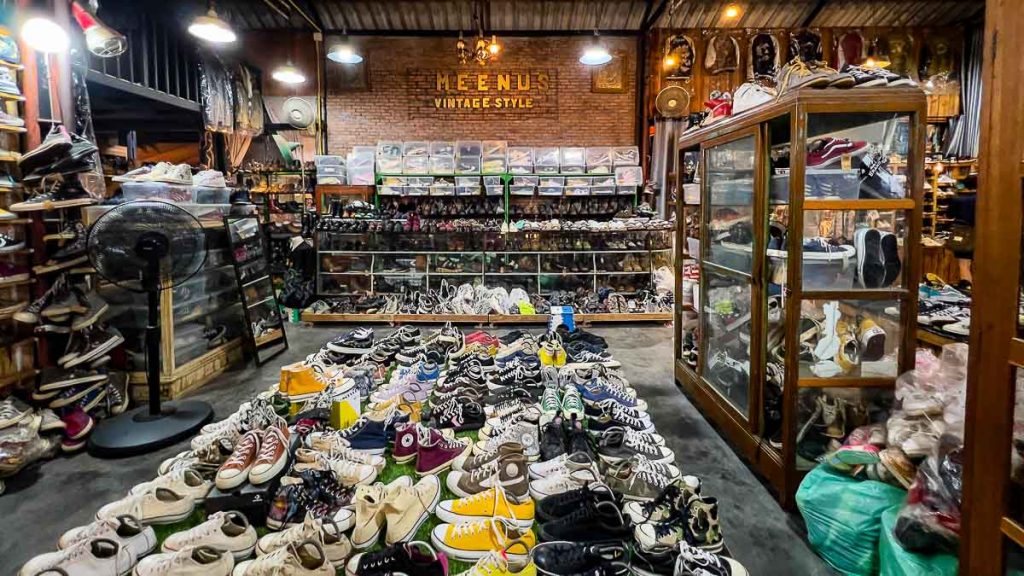 You wouldn't be able to see everything in one night. Trust me, we tried. There's a lot more variety in terms of clothing and shoes compared to Chatuchak and Pratunam Market.
We especially loved the stretch of vintage and secondhand shops, where retro jackets were going for just ฿100 (S$4).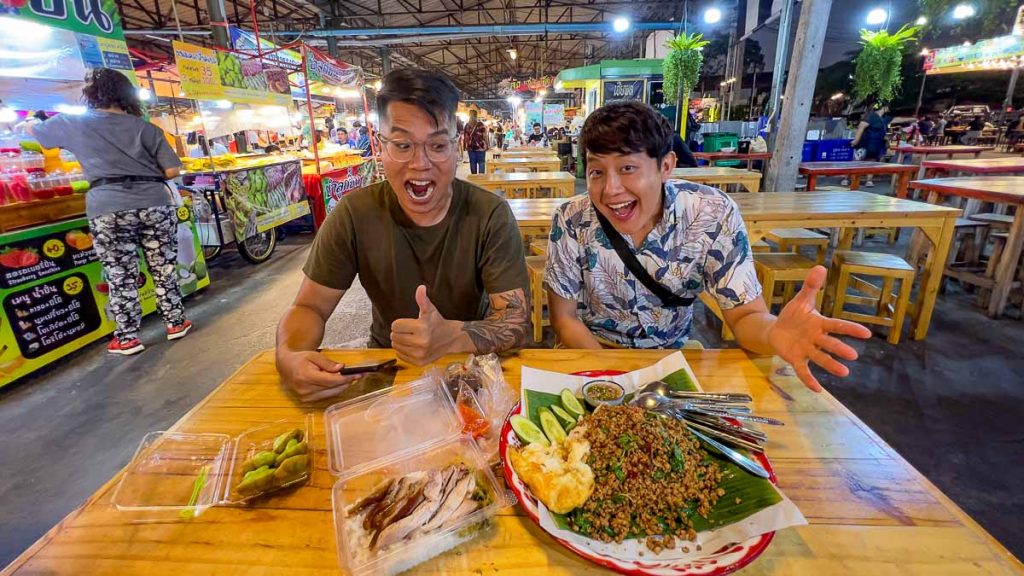 We were also seriously spoilt for choice when it came to dinner. You could enjoy barbecue ribs, ramen, bubble tea, and local dishes all in one night.
*Pro-tip: Be there early to enjoy the entire market as most shops start closing around 12AM
Opening hours: 5PM – 1AM (Thu – Sun)
How to get there: 40min Grab ride from Bangkok city centre
Thai Massage
Shopping and eating is tough work, and the best way to relax is by getting a massage. There are massage places on practically every street in Bangkok. But if you'll like a more bougie experience, opt for an Onsen Experience at Let's Relax!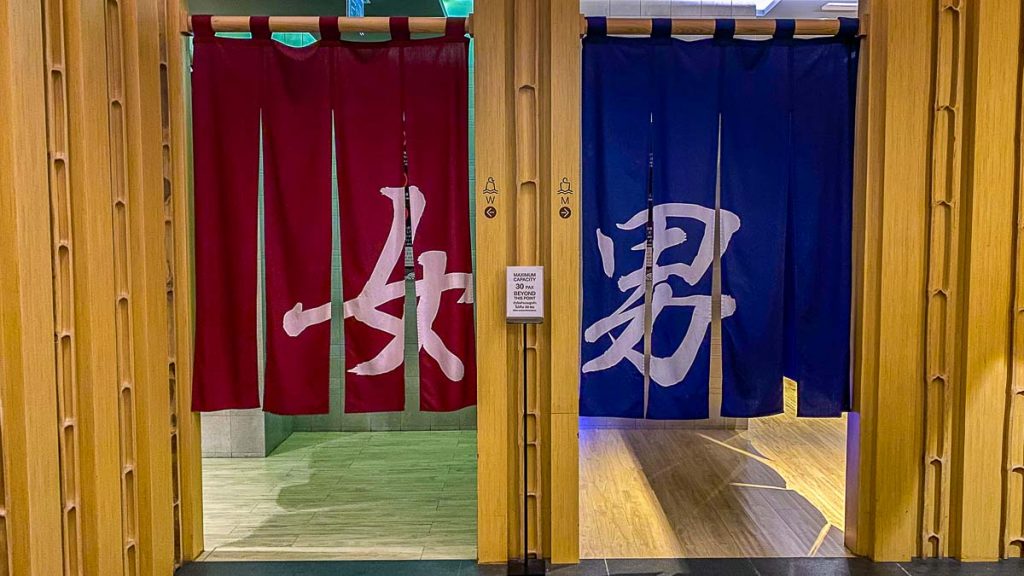 Hendric made it his personal mission to try 30 different massage outlets in 30 days and this was the top of his list. Besides a really good Thai massage, your ticket includes unlimited time at the in-house onsen.
There are outlets all over the city, but only the Thonglor branch has an onsen.
Cost: From ~S$48.89
Opening hours: 10AM – 12AM (Call to reserve a time slot after booking on Klook +66 (0) 2042 8045)
How to get there: 15min walk from E6 Thong Lo Station (Sukhumvit Line)
Day 3: A Different Side of Bangkok
Shopping and eating in Bangkok is always fun, but this vibrant city has so much more to offer!
Mahanakhon SkyWalk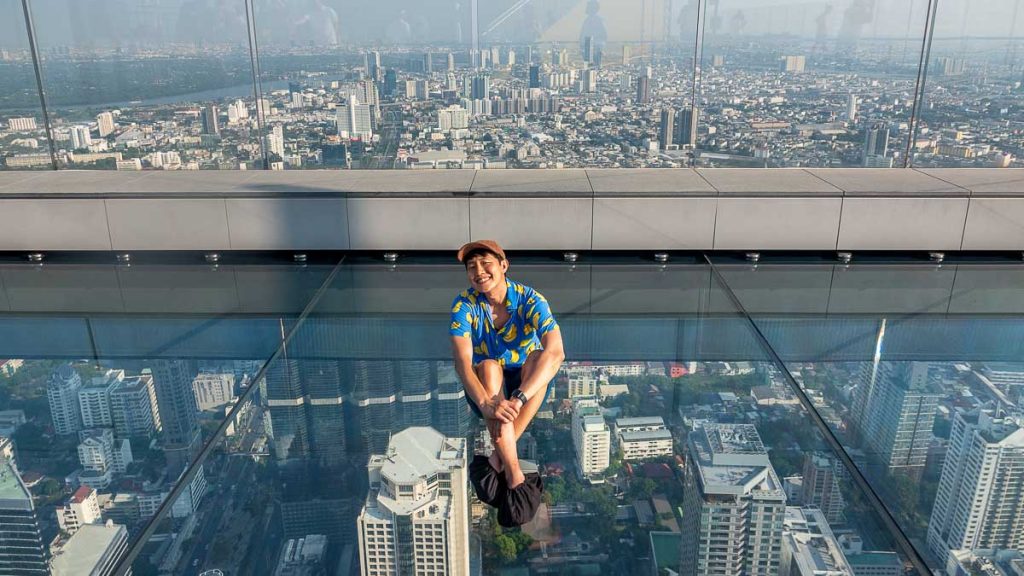 For the best views of Bangkok, head to Mahanakhon Skywalk. It's currently the second tallest building in Thailand at 314m — with the country's highest outdoor observation deck.
Entrance fee: From ~S$34.39
Opening hours: 10AM – 10PM (Last entry 9:30PM)
How to get there: 5min walk from S3 Chong Nonsi Station (Silom Line)
Pick Up a New Skill
Option 1: Muay Thai Class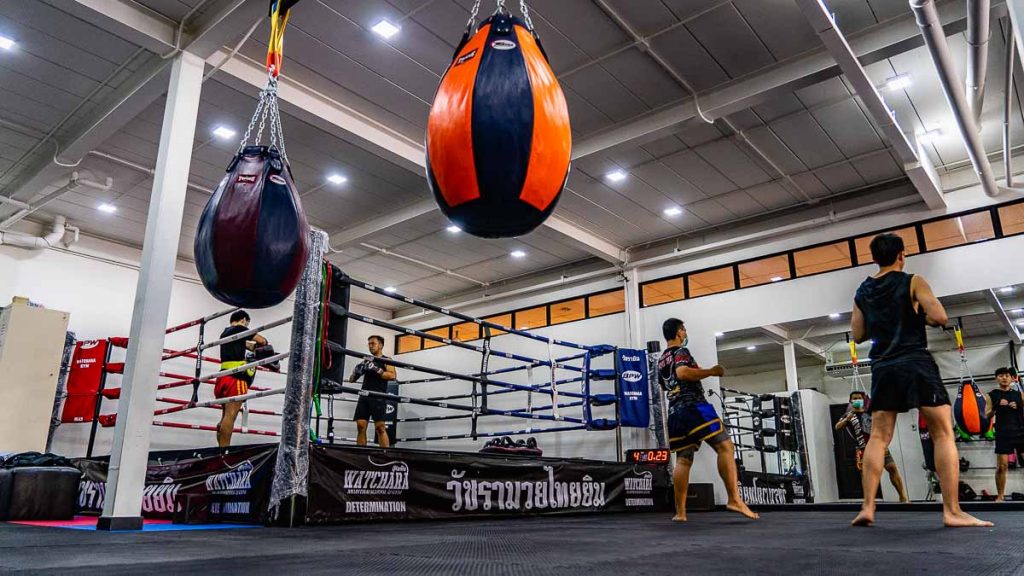 There's no better place to learn Muay Thai than Thailand, so I was glad we squeezed in a class at Watchara Muay Thai Gym! The 1.5hr session included an introduction to the basic punches, kicks, and blocks as well as pad work with the coach.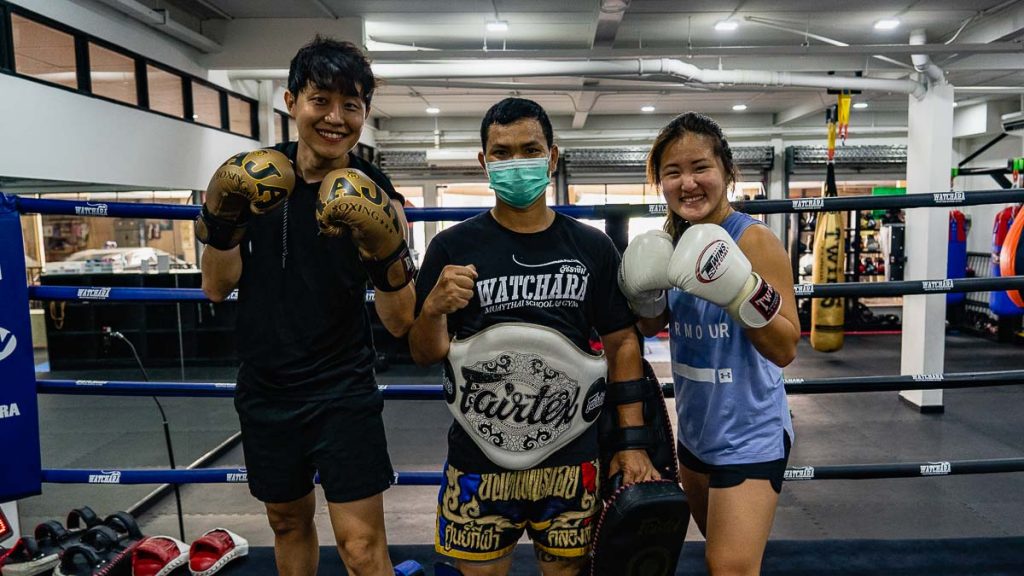 Muay Thai is an intense sport so you're bound to work off many calories during the class. Our coach was very friendly and encouraging; pretty sure he enjoyed throwing (soft) punches at us during a short sparring session at the end. 😂
Cost: ~S$17 for a 1.5hr session
Class timings: 10AM, 1:30PM, 3:30PM, 5:30PM (Mon – Sat)
How to get there: 8min walk from E2 Phloen Chit Station (Sukhumvit Line)
Option 2: Thai Cooking Class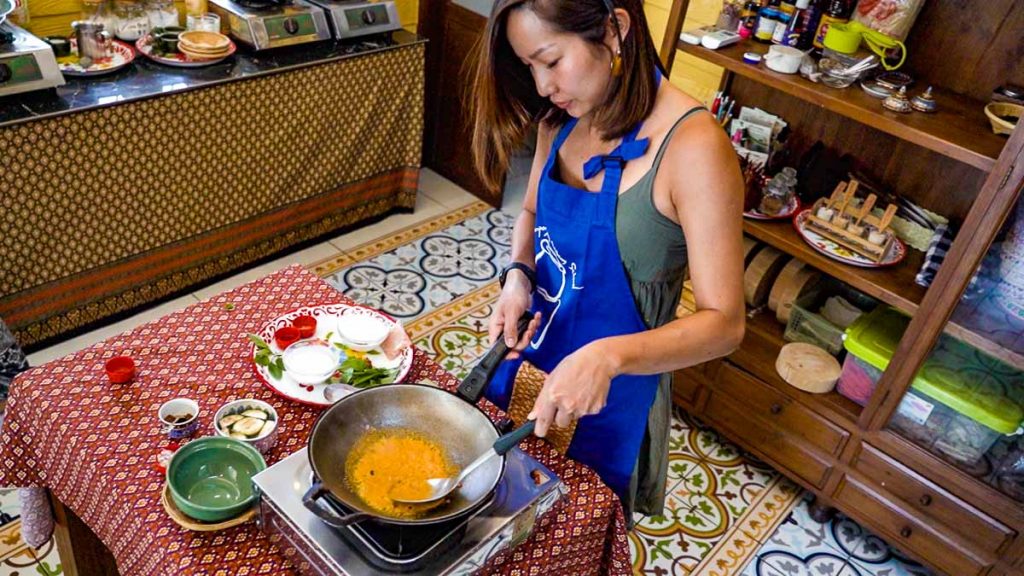 Thai food is one of our favourite cuisines — there's so much variety and flavour! And what better way to immerse in the local food scene than a cooking class?
The class at Sompong Thai Cooking School starts with a tour of Wat Khaek Fresh Market, where the instructor shares tips on sourcing for ingredients.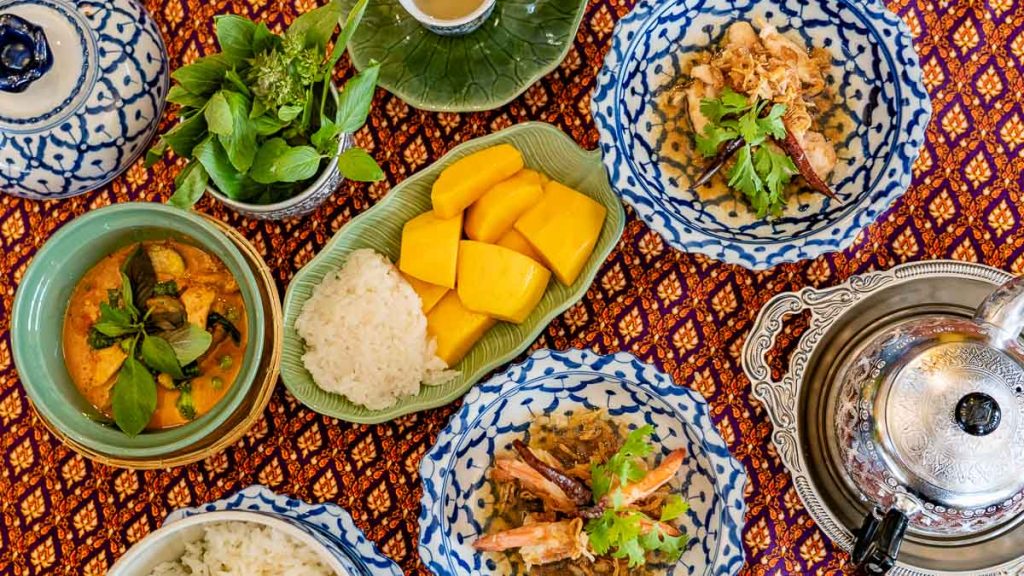 The four-course menu is different each day — we went on a Sunday and made chicken red curry, stir-fried tamarind prawns, spicy chicken salad, and mango sticky rice.
Cost: ~S$54
Class timings: 9.15AM – 2PM, 2:45PM – 7PM
How to get there: 10min walk from S4 Saint Louis station (Silom Line)
Animal Cafes
Option 1: Happy Bird's Day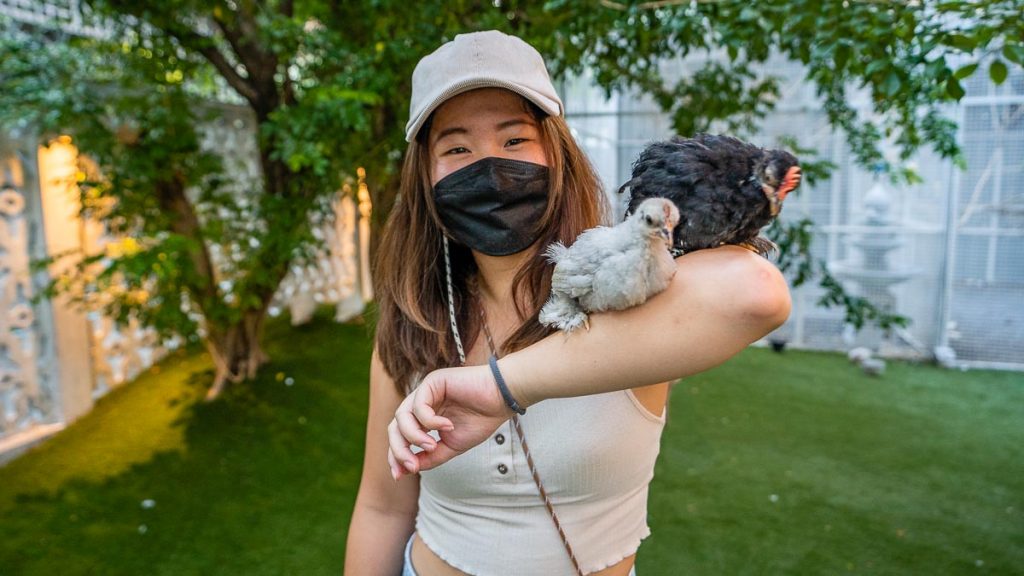 I never considered birds adorable. But after a trip to Happy Bird's Day, I now want a pet chicken. This bird cafe is home to dozens of feathered friends — parrots, chickens, and ducks! Oh, plus a couple of bunnies.
*Pro-tip: The parrots loved sitting on our heads 😂 Wear a cap and a top with sleeves when you visit!
Entrance fee: ฿350 (S$14), incl. a drink and bird feed
Opening hours: 11AM – 7PM (Mon – Fri), closes 8PM on Sat and Sun
How to get there: 13min walk from E7 Ekkamai Station (Sukhumvit Line)
Option 2: Corgi in the Garden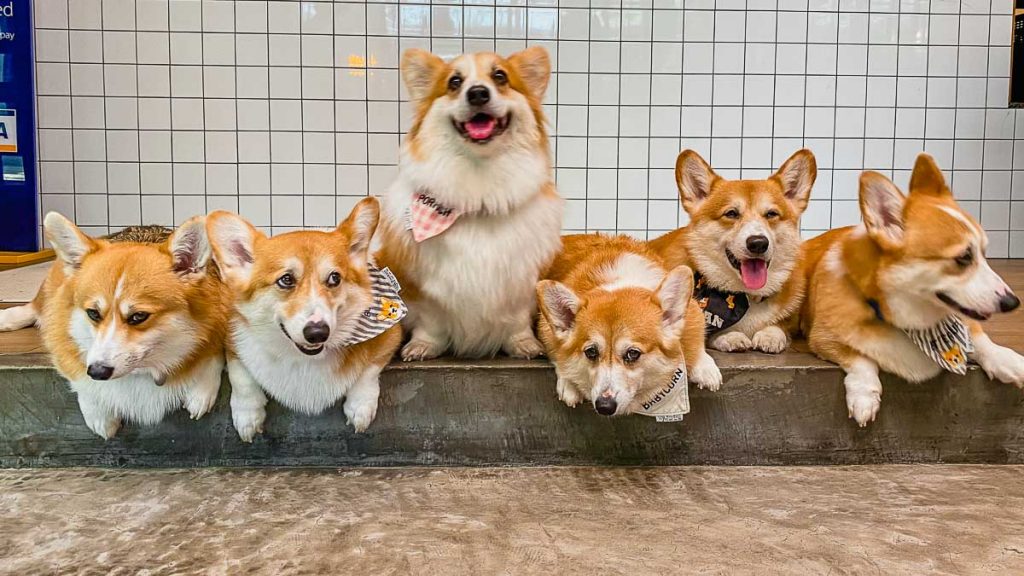 If you're obsessed with corgis like us, a trip to Corgi in the Garden is a must. There are around a dozen corgis running about, and every hour they line up for photo taking!
Entrance fee: ฿350 (S$14), incl. a drink
Opening hours: 11AM – 7PM (Mon – Fri), closes 8PM on Sat and Sun
How to get there: The closest BTS station (S11 Wutthakat) is 3.4km away, so it's best to take a Grab
E-GoKart by MONOWHEEL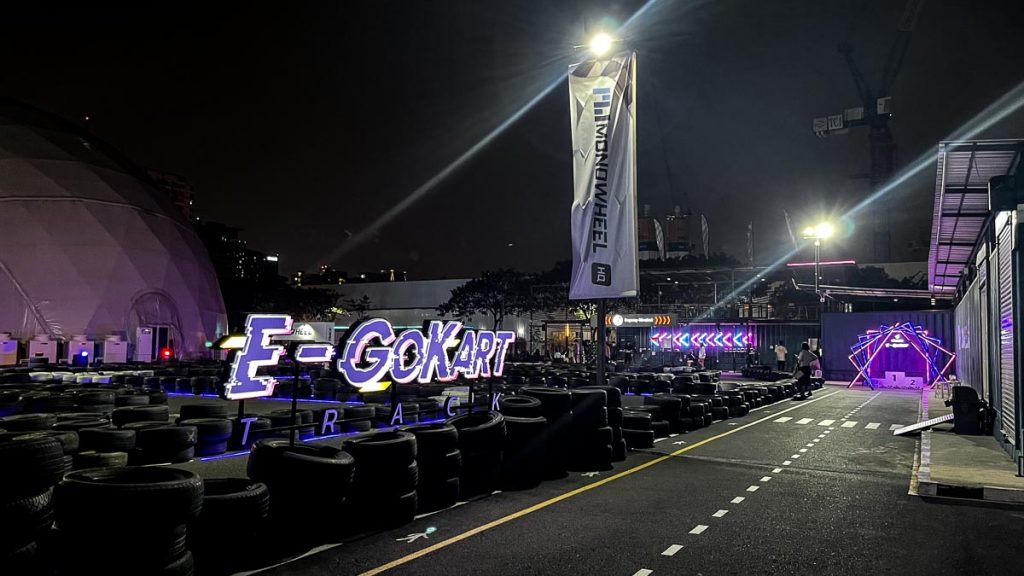 For a change of pace, we went go-karting at E-GoKart by MONOWHEEL. What's cool about electric go-karts is that they don't burn fuel and contribute to air pollution!
There are two tracks here, one with winding tracks with several sharp turns but the karts cap at the speed of 24km/h. We chose to drive the faster karts on the other wider track — perfect for living out our Tokyo drift fantasies. 🏎️
Cost: ~S$14 for the 24km/hr kart, ~S$25 for the 40km/hr kart
Opening hours: 4PM – 11:30PM (Mon – Fri), 10AM – 11:30PM (Sat – Sun)
How to get there: The closest BTS station is W1 National Stadium Station (Silom Line) which is a 21min walk to E-GoKart by MONOWHEEL. We'd recommend taking a Grab instead
Find The Locker Room Speakeasy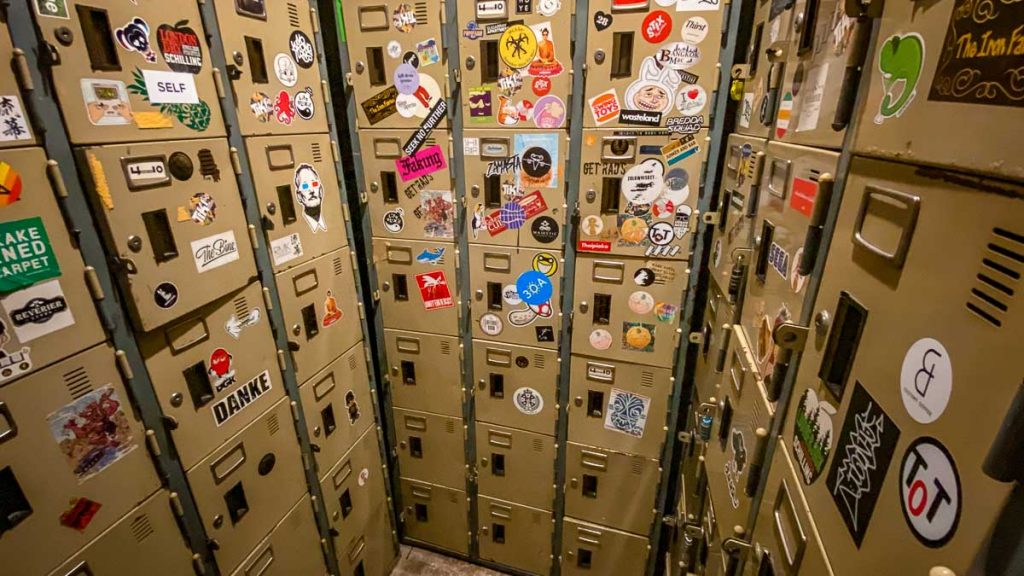 Bangkok is known for vibrant nightlife, with countless rooftop bars and trendy speakeasies. We visited Find The Locker Room — one of Asia's 100 Best Bars in 2022! The bar is located in a shophouse and the entrance is hidden behind a row of gym lockers.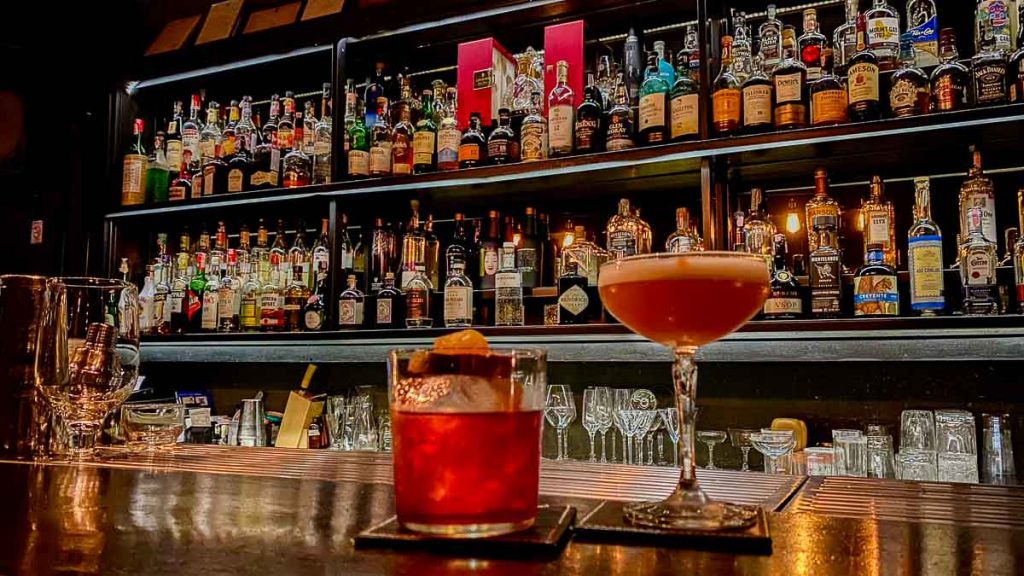 Drinks aren't too pricey, ranging from ฿420 (S$16.93) to ฿470 (S$17.64).
Cost: ~฿420 (S$16.93) per drink
Opening hours: 6PM – 1:30AM
How to get there: 16min walk from E6 Thong Lo Station (Sukhumvit Line)
Day 4: Day Trip to Kanchanaburi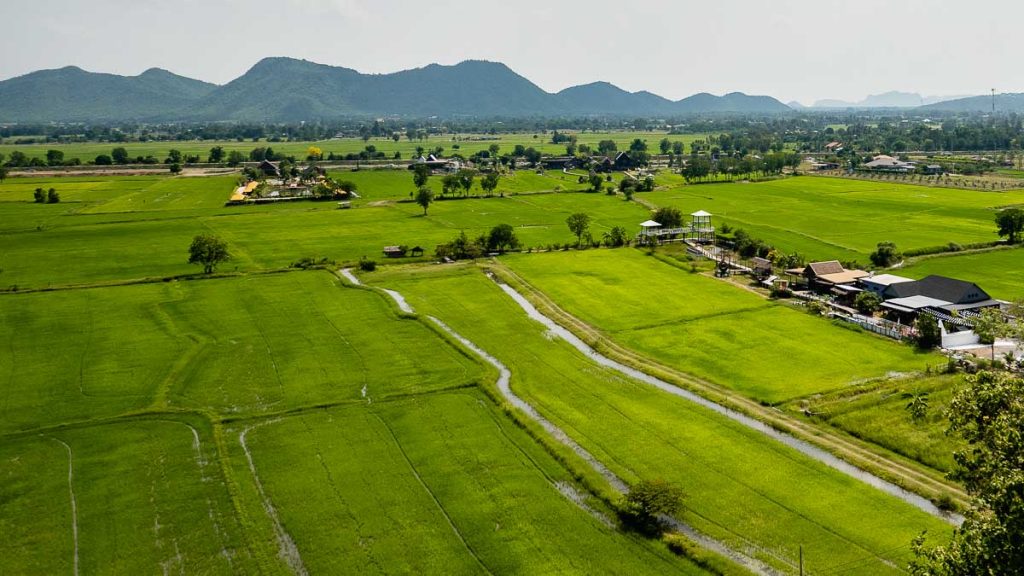 Kanchanaburi is a beautiful town with a harrowing past. It's a 2.5hr drive from Bangkok to Kanchanaburi, making it a popular day trip location.
Transport: Rent a car early in the morning for Kanchanaburi and Hua Hin (5 days). Alternatively, hire a car charter for Kanchanaburi and then rent a car for Hua Hin (4 days) like we did.
Death Railway Museum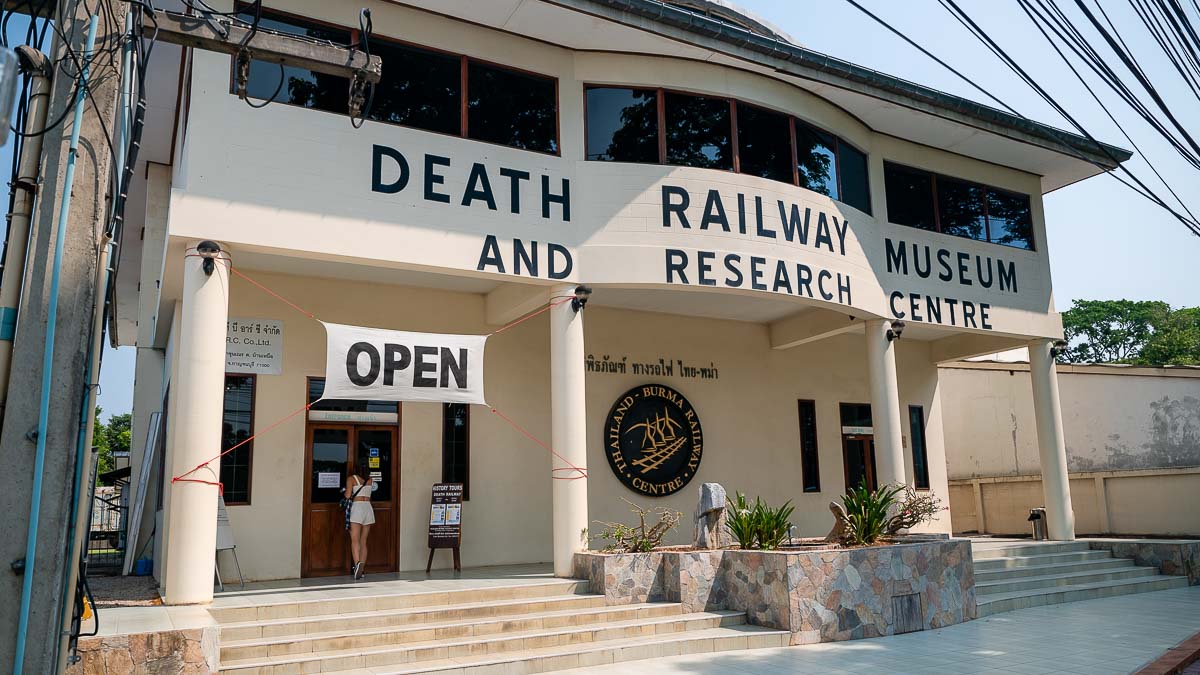 During World War II, Japanese Forces got prisoners of war to build a bridge connecting Thailand and Myanmar (then Burma). This bridge goes through Kanchanaburi and is called the Death Railway, because an estimated 100,000 prisoners died building this 415km-long railway.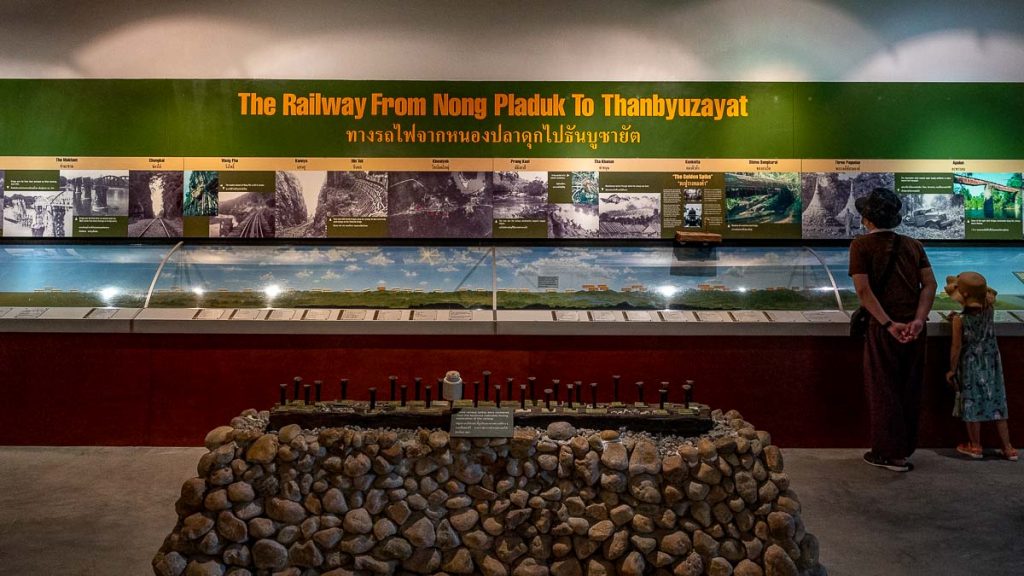 The Death Railway Museum pays tribute to those who lost their lives, shining light on the atrocities committed during the war. It's a good place to learn about Kanchanaburi's history and made the rest of the day trip more meaningful.
Entrance fee: ฿150 (S$6)
Opening hours: 9AM – 5PM
Address: 73 Chao Khun Nen Rd, Ban Nuea, Mueang Kanchanaburi District, Kanchanaburi 71000, Thailand
Wat Tham Suea Temple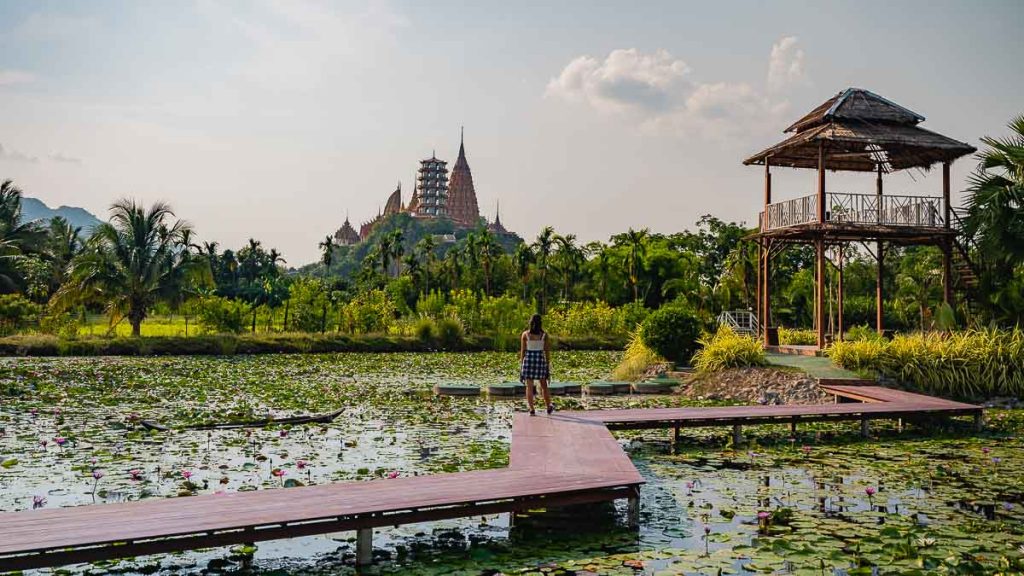 We've visited many temples around Southeast Asia, but Wat Tham Suea, or Tiger Cave Temple, is one of the most Instagrammable! The main attraction here is the 18-metre high golden Buddha.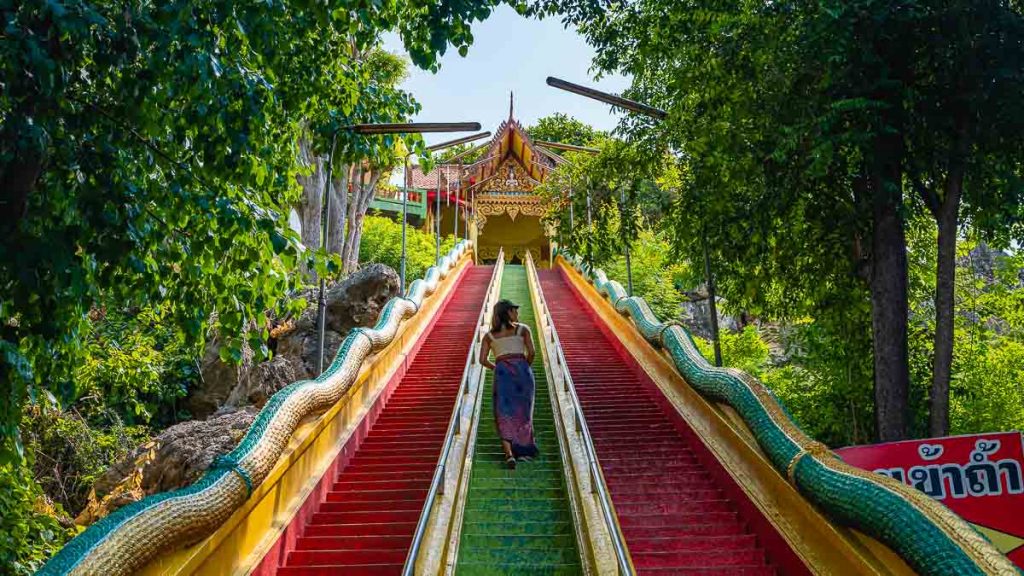 It's 157 steps to get to the top of the temple — not a difficult task when the staircase is this nice.
Entrance fee: Free
Opening hours: 5AM – 5PM
Address: Moo 3 Tha Muang, Kanchanaburi
River Kwai Death Railway Bridge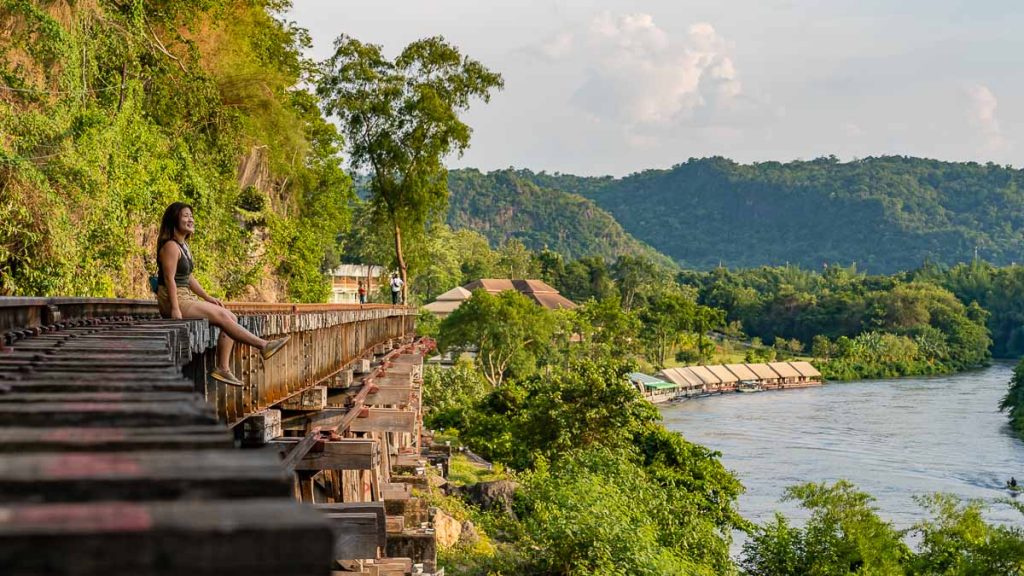 The last stop of our Kanchanaburi day trip was the Death Railway itself. There are many viewing spots along the track, but the section at Tham Kra Sae Bridge is the most photogenic!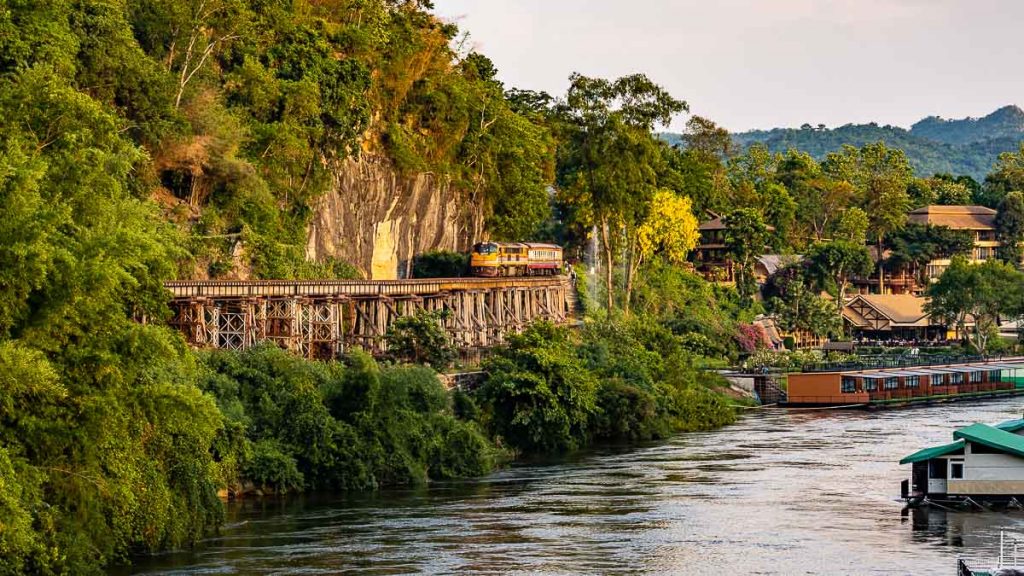 Visit when the train passes (see train schedule for fixed timings). We arrived at around 5PM and caught the last train at 5:51PM during golden hour. I'd recommend coming an hour before the train arrives as you can walk along the tracks!
Entrance fee: Free
Opening hours: 24 hours
Address: Lum Sum, Sai Yok District, Kanchanaburi 71150, Thailand
Day 5: Famous Markets Near Bangkok
After four days based in Thailand's bustling capital, it's time to begin the road trip from Bangkok to Hua Hin! We rented a Honda Cr-v SUV (from S$77.99/day) via Klook for our group of five. More details on our car rental experience at the end.
Mae Klong Railway Market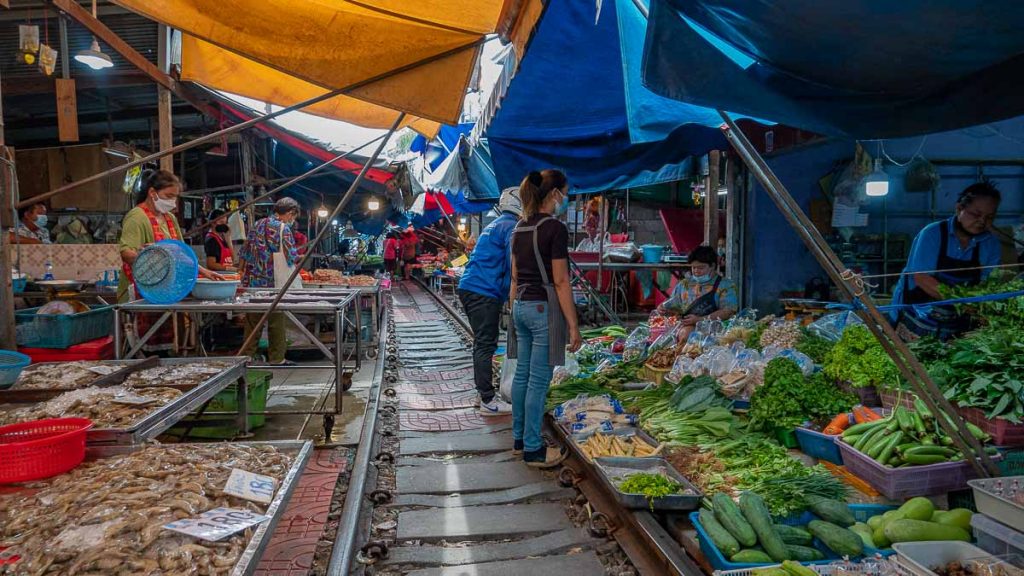 About an hour's drive from Bangkok is the famous Mae Klong Railway Market. This fresh food market runs along a 100m track section, with an array of stalls selling meat, fruits and veggies.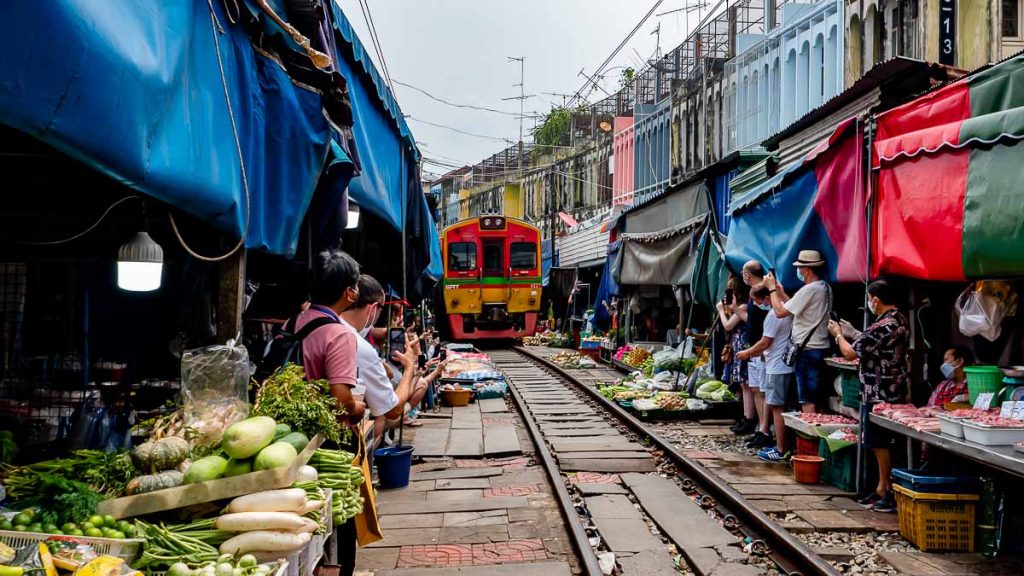 This track is still operational — tourists come by just to spot the train passing! Watching the commotion leading up to the train arriving was actually more interesting than the train itself.
About 10 minutes before, a bell rings and the shopkeepers immediately begin pushing back their stalls away from the tracks. Once the train leaves, they waste no time pushing their stalls back within seconds.
*Pro-tip: Come around 10AM latest as several stalls are closed by mid-afternoon
Entrance fee: Free
Opening hours: 6AM – 6PM (train passes by four times daily)
Address: C252+25F, Mae Klong, Mueang Samut Songkhram District, Samut Songkhram 75000, Thailand (1hr 17min drive from Bangkok city centre)
Damnoen Saduak Floating Market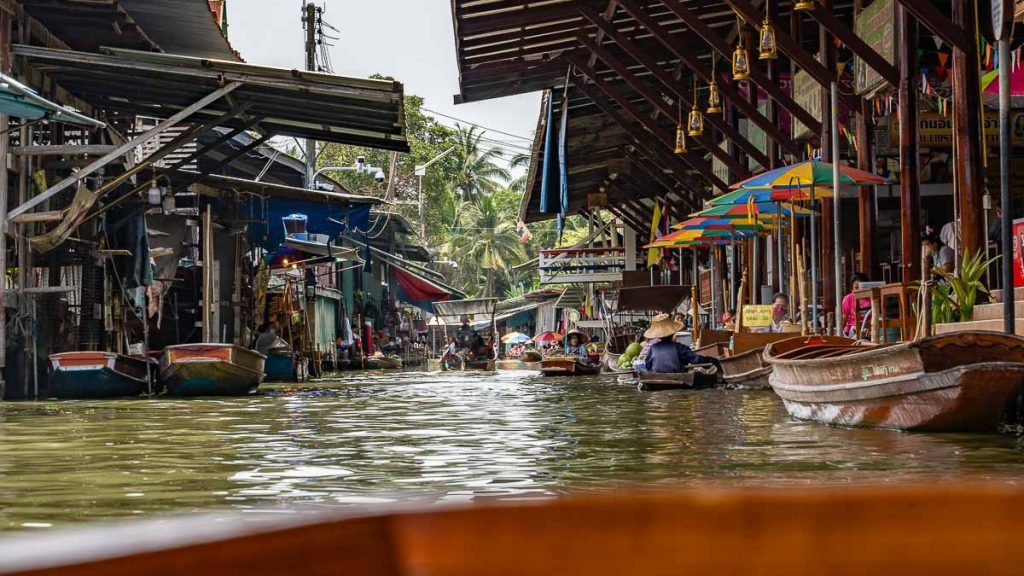 Floating markets have been around in Thailand for centuries, and Damnoen Saduak Floating Market is arguably the most famous one. It's located along Thailand's straightest and longest canal — you'll have to hire a boat to experience it.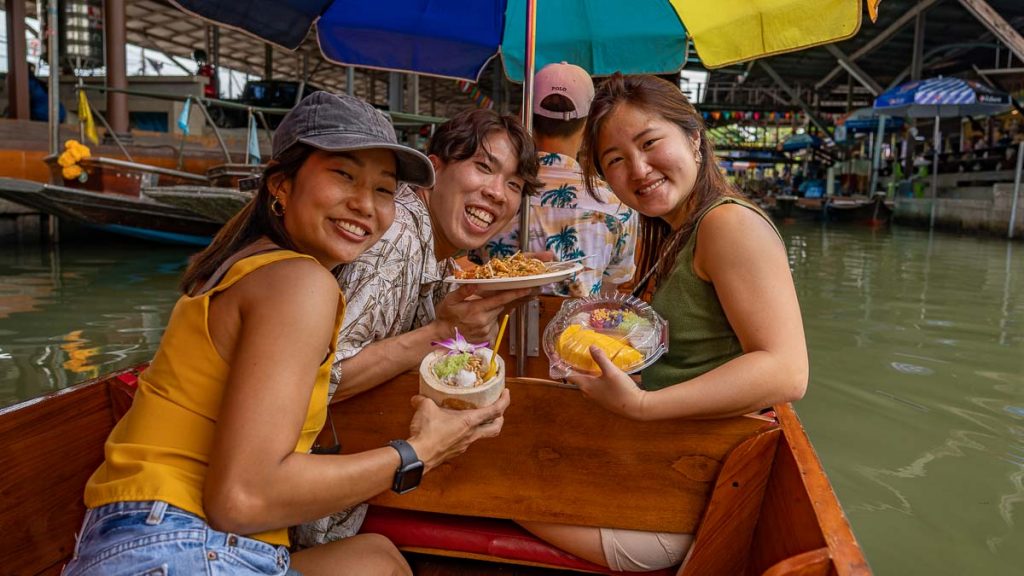 Unfortunately, half of the stores were closed due to Covid-19. Hopefully, the market returns to normal as tourism returns!
The visit was still enjoyable as we got to try plenty of street food. I loved watching the vendors turn into olympic rowers, speeding over when we waved at them.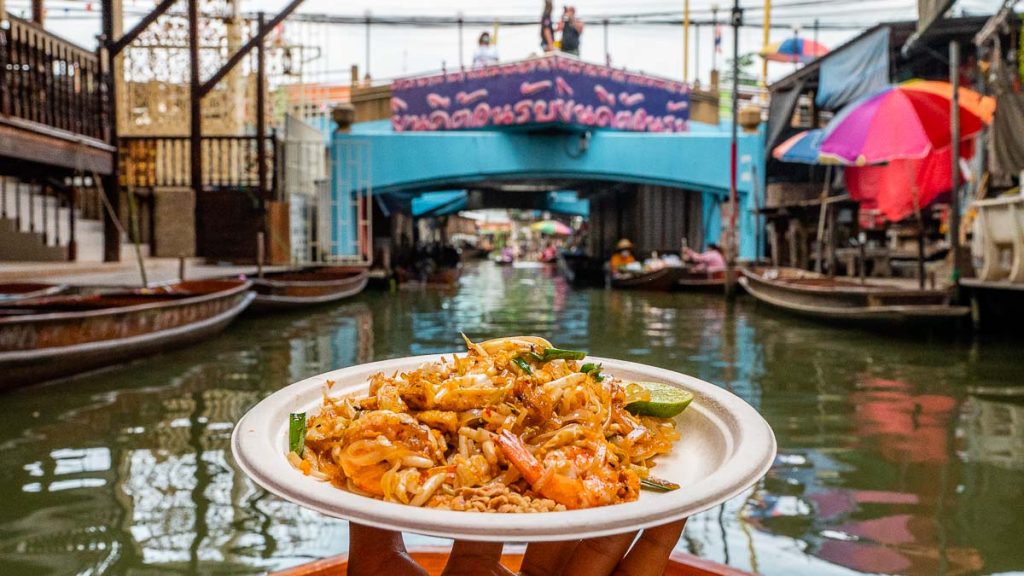 We got pad thai (฿60), coconut ice cream (฿60) and mango sticky rice (฿60)! The desserts were so good we returned for seconds.
Entrance fee: Free, ฿200 (~S$8) per pax for the boat
Opening hours: 7AM – 1PM
Address: 9 51 Damnoen Saduak, Damnoen Saduak District, Ratchaburi 70130, Thailand (21min drive from Mae Klong Railway Market)
Hua Hin Night Market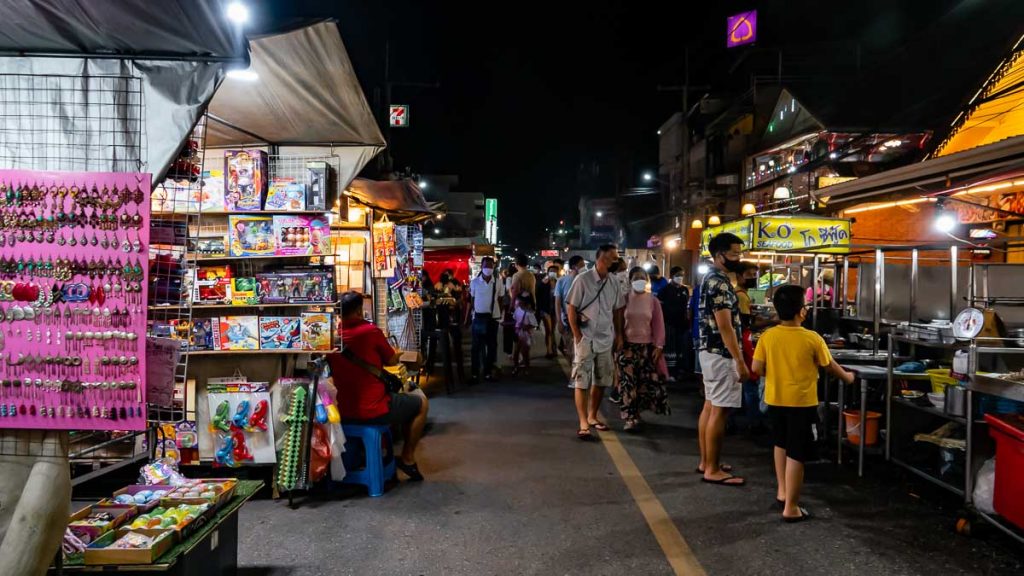 Hua Hin Night Market has street food, shops and massage spots. It pales in comparison to the larger markets in Bangkok, but there are several seafood restaurants that make great dinner options.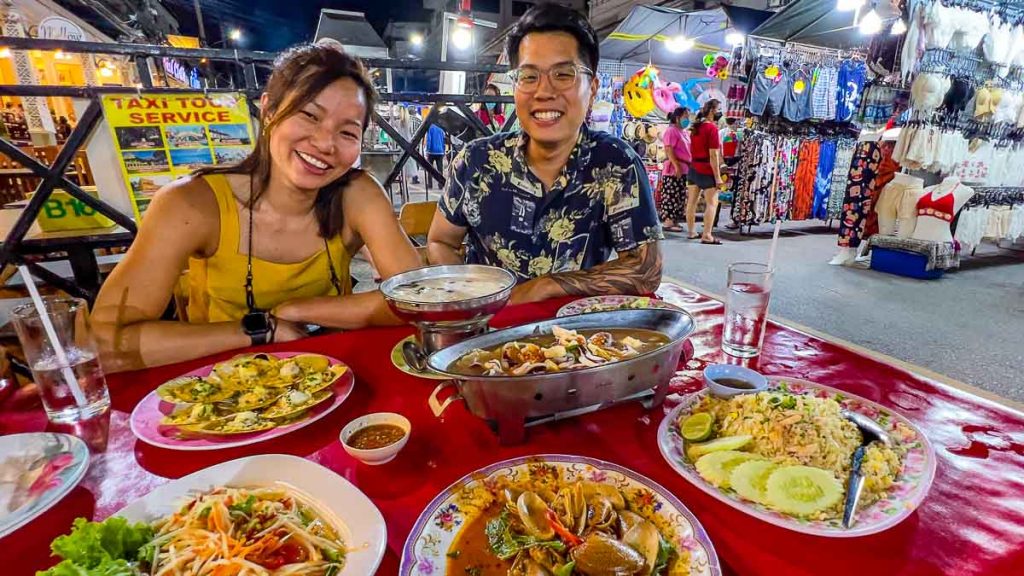 Dishes at Lung Ja Seafood Restaurant are affordable and generously portioned. Our favourite dishes include barbecue scallops (฿150), pineapple fried rice (฿150), and baby clams (฿120).
Cost: ~S$5 per dish
Opening hours: 6PM – 11PM
Address: Hua Hin 72, Hua Hin District, Prachuap Khiri Khan 77110, Thailand
Day 6: Tree Top Adventure, Kui Buri National Park
Tree Top Adventure Park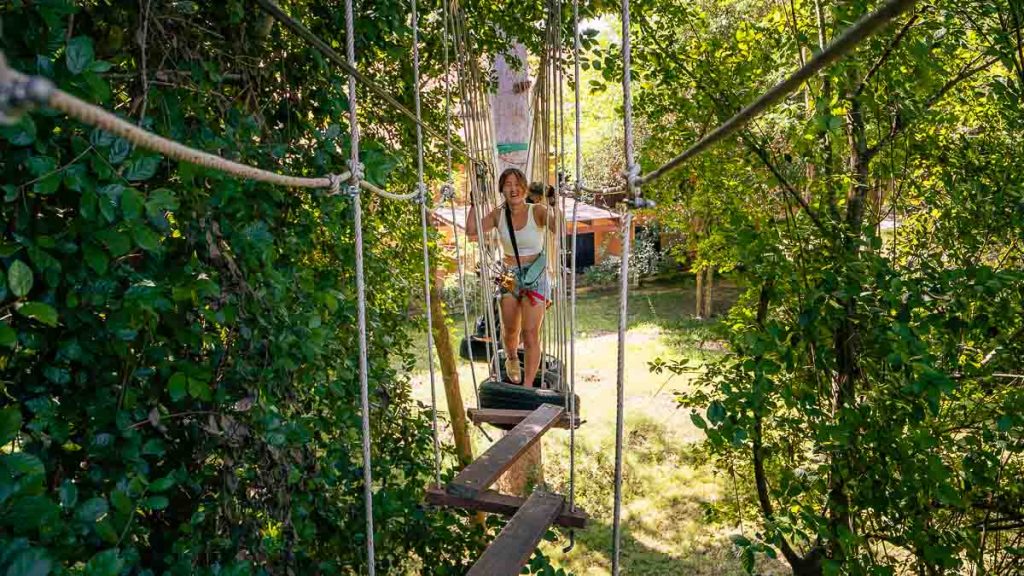 Craving a thrilling forest adventure? Just a 15-minute drive from Hua Hin's city centre lies Tree Top Adventure Park. The course has 25 exciting obstacles and takes about 90 minutes to complete.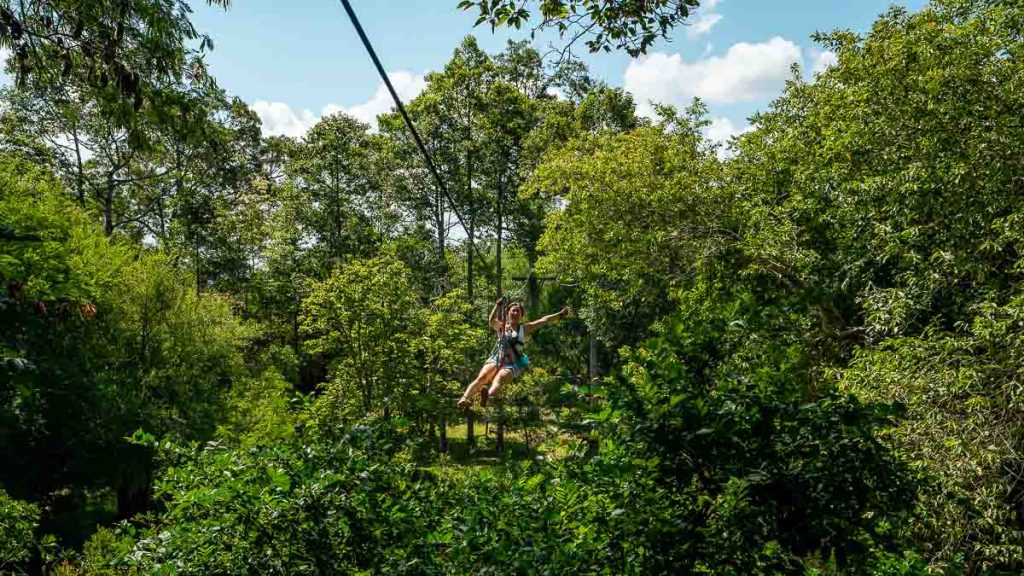 The course includes seven ziplines — including one that goes across a pond!
I've tried similar obstacle courses before, but there were a few sections that were new to me — like a flying skateboard! Thankfully, we were accompanied by a guide who helped to demonstrate how to cross unfamiliar obstacles.
Cost: ~S$30
Timings: 9AM – 11AM, 1PM – 3PM
Address: Vana Varin Resort Hua Hin Tubtai, Hua Hin, Prachuabkirikhan 77110 Thailand
Kui Buri National Park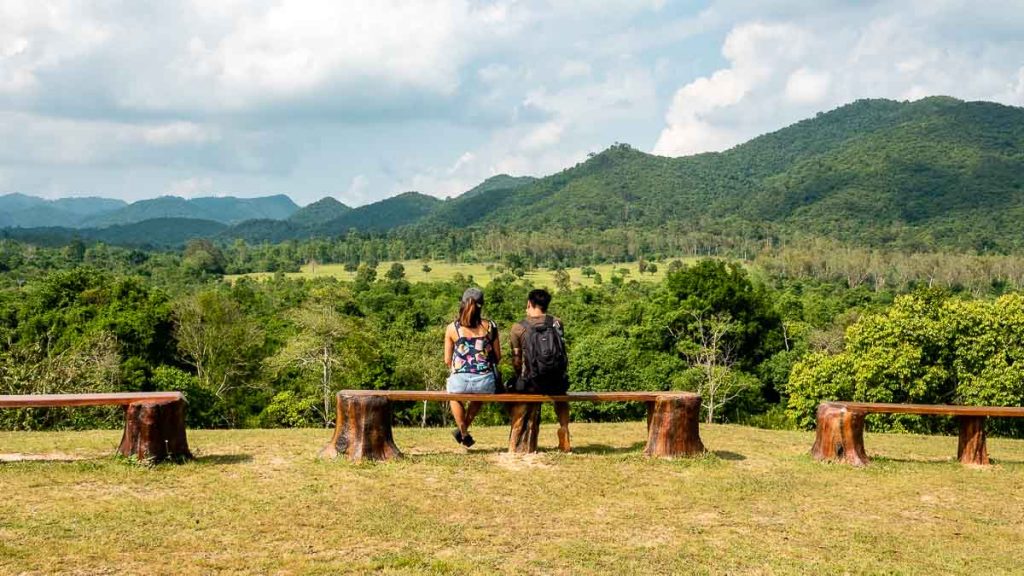 Kui Buri National Park covers a whopping 969 km² (that's larger than Singapore!) and is home to 300 wild elephants. It's a 90-minute drive from Hua Hin, with really scenic routes along the way.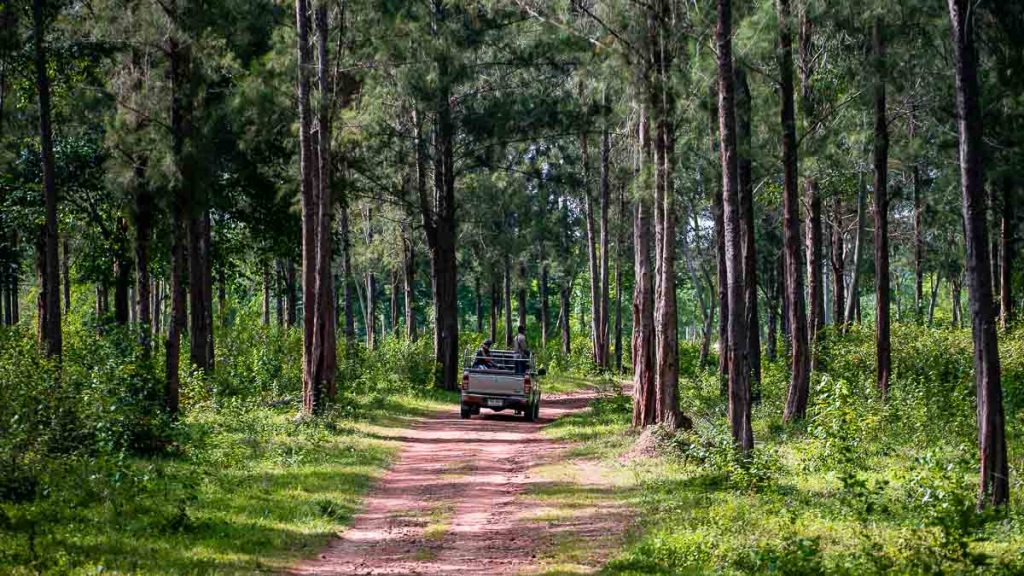 A safari tour (฿850/group, up to 8pax) is compulsory to explore the park and can be hired on the spot. It was my first time on an open-top safari jeep and I loved every bit of it.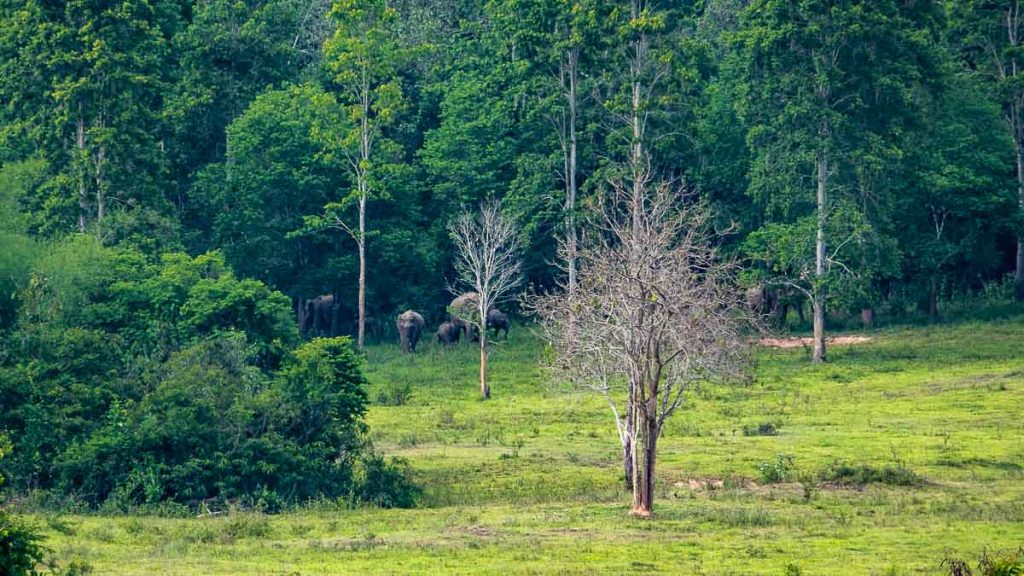 The elephants here are wild so sightings aren't guaranteed, but there's a 99% chance of seeing elephants on any given day! During our hour-long tour, we managed to spot eight. They were quite far away though — we'd recommend renting binoculars at the visitor centre.
Cost: ฿200/pax entry fee, ฿850/group for a safari tour
Opening hours: 2PM – 6PM
Address: 3J4G+Q9, Hat Kham, Kui Buri District, Prachuap Khiri Khan 77150, Thailand
Day 7: Khao Sam Roi Yot National Park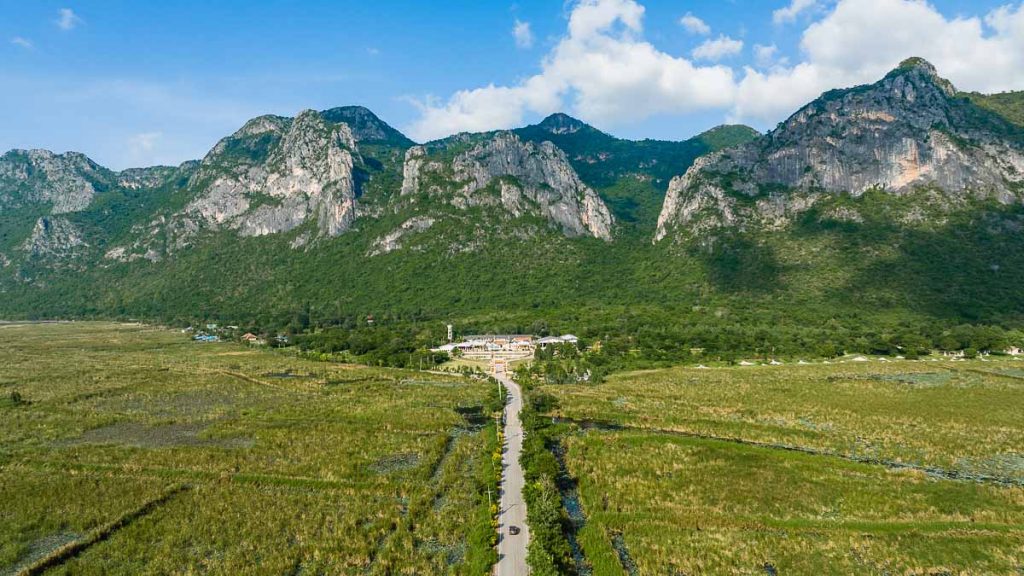 The best thing to do on a road trip to Hua Hin, in my opinion, is exploring Khao Sam Roi Yot National Park. Khao Sam Roi Yot translates to "mountain with three hundred peaks", which refers to the park's series of limestone hills.
This national park has several bucket list worthy highlights — we recommend spending a full day here! Here are the best things to do:
Khao Daeng Viewpoint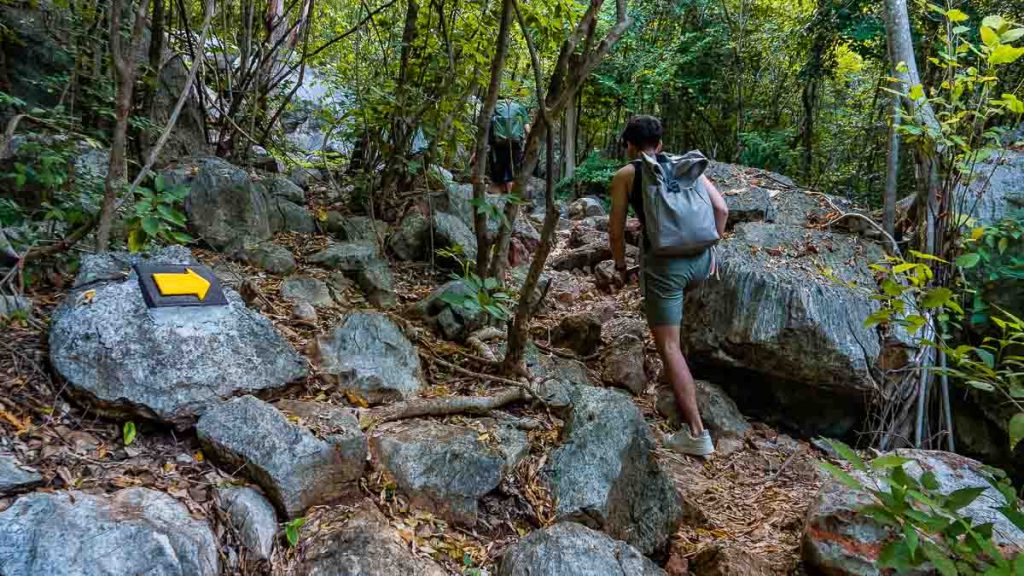 Our first hike of the day was to Khao Daeng Viewpoint. Khao Daeng is a famous sunrise spot so it's best to come early! The route is unpaved but clearly marked with yellow arrows and we took 30 minutes to reach the top.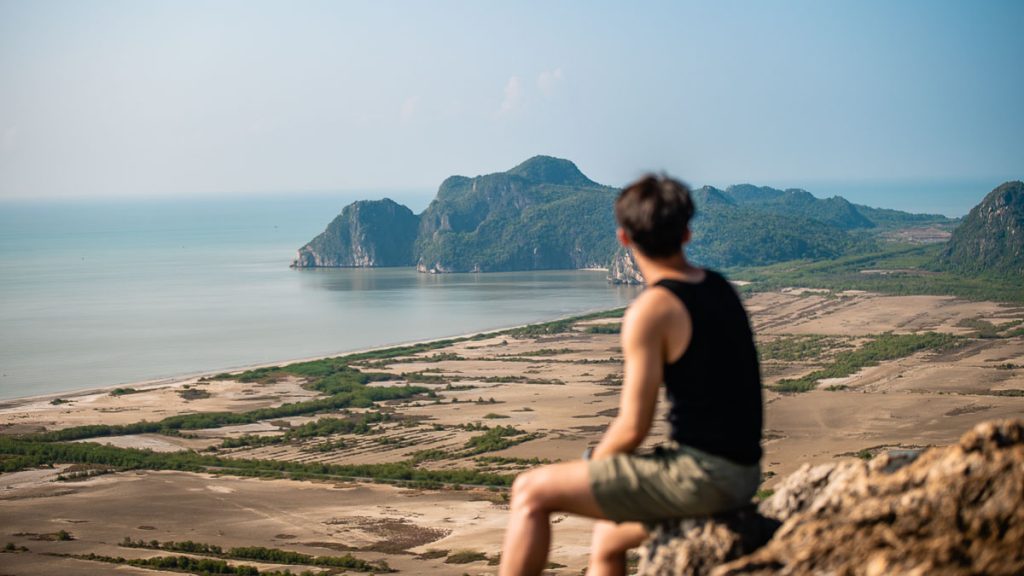 At the 157m-high peak, we were rewarded with panoramic views of the Gulf of Thailand and the surrounding mountain range.
*Pro-tip: Keep your entrance ticket as you'll need it for entry to different parts of the park!
Entrance fee: ฿200
Opening hours: 8AM – 3PM
Address: 4XH5+X42, Khao Daeng, Kui Buri District, Prachuap Khiri Khan 77150, Thailand. Park at Khao Sam Roi Yot National Park Visitor Centre.
Phraya Nakhon Cave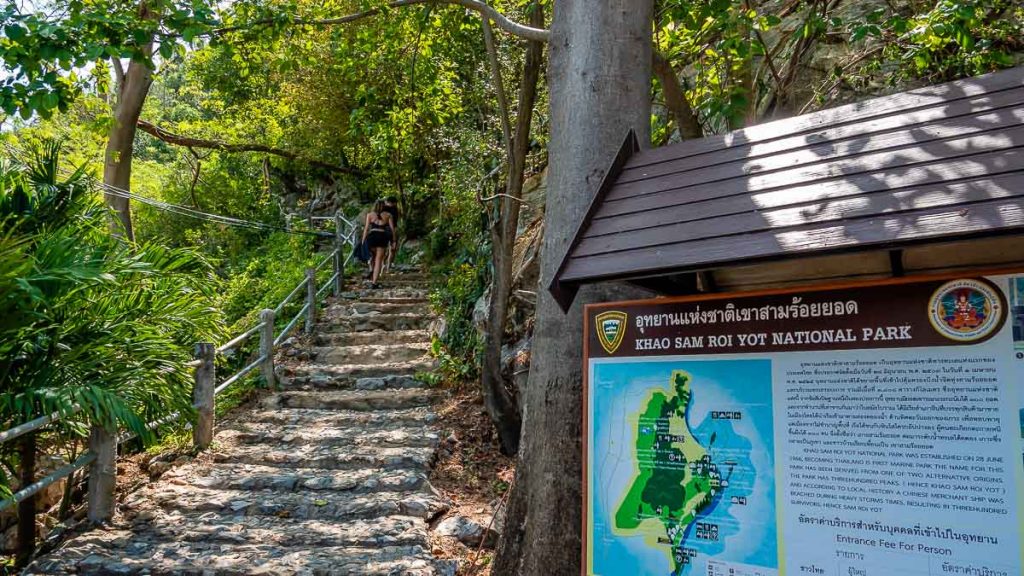 Our second hike was to the iconic Phraya Nakhon Cave. The route is split into two sections — the first was a 20-minute hike along the coast.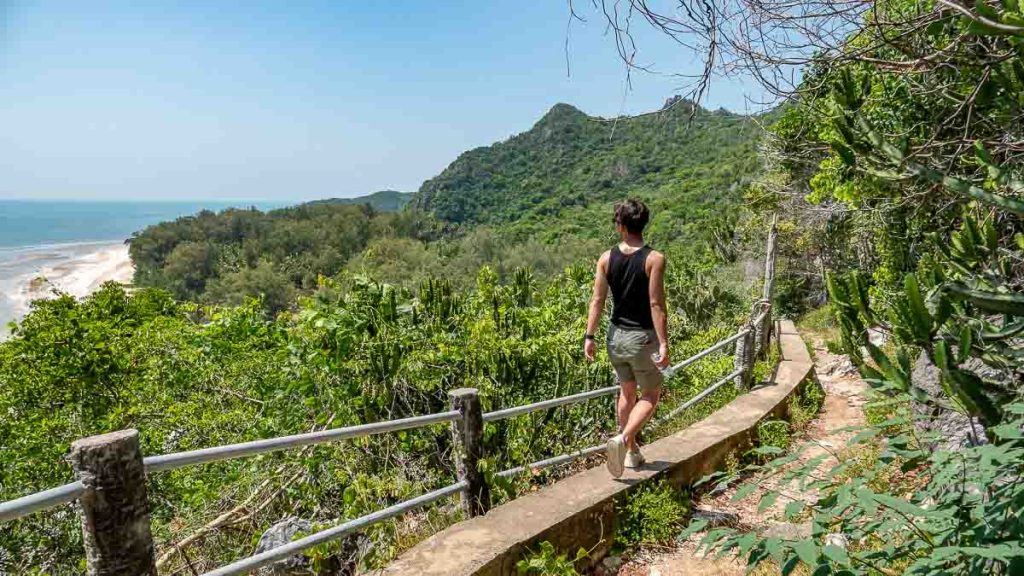 Fair warning, this portion has some steep sections and most of it isn't shaded — so bring lots of water and sunblock! The first section ends at Laem Sala Beach, where we stopped for drinks at a restaurant.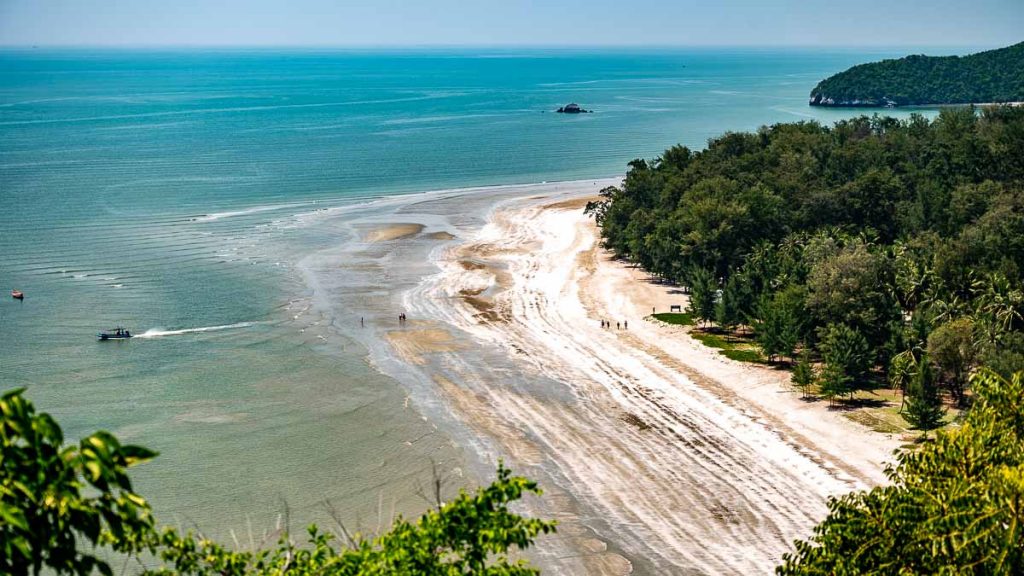 There's an option to skip this first section by taking a short boat ride (฿200/pax one-way) from near the entrance of the hike.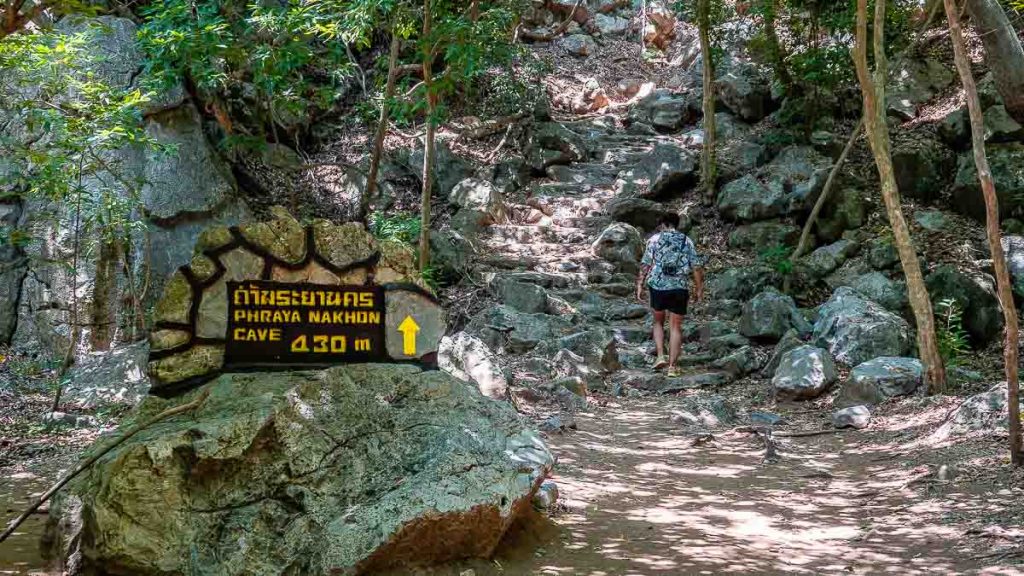 The second half of the hike is a 25-minute uphill climb to Phraya Nakhon Cave. Thankfully, the path is shaded by tall trees.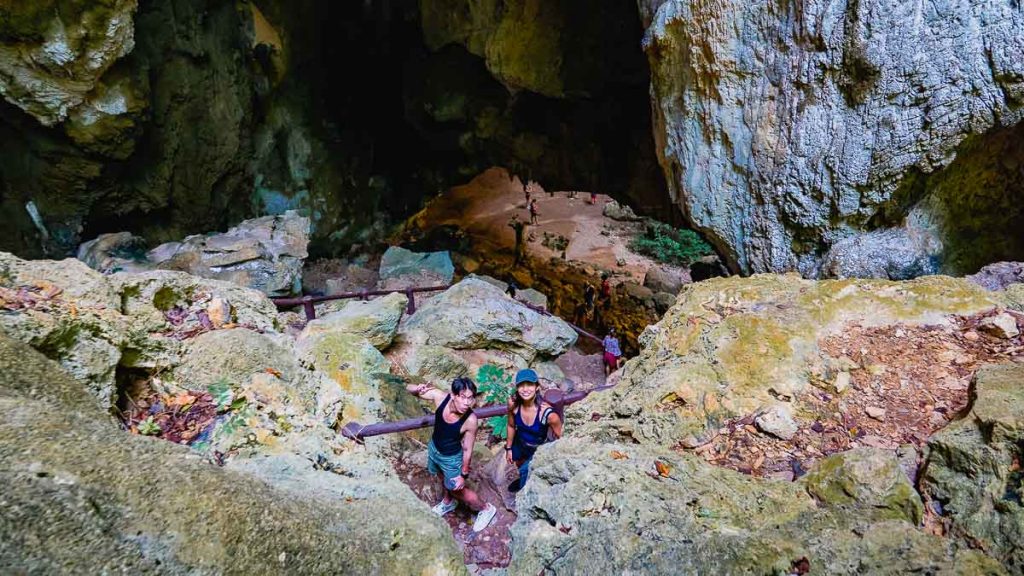 Once you hike up 430 metres, it's a descent down several flights of stairs into Phraya Nakhon Cave. By this time we were already pretty tired and we were grateful the air was a lot cooler here.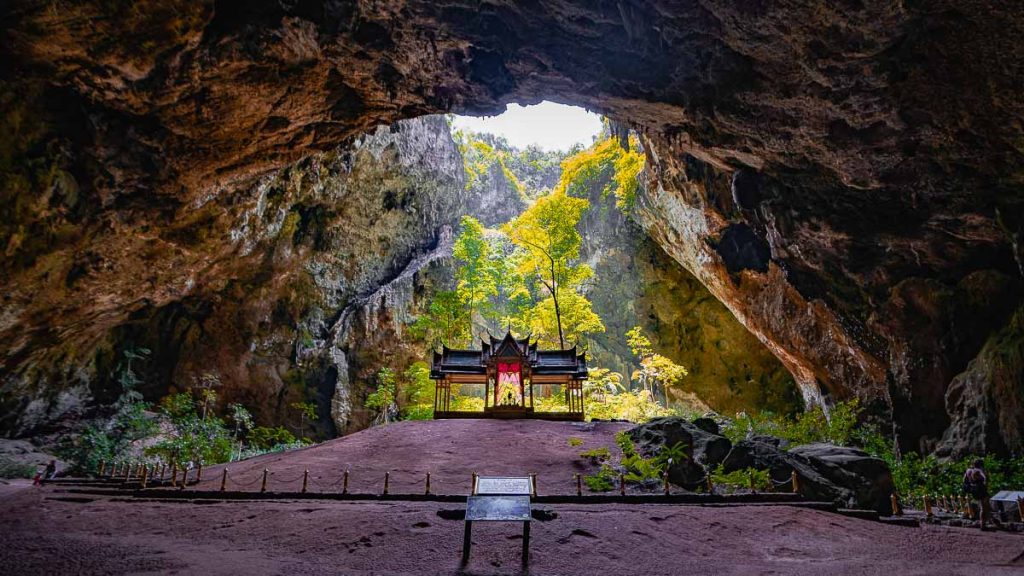 Hike a little further down to reach the main attraction, Khuha Kharuehat Pavilion — built in 1890 in honour of King Chulalongkorn (Rama V)! This cave has been visited by several kings including King Prajadhipok (Rama VII), who inscribed his name on cavern walls.
*Pro-tip: Aim to arrive between 10:30AM and 12PM when the sun is directly above the cave! It casts a beautiful light over the pavilion.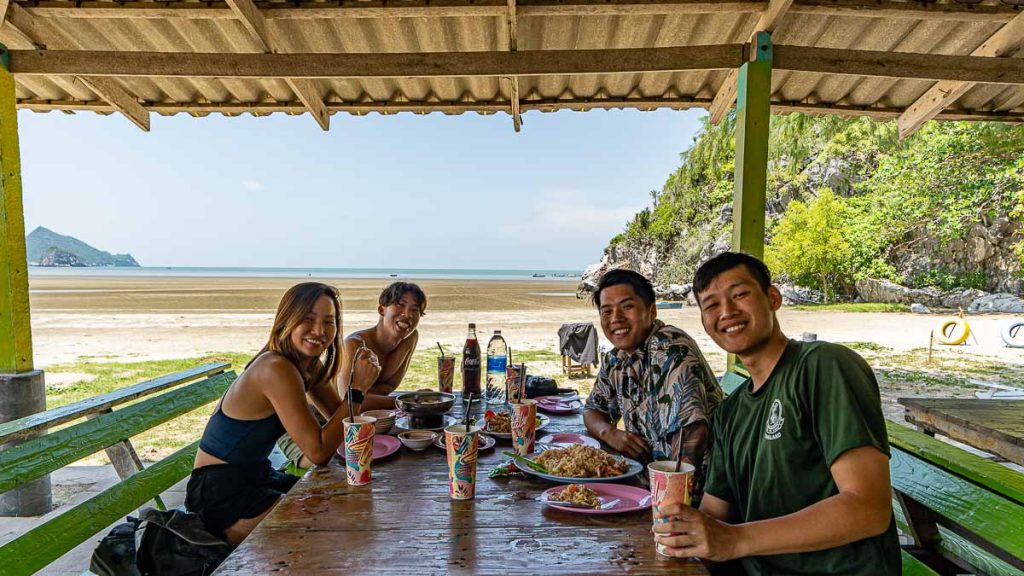 For lunch, we hiked back to the starting point and had lunch at a beachside restaurant beside the carpark. We had six dishes including pad Thai, curries, and fruit smoothies and paid ฿310 (S$12) each.
Phraya Nakhon Cave
Opening hours: 8AM – 3PM
Address: Park at Bang Pu Beach (6246+C42, Ro Pho Cho Prachuap Khiri Khan 2107 Rd, Sam Roi Yot District, Prachuap Khiri Khan 77120, Thailand). It's a 20min drive from Khao Daeng Viewpoint
Thung Sam Roi Yot Freshwater Marsh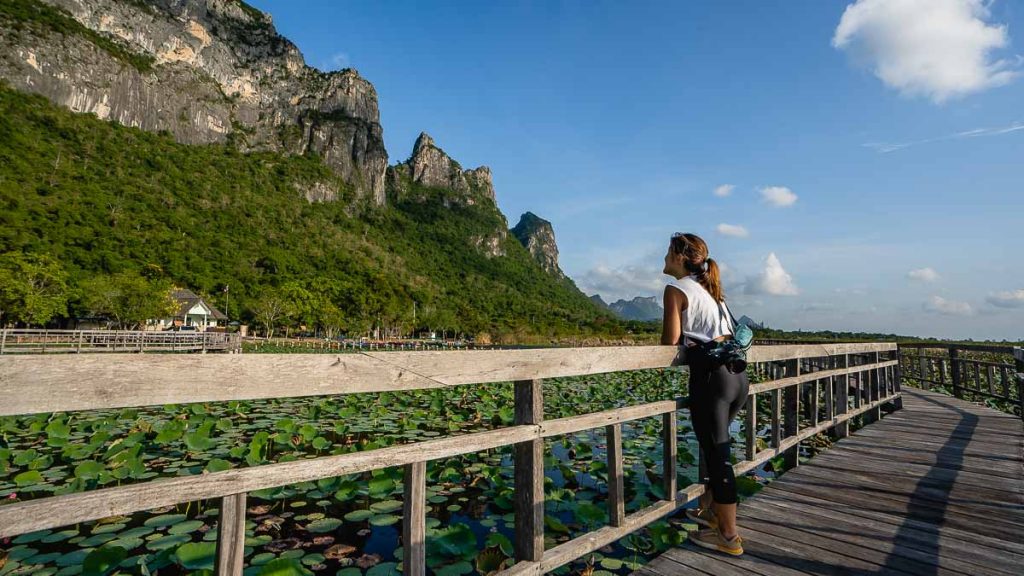 Thung Sam Roi Yot Freshwater Marsh was my favourite part of Khao Sam Roi Yot National Park. It's the picture of serenity — a calm freshwater lake covered in lotus leaves and flowers with majestic mountains in the background.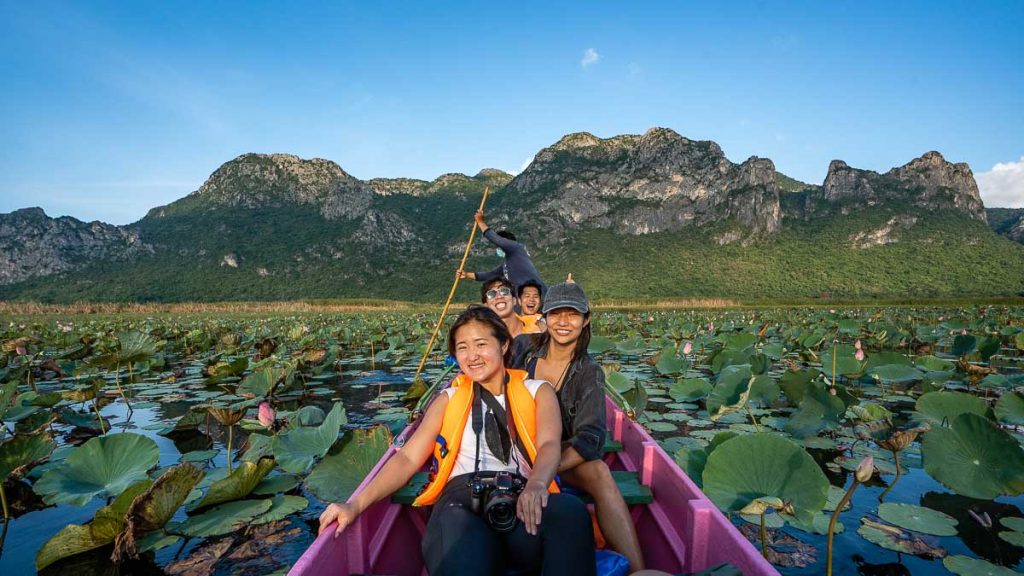 After walking along the boardwalk, we recommend hiring an hour-long boat service that takes you on a tour of the lake. We went around 4:30PM and managed to enjoy golden hour onboard!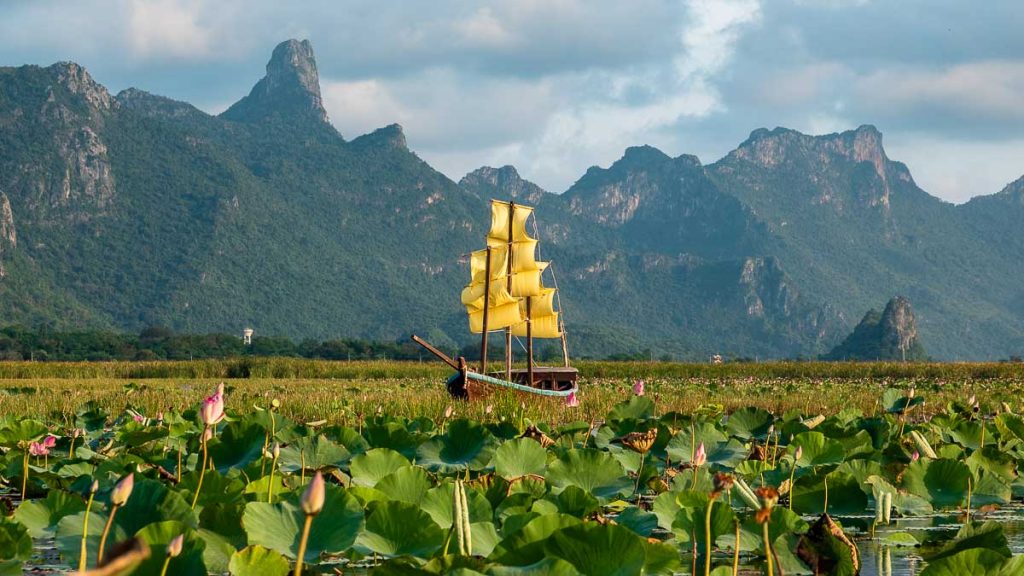 The boat ride allows you to truly take in the grandeur of the surrounding mountains. Our boatman even stopped at several good photo spots!
Cost: ฿500/boat (sits up to 5 pax)
Opening hours: 8AM – 4:30PM
Address: Sam Roi Yot, Sam Roi Yot District, Prachuap Khiri Khan 77120, Thailand
Day 8: Hua Hin's Beautiful Beaches and Waterpark
Khao Kalok Beach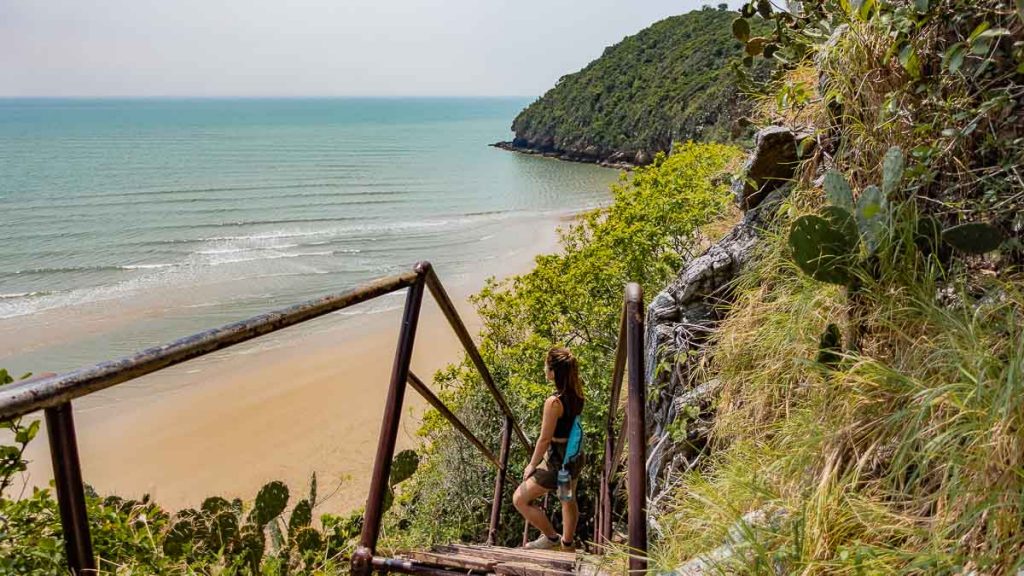 Khao Kalok Beach is a real hidden gem. During the two hours we were there, I only saw four other tourists. There's a short 20-minute coastal hike to the neighbouring Say Beach that we'd recommend going on!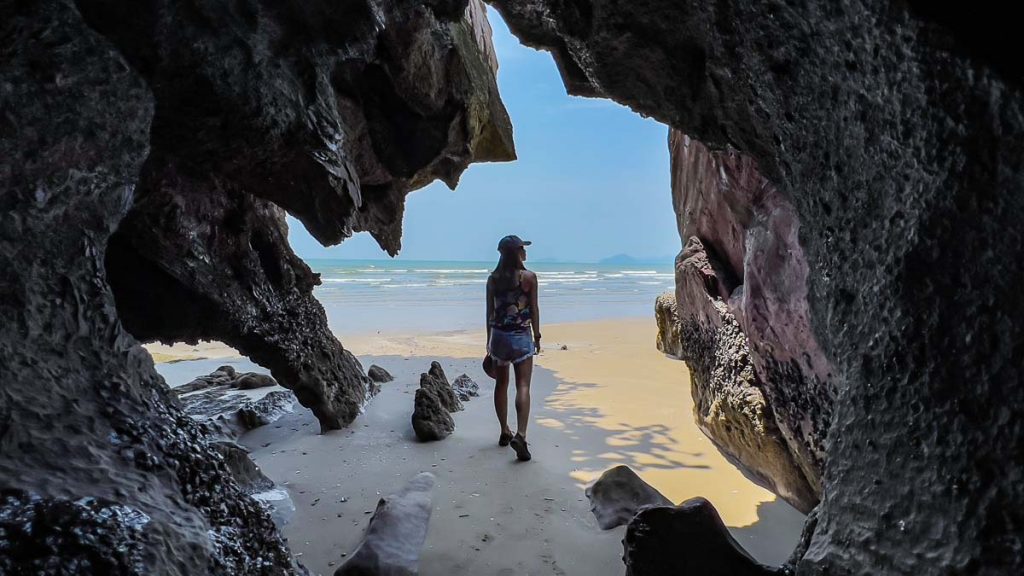 We were the only people at Say Beach and it felt like our own private paradise. Despite being a short distance away, this beach was like another world. We saw beautiful red caves (limestone, perhaps?) and massive cacti growing along the coast.
Opening hours: 24 hours
Address: 29/99 Soi Moo Baan Nong Kae, Tambon Nong Kae, Amphoe Hua Hin, Chang Wat Prachuap Khiri
Vana Nava Waterpark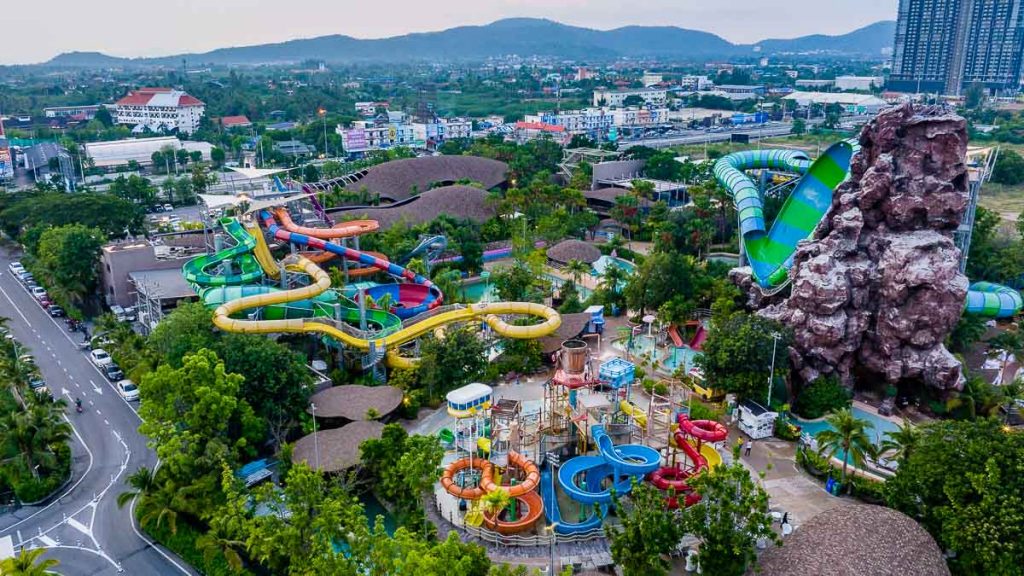 Vana Nava Waterpark isn't the largest waterpark around, but it has some impressive attractions.
Like Asia's first VR water slide! We were given VR goggles and got to pick from three themes (snow, jungle, or galaxy). The drops in the VR scenes matched the actual drops which made the ride a lot more thrilling.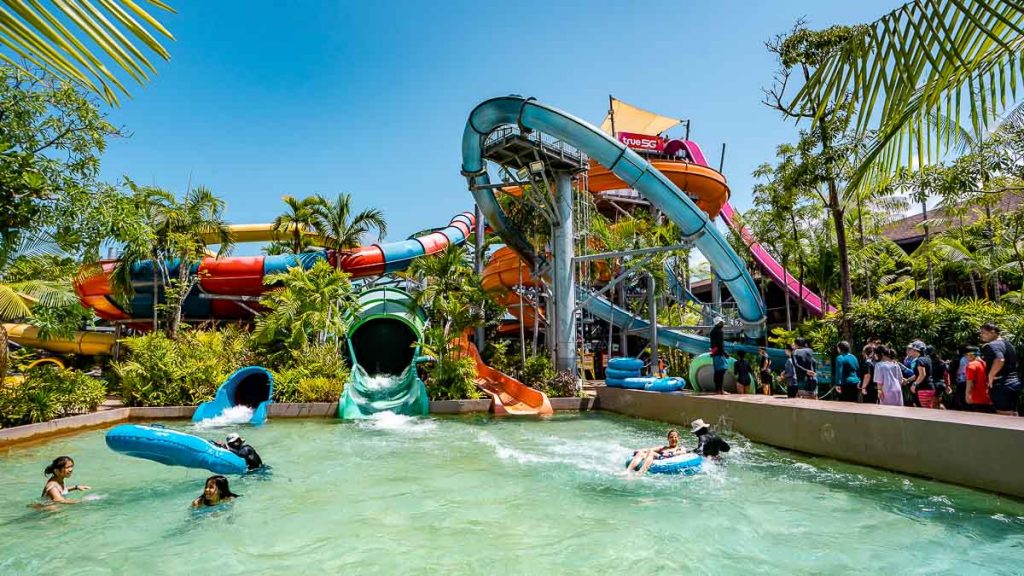 The waterpark is also home to Thailand's largest waterslide, Abyss, and longest slide, Boomerango.
Entrance fee: ~S$41 (incl. unlimited VR slide, locker and towel)
Opening hours: 11AM – 5PM
Address: Pak Nam Pran, Pran Buri District, Prachuap Khiri Khan 77120, Thailand
Kiteboarding at Hua Hin Beach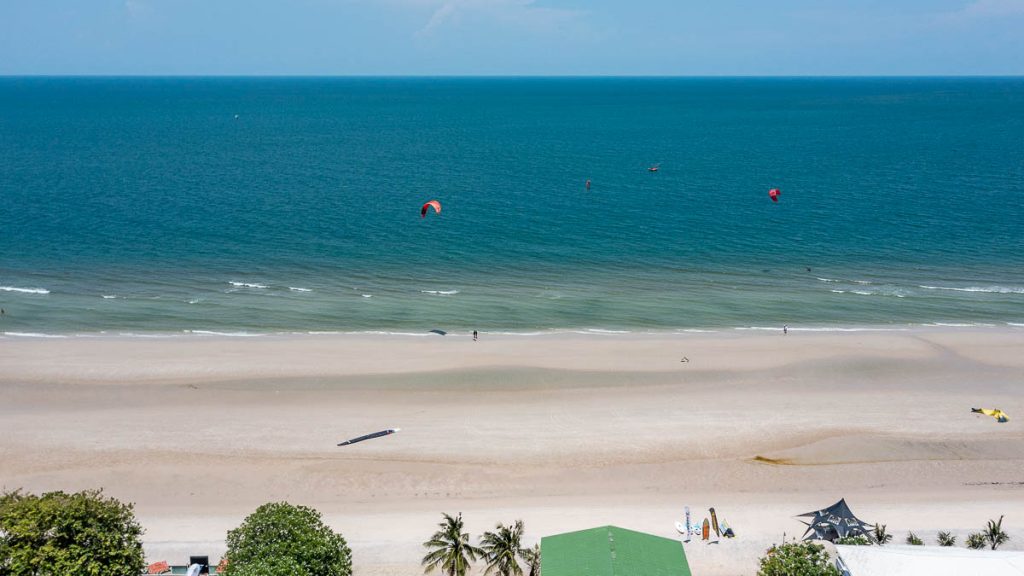 Our team loves trying new sports, so we couldn't resist signing up for a kiteboarding class after learning that Hua Hin was home to Thailand's first kiteboarding school!
Cherie opted for the longer course which covers all the fundamentals from setting up the kite on land to controlling the kite.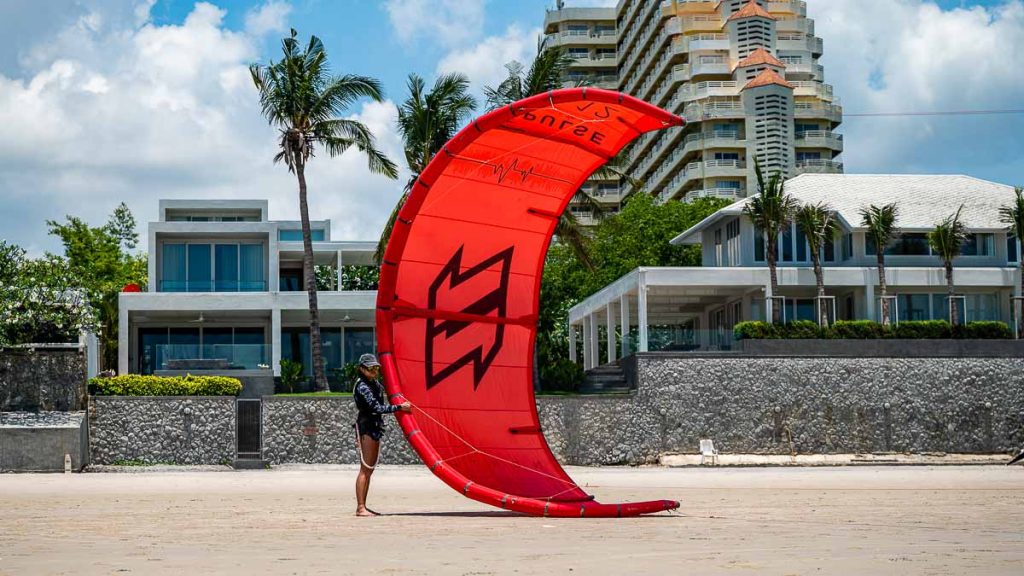 90% of kiteboarding is in fact learning to control the kite so don't be disappointed if you don't get strapped on the board during your very first class!
This sport is wind-dependent so while the beach is known to get quite a bit of wind in the middle of the day, you might have to wait it out a little before the winds pick up sufficiently.
Cost: ~S$70 for a 1hr lesson
Opening hours: 9AM – 5PM
Address: 143/8 Hua Hin 75/1 Alley, Hua Hin, Hua Hin District, Prachuap Khiri Khan 77110, Thailand
Stay for sunset after your lesson — it's the perfect way to end the trip before driving back to Bangkok!
Where to Stay in Bangkok and Hua Hin
Bangkok (4 nights)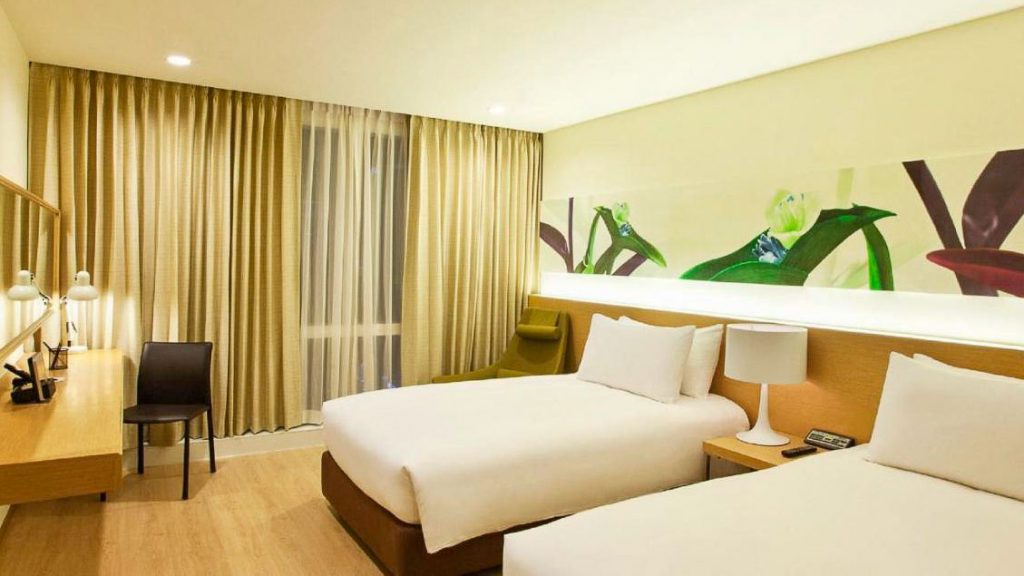 Photo credit: VELA Dhi GLOW Pratunam
VELA Dhi GLOW Pratunam is located in the heart of Bangkok. It's opposite Platinum Mall, with other big malls like Siam Paragon and CentralWorld nearby. You can easily drop off your shopping before going for round two!
Cost: From ~S$107/night for a Deluxe Room
Address: 919 Phetchaburi Rd, Thanon Phaya Thai, Ratchathewi, Bangkok 10400, Thailand
Hua Hin (3 nights)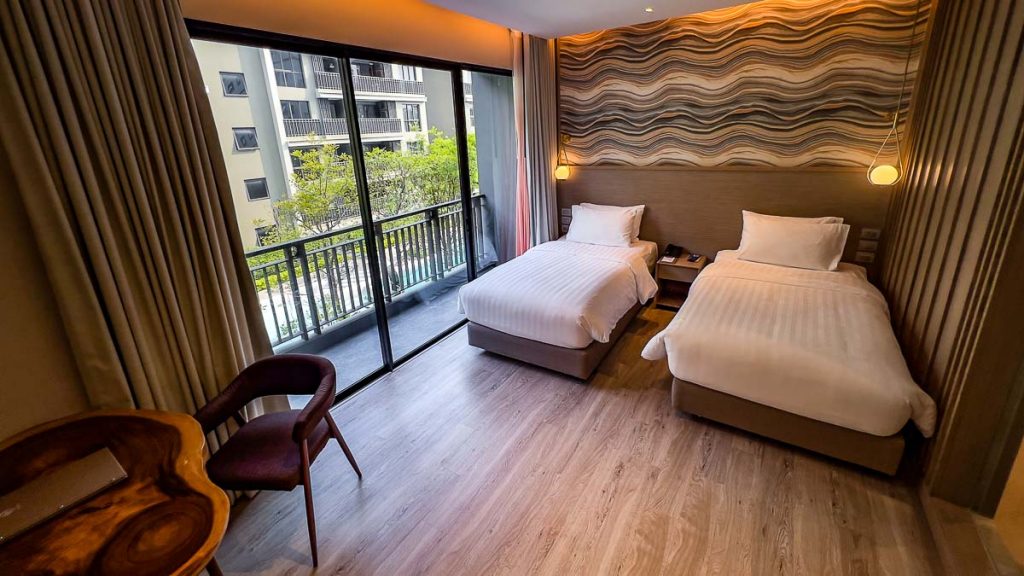 Maven Stylish Hotel was a great base in Hua Hin, being walking distance from Hua Hin Night Market and Hua Hin Beach! Free breakfast is also included — with Western, Thai and Vegan menus available.
Cost: From ~S$90/night for a Deluxe Room (incl. breakfast)
Address: 120 99 Petchkasem Rd, Hua Hin, Hua Hin District, Prachuap Khiri Khan 77110, Thailand
Road Tripping from Bangkok to Hua Hin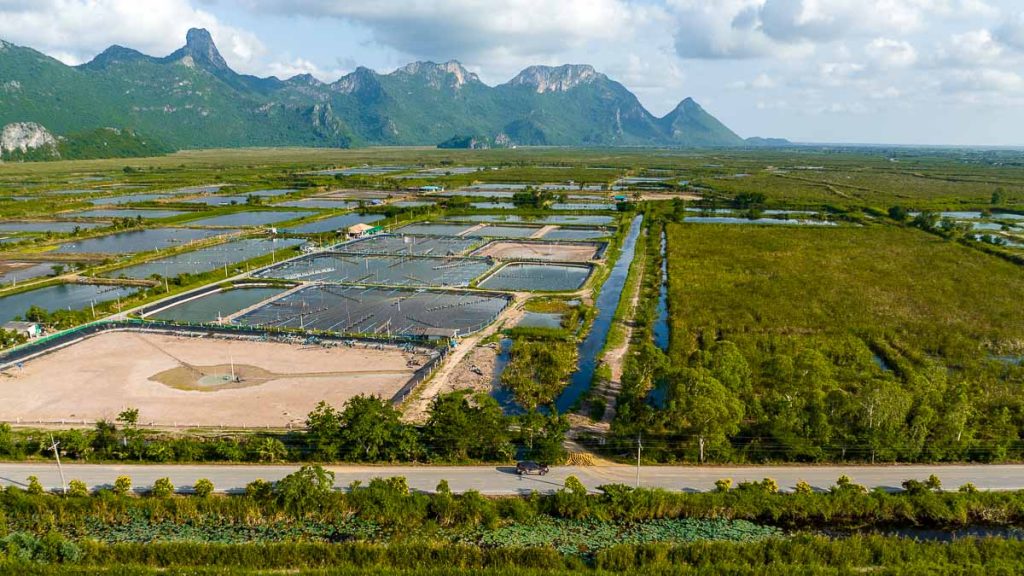 Budget Breakdown
Accommodation: S$236.70
Transport: S$261.35 (incl. flights, prices as of June 2022)
Activities: S$218.47
Food: S$160
Misc: S$11.98
Total: S$888.51
(detailed breakdown for one pax here)
A Thailand road trip was something I'd never considered before. But after our eight days exploring Bangkok and Hua Hin, I'm convinced.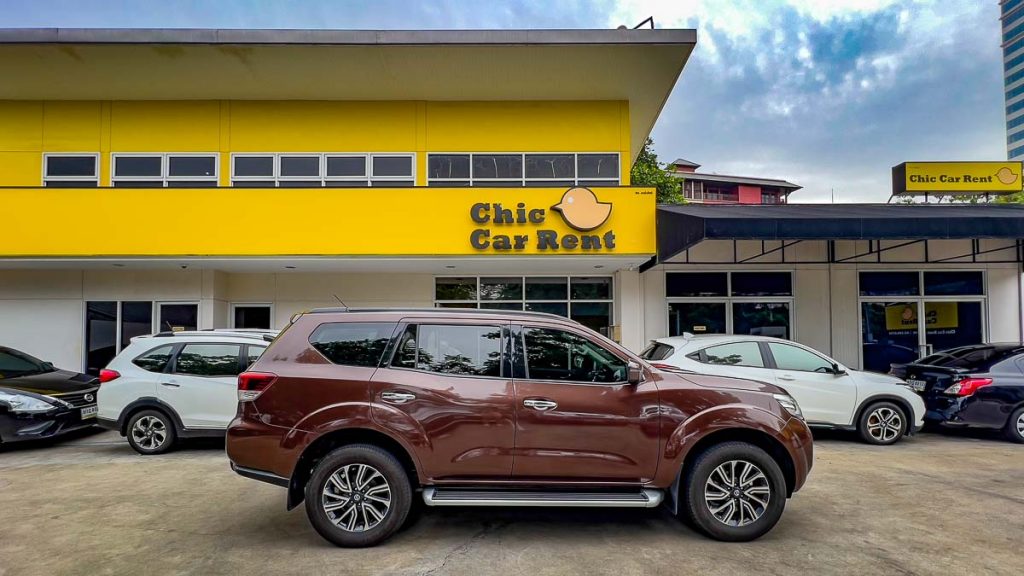 Renting a car via Klook was fuss-free, with several pickup points around Bangkok. Just remember to bring your passport (digital copies aren't allowed) and international driving permit!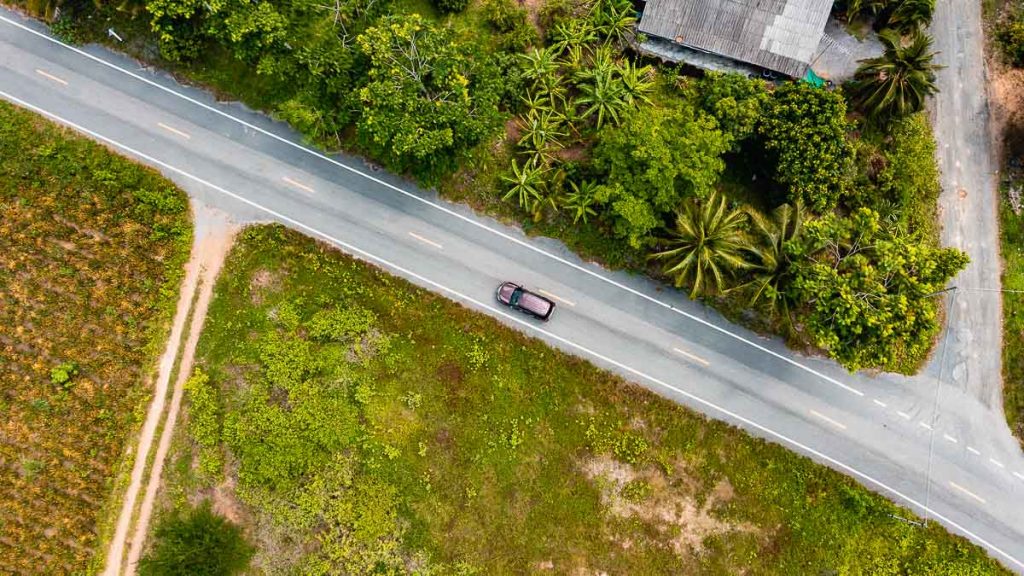 To be honest, we were slightly nervous about driving in Thailand. Bangkok is after all known for ridiculous traffic! But the roads were actually really manageable, and once you leave the city there's significantly fewer cars.
Navigating with Google Maps was easy and it helped that the main attractions are marked with clear road signs. The Hua Hin countryside was also unbelievably scenic, making the drive so much fun.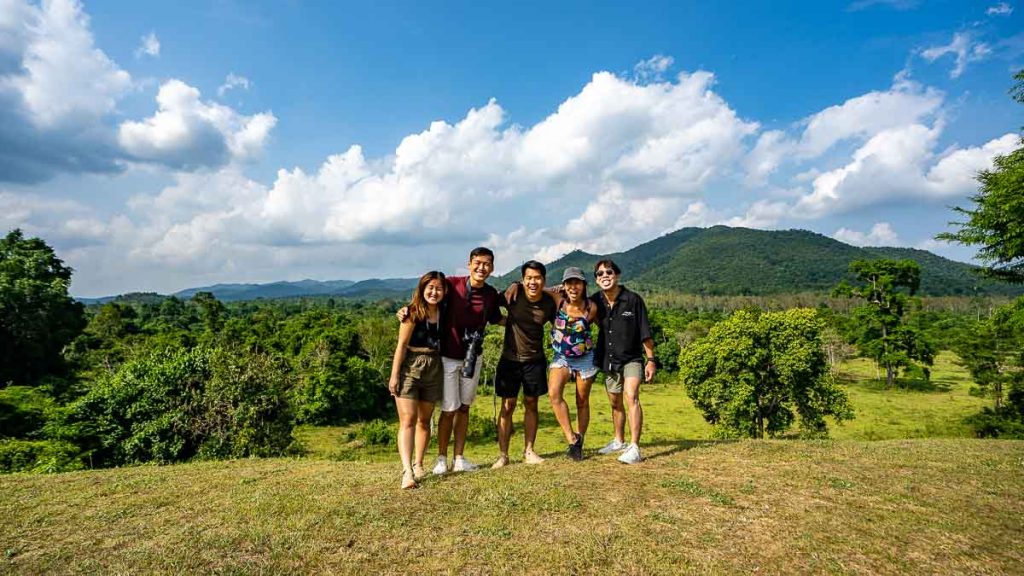 While I loved revisiting familiar favourites in Bangkok, the experiences outside the city were more memorable. We got to see wild elephants, take on several amazing hikes and visit beautiful beaches!
Planning a trip to Thailand? Here are some guides to get you started:
– The Ultimate Phuket Guide — 27 Fun Things to Do for an Adventure-Packed Holiday
– 13 Instagrammable Places in Thailand That Aren't In Bangkok, Phuket or Krabi
Have anything to add to our Bangkok itinerary? Share with us in the comments!
---
This post was brought to you by Klook.