Get to know this quieter but just as exciting part of Bali — P.S. quote "CITIXPLORE" for up to S$100 off your Traveloka bookings with Citi Credit Cards!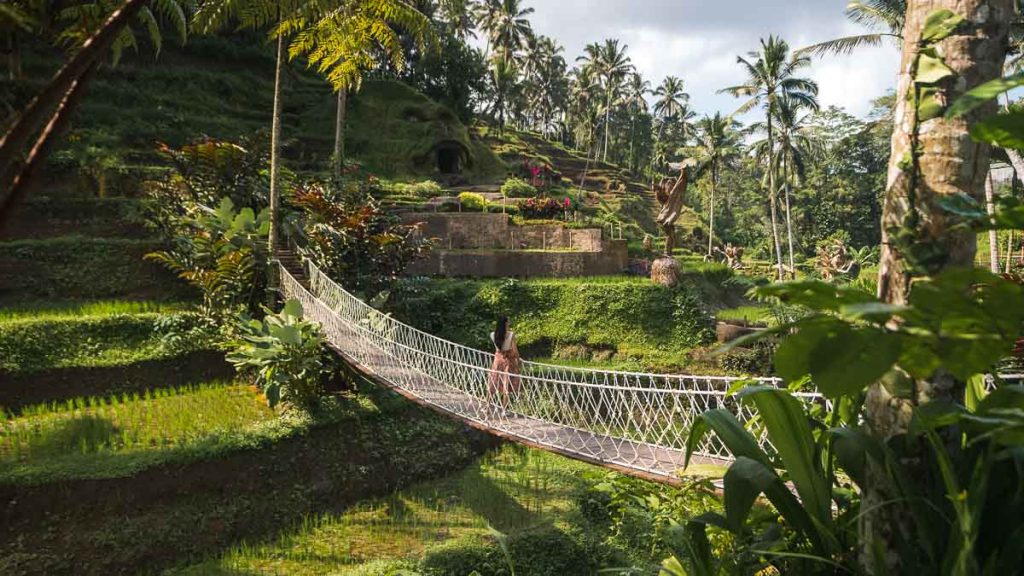 Good food, cheap flights, and gorgeous villas, Bali needs no introduction to Singaporeans. Since the country reopened to travellers once again, we decided we'd explore further north in Ubud to escape from the crowds.
Read also: One-Week Bali Itinerary — The Lesser Known Side Most Tourists Miss
Pre-trip Essentials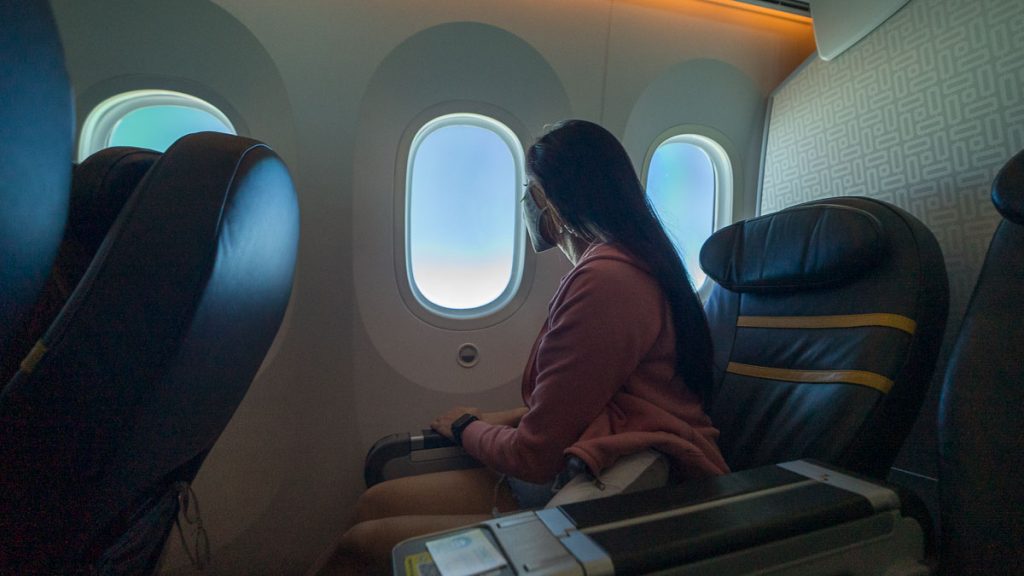 Pre-departure test: Not required from Singapore since 18 May 2022
Visa: Singaporeans can visit visa-free for 30 days
Transport: Most tourists rent a car or bikes (moped) from ~S$10/day or get around with ride hailing services. For budget travellers, local buses are also available — eight buses that run across Bali costing from Rp20,000 (~S$1.85) a trip.
Connectivity: XL Axiata, 15GB for Rp250,000 (~S$23) — available at the airport after immigration
Accommodation in Ubud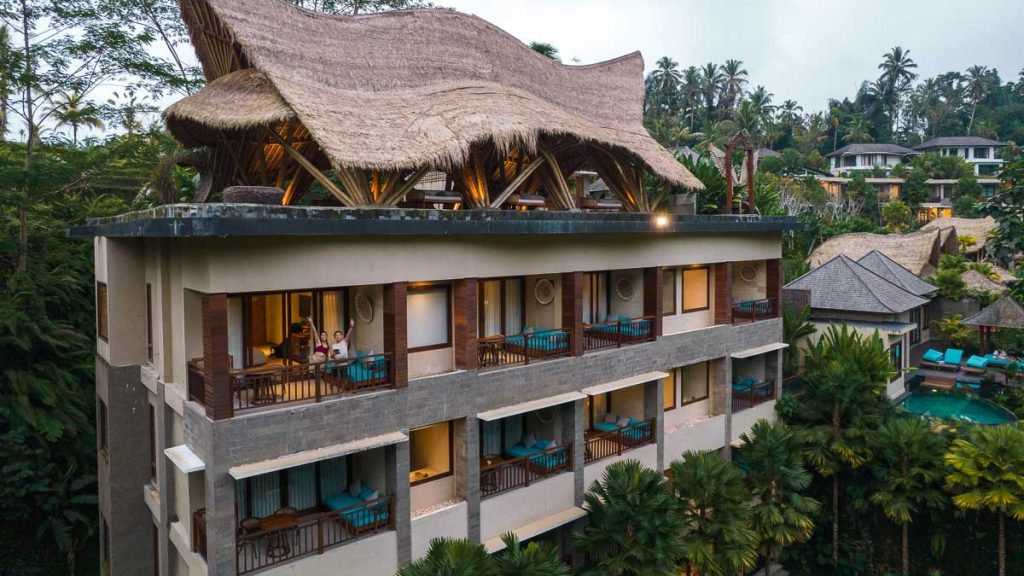 Located in Kenderan Village, we stayed at Aksari Ubud Resort that's 25 minutes away from Central Ubud. The resort comes with an infinity pool that overlooks a green valley and a lush forest.
And, compared to bustling areas like Canggu and Seminyak, it's relatively cheaper to stay in Ubud!
Cost: From S$161/night
Address: Jl. Raya Desa Kenderan No.88x, Ubud, Ubud, Tegallalang, Bali 80561
*Pro-tip: Quote "CITIXPLORE" for up to S$100 off Traveloka app bookings with Citi Credit Cards.
Read also: Ultimate Bali Accommodation Guide — Value for Money Hostels to Affordably Luxurious Villas
Day 1: Explore Ubud's Neighbourhood
We planned our itinerary to arrive in Bali in the morning, giving us plenty of time to explore Central Ubud after checking in.
The Ubud Royal Palace (Puri Saren Agung)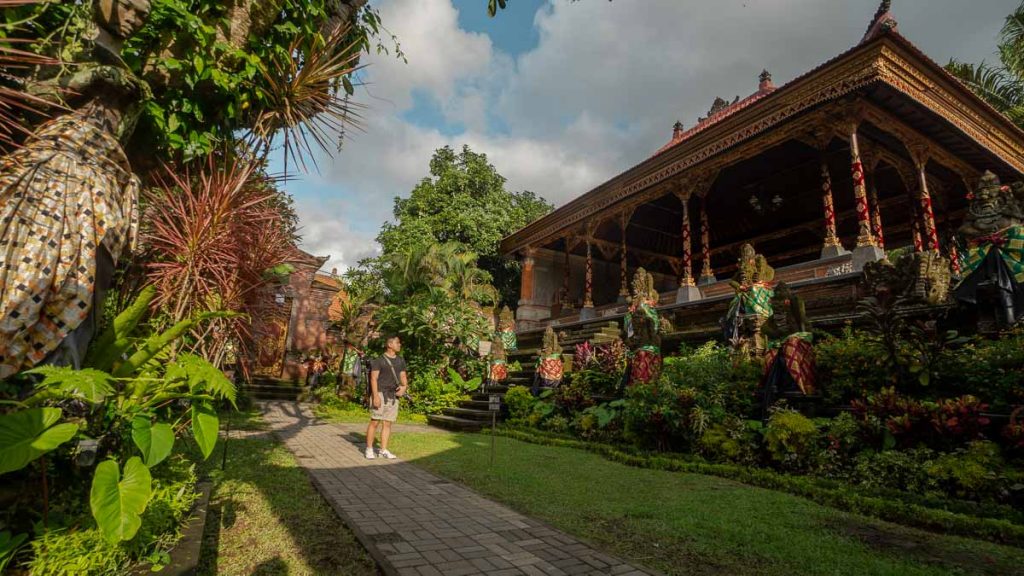 This popular landmark in Central Ubud was built in the 1900s for the Ubud royal family. Tour the palace grounds and you'll find lots of intricate art carved into the walls and doorways of this historic site.
Entrance fee: Free
Opening hours: 8AM – 7PM
Address: Jl. Raya Ubud No.8, Ubud, Kecamatan Ubud, Kabupaten Gianyar, Bali 80571
*Pro-tip: Head there in the evening for the traditional Balinese dance performance at 7:30PM daily (Rp100,000, ~S$9)
Saraswati Temple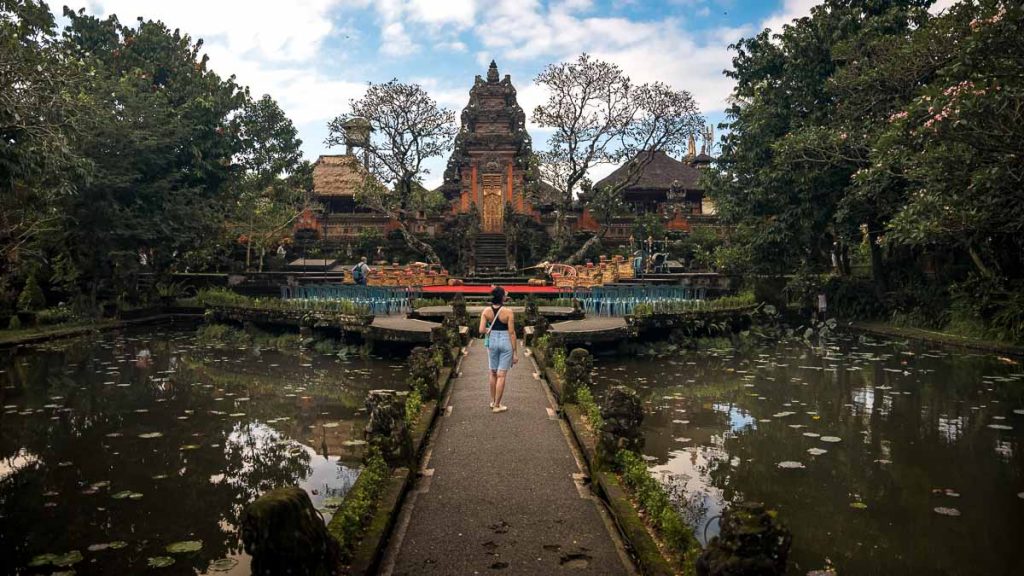 This temple is dedicated to Saraswati, a Hindu goddess that inspires creativity. The name loosely translates to She Who Has an Abundance of Water, which could be why the temple is also known as the Ubud Water Palace.
Origin story aside, this place of worship is beautiful to see. The lily ponds leading to the temple make it a popular photo spot too.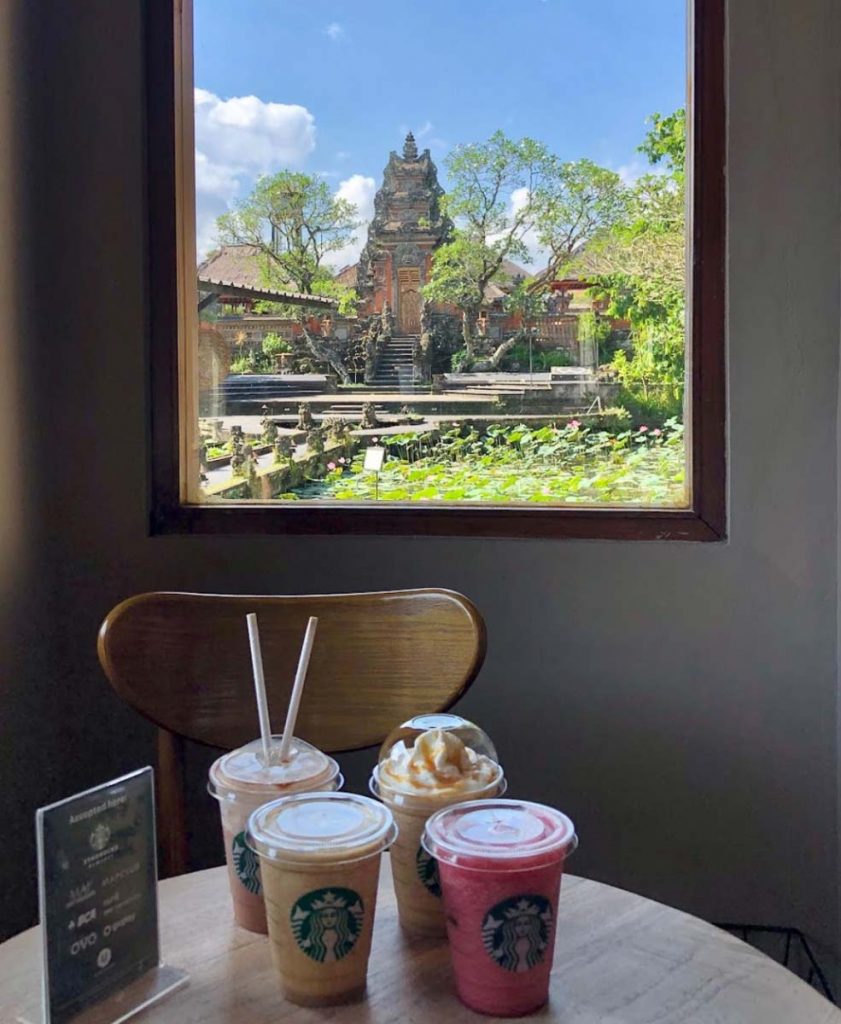 Photo credit: Iris via Google Reviews
Entrance fee: Free
Opening hours: 7AM – 5PM
Address: F7V6+PJ4, Jl. Kajeng, Ubud, Kecamatan Ubud, Kabupaten Gianyar, Bali 80571
*Pro-tip: Enjoy an iced frappuccino at the two-storey Starbucks at the entrance where you'll have an aerial view of the temple grounds.
Campuhan Ridge Walk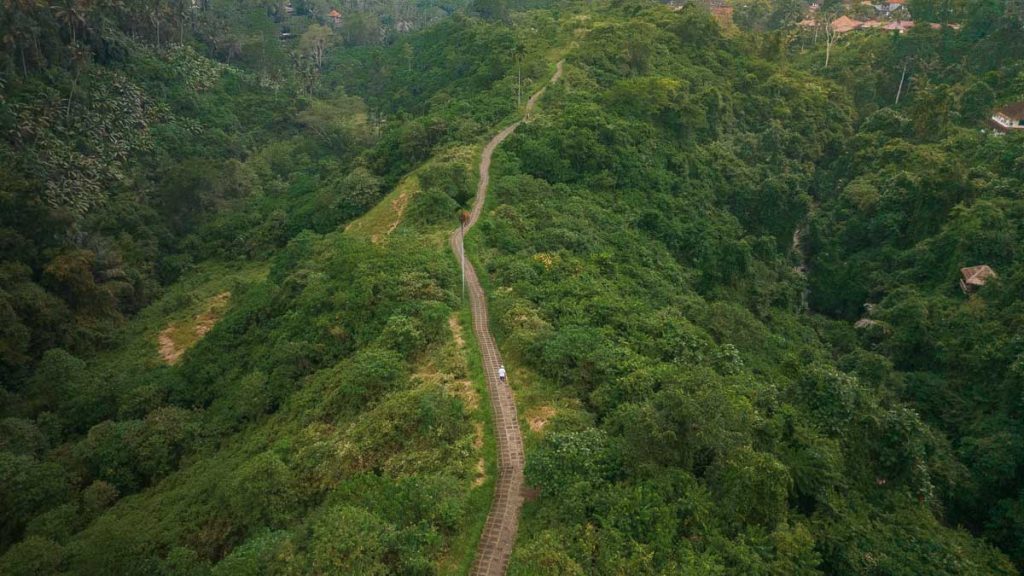 Wrap up day one with a quick stroll at Campuhan Ridge Walk, one of the best places to enjoy a Balinese sunset.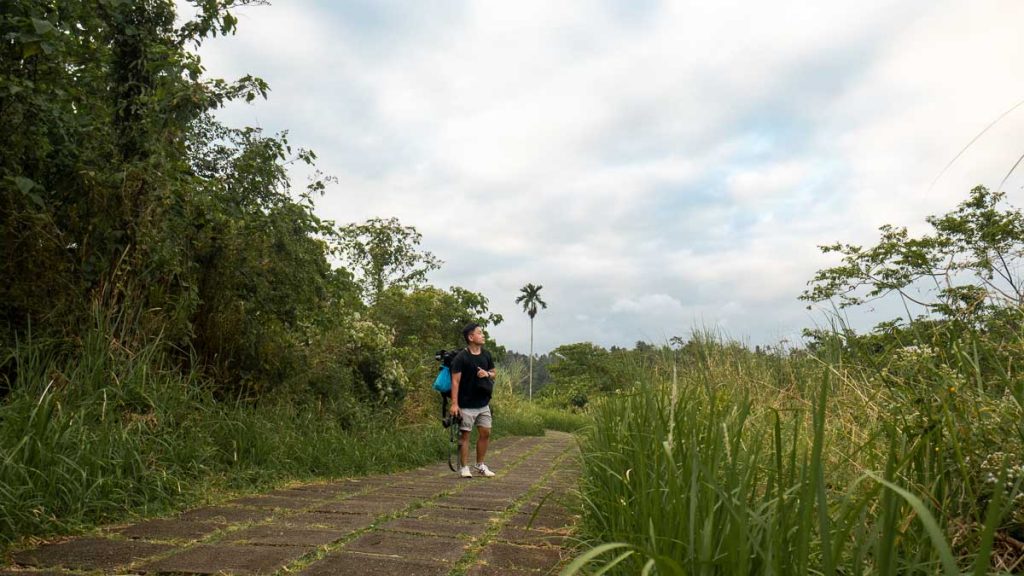 The hike takes about an hour one way and most of the path is paved and fairly flat.
Entrance fee: Free
Opening hours: 24 hours
Starting point: Campuhan Ridge Walk, Kelusa, Payangan, Jl. Raya Campuhan, Sayan, Kecamatan Ubud, Kabupaten Gianyar, Bali 80571
*Pro-tip: After your hike, order in dinner from the comfort of your villa — get local favourites like Babi Guling and Martabak from food delivery services!
Day 2: Immerse Yourself in Ubud's Captivating Outdoors
Your itinerary isn't complete without visiting these epic waterfalls in Bali!
Tibumana Waterfall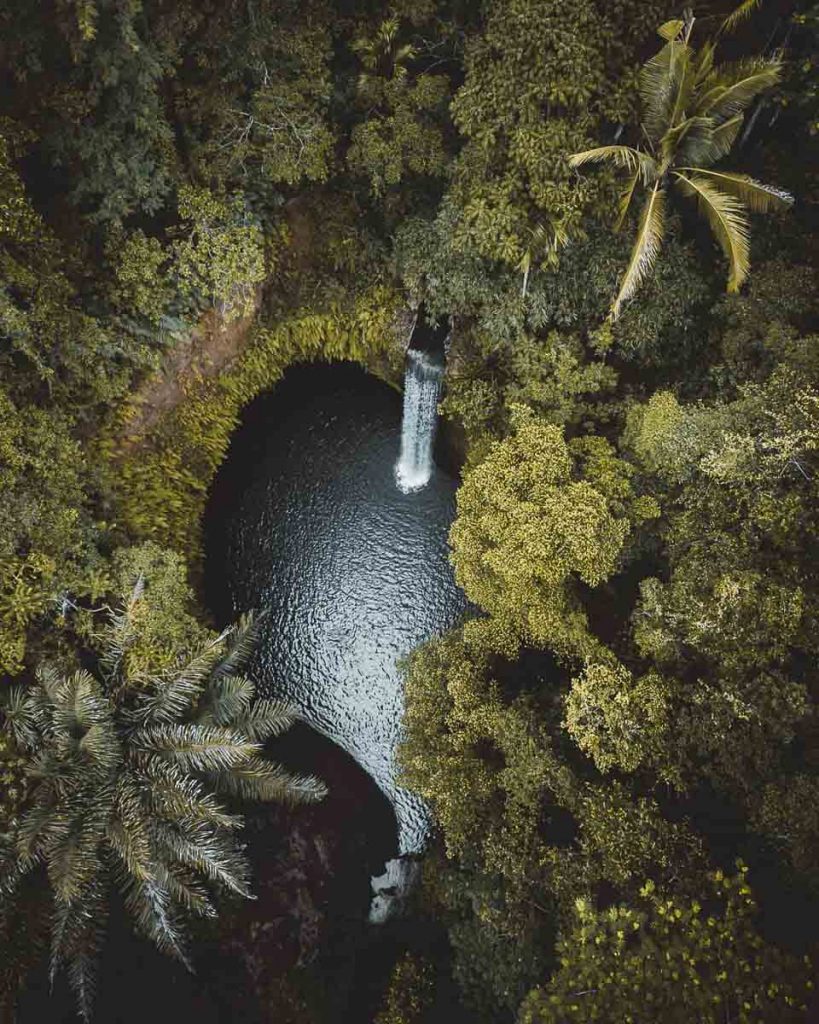 Photo credit: @mathias.explores via Instagram
How about exploring something a bit more hidden? Head past Apuan Village's endless rice fields and check out the elusive Tibumana Waterfall. Lush forests encircle these mesmerising falls making it feel like a private lagoon.
From the entrance, it's a 15-minute walk down past the rice paddies!
*Pro-tip: Rent a locker for Rp5,000 (~S$0.45) to explore the falls hands-free.
Entrance fee: Rp20,000 (~S$1.90)
Opening hours: 8AM – 6PM
Address: F8VM+768, Jl. Setra Agung, Apuan, Kec. Susut, Kabupaten Bangli, Bali 80661
Kanto Lampo Waterfall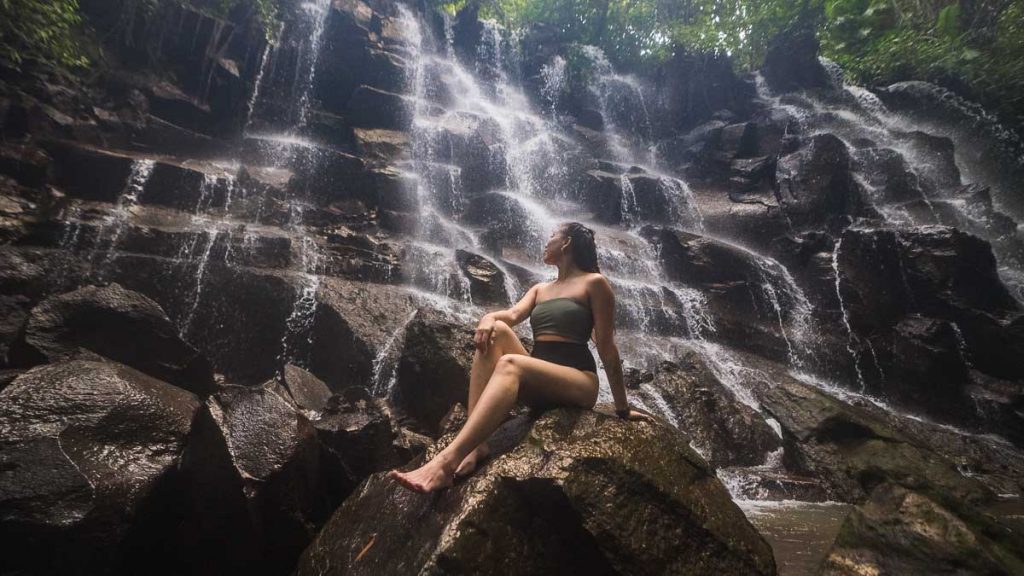 The Kanto Lampo waterfall is easily accessible from Ubud. It's a 30-minute drive from Central Ubud and a 10-minute hike down from the entrance.
Once a hidden gem, this waterfall has gained a lot more attention over the years — everyone wants a picture with its majestic cascading falls and unique rock formations. So, it's best to be there earlier in the morning to avoid the queues!
Entrance fee: Rp20,000 (~S$1.90)
Opening hours: 7AM – 6PM
Address: Jl. Kaliasem Banjar Kelod kangin, Beng, Kec. Gianyar, Kabupaten Gianyar, Bali 80513
Tegenungan Waterfall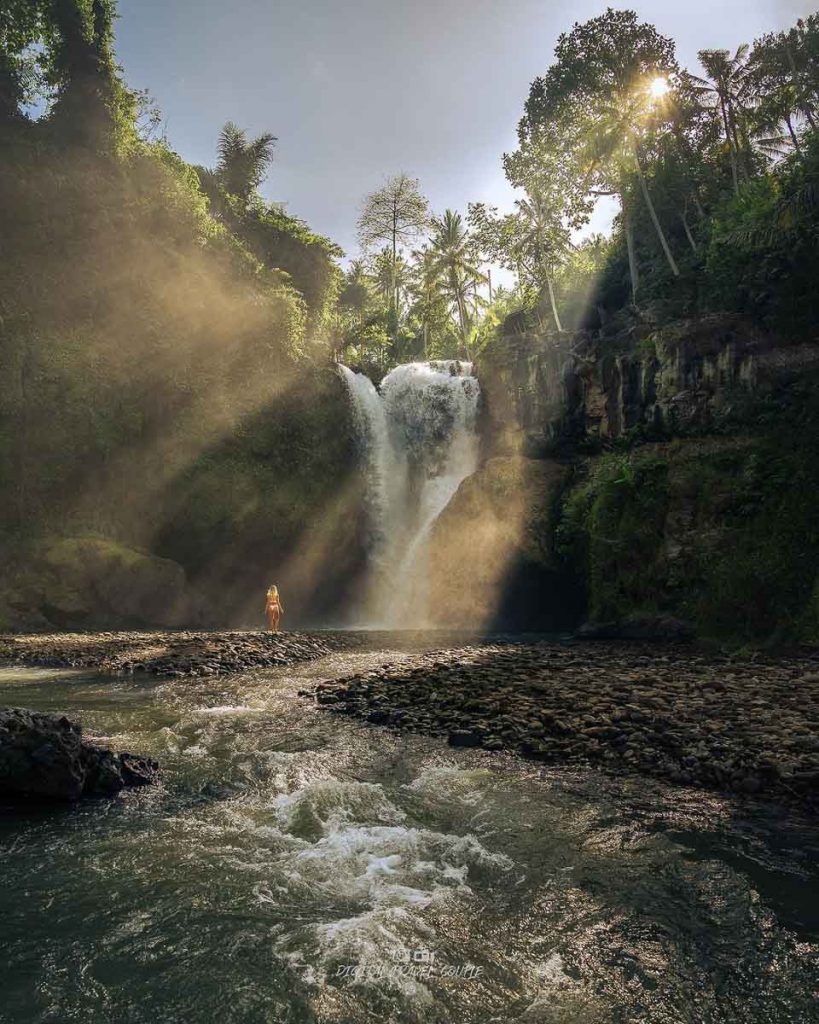 Photo credit: @digitaltravelcouple via Instagram
Possibly the most famous waterfall in Bali, Tegenungan's massive cascades are the did-you-really-go-to-Bali-if-you-didn't-visit-this-waterfall spot. So don't be shocked to see crowds by late morning.
However, this 25m high waterfall is still worth a trip down, especially for sunrise as the morning sun creates an epic spotlight on the falls.
While it's possible to swim in Tegenungan's waters, you might want to know that the water first passes through the paddy fields so it can carry manure — maybe best appreciated from land 😬
Entrance fee: Rp20,000 (~S$1.90)
Opening hours: 6:30AM – 6:30PM
Address: Jl. Ir. Sutami, Kemenuh, Kec. Sukawati, Kabupaten Gianyar, Bali 80581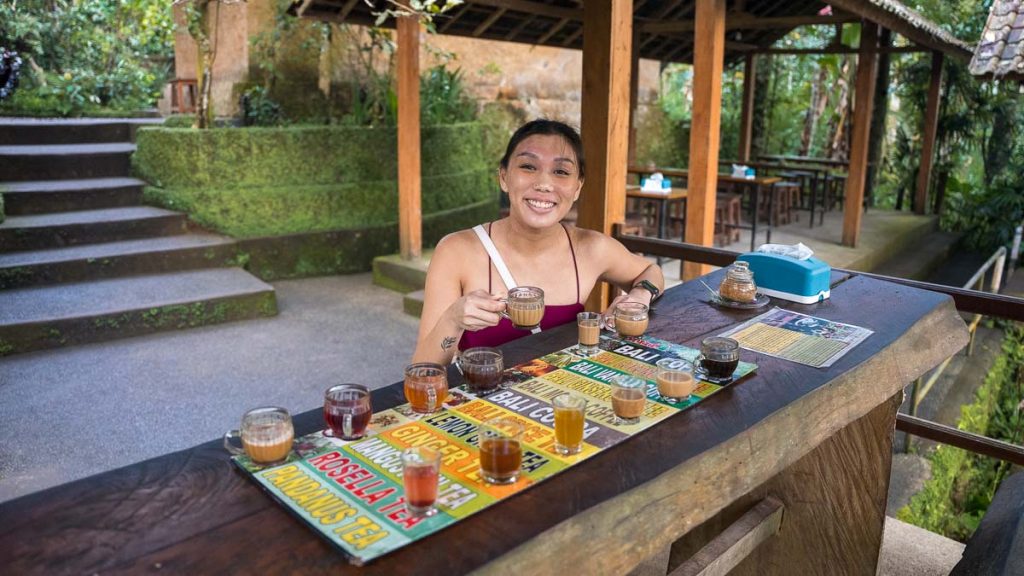 *Pro-tip: Hit all three falls in one day with this waterfall tour which offers both pickup and drop-off, with an additional visit to a coffee plantation ☕️
Bali Waterfall Tour
Cost: From S$64.72
Pickup point: Anywhere in Ubud, Sanur, Seminyak, Canggu, Legian, Kuta, Nusa Dua, and Jimbaran area
Alas Harum's Rice Terraces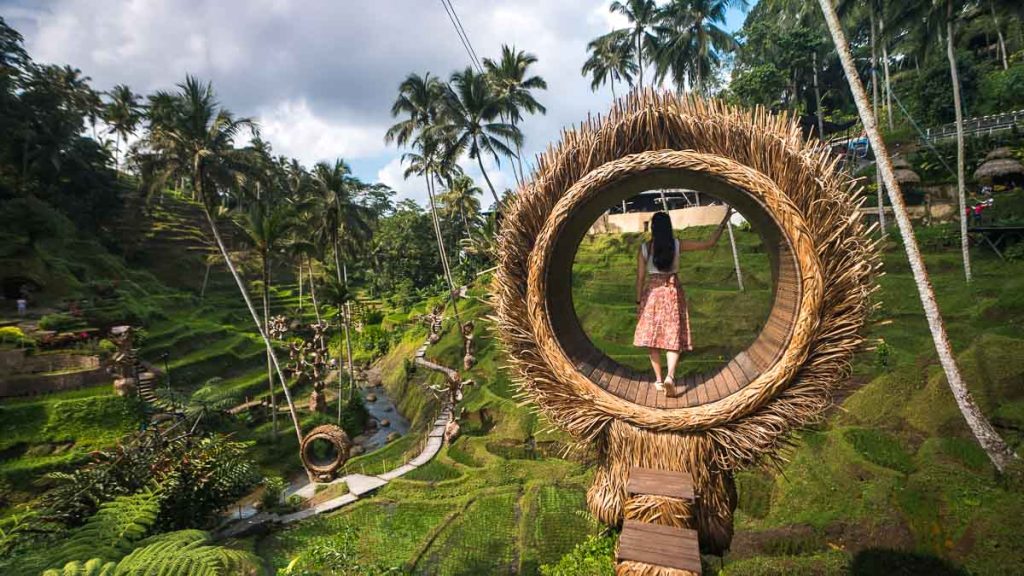 Ubud is known for its epic rice terraces. And at Alas Harum, they've turned a large plot of it into a giant playground 🤩
Try fun activities like the iconic Bali swing (Rp176,250) and Sky biking — cycling in the air over the terraces (Rp235,000). Or, explore the terraces and discover all of the amazing photo spots set up throughout!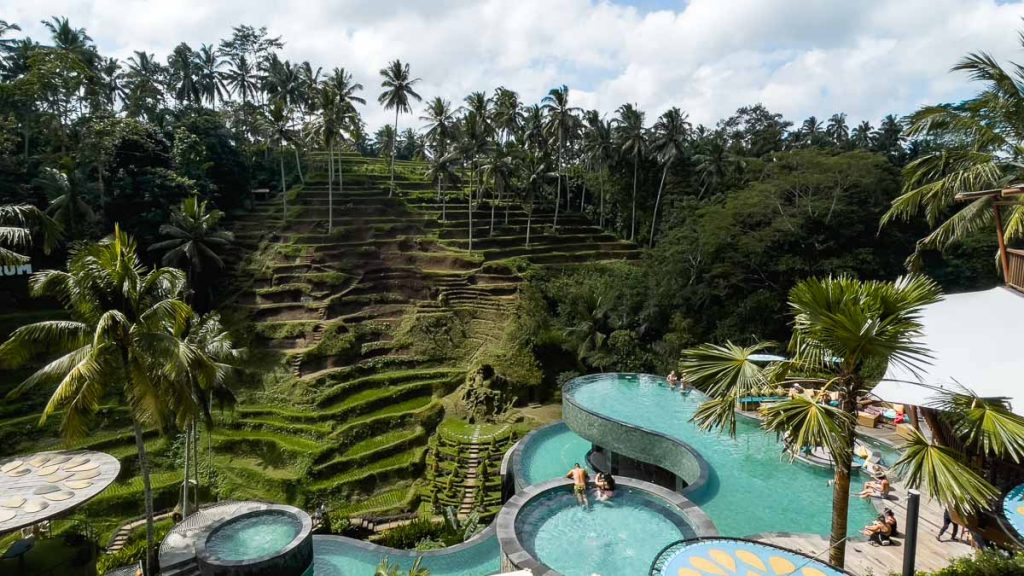 We ended our day relaxing at the luxurious in-house terrace club, Cretya Ubud. It feels exactly like a beach club but instead of vast ocean views, you get panoramic views of the rice terraces from the infinity pool. It's also the perfect place to catch sunset 😍
Cost: From S$23.70 inclusive of Extreme Swing
Opening hours: 9AM – 7PM
Address: Jl. Raya Tegallalang, Tegallalang, Kec. Tegallalang, Kabupaten Gianyar, Bali 80561
*Pro-tip: Use your Citi Credit Card to book your activities via the Traveloka App and quote "CITIXPLORE" for up to S$100 off!
Day 3: Dive into Bali's Food Culture
If you love the Bali cafe scene, here are some stylish coffee spots in Ubud to add to your Bali itinerary.
Milk & Madu Ubud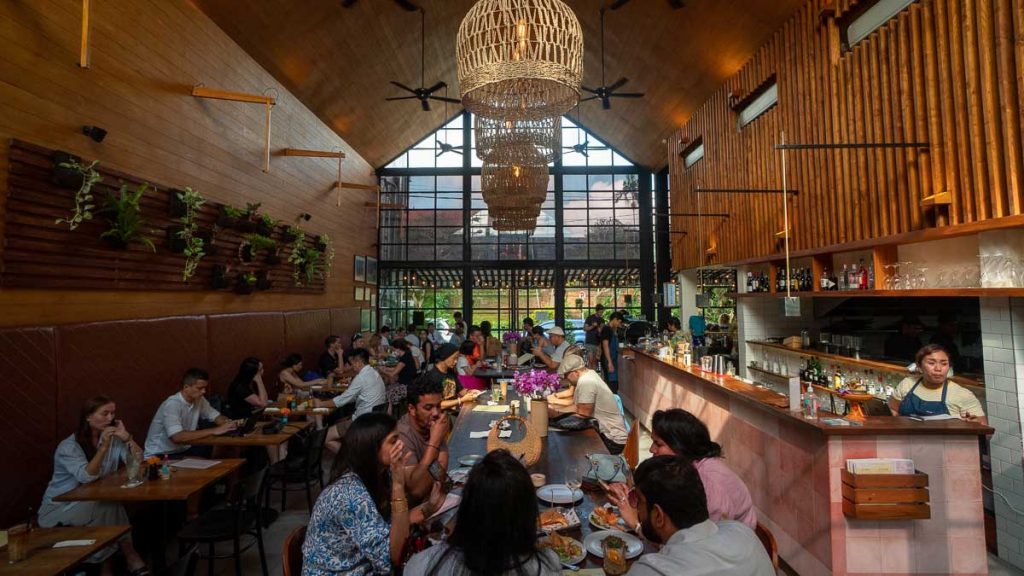 Milk & Madu serves classic cafe foods for a fraction of the price. The menu offers everything from elaborate Poke bowls to tall burgers and gourmet pizzas.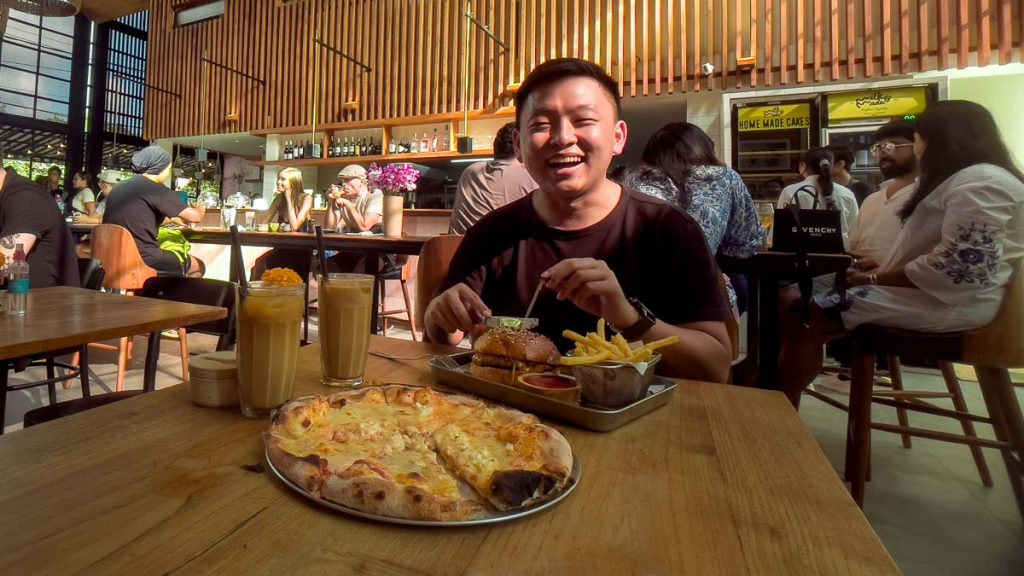 We got the Madu Smash Burger (Rp130,000) and the Four Cheese Pizza (Rp125,000), and it was more than enough to fill us. Not forgetting their delicious iced lattes (Rp33,000) to wash it all down 🙌🏼
And their glasshouse design is just as aesthetic as their food!
Opening hours: 7:30AM – 10PM
Address: Jl. Suweta No.3, Ubud, Kecamatan Ubud, Kabupaten Gianyar, Bali 80571
Titik Temu Coffee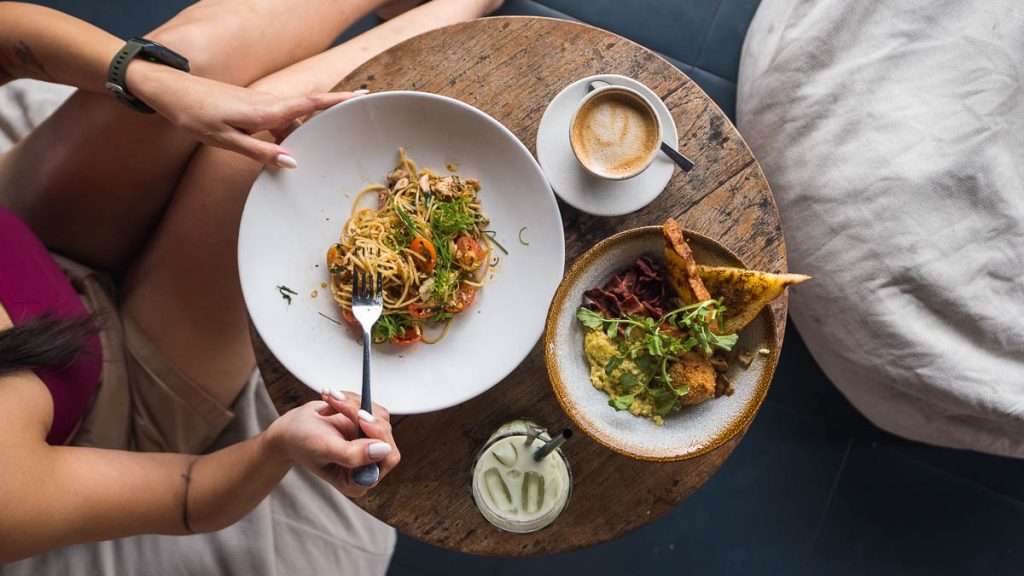 Just a stone's throw away from Milk & Madu is an underrated two-storey cafe. Titik Temu checked all our boxes — food: 10/10, vibes: 10/10 and price point: 11/10!
We really enjoyed their Aglio Olio (Rp66,000), but the true stunner was their creamy scrambled eggs (Rp83,000) — a big serving of fluffy goodness accompanied by sauteed mushrooms, smoked beef and toast.
I'm not exaggerating but I still think about it every now and then 🤤
Opening hours: 8AM – 9PM
Address: Jl. Suweta No.6, Ubud, Kecamatan Ubud, Kabupaten Gianyar, Bali 80571
Read also: The Ultimate Bali Food Guide: 21 Things To Eat in Seminyak, Ubud and Nusa Dua
Compound's Warung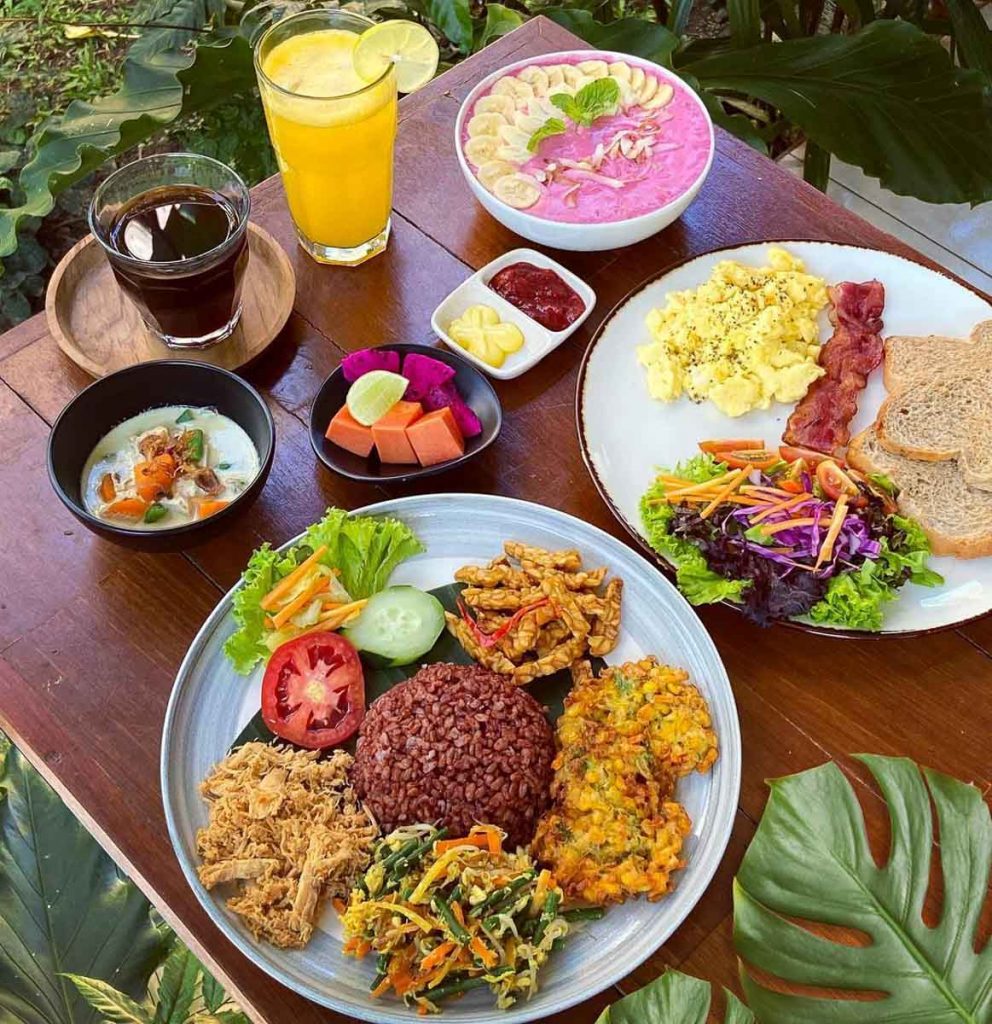 Photo credit: @compoundswarung via Instagram
For more local flavour, visit Compound's Warung — their five-star Google reviews speak for themselves!
Situated in a traditional Balinese hut, this warung (small, family-owned business) serves some of the best local dishes like Nasi Campur (Rp35,000, ~S$7.90) and Mie Goreng (Rp25,000, ~S$2.30). And they offer vegan options too!
After a hearty meal, step outside and meet the friendly free-roaming bunnies in the garden 🐰
Opening hours: 10AM – 9PM, closed on Sun
Address: Jl. Gootama No.6, Ubud, Kecamatan Ubud, Kabupaten Gianyar, Bali 80571
*Pro-tip: As most restaurants accept cashless payment, pay for meals with your Citi PremierMiles Card and earn 2 Citi Miles with every S$1 foreign currency spend.
Local Cooking Class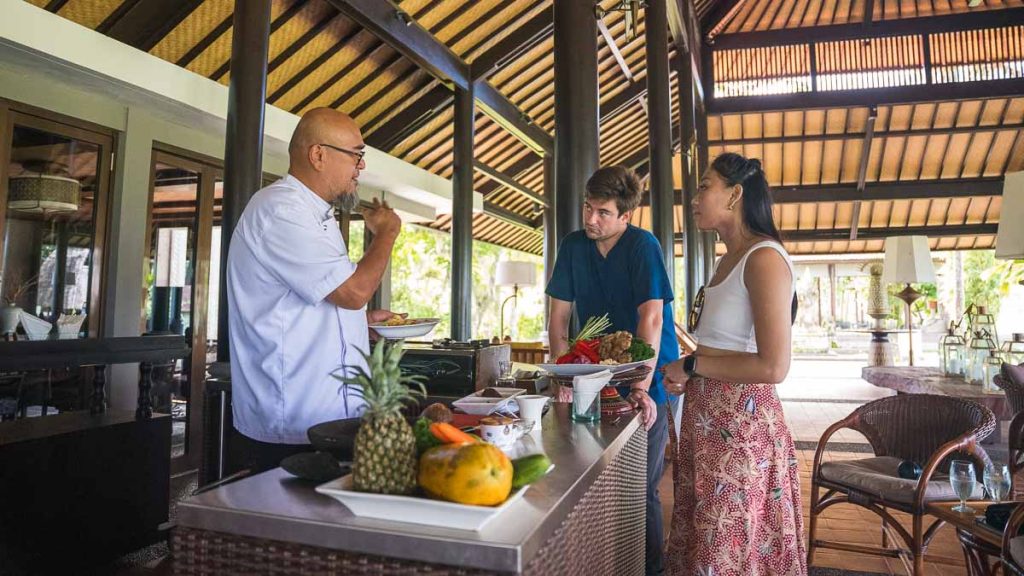 You might not be able to dabao (takeaway) food back home but you can learn to make your favourite Balinese dishes from Tanah Gajah's Executive Chef Dean Nor.
From Indonesian Rujak to Mie Goreng, Chef Dean shows you step by step how to prepare and cook each dish. Don't worry about taking notes — you get to bring back a copy of all the recipes along with an apron.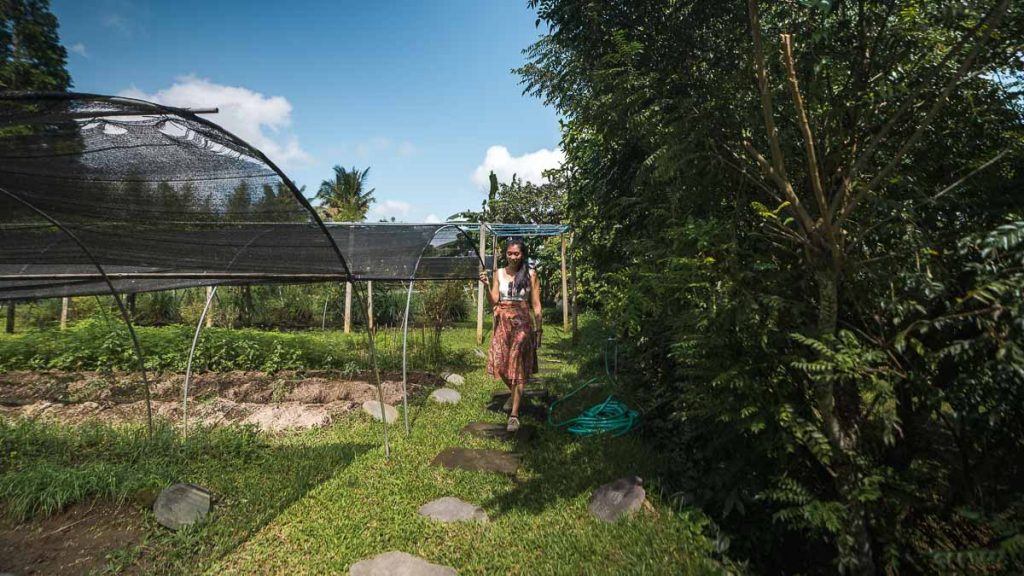 You'll also tour a garden where you can sample the very produce, herbs, and spices used in their dishes!
At the end, enjoy the entire spread prepared by the hotel chefs at the restaurant.
Cost: From S$92.69
Class hours: 12PM – 2PM
Address: Jl. Raya Goa Gajah, Kemenuh, Sukawati, Gianyar, Bali 80571
Day 4: Unwind Before Your Flight Home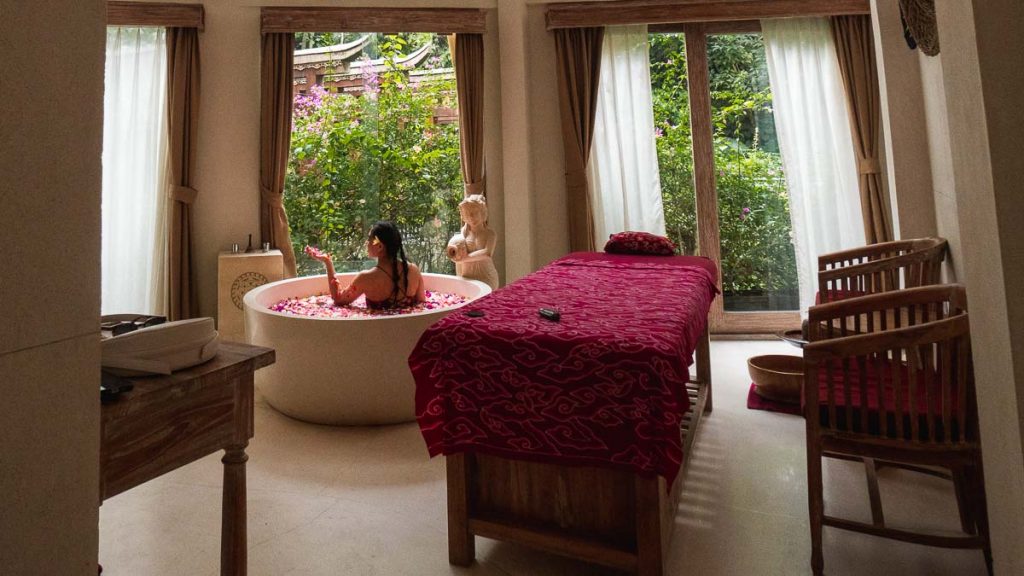 End off your trip with the ultimate pamper session at Kaveri Spa.
Take your pick of a warm tub filled with flowers, a detoxing body scrub, or a 90-minute full-body massage! We couldn't decide so we got all three with the Kaveri package 🤪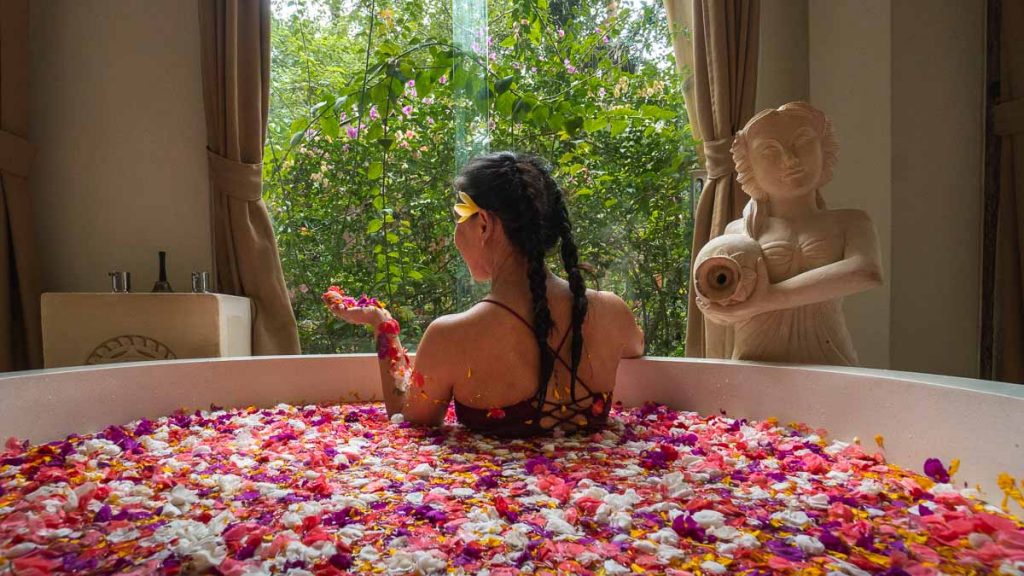 I felt like a Disney princess soaking in the flower bath 🌺 and being pampered with the Kaveri Royal Massage. Not gonna lie, I was really tempted to miss my flight and book round two 😂
Cost: From S$94.70
Opening hours: 9AM – 9PM
Address: Kaveri Spa at The Udaya Resort & Spa, Jl. Sri Wedari No.48B, Ubud, Kabupaten Gianyar, Bali 80571
Read also: 5D Bali Itinerary: The Best of Bali For The Adventurous — Ubud, Seminyak, Nusa Dua
Pro-tips for Planning Your Next Bali Itinerary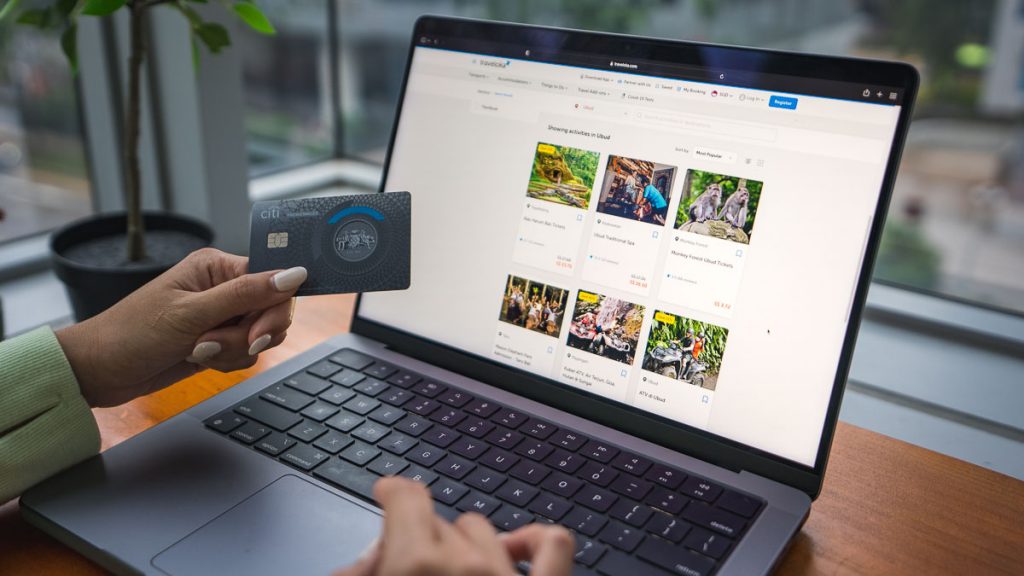 I was so excited to return to Bali after four years — our last trip was in 2018 😱 Better yet, exploring parts I'd not visited before! And we could thoroughly enjoy our trip knowing everything was in place before our flight. Here are some tips for planning your next Bali itinerary:
1) Collect all those loyalty rewards: Rack up miles by booking your flights and accommodations with the Citi PremierMiles Card — it earns you 1.2 Citi miles with every S$1 local spend. And when making payments overseas, we got 2 Citi miles with every S$1 spent!
The best part is Citi Miles has no expiry date 🥳
From now till 31 Oct 2022, new Citi Credit Cardmembers get 30,000 bonus Citi Miles when you apply for a Citi PremierMiles Card! T&Cs apply.
2) Pre-book your activities: Bali is a hot destination right now so be sure you've got the essentials like accommodation, airport transfer and activities pre-booked. We had ours booked with the Traveloka app, which even offers flights!
Get discounts of up to S$100 off (with minimum spend) Traveloka app bookings when you use the promo code "CITIXPLORE" — valid till 31 October 2022
*Pro-tip:
3) Bring more cash. Most cafes accept cards, but waterfalls and other attractions only accept cash. So, it's good to have more cash in hand.
4) Check your accommodation address: Although our resort has 'Ubud' in its name, it's not written in the address so we didn't know it wasn't within Central Ubud. We still loved the quiet and serenity away from the centre, but if you prefer staying closer to the cafes and bars, make sure your address has 'Ubud' in it!
Planning an itinerary for your next trip to Bali? Share with us your questions below!
---
This post was brought to you by Citi Credit Cards and Traveloka.