Austria is beautiful all year round, but there's just a bit more to love during winter.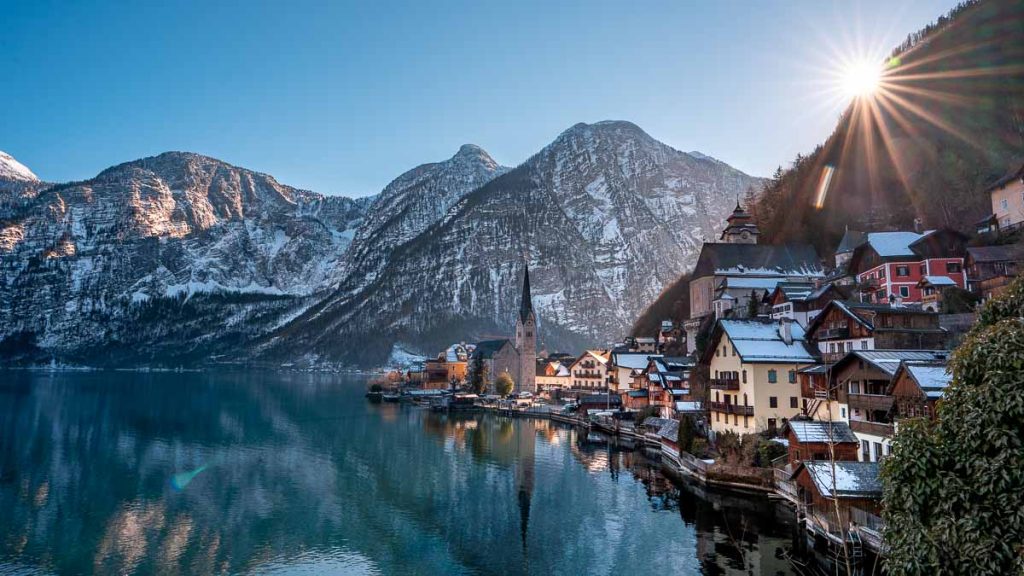 If Austria had a LinkedIn profile, it'd sound something like this: birthplace of Mozart, Swarovski, and Red Bull, two-time host of the Winter Olympics, home to one of Europe's longest-reigning and most influential dynasties.
A bit of an overachiever eh?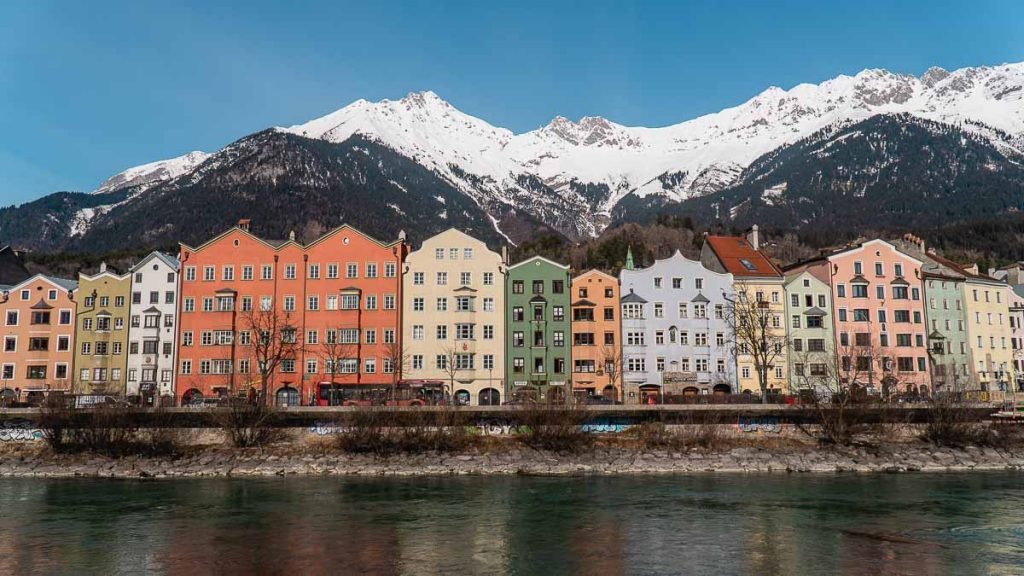 Austria's resume is impressive all year round, but it's even more so during winter. The country turns into a mega winter wonderland — Christmas markets and ski resorts are in full swing, alpine villages are extra magical with layers of snow!
It's also one of Europe's top destinations for winter sports — ski passes are more affordable compared to Switzerland, and France.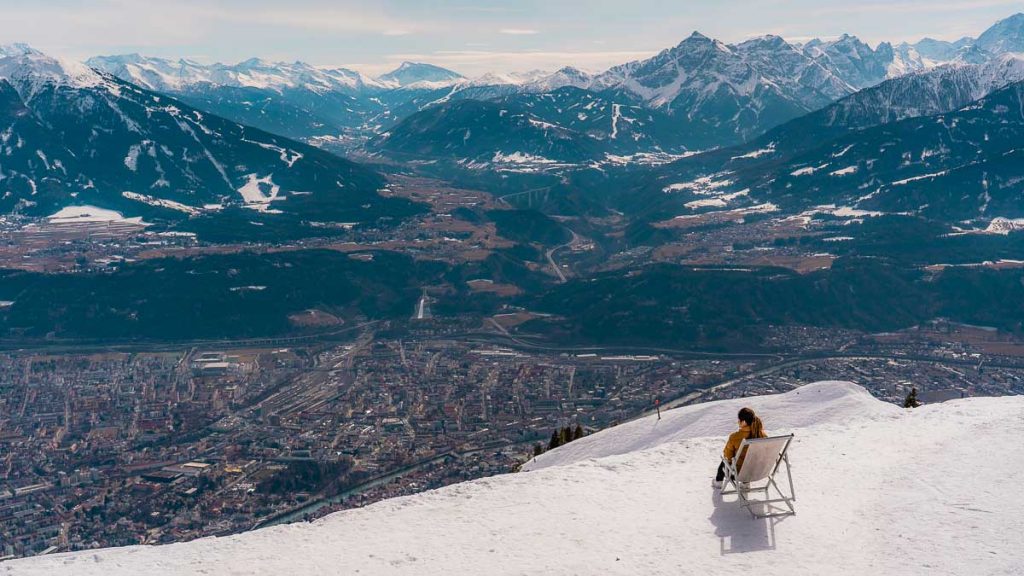 Here's how to make the most of a week-long winter vacation with this Austria itinerary!
Austria Itinerary Budget Breakdown
Accommodation: S$306
Transport: S$236.57 (excl. flights)
Activities: S$367.97
Food: S$394.99
Misc: S$21.46
Total: S$1,322.15
Detailed breakdown for one pax here. Flights are not included as the prices fluctuate.
Overview of Austria Itinerary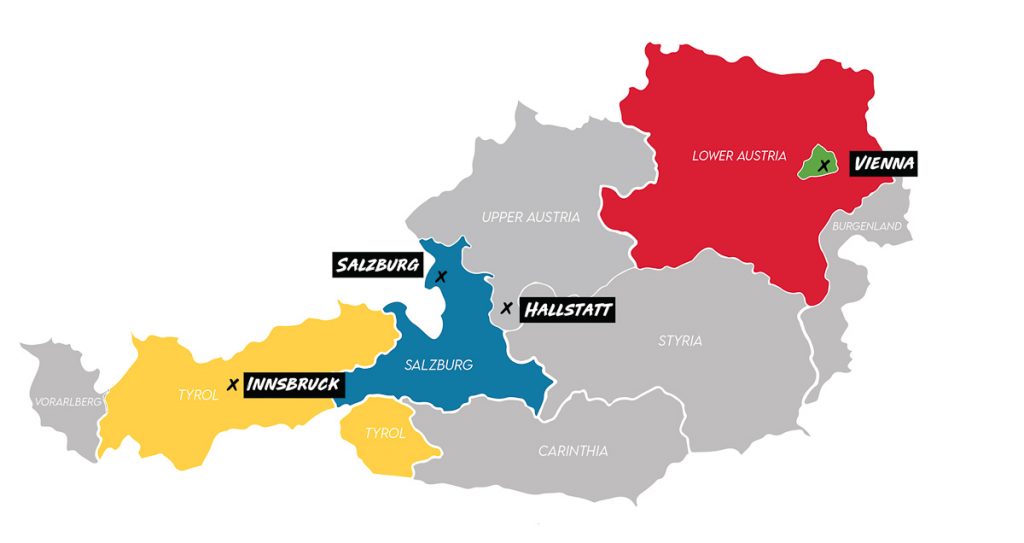 Day 1-2: Innsbruck
Day 3-4: Salzburg
Day 5: Hallstatt
Day 6-7: Vienna
Link to Google maps with pinned attractions here.
Flying into Austria from Singapore
This Austria itinerary starts off in Innsbruck — Innsbruck Airport is small and there currently aren't any direct flights from Singapore. Here's how to get to Innsbruck:
Option A: Fly direct to Munich, then take a 1hr 44min train ride from München Hbf to Innsbruck Hbf (from €12.90, ~S$18.20)
Option B: Fly direct to Frankfurt first, then it's a 1hr 10min flight from Frankfurt to Innsbruck (from S$159)
Day 1-2: Innsbruck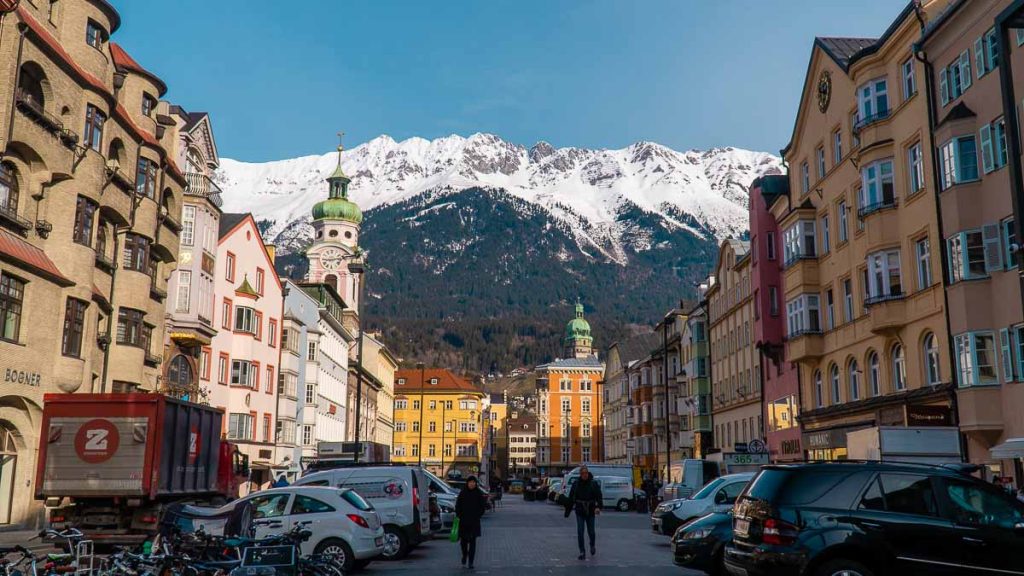 Innsbruck — the first stop on this Austria itinerary is a historic city with an adventurous side. It's surrounded by snowcapped mountains and numerous ski resorts, some you can reach in just 20 minutes.
Getting from Innsbruck Airport to Innsbruck Old Town: 20-minute bus ride on Bus F
Getting around Innsbruck: The Innsbruck Card (€53 for 24 hours, €63 for 48 hours) includes unlimited use of public transport, free city bike rental (worth €12), plus one-time free admission to all city tourist attractions.
Innsbruck Old Town
Mariahilferstraße Street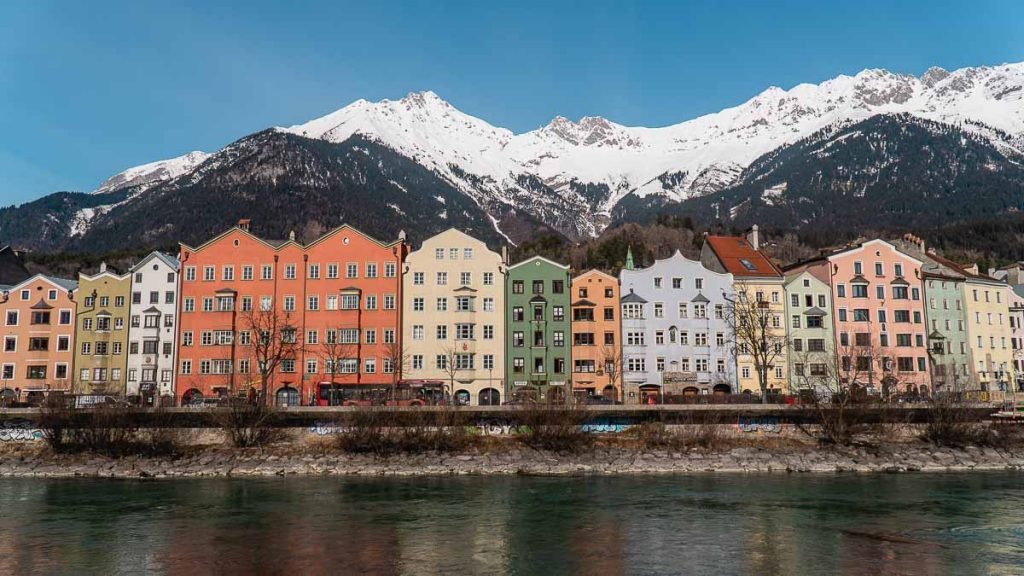 Fun fact: Inn is the name of the river which runs through the town, and Innsbruck means "Bridge over the Inn"!
*Pro-tip: For the best postcard view of Innsbruck, head to the river Inn where you'll find the colourful houses along Mariahilferstraße Street
Entrance fee: Free
Opening hours: 24 hours
Address: Mariahilfstraße, 6020 Innsbruck
Golden Roof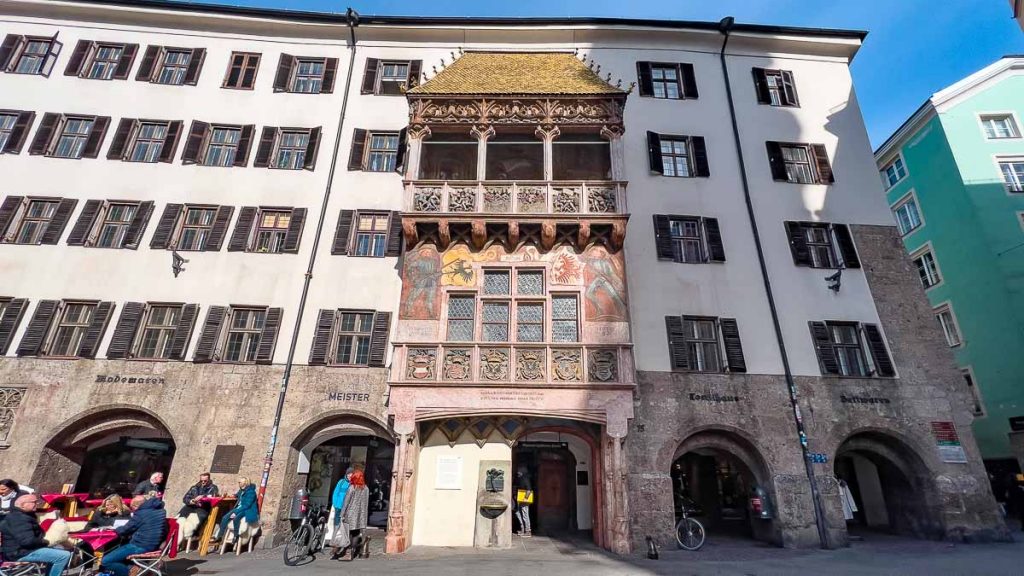 A must-see in Innsbruck's Old Town is the Golden Roof, which got the name from its 2,657 fire-gilded copper tiles. The bay was built over 500 years ago by Maximilian I for his wedding as a symbol of power.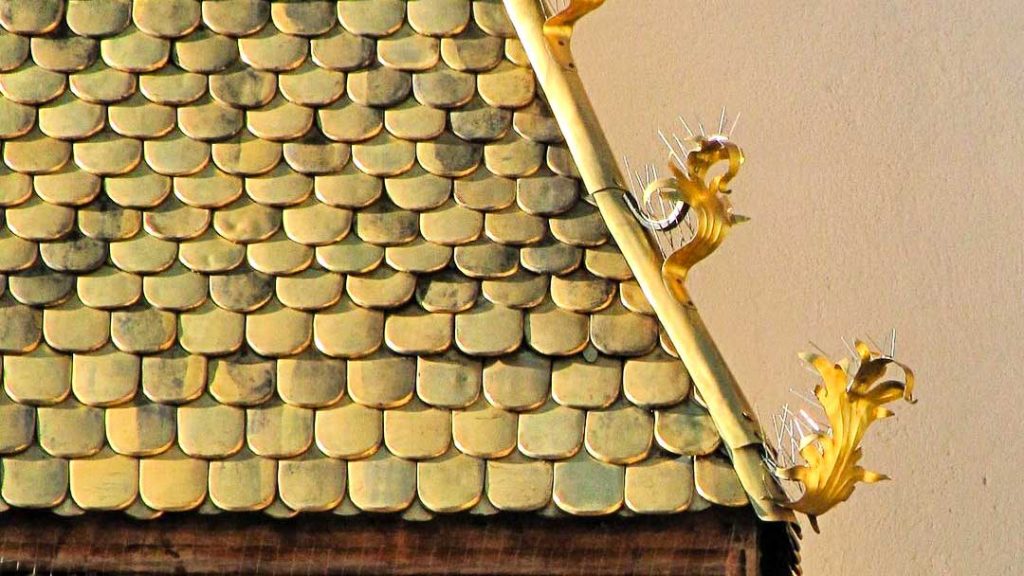 Photo credit: @walter_vi1 via Instagram
The building is now a museum that gives insight into the town's rich history — a time of guilds and aristocrats!
Entrance fee: €4.80 — free with Innsbruck Card
Opening hours: 10AM – 5PM
Address: Herzog-Friedrich-Straße 15, 6020 Innsbruck
Court Church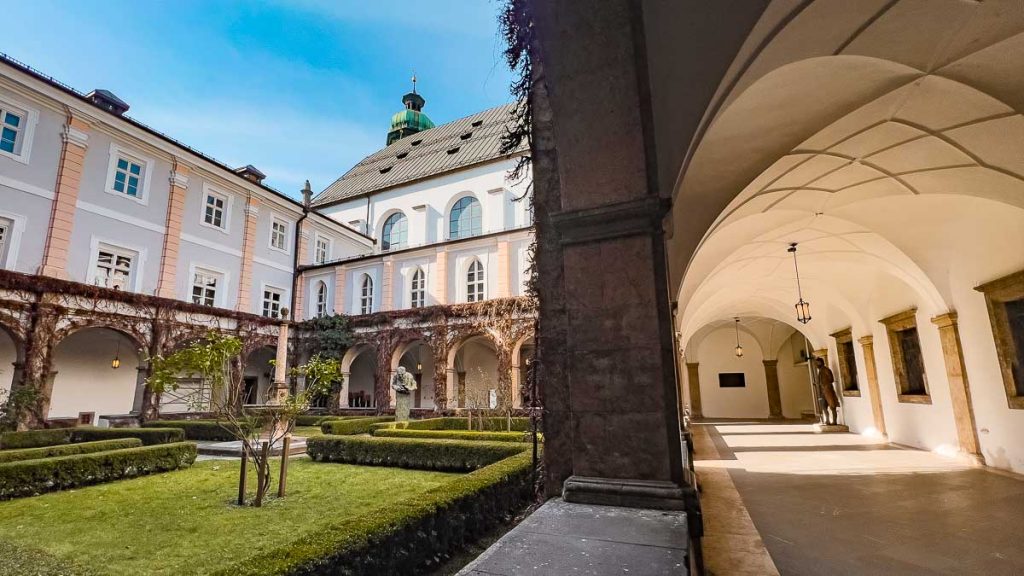 Not to be confused with Harry Potter's Wizard Chess, the 28 life-sized bronze figures in the Court Church are the relatives and heroes of Emperor Maximilian I.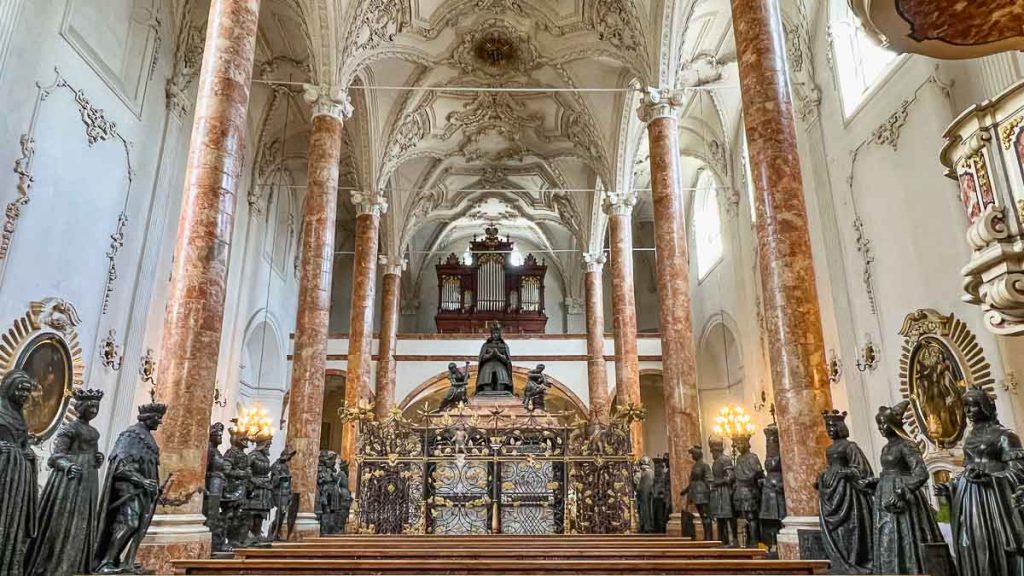 But, spoiler alert, the tomb is actually empty. Maximilian had planned his resting place in another church Wiener Neustadt, but the foundations couldn't support the weight of the bronze statues — therefore they were moved to the Court Church in Innsbruck.
Entrance fee: €5.10 — free with Innsbruck Card
Opening hours: 9AM – 5PM (Mon – Sat), 12:30AM – 5PM (Sun and PH)
Address: Universitätsstraße 2, 6020 Innsbruck
Nordkette Ski Resort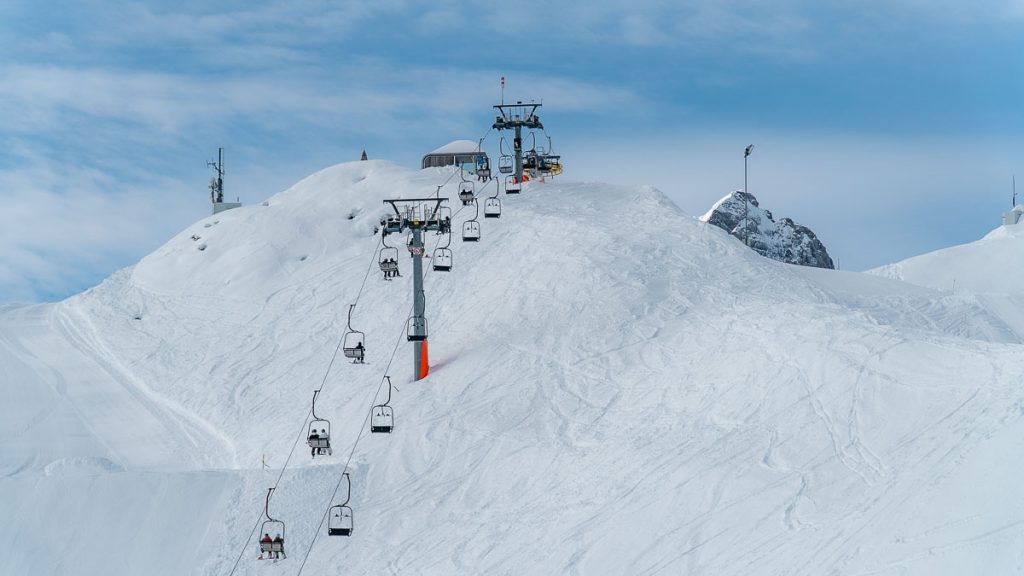 Innsbruck is a paradise for winter sports, with 13 ski resorts in the area — totalling 111 lifts and cable cars. One of them, the Nordkette Ski Park, is easily accessible via a 15-minute funicular ride from the old town!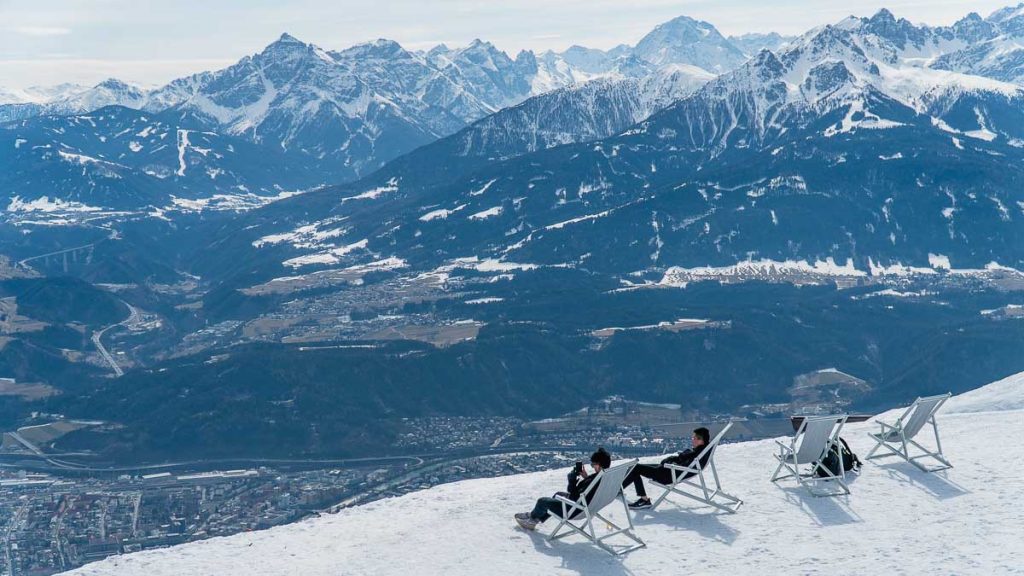 Grab a deck chair (free to use) and soak in the view from the Nordkette mountain range.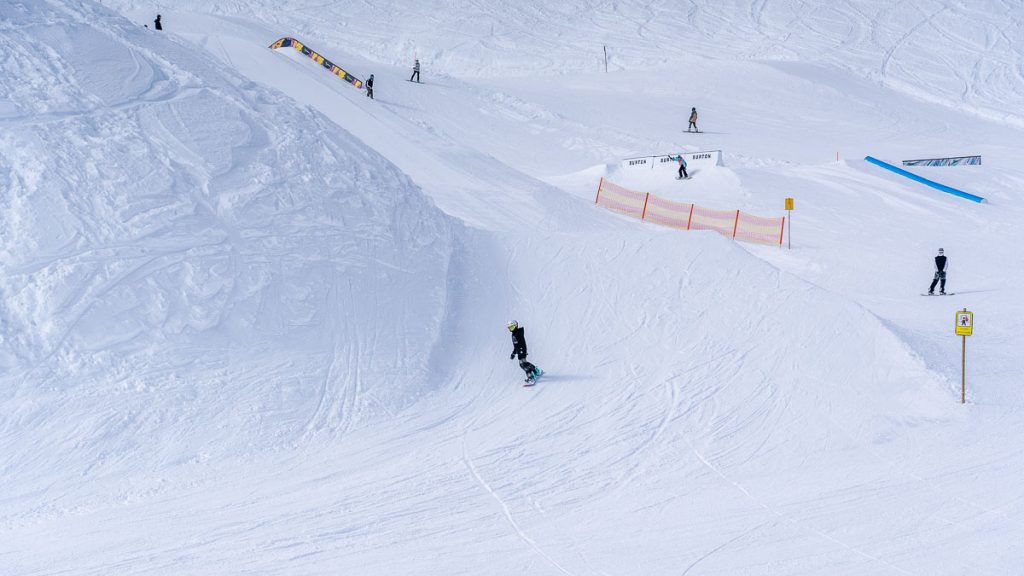 Booking ski gear online in advance can be cheaper! It costs €35/day for snowboard or ski gear and €35/day for a full set of ski clothes (jacket, pants and shoes).
*Pro-tip: Get the Ski Plus City Pass (from €117 for a two-day pass) if you're planning to extend this Austria itinerary and experience other ski resorts. It includes entry to all 13 ski resorts, plus 22 city attractions and selected public transport!
Cost: €33 for the ski day pass, €42 for round trip cable car — cable car included in Innsbruck Card
Opening hours: 8:30AM – 5:30PM
Address: Rennweg 3, A-6020 Innsbruck (Cable car base station)
Lunch at Seegrube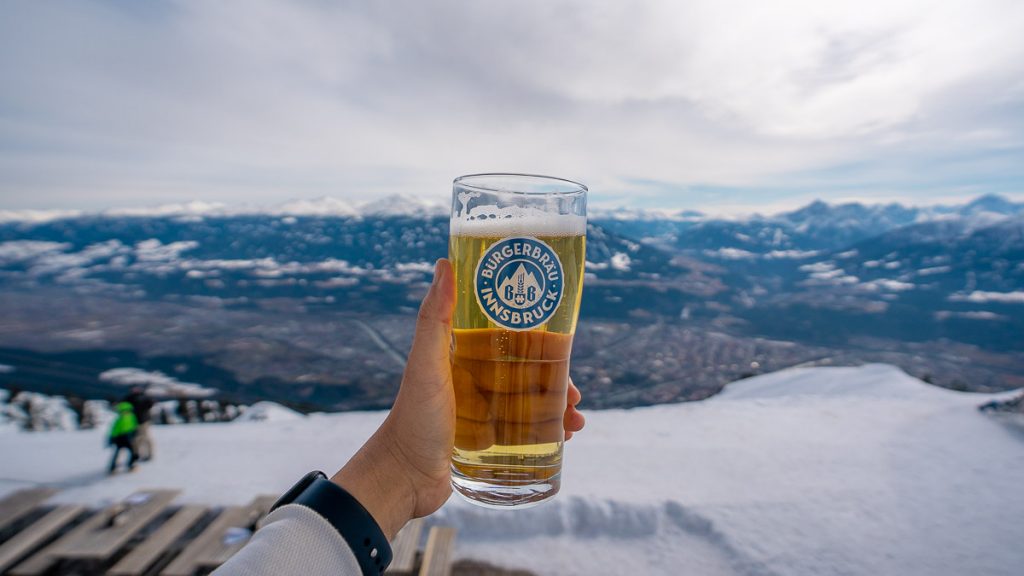 Refuel with traditional Tyrolean dishes at restaurant Seegrube. It's located right beside the funicular so you've got stunning views of Nordkette Ski Resort!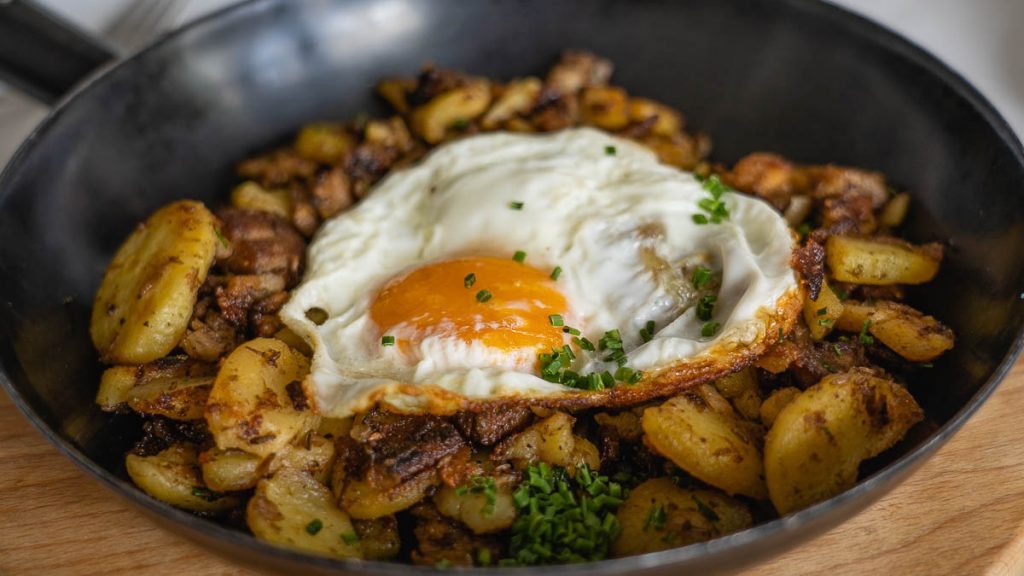 We tried Tiroler Bauerngröstl (roast meat with potatoes and coleslaw) and Duett von Zander and Garnele (shrimps and veggies) — both were really good.
Cost: Mains start from €12.40
Opening hours: 9AM – 5PM
Address: Bergstation Seegrube, 6020 Innsbruck
Swarovski Crystal World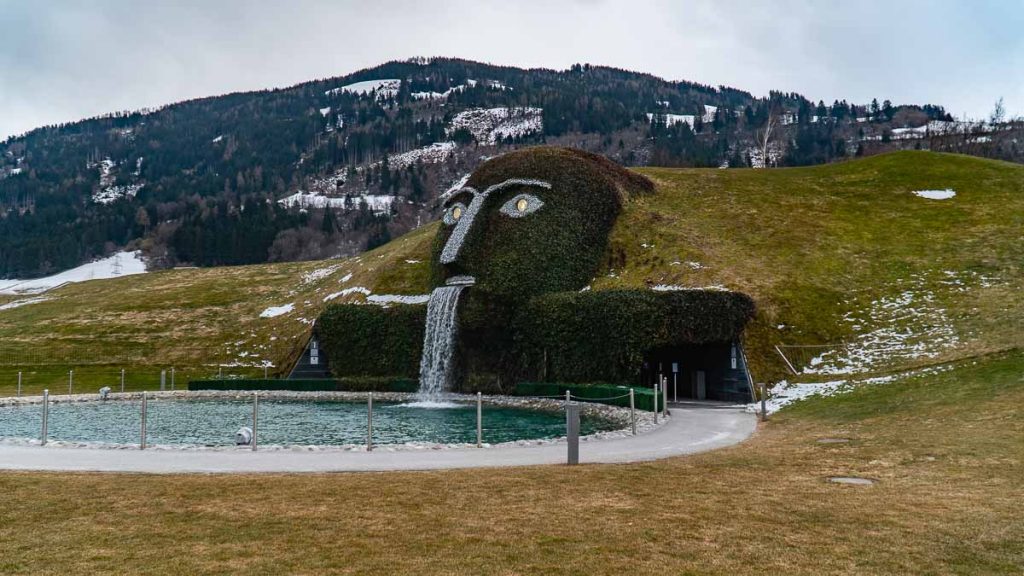 Swarovski was founded in Austria in 1885 and celebrated its centennial anniversary in 1995 with the opening of Swarovski Crystal Worlds.
The centrepiece of the park is The Giant by artist André Heller. He created the story of a giant who gathered knowledge around the world, before settling down in Tyrol to watch over Swarovski's Chambers of Wonders!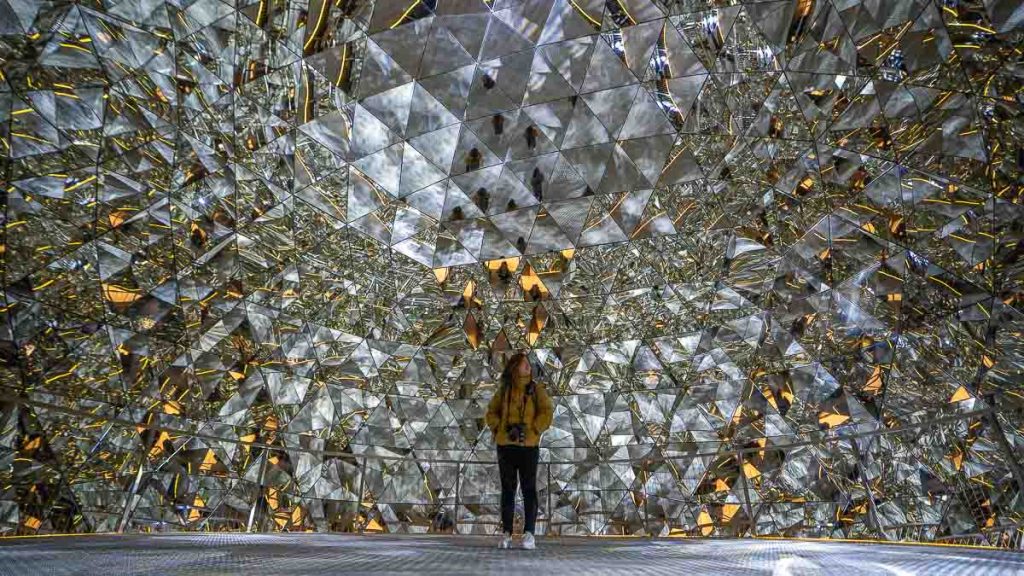 There are 18 Chambers of Wonder, featuring unique interpretations of Swarovski crystals by famous artists, designers and architects like Yayoi Kusama, Lee Bul and Tord Boontje.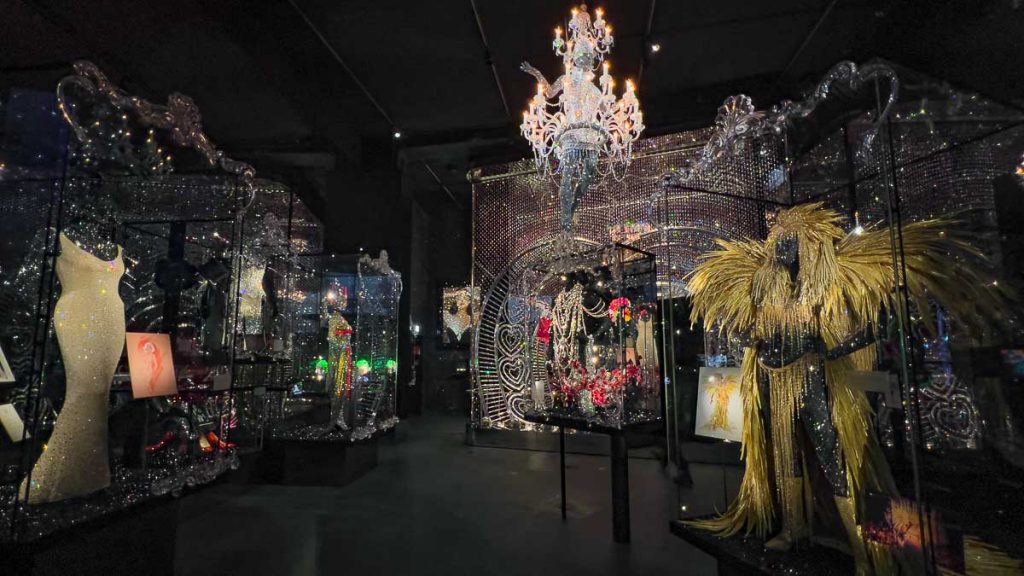 Our favourite is The Art of Performance, where there are Swarovski performance outfits for artists on display, like Michael Jackson's glove and Marilyn Monroe's dress!
Entrance fee: €19 — free with Innsbruck Card
Opening hours: 9AM – 7PM, Last entry at 6PM
How to get there: Take the shuttle bus (€9.50 for a round trip — Free with Innsbruck Card) from Innsbruck Old Town, opposite the Congress building. Check the timetable here.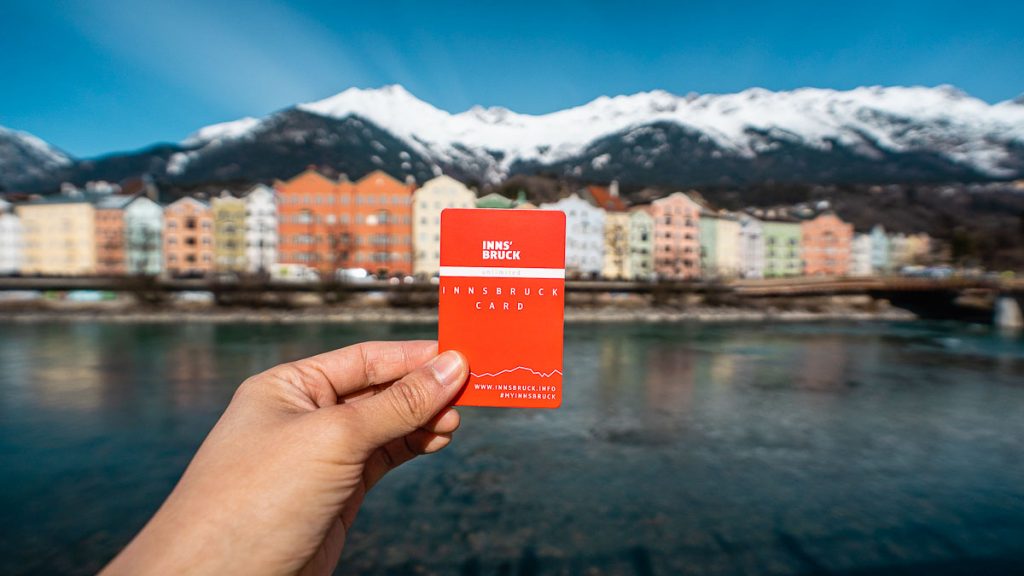 Accommodation in Innsbruck (two nights): Montagu Hostel (from S$61/night for a bed) or Nala Hotel (from S$157/night for a standard double room).
*Pro-tip: Book a minimum two-night hotel stay in Innsbruck and receive a free Welcome Card! This includes the use of public transport, ski buses plus free guided winter hikes and snowshoe tours.
Day 3-4: Salzburg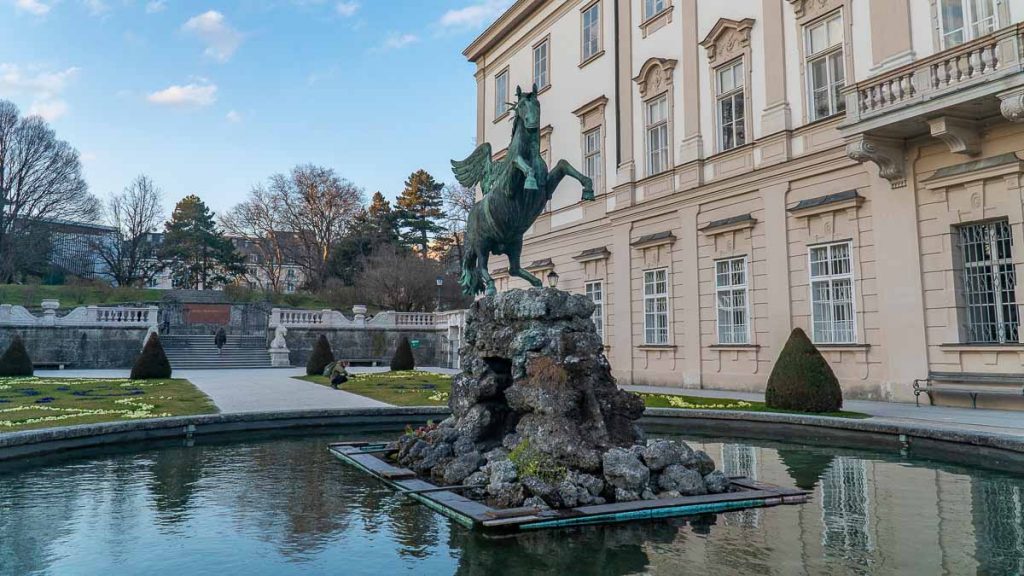 Known for Mozart, Red Bull and The Sound of Music, Salzburg is a city bursting with culture. This Austria itinerary includes visits to Mozart's birth place, The Sound of Music filming locations and other highlights!
Getting from Innsbruck to Salzburg: 1h45m train from Innsbruck Hbf station to Salzburg Hbf station (from €24.90) — book in advance for cheaper tickerts.
Getting around Salzburg: You can walk to most places in Salzburg but the Salzburg Card (€27 for 24 hours) is worth getting as it includes one-time free admission to all city tourist attractions, on top of unlimited use of public transportation.
Hangar-7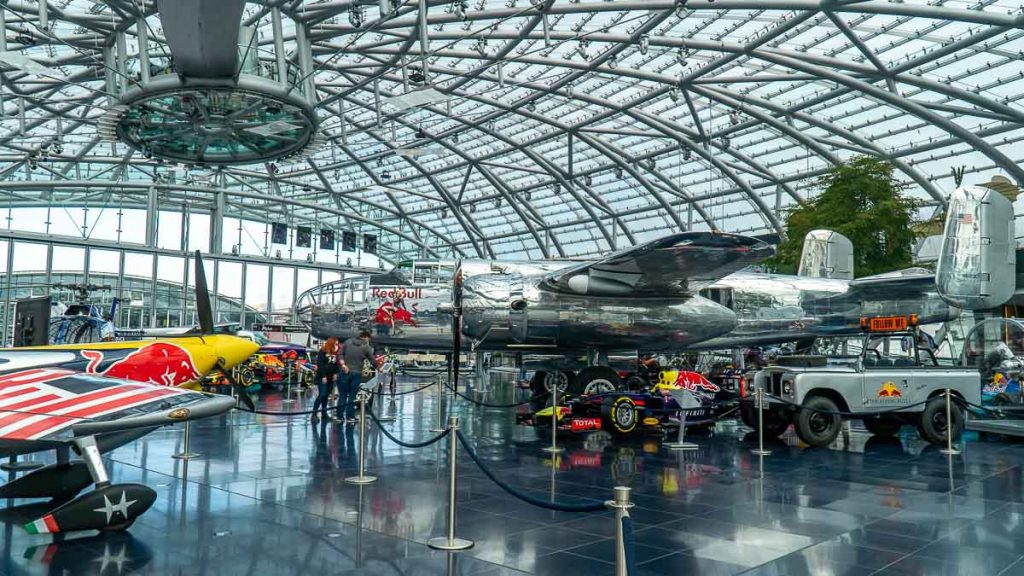 Red Bull was founded in Austria, and the famous Red Bull Hangar-7 is just a four-minute drive from Salzburg Airport! Here you'll find a collection of aircrafts and Formula 1 race cars on display — free for the public to visit!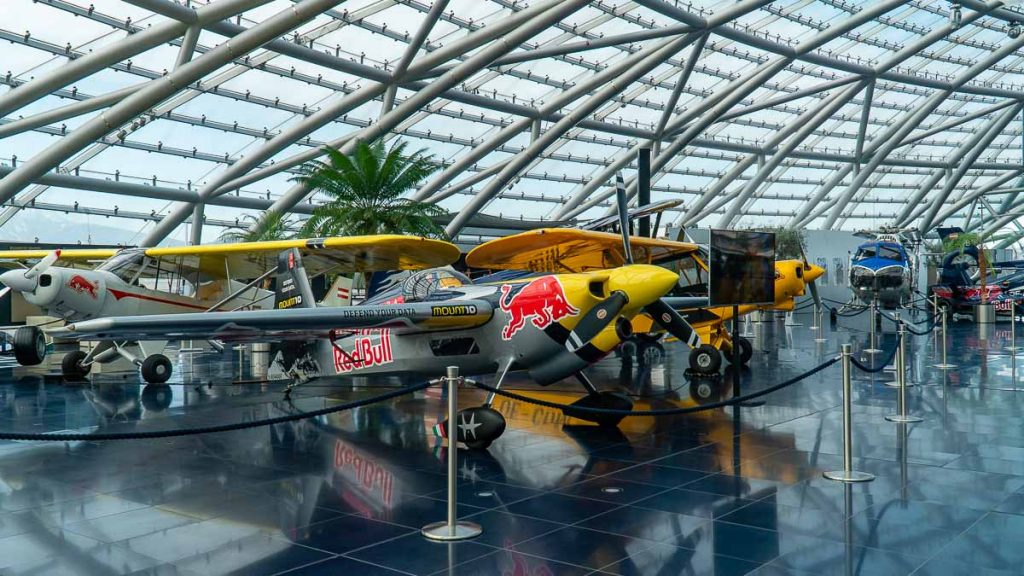 There's also a couple of dining options, like the Michelin star Restaurant Ikarus which features a guest chef concept, and the Carpe Diem Lounge which specialises in breakfast.
Entrance fee: Free
Opening hours: 9AM – 10PM
How to get there: Take O-Bus 10 to Salzburg Pressezentrum/Kuglhof, walk 5min
Salzburg Old Town
Getreidegasse Shopping Street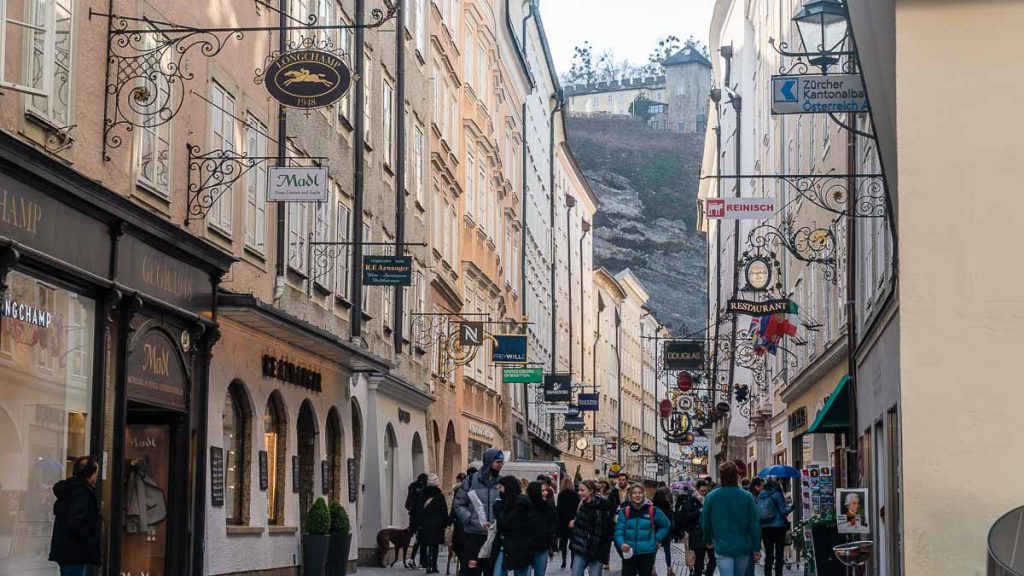 A unique feature here is the ornamental guild signs protruding from the buildings!
Walk along Getreidegasse, the town's main shopping street. The old houses are displays of the town's history — important dates and the names of former owners are often found inscribed on the front.
This lane is also the childhood home of Salzburg's most famous resident, Wolfgang Amadeus Mozart. He was born in 1756 in house number nine (the yellow building pictured)!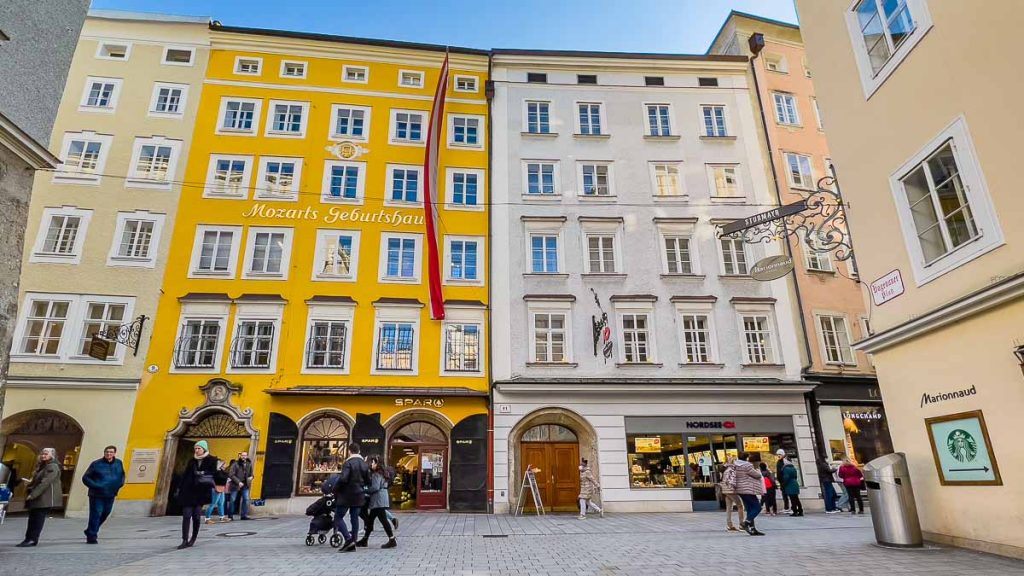 The Mozart family lived here till Mozart was 17, before moving to a larger house in the same town. House number nine has since been converted to a museum paying tribute to the classical genius — with original furniture, portraits, and instruments on display.
Mozart Museum
Entrance fee: €12 — Free with Salzburg Card
Opening hours: 9AM – 5:30PM, Last entry at 5PM
Address: Getreidegasse 9 A-5020 Salzburg
Cafe Konditorei Fürst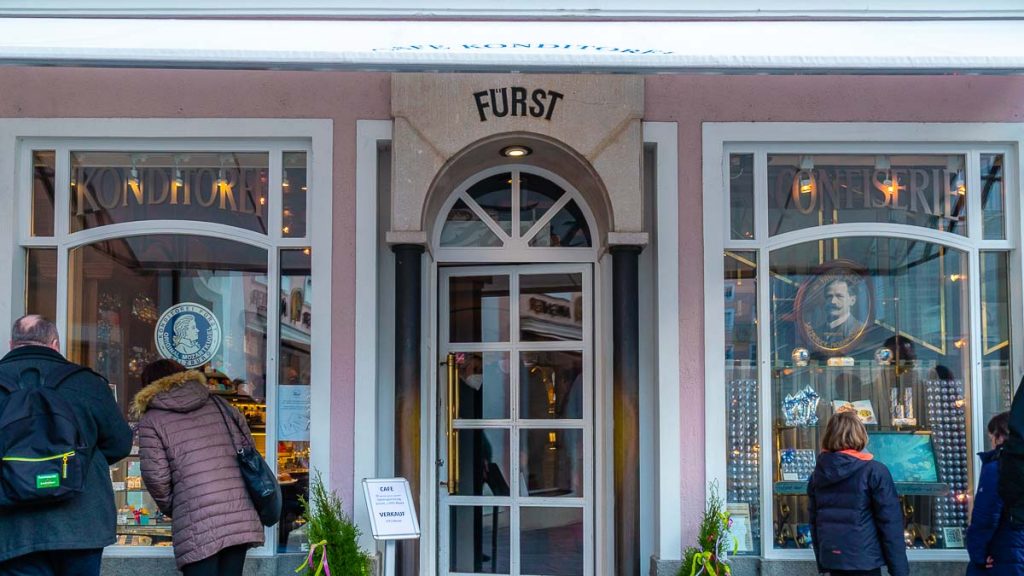 A chocolate named after Mozart, the original Salzburger Mozartkugel (€16 for 10 pieces) at Cafe Konditorei Fürst is made with a marzipan and pistachio core dipped in nougat!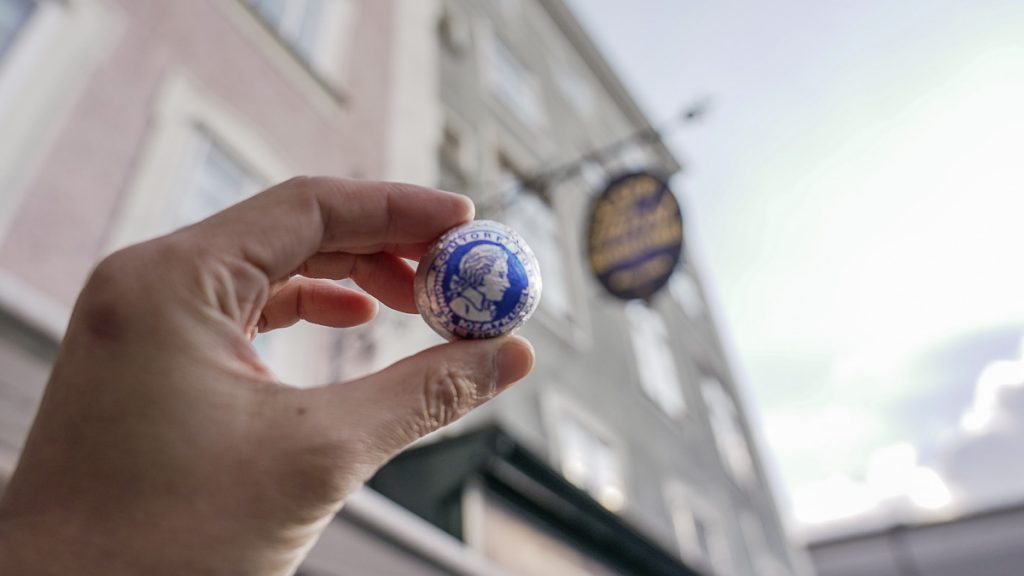 This famous treat can be found all over Austria but only those sold at the original shop in Salzburg Old Town are wrapped in silver foil with a blue Mozart portrait — the rest are wrapped in gold and red (but equally delicious!).
Opening hours: 9AM – 7PM (Sun – Fri), 8AM – 7PM (Sat)
Address: Brodgasse 135020 Salzburg
Salzburg Cathedral
The Salzburg Cathedral was first built in 767, but destroyed by fires and rebuilt several times over the years.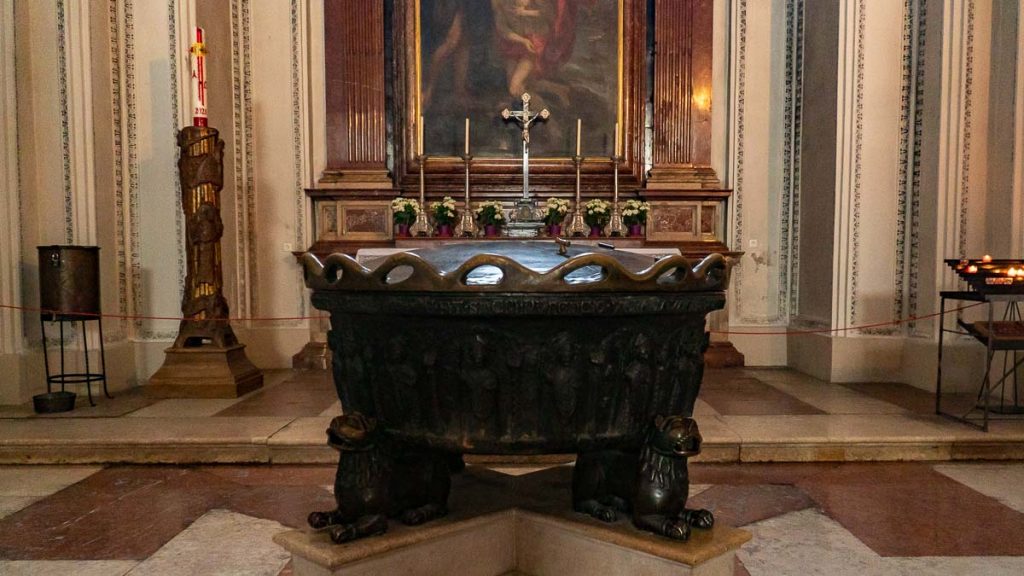 One of the city's most important religious buildings, the baptismal font inside is where Mozart and his sister were baptised!
Entrance fee: €5
Opening hours: Generally 8AM – 5PM (Mon – Sat), 1PM – 5PM (Sun and PH)
Address: Domplatz 1a, 5020 Salzburg
Mirabell Palace and Gardens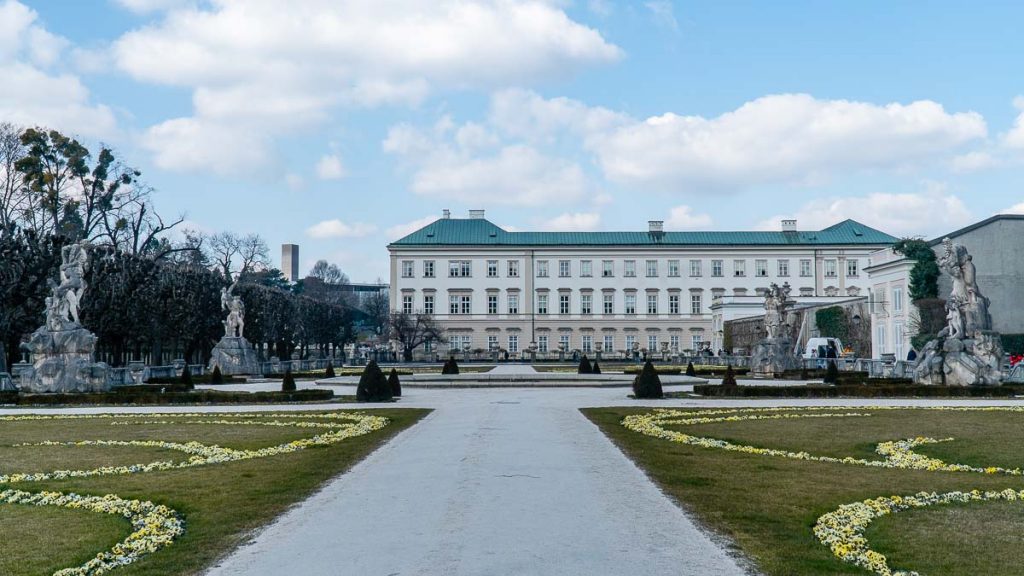 If you've watched the award-winning musical film "The Sound of Music", this place might look familiar. The Mirabell Palace and Gardens was built in 1606 by Prince-Archbishop Wolf Dietrich for his mistress.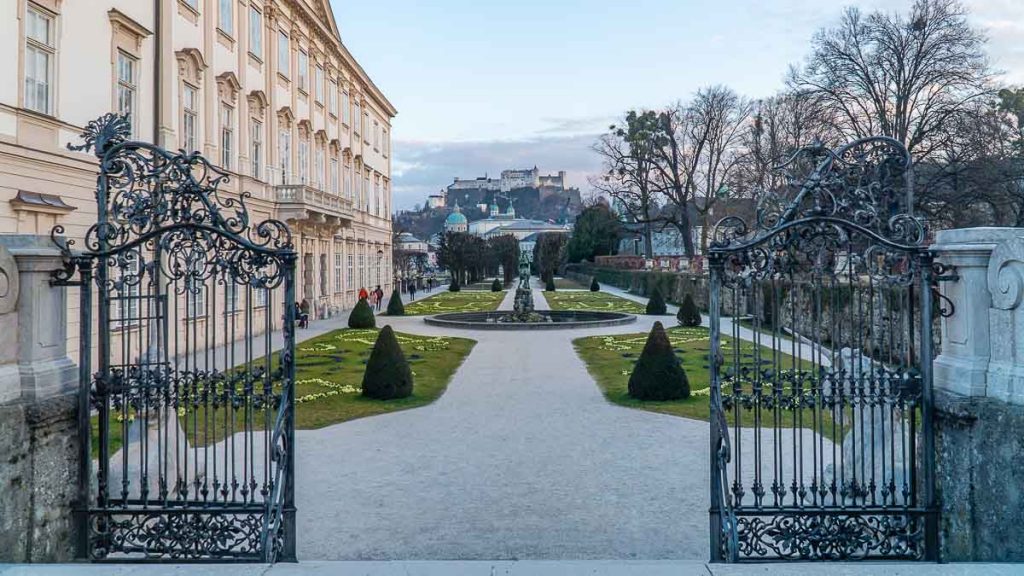 The Sound of Music was based on the real-life von Trapp family who lived in Salzburg before World War II! The spot shown above is where Julie Andrews performed the song "Do Re Mi" in the movie.
Entrance fee: Free
Opening hours: 8AM – 6PM (Mirabell Palace), 6AM – dusk (Mirabell Gardens)
Address: Schloss Mirabell, Mirabellgarten, Mirabellplatz 4, 5020 Salzburg
Hohensalzburg Fortress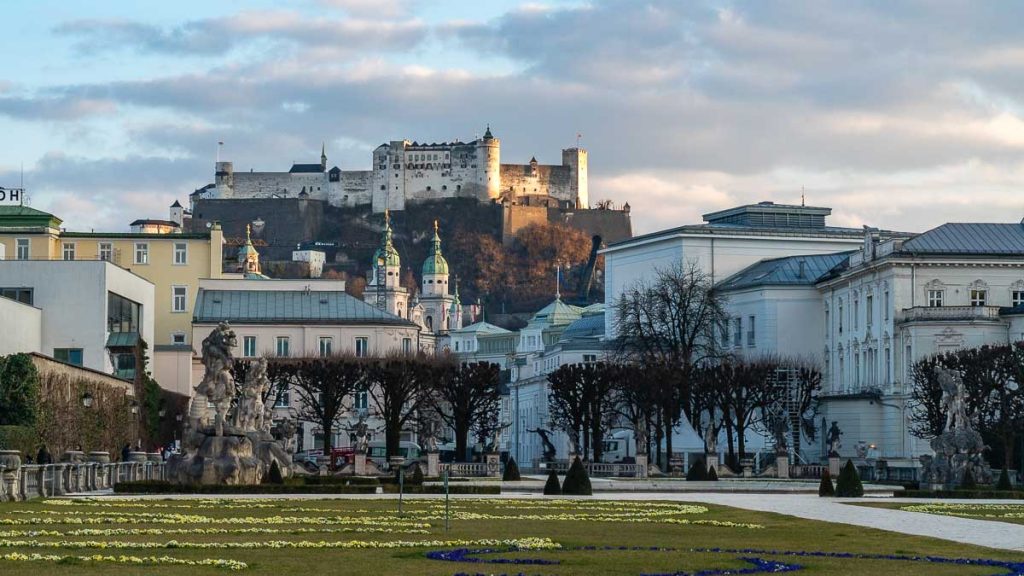 The biggest fully preserved castle in Central Europe is the Hohensalzburg Fortress in Salzburg. Built in 1077, it's located on top of Festungsberg hill — with unobstructed views of Salzburg old town.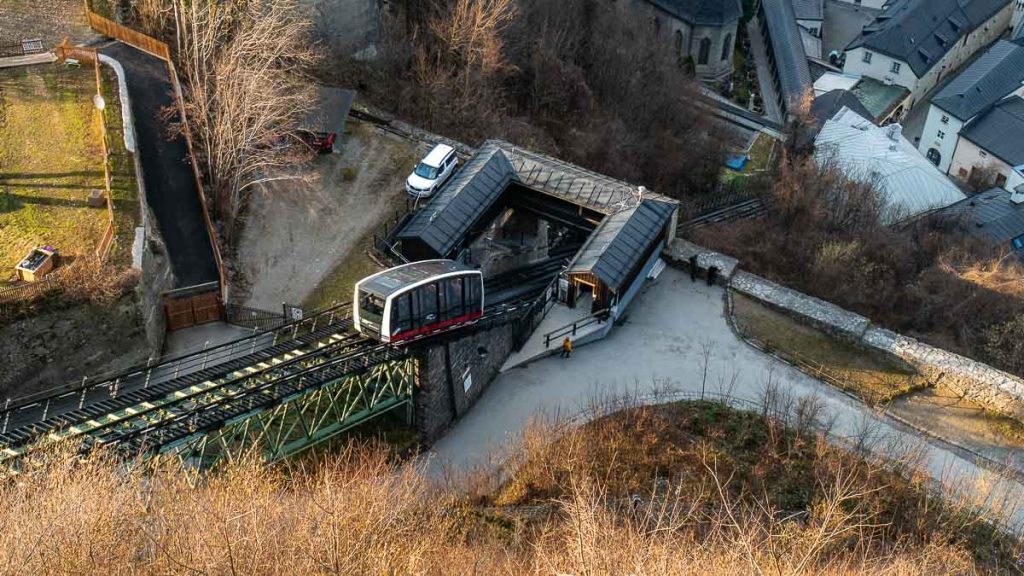 Hohensalzburg Fortress can be reached on foot, but it takes just a minute via funicular which runs every 10 minutes.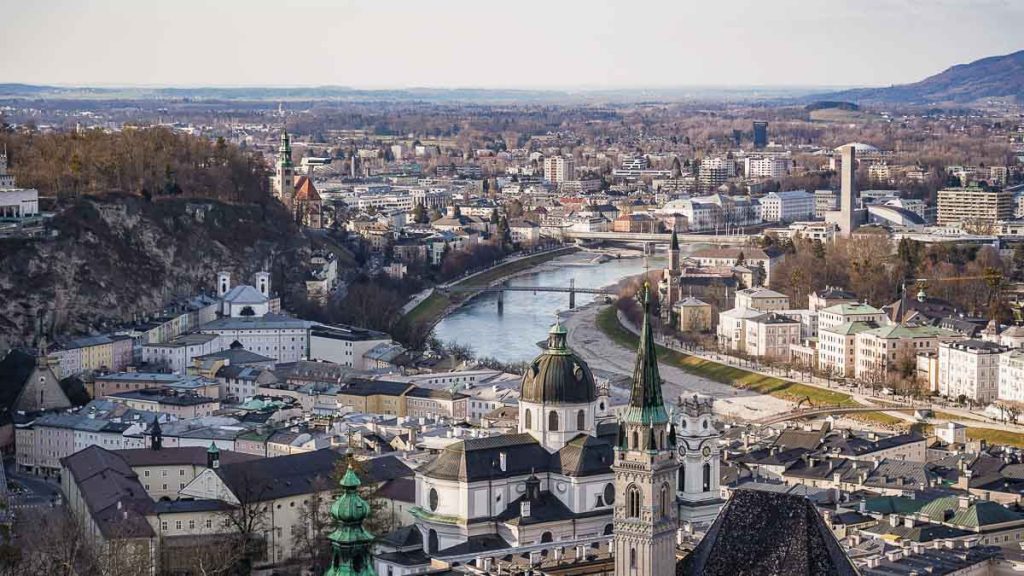 The view of Salzburg Old Town from Hohensalzburg Fortress.
The fortress houses several museums like the Marionette Museum and the Fortress Museum.
Entrance fee: From €13.30 incl. funicular round trip — Free with Salzburg Card
Opening hours: 9:30AM – 5PM (Jan – Apr), 9AM – 8PM (May – Sep), 9:30AM – 5PM (Oct – Dec)
Address: Festungsgasse 4, 5020 Salzburg
Traditional Austrian Cuisine at Sternbräu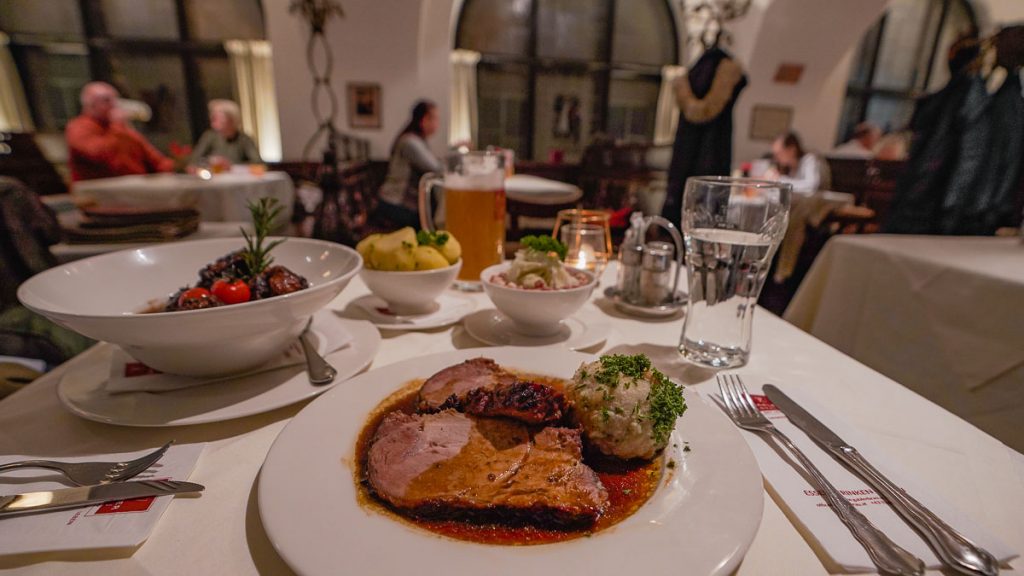 Sternbräu is a popular restaurant serving local dishes since 1429. For starters, we ordered a smoked trout filet salad (€11.20) and pumpkin cream soup (€4.80).
The starters were tasty, but the mains were the real deal — huge portions of hearty Austrian food. I had roast pork with bread dumplings and cabbage salad (€13.90) while Hendric had braised oxtail with potatoes (€18.80).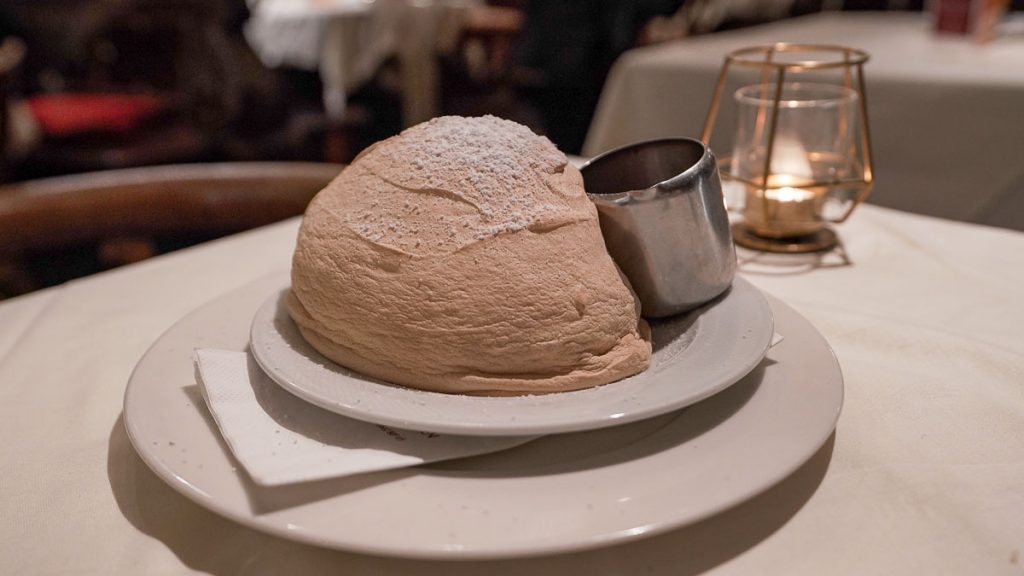 For dessert, we had Salzburger Nockerl (egg souffle with raspberry sauce) — a local specialty. It's light, fluffy, and makes a great dish for sharing.
Cost: From €13.60 for a main
Opening hours: 9AM – 10PM
Address: Griesgasse 23, 5020 Salzburg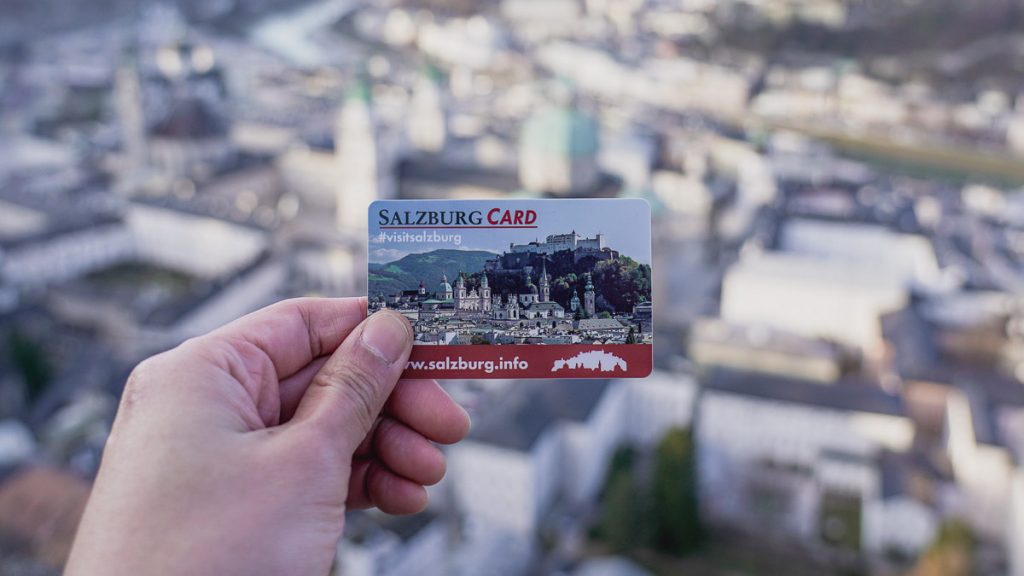 Accommodation in Salzburg (two nights): YoHo International Youth Hostel (from S$41/night for a bed) or K6 Rooms by Der Salzburger Hof (from S$260/night for a medium room).
Day 5: Hallstatt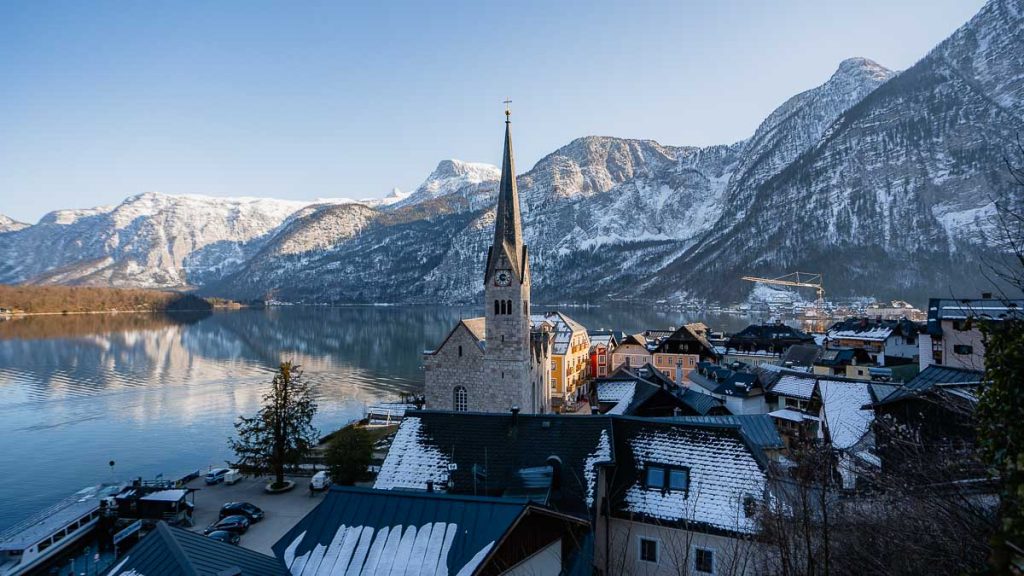 Next on our Austria itinerary, the iconic village of Hallstatt — home to the world's oldest salt mine! It's typically covered as a day trip from Salzburg as it's just a 2.5hr train ride or 1hr drive away.
Getting from Salzburg to Hallstatt: ~2.5hrs via train (from €9.90 one way), includes a transfer at Attnang-Puchheim station. The train stops across the lake from Hallstatt Old Town, so a 10-minute ferry ride (€3 one way) is needed to reach Hallstatt. Alternatively, you could take the bus but requires three transfers.
To maximise your time, aim to leave Salzburg before 8:30AM. The fares and journey duration varies slightly depending on the timing and how early you book in advance. Check the OBB website for exact timings and prices.
Luggage storage in Hallstatt: There's a luggage storage facility (€5/day) at the Tourist Information Centre in the old town.
Salzwelten Hallstatt Salt Mine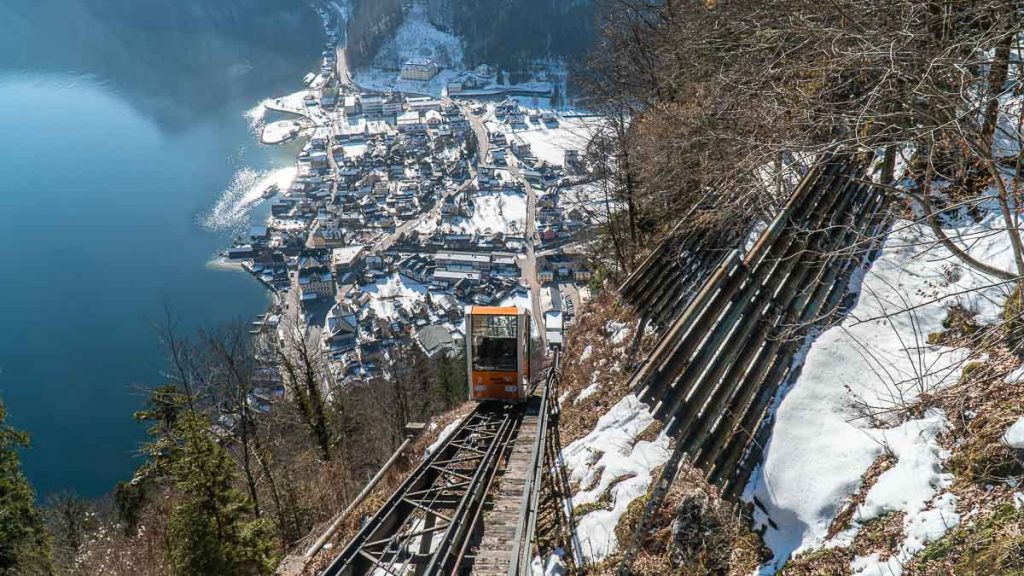 The Salzwelten Hallstatt is the world's oldest salt mine — over 7000 years old! The salt mine is closely linked with the town's history and the tour is both educational and scenic.
To get to Salzwelten Hallstatt, take a three-minute funicular ride from the old town.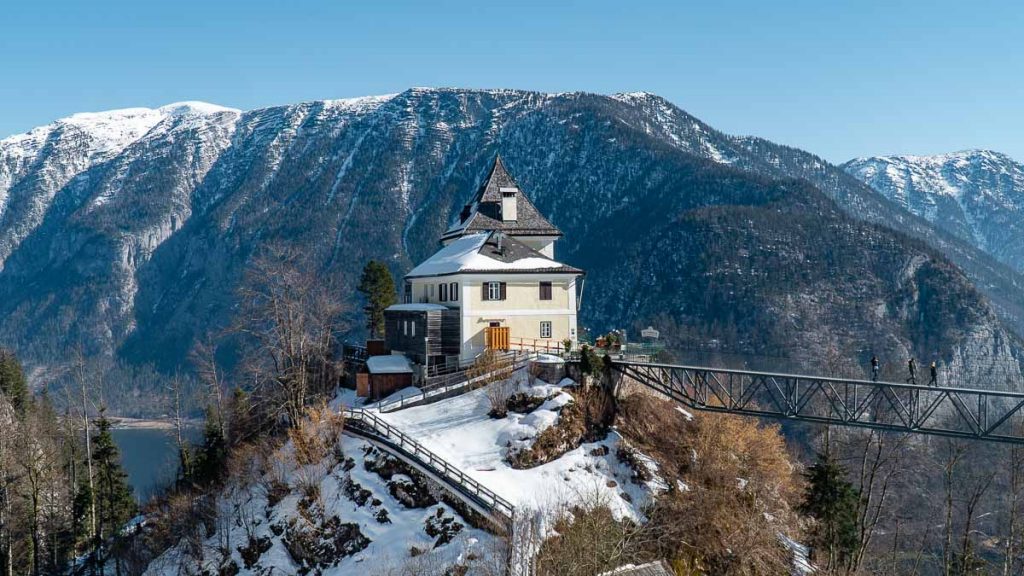 Before starting on the guided tour, walk along Hallstatt Skywalk — located right at the top station!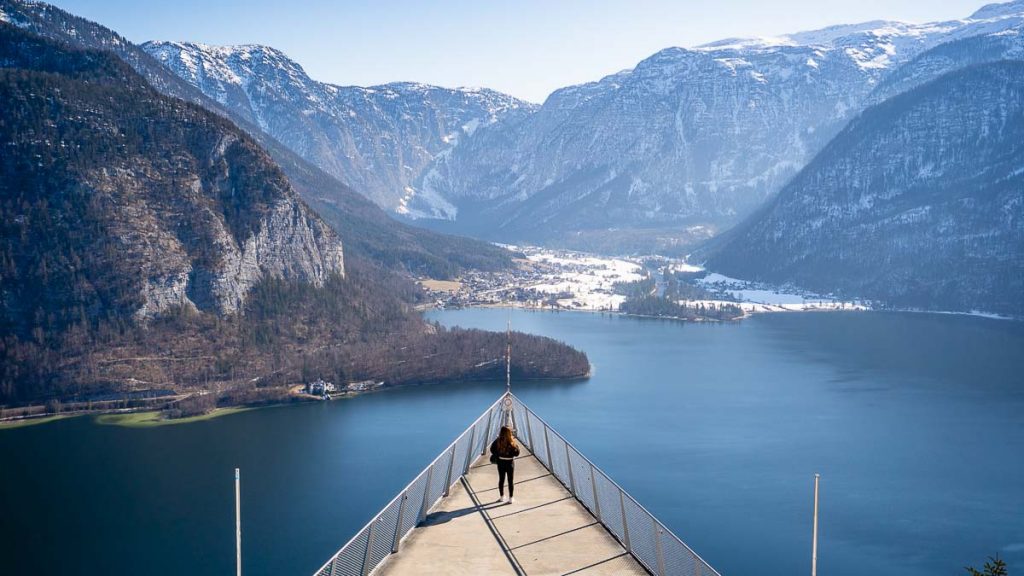 Hallstatt Skywalk.
This 350-metre high viewing platform offers panoramic views of Hallstatt Old Town and Hallstätter See, the alpine lake that connects Hallstatt and the village of Obertraun.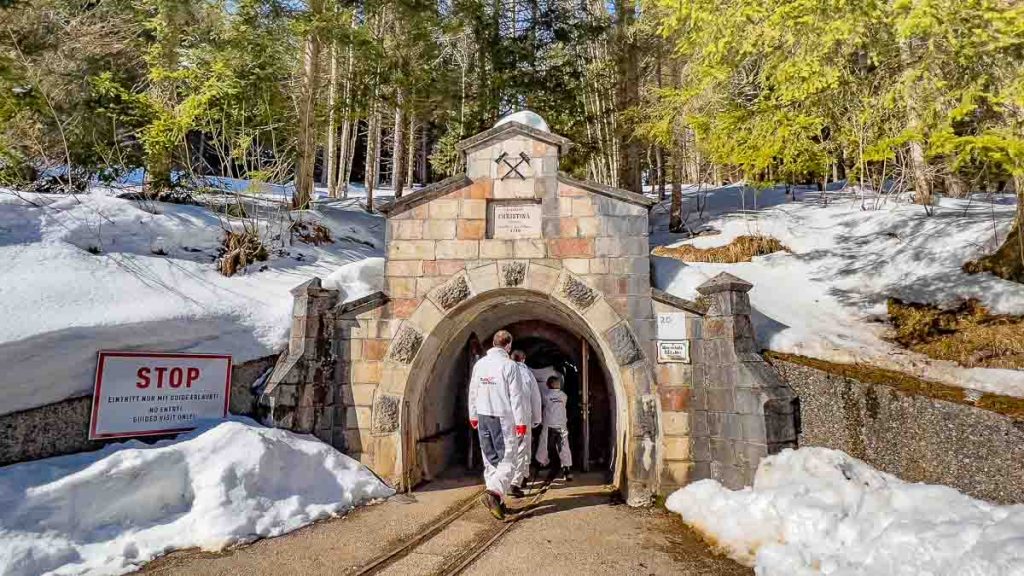 The 1.5hr mine tour isn't just a walk through dark caves. Some exciting elements here include the hologram displays, two wooden slides (one of which is 64m long!) and even a miners train ride.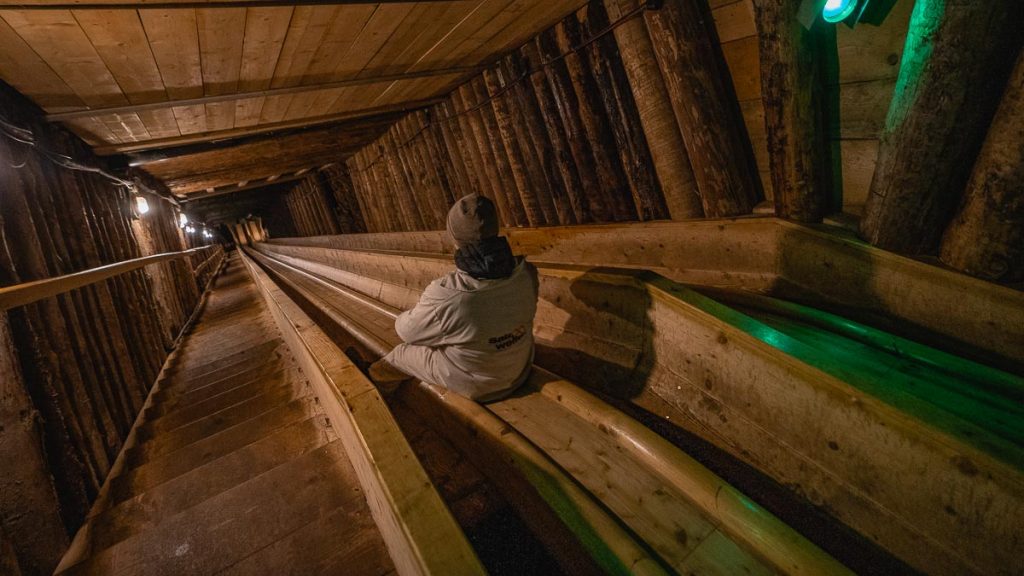 The tunnels are wide enough and temperatures remain at roughly 8°C year round, so it doesn't feel stuffy despite being several metres below ground.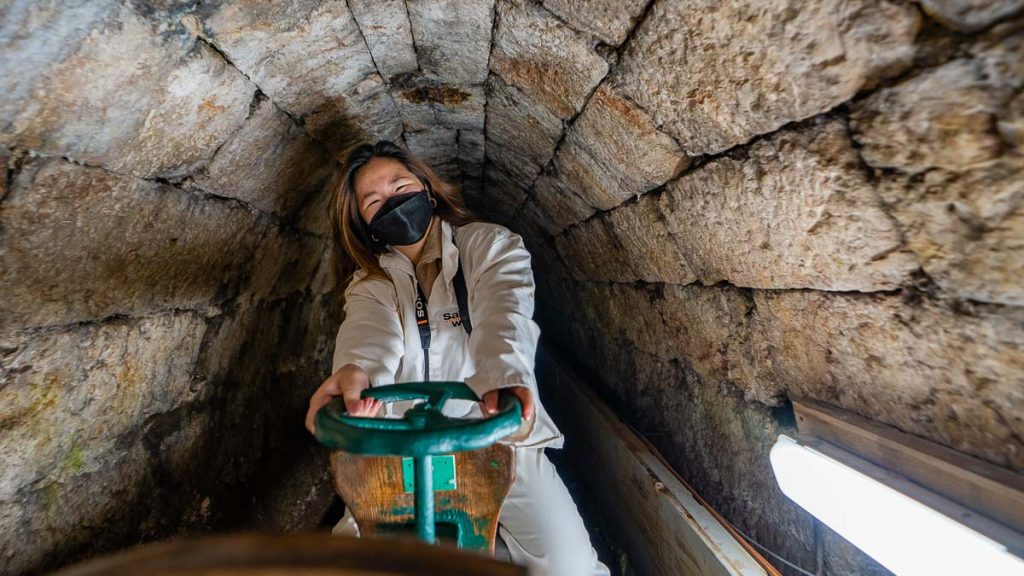 Cost: €36 for a 1.5hr salt mine tour and funicular round trip
Opening hours: Varies depending on season
How to get there: Salzwelten Hallstatt funicular station is an 11min walk from the ferry station/old town
Hallstatt Old Town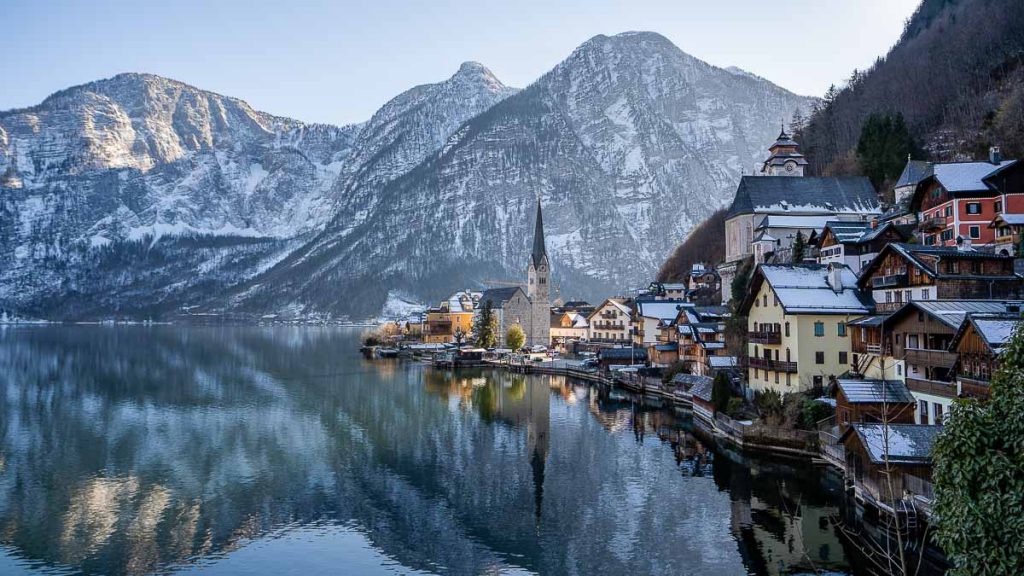 Hallstatt is a small village of just around 750 residents, but millions of visitors flock here each year for this iconic postcard view. The old houses and church set against the alpine landscapes were truly breathtaking — definitely worth the day trip here!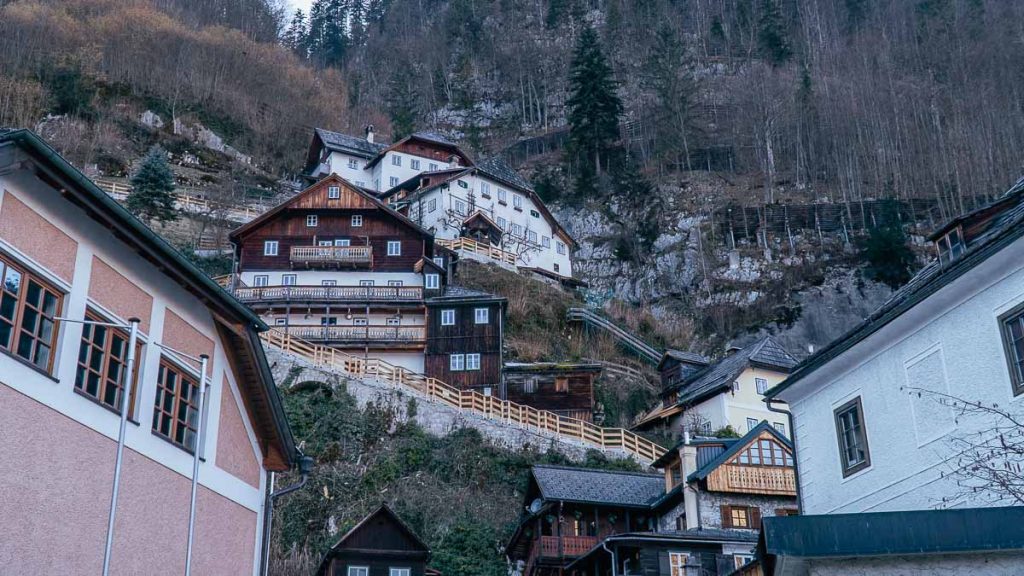 The old town isn't huge, and a few hours is more than enough time to cover everything. Check out the Ascension of Our Lady Church and Market Square!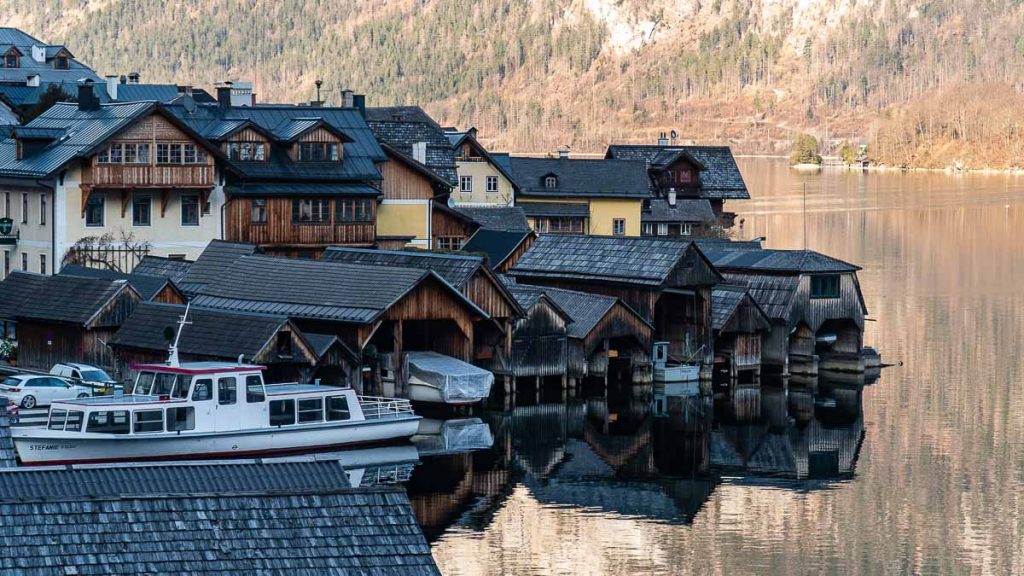 Hallstatt is the capital of the Dachstein Salzkammergut region which consists of four villages — Hallstatt, Bad Goisern, Gosau and Obertraun. If you're planning to stay overnight, take the chance to add Dachstein Giant Ice Cave and 5 Fingers Lookout Point to your Austria itinerary as well!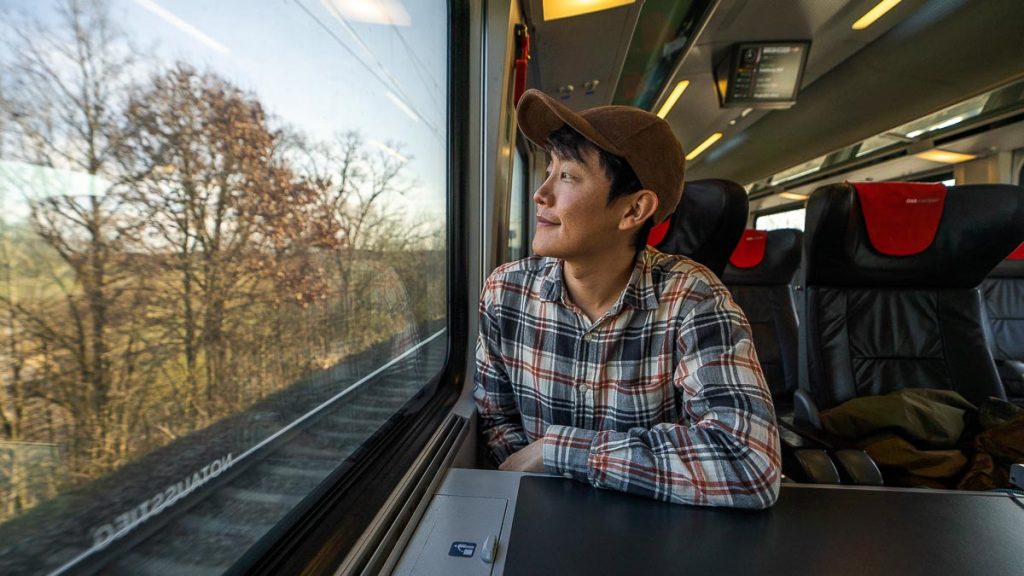 Getting to Vienna from Hallstatt: ~3.5hr train ride from Hallstatt Hbf station to Vienna Hbf station (from €19.90) — transfer at Attnang-Puchheim Bahnhof
Day 6-7: Vienna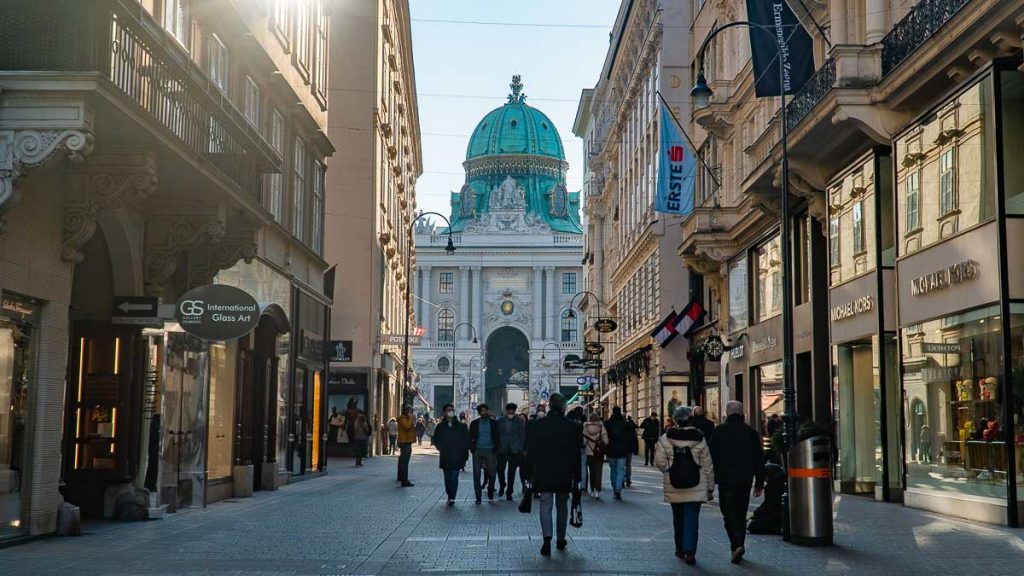 A vibrant blend of the old and new, no Austria itinerary is complete without a trip to its stunning capital, Vienna. Explore important historical landmarks, learn traditional Viennese recipes from a local chef and visit an amusement park dating back to the 1800s!
Getting around Vienna: The Vienna City Card (€17 for 24 hours, €25 for 48 hours) includes free travel on public transport in Vienna and discounts on city attractions.
Vienna City Centre
Hofburg Imperial Palace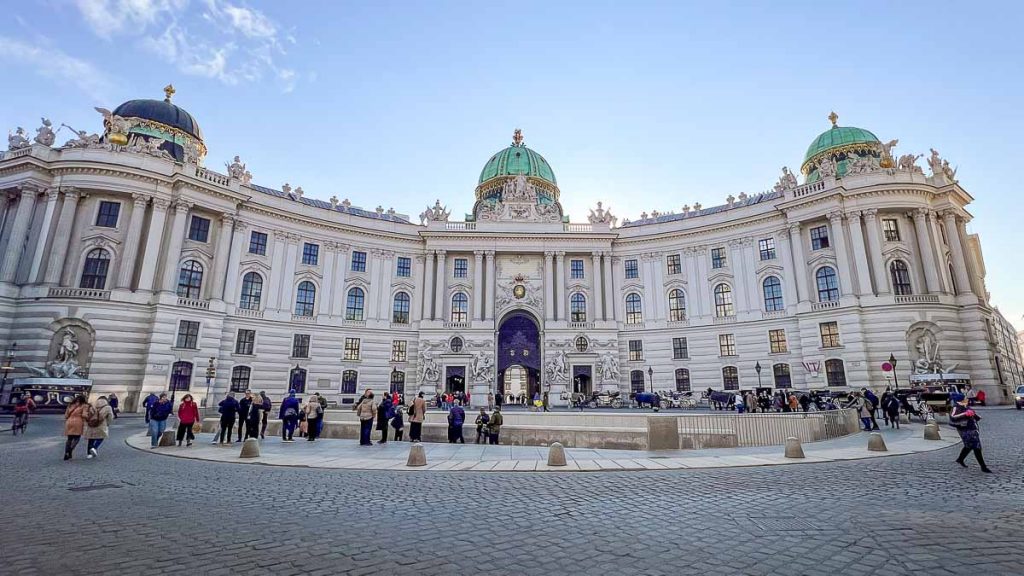 The Hofburg Imperial Palace is one of Vienna's most important landmarks — it's where the Habsburgs ruled Austria for over seven centuries! This palace complex is massive, with 18 wings, 19 courtyards and over 2,600 rooms!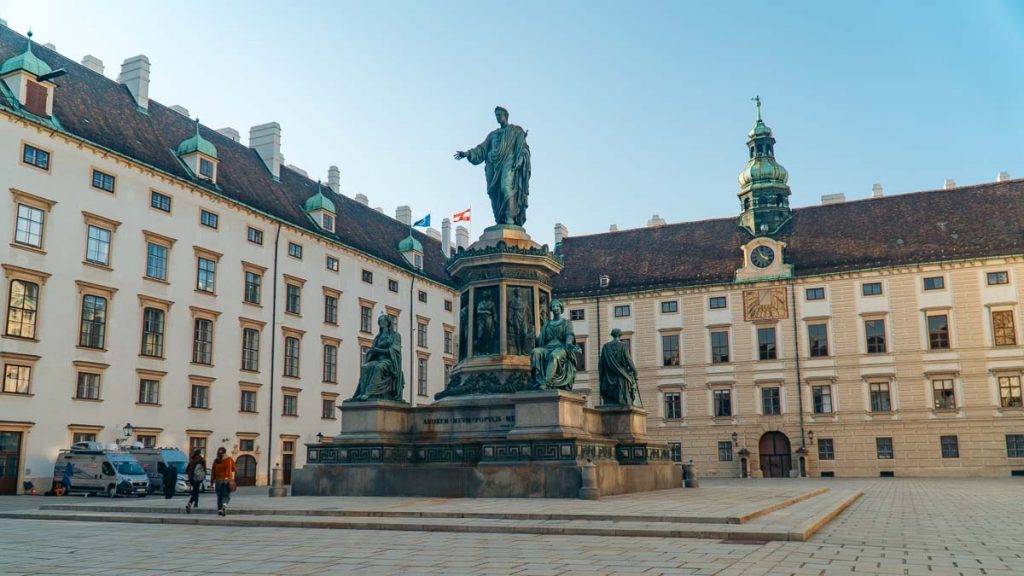 Today, the palace is home to the office of the Federal President, the Spanish Riding School, the Sisi Museum, Imperial Apartments and the Imperial Treasury.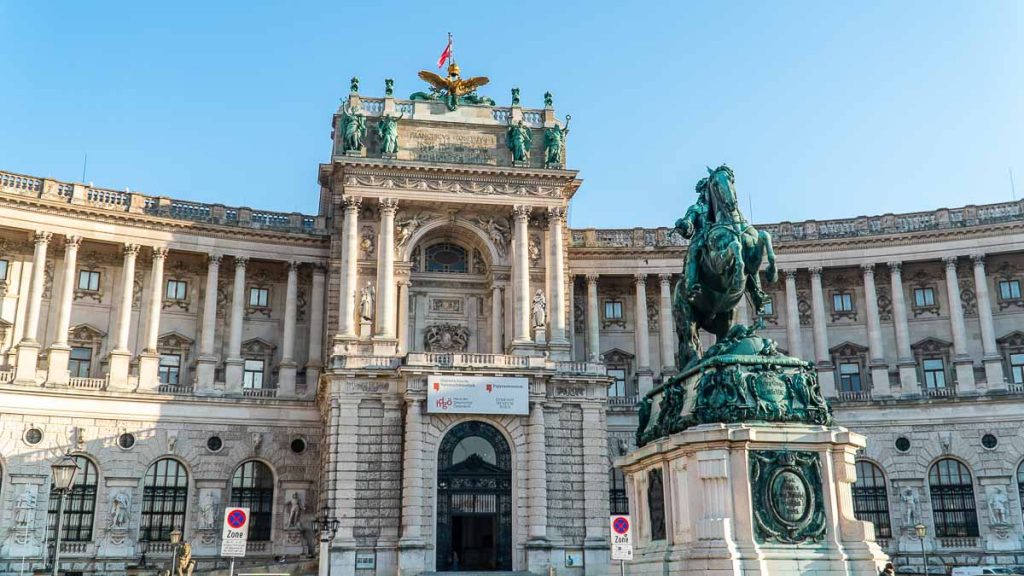 The balcony at the Neue Burg wing of the palace is where Hitler announced the annexation of Austria in 1938, in a tragic event known as the Anschluss.
Entrance fee: Free to walk through the palace, separate entrance fees for museums
Opening hours: 8AM – 6PM
How to get there: Take train line U3 to Herrengasse station, walk 6min
Kärntner Strasse, Graben and Kohlmarkt Shopping Street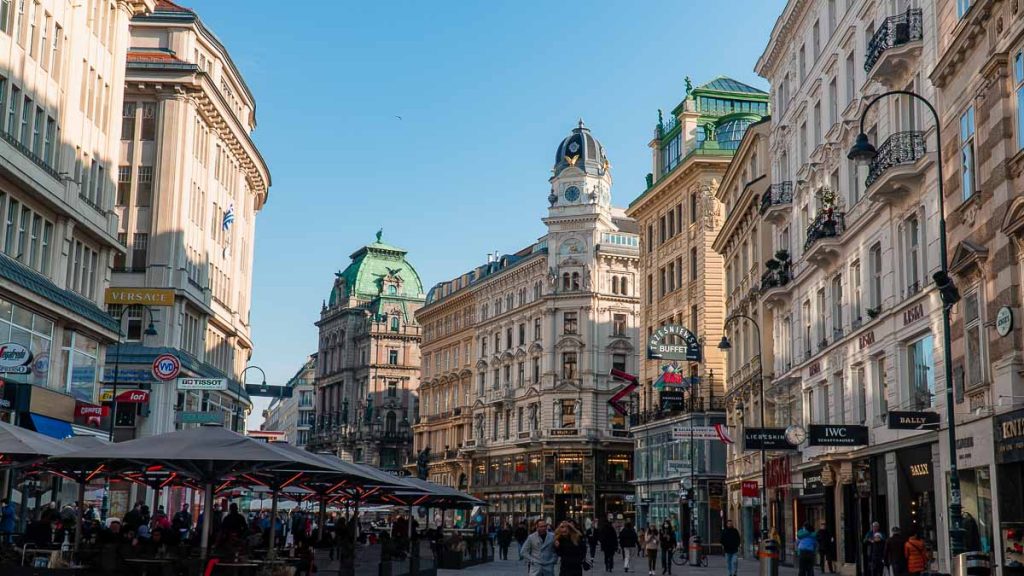 Kärntner Strasse is Vienna's version of Orchard Road, stretching from the State Opera House to St. Stephens. Here you'll find both local and international brands like Swarovski and H&M, plus landmarks like the Vienna State Opera!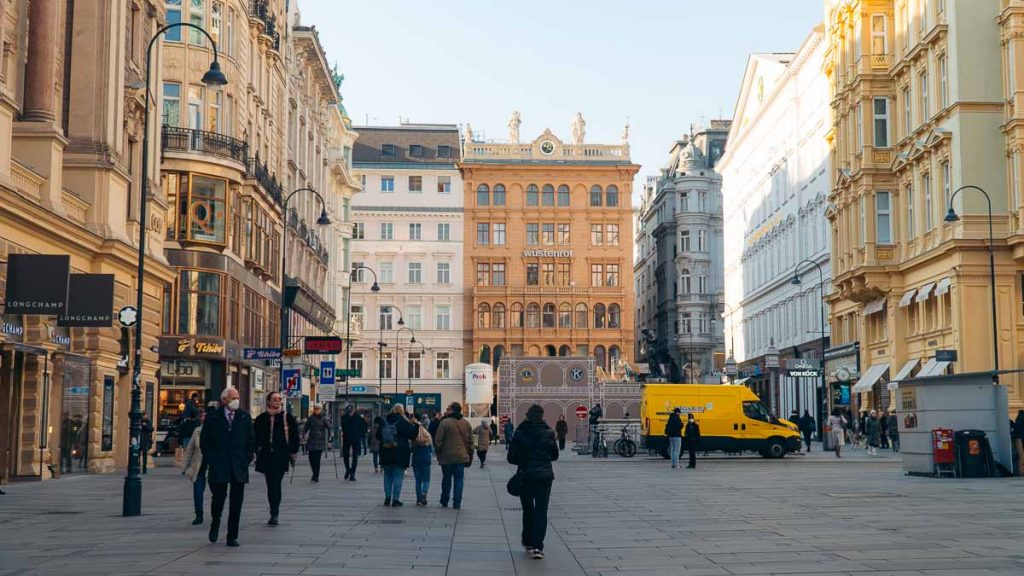 Graben (from. St. Stephan's Cathedral up to Kohlmarkt) is home to more international luxury brands like Cartier and Louis Vuitton, with many flagship stores at the Golden Quarter.
Entrance fee: Free
Opening hours: Most shops operate from 10AM – 8PM
How to get there: 6min walk from Stephansplatz station
St. Stephen's Cathedral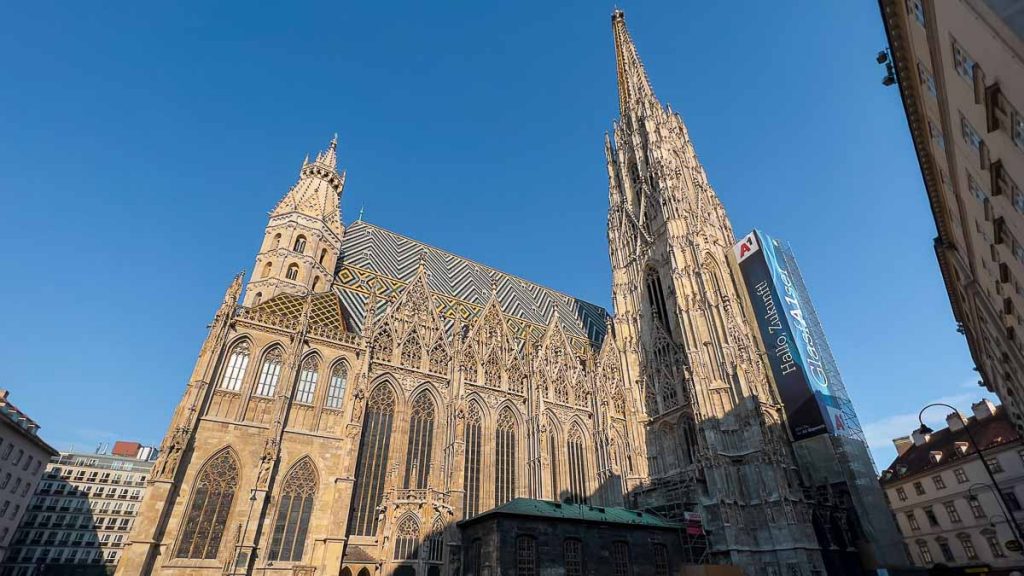 One of the best things to do in Vienna is visiting the St. Stephen's Cathedral. This Gothic structure dates back to the 12th century, with colourful roof tiles of Vienna's coat of arms adorning its sides. For panoramic views of the city, climb up the South Tower's 343 steps to the 'Türmerstube' lookout!
Visitors can also opt for a guided tour through the catacombs underneath the cathedral, where the tombs of bishops and royals are kept.
Entrance fee: Free
Opening hours: 6AM – 10PM (Mon – Sat), 7AM – 10PM (Sun)
Address: Take subway train U1 or U3, or bus 1A or 3A to Stephansplatz station, walk 2min
Kunsthistorisches Museum (Art History Museum)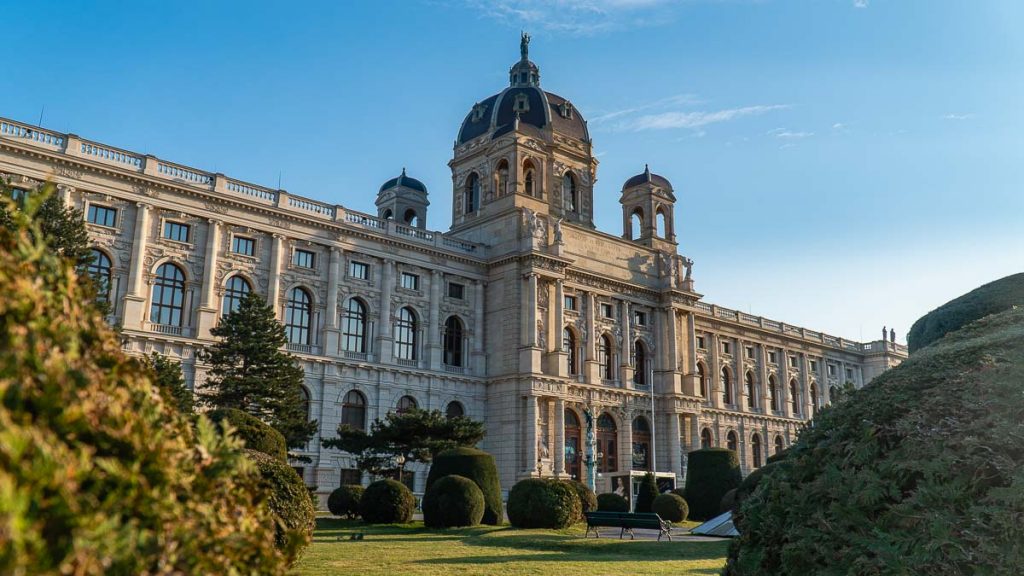 In a city as culturally vibrant as Vienna, it'd be rude not to visit one of the many museums. The Kunsthistorisches Museum, or Art History Museum houses a massive collection of the Habsburg imperial family — which ranges from European to Egyptian works.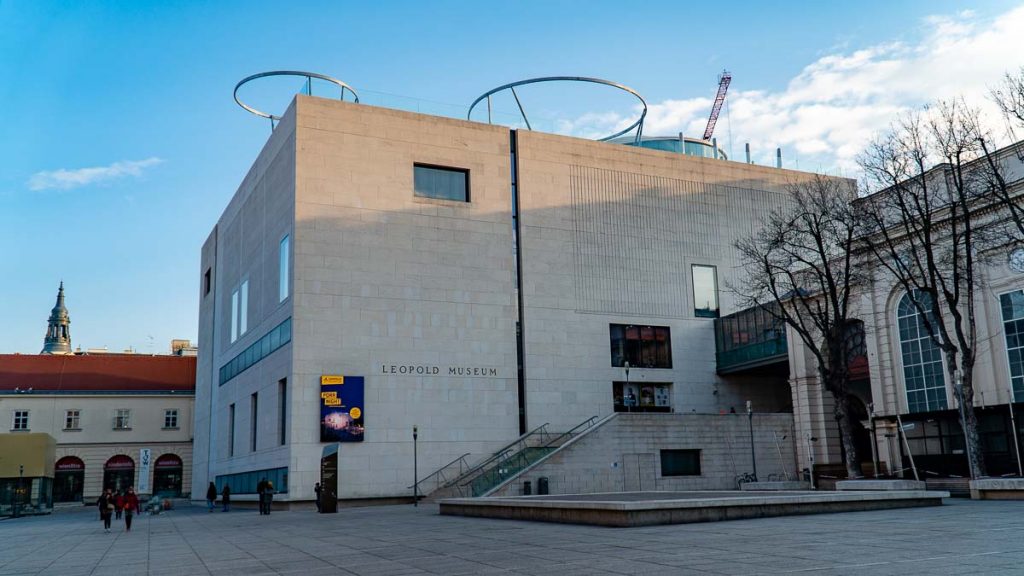 Other museums within walking distance include the Museum of Natural History and the MuseumsQuartier — the former Imperial stables which now houses art museums and restaurants including the Leopold Museum!
Entrance fee: €18 — 6% off with Vienna City Card
Opening hours: 10AM – 6PM (Tue – Sun), 10AM – 9PM (Thu)
How to get there: 6min walk from Volkstheater station
Vienna Naschmarkt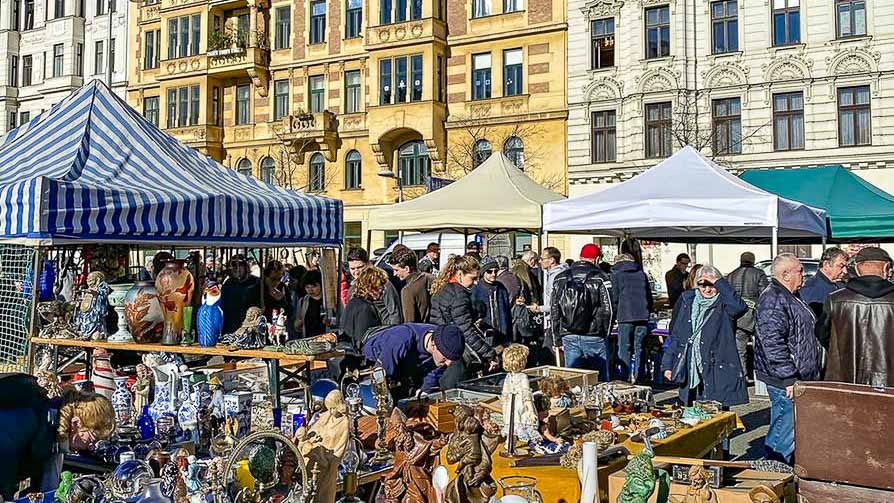 Photo credit: Vienna Tourism
Markets are some of the best places to immerse in local life and the Vienna Naschmarkt is Vienna's most famous one. This market is nicknamed "the belly of Vienna" — home to 120 stalls and restaurants serving cuisines from all over the world!
Come on a Saturday for the weekly flea market, where you'll find all sorts of secondhand items.
Entrance fee: Free
Opening hours: 6AM – 9PM (Mon – Fri), 6AM – 6PM (Sat), Closed on Sun
Address: Take the subway train U1 or U2 to Station Karlsplatz, walk 7min or take the U4 to Station Kettenbrückengasse
Vienna Prater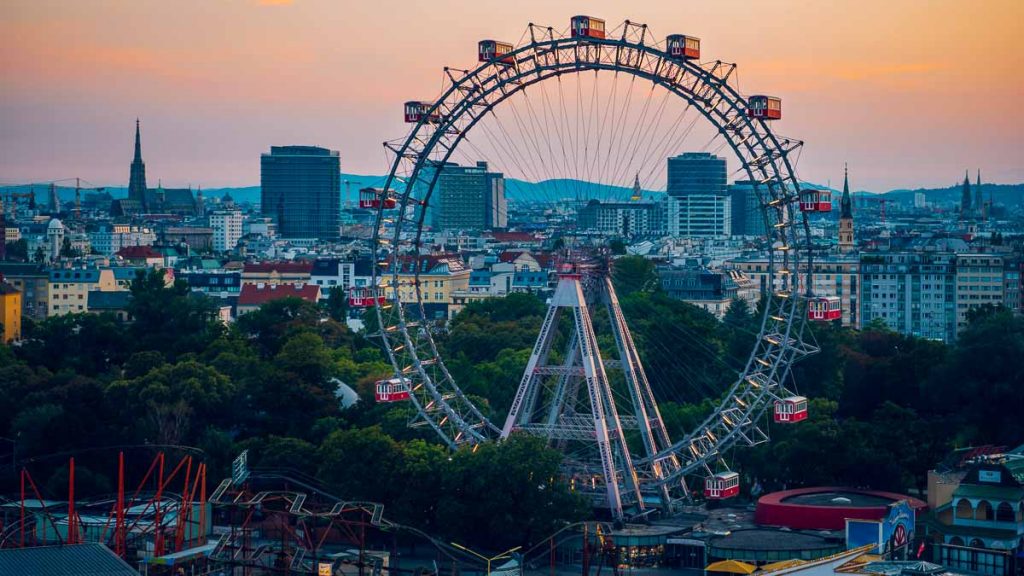 Photo credit: Niklas Schnaubelt
Vienna isn't just museums and churches — there's plenty of thrill too! The Vienna Prater was once a private hunting ground for the royal family. It's now a public amusement park home to dozens of rides and attractions, like the 125-year-old Ferris Wheel and a 5D Cinema.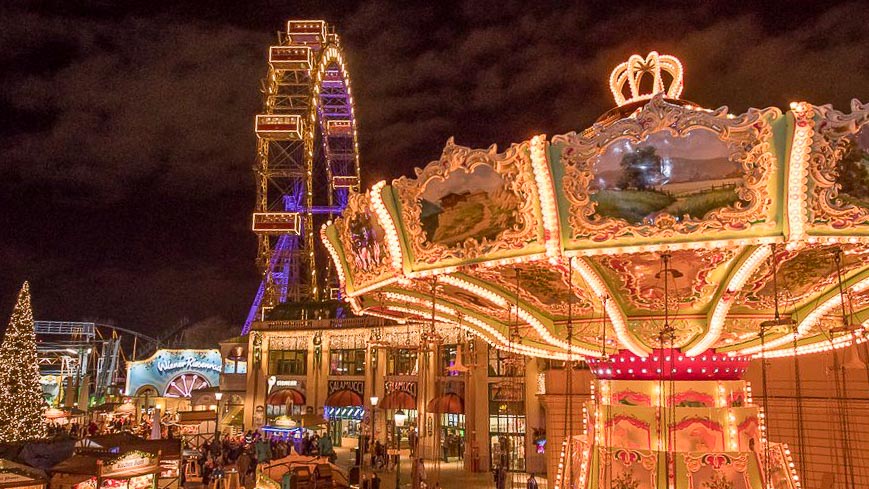 Photo credit: Prater Wien
Those visiting Vienna during winter can also look forward to the Winter Market (from 19 Nov 2022 to 8 Jan 2023 this year) which features a circus and free live concerts! Do note that some rides close during winter — check the website before going to see which ones are operating.
Entrance fee: Free, separate fees for individual rides
Opening hours: 11AM – 12AM, ride operating hours might differ
How to get there: Take tram line 0 or 5, or subway train U1 or U2 to Praterstern station then walk 3min
Viennese Cooking Class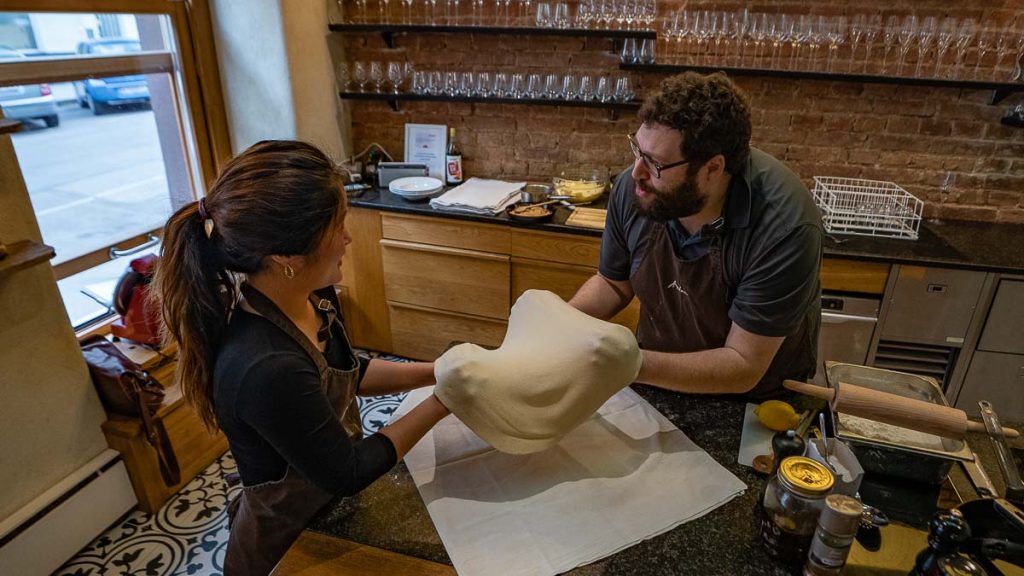 Learn all about Viennese cuisine by cooking with a local chef! Andante teaches guests how to prepare a full Viennese meal — a starter (depending on season), schnitzel with potato salad, and apple strudel.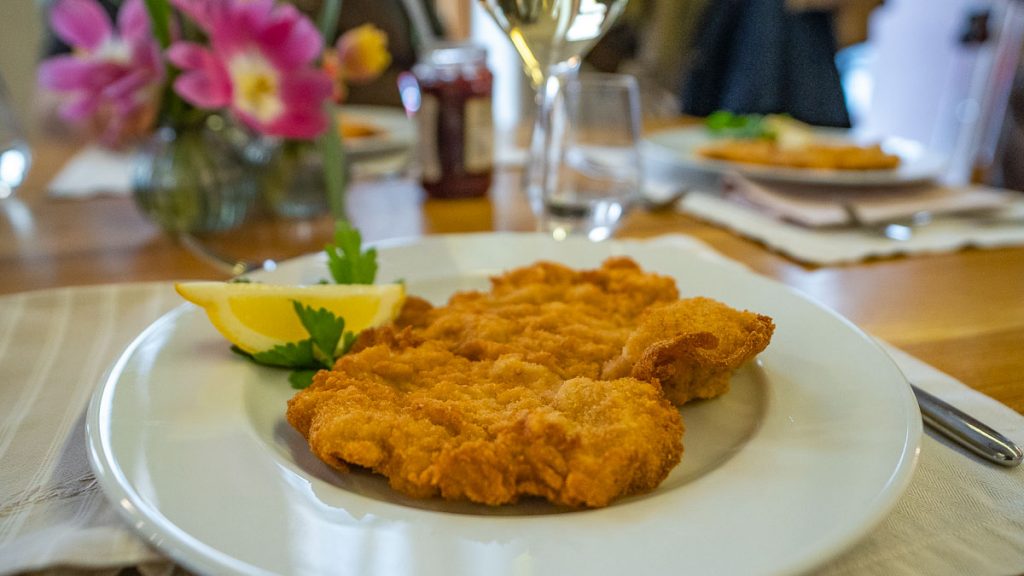 I consider myself a kitchen idiot, but Chef Nabiel was extremely patient. This class ended up being a highlight of my time in Vienna! On top of learning traditional recipes, you'll get to hear about the city's food culture.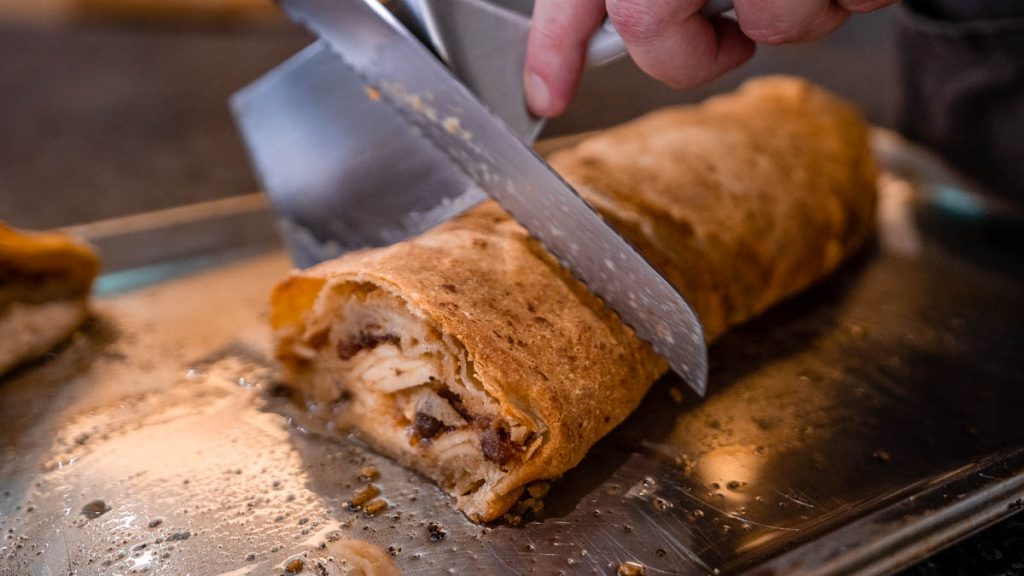 The class takes roughly 3.5hrs — with the last hour for students to enjoy the food together. Beverages like Austrian wine, non-alcoholic drinks, and coffee are included.
Cost: €85/pax
Timing: 6:30PM – 9:30PM
Address: Hetzgasse 39, 1030 Vienna
Schönbrunn Palace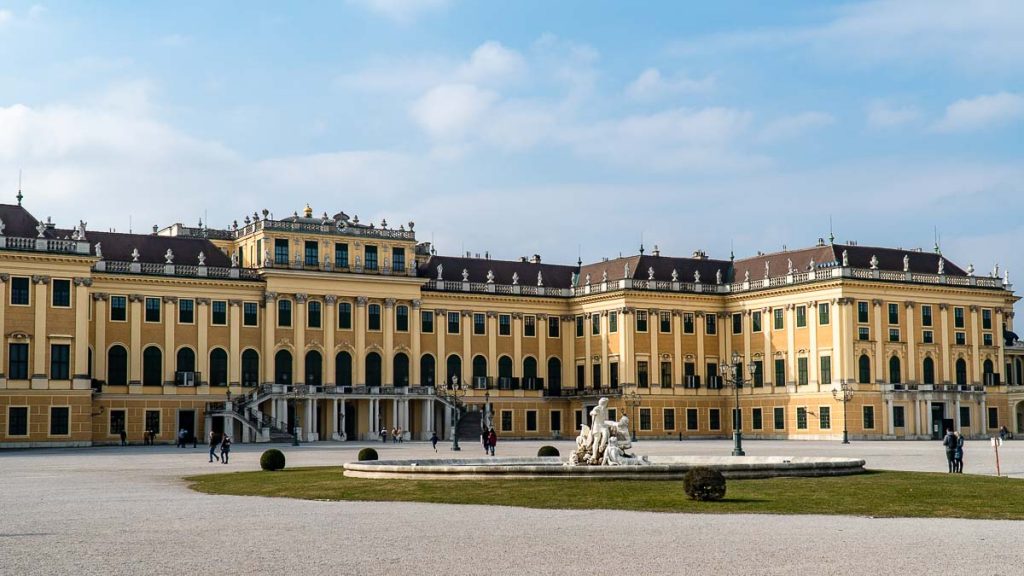 A visit to Schönbrunn Palace is like walking through an open textbook of Austria's history. It was used as the hunting grounds and summer residence of the Habsburg family, who ruled Austria from the 15th to 20th century, and has an impressive 1440 rooms!
You'll learn about famous royals like Maria Theresa (the only female ruler in the Habsburg dynasty!) as well as Emperor Franz Joseph and his wife Elisabeth, lovingly known as Sisi to locals.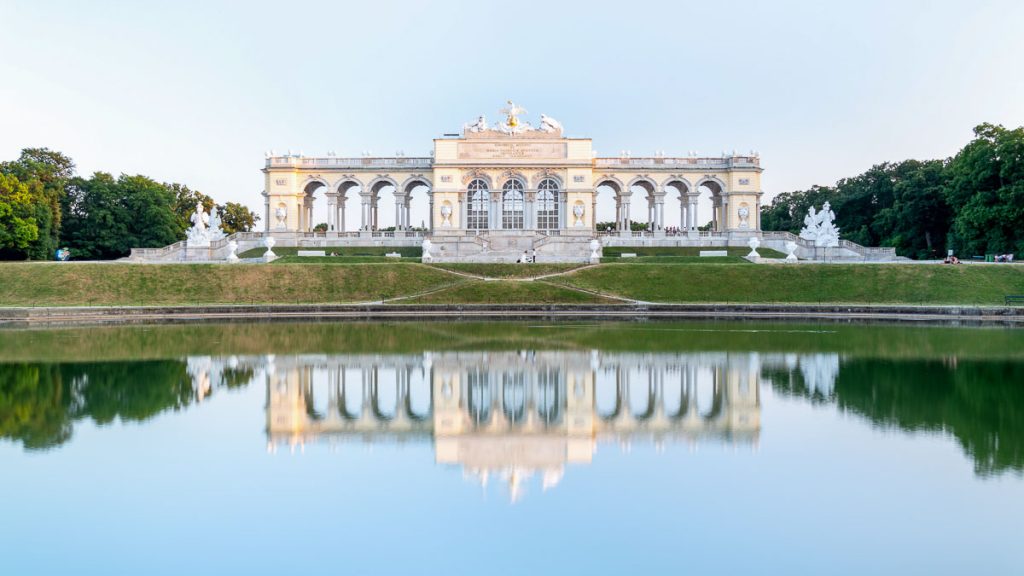 Photo credit: @anikinearthwalker via Unsplash
There's also a large garden behind the palace that's free to visit. Head up to the Gloriette Arch for the best views of Schönbrunn Palace!
Entrance fee: €22 for the Imperial Tour (22 rooms), €26 for the Grand Tour (40 rooms). Audio guide included in both — 7% off with Vienna City Card
Opening hours: 9:30AM – 5AM (Palace), 6:30AM – 5:30PM (Gardens)
How to get there: Take the U4 train to Schönbrun station, walk 7min
Café Sacher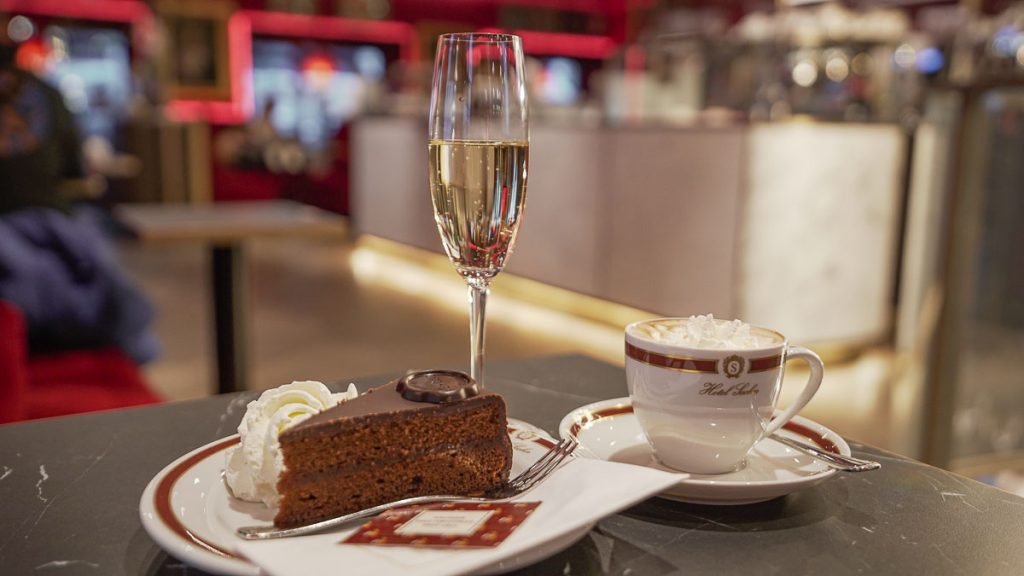 Sacher-Torte can be found in many of Vienna's coffeehouses, but Hotel Sacher is where it originated from!
When in Vienna, you've got to have the Sacher-Torte and coffee at Sacher Eck Cafe. This rich chocolate cake with apricot jam and whipped cream dates back to 1832 and is now a household name in Austria.
The Sacher Sweet Treat meal includes a slice of Original Sacher-Torte, a hot beverage and water for €19, or €28 for an additional glass of champagne.
Cost: From €13 for a coffee and cake
Opening hours: 8AM – 9PM
How to get there: Take bus 2A to Kärntner Straße station, cross the road. Alternatively, take the U1 or U4 or trams 1, 2, D or 71 to Karlsplatz/Oper and walk for 5min
Viennese Sausages at Bitzinger Würstelstand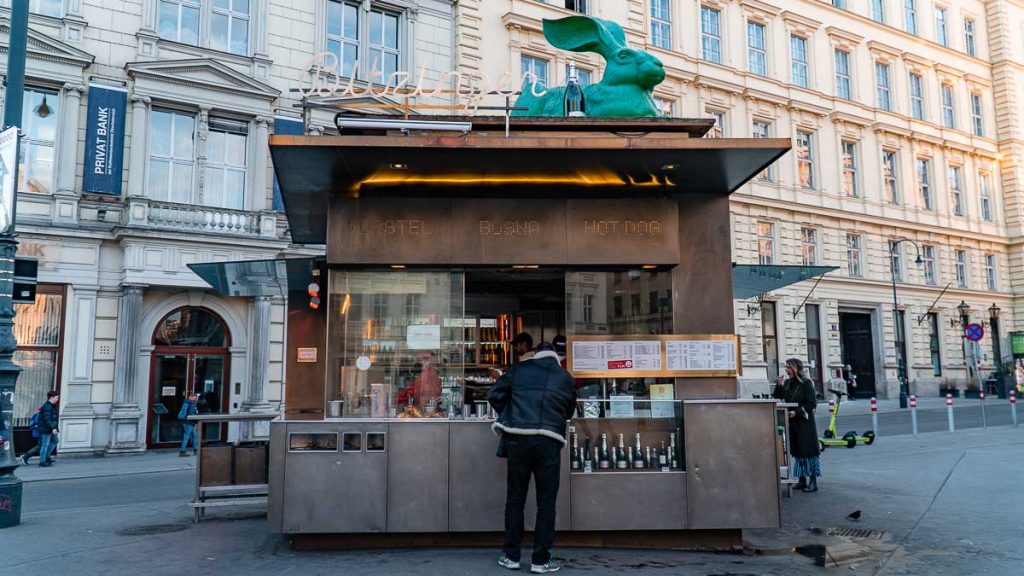 Grabbing a bite at a Würstelstand (sausage stand) is a must. Würstelstands are found all over the city, but Bitzinger Würstelstand (located right beside the Vienna State Opera) is the most well-known.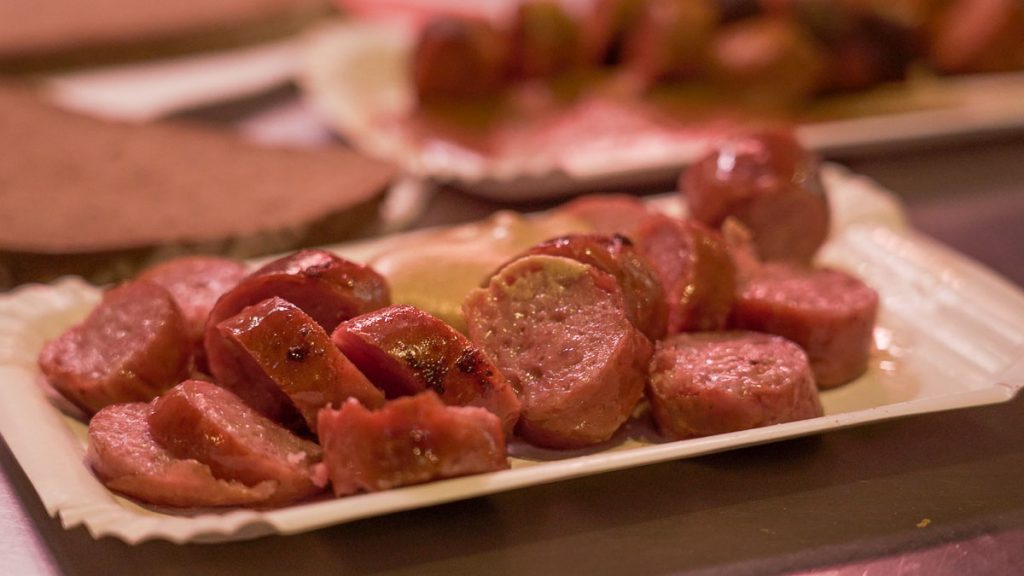 Their signature sausage is the Käsekrainer (€5.50), served with mustard and a slice of bread. It's filled with warm, melted cheese — a great snack for chilly weather. We also tried the Currywurst (€5.60); equally as delicious!
Cost: From €4.80 for a set of sausage and bread (Only cash is accepted!)
Opening hours: 9AM – 2AM
How to get there: 5min walk from Karlsplatz station. Bitzinger Würstelstand is also just a 2min walk from Sacher Eck Cafe
Ice Skating at City Hall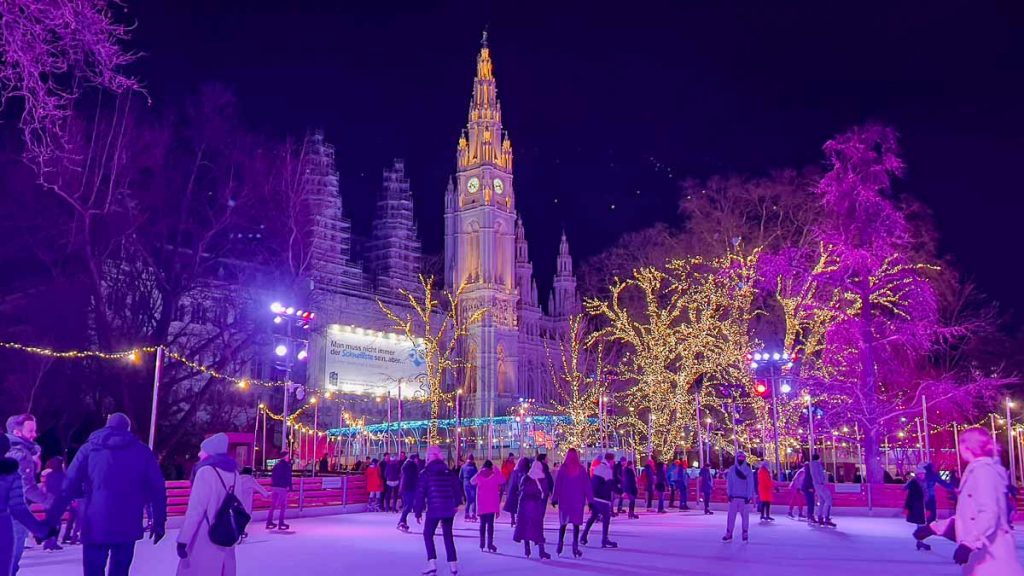 This isn't your typical ice rink. From January to early March, Vienna Ice Dream takes over the area in front of City Hall and the surrounding Rathaus Park — transforming it into a massive ice skating park.
A city tradition since 1996, each edition is better than the last. There are four ice skating rinks, totalling 9,500 square metres. They're all connected by winding paths and it's a lot of fun exploring the space!
Cost: €8.50 for entry, €5for skate rental — purchase tickets online for 10% off!
Opening hours: To be announced
How to get there: Take tram 71, D or 2 to Rathaus station, walk 3min
Accommodation in Vienna (three nights): Wombat's City Hostel Vienna Naschmarkt (from S$43/night for a bed) or Motel One Wien-Staatsoper (from S$186/night for a classic room).
Pro-tips to Saving with City Cards in Austria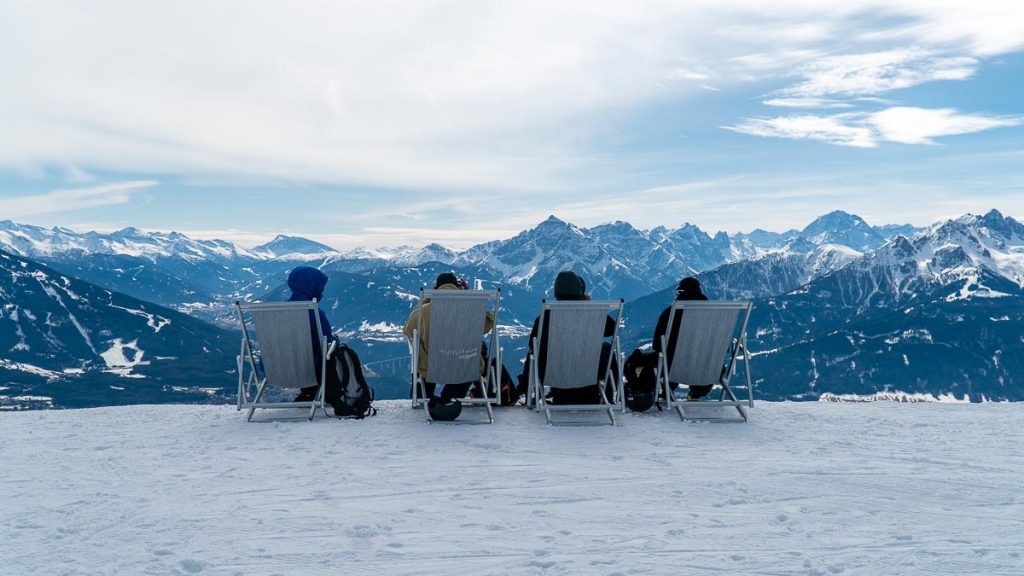 I'd admit, my knowledge of Austria before this trip was limited to Vienna being its capital. But halfway through our week-long Austria adventure, I found myself already dreaming of my next visit.
World-class ski resorts, bustling Christmas markets and rich history — Austria is the perfect mix of nature, adventure, and culture. It's a bit of an underrated destination, but that makes us love it even more.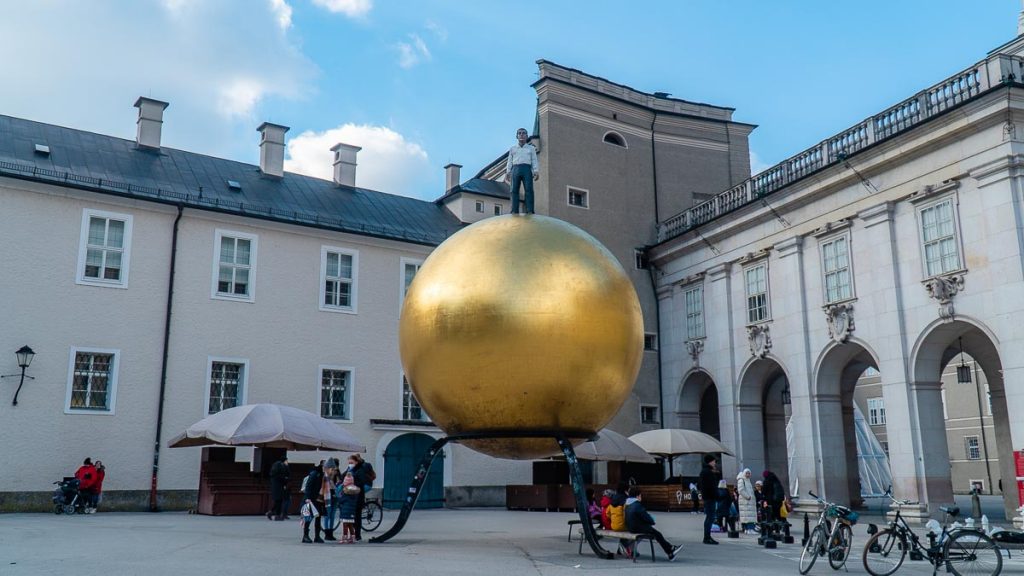 Planning your first trip to Austria? Here are some useful tips:
1) Inter-city train tickets are a lot cheaper when booked in advance. Take note that different departure times on the same day can be priced differently. Do check in advance when booking tickets!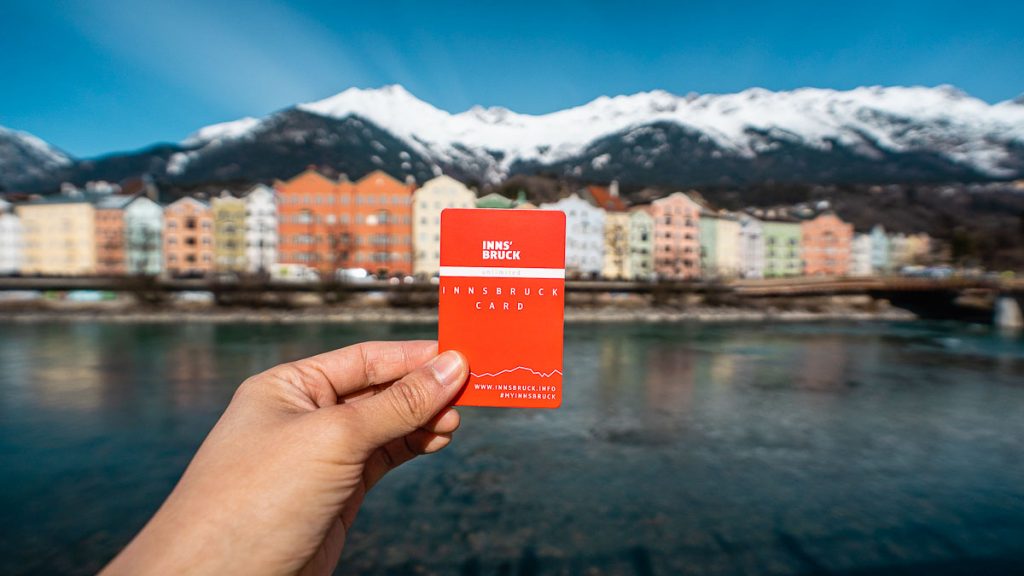 2) Most old towns in this Austria itinerary are easily explored on foot. But it's still worth it to get the City Cards to save on attraction tickets and public transportation.
For example, the Innsbruck Card costs €63 for 48 hours. The cost of tickets to the Golden Roof (€4.80), Court Church (€5.10), Nordkette Cable Car (€42), Swarovski Crystal Worlds (€19) and Swarovski Crystal Worlds shuttle bus (€9.50) adds up to €80.40.
You'd save €17.40 by getting the Innsbruck Card! Each city offers its own city card — the Salzburg Card and Vienna City Card are also available.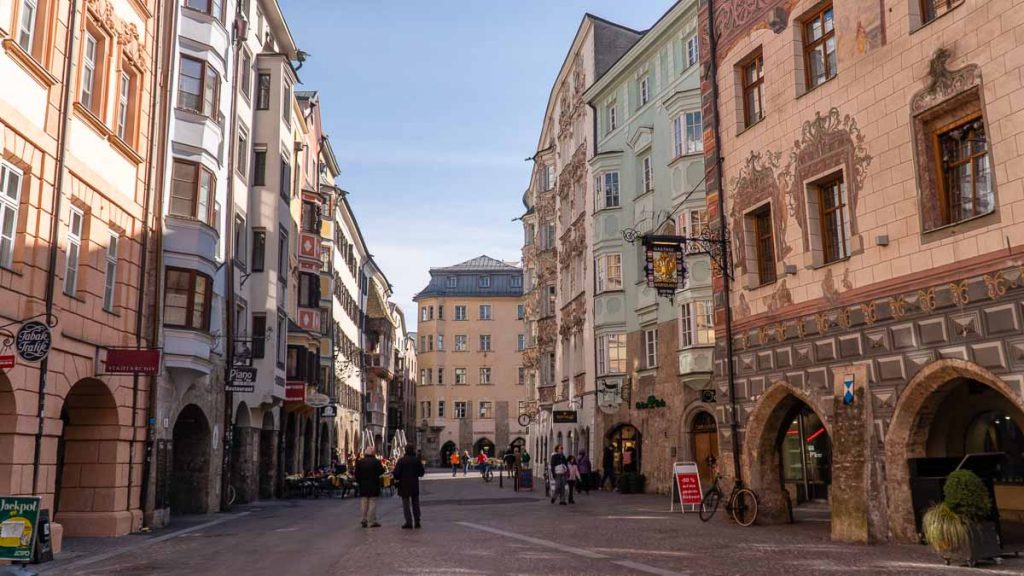 3) Connectivity: A 30-day 10GB SIM card (€9.99) from Drei can be bought at the Vienna airport or at any Trafik store (a convenience store) in the country. Alternatively, purchase a Magenta Klax SIM card (€10) from T-Mobile which offers 15GB for 28 days.
Are there any places you'd add to this Austria itinerary? Share with us in the comments!
---
This post was brought to you by the Austria National Tourist Office.
Like what you see? Follow us on Facebook, Instagram, YouTube, and Telegram for more travel inspiration!