Written by: Isabel Leong
Busan is the next largest city after Seoul, with close to 4 million people. It is Korea's main port for international shipping, and is famous for its freshly-caught seafood and beaches. This city is no foreign place to tourists if you are planning a trip to Korea.
Here I suss out 6 attractions every time-constrained traveller has to go at least once when in Busan.
1) Gamcheon Culture Village (부산 감천문화마을)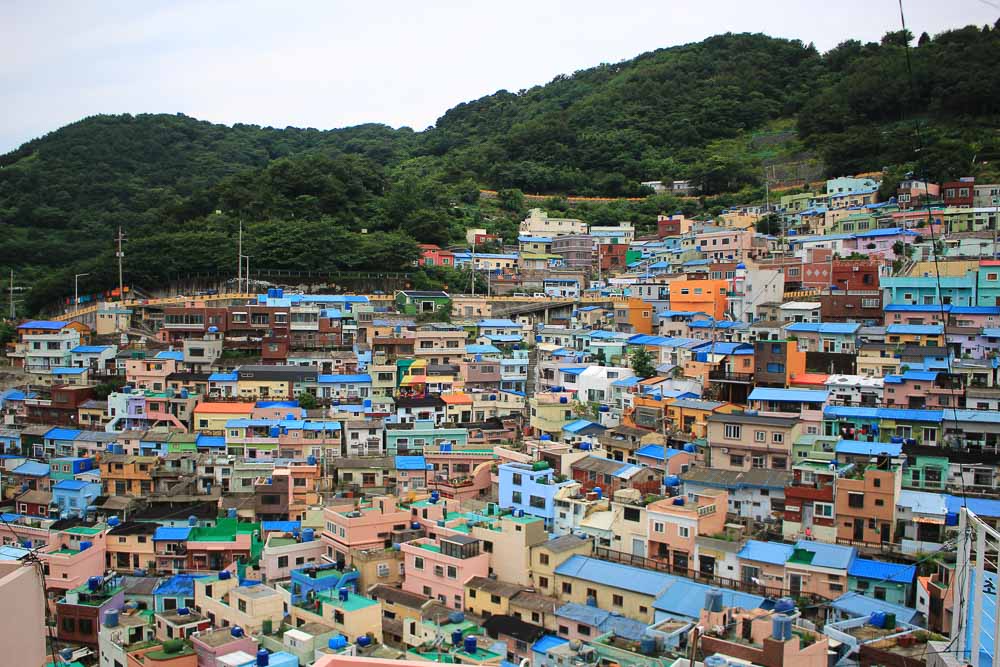 For culture buffs, this has got to top your list. Or at least, the colour-chasing photographer in me was not going to miss this so-called 'Santorini of the East'.
Walking around the village is free, unless you wish to obtain a stamp tour village map for 2,000₩ at the entrance. Like a treasure hunt, this map points out different points of interests within the village for you to get to in order to obtain a stamp and complete the map.
The whole village rests on a hill. The houses that make up the village are scattered in terraces. I found myself navigating through the narrow sidewalks interspersed with steps and slopes. Make it your aim to uncover the best view of the village, for which you can never be certain of, for each view you stumble upon seemed only trump the previous.
Getting lost in cultural villages is my favourite part about travelling. It is not visiting museums, nor shopping. It is through these walks where I get a glimpse of Busan's past, where I imagine what Busan used to be.
Cost: Free
Operating hours: 9am – 5pm
Directions: Take Subway Line 1 to Toseong Station. Come out from Exit 6.
Facing an intersection, turn right at the corner and walk straight. You will see a hospital on your right. Take Bus 1-1, 2 or 2-2 from the bus stop in front of the hospital. This will take you to Gamcheon Culture Village at the top of the hill.
*Tip: I recommend making this your first destination of the day, as this is the furthest you'll ever be in Busan's West.
Read also: 7D Itinerary to Seoul, Nami, Jeonju, Busan with the Korail Pass
2. BIFF Square (BIFF 광장)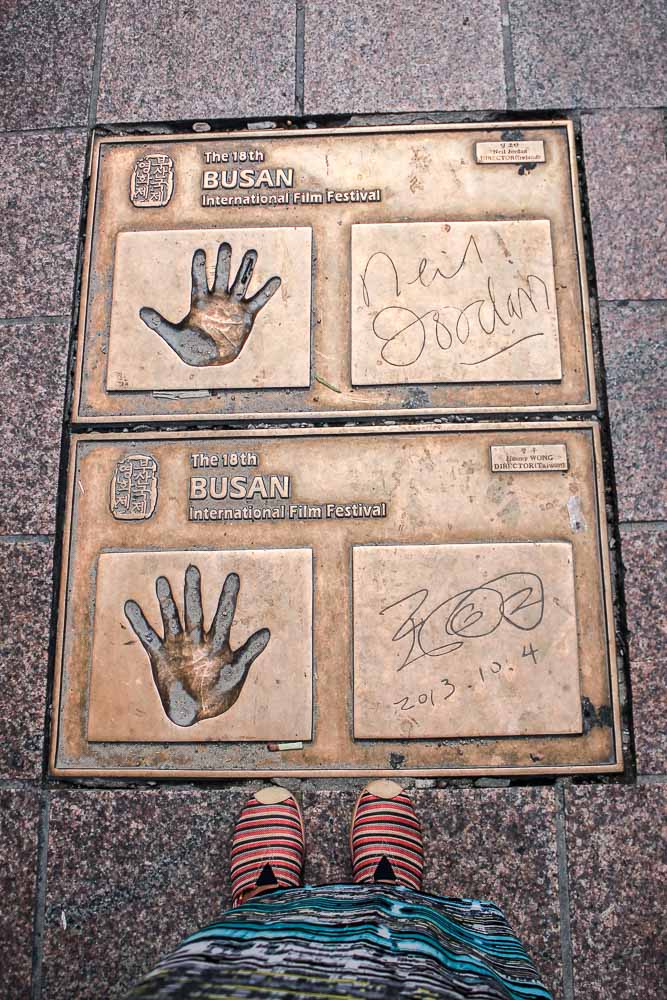 Busan International Film Festival Square is an area in Busan dedicated to the film veterans of Korea, celebrating their achievements they have made in the film industry.
Palm prints of famous film directors and movie celebrities can be spotted on the ground along the 428m long street stretching from the Buyeong Theater in Nampo-dong to the overpass in Chungmu-dong.
This square is a shopping haven for locals and foreigners alike, with a mishmash of both local and global brands, such as Reebok, Adidas, Giordano, The Body Shop, Innis Free, Paris Baguette, Starbucks and Gong Cha. Set aside at least half a day roaming about here because the plethora of shops and street stalls which open until late had my head spinning.
Directions: Take Subway Line 1 to Jagalchi Station. Come out from Exit 7. Walk straight and turn left to find yourself in the heart of the square 5 minutes later.
*Tip: Hunt for the famous stall selling hotteok (호떡) – a sweet korean pancake snack. Easily spotted by its queue, the street snack is chewy on the inside and crispy on the out, with sweet peanut filling. This 1,000₩ snack is perfect for a break in between shopping. In retrospect, I wish I'd discovered this little delicious gem earlier, so I could indulge in it more.
3. Jagalchi Fish Market (부산 자갈치시장)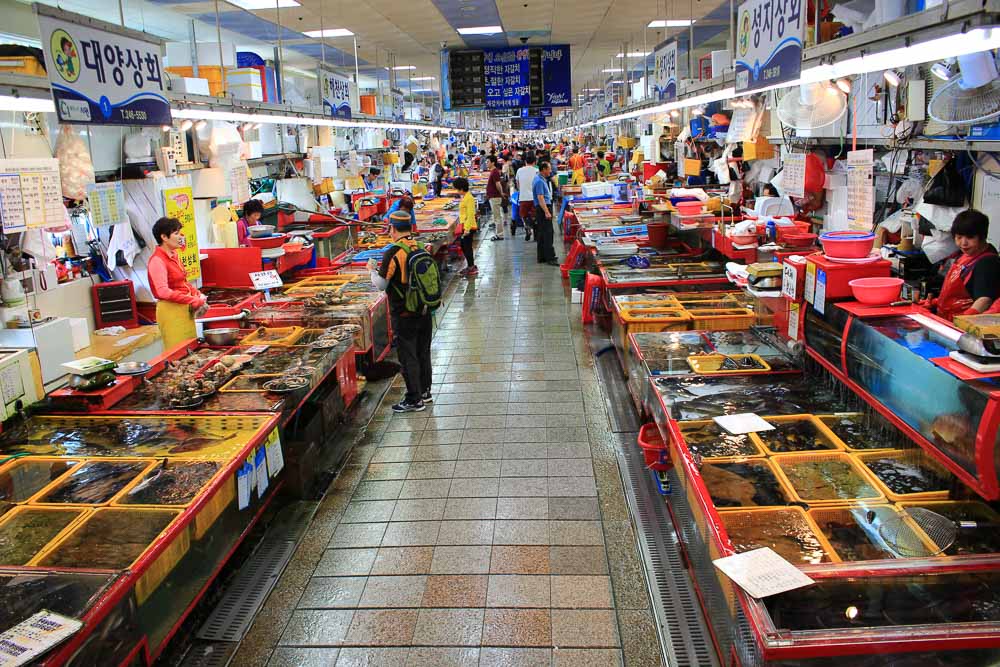 You can never leave Korea without visiting the seafood markets that they are so known for. Jagalchi Market is by far the largest fish market in Korea. Set in a modern 7-storey building by Nampo port, you can find the freshest catch here, since all the seafood are caught on the coast of Busan and Korea's South Sea. There are also outdoor fish stalls selling in the vicinity in the mornings.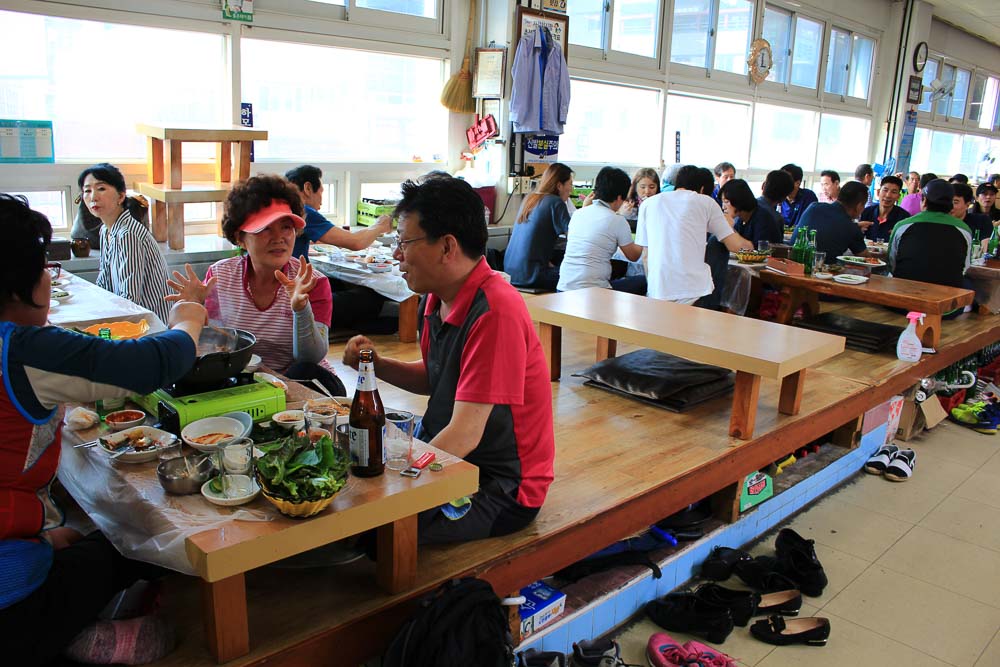 The highlight of this visit is to sample some raw fish (or live octopus, if you prefer)! In fact, you can even have a taste of raw abalone if you wish. That was exactly what I did when I was there. Out of the 7 storeys, the ground floor is a wet market full of live seafood of every imaginable species swimming in colourful tubs. The 2nd floor is where you find rows of restaurants offering what they claim to be the best price for a satisfying seafood meal.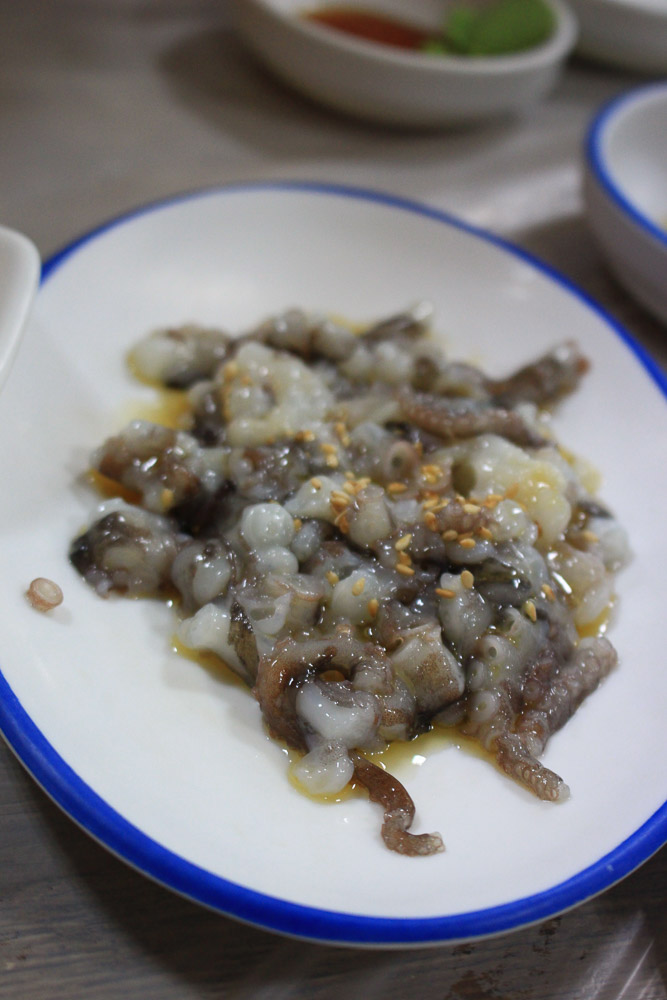 You have two options if you choose to dine here. You can personally handpick your choice of live seafood from the ground floor, after which you will pay them and they will send it upstairs to be prepared for consumption. Or, you can dine directly at your restaurant of choice from the 2nd floor.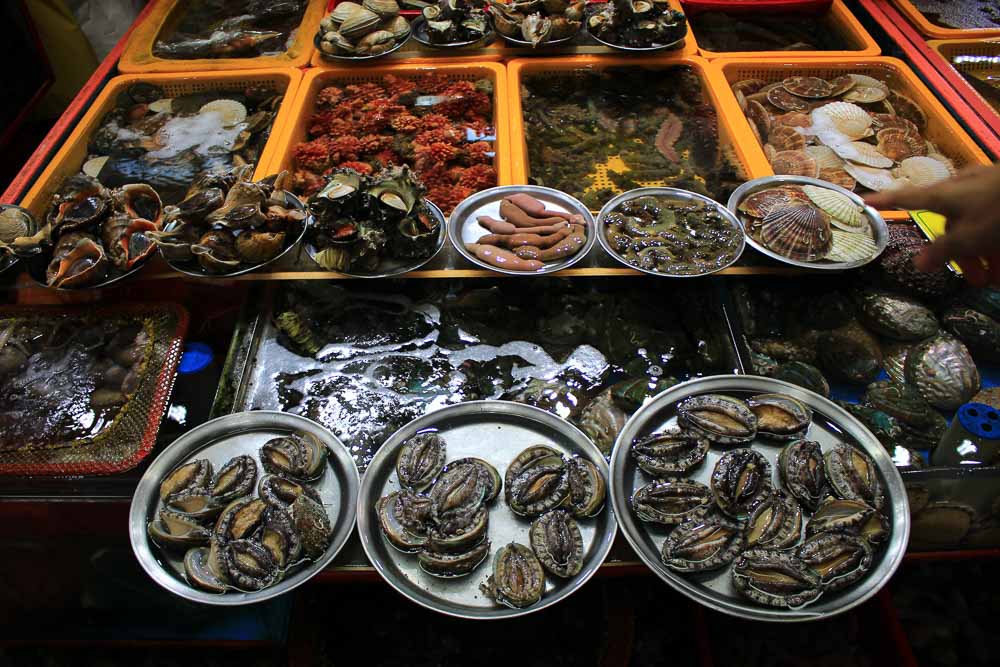 Should you opt for the first option, your restaurant choice would be determined by the seafood seller you bought from, and you would have to pay whatever the restaurant owner dictates, including the preparation fee of your live seafood. We felt rather indignant that not only were we robbed of our choice of restaurant, we also had to pay whatever cost the restaurant demanded.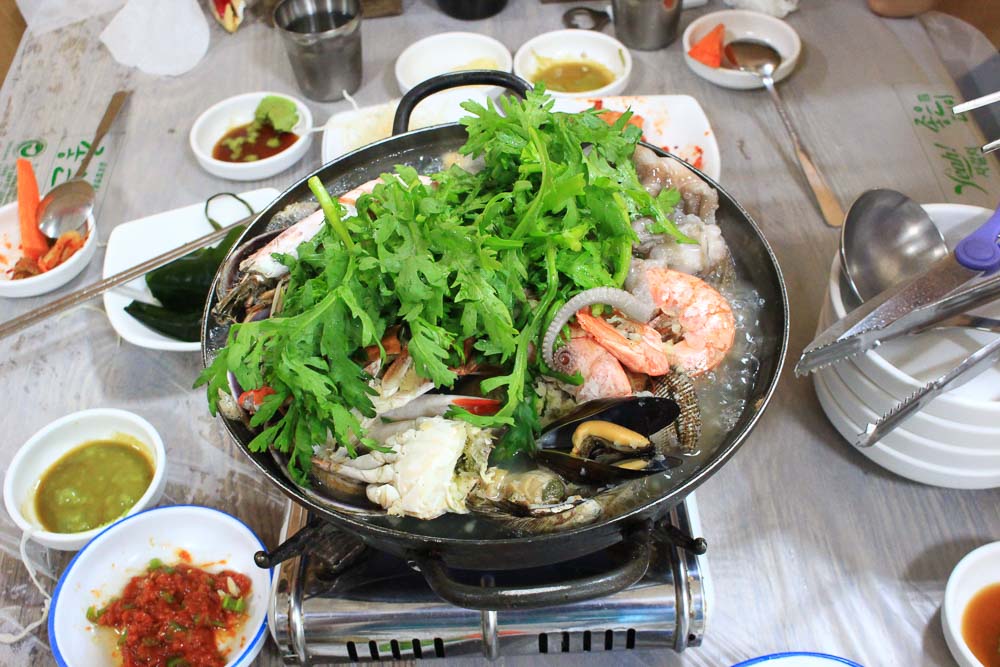 While some claimed to sell fresh seafood at wholesale prices, I'm sceptical about it myself. It felt like a tourist trap while I was there. For a sense of scale, here's how much we paid for our meal there.
6 fresh abalones: 10,000₩
1 octopus: 5,000₩
Spicy seafood soup: 40,000₩
Per pax: 4,000₩
I wouldn't have minded if the prices were stated upfront, but it was only when they seated us down that they started hurling these "hidden costs" at us.
Nevertheless, Jagalchi Market is one of the few places I noticed both locals and tourists coming together to eat to their hearts' content. The ingredients were a spread. If you do not know already, a typical Korean meal is never accompanied without side dishes. Sweet potato, kimchi, seaweed and coleslaw were part of our appetiser. The spicy seafood hotpot soup, thankfully, was this restaurant's only redeeming quality. What came along with the soup were huge tiger prawns, flower crabs, squids, and at least 6 different kinds of shells.
Directions: Take Subway Line 1 to Jagalchi Station. Come out from Exit 10.
Turn right onto Jagalchi 3(sam)-gil Street.
Walk for approximately 5 min, then turn left to arrive at Jagalchi Market.
*Tip: To get the best views of the nearby Yongdodaegyo Bridge and the port, take the lift to the 7th floor to find a cute guesthouse – Terra Guesthouse. Head to the outdoor terrace of the guesthouse, and be greeted by a 180-degree panorama view.
4) Songdo beach skywalk 송도해수욕장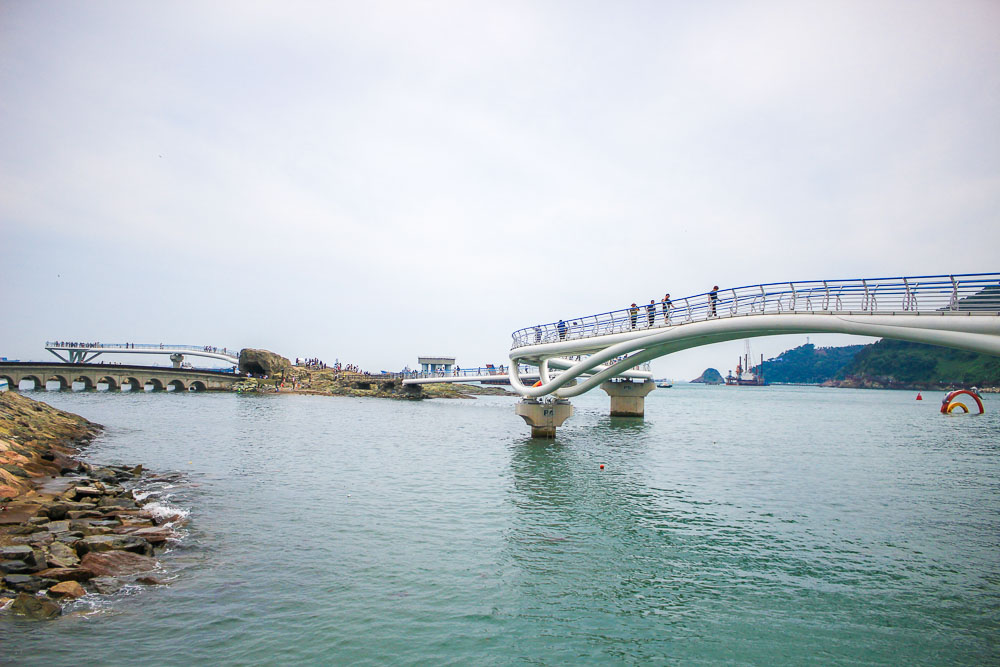 This 365-metre-long promenade extends out from the edge of Songdo beach, giving you a distant but complete view of Songdo beach, with the city skyline in the background. Songdo Beach is the first public beach in Korea, completed in 1913. According to a legend, the curved walkway is supposed to provide an illusion of a dragon flying over the sea. But well, the image of a dragon seemed rather elusive to me.
Admission fee: Free
Opening hours: 9am – 6pm
Directions: Take Subway Line 1 to Jagalchi Station. Come out from Exit 2. Take bus 7, 9, 26, 30, 71 or 96. Get off 6 stops later at Songdo Beach.
*Tip: While most would venture West of the beach towards the skywalk, there is another hidden photographic gem not to be missed, the red suspension bridge. It can be found on the opposite end of the skywalk, at the far East of the beach by the rocky cliffs.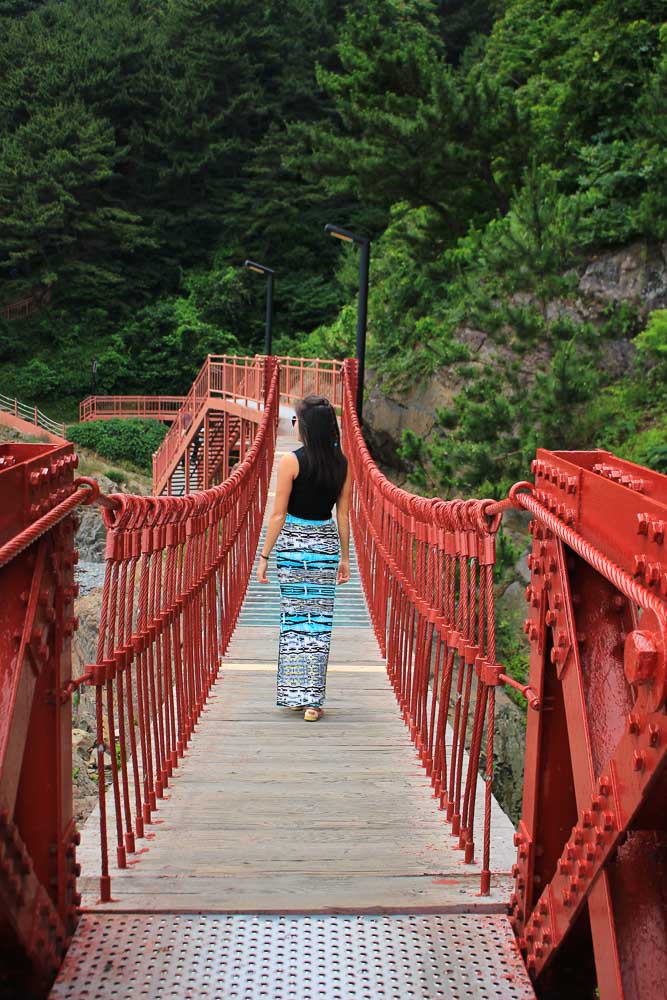 When I caught sight of the existence of this bridge, I knew I could not pass it up. The walk towards the bridge may cast doubts, since it was a path that led further away from the crowd, but carry on anyway, until you meet with the red metal walkway that connects to Amnam Park. Climbing up the seemingly unending path would turn many away, but press on! No sooner would you find the bridge you are looking for.
5. Oryukdo Skywalk (오륙도 스카이워크)
Oryukdo Skywalk was built on Seungdumal, a border between the East and South Sea. The korean name translates to "walking in the sky", or so it's meant to feel like.
This horseshoe-shaped bridge is set up against a 35m coastal cliff. With the entire bridge made of glass, you can watch the waves hit against the cliffs from under you.
While some may be wowed by the transparent walkway, others felt it was nothing more than a pavement made of glass which juts out of a cliff.
The skywalk overlooks the Oryukdo island, which comprises of 2 brotherly rocks.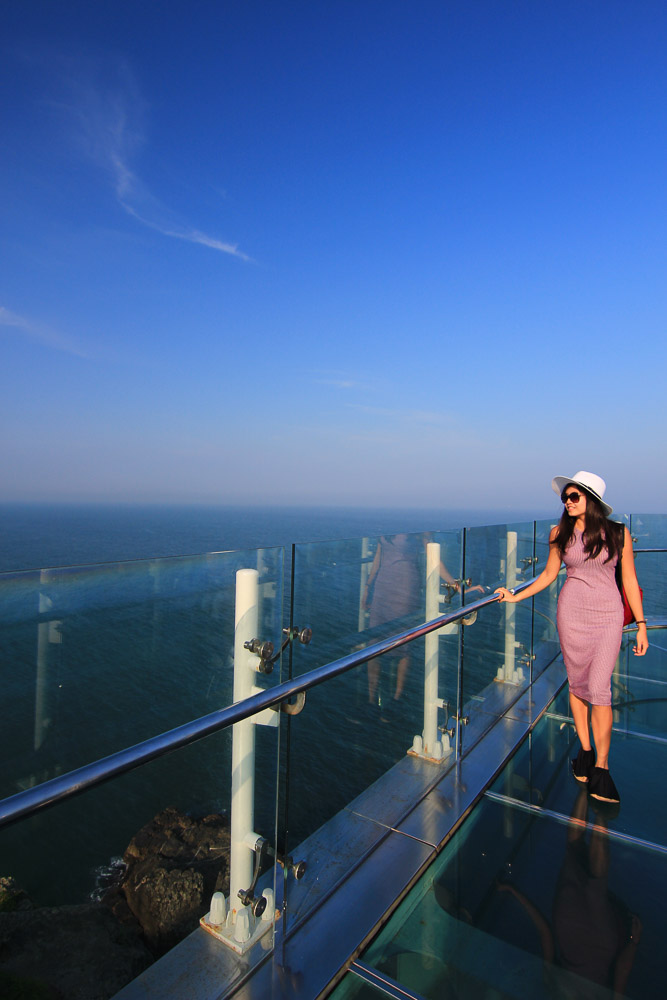 I was rather underwhelmed by the size of the skywalk, especially since it took quite some time to travel from town to the edge of Busan where the skywalk is. Being only 15m long, the skywalk can be cramped, especially when you have hordes of tourists coming to photograph the spot. To put the length in perspective, it does not take more than 5 minutes to complete the walk, including taking pictures on the skywalk.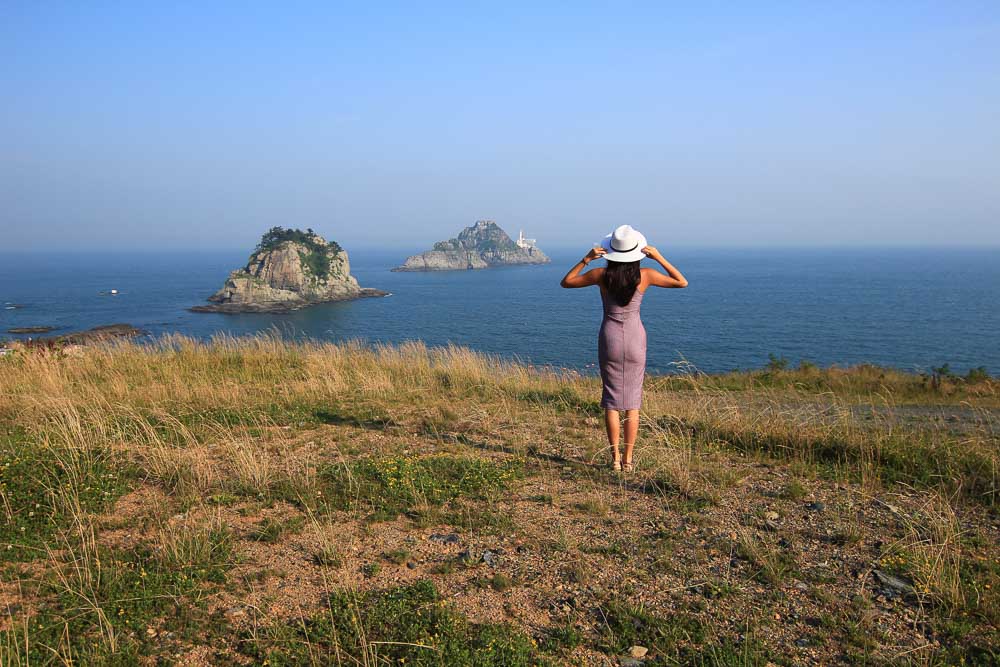 I enjoyed the path that led to the skywalk much more, for there was a clean view of the coastlines and the Oryukdo island, sans the crowd. To get to this view, alight a couple of bus stops before the Orykdo Skywalk.
Admission fee: Free
Opening hours: 6.30am-6.30pm
Directions: Take Subway Line 1 to Busan Station. Come out from Exit 10.
Take Bus 27 and get off 25 stops later at Oryukdo SK View Humun (Backgate). Walk about 275 m to Oryukdo Skywalk. This journey takes approximately 1 hour.
6. Haedong Yonggungsa Temple (용궁사)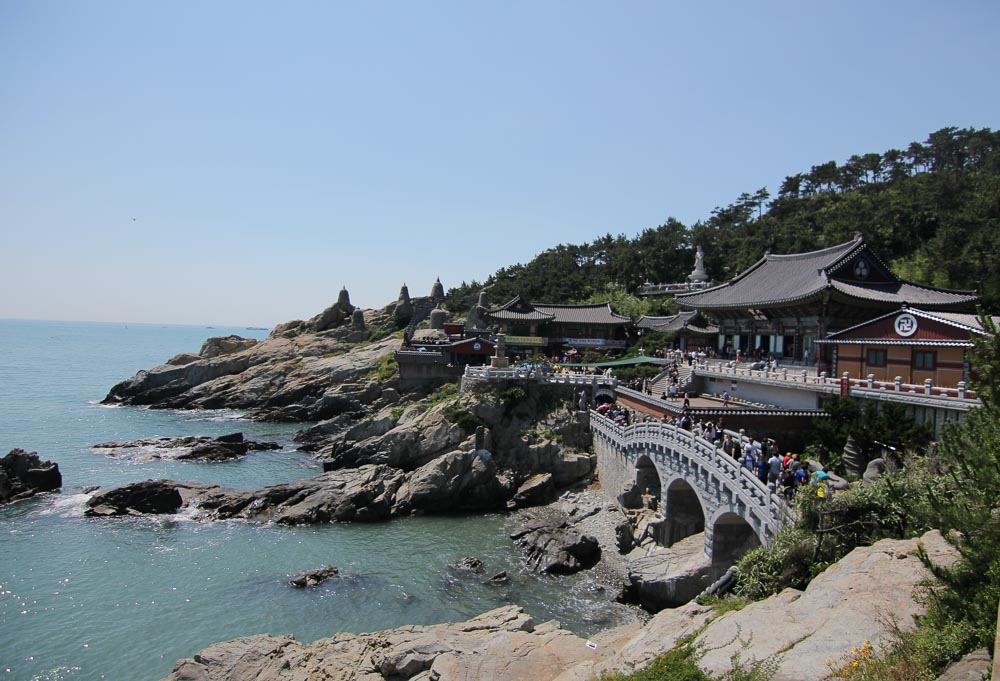 Unmistakably known as the temple by the sea, it offers one of the best views you can get in Busan outside of the city.
Whether you are here to pay your respects or simply to admire the architecture and the sea that envelopes this temple, you will not expect anything quite so similar. I found this temple had more life than Seoul's Gyeongbokgung Palace, perhaps due to the perfect complement of history and nature, with it situated right by the sea.
Again, I would advise to make this the first destination of the day as it is far out of the city centre to the North of Busan. Furthermore, it is a popular tourist destination, so expect a heap of crowd as the day goes.
Admission fee: Free
Opening hours: 5am – 7pm
Directions: Take Subway Line 2 to Haeundae Station. Come out from Exit 7. Take Bus 181 and get off at Yonggungsa Temple approximately 20 minutes. There will be a stone post that indicates the direction of the temple. Walk uphill for another 10 minutes to get to the temple.
Of course, while a trip to Busan is not complete without being to any of these 6 attractions, there are more to Busan than these mere stopovers. I will be sharing a comprehensive itinerary of where you can cover Busan in 3 days on Bel Around The World. I also make planning my itineraries easy by using Google Maps.
---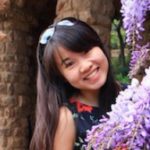 Isabel Leong
@belaroundtheworld
Isabel draws energy from being outdoors. 22 and from Singapore, she believes there is nothing more fulfilling than being unplugged. An explorer at heart, the world is her playground.
Founder of Bel Around The World – a website dedicated to travel resources and inspiration from around the globe for the 20-something millennial travellers. It aims to bridge the gap between what readers know and what they want to know, with a focus on student travel.