We've all heard of photogenic cafes and bars, but have you seen Singapore's most instagrammable office?
For most of us, the office is a place where we try to spend as little time as possible. Yet heading to work at Airbnb's Singapore office is almost like going on a holiday. Recently, we got a chance to visit their photogenic 3 storey office at Cecil Street, and took a "trip around the world" without our passports!
If you're ready for a serious case of office envy and wanderlust, read on to see why we think it's the most Instagrammable workplace in Singapore.
1) Cafe-like pantries
Other than being stocked full of supplies, the pantries look more like a cafe than your usual functional mini kitchen. From old school chairs to Peranakan tiles, it's easy to find the perfect angle for the #hipster in you. We heard that they even have barista lessons from time to time.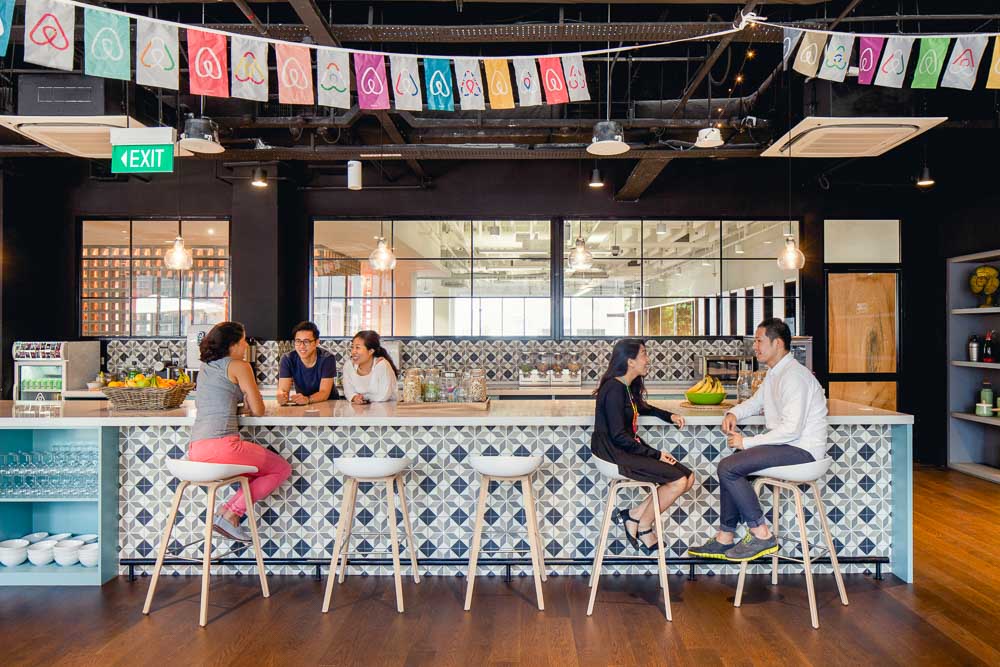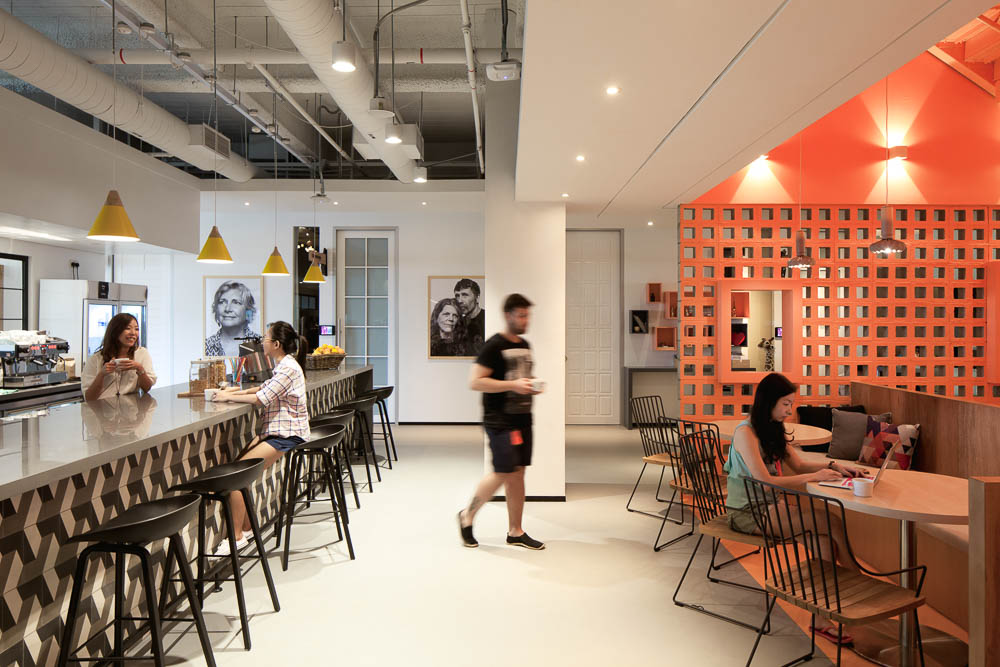 Oh yes and they have 3 pantries. 1 for every level.
2) Meeting rooms themed after actual Airbnb listings
Imagine having a morning meeting at Cappadocia, a lunch catch-up in Bangkok, and tea at Cornwall. At Airbnb's Singapore Office, it's possible as 13 of their meeting rooms are designed after real Airbnb home listings around the world!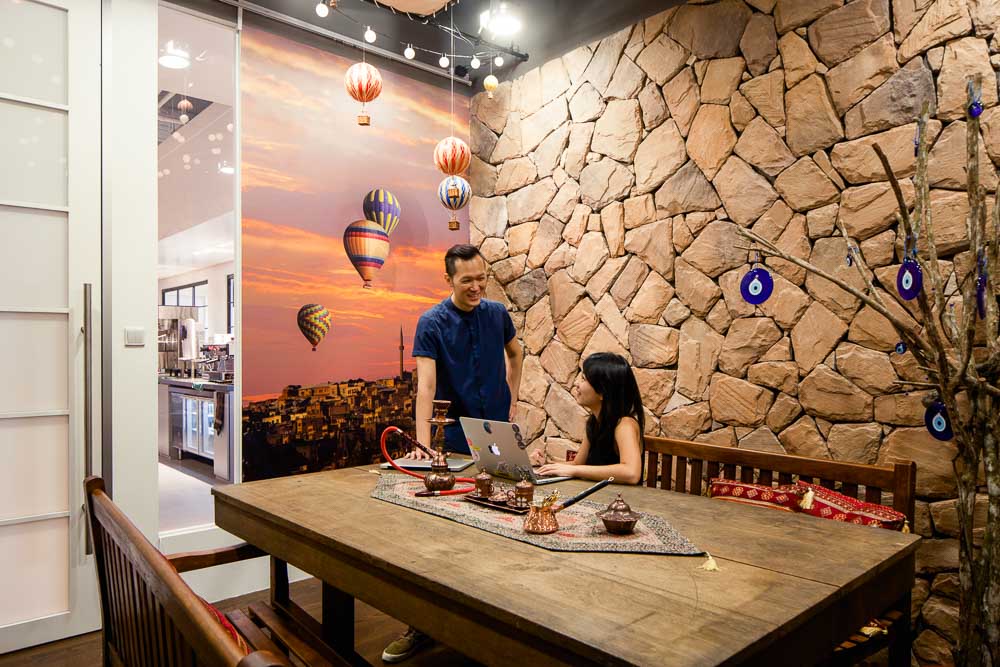 Cappadocia themed meeting room with the blue Cappadocia eye good luck charms. The hot air balloons are a good touch too. Actual listing – Antiya Cave House.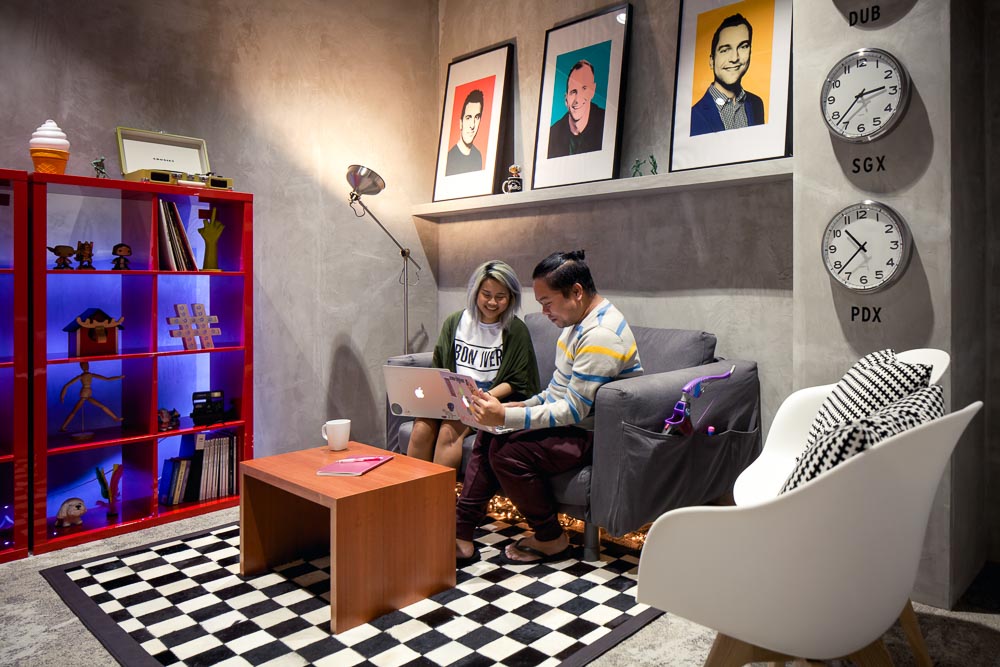 Andy Warhol inspired designer loft in the Bangkok meeting room. By the way, there's a bow and arrow at the side of the sofa for shooting late comers. Actual Listing – Designer Loft Bangkok Silom.
Fun-fact: The 3 portraits on the wall are actually that of the founders!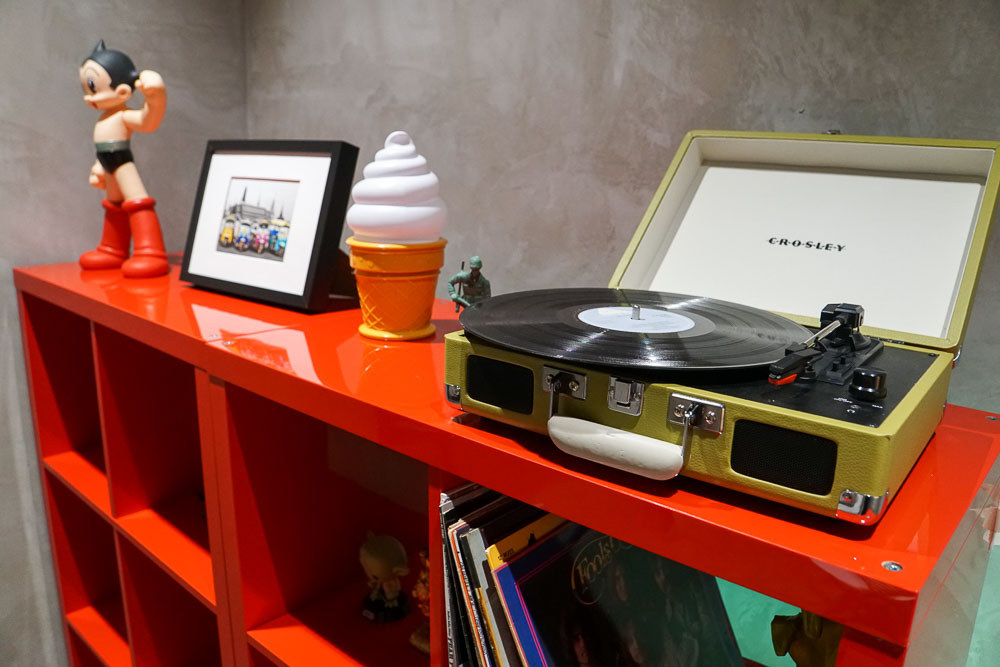 Look at the detail and effort involved.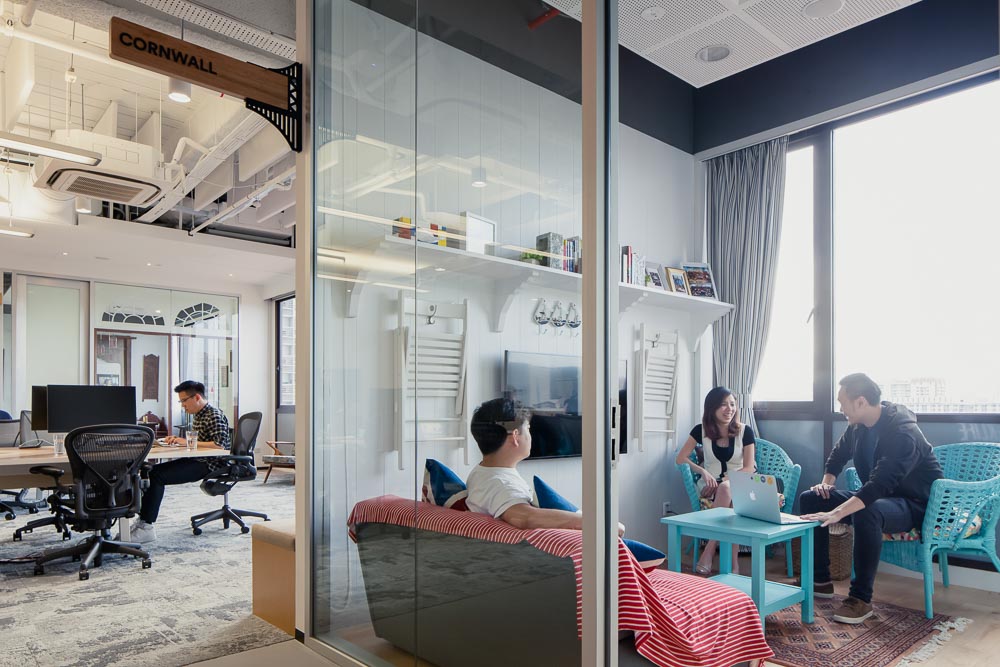 Brightly lit room in Cornwall. This is quite different from the actual listing though – Romany Caravan at Bush Meadows.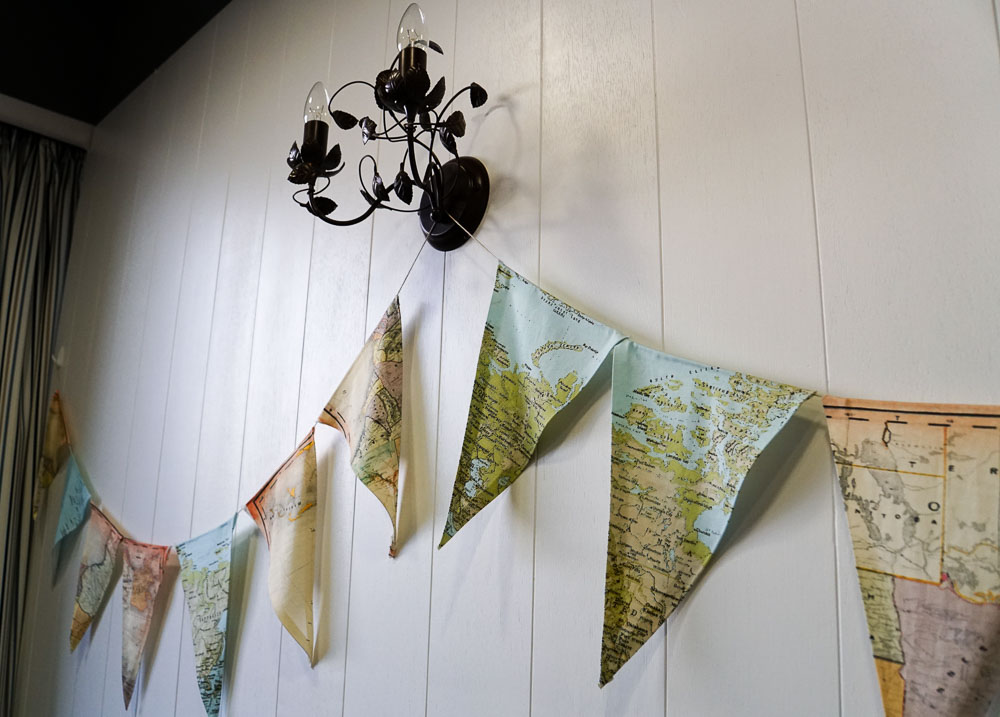 It's a wonder how they continue with meetings without having a serious case of wanderlust.
3) Central staircase enclosed using traditional ventilation blocks
Remember the grey concrete ventilation blocks around our HDB staircases in the 80s? The design team really went all out to create a local yet modern look around the central staircase. This central hub has bar seating, a reading nook, and even a "Clubhouse" at the bottom.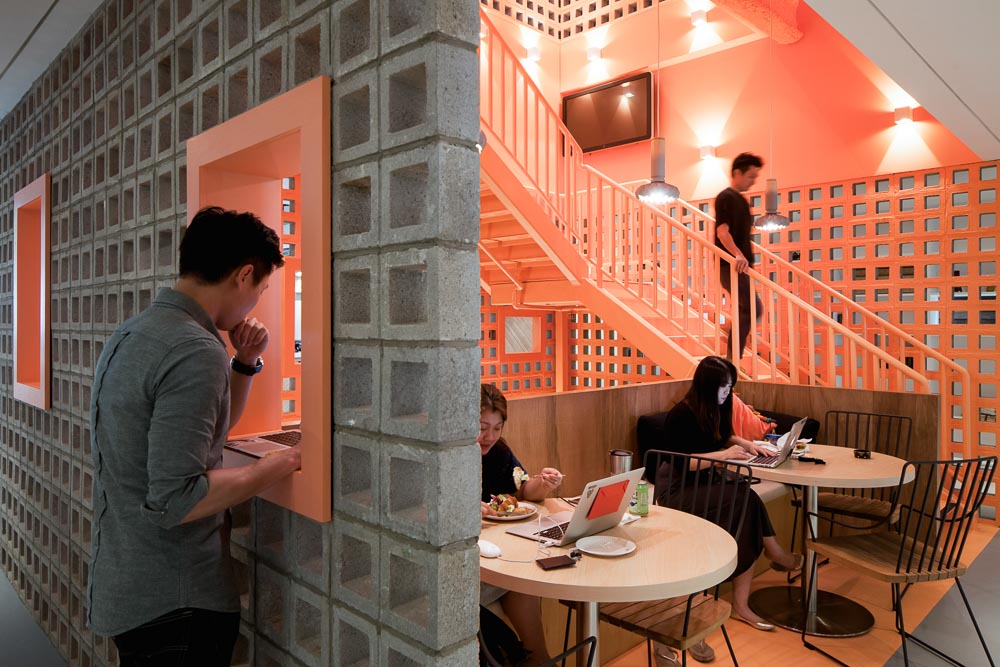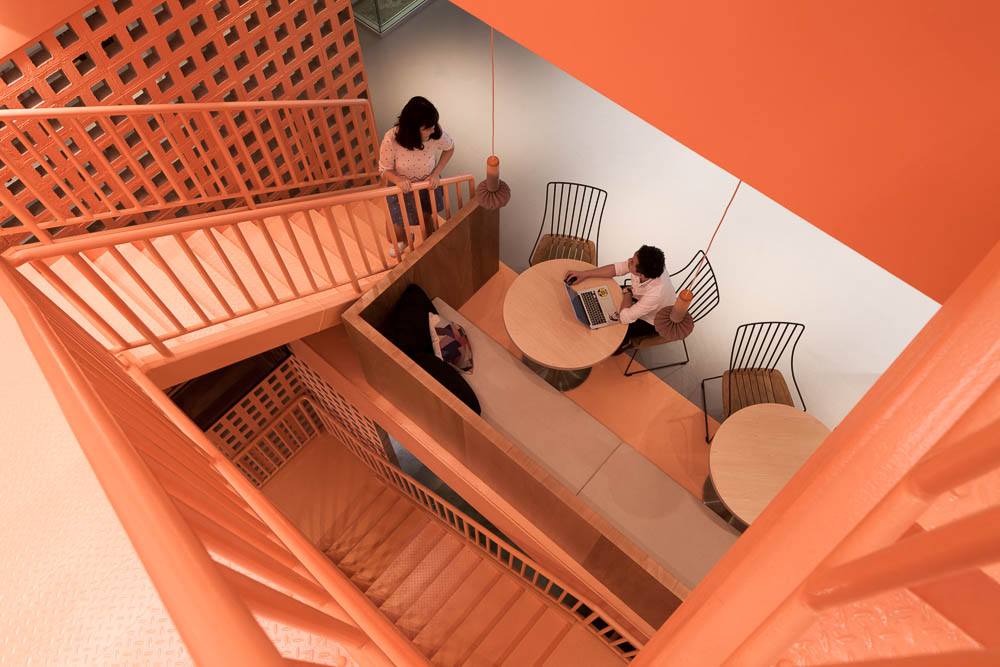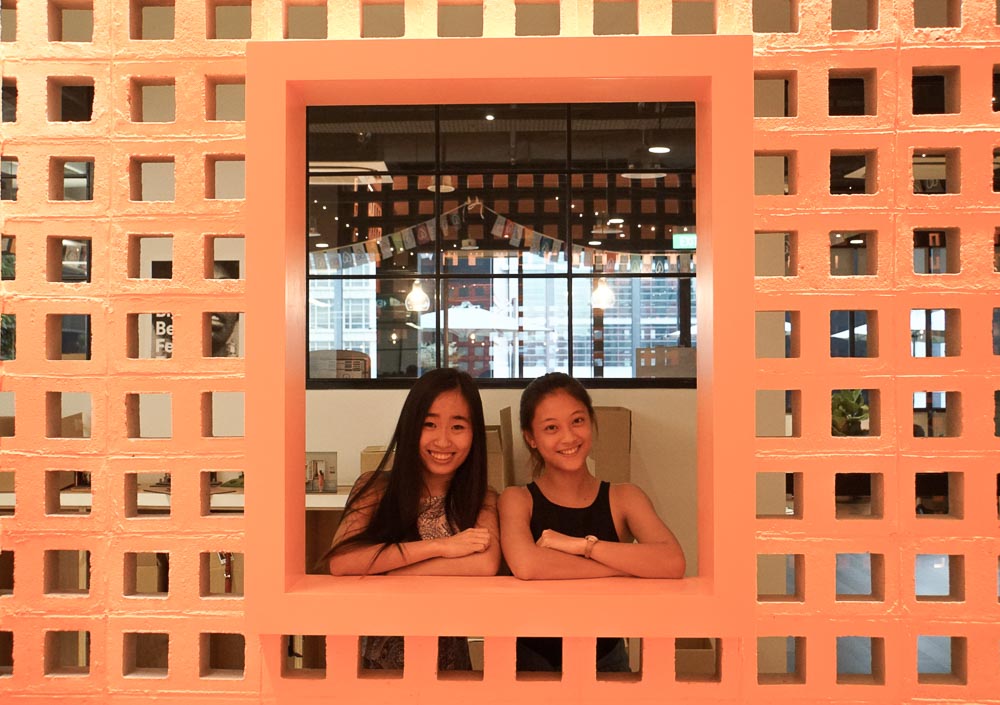 It also has the perfect wall for your #ootd!
4) The view outside
If you think the inside is photogenic, just take a look at the panoramic view of Tanjong Pagar outside. Colonial shophouses to skyscrapers – the only thing that reminds you you're still in Singapore.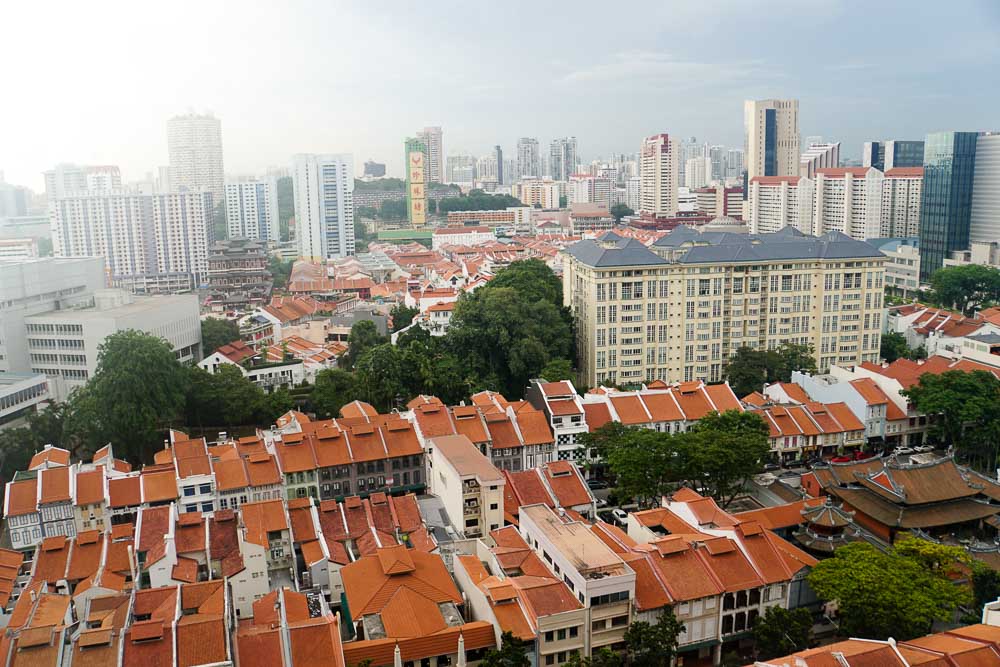 I imagine #sunsets here will be pretty epic too.
5) Hidden meeting rooms & outer space
As if the rooms themed after actual Airbnb listings wasn't enough, there is even a secret meeting room behind a bookshelf! #Boomerang anyone?
Belo 6, Airbnb's first "listing on the moon" can also be found in this office. Now it doubles as an entertainment den, with PS4s, a large screen, and two lightsabers to defend against any unexpected visitors.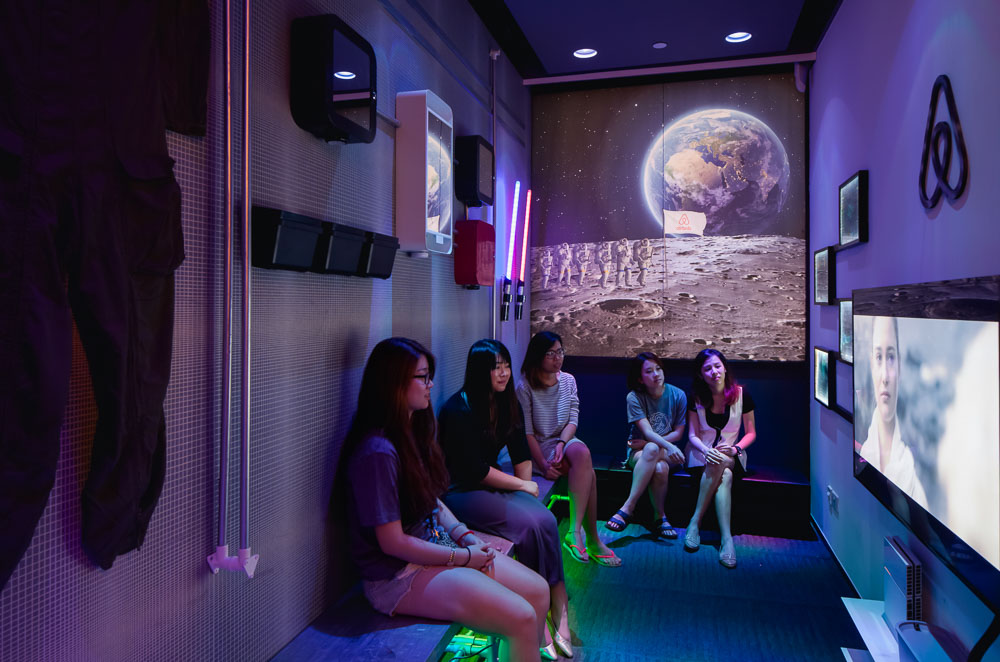 6) Big open spaces
One of the things we love most about Airbnb's Singapore office is that there is tons of space (and power plugs). From open concept desks to cosy areas akin to living rooms, Airbnb's employees can choose to work anywhere, and do not have a fixed spot. I guess this is why their slogan is to "Belong Anywhere".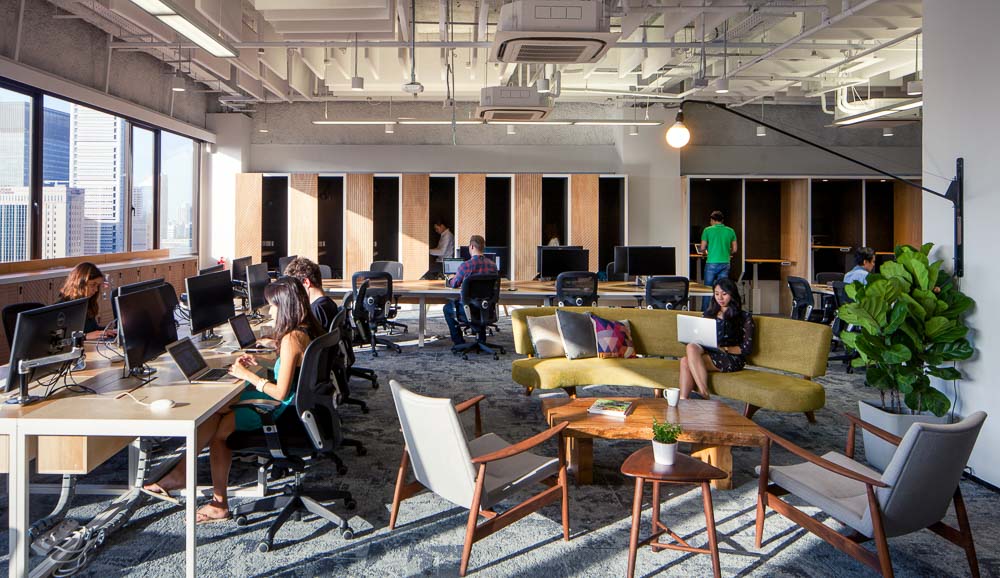 While most of the working space has an open concept, there are some standing and sitting cubicles for times where employees may want some privacy too.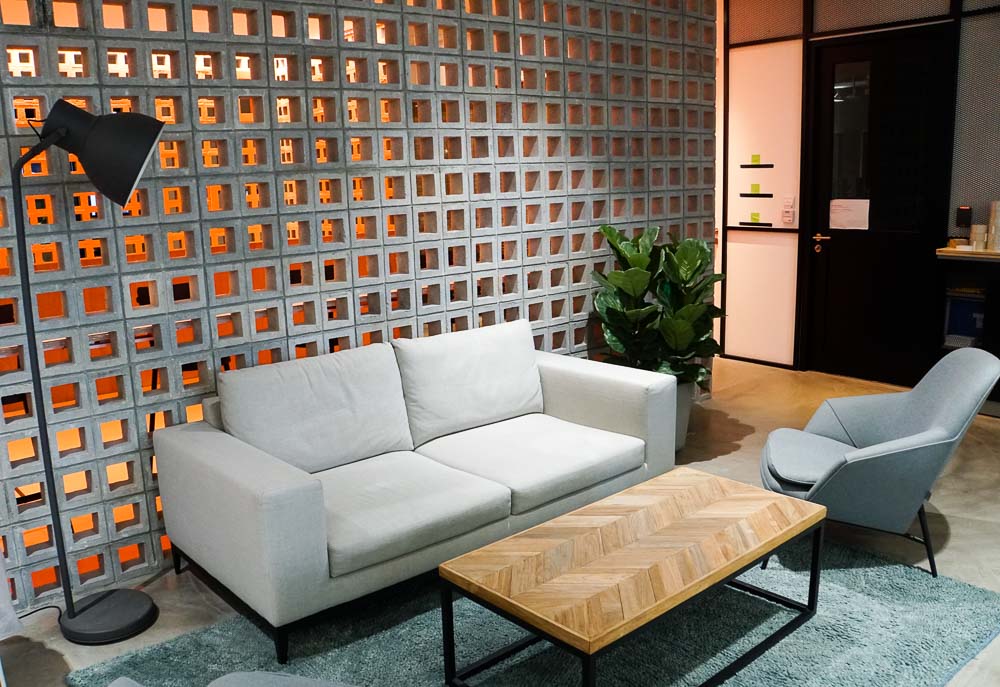 This literally looks like someone's living room.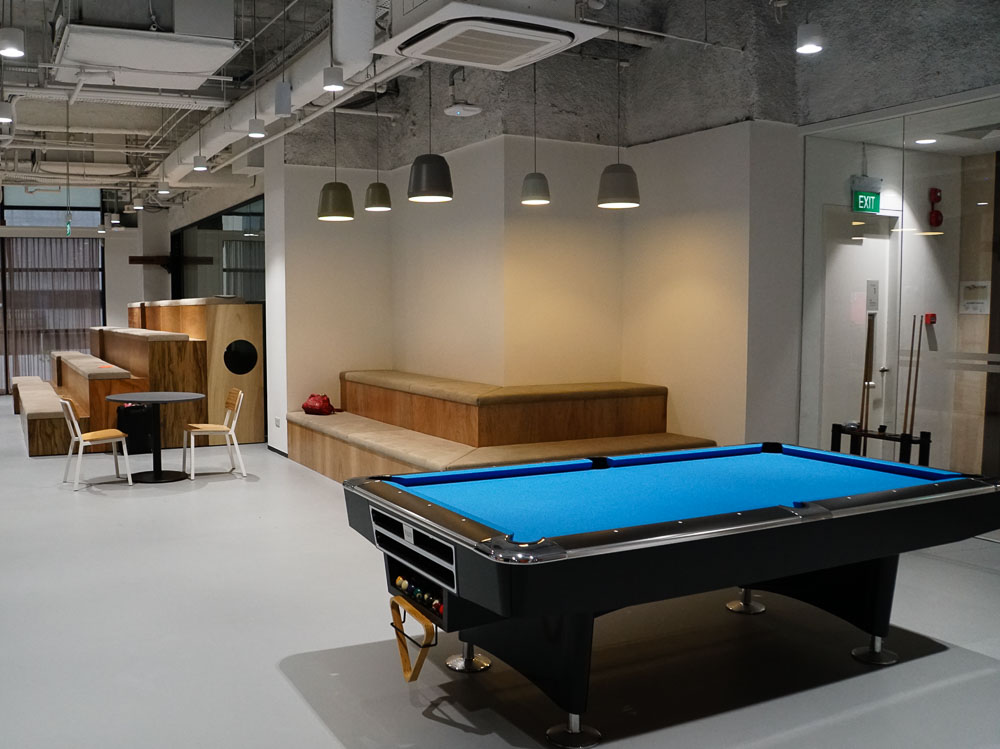 And of course there are the usual pool and ping-pong tables.
7) This graffiti wall
No Instagrammable office is complete without a #graffiti wall of some sort. Can you figure out all the different languages on the wall?
Fun fact: The graffiti wall was drawn freestyle!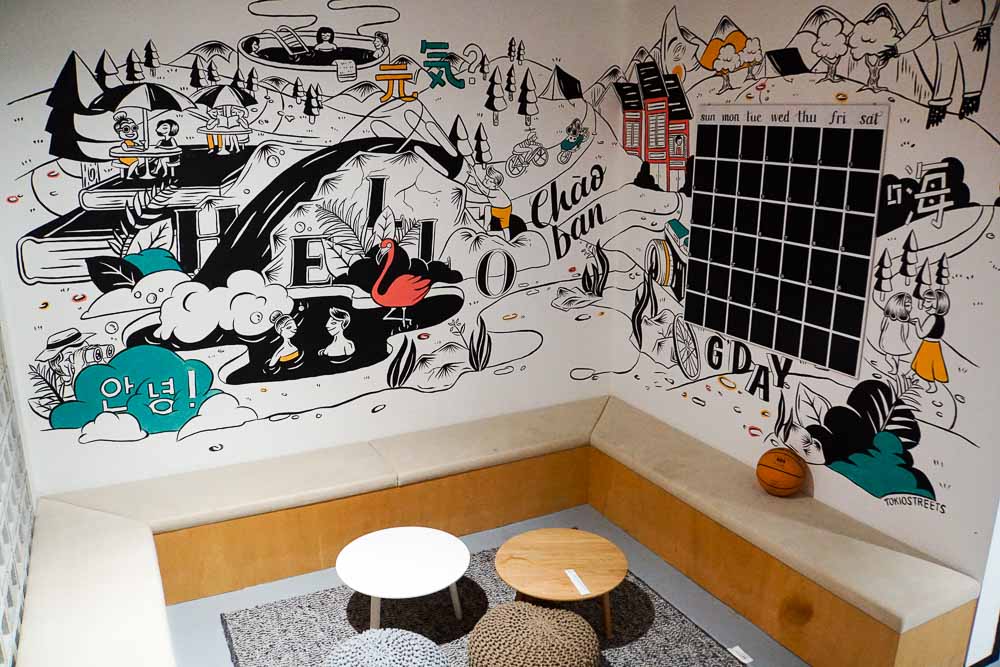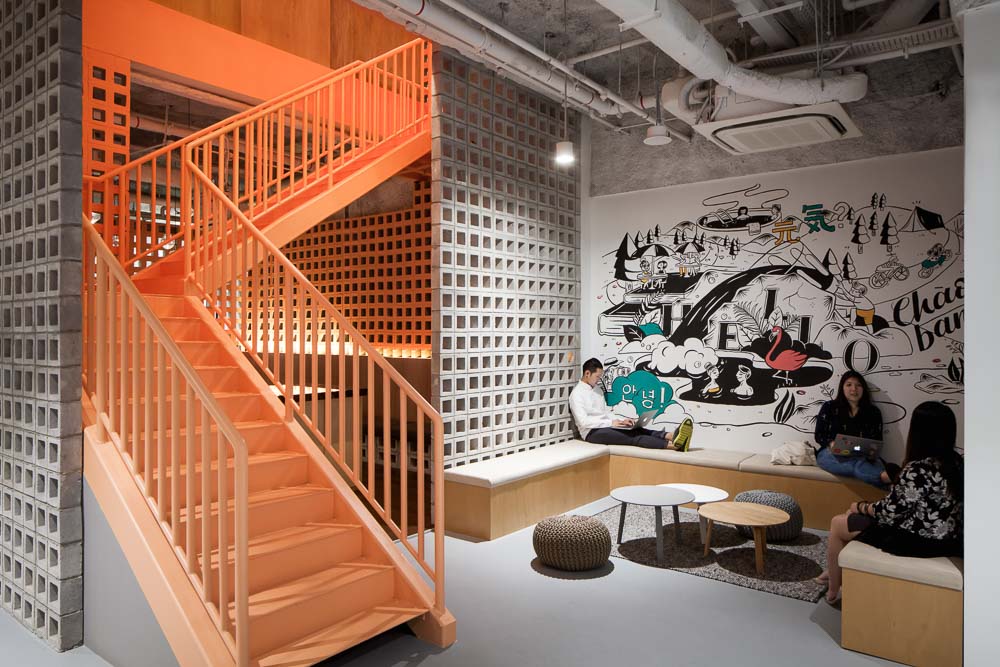 With pantries as hip as cafes, cosy living rooms for meetings and many more interesting elements to discover, we can imagine how much more pleasant it is to get to work with an office like that!
If you're heading down to Airbnb's Singapore office for a meeting, don't forget to share your favourite Instagram spot with us. Just hashtag #TheTravelIntern!
Know of other interesting Instagrammable places in Singapore? Let us know in the comments section below.
Like what you're seeing? Do share and follow us on our adventures around the world on Facebook and Instagram.