Teeming with unspoilt, luxuriant nature, Hainan Island stays true to its natural and ethnic roots with unexpected charms. Here's why you should visit Hainan, an idyllic but oft-overlooked vacation spot, for a short, quiet getaway.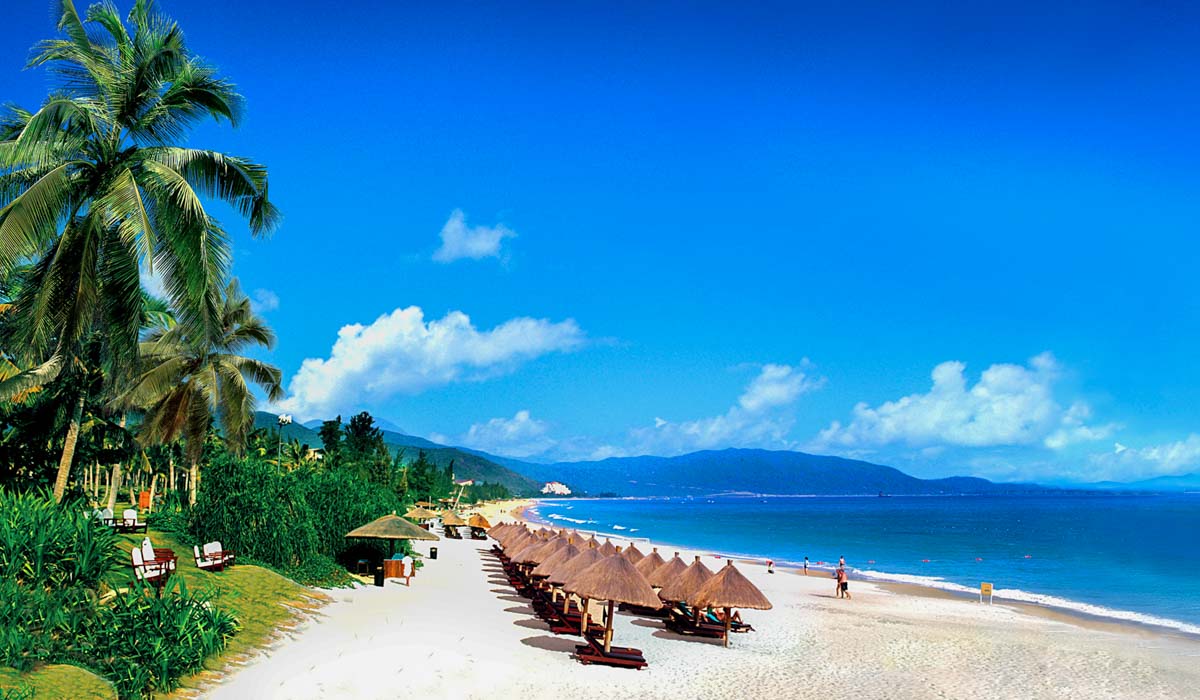 Photo credit: En.sanyatour.com
Think tropical island resorts and the usual suspects float into your headspace — Bali, the Philippines, Tioman Island, Langkawi, and whatnot.
Yet along the same, beachy vein lies Hainan Island that'd probably never skip through your mind, especially not when the thought of it being a part of China alone might be off-putting for some.
But unlike the China many may perceive, Hainan is actually separate from the mainland, resulting in its own unique appeal, dotted with forests, beaches, sleepy towns and restful resorts. It's not hard to understand why people call this China's answer to Hawaii!
Here are 11 reasons why it's time to give Hainan Island a chance to impress you.
Read also: 10 Essential Apps for Travelling in China
1) White, sandy beaches galore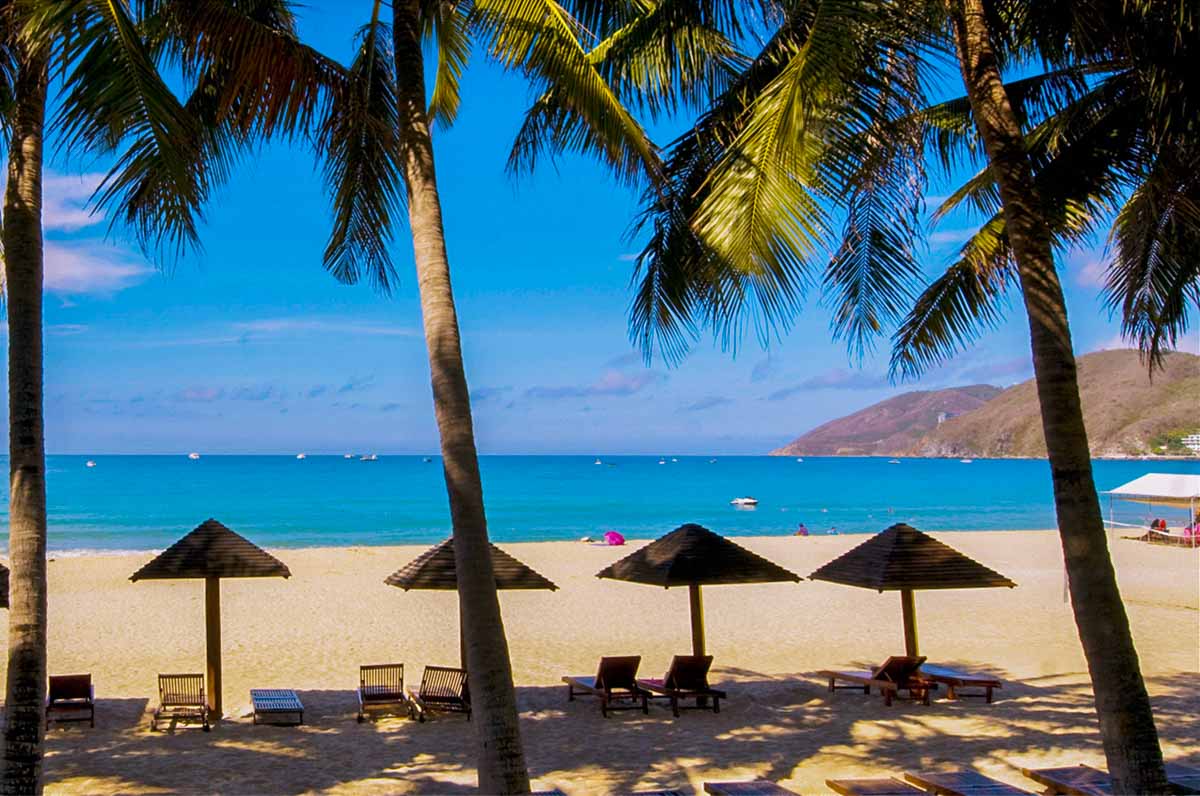 Dadonghai Bay. Photo credit: Sunnyhainan.com
Naturally blessed with a coastline that stretches for days, Sanya, the southern tip of Hainan, is a buzzing beach resort hub with its 3 most popular — Dadonghai, Sanya Bay and Yalong Bay — regularly making it onto China's top beach lists.
Authorities have made strides in ensuring the beaches remain free and open to the public, so even if you're not shelling out for a stay at a 5-star beachfront hotel, you're still free to revel under the sun and get lit, beaches!
For the adventurous, you can even dabble in water sports like snorkelling, scuba-diving and paragliding.
2) It has a volcano park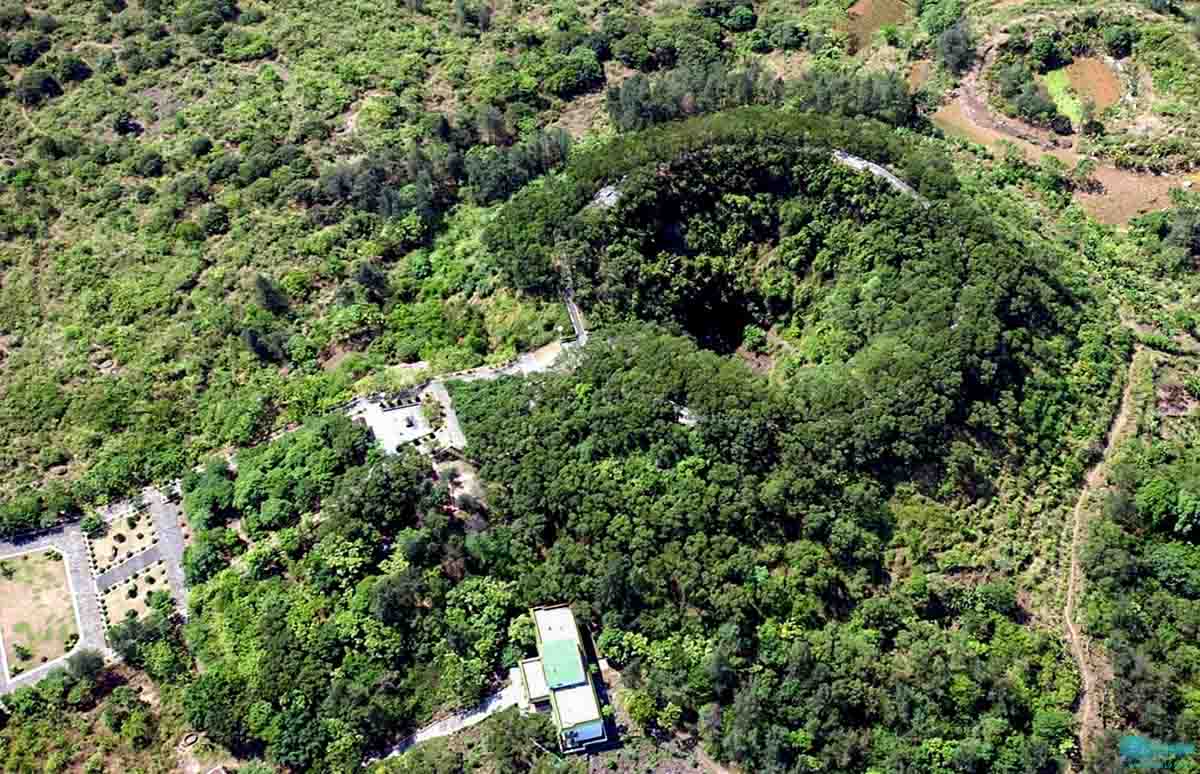 What was once a cluster of over 40 volcanoes is now converted into the Haikou Volcanic Cluster Global Geopark, with people still living in 2 "lava villages" where houses are made of volcanic rock. You can also walk through lava caves from past volcanic activity, or climb up to the rim of an extinct volcano to enter the crater itself!
3) Tropical rainforests for the outdoor adventurer

Yanoda Rainforest isn't your average Bukit Timah Nature Reserve; Hainan's tourism scene is relatively new, so obviously they'd go all out to keep you captivated all day. We're talking hiking up waterfalls, swinging suspension bridges, ziplines, and even a chance to play real-life counter strike inside the forest in full battle gear!
4) A different side of Chinese culture in Sanya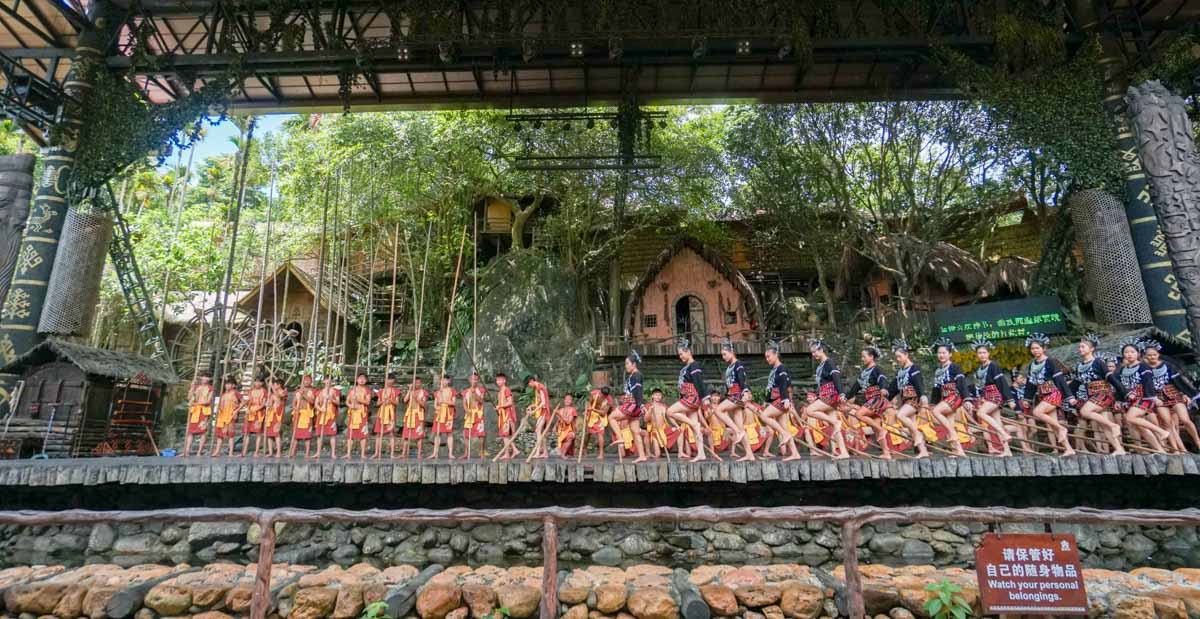 Hainan's inhabitants have historically been a diverse bunch, housing up to 36 minority groups. This has given rise to "theme parks" / museums like Binglanggu, which gives you an insider's peek into the Li and Miao people, 2 of the most prominent minorities, the former also one of Hainan's oldest.
Spanning over 600 football fields, the replica village houses plenty of exhibits to learn about these people — how facial tattoos form their identity, their food, customs, and clothing. You can even catch a live performance to watch those traditions come to life!
5) Luxury accommodation on a friendlier budget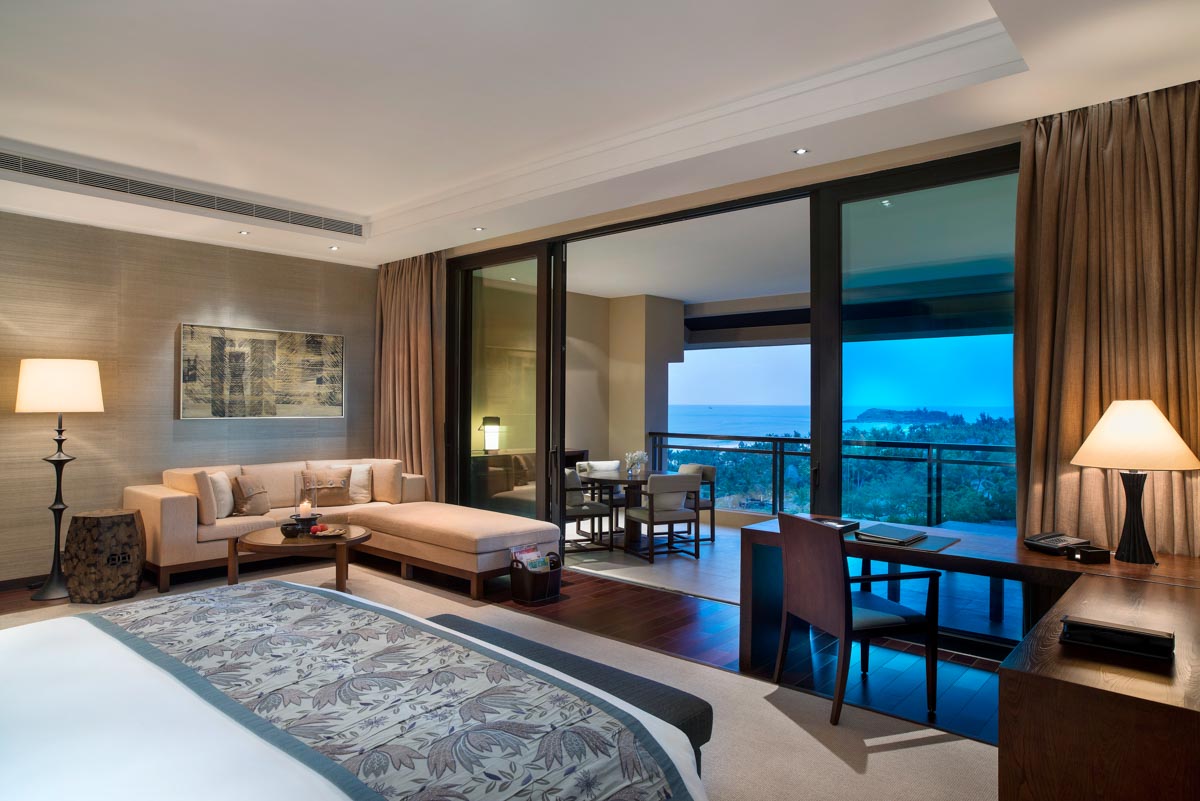 A country that champions its tropical, resort-like atmosphere is bound to attract tons of luxury establishments. The good news is that you can still live like a king in Hainan without breaking the bank — get a room at 5-star hotel Raffles Hainan for as low as ~S$145/night, with a spacious room, private personal butler, swimming pool and more.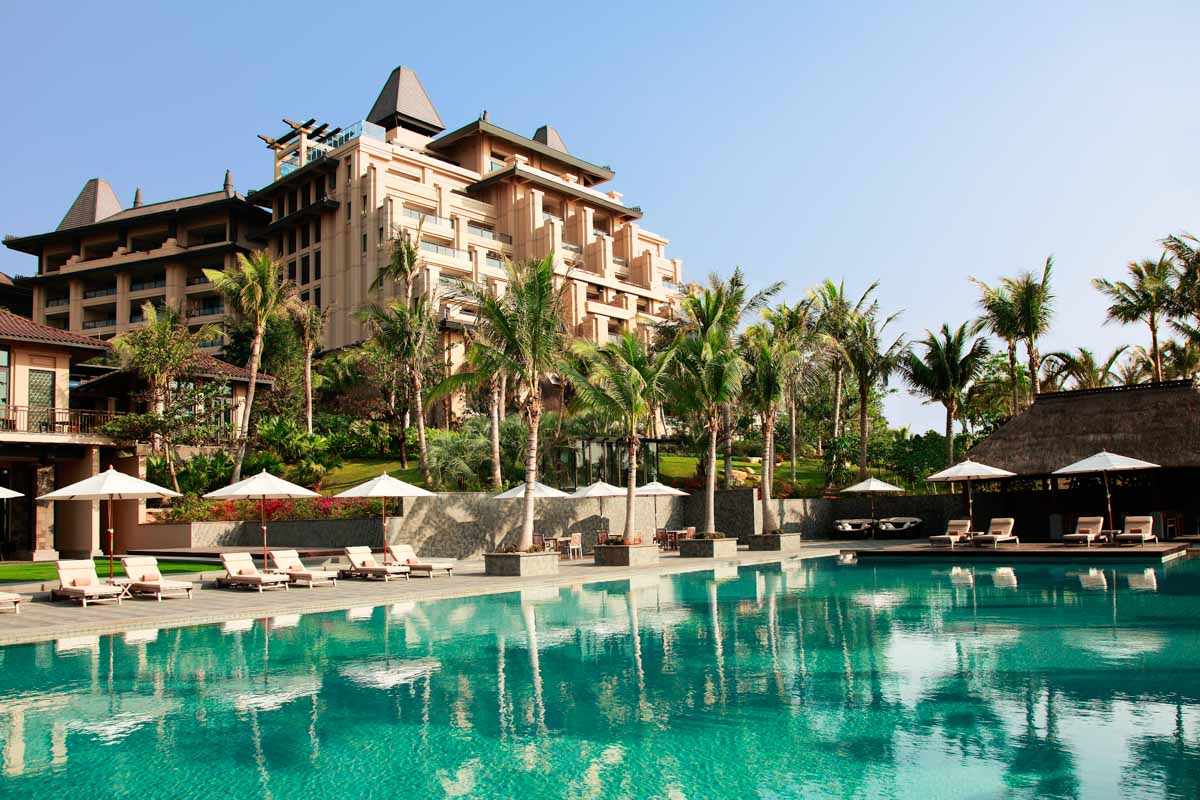 The fact that flights to Hainan (see point 10) are already relatively cheap is a good reason to splurge a little more on comfortable accommodation!
If you're curious about what else Raffles Hainan has to offer, check out our hotel review.
6) Haikou's old towns and tea culture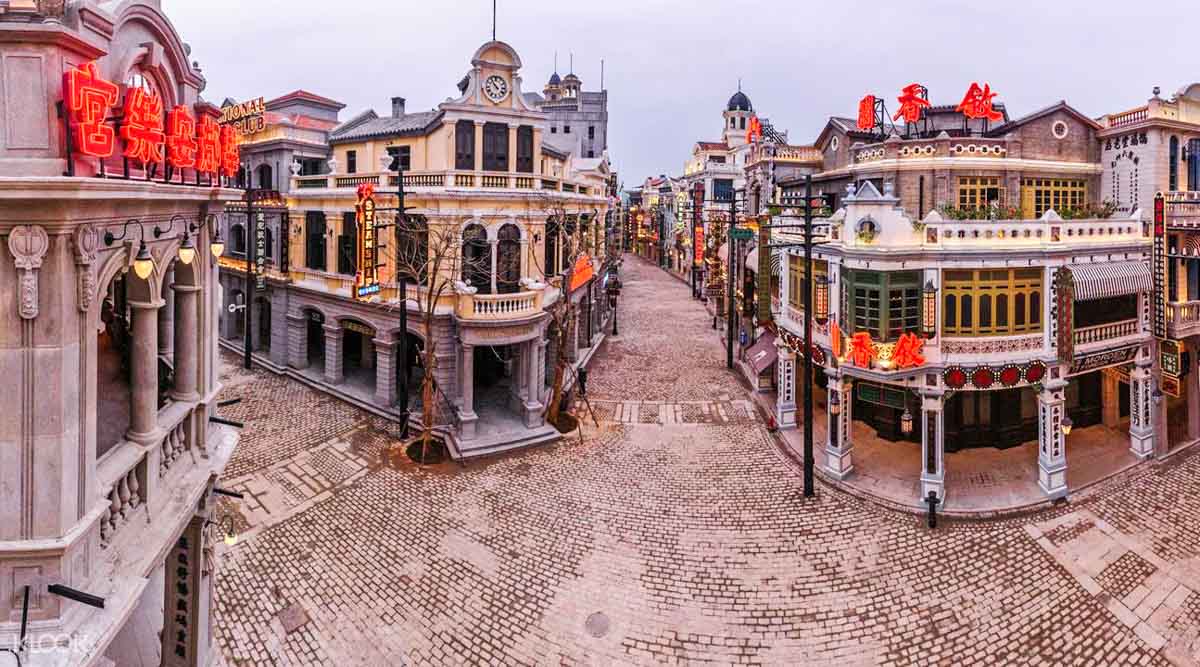 Up north, step back in time and walk through the cobbled roads of Haikou combining distinct Asian and European influences hailing from China's colonial past, from the old streets of Qilou to picture-perfect Movie Town Haikou.
Haikou also embraces its tea culture very fervently — tea houses packed with hoards of middle-aged men chilling are also part of Haikou's everyday life, an accurate depiction of the leisurely pace at which locals live. This also earned such tea houses the household name of "daddy teahouse" (老爸茶馆).
7) Unique Hainanese cuisine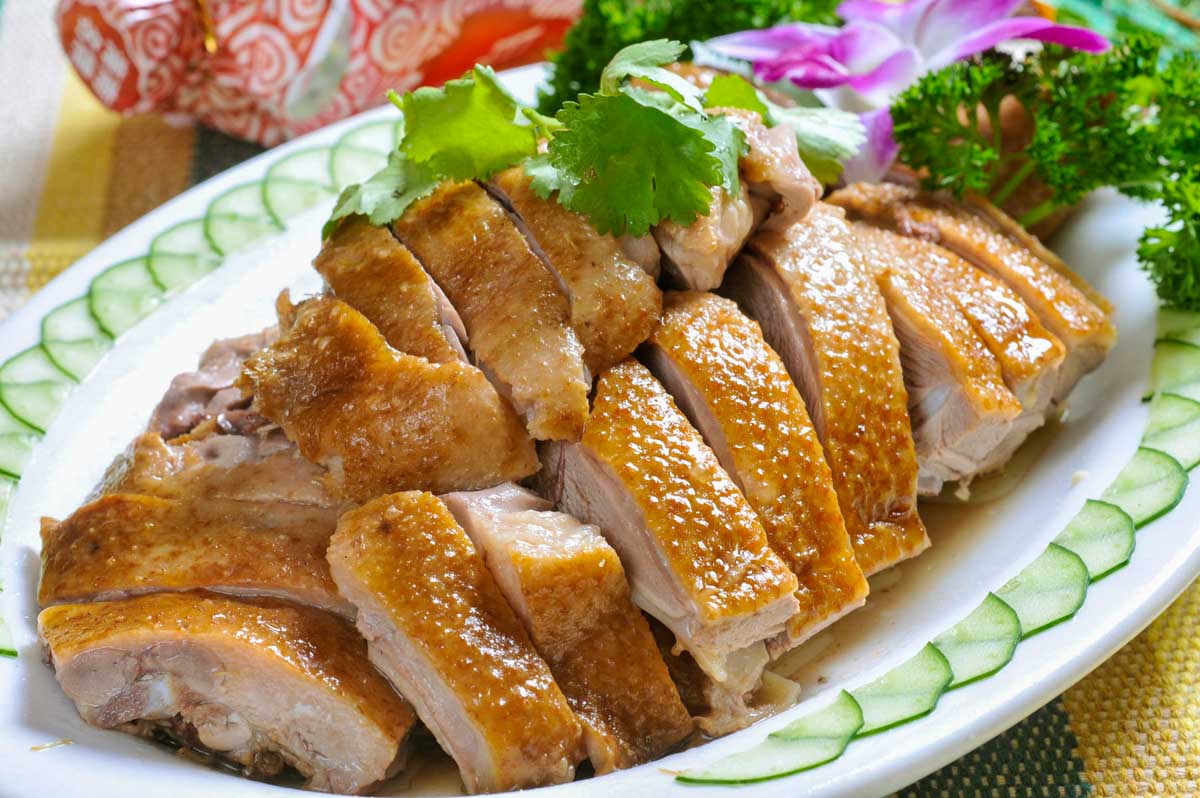 Hong Kong has its 4 Heavenly Kings, and so does Hainan in the food department — free-range Wenchang Chicken (the OG inspiration behind the Hainanese Chicken Rice we all know and love), grain-fed and lightly-prepared Jiaji Duck, famously tender Dongshan Mutton usually stewed in coconut milk, and meaty Hele Crab.
Luckily for tourists, you can find them all at Qi Lou Snack Street!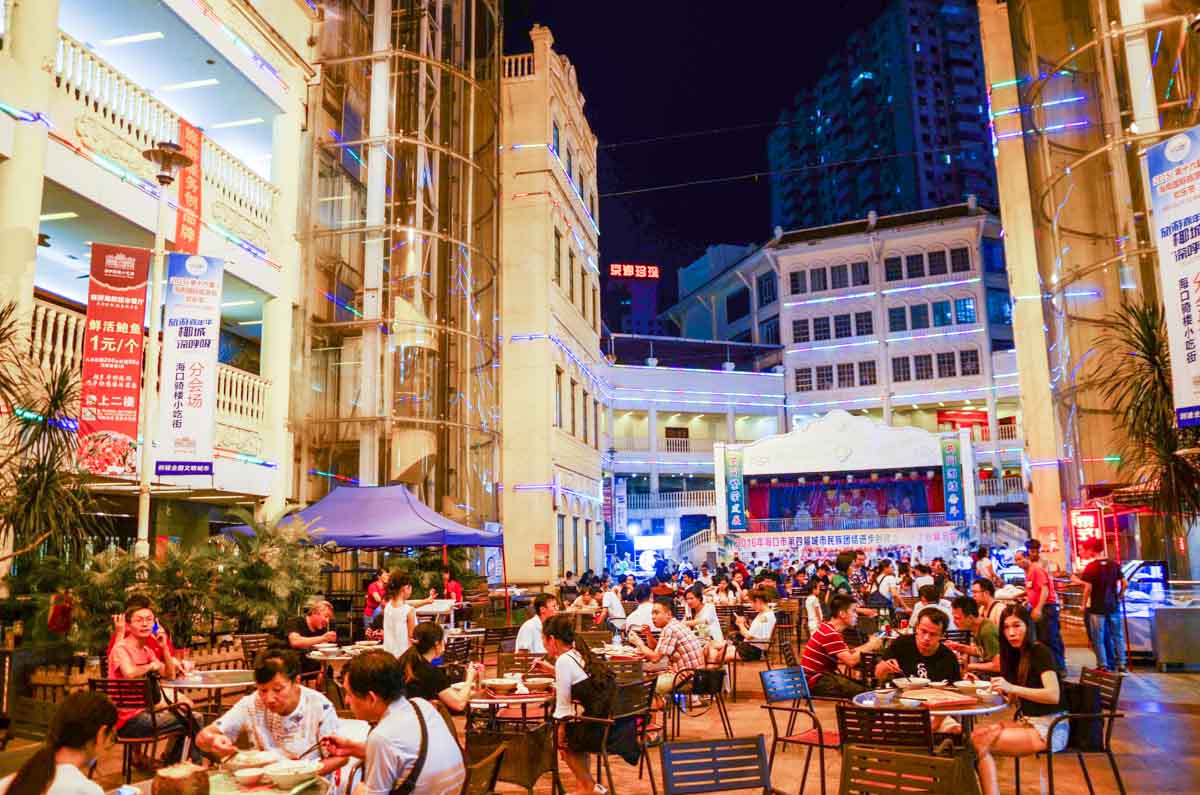 Thanks to Hainan's perpetual tropical weather a la Singapore, coconuts are also commonplace in Hainan. That's also why capital Haikou is aptly-known as "Coconut City".
8) Day trips to nearby islands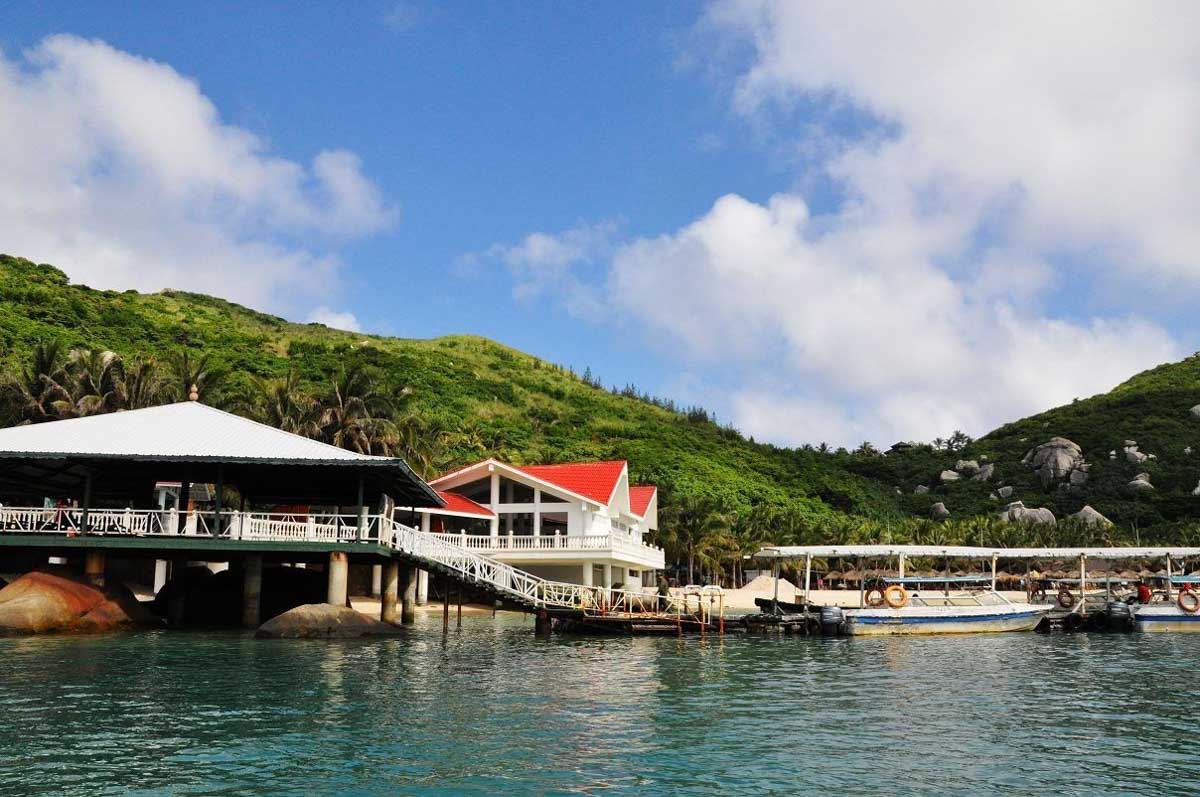 If you crave a different scenery you can easily take a day out to any of Hainan's nearby islands, like Boundary Island and Wuzhizhou Island. Other than the usual water sports like parasailing and banana boats, you can also dive into the waters to get up close with corals!
9) Home to the world's only protected monkey island nature reserve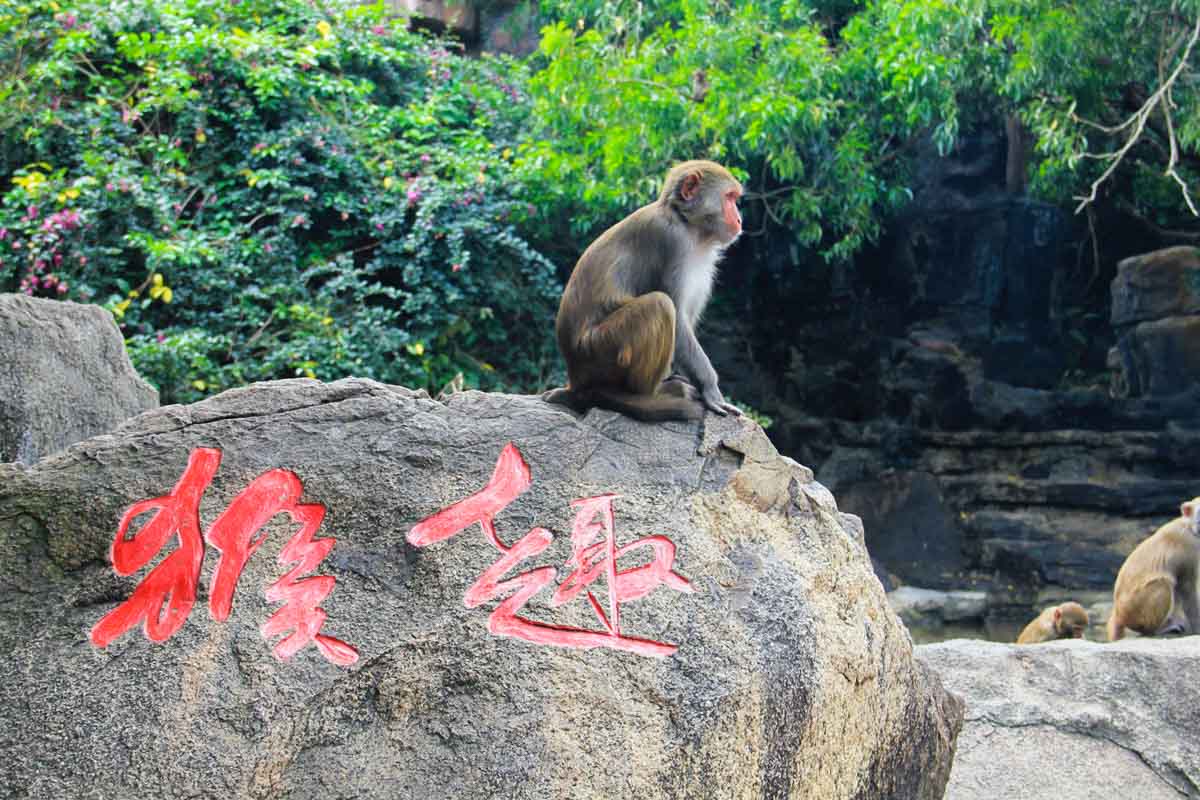 Get up close with the 2,000 or so monkeys at Nanwan Monkey Island, which is state-protected and 95% covered in greenery. One way to enter is via a cable car traversing over 2km of sea, the longest ocean-crossing ropeway in China!
10) Get to Hainan under 4 hours from S$215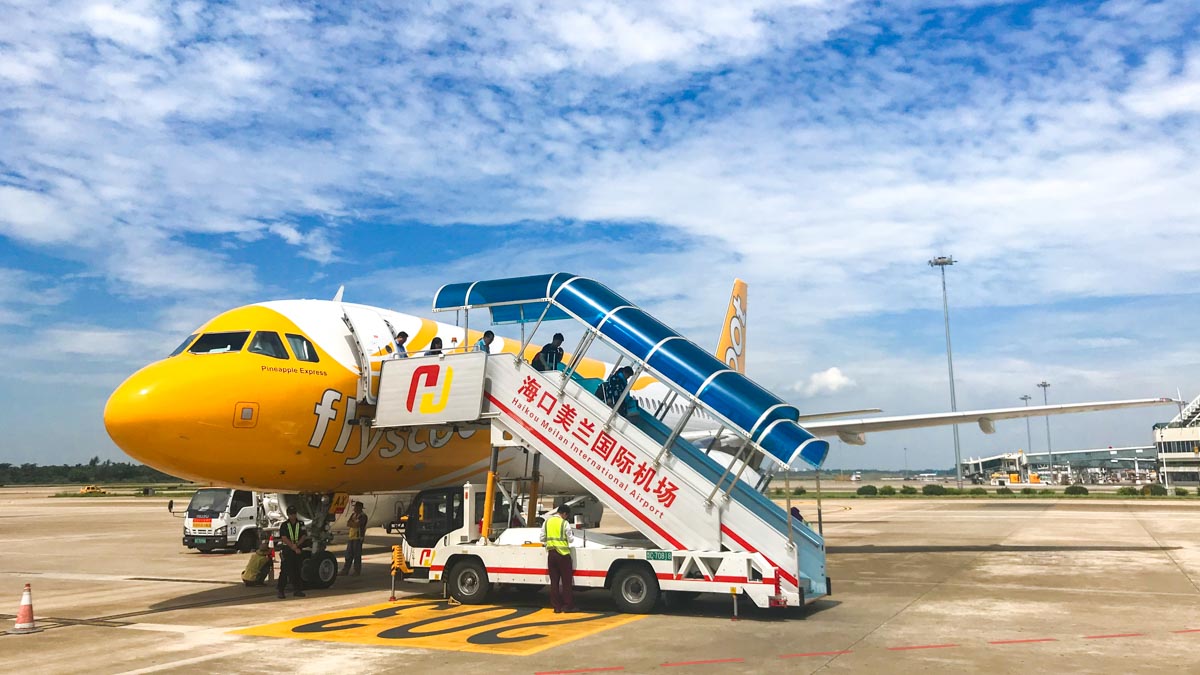 Low-cost carriers like Scoot fly to Haikou Meilan International Airport from S$215 and you can get there in just 3.5 hours — one of the airlines with the shortest flight time.
It's a short flight, but if it overlaps with breakfast or lunch time (mine did) you can pre-order meals like their Singapore Signature Chicken Rice. Nothing better than having something Hainanese to ramp you up for your trip.
11) Your gateway to visit China, Hong Kong or Taiwan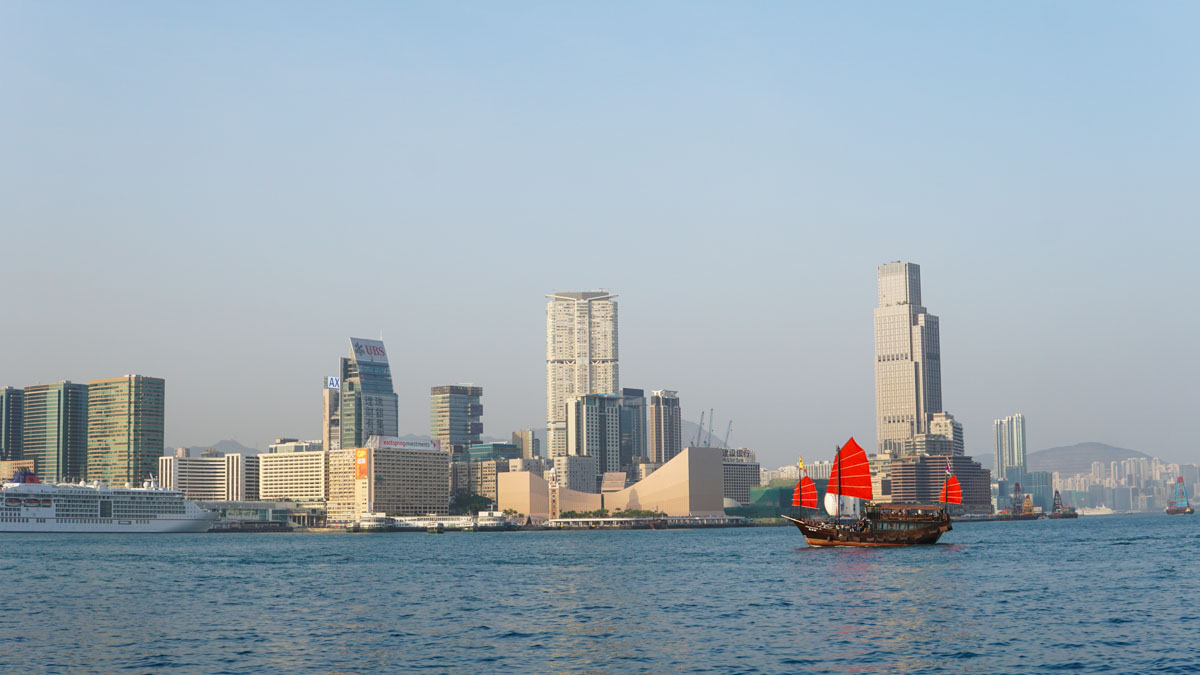 Planning a longer vacation? Visit Hainan as a short stopover to a longer trip to China! You can actually cover Guangzhou, Shenzhen and Hong Kong via train from Hainan itself. Short flights from Haikou Airport are also possible — fly to Taiwan in less than 3 hours, or Hong Kong in 1.5–2 hours!
If that sounds like a great idea, check out some of the lesser-known sights in Hong Kong when you make the trip 😉
Note on Visas: Singaporeans can enter China visa-free for up to 15 days but if you're entering Hainan with a recognised tour group, you can stay for up to 30 days.
---
This post was brought to you by Accor Hotels and Scoot as part of a media familiarisation trip.
For more travel inspiration, follow us on Facebook, Instagram, and YouTube.