Hidden gems, underrated spots and exciting day trips for your next Taipei itinerary!
The smell of stinky tofu, the taste of braised pork rice, the rush of a bustling metropolitan city, and the tranquillity of its outskirts — Taipei has everything we miss as travellers.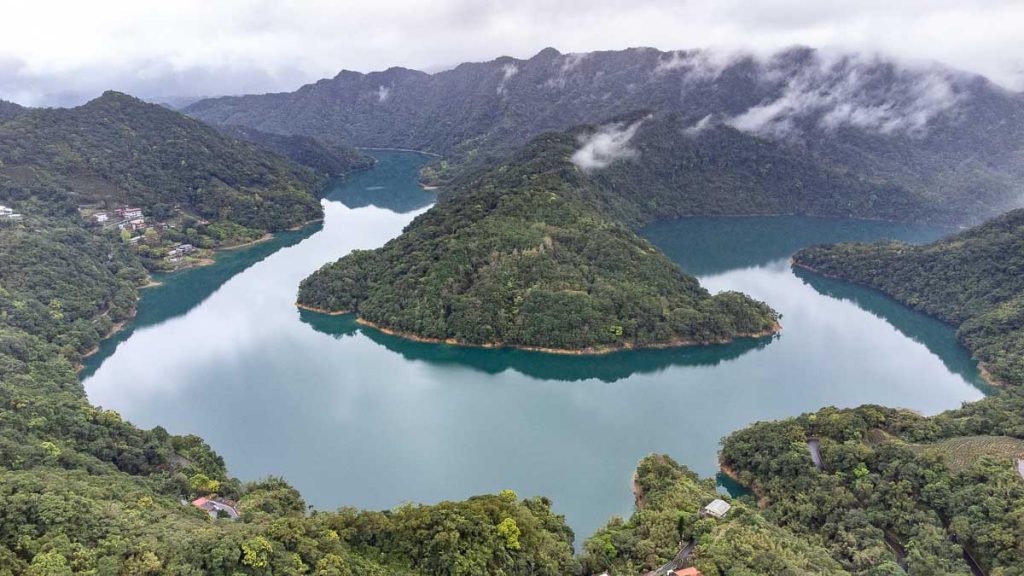 We last visited Taiwan more than three years ago and were thrilled to rediscover its capital city and beyond! Our past itineraries included many popular attractions in Taipei, so this trip was all about uncovering the lesser-known things to eat, see and do in the city and its surroundings.
This time, we spent a day in Taipei before heading to Jiufen, Shifen and Yehliu to check out what's changed since our last visit. We also explored Keelung for the first time and discovered a hidden gem in the popular tea region of Shiding.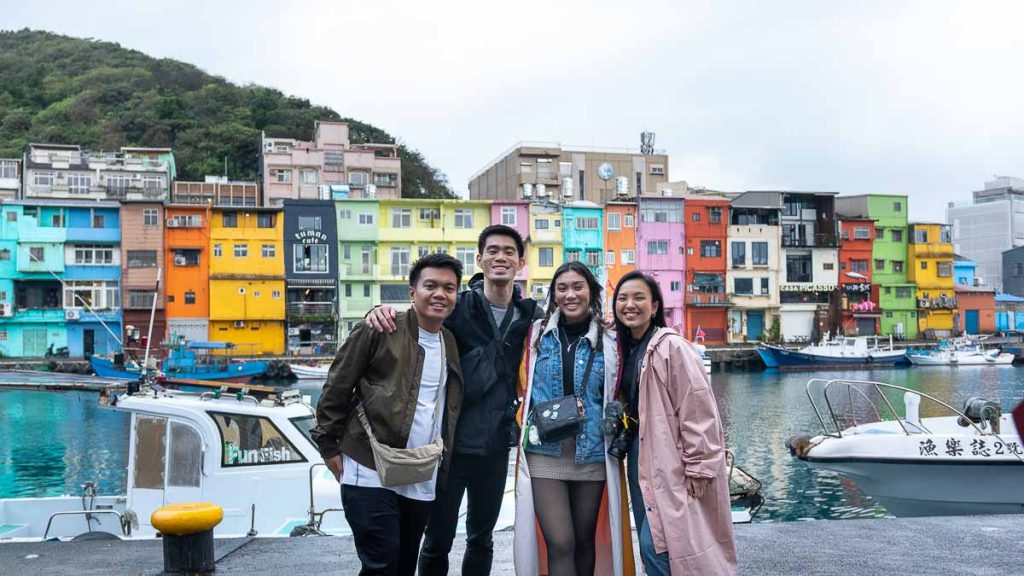 If you miss Taiwan too, here are hidden gems and underrated spots worth checking out when you're planning your next Taipei itinerary.
Day 1: Taipei | Day 2: Yehliu, Golden Waterfall, Jiufen, Shifen | Day 3: Keelung |
Day 4: Pinglin, Shiding
Pre-trip Essentials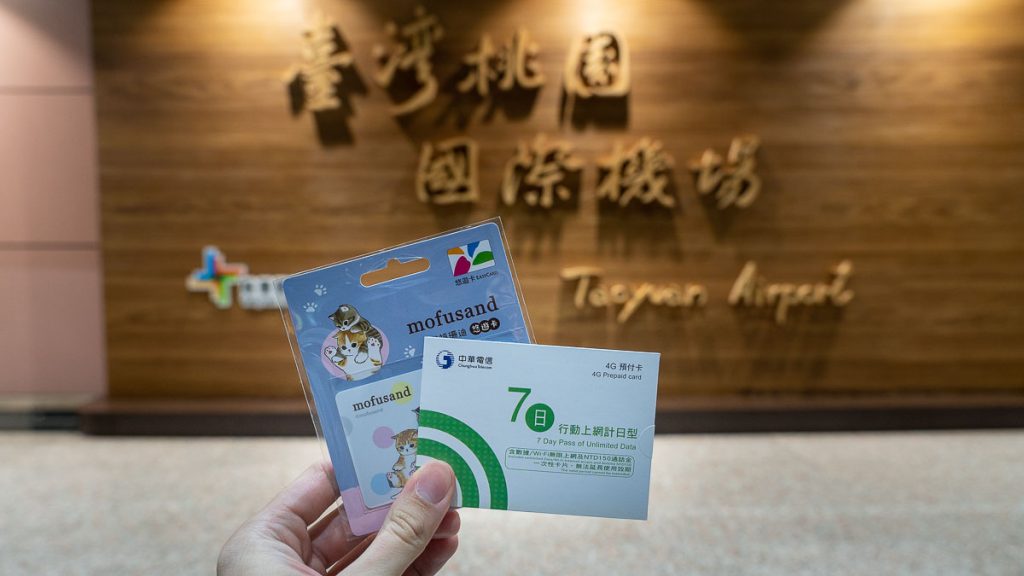 Transport in Taipei and SIM Card: We pre-ordered an EasyCard (~S$26) that comes pre-loaded with NT$200 Deposit and a 5-day unlimited 4G SIM Card. Both can be collected from the Ezfly service counter at Terminal 1 or 2 at Taoyuan International Airport.
Travel insurance: We got the group Essential Plan from MSIG Insurance (inclusive of up to S$150,000 Covid-19 overseas medical coverage)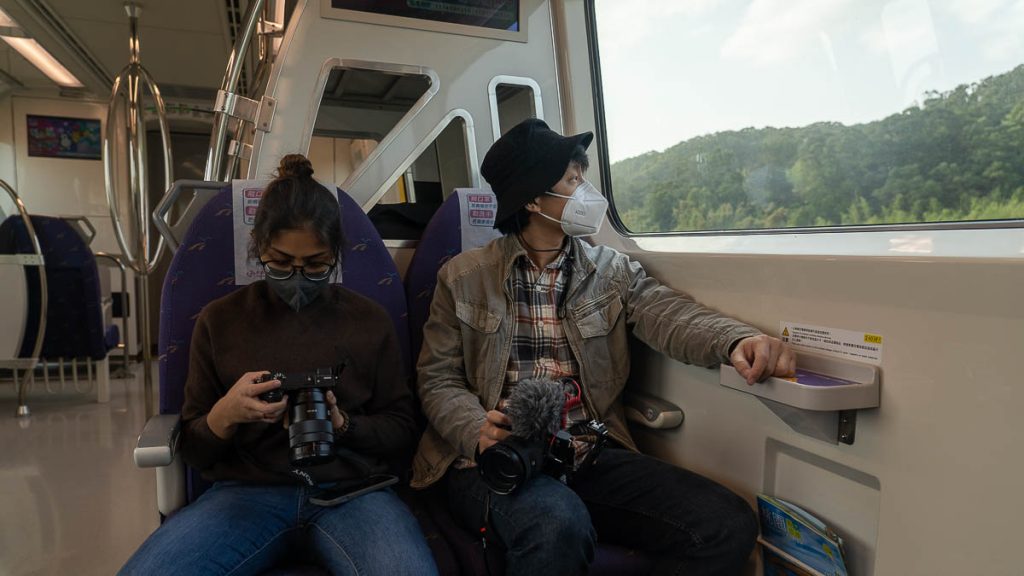 Covid rules: Masks are required on public transport and in hospitals (accurate as of 20 February 2023. Pre-departure and on-arrival tests are not required since 7 February 2023.
Day 1: Taipei
10AM: Breakfast at Sihai Soy Milk King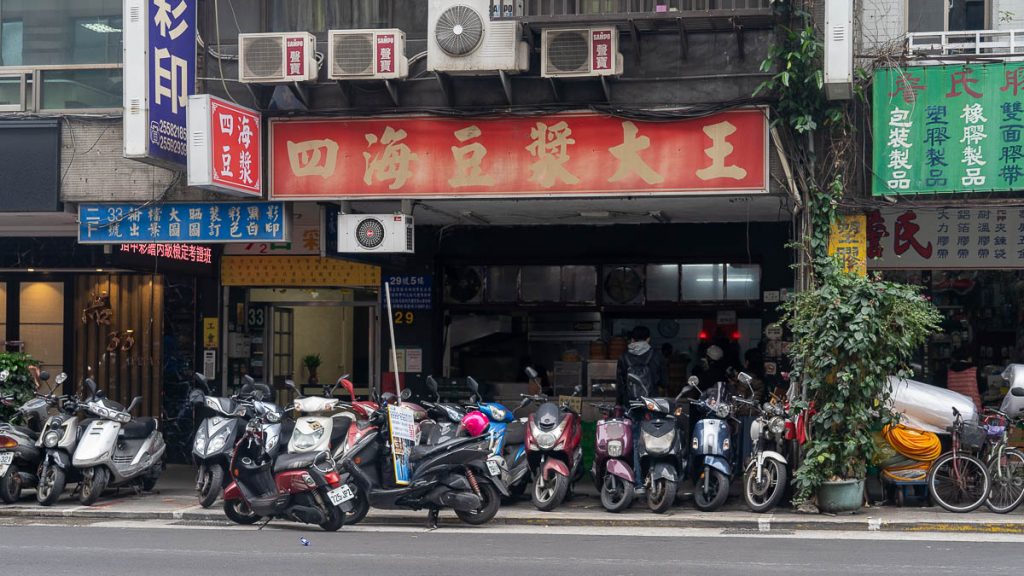 A traditional Taiwanese breakfast at Sihai Soy Milk King was what we needed to start the day after a sleep-deprived overnight flight into Taipei.
The queue was long but moves impressively quickly — 5 minutes was all we had to wait for a table.
Famous dishes here like the glutinous rice roll (NT$30), the xiao long bao (NT$45) and soy milk (NT$20) were delicious. But our favourite was the crispy and flavourful egg pancakes (NT$28)!
Cost: From NT$20 (~S$1)
Opening hours: 6AM – 9 PM (Mon – Sat), 6AM – 1 PM (Sun)
Address: No. 29, Chang'an West Road, Datong District, Taipei City, Taiwan 103
11:30AM: Gaki Hip: Taiwan's First IG Museum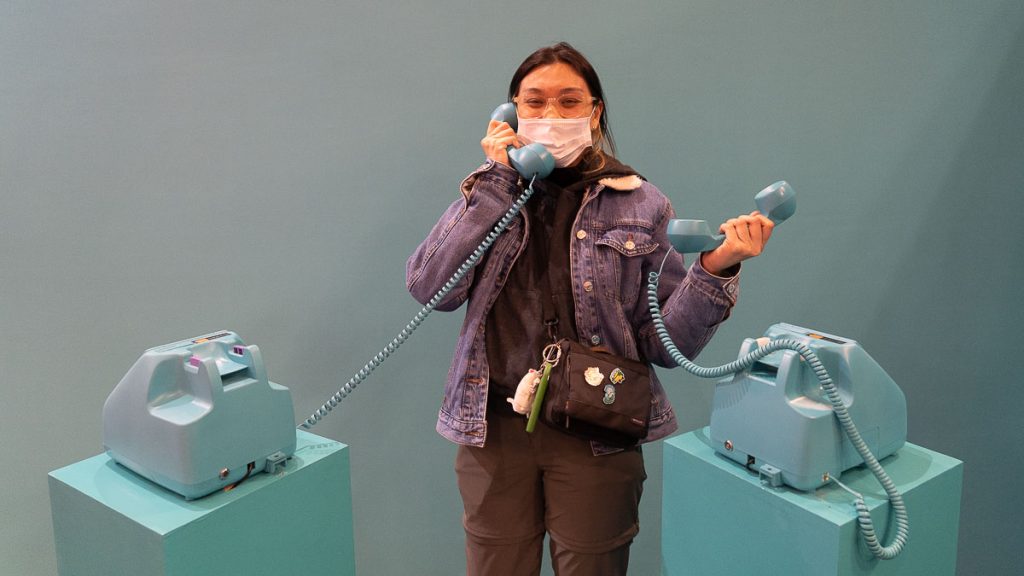 From boba tea to telephone booths, and giant claw machines, the interactive nature of Taiwan's first IG museum — Gaki Hip — allowed us to learn about Taiwanese culture in record time.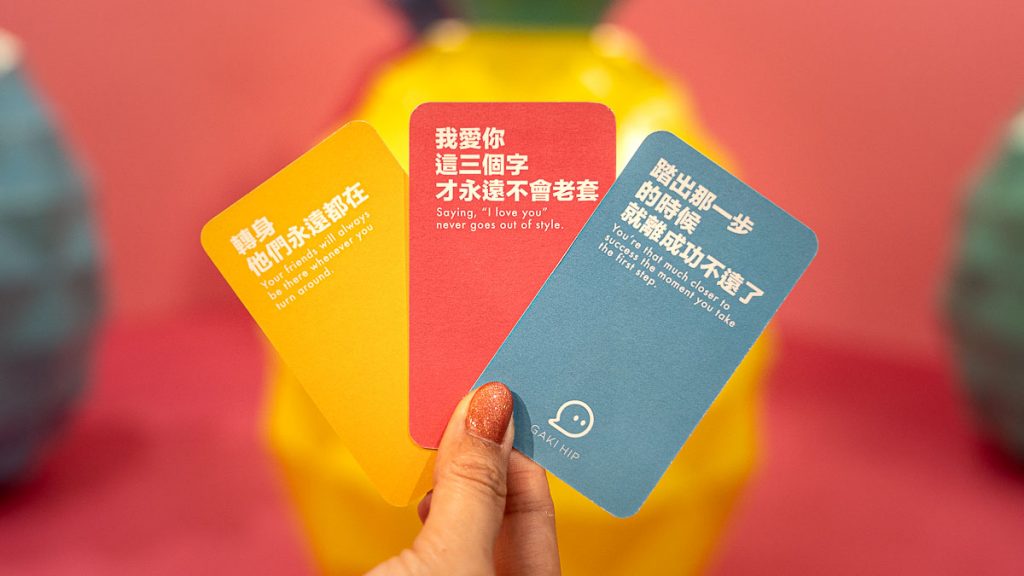 An interesting exhibit here is a stranger note exchanger. Drop a handwritten note into a machine and get another in exchange from a stranger.
We received a friendship-themed card from a card dispenser earlier in the exhibition, so we wrote about the importance of treasuring friendships. In return, we received a courage-themed card with a note that translated to something along the lines of taking the road less travelled is the hallmark of our generation — something we resonate with!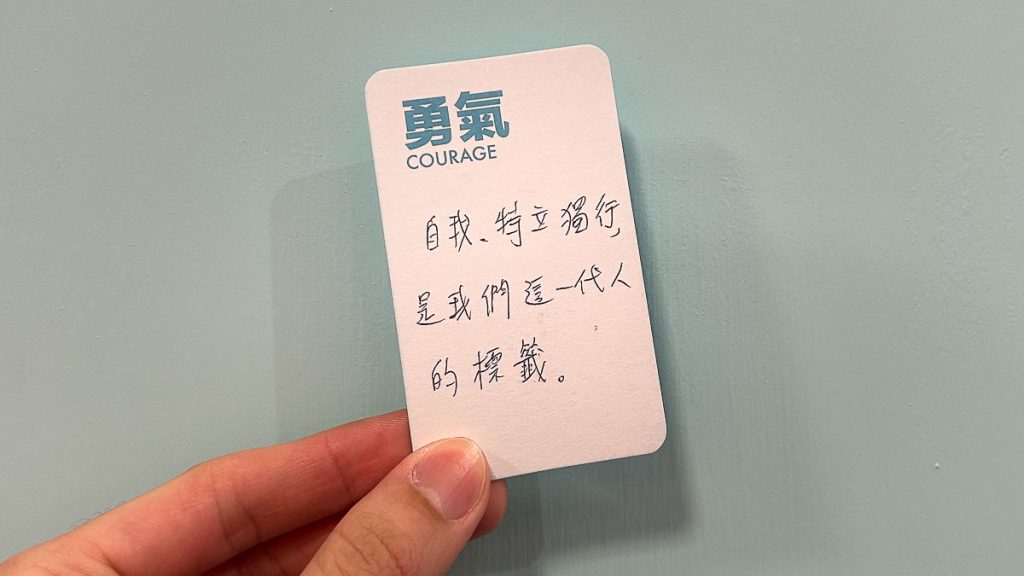 The regular ticket includes access to five basic exhibitions, but a VIP ticket is required for special exhibitions like the Pingxi Sky Lantern Festival display.
*Note: Gaki Hip is only open till 12 May 2023, so check this page for details of future exhibitions. For similar alternatives in Taipei, check out the Taipei Astronomical Museum.
Entrance fee: ~S$16 for a regular adult ticket
Opening hours: 11:30AM – 8 PM
Address: 13F, No. 66, Section 1, Zhongxiao West Road, Zhongzheng District, Taipei City, 100
1PM: Lunch at Haoji Dumpling Specialty Store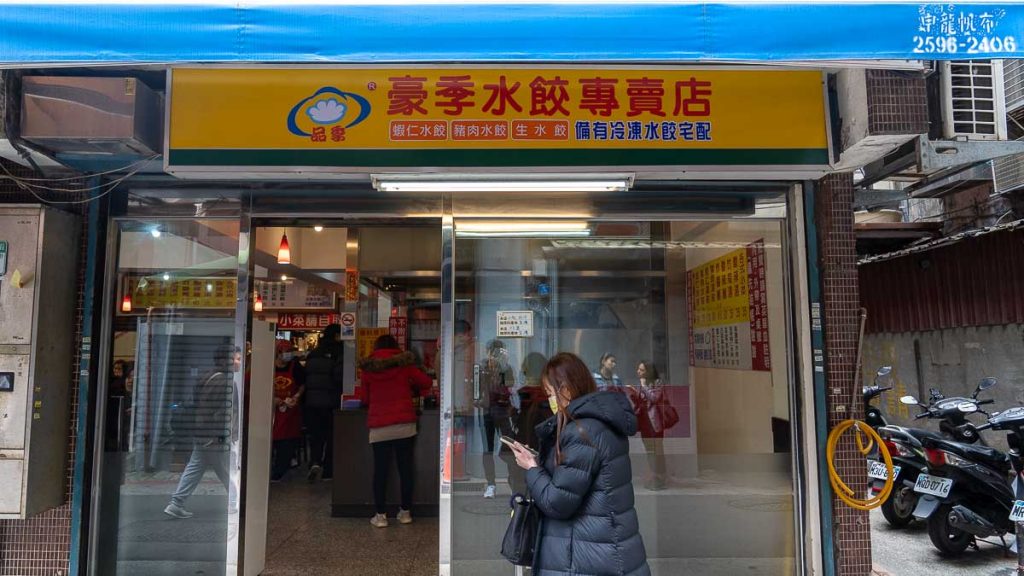 Haoji Dumpling Specialty Store is a popular hideout amongst locals.
Located in an inconspicuous alley just round the corner from Taipei Main Station (Exit M7), this restaurant has everything we were looking for in a dining spot — cheap, delicious and convenient.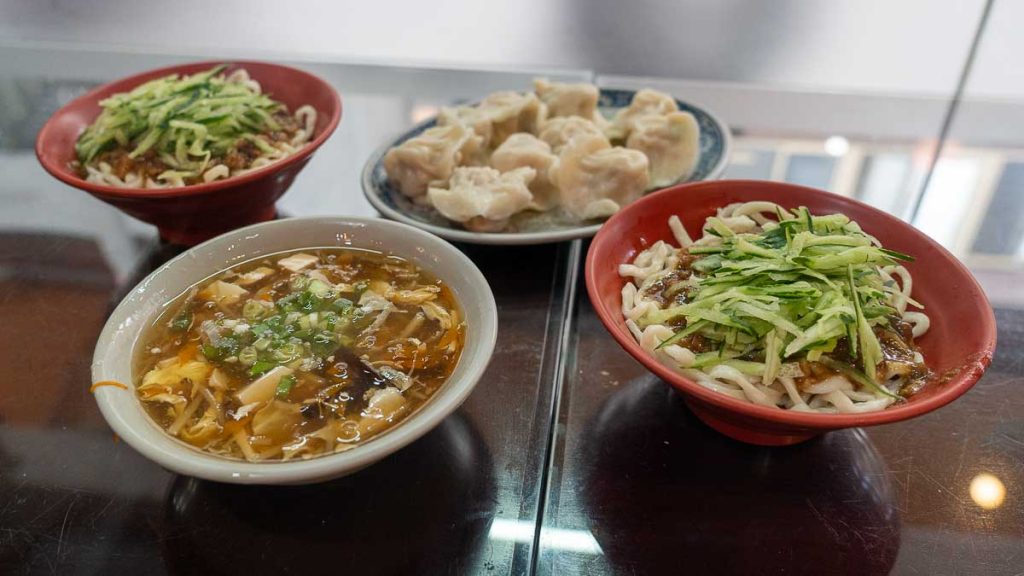 Two bowls of zha jia mian (NT$50), a bowl of hot and sour soup (NT$35) and a plate of 10 prawn dumplings (NT$90) were perfect for a group of four to share. Our favourite was the sumptuous prawn dumplings.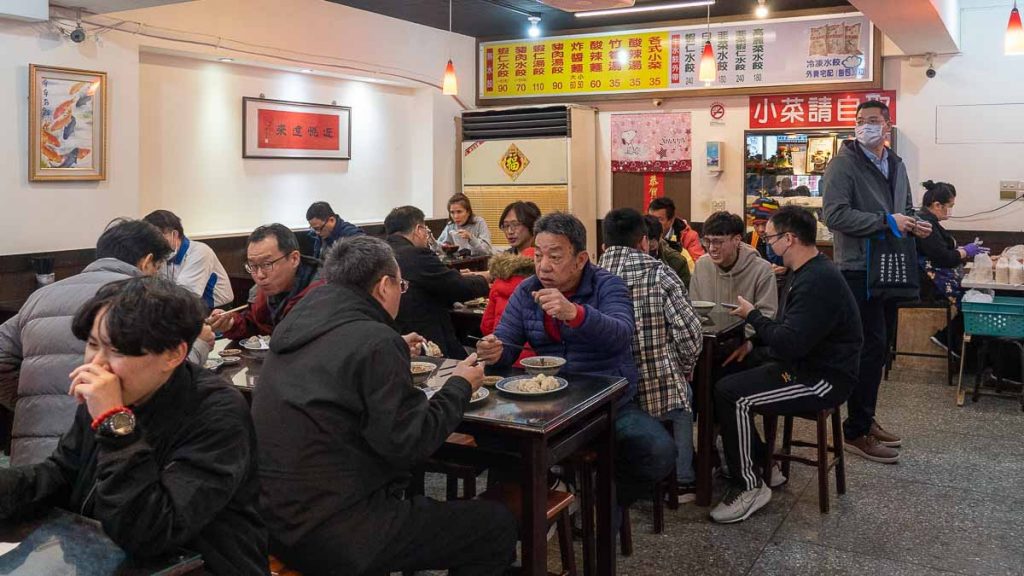 We waited about 10 minutes for a table as the 30-seater restaurant was packed with locals at 1PM. And we heard from locals that it gets crowded during mealtimes.
*Pro-tip: Avoid mealtimes if you don't want to wait too long for a seat!
Cost: From NT$50/main (~S$2.50)
Opening hours: 10:30AM – 8PM (Mon – Sat), closed on Sun
Address: No. 1, Lane 29, Section 1, Zhongxiao West Road, Zhongzheng District, Taipei City, Taiwan 100
3:30PM: Jinmianshan Hiking Trail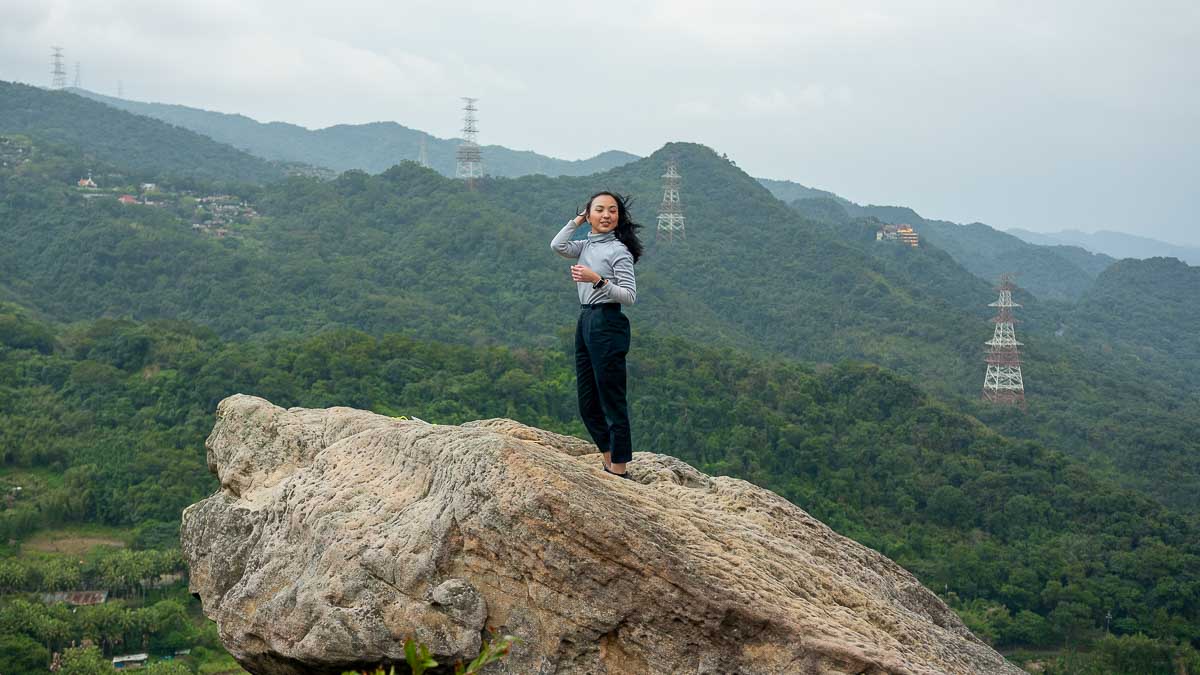 When sunlight shines on the face of Jinmianshan, the light that is reflected makes the mountain appear like a "Gold Face Mountain", which was how the mountain got its name.
The slopes are steep but the mesmerising view at its peak made this a worthwhile adventure.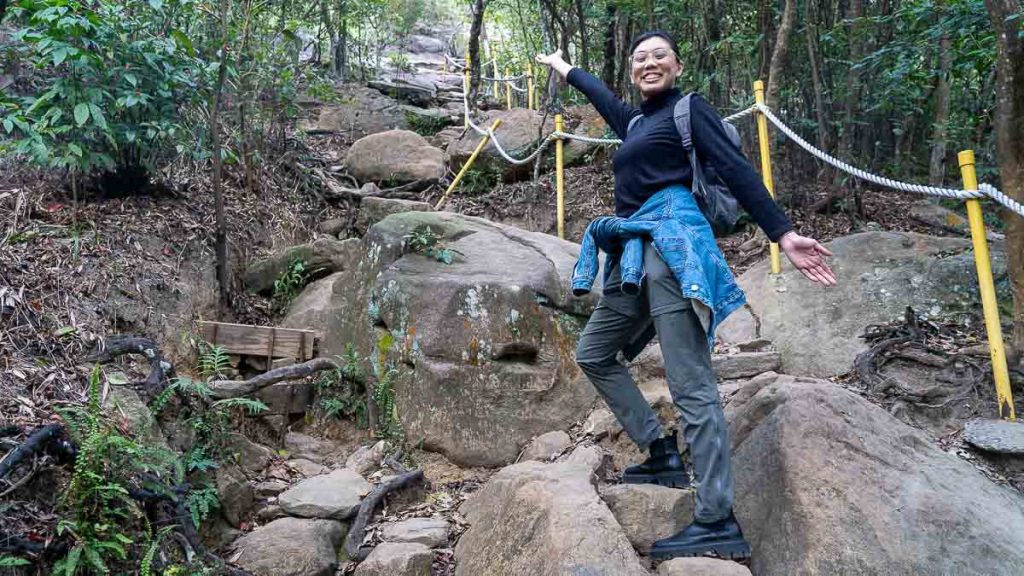 Even if you're not a seasoned hiker, ropes along the trail make it more manageable to conquer the 258m peak. All you need is a little determination!
We took an hour to hike from base to peak, where gusts of strong winds greeted our arrival. Don't let our bright smiles fool you, it was extremely cold!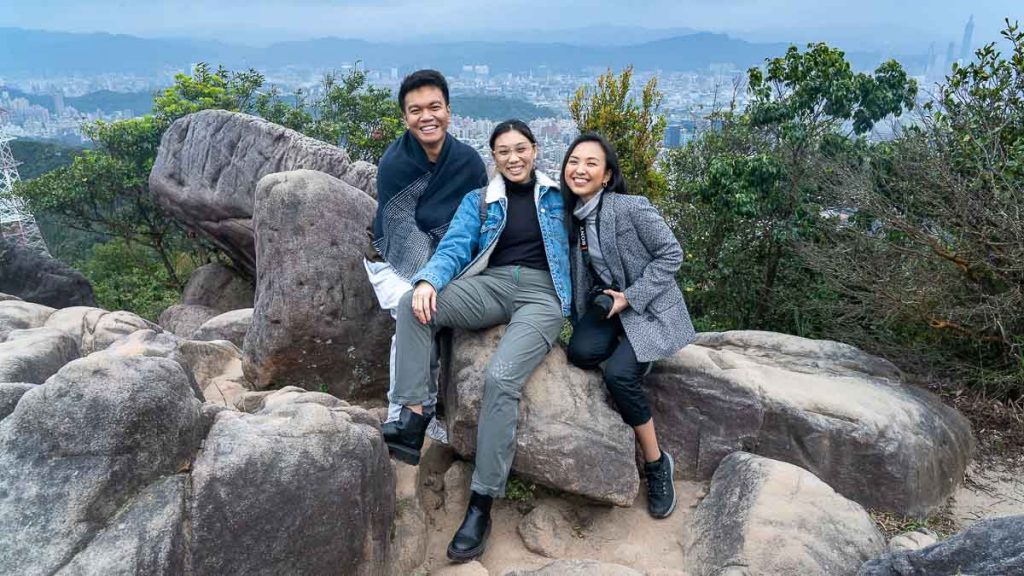 This trail in the north of Taipei wasn't packed with hikers, making it an attractive alternative to the popular Elephant Mountain for any Taipei itinerary.
*Pro-tip: Bring a torchlight if you're planning to descend the mountain past sunset as there are no lights along the trail.
Cost: Free
Opening hours: 24 hours
How to get there: Walk 11 mins from Xihu Station to trailhead, then hike 1hr to peak
7:30PM: Ningxia Night Market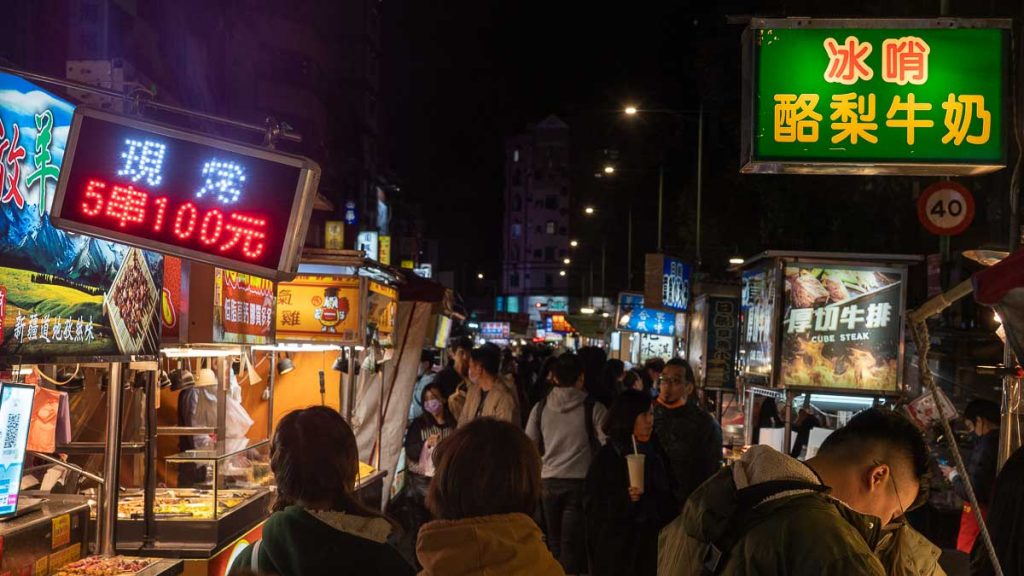 The final stop on our day one itinerary was a trip to one of the oldest night markets in Taipei — Ningxia Night Market.
Other night markets like Shilin Night Market often see a mixture of food and non-food stalls, but Ningxia Night Market is primarily a foodie paradise that specialises in Taiwanese food.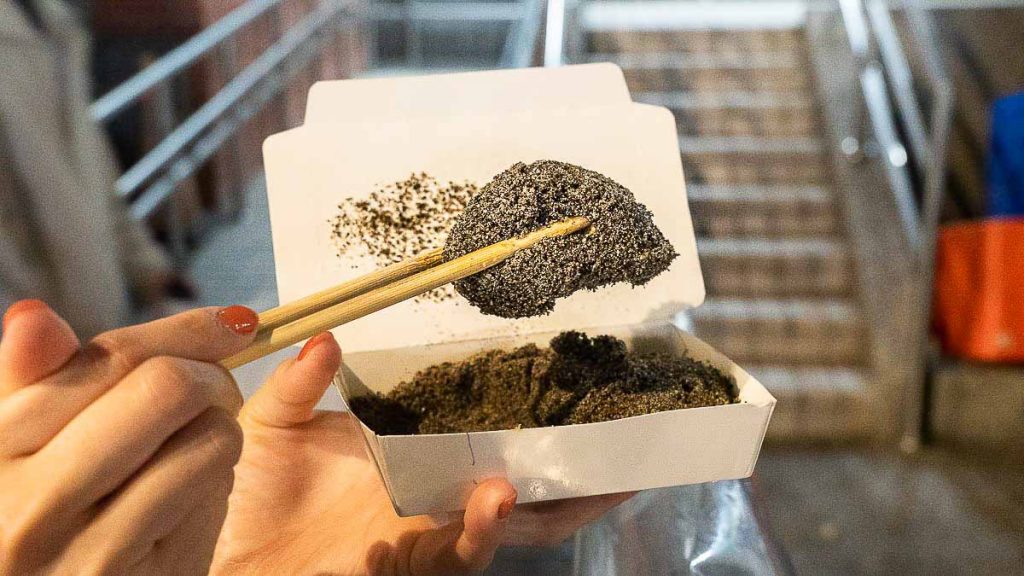 We tried a selection, but the large sesame mochi (NT$50 for two, stall #97), and the mouth-watering cheese corn dog (NT$65, stall #47) were our favourites!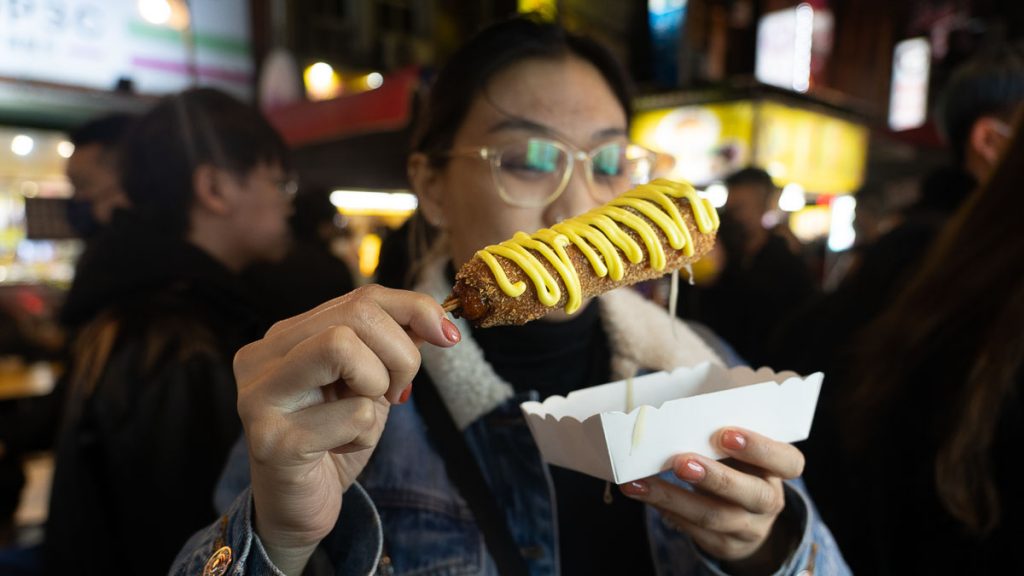 The place was packed but not cramped to the brim — just right for those who enjoy a night out in town but are wary of large crowds!
Opening hours: 5PM – 1AM
How to get there: Walk 9 mins from Zhongshan Station
Day 2: Day Trip to Yehliu, Golden Waterfall, Jiufen and Shifen
We were intrigued to discover what has changed in Yehliu, Jiufen and Shifen since our last visit, so we went on a day trip from Taipei to explore these attractions on the second day of our itinerary.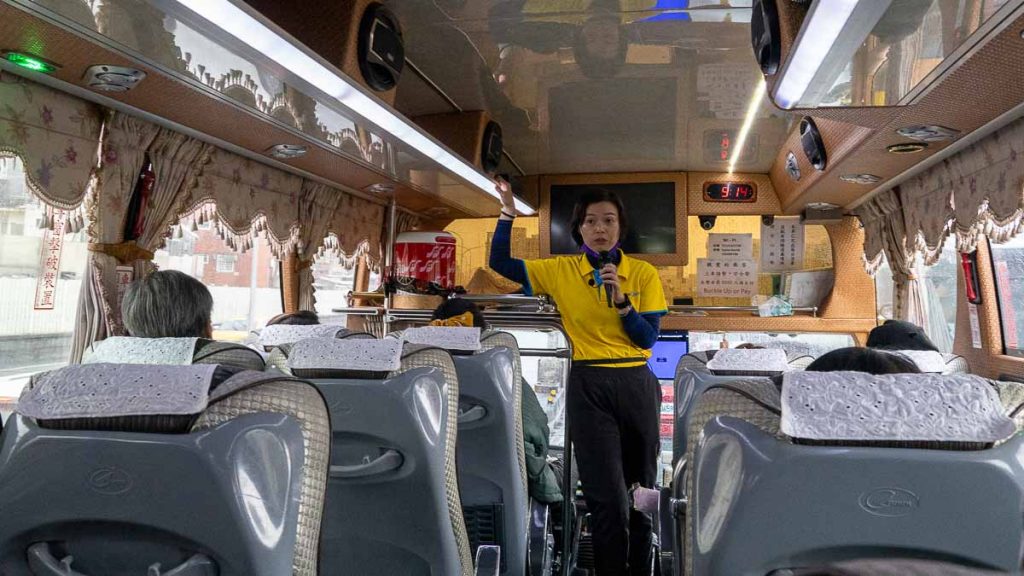 We booked the Yehliu Geopark, Jiufen, Shifen, and Golden Waterfall Day Tour (~S$45/pax), which included round-trip shuttle bus transport from Taipei Main Station and an English-speaking local guide. The tour also stopped by Shifen Waterfall.
9:45AM: Yehliu Geopark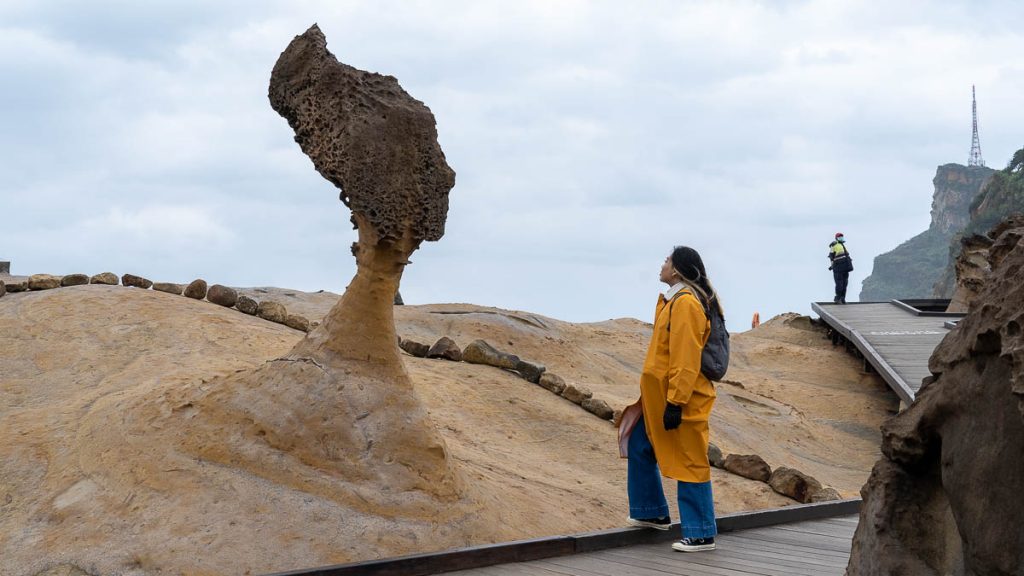 The first stop was Yehliu Geopark, a 1.7km long cape that is home to numerous rock formations shaped by natural erosion.
We were fortunate to beat the crowd to a photo opportunity with the iconic Queen's Head, which resembles the late Queen Elizabeth from certain angles.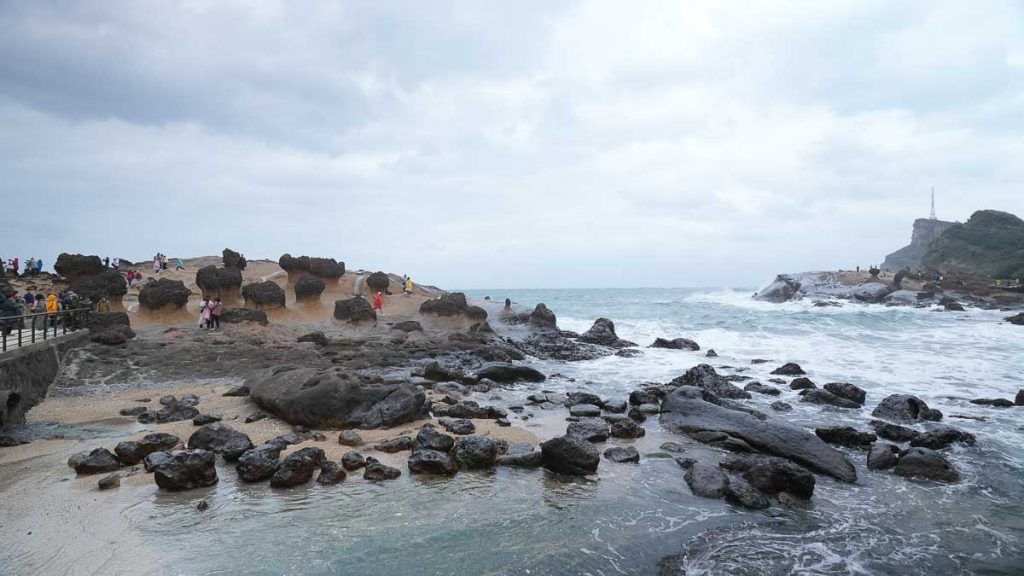 Amongst the three zones here — our favourite was zone two — where popular rock formations such as the Queen's Head, Elephant Rock and Fairy Shoe are found. The Mushroom Rock and Cute Princess Head headline zone one, while zone three is used for field research.
Nothing much has changed since our last visit. But the Cute Princess Head — which resembles a girl with a ponytail — has been earmarked as the Queen's Head successor as it'll inevitably collapse in the future.
*Pro-tip: Get there once the geopark opens to avoid large crowds, especially if you want to get a photo with the Queen's Head!
Entrance fee: ~S$5.50
Opening hours: 8AM – 5PM
How to get there: Drive 45 mins from Taipei Main Station
12PM: Golden Waterfall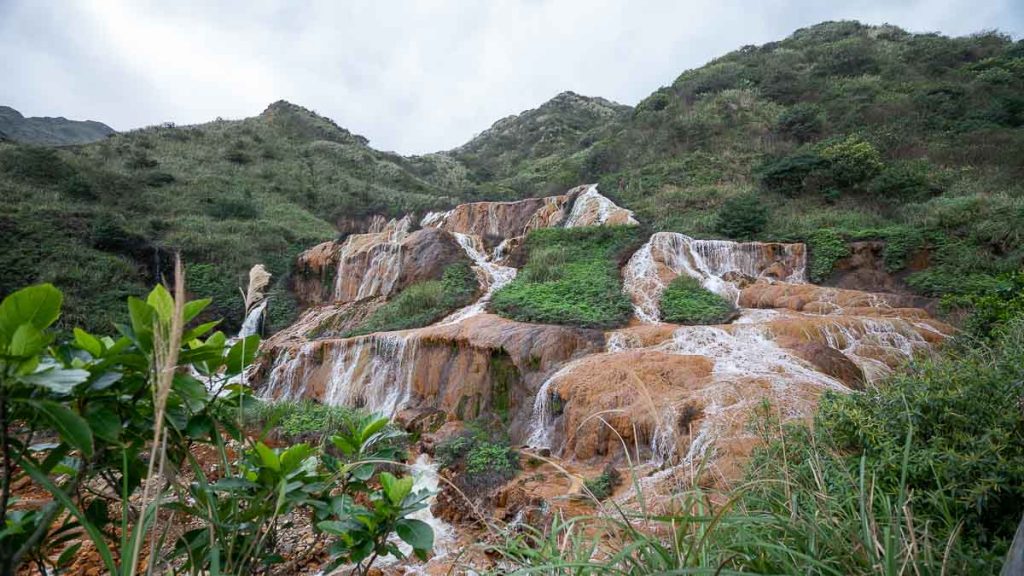 The Golden Waterfall got its name from the golden-orange coloured water that flows down the cascade, which happens when rainwater comes into contact with pyrite and sulphur-copper ore in the mining town of Jinguashi.
During our 15-minute stop, the mesmerising waterfall was flowing in abundance due to rainfall in the area — a silver lining of our rain-filled day tour!
Entrance fee: Free
Opening hours: 24 hours
How to get there: Drive 40 mins from Yehliu Geopark
1PM: Jiufen Old Street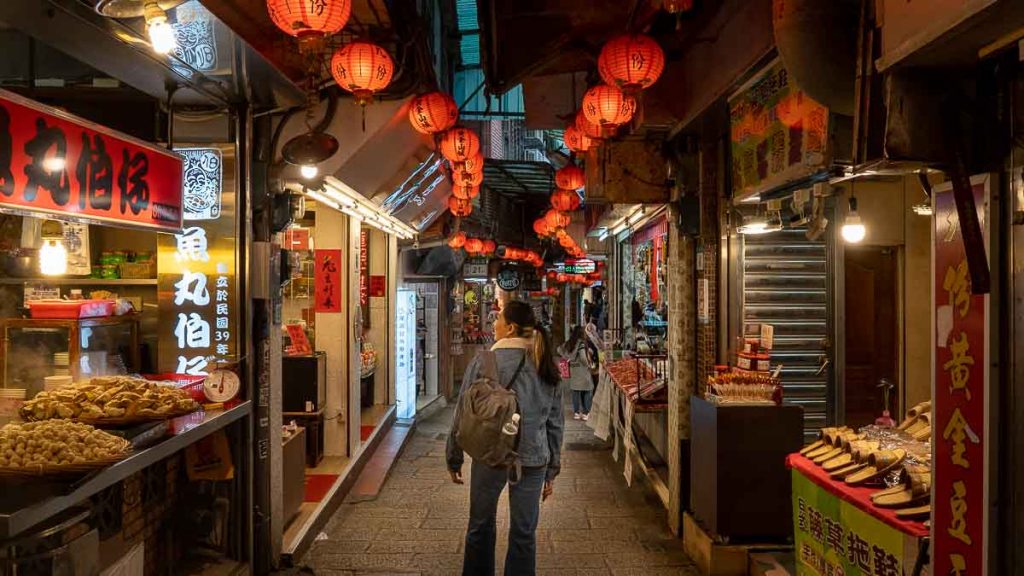 As true foodies, we were delighted to grab lunch at Jiufen Old Street — a narrow alleyway famous for its food stalls, souvenir shops and tea houses.
We tried a variety of food during the 2-hour stop and here are our top three picks!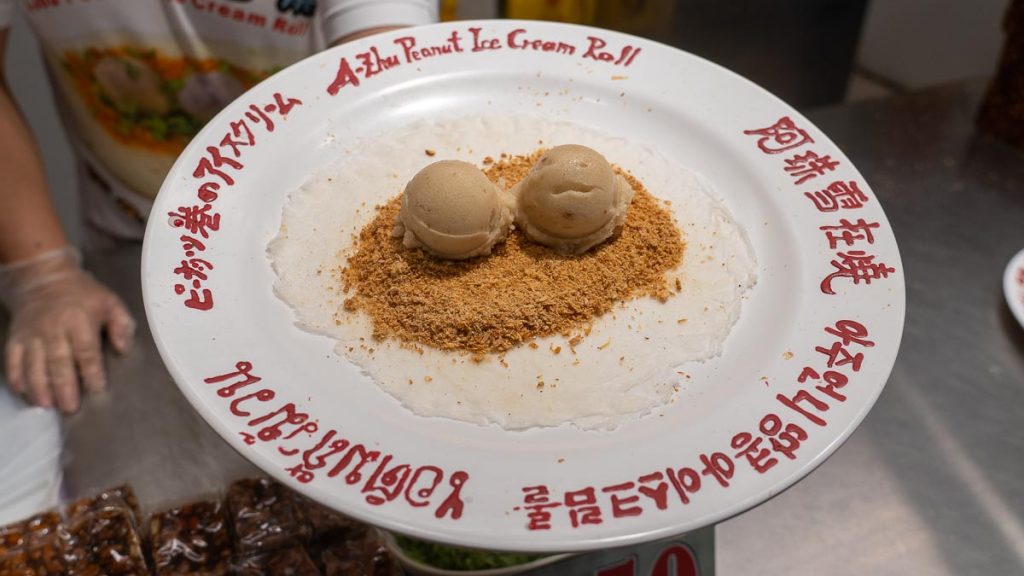 First up, A-Zhu Peanut Ice Cream Roll (NT$50) — a thin crepe with two scoops of peanut ice cream. The snack was delicious — refreshing yet not too heavy. The contrast between the crunchy peanuts and creamy ice cream was a perfect match!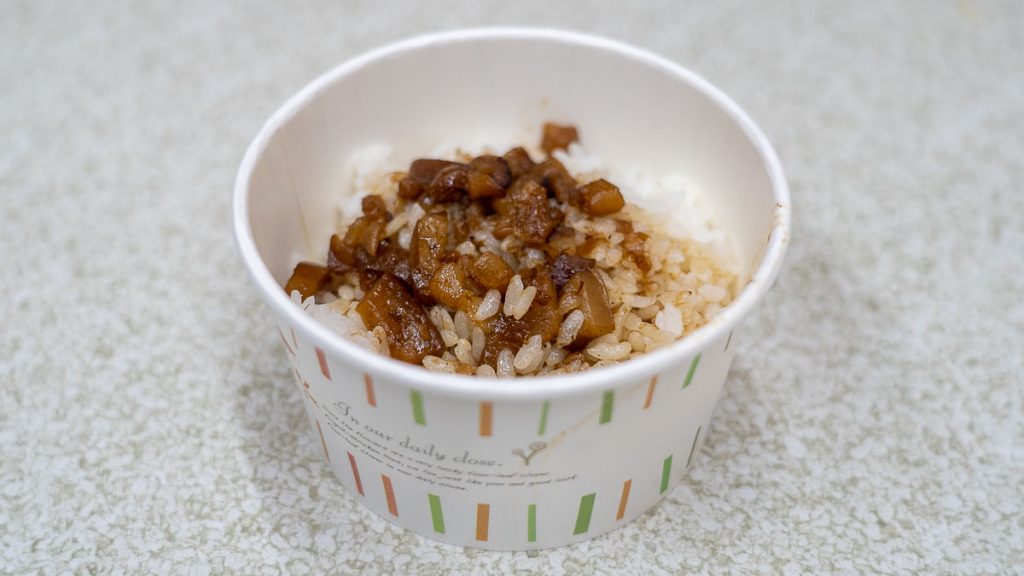 Next up, the braised pork rice (NT$40) from Zhang Ji Traditional Fishballs was tasty and bang for the buck for its generous portion!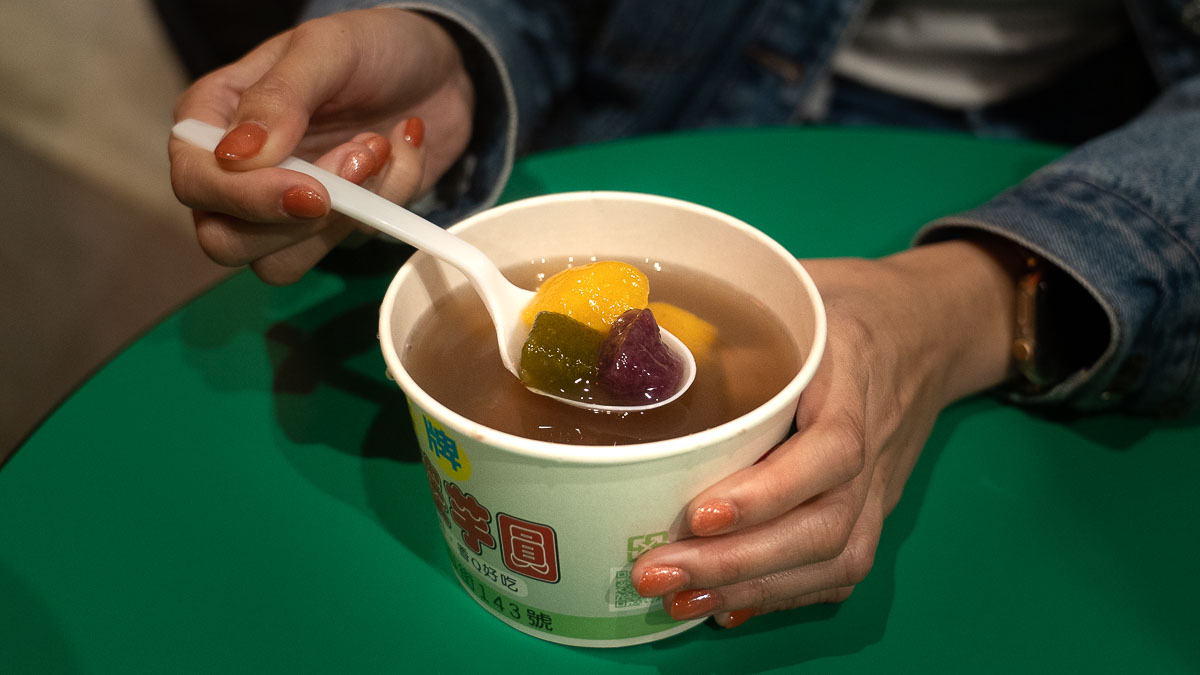 We had to try the taro ball soup (NT$40) from Lai Ah Po Taro Balls, famous for the perfect texture of its taro balls. The dessert lived up to expectations and the hot version was perfect for the rainy day we had (although iced versions are available too).
Opening hours: 8AM – 7PM (Mon – Thu), 8AM – 10PM (Fri – Sun)
How to get there: Drive 10 mins from Golden Waterfall
3:45PM: Shifen Waterfall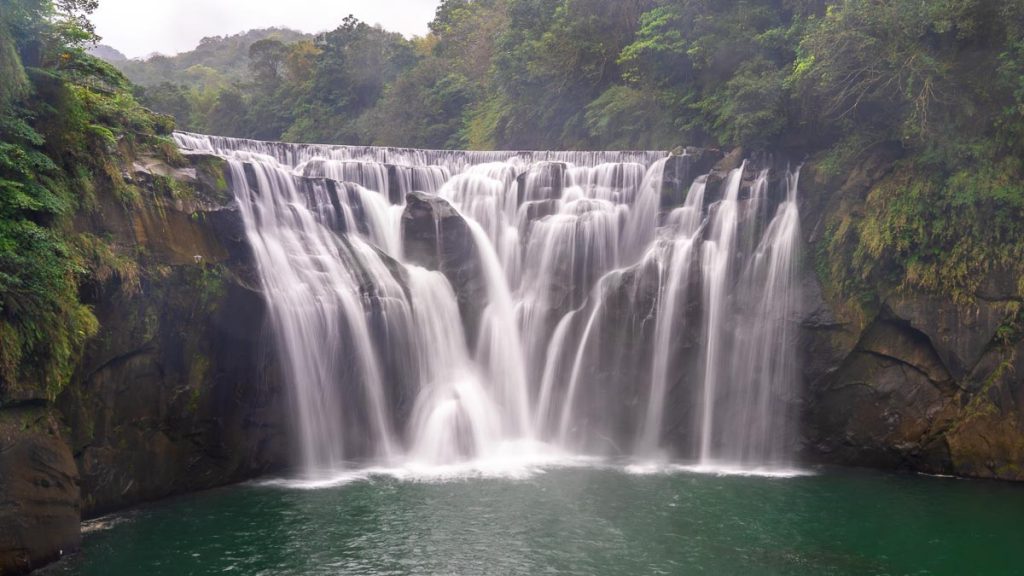 Dubbed Taiwan's own Niagara Falls, Shifen Waterfall had a lot to live up to. The waterfall looked good in photos, but nothing beats seeing it in person — soaking in its beauty was extremely refreshing for the soul.
Our guide shared that the waterfall often delights visitors with a rainbow on sunny days, although we weren't blessed with such luck.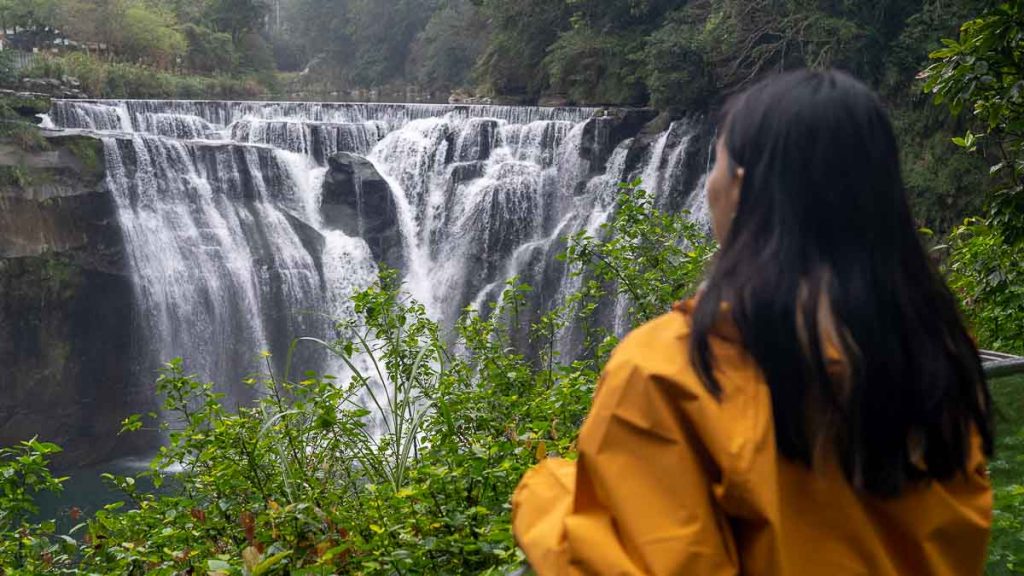 The waterfall is located just 5 minutes by car from Shifen Old Street, making it a good stop before heading there.
Entrance fee: Free
Opening hours: 9AM – 6PM
Address: No. 10, Gankeng Road, Nanshan Village, Pingxi District, New Taipei, Taiwan 226
4:15PM: Shifen Old Street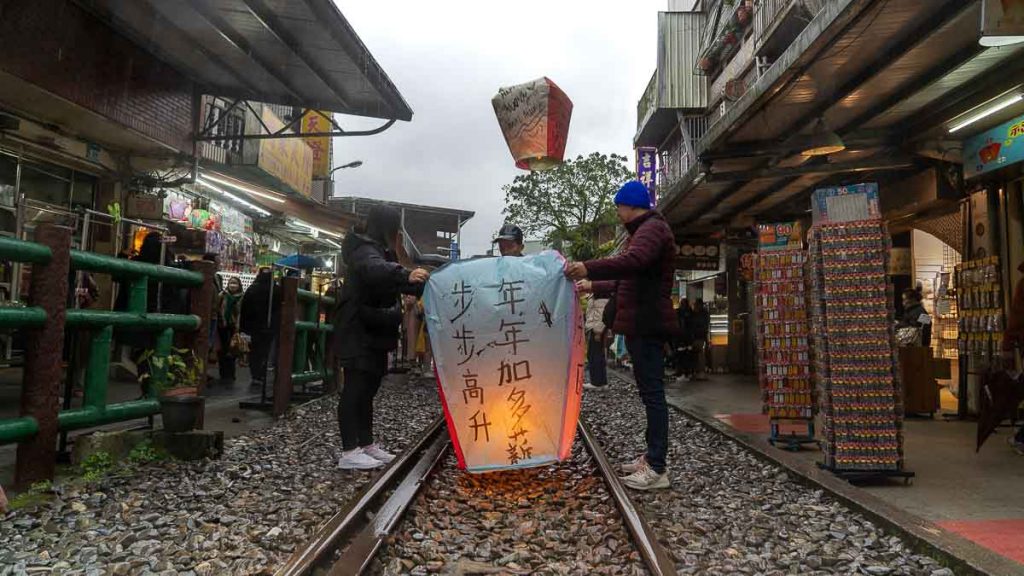 Ever since watching the 2011 rom-com "You Are The Apple Of My Eye", releasing a sky lantern in Shifen Old Street has been something I've been looking forward to do! It felt surreal to finally do so more than a decade later!
Pingxi, where Shifen is located, was a dangerous region in the past. So workers used sky lanterns as a signal to inform their families that they were safe. Nowadays, releasing sky lanterns with handwritten wishes is seen as a way of passing them to the gods above.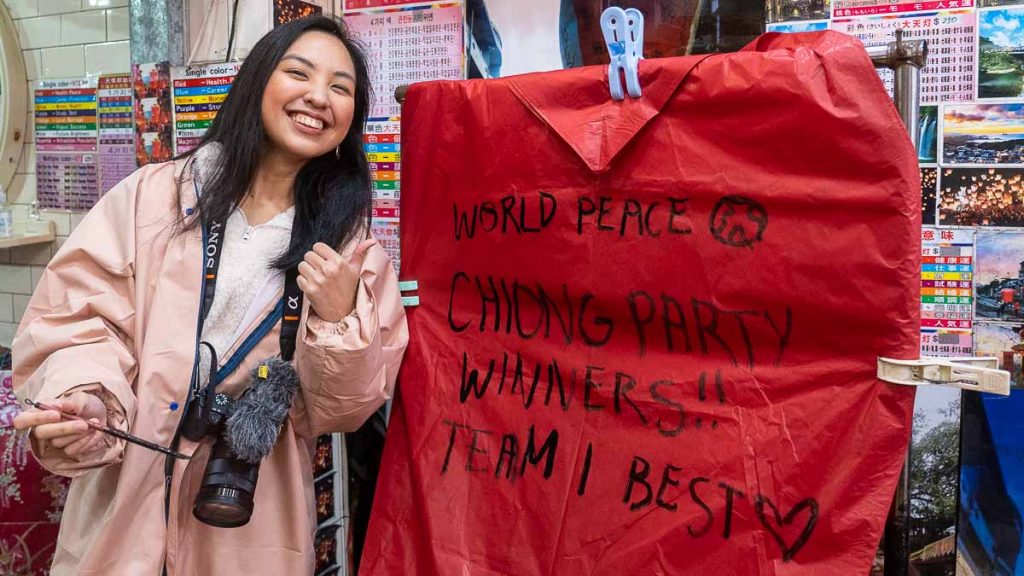 Our excitement got the better of us, to the point where our wishes on the lantern didn't make any sense. For starters, we'll leave you to decide what world peace has to do with being Chiong Party winners. Spoiler alert: we didn't win.
For context: Chiong Party is a TTI tradition where we're given 12 hours to complete our assigned article or video (not an actual party, mind you), usually done through the wee hours of the night.
Adding insult to injury, we released the lantern before we could get a full team photo because a train was approaching. We just hope for better luck with our other wishes!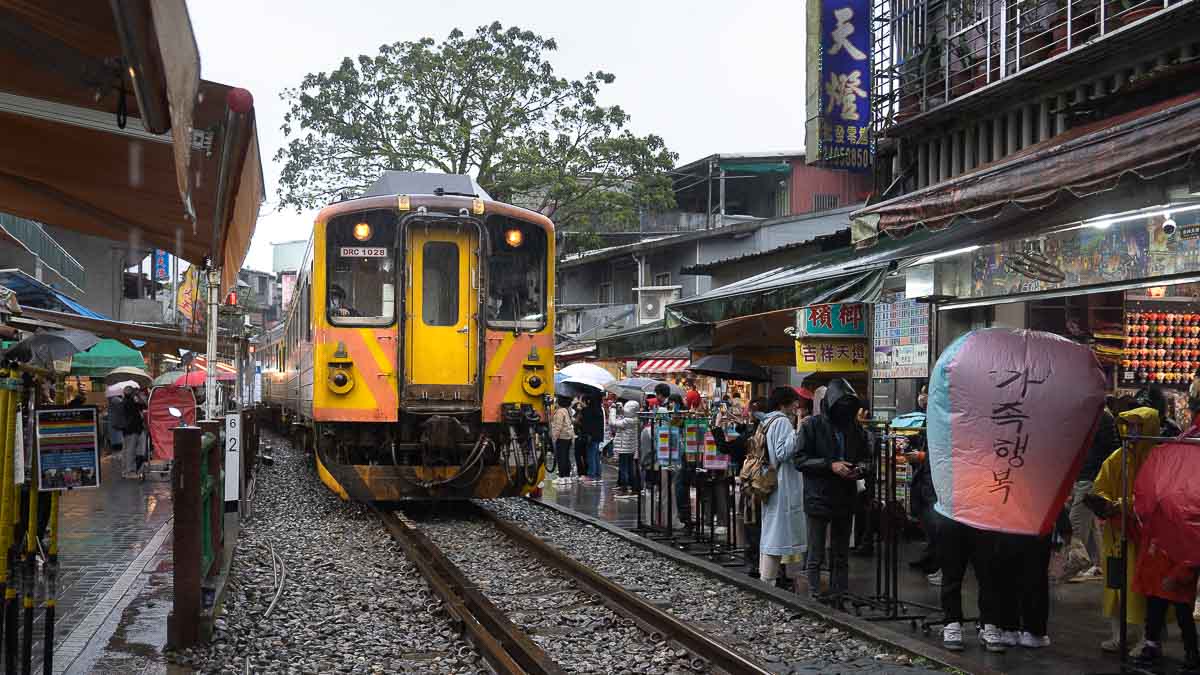 Our guide recommended a popular bubble tea (NT$60). The lady running the stall kindly added grass jelly to all our drinks for free! We really liked the combination of boba, grass jelly and milk tea — it wasn't too sweet for our liking either.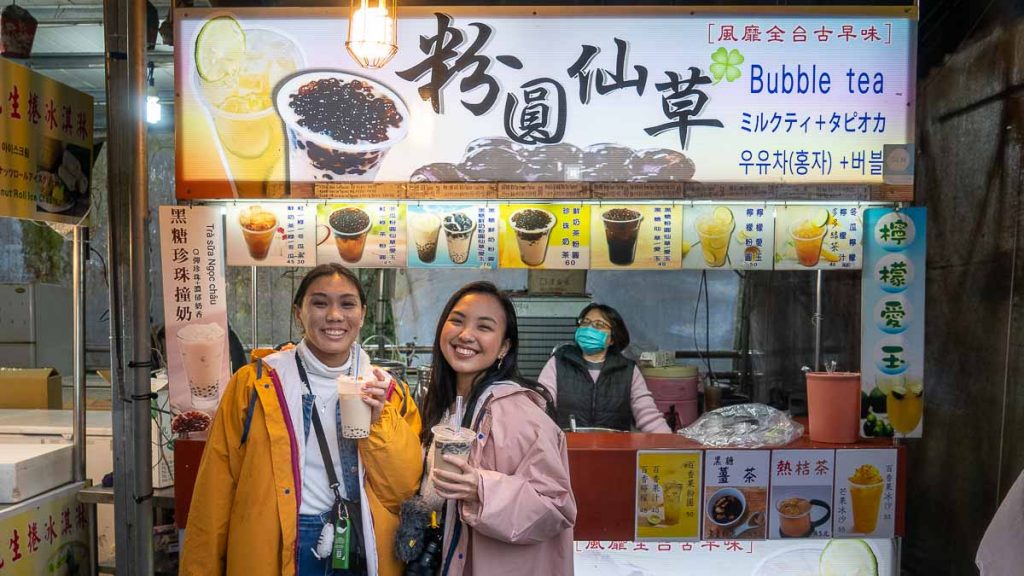 Nothing much has changed along the quaint old street of Shifen, but releasing a sky lantern here never gets old!
Opening hours: 24 hours
Address: No. 81, Shifen Street, Pingxi District, New Taipei, Taiwan 226
Read also: All the Must-Eat-See-Dos at Shifen & Jiufen
Day 3: Day Trip to Keelung
Located just 40 minutes by car from Taipei, we've surprisingly never explored Keelung. We hired a Private Car Charter (~S$283/car for 8 hours) for convenience and ease of getting around the port city.
Our private driver picked us up from our hotel at 9AM and drove an hour to our first stop, Heping Island Park.
10AM: Heping Island Park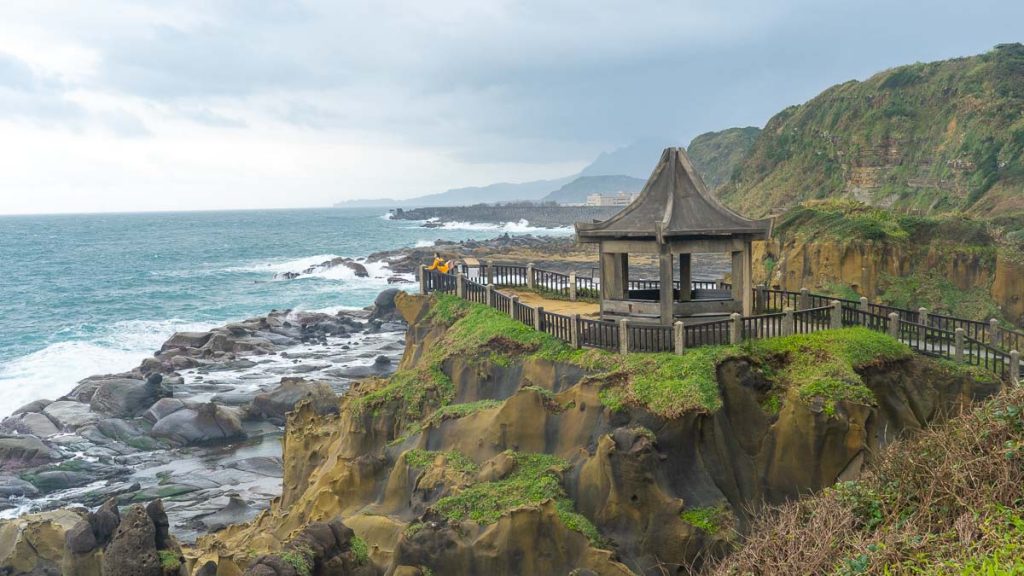 Formerly a trading hub during the Spanish Occupation, Heping Island Park is now a popular tourist attraction. The coastal park was relatively empty when we arrived, likely due to rain earlier that morning.
We enjoyed a peaceful 30-minute (round-trip) hike on the Huanshan trail to Hepingdao Lookout Point while taking in the beautiful sight of large waves crashing against the coastline.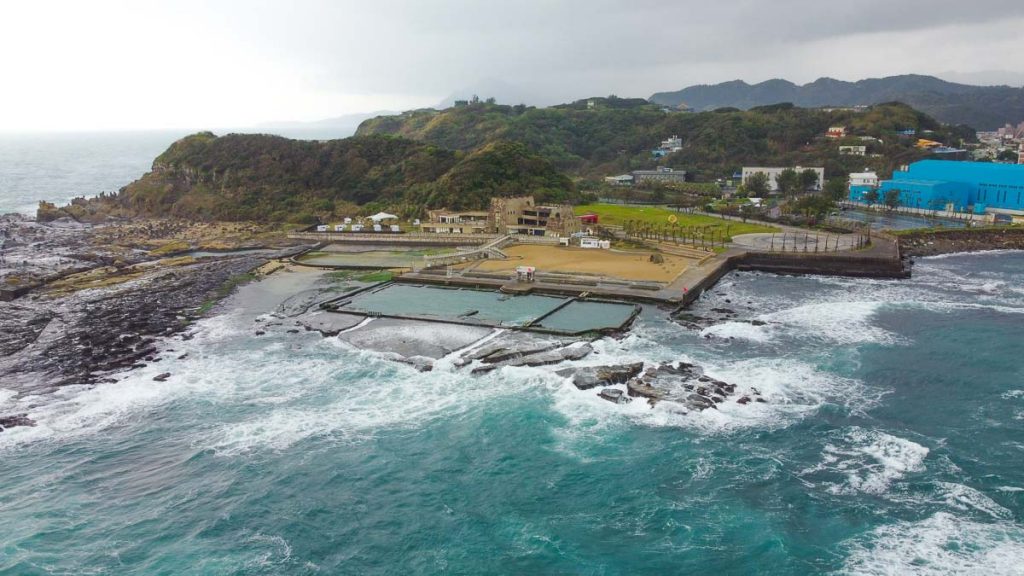 The tourist centre in the middle of the park also sells food and beverages if you need refreshments after the hike.
There are cabin houses, a seaside pool and a beach on the island, making it a popular recreation spot among locals during the summer from May to November.
Entrance fee: ~S$5
Opening hours: 8AM – 6PM
Address: No. 360, Pingyi Road, Zhongzheng District, Keelung, Taiwan 202
12:30PM: Lunch at Shang Deng Beef Noodle Restaurant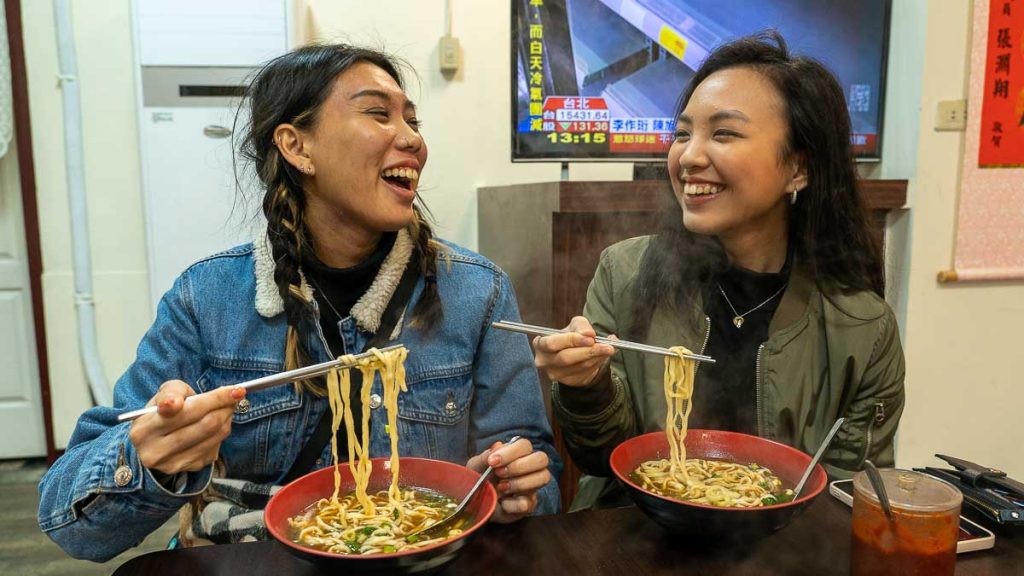 On a rainy day, the best place for lunch is at the locally-approved Shang Deng Beef Noodle Restaurant, just a 10-minute drive from Heping Island.
We recommend adding the tofu and century egg (NT$45) to the pipping hot bowl of beef noodle soup.
*Pro-tip: Order the small bowl if you're not a big eater — the regular serving is huge!
Cost: From NT$40 (~S$2)
Opening hours: 12PM – 7:30PM
Address: No. 341, Beining Road, Zhongzheng District, Keelung City, Taiwan 202
2PM: Wangyou Valley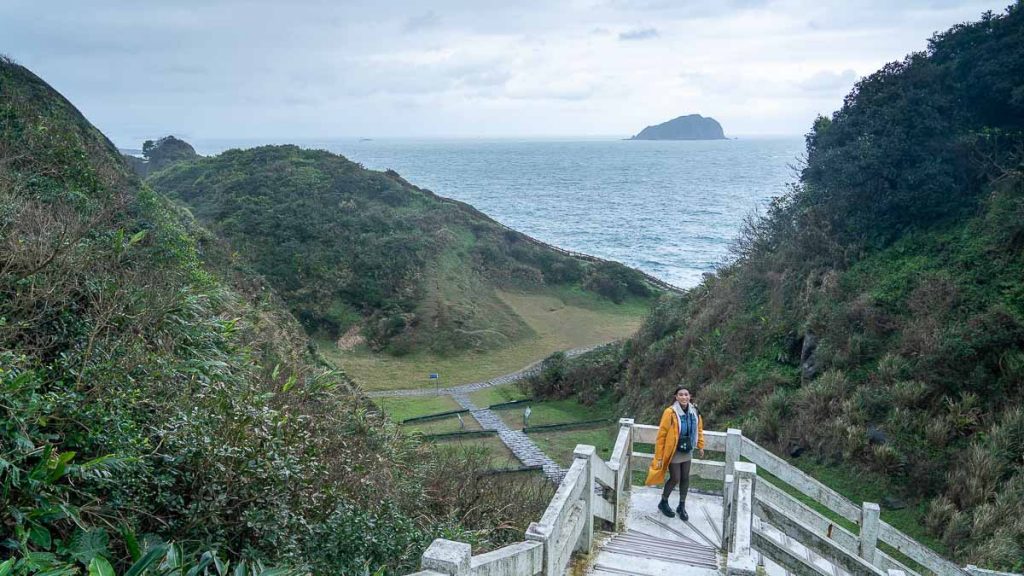 Wangyou Valley literally means the valley of forgetting worries in Chinese. And we sure forgot ours while laughing unrestrainedly at a teammate who slipped and rolled on the pavement while hiking.
(I swear it looked funnier than it sounds — she's alright).
We had the place to ourselves for the 40-minute scenic coastal hike! There was a path that led from the cliff to the sea, but we skipped that as it was drizzling and got slippery.
To be honest, I still can't decide if the highlight of this hike was the magical sea view or watching my teammate roll!
*Pro-tip: Check the weather before heading there as the path gets pretty slippery on rainy days!
Entrance fee: Free
Opening hours: 24 hours
How to get there: Drive 5 mins from Shang Deng Beef Noodle Restaurant
4:30PM: Zhengbin Port Color Houses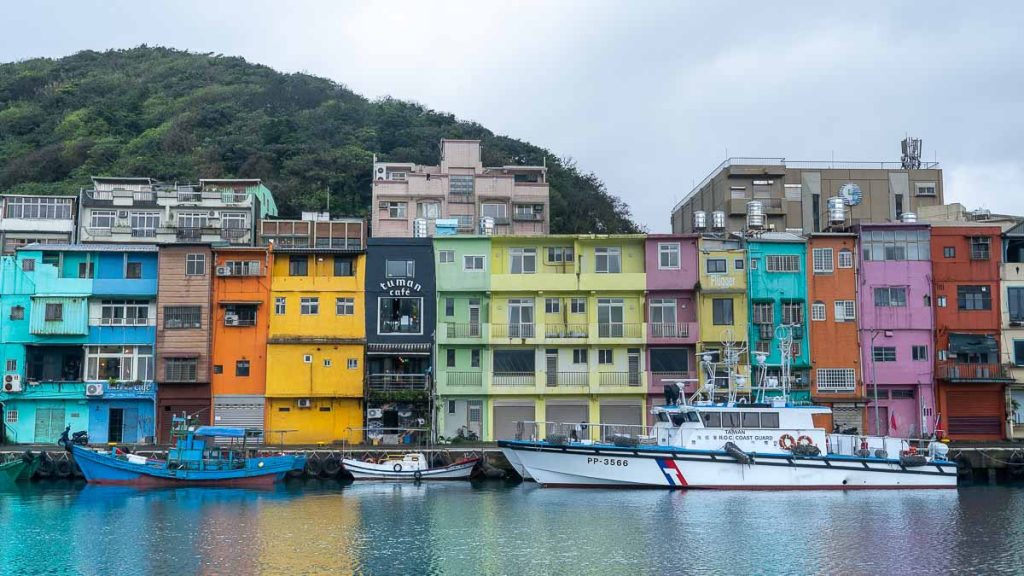 Zhengbin Port Colour Houses is one of the most recognisable and IG-worthy landmarks in Keelung.
Built by the Japanese in 1934, Zhengbin Port was one of the largest ports in Taiwan during the Japanese Occupation. While it's no longer the bustling port it once was, the 16 multi-coloured houses have now been taken over by cafes and dessert restaurants.
Entrance fee: Free
Opening hours: 24 hours
Address: No. 72, Zhengbin Road, Zhongzheng District, Keelung City, Taiwan 202
5PM: Khóo Tsú-Song Old Mansion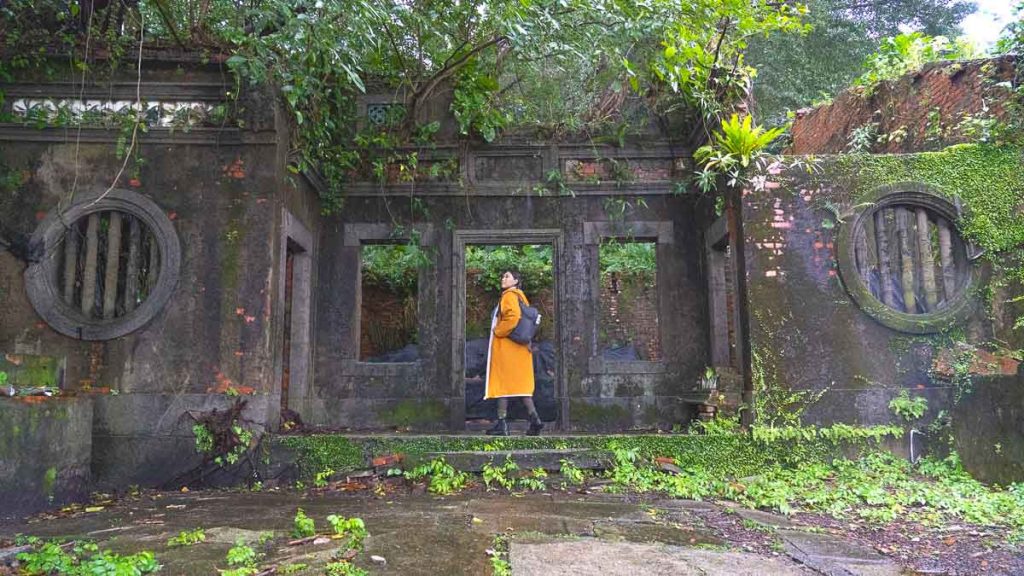 A heavy downpour wasn't going to stop us from exploring the abandoned Khóo Tsú-Song Old Mansion. This 93-year-old mansion was named after its owner Khóo Tsú-song, who was in charge of Keelung during the Japanese occupation.
We sought cover in one of the houses for 10 minutes but once the skies cleared, we realised that the mansion was the perfect backdrop for taking IG-worthy photos.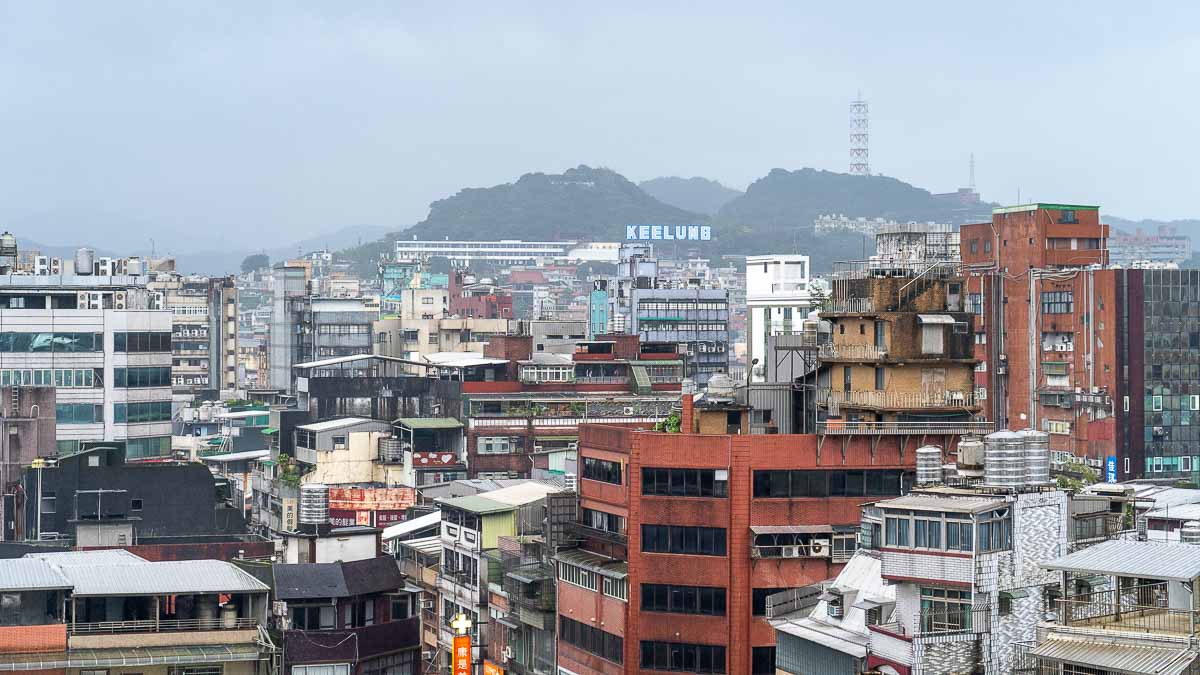 The mansion is located in a busy neighbourhood, so it didn't feel eerie throughout the 20 minutes we spent there. There was even a panoramic view of the city from its exterior!
It's an ideal place to visit before heading to Keelung Night Market, which is just a 4-minute walk away.
Cost: Free
Opening hours: 24 hours
Address: No. 15, Lane 2, Aisi Road, Ren'ai District, Keelung City, Taiwan 200
6:30PM: Dinner at Keelung Night Market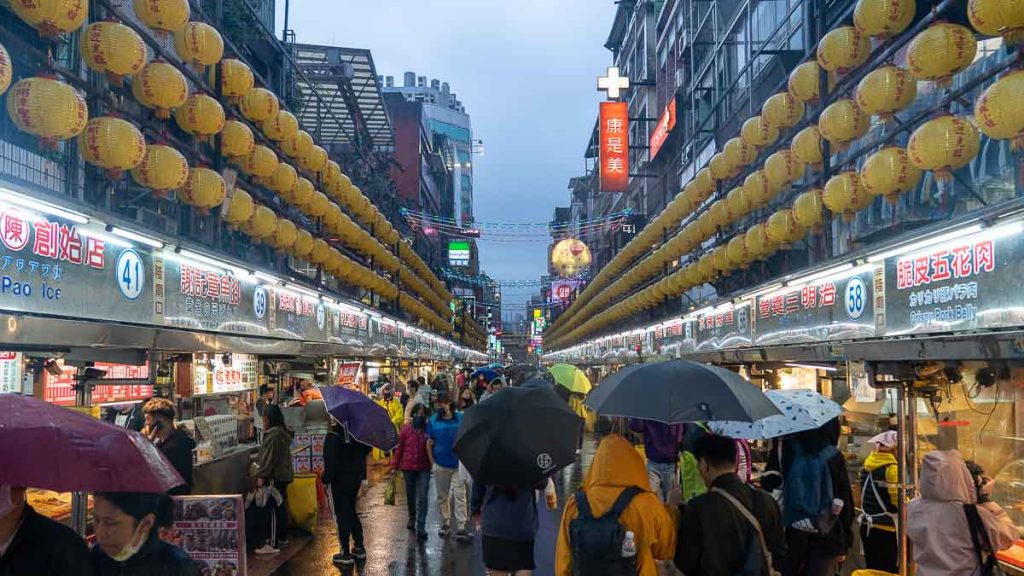 Every stall at Keelung Night Market is numbered and named in English, Japanese and Mandarin — something uncommon for Taiwan night markets. True hallmark of a tourist attraction I guess!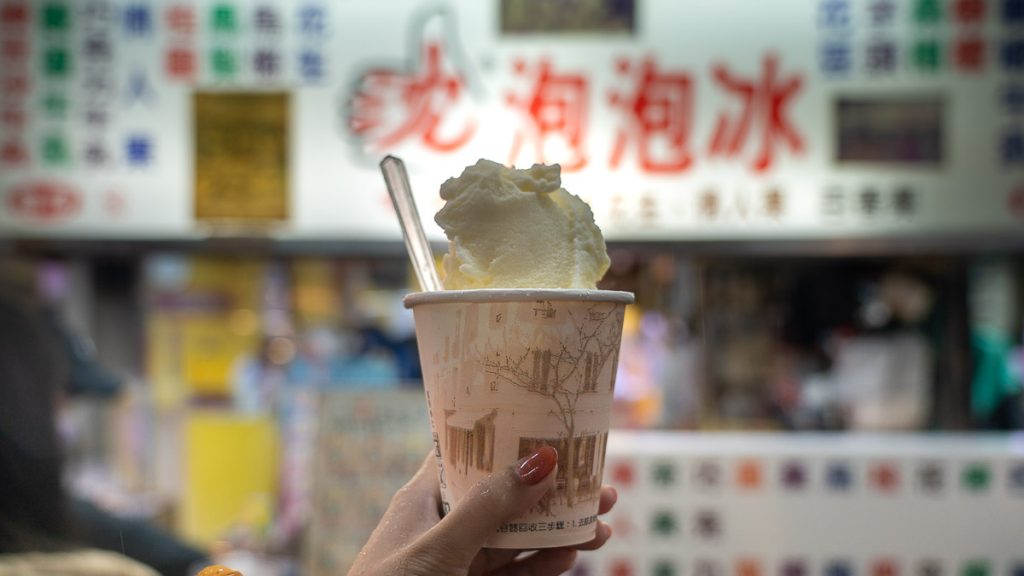 We tried a variety of food and two stood out for us!
You might call us weird, but we love having a cold dessert on a chilly day. The Pao Pao Ice (NT$50, stall #41) is essentially Taiwanese shaved ice with ingredients mixed in it. We had the egg-milk flavour and liked its lingering sweet taste — the portion was perfect for two.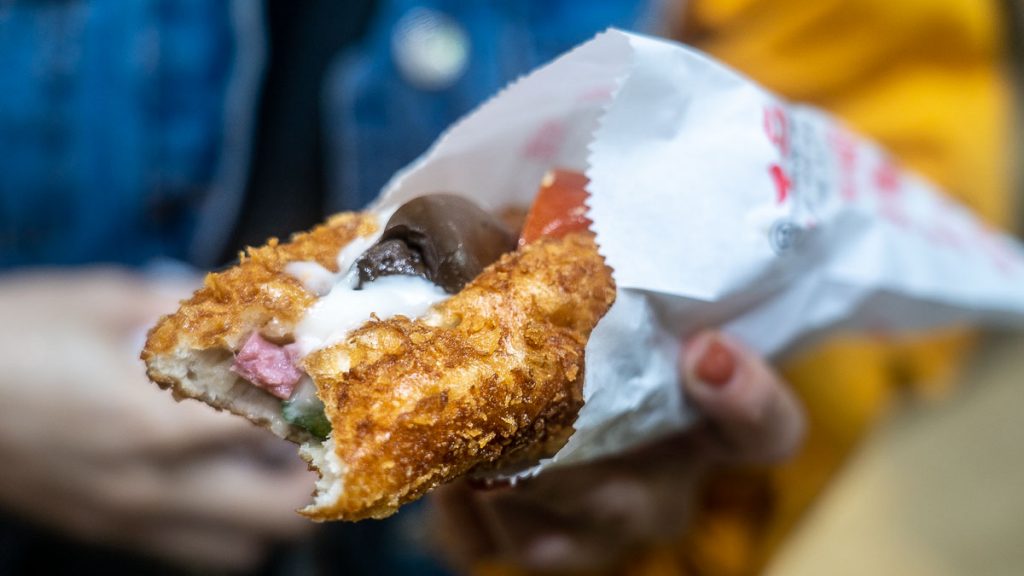 I wondered what the hype was about Nutritious Sandwiches (NT$60, stall #58) when locals recommended it, but let's just say I've become a fan after trying one. It is essentially fried dough bread filled with braised egg, cucumber, tomato, and meat topped with sweet mayonnaise.
Don't be fooled by its name, these sandwiches are anything but nutritious. They are high in calories, which some locals would argue are part of nutrition — hence giving it its name. We'll let you decide what to make of that explanation!
Opening hours: 12PM – 12 AM (Mon – Sat), 8AM – 12 AM (Sun)
Address: No. 20, Aisi Rd, Ren'ai District, Keelung City, Taiwan 200
Day 4: Half-day Tour to Shiding and Pinglin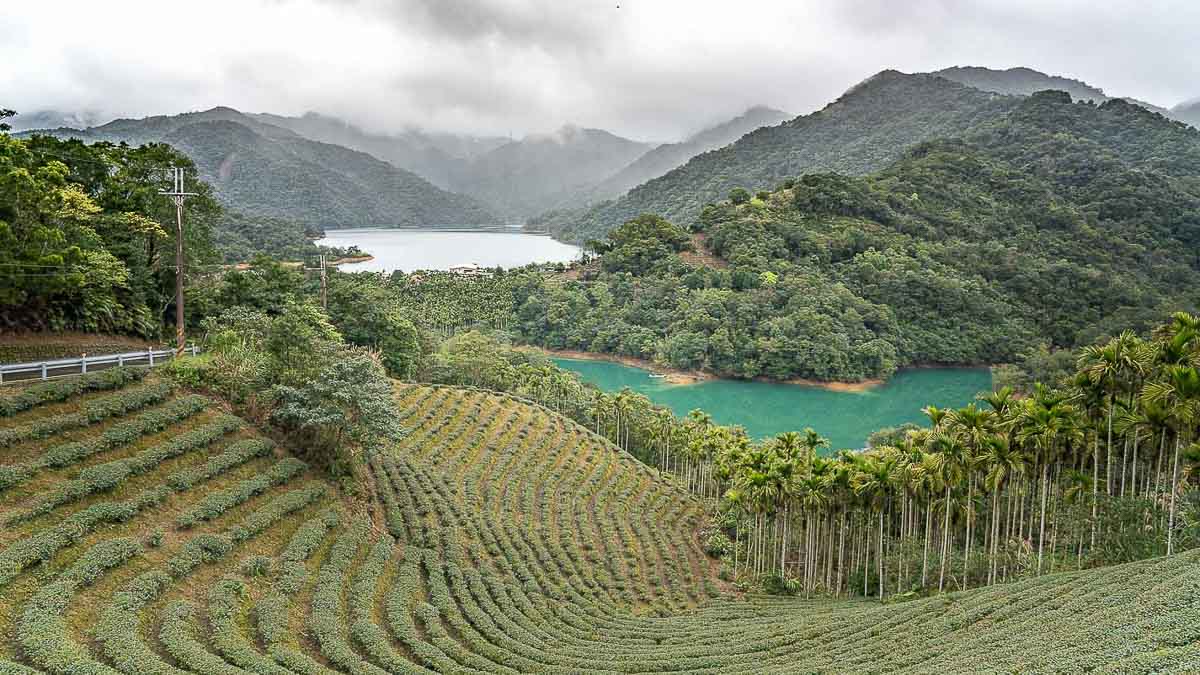 The view of Thousand Island Lake is worth the day trip!
Shiding and Pinglin are famous for being where the award-winning baozhong oolong tea is grown and produced, respectively. So we booked a Shiding Tea Township Half-Day Tour from Taipei (~S$66/pax) to explore these townships on the final day of our Taipei itinerary.
10:30AM: Brunch at Yong He Soy Milk King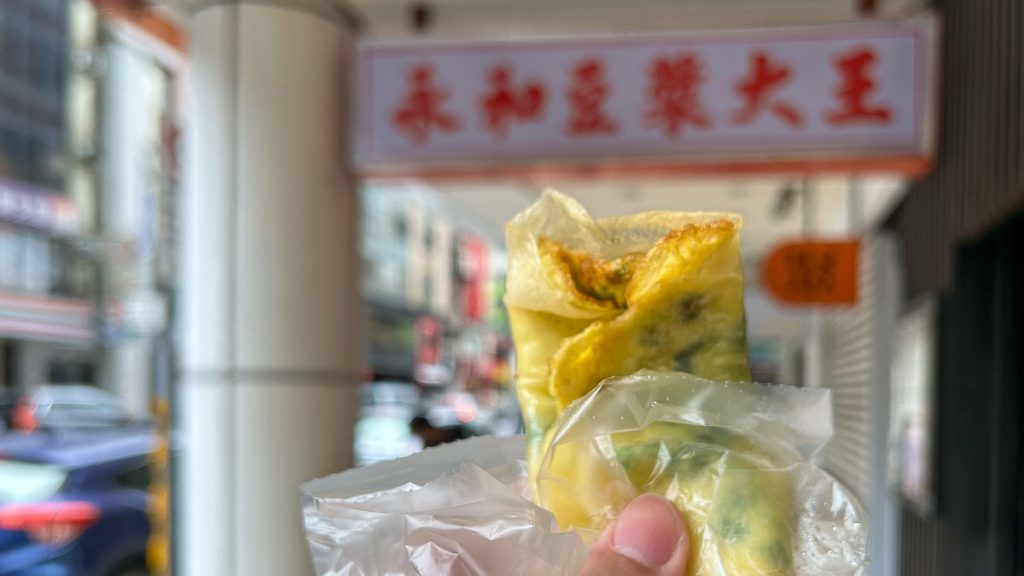 With time to spare in the morning, we slept in before grabbing brunch at Yong He Soy Milk King — located a short 3-minute walk from our hotel.
There were no seats in the eatery, so we had to make do with takeaway. We liked the tasty egg pancakes (NT$25), and the eatery was also extremely generous with the filling of the red bean cake (NT$20)!
Cost: From NT$20 (~S$1)
Opening hours: 6 AM – 4PM (Mon – Fri), 6AM – 11AM (Sat – Sun)
Address: No. 1, Hengyang Road, Zhongzheng District, Taipei City, Taiwan 100
2PM: Shiding Tea Township and Thousand Island Lake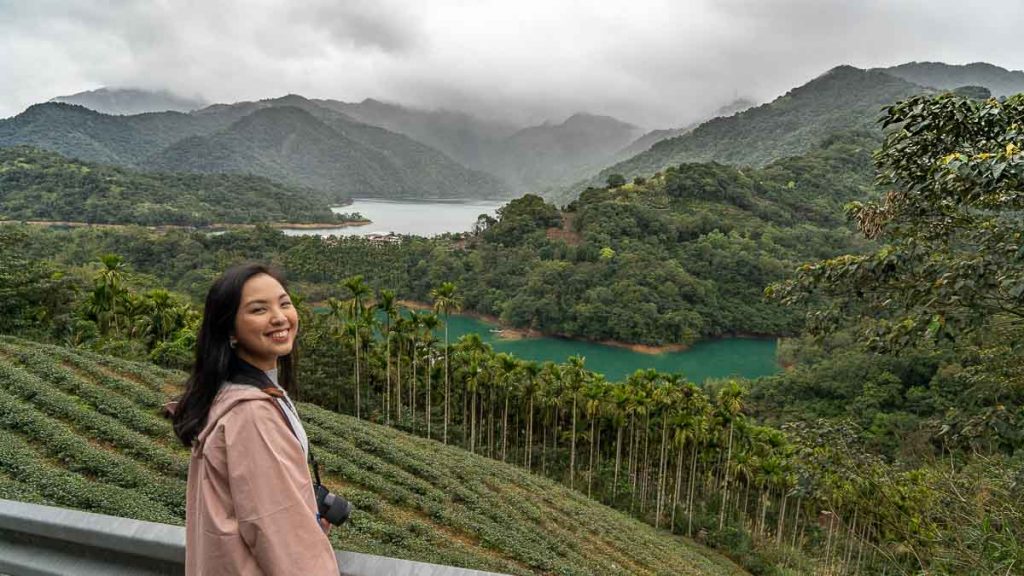 The first stop of our half-day tour was the Bagua Tea Plantation in Shiding, which overlooks the serene and picturesque Thousand Island Lake.
Baozhong oolong tea, a popular tea in Taiwan, is grown here. The tea is said to have health benefits, with research suggesting that it has three times more antioxidants than black tea.
Fun fact: Swimming, fishing or boating are strictly prohibited in Thousand Island Lake as the water is meant for consumption in Taipei.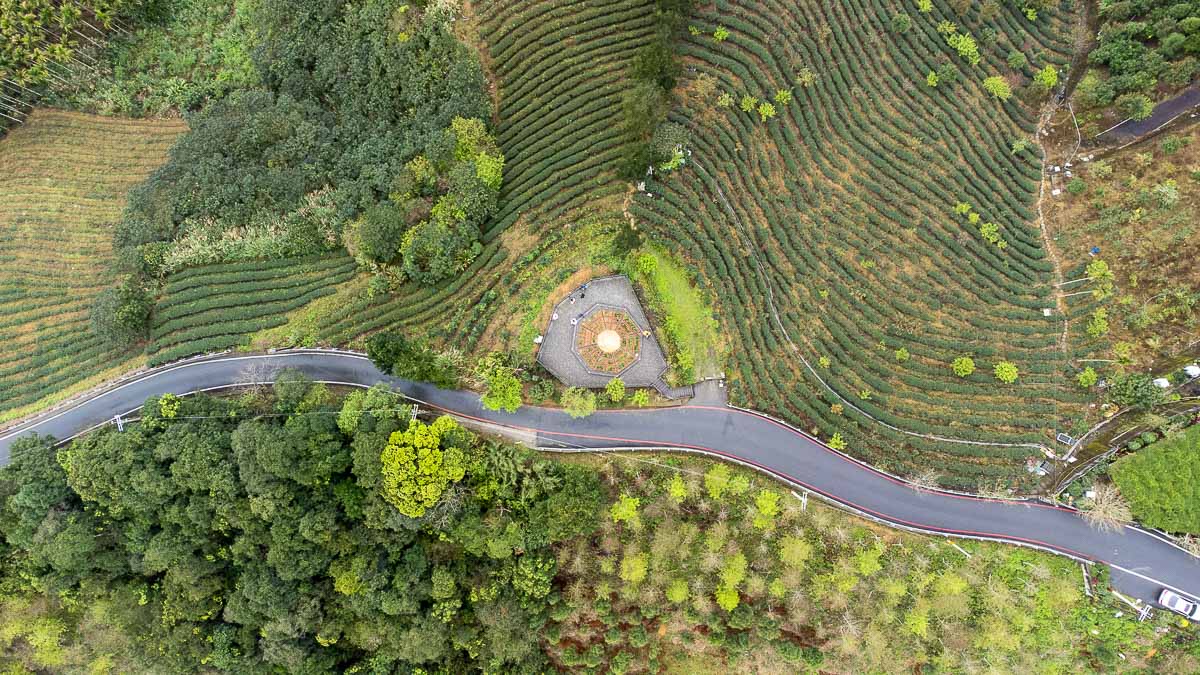 Our guide brought us to two viewpoints and left us to wander for about 20 minutes at each. The views were breathtaking every step along the way.
There were barely any tourists and we loved how peaceful it was. If you're planning day trips from Taipei, we reckon you should include this hidden gem in your itinerary!
Entrance fee: Free
Opening hours: 24 hours
How to get there: Drive 50 mins from Zhongxiao Xinsheng Station
3:30PM: Pinglin Tea Museum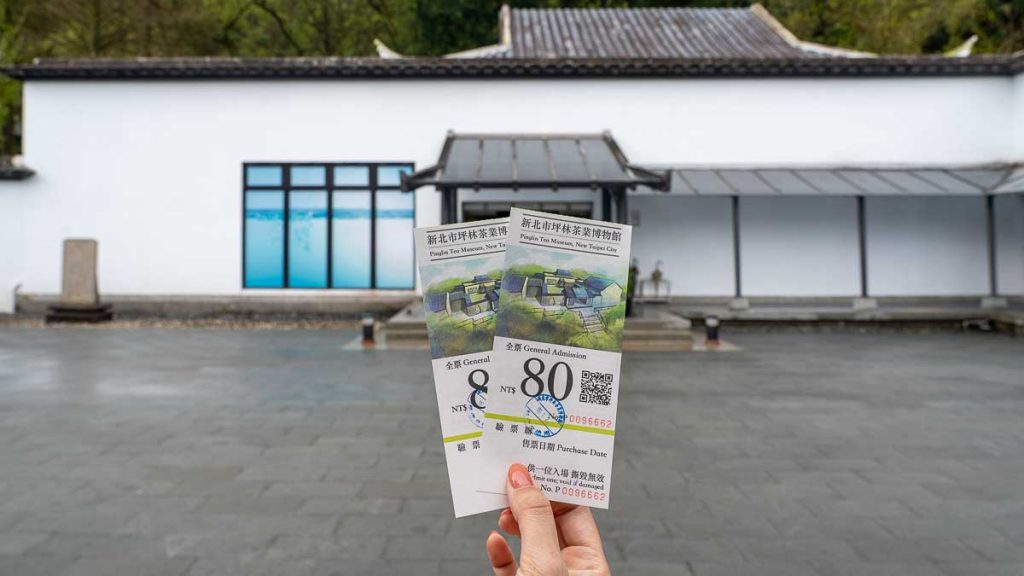 Next stop, Pinglin Tea Museum.
While here, we learnt about the history and fun facts of Taiwanese tea culture. Did you know that tea plantation workers stay awake for the full three days and three nights during the harvest season?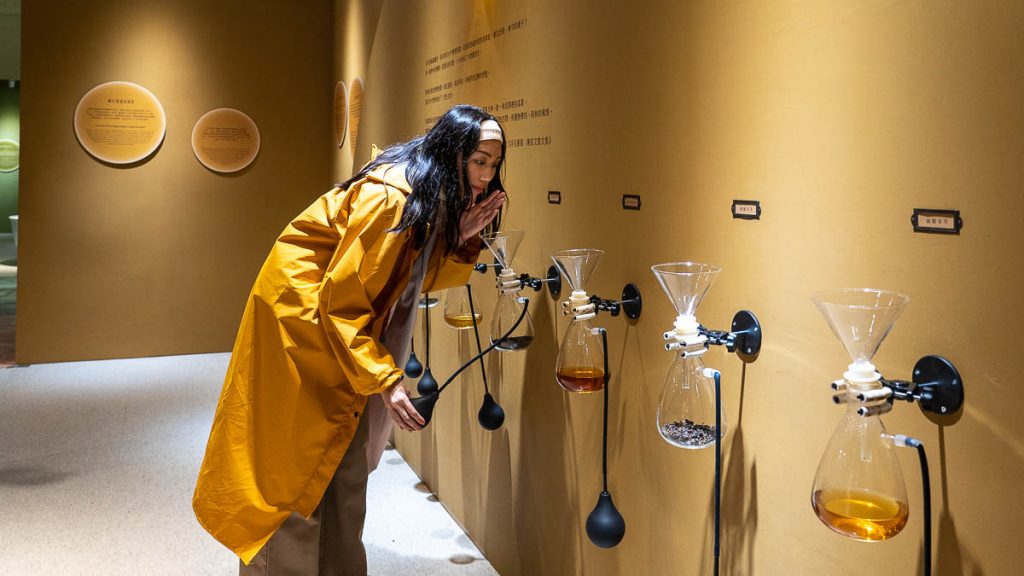 We spent 30 minutes learning about Taiwanese tea culture with the interactive elements in the museum, including a station where we could smell different types of tea.
Cost: From NT$80 (~S$4)
Opening hours: 9AM – 5PM (Mon – Fri), 9AM – 5:30PM (Sat – Sun)
Address: No. 19-1, Shuisongqikeng Road, Pinglin District, New Taipei City
5PM: Shiding Old Street Tea Tasting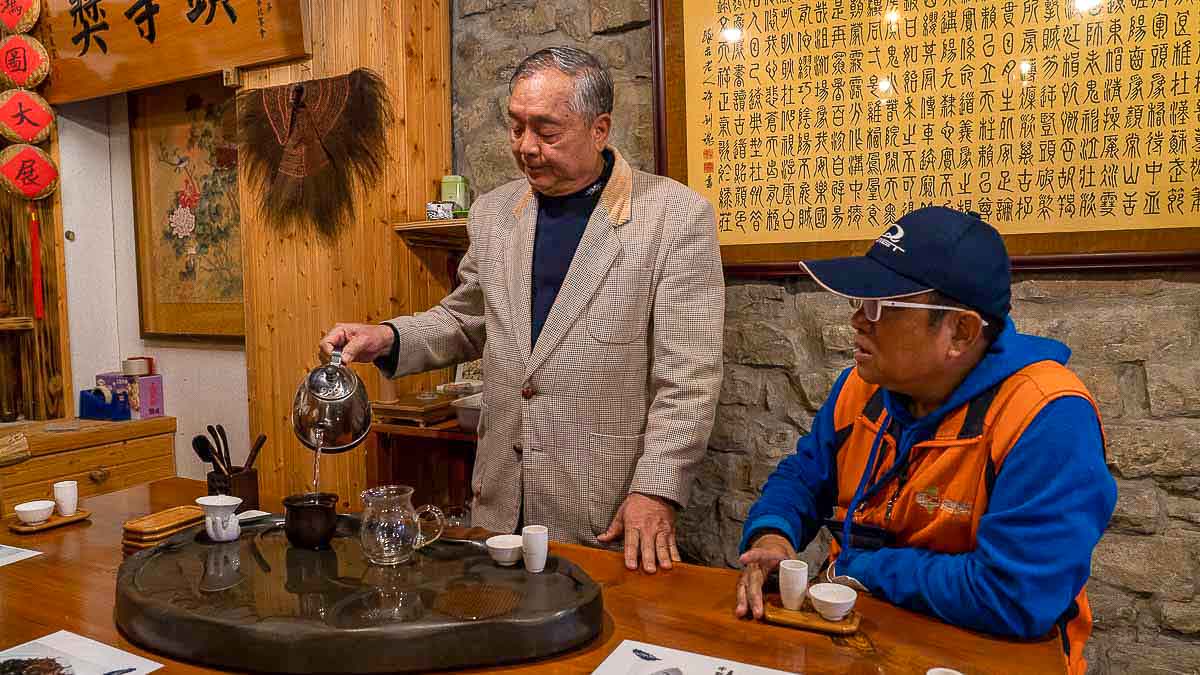 The tour ends with a tea-tasting experience at the Xuanziwu in Shiding Old Street.
The 45-minute session is hosted by a tea master, who taught us about Taiwanese tea culture — including interesting tea ceremony customs and the optimal method of brewing different teas.
Fun fact: You thank the person serving tea by tapping the table thrice with your index and middle fingers.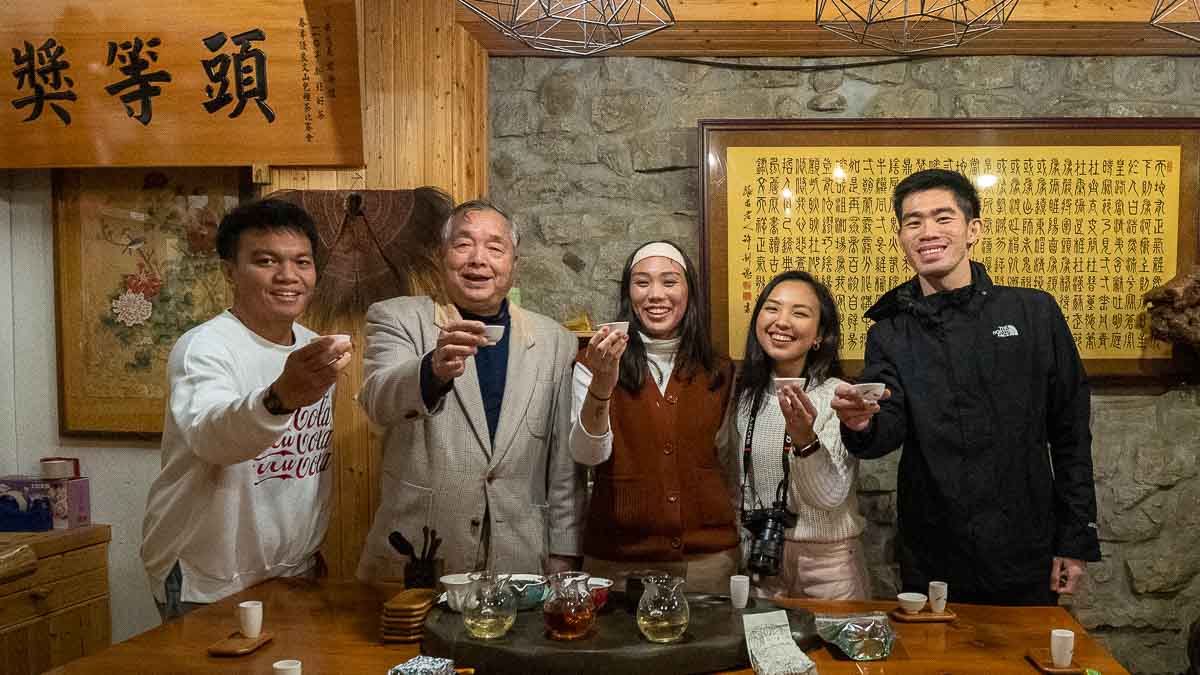 We tried baozhong oolong tea, honey-scented grasshopper black tea and tung ting oolong tea. And my favourite was the locally produced grasshopper black tea due to its prominent honey aroma. It tasted so good we purchased some to bring home!
Cost: Included in tour
Opening hours: 9AM – 8PM
Address: No. 31, Pinglin St, Pinglin District, New Taipei City, Taiwan 23241
Accommodation in Taipei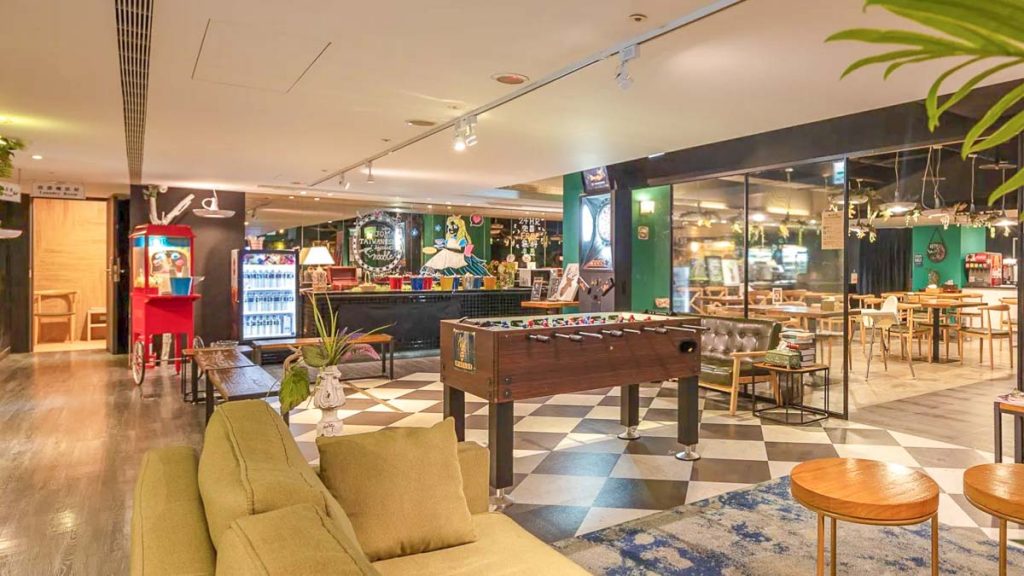 Photo credit: Klook
For our trip, it was important that we were within walking distance of Taipei Main Station since we had many day trips. We ended up at Finders Hotel which was a 6-minute walk away.
The standard double room we stayed in was clean and had all basic amenities including a fast WiFi connection! There was also sufficient space to move around after opening our luggage.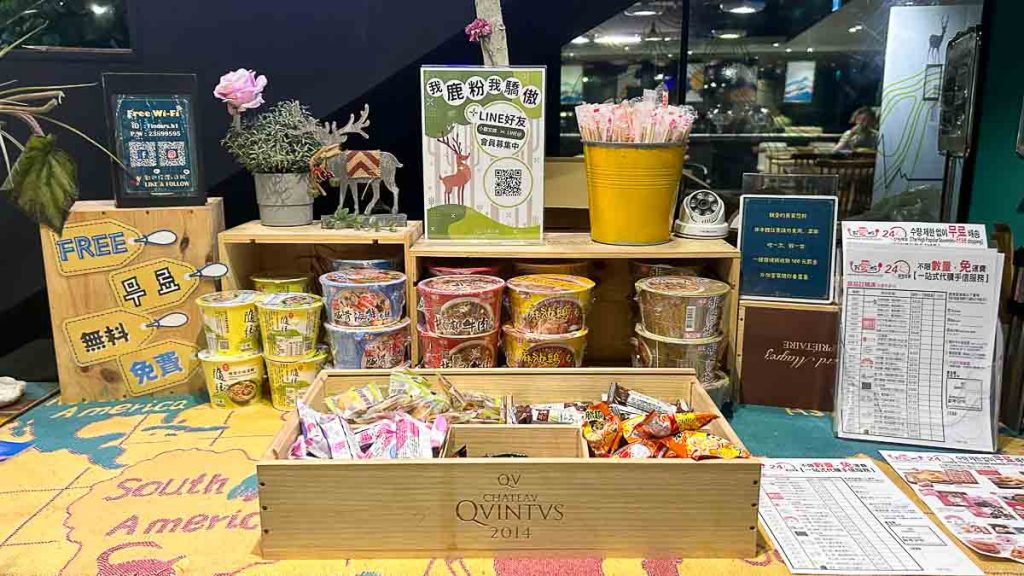 Free food such as cup noodles, tea and biscuits were available in the lobby, along with games like darts and a foosball table.
Cost: ~S$72/night via Klook
Address: No. 86, Section 1, Chongqing South Road, Zhongzheng District, Taipei City, Taiwan 100
How to get there: Walk 6mins from Taipei Main Station (Exit Z10)
Transport for Taipei Day Trips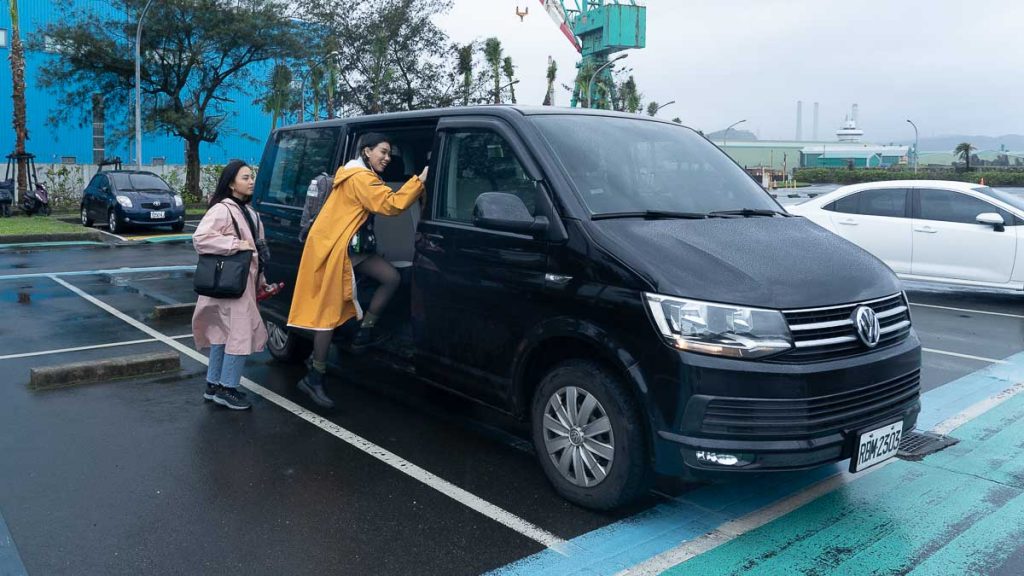 While it is possible to utilise public transport for day trips out of Taipei, we found the following arrangement a better experience:
– Day tour to Jiufen, Shifen and Yehliu
– Half-day tour to Shiding
– Private charter to get around Keelung
In hindsight, having our transport sorted for day trips saved us lots of time and energy. The drivers and guides were also very generous with suggestions of local-approved eateries.
If you only have a few days to explore Taiwan, booking a tour or private charter is definitely the most convenient and efficient way to cover many attractions!
If you plan to visit other parts of Taiwan, check out these guides:
– 8D Eastern Taiwan Itinerary: The Gateway to Nature's Best Adventures (Taipei, Yilan, Hualien, Taitung and Kenting)
– 25 Unique Things To Do In Taiwan Besides Visiting Night Markets
– The Ultimate THSR Taiwan Food Guide: 25 Must-eats in Taipei, Taichung, Tainan, and Kaohsiung
– Top 7 things to do in and around Kaohsiung — Gateway to Taiwan's laid back South
Are there any other lesser-known spots you'd add to this Taipei and surrounds itinerary? Let us know in the comments below!
---
For more travel inspiration, follow us on Instagram, YouTube, Facebook and Telegram!