Taiwan is known for its street food and snacks, definitely the one of the favourite stops of foodies. Located at the north of Taipei, Shilin night market is inarguably the most popular night market in Taiwan. If you are planning your upcoming trip to Taipei, the only advice I can give is: Save the calories… for the Shilin night market (士林夜市).
Bustling with life and vibrancy, you will be faced with one of the hardest life decisions – what snack to purchase. The distracting huge lighted signboards and constant callings of stall owners will make it a lot more difficult, coupled with the human crowd and the occasional bike whizzing by.
Here's a sneak peak on snacks to look out for if you intend on heading to Shilin night market next time!
Note that foods are not ranked in any particular order… because they are all simply too delicious.
1) Pork Paper (猪肉纸)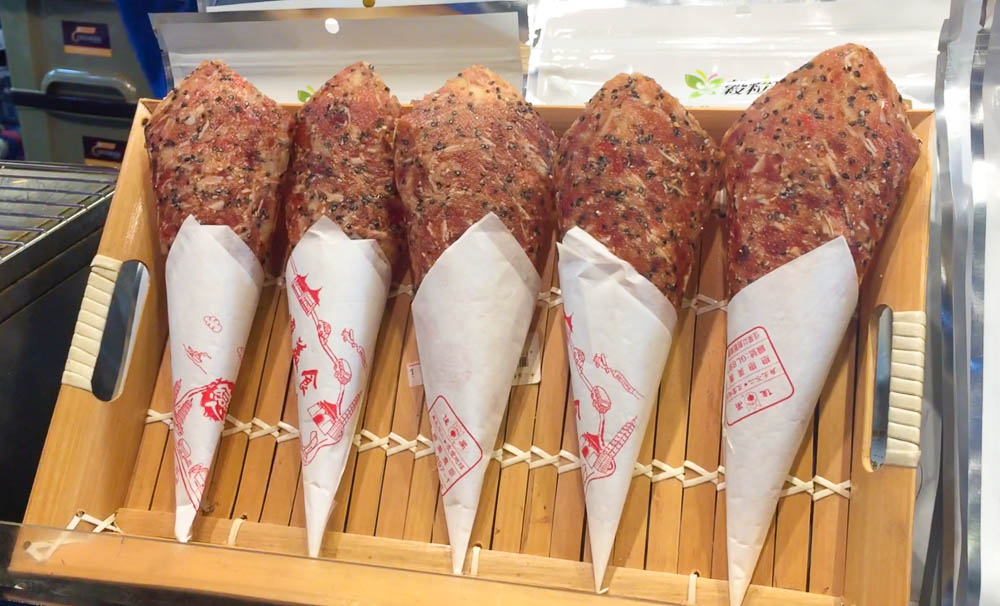 If you've always felt that bakkwa is too thick, you will love pork paper! Toasted minced pork are cut into rectangles before going through a machine roller to be flattened out and rolled into a cone. As the name suggests, these paper thin meat sheets are extremely crunchy and super addictive!
Tip: It's best eaten cold so do keep it in the refrigerator if you can!
2) Hot Star Large Fried Chicken (豪大大雞排)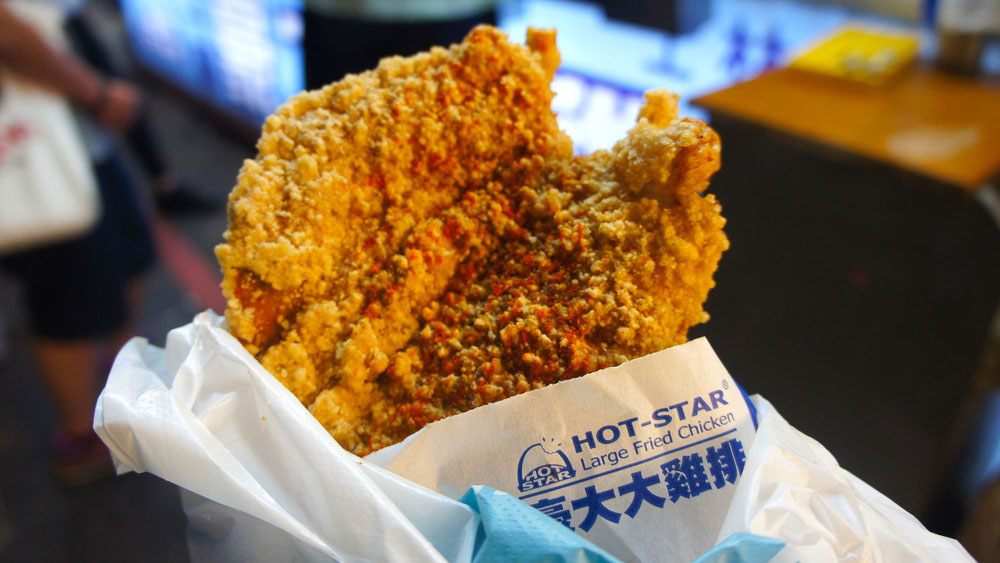 The one thing that everyone knows Taiwan for – this huge juicy chicken cutlet, fried to perfection. Coated evenly with batter, this huge piece of chicken is deep fried till golden brown. It is then sprinkled with flavouring powder (a mixture of white pepper and five spices) and red pepper powder before being served.
You will be able to feel and hear the crunch of the batter as you sink your teeth into the sizzling hot cutlet. The meat is tender and juicy, even the chicken breast meat section is tasty, unlike the usual dry chalky breast meat. The serving is really huge (as suggested by its name), so do share it amongst your friends or you won't be able to feast on the other foods!
P.S. They do not cut their cutlet!
3) Coffin Bread (棺材板)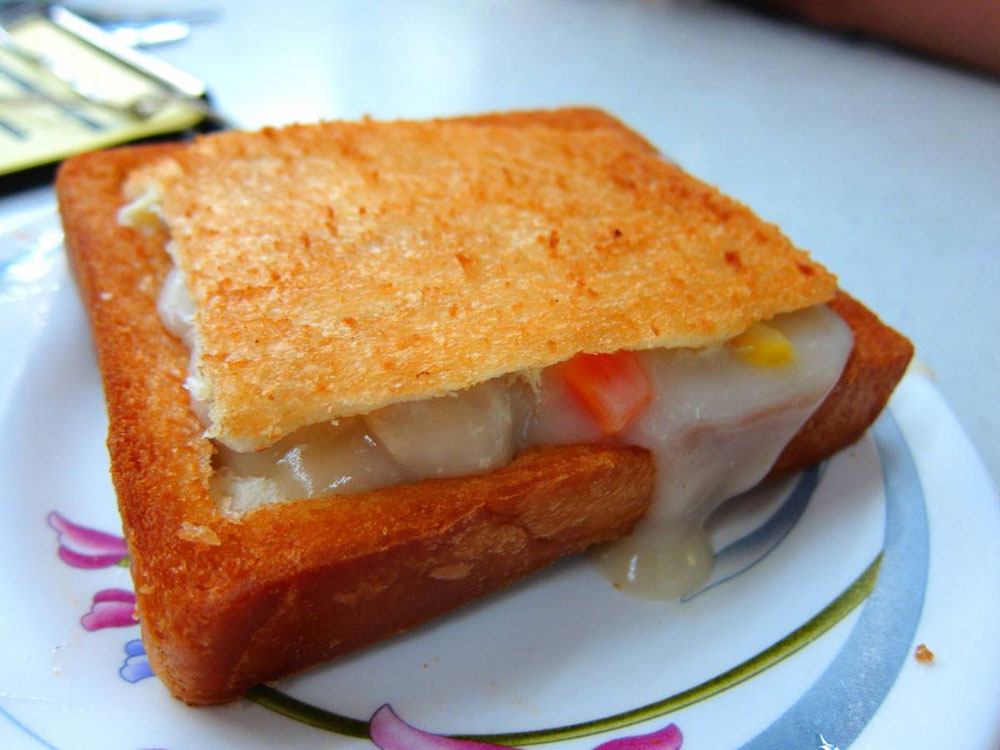 Gothy sounding but tasty, look out for the coffin bread in Shilin night market! Buttered thick toasts sizzle in the oil before its being packed with yummy savoury goodness! Crispy on the outside and pillowy soft inside, the fillings ooze out when you take a bite into the coffin bread~
There is a variety of fillings you can choose from, so feast away!
4) Grilled Prawns (迷你钓虾池)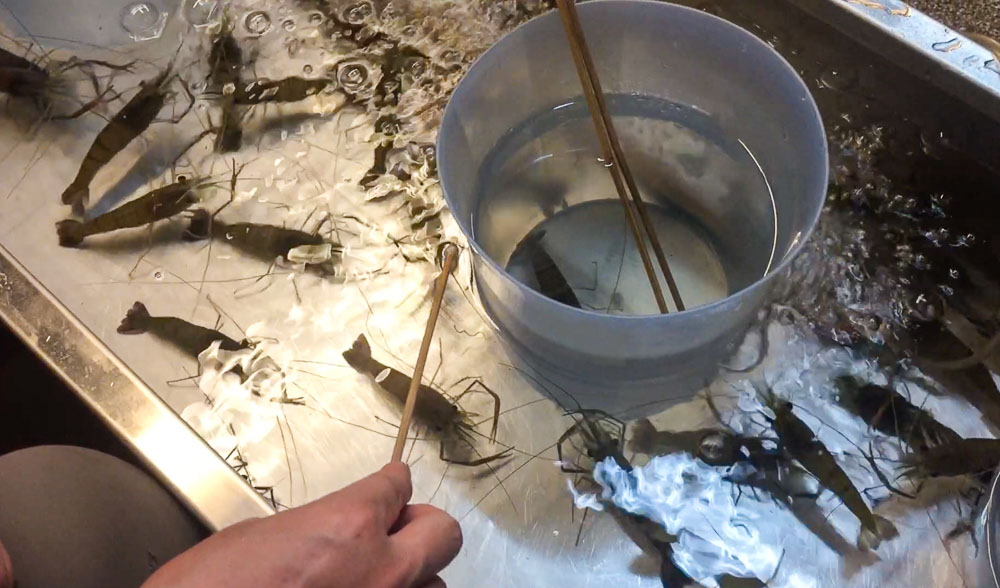 This is no ordinary grilled prawns.
Probably inspired by the study by John Hopkins that hard work improves the taste of food, you have to catch your own meal for this one! Look out for the U-shaped enclosure with live prawns and many crowding around to flaunt their prawning skills – not hard to spot!
You will be given 7 mini rods and a plastic container at the start of the session. Using a simple wooden stick with a piece of thread and a small hook hanging off it, challenge your skills in catching your meal. With all that hard work put into catching them, I'm sure it'll taste a lot better than the usual grilled skewers!
5) Passion Fruit Cheese Oyster (果香起司生蠔)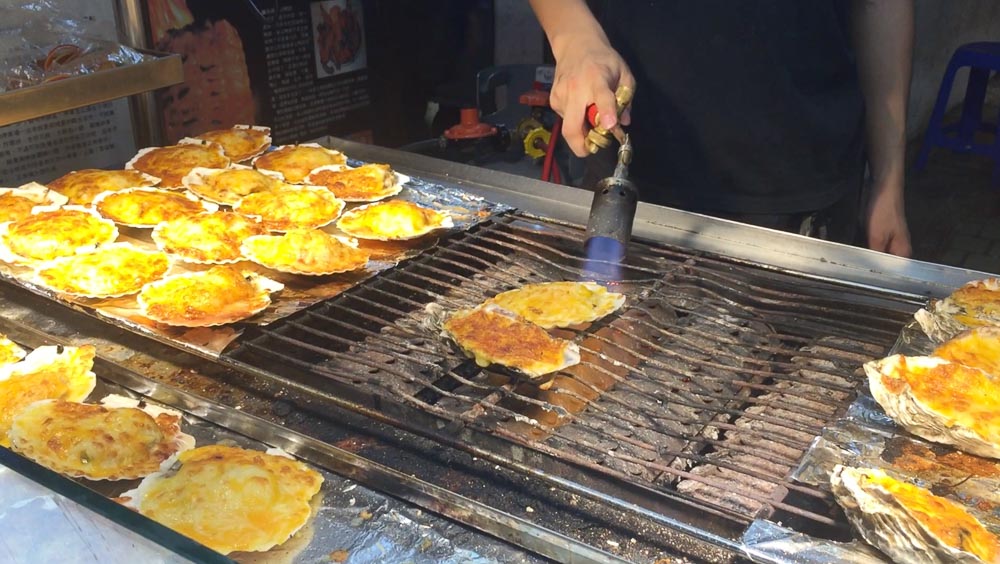 Fresh succulent oysters with a twist! These juicy oysters are topped with a generous layer of cheese and slightly charred with a blow torch before being served. The taste of passion fruit is not overpowering, and the cheese complemented the oysters well – thick and creamy goodness.
6) Deep Fried Milk (炸牛奶)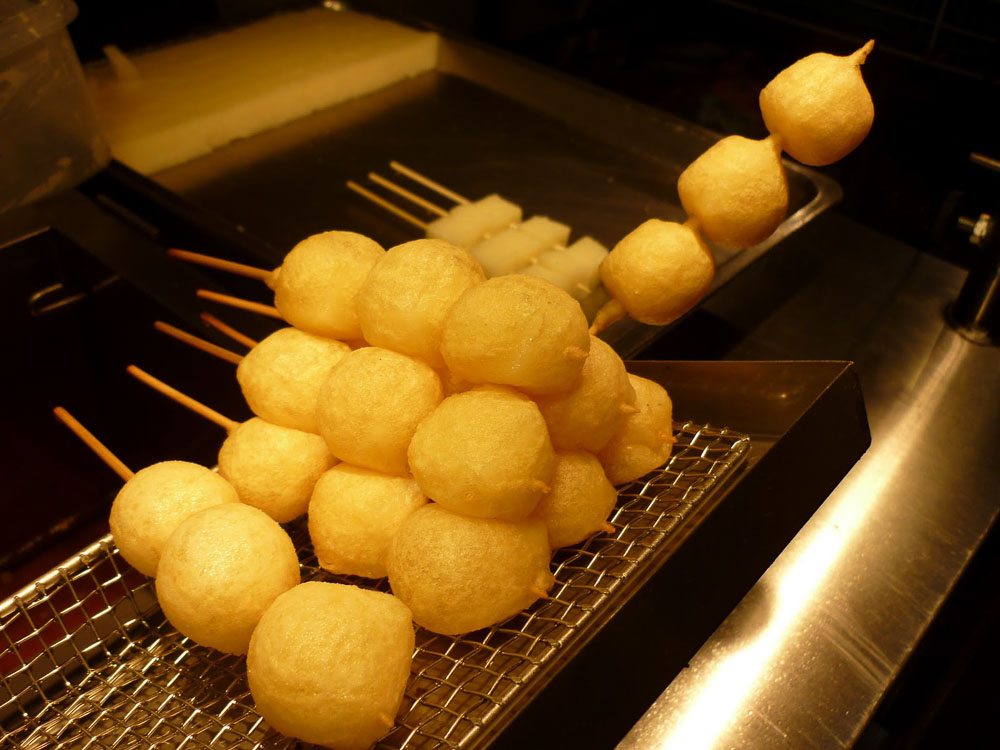 Not to be mistaken for the fried yoghurt in Henan, China, this fried milk balls truly went into the sizzling pot. It looked very much like a fishball skewer, a wooden stick with 3 pieces of melt in the mouth goodness.
Served steaming hot in Shilin night market, the crispy batter will give way to a rich melty milk mixture. The milk core is not too sweet, and the contrasting textures of the skewer makes it a must try in the night market!
7) Oyster Vermicelli (阿宗麵線)
Topped generously with parsley when served, these leaves are probably the only greens you will see in the bowl. It's mildly herbaceous flavour balanced the savoury and slightly salty soup broth, further enhancing the taste of the noodles.
Thick and rich broth blend seamlessly with the thin noodles, coupled with juicy oysters.
8) Biscuit Crepe Wraps (老士林 大餅包小餅)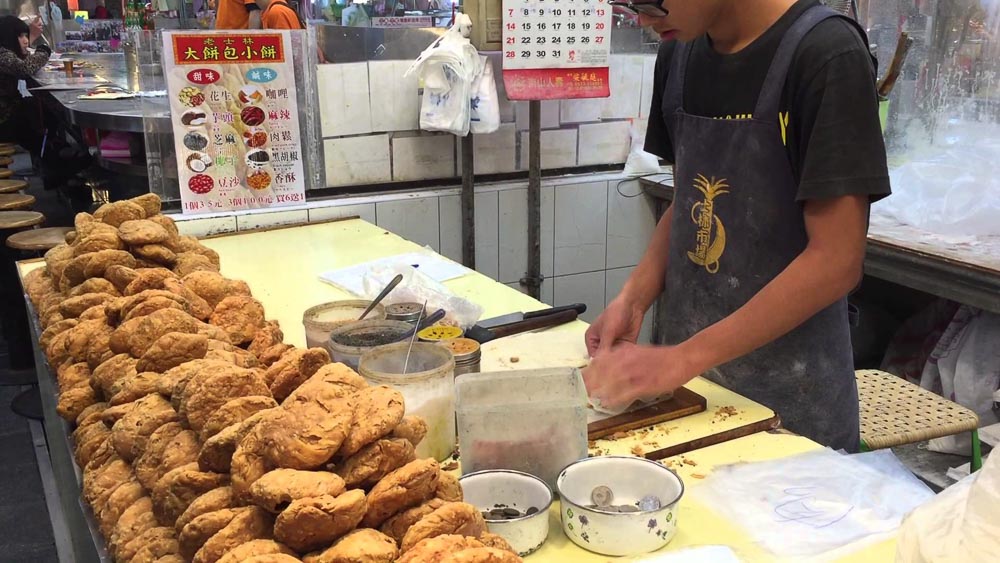 Reckoned to be the most authentic and tastiest biscuit crepe wrap in Shilin night market, this intriguing snack is like a variation of Singapore popiah. A shortbread with red bean fillings is first placed on handmade crepe, and then smashed into small pieces. You will be able to choose either a savoury or sweet filling which will be generously littered on the crushed shortbread. The vendor then wraps it up skillfully!
Fillings range from more common ones like coconut and taro to exotic flavours like mala and curry. The contrasting textures of the shortbread crisp and the crepe wrap is simply amazing.
9) Bubble Tea (哇! 青蛙下蛋)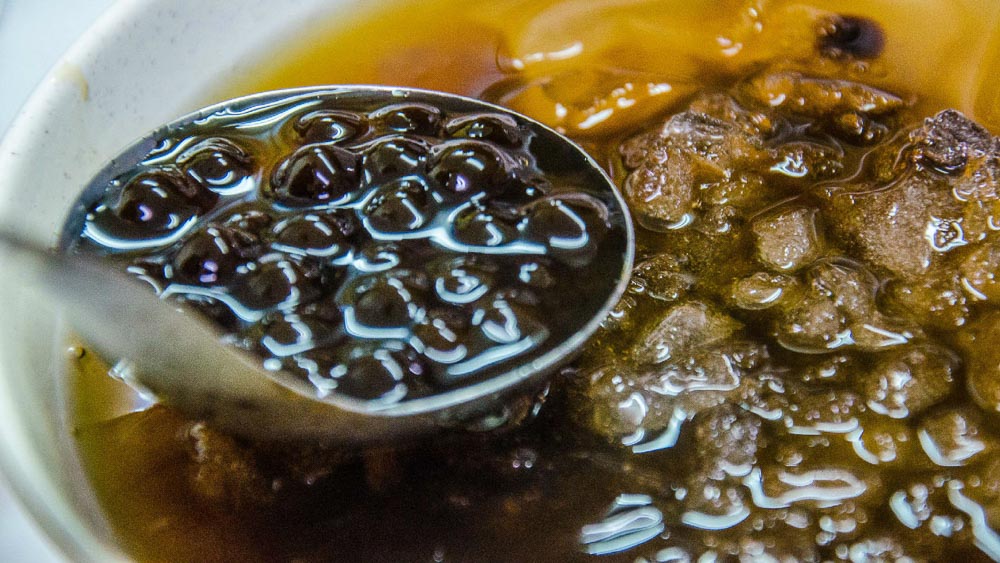 Thirsty? The direct translation of its shopname will suggest frog eggs, but it essentially refers to the pearls (粉圆) in bubble tea! Of course, their signature drink is the most popular, with black sugar pearls and lemon aiyu jelly. A very refreshing drink, especially after all the flavourful and oily snacks! I simply adore the combination of soft jiggly aiyu jelly and chewy pearls~
Feeling creative? You can customise your own drink by adding grass jelly, evaporated milk and more!
10) Prince Cheese Potato (王子起司马铃薯)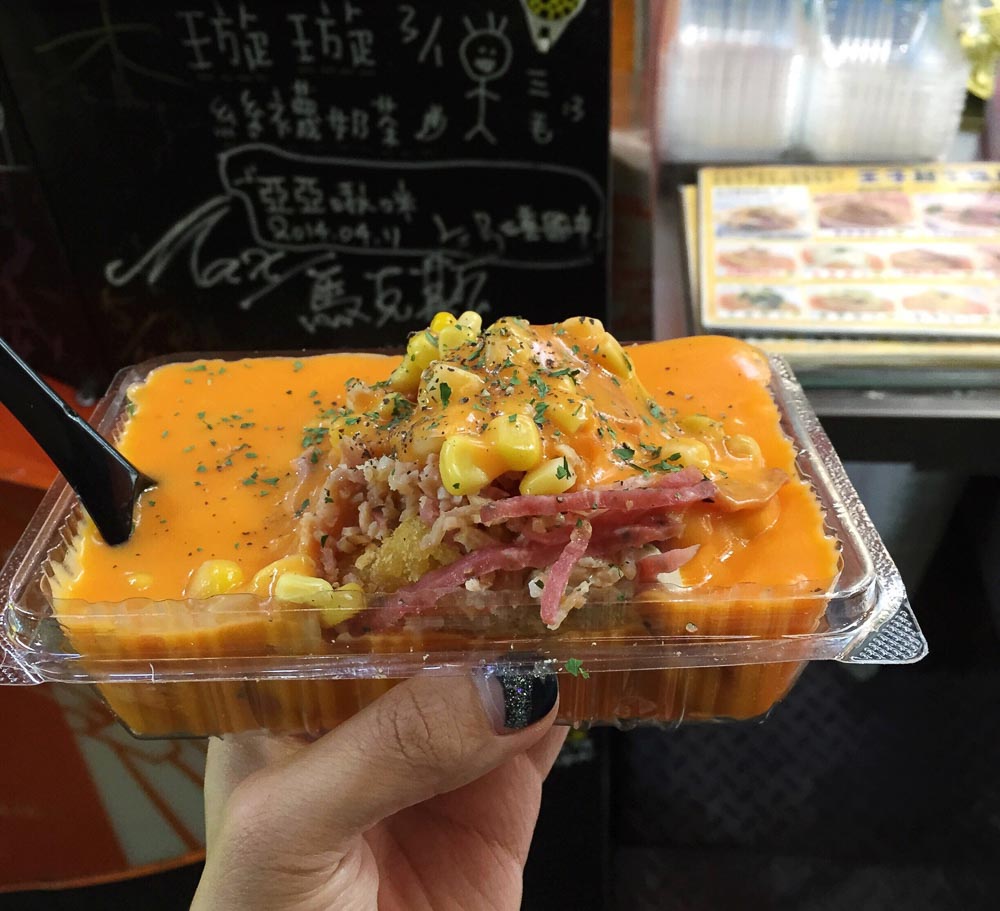 I'd be honest that I am not a big fan of anything made of potato (sorry boss @pohtecktoes), but this cheese potato from Shilin night market just made me reconsider my bias against them.
The remoulded mashed potato was drenched in creamy nacho cheese after it was stuffed to the brim with various ingredients such as corn and bacon. You will also get to taste the crispy fried breadcrumbs, along with the generous stuffings!
11) Charcoal Meat Rolls (萧记碳烤肉卷)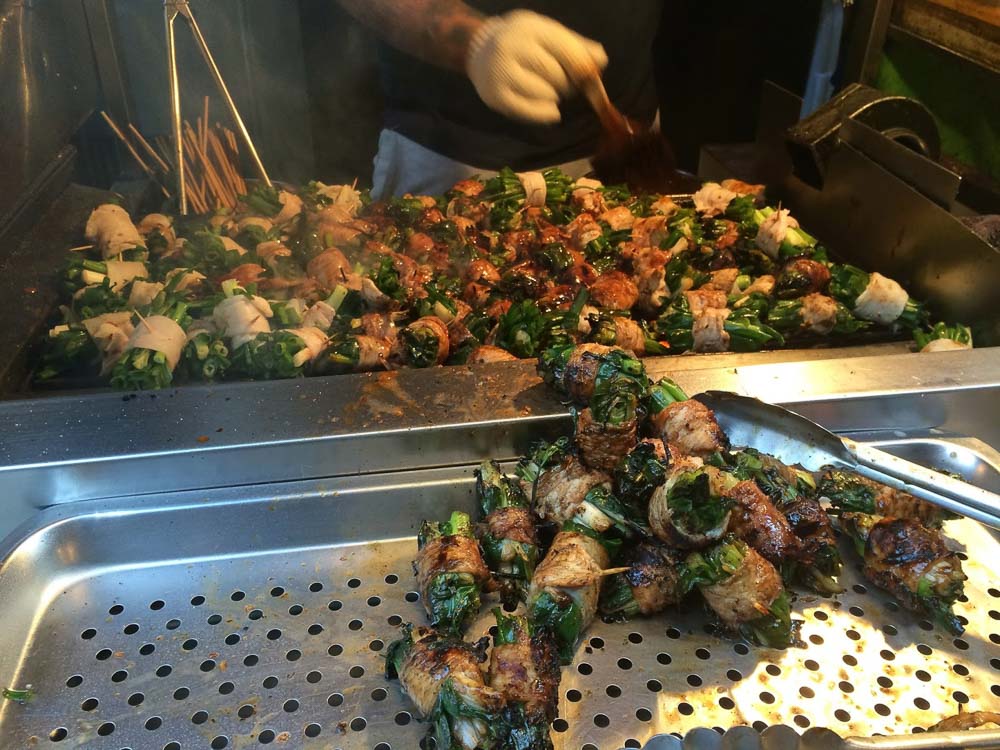 Charcoal grilled to perfection, these meat rolls are to die for. The lingering charcoal fragrance on the grilled pork slices were so delightful, coupled with the sweet and salty marinating sauce. This sauce was meticulously brushed on the meat rolls during the entire grilling process…Generous amounts of scallions were used, a fragrant and overwhelming addition to the grilled meat.
If you are up for the game, have the entire meat roll whole! You will feel an overwhelming heat rush up your nasal passage, blowing your sinuses wide open. Shiok!
Not a food lover?
Fret not! Shilin night market has more than just food. Clothing and accessories stalls are everywhere and you will be able to get most of the things at lower prices. Some shops do offer rather unique and good quality pieces as well!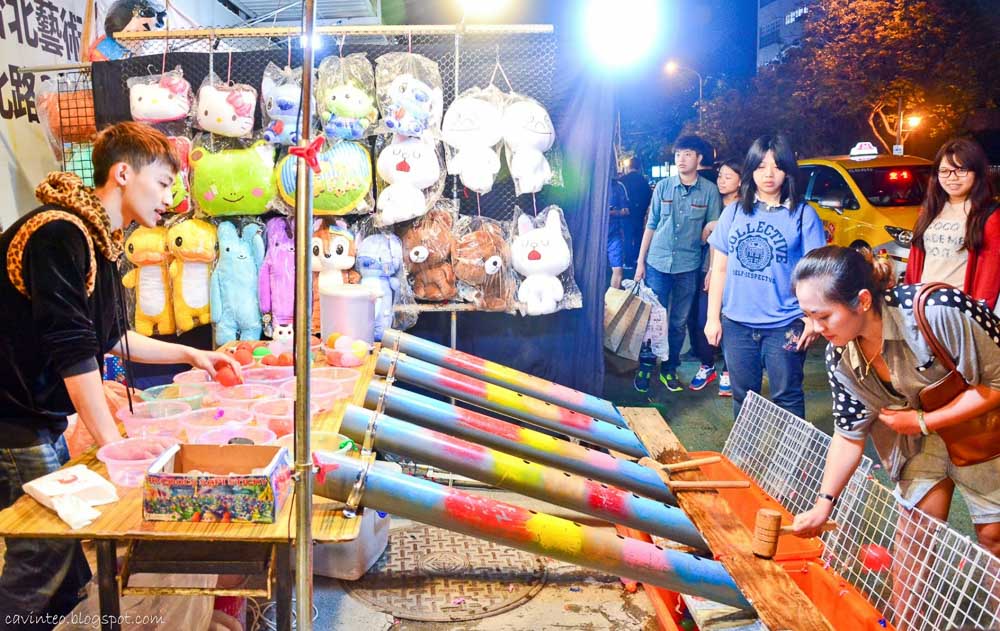 Young children or the young at hearts can give a go at the game stalls! Ranging from technincal games like shooting to trying your luck in mini gambling stations, Shilin night market has something fun for everyone. You can flaunt your plushie prizes afterwards!
Taiwan is a total food haven, and we've got your stomachs covered with this ultimate food guide of Taiwan. If you are only hovering around Taipei, do swing by Jiufen & Shifen for more food & sights!
How To Get To Shilin Night Market
Take the metro to Jiantan station and exit the station from exit 1. Shilin night market is a mere 100m walk away! There will be signs along the way too guide you there. The way too familiar food smells and crowd will also lead you to the bustling night market.
Also, Shilin night market is open from 5pm to midnight. Feast away!
Have you visited Shilin night market? Share with us in the comments below if there are other foods we've missed out!