Known for their local delicacies, Kaifeng is famed to have the best food in the Henan province of China. There is also a Chinese saying "Work in Zhengzhou, Live in Luoyang, Eat in Kaifeng", suggesting their popularity as a food destination for many. To make things even better, their Kaifeng Night Market is open all year round… even in winter!
"WORK IN ZHENGZHOU, LIVE IN LUOYANG, EAT IN KAIFENG"
If you've read my previous food article on the top 16 foods to eat in Osaka and Kyoto, you already know what an avid eater I am. I really aspire to eat my way across the globe, and here I am in Kaifeng, China hunting for my next meal! I tried as many Chinese snacks and street food I could find, and here's my list of what you simply have to try when you're over there.
I was soaking up all the sights and smells of the Kaifeng Night Market, and spoilt for choice as I walked down the street. Many pushcart stalls thronged the sides of the streets, with shop owners hurling Chinese phrases at anyone walking pass their makeshift stalls.
Everything was so enticing and mouthwatering, I wanted to have them all!
1) Bucket Chicken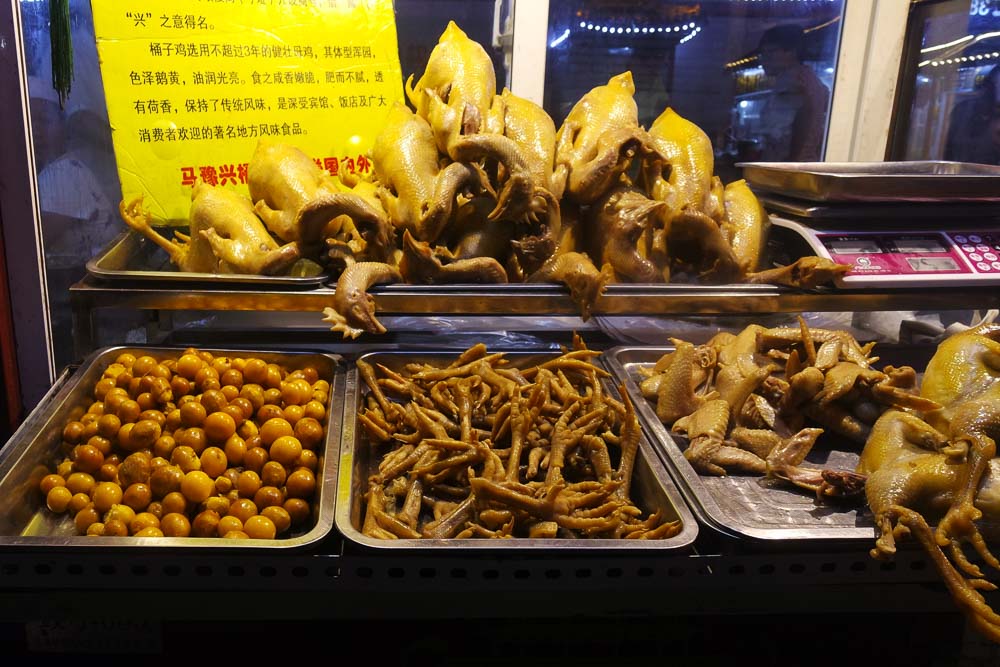 Slow cooked in traditional soup broth, using specially selected hens (not more than 3 years old), this delicacy is tender and meaty beneath its shimmery gold skin. It is not greasy at all, despite the tiny oil droplets shining on the skin.
Other chicken parts, such as the chicken feet, are also available in the Kaifeng Night Market.
2) Fried Yoghurt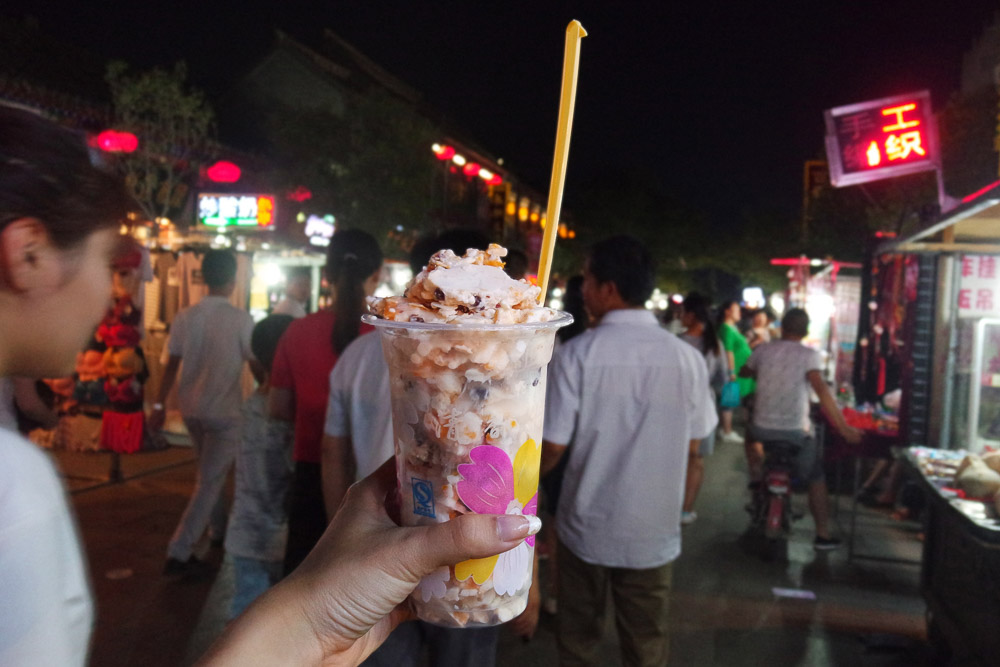 For a sweet tooth (like me), this dessert is a must try at the Kaifeng night market! Just watching how it was made was a pure treat. Assorted nuts are first added to the plain yoghurt, followed by the flavourings of your choice (real fruits are used for certain flavours!). The mixture is then "fried" on an icy cold plate, where the yoghurt slowly solidifies… into ice cream?!? #whatsoccery
I especially loved the way the mango bits exploded when chewed into and the crunchiness of the nuts.
3) Fried Bean Jelly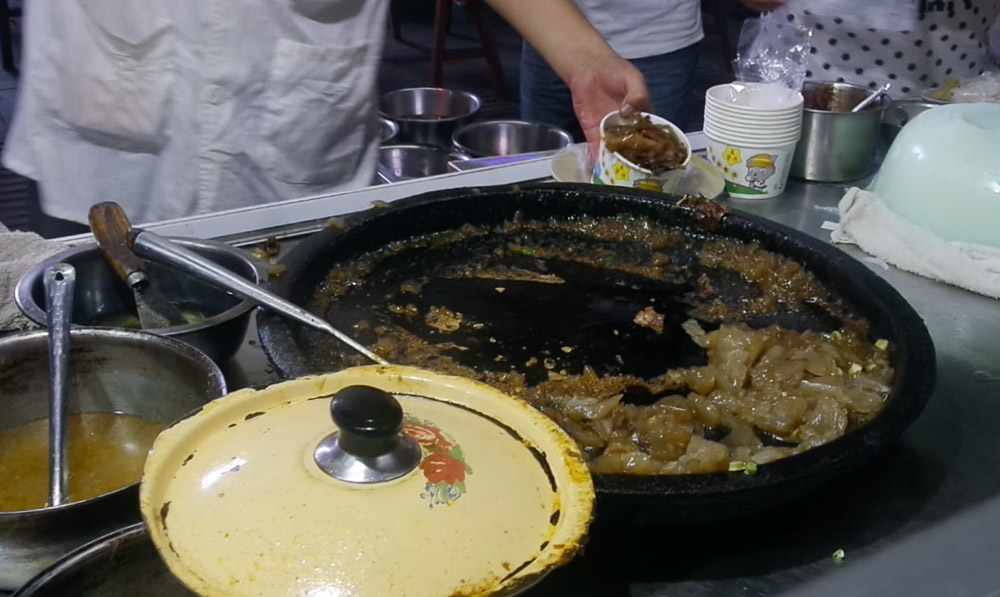 A local delicacy in Kaifeng, the texture of this bean jelly resembles the chinese 粘糕 (nian gao) – soft and slightly sticky. They are made using sweet potato or green bean powder and chopped up into smaller bite-sized pieces. 
4) Mutton Skewers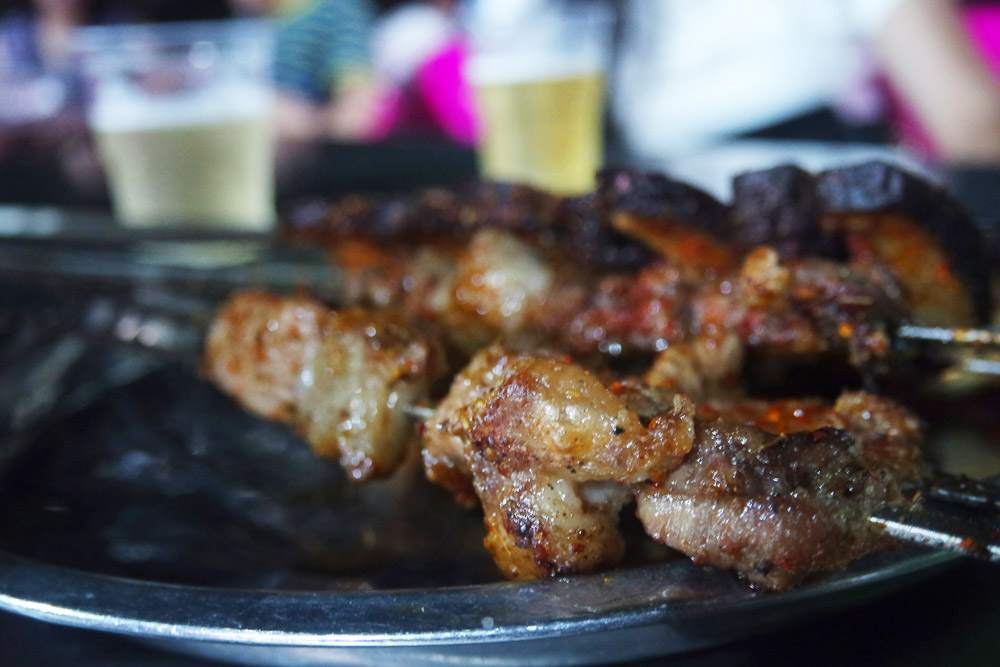 No regular mutton satay, these mutton chunks are garnished with local spices and grilled, before being topped with spicy mala powder. Fragrant and tender!
Don't forget to let them know your choice of lesser chilli because that "tang" does burn your tongue, especially if you can't take chilli well.
5) Assorted Skewers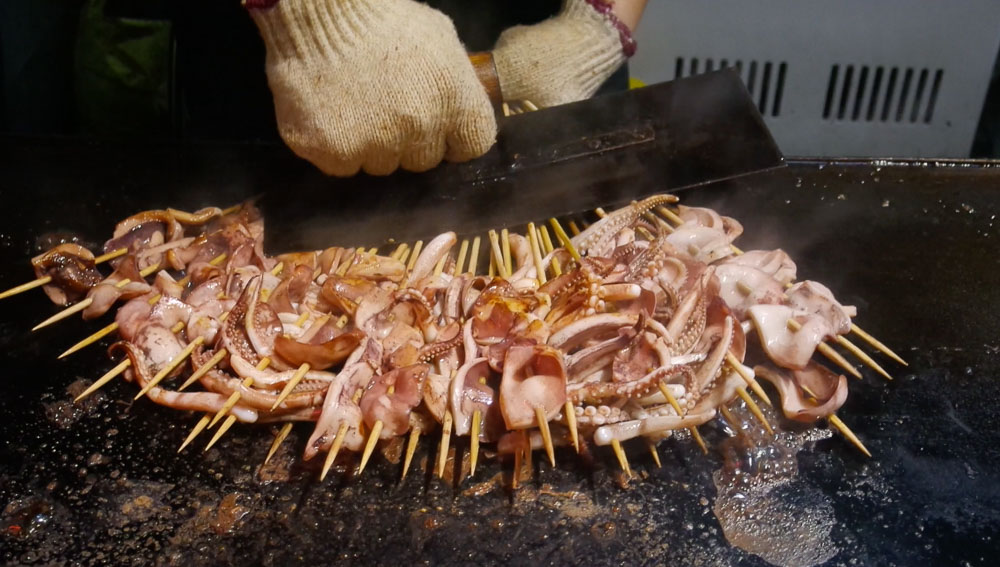 Not a fan of mutton? Seafood and other meat skewers are available as well. Grilled on the spot to perfection, you can watch your skewer sizzle in the oil before being served, piping hot! 
6) Stuffed Steam Buns (灌汤包)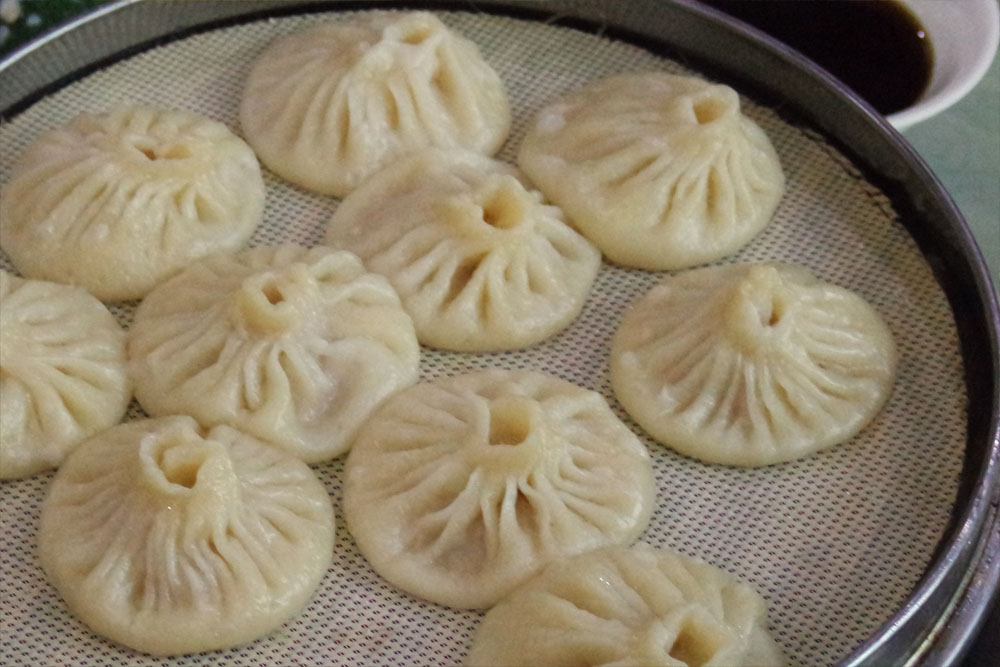 Available in almost every stall in the Kaifeng Night Market, these dumplings come in a wide range of flavours – mushrooms, minced meat, vegetarian… You name it, they have it. They may look like the usual xiao long bao in Chinese dim sum, but do not be deceived by their appearance! These dumplings have a relatively thicker skin and less soup inside.
I love their large variety of flavours and delicious fillings in it… Fragrant, generous and fresh ingredients used!
7) Plum Sweet Potato Fries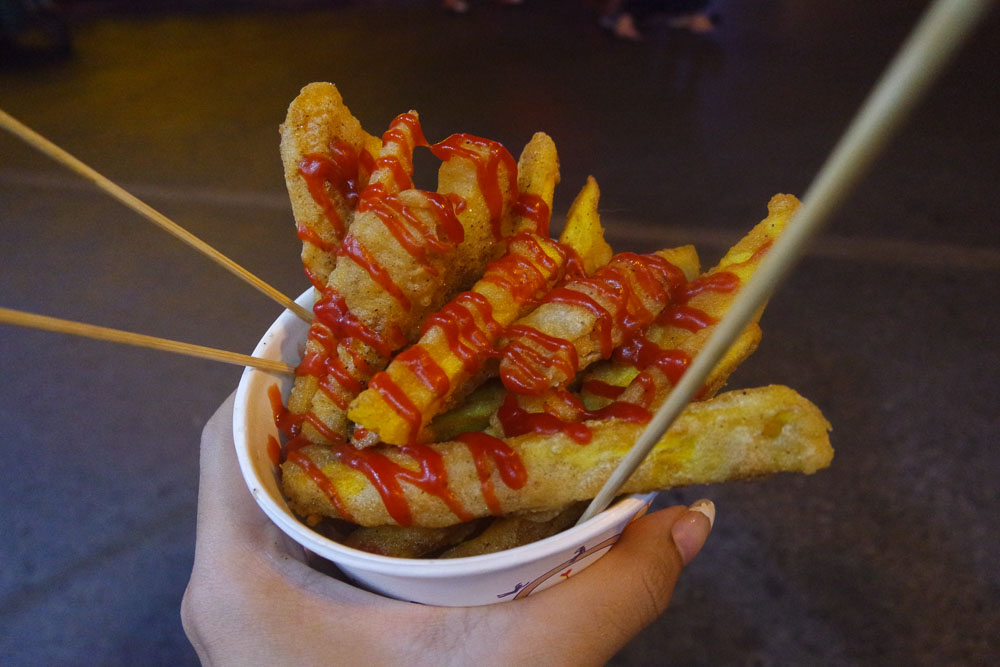 Battered and deep fried, these sweet potato fries come in 2 serving sizes. The one I'm holding was actually the smaller serving, which the vendor had very generously packed the fries in. Sprinkled with sour plum powder, the sweet potato chunks are pillowy soft inside and slightly crunchy on the outside. You will be able to choose the sauce added!
Feeling ambitious?
8) Fried/Grilled Cicada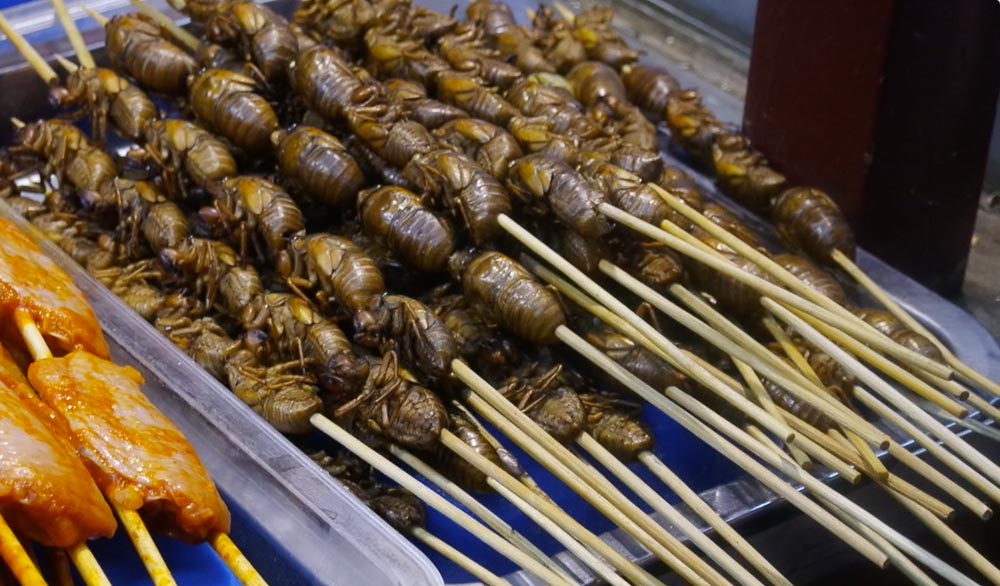 If you are feeling adventurous, there are also fried insects for that extra crunch. Most of the stalls have already skewered them like the above and sell them grilled. However, some others serve the cicadas stir-fried. I was not brave enough to try them though…
Hugged my food baby and reluctantly left Kaifeng Night Market because I was way too full to continue 🙁 If you're thinking of what else to do in Henan, China, check out the Yun Tai Mountain – the Grand Canyon of China!
Direct Flight From Singapore to Zheng Zhou
Scoot now flies directly to Zhengzhou four times per week, on Tuesday, Thursday, Friday and Sunday! As Zhengzhou is strategically located in the intersection of China's high-speed rail, it is very convenient to travel around Henan upon arrival. Additionally, Scoot allows for 2 hand carry luggages (both not weighing more than 10kg combined). I don't have to squeeze all my hand carry items into one single bag now :>
Furthermore, the flight was smooth and pleasant. Asian food was also served on board, which can be ordered in advance or on the flight itself. I had soy sauce chicken rice on my flight over to China and nasi lemak on my flight back.
Have you visited the Kaifeng Night Market? Share with us your experience in the comments below!
This post was brought to you by Scoot.