No trip to Japan is complete without a relaxing dip in an onsen or hot spring, and one of the best places in the country that's been overlooked is Beppu city, located in the Oita Prefecture.
Beppu is known for its Jigoku Meguri tour or Hells of Beppu, which takes visitors to eight different onsens around the city. The name came from the temperamental hot springs there which bubbled so violently people thought it was cursed.
From visiting crocodiles in hot springs to crossing the highest suspension bridge in Japan — here are nine unique experiences you can find in this famous onsen town!
1) See the City "On Fire" — Yukemuri Observatory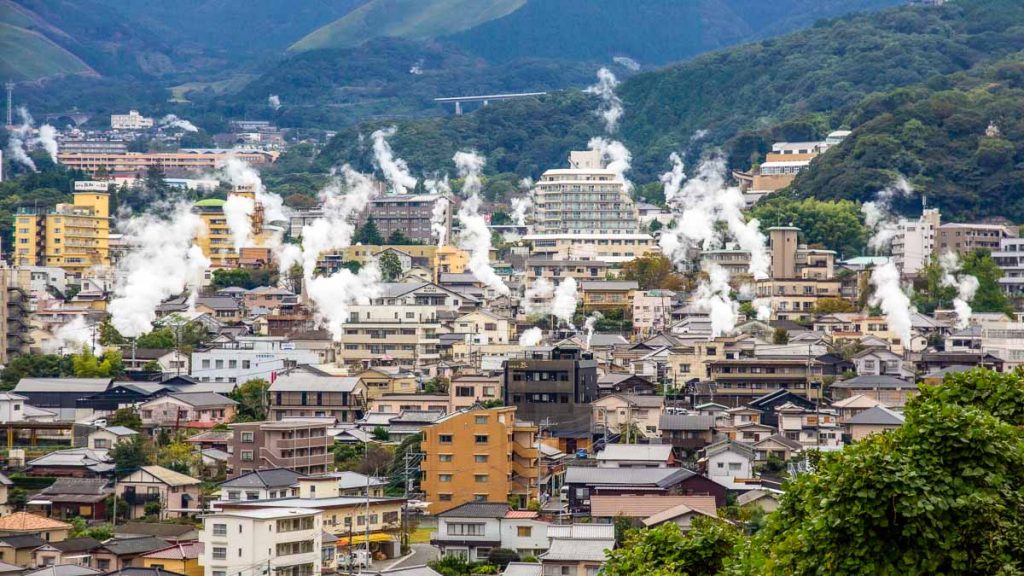 Don't be alarmed if you see smoke rising from the streets. The city isn't on fire, in fact, it's one of the main attractions in Kannawa, one of Beppu's hot spring districts!
The smoke is actually steam from the hot springs in the area and visitors can get a panoramic view overlooking the city from the Yukemuri Observatory.
But that's not all, you can also enjoy the beautiful scenery of volcanic mountains Mt. Tsurumi and Ogiyama at this vantage point, no matter the season.
*Fun fact: Yukemuri Observatory was recognised as a Japanese Night View Heritage Site in 2010, so you can be sure to get the best night views there!
Entrance fee: Free
Opening hours: 8AM – 10PM (April – Oct), 8AM – 9PM (Nov – March)
How to get there: 20min drive from JR Beppu Station or 11min drive from Beppu IC
2) Experience a Healing Sand Bath — Shoningahama Beach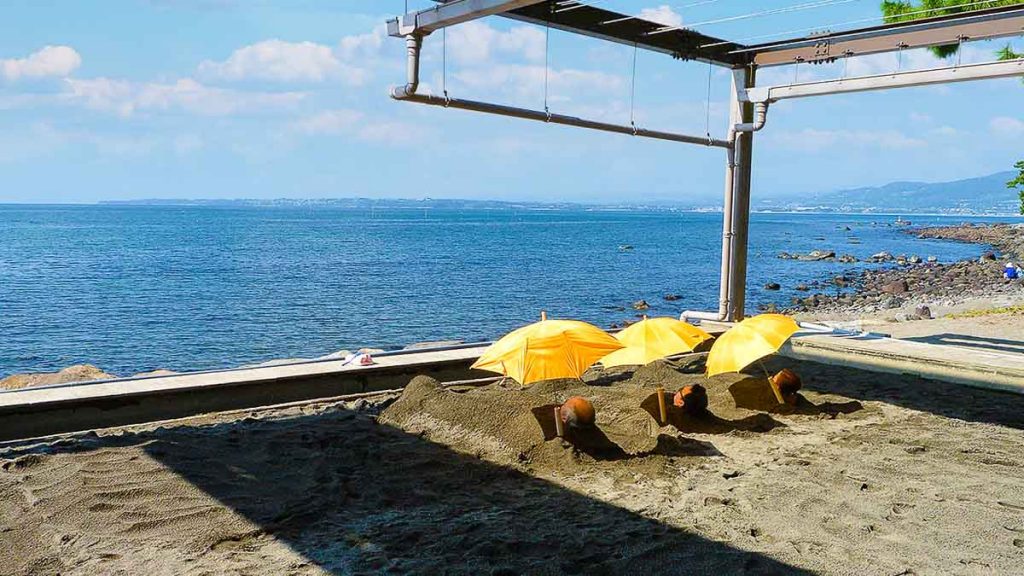 In Japan, onsens are well-known for various health benefits but if you prefer not to get wet, there are other ways to get the same benefits too — one being, sand baths.
Bathing in the sand can be helpful for stiff joints, sprains, bruises, and cold sensitivities to name a few. The Beppu Beach Sand Bath on Shoningahama beach is where you can sweat out all your worries under the warm sand while admiring the blue ocean!
*Pro-tip: While waiting for your turn at the sand bath, there's a warm foot bath where you can soak your feet for free next to it.
Cost: ¥1,500 (~S$18)
Opening hours: 8:30AM – 6PM (March – Nov), 9AM – 5PM (Dec – Feb), Closed on the fourth Wednesday of each month
How to get there: 10min drive from JR Beppu Station or 15min drive from Higashi-kyushu Expressway Beppu IC. If you are travelling by bus, from the JR Beppu Station East Exit, you can take Oita Kotsu bus No. 50 and alight at Rokushouen or take Kamenoi bus No. 26/26A and alight at Rokushoen Beppu Kaihin Sunayu Mae
3) Have Your Meal Cooked by Onsen Steam — Beppu Jigoku Mushi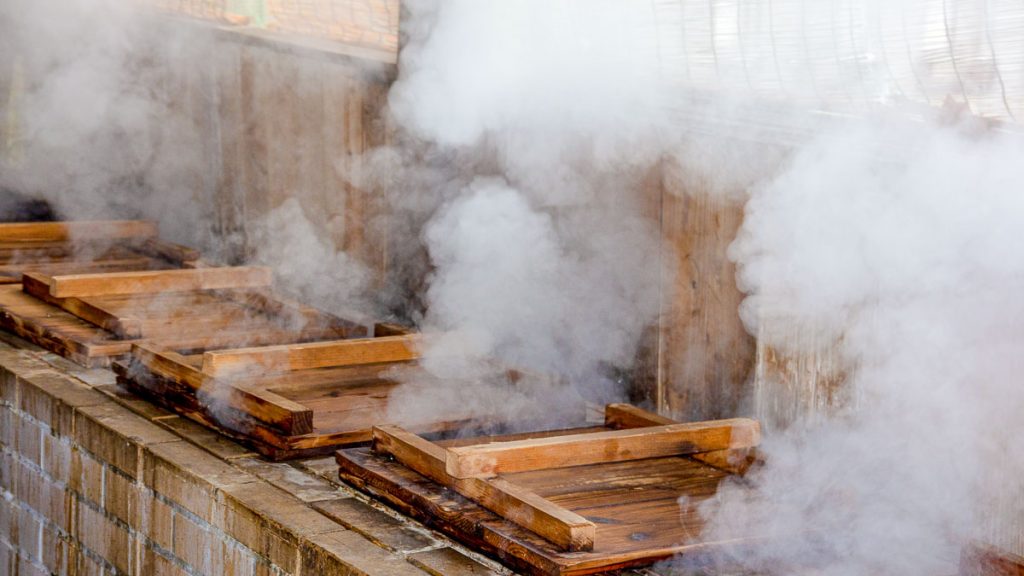 Besides watching the city "on fire", here's another must-do in Beppu's Kannawa district — eating a meal cooked by onsen steam.
Jigoku mushi or hell-steaming is a method used by locals in Beppu whereby steam is piped from underneath jigoku gama or hell-cooking pots. The steam carries minerals that give the dish its unique flavours.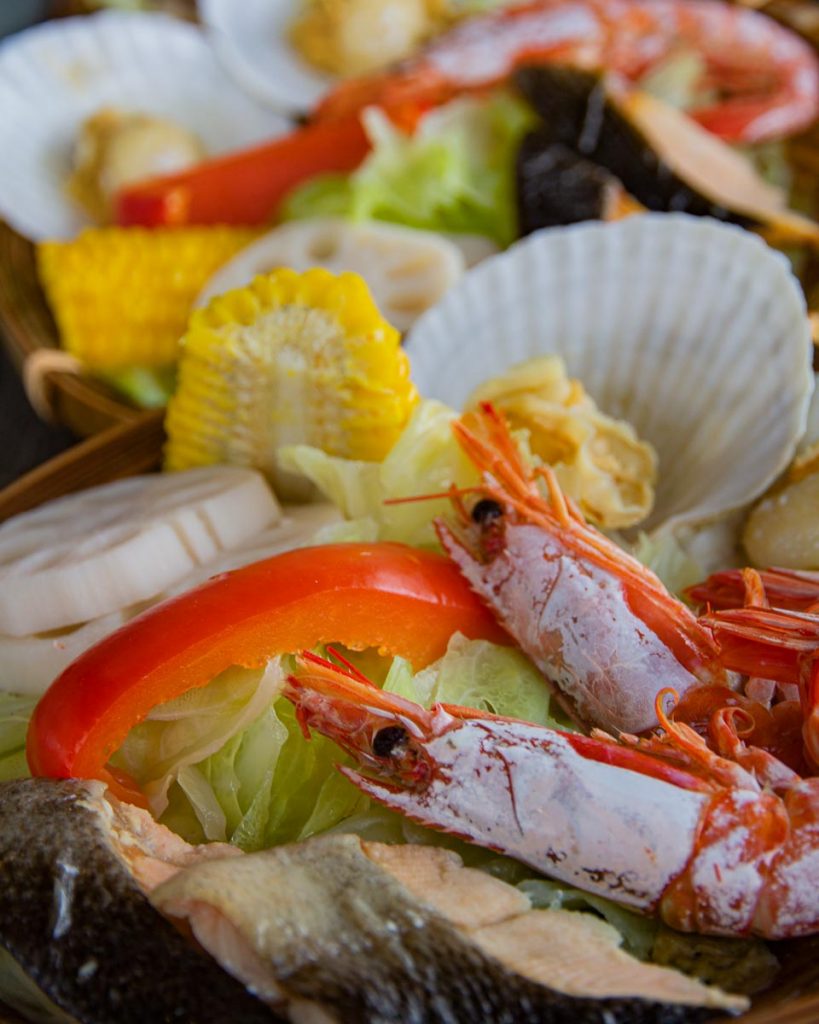 There are various restaurants and shops in the area where you experience jigoku mushi and one of them is Jigoku Mushi Kobo, which has a workshop for visitors to cook the food themselves.
Jigoku gama rental cost: ¥500 (~S$6) for 30min
Ingredients set cost: From ¥500 (~S$6)
Opening hours: 9AM – 9PM, Closed on the third Wednesday of each month
How to get there: 20min drive from JR Beppu Station
4) Multisensory Experience with Multi-Coloured Onsens — Kamado Jigoku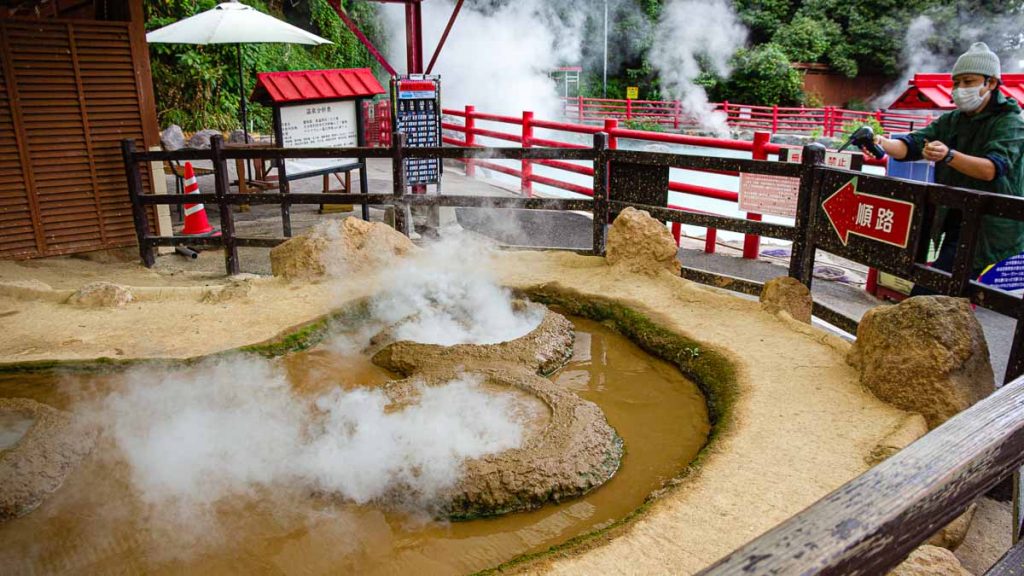 Explore different coloured onsens at Kamado Jigoku, which has blue, red and muddy hot spring pools similar to other hot springs featured in the Jigoku Meguri tour.
There's even an onsen where you can drink from and a selection of onsen gourmet food such as the Kamado Onsen Original Hellish Soy Sauce Pudding — steamed with the steam from the onsens there.
*Fun fact: In the past, rice in Japan was cooked with a tool called a kamado. It's said that Kamado Jigoku got its name because the rice was cooked from the power of the hot spring eruptions there.
Entrance fee: ¥400 (~S$5)
Opening hours: 8AM – 5PM
How to get there: Take Kamenoi bus No. 5/7/9 from JR Beppu Station West Exit, alight at Kannawa and walk for 8 mins
5) Crocodiles that Live in Onsens — Oniyama Jigoku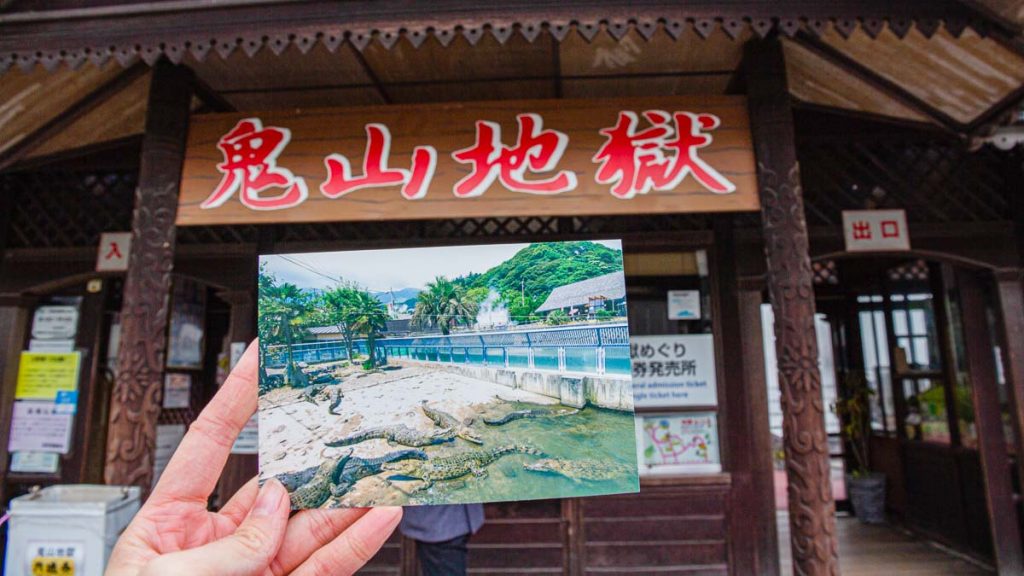 Wait what? That's right, you can see crocodiles at Oniyama Jigoku or Crocodile Hell in Beppu. Oniyama Jigoku was once known for its hot springs until the 1900s, when it started to rear crocodiles in the area.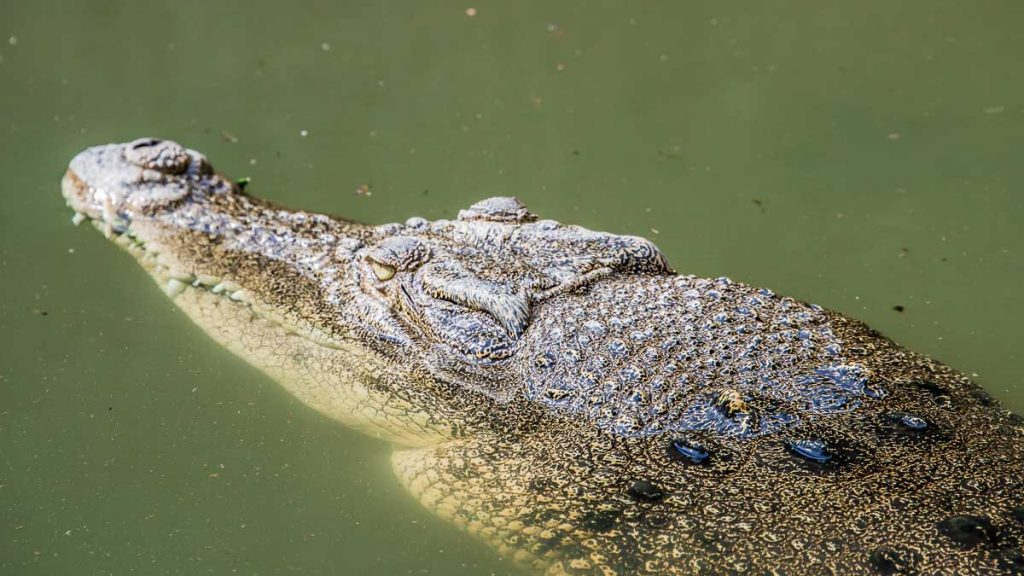 The warm environment makes it a perfect area to raise crocodiles and it's now a tourist attraction with around 70 crocodiles and alligators being bred there.
There's even an exhibition corner showcasing endangered crocodile specimens as well as a display of the largest crocodile at Oniyama Jigoku.
*Pro-tip: Visit on a Wednesday or on the weekend to catch the crocodiles' feeding time.
Entrance fee: ¥400 (~S$5)
Opening hours: 8AM – 4PM
Feeding time: 10AM (Wednesdays and Weekends), 2:30PM (Weekends)
How to get there: Take Kamenoi bus No. 5/7/9 from JR Beppu Station West Exit, alight at Kannawa and walk for 3 mins
6) Learn to Mix Your Own Scent — Oita Fragrance Museum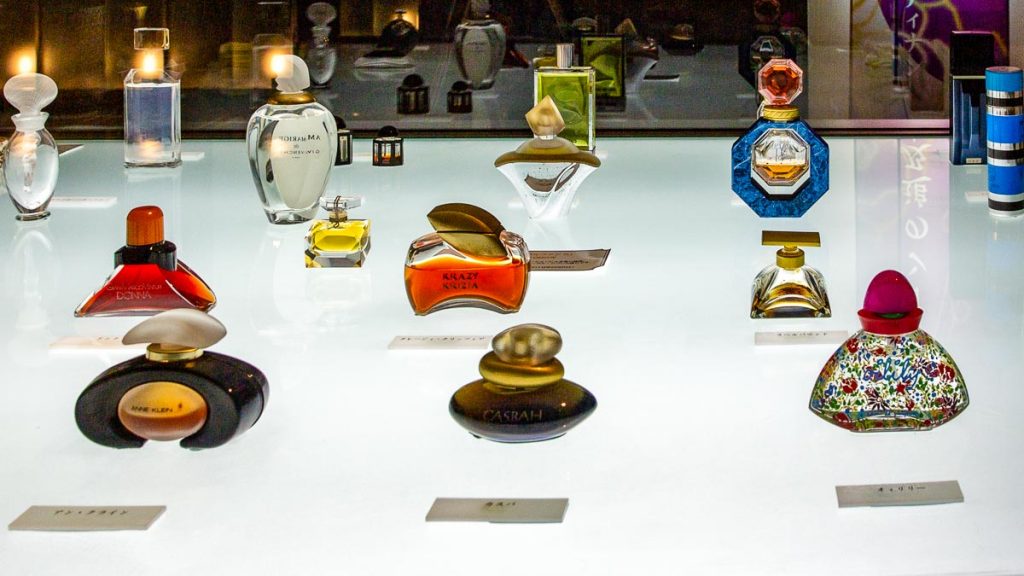 Create your own unique scent at Oita Fragrance Museum, a three-story building featuring different exhibits on each level.
The first floor boasts a gallery of various perfume bottles on display, from familiar to exquisite perfumes. The second floor highlights the history of fragrances around the world and the third floor has a Perfumery Experience Craft Centre where visitors can make their own perfume.
There's also a souvenir shop with a wide selection of aroma-burning bottles, perfumes and scented hand creams.
Entrance fee: ¥500 (~S$6)
Perfumery Experience Craft Centre cost: ¥2,500 (~S$30), Advanced reservation required by phone or email
Opening hours: 10AM – 6PM (Reception closes at 5PM), Closed on 31 Dec and 1 Jan
How to get there: 15min walk from Beppudaigaku Station. Alternatively, take Kamenoi bus No. 29 service from JR Beppu Station West Exit and alight at Beppu Daigaku Shita — 7mins walk to the museum
7) Walk Up the 99 Oni (Demon)-Built Steps to Hachiman Kamado Shrine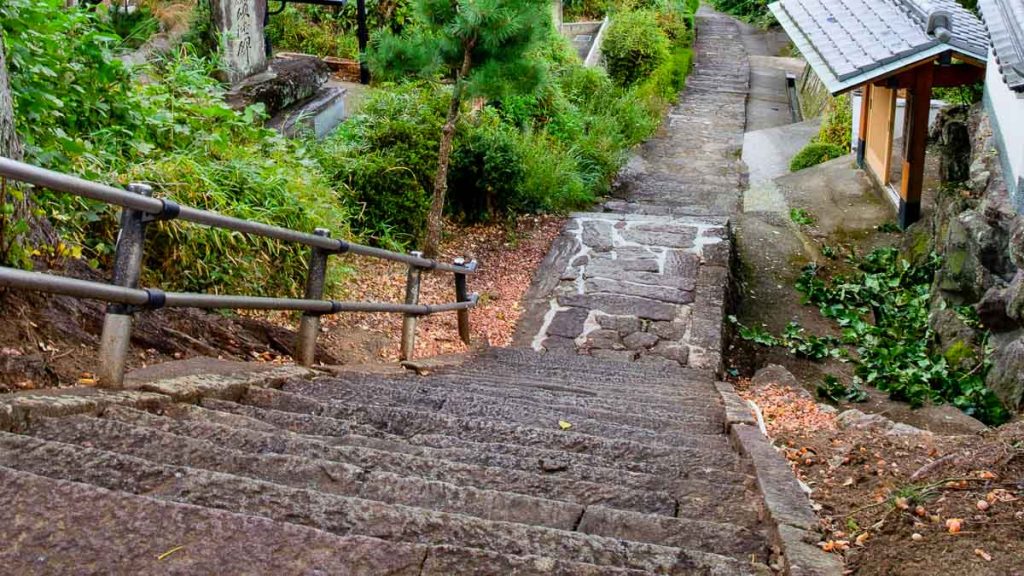 Built on Mt. Kameyama, Hachiman Kamado Shrine is a place where visitors can enjoy a panoramic view of the city and Beppu bay.
Legend goes that a demon attacked a village, devouring people and destroying the town. The villagers then prayed to the god Hachiman to rescue them and in response, he told the demon to build 100 stone steps before sunrise, if not he would be punished and had to leave the villagers alone.
But just after the 99th step, the sun rose and the demon fled, leaving a stone sandal behind. Hence this is how the famed 99 stone stairs and stone footprint at the shrine came about!
*Fun fact: Just like Kamado Jigoku, Hachiman Kamado Shrine has some alleged similarities with popular manga Demon Slayer: Kimetsu no Yaiba. This includes having a similar name with the main character Tanjiro Kamado, as well as featuring human-eating demons with a weakness to sunlight.
Entrance fee: Free
Opening hours: 24 hours
How to get there: 15min drive from JR Beppu Station
8) Cross the Highest Suspension Bridge in Japan — Kokonoe Yume Suspension Bridge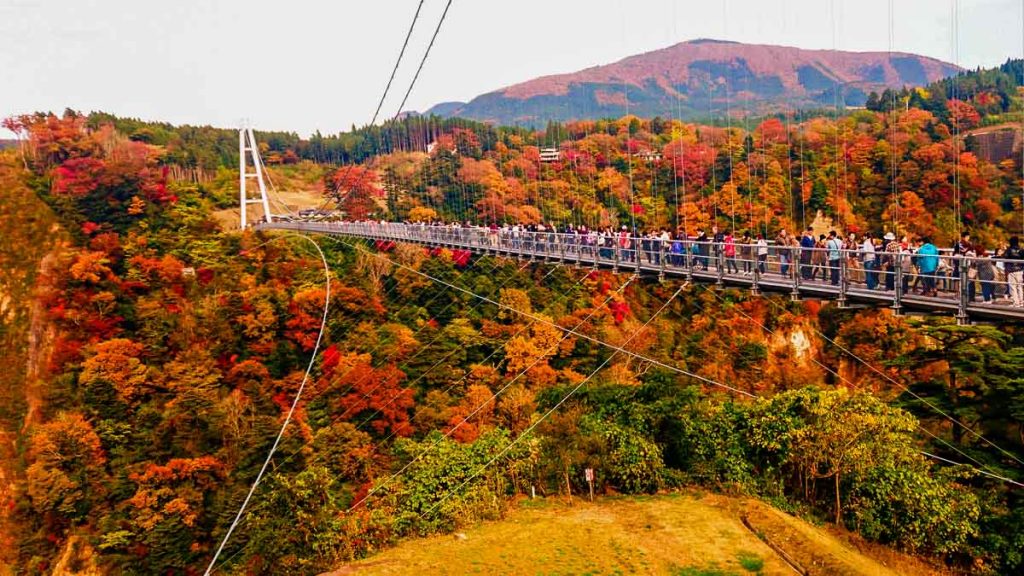 Crossing Japan's highest suspension bridge may sound daunting but we assure you, the breathtaking view is worth it!
At 173m high, Kokonoe Yume Suspension Bridge is coined the "walkway in the sky" and overlooks a valley, mountains, and even two waterfalls, Shindo Falls and Odaki Falls.
You can even get a closer look at Odaki Falls by heading down a path near the bridge to a lookout point.
*Pro-tip: April and May are the best months to see green foliage. Alternatively, come in November to early December for autumn colours.
Entrance fee: ¥500 (~S$6)
Opening hours: Varies (Last entry is 30 minutes before closing time), Closed 31 Dec
How to get there: 20min drive from Kokonoe IC on the Oita Expressway
9) Road Trip from Oita to Kumamoto — the Scenic Yamanami Highway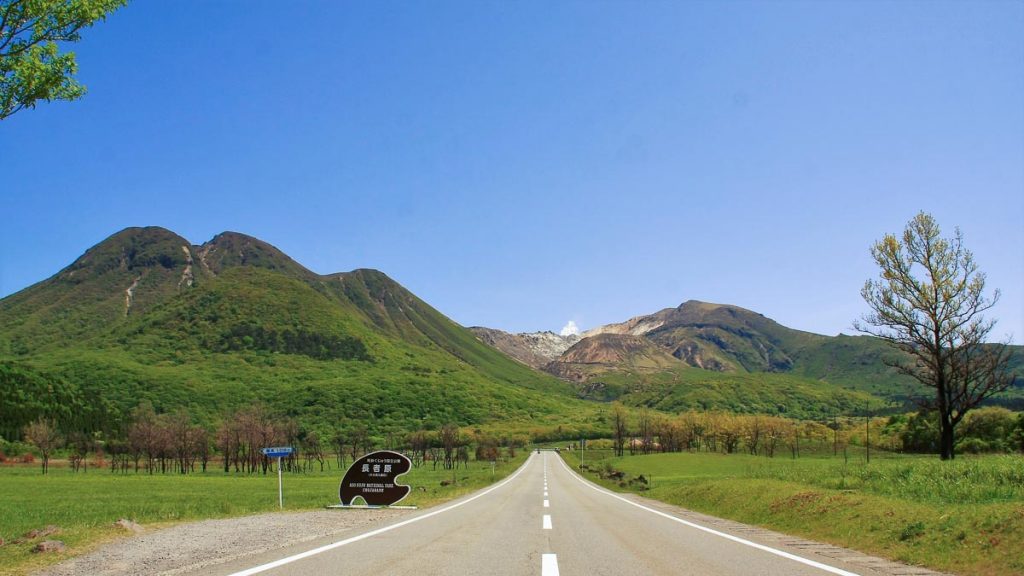 View of Yamanami Highway from Chojabaru
It's no surprise Yamanami Highway is one of Japan's 100 famous roads, offering travellers a scenic route from Oita to Kumamoto. Also known as Route 11, it stretches from the city of Beppu, passing by Aso-Kuju National Park, Kuju mountain range to the city of Aso.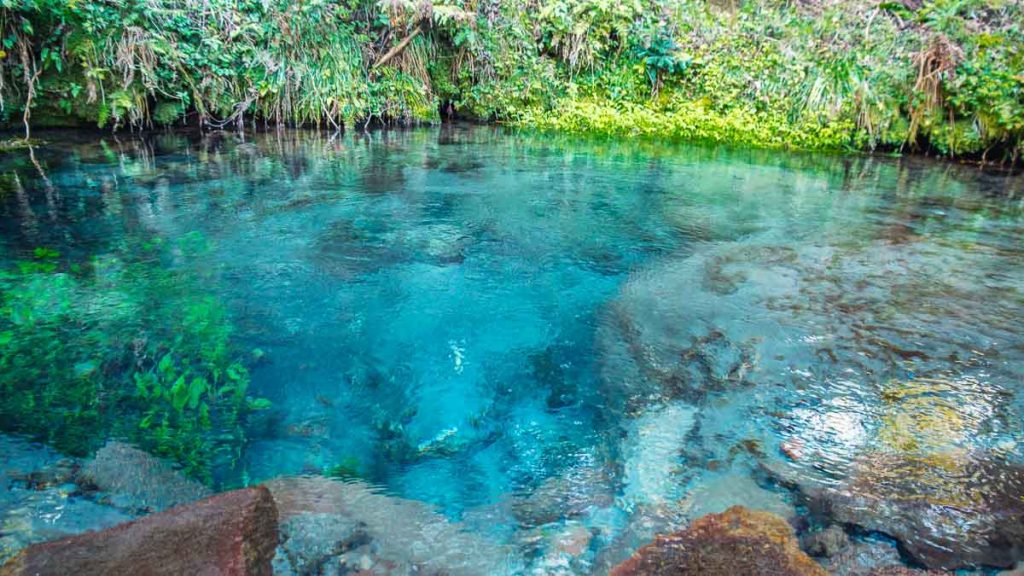 Besides the previously mentioned Kokonoe Yume Suspension Bridge, here are other attractions to look out for along the way: Tadewara Marsh, Kokonoe Tamanami Farm and Oike Spring.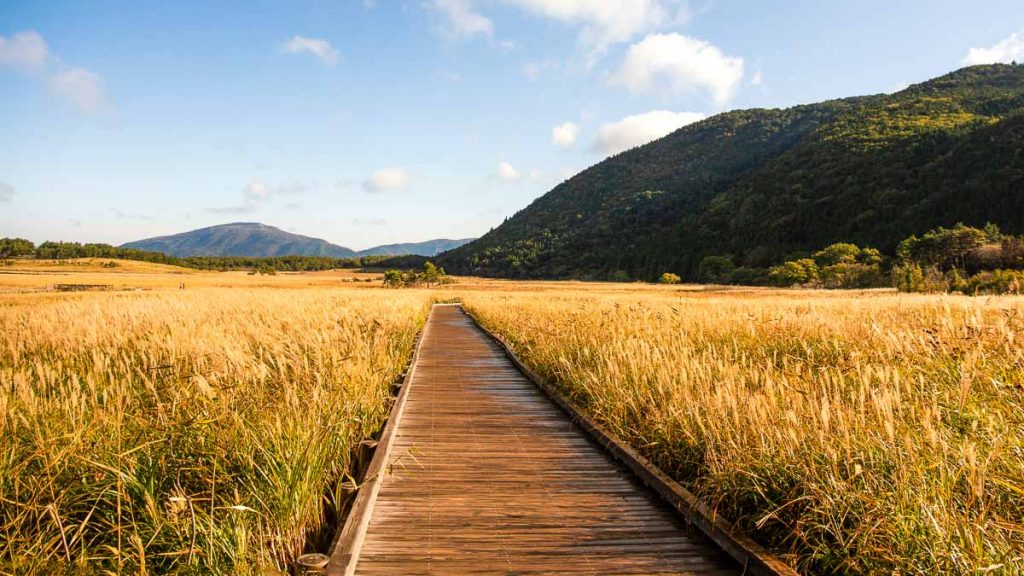 Tadewara Marsh is a protected marshland with rare flora and fauna while Kokonoe Tamanami Farm has various animals such as horses, goats, rabbits, and ducks to see! Oike Spring is located on Mt. Kurodake and is a great place to just soak in the beauty of nature.
*Fun fact: Oike Spring is on the list of Japan's 100 remarkable waters and it's so clean that people even drink from it!
How to get there: Start from Beppu and follow the road directions to Route 11
Getting Around Oita on Wheels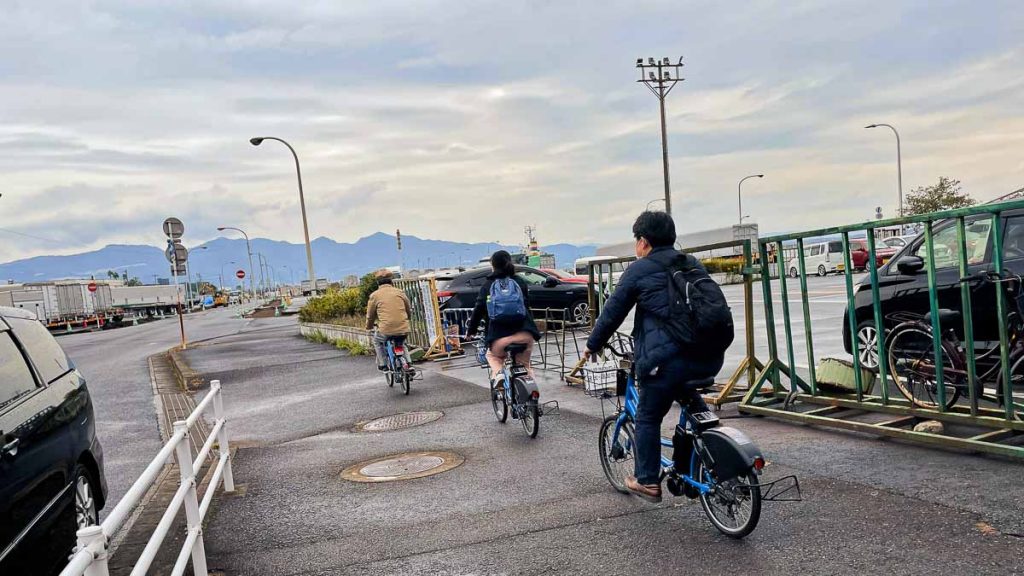 You can get around by driving or walking in Beppu city. But one of the best ways to explore this onsen town is by cycling! Travellers can get access to bike-sharing services that are widely available across the city.
Pick-ups and returns can be done at any bike station. Some are located near attractions featured above, including Kamado Jigoku and the Oita Fragrance Museum.
The best part, the bikes are even motor-assisted, great for going up steep hills!
To get access to the service, just register for an online account after you've arrived in Japan. You'll need a local 11-digit mobile number for account confirmation, as well as a postal code (use "000-0000"). An IC Card and credit card enabled for overseas use are needed to rent the bikes.
Beppu, Oita Prefecture — More Than a Hot Spring Paradise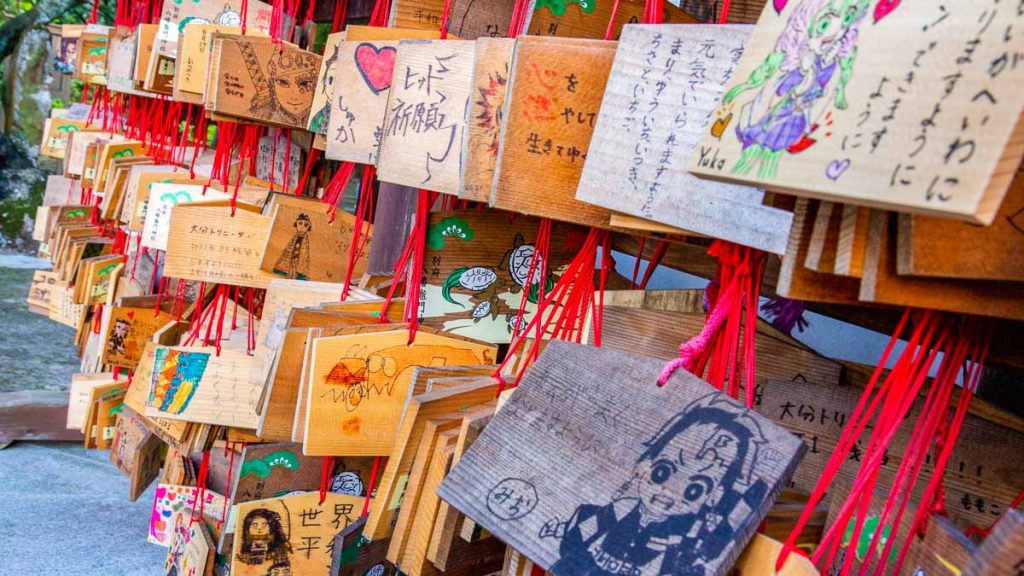 While Beppu is mainly known for its many unique hot springs, it's also home to several other hidden gems such as the highest suspension bridge in Japan and attractions that were rumoured to be an inspiration for popular manga Demon Slayer: Kimetsu no Yaiba!
So don't miss this wonderful city on your next trip to Japan, once it's safe to travel again 😉
Share with us which of these unique experiences are you most excited about in the comments below!
---
This post was brought to you by Yamanami Highway Council. Watch a video of the area here.
Like what you see? Follow us on Facebook, Instagram, and YouTube for more travel updates!