The only guide you need for an often forgotten part of south Bali — Nusa Dua and Uluwatu. Check out these exciting activities, drop-dead-gorgeous sceneries, and must-eat local delights!
Located in the southernmost part of Bali, Nusa Dua is often known characterised as an "upscale" area dotted with luxury resorts. There's a reason why Nusa Dua is marketed that way — the abundance of rocky limestone cliffs with thick greenery are sceneries many would pay just to get a glimpse of.
While accommodation may be on the higher end, what most don't know is how reasonably priced everything else is! Here's our guide to how you can explore the southern peninsula of Nusa Dua in 48 hours.
Getting Around Nusa Dua and Uluwatu
Public transport is sparse in this part of Bali. If you're not hiring your own vehicle, we recommend hiring a driver. We hired ours from Klook for ~S$42/day.
Read also: 5D4N Bali Itinerary for the Adventurous or 1 Week Bali Itinerary — The Lesser Known Side Most Tourist Miss
Must-Sees
1) Waterblow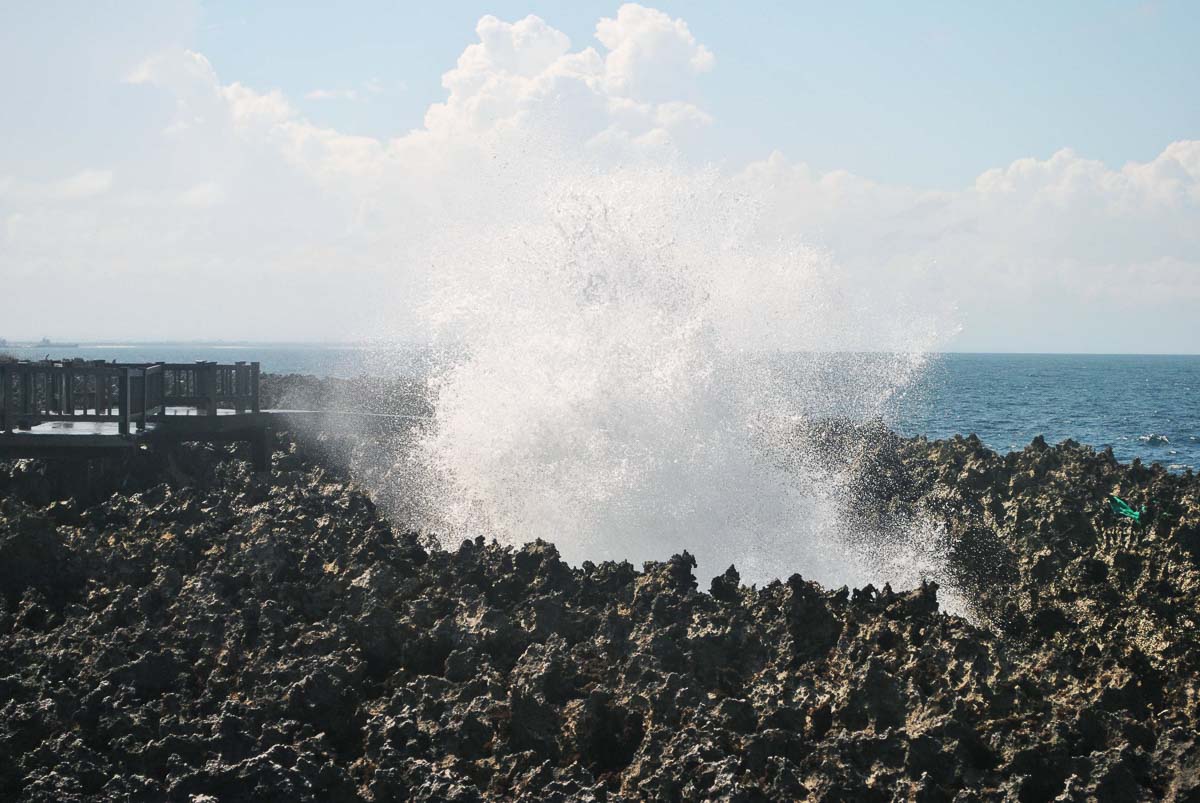 Located at the Nusa Dua beach is the Waterblow, where a giant splash of seawater "blows" up like a whale's spout as waves hit the rock. Witness the best moments of this breathtaking natural occurrence during the months from July to October where the tides are higher.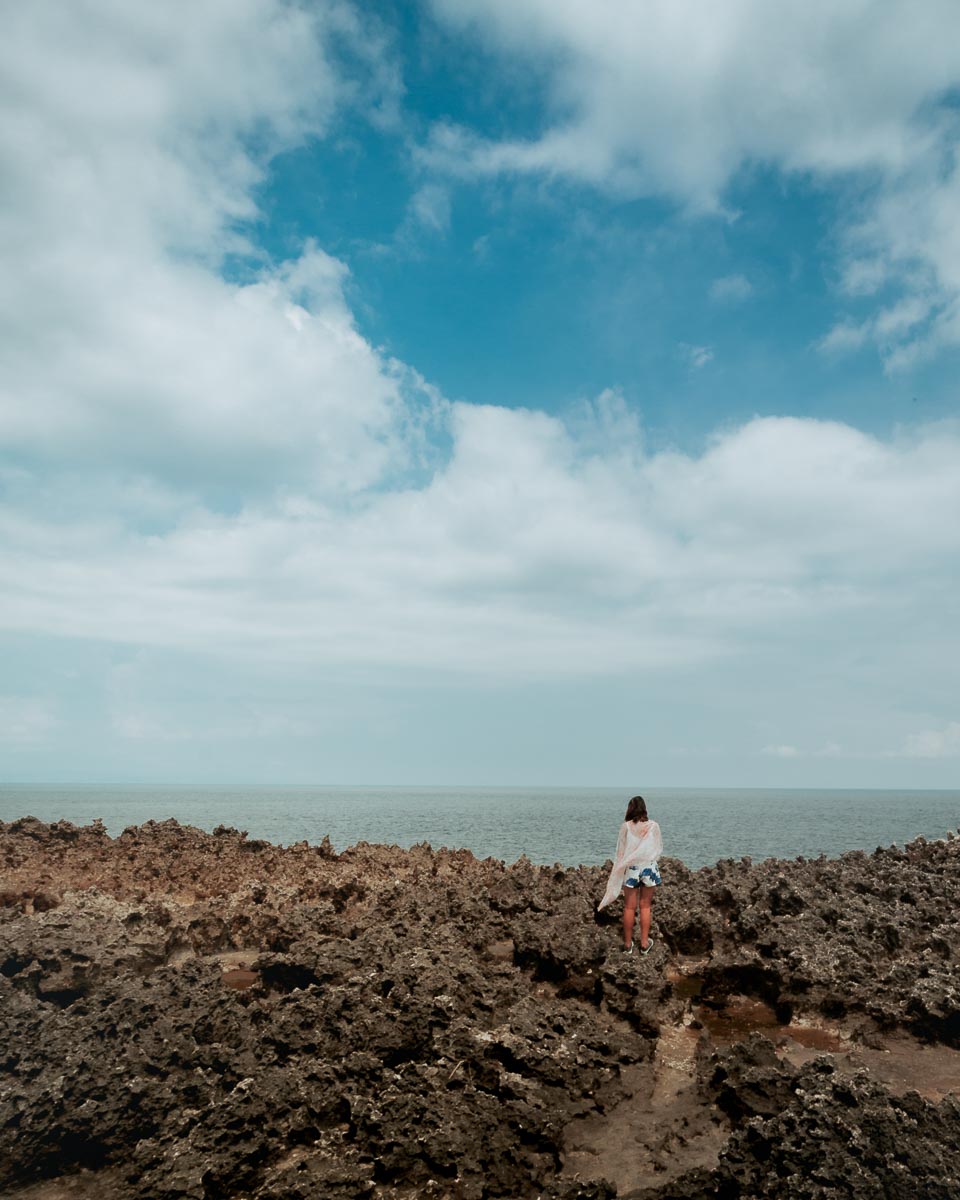 If you are visiting Nusa Dua out of the above mentioned period, it's still worth a visit as the rocky coast make a unique backdrop for a photo op.
Location: Indonesia Tourism Development (ITDCC) complex, Nusa Dua, Bali, Indonesia
2) Abandoned Aircraft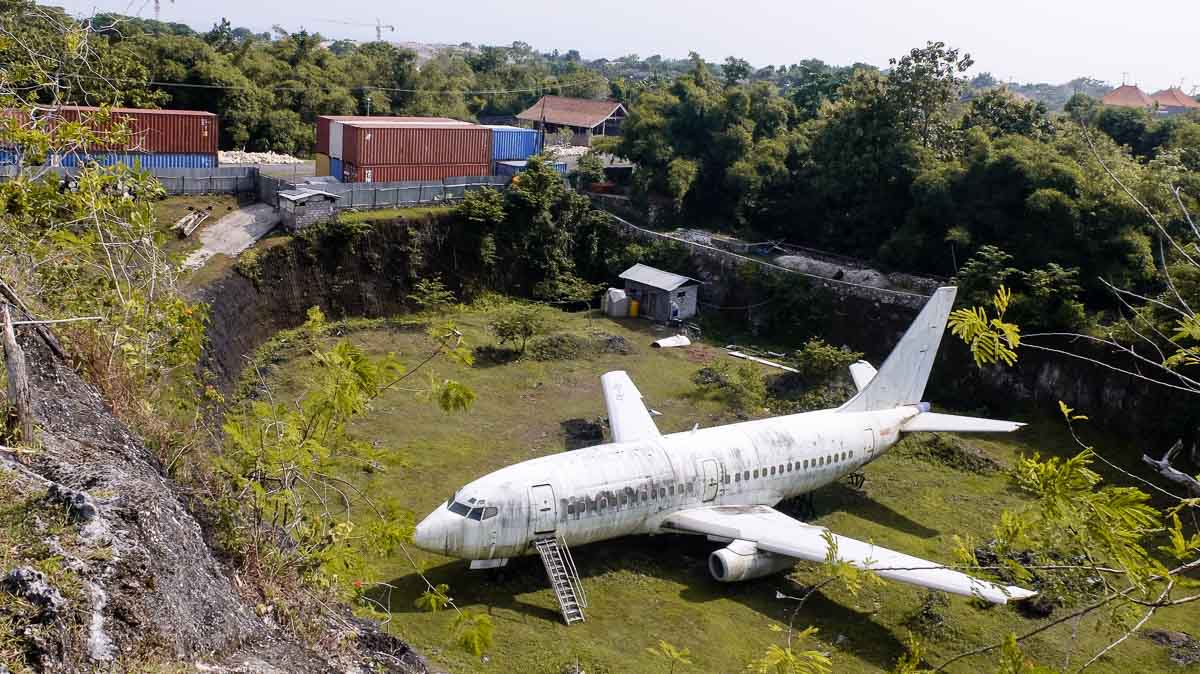 If you are one who's in for the obscure, there's an abandoned Boeing 737 sitting in the middle of nowhere. Rumour has it that the airplane was acquired to be repurposed as a restaurant, but it never materialised.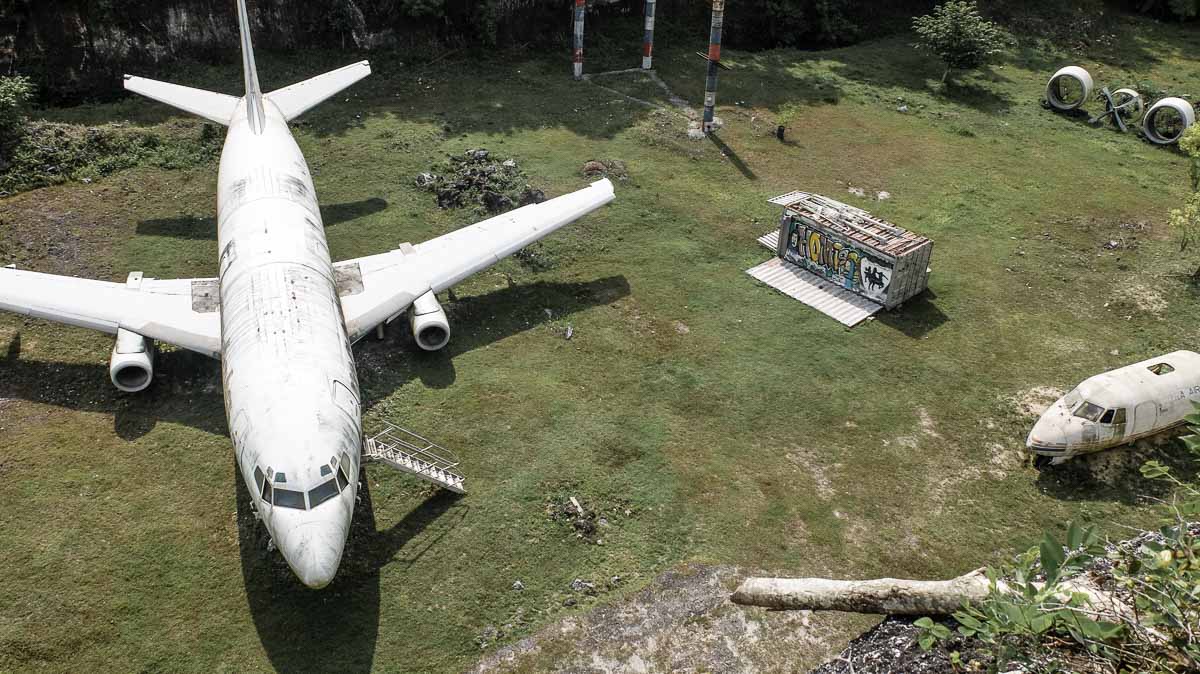 Never mind the failed business plan, because this hidden find is now a hotspot among Instagrammers. Do note that the path up the abandoned plane is very bumpy.
*Pro-tip: Take the beaten path next to the makeshift drink stall for a free access to the vantage point to view the plane.
Location: Jalan Nusa Dua Selatan, Kutuh, Kuta Selatan, Kabupaten Badung, Bali, Indonesia, 80361
Read also: 15 Secret Photo Spots in Bali Only Photogr aphers Know
3) Garuda Wisnu Kencana Cultural Park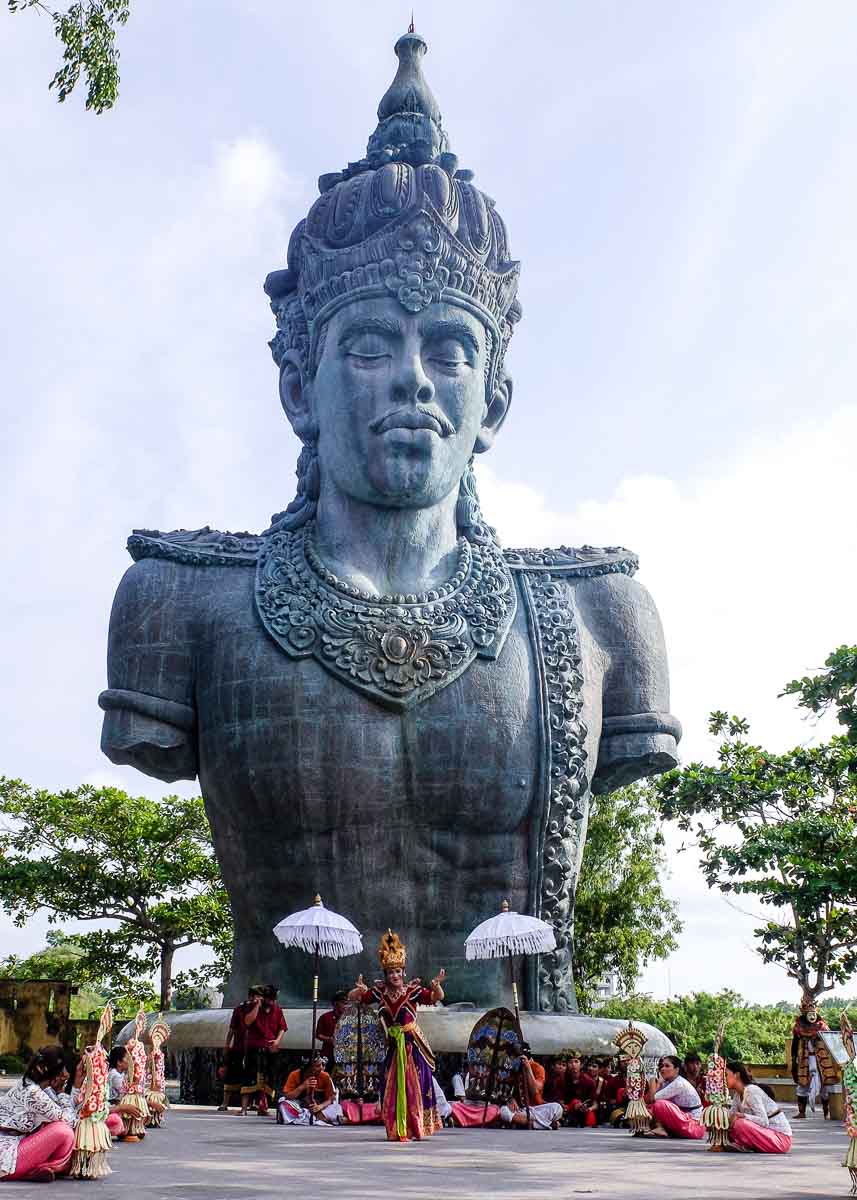 Go big or go home. That's probably what the Balinese had in mind before they constructed the gigantic gargantuan statue of Lord Vishnu. When completed, the monument will stand at 121m (30m taller than Statue of Liberty!) and will be the tallest statue in the whole of Indonesia. At the moment, Garuda Wisnu Kencana Cultural Park already has a 23m tall bust of Lord Vishnu where cultural performances are held at several timings per day.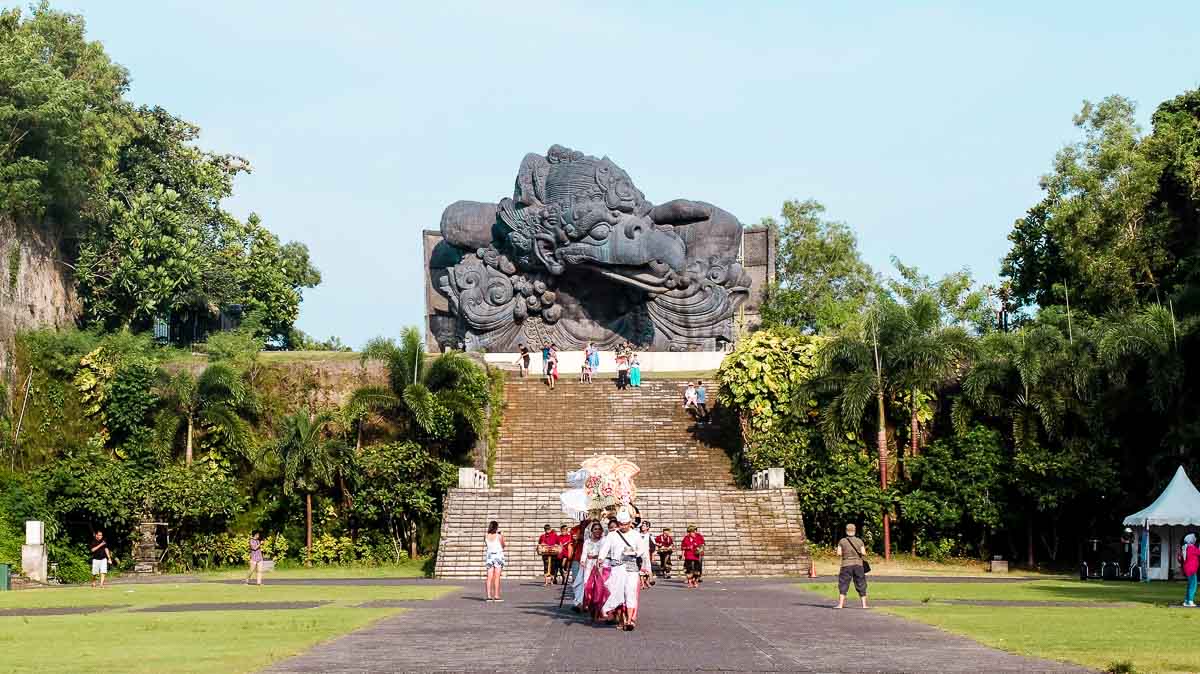 Entrance Fee: Rp 100,000/pax
Opening Hours: 8AM – 10PM daily
Location: Jl. Raya Uluwatu, Ungasan, Kuta Sel., Kabupaten Badung, Bali 80364
4) Suluban Beach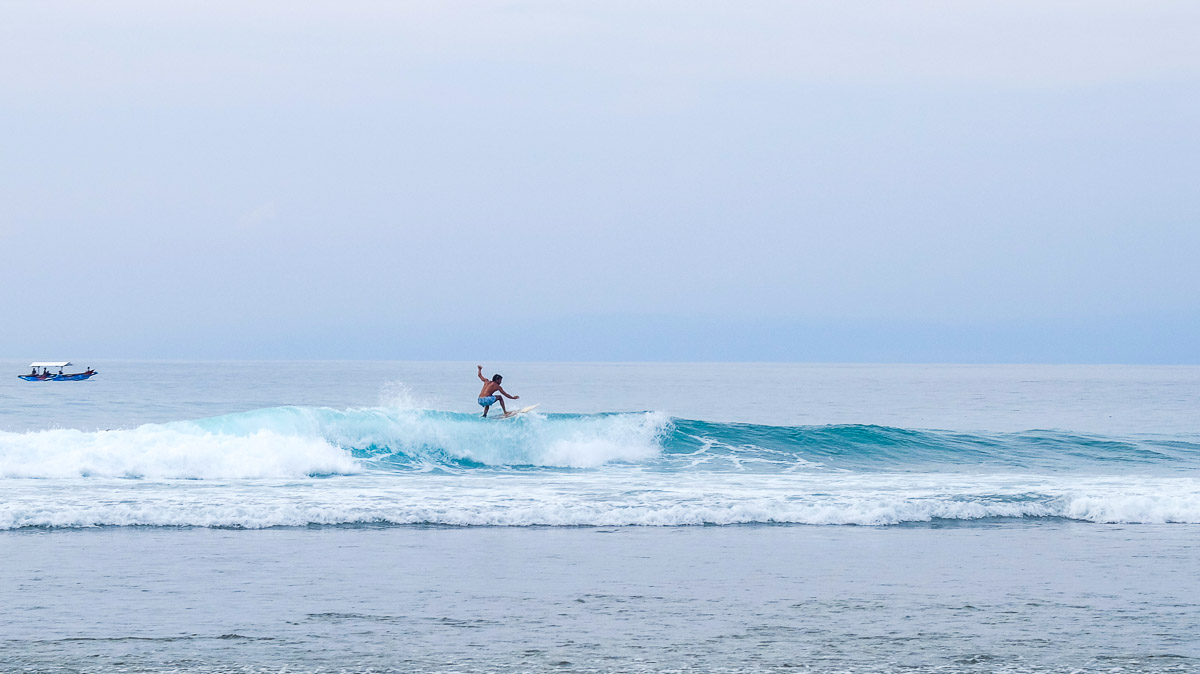 Bali is known for her gorgeous beaches, but many such as the Jimbaran Beach, are heavily commercialised. Suluban Beach, however, is pretty secluded, and one will need to walk through several terrains before reaching the beautifully untouched beach.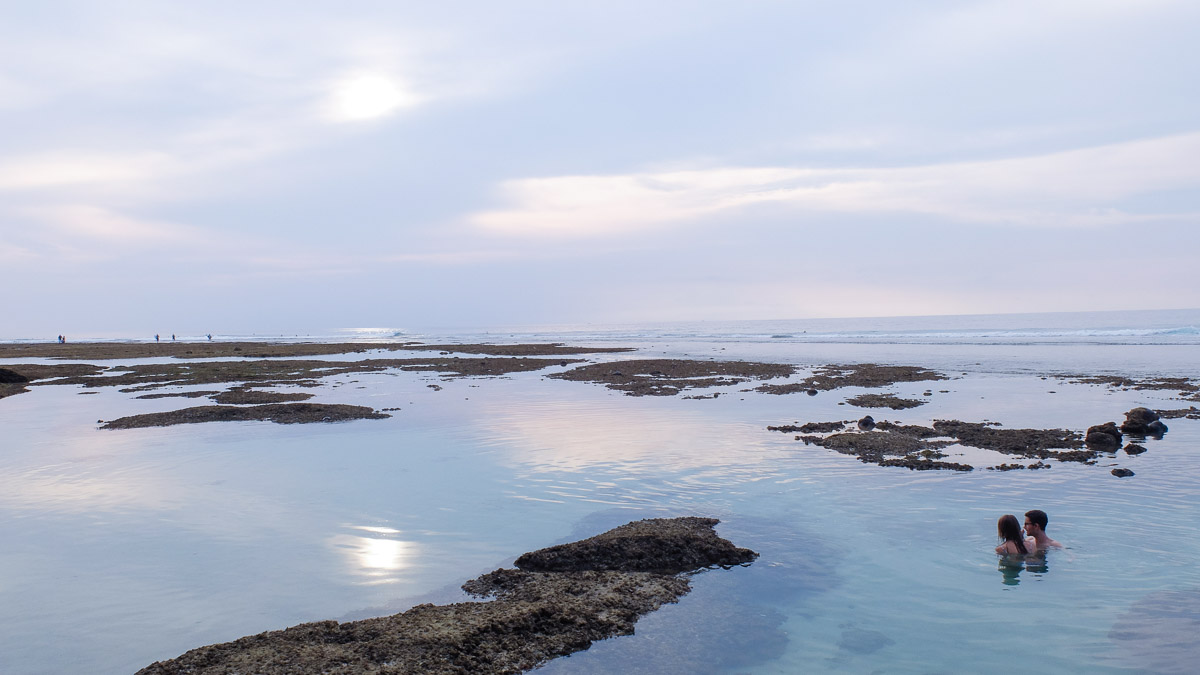 Prolonged weathering of the rocks have created beautiful rock silhouettes along the coast. You can dip yourself in the shallow parts of the beach (in the potholes) while watching surfers catch on waves.
*Pro-tip: Visit between 4:30PM – 5:30PM for the best sunset views.
Location: Suluban Beach, Uluwatu, Bali, Indonesia
5) Uluwatu Temple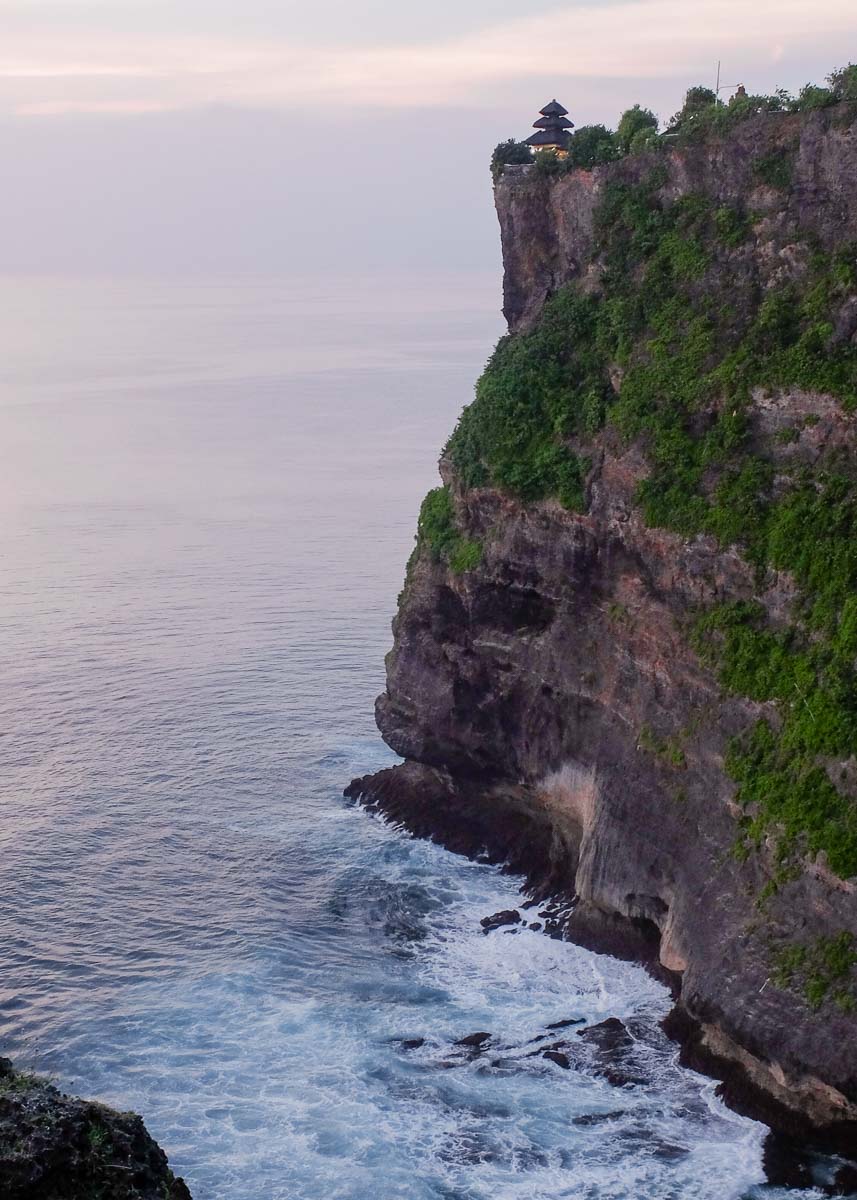 Uluwatu Temple is perched on a 70 metre-high cliff and is the most famous Balinese sea temples in Bali. The famous Balinese Kecak dance is also performed there at 6PM daily. Catch the amazing sunset at Uluwatu Temple, where the orangey sky and clear blue sea frame the perfect photo spot of the temple on the cliff.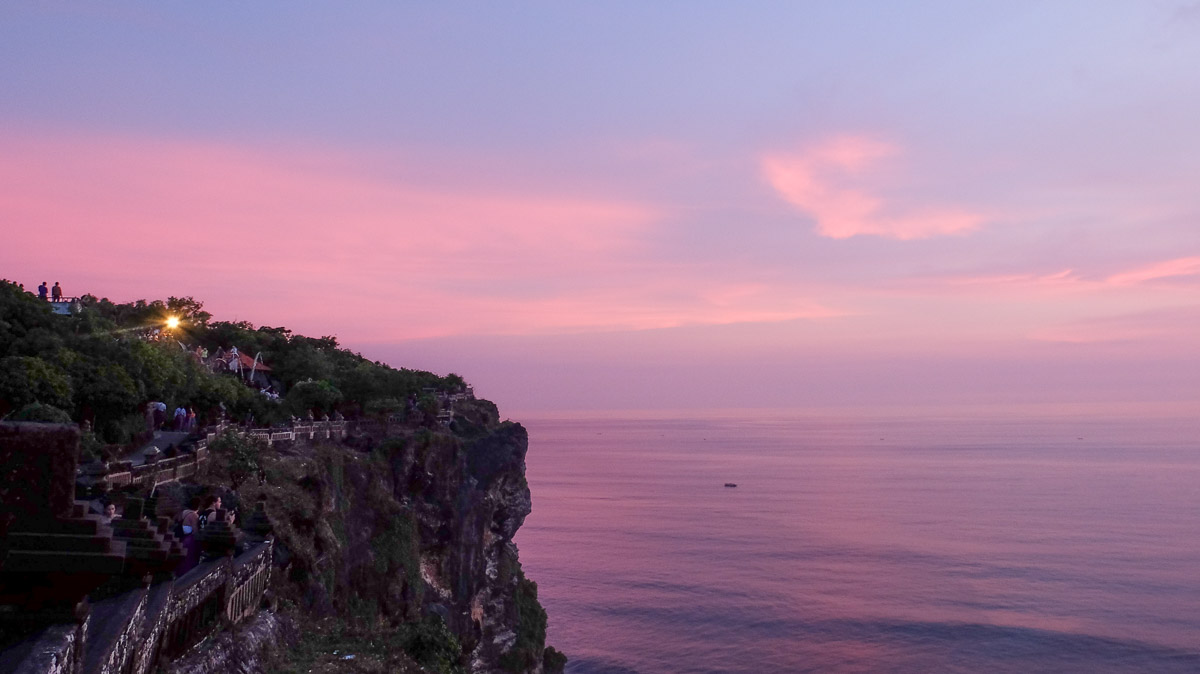 *Pro-tip: Take extra care of your sunglasses and spectacles when walking around the temple. One of us had his spectacles snatched off his face by an overly-friendly monkey (for the 2nd time!)
Entrance Fee: Rp30,000/pax
Location: Pecatu, South Kuta, Badung Regency, Bali
Opening hours: 7AM – 7PM daily
Must-Dos
1) Watersports at Nusa Dua Beach

What's a trip to Bali without some salt in your hair? Nusa Dua and Uluwatu have some of the nicest and untouched beaches in Bali. If you are one who enjoys water sports such as the Banana Boat, Parasailing, and Flyboard — they are available at Nusa Dua Beach.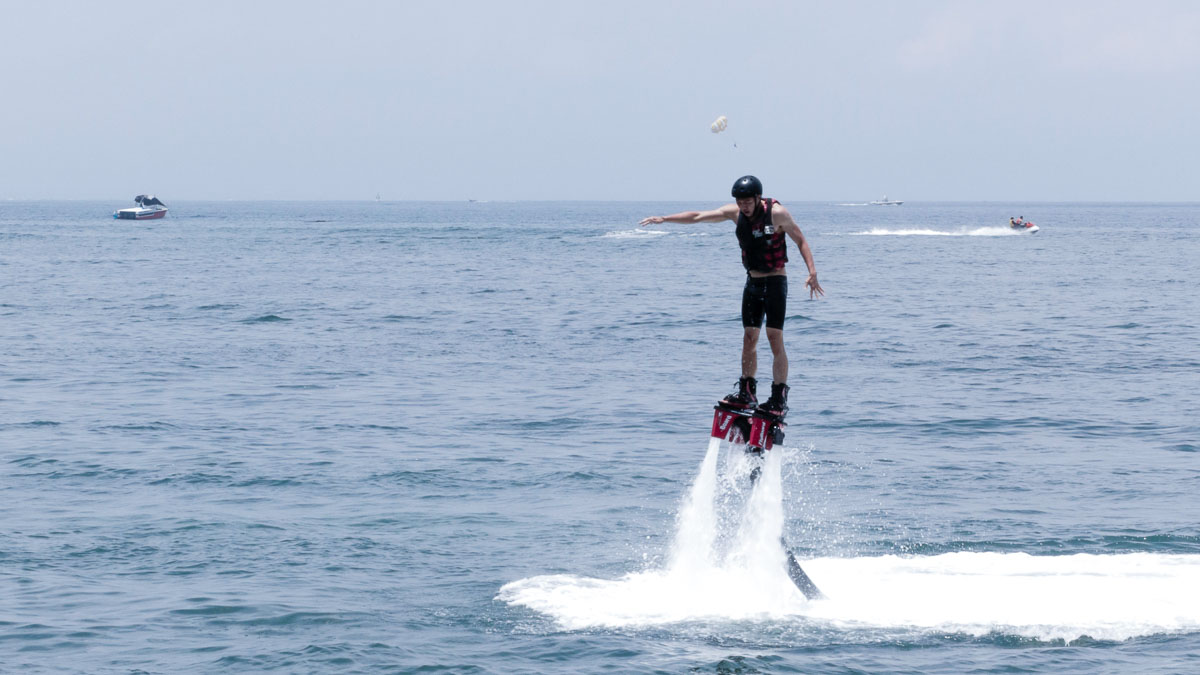 The instructors are extremely patient, even towards a total noob like me. While such water activities look easy, the scorching sun can actually tire you out very easily. Do stay hydrated and slap on more sunblock!

Location: Semenanjung Nusa Dua, Nusa Dua 80517, Indonesia (Nusa Dua Beach)

2) Camel Riding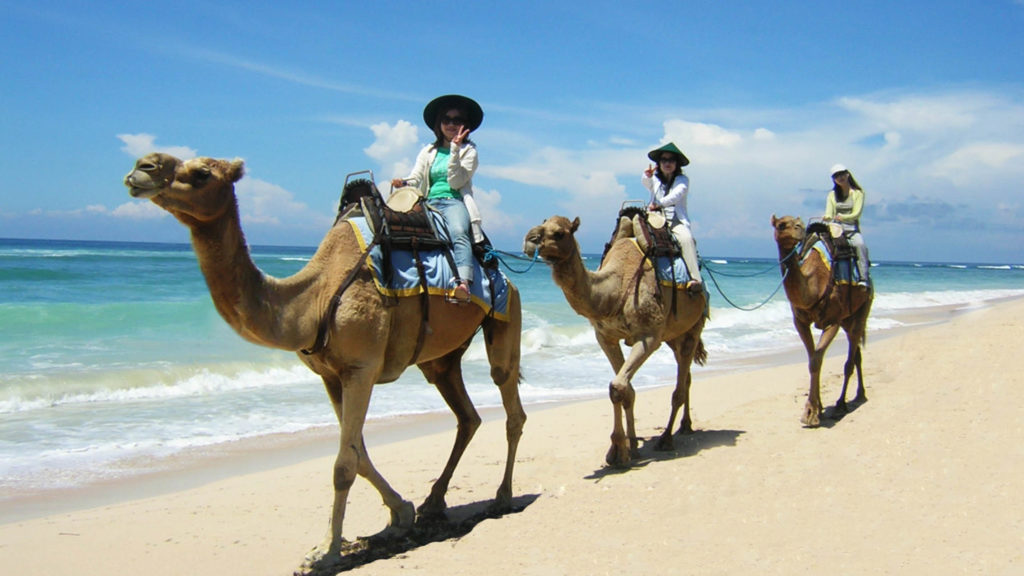 While it's not uncommon to find vendors offering horse-riding experiences by the beach in Bali, have you heard of camel rides? There are 30 and 60 mins camel rides by the beach available, and slots are limited so do make a booking at least one day in advance if you're interested in this unique experience.
Fees: Rp350,000/30min
Location: Hilton Bali Resort, Jl. Raya Nusa Dua Selatan, Badung – Bali, Indonesia, 80363, Indonesia
Read also: List of Adventurous Things to do in Bali
Must-Eats
1) Pirates Bay Cafe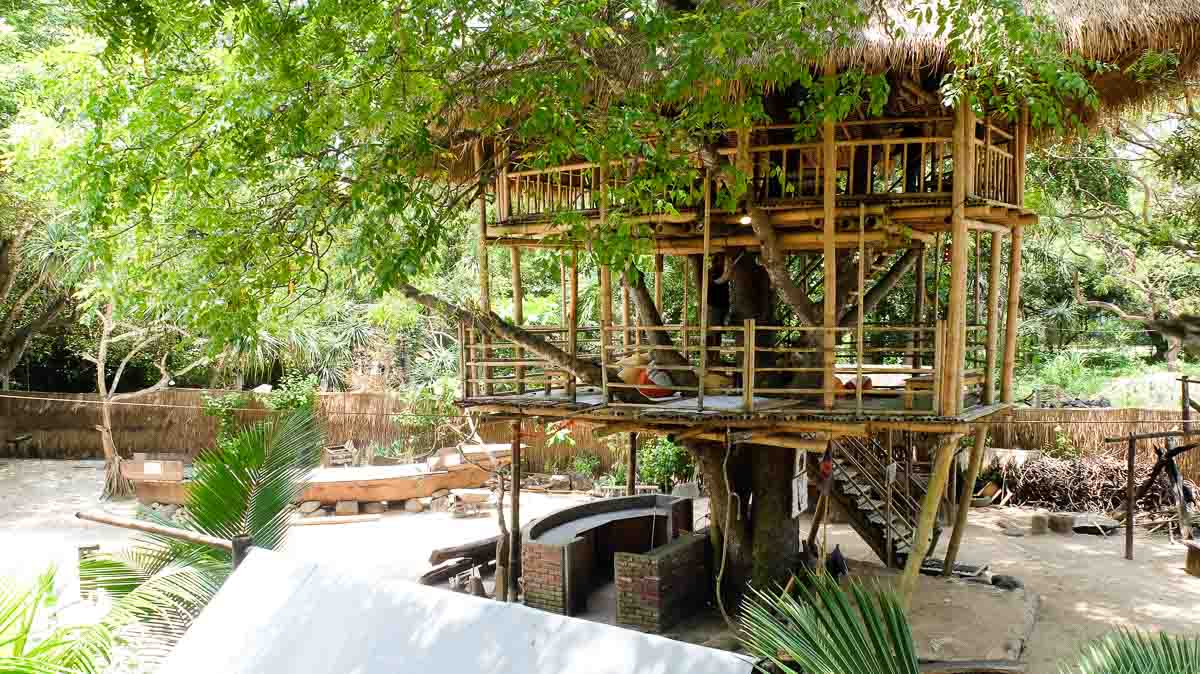 Bali has a lot of trendy cafes in the recent years, and if you are looking for one in Nusa Dua, Pirates Bay Cafe could just be your best bet. The pirate-themed open-air cafe sits by the shore of the ITDC area.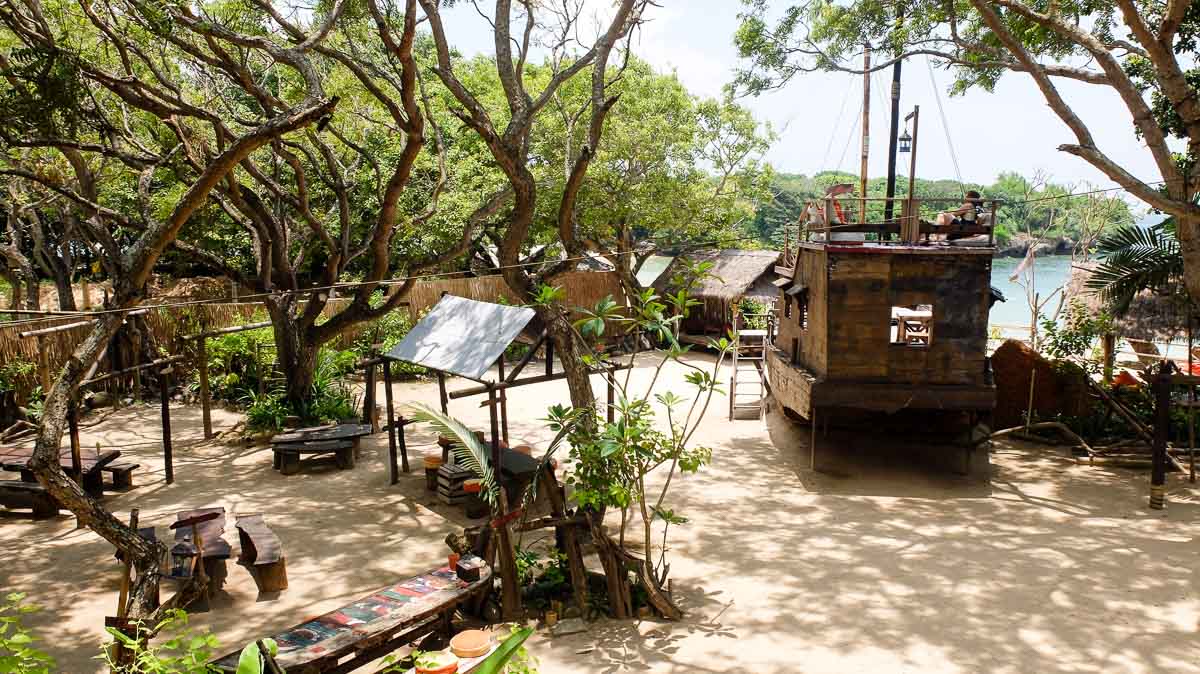 The dining areas are bamboo tree houses shaped in ships, and if you spend above Rp150,000 per pax, your party can sit up at the higher levels of the treehouse and enjoy the view. We enjoyed the seafood platter (Rp 550,000) which had crabs, prawns, clams, and fish! It was definitely a feast, and we had a great time just chilling and watching the beachgoers from our elevated dining space.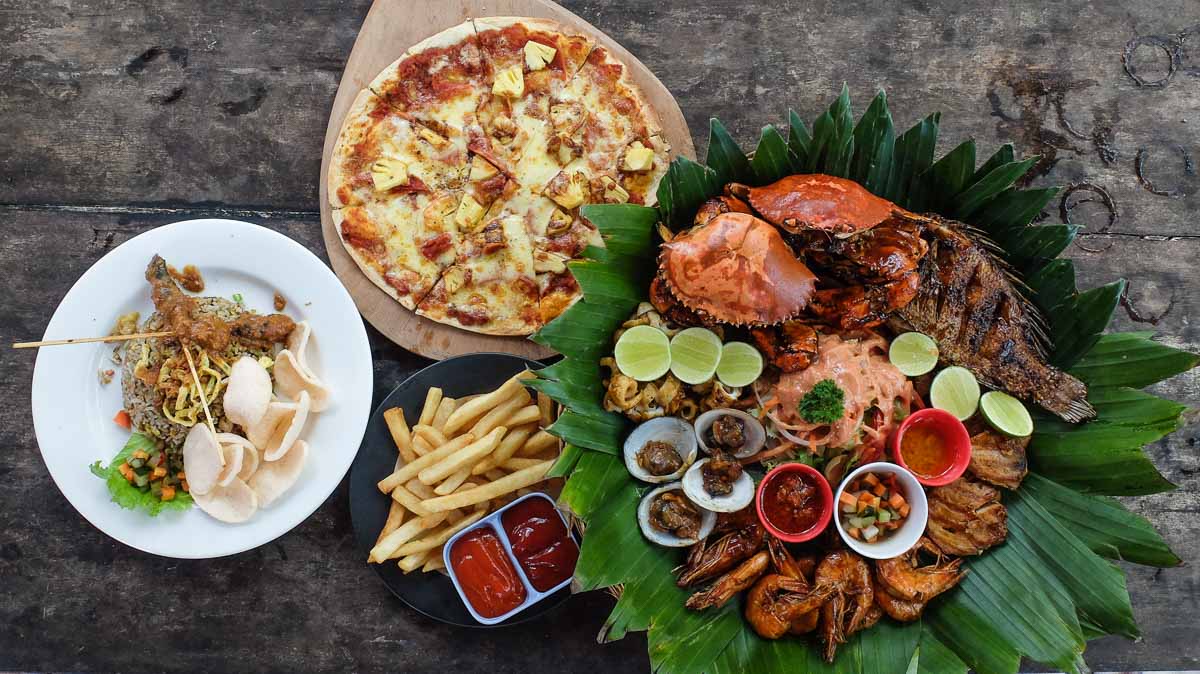 Cost: Rp 40,000 – 100,000/dish
Location: The Bay Bali ITDC Area Lot C-0, Nusa Dua, Kuta Selatan, Kabupaten Badung, Bali 80361
Opening Hours: 10AM – 9PM daily
2) Bumbu Bali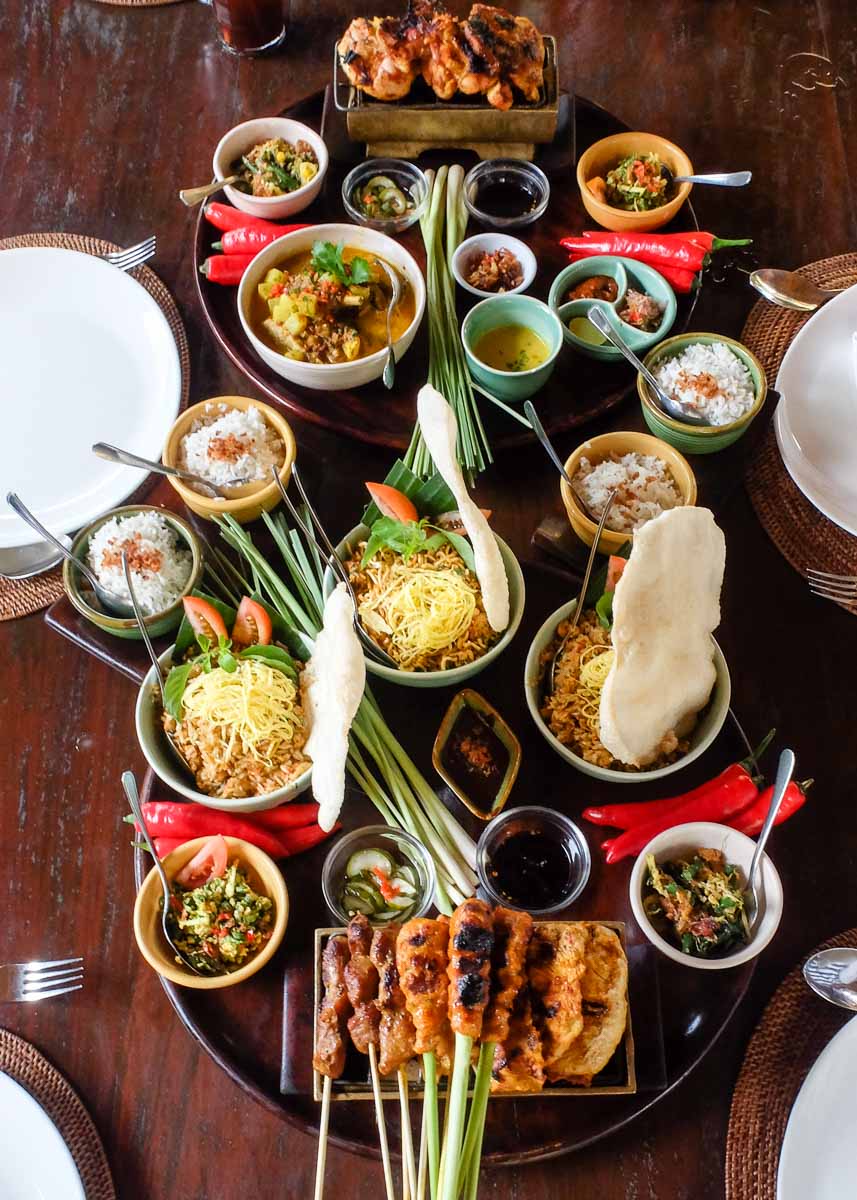 Nusa Dua is a fairly upscale area, and while it's not difficult to find Balinese food, most people find themselves heading to western cafes and restaurants. Bumbu Bali is located just 5 mins from Nusa Dua Beach, and they serve good food in good portions, and a nice setting to chill. Be prepared to set yourself back at least Rp150,000 if you order food and drink.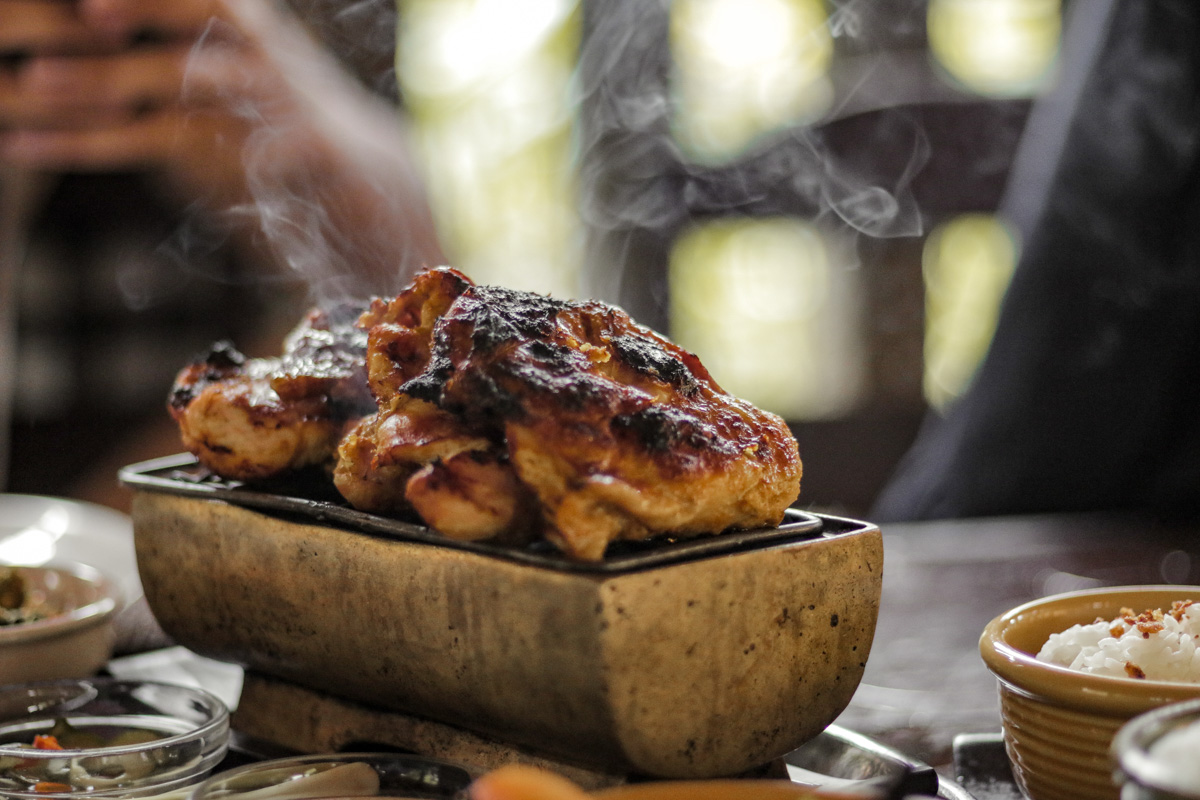 We had authentic Balinese food, which included sate (satay) that were served in mini charcoal grills.
Location: Tanjung, Jl. Pratama, Benoa, Kuta Sel., Kabupaten Badung, Bali 80361
Opening Hours: 11AM – 4PM (lunch); 6PM – 1030PM (dinner)
3) New Moon Cafe
New Moon Cafe at Jimbaran Beach is a hot favourite among tourists. It's here where you get good views of the beach (gorgeous sunsets) on top of good food. A scrumptious meal inclusive of grilled snapper, prawns, satay, and fresh fruit juices costs around Rp1.3mil. That may sound pricey for Indo food, but the sunset views you get to enjoy are priceless.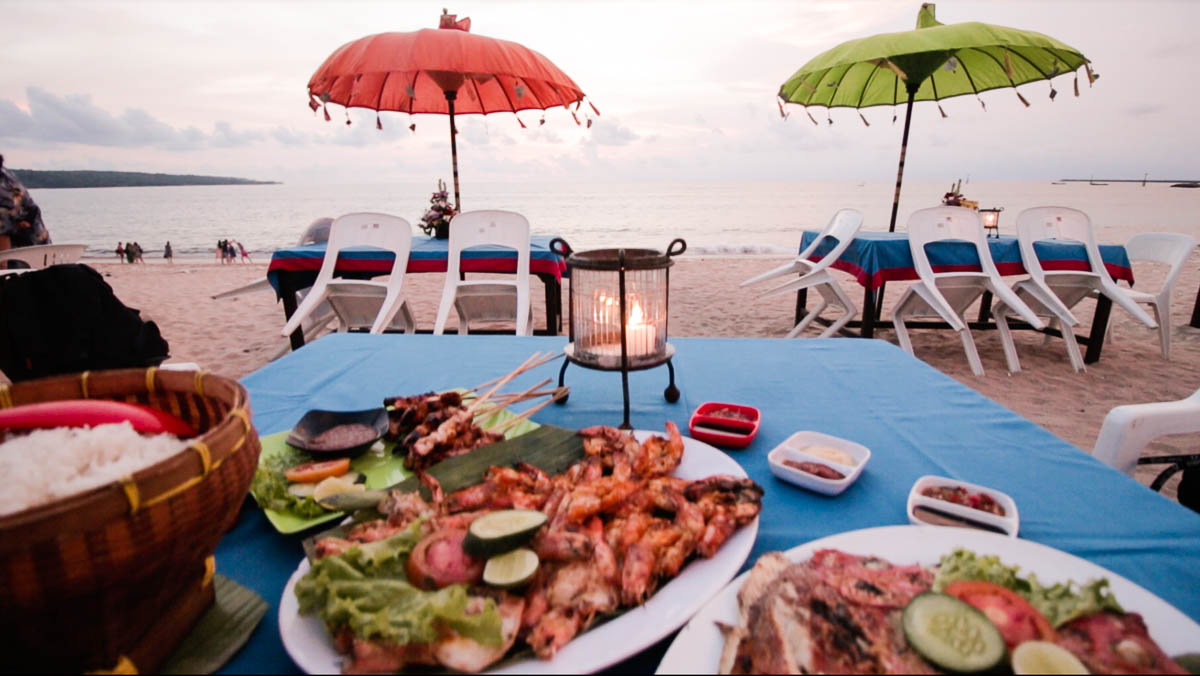 Location: Jl. Pantai Kedonganan, Kedonganan, Kuta, Kabupaten Badung, Bali
Opening Hours: 10AM – Midnight daily
Read more: Ultimate Bali Food Guide
With this guide on Nusa Dua and Uluwatu, we hope you'll conquer the lesser-known area of Bali, and experience our all-time favourite getaway differently.
Have you been to other interesting places in Nusa Dua and Uluwatu? Share them with the community in the comment section below! 🙂
---