Nami Island is a must-go when in South Korea — here's how to fully maximise your trip!
Last updated: 8 Feb 2022
Located in Gapyeong (가평), Nami Island (남이섬) is less than two hours from Seoul. It's full of gorgeous attractions, like the Garden of Morning Calm (아침고요수목원). There's also the colourful, European-style buildings of Petite France (쁘띠프랑스). No wonder K-dramas have used these spots as filming locations!
Here's a sneak peek of what you can uncover on a day trip to Gapyeong:
Read also: 8D Singapore-South Korea VTL Itinerary Under S$2.9k incl. Covid Expenses
You can cover this popular day trip on your own with some careful planning. That said, there are also all-inclusive tours which cover transport from Seoul, as well as attractions and entrance tickets.
In this guide, we'll share how we explored Nami Island on our own. But if you prefer a fuss-free experience, it's worthwhile to hop on a tour!
Also, remember to pack plenty of masks as mask-wearing is mandatory indoors and outdoors. Here's a handy guide for essential things to note before flying to South Korea 😉
1) How to get from Seoul to Gapyeong Station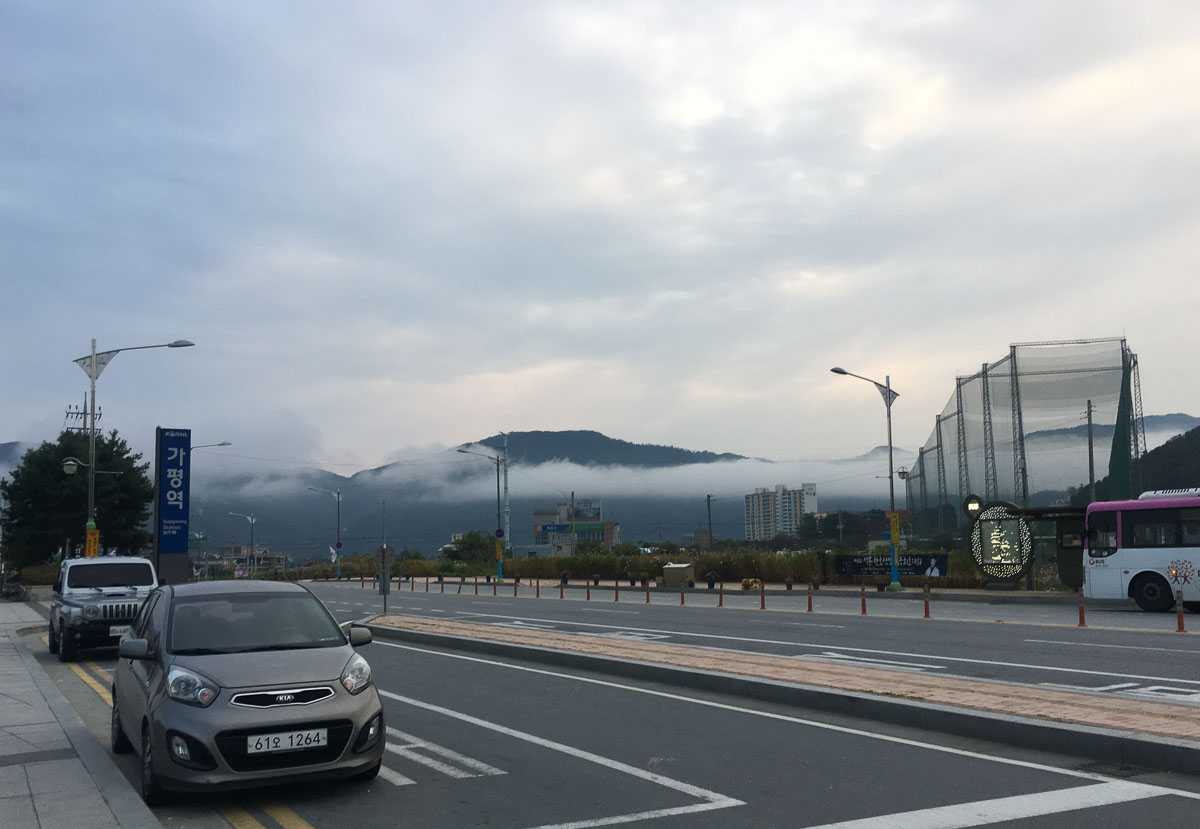 Here are a couple of ways you can get to Gapyeong, ranging from cheapest (if you're not short on time) to the most convenient.
(1) Subway/Metro
Yongsan Station (용산역) → Sangbong Stn (상봉역)
Transfer to Gyeongchun Line
Sangbong Stn (상봉역) → Gapyeong Stn (가평역)
Time: 95mins
Cost: ~₩2,350/pax (~S$3)
(2) ITX-Cheongchun
Yongsan Stn
(용산
역
) →
Gapyeong Stn
(가평
역)
A more direct option that shortens the travelling time is the ITX. T-money does not pay for rides on the ITX so you'll need to purchase a separate ticket from Korail counters. We used our
Korail Pass
for this, and it includes free seat reservations.
Check the schedule from the
Korail booking page
by typing
Yongsan
and
Gapyeong
under the 'Departure/Arrive' fields.
Time: 60 mins
Cost:
₩5,200* for allocated seating, or ₩4,900 for standing/non-assigned
*Free for
Korail Pass
holders
(3) Shuttle Bus
For those who prefer a smooth, fuss-free way of getting to Gapyeong from Seoul, this all-inclusive tour would be your best bet!
Get picked up from a central location (Hongdae, Myeongdong or Dongdaemun), and shuttle to Gapyeong. The private bus that will bring you to attractions you'd like to cover. Entrance tickets are also included, so you can head straight inside!
2) Travelling within Gapyeong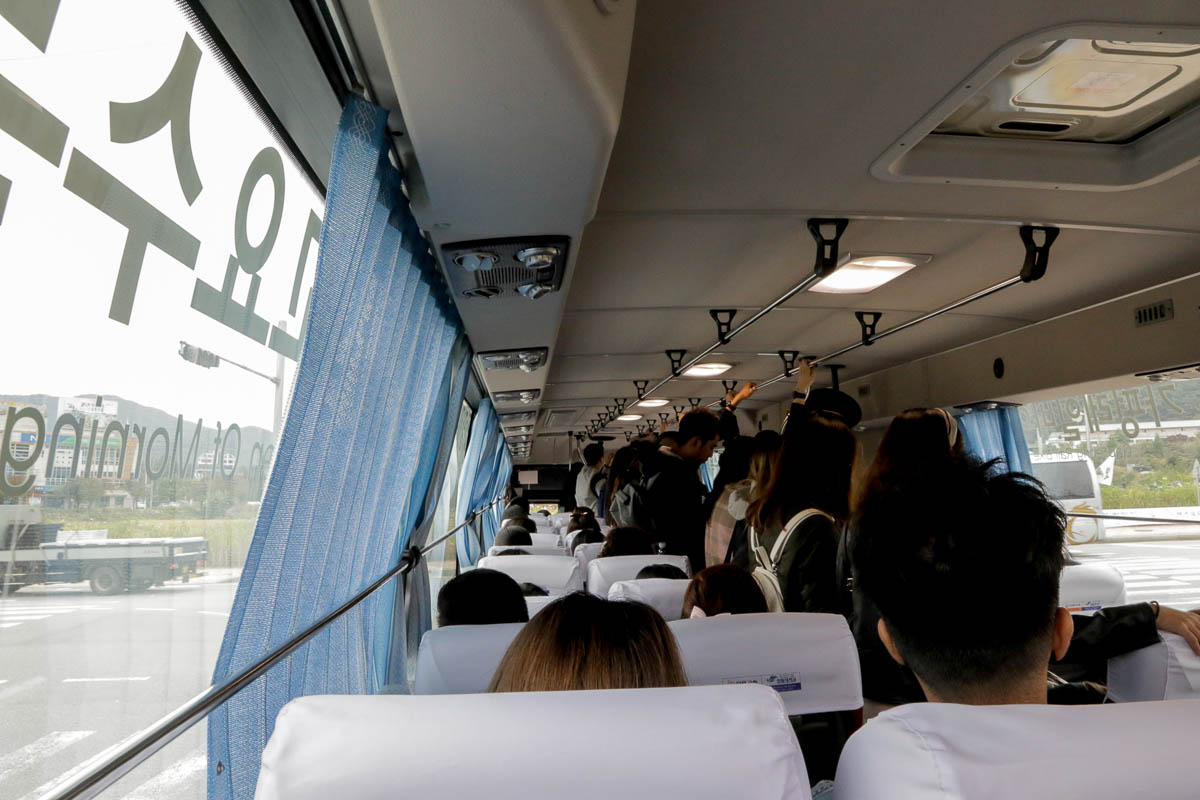 If you're exploring Nami on your own, there's a Gapyeong City Bus that runs hourly from 9AM – 7PM. It starts at Gapyeong Station and covers Nami Island's popular attractions.
For a flat rate of ₩8,000 (~S$9), purchase the Gapyeong Bus Pass from the bus captain for unlimited rides within a day. Keep this ticket and show it to the bus captain at every pickup point.
The bus comes at intervals of 30 minutes to an hour. It's usually packed from 10AM – 2PM, so try to reach the bus stop earlier than scheduled. Miss a bus, and you might not be able to visit an attraction (or two) as the next bus will arrive in an hour.
We made a mistake and took a bus in the WRONG direction while at Nami Island. That cost us two-and-a-half hours of waiting and finding our way back. As a result, we missed our rail bike booking at 5PM!
I'll go into details later, but here's the Gapyeong intercity bus route. Do familiarise yourself with it — it'll save you from making our mistake!

Intercity Bus course A
Schedule of Gapyeong Intercity bus: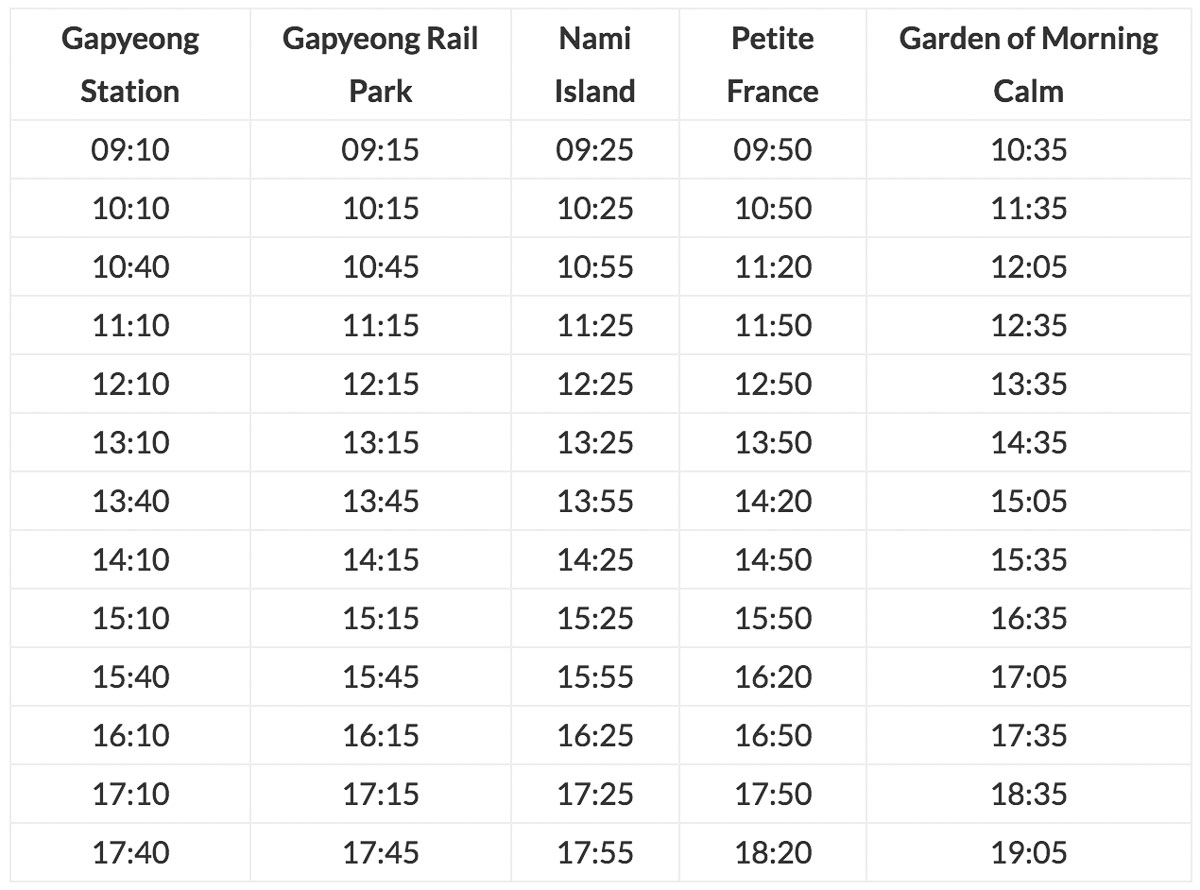 3) The ideal DIY itinerary
If you're planning to cover Nami on your own, you can follow what we tried. In order to cover all four locations, we started our day at 5AM and spent a maximum of two hours at each spot.
To be honest, our schedule is pretty ambitious. So if you'd rather take it easy, you might want to remove one activity or sign up for an all-inclusive tour.
6:00AM – 6:55AM: Take ITX from Yongsan, Seoul to Gapyeong
7:00AM: Take the Intra-city (Green) bus* for Gapyeong Wharf at ₩1,100 (~S$1) or take a taxi for ~₩4,000 (~S$4)
7:35AM: Take the first ferry to Nami Island (from Gapyeong Wharf)
7:45AM – 9:50AM: Explore Nami Island
10:00AM: Take the ferry back to Gapyeong Wharf
10:25AM – 10:50AM: Take Gapyeong City Bus (Opposite GS25) to Petit France
11AM – 12:45PM: Explore Petit France
12:50PM – 1:35PM: Take Gapyeong City Bus to the Garden Of Morning Calm
1:40PM – 3PM: Explore Garden of Morning Calm
3:05PM – 4:22PM: Take Gapyeong City Bus to Gapyeong Rail Bike Park
5:00PM: Gapyeong Rail Bike
7:28PM – 8:24PM: Take ITX back to Seoul (reserve seats for this train in the morning)
First stop: Nami Island (남이섬)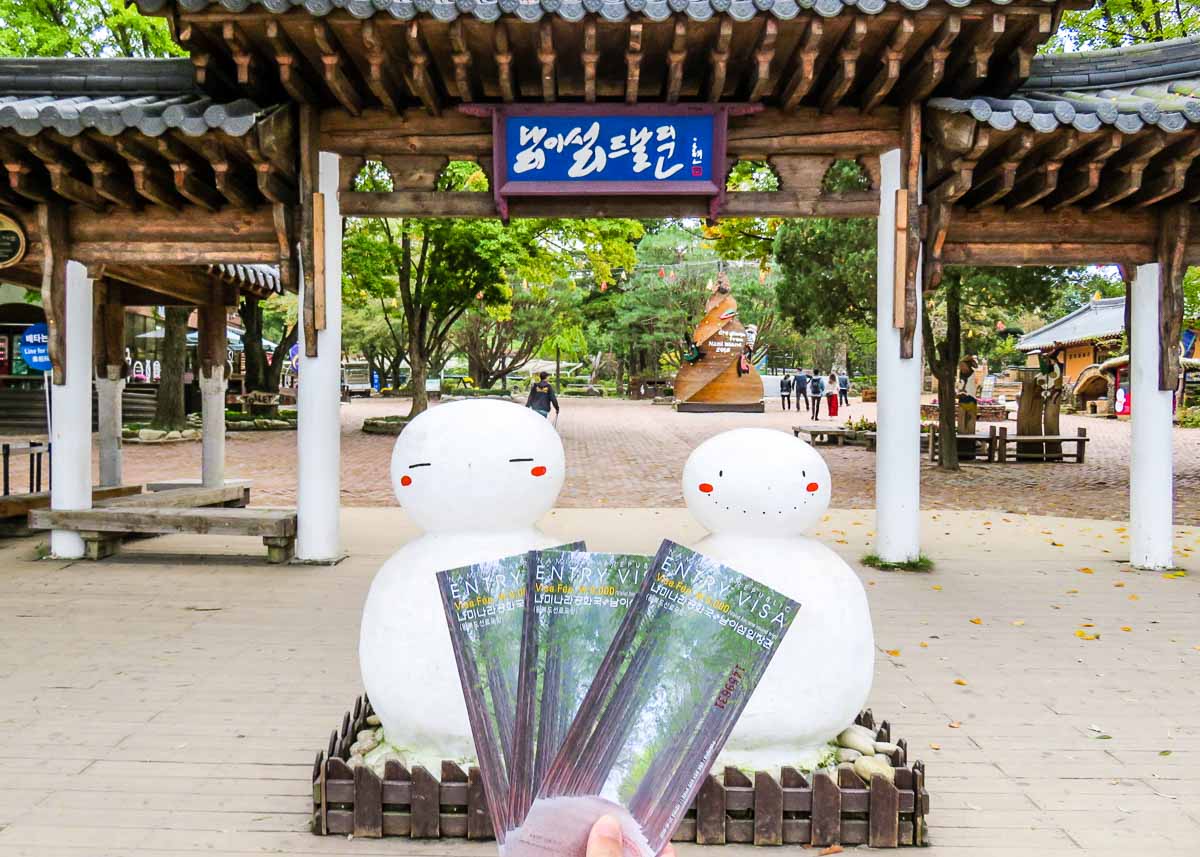 There are two ways to get to Nami Island: A ferry from Gapyeong Wharf, or zip-lining. Do note that the zip-line is only one-way, and you'll have to leave the island by ferry. Ferries leave every 30 minutes from 8AM – 9AM, and every 10-20 minutes between 9AM – 6PM.
Nami Island has been attracting many K-drama lovers since the early 2000s. It was popularised by Winter Sonata 겨울연가 (2002), an iconic K-drama that certainly ignited the Korean Wave worldwide.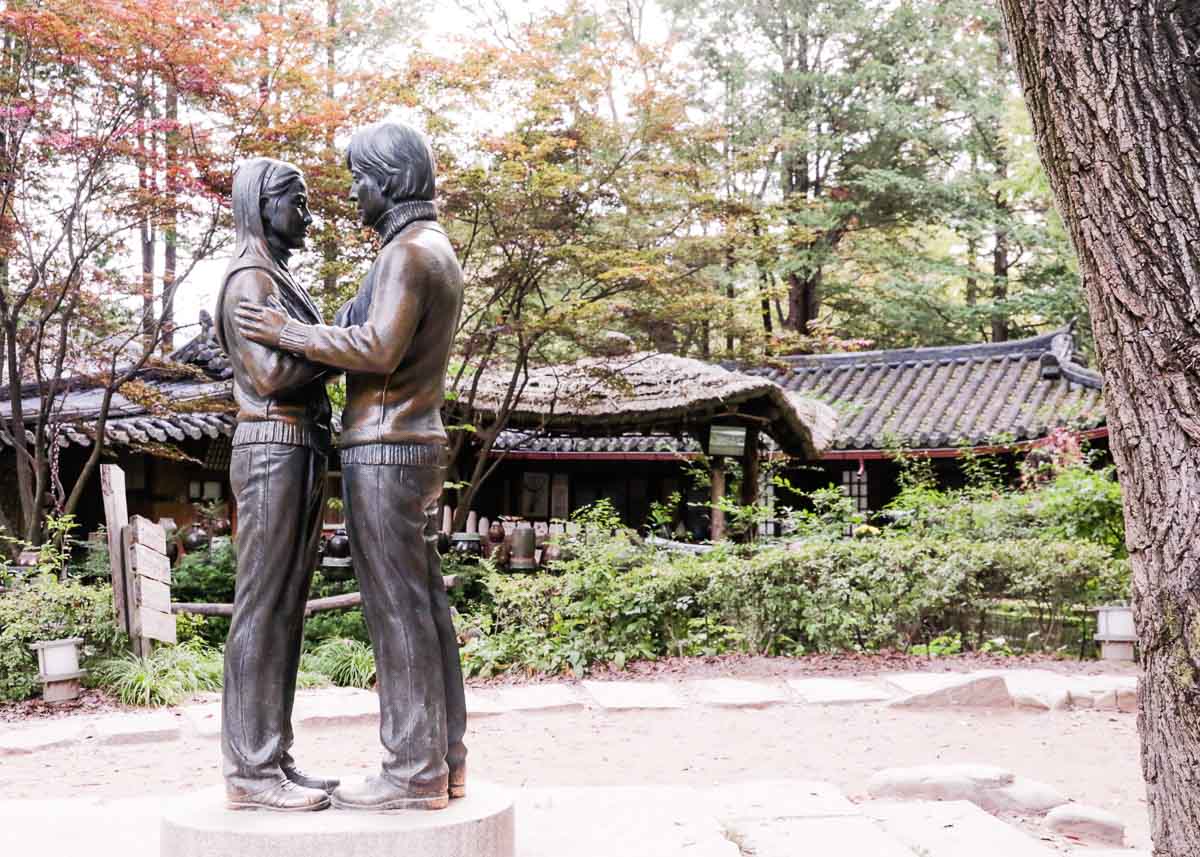 Strike a pose with auntie-killer Bae Yong-Joon's life-sized copper statue!
Nami Island is an hour's drive from Seoul city. It's the perfect place for anyone who wants to escape from the rapid city pace and just relax within nature.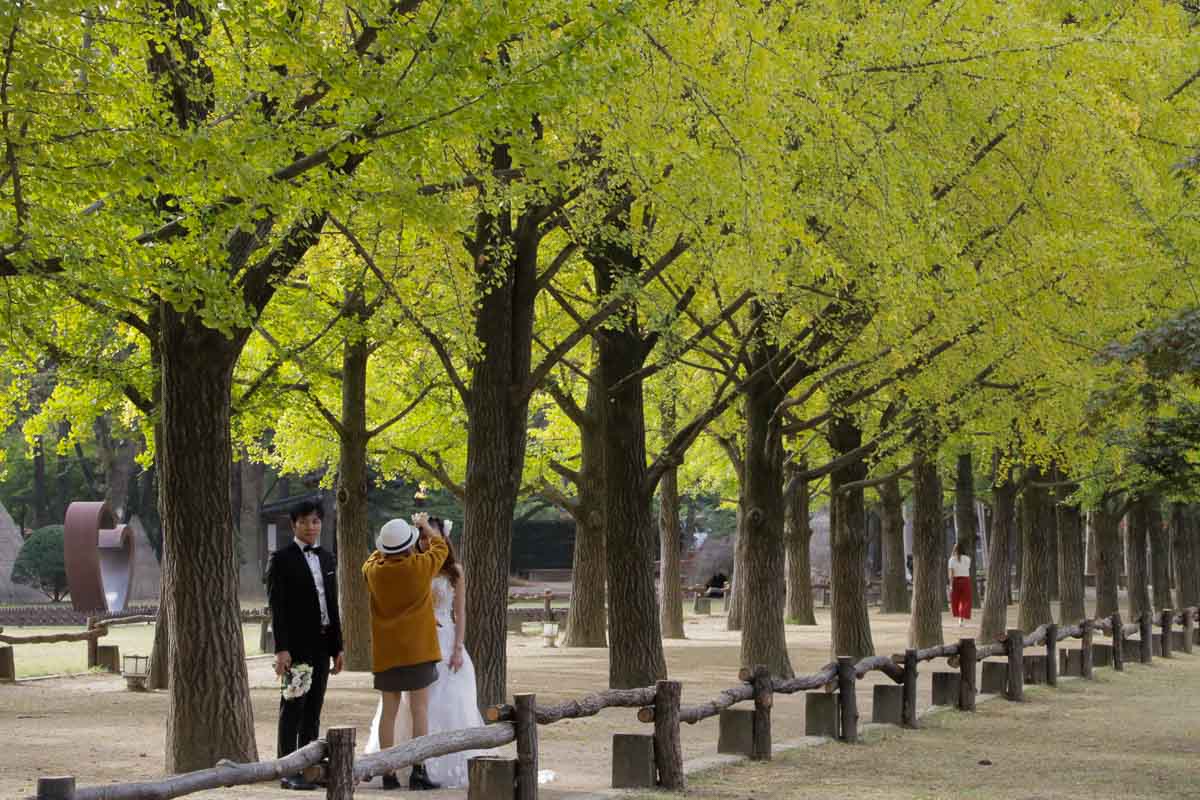 A popular site for wedding shoots
Spot free-roaming bunnies and squirrels while you're at Nami Island too!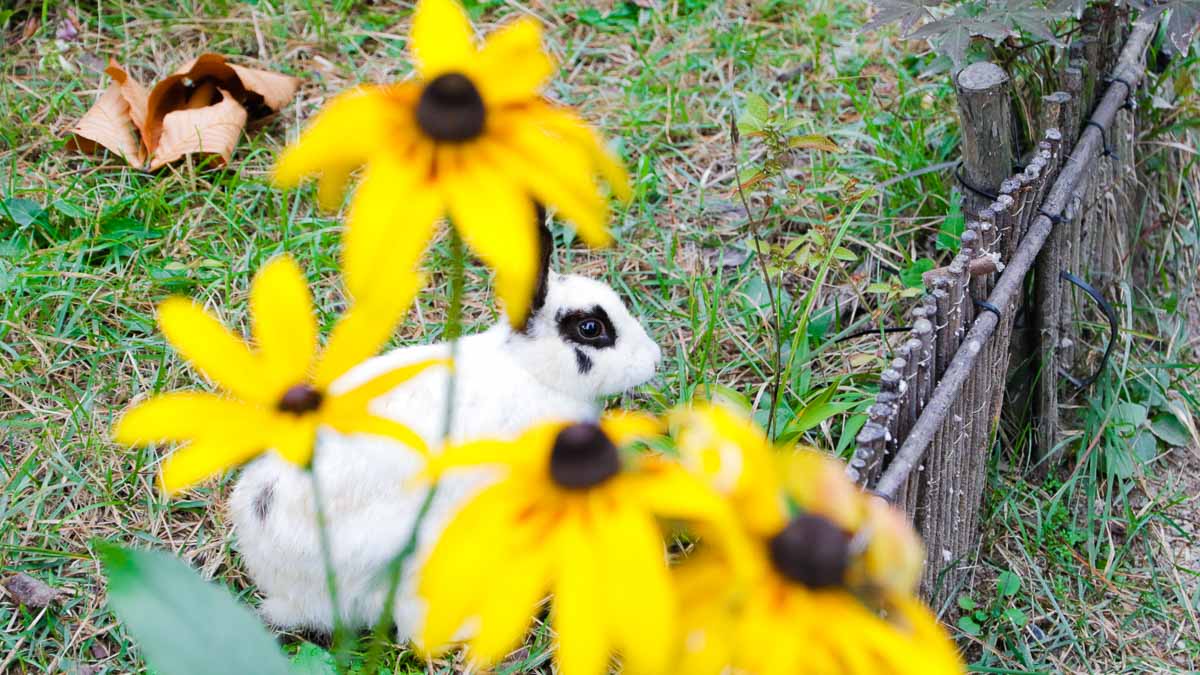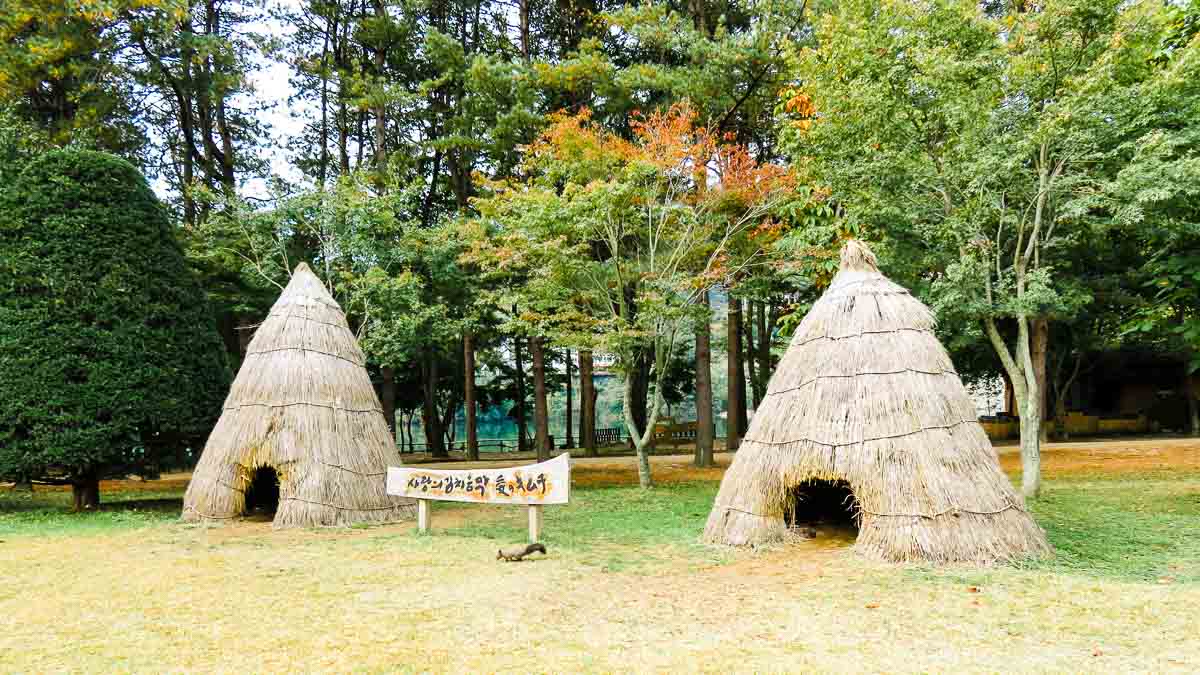 Here's a squirrel chilling between two kimchi huts.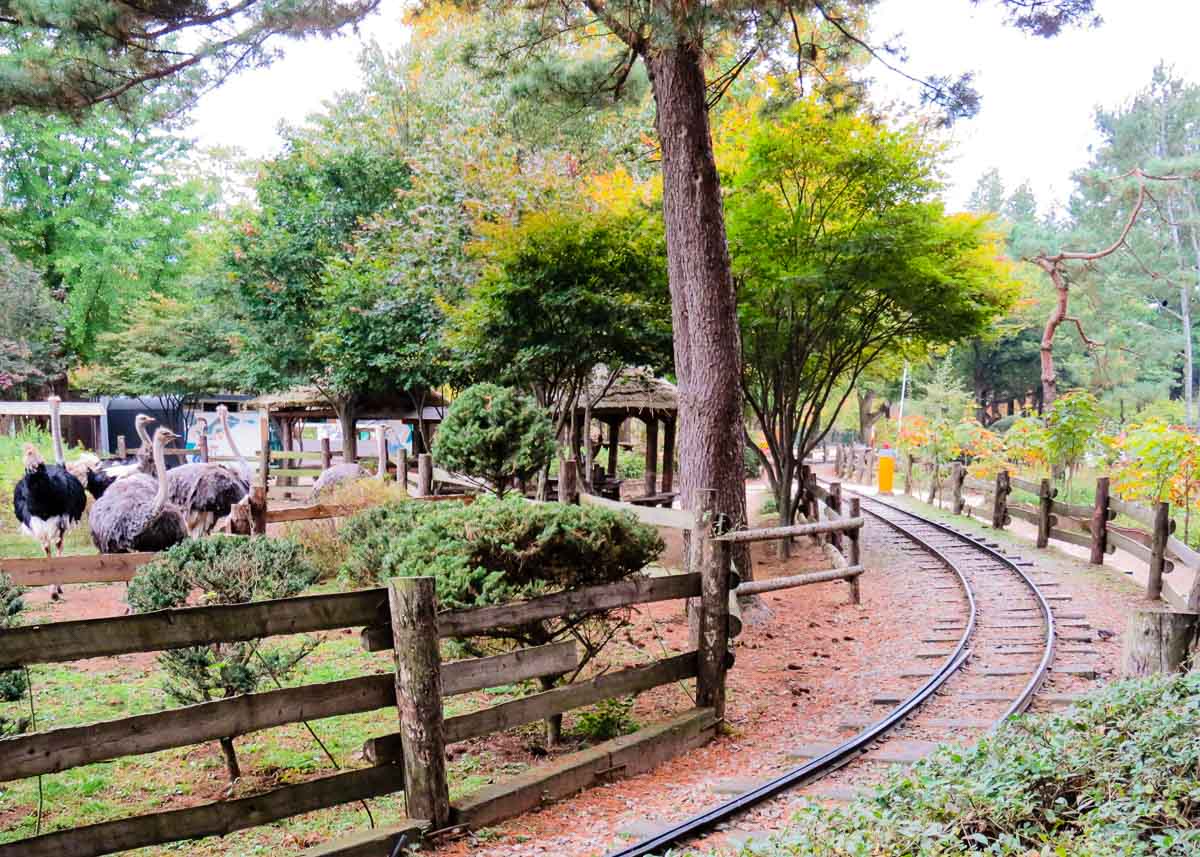 Do stop by the old rail tracks to take photos with ostriches on the island!
The redwood trees of Metasequoia Road and Central Korean Pine Tree Lane are a couple of popular photo spots. The tall, majestic trees just seem to go on and on forever.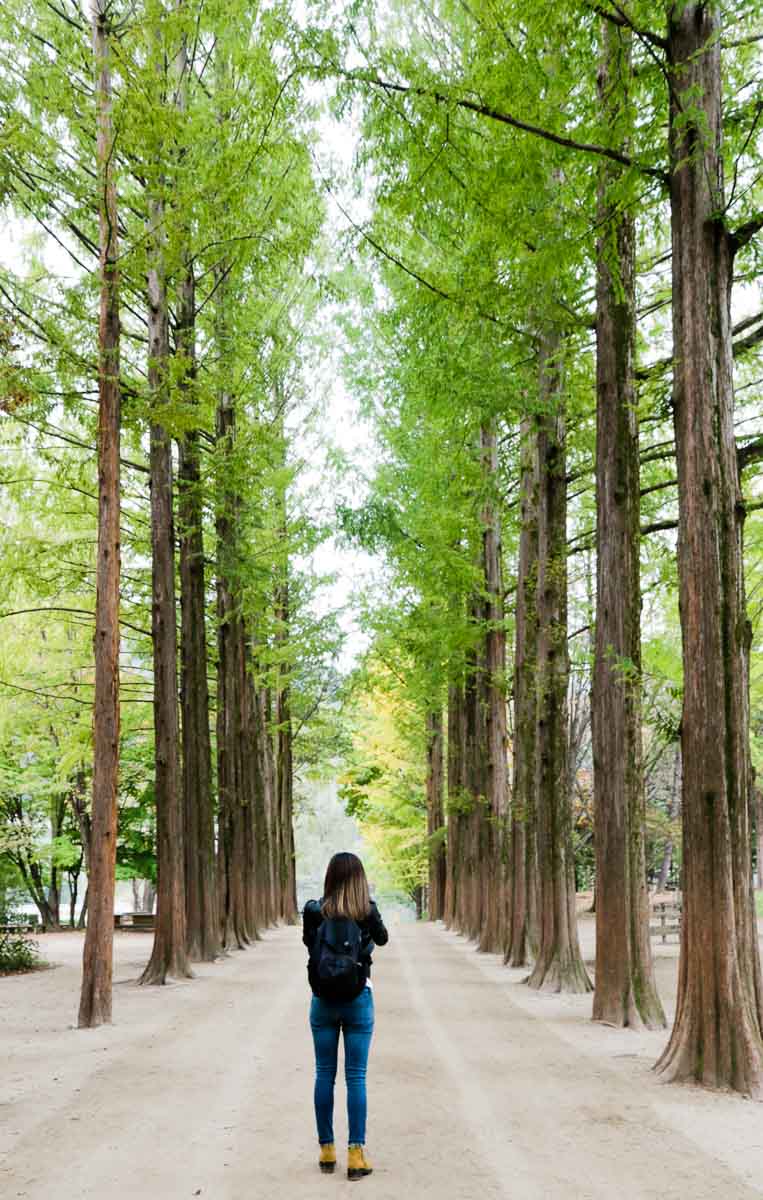 Nami is exceptionally beautiful during Autumn. Rows of pine and maple trees turn red and transform the island into a huge pumpkin spice latte. We were there in early Autumn and the foliages were still green. But in Nov, Nami Island comes alive in a sea of red and gold!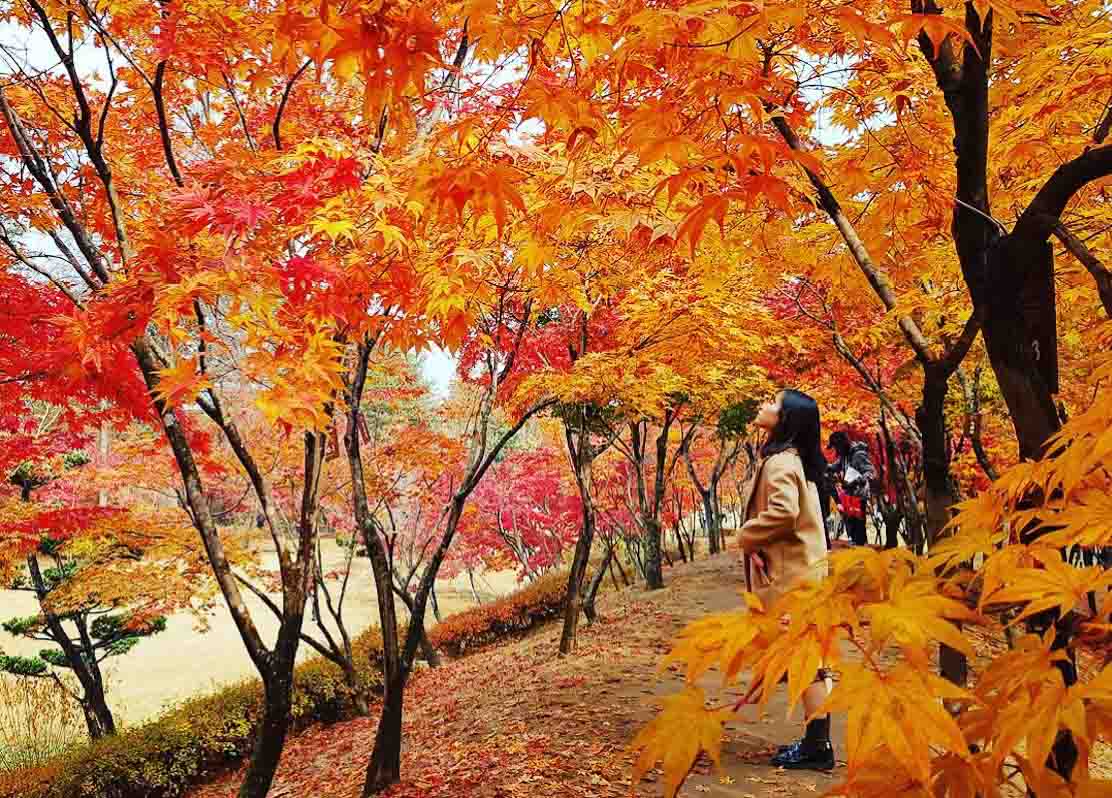 Nami Island in Autumn. Photo credit: @guide5111 via Instagram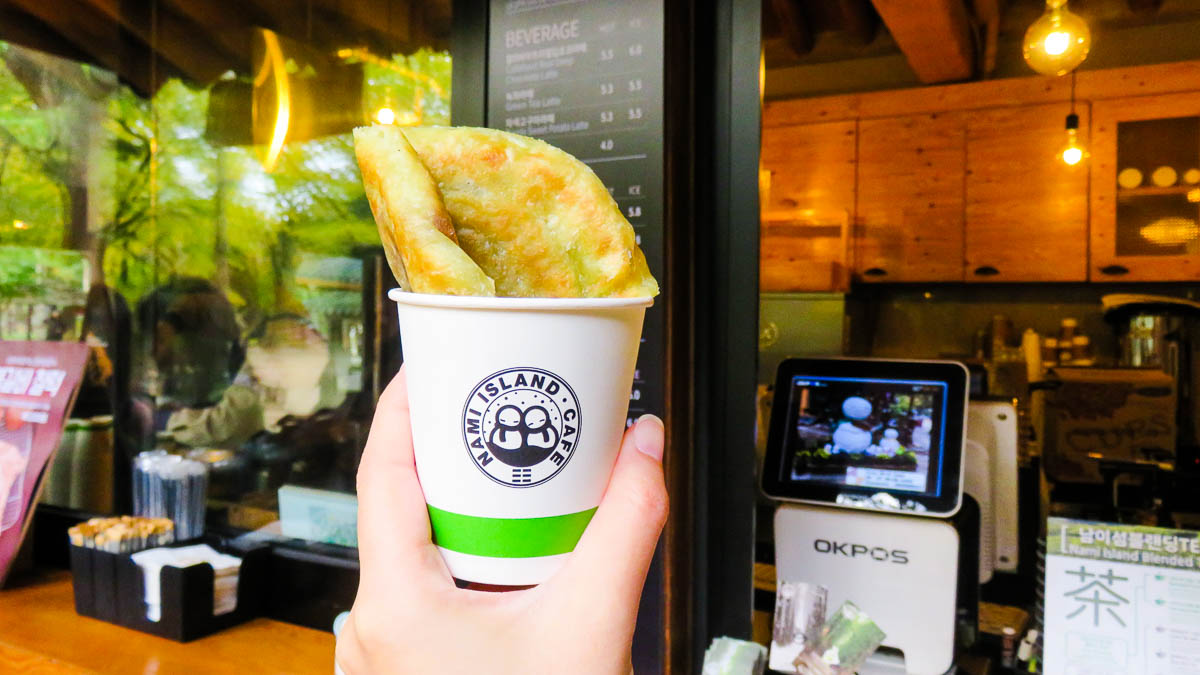 Feeling peckish? Try the hotteok (호떡) — a popular Korean red bean pancake — from the Nami Island Sonata Cafe at ₩1,500/pc (~S$2). The hotteoks are freshly prepared, and make a great treat after the long walks around Nami Island!
Fun fact: Nami Island declared its "cultural independence" on 1 Mar 2006. This imaginary "country" has invented its own passport, currency, stamp, and even telephone card!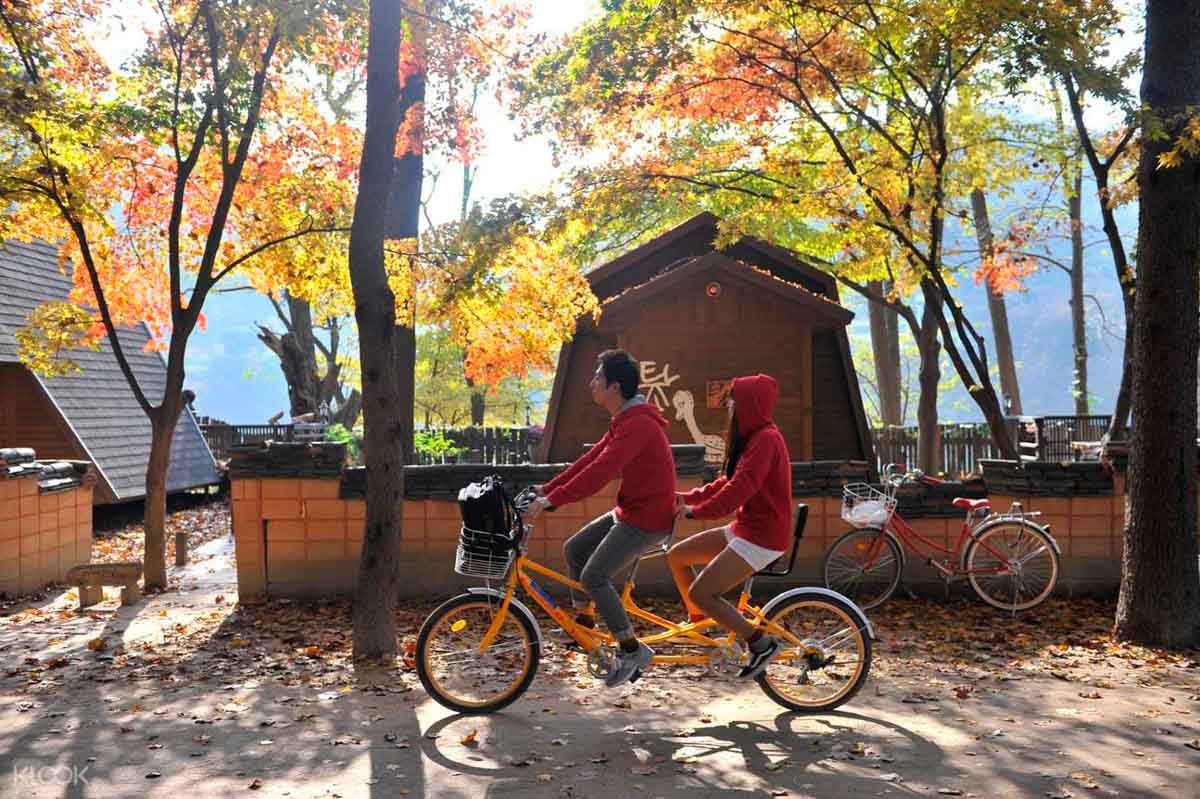 Photo credit: Klook
While Nami Island can be explored on foot, there are other modes of transport that can save you some walking and time. There's the Story Tour Bus, UNICEF Charity Train, Sky-bike and Electric Tri-way bikes. Adventurous souls can even get on an exhilarating forest zip-line in Nami Island!
Cost: ₩13,000/pax (~S$15), inclusive of ferry and entrance
Opening Hours: 7:30AM – 9:40PM
Lunch at Arisu (아리수)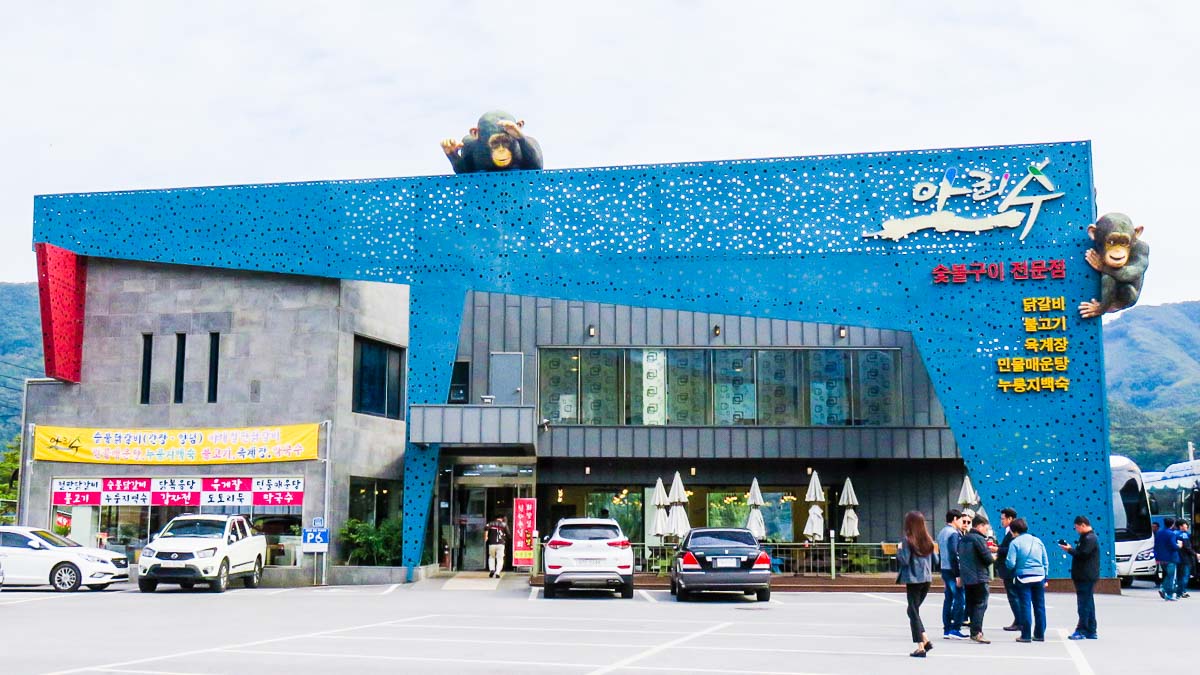 There are a couple of food stalls around the ferry terminal. However, if you're looking for a full meal, there's a dakgalbi restaurant near the bus stop. It's a blue building with two big chimpanzees on it, hence it's hard to miss.
While we did not have our lunch there, we read that the dakgalbi (닭갈비), or spicy stir-fried chicken, is delicious and reasonably priced.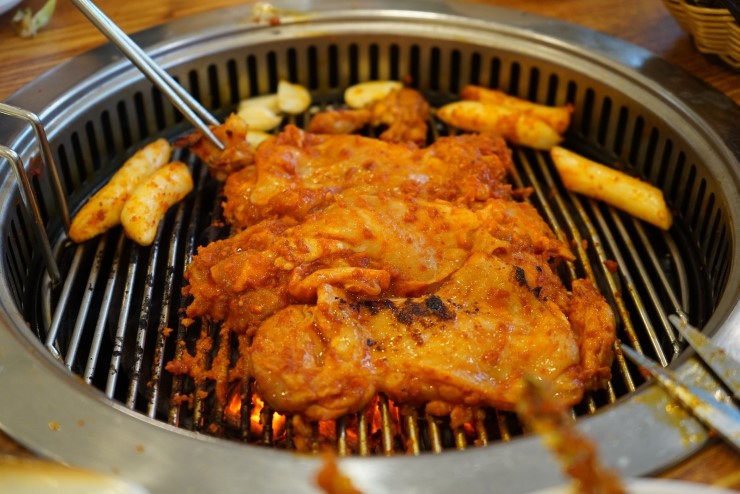 Photo credit: 정실짱
Do take your meals before heading to Petite France and Garden of Morning Calm, as there are limited food options around those areas.
Second Stop: Petite France (쁘띠프랑스)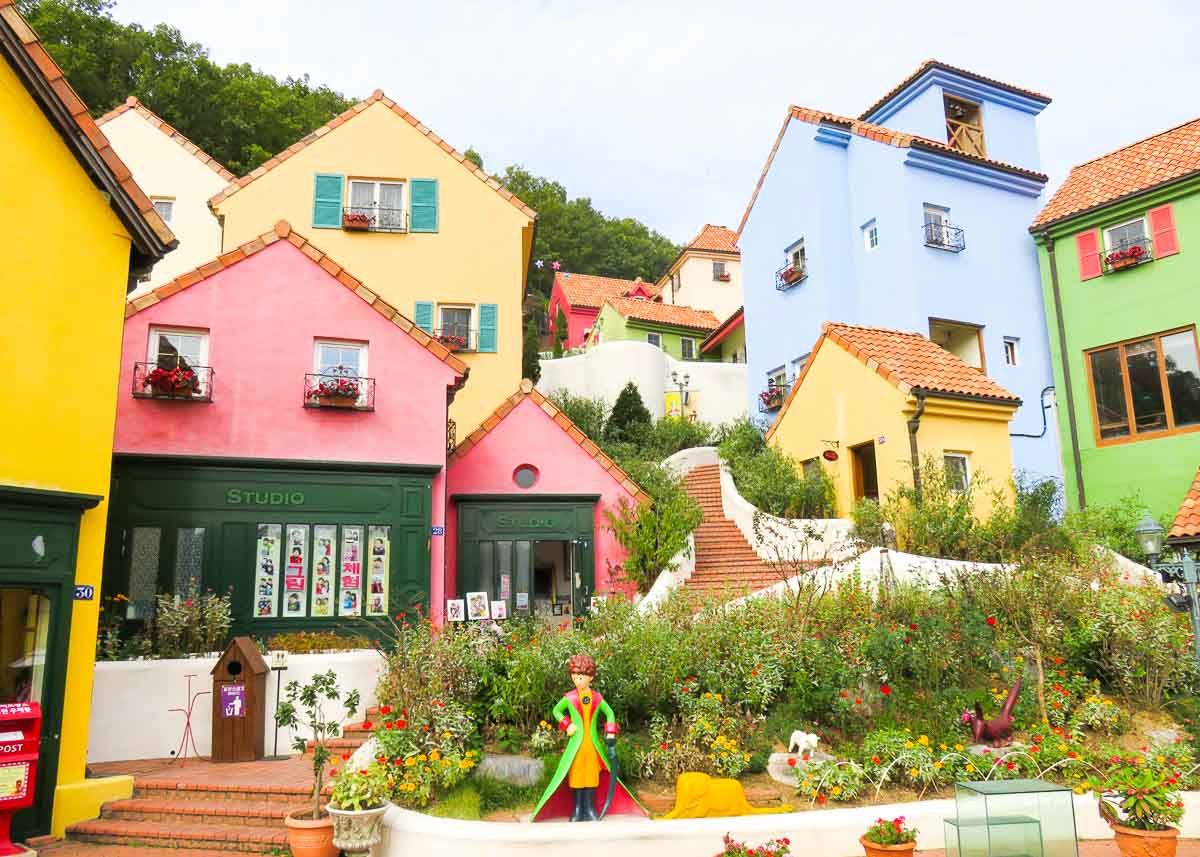 Petite France is a French cultural village. It showcases vintage European trinkets, such as century-old dolls and puppets, antiquities, furniture and orgels (musical instrument). Stepping into Petite France, you'll feel transported to a different time period.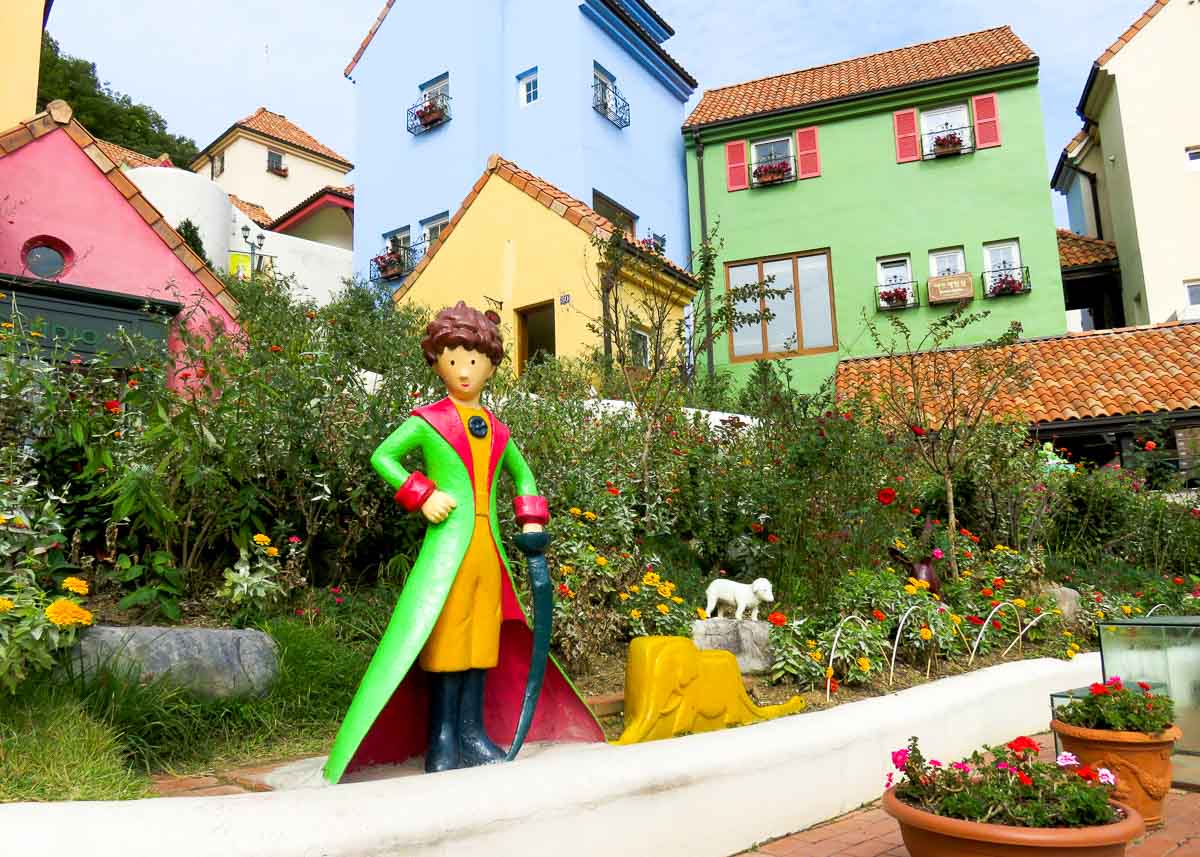 While Petite France is also the most touristy, it's definitely worth a visit as the colourful buildings' facade make a great backdrop for photos.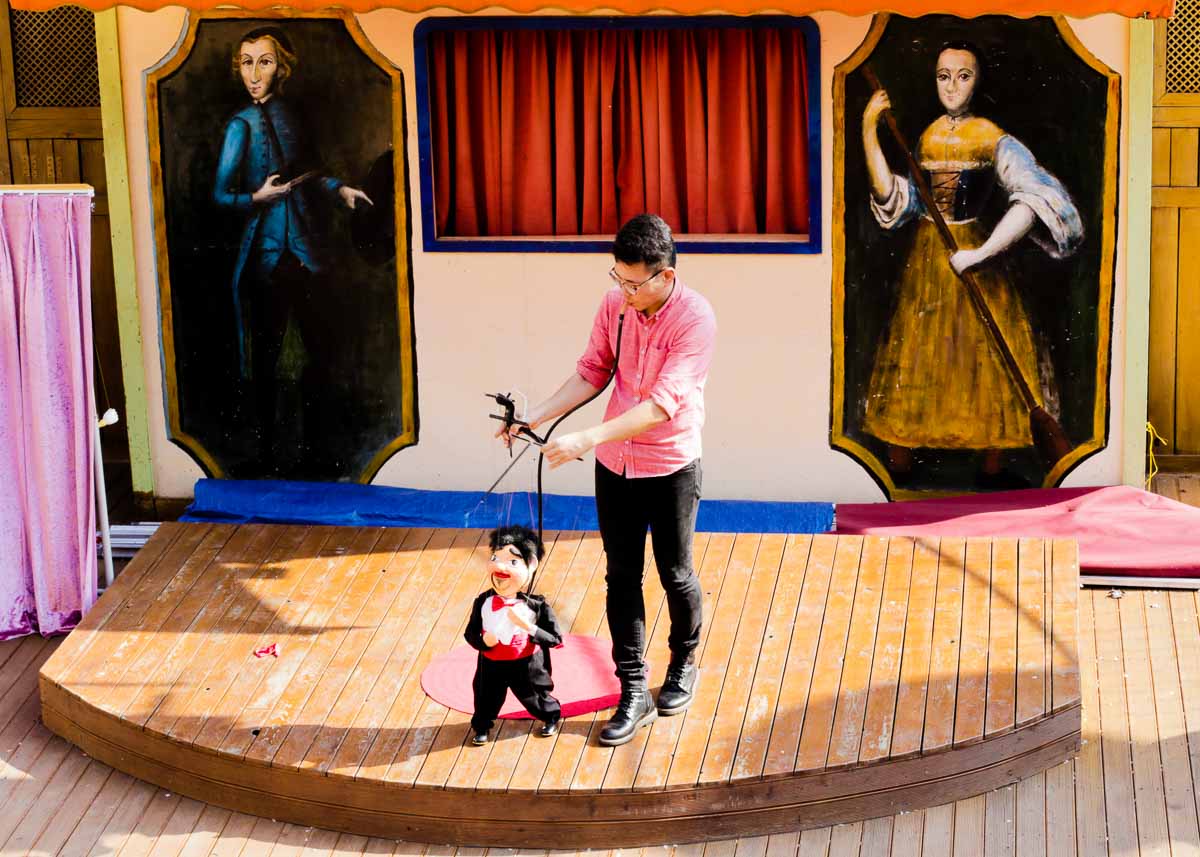 There are several free performances such as the Orgel Demonstration, Guignol French Hand Puppet show, Marionette Czech String Puppet show, and accordion performances by the street musician.
Eagle-eyed K-drama fans will probably recognise Petite France from series such as My Love From the Star 별에서 온 그대 (2014), Secret Garden 시크릿 가든 (2010), and Beethoven Virus 베토벤 바이러스 (2008).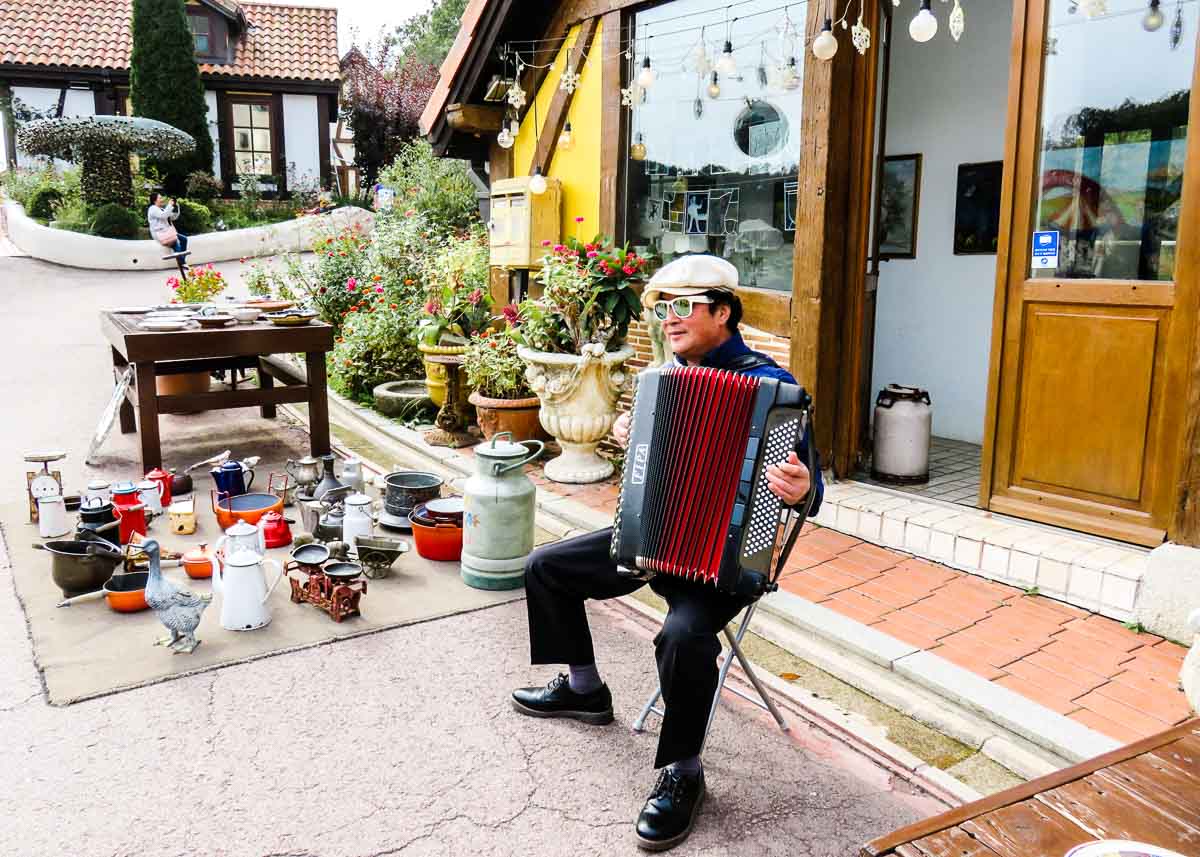 Besides the iconic colourful buildings, another great photo spot is the Butterfly Park.
Entrance fee: ₩10,000/pax (~S$11)
Opening hours: 9AM – 6:00PM (Last entry 5PM)
Third Stop: Garden of Morning Calm (아침고요수목원)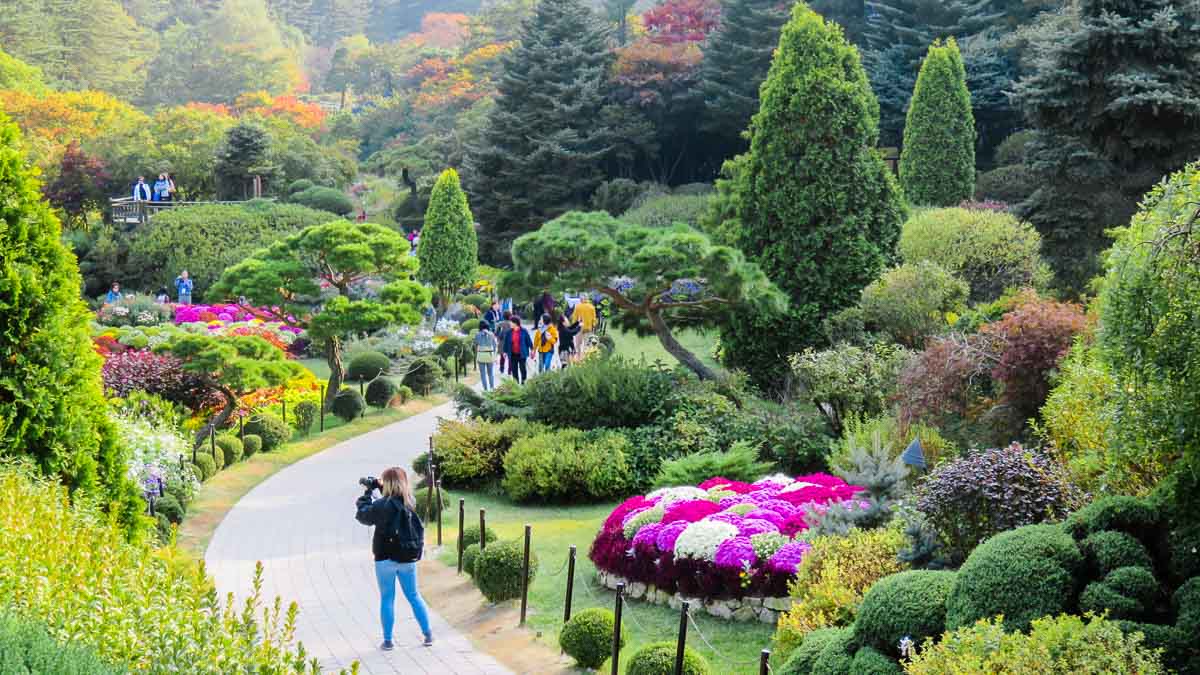 With 26 themed gardens, the Garden of Morning Calm is every botanists' / horticulturists' / photographers' dreamland. While we were there, the chrysanthemums were in full bloom, which mesmerised us all.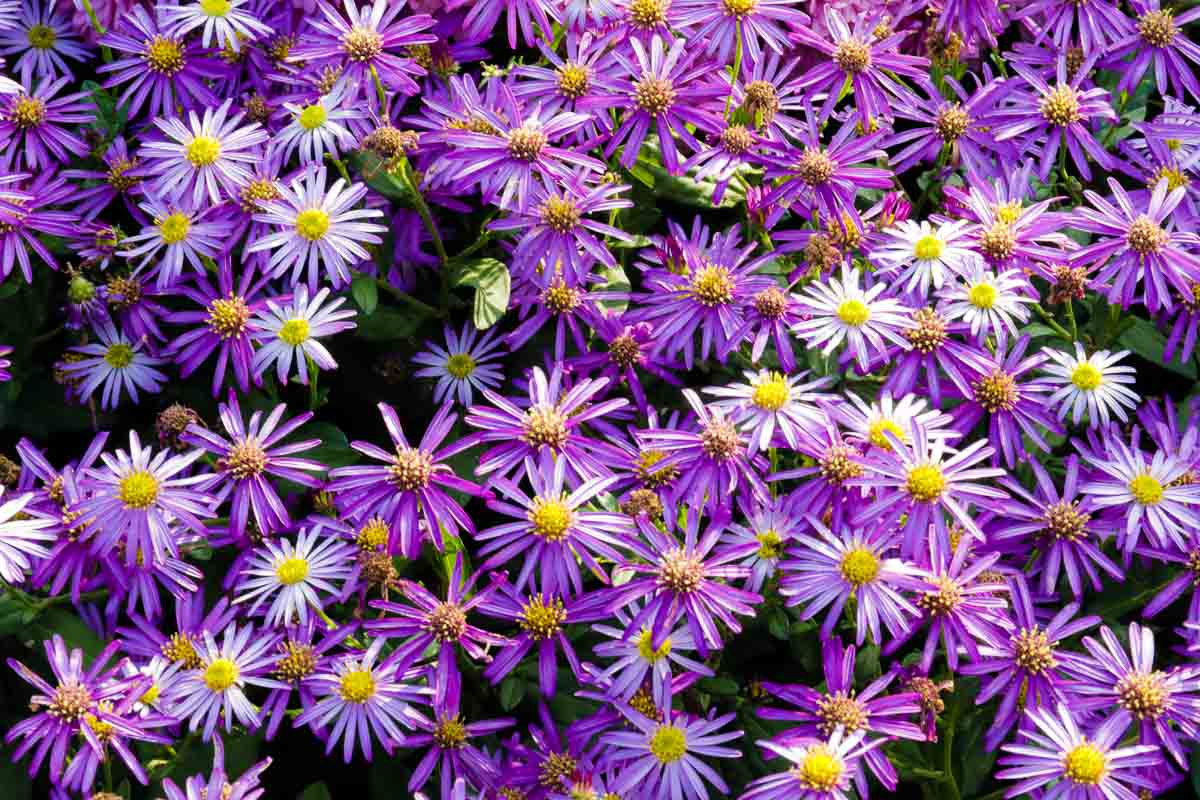 It's a great place for people to slow down. Stroll around, and admire the beautiful flowers and landscapes within South Korea's oldest private garden.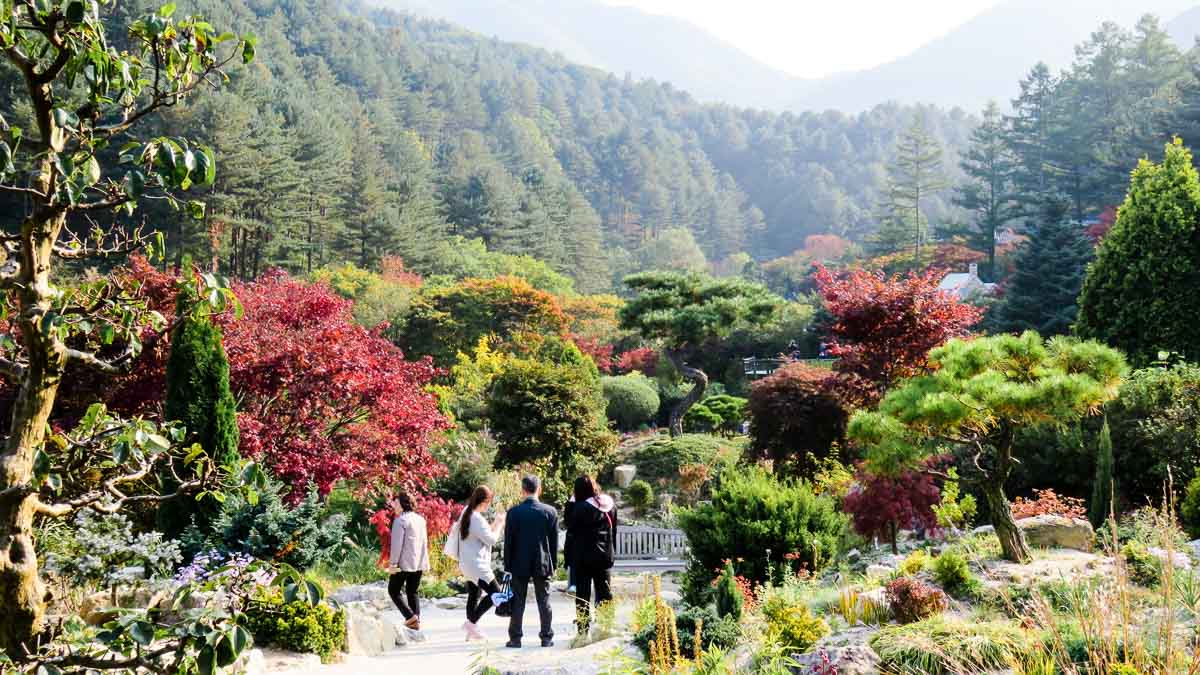 Many older folks can be seen brisk walking, while the younger ones take selfies amongst colourful beds of flowers around Pond Garden and Sunken Garden.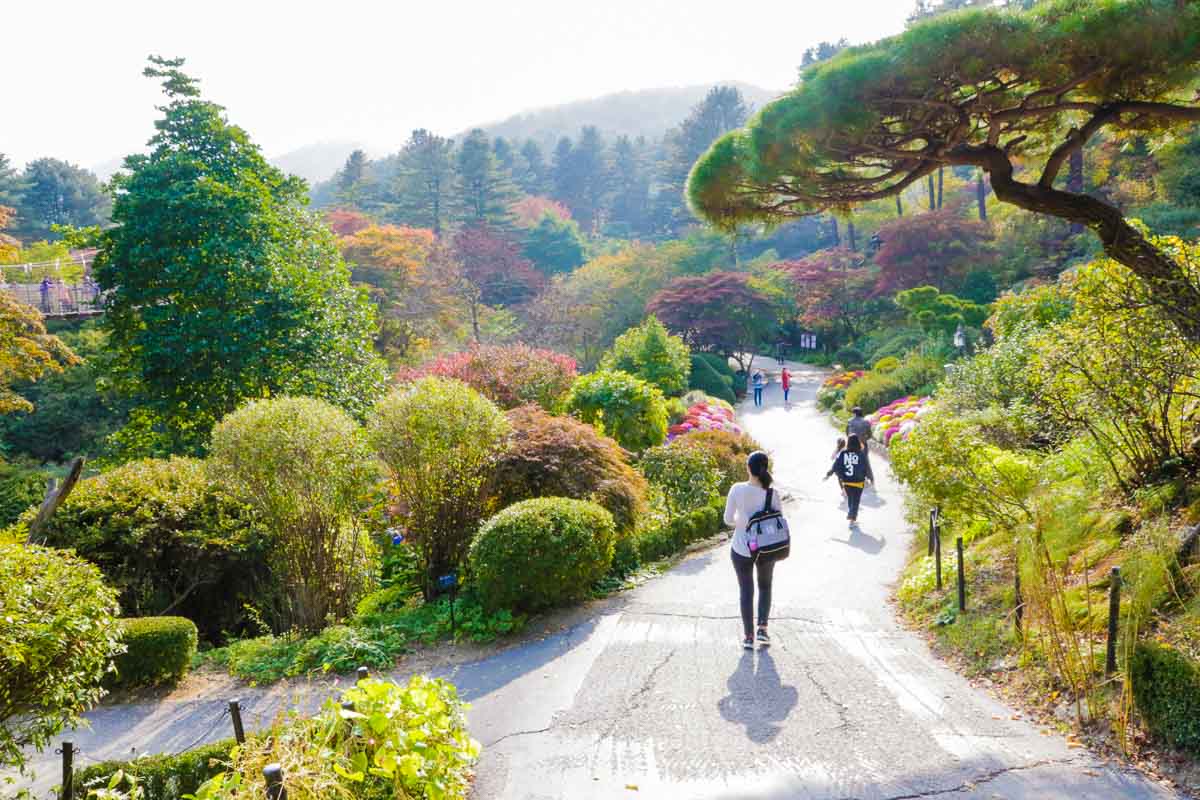 The Garden of Morning Calm is open all year round. Exhibits are seasonal, so there's always a reason to visit. In Spring, Magnolia, Azalea, and Cherry Blossoms paint the gardens pink. Meanwhile, in Summer, the garden bursts into a myriad of colours when Roses, Iris, and Blue Hydrangea bloom.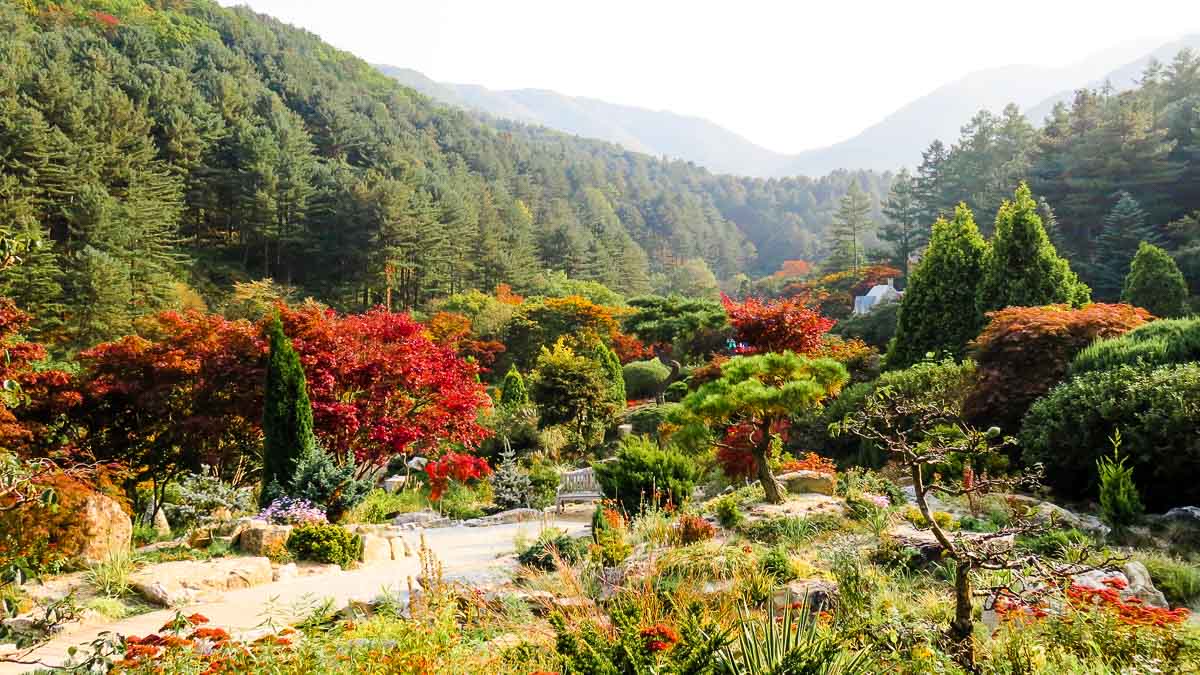 Our visit in Autumn showed us how Chrysanthemums and Maples add a sense of warmth with their red fiery petals and leaves. In Winter, artificial lights make the snow-covered garden look like a magical winter wonderland.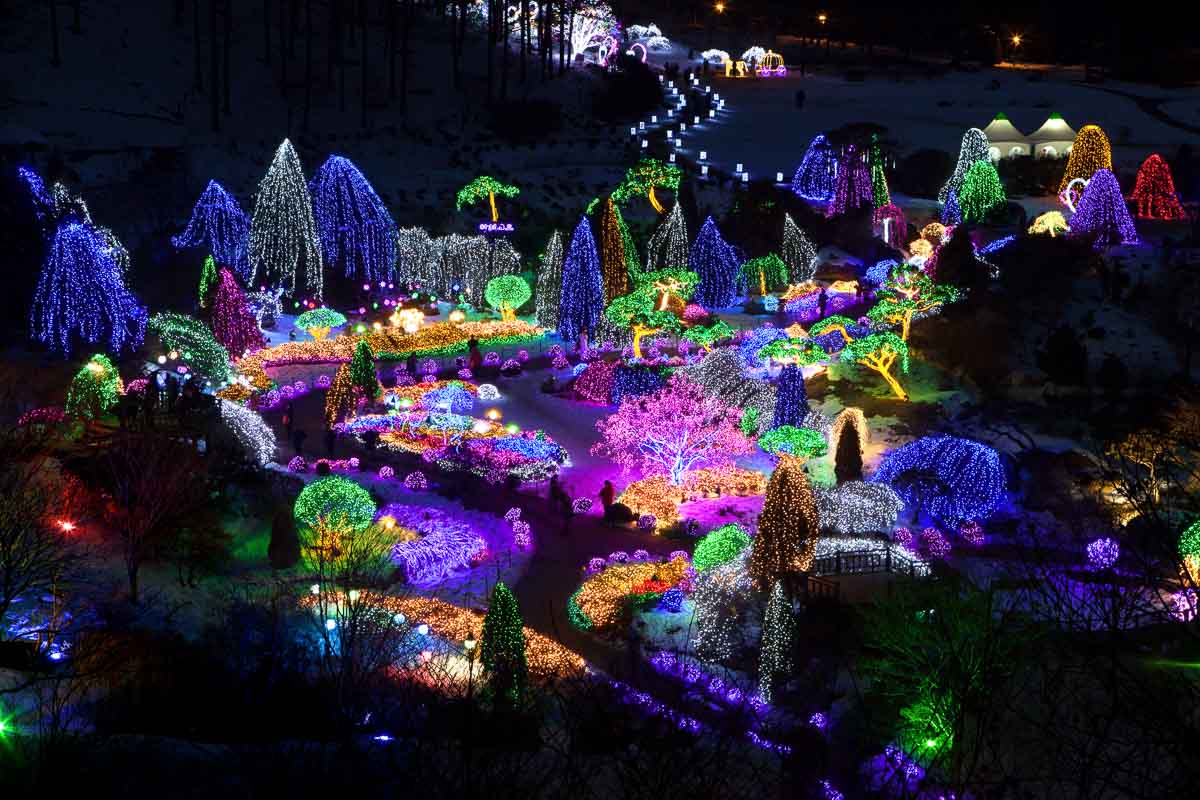 Photo credit: visitkorea.or.kr
The undeniable charms of Garden of Morning Calm have made it a hot spot for K-dramas and variety shows. Popular shows like Love in the Moonlight 구르미 그린 달빛 (2016), You're Beautiful 미남이시네요 (2009), and TVN Taxi 현장토크쇼 택시 (SHINee) were filmed here.
Entrance fee: ₩9,500/pax (~S$11)
Opening hours: 8:30AM – 6PM (closing varies during festive period)
Last Stop: Rail Bike Park (레일파크)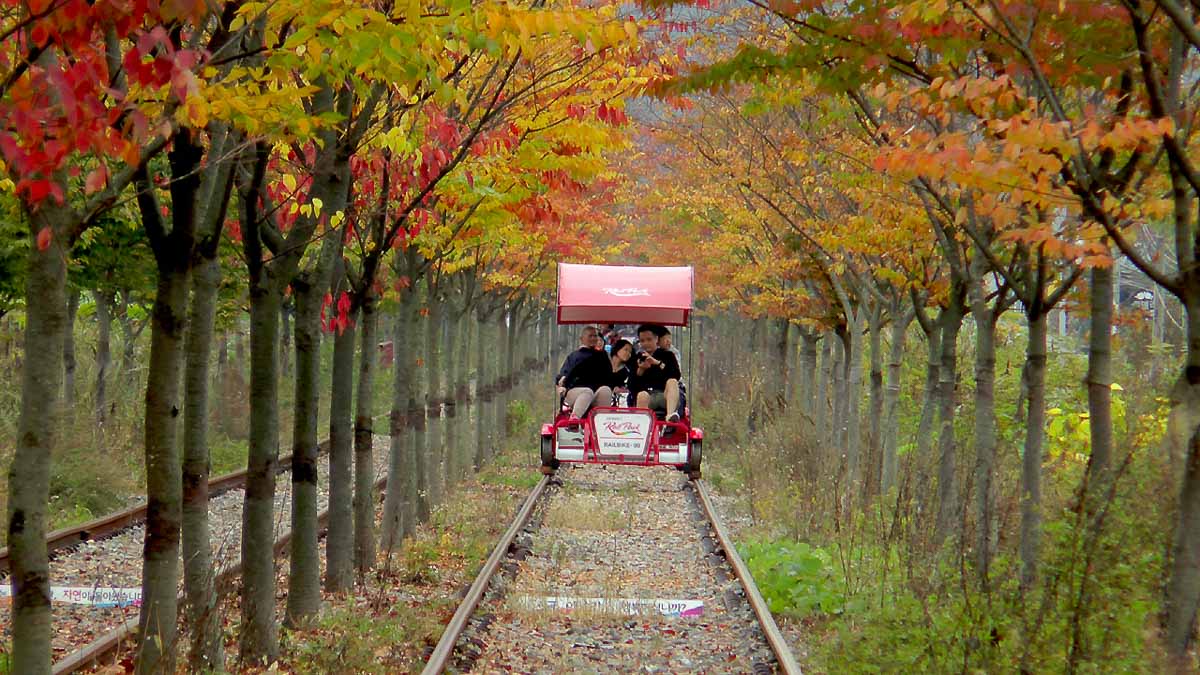 Photo credit: seoulkorea-tour
There are two rail parks, Gapyeong Rail Park (가평 레일파크) and Gangchon Rail Park (강촌 레일파크). We recommend the one in Gapyeong. It's more convenient and accessible, as it's one of the Gapyeong City Bus stops.
However, the views in Gangchon are nicer. The rail goes through three tunnels, whereas Gapyeong only goes through one.
As mentioned, we missed our 5PM booking for Gapyeong rail bike, and had to return another day for it. Do be there at least 20 minutes before your booking — they'll be forfeited if missed (non-refundable nor exchangeable).
Gangchon Rail Park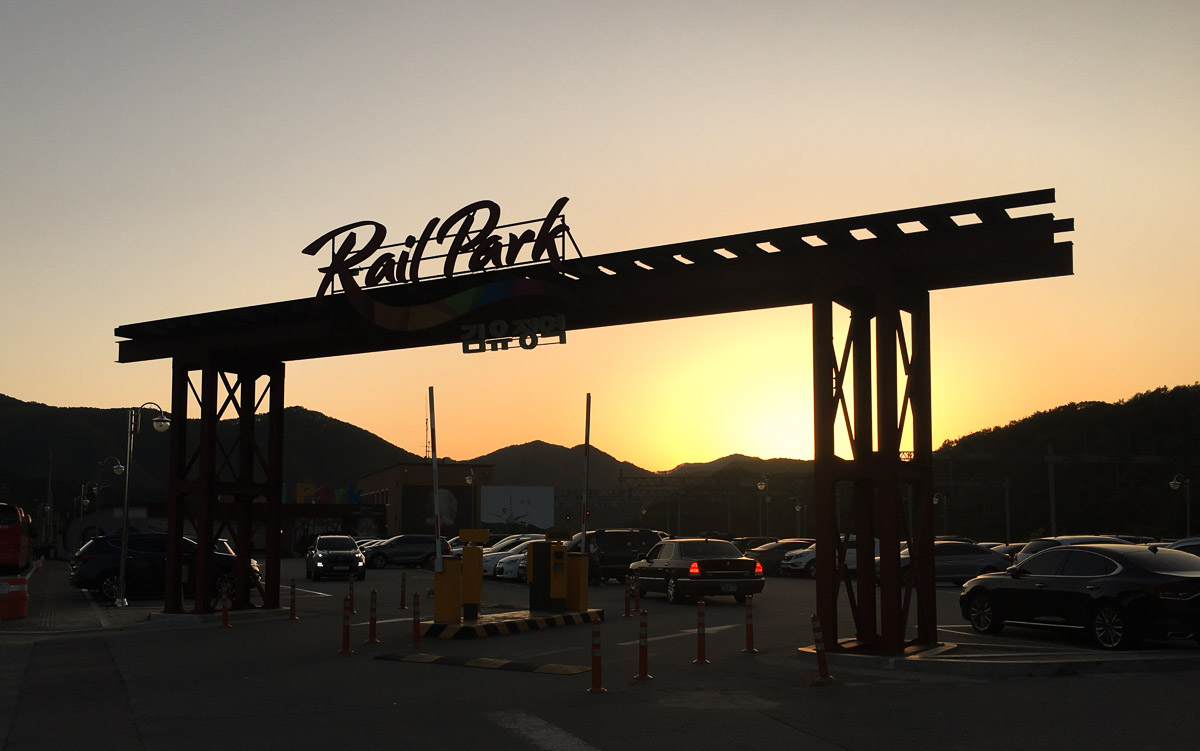 How to get to Gangchon Rail Park:
– From Garden of Morning Calm: Gapyeong City Bus to Cheongpyeong Terminal, followed by Subway/Metro to Gimyujeong Stn
– From Seoul, via Subway/Metro (via Gyeongchun Line): Gapyeong Stn (P134) → Gimyujeong Stn (P138)
Since we returned on a separate day, we headed straight for the Gangchon Rail Park and it did not disappoint. Variety shows like Running Man (런닝맨) and We Got Married (우리 결혼했어요) were filmed there!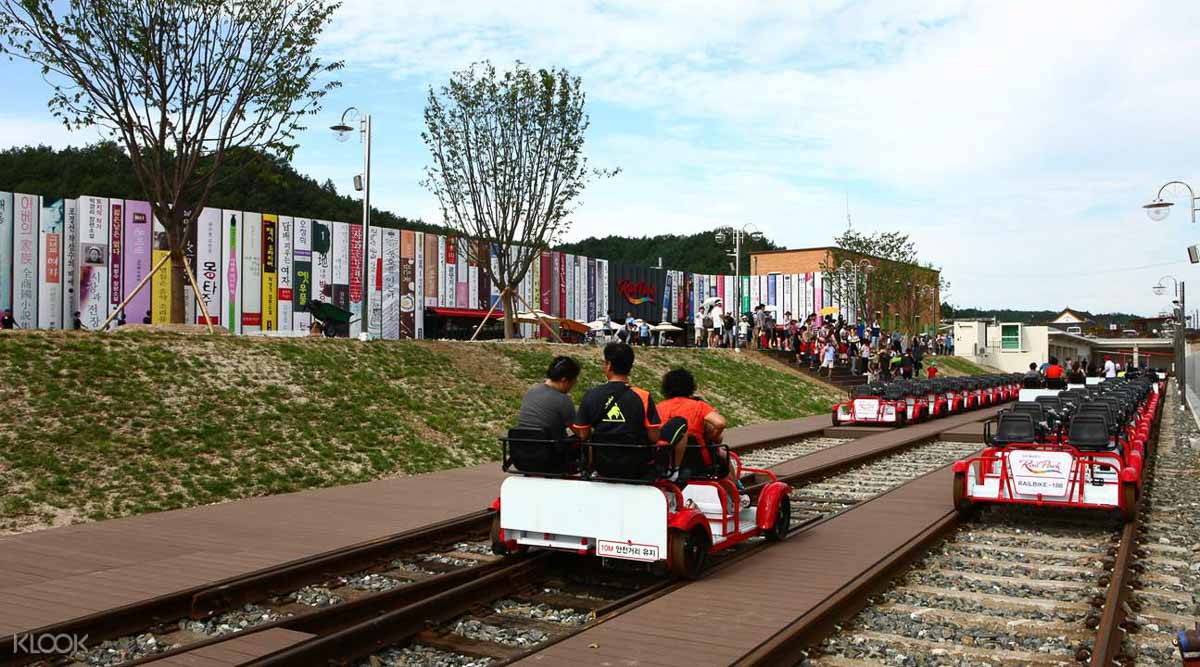 Photo credit: Klook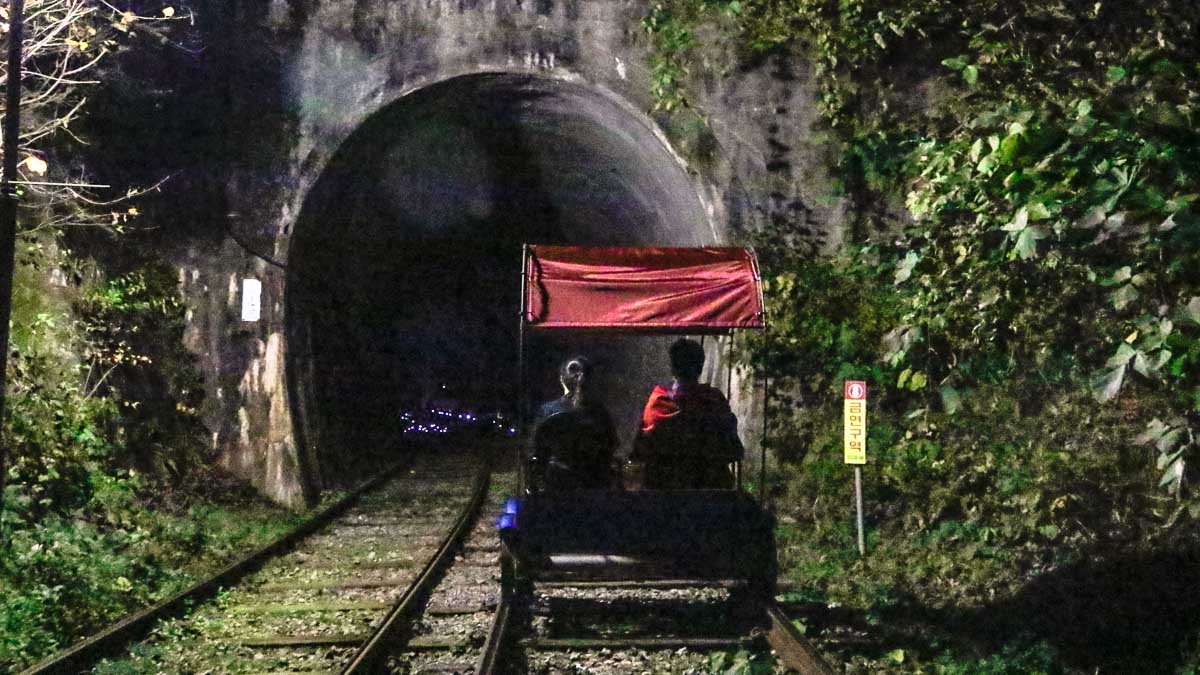 There are four-seater and two-seater options. If you're going in a group of six, we recommend getting three two-seaters (instead of a four-seater and two-seater) as the bikes go out in batches of type.
Do note that the ride stops at Old Gangchon Station, which no longer functions. It's not the one where you can take the ITX from. A free shuttle bus will bring you back to Gimyujeong station, where you'll need to take one stop down to Gangchon for the ITX.
*Pro-tip: If seat reservations have run out, take the train from Chun Cheon. This will increase your chances of getting non-reserved seats on the ITX train.
Cost: ₩35,000 (~S$39) for two-seater bike; ₩48,000 (~S$54) for four-seater bike
Opening hours: Starts at 9AM, operates at 1hr intervals.
Gapyeong Rail Park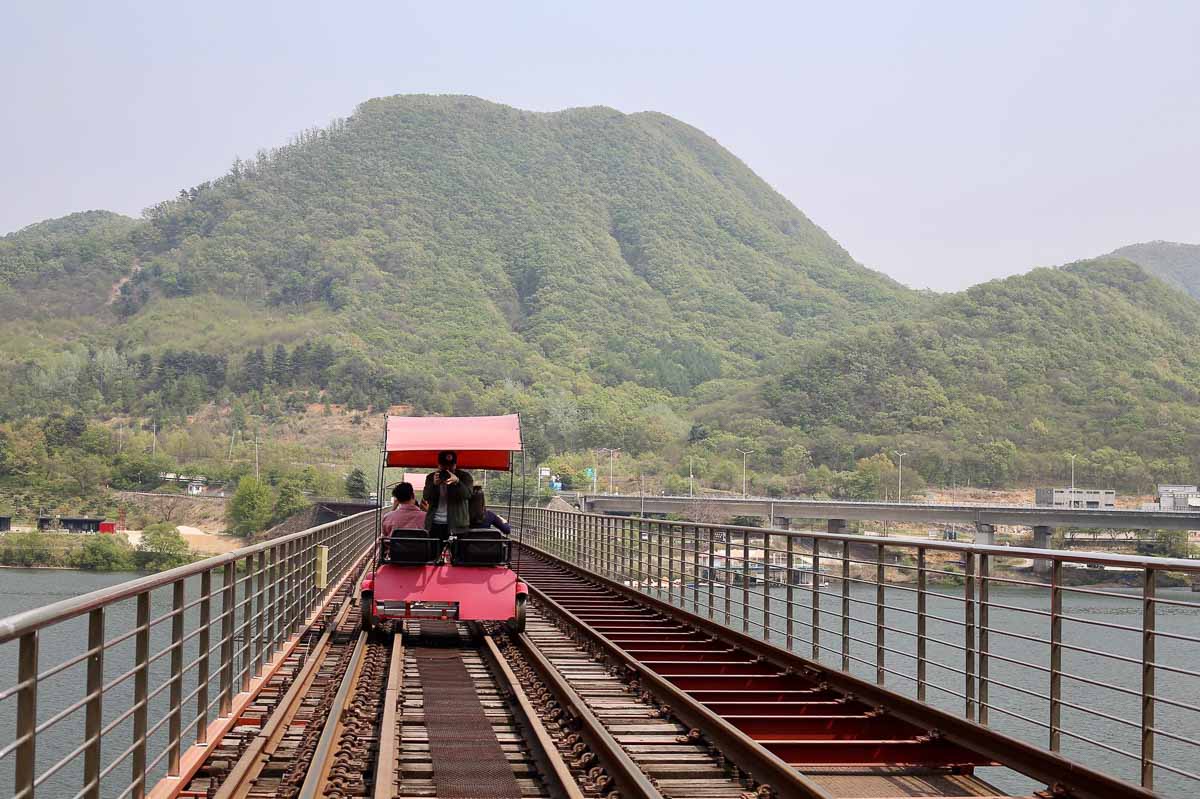 Photo credit: Cleeswanders
The entire pedalling course is about 8km, and ends where you started. Scenes of the movie The Letter 편지 (1997) was shot here.
Cost: ₩30,000 (~S$34) for two-seater bike; ₩40,000 (~S$45) for four-seater bike
Opening hours: 9AM – 5PM, operates at 1.5hr intervals
How to get there: Take the subway or ITX to Gapyeong Station, then walk 30min walk or take a 5min taxi ride to Gapyeong Rail Park. Alternatively, take the Gapyeong/Chuncheon Bus at Sangbong-dong/Guui-dong to Gapyeong Bus Station (~1.5hr), then walk 5min to Gapyeong Rail Park
Should you DIY or go on a tour?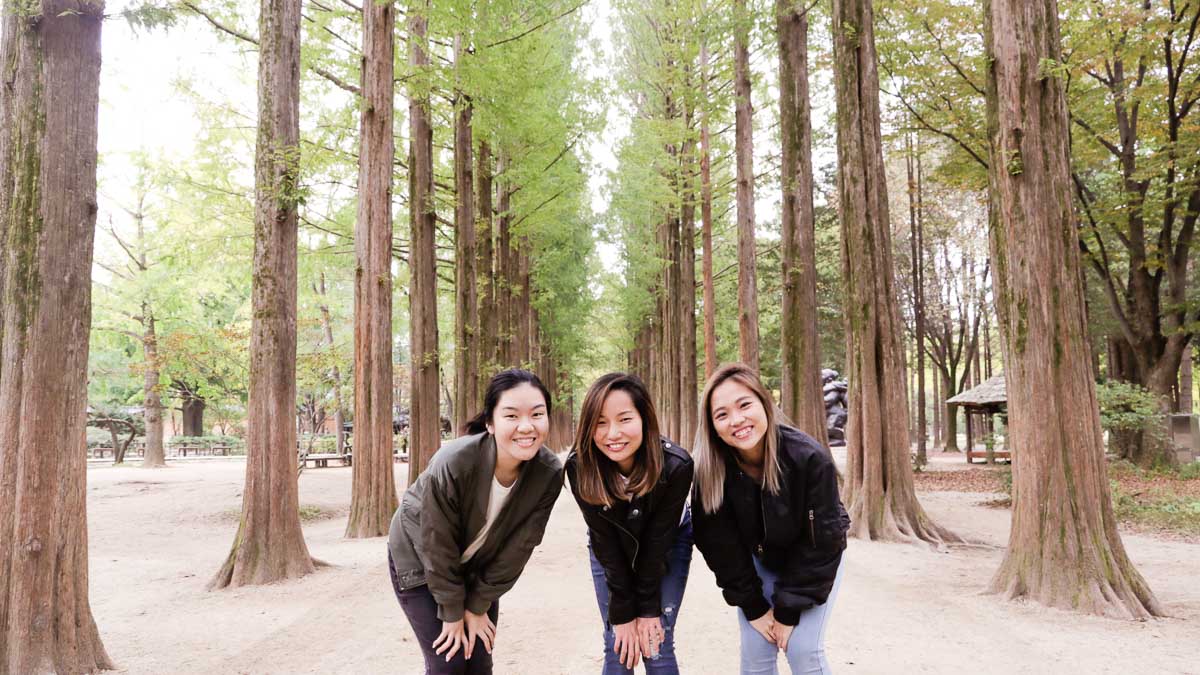 For FOMO people like us who want to cover everything, our DIY plan would have worked if we stuck to all the bus timings. Unfortunately, the detour cost us one activity despite starting our day super early.
Here's how to help you decide:


Pros
Cons
DIY
– Enjoy a relatively empty Nami Island (if you visit before 9AM)
– Be mindful about bus timings
– May feel a bit rushed when covering all four sites
Tour
– Minimal planning required
– Skip the queues for entrance tickets!
– Nami Island might be crowded, as you arrive at the same time as other tour groups
– However, places like the Garden of Morning Calm is huge, so the crowds won't spoil your experience
We hope you found this guide helpful in planning your perfect day trip from Seoul to Nami island, as well as all the other gorgeous sights within the Gapyeong area!
Read also: 7D Korea Itinerary for under S$800 — Seoul, Jeonju, Busan
---
This article was brought to you by Klook.