The best temple hopping route in Bagan — from iconic pagodas to photographers' secret sunset/sunrise spots!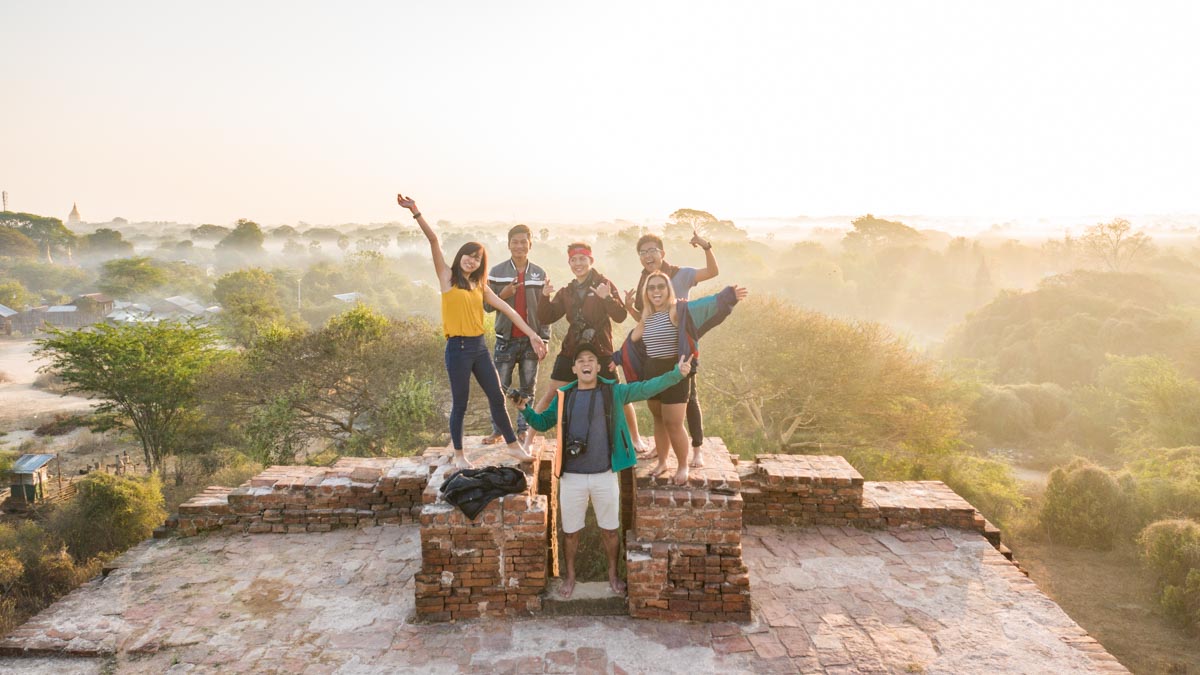 I thought I understood the meaning of the word dazzling before I came to Bagan — turns out I did not. Much like the victims of Medusa, the glorious sight of infinite pagodas smothered across acres of golden sand bedazzled me into static stone.
The undisputed best way to explore Bagan is by an e-bike, which is essentially a seated scooter powered by an electric engine. It looks like a motorbike to the inexperienced eye, but slower, safer, and easier to balance on.
We've put together a comprehensive e-bike route to guide you along the roads you can take, the food you can eat, and the attractions worth visiting in this charming city where the movement of the sun takes center stage. For how to get to Bagan and tips for first-time e-bike riders, click on the links or head to the bottom of this article.
Read also: 9-Day Adventurous Myanmar Itinerary — Undiscovered Gems in Yangon, Bagan, Mandalay & Lashio
The Best Route for Exploring Bagan's Temples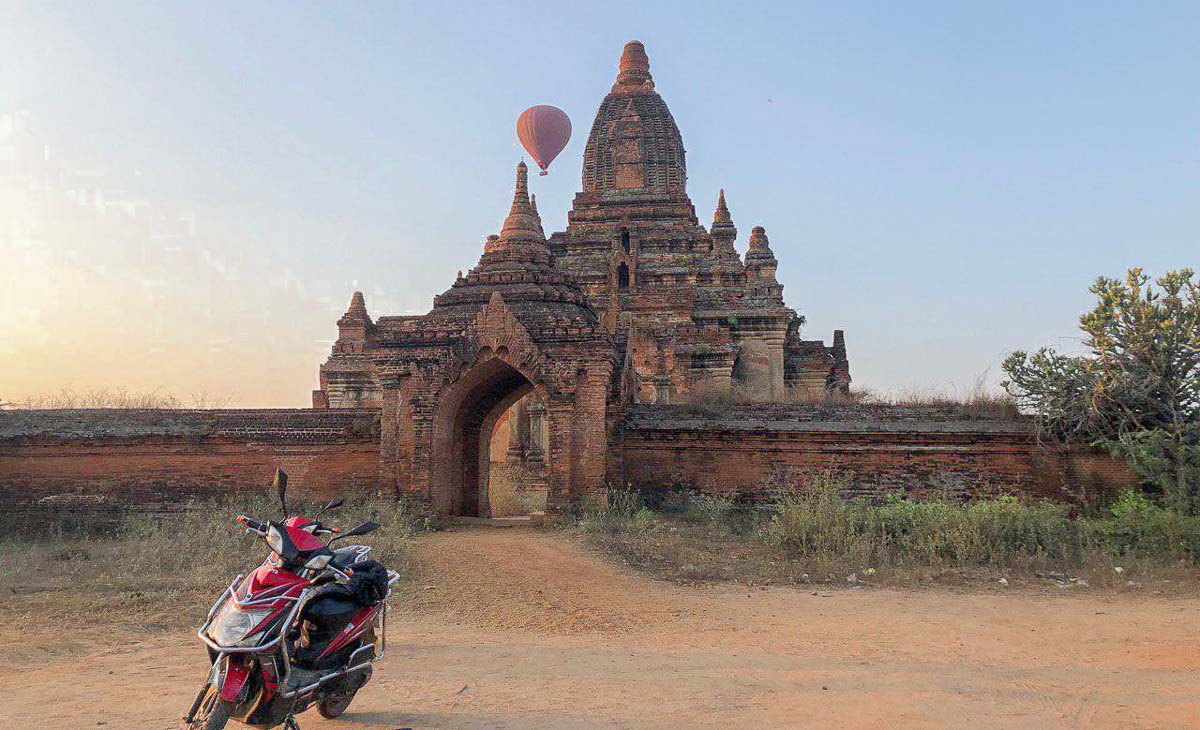 The Google Map below shows you the route we recommend to explore Bagan with on an e-bike — with different temples, sunrise/sunset spots, and food places for each day. If you have three days in the city, this guide is the ideal one to follow. Feel free to save it onto your phone for easier navigation.
Bagan is split into three main towns: Nyaung-U, Old Bagan, and New Bagan. In and around Old Bagan is where most of its ancient structures reside, while New Bagan is now home to most of the city's residents. The local airport, bus station and various budget hostels reside in Nyaung-U.
Without further ado, let us break down the best way to explore Bagan on an e-bike.
Day 1: An Introduction to Bagan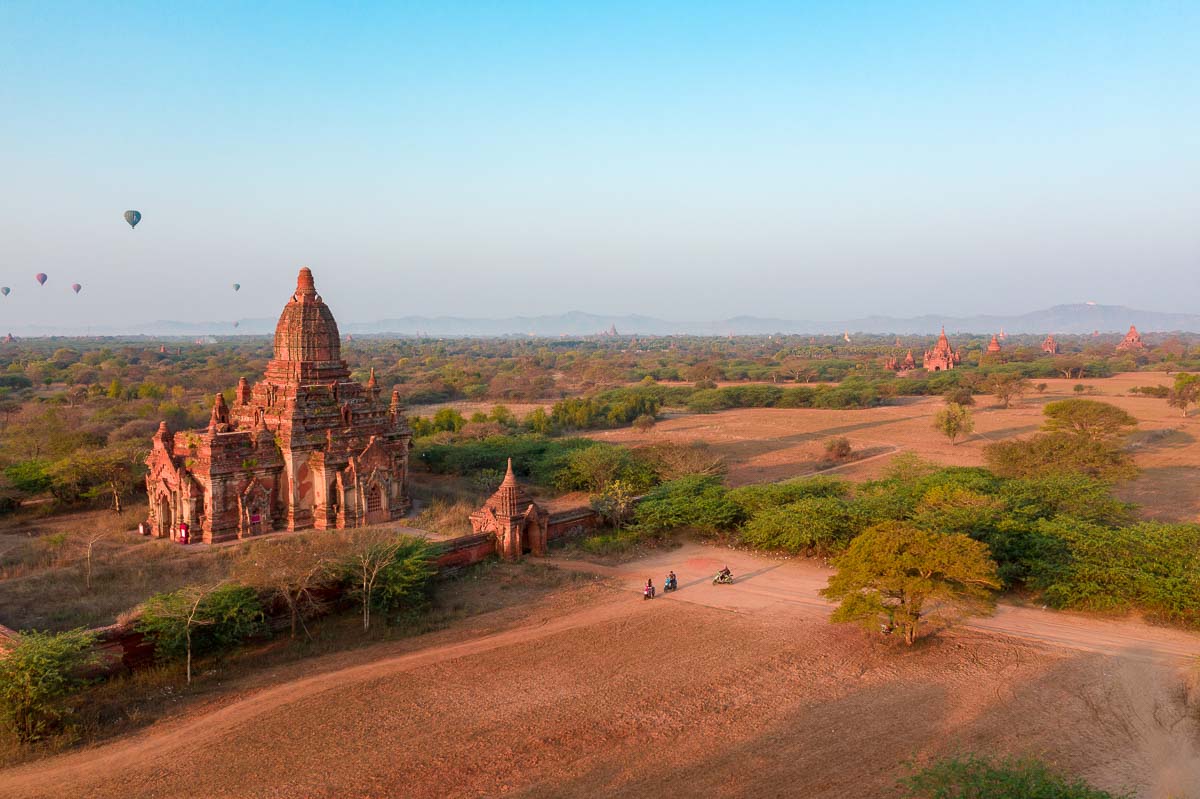 We begin in New Bagan, where plenty of affordable tourist-friendly hostels reside. You'll be able to find plenty of e-bike rental stalls that will set you back K5,000–K8,000 a day. We stayed at the Ostello Bello Hostel, which had one right in front of it.
Day 1 will focus on the most popular destinations in the city, the perfect introduction to this charming ol' paradise.
Lawka Nanda Pagoda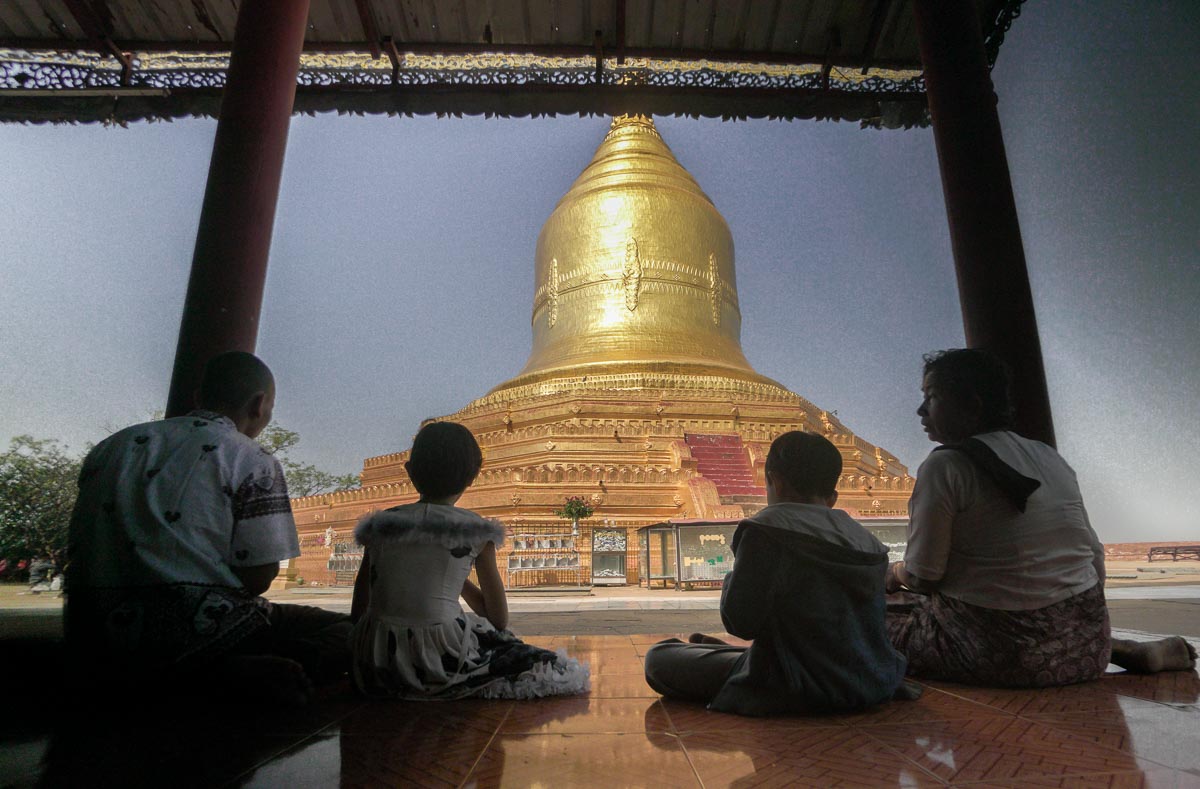 This magnificent golden structure is located right next to the Irrawaddy River and is the popular subject of worship for many locals around the area. You'll find many improvised stalls on the way up, a feature of most well-known temples in Bagan.
Bagan Archaeological Museum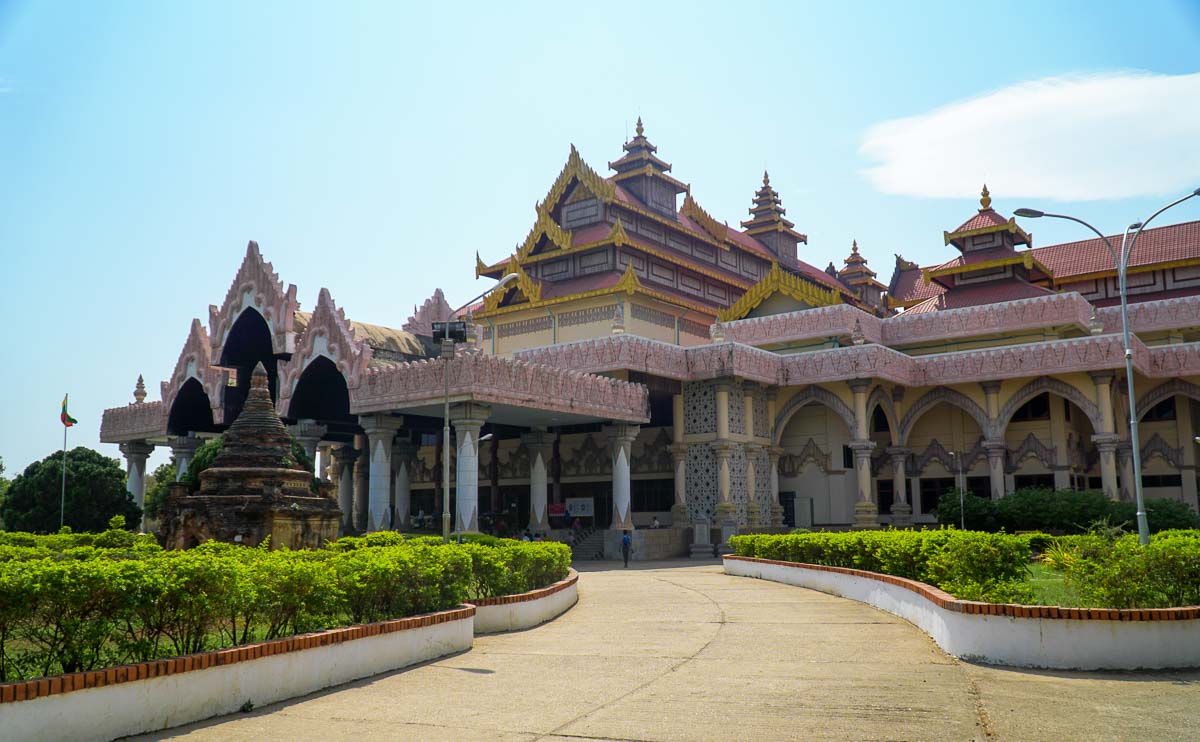 I believe that to truly understand a country's culture, you have to visit its museums. The Bagan Archaeological Museum gave us an insight into the city's history, languages, religious evolution, and even the hairstyles that were trendy in previous centuries. We recommend this as one of your first stops to provide context of cultural heritage you will come across during your time here.
Entrance Fee: K5,000
Opening Hours: 8AM – 4PM
Ananda Temple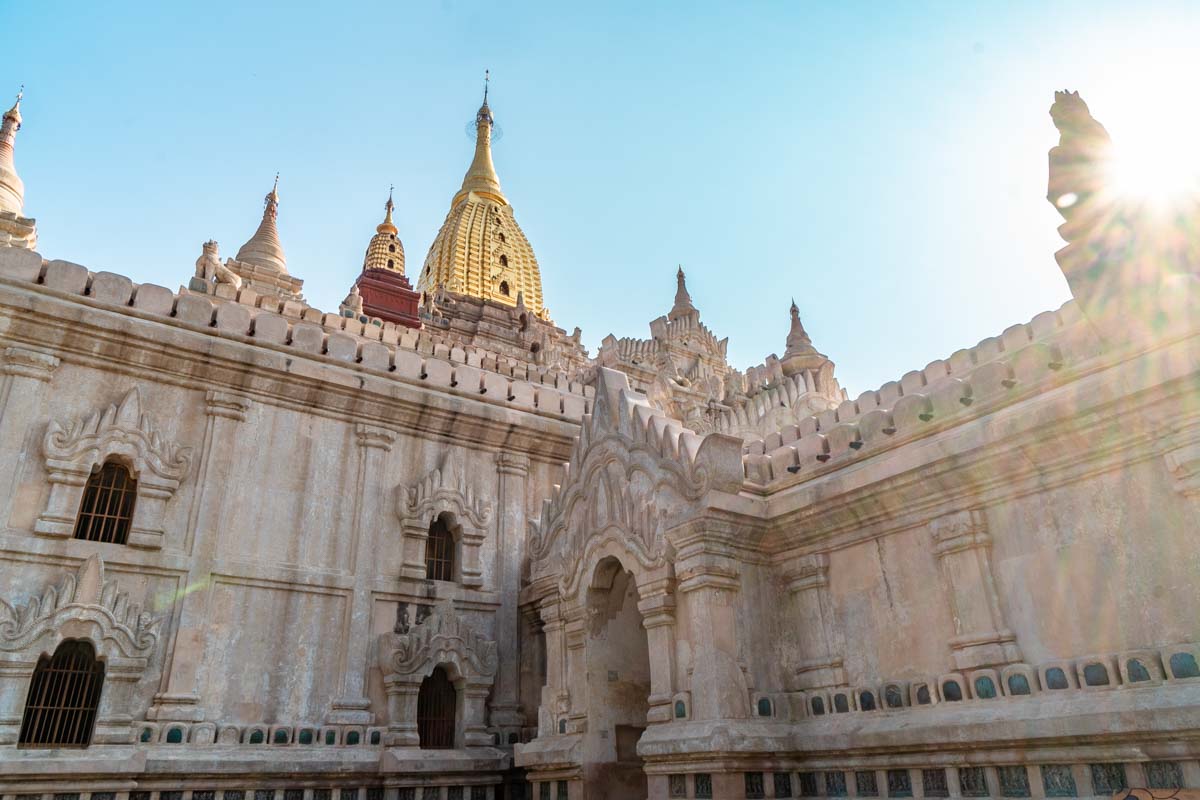 This particular temple was built by a king who ordered its architects executed as well. The reason? He didn't want anything else like it to be built anywhere else — and it worked. The complex is shaped like a Greek cross and its structures are wonderfully preserved till today.
Lunch at The Moon Vegetarian Restaurant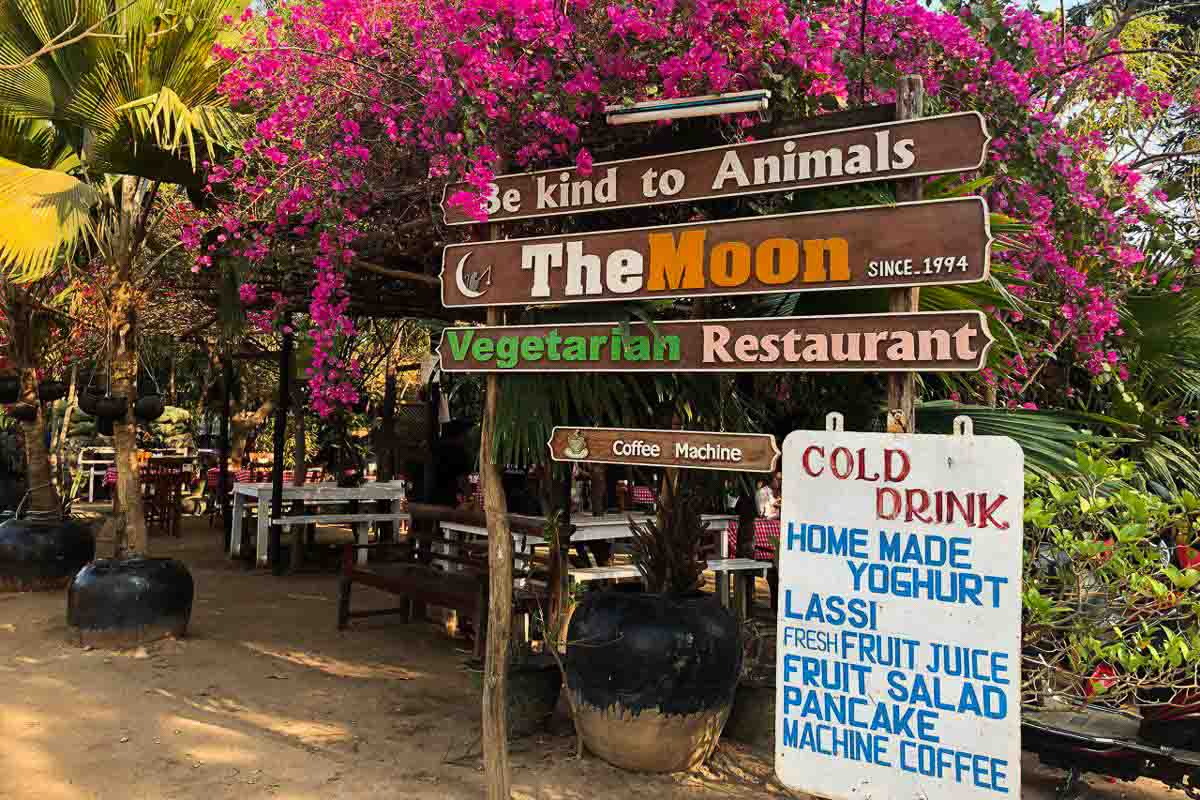 We wouldn't have recommended a vegetarian restaurant if it wasn't so darn good. The Moon (Be Kind to Animals) offers up 20 pages worth of great vegetarian food in its menu, and even better pancakes with ice cream (K,3000). To get there, head towards the centre of Old Bagan where several restaurants can be found within a kilometre of each other.
Shwesandaw Pagoda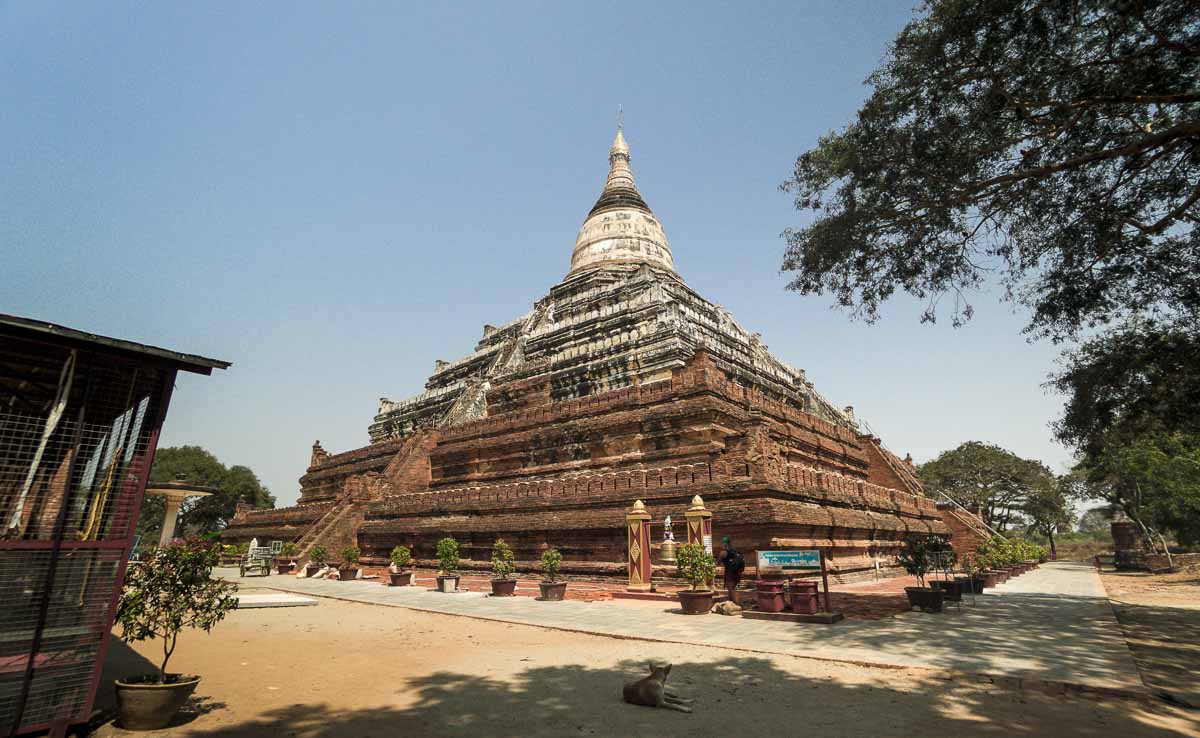 A majestic pagoda made up of five terraces leading up to a small golden stupa above. It is now forbidden to climb up its inviting staircases, but makes for intriguing viewing nonetheless.
Shwegu Gyi Phaya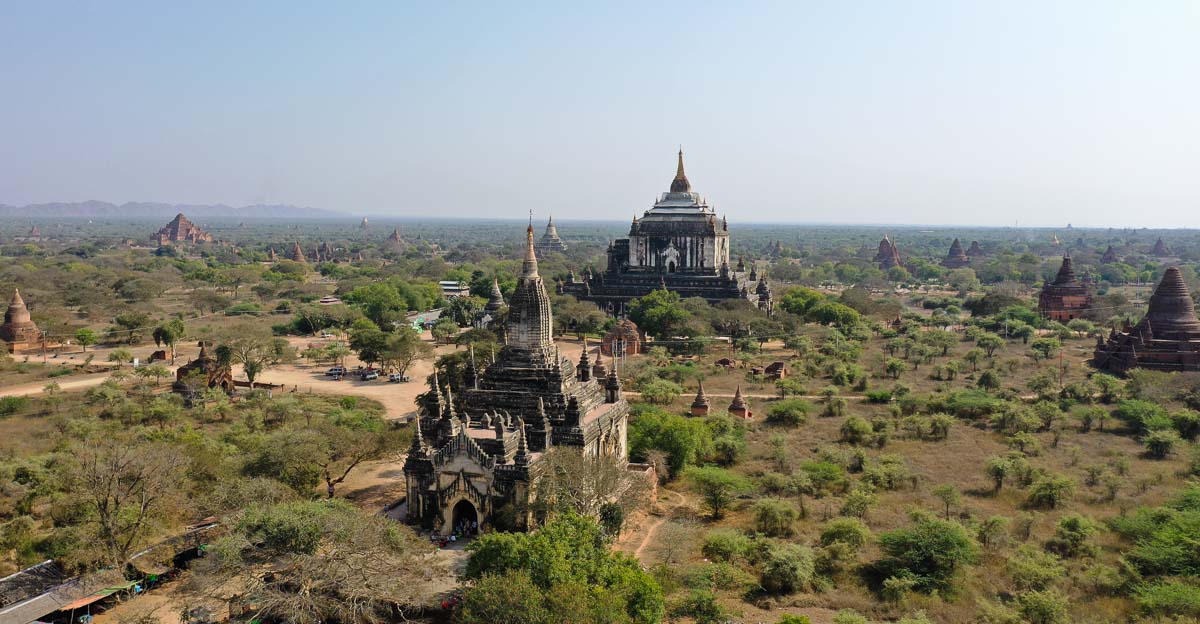 Covered in riveting shades of raven black, the Shwegu Gyi is an odd gem compared to its shiny golden friends. Get your face painted with thanaka (a traditional Burmese cosmetic) for free, and buy custom-made lacquerware from locals who have set up shop here.
Sunset at Bu Paya Pagoda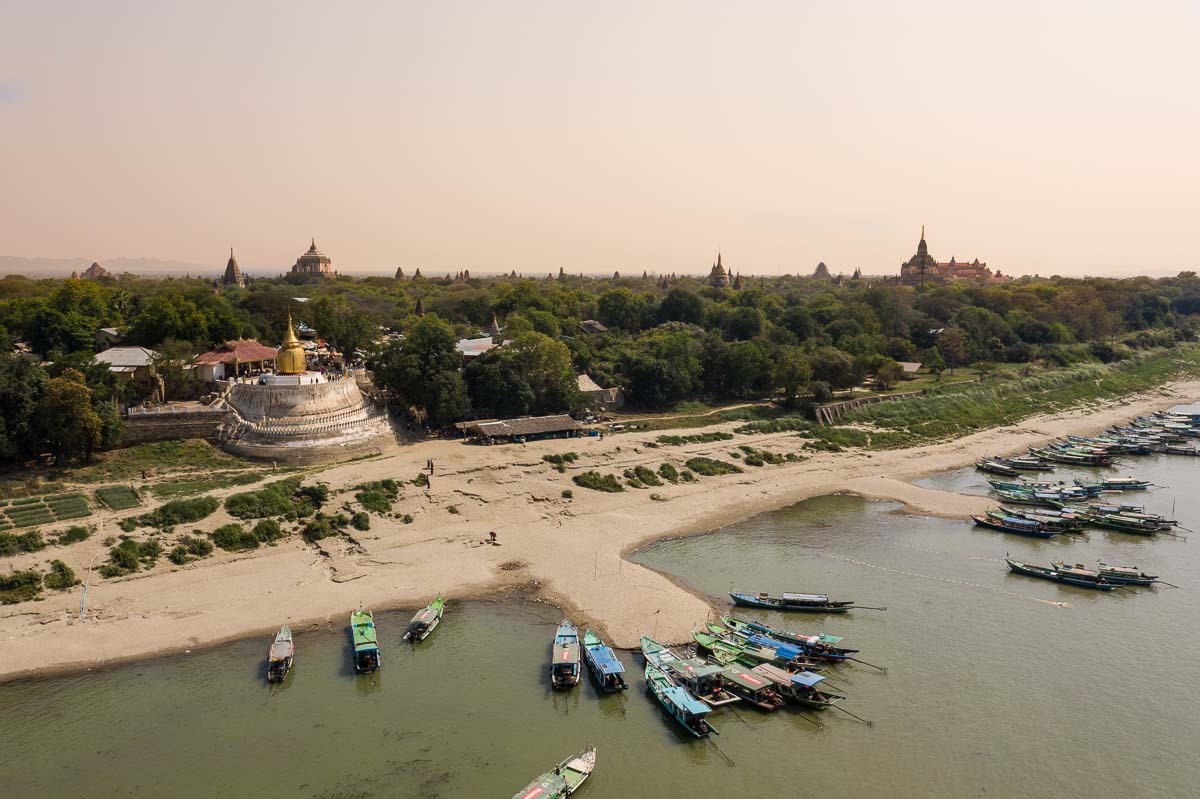 The word "Bu" stands for gourd, and "Paya" means pagoda, so what you see here speaks for itself. The current structure is a reconstructed version of the original Bu Paya believed to have been built around 200AD, but was unfortunately badly damaged in the 1975 earthquake. It remains a popular place of worship and many flock to the area to catch the beautiful sunsets daily.
*Pro-tip: Many boatsmen by the beach will offer to take you out into the river to witness the sunset for around K5,000. Try asking your hostel if they have any partner vendors first — our hostel, Ostello Bello, offered the same rides for only K800 per pax.
Dinner by the Irrawaddy River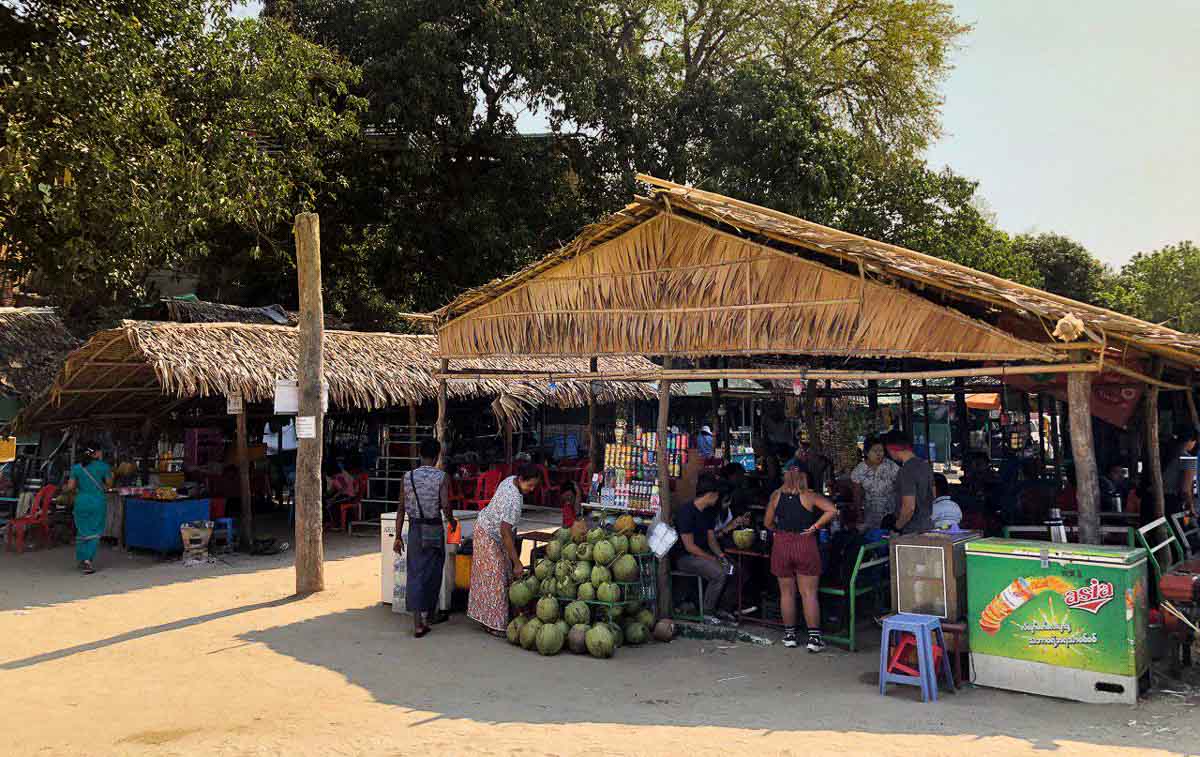 Just beneath the Bu Paya are several food stalls serving up fresh, simple Burmese food by the riverside. After soaking in your first Bagan sunset, order a bowl of rice with several small curry dishes for about K1,500.
Day 2: Off the Beaten Track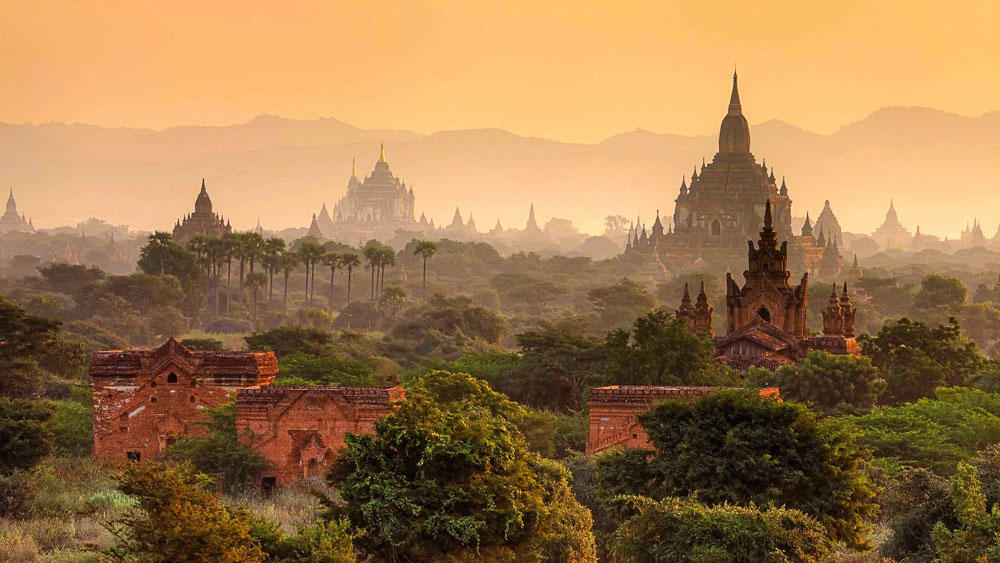 Get ready for a long day ahead, as we'll be venturing into more exciting, off-beat places further away from the cluster in Old Bagan. From here on, some pagodas will only have numbers and coordinates attached to them as they don't currently have a name.
Sunrise at Ta Wet Hpaya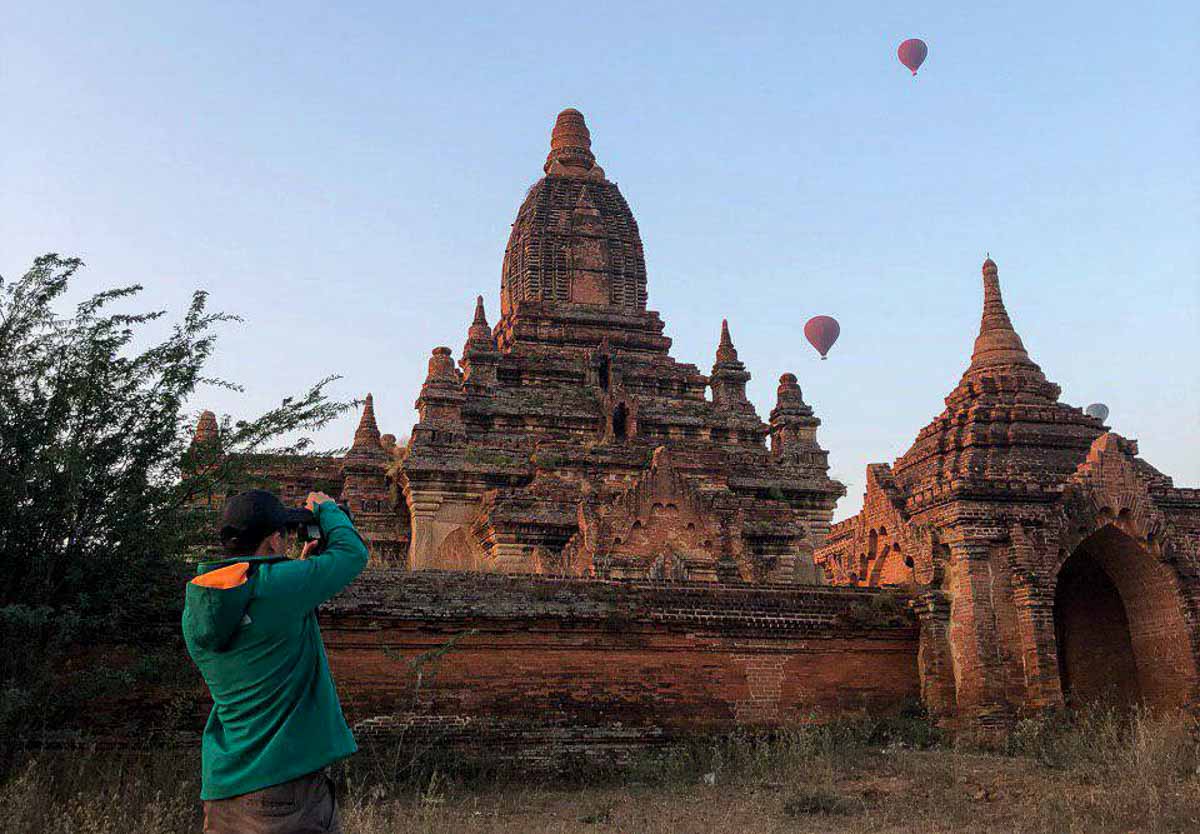 The sun rises early at 5:55AM in Bagan (April 2019), so the true golden hour to catch its ascent is at about 5:30AM. Get up early and make your way to Ta Wet Hpaya to witness one of the most glorious sights there is — an amazing combination of hot air balloons rising over the horizon in perfect tandem with the amber glow of the sun. You could stay here for at least an hour, taking pretty portraits underneath a picture perfect sky.
Pagoda 761
As we were leaving Ta Wet Hpaya, several clear paths of sand to our left led towards an enticing entrance to this cluster of pagodas. Biking through the large clearing leading up to these structures felt as if we've chanced upon an undiscovered village.
Winido Temple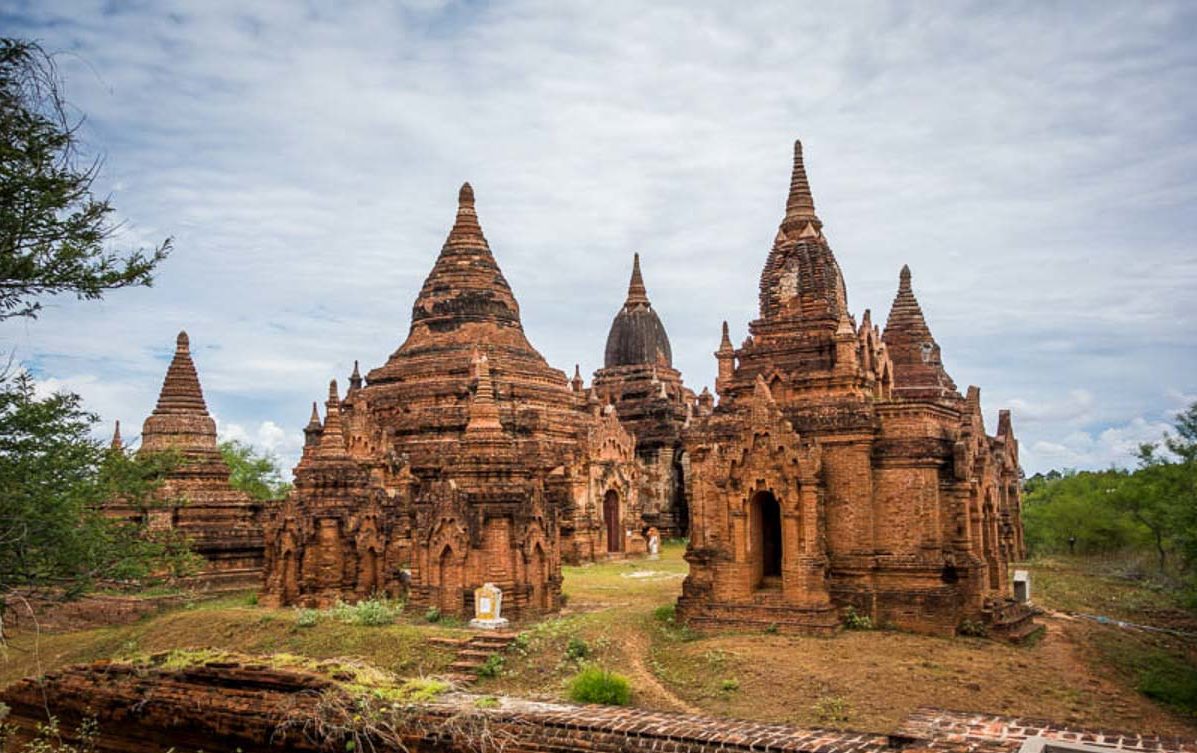 Winido is actually a congregation of several small, but delightful temples. Its interior contains impressive paintings that date back to the late period of Bagan.
Lunch at Starbeam Bistro (Old Bagan)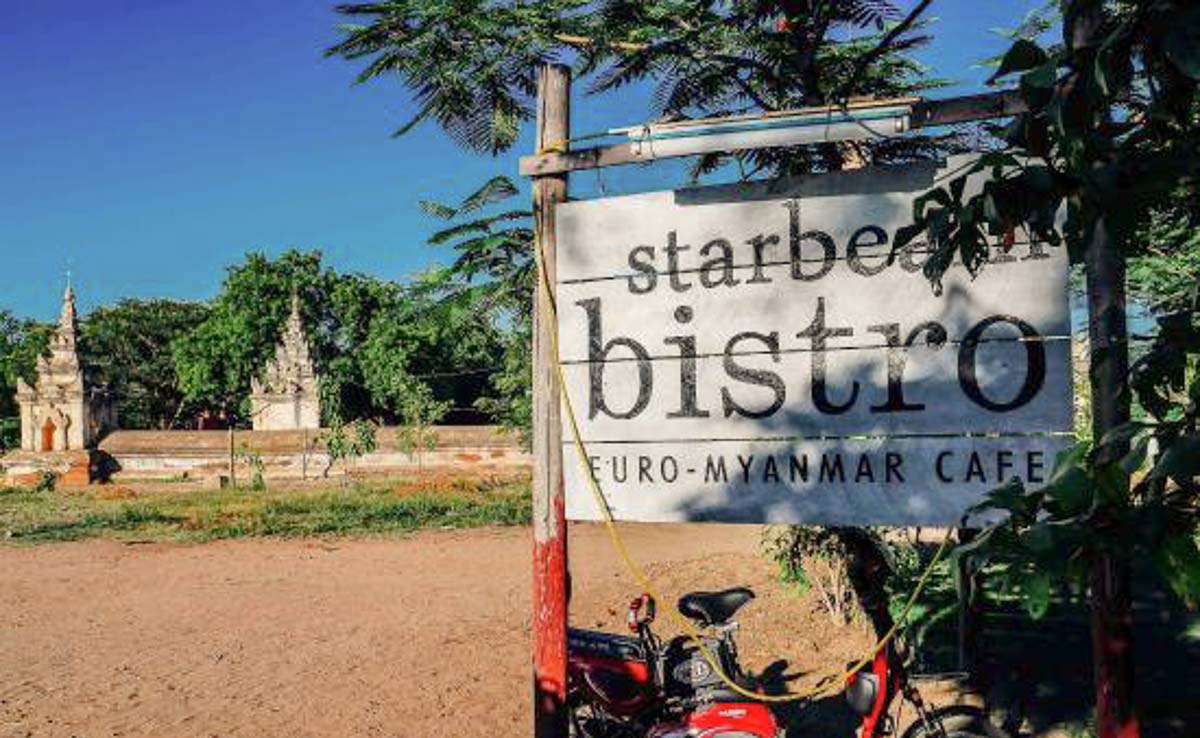 This neat little bistro has two outlets in Bagan. It goes to show how well the first one must have done initially! We didn't patronise this particular restaurant during our time here, but the raving reviews online made us regret we didn't.
Lemyethna Temple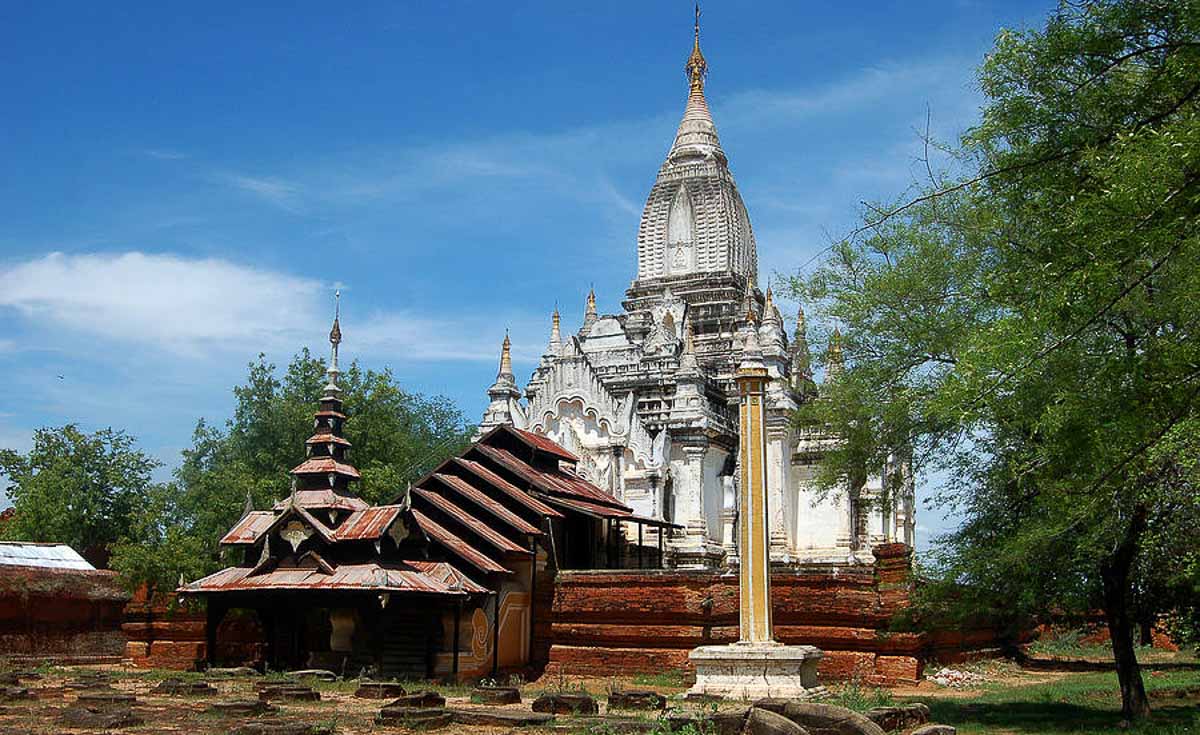 The Lemyethna is also known as the Temple of Four Faces. Resting on a platform, it's decked out in pure white and decorated with bits of gold tips. You'll also be able to find remnants of ancient Buddhist stories inside.
Shwezigon Pagoda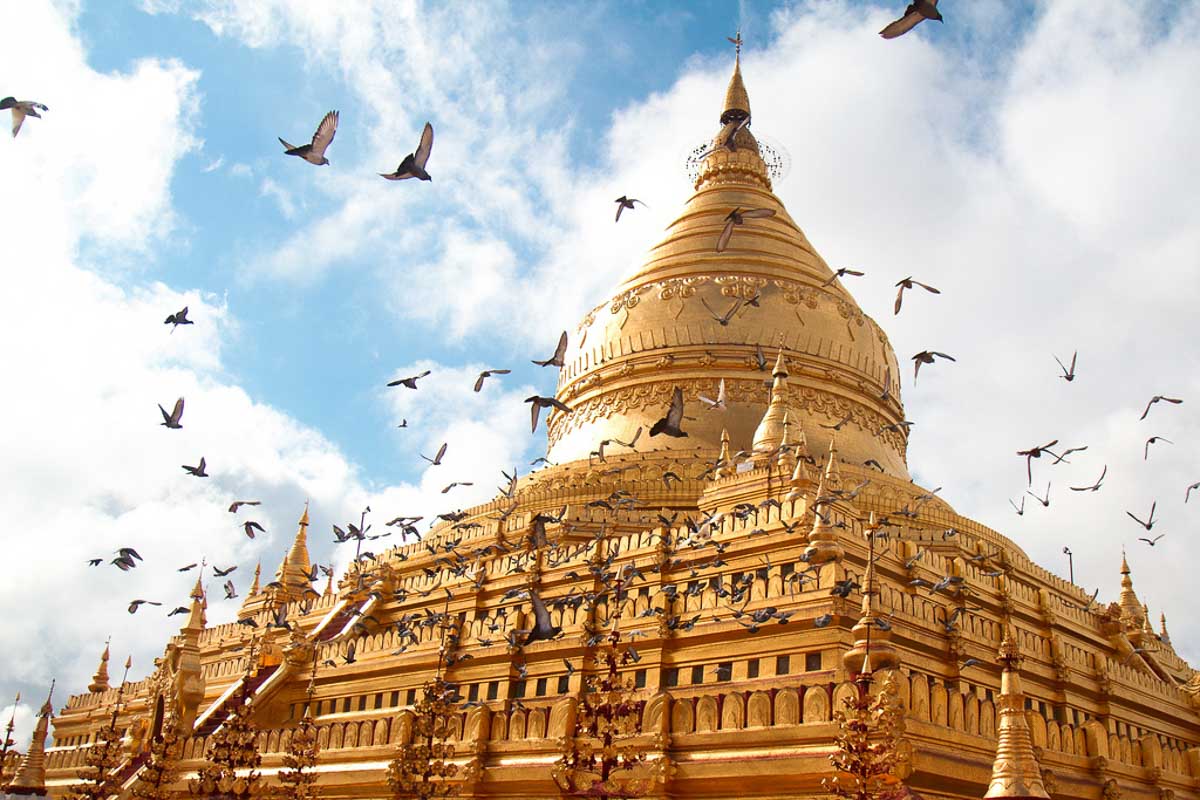 The Shwezigon Pagoda may be someways off Old Bagan, but it's certainly one of the most sacred places in the city. The entirely gold-plated temple houses many precious Buddhist relics and is an important pilgrimage site. In December, thousands of devotees flock to Shwezigon to pay respect to the Nat spirits believed to reside here.
Sunset at Pagoda North of Htilominlo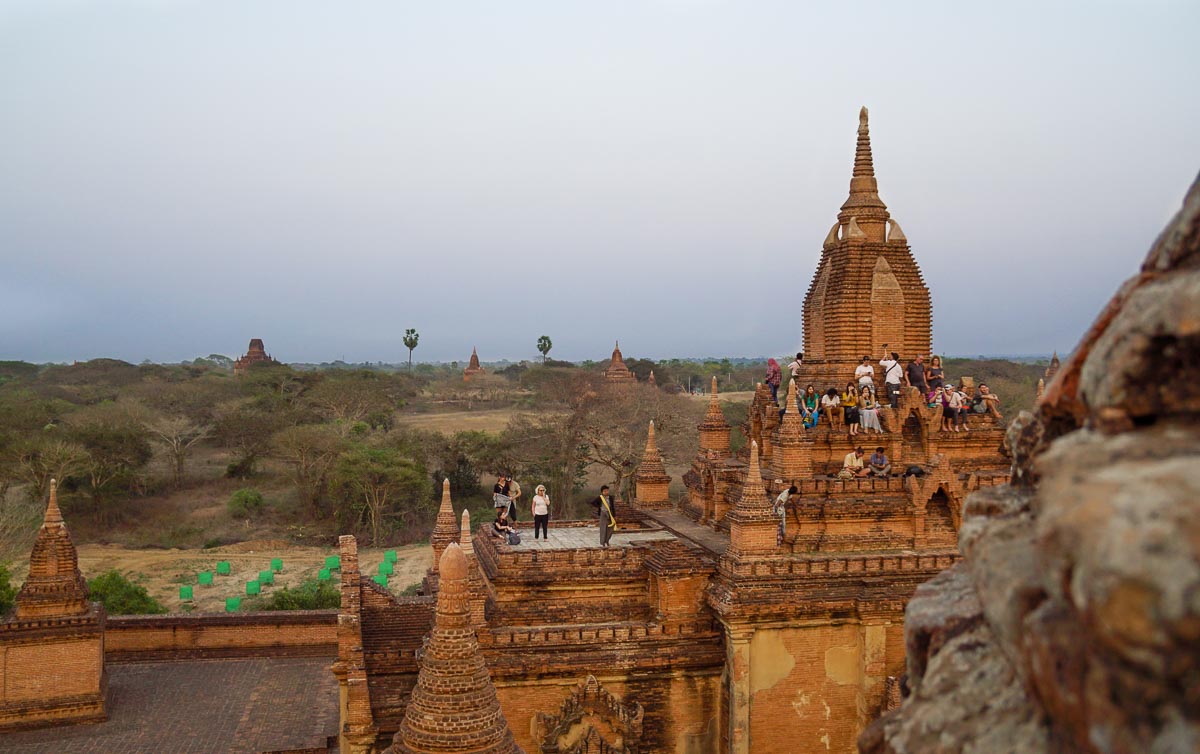 This particular pagoda doesn't have a name, but it's home to a spectacular view of the sunset. We found ourselves huddled together at the narrow platforms on top together with 10+ other people that evening, but it's certainly less crowded than some of the other pagodas closer to the centre of town. Follow the coordinates below as Google Maps doesn't have it listed as a location just yet.
(Coordinates: 21°10'55.4″N 94°52'39.1″E)
Dinner at Bibo Restaurant
The streets of Nyaung-U can get pretty busy at night, but this classy outdoor restaurant exudes a calmer persona to help you unwind after a long day of temple hopping. The food may take a while to come, but the Arakan Fisherman's Soup (K3,000) and Bagan Styled Pork Curry (K4,000) is worth the wait.
Day 3: Finding Hidden Gems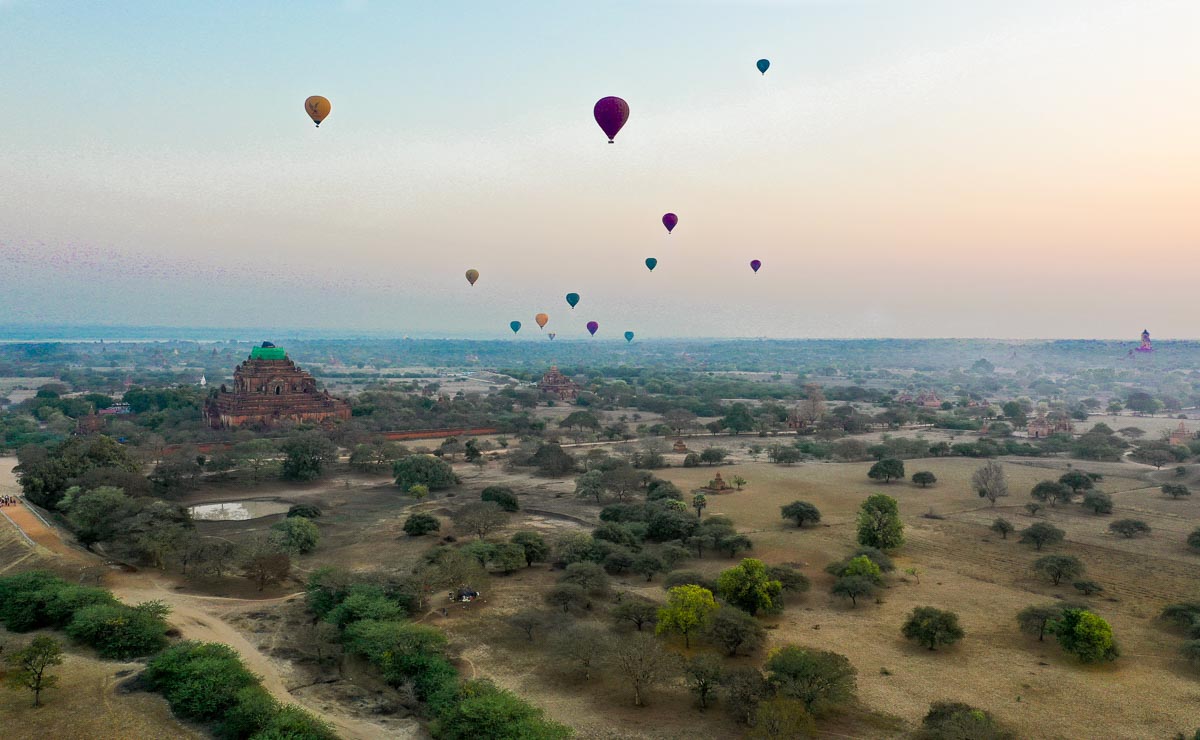 When it comes to locating places that are fascinating and not already hogged by tourists, sometimes the best way is simply to follow the advice of those who live there. Day 3 is all about the less-frequented, but nonetheless charming sights Bagan has to offer.
Read also: 9-Day Adventurous Myanmar Itinerary — Undiscovered Gems in Yangon, Bagan, Mandalay & Lashio
Sunrise at Pagoda 669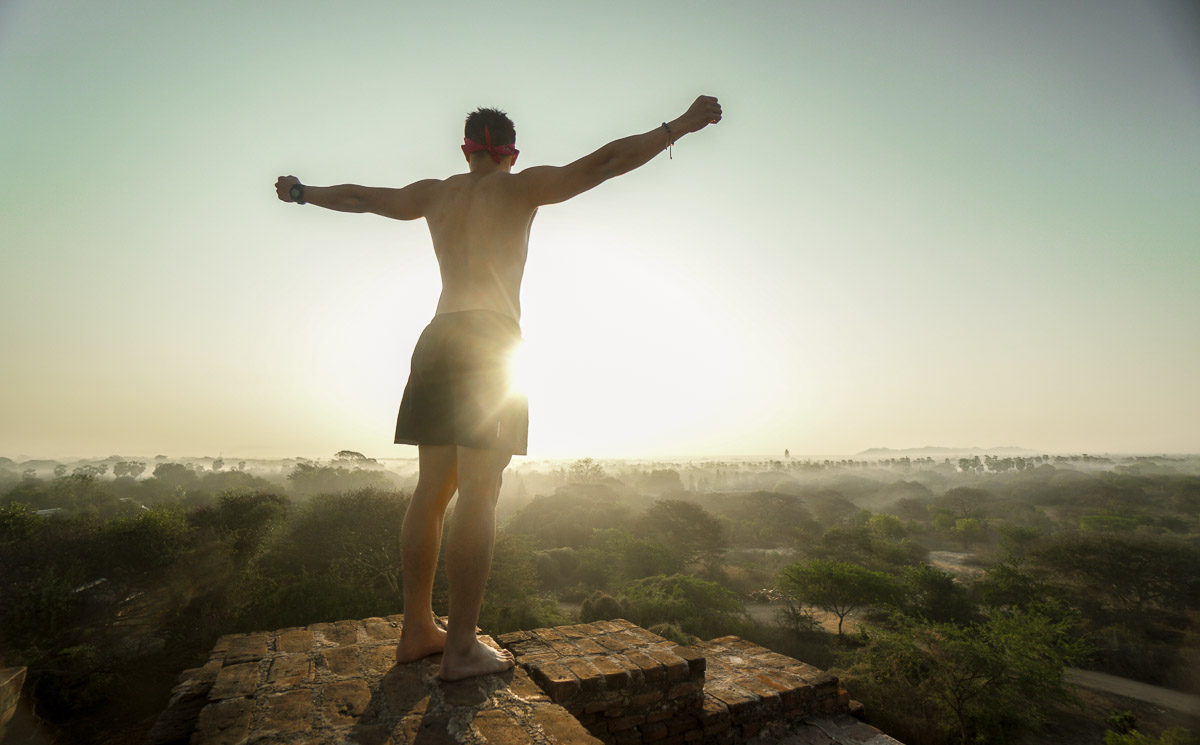 Whilst we were frantically scampering around on our bikes looking for an ideal spot to capture more picturesque shots of the morning sun, a young Burmese man caught up beside us and asked if we wanted him to show us a secret place. Although skeptical, we lacked a better plan, and agreed for him to take the lead. True to his word, he led us to this uninhabited pagoda with a great view far from anyone else.
Breakfast at Shwe Ou Food Garden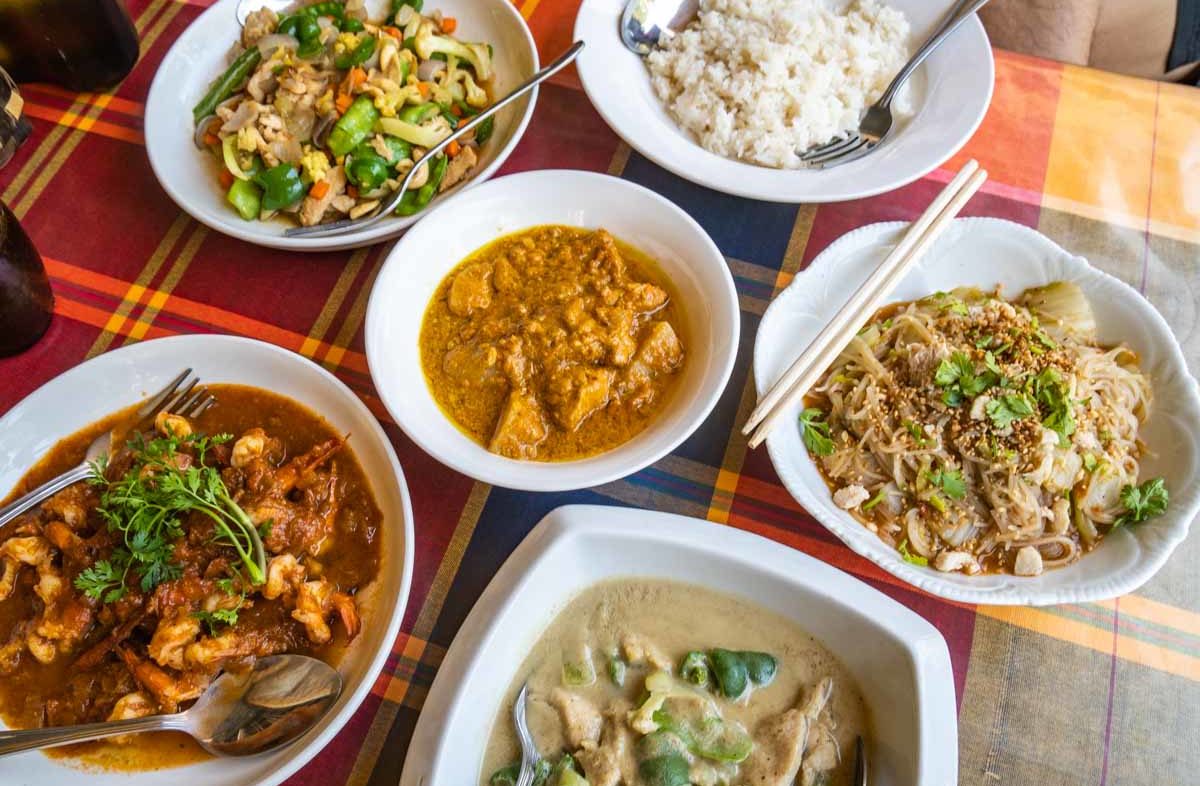 Head back to New Bagan for a hearty breakfast at Shwe Ou Food Garden. We recommend having the Irrawaddy River Prawn Curry (K7,000), Butter Curry Chicken with Potato (K3,000) and their wide selection of ice-cream (K2,000) and coffees.
Htilominlo Temple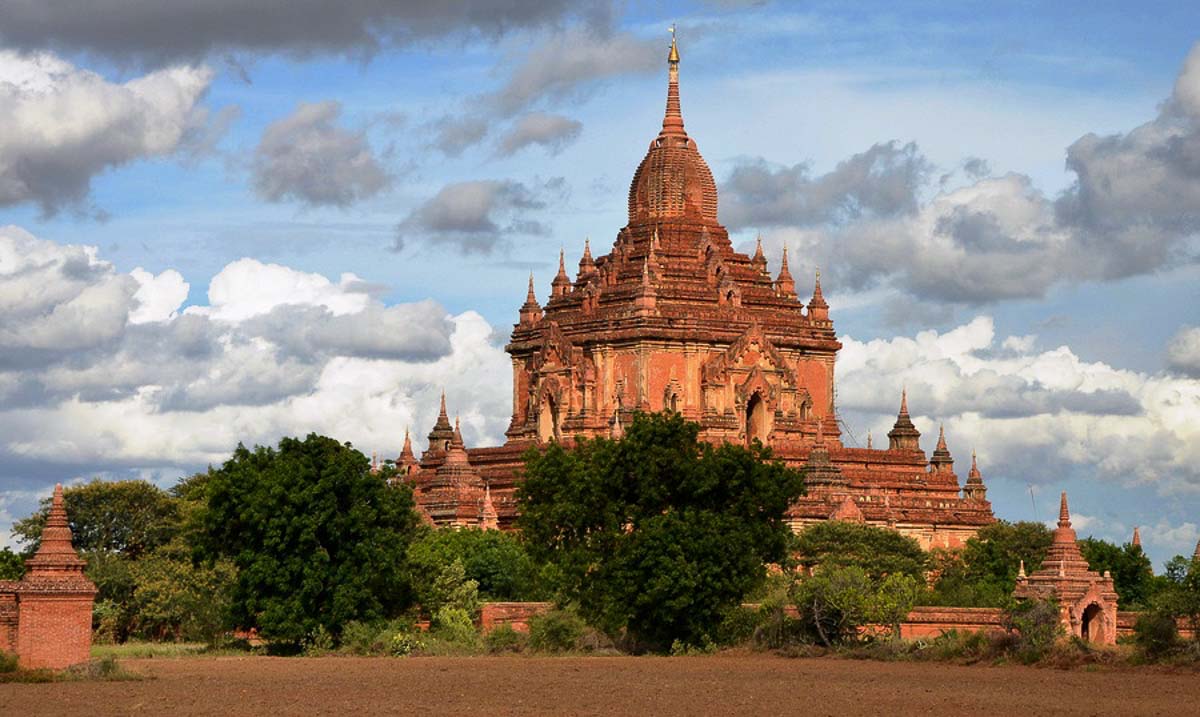 The Htilominlo Temple was named after the King who built it, and it stands three storeys high on the spot where he was chosen to be the successor of the throne. The terraces used to contain images depicting stories of the various lives of the Buddha, until an earthquake consigned them to the past.
Alotawpyae Pagoda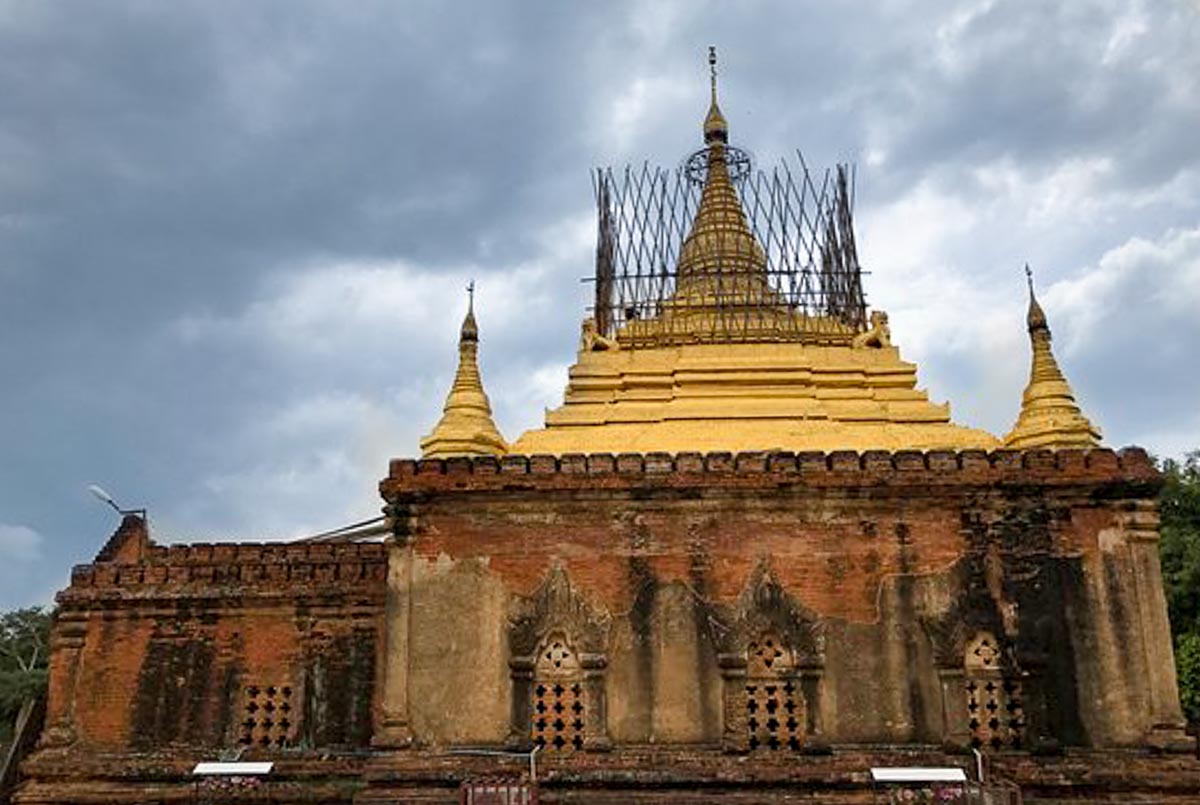 Unlike most of the other pagodas you'll encounter, the Alotawpyae Pagoda tends to be occupied by monks and other devotees performing their prayers. It's an interesting glimpse into the life of a local.
Myazigon Pagoda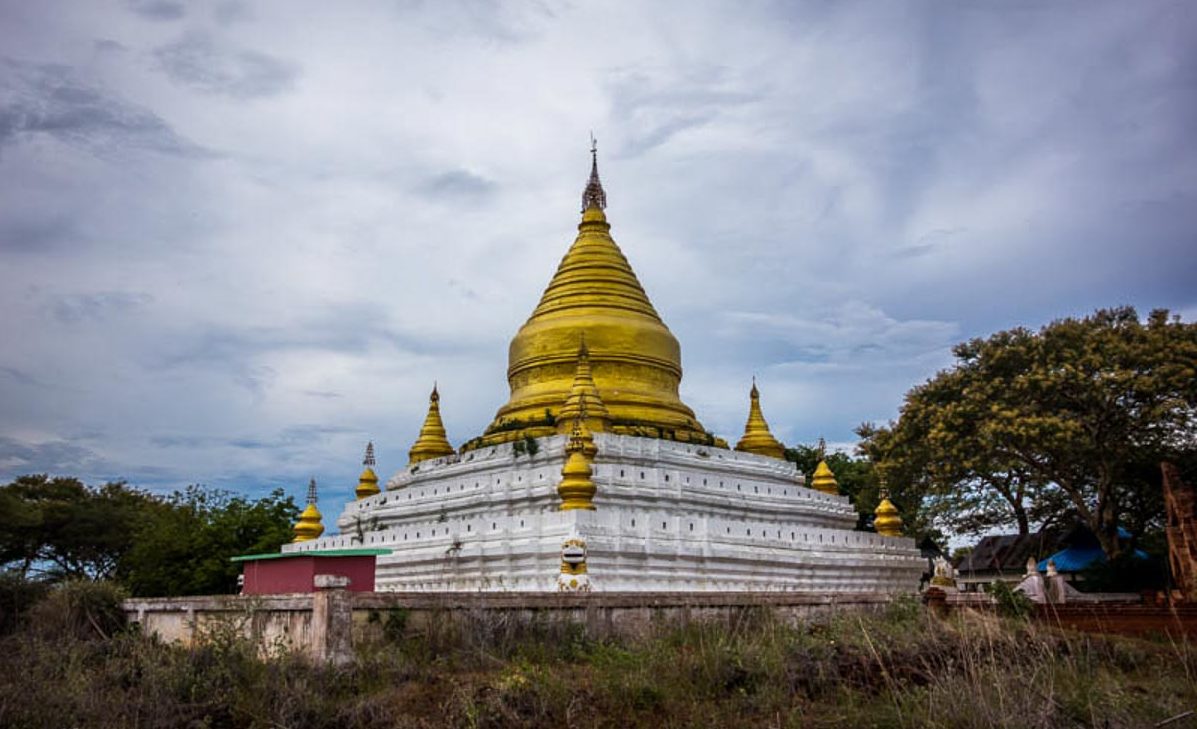 This pagoda is quite the beauty. Though relatively short, the three short flights of white stairs surrounded by its protective guardians on each side serve as a flawless base for its golden stupa centrepiece.
Lunch at Yar Pyi Restaurant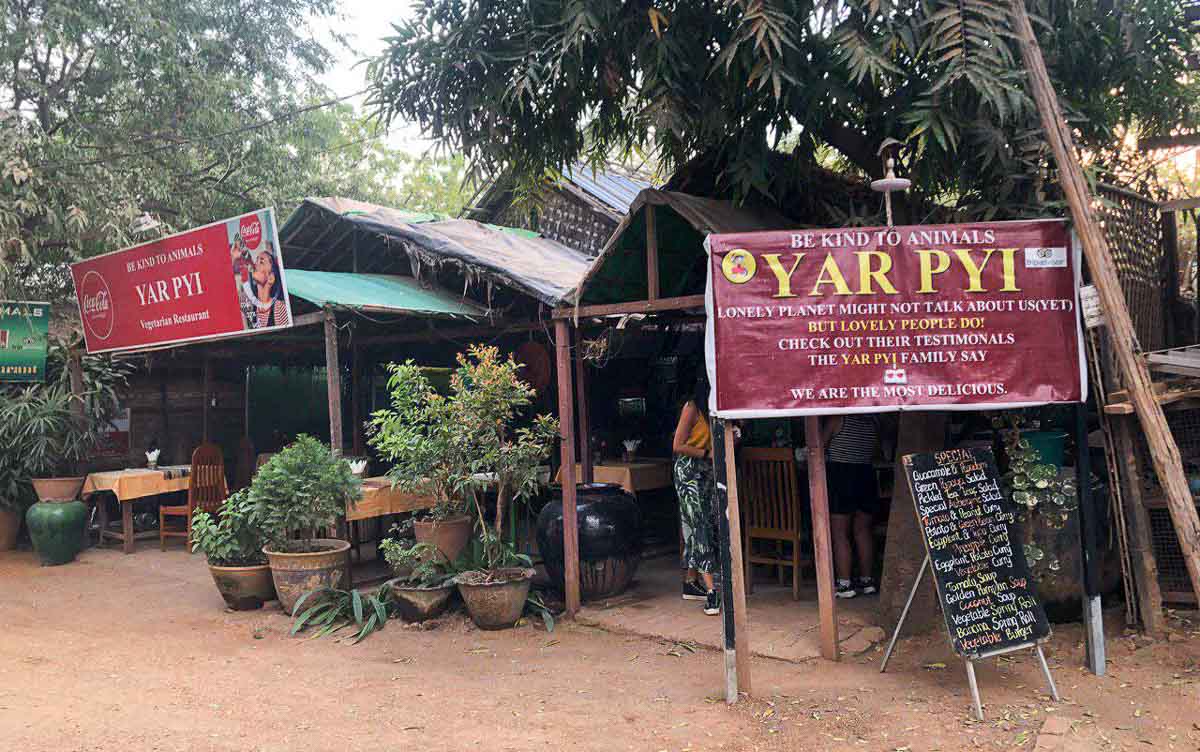 You might have noticed the Yar Pyi restaurant opposite Day 1's lunch spot. The food here is equally delicious, and the lady boss (who doubles as chef) loves to strike a good conversation. Make sure you order the Guacamole & Papadoms (K3,500).
Dhammayangyi Temple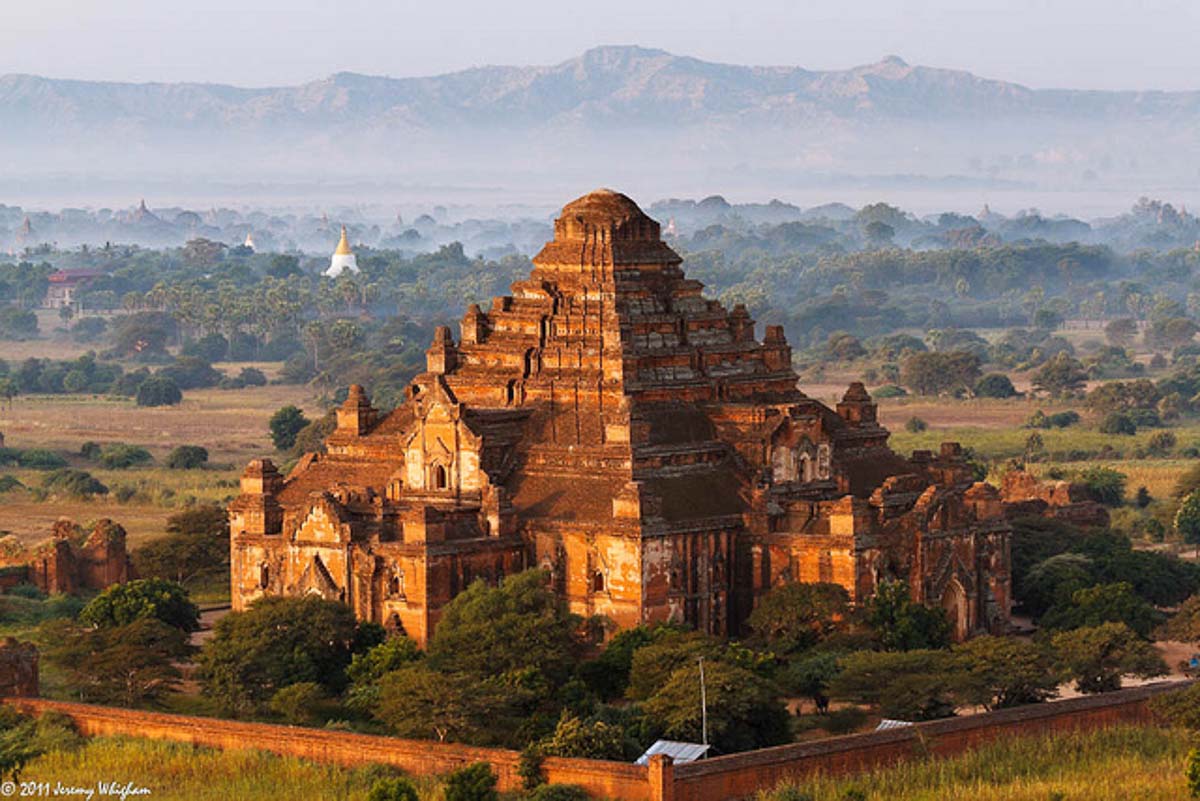 The uncompleted Dhammayangyi Temple is the largest of them all here in Bagan. The story goes that King Narathu had attempted to build a humungous temple to make up for the bad karma he gained from killing his father and brother to take the throne, although we're not sure it works that way, tbh.
Sunset at Thitsarwadi Temple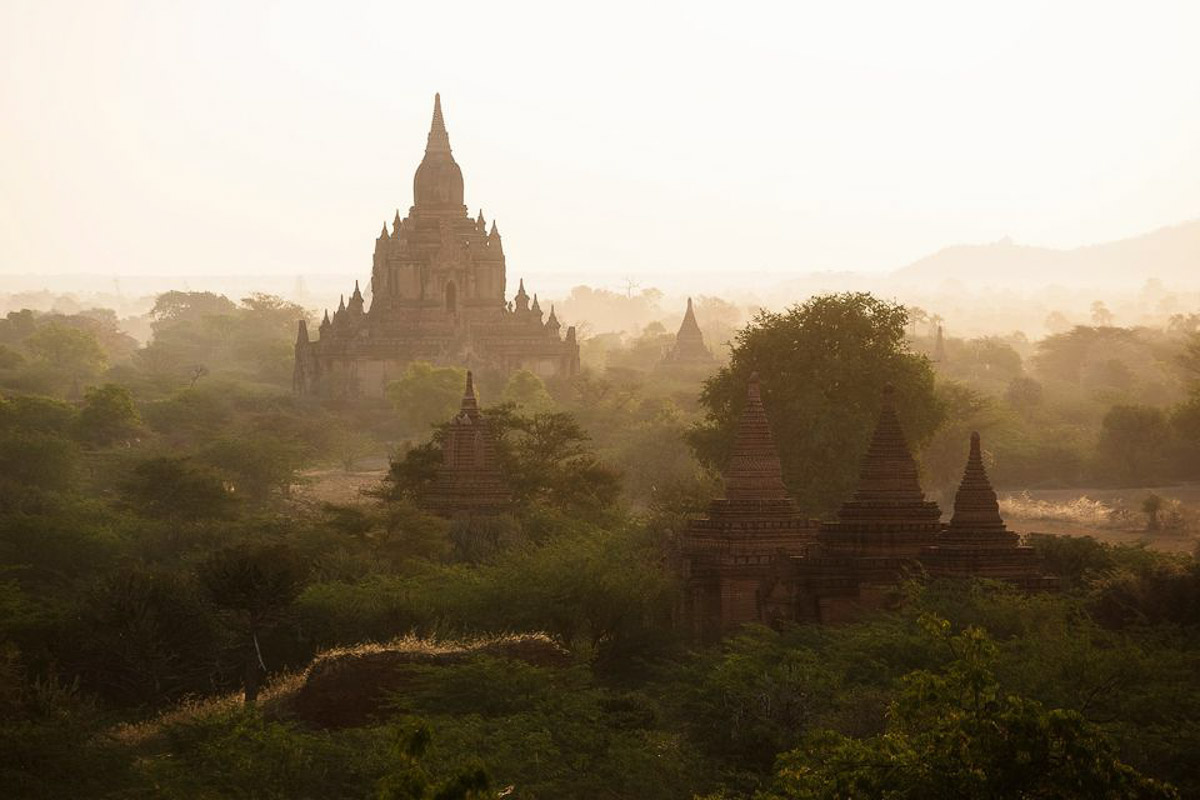 Hidden in the outskirts, it's unlikely you'll find many tourists venturing out here. But that's precisely what would make this a great alternative place to catch the sunset. You'll also be able to view the neighbouring majestic Dhammayazaka Pagoda nearby.
Dinner at La Pizza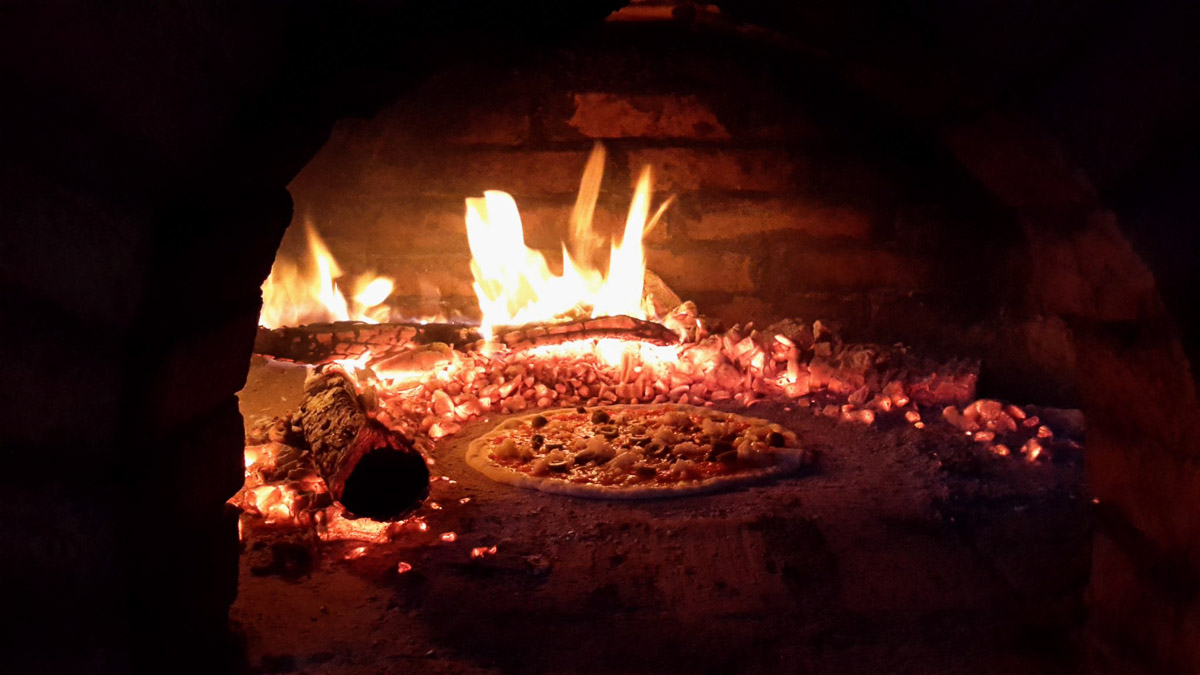 This marks the end of your biking adventure, so celebrate with some freshly-made, wood-fired pizza! Located along Kayay Street in New Bagan, La Pizza serves up a feast worthy of commendation from all of us food lovers. Order the Margherita and Seafood Pizzas (K7,000–K12,000).
Alternative Route: Roam Free Like the Wind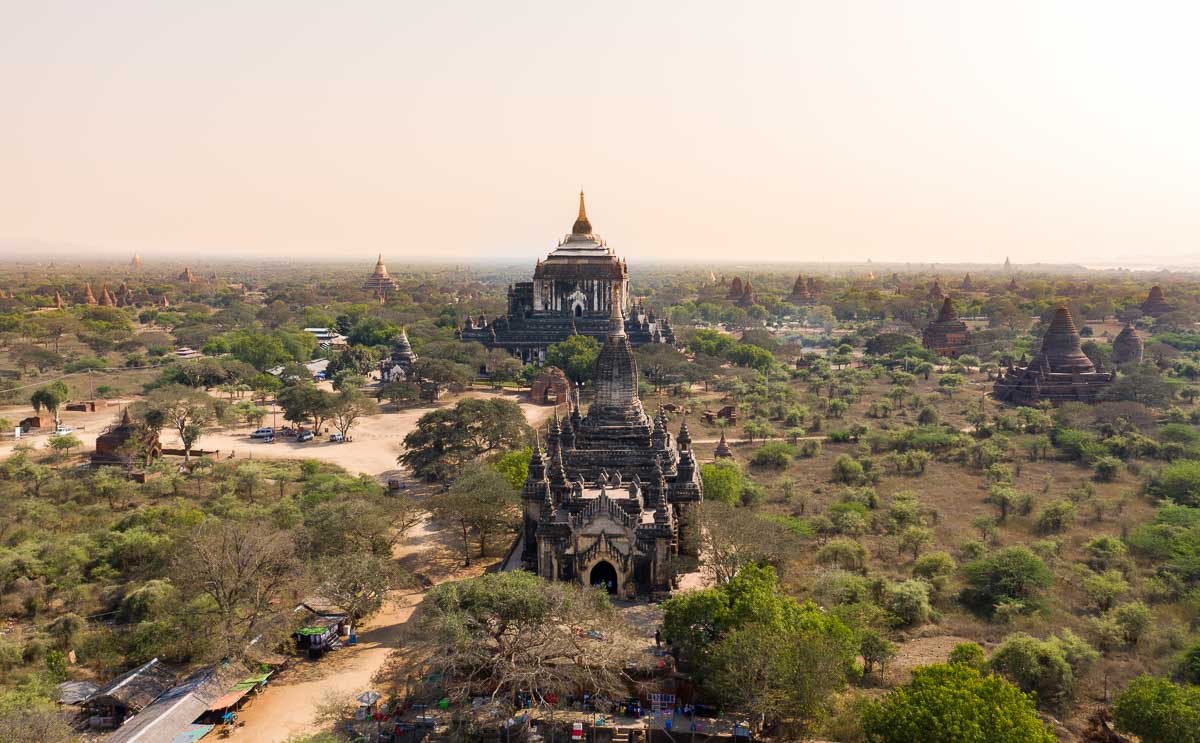 To many sensible travellers (and my editor when she reads this), travelling in a place you're not familiar with without a plan is blasphemy. That's why we put this guide together. But frankly… the times I've felt most enchanted by the beauty of Bagan were when pagoda after gorgeous pagoda dawned on me without a name.
After all, we're not travelling to tick boxes of a checklist, we travel to experience the unknown. I'd rather not have a destination in mind and let the unbeaten paths take me on a bronzy adventure, to places I didn't have to label in my head. So feel free to roam around if that's what your daredevil heart desires.
Important Notes on Exploring Bagan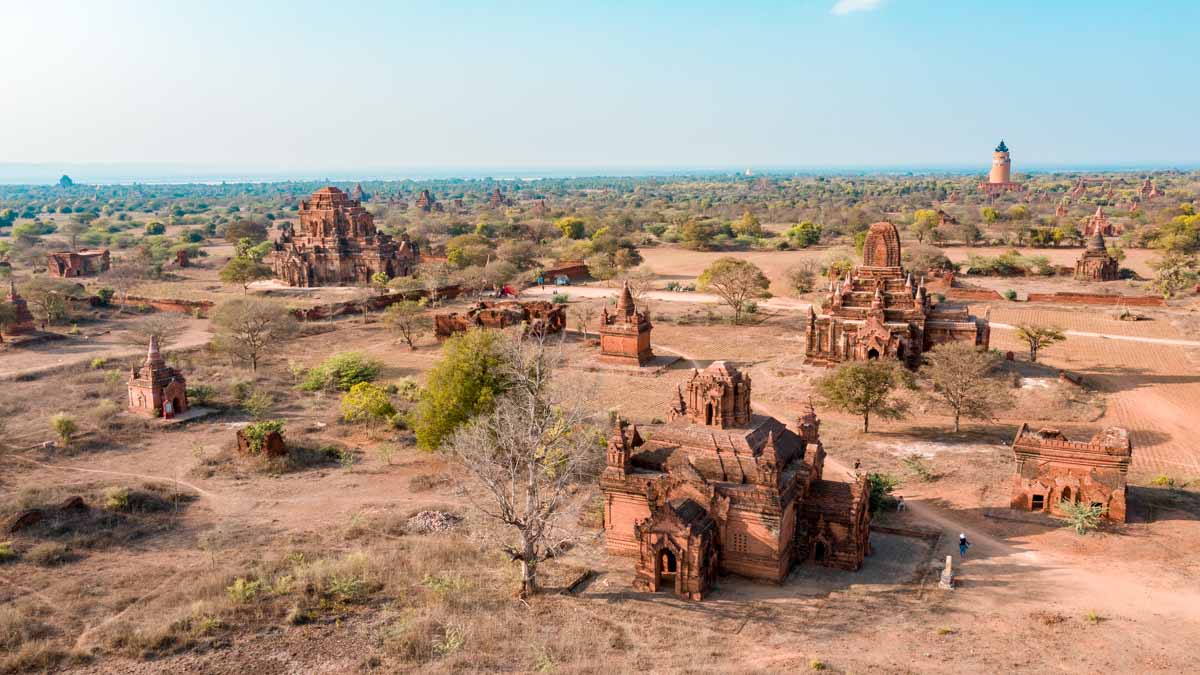 Here's the part where we'll sound like overprotective mothers, but bear with us.
Be Respectful of Signs and Customs
It is customary to remove your shoes before you enter any temple or religious monument in Bagan. You will also come across several structures with signs that forbid you to climb them. There are legitimate reasons for doing so (e.g. preservation efforts due to increase in tourism), so follow these formalities.
Be Careful While Climbing and Riding
There were several instances while climbing up the pagodas when loose bricks either chipped off or gave way. Exercise caution or make your way up slowly. These structures are centuries old and aren't as sturdy as they used to be.
Also, always adhere to the standard traffic rules and be gracious on the roads. Zooming across dusty roads will get your spectacles or contact lenses perpetually murdered with sand, so don't hesitate to stop safely by the road if your vision gets blurry.
Getting to Bagan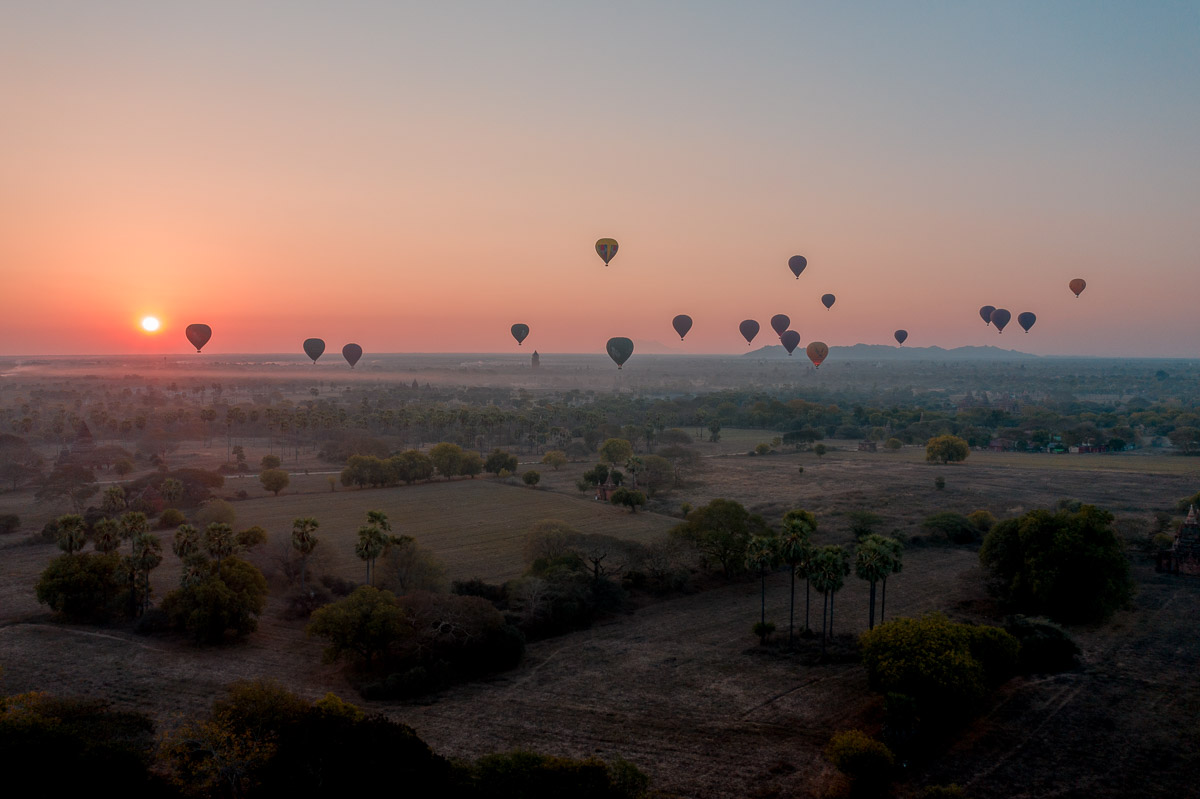 There are currently no direct international flights to Bagan's Nyaung-U Airport. So the fastest way to get to there is to first fly to Yangon, then take a subsequent flight to Bagan. If you're looking for something more affordable, pre-book an overnight bus from Yangon to Bagan for just under S$25.
The bus leaves at two timings (8PM and 9PM) daily from the Aung Mingalar Highway Bus Station. The ride is 10 hours long with toilet stops throughout the night, and you'll arrive at the bus terminal in Nyaung-U at 6AM/7AM the next morning. The taxi ride from the bus terminal to your accommodation should fall somewhere between K2,000 and K8,000.
Note: All tourists visiting Bagan will have to pay a fee of K25,000 (~S$22.40) for an "Archaeological Zone Pass" that entitles visitors entry into four main settlements within three days. Remember to always carry the ticket with you as you may be stopped for random checks by the local police.
Suggestions for First-Time E-Bike Riders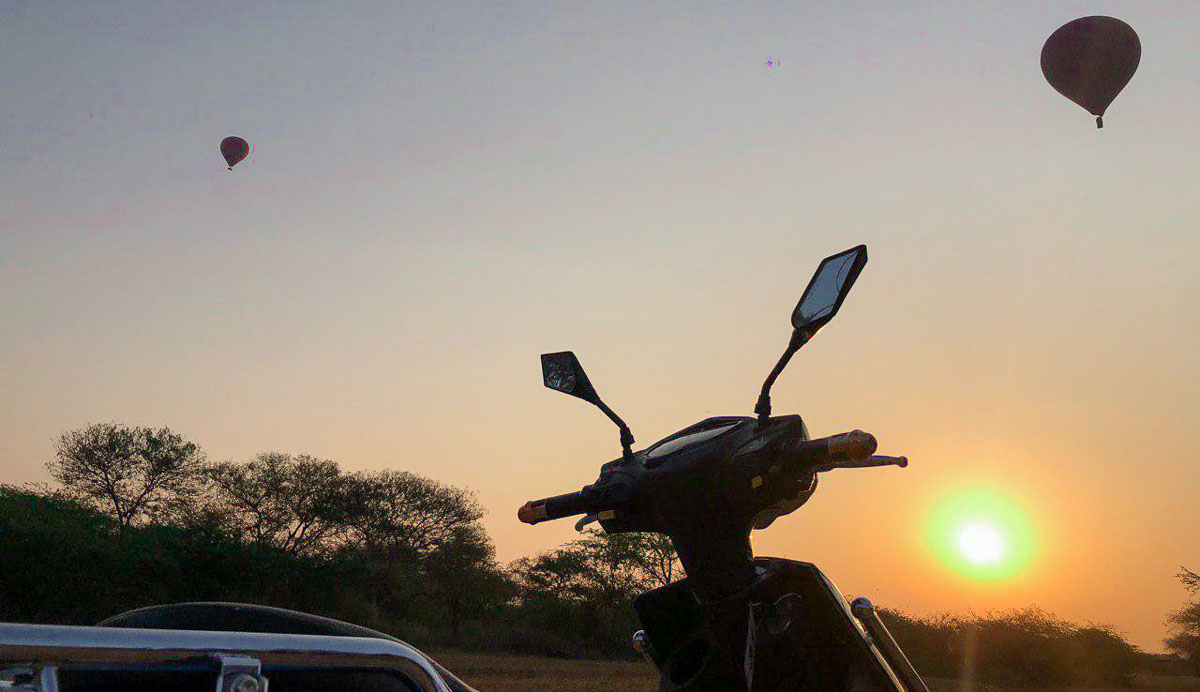 Non-bikers, let's get one thing straight: You don't need to know how to ride a bike. You need to learn how to. About 15 minutes of falling, clumsy imbalance and passers-by laughing later, you'll forget you were afraid of jumping on that bike in the first place. Here are some tips having once been an e-bike virgin myself:
Go Light on the Throttle
The handle on your right doubles up as the throttle, and twisting it towards you propels you forward. Don't crank it all the way back straight. Twist it ever so slightly, then rest your feet in front of you the moment the bike inches forward.
Allow the Momentum to Help You Balance
Riding an e-bike is very similar to riding a bicycle. The initial stumbling block for many is the fear that you'll fall off the bike. When the bike starts moving initially, your instinctive reaction might be to put your feet back down on the ground. Counter this by balancing with your body and handles, and simply have faith that you will not fall. And you won't.
Twist the Throttle Forward When You Break
This might be a little unconventional, but it works for me. Somehow, my instinct is to twist the throttle back (accelerating) when I panic, which results in me losing whatever control I already had of the bike and fly forwards. By periodically twisting it forward whilst I'm cruising along, I'm training my brain to associate that motion with braking and not accelerating.
However, if you're insistent on an alternative form of transport because you simply can't trust your motor-skills, you can always hire a private taxi to bring you around for approximately S$25 a day.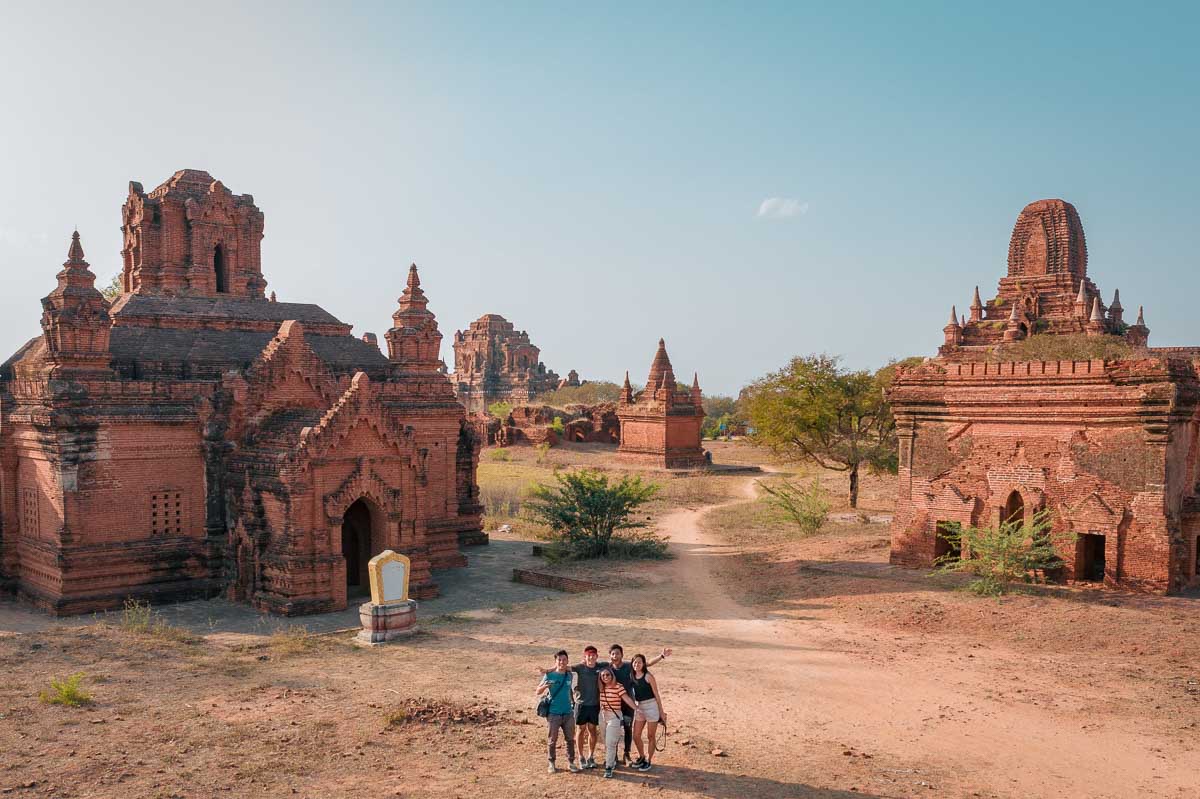 And there you have it! After three days of non-stop temple hopping in the ancient city of Bagan, my heart sank in its soft sand just thinking about leaving the place behind. The ancient city has countless more precious gems waiting to be uncovered, but we'll leave that to the explorer in you to find and share with the rest of the world.
Found some sublime secret pagodas or better routes in Bagan? Share it with us and our community in the comments below! 
---
Follow us on Instagram, YouTube, and Facebook for more travel inspiration!
View this post on Instagram