Hong Kong said Nei hou and I answered Waalaikumusalam.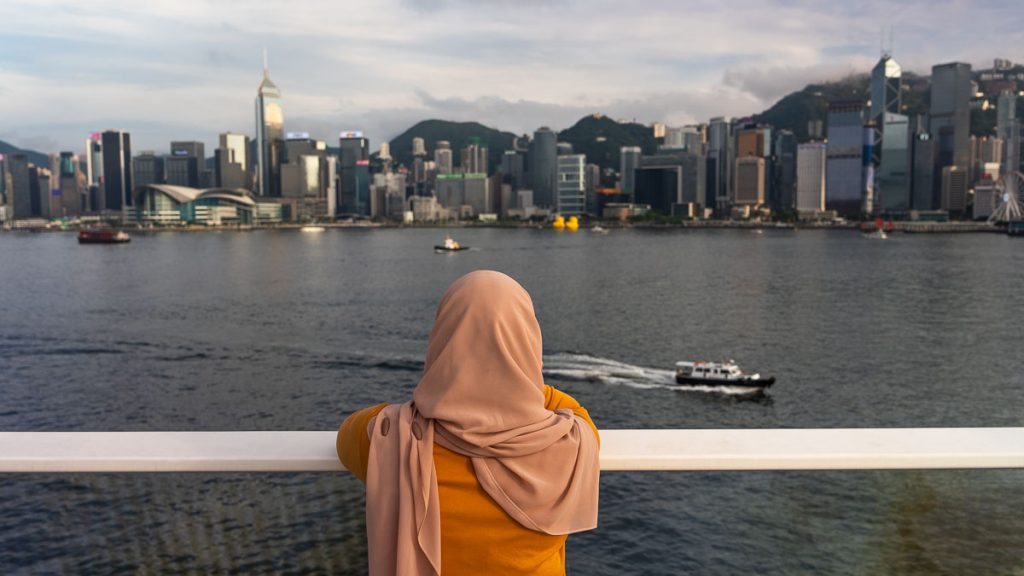 I visited Hong Kong once in 2015 and all I remember from the itinerary was Halal Dim Sum from Islamic Canteen, The Peak and Hong Kong Disneyland — obviously.
I enjoyed myself on that trip but I knew Hong Kong had much more to offer.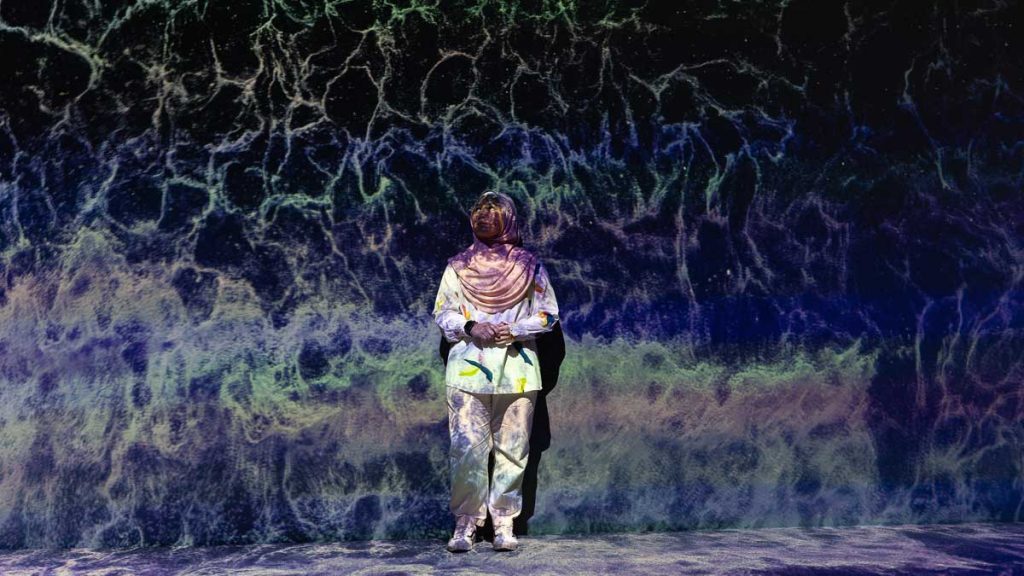 Now that I'm a little older (and a little bit more aware of my surroundings), I returned to Hong Kong with the intention to uncover their alternative side all while keepin' it Halal 💯 We explored the artsy aspects of Hong Kong, found prayer areas throughout the city and chilled at Insta-worthy Muslim-friendly cafes!
Read also: Ultimate Hong Kong Food Guide: 50 Best Eats Incl. Halal Food
If you're Muslim and looking to explore the Muslim-friendly sides of Hong Kong, here's our six-day itinerary covering where to eat, where to pray and where to play.
Day 1: Central | Day 2: Hong Kong Disneyland | Day 3: Causeway Bay | Day 4: Ocean Park | Day 5: Kowloon | Day 6: Tai O Fishing Village
Day 0: Arriving in Hong Kong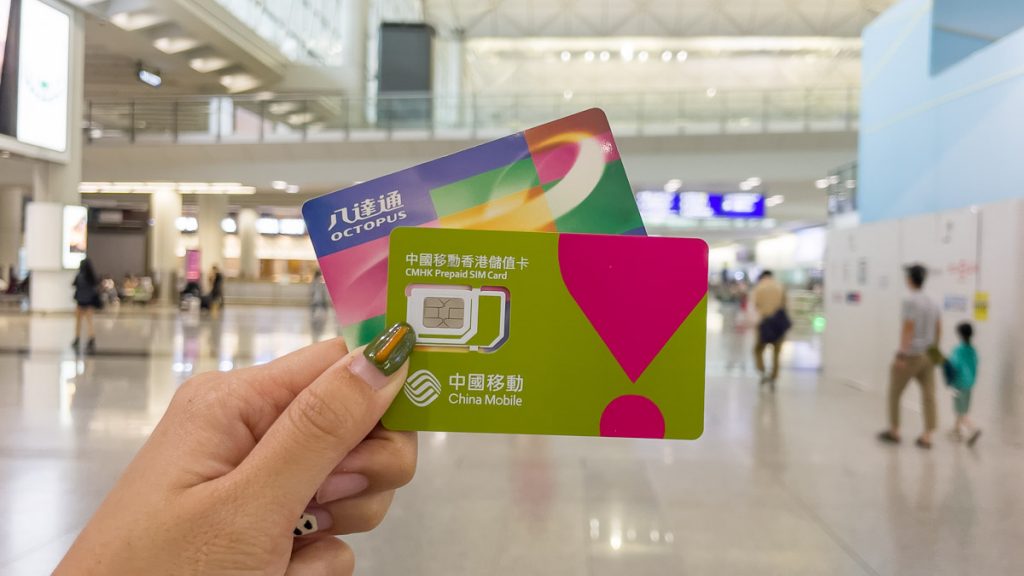 Transport: Public transport is affordable and well-connected in Hong Kong. Pro-tip: Get this bundle via Klook, which includes an Octopus Card preloaded with HK$150 (~S$25.50) and a Hong Kong 4G SIM Card for eight days.
Hong Kong Goodies: As a welcome gift, travellers staying in Hong Kong for 90 days or less are eligible for Hong Kong Goodies (worth HK$100, ~S$17)! Choose from over a million vouchers including free welcome drinks at bars, cash vouchers for restaurants, shops or attractions, or exclusive gifts from attractions or museums.
Check into InterContinental Grand Stanford Hong Kong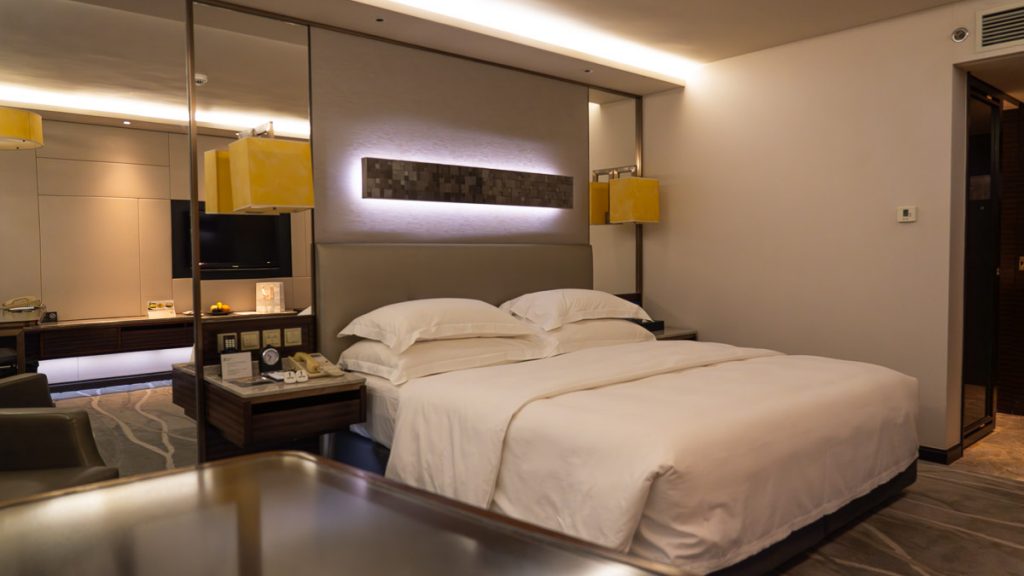 Home for the week was at InterContinental Grand Stanford Hong Kong. It's pricey but being less than a 15-minute walk from three MTR stations (Tsim Sha Tsui, East Tsim Sha Tsui & Hung Hom Station) and Chunking Mansions (an area with a lot of Halal food) made it worth the splurge.
Their willingness to accommodate our Halal dietary requirements for the breakfast buffet was a plus! They differentiated Halal dishes with different coloured tags and placed reminders to only use designated utensils for Halal items.
*Note: Send your dietary requirements in advance to the hotel's Reservations Department via [email protected] to ensure ample lead time for arrangements to be made.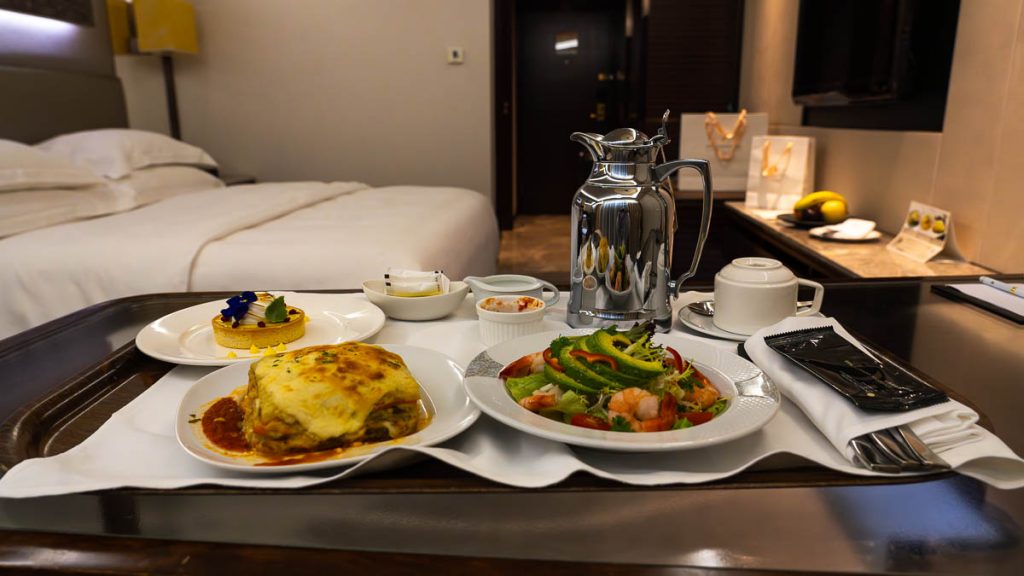 It was late when we checked-in, so we opted for in-room dining for dinner!
The Halal In-Room Dining menu has an extensive range of Asian and Western dishes so I chose the vegetarian Oven-baked Lasagna with Prawn and Avocado Salad. I loved the creaminess of the béchamel (white sauce) in the lasagna and the spicy tangy kick from the salad dressing.
After the very filling meal, I had a good night's rest in their comfy bed and spacious room.
Fun fact: There's a pillow menu to choose from if the fluffy standard pillows aren't to your liking 😉.
Cost: From S$265 (~HK$1,557)/night
Address: 70號 Mody Rd, Tsim Sha Tsui, Hong Kong
Day 1: Appreciate Central's Contrasting Landscapes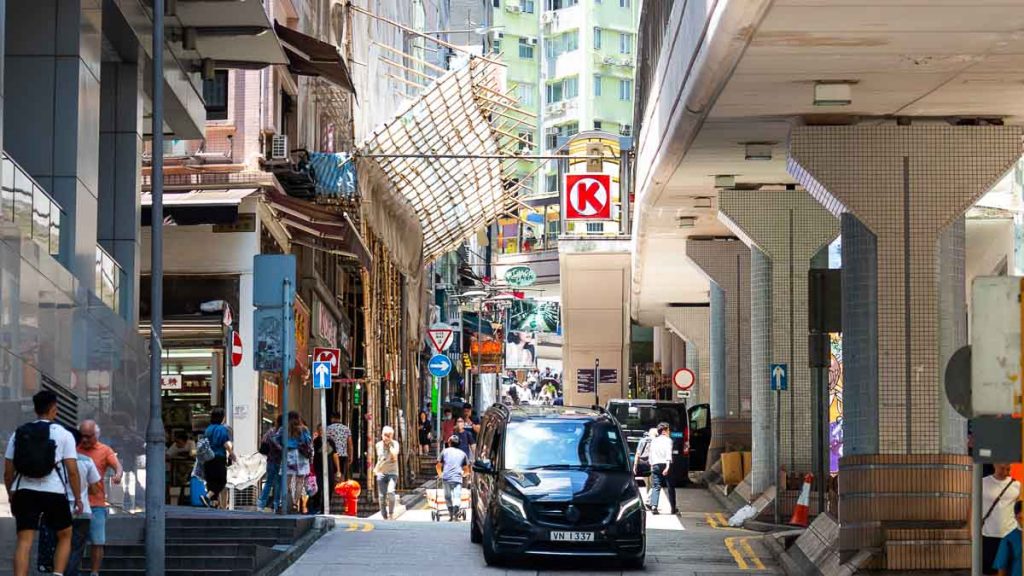 Located on Hong Kong Island, Central is a blend of the old and new with historical architecture and towering skyscrapers.
Guided Central Street Art Tour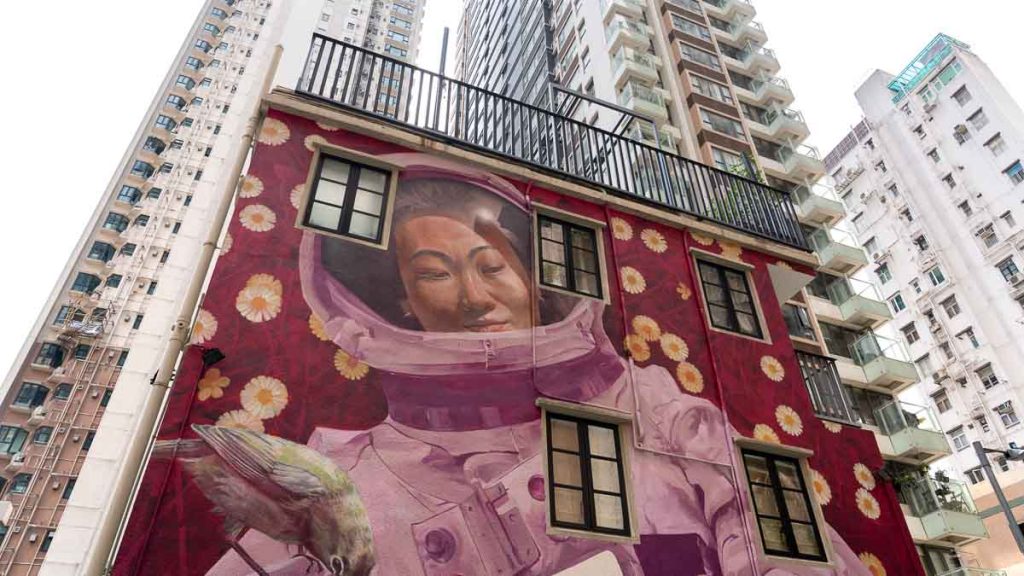 Starting our Hong Kong adventure with a street art tour, our guide Alexandra from Wanderlust Walks introduced us to works around Central.
Our tour started from Lower Lascar Road and by the time we ended at Shing Wong Street, I had a new appreciation for street art.
We saw works from local Hong Kong artists like Mooncasket — best known for her colourful quirky creatures inspired by retro cartoons — and international artists like Invader — French street artist known for ceramic tile mosaics of pixelated art from 8-bit video games like Space Invaders!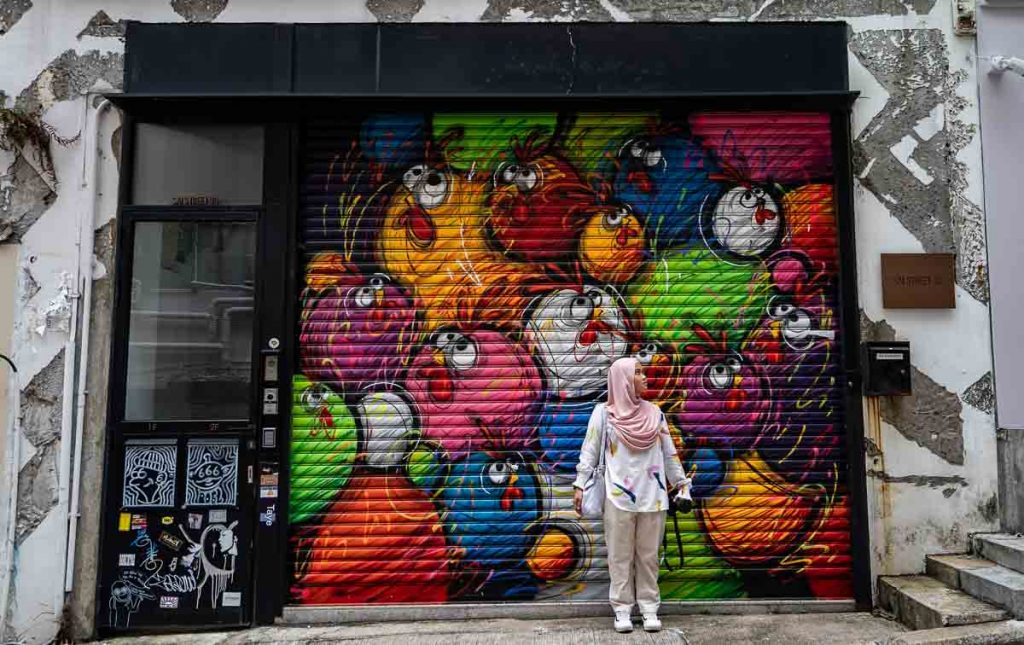 This mural by Ceet features his signature Chicanos!
Having Alexandra explain the artists' processes of the murals and graffiti made me more invested in the pieces.
A striking story was about how an Algerian artist Ceet began his artistic journey — he had difficulty communicating in restaurants overseas so he started drawing his orders!
Guided Street Art Tour
Cost: From HK$2,000 (~S$340.50 for 1 – 3 pax, cost remains the same even if only 1 pax, extra HK$300 (~S$51) for each additional participant above 3pax)
Tour timings: Anytime between 10AM – 4PM, depending on the tour
Meeting point: Varies depending on the tour
Free Alternative: Art Lane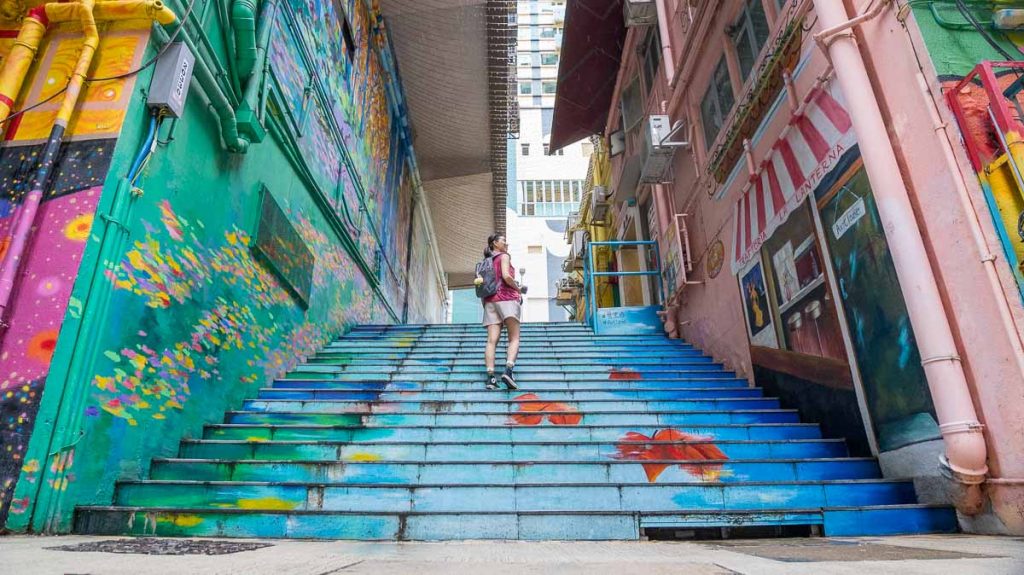 Alternatively, if you prefer a free and easy art walk, head to Art Lane.
Ki Ling Lane and Chung Ching Street are fully painted from wall to wall with bright and fun murals by both local and international artists. There's even art on the stairs!
The 'Rainbow Staircase' is what you'll usually see when Google-ing Art Lane but be sure to check out 'Music Town' by local Hong Kong artist Zue Chan too! The piece is inspired by Vienna's vibrant local shops and it leads to another section of Art Lane!
*Pro-tip: Visit on weekday afternoons for fewer crowds or at night to see the lane lit by fairy lights!
Opening hours: 24hrs
How to get there: Sai Ying Pun MTR station Exit B3
Muslim-friendly offerings around Hollywood Road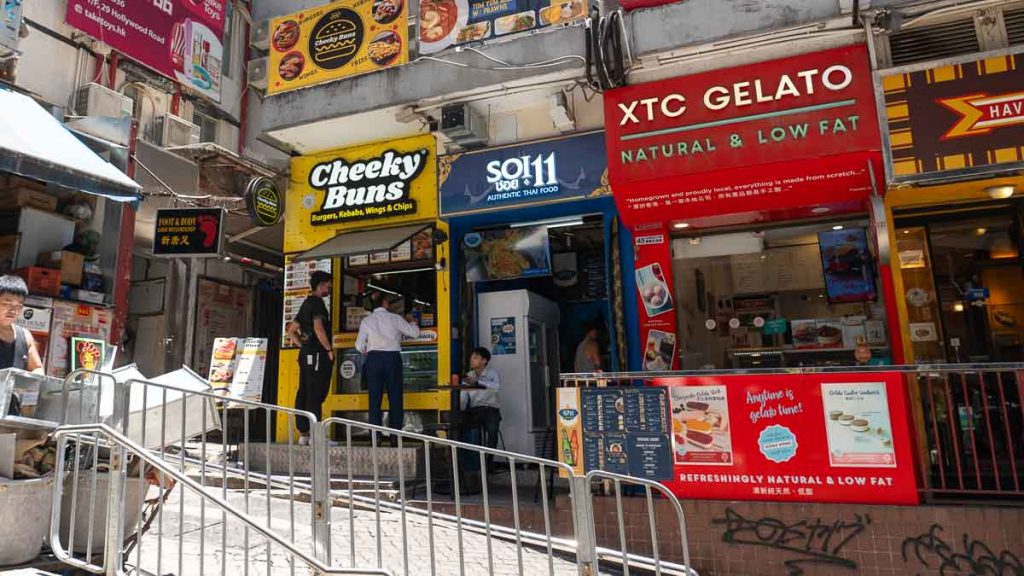 Both street art options are in the central area which is a great opportunity to explore Hollywood Road after the tour. This historical road is lined with vintage shops, cafes, art galleries, and several Halal food spots!
Our lunch stop was an Indian food buffet at Jashan Celebrating Indian Cuisine.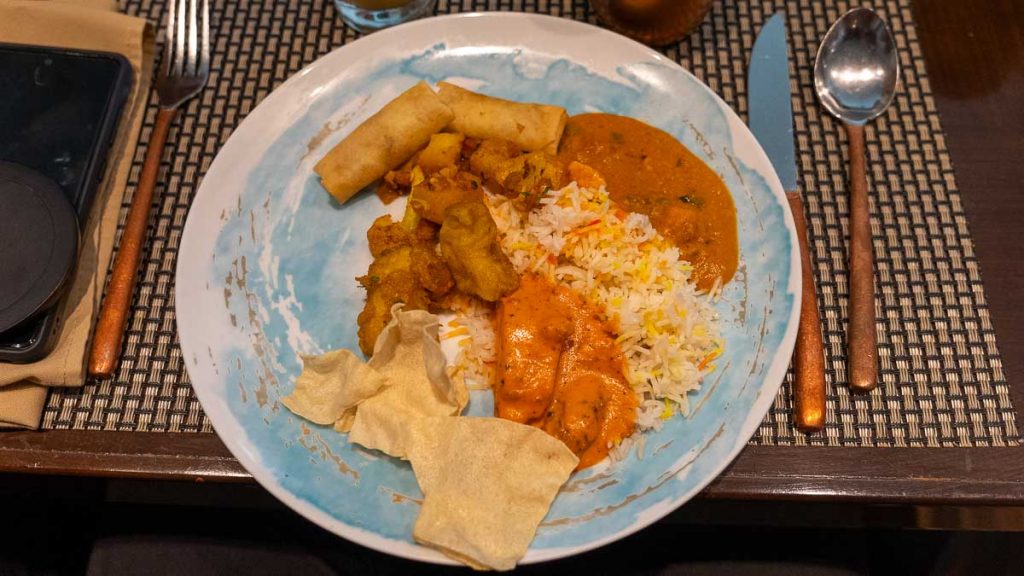 I loved the cosy ambience and how we could sample what seemed like every North Indian curry in one place 🤭
Jashan Celebrating Indian Cuisine
Cost: From HK$148/pax (~S$24)
Opening hours: 12PM – 2:30 PM, 5:45PM – 10PM
Address: 1/f, Amber Lodge, 23 Hollywood Rd, Central, Hong Kong
If you prefer a quick takeaway of burgers, kebabs, and rice bowls instead, check out Cheeky Buns!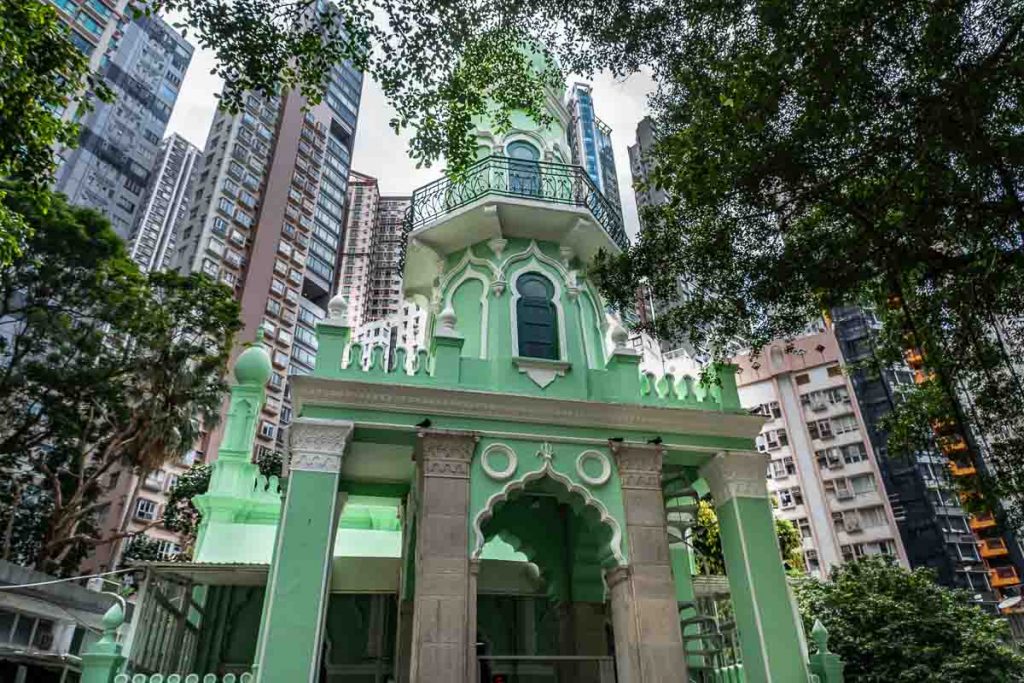 We then walked 10 minutes to Jamia Mosque for our afternoon prayers. This mint-green mosque is the oldest mosque in Hong Kong and has recently been considered a historical monument of the city!
*Note: Toilets here are equipped with ablution areas and bidets.
Jamia Mosque
Opening hours: 6AM – 7PM (depending on prayer times)
Address: 30 Shelley St, Mid-Levels, Hong Kong
Central Market & Central Mid-levels Escalator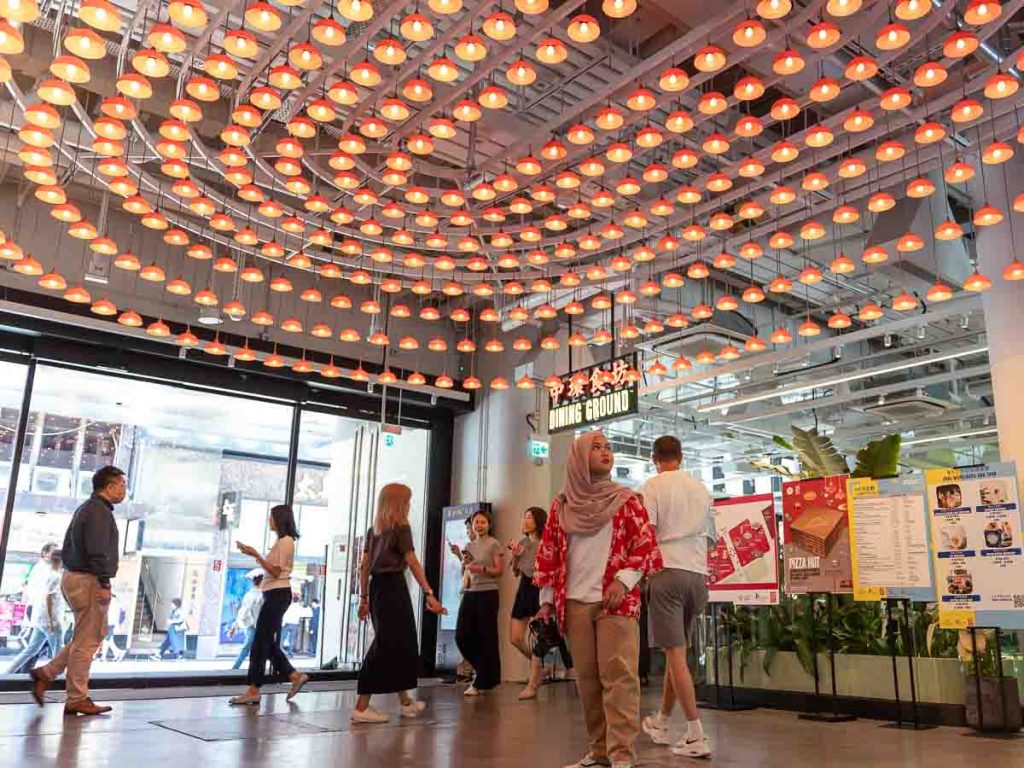 Central Market was the city's first wet market and it operated as such till 2003. It's now an aesthetically pleasing hip spot with small local shops, international food, and…AIRCON. It was a cooling break from the hot summer weather during our visit.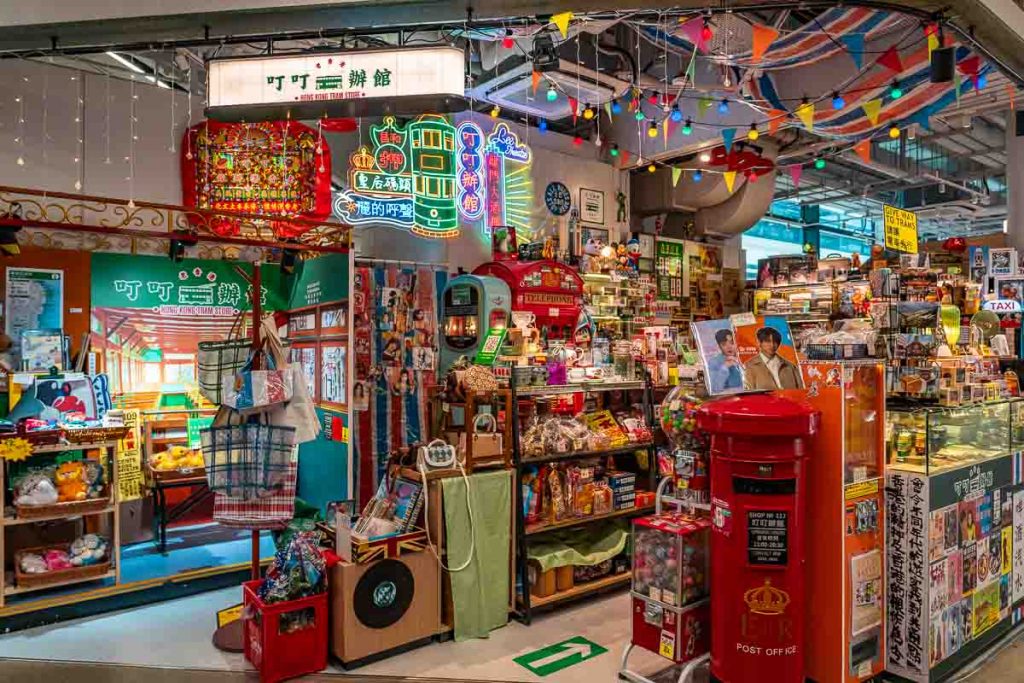 While food options were mostly located on the ground floor, Level 1 and 2 were filled with small locally designed items and uniquely Hong Kong trinkets like the iconic 'Black & White' cha chaan teng teacup.
There was a lot to explore so we took our time browsing (and taking plenty of OOTDs 🤭).
Central Market
Opening hours: 10AM – 10PM
Address: 93 Queen's Road Central, Central, Hong Kong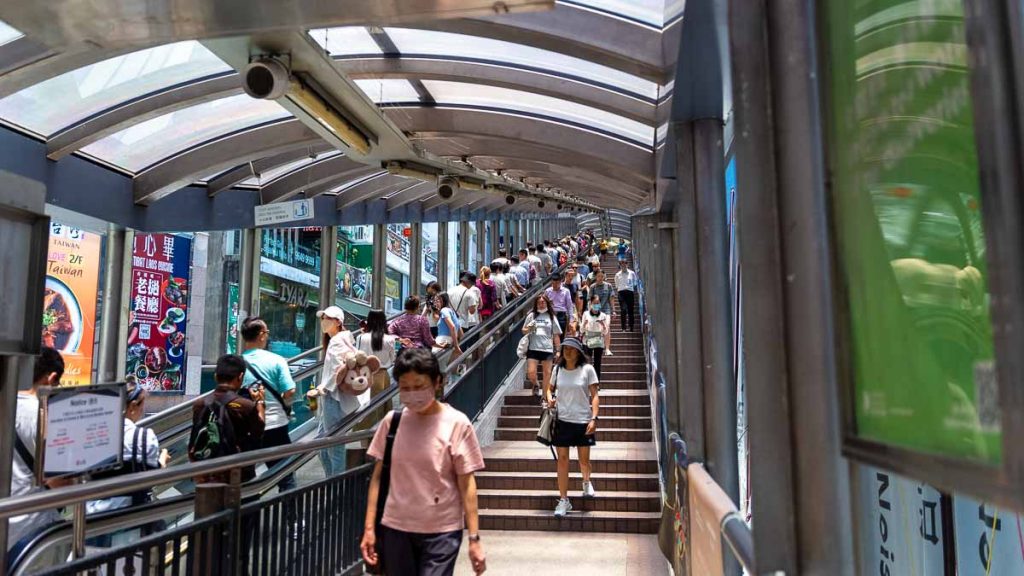 After that, we exited at Level 2 for the Central Mid-levels Escalator — the longest outdoor covered escalator system in the world and a recurring film location in Wong Kar-wai's Chunking Express!
Central Mid-levels Escalator
Opening hours: 6AM – 12AM
Address: Jubilee St, Central, Hong Kong
Central Pier & Central and Western District Promenade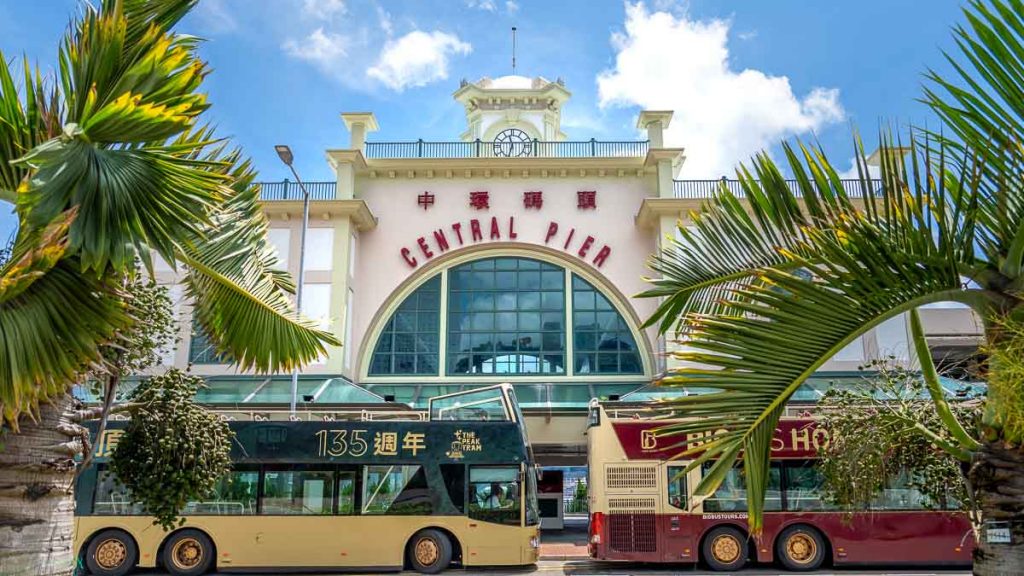 Central Pier is not just a scenic viewpoint of Victoria Harbour and Hong Kong's skyline — it's a functioning ferry terminal that connects Hong Kong Island with Kowloon and the outlying islands!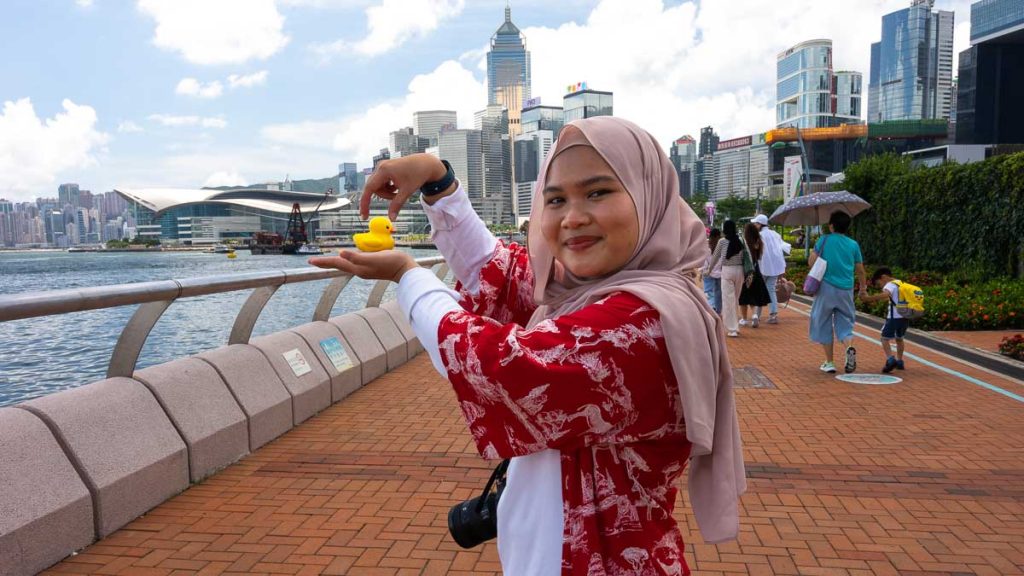 Surrounded by notable landmarks like the International Finance Centre (IFC), walking along the promenade emphasised Hong Kong's opulence.
Fun fact: The IFC is the second tallest building in Hong Kong — the International Commerce Centre (ICC) is the tallest!
During our visit, we also got to see DOUBLE DUCKS floating on Victoria Harbour 😆🦆 Known for his large public art installations, Dutch artist Florentijn Hofman brought the 'Rubber Duck' to Hong Kong back in 2013 and other cities like Seoul and Los Angeles.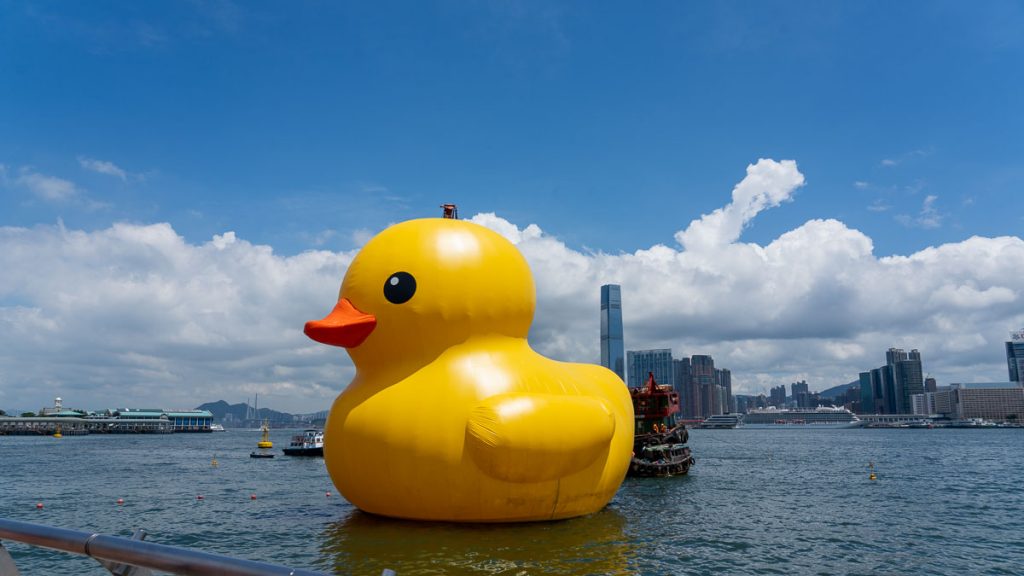 Now 10 years later, it returns with a friend because, as Hofman says, "Double duck is double luck". Pictured above is a single duck because his friend deflated from the heat. #relatable
Even though the ducks departed from the harbour on 18 June 2023, we hope we don't have to wait another 10 years for their return 🤭!
*Pro-tip: Catch a sunset ferry ride (from HK$4, ~S$0.70) to Kowloon or Tsim Sha Tsui for bougie vibes.
Opening hours: 24hrs
Address: Central, Hong Kong
Day 2: Spend a day in the happiest place on earth — Hong Kong Disneyland!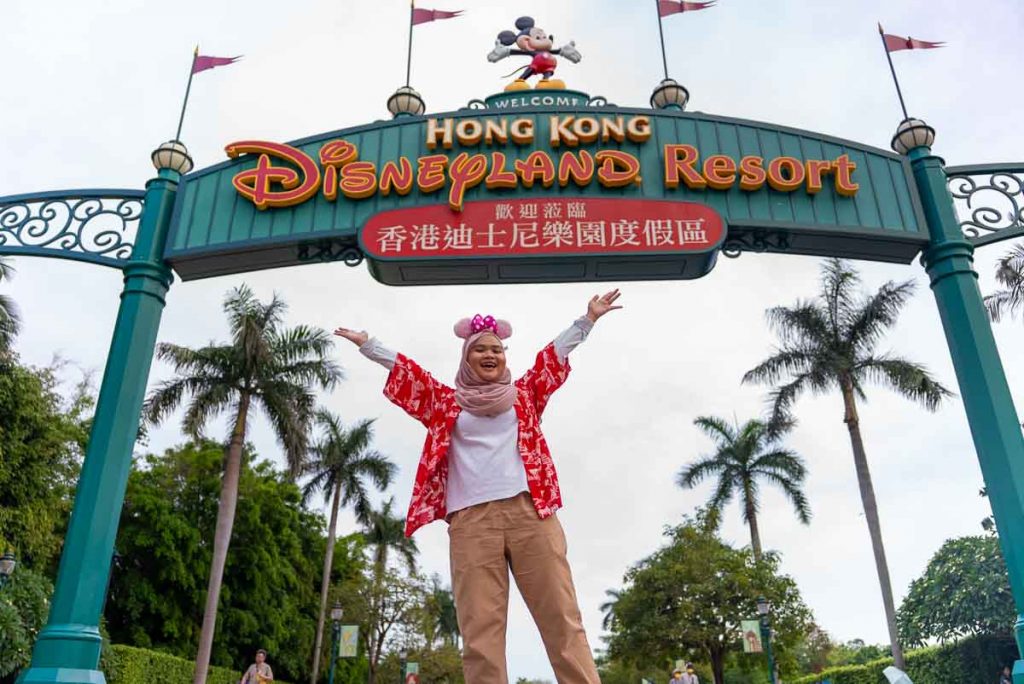 A Hong Kong itinerary isn't complete without stopping by the happiest place on earth — but a few things have changed in Hong Kong Disneyland since my 2015 visit:
– The park is closed on some days so refer to Park Calendar when planning your visit
– Reservations (up to 90 days in advance) are required before your visit
Read more: Hong Kong Disneyland Guide (updated in 2023)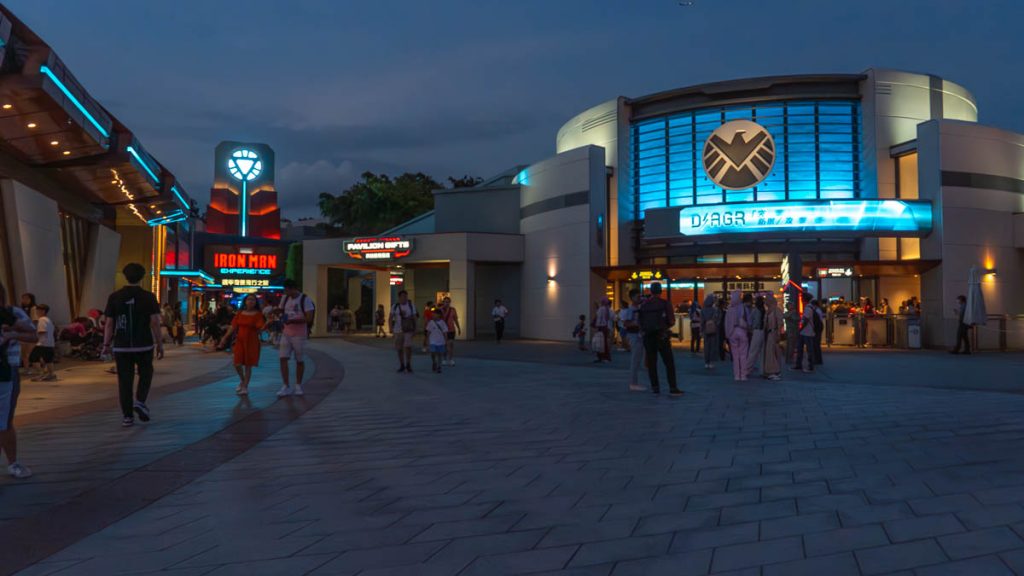 New Marvel attractions have opened in Tomorrowland too! We rode the 3D motion simulator Iron Man Experience and the kid-friendly Ant-Man and The Wasp: Nano Battle — which was a good respite from more intense rides like Big Grizzly Mountain Runaway Mine Cars.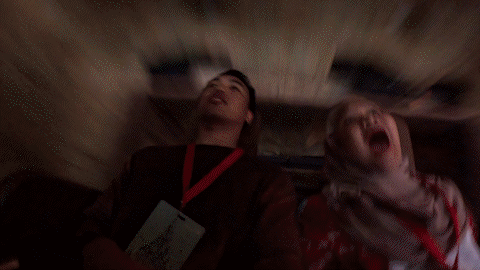 Big Grizzly Mountain Runaway Mine Cars is my favourite ride!
Our adventure ended with "Momentous" Nighttime Spectacular — Hong Kong Disneyland's nighttime fireworks and LED projections show at the Castle of Magical Dreams. I can't confirm or deny that tears were shed during the show.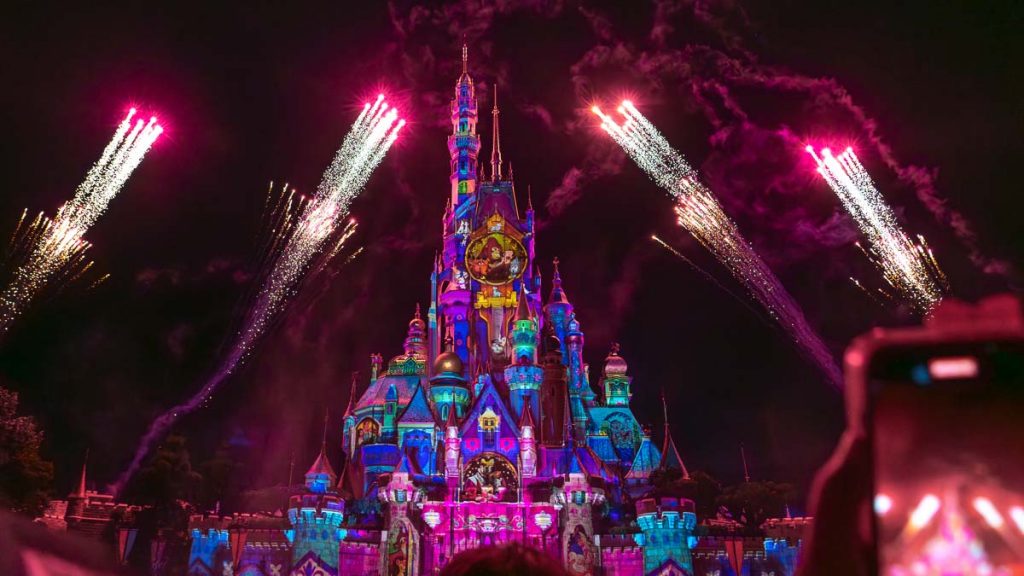 *Pro-tip: Take your time to explore the park and save ~S$25.70 with the 2-Day Fun Special Package! Plus, get extra perks like merchandise vouchers worth HK$10 (~S$1.70) and a Buy-1-Get-1-Free Popcorn Scoop voucher!
Entrance fee: From S$100 via Klook
Opening hours: Varies
Address: Lantau Island, Hong Kong
Halal food at Tahitian Terrace
Halal status: Halal-certified by The Incorporated Trustees of The Islamic Community Fund of Hong Kong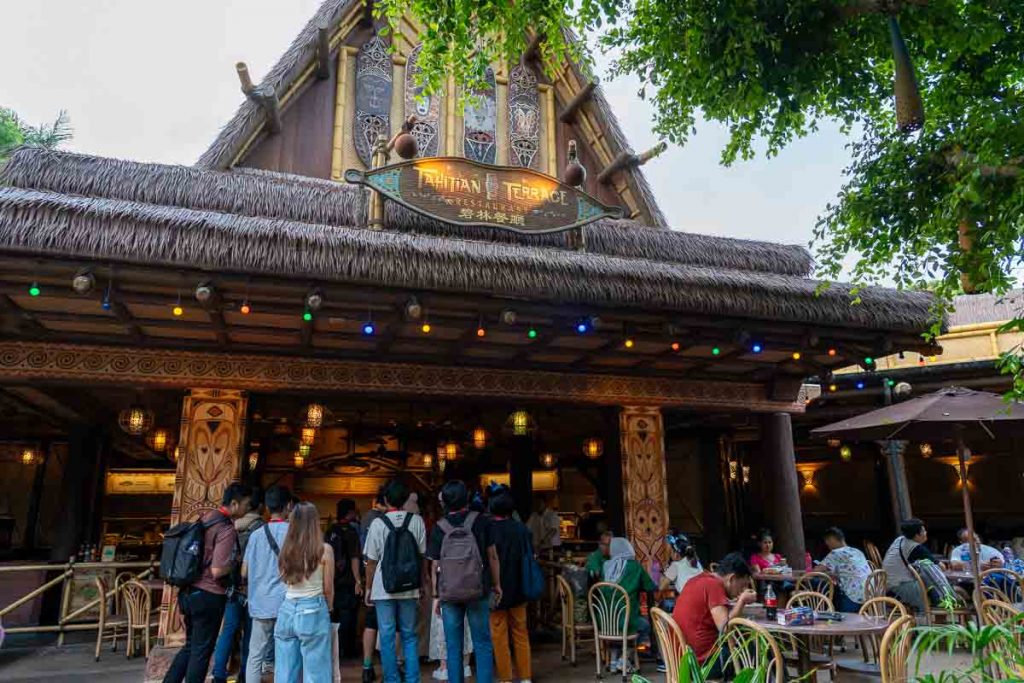 For now, Tahitian Terrace in Adventureland is the only Halal-certified restaurant in Disneyland. Choose from a selection of Southeast Asian food — we tried the Seafood Laksa (HK$130, ~S$22).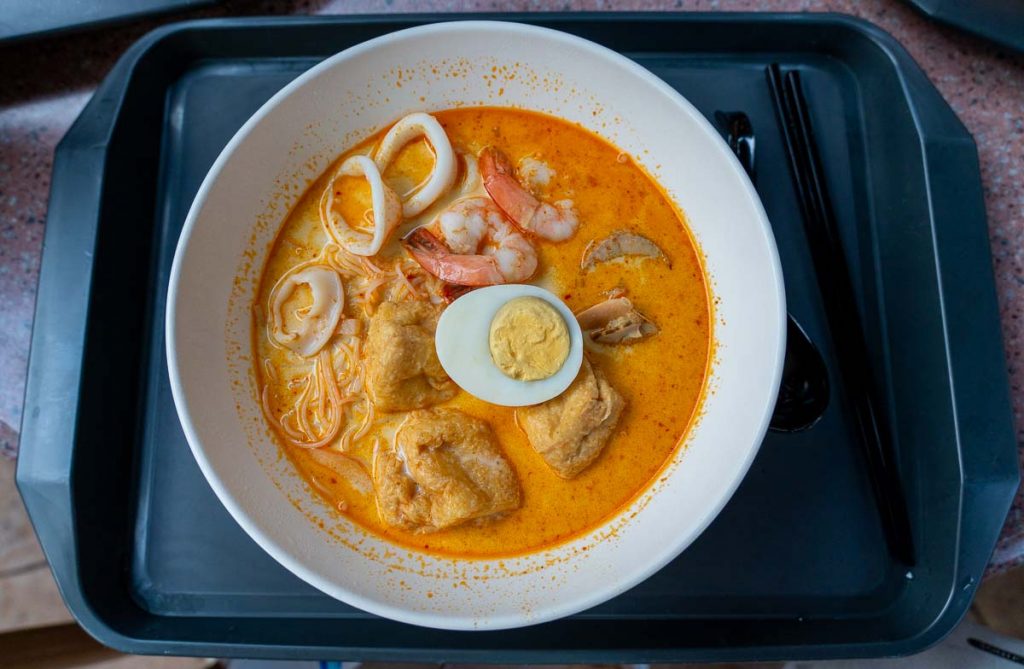 It's a steep price for a vermicelli noodle Laksa but considering you get a fair bit of ingredients, I think it's fairly priced for Halal amusement park food.
Cost: From HK$130 (~S$22.50)
Opening hours: 11AM – 8:30PM
How to get there: Head to Adventureland
Mystic Point 'Quiet Room'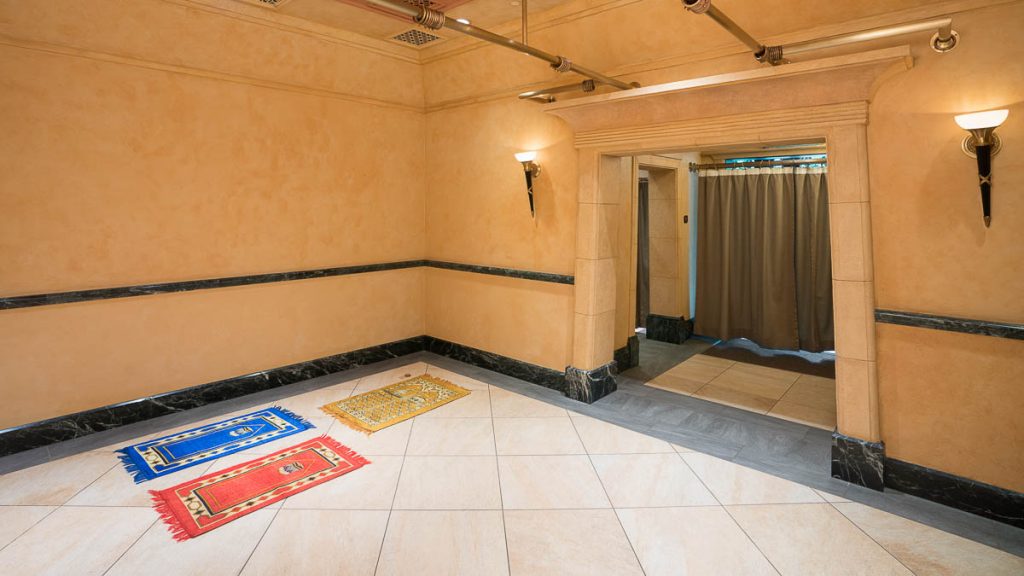 Photo credit: Hong Kong Disneyland
Other than Halal food, Hong Kong Disneyland's Muslim-friendly spaces also include their Quiet Room at Mystic Point. It's a room for anyone who needs a quiet space — even those who wish to do their prayers! The room isn't segregated by gender but the ablution area has a privacy curtain.
*Note: It's best to bring your own prayer mats and garments but you can also request to borrow a mat from Guests Relations at Main Street!
How to get there: Head to the toilets at Mystic Point
Day 3: Live Like a Bougie Local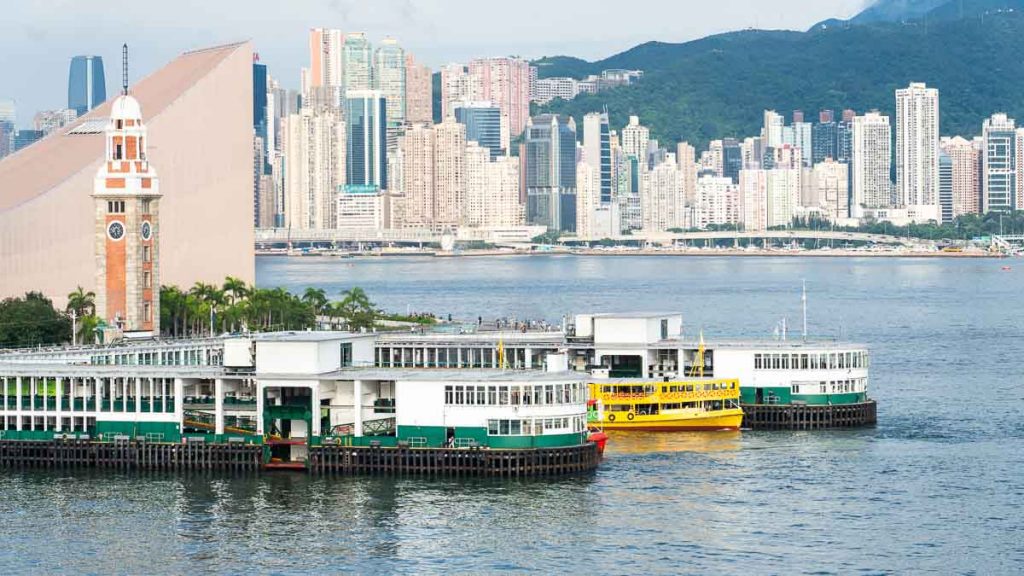 Compact with tall skyscrapers, luxury hotels and shopping malls, Hong Kong Island is known for its upscale vibe.
Dim Sum brunch at Islamic Centre Canteen
Halal status: Halal-certified by the Incorporated Trustees of the Islamic Community Fund of Hong Kong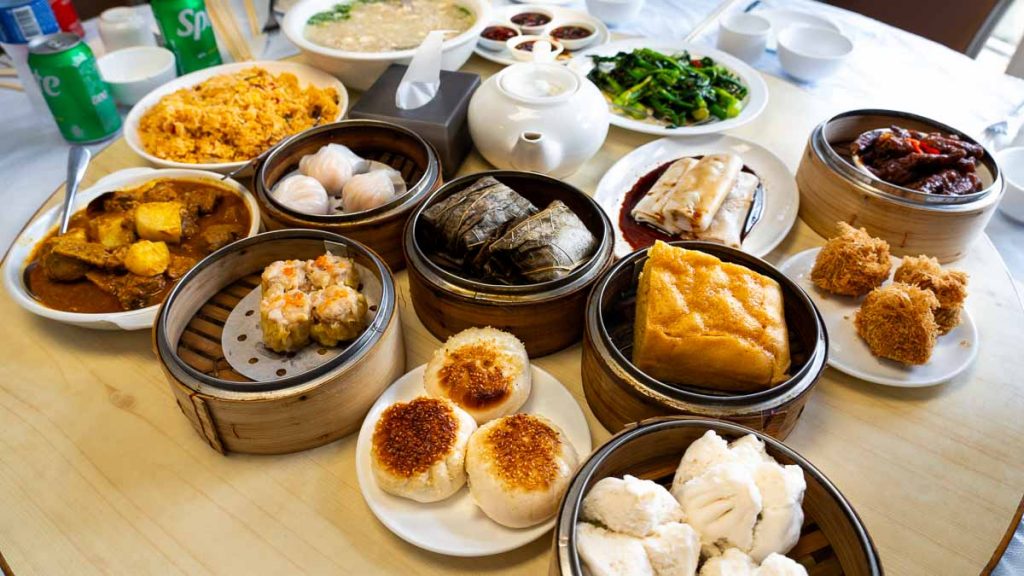 What's a trip to Hong Kong without trying the local Halal Cantonese food?
The dim sum at Islamic Centre Canteen was my gateway to appreciating authentic Chinese food back in 2015 when I was 15 and still very new to diverse flavours. I distinctly remember how my family loved it so much that we ordered some to-go for snackies at The Peak.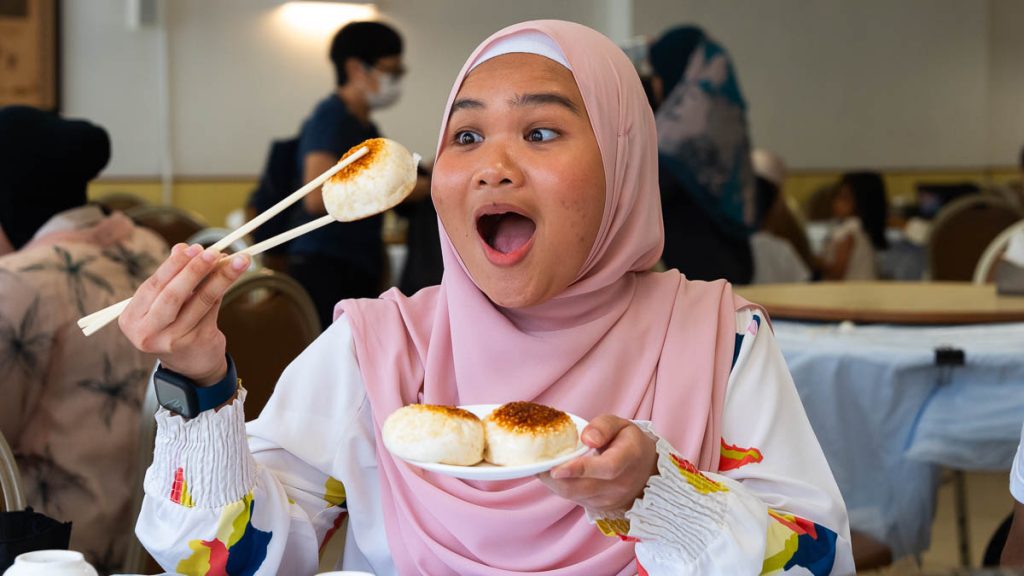 This restaurant has stood the test of time and is just as delectable in 2023. They serve zi char style dishes like Braised Fish Fillet but we went straight for the dim sum — a lot of it. My favourites were the Pan Fried Chicken Bun, Crispy Deep-Fried Chicken Chinese Style, and Steamed Butter Egg Cake.
Cost: From HK$18/basket (~S$3)
Opening hours: 10AM – 8PM (visit before 3PM as their dim sum sells out fast!)
Address: 40 Salvation Army Street, Wan Chai 5/F, Masjid Ammar And Osman Ramju Sadick Islamic Centre, Hong Kong
Arte M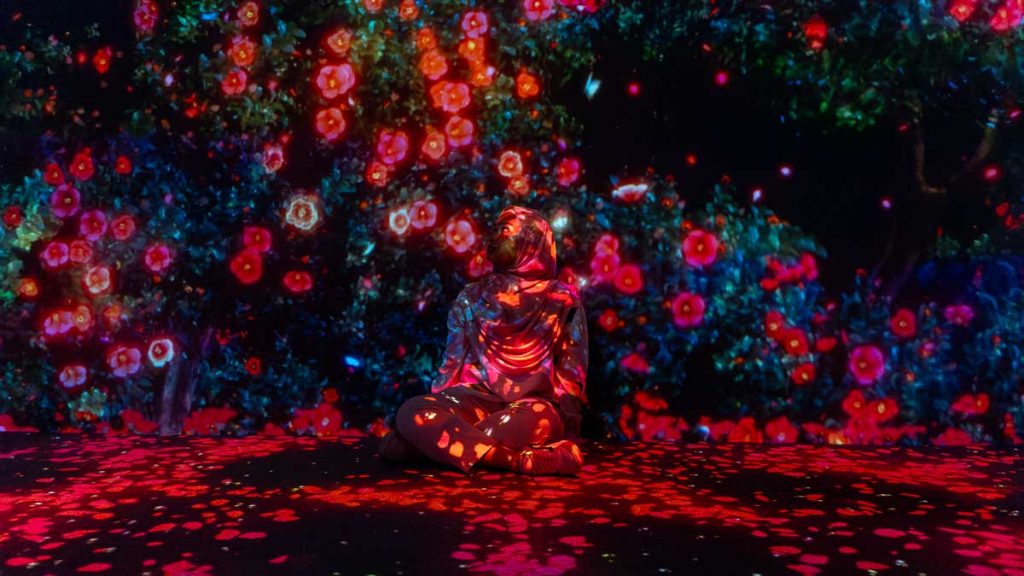 Arte M is an immersive media exhibition of LED Light Projections showcasing selected highlights from d'strict ARTE MUSEUM in Korea. Their theme 'ETERNAL NATURE' features seven rooms with different projections.
Some rooms had their walls and floors fully covered in light projections. AURORA BEACH had luminous aurora waves coming up and out from the walls and floor while FLOWER CAMELLIA had floor-to-ceiling blooming flowers.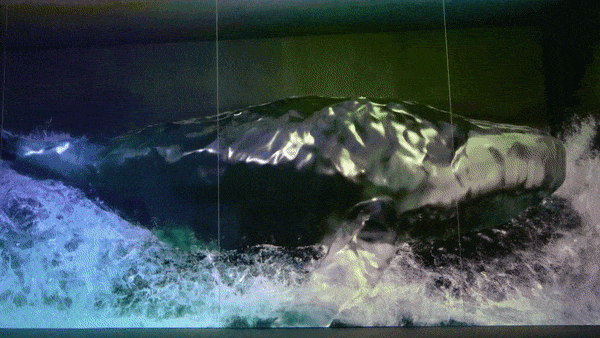 WHALE was a unique piece for me as it appeared to be a projection of random waves at first but was actually a whale made out of water!
Entrance fee: From HK$88/pax (~S$15.20)
Opening hours: 11AM – 7PM (opens 10AM on Sat, Sun & Public Hols.)
Address: 2F, K11 HACC, K11 ATELIER King's Road, Hong Kong
Causeway Bay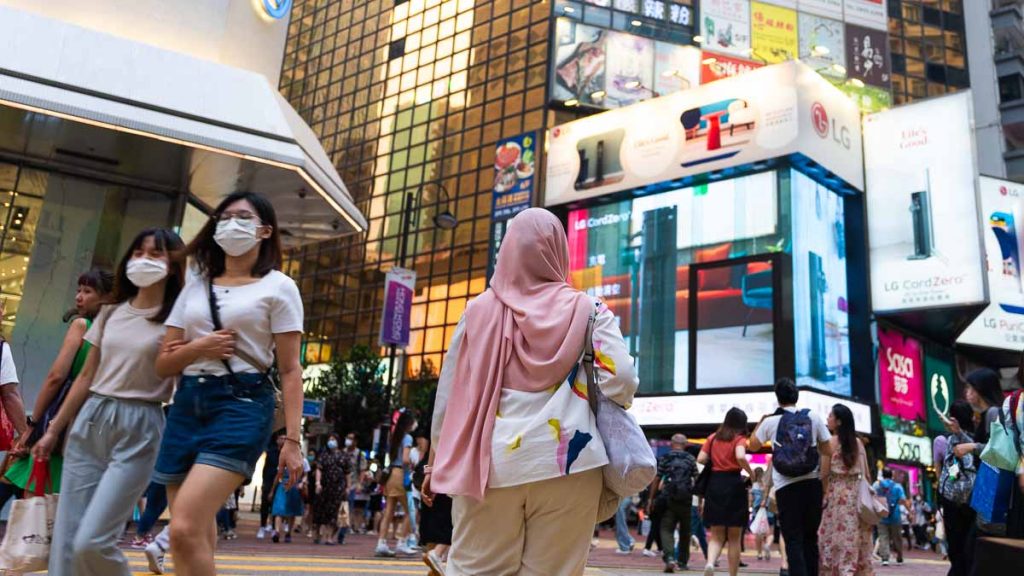 I always have time for shopping in my itinerary — especially in Hong Kong.
High-end boutiques, trendy fashion outlets, and entertainment options surround all corners in Causeway Bay. This vibrant district is a shopper's paradise for anyone looking to splurge 💅
But if you're a broke creature of habit like me — you can always count on a Uniqlo or Muji for a reasonably priced shopping spree.
How to get there: Take the Shau Kei Wan – Kennedy Town tram to Jupiter Street or the MTR Island Line to Fortress Hill Station and walk 5mins.
Dinner at JAJA, a vegetarian-friendly cafe
Halal status: Vegetarian, alcohol is served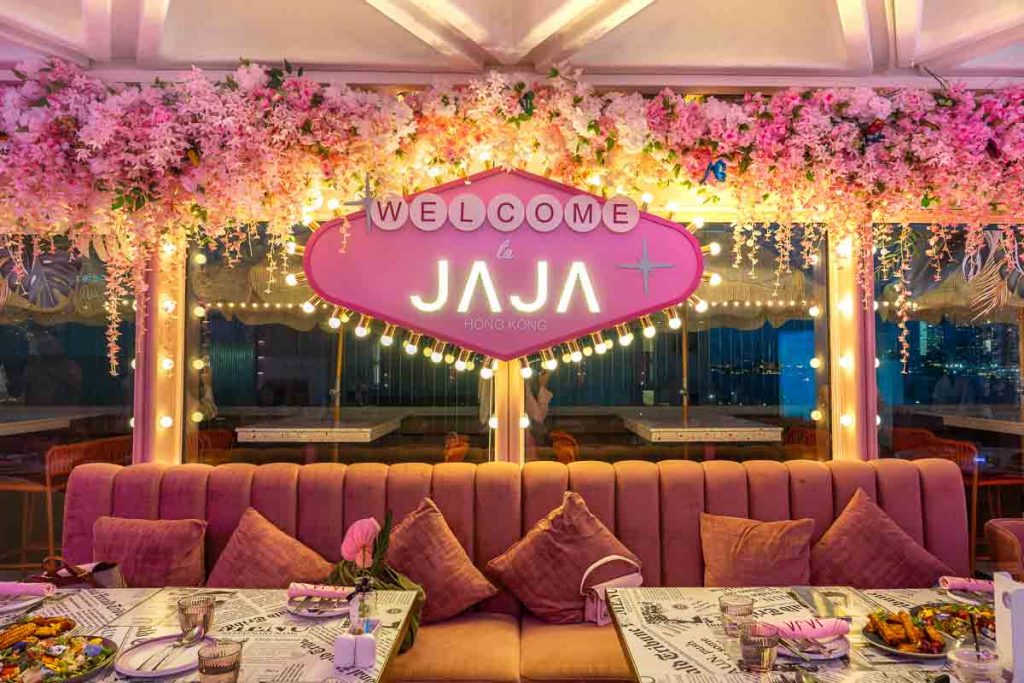 I thought I stepped into a Barbie movie when I entered JAJA's elaborately pink cafe.
Pink walls, pink flowers, and the Vegas-style sign screamed glitz and glamour. The elaborately-made pastel-coloured drinks and desserts added to the ostentatious vibe. But maximalist décor aside, the food was actually really good!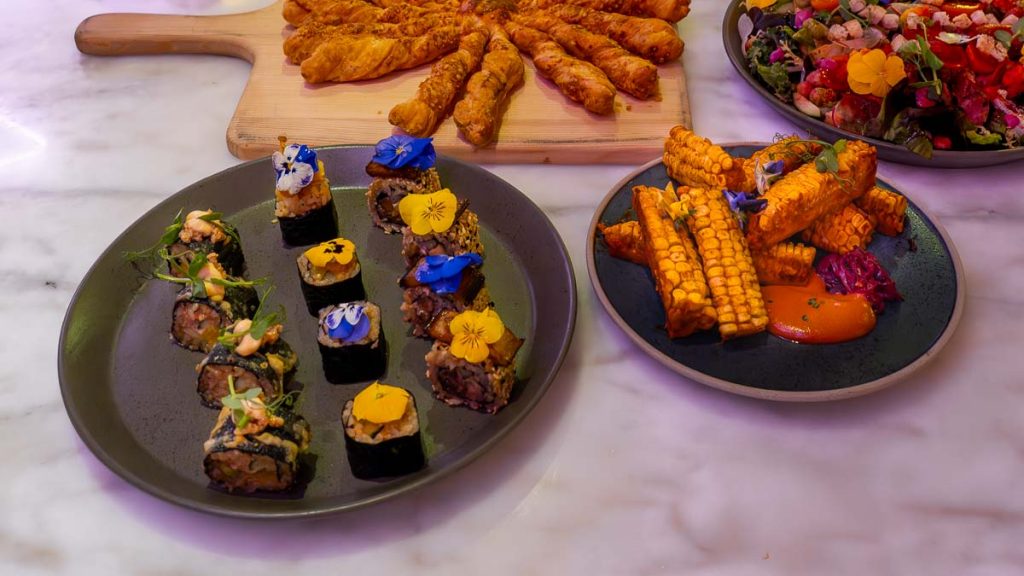 The dishes that stood out to me the most were the Smokey Corn Ribs (HK$99, ~S$17) and the Living Maki Platter (HK$328, ~S$55.80). They were so well seasoned and flavourful that my carnivorous self was totally okay with it being 100% vegetarian.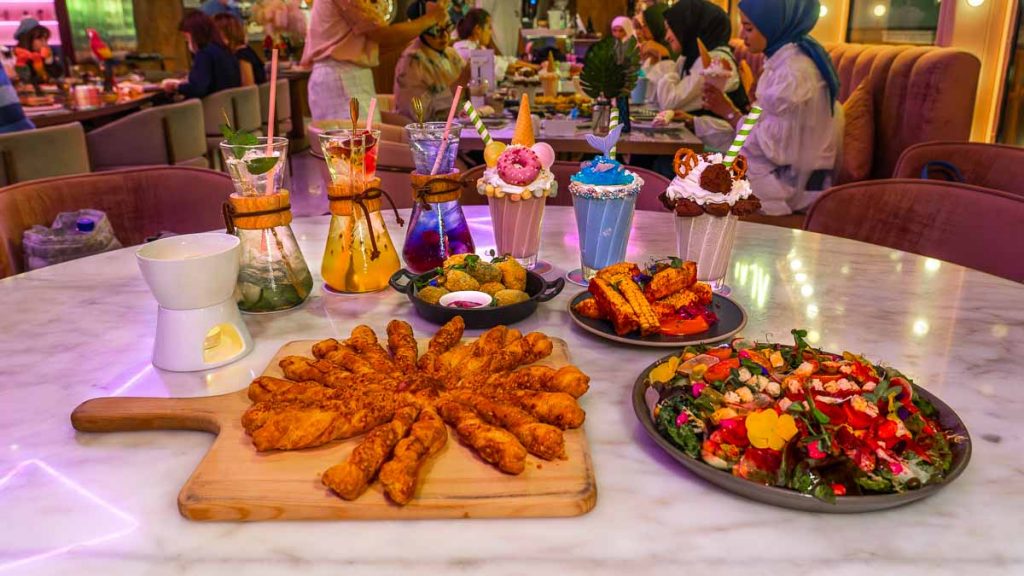 Cost: From HK$99 (~S$17)
Opening hours: 11:30AM – 10PM
Address: 6/F, Hong Kong Arts Centre, 2 Harbour Road, Wan Chai, Hong Kong
Day 4: Get up close with animals at Ocean Park Hong Kong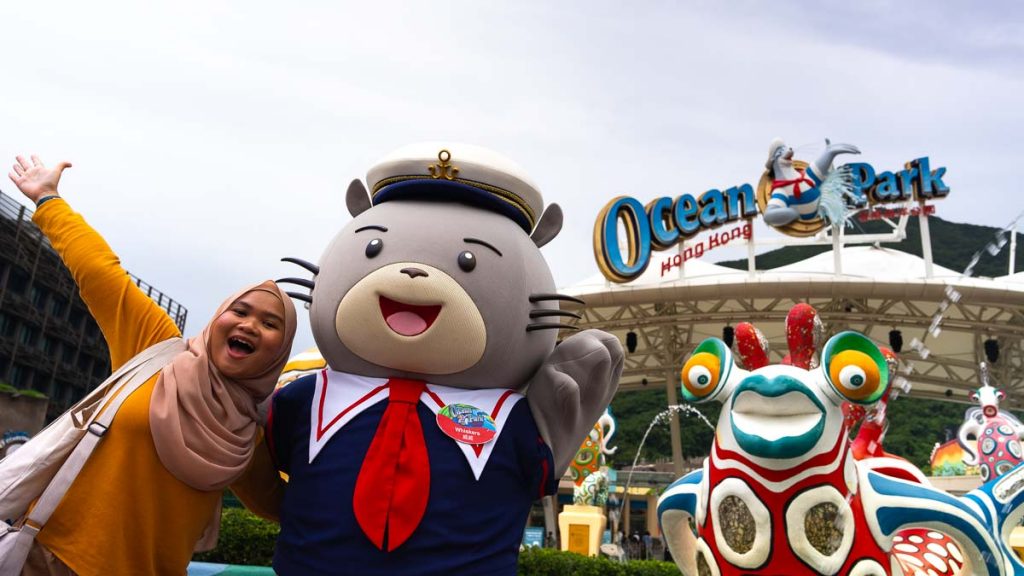 I've always been intrigued by the concept of rollercoasters and animal exhibits all in one place. But beyond the fun to be had, I was pleasantly surprised to learn that Ocean Park Hong Kong also has a commitment to marine conservation!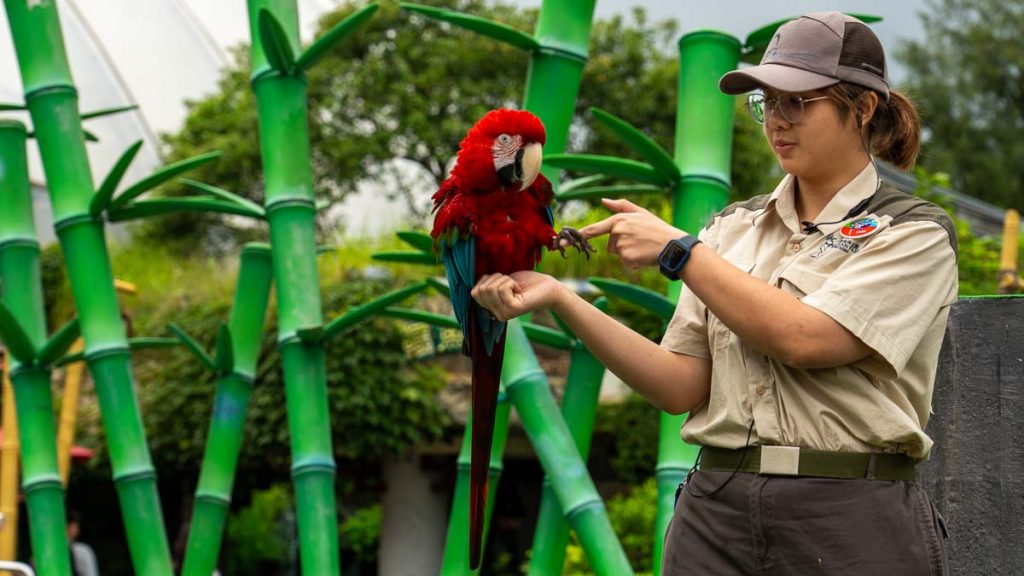 I appreciated how the exhibits and shows in the park were educational and how they promoted awareness and understanding of both marine life and wildlife.
Opportunities to get up close with the park animals were also plenty — I got to feed the penguins!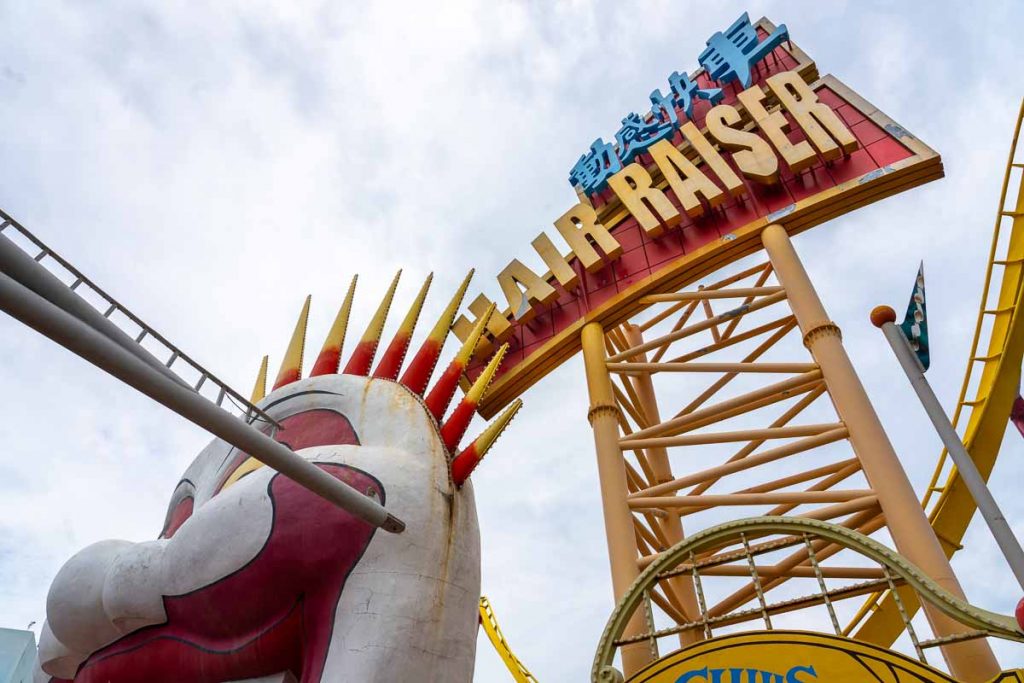 The rollercoasters were pretty solid too! We went on Hair Raiser — a floorless high-speed coaster with inversions, loops, and drops. It was intense and my hair was indeed, RAISED.
Entrance fee: HK$498/pax (~S$86.10)
Opening hours: 10AM – 7:30PM (check park schedule for operating days)
Address: Aberdeen, Hong Kong
Halal Food at Clown Corner
Halal status: Halal-certified by The Incorporated Trustees of The Islamic Community Fund of Hong Kong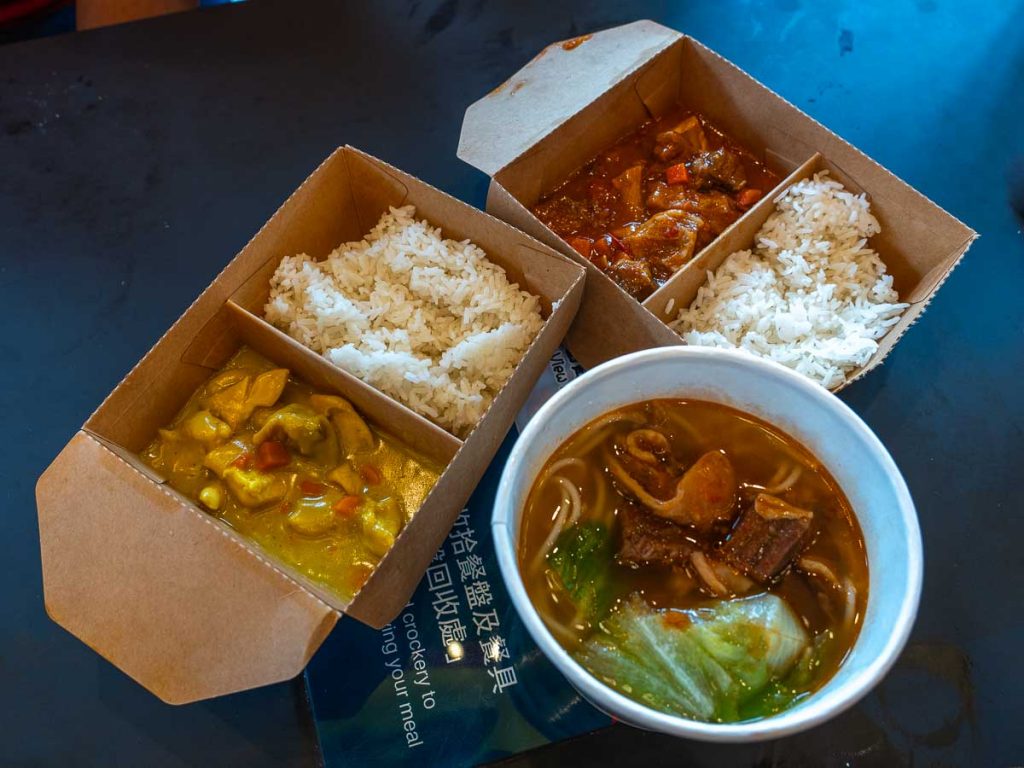 We were happy to see that Ocean Park Hong Kong had many Halal Asian food options like Café Ocean — where you can dine with a Seaview — and Panda Café Food To Go.
We wanted to stay close to park rides so we dined at Clown Corner at Thrill Mountain, and really enjoyed the hearty Yunnan Rice Vermicelli in Soup with Beef Brisket. The soup was mildly herbal with tender chunks of beef.
Cost: From HK$70 (~S$12)
Opening hours: 10AM – 7:30PM
Prayer Room at Guest Relations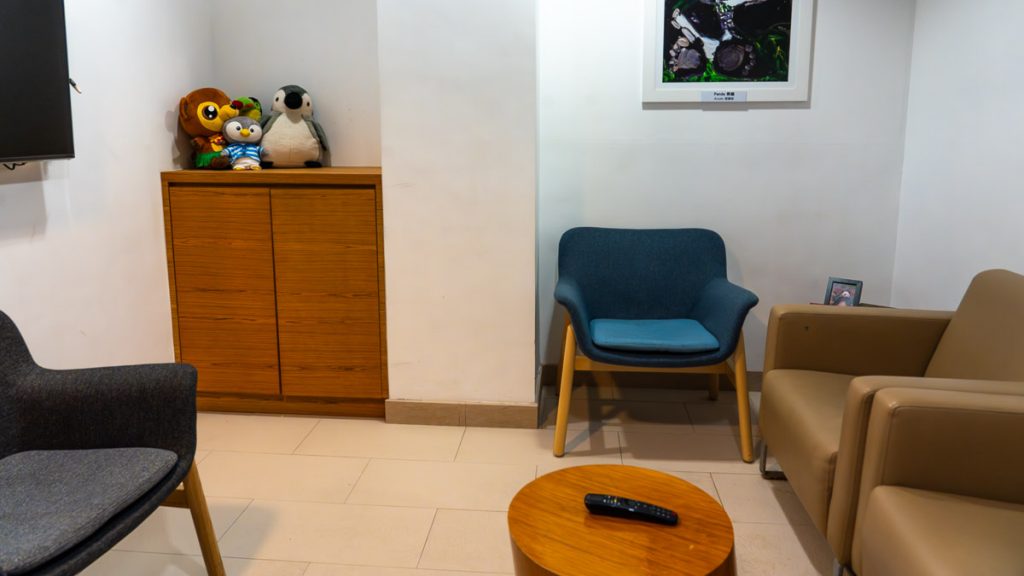 Ocean Park's prayer rooms are located at Guest Relations — one at the main entrance and another at The Summit near Rev Booster. It's best to use the former room as it's always open and equipped with staff who's ready to assist.
*Note: Bring your own prayer garments and mats and take your ablution at the nearby toilets.
Day 5: Explore West Kowloon's Artsy Offerings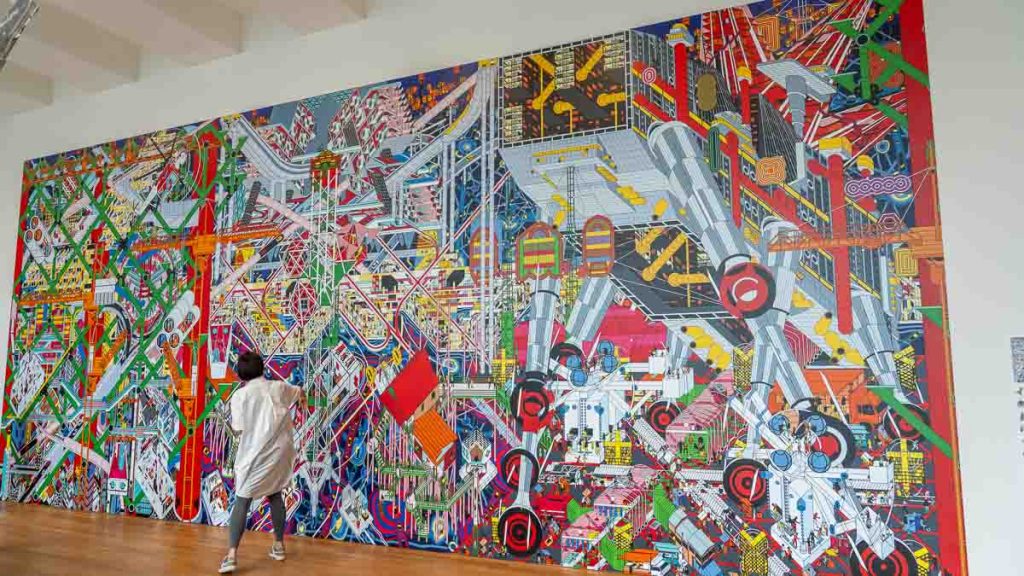 In recent years, West Kowloon Cultural District has become Hong Kong's arts and cultural quarter to encourage experimentation and creation among local and international artists.
Our itinerary for the day involved exploring the district's arts scene, architecture and local Hong Kong snacks!
M+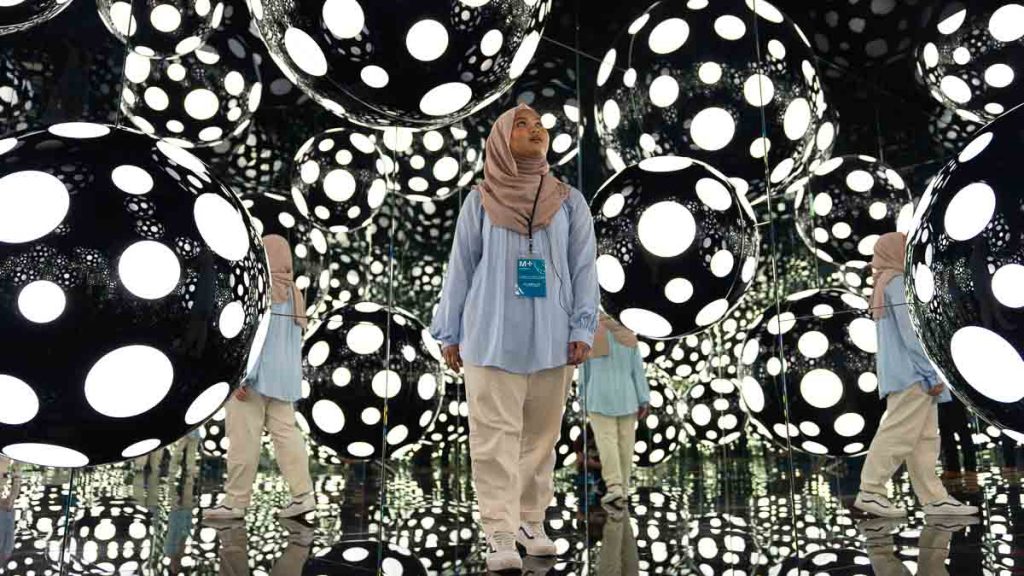 Inside the mirror room of Yayoi Kusama: Dots Obsession—Aspiring to Heaven's Love!
As someone who mostly consumes Western art and media, walking through M+'s Asian 20th and 21st-century visual culture collection was refreshing!
We visited Things, Spaces, Interactions — an exhibition about Asian design and architecture. What caught my eye were the hyperreal airbrush posters from the 70s and 80s in the postmodern design era.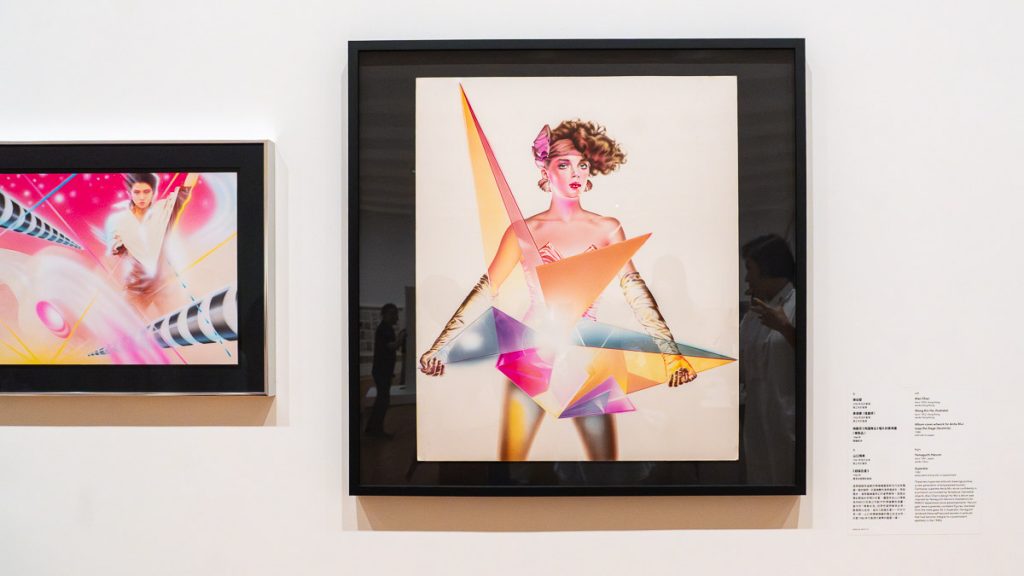 (Left) The album design of Anita Mui's 1984 Leap the Stage album by Alan Chan
(Right) A poster for PARCO department store in Tokyo by Yamaguchi Harumi
Even though the three posters were created by different artists — Cahyono Abdi from Jakarta, Yamaguchi Harumi from Tokyo and Alan Chan from Hong Kong — it was interesting to see how all three similarly depicted women as confident, glamourous and superhuman.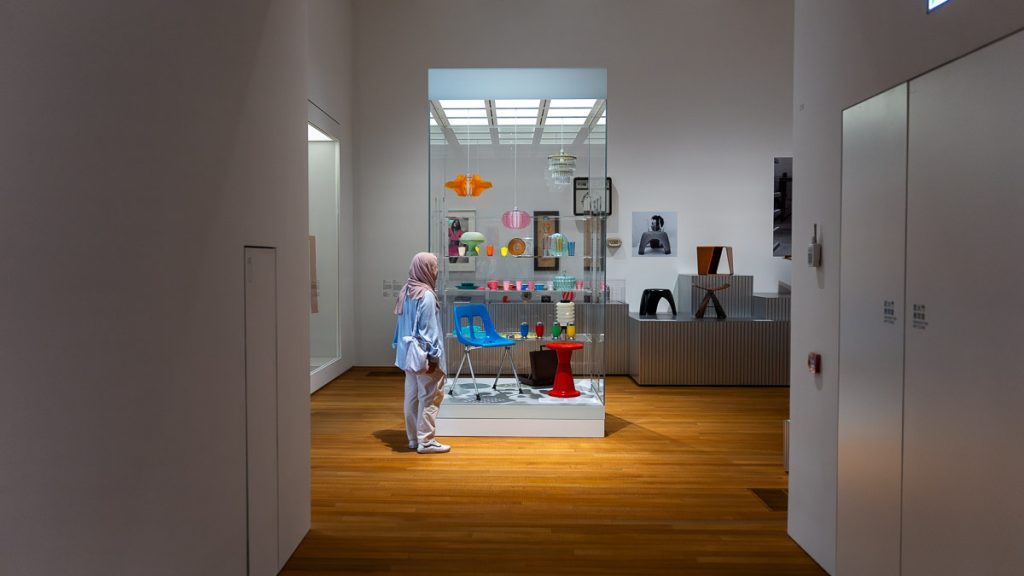 Entrance fee: From HK$120/pax (~S$20.80)
Opening hours: 10AM – 6PM (closes 10PM on Fri, closed on Mon)
Address: 38 Museum Drive, West Kowloon Cultural District, Hong Kong
Xiqu Centre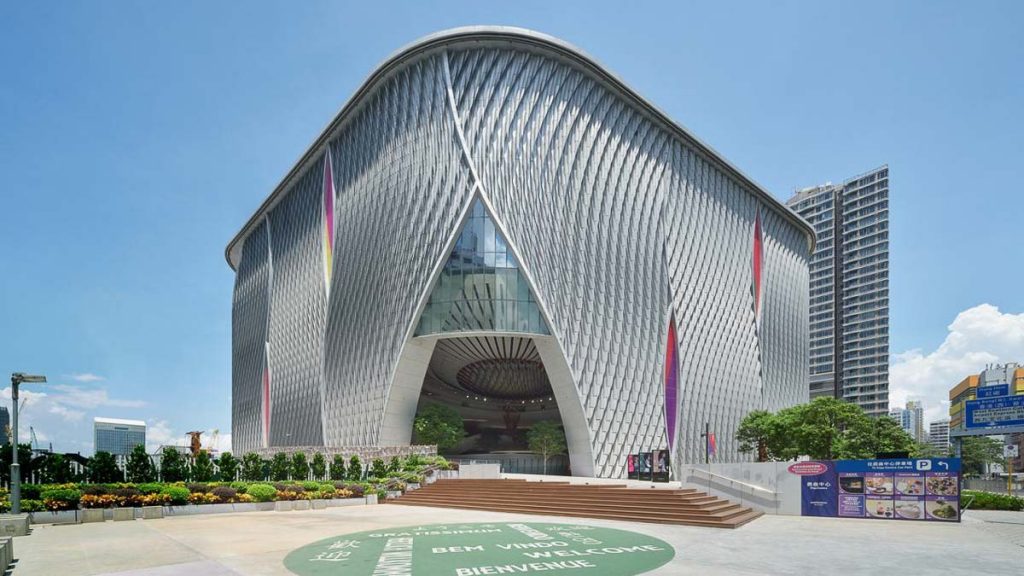 Photo credit: West Kowloon Cultural District
Made up of over 10,000 curved metal fins, you wouldn't think this modern building is a Cantonese opera house and Chinese traditional theatre.
Xiqu Centre's mesmerising architecture makes every inch of the space an IG-worthy stop in our Hong Kong itinerary. Shows and performances usually happen from Thursdays to Sundays but you don't need to catch a Chinese opera to enjoy the space — the public area is free for anyone to hang out!
We managed to visit public exhibitions about the history of performing arts in Hong Kong before chilling on the atrium's large seating steps — while sipping on bubble tea of course.
Entrance fee: Free
Opening hours: 10AM – 10:30PM
How to get there: Austin Station Exit E
Imperial Patisserie
Halal status: Halal-certified by the Incorporated Trustees of the Islamic Community Fund of Hong Kong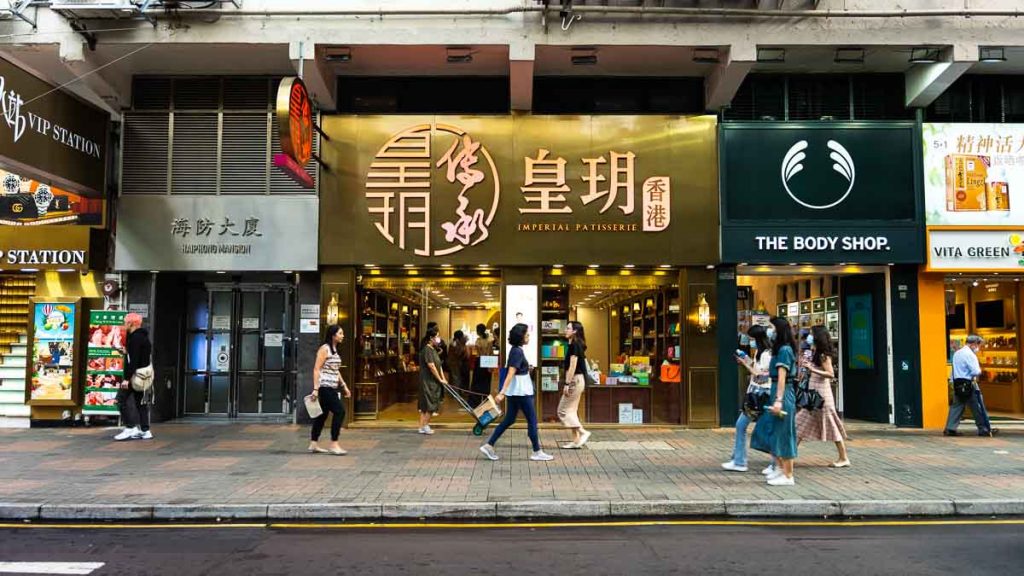 For a unique take on souvenirs, head to Imperial Patisserie. They have several outlets throughout the city (e.g. in Central Market) and it's the only fully halal pastry shop selling Michelin-level Hong Kong pastries like egg rolls and moon cakes.
If you're unsure of what to buy, get the Palmiers. Imperial Patisserie spent years perfecting its Palmier recipe so you know you're getting a quality product.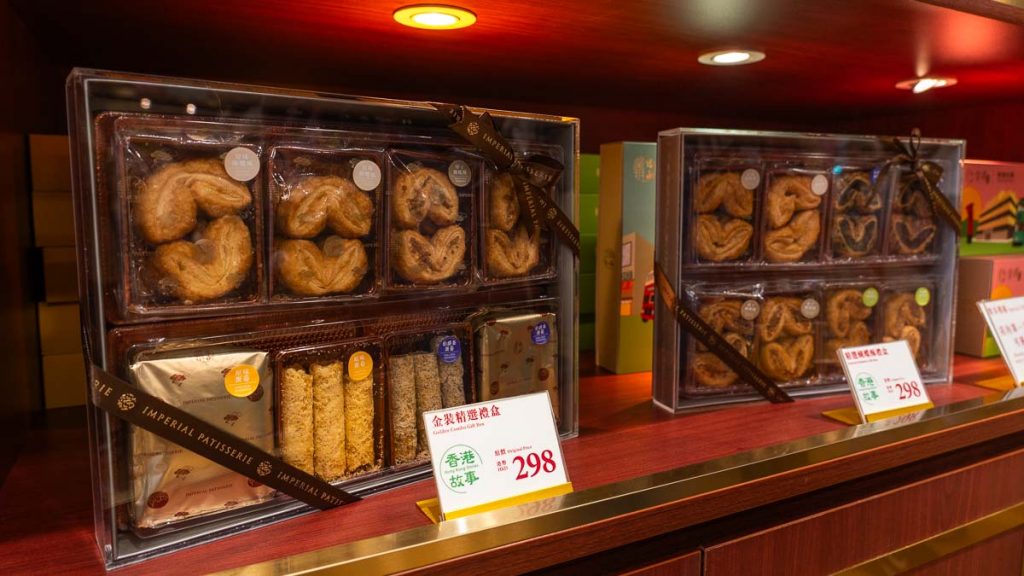 The Original Palmiers are a buttery and crispy treat — but the Eight Flavours Assorted Palmiers Gift Box (HK$308, ~S$52.40) lets you try other bold flavours like Five Grain and Chilli (made with five types of chilli 🥵).
*Pro-tip: Less than a minute's walk away is Kowloon Mosque — the biggest mosque in Hong Kong!
Cost: From HK$138 (~S$23.90)
Opening hours: 10:30 AM – 9:30PM
Address: Shop 5, G/F, Haiphong Mansion, 53-55 Haiphong Road, Tsim Sha Tsui (and other outlets)
Day 6: A relaxing day trip at Tai O Fishing Village
On our last day, we escaped the city and took a day trip out to the serene Tai O Fishing Village! Located on Lantau Island, this former fishing settlement is a preservation of Hong Kong's traditional fishing culture.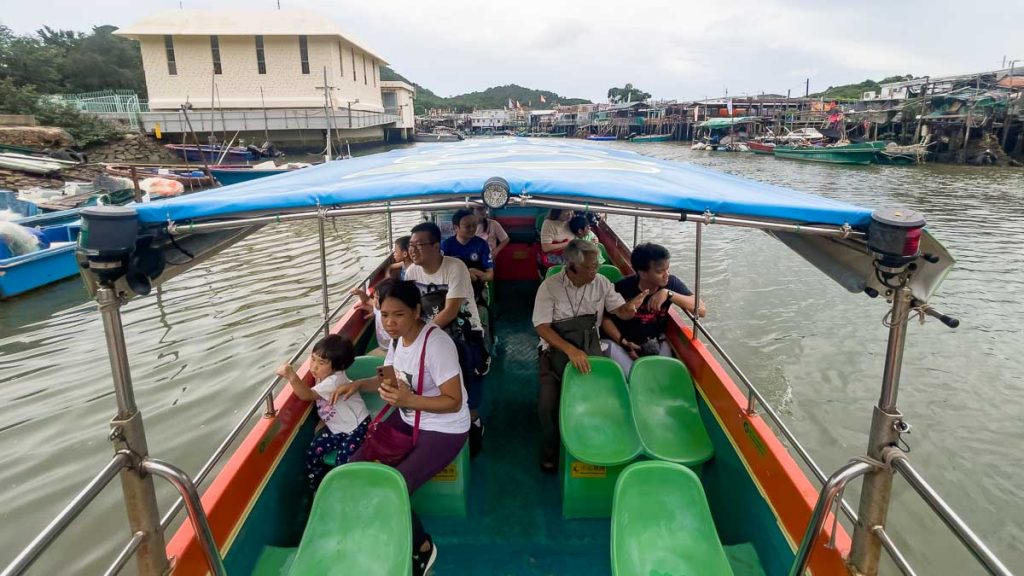 We hopped on a scenic boat ride (HK$30, ~S$5.10/pax) to see traditional houses on stilts and pink dolphins — we didn't see any 🙃.
From the mom-and-pop shrimp paste shops to low-rise metal houses, this pedestrian-friendly village was a stark difference compared to Hong Kong's metropolis. Tai O is mainly a place to unwind and enjoy the sights so a half day is sufficient to appreciate the island.
Ferry timings: First ferry departs Tung Chung at 7:30AM, last ferry leaves Tai O at 6:30PM
How to get there: Take bus 11 from Tung Chung Station Bus Terminus, or ferry from Tung Chung New Development Pier
Vegetarian-friendly desserts in Ching Kee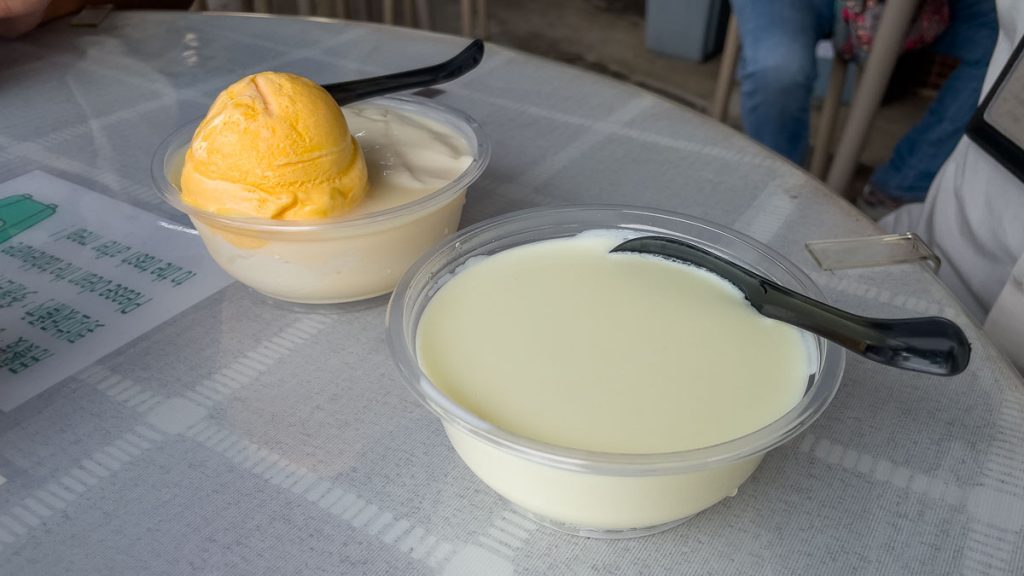 After an afternoon of walking in the heat, Ching Kee's local desserts were perfect for cooling us down. We tried their tasty ginger milk pudding, and creamy beancurd and mango ice cream pudding — a very interesting combination!
Do note that they serve meat items as well so dine at your own discretion.
While there are plenty of seafood eateries in the village — it's best to pack snacks before heading to Tai O as we didn't come across any Halal food places.
Ching Kee
Opening hours: 11:30AM – 8PM (12PM – 9PM on Mon)
Address: 82 Kat Hing St, Tai O, Hong Kong
Direct Flight from Singapore to Hong Kong on Cathay Pacific Airways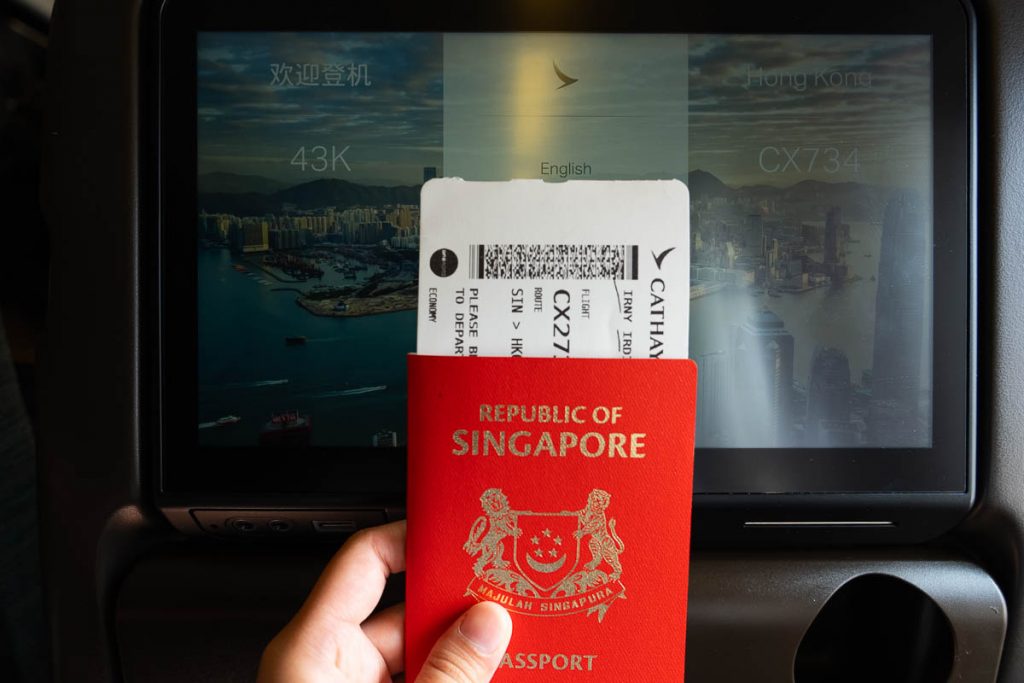 Cathay Pacific has several daily flight timings to choose from and comfortable seats with ample legroom!
The 4-hour ride was a pleasant one with its comfortable seats and ample legroom. What took me by surprise is the extensive list of titles in their in-flight entertainment system! They had a suite of recent titles from HBO Max and A24 so it's no wonder it's said to be the largest entertainment library in Asia Pacific.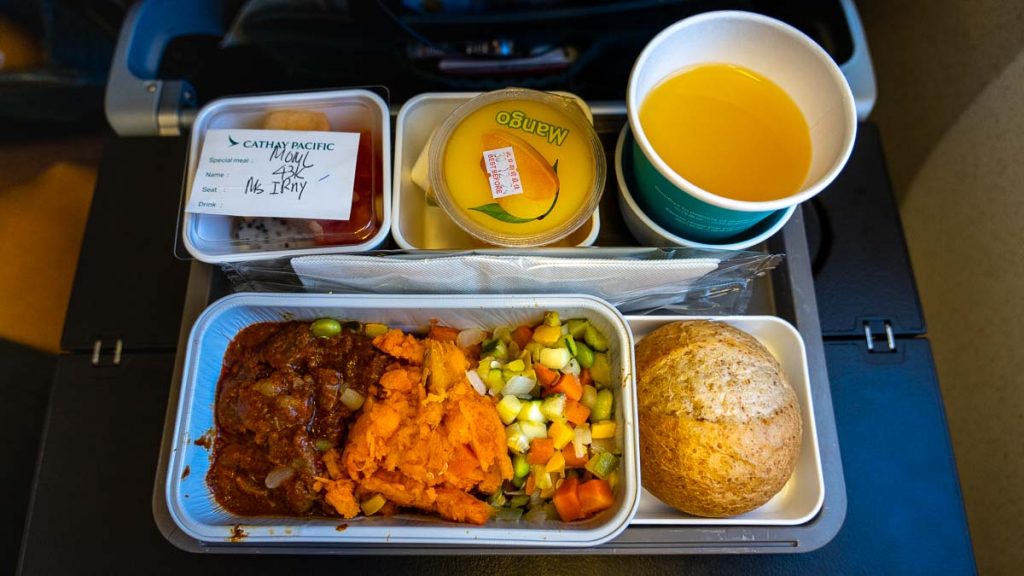 Steamed pumpkin with a meat curry and vegetables.
The Halal meals too were tasty, thoughtful, and creative — I got the steamed fish with couscous (North African dish of small steamed granules of rolled semolina) on the flight back!
*Pro-tip: Make a Halal meal request at least 24 hours before your flight on the 'Manage Booking' page for a doubt-free inflight meal.
Fun fact: All meals on Cathay Pacific flights to and from Indonesia, Bangladesh, Malaysia and the Middle East are Halal!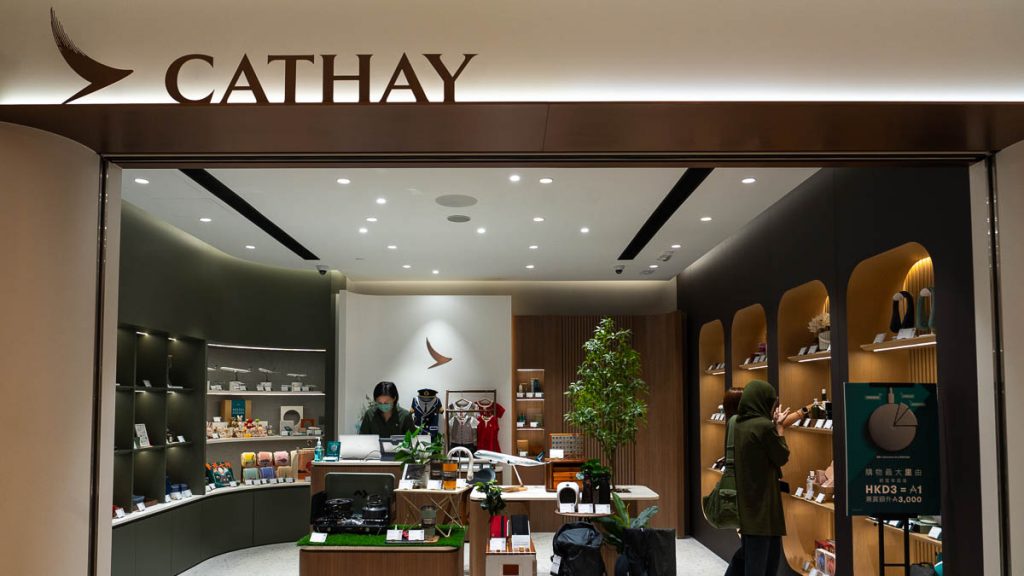 Cathay Pacific also has a physical retail store at Cityplaza in Hong Kong! You can find anything from home goods to exclusive Cathay Pacific merchandise.
If you're a member, you can maximise your shopping online and offline by earning up to 1 mile for every HK$3 (~S$0.50) spent in a combination of miles and cash.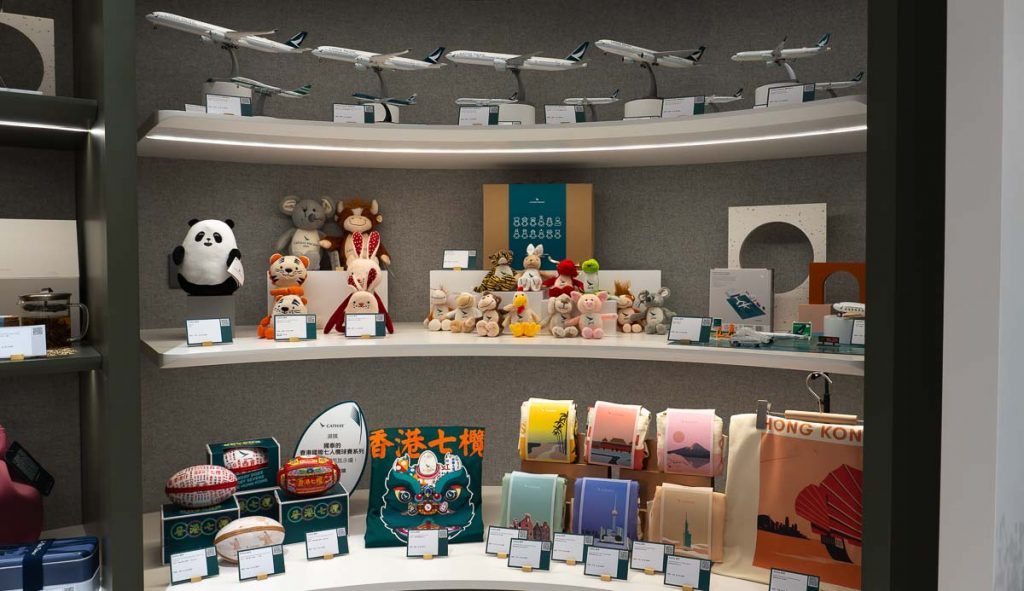 Opening hours: 11AM – 9PM
Address: Shop 233, 2/F, Cityplaza, 18 Taikoo Shing Road, Taikoo Shing, Hong Kong
Navigating Hong Kong as a Muslim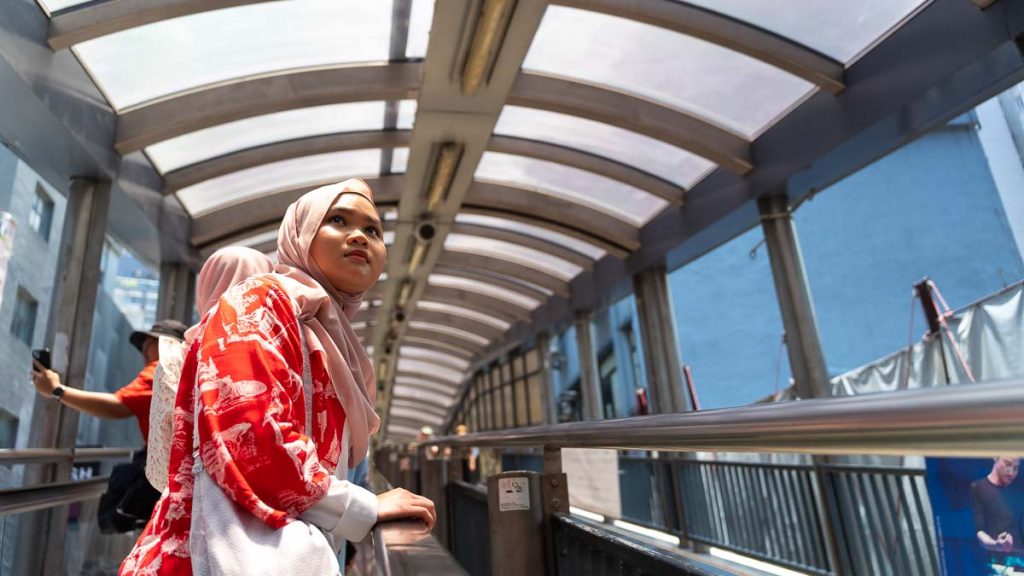 As someone who obviously doesn't look East Asian, I can get away with not knowing Cantonese as locals would always accommodate and speak English.
But part of the joy of travelling is attempting the local language. Here are some phrases I found useful:
| | | |
| --- | --- | --- |
| English | Cantonese | Cantonese Pronunciation |
| Hello | 你好 | nei hou |
| Do you speak English? | 你識唔識講英文呀? | nei seik mm seik gong ying man ah? |
| Do you have an English menu? | 你地有冇英文餐牌呀? | nei dei yao mou ying man caan paai ah? |
| I'd like to order (getting the waiter's attention) | 唔該, 寫嘢 | mm goi, seh ye |
| Does this have meat? | 呢個有冇肉? | ni gor yao mou yok aa? |
| Does this have pork or lard? | 呢個有冇豬肉或豬油? | ni gor yao mou ju yok waa ju yao? |
| Does this have gelatine? | 呢個有冇動物膠/吉利丁? | ni gor yao mou dong mat gao/gat lei ding |
| Does this have alcohol? | 呢个有冇含酒精? | ni gor yao mou ham zau zeng? |
| Is this vegetarian-friendly? | 呢個適合素食嗎? | ni gor sek hap sou sek maa? |
| How much is this? | 呢個幾多錢呀? | ni gor gei dor chin ah? |
| Thank you (very much) — for a service | 唔該 (嗮) | mm goi (saai) |
| Thank you (very much) — when gifted something | 多謝 (嗮) | dor zeh (saai) |
Hong Kong is vibrant on all fronts. From Muslim-friendly food to creative spaces, it was exciting to revisit the places from my previous Hong Kong itinerary, as well as discover new spots.
We hope this Muslim-friendly Hong Kong itinerary inspires you to book a flight to The Pearl of the Orient soon!
If you need more inspo, check out our other Hong Kong guides and itineraries:
– 5-Day Hong Kong Itinerary Under S$600 — Hidden Gems and Local Recommendations (coming soon!)
– 7D Hong Kong Outdoor Itinerary — Exploring A Different Side of The Concrete Jungle
– The Ultimate Hong Kong Guide — 29 Must-Sees, Hidden Gems, and Everything In Between
– 7D Hong Kong Itinerary — Exploring Beyond the Food And Shopping Paradise
Know any other cool and Muslim-friendly spots to add to our Hong Kong itinerary? Spill the tea in the comments below!
---
This article was brought to you by Hong Kong Tourism Board and Cathay Pacific.
For more travel inspiration, follow us on Facebook, Instagram, Tiktok and YouTube for more travel updates!