This is not your typical Hong Kong itinerary — skip the touristy spots and bustling crowds, and experience a whole new side to this city!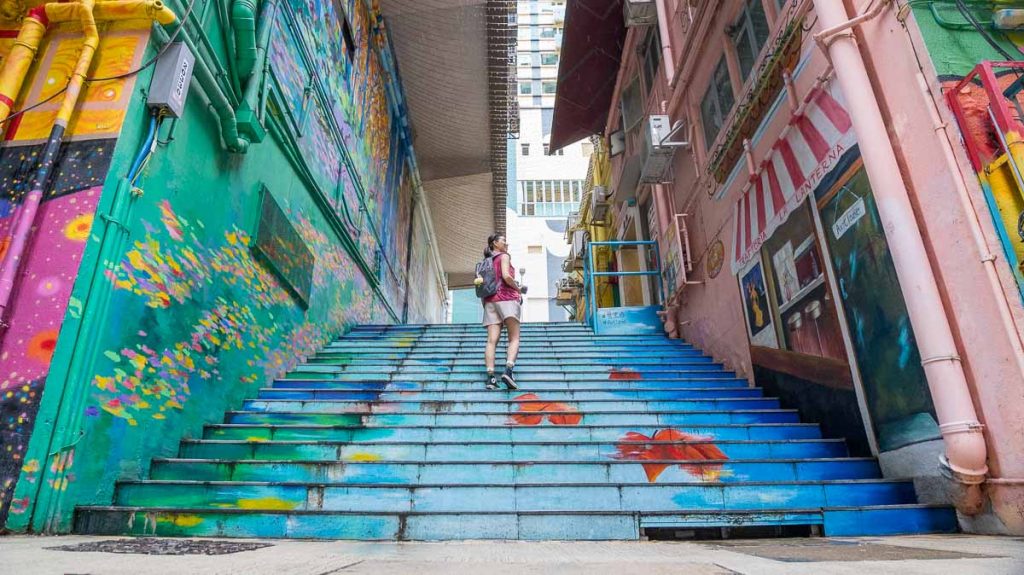 Don't get me wrong, I love Cha Chaan Tengs (tea restaurants), dim sum and soaking in Hong Kong's vibrant atmosphere. But if there's anything I learnt from my past trips to The Orient, it's that she only shows herself to those who seek it.
So in this itinerary, we'll be discovering Hong Kong beyond the usual comforts of the city. From hidden gems like a futuristic Chinese opera theatre to new local favourites like an IG-worthy art mall, here's how our five days went!
Day 1: Rich Art Scene | Day 2: Places Away from the Crowds | Day 3: Day Trip Out of the City | Day 4: Shop like a Local | Day 5: New Instagrammable Spots
Day 1: Dive into Hong Kong's Rich Art Scene
HK Pop Culture Festival 2023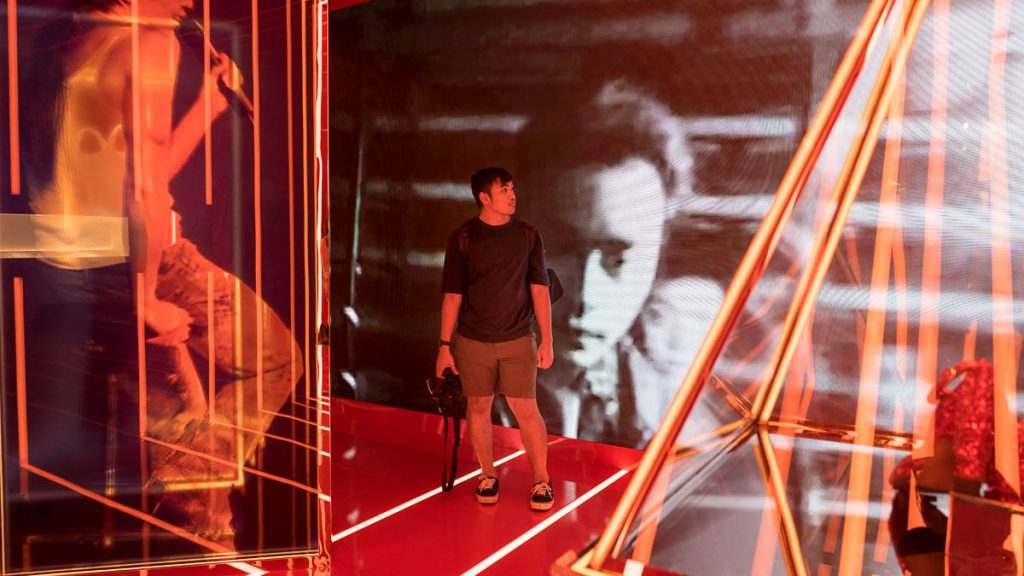 Kicking off this itinerary, we visited the first-ever Pop Culture Festival in Hong Kong! Hosted at the Hong Kong Heritage Museum (until 18 November 2023), it showcases Hong Kong's rich pop culture through the years from film screenings to exhibitions of its legendary stars.
The "Miss You Much Leslie" Exhibition is a tribute to the late Leslie Cheung and his immense influence in Hong Kong's entertainment scene in the 80s and 90s.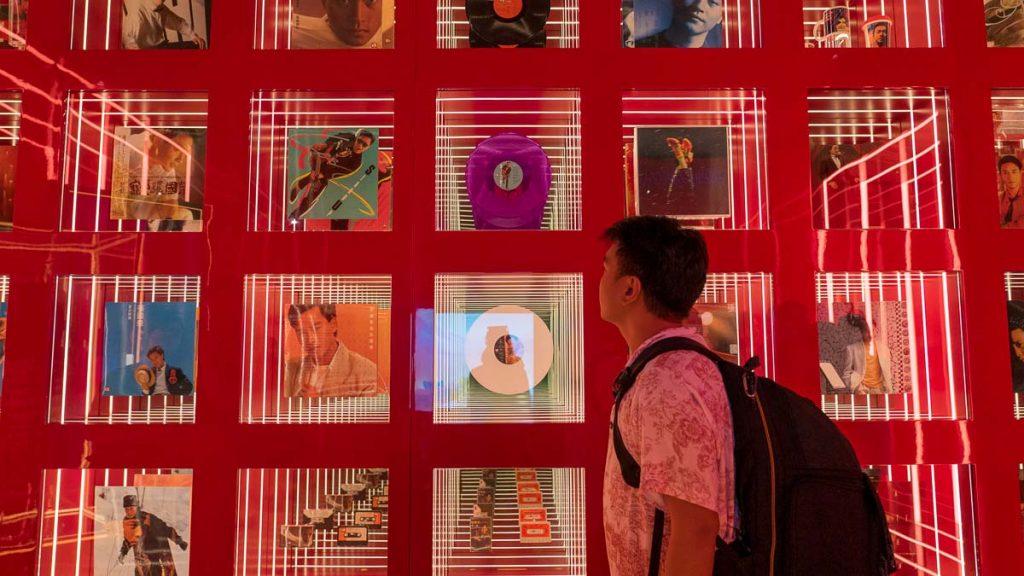 The exhibition immediately drew us in with its fully red-lit room, tracing back to his Cantopop album 红 (red). We got to understand how big an icon he was from watching compilations of his screen work to appreciating the extravagant costumes like his white feathered suit and sequinned red heels.
*Pro-tip: If you're visiting in September, catch his Oscar-nominated film Farewell My Concubine on the 30th for a more holistic Leslie Cheung experience.
Other interesting experiences at the event include film screenings of Hong Kong's comics-inspired films and an exhibition dedicated to the Hong Kong Film Arts & Costumes — an entrance fee is required for both.
"Miss You Much Leslie" Exhibition
Entrance fee: Free
Opening hours: 10AM – 6PM
Exhibition period: 29 Mar – 9 Oct 2023
Hong Kong Pop Culture Festival
Entrance fee: Varies
Opening hours: Varies
Exhibition period: 29 Mar – 18 Nov 2023
How to get there: 6mins walk from Che Kung Temple Station Exit A
West Kowloon Art District
Immerse yourself in Hong Kong's art scene at one of the world's largest cultural districts. Occupying 40 hectares of reclaimed land, the West Kowloon Art District is where you'll find the perfect blend of art, education, open space, retail, dining, and more! Some of our favourites:
M+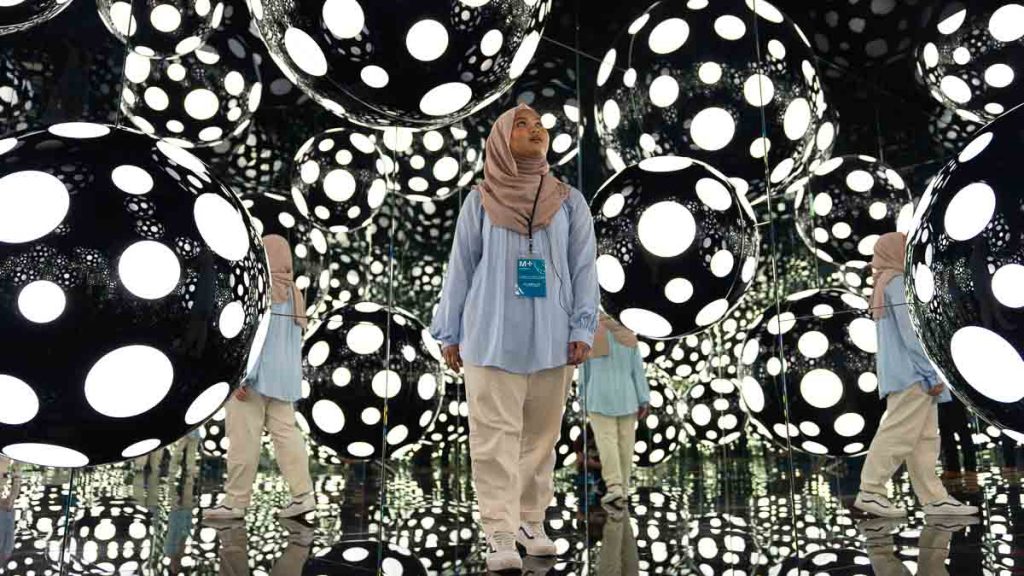 M+ Museum features a refreshing spectrum of modern artworks from the 20th to the 21st century by artists all across Asia. The artworks feature a unique range of themes from architecture to responses to colonisation and the famous dot works of Yayoi Kusama!
Fun fact: The ongoing Yayoi Kusama installations — Dots Obsession—Aspiring to Heaven's Love and Death of Nerves — are new works that were commissioned by M+ as part of the Yayoi Kusama: 1945 to Now Special Exhibition.
Entrance fee: From S$21/pax
Opening hours: 10AM – 6PM, closes 10PM on Fri, closed on Mon
How to get there: Take a shuttle bus from Austin Station exit D (every 20mins from 9AM – 8:30PM)
Hong Kong Palace Museum [NEW]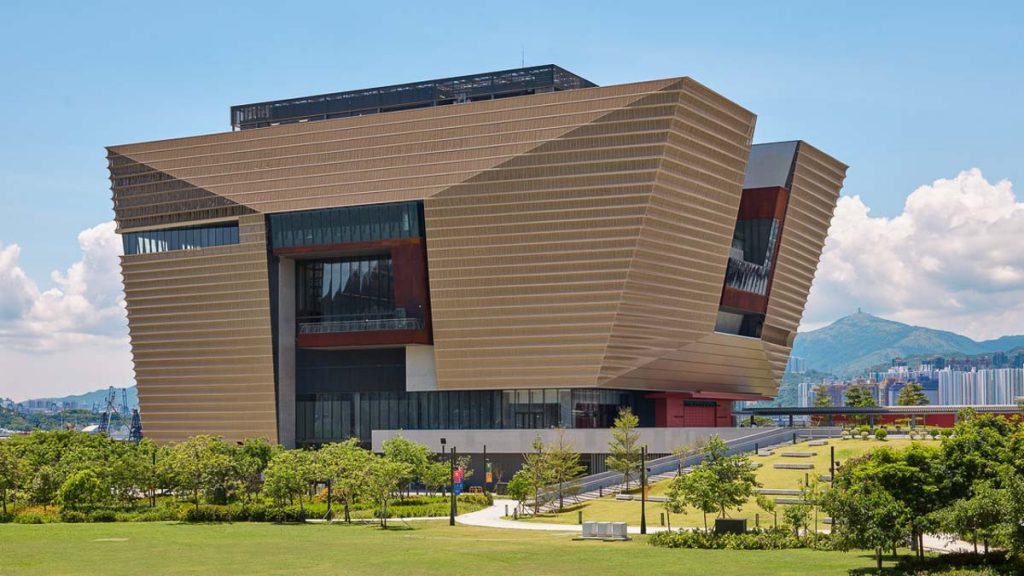 Photo credit: West Kowloon Cultural District
Located at the western tip, the Hong Kong Palace Museum is the newest addition to the West Kowloon Cultural District! It features Chinese art and culture, along with unique art and treasures from around the world.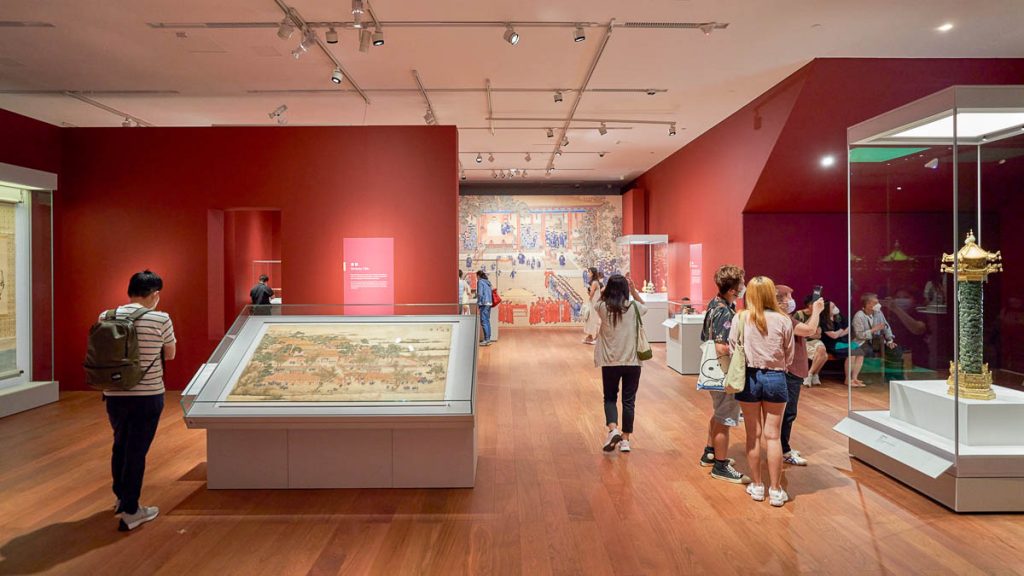 Photo credit: West Kowloon Cultural District
Its main attraction is priceless treasures from the Palace Museum, China's most prestigious museum. There are over 900 pieces, many on display in Hong Kong for the first time, with some never shown to the public before! Peep 120 pieces from the latest archaeological discoveries of the Sanxingdui ruins in Sichuan province 🤩
Entrance fee: From S$9/pax
Opening hours: 10AM – 6PM, closes 8PM on Fri, Sat & PH, closed on Tue
How to get there: Take a shuttle bus from Austin Station exit D (every 20mins from 9AM – 8:30PM)
Dinner at Blk 18 Doggie's Noodle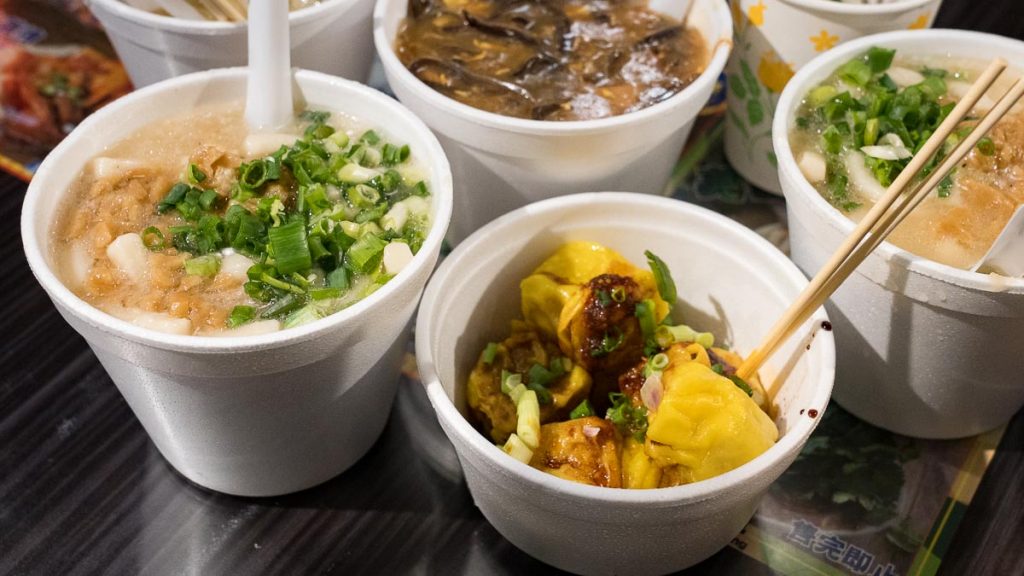 One of the most comforting and unique street foods is hands down Blk 18 Doggie's Noodle (HK$31, ~S$5.30). This Michelin Guide street food has been well-loved since the 1950s for its short rice flour noodles in a thick and gooey broth flavoured with dried shrimp.
The dish alone is tasty, but I loved adding in some spicy chye poh (Chinese dried radish) for an extra kick 💯 We also had spicy fish and meat dumplings (HK$12, ~S$2) to complete the entire meal!
Opening hours: 24 hours
Address: G/F, 20 D'Aguilar Street, Central (Other outlets: Yau Ma Tei, Tsim Sha Tsui, Un Chau and Tsuen Wan)
Day 2: Appreciate The City Away From The Crowds
Hike Pok Fu Lam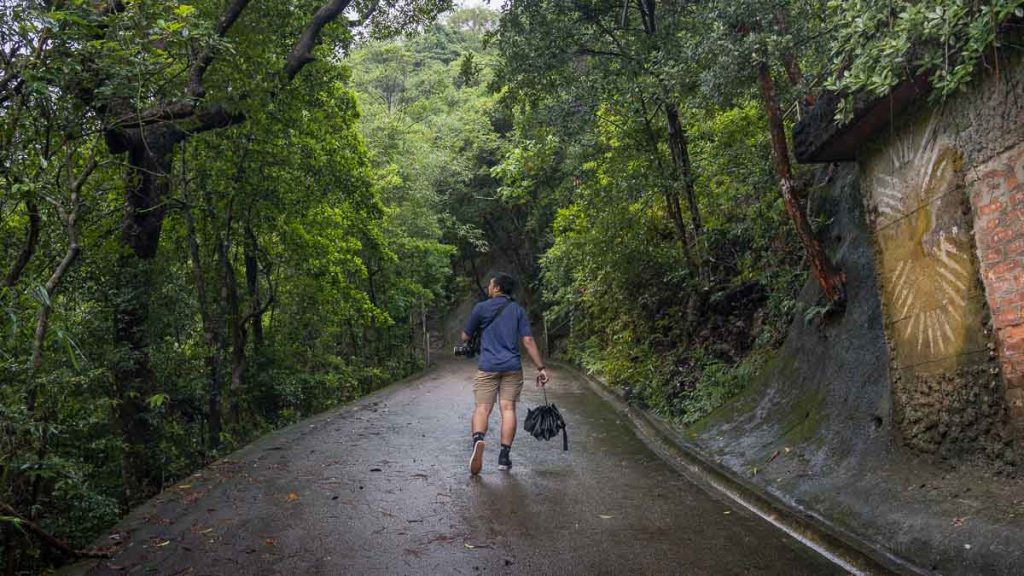 Hong Kong has an abundant outdoor life as it does city life. Although most epic hikes are out of the city, there is one right on Hong Kong Island that promises both the tranquillity of nature and the best views of the city skyline 🏙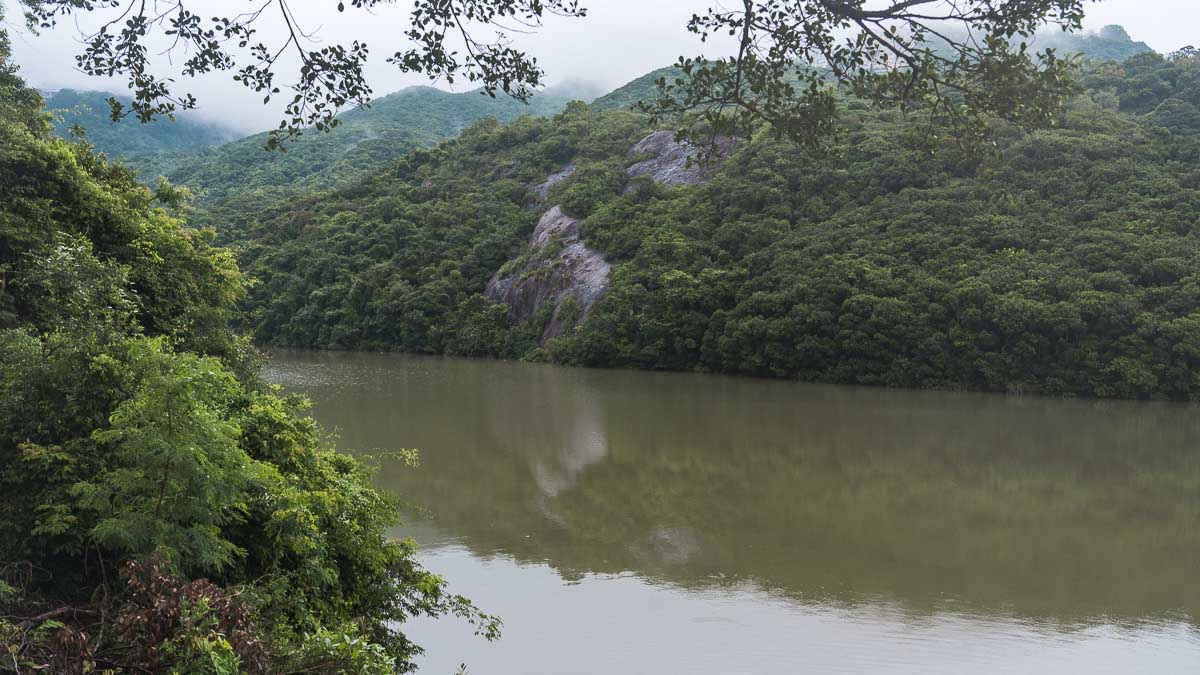 We started our hike at Pok Fu Lam. The 1-hour ascent was steep but well-paved and surrounded by lush forests, reservoirs, and waterfalls!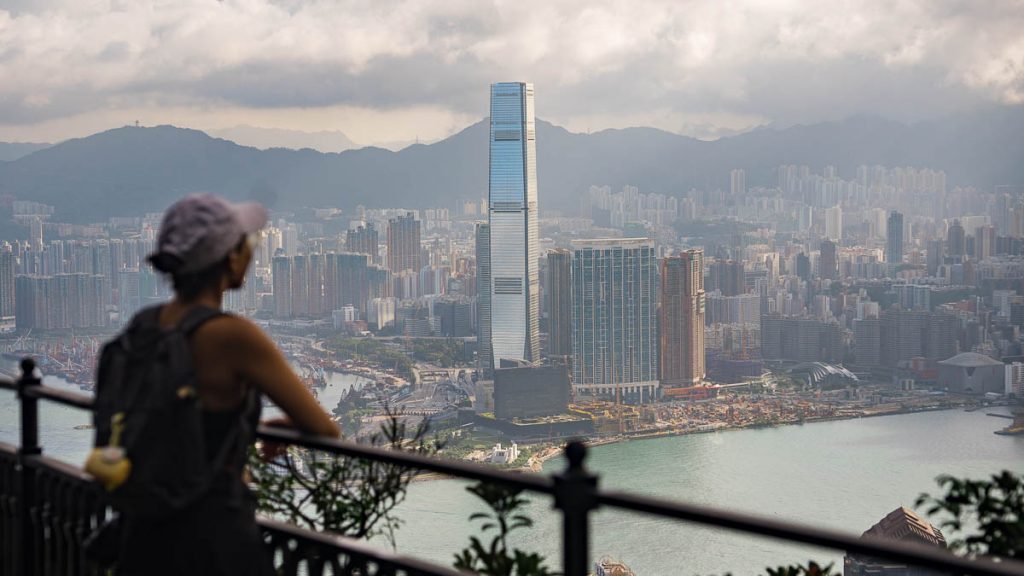 Once we reached The Peak, we headed left into the windy Lugard Road for another 15 minutes for the best view in town. Satisfied with the city views, we followed the same route back to The Peak and took Minibus 1 from there to Central Station 🚌
But if you're interested in exploring the area, continue down from the viewpoint to Harlech Road and spot the city's highest coastal defence battery, Pinewood Battery, before looping back to The Peak!
Opening hours: 24 hours
How to get there: From Central MTR, take Exit E to Statue Square and take bus 30x to Pok Fu Lam Reservoir Road
Read also: Hong Kong's Outdoor: 9 Lesser-Known Sights for the Adventurous
Fuel up at Sister Wah Beef Brisket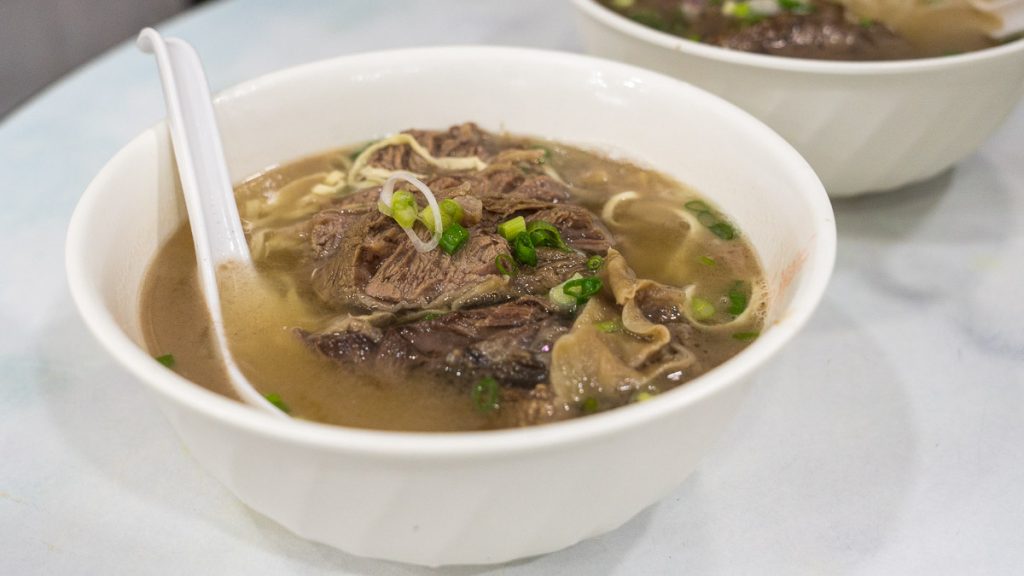 "This is the best beef brisket in Hong Kong!" – local sitting next to us at the restaurant
Sister Wah Beef Brisket is a long-standing Michelin-recommended resto (since 2017!) that both tourists and locals often seek.
We ordered the Beef Brisket with Ee Fu noodles (HK$63, ~S$10.70) and the Beef Shank noodles (HK$63, ~S$10.70), and boy, did it live up to our expectations! The broth is clean and not too rich, but if you love a kick, add in chilli oil — the spice enhances the delicious beefy flavours and brings the dish to a whole new level 🔥
Opening hours: 11AM – 10:45PM
How to get there: 1min walk from Tin Hau Station Exit A2
Victoria Harbour Night Cruise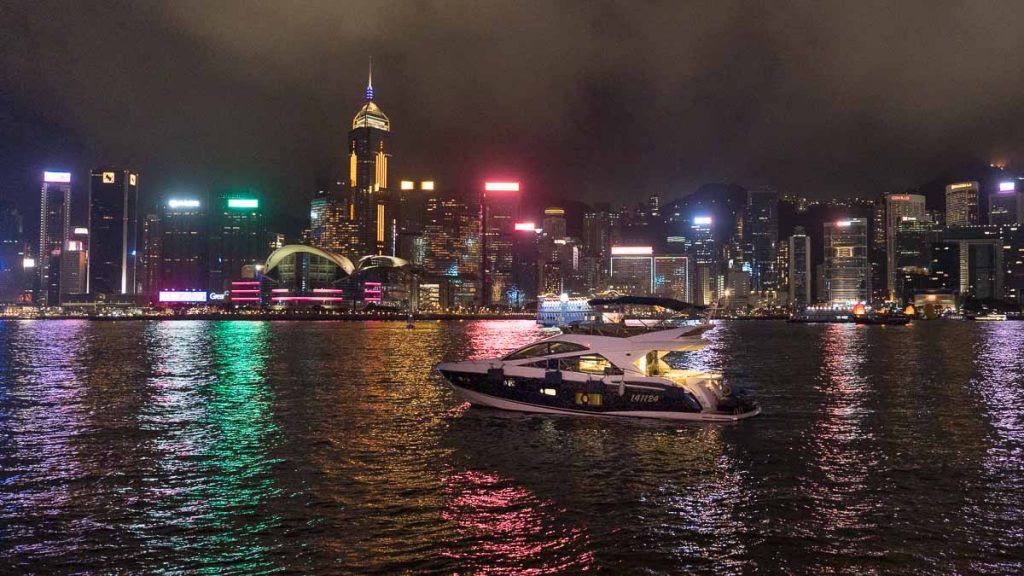 One of the most bustling spots at night is Tsim Sha Tsui Promenade. Here, you get great views of Hong Kong Island's skyline. Not to mention, there's the nightly Symphony of Lights show at 8PM, which transforms the skyline into a performance of searchlights, lasers and LED screens!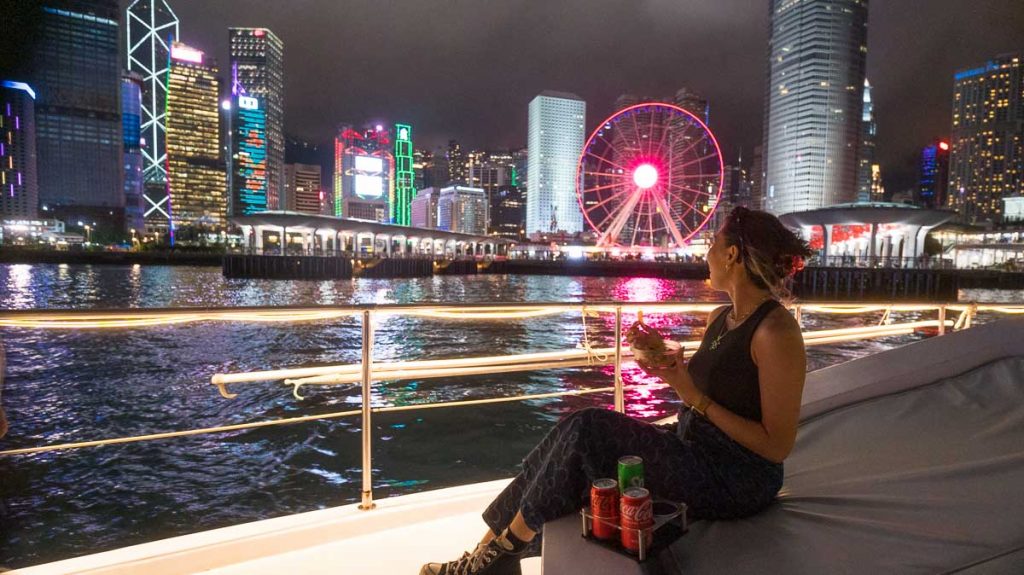 But we wanted to escape the crowds, so we hopped on a luxury yacht instead to get a closer view of the bright lights. The 45-minute sail was the perfect activity to unwind after a long day — we enjoyed unlimited drinks and snacks while soaking in the gorgeous harbour views!
Cost: From S$35/pax
Tour timings: 7:35PM, 8:35PM, 9:35PM, 10:35PM
Meeting point: Tsim Sha Tsui Public Pier Number 4
Day 3: Day Trip to Tai O Fishing Village
Feeling rather overstimulated by the bustling metropolis, we decided to head out to Lantau Island the next day and visit Tai O Fishing Village!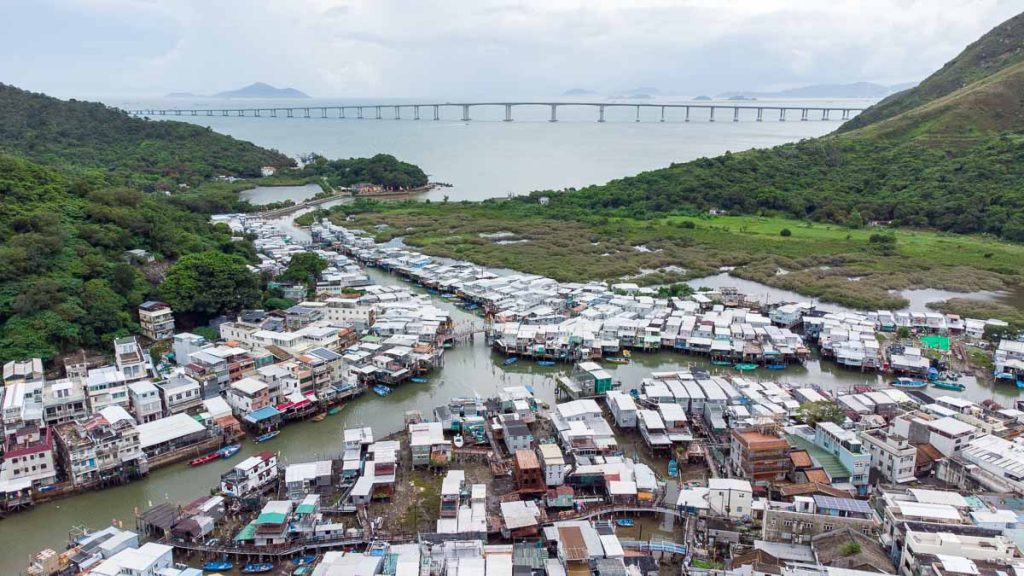 This fishing settlement was once a trading hub for salt, shrimp paste, and dried seafood in the 16th century. Today, it's a preserved cultural site, known for its stilt houses and traditional fishing culture.
There are two ways to get here, and both start at Tung Chung. We planned to take a 50-minute ferry, but due to rainy weather, we opted for the bus instead. The hour-long journey took us through winding mountains and stunning sea views along the way!
Once we arrived, we took a scenic boat ride (HK$30, ~S$5.10) to see the traditional stilt houses up close. After which, we sailed out to the open waters in hopes of some pink dolphin sightings 🐬 (spoiler alert: we didn't see any).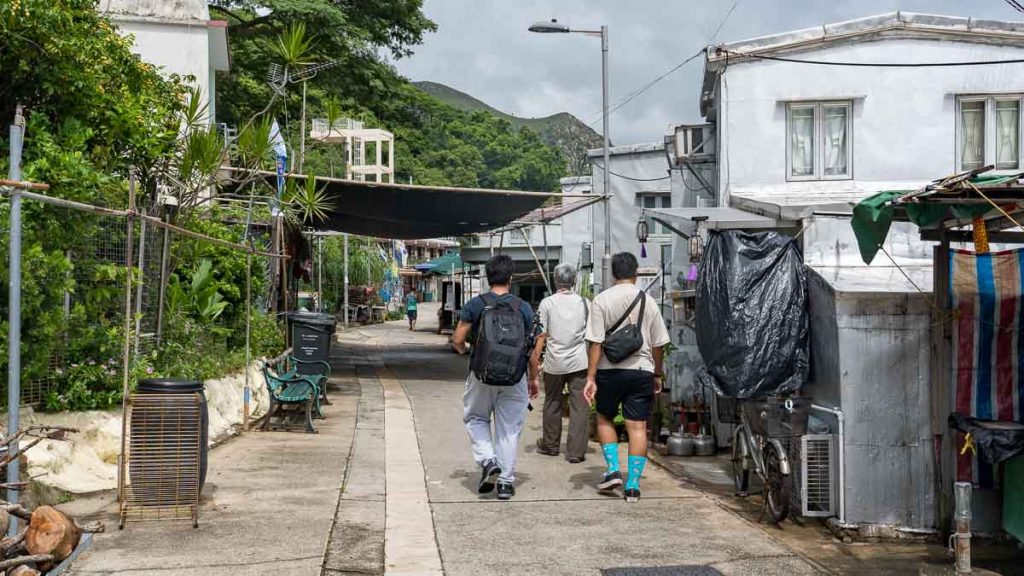 The rest of our adventure was exploring the unique residential areas on foot. From seeing shops that still produce shrimp paste to unconventional metal houses, walking through the streets gave us a glimpse into Tai O's olden days.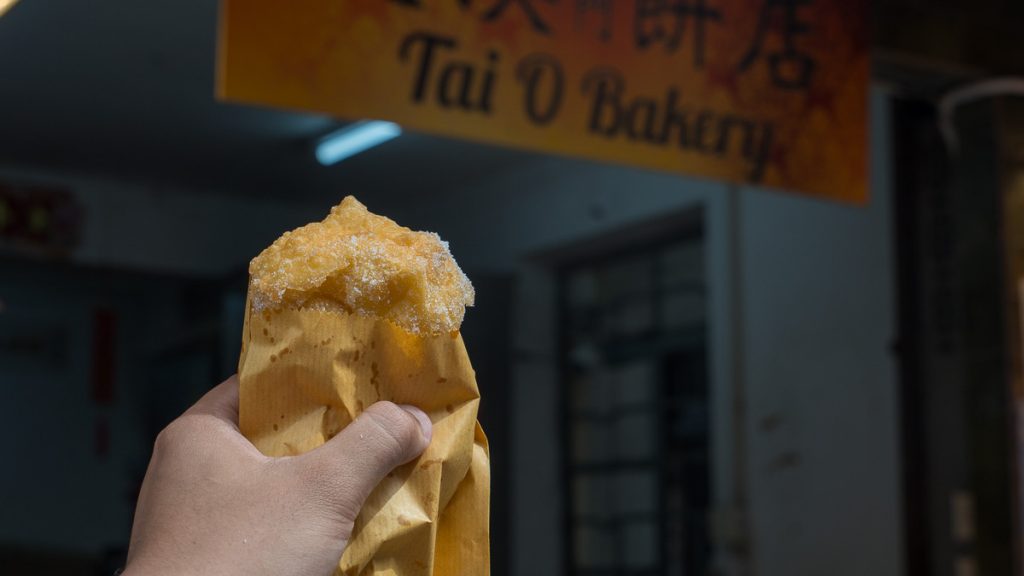 All that walking worked up our appetite, so we bee-lined for Tai O Market Street to get some snacks! We had the famous Tai O Bakery Donut (HK$15, ~S$2.60). Fresh from the fryer, it was sugary and crispy, with a yummy eggy custard centre 💯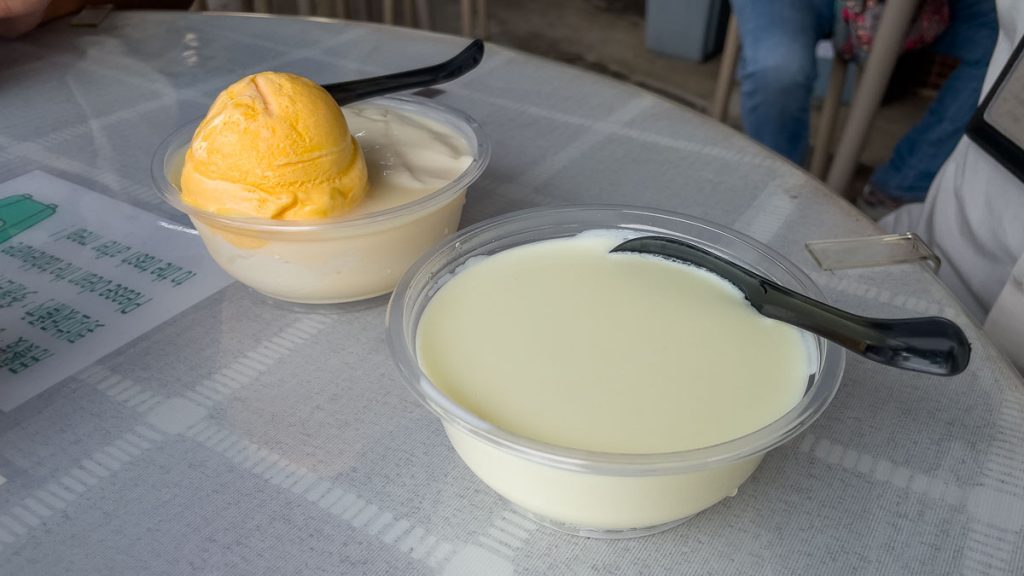 Further down, we took a break from walking at Ching Kee. This dessert shop is well-known for its beancurd, and ginger milk pudding. Plus, it has an outdoor seating area overlooking the Tai O channel too!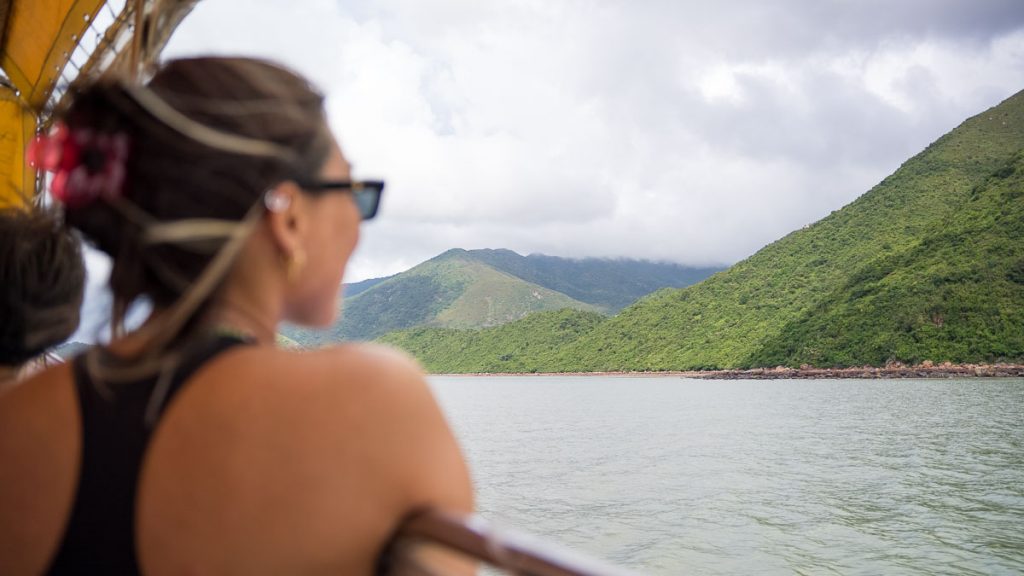 After a long day of exploration, we finally hopped on a scenic ferry ride (HK$32.50, ~S$5.50) back to Tung Chung.
Ferry timings: First ferry departs Tung Chung at 7:30AM, last ferry leaves Tai O at 6:30PM
How to get there: Take bus 11 from Tung Chung Station Bus Terminus, or ferry from Tung Chung New Development Pier
Day 4: Shop As The Locals Do
The Mills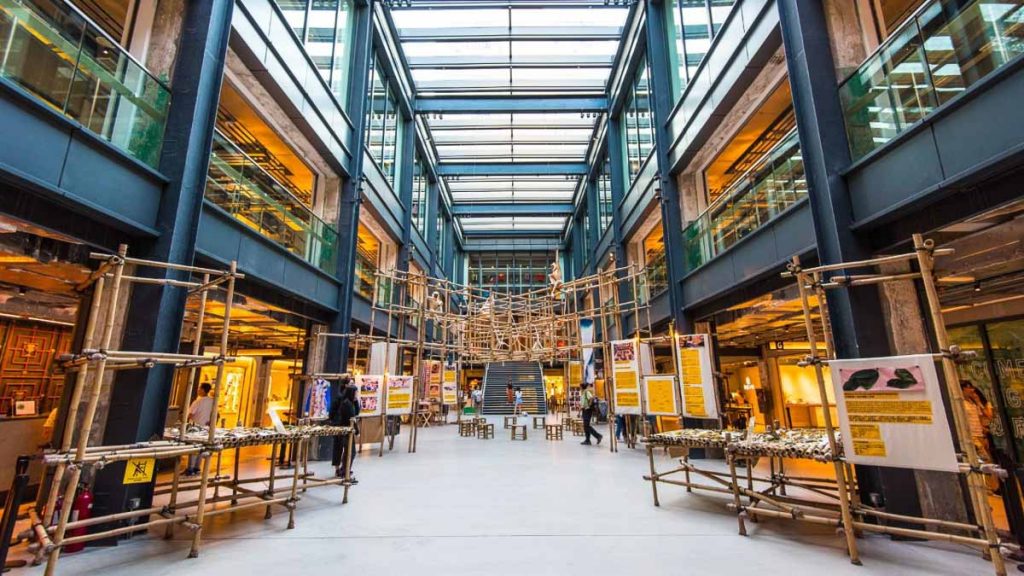 Photo credit: Hong Kong Tourism Board
Hong Kong has a fun collection of art malls like PMQ and K11 Art Mall, and The Mills is another great spot. This hidden gem is slightly out of the city in Tsuen Wan but popular amongst the younger locals because of its history and unique experiences — not just because it's so Instagrammable!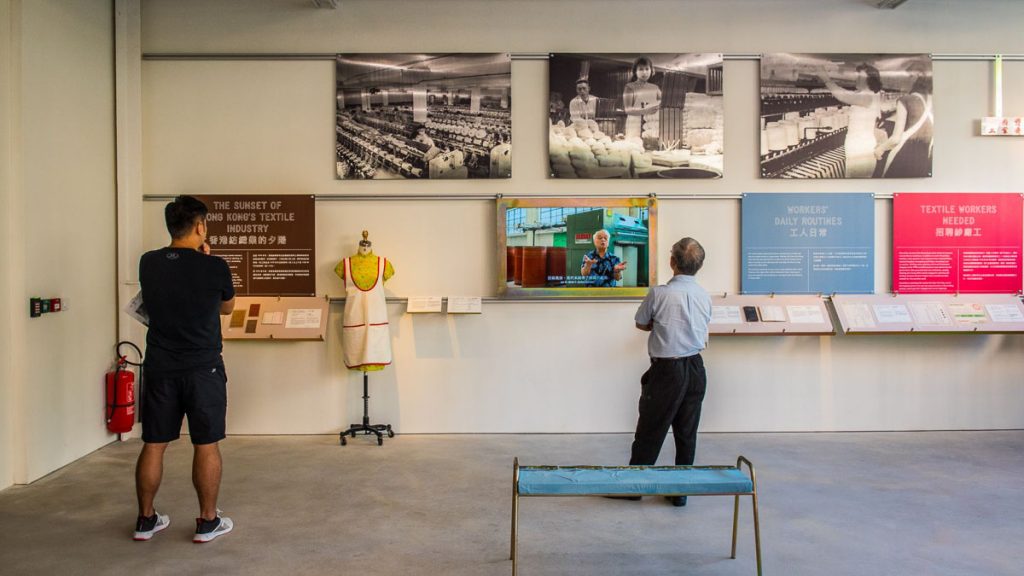 Photo credit: Hong Kong Tourism Board
Originally a cotton mill in the 1950s, it played a significant role in Hong Kong's manufacturing industry. Today, this vibrant transformed space is dedicated to preserving the textile heritage. Dive deep into the history of Hong Kong's textile industry through various exhibitions, talks and workshops here.
Or step into the experiential retail zone, and get to know all the up-and-coming local brands like FM+ and b/major!
Opening hours: 10AM – 10PM
How to get there: Take a shuttle bus from Tseung Wan Station Exit A4/D (departs every 20mins)
Kwai Chung Plaza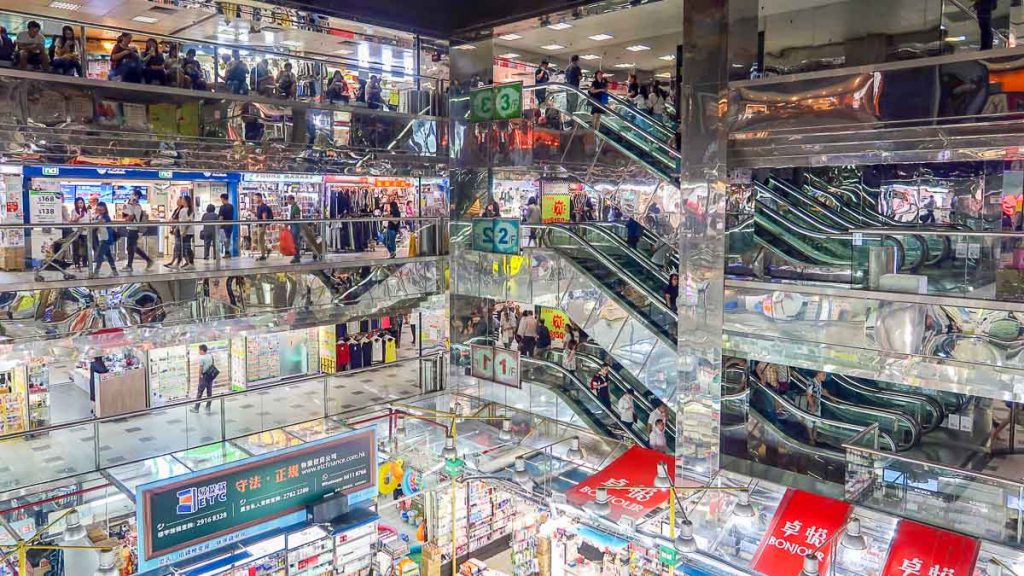 Photo credit: Wikimedia Commons
Most shopping trips in Hong Kong usually revolve around Mongkok, specifically Argyle Centre. That was until I discovered Kwai Chung Plaza — it's bigger with a wider selection of shops and a popular hang-out spot amongst locals.
Be spoilt for choice with four levels of shops selling everything from cosmetics to affordable clothes and accessories! When you're done scouring through the shops, eat your way through the extensive selection of yummy snacks and desserts here.
Some must-tries include Curry Sauce Takoyaki (HK$29, ~S$5), Deerlicious Pudding and Tung Min Ding's (東門町) Sichuan hot and sour glass noodles (HK$25, ~S$4.30).
Opening hours: 10AM – 10PM
How to get there: 2mins walk from Kwai Fung Station
Day 5: Discover New Instagrammable Spots
Xiqu Centre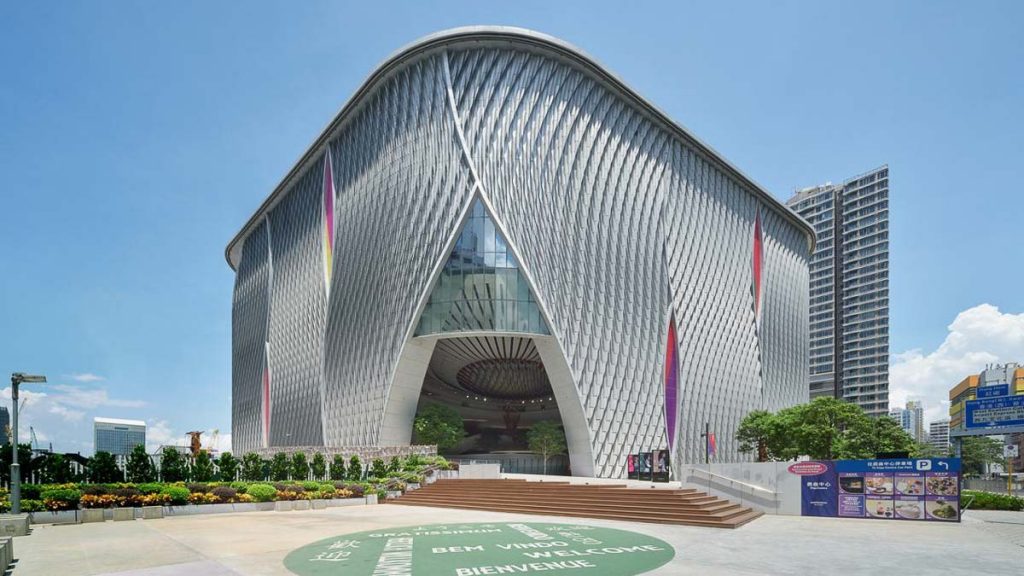 Photo credit: West Kowloon Cultural District
When you think of a Chinese Opera house, the looks of Xiqu Centre wouldn't be the first thing that comes to mind. However, this architectural beauty helps give this traditional art a modern edge.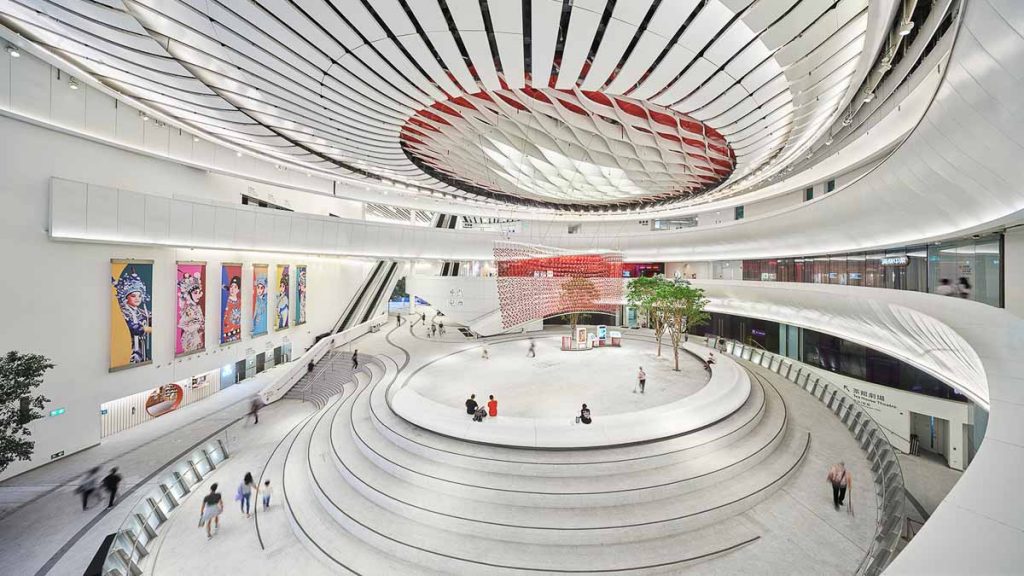 Photo credit: West Kowloon Cultural District
This space is dedicated to preserving and developing Chinese traditional theatre, and is also an inviting space for the public — we hung out on the atrium's large seating steps sipping on bubble tea, before exploring the public exhibitions and learning about the history of the arts.
For a more immersive experience, catch award-winning Chinese Opera performances at the Tea House Theatre — it imitates the atmosphere of a traditional tea house like how it was in the past!
Entrance fee: Free
Opening hours: 10AM – 10:30PM
How to get there: Austin Station Exit E
Arte M @ K11 Atelier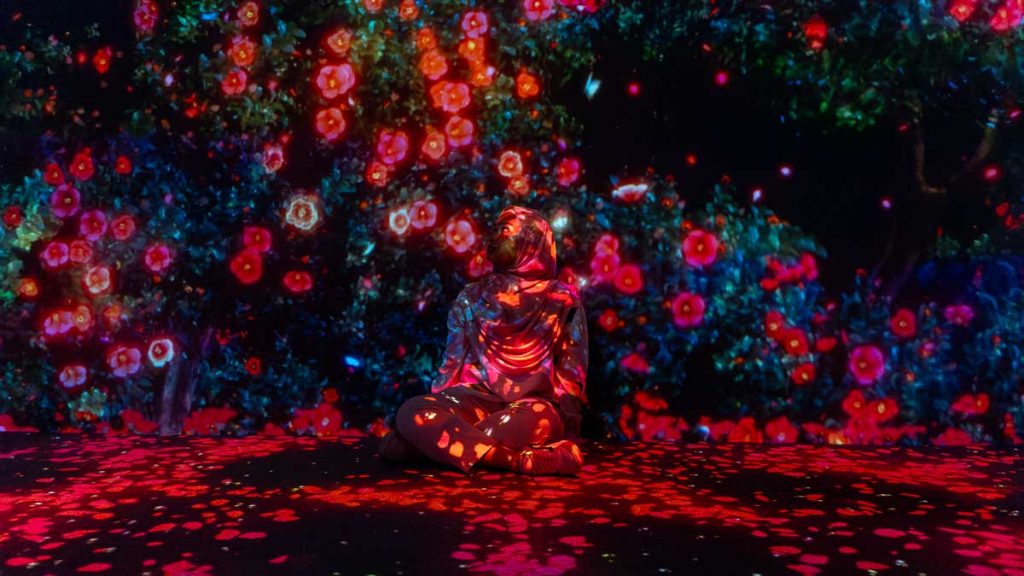 For a more vibrant backdrop, step into the world of Arte M. Opened in October 2022, this multi-sensory media art exhibition has seven rooms with breathtaking LED projections of nature. The moment we stepped in, we felt like we were transported into another world with each mirrored room bursting with colours from floor to ceiling!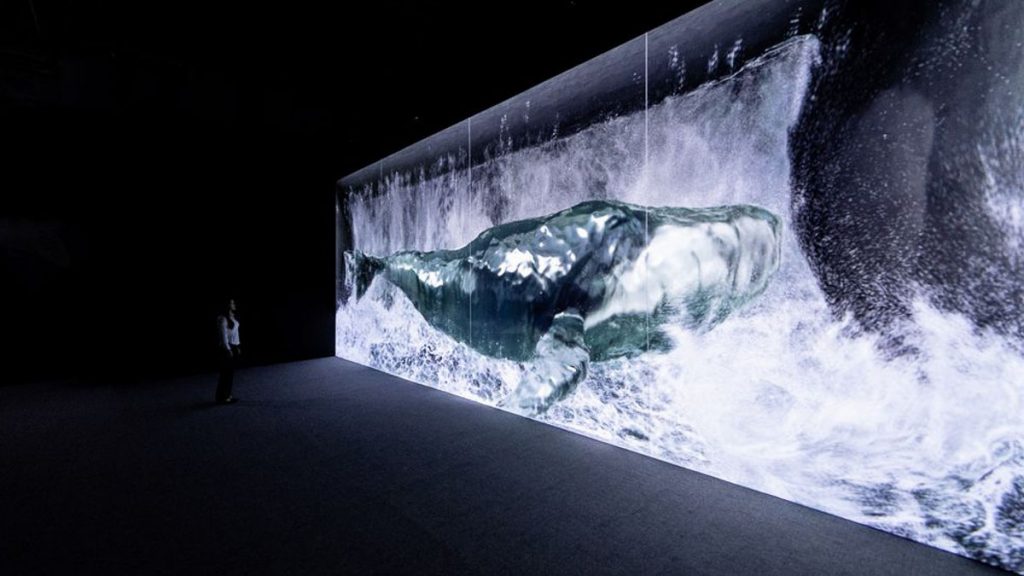 Photo credit: @artem_hong kong via Instagram
From whales made of ocean waves to luminescent rainforests, you'll be struggling to choose which photo as your next display pic 📸
Entrance fee: From S$15/pax
Opening hours: 11AM – 7PM, opens 10AM on weekends, last admission 6PM
How to get there: 2mins walk from Quarry Bay Station Exit C
根Root Cafe [NEW]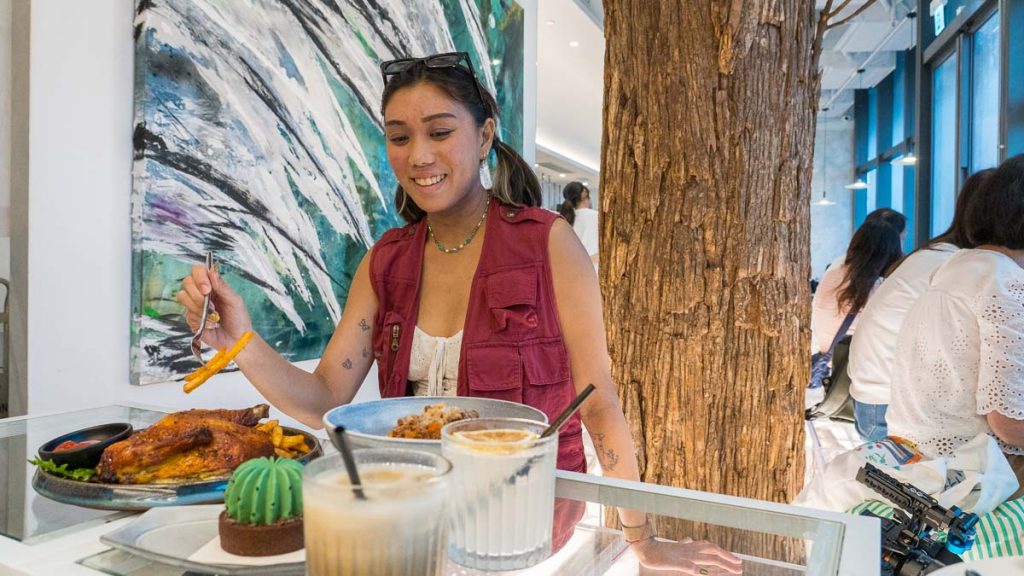 Nothing screams IG-worthy more than a cafe with an entire tree trunk at its centre.
Just as its name suggests, Root Cafe is inspired by wood. And you can be sure we were seated right by its 5.5m-tall local eucalyptus tree!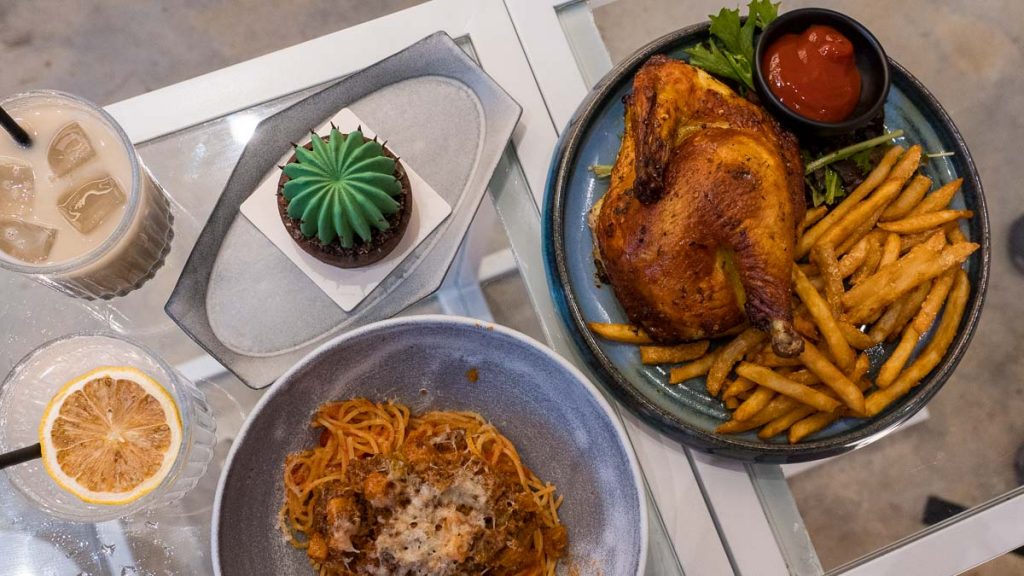 The food here tastes as great as it looks too — specifically the Signature Grilled Chicken (HK$168, ~S$29) and the adorably delicious Cactus Chocolate Tart (HK$68, ~S$12) 💯 The chicken was extremely juicy and well seasoned, while the chocolate tart was the perfect dessert to end off the meal — not too sweet or heavy!
Opening hours: 12PM – 9PM, closed between 4PM – 5:15PM
How to get there: 7mins walk from Kai Tak Station Exit D
Experiencing the Most Out of Hong Kong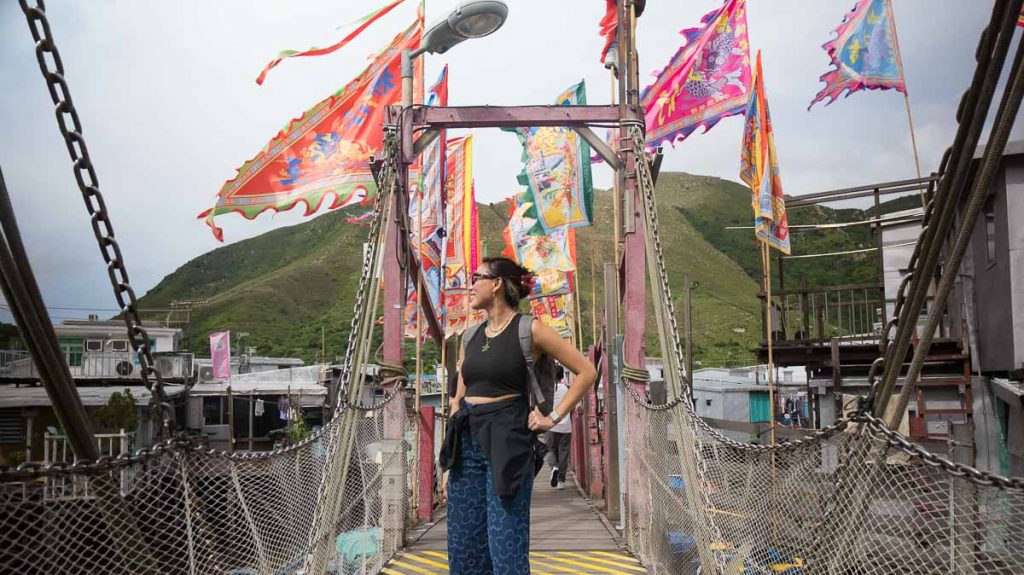 I wasn't sure what to expect returning to Hong Kong after all these years. But after a few days here, I'm reminded there's so much more to this concrete jungle.
With such a great mix of urban and outdoor experiences, I'm captivated by the rich arts culture, the ever-growing list of yummy foods, and hidden gems worth escaping the city for.
Budget Breakdown
4N Accommodation: S$361.74
Transport: S$17.30 (excl. flights)
Activities: S$84.54
Food & Misc: S$$224.90 (incl. insurance)
Total: $688.48
(detailed breakdown for one pax here)
Trip Essentials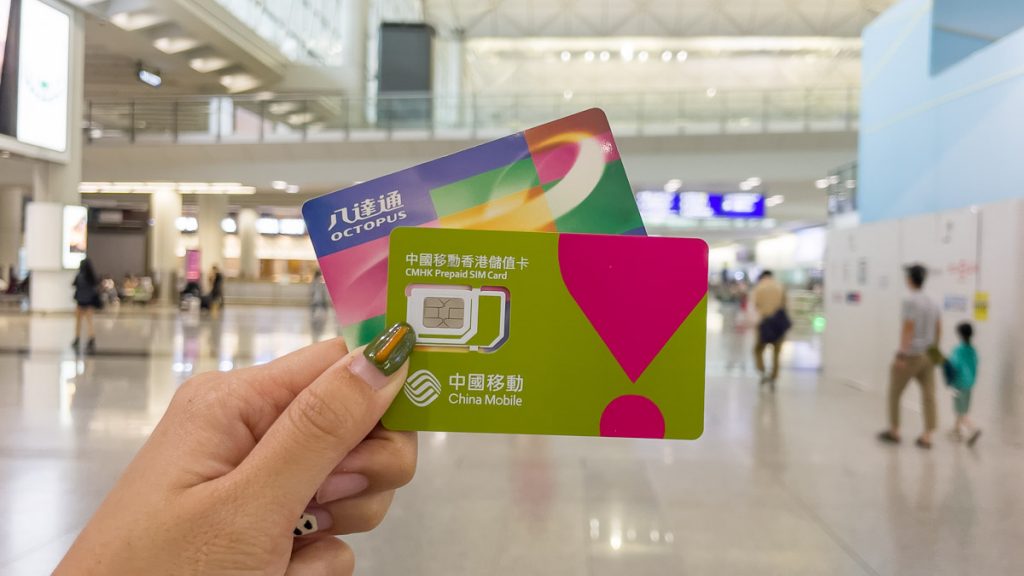 To get around Hong Kong you need an Octopus card. We got ours from Klook — it was preloaded with HK$150 (~S$25.50) and came with an 8-day SIM card!
Don't miss out on some special Hong Kong Goodies too! If you're visiting for 90 days or less, simply register to choose from either one welcome drink from their local bars, a HK$100 (~S$17) cash voucher or a gift from an attraction or museum 🎁
Where to Stay in Hong Kong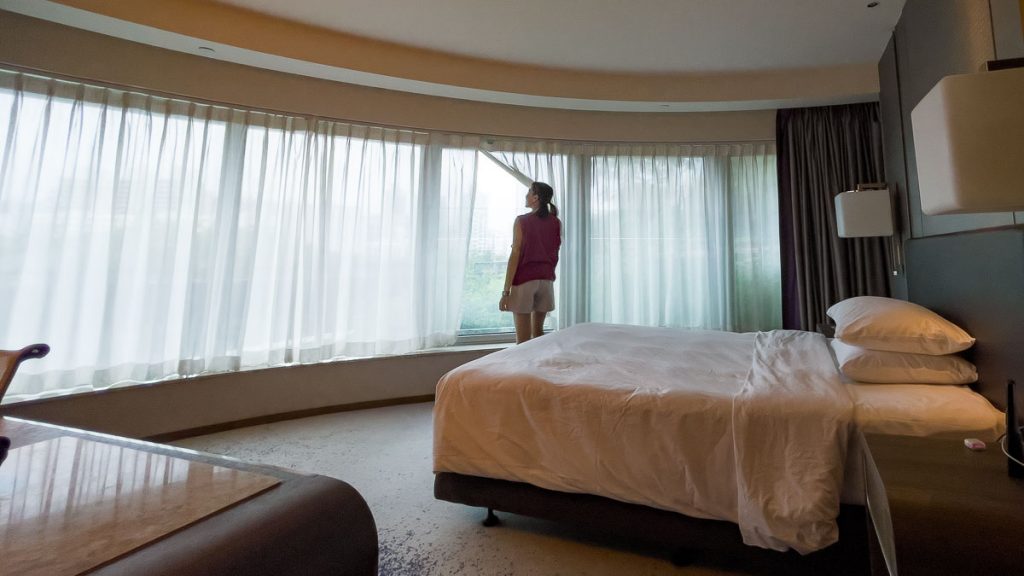 We stayed at Royal Plaza Hotel in Mongkok during our trip. This hotel was everything we could've asked for — clean, convenient, and comfortable! Our room was extremely spacious and the hotel was well-connected to more than one MTR station (Mongkok East Station and Mongkok Station).
Cost: From S$180/night (for 2 pax)
Address: 193 Prince Edward Road West, Kowloon
See what else we got up to in our All-in Hong Kong Guide — Everything to Eat, See and Do:
What other hidden gems should we add to our Hong Kong itinerary? Drop a comment below!
---
This article was brought to you by Hong Kong Tourism Board.