Beat the rising costs of travel with these nifty money-saving tips for your next trip!
Revenge travel has driven up the costs of travel quite a bit and you may have seen creative ways people have tried to keep their travel expenditures low.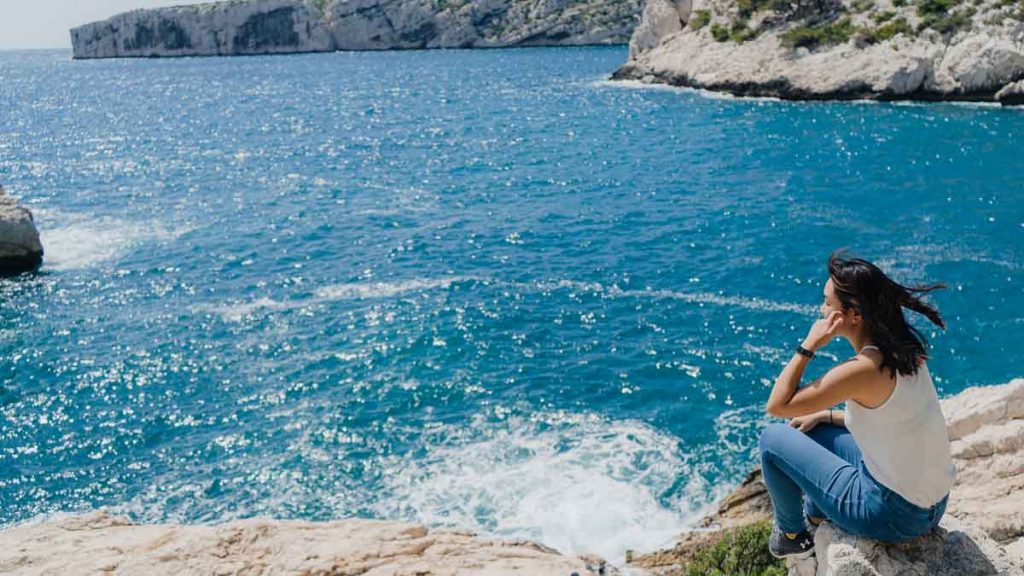 Inspirational travel content titled "I spent only $5 a day in Thailand" or "Exploring Honduras with less than $100" may sound like the next best way to travel without breaking the bank.
But unless you're willing to rough it out like Tarzan the jungle man on your vacation, there are better and smarter ways to deal with the rising costs of travel.
From day-to-day spending to flights and accommodations, here are some tried and tested travel budget tips to know before planning a trip out this year!
Day-to-day
1) Stay up to date with the latest travel deals
A simple yet often overlooked money-saving tip is to look out for travel deals and promotions offered by airlines, travel agencies, and even credit card companies.
So the next time you're prompted to subscribe to newsletters by these companies, you might want to tick that box 😉.
Here are some ongoing travel deals you shouldn't miss out on:
– S$100 off flight bookings on Cathay Pacific with min. spend of S$800
– S$50 off hotel and flight bookings on Trip.com
– 12% off hotel bookings on Agoda
2) Leverage daily spending to offset travel costs
What if we told you buying bubble tea can get you cheaper flight tickets? That is if you buy enough bubble tea and make payment with credit cards — this, in turn, earns you reward points.
Many payment merchants such as banks and credit cards have their own reward systems to encourage spending. So if you're still using cold hard cash to buy things, you might want to switch to using your credit card for more perks.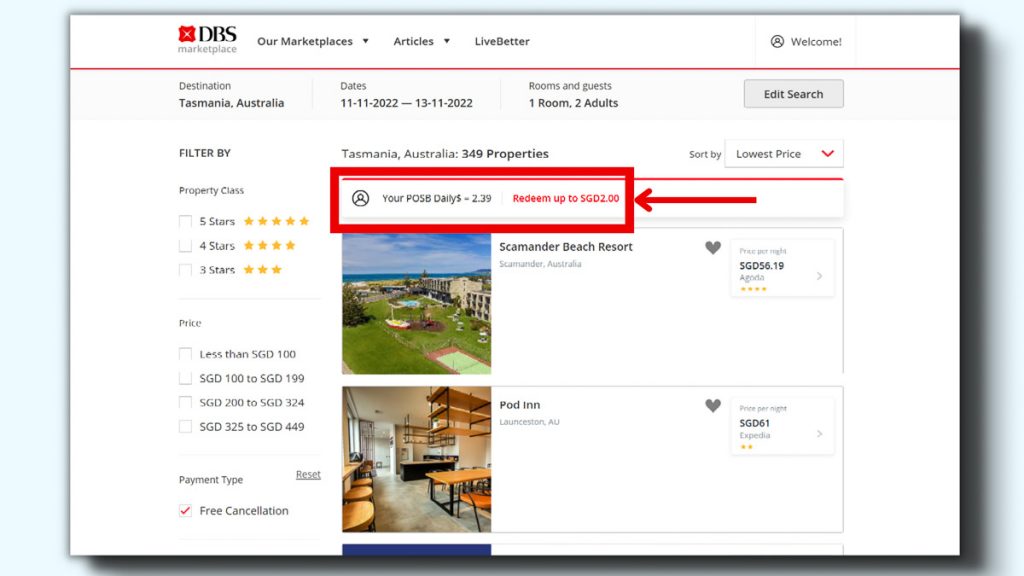 For DBS/POSB cardmembers, you can use your accumulated DBS Points/Daily$ to offset travel expenses such as hotel bookings on the DBS Travel & Leisure Marketplace. Sweet!
For a limited period from 19 August 2022, stretch your DBS Points even further on DBS Travel & Leisure Marketplace (TMP). Your DBS Points are now enhanced from 2x to 3x value when you offset your flight and hotel purchases on TMP, meaning 100 DBS Points = S$3.
Read also: 11 Pre-trip Budget Travel Hacks All Travellers Must Know
Cheap Flights
3) Find cheaper air tickets using aggregator websites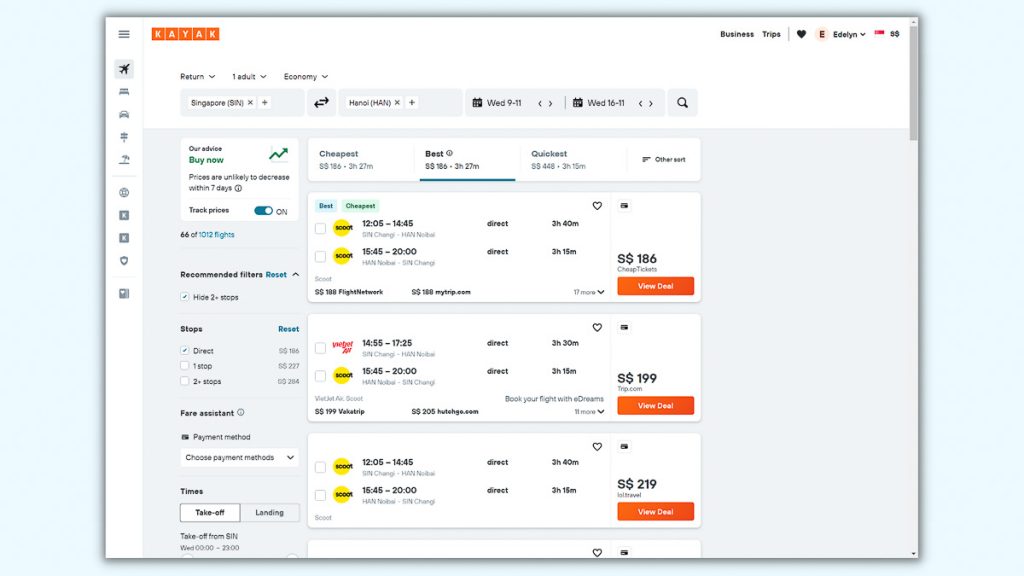 One thing we've noticed from revenge travel is how much more expensive airfare has gotten. When we could once get air tickets to Bali below S$200 pre-Covid, now we're seeing airfares rise to as high as S$940!
As a general rule of thumb, you'll want to book plane tickets in advance as prices increase steeply nearer to the date of departure. But if you're a last-minute traveller, use flight aggregator websites such as Skyscanner or Kayak to get the cheapest possible airfare ✈️.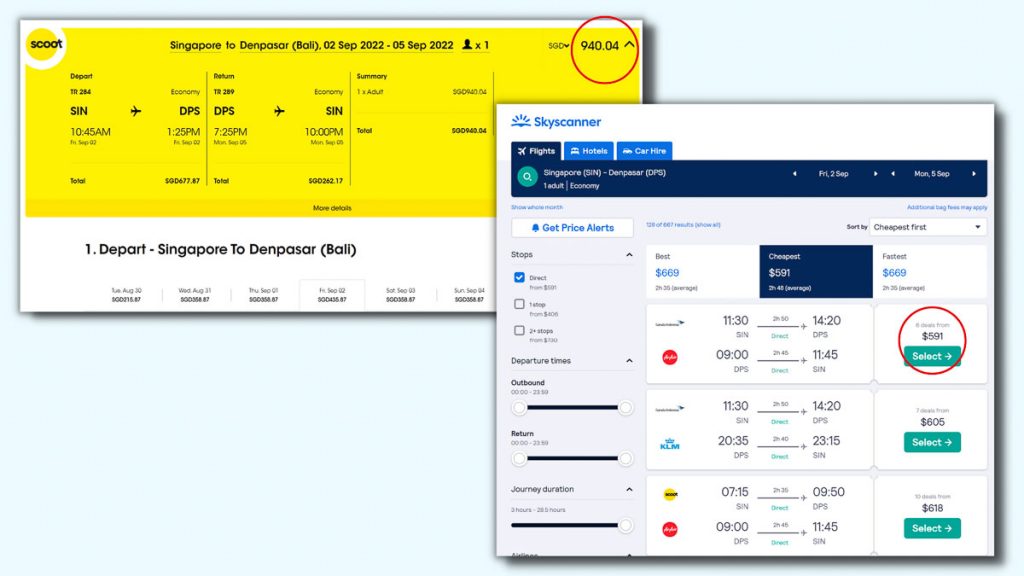 Pictured above is a comparison between Scoot and Skyscanner for flights departing the same day from Singapore to Bali. Our preferred flying date would have cost us S$940 on Scoot, whereas Skyscanner found flights that were more than $200 cheaper for the same route!
*Pro-tip: Set "Price Alert" on aggregator sites to get notifications whenever airfares drop!
4) Accrue miles when you spend to offset your airfare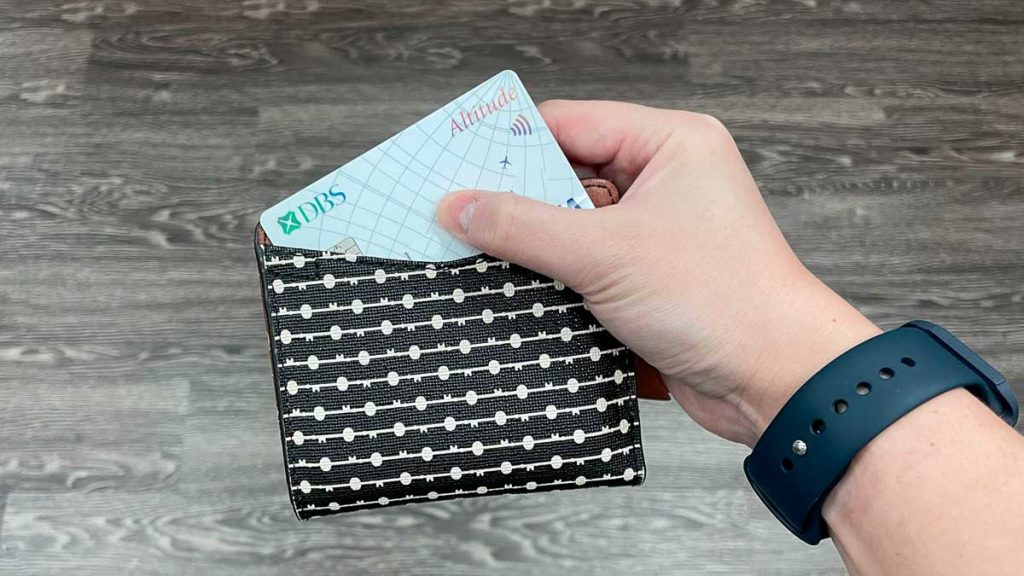 It doesn't matter if you're a huge spender or not. As long as you hold a credit card, make sure it's one that earns miles as you spend.
It's a misconception that only high-earners can hold miles-accruing credit cards as there are currently many entry-level miles cards with a minimum annual income requirement of S$30,000 (or S$2,500 per month).
One such attractive entry-level miles card is the DBS Altitude Card, which gives up to 1.2 miles with every dollar spent locally. Additionally, earn up to 3 miles per S$1 spent when you book your flights or hotel stays on the DBS Travel & Leisure Marketplace (TMP).
| | |
| --- | --- |
| Transactions made on DBS Altitude Card | Miles earned per dollar spent |
| S$1 local spend | 1.2 |
| S$1 overseas spend | 2 |
| S$1 online flights and hotel bookings on TMP | 3 |
The best part? Miles accumulated on the DBS Altitude Card don't expire, so for those who are still waiting for your favourite destinations to open up (ahem, Japan, Taiwan, Hong Kong!!!), rest assured that your miles will still be valid regardless of when borders reopen.
Accommodation
5) Opt for hostels instead of hotels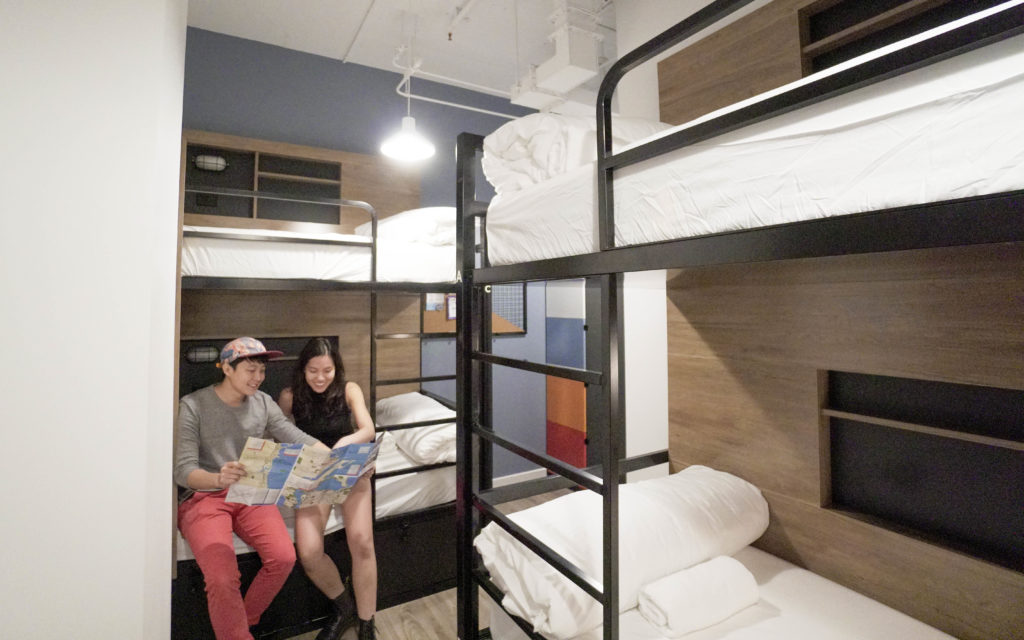 Lodging expenses make up a huge portion of a trip's budget, so unless you're on a resort vacay, there's no need to spend a bomb on accommodation — since you'll be out and about most of the time anyway.
A wallet-friendly option would be choosing hostels over hotels. For instance, hotel stays cost an average of S$200 per night in popular cities like Paris and Tokyo, but there are also clean and decent hostels that cost less than S$50 per pax per night.
Some hostels even have private room options that come with an ensuite bathroom!
*Pro-tip: Offset your lodging expenses when you pay with DBS Points or Daily$ on DBS Travel & Leisure Marketplace.
Read also: Where to Stay in Seoul — Aesthetic Yet Affordable Accommodations In Rising Hipster Districts
6) Take overnight sleeper buses or trains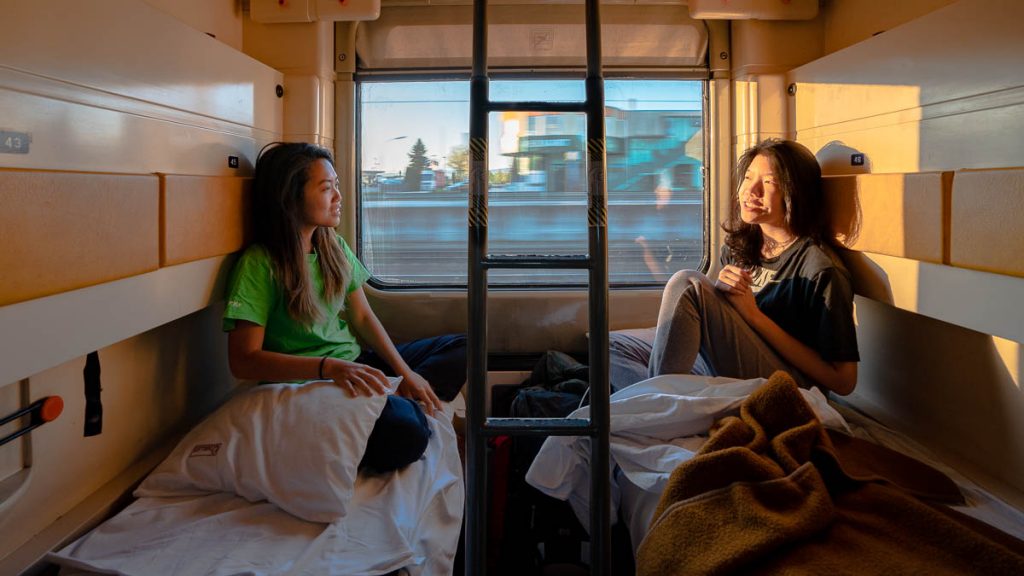 This is my personal favourite travel hack: Spending a night on a sleeper train or bus.
When travelling from city to city, take an overnight sleeper train or bus instead of booking an extra night of lodging. This way, not only do you save on accommodation, but you'll also have more time to explore the city during the day.
For those who are new to sleeper trains, find more information on Seat61.
Travel Essentials and Activities
7) Choose travel insurance with the right coverage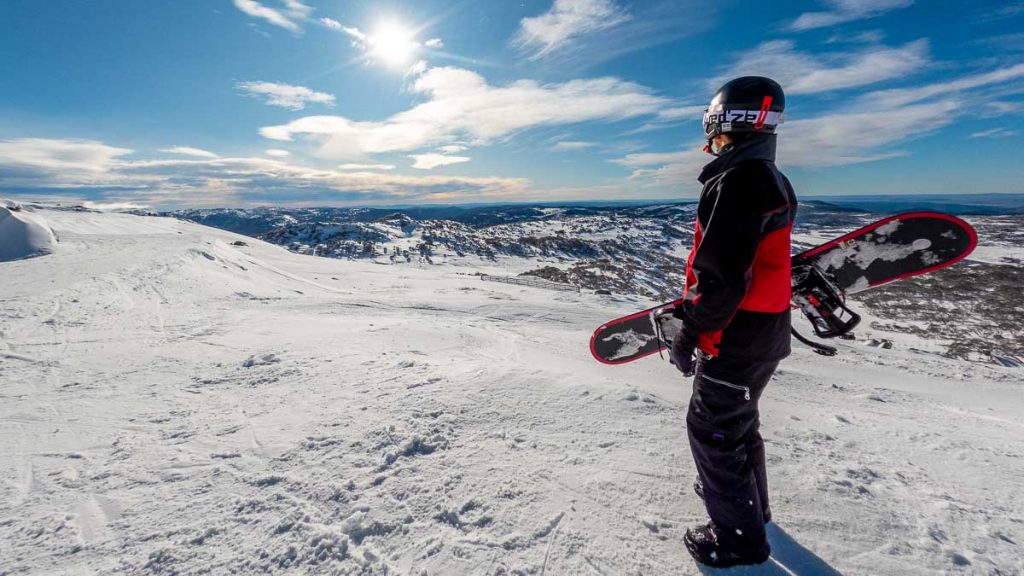 Take it from us, travel insurance is something you should never skimp on.
But before you automatically apply for a policy with the highest coverage, consider the intensity of activities and the value of personal belongings you're bringing on your trip. For instance, a weekend shopping trip to Bangkok carries a different risk level for personal accidents or loss of items compared to a 10-day snowboarding trip to Switzerland.
Knowing what the appropriate amount of coverage is for your trip can save you money when choosing an insurance plan!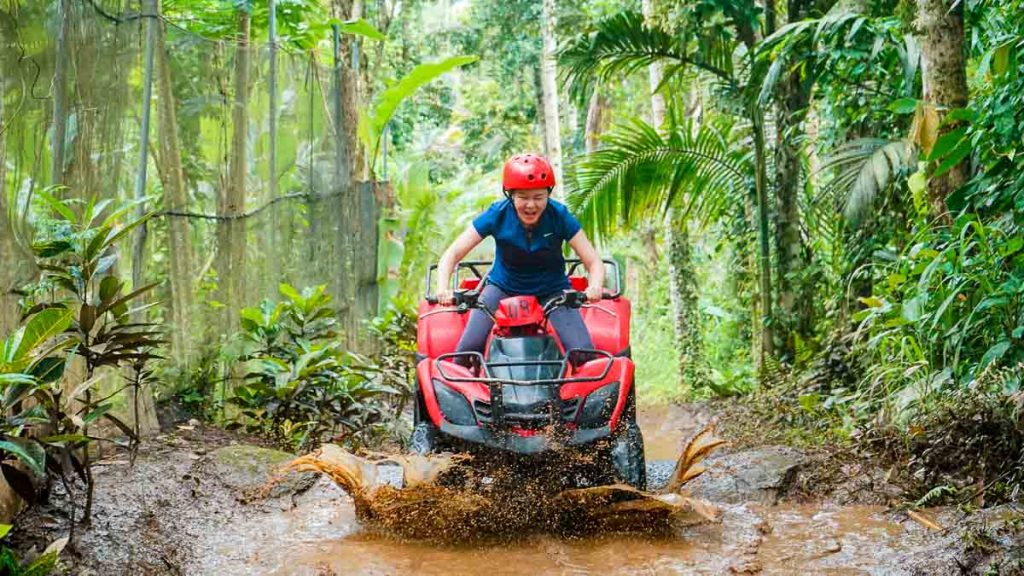 Some questions to ask yourself before buying a travel insurance plan include:
– Am I bringing expensive items such as a laptop, camera equipment, or a large amount of cash?
– Am I doing any extreme sports or adventurous activities on my trip?
– Will I be renting a car and driving around?
If you answered yes to any of the above, you'll probably need to get a policy with higher coverage. If not, a basic plan would be sufficient. It's also advisable to get travel insurance with Covid-19 coverage if you're travelling overseas this year.
And now, you can enjoy complimentary Covid-19 enhanced travel insurance when you make a purchase on DBS Travel & Leisure Marketplace. For comprehensive travel insurance with additional benefits such as coverage for non-Covid-19 related overseas expenses, opt for TravellerShield Plus instead.
DBS Travel & Leisure Marketplace customers will also receive an exclusive 60% off promo code for TravellerShield Plus Single Trip plans when you book a flight or hotel. T&Cs apply.
8) Check out free things to do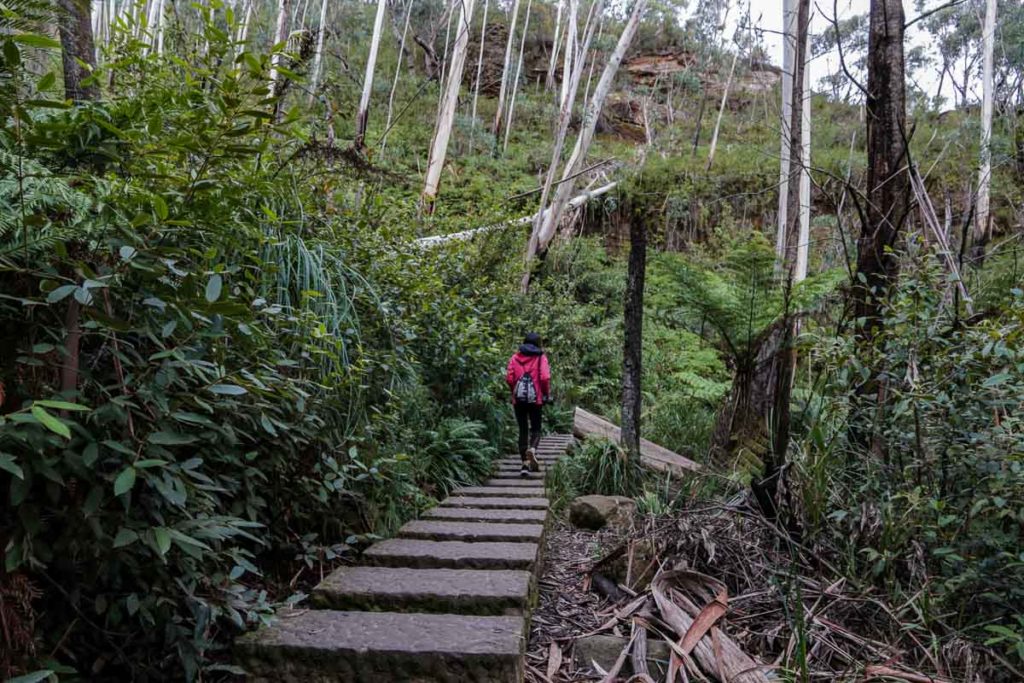 There are many ways to keep travel costs low, and an obvious way is to check out free activities. Find where the free hiking trails are, sign up for free walking tours, visit museums on free admission days, or even scout for free arts or music events.
We've consolidated some "free" things to do in cities that are often deemed expensive:
– NSW, Australia: Free walking tours, nature trails
– Salzburg and Vienna, Austria: Free concerts/events
– Paris, France: Walking tours and free-to-enter museums
– London, UK: Free events and performances
– Munich, Germany: Free walking tours, free-to-enter museums
– Zurich, Switzerland: Free-to-enter museums & parks, free hiking trails
On Trip
9) Pack light to save on unnecessary extra baggage fees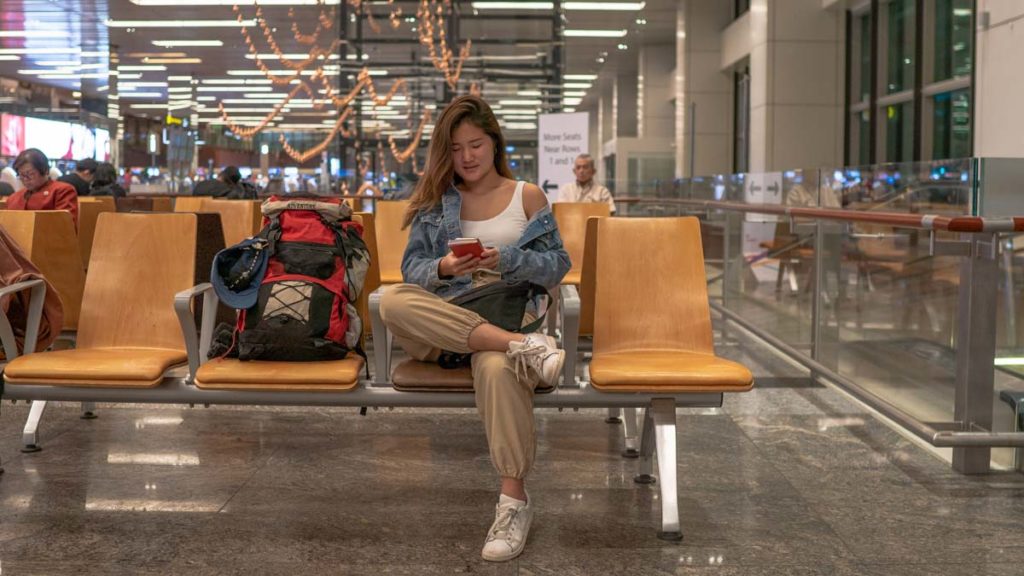 Don't be that unfortunate traveller who has to pay exorbitant overweight baggage charges at the airport. For example, depending on your flight route, excess baggage fees can cost up to US$56/kg on Singapore Airlines 😱.
Avoid this by packing as light as your itinerary allows you to. If you plan on doing rugged activities like ATV rides, bring old clothes you don't mind discarding to lighten your load as you go.
10) Familiarise yourself with cashless payment options without FX transaction fees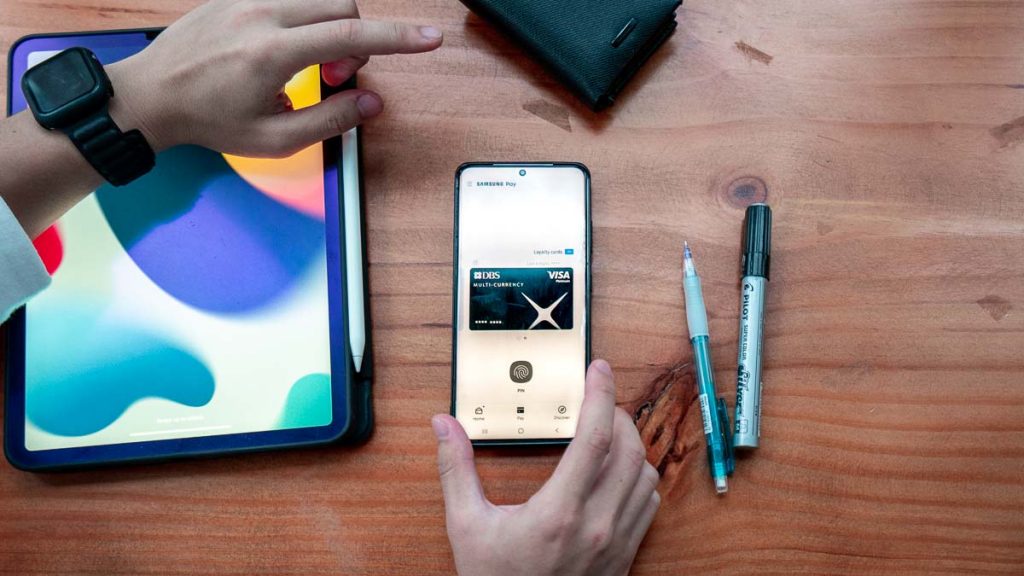 Most cards charge a foreign exchange (FX) conversion fee when making payments overseas. So, before your trip, find out which payment methods do not charge them. Our favourite ones are using multi-currency cards or bank accounts with no FX conversion fees.
DBS My Account is a multi-currency bank account that allows you to exchange for 12 foreign currencies instantly wherever you are, with no FX conversion fees.
For overseas spending, just link your My Account with a DBS Visa Debit Card as a primary account to spend on up to 11 foreign currencies without incurring additional FX charges.
Another payment method that doesn't charge FX conversion fees is PromptPay QR Code with PayLah! app. The PromptPay QR Code is a cross-border service that allows travellers to pay merchants in Thailand via PayLah! app with.
*Pro-tip: Get up to 8% cashback on foreign currency transactions on your DBS Visa Debit Card when you register for the FX Foreign Currency & Online Spend promotion on the DBS PayLah! app and meet your personalised spend goal. Valid till 30 Nov 2022.
Save on travel costs by using DBS Travel Marketplace (TMP)
Rising travel costs may be inevitable in a post-Covid world, but there are still many ways to get around it! Especially for DBS/POSB customers and cardmembers, there's a whole list of travel perks lined-up for you.
Get your travel essentials on the DBS Travel and Leisure Marketplace — a one-stop platform for booking flights, accommodation, and even activities with add-on savings using your DBS Points/Daily$.
To summarise, here are some perks to enjoy when booking your travel essentials with DBS:
– Complimentary travel insurance with Covid-19 coverage
– Earn 3 miles per S$1 on online flights and hotel bookings made on TMP with the DBS Altitude Credit Card
– Offset travel bookings with accumulated DBS points/Daily$
– Up to 8% cashback on foreign currency spend on your DBS Visa Debit Card when you register for the Foreign Currency & Online Spend promotion via the PayLah! app. T&Cs apply.
What other travel hacks do you know about? Share them in the comments below!
---
This post was brought to you by DBS.
Like what you see? Follow us on Facebook, Instagram, Tiktok, and YouTube for more travel updates!