The perfect guide for first-timers to the South Tohoku region in Japan — discover traditional local culture, rejuvenating onsens, and some of the finest sake you'll ever taste!
A 1.5-hour train ride from Tokyo, Tohoku might sound unfamiliar to most. But in 2011, one of its six prefectures, made headline news — Fukushima. It's been almost a decade since the meltdown of the Fukushima Daiichi Nuclear Power Plant. Thankfully, radiation levels outside the 20km exclusion zone have since returned to acceptable ranges.
Tohoku has also been featured in National Geographic's 25 Trips to Take in 2020 and Lonely Planet's Best in Travel 2020 — Top 10 Regions. It's not surprising why, with hanami festivals, fresh seafood and ski resorts that rival popular regions like Kyoto, Osaka and Hokkaido.
Ready to discover this up-and-coming region on your next Japan trip? Read on for our first-timer's guide to Miyagi and Fukushima in South Tohoku.
Seasonal Events and Festivals
Miyagi and Fukushima are beautiful any time of year, with mild summers and cooler winters. Here are some of the major festivals and seasonal activities to guide you on when to visit:
1) Prime Spots for Sakura Viewing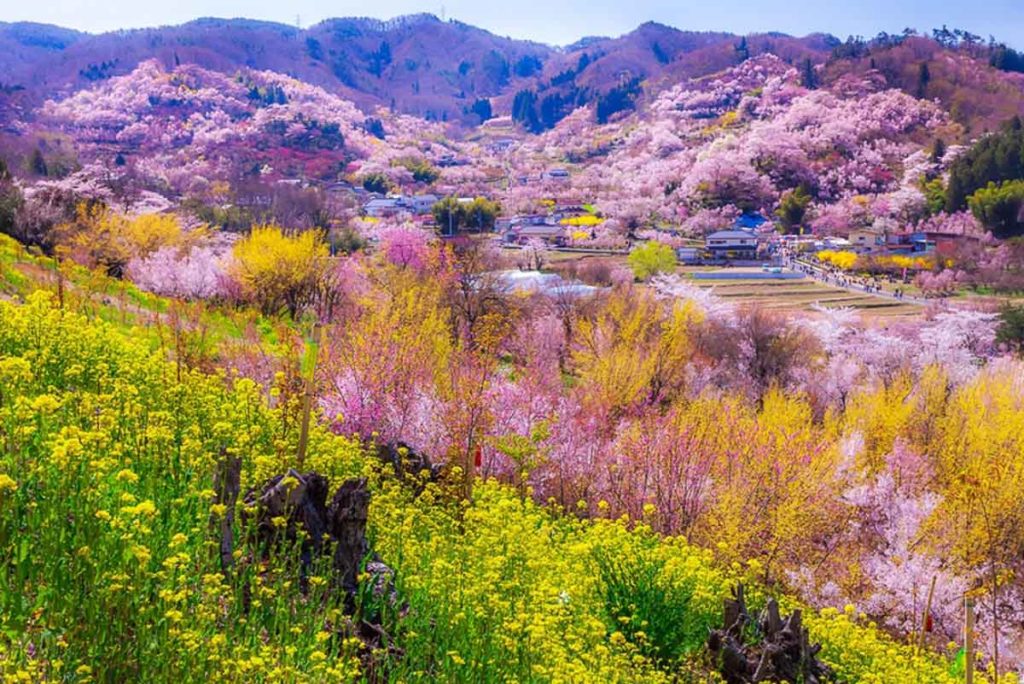 Hanamiyama Park (花見山 which literally translates to 'cherry blossom viewing mountain') Photo credit: Fukushima Travel
As Tohoku is up north on Honshu main island, hanami season occurs slightly later from April to May. Remember to check forecasts when planning a spring trip. The outlook for 2020 expects earlier flowering dates due to warmer temperatures from February onwards.
Read also: Ultimate 2020 Cherry Blossom Guide — Everything you need to know
Shiogama Shrine: There are over 300 cherry blossom trees planted around the shrine grounds and they usually bloom from mid-April. This includes 27 Shiogama sakura trees with double-petaled flowers that bloom later than other varieties. There are also a few Shikizakura (four season cherry blossoms) that bloom twice a year and I was lucky to see them during my trip in winter.
Saigyo Modoshi no Matsu Park: Views of Matsushima Bay are made more epic with over 250 cherry blossom trees that bloom on this mountainside park. Take a five-minute taxi ride from Matsushima-Kaigan Station or a half hour hike uphill. There's a cafe within the park to chill with light snacks while enjoying the scenery.
Tsuruga Castle: Photos of Tsuruga-jo often feature the castle tower surrounded by cherry blossoms in full bloom but that's not all. There are 1,000 cherry trees all around the castle grounds, making for a magnificent sight whether you view them from the ground up or from the castle tower's observation deck.
Hanamiyama Park: Located on the hills near central Fukushima, Hanamiyama is one of the best viewing spots in the prefecture. There's a shuttle bus service from Fukushima train station during the hanami season which costs ¥250 and takes 15 minutes followed by a 10-minute walk.
2) Summer Festivals and Fruit-picking
Summer in Tohoku reaches an average temperature of 22.5ºC in August, which is basically air-conditioning temperature in Singapore. And that's the hottest it'll get!
Sendai Tanabata Festival takes place from 6-8th August annually, adorning the city and surrounding neighbourhoods with multicoloured paper streamers and bamboo decorations. Apart from admiring the displays around town, there's also food and a programme of performances and activities at the Festival Square in Kotodai Park.
*Pro-tip: Time your trip to coincide with the fireworks on 5th August that signify the start of the festival.
Fukushima is a major producer of fruit in Japan, and summer is the ideal time to visit and pick your own cherries and peaches! Head to the main cluster of orchards along the Fruit Line in the western part of Fukushima City. Akatsuki peaches are possibly the most famous out of the fruit produced in Fukushima, so take this chance to sink your teeth into them fresh off the tree.
3) Autumn Foliage
Naruko Gorge is one of the top-ranked spots to visit in Tohoku for autumn colours. It's an hour and a half drive from Sendai, but totally worth it for the sight of cliffs and mountain ranges coloured in red, gold and orange.
A viewing platform next to Narukokyo Resthouse gives you unobstructed views of Ofukazawa Bridge. Explore the bottom of the gorge via the Naruko Gorge Walking Trail by descending the steep steps next to the resthouse.
Another option is the Bandai Azuma Skyline, an alpine highway that winds up and around the Azuma mountain range in Fukushima.
The road is open between early April and mid November (closed in winter). Also check for any road closures ahead of time as there may be alerts for volcanic activity on Mount Azuma.
4) Ski Resorts and Winter Illuminations
Tohoku is popular with locals during ski season but remains relatively unknown to tourists. If you're planning a ski trip but balk at the notion of bumping into a resort full of Singaporeans, take advantage of Tohoku's under-the-radar status. Its powder snow is touted to be comparable with Hokkaido's!
Just note that Tohoku ski resorts are generally less Westernised so keep some basic Japanese phrases in your back pocket (or in your Google Translate app).
Some often recommended ski resorts in Miyagi and Fukushima are:
MIYAGI
– Miyagi Zao Eboshi Ski Resort (largest in Miyagi)
– Sumikawa Snow Park (snowcat tours and back country slopes for experienced skiiers)
– Spring Valley Ski Resort (40min drive from Sendai)
FUKUSHIMA
Japan has a knack for beautifying cities with winter illuminations and Sendai is no exception. Sendai Pageant of Starlight takes place along Jozenji-dori Avenue, a major boulevard that cuts across the city. Over 600,000 lights are strung throughout the branches of 160 zelkova trees, ideal for trigger-happy photographers and loved-up couples.
The community-funded event typically runs for three weeks in December until the 31st. Dates for next year may vary, so check the official website for updates before you go!
Entrance Fee: Free
How to get there: Kotodaikoen Station (Nanboku Subway Line) or 30min walk from Sendai Station, through several shopping arcades — Clis Road, Sun Mall, Marble Road Omachi, then turn right at Vlandome and walk straight to Jozenji-dori Avenue
Top-notch sake, wine, and local dishes
5) Urakasumi Sake Gallery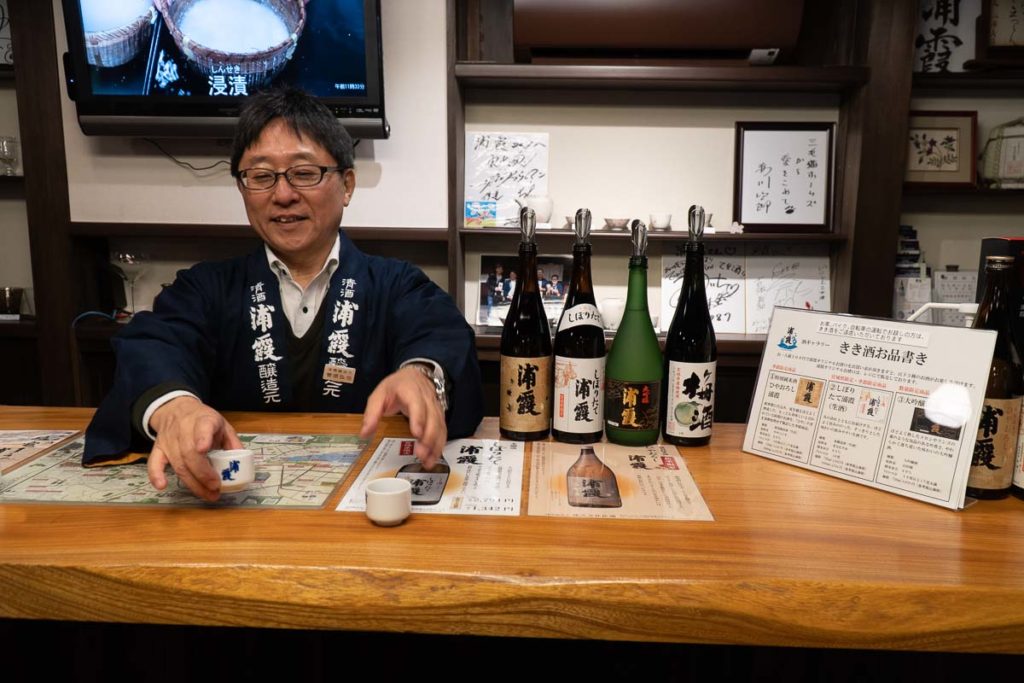 Established in 1724, Urakasumi is a well-awarded sake brewery in Shiogama. It has won numerous local and international accolades for both their sake and their sake toji (sake masters). Free brewery tours are conducted on weekdays at 11AM and 2PM for a maximum of five people. Bookings are essential, one week in advance. End the tour with a tasting session for ¥300.
If you like what you're sampling, pick up a bottle (or two) directly from the shop. Purchases above ¥5,000 are eligible for tax-free shopping, so don't forget your passport! Urakasumi sake is also stocked in Singapore, but you'll definitely not get as wide a selection. One of the most unusual brews I tried was a strawberry sake made in collaboration with Migaki-Ichigo premium strawberries (one strawberry costs ¥1,000!).
Opening Hours: 10AM – 5PM, closed on Sundays & PH
How to get there: 7min walk from JR Hon-Shiogama Station (JR Senseki Line)
6) Suehiro Sake Brewery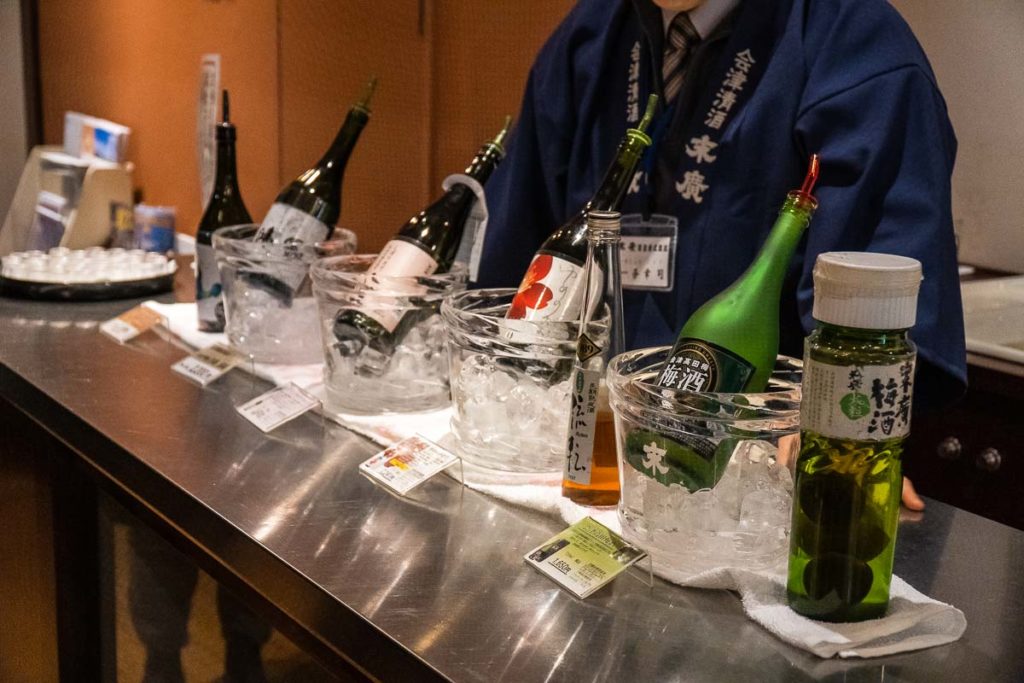 Continue the sake trail from Miyagi to Fukushima with Suehiro Sake Brewery, another award-winning sakagura that was established in 1850. Free brewery tours run from 10am to 4pm every hour for a duration of 30 minutes. You'll be guided through the theory of sake production, see new and traditional brewing equipment and visit the temperature-controlled storehouse where 3,000 bottles of their most premium sake is being matured.
Conclude your tour by tasting a variety of sake in the gift shop and purchasing yet another bottle if your luggage hasn't filled up by now.
Opening Hours: 9AM – 5PM
How to get there: Board the blue "Hikarasan" Classic Town Bus from JR Aizuwakamatsu Station (¥210) and alight at Yamatomachi bus stop (H8).
7) Akiu Winery
Photo credit: Visit Miyagi
While Tohoku may be famous for its sake breweries, some new kids on the block are reinvigorating the region. Akiu Winery is a prime example. Former architect Chikafusa Mohri established the winery in December 2015 to revive Miyagi's wine industry after the only winery in Yamamoto was destroyed in 2011.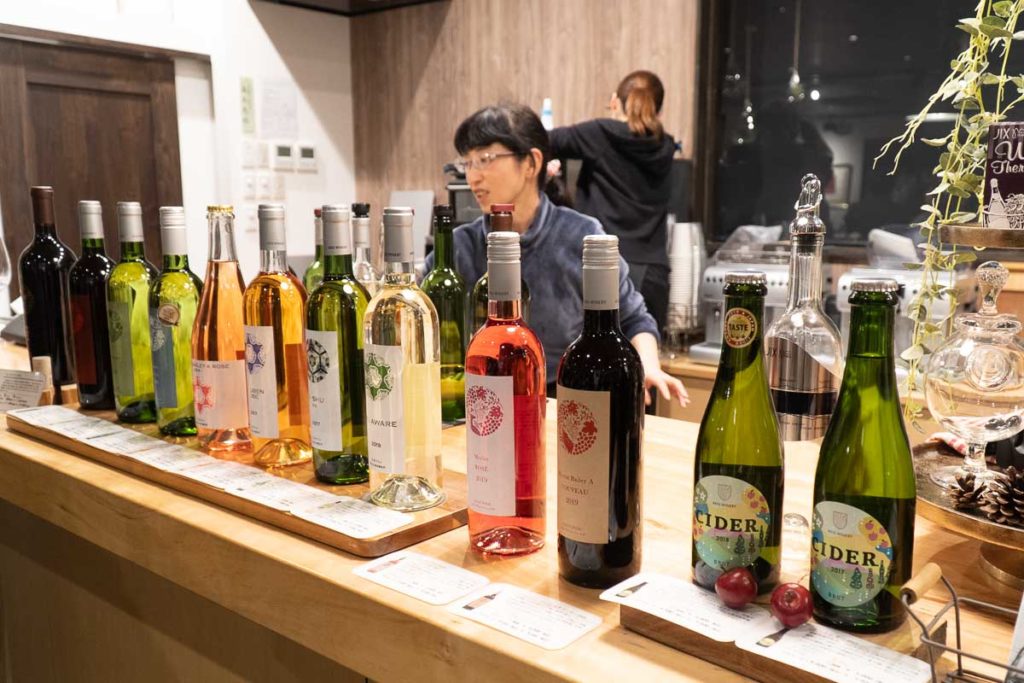 Wine tasting at Akiu Winery is affordable at ¥200 for a small glass and ¥400 for a large one. I tried four out of 10 wines available, each with a distinct character that would satisfy any wine lover.
Tasting platter sets are available at ¥500 to go with your selection of tipple. Wine tours and wine pairing dinners are currently in the works, so keep an eye out for them when planning your trip!
Opening Hours: 9:30AM – 5PM, closed on Tuesdays
How to get there: 30min drive from Sendai Station or 5min drive from Akiu Traditional Craft Village
*Pro-tip: In the summer, opt to sit outdoors in the front yard with a portable BBQ set to enjoy views of the vineyards and Akiu's landscape.
8) Negi-soba lunch at Misawaya (Ouchi-juku)
If you make the journey out to Ouchi-juku but don't try negi-soba at Misawaya, did you really visit Ouchi-juku?
For the uninitiated, negi-soba is cold buckwheat noodles eaten with a giant leek. The noodles look bland as they come served in a clear broth, but don't be fooled. There's some magic in combining flavoured soba, bonito flakes, ground radish and leek in one dish. I declare that this was the most memorable dish I had on the whole trip!
Address: Yamamoto-26-1 Ouchi, Shimogo, Minamiaizu District, Fukushima 969-5207, Japan
*Pro-tip: Picking the noodles up with the leek can be challenging. It's easier if you take a small bite of the end for a better grip. And if all else fails, just ask for a pair of regular chopsticks!
9) Seafood, Glorious Seafood
Miyagi is famous for seafood due to its location along the Sanriku Coast where warm and cold ocean currents meet. Rather than jostling with tourists at Toyosu Fish Market in Tokyo, make a beeline for Shiogama Seafood Wholesale Market. It boasts of the largest catch of tuna in Japan, including Higashimono 'big eye tuna' which is only available from Sep-Dec.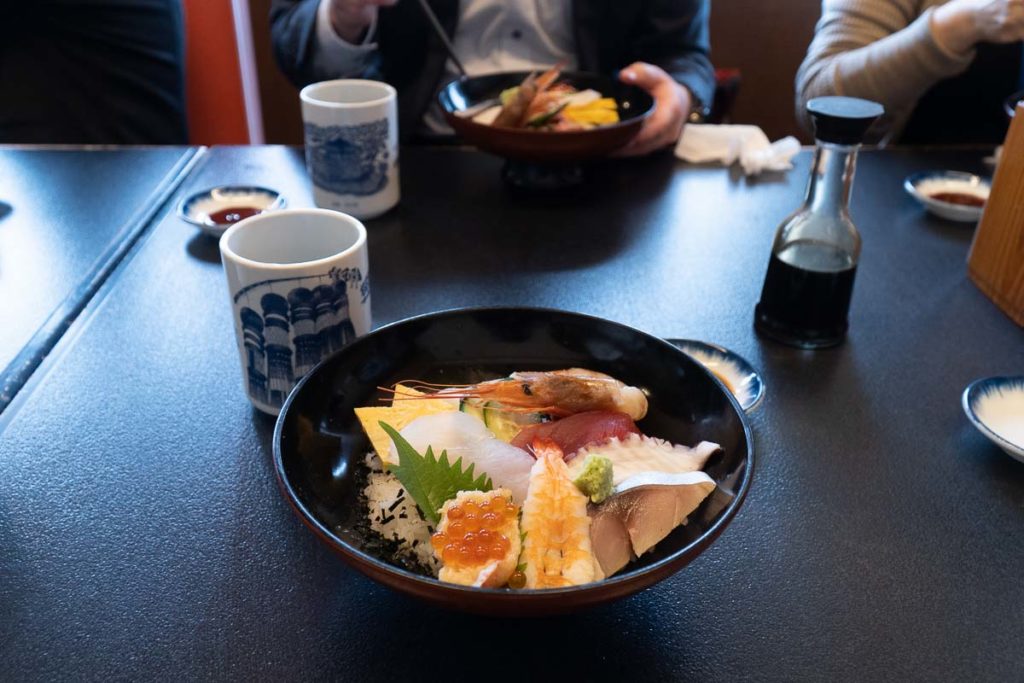 This basic kaisendon only cost ¥1,000!
Build your own kaisendon at the market, or head to a sushi restaurant for a ready-made bowl. Sushiyano Yamako Shiogama on the second floor of Marine Gate Shiogama is a good no frills option.
Sushiyano Yamako Shiogama
Opening Hours: 11AM – 9PM, closed on Mondays
How to get there: 10min walk from JR Hon-Shiogama Station (JR Senseki Line). The restaurant is on the second floor of Marine Gate, Restaurant Zone
10) Try Local Specialties at an Izakaya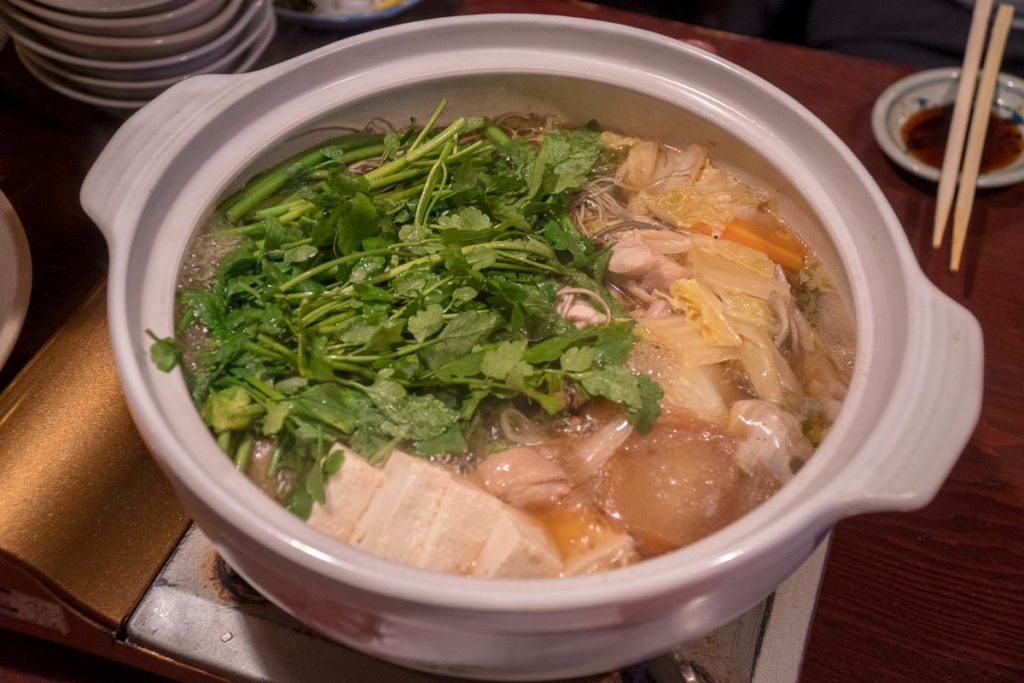 Being Tohoku's largest city, Sendai has its own unique produce and dishes that get exported to other parts of Japan. Having dinner at an izakaya restaurant is one of the best ways to sample all it has to offer!
Kokogamiso Ichibancho serves up Sendai specialities including seri-nabe (Sendai parsley hot pot), fried sasakama fish paste, hoya (sea squirt), harako meshi (rice topped with cooked salmon and salmon roe), and grilled Sendai beef tongue. If that's not appetising enough, each multi-course set comes free-flow soft drinks including alcohol. How's that for eating and drinking yourself silly?
Kokogamiso Ichibancho
Opening Hours: 3PM – 1AM (Last orders 12AM for food, 12:30AM for drinks)
Address: 4-9-1 Ichibancho Aoba-Ku Kakitoku Building, 2F, Sendai 980-0811 Miyagi Prefecture, Japan
11) Zunda Mochi, Shakes and More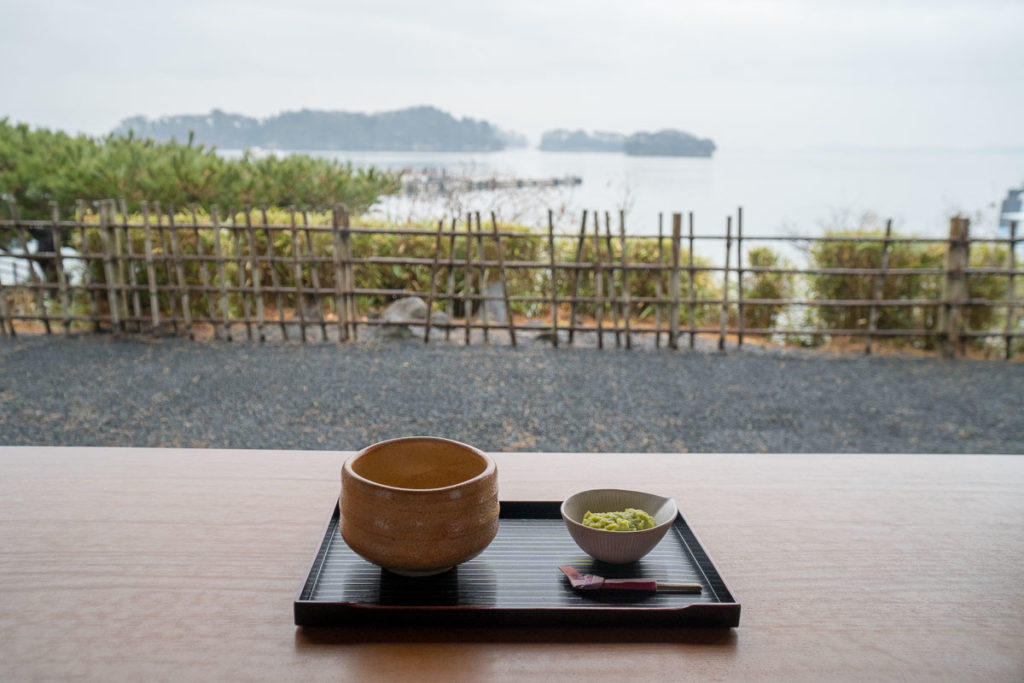 Zunda, not to be confused with Zumba, is a sweet edamame bean paste that originates from Tohoku. It resembles freshly ground wasabi but is much more pleasant to the senses. I saw it practically everywhere, usually served with mochi or in a milkshake. There's also zunda-flavoured Kit Kat, Pocky, Jagabee — any snack that could have a special flavour, you can bet they've made a zunda version of it.
For a more authentic experience, visit Kanrantei tea house which overlooks Matsushima Bay, one of the three most scenic spots in Japan. Kanrantei was historically used to host guests of feudal lord Date Masamune, founder of modern-day Sendai. Now you too can enjoy matcha tea, zunda mochi and other local sweets in the tea room for ¥300 and up.
Kanrantei
Entrance Fee: ¥200
Opening Hours: 8:30AM – 5PM (Last orders 4:30PM), closes at 4:30PM from Nov–Mar (Last orders 4PM)
How to get there: 5min walk from Zuiganji Temple or JR Matsushima-Kaigan Station (JR Senseki Line)
Relaxing Stays in Miyagi and Fukushima
12) Sendai Akiu Spa Hotel Iwanumaya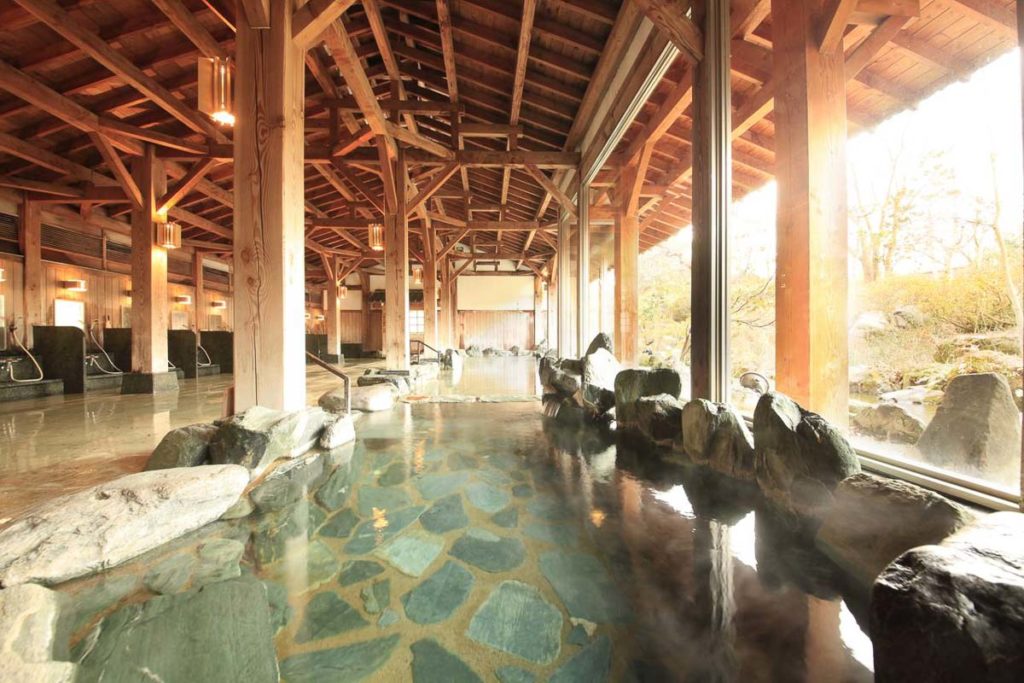 Photo credit: Booking.com
Akiu onsen town in Miyagi is only a 30-minute drive from Sendai Station, perfect for day trips or overnight stays.
Iwanumaya offers traditional rooms with tatami flooring and futons, as well as Western style rooms with beds. Dinner and breakfast are served in a kaiseki style with seasonal ingredients. It was my first time staying at a ryokan and I was not mentally prepared for the number of dishes served! The food coma that followed was intense but short-lived as I dragged myself out of bed for my next 'first-time experience'.
If it wasn't apparent already, I've never been to an onsen in my life. Not even to the one at Kallang Wave Mall. I read up on proper onsen etiquette so I wouldn't make a fool of myself or worse — get kicked out. Even then, I still couldn't get over the fact that I'd be stark naked in front of strangers.
Read also: 5 Singaporeans Share Awkward First-Time Japanese Onsen Stories
Thankfully, I headed down late enough that there was no one in the onsen but me. I imagined that I was a cast member on Terrace House while soaking in the bath but wound up getting out less than 15 minutes later. Still, I felt extremely relaxed afterward. All good for an onsen noob!
Cost: From ~S$170 per night
How to get there: By Car — 25min drive from Sendai Station. By Bus — Board the Takeya Kotsu West Liner bus from Sendai Station #63 Bus Stop (仙台駅前) to Sakan-Mae (佐勘前). It's a 30min journey, with buses arriving at hourly intervals (¥840 one-way or ¥1,560 round trip). Alternatively, board the Miyagi Kotsu Bus from Sendai Station West Exit Bus Pool Stop #8 to Akiu Onsen Yumoto, costing ¥860 for a 55min journey
13) Aizu Higashiyama Onsen Harataki
Aizu Higashiyama Onsen Village is considered one of the top three onsen towns in Old Tohoku.
Harataki also offers regular traditional rooms and Western style rooms. Or for the ultimate atas experience, book a room with an ensuite bath that has its own private spring source. Regular rooms face a gorge with a flowing stream below, great for surrounding yourself with even more zen vibes.
This onsen virgin-no-more decided to be adventurous by trying the open-air baths this time. I had to hurry down a flight of cold steps, but the invigorating soak was well worth it. Plus I was alone once again so it was like having a private bath. It pays to be a night owl sometimes!
Cost: From ~S$185 per night
How to get there: Take a 15min taxi ride from Aizu-Wakamatsu Station. The hotel also provides free pickups from Higashiyama-onsen-eki bus stop. Call ahead to make arrangements!
14) Hotel Monte Hermana Sendai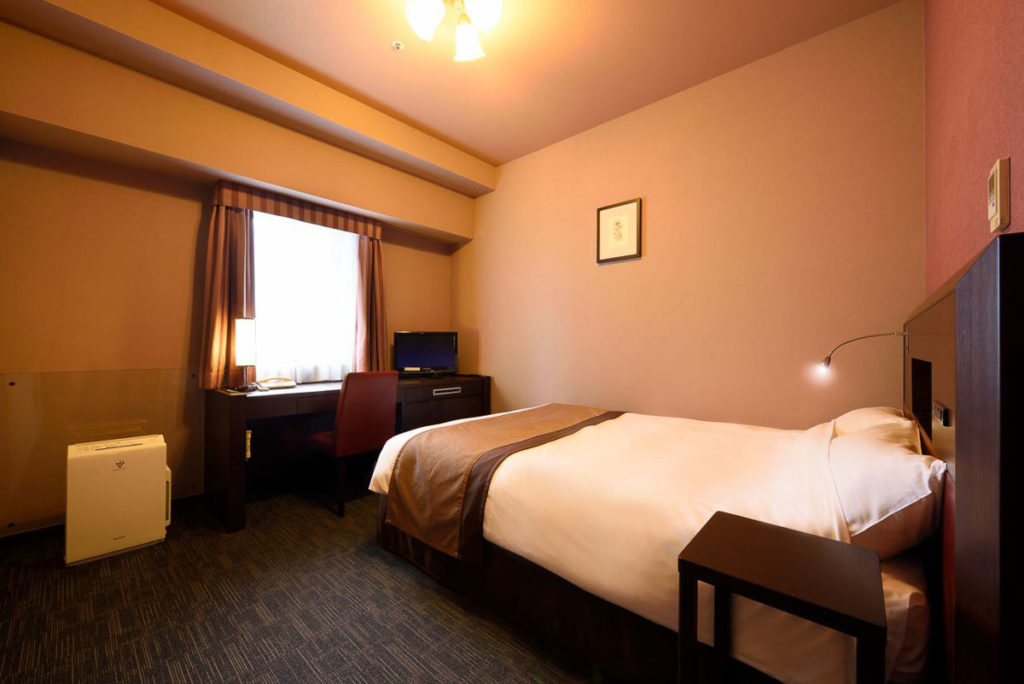 Photo credit: Booking.com
I'm usually fine with multiple transfers plus a whole lot of walking to reach my accommodation. But if there's a decent hotel right next to a major train station, of course I'm going to book it!
Hotel Monte Hermana Sendai is within walking distance of Sendai Station via a link bridge on the second floor. Better yet, it's a stone's throw from multiple shopping arcades. There's also a public bath on the ninth floor in case you miss the feeling of soaking in an onsen.
Cost: From ~S$70 per night
Address: 1 Chome-2-15 Kakyoin, Aoba Ward, Sendai, Miyagi 980-0013, Japan
Historic and Cultural Attractions
15) Shiogama Shrine
Shiogama Shrine is regarded as Miyagi's top-ranking shrine. On New Year's Day, expect up to 450,000 people flocking here to worship! It shares its immaculately landscaped grounds with Shiwahiko Shrine so you're really getting two for the journey of one.
In spring or summer, you might have a chance to witness the carrying of the mikoshi (portable shrines) of Shiogama-jinja and Shiwahiko-jinja. It's a real spectacle as each mikoshi weighs a ton each!
The procession takes place three times a year: 10th March (Hote Matsuri), 4th Sunday of April (Shiogama-Jinja Hanamatsuri), July (coinciding with Shiogama Minato Matsuri).
Entrance Fee: Free
Opening Hours: 5AM – 8PM (Shrine Museum varies)
How to get there: 12min walk from JR Hon-Shiogama Station (JR Senseki Line)
16) Godaido Temple and Zuiganji Temple
Godaido Temple and Zuiganji Temple are Buddhist temples on Matsushima Bay, within 15 minutes walking distance of each other.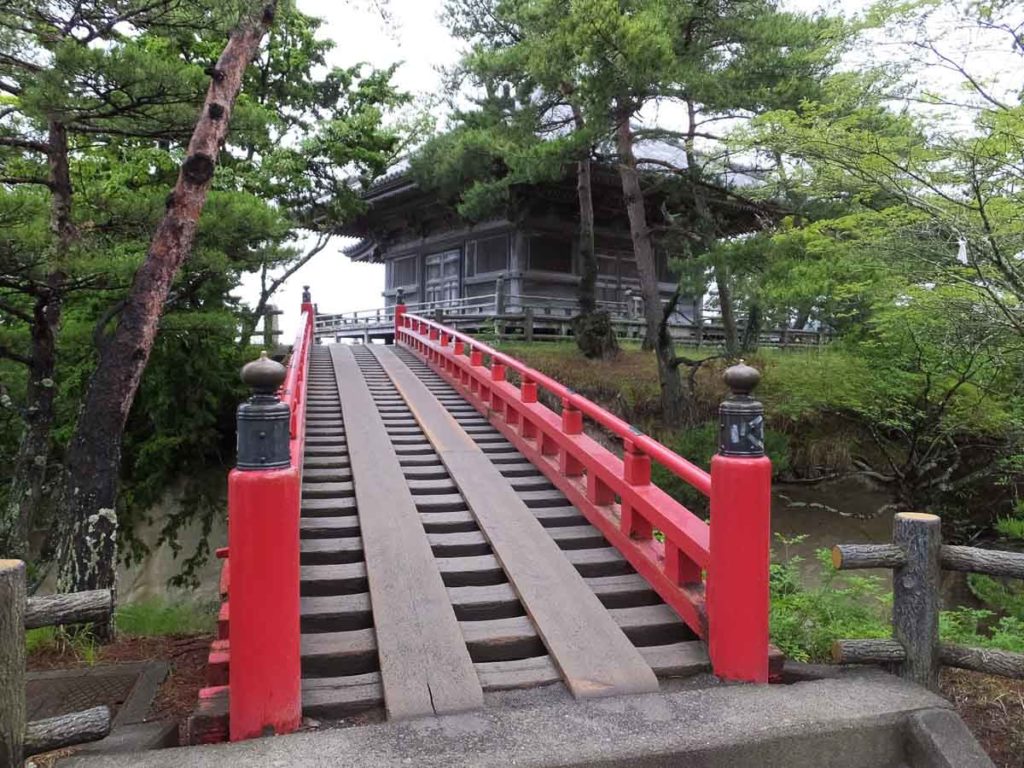 Photo credit: Wikimedia Commons
Getting to Godaido Temple is an experience in itself! I tried not to look down while crossing its two bridges with narrow foot paths and gaps on either side. It certainly works in focusing the minds of worshipers before they arrive.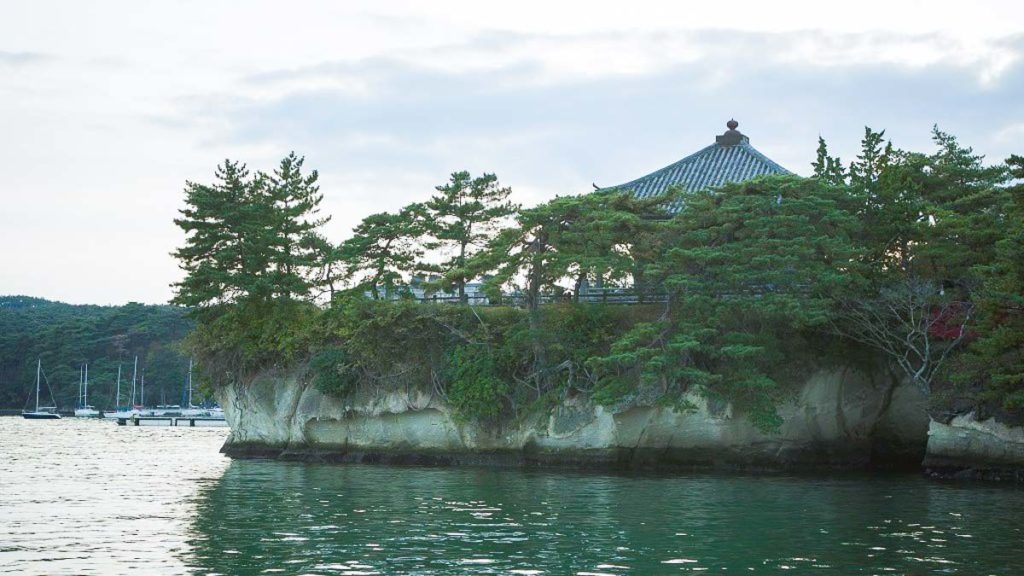 Photo credit: Discover Sendai
Spend some time observing the temple's detailed Momoyama architecture as well as the 12 Chinese zodiac carved under the eaves. You also shouldn't miss the view of Matsushima Bay from Godaido-jima. I didn't realise this at first, but the temple is actually built on a small island!
Zuiganji Temple's origins are unknown, and believed to have been built by a Buddhist monk. The open caves on the temple grounds are approximately 1,200 years old, carved by monks as living quarters and to practice their faith. Tour the Main Hall to view the elegantly painted sliding doors, unique to each of the 10 rooms and the purpose they served. There is also a marker amongst the surviving cedar trees to indicate how far the flood waters reached in 2011.
Godaido Temple
Entrance Fee: Free
Opening Hours: 8AM – Sunset
How to get there: 8min walk from JR Matsushima-Kaigan Station (JR Senseki Line)
Zuiganji Temple
Entrance Fee: ¥700
Opening Hours: Varies
How to get there: 5min walk from Godaido Temple or 7min walk from JR Matsushima-Kaigan Station (JR Senseki Line), or 20min walk from JR Matsushima Station (JR Tohoku Line)
17) Akiu Traditional Craft Village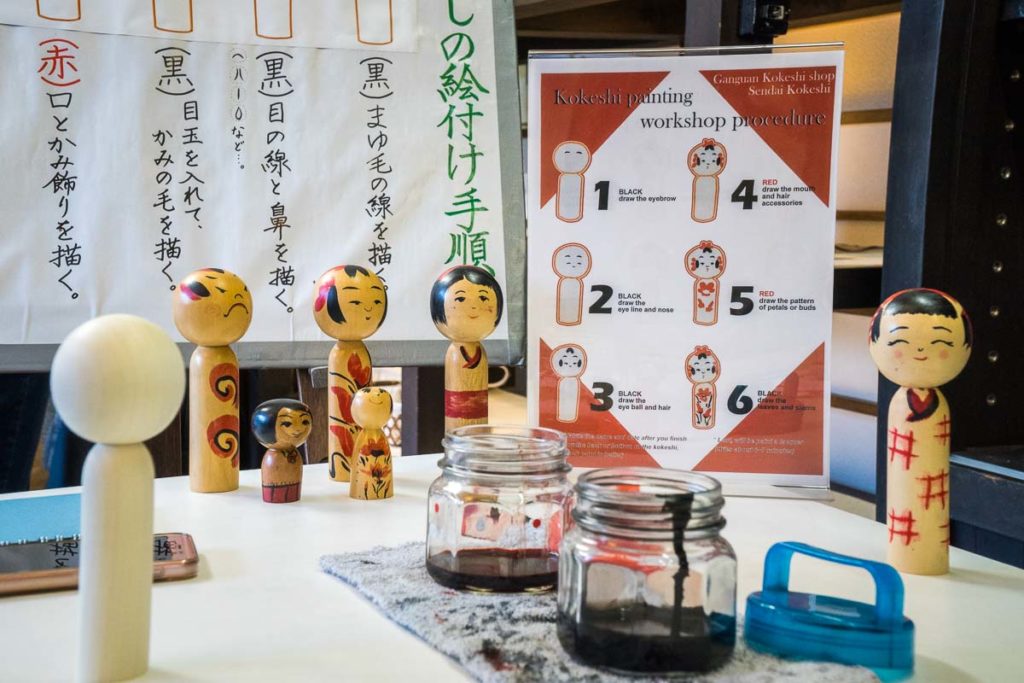 If you're heading to Akiu onsen, consider making a pit stop at Akiu Traditional Craft Village for a quick cultural immersion. Painted wooden dolls known as kokeshi originate from Tohoku, and you can try your hand at painting your own!
The shopkeeper will introduce the basics of kokeshi painting, then leave you to your own devices. Within minutes, I learnt that the traditional patterns are deceptively simple and requires almost zen-like concentration for each brush stroke. Cultural appreciation +100.
Cost: ¥1,000
Opening Hours: 9AM – 5PM
How to get there: 30min drive from Sendai Station
18) Ouchi-juku Historic Village
Ouchi-juku is an old post town from the Edo period that provided travellers with food and lodging. It is listed as an Important Traditional Buildings Preservation District, and the houses retain their traditional straw thatched roofs to this day.
Explore the village by popping into these houses which have been converted into eateries and souvenir shops. At the end of the main street, walk up the steps leading to a temple for a view of the entire village.
*Pro-tip: If you'd rather not climb up (or down) the steep stairs, there is a newer (and gentler) series of steps to the left.
19) Tsuruga Castle & Tsuruga-jo Kaikan (Castle Tourism Hall)
Tsuruga Castle, Japan's only red roofed castle, was the location of a month-long battle during the Boshin Civil War. It is now a national historic site after being rebuilt in 1965.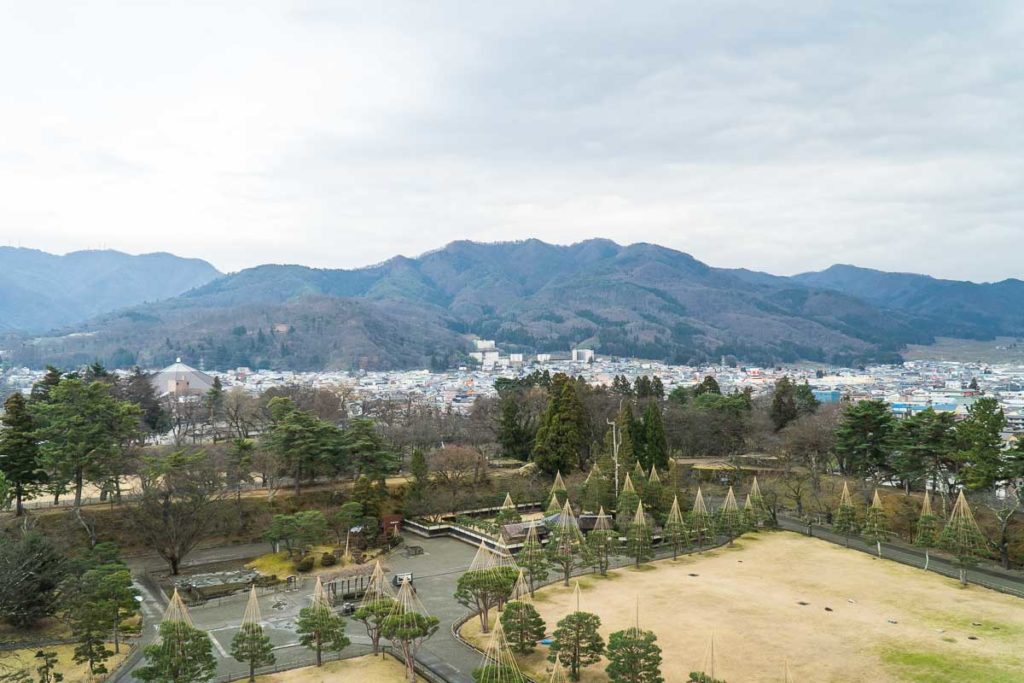 Entry to the castle grounds is free, but you'll have to pay a nominal fee to enter the castle tower. Explore the museum which occupies the second to fourth floors before reaching the observation deck for 360º views of Aizu city and its surrounding mountain ranges.
As you exit from the north entrance of Tsuruga Castle, drop by Tsuruga-jo Kaikan to pick up some souvenirs. Apart from selling local handicraft and produce, there's also a craft corner to paint your own Aizu Hariko papier-mâché figurines.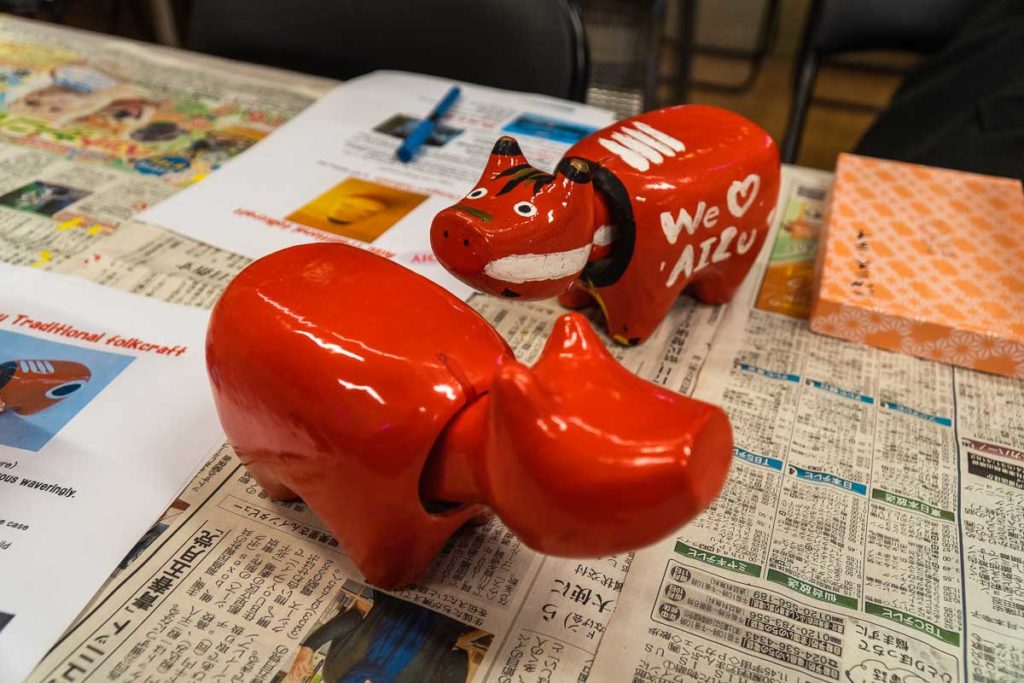 The most popular is the Akabeko, a lucky red cow that is symbolic of Aizu. It is traditionally painted with black, white and gold patterns. Modern versions also come in green, pink and yellow, but I still prefer the red.
Like kokeshi, the akabeko requires a steady hand to paint across its smooth, varnished surface. The good news is, it's a lot more forgiving and I was able to wipe off mistakes and try again.
Tsuruga Castle Tower
Entrance Fee: ¥410
Opening Hours: 8:30AM – 5PM (Last admission 4:30PM)
Tsuruga-jo Kaikan (Akabeko Painting)
Cost: ¥1,000
Getting around Miyagi and Fukushima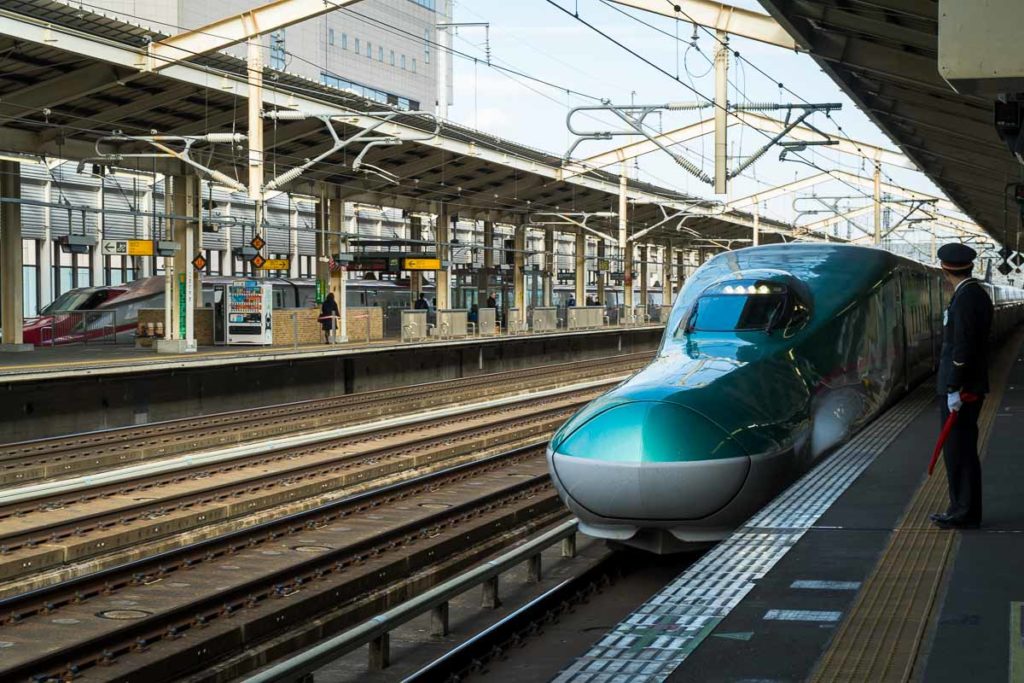 From Tokyo to South Tohoku (Miyagi Prefecture)
Narita Airport: Board the Narita Express (N'EX) from Narita Airport to Tokyo Station (1 hour, ¥3,070), then take the Hayabusa Shinkansen to Sendai Station (1.5hrs, ¥11,410)
Haneda Airport: Take the Tokyo Monorail from Haneda Airport to Hamamatsucho Station (30min, ¥500), transfer to the JR Yamanote or JR Keihin-Tohoku Line to Tokyo Station (5min, ¥160), then take the Shinkansen to Sendai.
General Transportation
Trains and local buses do service common tourist spots, however I'd recommend driving as some attractions can be quite a walk from the nearest station or bus stop. There are also private bus services or hotel shuttles to most onsen resorts, as well as cruise operators that let you explore Shiogama, Matsushima Bay and its surrounding islands.
To get from Miyagi to Fukushima, take the Shinkansen from Sendai Station to Koriyama Station. Your fare and travelling time will vary depending on the train type booked.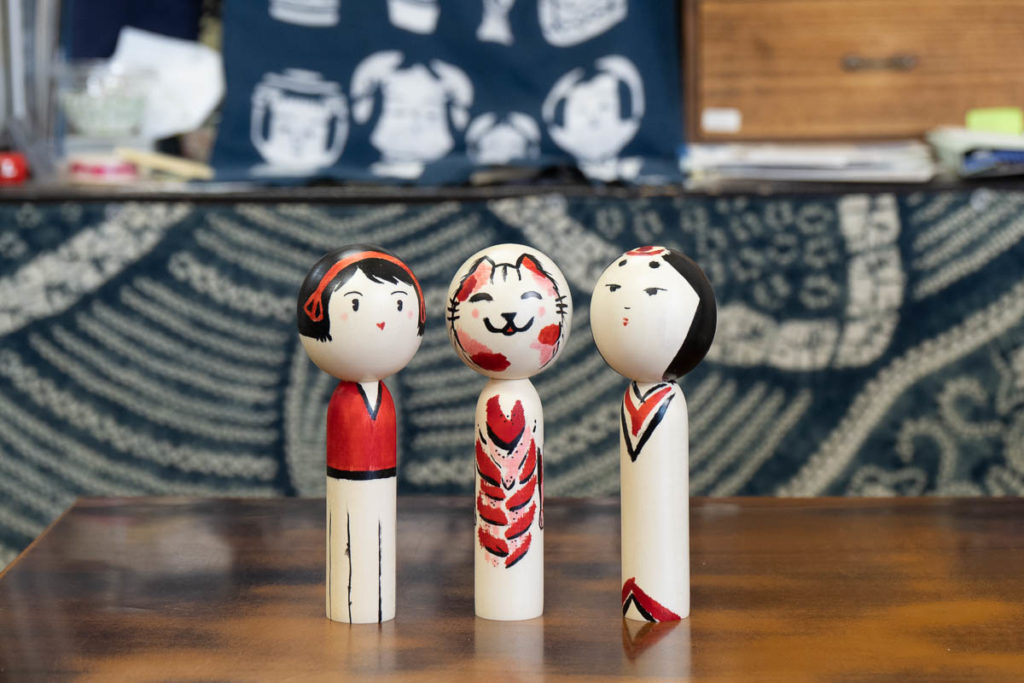 So proud of my kitty kokeshi!
Although I had been to Japan five times prior to this, I never ventured out of Tokyo. Exploring Miyagi and Fukushima was truly eye-opening, and I can't wait to explore more of Tohoku region on my next trip. As a massive cat fanatic, I'm especially excited to hop on a ferry to Tashirojima (Cat Island)!
What else should we check out in Miyagi and Fukushima? Let us know in the comments!