Pardon my flex, but I've been to Tokyo way too many times for my own good. Recently, my partner decided to have us stay in Tokyo for four days. I groaned (internally). Do I really want to be one of the hundreds of other couples queuing in line at Tokyo Disneyland?
Sure, Tokyo is still cool, but have you seen Nagano? (Read also: 13 Reasons To Visit Nagano Even When It's Not Winter Ski Season)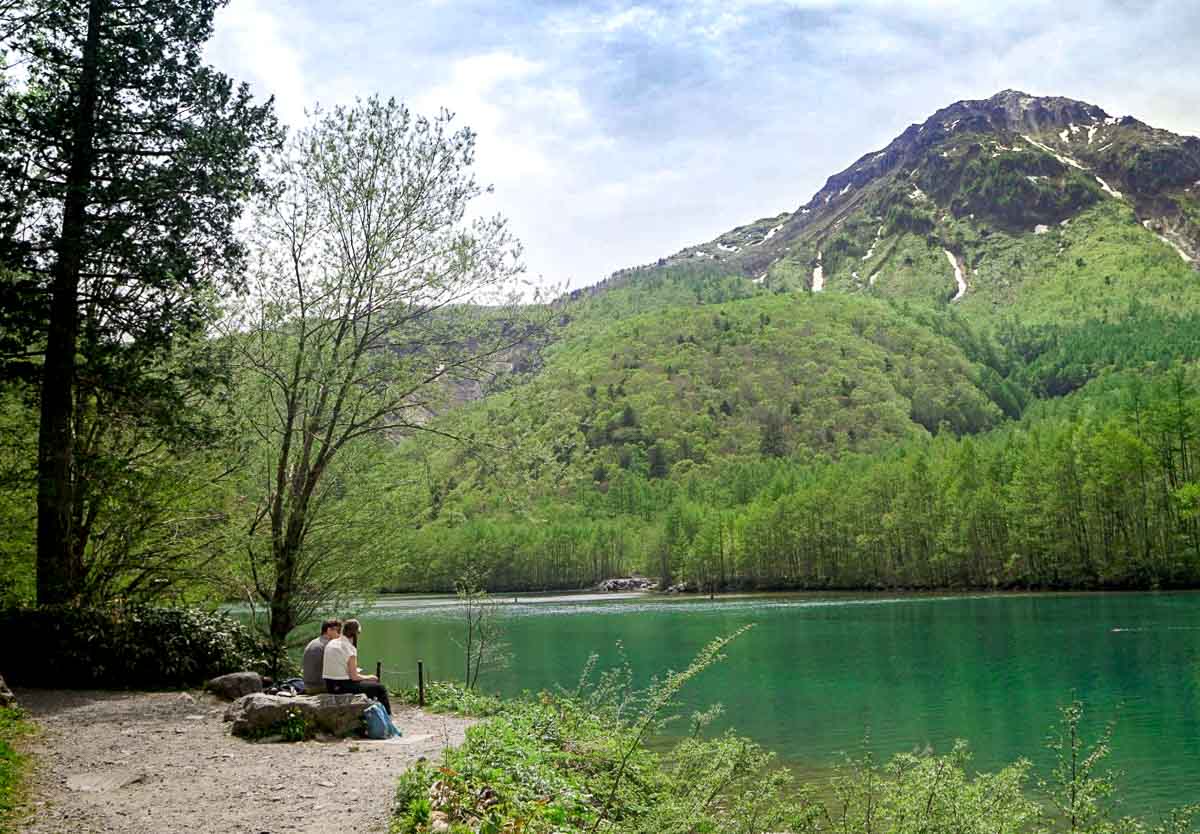 The slightly more seasoned Japanophiles would probably head to Takayama and Shirakawa-go, and perhaps Karuizawa — thanks to Terrace House.
But what's also great nearby are the Japanese alps in Kamikochi, and snowscapes in Norikura Highlands (even in the spring). Even better — virtually no crowds! So while bustling cities go best with big groups, reserved countrysides like Nagano really feel like a couple's paradise.
Now, stay with me because you might be winning a trip to Kamikochi!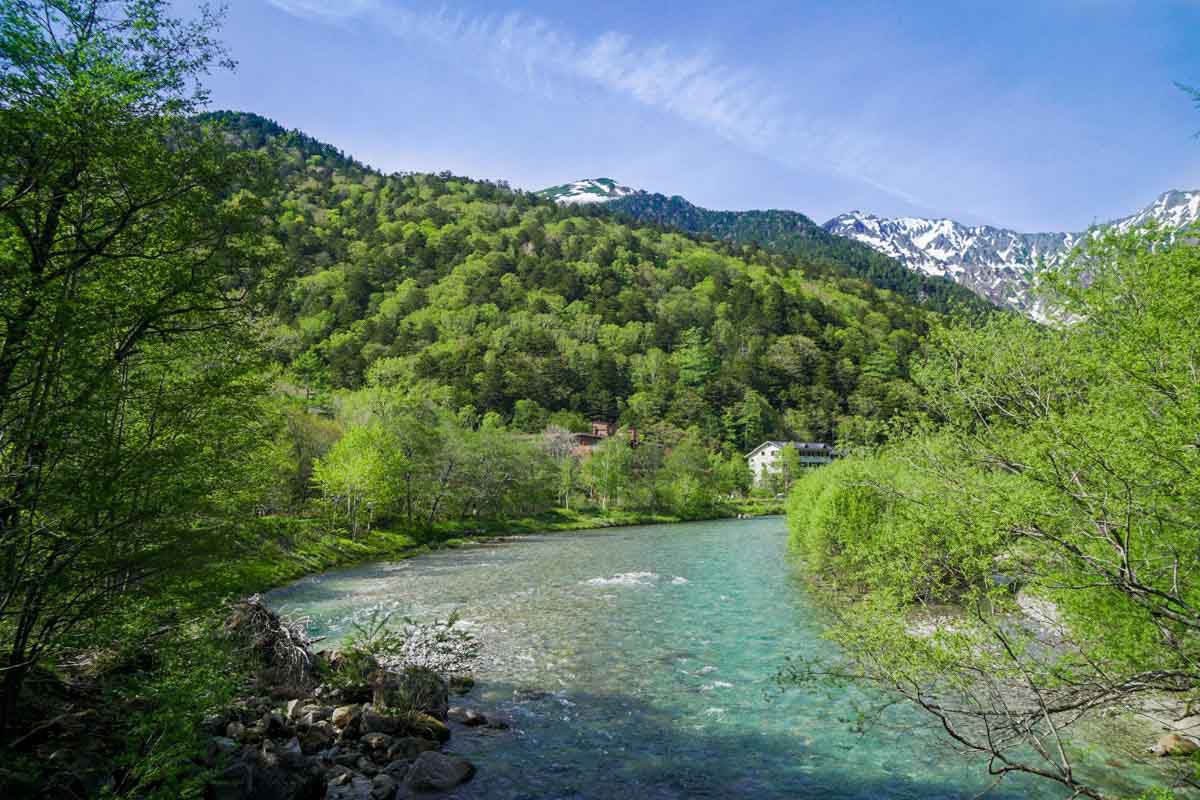 6D5N Nagano Itinerary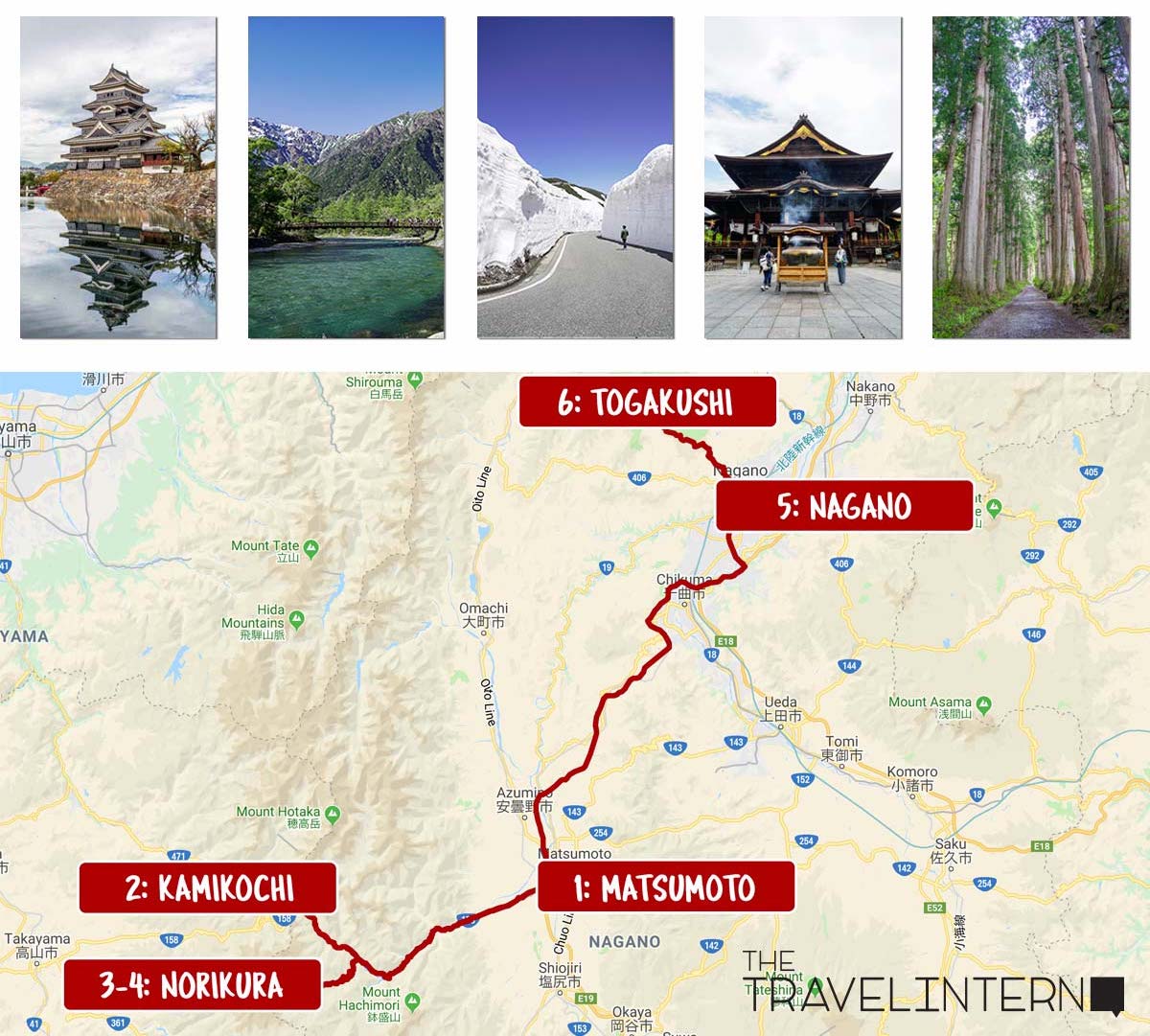 While you wouldn't be able to spend Valentine's Day here — the mountainous region closes off many areas in the winter from November to March — it doesn't take away the romanticism of Nagano's scenery, be it admiring sakura in the spring or the ravishing autumn foliage in the fall.
Day 1: Matsumoto City (松本) — Nagano's Cultural Capital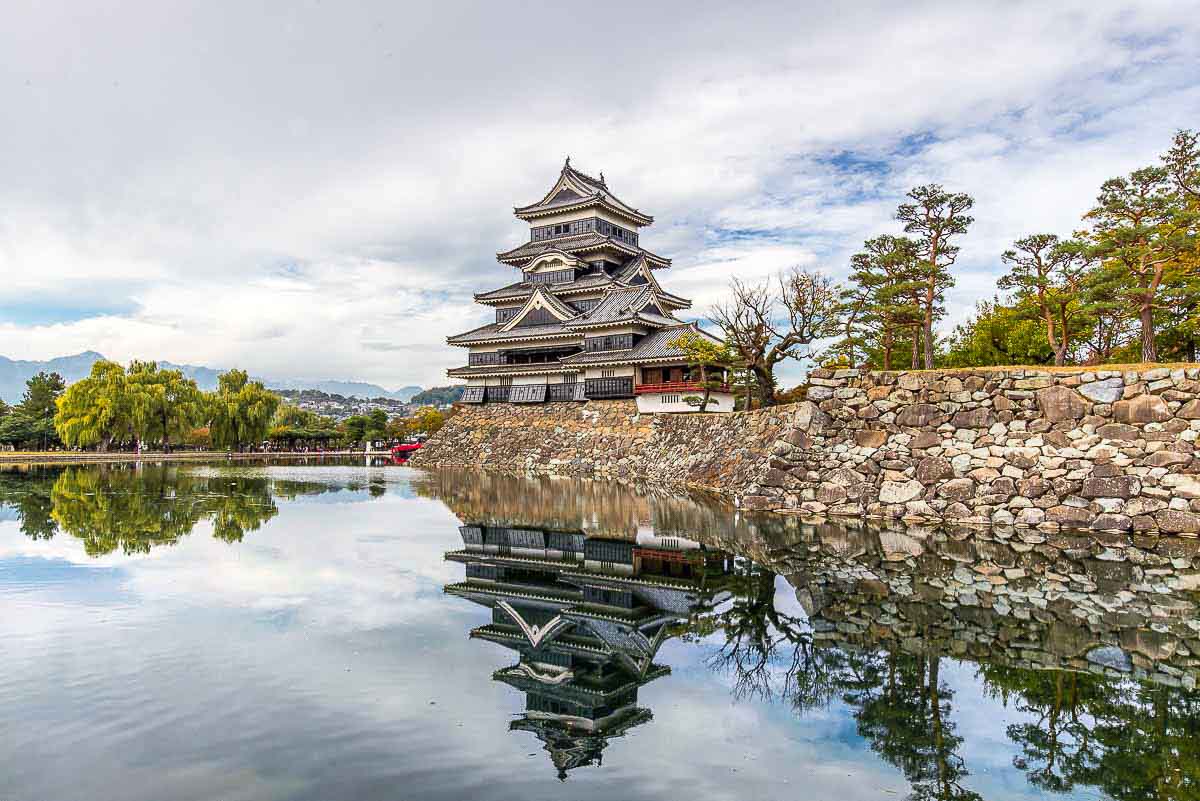 A castle town developed from the Edo Period, Matsumoto holds true to its traditional roots, with a rare chance to learn how to fight like a samurai or ninja.
Getting from Tokyo to Matsumoto: Reserve and take an express bus from Shinjuku Expressway Bus Terminal to Matsumoto Bus Terminal (3hr 20min, ¥3,800).
Matsumoto City Museum of Art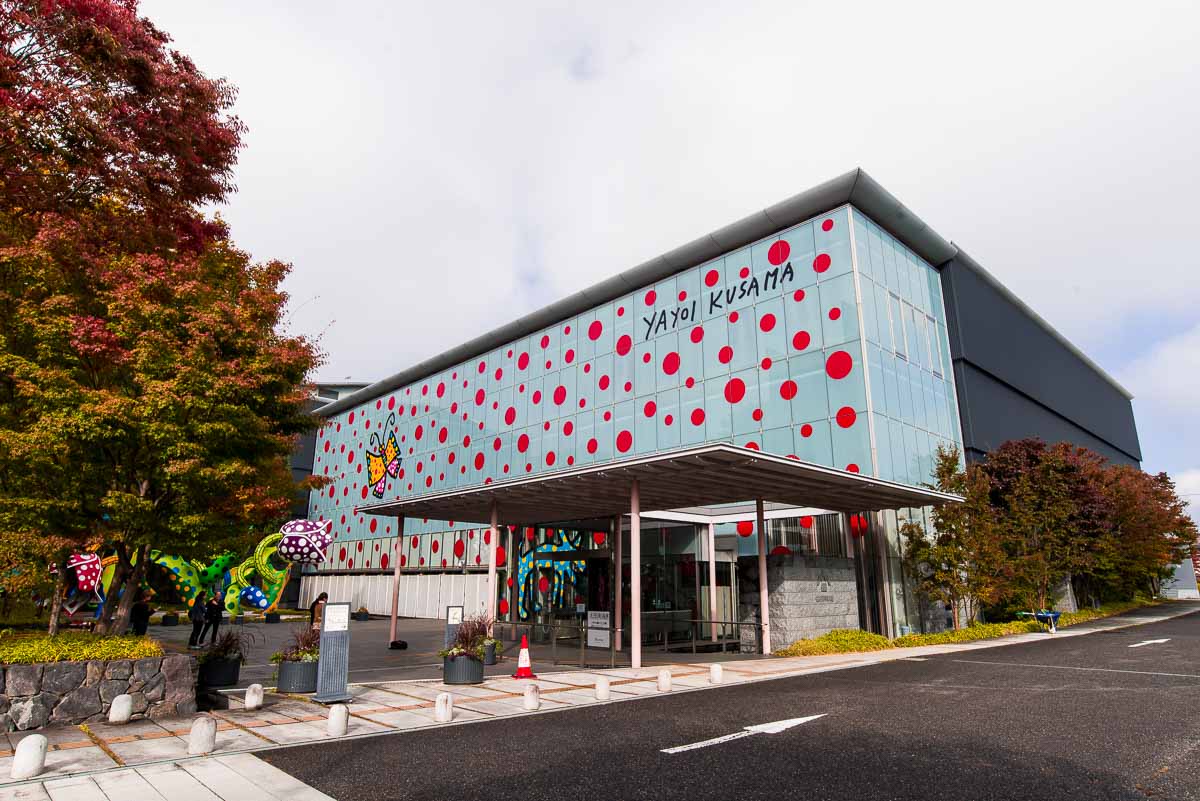 Singaporeans should be familiar with Yayoi Kusama and her polka-dotted world from her 2017 exhibition and famous Naoshima pumpkin. The Matsumoto City Museum of Art is dedicated to the life and works of the Matsumoto-born artist with its permanent exhibition, along with seasonal exhibits.
Entrance Fee: ¥410
Opening Hours: 8:30AM – 5PM (Last entry 4:30PM), closed on Mondays.
How to get there: Walk 1km from Matsumoto Station.
Lunch at Sakura-ya Unagi Restaurant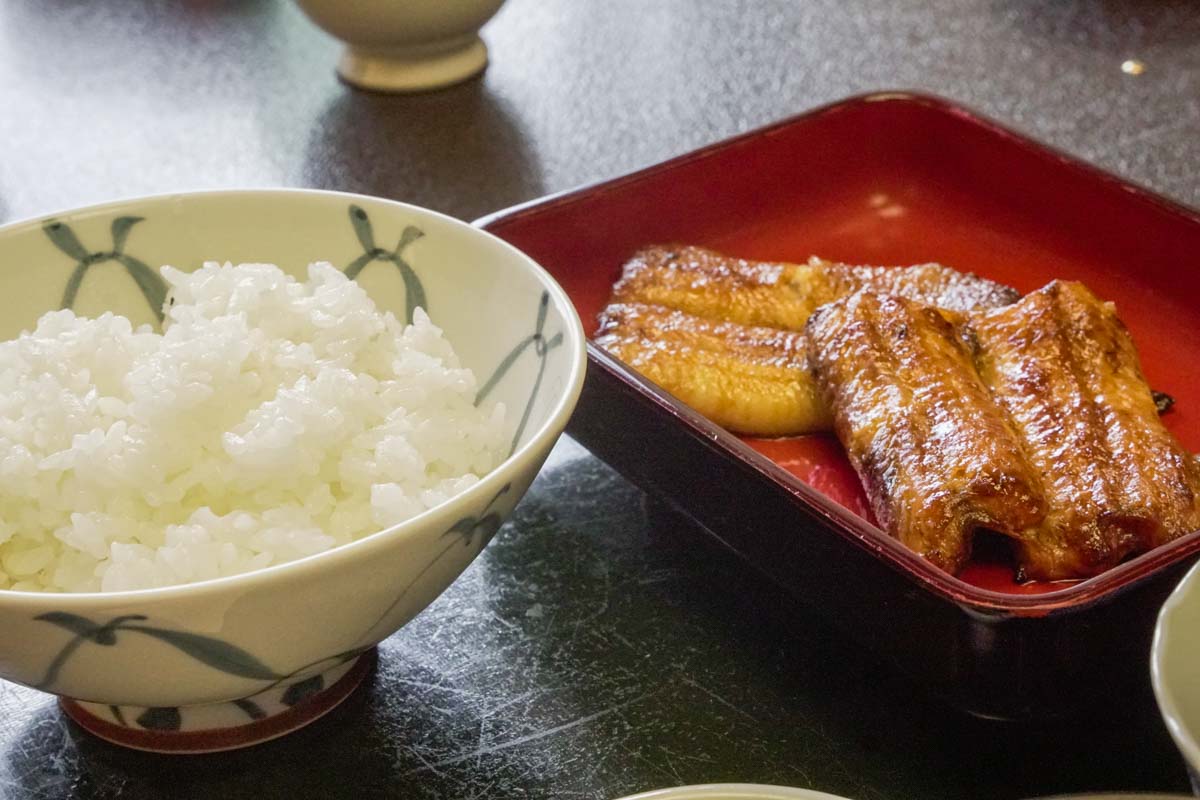 Apart from the classic set meal (unagi teishoku うなぎ定食, ¥2,592), you can have yours in a different way with the unagi sasamushi (うなぎ笹むし, ¥2,916) here.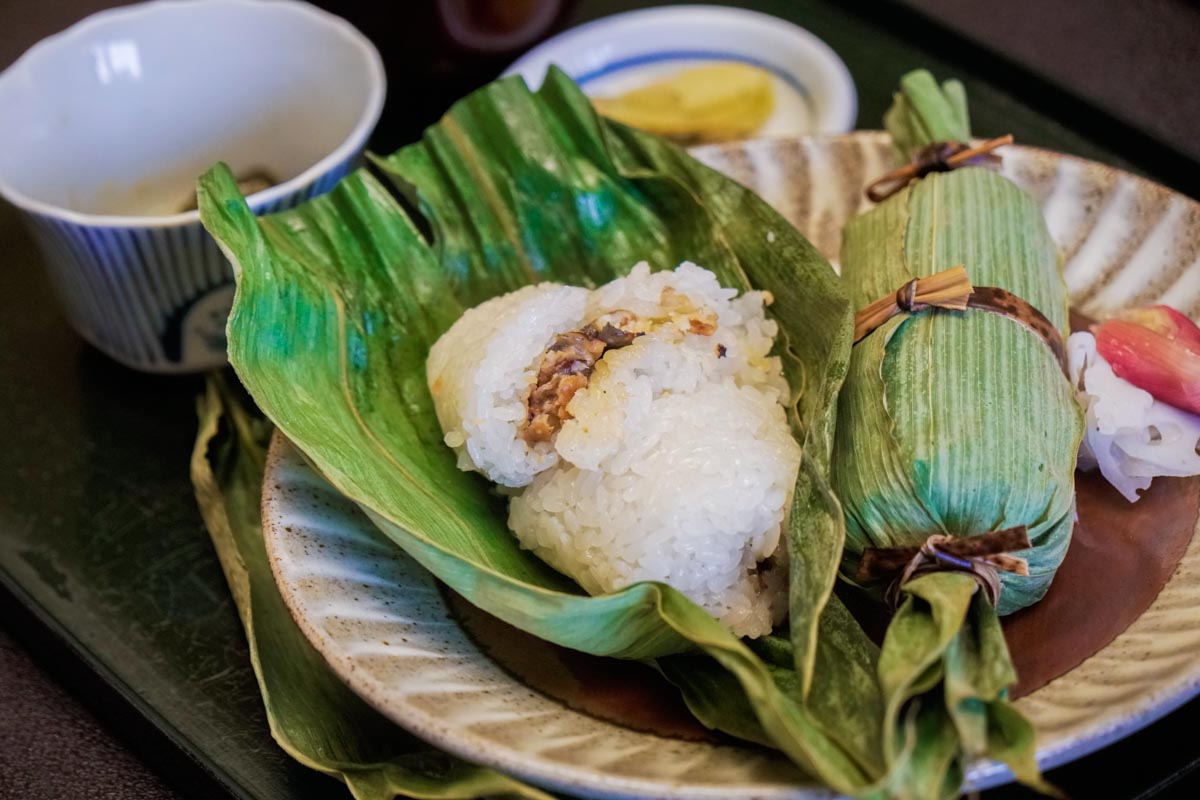 A cross between the Chinese ba zhang dumpling and onigiri, they wrap the eel and rice together with bamboo leaves and steam them instead.
Opening Hours: 11AM – 2PM, 6PM – 8PM, closed on Mondays.
Address: 4-chōme-9-1 Ōte, Matsumoto, Nagano 390-0874, Japan
Matsumoto Castle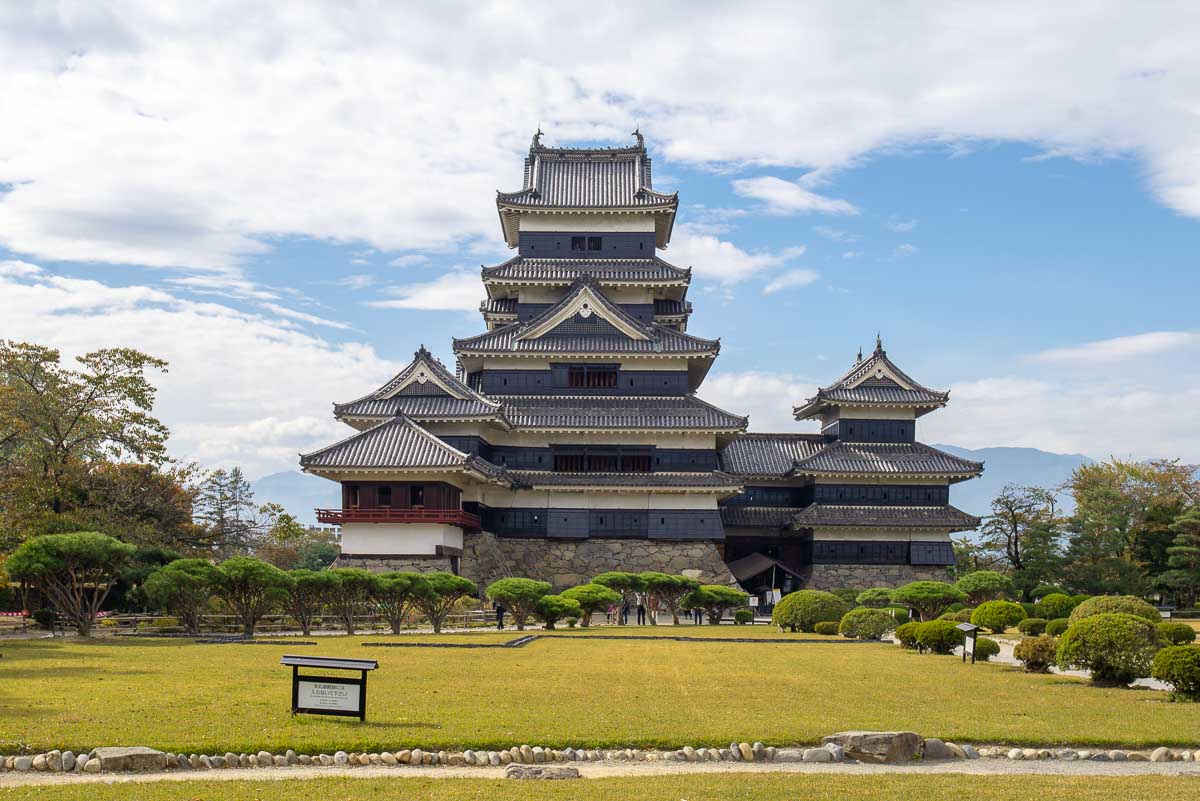 Matsumoto Castle is one of only two castles in Japan that has five tiers, and is also one of the few that still retains its original structure from 400 years ago. As a castle town, the entire city was planned and built around it. During springtime, this castle is also a popular cherry blossom viewing spot!
Entrance Fee: ¥610
Opening Hours: 8:30AM – 4:30PM
Read also: Ultimate Cherry Blossom Guide — Everything You Need to Know
Traditional Costume Experience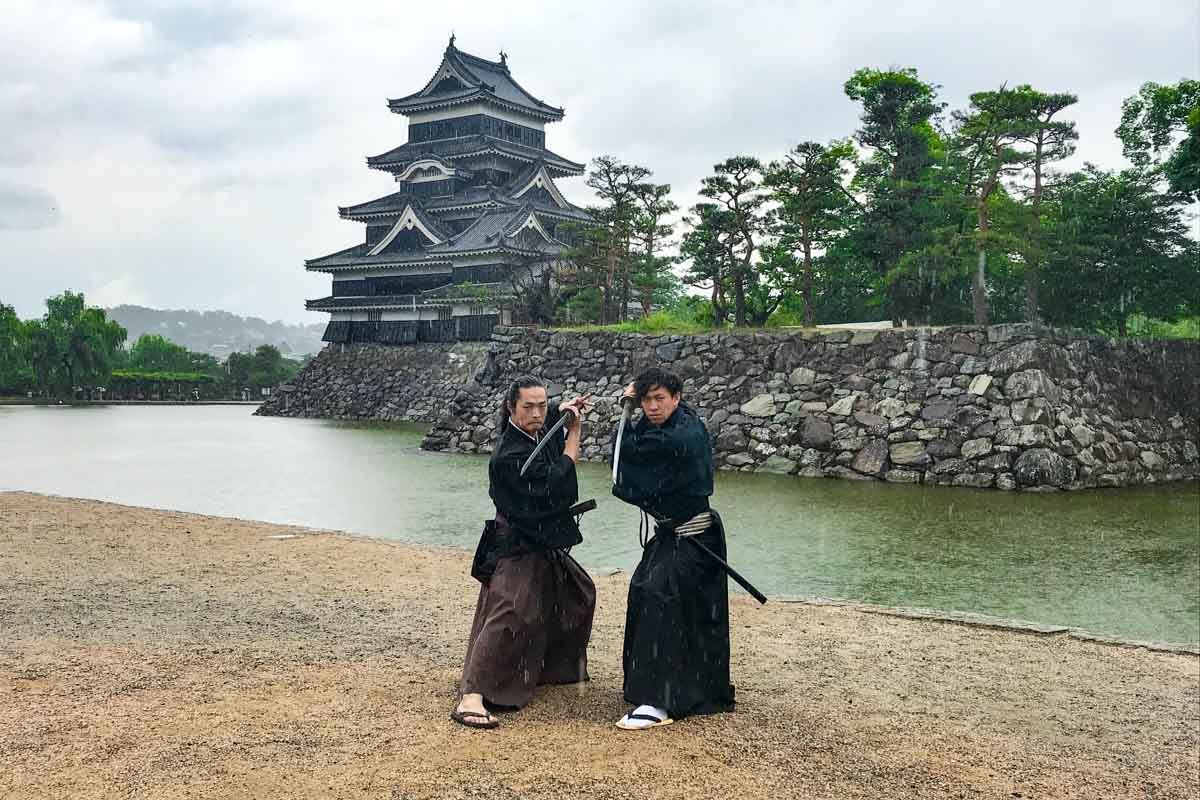 Don't be surprised if you see tourists around in traditional garb, from ostentatious kimonos to sleek samurai wear. Hanakomichi offers full-day and overnight rentals of kimono, ninja costumes and samurai hakamas you can walk around town in, starting from ¥4,000.
With every rental you get a special "one day passport" listing partner shops in the shopping streets (see next point), where you can receive gifts or exclusive deals from!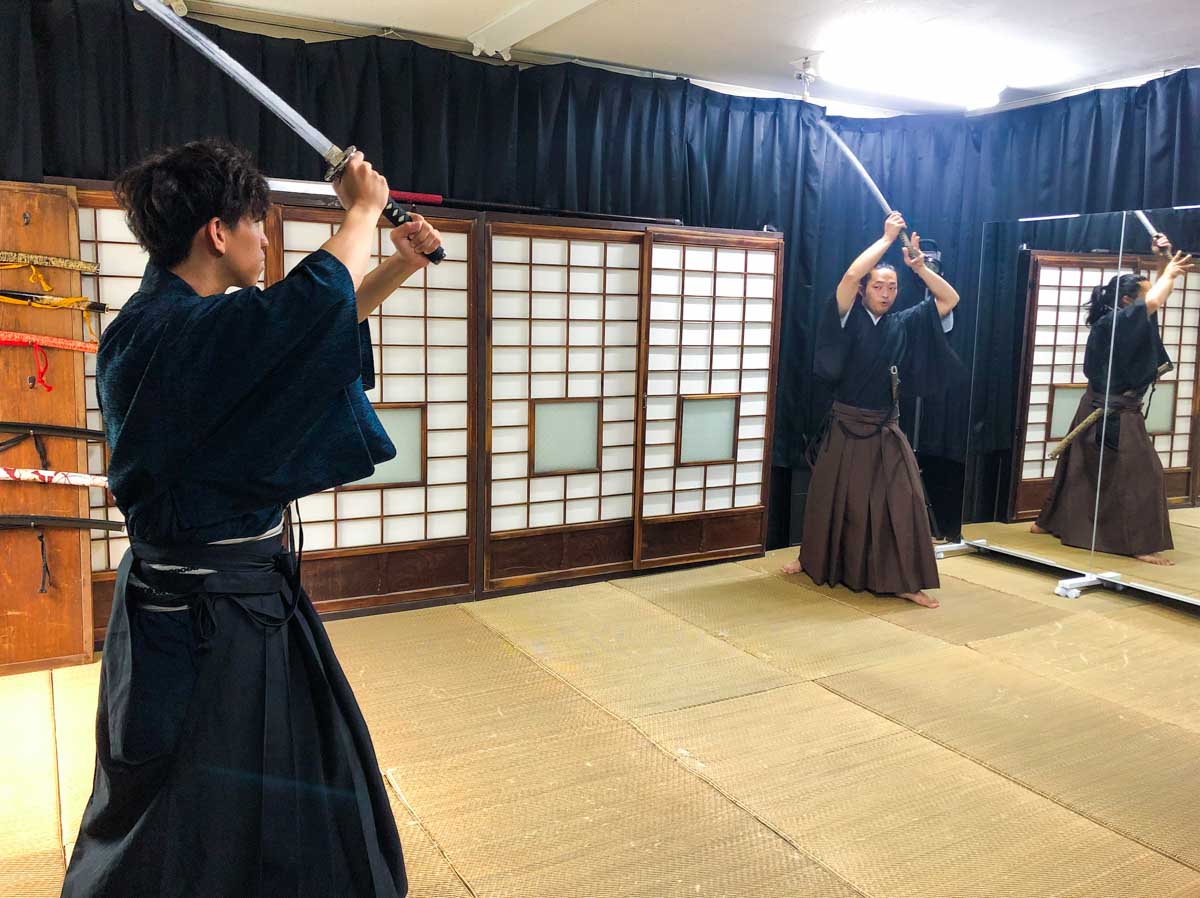 Hanakomichi also houses a samurai sword fighting studio, Samurai and Ninja Studio Kenyu, where you get to learn how to draw your sword (got technique one, okay) and have a hand at taking out an enemy or two! The instructors are actually pretty legit samurai combat choreographers.
Reservations are required for the samurai fighting experience (From ¥3,000).
Opening Hours: 10AM – 5PM, closed on Mondays and Tuesdays. Samurai experience closed on Mondays and Sundays.
Address: 3-chōme-5-13 Ōte, Matsumoto, Nagano 390-0874 (2nd floor)
Nakamachi (中町通り) and Nawate Street (縄手通り)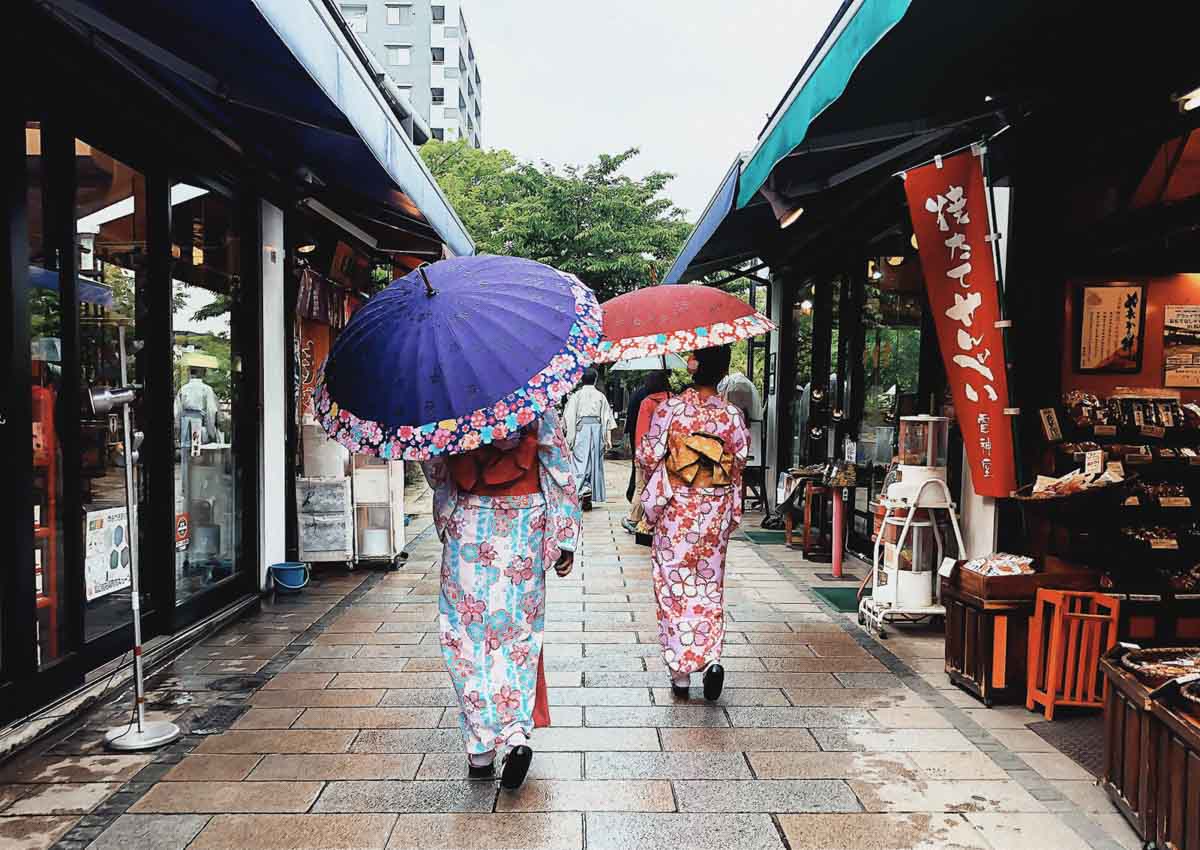 Nawate and Nakamachi streets run parallel to one another, and is a little shopping district that retains its rustic charm with cafes and souvenir shops.
Pop by Kurassic-kan along Nakamachi to have a look at traditional Japanese storehouses, try the local horse sashimi (basashi), or go cafe hopping at shops with exclusive offers if you're wearing your rental kimono!
Accommodation in Matsumoto: Standard Semi-Double Room in Hotel Buena Vista from ¥7,200/night (¥8,400 with breakfast). Alternatively, ALPICO has a host of other hotels around Matsumoto as well.
Day 2: Kamikochi (上高地) — Japan's Little Yosemite
Kamikochi parallels Kawaguchiko in many ways. Where Mount Fuji takes centre stage in Kawaguchiko, there's the Hotaka Mountains — dubbed the Northern Alps of Japan — in Kamikochi. No matter where you are, the mountain range stands majestically in clear view.
And now you can stand a chance to win a trip to Kamikochi worth S$4,700! Find out how at the end of the post 😉
*Pro-tip: Pack a few extra layers because temperatures fluctuate wildly — it was fine in the day when we were there, but temperatures dipped to 3°C at night!
Getting from Matsumoto to Kamikochi: Take an ALPICO train (Kamikochi Line) from Matsumoto Station to Shin-shimashima Station. Then, transfer to an ALPICO bus to Kamikochi (total journey about 2 hours, ¥2,450). Alternatively, there is only one direct bus from Matsumoto Bus Terminal to Kamikochi daily, but it's at 5:30AM.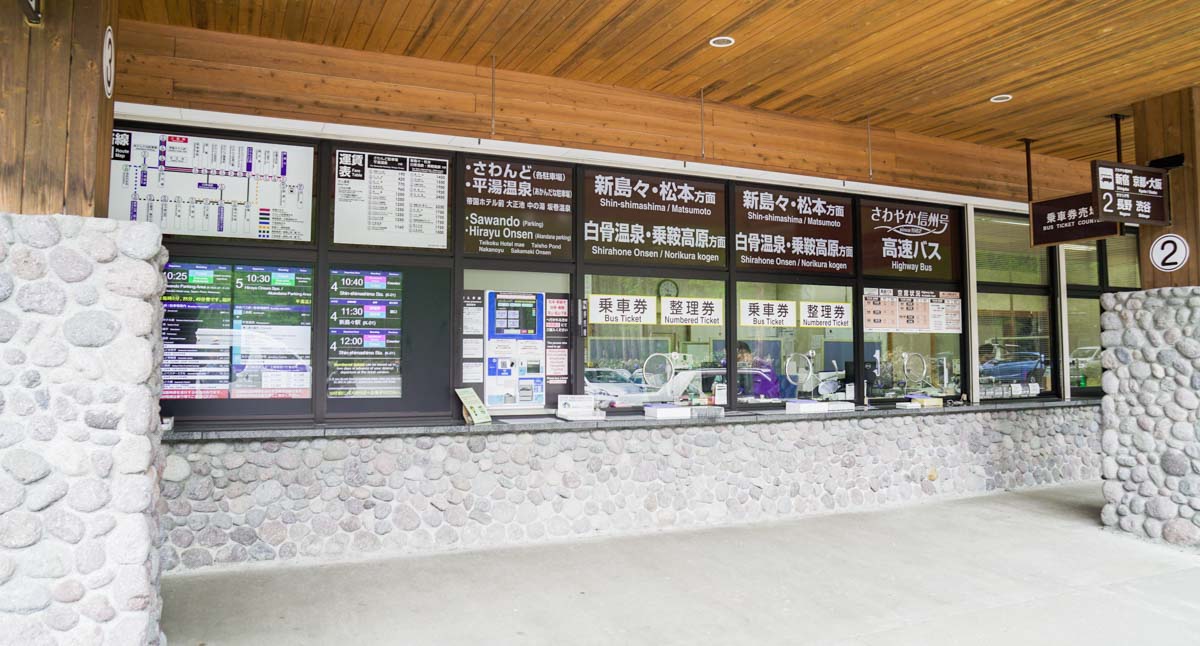 Once you reach the Kamikochi Bus Terminal, head to the counter immediately to buy your ticket to the next destination. You'll get a numbered ticket, or seiriken to guarantee your boarding sequence when you leave.
Hiking in Kamikochi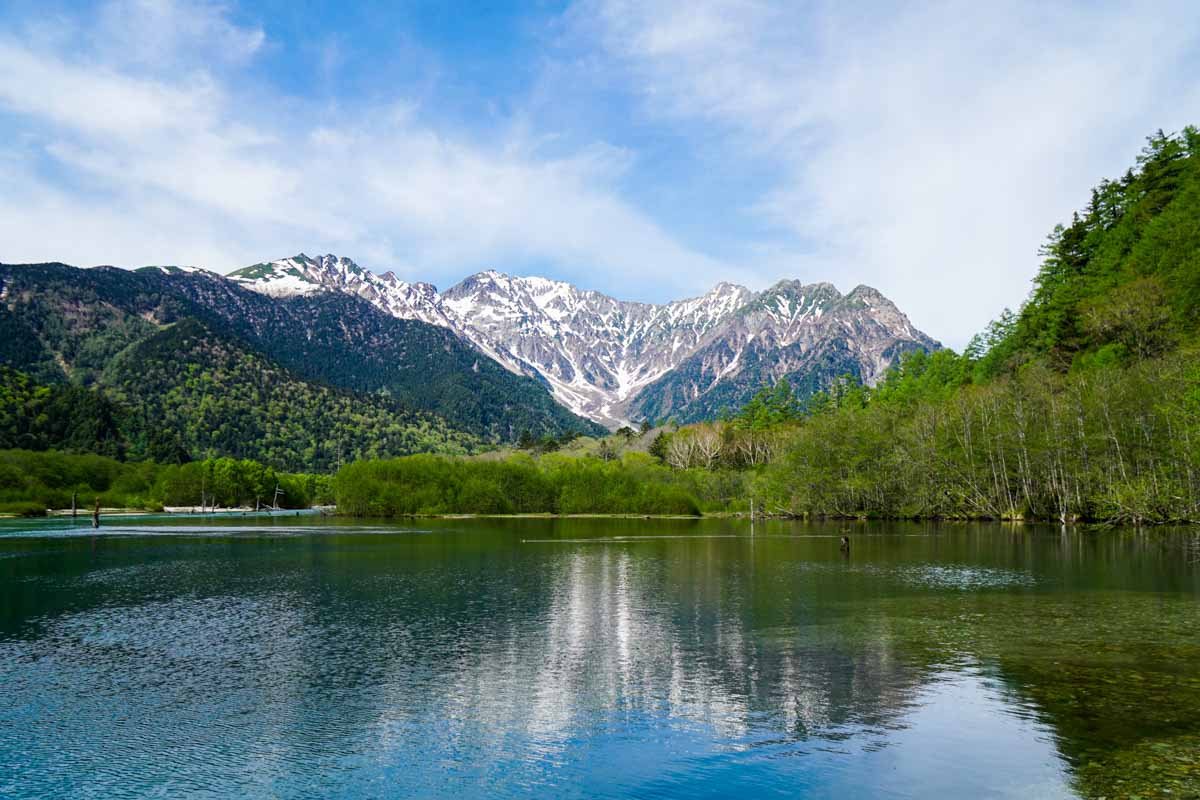 As a protected area, you're only allowed into Kamikochi by bus or taxi, and chances are you'll end up at the Kamikochi Bus Terminal to store your luggage (there are luggage storage facilities) near the Kappa Bridge.
In that scenario, I recommend going to the Taisho Pond and Tashiro Bridge, then hike to the Dakesawa Marsh and Myojin Pond the morning after. Refer to the Google Maps route embedded at the top of the post!
For day trippers with no luggage, get off at the Taisho Pond bus stop right before the bus terminal, and walk from there since it'll be a one-way route. That's also the best viewpoint with the reflection of the entire Hotaka mountain range (pictured above)!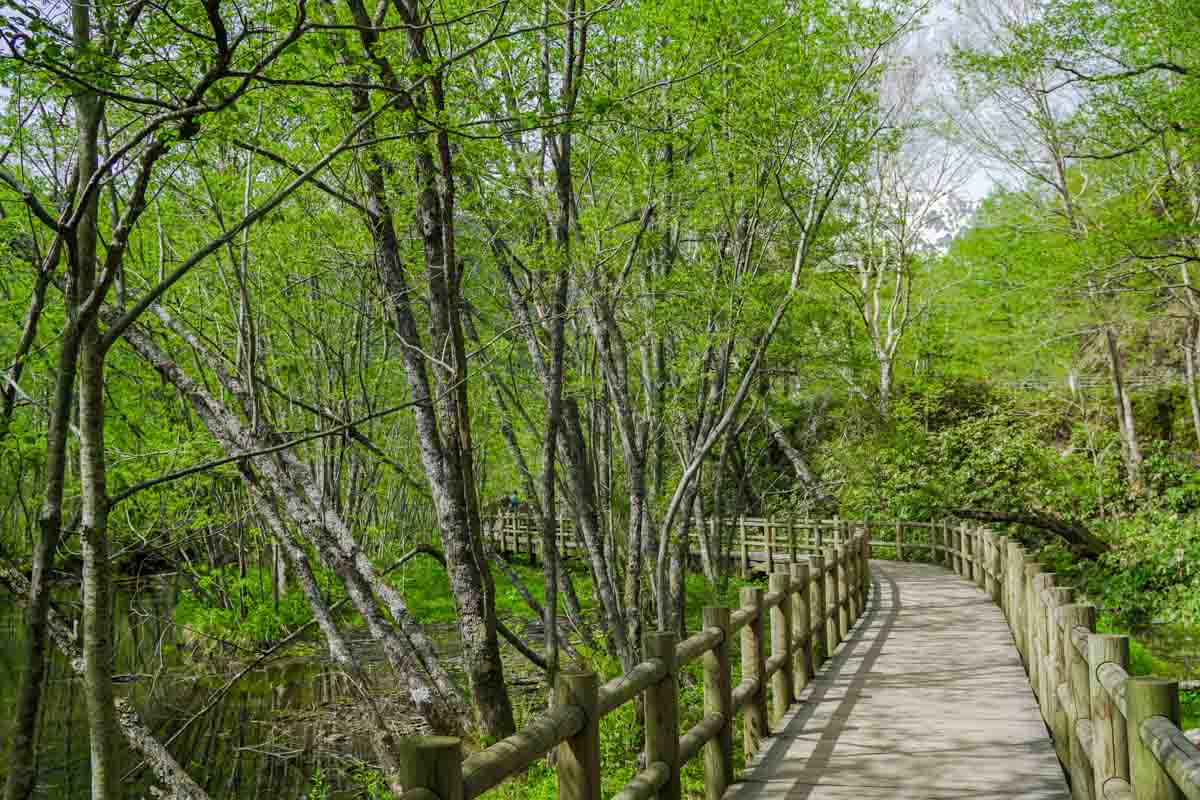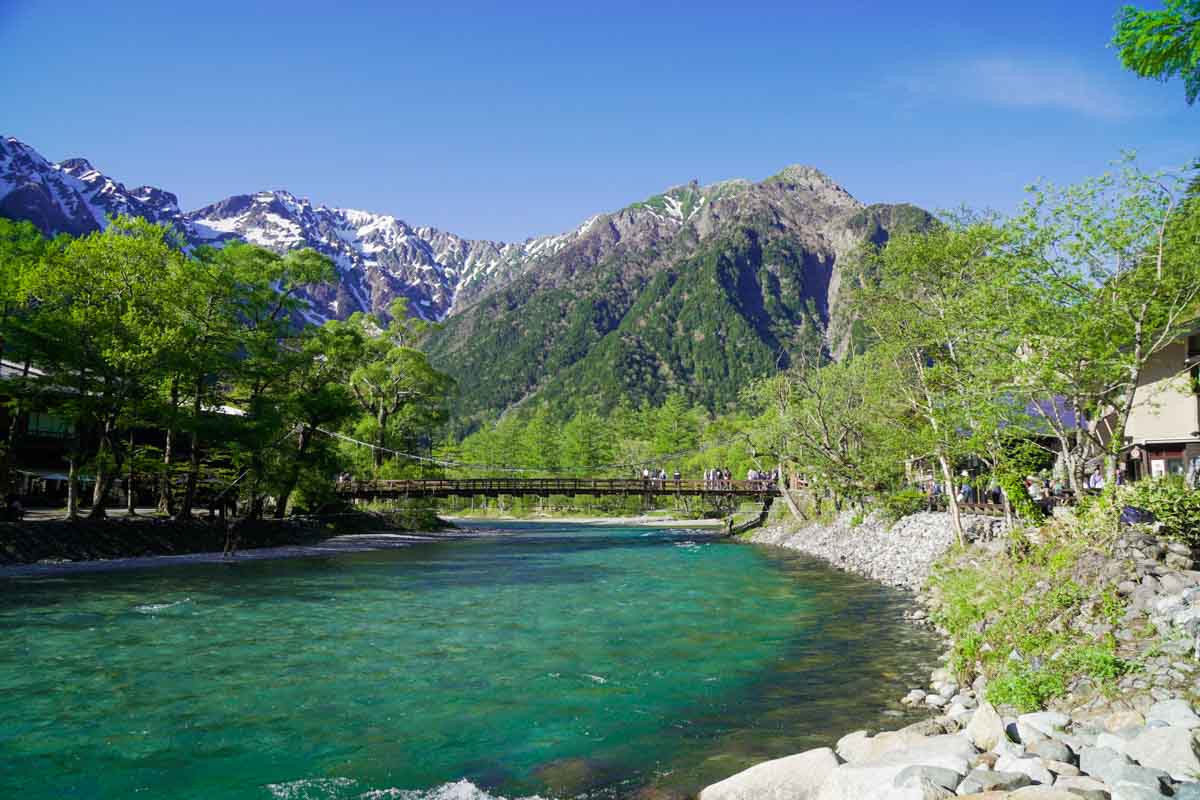 The Kappa bridge is Kamikochi's most famous landmark, named after the mythical imp. It's the most touristy spot here with souvenir shops, but also the only place you can stop for lunch (Kamikochi Lemeiesta Hotel nearby sells take-out bentos too).
*Pro-tip: To get a flawless (i.e. people-less) picture of the bridge, get there before 9AM, or after 4:30PM when most would've left to catch the last bus out.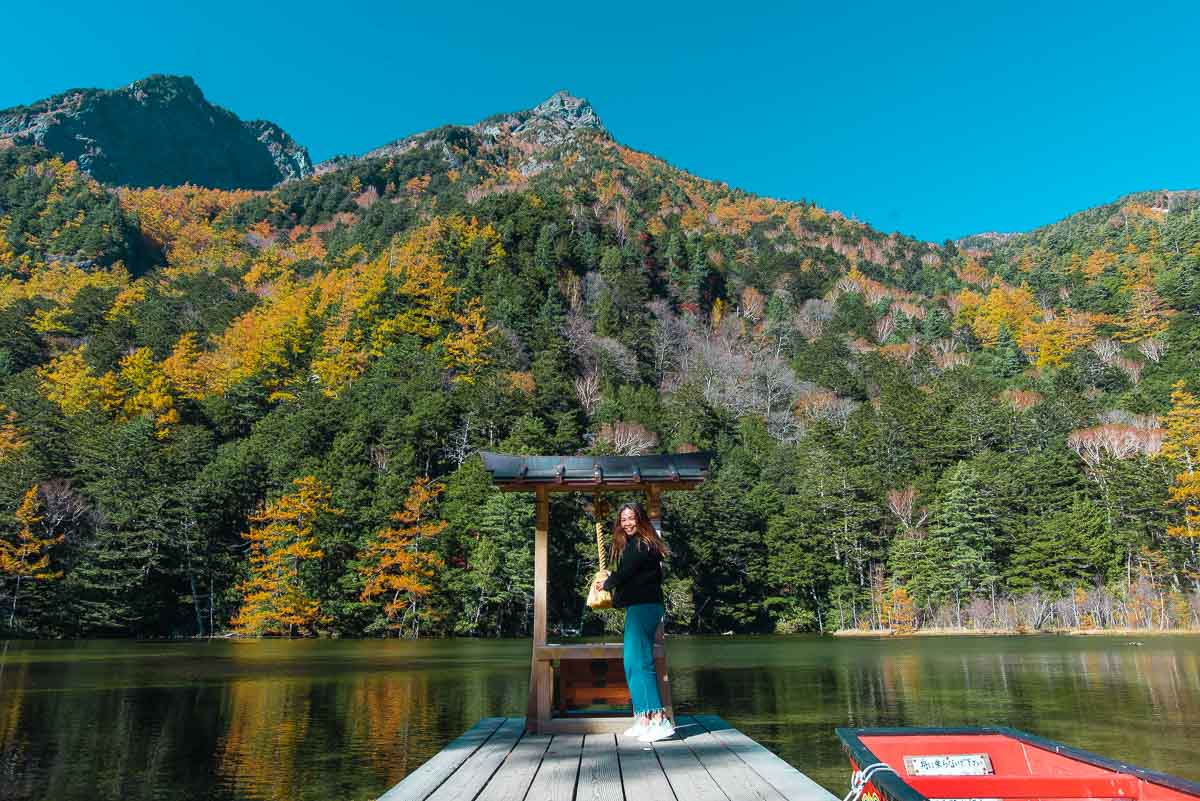 Recommended Hiking Trail: Taisho Pond (大正池) — Tashiro Bridge (田代橋) — Kappa Bridge (河童橋) — Dakesawa Marsh(岳沢湿原) — Myojin Pond (明神池)
The entire trail spans 7km and it'll take you about four hours to complete non-stop. But it's mostly on flat ground so it's really pleasant, especially with cool alpine temperatures even in the summer.
There won't be anywhere to eat dinner outside, so hotels there include breakfast and dinner with your room package.
Accommodation in Kamikochi: Private room for two in Kamikochi Lemeiesta Hotel (上高地ルミエスタホテル) from ~¥27,000/night (price includes breakfast and dinner) — both Japanese and Western-style rooms available.
Read also: Nagano Guide — Gateway to the Japanese Alps
Day 3: Kamikochi to Shirahone Onsen (白骨温泉)
Getting from Kamikochi to Shirahone Onsen: Take an ALPICO bus from Kamikochi to Shirahone Onsen (¥1,500). Direct buses from Kamikochi to Shirahone Onsen depart at 7:40AM and 3:35PM. There are 10 other buses, but if you take those buses, you'll need to transfer at Oyakodaki or Sawando Bus Terminal.
Shirahone Onsen (白骨温泉)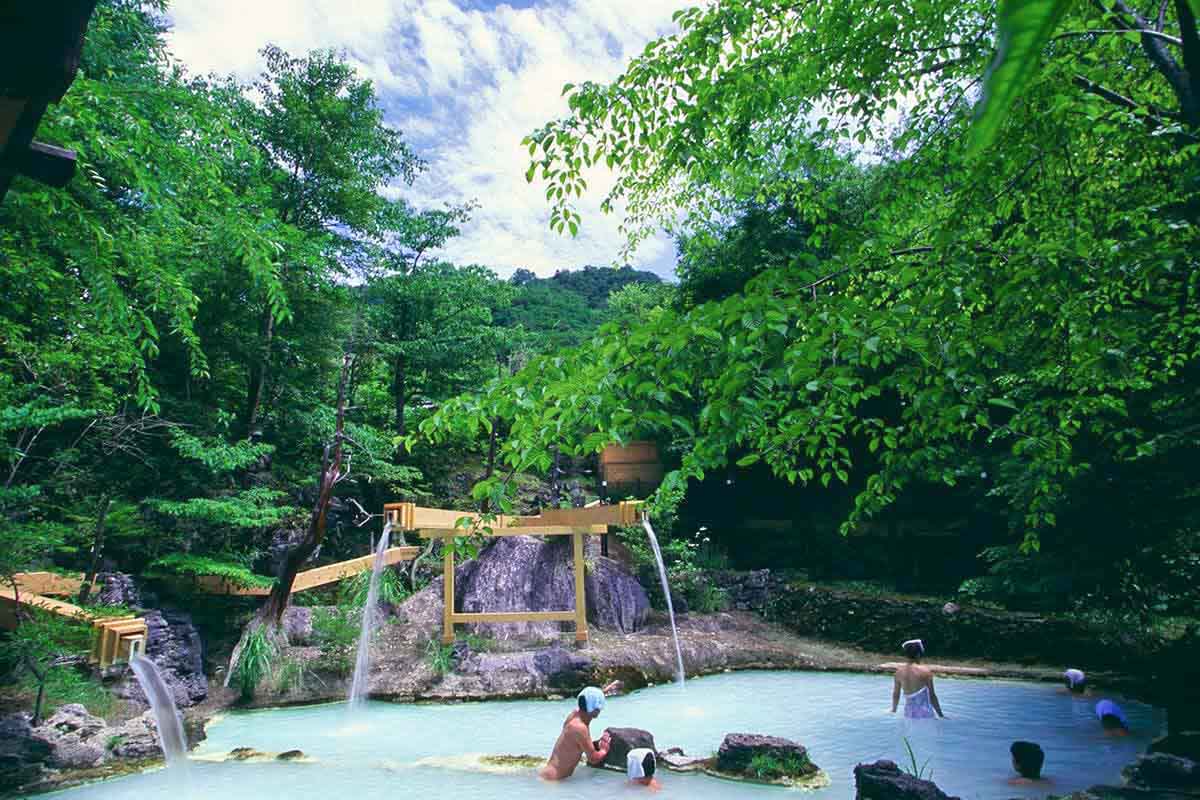 Shirahone Onsen is a hot spring town with many ryokans, but you don't have to book a stay to soak in any of their onsens.
There are many public baths there you can dip in, but most visitors flock to Awa no Yu (泡の湯) instead for their iconic milky-white bath. That's also why this bath is mixed-gender (which is good for couples and families) — the water is so opaque, you can't see beneath the surface!
Awa no Yu
Entrance Fee: ¥1,000 (excluding ¥800 towel set rental — bring your own!)
Opening Hours: 10:30AM – 2PM (Last entry 1:30PM), closed on select days.
How to get there: Take the train from Matsumoto Station to Shin-Shimashima Station. Then, transfer to a bus and alight at Awa no Yu (total 2 hours, ¥1,950 one-way).
Stargazing and Eco-Glamping Experience: Wagyu Sukiyaki Dinner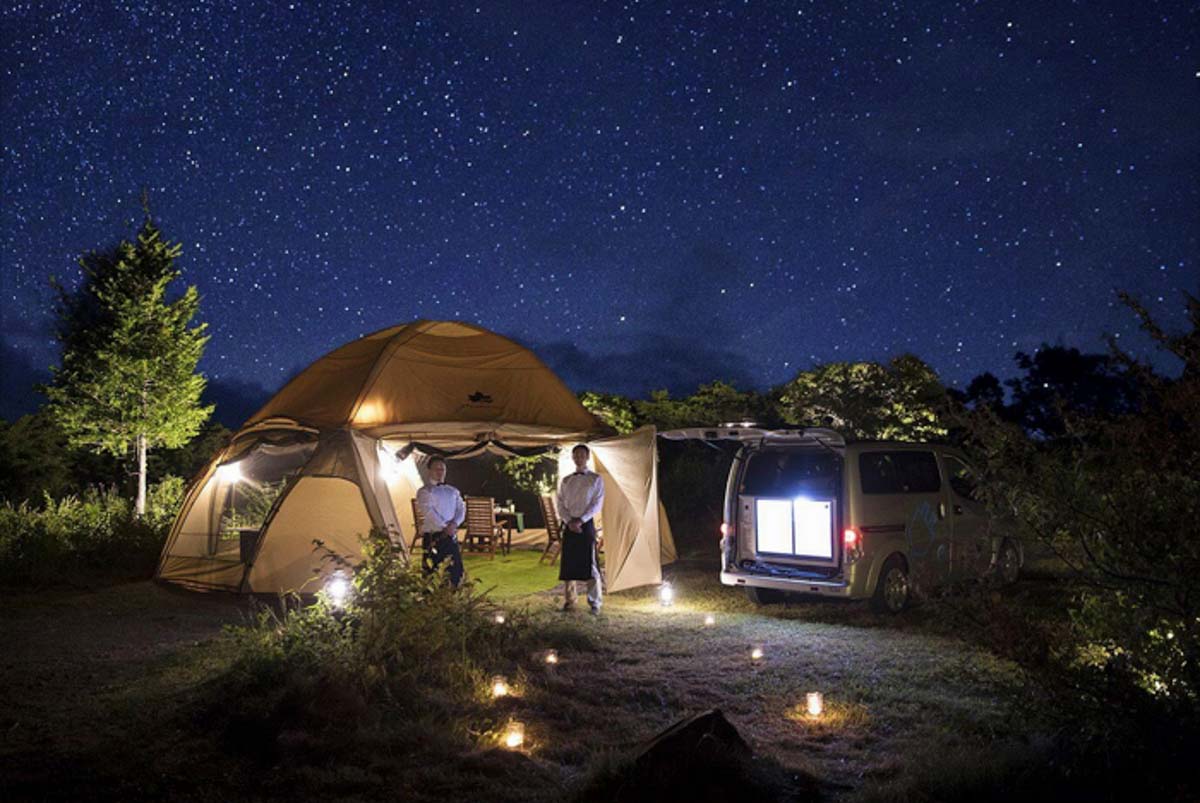 This was a real treat and will be one of the highlights of your Nagano trip — a four-course dinner (with wagyu!) in the middle of the mountains, under the stars (The perfect spot to propose at 😉).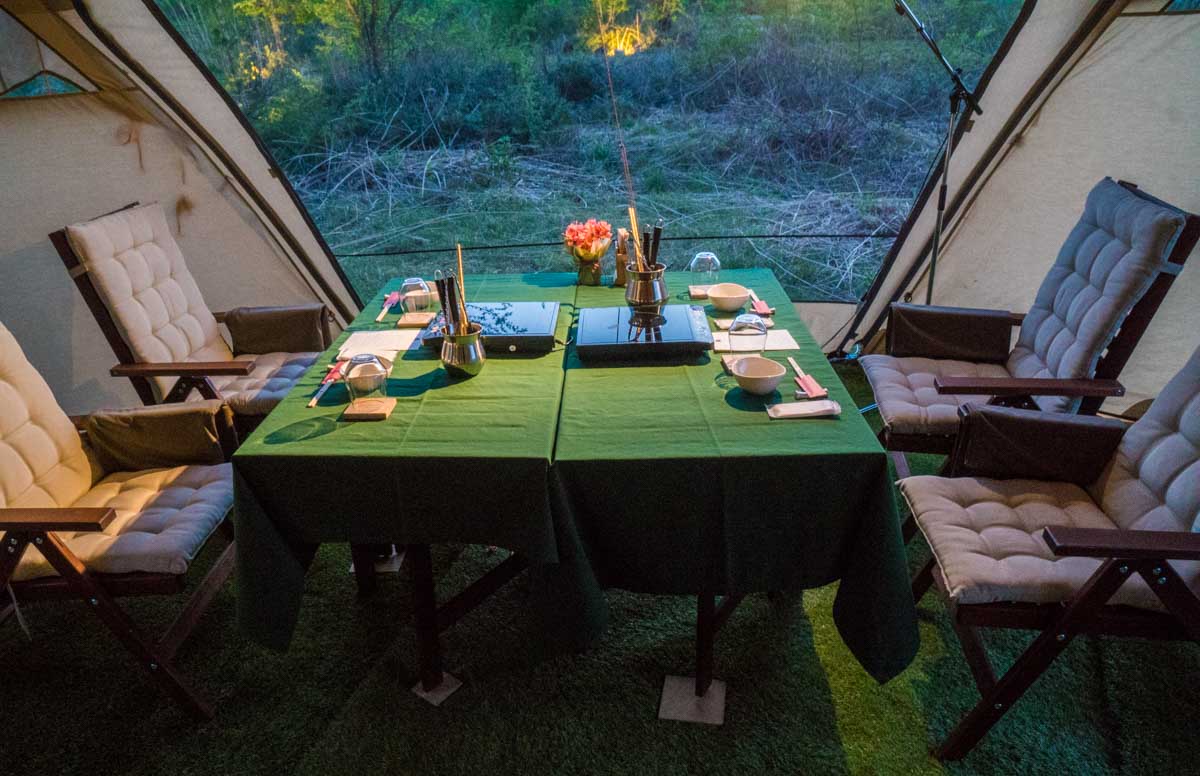 Called the Norikura Star and Moon Restaurant, this experience only runs from 20th May to 31st October annually, and opens exclusively to guests staying in the Norikura or Shirahone Onsen areas (participating hotels here).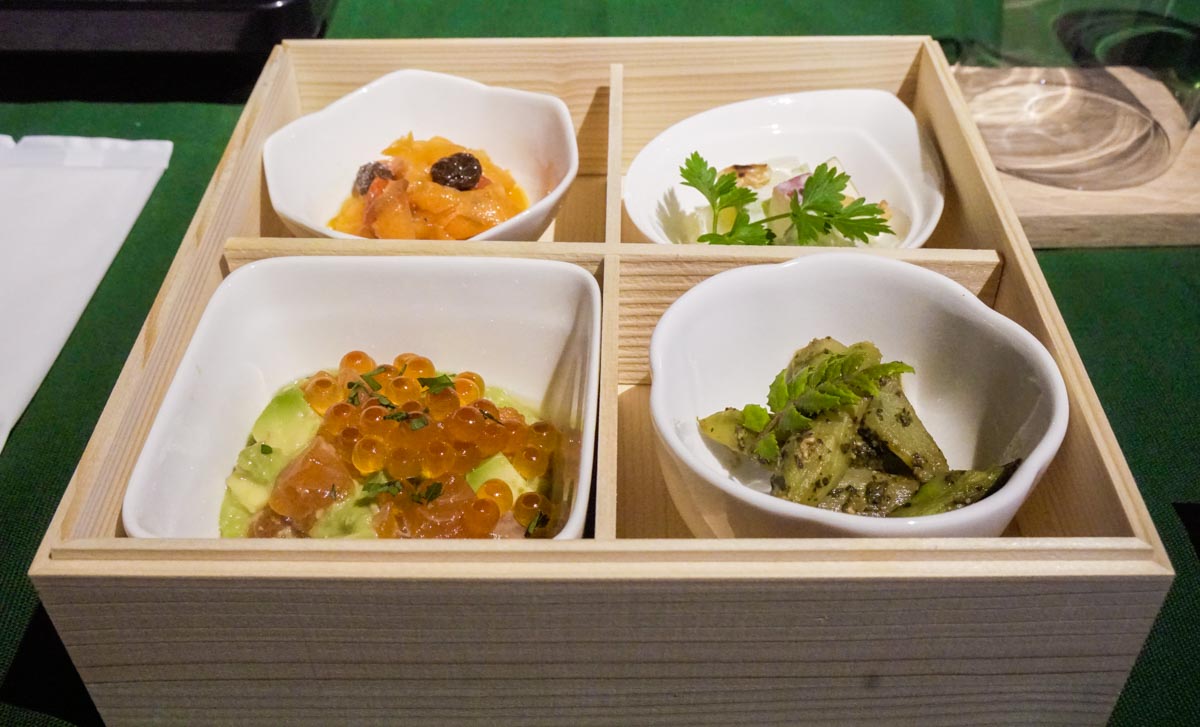 After being picked up from our hotel, we hungrily whizzed into the tent — also because it was 3°C cold — for our first drinks and appetisers. My favourite one: local Shinshu salmon and avocado topped with ikura salmon roe (full menu here).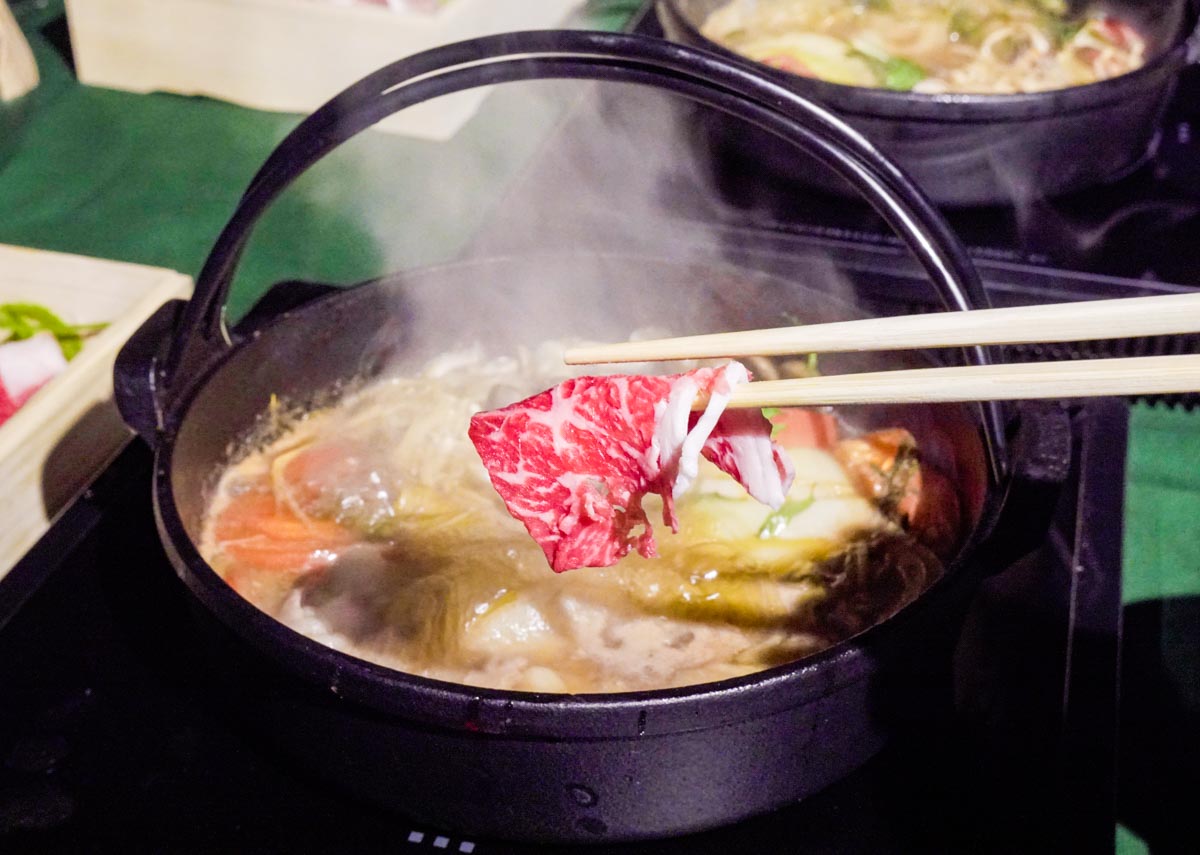 Where your life changes — 200g of premium Shinshu round ribeye in a sukiyaki-shabu shabu pot. It's every bit as melty, fatty and sweet as you'd expect from premium wagyu. Interesting factoid: Shinshu cows feed on apples!
After our meal, we headed outside where chairs were set up for us to stargaze. On some nights you can actually see the Milky Way with your naked eye! No luck for us though (but we did see shooting stars), and we only wish we'd brought a thicker jacket that night as it was freezing 😂
Cost: ¥25,000/pax (reserve three days in advance)
Pick-up Time: 6PM
Accommodation in Norikura: The most convenient option is to stay at any of the Shirahone Onsen ryokans. There are also ryokans in Norikura like Guesthouse Raicho, which might be cheaper with dormitory options.
Day 4: Norikura Highlands (乗鞍高原) — skiing and ice walls… even in the summer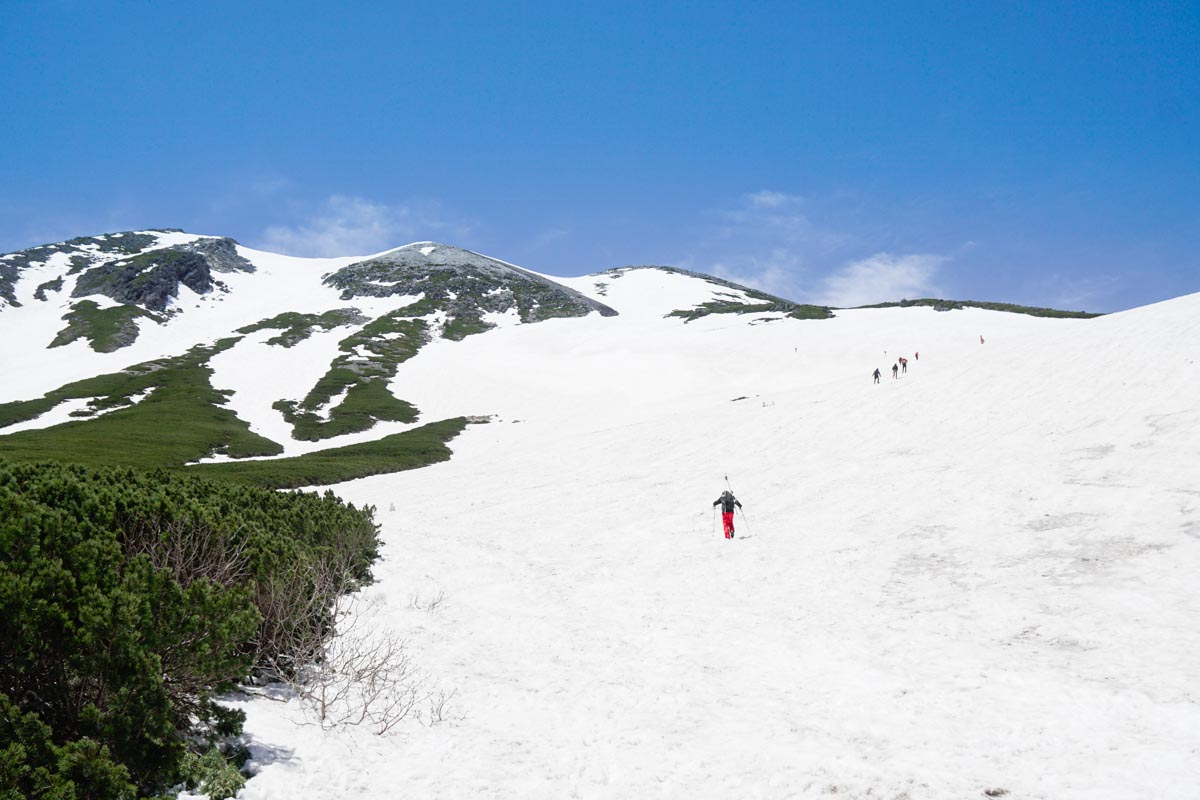 Yes, you don't have to brave the crowds at Hokkaido ski resorts to experience winter sports. You can do it even in the summer! The journey is as brilliant as the destination — a bus that negotiates curvy mountain roads, flanked by towering snow walls up to 12 metres high.
Mount Norikuradake Alpine Snow Wall Bus (Haruyama)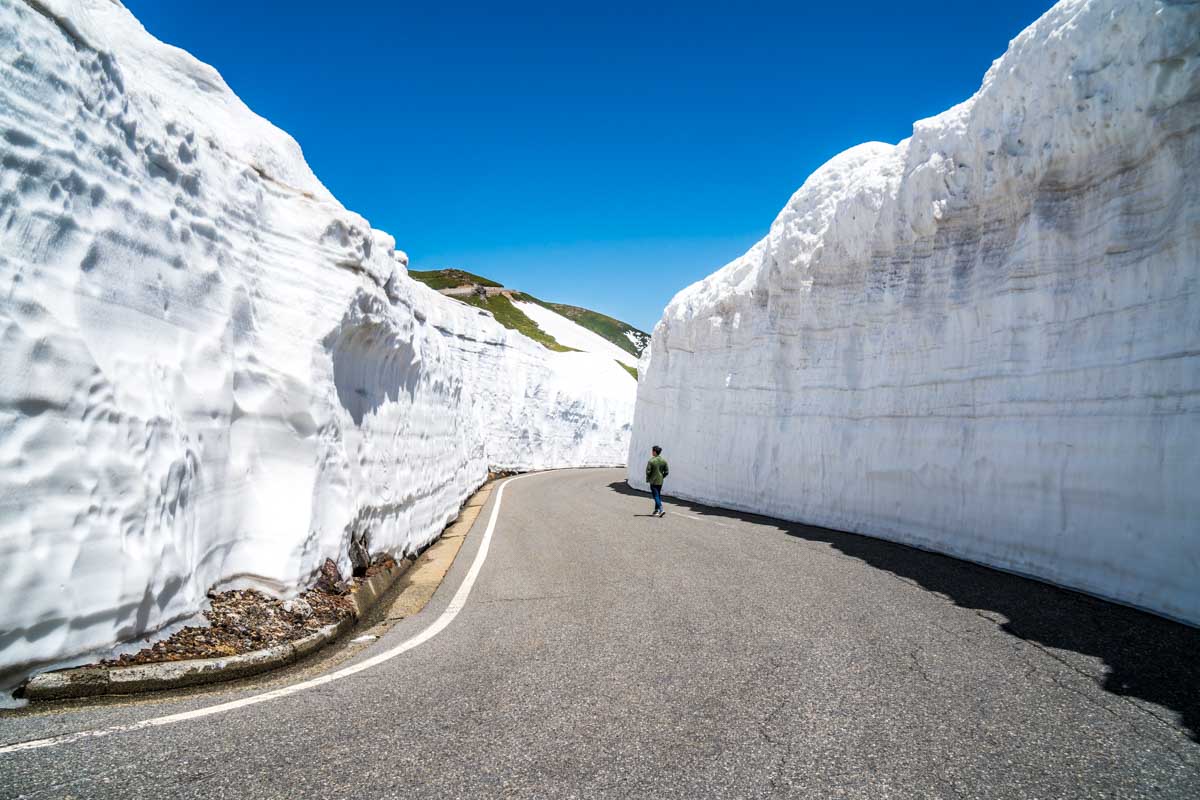 From late April to 30 June every year, ALPICO operates the Norikura Alpine Snow Wall Bus that runs by these massive, Game of Thrones-esque snow walls.
Before late May, the bus only stops at the Kuraigahara Sanso stop and you'll have to walk to the walls yourself (about 10 minutes). After that, it goes to the "Daisekkei / Katanokoya-guchi" stop, till 31 June. From there, the snow walls are a five minute-walk. The roads only allow the buses to pass through to control the number of visitors at any time, which means plenty of photo opportunities!
To get to the very last stop near the peak of the mountain, Norikura Sancho, you'll have to take the bus between 1 July and 31 October when the snow clears up. It's also Japan's highest bus stop at 2,716m high!
*Pro-tip: Do this first thing in the morning as the last bus back to the Norikura Kogen Tourism Information Center leaves at 3:16PM.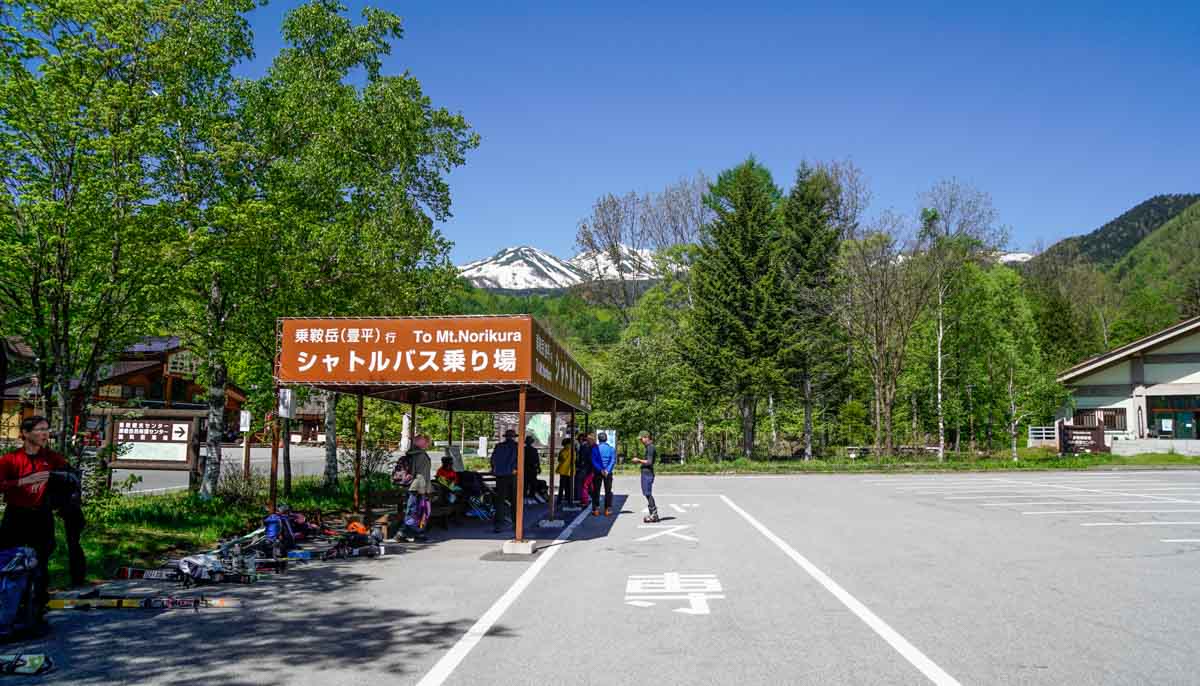 Cost: ¥2,500 (round trip)
How to get there: From Shirahone Onsen, board the Kamikochi-Norikura Highlands bus to the Norikura Kogen Tourism Information Center (観光センター前). Then, transfer to the Haruyama bus from the same stop, pictured above. You pay for your tickets directly as you board.
Lunch at Cafe Maple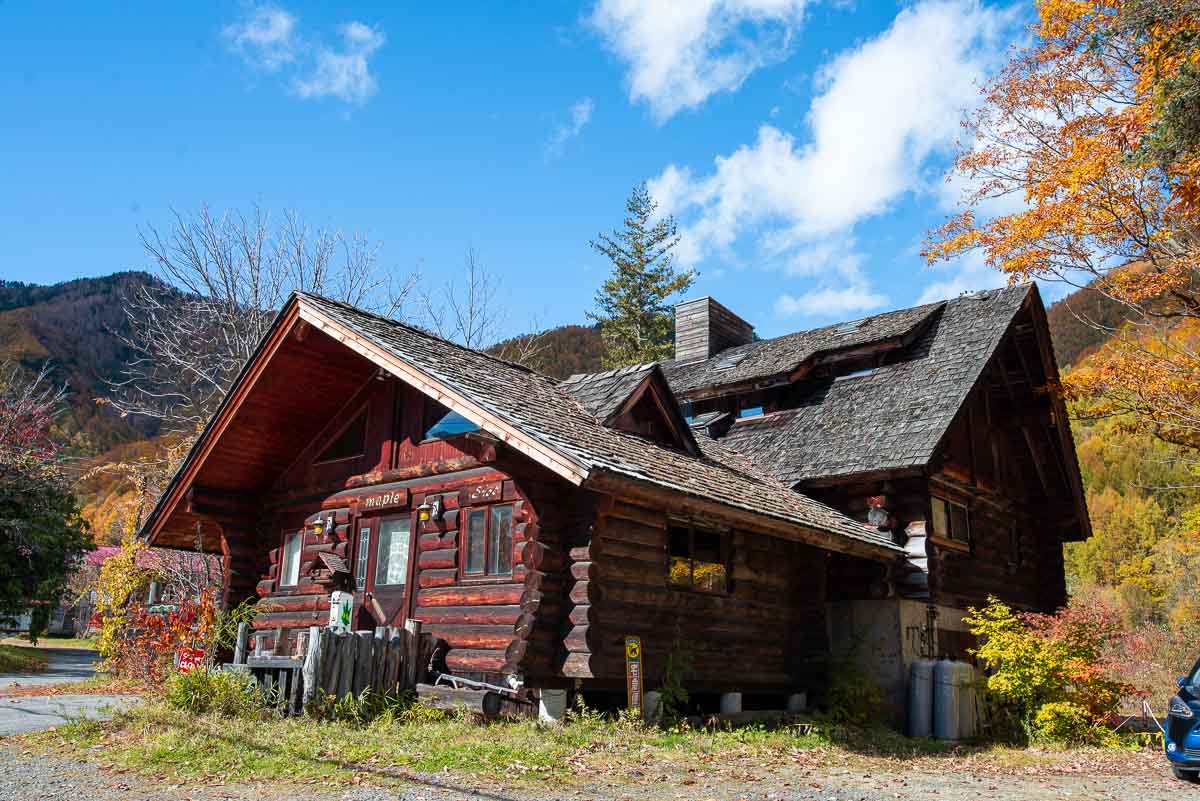 Located super near the bus stop, this one-woman show impresses with its wide offerings of homely Japanese cuisine from fried chicken and curry sets to pizzas.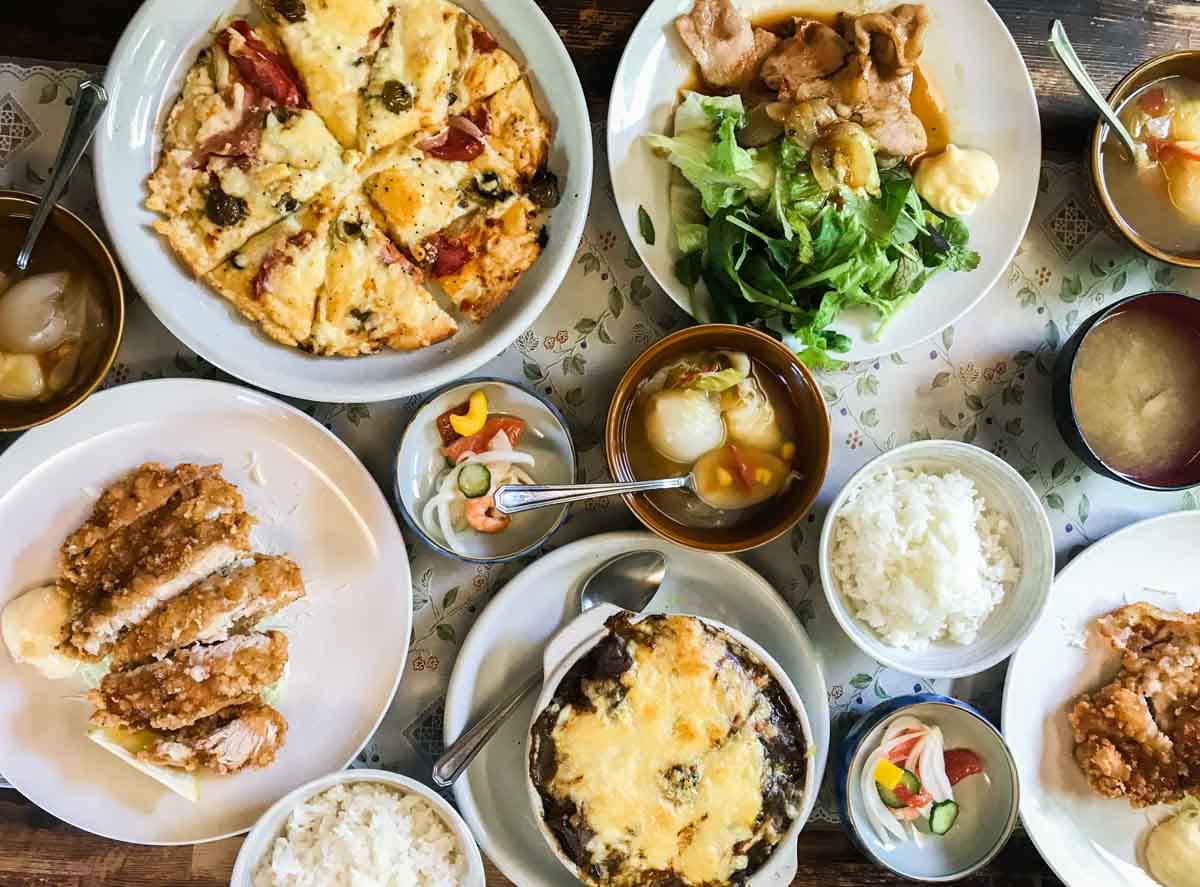 The regional specialty is the Sanzoku-yaki (山賊焼き) set meal — ridiculously huge fried chicken coated in a dry teriyaki seasoning with rice, salad and soup. Only ¥900!
For something slightly less sinful, try the Norikura Special Pizza topped with Japanese mountain sumomo plums (¥1,000).
Opening Hours: 11AM – 1:30PM, 5PM – 8PM
How to get there: Walk 170m from the Norikura Kogen Tourism Information Center
As Norikura's attractions differ hugely with each season, check the tourist association for other activities to complete your itinerary. When you're done, pack up and head to Nagano City.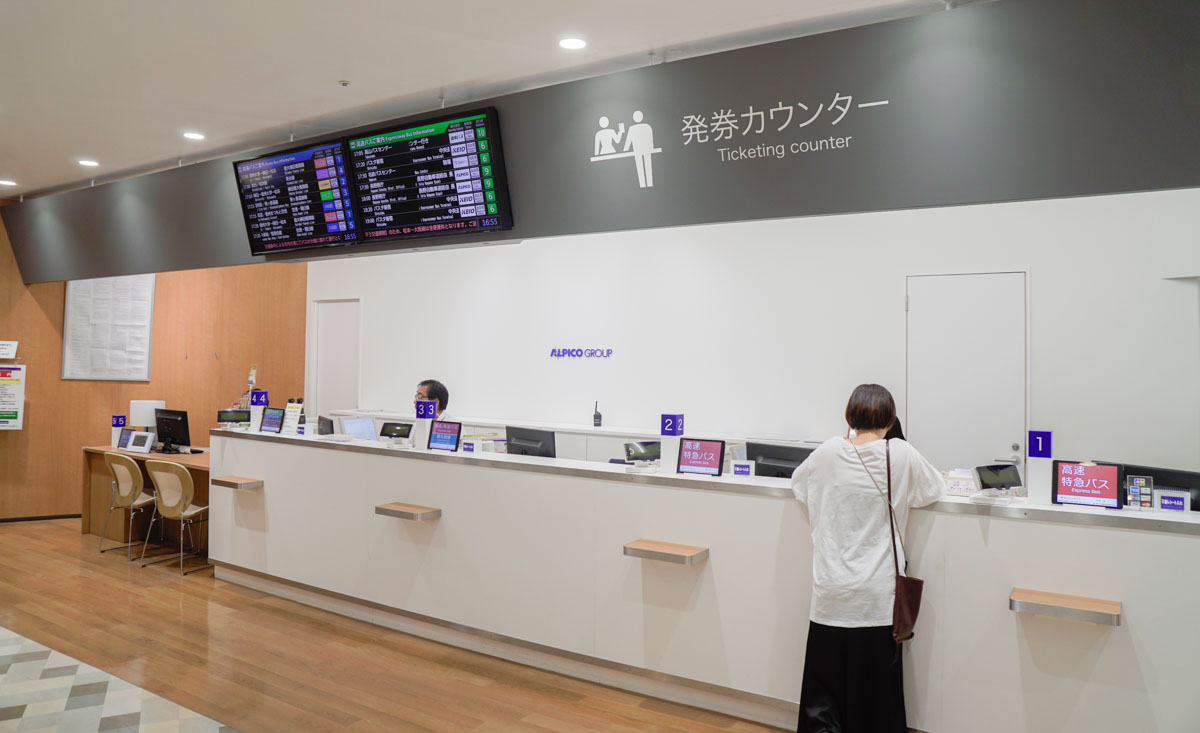 Getting from Norikura to Nagano City: Take a bus from Norikura Kogen Tourism Information Center to Shinshimashima Station. Then, take a train to Matsumoto Station. Then, take the express bus from Matsumoto bus terminal to Nagano (total journey ~3hrs, ¥3,050).
Accommodation in Nagano City: Standard Room in Hotel Metropolitan Nagano from ¥12,500/night, right beside JR Nagano Station.
Day 5: Nagano City (長野) — Home to one of Japan's oldest temples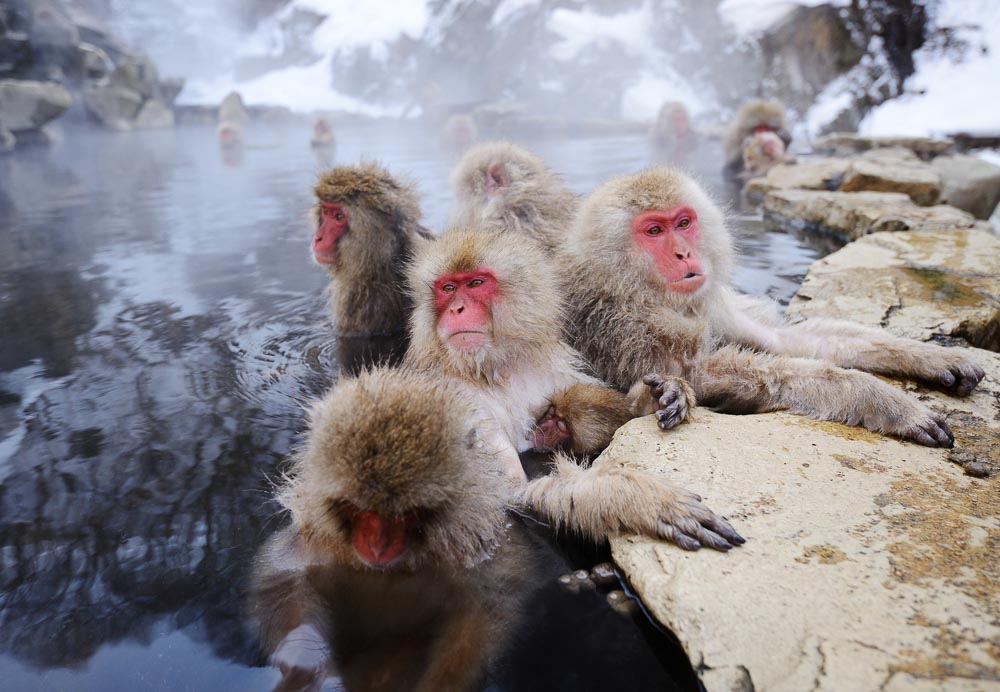 Nagano is perhaps most famous for the Jigokudani Monkey Park, with pictures of snow monkeys bathing in an onsen plastered all over the Internet. But there's a lot more to do outside the winter season, with one of Japan's most prolific temples being one of them.
Zenkōji (善光寺)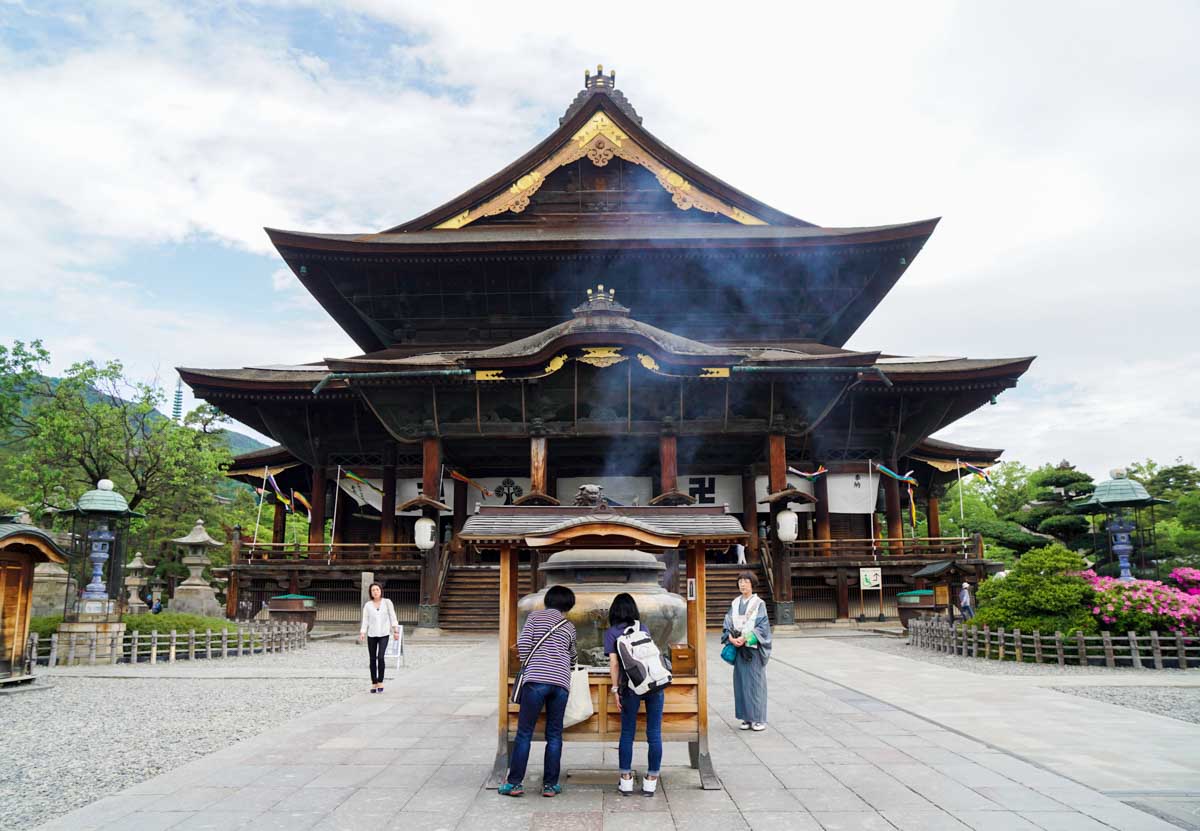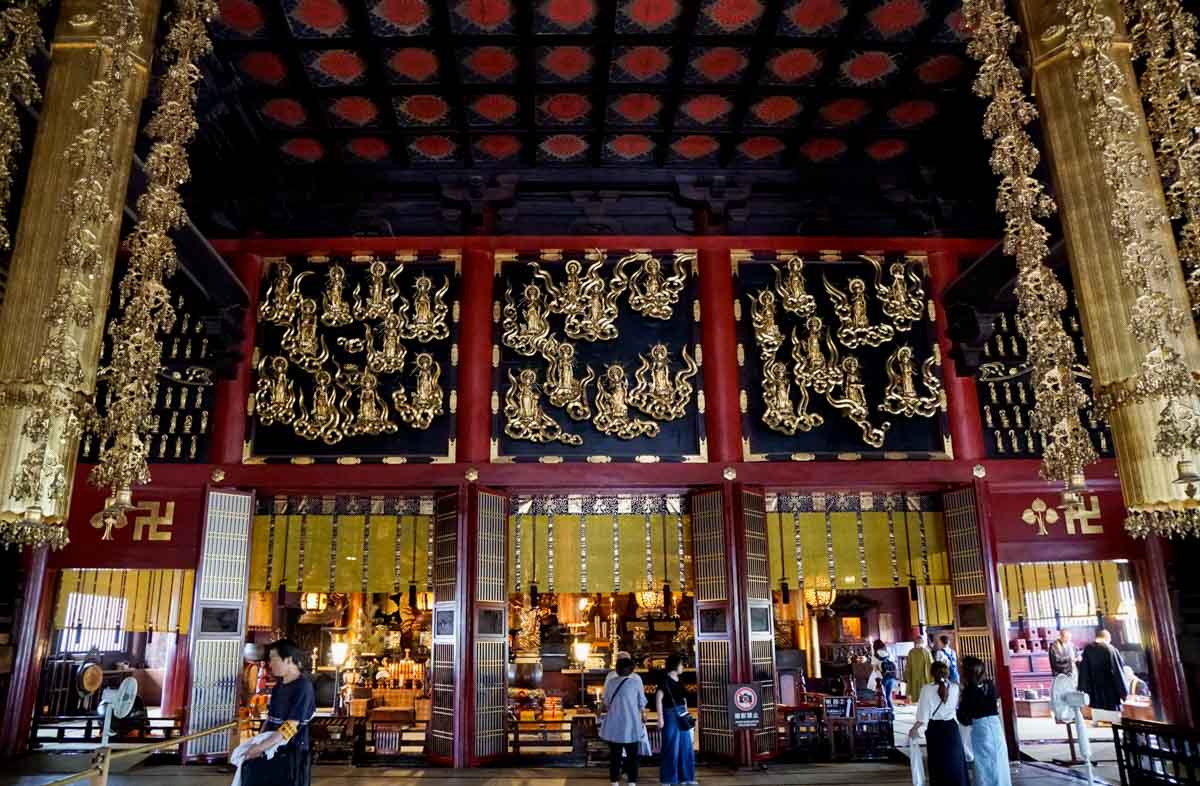 Zenkoji is famed for housing the first Buddha statue in Japan, but it's hidden in a secret location. Instead, a replica gets paraded in an elaborate ceremony called gokaicho once every six years. The next one happens in 2021.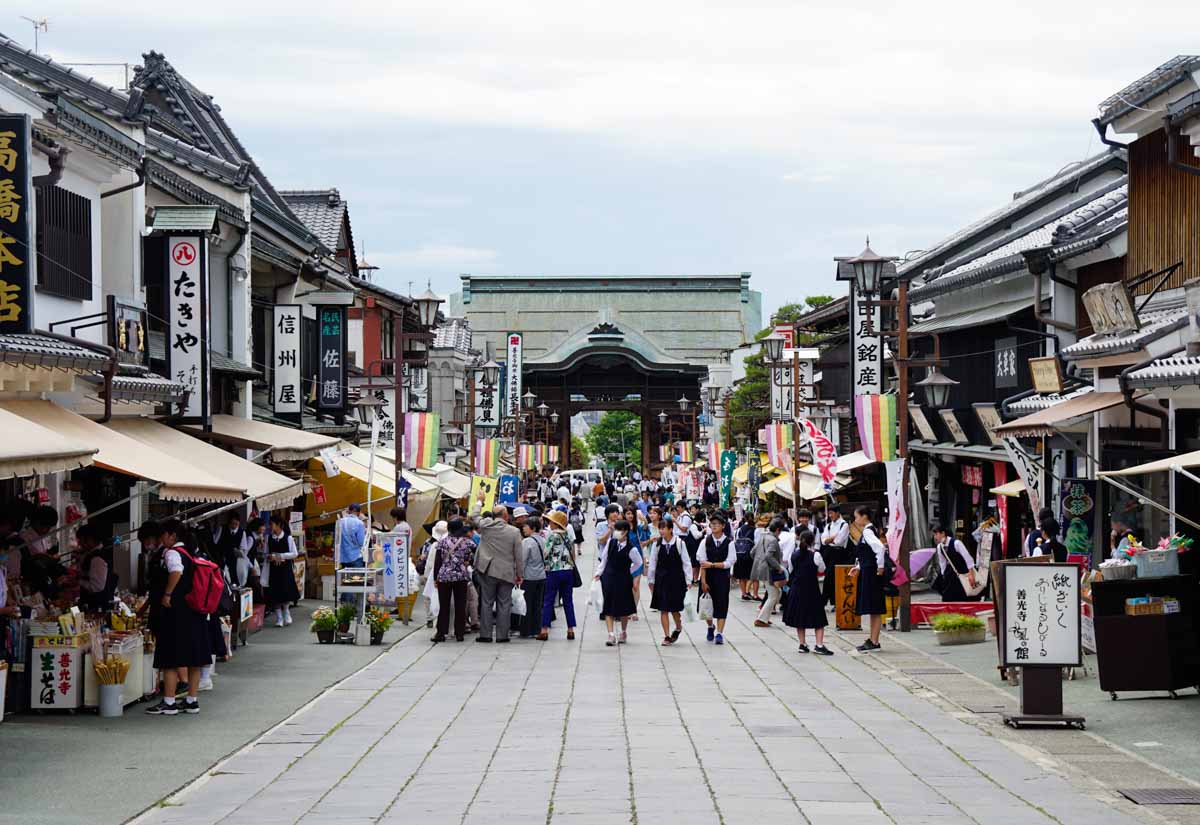 Besides the many sub-temples around, there are also shops along the way to Zenkoji's Main Hall selling souvenirs, talismans and Japan's ubiquitous soft serve, almost like a tamer version of Asakusa's Sensoji Temple.
Look out for the Sanmon gate midway through, which has an observatory deck facing the entire length of the street. Entry is included in the ¥1,000 ticket for the main hall.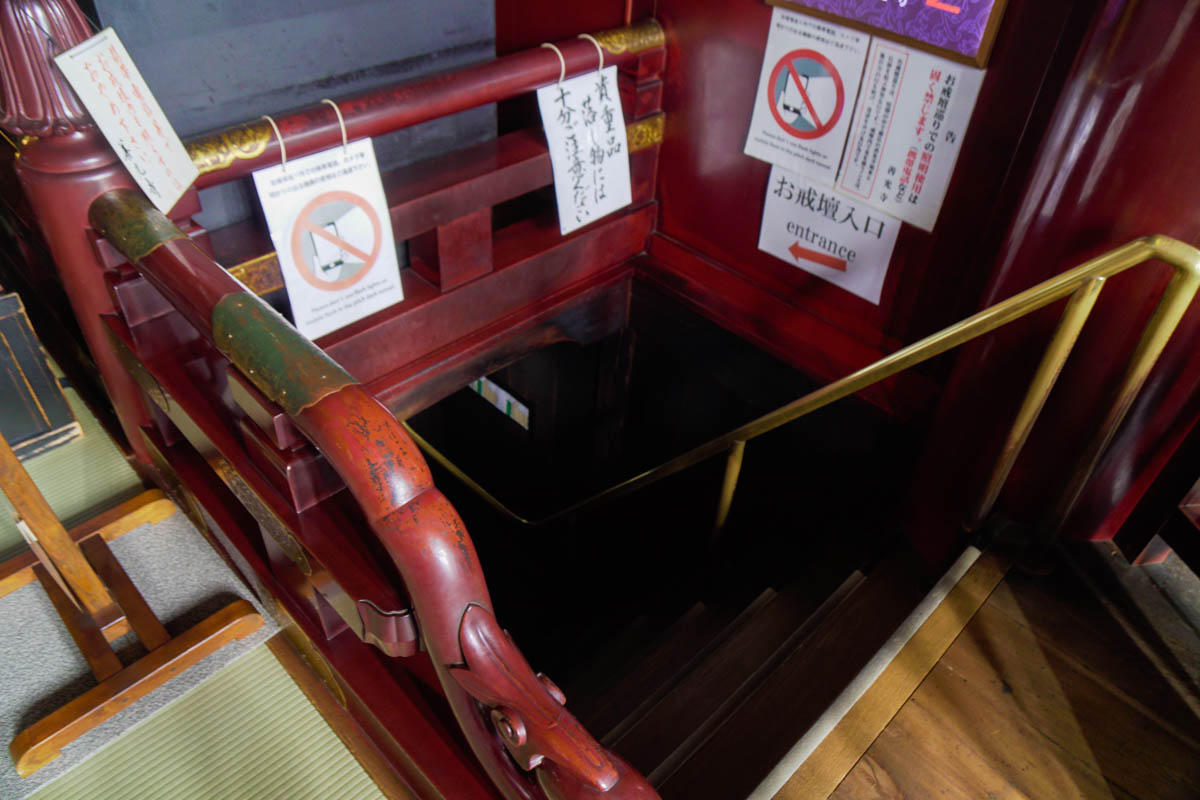 This will be unlike any temple experience you've had. Called the okaidan meguri, inside the inner sanctuary, a stairwell leads to a pitch-black tunnel running under the temple altar (it can feel quite freaky, especially if you're claustrophobic).
Feel the right side of the wall to get your way through, and try to touch the "key to paradise" that's under a door handle!
We felt that the entire temple is best appreciated with context provided by an English-speaking guide (free), given the immensely rich history of this 7th century temple. The tour takes about an hour.
Entrance Fee (Main Hall, Main Gate, Scripture House and Museum): ¥1,000
Opening Hours: ~5AM – 4PM. Museum opens at 9AM.
How to get there: Walk 2km from Nagano Station, or take a bus from Nagano Station to Zenkoji Daimon (¥150). IC cards like Suica or Icoca cannot be used.
Lunch at Azumaya (東屋)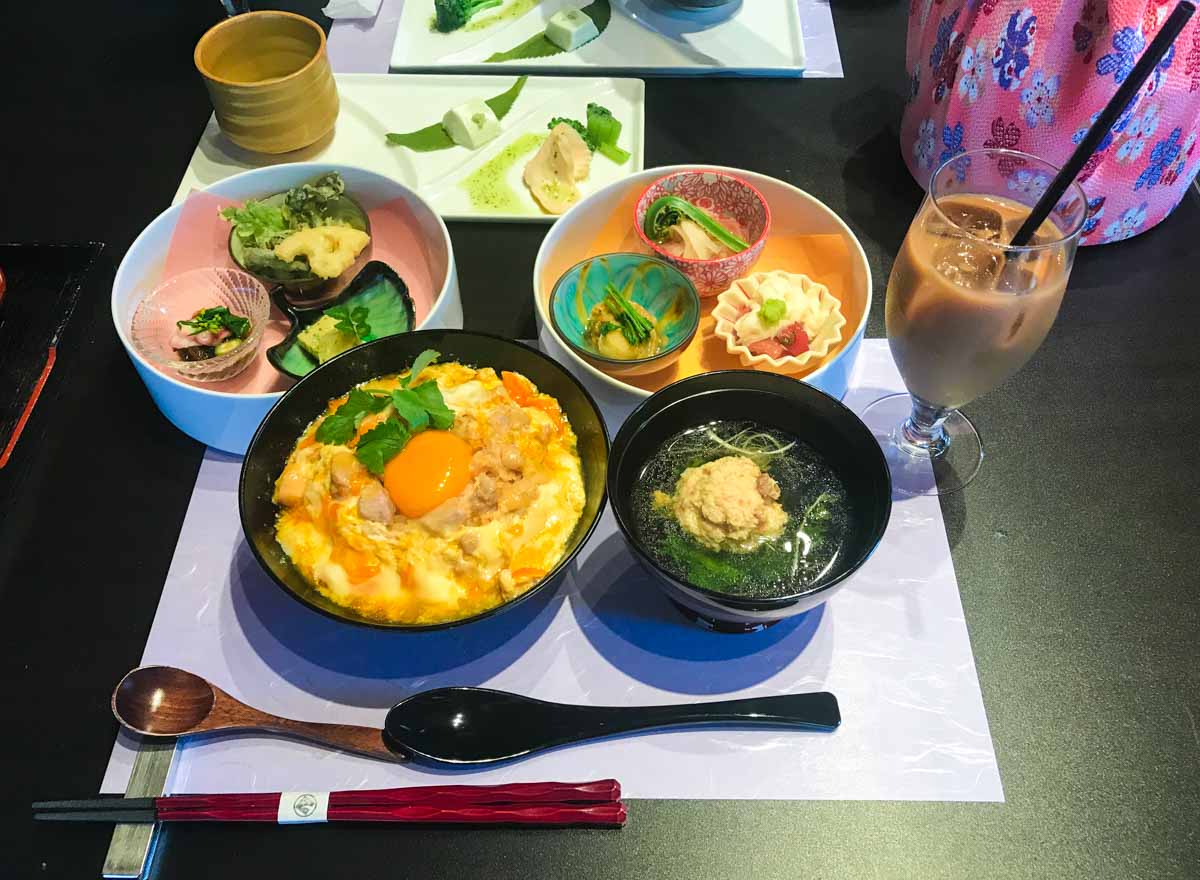 A short walk from Zenkoji, Azumaya is famed for serving three-layered bento sets with meals like oyakodon (信州鶏親子丼 重箱弁当, ¥2,320) and steak (黒毛和牛ステーキ弁当, ¥3,150).
If your visit falls on a Sunday or Monday when it's closed, try Monzensaryo Yayoiza instead, which specialises in food steamed in wooden baskets.
Opening Hours: 11AM – 2PM, 5PM – 10PM (Last orders 1:15PM and 9:30PM), closed on Sundays and Mondays.
Address: 104 Nagano Higashimachi, Nagano, 380-0831, Japan
Make Your Own Kaleidoscope at Galerie Ren (ギャルり蓮)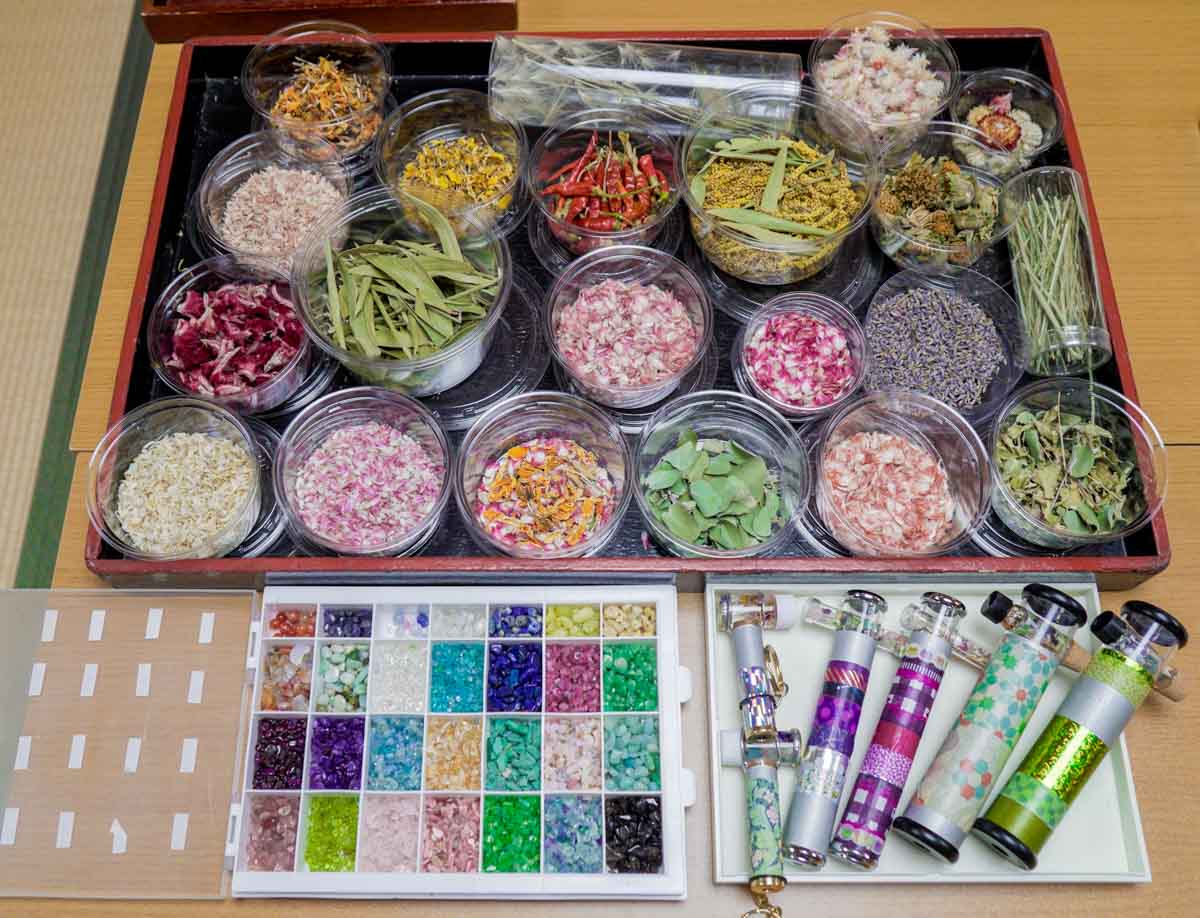 Not the most conventionally Japanese thing to do, but we really enjoyed ourselves at this kaleidoscope-making workshop which uses local plants and flowers and stones. You can custom-make bracelets or charm straps too!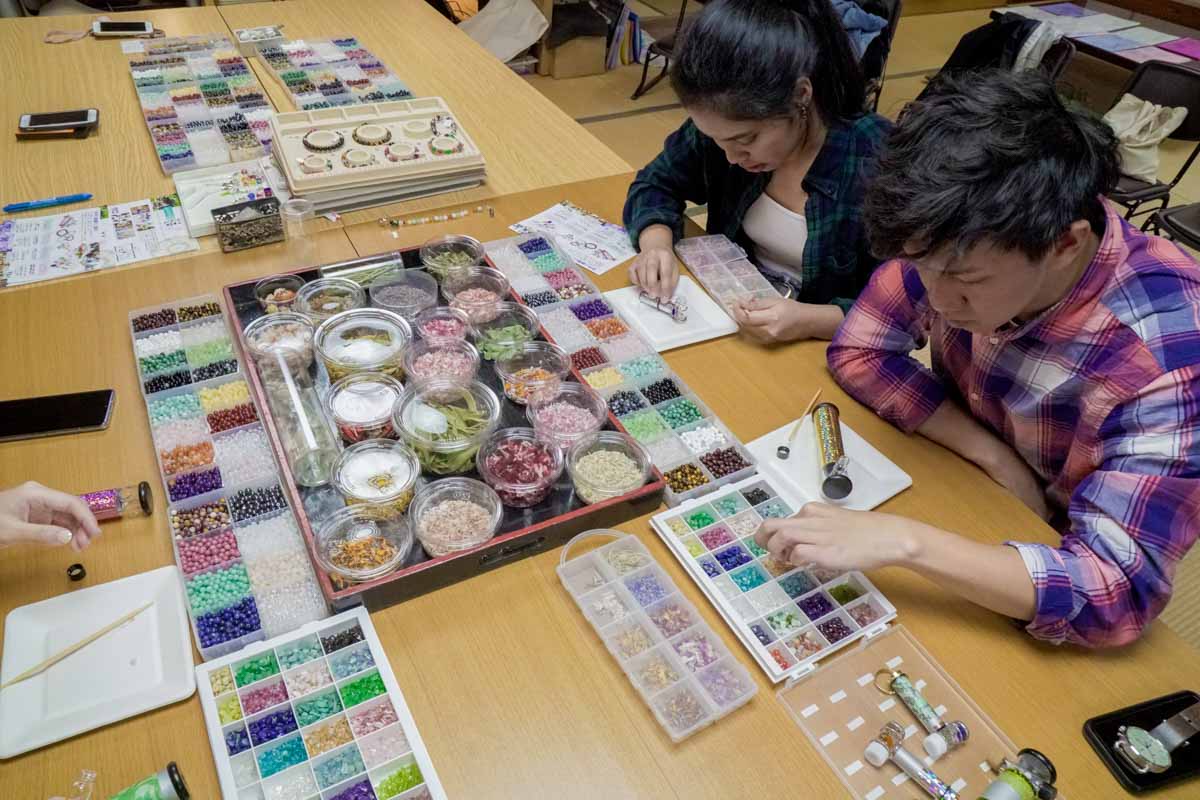 There are even dry and wet versions of the kaleidoscope, with oil added to the latter to create slight movements as you turn the knob.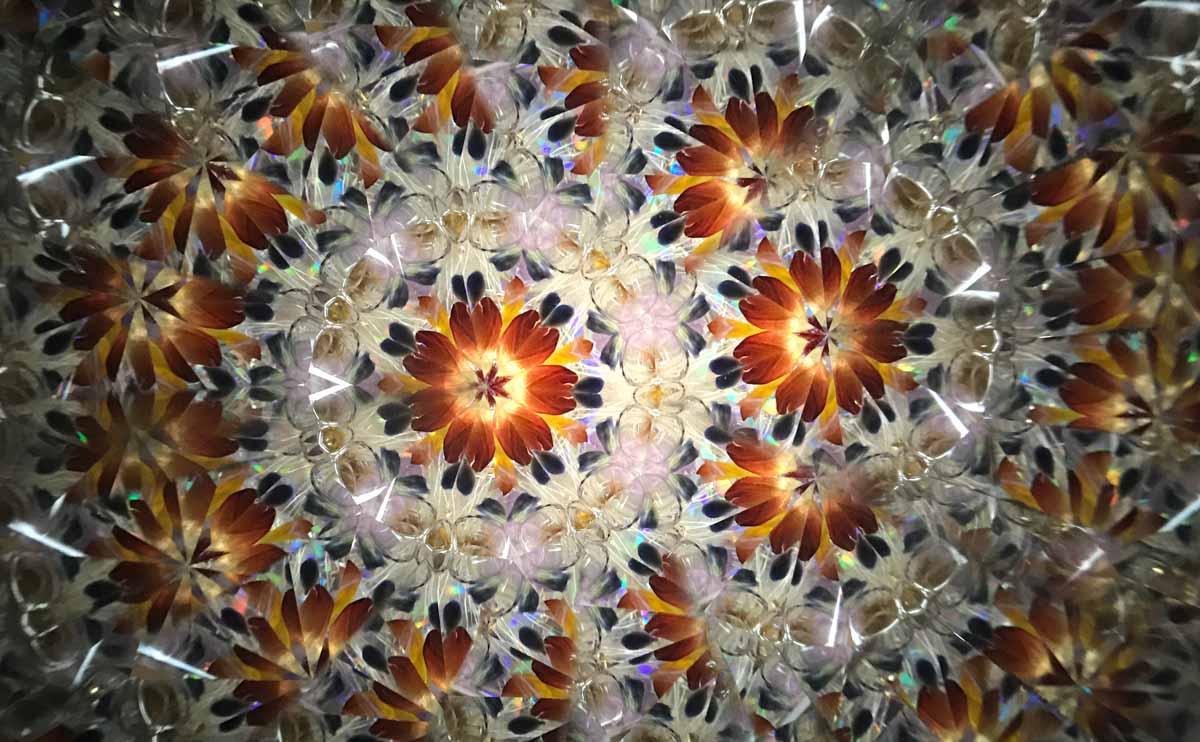 Cost: From ¥2,160
Opening Hours: 10AM – 5PM (Last entry 4PM), closed on Tuesdays.
Address: ギャルリ蓮 Galarie Ren, 465 Nagano, 380-0851
Sake Tasting at Nishinomon Yoshinoya (西之門よしのや)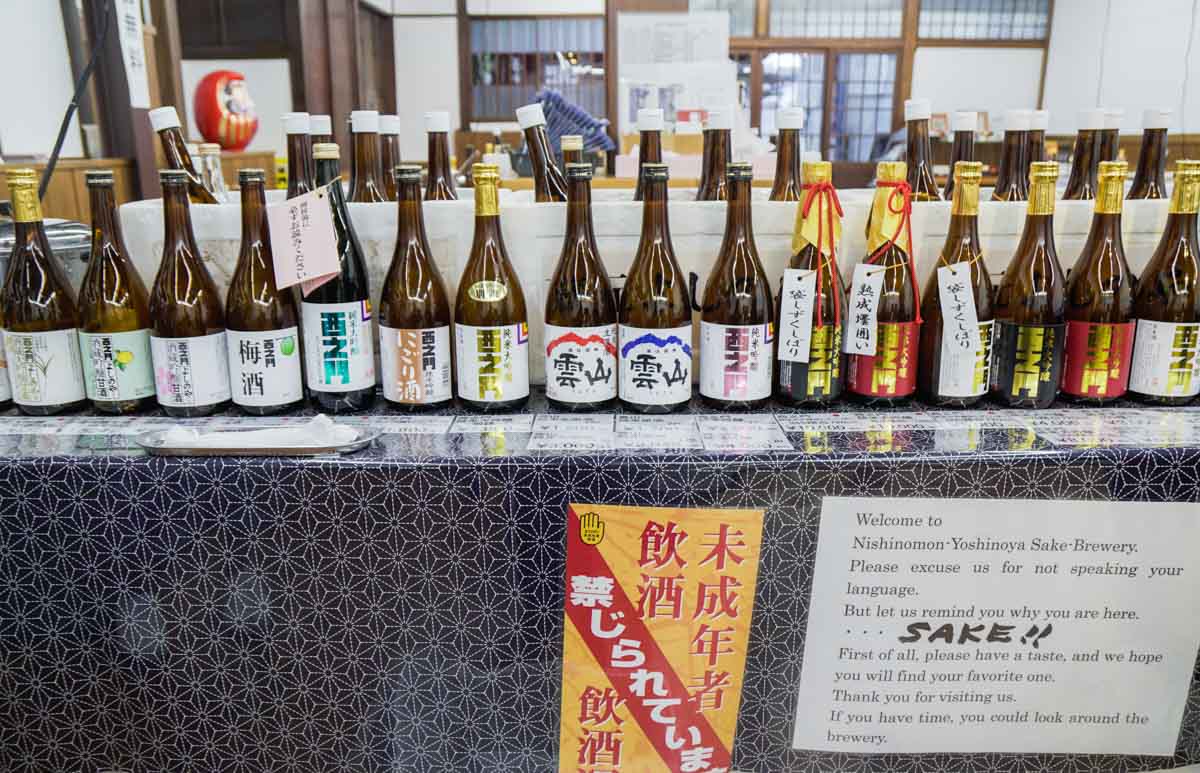 The older I get, the higher my predilection for good sake. There are many local breweries around town, but Nishinomon Yoshinoya is one that hits the mark for me, located amongst a cluster of photogenic traditional houses.
Ask for the bestsellers — the ones with lower rice content are ridiculously smooth. I ended up buying a bottle home for myself.
Opening Hours: 9AM – 5:30PM
Address: 941 Nagano, Japan 381-0000
Dinner at Restaurant Sakura (レストラン さくら)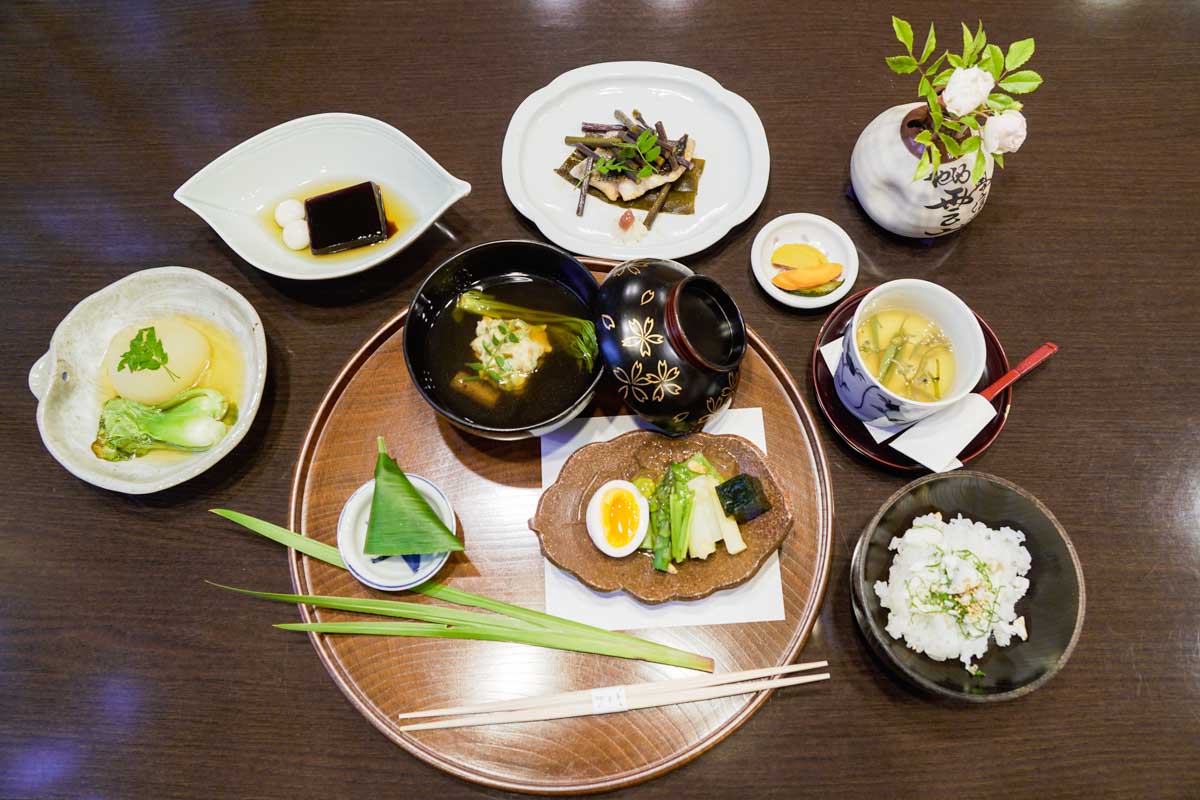 After your fill of Japanese alcohol, Restaurant Sakura is literally steps away, run by the same folks at Nishinomon.
They specialise in seasonal kaiseki courses, and with summer approaching we were served the summer course (夏の風, ¥3,000) boasting fresh fish and mountain vegetables. The menu's entirely in Japanese though, so you'll have to guess what you're eating.
Opening Hours: 11AM – 2:30PM, 5PM – 9PM (Last orders 8PM), closed on select days.
Day 6: Togakushi (戸隠) Day Trip — Of sobas and ninjas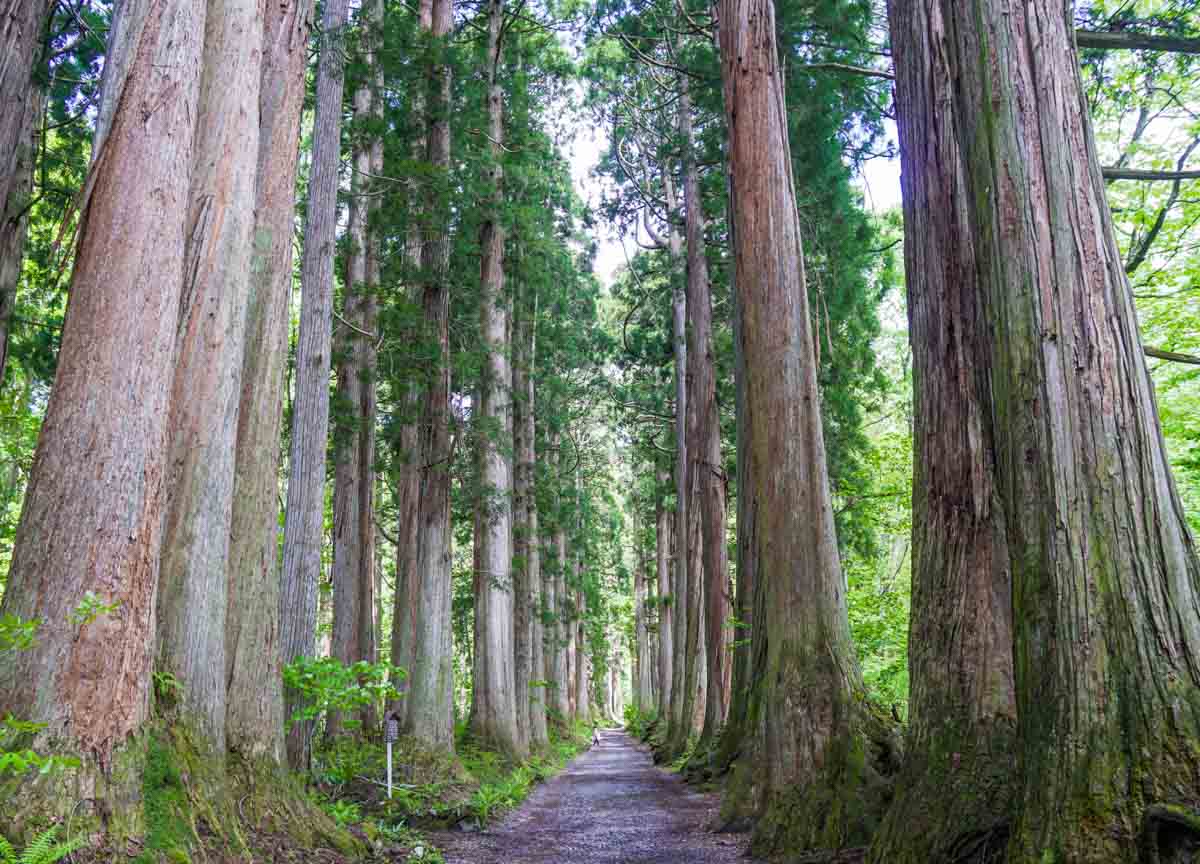 To locals, Togakushi is known for its pilgrim's path that takes eight hours from Nagano's Zenkoji to Togakushi's innermost shrine, Okusha.
Togakushi Five Shrines Walk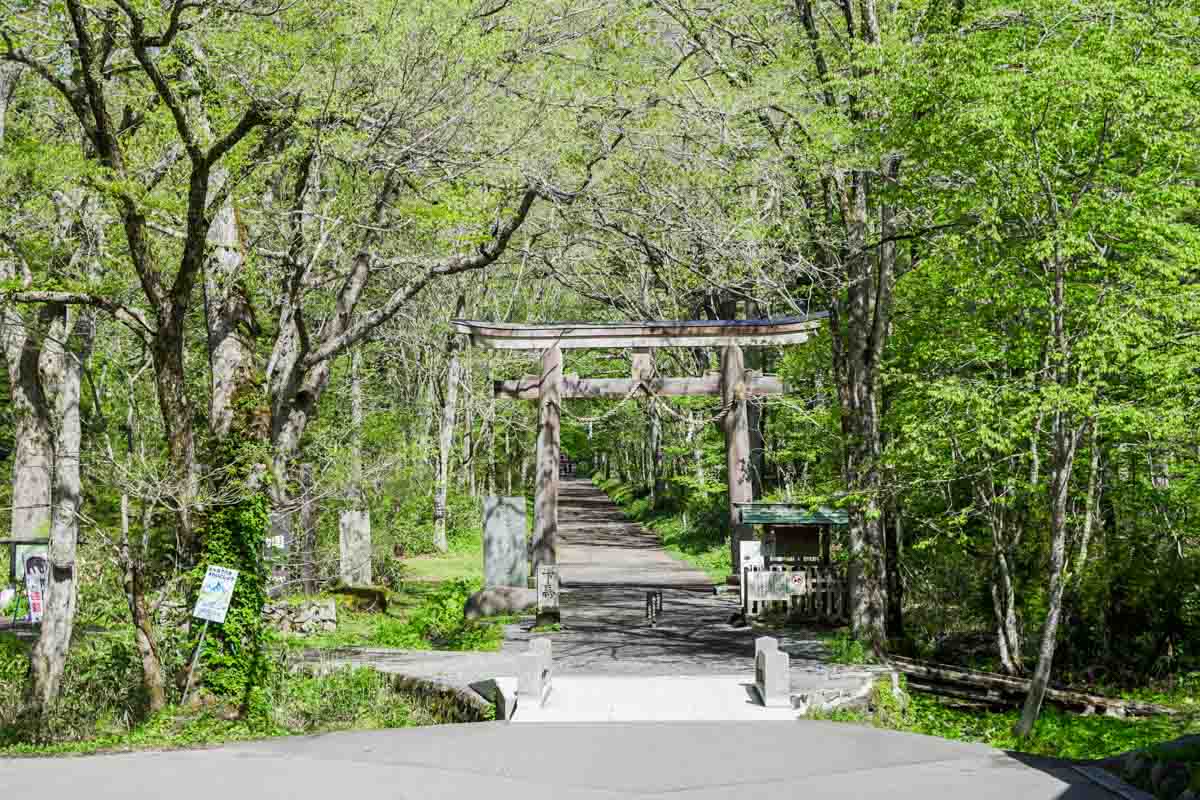 The Five Shrines Walk follows the ancient path taken by pilgrims, with each shrine around Mount Togakushi dedicated to a different god. The innermost shrine, Okusha, is for the Sun Goddess Amaterasu.
I'm the sort who only exercises once every year to pass my IPPT, so I'm not gonna say you should try to visit all the shrines in one day (though it's only 7km, albeit with steps here and there. Full route in Google Maps at the top of the post).
The 2km walk up to Okusha from the midway point is probably the easiest and most enjoyable, with one section flanked by huge 400-year-old cedar trees. The journey is more rewarding than the destination though, as the Okusha is pretty bare-boned and used purely for worship.
How to get there: Buy your return tickets from machine kiosks at the ALPICO bus office across JR Nagano Station (¥2,600). Then, take the bus from Nagano Station to the Togakushi-Okusha-Iriguchi bus stop.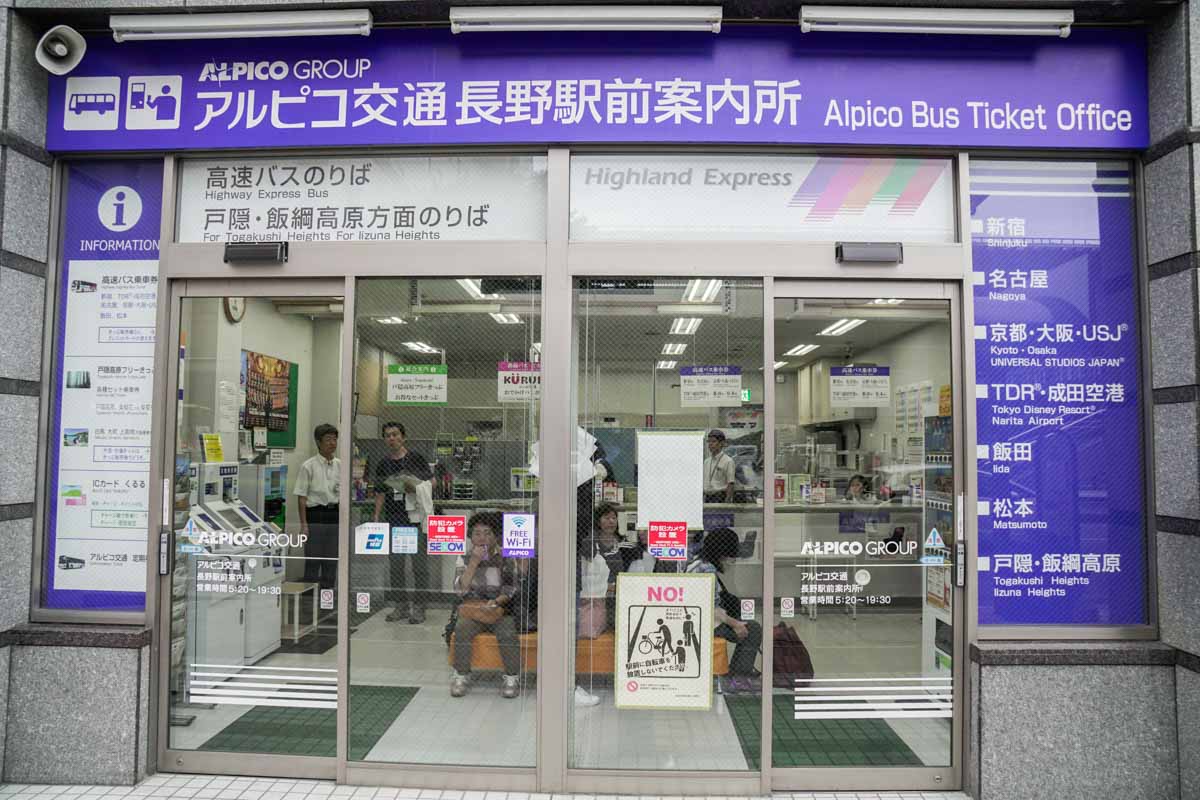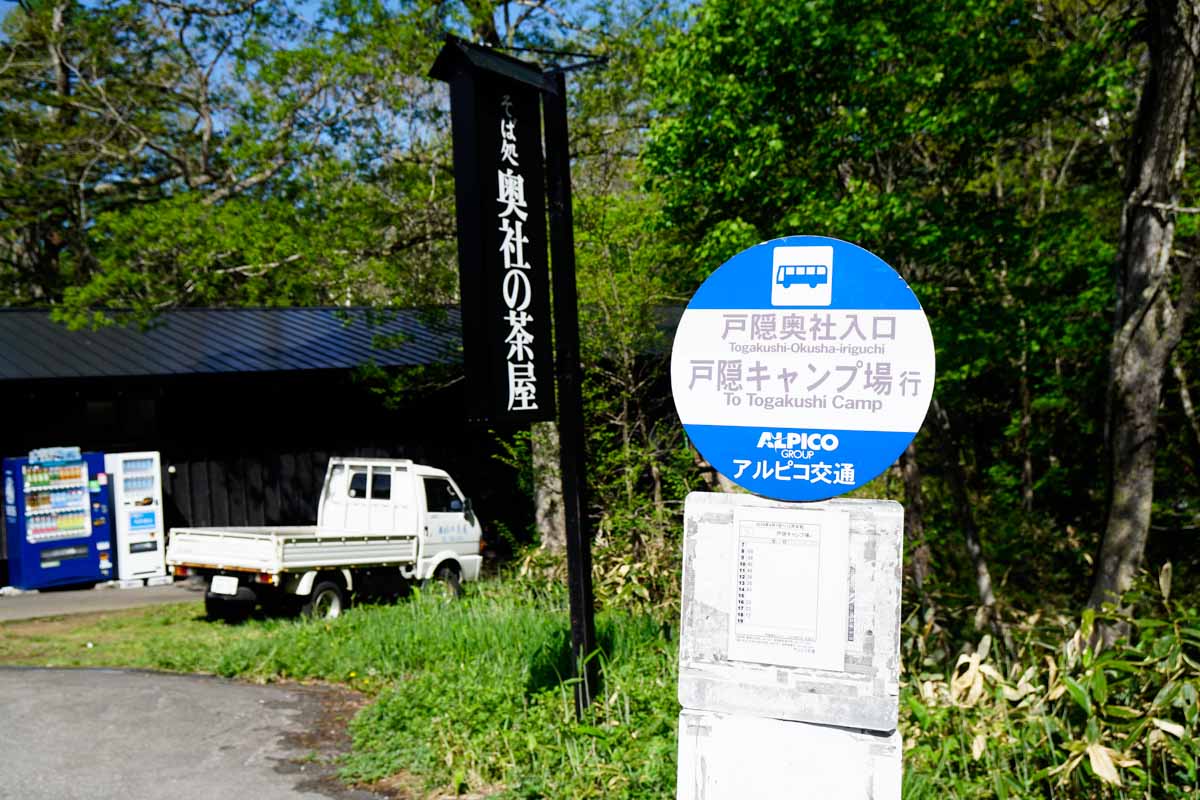 Ninja House (忍者屋敷)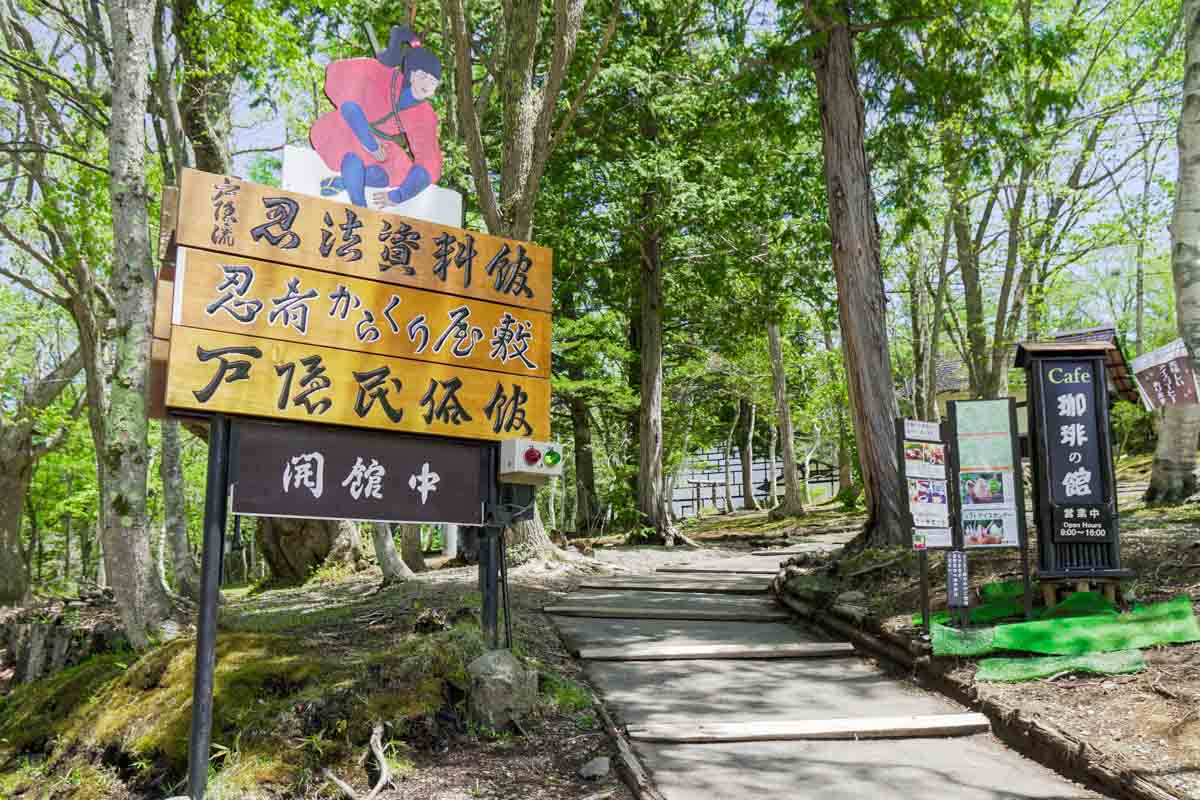 Just around the corner from the Okusha bus stop lies this mini ninja village with three attractions — a folklore museum, ninja school museum, and a ninja trick mansion.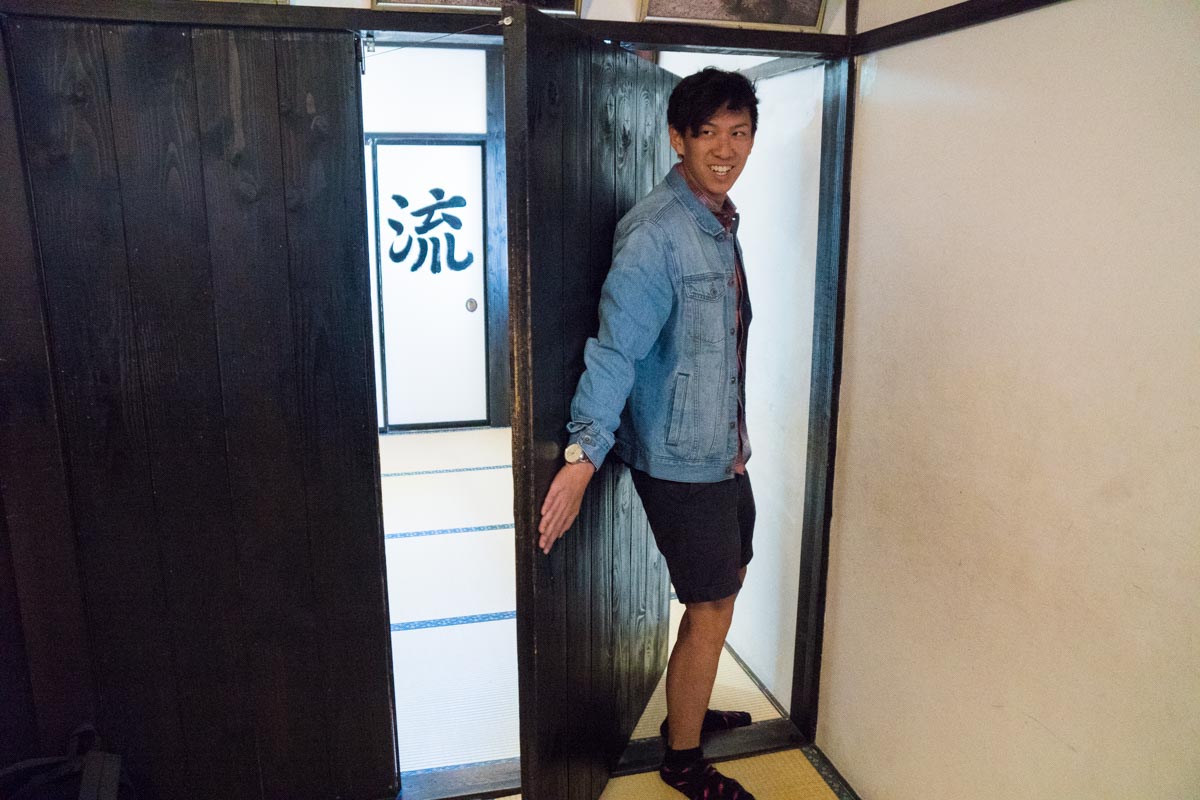 The trick mansion was surprisingly fun for us initially-skeptical adults — think escape room games, but to an entire house. Find secret entrances, navigate through mazes, and even enter a room oriented diagonally to bamboozle and/or nauseate enemies (spoiler: it worked).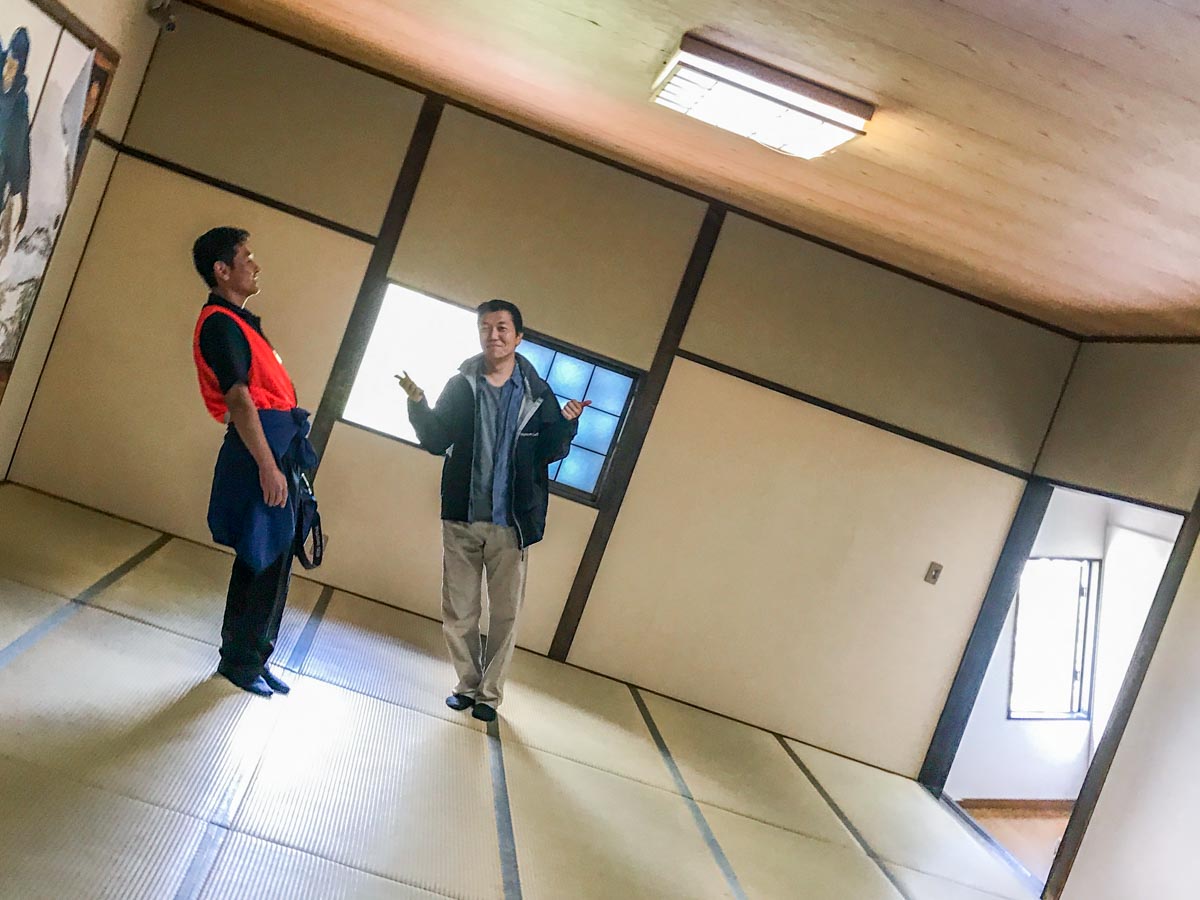 Entrance Fee: ¥600
Opening Hours: 9AM – 5PM (Last entry 4:30PM). Open only from 20 April to November.
Chusha (中社)
Continuing on the Five Shrines Walk, you'll end up at Chusha about 2.5km down. While I wouldn't say it's a must-visit, you'll probably end up here to either eat lunch at the many soba restaurants, or visit the tourist information center.
*Pro-tip: The bus back to Nagano stops here, so make your return trip from this stop instead of walking back to Okusha.
Lunch at Togakushi Soba Yamaguchiya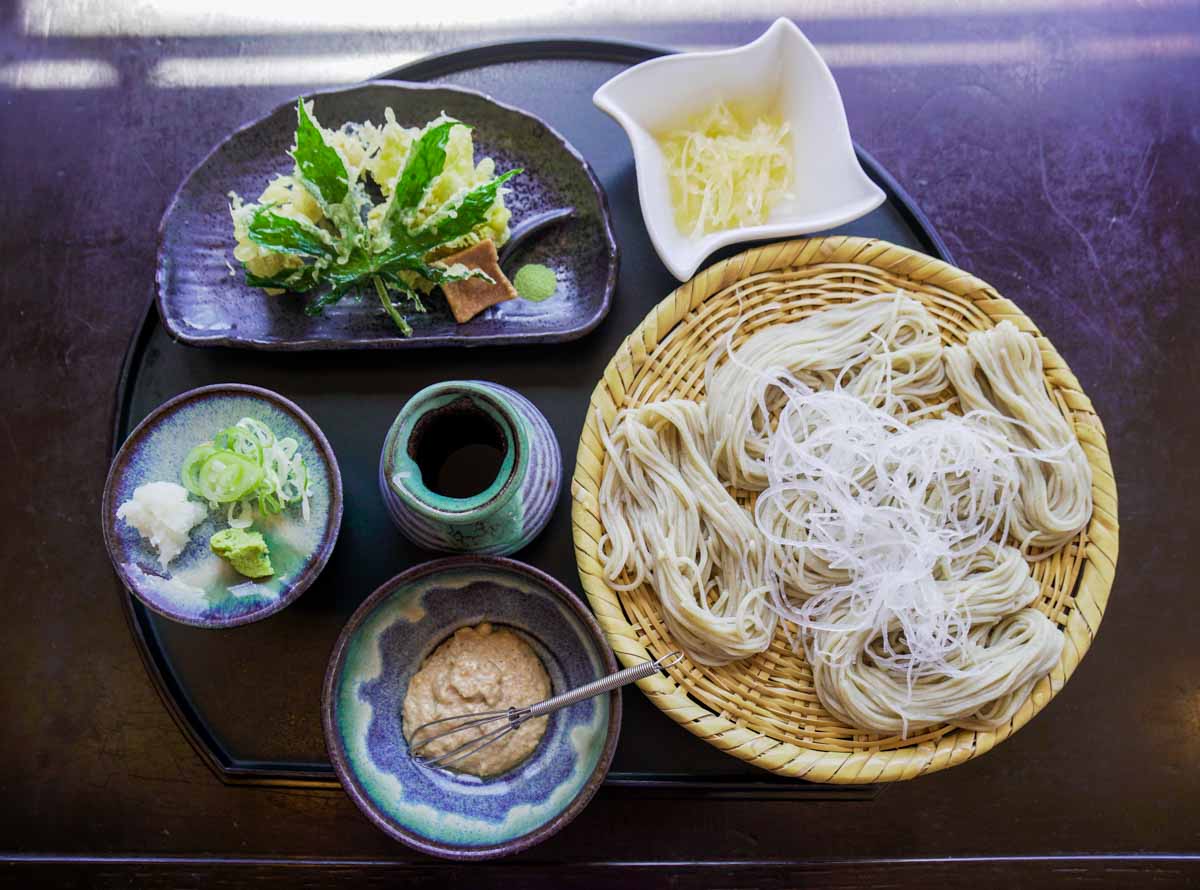 Togakushi soba is among Japan's "big 3" sobas, and the ones here use a 20-80 ratio of regular to buckwheat flour. They're springier in texture, and characteristically served in five to six little bundles on a round basket.
The signature Ninja Soba (¥1,800) comes with a surprisingly refreshing dip of ground walnuts, to be mixed with regular tsuyu sauce.
Opening Hours: 10:30AM – 5PM
Address: 3423 Togakushi, Nagano, 381-4101, Japan
Getting from Nagano City to Tokyo: Take the highway bus from Nagano Station to the Shinjuku Expressway Bus Terminal (about 4 hours, ¥3,200). You have to reserve your tickets beforehand. Alternatively, buy your tickets from the ALPICO Bus Ticket Office.

Continue your adventure from Nagano to Tokyo, Osaka or Kyoto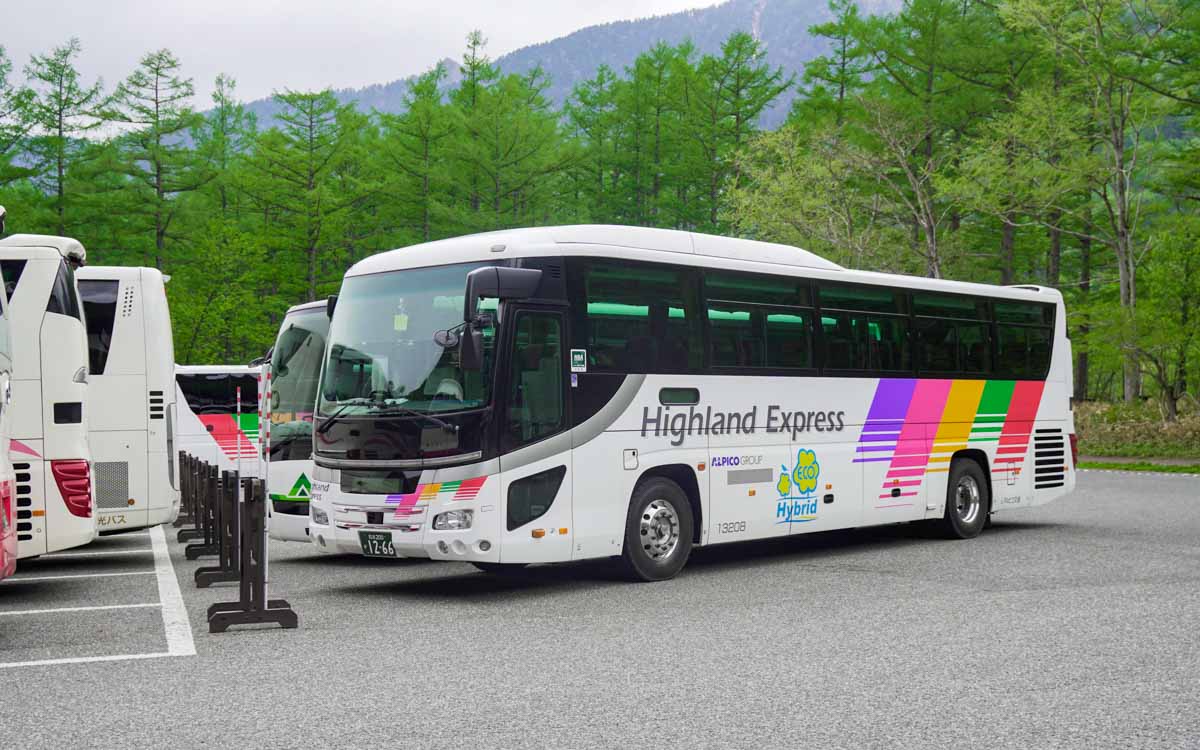 Who says you can only go to Tokyo from Nagano? Covering more cities is totally possible since ALPICO's express buses travel to and from Nagano via five cities — Tokyo, Nagoya, Kyoto, Osaka and Narita!
Get to Nagoya for as low as ¥3,800 one-way, or head directly down to USJ to keep the holiday momentum going. Check the timetables for your itinerary planning and pre-book your seats!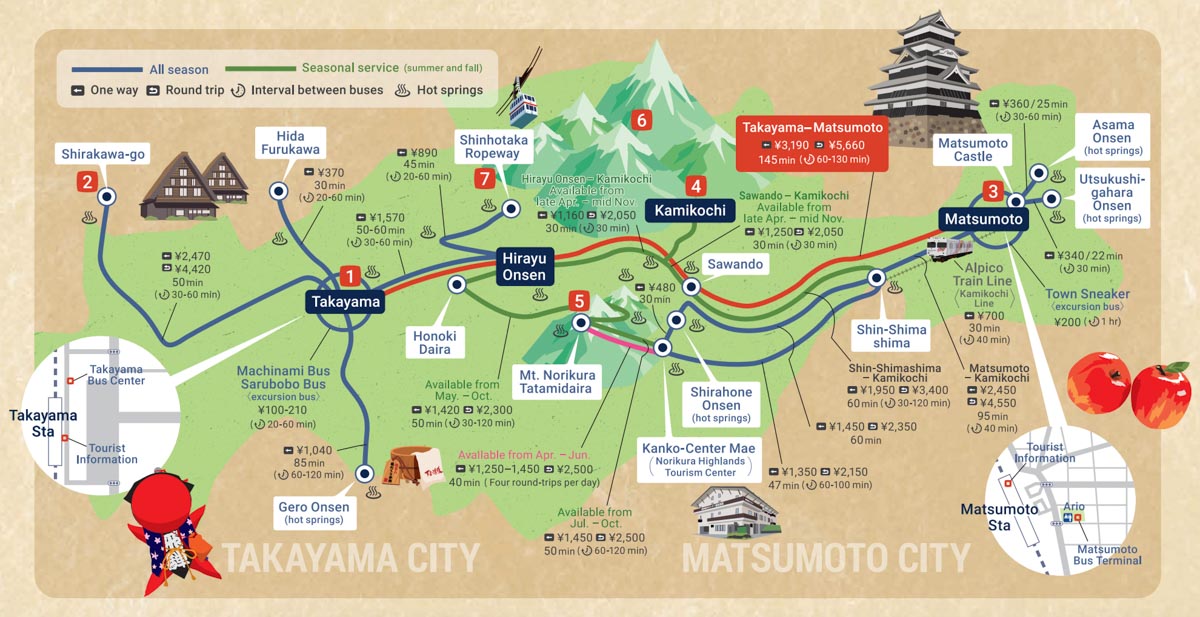 You won't need ALPICO's Alps WIDE Free Passport for this itinerary, but it can save you money when travelling a lot within the Japanese alps area. With two, three and four-day options, you can take unlimited bus and train rides and enjoy discounts to some attractions.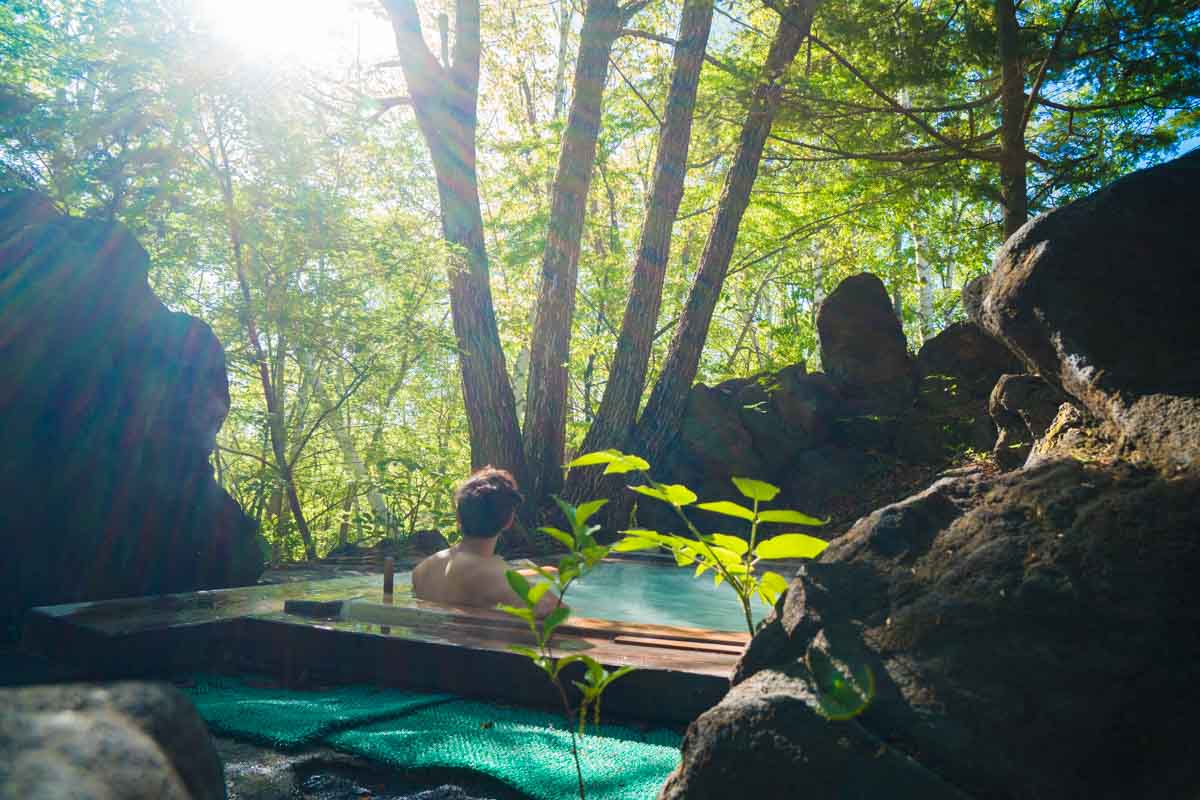 Nagano is truly misunderstood as simply a winter destination, because there's so much more to do when it's not winter.
So yes, cities like Tokyo are cool, but now that I've seen Nagano, it's a Nagayes.
Countrysides are officially cooler, and when you're 1,500m high up, I mean it literally too.
Read also: 8-Day Japan Winter Itinerary For Less Than S$1.2k
Where else in Japan would you want to see us cover? Let us know in the comments!
---
This post was brought to you by ALPICO as part of a media familiarisation trip.
For more travel inspiration, follow us on Facebook, Instagram, and YouTube.
View this post on Instagram