Bookmark this one-week Kansai itinerary for your next trip to Japan.
Our last visit to Kansai was 2017, and some things have changed since then. So this visit, we decided to cover other areas with a different Japan Rail Pass.
Starting our trip in Osaka, we managed to cover five other cities in the Kansai region — Nara, Okayama, Kurashiki, Kobe, and Kyoto with the 5-day JR Kansai WIDE Area pass 😎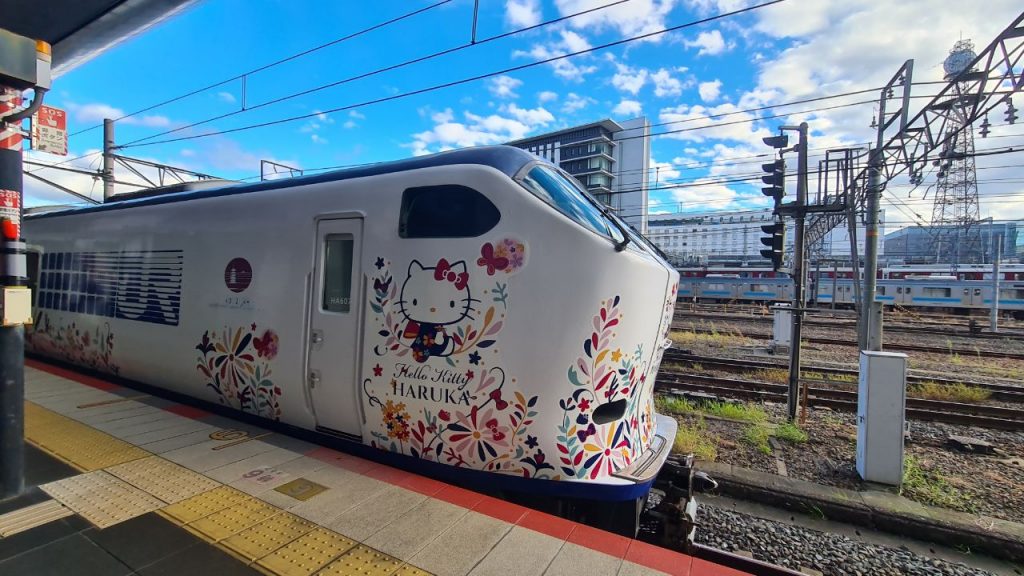 Hello Kitty-themed Limited Express Haruka included in the 5-day JR Kansai WIDE Area pass
Exclusive promo for TTI Readers: Get 10% off your Japan Travel Essentials with the promo code <KLKTTI10OFF> at checkout! Applies to all Klook activities but limited to the first 100 check outs by 31 Dec 2022! Just spend a min. of S$150 to unlock the code! Discount capped at S$30
Kansai Itinerary Route and Budget Breakdown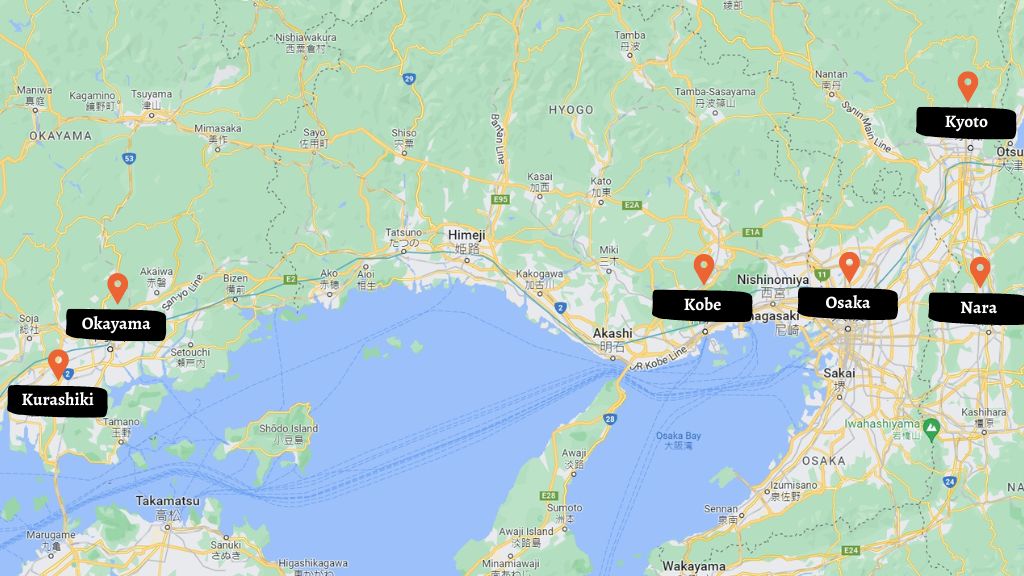 Day 1-2: Osaka
Day 3: Universal Studios Japan
Day 4: Nara
Day 5: Okayama, Kurashiki, Kobe
Day 6-7: Kyoto, KIX
Accommodation: S$323.30
Transport: S$164 (incl. JR Pass)
Activities: S$329
Food: S$322 (~¥5,000/day)
Misc: S$76.20
Total: S$1,214.50
(1SGD = 109JPY)

(detailed breakdown for one pax here)
Flights were excluded from the budget as airfares fluctuate quite a bit. For ~S$110, the 5-day JR Kansai WIDE Area pass covered all our rides on rapid services and local trains on JR West lines, as well as on the Sanyo Shinkansen in the Kansai area. More about the pass later!
Read also: 10-Day Japan Rail Itinerary For First Timers Under S$900 — Tokyo to Osaka
Pre-trip Travel Essentials
Pre-departure:
– Register on Japan Web — complete at least a day before departure, for fast-track immigration
– Digital Vaccination Certificate via Notarise — optional
– Travel Insurance — optional but recommended
– Unlimited Data 4G SIM Card — pick up from Kansai International Airport Arrival Lobby (1F)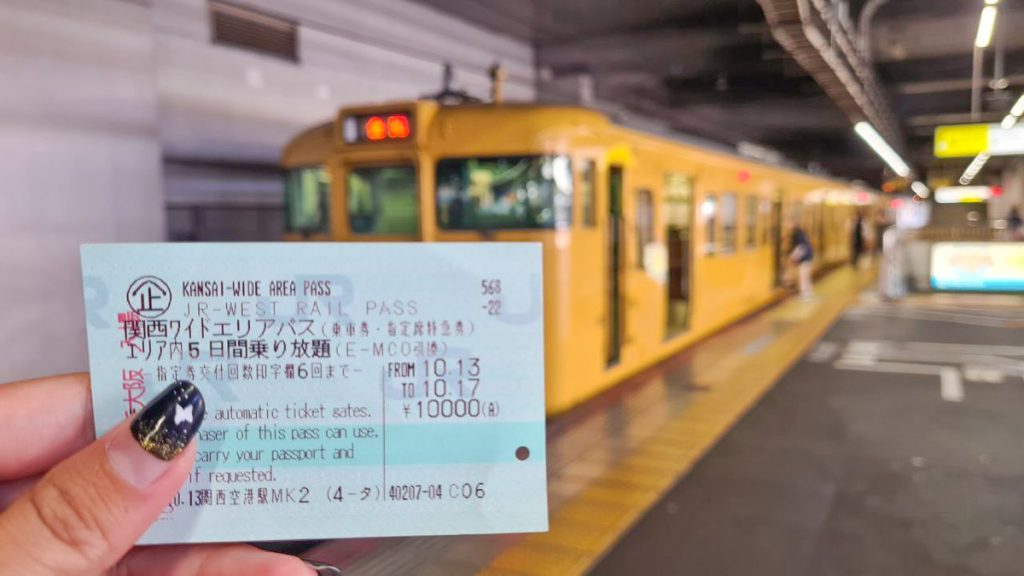 Transport passes:
– Nankai Line Airport Express Train Tickets — airport transfer to Namba Station
– 2-day Osaka Amazing Pass — unlimited trips on Osaka's subway, tramway and buses, plus free access to over 50 attractions
– 5-day JR Kansai WIDE Area pass — transport out of Osaka
Day 1: Arrival in Osaka
Getting around Osaka: 2-day Osaka Amazing Pass — covers unlimited trips on the Osaka subway, tramway, and buses. Also includes free entry to more than 50 attractions (some covered in this Japan itinerary)
Tsutenkaku Tower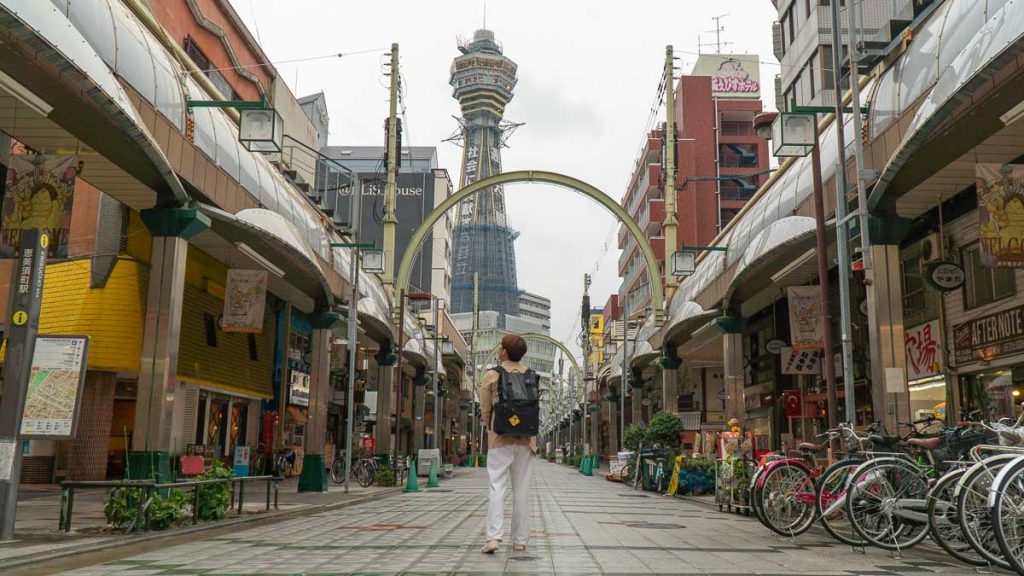 The first stop on our Japan itinerary is the Tsutenkaku Tower where you can enjoy the city view from the observation deck on the fifth floor.
But what we're really here for is the Tsutenkaku Tower Slider, which opened in May 2022!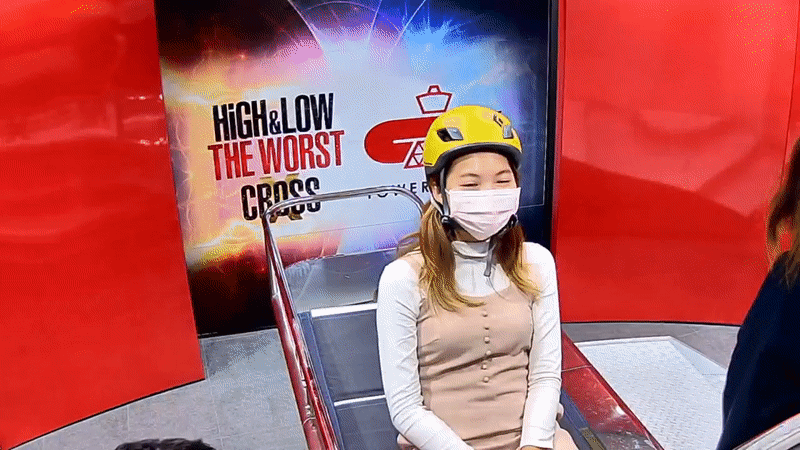 A more exciting way to take in the city view is via this 60m-long slide that lasts for 10 seconds while screaming for your life (I'm joking, it isn't that scary really).
After the ride, you can even bring home a digital souvenir of your short adventure down the tower by downloading the video via a QR code.
*Note: There are separate fees for the tower slider and the observation deck.
Cost for Tower Slider: ¥1,000/adult (free on weekdays with the Osaka Amazing Pass)
Entrance fee for Observation Deck: ¥900/adult (free with the Osaka Amazing Pass)
Opening hours: 10AM – 7:30PM (Tower Slider), 10AM – 8PM (Observation Deck, last admission at 7:30PM)
How to get there: 3min walk from Ebisucho Station
Shinsaibashi-Suji Shopping Street or Den Den Town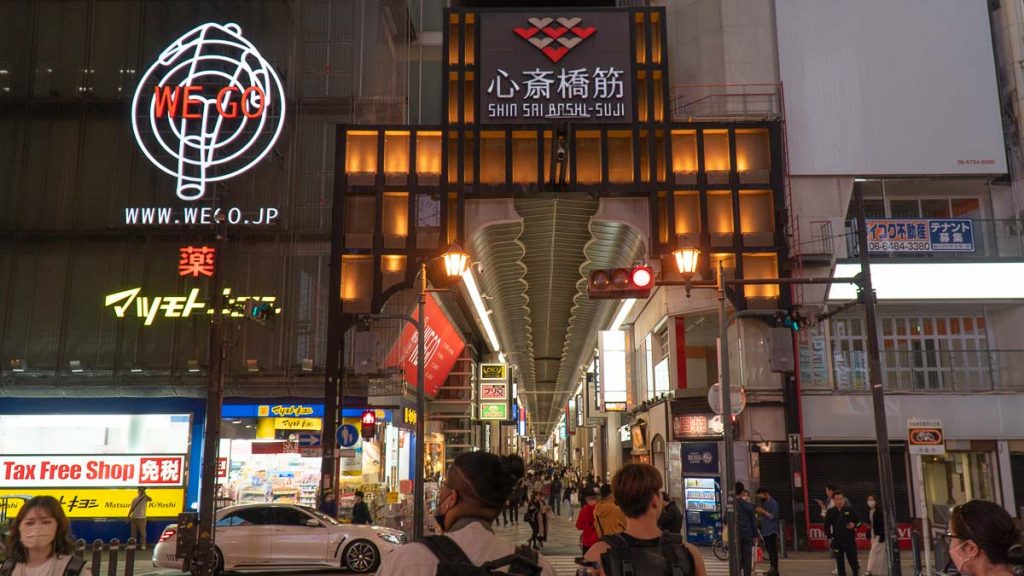 On to shopping, Shinsaibashi-Suji Shopping Street has many local clothing shops, thrift stores, and familiar names like Daiso and Uniqlo.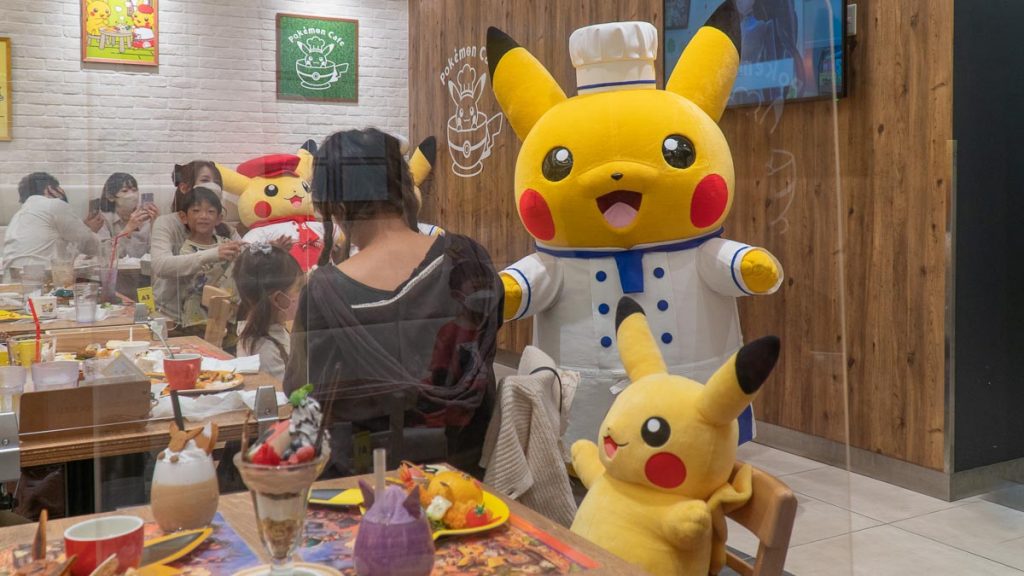 There's even a Daimaru shopping mall within the street, which houses the Osaka Pokémon Center DX and a Pokémon Café — dine on cute Pokémon-themed meals while watching a 10-minute dance session with a Pikachu mascot!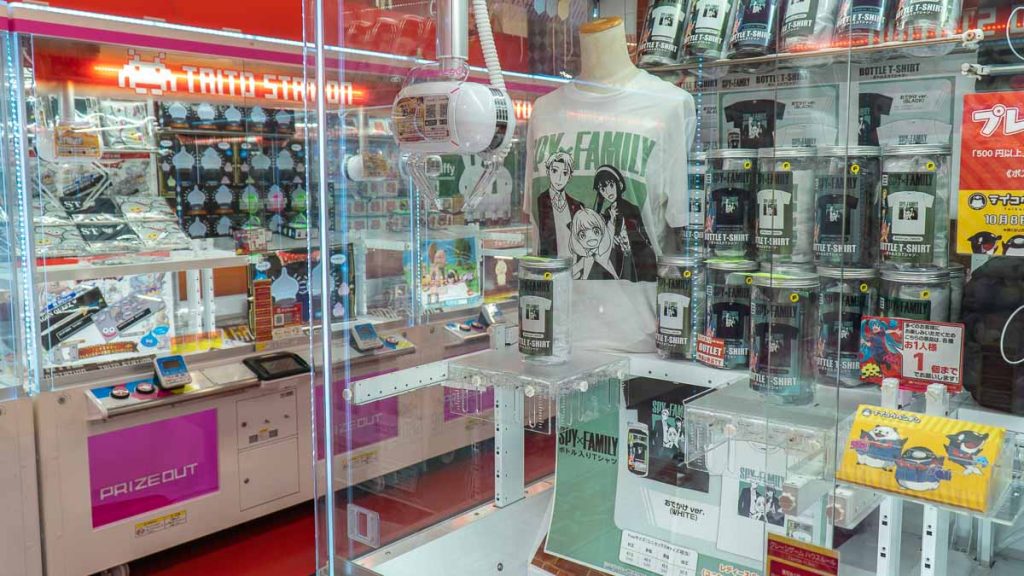 For anime and manga fans, Den Den Town is a shopping haven similar to Tokyo's Akihabara area. You'll know you're in the area once you see a huge Taito Station building, one of Japan's game centres with arcade games and claw machines.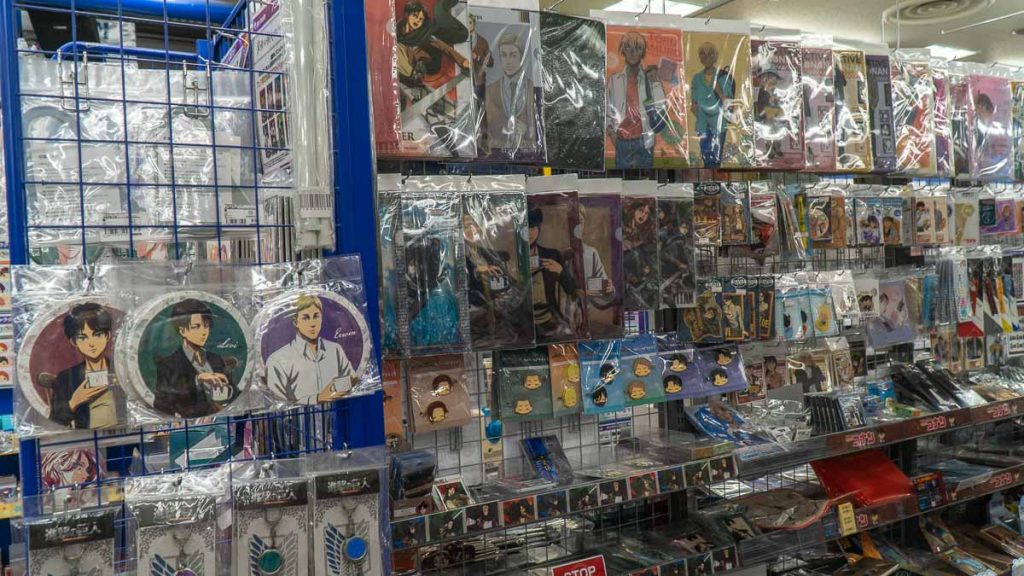 We also found ourselves browsing through rows of anime merchandise and books at the three-storey Animate Osaka Nipponbashi here.
Shinsaibashi-Suji Shopping Street
Opening hours: 11AM – 8PM (varies for different shops)
How to get there: 1min walk from Shinsaibashi Station
Den Den Town
Opening hours: 11AM – 7PM (varies for different shops)
How to get there: 5min walk from Nipponbashi station
Dinner at Dotonbori Street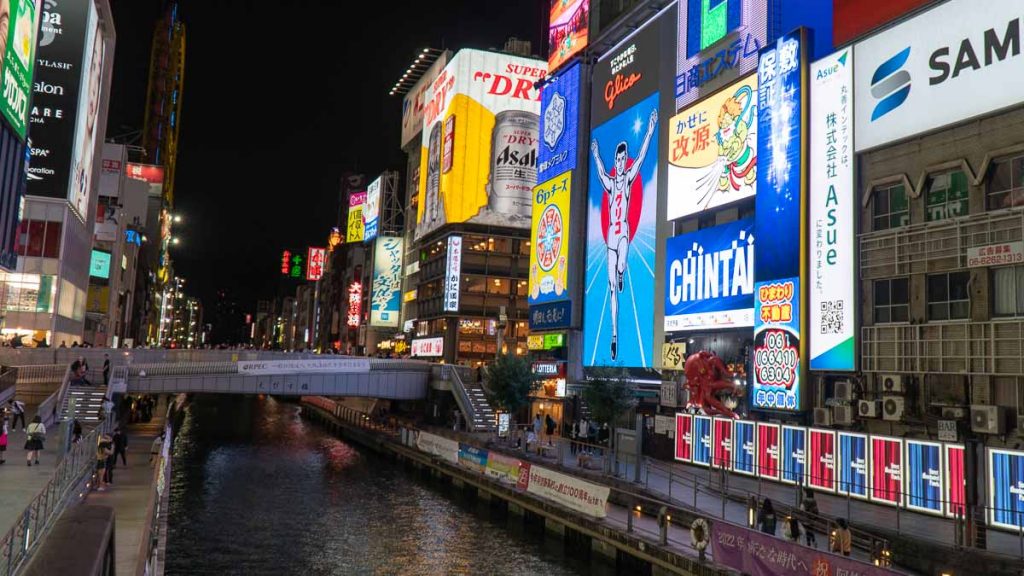 Dotonbori Street; the iconic Glico man and delicious street food.
For dinner, we headed to Dotonbori Street and bought some dango (¥400 for three sticks), takoyaki (¥800 for 10 pieces), and okonomiyaki (¥600). My personal favourite was the takoyaki from Takoyaki Juhachiban, it's the store with a huge takoyaki ball hanging on the signboard so you can't miss it!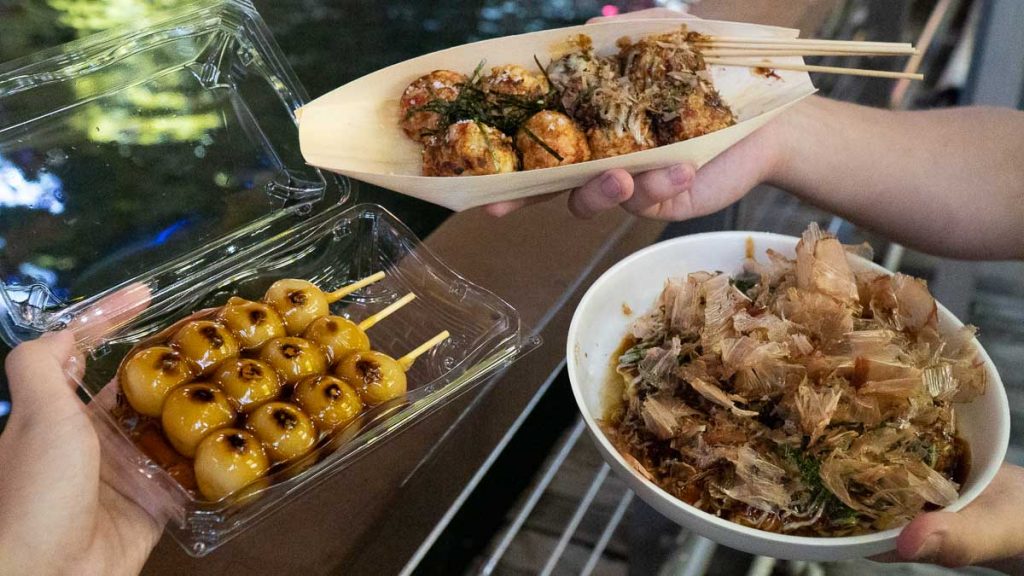 The takoyaki was crispy on the outside, chewy on the inside, and topped with a decent portion of seaweed and bonito flakes.
Opening hours: 24hrs (varies for different shops)
How to get there: 10min walk from Namba Station
Accommodation: Mimaru Osaka Namba North — just a 10-minute walk from Dotonbori. Our Corner Family Apartment (from ~S$120/night) fits four pax. It comes with two single beds, a bunk bed, a kitchen, and a dining table.
How to get there: From KTX, take the Nankai Line Airport Express Train to Namba Station — 10min walk
Day 2: Osaka's Iconic Attractions
Umeda Sky Building & Kuchu Teien Observatory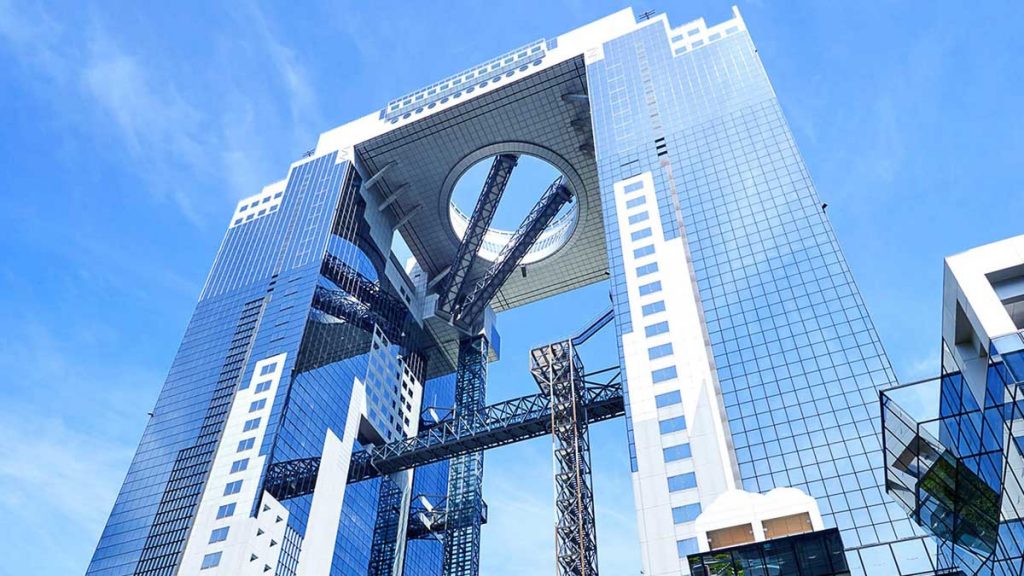 Photo credit: Umeda Sky Building
Another place to get a good city view of Osaka is from the Umeda Sky Building. It's 170m high and consists of two towers joined by a floating garden observatory on the 39th floor.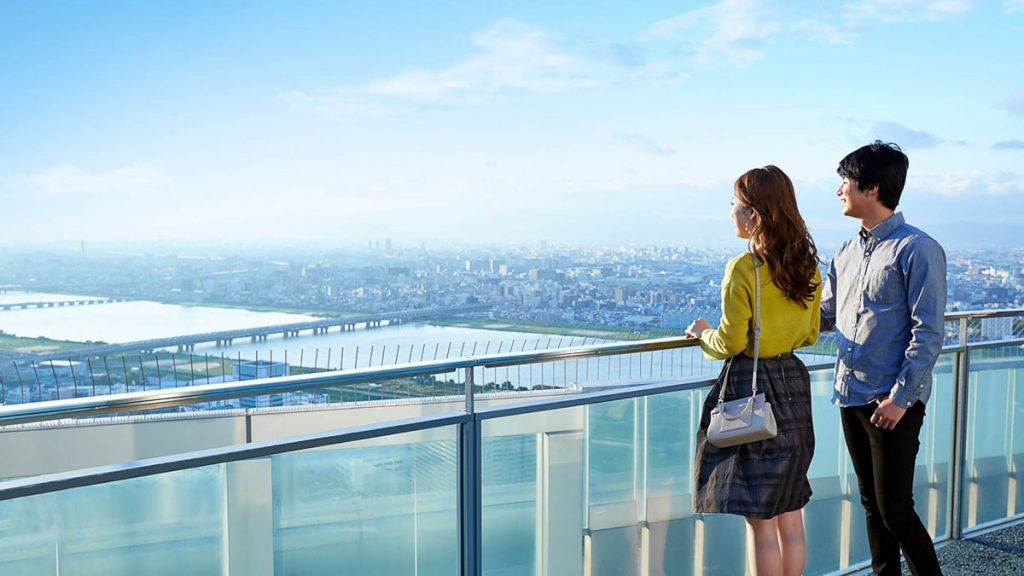 Photo credit: Umeda Sky Building
At the Kuchu Teien Observatory, you'll see many heart-shaped padlocks left by couples who want to "seal" their love. The locks aren't available on site but you can get them online at a combo package which includes the admission fee!
Entrance fee: ~S$14/adult via Klook (free with the Osaka Amazing Pass)
Opening hours: 9:30AM – 10:30PM, last admission at 10PM
How to get there: 15min walk from Osaka Station
Osaka Castle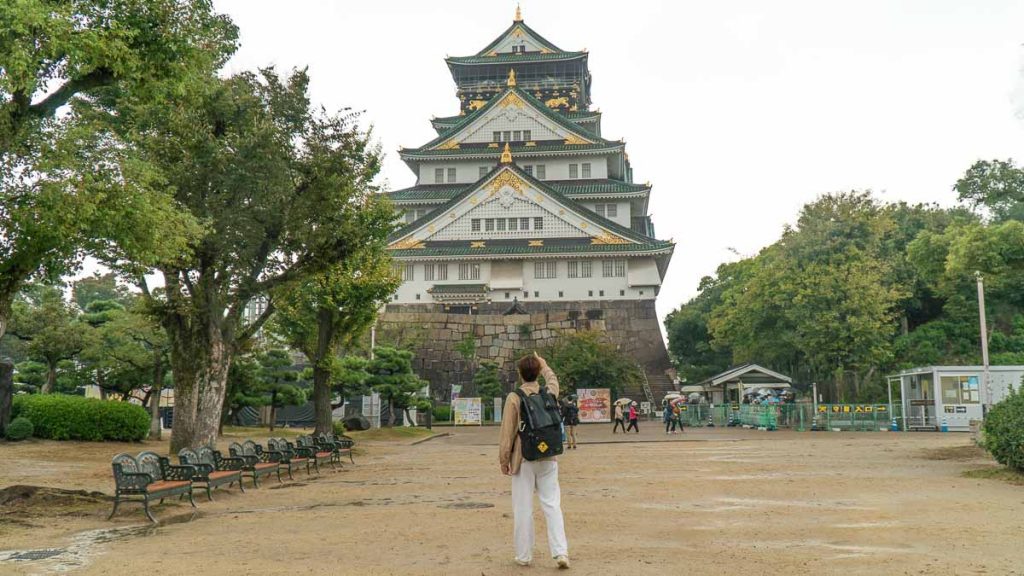 Of course, we couldn't miss Osaka Castle while we were in the city. This iconic castle has a history of more than 400 years and houses information on how Japanese warlord Toyotomi Hideyoshi attempted to unify Japan under his rule.
It's surrounded by a large moat (accessible by a boat tour) and the area also encompasses Nishinomaru Garden — a lawn garden with 600 cherry trees and tea houses.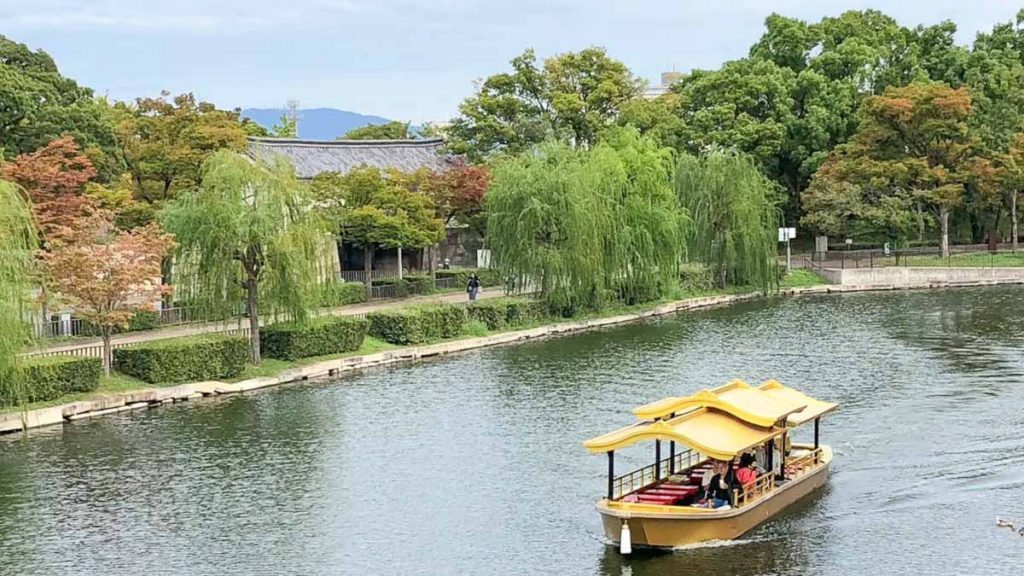 Photo credit: Klook
Osaka Castle
Entrance fee: ¥600/adult (free with the Osaka Amazing Pass or 10% off with JR Pass)
Opening hours: 9AM – 5PM, last admission at 4:30PM
How to get there: 10min walk from Tanimachiyonchome Station
Gozabune Boat Tour
Cost: ~S$14/adult via Klook (free with the Osaka Amazing Pass)
Opening hours: 10AM – 4:30PM, last admission at 4:30PM
Michelin-starred Kaiseki at Ajikitcho Bunbuan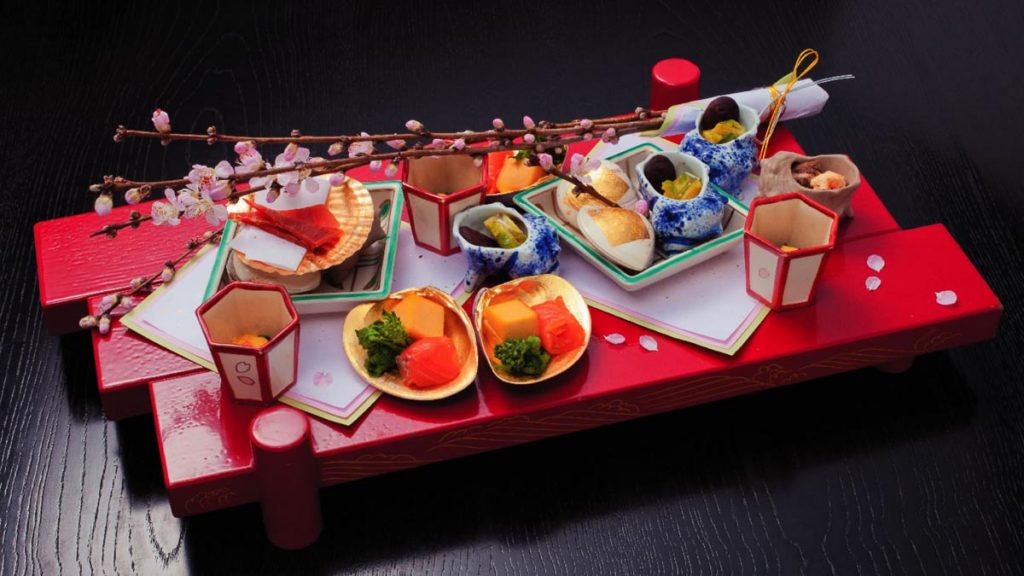 Photo credit: Ajikitcho
If you don't mind splurging a little, check out Ajikitcho Bunbuan for its kaiseki — a multi-course meal consisting of several Japanese dishes. It holds a Michelin star for its high-quality food, so you know you're in for a treat 😉!
You can expect a full-course lunch or dinner set (from ~S$46), including an appetiser, soup, sashimi, Japanese seafood, and an assortment of wild vegetables from local mountains.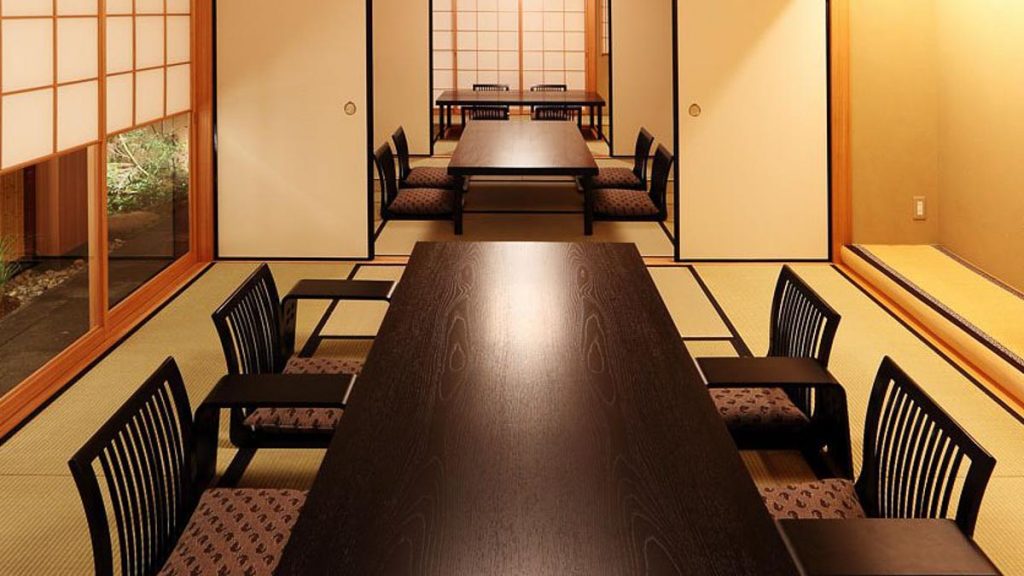 Photo credit: Ajikitcho
On top of authentic Japanese cuisine, the restaurant's interior is also decked with tatami (straw mat) rooms and a garden, so you'll be fully immersed in a traditional Japanese house setting.
Cost: From ~S$46 via Klook
Opening hours: 11AM – 3PM, 5PM – 9PM (Last orders at 2PM and 8PM), closed on Mon and every fourth Sun
Address: 3-chōme-6-4 Honmachi, Chuo Ward, Osaka, 541-0053
teamLab Botanical Garden Osaka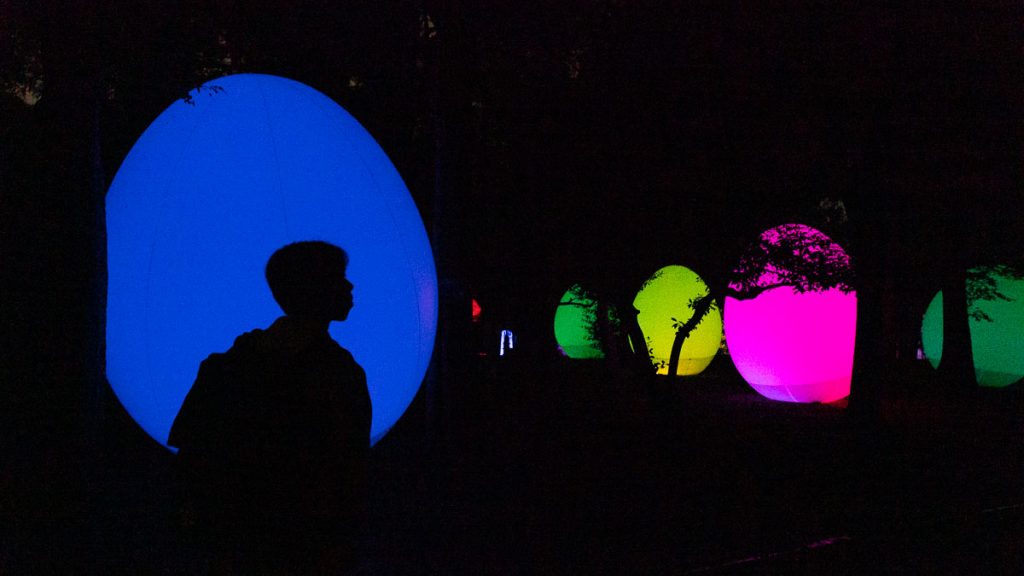 Forest of Autonomous Resonating Life – Eucalyptus.
Opened in July 2022, teamLab Botanical Garden Osaka is a permanent outdoor exhibition exploring how technology can turn nature into art.
You might be familiar with the ArtScience Museum back home in Singapore but I assure you, this is different.
I was most intrigued by the Forest of Autonomous Resonating Life – Eucalyptus — how the colours and sounds change according to the environment.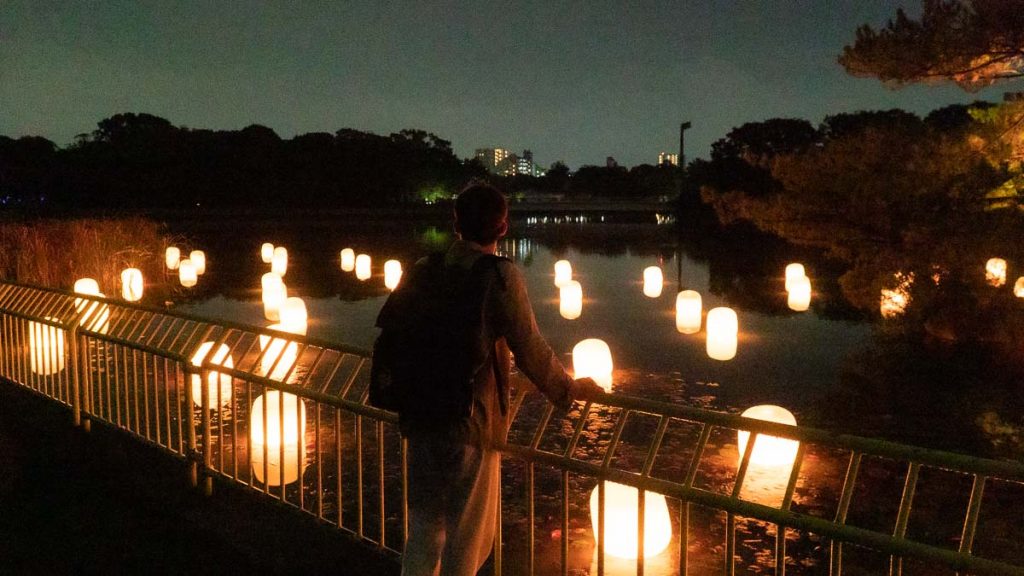 Floating Resonating Lamps on Oike Lake
Other notable artworks include Floating Resonating Lamps on Oike Lake, a lake filled with lamps that produce a tone when the wind blows or if someone stands close to it.
Entrance fee: ~S$17/adult via Klook
Opening hours: 6:30PM – 9:45PM, last admission at 8:45PM
How to get there: 15min walk from Nagai Station
Read also: Osaka Budget Guide – Travel for Under S$70 a Day Including Accommodation
Day 3: Universal Studios Japan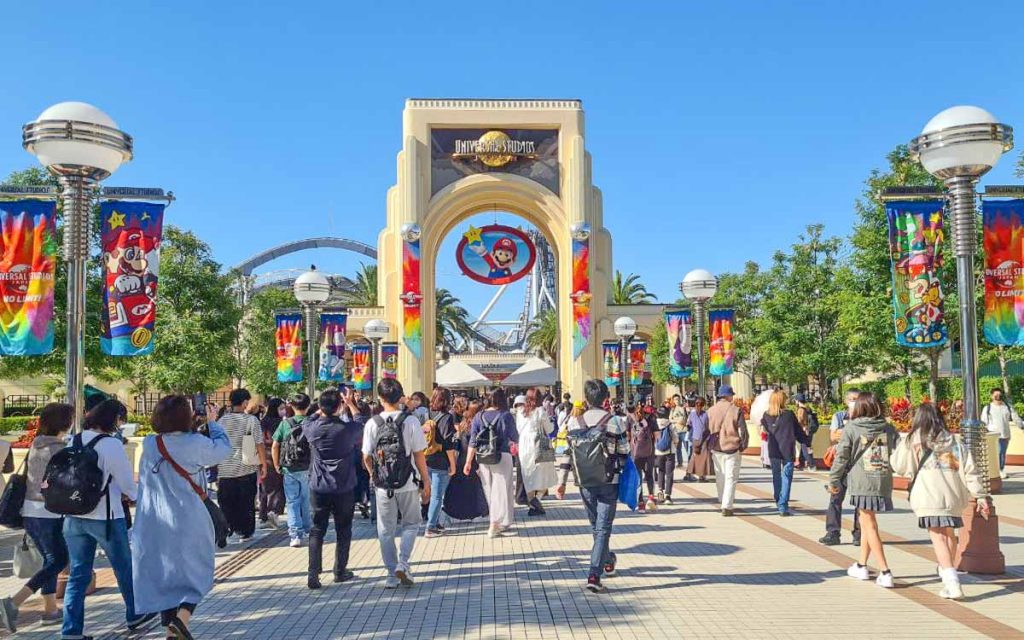 Since we last visited Universal Studios Japan in 2017, it has changed quite a bit. Especially with its newest addition Super Nintendo World in 2021!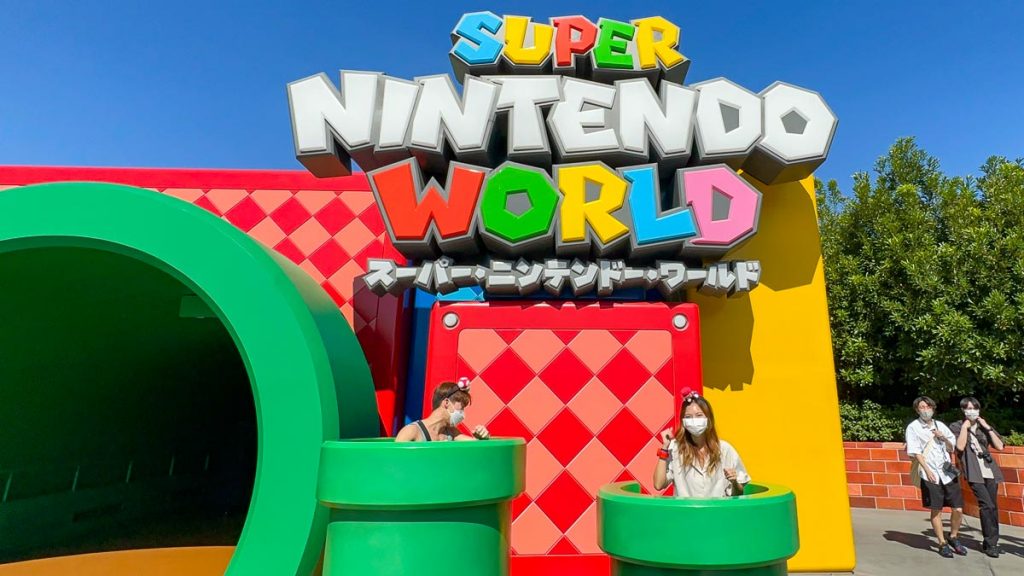 The entrance itself is already impressive. Just like in the game, you enter through a green tunnel and come out the other end to see objects moving.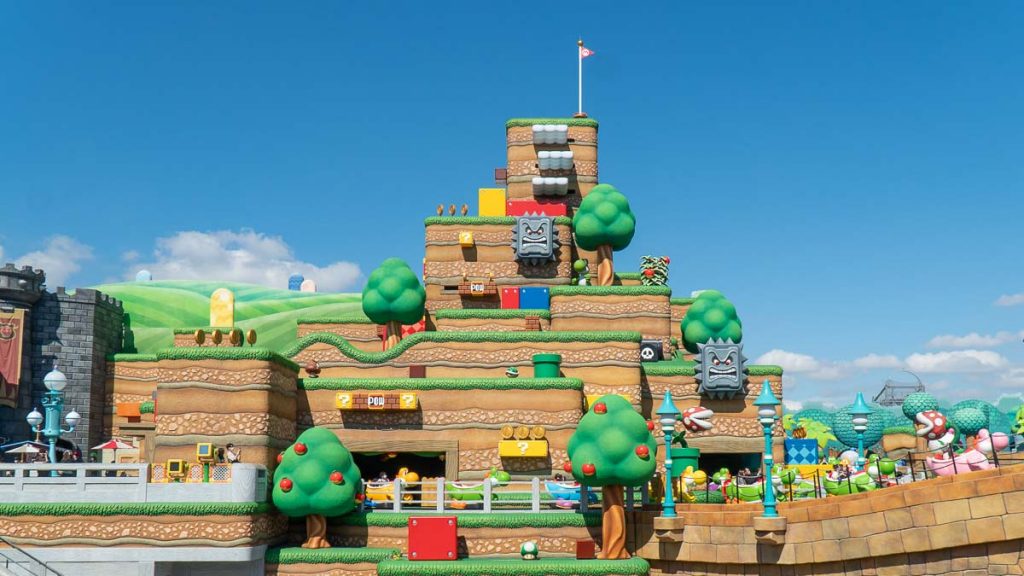 As for the rides, we recommend hitting up 'Mario Kart: Koopa's Challenge' and 'Yoshi's Adventure' — a fully immersive game world experience.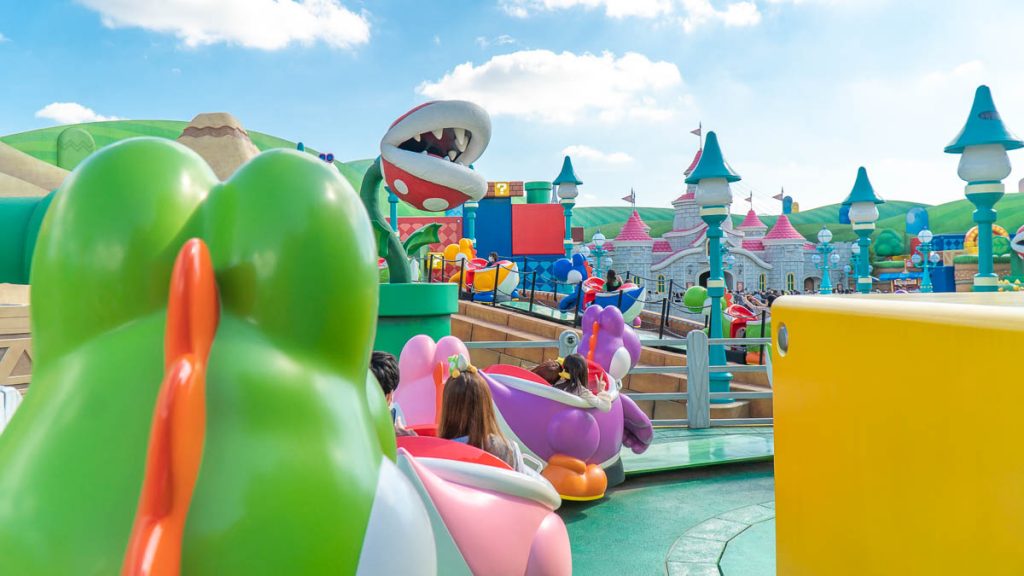 Yoshi's Adventure ride.
We dropped by Kinopio's Cafe after the rides and feasted on themed meals like Teriyaki Chicken and Super Star Rice (¥2,200), Super Mushroom Pizza Bowl with Mushroom Tomato Sauce (¥1,600) and ?Block Tiramisu (¥800). The food was alright but the cute presentation was worth waiting in line for!
*Note: To enter the cafe, get a timed entry slot ticket from the staff at the cafe entrance and return at your designated time slot.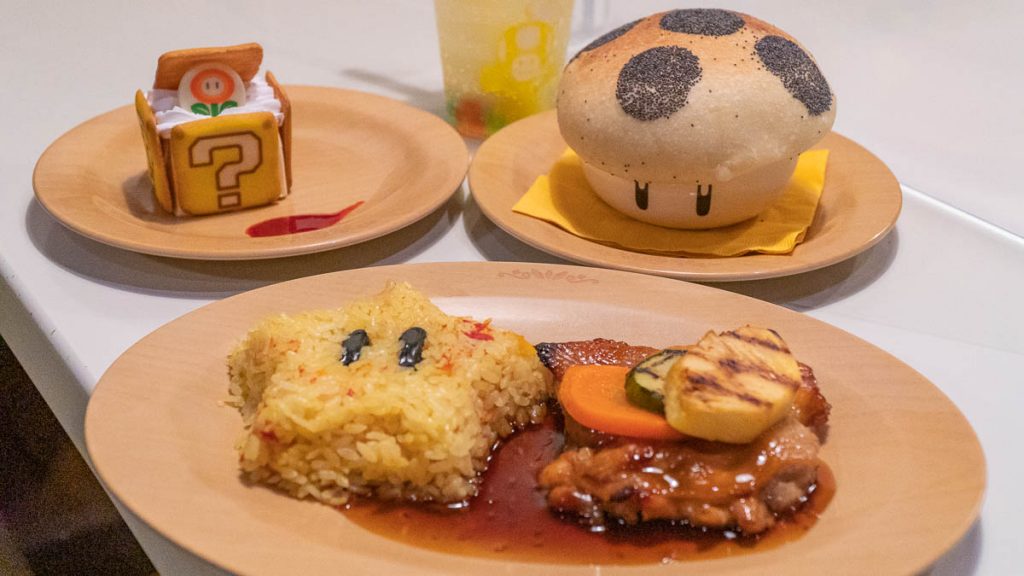 Besides Super Nintendo World, USJ's star attractions are still there, such as Minion Park and The Wizarding World of Harry Potter (you can read more on that from our last trip).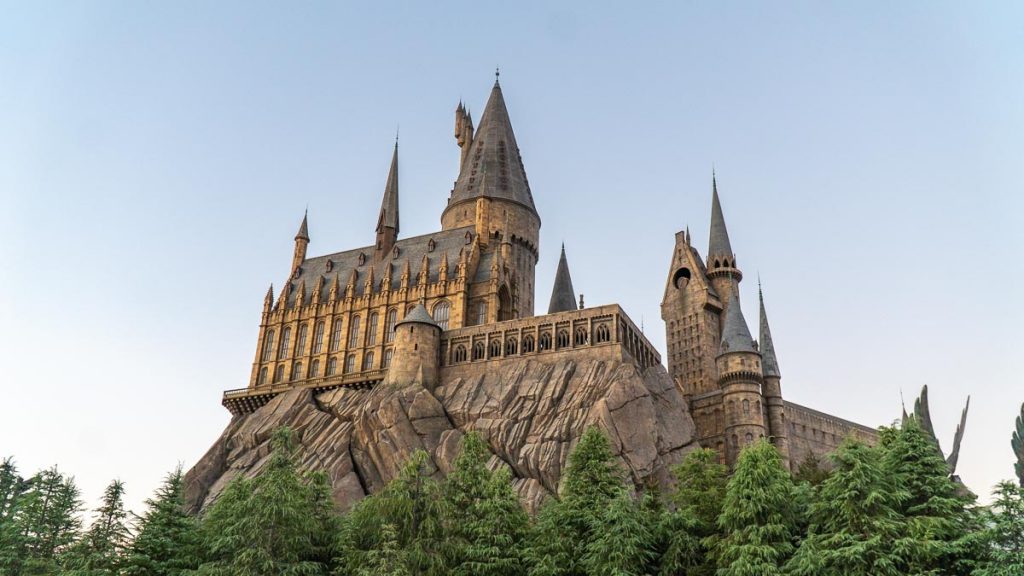 USJ is very popular with both local and foreign tourists so if you're looking to try all the rides, the Universal Studios Japan Express Pass 7 will help you save a lot of time.
It'll give you a fast track to popular rides like Harry Potter and the Forbidden Journey, and The Flying Dinosaur. Plus, you'll also receive area-timed entry tickets to the new Super Nintendo World and The Wizarding World of Harry Potter.
Cost: From ~S$82/adult via Klook (depending on day and season)
Opening hours: Varies according to day and season (check the official website)
How to get there: 5min walk from JR Universal City Station — start your JR Pass from this day as it'll take you directly to the station nearest to USJ!
Read also: The Ultimate USJ Guide And Tips To Planning A Magical Experience — Universal Studios Japan
Day 4: Day Trip to Nara
Train to Nara: ~50mins from JR Namba Station to JR Nara Station
Nara Park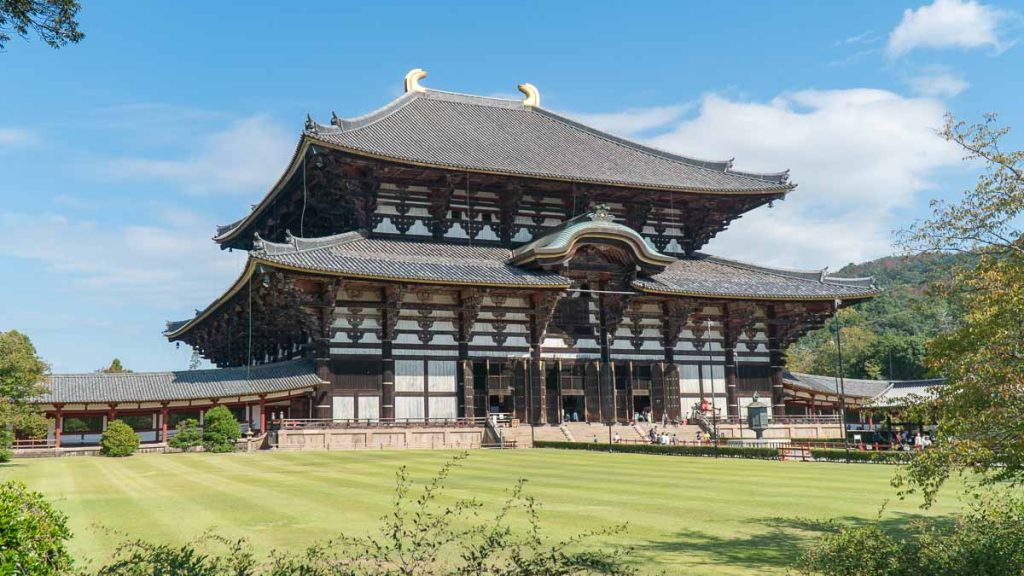 In Nara, the deers may be the main highlight but before getting distracted, we recommend visiting Todaiji temple first.
It's one of the world's largest wooden buildings and houses a 15m-tall bronze Buddha statue. It's also famous for having a pillar with a hole in its base — whereby people are granted good health and luck if they can crawl through it.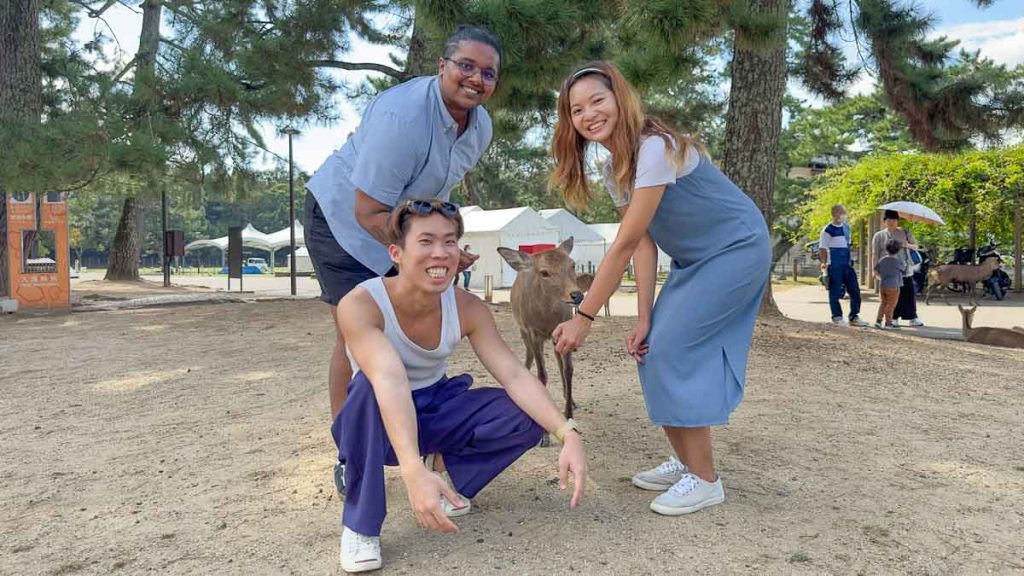 When you're done exploring the temple, purchase some shika senbei or deer crackers (¥200) from vendors around the park. This way, the deer will come flocking to you for plenty of photo-ops.
*Pro-tip: Wear clothes you don't mind getting dirty in as the deer seem more aggressive than usual and might bite your clothes while you feed them.
How to get there: 18mins walk from JR Nara Station or take bus 2 (Nara City Loop Line) and alight at Todaiji-Daibutsuden
Todaiji Temple
Entrance fee: ¥600/adult
Opening hours: 7:30AM – 5:30PM (Apr – Oct), 8AM – 5PM (Nov – Mar)
Nara Park
Entrance fee: Free
Opening hours: 24hrs
Read also: Nara Budget Guide – Travel for under S$45
Bonus: Solaniwa Onsen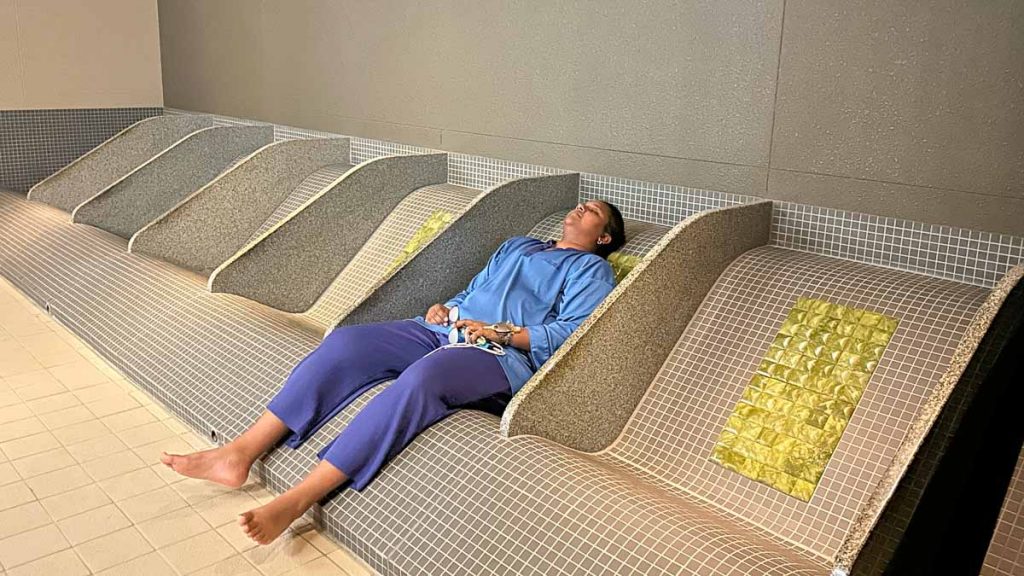 Since Nara only took half a day to explore, we used our JR Pass and hopped on a train to Solaniwa Onsen back in Osaka for a well-deserved rest.
Hailed as one of the largest onsen theme parks in Kansai, Solaniwa has nine different public bath types (incl. outdoor baths), seven different types of stone sauna, many restaurant options for dining, and even a rooftop garden.
*Note: Those with tattoos can enter but will require a tattoo cover sticker (from ¥100 each depending on size) to cover up before entering the public baths. If not, you can book the private onsen room instead without having to cover up.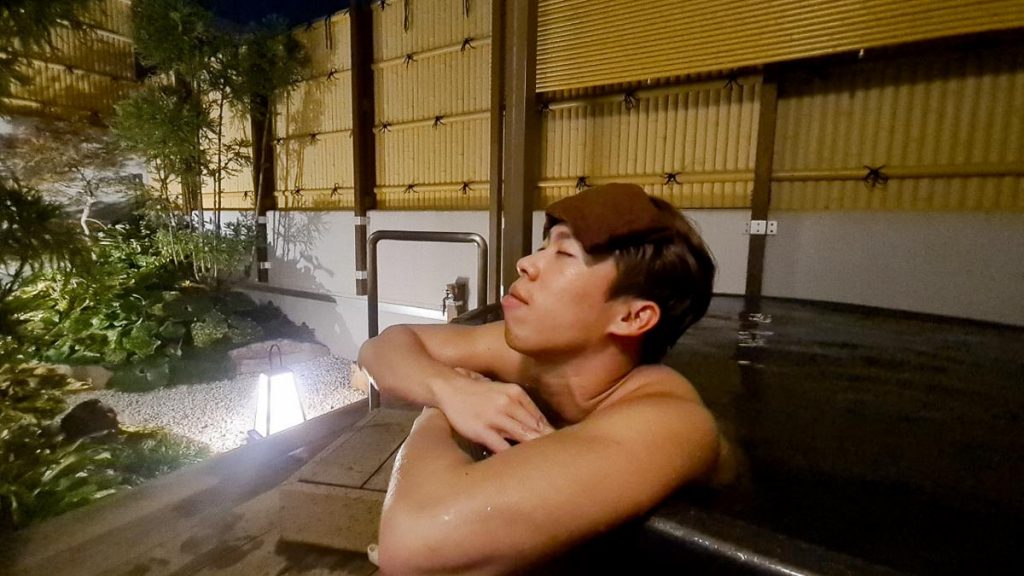 One of the private rooms at Solaniwa Onsen.
Other than the onsen, we also enjoyed wearing our yukatas while taking Instagrammable photos against different backdrops such as a traditional Japanese bridge, colourful lanterns, and torii gates.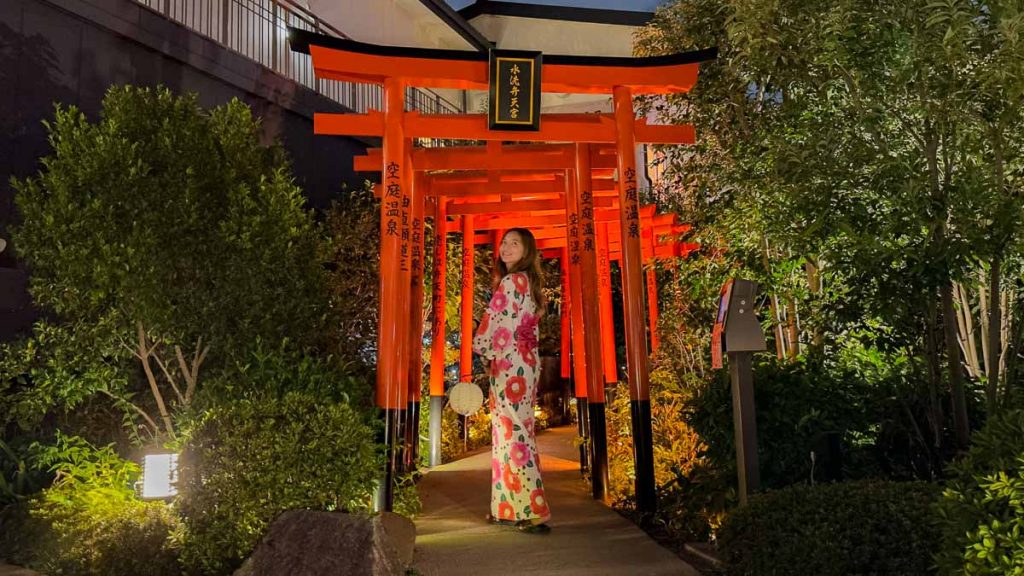 Cost: From ~S$22/adult via Klook (depending on the package)
Opening hours: 11AM – 11PM
How to get there: 5min walk from JR Bentencho Station
Day 5: Exploring Okayama, Kurashiki, Kobe
Kurashiki
Train to Kurashiki: ~2.5hrs from JR Namba Station to JR Kurashiki Station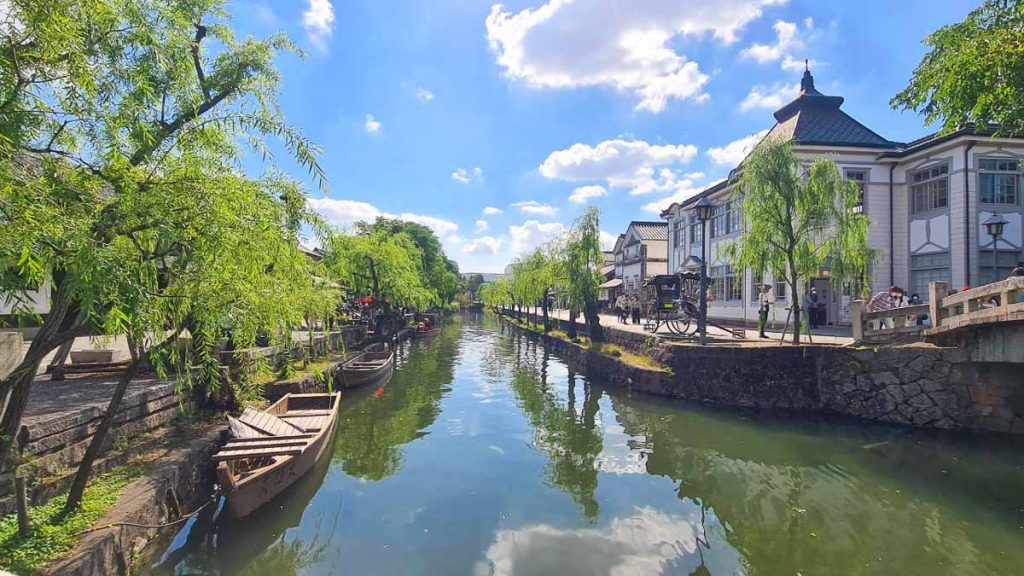 Kurashiki is sometimes referred to as "the Venice of Japan". It's a city located in Okayama Prefecture, with many storehouses lined along a beautiful canal stretch filled with gondolas.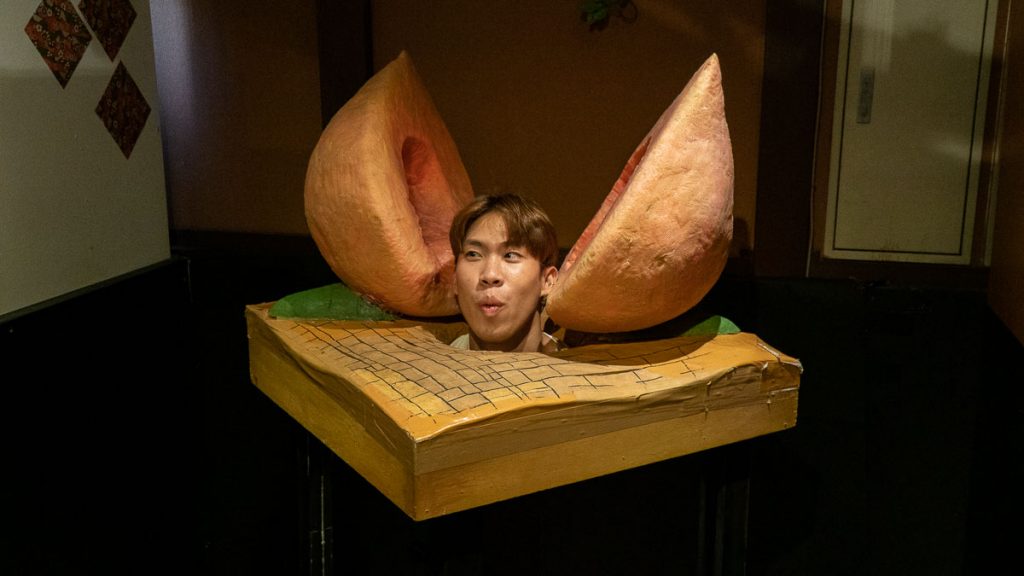 There are plenty of museums to visit such as the Ohara Museum of Art — Japan's first museum of Western art. But our favourite was the Momotaro Karakuri Museum — based on the local folktale of a boy born from a peach, which had fun and interactive optical illusions to play around with.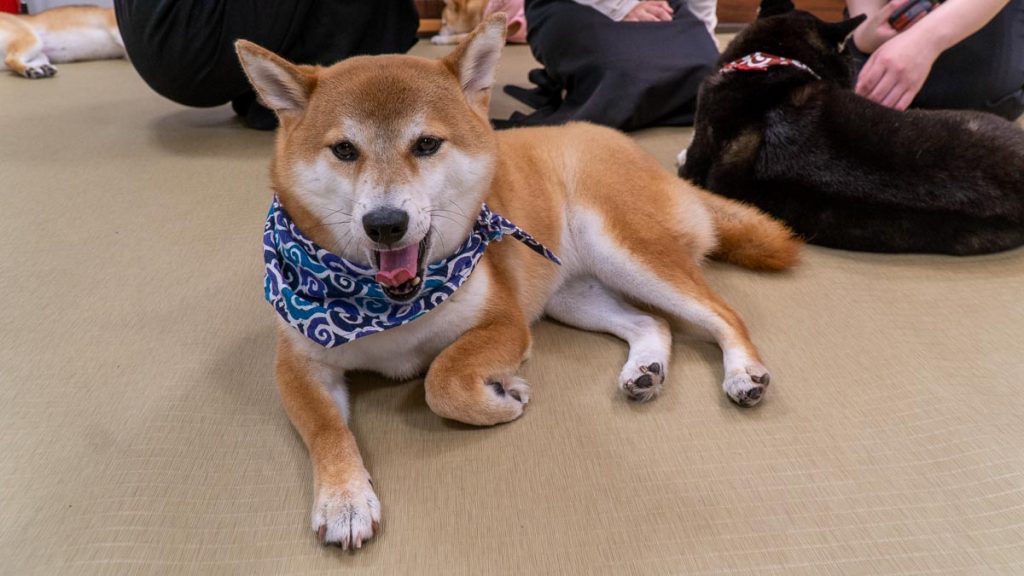 While walking around, we also came across Mameshiba cafe. For ¥900 per pax, you get 30 minutes of playtime with these adorable shiba inus, as well as a free drink.
Ohara Museum of Art
Entrance fee: ¥2,000/adult
Opening hours: 9AM – 5PM, last admission at 4:30PM (Closed on Mon)
Momotaro Karakuri Museum
Entrance fee: ¥600/adult
Opening hours: 10AM – 5PM, last admission at 4:45PM
Mameshiba Cafe
Entrance fee: ¥900/adult (incl. drink)
Opening hours: 9:30AM – 5:30PM (time slot opens every 15mins)
Okayama
Train to Okayama: ~20mins from JR Kurashiki Station to JR Okayama Station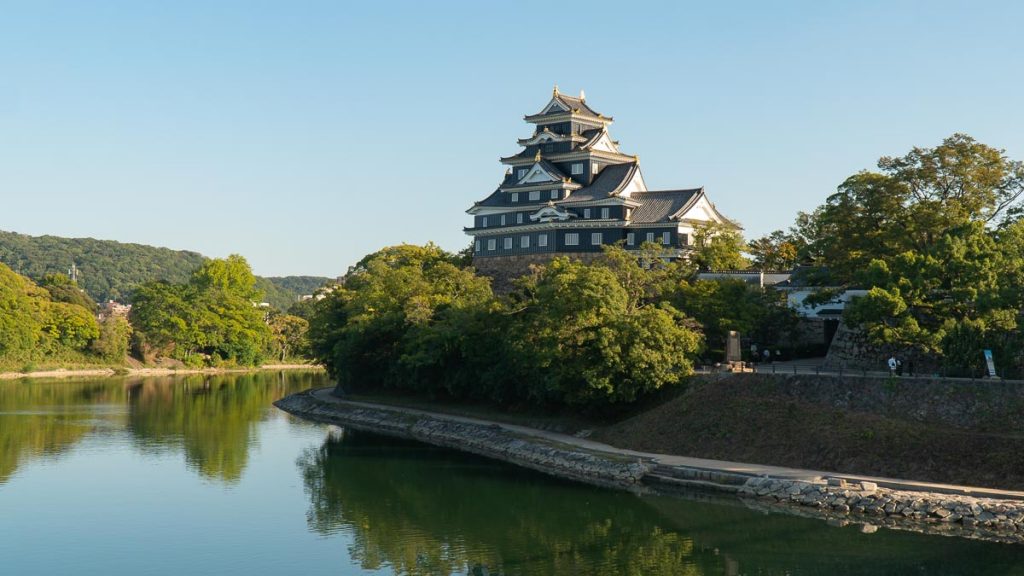 Previously, we visited Himeji and its majestic castle. This time, we decided to head to Okayama instead. Unlike Himeji's all-white castle, Okayama Castle is all black — earning it the name Crow Castle.
Its history of having once been destroyed during World War Two, then reconstructed in 1966, is exhibited across six storeys.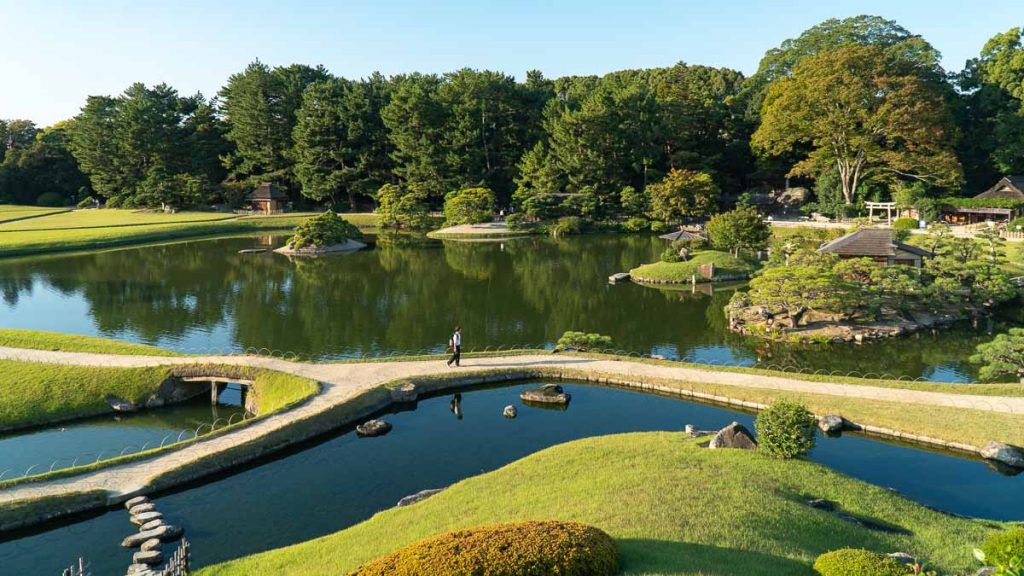 The nearby Korakuen Garden is also worth checking out as it's one of Japan's three best landscape gardens along with Kanazawa's Kenrokuen and Mito's Kairakuen!
Its history dates back to around 300 years ago and covers about 14 hectares in length — featuring koi ponds, wooden bridges, and tea houses.
*Pro-tip: Climb to the lookout point on the hill for a great photo spot overlooking the garden!
How to get there: 25min walk from JR Okayama Station or take the tram (Higashiyama Line) and alight at Shiroshita, then walk 10mins.
Okayama Castle
Entrance fee: ¥400/adult
Opening hours: 9AM – 5:30PM, last admission at 5PM
Kourakuen Garden
Entrance fee: ¥410/adult
Opening hours: 8AM – 5PM, last admission at 4:45PM
Kobe
Train to Kobe: ~1hr 15mins from JR Okayama Station to JR Kobe Station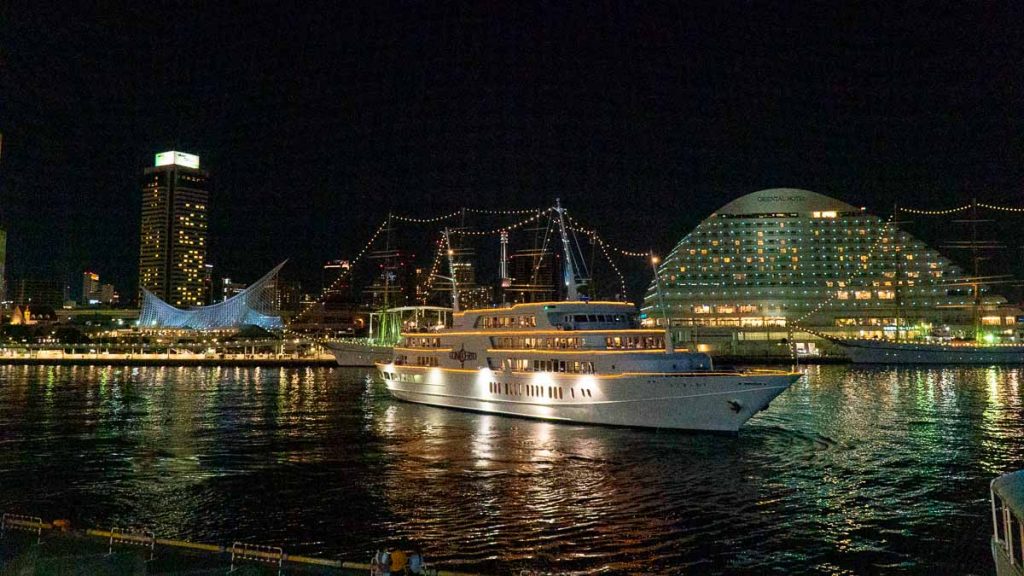 After a long day of travelling, our last stop was Kobe, where we had to have the local specialty for dinner — Kobe beef.
There were many options around the JR Kobe Station but we ended up at Ryu-EN Kobe Beef Restaurant, located right beside the Mosaic Big Ferris Wheel and has a waterfront view along Kobe Harborland.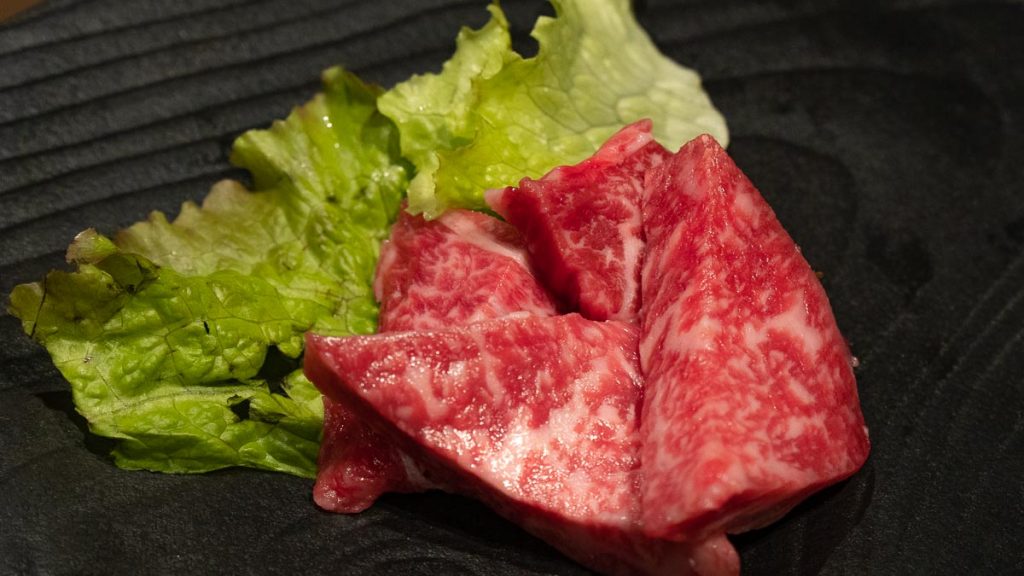 I've never had Kobe beef before so I was curious as to how it'd taste. Although it was a little chewier than expected, it had a rich flavour. Our Kobe beef set for one (¥6,980) came with seafood, veggies, rice, and dessert.
Honestly, the portion was quite small but we just wanted to try the beef so we shared and ordered other meats like sirloin (¥1,380) and boneless ribs (¥1,380) too!

Ryu-EN Kobe Beef Restaurant
Opening hours: 11AM – 10:30PM
Address: 1-6-1 Higashikawasakicho Chuo Ward, Mosaic 2F 62, Kobe 650-0044
Day 6: Kyoto
Train to Kyoto: ~1hr from JR Namba Station to JR Kyoto Station
Higashiyama Rickshaw Tour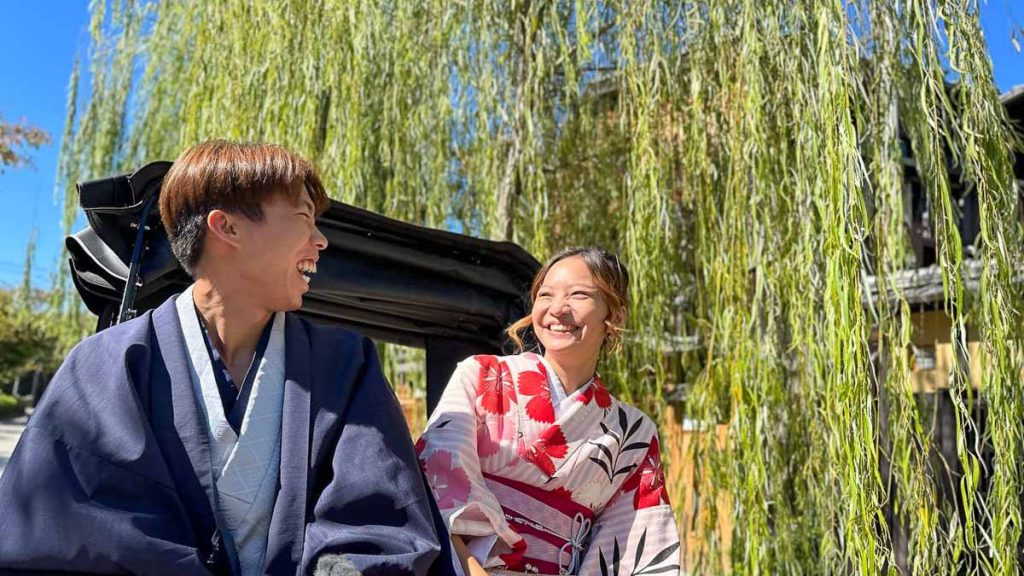 Before going sightseeing, we wanted to fully immerse ourselves in Japanese culture (and of course take some Instagrammable photos), so we rented kimonos at Kimono Miyabi Kyoto!
They had such a wide range of kimonos and obi that I had a very hard time choosing because everything was so pretty. The staff were really helpful with suggesting pretty combinations for the clothing and sash.
I even got basic hairstyling and could choose an accessory to match my kimono for free! Based on our experience, you'll need at least an hour here to dress up before visiting nearby attractions.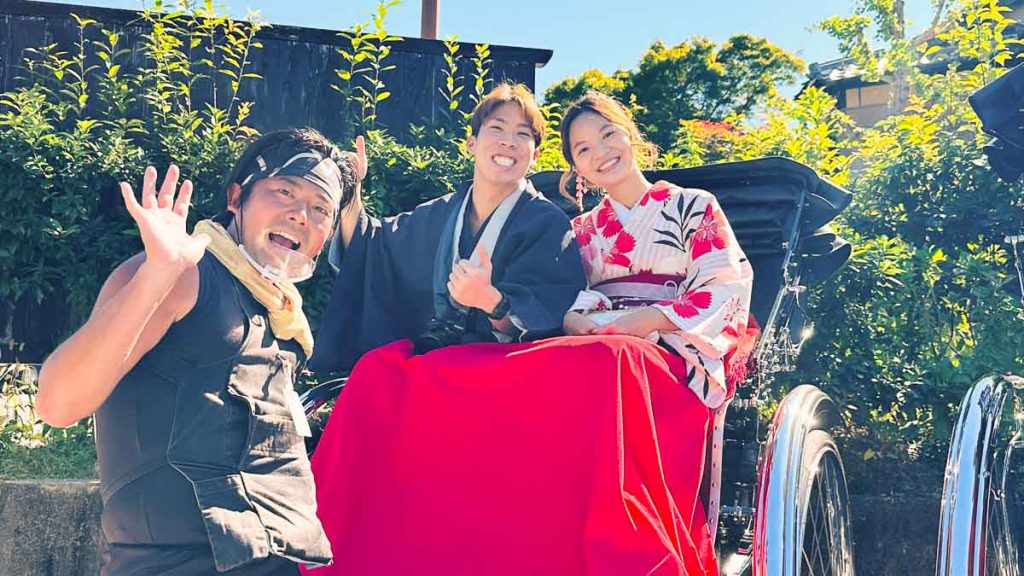 Donning our beautiful kimonos, we then hopped onto a 1-hour rickshaw tour, led by our cheerful (and knowledgeable) guide Takuto. He brought us to famous landmarks in the area, including Yasaka Shrine (with one of the largest stone torii gates in Japan), and Chion-In Temple (where the 2003 movie, The Last Samurai was filmed).
Takuto even introduced lesser-known gems, such as the Yasaka Koshindo Temple, decorated with wishes written on colourful balls called kukurizaru.
My favourite part of the rickshaw tour was stopping by Gion, Shimbashi District where Takuto took beautiful photos of us among willow trees lined along the street.
Cost: ~S$117/adult (group of 3) for 1hr via Klook
Time slots: 10AM, 10:30AM, 11AM, 11:30AM
Meeting point: Ichinen-zaka Slope
Brunch at Kyoto Ninenzaka Yasaka Chaya Starbucks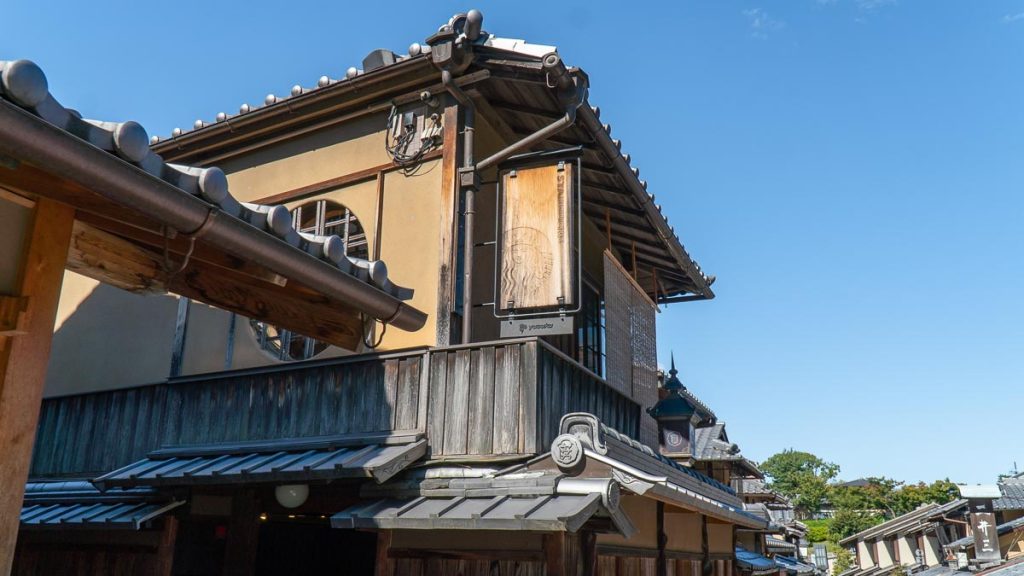 Still in our kimonos, it was apt for us to visit Kyoto Ninenzaka Yasaka Chaya for a quick snack. Housed in a traditional Japanese building, this is the world's first Starbucks with tatami flooring!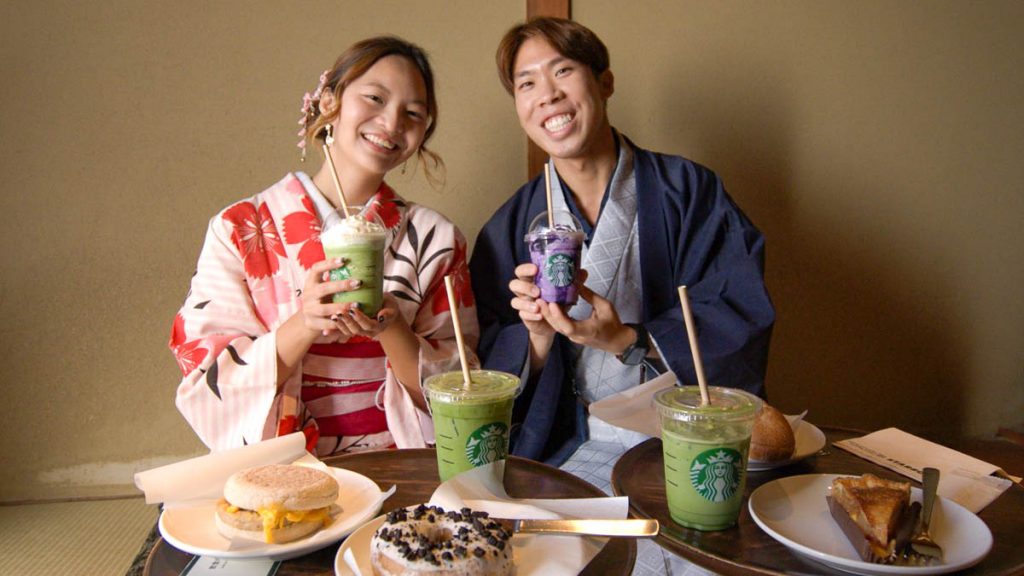 We had a delicious custard apple pie (¥530) and an iced double matcha tea latte (¥520).
Opening hours: 8AM – 8PM
Address: 349, Masuyacho Higashiyama Ward, Kyoto, 605-0826
Fushimi Inari Shrine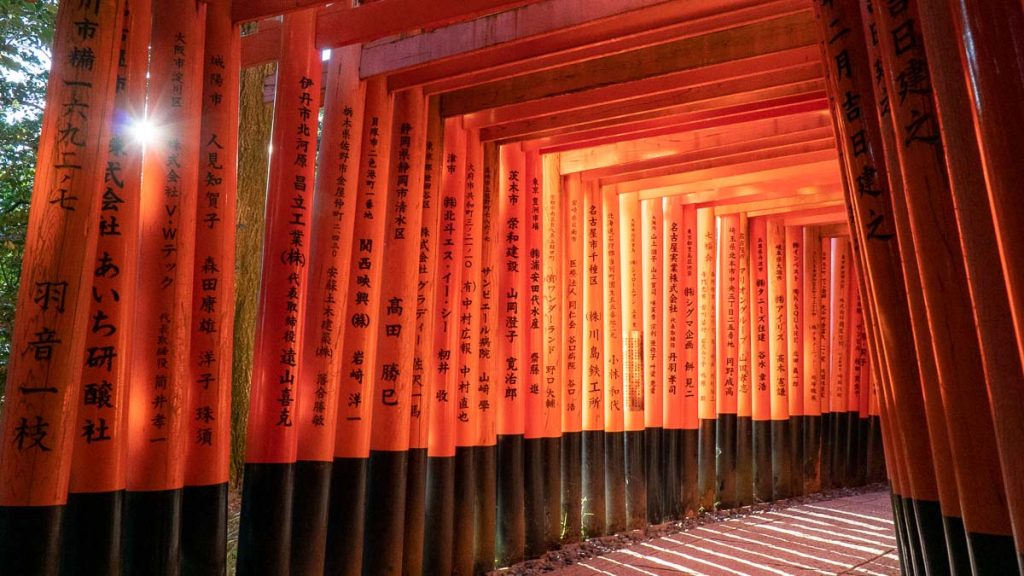 Located in Kyoto, Fushimi Inari Shrine is famous for numerous torii gates leading to the top of Mount Inari. The shrines are dedicated to Inari, the Shinto god of rice, who uses foxes as messengers — hence, you'll see many fox statues along the way.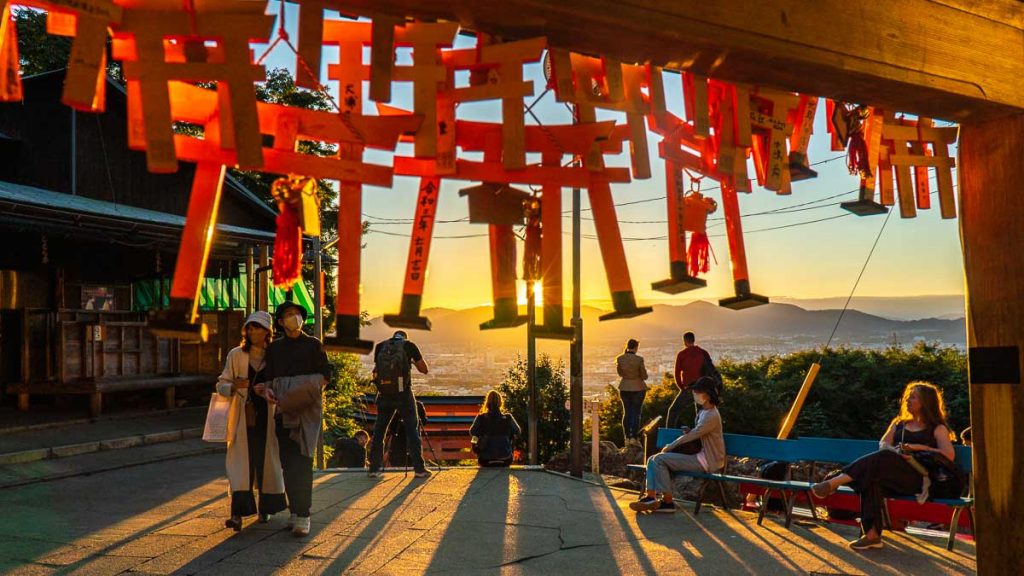 Golden hour at Crossroads scenic point
It can take 2 to 3 hours to complete the entire route. If you're short on time, we suggest cutting it short by ending the journey at a scenic point called the Crossroads.
In just half the time, you'll get a bird's eye view of the place, plus a resting spot on the benches before heading back down 😮‍💨
Entrance fee: Free
Opening hours: 24hrs
How to get there: 5min walk from JR Inari Station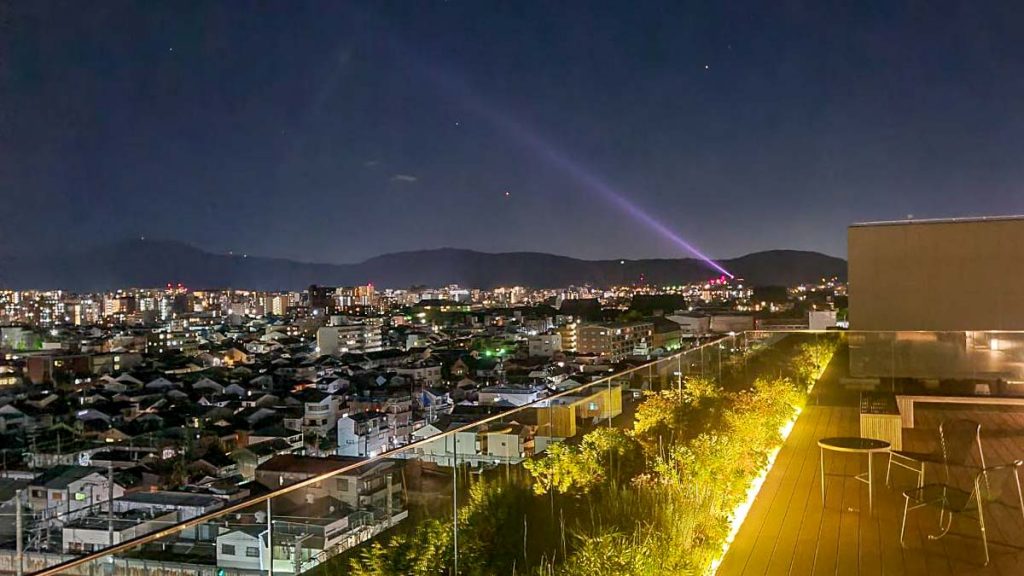 Accommodation: Hotel Emion Kyoto — Deluxe Triple Room from ~S$185/night. The hotel is located right next to JR Umekoji-Kyotonishi Station and has a sky terrace with panoramic views of the city. There's also a free onsen facility, open from 6AM – 10AM, and 3PM – 1AM.
Read also: Kyoto Budget Guide – Travel for Under S$70 a Day, Including Accommodation
Day 7: Sightseeing Around Kyoto
Umekoji Park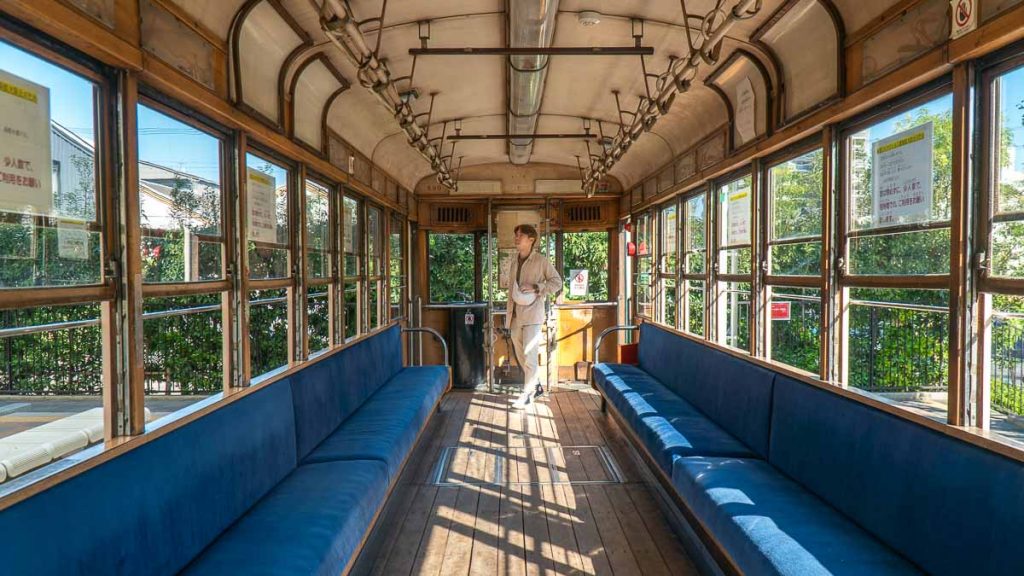 Since it was our last day on the JR Pass, we wanted to make one final use of it by travelling out of Kyoto.
Before hopping on a train, we made a quick detour to Umekoji Park which was near our accommodation. It has free rest stations designed as train carriages (open from 9AM – 5PM), plus an aquarium within the premises too!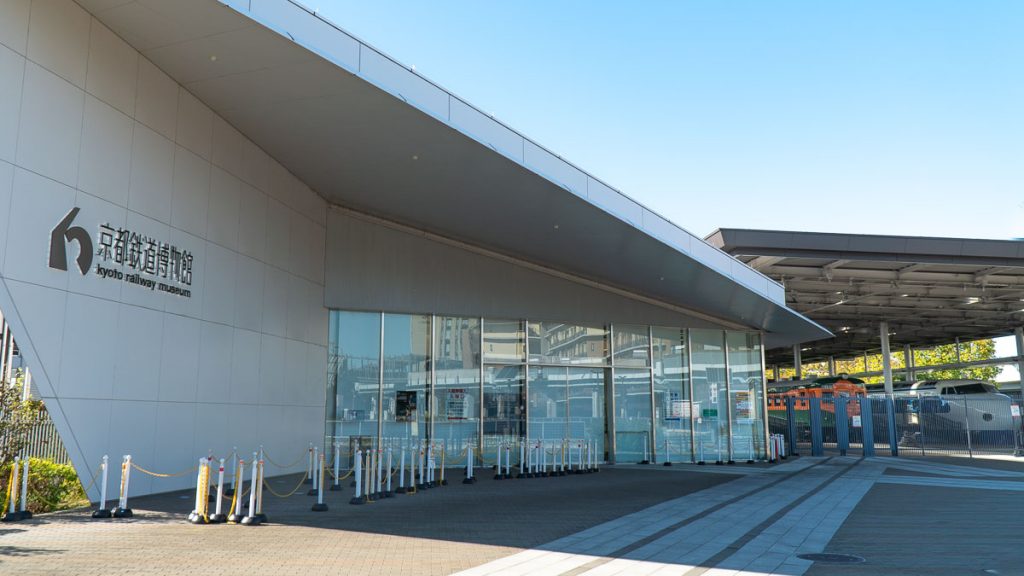 *Pro-tip: If you have more time or are a train enthusiast, visit Kyoto Railway Museum in the area. The museum has a collection of 53 types of railway vehicles, ranging from steam locomotives to Shinkansen bullet trains 🚂!
Entrance fee: Free
Opening hours: 24hrs
How to get there: 2min walk from JR Umekoji-Kyotonishi Station
Arashiyama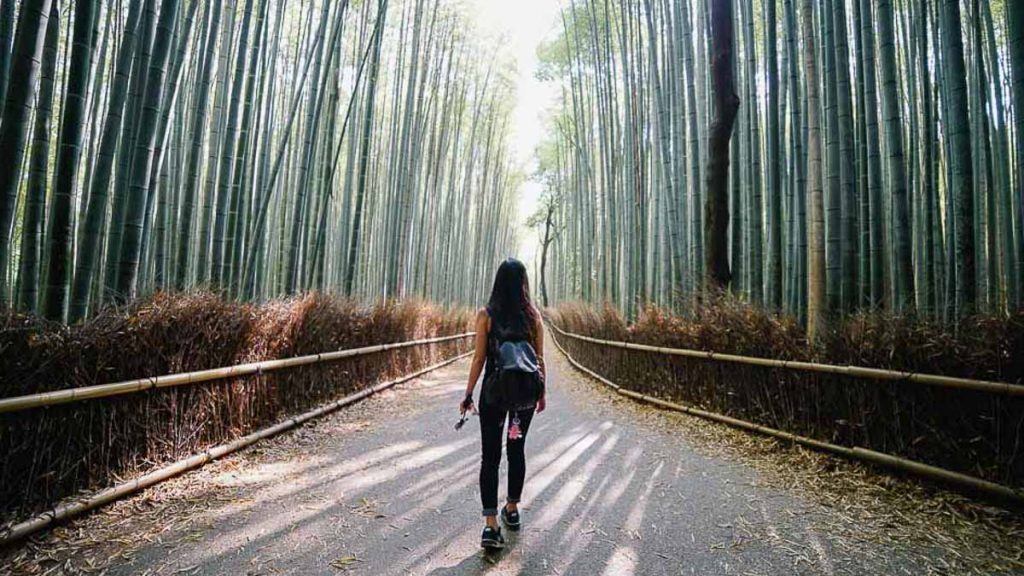 Just a 25-minute train ride away from JR Kyoto Station lies one of Kyoto's most iconic sights — Arashiyama Bamboo Forest!
Soak in the sights and sounds of nature as you stroll along a path lined with rows of towering bamboo. For those who prefer not to walk, consider taking a rickshaw tour instead, which passes by the forest.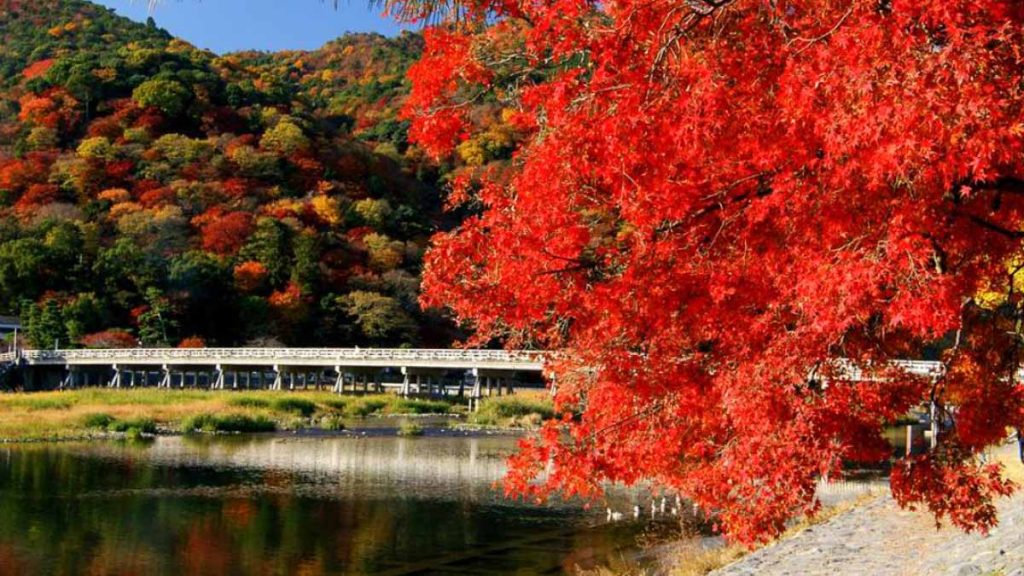 Photo credit: Kyoto City Tourism Association
Apart from the bamboo forest, other attractions in the area include Togetsukyo Bridge — a 400-year-old bridge which spans 155m over the Katsura River. Fun fact: It seems to be made of wood but its columns are actually concrete!
*Pro-tip: Take a day tour from Kyoto to catch other interesting experiences in Arashiyama like the Sagano scenic tram ride and Hozugawa river rafting, with a local guide.
Entrance fee: Free
Opening hours: 24hrs
How to get there: 10min walk from JR Saga-Arashiyama Station
Nishiki Market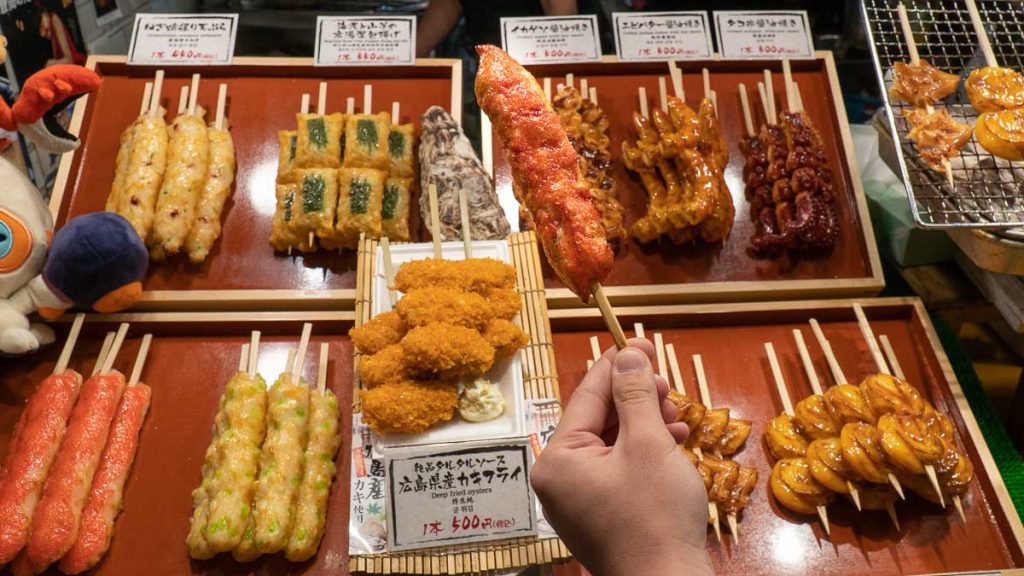 For some last-minute shopping and snacking, Nishiki Market is the place to go for shopping and street food.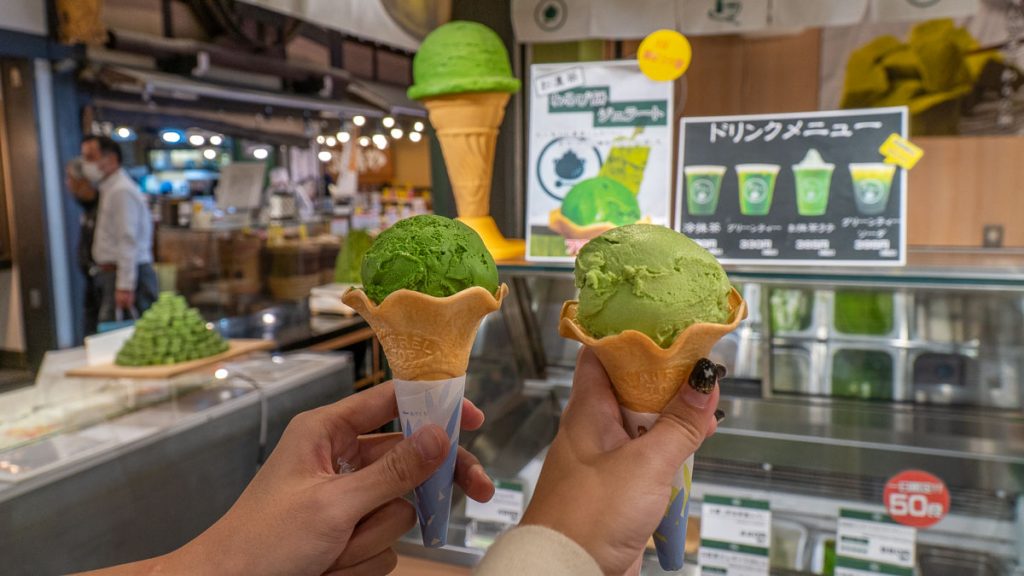 We had some tasty crabstick and shrimp skewers, as well as matcha ice cream with a five-star matcha concentration. Needless to say, it was bitter and while it wasn't my cone of tea, it could be yours!
*Note: Finish your food at the store and politely ask the shop owners to help you throw the trash away, as there are signs reminding people not to eat while walking.
Opening hours: 10AM – 6PM (varies for different shops)
How to get there: 5min walk from Shijo Station
Dinner at Vegan Ramen UZU Kyoto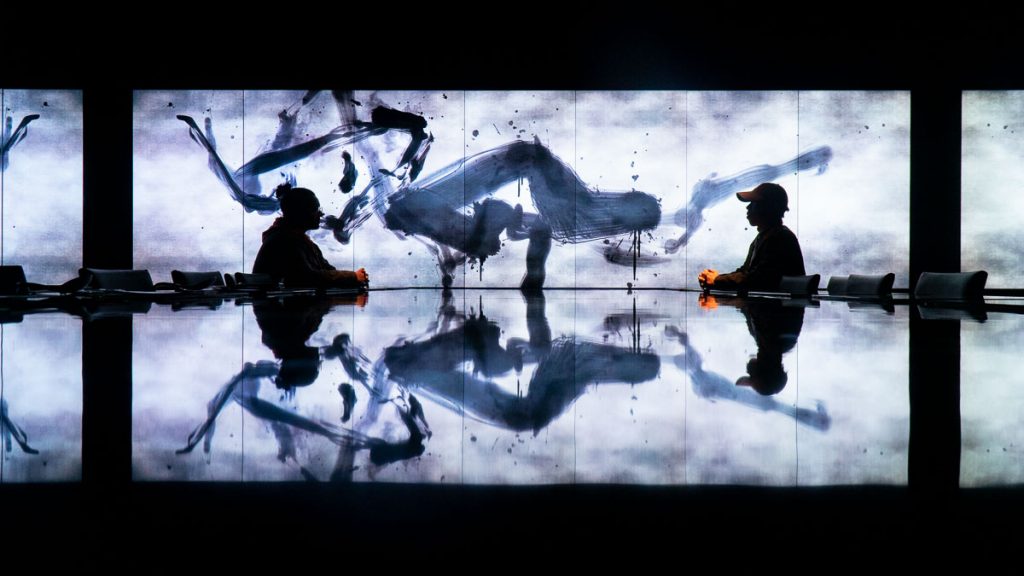 Before the non-vegans shrug off this recommendation, hear me out because we initially had doubts too. But there's a good reason why Vegan Ramen UZU Kyoto has been awarded the Bib Gourmand accolade in the MICHELIN Guide Kyoto Osaka 2023.
When we first stepped into the restaurant, what caught my attention was the mesmerising artwork by teamLab! After taking some aesthetic photos, we ordered the Green Tea Ramen (¥1,800) and Mountain Herbs Ramen (¥2,200).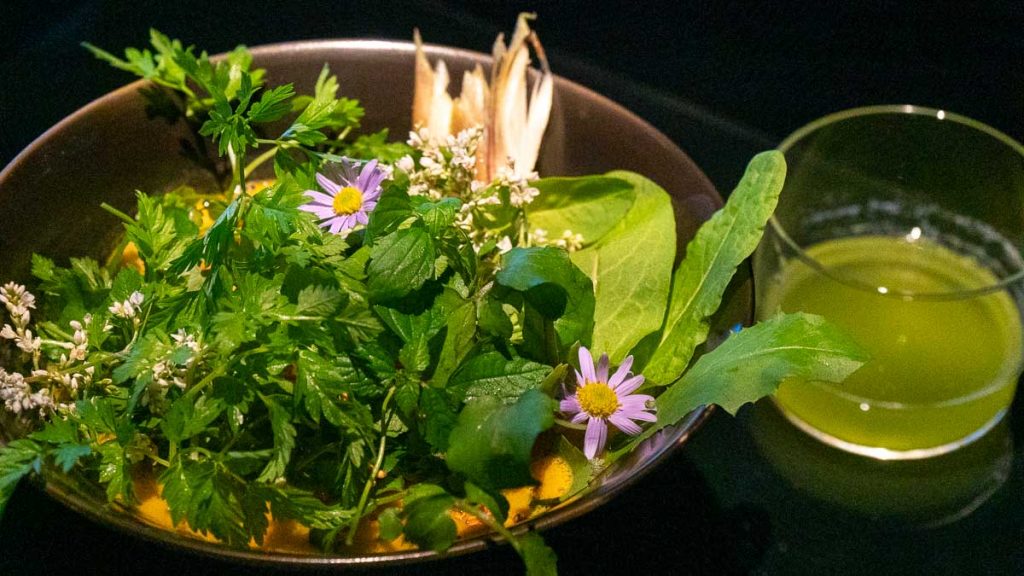 Mountain Herbs Ramen.
We weren't sure what to expect but the soup was surprisingly thick, even more so than the usual pork broth base. Although I'm not a fan of herbs, the flavour wasn't as overpowering as I thought and the dish just tasted like a miso paste soup with a dash of veggies.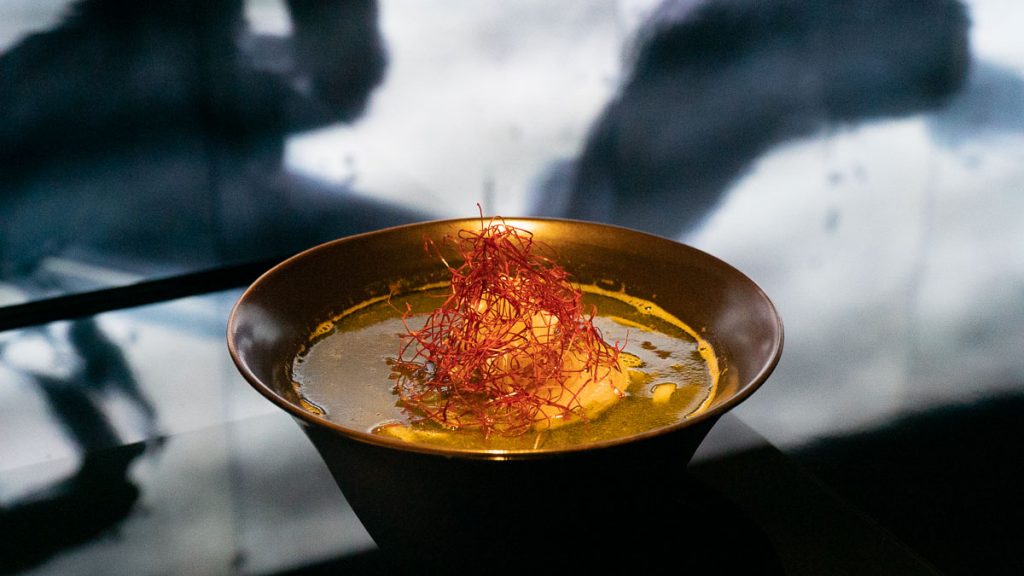 Green Tea Ramen.
The Mountain Herbs Ramen was beautifully presented, but of the two, the Green Tea Ramen was a unanimous favourite. The tea flavour wasn't overbearingly strong and the soup even had a hint of spice in it.
Opening hours: 11:30AM – 3PM, 6PM – 10PM, Thu – Sun
Address: 146 Umenokicho, Nakagyo Ward, Kyoto
JR Kansai WIDE Area Pass
There are plenty of train passes to travel around the Kansai region. Since we were planning to visit Nara, Kurashiki, Okayama, Kobe, and Kyoto, the 5-day JR Kansai WIDE Area pass was the most cost-effective for us.
On top of unlimited JR train rides (including rapid and express services), the pass also covers rides on the Hello Kitty Shinkansen and Sanyo Shinkansen (which we took to Okayama). Plus, it covers transport to Kansai International Airport too!
*Note: Check the Hello Kitty Shinkansen train schedule in advance as there are only a few train services in a day.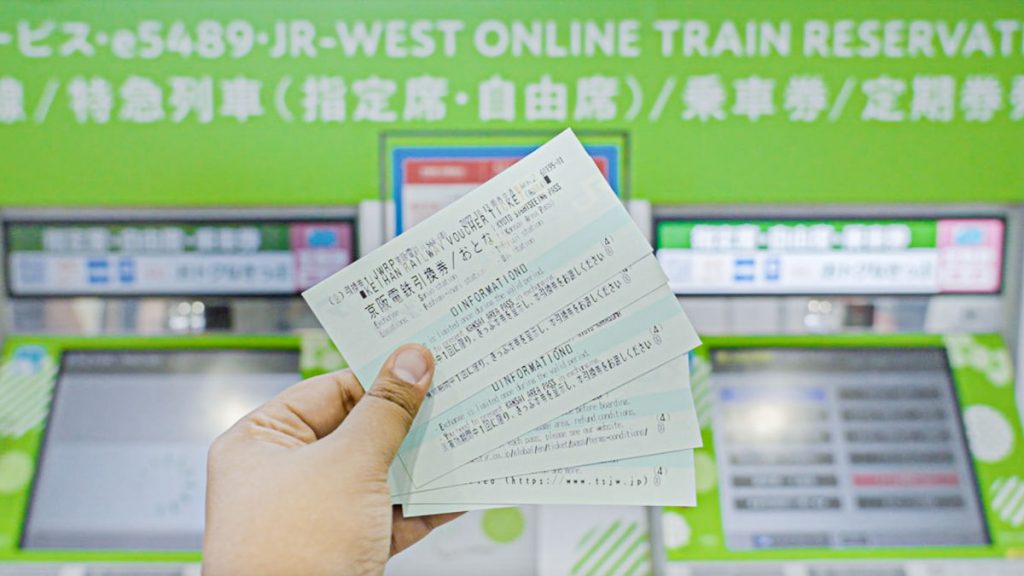 Without the JR Pass (~S$110), it would've cost us ¥17,970 (~S$165) to travel around Kansai. So we actually saved a total of ~S$55 — here's our JR Pass budget breakdown.
There are additional perks of the pass too, such as being able to book reserved seats on the trains up to six times. This is especially useful for long travel journeys, so you won't have to scramble for seats during peak hours!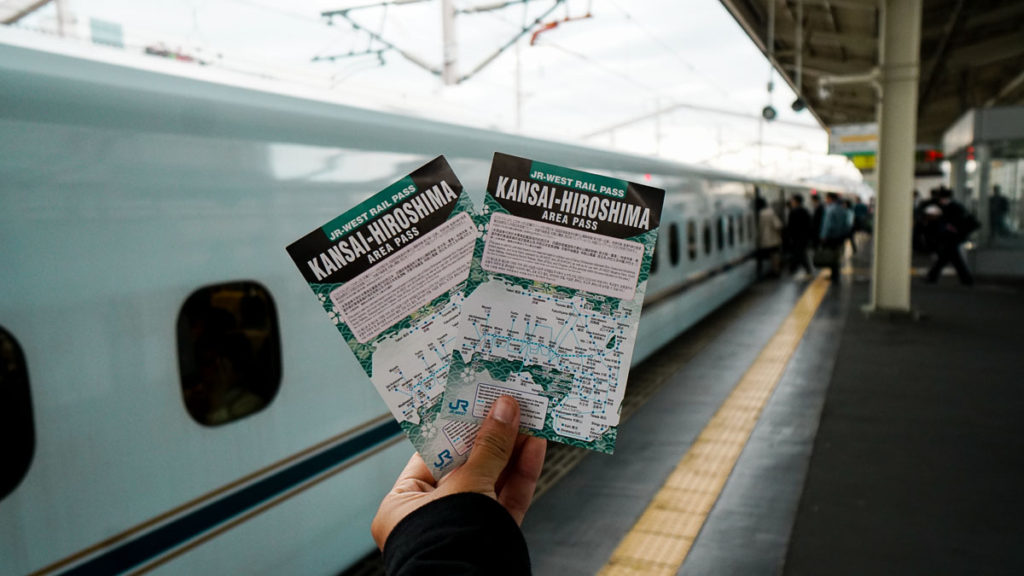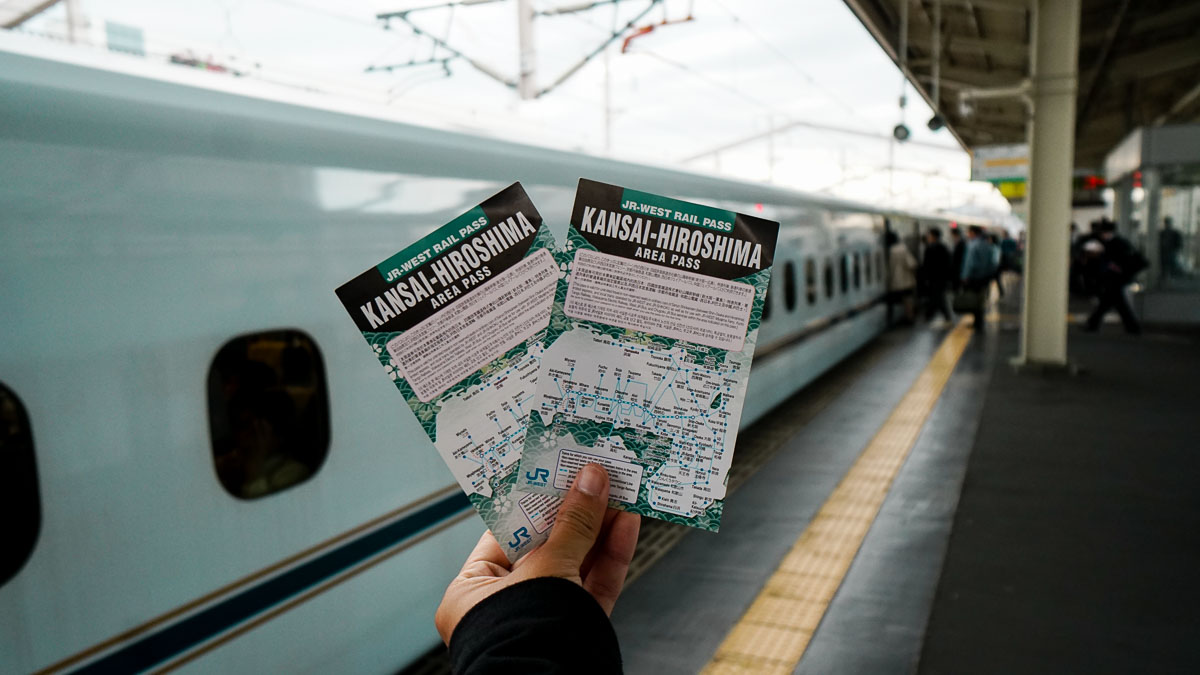 When choosing which JR Pass to get, the most important thing to consider is the area you're travelling to and for how long.
For example, if you're only visiting certain areas like Hiroshima or Hokuriku in your itinerary, there are regional passes that cover them at a cheaper price so there's no need to get a Kansai WIDE pass or a Whole Japan Pass.
If you're planning to stay for less than five days, you can consider the JR West Kansai Pass too! This pass comes in one to four-day options and also includes vouchers for local city transport such as the Kyoto City Subway, Keihan Railway, and Hankyu Railway. This will help save some costs when travelling in and out of the city.
For more tips about using the JR Passes to get around Japan, check out our comprehensive JR Pass Guide 🤩.
What other places in the Kansai region should we add to our Japan itinerary? Let us know in the comments!
---
This article was brought to you by Klook.