Bintan really blew my expectations out of the water, into the sky and out into the galaxy. Seriously. Just like any one of you, I too had the impression that Bintan wouldn't be the most exciting place for a vacation. But boy, was I wrong.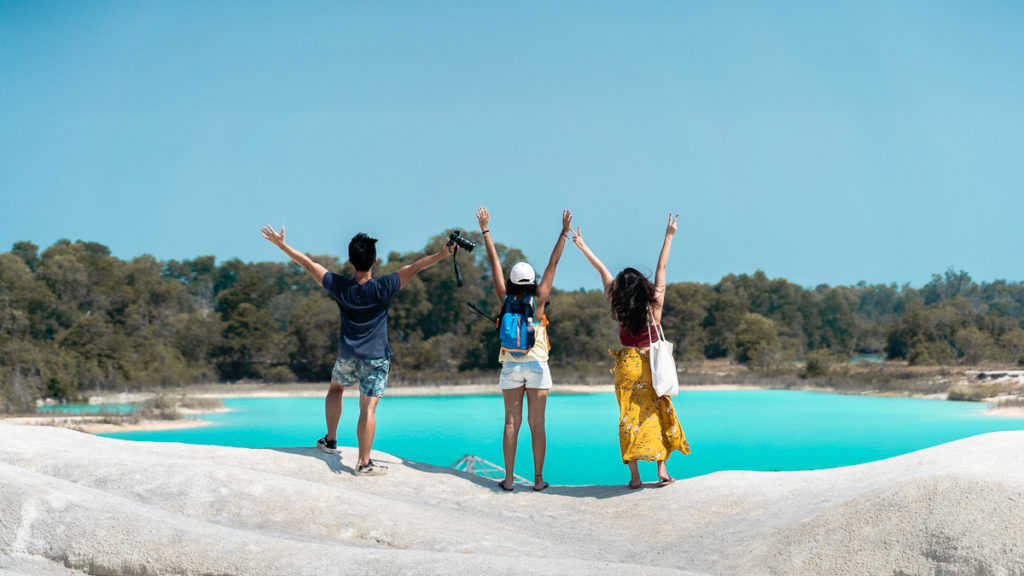 Sure, Bintan is all about that relaxing island resort life, but there's also way much more: racing against the tides on your jetski, wildin' up at a pool foam party, speedboating through mangroves, and affordable yet amazing massages!
The best part is you don't have to take forever to plan your Bintan itinerary. It's only 45 minutes away from Singapore, and the minute you arrive at your resort, everything is just a walking distance away (especially for the one we stayed at, Cassia Bintan — but more on that later!).
If you just wanna skip the planning and dive right into it, this is the Bintan itinerary you need for a fuss-free weekend getaway!
Pre-trip Essentials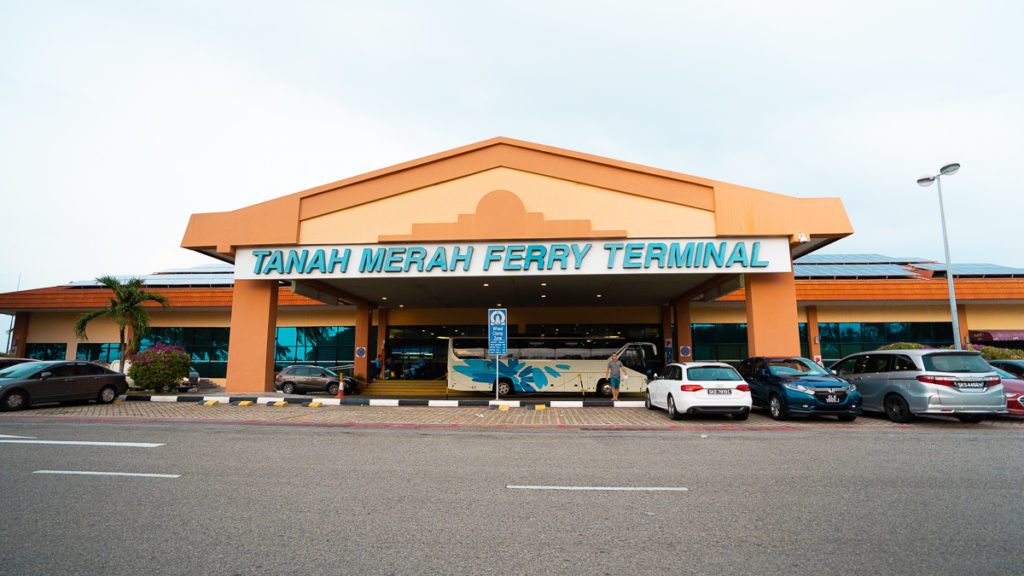 Getting from Singapore to Bintan: The roundtrip ferry from Singapore costs between S$58 and S$70 depending on peak periods, and departs Tanah Merah Ferry Terminal several times a day. Do note you have to check in 1.5 hours before departure!
Connectivity: We got a 5GB SIM card (S$15) from a shop directly at Bintan's Bandar Bentan Telani terminal.
Accommodation in Bintan: Most of the activities in this Bintan itinerary are super close to Cassia Bintan, a modern resort under the Banyan Tree group that's more youthful and affordable. All the fun activities were only a short walk away!
Sun Protection: I came back with a sunburn, so I feel compelled to make sunscreen a point on its own.
Day 1: All-day Relaxation
Check In at Cassia Bintan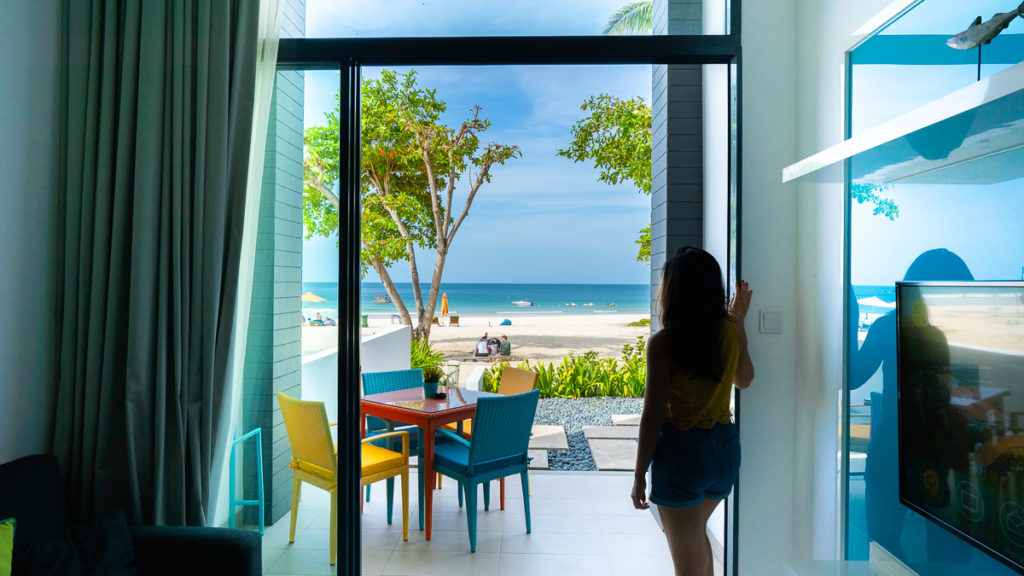 We checked in at Cassia Bintan, Bintan's only apartment resort that's fully equipped with a kitchen. Talk about a perfect, homey staycation! The rooms are insanely big, but the real deal is the view of the beach right at your doorstep. A royal life without royal prices 😌
Cost: From S$120
How to get there: Cassia Bintan provides round trip complimentary shuttle services from the terminal (it takes about 10 minutes).
Relaxing Massage at Angsana Spa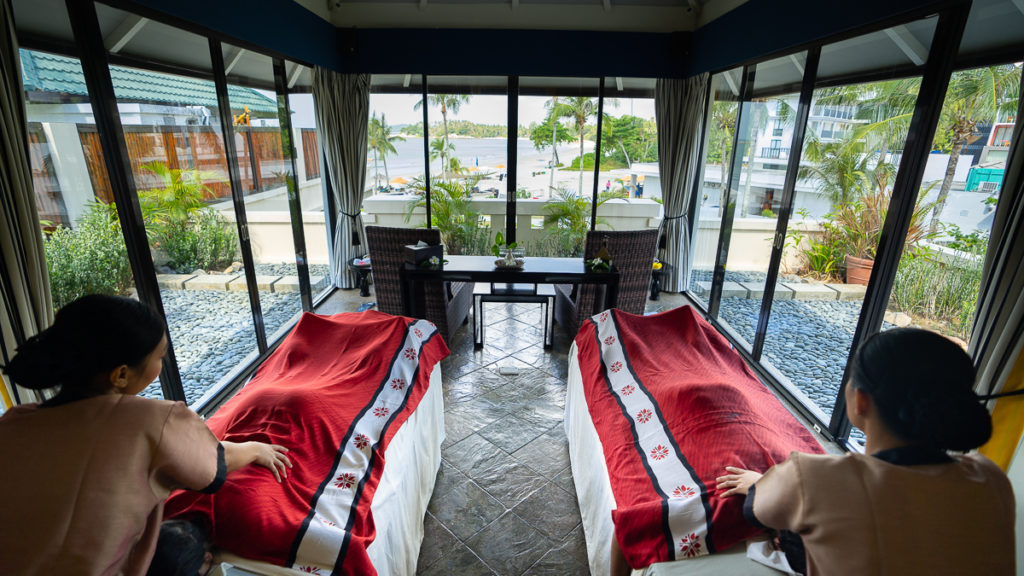 A resort getaway is never complete without a mind-numbingly relaxing massage. We got a one-hour massage (750,000Rp, ~S$73) at Angsana Spa, just a stone's throw away, and didn't even feel the time pass.
For the full service experience, there's also the Angsana Signature (From 1,500,000Rp, ~S$147), which is a package with massages, body wraps, facials, and scrubs. Shiok not?

Opening Hours: 9AM – 11PM
Lunch at Vista Restaurant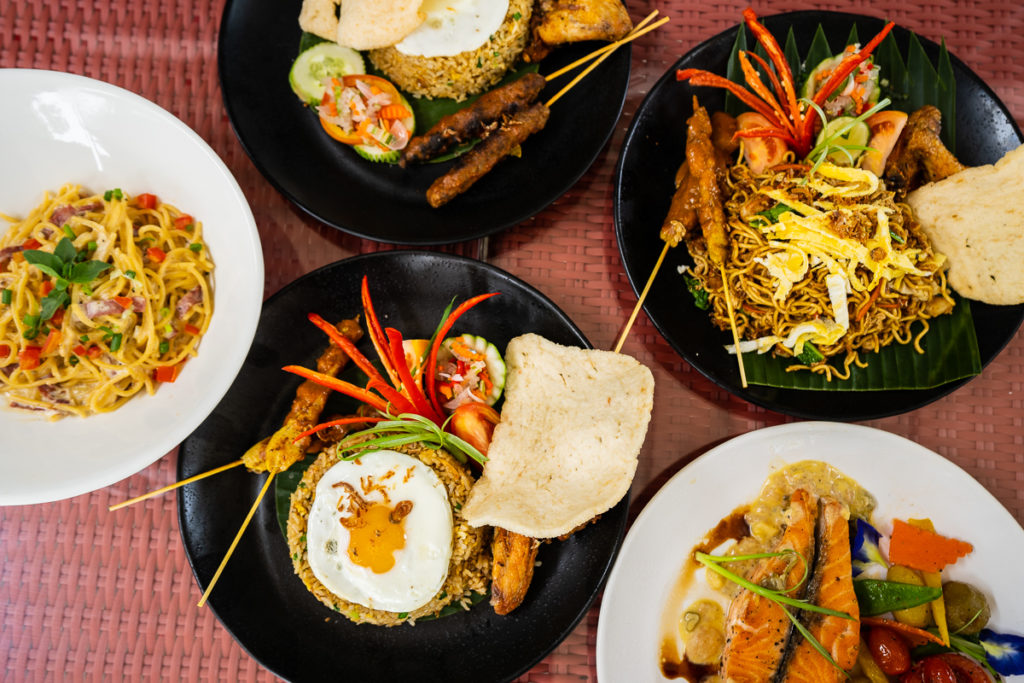 Don't have to travel far out to hunt for delicious food when it's right under your nose. Vista Restaurant, located right at the lobby of Cassia Bintan, serves both Western and Italian fare from nasi goreng to pasta.
Cost: 200,000Rp, ~S$19.50/pax
Opening Hours: 10AM – 10PM
Lounge On the Beach (or Dip in the Pool!)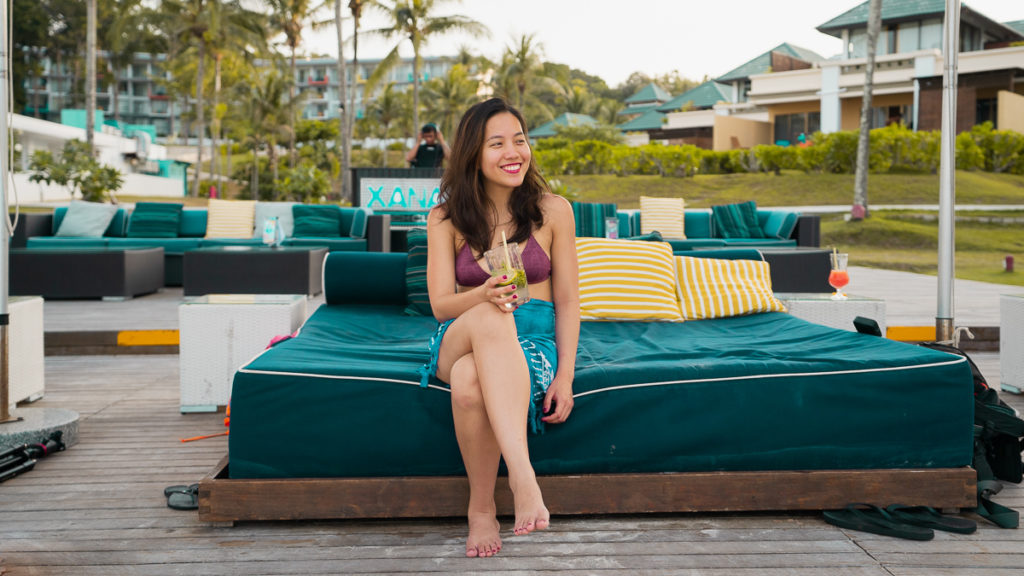 Continue your wind down weekend with cocktails by the beach and enjoy the stunning sunset in front of you. If you wanna cool off from the tropical heat instead, jump into the sea or pool!

Opening Hours: 10AM – 10:30PM
Cassia Bintan's Very Own Foam Party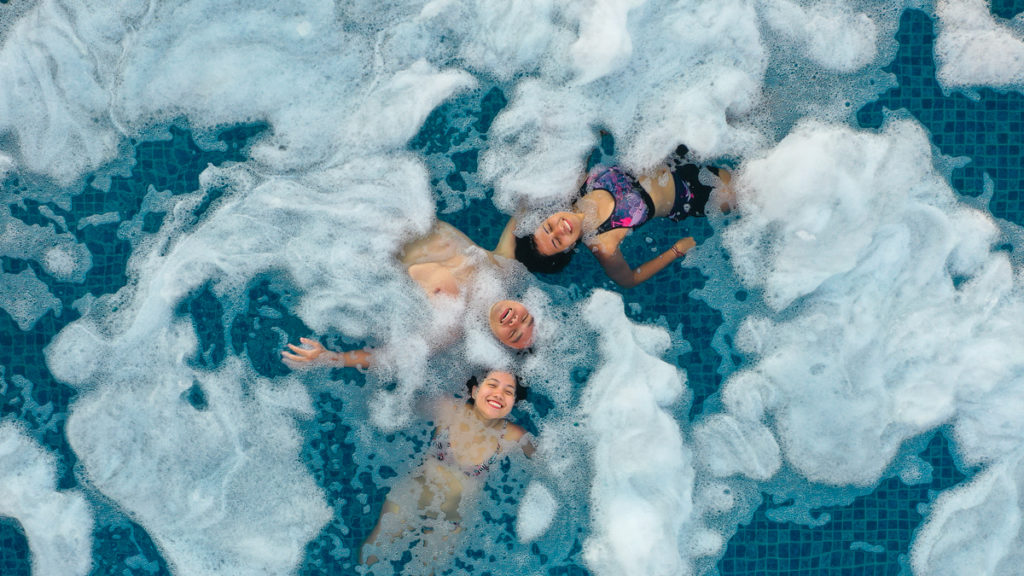 What's cooler than a pool party? A pool party with… bubbles! Cassia Bintan's infinity pool hosts an epic foam party every Saturday, perfectly timed to coincide with a stunning view of the sunset from the pool.
Cost: Free
Activity Timing: 3PM – 7PM. Saturdays only.
Epic Dinner Buffet at XANA Beach Club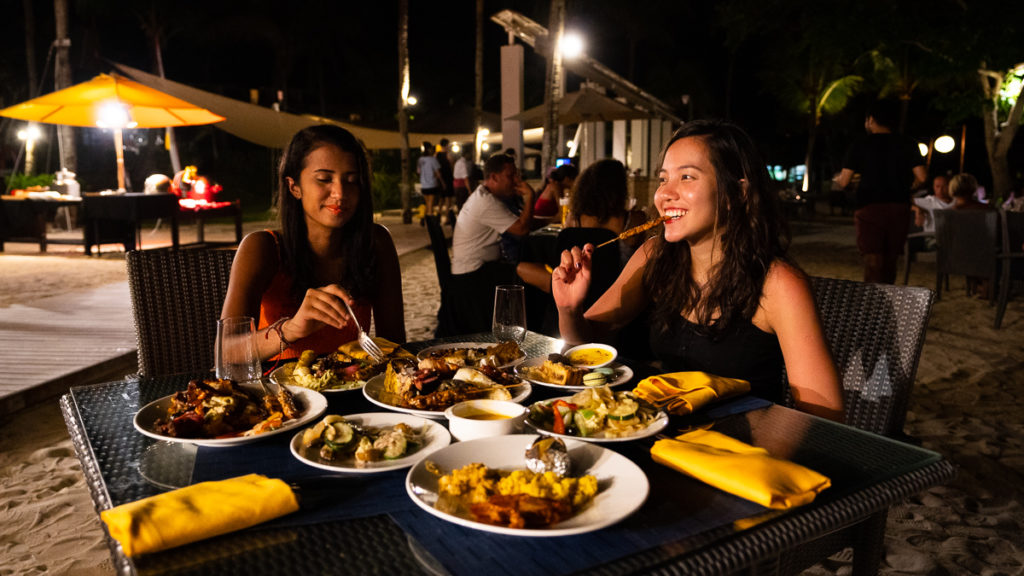 Here's another reason to take a weekend break to Bintan: this amazing dinner buffet at XANA Beach Club that happens only every Saturday, and is less than two minutes away from Cassia Bintan.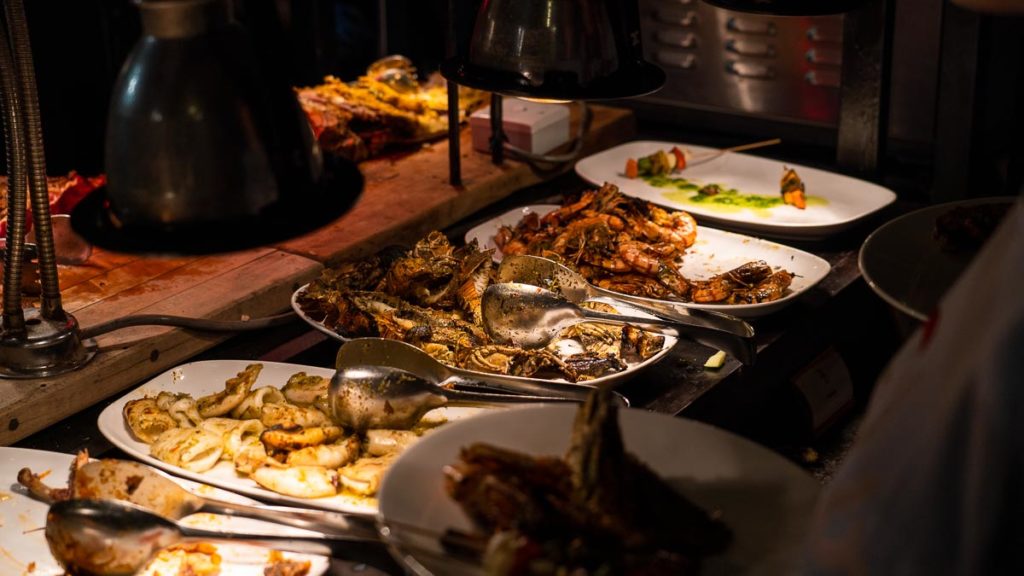 What's on the menu — pretty much everything you can think of. There was tenderloin beef, curry chicken, grilled seafood (yummy squid and prawn!) and even chilli crab. But do not get me started on the desserts — we're talking macarons, tiramisu and panna cotta. Mmm.
Cost: 579,000Rp (~S$58++ per pax)
Opening Hours: 6PM – 11PM. Saturdays only.
Day 2: Heart-pumping Activities In Bintan
Morning Yoga On the Santai Deck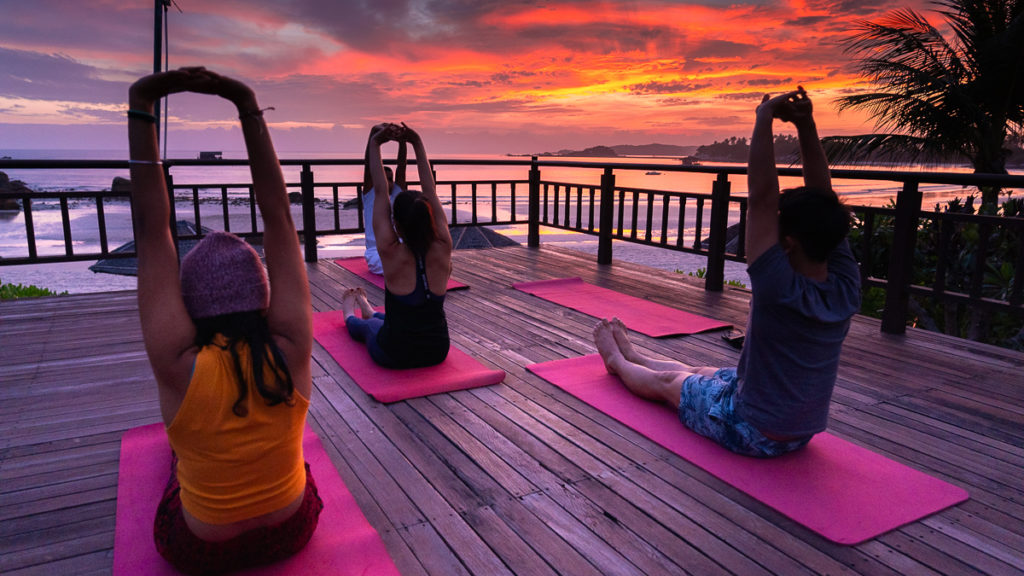 I am not a morning person. Neither am I a yoga person. But getting this view of the sunrise out on the deck was well worth the effort! We were guided by an in-house yogi, Dinesh who went through with us some basic poses to get our bloodflow going for the rest of the day ahead.
Cost: Free
Activity Timing: 5:30AM – 7AM
Breakfast Buffet at Vista Restaurant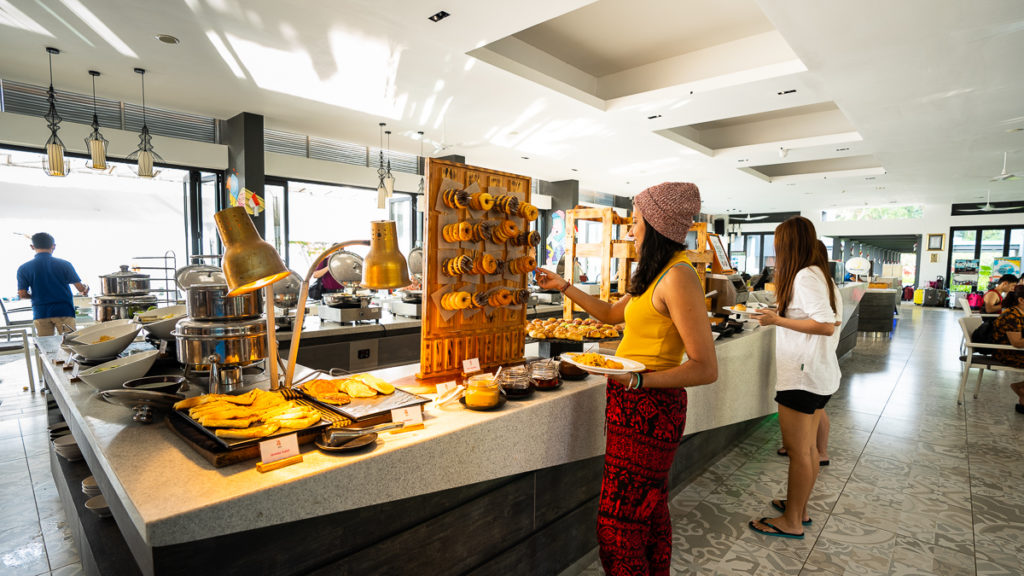 And what better to treat yourself after yoga with a full spread of international breakfast buffet? Dishes run the gamut from freshly baked croissants to fried rice and sayur lodeh (curry vegetables), so dig in!
Cost: Incl in room rate for hotel guests
Opening Hours: 6:30AM – 10:30AM
ATV Through the Forest (or On the Beach)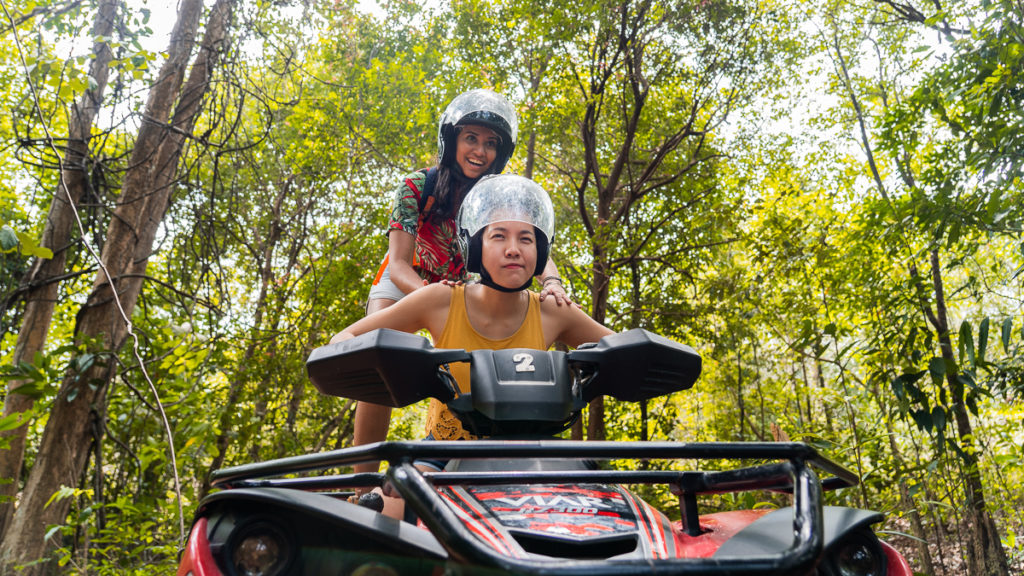 Reminds you of Bali or Phuket? Except in Bintan, you get access to ATV experiences mere steps from your doorstep.
Speed through the surrounding forest and beach in a half-hour circuit session, where you'll even get to explore small kampongs peppered throughout the forest! The forest added a little more thrill (i.e. bumpiness) with its undulating terrain, too.
Cost: 590,000rp, (~S$59)
Meeting Point: Marine Centre, beside the Cassia Bintan infinity pool
Luxurious Mookata Lunch in the Comforts of Your Room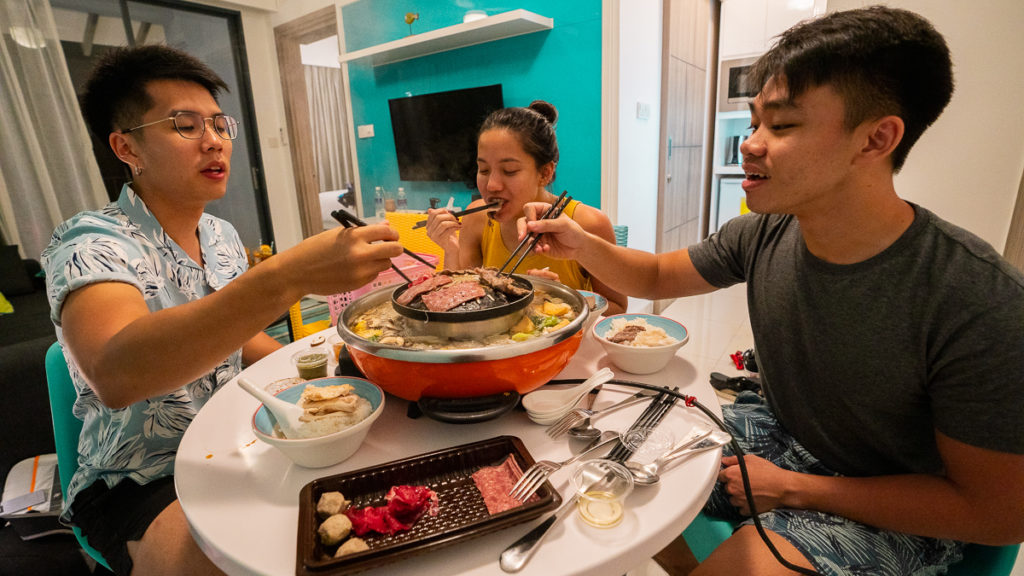 Does this feel like home or what? Indulge in a mookata (Thai-style BBQ) lunch right at home — all you have to do is tell the reception what ingredients you'd like, and what time you want it served. That's it! Once everything is delivered to your doorstep, the ease of set-up is phenomenal due to your very own in-house kitchen. If you feel like cooking a little extra something, you can head down to Market 23 and get some ingredients to add your own twist to the mookata. Once you are done, just leave everything outside your room and it will be cleared by the next morning! 10/10 room service.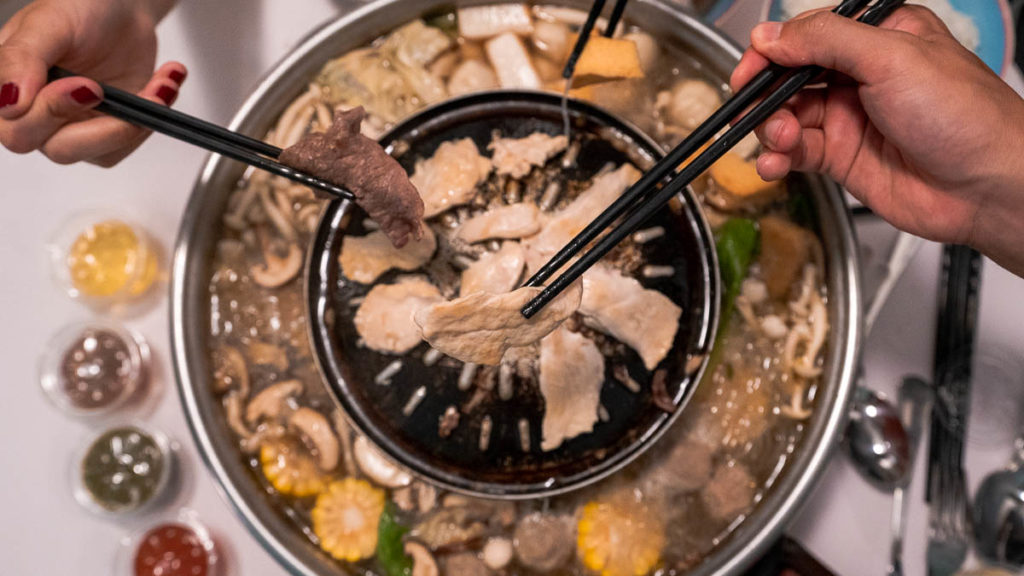 Cost: From 410,000Rp (~S$40)

*Pro-tip: Eat your mookata on the balcony to prevent the smoke from lingering in your room longer than you'd like.
Snorkelling and Jet-skiing
The picture above is testament enough to how clear the turquoise waters are at Barracuda Island, just a short speedboat ride away from our resort. There were plenty of fish and corals to look at, too! Our instructor was kind enough to hand us some bread to feed the fishies. Fun!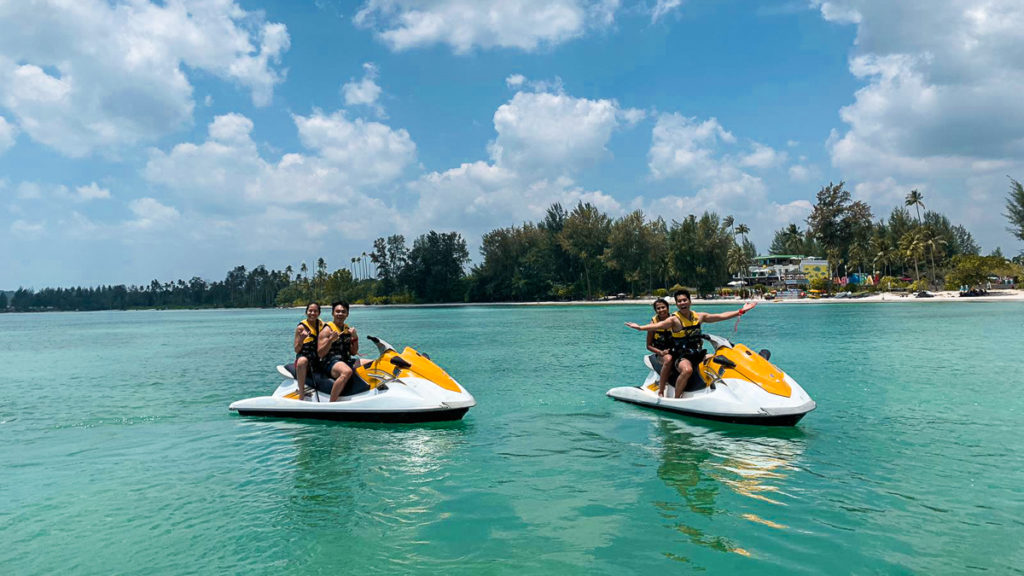 If you'd rather stay above the surface, jet-ski and feel the breeze in your hair instead — this was easily one of the most exhilarating jet-ski experiences I had!
The special ingredient for this one was the one-hour safari tour. It's not just a circuit which contains you within the same area, you get to ski to another island altogether. You're in a private beach as well, so the open seas are really peaceful and quiet.
If you feel like your heart can take it, max your throttle! Trust me, you will be flying.
Snorkelling Tour
Cost: 374,000Rp (~S$36)
Activity Timings: Between 9AM and 4PM
Meeting Point: Marine Centre, beside the Cassia Bintan infinity pool
Jet-ski
Cost: From 443,000Rp (~S$43) for 15 min. 1,632,000Rp (~S$160) for 1 hr Safari Tour
Activity Timings: Between 9AM and 4PM
Meeting Point: Marine Centre, beside the Cassia Bintan infinity pool
Read also: 13 Ways To Take Your Bintan Getaway To The Next Level — Cassia Bintan Staycation
Authentic Indonesian Street Food At Rimba Jaya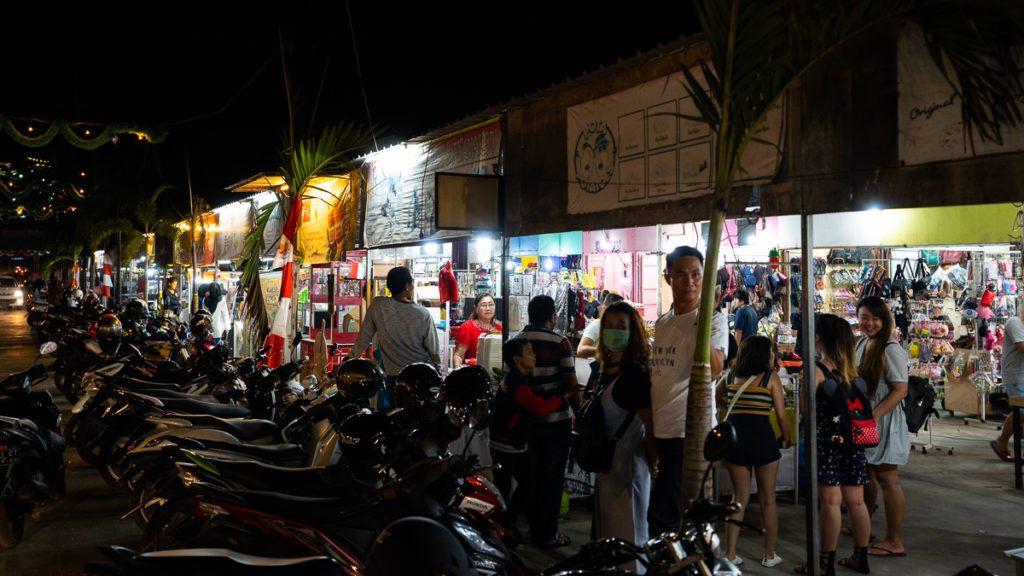 You are in Indonesia! How can we not recommend some authentic local food in a Bintan itinerary? Head down to Rimba Jaya and eat to your heart's content. It's a bit of a drive away from the resort but it's definitely worth the travel.
The best part is that it runs all the way till midnight, so your supper spot is settled.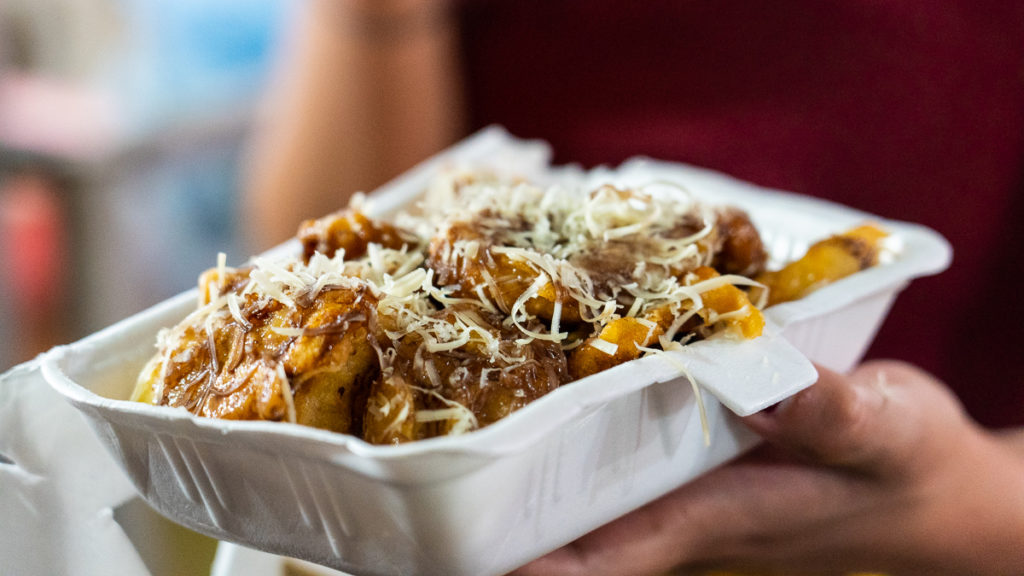 You must try the goreng pisang (fried banana) in this street. The portions are huge, and the banana is fried perfectly crispy on the outside and chewy on the inside. Did we also mention it's doused in chocolate sauce and sprinkled with cheese?
Opening Hours: 4PM – 12AM
Address: Rimba Jaya, Jl. Gudang Minyak, Kemboja, Tanjungpinang Bar., Kota Tanjung Pinang, Kepulauan Riau 29115, Indonesia
Day 3: Experiencing Bintan's Lush Nature
Mangrove Discovery Tour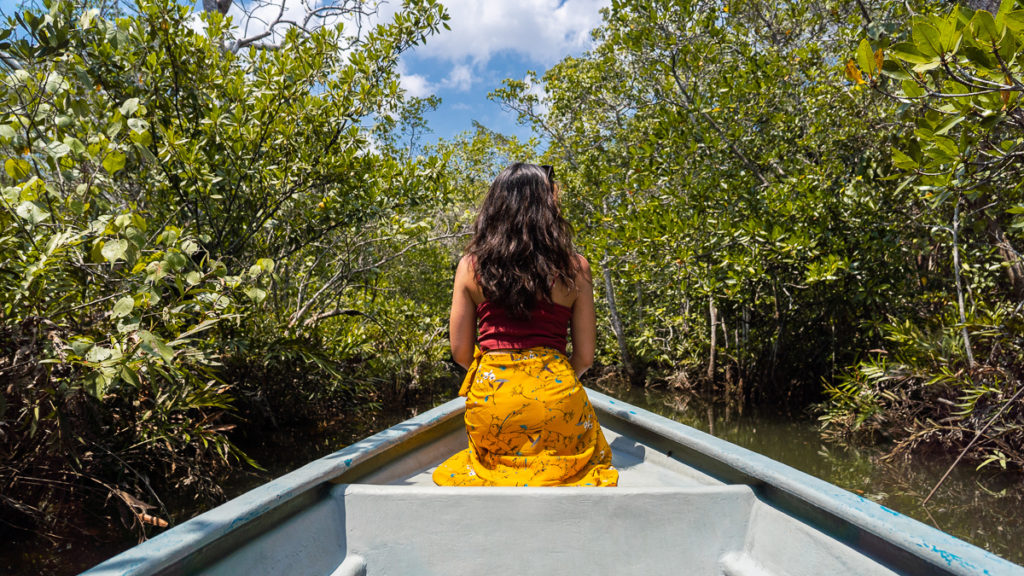 The Mangrove Discovery Tour sails you down the Sebung River, going through the fisherman village and some charcoal kilns. If you're as lucky as we were, you might spot some wild animals like pythons, mangrove snakes and even monkeys on the one-hour ride!
This tour is also available at night at 7:30PM, with an added touch of magic as you'll get to witness fireflies lighting up the area — so feel free to adjust your Bintan itinerary accordingly if you wish to see that.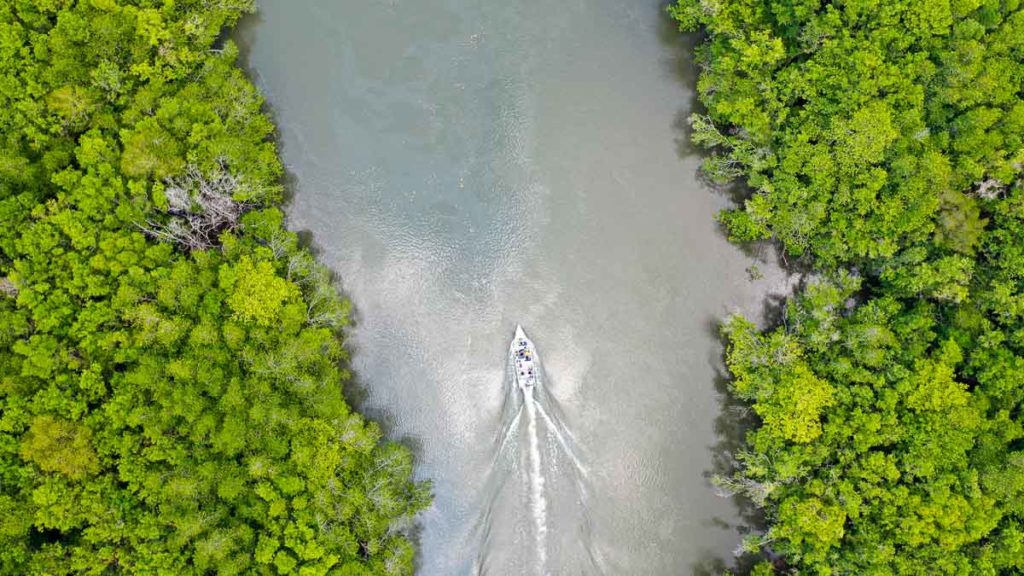 Cost: 380,000Rp, ~S$38
Activity Timings: Day tours start 9AM, 10:30AM, 1PM, and 3PM. Night tour start 7:30PM.
Meeting Point: Roundtrip pick-up to and from Cassia Bintan
Lunch On an Actual Kelong at Aneka Seafood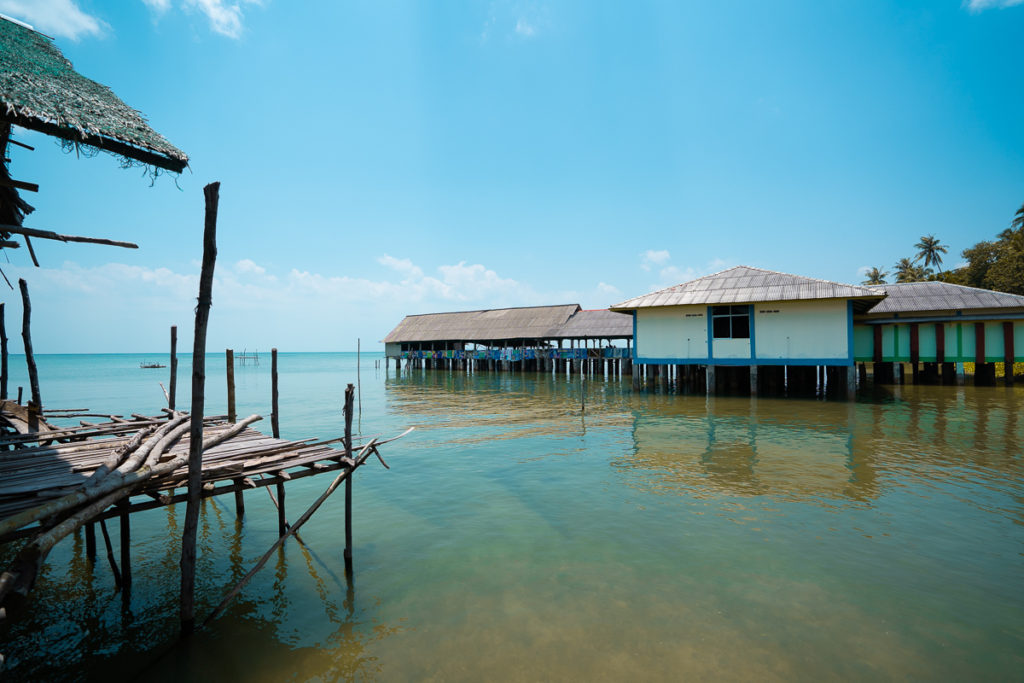 A kelong is a floating wooden platform primarily made for fisherman to go out to sea to fish, but it was also where we had a sumptuous seafood feast at huge feast at Aneka Seafood Restaurant!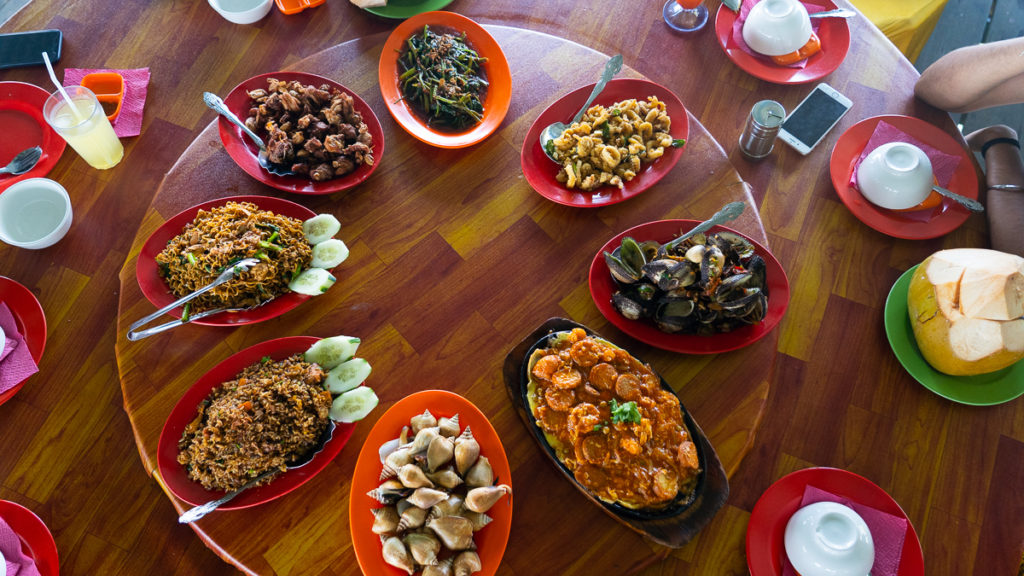 With seafood caught right from the ocean, this is easily some of the freshest seafood in town. A must try in this restaurant is a uniquely Bintan delicacy, sea snails, also known as gong gong (143,000Rp, ~S$14).
Cost: ~160,000Rp (~S$15) per pax
Opening Hours: 9AM – 9PM
Address: Jl. Panca Marga, Tj. Uban Utara, Bintan Utara, Kabupaten Bintan, Kepulauan Riau, Indonesia
Take Awesome Instagram Photos at Gurun Pasir Busung and Telaga Biru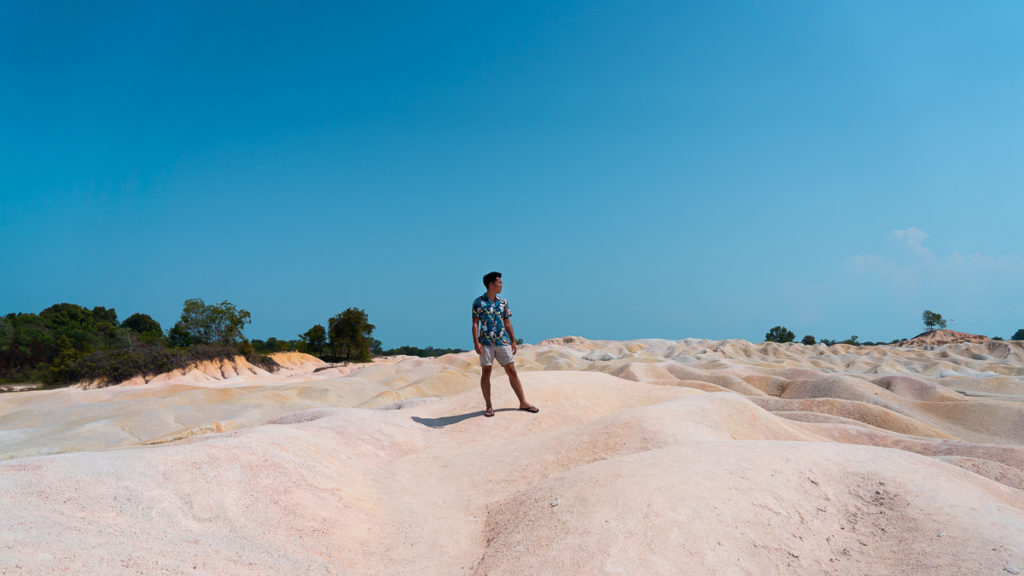 Bintan continues to surprise with these sand dunes at Gurun Pasir Busung, only 30 minutes away from our hotel! It's definitely a breathtaking spot with landscapes that go as far as the eye can see.
There's also Telaga Biru up ahead, where an unbelievably bright blue lake sits. Picture time!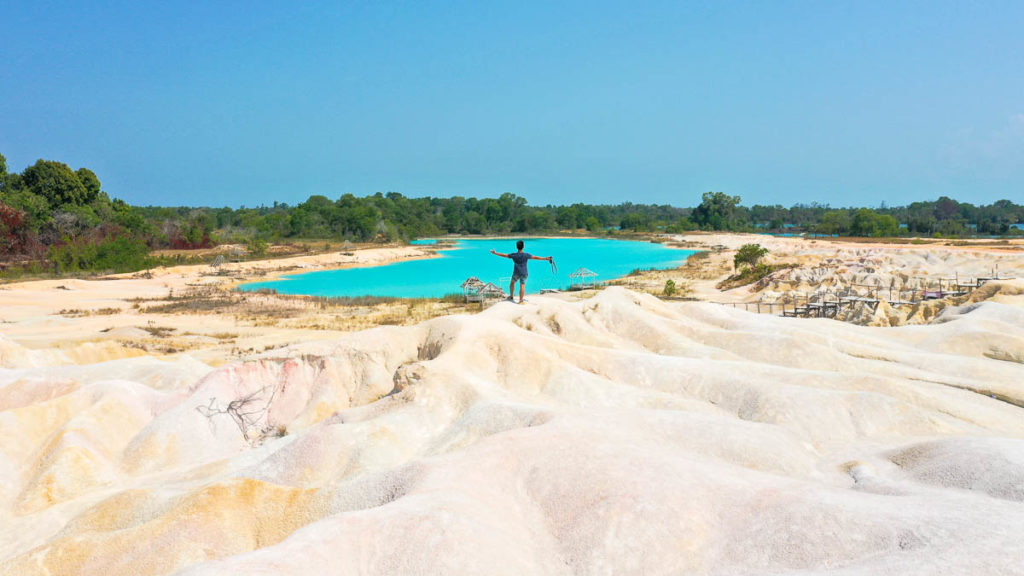 How to get there: 40-min drive from Cassia Bintan. Alternatively, take the 3hr Tanjung Uban Explorer Tour (450,000Rp, ~S$44) which includes a stop at Gurun Pasir Busung, the majestic Giant Turtle God Statue, and other iconic Bintan sights.
Visit the 500 Lohan Temple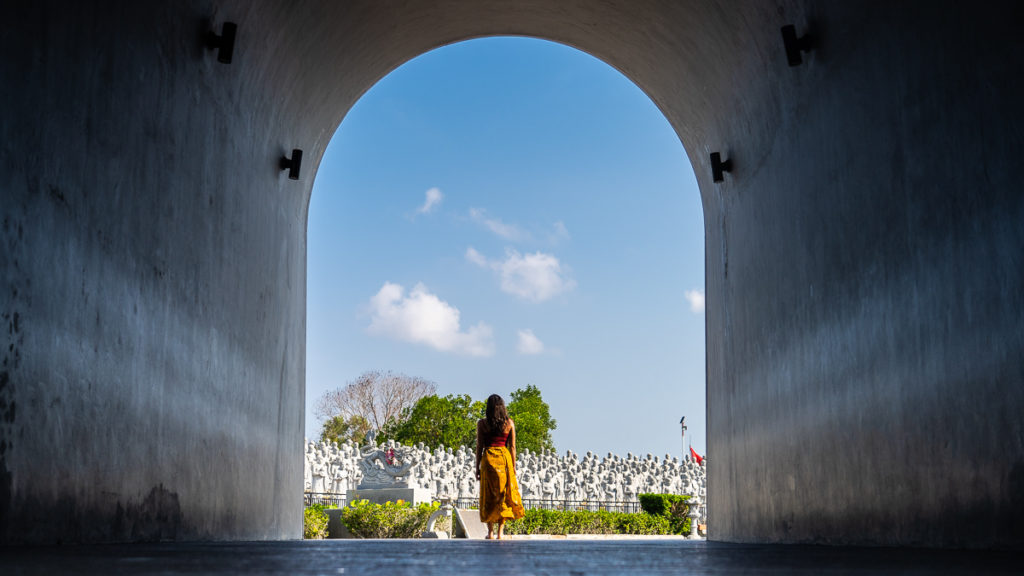 End your day off exploring the majestic 500 Lohan Temple. There are more than 500 unique life-sized statues in this space, some modelled after Chinese icons like Tripitaka from Journey to the West and Guan Gong from Romance of the Three Kingdoms.
Entrance Fee: ~S$3
Opening Hours: 7AM – 5PM, closed on Mondays & PH
Address: Jalan Nusantara, KM 13 Kijang Koota Tanjungpinang Provinsi Kepulauan Riau – Indonesia
Affordable Luxury at Cassia Bintan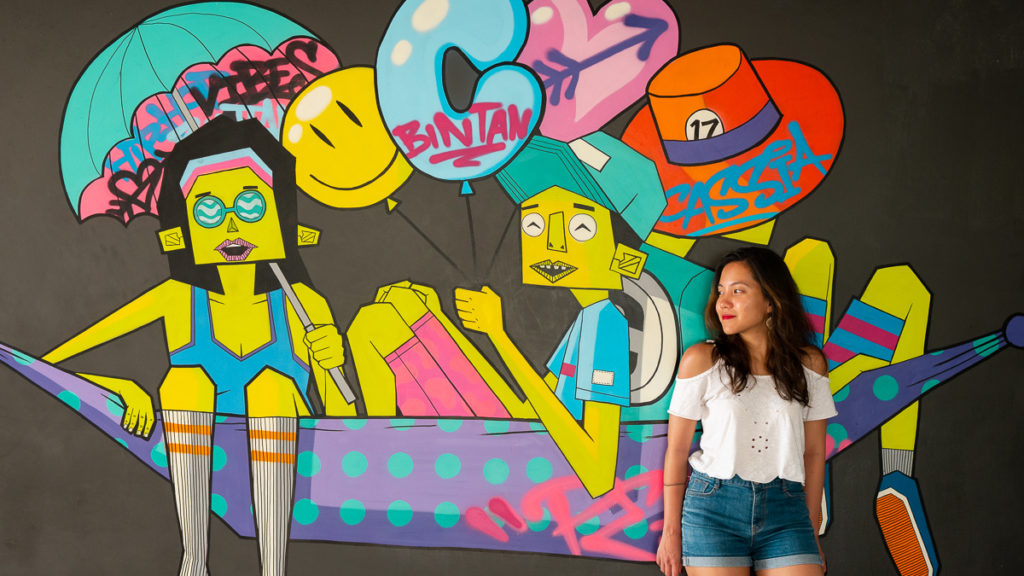 I've always had the impression that luxurious getaways are generally exorbitant (like, sell-a-leg-or-an-arm kind of exorbitant), but resorts like Cassia Bintan made me realise that there are affordable luxury options out there.
It's one thing to enjoy the same premium experience and service as you would in a full-fledged resort, but what really made this weekend for me was the sheer convenience at Cassia Bintan.
From the ATV adventure to jet-ski water activities, all the fun stuff are no more than two minutes away from our hotel. We barely broke a sweat getting anywhere!
Many resorts manage to impress me but not many manage to steal my heart. Cassia Bintan was one of the lucky few who did because of their involvement in conservation.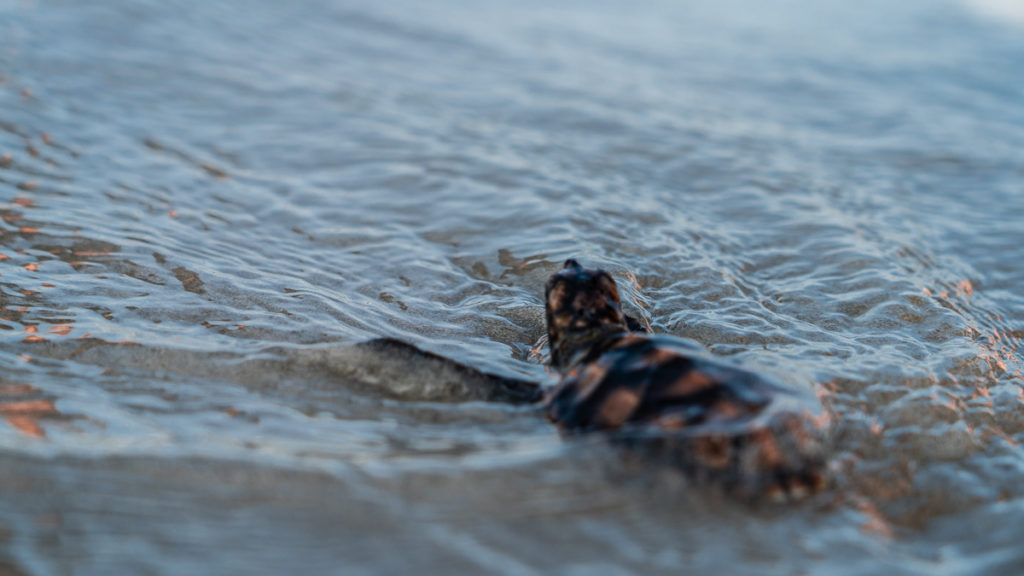 Endangered hawksbill turtles lay their eggs near the resort, and Cassia Bintan's Marine Conservation Lab takes them in to nurture them in order to ensure their survival. They then release the babies back into the ocean once they are about two to three months old. Guests even get the chance to release them twice every year (check Cassia Bintan's Facebook for updates)!
Banyan Tree Hotels and Resorts is celebrating its 25th birthday this year, so from now till 18 December 2019, enjoy 25% off the Best Available Rate, F&B, Spa and Gallery Retail, along with daily breakfast and 1 complimentary Exceptional Experience! Start planning your getaways with Cassia Bintan now!
Win A 3D2N Staycation For 2 At Cassia Bintan!
– Contest is closed –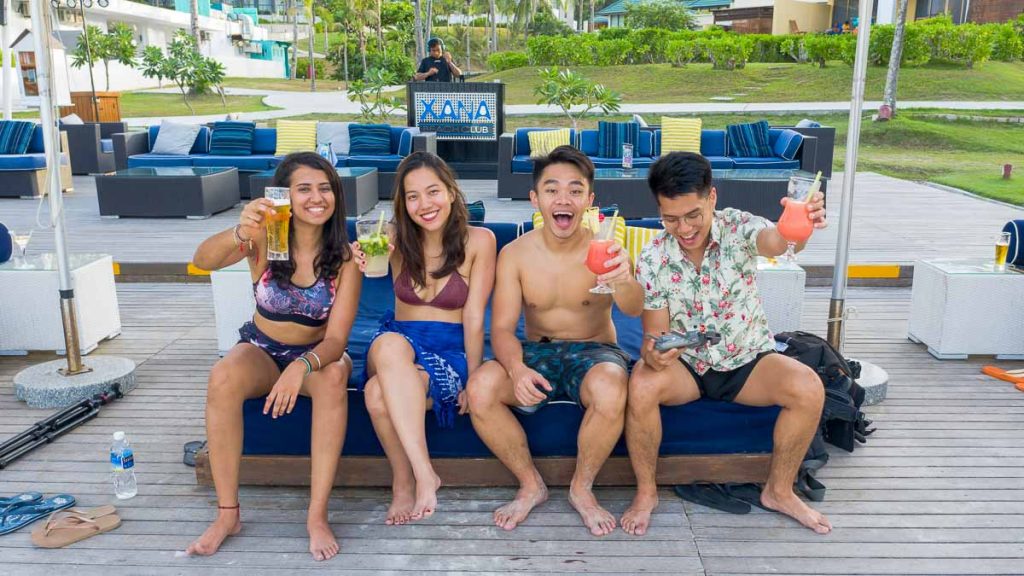 We are here to make your life even easier. Beyond planning the entire holiday for you with our Bintan Itinerary (Thank you, we are great), you can now also win a FREE staycation for 3D2Ns with a pal! Imagine staying in a 1-Bedroom Apartment with complimentary breakfast and land transfers. We are sure your pal will worship you.
So if you are looking to strengthen your relationships, here's how to win (Read Carefully):
1) Head to this Facebook post
2) Like, share the post and in your caption, tag a friend you wish to go on a staycation with (make sure the post is public so we can see it)!
Want to get more chances to win?
Do any or all of the following to increase your winning chances:
+1 Chance: Comment on our Facebook post why you and your friend deserve a perfect getaway
+1 Chance: Tag friends who need a break in the comment section of the post
+1 Chance: Follow Cassia Bintan's Facebook Page
GOOD LUCK! 😉
Giveaway ends: 20th October 2019 11:59PM
This giveaway is only open to Singapore residents. If you are concerned you don't have any time in the upcoming month to jet off for a weekend getaway, fret not, this voucher is valid for 6 months from date of issue!
Blackout dates of the resort apply. You need to make advance reservations and rooms are subject to availability. The voucher is non-refundable, non-replaceable and non-redeemable for cash. Stay voucher cannot be used in conjunction with special promotions or discounts. Lastly, please remember to bring the original copy of stay voucher as it must be presented to hotel upon arrival. Do note that Bintan Ferry Tickets are not included.
And that's how you plan a fuss-free weekend getaway! We hope you found this Bintan itinerary useful.
Read also: 13 Ways To Take Your Bintan Getaway To The Next Level
Anything we missed out from this Bintan itinerary? Let us know in the comments!
---
This post was brought to you by Cassia Bintan.
For more travel inspiration, follow us on Instagram, YouTube, and Facebook!