Reason no.14: You can book an open dated 3D2N stay for S$140 (U.P.: S$480)! Deal ends 6th May 2020 2359, more details below!
Singaporeans are a competitive bunch. From an early age, our lives are centred around stressing over grades, jobs, marriage, our kids' grades, their jobs and their marriage… No wonder we're always itching for a holiday to escape the rat race.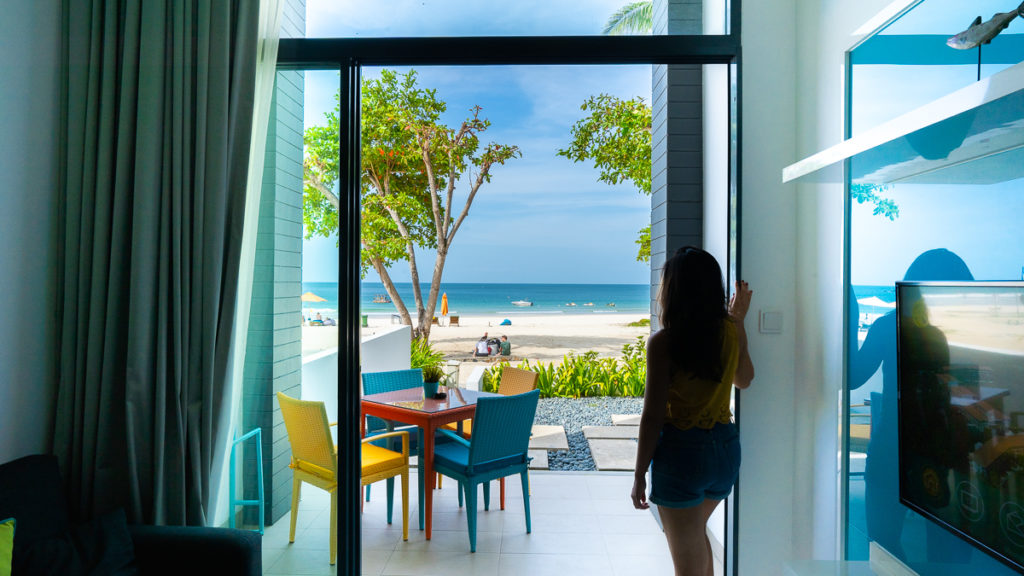 But hey, who says you can't also holiday harder and better than everyone else? 😜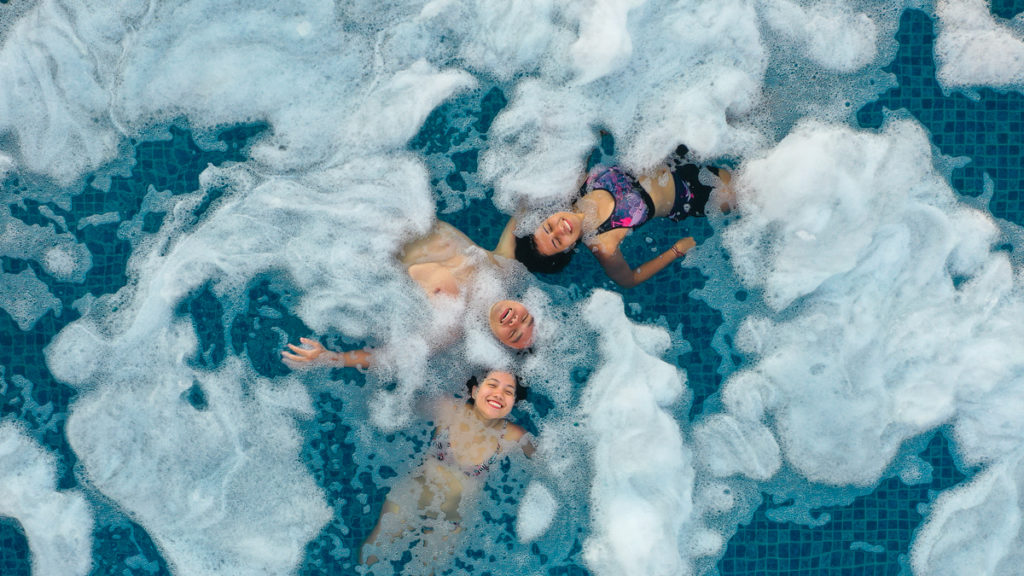 A Bintan getaway tends to be a fairly straightforward staycation, but you've not seen how we do it — with an infinity pool foam party, romantic private beach, and adventure sports, it's really about going all-out shiok!
We even got to release baby turtles into the ocean, a fantastic initiative by the super-cool Cassia Bintan resort.
So read on for the shiokest staycay must-dos for your next Bintan getaway, just 45 minutes away from Singapore!

Read also: Our Exact 3D2N Bintan Itinerary
Pre-trip Essentials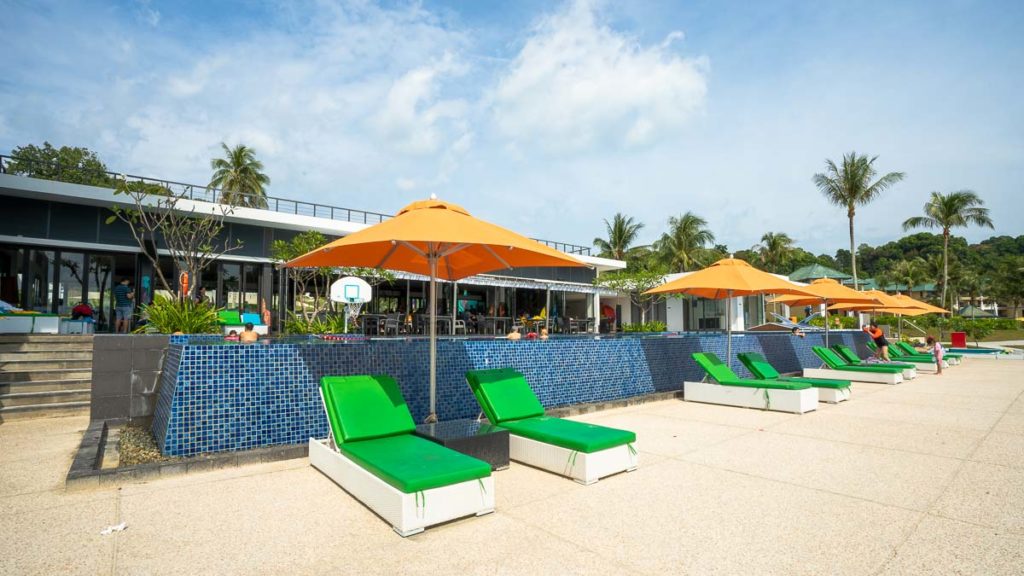 Getting from Singapore to Bintan: Take the 45-minute Bintan Resort Ferry (~S$58 – ~S$70 roundtrip) from Tanah Merah Ferry Terminal to Bintan. Do arrive for check in 1.5 hours before departure. Daily ferry schedule here.

Accommodation in Bintan: We stayed at Cassia Bintan, a modern resort with fun activities just a short walk away. It's also under the same group behind the luxurious Banyan Tree — this is the more youthful and affordable option. The complimentary shuttle services from the terminal take only 10 minutes to reach the resort!

Connectivity: There's WiFi throughout Cassia Bintan, but you can also get a 5GB SIM card from the Bintan ferry terminal for 150,000Rp (~S$15).
1) Snorkel and jet-ski just 2 minutes away from your room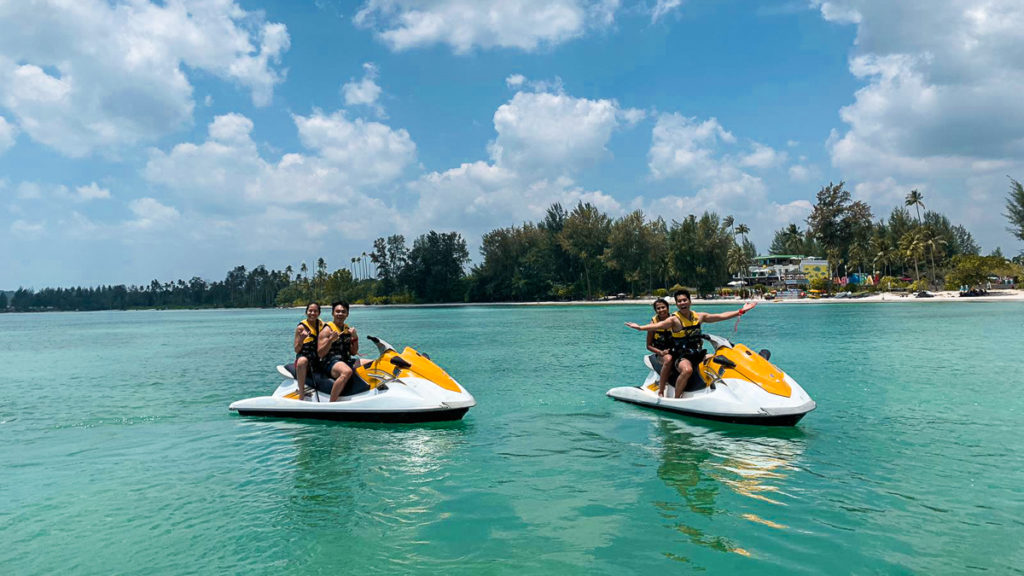 One of the best parts about having a private beach is access to clear, sparkling waters without the huge crowds. From our loft apartment, we could walk straight out to the ocean, to all the exciting water sports on offer!
I'm usually cautious about jet-skiing because I fear colliding into fellow noobs, but this wasn't an issue here with tons of empty ocean space to splash about. The safari tour is a definite must-do, as you can leave the usual jet-ski circuit and speed off to another island for a full hour. It's a truly freeing feeling, with the wind whipping your hair as you fly full speed over the waves!
If you'd rather get right into the water, go snorkelling in the cool turquoise waters of Barracuda Island, where you'll spot schools of tropical fish and live corals.
The speed boat to and from the island is an activity in itself — like a rollercoaster on the ocean!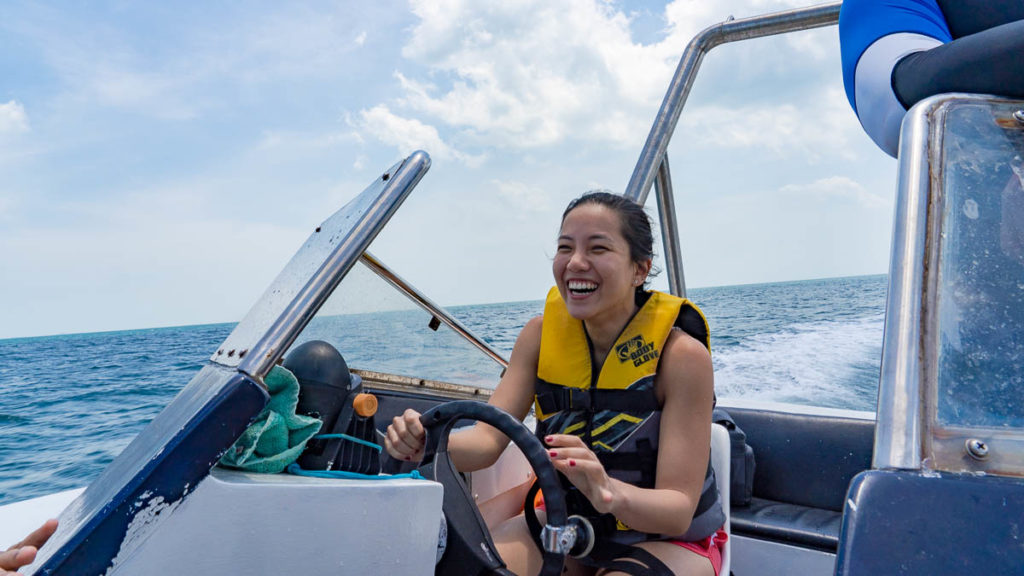 Jet-ski
Cost: From 443,000Rp (~S$43) for 15 min. 1,632,000Rp (~S$160) for 1 hr Safari Tour
Activity Timings: Between 9AM and 4PM
Meeting Point: Marine Centre, beside the Cassia Bintan infinity pool
Snorkelling Tour
Cost: 374,000Rp (~S$36)
Activity Timings: Between 9AM and 4PM
Meeting Point: Marine Centre, beside the Cassia Bintan infinity pool
2) Have some good, clean fun at a foam party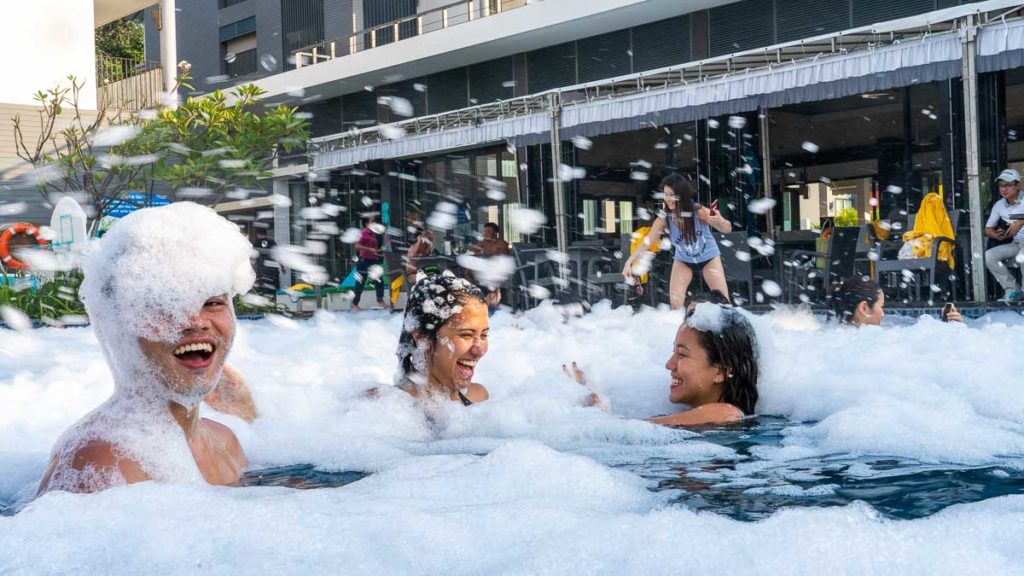 A dip in the pool is tons of fun on its own, but take things to the next level with a foamy pool party! Every Saturday, Cassia's infinity pool transforms into a humongous bubble bath, with cannons shooting piles of foamy white "snow". How's that for a Bintan getaway?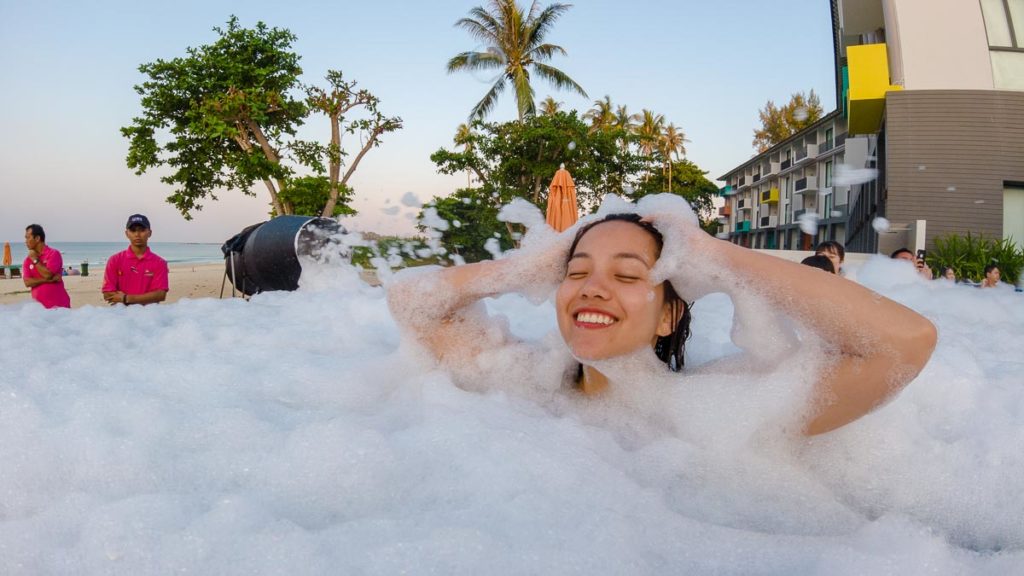 We never expected to have so much fun at a foam party — but with the backdrop of fun party tunes and a stunning beach sunset, we found ourselves giggling like kids again!
Cost: Free
Activity Timings: 3PM – 7PM. Saturdays only.
3) Speedboat through mangroves and reconnect with nature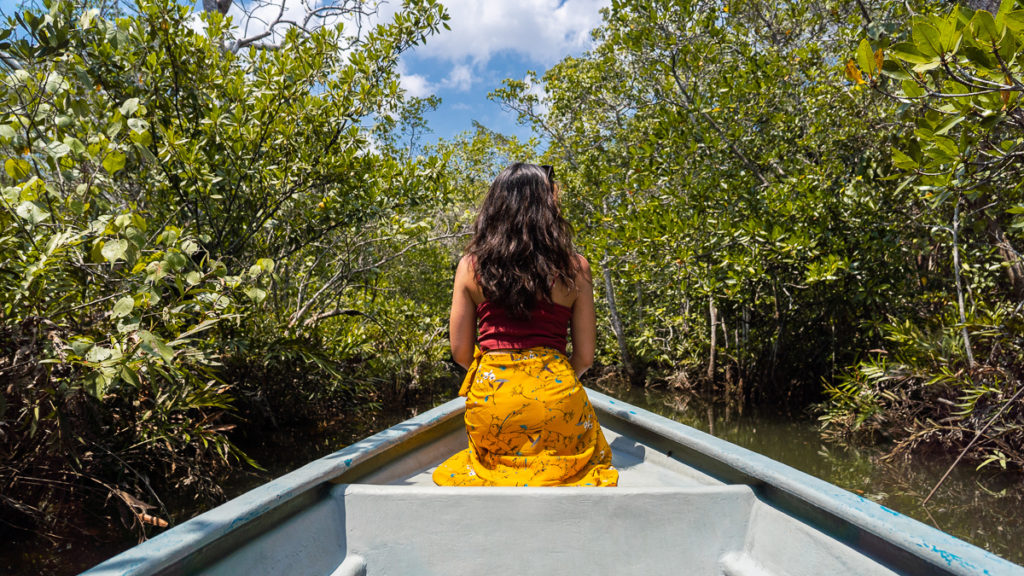 Most staycays have you just staring at four walls, but the great thing about a Bintan getaway is the easy access to untouched nature. Refresh your eyes with a one-hour Mangrove Discovery Tour down the Sebung River.

The comfy speedboat cruises through charcoal klins and the wooden kelongs at a traditional fishing village. We even spotted wildlife like pythons and mangrove snakes (hanging asleep on the branches of the trees), and a huge monitor lizard!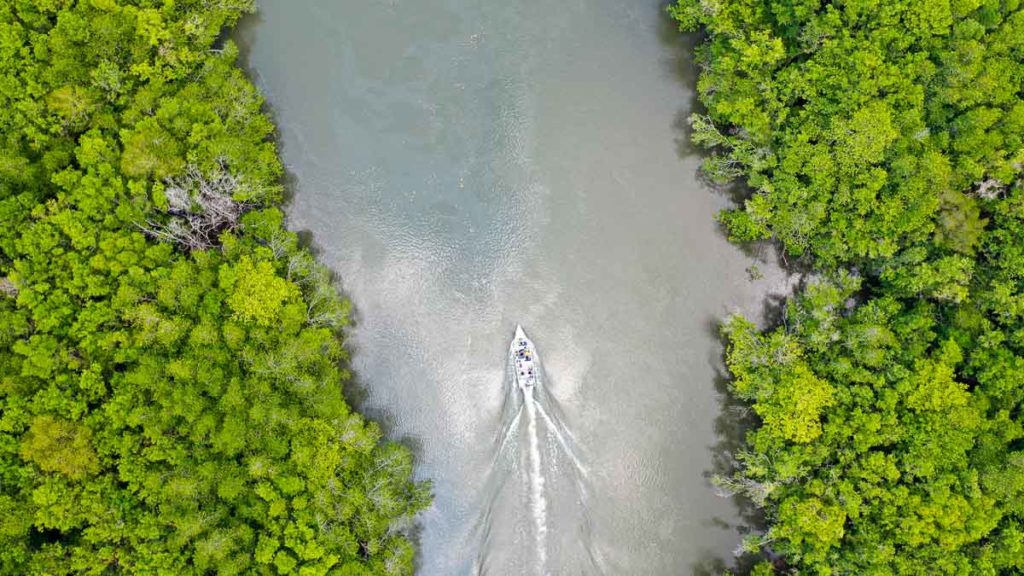 You can also opt for the night tour for a more romantic experience, with fireflies lighting up the night sky.
Cost: 380,000Rp, ~S$38
Activity Timings: Day tours start 9AM, 10:30AM, 1PM, and 3PM. Night tour start 7:30PM.
Meeting Point: Roundtrip pick-up to and from Cassia Bintan
4) Indulge in a mookata feast in the comforts of your room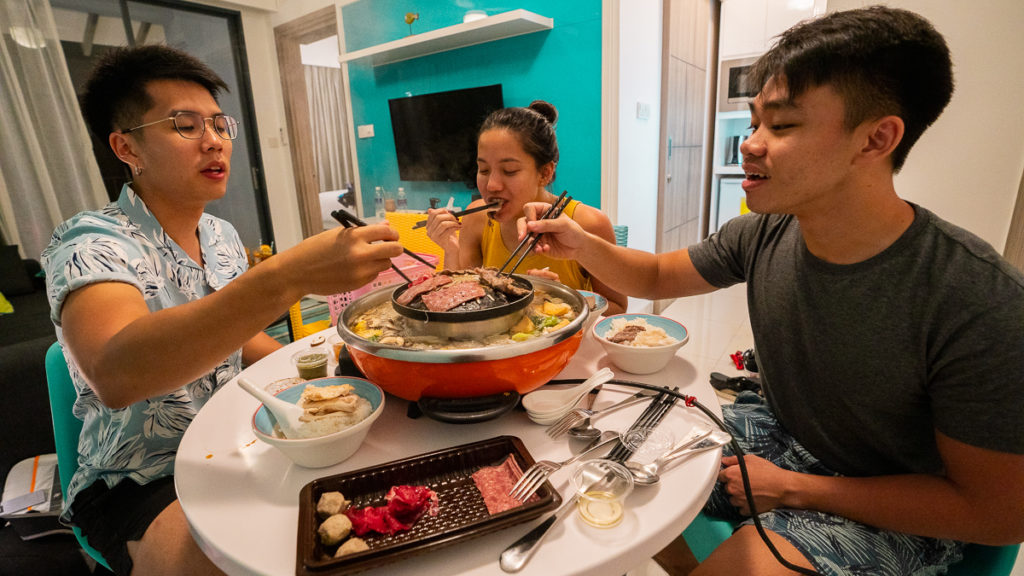 I love mookata (Thai-style BBQ), but I'm not a fan of the usual grimy coffeeshop setup, with tables packed back to back.
Trade the shared smoke for staycation shiok with a fancy mookata feast in your own hotel room! The grill and your chosen ingredients will be delivered straight to your room, and you can simply leave them outside after you're done — yep, no cleanup required. 🙂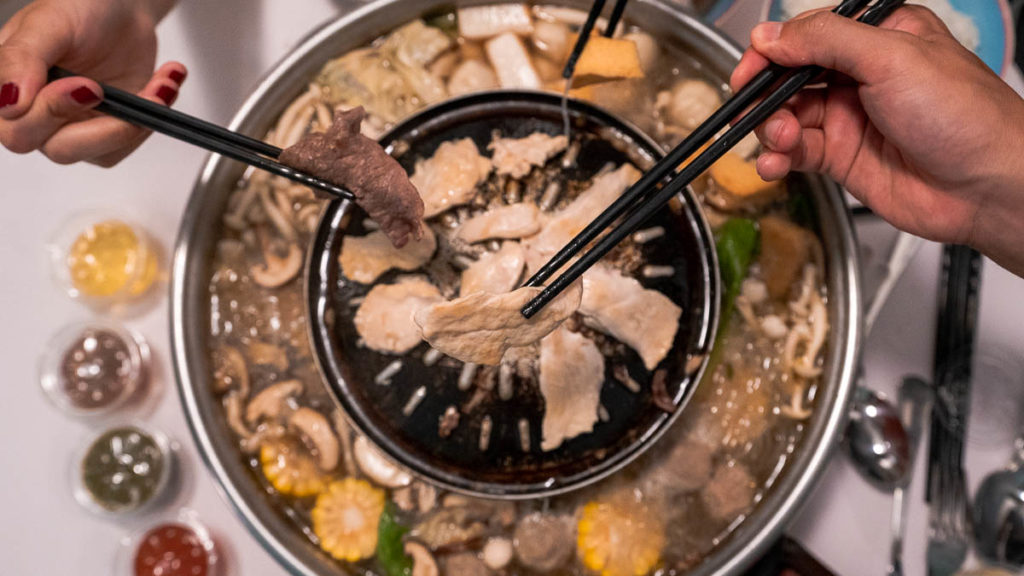 Mini marketplace Market 23 (in the lobby of Cassia Bintan) is stocked with fresh ingredients, sauces, and condiments for you to pick and choose, but if you want even more convenience, there are also prepared food sets like the "Meat Lover" or "Seafood Lover"!
Cost: From 509,000Rp (~S$50)

*Pro-tip: Unless you're comfortable with your room smelling like grilled meat 24/7, cook your mookata on the balcony instead — the vibes are better, anyway.
5) Pamper yourself with an affordable massage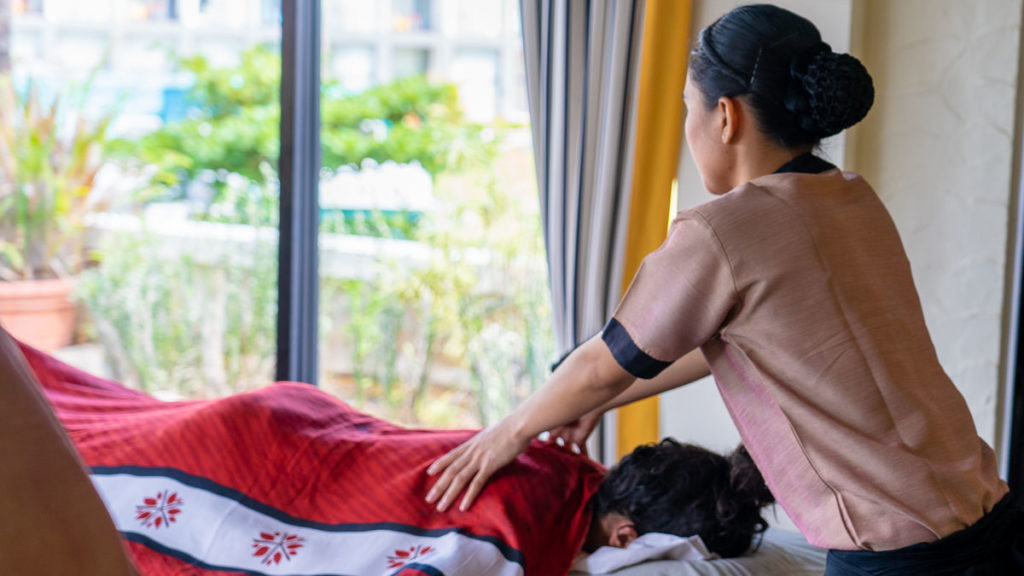 Few things feel better than lying in bed and doing nothing. But lying in bed, doing nothing, and getting the best massage of your life? That wins hands (and face) down. Also, you simply can't pass up a massage when you're at a Bintan getaway.
The sign of a good massage is when you don't even feel the time pass — and that was true of Angsana Spa's relaxing massage (from 750,000Rp, ~S$73) as I drifted in and out of sleep through 60 minutes of pure bliss.
Paired with soothing music and essential oils, our masseuse expertly soothed out pressure points and caressed weary muscles. The pampering doesn't end even after the treatment is over, with fresh fruit, yoghurt, and a pot of warm tea. We loved the Ginger Tea with Honey, which was delicious and especially invigorating after the massage.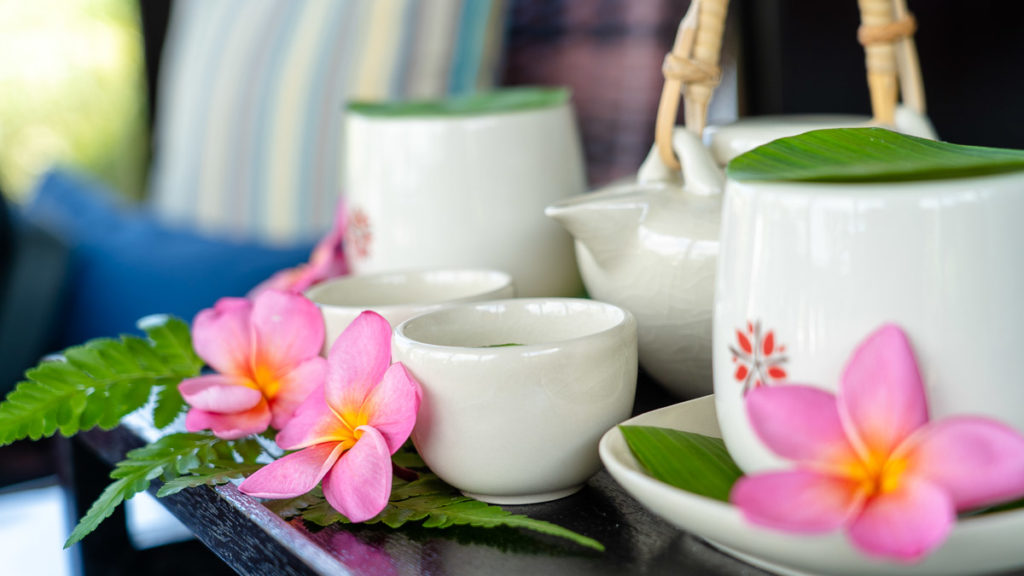 If you're really looking to one-up your relaxation, try an Angsana Signature (From 1,500,000Rp, ~S$147) — a specially-curated spa package with massages, body wraps, facials, and scrubs.
Cost: 750,000Rp, ~S$73 for a 60-minute body massage. Angsana Spa menu here.
Opening Hours: 9AM – 11PM
How to get there: 3-min walk from Cassia Bintan to Angsana Spa, located in Angsana Bintan resort
6) Get your adrenaline pumping on an ATV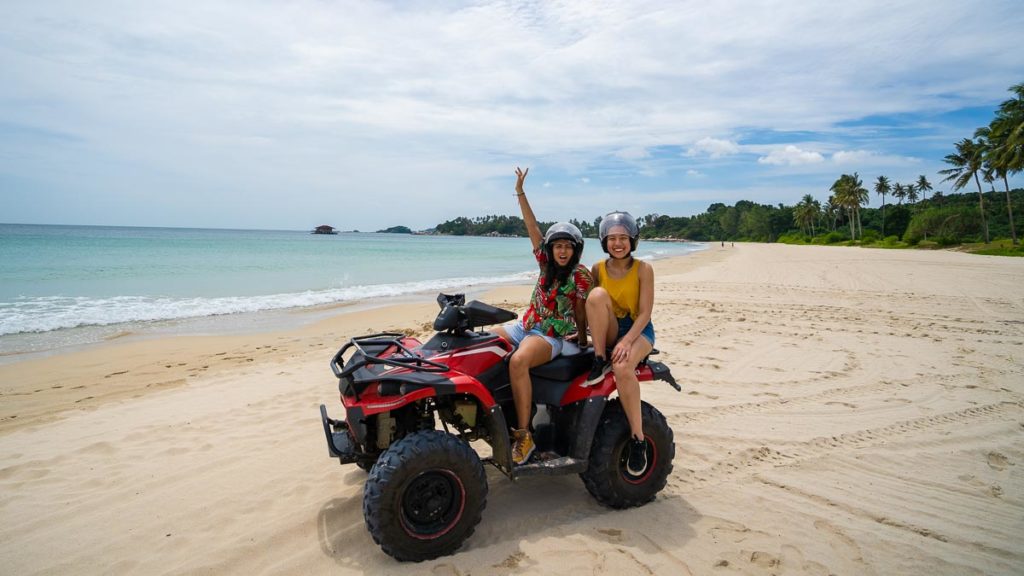 ATVs are always fun, but it's a whole other level when you've got a private beach and lush forest right at your doorstep.

Just two minutes away from our loft apartment, we got on our four-wheeled bad boys and went full speed along sparkling turquoise waters and a powder-white beach.
For a complete change of scenery, we explored little village kampongs on a tropical forest circuit, which was also way more bumpy (and fun) than the beach's smooth sand.
Cost: From 590,000Rp (~S$58) for a 30-min ride
Meeting Point: Marine Centre, beside the Cassia Bintan infinity pool
7) Try sunrise yoga with a view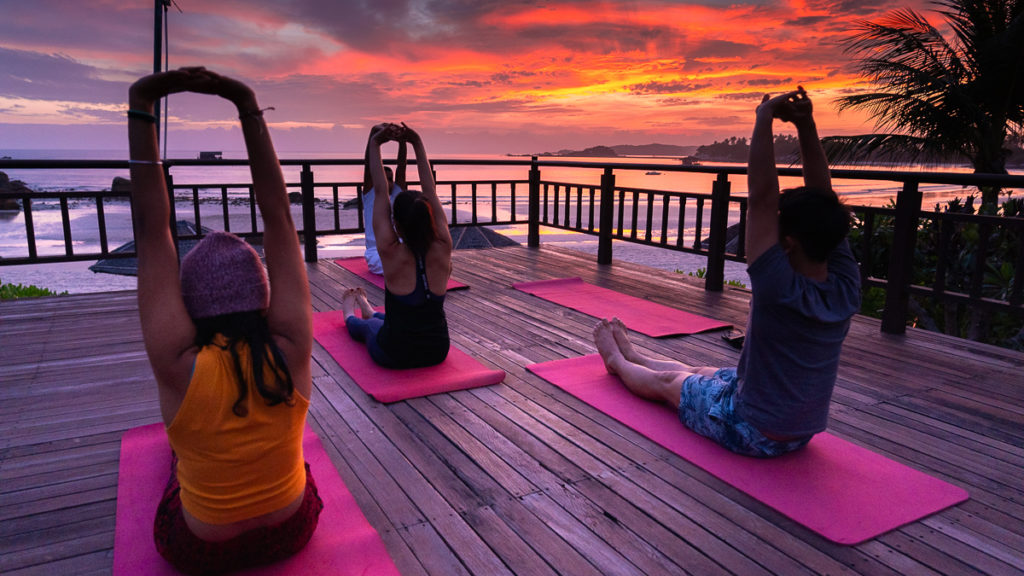 Getaways don't have to be a completely uninhibited indulgence — in fact, it's probably the best time to practice some self-care. And what better way than with morning yoga and a beautiful sunrise by the beach! Our in-house yogi Dinesh helped us centre ourselves and embrace inner zen as we stretched and strengthened our way through the poses.
As your heart rate starts pumping up, you'll watch warm light begin to fill the sky — a truly invigorating experience, even better than a morning coffee!
Cost: Free
Activity Timing: 5:30AM – 7AM
How to get there: 3-min walk from Cassia Bintan to Santai Deck at Angsana resort
8) Treat yourself with endless buffets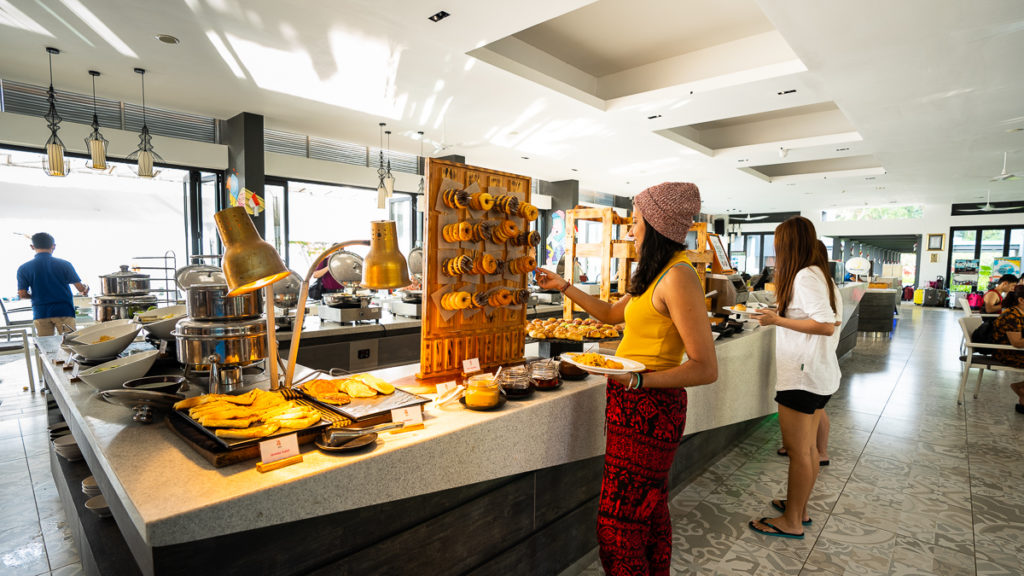 It's not a good staycay without an international breakfast buffet, and our Bintan getaway at Cassia Bintan didn't disappoint — with local dishes like mie (noodles) and fried rice, cereals, cheese and salads, and an extensive pastry section with danishes, french toast, and frosted donuts!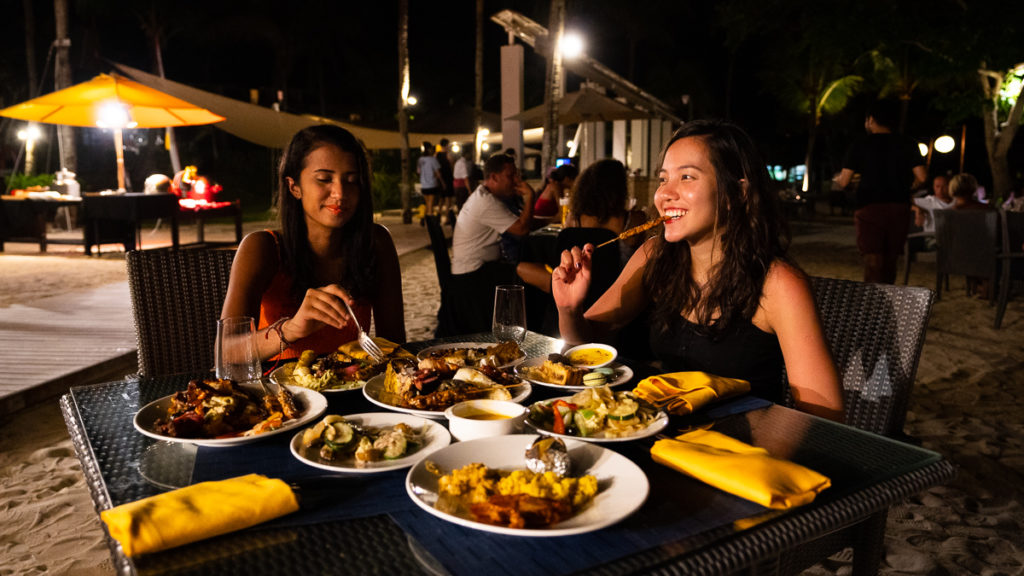 What made this staycay really great, though, was a dinner buffet that I still dream and drool about. Every Saturday, XANA Beach Club serves up a wicked spread with impressive dishes from grilled seafood (Prawn! Squid! Fish!), to roast beef, meat skewers, tempura, and even chilli crab.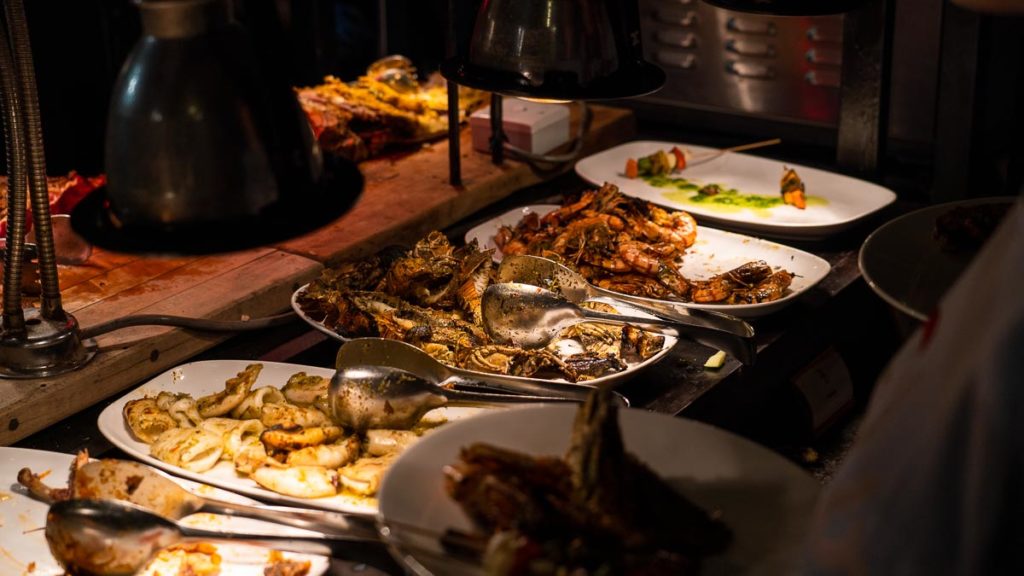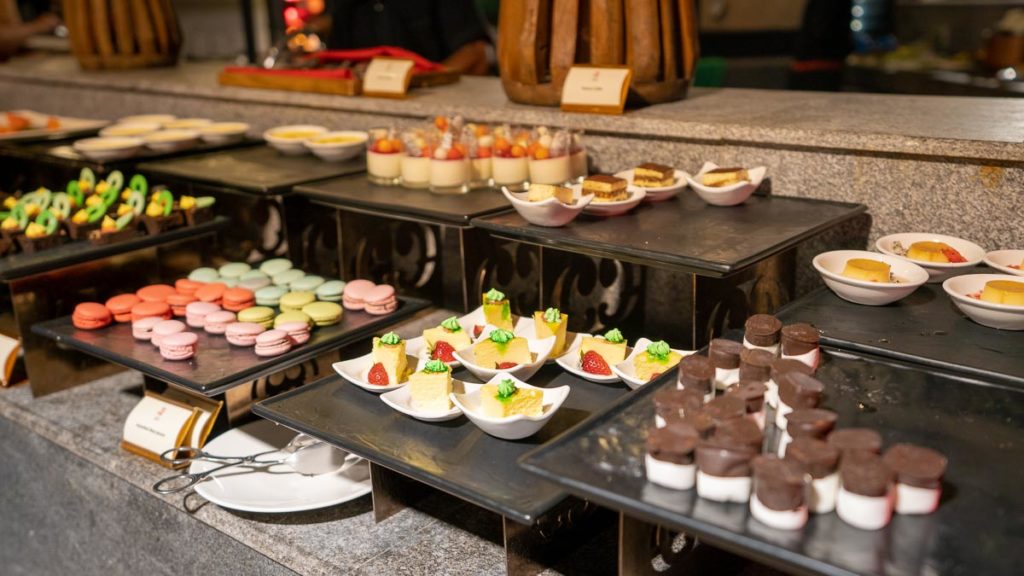 Cassia Bintan Breakfast Buffet
Cost: Included in room rate for hotel guests
Opening Hours: 6:30AM – 10:30AM
How to get there: Lobby of Cassia Bintan

XANA Beach Club Dinner Buffet
Cost: 579,000Rp (~S$58++) per pax
Opening Hours: 6PM – 11PM. Saturdays only.
How to get there: 2-min walk from Cassia Bintan to XANA Beach Club
9) Enjoy happy hour at a private beach club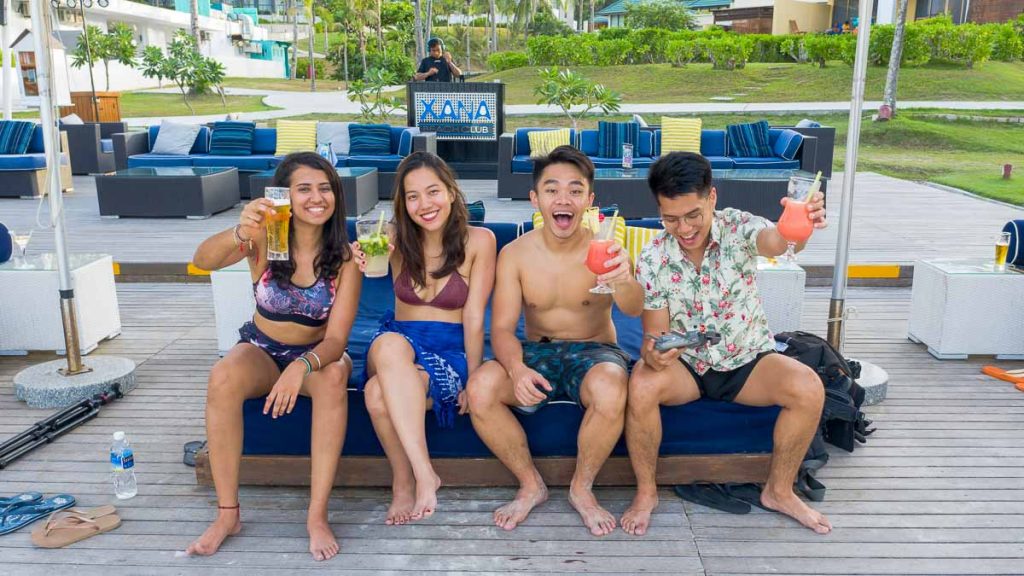 Bali is where I think of when it comes to beach club holidays, so imagine my surprise when we arrived at the lively XANA Beach Club.
Bintan's first-ever beach club is exclusive to Cassia Bintan, Angsana, and Banyan Tree guests — which means you'll get clear, unobstructed views of the beach, and won't have to stand around waiting for seats. Better yet, there's no minimum spend to laze on the luxurious day beds!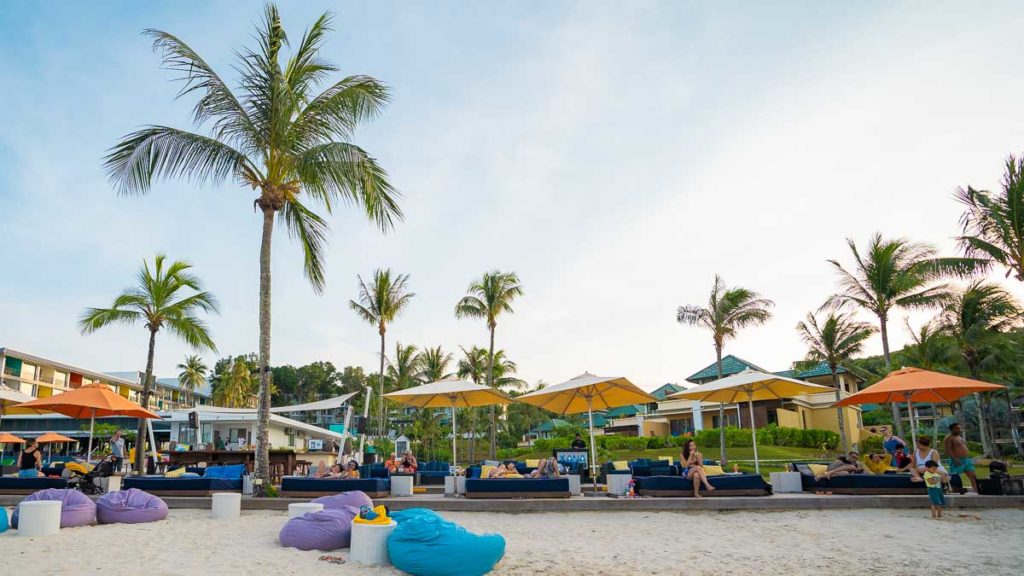 Happy Hour at XANA is truly something to smile about, with 50% off alcohol (38,500Rp for a beer!) and appetisers like nachos and calamari (from 110,000Rp). Held daily from 4:30PM – 6:30PM, this is also the perfect time to catch a pretty sunset by the beach.

Opening Hours: 11:30AM – 11PM
How to get there: Beside Cassia Bintan and Angsana resort, in front of the beach
10) Release endangered turtles into the ocean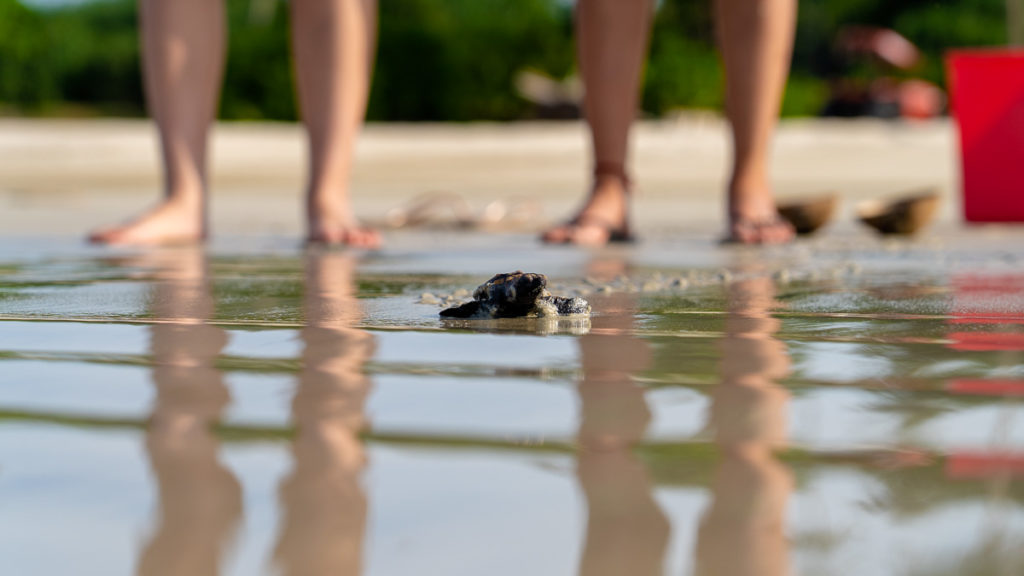 It's one of the most heartwarming things you'll ever see — baby turtles taking their first, pensive steps toward the ocean, before gaining the confidence to paddle furiously with tiny flippers.
Home to Bintan's only Marine Conservation Lab, Cassia Bintan is big on caring for marine life, and the turtle release project is its cutest initiative. Hawksbill turtles lay their eggs along the beach, which leaves the endangered species at risk of getting attacked by predators. The eggs are brought to the lab for hatching, and then released into the ocean once they are about two to three-months-old.
It's definitely one of the most unique experiences you can enjoy on a staycation — though you'll find it hard not to shed a proud tear as the baby turtles disappear into the waves!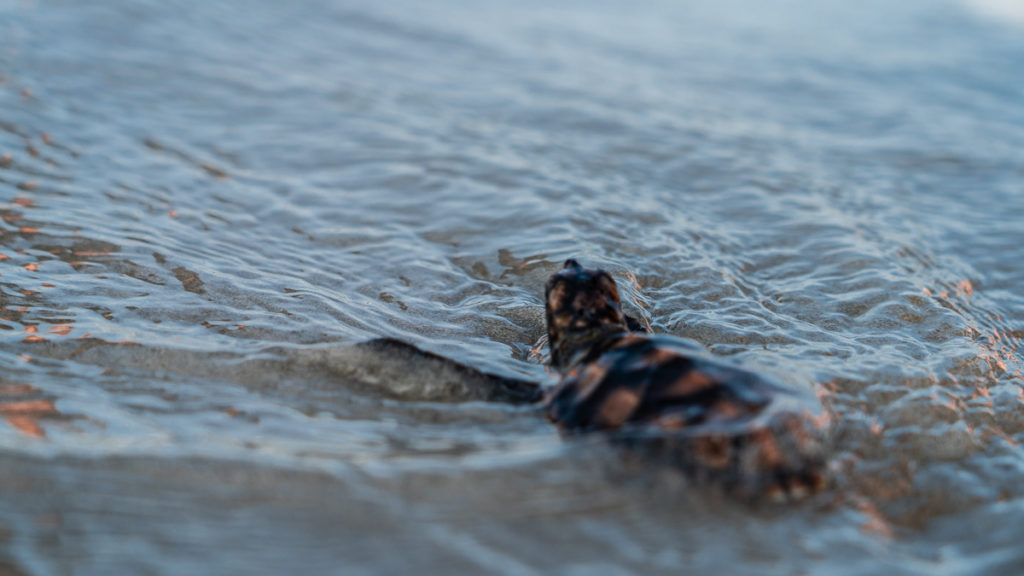 Cost: Free
Activity Timings: Based on seasonal availability. Check for updates on Cassia Bintan's Facebook or Instagram
Meeting Point: Beach in front of Cassia Bintan
*Pro-tip: The Marine Centre (next to the infinity pool) offers free nature walks and marine presentations that let you learn more about how you can help!
11) Marvel at Bintan's own sand dune desert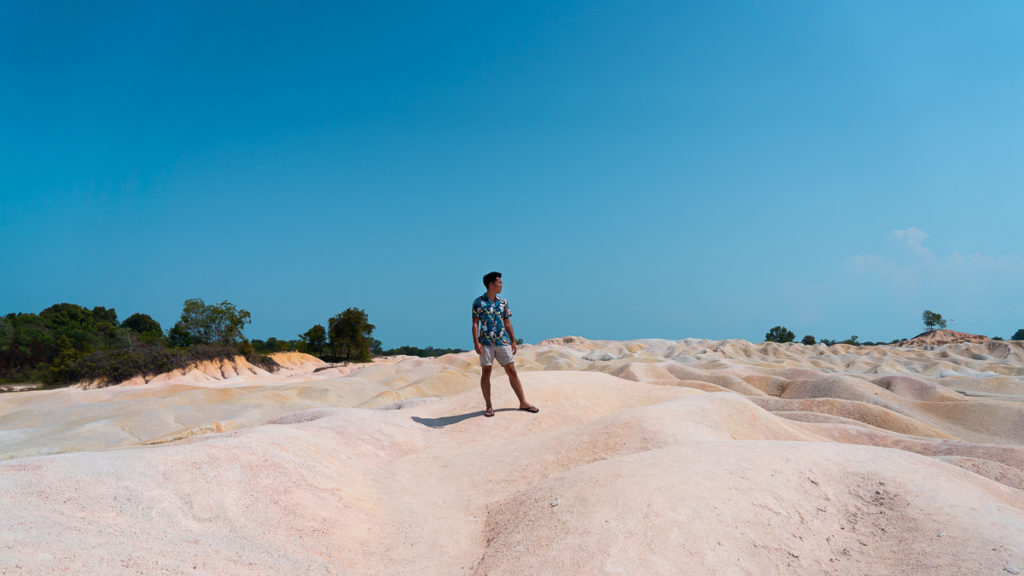 You know it's not your usual beach staycation when you've got an actual sand dune desert just 30 minutes away from your hotel!
Gurun Pasir Busung is one of the most magical places in Bintan, with dramatic sand hills that catch the light and change hues from bright yellow to burnt orange.
As if the dunes weren't surreal enough, walk further up and you'll find Telaga Biru, a stunning bright blue lake that's especially striking amidst the white sand. Not your usual tropical island experience!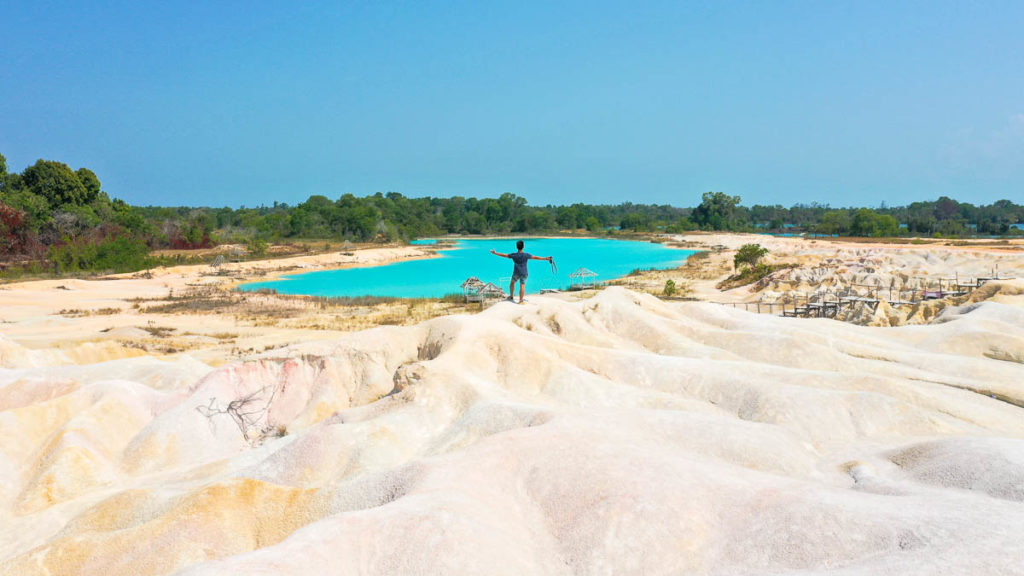 Cost: Free
Opening Hours: 24 hours
How to get there: 40-min drive from Cassia Bintan. Alternatively, take the 3hr Tanjung Uban Explorer Tour (450,000Rp, ~S$44) which includes a stop at Gurun Pasir Busung, the majestic Giant Turtle God Statue, and other iconic Bintan sights.
12) Grab photos for the gram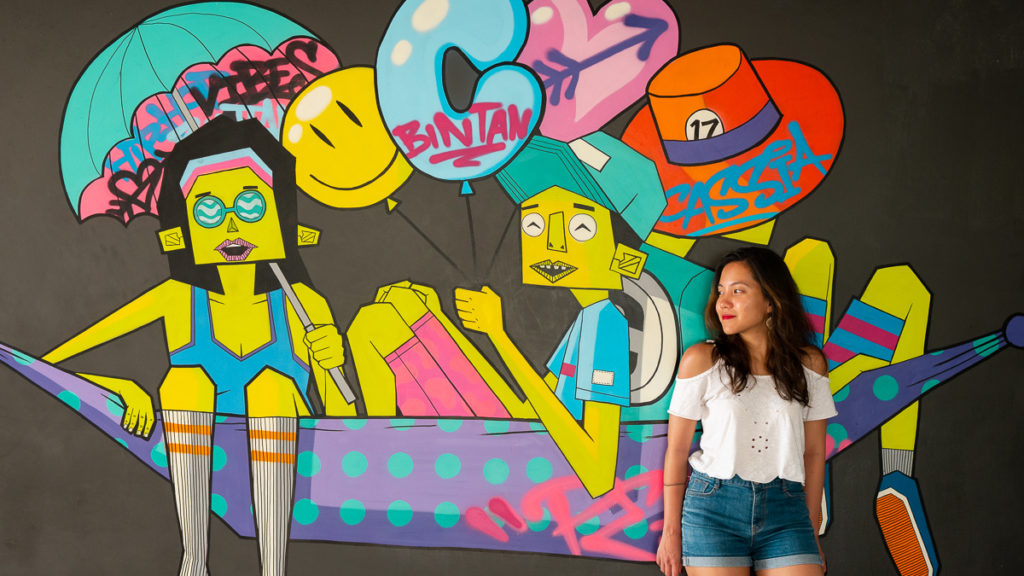 Cassia Bintan is chock-a-block with street-style wall art that inject it with a youthful, urban cool. Wander the grounds and you're bound to spot fun pops of colour that make perfect photo opportunities.

How to get there: Lobby at Cassia Bintan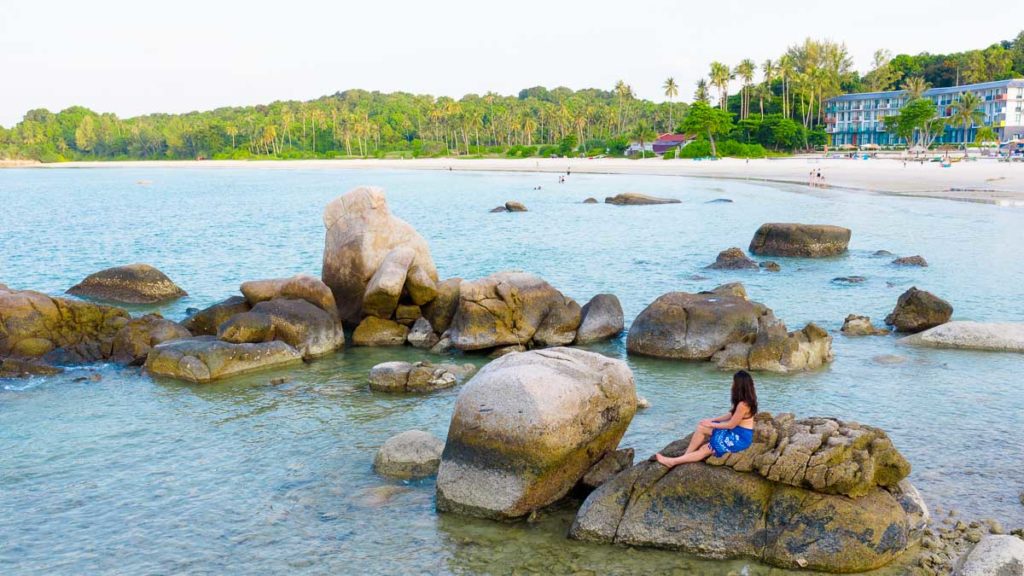 Of course, you'll also find gorgeous natural photo spots on the tropical island. Walk out on to the cluster of smooth rocks by the resort, and take #wanderlust pics overlooking the sea.
How to get there: 2-min walk from Cassia Bintan, by the beach in front of Banyan Tree Resort
13) Feast on authentic Indonesian food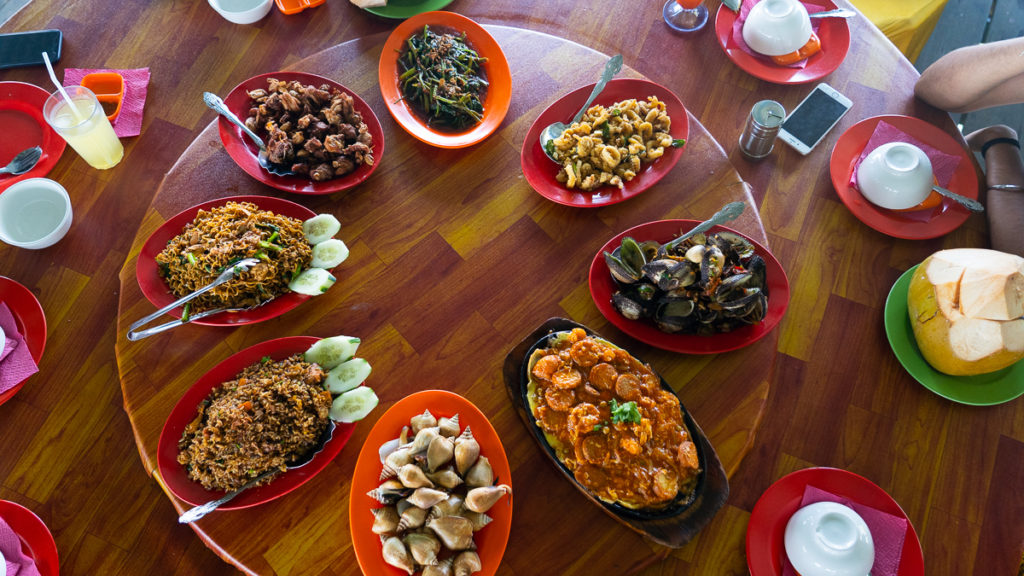 Treat yourself with good Indonesian food for a fraction of the price you'd get in Singapore. We headed to one of Bintan's famous kelongs, a floating wooden platform overlooking the sea.

We had a huge feast at Aneka Seafood Restaurant, with the freshest seafood right from the ocean. Everything we ordered was delicious — we devoured every single morsel — but if there's one dish you can't miss, it's gong gong, Bintan's specialty sea snails (143,000Rp, ~S$14).
Cost: ~160,000Rp (~S$15) per pax
Opening Hours: 9AM – 9PM
Address: Jl. Panca Marga, Tj. Uban Utara, Bintan Utara, Kabupaten Bintan, Kepulauan Riau, Indonesia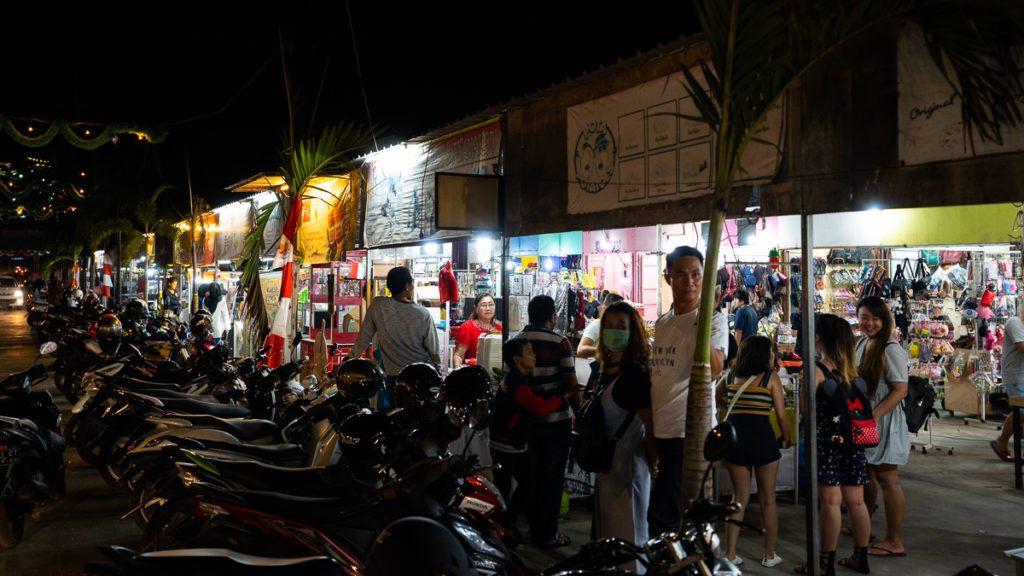 For cheap street eats, head to Rimba Jaya. This bustling night market is packed with locals (so you know it's good!) who come for yummy comfort food like mie goreng, oyster omelette and satay. It's real affordable too — each dish sets you back only about 25,000Rp.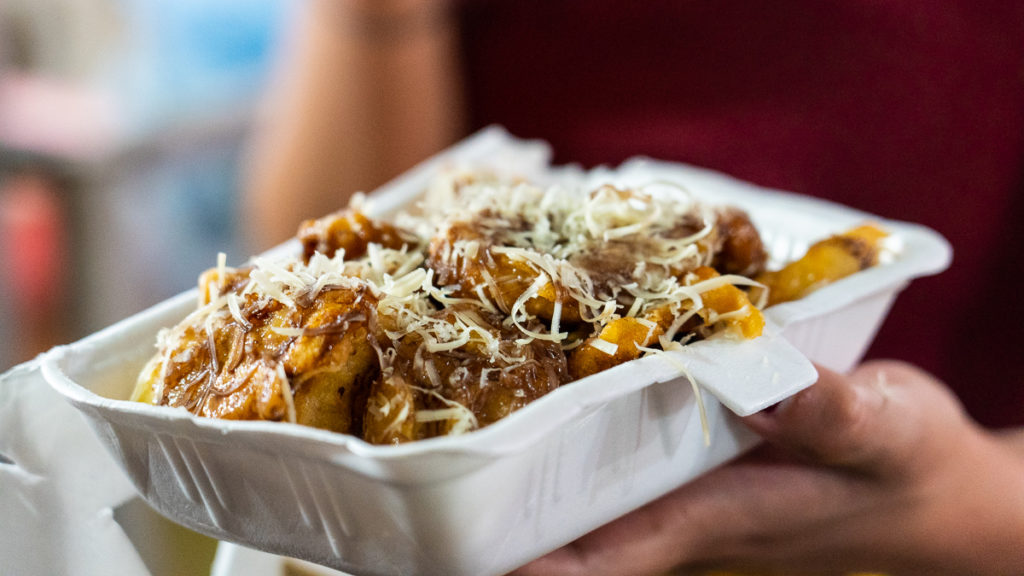 Our favourite was the goreng pisang (16,000Rp, ~S$1.60 per box) which made the trip down completely worth it. It's unlike any version I've tried before, meaning to say it's really good. The combo sounds weird, but it works, with crisp, battered banana doused generously in chocolate sauce, condensed milk, and cheese. Totally worth every single calorie.

Opening Hours: 4PM – 12AM
How to get there: 1h 30-min drive from Cassia Bintan
Affordable luxury just 45 mins from Singapore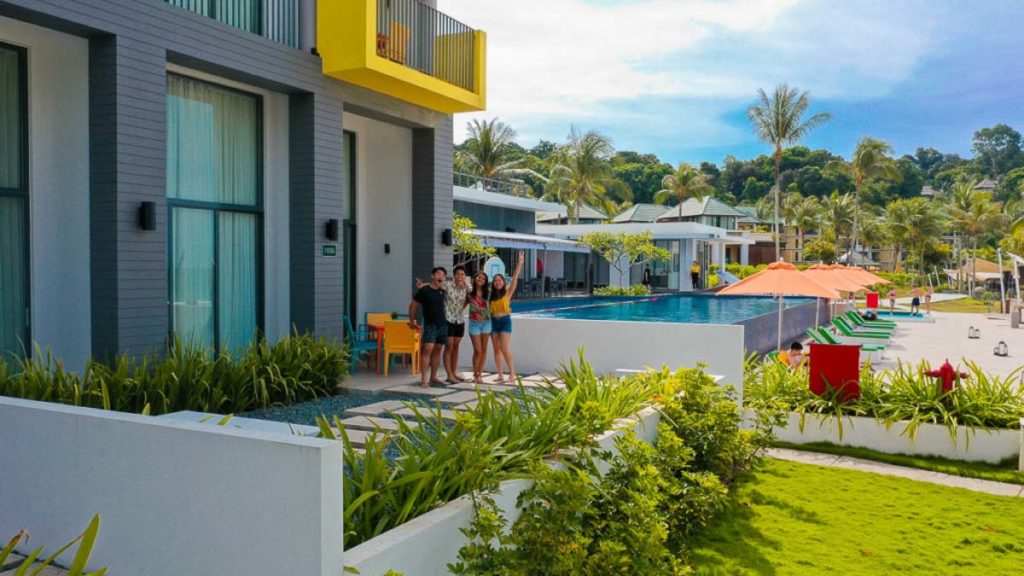 Boring, basic staycations are a thing of the past after Cassia Bintan. We were packed with fun activities from start to end, but it never felt too tiring because most of them were right in the resort itself. When you can ATV, jet-ski or just hit the private beach club a mere two minutes away, you know you've found the perfect staycay place.
I also loved the modern apartment-style rooms, which come with either a cosy living room or loft hangout — great for late night chats or an intense board game session!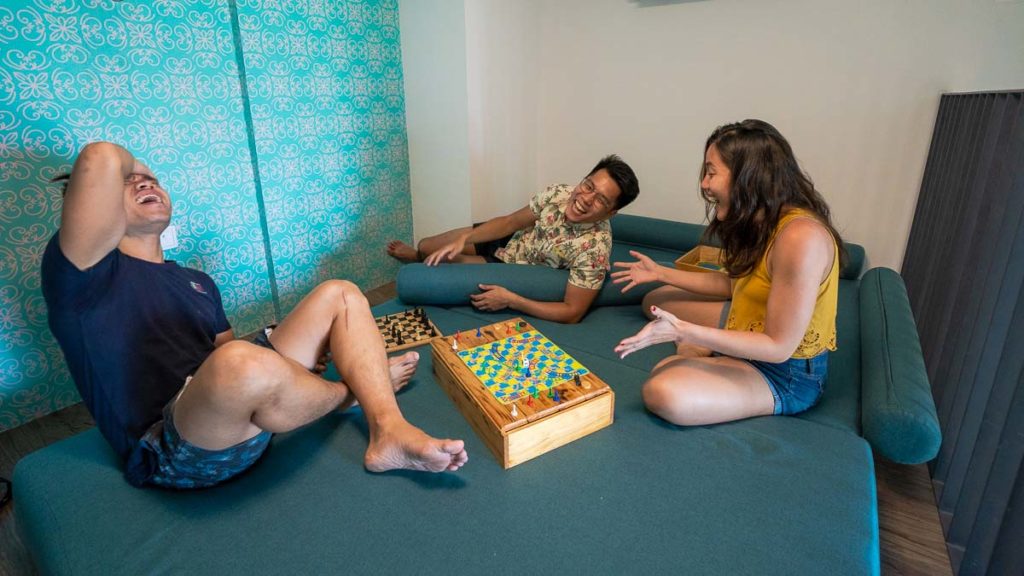 Each room also comes with a fully-equipped kitchenette that's spacious enough for everyone to prepare a meal together (or stand around and just "eye-power").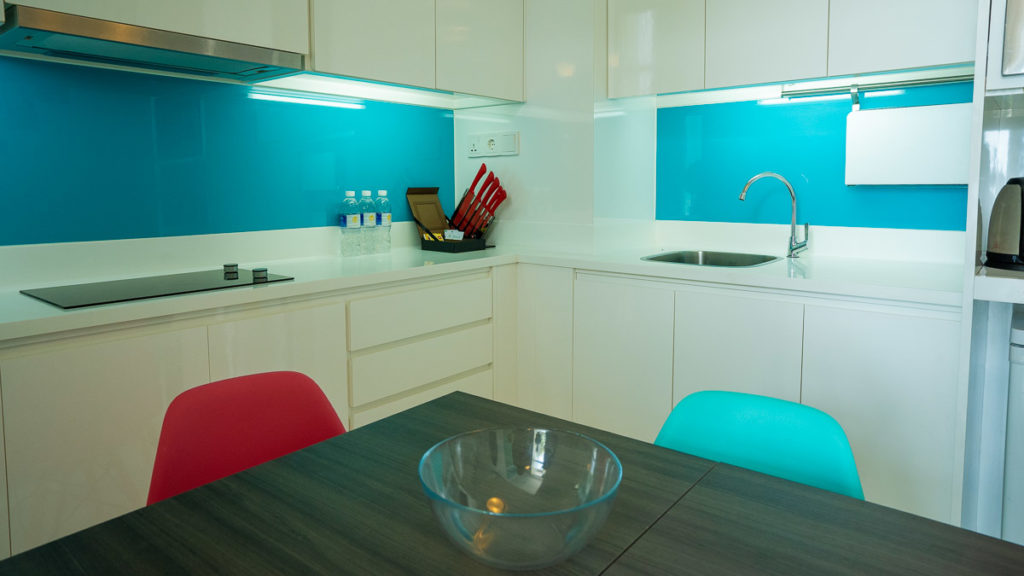 So if you sorely need a break from the daily hustle, why not take a Bintan getaway that has everything from fun activities to pretty beaches, wildlife, and great food? For affordable luxury so close to home, a Bintan getaway at Cassia Bintan will truly make you sigh and say this is the life.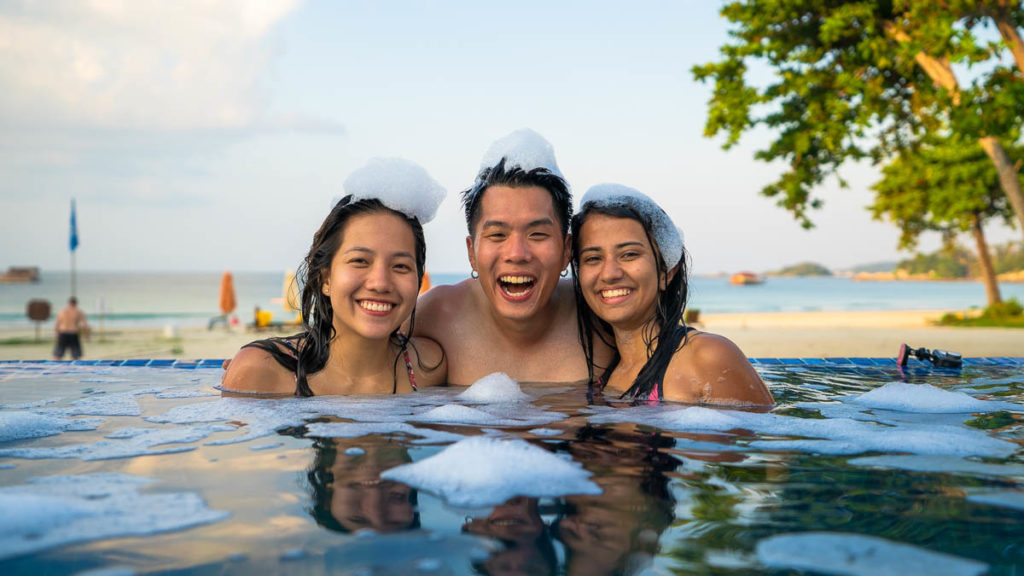 3D2N At Cassia Bintan For 2 — S$140 (U.P.:S$480)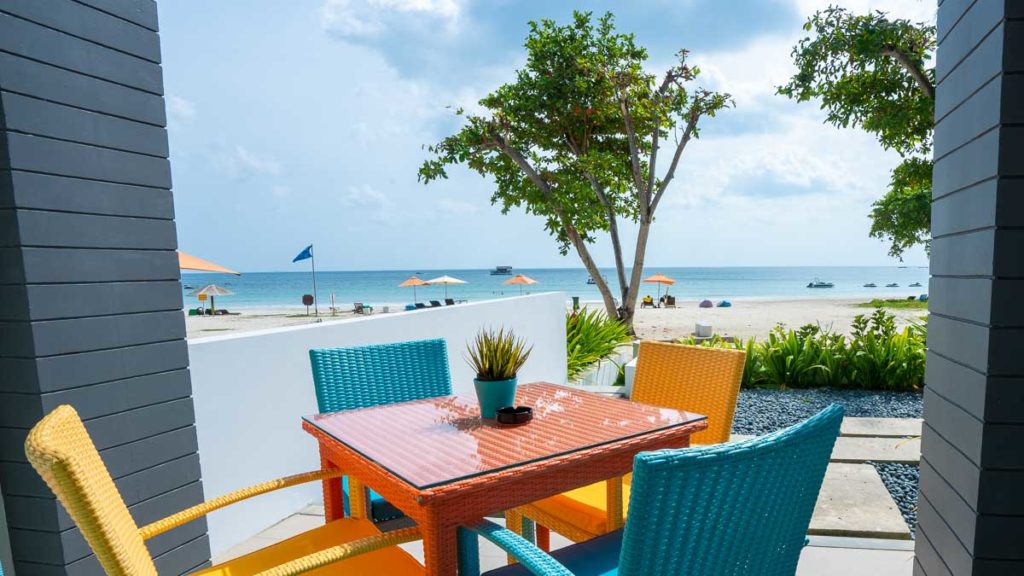 For a limited-time only, selected Banyan Tree Hotels & Resorts are offering crazy rates of up to 78% off! Gift vouchers are fully flexible for booking from now till 20th December 2021.
Cassia Bintan is usually valued at S$480 for 2 nights but you can purchase the gift voucher for only S$140! Inclusive of daily breakfast, afternoon tea, 2-way return land transfers from BBT ferry terminal and 50% off spa services!
*Valid for bookings made before 6th May 2020 2359hrs
---
This post was brought to you by Cassia Bintan
Like what you see? Follow us on Facebook, Instagram, and YouTube for more travel updates!