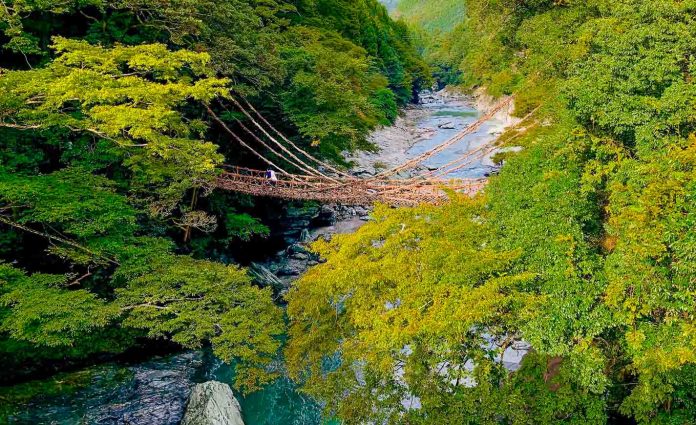 There's more to Japan than just Tokyo. Here's what you can do on the oft-forgotten island of Shikoku!
I've been to Japan three times in my entire life and like any other tourist, Tokyo and Kyoto were my most visited destinations. But there are so many more islands in Japan to explore — one being the often forgotten Shikoku.
It's one of the four main islands of Japan and there's plenty of things to do besides sightseeing! From adventurous activities to traditional crafts, here are 13 unique local experiences for first-timers to try on this beautiful island.
1) Conquer your fear on a bridge made of vines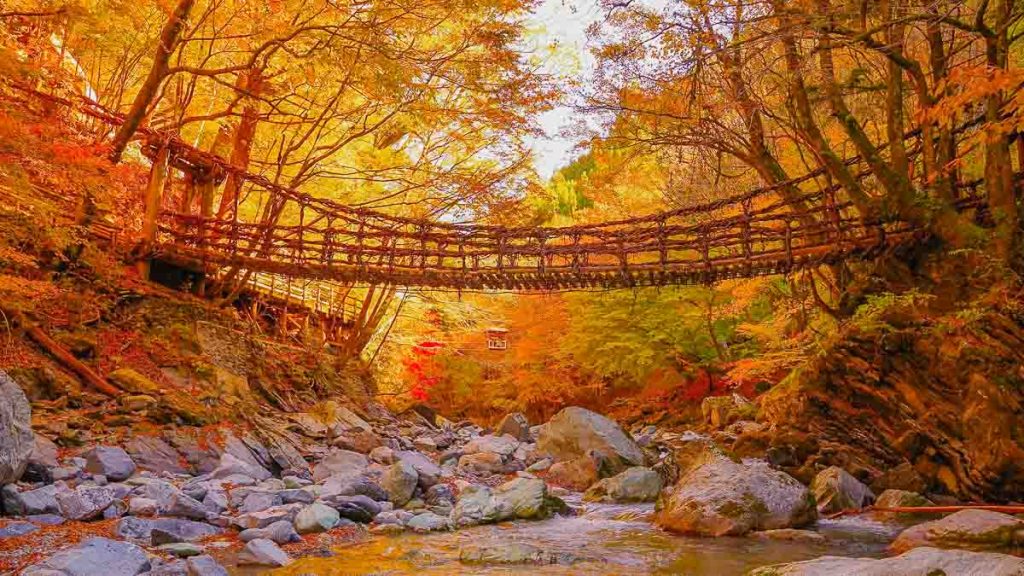 Photo credit:@tourismshikoku2 via Facebook
The Iya Vine Bridge located in Miyoshi City is known as one of the three most unusual bridges in Japan — being woven from wild vines. It's 45m long and 14m above a flowing river, which you can see through the gaps on the bridge.
Crossing this vine bridge may sound like a scary idea but it's a thrilling and one-of-a-kind experience. Don't worry, there are renovation works done every three years to ensure its safety!
Cost (to cross the bridge): ¥550 (~S$7)
Opening hours: Varies
Address: Nishiiyayamamura Zentoku, Miyoshi, Tokushima 778-0102
2) Scramble, climb and jump in canyons
Photo credit: Niyodo Adventure
Jump into the blue Niyodo River from the Nakatsu Gorge or abseil down cliffs — canyoneering is one of the ways to explore Kochi's amazing caves and waterfalls.
This two-hour tour with Niyodo Adventure will bring you deep into the valleys inaccessible by regular walking or driving paths, perfect for outdoor lovers!
Tour cost: ¥8500 (~S$103)
Opening hours: 10AM – 6PM (Call beforehand)
Address: 450 Nanokawa, Niyodogawa, Agawa, Kochi 781-1741
3) Experience stand up paddling along Japan's last clear stream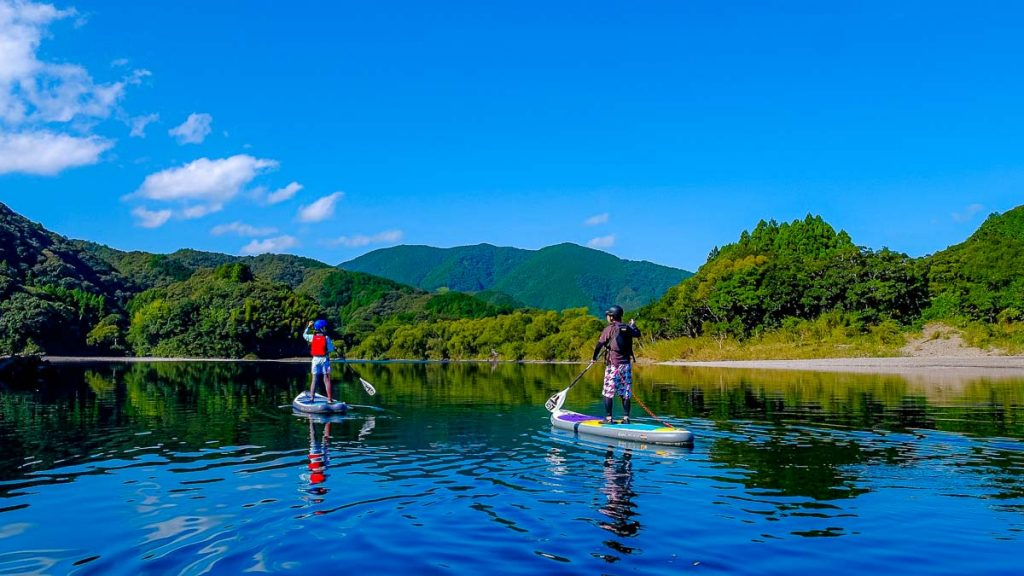 Photo credit: withRIVER
Shimanto River in Kochi prefecture is the longest river in Shikoku and is sometimes referred to as Japan's last natural clear stream. Unlike most of the rivers in Japan, this has no large dams disrupting its flow, remaining pristine and untouched by man.
Pick from tours ranging from 60 minutes to half-day where you can float across blue waters on a stand-up paddleboard while spotting wildlife.
Tour cost: From ¥3000 (~S$37)
Opening hours: 8AM – 6PM
Address: 1841 Misato, Shimanto, Kochi 787-1221
4) Zipline across forested slopes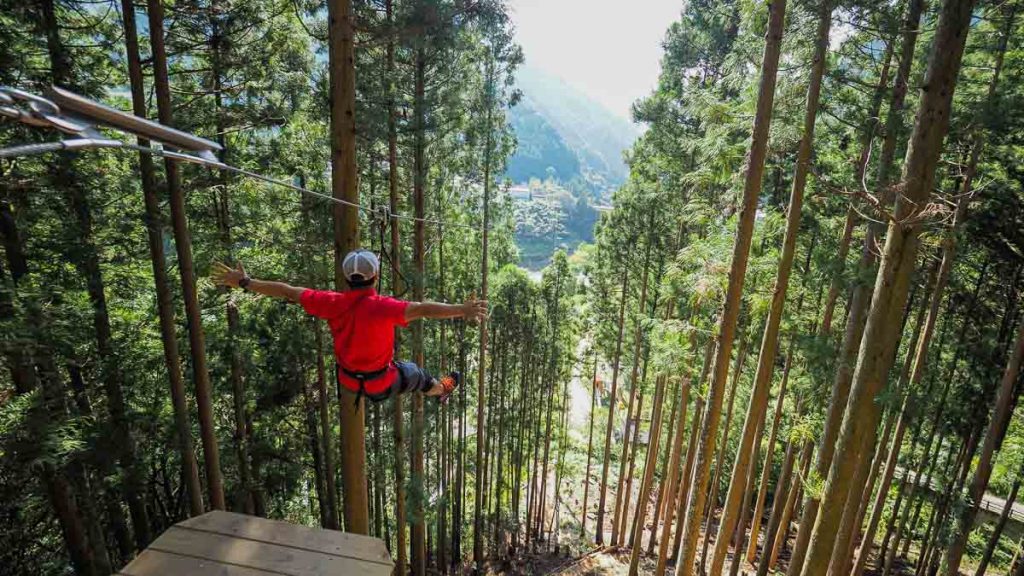 Photo credit: Forest Adventure Iya
For the brave and adventurous, Iya Forest Adventure is a great way to get your blood pumping and adrenaline rushing! Zipline across large forested slopes and over the emerald waters of the Iya River Gorge. It's perfect for experiencing nature's beauty in a thrilling manner.
For something more chill, there are also other courses such as making your way through different rope bridges six metres high and conquering shorter ziplines in the course.
Cost: ¥4100 (~S$50)
Opening hours: 9AM – 5PM (Reception closes at 3PM)
Address: 379 Nishiiyayamamura Oinouchi, Miyoshi, Tokushima 778-0101
5) Journey on an 88 Temple Pilgrimage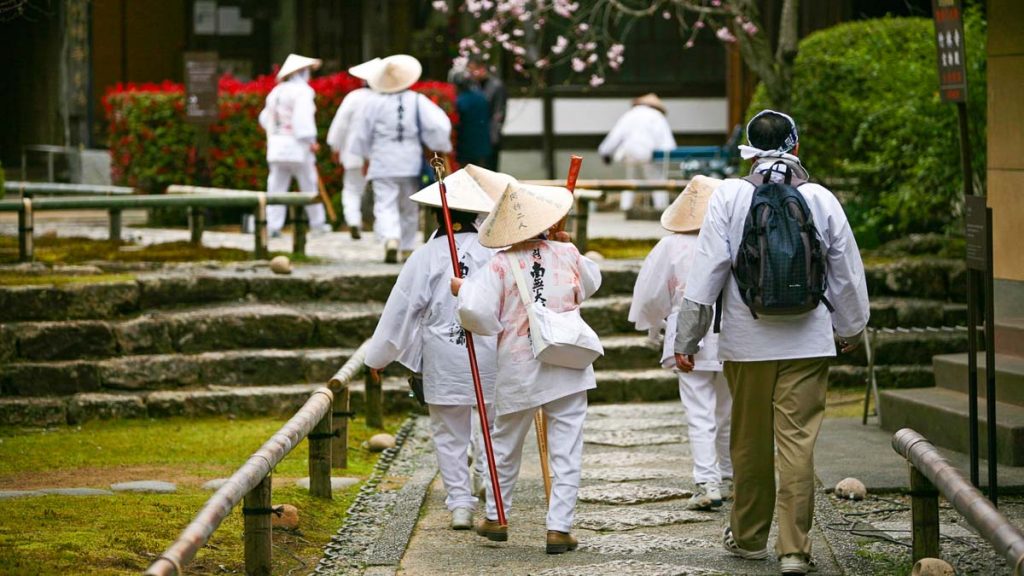 Photo credit: @visitkochijapan via Facebook
If there's one thing Shikoku is famous for, it's the Shikoku pilgrimage route or Shikoku Henro. The entire route spans 1,200km long and consists of 88 "official" temples and sacred sites where famous Buddhist priest Kukai or Kobo Daishi, was believed to have trained in the ninth century.
Don't know where to start? You can drop by Iwamotoji Temple in Kochi, the 37th temple in the route, which offers various experiences such as a fire ritual ceremony and even a sauna!
Look up to the ceiling of the main hall and you'll see gorgeous paintings drawn and donated by people across Japan.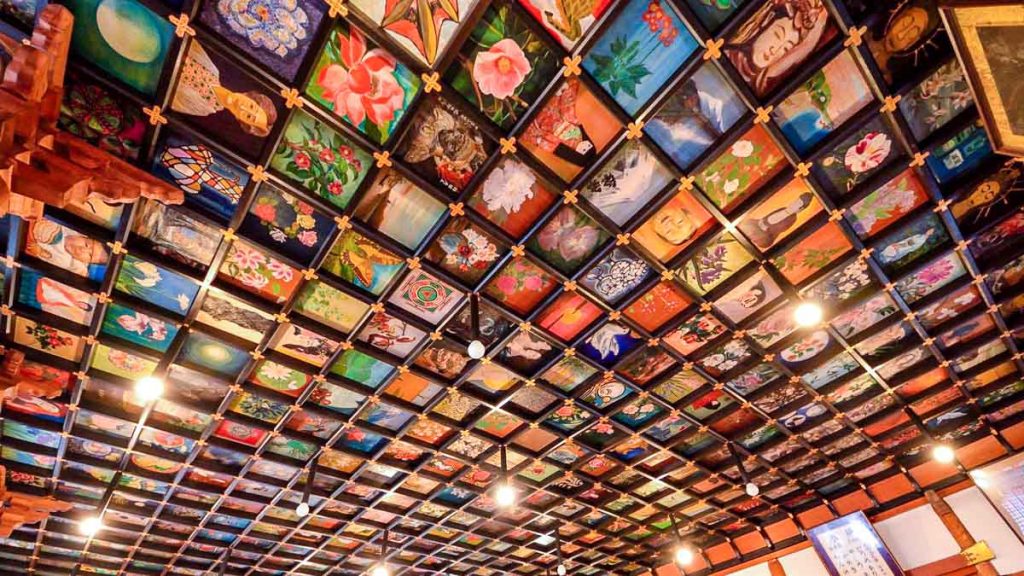 Photo credit: @visitkochijapan via Facebook
Yakuriji temple, the 85th temple of the pilgrimage, is also another hidden gem located on Mount Goken that's worth a visit when you're in Kagawa!
Hike, drive or take a cable car to reach the temple at the top of the mountain, where you can get amazing views of the Yashima and Takamatsu cityscapes on the observation deck there.
Iwamotoji Temple
Sauna fee: ¥2800/pax (~S$33), ¥1500/pax (~S$18) for children under 12
Fire ritual ceremony fee: ¥9000/pax (~S$107), ¥5200/pax (~S$62) for those under 18 (Children under 6 years old are not allowed to participate)
Opening hours: 7AM – 5PM
Address: 3-13 Shigekushimachi, Shimanto, Takaoka, Kochi 786-0004
Yakuriji Temple
Entrance fee: Free, ¥1000 (~S$12) for a round-trip via cable car
Opening hours: 7AM – 6PM
Address: 3416 Murecho Mure, Takamatsu, Kagawa 761-0121
Read also: 13 Exciting Things to do in Kochi, Japan: A Countryside Experience in Shikoku Island's Great Outdoors
6) Indulge in a sweet making workshop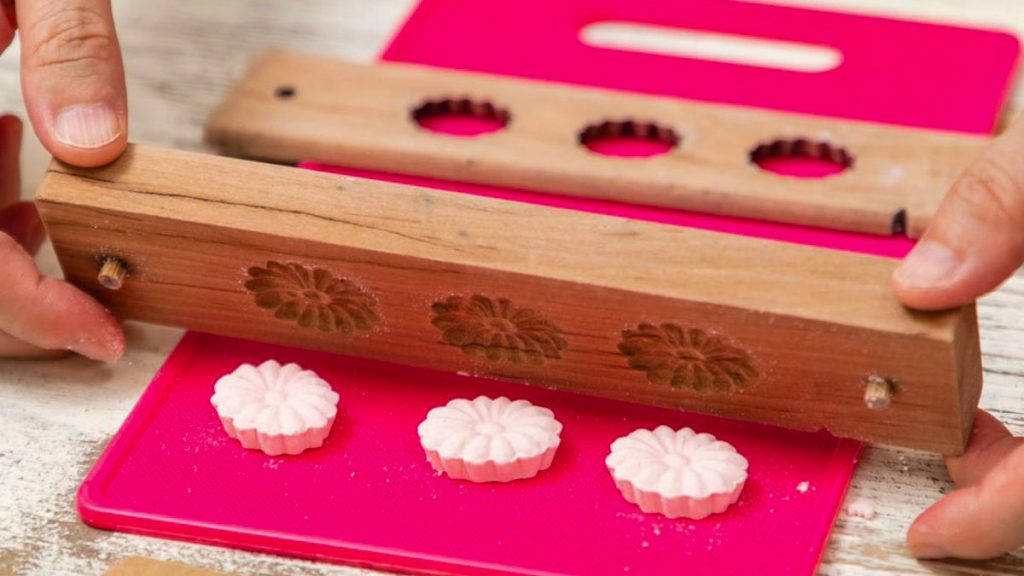 Photo credit: @UniqueJapanTours via Facebook
Traditionally made in the Shikoku prefectures of Tokushima and Kagawa since the 1770s, wasanbon is a fine-grained Japanese sugar usually used for Japanese sweets.
At Sanshu Izutsu Yashiki, there's a sweet-making workshop where you can enjoy your own handmade local sweets. The building was also formerly built in the Edo period of Japan and currently serves as a museum, sweet-making workshop, and souvenir shop.
Cost: ¥1500 (~S$18)
Opening hours: 10AM – 4PM
Address: 2163 Hiketa, Higashikagawa, Kagawa 769-2901
7) Make traditional Japanese paper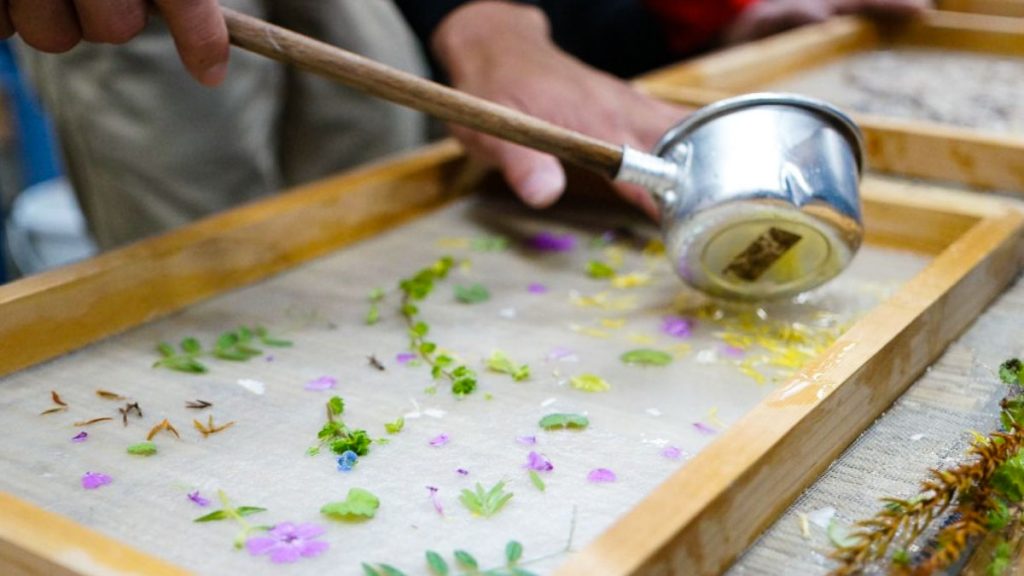 Photo credit: Kochi Visitors & Convention Association
Unleash your artistic side and try making washi at Yusuhara Washi Studio Kamikoya. This traditional Japanese paper is made of long fibres from local plants and will not deteriorate even after 100 years.
Established by a local Netherlander Rogier Uitenboogaart over 40 years ago, the studio hosts workshops which teach visitors how to create washi. It even has a garden with flowers and leaves for decorating the paper.
Cost: From ¥2500 (~S$30)
Opening hours: 9AM – 6PM
Address: 1678 Otado, Yusuhara, Takaoka, Kochi 785-0603
8) Visit a town famous for indigo dye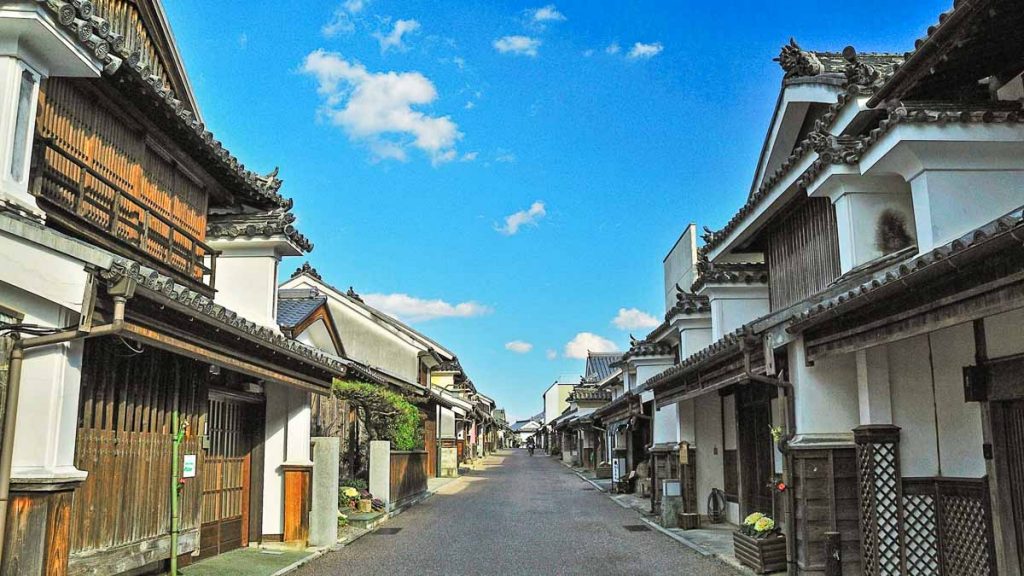 Photo credit:@tourismshikoku2 via Facebook
In the east of Shikoku lies Tokushima prefecture and within it, a town which has been developed into an indigo distribution centre.
The Udatsu historical district is a hidden gem worth visiting, where the houses in the street were built around 100 or 200 years ago, taking you back in time.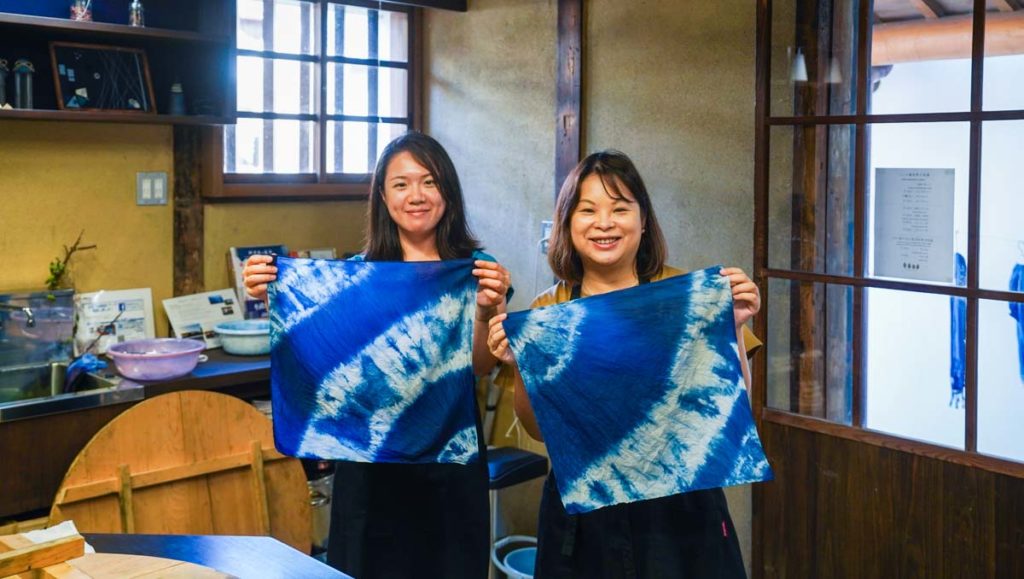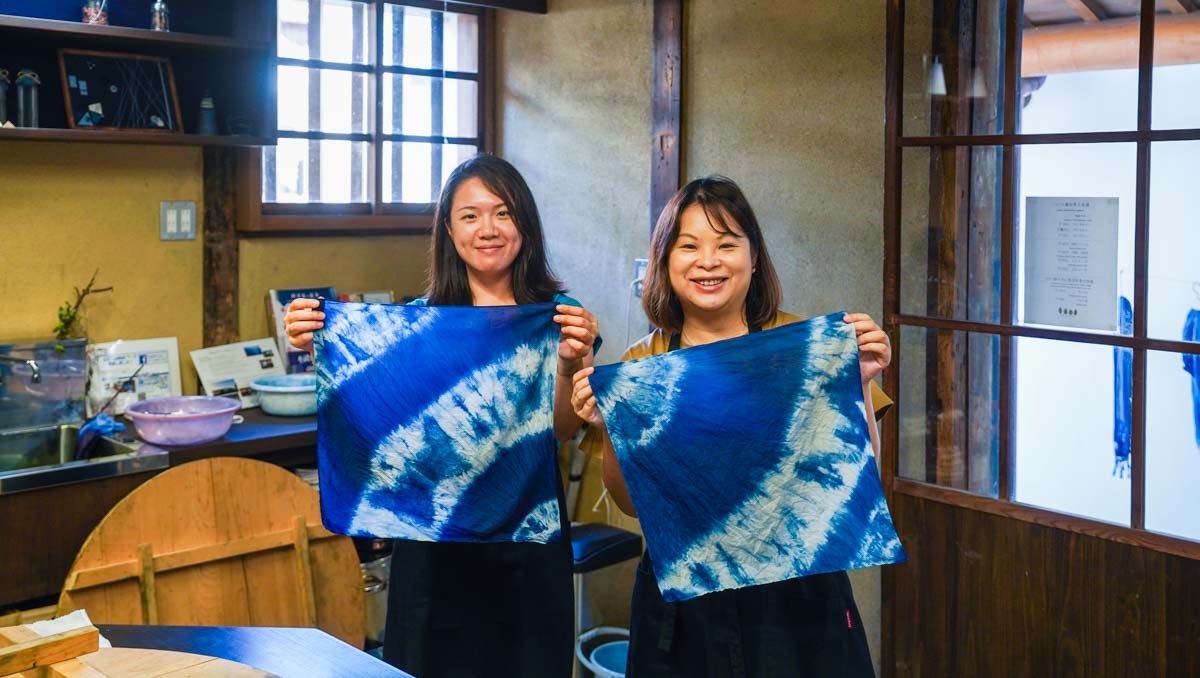 There is also an indigo dye workshop near the Mima City Tourism Resource Centre to try your hand at tie-dyeing handkerchiefs and experimenting with different patterns!
Cost: From ¥1010 (~S$12)
Opening hours: 9AM – 5PM (closed every second Wednesday of the month)
Address: 45 Wakimachi Wakimachi, Mima, Tokushima 779-3610
9) Float on a sea of clouds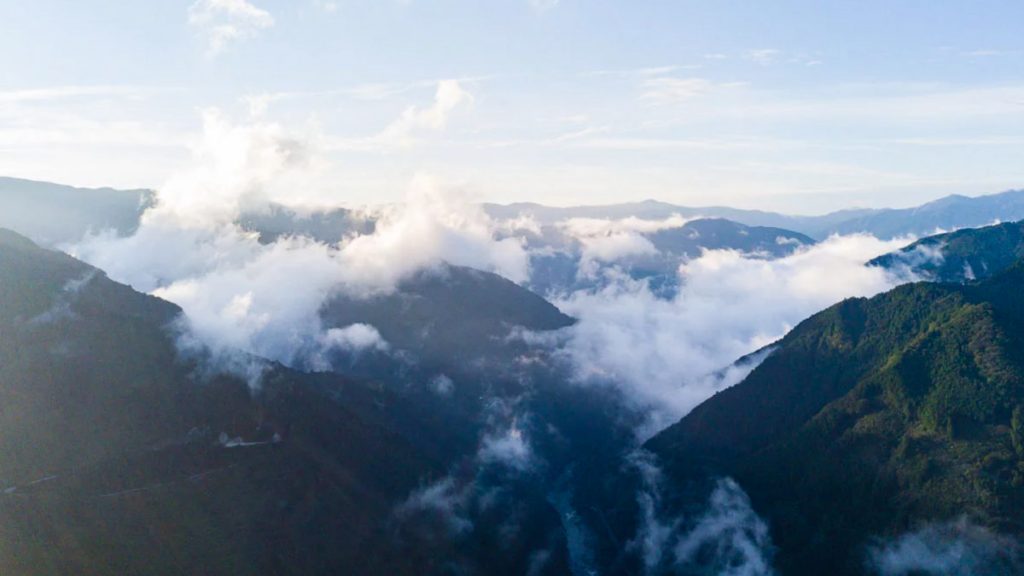 Every morning, a picturesque phenomenon happens in the Tokushima prefecture. Fog arises from Yoshino River creating a sea of clouds among the mountains.
The best place to capture this amazing phenomenon is from the Ahashi Viewing Deck, where it overlooks the Oboke Yoshino River.
*Pro-tip: Visit between March to April or October to December when the clouds are thickest, to get the best view.
Entrance fee: Free
Opening hours: Sunrise to 7:30AM
Address: Kamiahashi Nishiiyama-mura, Miyoshi, Tokushima 778-0003
10) Learn traditional Japanese crafts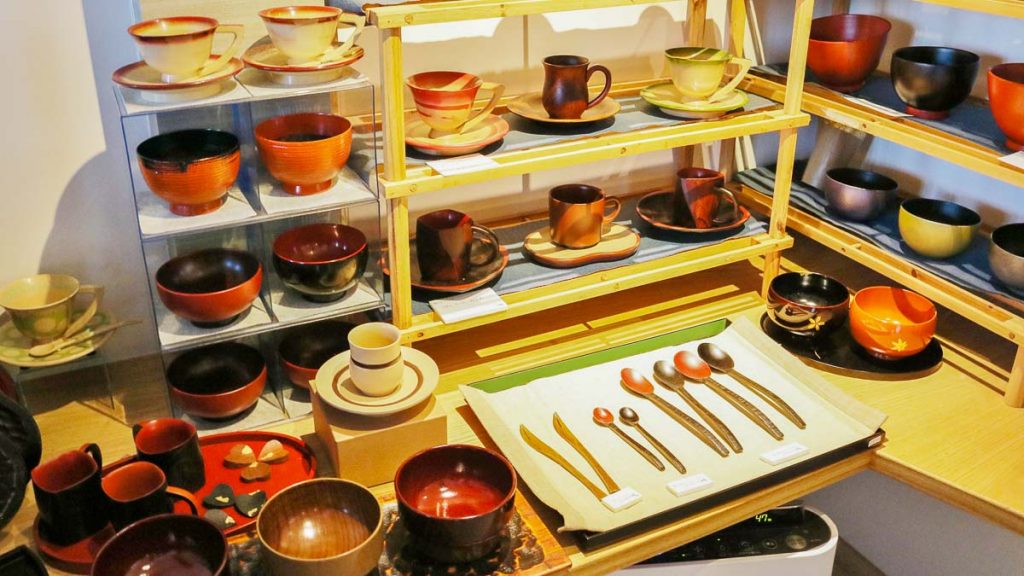 Photo credit: Kagawa Prefectural Government
Kagawa prefecture in the north of Shikoku is not only best known for udon but also its quality lacquerware, which is deeply rooted in its history.
Visitors can learn how to lacquer chopsticks, chopstick stands, and small bowls at the Sanuki Lacquer Art Museum in Takamatsu City. There are even unique handmade items for sale at the museum, great for a souvenir gift.
Cost: ¥3000 (~S$37)
Opening hours: 10AM – 6PM
Address: 10-4 Konyamachi, Takamatsu, Kagawa 760-0027
11) Soak in a natural hot spring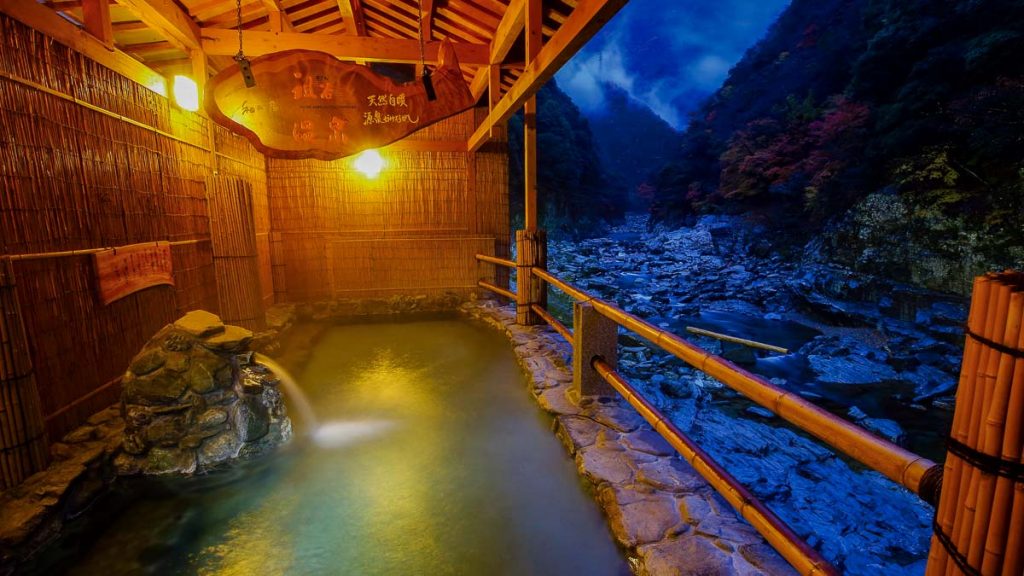 Photo credit: Hotel Iya Onsen
While Japan has plenty of hot springs you can find in the city, nothing beats soaking in a hot spring surrounded by nature.
What's more, the only way to get there is via a cable car ride with majestic views of the forest changing every season.
So you can expect a relaxing and wonderful time at Hotel Iya Onsen, the only hotel in Iya Valley with an open-air hot spring overlooking the Iya River.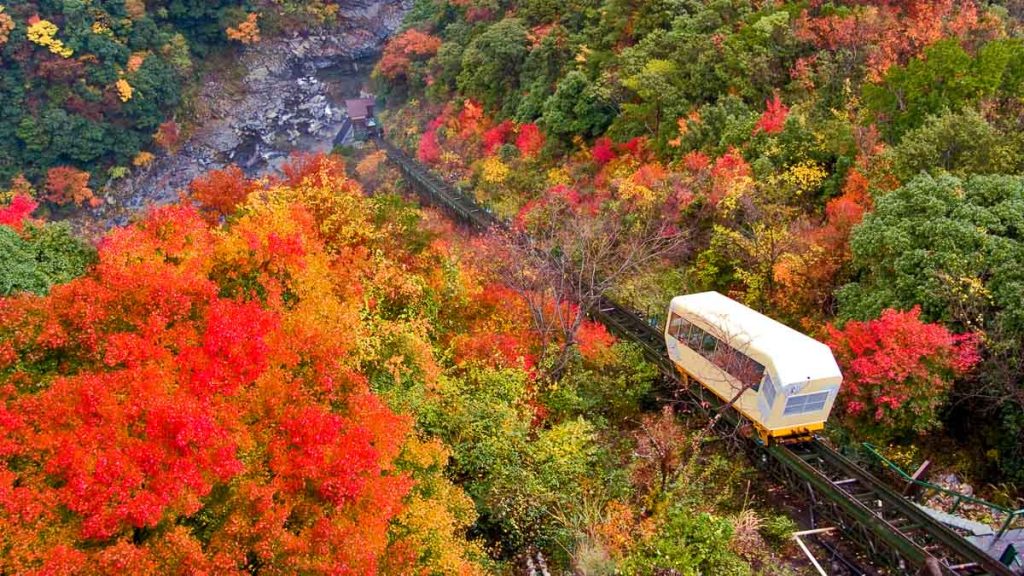 Photo credit: Hotel Iya Onsen
Cost: Free for hotel guests, ¥1700 (~S$21) for day use
Opening hours: 7AM – 9PM (for hotel guests), 7:30AM – 6PM (for day use)
Address: 367-28 Matsuo Matsumoto, Ikeda, Miyoshi, Tokushima 778-0165
12) Explore a Japanese garden with over 400 years of history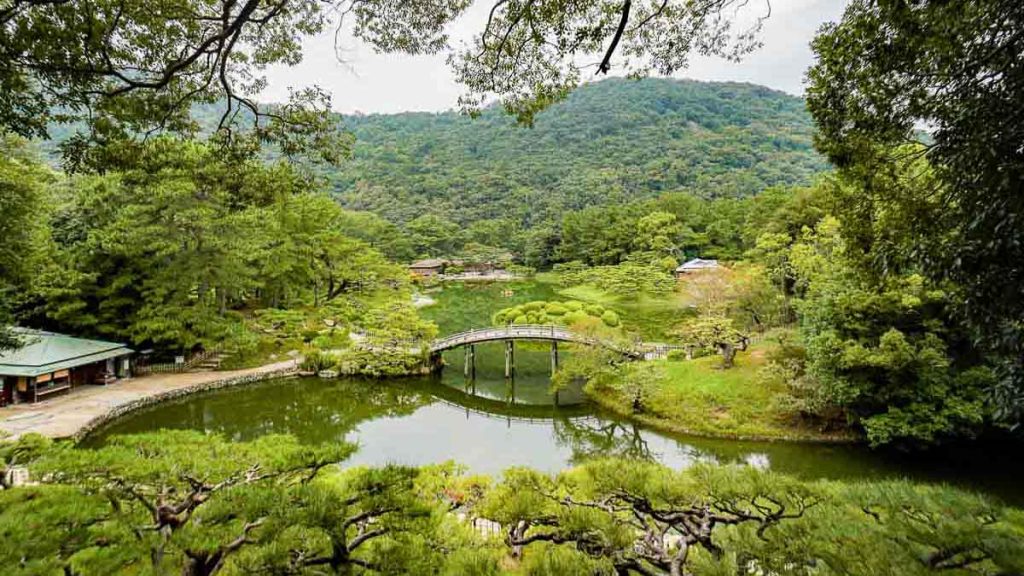 For first-timers to Kagawa, Ritsurin Garden is a must-visit. It was a former private garden for the rulers of Takamatsu City, with over 400 years of history.
Since then, it has transformed into a classical Japanese garden with a park that contains six ponds and more than 1000 pine trees.
Hanazono-tei Teashop, a traditional tea house inside the garden, also offers a porridge breakfast set so you can enjoy a warm meal with a picturesque view.
Entrance fee: ¥410 (~S$5)
Opening hours: 5:30AM – 7PM (depends on the season)
Address: 1-20-16 Ritsurincho, Takamatsu, Kagawa 760-0073
13) Hop on a scenic train ride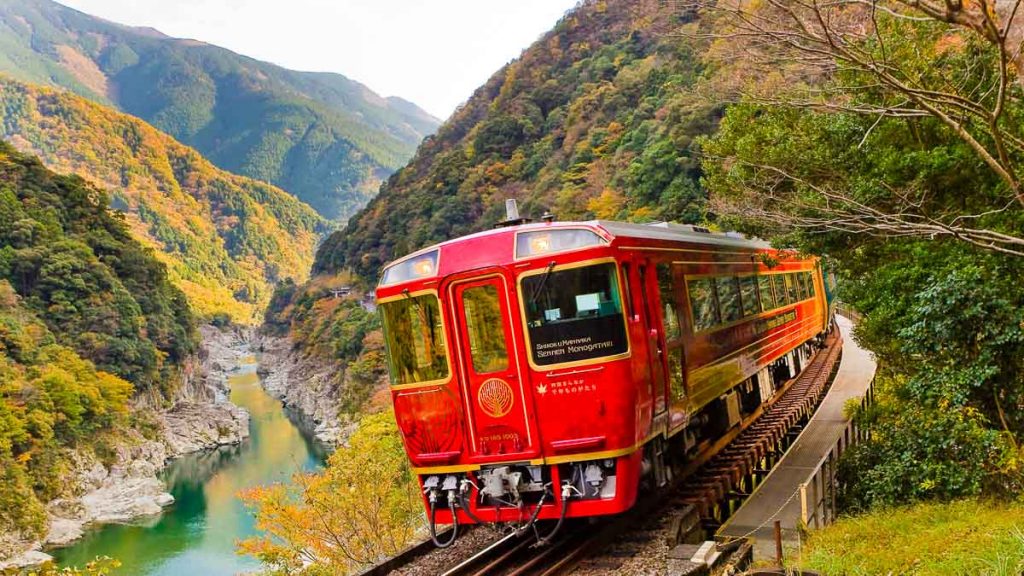 Photo credit: Shikoku Railway Company
One of the best ways to take in the beautiful scenery in Shikoku is via the JR (Japan Railways) Sightseeing Trains.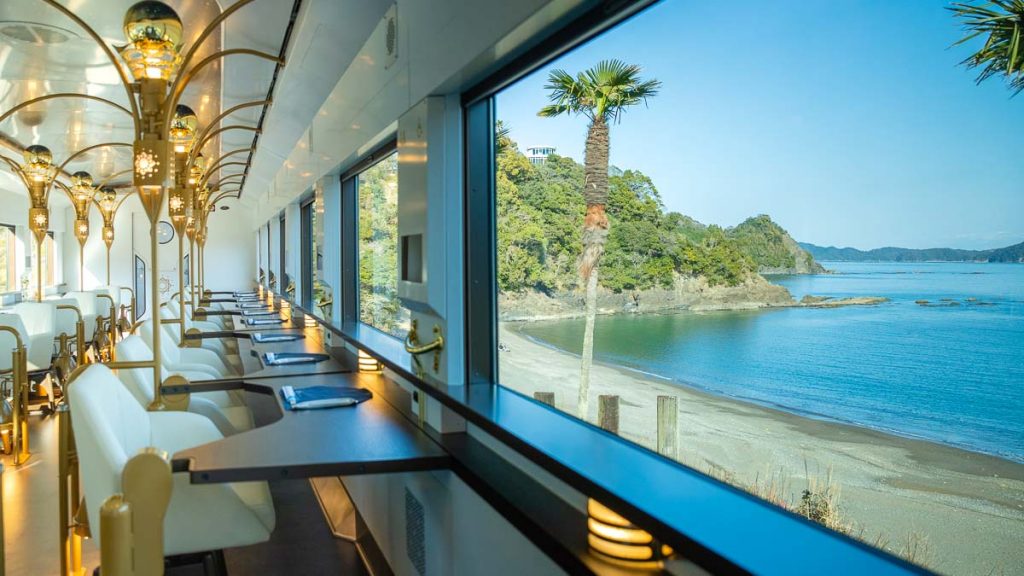 Photo credit: Shikoku Railway Company
There are three sightseeing trains to travel around different prefectures in Shikoku. Each train design reflects the particular area they serve, with both modern and retro-style themed carriages.
So sit back, relax and enjoy a delicious local meal while travelling past amazing views of mountains and seas.
Shikoku Mannaka Sennen Monogatari (Kagawa and Tokushima Prefecture)
Cost: From ¥9080 (~S$111)
Shikoku Tosa Toki-No-Yoake-No Monogatari (Kochi Prefecture)
Cost: From ¥9840 (~S$120)
Read also: 15 Unique Experiences in Shikoku — The Laidback Island of Japan Undiscovered By Most Tourists
Getting Around Shikoku
Shikoku is located in the southwestern part of Japan and consists of four prefectures — Ehime, Kagawa, Tokushima and Kochi.
Each prefecture has its own airport, namely Matsuyama Airport, Takamatsu Airport, Tokushima Airport and Kochi Ryoma Airport. There are domestic flights from several major Japanese cities such as Tokyo, Osaka and Nagoya to Shikoku. Alternatively, you can take a train or bus there.
To get around the island, rent a car, hop on a bus or take the JR Sightseeing Trains. You can also consider purchasing the All Shikoku Rail Pass, which provides unlimited travel around Shikoku for a certain period of time!
Lesser Known Gems of Japan in Shikoku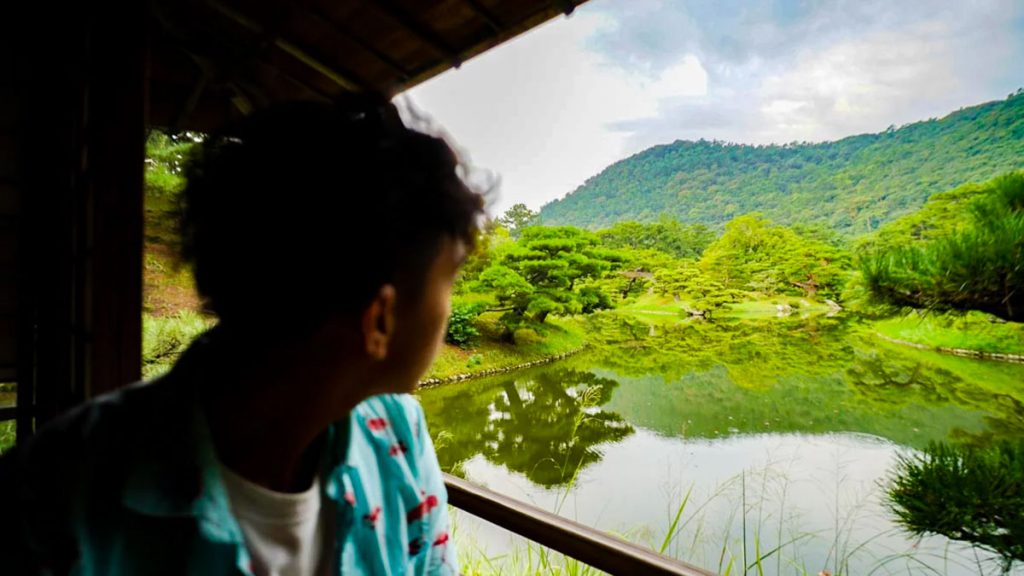 Here are just 13 unique things to do in Shikoku but there's so much more to explore if you dig a little deeper! So the next time you're in Japan, don't just limit yourself to famous tourist destinations, broaden your experiences and discover the lesser known sides of Japan.
Who knows, you might find hidden gems in Shikoku not listed here — do share them with us in the comments below!😉
Featured image credit: Anabuki Travel
---
This post was brought to you by Shikoku Transport & Tourism Bureau and by the incorporation of Kagawa Prefectural Government, Tokushima Prefectural Government
and Kochi Prefectural Government.
Like what you see? Follow us on Facebook, Instagram, YouTube, and Telegram for more travel inspiration!