Tokyo city is amazing. It's "hontoni-oishi" (no-lie super delish) food, the nightlife and its quirky experience are aplenty. But come winter, what got me really excited this time was how accessible we were to these affordable winter activities — all less than 2 hours from Tokyo, making them great options for day trips out of Tokyo.
Exploring The Northward Golden Route
We traveled along the Northward Golden Route which covers the Saitama, Gunma, and Niigata Prefectures. If you're on a budget, consider getting the 5-Flexi Day JR East Nagano-Niigata Pass, which gives you unlimited rides on 4 Shinkansen lines in the Niigata and Nagano area as well as some local and limited express lines. You can choose any 5 out of 14 days to use the pass — PLUS free admission/discounts to certain attractions.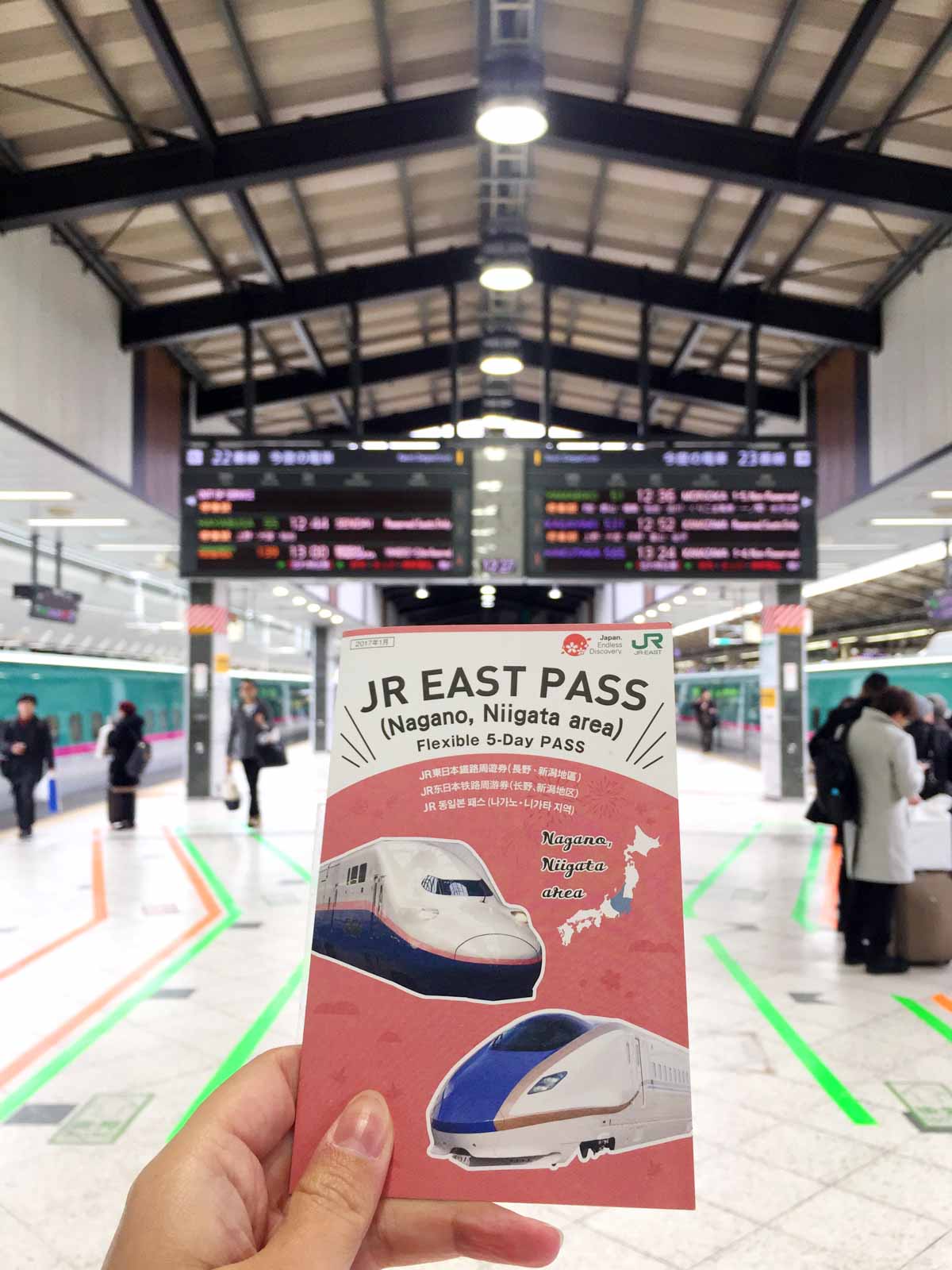 Here are some spots I fell in love with and hope you will too.
1) Gala Yuzawa Ski Resort (75 mins from Tokyo)


When you think of ski trips in Japan, most think of Sapporo and Niseko which are at least 6–8 hours away from Tokyo.
But GALA Yuzawa is only a 75-min direct Shinkansen ride from Tokyo and the only ski resort in Japan with its own Shinkansen station.
Convenience doesn't end there. You can literally come here empty-handed and rent full SALOMON gear at reasonable rates. A snowboard set (snowboard, snowboard boots) costs only ¥4,900 and snow jacket and pants set for ¥3,000 per day.
The resort enjoys some of the best snow conditions in the region. It draws in many pro snowboarders who come here to avoid the crowded slopes of Sapporo and Niseko. If you're not ready to challenge the slopes yet, there are other winter activities to explore the mountainous area surrounding the resort.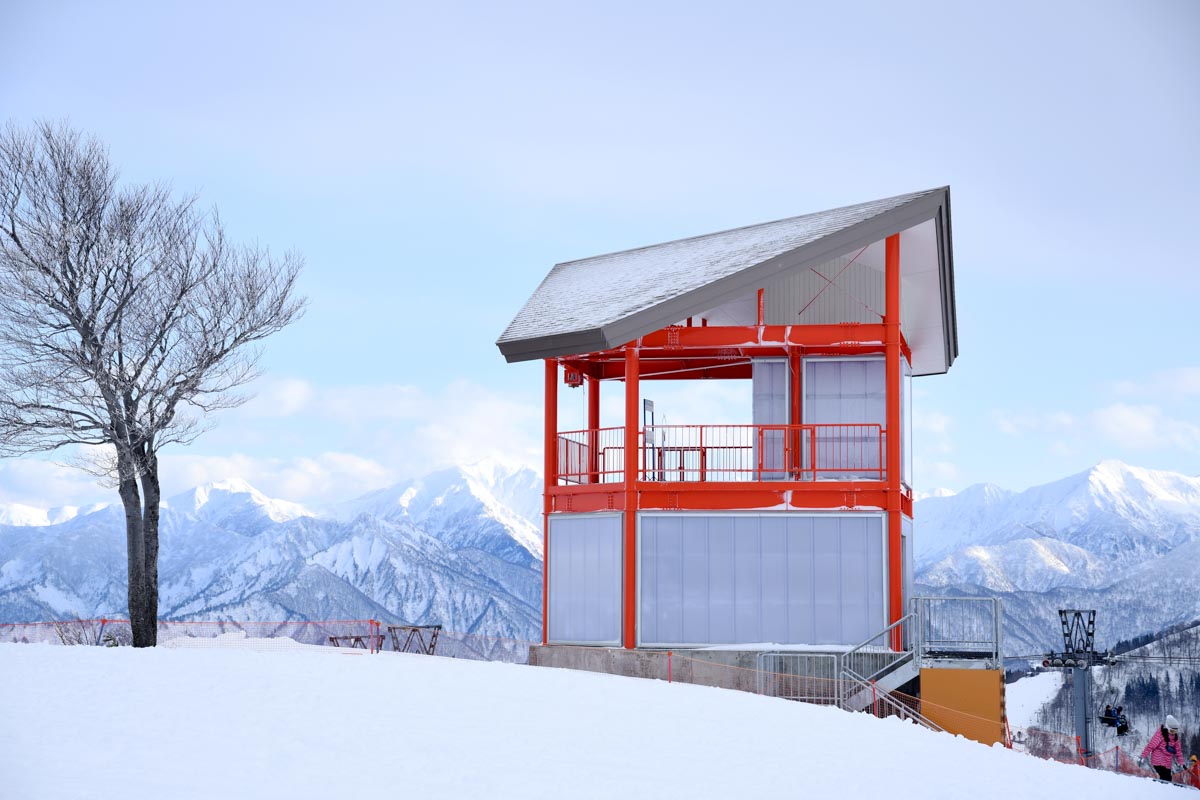 The resort also built a Bell of Love Observation deck at 1,030m above sea level. There's no mystical love luck here, but you get a great view of the snowcapped Niigata region.
You can also chill at the main ski center "Cowabunga". It has an in-house onsen, indoor heated swimming pool (with jacuzzi jets and water games). In true Japanese fashion, the toilets are well equipped and maintained, AND looks like a muji showroom #toiletgoals.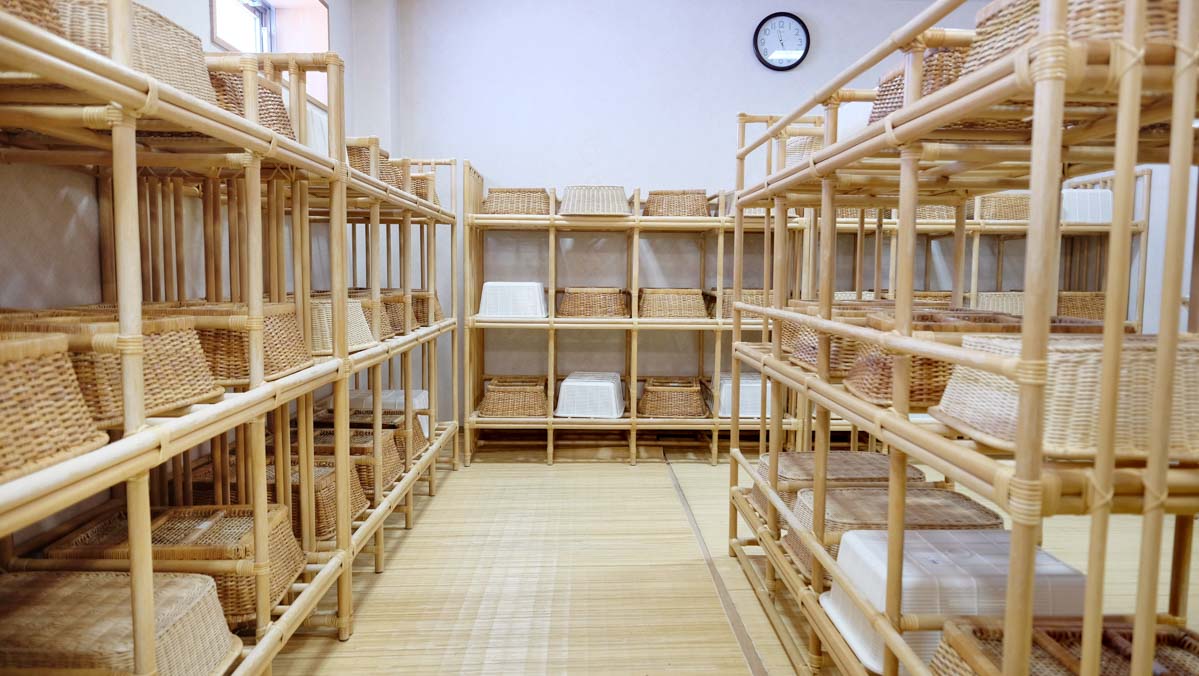 It also has a halal restaurant that serves warm hamburger steaks and even an outlet of the famous Harajuku Marion Crepes to fuel you in-between your breaks. 

Cost: ¥4,600 (1-Day Lift Pass)
Opening hours: 10AM – 5PM
Getting here: Take the Joetsu Shinkansen direct from Tokyo or Ueno Station to GALA Yuzawa Station
Pro-tip: Make use of your JR TOKYO Wide Pass to get exclusive discounts on rentals and gondola and lift rides. Deals might change from time to time, so check out the website for the latest deals.

2) Dog Sledding At Minakami Kogen Resort 200 (100 mins from Tokyo)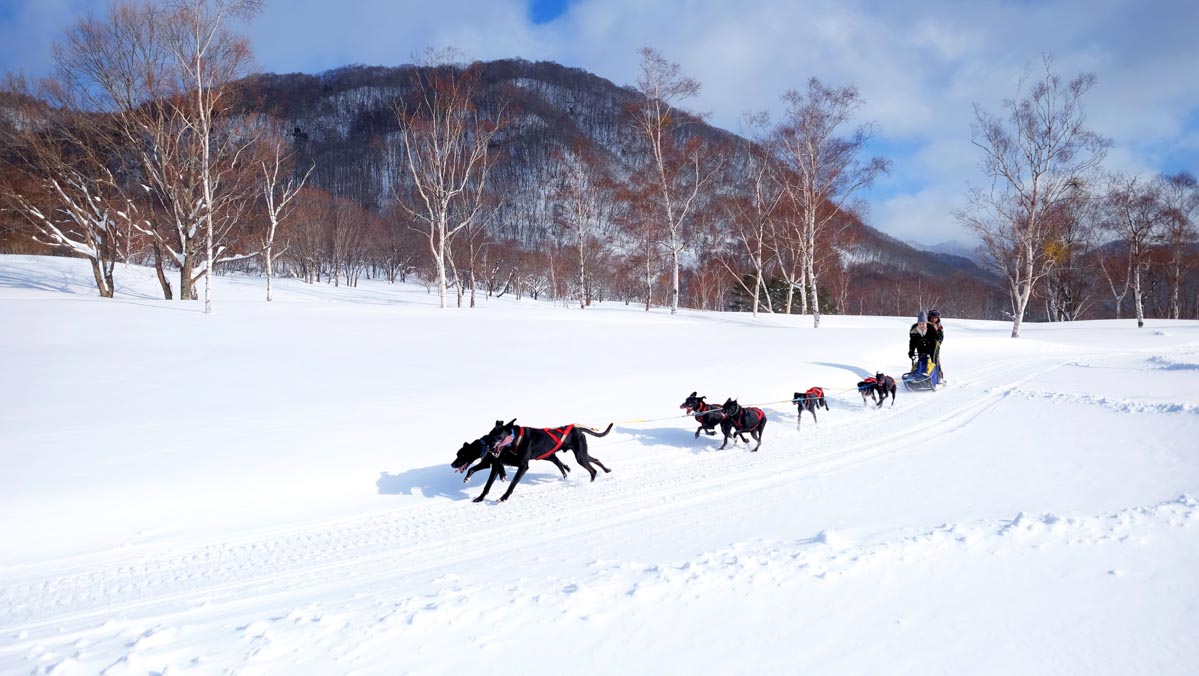 If you've always wanted to try dog sledding you don't have to go all the way to Norway, Finland or Iceland. Minakami Kogen Resort 200 has a pack of strong breeds that speeds you across the powdery snow.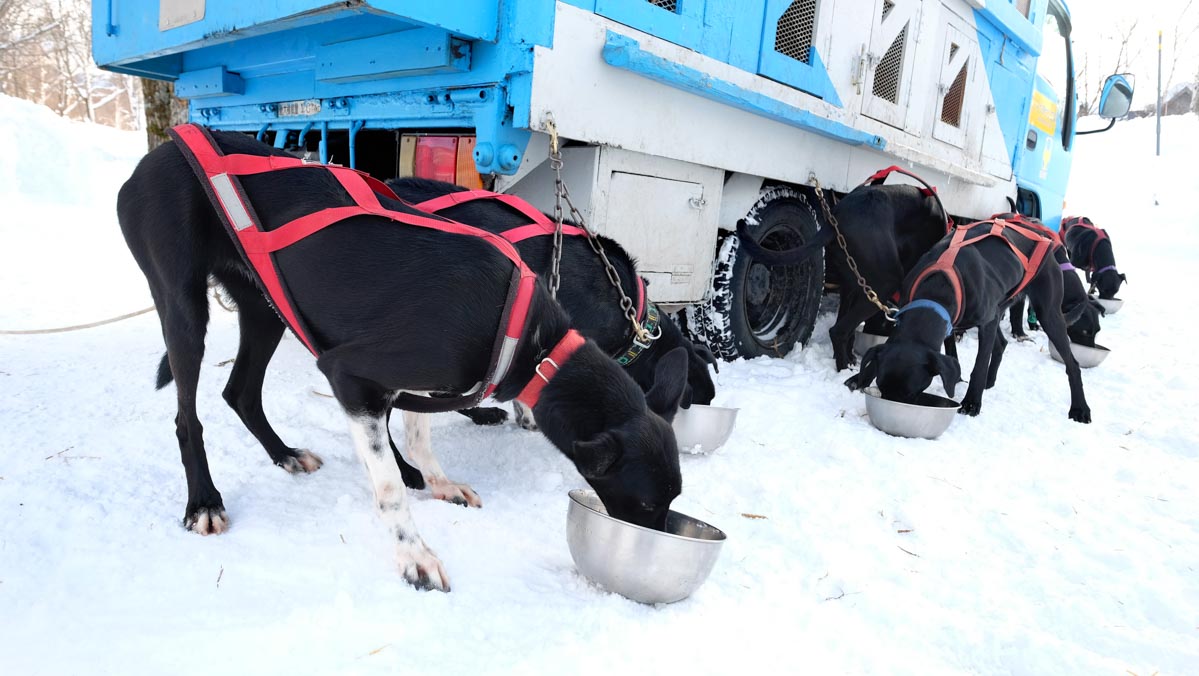 Initially, we had concerns about dog sledding and whether the dogs are being well taken care of. But seeing how well the musher fed, played, treated them like family, and how the dogs reciprocated, we felt quite assured of their welfare.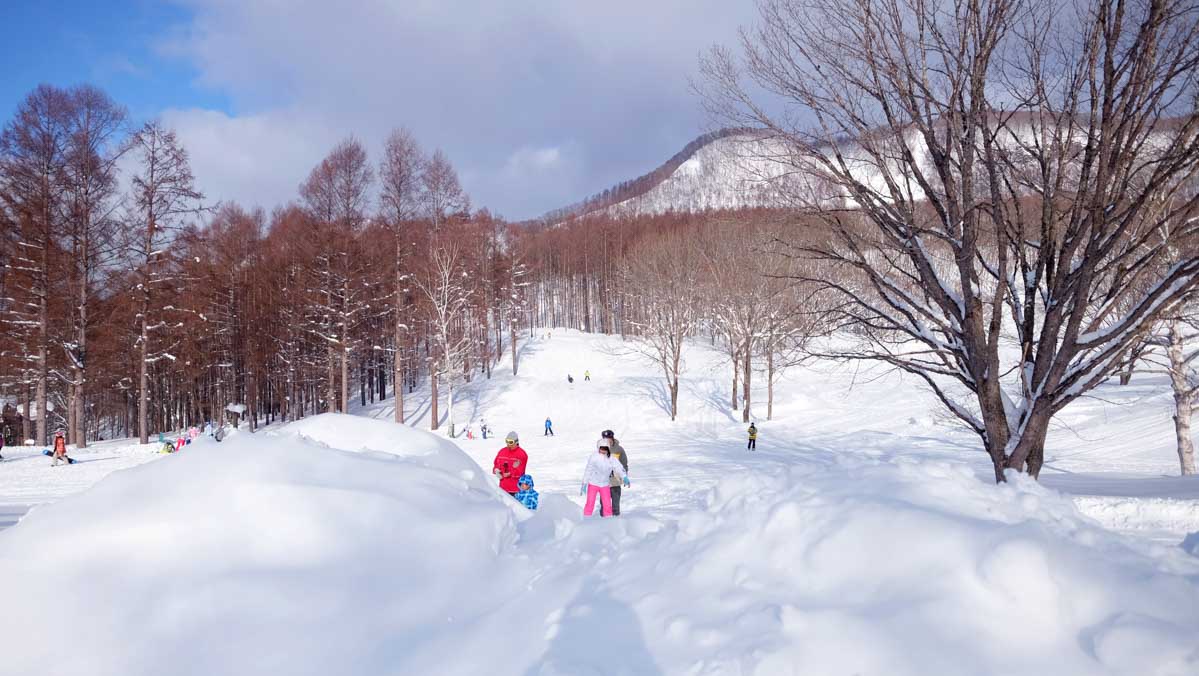 The resort has all the expected winter activities such as snowboarding, skiing, and snowmobiles.
If you're an adrenaline junkie, the resort is one of the best day trip from Tokyo you'll make even in Spring. It has activities such as paragliding, bungee jumping, and white water rafting. After which you can relax those aching muscles at their outdoor onsen nestled in the mountains.
Cost: ¥4,200 yen for a 1-day pass. Check out the website for full rates and discounts.
Opening hours: Weekdays: 8:30AM – 4:30PM, Sundays and holidays: 8AM – 4:30PM, Saturdays: 8AM – 5PM
Getting here: From Tokyo Station, take the Joetsu Shinkansen to Jomo Kogen Station. From there the hotel's free shuttle and taxi service (reservations required).
3) The "Hogwarts Express" Experience From Takasaki to Minakami (50 mins from Tokyo)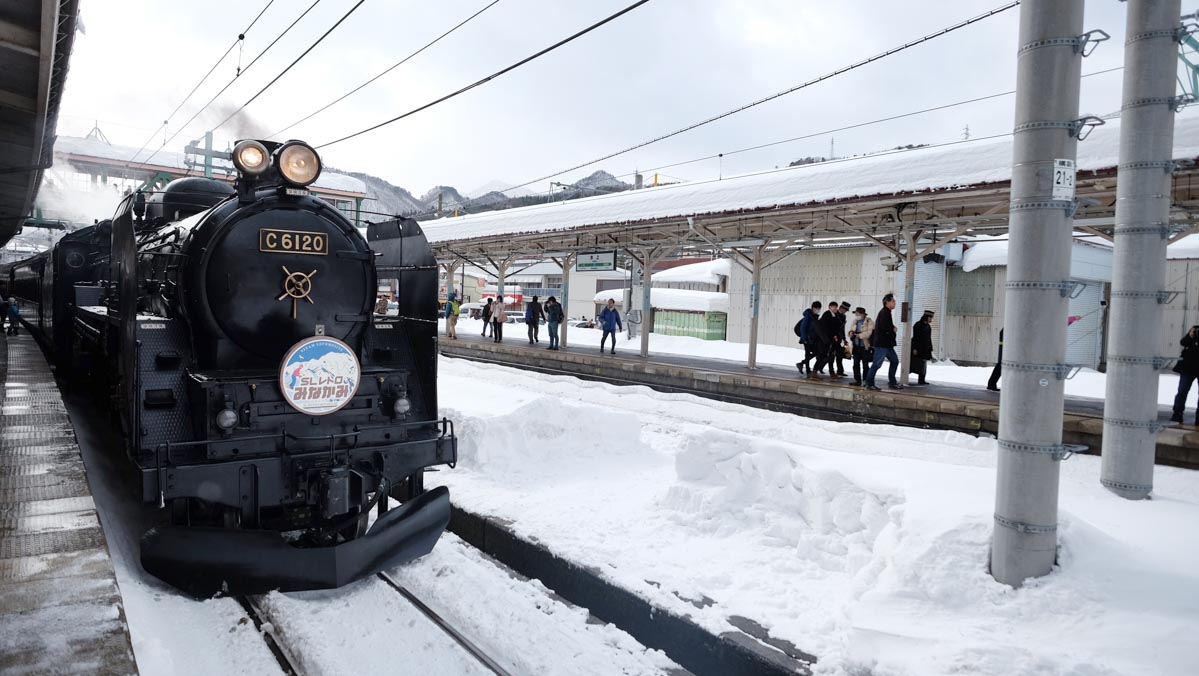 I would say the SL Minaki is as close as it gets to realizing your dream of travelling on the Hogwarts Express. It feels almost surreal to hear the horn and the chugging of the steam locomotive train and it moves off from the station.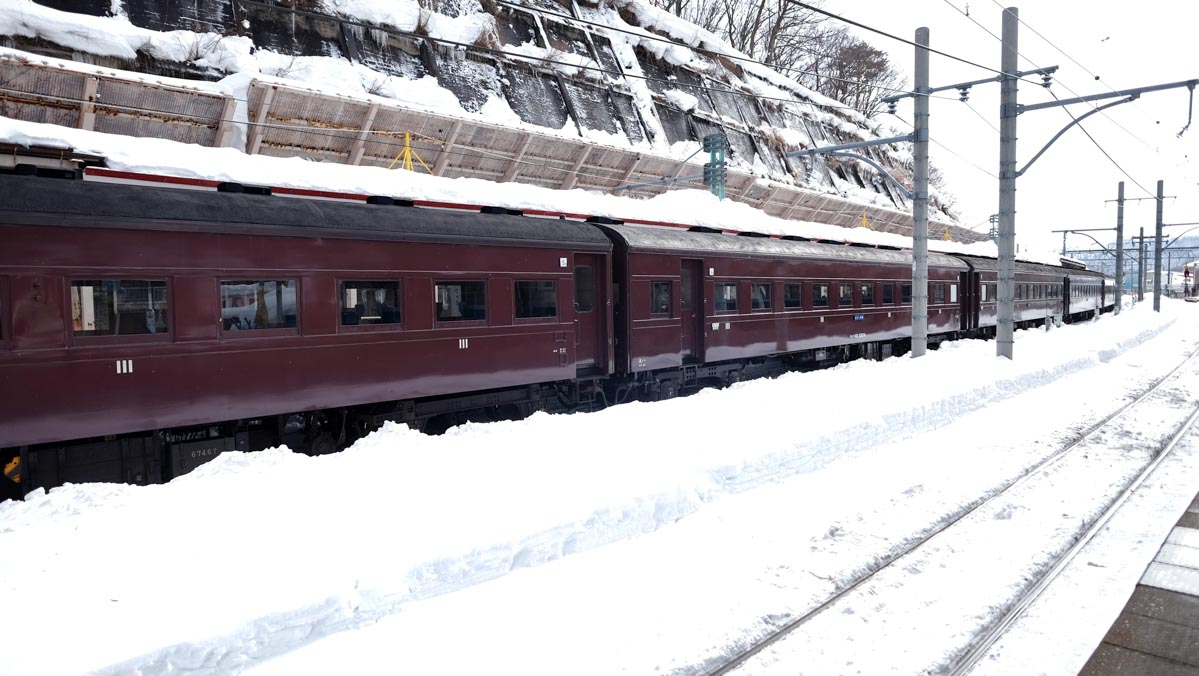 The exterior of the train set against the white snow looks like it's a shot out of a Wes Anderson movie.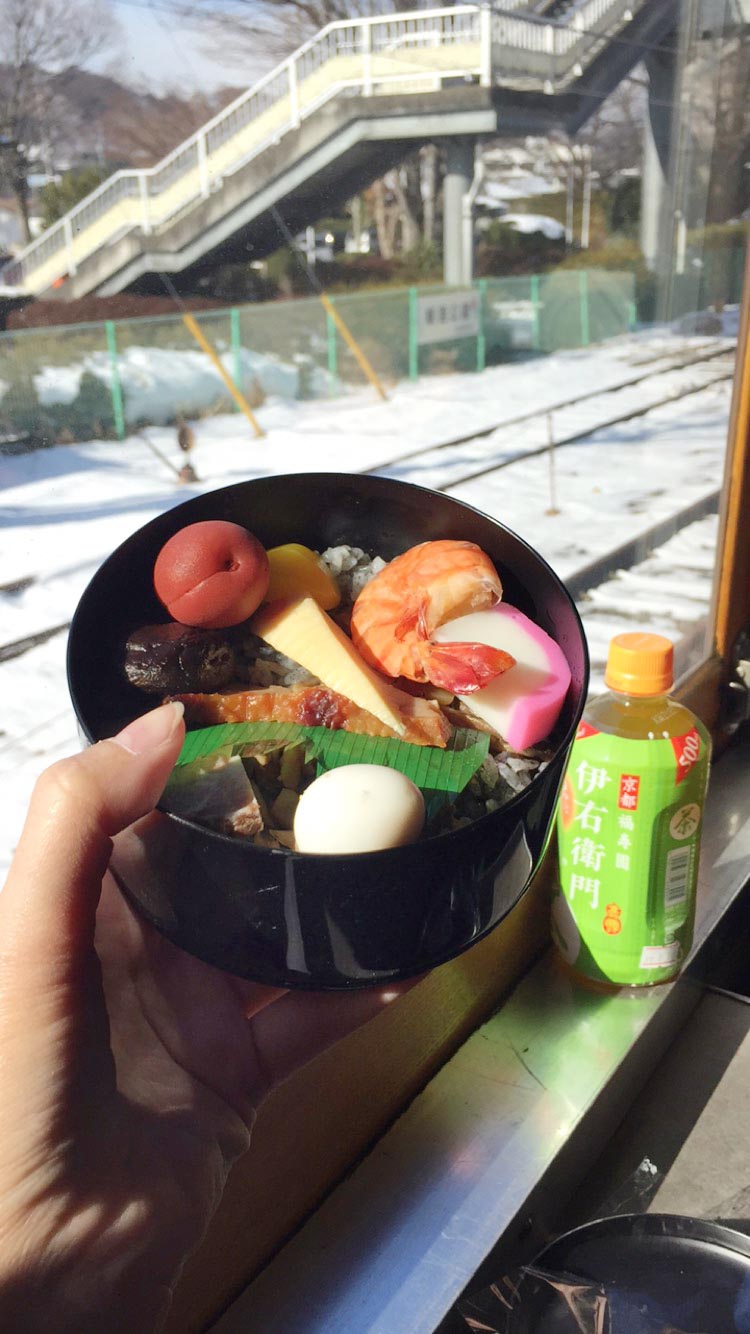 While onboard, you have to try the special D51 Train Bento. It is reminiscent of the traditional bento box with charcoal rice and red preserved plums served with seasonal seafood and meat.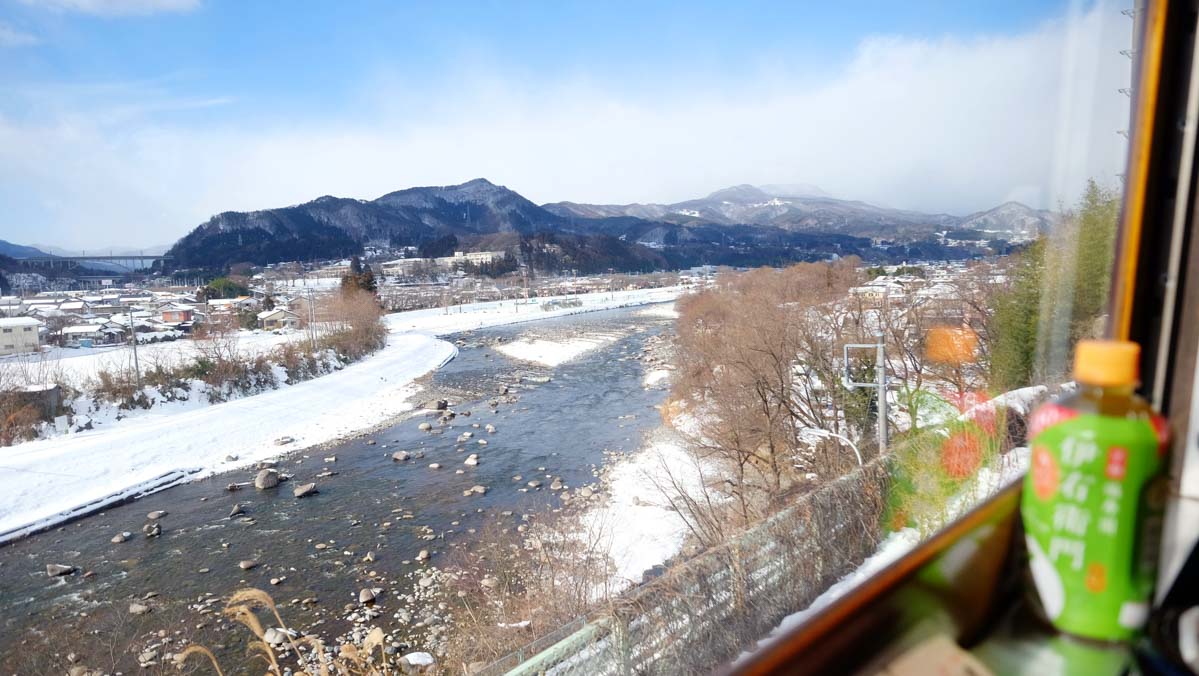 And take in the view of the Gunma countryside.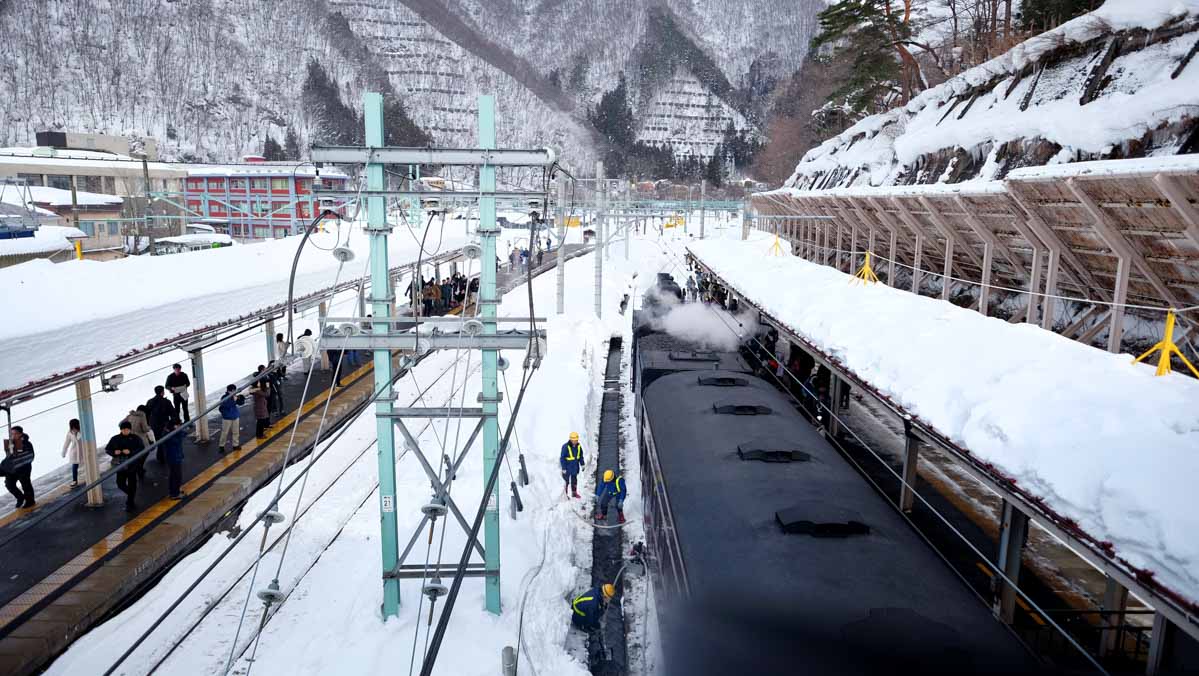 The steam locomotive is a hard one to catch. It runs along the Joetsu Line between Takasaki and Minakami Station only on Saturdays, Holidays, and peak tourist seasons. You can't buy tickets for the D51 498 from outside of Japan, but if you get the JR East Pass for Niigata and Nagano, it is covered. However, do check back with the official JR East website on the timings as they might change according to weather conditions.
Stay The Night At Tatsumikan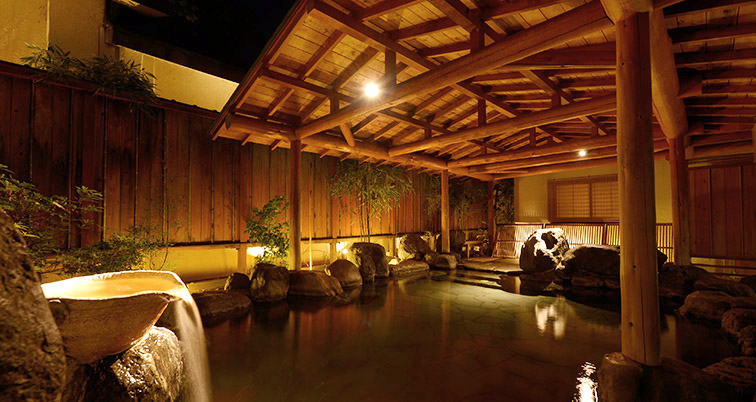 If you plan to stay the night in Minakami, check out Tatsumikan. It is only a 10-min drive from the JR Jomo-Kogen Station and has an amazing outdoor and indoor onsen. A one-night stay also comes with a full traditional Kaiseki dinner where seafood and vegetables are skewered and roasted over open fire.
Cost: ¥23,000 per night (including a full Kaiseki Dinner)
Address: 2052 Kamimoku, Minakami-machi, Tone-gun, Gunma Prefecture 379-1303
Phone: 0278-72-3055
4) Strawberry Buffet + Crafts Village at Takumi No Sato (110 mins from Tokyo)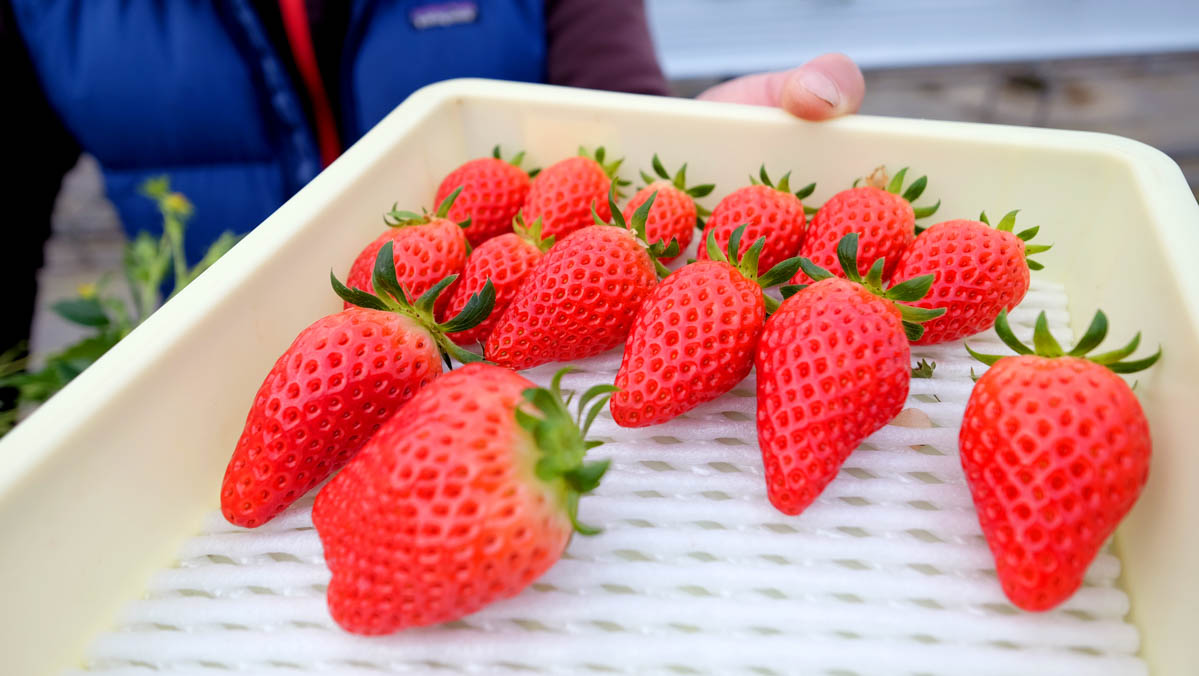 If you've ever tried Japanese strawberries you'll know they're extremely expensive and somehow magically taste sweeter than the ones we get in Singapore.
For the strawberry fan, Strawberry House's all-you-can-eat strawberry picking buffet is a must-try! For ¥1,800 you get 30 minutes to eat as many strawberries as you can. For context, these strawberries would otherwise cost SGD$3 a pop back in Singapore.
No artificial fertilizers are used, so you can pick the strawberries straight off the vine and into your mouth. The staff recommended dipping the strawberries into condensed milk. However I think it is best enjoyed on its own.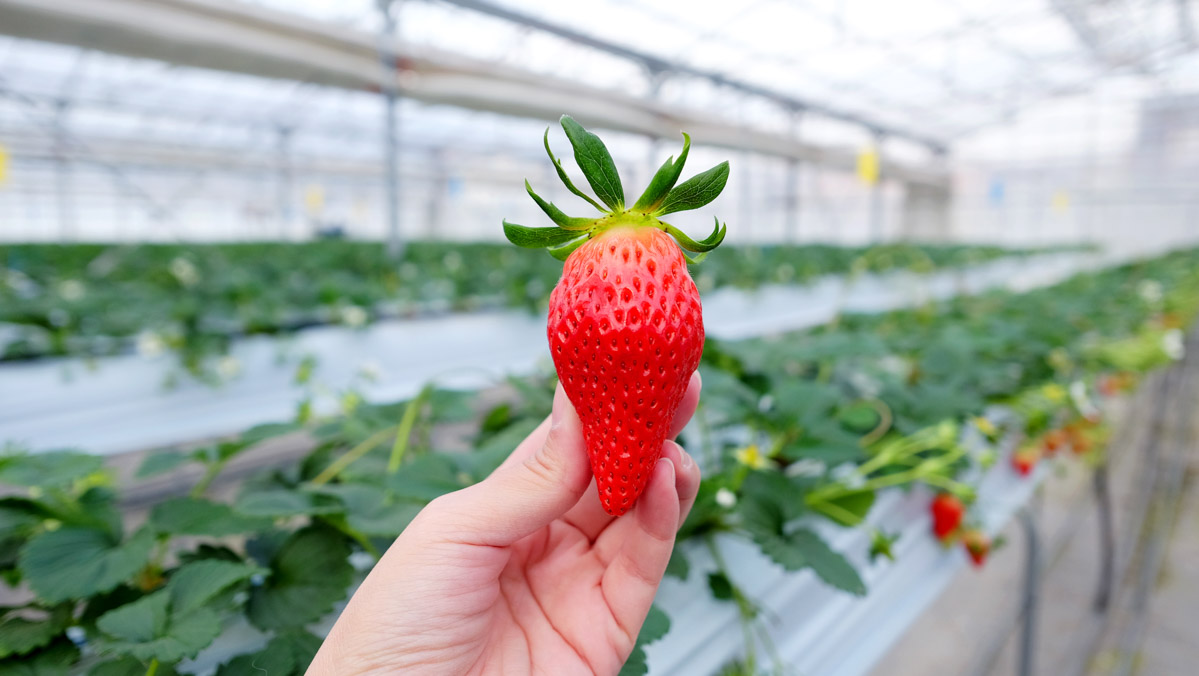 Strawberry House is located in the middle of Gunma's art village, Takumi no Sato, which is a 30-min drive from JR Jomo-Kogen Station. Many of the ski resorts also organise tours to Strawberry House, so you can start your day with a Strawberry Buffet before hitting the slopes.
We didn't manage to explore the other parts of the crafts village, but there are over 24 different workshops teaching you how to make Soba, Konnyaku (japanese starch jelly), Tofu, Origami classes, bamboo craft and even woodwork. You could easily spend a whole day here.
Cost: Strawberry Buffet: ¥1,800
Address: 〒379-1418 Gunma-ken,Tone-gun Minakami-machi,Sukawa 847
Getting Here: From Tokyo Station, take the Joetsu Shinkansen to Jomo Kogen Station and take a 30-min taxi to Takumi No Sato.
All these winter activity locations are situated along the Northward Golden Route treading across Gunma and Niigata, which we explored across the span of 5 days with our JR East Pass (Nagano, Niigata area).
We also explored other great day trips from Tokyo along the Northward Golden Route where we visited a sake brewery, drove our own mini Shinkansen, and stayed in a Onsen cafe. Read more about it in Best Day Trips From Tokyo For Food, Arts and Culture.
---
This post was brought to you by JR East.