Anyone remember Changi's Budget Terminal in 2012? The space has now transformed into a vibrant new Terminal 4 with absolutely zero trace of the former hospital-like corridors.
Filled with lots of natural light, captivating art displays and a handful of new automated processes to speed up checking in, we're pretty sure Changi T4 is going to be a new favourite terminal for travellers.
We got the chance to take a sneak peak at Changi T4 and while there were many new and impressive features, here are our favourites.
Fun fact: It cost $985million to build Changi Terminal 4! Airports sure aren't cheap but that's the price to pay for being the best airport in the world 😛
1) Fully automated check-in & bag drop counters
Not only are these new check-in counters aesthetically impressive, they also serve to fully automate everything — from printing boarding passes to loading up your check-in luggage — without having airport staff involved.
We recently spotted a row of these new machines at Changi T1 too. What impressed us was how it detected that some of our bags had straps; bags with straps need to be placed on a tray before loading up.
2) A wall that entertains during security screening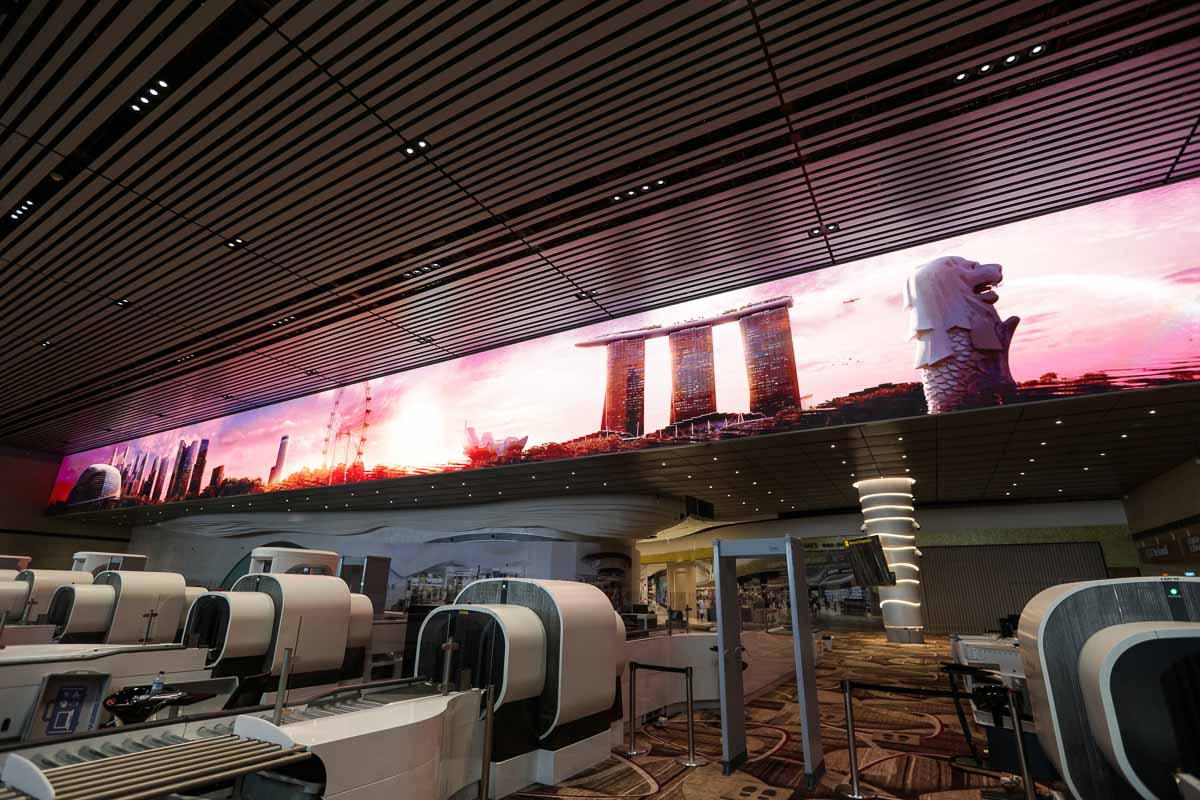 Security screenings can be a hassle. What's worse is the sight of a snaking long queue ahead. At T4's security screening area, you'd probably find yourself at the front in no time with the 70x5m long immersive wall.
At first sight, it looks like any stone carved textured wall. On closer look, there were small moving elements like butterflies fluttering across. The next time we looked up, the wall was transforming into scenes of Borododur (in Indonesia), the temples of Bagan (in Myanmar) and a view of the gorgeous Super Trees (from Gardens by the bay) along with whimsical sound tracks playing over the speakers.
There's a total of 16 different scenes but I think a hot favourite was the cute animation of checked-in luggages handled by fluffy creatures behind the scenes of Changi.
We also got news that the new CT Scan machines will no longer require separating the laptops from our bags! Gone are the days of scrambling to remove your laptop and racing to stuff it back before the person behind catches up.
*Pro-tip: Make sure to empty your water bottles before entering the passport gantries since the security scanners come right after.
3) Mini-theatre shows at the Photogenic Heritage Zone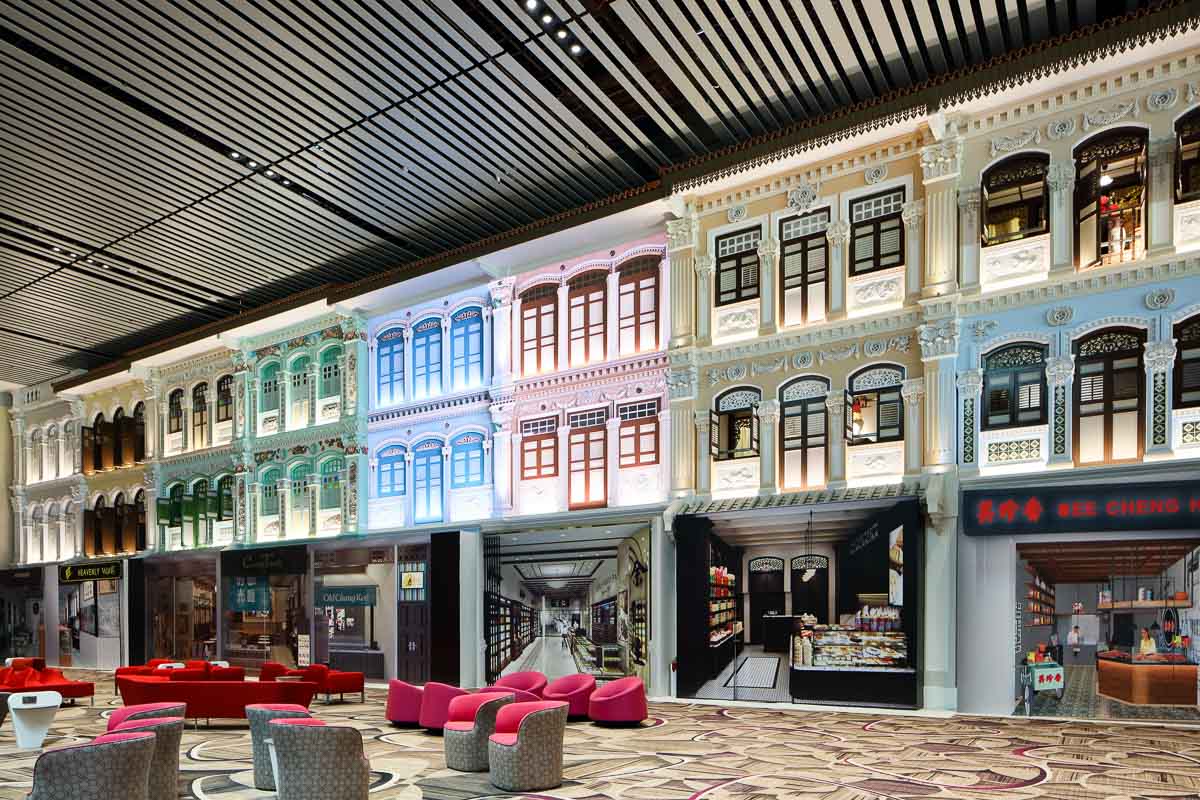 Once you're in the transit area, be sure to make a stop at the Heritage zone right before the departure gates! Inspired by the charming shophouses from the 1880s –1950s, this is where you can catch the gorgeous 2 storey Peranakan shophouses commonly seen in the Chinatown and Katong area.
But don't just stay for photos and shopping. The centre 2 shophouses are in fact digital screens that transform into a quick 6-minute musical featuring music composed by Dick Lee and performed by local talents like Benjamin Kheng and Adrian Pang.
When the show ends, the screen transforms back into the face of shophouses leaving no evidence of once being a screen. Impressive indeed.
4) The perfect Instagram toilet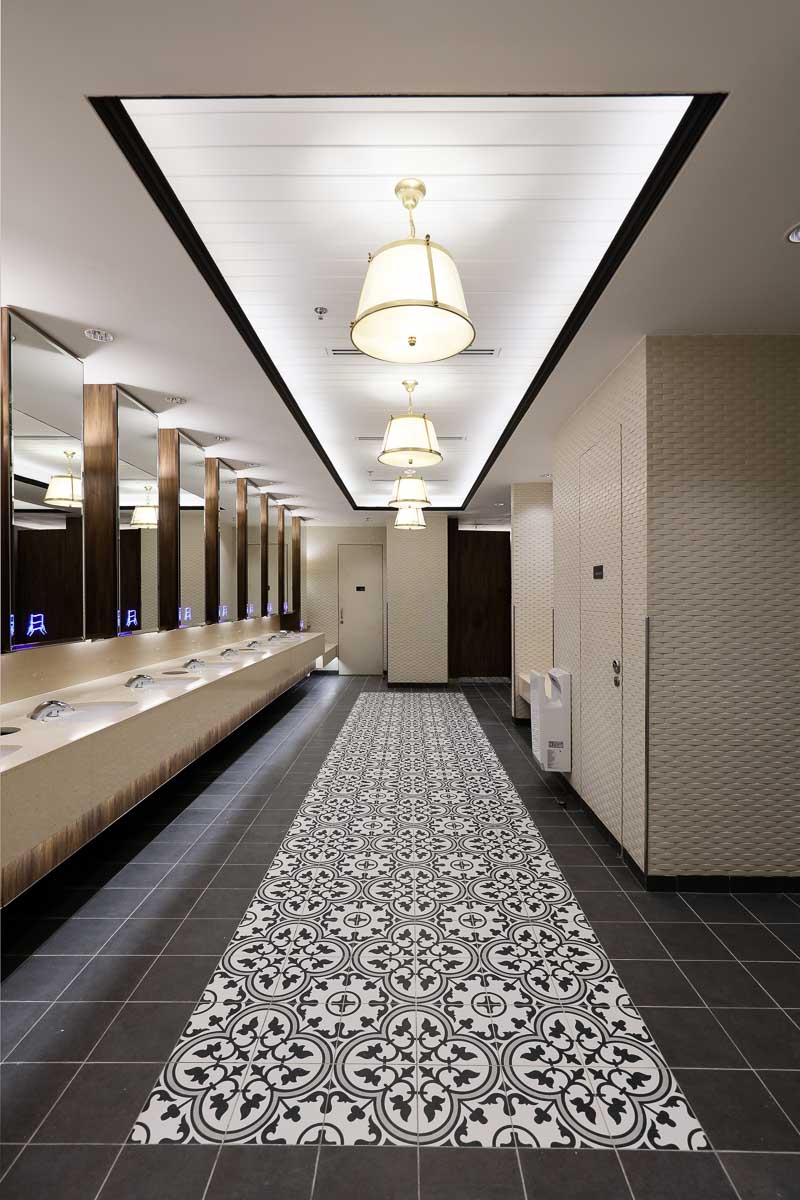 My favourite toilet in Changi has always been the one in T3 with full length glass windows revealing the runway. That's until we stepped foot in T4's colonial-themed toilets. With pretty floor tiles, lamp shades for ceiling lights and a mix of warm wooden touches, I bet you'll want to take out your camera to snap some for the gram.
5) The adorable floor cleaners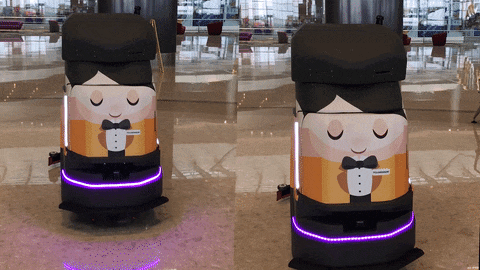 Apart from hiring fluffy beings to handle luggages (as seen on the immersive walls at the security screening area), Changi's newest staff are these adorable floor cleaning robots! Currently still unnamed, they whizz by quietly and stop to wait patiently when they sense some one in front.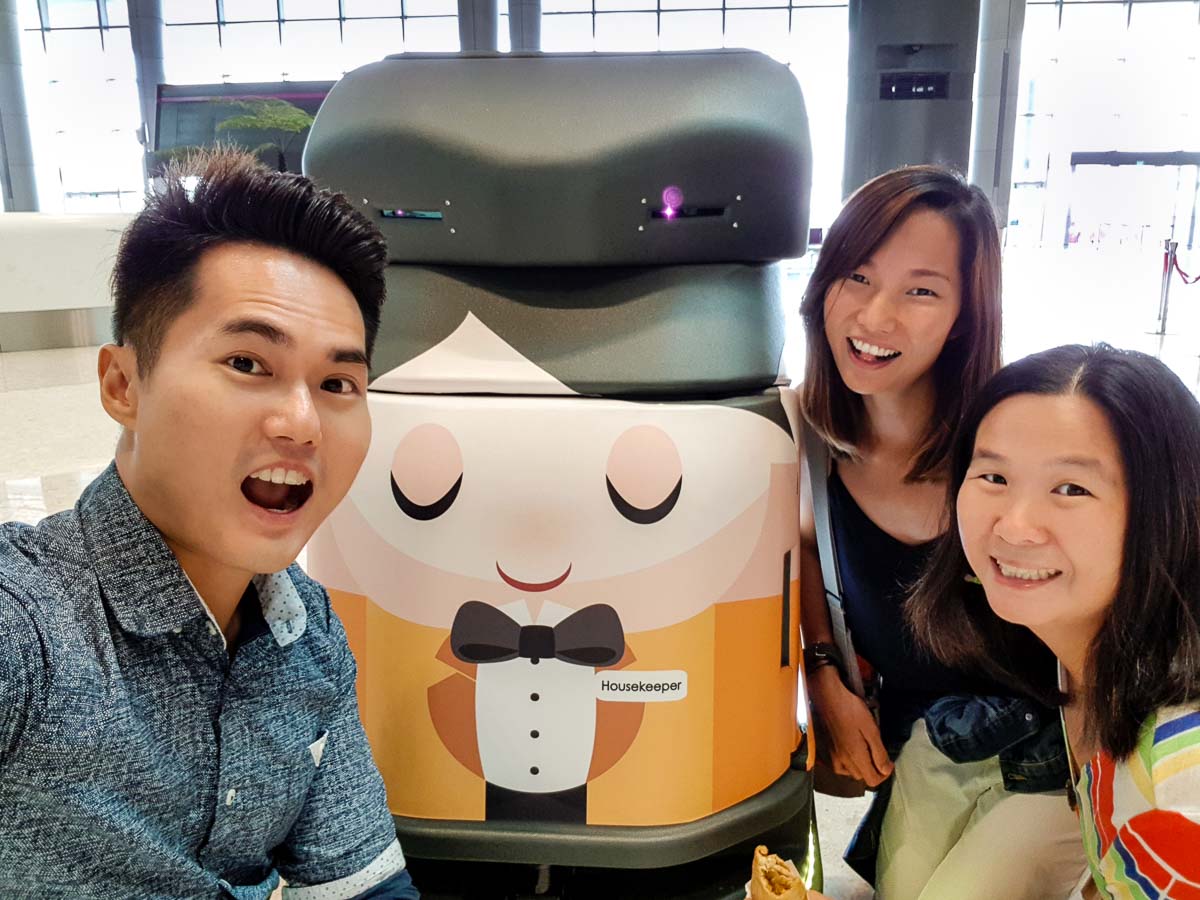 They even stop to take selfies 😛
6) Quirky art installations
In place of the kinetic rain at Terminal 1, T4's own kinetic feature comes in the form of petal clouds that are just as mesmerising to stare at. You can catch them from various vantage points before and after check-in as well as the arrival hall.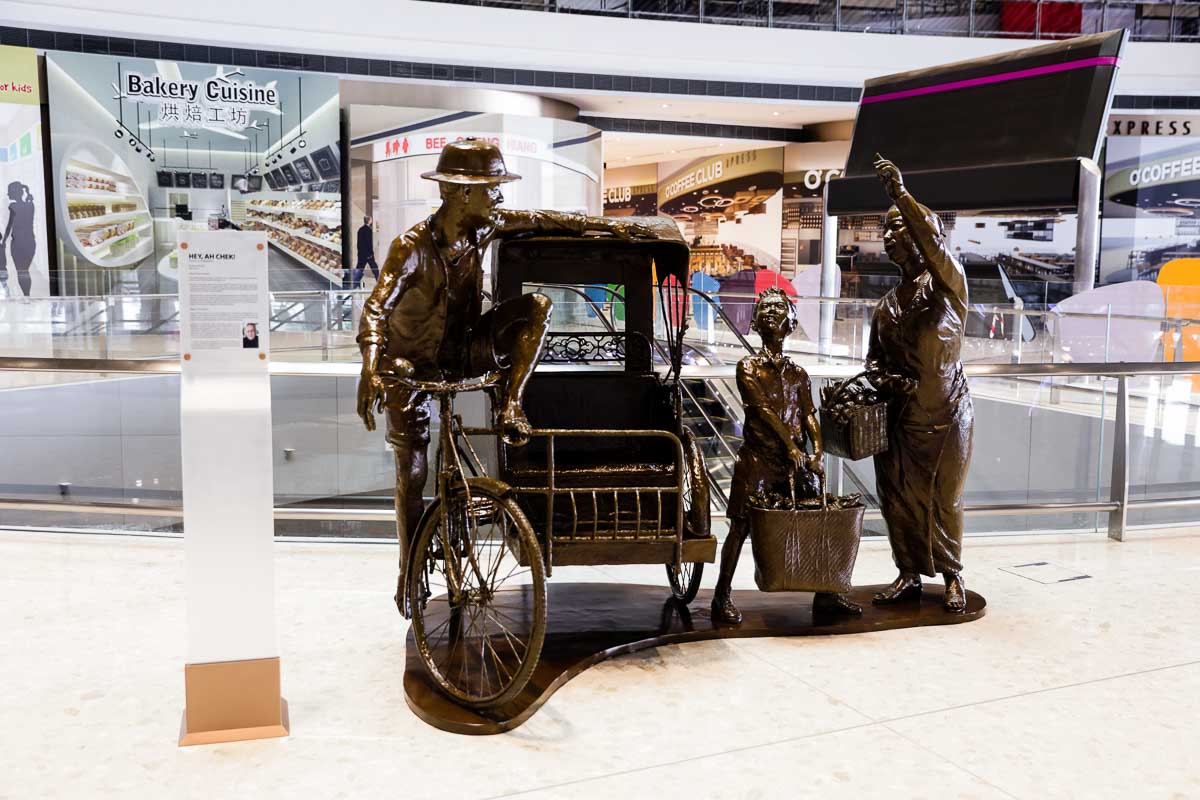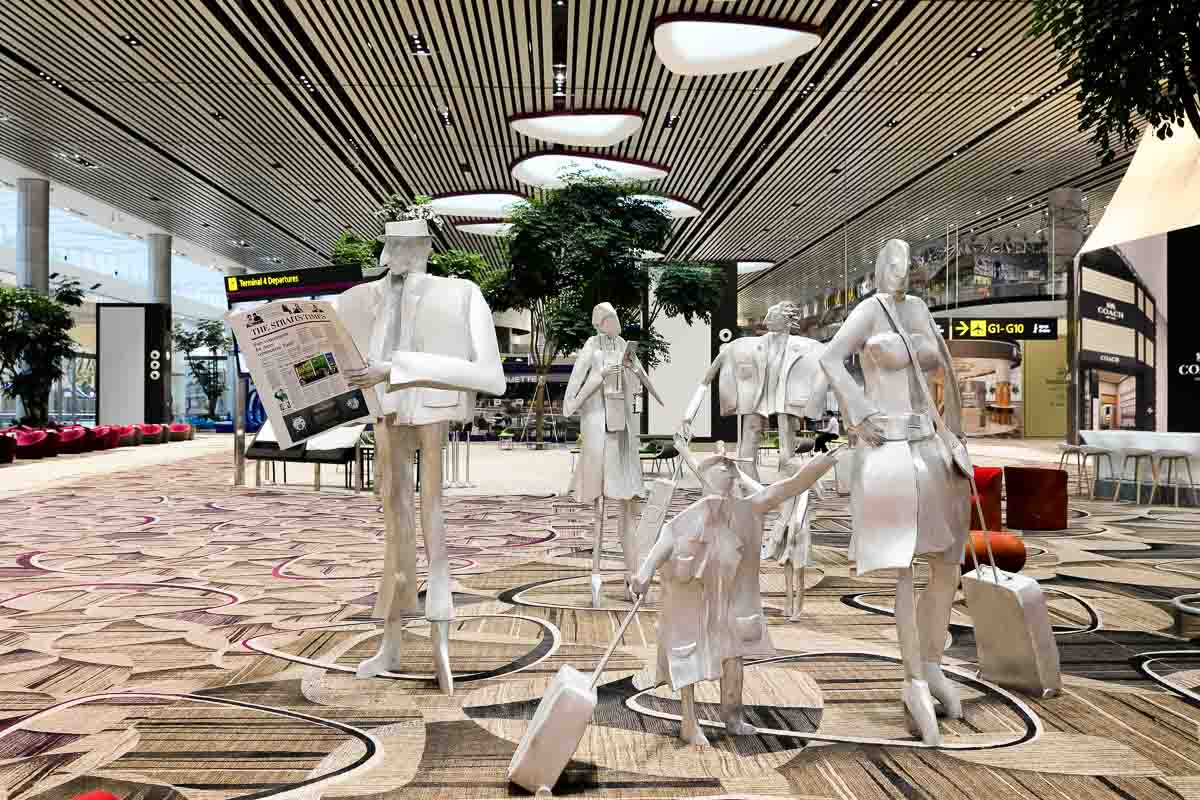 Spot life sized metallic structures such as the trishaw Ah Chek and the travelling family found before and after the check-in area respectively.
---
Changi T4 is pretty small (about half the size of T3) but what they gave up in size, they definitely made up with the little tweaks that added to the efficiency in bounds.
6 airlines will be operating at Changi T4: AirAsia, Cathay Pacific, Korean Air, Cebu Pacific, Spring Airlines and Vietnam Airlines. Look out for these flights at the new Changi Terminal 4 once it opens!