Byron Bay's got it all! From sun-kissed beaches, to riveting adventures on land and sea, to the sickest views of paradise from the air! Fly to Gold Coast or Sydney from S$149 and S$179 via Scoot! More details below.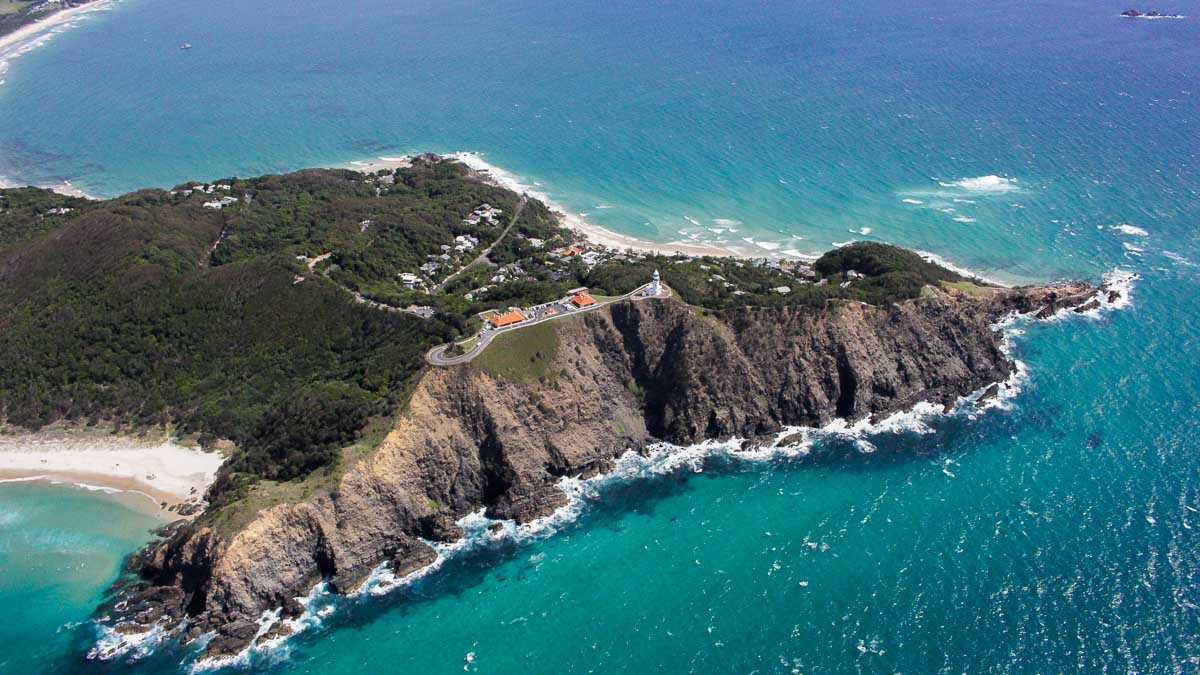 Amongst backpackers, Byron Bay is said to be one of the top places to visit in Australia. After spending a week in this coastal paradise, we finally understood why. What truly sets Byron Bay apart from other urban jungles and countrysides is that its neat little town is just a stone's throw away from some of the best swells on the coast.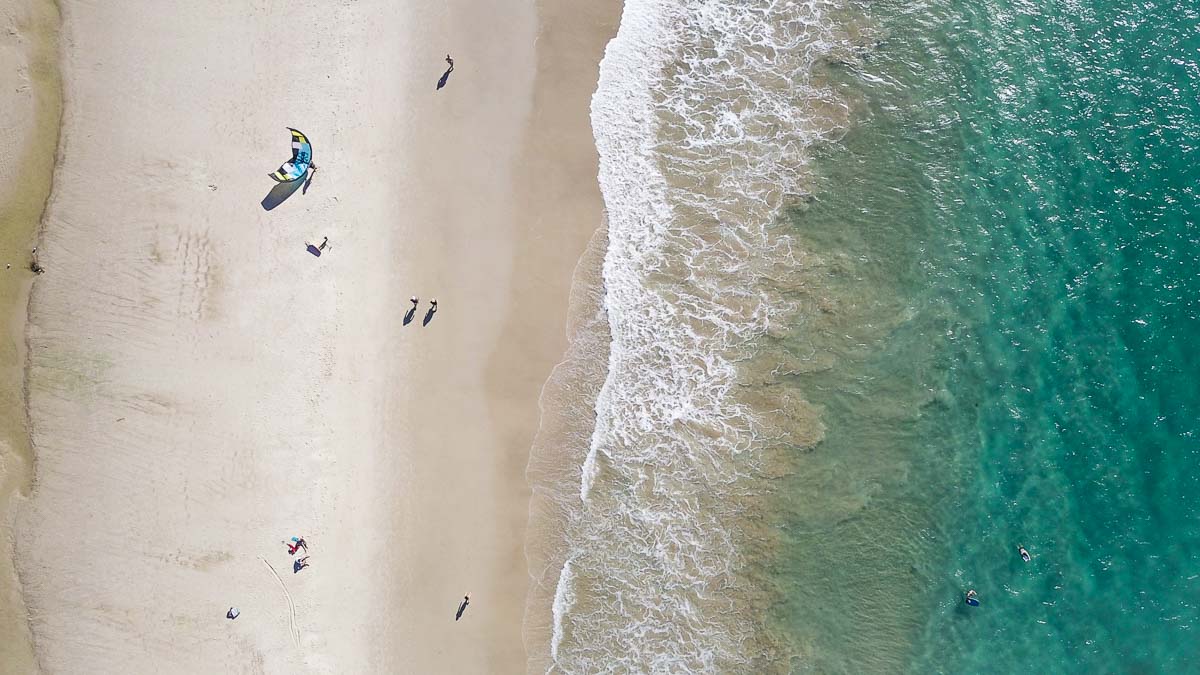 Sprawling with miles of white, sandy beaches, an ocean breeze that'll tousle your hair, laid-back vibes, paddock-to-table dining concepts, and a welcome sign that says "cheer up, slow down, chillout" — it begs the question: how could you not want to visit Byron Bay?
Read also: 13 Reasons Why Byron Bay Should be on Every NSW Itinerary
Things to Do in Byron Bay
There's so much to see and do in Byron Bay and its surrounding areas. From educational tours around local farms (we're talking coffee roasters, fruit orchards, distilleries, breweries, animal farms, and more!), to adrenaline-packed and beginner-friendly water sports, to soaring through the skies in Mission: Impossible fashion. Here are our top 25 picks!
1) Snorkel with Sea Turtles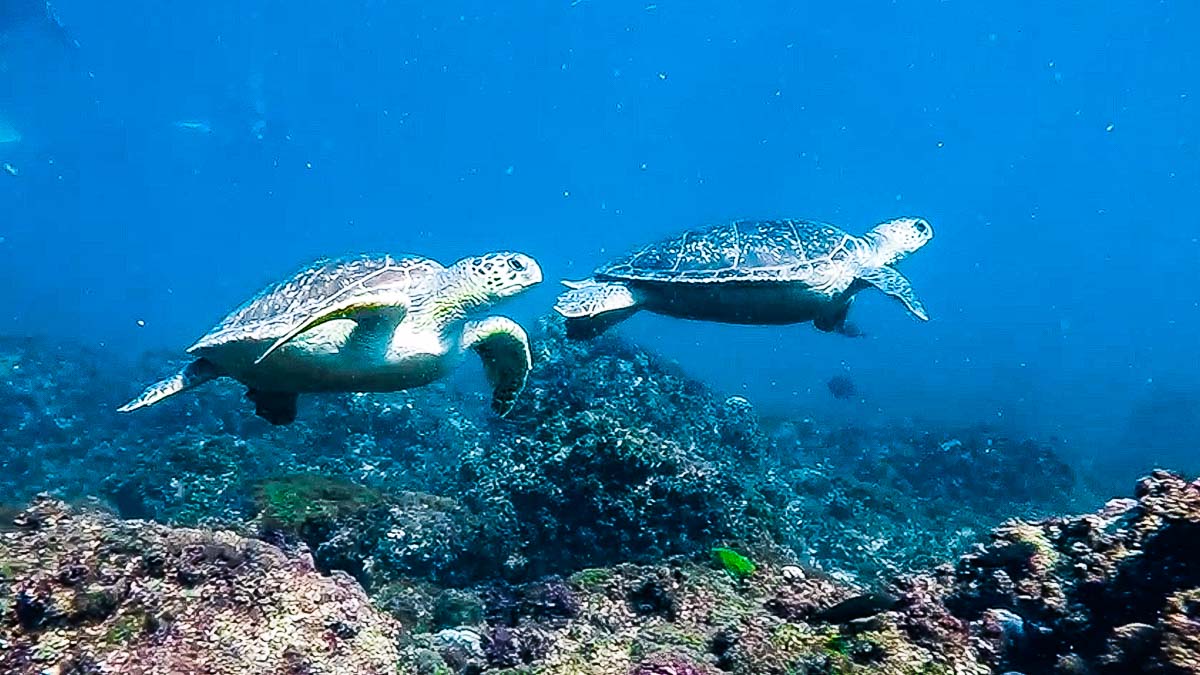 Join Watersports Guru on a 15-minute boat ride to Cook Island to snorkel amongst sea turtles and lots and lots of fish.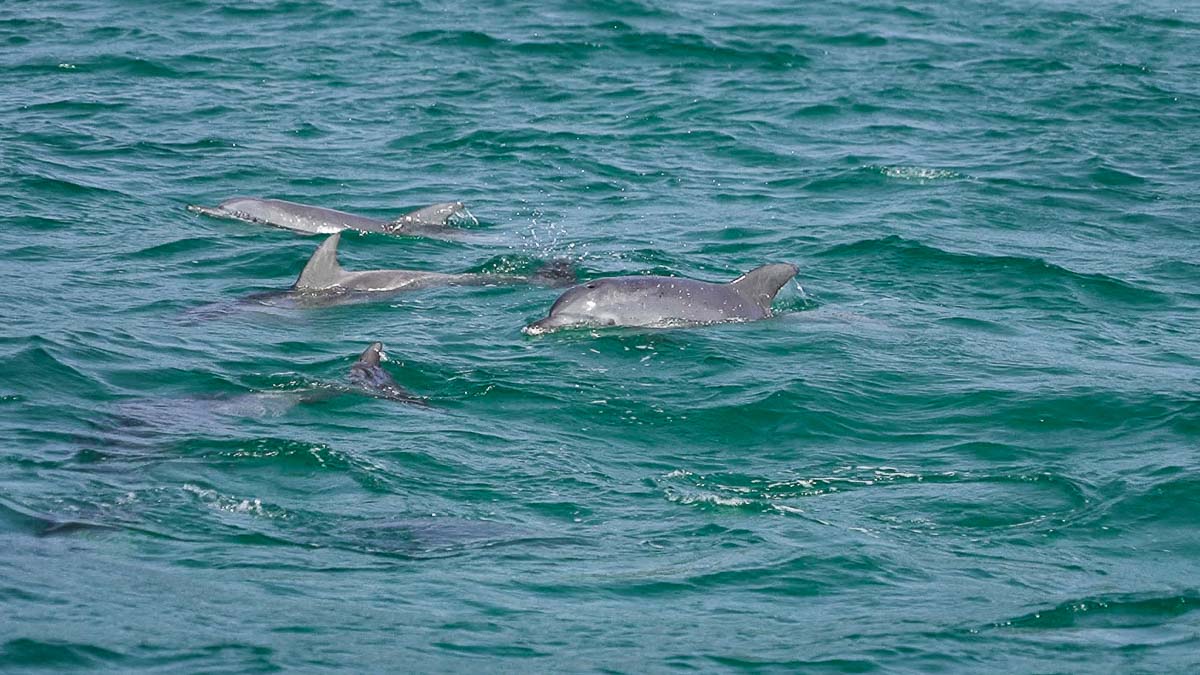 If you're lucky, a pod of dolphins will come swimming by your boat.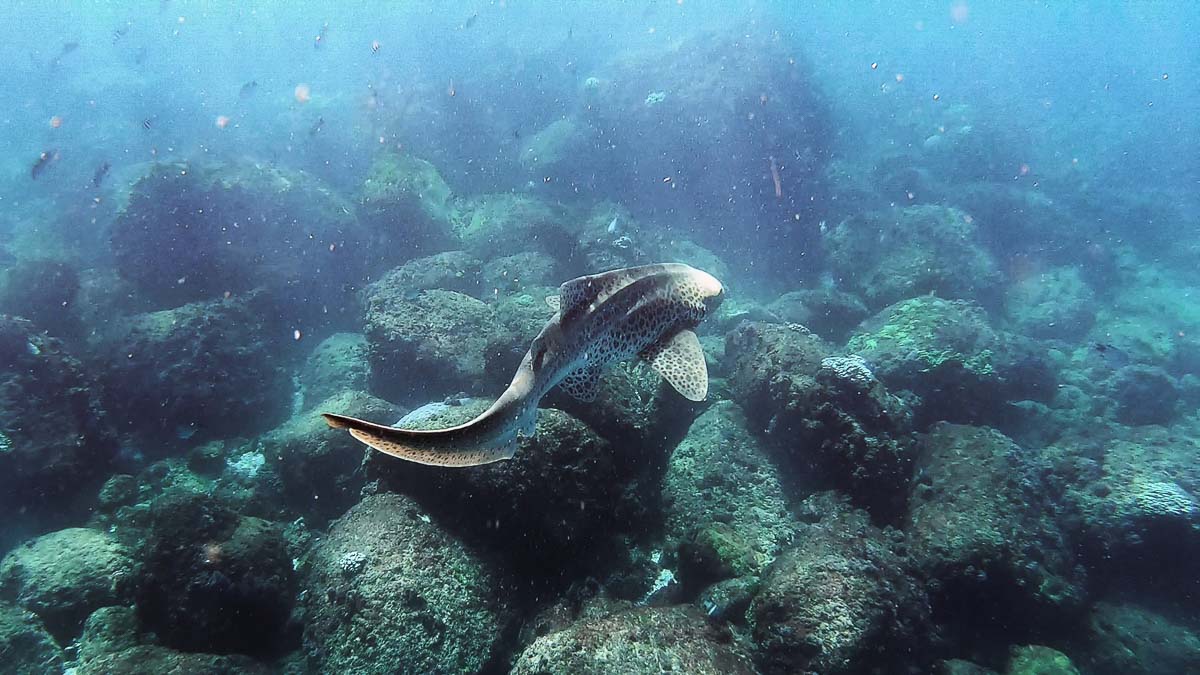 As if that isn't special enough, you might even spot other beautiful sea creatures like this leopard shark!
Cost: AU$119
Tour Timings: 8AM, 10:30AM, and 1PM
Address: Kingscliff Bridge, Sutherland St, Kingscliff NSW 2487, Australia
2) Kayak with Dolphins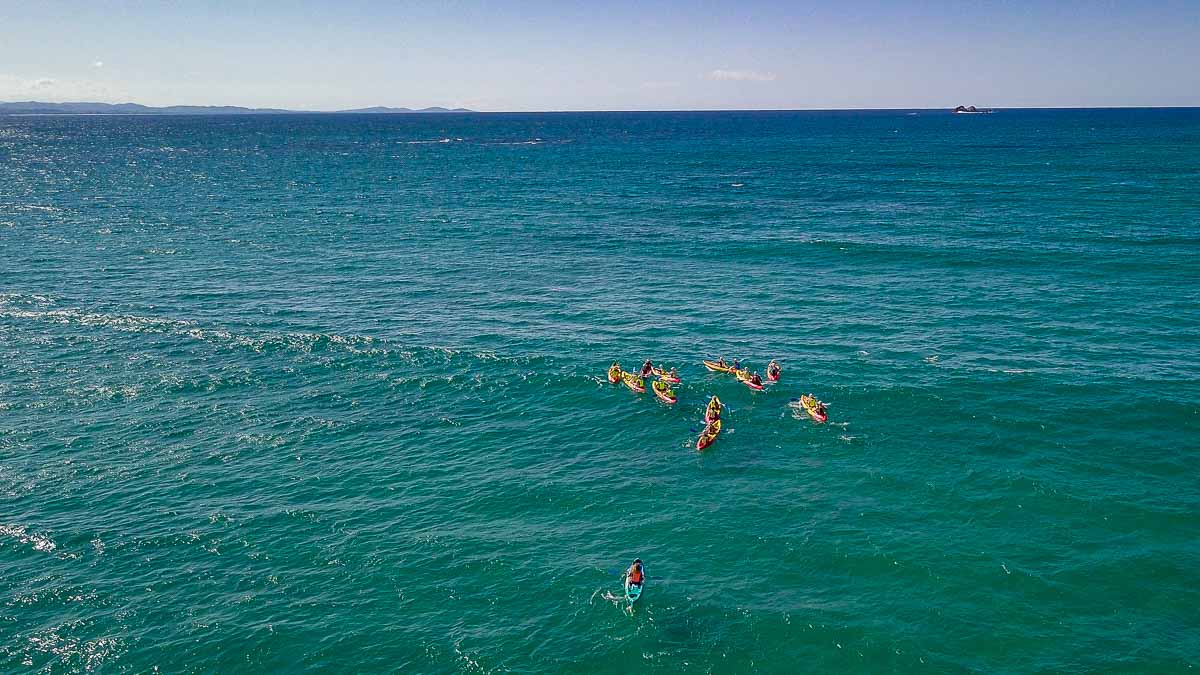 Paddle to your heart's content on a thrilling open water kayak adventure with Go Sea Kayak. It's hard work getting across the waves, but definitely worth the effort when you finally see a pod of dolphins poke their noses right by your kayak! Don't worry if you don't manage to see any dolphins, because they promise to let you do it again for free!
Dolphin Sea Kayak Tour
Cost: AU$75
Tour Timings: 9:30AM and 2PM
Address: 56 Lawson St, Byron Bay NSW 2481, Australia
3) Feast on Your Catch on a Crabbing Adventure Tour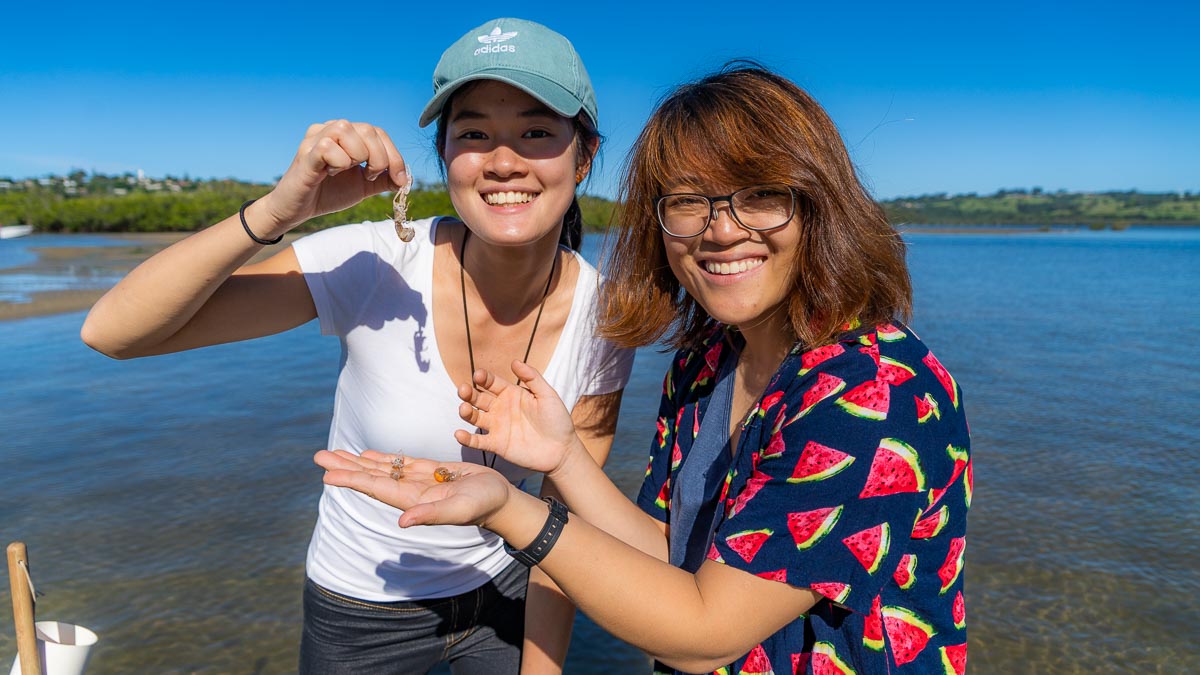 Cruise around the Tweed Coast with Catch A Crab and try your hand at feeding friendly pelicans, fishing, trapping live mud crabs, pumping some yabbies, and visiting oyster farms.
To complete your experience, opt for a tour with lunch! Spend an hour — on top of the two-hour cruise — on the boat enjoying a fresh seafood platter, crispy fish and chips or even a whole mud crab!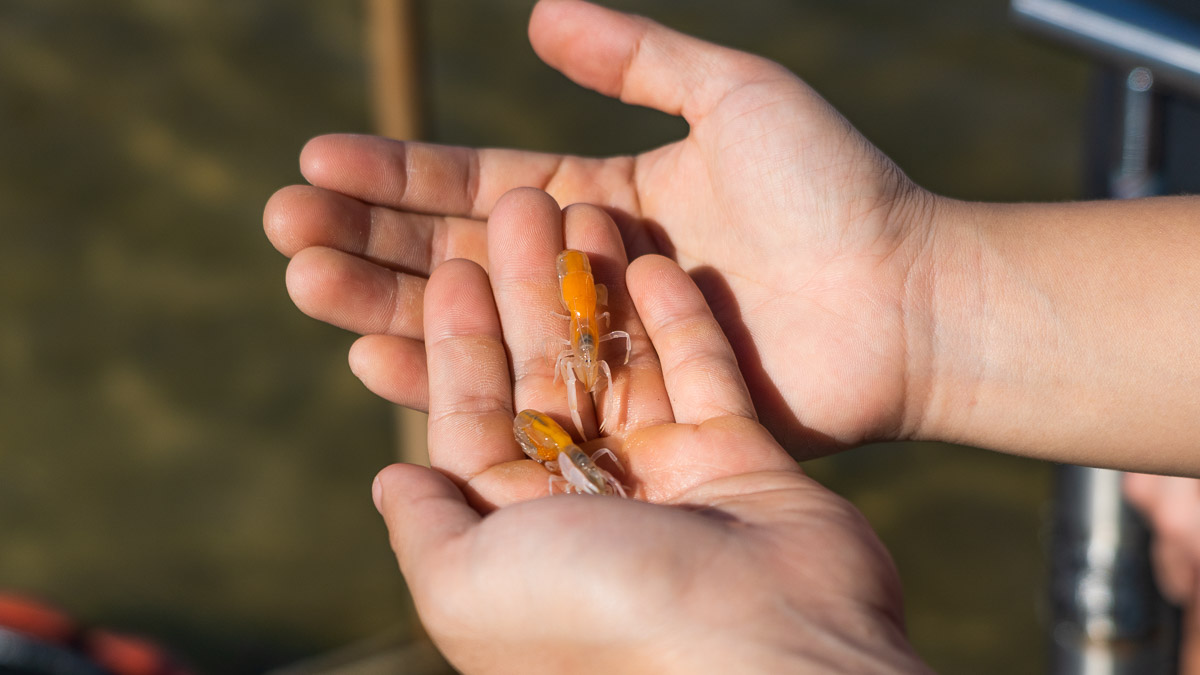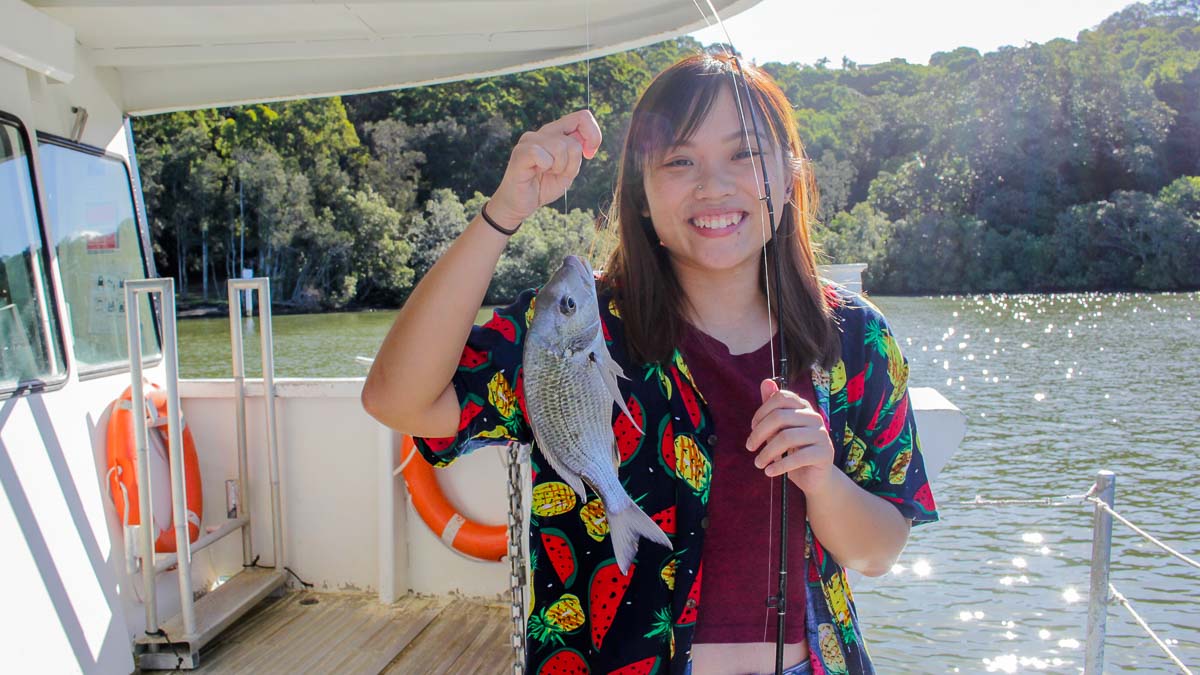 Cost: Tours start from AU$70
Tour Timings: 9:30AM, 1PM and 2PM (operates seasonally)
Address: 11/17 Birds Bay Dr, West Tweed Heads NSW 2486, Australia
4) Be the First to Catch the Sunrise in All of Australia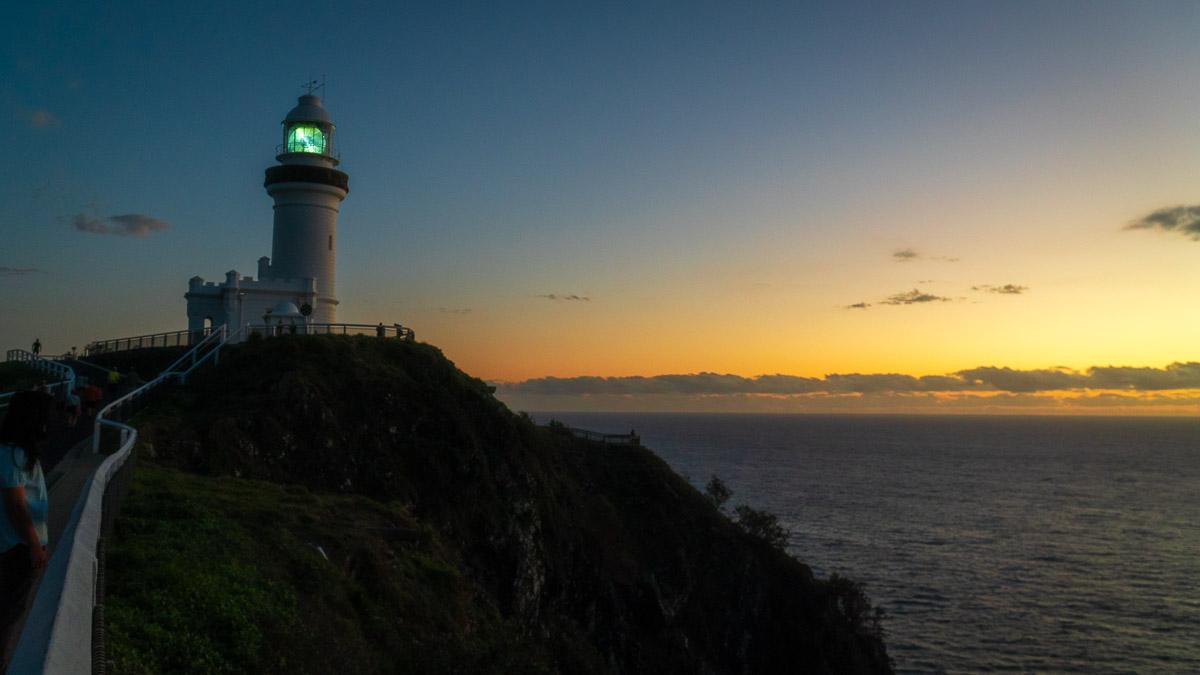 Nestled on the most easterly point of Australia, catching the sunrise from Cape Byron Lighthouse is as good as any reason to haul your vacationing ass out of bed before dawn. That, and the fact it's touted as one of the top attractions in Byron Bay.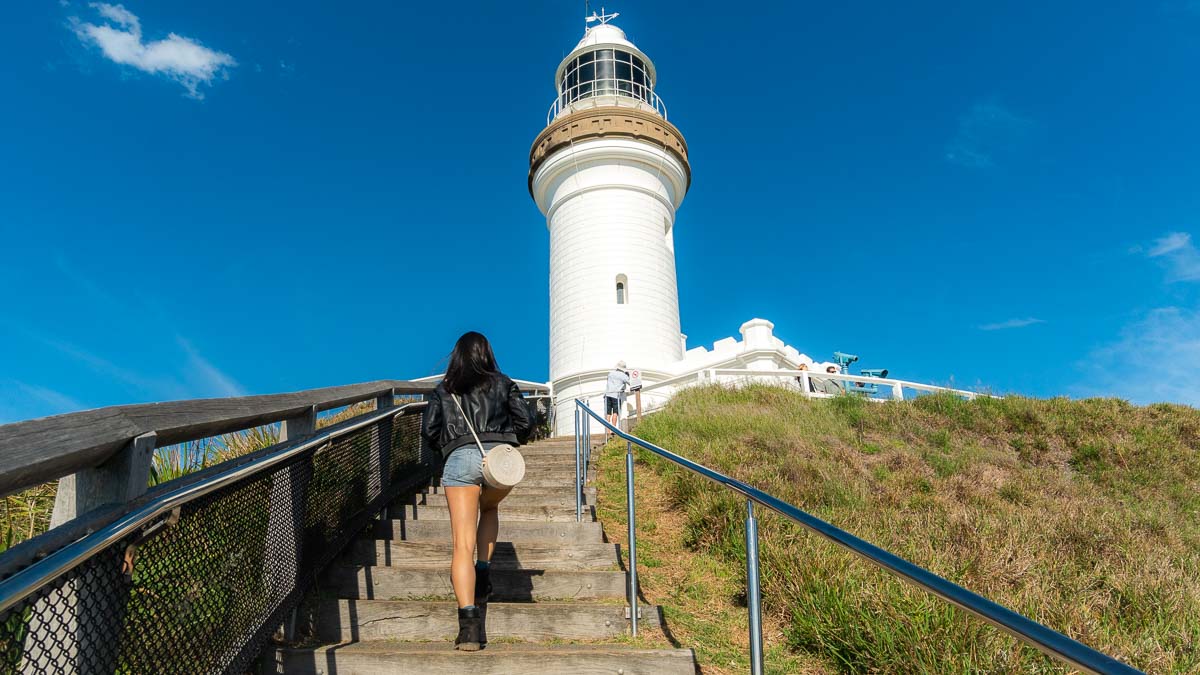 Parking fees: AU$8/hr (8AM – 6PM), capped at one hour per vehicle
How to get there: From Byron Bay's town centre, it's a 10-minute drive up to the Lighthouse. Alternatively, from Bay Street, it's an hour-long walk along Main Beach.
*Pro-tip: Arrive early and leave before 8AM to save on parking.
If you're interested in a more luxurious and intimate experience, Toast the Sun offers just that and more!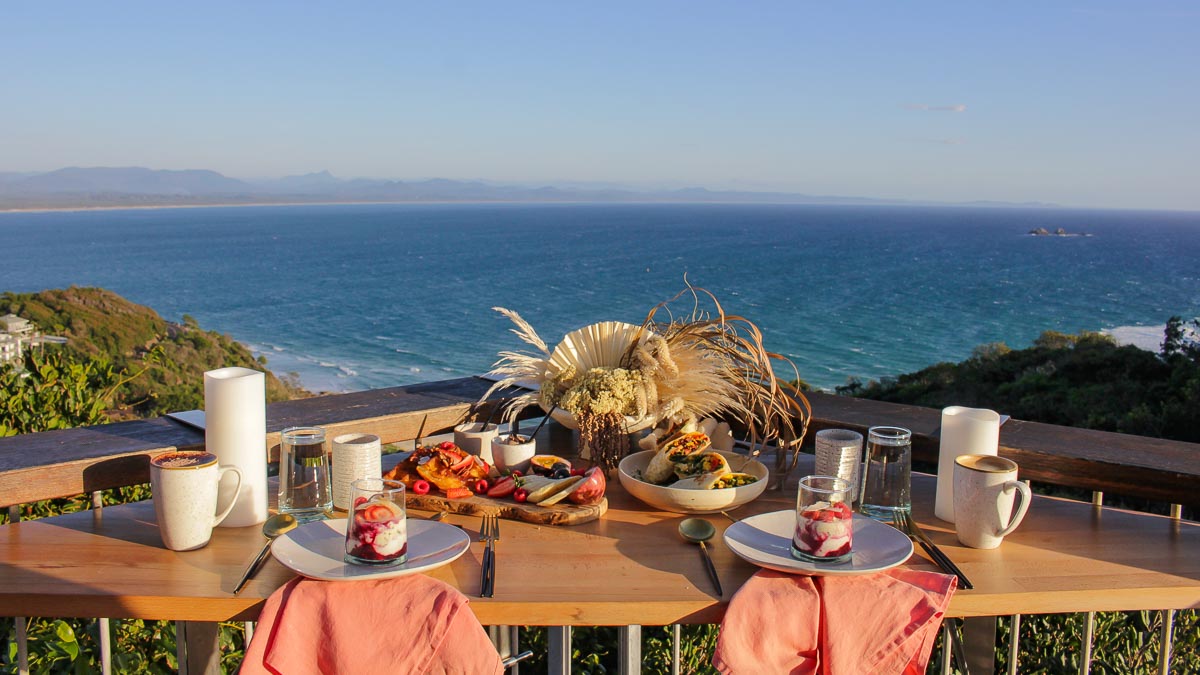 Receive the ultimate VIP experience with a private server bringing you a handcrafted drink as the sun rises. When you've worked up an appetite, a three-course breakfast spread awaits at the cafe a few steps away. With only two bookings taken each day, Toast the Sun is truly a once-in-a-lifetime experience. During the migration season (late-May to mid-Nov), you might even spot a couple of whales out at sea.
Toast the Sun
Cost: AU$195/pax
Meeting Point: Cape Byron Lighthouse Cafe
5) Visit the Crystal Castle & Shambhala Gardens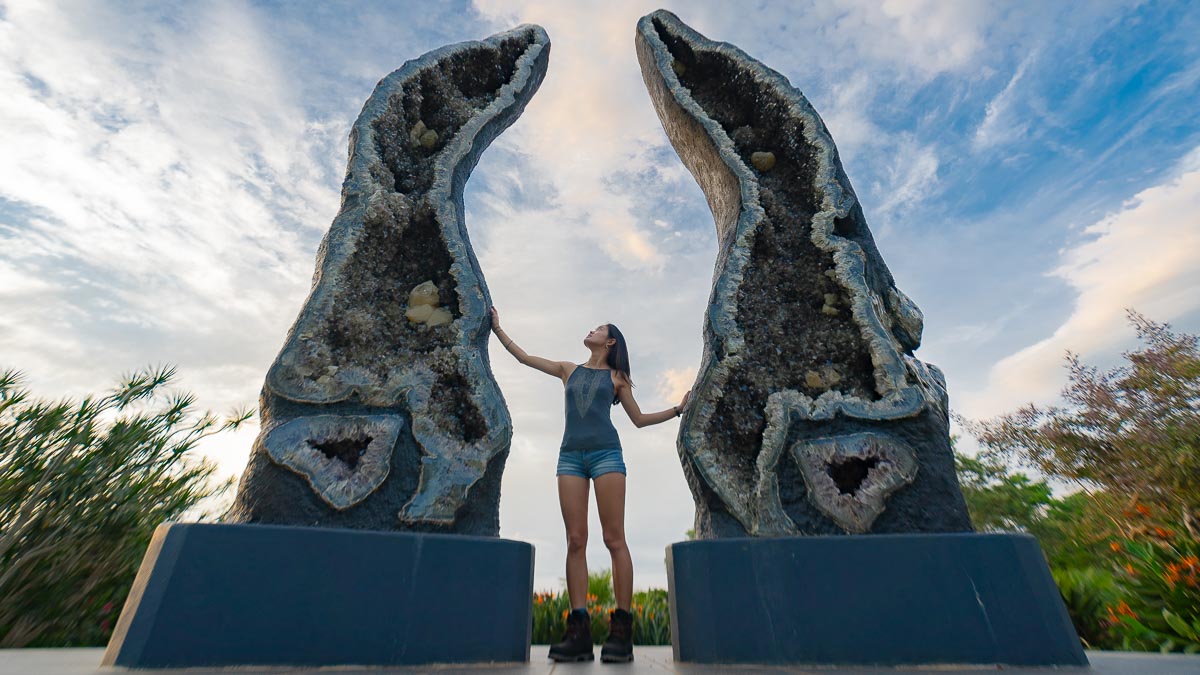 20 minutes from Byron Bay lies a treasure trove of the world's largest crystals. The founder of Crystal Castle, Naren King, spent 30 years in search of these remarkable gems. Among his finds are a pair of the world's tallest geodes, known as the Crystal Guardians.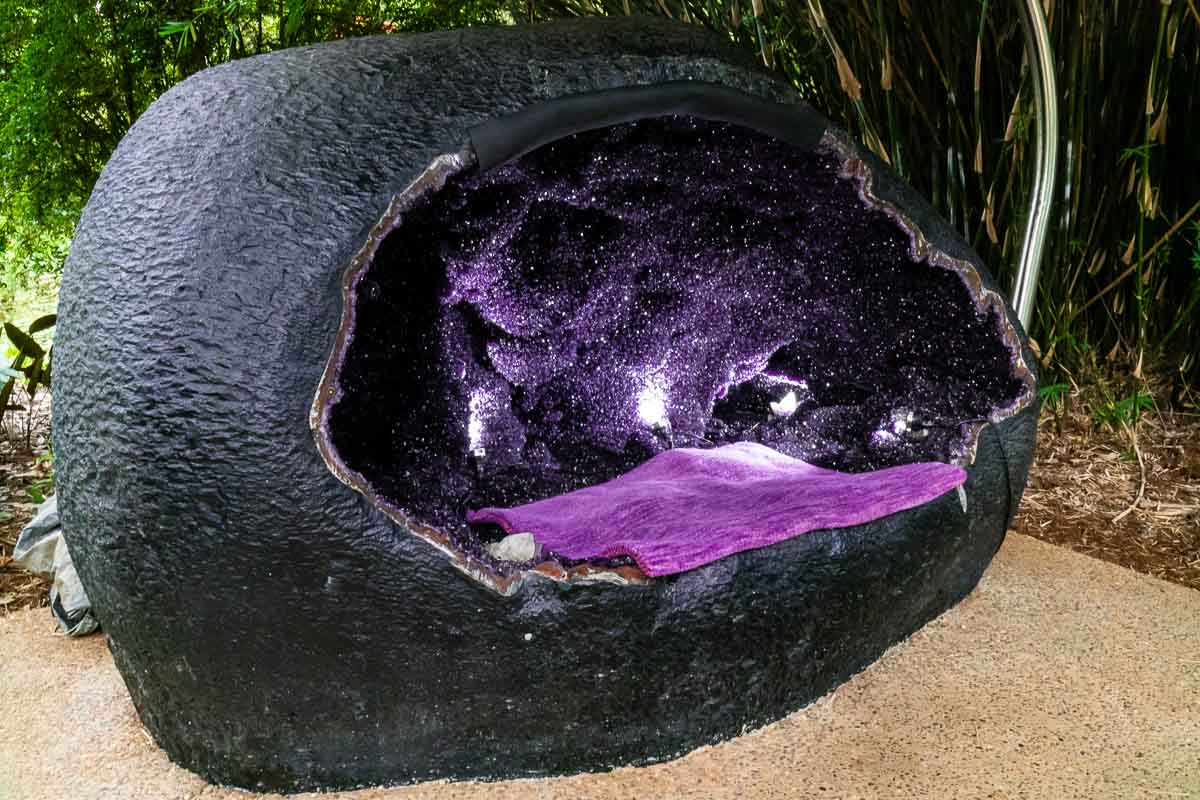 The Dragon's Egg is a 120 million-year-old geode with mesmerising violet tones. It has 龙 (long) been regarded as one of the main attractions of the castle. Have you ever dreamt of being surrounded by millions of sparkly gems in a galaxy far, far away? Well, now you can. And you'll be amazed at how surreal the photos turn out!
Embark on a meditative journey in the Enchanted Cave. Guided by an experienced facilitator, private meditation sessions (AU$80) are held once a day in this 5.5m-wide amethyst crystal cave.
Entrance Fee: AU$32
Opening Hours: 10AM – 5PM
Address: 81 Monet Dr, Montecollum NSW 2482, Australia
6) Go for a Refreshing Swim Under Minyon Falls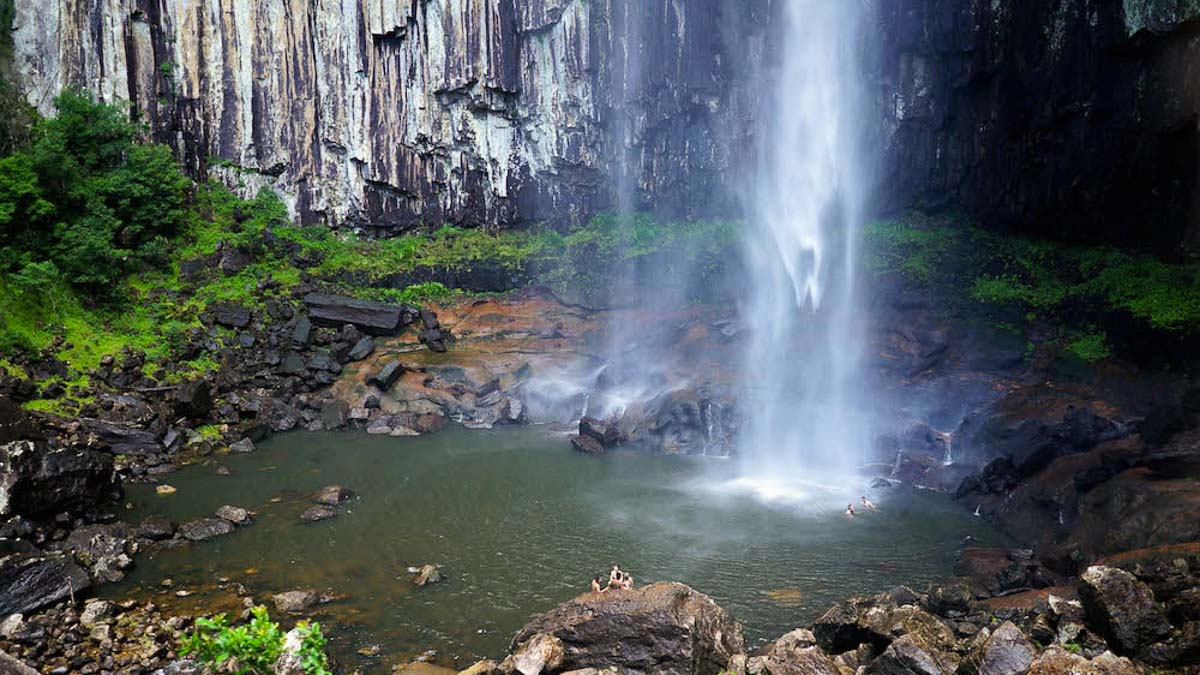 We first caught sight of this magnificent 100-metre tall force of nature from our helicopter ride. While it makes for a pretty spectacular view from afar, the 13km trek can be equally rewarding.
Hiking duration: 13km, 4 hours return
Address: Tuntable Trail, Nightcap NSW 2480, Australia
*Pro-tip: Visit the falls after a rain shower when it's at the peak of its magnificence, but do watch your step as the rocks might still be slippery!
7) Stand Up Paddle (SUP) at Brunswick Heads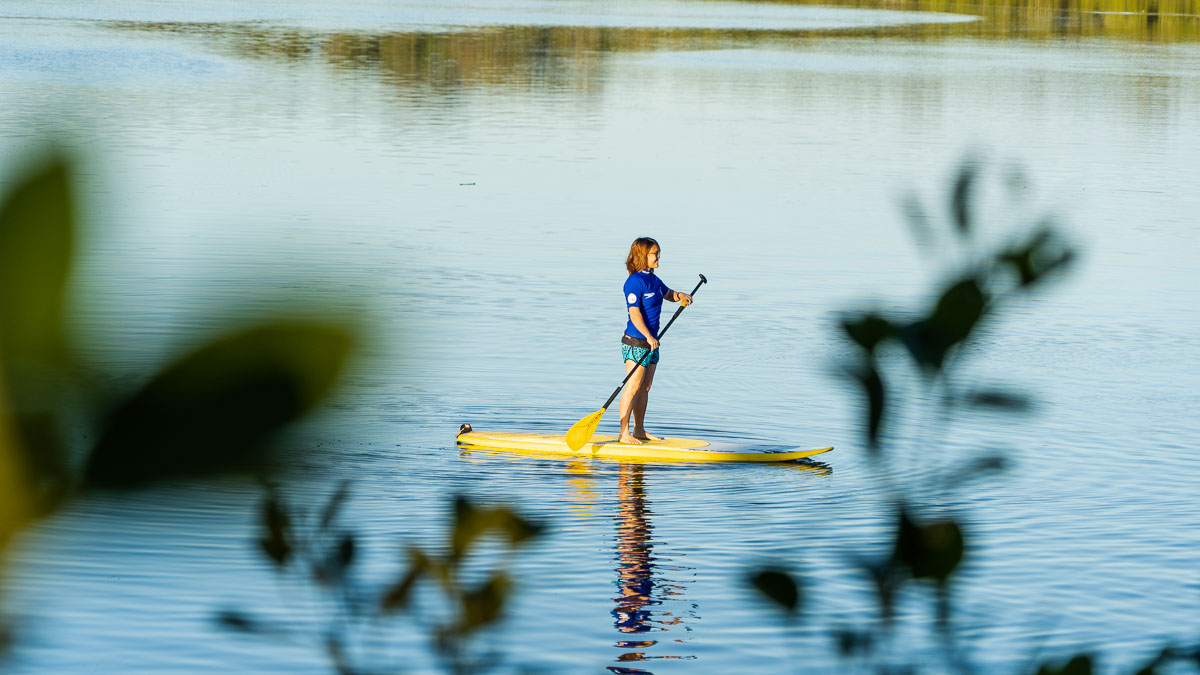 If you haven't tried the sport, here's your chance to find out wasSUP! Cruise along knee-deep waters with water so clear, you can even spot stingrays and fishes swimming beneath.
Cost: AU$75
Tour Timings: Varies (check online, or call +61 2 6680 9443)
Address: Cavanbah Arcade, 6/4 Jonson St, Byron Bay NSW 2481, Australia
8) Ride the World's First Solar-Powered Train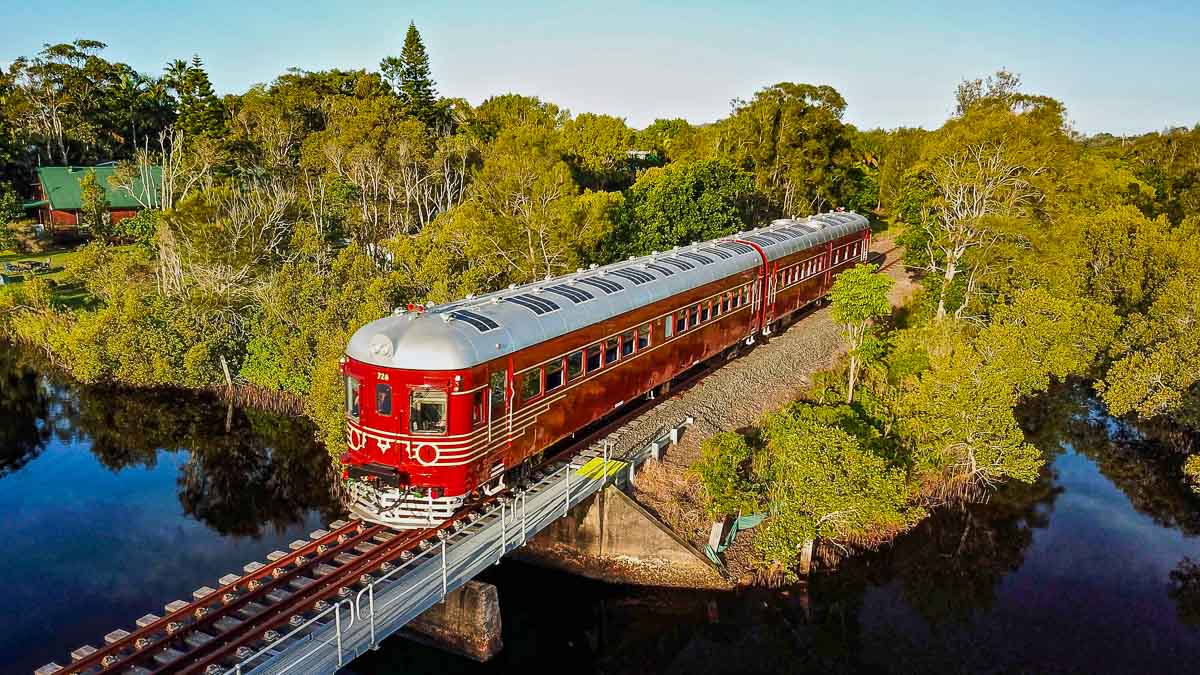 Powered by a 4.6 billion-year-old power source, the Byron Bay Train travels 3km between Shirley Street and Bayshore Drive. This vintage solar-powered train makes hourly departures, and carries 96 passengers on its 10-minute journey. Planning to head north to check out Stone & Wood Brewery? Leave your car and hop on the red bandwagon!
Cost: AU$4 (one-way)
Train Departures: 10AM – 5:15PM (train schedule here)
Station Addresses: North Beach Station — Bayshore Dr, Byron Bay NSW 2481, Australia
Byron Beach Station — Shirley St, Byron Bay NSW 2481, Australia
9) Try Fruits You've Never Tasted at Tropical Fruit World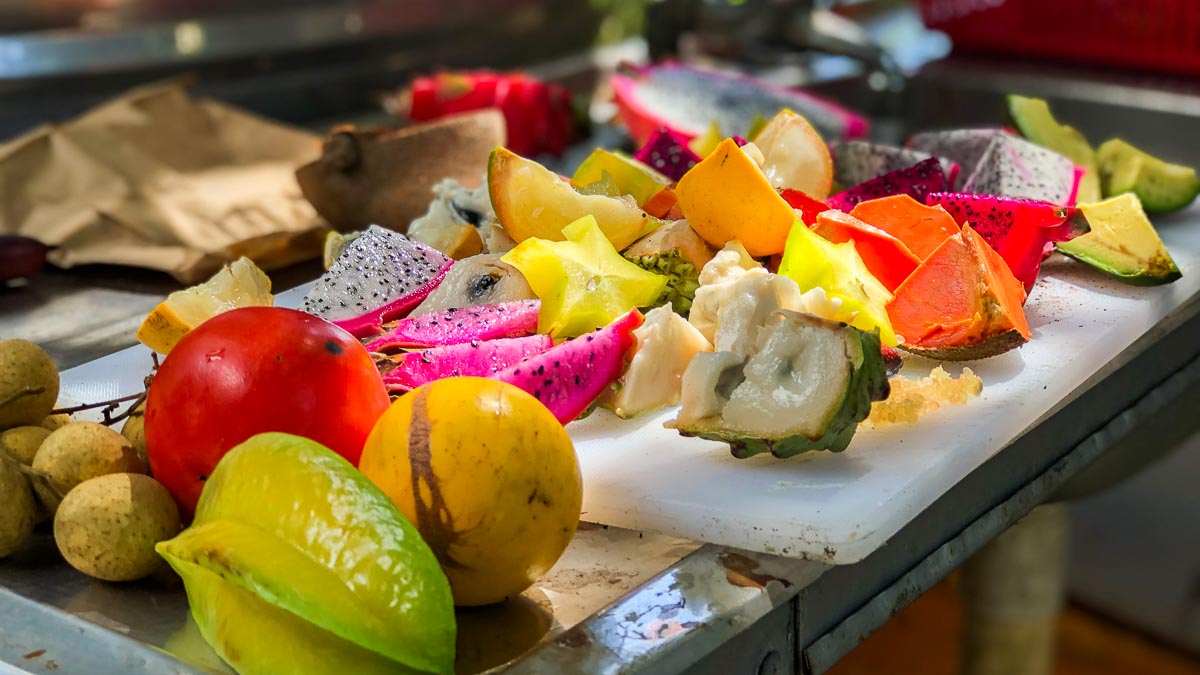 If you think this is like any fruit farm you've come across, think again. With over 500 varieties of fruits from around the globe, Tropical Fruit World spans over 165 acres. You'll be surprised just how many fruits you've never heard of. Hop on the award-winning farm tour and feast your eyes and mouth on these vibrant and juicy treats.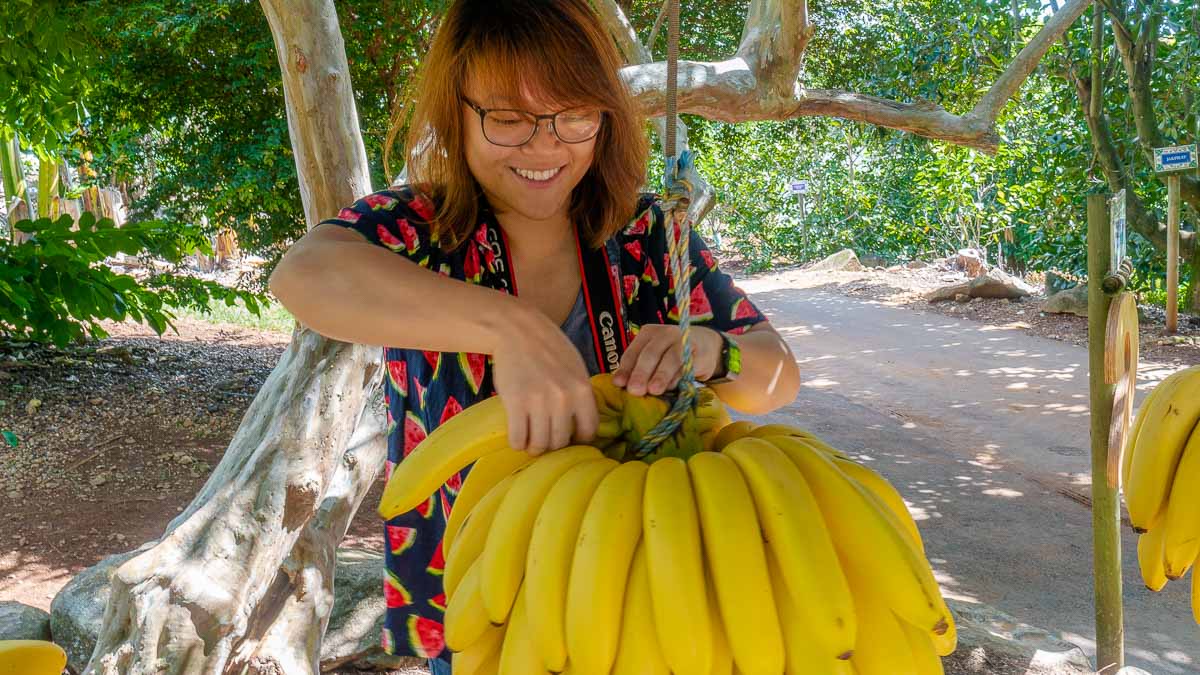 You'll even get to try some rare fruits such as the Black Sapote, a.k.a. chocolate pudding fruit when they're in season. It tastes just like a chocolate dessert!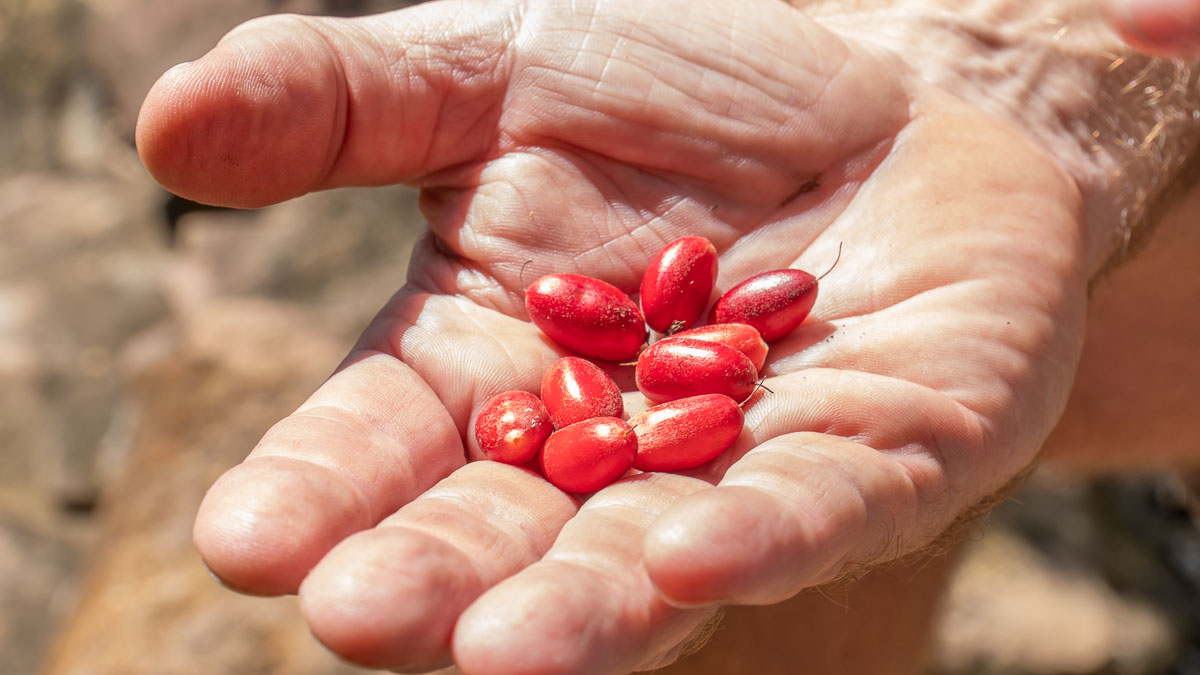 If you're unable to attend the farm tour, you have to at least try their fruit ice cream (AU$6.90). Choose up to three fruits to blend with vanilla ice cream in your fruity dessert. There's also a vegan option of coconut ice cream if you prefer!
Cost: AU$47 (farm tour)
Opening Hours: 10AM – 4PM
Address: 29 Duranbah Rd, Duranbah NSW 2487, Australia
10) Brunch at Byron Farmers Market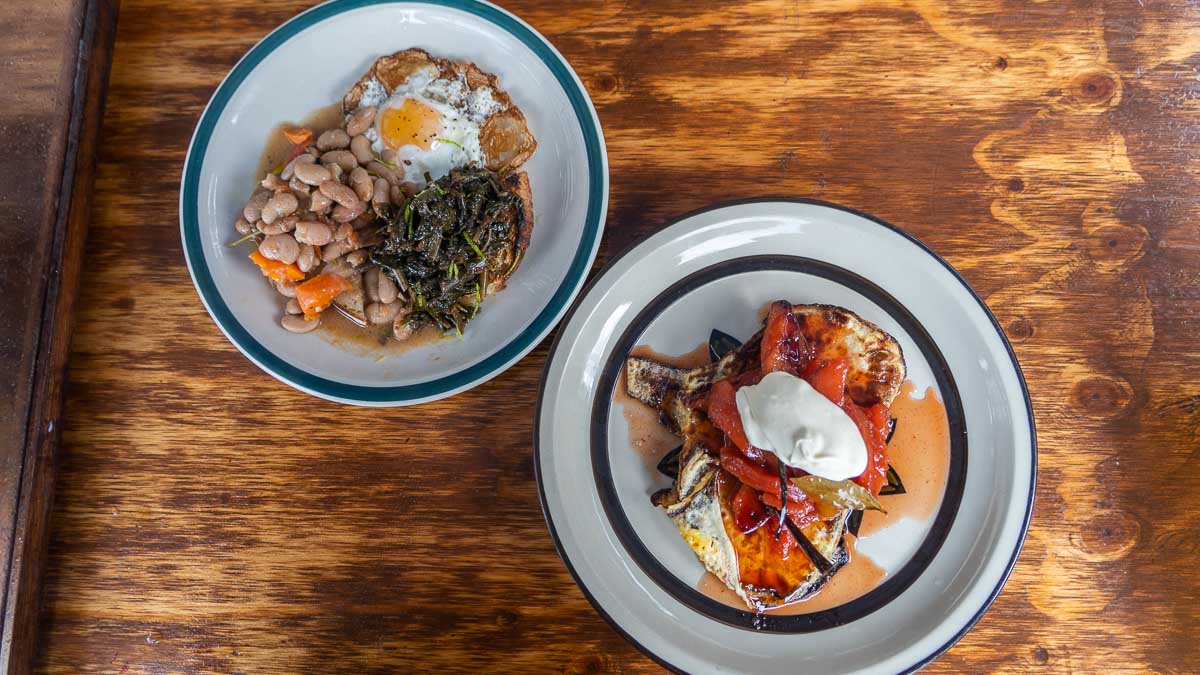 Among the array of farm-fresh and artisanal produce sprawling the Byron Farmers Market, we got to try Sicilian cuisine from The Nomadic Kitchen. Prepared using local produce available from the Farmer's Market, customers are kept in anticipation of each week's changing menu.
If you get the chance, try some sugarcane juice (AU$5) from the market with ginger and lime. It's a refreshingly good palate cleanser!
Parking fees: Free
Opening Hours: 8AM – 11AM, Thursdays only
Address: Byron Bay NSW 2481, Australia
11) Go Horse-Riding into the Sunset on Tyagarah Beach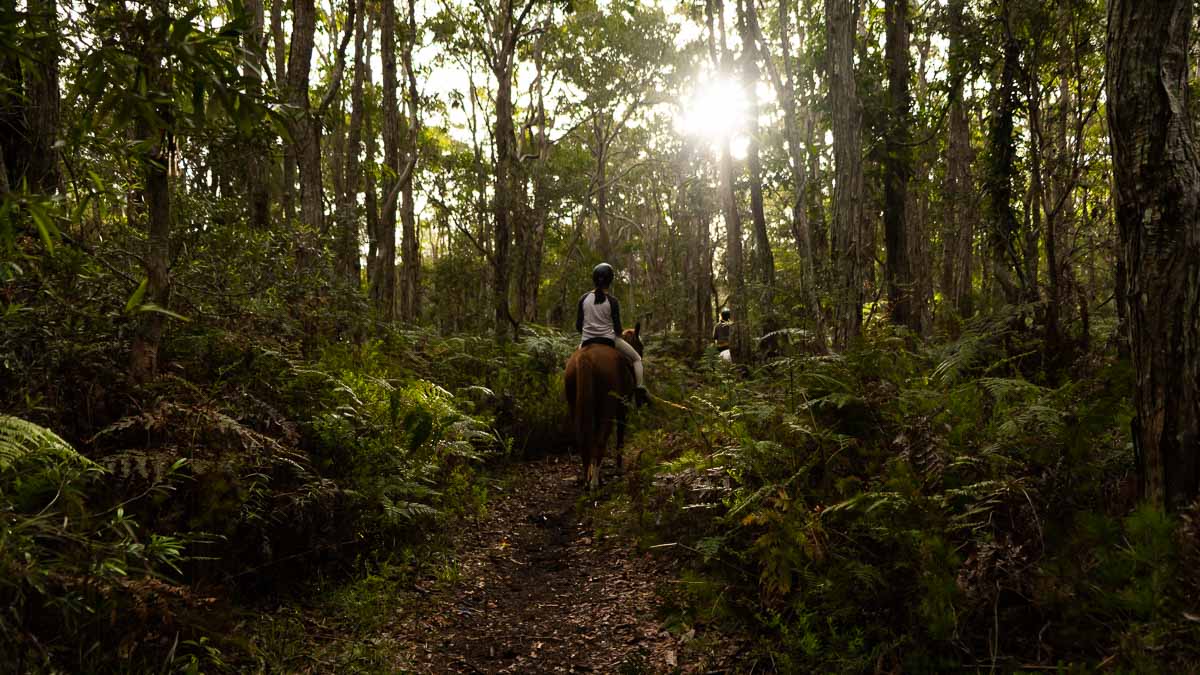 We had the most wonderful time with Zephyr Horses as we trotted through a scenic forest trail and arrived on the beach in the most exciting fashion — think of it as an amusement park ride, except your cart is alive.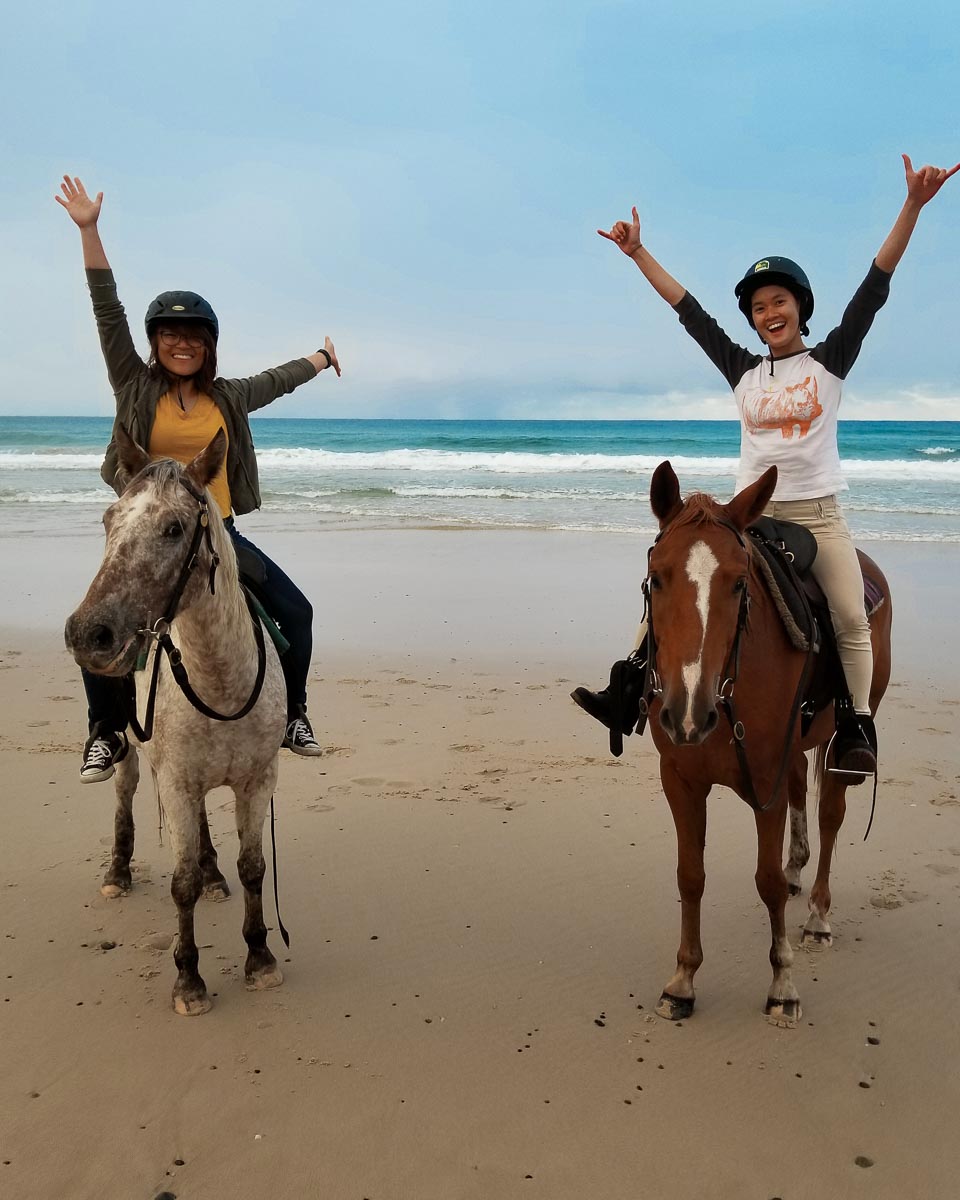 Forest to Beach Tour (Sunset)
Cost: AU$150
Tour Timing: 3:30PM (Mon – Fri), closed on weekends (as they neigh-ed their rest)
Address: 144 Bayshore Drive, Byron Bay, New South Wales, Byron Bay NSW 2481, Australia
12) Take a Surfing Lesson at Main Beach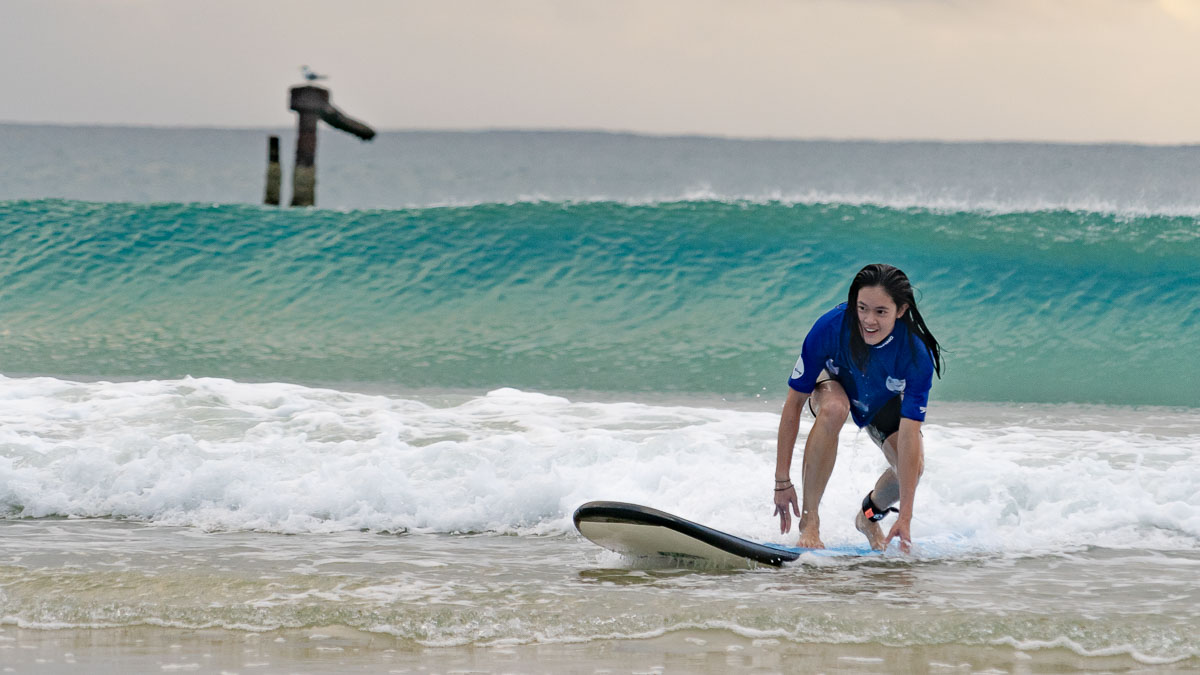 You've travelled all this way to Australia's most popular surf town — there's no way you're leaving without riding some waves at Main Beach. Hit the beach with an experienced (and gorgeous) surf instructor from Let's Go Surfing and ride those waves of adrenaline to shore!
Cost: AU$65
Lesson Timings: 9AM and 2PM
Address: Cavanbah Arcade, 6/4 Jonson St, Byron Bay NSW 2481, Australia
13) Get Educated at the Farm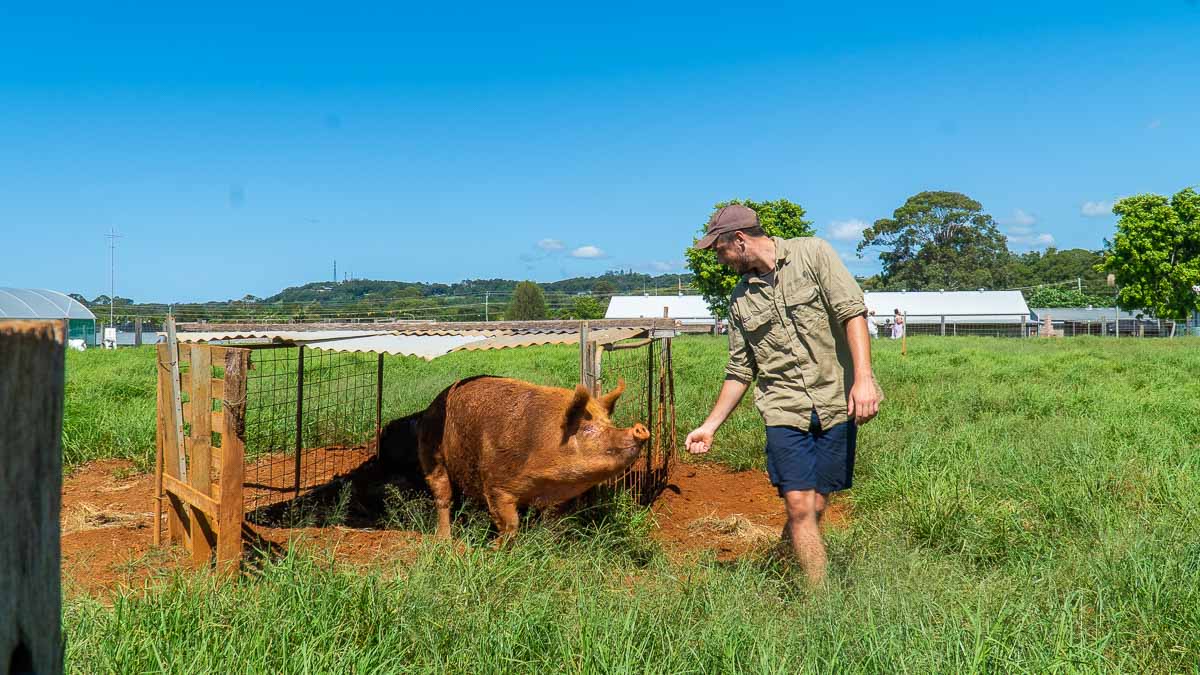 Built around the principles of being ethical and organic, The Farm aims to educate and inspire the community to move towards a more sustainable farming culture. For instance, they only produce free-range eggs on the farm – a method of production in which chickens are allowed to roam over a large plot of land. Learn about the origin of our food and how the farm maintains optimal growth conditions (e.g. soil fertility) for quality produce to reach its customers.
To learn more, you can either book a one-hour tour around the farm, or grab a map from the entrance and embark on a self-guided tour.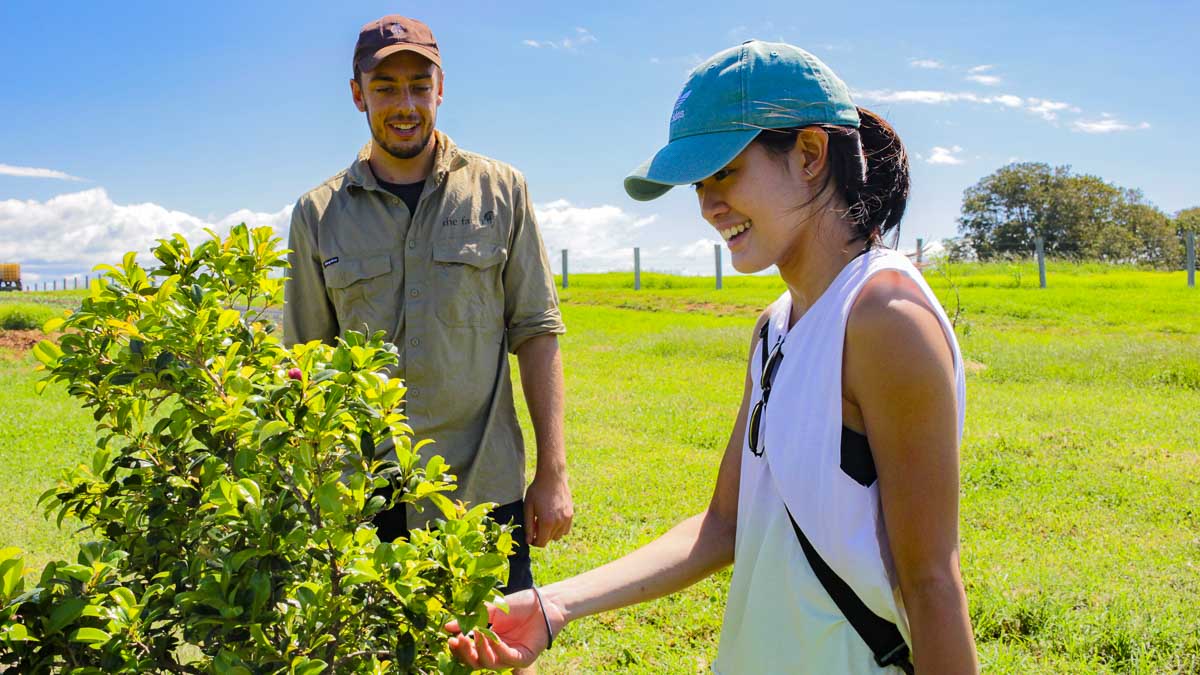 Besides poultry and pigs, The Farm is also home to a herd of beef cattle including the Scottish Highlanders. These livestock are regularly rotated around different plots of land, allowing them fresh pasture to graze on, while maintaining the fertility of the soil.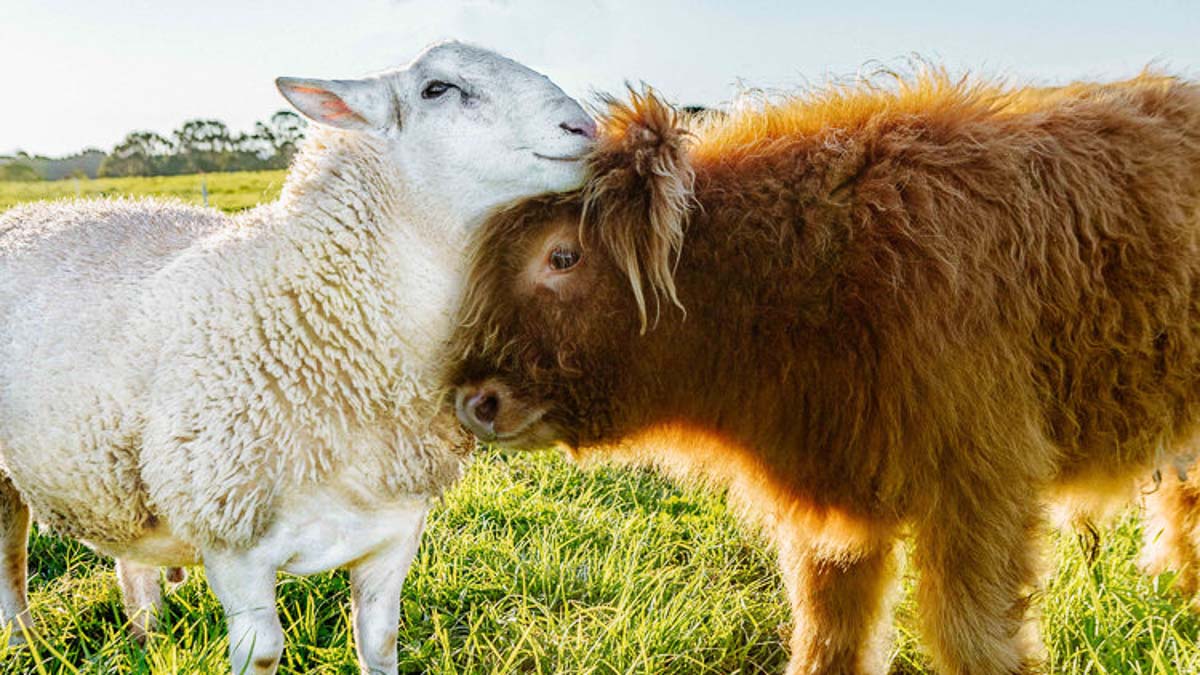 Entrance fee: Free! (Or AU$20 for Icons of The Farm tour)
Opening Hours: 7AM – 4PM (Mon – Thu), 7AM – 10PM (Fri – Sun)
Address: 11 Ewingsdale Rd, Ewingsdale NSW 2481, Australia
*Pro-tip: Get on the waitlist at the Three Blue Ducks restaurant first before exploring The Farm if you're planning to have lunch here. The crowd can be quite overwhelming, especially during school holidays.
14) Have a Sip of Insta-Worthy Gin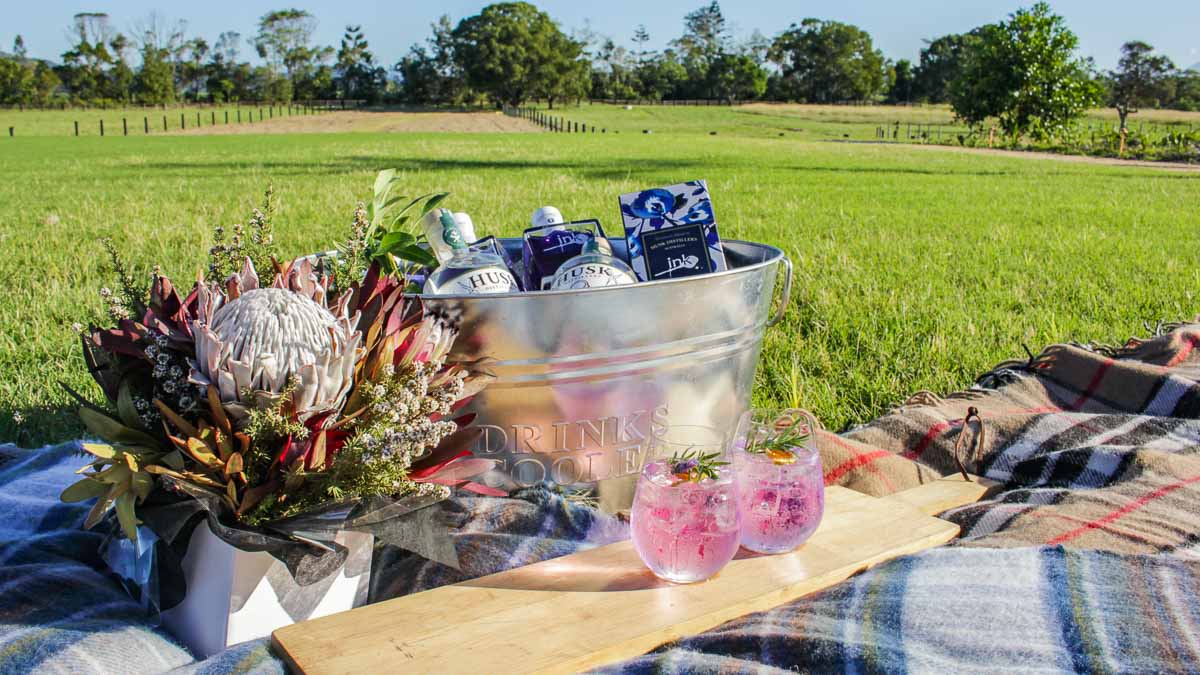 Husk Distillery is due to open its doors come July this year. Visitors can tour the new distillery and relax on the grass with a picnic lunch after, with food from the cafe or bar that serves the iconic and OG Ink Gin tonic. This Ink Gin is infused with 13 organic botanicals and the pH-sensitive butterfly pea flower, causing it to change from blue to blush-pink with the addition of low pH ingredients such as tonic water, lemon or lime.
Opening Hours: 10AM – 5:30PM, closed on Mondays and Tuesdays. Opens July 2019.
Address: Dulguigan Rd, North Tumbulgum NSW 2490, Australia
15) Try Some Unique Brews in Stone & Wood Brewery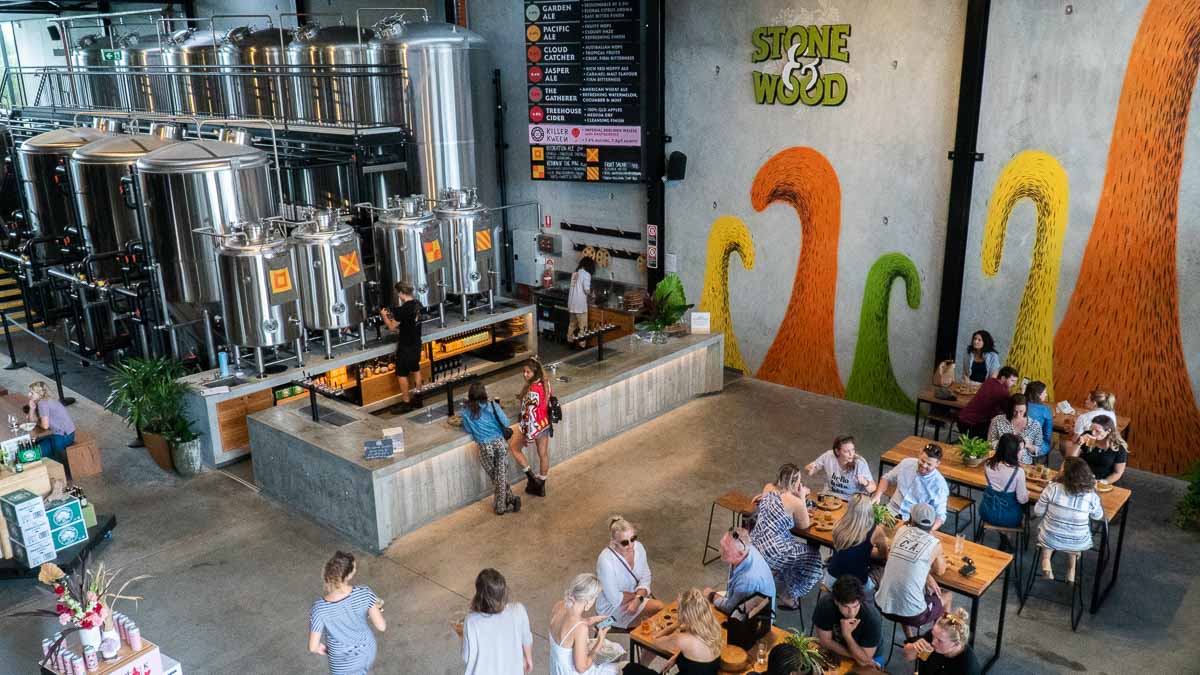 Jump in for a tour (held thrice daily) around Stone & Wood Brewery and learn about the delicate art of making delicious beer!
Looking for something sweeter for a change? Try a pint from their experimental selection like The Gatherer (made with American wheat ale, dried mint, watermelon and cucumber puree) or Fruit Salad Berliner Weisse (watermelon and raspberry). These beers are brewed in small batches and available for a limited time.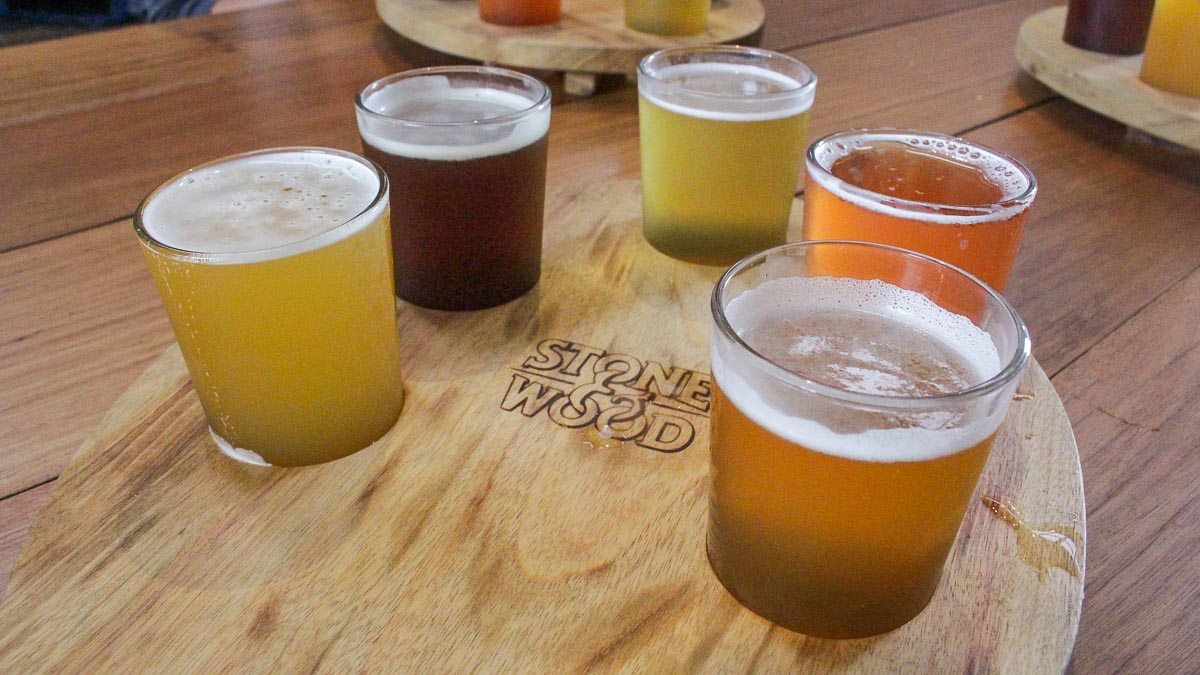 You can also choose your beers for a three-set taster palette (AU$11), or a five-set palette (AU$16).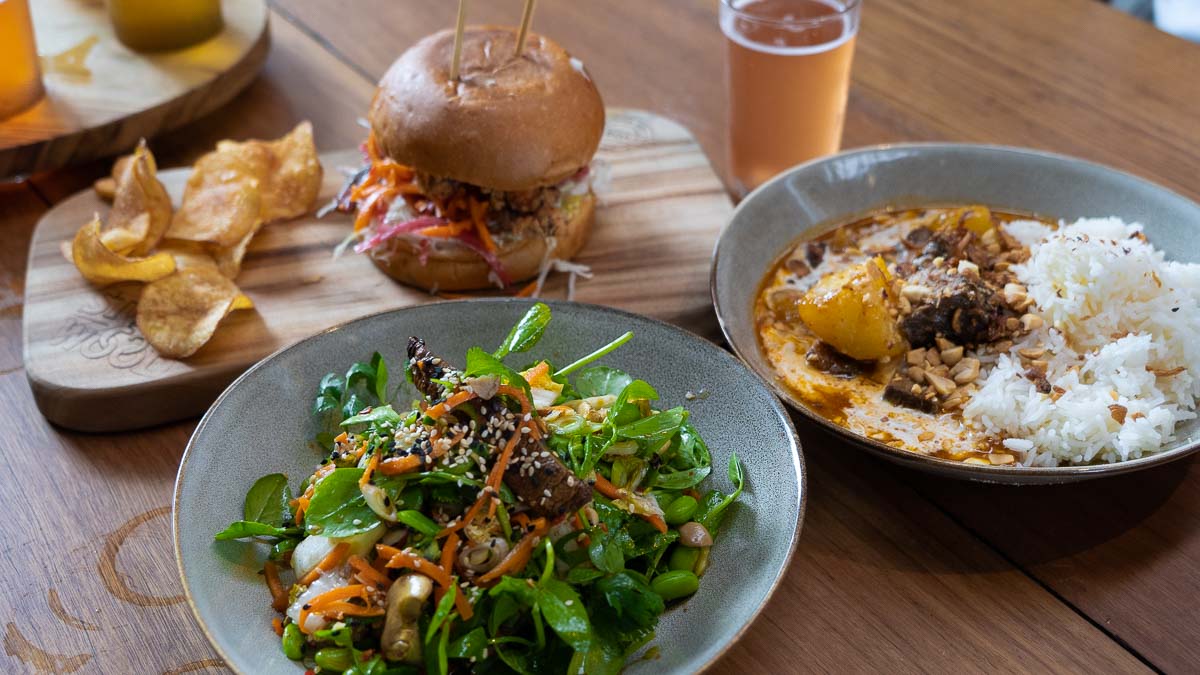 Famished after the tour? Grab some lunch from the onsite restaurant. The items on the menu change every week or so depending on the availability of locally-sourced ingredients. We got everything on their lunch menu and they were all sublime.
Cost: AU$25 (brewery tour, includes half-poured five-set taster palette)
Opening Hours: 10AM – 5PM (weekdays), 12PM – 6PM (weekends)
Address: 100 Centennial Circuit, Byron Bay NSW 2481, Australia
16) Hop on a Helicopter Ride Over Byron Bay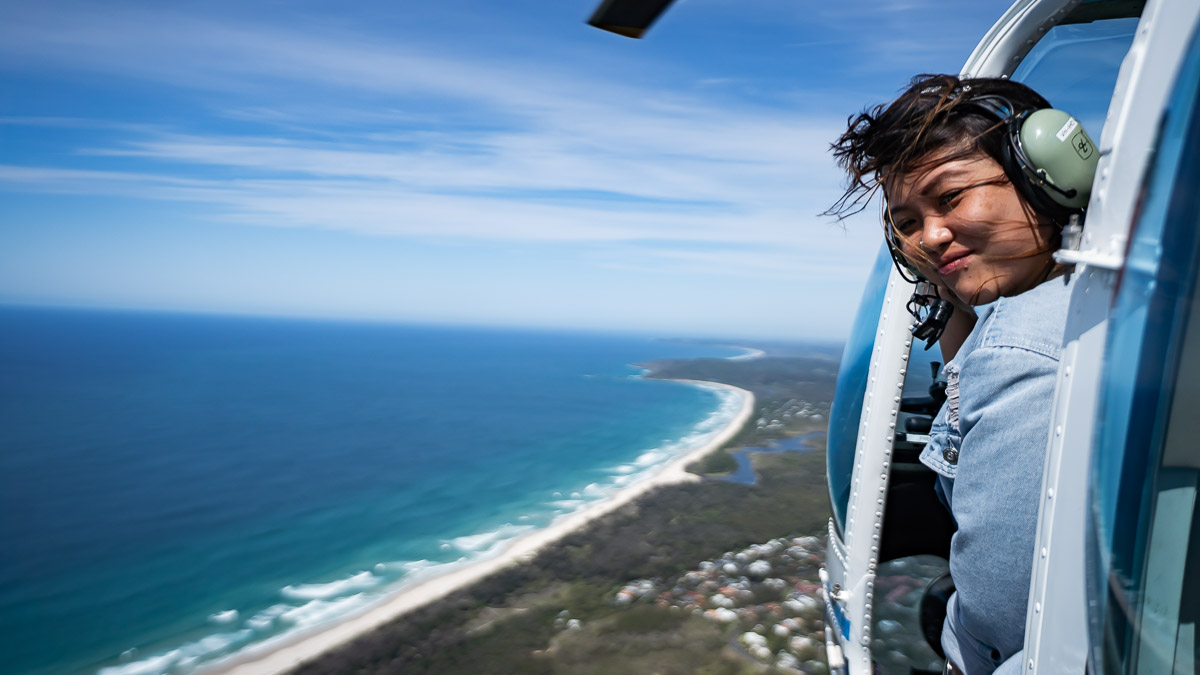 Everyone associates Byron Bay with its great surfing culture, but did you know it extends to the skies? Fly above Minyon Falls and circle around Cape Byron Lighthouse in an exhilarating Air T&G helicopter ride!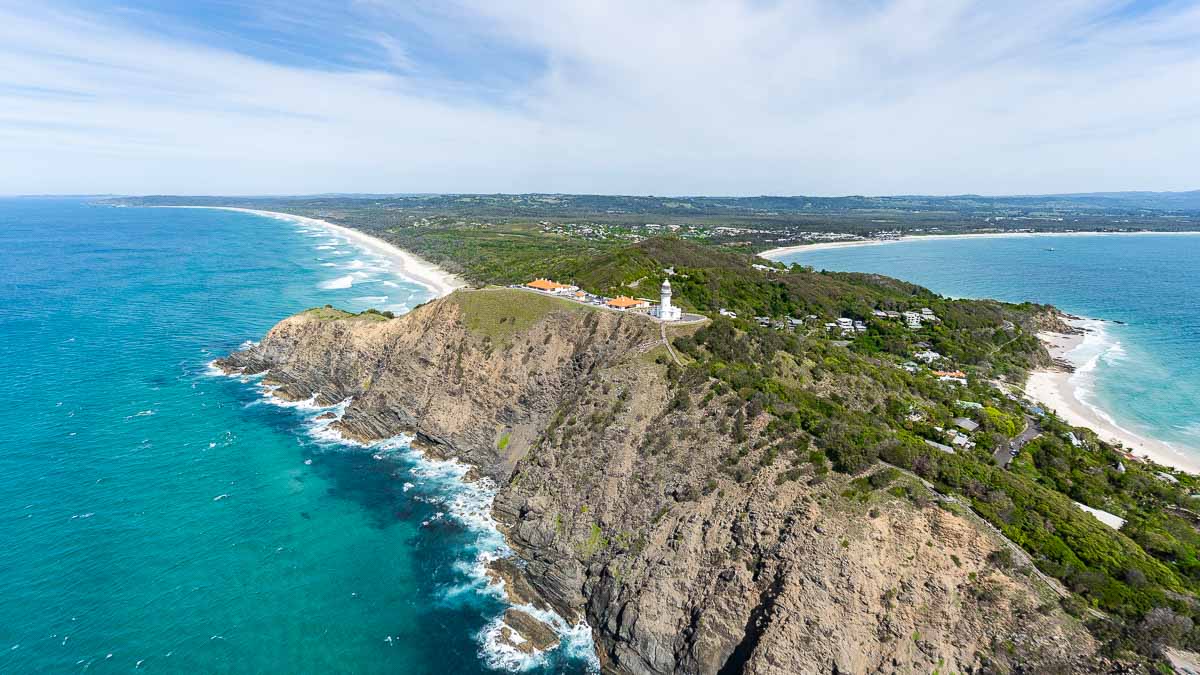 Cost: Starts from AU$175
Opening Hours: 8:30AM – 5PM, closed on Mondays
Address: Hangar 1, 210 Southern Cross Dr, Ballina NSW 2478, Australia
Soar Through the Skies from 15,000 ft Above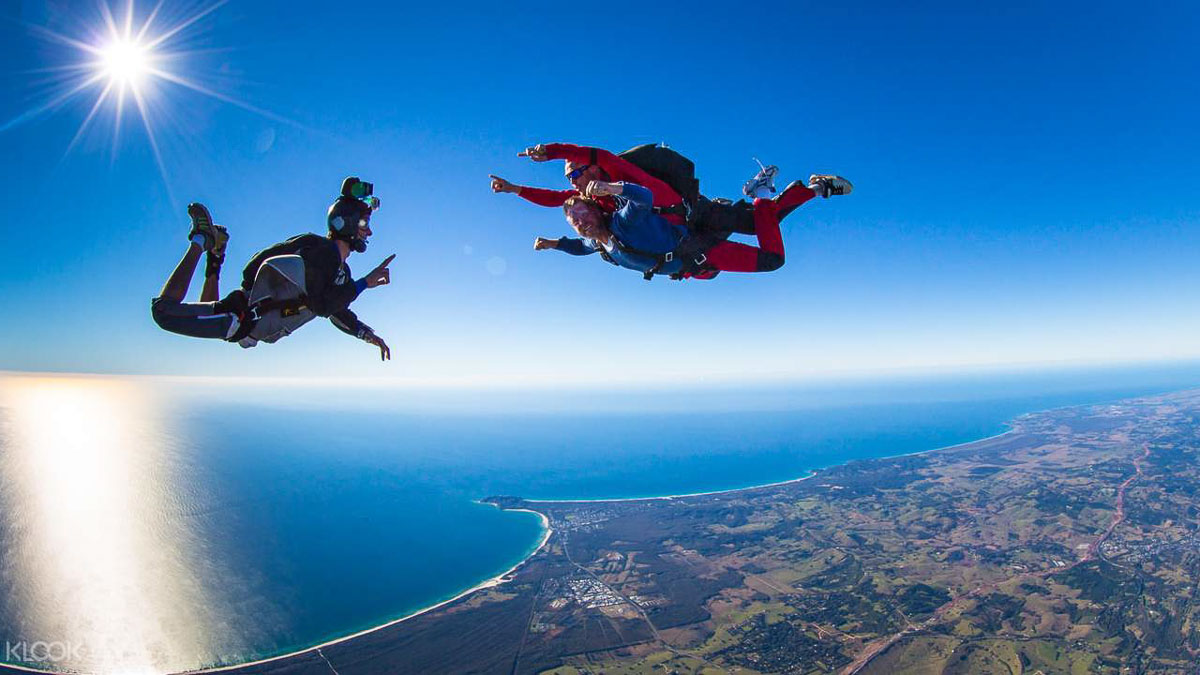 Up for some heart-stopping action that boasts equally gorgeous views as a helicopter ride? Take a leap of faith with Skydive Australia and experience what it's like to soar through the skies. As a once in a lifetime experience for most, you'll want to grab some keepsakes of this courageous moment!
Cost: S$350 (excludes Australian Parachute Federation (APF) levy of AU$35)
Opening Hours: 8AM – 6PM
Address: Hanger 1 Tyagarah Airfield, Pacific Hwy, Tyagarah NSW 2481, Australia
17) Learn About the Art of Coffee at Zentveld's
Here's a pitstop perfect for coffee-lovers. Unlike your regular coffee plantations, Zentveld's prides itself on using 100% Australian-grown arabica beans. It also practices a seed-to-cup philosophy in which they grow (the seeds), harvest (the beans) and roast (the coffee) under one roof, delivering a piping hot cuppa into your hands for just AU$4. And there's something special about the soil that gives their coffee a subtle chocolate taste. Mmm!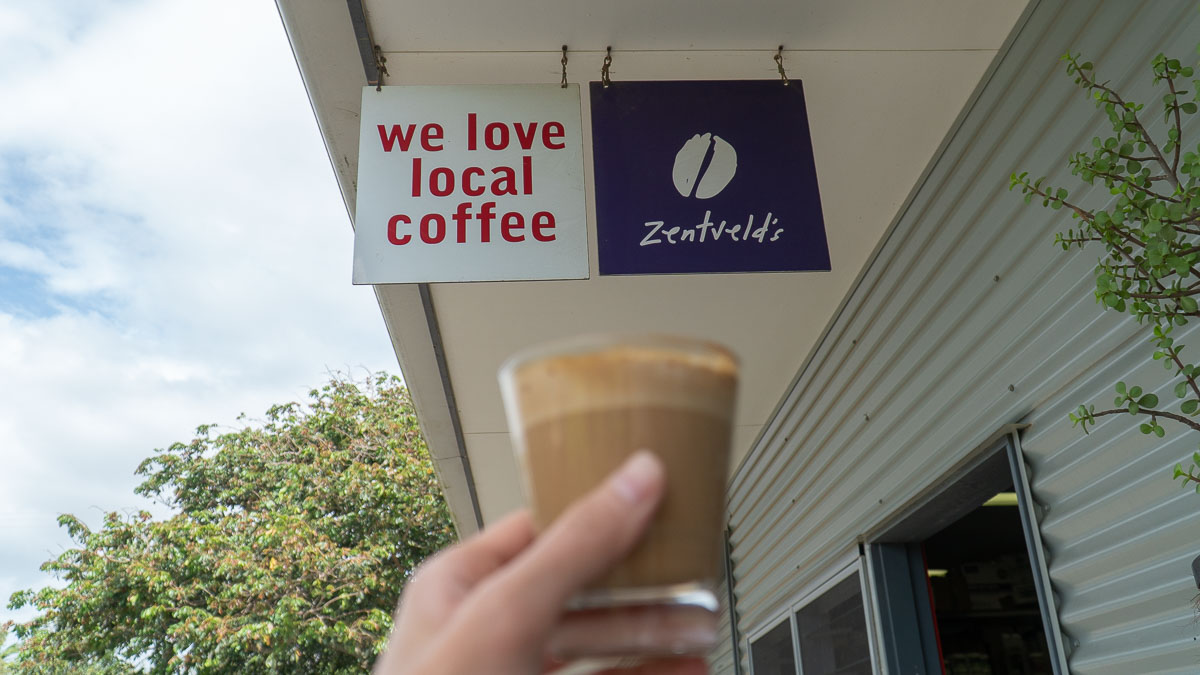 Cost: AU$4
Opening Hours: 9AM – 5PM, closed on weekends
Address: 193 Broken Head Rd, Newrybar NSW 2479, Australia
18) Revitalise Your Skin in the Tea Tree Lake (Lake Ainsworth)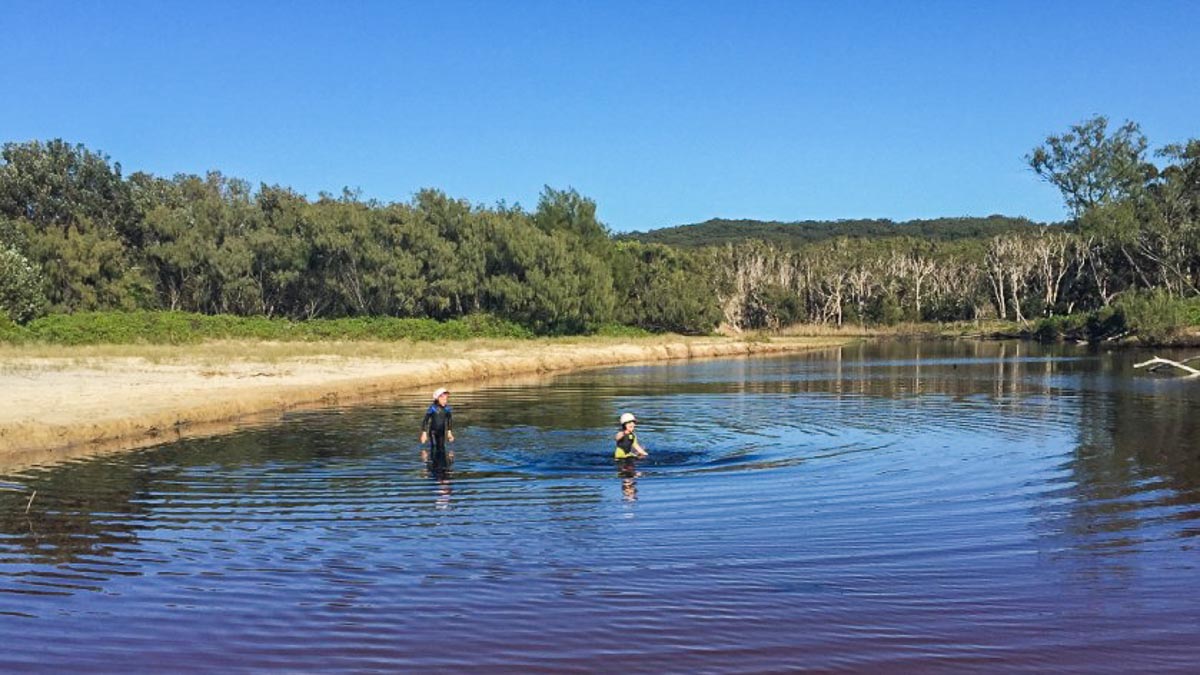 We've all heard of the Tea Tree plant and how beneficial the oil is for our skin. Now imagine slipping into a lake that's been infused with the medicinal properties of this plant — the oily surface might not seem very inviting at first, but it'll leave your skin feeling so refreshed and rejuvenated!
Entrance fee: Free
Address: Lennox Head NSW 2478, Australia
What to Eat in Byron Bay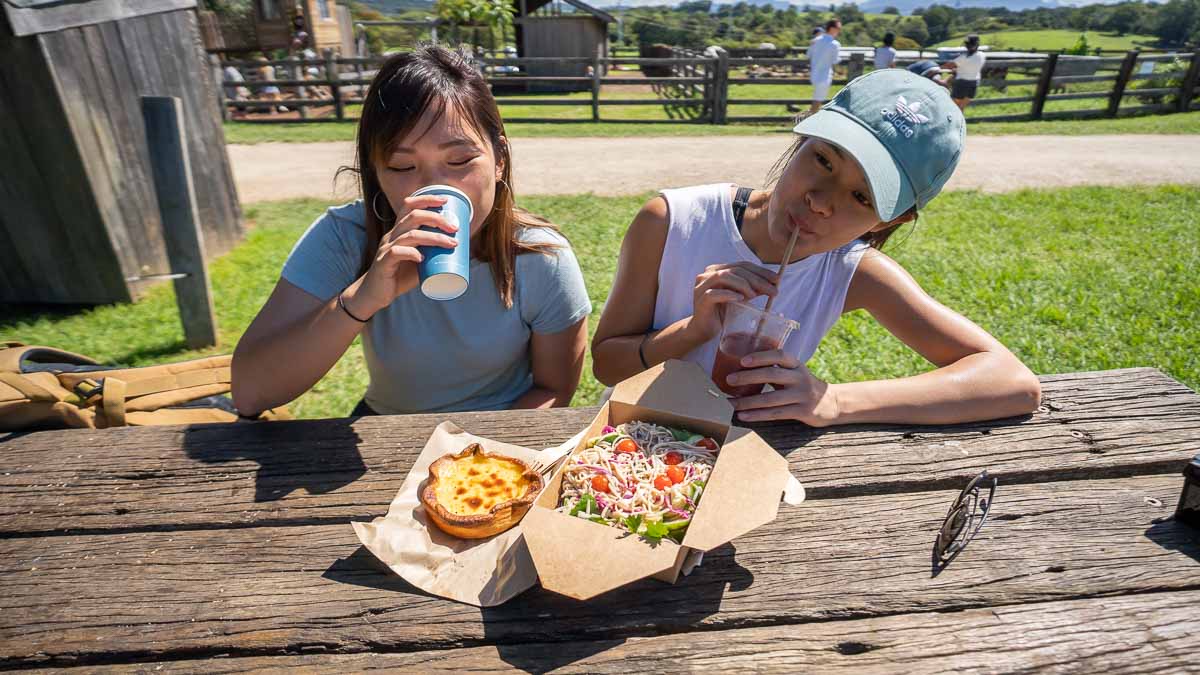 From picnicking by the grassy fields of Three Blue Ducks to glamming it up at one of Byron's many instagrammable cafes, there's just so much good food waiting to be explored.
19) Harvest Newrybar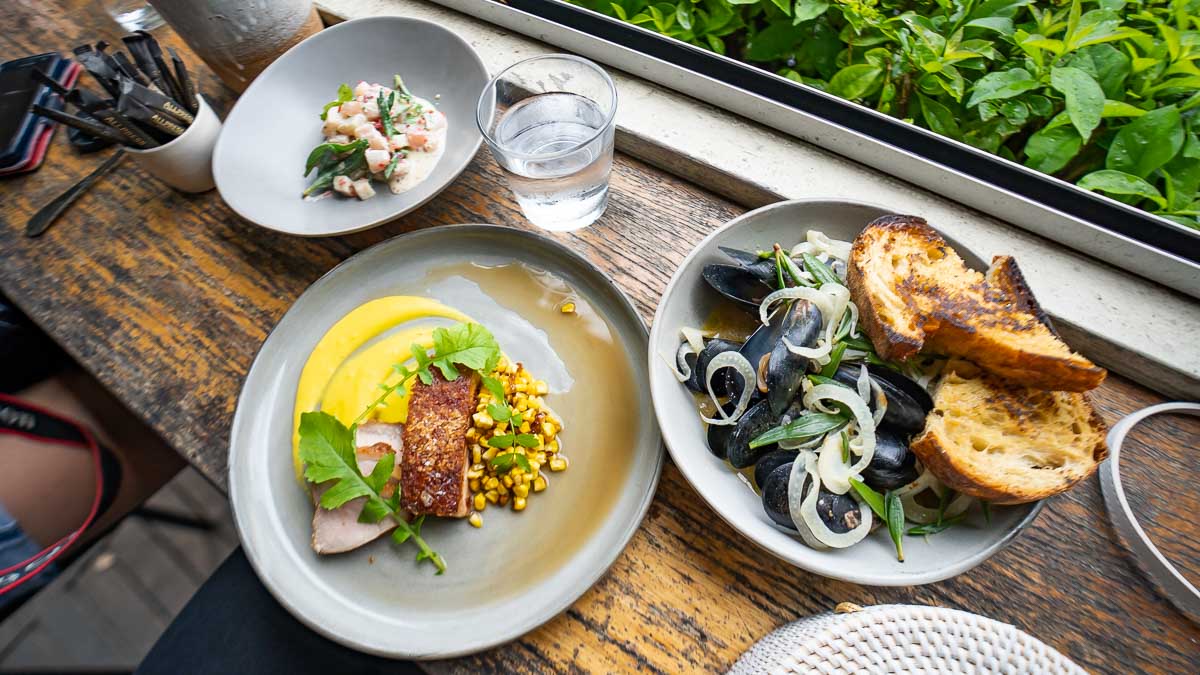 Step into the Dempsey Hill of Byron Bay where mouthwatering and intricately-plated meals (albeit on the pricey side) await at Harvest Newrybar. Not in the mood to splurge? Pop over to the deli for more delicious and budget-friendly options!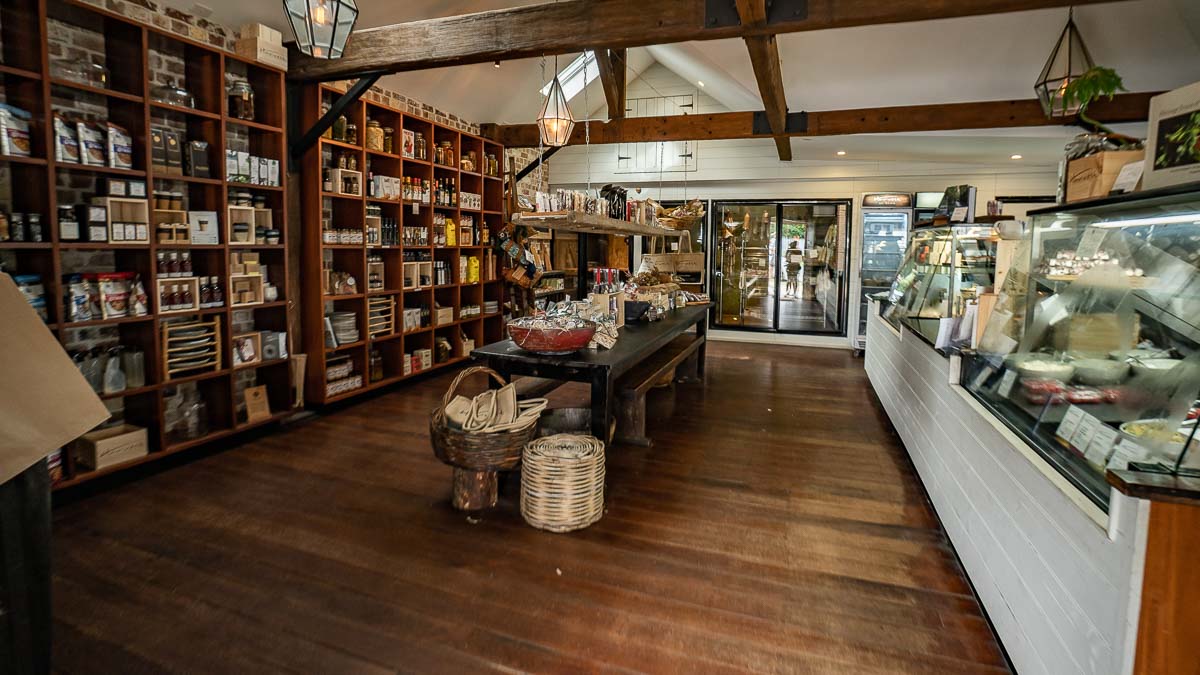 Cost: Mains average about AU$28 at the restaurant. Starts from AU$7.50 at the deli.
Opening Hours: 12PM – 11PM (weekdays), 8AM – 11PM (weekends)
Address: 18-22 Old Pacific Hwy, Newrybar Village NSW 2479, Australia
20) Three Blue Ducks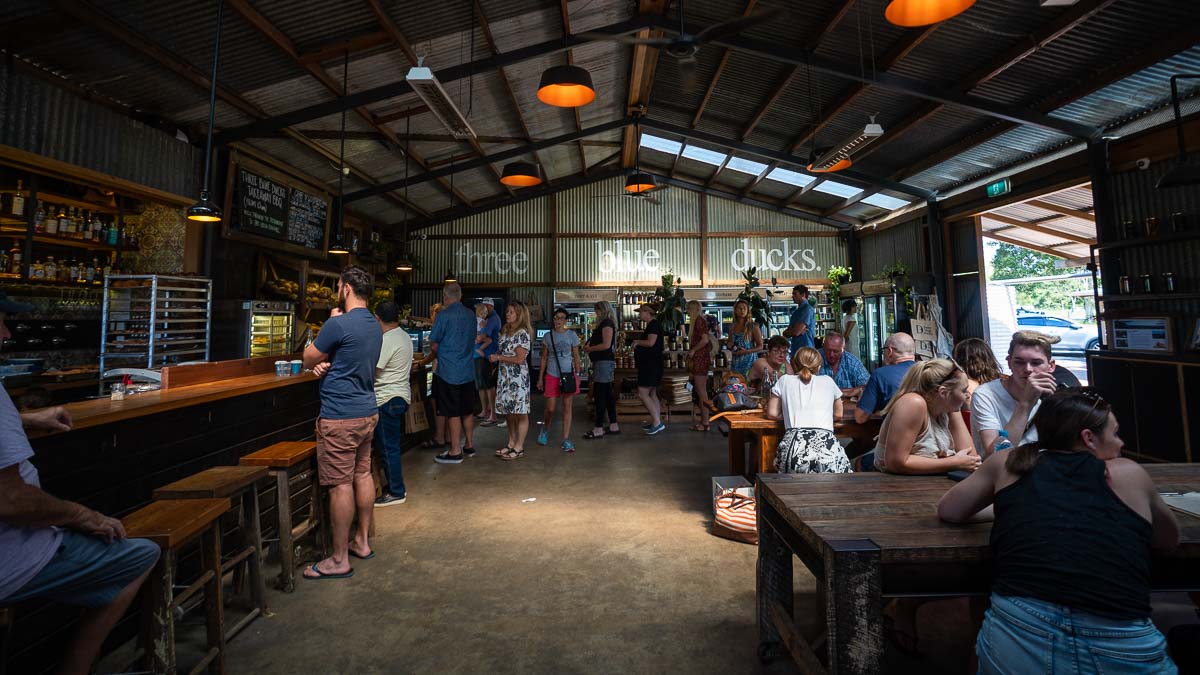 Chill out and dine in the shade at Three Blue Ducks after exploring The Farm. The restaurant, founded by a group of friends with a common goal of creating an ethical and sustainable food practice, has become quite the crowd-gatherer.
Cost: Mains start from AU$25
Opening Hours: 7AM – 4PM (Mon – Thu), 7AM – 10PM (Fri – Sun)
Address: 11 Ewingsdale Rd, Ewingsdale NSW 2481, Australia
*Pro-tip: Order something from the deli instead if you're pressed for time. You have to try the Portuguese egg tart. PS, the benches on the lawn make for a pretty neat lunch spot.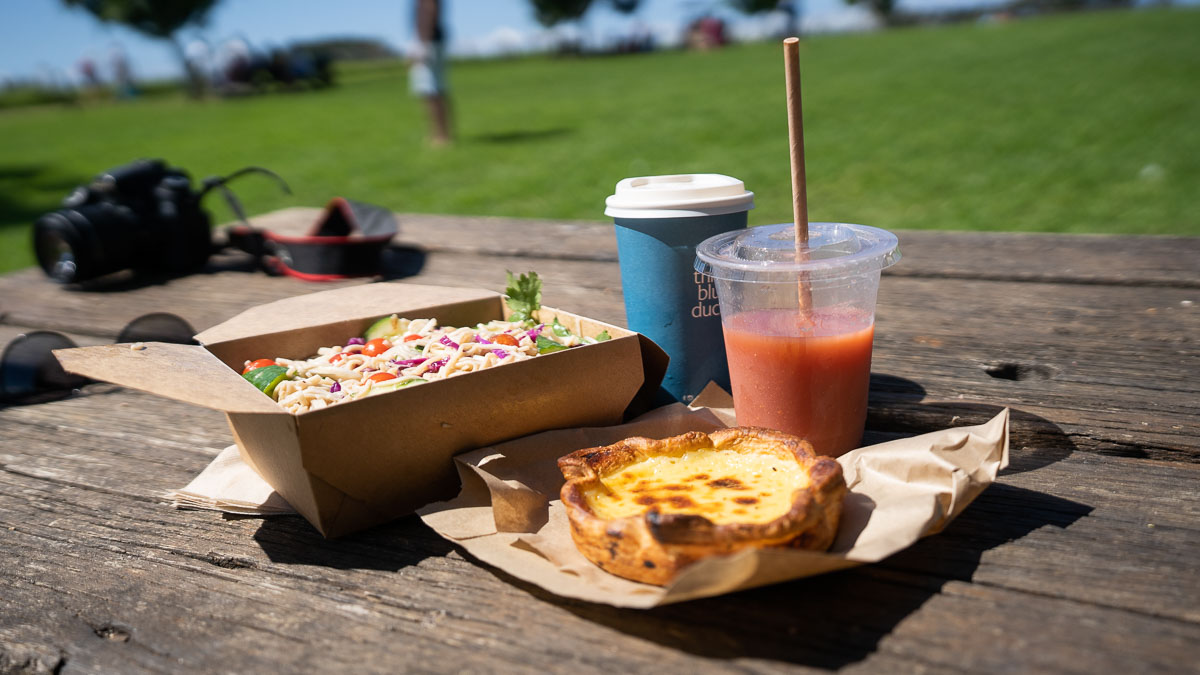 21) Footbridge Cafe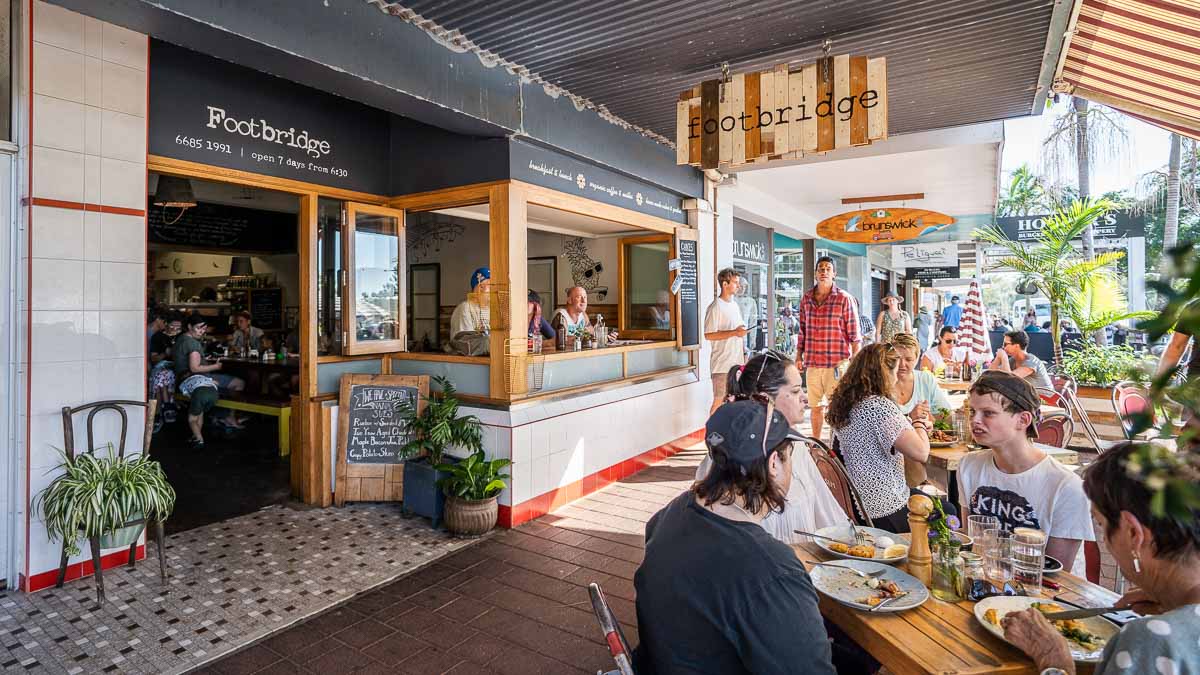 One of Byron's many instagrammable food haunts is Footbridge Cafe.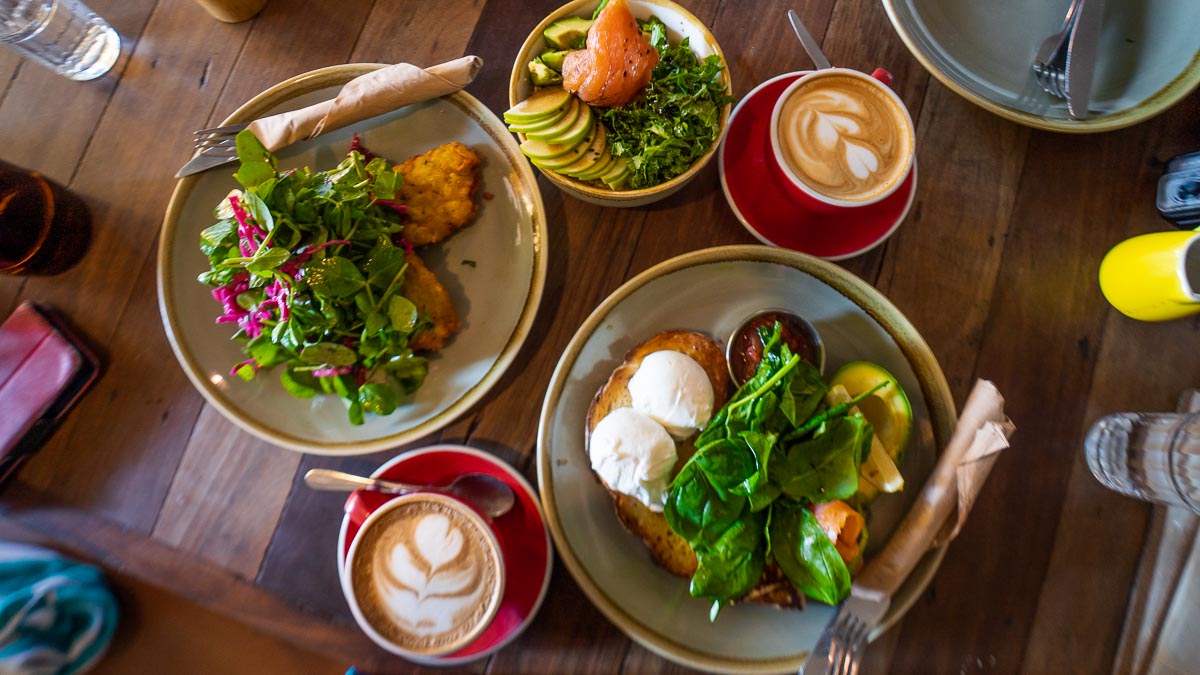 Have you seen a smoked salmon poke bowl (AU$17) as healthy as this? We're talking avocado, kale, fresh apples, cauliflower rice, sesame salt & gluten-free soy sauce.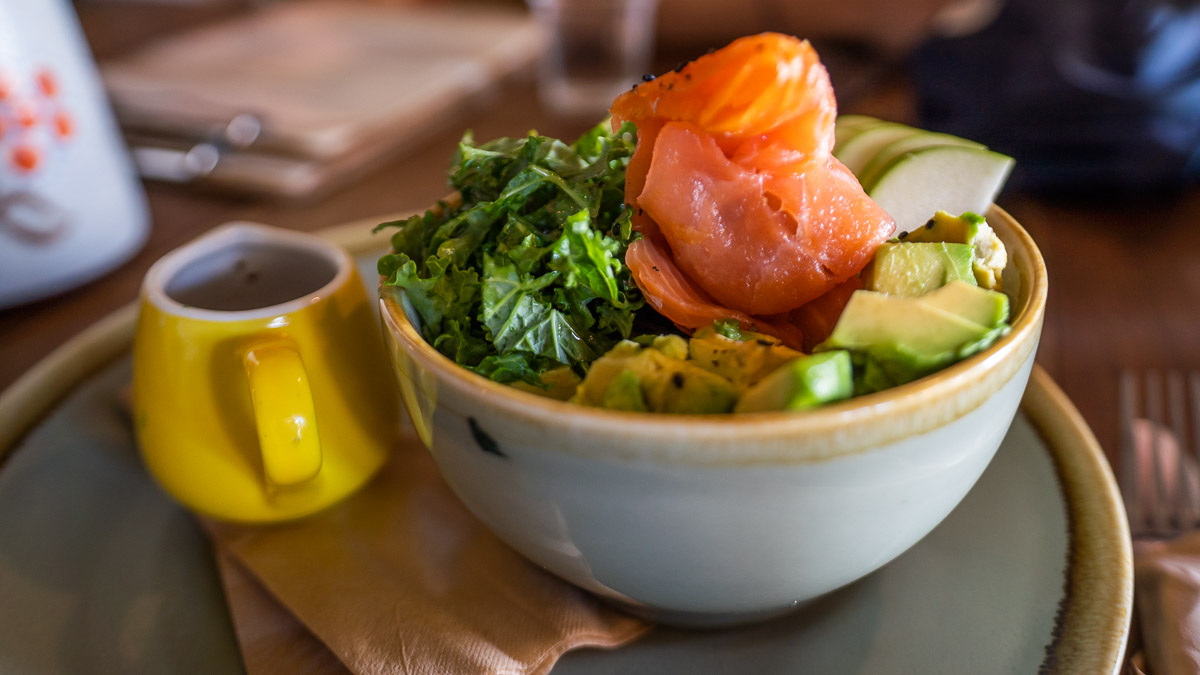 Cost: Mains start from AU$11
Opening Hours: 6:30AM – 4PM (weekdays), 7AM – 4PM (weekends)
Address: 1/14 The Terrace, Brunswick Heads NSW 2483, Australia
22) Mavis's Kitchen
Mavis's Kitchen offers fine food and accommodation (limited capacity) for those looking at a peaceful getaway. Do ask your server for their seasonal specials that you won't find on the menu.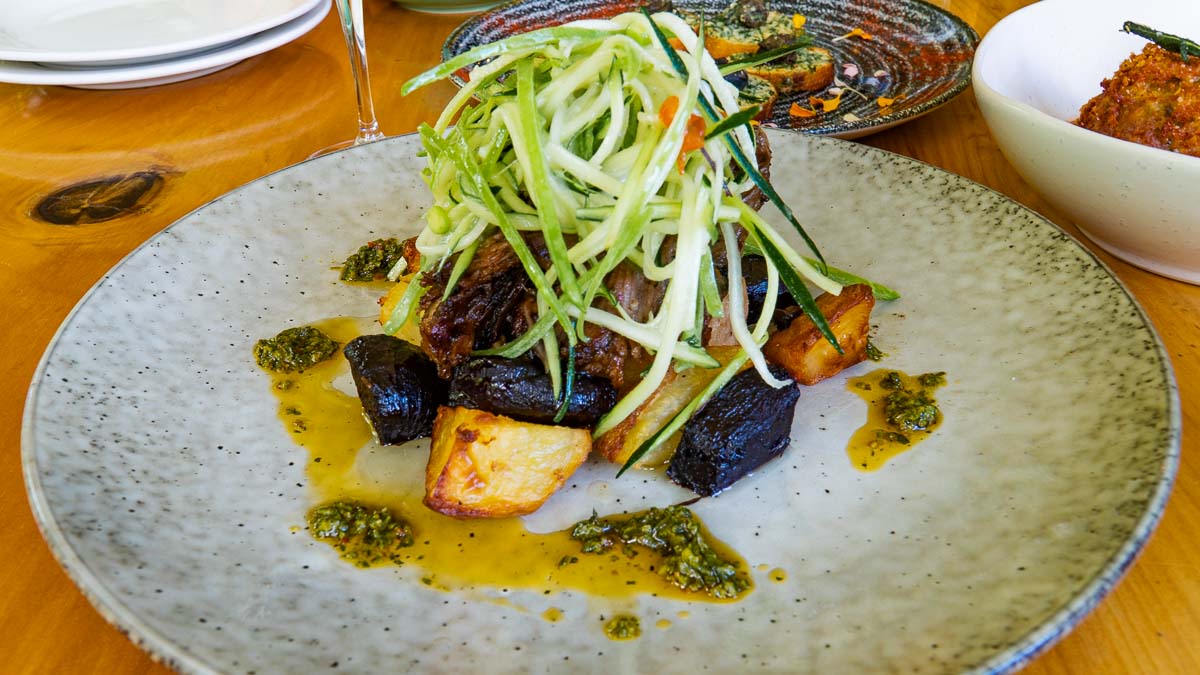 Our favourite dish was the slow-cooked lamb shoulder (AU$31.50). The meat was deliciously tender with negligible gaminess — just the way we like it.
Cost: Mains start from AU$25.50
Opening Hours: 9AM – 4PM (Wed – Thu), 9AM – 10PM (Fri – Sat), closes 5PM on Sundays, closed on Mondays and Tuesdays
Address: 64 Mount Warning Rd, Mount Warning NSW 2484, Australia
23) Miss Margarita
Sashay down to Miss Margarita for a change in palate and lively music. You'll want to grab a seat early because dinner crowds can get pretty crazy. The salt & chilli lime squid (AU$15) is a must-try.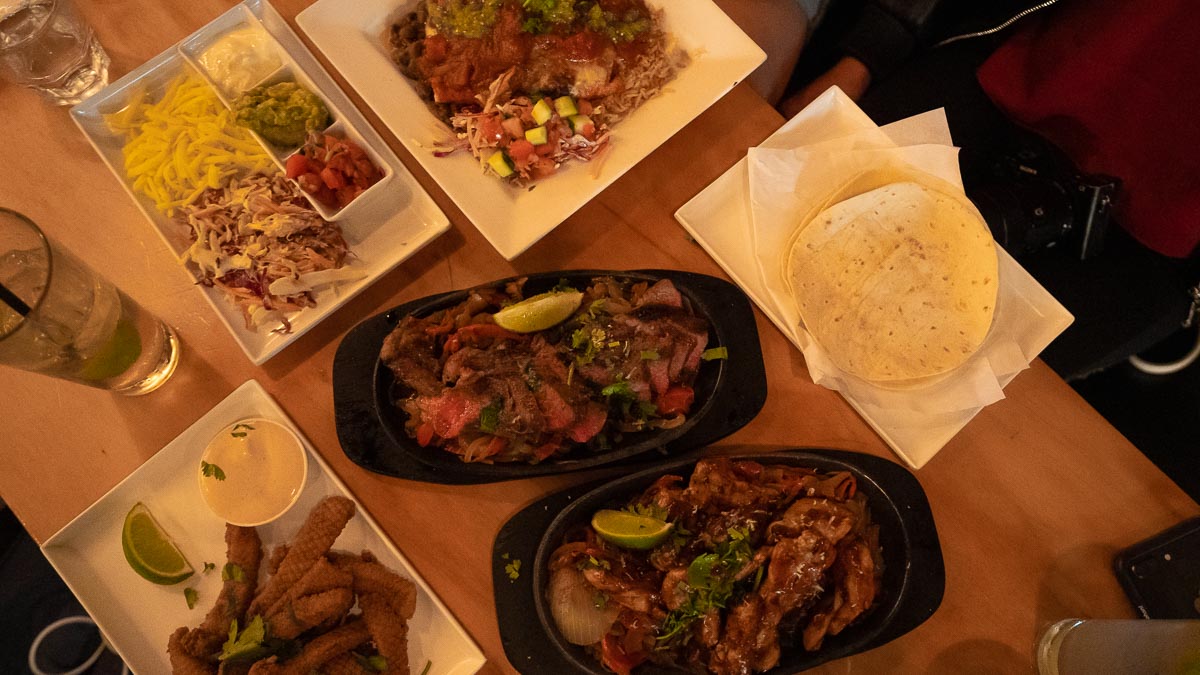 Cost: Mains from AU$14
Opening Hours: 12PM – 3PM, 5PM – 9:30PM (Mon – Thu), closes 10PM on Fridays
12PM – 10PM (Sat), closes 9:30PM on Sundays
Address: 2 Jonson St, Byron Bay NSW 2481, Australia
24) Treehouse on Belongil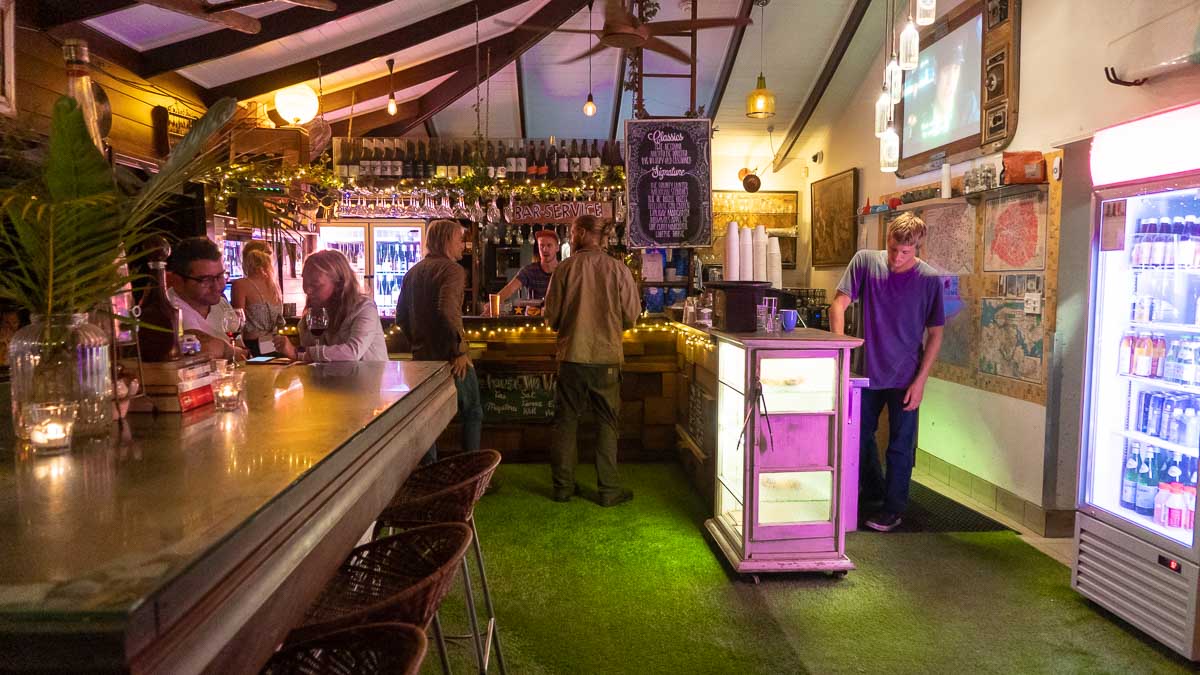 Dine at the retro hotspot of Treehouse on Belongil in Byron Bay for the most delicious portobello road pizza (AU$25).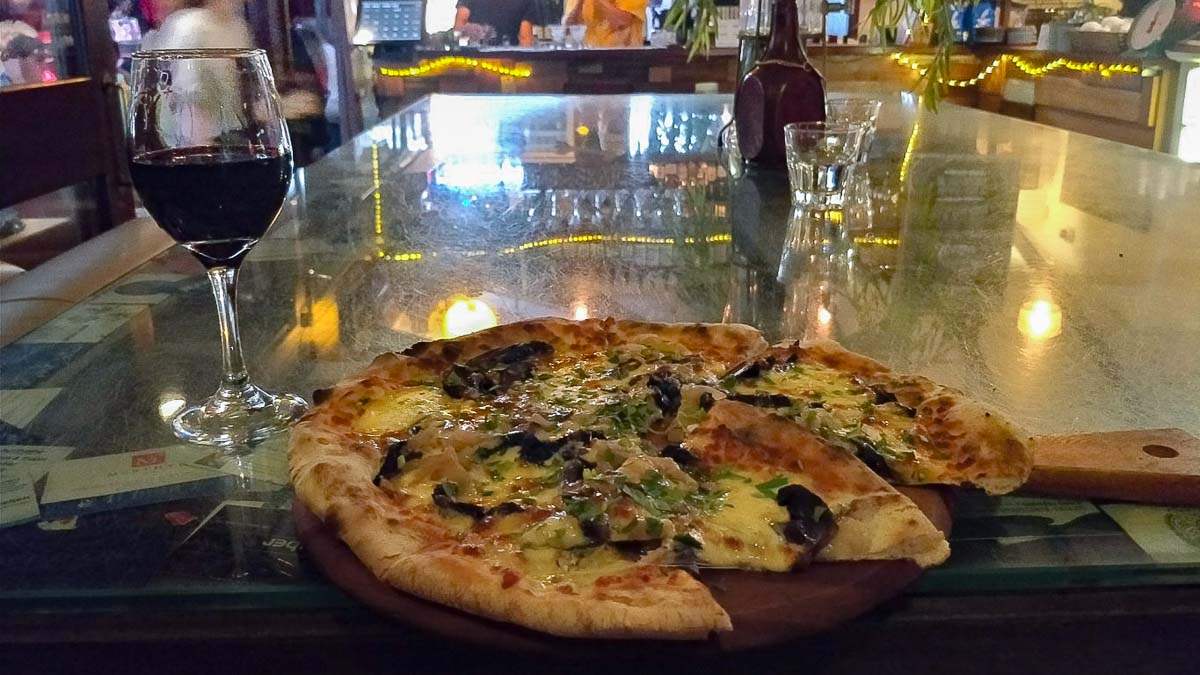 Cost: Mains from AU$24
Opening Hours: 7:30AM – 11PM
Address: 25 Childe St, Byron Bay NSW 2481, Australia
25) Choux Box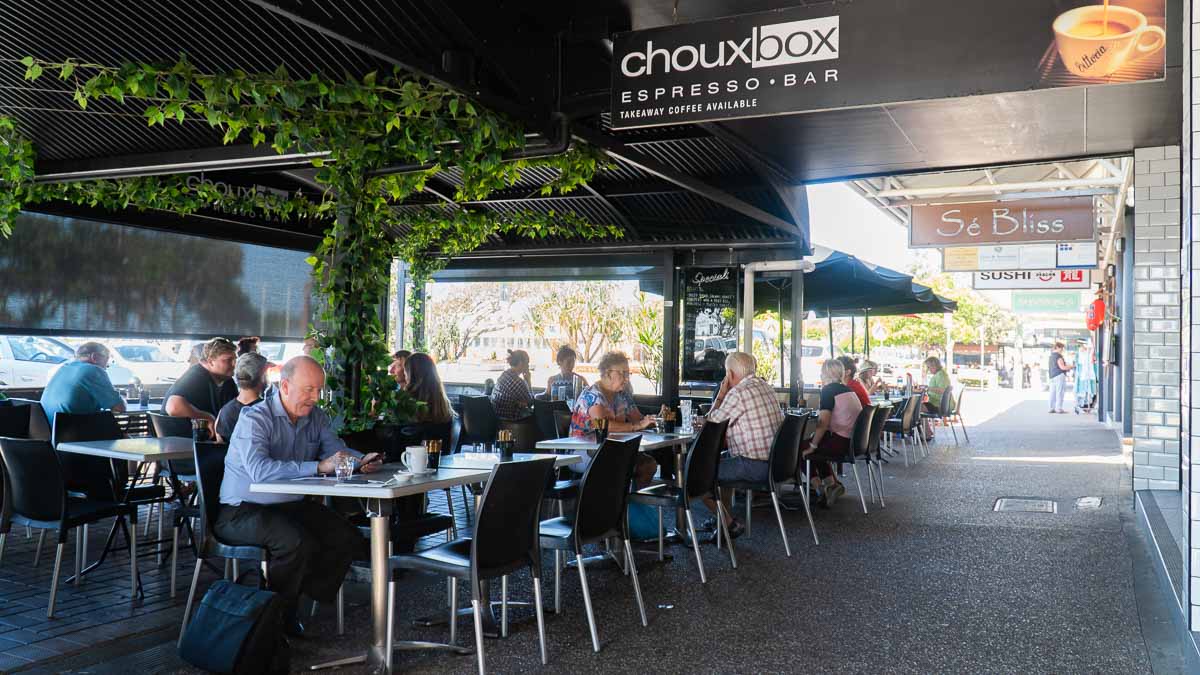 This cafe serves Nasi Goreng for AU$19.50! But that's obviously not the reason we went to Choux Box. The burgers here are juicy and delectable, but the sweet potato fries (upgrade available for AU$3) are what sold it!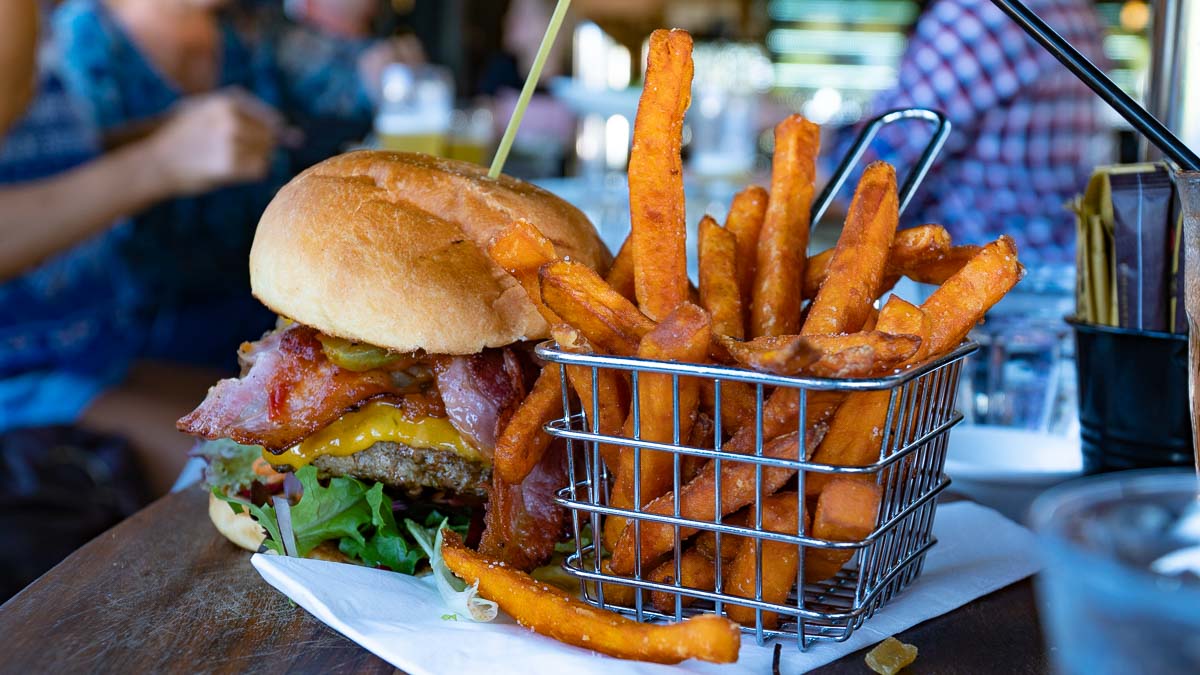 Cost: Mains from AU$15.50
Opening Hours: 6AM – 4PM
Address: 94 Marine Parade, Kingscliff NSW 2487, Australia
Suggested 4D3N Byron Bay Itinerary
Day 1
Breakfast – Footbridge Cafe
AM & Lunch – Catch-a-Crab
PM – Minyon Falls & Kayaking (Go Sea Kayaks)
Dinner – Harvest Newrybar (Restaurant)
Day 2
Breakfast – Choux Box
AM – Tropical Fruit World
Lunch – Harvest Newrybar (Deli)
PM – Helicopter Ride (Air T&G) & Lake Ainsworth
Dinner – Miss Margarita
Day 3

Sunrise & Breakfast – Cape Byron Lighthouse
AM – The Farm
Lunch – Three Blue Ducks
PM – Snorkeling (Watersports Guru)
Dinner – Mavis's Kitchen
Day 4
Breakfast – Byron Farmer's Market
AM – Crystal Castle & Shambhala Gardens
Lunch/PM – Stone & Wood Brewery & Zephyr Horses
Dinner – Treehouse on Belongil
Accommodation: Airbnb in Byron Bay (under S$120 for an apartment for two) or Cape Byron YHA (from S$26/night)
Getting Around in Byron Bay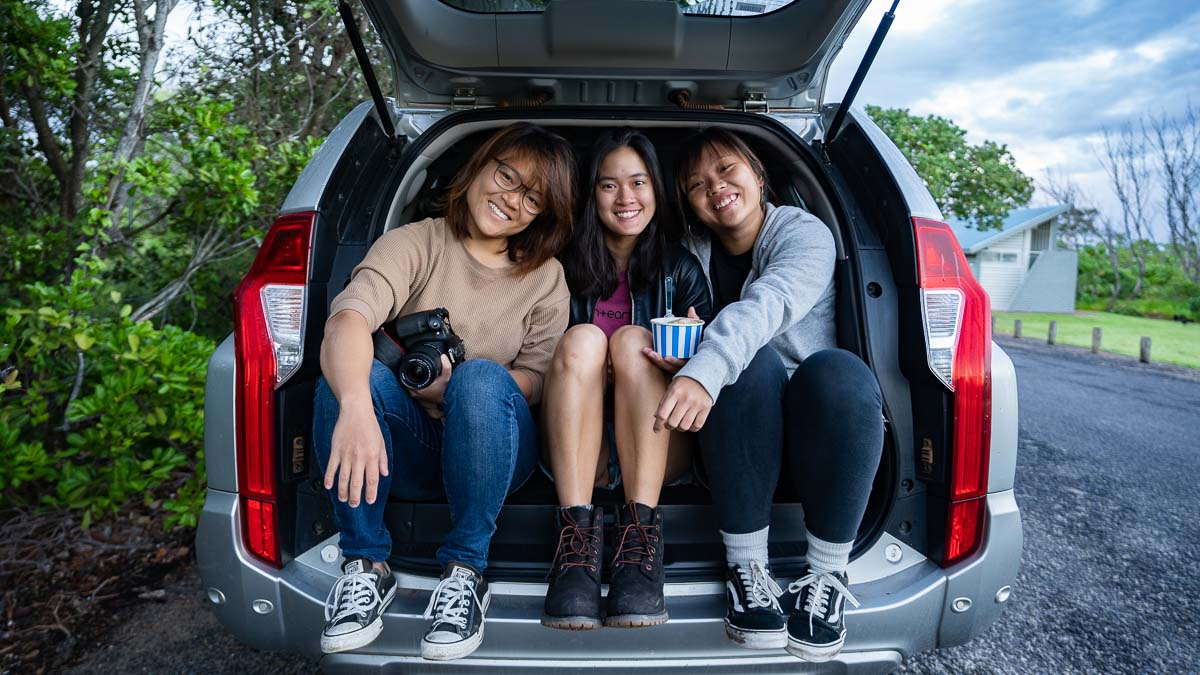 Bicycle Rental: AU$20/day
Public Buses: from AU$2.40/trip
Car Rental: ~AU$50/day (including insurance)
Most of the sights within Byron Bay can be accessed by foot. Public buses, while scarce (we saw a couple occasionally), take you between towns at affordable prices. If you're travelling in a group, the most economical option would be to rent a car.
Book your rental car via Scoot (yes they do this too) before your getaway for a fuss-free road trip. They search and compare prices between more than 900 companies in 60,000 locations (including all the major car rental brands), so you're bound to find something suitable.
How to Get to Byron Bay
From Singapore, getting to Byron Bay is convenient with direct flights on Scoot to Sydney or Gold Coast. The shorter option would be to drive from Gold Coast down to Byron Bay (just under an hour) or hop on the Byron Bay Express (AU$30).
If you intend to spend a longer time exploring NSW, consider flying to Sydney and taking your time on a coastal road trip up to Byron Bay before flying out from Gold Coast. Alternatively, Greyhound Australia provides transfers between Sydney and Byron Bay with stops in-between.
Read also: 2-Week Australia Road Trip from Sydney to Byron Bay — Discovering NSW's Hidden Gems
We travelled with Scoot to Gold Coast for this trip and enjoyed what's arguably the most spacious legroom among all other budget carriers. We also loved our tasty inflight lunchbox and sweet treats!
From now till the 31st of May 2019, book your flights from Singapore to Gold Coast and Sydney from only S$149 and S$179 respectively! Now there's no reason not to visit Byron Bay. Just be sure to travel by the 30 Nov 2019. Book now!
Planning your first visit to Byron Bay? What's the first thing you'd like to try? Let us know in the comments!
---
This post was brought to you by Destination New South Wales & Scoot.
Like what you see? Follow us on Facebook, Instagram, and YouTube for more travel updates!