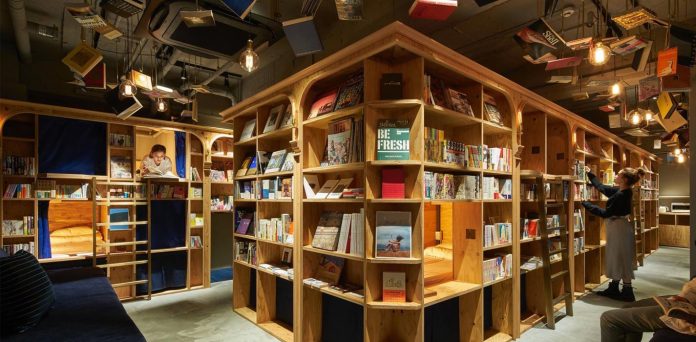 Traditionally a men-only accommodation for the local salary men who missed their last train home, capsule hotels in Japan are progressing into cosy and affordable accommodation options for both male and female foreign travellers.
Despite only having space for a bed, these pods are surprisingly spacious and comfortable; Individual pods have their own air-con vents, bed lights that won't disturb any of your neighbours, and blinds that provide all the privacy you need.
Most of them even have a constantly flowing onsen in the communal shower area as well as saunas, all included in the fee. You could say it's a slight upgrade from staying in a backpacker's hostel although most of the ones in Japan really aren't shabby at all.
Some say you haven't really seen Japan until you've experienced the difference of a Capsule hotel and a Ryokan. Ryokans may be the more lavish option but these trendy capsule hotels are chasing up on the experience scale too.
1) First Cabin Hotel
How do you create a space to fit an optimal number of guests while maintaining a first class experience? Unlike a regular hotel, the "rooms" at First Cabin do not have doors, personal toilets nor a shower stall. In exchange for these amenities, you get to experience living in the first class cabin of an aircraft — notice how a theme can shift the perceived value?
For the First Class "cabins", there's even space for you to actually step off the bed; which is probably as much luxury as you can get from a capsule concept hotel.
As for the Business class cabin rooms, the width of your room is only as big as the bed but the headspace is a lot more than you'd find in a traditional capsule pod.
Amenities: Personal TV, safety deposit box with key, communal bath (Except Kyoto).
Cost: ~¥3,500 (Business Class); ~¥5,300 (First Class)
Check out:10am
Available in: Tokyo, Kyoto, Osaka and Fukuoka
2) 9h Nine Hour
Probably one of the most futuristic looking capsule hotels in the market currently, walking into Nine Hours feels a bit like checking into a space station. The decor is excessively clean, organised and modern.
Like most capsules the male and female beds are on separate floors indicated by cute icons on the floor and in the lift; great for foreigners who won't understand Japanese signs.
Amenities: Bath towel, face towel, loungewear, and a toothbrush can be found inside your locker. Individual shower units.
Cost: ¥3,000 — ¥4,900
Check out: 10am
Available in:Narita Airport Terminal 2, Shinkuju (Opening in March 2017), Kyoto & Sendai
*Hourly rates available in the day for napping or use of shower facilities especially useful at the Narita outlet for long layovers.
3) The Prime Pod Ginza Tokyo
Located right next to the Higashi-ginza metro station (less than a minute walk away), the Prime Pod Ginza Tokyo is really more like an upscale hostel than the traditional capsule hotel. The check-in area is connected to a bar where it overlooks the city and serves hot dogs for breakfast. Beds here are also split by male and female levels, each with thick curtains for privacy.
Instead of creaky hostel bed ladders, the great thing about capsule beds are how sturdy the steps to the top bunk are.
Although you miss out on the communal showering experience here, there are steam rooms to make up for the experience.
Amenities: Bar, individual shower area, steam room, laundry. Tv and safety deposit box beside the bed. Night wear and towels provided.
Cost: ¥5800 (S$38 on Hotels.com)
Check out:10am
Available in:Ginza – Tokyo
4) Oak Hostel Cabin
The decor at the Oak Hostel cabin may look a little less luxury than the others in this list but at almost half the price, this is a great foreigner-friendly option. The beds are probably the closest design to the ones you'll see in more traditional capsule hotels and there's a big common area where you're likely to meet fellow travellers.
Cost: ~¥2,100 (S$22 on Hotels.com)
Check out: 11am
Available in: Tokyo
*Bath towel and yukata robe are available for a fee.
5) Centurion Cabin & Spa (Ladies Only)
Since capsule hotels are traditionally men-only, this ladies-only capsule accommodation is a pretty rare find. Ideal for female solo travellers especially, you can find the Centurion Cabin & Spa conveniently located near famous attractions such as the Tokyo Tower and the Tokyo imperial palace.
The highlight of this place is probably it's lavish bathrooms. Similar to what you might find in a traditional capsule hotel, there is a hip-width divider for a shower area and a communal bath that's constantly flowing with toasty hot water.
Perks of staying at this female-centric abode, you can even find skin care products such as make up removers, facial cleansers along with the basic shampoo, conditioner and body soap.
The main website isn't very foreigner-friendly but you can probably book it through booking sites like Hotels.com which seems to offer the best price at the moment.
*Pro-tip: Pick the lower bunk if you can't sleep with the lights on as the top bunks do not have ceilings.
Cost: $28 on Hotels.com
Available in: Tokyo
6) Book and Bed Capsule Hostel
With beds hidden behind wooden bookshelves, this library-themed accommodation is a book lover's dream come true. For those who've always wished there was a cosier, little spot you could claim your own in a library, this is it.
While the owners at the Book and Bed Capsule admit the mattresses, pillows and duvets aren't the most luxurious experience around here, you're promised to a selection of books where you'll find yourself drifting into sleep while immersed into the world of the book in your hand. No points guessing why people miss the last train home here ;P
For those who are just looking for a place to laze around in the day, the accommodation is also available for between 1pm–5pm for ¥500/hr. You won't be able to use the beds but the couches along the windows are just the perfect spot to get some light on your pages.
Check our video for a walk through tour of the Tokyo outlet:

Cost: ¥3,800–4,908/night
Check out: 11am
Available in: Ikebukuro, Tokyo & Kyoto
What to expect at Japan's Capsule Hotels
Unique to Japan's culture, capsule hotels often have some customs to follow:
1) Shoes are left at the entrance
After checking in, most capsule hotels will get you to remove your shoes and place them ina locker before entering the premises. The great thing is the floors are usually spick and you'll be able to walk around comfortably barefoot although there are some that actually provide in-house footwear
2) Communal bath areas
Many capsule hotels put a lot of effort into their bathing facilities, and one of the highlight experiences is soaking in the communal hot tub (of course separated by gender).
3) Luggage storage
Each space is allocated for very specific purpose at the Capsule hotels. The bed area has just enough space for a bed; Everything else has to be kept locked up elsewhere. If you're staying at a more traditional style Capsule hotels, their lockers may only be big enough for a backpack or cabin sized luggage (catered to the local businessmen who won't be carrying a lot) — if you're travelling with bigger luggage, you'd have to grab your necessities and store the rest at the counter.
4) Sleepwear
Not only unique to capsule hotels, but many accommodations in Japan also tend to provide sleepwear for the guests. They usually come in a Yukata (casual kimono top) along with a pair of baggy trousers. It's actually pretty cool that you can don this outfit comfortably exploring all corners of the hotel — even the common areas.
5) Sleeping pods are separated by gender
Since a lot of the capsule hotels started off as men-only residences, those that accept females usually have the sleeping pods in separate floors allocated the males and females. I guess this is a step they take in ensuring it remains a "clean" accommodation. There are also restaurants and entertainment areas where both genders are allowed to hang out together.
Travelling around Japan? Save these capsule hotels to your Trip on TripAdvisor for easy access to these capsule hotels while on the go!
Facebook image credit: Timeout, Oak Hostel Cabin, Tripadvisor