Make the most out of your five day getaway in Yogyakarta — a city full of culture, heritage, and adventure — with this Yogyakarta itinerary.
The world's largest archipelago has a hidden gem many tourists overlook. We visited this beautifully undisturbed city which is often overshadowed by the more touristy cities of Indonesia. One thing for sure, we were blown away by not only her amazing sights but also all the adrenaline-pumping activities she offers.
Despite the spelling, the actual pronunciation of Yogyakarta is /jog-jah-karta/, and locals often refer to it as "Jogja".
Read also: 11 Breathtaking Photo Spots in Yogyakarta that prove it is a Photographer's Heaven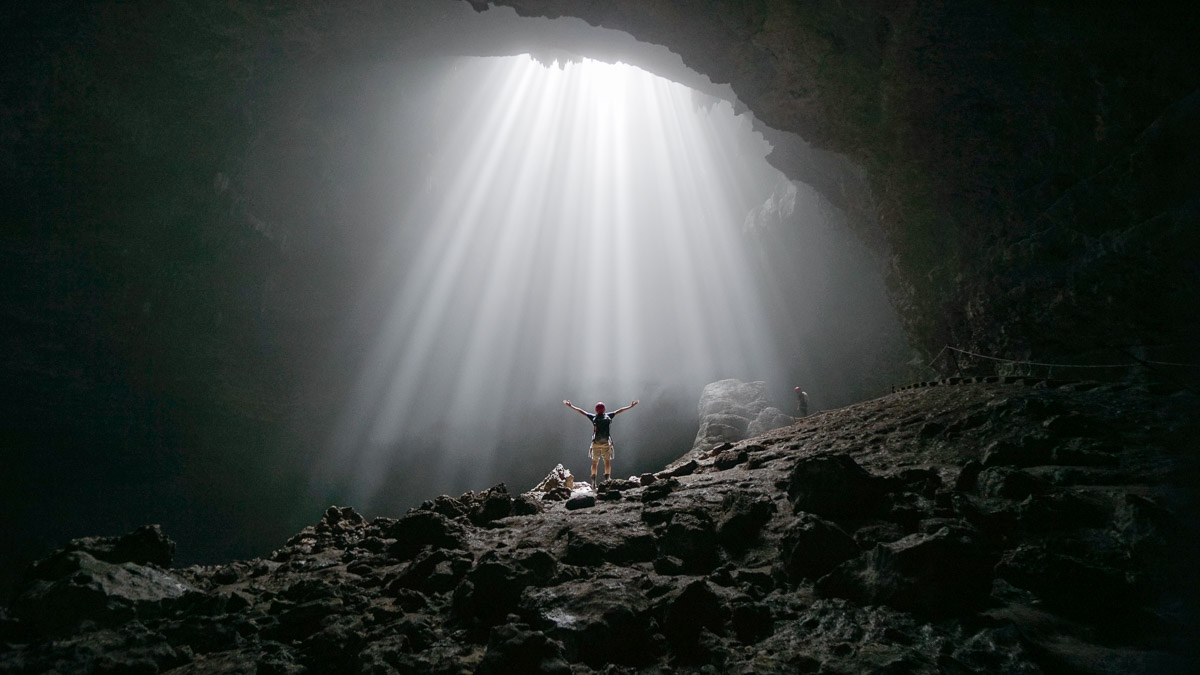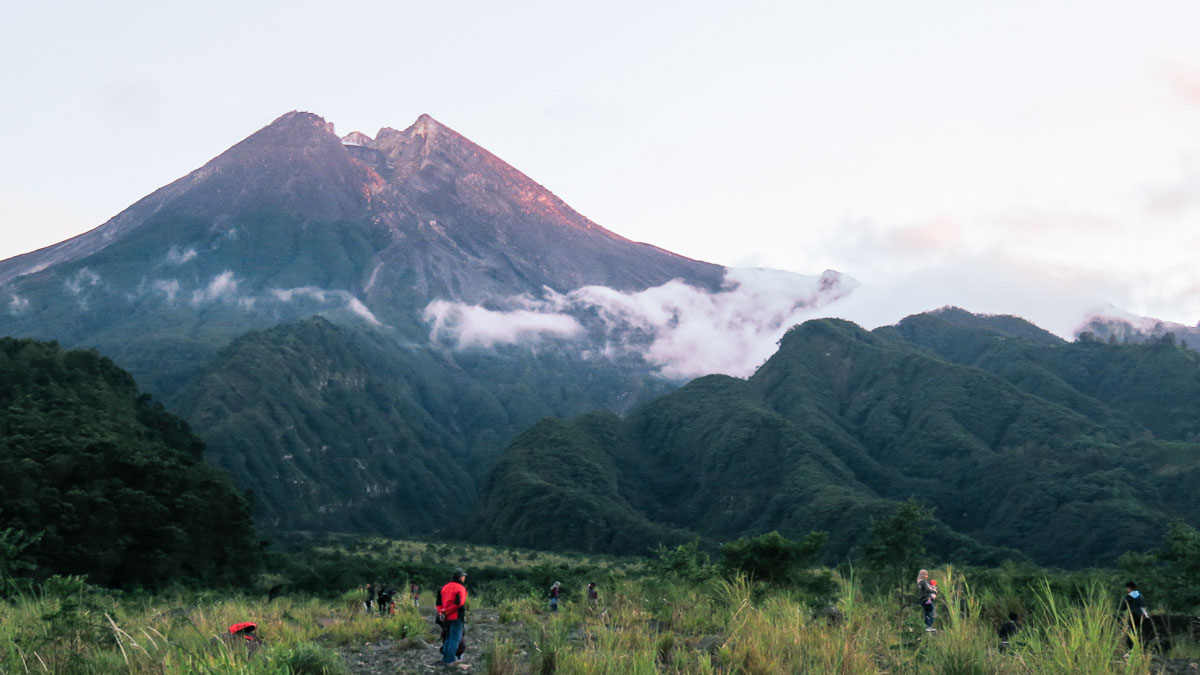 This itinerary can be found on TripAdvisor's Trips — have easy access to reviews, addresses and opening hours while on the go!
Day 1: Exploring Yogyakarta
We took the 7:25AM AirAsia flight and arrived in Yogyakarta after 2 short hours. Quite glad we pre-booked our in-flight meals so we were ready to explore right away!
Staying connected: The Adisucipto airport is pretty small so there weren't SIM Card retailers in sight. We got ours from Progo, a huge retail mart just across the street from our hotel. There are various telecom providers but we settled on simPATI (6GB for Rp75,000 or ~S$7.60), which connected pretty well in the city.
Accommodation: Melia Purosani Hotel, located in the city centre and just a 10-min walk away from Jalan Malioboro; the iconic shopping street in Yogyakarta.
Taman Sari (Water Castle)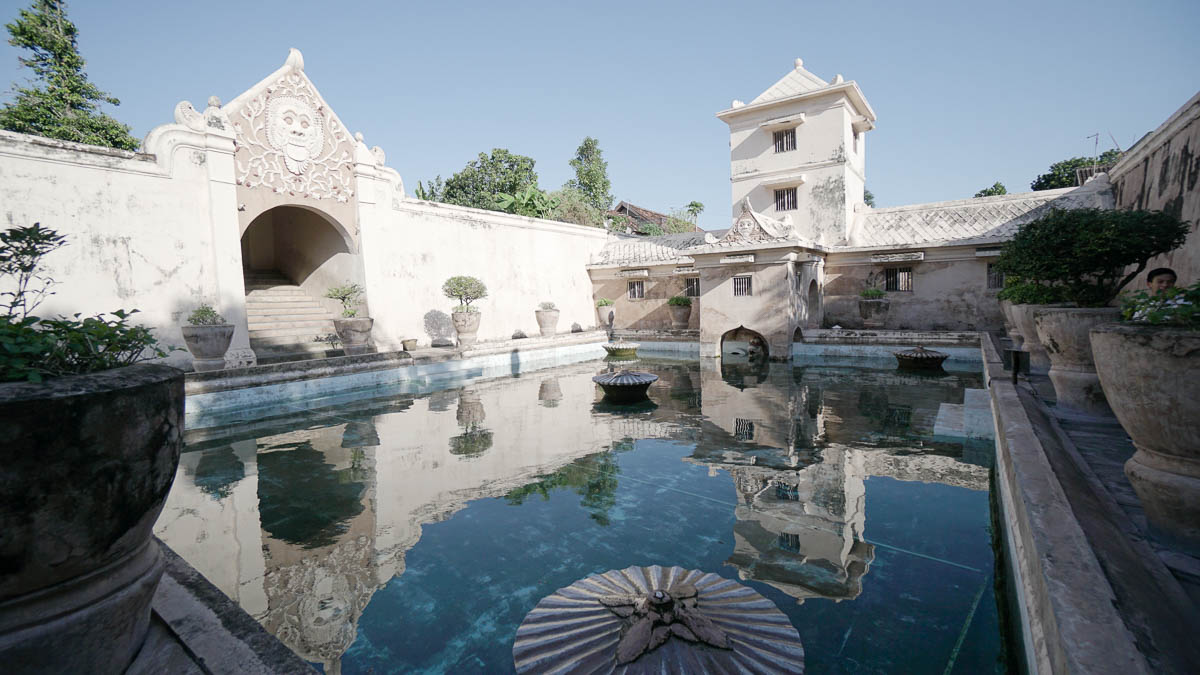 First stop, a 13-min uber ride from our Hotel — Taman Sari. This 1758 A.D. water castle was used for religious practices as well as a recreation and bathing place for the then Sultan of Yogyakarta and his family.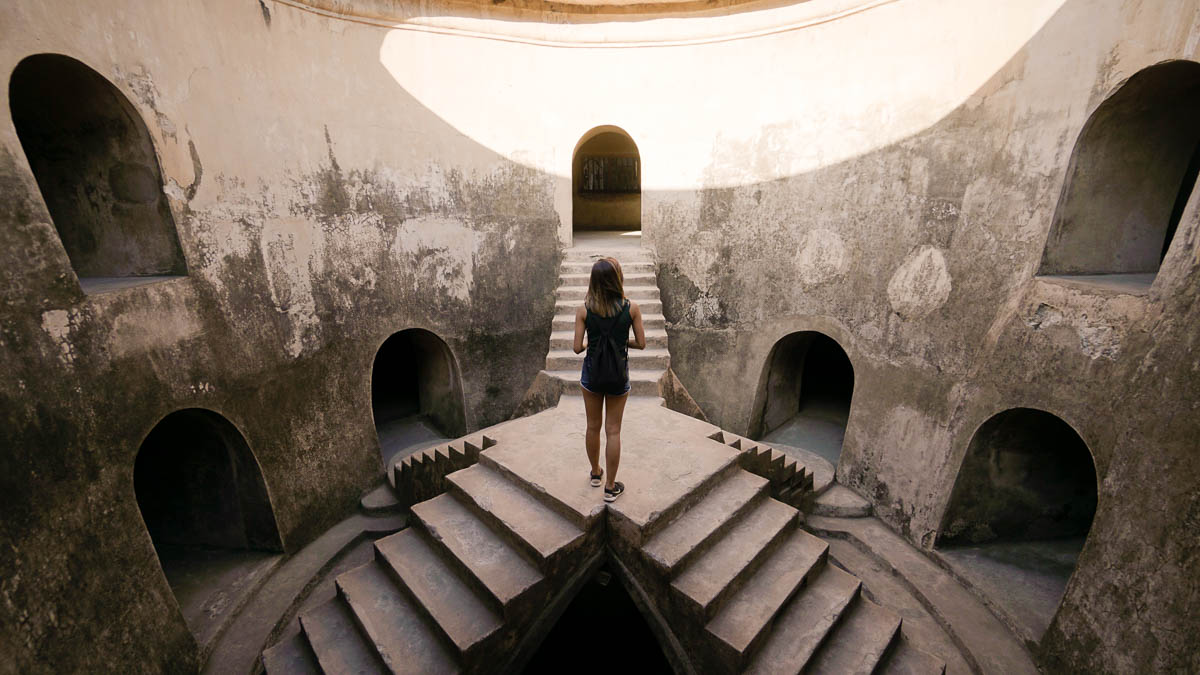 The area of Taman Sari used to be a lot larger, but today, the main building is set around a residential area so you'd need to walk through that to get to various historical sights that remain. One of which is Sumur Gumuling, a circular two-storey building which was used as a mosque.
Address: Patehan, Kraton, Yogyakarta City, Special Region of Yogyakarta 55133, Indonesia
Opening hours: 9AM – 3PM.
Entrance Fee: Rp15,000 per pax (~S$1.50).
*Pro-tip: Do not enter too late as there will be a lot of restrictions for photo-taking once operators start locking up the entrance to various parts of the castle.
Shopping at Jalan Malioboro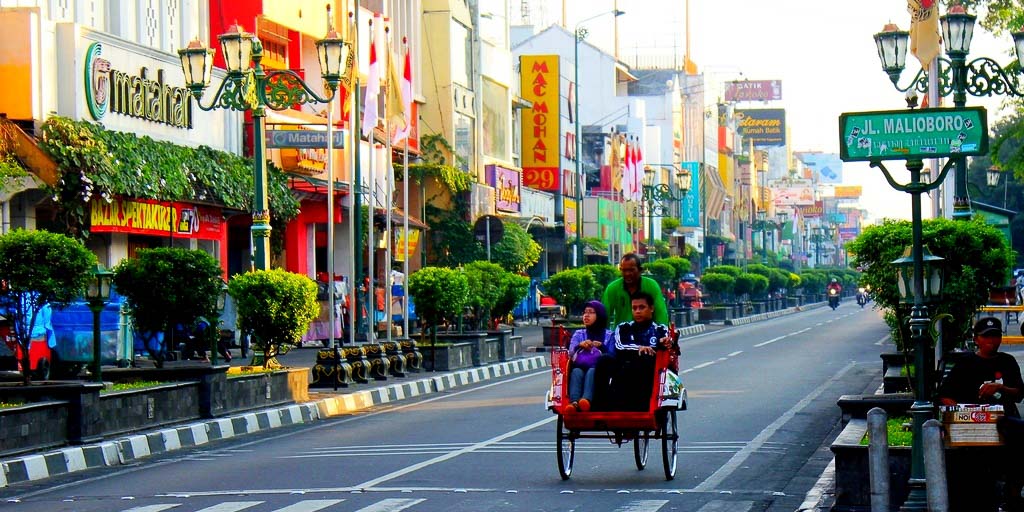 Photo credit: Aneka Tempat Wisata
15 minutes from Taman Sari by car, Jalan Malioboro is a 24-hour shopping street that has local street food, street performers, and horse-drawn carts. Roads are closed to cars, so your uber driver will have to drop you off at the adjacent street of Jalan Malioboro.
Ride an Odong-odong at Alun-Alun Kidul
Come nightfall, a particular part of Yogyakarta becomes very vibrant — Alun-Alun Kidul, the Southern City Square.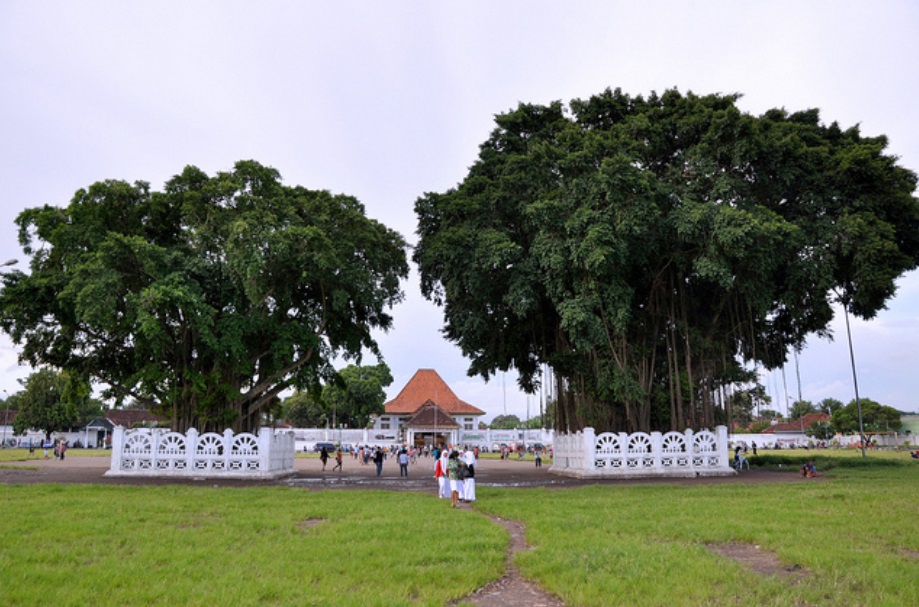 Photo credit: yogya-backpacker.com. The twin Banyan Trees behind the folklore.
Here, locals and tourists often join in a game inspired by folklore; walking in between the two banyan trees with their eyes blindfolded. Successfully walking between the 2 trees meant you'd never stray in life since it was believed only those with pure hearts and bear no evil intentions could do it.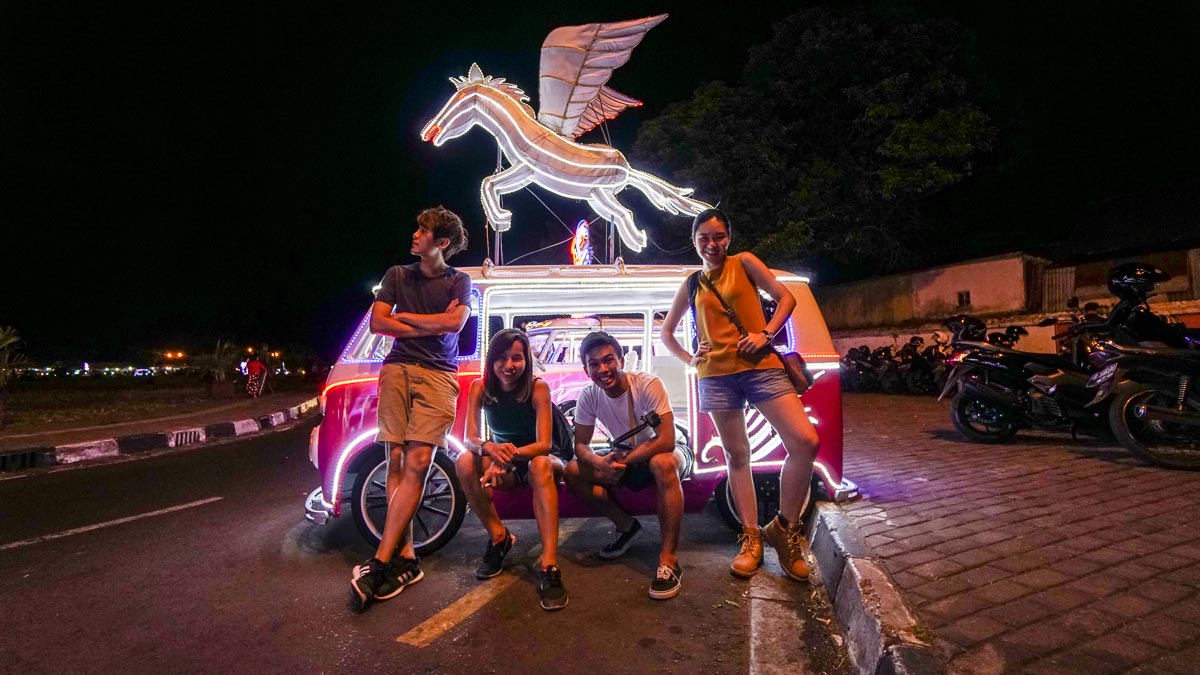 With the Odong-odong!
Another must-do activity at Alun-Alun Kidul is riding the odong-odong. Donned with cute and colourful cartoon characters such as Doraemon, Hello Kitty, and Pikachu, you can spot these neon-decorated, foot pedal operated karts lighting up the City Square. Each ride had its own sound system with popular pop and EDM tracks. It was as though we were kids again, boisterously pedalling the colourful odong-odong around the city square.
Address: Jl. Alun-Alun Kidul Yogyakarta Daerah Istimewa Yogyakarta Indonesia
Price: Rp30,000 – 50,000 per round (~S$3-5)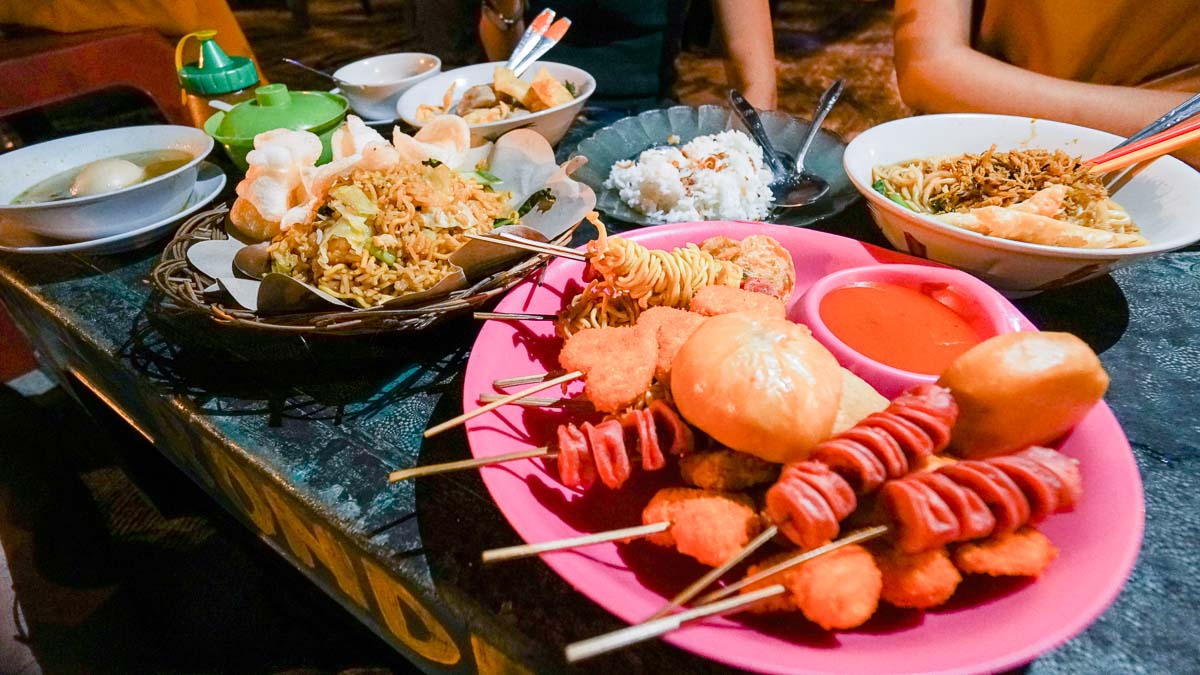 This entire table of food cost us less than S$13!
Thereafter, enjoy dinner among the lively atmosphere of Alun-Alun Kidul. We ordered a variety of local bites from the street food stalls and joined the locals at the field where low tables were provided. Some of the yummy Jogja cuisine available were the Mie Bakso, Soto Sulung, tempura, satay and Mie Ayam.
Price: Rp130,000 for a whole table of food for four! (~S$13)
*Pro-tip: Bring a light cardigan or scarf along to keep yourself warm as temperatures in Jogja can drop to as low as 21°C at night.
Day 2: Mt. Merapi & Prambanan Temple
Sunrise at Mount Merapi
With undisturbed terrains and few high rise buildings, Yogyakarta is a great place to catch the morning light. We set off at 4AM on day two early to catch the morning light at Mount Merapi.
Situated at Sleman District 30km north of city centre, Mount Merapi is an active volcano that last erupted in 2014. Regular cars will not be able to drive to the base camp, instead, you will need a jeep. We got our Jeep tours to Merapi arranged by our local hired driver.
After a 15-20min roller coaster of a jeep ride, we arrived at the base camp of Mount Merapi at 5:30AM. Just in time to witness the mountain illuminate at the break of dawn.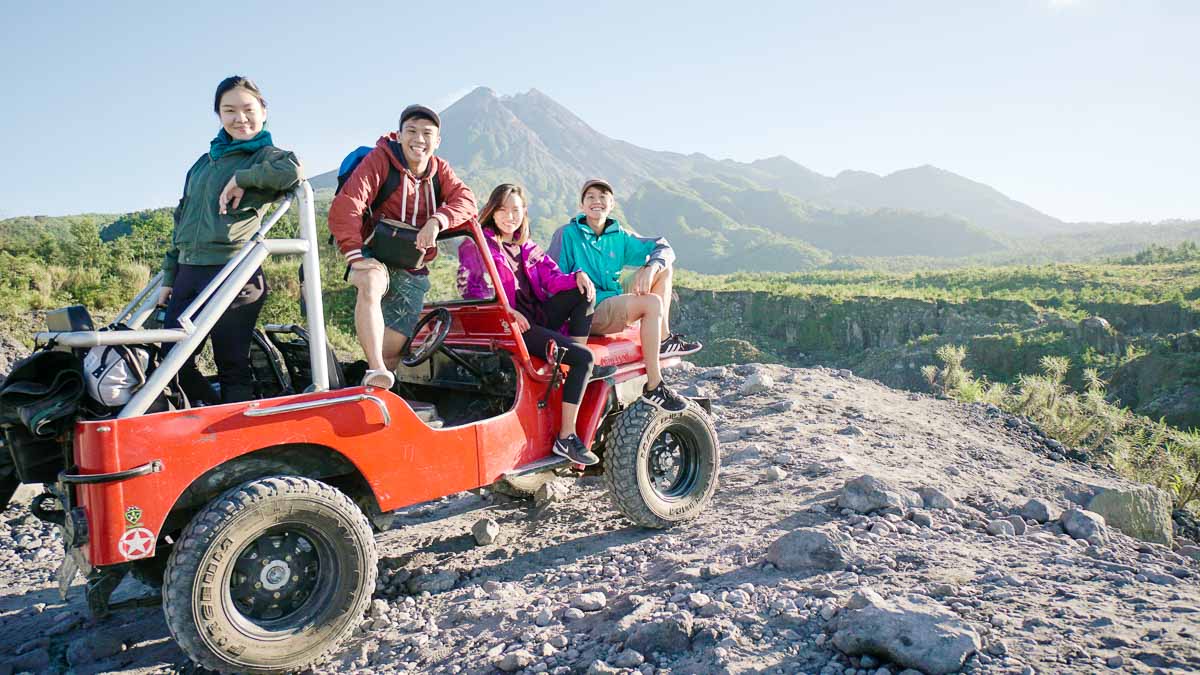 Bring a jacket along as temperatures can dip to 16°C in the wee mornings at the foot of the mountain!
Price:
Sunrise Jeep Tour: ~Rp350,000 per jeep for four pax (~S$35.5)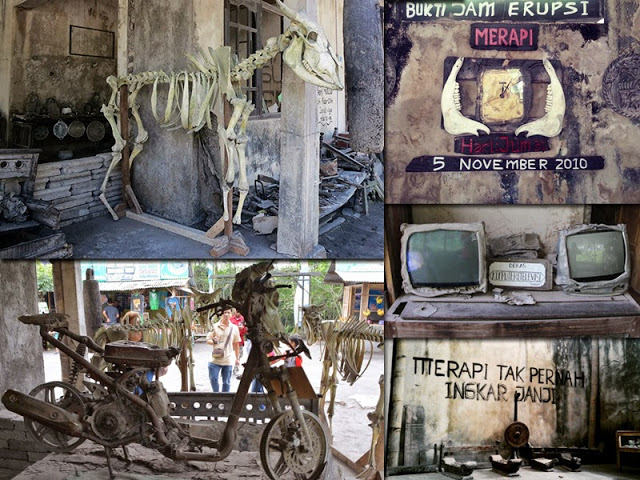 Photo credit: yogya-backpacker. Merapi Museum.
There is a small museum nearby — Merapi Museum — and jeep tours will cover it. Previously the house of a Merapi eruption victim, it has since been turned into a museum to showcase some interesting artefact and ruins of the eruption of Mount Merapi.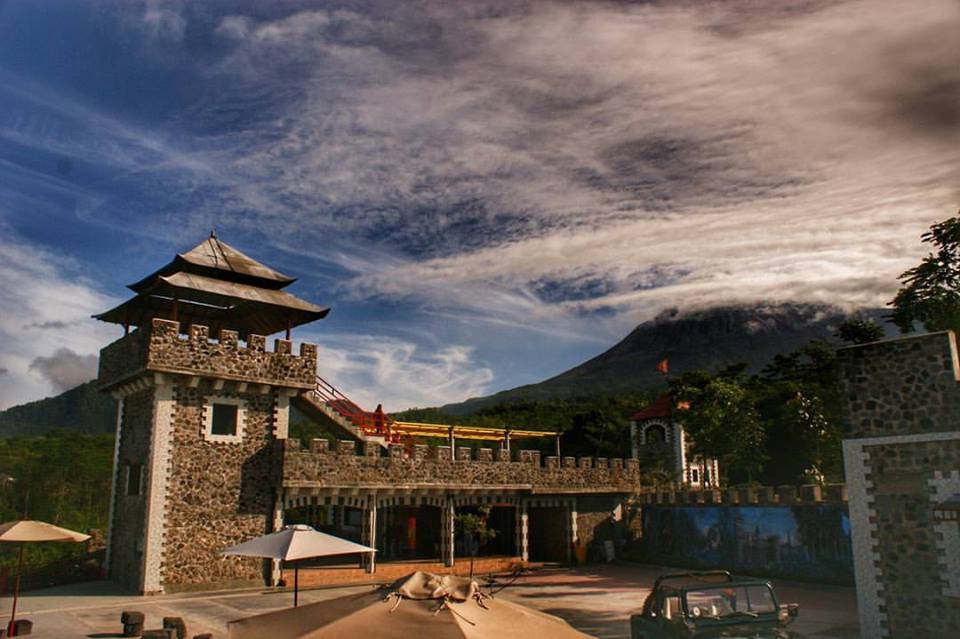 Photo credit: The Lost World Castle FB
Also around the vicinity is The Lost World Castle, a fairly new tourist spot that opened in 2017. In it are replicas of famous world landmarks such as the Eiffel Tower, The Great Wall of China, and StoneHenge.
Opening Hours:
Jeep Lava Tour Merapi: 8AM – 4PM
Merapi museum: 8AM – 3.30PM, closed on Mondays
The Lost World Castle: 7AM – 6PM
Price:
Merapi Museum: Rp5,000 per pax (~S$0.50)
The Lost World Castle: Rp25,000 per pax (~S$2.50)
Prambanan Temple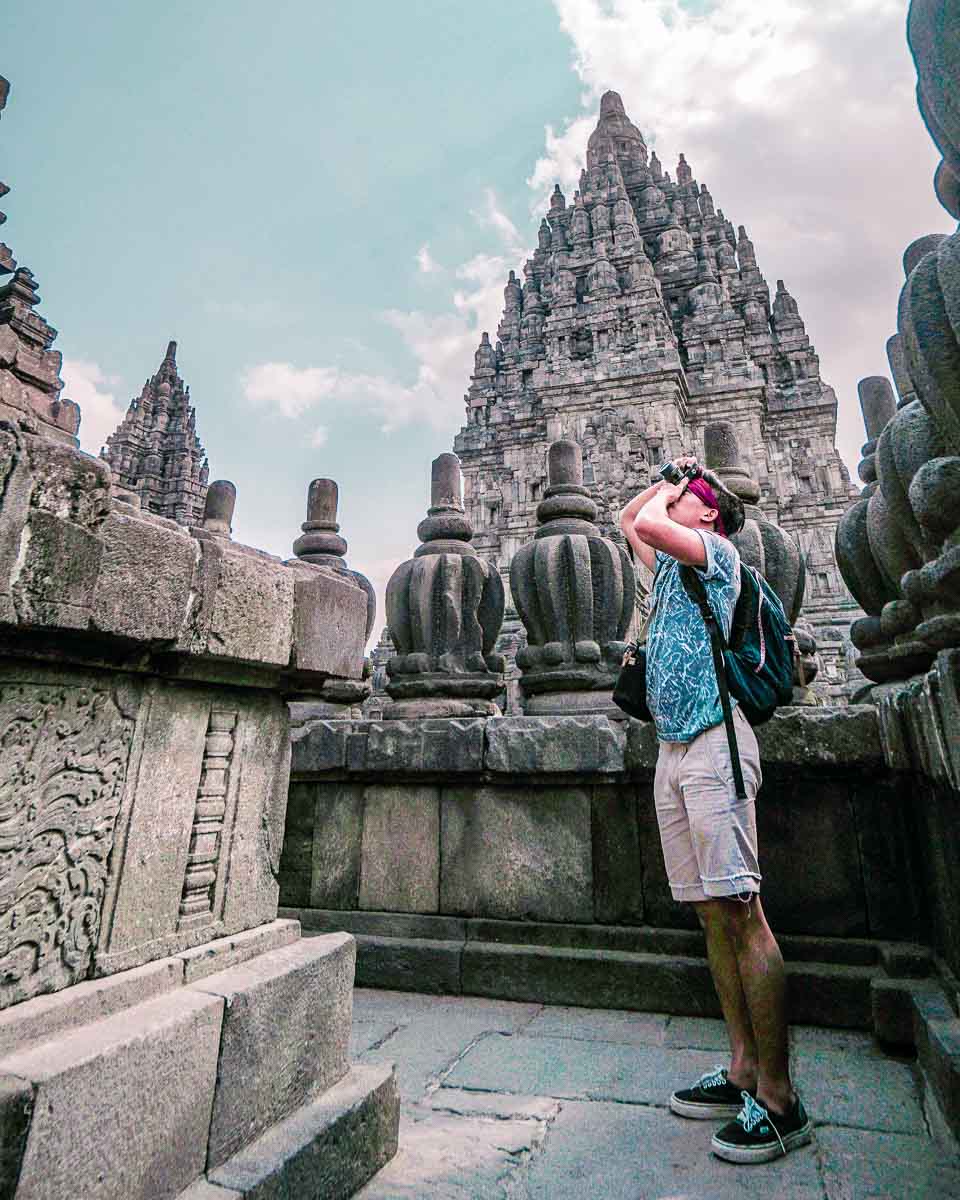 Built in the 9th century A.D., Prambanan Temple collapsed due to earthquakes and volcanic eruptions in the 11th century. When we visited, ruins were still evident within the once-derelict temple site, making us wonder what did this once-majestic civilisation go through.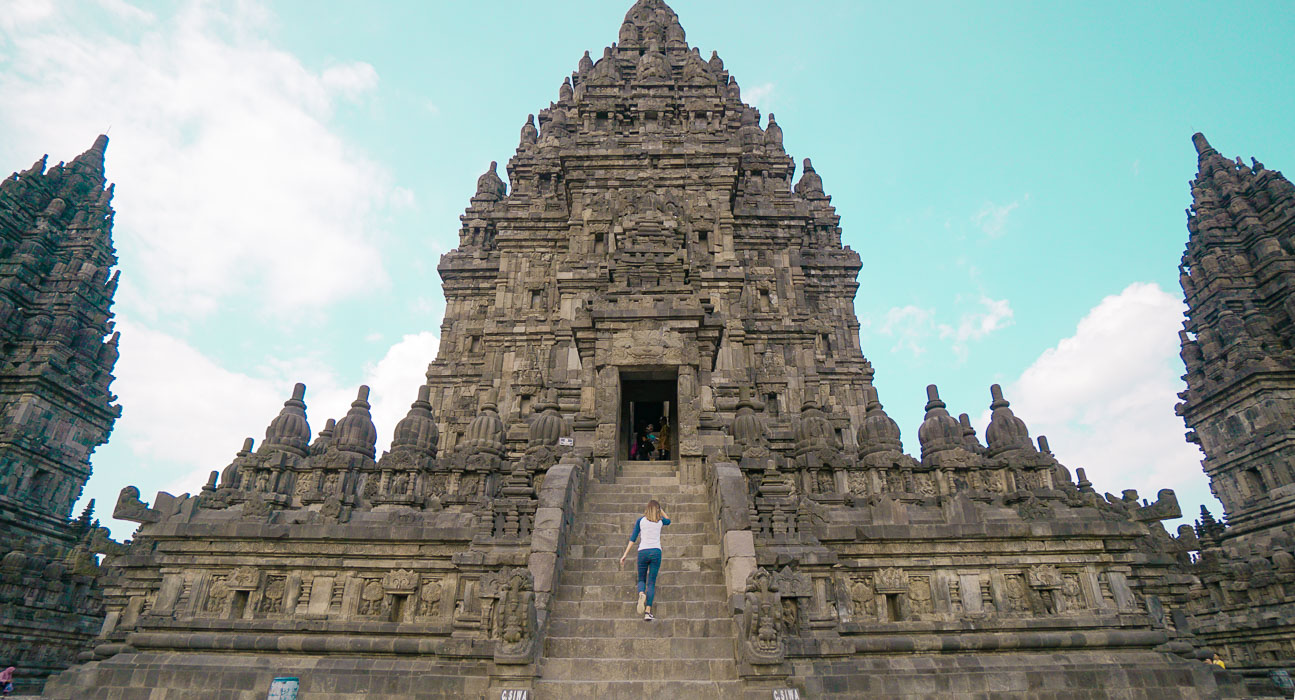 *Pro-tip: Take pictures at the back of the temples, they look similar to the front, and has fewer people crowding around.
Address: Bokoharjo, Prambanan, Sleman Regency, Special Region of Yogyakarta, Indonesia
Cost: Rp350,000 Adult (~S$35), Rp210,000 Student (~S$21)
*Pro-tip: Bring your student cards along to enjoy student discounts.
Dinner at House of Raminten
This quirky and whimsical restaurant well-loved by locals was opened by a retired businessman who previously performed in soap operas. The House of Raminten is a restaurant filled with surprises at every corner — "Raminten" being the name of the soap opera character the owner used to perform as.
Entering the restaurant was a truly trippy experience; pictures and caricatures of Raminten in humorous provocative gestures adorn the walls. While lurking in other corners of the restaurant are statues of Mother Mary, Buddha, and Ganesh sculptures overlooking diners while they have their meals.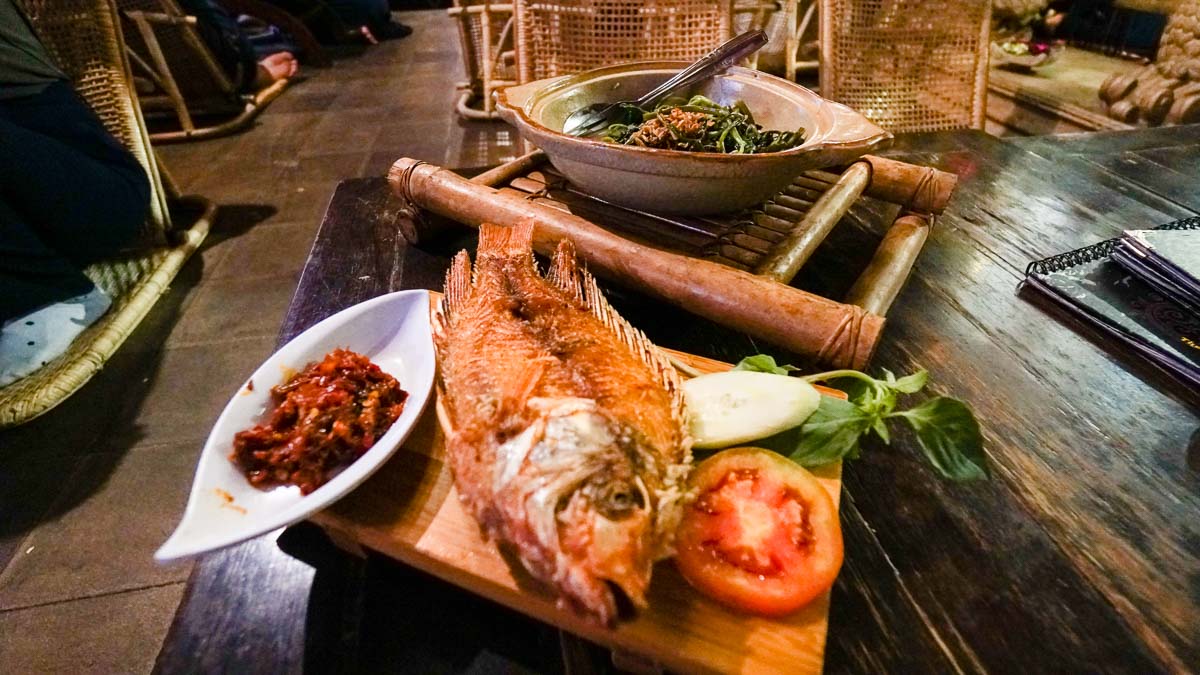 Long queues are common here, but the wait is definitely worth the experience. Food was also delicious and inexpensive.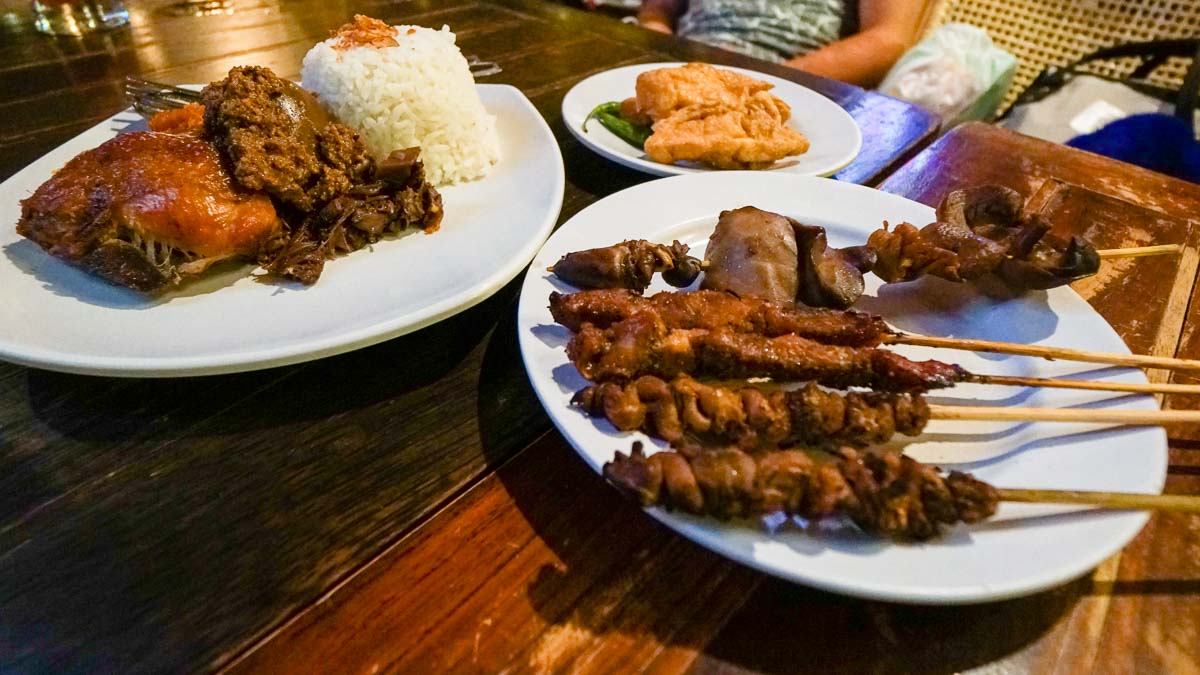 Address: Jl. Faridan Muridan Noto No.7, Kotabaru, Gondokusuman, Kota Yogyakarta, Daerah Istimewa Yogyakarta 55224, Indonesia
Opening Hours: 24 hours
Prices: Nila Goreng (Fried Whole Fish) — Rp10,000 (S$1!!), Bakmi Jawa (stir-fry noodles) — Rp17,000, Cakangkung Raminten (Stir-fry kang kong) — Rp10,000.
DAY 3: Jomblang Cave & Goa Pindul + Sungai Oyo
Day three for us was all about adventures. Set out in comfy sports attire and clothes you can get wet in!
Witness Heaven's Light at Jomblang Cave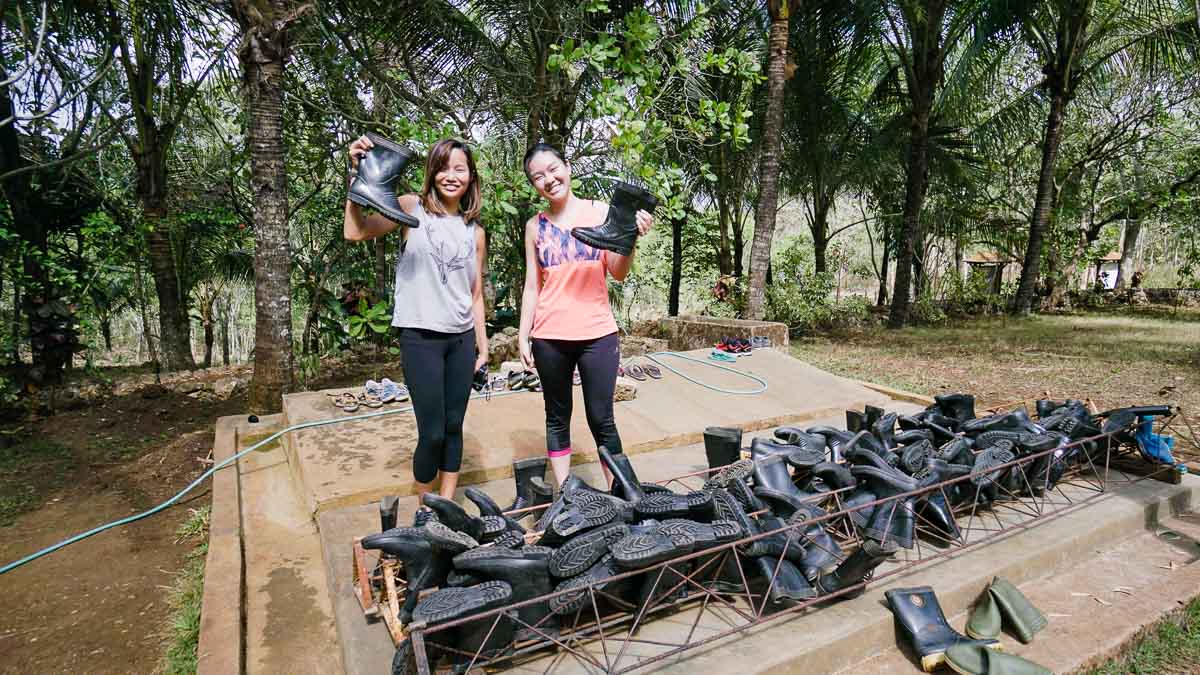 Boots available as the base of the cave can be quite muddy.
First stop, Jomblang Cave. Set out early as visitors are only allowed to enter until 10 am. The number of visitors is also limited to keep damage to this natural gem at a minimum. Jomblang Cave is a different world altogether — both metaphorically and literally.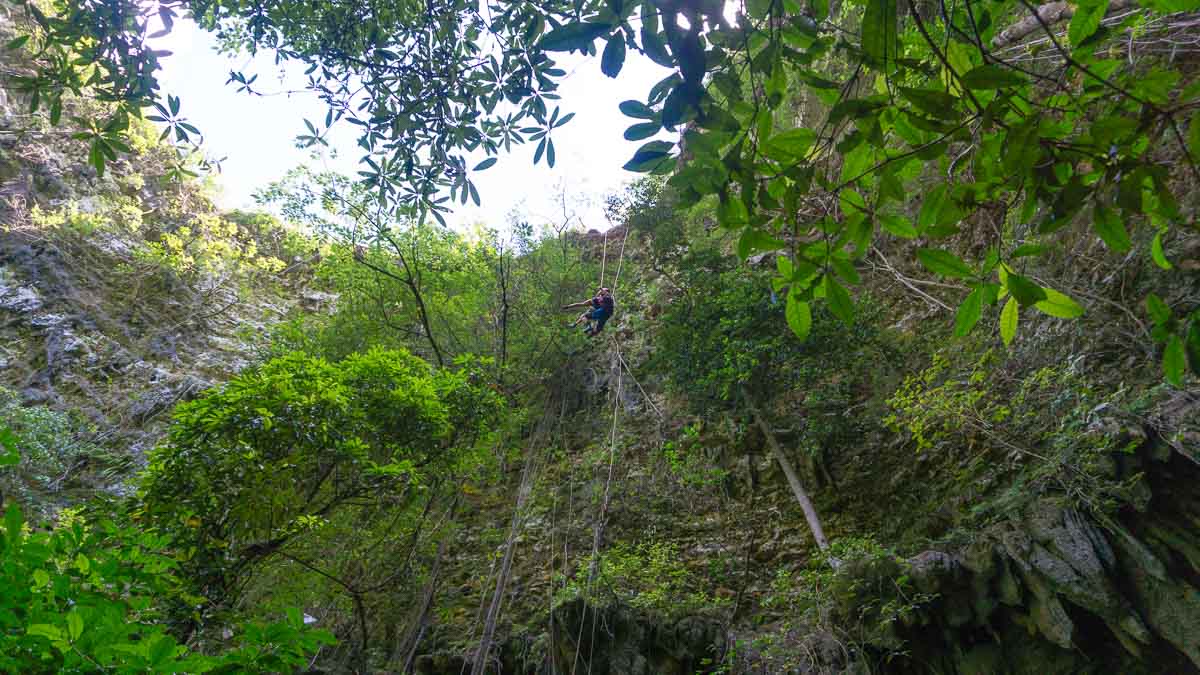 Part of an underground cave system, Jomblang is the result of a giant sinkhole in an ancient forest a few thousand years back. If the initial abseil into the ancient forest did not wow you enough, the lush vegetation that greets you 40m down below will surely leave you speechless.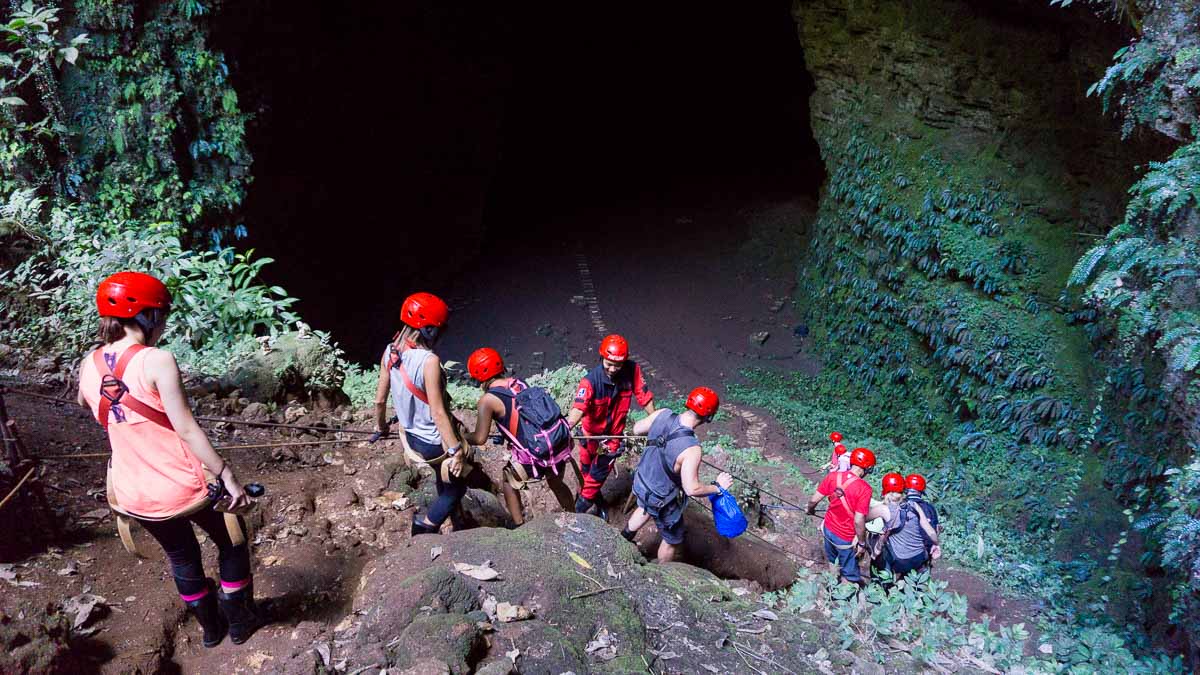 Hike for another 10 minutes on muddy grounds and you'll see another cave opening. Walk into the pitch-dark cave, before another surprise awaits in front.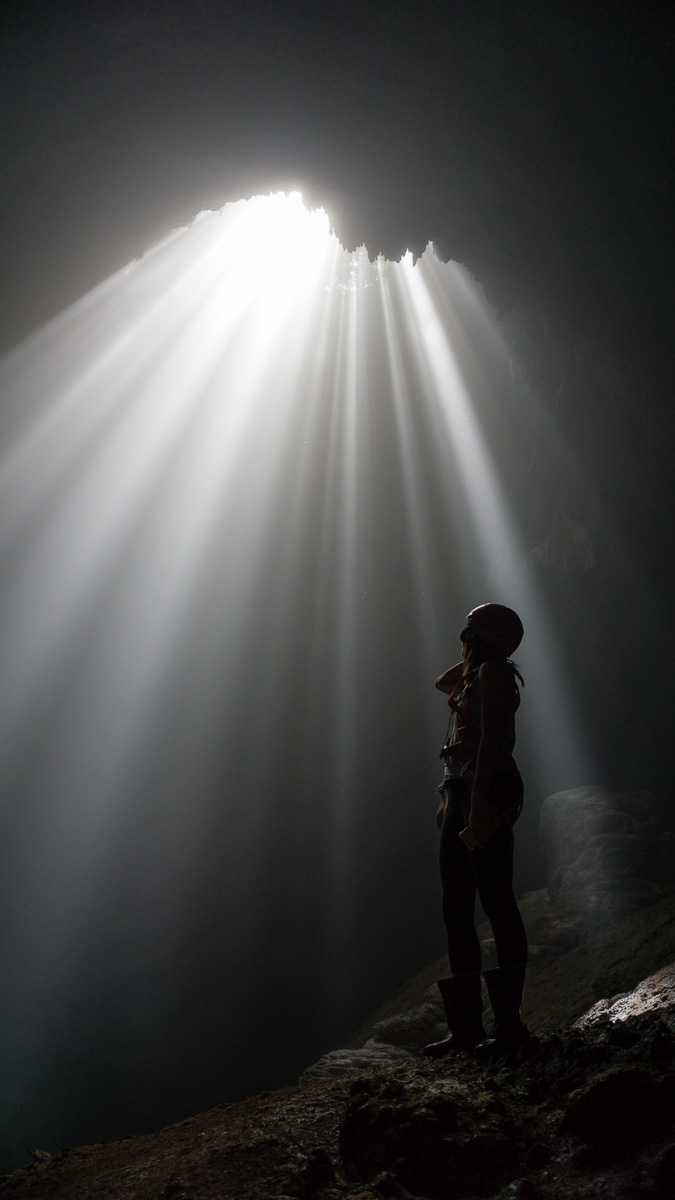 Mesmerised. Everyone stopped in their tracks the moment light hit their eyes. Dubbed "Heaven's Light" by the locals, there is really no other name more apt to describe this breathtaking sight.
Locals say the best timing to view Heaven's Light is between 11.30AM – 12PM when the sun rays are the strongest.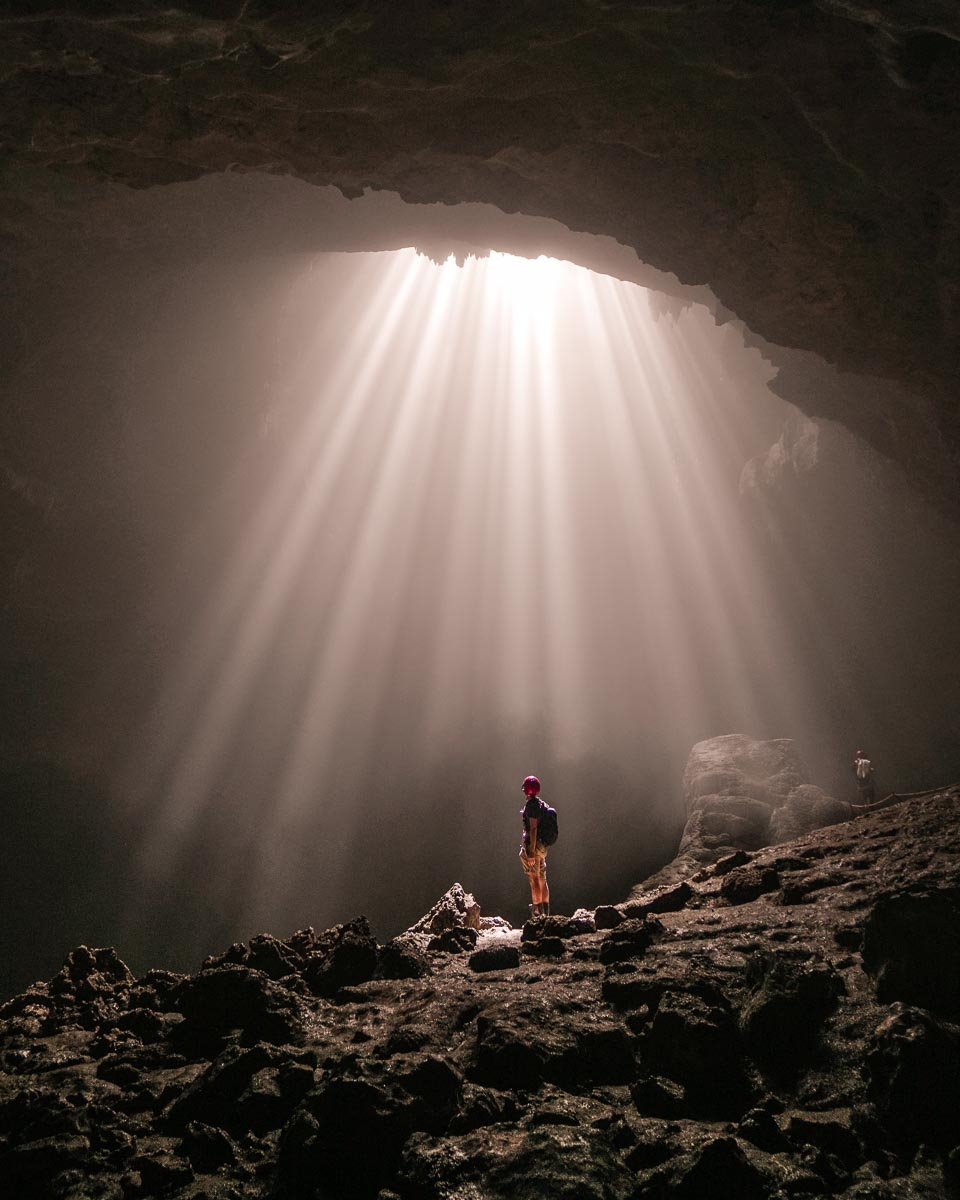 This is one of the priciest activities on the itinerary, but I can assure you the views and experience is so worth it; I would gladly do it all over again. That aside, the abseil pulley system is 100% by manpower, so part of the ticket fee goes to the men who use brute force to lift us up from the bottom of the cave.
Address: Pacarejo, Semanu, Gunung Kidul Regency, Special Region of Yogyakarta 55893, Indonesia
Opening Hours: Registration opens till 10AM daily.
Price: RP500,000 per pax (~S$50), includes insurance and lunch box given after the cave tour.
Tubing at Goa Pindul & Sungai Oyo
After Jomblang, most visitors will head to Kalisuci for tubing activities. However, our local driver suggested Goa Pindul as a better alternative — cheaper and we got to explore caves!
At Goa Pindul, there are several packages which vary from locations and activities. We purchased the package that included two spots, Goa Pindul and Sungai Oyo at RP 110,000 per pax. A rubber tube and life vest will be provided before starting your lazy river adventure.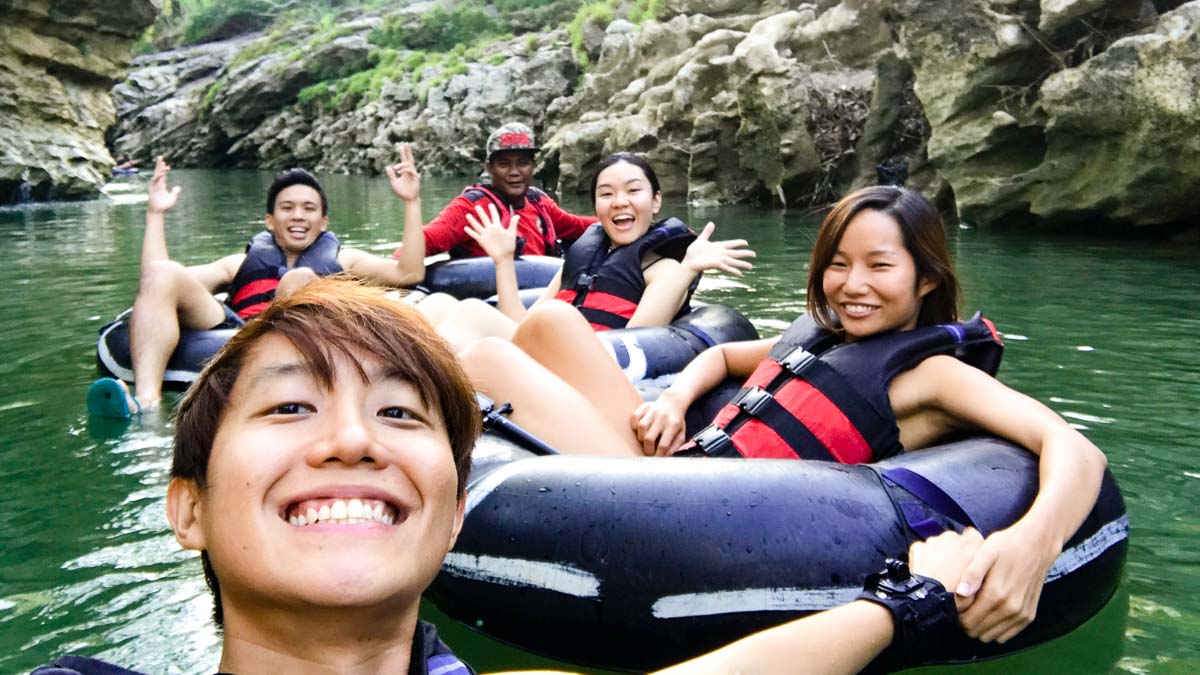 The ride begins by going through a pitch dark cave filled with bats, swallows and giant Stalactites which were pointed out by our Bahasa speaking guide.
There's a short 3m high rock you can jump off in the cave — a good warm-up for what's coming up!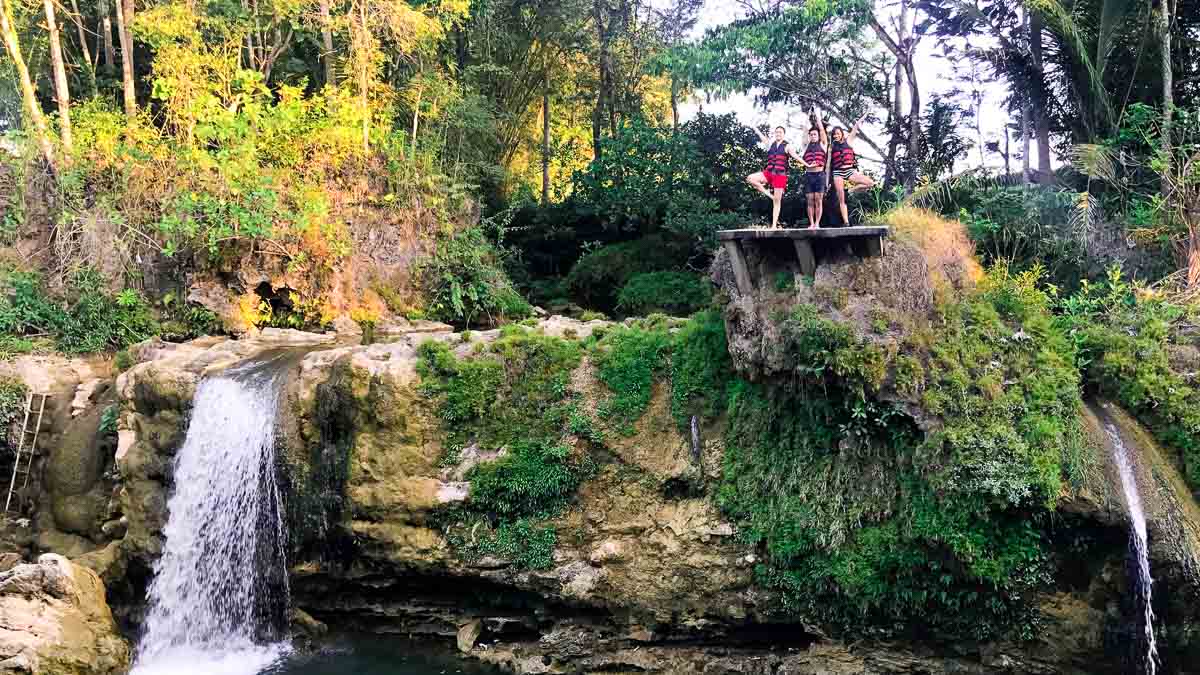 Before we took our leaps of faith off a cliff at Goa Pindul.
This is where the adventure really begins. After reaching the end of Goa Pindul, hop on a pick-up truck to Sungai Oyo 2km away. Midway through, your guide will stop where there are a 5m bridge and a 9m waterfall and edge you into jumping off one of these platforms.
Soon we found ourselves standing at the top of the 9m platform. And as though irresponsibly running away from adulting, I took a leap of faith, huddled my fears and jumped into the river below me. I hit right into the chilly waters, feeling refreshed. It didn't surprise me when I found myself climbing back up the slippery rocks for a second leap. No wonder people say extreme sports are addictive!
Address: Wirawisata, Gelaran 2, Bejiharjo, Karangmojo, Gunungkidul, Daerah Istimewa Yogyakarta 55891, Indonesia
Opening Hours: Starts at 8AM till sunset, not available on rainy days.
Prices: Rp110,000 per pax (~S$11.20). Covers Goa Pindul + Sungai Oyo
*Pro-tip: Bring along booties if you have them as climbing up the rocks barefooted can be slippery from moss and algae growth.
Dinner at Gudeg Yu Djum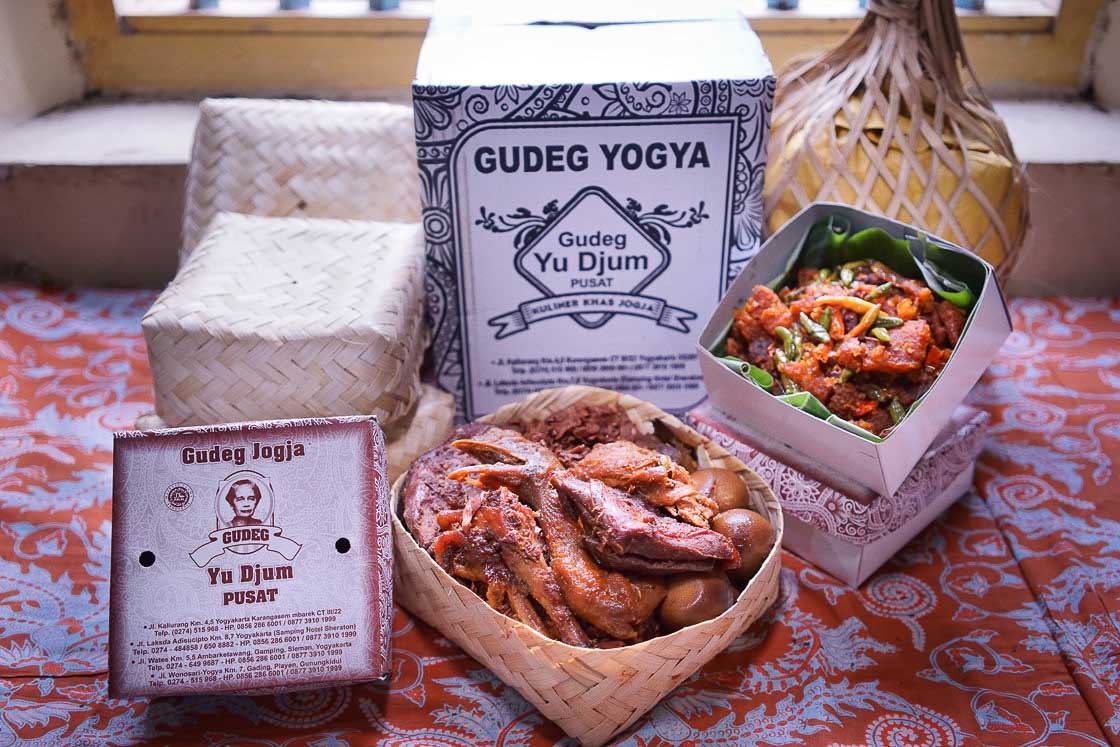 Photo credit: Gudeg Yu Djum Pusat
Gudeg Yu Djum, as the name suggests, is famous for the traditional Gudeg dish — a Javanese cuisine made from young unripe jackfruit boiled for several hours with palm sugar, and coconut milk. I've read about people using jackfruit as mock pulled pork, and I won't be surprised if Gudeg was the inspiration behind it!
Address: Jln Wonosari, Jogja Km. 7 Gading, Playen, Kabupaten Gunung Kidul, Daerah Istimewa Yogyakarta 55861, Indonesia
Opening Hours: 7AM – 5:30PM
Price: Rp15,000 – 40,000 (~S$1.50-4), depending on what you add e.g. Egg + Chicken wing
Day 4: Borobudur Temple — Chicken Church — Pinus Pengger
Sunrise at Borobudur Temple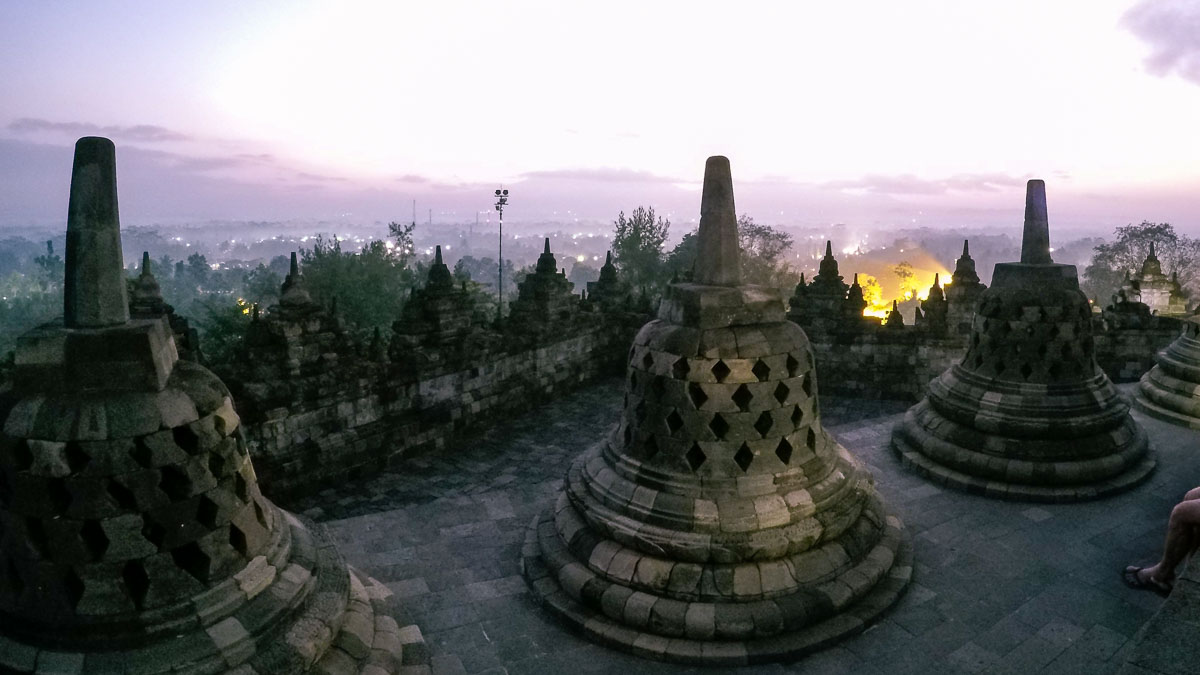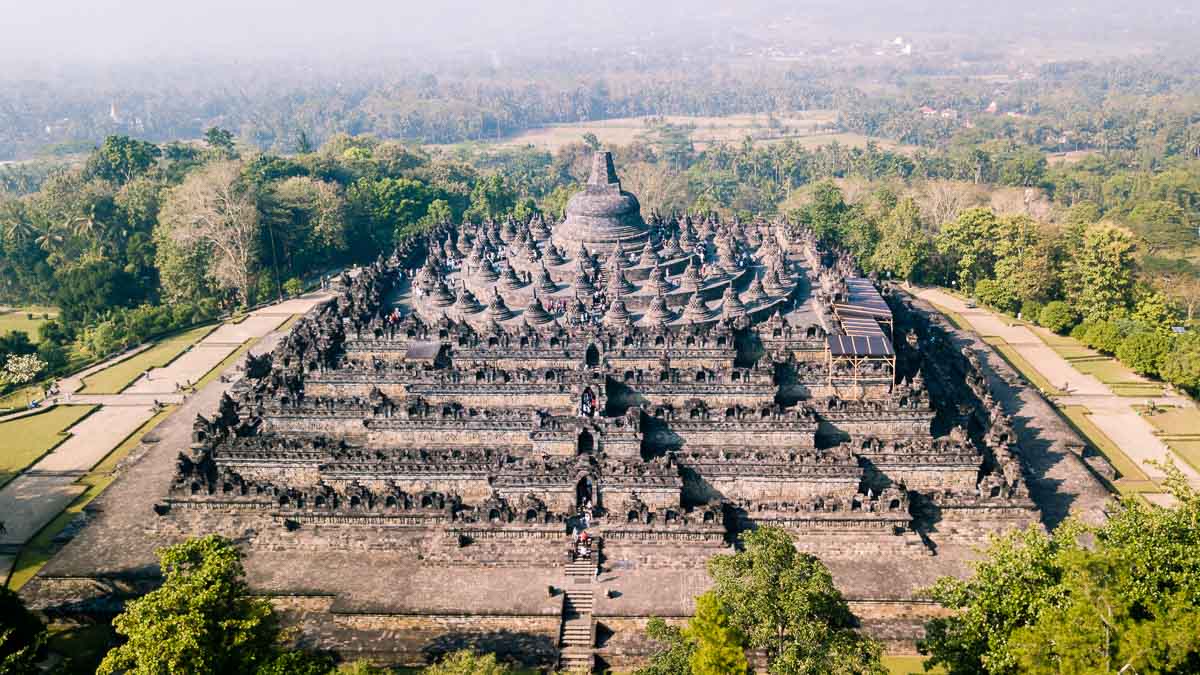 Borobudur is the largest Buddhist Temple in the World.
Catching the sunrise at Borobudur Temple is a popular bucket list item. This activity is so sacred and exceptional that local and foreign tourists would reach Borobudur as early as 4:30 am just to get a good spot within the temple compounds to view the rising sun.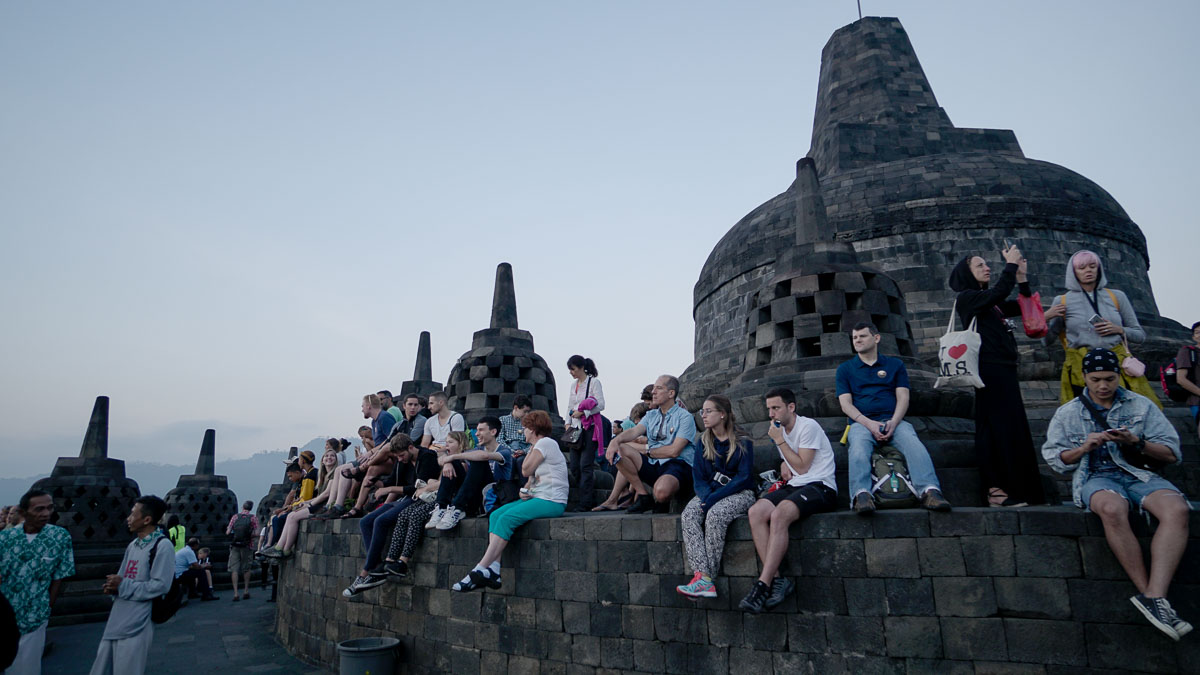 As Borobudur is a grand historical artefact and also the top tourist attraction in Yogyakarta, there are high-security measures along the way leading up to the actual Borobudur site. From the entrance of Manohara Hotel where admission tickets are sold, there are three bag searches.
After your tour at the temple, remember to head over to the restaurant for some light refreshments — included in the ticket to Borobudur.
Address: Jl. Badrawati, Borobudur, Magelang, Jawa Tengah, Indonesia
Opening Hours: 6AM – 5PM (however, you can enter at 4.30AM if you purchase the Borobudur Sunrise package).
Price: Rp500,000 per pax (~S$50). Borobudur Sunrise package that has to be bought from Manohara Hotel.
*Pro-tip: While the sunrise looks pretty amazing, it looks just as good during sunset and there's close to no one at that time.
Bukit Rhema (Chicken Church)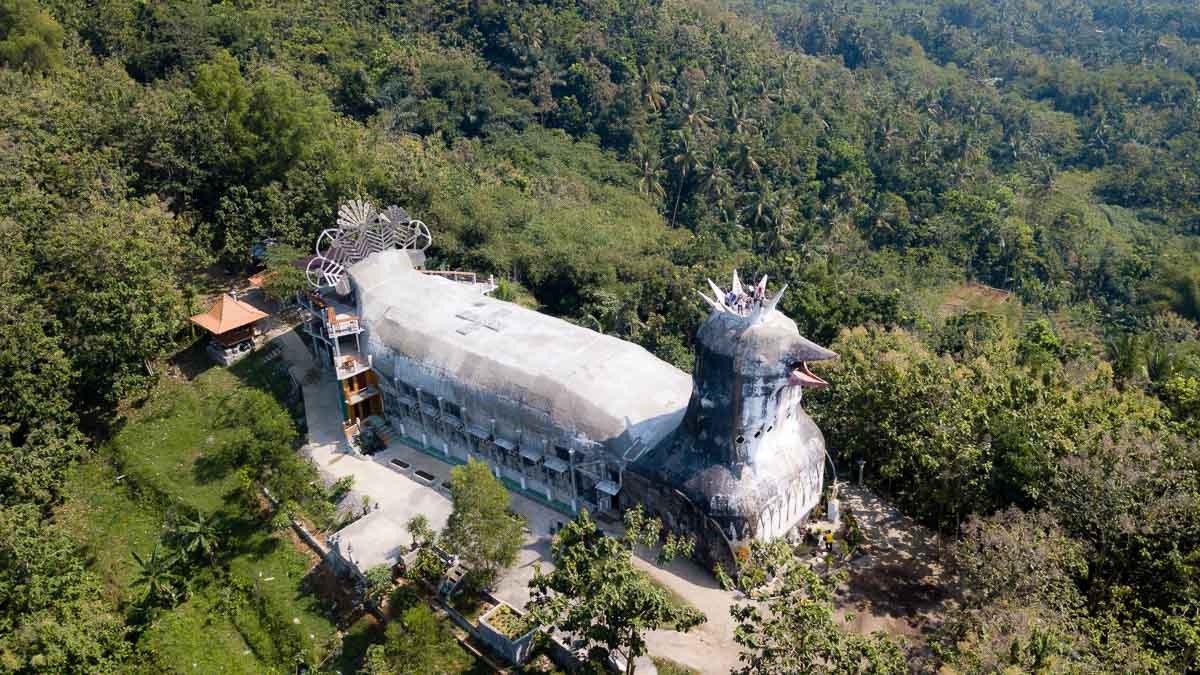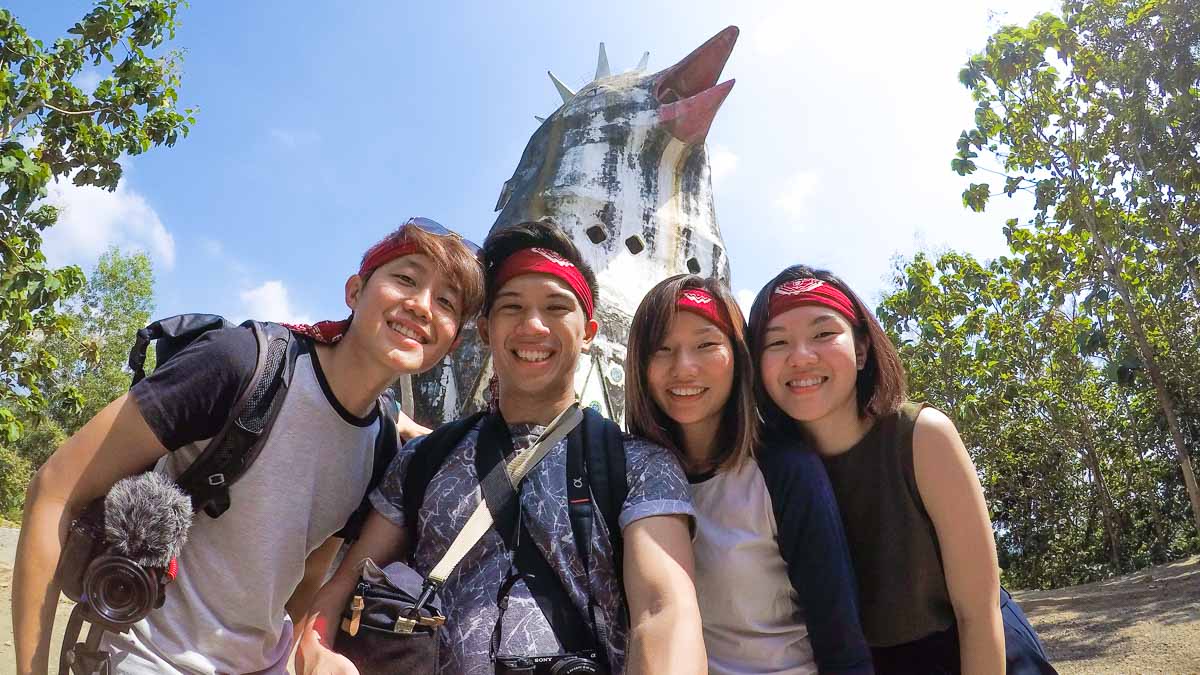 Affectionately known as "Gereja Ayam (Chicken Church)" to locals, this gigantic dodo of a bird is a lot more amusing than we thought. Can you believe that there is an actual building the shape of a humongous chicken? Bizarre as it seems, the creator of this place of worship said he had a vision from God to build a prayer house on a hill. Once dilapidated, the Chicken Church is now refurbished thanks to increasing tourism in the area.
We had too much fun at this church, and I dare say that no trip to Yogyakarta is complete without stepping foot into this cockatoo.
Address: Jalan Raya Borobudur Salaman Km. 2.5 Wringin Putih, Magelang
Opening Hours: 6AM – 5PM (Mon-Fri), 5AM – 5PM (Sat-Sun)
Price: Rp30,000 per pax (S$3), includes light snacks for each paying visitor
*Pro-tip: Watch the sunrise behind Borobudur from the top of the Chicken crown!
Lunch at Jejamuran (Mushroom Restaurant)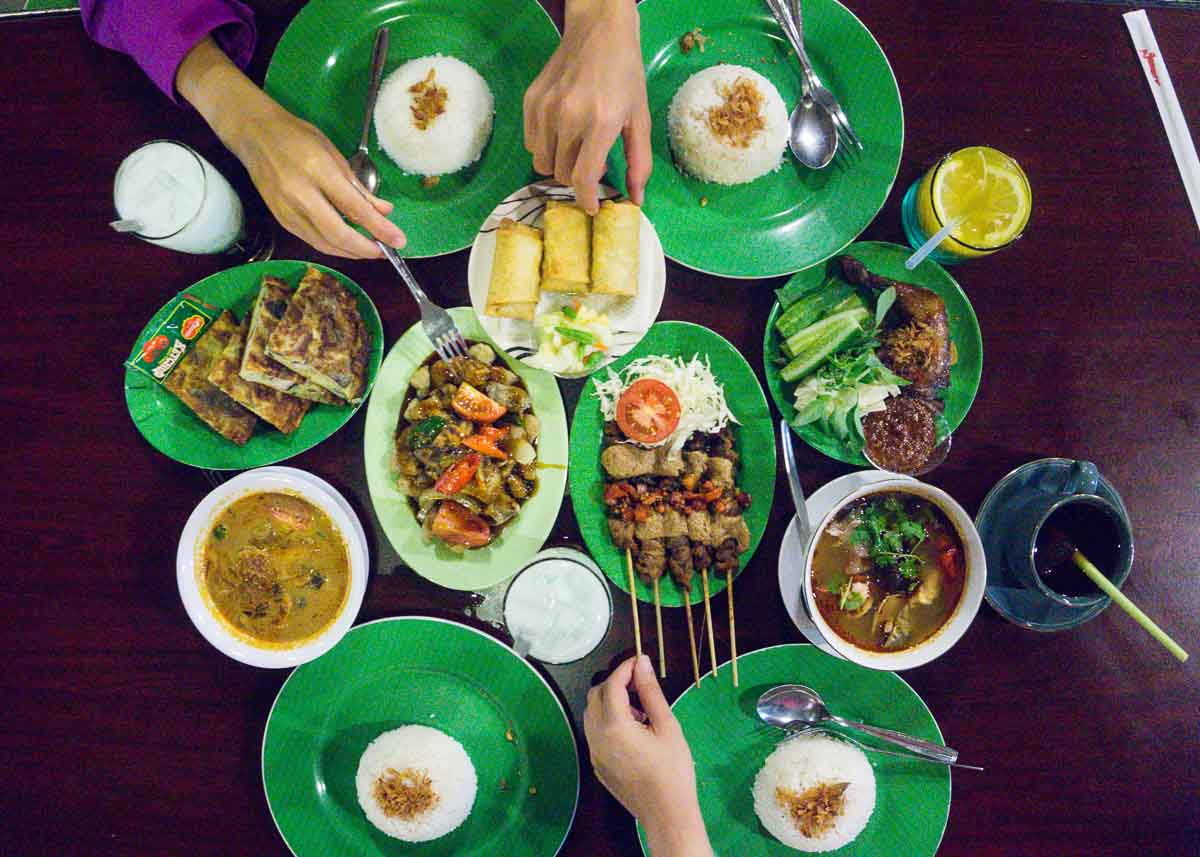 Mushroom lovers rejoice! There is a restaurant in Yogyakarta with its entire menu focused on only one main ingredient — mushrooms.
Jejamuran specialises in mushroom and almost every dish you find in their menu has some kind of mushroom in it.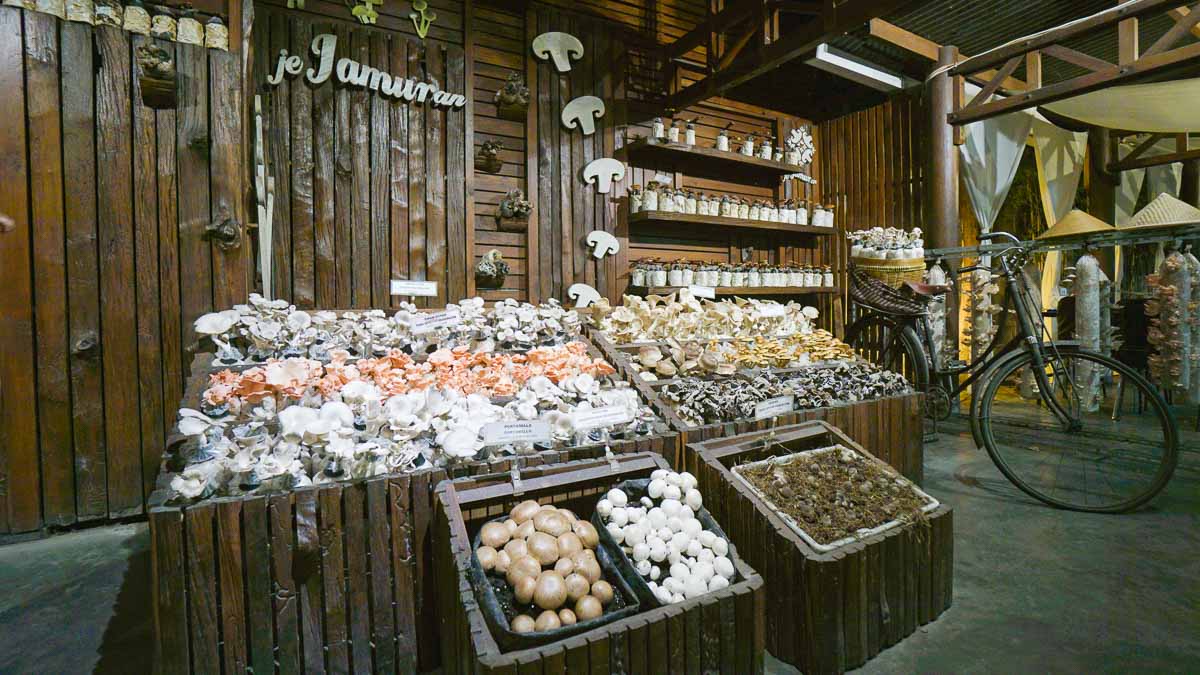 There are even mushroom growing kits sold so you can grow them at home!
Recommended dishes:
– Mushroom satay, Rp16,000 (~S$1.60)
– Mushroom tom yam soup, Rp30,000 (~S$3)
– Deep-fried king oyster mushroom, Rp25,000 (~S$2.50)
Speciality drinks:
– Es Dawet Jejamuran, a traditional Javanese drink with coconut milk, palm sugar, jelly, and of course, mushrooms. Rp12,000 (~S$1.20)
– Summer Breeze comes with enoki mushrooms in the drink! Rp12,000 (~S$1.20)
Address: Jalan Pramuka No.53, RT.01 / RW.20, Niron, Pandowoharjo, Kec. Sleman, Kabupaten Sleman, Daerah Istimewa Yogyakarta 55512, Indonesia
Opening Hours: 9AM – 9:10PM
Sandboarding at Gumuk Pasir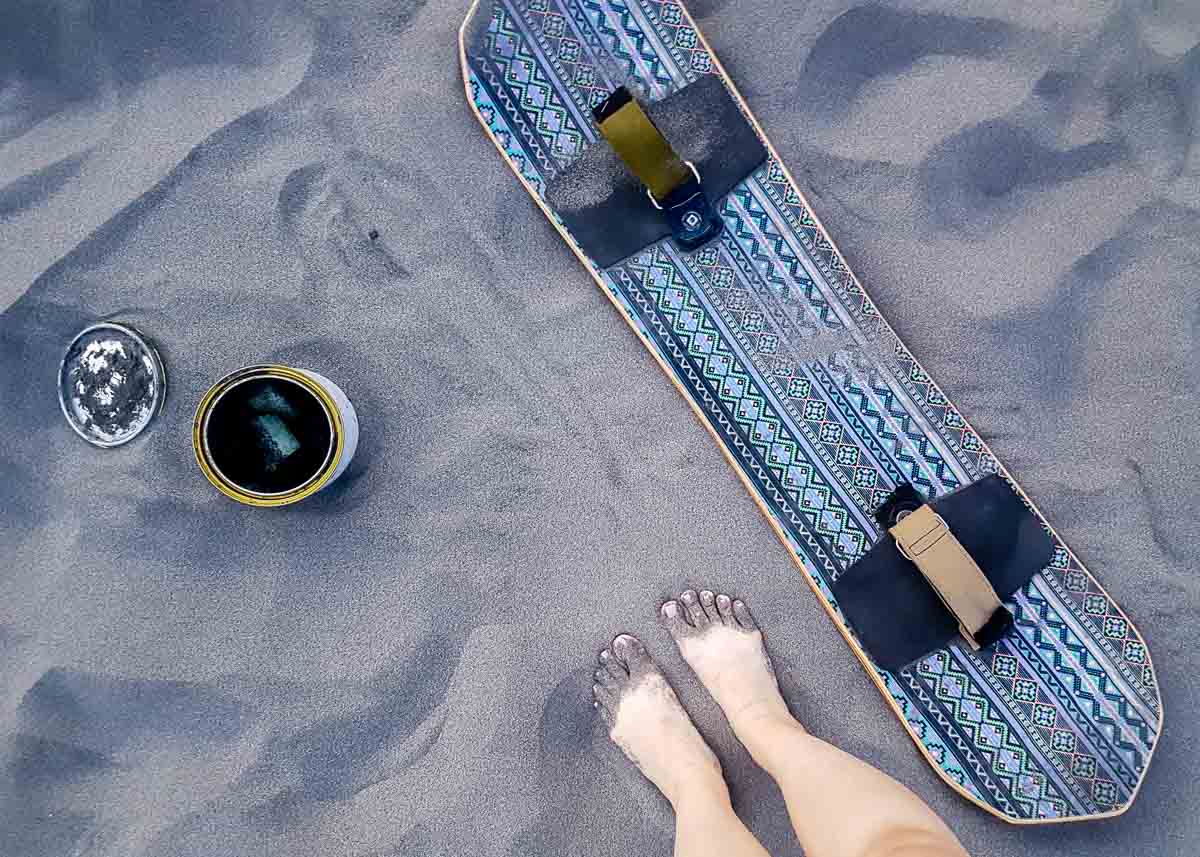 After lunch, another round of adventure awaits. We headed southwards to Gumuk Pasir for some fun sandboarding! Rent a sandboard at Rp100,000 (~S$10.20) and hit the sand dunes!
Sandboarding was new to me, and thankfully there was a local guiding us. He would follow us around polishing the bottom of our boards and showing us steeper slopes to conquer.
It was immense fun, I have to say, although I spent most of my time sand-tumbling instead. Best time for sandboarding is actually an hour or two before sunset when the temperatures are cool. Stay on for sunset and nightfall, and reward yourself with the sight of a sky full of stars. We were lucky and spotted the milky way with our naked eyes!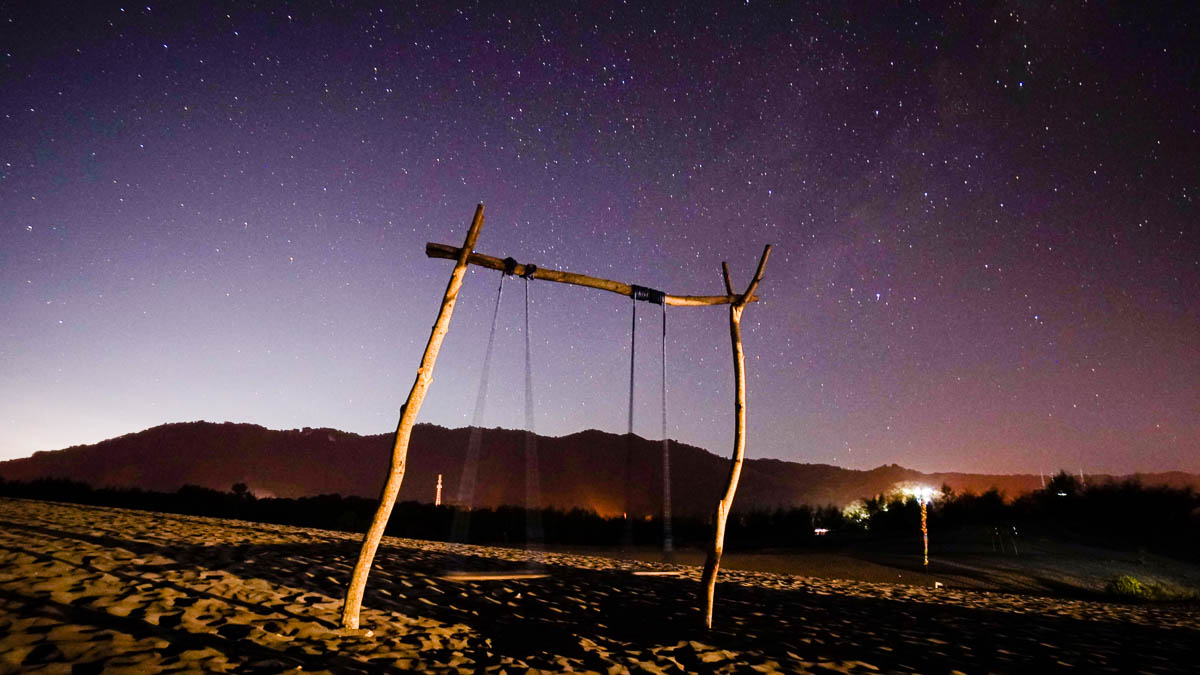 Address: Jl. Pantai Parangkusumo, Parangtritis, Kec. Kretek, Bantul, Daerah Istimewa Yogyakarta 55772, Indonesia
Opening Hours: 6AM – 7PM
Price: Rp100,000 per sandboard rental (~S$10.20)
*Pro-tip: Request for your taxi driver to wait by the beach for you while you sandboard, as taxis are extremely difficult to get at this part of town!
Pinus Pengger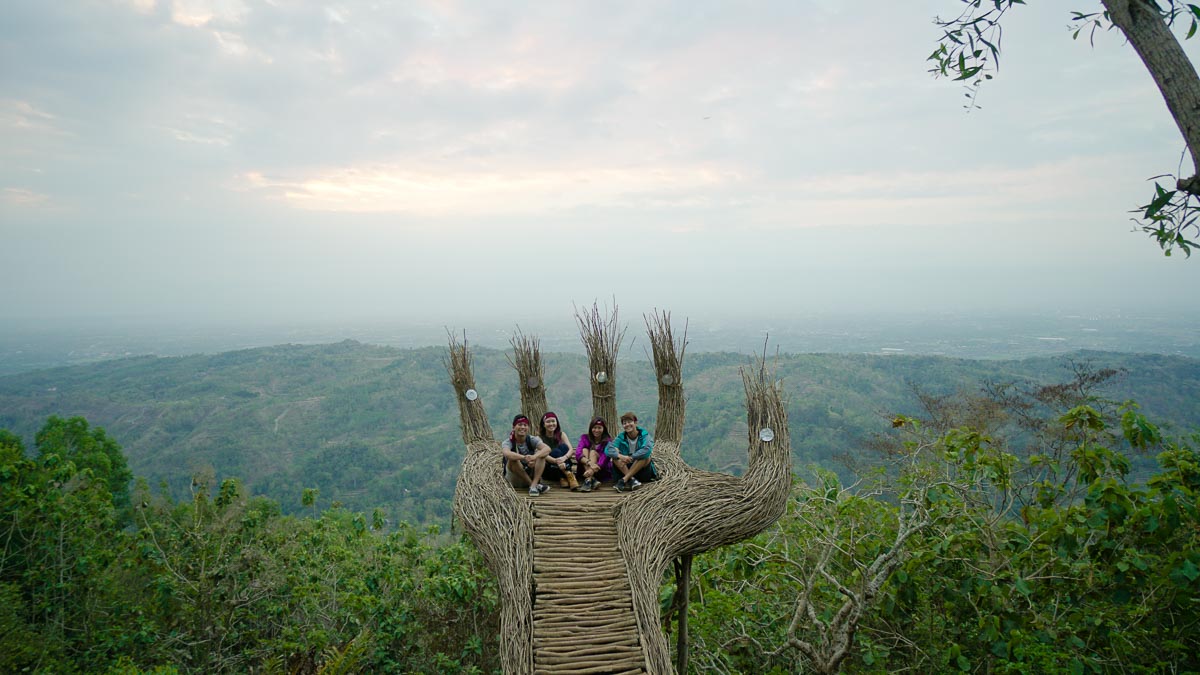 If the idea of getting sand on your butt and face isn't your cup of tea, a nearby sight might be of interest! Pinus Pengger — A favourite among locals, is a forested area filled with sculptures and artistic instalments by local artists. Catch the sunset and stay through the night with great views of the city.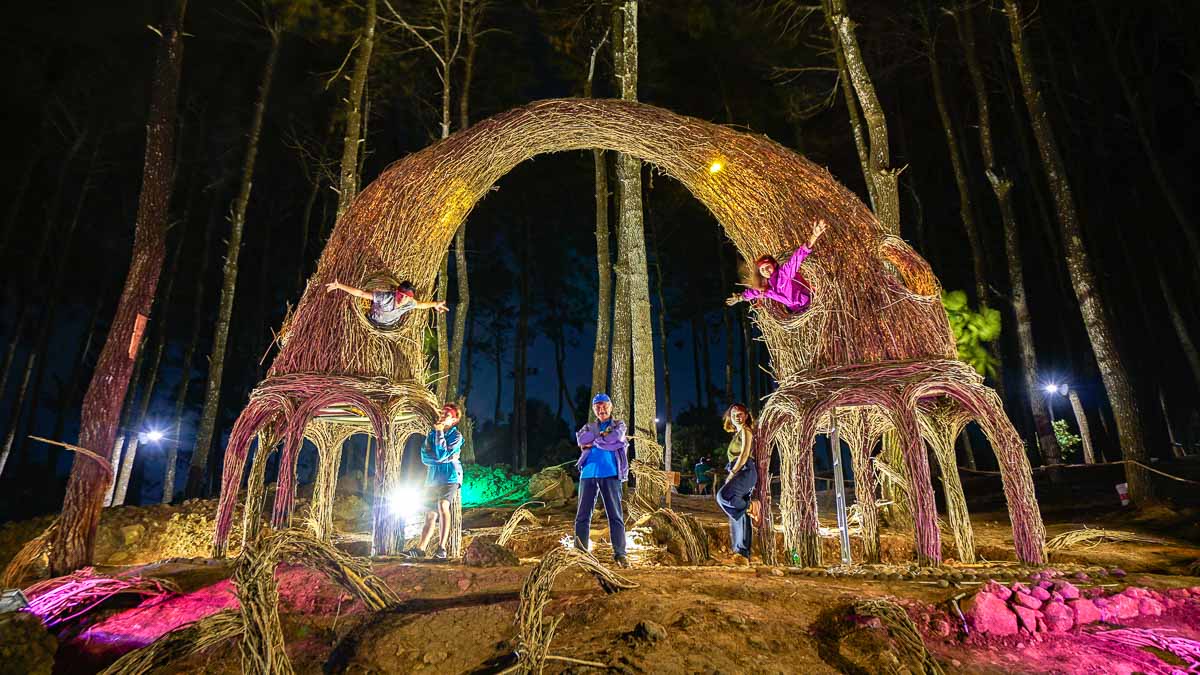 Each sculpture and art instalment is a unique photo point, and there are donation boxes next to each photo point. Donations are highly encouraged as a form of support for the local artists. We recommend visits in the late afternoon when there's still enough sunlight to take pictures and also to catch the sunset.
Address: Terong, Dlingo, Bantul Regency, Special Region of Yogyakarta 55783, Indonesia
Price: Free entrance, but parking fee of Rp10,000 (~S$1) per car applies.
Jurang Tembelan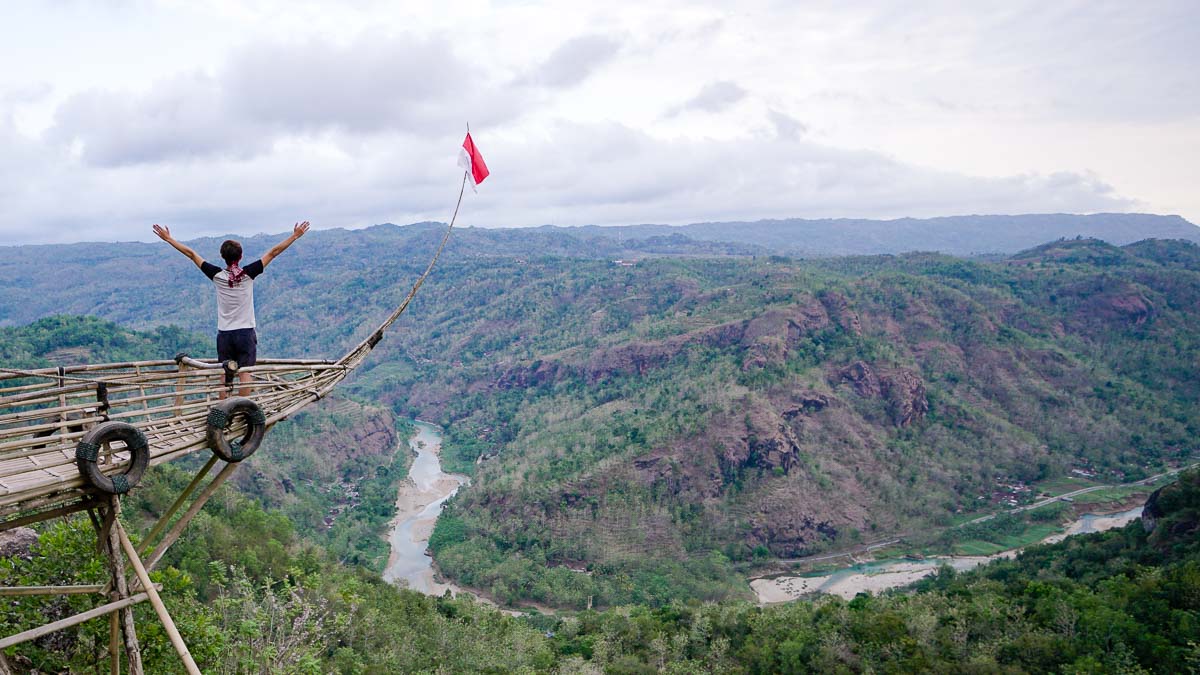 En route to Pinus Pengger, we also stopped by Jurang Tembelan. As if a secret hideout, this small and quiet lookout seems to be known only to locals. Jurang Tembelan is actually a small pit stop with restrooms and snack stores. A quick picture spot overseeing a river, you can enjoy panoramic views of mountains too. Another notable area to look out for is Puncak Becici, also a lookout where people can enjoy outbound activities. Puncak Becici also gained attention after former US President Barack Obama's visit in June 2017.
Address: Mangunan, Dlingo, Bantul Regency, Special Region of Yogyakarta 55783, Indonesia
Price: Free. Donation basis.
Dinner at Omah Dhuwur Restaurant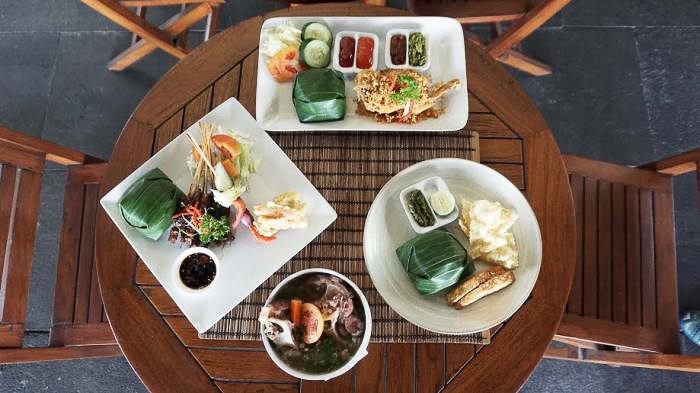 Photo credit: Tribun Jogja. Omah Dhuwur Restaurant.
End your day with a great meal at Omah Dhuwur Restaurant. Besides serving traditional Javanese cuisine, Omah Dhuwur also has a Western menu that caters to tourists.
Address: Jl. Mondorakan No.252, Prenggan, Kotagede, Kota Yogyakarta, Daerah Istimewa Yogyakarta 55172, Indonesia
Opening Hours: 11AM – 10PM
Day 5: Leave Yogyakarta — Head back to SG
After four full days of non-stop adventures in Yogyakarta and a nice break away from the suffocating city life, it was time to go home.
We caught the AirAsia flight departing from Jogja at 7:25AM. Luckily there wasn't much traffic at that time and we managed to reach the airport in under 20 minutes.
*All prices are accurate at the time of posting.
---
Accommodation in Yogyakarta City
Melia Purosani Hotel (5-Star Hotel)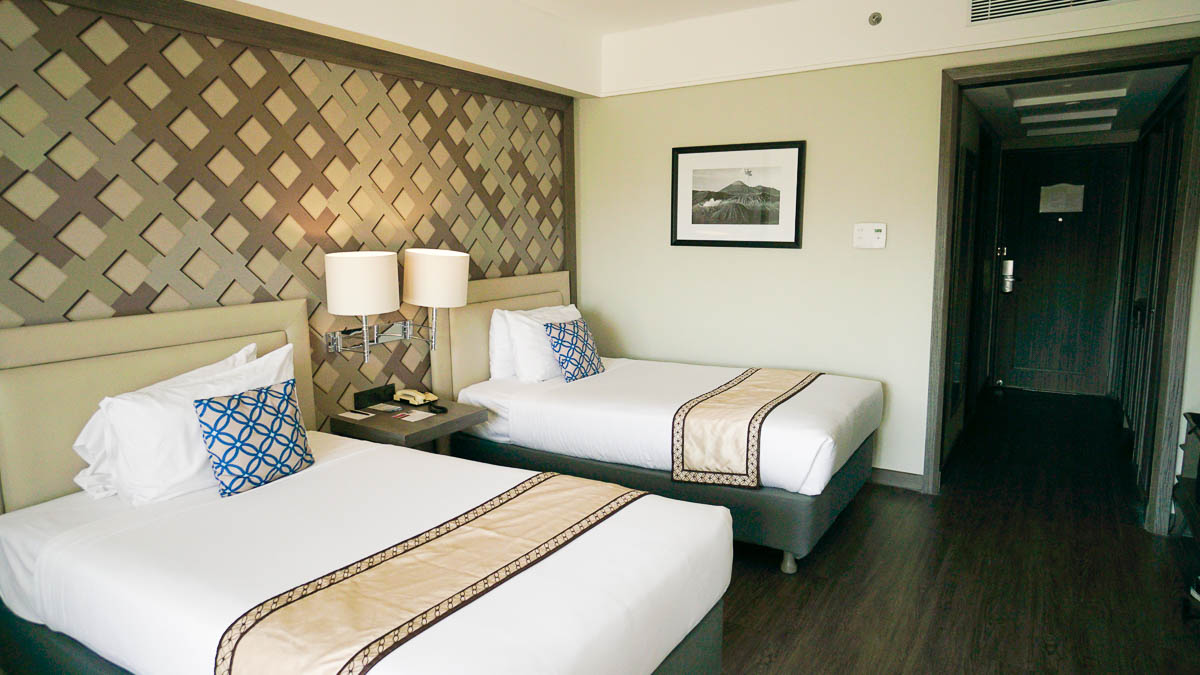 A Premium Room in Melia Purosani Hotel.
The Melia Purosani Hotel is the only 5-star hotel located in the city centre of Yogyakarta, hence extremely convenient and accessible to the various sights of Yogyakarta. The staff are very friendly and approachable, and the in-house spa services are at very reasonable prices! It was a pity that we did not have enough time to enjoy the comfy beds though!
Address: Jl. Mayor Suryotomo No.31, Ngupasan, Gondomanan, Kota Yogyakarta, Daerah Istimewa Yogyakarta 55122, Indonesia
Getting Around Yogyakarta
As most places of interests are situated quite a distance from each other, we found it most cost-efficient to hire a private driver for four.
To get a bit of context, Borobudur Temple is situated 1.5 hours' of drive Northwest from the city centre, and the magical Jomblang Cave is a 2 hours' drive southeast from the city centre. Some other places such as Pinus Pengger and Jurang Tembelan are only accessible by cars as well.
Our private car & driver was arranged by Miko who runs Java Tour Holidays and has always given us very reasonable prices for car hire around Indonesia. Drop him an email at [email protected] and let him know we sent you 😛
Jan 2019 Update: Some readers have told us that Java Tour Holidays have increased their prices quite significantly 🙁
Alternatively, you can book private car charters by per-day basis.
If you are just covering the city centre, Grab or Uber works well. You might also be able to use Grab or Uber to get to faraway places like the sand dunes at Gumuk Pasir but be sure to ask the driver to wait or you'll end up stranded (like us) when it's time to leave.
Direct Flight From Singapore to Yogyakarta daily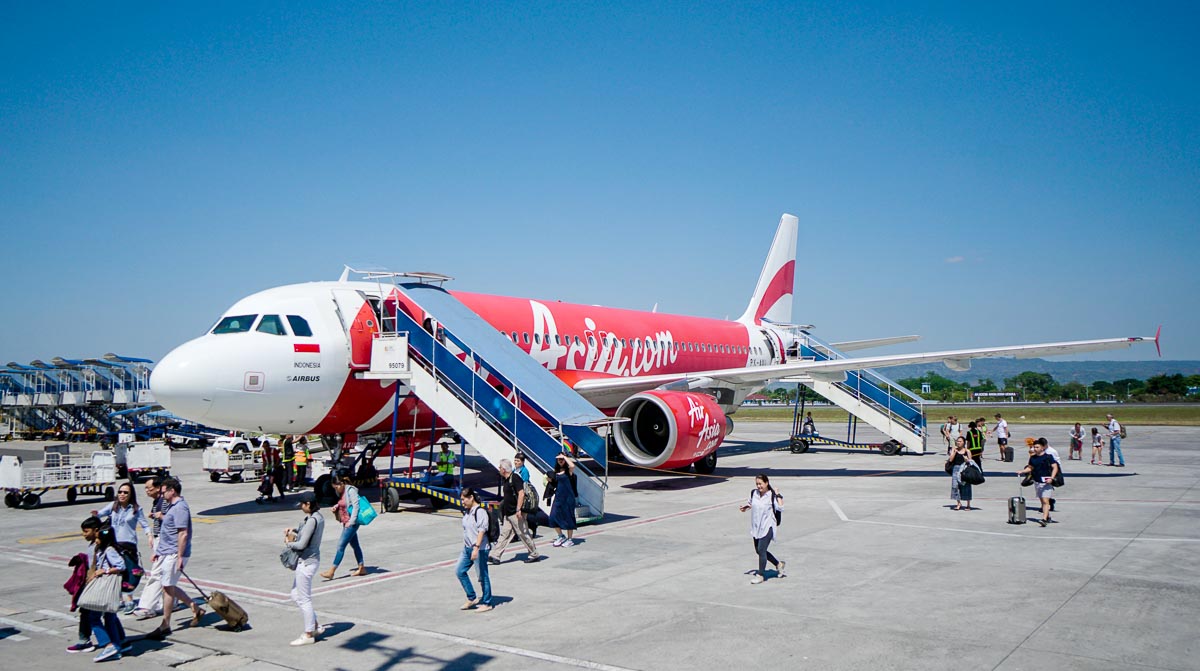 We flew directly to Yogyakarta via AirAsia and managed to squeeze in brunch in the short 2-hour flight. We tried four different in-flight meals — Nasi Kuning Manado, Roasted Chicken, Thai Green Curry and Chicken Satay with peanut sauce. My personal favourite was the Nasi Kuning Manado — a classic Indonesian dish with fragrant rice cooked in coconut milk and turmeric. It was for me the perfect introduction to Indonesian cuisine even before landing in Yogyakarta!
*Pro-tip: Pre-book your meals online at Rp33,000 (~S$3.40) instead of Rp55,000 if you purchase onboard.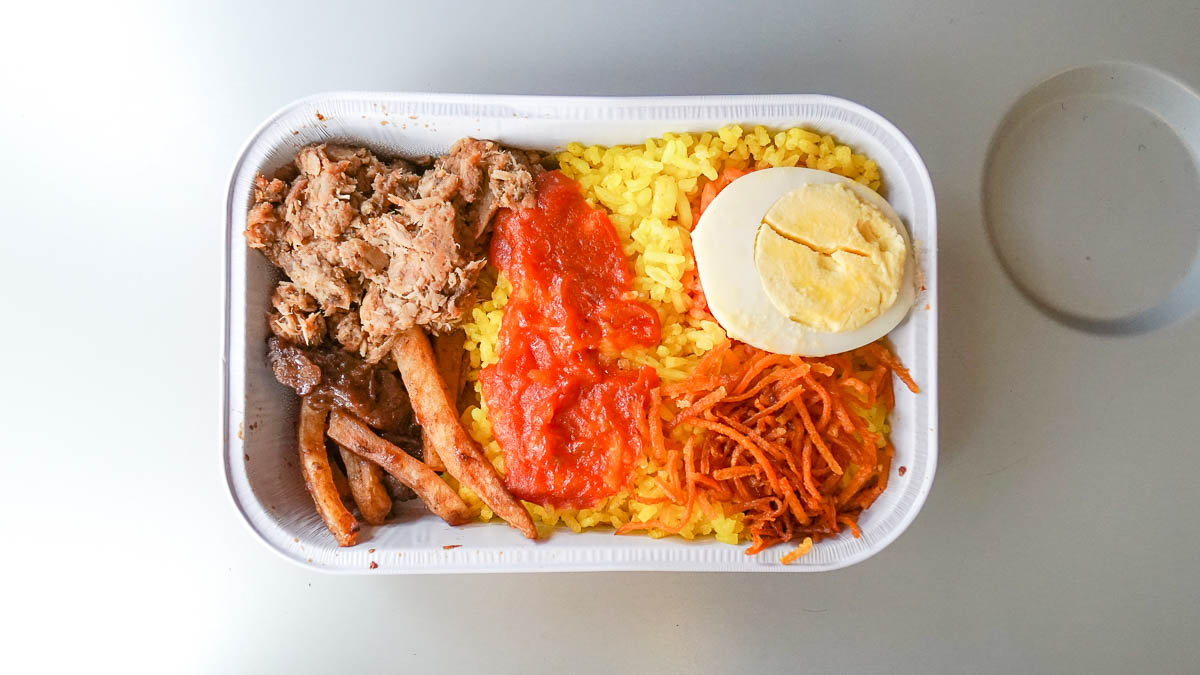 Nasi Kuning Manado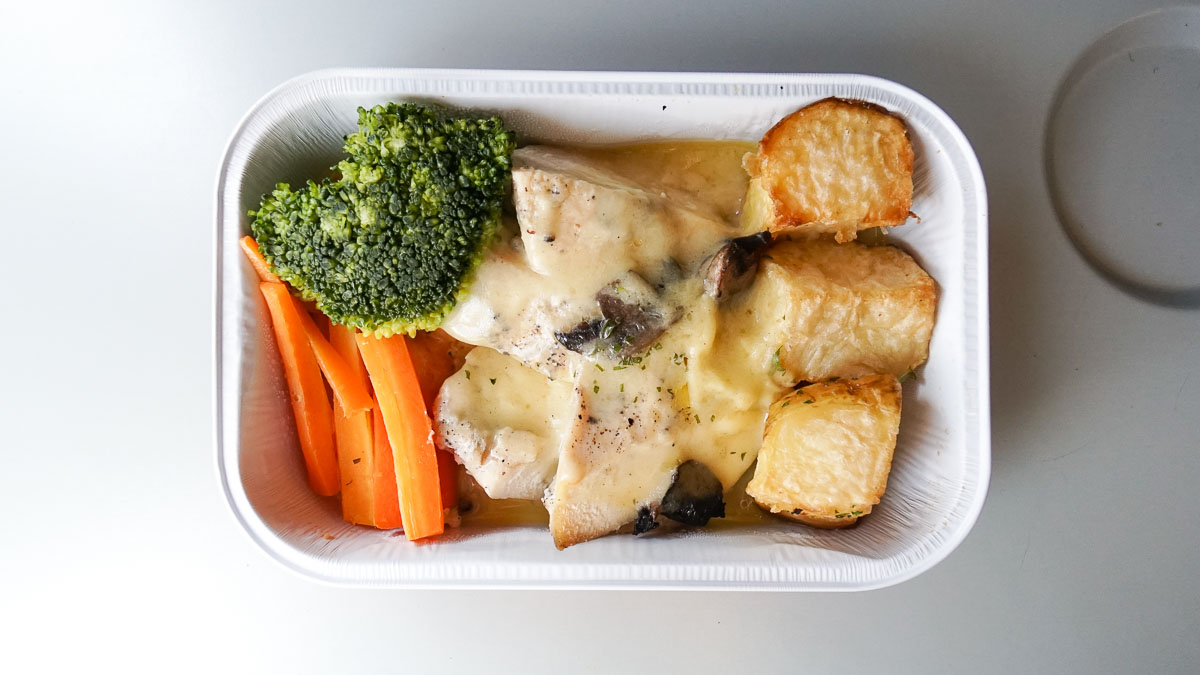 Roast Chicken with Dijon Creamy Mushroom Sauce
AirAsia flies daily from Singapore to Yogyakarta, which made it very convenient for us when planning the trip.
Book Your Air Tickets to Yogyakarta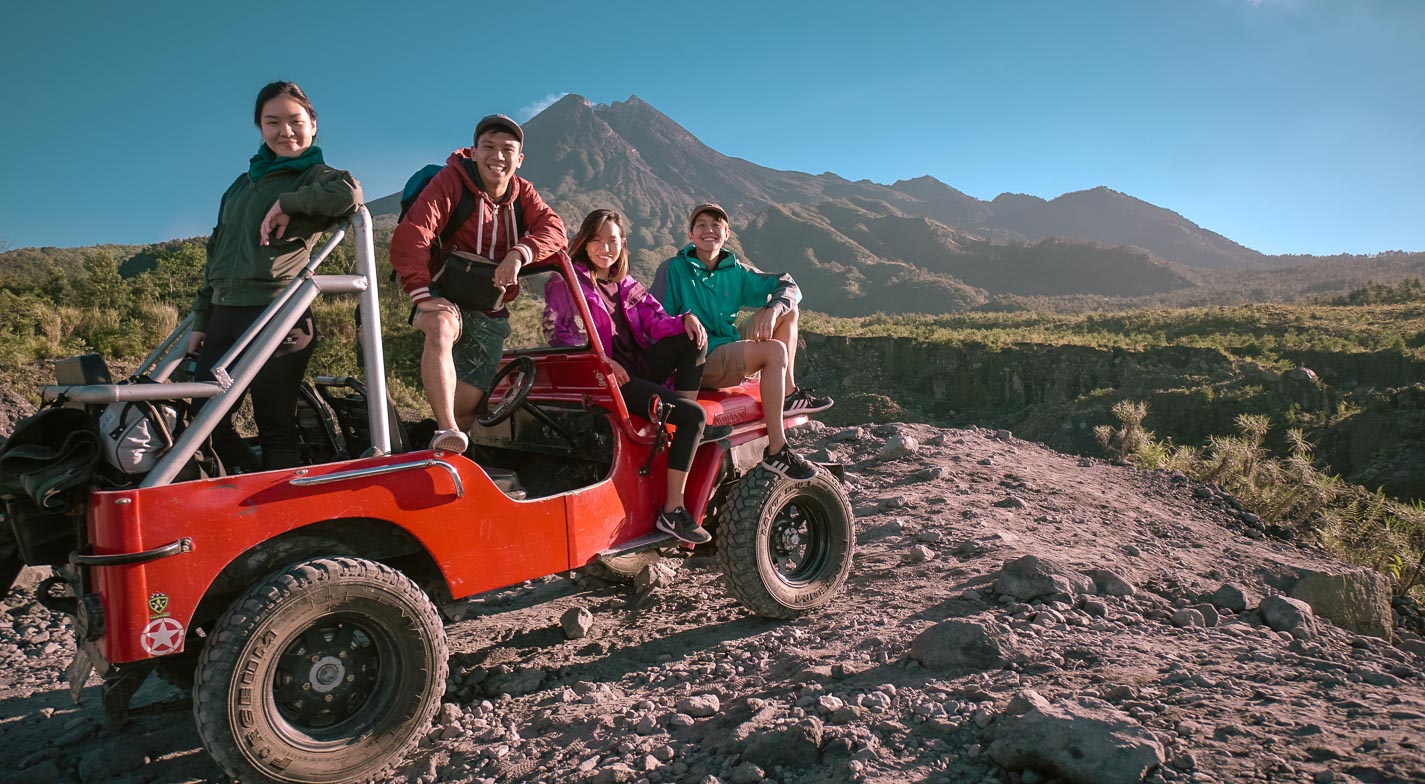 We hope we piqued your interest with this Yogyakarta itinerary, to discover a hidden gem that's rich in heritage, culture, and adventure. Plan your Yogyakarta adventure now with AirAsia.
P.S. If you're into off-the-beaten-track destinations, join TTI Experiences as we explore countries that few have ever been!
---
Useful Phrases
Equipping yourself with some useful phrases of the local language not only shows your sincerity in learning about the country and immersing yourself in it but is also a great way to break the ice with locals! Here are a few you might find handy.
| | |
| --- | --- |
| Hello/Greetings | Salam! or Apa Kabar? |
| Thank you | Terima kasih |
| Please | Tolong |
| Do you speak English? | Anda bisa bicara bahasa inggris? |
| A little | Sedikit |
| How much is this? | Berapa harganya? |
| Good | Bagus |
| Eat | Makan |
| Where is… | Di mana.. |
Other Useful Information
Time zone of Yogyakarta
GMT +7 Hours (1 hour behind Singapore)
Telephone code
+62
Currency exchange rate
(against SGD 1)
IDR 10,099.42 (as of 21st Jan 2020)
Power plug & socket outlet
Types C & F

230 V, 50 Hz.
This article is brought to you by Changi Airport Group.