Address: 3-22-9 Hatchobori, Chuo-ku, Tokyo
Cost/night: Mixed Dormitory ¥3600/night
Check in/Check out: 3.00p.m. – 12.00a.m./10.00a.m.
TL;DR:
– Amazing hostel to stay in with awesome facilities, and, PRIVACY!
– Logistically great as there are many convenience stores, food joints, and a train station nearby.
– Decent WiFi and common area great for work and socializing with other guests.
Click to jump to relevant section:
Facilities offered
Other room types
Directions
What to find around
Read also: JR Pass Tokyo to Osaka under S$1.1K
Wise Owl Hostels Tokyo
Checking into Wise Owl Hostels Tokyo at midnight, we were greeted with the friendliest of staff, who treated us more like old friends returning from a day out, rather than a bunch of youngins out exploring Tokyo.
Ranked highly on TripAdvisor with reviews singing praises, I was rather excited to see what my first dormitory experience in Tokyo had in store for me.
The mantra at Wise Owl Hostels Tokyo is about getting sufficient sleep and spending the rest of your day experiencing what the city has to offer, as per their message:
What you need is not a mediocre amount of sleep,

It should be a good, short sleep from an exhausting, enriching experience.

No time for sleep, experience tokyo.

whether night or day, heighten your sensibilities.

that is how a journey should be.
And that was how the journey went on, as we were graced with a dormitory experience like no other.
Dorm Rooms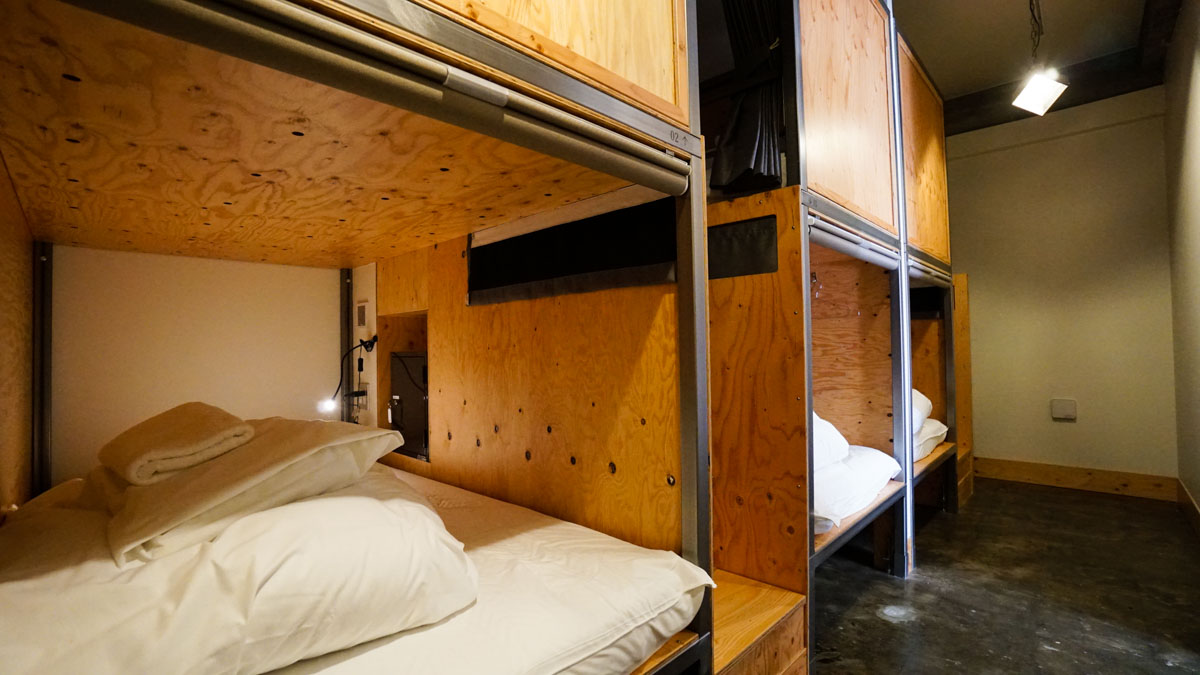 Beds: Priding themselves for quality Simmons mattresses, the beds were unbelievably comfortable and I was asleep in no time. (These mattresses may or may not have a dire effect on your punctuality so do approach with caution). Each bunk bed in the dorm rooms also come with blackout curtains, allowing you to be one with your space.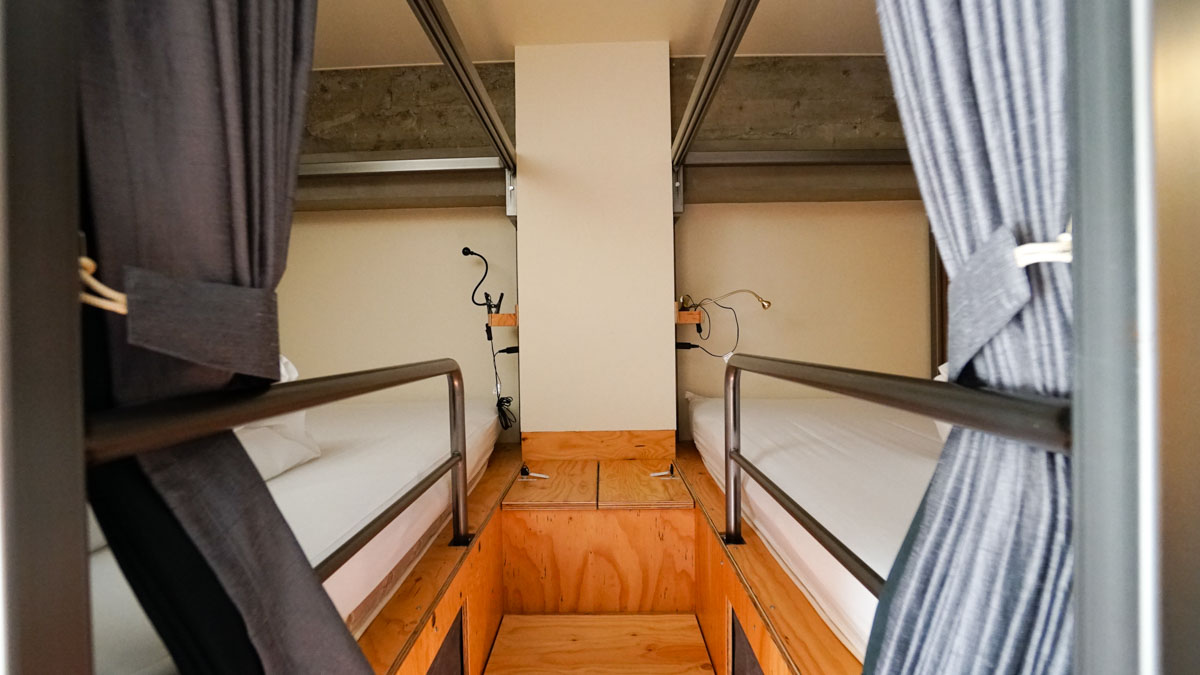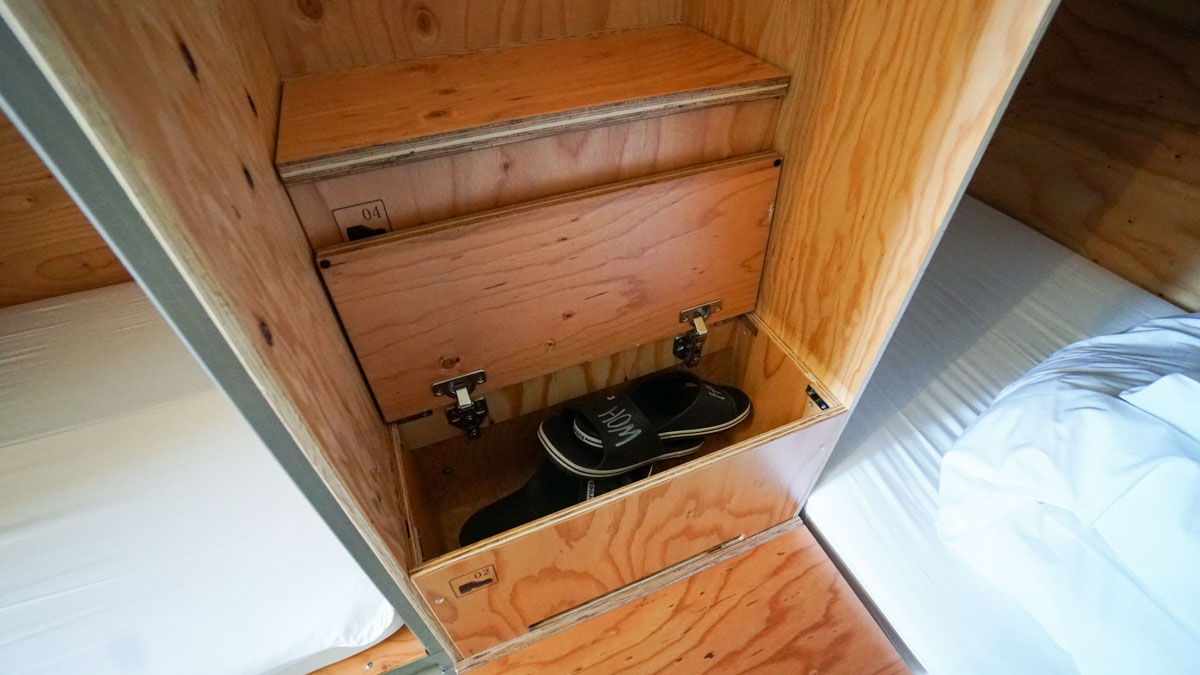 Common toilets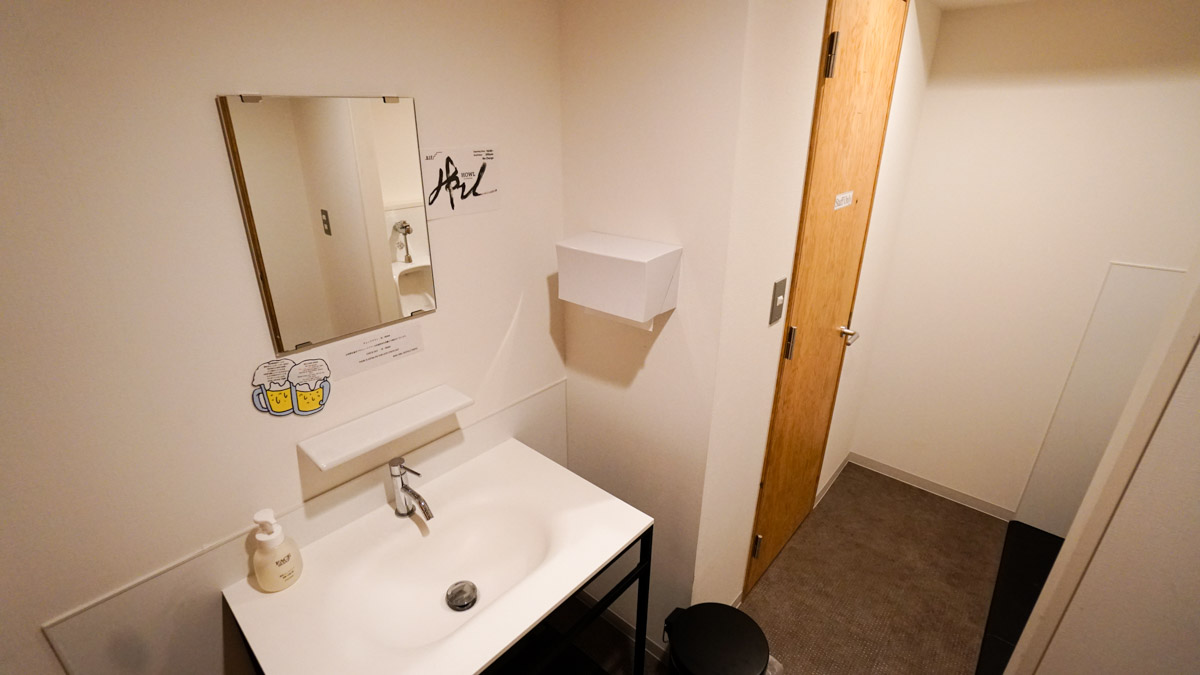 The toilets are gender separated, while the shower and powder rooms are shared. You'll be provided with body soap, shampoo and conditioner, hand and face soap, and a hairdryer which is actually pretty good during your stint at Wise Owl Hostels Tokyo. True to Japanese fashion, the hostel is relatively clean when compared to your run-of-the-mill hostels, which is an obvious added bonus.
Common area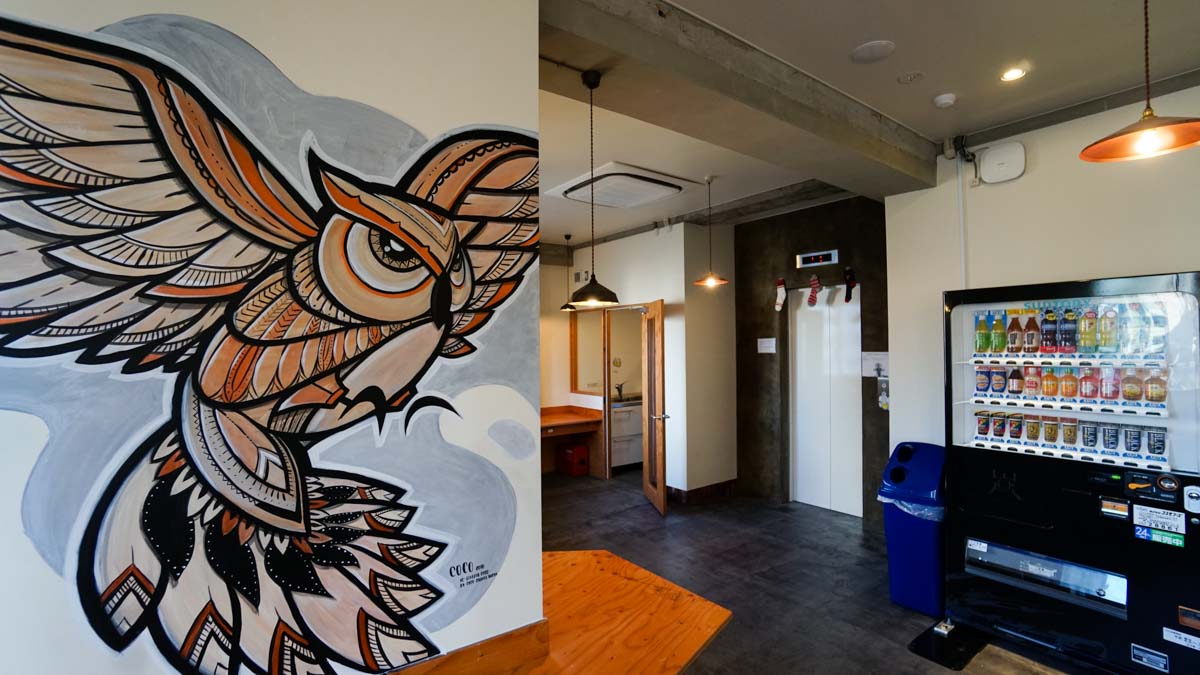 The common area hosts a kitchenette, which includes an iron + ironing board, a refrigerator, cutlery, an electric pot, and a microwave. There are also 2 PC's which can be used free of charge, along with a TV and a bookshelf filled with tourist guides and magazines. To add on, there's a vending machine and a laundromat (¥300/washing machine & ¥100/30 minutes dryer).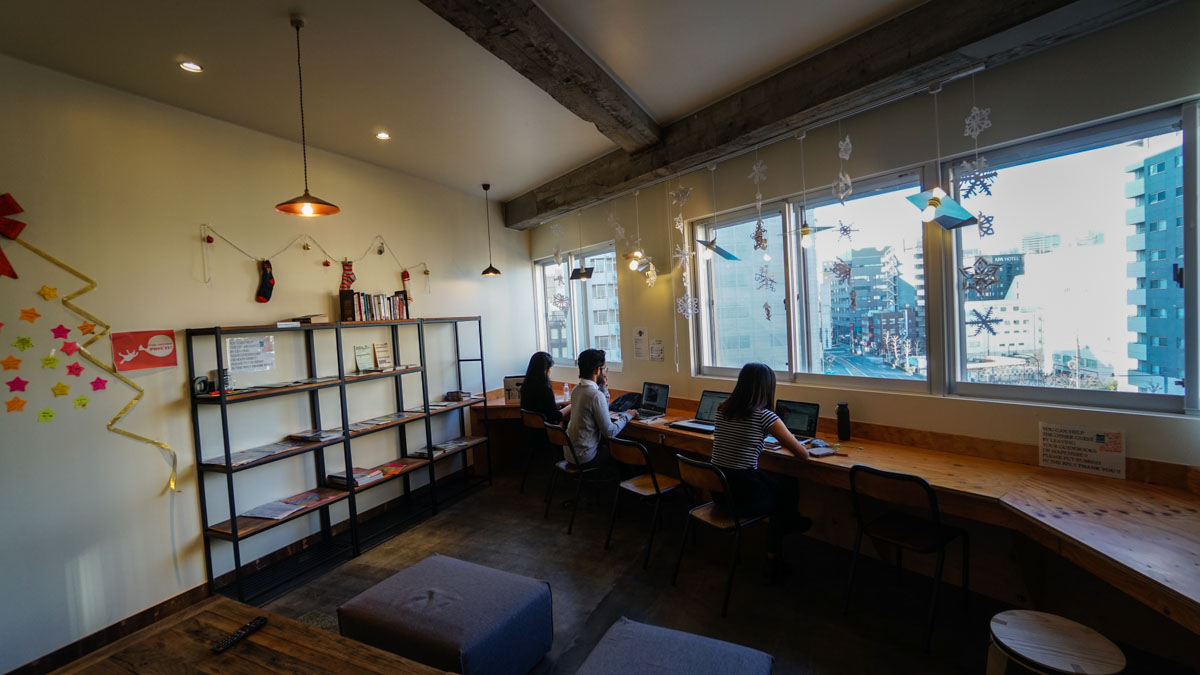 The service at Wise Owl Hostels Tokyo is great as the staff are accommodating (and fluent in English too) and are ever-ready to help a wandering traveller with getting around. There was always someone at the front-desk to answer our questions at 3.00am.
In the building, there are 3 options when it comes to food and beverages. The Wise Owl Cafe in the lobby provides you with your morning pick-me-up, be it your usual roast or something more seasonal, like the Indonesian Roast or the Rwanda Right Roast (¥300 each). Either way, pair your morning cuppa up with one of their muffins (¥250 each and ¥500 for a set with coffee), and you're set to take on the streets of Tokyo.
Basement bar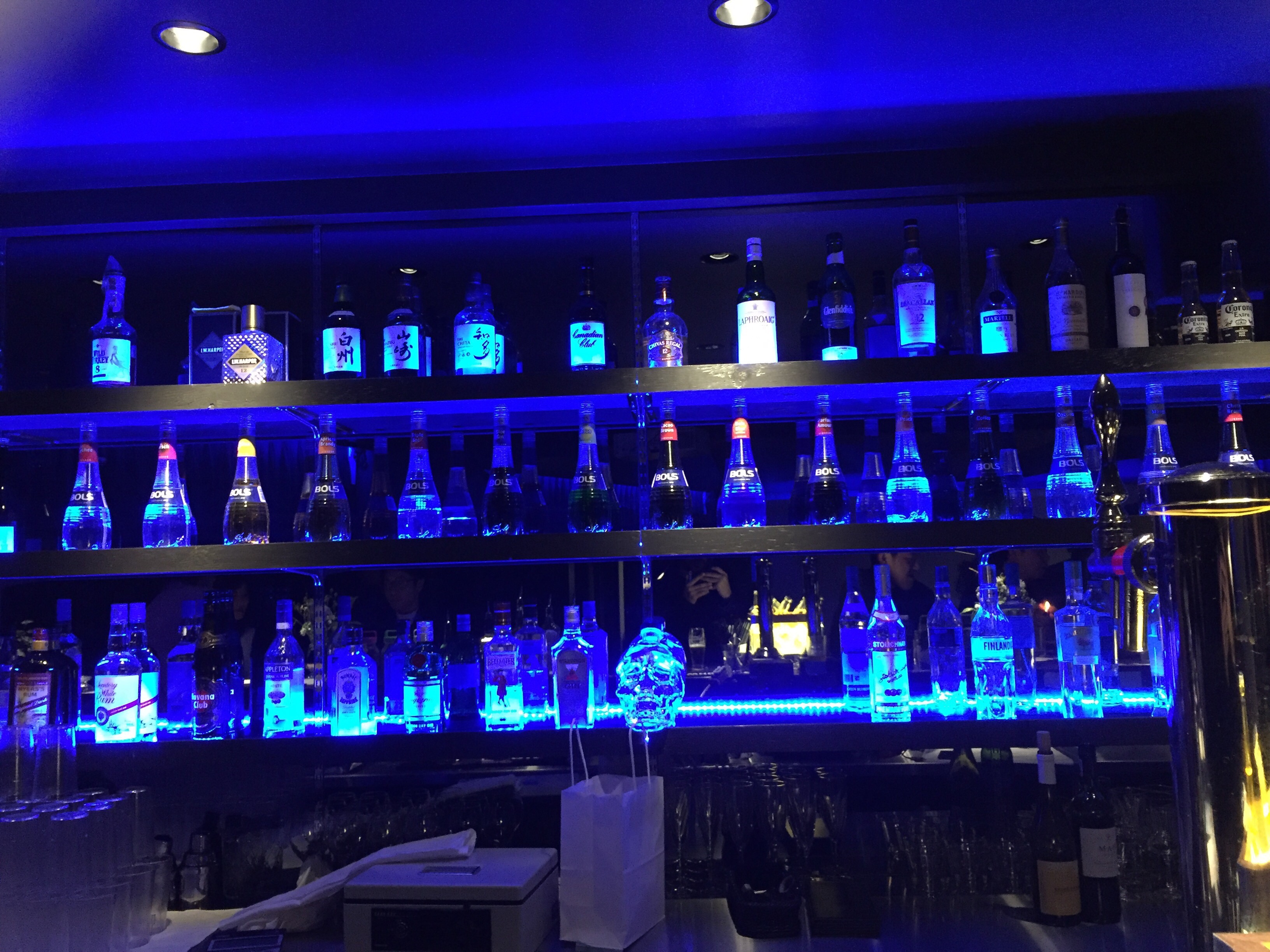 However, if breakfast isn't your thing, there's always the HOWL Sound & Bar at the basement which caters to soundhounds and live artists. This sophisticated space plays host to guest DJ's, Salsa Nights, and residents of the hostel. You'll also receive a free drink (with purchase of one drink – ¥500) when you present your room key to the bartender. This offer is valid for every night of your stay and is the perfect nightcap after a long day of wandering the streets of Tokyo.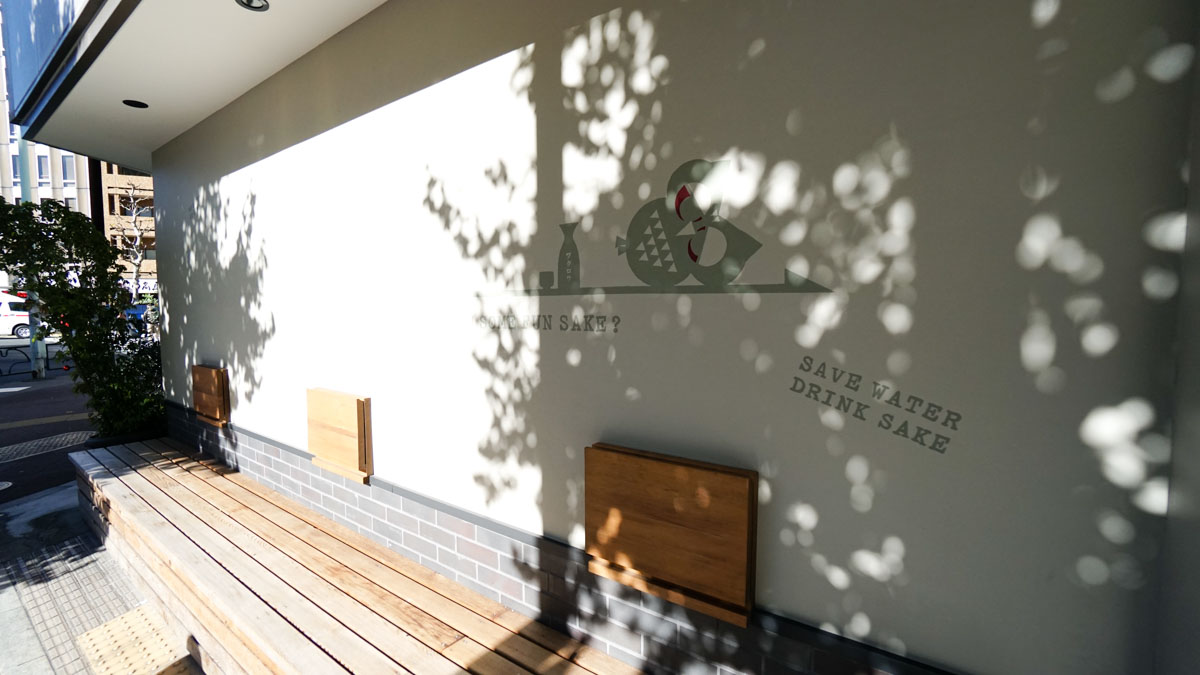 Lastly, if your diet also includes solids, there's Fukuro-Oden on the Ground Floor, where guests can indulge in Dashi (well-known Japanese stock soup) and sip on carefully selected local sake. A pro-tip would be to sit on the street facing bench outside the building, as you'll be able to enjoy the gentle breeze and hustle and bustle of the city while enjoying your Dashi and sake.
Facilities
Bed: Blackout curtains, Free Wifi, 2 X USB Jack, 2 X Power Socket, Locker with Key, Bath Towels (can be changed on a daily basis, for free), Room Slippers.
Common Toilet: Hairdryer, Shampoo, Conditioner, Body Soap as well as face soap.
Other room types at Wise Owl Hostels
Penthouse service apartment: Host up to 4 people for a minimum duration of 1 month which goes for ¥600,000. The apartment is stocked with a vacuum tube sound system and a projector screen as a substitute for a television.
Besides that, it has all the amenities that are housed in the hostel and a kitchen to boot. The bathroom is miraculously spacious, and features a large sliding glass door (in case you're feeling frisky, or would like to indulge in a movie while you're in the shower).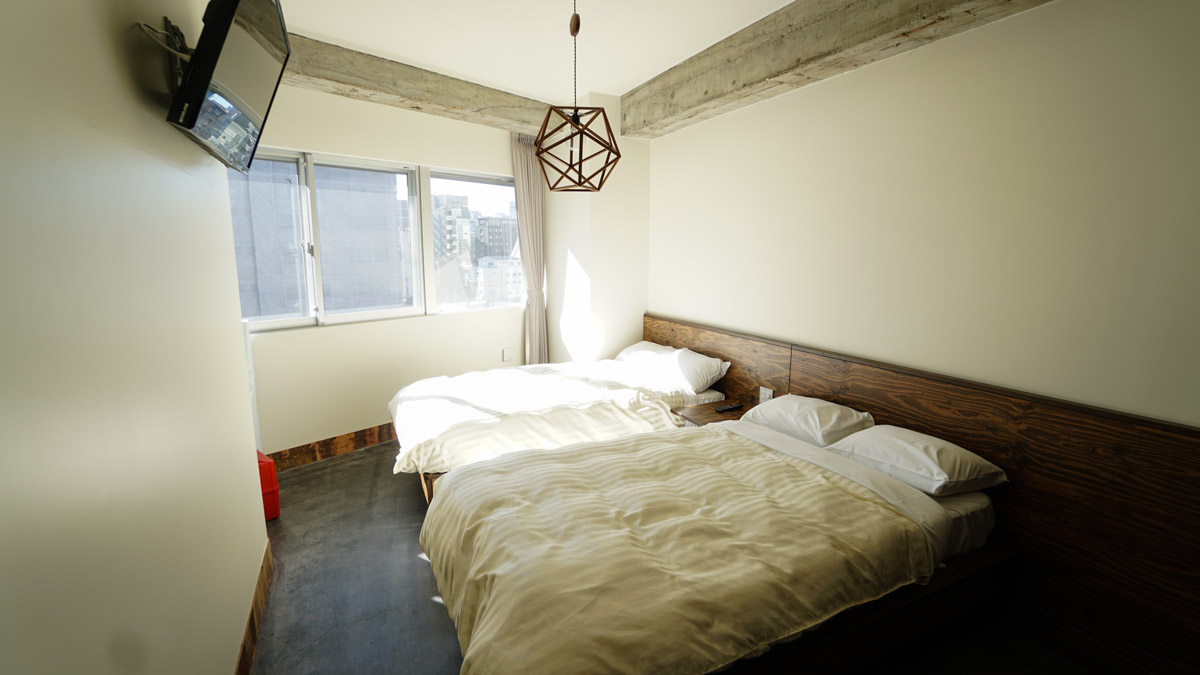 Attached to the apartment is a cosy twin bedroom great for families with kids or young couples with the occasional friend in town.
Private rooms: For those travelling in small groups of 2 – 4, Wise Owl hostel also offers private rooms with queen sized beds and bunk beds.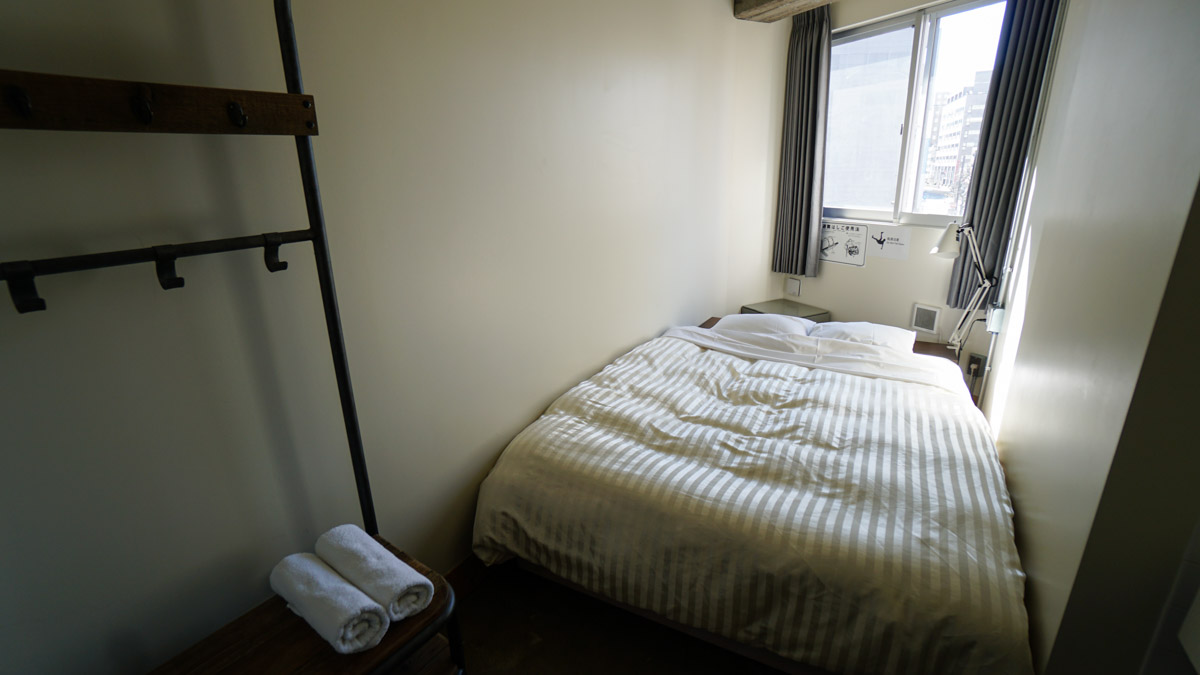 Directions to Wise Owl Hostel
Making your way to Wise Owl Hostels Tokyo is pretty straightforward, take the Tokyo Metro Hibiya Line and get off at the Hatchōbori Station (H-11) and take Exit B1 from the station. Take a 30-second stroll and you'll be at the entrance of the hostel.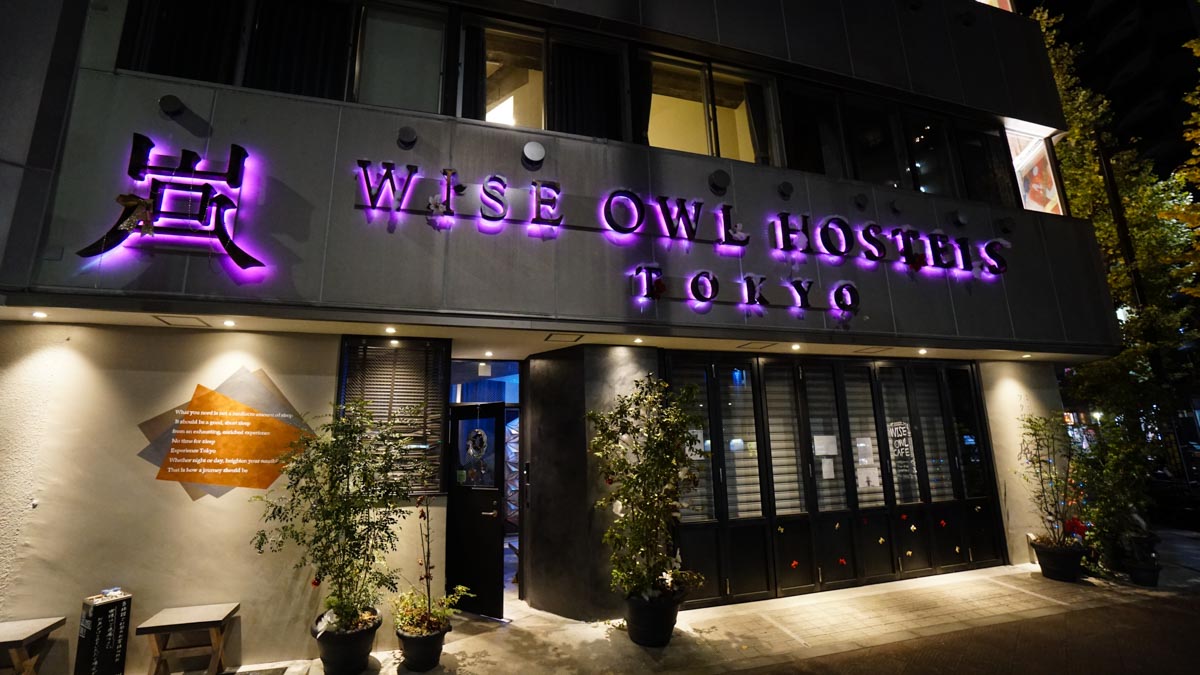 ---
Guide Around Wise Owl Hostels Tokyo
1) Convenience Stores
The nearest konbi (Japanese for convenience store) is Sunkus, diagonally across the hostel. Stocked with a healthy variety of sakes, beers, as well as onigiris and snacks for your midnight hunger pangs.
If you find Sunkus lacking, there are two Family Mart's located about 200m away from the hostel.
2) Ramen Hidakaya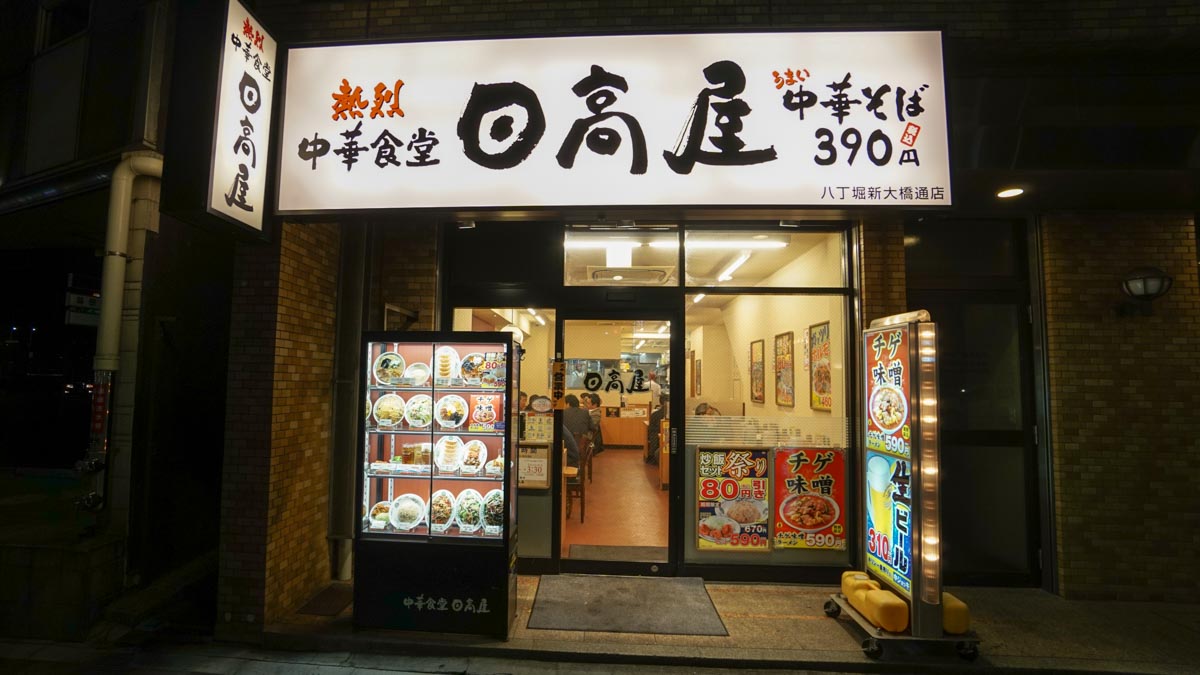 A tiny ramen shop aimed at your Japanese salaryman and career woman, Ramen Hidakaya provides you with a quick and affordable meal in the area. A bowl of Pork Ramen will set you back ¥420. This little joint is also open till 3.30am, which makes it the perfect spot to satisfy midnight ramen cravings.
Address: 3-21-3, Hatchobori, Chuo-ku, Tokyo, 104-0032, Japan.
Opening Hours: 11.00a.m. – 3.30a.m.
3) Maru Stand Bar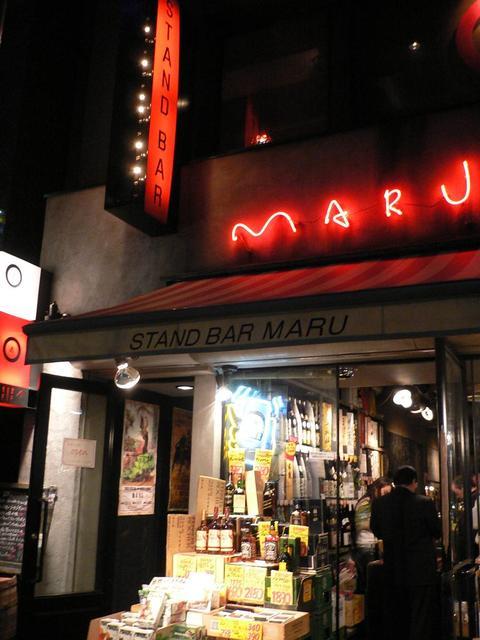 Just behind the hostel, sits a hip little wine bar that serves Tapas-style cuisine. Popular amongst locals and highly regarded for its wine selection, the Maru Stand Bar is the perfect alternative for a nightcap.
Address: 3-22-10, Hatchobori, Chuo-ku, Tokyo, 104-0032, Japan.
Opening hours: Weekdays 5.00p.m. – 11.00p.m (Closed on weekends and public holidays)
Logistically, Wise Owl Hostels Tokyo has all its' bases covered when it comes to accessibility. Food options are aplenty in the area (yes, even Indian food) and it is situated directly at the exit of a train station, two of which, are important aspects when it comes to any form of accommodation.
Read also: Tokyo Famous Food Guide for popular food finds around the city
Conclusion
True to its mantra, Wise Owl Hostels Tokyo is geared for the smart and savvy traveler which appreciates privacy, cleanliness, and a good night's sleep. We found our stay at the hostel to be an experience like no other, mainly because we were quite surprised with the idea of privacy and a dormitory coexisting. Needless to say, if I ever head back to Tokyo, this is where I'd stay.
BOOK A NIGHT AT WISE OWL HOSTELS TOKYO
This post was brought to you by Wise Owl Hostels Tokyo.