See a whole new side to this quaint town along the Toa Payoh Heritage Trail — featuring iconic attractions and good food!
I've always known Toa Payoh to be one of the oldest towns in Singapore with nice hawker food and aesthetic cafes. But after embarking on the refreshed Toa Payoh Heritage Trail, I discovered that there's more to this pioneer HDB town.
For instance, did you know it once played host to the late Queen Elizabeth II?!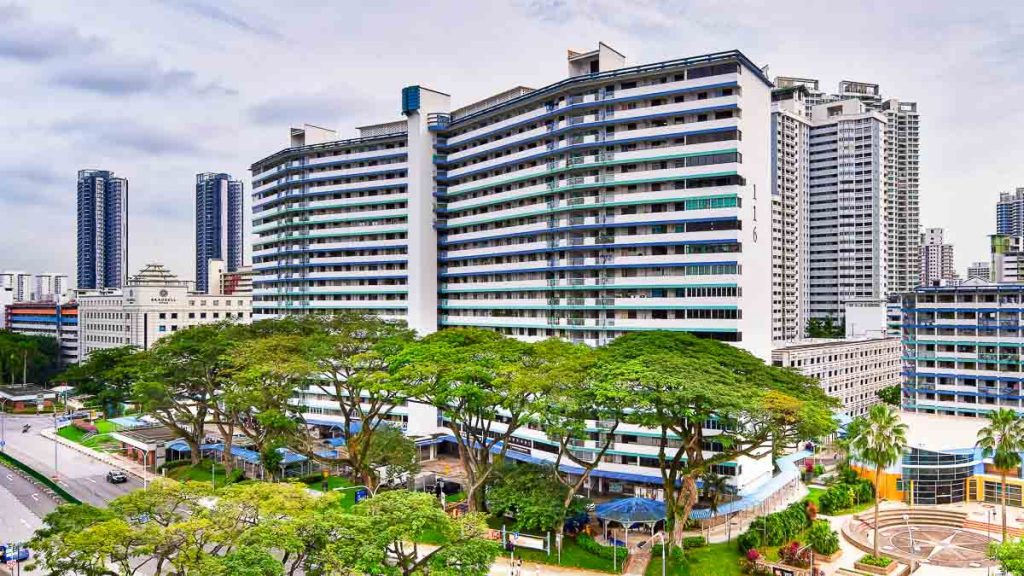 Photo credit: National Heritage Board
While the heritage trail was previously launched by the National Heritage Board (NHB) back in 2014, it was recently updated to include three new self-guided thematic routes.
Now, the trail features 29 heritage sites including 10 trail markers — with newly marked sites such as the Dragon Playground and Blk 53 the "VIP Block"!
Recommended Toa Payoh Heritage Trail Route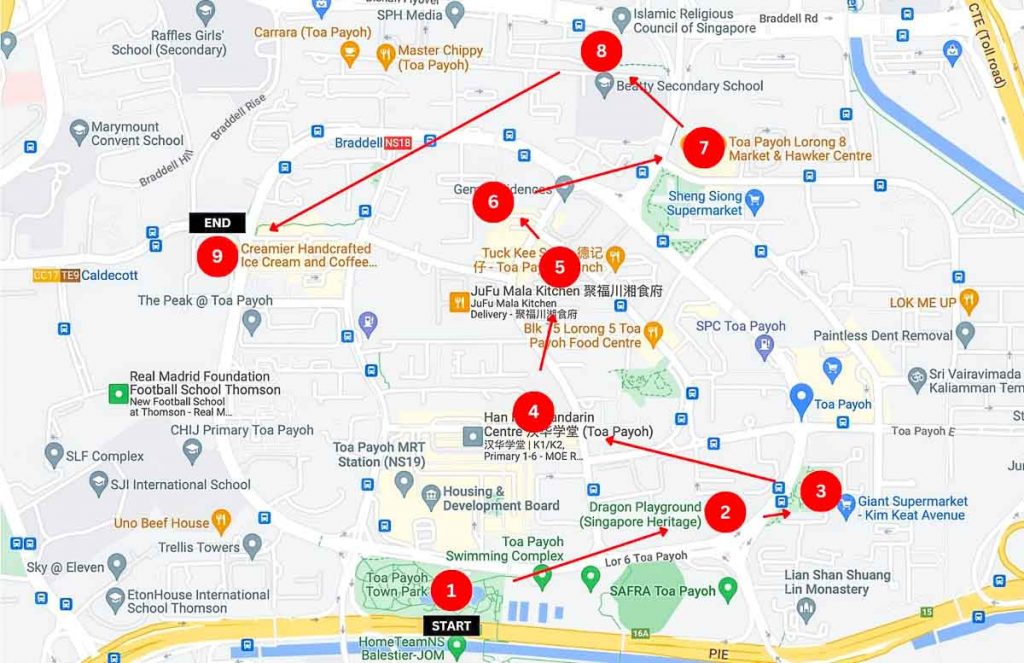 Route: 1) Toa Payoh Town Park — 2) Dragon Playground — 3) Dinosaur Playground — 4) Mong Cha Cha Cafe — 5) Blk 53 the "VIP Block" — 6) Bugs Bunny Barber Shop — 7) Toa Payoh Lorong 8 Market & Hawker Centre — 8) Masjid Muhajirin — 9) Creamier
In our opinion, the best trails are those with good food along the way. So in this guide, we designed a shortened version of the trail — including four heritage sites, a few notable landmarks and food stops!
This improvised 7km trail takes around 3.5 to 4 hours to complete after factoring in time for walking, exploring and eating.
1) Toa Payoh Town Park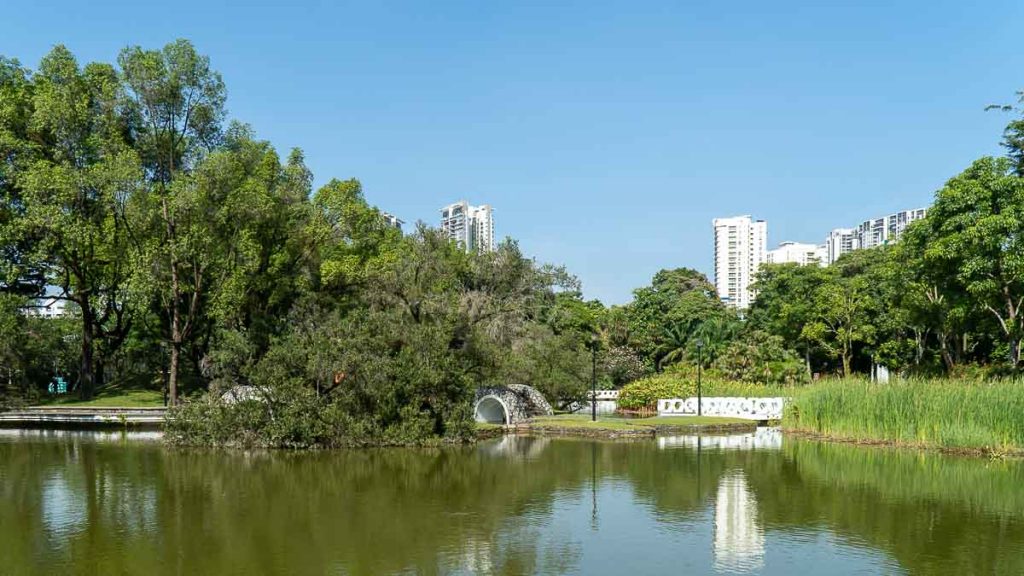 Start the Heritage Trail at Toa Payoh Town Park, just a 5-minute walk from Toa Payoh MRT Station.
Completed in 1973, the park was once a popular place for wedding shoots due to its scenic landscape of bamboo and willow trees. Fun fact: Its popularity provided a blueprint for HDB to include green spaces in the public housing estates we see today!
Photo credit: National Heritage Board
You'll find the iconic 25m-tall observation tower here, which offered visitors a panoramic view of Singapore back in the 1970s and 1980s. While we can no longer access the tower, the park isn't short of other attractions.
We enjoyed exploring the unique hexagonal motifs, charming bridges and rustic-looking gazebos in the vicinity of the pond — it was easy to understand why this place was popular among Singaporeans in the past.
Entrance fee: Free
How to get there: Walk 5mins from Toa Payoh MRT Station
2) Dragon Playground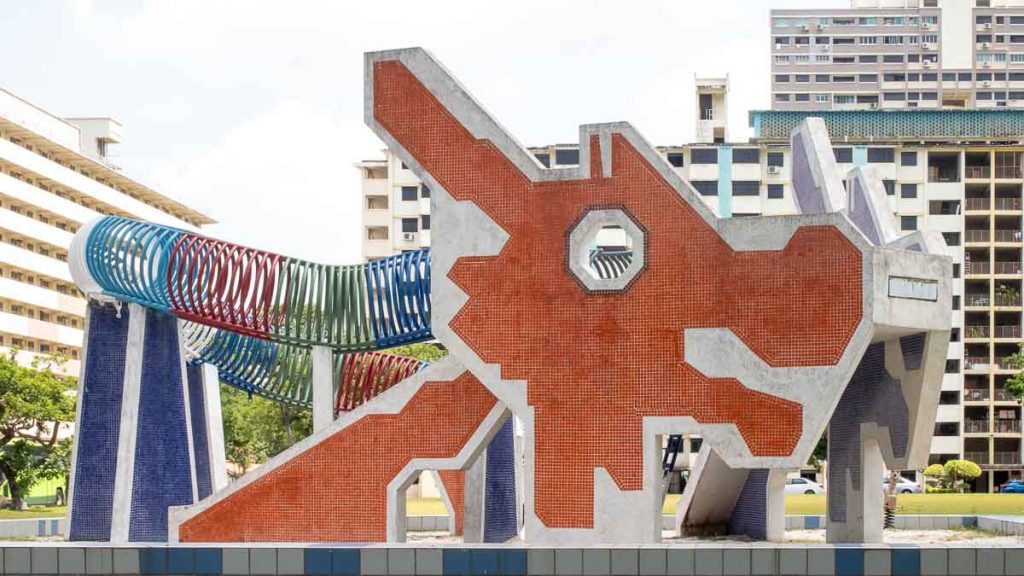 Next, relive your childhood with a trip to the Dragon Playground — one of the most beloved landmarks among locals.
Inspired by the Oriental dragon seen in Singapore's Chinese culture, the unique design was an instant hit among kids back then. Those kids are now fully-grown adults, but the iconic structure remains a shared nostalgic memory for the previous generation!
Built in 1979, the Dragon Playground is also one of two full-sized dragon playgrounds on the Little Red Dot. You can find it along Toa Payoh Lorong 6 on a sand pit while the other is located at Ang Mo Kio Avenue 3 on padded ground.
How to get there: Walk 8mins from Toa Payoh Town Park
3) Dinosaur Playground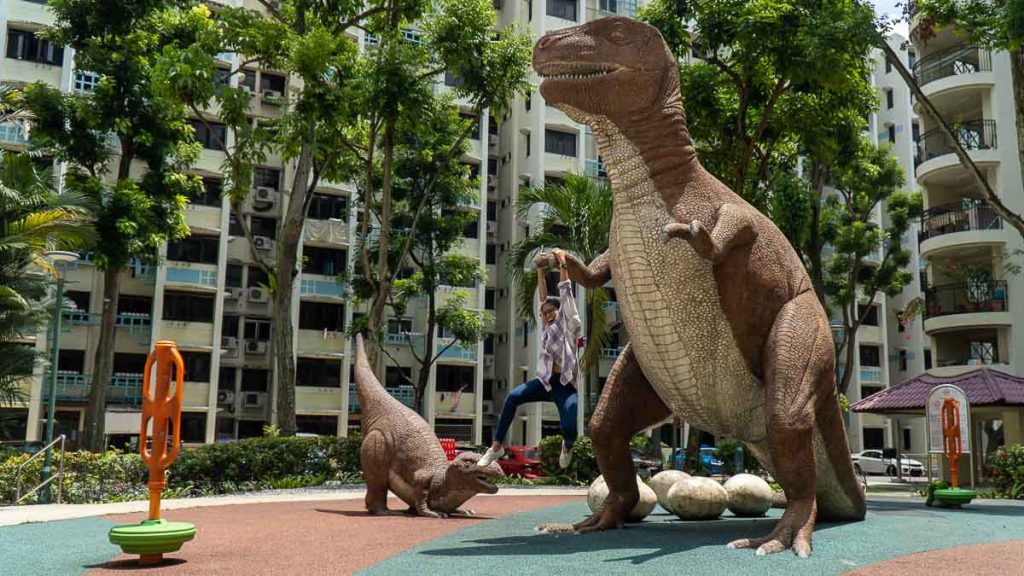 If one animal-themed playground isn't enough to satisfy your inner child, then you should definitely check out the Dinosaur Playground.
Just a short walk from the Dragon Playground, this prehistoric playground features a 3m-tall adult T-rex guarding its eggs together with a baby dinosaur.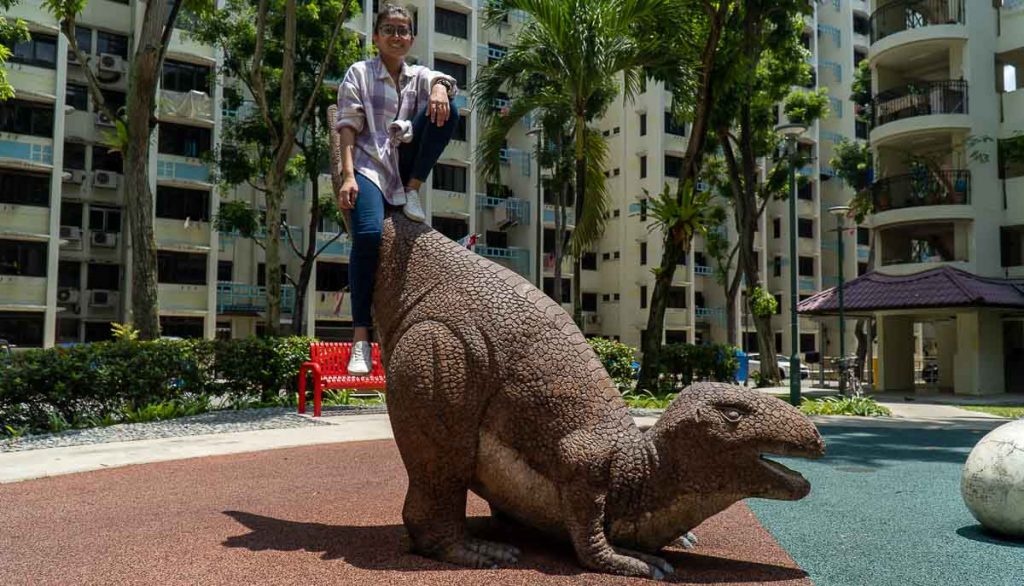 We may no longer be kids but we'll always be young at heart — these pictures are sufficient evidence. So indulge in some fun and snap many pictures for memory's sake!
How to get there: Walk 6mins from Dragon Playground
4) Mong Cha Cha Cafe
Drop by Mong Cha Cha Cafe for a well-deserved break! This vegan cafe serves bubble tea, desserts such as waffles and ice cream, and proper food like pizza and pasta.
If the idea of vegan bubble tea is unfamiliar, it basically means plant-based alternatives like soy or oat milk!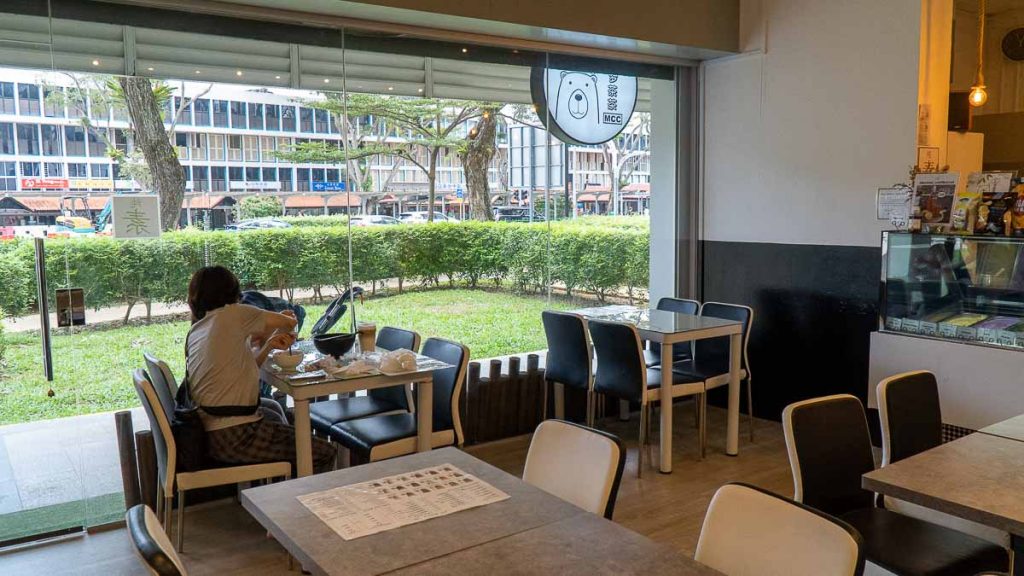 The shop also offers customisable drinks where you can choose your own tea base, flavour, and toppings — we wanted something refreshing so we DIY-ed our own passionfruit strawberry tea to cool off from the heat after all the walking 😋.
*Pro-tip: Come on weekdays or before noon on weekends to avoid lunch crowds!
Opening hours: 12PM – 10PM
Address: 79E Toa Payoh Central, #01-75, Singapore 315079
5) Blk 53 the "VIP Block"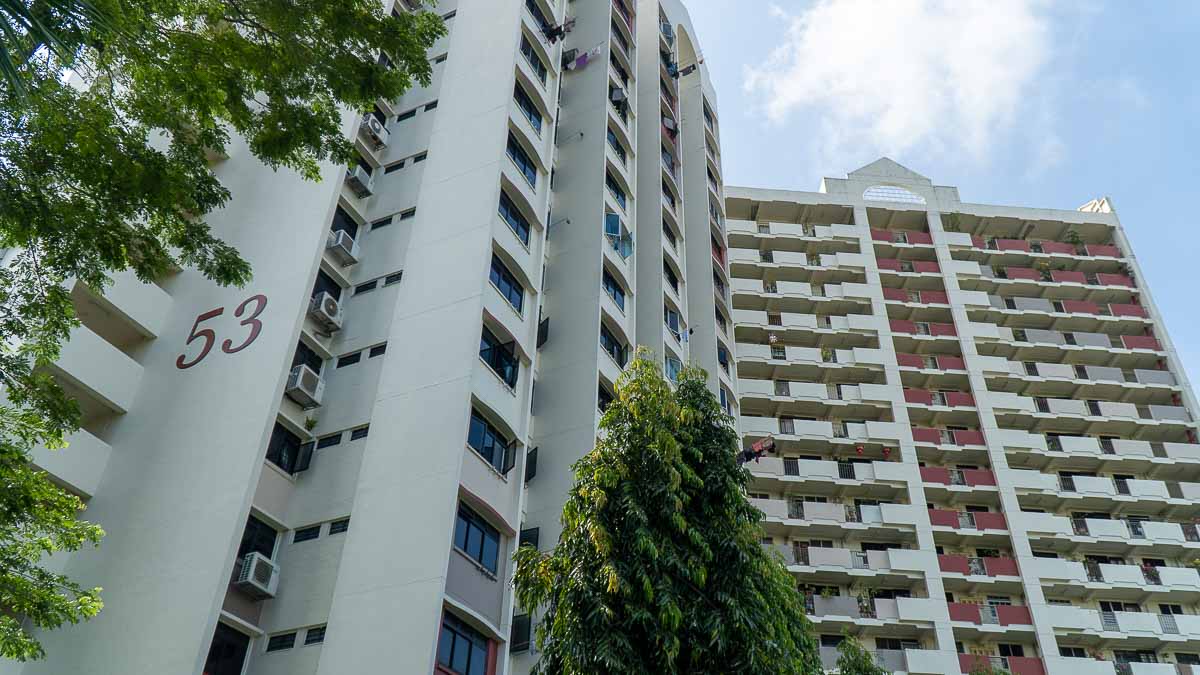 Moving on, visit the prominent Blk 53 at Lorong 5 — it's dubbed the "VIP Block" for having hosted many local and foreign dignitaries, including the late Queen Elizabeth II in 1972!
Their visits to the 19-storey block included access to the rooftop viewing gallery with a bird's eye view of Toa Payoh town.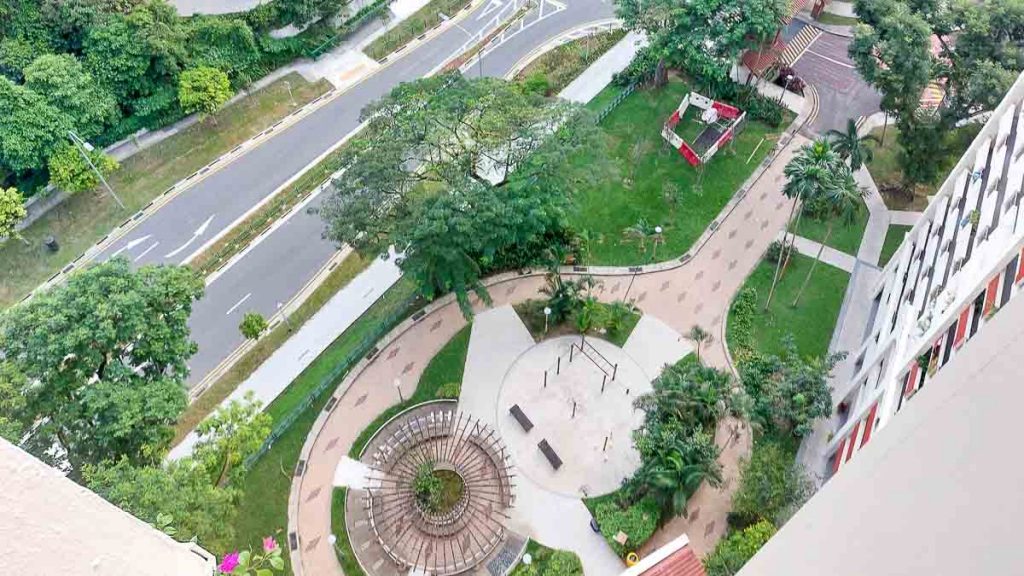 Sadly, the gallery is no longer accessible to the public but we could still catch a great view of the complex from the top floor!
Address: 53 Lorong 5 Toa Payoh, Singapore 310053
6) Bugs Bunny Barber Shop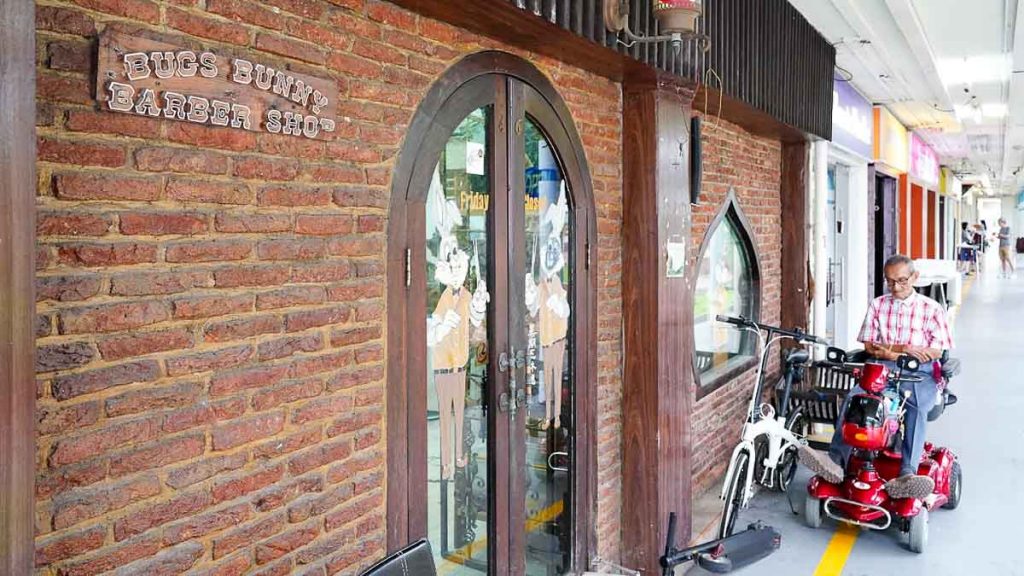 Photo credit: Google Photos
Located just 5 minutes by foot from Blk 53, make a quick stop at the Bugs Bunny Barber Shop.
Even though the barber shop opened in 1971, it only became well-known after Minister Ng Eng Hen shared a picture on Facebook praising its quality haircut and affordable pricing (less than S$10) back in 2015.
Fun Fact: The shop used to be called Abu Nawas Barber Shop but changed its name after a child painted a huge Bugs Bunny on the exterior walls! So even if you're not here for a haircut, you can still snap some photos here.
Opening hours: 8AM – 7PM, closed on Fri
Address: 94 Lorong 4 Toa Payoh, #01-46, Singapore 310094
7) Toa Payoh Lorong 8 Market & Hawker Centre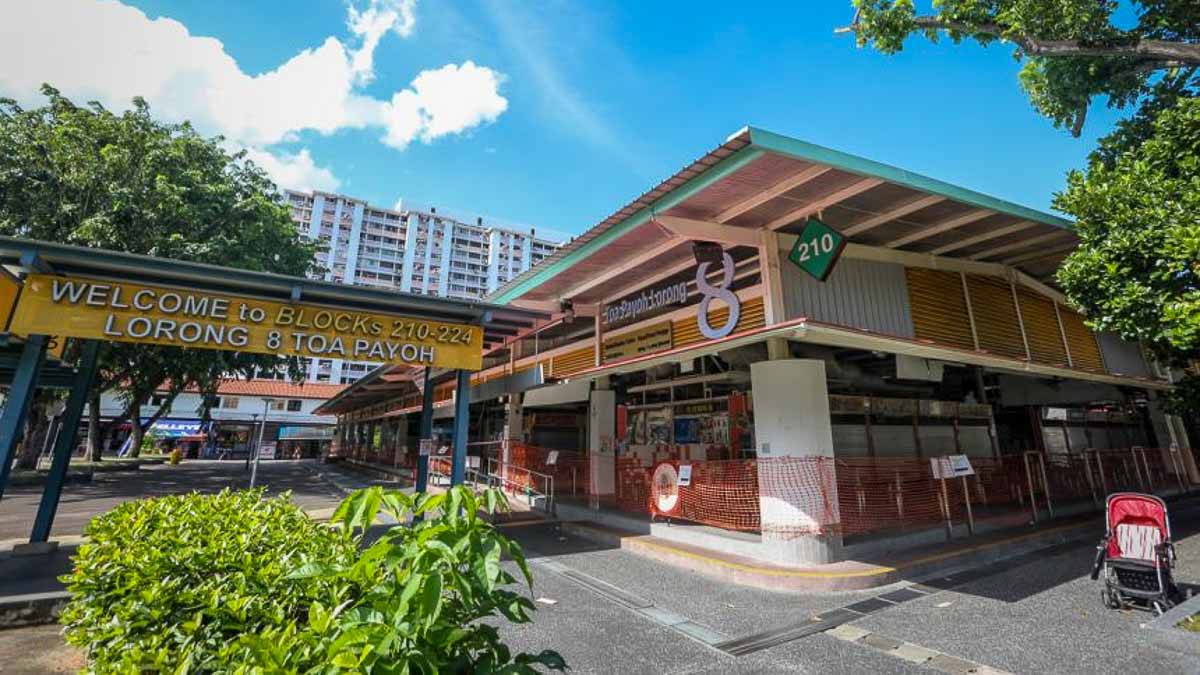 Photo credit: The Straits Times
Toa Payoh has always been synonymous with delicious hawker food, so we'd recommend stopping by the Lorong 8 Market & Hawker Centre for a meal while exploring the area!
There's a variety of food options at the hawker centre, making it an ideal place for groups with different food preferences. For starters, we've heard the Seletar Sheng Mian and Four Seasons Cendol are crowd favourites here.
Opening hours: 12PM – 9PM, closed on Tue
Address: 210 Lorong 8 Toa Payoh, Singapore 310210
8) Masjid Muhajirin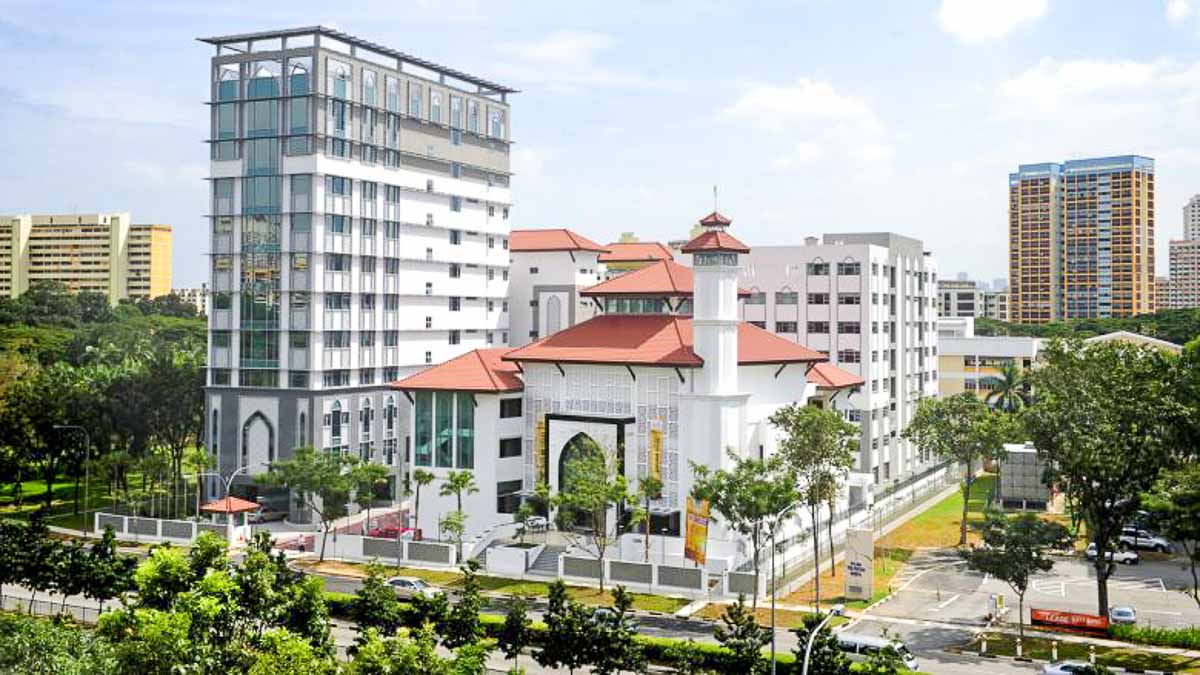 Photo credit: The Straits Times
Afterwards, drop by the iconic Masjid Muhajirin. It was the first mosque built in Toa Payoh and also the first mosque in Singapore built using the Mosque Building Fund (MBF) — whereby Muslim workers contributed S$0.50 from their salary each month.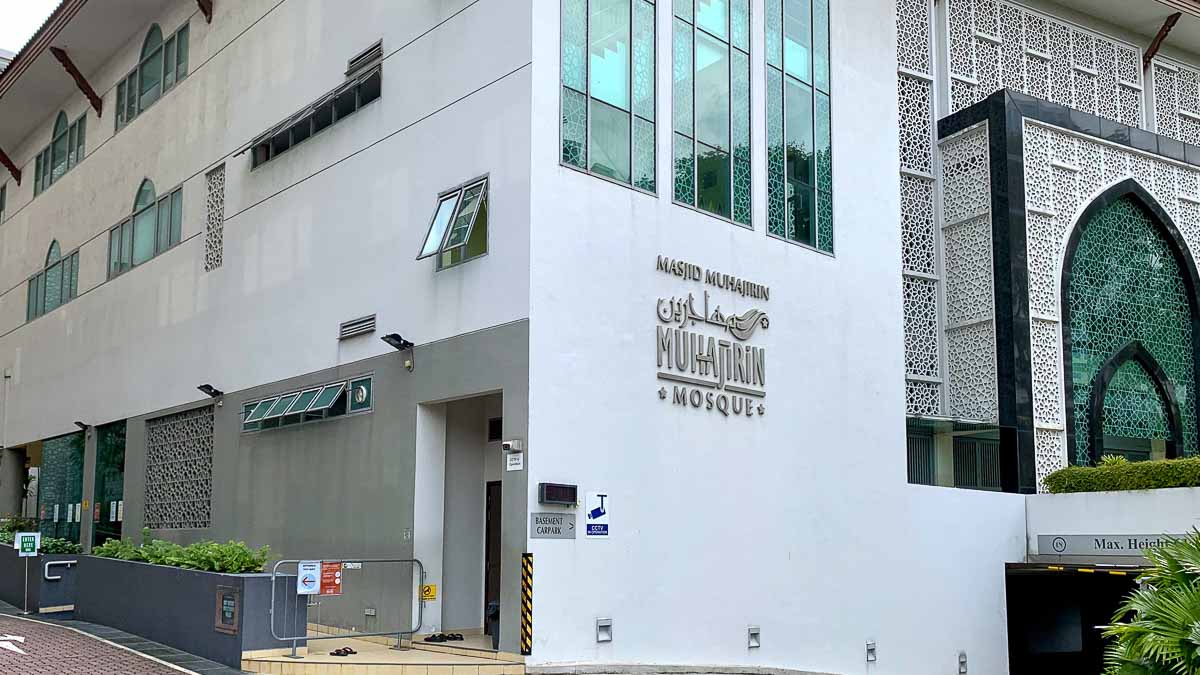 Photo credit: Street Directory
Featuring geometric motifs, high archways and a roof clad with ochre tiles, it's a symbol of the Muslim community's self-sufficiency and continues to be an important place for Islamic education and gatherings.
Entrance fee: Free
Opening hours: 5:30AM – 10PM
Address: 275 Braddell Rd, Singapore 579704
9) Creamier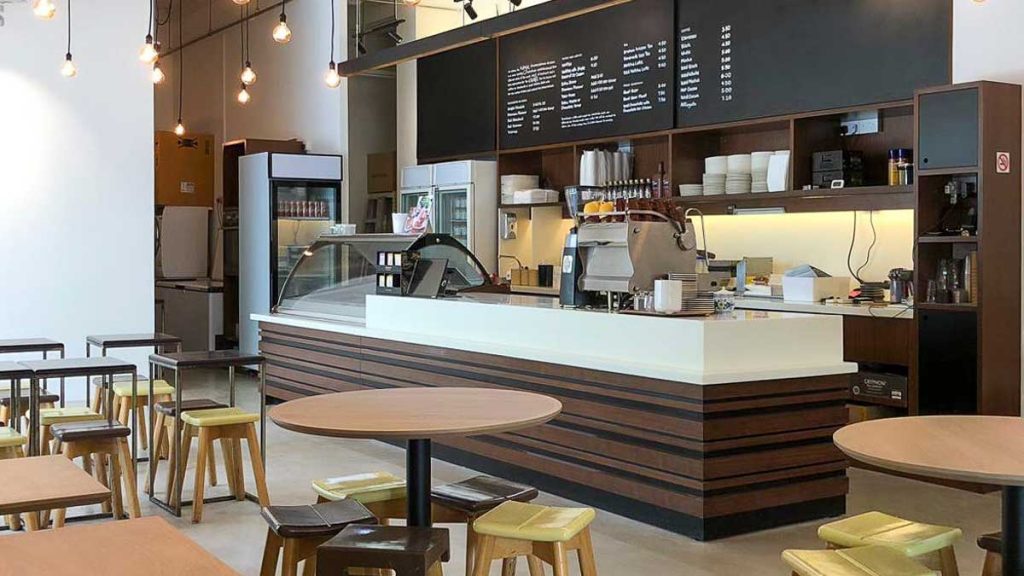 Photo credit: Creamier
End the trail with a sweet treat at Creamier, it may be slightly out of the way but it's worth it.
The cafe is best known for its generous portion of creamy ice cream served on crispy waffles. Best sellers here include Earl Grey Lavender and Black Charchol Sesame — just thinking about it makes me hungry!
Opening hours: 12PM – 10PM
Address: 131 Lorong 1 Toa Payoh, #01-02, Singapore 310131
Rediscover the once-forgotten gems of Toa Payoh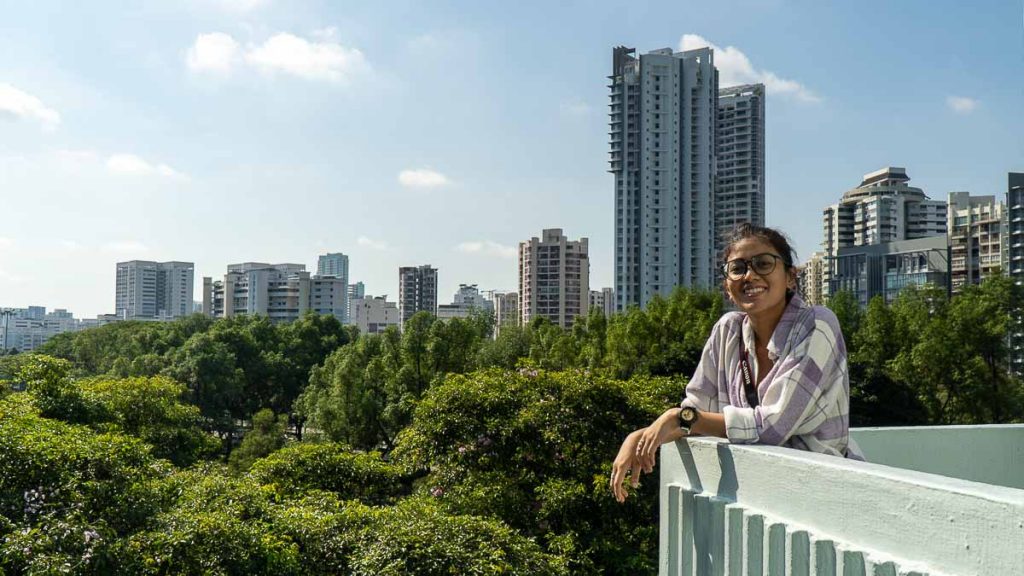 We may not have experienced the history and charms of Toa Payoh back in the day, but the refreshed Toa Payoh Heritage Trail provided the perfect opportunity for us to rediscover its lost gems. For example, it was so interesting to learn how Blk 53 used to host VIPs!
Sometimes the best secrets are found in our own backyard, so share this article with your friends and encourage them to explore this charming heritage hood in Singapore!
If you'd like to explore more of Singapore, check out our other heritage trail and neighbourhood guides:
– Sembawang Heritage Trail Guide — Remnants of a Forgotten Naval Base
– Katong Neighbourhood Guide — Hidden Gems only True Easties Know About
– Jalan Besar Neighbourhood Guide — 7 Exciting Things to Eat, See and do
– Tiong Bahru Neighbourhood Guide — 9 Trendy Things to do Other Than Visiting Cafes
What else should we add to this Toa Payoh Heritage Trail route? Let us know in the comments below!
---