Vast landscapes, colourful seas and fabulous formations. Here are some of the best spots in Western Australia.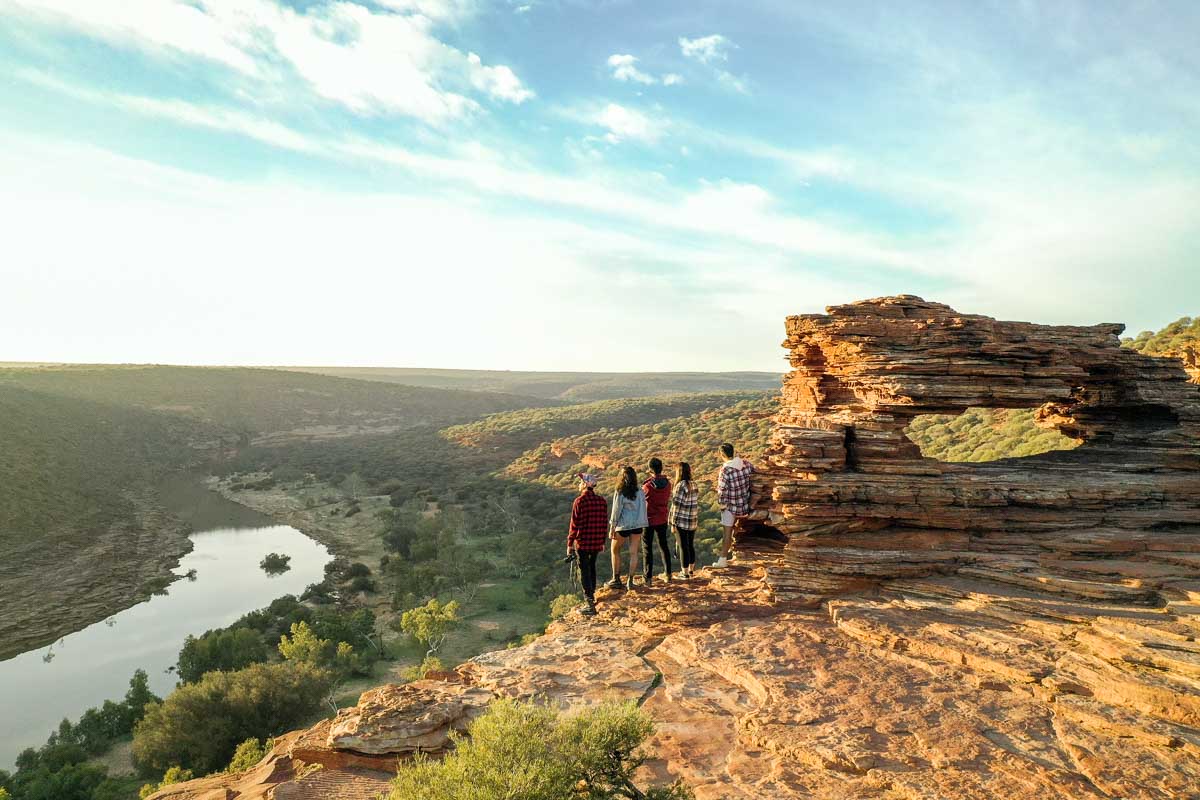 Whoever had planted the idea in my head that there's nothing to do in Australia must have come from a distant cosmos. As far as Earth is concerned, Western Australia is home to more than a fair share of the planet's natural beauties.
1) Pink Lake, Kalbarri
Australia's Coral Coast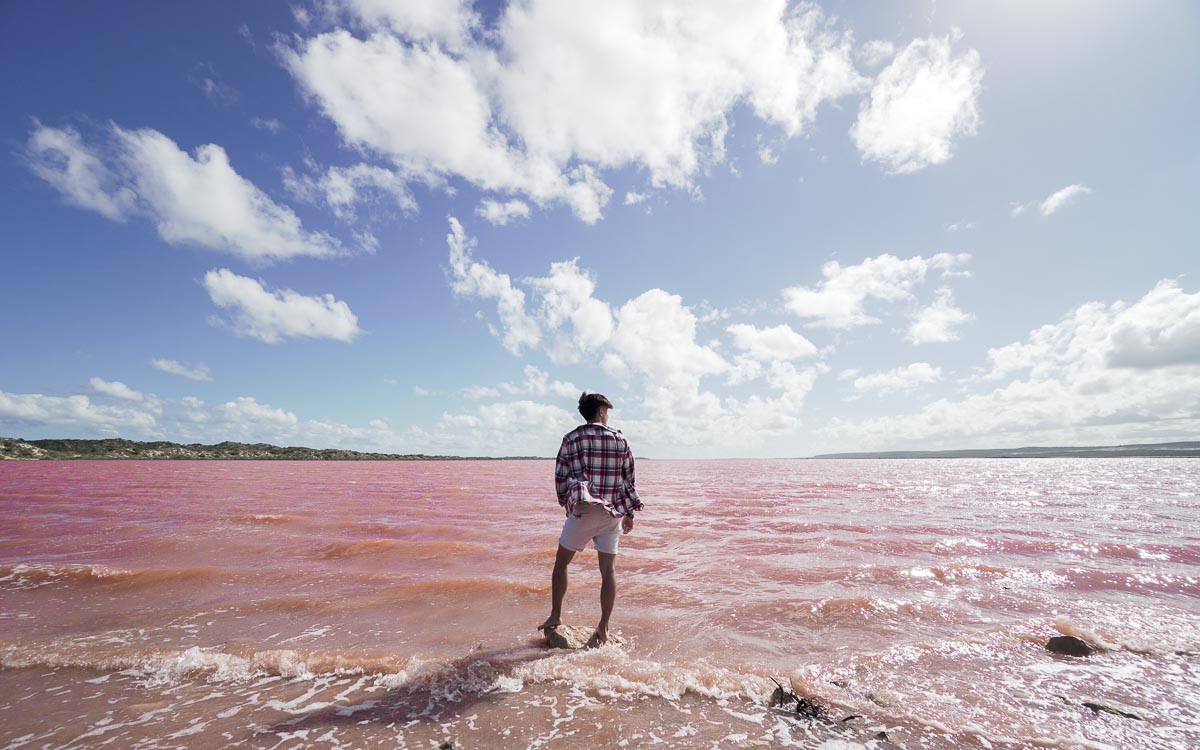 In the age of Photoshop and Lightroom, pictures may sometimes flatter only for reality to sweep in and reveal deception. Not in the case of Hutt Lagoon, also known as Pink Lake. The water is pink, alright. And the science behind it is actually pretty simple.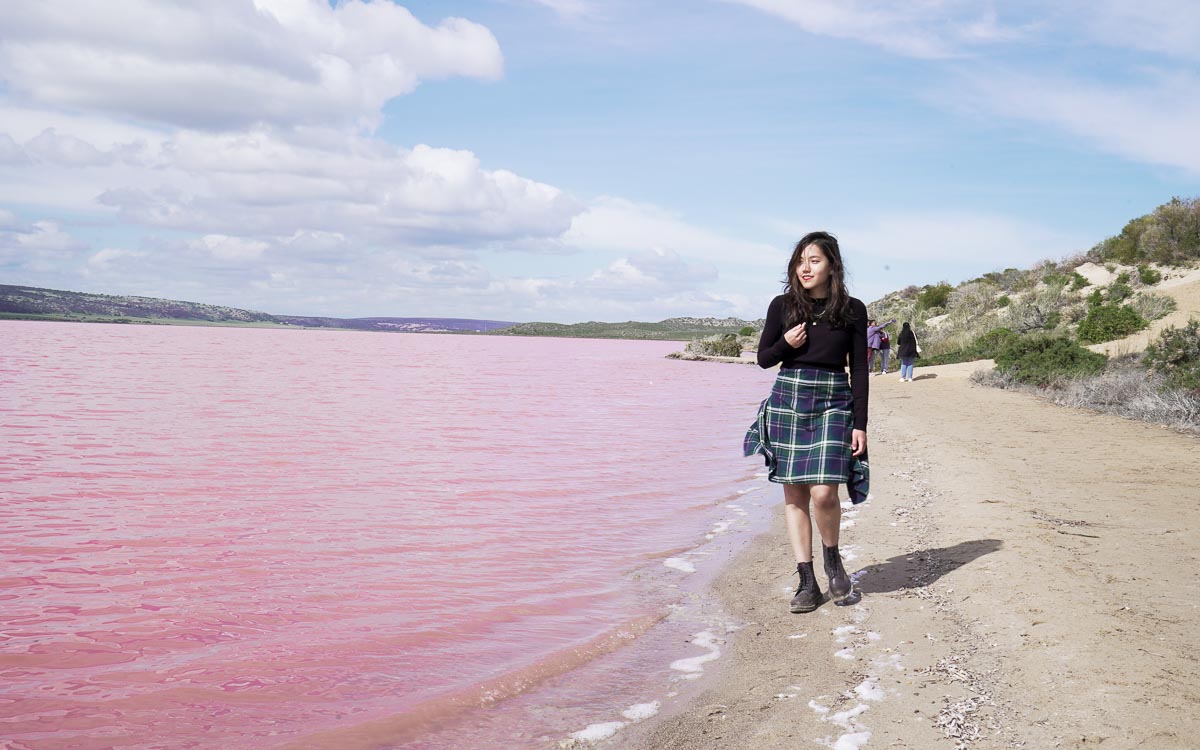 The lake is home to a specific type of algae (dunaliella salina) that contains a chemical compound called beta carotene — commonly used for food colouring. You can actually see from these photos that the lake's colour progressively turns from a mild orange to a bright pink hue. The brighter the sun, the more your kink for pink gets satisfied.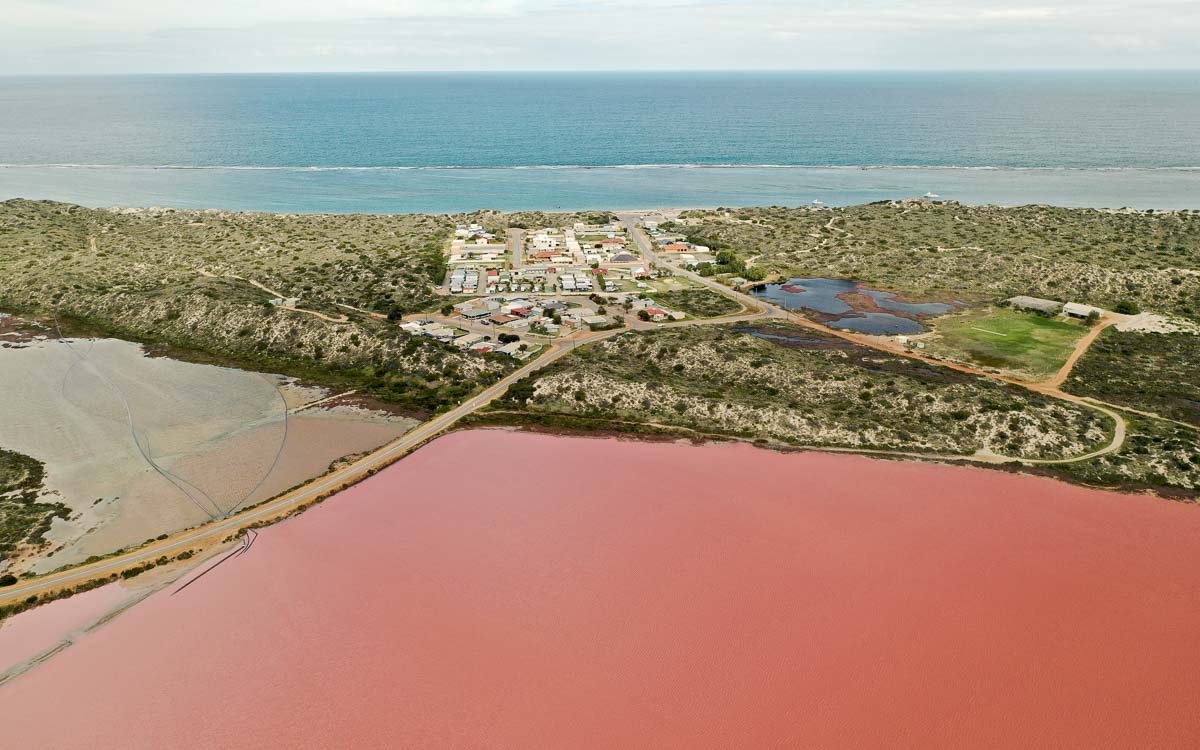 That's why the best time to visit the 14-kilometre long marvel is from 10AM to 2PM, when you're basking in daylight's glory and the clouds are nowhere to be found.
2) Pinnacles Desert at Nambung National Park, Jurien Bay
Australia's Coral Coast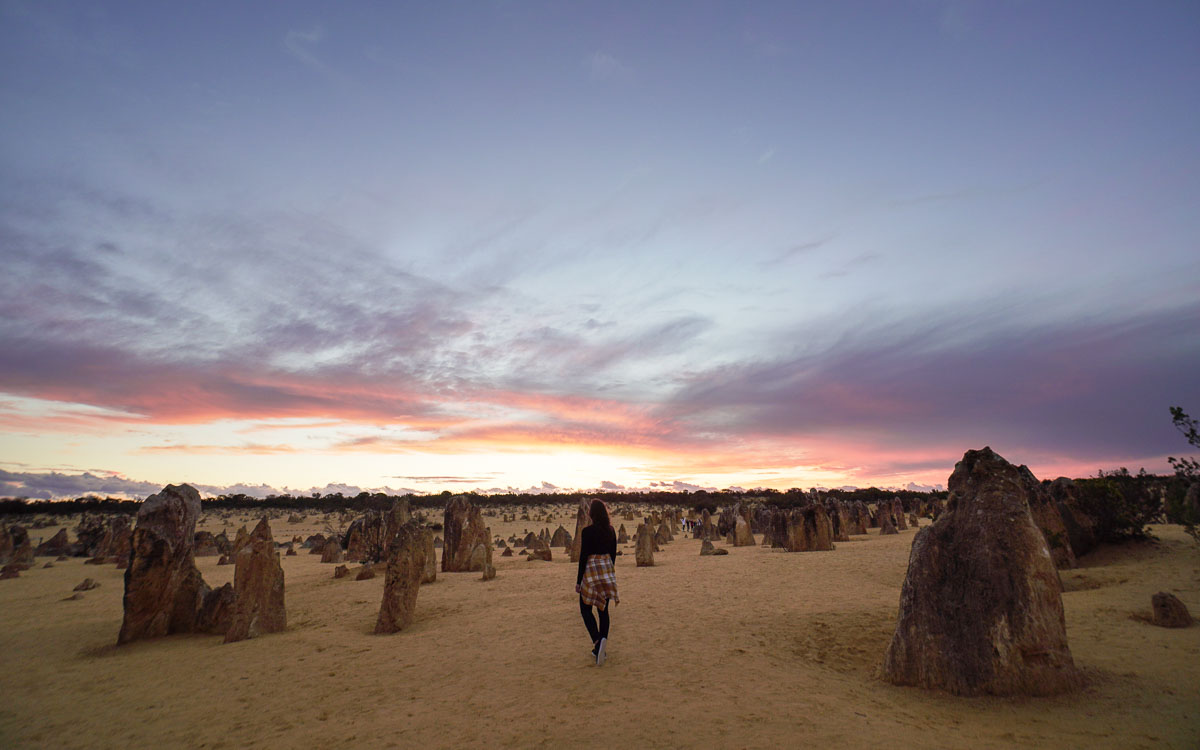 The Pinnacles Desert is one of Australia's golden attractions. The desert is plastered with limestones anywhere from one to five metres tall, and makes for a breathtaking sight both day and night. The limestones were formed from seashells 25,000 to 30,000 years ago in a time where marine life was prevalent. These shells were eventually broken down into lime-rich sands, blown inwards to form dunes of varying shapes and sizes.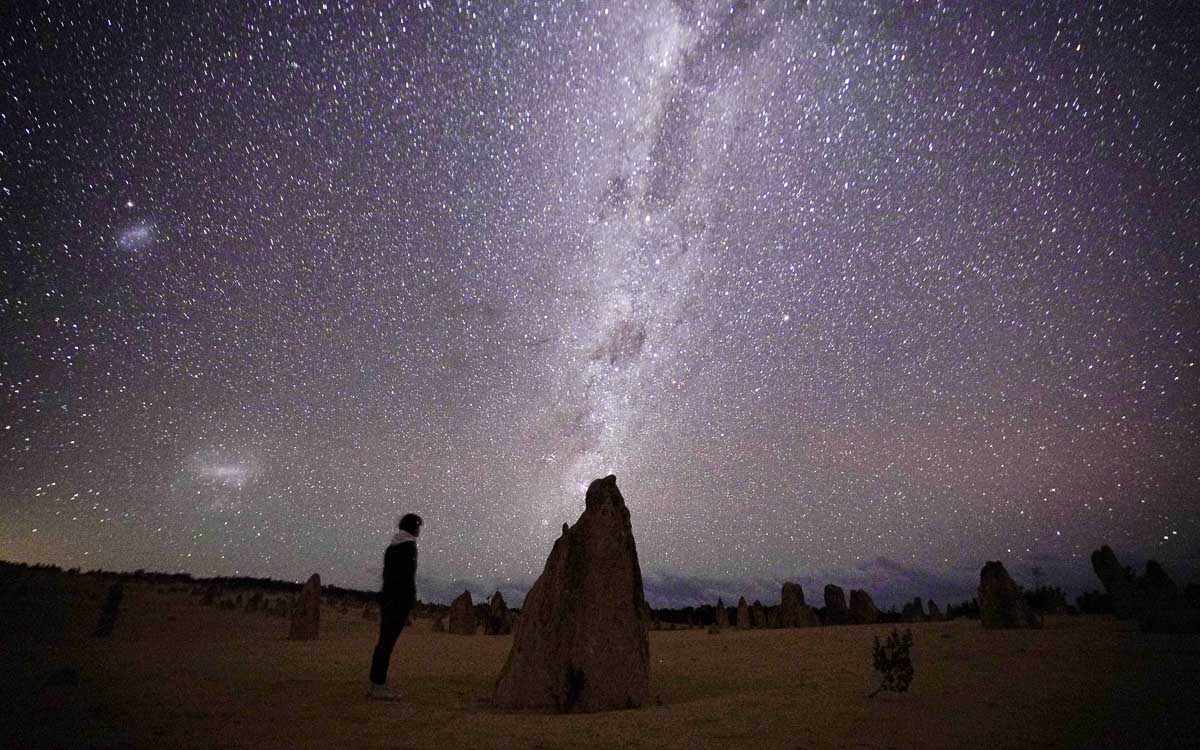 One of my favourite memories from Western Australia was lying underneath the sky painted with stars. The illuminating sky shone fragments of light on the limestones, our companions for a view that was incredibly intoxicating. The best time to catch the stars here are from 10PM till right before dawn.
3) Point Moore, Geraldton
Australia's Coral Coast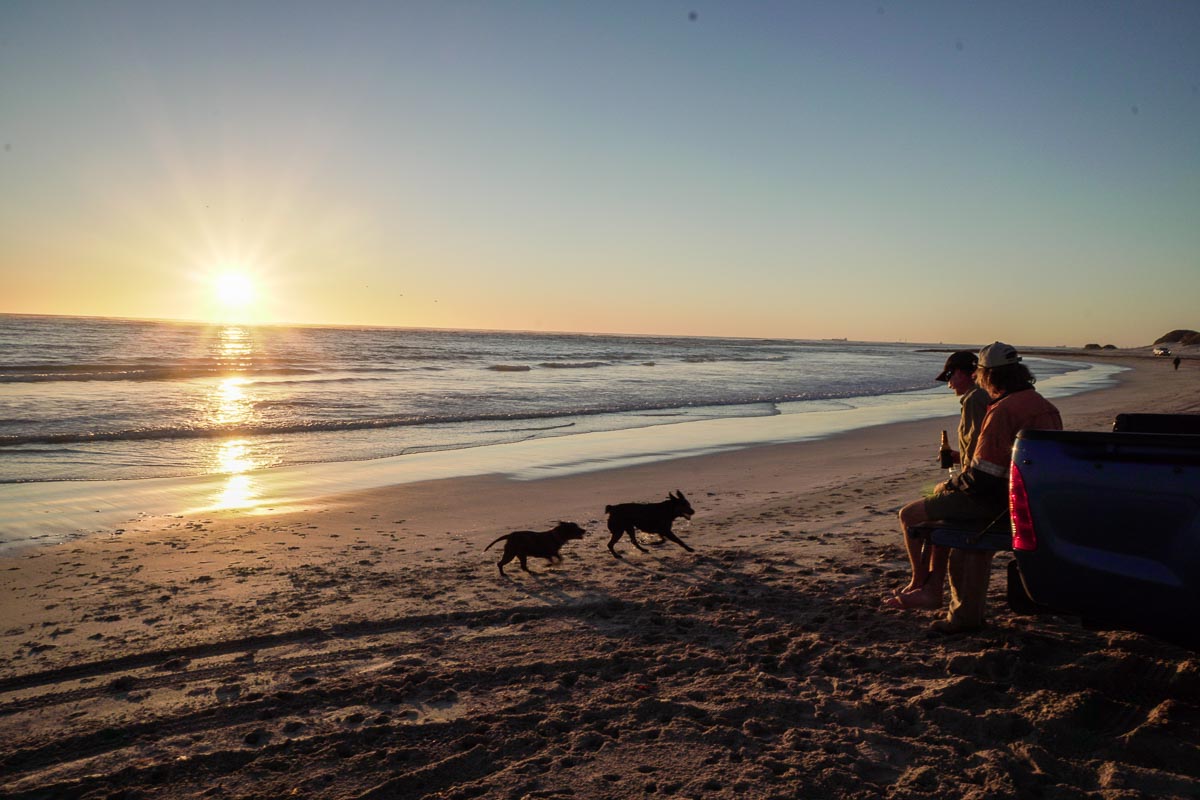 Geraldton's Point Moore will always be fondly remembered as the first place I teared up upon seeing a sun set. Sure, as a beach, you probably wouldn't label this place as anything out of the ordinary. However, what appeared in front of us at dusk was nothing short of breathtaking.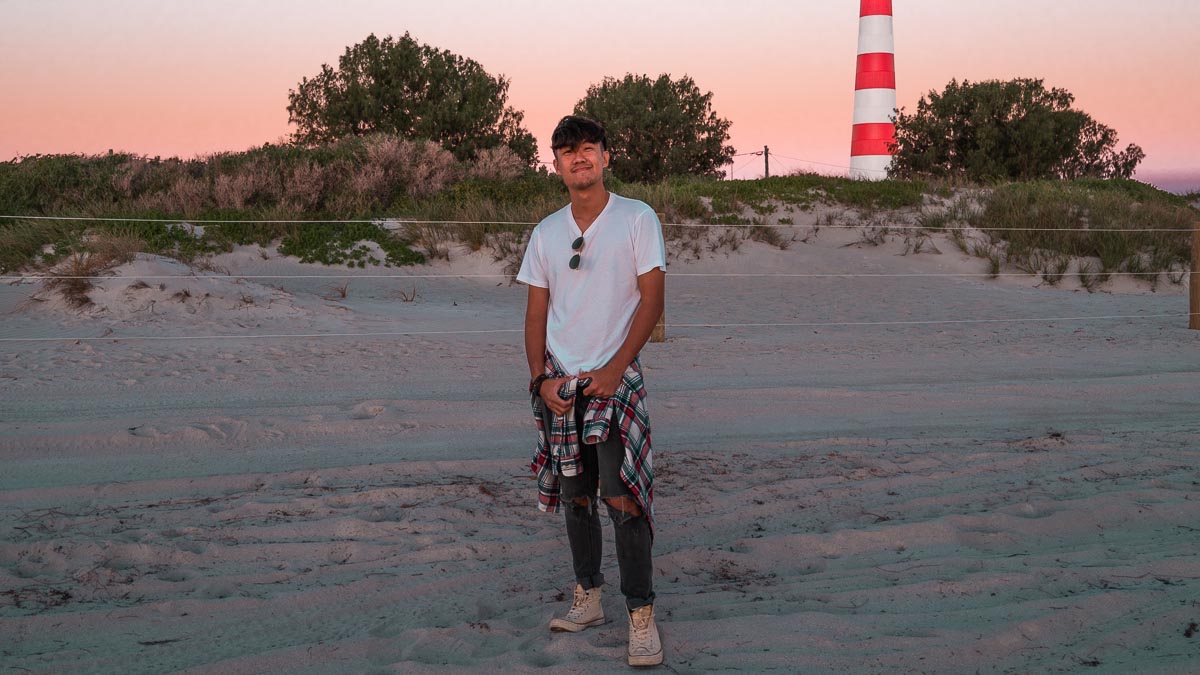 Picture witnessing the most amazing sunset you've ever seen, and then turning around to find that, wait no, this is the best thing I've ever seen. Bright amber and deep blue on one end, the most sublime blend of lavender and tangerine behind. It was the set of La La Land, with the most playful Waldo-like lighthouse in the backdrop, minus the Ryan Gosling. There's nothing quite like this.
4) Hamelin Pool Stromatolites, Denham
Australia's Coral Coast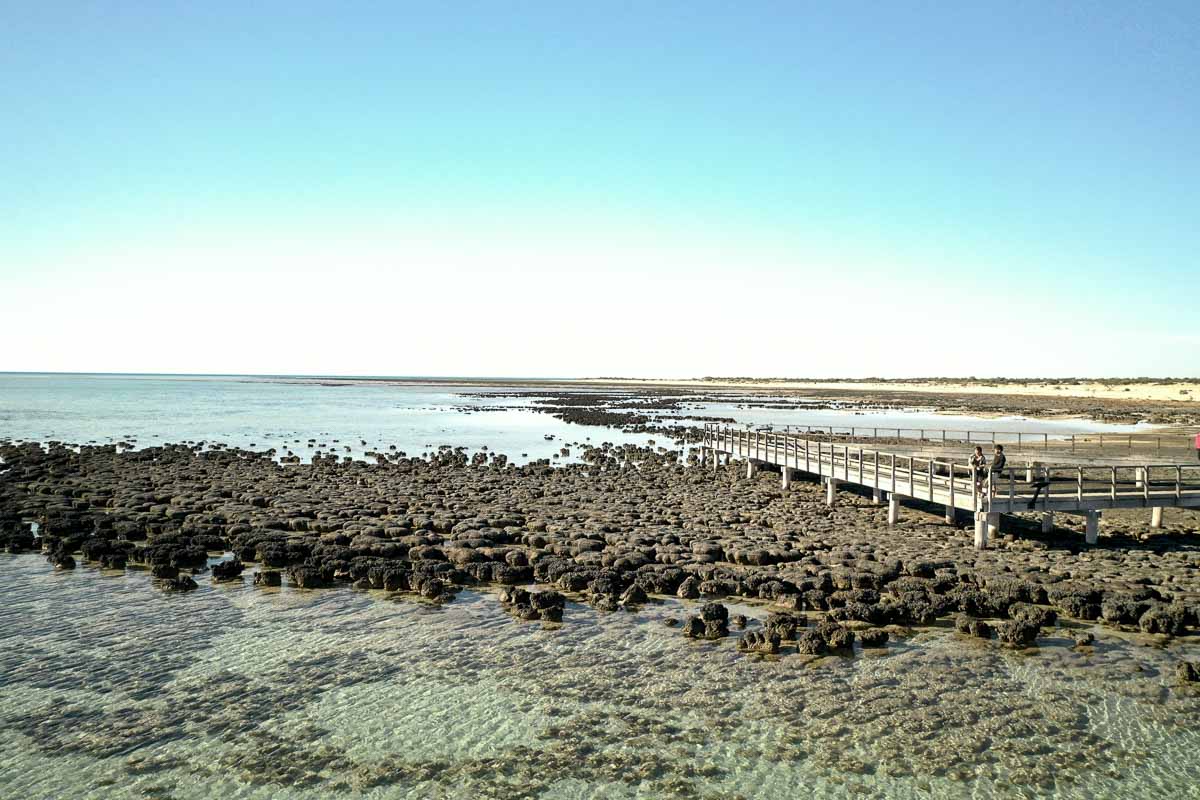 Welcome to your ancestry. Before everything that we now call "nature" surrounded us, there once lived the grandfather of all life who breathed oxygen into the air. Actually, he's still around. At 3.7 billion years old, stromatolites are aptly nicknamed "living fossils", because they are the oldest living lifeforms that still exist today.
In fact 80% of the history of all life were stromatolites. To put that into perspective, it's like finding out eighty percent of everyone in your entire family tree was called "Kevin". Kevin must have meant something pretty damn important.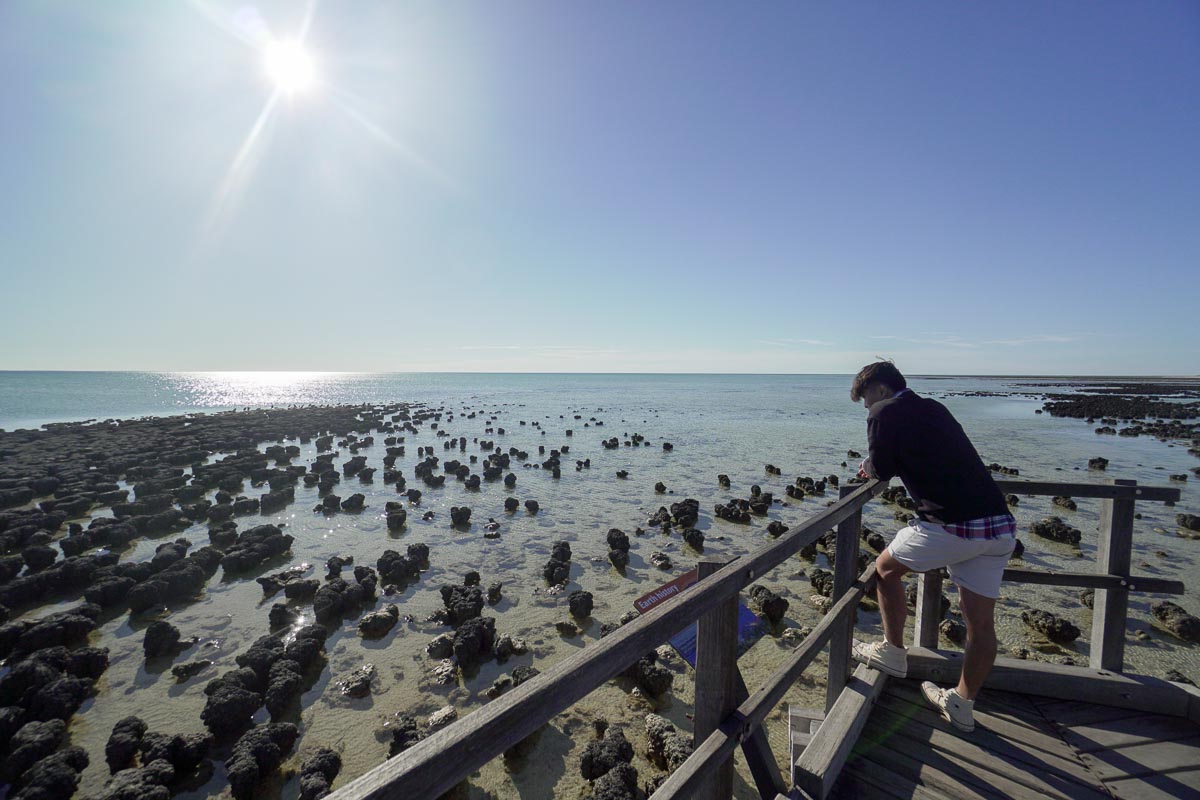 Hamelin Pool in Western Australia is home to the largest colony of these stromatolites. You'll be able to walk along a wooden platform viewing these living fossils from a safe distance, with signboards explaining in vivid detail the magnitude of what you see before you.
Read also: Western Australia's Best Photo Spots — Hidden Gems in Perth, Rottnest Island & Kalbarri for Your Instagram
5) Shell Beach, Denham
Australia's Coral Coast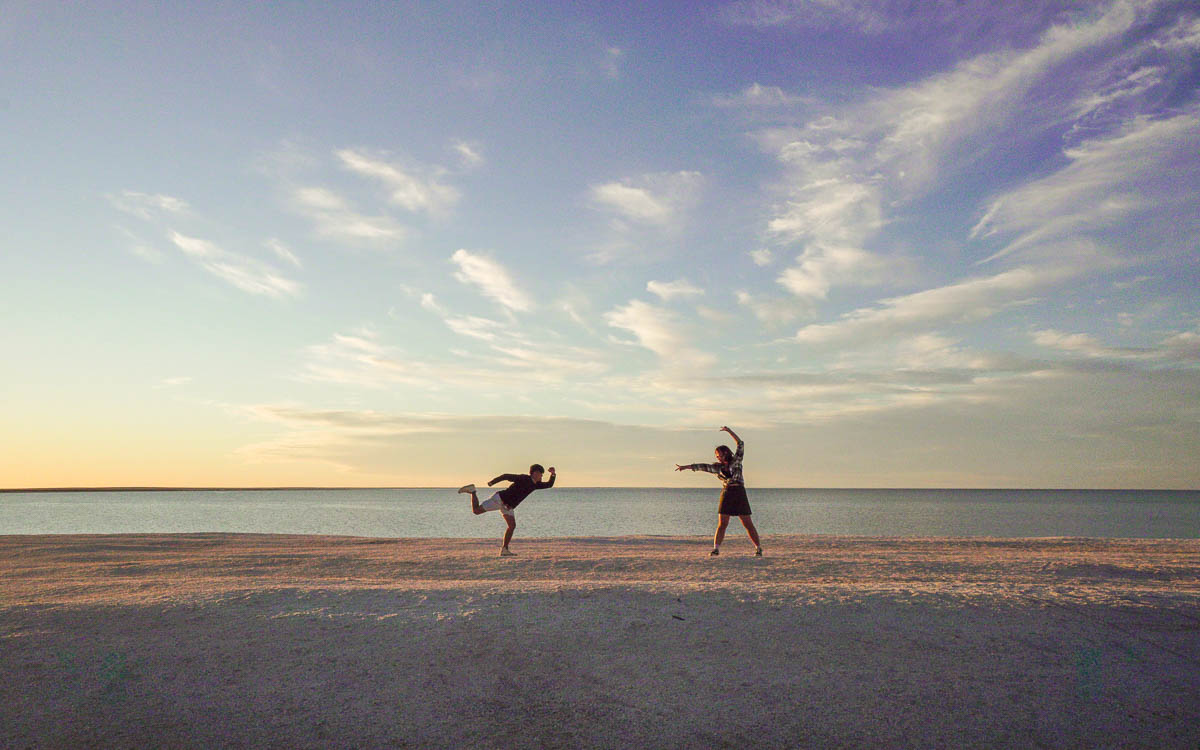 No, this isn't a beach with a large prominent shell. This is a large, prominent beach made up of nothing but shells. This marvel near the Shark Bay region is 60 kilometres long (a marathon and a half) and 7-10m deep (enough for you to drown). It is but one of only two beaches in the entire world made entirely of shells.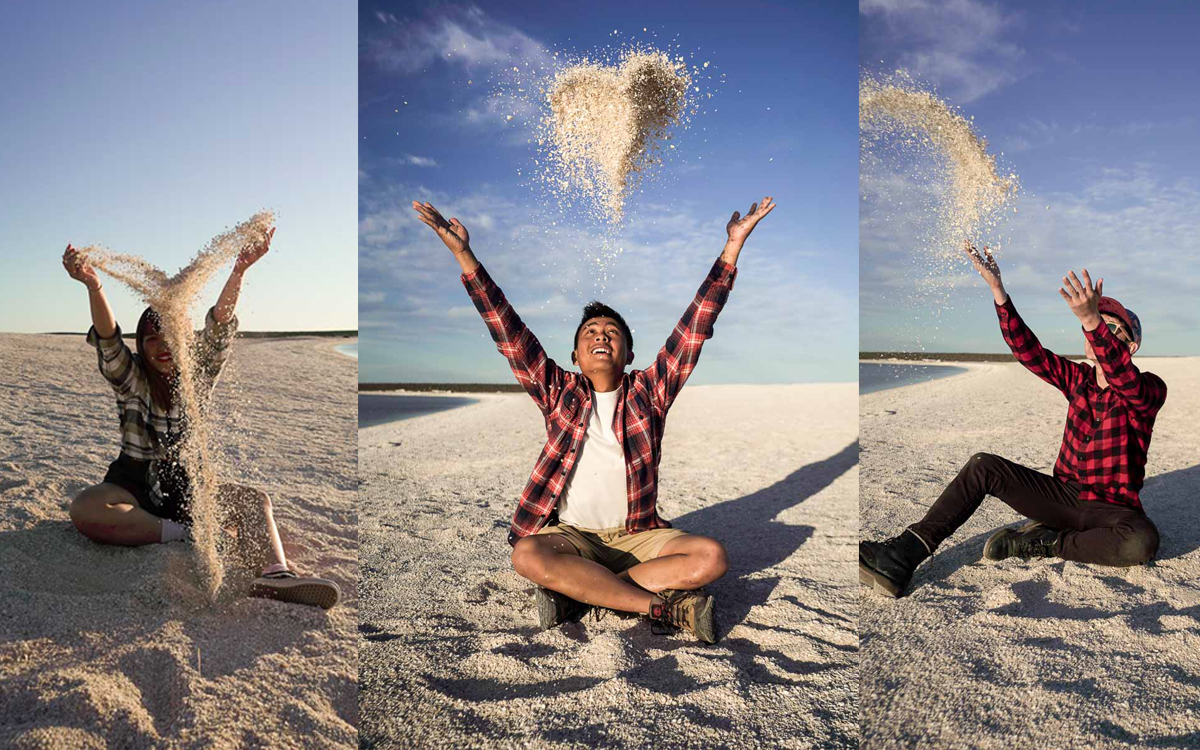 While the place in itself is intriguing in a geographical sense, you're also entitled to have your own bit of fun with these shells. We were inspired by a picture on the Internet that showed a lady throwing shells in the air in the shape of a heart, so we set out to replicate that. Only one of us were successful. Valiant attempts, my friends.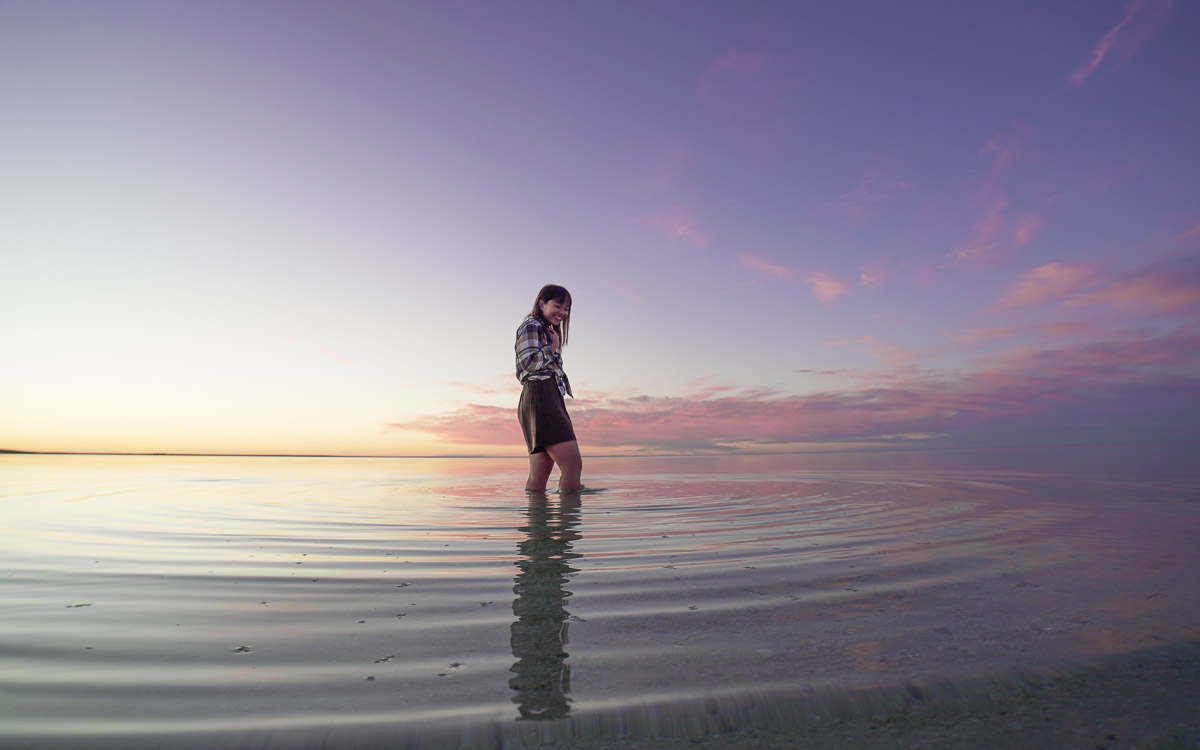 As is the case with much of Western Australia, the sunset at Shell Beach is simply sublime. The pristine waters reflect the gorgeous assortment of colours up above. One important note though: Don't bring the shells home!
6) Francois Peron National Park, Denham
Australia's Coral Coast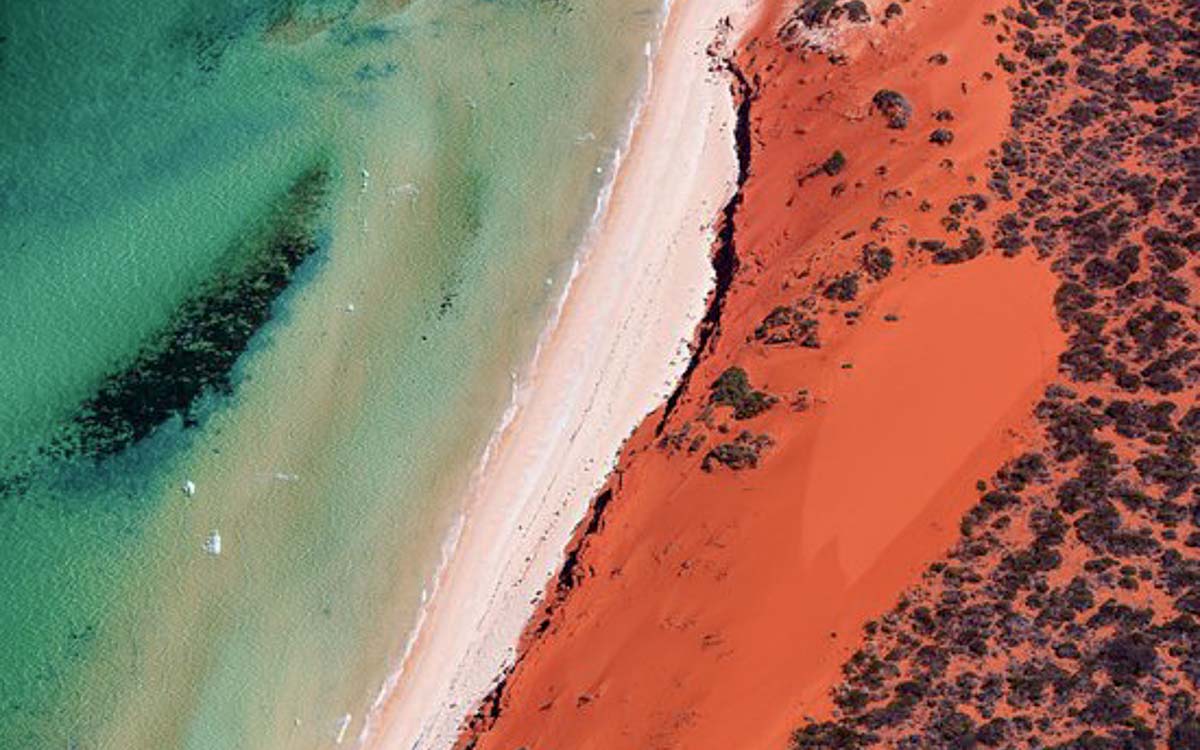 Photo credit: Trip Advisor
Famous for its bright reddish cliffs and lily white beaches, parts of Francois Peron National Park are quite the sight to behold. It's said to be one of Australia's most crucial wilderness areas too, with many endangered species now residing there.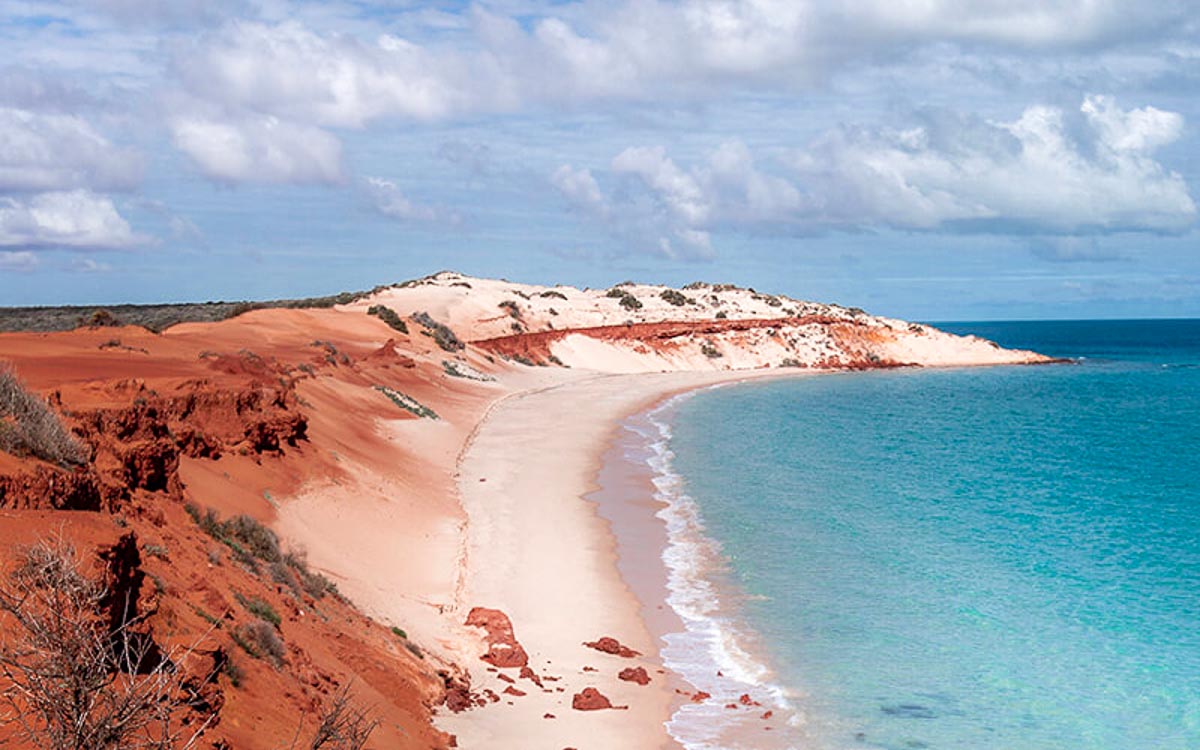 Photo credit: Shark Bay World Heritage Discovery & Visitor Centre
At the Skipjack Lookout Point, you'll be able to catch a whole bunch of marine life doing their thing. Make sure you have a four-wheel drive to navigate the challenging deep soft sands.
7) Quobba Blowholes, Gascoyne
Australia's Coral Coast
A natural phenomenon of hella wet proportions, the Quobba Blowholes north of Carnavorn are a galvanising experience, and oddly cathartic to watch. Strong waves make their way up sea caves and through narrow holes in the rocks, erupting into the air with conviction.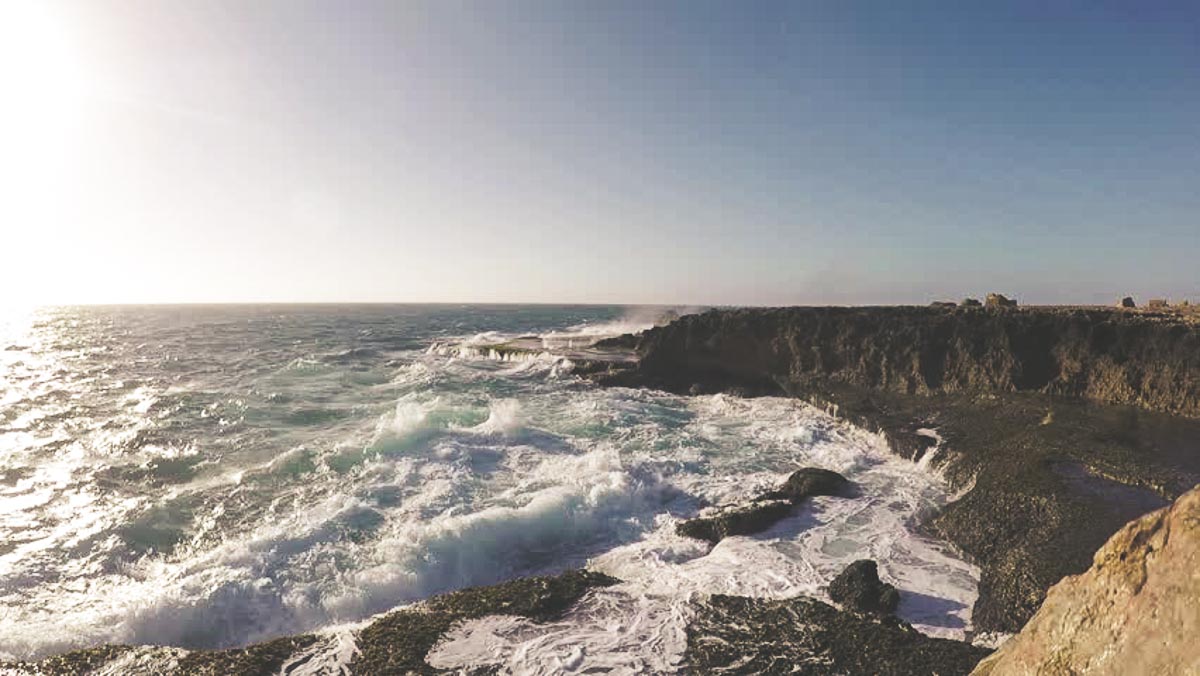 Photo credit: Shutterstock
These blowholes are one-of-a-kind not simply because they sprout glorious bouts of water — but because they're potentially dangerous as well. The photo below depicting my almost-death, masked as me getting hilariously drenched, is for your perusal and analysis.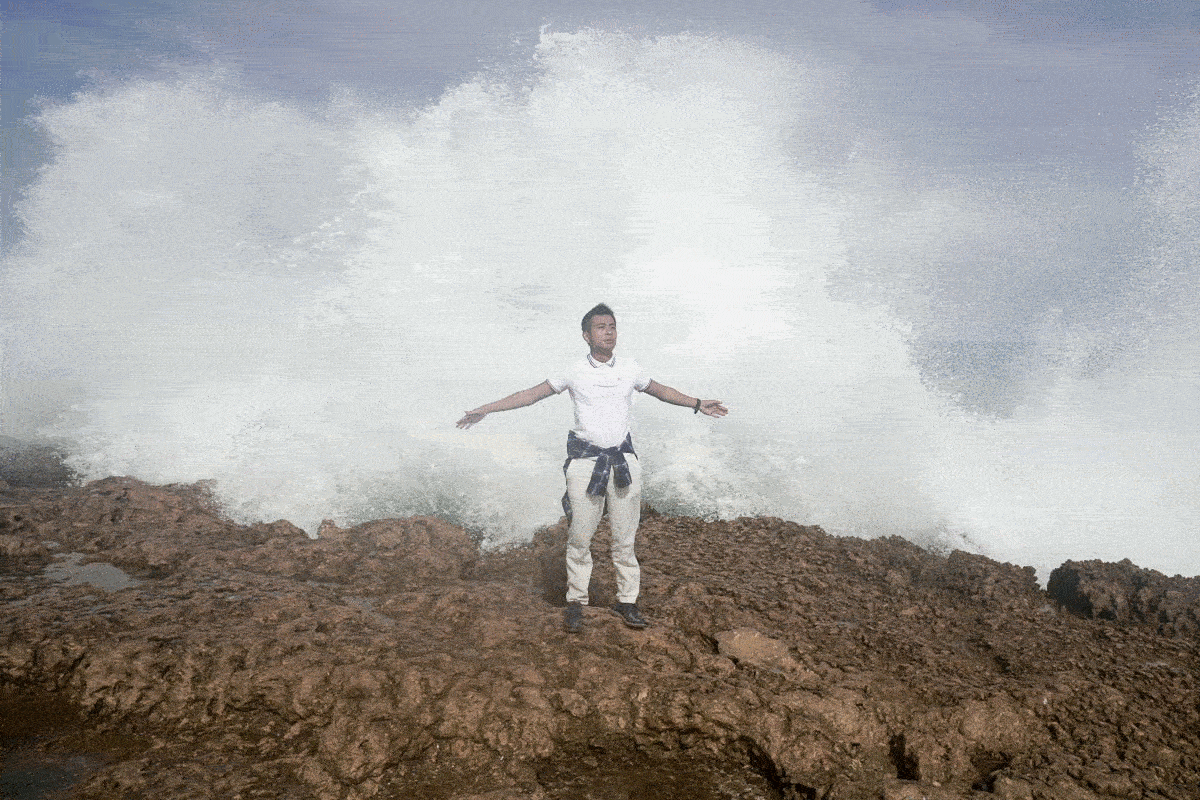 Be careful! When taking photos, stay closer inland and make sure you run for the hills should you feel an oncoming wave. Do not, I repeat do not, put your arms up for the sake of the gram.
Read also: The Secret to Packing Lighter: 7 Travel Essentials for the Smart Traveller
8) Rottnest Island
Rottnest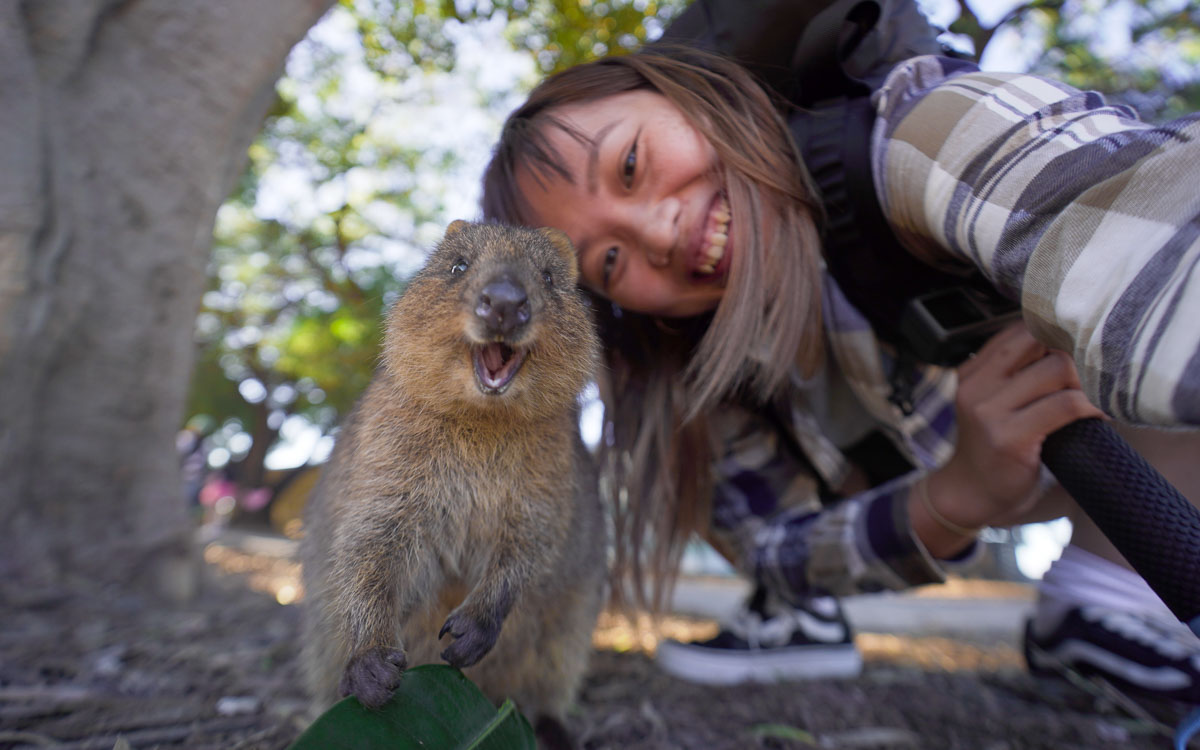 "Awww smoochy smoochy pinchy cheeky!!" is everyone's (and your) instinctive reaction when coming across a quokka. These furry little creatures are dubbed the World's Happiest Animals, and judging from the selfie above, it's not hard to see why.
There are a multitude of great reasons to visit Rottnest Island. But the island's main hook remains the fact that it is home to the largest population of quokkas around the world (8,000 – 12,000 as of 2007). For that reason, we consider this place to be something special. Quokkas are a species on the decline, however, and one should adhere to the rules (no touching or feeding) when it comes to interacting with these cutie pies.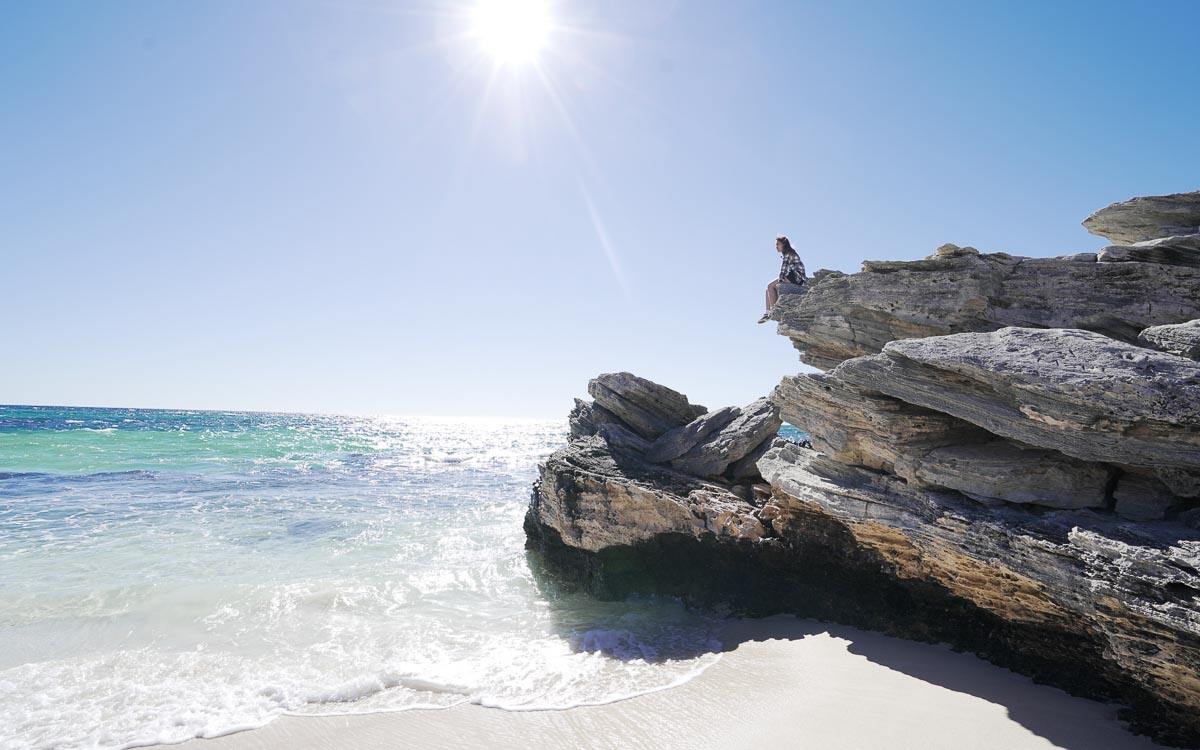 Rottnest Island also comprises of many quaint beaches that are perfect for picnics and wonderful for water-based activities. There is quite literally something for everyone — adventurers, nature lovers, history buffs, cocktail connoisseurs — and a whole bunch of family-friendly activities too.

Cost: Fast Ferry from Fremantle AU$70
Read also: 7-Hour Rottnest Island Day Trip Guide: Epic Skydiving, Pristine Beaches, and Selfies with Adorable Quokkas
9) Nature's Window, Kalbarri
Australia's Coral Coast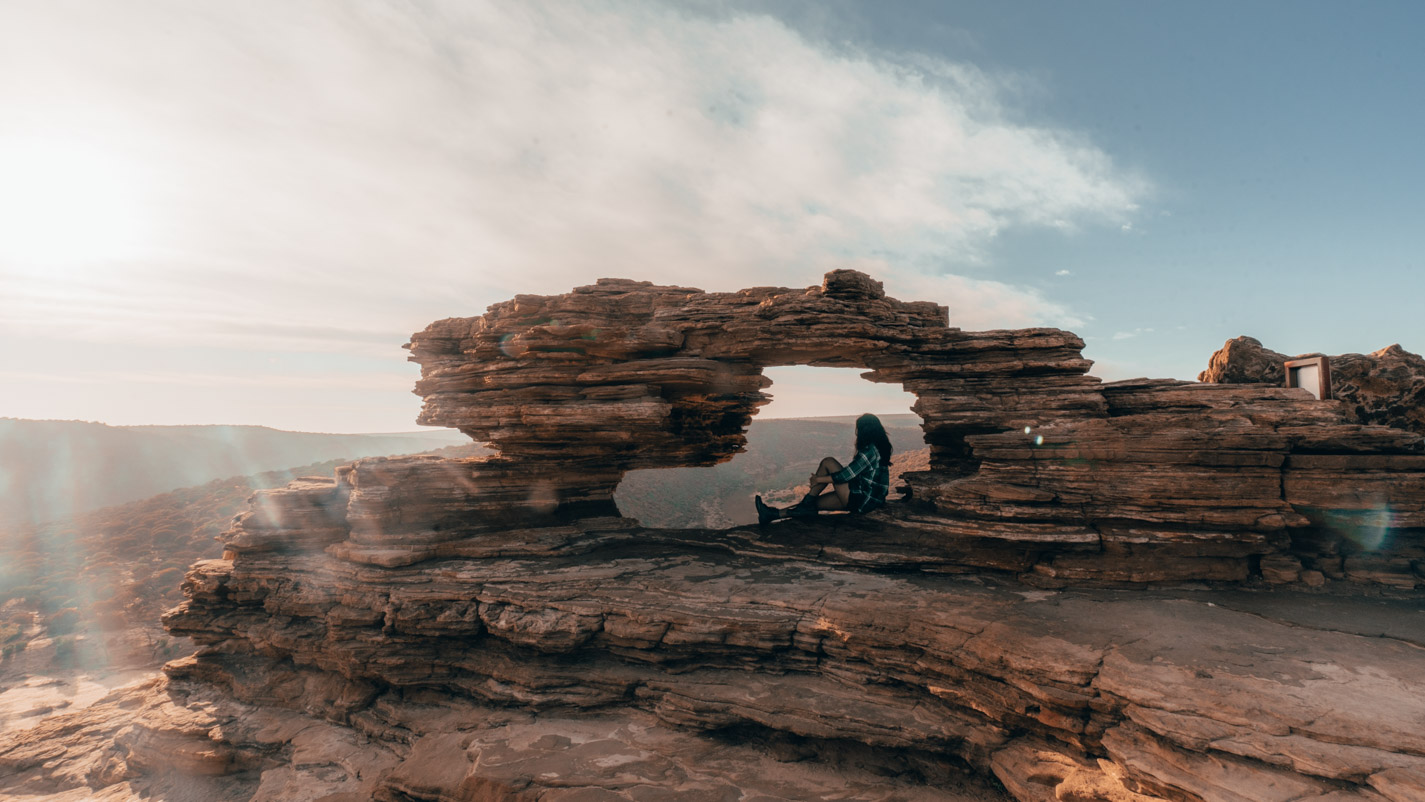 As the name aptly suggests, Nature's Window is an iconic rock formation with an oblong shaped hole in the middle, offering a delightful view of the plains below. It's made of Tumblagooda sandstone, and stands majestically over a trove of other sandstone cliffs that have been around for more than a million years.
From the top of the rock where Nature's Window resides, you'll also be able get a bird's eye view The Loop, the U-shaped formation of the Murchison River.
The attraction is but a mere 500 metre walk from the carpark. However, the entirety of Kalbarri National Park is a whopping 186,000 hectares large. If the inner hiker in you so pleases, you're free to spend an entire afternoon soaking in the splendid views of gorges and inland rivers (not literally, of course).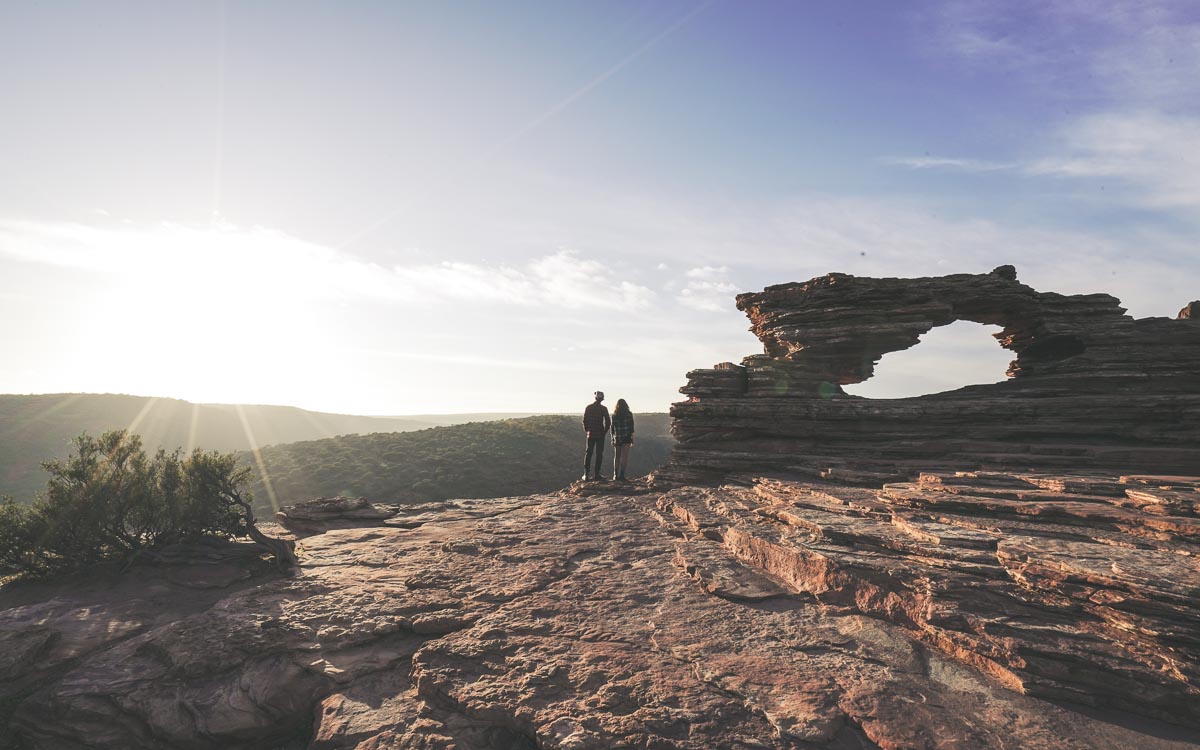 Should you have the time, visit The Hawk's Head Lookout, the Ross Graham Lookout, and take on the Z-Bend Walking Trial as well. You're guaranteed to get great photos, a good sweat, and several solid tan lines.
10) Lancelin Sand Dunes, Lancelin
Australia's Coral Coast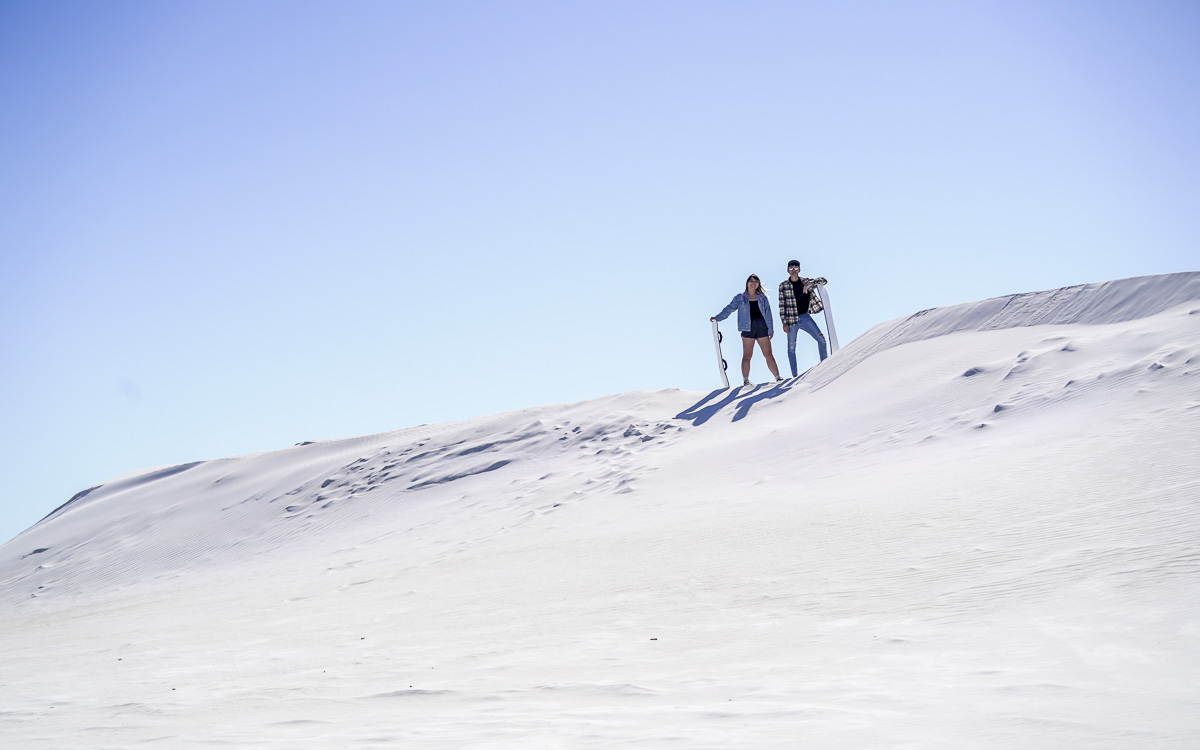 Forgive me if I sound like a writer who's run out of superlatives. But man, the sand here, it's great sand. It's white, pure, and your feet sinks in softly, immaculately, almost sensually. You almost feel bad for ruining the smooth surface with your horrendously ugly footprints. You can almost forgive the winds that consistently blow grains into your face.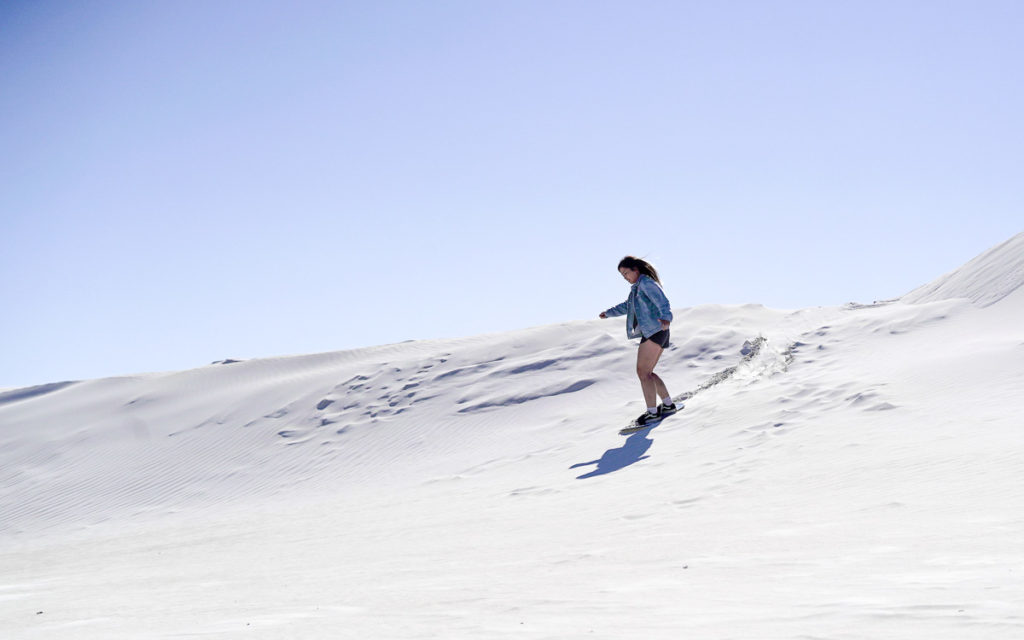 However, the draw of the Lancelin Sand Dunes is the fact that you get to rent a sand board and sand surf down terrifying 45-degree angles. Sit, stand, even lie down on your board — but the thrill heading downslope makes your heart beat faster than if your eye candy texts you back.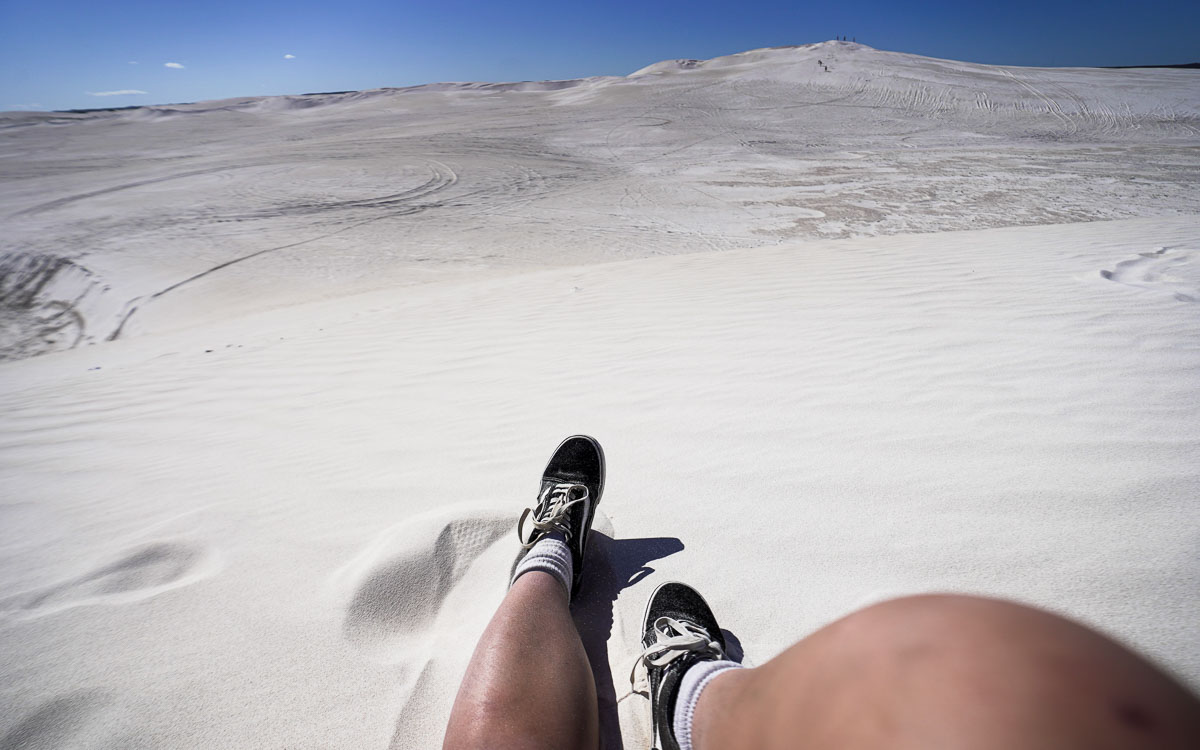 If you'd prefer to sit down and chill, you might want to take a chance arriving at either dusk or dawn. If there's anything I've learnt from two weeks in Western Australia, it's that the sunrises and sunsets (from anywhere, really) are simply unbeatable. Couple that with the vastness of fine sand and a panoramic view of the surrounding farmland, and you've got yourself one heck of a romantic evening.
Western Australia: Just 5 Hours from Singapore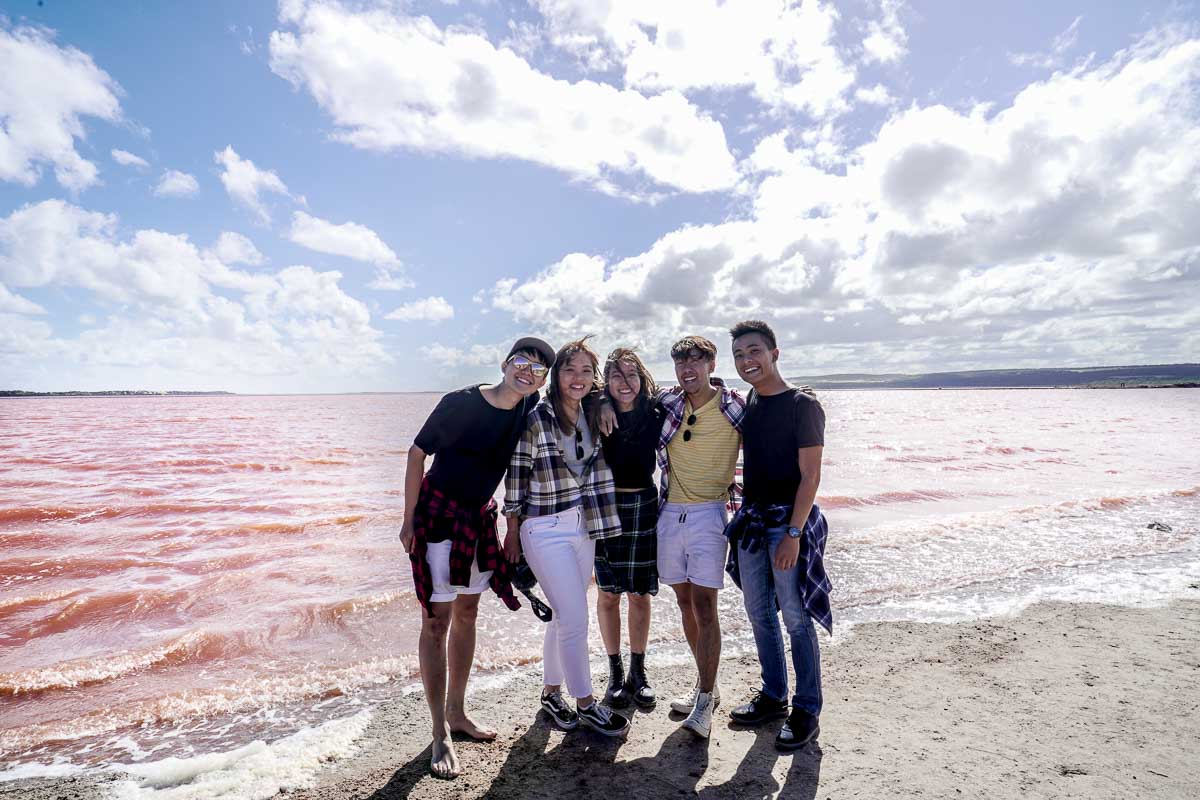 Logic defying pink beaches. Immaculate white sand dunes. Living fossils that stood the test of time. Gorgeous natural landscapes. Chubby, cheerful mini kangaroo-cats. Stars that lit up my dull life. I miss all of it, and, well, I loved all of it. But as the wise men and women who speak of love: "It's better to have loved and lost than to have never loved at all."
Read also: 11-day Western Australia Itinerary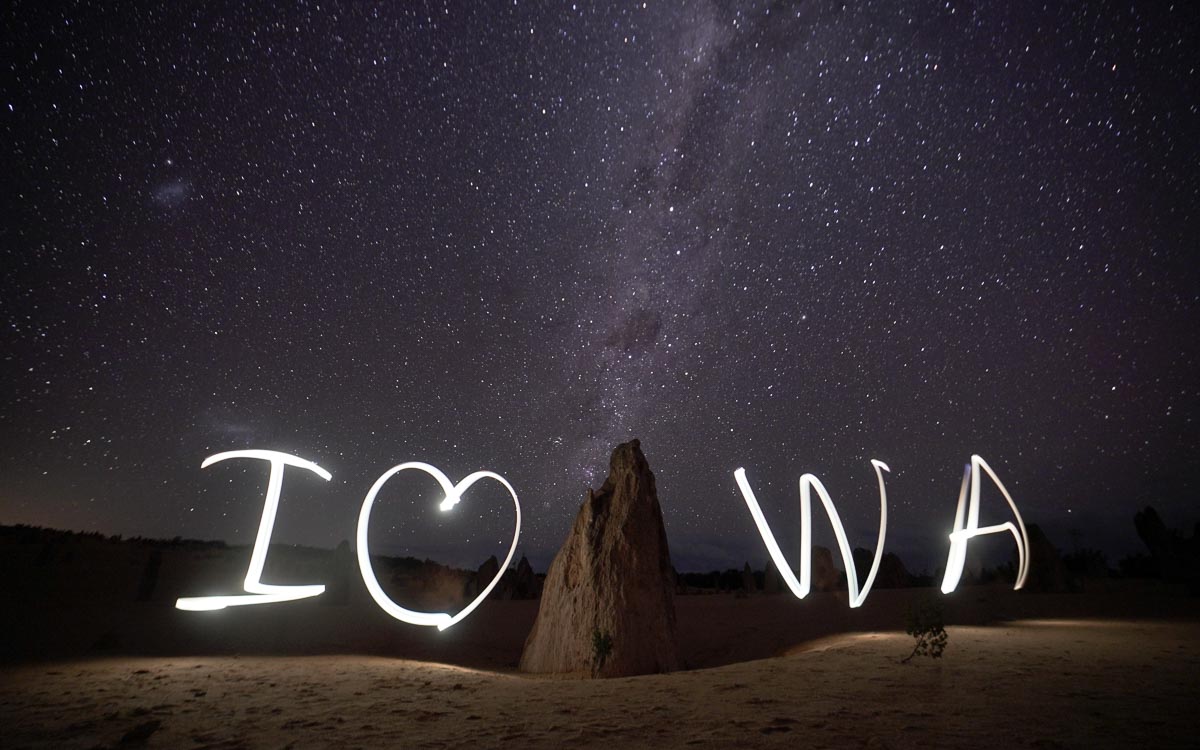 It spells "I <3 WA", not Iowa 😛
It's surreal how badly I miss Western Australia and all of its glory. But I sleep with ease at night in the knowledge that, should I choose to go back, it's only five hours and an inexpensive flight ticket away. WA is quite truly an out-of-this-world place you have to visit, nay, experience, nay, inject in your veins.
Want to plan your very own Western Australia adventure? Check out all the WA must-dos you need to include!
---
This post was brought to you by Tourism Western Australia.
For more travel inspiration, follow us on Instagram, YouTube, and Facebook!