Little red dot? More like a giant theme park. Check out our guide for things to do in Singapore!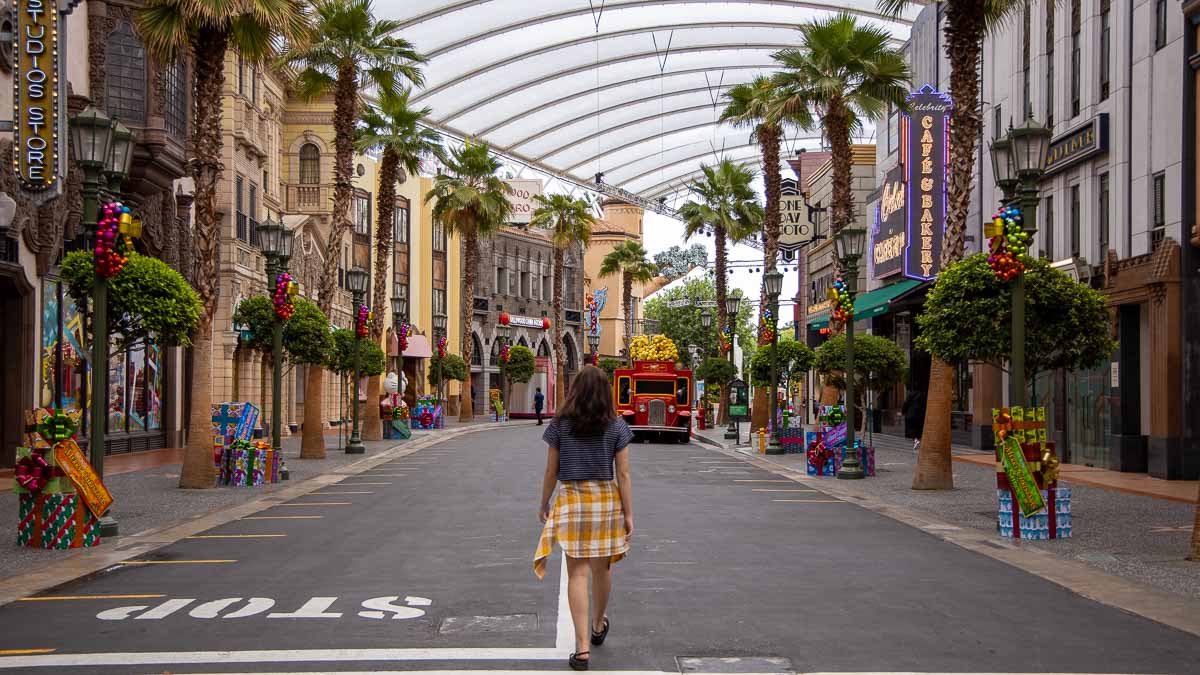 Bungy jumping by the beach, cycling along a swamp, beekeeping on a rooftop bar — if you think about it, Singapore is actually a gigantic, over-the-top theme park.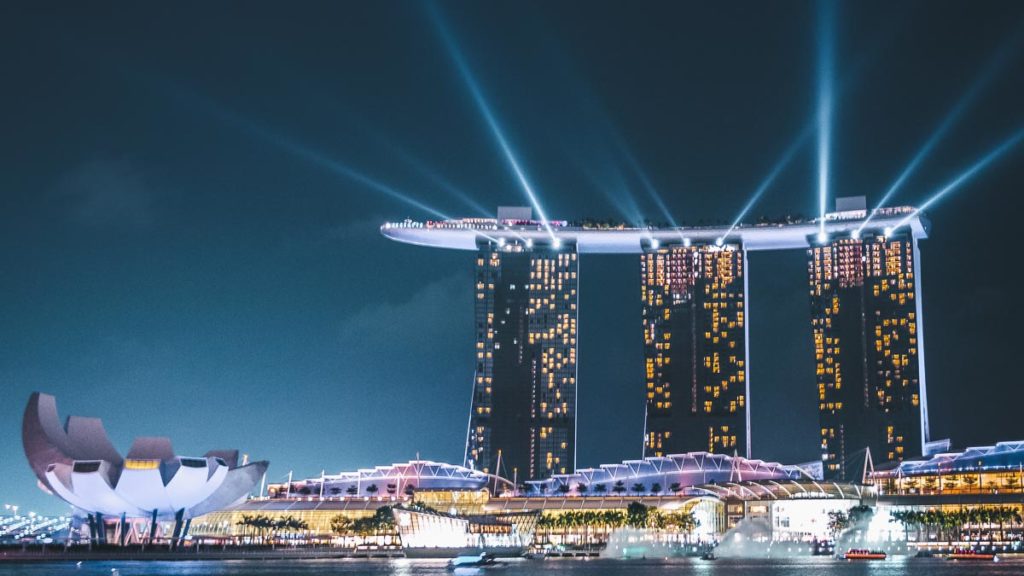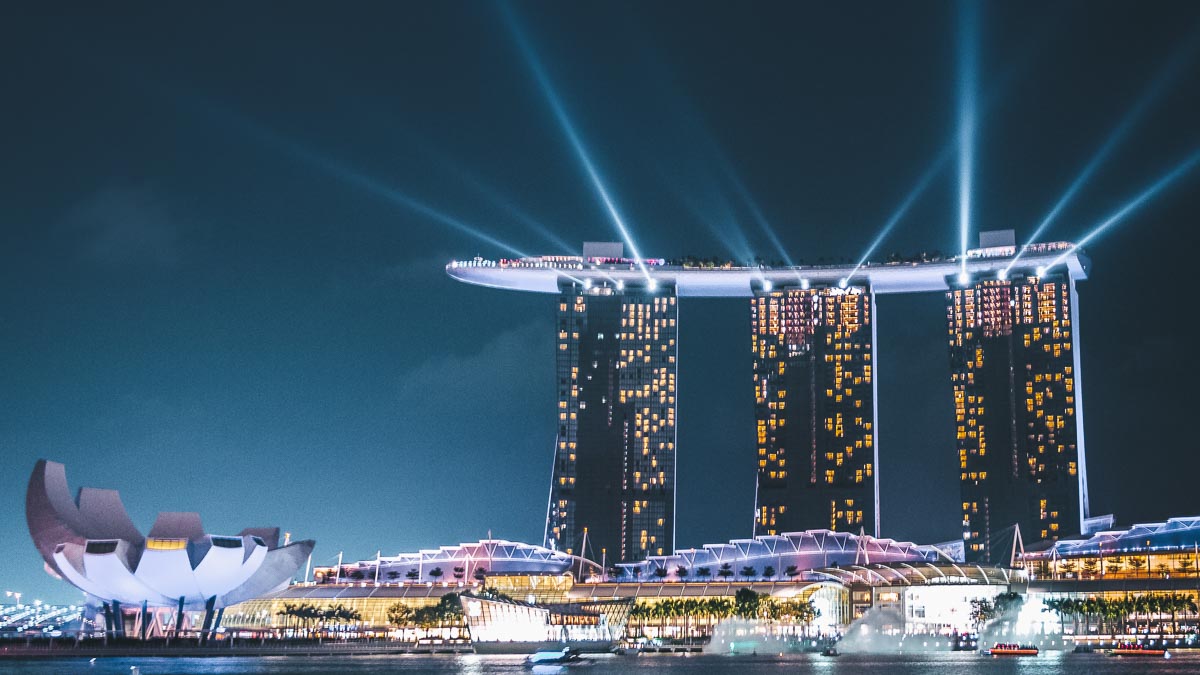 And there's no need to travel far for a big change in scenery! Marina Bay and Haji Lane are just ~20 minutes away, but already seem like different worlds.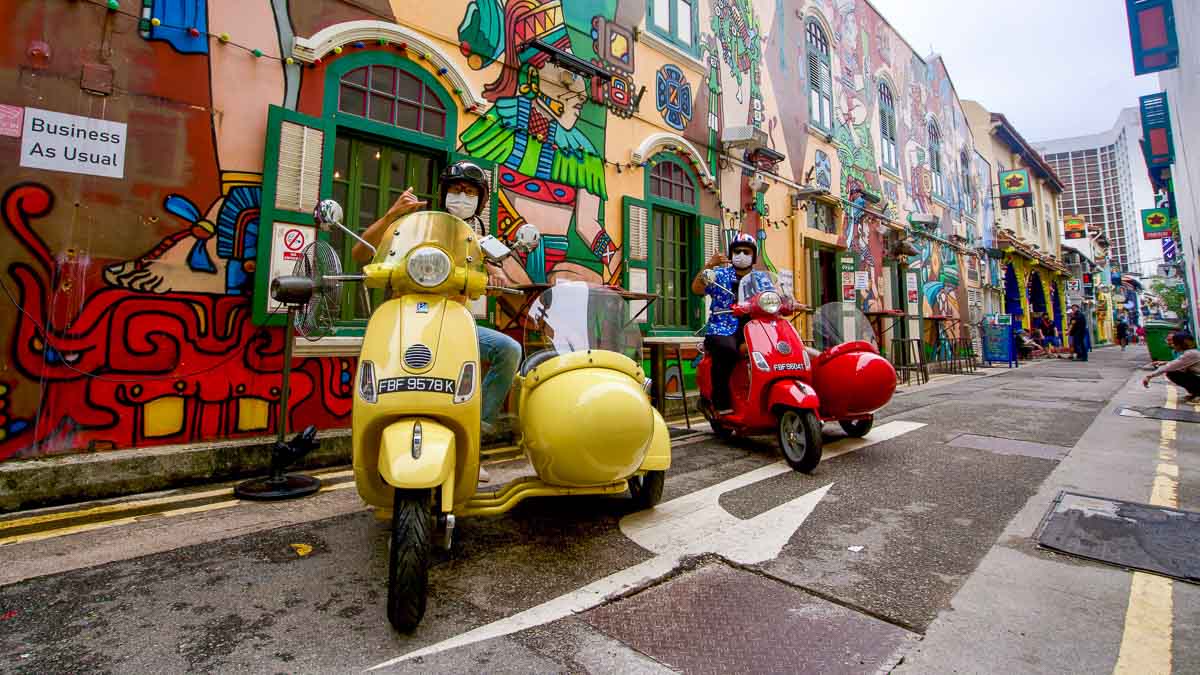 Choose from four routes perfect for adrenaline junkies, novelty seekers, nature lovers, or if you're bringing the kids (or kids-at-heart) out to play!
What's more, each route has enough activities to fill two whole days — perfect for an action-packed weekend.
Jump to section: Adrenaline Junkies | Novelty Seekers | Nature Lovers | Families with Kids (and Kids-at-heart)
Route for Adrenaline Junkies
This route is packed with non-stop adventure! Get out of your comfort zone with activities like skydiving, bungy jumping and dining in the dark.
Day 1: Skydive, ride a Segway, and hunt for ghosts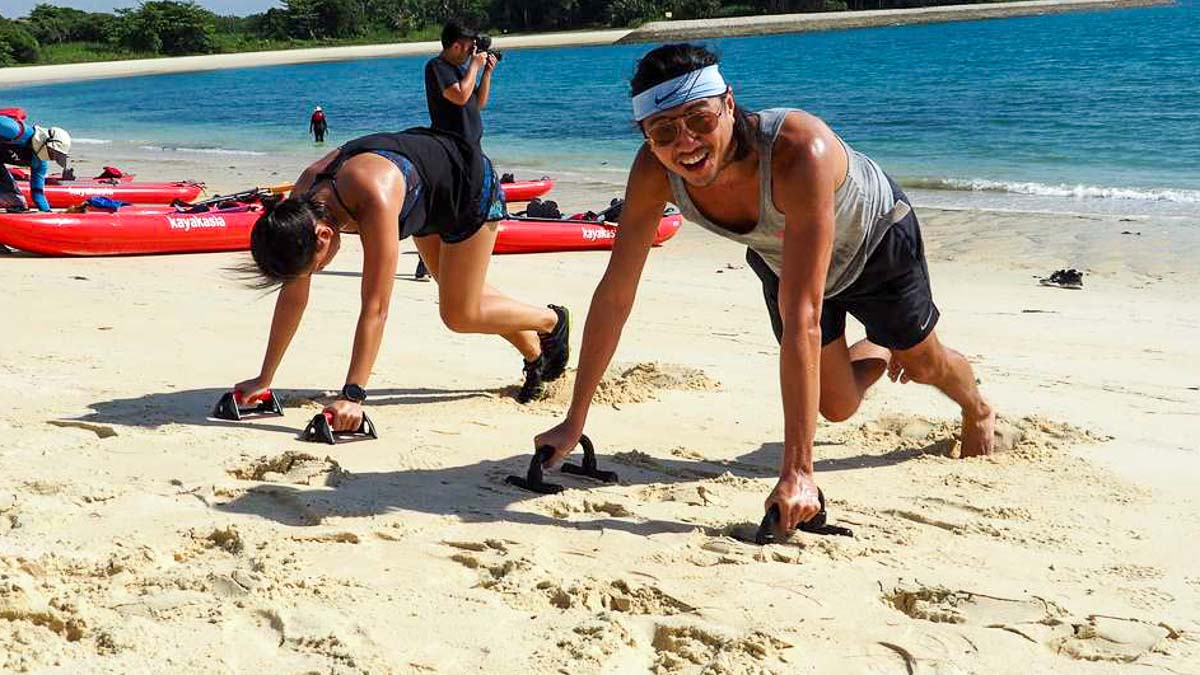 Photo credit: Klook
TravelFit at Sentosa — Ready to get your blood pumping? Start with a four-hour 'fitness tour' with photo sessions and a beachside exercise class. Guided by professional trainers, use different types of workout gear to achieve your dream bod. After breaking a sweat, cool down with a fun Segway ride.
Cost: ~S$60/pax – S$172/pax (depending on group no.)
Activity timing: 9AM – 1PM (Sun)
Meeting point: Sentosa Monorail, on the third floor of VivoCity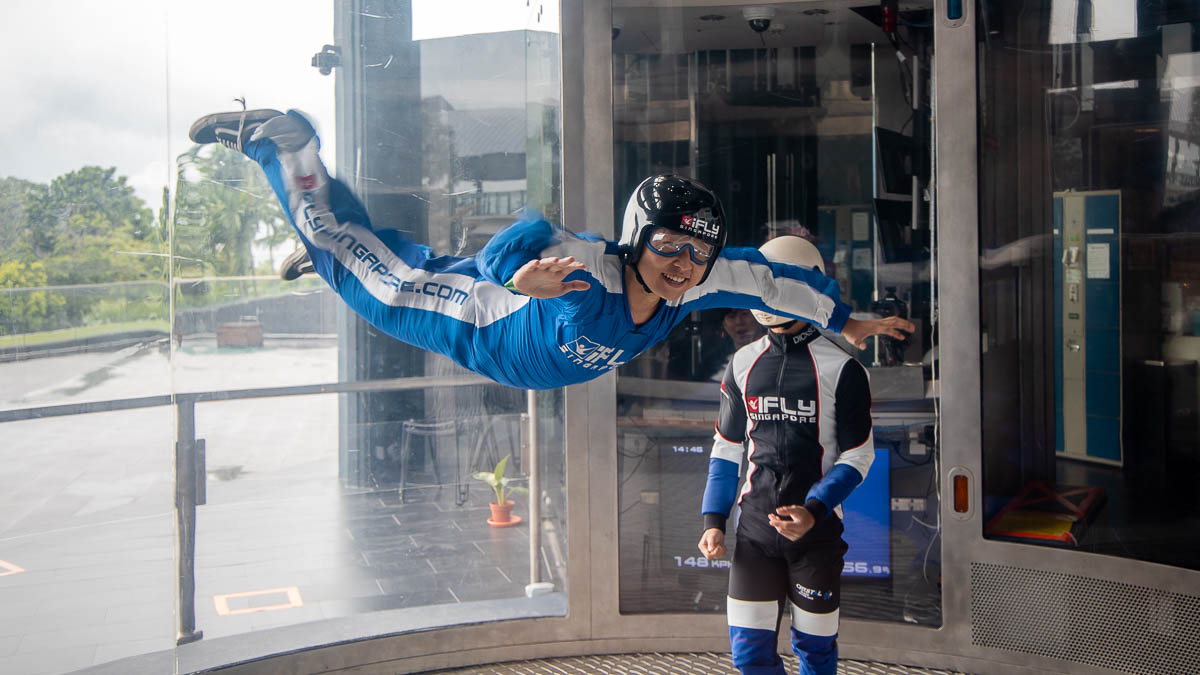 iFly — Tick this skydiving experience off your bucket list! While it isn't the same as leaping off a plane, staying upright is more challenging than it looks.
This is also one of the largest wind tunnels in the world, recreating the feeling of weightlessness.
Cost: From ~S$56
Opening hours: 9AM – 10PM; First flight at 10AM and last flight at 9:30PM. Reservation required
How to get there: From VivoCity, take the Sentosa Express to Beach Station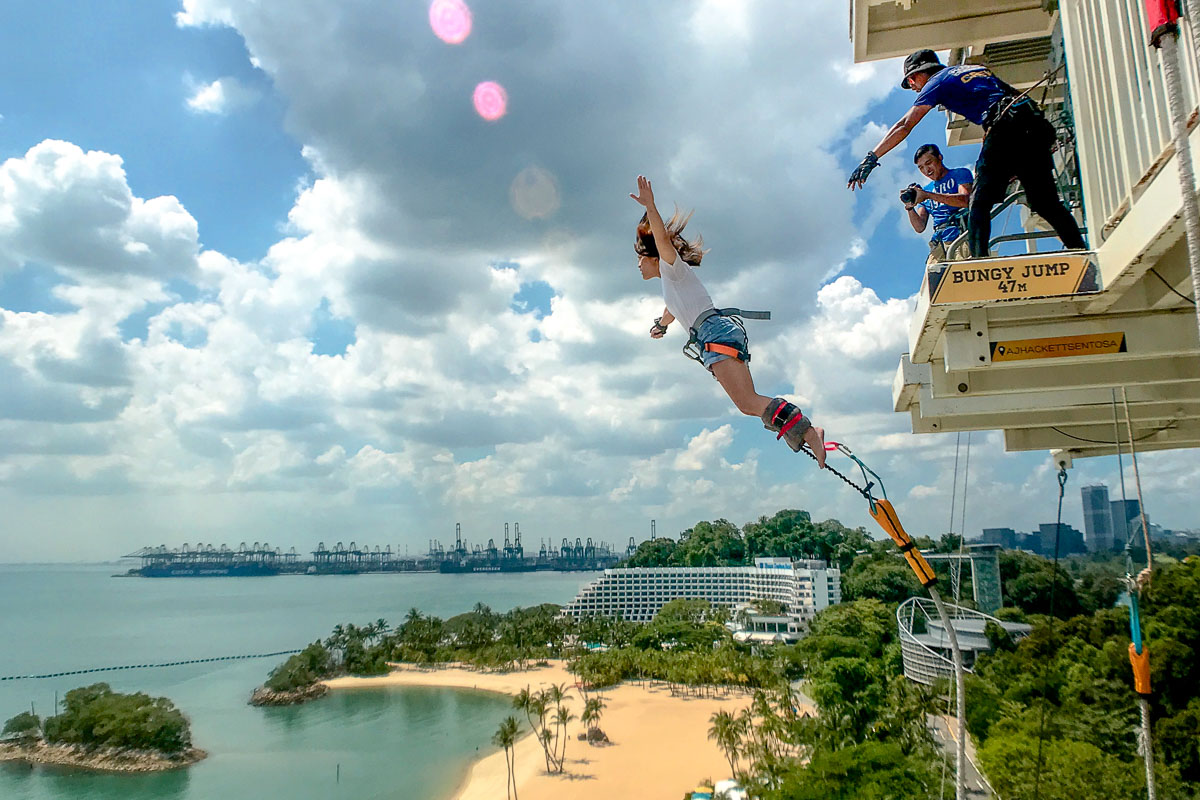 Bungy Jumping at AJ Hackett Sentosa — Dare to plunge off a 50m platform? Take the leap and watch the world turn upside down before plunging into the pool below!
Cost: ~S$69/pax
Opening hours: 12PM — 7PM (Mon, Thu, Fri), 11:30AM – 7PM (weekends & PHs). Reservation required
How to get there: Walk 15min from Beach Station, or take the Beach Tram to AJ Hackett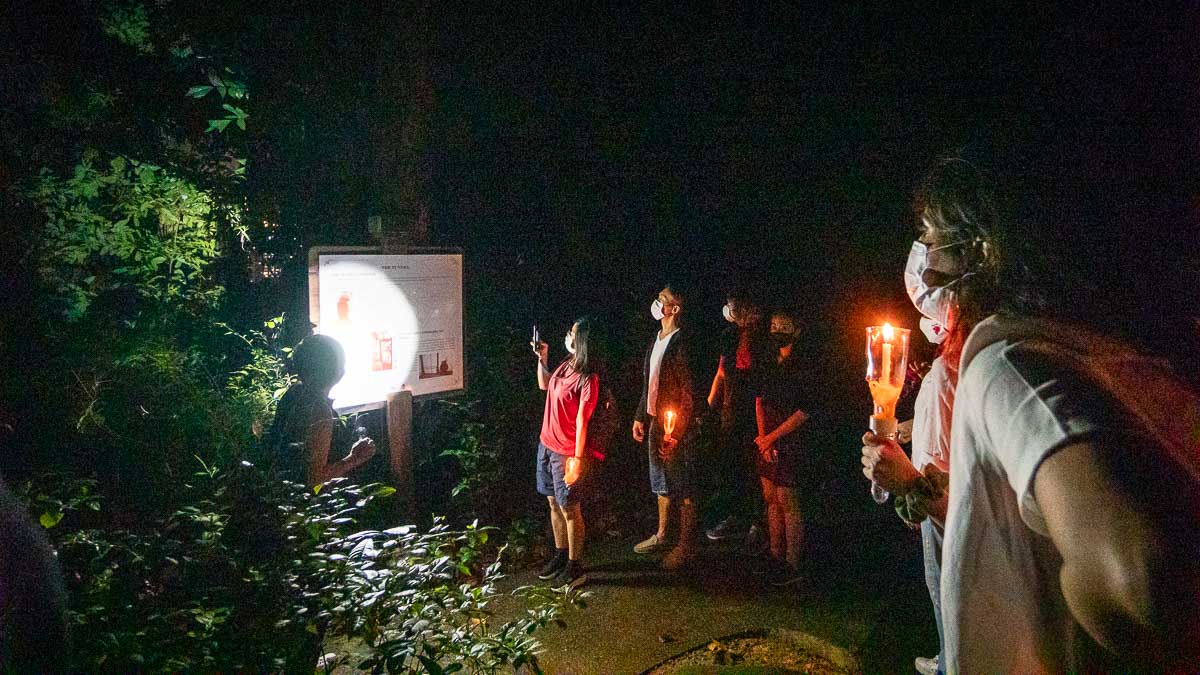 The Creepy Tales of Singapore Ghost and WWII Tour — The perfect after-dark activity for thrill-seekers. Whether you're a believer or not, decrepit WWII bunkers and Bukit Brown Cemetery tombstones are sure to give you goosebumps!
Ghost stories aside, you'll also learn the history of these less-explored places in Singapore.
Cost: ~S$105/pax
Tour timings: 7:30PM – 10:30PM (Wed – Sun)
Meeting point: Haw Par Villa MRT Station Exit A
*Pro-tip: Try the Original Singapore Ghost Stories Tour for more spooky shenanigans! Organised by the same team behind Creepy Tales, this time you'll visit haunted places in the east — including the notorious Old Changi Hospital.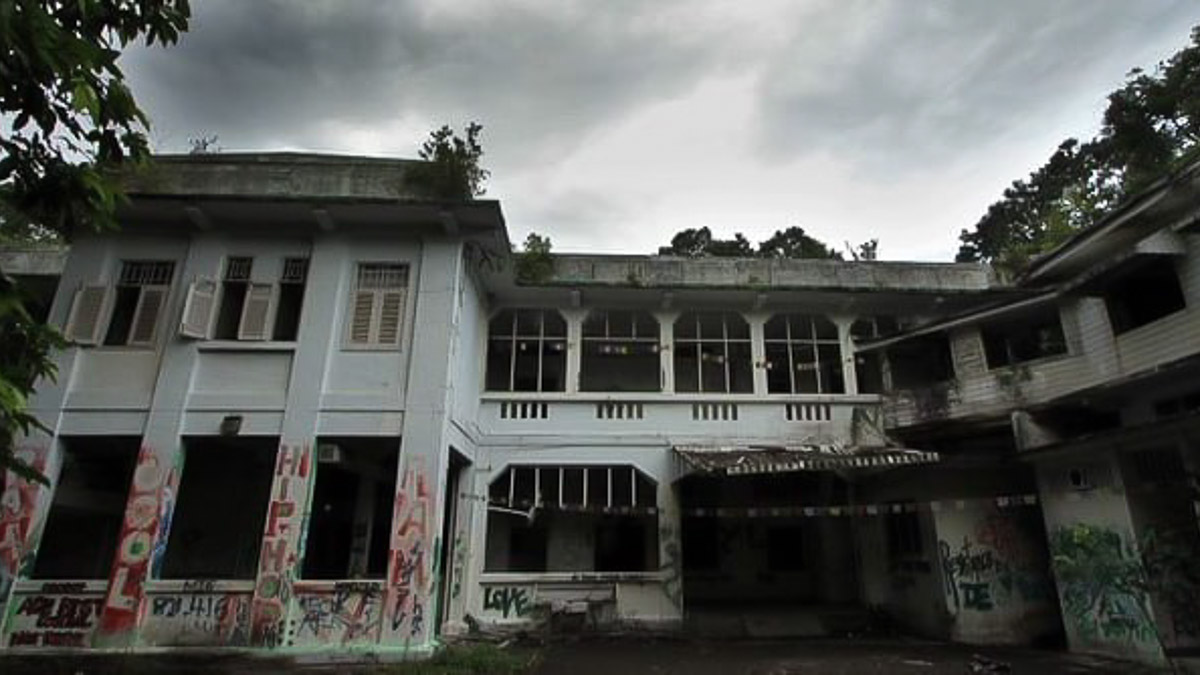 Photo credit: @ghostlyhappenings via Instagram
Day 2: Virtual reality, aqua yoga, and dining in the dark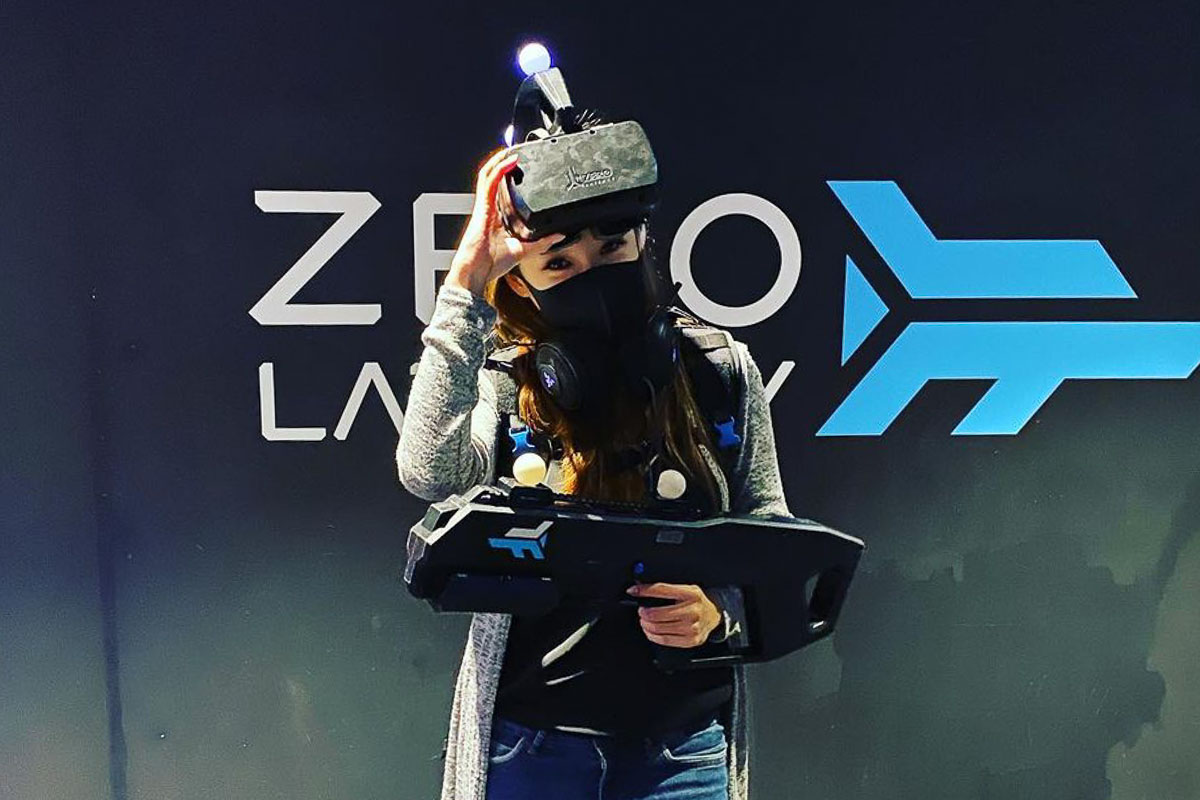 Photo credit: @peiyingg09 via Instagram
Zero Latency — Gear up for intergalactic adventure! Armed with realistic VR guns, defend yourself from hordes of rabid zombies and killer robots.
Cost: From ~S$47 for 30min of VR gameplay
Opening hours: 12PM – 9PM (Book online before visiting)
How to get there: 3min walk from Promenade MRT Station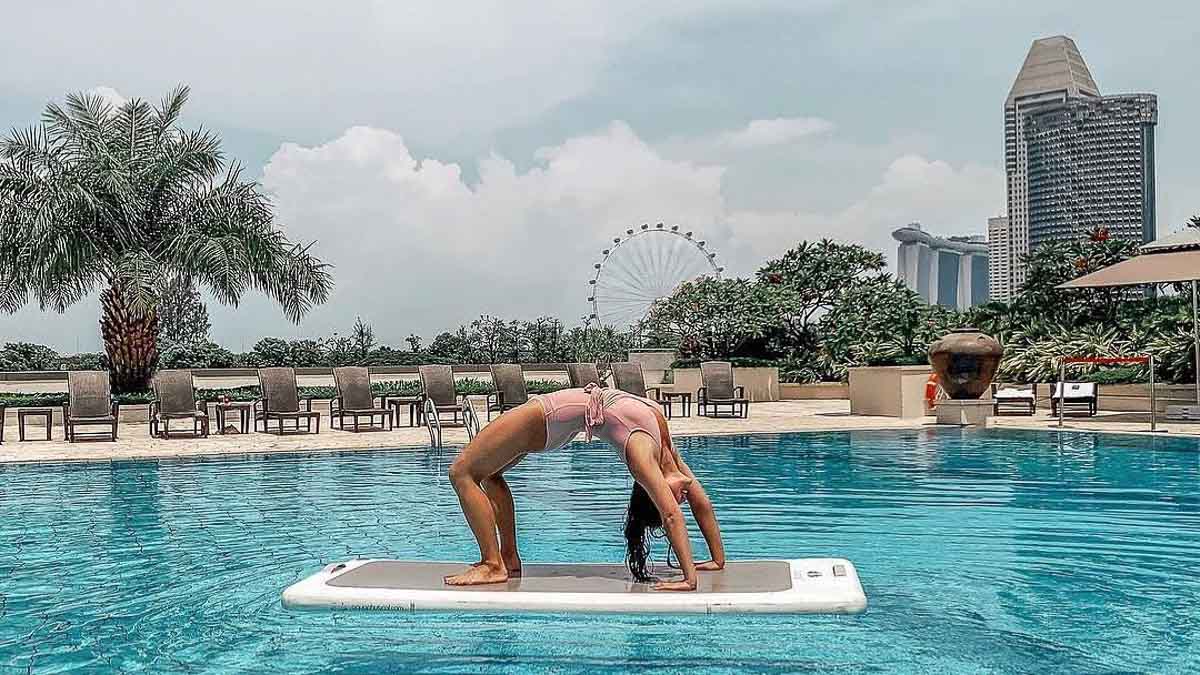 Photo credit: @skylineaqua_floatfit via Instagram
FloatFit HIIT or yoga — Test your balance and work that core on the world's first floating exercise mat. Held at a hotel swimming pool, this session burns more calories than a regular class on flat ground!
Cost: ~S$35
Activity timings: FloatFit HIIT on 6:30PM – 7PM (Wed) and 5PM – 5:30PM (Sat). FloatFit Yoga on 7:15PM – 7:45PM (Wed) and 5:45PM – 6:15PM (Sat)
How to get there: 7min walk from Bugis or Nicoll Highway MRT Station to PARKROYAL on Beach Road. Classes are held at the Swimming Pool on Level 4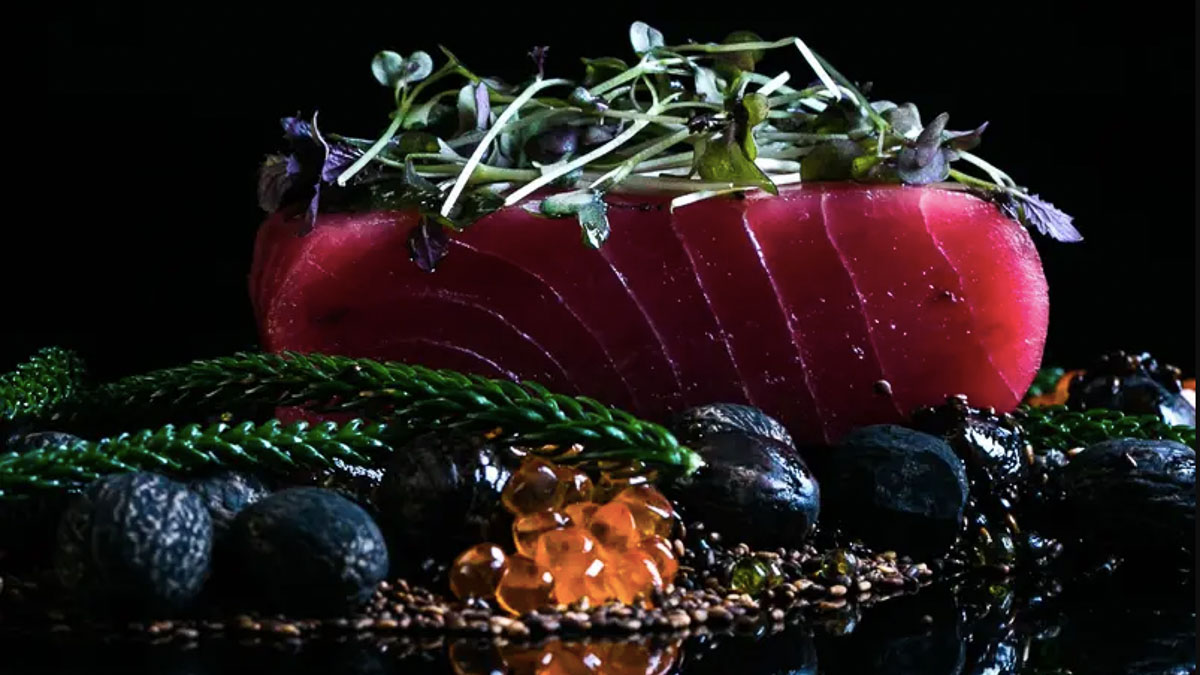 Photo credit: NOX – Dine in the Dark
NOX – Dine In The Dark — Challenge yourself to a fancy dinner in complete darkness! The whole experience is led by a visually-impaired crew who'll teach you to navigate in the dark.
Cost: ~S$103/pax for the Prixe Fixe Dinner (three-course mystery set menu and cocktail drink)
Opening hours: Reservations in 15min intervals from 6PM – 8:30PM (Tue – Sun). Closed on Mon
How to get there: 7min walk from Nicoll Highway MRT Station
Read also: 3D2N Singapore Staycation — Adventurous Date Ideas For The Restless Singaporean Couple
Route for Novelty Seekers
Obsessed with everything weird and wacky? Always itching to try new things? Then try this route filled with kooky workshops and unique, off-the-beaten-track experiences!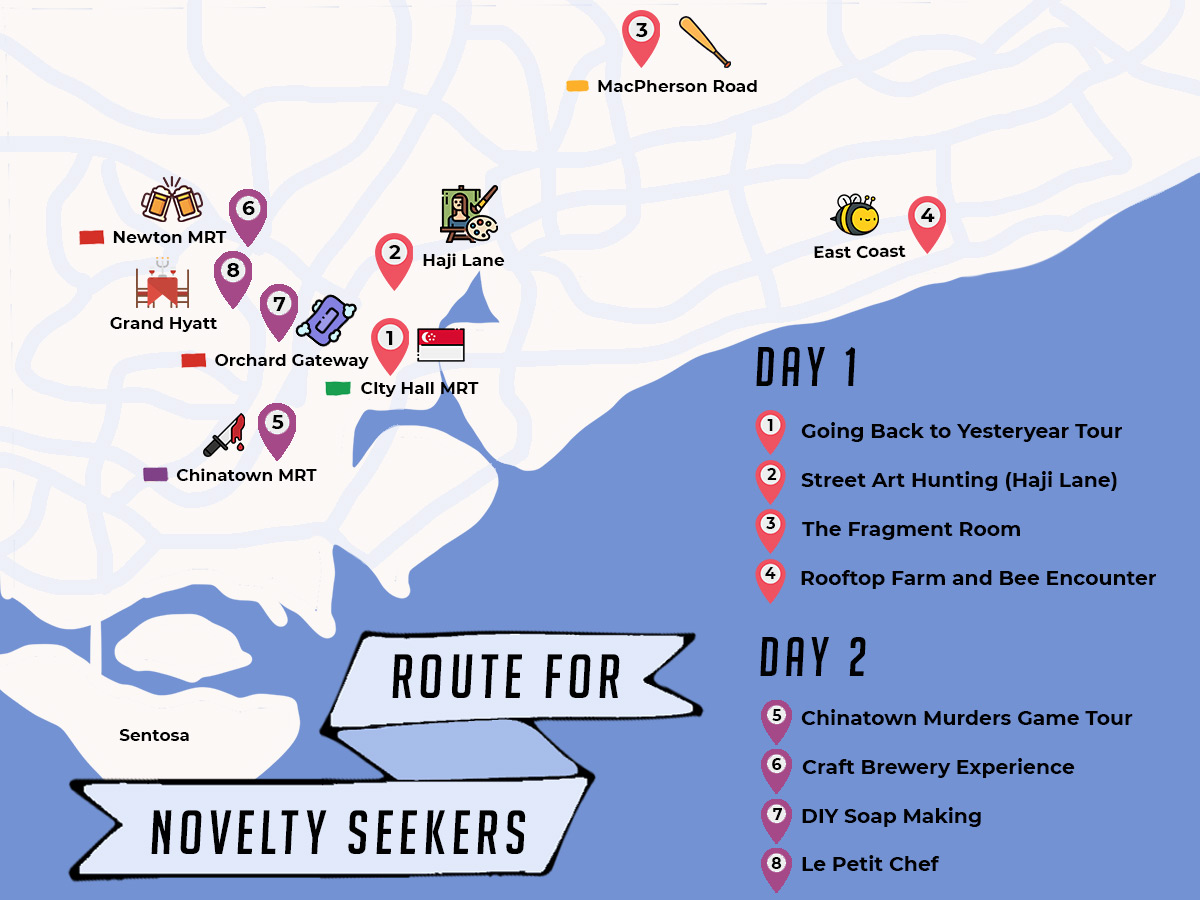 Day 1: Travel back in time, smash stuff, and be a beekeeper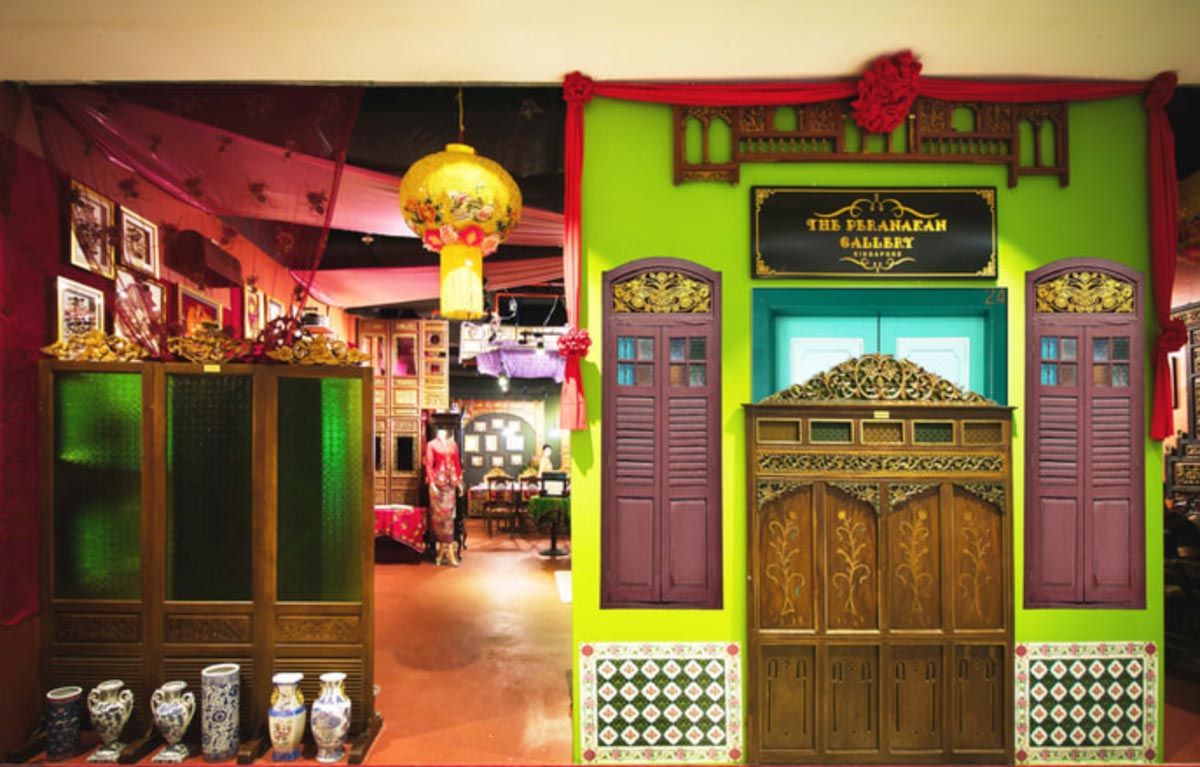 Photo credit: Klook
Going Back to Yesteryear tour — Think you've seen it all in small, modern Singapore? This tour brings you to historic sites like Emerald Hill and the Peranakan Gallery, home to a private collection of vintage artefacts. Along the way, enjoy exciting tales behind ancient shophouses and their towkay (business owner) tenants.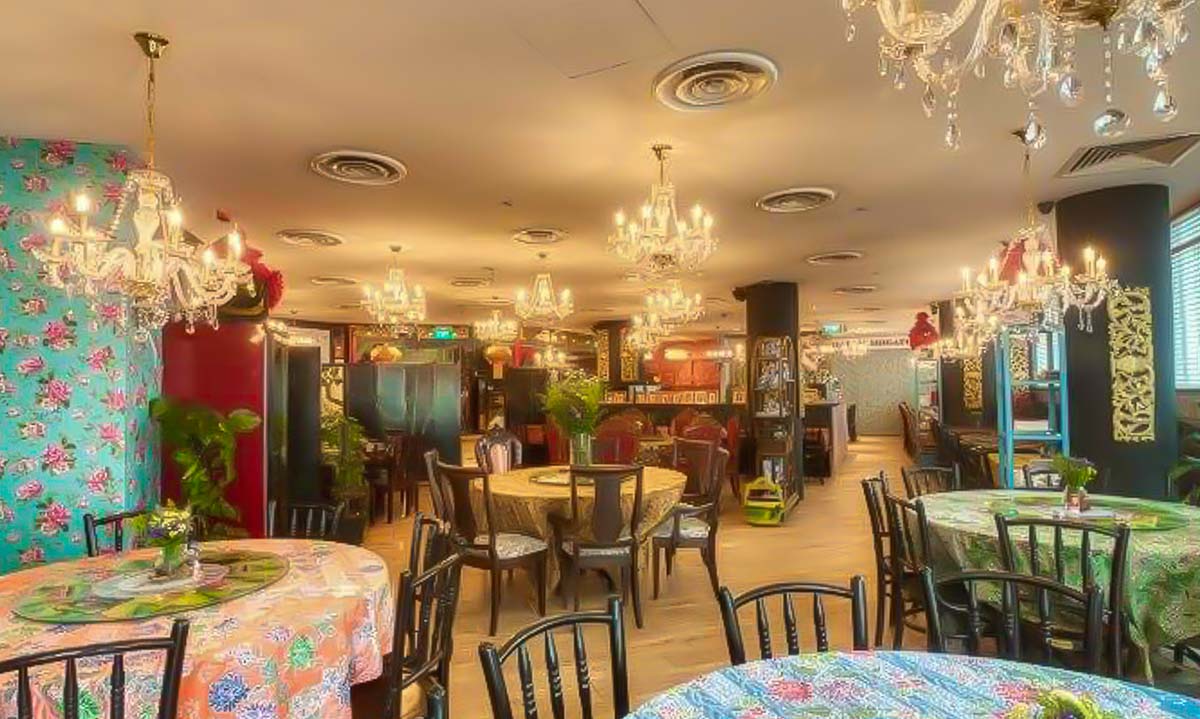 Photo credit: Klook
The Peranakan experience wraps up with a delicious Nonya lunch!
Cost: ~S$70 (incl. lunch)
Tour timings: 9:30AM – 1:30PM (Thu – Fri)
Meeting point: McDonald's Raffles City, outside City Hall MRT Station Exit A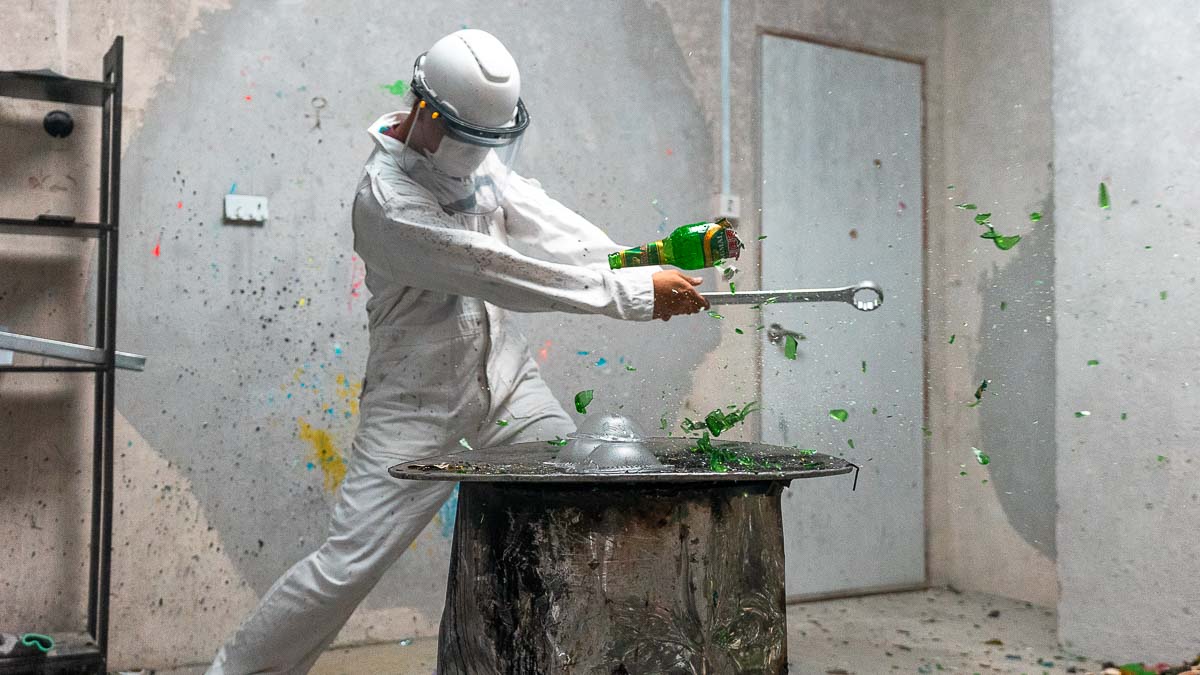 The Fragment Room — Unleash your inner crazy by wrecking everything from glass bottles to office printers and TVs. You'll be provided with a white jumpsuit for protection — and to help get in character!
Cost: From ~S$80 for two pax; ~S$128 for four pax
Opening hours: 12PM – 10PM
How to get there: From Tai Seng MRT, walk 10mins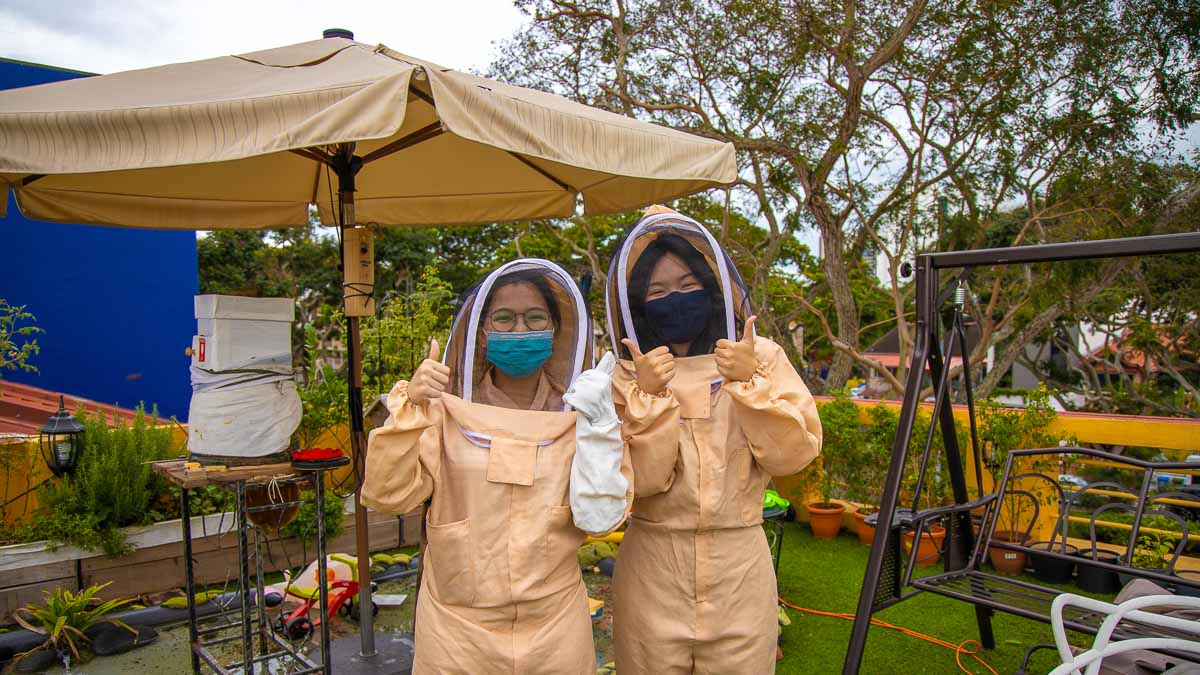 The Sundowner's farm-to-bar experience — Attend an organic gardening masterclass, then don a beekeeper suit to examine a beehive. If you're daring, try harvesting honey! To top it off, prepare a farm-to-bar cocktail using the fresh herbs you've picked.
Cost: ~S$86
Tour timings: 5PM – 7PM (Mon – Sun)
How to get there: From Kembangan MRT, take bus 32 or 42 to The Sundowner
Day 2: Solve a murder mystery, visit a distillery, and enjoy a sensory dining experience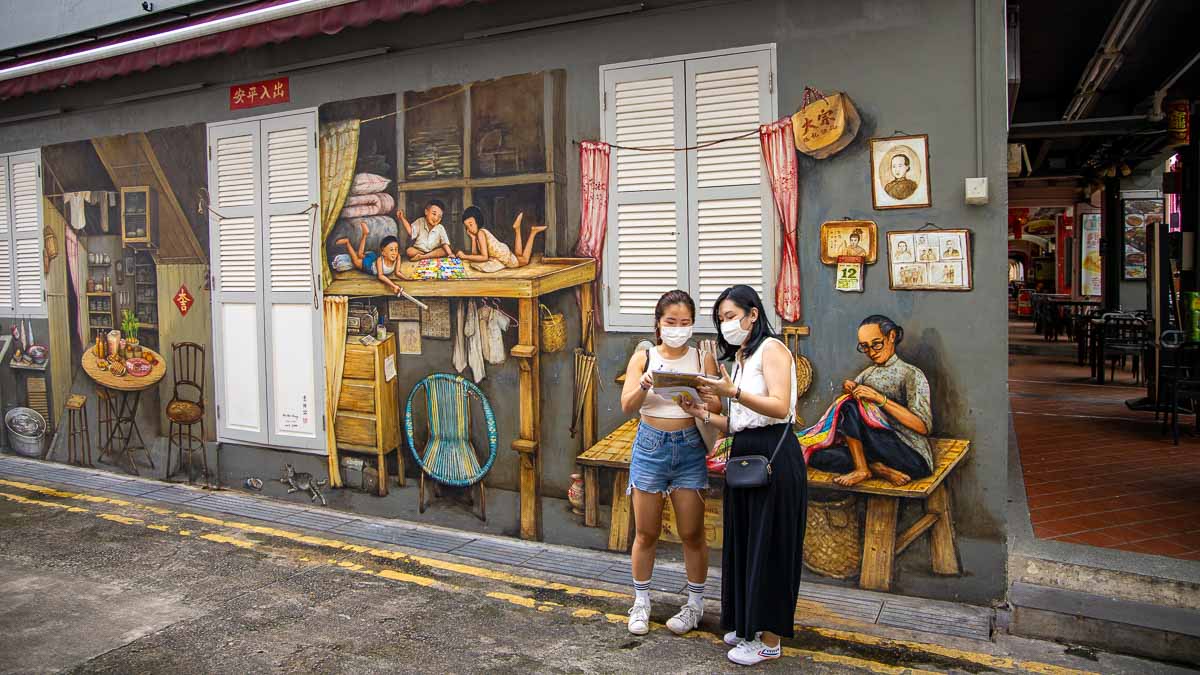 Chinatown Murders — Hunt down a serial killer and solve this fascinating murder mystery by solving puzzles along Chinatown's streets. This all-in-one game and theatre performance will also let you interact with interesting characters like a Samsui woman and a moneylender.
Cost: ~S$50
Tour timings: 10AM – 12PM (Fri – Sun)
Meeting point: Chinatown MRT Exit C, on the Level 2 Garden Bridge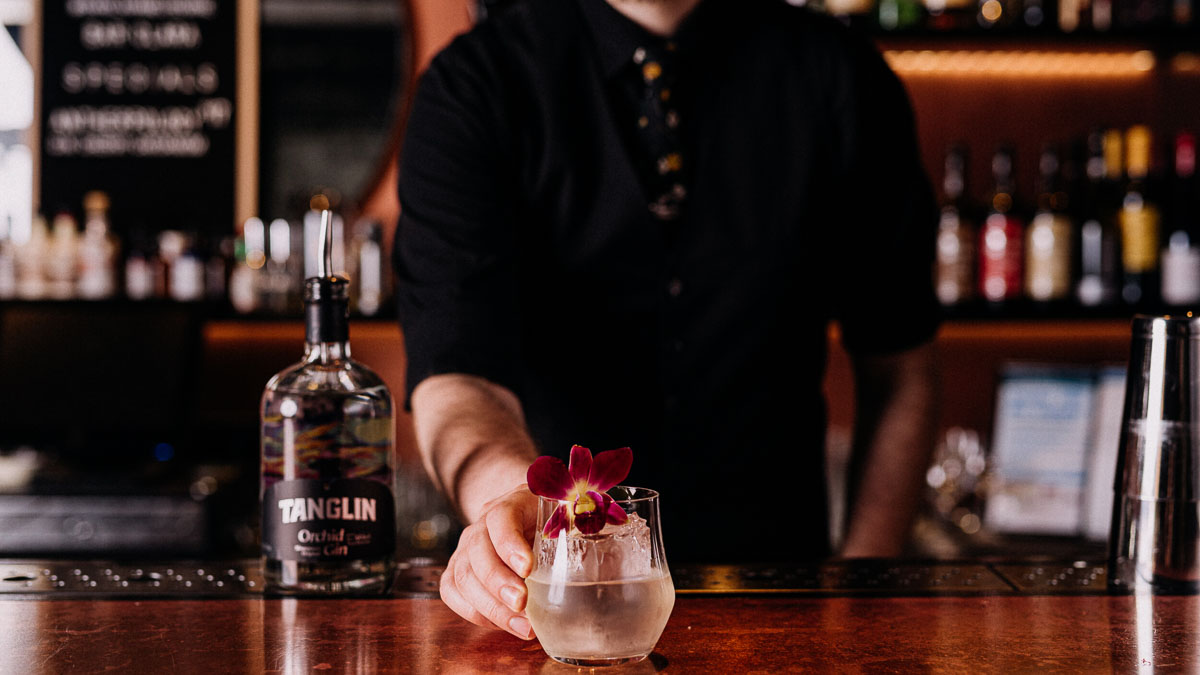 Photo credit: Klook
Behind-the-scenes Tanglin Gin tour — Explore Singapore's very own gin distillery! Tanglin Gin's unique process uses ingredients like chilli and ginger, which you won't find in most other gins. The tour also includes free cocktail samples, craft beers, and snacks.
Cost: From ~S$150/pax
Tour timings: 2:30PM – 5:30PM (Wed and Sat)
Meeting point: Newton Circus Hawker Centre Bus Stop, outside Newton MRT Station Exit B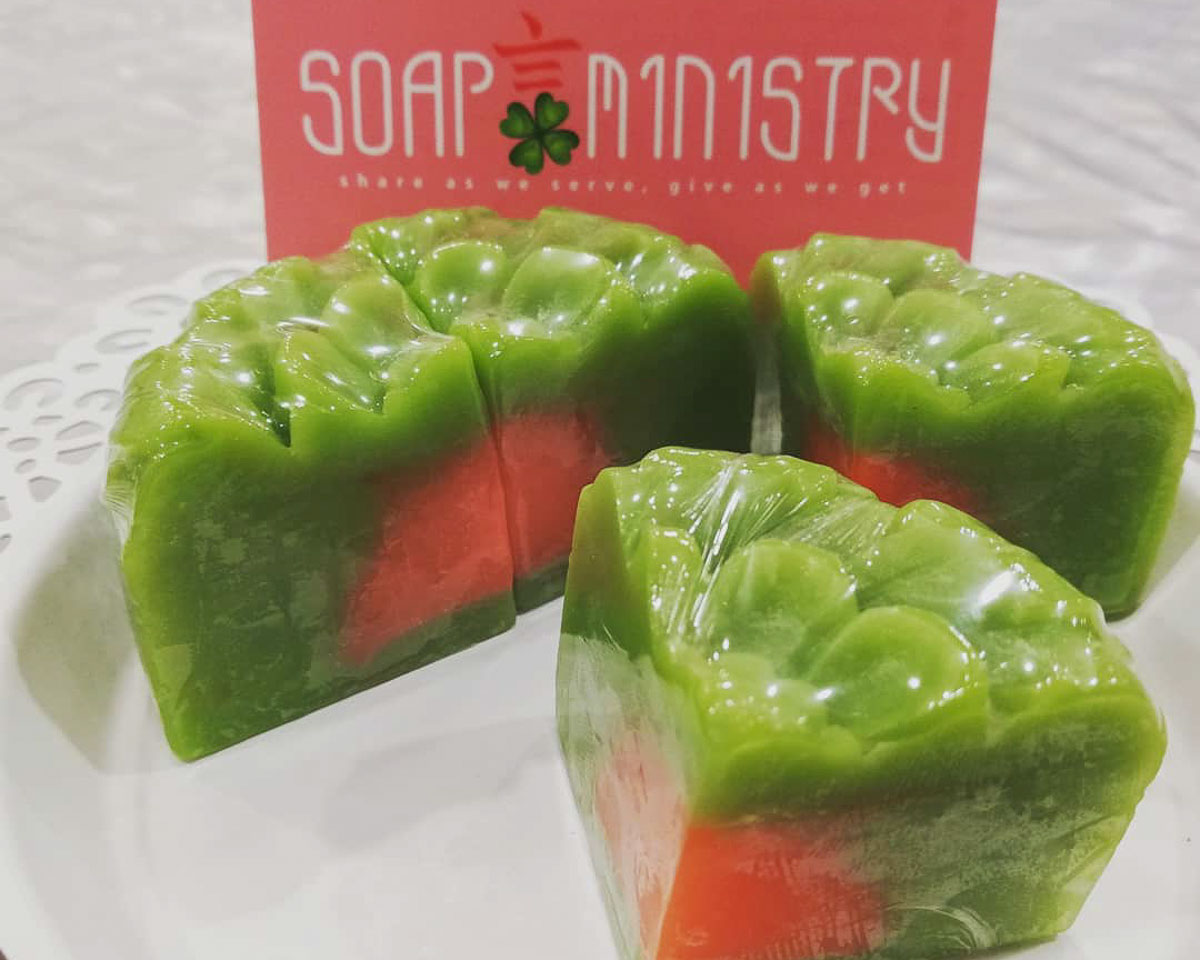 Photo credit: @shirleen.ig via Instagram
DIY soap-making session at Soap Ministry — Learn to pour your own soap bars by choosing colours, scents, and designs like a flower or a cute owl!
These handmade gifts are great for sensitive skin, as they're ultra-moisturising and free from harsh chemicals.
Cost: From ~S$45
Opening hours: 11AM – 8PM (Call 9669 5953 to secure a timeslot)
How to get there: 3min walk from Somerset MRT Station to Soap Ministry at Orchardgateway, #03-04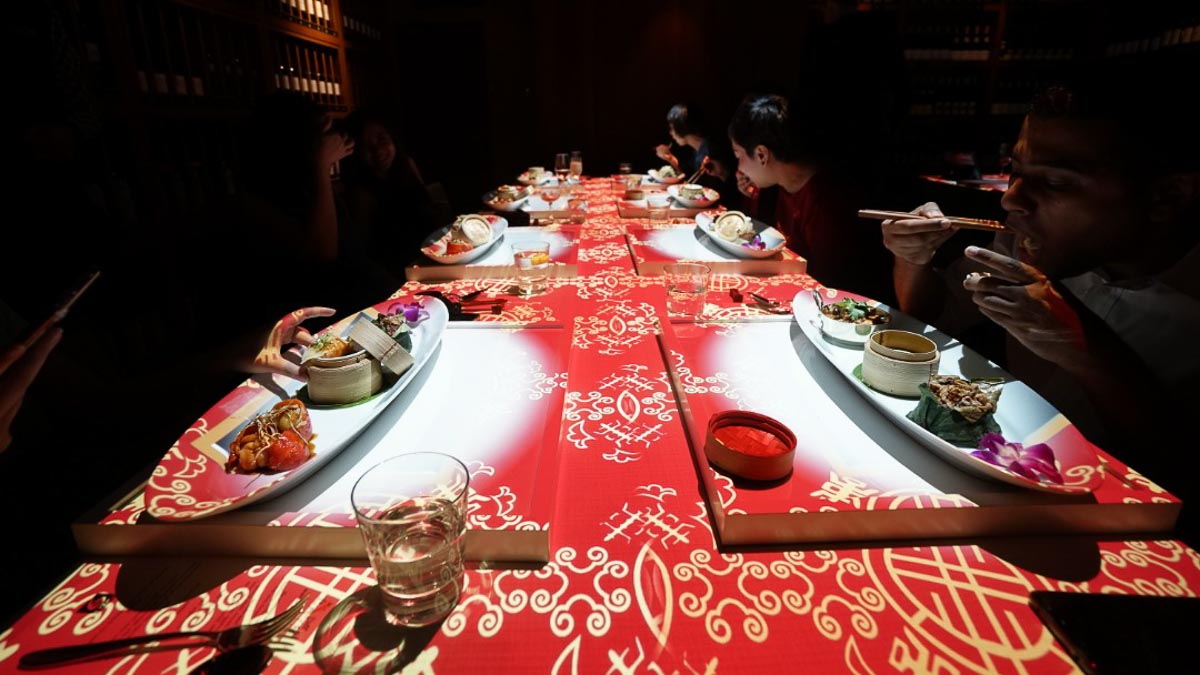 Photo credit: Le Petit Chef
Le Petit Chef — Dinner here is a whole experience, combining cinema with fine-dining.
Using 3D projection, scents, and soundtracks, follow the 'world's smallest chef' on a journey around the world. The story unfolds on the table and even incorporates cutlery into the exotic landscapes.
Cost: From S$188++/pax for the six-course menu
Dinner timings: 2hrs from 12.30PM, 3PM, 6PM and 8.30PM, until 30 June 2021
How to get there: 5min walk from Orchard MRT Station to mezza9 La Cave wine cellar, Grand Hyatt Singapore
Route for Nature Lovers
Escape the HDBs and mega malls for parks, jungles, farms! You'd be surprised by what you can discover in Singapore's great outdoors, from magical landscapes to colourful wildlife.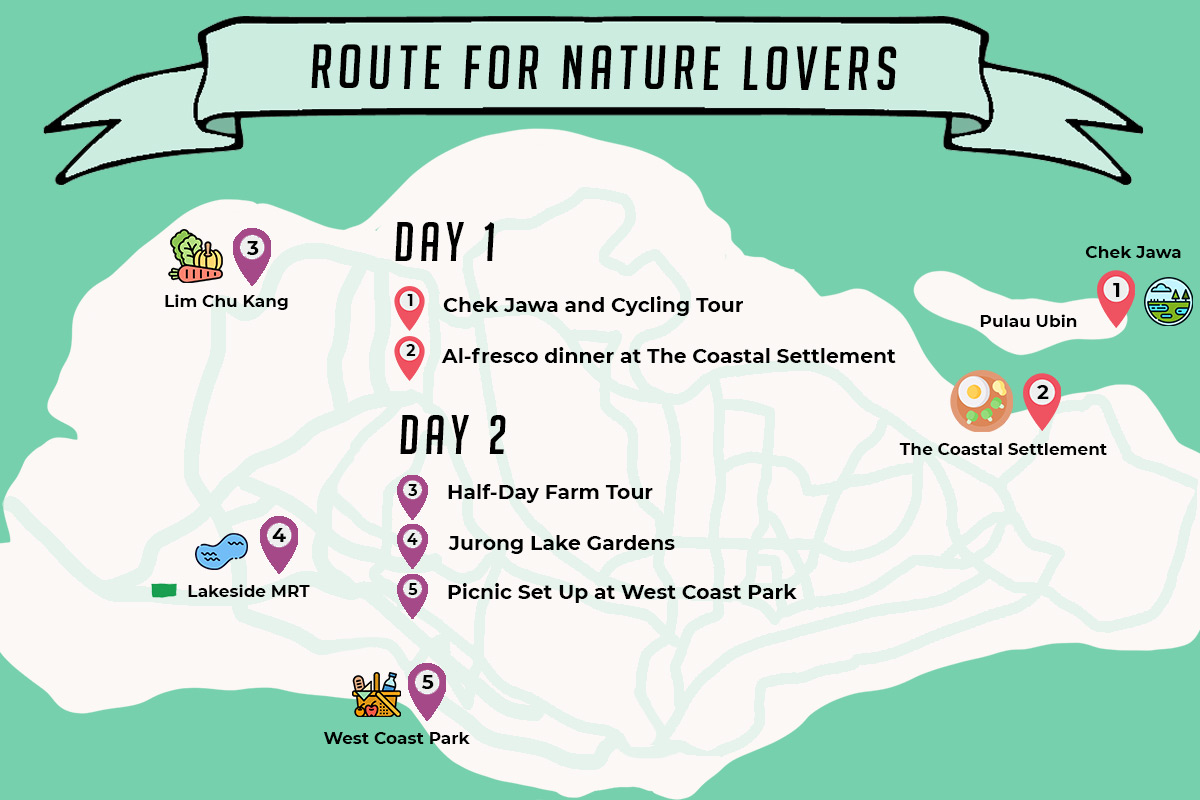 Day 1: Outdoor adventures at Chek Jawa Wetlands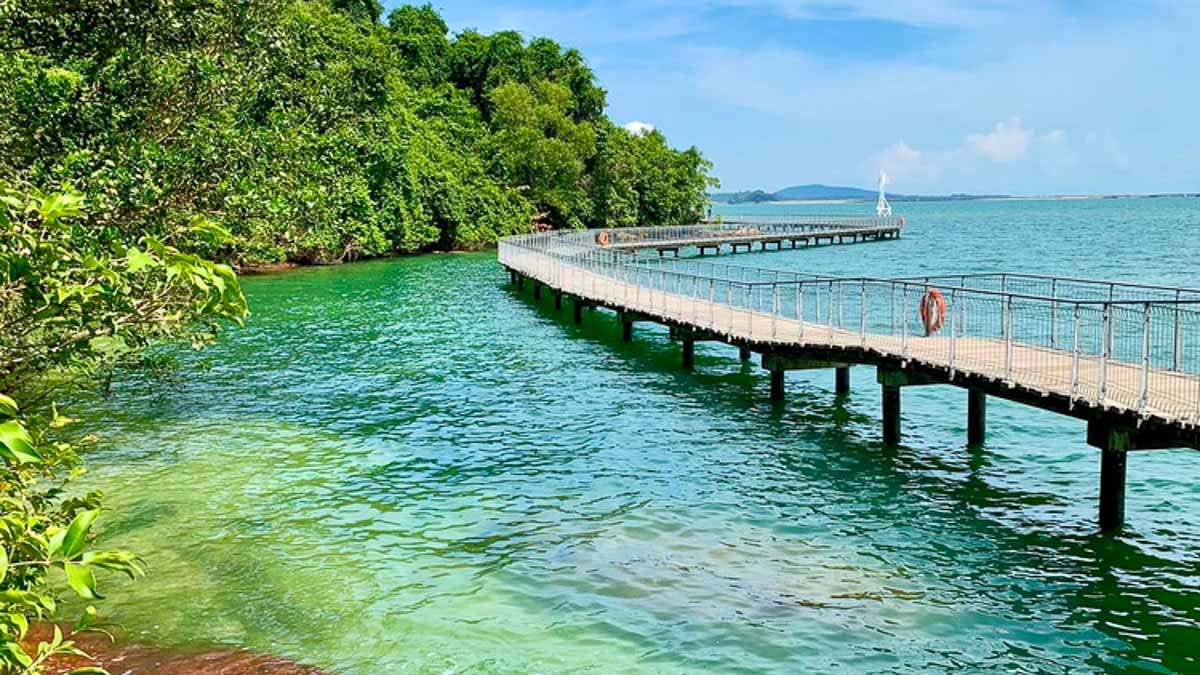 Photo credit: Klook
Half-day bike tour at Chek Jawa — Explore rustic attractions like Pulau Ubin Village and Jejawi Tower.
As you cycle along, your tour guide will point out and share fun facts about Chek Jawa's unique wildlife, like mud lobsters and carpet anemones.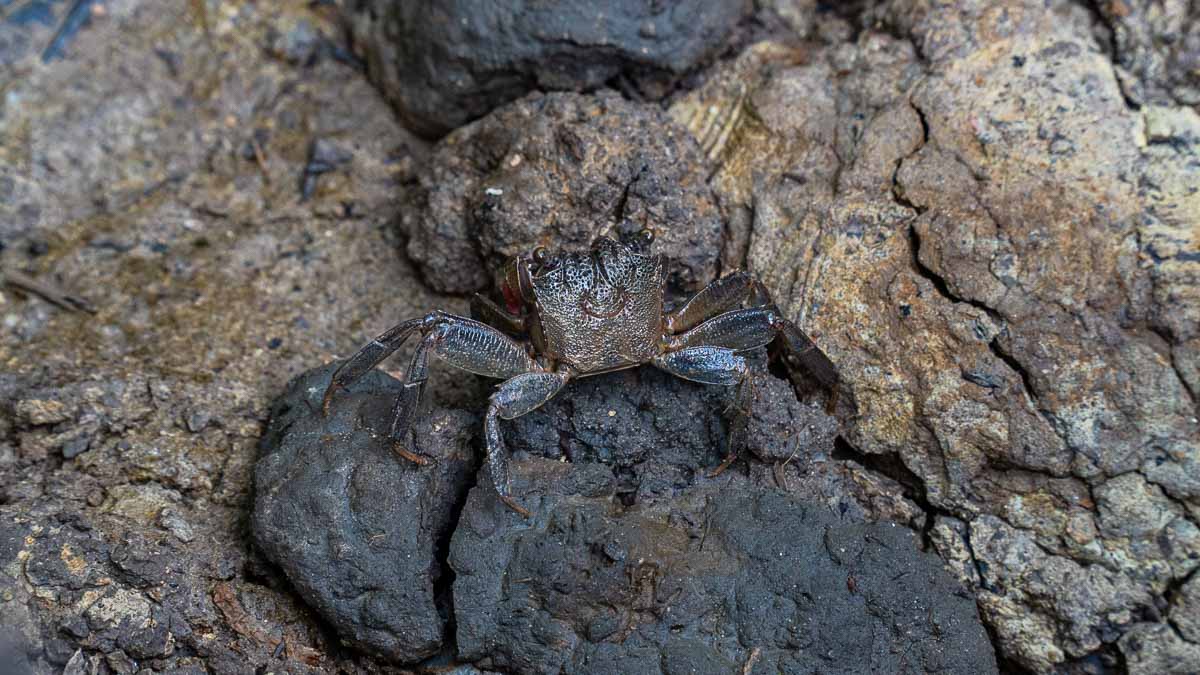 Some of these animals are pretty hard to spot on your own!
Cost: ~S$99 (incl. two-way ferry tickets and bike rental)
Tour timings: 10AM – 4:30PM (Tue, Sat – Sun)
Meeting point: Changi Point Ferry Terminal
Read also: Between Singapore's Islands — 12 Surprising Things to Do on the Seas of Singapore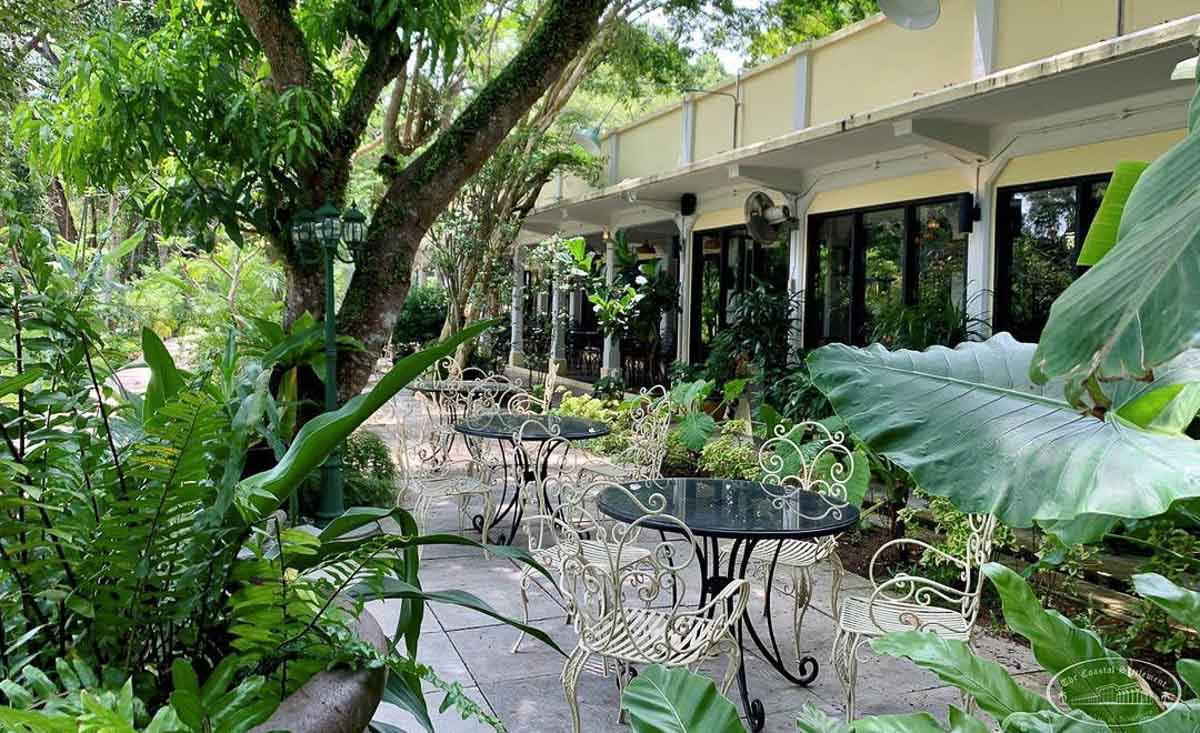 Photo credit: @thecoastalsettlement via Instagram
The Coastal Settlement — Refuel at a gorgeous eatery nestled in nature. Pick from local-inspired fusion food like chicken with kicap manis glaze (S$26), and a grilled jumbo prawn with sambal belachan (S$21).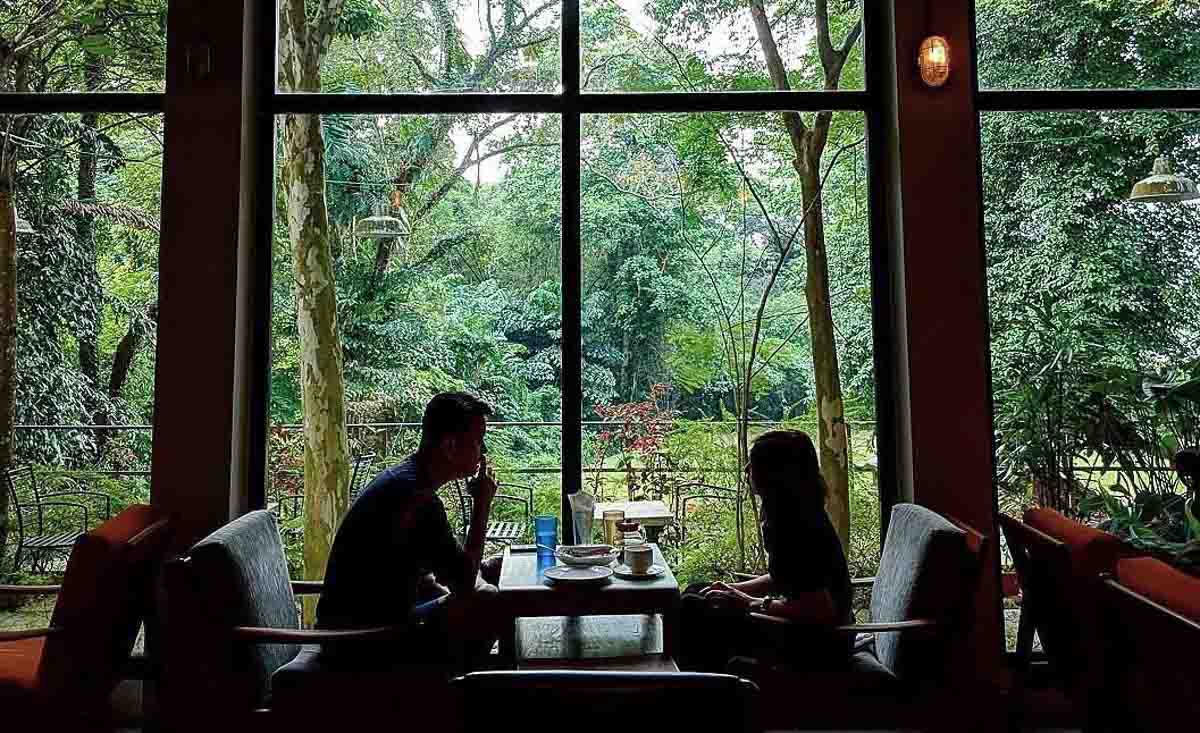 Photo credit: @furryfish via Instagram
Even if you choose to dine indoors, you'll still enjoy lush nature views.
P.S. The Coastal Settlement has no dress code, so you can dine in workout gear!
Cost: Mains from ~S$22
Opening hours: 10:30AM – 11PM, opens 8:30AM on weekends & PHs
How to get there: From Pasir Ris MRT Station, take bus 89 or 109 to 'Before Cranwell Road' bus stop. Then, walk 7 min to The Coastal Settlement
Day 2: Farm-hopping and a luxurious picnic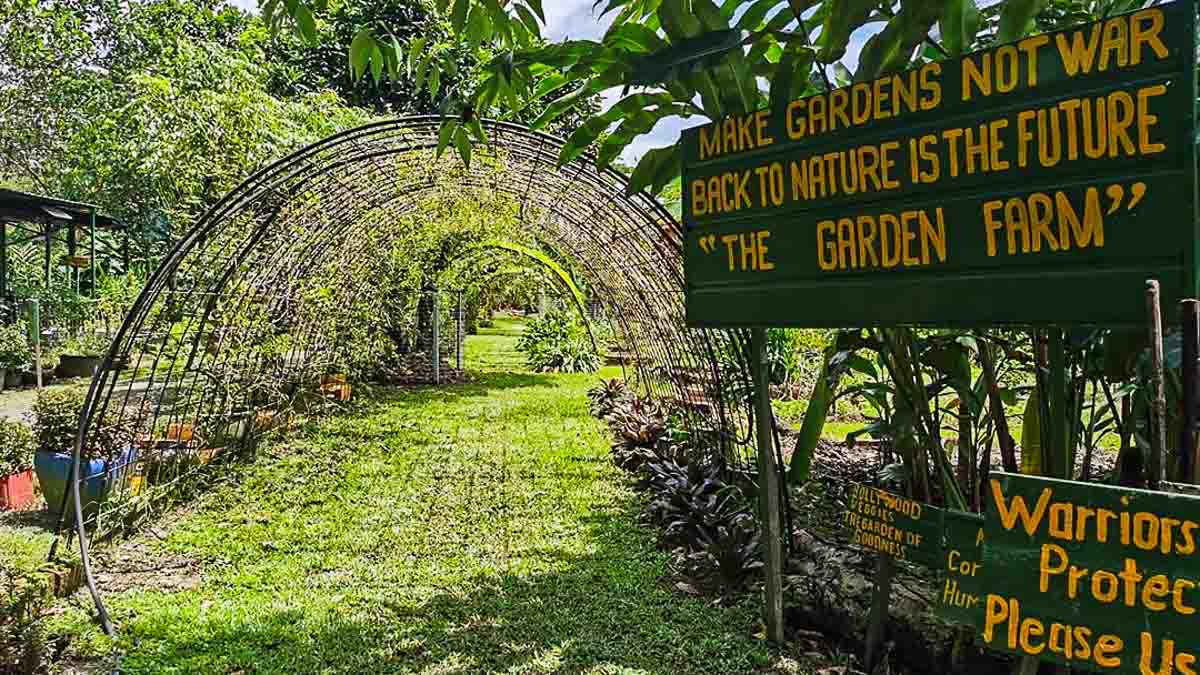 Photo credit: @tomatojen via Instagram
Half-day local farm tour — This tour brings you to three unique farm experiences in the Kranji countryside.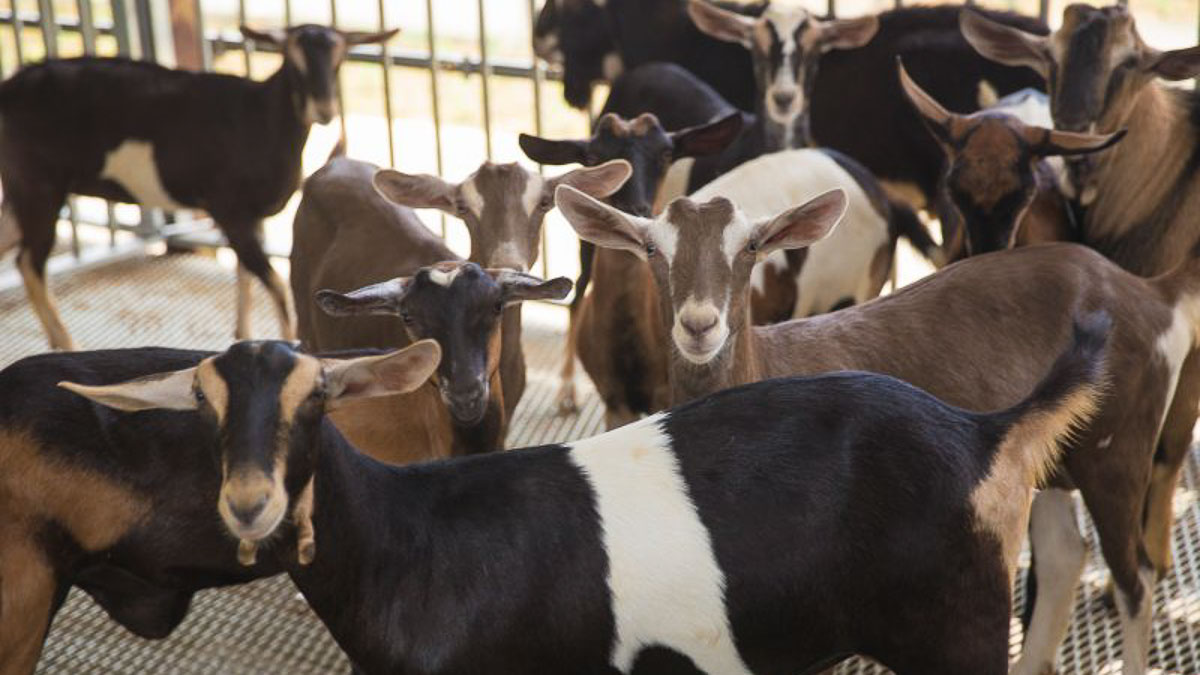 Photo credit: Hay Dairies
Visit Bollywood Veggies and Kok Fah Technology Farm — two of Singapore's top urban farms — followed by the popular Hay Dairies Goat Farm (with express entry). You'll get a bottle of goat milk, a souvenir, as well as hay to feed the goats!
Cost: From ~S$40
Tour timings: 9AM – 1PM (Wed – Sun)
Pick up: Available at MacPherson MRT Exit A (for private transport to Kranji)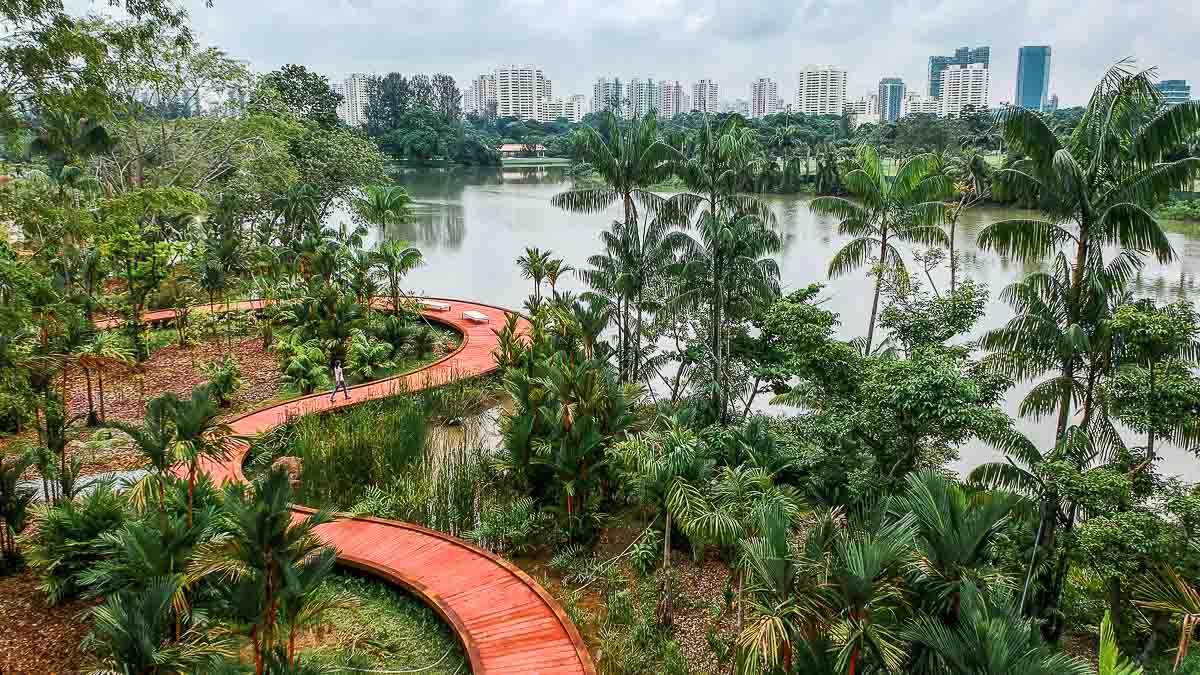 Photo credit: NParks
Jurong Lake Gardens — Enjoy some fresh air at a restored swamp that's one of Singapore's loveliest green spots. Pose for pics with 'The Lone Tree' at the Grasslands, and stroll along the scenic Rasau Walk.
Entrance fee: Free
Opening hours: 24hr
How to get there: 3min walk from Lakeside MRT Station
Note: Parts of the gardens are closed until Jun 2022.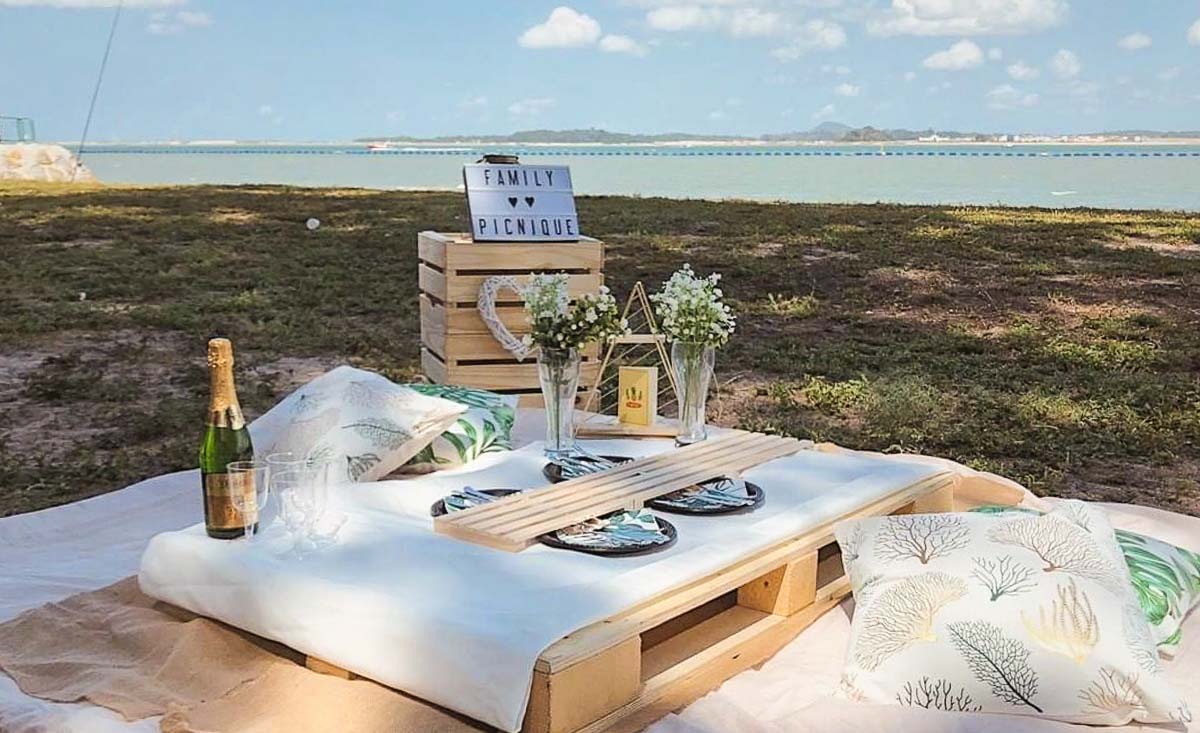 Photo credit: @packddsg via Instagram
An Instagrammable picnic for dinner — Since you're already in the west, how about an alfresco dinner at West Coast Park? The glamorous picnic is set up for you before you arrive. Just bring your own food and drinks, games, and a camera for pretty pics!
Cost: From ~S$141 (up to five pax)
Activity timings: 3hrs, between 10AM – 10PM
How to get there: From Kent Ridge MRT Station, take bus 95 to 'Clementi Rd – Kent Ridge Ter' bus stop and walk 6min
*Pro-tip: This picnic set up can be done anywhere in Singapore, even indoors!
Read also: 15 Things to Do in Singapore for Outdoor-Loving Singaporeans
Route for Families With Kids (and Adult Kids-at-Heart)
Prefer riding ferris wheels than rollercoasters? This chill route isn't any less fun, with activities suitable for all ages! From rollerskating to going behind-the-scenes at the airport, these adventures are sure to bring out the kid in you.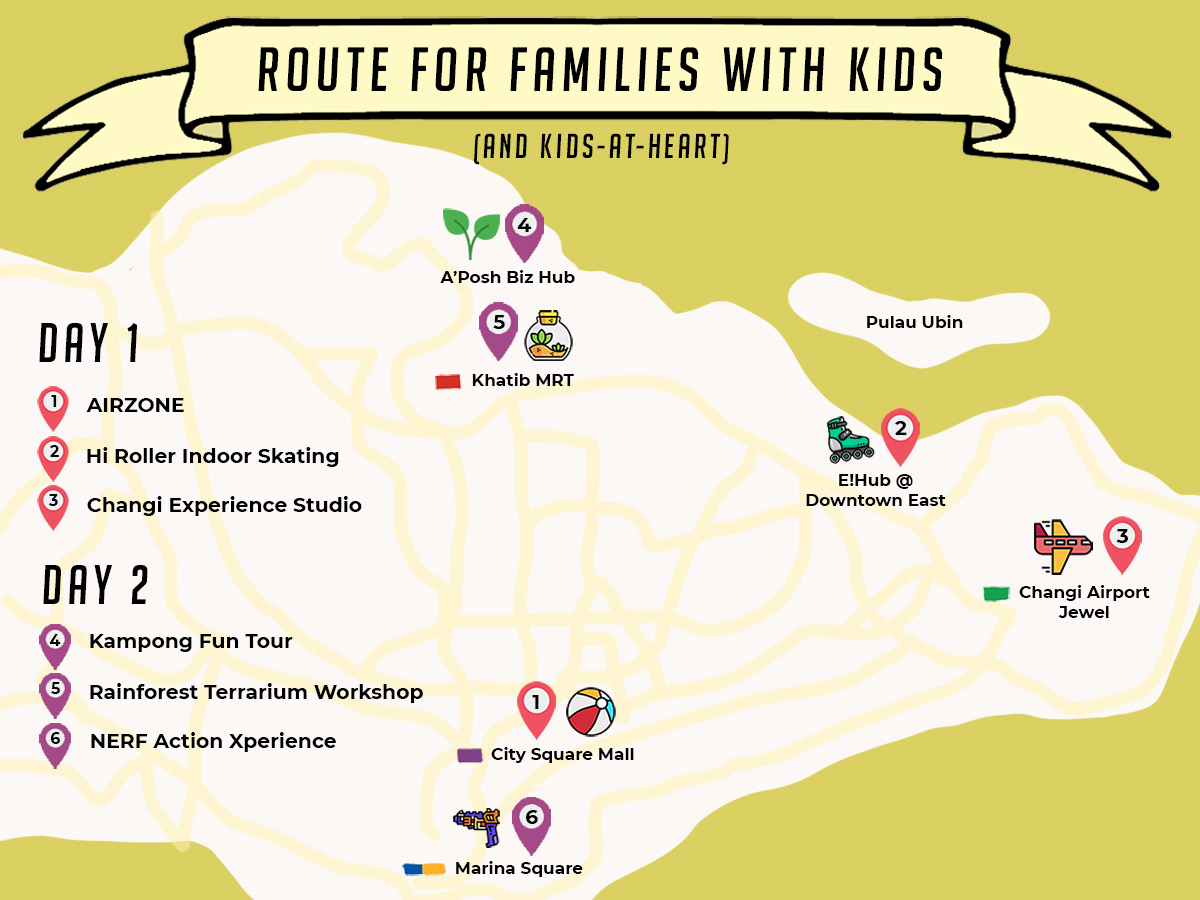 Day 1: Aerial playground, indoor rollerskating, and a behind-the-scenes airport experience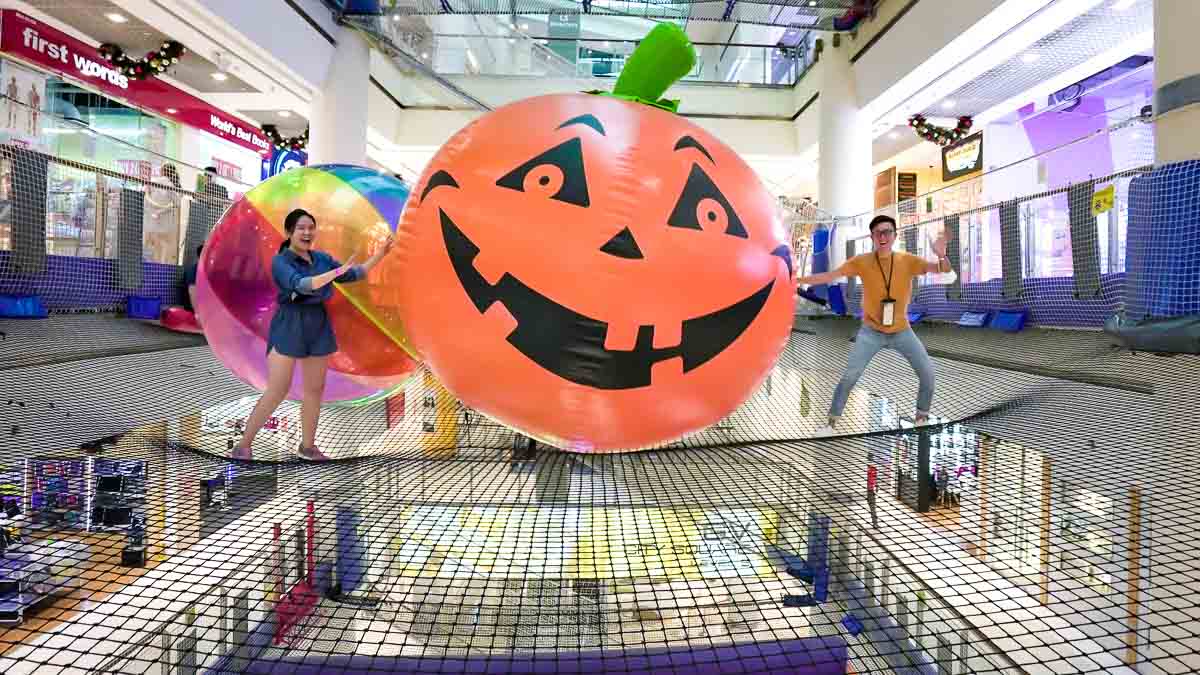 AIRZONE — This elevated playground is every kid's dream come true, with an aerial soccer space, a maze, and the world's first suspended ball pit!

Entrance fee: From ~S$21.25
Activity timings: 11:40AM – 8:40PM (Each session is 50min; Last session at 7:50PM)
How to get there: 3min walk from Farrer Park MRT Station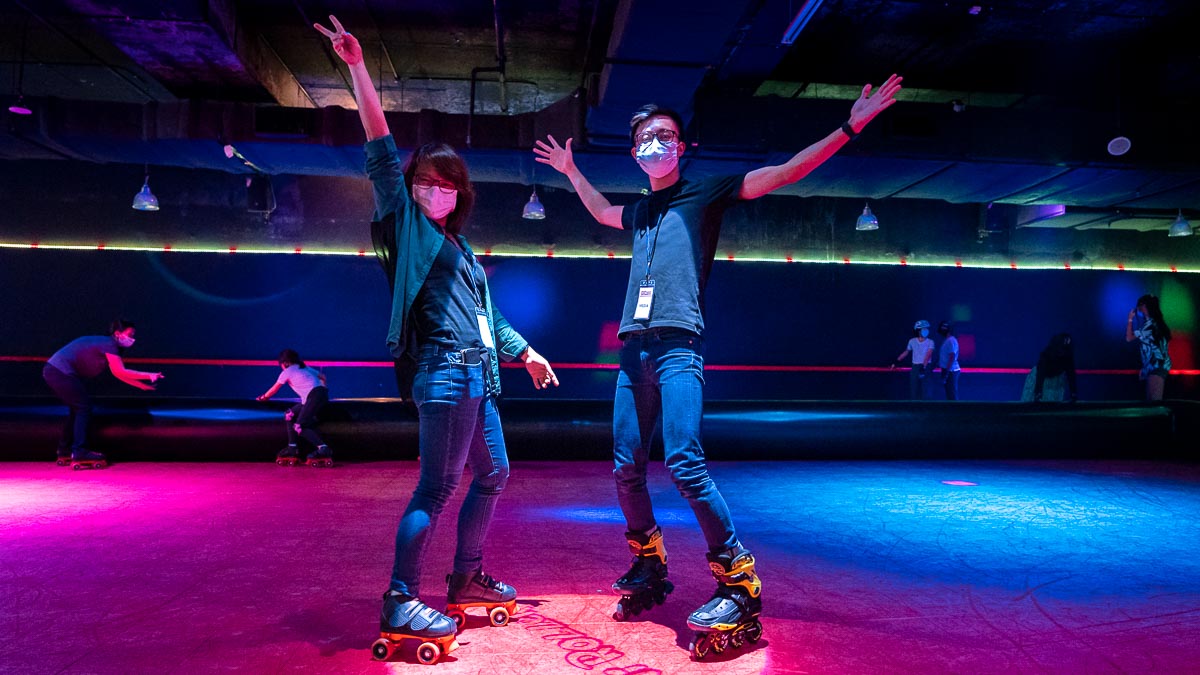 Hi Roller Indoor Skating Rink — This groovy arena has major retro party vibes. Grab a pair of old-school roller skates and roll along the rink with neon lights and disco beats.
Entrance fee: From ~S$14.85 (incl. protective gear like helmets and guards)
Opening hours: 11:30AM – 9PM (Last entry 7PM; check latest schedule here)
How to get there: From Pasir Ris MRT, walk 15mins to Downtown East. Alternatively, take a free shuttle bus
*Pro-tip: Bring your own mid-calf or knee-length socks, or you'll need to purchase them at the counter for S$3.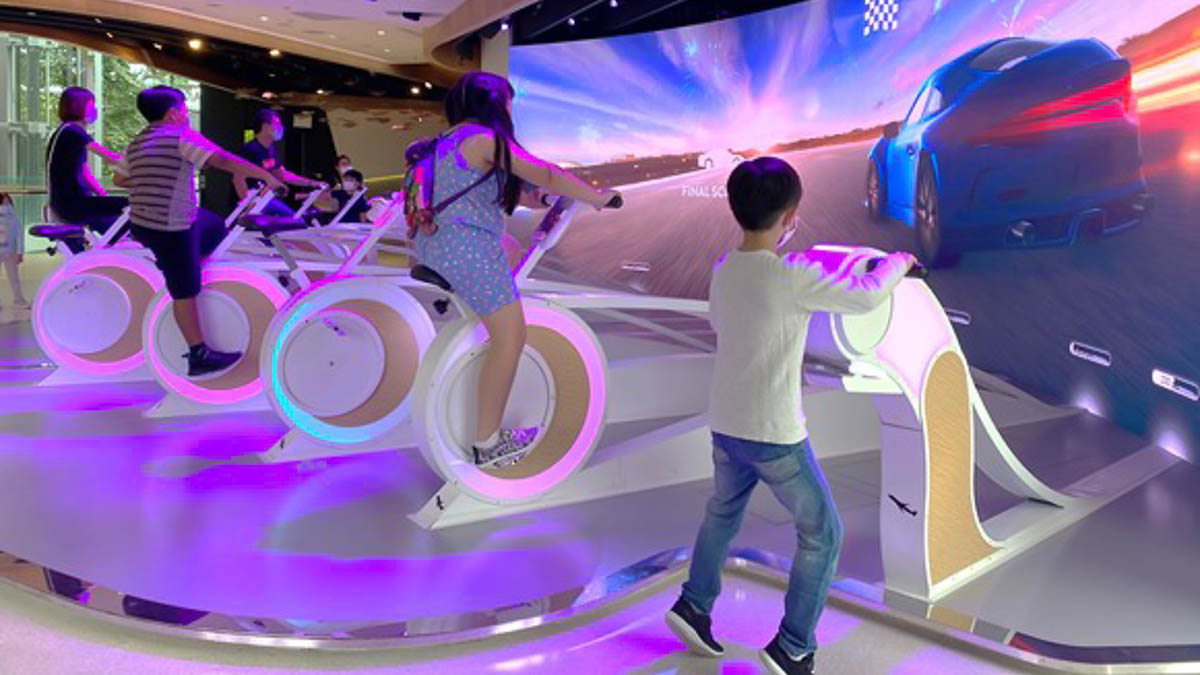 Photo credit: Changi Airport
Changi Experience Studio — This interactive space has high-tech exhibits like the Amazing Runway, a multiplayer racing game.
Plus, it's both fun and educational, as you'll learn about Changi Airport's daily operations and history.
Entrance fee: ~S$19/adult; ~S$13/child (ages 5 – 12)
Opening hours: 11AM – 8PM (Last admission at 7PM)
How to get there: From Changi Airport MRT Station, take the link bridge from level 2 of T2 or T3 to Jewel Changi Airport. The Changi Experience Studio is located on Jewel Changi Airport Level 4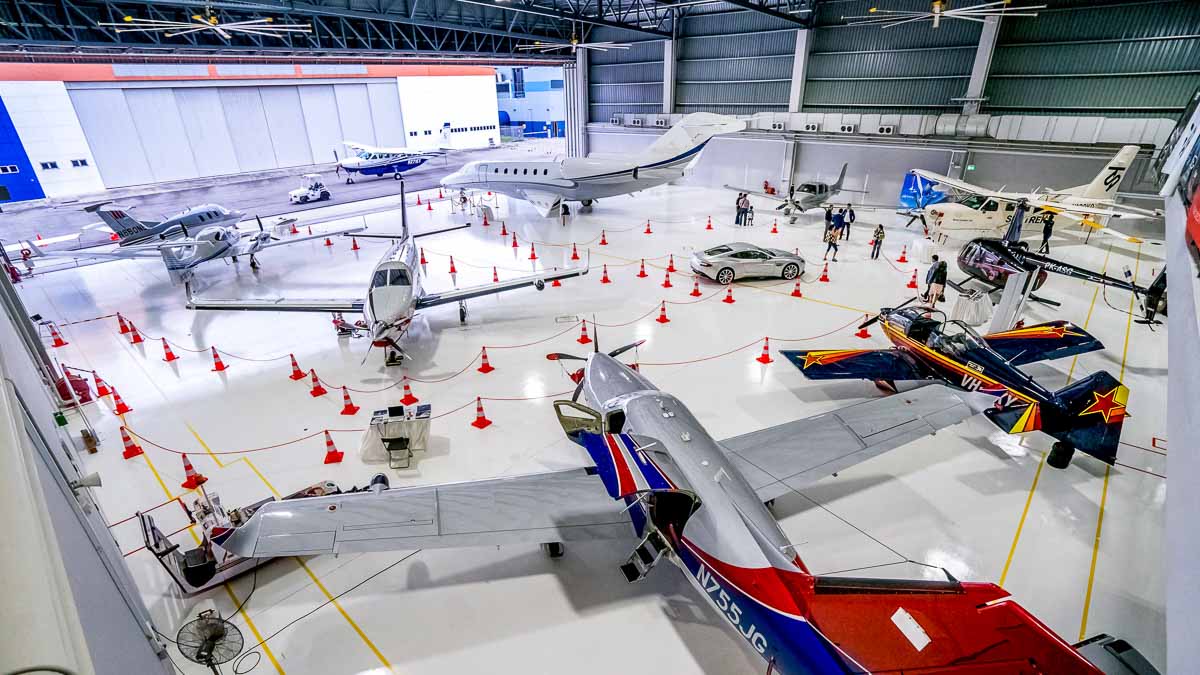 Photo credit: WingsOverAsia
P.S. If you enjoyed that airport experience, check out this retro aviation and hangar tour. It comes with exclusive access to the old Seletar Airport Runway, Private Aviator's Lounge, and other iconic sites. You'll even get to climb into a real propeller plane!
Day 2: Visit a kampong, plant a miniature garden, and have a NERF battle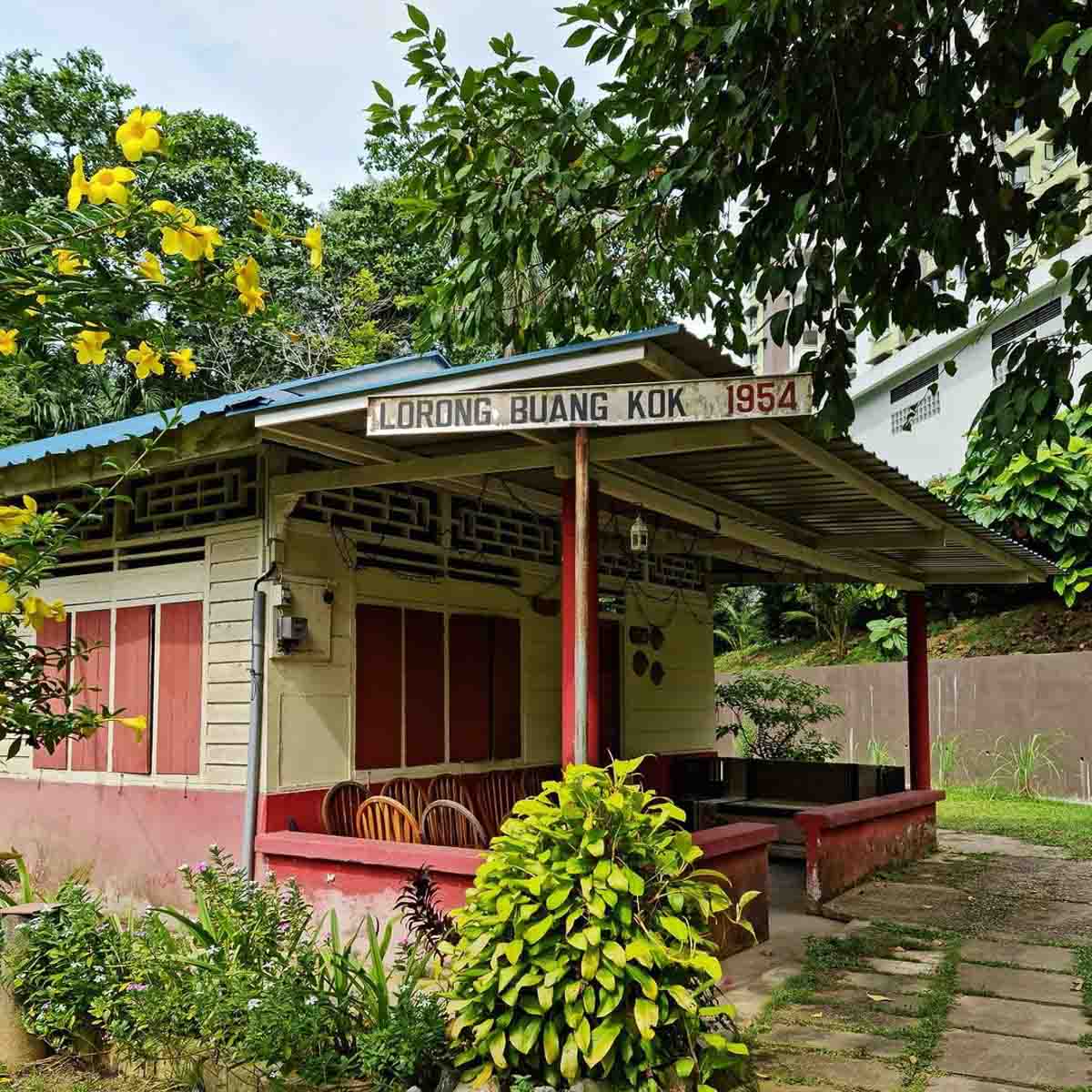 Photo credit: @fallenpig95 via Instagram
Fun kampong tour — Visit Kampong Lorong Buangkok, a refreshing change from everyday city sights. Together with your experienced guide, you'll get a real-life history lesson on the last true kampong in Singapore.
You'll also visit the Ground-up Initiative, a sensory farm known for its play stations — great for giving the kids a taste of kampong life!
Cost: From ~S$104/adult; ~S$99/child (aged 4 – 12). Free for children below 3
Tour timing: 8:30AM – 11AM (Sat)
Meeting point: Khatib MRT Station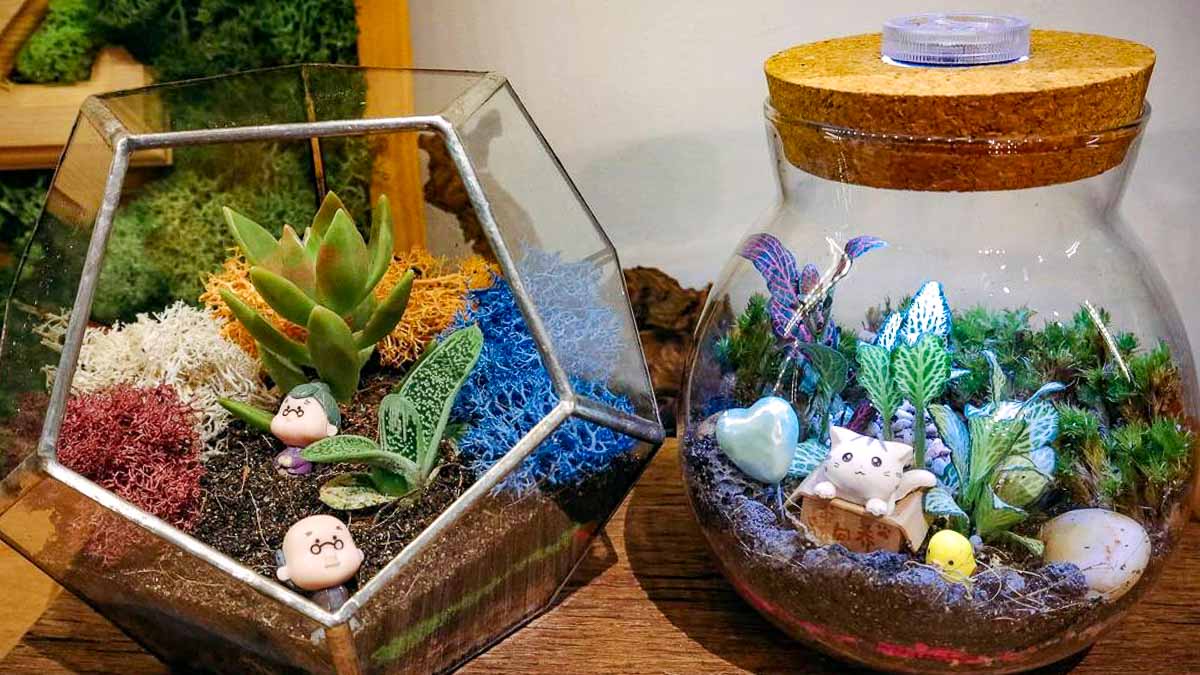 Photo credit: @beccalicioussssss via Instagram
Rainforest terrarium workshop — A great family bonding activity where you can create your own green space. Pick tropical plants and sand colours, then layer the terrarium together.
Bring your terrarium home when you're done. The unique decor is a guaranteed conversation starter, and will remind you of the fun you had creating it!
Cost: ~S$22
Activity timing: 1PM – 3PM (Sat – Sun)
How to get there: From Yishun MRT Station Exit B, take bus 811 to 'Opp Northland Sec Sch' and walk 2min to J2 Terrarium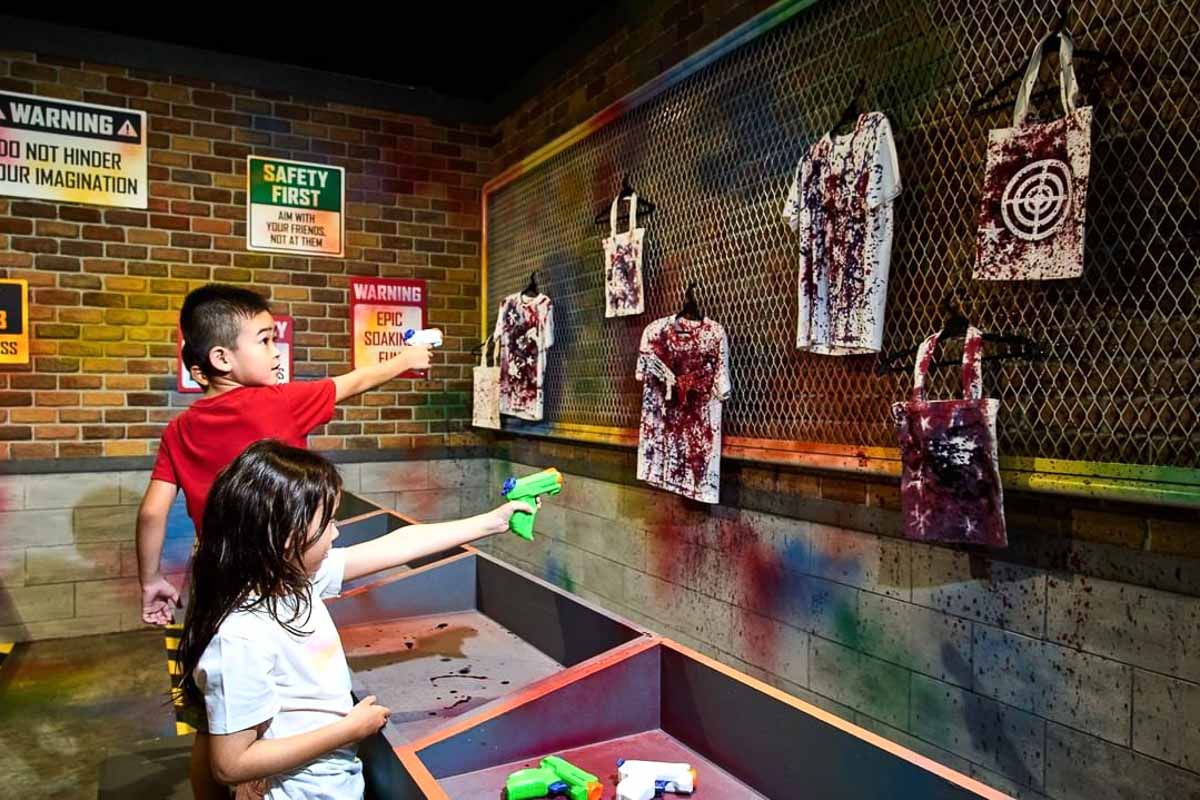 Photo credit: @nerfaxsg via Instagram
NERF Action Xperience — End the day with a bang! NERF-based activities here include group shooting games and even a splat-painting zone.
Cost: From ~S$39
Opening hours: 12PM – 8PM (Last redemption at 4:45PM)
How to get there: From Esplanade MRT, take Exit C to Marina Square and walk 5mins
*Pro-tip: Book through Klook to skip the queues and enjoy 10% off NERF merch.
Read also: 50 Exciting Things to Do in Singapore — The Ultimate Singapore Bucket List For Locals
Theme Park Guide for Things to do in Singapore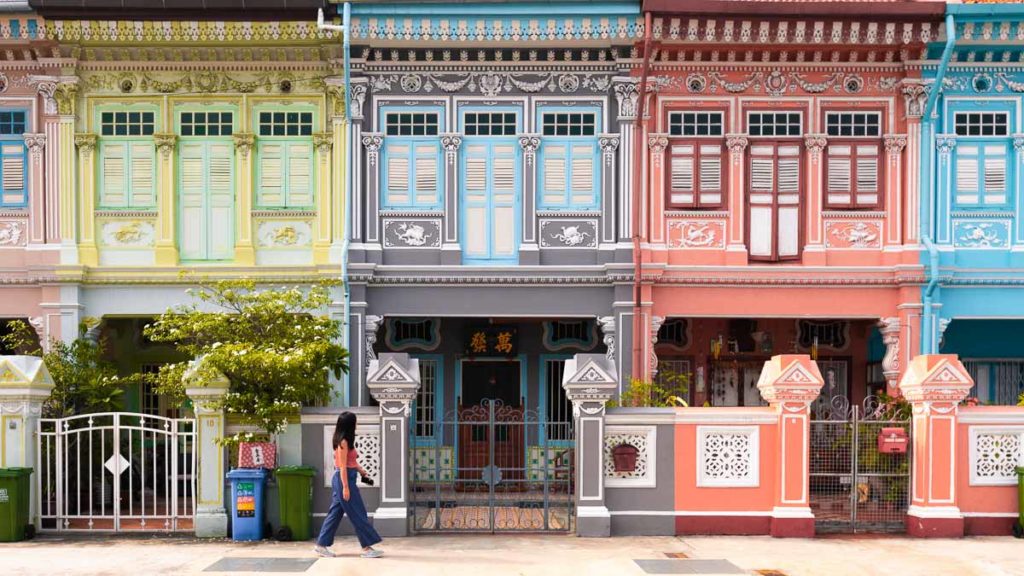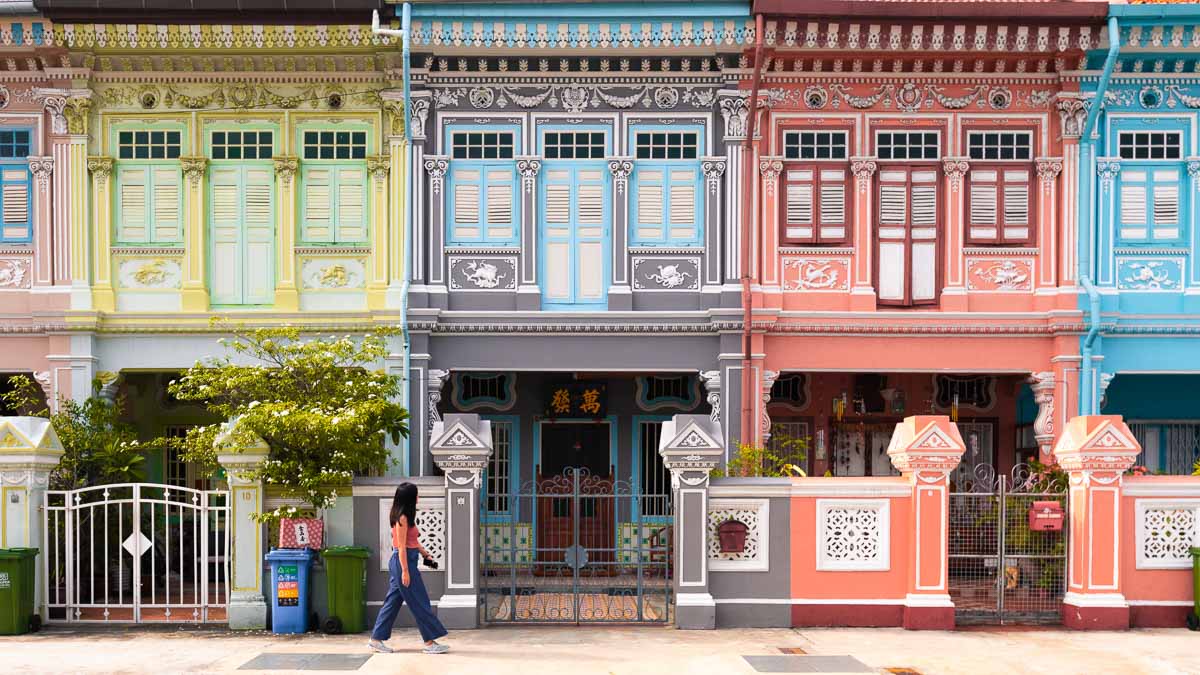 Whether you're young or young-at-heart, visiting a theme park is always special. From a bee farm in a shophouse to a haunted hospital, there's so much to see in this real-life theme park, Singapore!
To make things more fuss-free, pre-book your experiences via Klook. This helps you skip onsite ticket queues and save money with exclusive discounts. Plus, you can save up to 10% on these unique Singapore experiences!
Know any other theme-park-worthy attractions for this Singapore guide? Share them with us in the comments!
---
This post was brought to you by Klook as part of the SingapoRediscovers campaign.
Disclaimer: All images were shot prior to the COVID-19 pandemic, or in line with safe distancing measures.