Dining-in or not, we could all use some quality time spent outdoors, with a picnic mat.
With the ongoing pandemic and an increase in clusters, dining-in has been restricted once again. But hey, that doesn't mean all our meals have to be consumed at home now.
Whether you're thinking of having a relaxing picnic over the weekend or a quick meal after work, an alfresco dining experience by the beach or a park could just be what we need to switch things up a little.
If you're looking to enjoy a meal with a view, grab your picnic mat and choose from these nine picnic spots in Singapore:
1) Fort Canning Park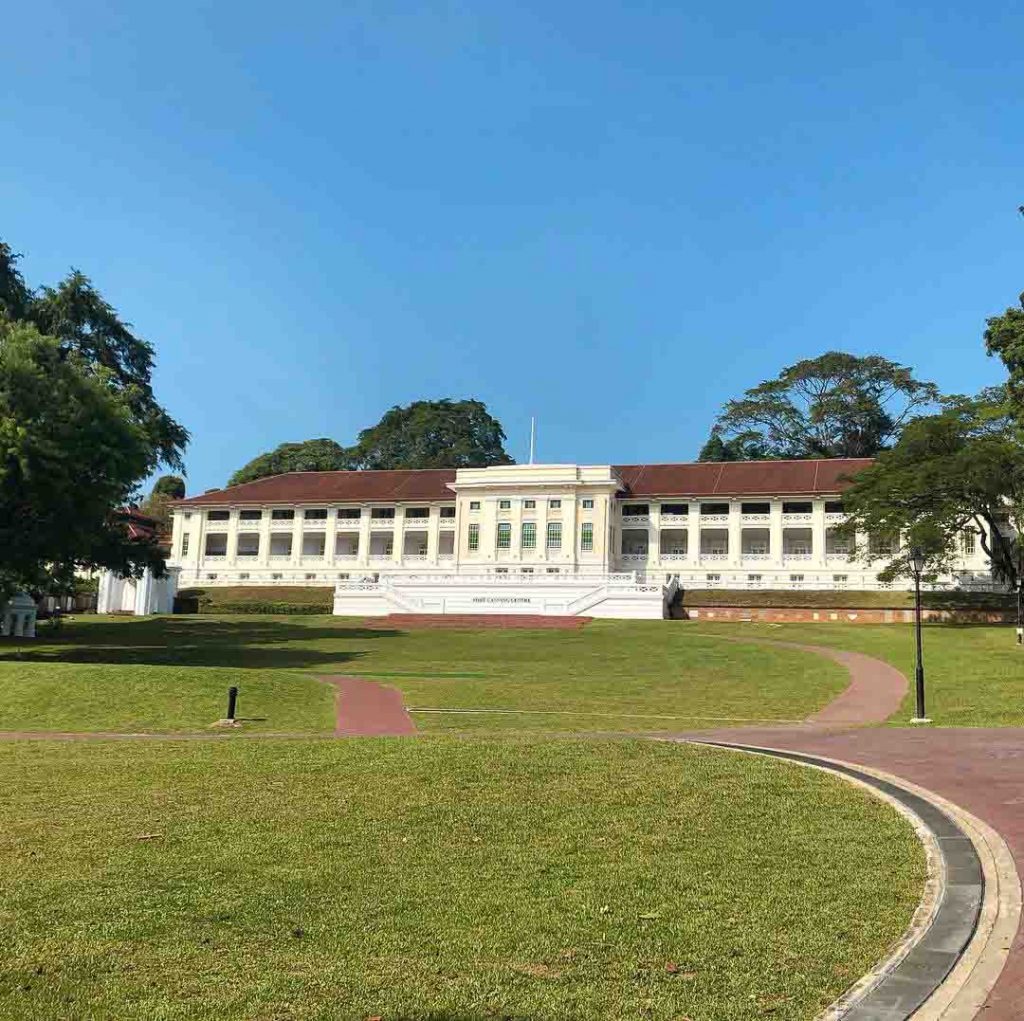 Photo credit: @ginachen04 via Instagram
Fort Canning Park, located in the heartlands of Singapore, is a paradise for history buffs and nature lovers alike.
More than just a huge, open lawn to lay down your picnic mat, the park also has other spots for your alfresco meal. For instance, you can look out for shadier spots near Fort Gate — the remnants of a fortress from the 19th century.
Fun fact: The sprawling lawns at Fort Canning Park used to host events like Shakespeare in the Park and Ballet Under the Stars, prior to the ongoing pandemic.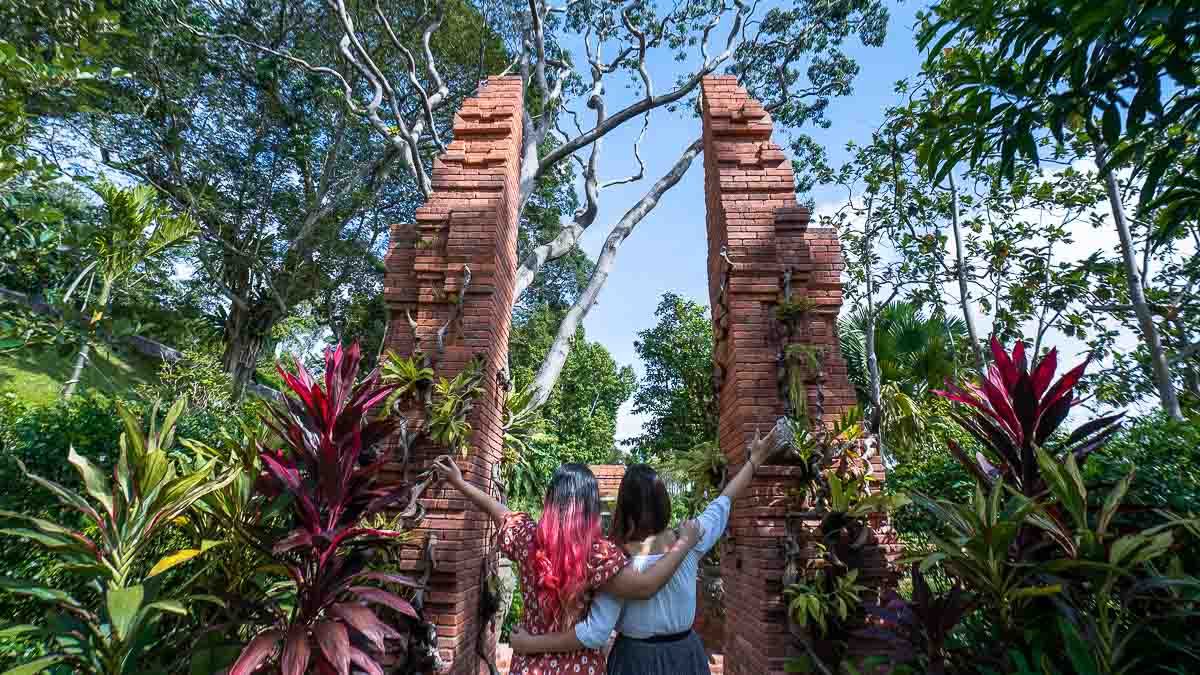 Other features of the park also include its nine historical gardens, maritime corner, and ancient artifacts. Upon exploring the area, you'll come to realise how this iconic hilltop park is a unique blend of nature and history.
Recommended picnic spot: Fort Canning Green
How to get there: 9min walk from Bras Basah MRT
2) Singapore Botanic Gardens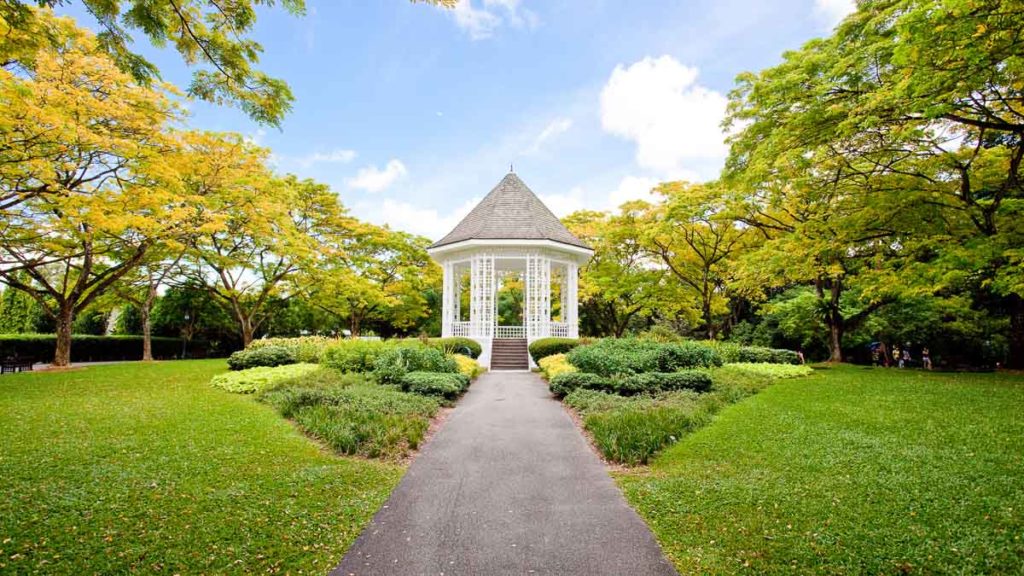 Photo credit: Nparks
Singapore Botanic Gardens is another favourite amongst picnickers. Here you'll find multiple scenic spots scattered around the Gardens, from lawns surrounding the Bandstand to gentle slopes at Palm Valley.
But more than just a place to relax, the garden presents opportunities to explore and learn more about nature. Why not take a stroll through The Learning Forest, or spot VIP Orchids at the National Orchid Garden.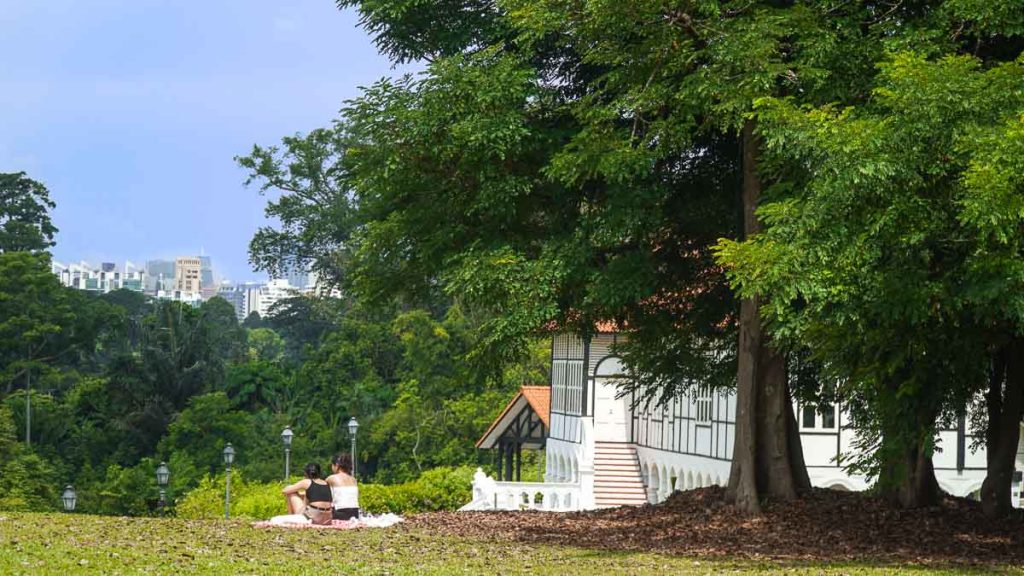 You can check out the newly opened Gallop Extension. The lush greenery provides ample shade so you won't have to worry about having your picnic under the hot sun!
Recommended picnic spot: Eco-Lake or Palm Valley
How to get there: From Botanic Gardens MRT, take exit A. For Eco-Lake, enter through the Bukit Timah Gate and walk for 3min. For Palm Valley, enter through the Tanglin Gate (13min walk from the Singapore Botanic Gardens bus stop)
Read also: Singapore Botanic Gardens' New Gallop Extension — IG-Worthy Art Galleries in British Colonial Houses, a New Hiking Trail and Playground
3) Keppel Marina East Desalination Plant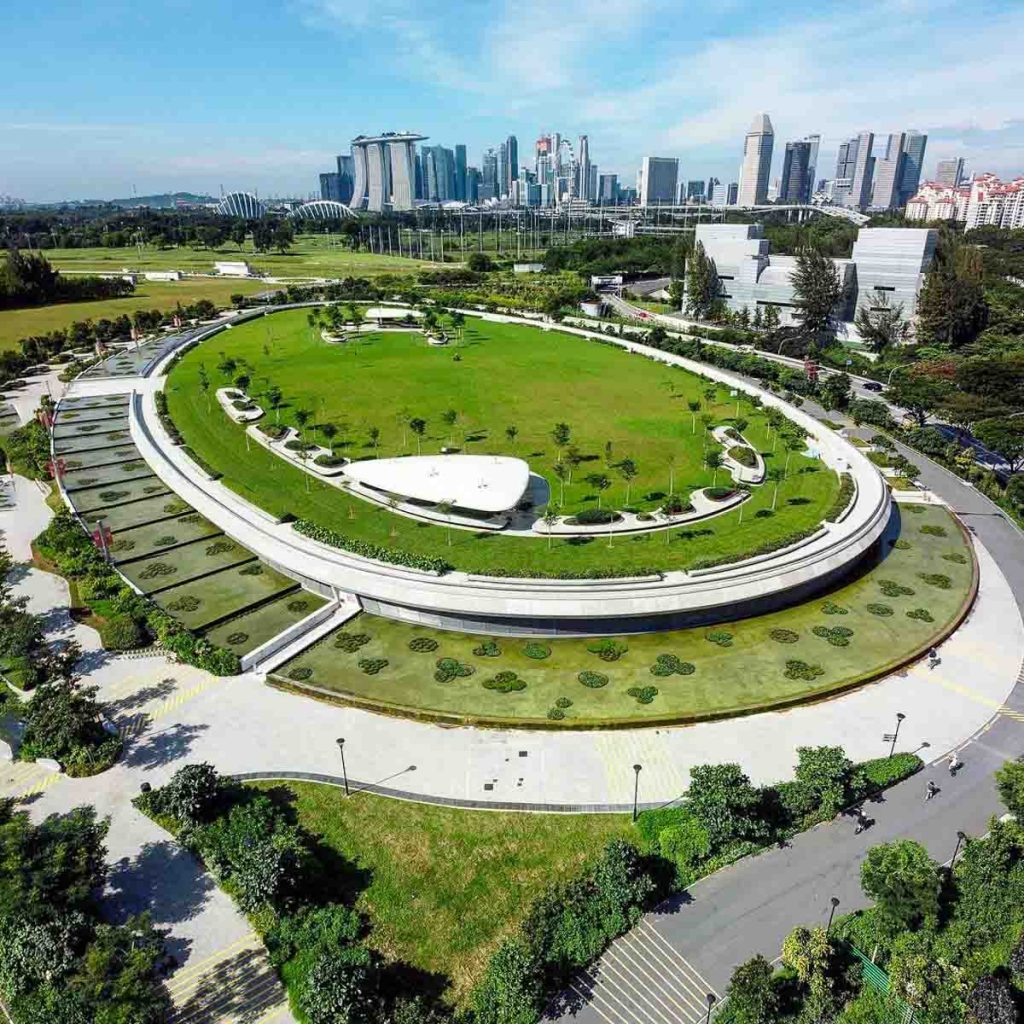 Photo credit: @archigardener via Instagram
A good alternative to Marina Barrage (since it's currently closed due to ongoing restrictions), is the Keppel Marina East Desalination Plant (KMEDP). This rooftop garden is a lesser-known picnic spot that offers an equally impressive view of the Singapore skyline.
However, because the desalination plant is situated along a flight path, you can't fly kites here. Pets are also not allowed.
Recommended picnic spot: Roof of the treatment plant
How to get there: From Mountbatten MRT (exit B), take bus 12, 14, 30, 158, or 196 and alight at Opp Costa Rhu Condo bus stop (8 stops) — 20min walk to KMEDP
4) Sembawang Park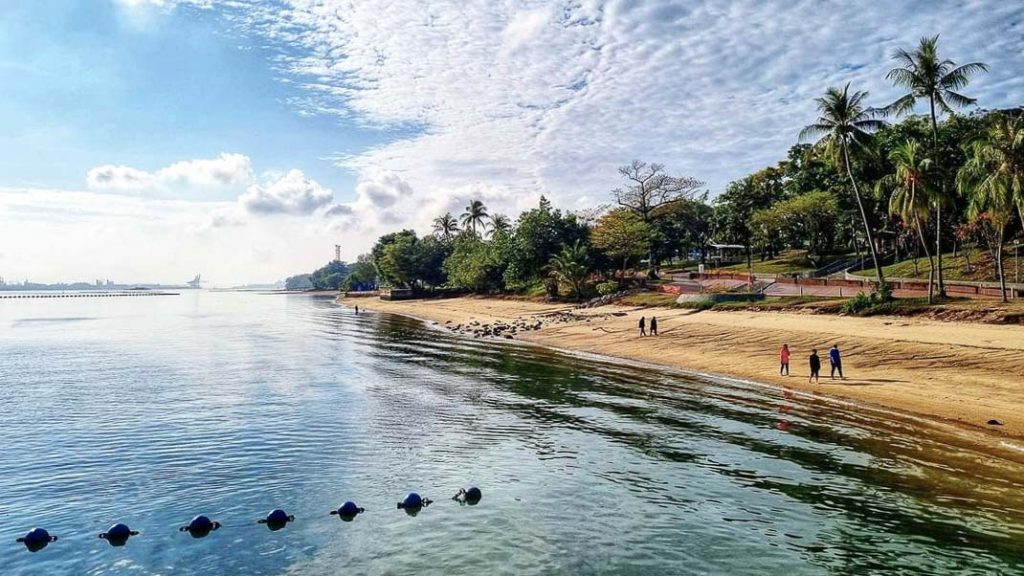 Photo credit: @e._.laine via Instagram
Sembawang Park, located at the northern edge of Singapore is the place to go for a quiet picnic spot. Feast away on your picnic mat while enjoying a panoramic view of the straits of Johor.
But beyond the peaceful park we see now, are the remains of what used to be a busy naval base. When you're done with your picnic, take the opportunity to check out the Sembawang Heritage Trail — it'll take you on a journey to find out more about Singapore's rich history.
Recommended picnic spot: Short stretch of sandy beach (1.463639N, 103.837742E). Note: The beach is under maintenance until 30 September 2021
How to get there: From Sembawang MRT, take bus 882 from Opp Sun Plaza bus stop and alight at Opp Jln Janggus bus stop (9 stops) — 8min walk to the beach
5) Kranji Reservoir Park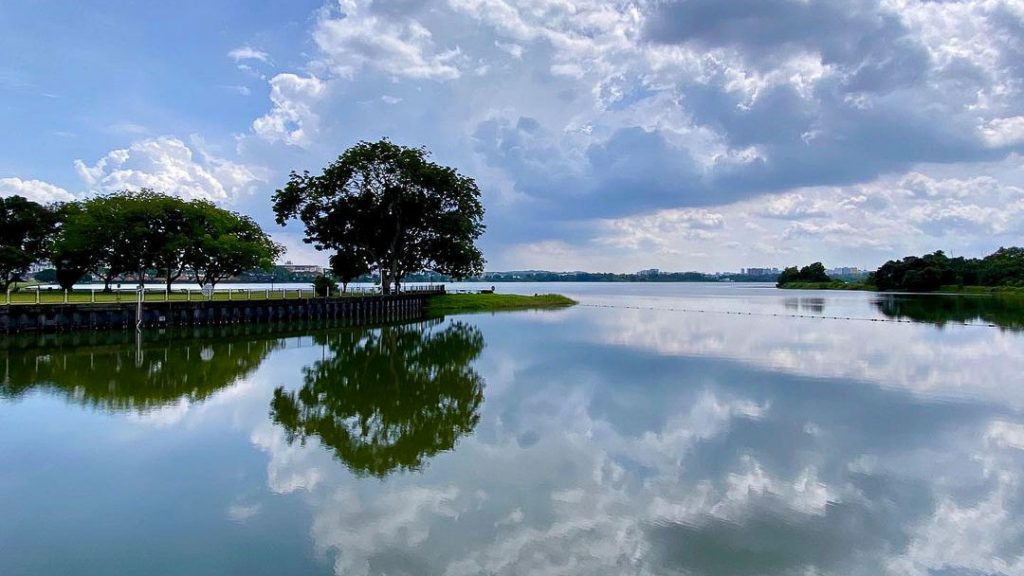 Photo credit: @mellyay88 via Instagram
Another spot that offers a stunning view of the Johor Straits is Kranji Reservoir Park. Apart from some recreational fishermen (because of the presence of two fishing grounds), the park is generally quiet and perfect for getting away from the crowds.
Fun fact: Kranji Reservoir Park is part of the Sungei Buloh Nature Park Network — established for more effective conservation of our biodiversity.
Read also: Hiking Sungei Buloh Wetland Reserve — Instagrammable Pods, Coastal Boardwalks, and Crocodiles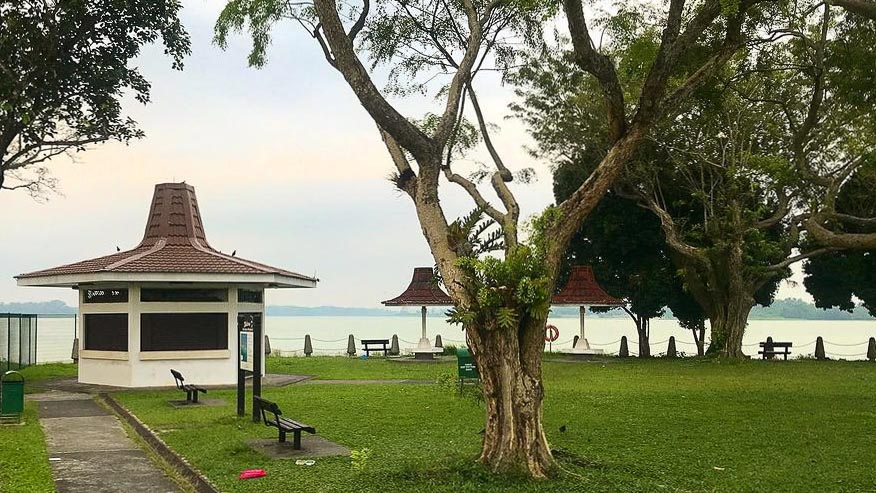 Photo credit: @garyonghanchuan via Instagram
*Pro-tip: If it rains during your picnic, seek shelter under one of the pavilions nearby.
Recommended picnic spot: Fishing Ground B
How to get there: From Kranji Mrt, take bus 925 and alight at Kranji Reservoir Carpark B bus stop (11 stops) — 5min walk to Fishing Ground B
6) Sentosa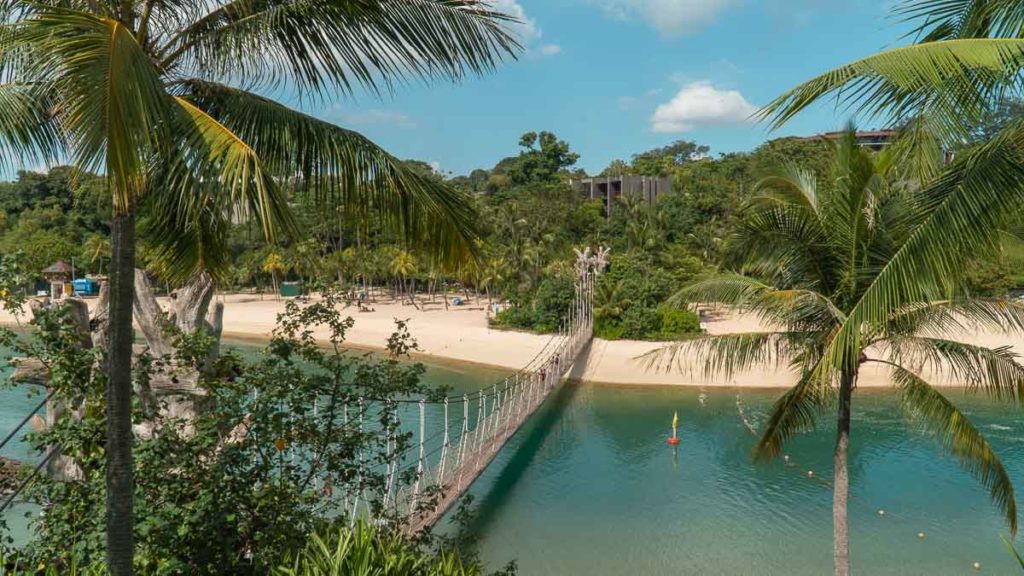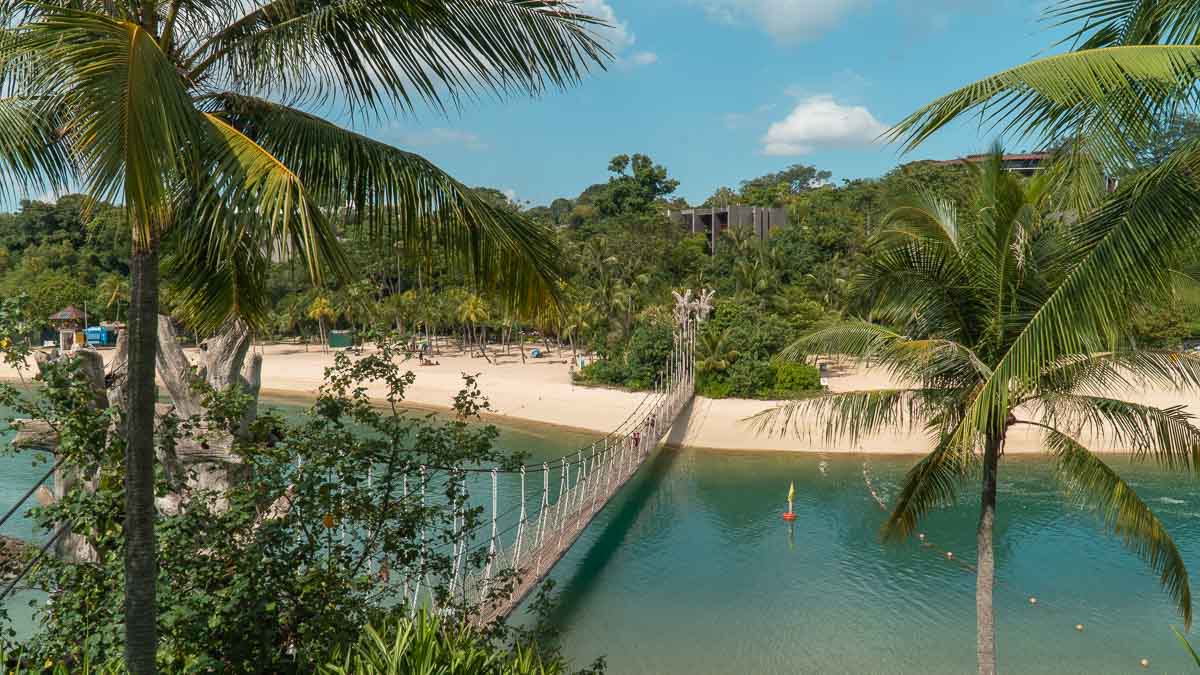 With three beaches — Tanjong, Siloso, and Palawan, Sentosa makes a great picnic spot for beach bums who love the sun. However, because of its proximity to Beach Station, Siloso beach is the most visited. For a less crowded spot, set up your picnic mat at Palawan or Tanjong beach instead.
The island also offers plenty of refreshing activities to cool off from the heat. After a hearty meal, adrenaline junkies can have a go at the HydroDash (Singapore's first floating aqua park) or try out some water sports at Ola Beach Club.
*Pro-tip: Make a reservation before heading down to the beach during peak periods (Saturday, Sunday, and Public Holiday) to beat the queue.
Recommended picnic spot: Palawan or Tanjong Beach
How to get there: From HarbourFront MRT, head to the third level of VivoCity shopping mall (Lobby L) and take the Sentosa Express to Beach Station (3 stops)
7) Lazarus Island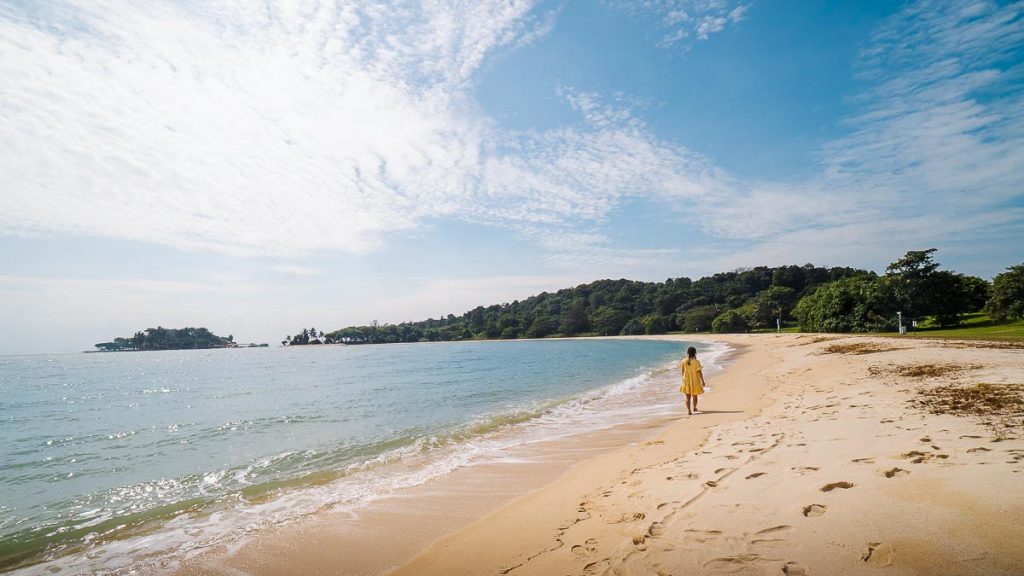 Enjoy a quick getaway from mainland Singapore and head to Lazarus. The island has a pristine beach with blue waters, making it the perfect picnic spot for a day of relaxation under the sun.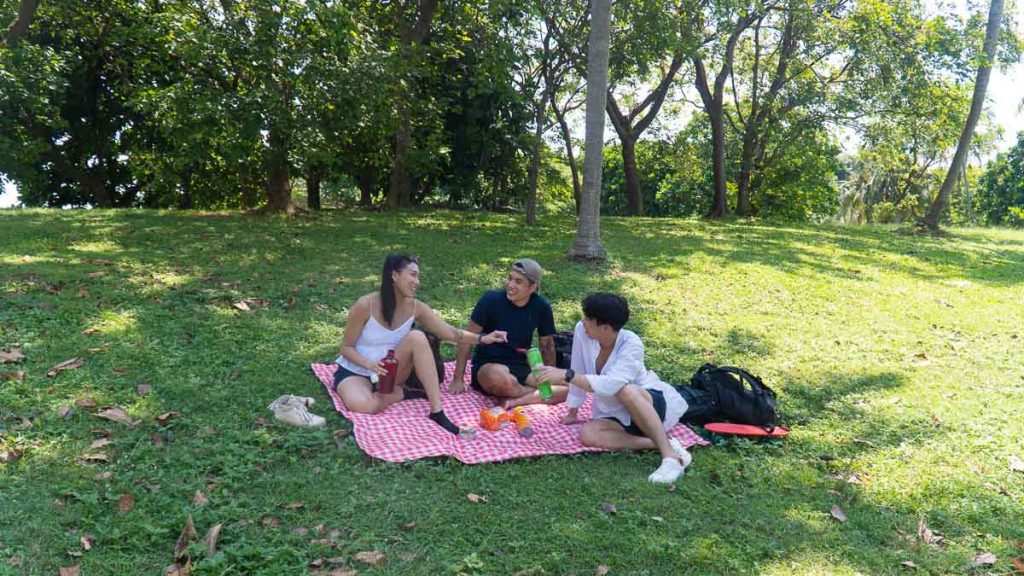 If it gets too hot, find a cool spot under the trees for shade. It makes a great alternative for the lack of shelter on the island.
Recommended picnic spot: Lazarus beach
How to get there: From Marina South Pier MRT, walk 1min to the ferry terminal. Take a ferry to St. John's Island — walk 15min to Lazarus beach
Read also: Singapore Southern Islands Guide — Island Hopping Around Lazarus, St John's, Kusu and Sisters' Island
8) Jurong Lake Gardens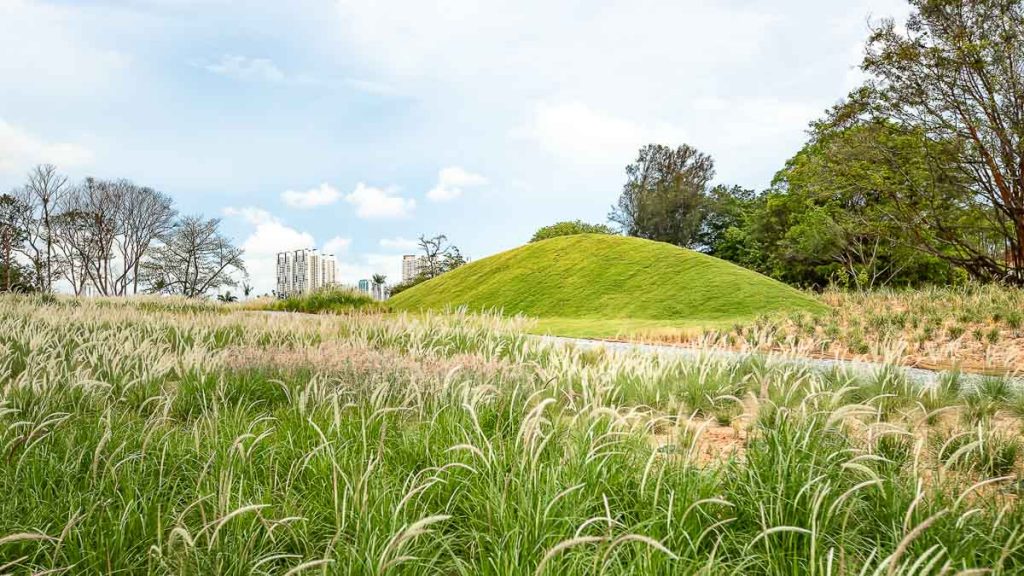 Photo credit: NParks
This one's for the westies — not only is Jurong Lake Gardens ideal for picnics, there are also other features around to check out. Snap away at the instagrammable grasslands, take a stroll along Singapore's largest artificial floating wetlands, or let loose at Forest Ramble.
Recommended picnic spot: The Oval or Lakeside Field
How to get there: From Lakeside MRT, walk 1min to Lakeside Stn bus stop. Take bus 49 and alight at Japanese Gdn/Opp Blk 115 bus stop (7 stops) — walk 4min to The Oval. For the Lakeside Field, walk 11min from Lakeside MRT
9) Changi Beach Park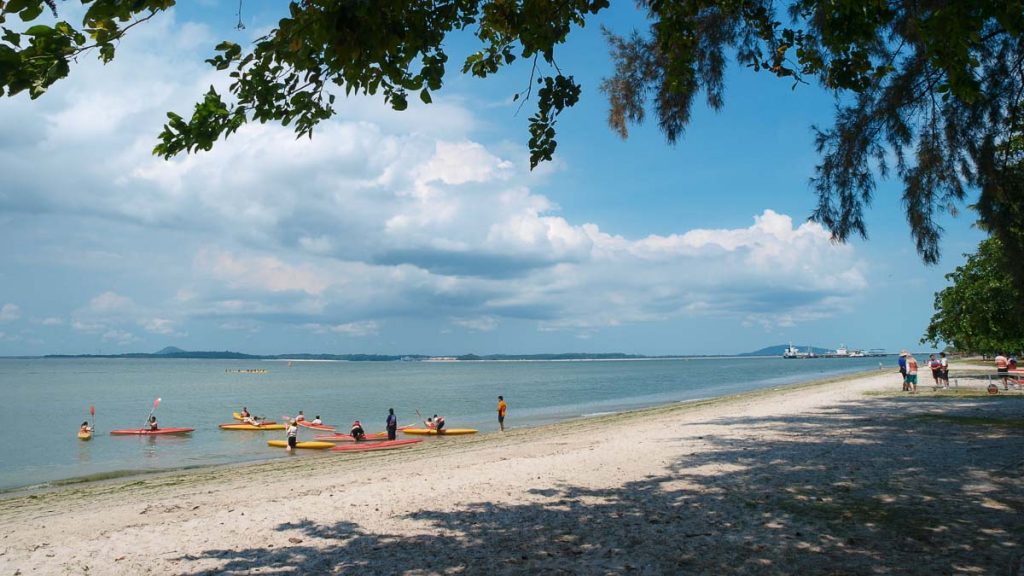 Photo credit: NParks
For the easties, you might be blessed to be near East Coast Park. But since the weekend can get crowded, here's a tip. Head further east to Changi Beach Park — this remote park tucked in the north-eastern end of Singapore will provide you with a relaxing seaside dining experience. If you're lazy to pack a picnic basket, there's also the nearby Changi Village Hawker Centre where you can order takeaway to pack for your picnic.
Sit by the beach and watch sea sports enthusiasts engage in various activities — from kayaking to stand-up paddleboarding. Alternatively, bring a change of clothes so you can have a go at them yourself!
Recommended picnic spot: Changi Beach (near carpark 1)
How to get there: From Changi Village Bus Terminal, walk 7min to the beach. Alternatively, from Pasir Ris MRT, walk 3min to Aft Pasir Ris Stn Exit A bus stop. Take bus 89 to Changi Beach CP 2 bus stop (18 stops) — 2min walk to the beach
Pro-tips for a Better Picnic Experience
1) Keep your water chilled without a chiller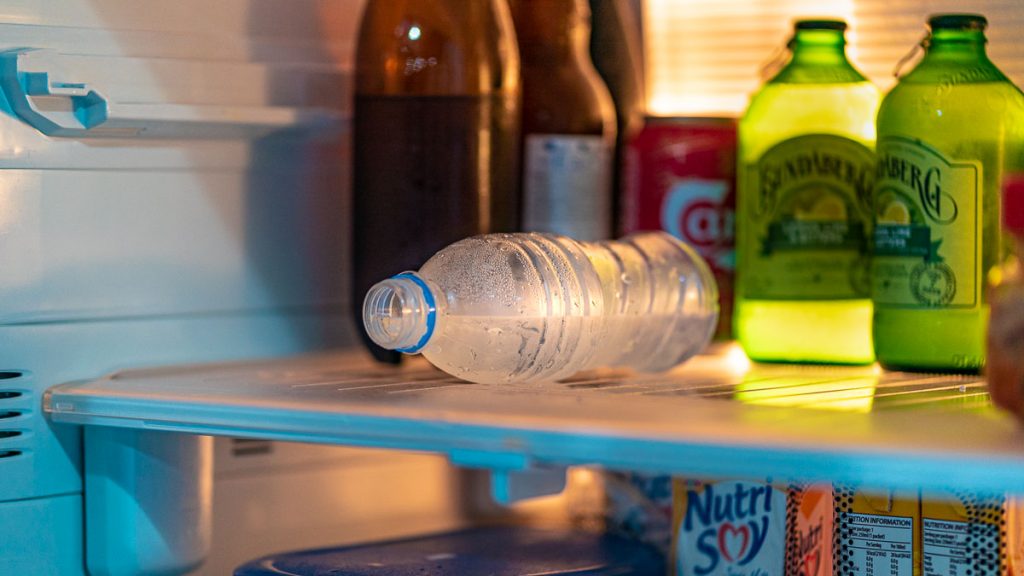 Chillers are a great addition at picnics, especially on a hot sunny day. But if you can't get your hands on one, here's a simple hack:
Step 1: Fill up half your bottle with water and freeze it horizontally overnight.
Step 2: The next morning, fill up the other side with regular water.
2) Cook your food with a thermal flask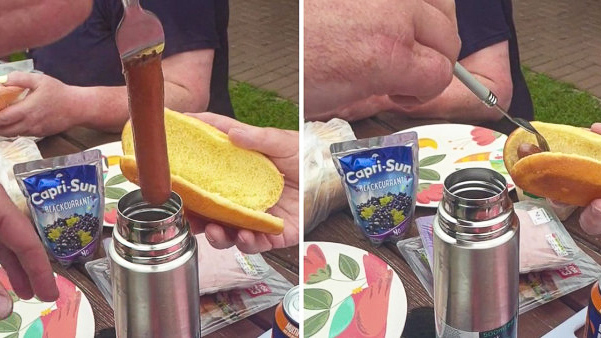 Photo credit: @Andrew Ramsay via Tiktok
Hotdogs are easy to pack on a picnic but for those who hate their hotdog soggy, here's a simple hack. Instead of placing your warm sausage into the bread, pack your bread and sausages separately and bring a thermal flask filled with freshly boiled water. When you arrive, dip the sausage in the water for 30s and viola, you have a freshly cooked sausage to add to your bun.
3) Makeshift phone speaker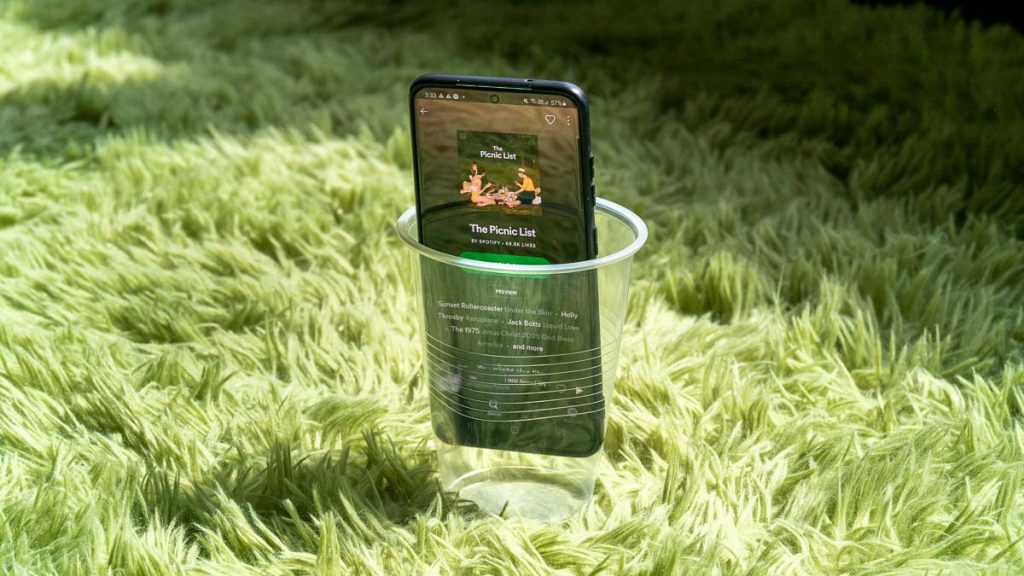 Here's how you can enjoy your music even without a portable speaker. Simply grab a cup and place your phone in it — it's not gonna sound like a club but it'll help amplify the sound, making it the perfect makeshift speaker to set the mood.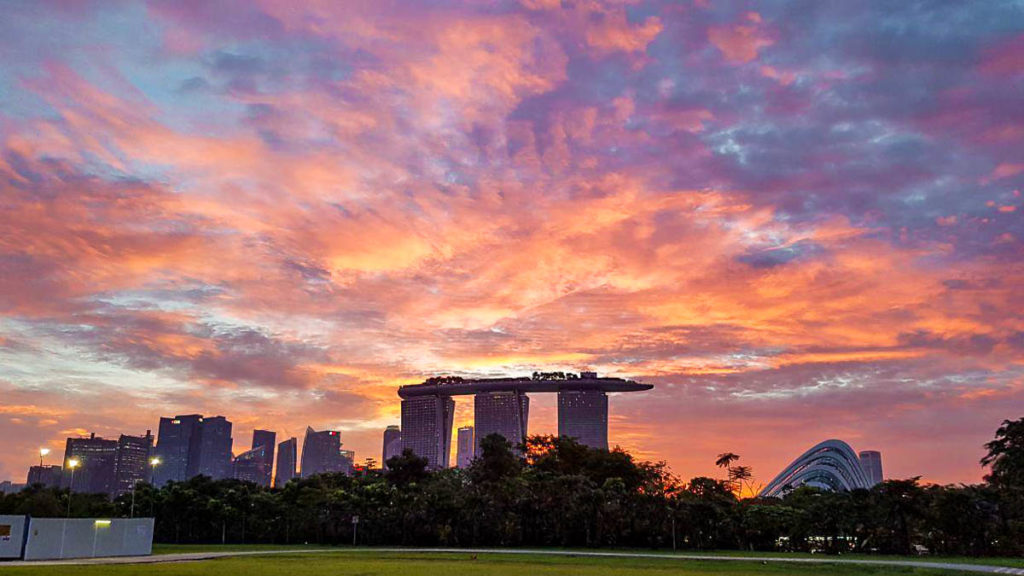 Since we're currently unable to dine in, a picnic might be our best shot at having a nice meal out. With that said, if you're planning to have your picnic at a more crowded spot, try to do your part and maintain a social distance from other picnic-goers and clear up the trash you've brought along with you!
Featured image credit: @nxtasha.ann via Instagram
Do you have other picnic spots or hacks to share? Let us know in the comments below!
---
Like what you see? Follow us on Facebook, Instagram, YouTube, and Telegram for more travel inspiration!