Visiting Singapore? Check out some of the best outdoor activities in Singapore as recommended by locals. Bonus — 10 of these are free!
Singapore might be great for eating (read: 54 local-approved things to eat in Singapore), shopping and indulging in the city lights. But when you need break from the concrete jungle, good news is, you don't have to travel very far for green space and fresh air.
With dozens of lush parks, hiking trails that get you high above the forest canopy and gardens in the heart of the shopping district, you won't run out of outdoor activities in Singapore.
If you're looking to take some shots for the gram, or add a couple of activities into your Singapore itinerary, here are some of our favourite places to hike, cycle, picnic and lounge outdoors!
1) Take a Day Trip to Pulau Ubin (Island)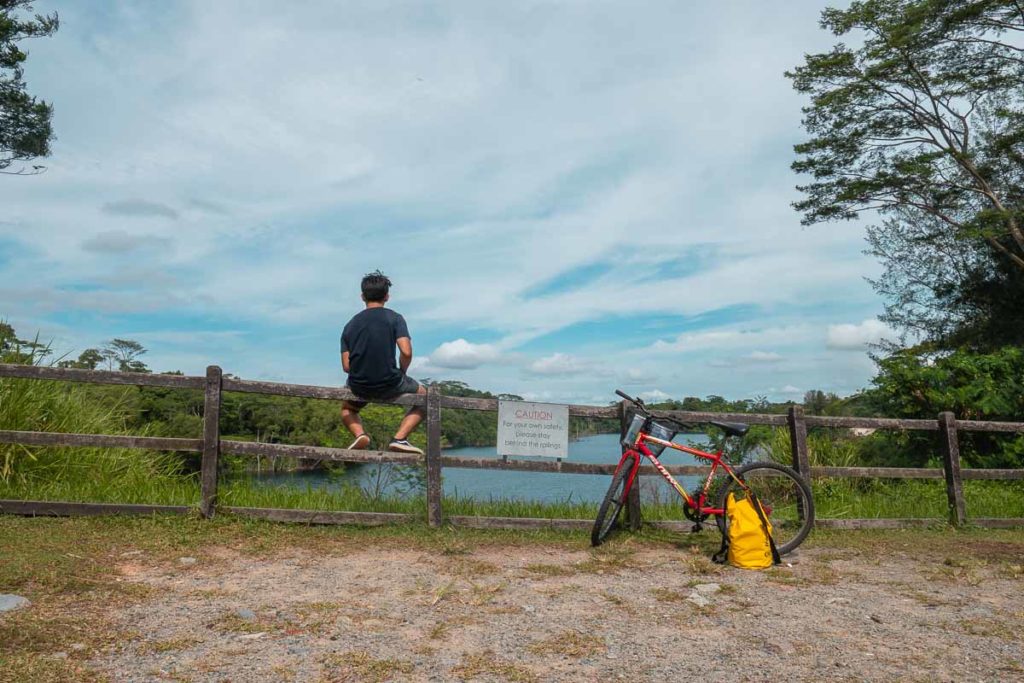 Just a 10-minute bum boat ride away, visiting this small island located off Singapore's northeastern coast is like a trip to the 1960s, where time seems to slow and life feels a little more laid back.
The island is home to some of Singapore's last remaining kampungs (villages), as well as Teck Seng's place — the conserved house of a former provision shop owner that is now a museum.
At Pulau Ubin, a popular activity here is to explore on bicycles and you can rent one from S$5-20/~₱184-733. Alternatively, you could kayak through the surrounding mangroves (S$79/~₱2928) or trek on foot to a quarry for impressive views.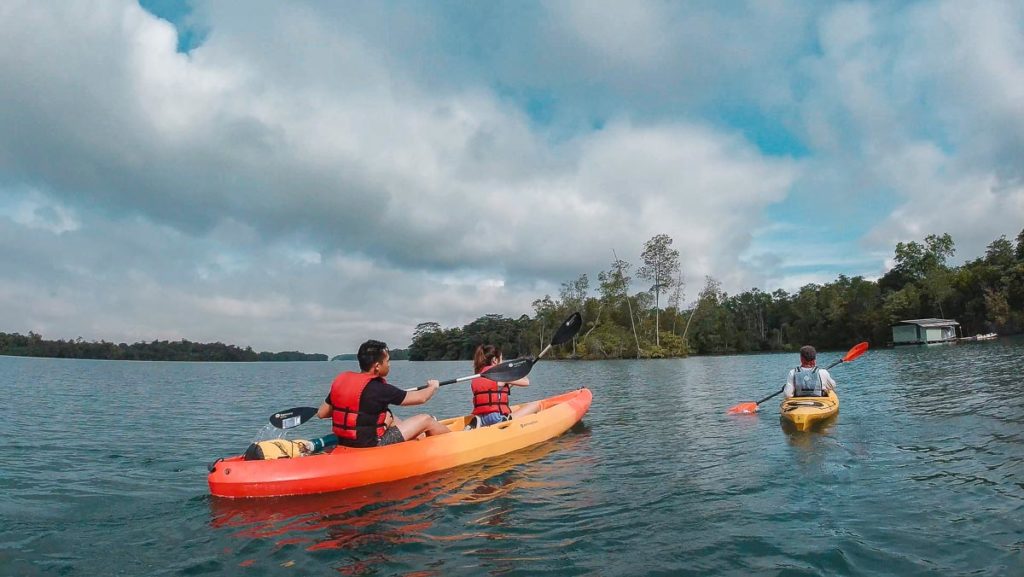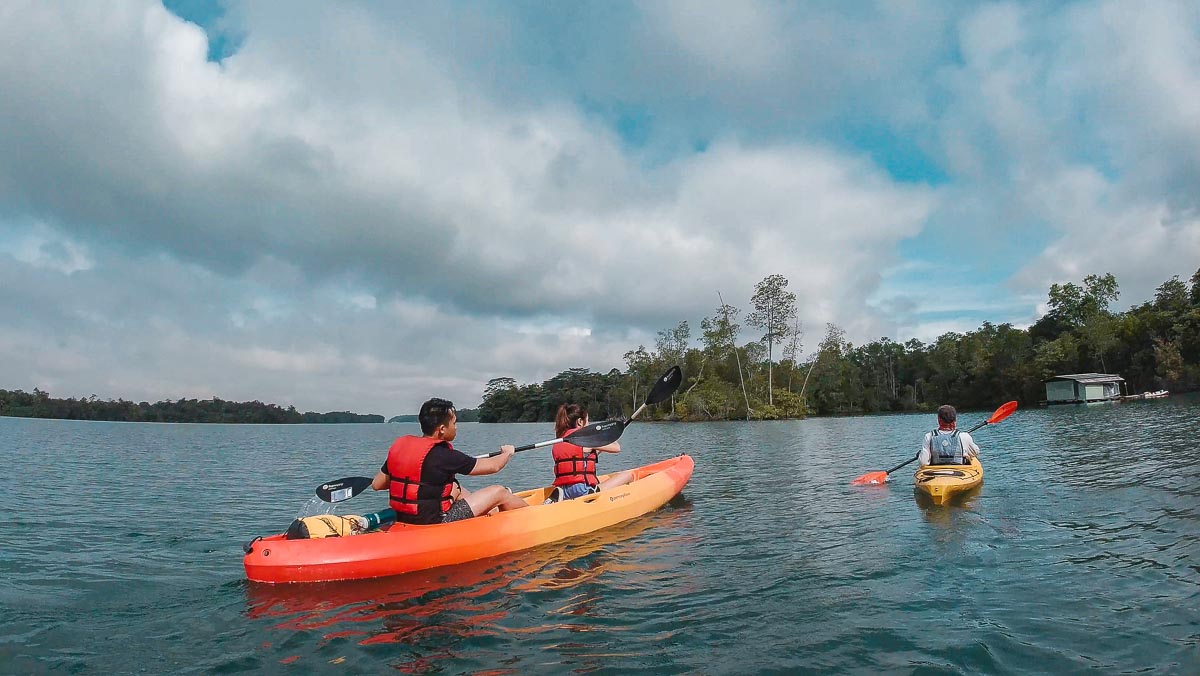 Stroll through a fruit orchid that grows over 30 species of fruits, including rambutans and soursops, and check out the Chek Jawa mangrove wetlands from a boardwalk trail or viewing tower.
Entrance Fee: Free
Boat Operation Hours: 6AM – 7PM
How to get there: From Changi Point Ferry Terminal, purchase tickets for a 10mins bumboat (S$3/~₱112 each way) ride for Pulau Ubin (the boat only leaves when there are 12 passengers)
Read also: Pulau Ubin — A Local's Guide to Exploring this Hidden Gem
2) Get a bird's eye view of the forest canopy at Macritchie Treetop Walk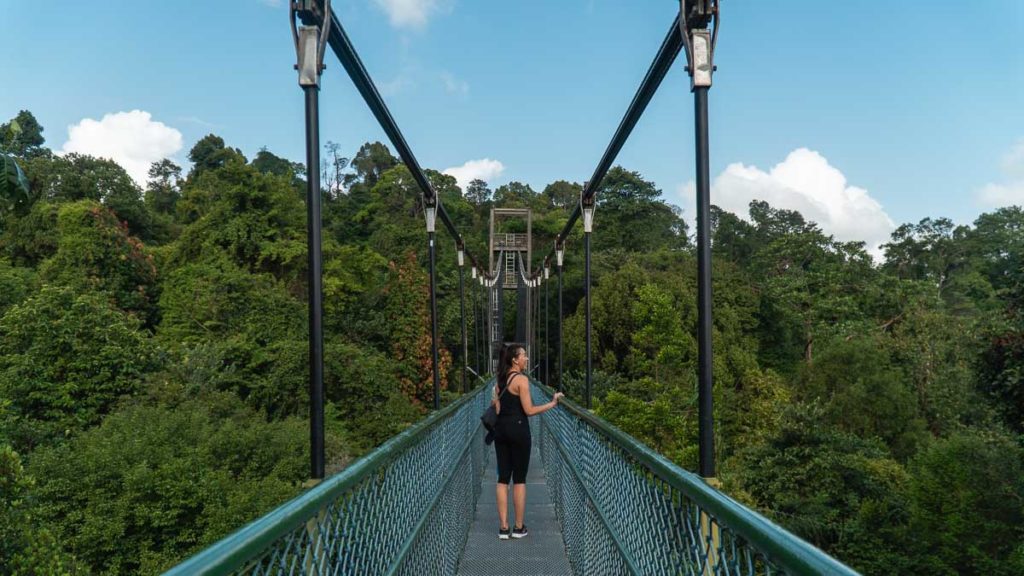 There are many hiking routes in Macritchie Reservoir Park but the real highlight is the Treetop walk — a suspension bridge that offers a bird's eye view of the forest canopy and a welcome breeze to cool off. You might even spot some squirrels or monkeys if you're lucky! A round-trip trek is about 7–10km, including the Treetop walk.
*Pro-tip: The bridge can get crowded in the late morning. Avoid the crowds by starting the trek about 60 – 90 minutes before the Treetop walk opens so you'll be one of the first ones on the bridge.
Entrance Fee: Free
Opening Hours: 9AM – 5PM (Tues – Fri), 8:30AM – 5PM (Sat, Sun & PH), closed on Mon
How to get there: From Marymount MRT station (orange line), take buses no. 132, 165 or 166 to Venus Carpark and start your trek there
3) Hit the Beaches at Sentosa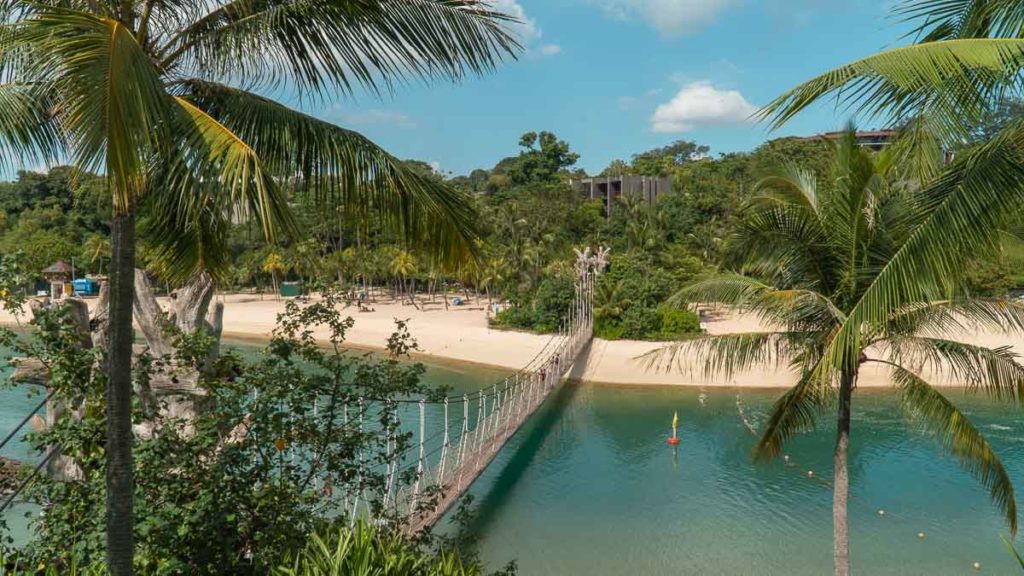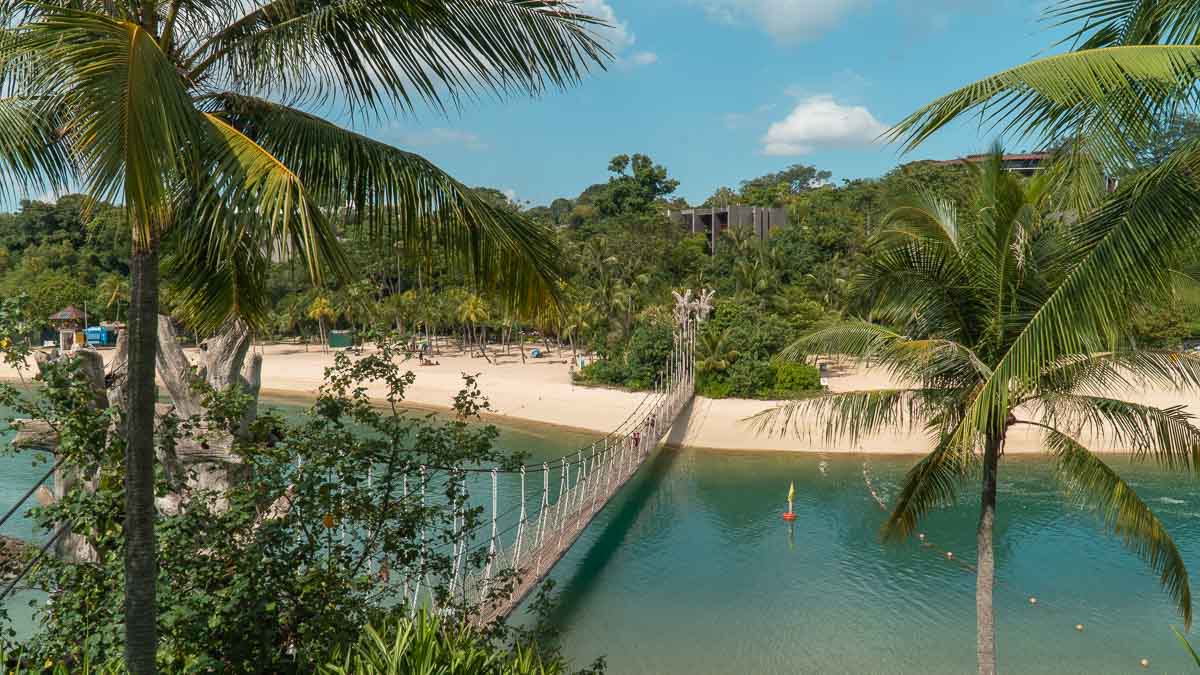 Singapore's version of Palawan is a lot smaller than its Filipino counterpart. But there's still lots to do at Palawan beach in Sentosa, yet another island off the mainland that is chock-full of outdoor activities in Singapore. At the family-friendly beach, cross a suspension bridge that links you to Asia's closest point to the equator. How's that for a photo spot?
Adults may prefer Tanjong Beach, home to Tanjong Beach Club. Lounge on a daybed, sip on sangrias and cool off in the ocean or the club's private pool. Dogs are welcome here and on weekends, you're likely to see lots of good bois playing fetch across the beach. For humans who also need to let off steam, there are volleyball courts and lots of space for frisbee or beach soccer. Stay for a magnificent sunset.
Entrance Fee: Free
Opening Hours: 24hr
How to get there: From Harbourfront MRT station (purple line), hop on the Sentosa Express (S$3/~ ₱112) monorail line (on the roof top of VivoCity mall) to Beach Station, where free shuttle buses connect to the beaches
4) Trek 36km across the island on the Coast to Coast trail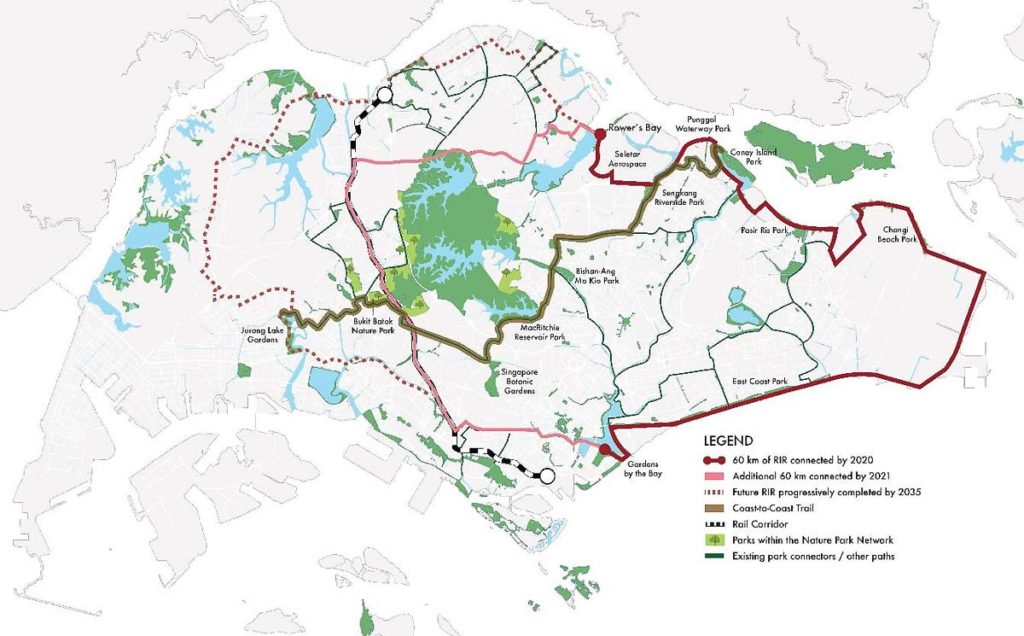 Photo credit: Nparks
Singapore is often described as a little red dot, but we're betting the country won't feel so small when you're trekking across it on the 36km Coast to Coast trail. This stretches from Jurong Lake Garden in Singapore's west, to Lower Seletar Reservoir Park in the north (marked green in map above). Budget a full day of walking if you intend to cover all 18 parks and 11 park connectors.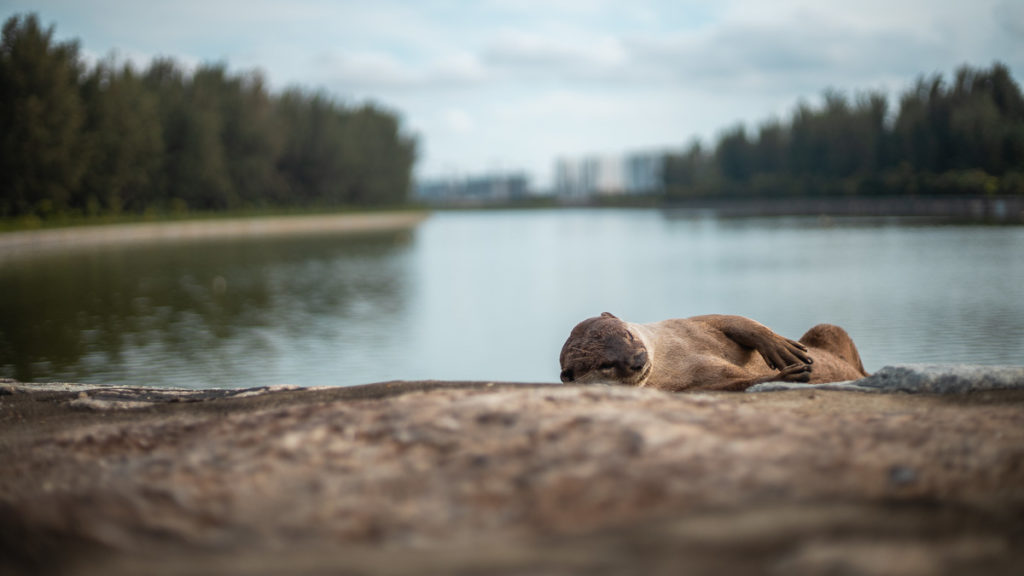 If it all sounds too overwhelming, cover sections of the trail instead. Sengkang Riverside Park features man-made wetlands, with a variety of birds and damselflies. Meanwhile, Bishan-Ang Mo Kio Park is home to an iconic family of otters that are so well-loved, they regularly make the news when baby pups are born.
Entrance Fee: Free
Opening Hours: 24hr
How to get there: Varies
5) Family Fun at East Coast Park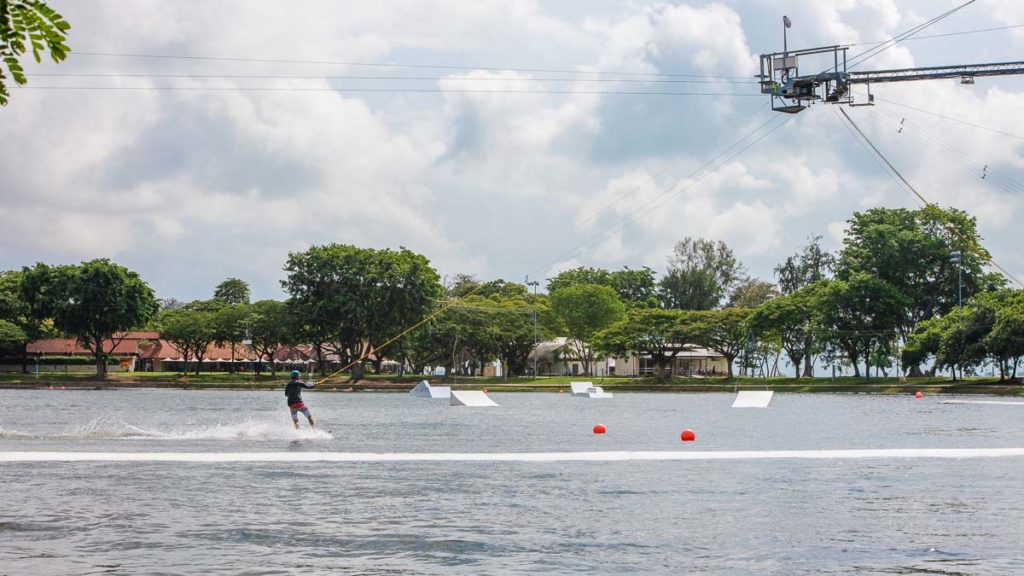 East Coast Park is one of the first few places Singaporeans think of when it comes to outdoor activities. On the weekends, you'll spot families having barbecues, kids learning to cycle along the park's many trails and locals fishing along Bedok Jetty.
It's a chill place but there's lots to do for adventure seekers too. Pop an ollie at the Xtreme Skatepark built to international competition standards, or catch some hang time at the Singapore Wake Park, all located in and around East Coast Park.
When you're done, fill your belly with local favourites at East Coast Lagoon Food Village — chicken wings, satay and barbecued stingray, washed down with a cool glass of sugarcane juice. Or try our version of sisig, known as kway chup, that has pig offal braised in a delicious gravy.
Entrance Fee: Free
Opening Hours: 24hr
How to get there: From Bedok MRT station (green line), take buses no. 31 or 137 to East Coast Park
Read More: Ultimate Singapore Food Guide — 54 Local-Approved Things to Eat in Singapore
6) Cycle through the Venice of Singapore at Punggol Waterway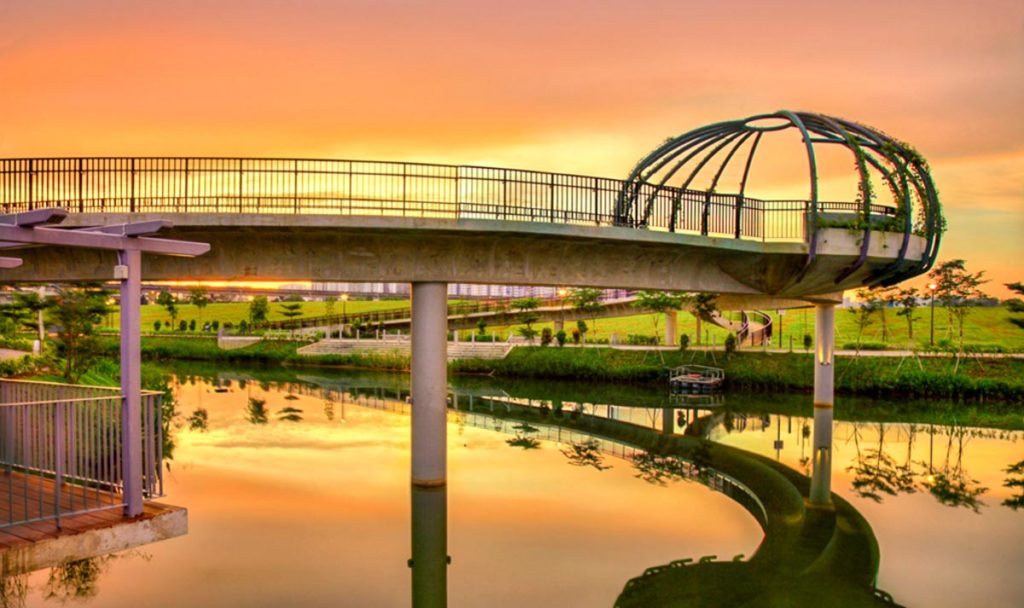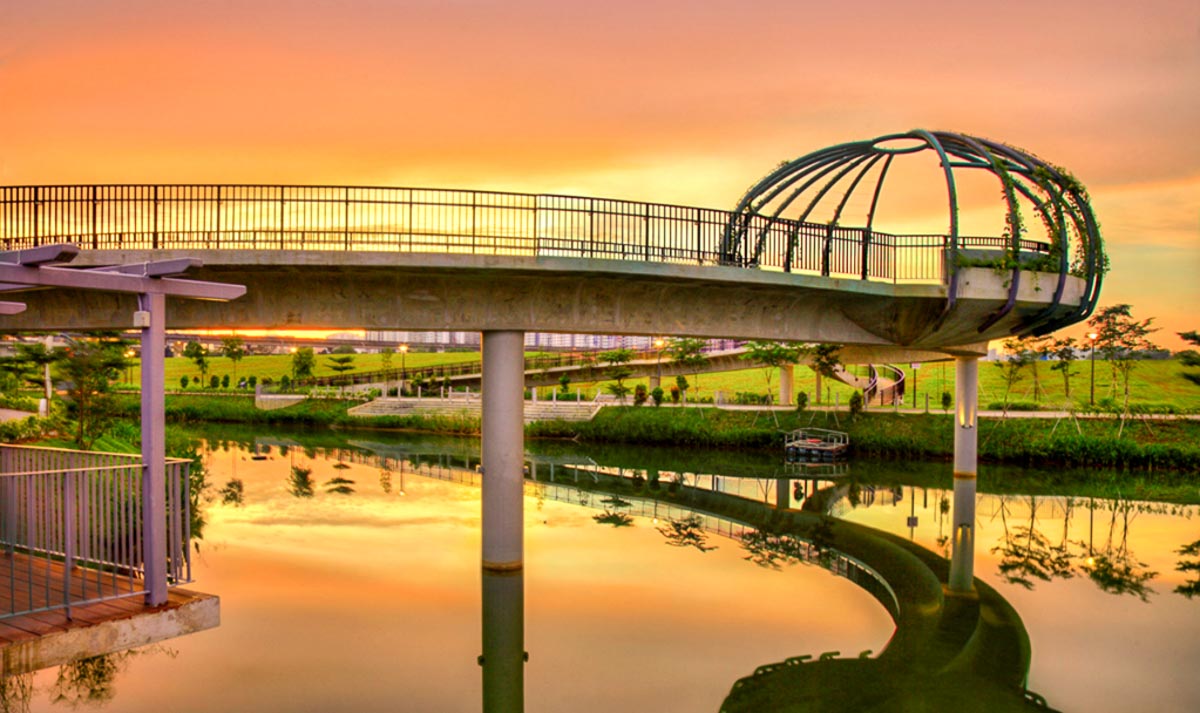 One of the most picturesque cycling trails on the island can be found at Punggol Waterway (northeastern of Singapore). It's part of the 26km North Eastern Riverine Loop that links parks, reservoirs and waterways. Multiple shops including Bikes@Waterway rent bikes starting from about S$8/~ ₱297 per hour. Cycle along the coastline and its tributaries, passing suspension bridges, children's playgrounds and cafes along the serene route.
The area is a favourite among bird watchers — keep your eyes peeled for kingfishers, herons and perhaps even the odd monitor lizard. Make a half-day trip there; we're pretty sure you'll be the only tourist around.
Entrance Fee: Free
Opening Hours: 24hr
How to get there: From Punggol MRT station (purple line), walk about 5mins to Punggol Waterway Park, located midway through the route
7) Explore Rustic Coney Island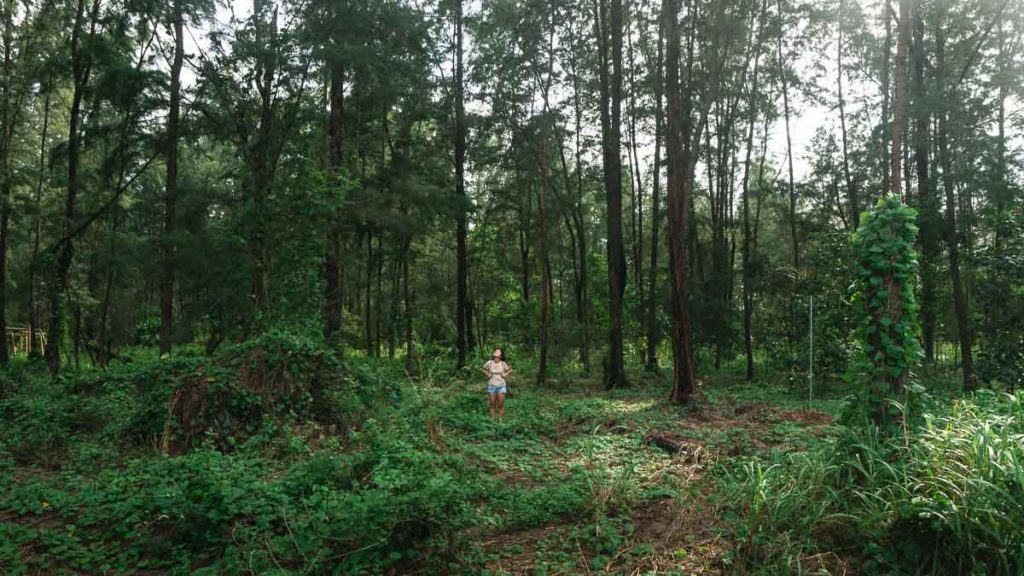 Best combined with a trip to Punggol Waterway, rustic Coney Island Park houses a variety of habitats, including coastal forests, grasslands, mangroves, and casuarina woodlands.
You can rent a bicycle at the nearby Punggol Point Park from about S$8/~ ₱297 per hour. Ride through island's 2.5km trail, or explore trails and boardwalks on foot that lead to the beach.
Entrance Fee: Free
Opening Hours: 7AM – 7PM
How to get there: From Punggol MRT station (purple line), take bus no. 84 from the bus interchange to Punggol Point Park/Punggol Settlement and walk about 500m to Coney Island Park West Entrance
8) Catch a Free Concert at the Botanic Gardens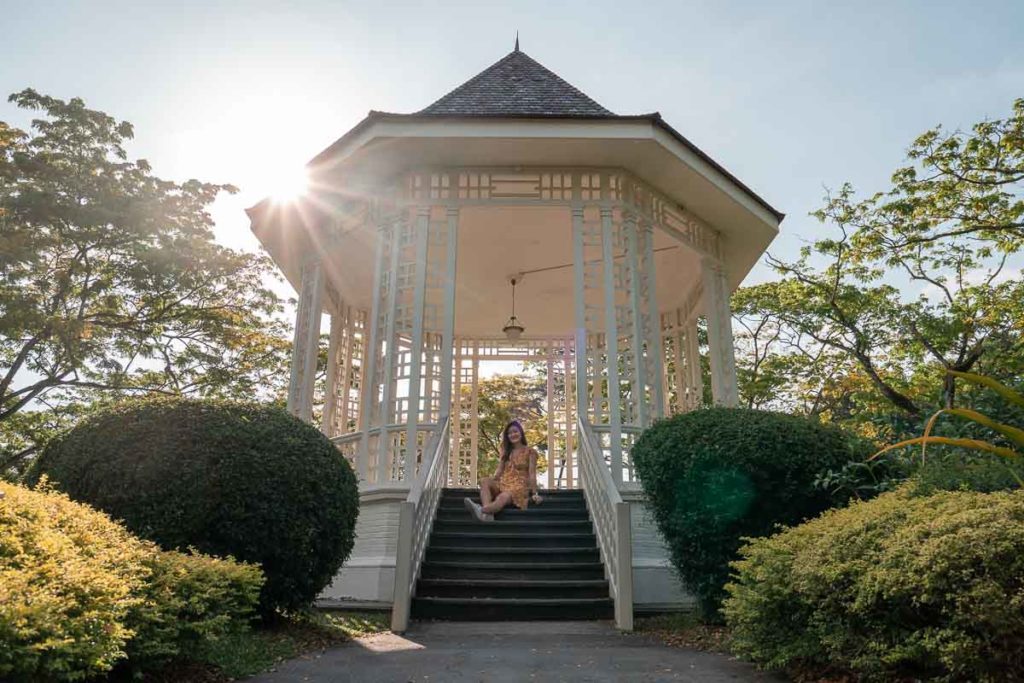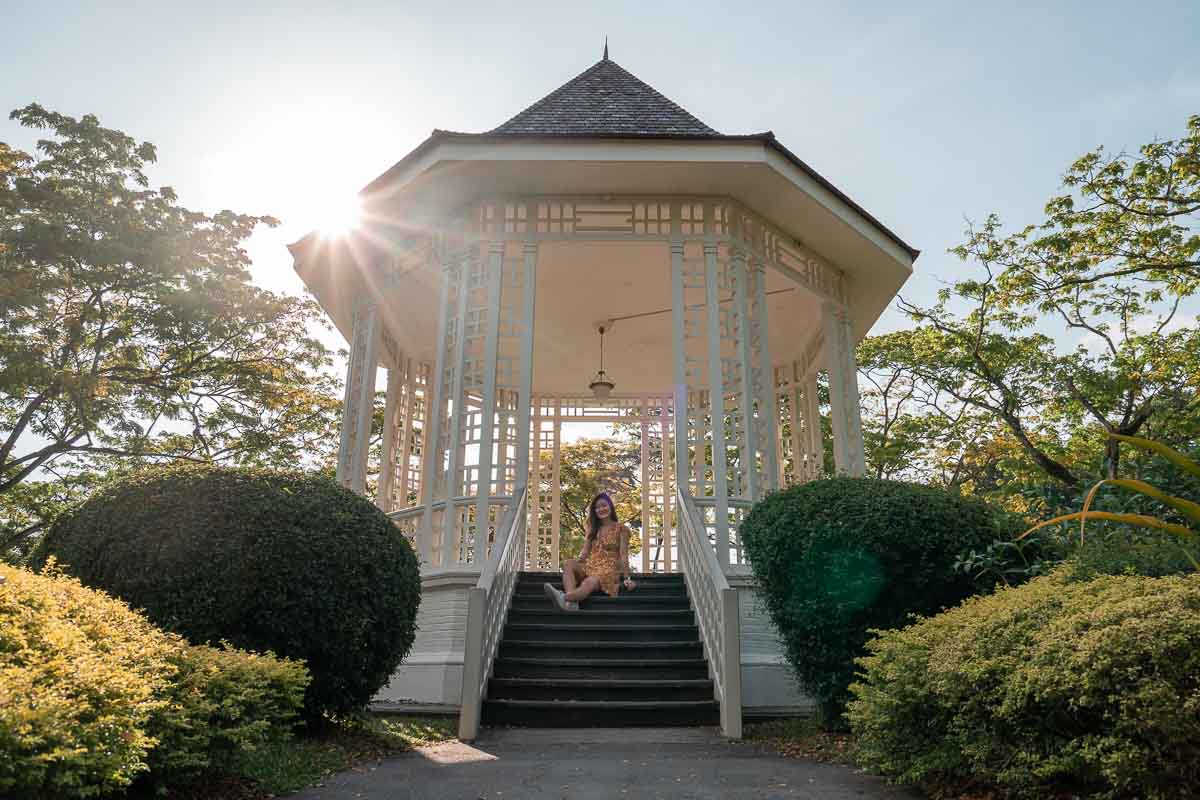 A favourite spot among locals, the Singapore Botanic Gardens more than lives up to its title of Singapore's first UNESCO Heritage site. Check out the swan lake with actual swans or catch free weekend concerts at the Shaw Foundation Symphony Stage.
At the National Orchid Garden, visit the world's largest orchid display and spot Singapore's national flower, the Vanda Miss Joaquim. Don't miss an OOTD or two at the iconic Bandstand pavilion, where you might spot couples posing for wedding photos.
Entrance Fee: Free (For Botanic Gardens), S$5/~₱185 for National Orchid Garden
Opening Hours: 5AM – 12MN (Attractions varies)
How to get there: From Botanic Gardens MRT station (orange/blue lines), the entrance is right outside Exit B. The National Orchid Garden is in the centre of the park, about a 10mins walk away
9) Picnic at Marina Barrage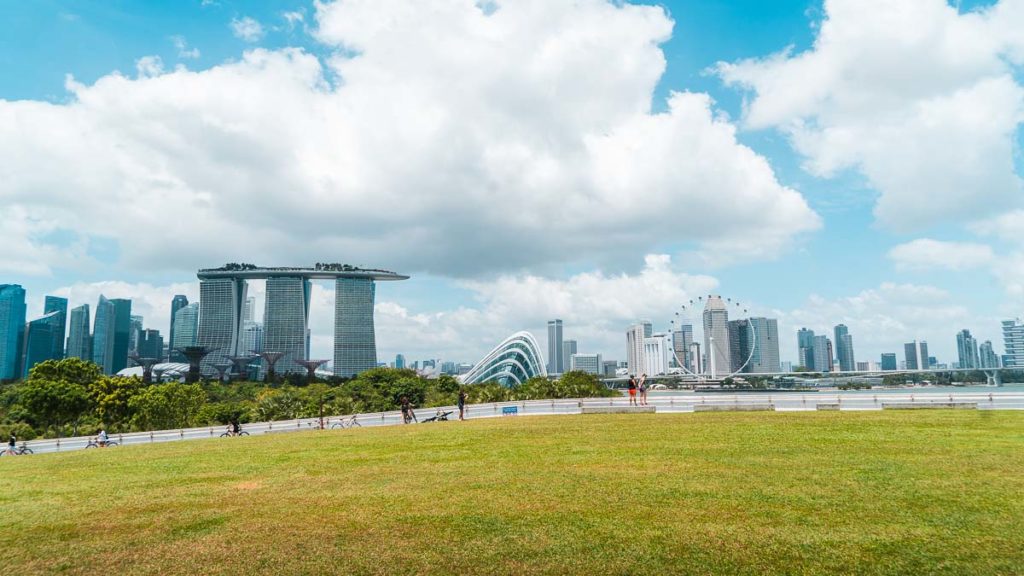 Have a picnic, fly a kite and take in skyline views from the green roof of Marina Barrage, a reservoir in the heart of the city. On weekends, you'll hear a plethora of accents as locals and expatriates come out to play. For convenient picnic food, order takeaway from the nearby Satay by the Bay hawker centre located just 400m away!
There are plenty more outdoor activities in Singapore nearby. Marina Barrage is connected to both East Coast Park and Gardens by the Bay, with wide lanes for cycling, running or skateboarding.
Entrance Fee: Free
Opening Hours: 24hr
How to get there: From Downtown MRT station (blue line), take bus no. 400 and alight at Marina Barrage or walk through Gardens by the Bay located at Bayfront MRT station (blue line), which will take about 30-45mins
10) Go Park-Hopping Along the Southern Ridges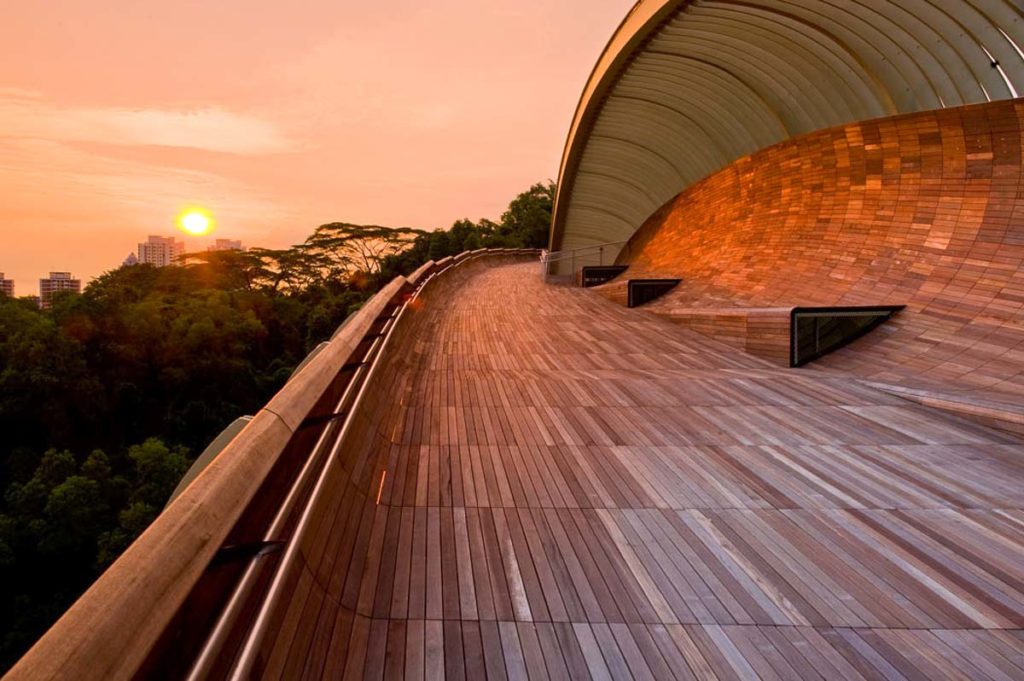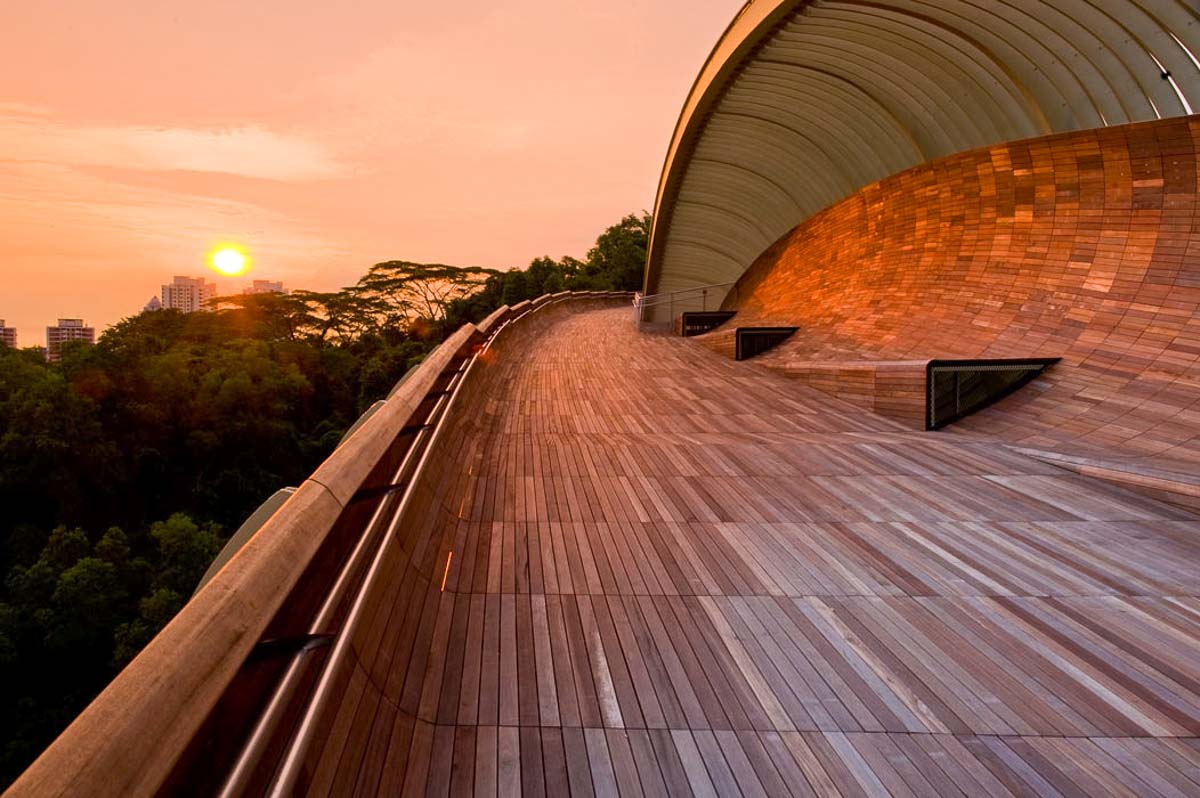 This 10km connector links four parks and one nature reserve, offering sweeping views of the city and numerous Instagrammable spots. If you don't have time to do the entire route, we recommend the 5km hiking trail that takes you through Kent Ridge Park, Telok Blangah Hill Park and Mount Faber Park. Henderson Waves, a curved bridge built to mimic the shape of waves, connects the latter two.
Entrance Fee: Free
Opening Hours: 24hr
How to get there: From Telok Blangah MRT station (orange line), take bus no. 176 to Henderson Waves; from Harbourfront MRT station (purple line), take bus no. 131 to Mount Faber where the trail begins
*Pro-tip: Start your walk at about 6PM to escape the heat and catch the glow of golden hour. LED lights illuminate Henderson Waves from 7PM for a different, nighttime vibe.
11) Stroll Through Gardens by the Bay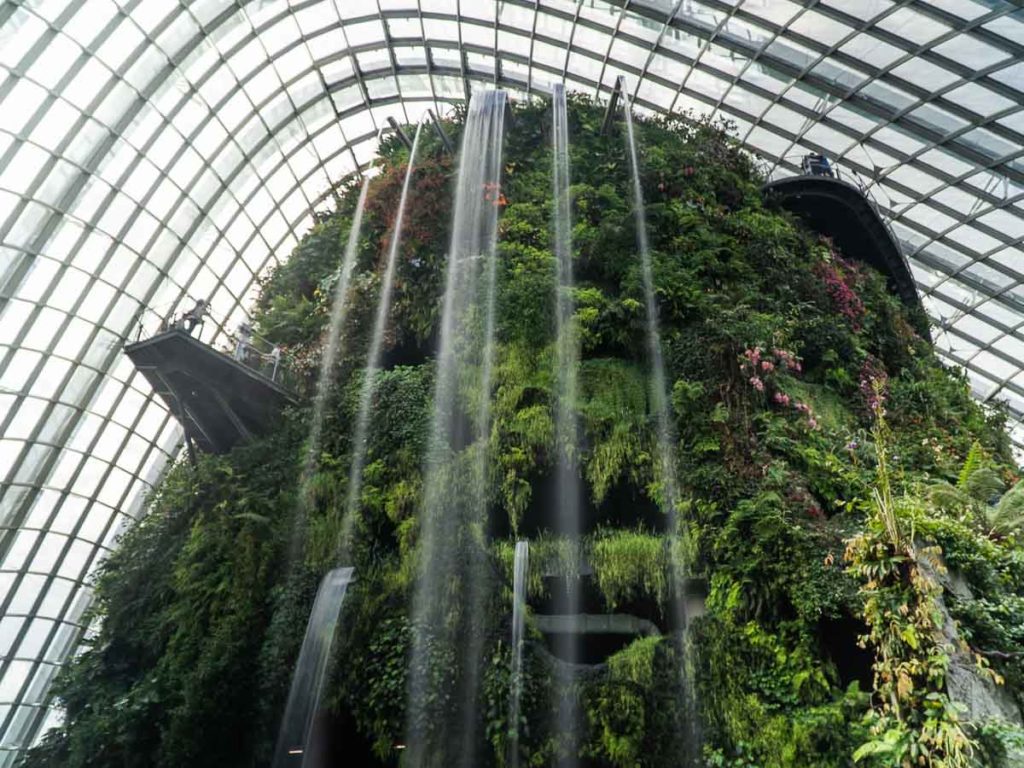 Gardens by the Bay is probably Singapore's most iconic attraction, for good reason. With a huge variety of flora housed in two huge domes cooled to air-conditioned comfort, it's perfect for the sweltering weather.
Stroll amidst trendy succulents and towering African baobab trees in the Flower Dome. It also features a rotating display of flowers from around the world such as dahlias and tulips. Meanwhile the Cloud Forest houses an indoor waterfall surrounded by vegetation typically found at 2,000 above sea level. For a bird's eye view of the gardens, head up to the Supertree Observatory or OCBC Skyway.
Entrance Fee: Free for the outdoor gardens /~S$23 for access to the Flower Dome and Cloud Forest
Opening Hours: 5AM – 2AM / 9AM – 9PM (for the Flower Dome and Cloud Forest)
How to get there: From Bayfront MRT station (blue line), take Exit B and follow the underground linkway, crossing the Dragonfly Bridge or Meadow Bridge into Gardens by the Bay
There's lots more to explore on the island, including affordable local food, modern museums and old-school neighbourhoods. Make Singapore your next vacation and see it all for yourself!
---
This outdoor activities in Singapore post was brought to you by Facebook, Infocomm Media Development Authority (IMDA), and Klook.
Like what you see? Follow us on Facebook, Instagram, YouTube, and Telegram for more travel updates