Sydney & Surrounds has got plenty of things that will refresh your tired soul — from indulging in instagrammable pancakes, to drinking fine wines and cosying up with alpacas!
Updated on: 3 Feb 2022
After what has felt like an eternity of WFH (working from home), I can't wait to pack up and take off ASAP to refresh my desk-bound soul. Somewhere that's laid-back yet happening, well-known but still has hidden gems to discover, and has tons of good food.
I daresay that Sydney and New South Wales (NSW) is one of the few places in the world that make the cut.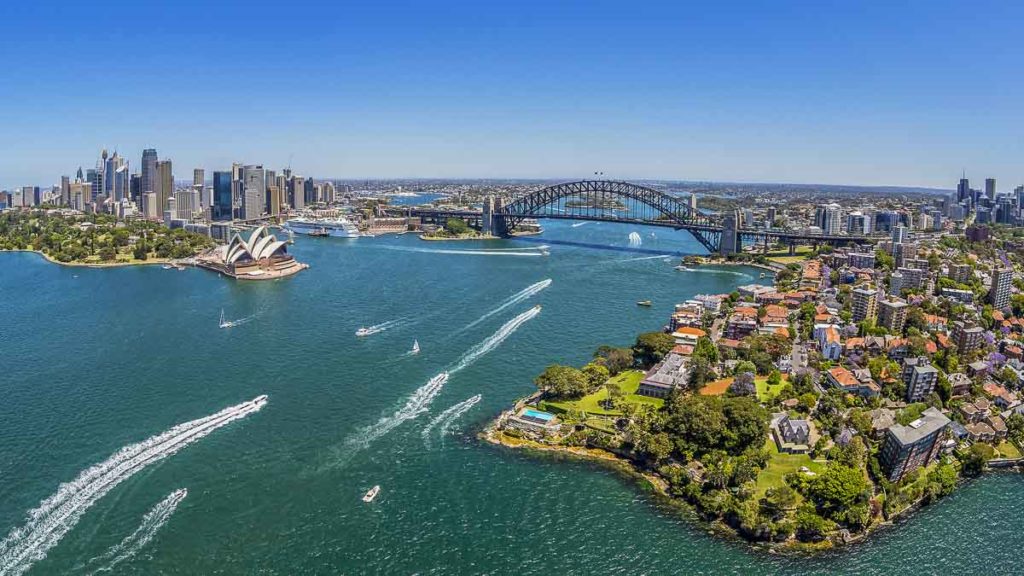 Photo credit: Destination NSW
We've explored this region on multiple occasions, and the city and its surrounds never fail to impress us. Within Sydney, you'll find hipster cafes, bustling markets, and a lively nightlife. Outside the city, there are phenomenal coastal drives, surfing beaches, and gorgeous nature spots like the Blue Mountains.
Read also: The Alternative Sydney Guide
Sure, Sydney has some similarities to Singapore (like the exchange rate at the moment!). But you can't deny it's got more space, scenery and wildlife, and opportunities for adrenaline-pumping adventures — perfect for actual road trips.
So as you plan your much-needed vacation out of Singapore, we've sussed out 19 awesome things to do in Sydney and NSW that'll renew your energy and give you a break from adulting!
Things to Do in Sydney
1) Hit the beach for a refreshing surf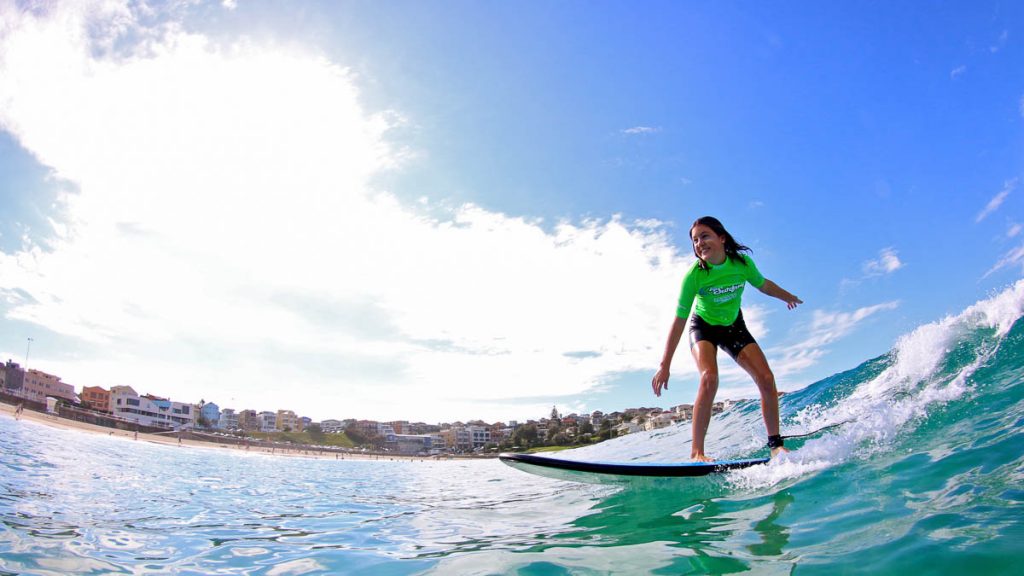 Photo credit: Destination NSW
Was it really a trip to Sydney if you didn't visit its world-famous surf beaches? Refresh yourself — literally — with a surfing lesson at Bondi Beach, and ride those waves into true vacation mode.
Surfing may seem daunting if you're a first-timer, but Bondi's only licensed surf school keeps classes small (max five per session), and offers private lessons for those who'd prefer their own personal instructor.
Let's Go Surfing (Bondi)
Cost: From AU$99 incl. wetsuit, rashguard, surfboard, sunscreen (bookings required)
Timings: Varies (check schedule when booking)
Meeting point: 128 Ramsgate Ave, North Bondi NSW 2026, Australia (next to Speedo's Cafe)
2) Explore Sydney Harbour on a sunrise kayak tour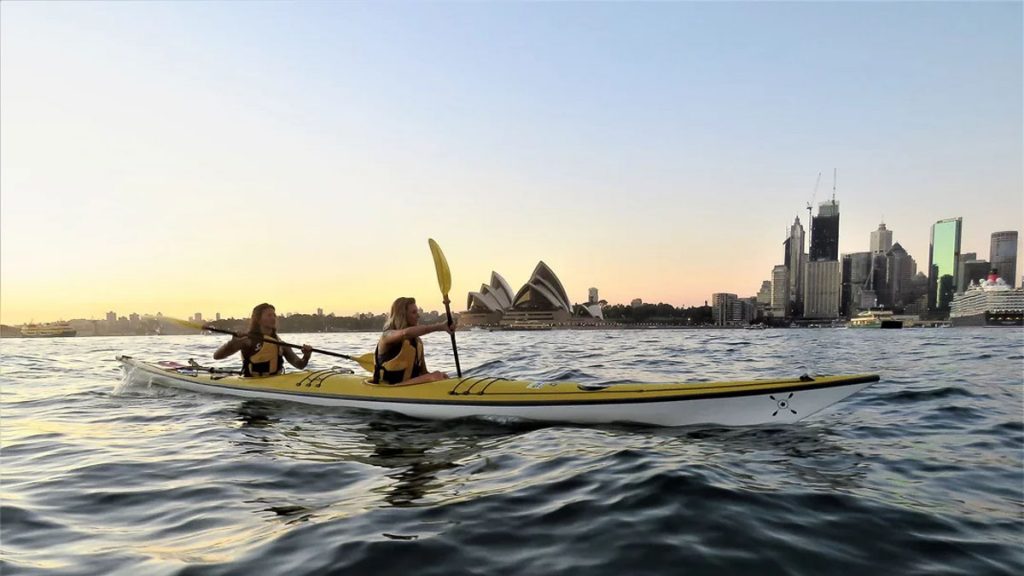 Photo credit: Sydney Harbour Kayaks
If you, like us, have explored Singapore's mangroves on a kayak, this will be a nice change of scenery. Admire the sunrise over Sydney Harbour's waters and soak in the sights of the Sydney Opera House and Harbour Bridge from a unique perspective — you'll even get to paddle under the Sydney Harbour Bridge when the weather's good.
Beginners can opt for a Middle Harbour kayaking tour for equally stunning views of the sunrise.
Sydney Harbour Kayaks (2.5hr Sunriser Kayak Tour)
Cost: AU$155 (incl. Double kayaks, paddles and life jackets)
Tour timings: 6AM – 8:30AM
Meeting point: Neutral Bay Ferry Wharf
3) Get snap-happy at The Grounds of Alexandria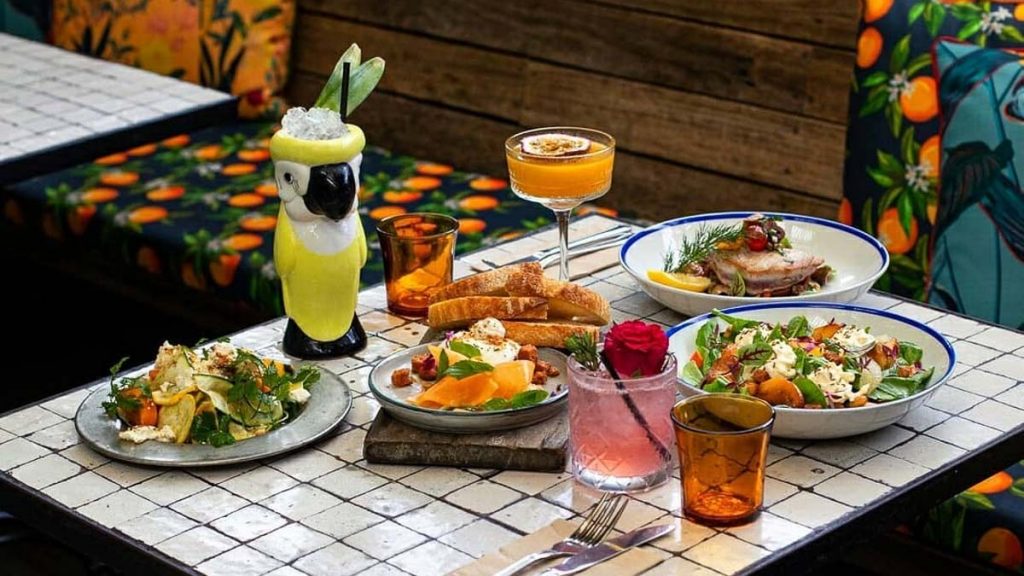 Photo credit: @thegrounds via Instagram
It's hard to believe that fairy tales exist now that we're adults, but you might just change your mind after setting foot in The Grounds of Alexandria. For starters, it offers two cafes/restaurants with different menus and settings at their sprawling premises.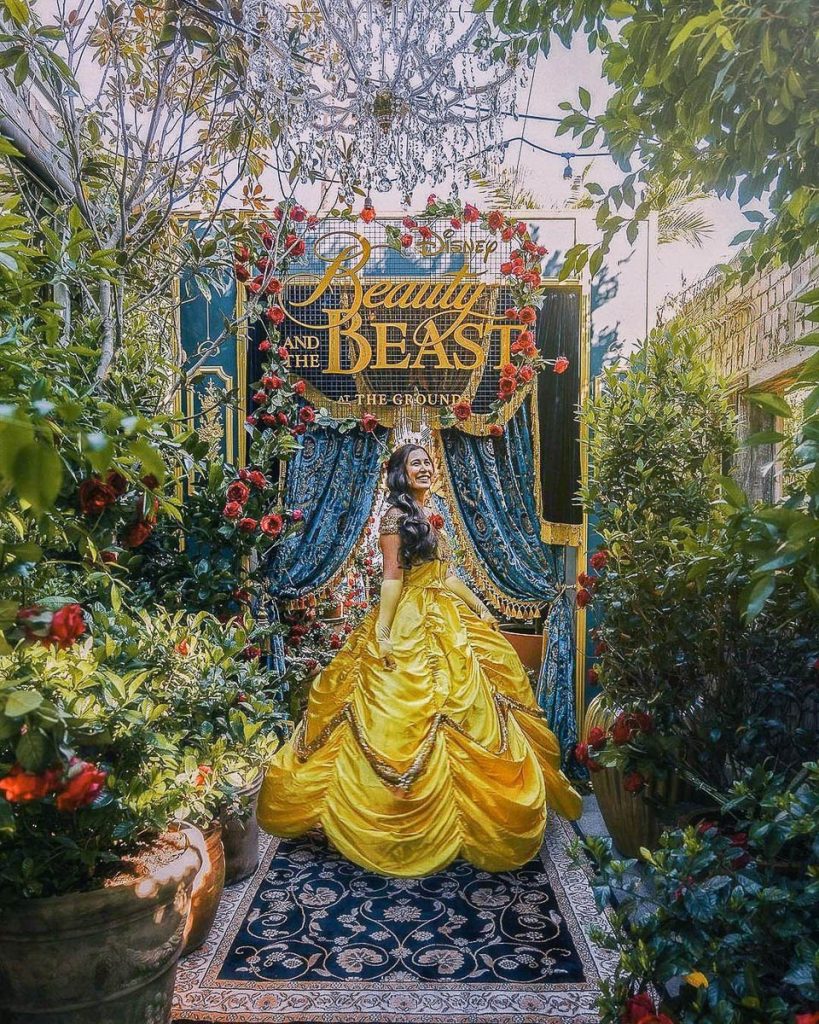 Photo credit: @thegrounds via Instagram
Then, there's a photo op at every corner, as The Grounds frequently switches up its fantastical decor to match the seasons and festive events. If that isn't enough, collaborations with Disney pack on extra magic to celebrate movie launches and anniversaries — the latest being Beauty and the Beast's 30th anniversary, from now till 30 Jan 2022.
Opening hours (Cafe): 7:30AM – 3:30PM (Mon – Thu), closes 4:30PM (Fri-Sun)
Opening hours (The Potting Shed): Varies
Address: 7a/2 Huntley St, Alexandria NSW 2015, Australia
4) Enjoy vegan pancakes at Speedos Cafe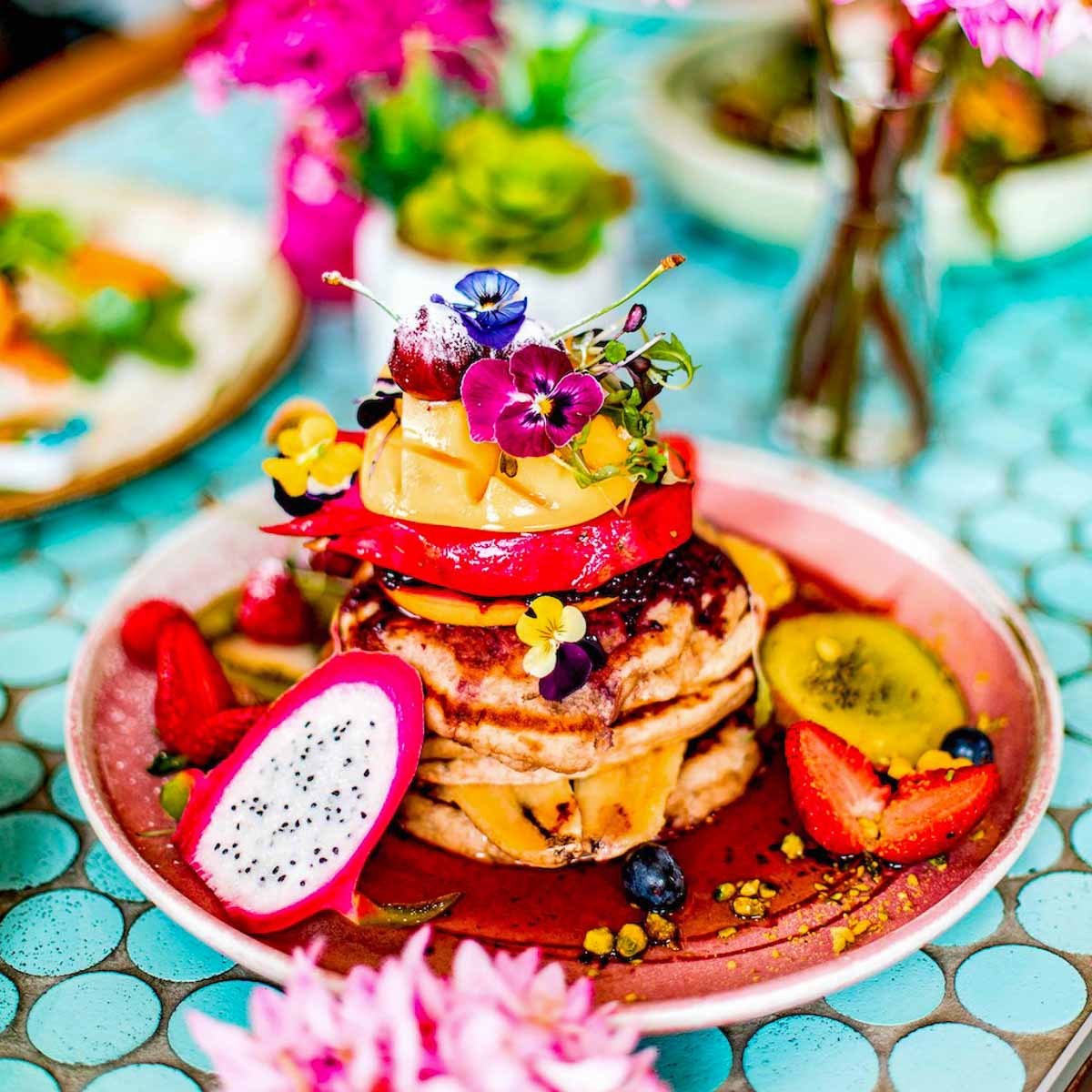 Photo credit: Speedos Cafe Facebook
IG enthusiasts, get ready to take your aesthetic game to the next level! Speedos Cafe was named the "World's Most Instagrammable Cafe" in 2019, and it's easy to see why. They serve a smorgasbord of healthy dishes that are as delicious as they are colourful.
The breakfast bestseller: Caramelised Banana+Chia Vegan Pancakes (AU$24.90). The huge stack of fluffy pancakes is adorned with 'gram-worthy fruit and flowers. It's almost too pretty to eat, and even has its own hashtag (#worldfamouspancakes)!
Cost: AU$14.90 – AU$25.90
Opening Hours: 6AM – 4PM
Address: 126 Ramsgate Ave, North Bondi NSW 2026, Australia
5) Chill out at the panoramic Bondi Icebergs Club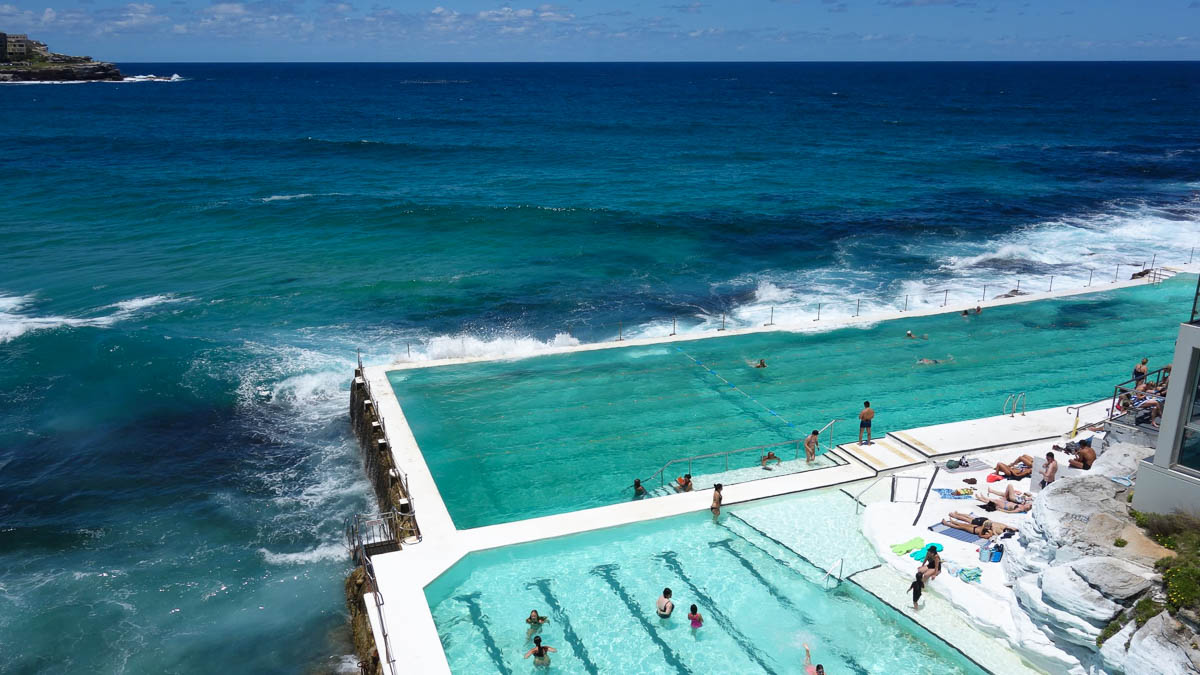 Photo credit: Popsugar.com
Dubbed as "an international landmark", Bondi Icebergs Club is one of Sydney's hottest spots. It's best known for its iconic pool that's right next to the cerulean ocean. Anyone can enjoy a dip for a fee (AU$9). However, you'll first need to sign in with a valid photo ID and show proof of vaccination.
Overlooking the pool, Bondi Icebergs Bistro serves hearty breakfasts and fresh seafood platters. Diners also get to enjoy a panoramic view of the fabulous Bondi Beach. There's also the The Crabbe Hole cafe at the pool deck one level below for a more casual meal and coffee.
Pool opening hours: 6AM – 6:30PM (weekdays except Thu), opens at 6:30AM on weekends
Club opening hours: 11AM – late (Wed-Sat), closes at 10PM (Mon-Tue) and 9PM (Sun)
Address: 1 Notts Ave, Bondi NSW 2026, Australia
6) Grab a drink at The Barbershop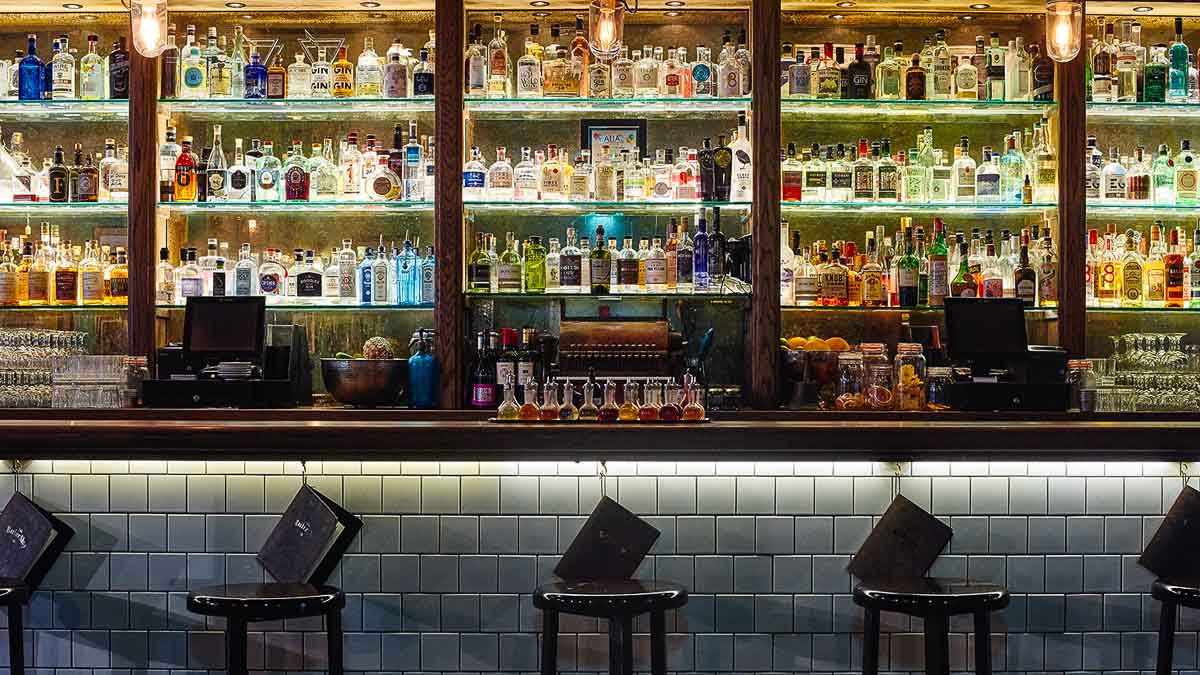 Photo credit: Thisisthebarbershop.com
Nope, not a typo! 👆 Hidden behind an unassuming Barbershop in Sydney is a trendy speakeasy bar that goes by the same name. For good reason, it's also Australia's best gin bar. Alcohol enthusiasts will be pleased to know that the Barbershop carries over an impressive 700 gins from around the world!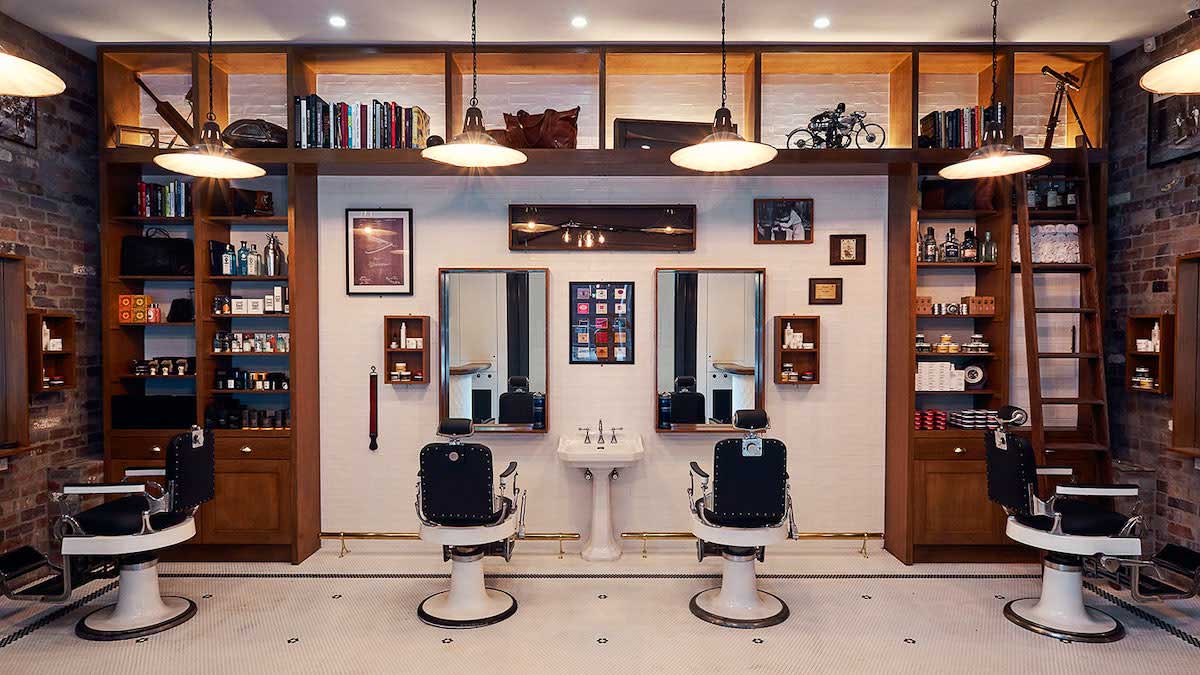 Photo credit: Bosshunting.com.au
The barbershop at the front isn't for show, though. Gents can actually get a professional cut for a reasonable price, then have a complimentary drink at the back afterwards.
Barbershop (Cocktail bar)
Cost: From AU$18
Opening hours: Wed – Sat (hours vary)
Address: 89 York St, Sydney NSW 2000, Australia
7) Shop at a variety of markets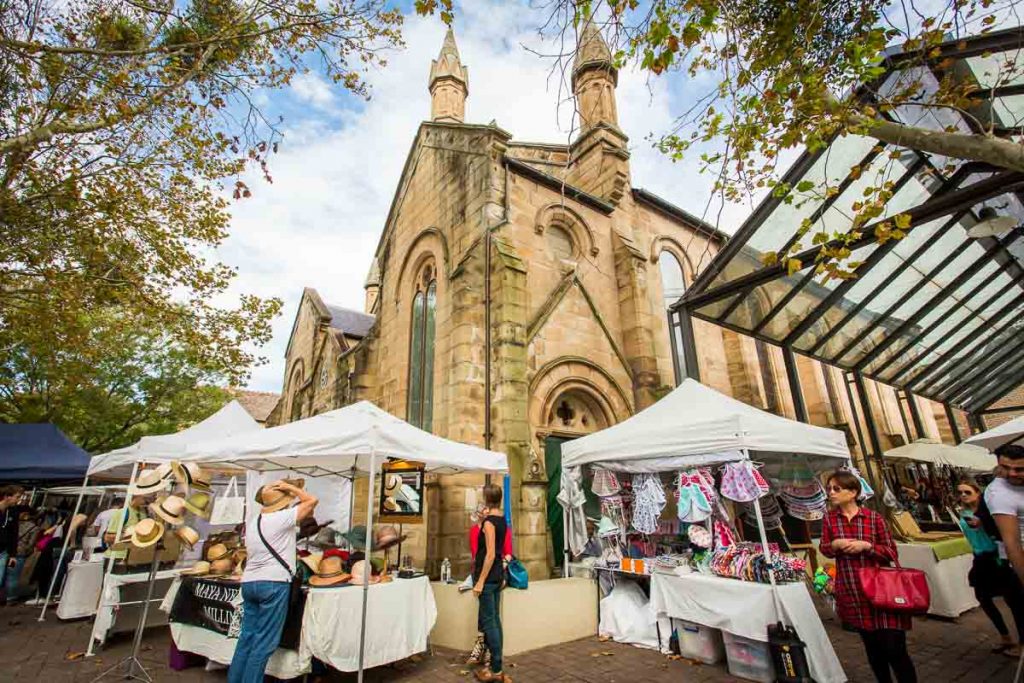 Photo credit: Destination NSW
This one is for the ~quirky~ folks who love shopping for small-batch gourmet produce and hidden gems among piles of pre-loved goods! Work your thrifting prowess at popular weekend markets like Glebe Markets, Surry Hills Market, and Paddington Markets, which sell a mix of items like secondhand clothes and furniture.
Food lovers should head to Carriageworks Farmers' Market or Bondi Farmers Market (re-opens 4 Dec) to sample and buy a range of local produce like cheese, jams and sauces to enjoy on a picnic or road trip. For plant-based eaters, keep an eye out for the reopening of the Sydney Vegan Market soon!
8) Satisfy your taste buds at Darling Square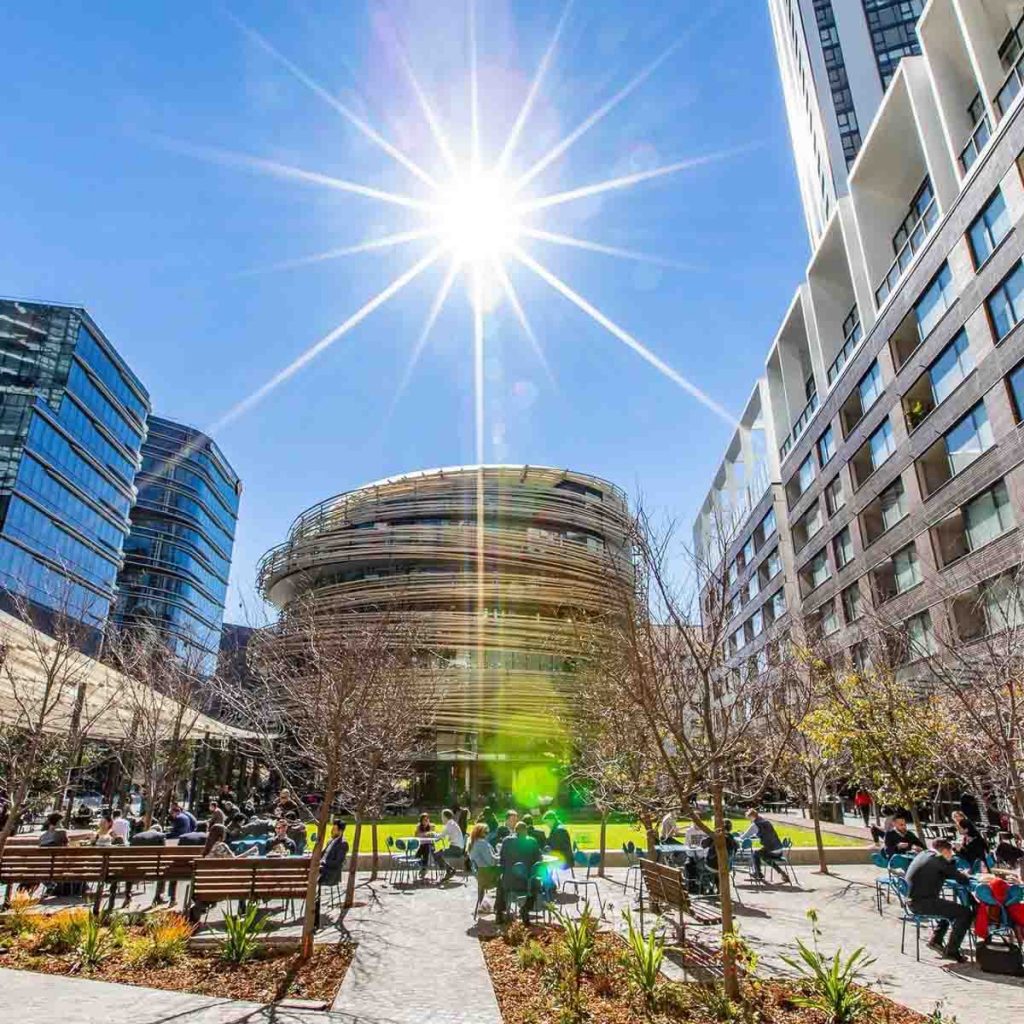 Photo credit: @darlingsquare via Instagram
You'll want to save lots of room in your stomach for a visit to Darling Square, a 5-minute walk away from Darling Harbour. The trendy neighbourhood houses close to 50 eateries and restaurants across its three precincts — Steam Mill Lane, Little Hay Street, and the eye-catching Exchange Building.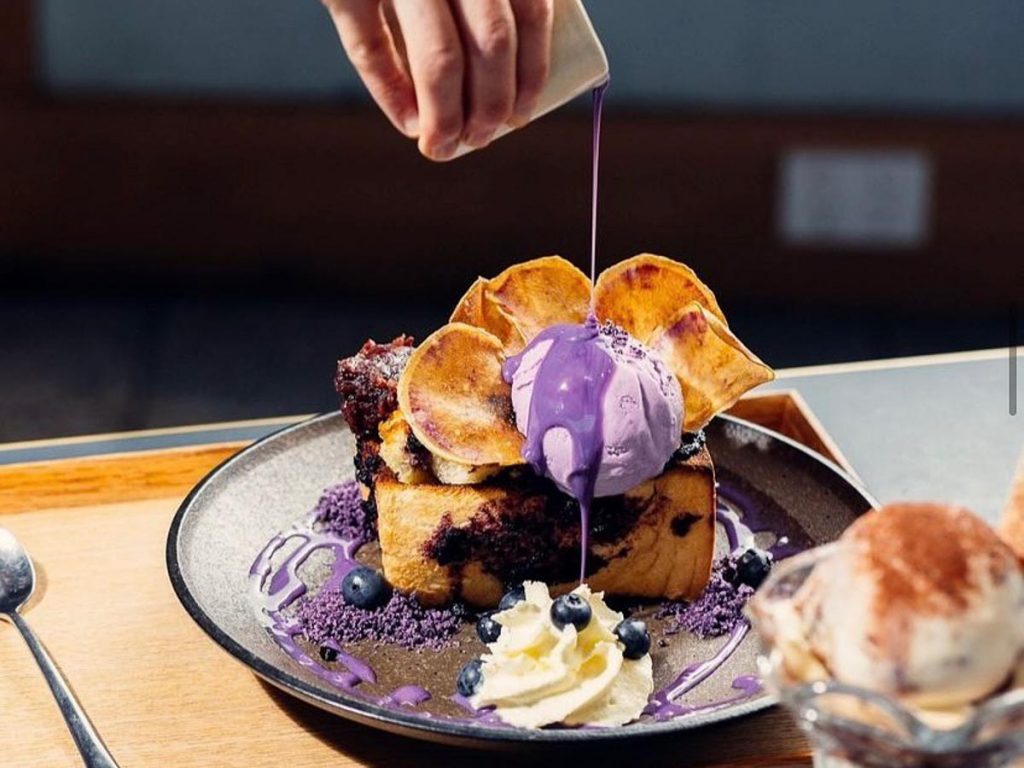 Photo credit: @darlingsquare via Instagram
Let your taste buds go wild on diverse fare, from pastries to banh mi and omakase sushi. Afterwards, stave off the food coma with a browse in the Sydney City Library or by picking up some trinkets at the lifestyle shops around.
Opening hours: 7AM – 11PM (hours differ for each shop)
Address: 35 Tumbalong Bvd, Haymarket NSW 2000, Australia
9) Get your heart pumping on a Sydney Harbour Bridge climb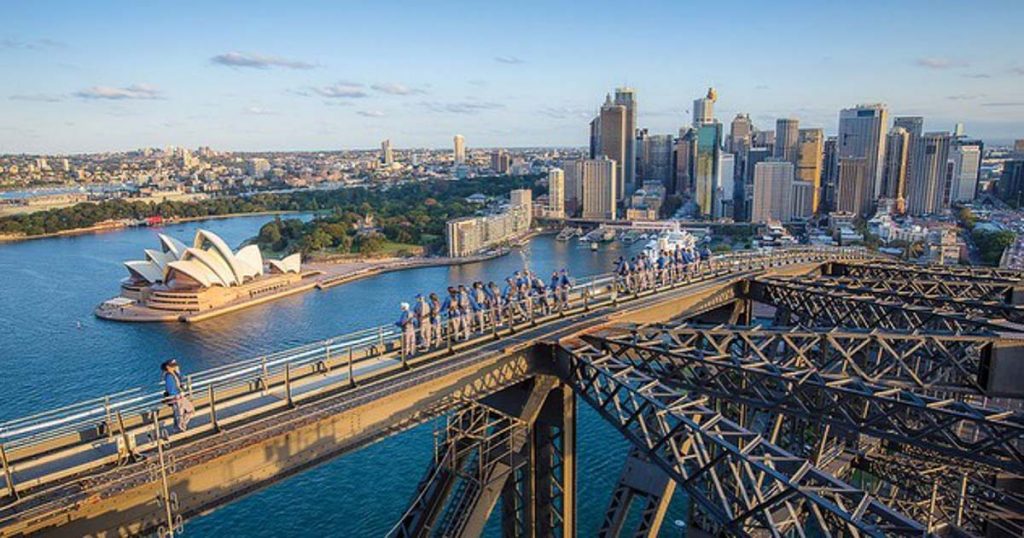 Photo credit: @bridgeclimb via Instagram
There's no doubt that Sydney Harbour is extremely photogenic. And at 134m above ground, the Sydney Harbour Bridge is one of the best places to fully take in the view.
BridgeClimb Sydney offers several experiences that guarantee breathtaking views no matter what your fitness level is. Choose from the shorter 2.5hr Summit Insider where you'll climb via the inner arch, to the 3.5hr Ultimate climb that'll bring you all the way to the other end of the bridge and back!
Cost: From AU$198
Tour timings: Varies across seasons
Meeting point: 3 Cumberland St, The Rocks NSW 2000, Australia
10) Indulge in Nutella everything at Tella Balls Dessert Bar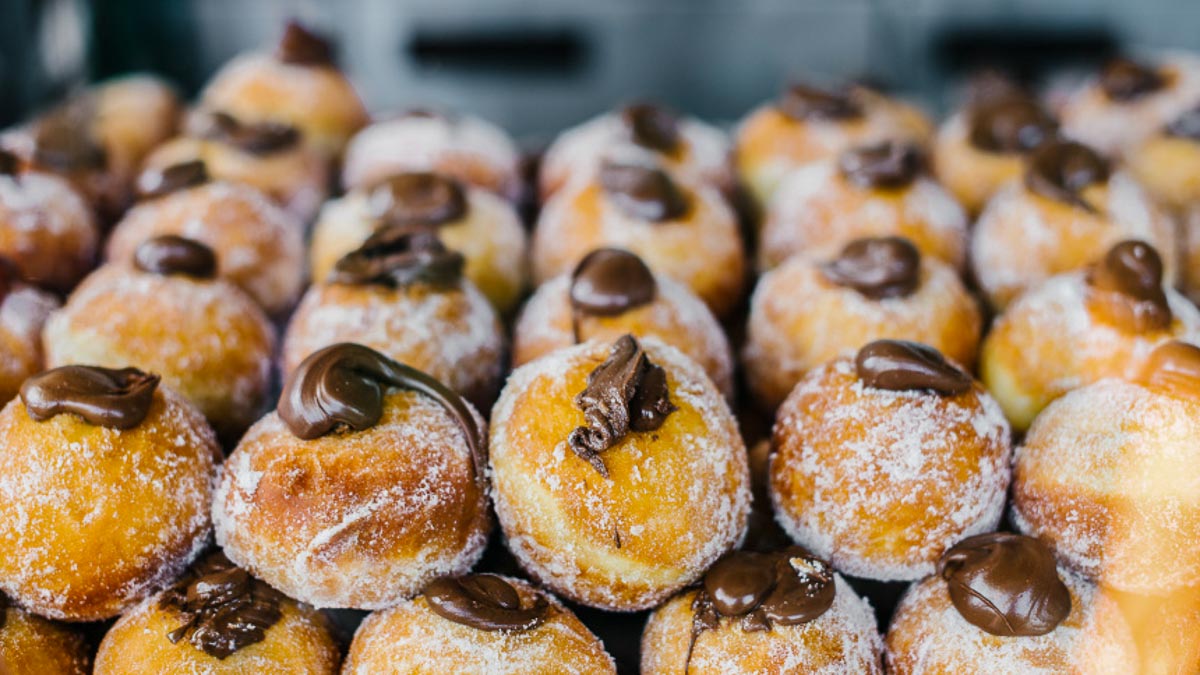 Photo credit: Broadsheet.com.au
Treat yo'self to one of Sydney's most decadent desserts — Tella Balls, a.k.a. Nutella-filled brioche donuts! (Aussies love shortening words, if you didn't know already. Check out this outsider's guide to 59 Aussie Slangs.)
Photo credit: @Tellaballsdessertbar via Instagram
Tella Balls Dessert Bar is the only place that serves it. The cafe is like the Church of Nutella — everything is served with chocolatey hazelnut gold. They even have dessert versions of savoury meals, like the Tellafish and Chips (AU$18). It consists of doughnut fries, fried slabs of ice cream, and an array of sauces.
Cost: AU$5 – AU$22
Opening Hours: 11AM – 11PM
Address: 5/370 New Canterbury Rd, Dulwich Hill NSW 2203, Australia (and 8 other branches)
Read also: Sydney Food Trail Guide — 10 must-try things to eat in Sydney
11) Relive your childhood at an old-school arcade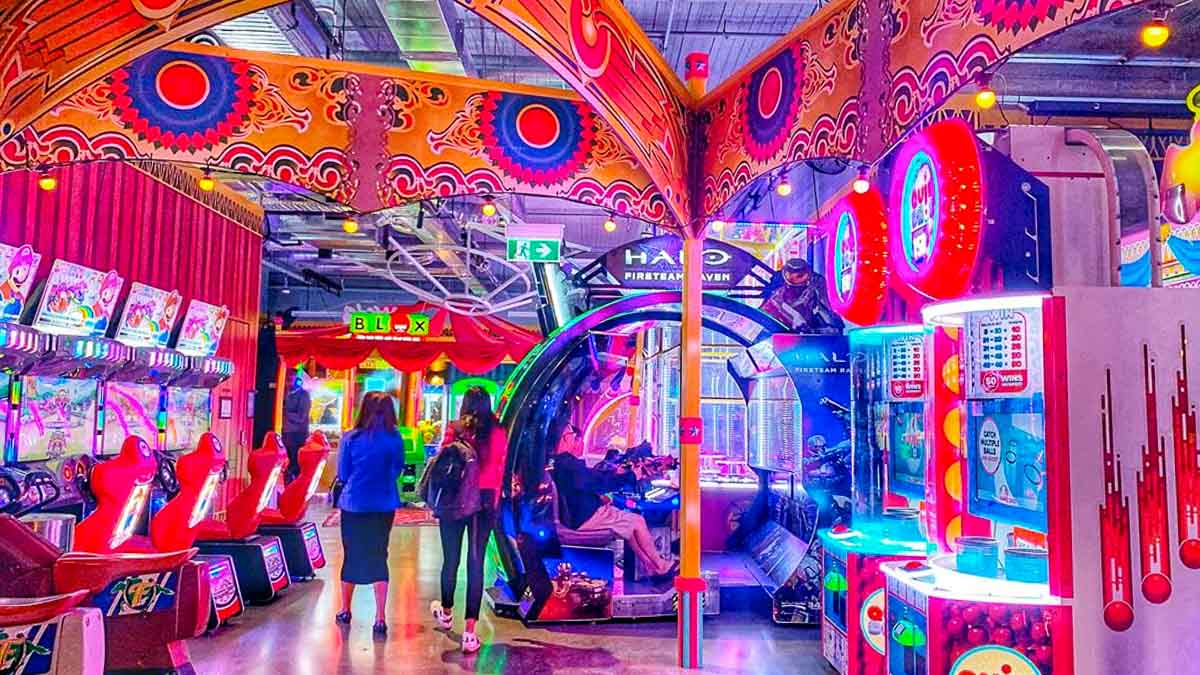 Photo credit: @ari_mond via Instagram
Remember the times when you and your friends would hang out at Timezone after school? At Archie Brothers Cirque Electric, you can relive the good ol' days at this dazzling, carnival-like arcade!
You'll find loads of exciting activities such as arcade games, bowling, and laser tag. If you get peckish, an onsite diner sells carnival classics like burgers and shakes. However, past 8PM, the real fun begins: You and your friends can grab cocktails that come with a playful twist. 🍸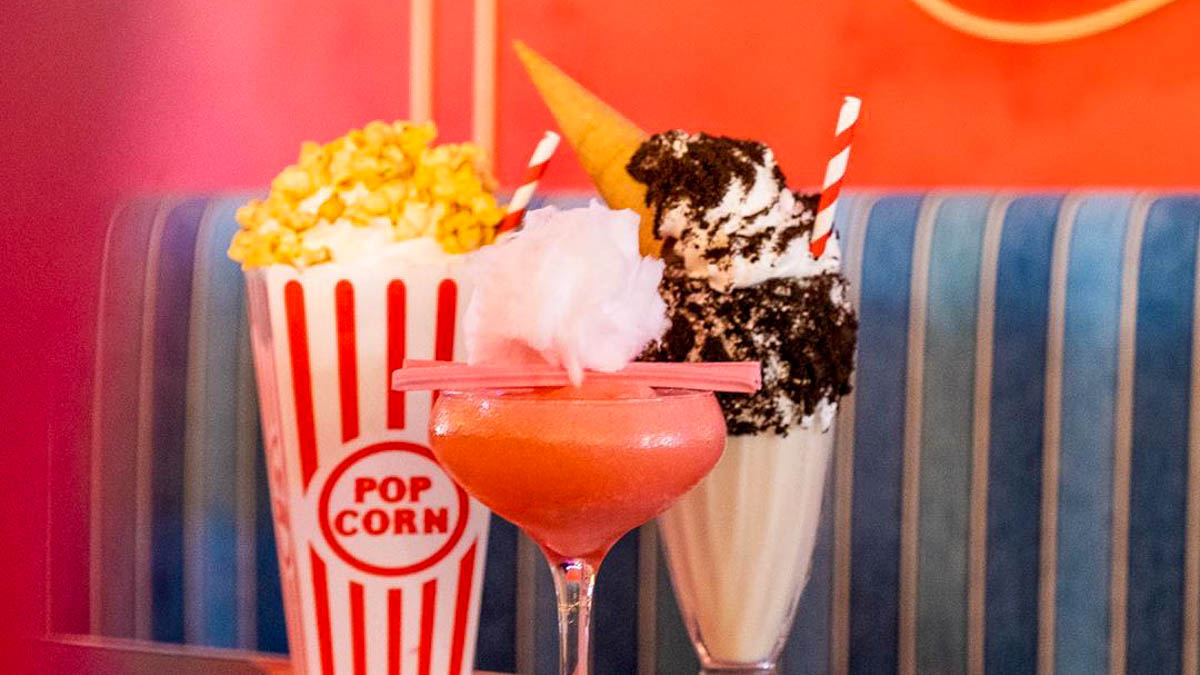 Photo credit: @capturedbysophh via Instagram
Opening hours: Varies
Address: 75 O'Riordan St, Alexandria, New South Wales 2015, Australia
Things to Do Out of Sydney
12) Skydive over Wollongong beach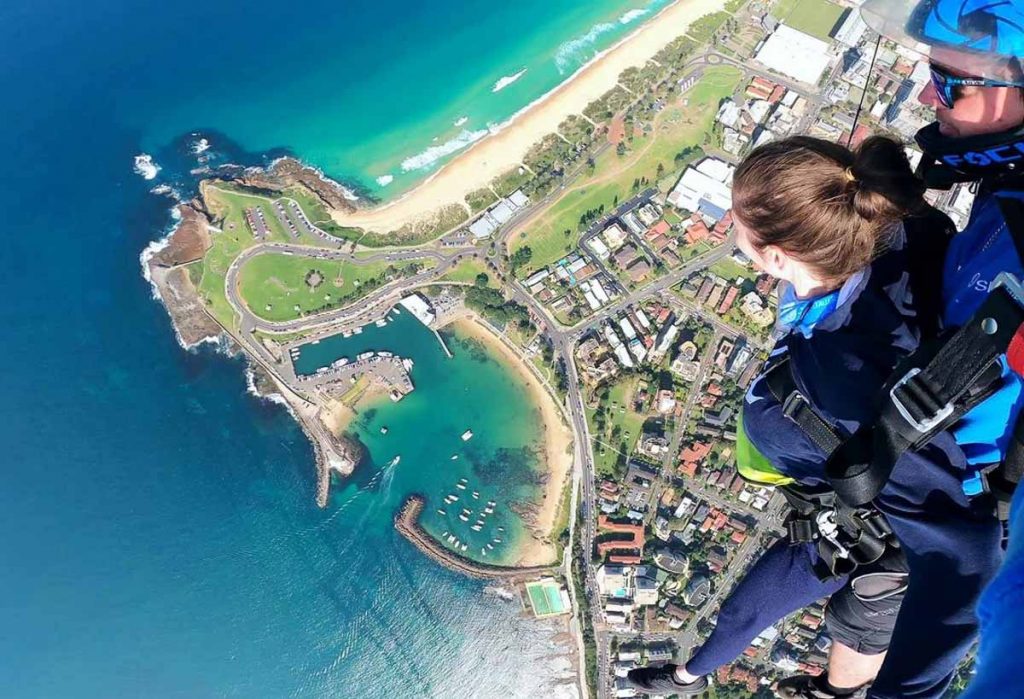 Photo credit: @skydiveaustralia via Instagram
Skydiving is always an epic thrill, no matter how many times you've done it. But skydiving over Wollongong is a step up from the rest!
While there are several drop zones in NSW, Wollongong is the only one where you can skydive over a spectacular beach. The heart-racing experience includes an insane 60 seconds of freefall. Afterwards, you get to enjoy sensational views of the Wollongong coast, Royal National Park, and Sydney city.
If you're not driving, we recommend opting for the free transfer service from Sydney CBD. It's highly convenient, and you can take a nap before you take the plunge!
Cost: From AU$349
Address: George Hanley Dr &, Cliff Rd, North Wollongong NSW 2500, Australia
Drive time from Sydney: 1.5hrs
13) Get cosy with fluffy Alpacas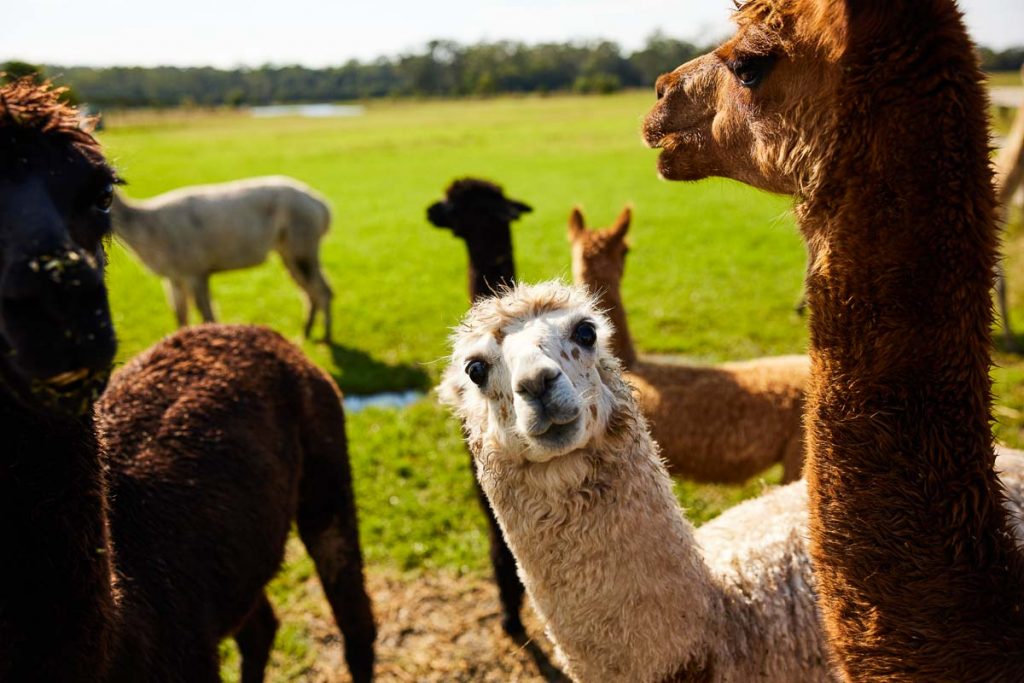 Photo credit: Destination NSW
It's hard not to relax and smile when cute animal videos appear on our Facebook feeds. Imagine how much better it'll be when you're greeted up-close by adorable alpacas!
If you're heading out for a weekend along the NSW North Coast, start your road trip right with breakfast with the alpacas of Iris Lodge on the Central Coast (AU$50/pax). Or spend an afternoon with a farm visit to meet and hand-feed fuzzy creatures from alpacas to sheep and horses!
Cost: From AU$25/pax
Address: 33 Dunks Lane, Jilliby NSW 2259, Australia
Drive time from Sydney: 1hr
14) Go off-the-grid in a Tiny House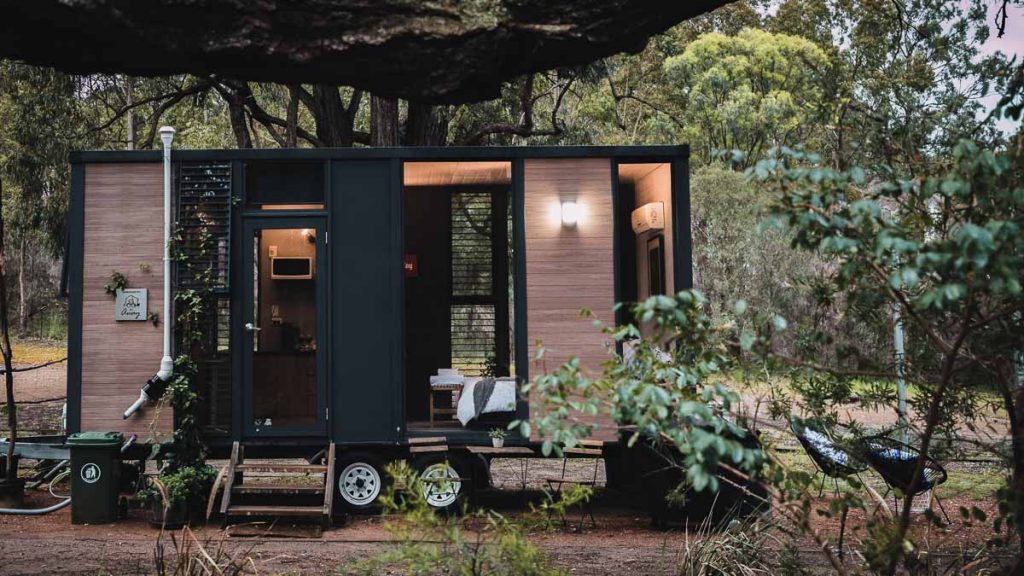 Photo credit: Tiny Away
Sometimes you just want to escape the city to recharge for a bit, with some creature comforts to keep your sanity intact. Well, these houses may be tiny, but the experience certainly isn't.
Whether you choose to live amongst forests or farmland, you won't be too far from quaint towns, picturesque vineyards, or working farms to explore during your sojourn. Each tiny house is big enough for two, and even comes with a kitchenette and air-conditioning.
Cost: From AU$159/night
15) Hike around Bouddi National Park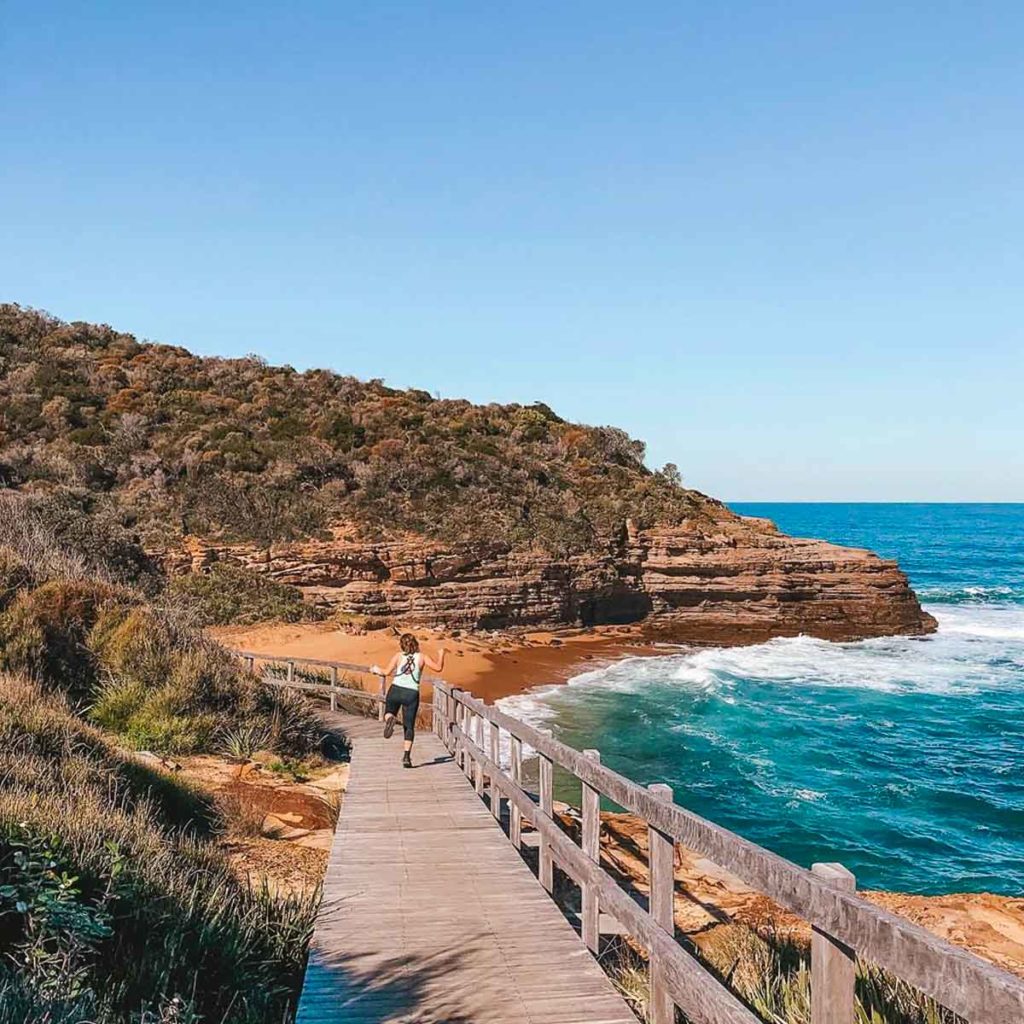 Photo credit: @paigemilne via Instagram
Bouddi National Park is a great, underrated place to explore for travellers who love to discover something new. The park has several bushwalking tracks, where you'll find Aboriginal engraving sites.
You can even embark on an 8km-long coastal walk (one-way) that's surrounded by stunning sandstone cliffs. If you have a friend who can't sit still, challenge them to take this hike!
Entrance Fee: AU$8/vehicle
Drive time from Sydney: 1.5hrs
16) Explore the mighty Blue Mountains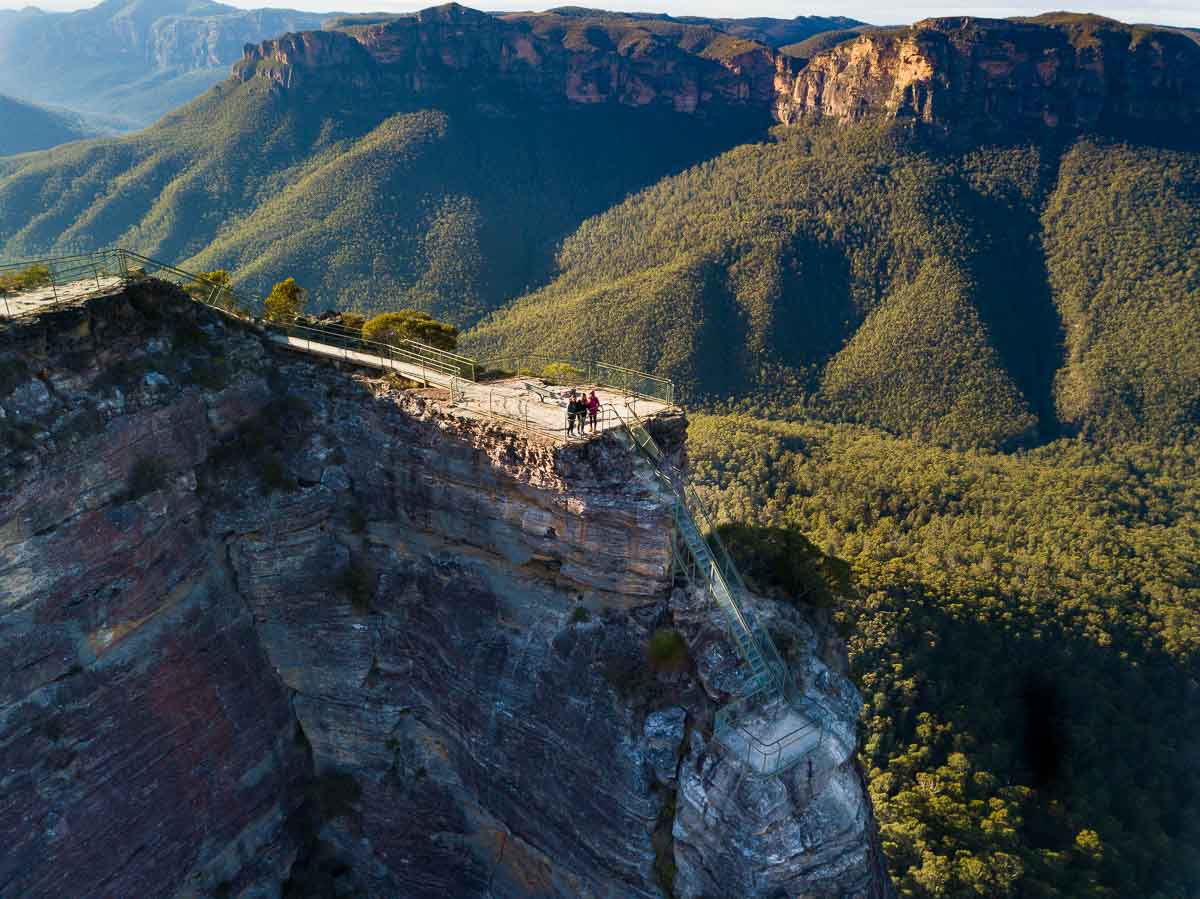 Soaking in the view at Pulpit Rock.
When you want a break from the bustling city, the Blue Mountains is one of our top picks to get a good recharge. There are plenty of scenic lookouts for a good view of the mountain ranges, including Pulpit Rock, Elysian Rock, and the Honeymoon Bridge.
Nature-lovers would love exploring the numerous hiking trails around the park, which range from easy to moderately difficult. We highly recommend the Grand Canyon Walk. It's a 3–4hr round-trip hike, where you'll cross creeks, beautiful waterfalls, and lush greenery. Nights are equally enthralling with the new Katoomba Falls Reserve Night-lit Walk and stargazing tours.
For more things to do, check out our 3D2N Blue Mountains itinerary.
Drive time from Sydney: 1.5hrs
17) Go Quad Biking on the Port Stephens sand dunes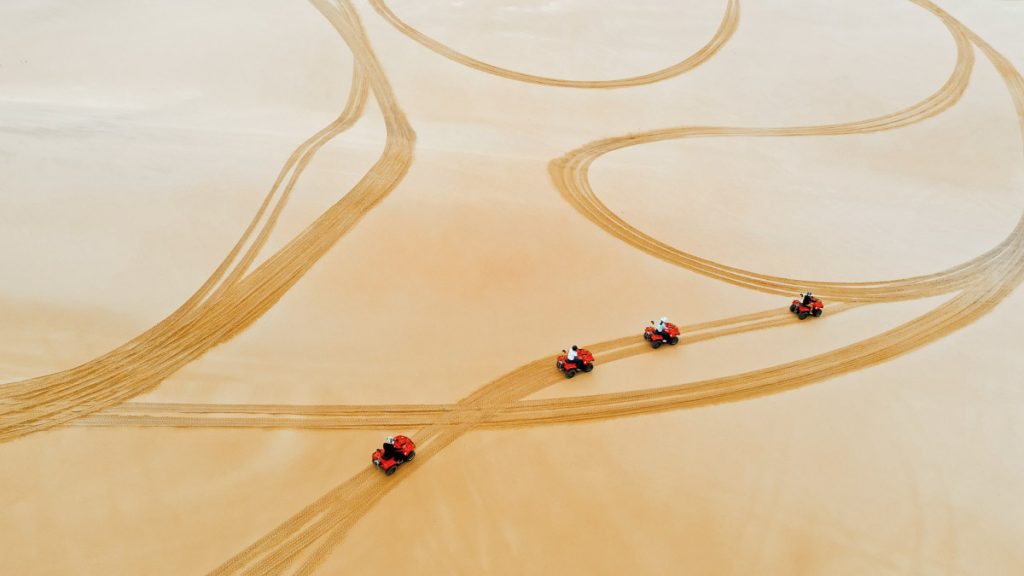 Photo credit: Destination NSW
Most travellers flock to Port Stephens to hop on a cruise and see aquatic wildlife like dolphins, whales, and seals. However, we suggest a wilder alternative: Quad biking on Stockton Sand Dunes!
For those unaware, it's the largest sand dunes in the Southern Hemisphere. It's continually shifting, so the conditions of the sand can vary daily — an added challenge as you drive across the vast "desert". We recommend the 1.5hr tour, where you get added experiences like digging for fresh water, as well as sandboarding!
Cost: AU$135/pax
Meeting Point: 2163 Nelson Bay Rd, Williamtown NSW 2318, Australia
Drive time from Sydney: 2hrs
Read also: 9-Day Australia Road Trip Itinerary Around The Best Of NSW — Sydney, Blue Mountains and Beyond
18) Savour world-famous wines in the Hunter Valley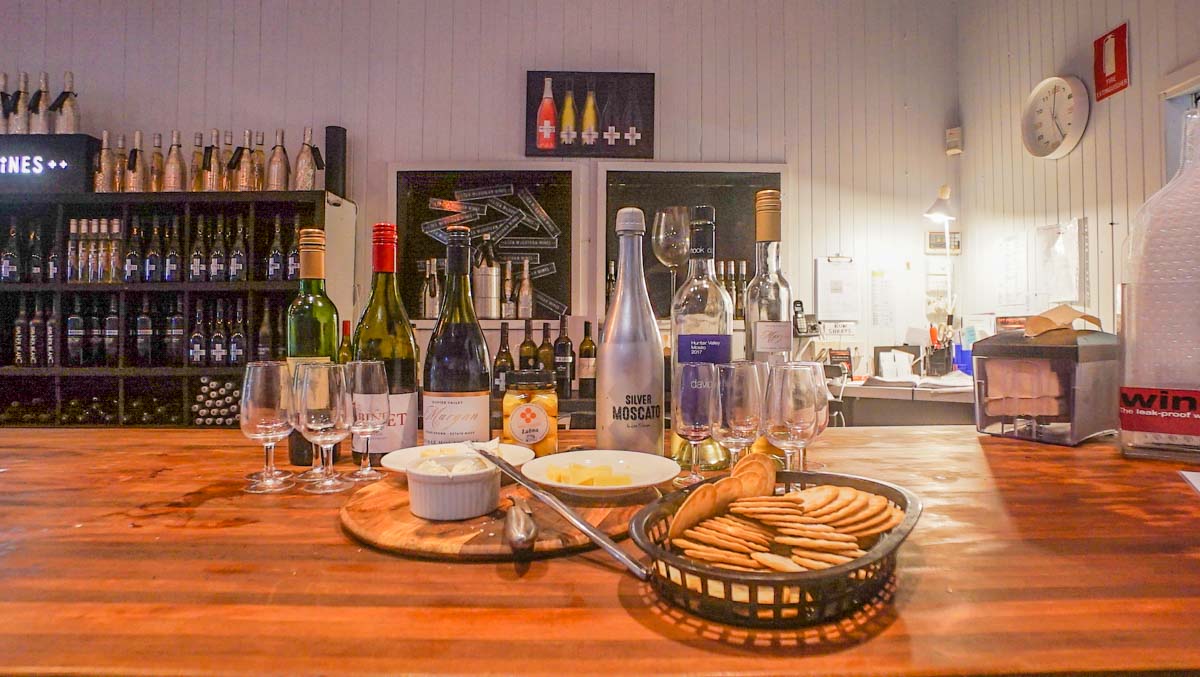 An Aussie once told us, "Life is too short for bad wine." That's why you only have to have the best in the Hunter Valley! There are 150 wineries in the region, specialising in varieties like shiraz and semillon. Some of the best wineries include the Audrey Wilkinson Winery, Scarborough Wines, and the Hunter Valley Resort.
Wine and cheese are a classic pairing, so don't miss out on a taste of locally-produced brie, cheddar and more at Hunter Valley's Smelly Cheese Shop or Cheese Factory.
If you'd like a unique adventure, why not try an offroad Segway Tour? While rolling through the vineyards, you'll learn more about the wine-making process and perhaps spot some wild kangaroos. An hour-long tour costs AU$75/pax, available from the newly re-branded Hunter Farm.
Drive time from Sydney: 2hrs
19) Road trip from Sydney to Byron Bay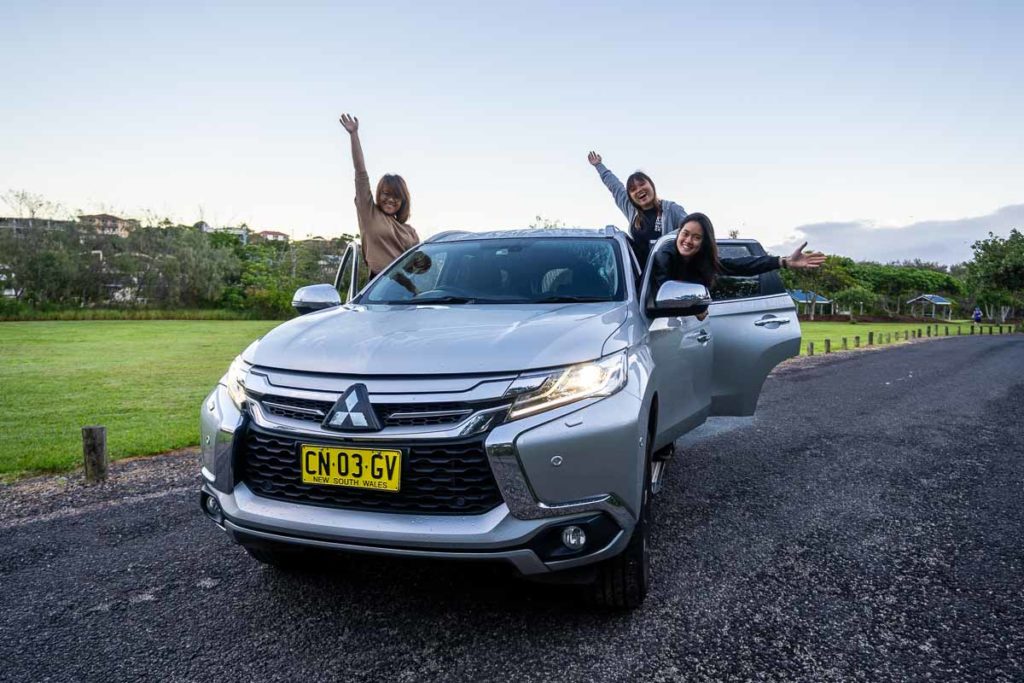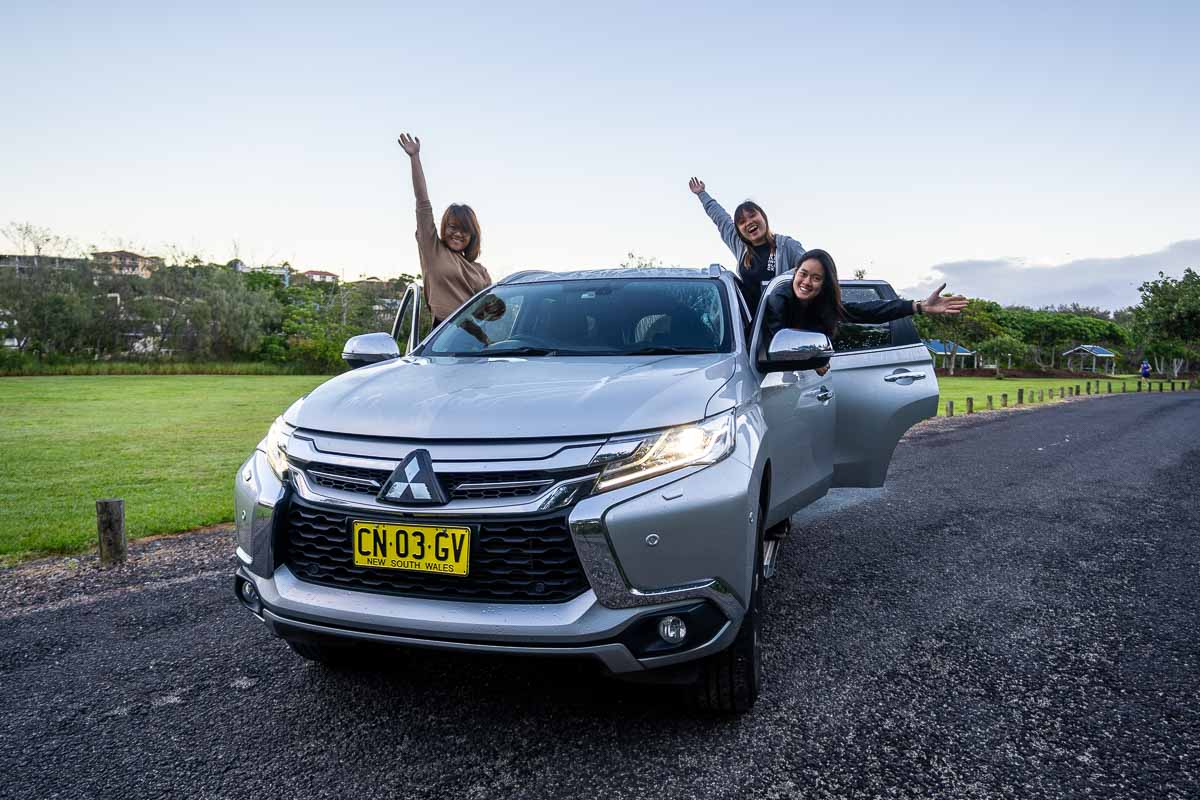 If you and your equally-adventurous friends are itching for a long and therapeutic drive, we recommend renting a car and checking out what the rest of NSW has to offer!
We've done week-long road trips down south to Eden and north to Port Stephens. However, the road trip up to Byron Bay easily trumps the rest! For one, you're driving along NSW's marvellous Legendary Pacific Coast, so fantastic views are guaranteed. Then, there're many exciting things to do, like treetop ziplining and camel rides (we recommend going at sunset).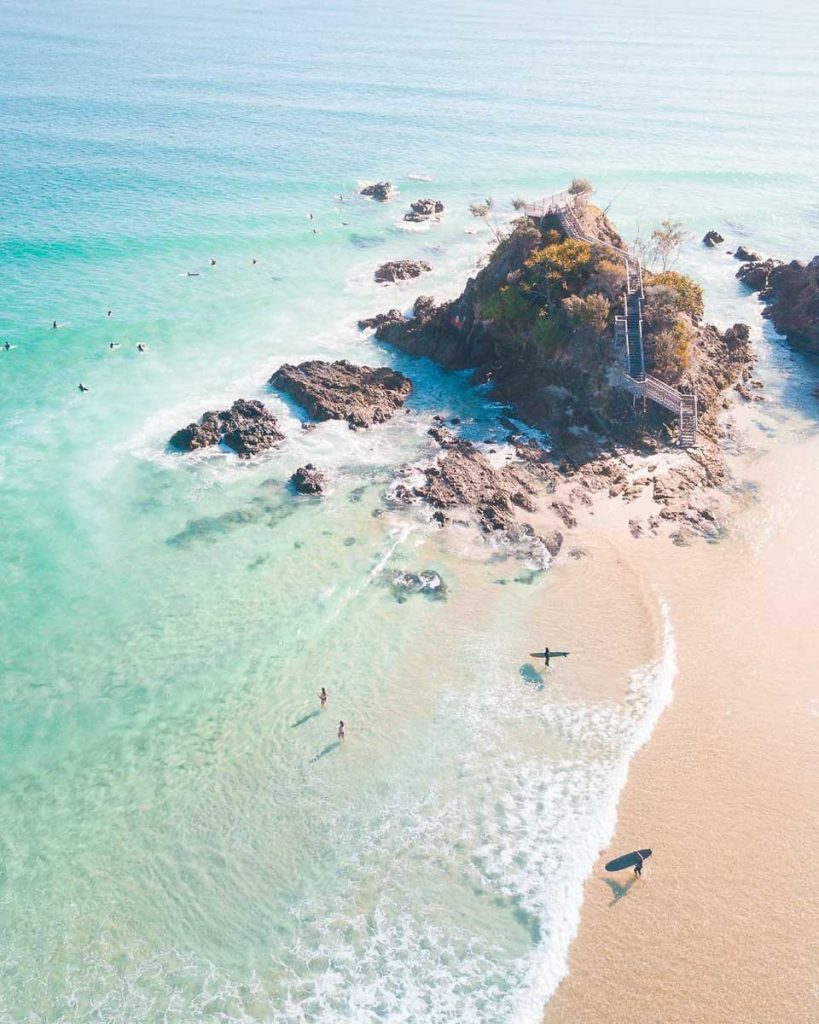 Photo credit: @changingtides__ via Instagram
The best part, though, is ending your road trip in Byron Bay. The laid-back coastal town is also a surfing hotspot. Its glorious beaches are filled with water activities (and clothing-optional areas, if you're into that). Plus, there are several farms you can visit to learn more about farming, and chow down on the freshest foods.
Check out the full two-week Sydney to Byron Bay road trip itinerary!
Cheap Flights to Sydney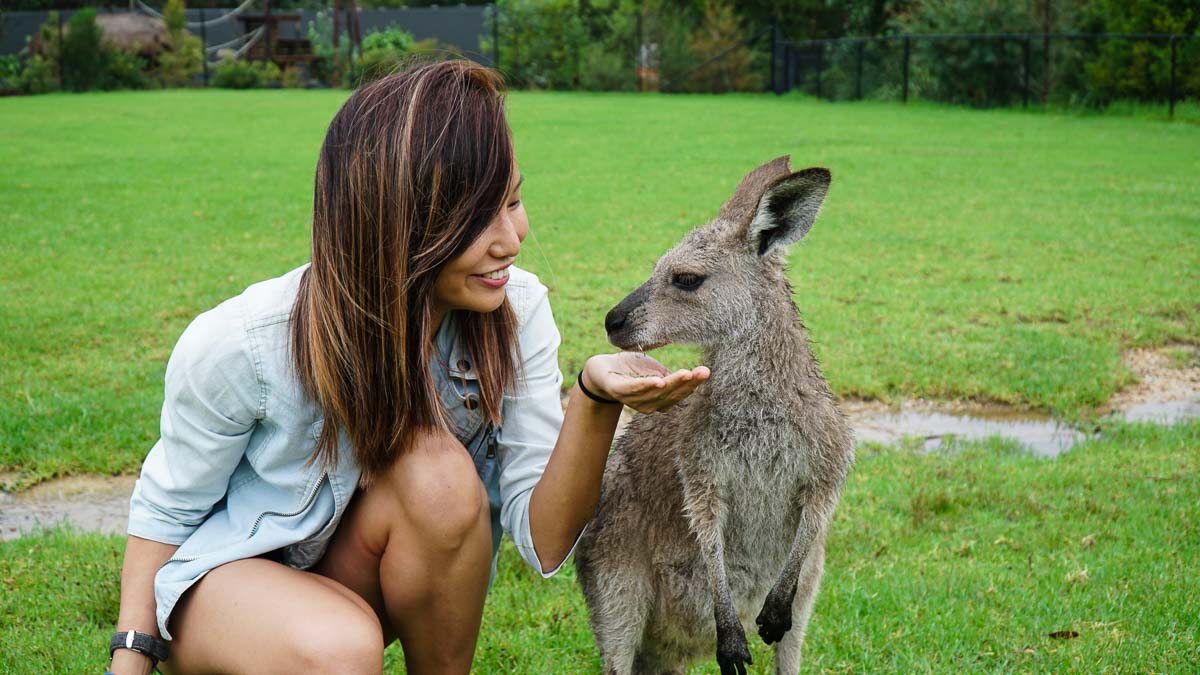 Several studies have found that millennials value experiences over material things, and there's a pretty good reason for that! According to experts, experiences like travelling create memories that can boost happiness in the long-run.
It's probably why having fun adventures with friends can help us deal with the daily challenges we face at school or work — it's a simple pleasure in life that can't be bought.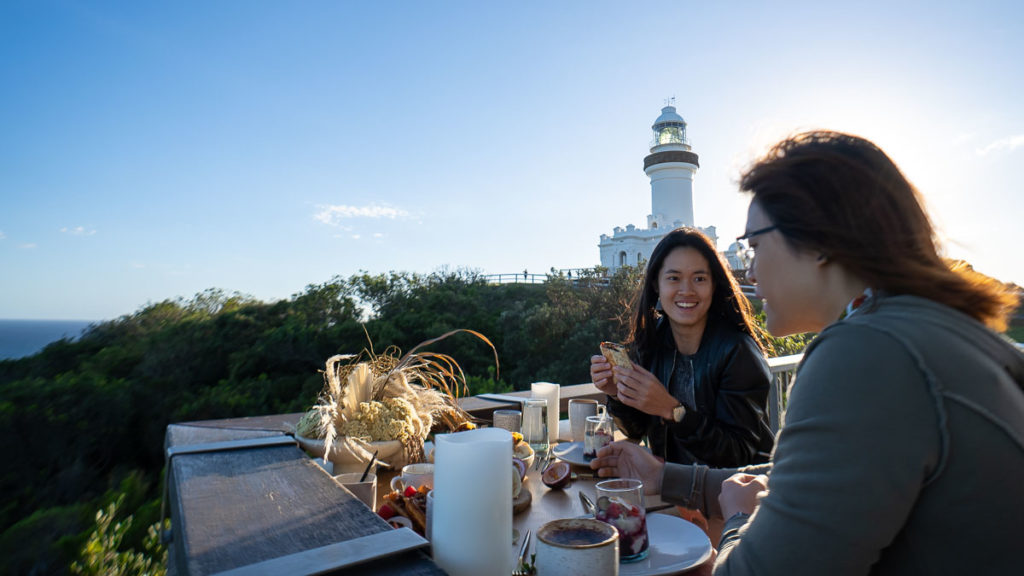 Living our best life with breakfast at Byron Bay Lighthouse.
If you're the type who puts experiences first, make room in your budget by flying with Scoot! Scoot currently operates seven-times weekly flights for eligible vaccinated travellers. And the returning VTL flight (TR13) only departs at night so you'll have time to squeeze in some last minute activities before your break's over.
Before you fly, take note of the documents you'll need to prepare, and plan your mandatory Covid-19 tests ahead of time for a smoother, stress-free vacation! As measures may change from time to time, do check these official sources for what's required:
– NSW Health Guidelines for Fully Vaccinated Arrivals
– What does self-isolation entail
– What to do if you've tested positive
– List of approved Rapid Antigen Self-test Kits (RAT kits; also known as ART in Singapore)
---
This post was brought to you by Destination New South Wales.